Day 8 Sunday
Sunday I had decided to go over the other side of Elounda's peninsular to see what was over the back. The strong winds had dropped and walking down to the windmills was very hot.
At this point in time I didn't know a lot about the area but now armed with more researched information I can now unravel  a few things.
so passing the salt pans
Dsc 0440
which are opposite this beach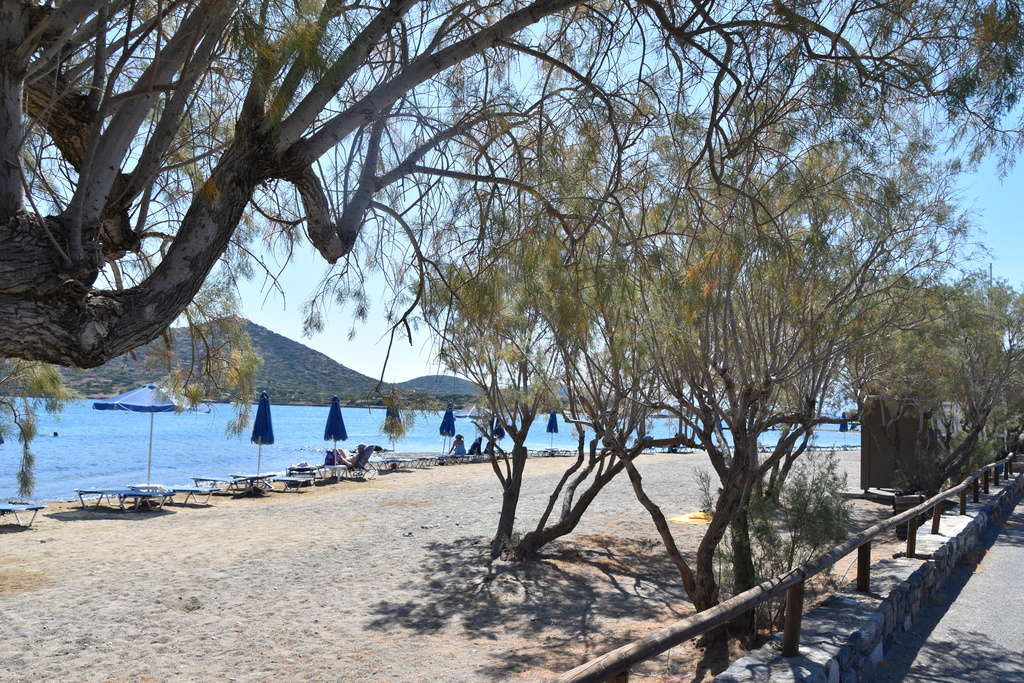 Dsc 0441
However, now down at the windmills I decided to stay the Elounda side of the peninsular as there was a breeze to keep me cool. Also I had noticed another windmill that I had not seen before which has been refurbished.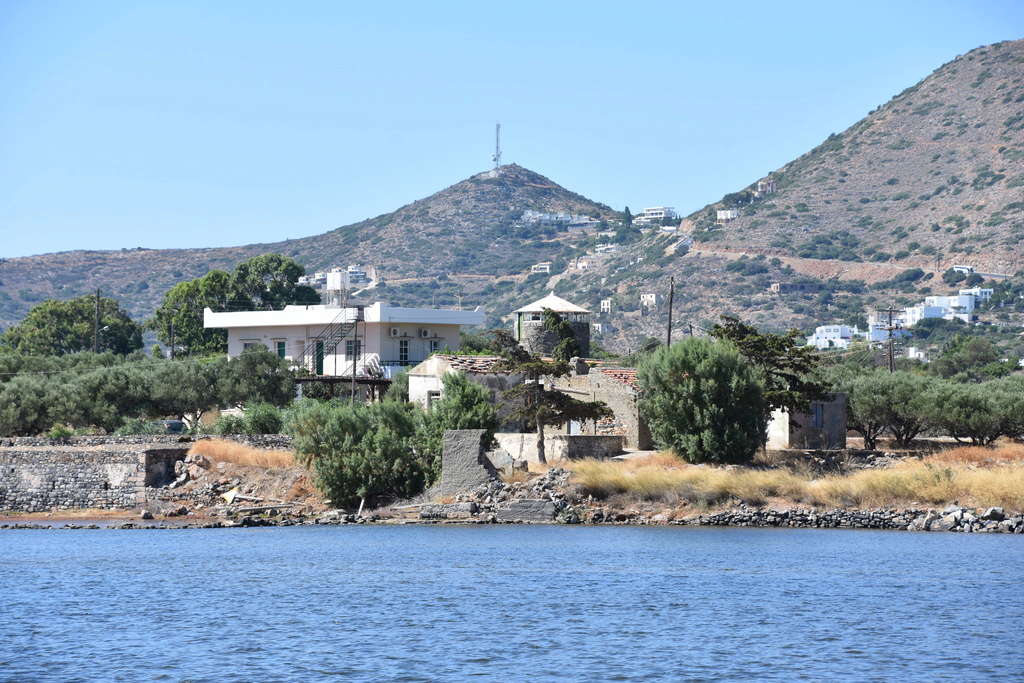 Dsc 0443
Also a further one that remained derelict, so may have a look at those later
Dsc 0444
So on the peninsular there is a large white building which are apartments and seen across Elounda Bay and has a small jetty type beach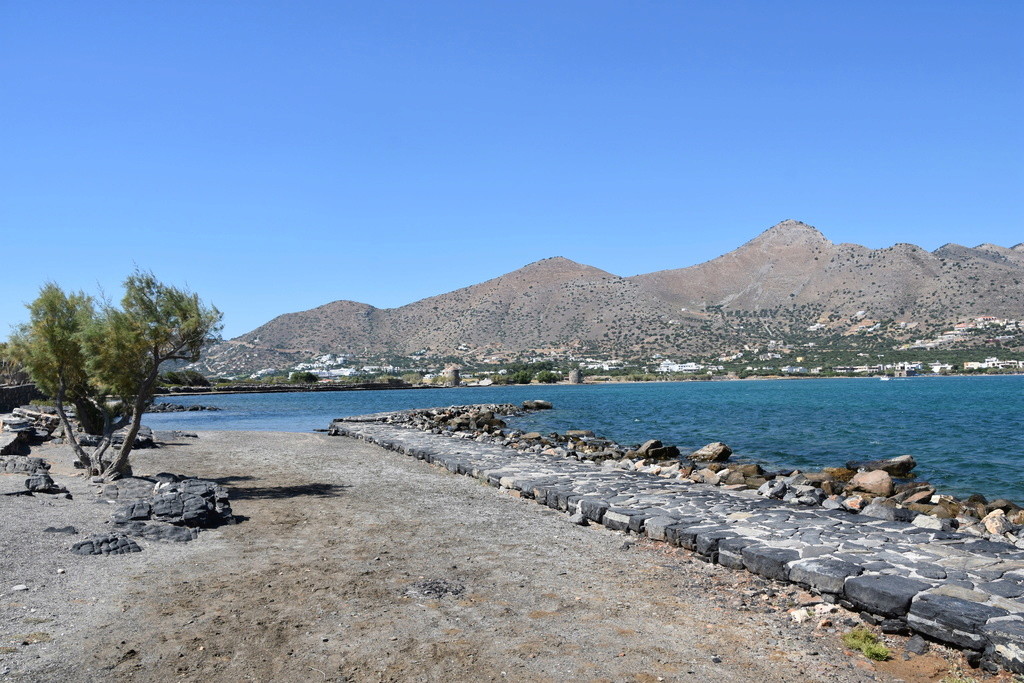 Dsc 0446
you can see despite there being a car park at the windmills, there is a tour company parking their vans next to the windmills making it impossible to get good pictures on this Sunday morning lol
Dsc 0447
Looking at Elounda from this side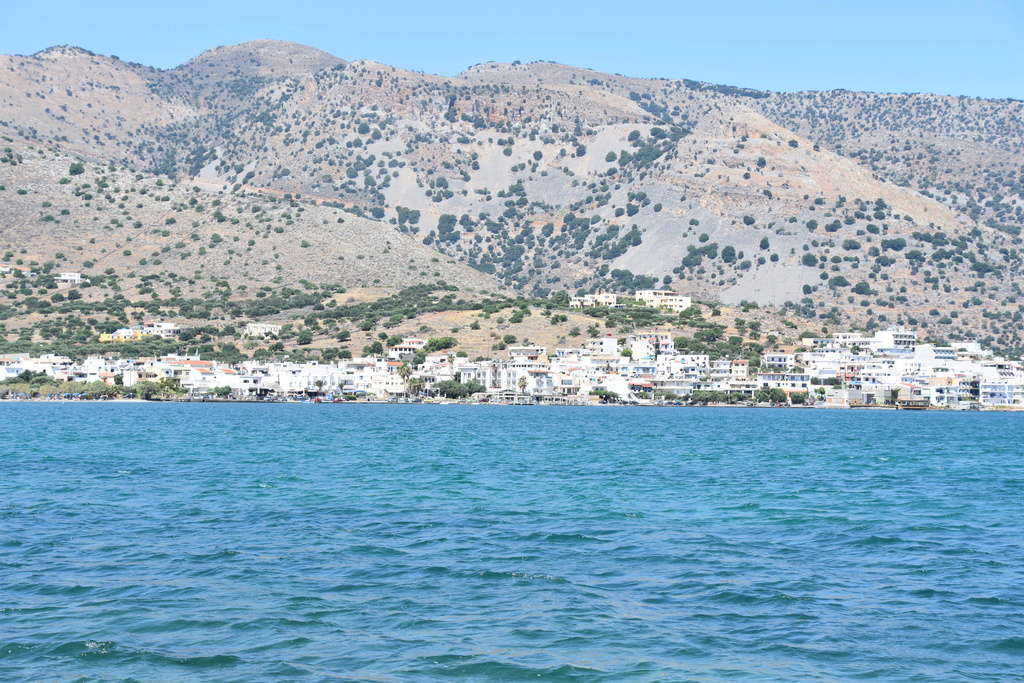 Dsc 0448
The main town beach and the Upper Elounda village above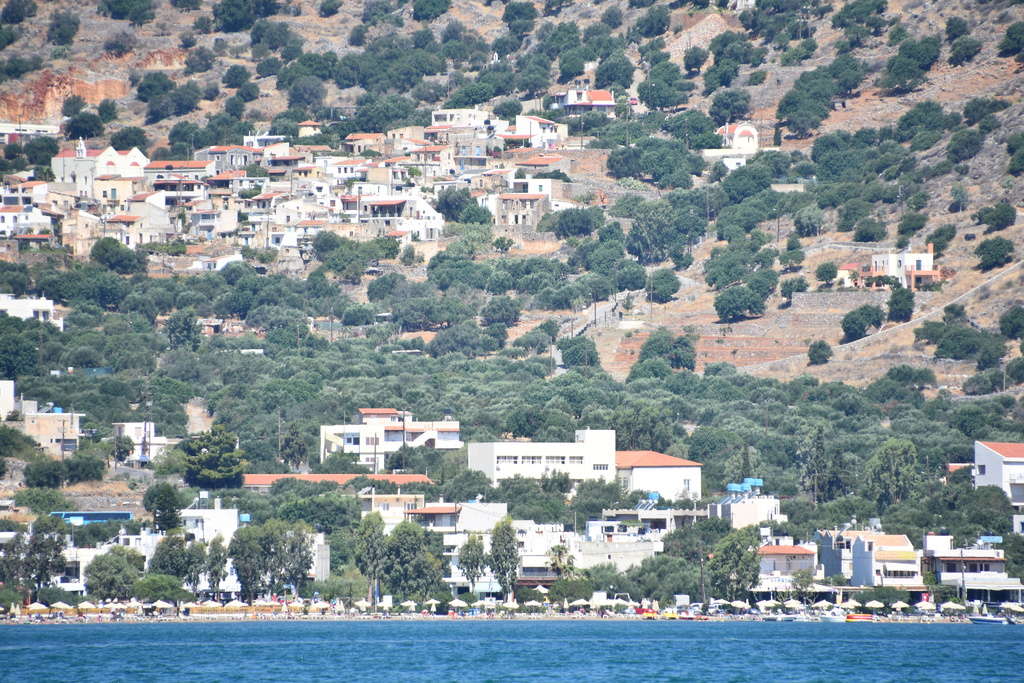 Dsc 0450
Better see what Mrs Db is up to on the beach lol
Dsc 0453
Anyway, heading along the peninsular I can see a small empty beach. At this point two cars zoom passed me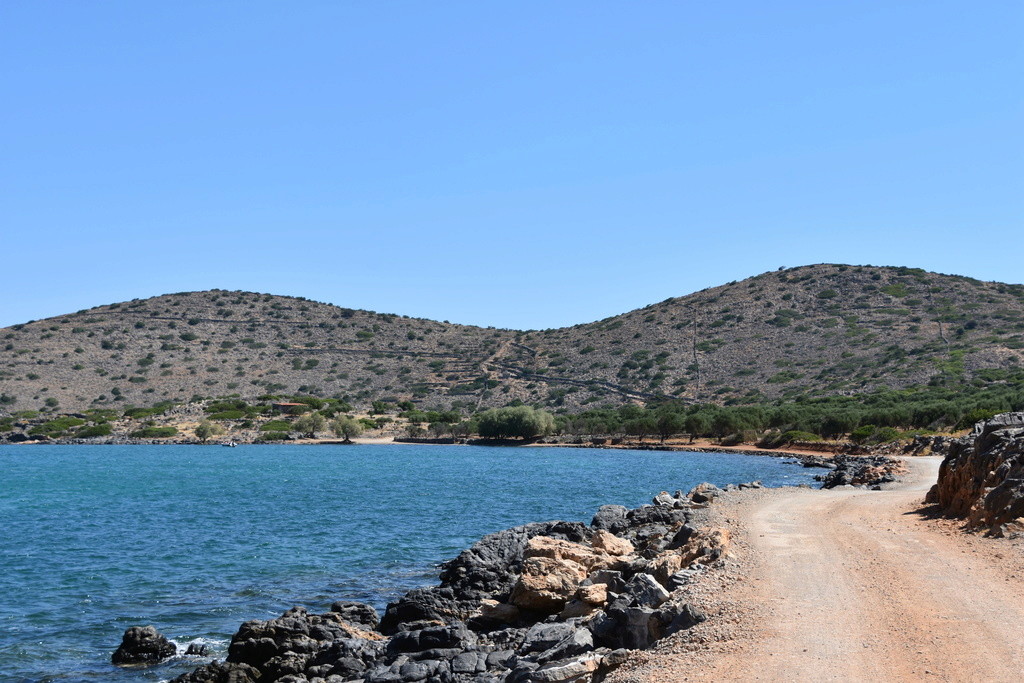 Dsc 0461
Oh today is not a good day for taking photographs of empty beaches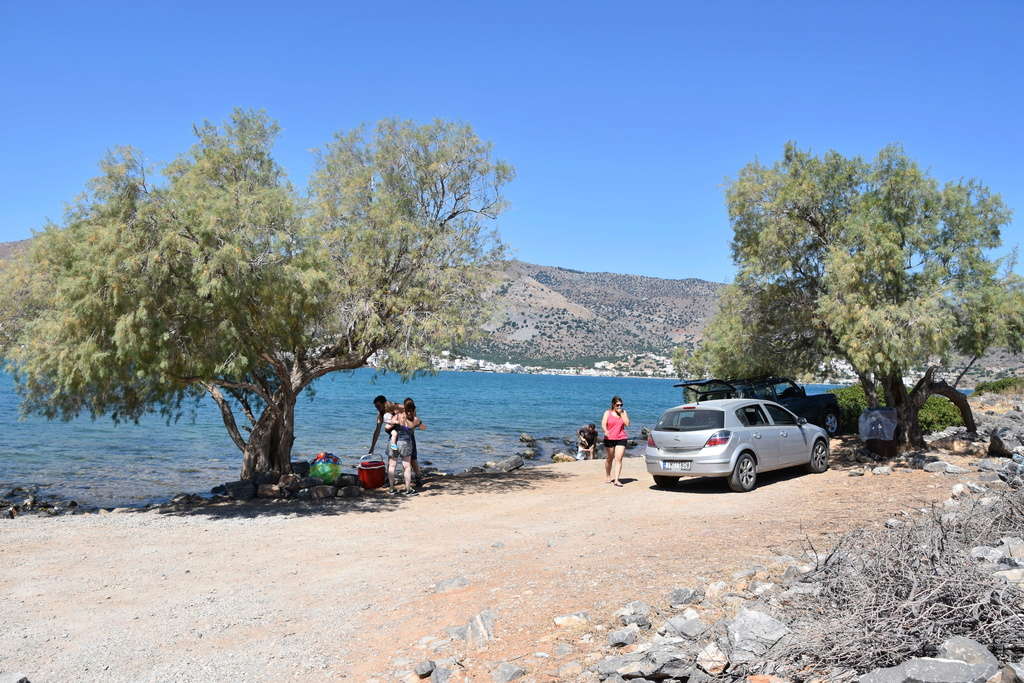 Dsc 0465
however, around the back I find an inlet which has a goat farm at the end of it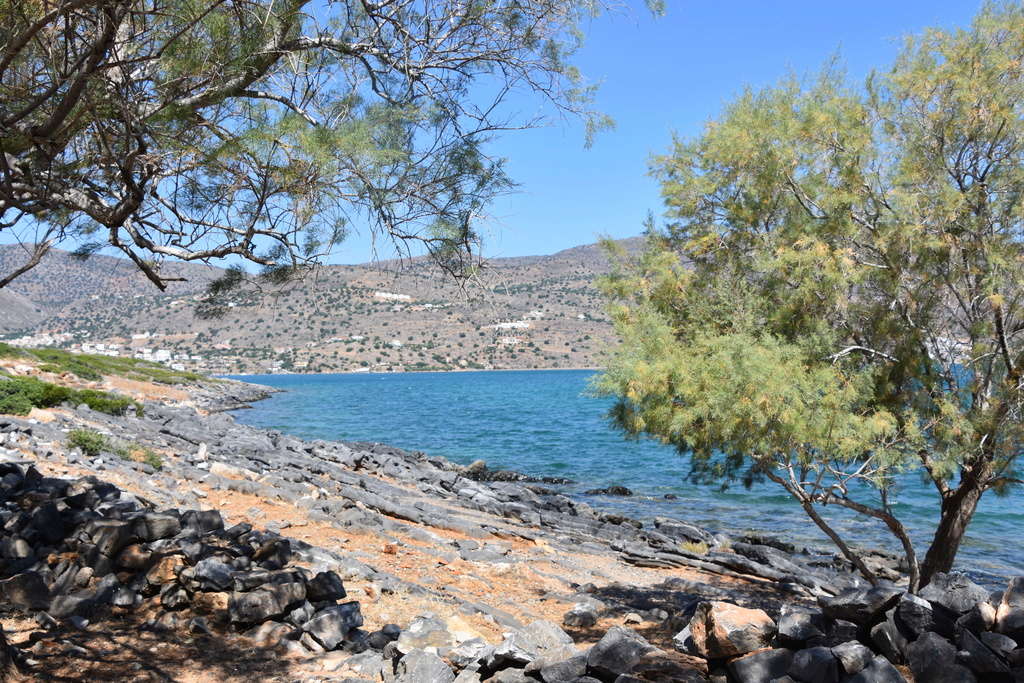 Dsc 0466
Dsc 0470
I reached this point and lined up a goat farmer's shed and a car went passed me, after the dust settled I took this picture and thought if I got a little nearer it might make a good competition picture. However before I could get any nearer the car came whizzing past me again and then parked his car right next to the shed. I give up lol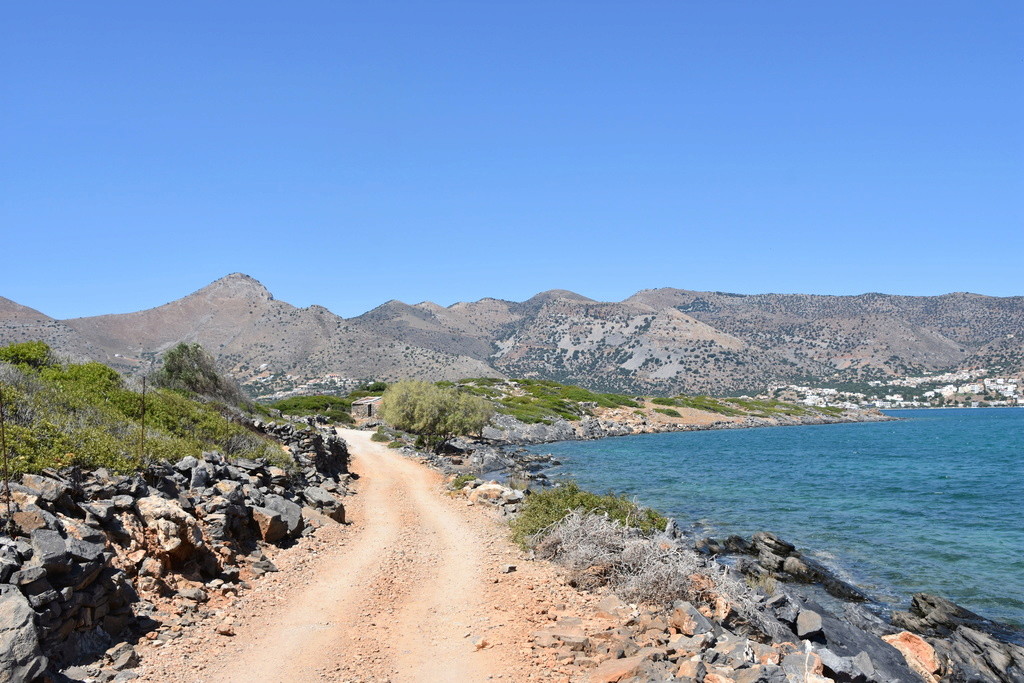 Dsc 0471
So now back at the windmills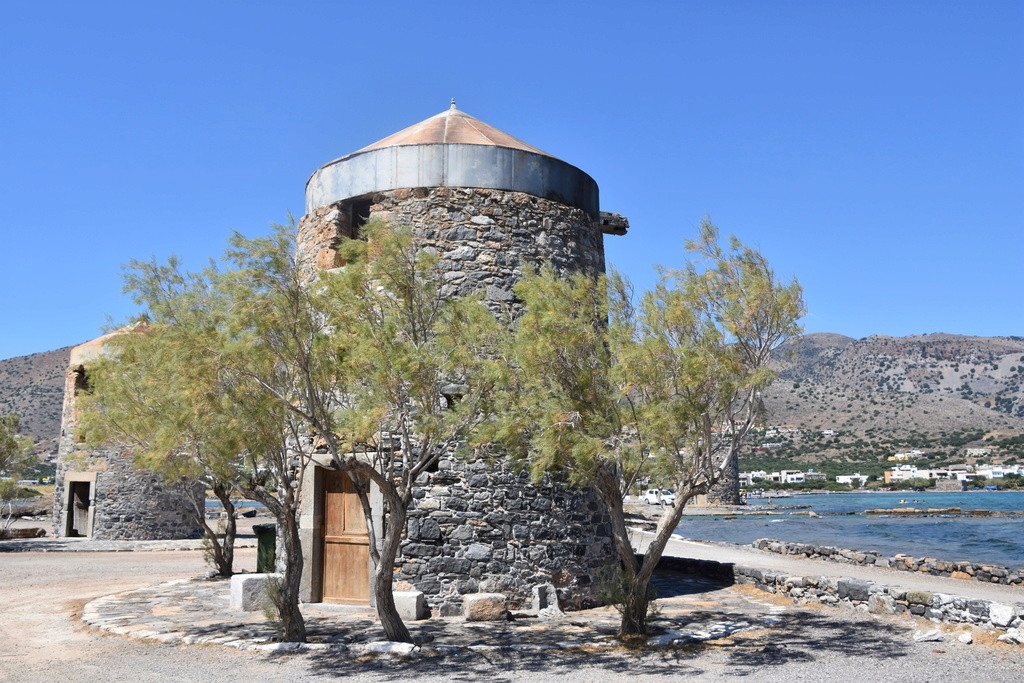 Dsc 0472
This is the recent made concrete bridge built in 1962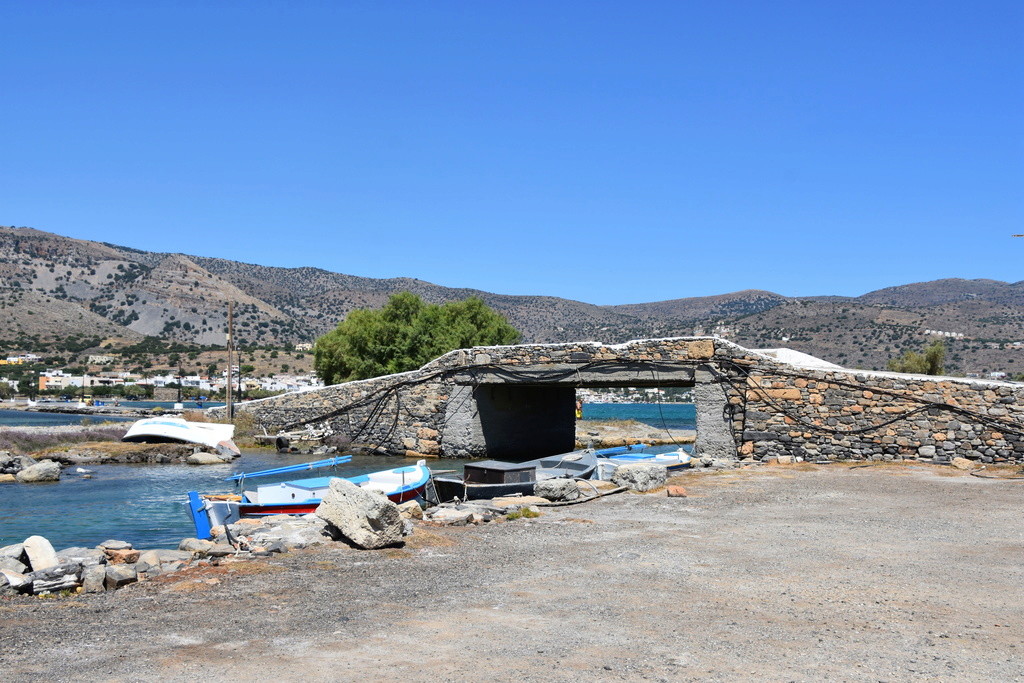 Dsc 0475
In 1911 a wooden bridge held up by beams against two stone walls was built for the community to access their land and it had a hinged board which raised to let small sail boats through. In 1935 a new drawbridge was built but kept getting damaged in the winds this eventually was replaced by the current concrete one. I can see from my photograph this would be the remains of the original bridge built by the French which was 40 metres south of the current one.
See not many people would notice that lol
Dsc 0476
The inlet from Elounda Bay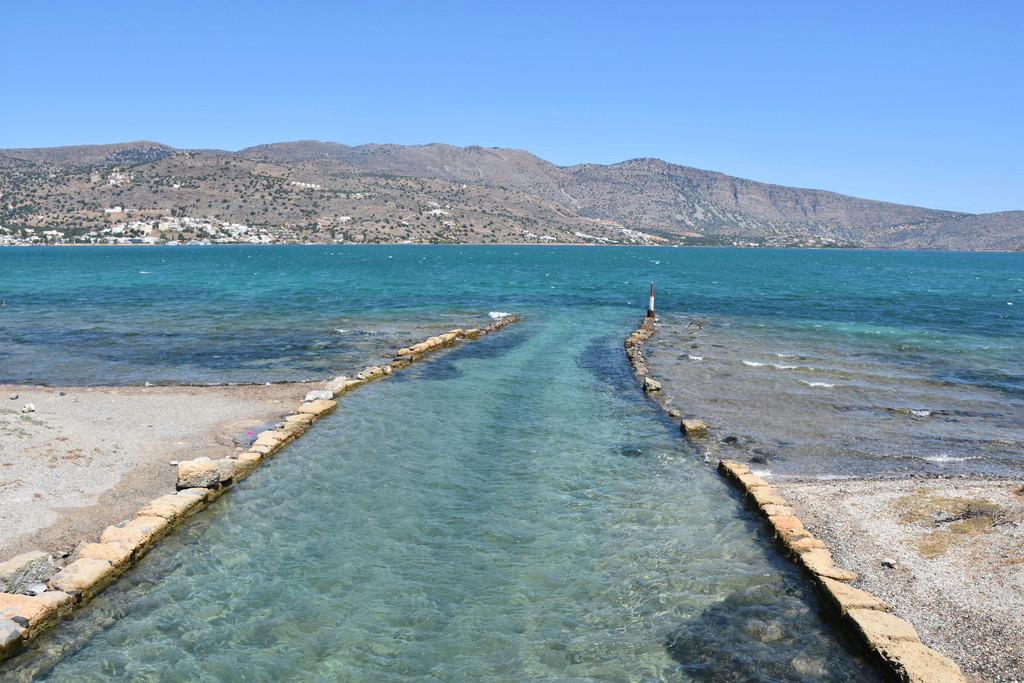 Dsc 0478
One can see it is now impossible to take pictures without cars in the way
Dsc 0482
But I still have this refurbished mill to look at but after trying to get round the salt pans and failing I had to reach it via the main road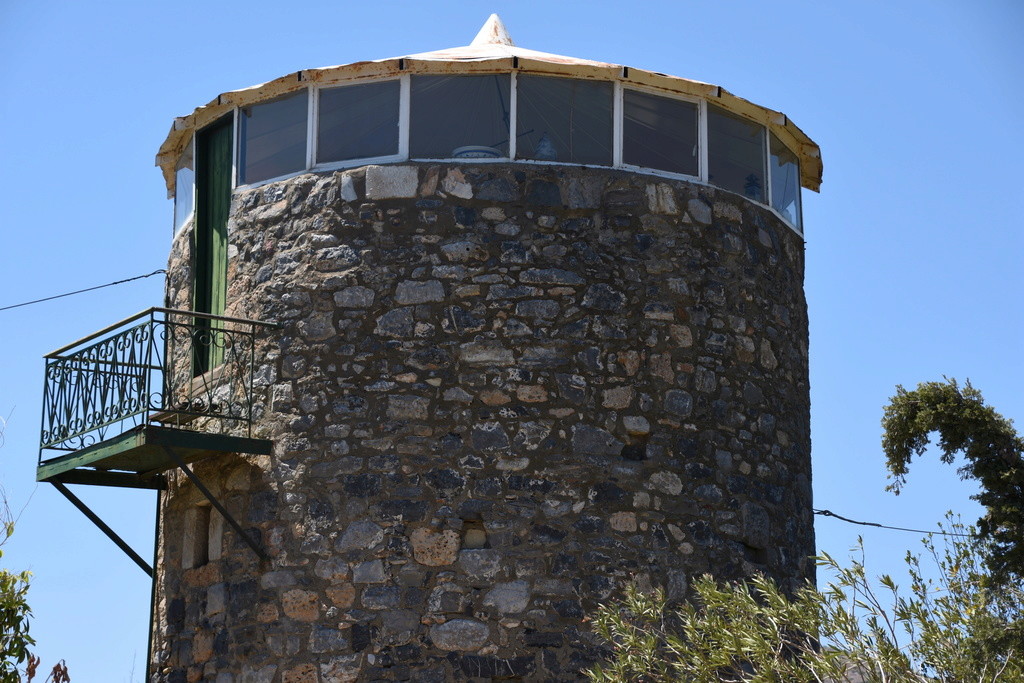 Dsc 0488
So down a side road I found a taverna opposite the mill and went in for a beer. I spoke to the taverna owner and asked if I could go into the grounds to get a better photograph and he said, no problem it was for rent.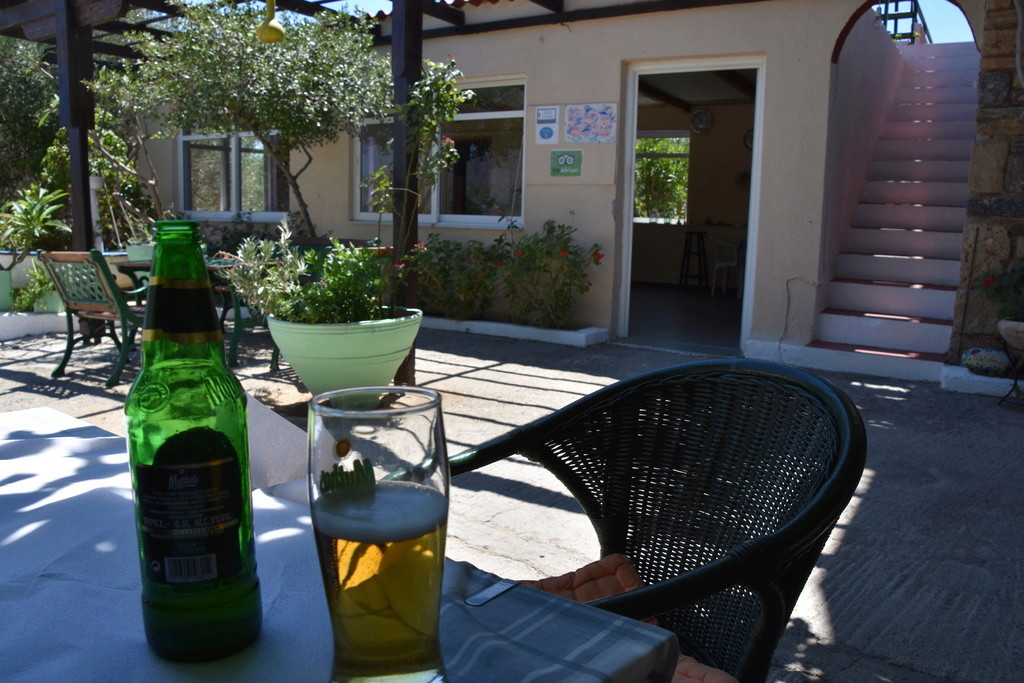 Dsc 0496
So I got quite a few photographs for perhaps using later in our little photo competitions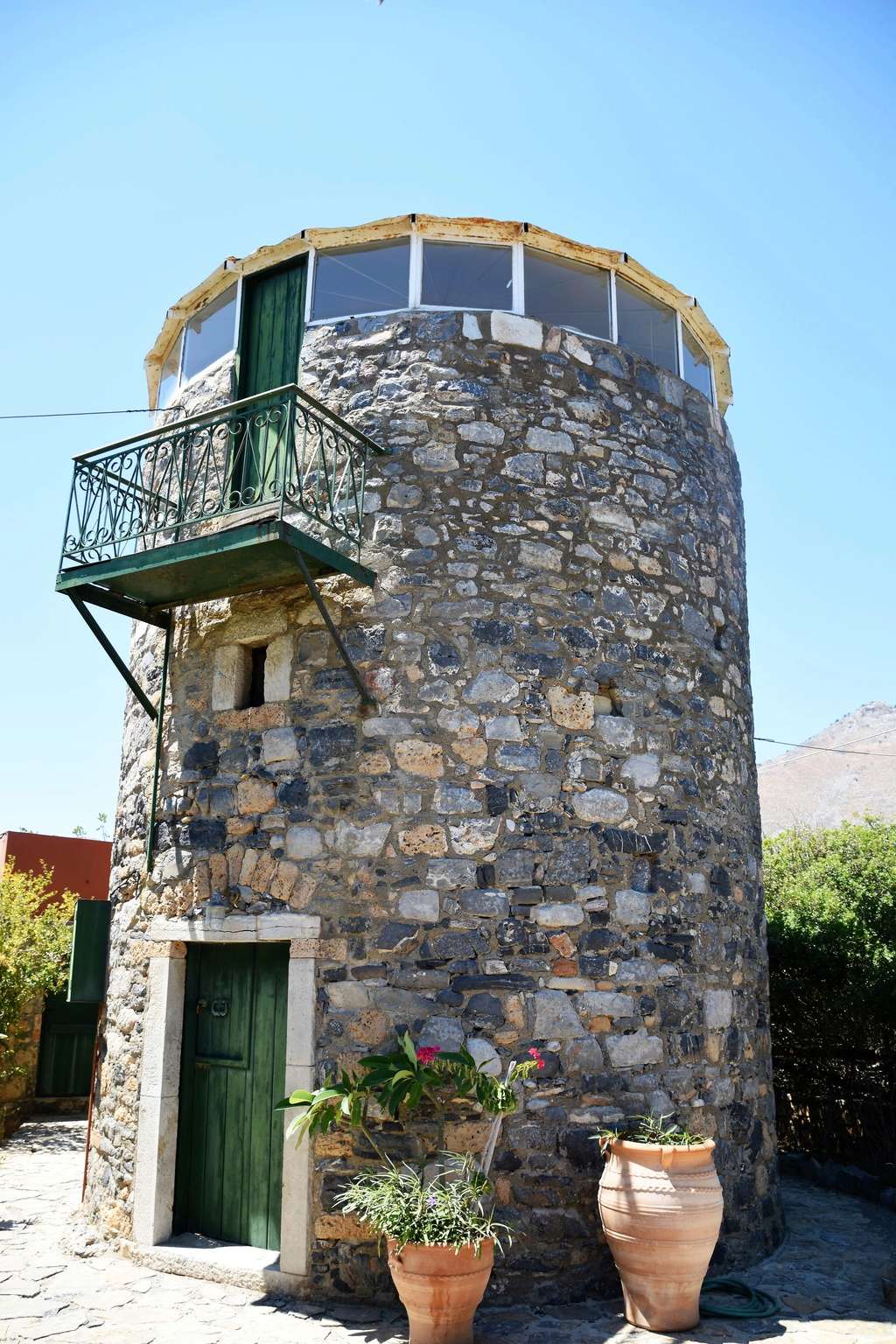 Dsc 0503
During the conversation with another couple in the taverna the conversation from the chap went like this. "I can't understand why they don't drain the sunken lost city of Olous and open it up as an attraction". "What lost city? ", I asked. "Just out here", he said pointing to the salt pans. Oh I thought they were salt pans and got quite excited. I'll have to take some pictures of that.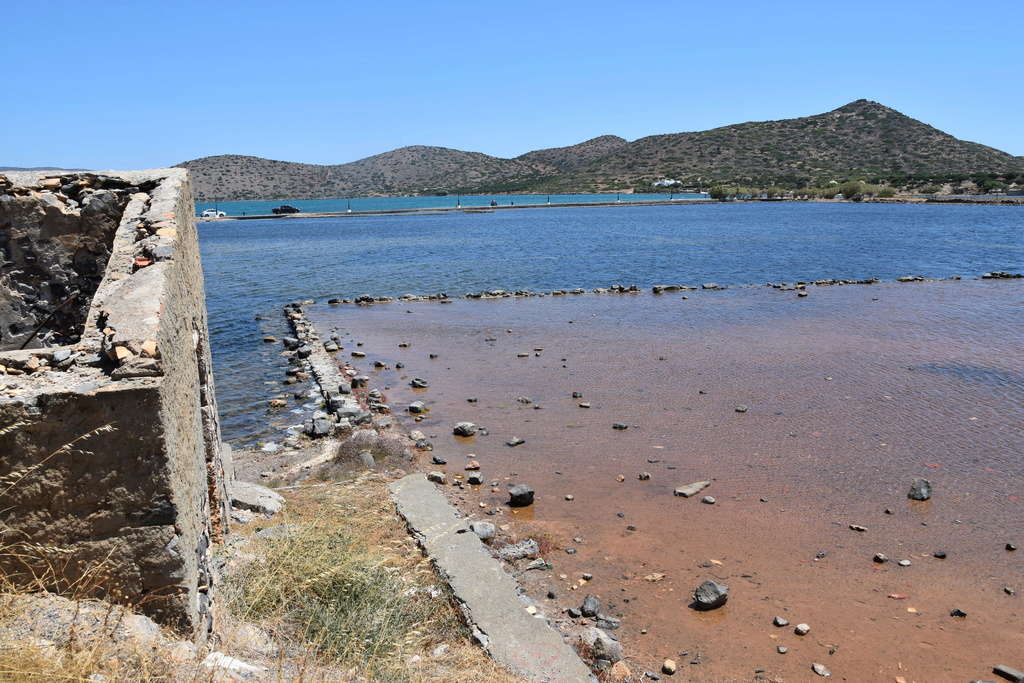 Dsc 0509
But things just did not seem right
Dsc 0510
where are the door ways ?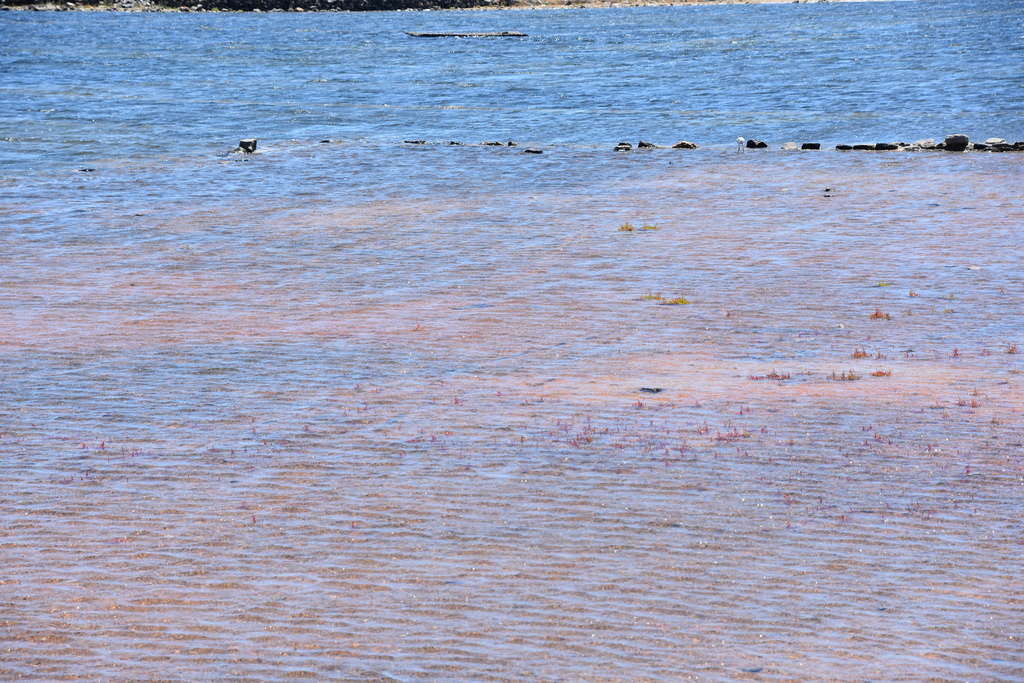 Dsc 0515
This needs further investigation I learnt that there was a sunken city of Olous but this was not it. These are salt pans and there were recordings of them in the 1300th century in Italy but whether the Venetians built them it is unknown. Elounda Bay is rich in salt content and with the sun and strong winds it is good place for collecting salt. In early days salt was needed to preserve food as well as the fish and by the time the Spinalonga Fortress had been strengthened stopping piracy there were over 40 salt pans working and producing around 1400 tons of salt.
Once the Turkish captured Spinalonga the Venetians did a surprise attack and destroyed the salt pans to stop the Turkish profiting from them. Although they were rebuilt, production halved as some of the pans nearer Elounda were not repaired. Since the 1800's salt production increased until 1973 when production ceased due more modern methods use and the expansion of other salt pans. Today it is a bird sanctuary and a fish breeding ground.
To the right of the photo below, there is a building being restored which sits at the end of the beach which use to store the bags of salt ready to be shipped out
Dsc 0520
On the way back, at the harbour I discussed what time the late boat went to Spinalonga in the afternoon and as I am a lousy sailor and Mrs Db hates gang planks which of the boats would be used.
One like this, he said.
I'm not sure whether that pleases either of us lol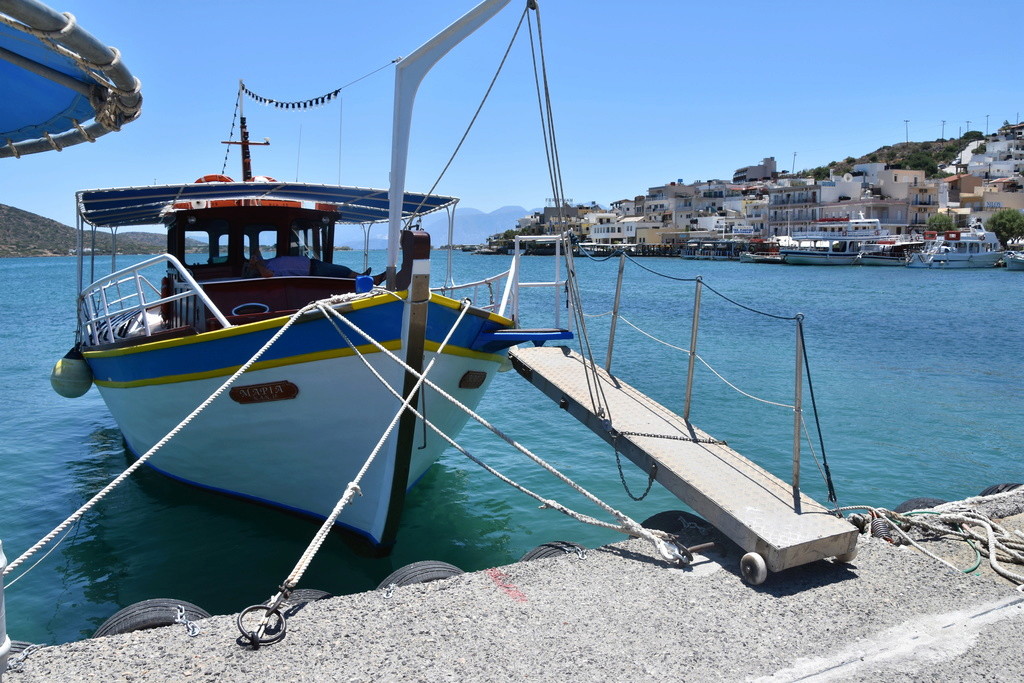 Dsc 0517
Our afternoon was spent on the beach
P1260735
It was evening and we had decided to give Vritomart a try, this was the first taverna we turned down for having house wine at 14€s lol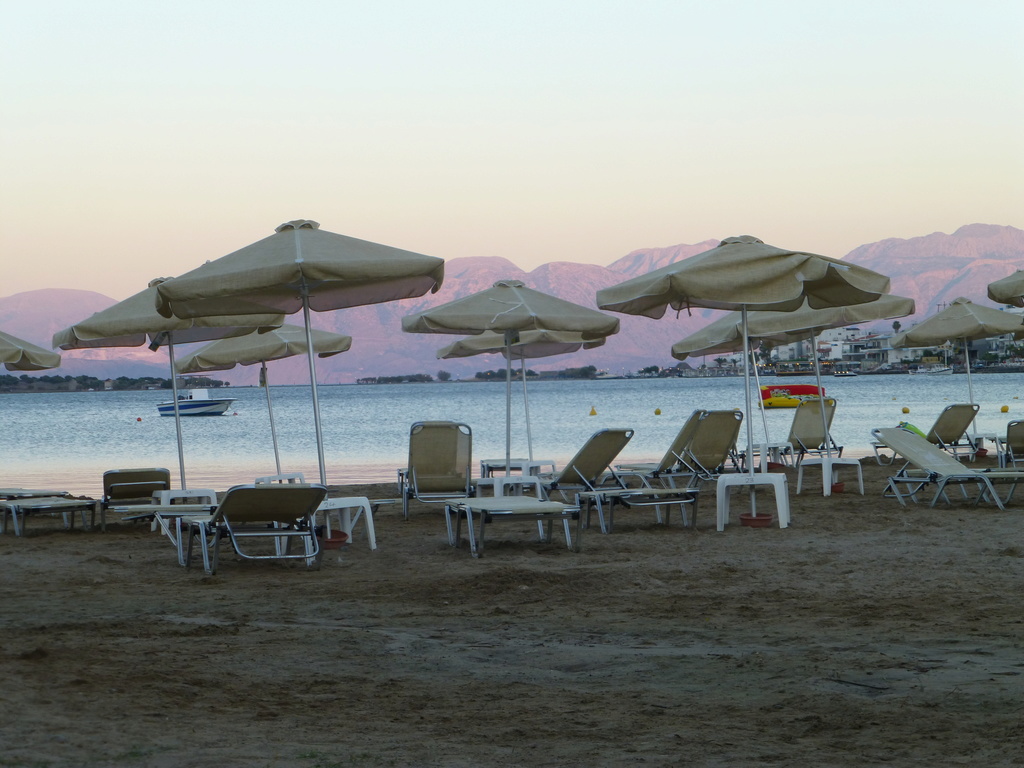 P1260743
The menu, I was going to have their mixed grill as it was suggested by them as a good choice on our last time we looked there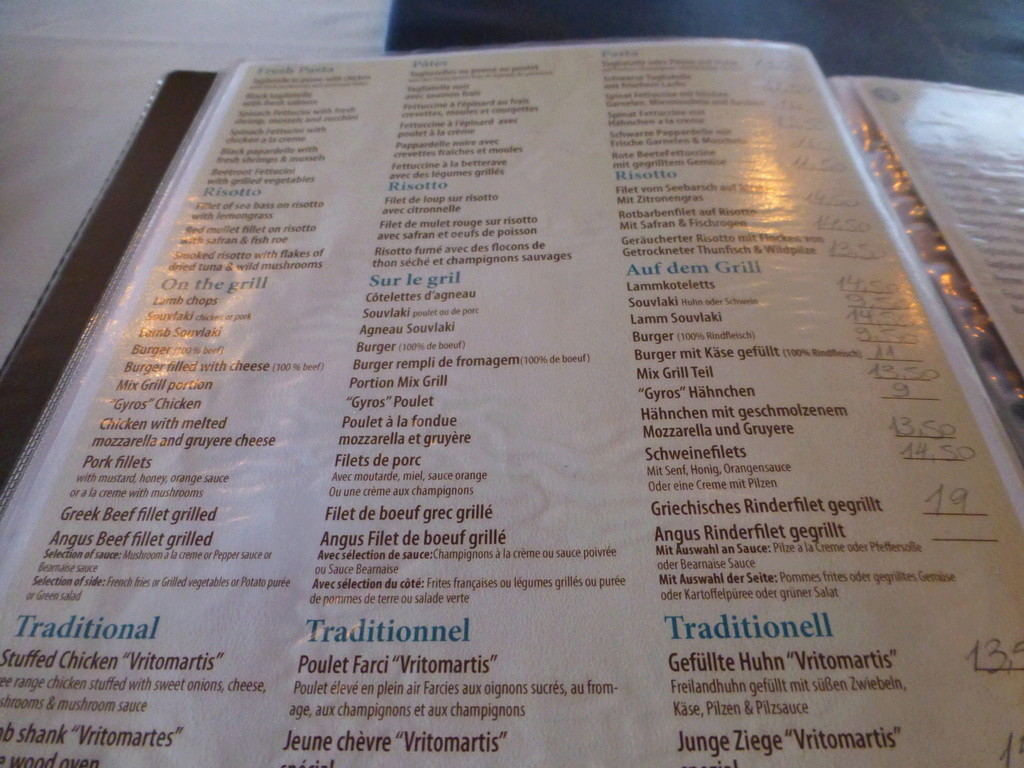 p1260744
Mrs Db had the Pork fillets in honey & mustard sauce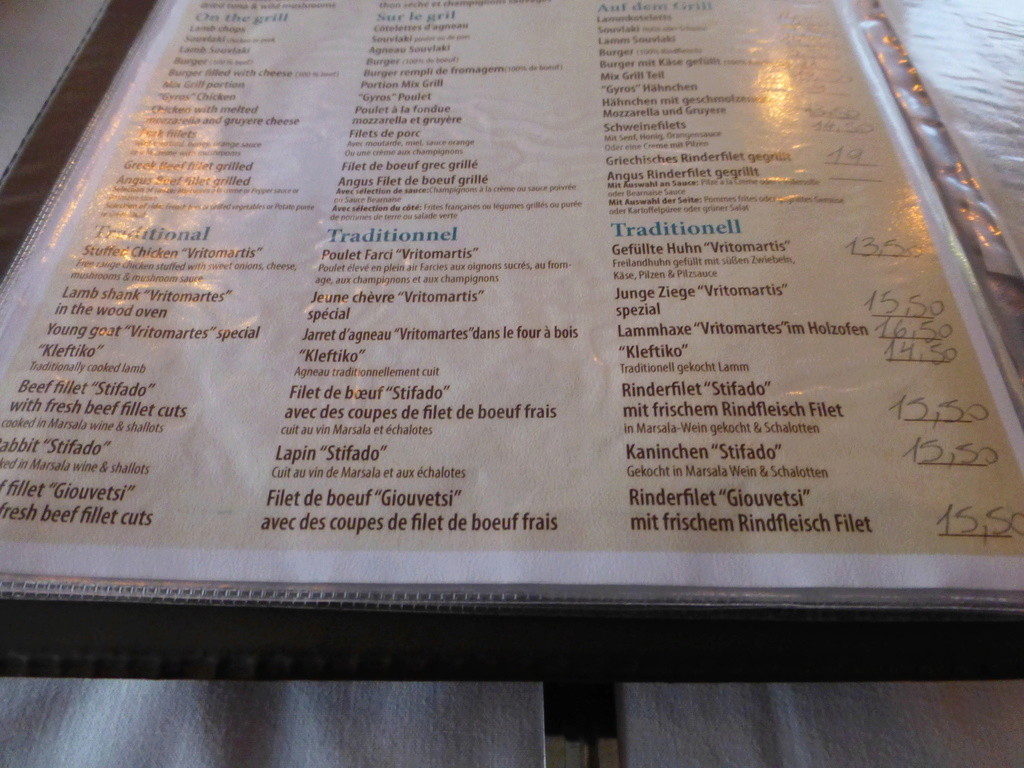 p1260745
Inside and the view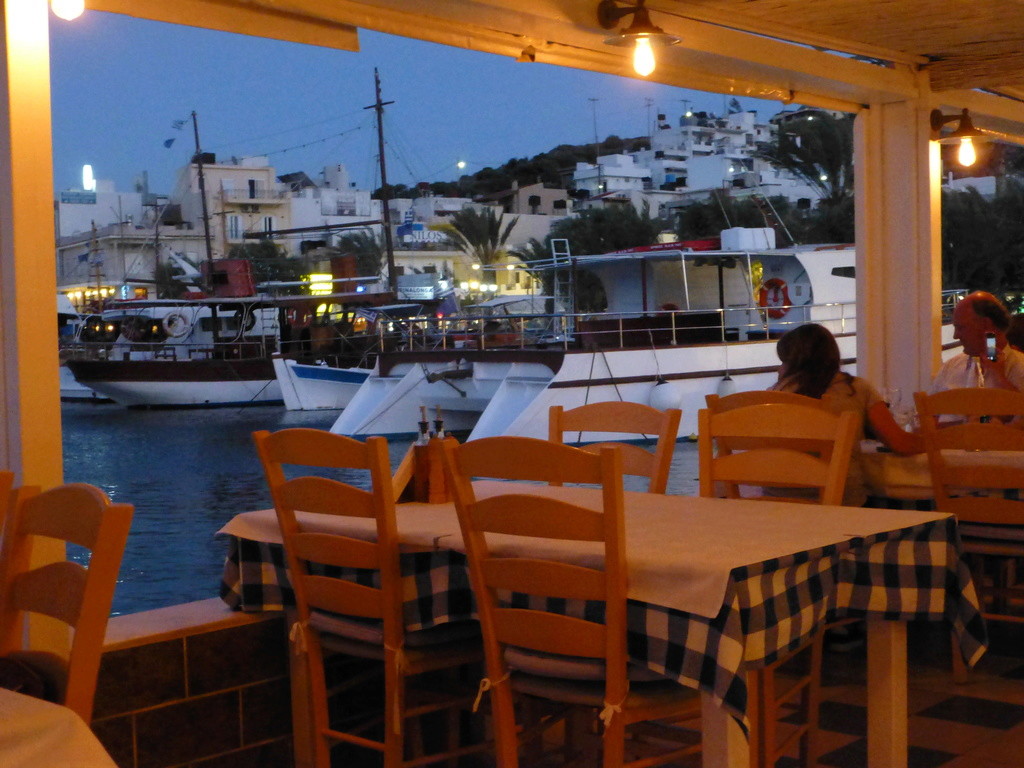 p1260747
Mrs Db's dinner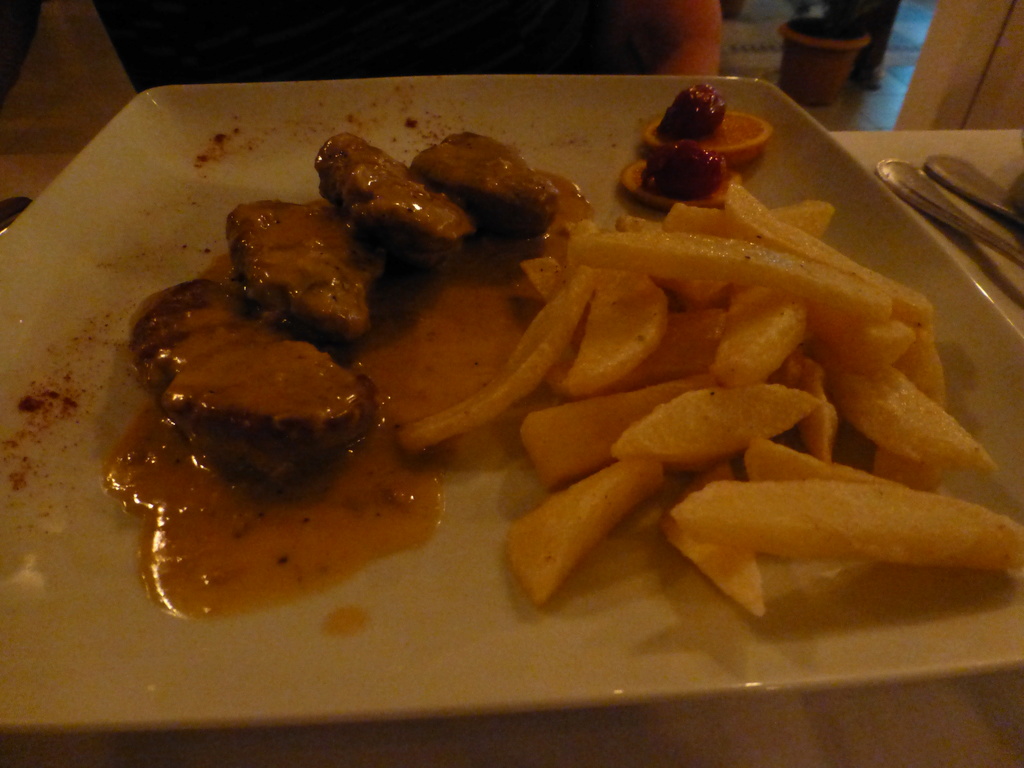 p1260750
My mixed grill, in fairness there was more too it than the one I had earlier in the week at 8.5€s and a piece of steak as well, which seem to cost the world over here.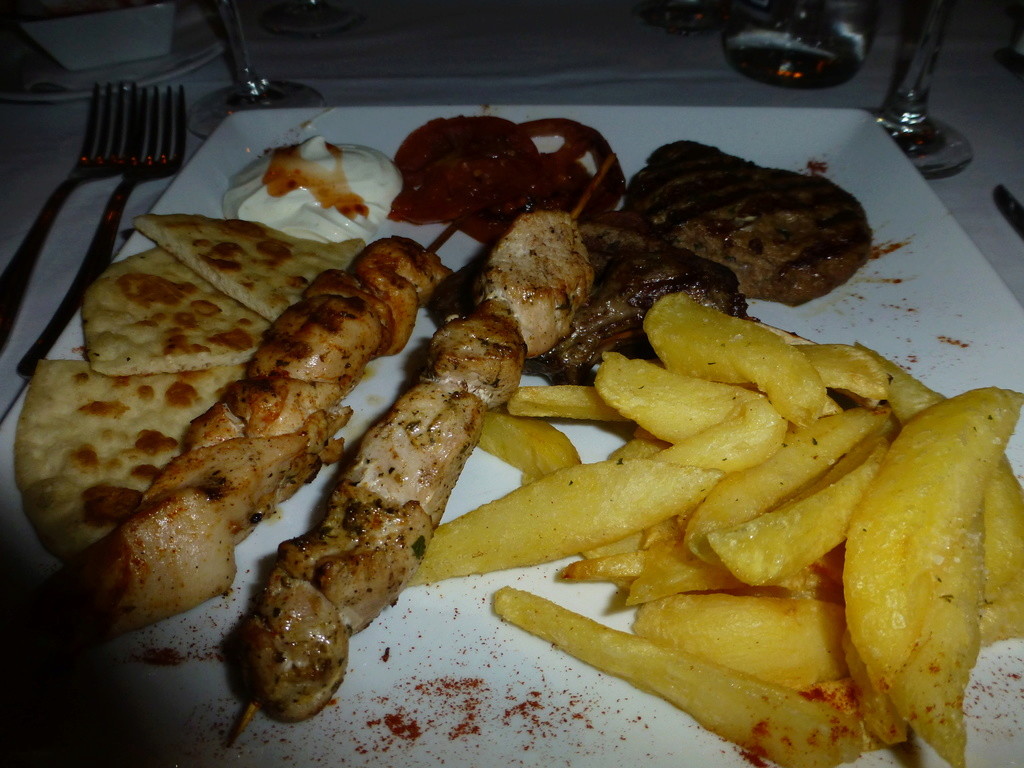 p1260751
Free melon & cherries afterwards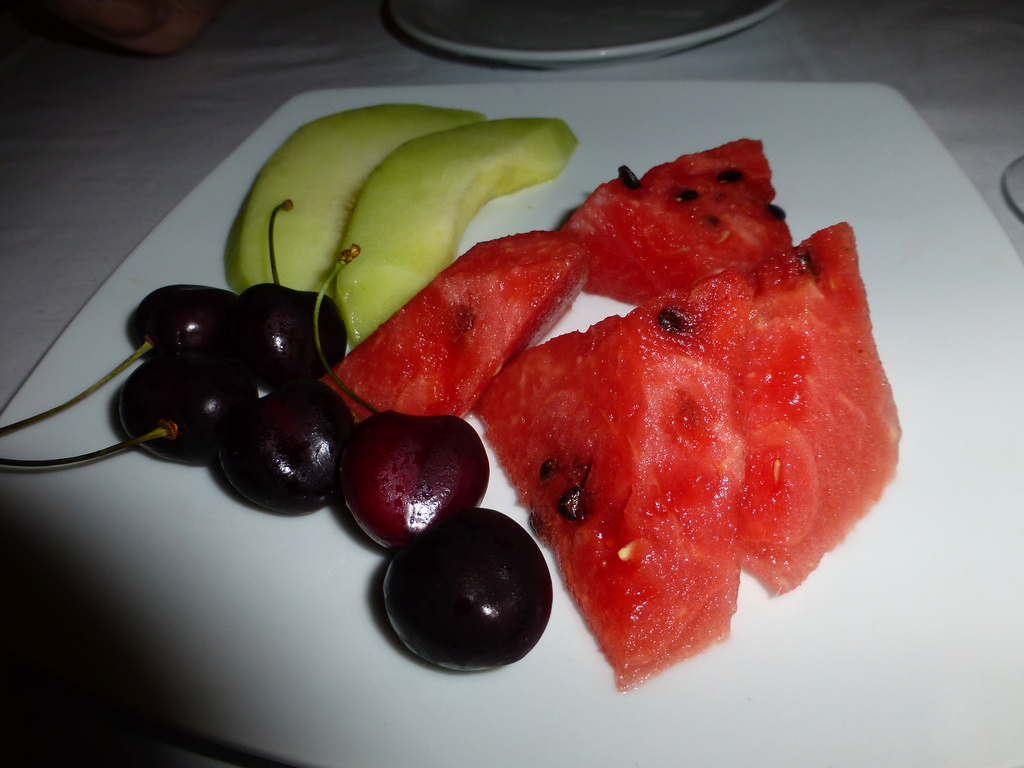 p1260752
The restaurant from the harbour front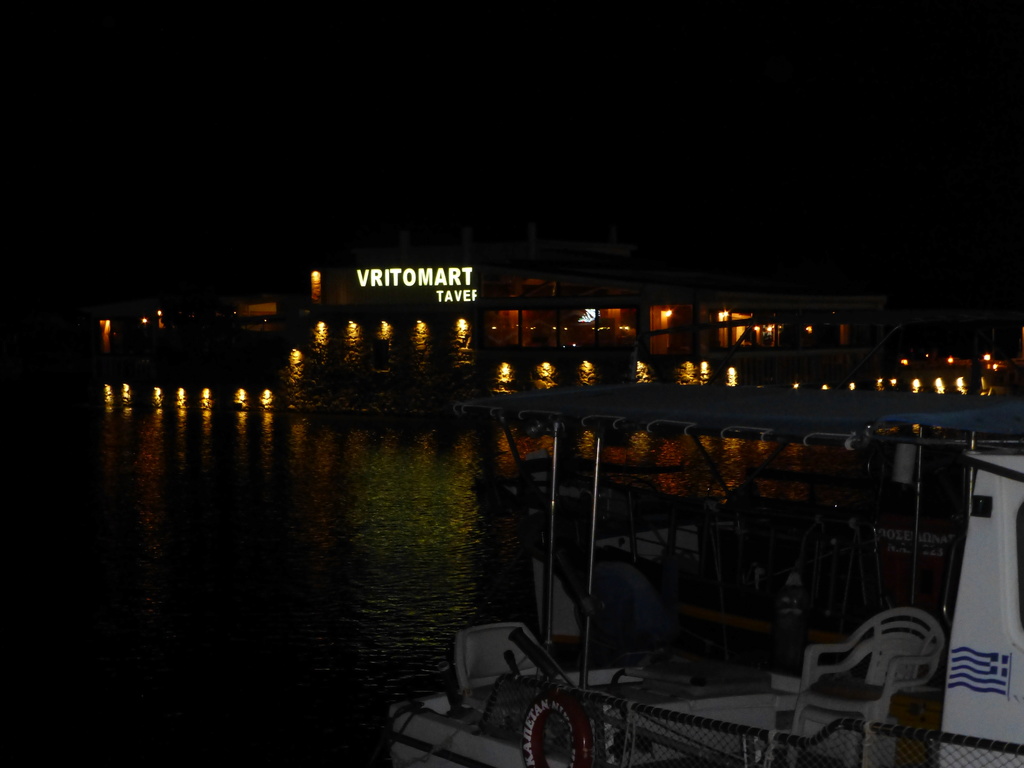 p1260754
Afterwards our coffee was on our balcony
End of Day 8Day 9 Monday
Today we are going to go to Spinalonga and we wanted a late boat which is around 4:30pm and would be a good time for a look for me, as fewer people would be there and ideal time for Mrs Db.
Getting up for sunrise shots early morning is not on at the moment lol
So here I am in my pyjamas racing backwards and forwards to the balcony and front door to see where it would rise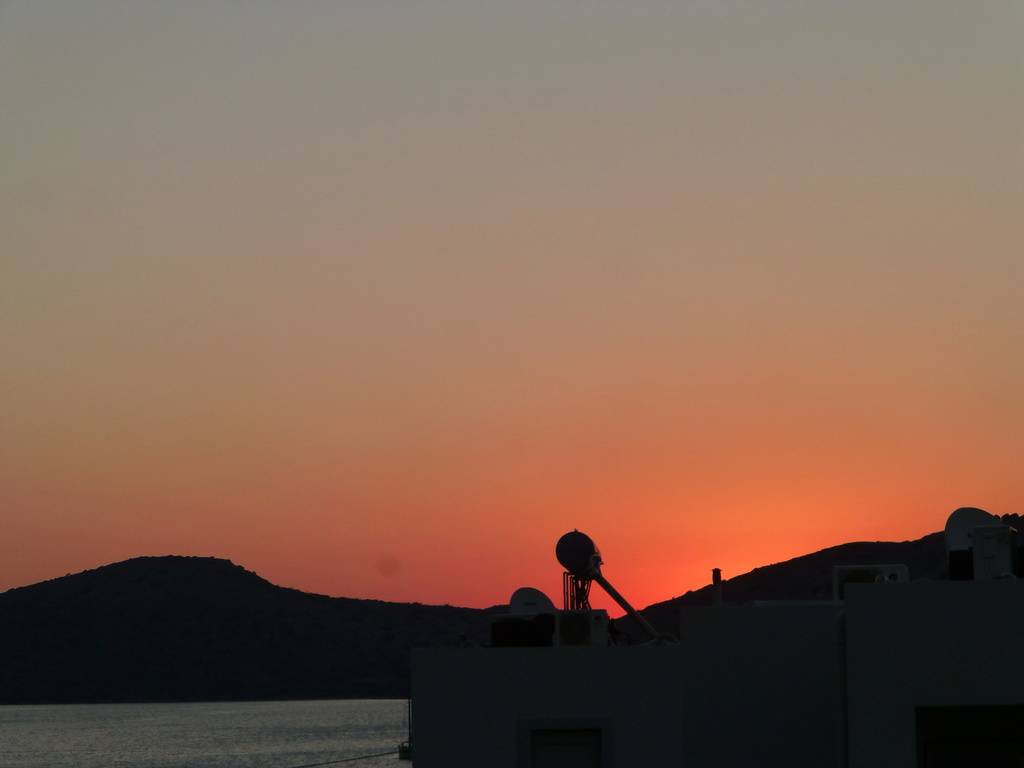 p1260755
so it is the front door side
p1260759
Oh we have had a power cut. Cut the yellow wire lol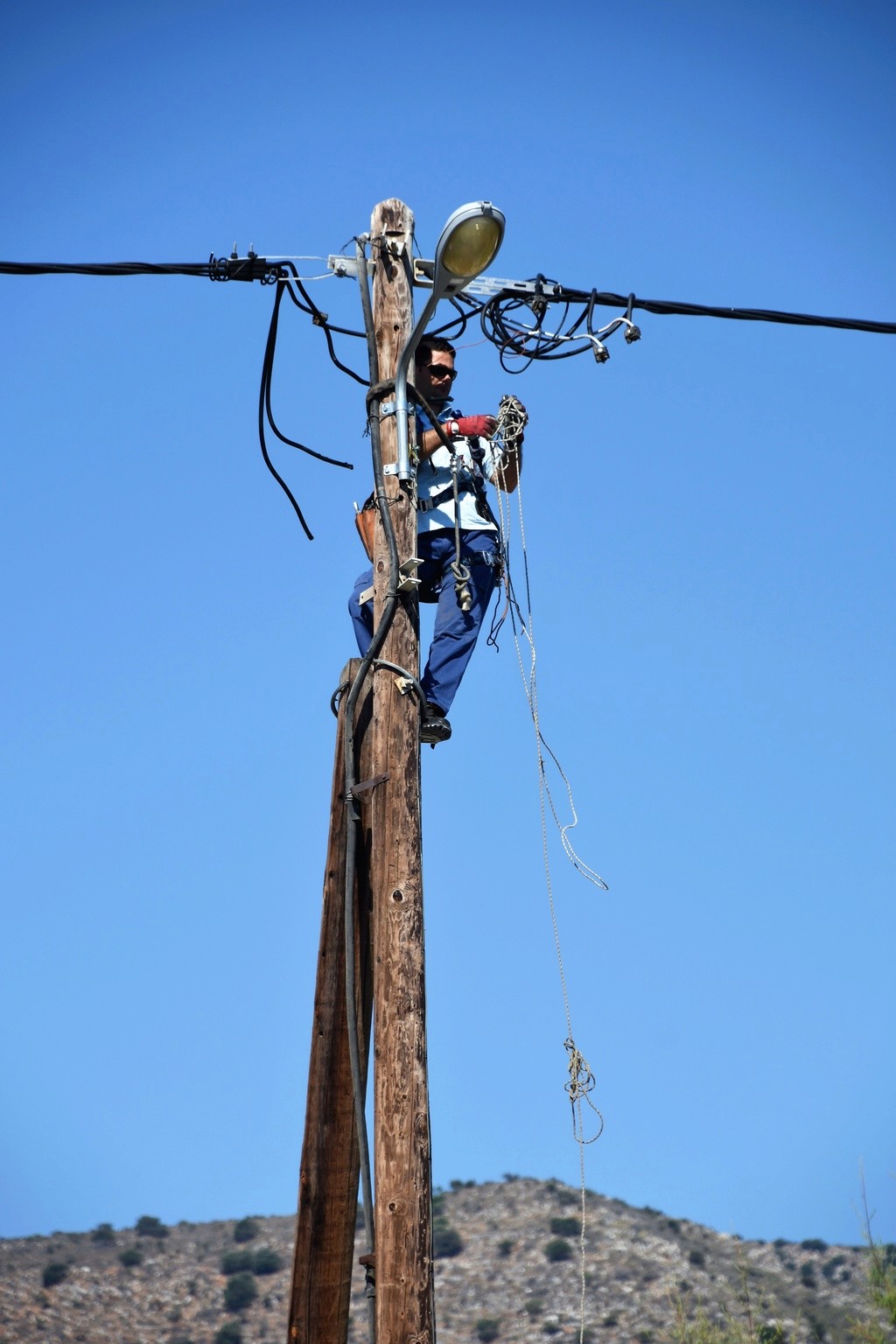 Dsc 0523
A fishing boat has come in with a catch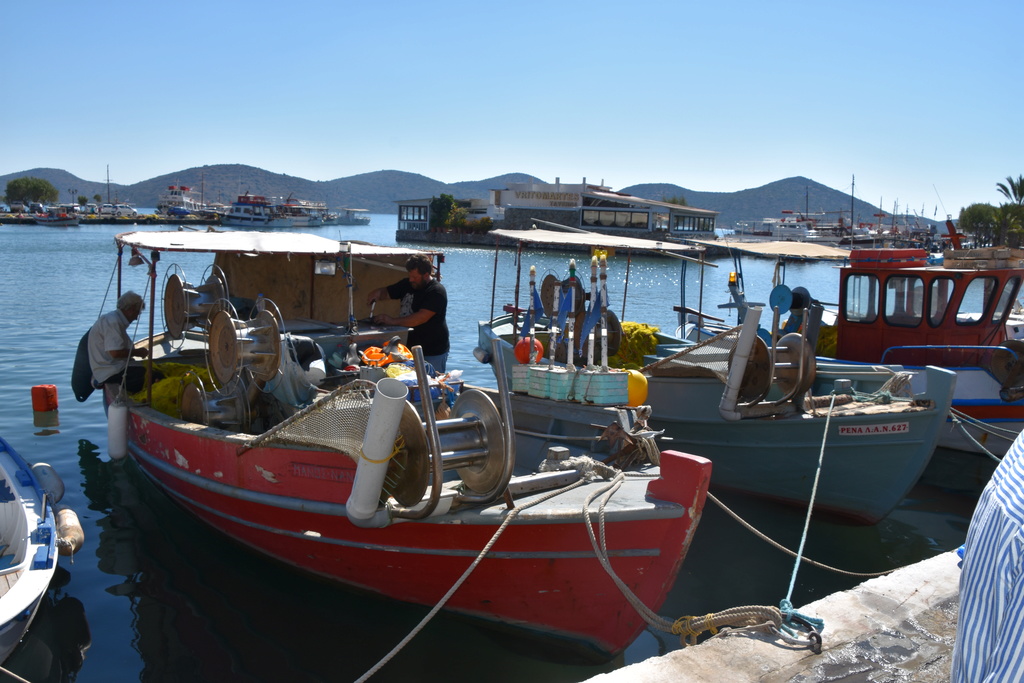 Dsc 0526
Nothing really big though
Dsc 0524
I'm actually off to photograph an ancient mosaic floor that I had been tipped off about, where is it ?
well yes, down at the windmills again and then afterwards locate a beach that is said to be good
On the way past, I noticed two guys drinking coffee, excuse me could you tell me what this object is or was?
Yes the town use to have a carob factory and this ground the beans and fodder ready for shipping. Another mystery solved. The factory opened in 1938 and closed in 1957 when a disaster happened which ruined the machinery.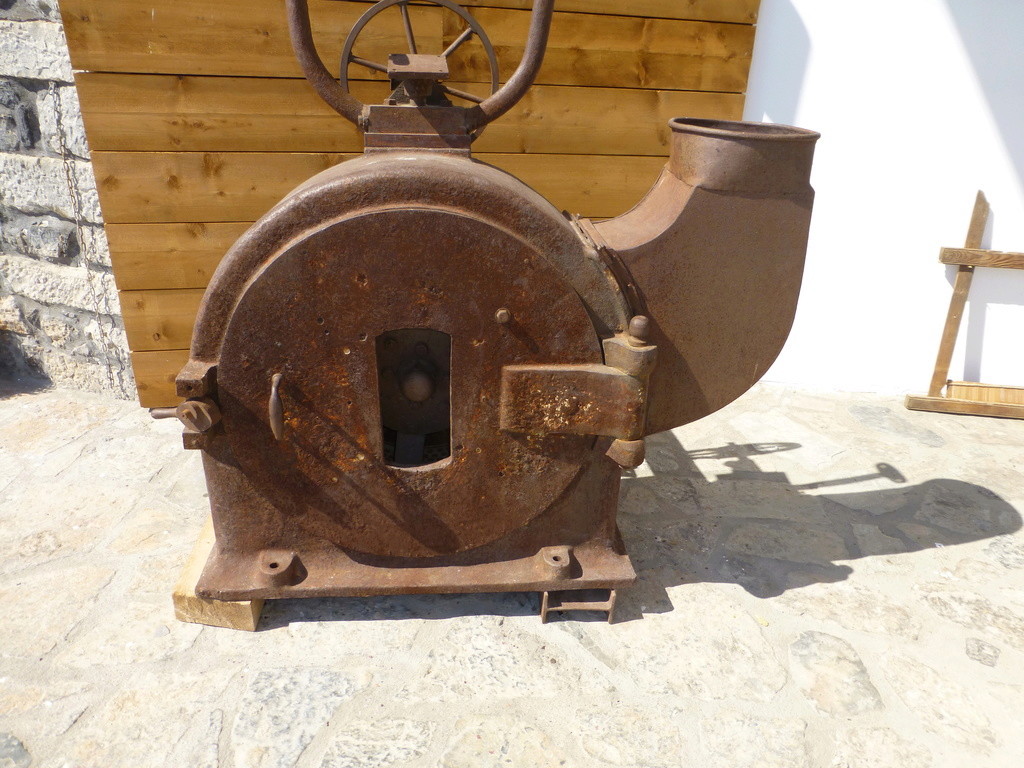 Dsc 0764
Now, down at the taverna by the canal there is an up turned boat on the shore under these trees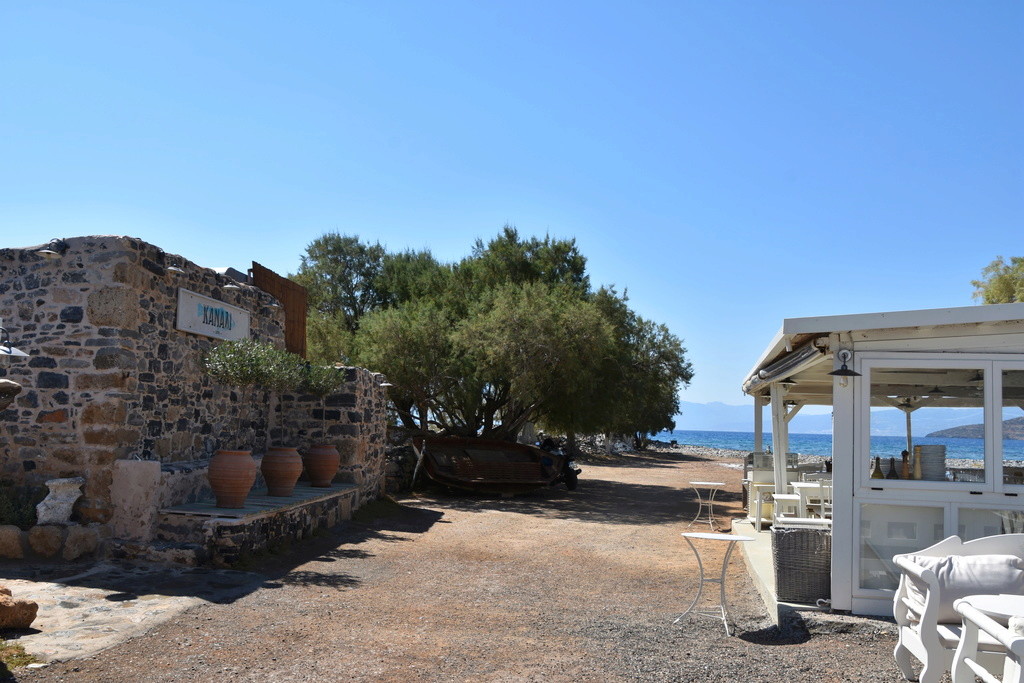 Dsc 0547
If you turn left at the boat or go around it and turn left and then up this pathway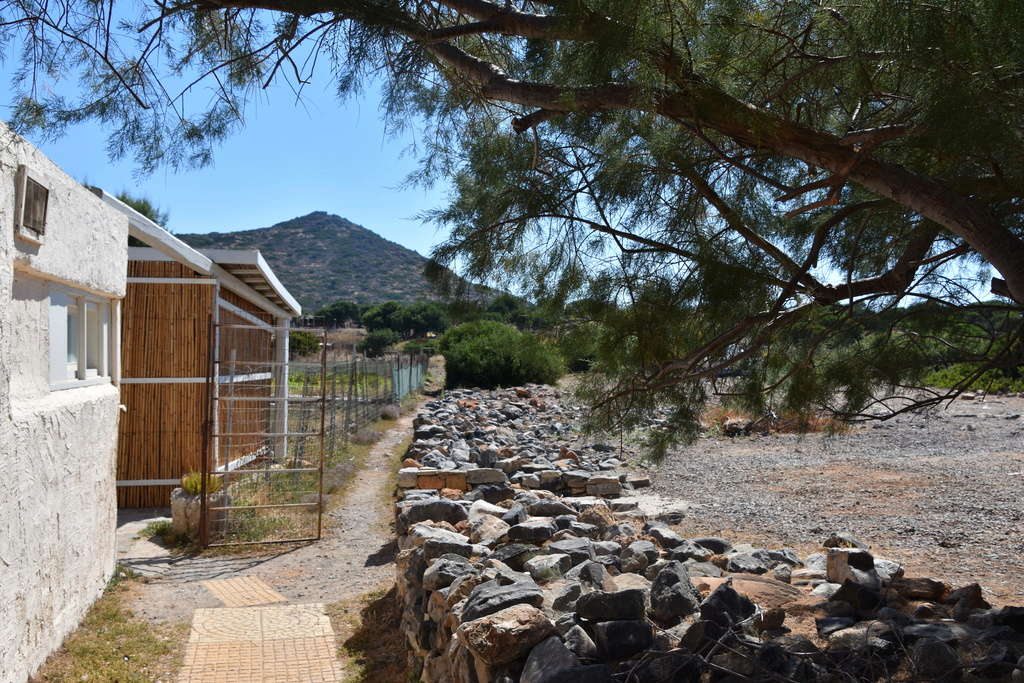 Dsc 0539
you will see a fenced off piece of land
Dsc 0540
This has been laying here untouched since 450 AD Roman times but parts are missing. A scholar has read that three donors paid half a gold coin each to having it made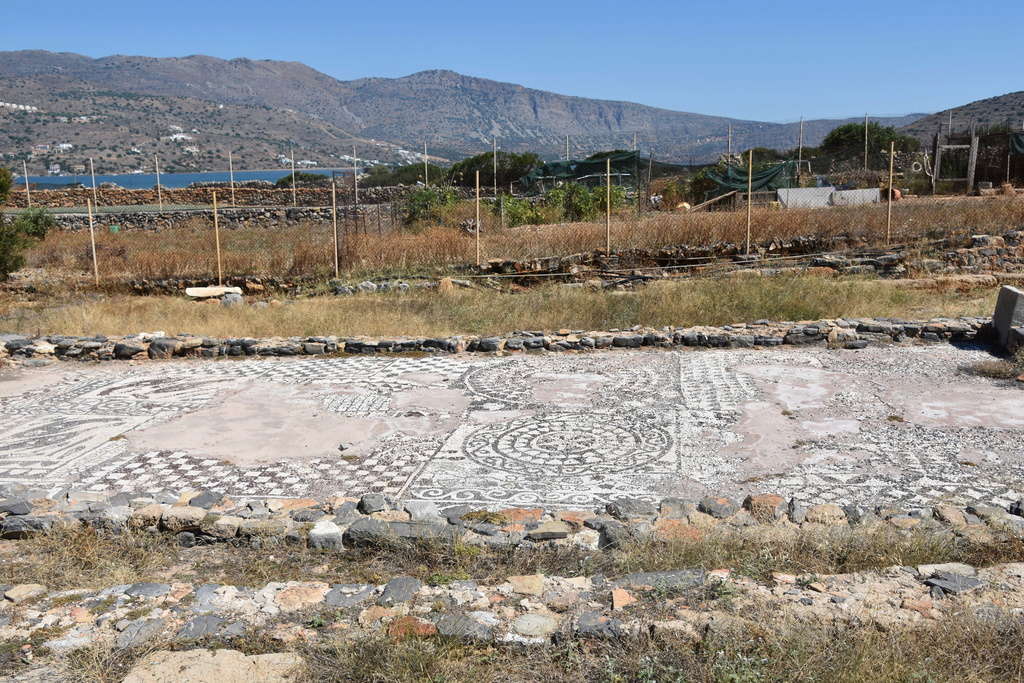 Dsc 0544
Its a Basilica floor and was a meeting point for the community
Dsc 0545
but a building considered above the status of a church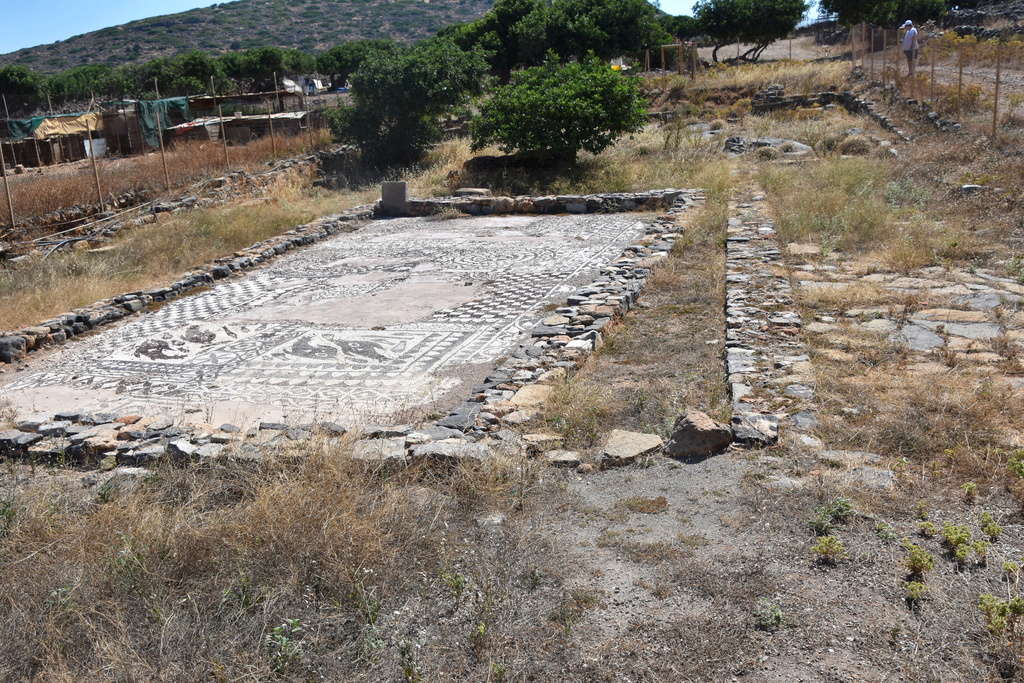 Dsc 0546
So now off to find Kolokylha beach on the other side of the peninsular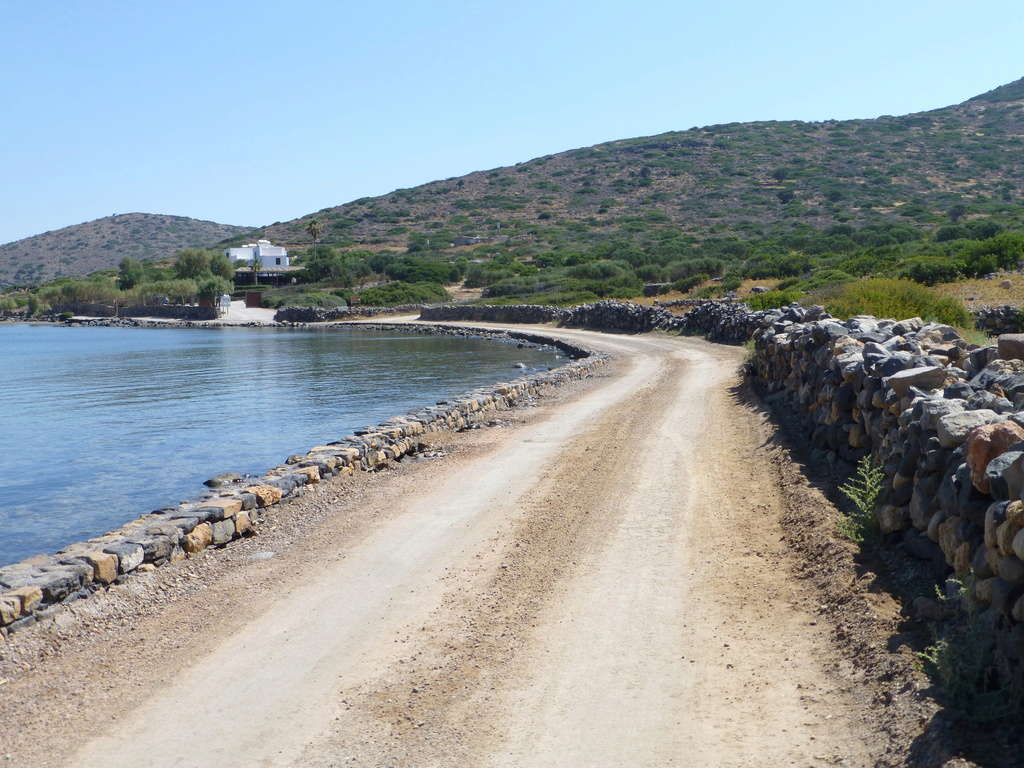 p1260765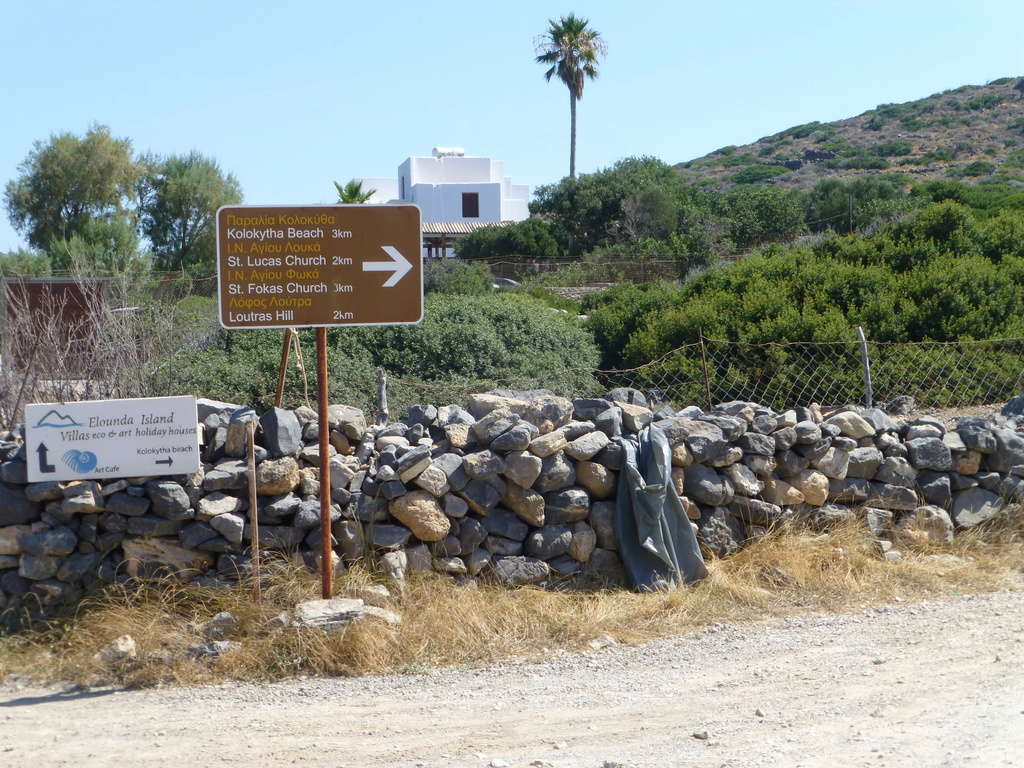 p1260766
It's a long walk going into the distance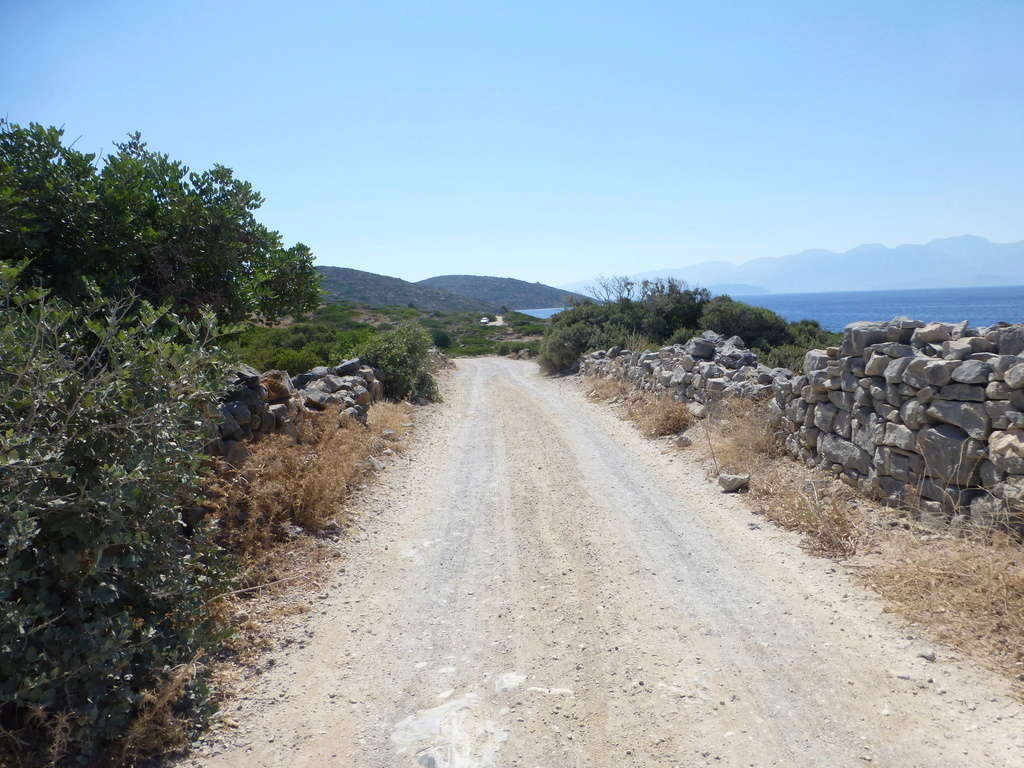 p1260768
A small cove with locals in it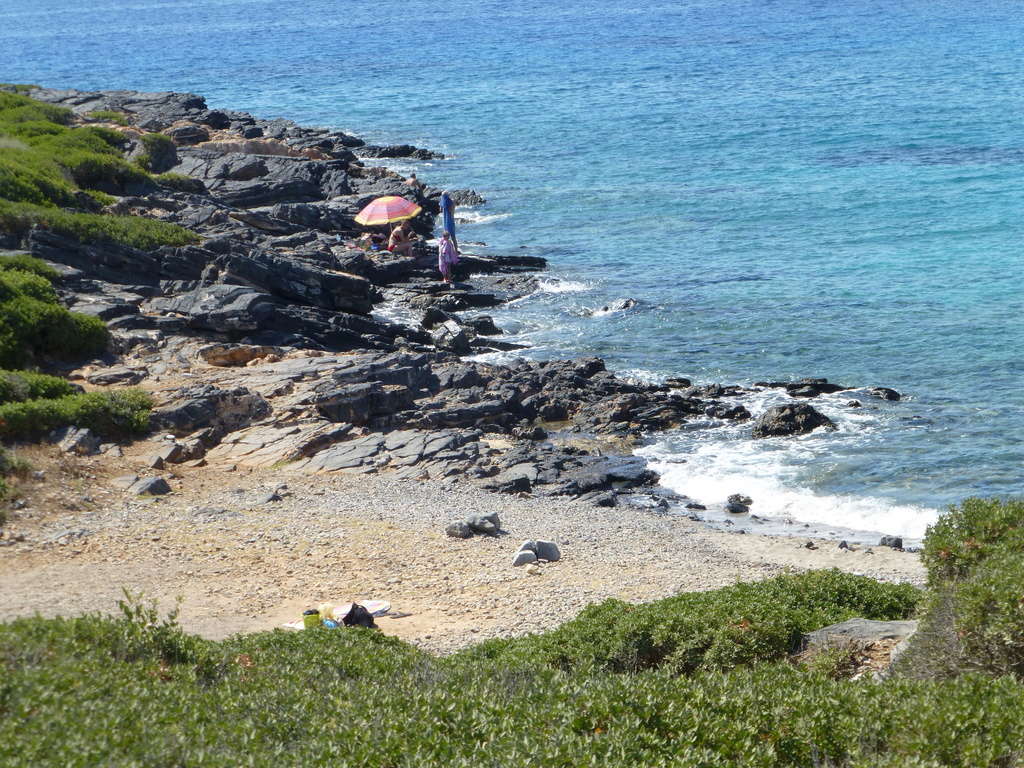 p1260769
I had to go way into the distance and up a steep hill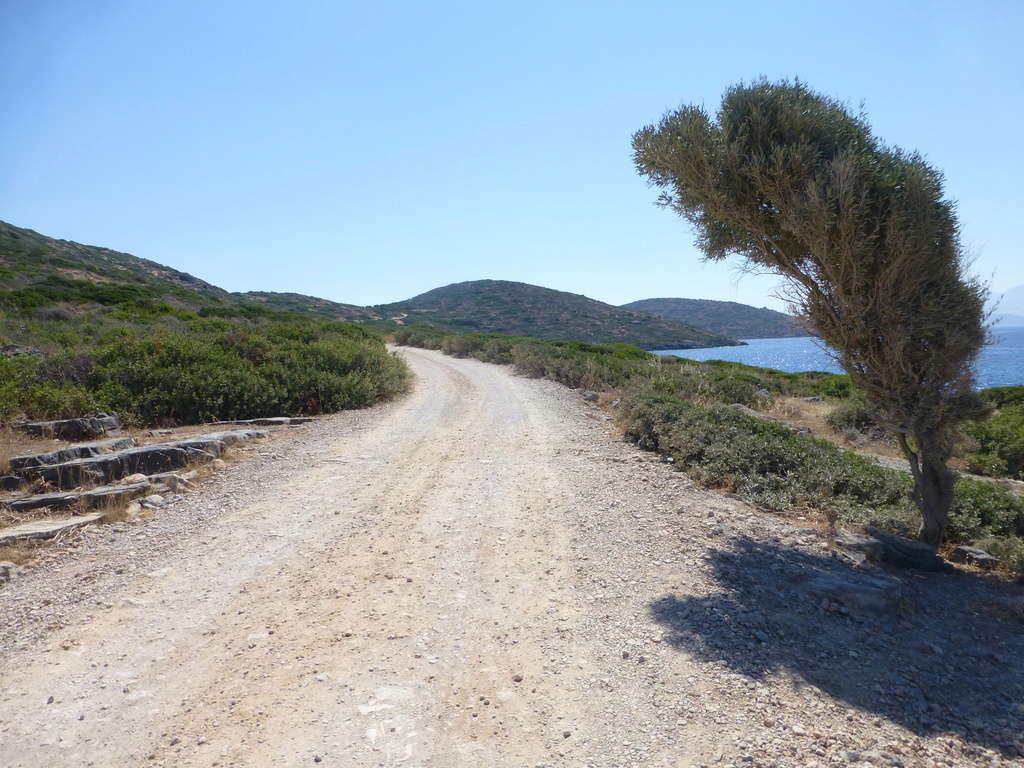 p1260770
I cut a lot of this out but its is a long walk and up a steep hill in the end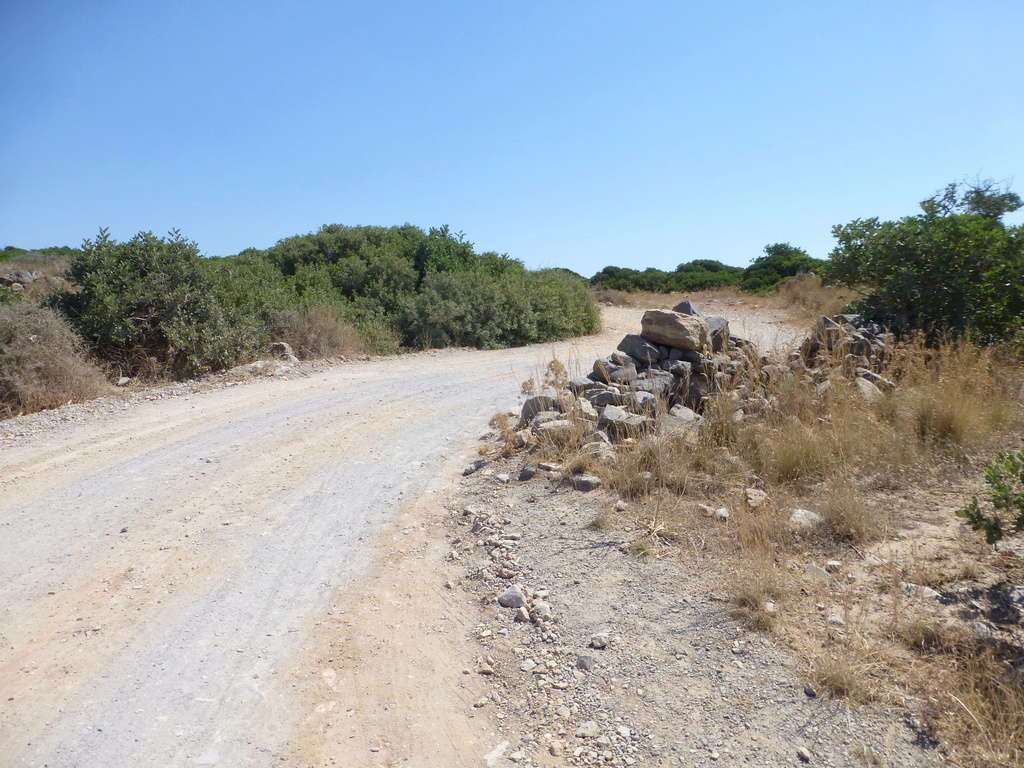 p1260772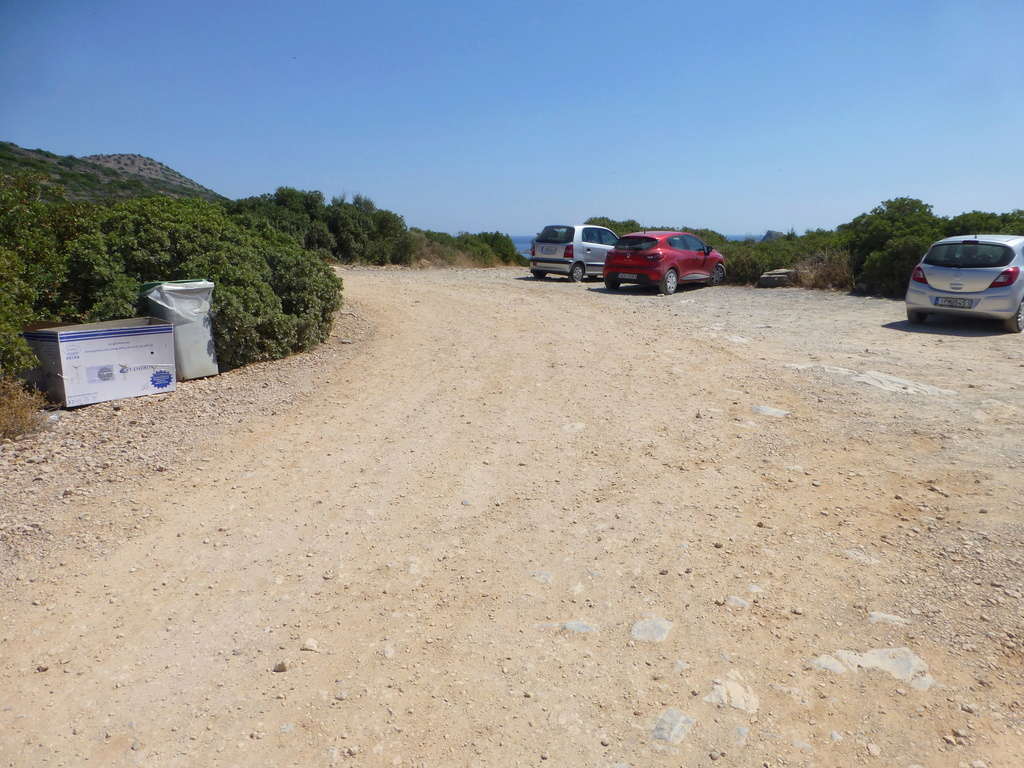 p1260773
below I could see smoke and a boat but no beach
Dsc 0551
well I was looking for a big white beach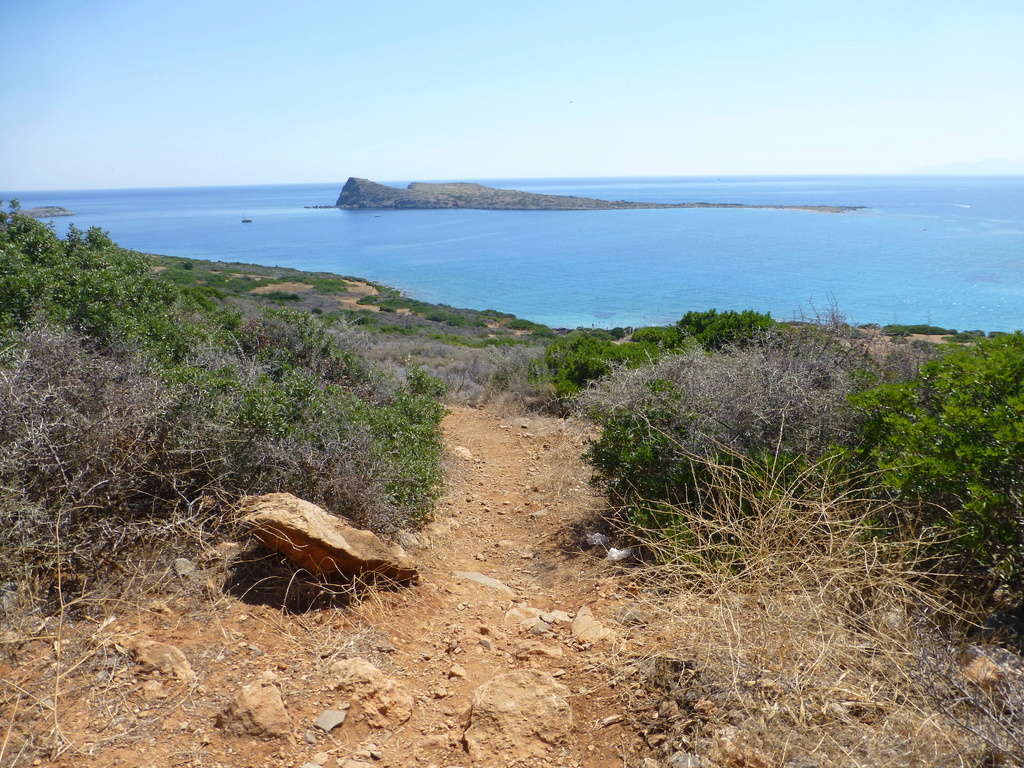 p1260776
so i carried on walking
p1260779
I was getting further away with no sign of a beach so thought I would make my way down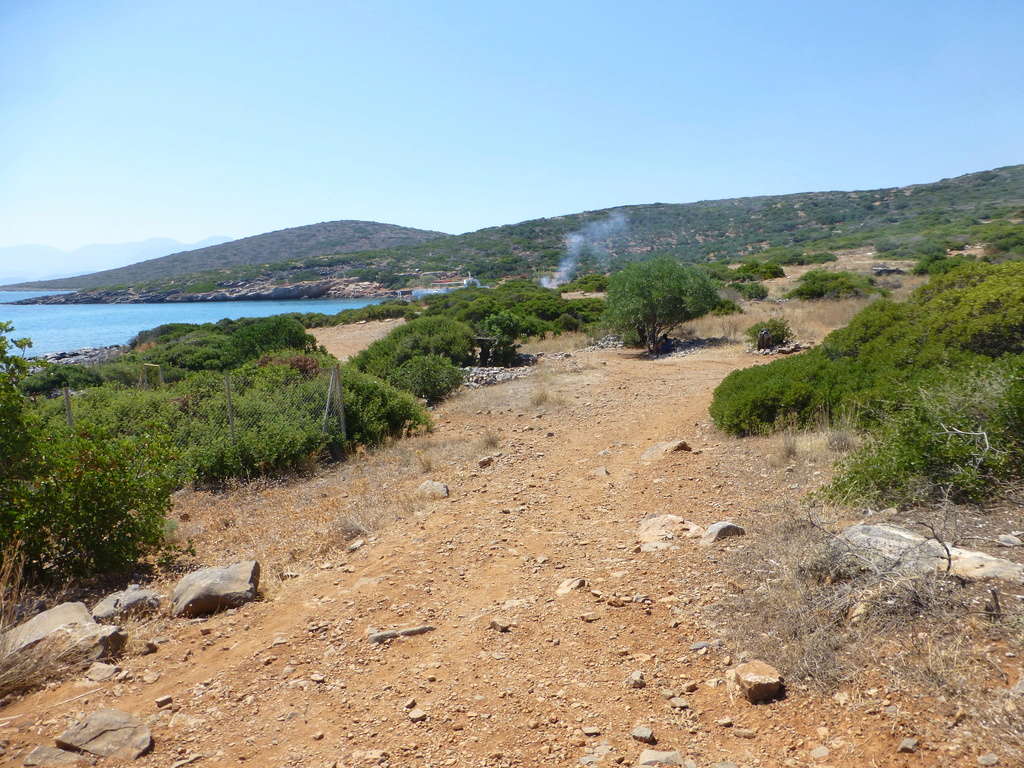 p1260780
So it was a boat load of people enjoying themselves and I had trekked miles in the heat just to say hello lol
p1260782
The beach
Dsc 0553
not really impressed, perhaps worth it in a car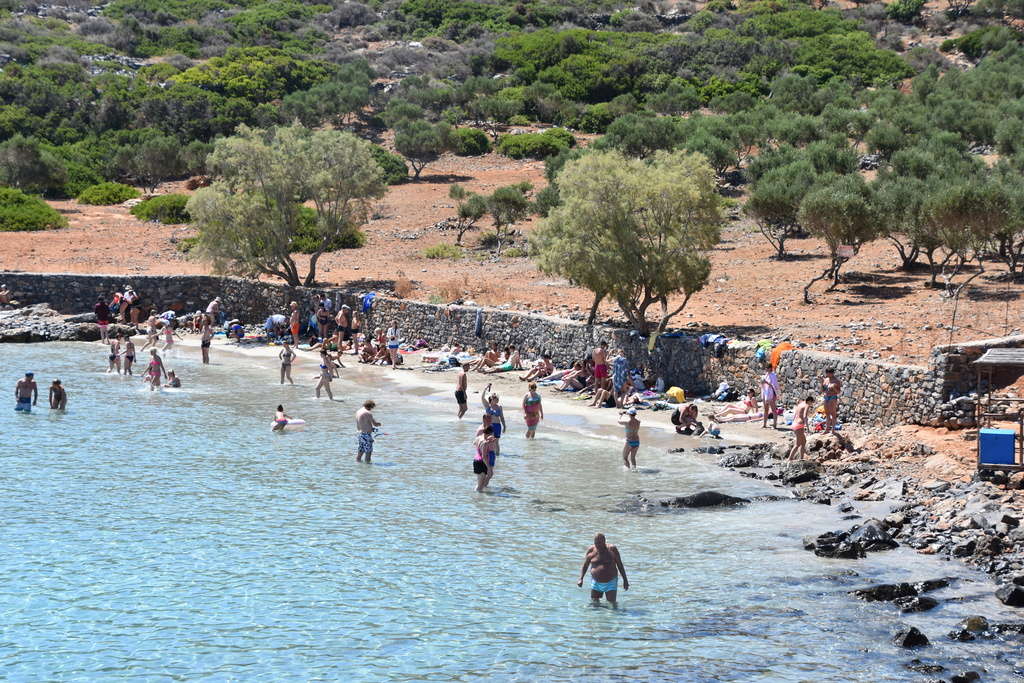 Dsc 0555
Not a lot of cover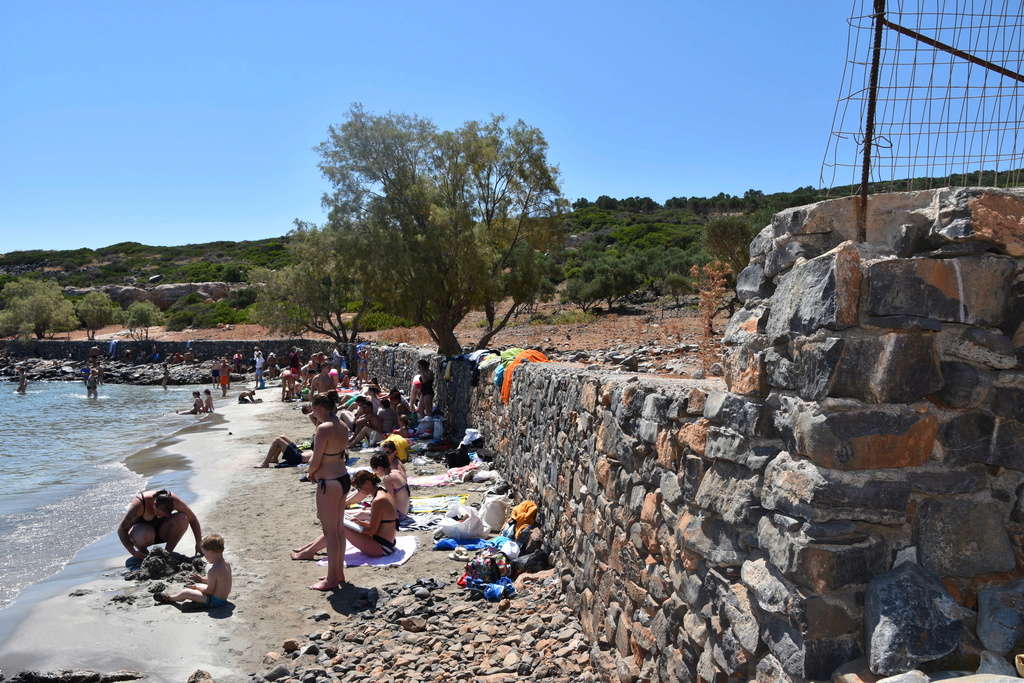 Dsc 0559
However, I found it quicker getting back up to the church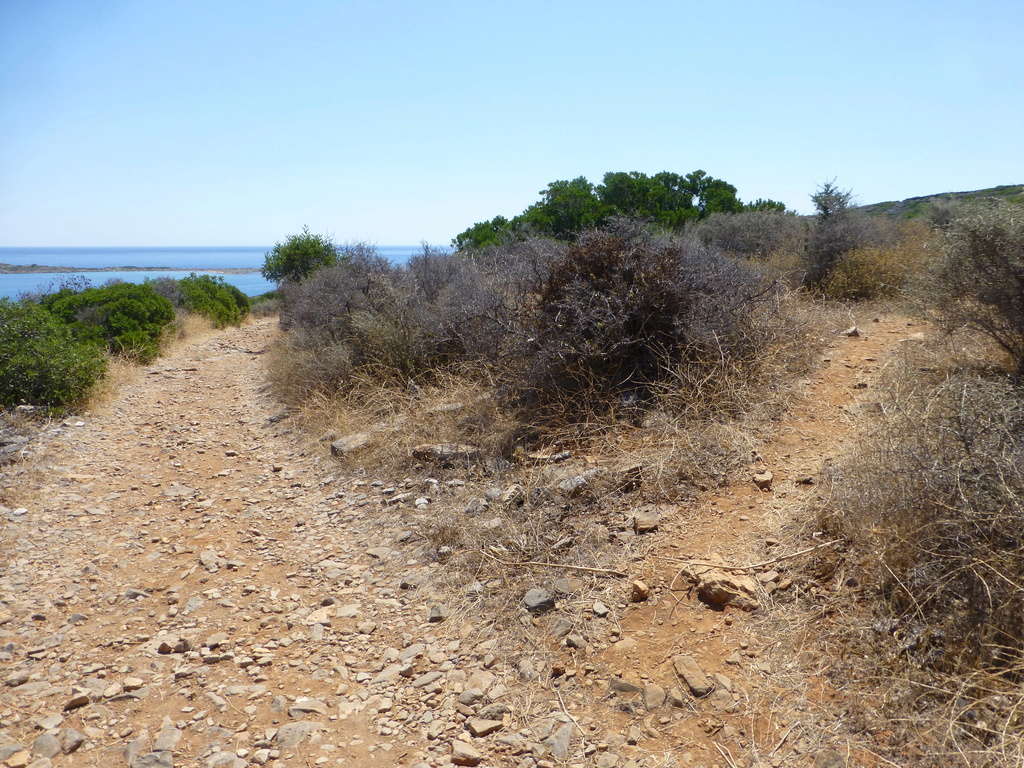 p1260784
The church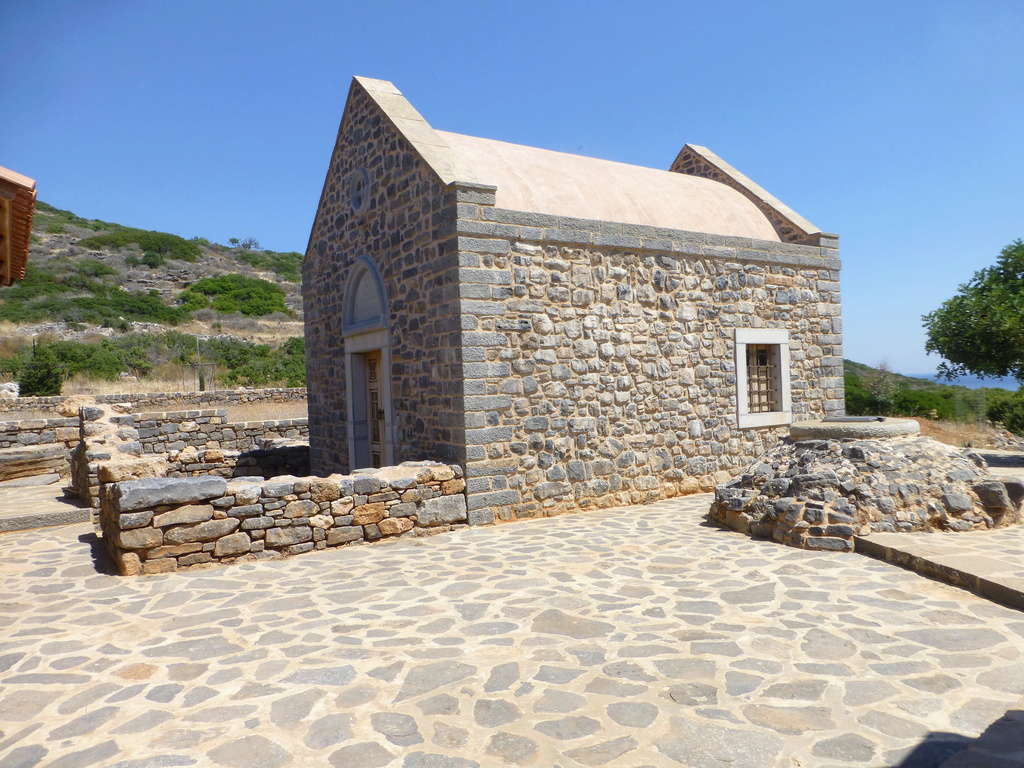 p1260785
another bell to my collection lol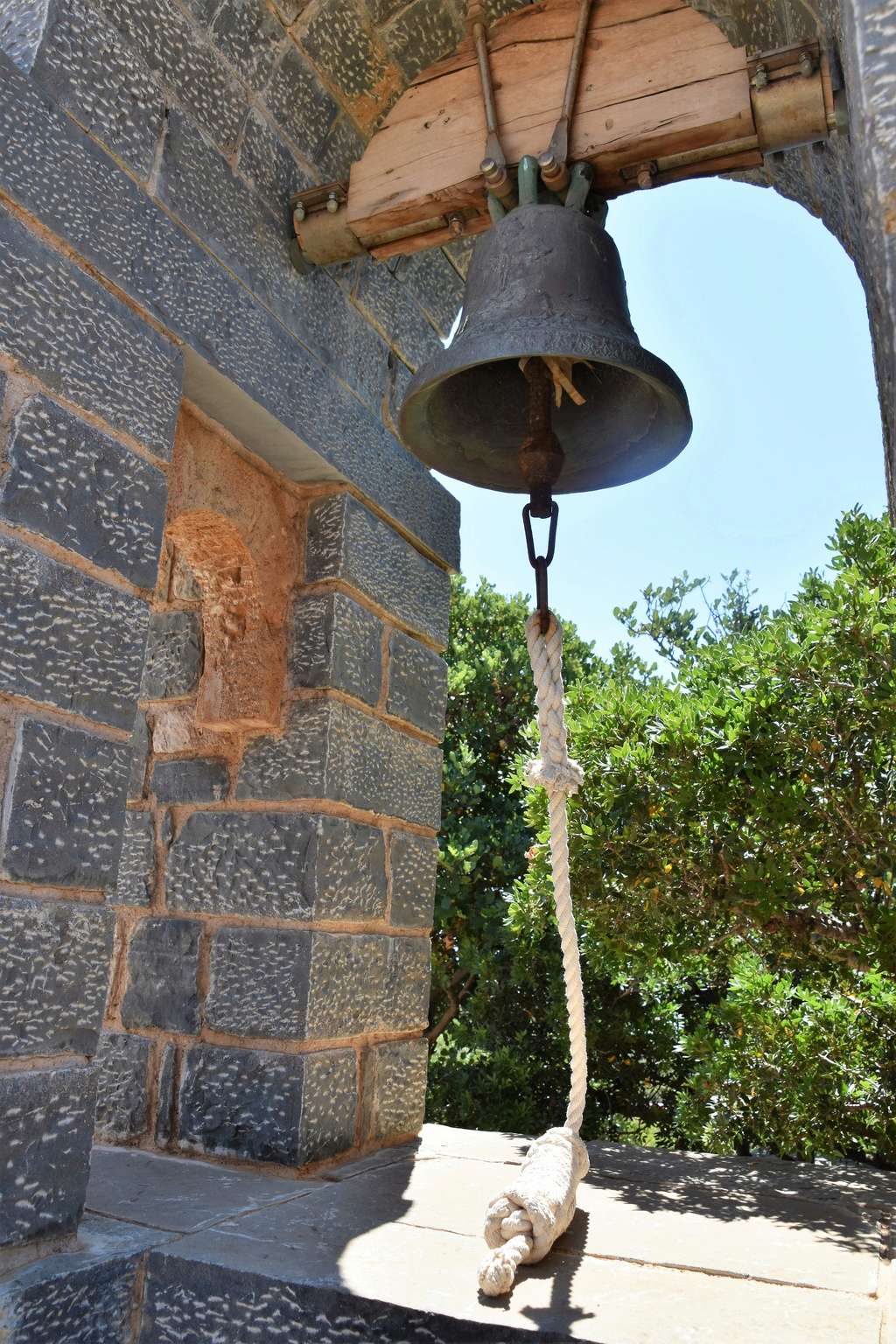 Dsc 0563
View over the far side of Elounda on the way back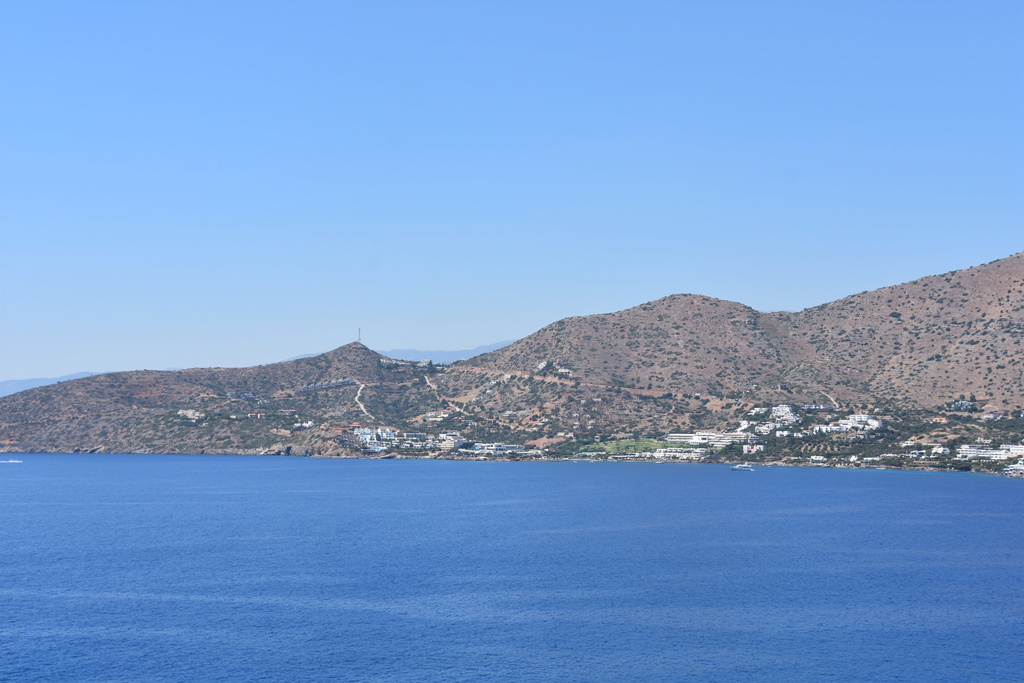 Dsc 0564
Dsc 0565
Dsc 0566
After lunch we watched the boats from the beach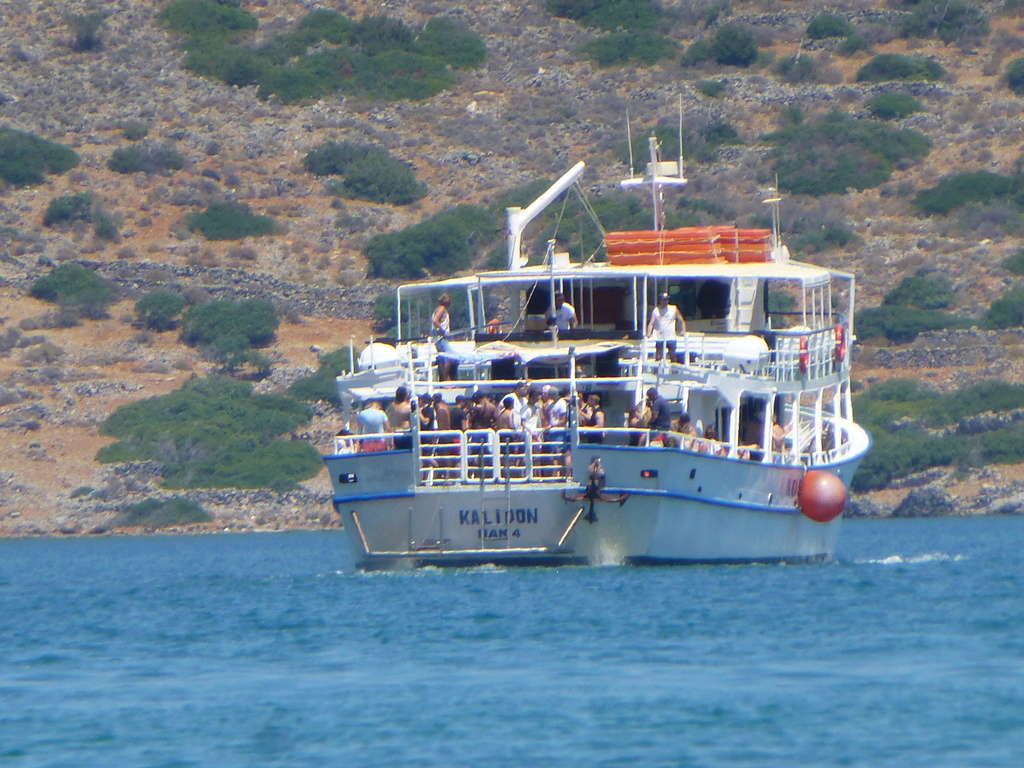 p1260791
Around 4.00 pm we headed for the local jetty but found the kiosk had gone, so we started to head for the harbour but I noticed one kiosk remained at the side of the main beach but no boats. The chap radioed the harbour kiosk to keep the 4:30pm boat for us.
We moved quicker than we wanted to as it was muggy afternoon and there was no breeze. I was beginning to think doing this may be a mistake as we were previously told that there was not a lot of shelter protection on the Island.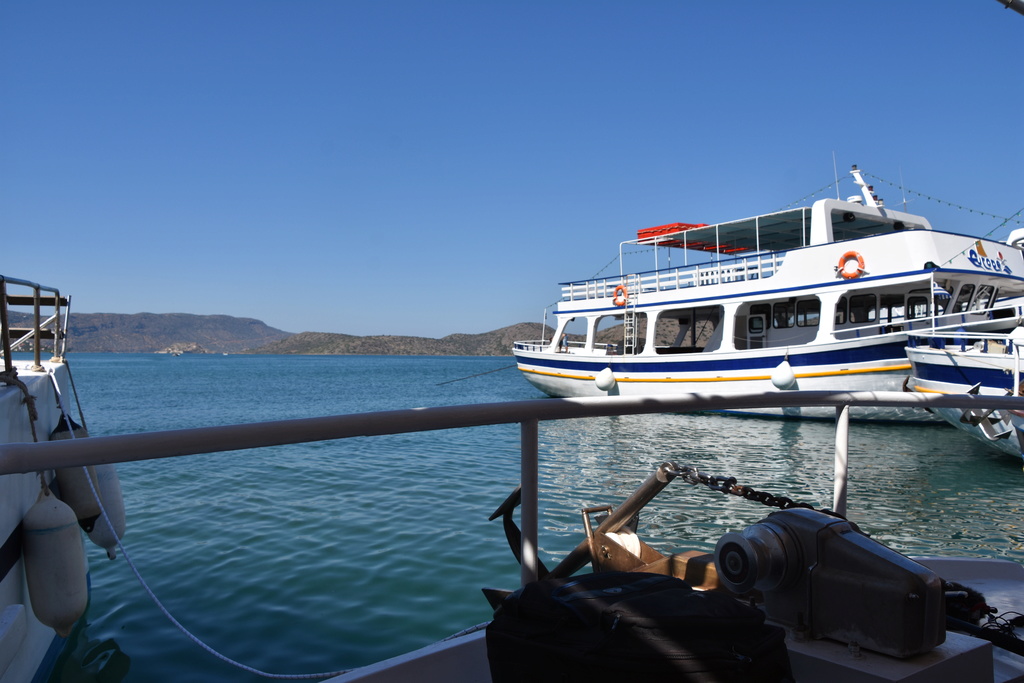 Dsc 0570
However, Mrs Db had negotiated the open stairs ladder on to the boat and it was now me hoping it would be a smooth crossing lol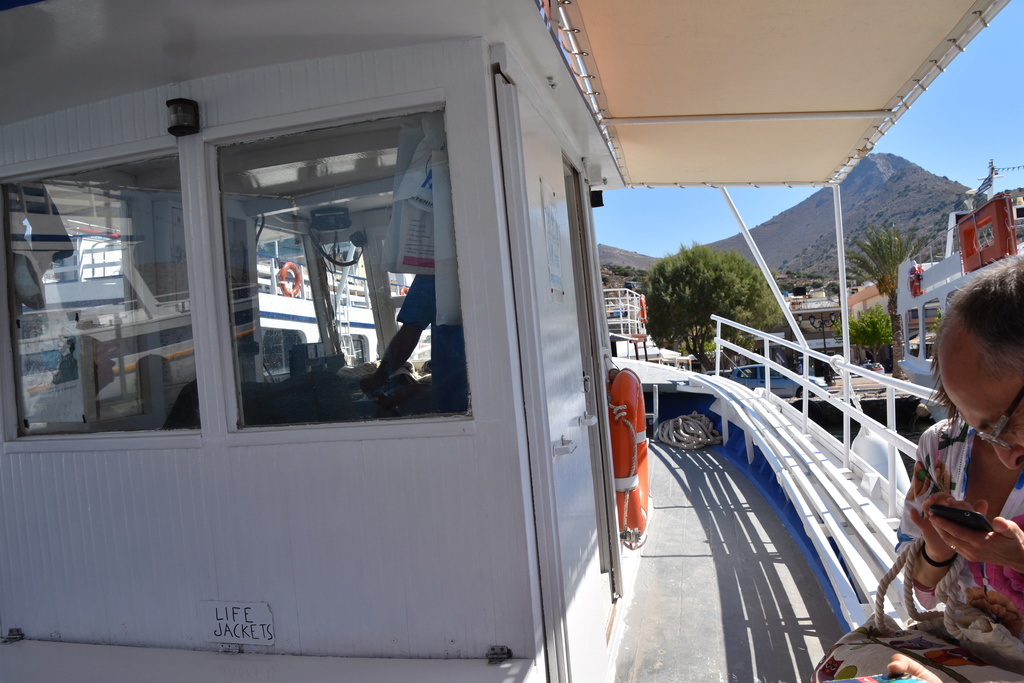 Dsc 0571
Leaving the port there was no breeze at all and very hot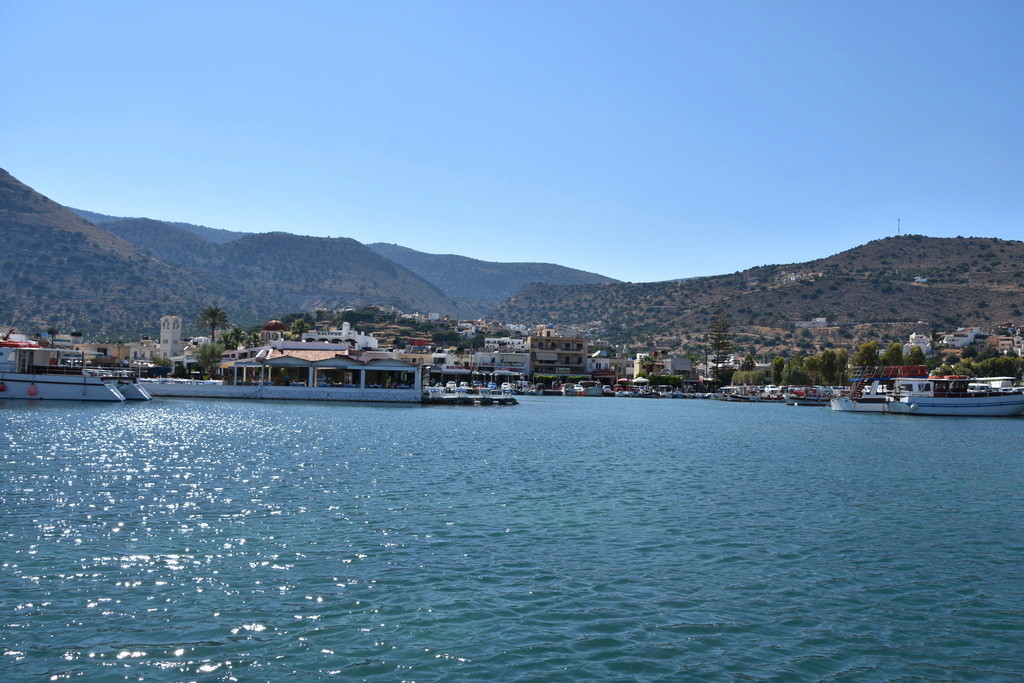 Dsc 0572
Dsc 0573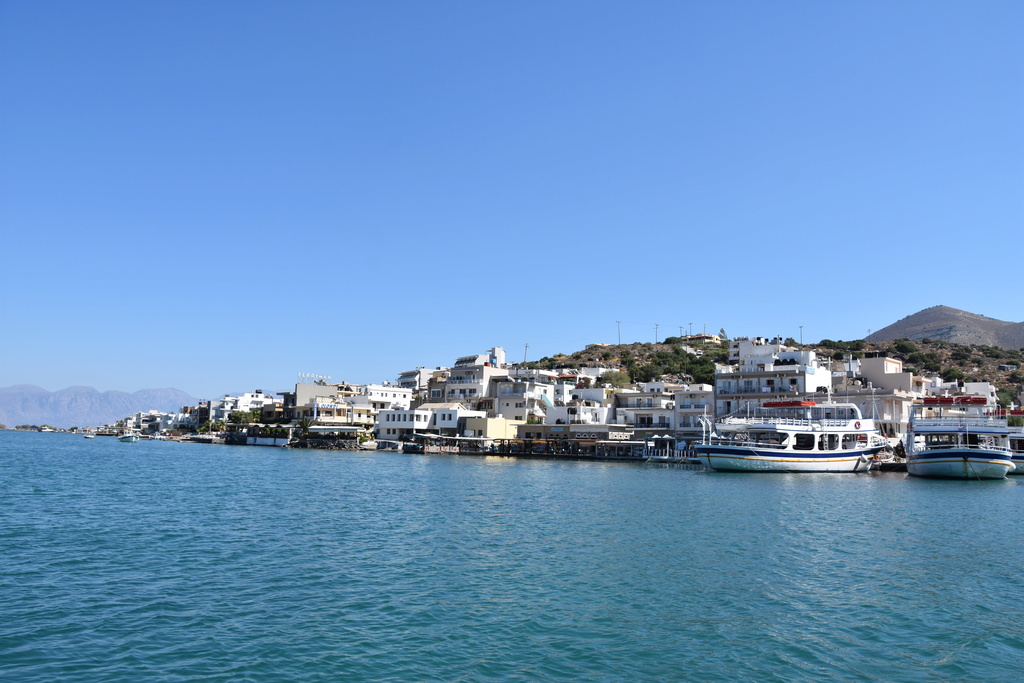 Dsc 0575
further out a bit of breeze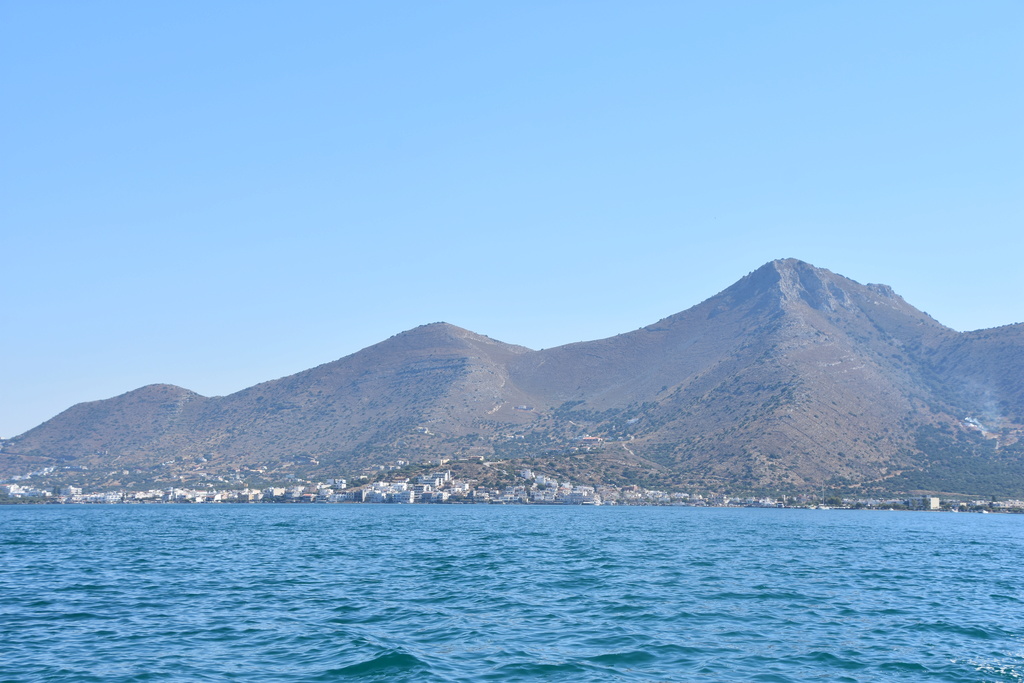 Dsc 0580
now a good breeze and quite pleasant
Dsc 0581
The boat was now having to manoeuvre over to the Plaka side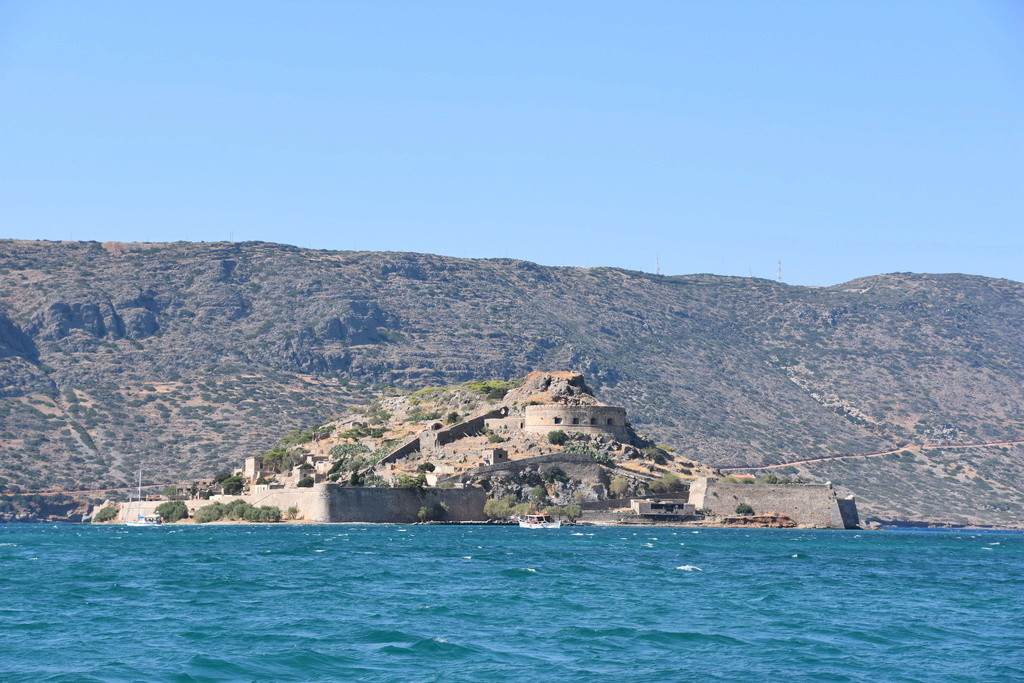 Dsc 0584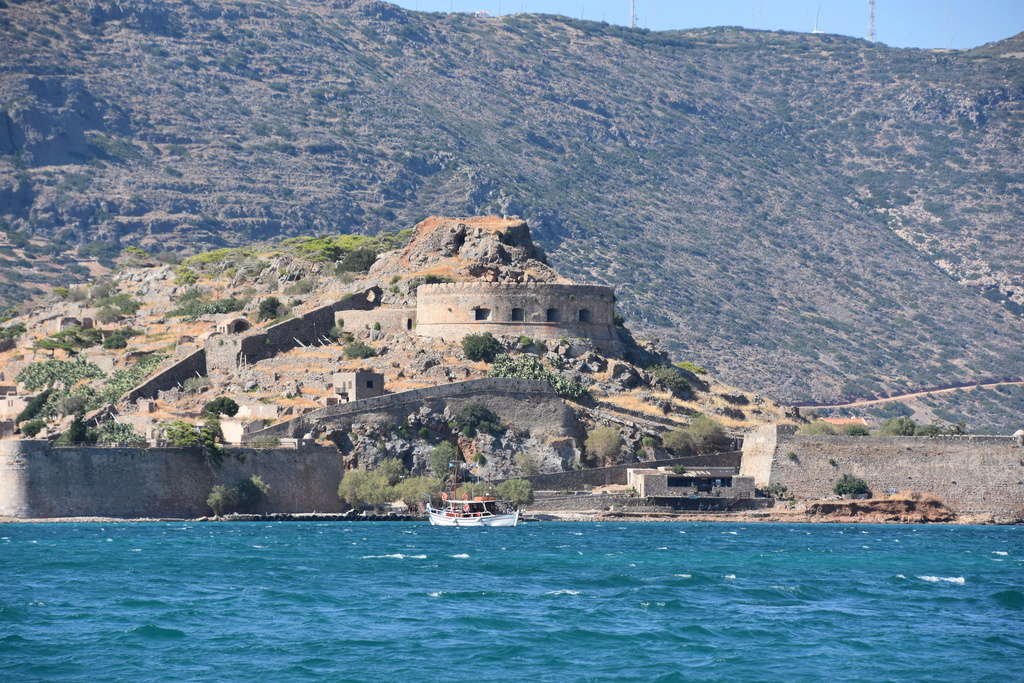 Dsc 0586
rougher here but made it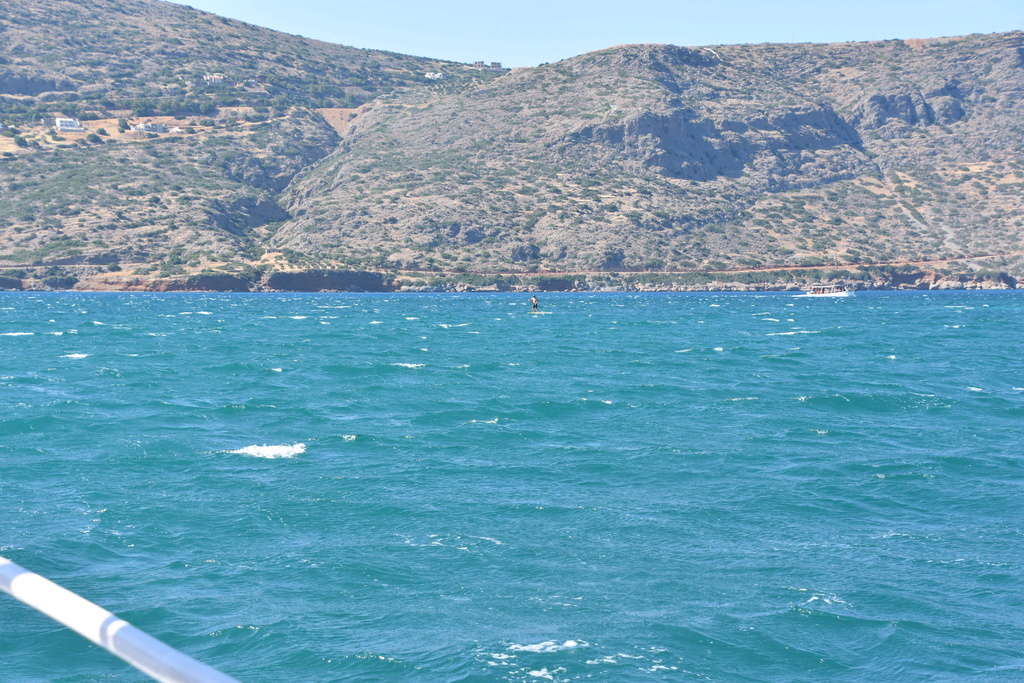 Dsc 0592
Spinalonga
I have just read a book on the history of Crete and was astounded at the atrocities that have been inflicted on them and the bravery they have shown fighting for their rights against the Venetians, the Turks and the Egyptians that all heavily taxed and enslaved them.
During all these wars and fights Spinalonga has been a living place for people since the 1500's. With the increase of Leprosy in Crete the people having the disease in surrounding villages like Elounda were sent to Meskinia outside of Heraklion and two other places on Crete. In the early 1900's there were a 1000 suffers living in these colonies. In 1901 a law was passed to segregate these people and in 1904 the first 251 people arrived on Spinalonga. The Turkish /Cretans already living on the island fled not even taking the compensation offered to them by the state regarded as too little.
Although the housing was already there the Lepers had poor conditions and a miserly allowance from the government that barely paid for food. However, they were resilient people and tried to carry on life as normal as possible. They more or less had to be dying to get any medical attention in the hospital.
Anyway, I will continue the story as we go in
I was quite surprised that there appeared to be no wall on this entrance side and found it strange for a fortification but digging around, I read part of the wall was dynamited by the community to make a way around. One article said it was dynamited as a point of protest against poor conditions.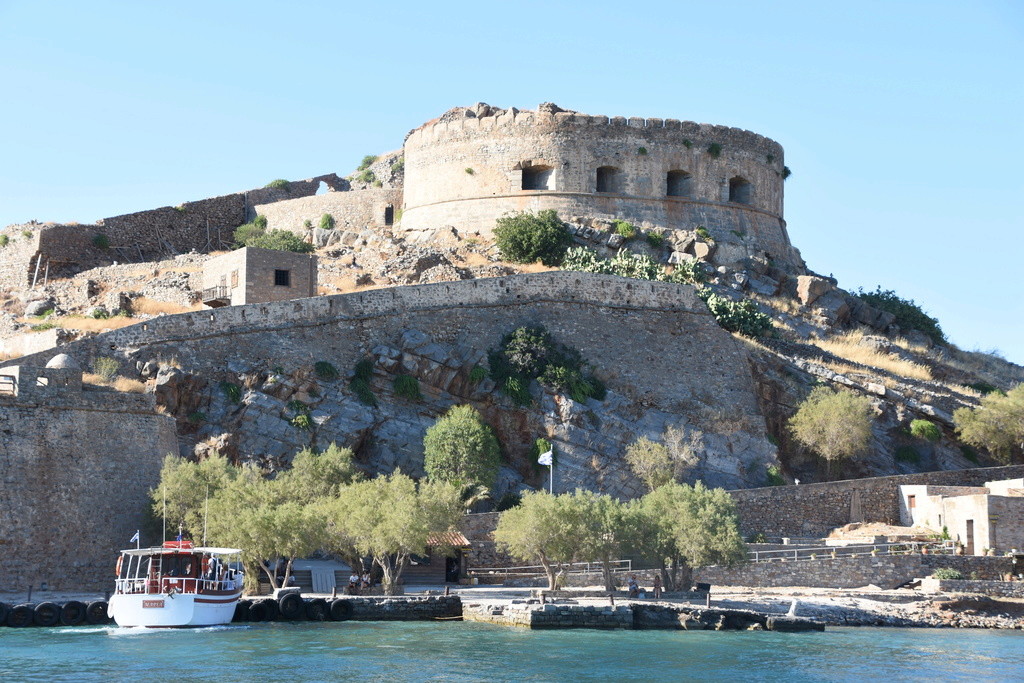 Dsc 0693
A way in for us was through this tunnel described as 'Dante's Gate' the entrance for the poor souls that entered it, a point of no return and a frightening experience having been split from family and not knowing what was going to happen on the other side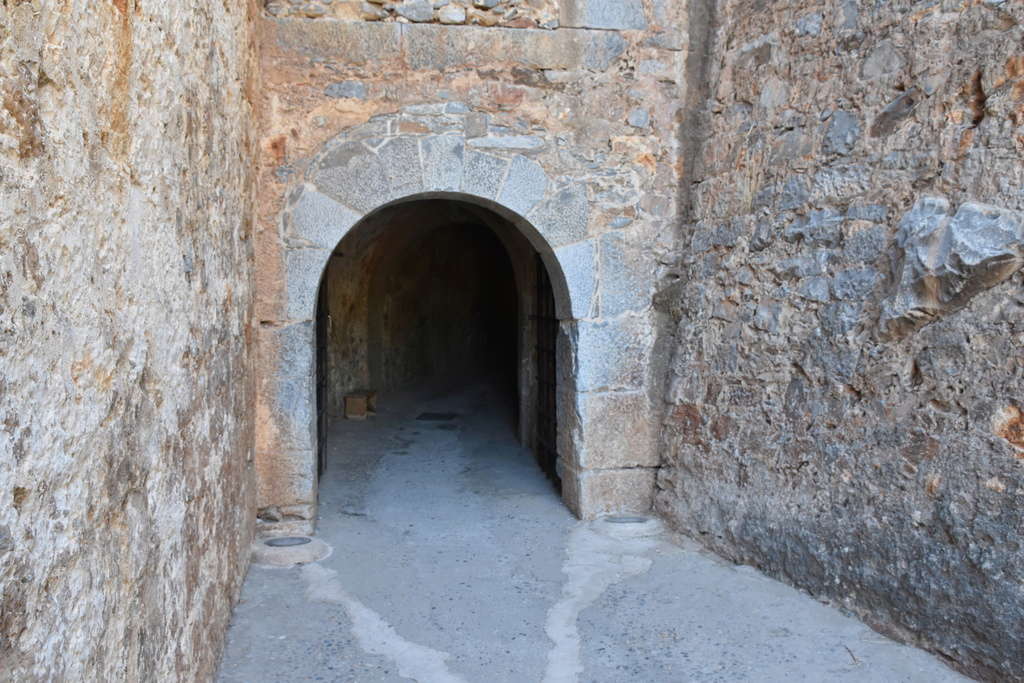 Dsc 0643
looking back through the tunnel I assume the gate on the end may have been a locked entrance.
However, there is another entrance which we will see later. I have not read book 'the Island' but it is so easy to imagine the thoughts of the poor people being rowed over to the island and not be able to return to families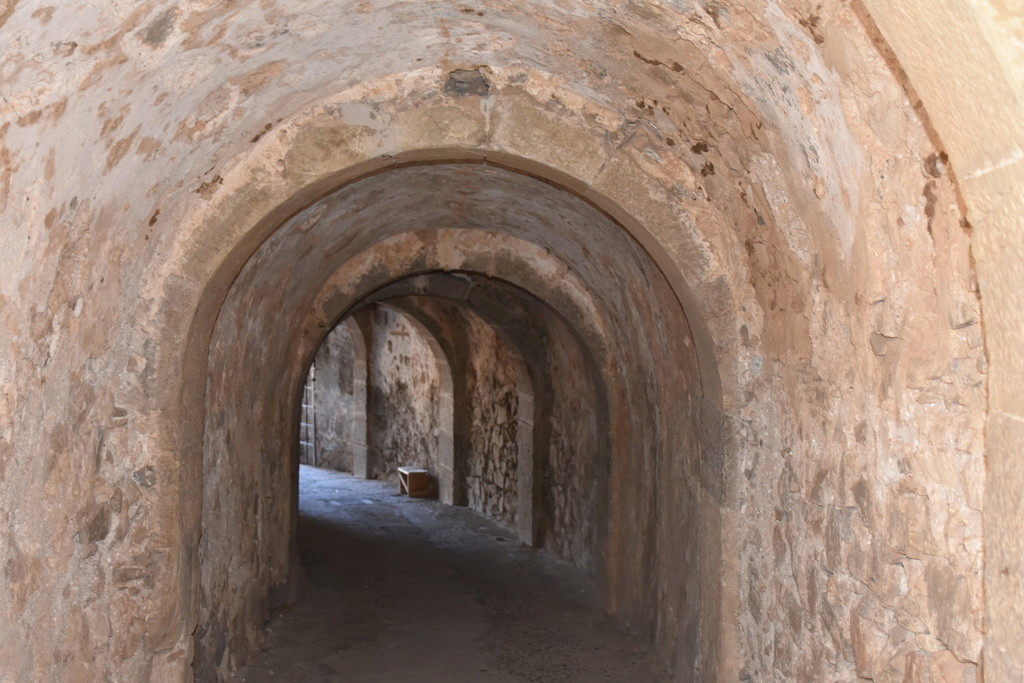 Dsc 0680
Out of the tunnel we get our first glimpse of the buildings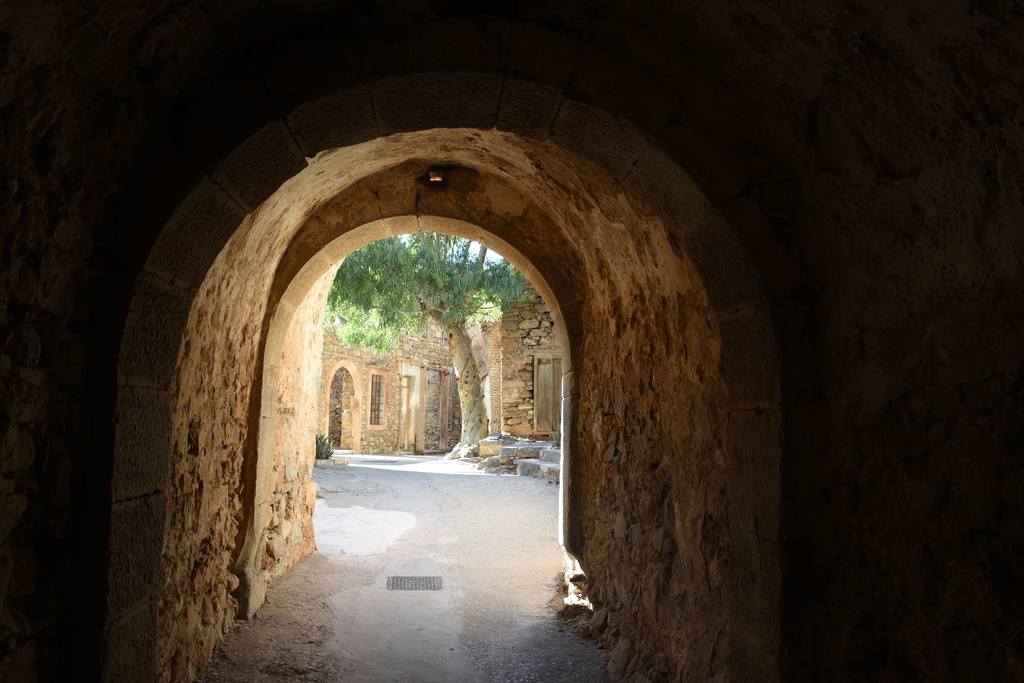 Dsc 0653
Some are in poor condition as the locals from the surrounding areas were able to plunder anything useful after it closed in 1957
Dsc 0654
Going through a second archway a street has been restored to its original look with the help of over 2 million EU funding. I believe the first building started being restored in 1980.
Dsc 0657
The village as it now is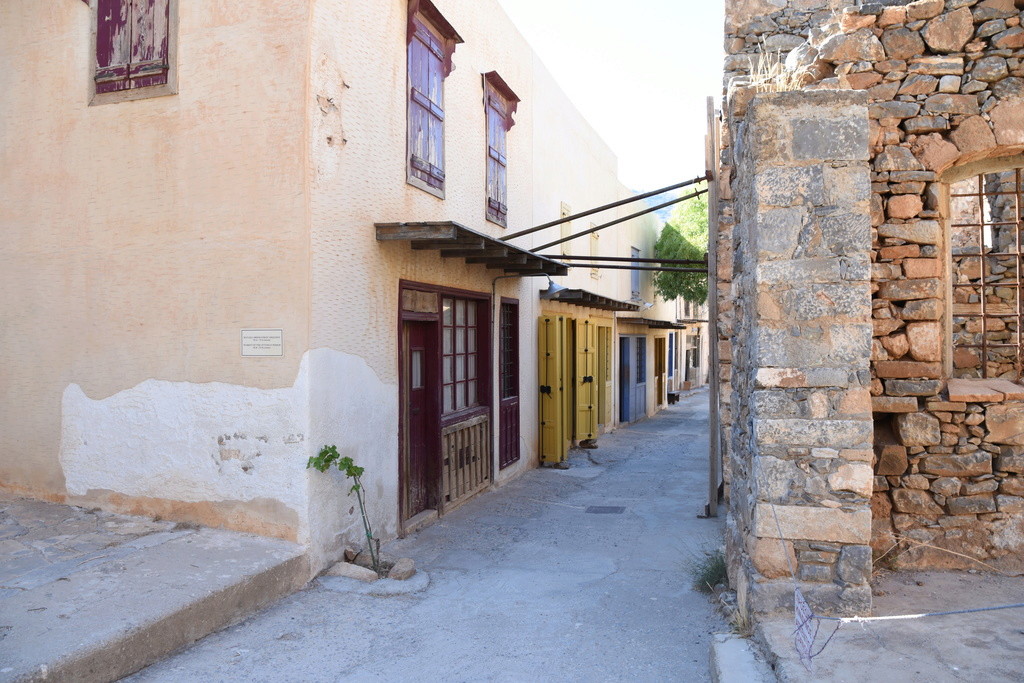 Dsc 0660
There are various notices all around telling one of the happenings. People tried to live normal lives, got married and had children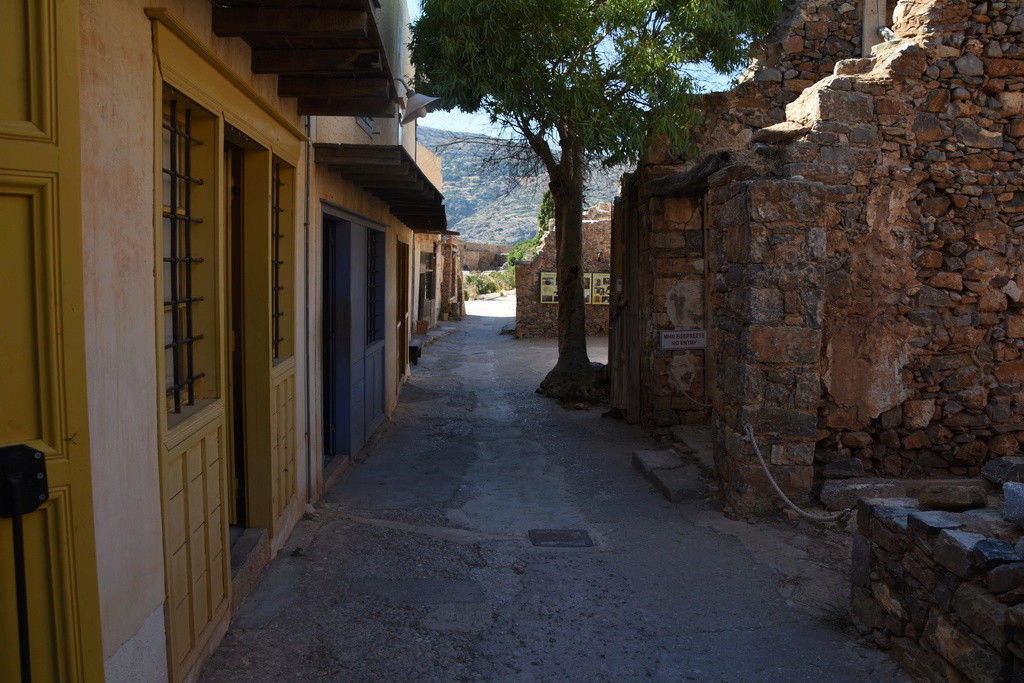 Dsc 0598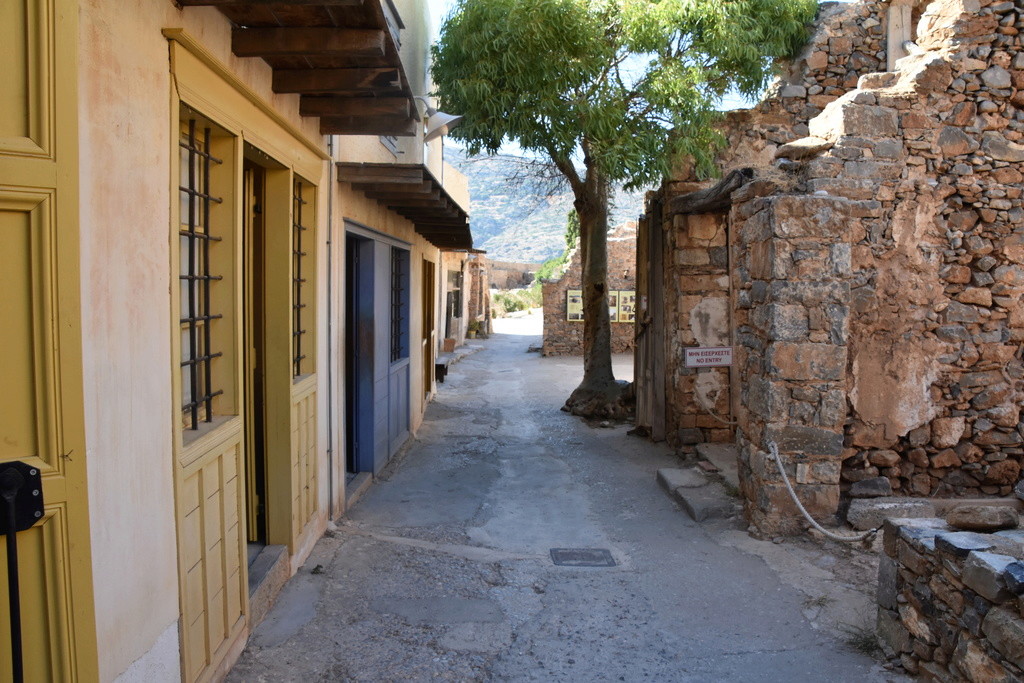 Dsc 0599
The notices inside do help and if one is lucky the street does clear for a few seconds to take photographs at this time of day
Dsc 0600
One of the many notices around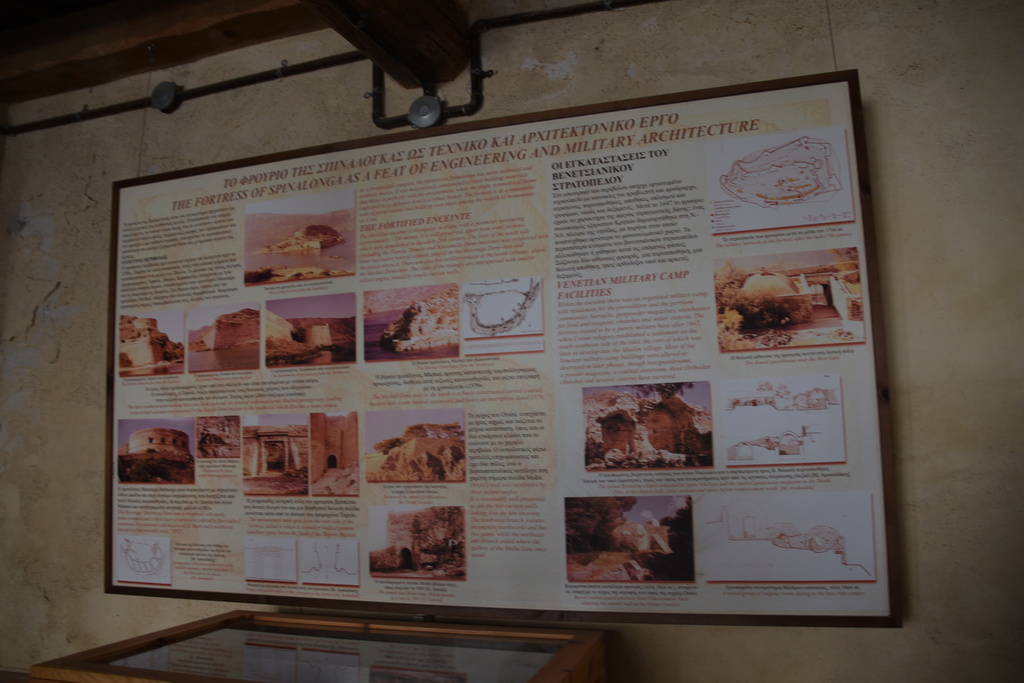 Dsc 0607
The archway for shade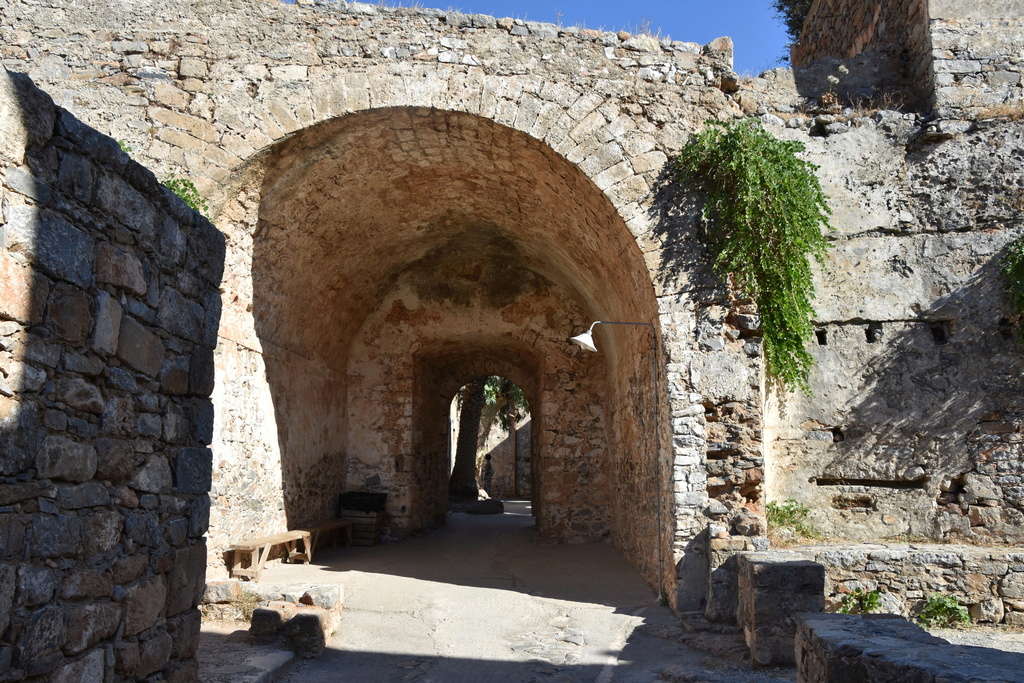 Dsc 0613
This is a photograph of a picture of a flying boat painted by an inhabitant of the Island
which was found on a wall during it being fastened.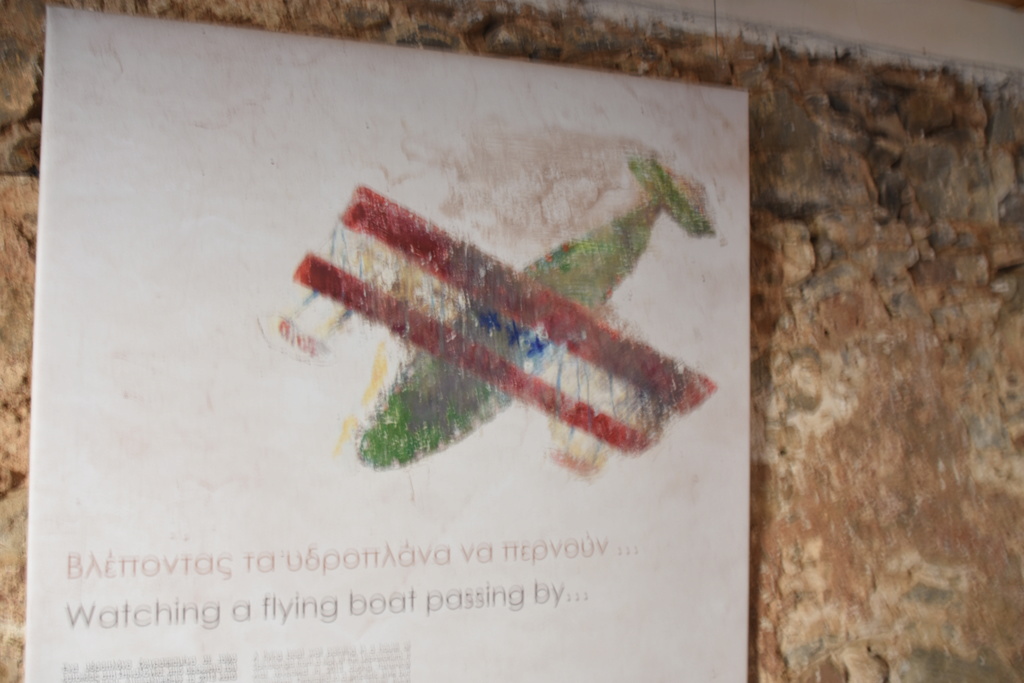 Dsc 0663
These are photographs of the village before any restoration has taken place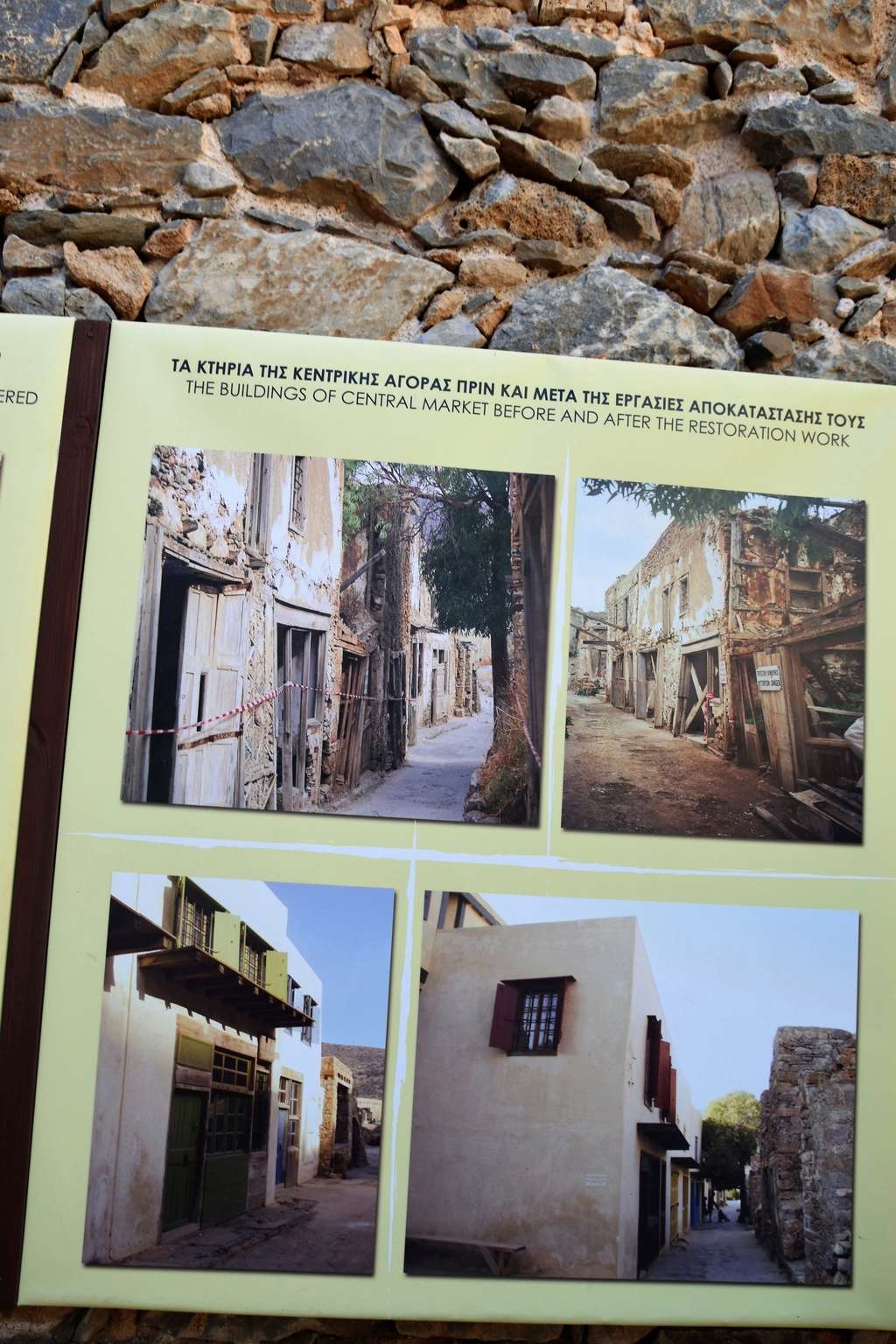 Dsc 0699.2
And the other side of the street and beyond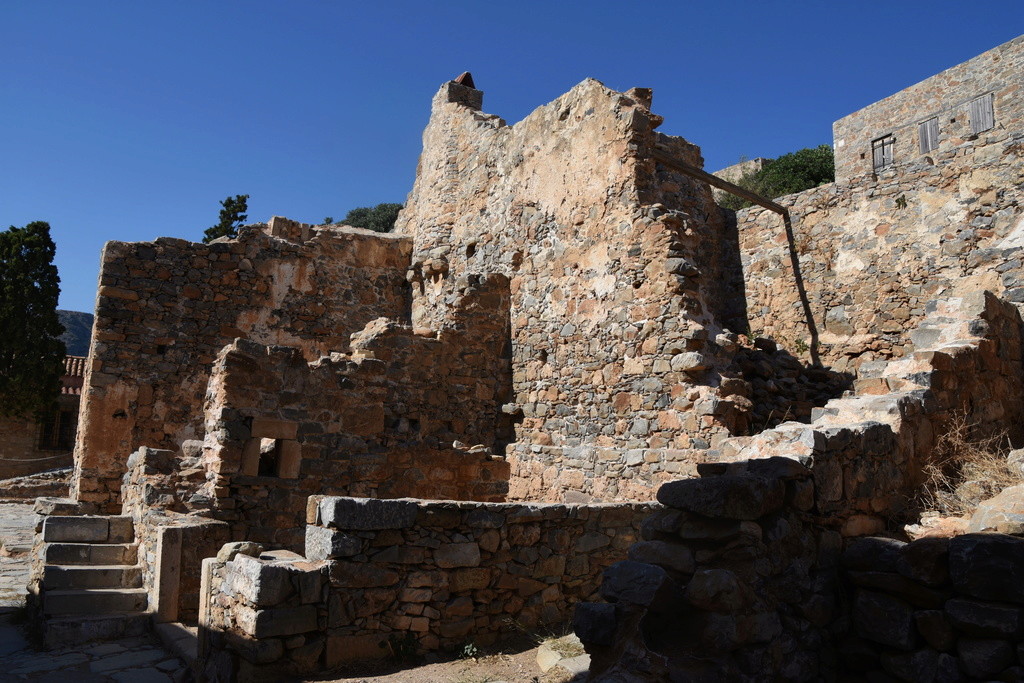 Dsc 0615
over 300,000 visitors now visit this Island each year and are providing more funding to restore these other buildings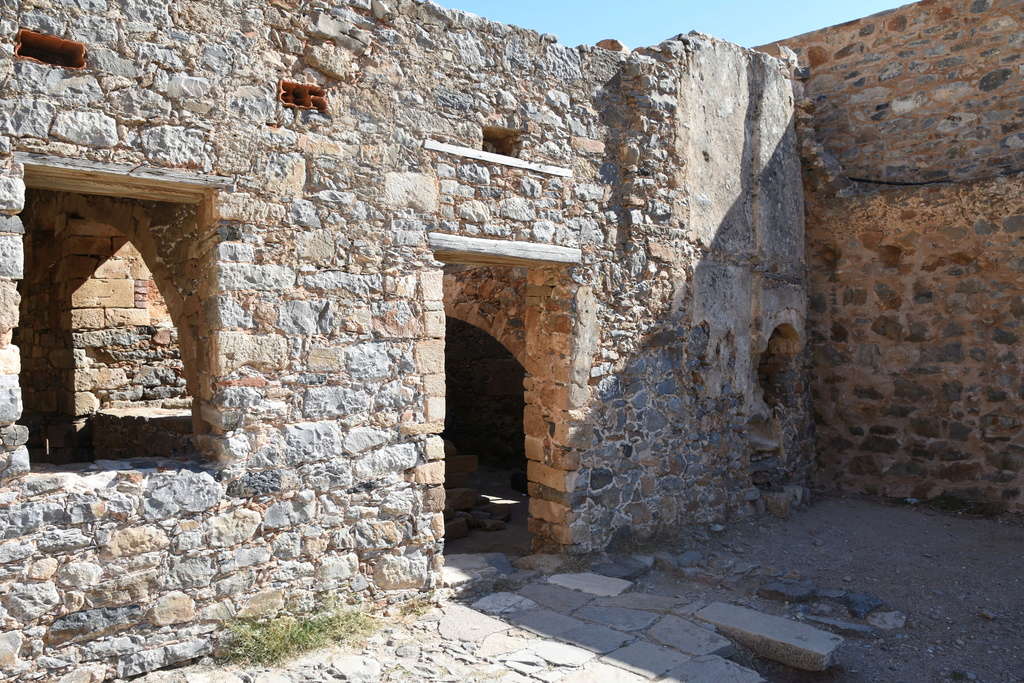 Dsc 0619
Conditions did not really improve on the Island until 1936 when Epameinondas Remoundakis a 20 year old lawyer who had previously lost his sister to the Island caught the disease himself and was also sent. He was one of the few intelligent ones who eventually went blind and also lost a hand. He did not want to wait to be part of the living dead and he rallied the people and fought for decent conditions. He got disinfectant to clean the place and managed to acquire a generator (even before Plaka)
Later the Islanders had a theatre, cinema, cafes and a barber's shop and were able to play music in the street. The solidarity he created help people lead an almost normal life
Mr. Manolis Fountoulakis, the last survivor of Spinalonga, passed away in 2010 and the age of 86 years old.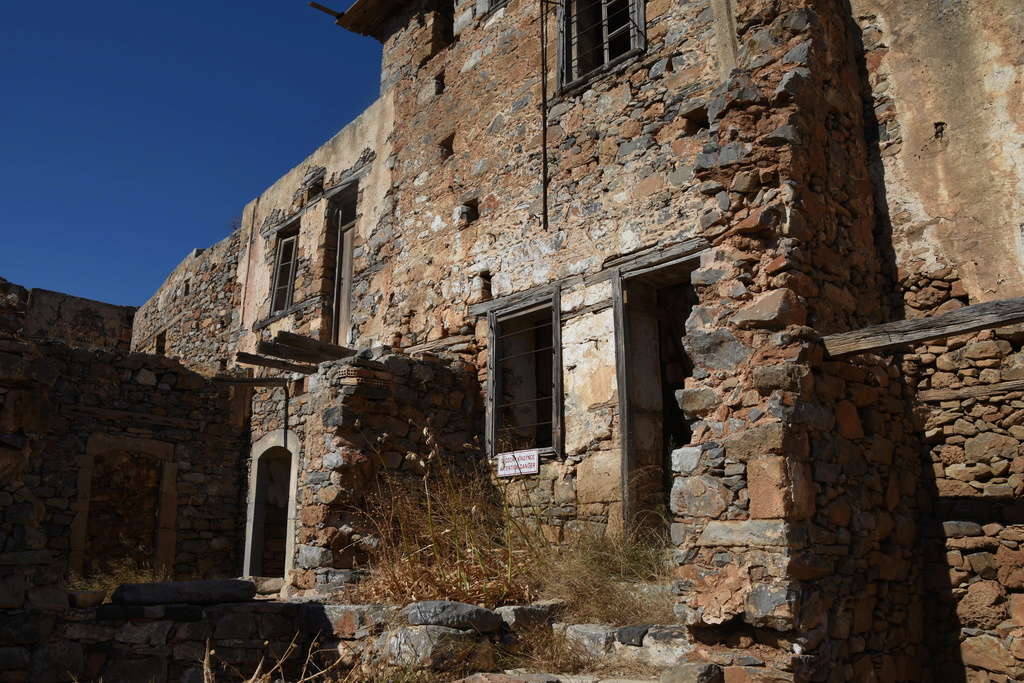 Dsc 0621
I have also read that some of the buildings have been completely removed as they were not considered to be in keeping with the rest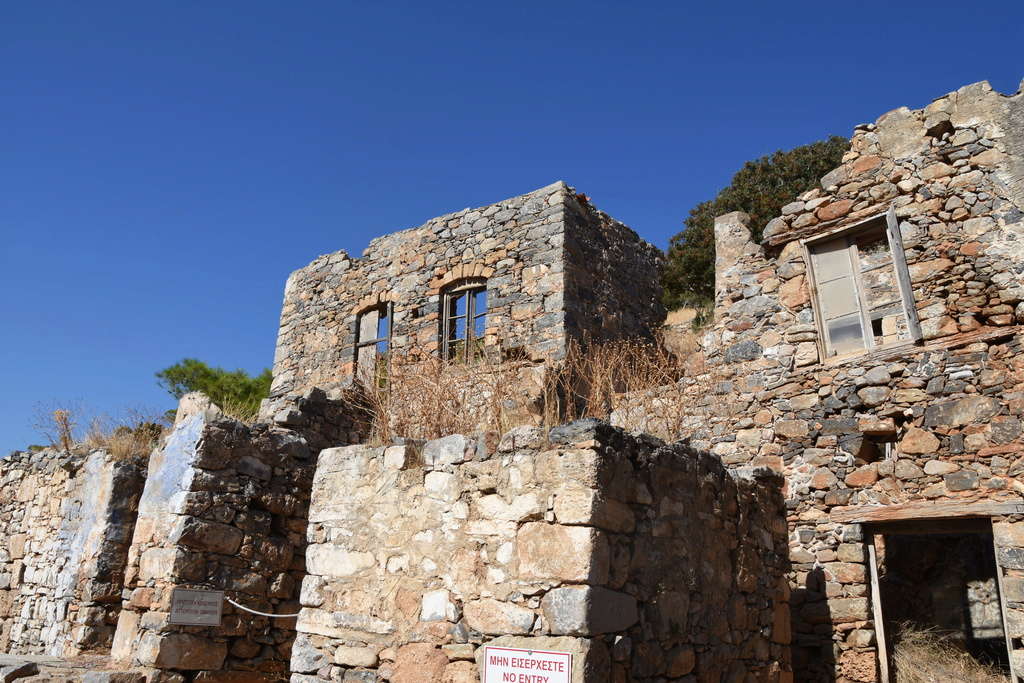 Dsc 0623
Dsc 0625
A very large room with a window that sort of attracted me to it but I may have to brighten up the rest of the picture later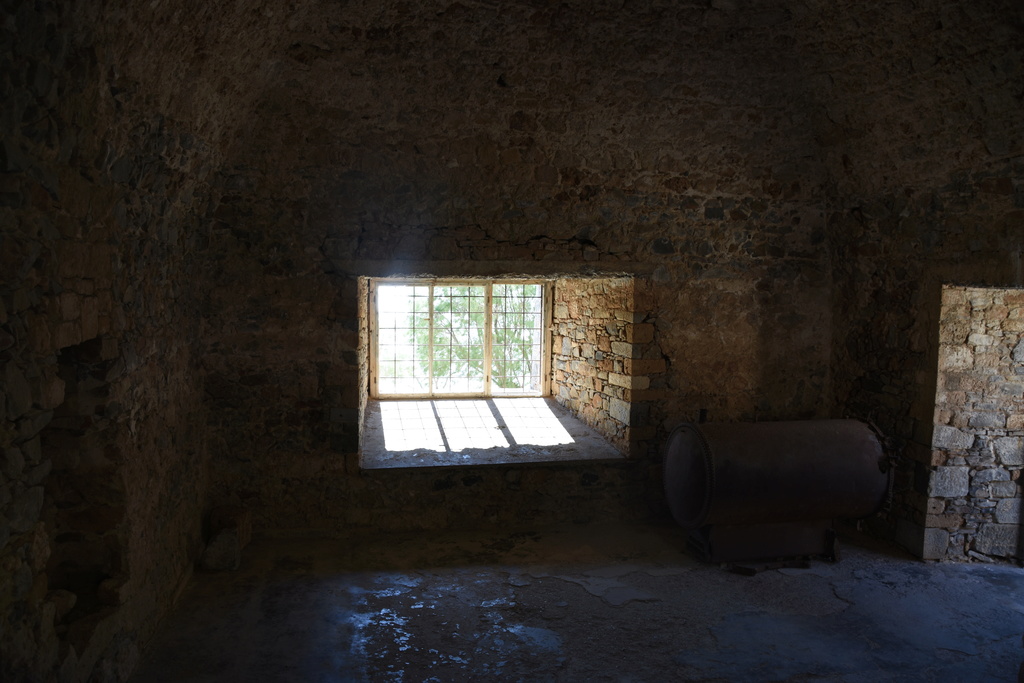 Dsc 0626
This is the main entrance and may have been used for the first arrivals in 1904 but I can't find anything to confirm this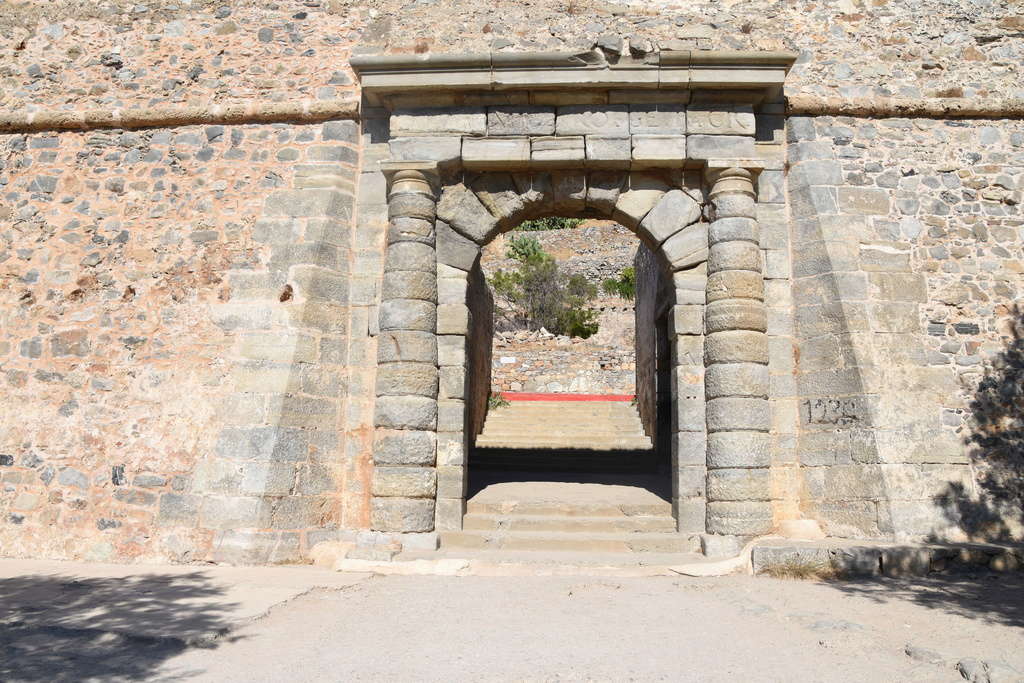 Dsc 0631
View looking back to Elounda
Dsc 0633
View of Plaka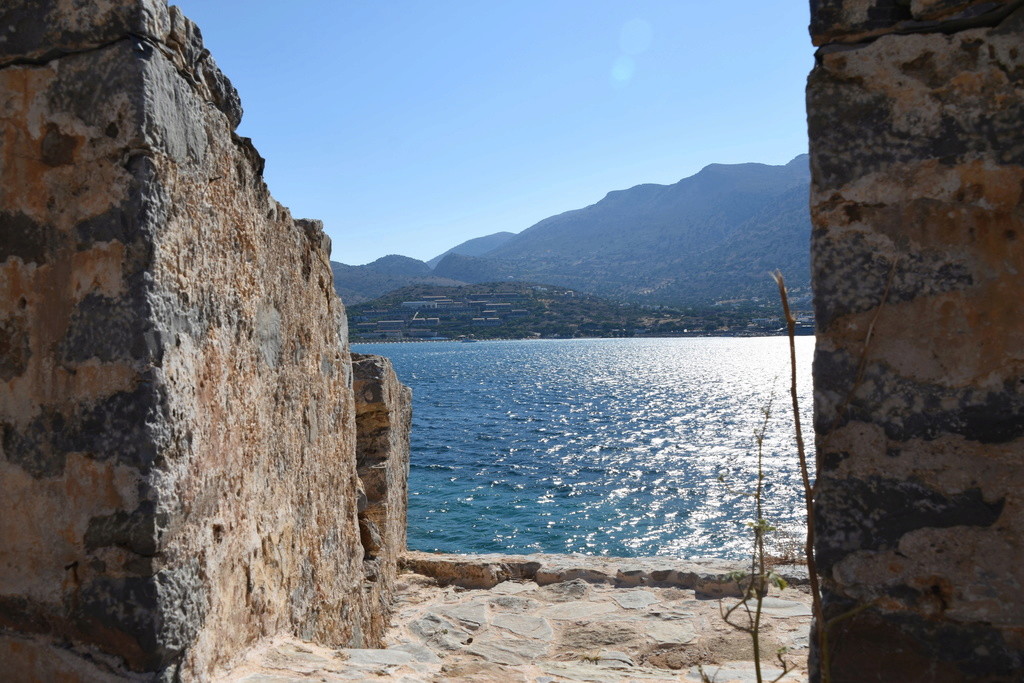 Dsc 0634
This could be my favourite picture of the holiday but can't tell you why lol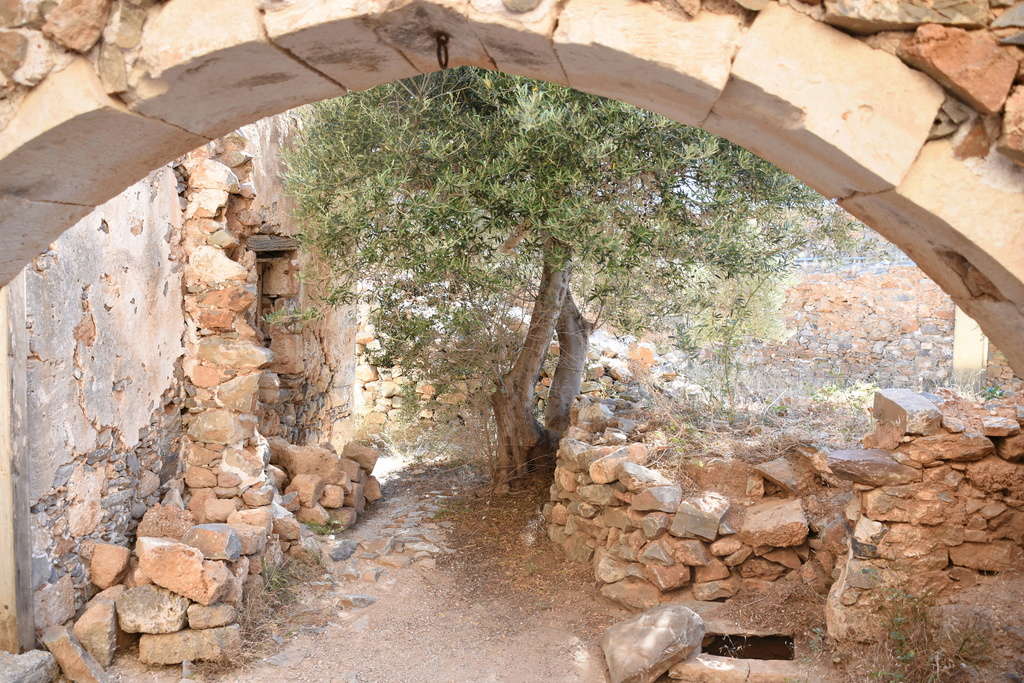 Dsc 0636
Dsc 0637
May be some restoration taking place here with piles of bricks stacked below the building.
Dsc 0638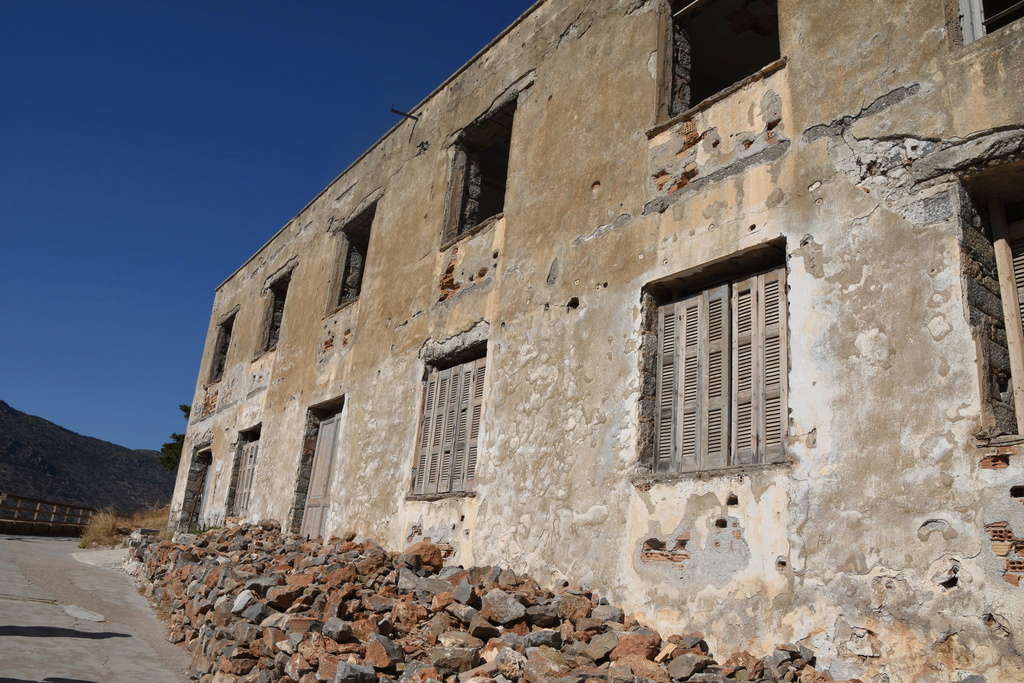 Dsc 0639
The battlements below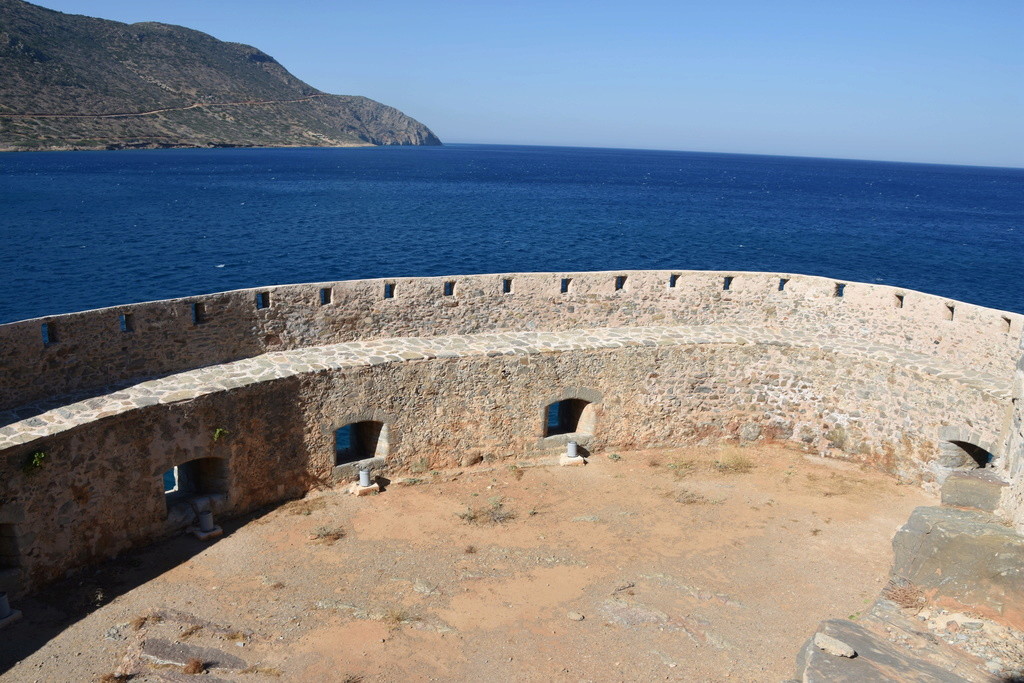 Dsc 0640
At this point on the corner, the wind was so strong we wondered how safe we were going to be but we were ok once around it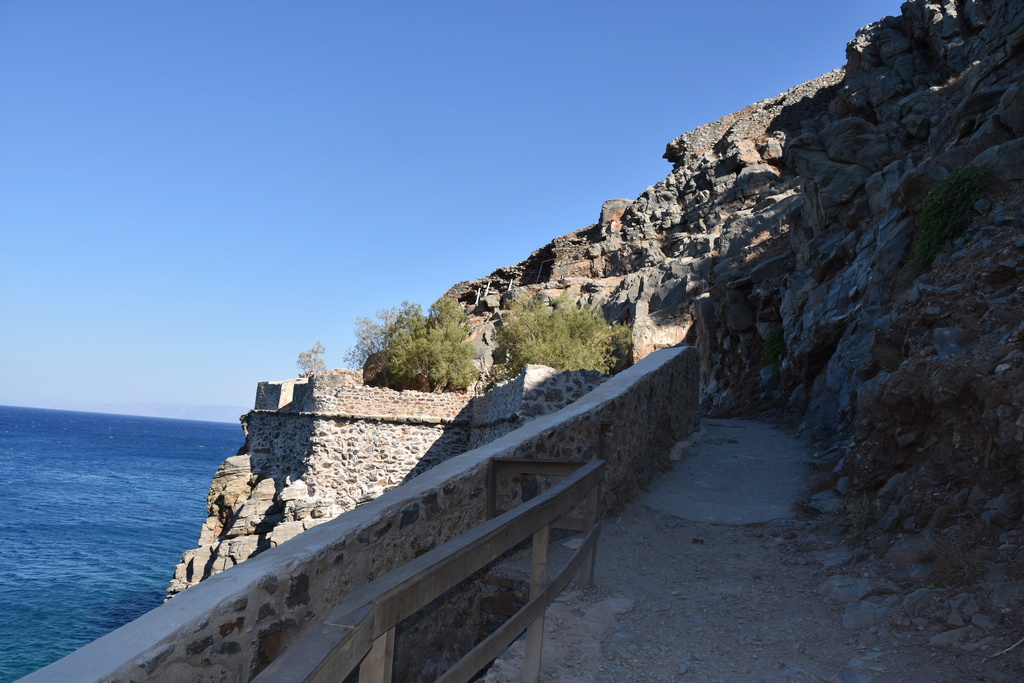 Dsc 0642
The view out beyond Plaka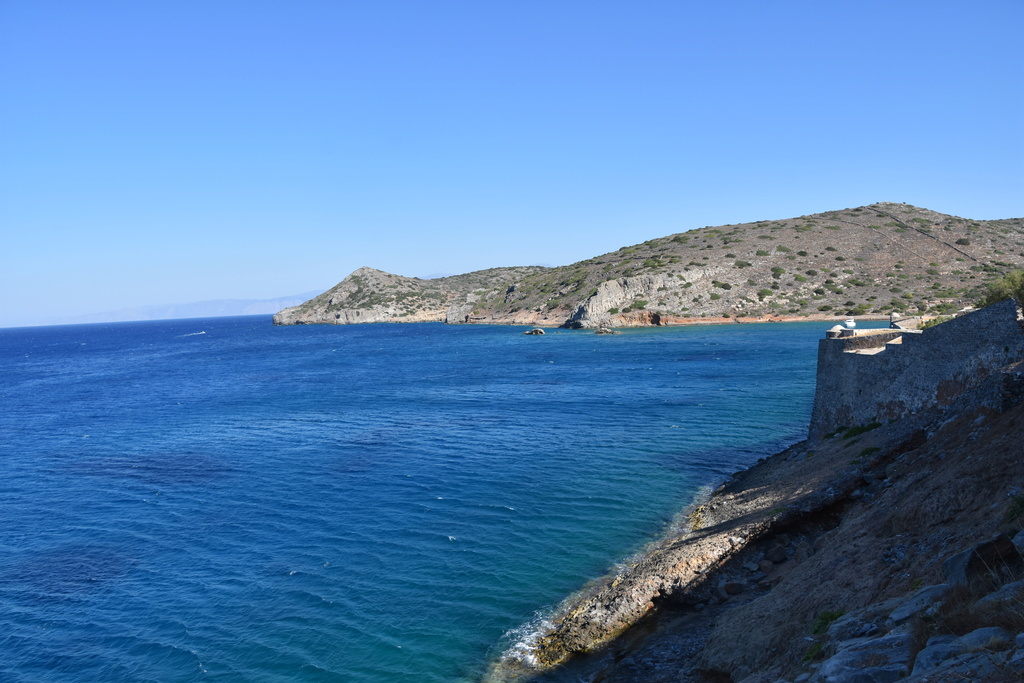 Dsc 0643
One of the watch tower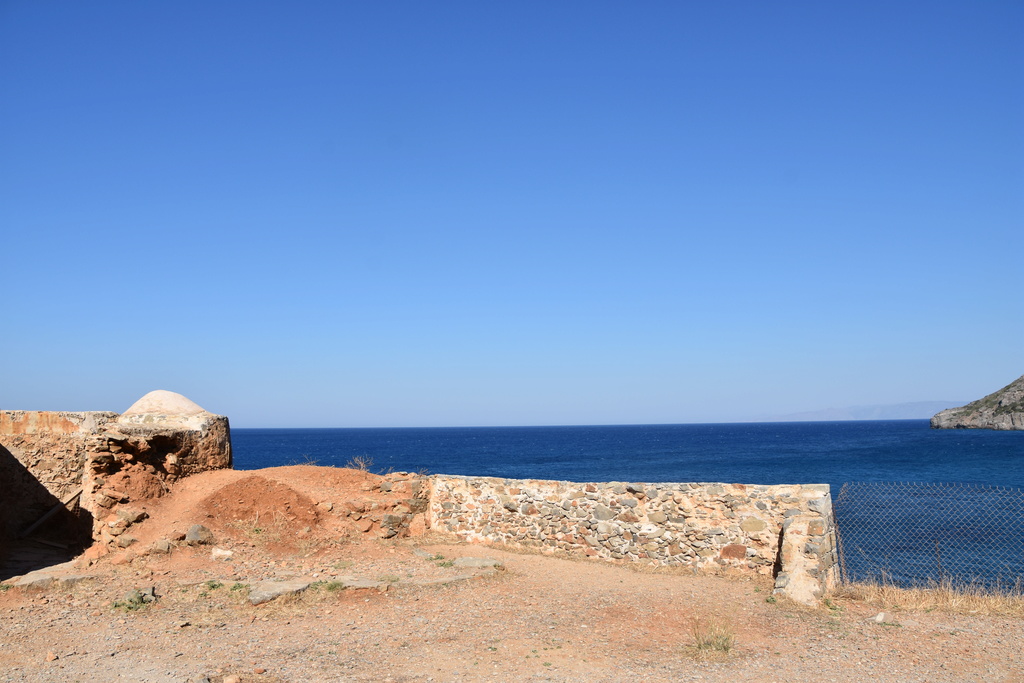 Dsc 0644
Another further along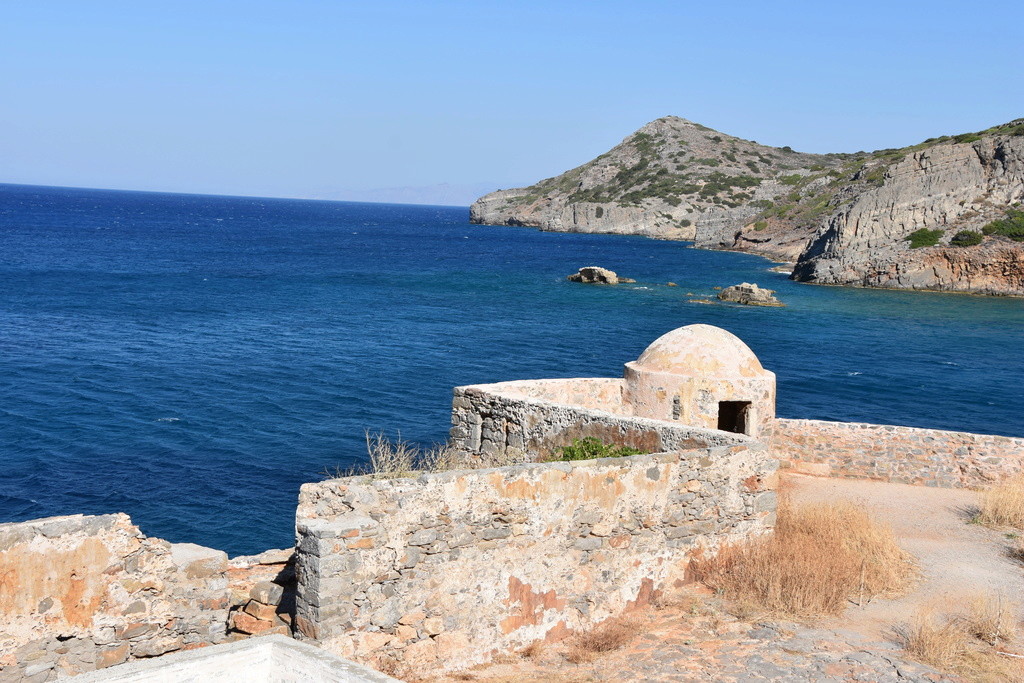 Dsc 0645
I had my eye on climbing up into the tower but was not sure if it was possible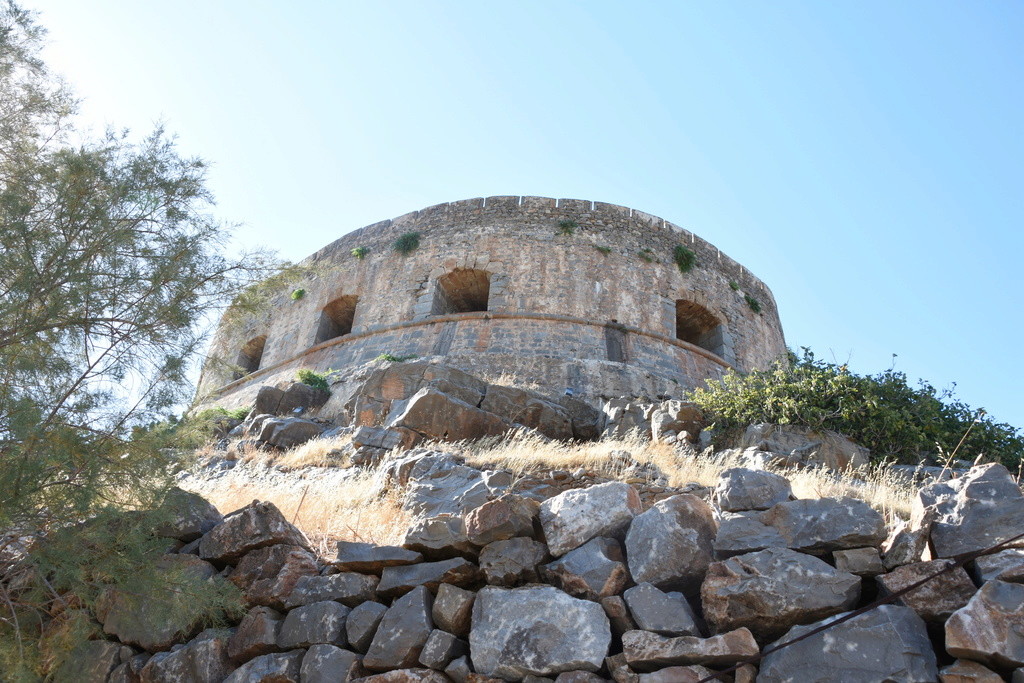 Dsc 0646
I gave it a try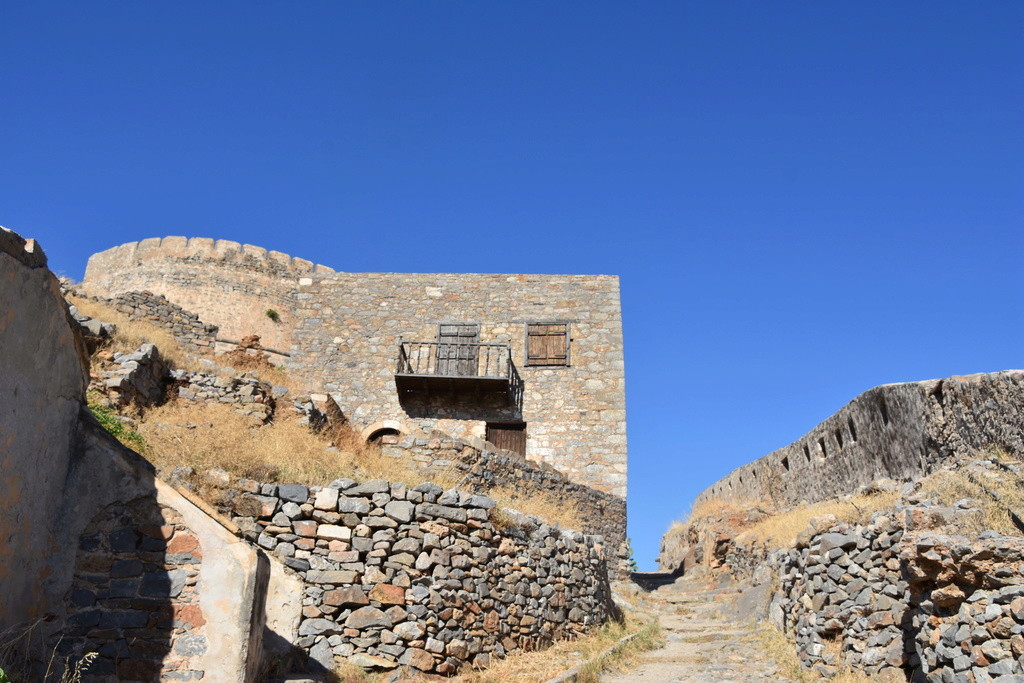 Dsc 0671
but the stone stairway I tried was like smooth glass and very slippery. So one would need both hands free and not a camera to break in attempting it lol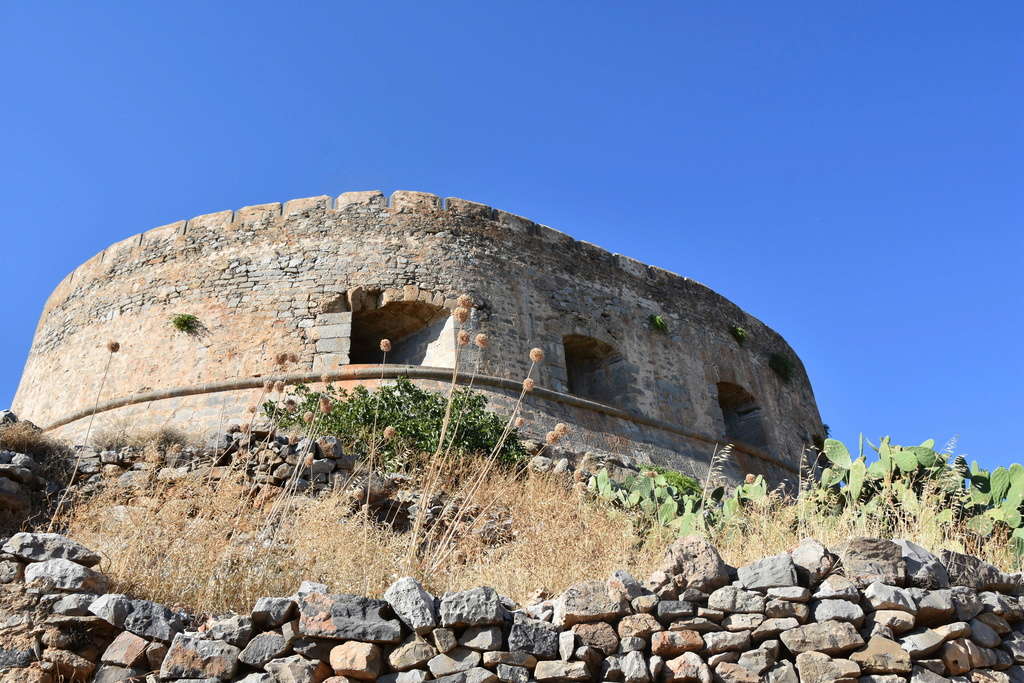 Dsc 0672
So i had a walk down to a lower area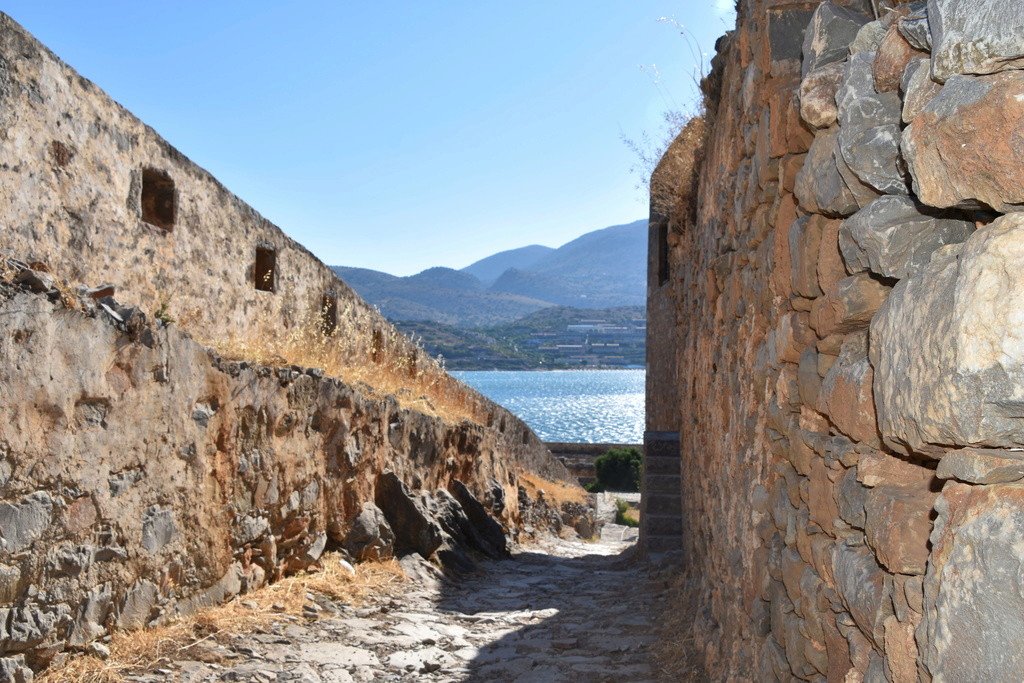 Dsc 0674
Elounda in the distance
Dsc 0676
The tower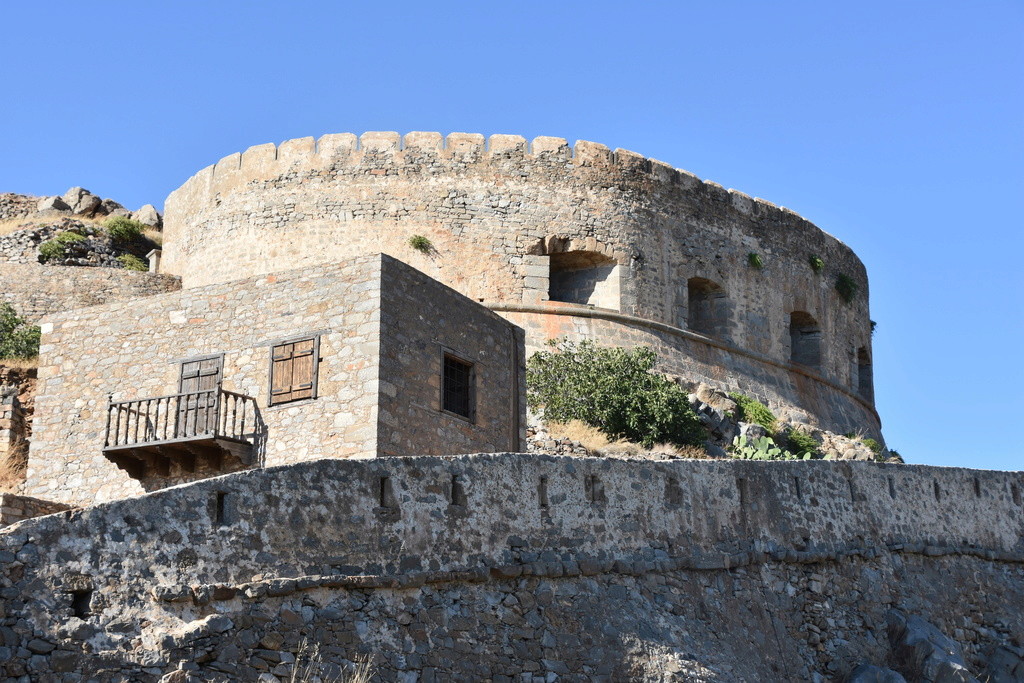 Dsc 0677
There are refreshments and toilets on the island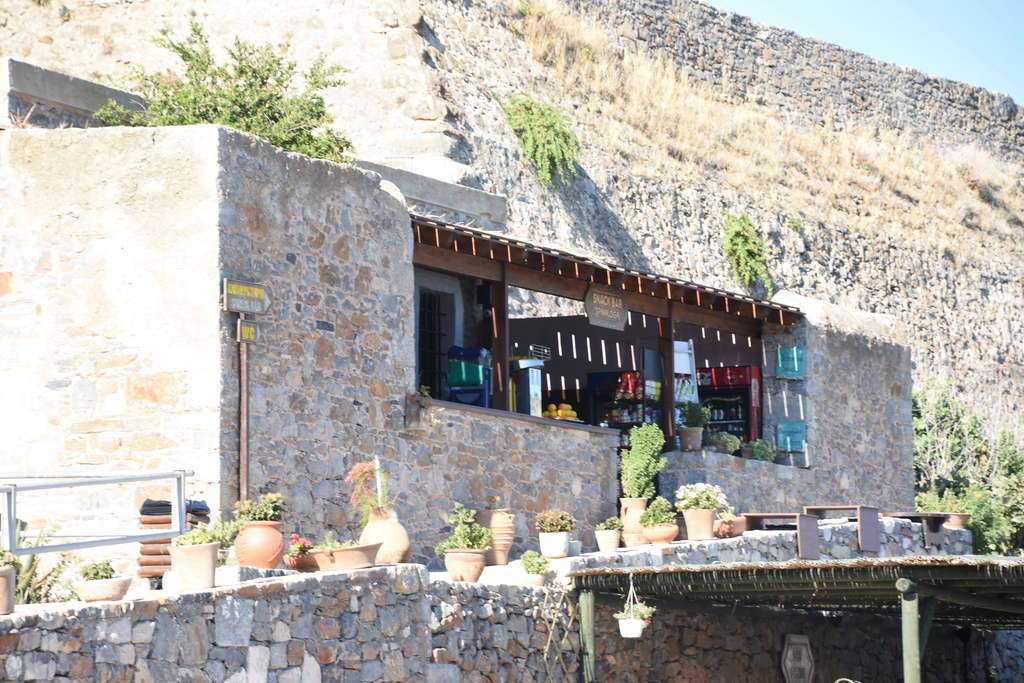 Dsc 0684
some shade waiting for a boat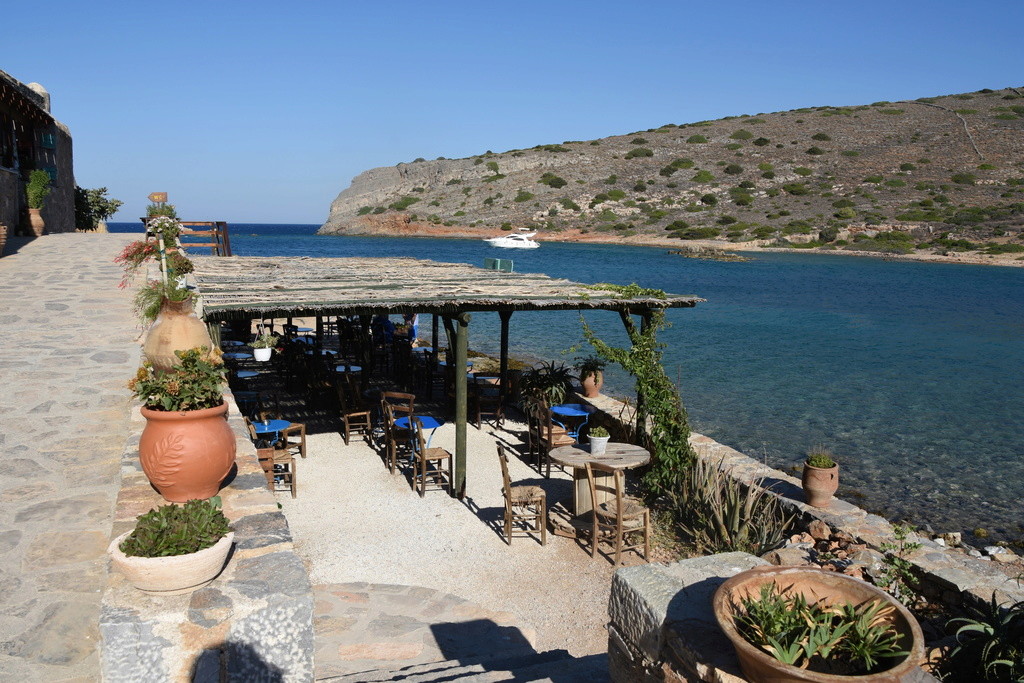 Dsc 0685
Visiting the place will have many people feeling the sadness but having read quite a bit on the Cretan history since coming home they have all suffered over the centuries with ladies throwing themselves over parapets rather than end up as slaves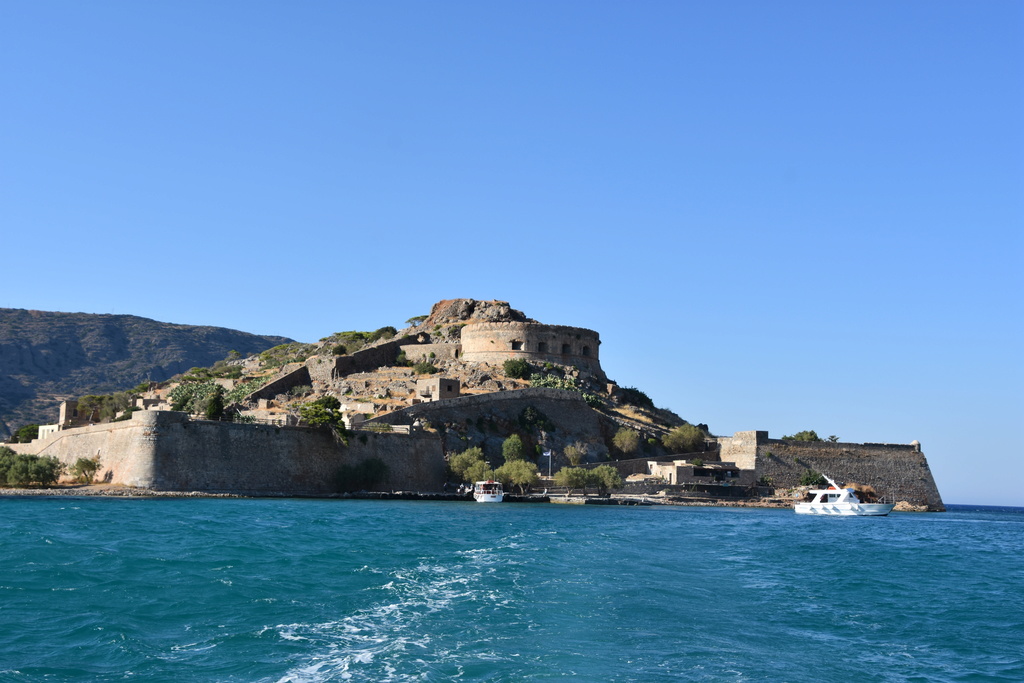 Dsc 0694
For our evening meal we returned to Poulis
p1260792
menu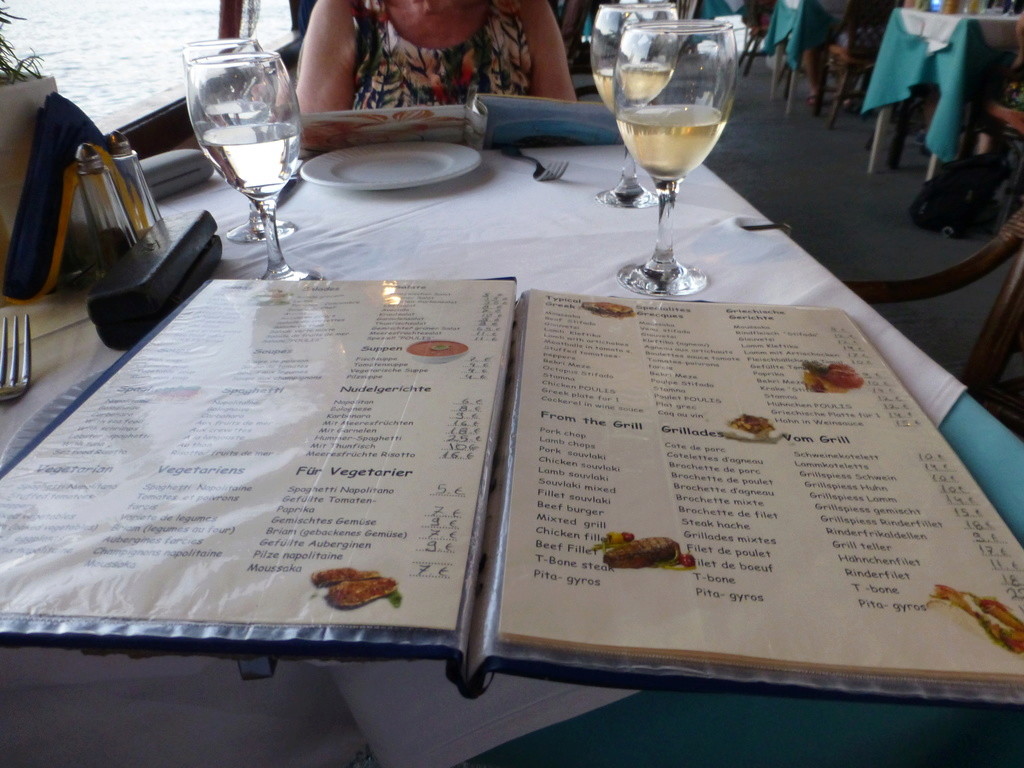 p1260798
view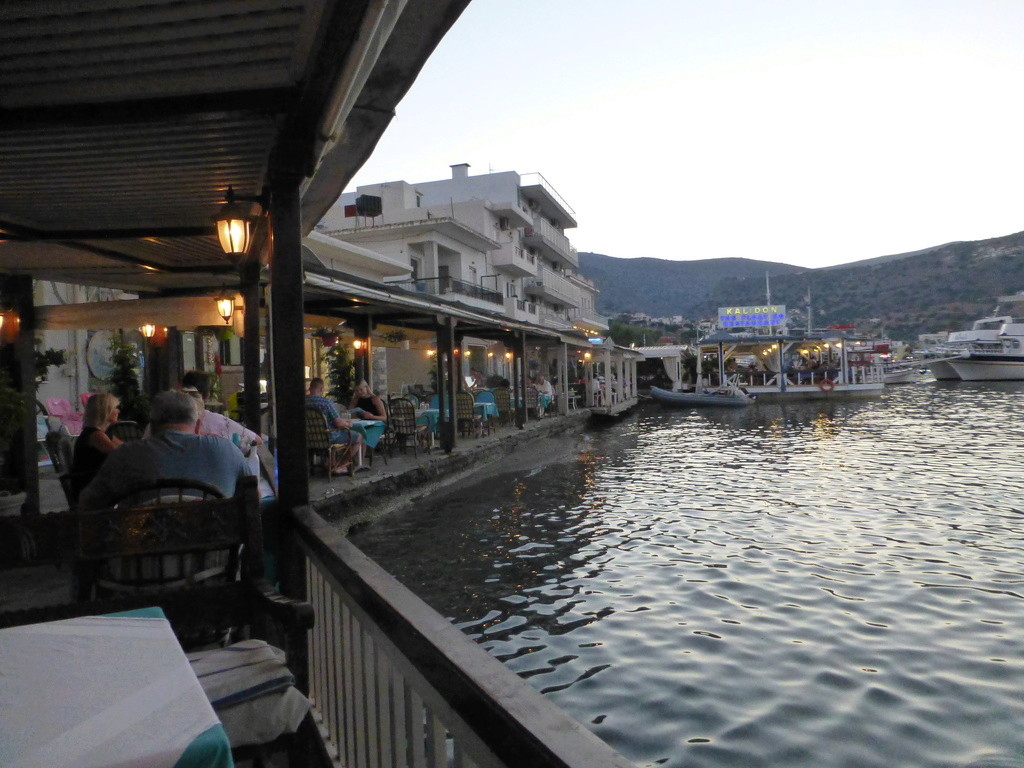 p1260799
I had the stamna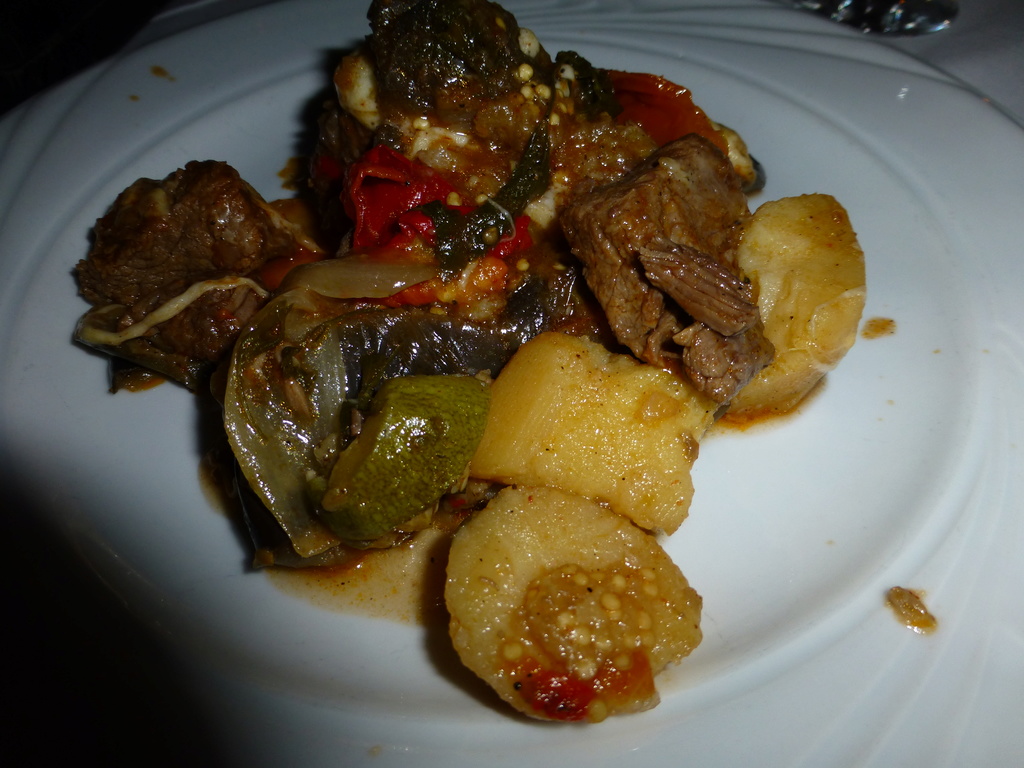 p1260801
Mrs Db had the stifado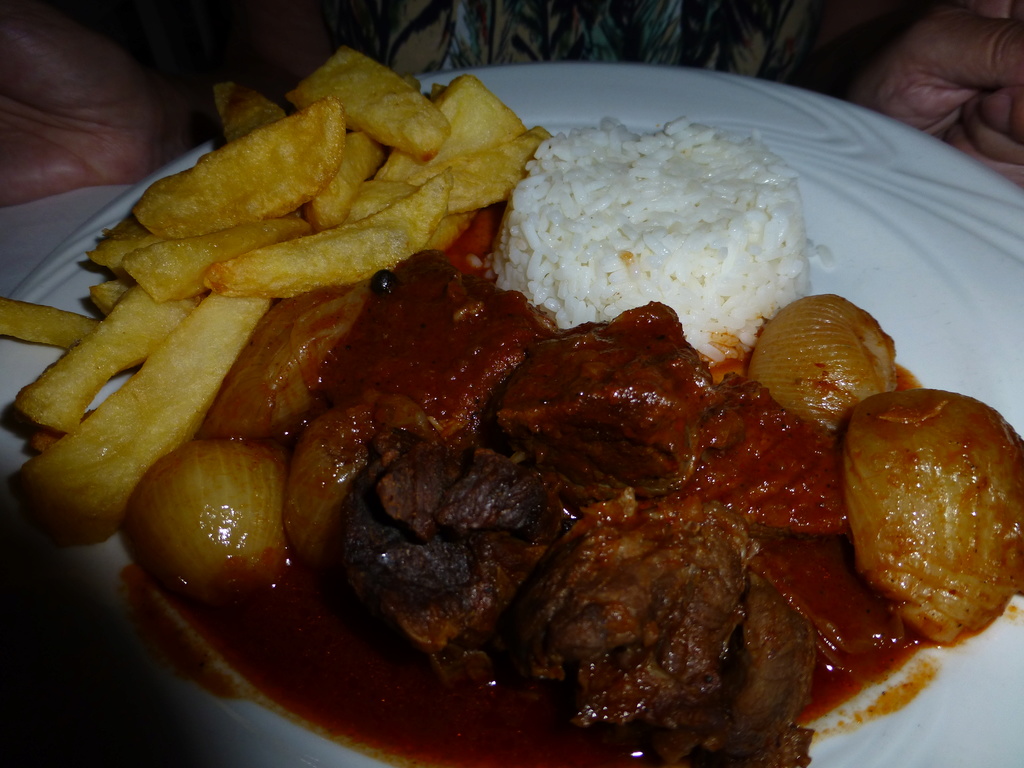 p1260802
and another free dessert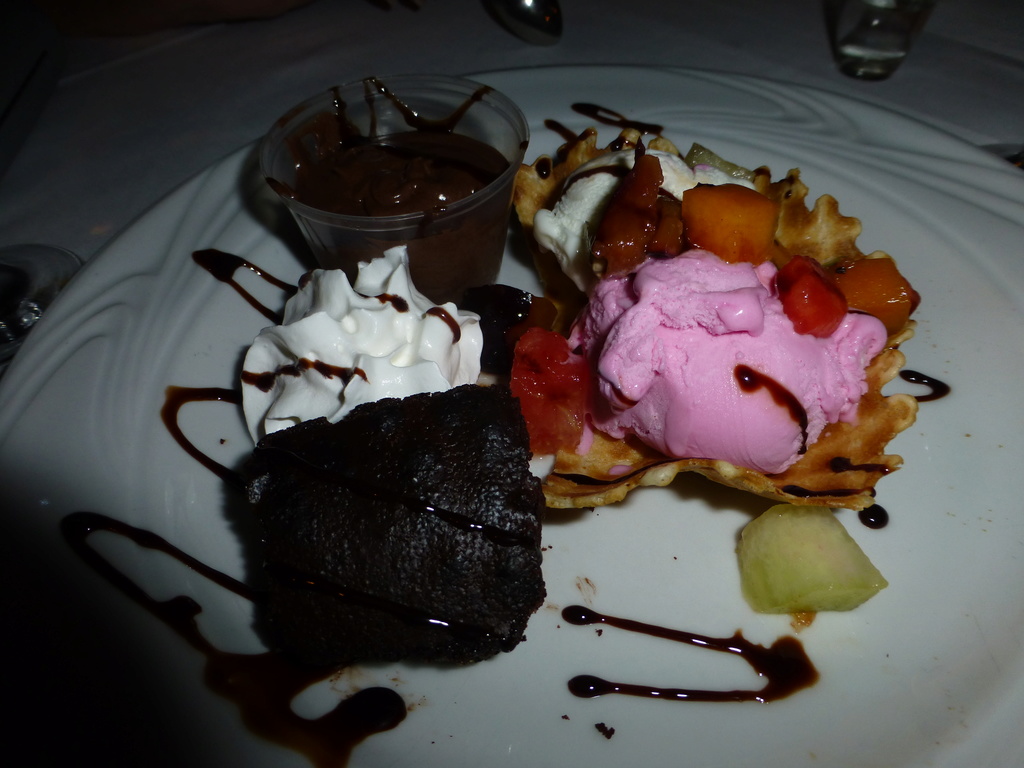 p1260803
and a walk back to our apartment for a coffee on the balcony
p1200804
End of Day 9Day 10 Tuesday

With Mrs Db on the beach I was going to return to upper Elounda to see if I have missed anything there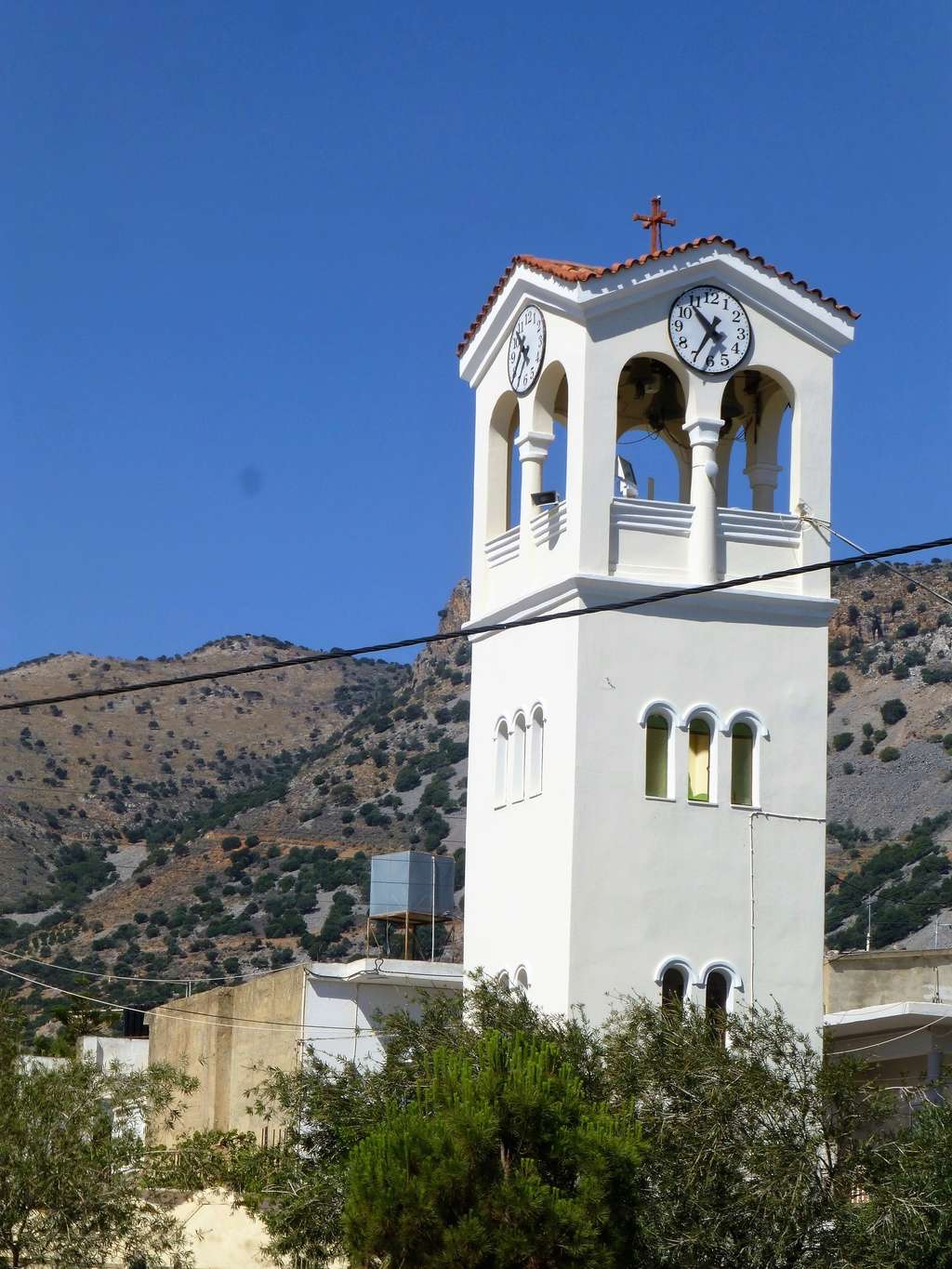 p1260806
This time I am going past the Olive Grove and leaving town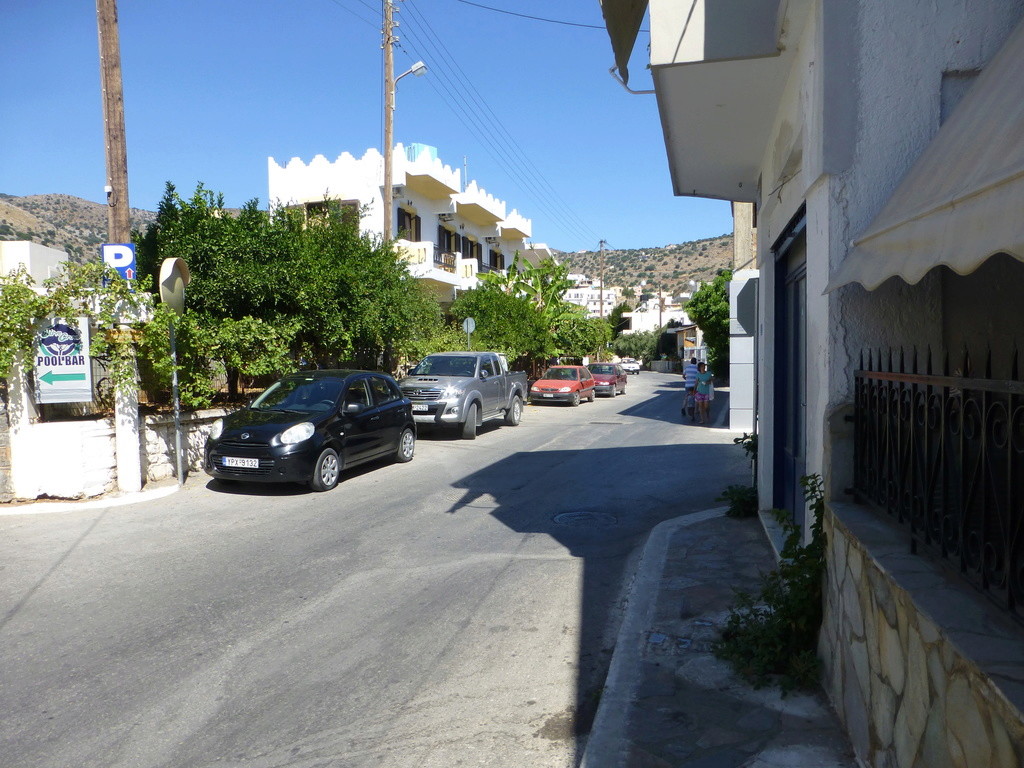 p1260809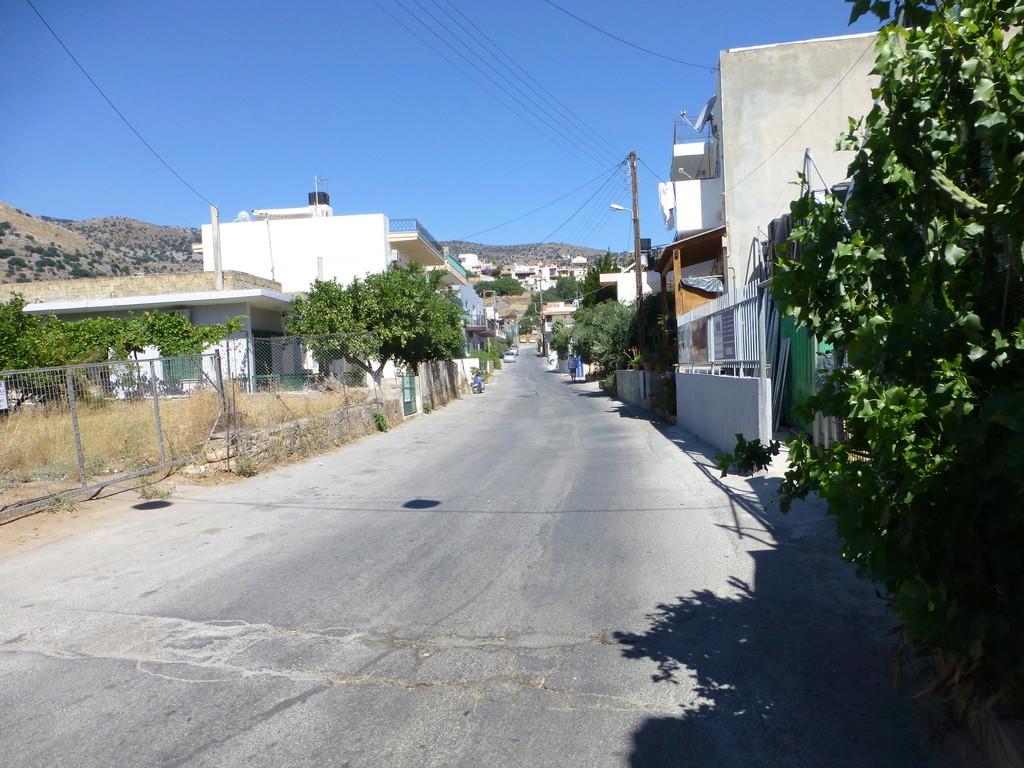 p1260810
going up the hill via the road it was not too steep
p1260813
I recognised this spot from Davis's walk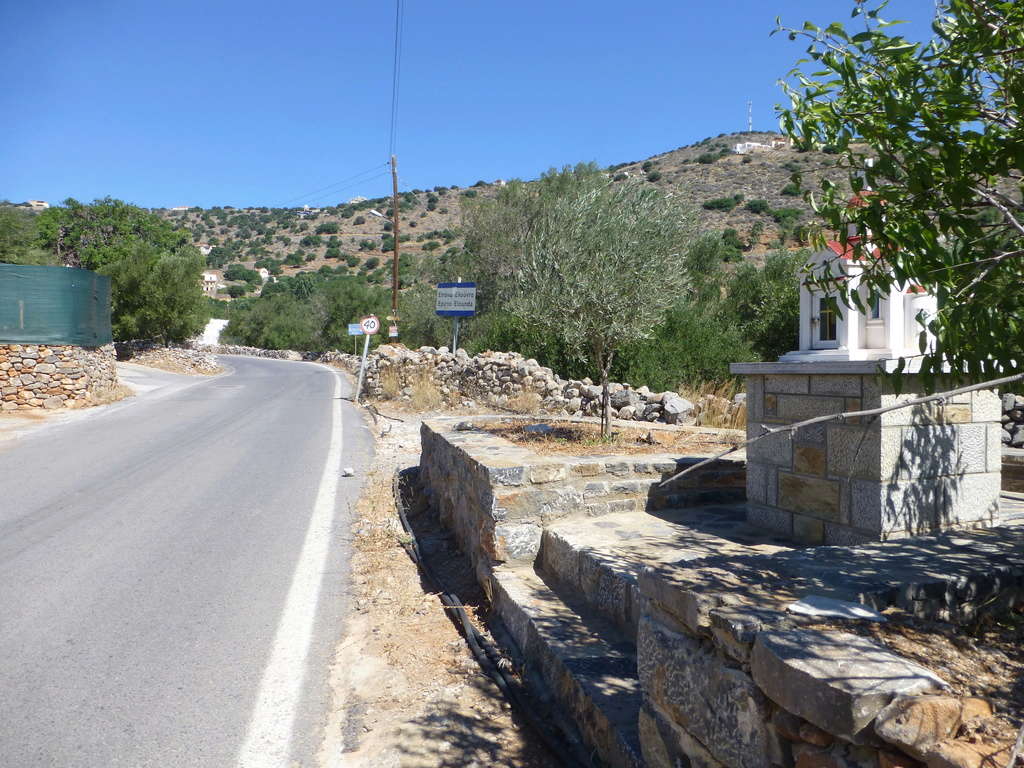 p1260815
and taking the left turning off the main road
p1260816
and heading for the village
p1260817
Lovely flowers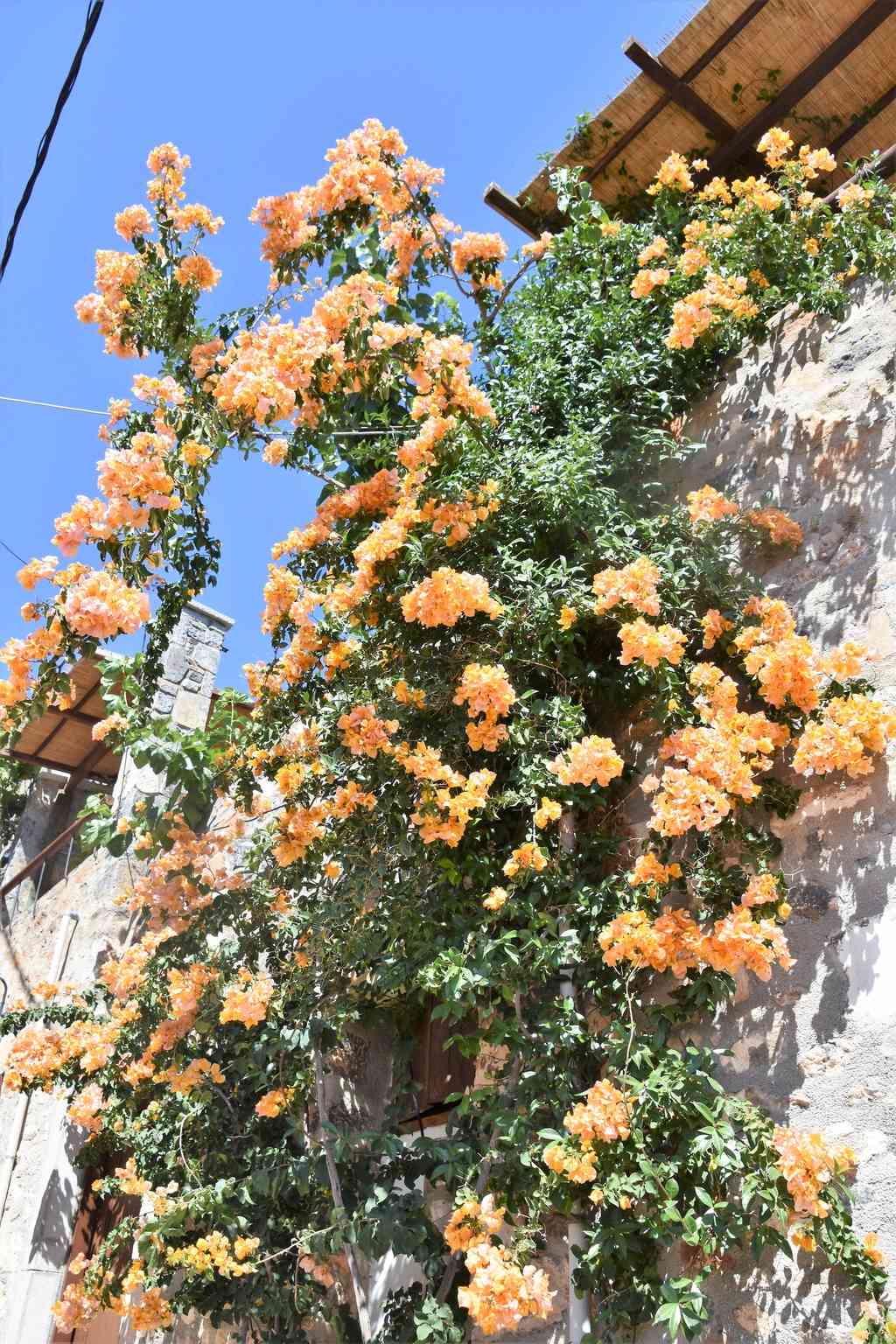 Dsc 0697.2
and liking the brickwork on this building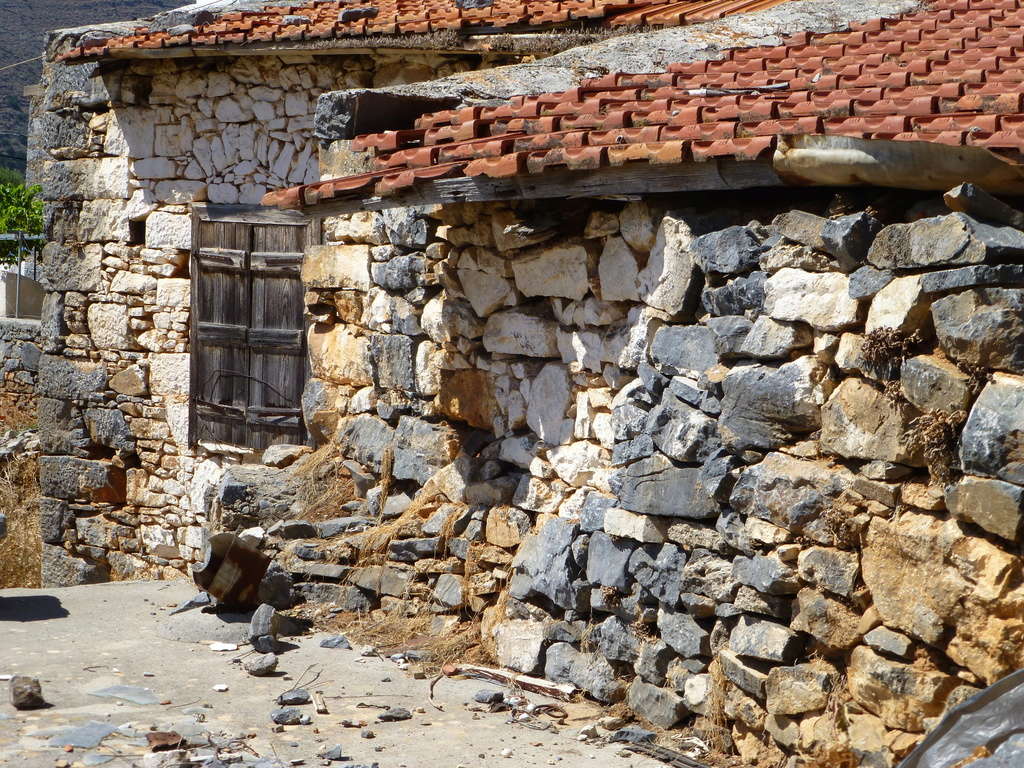 p1260822
taking a different pathway from before
Dsc 0700.2
More lovely flowers
Dsc 0701
and different views
Dsc 0702
I met Marie and 'this time' I bought her a drink, a very nice lady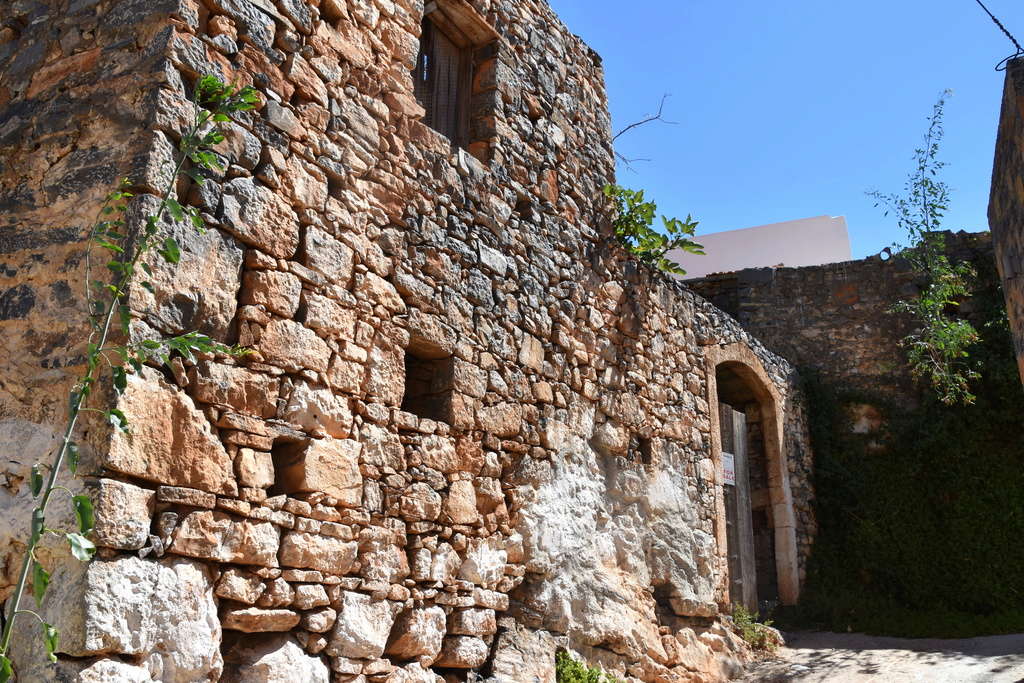 Dsc 0703
love the rustic look
Dsc 0716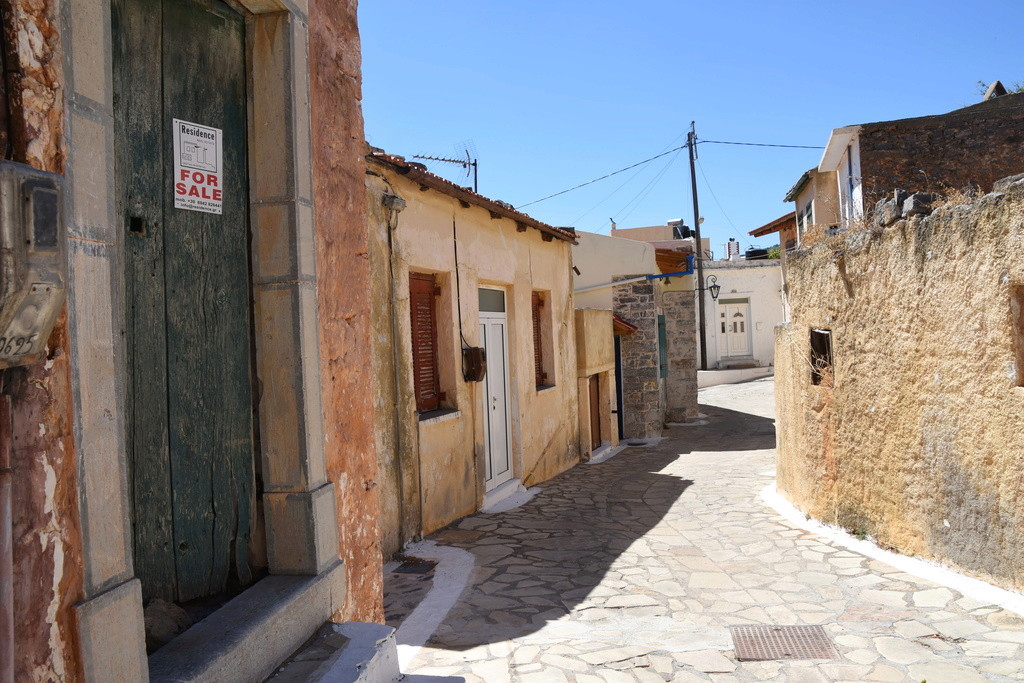 Dsc 0723
Found the place of the film set again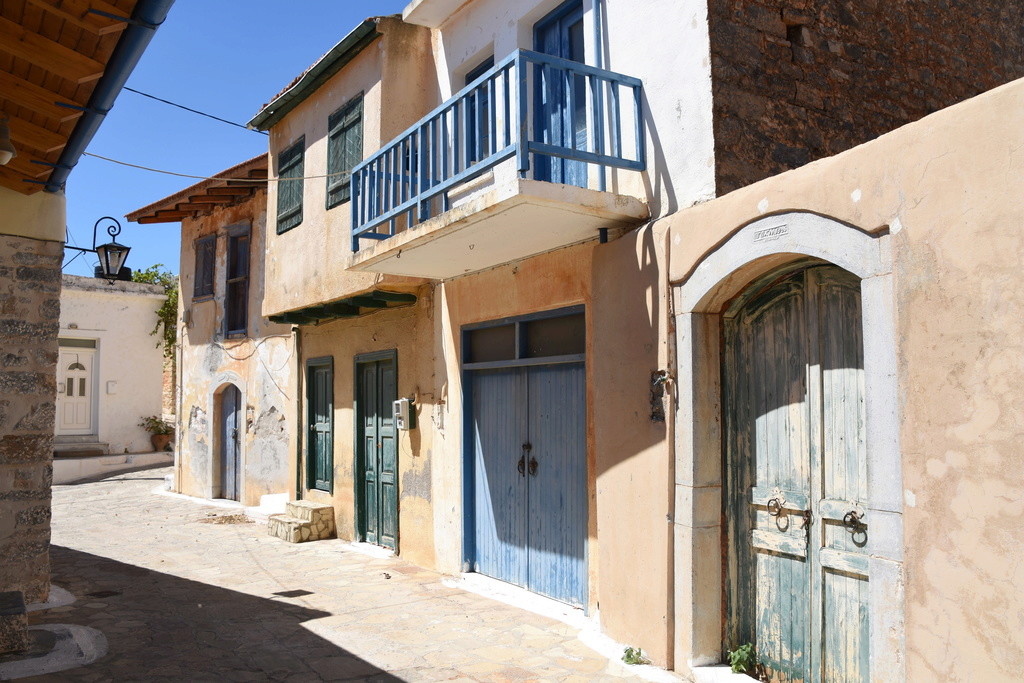 Dsc 0725
but taking a different pathway again
Dsc 0732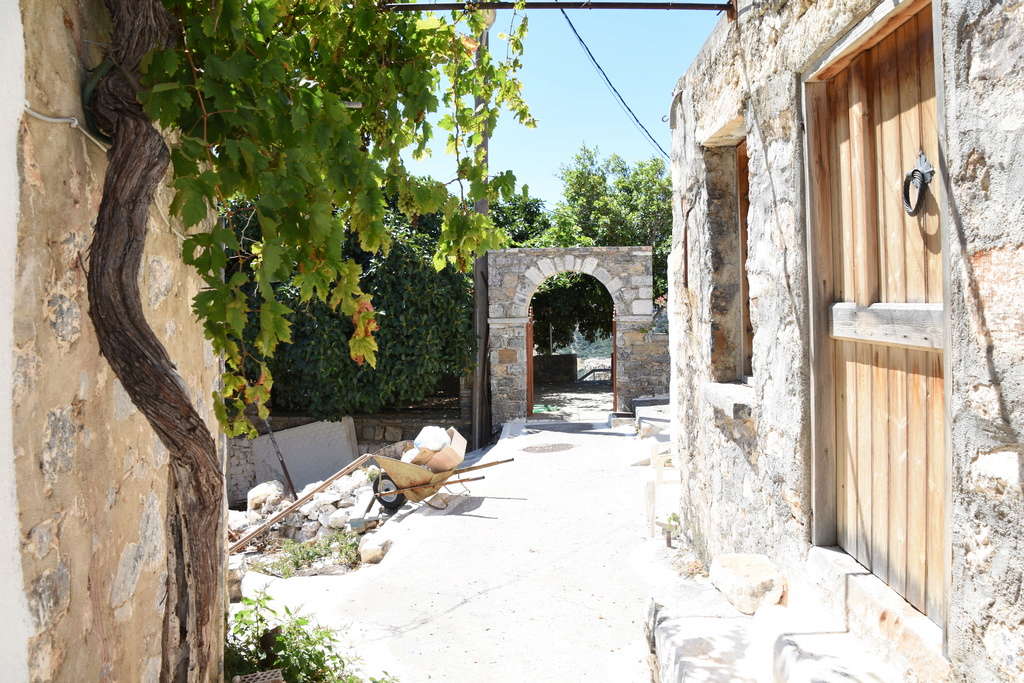 Dsc 0738
The view
Dsc 0740
The village church but did not take a photograph for my bell collection lol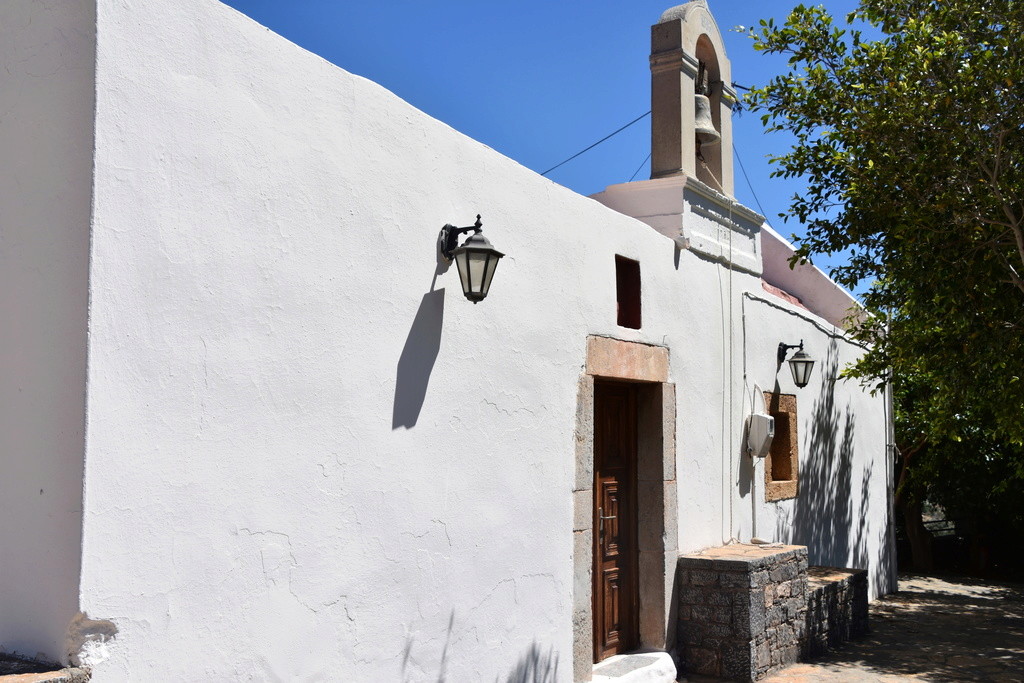 Dsc 0742
what a lovely cottage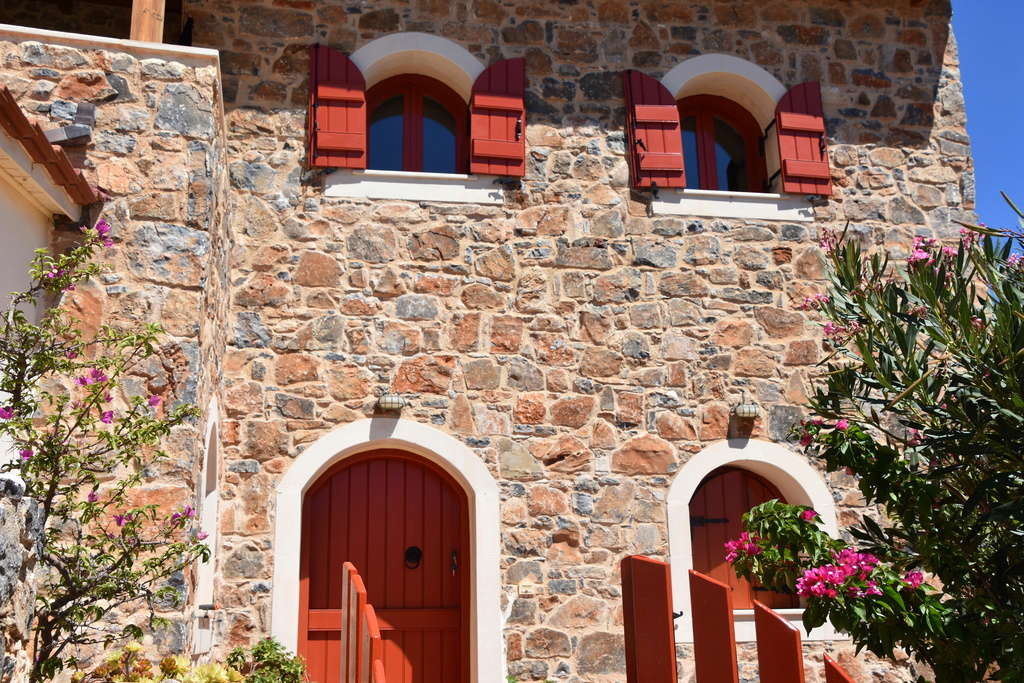 Dsc 0743
Dsc 0745
A lovely village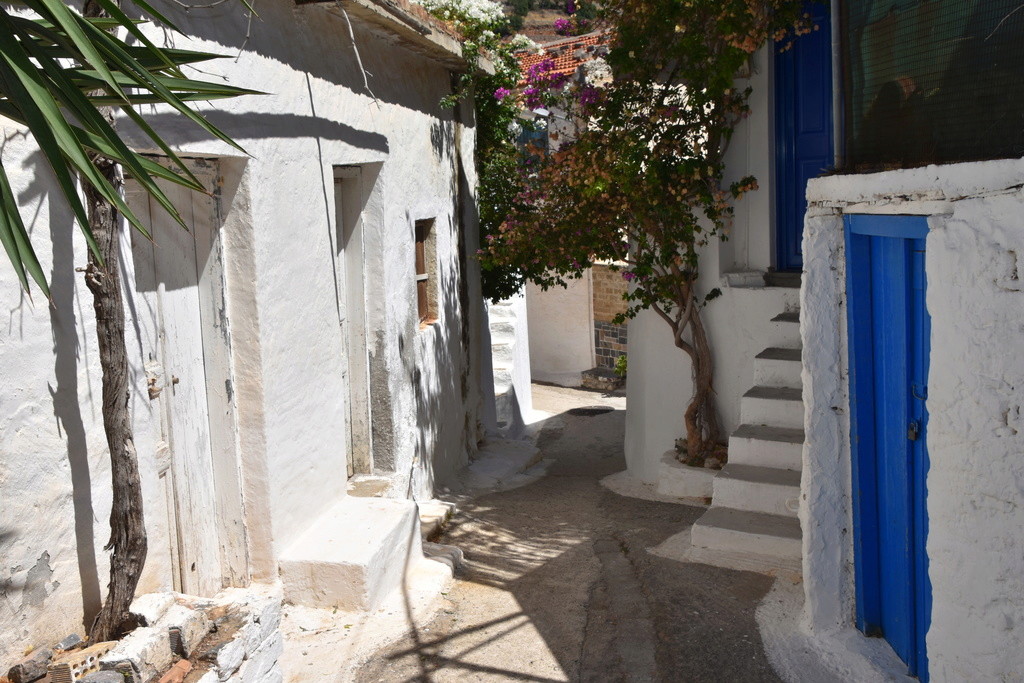 Dsc 0747
some houses are being renovated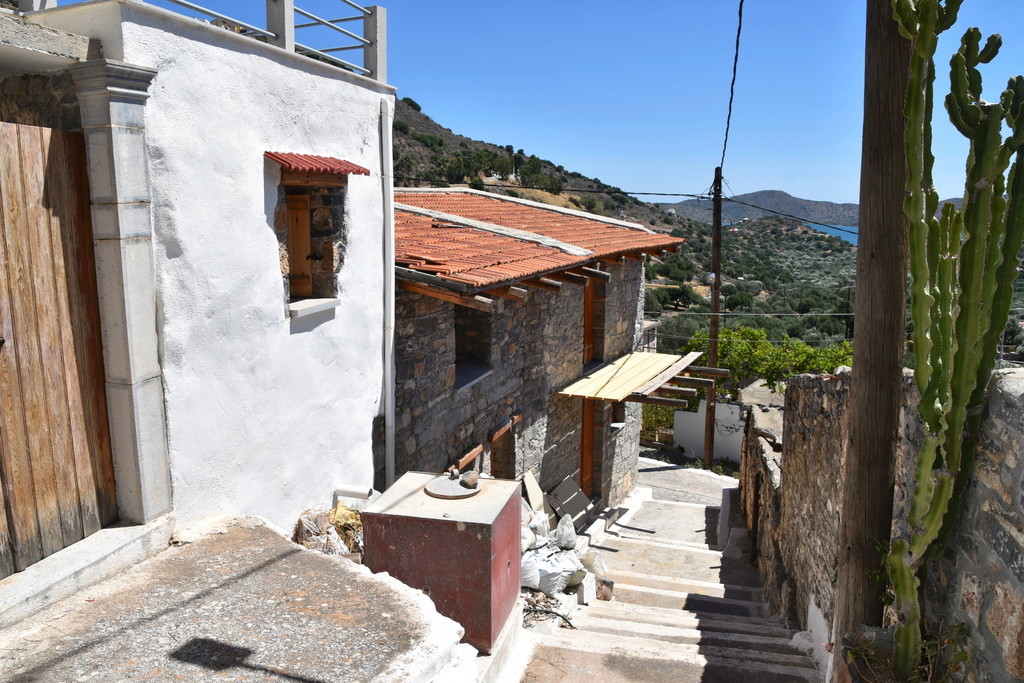 Dsc 0759
Dsc 0760
One day I will get a good shot of this flower lol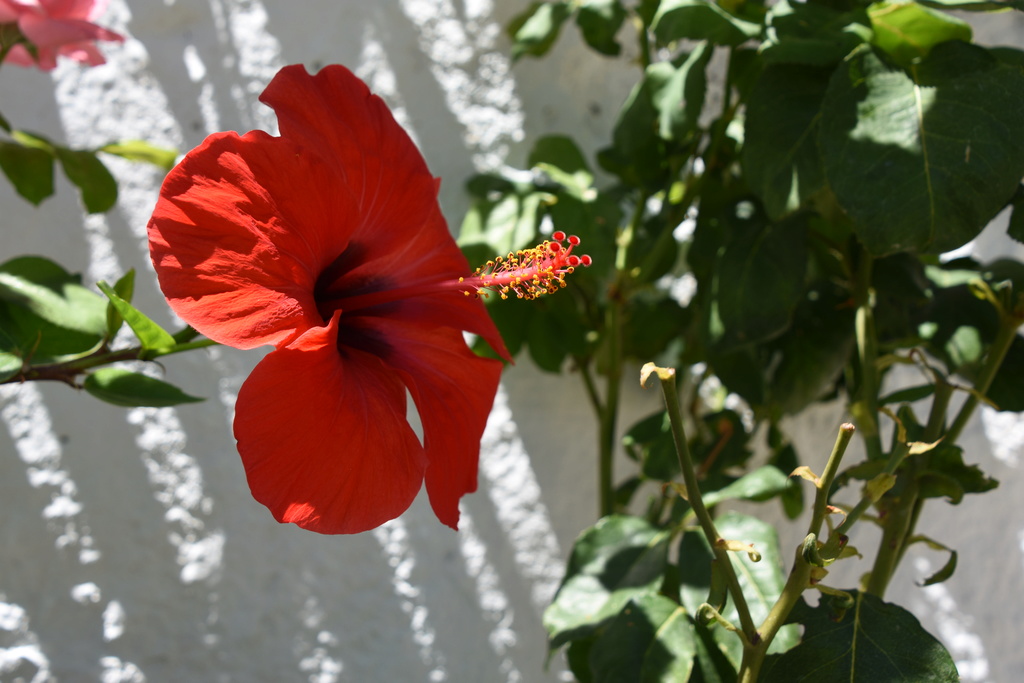 Dsc 0764
Now going down the donkey track that Davis took us down on the walk. I have more time now and noticed this fossil in the pathway
P1260824
and another in the wall, a good place for fossil hunters lol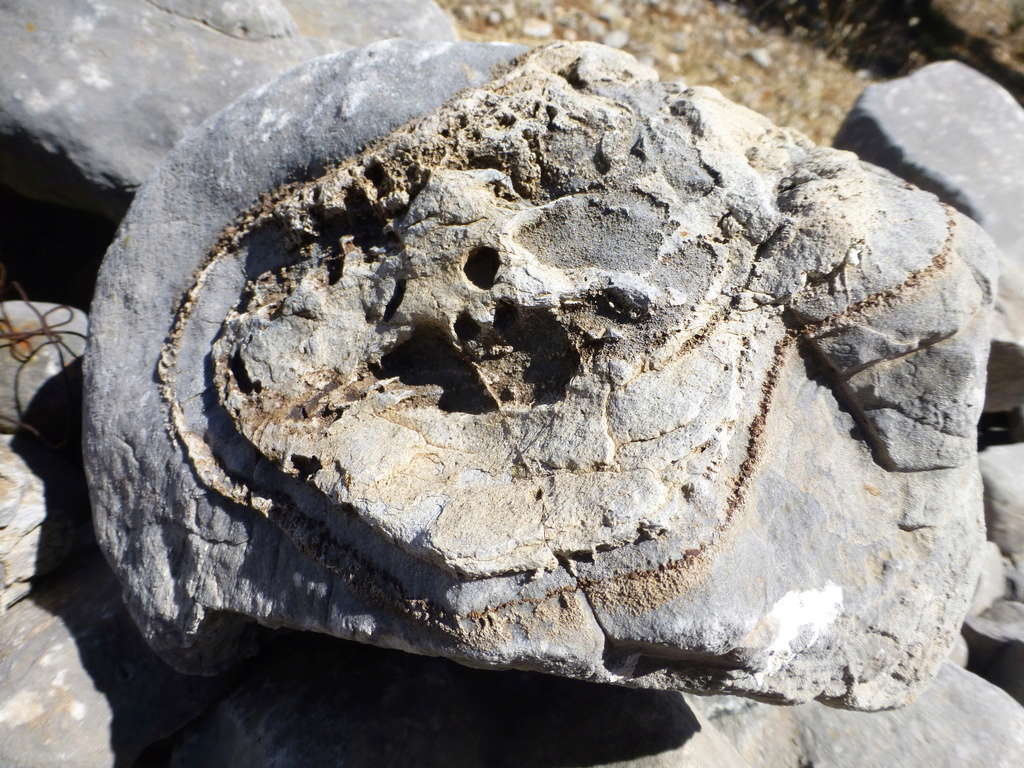 p1260825
Back in town
P1260838
These are some of the averagely priced taverna's at the back of the two town beaches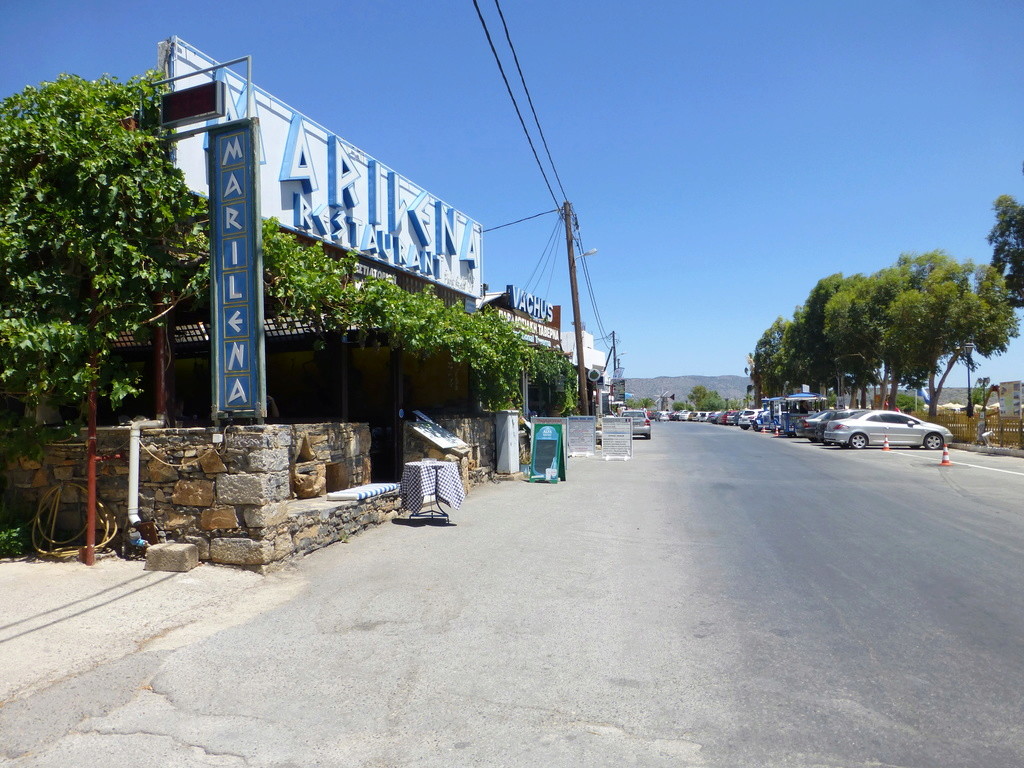 p1260842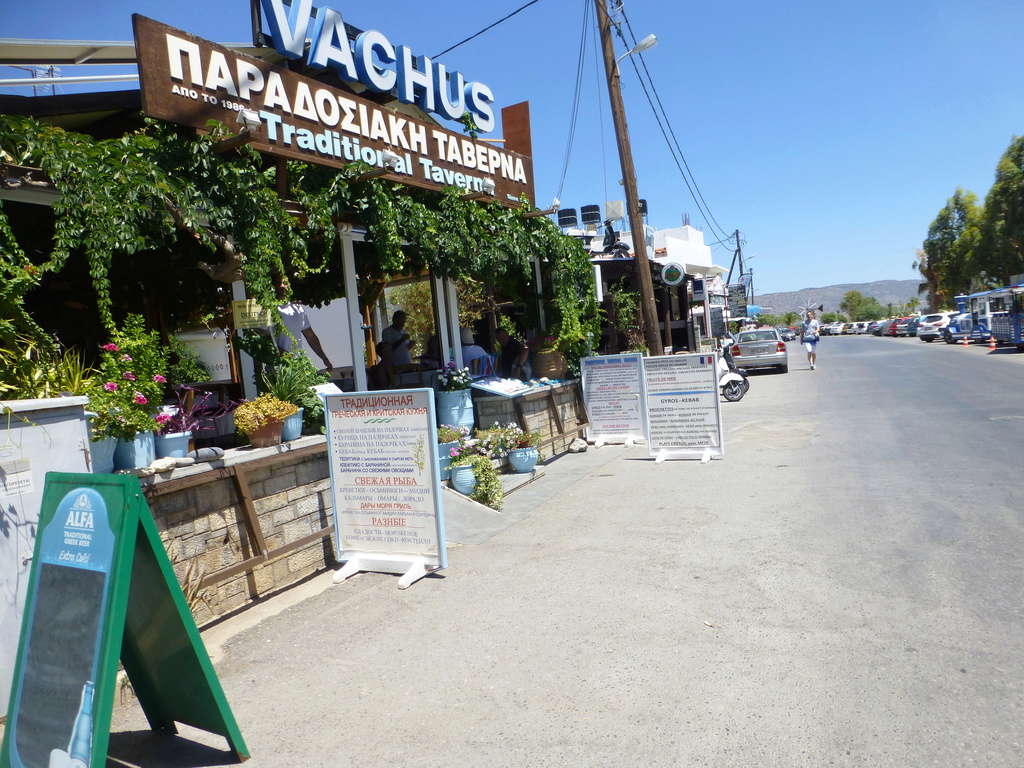 p1260843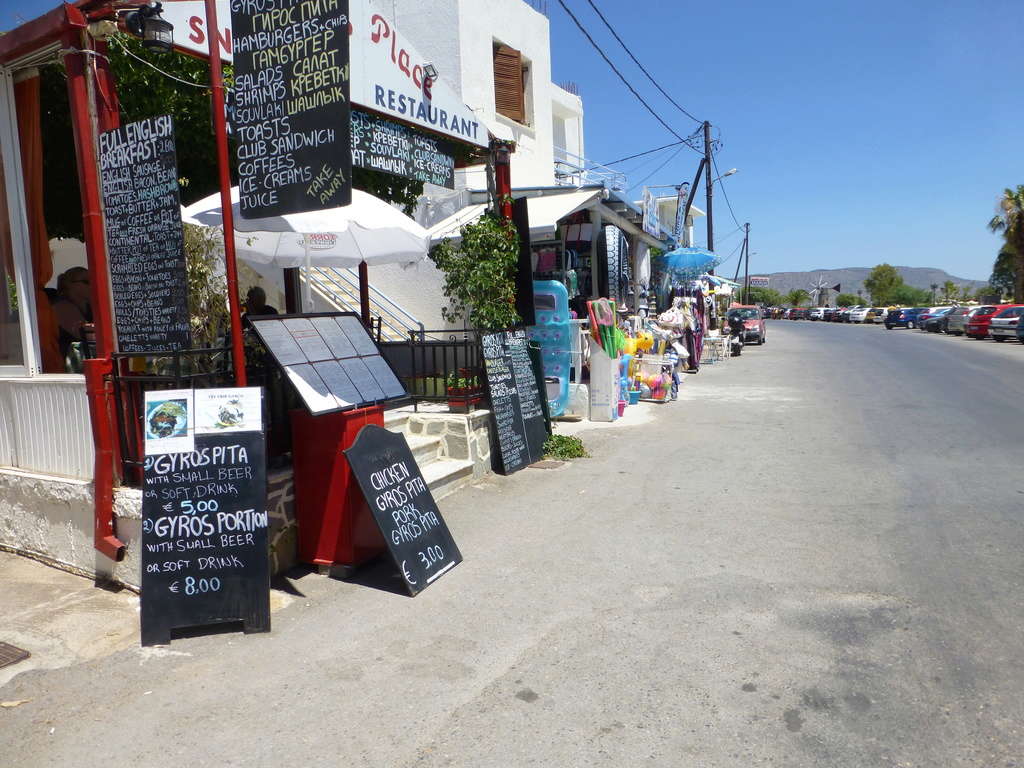 p1260844
and the blue Plaka train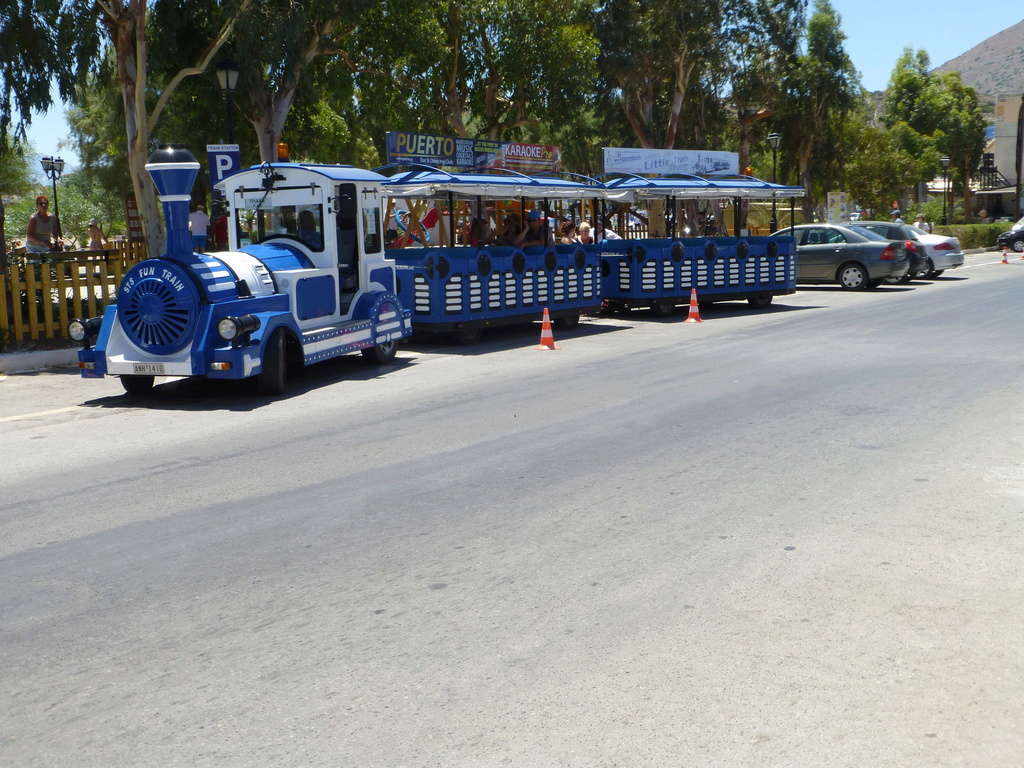 p1260846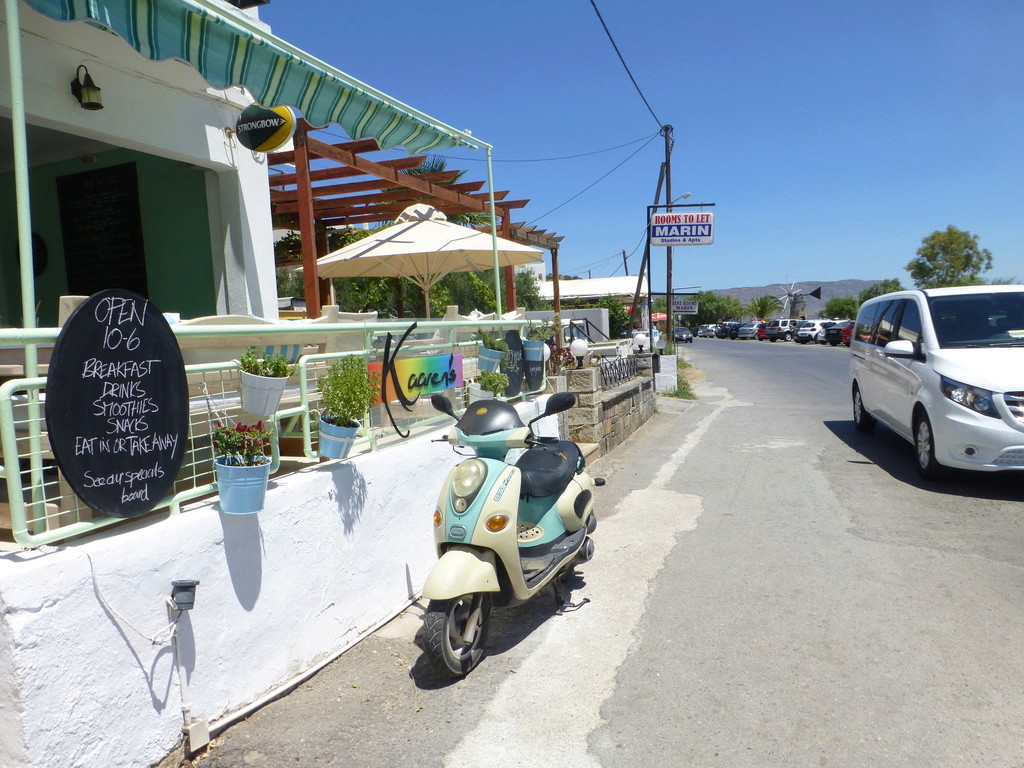 p1260847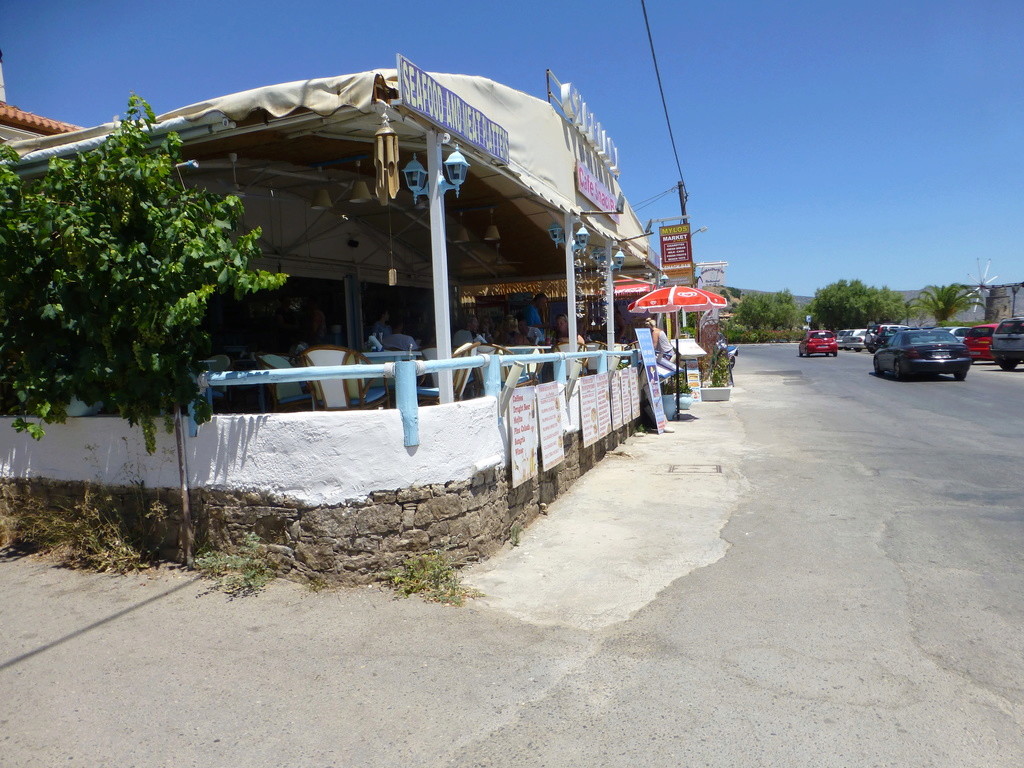 p1260848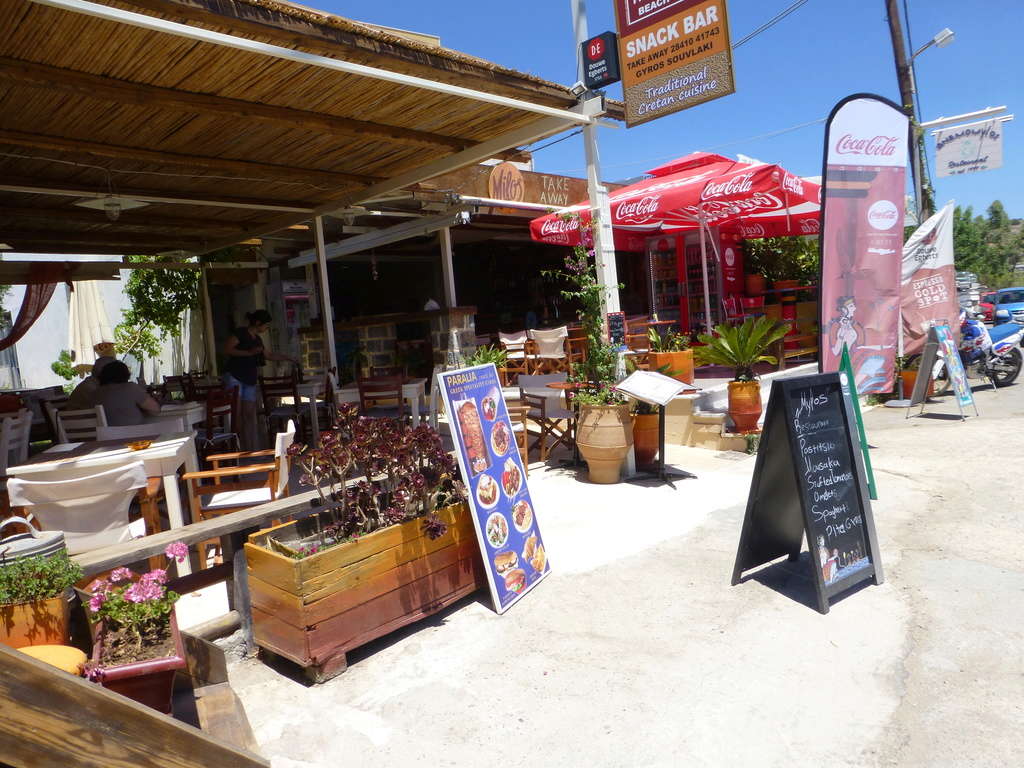 p1260849
p1260850
Our afternoon was on the small beach
p1260854
We were recommended this place for an evening meal and it is used by the Greeks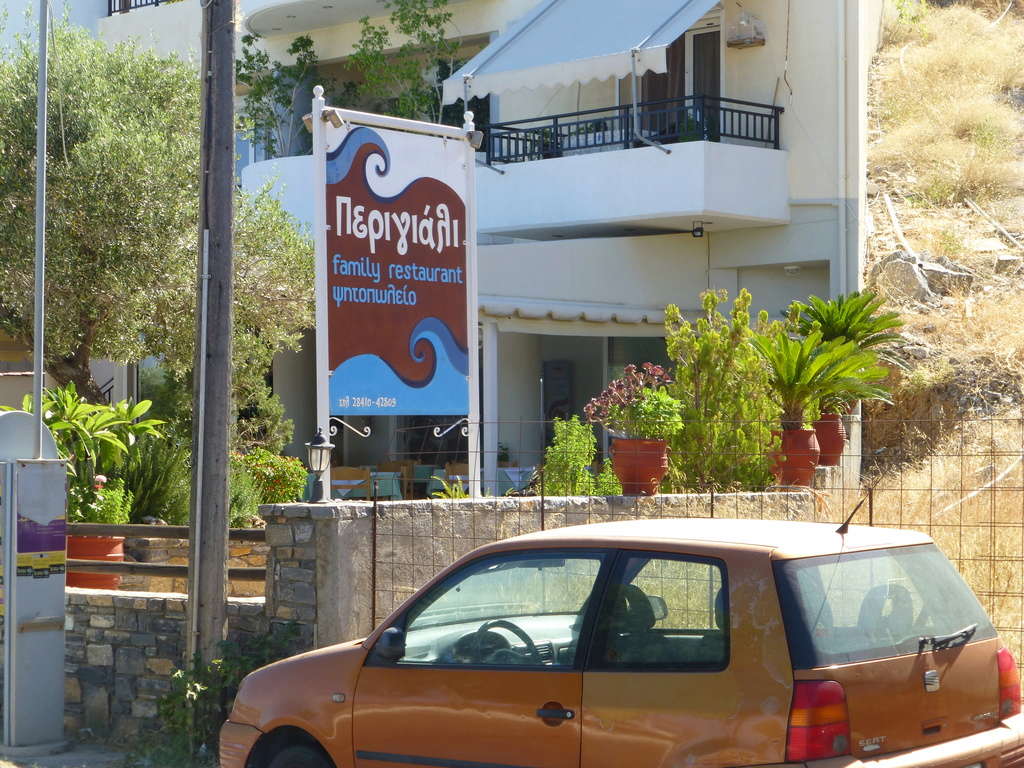 p1260932
It was evening, so we thought we would give them a try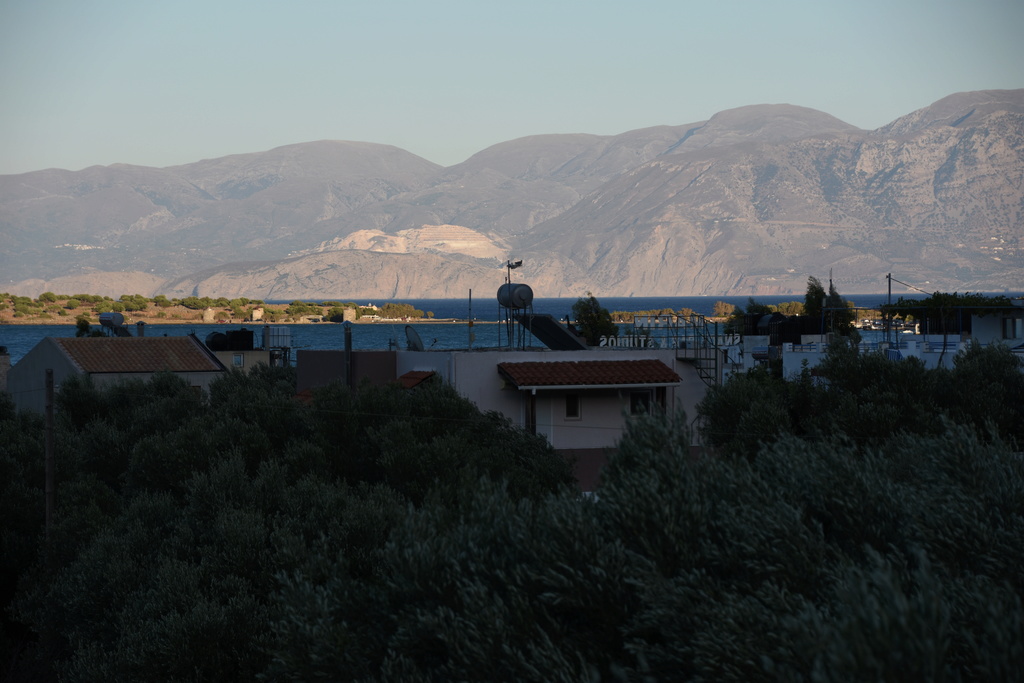 Dsc 0732
It's down here past the two beaches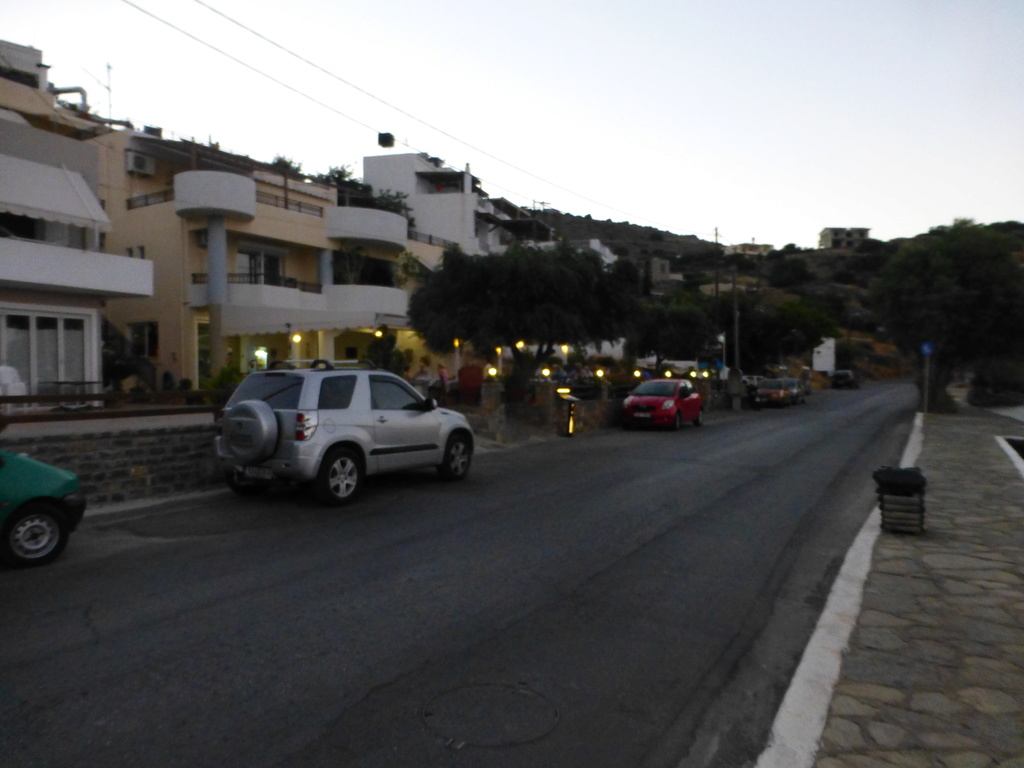 p126858
we chose a table and the place was fairly full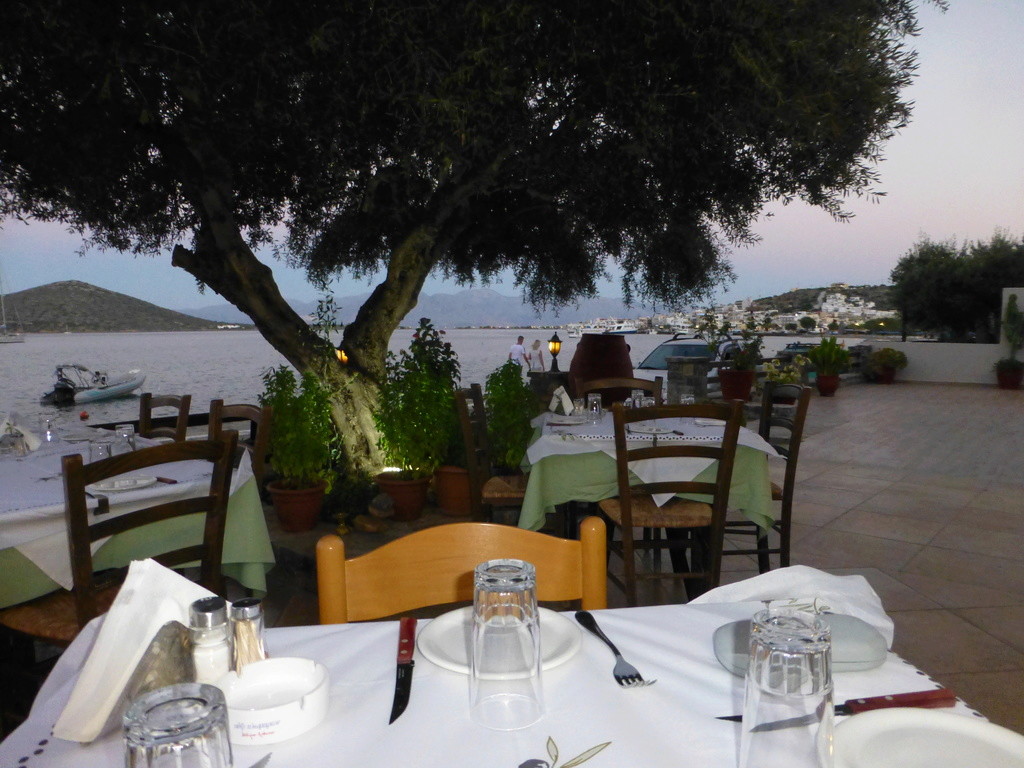 I was just taking a photograph and the lady came to serve us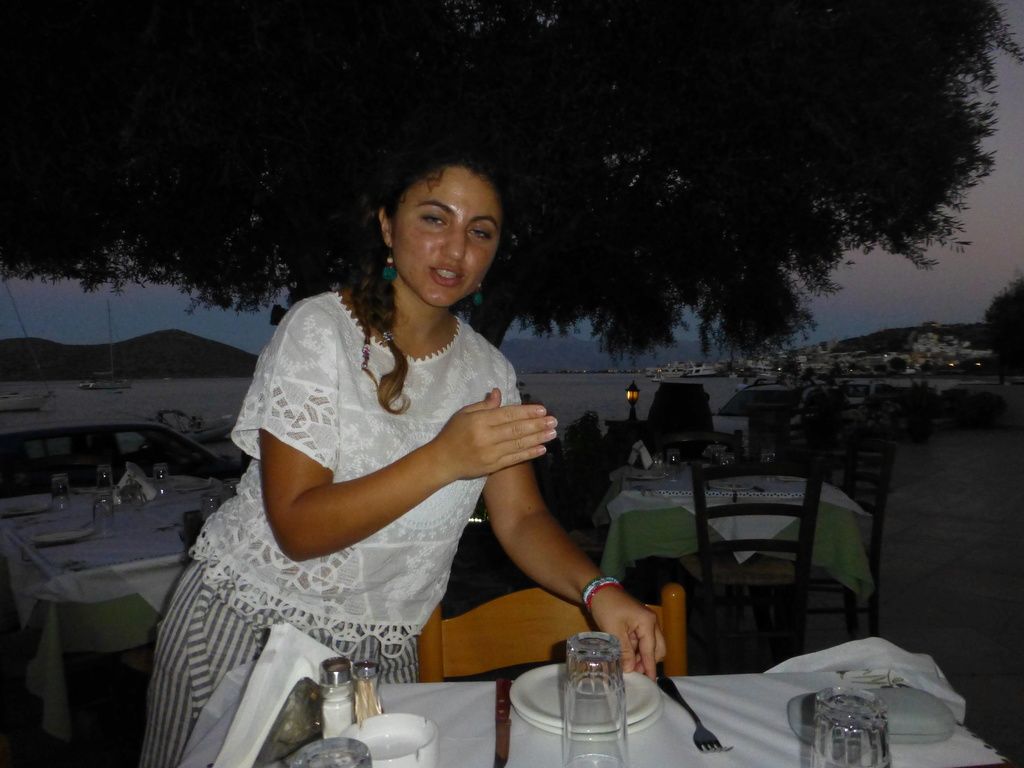 It had a small menu and a couple of specials for the night.
I am told her father has a butcher's shop in Agios Nik.
I had the lamb chops and Mrs Db the pork souvlaki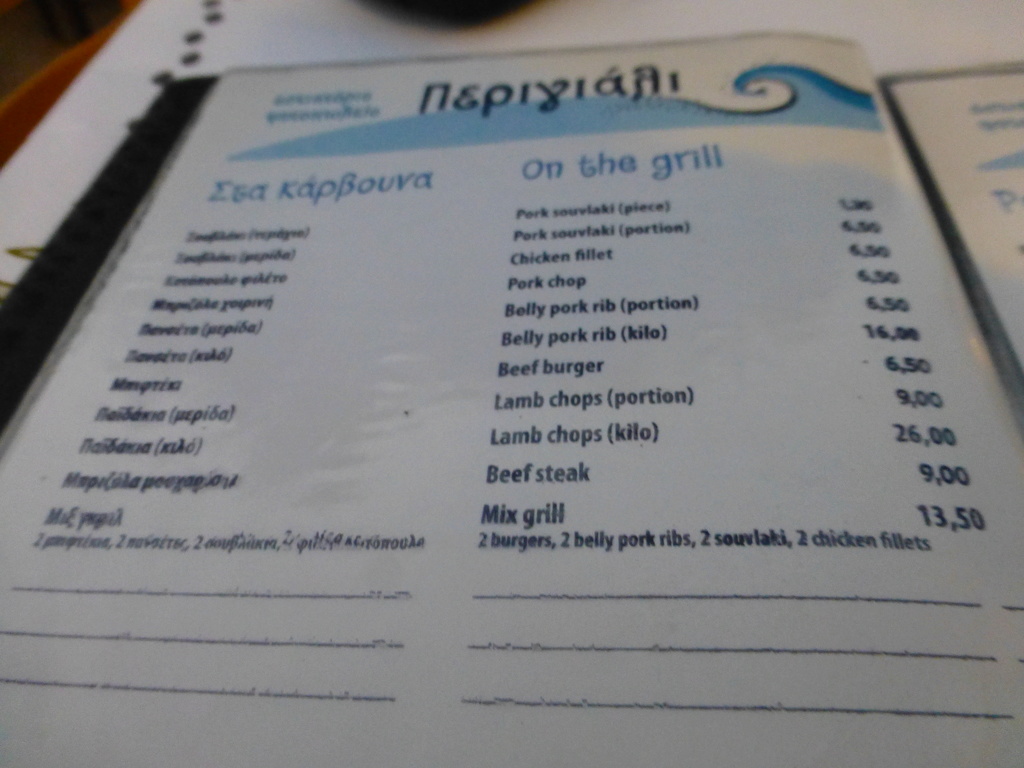 p1260861
yes look at it
a litre of house wine for 5€'s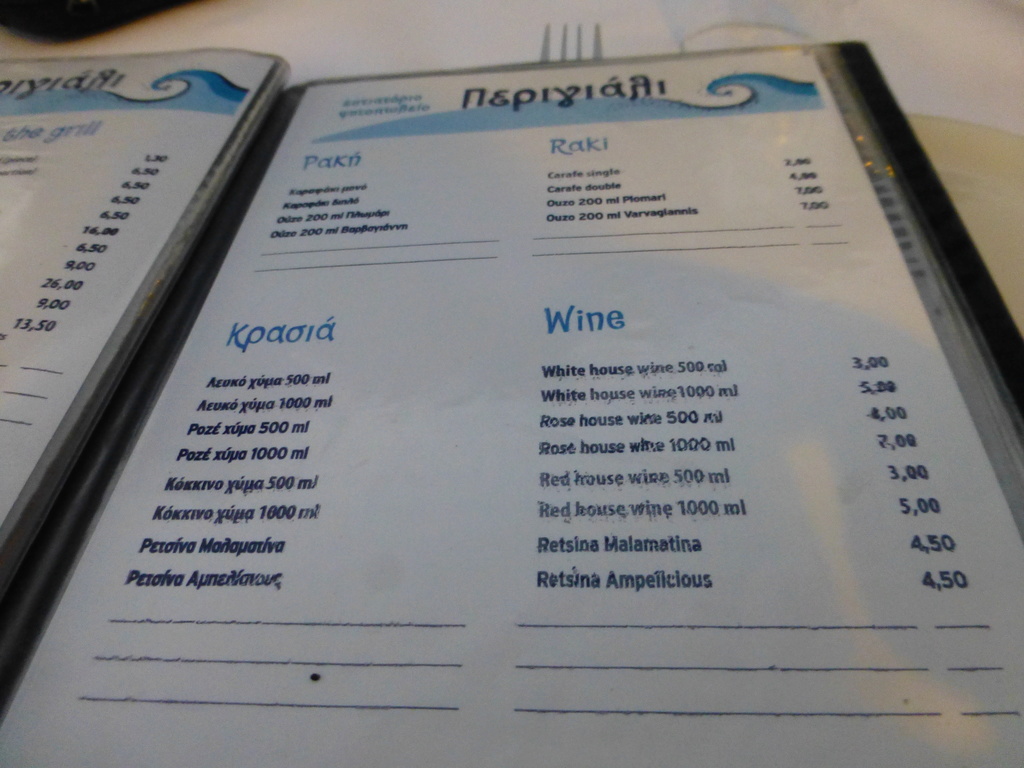 Menu starters, we picked cheese pies to share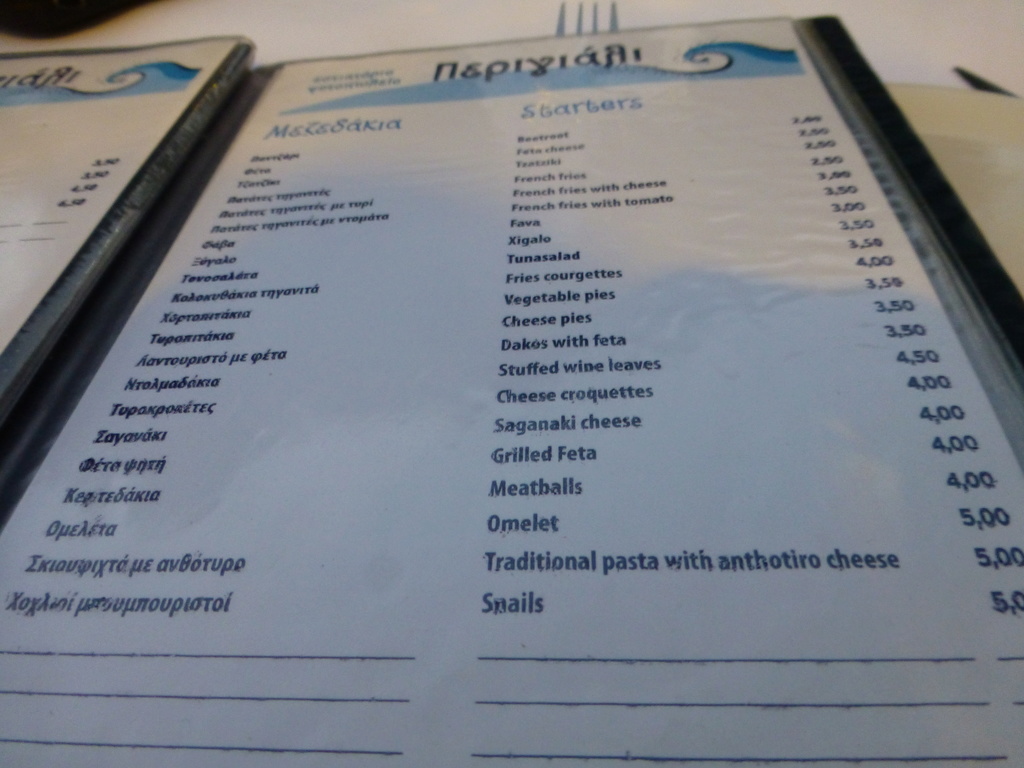 free nibbles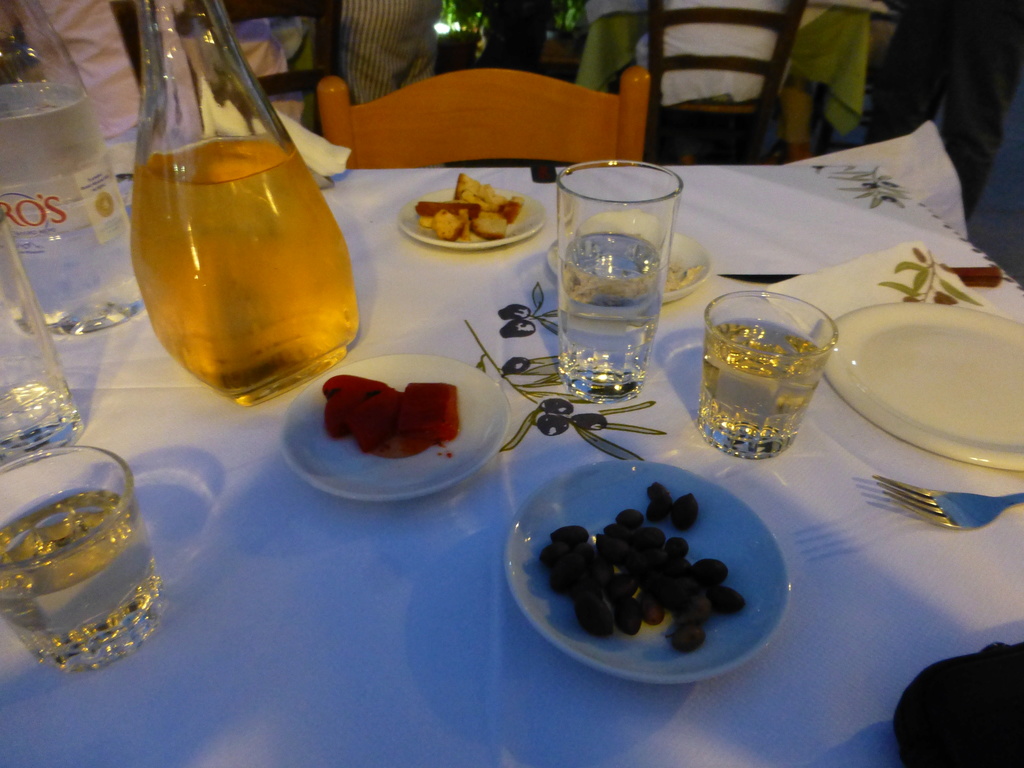 p1260865
cheese pies were lovely
Mrs Db's pork souvlaki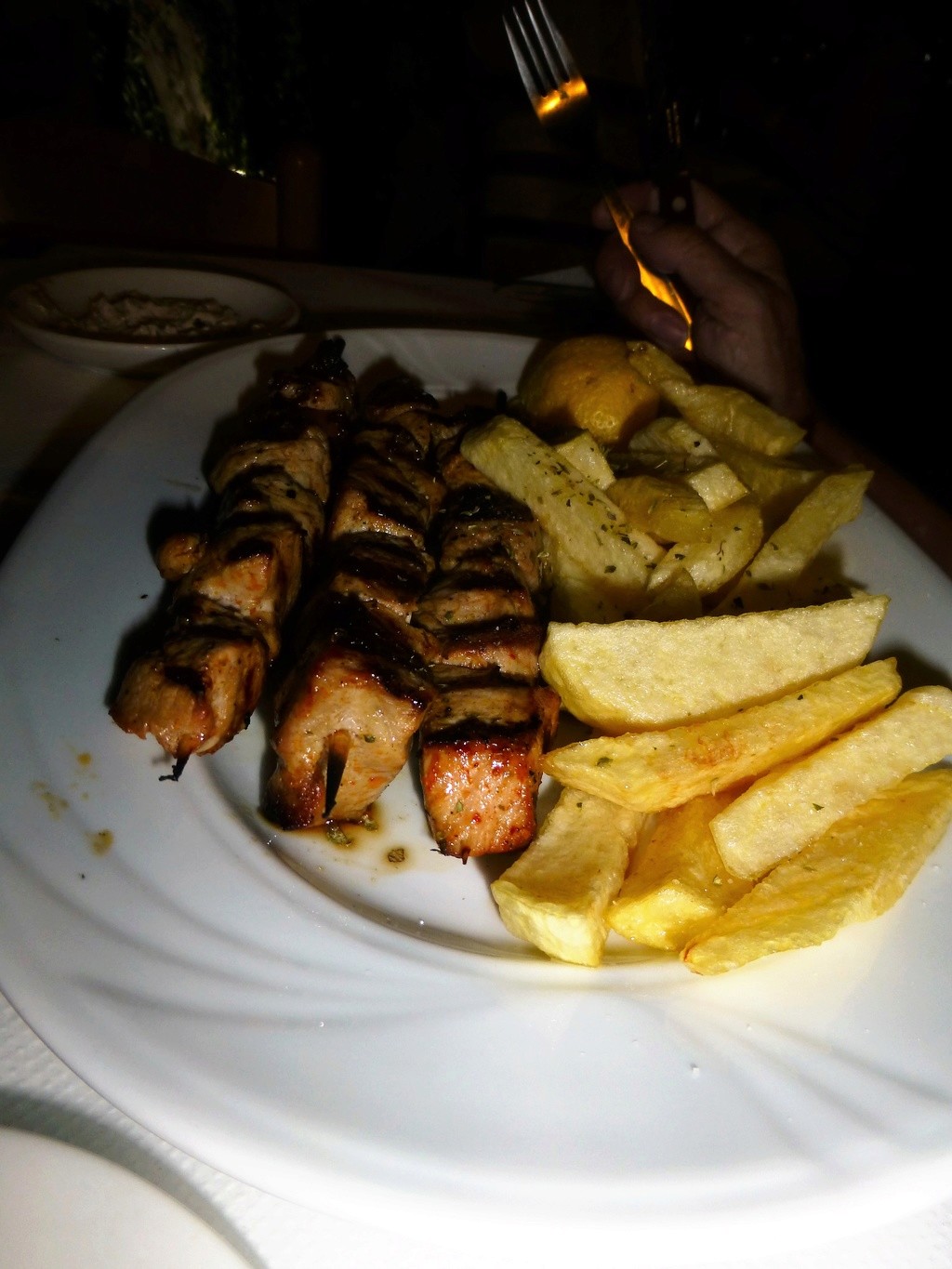 p1260869.2
My lamb chops and so much meat on them.
P1260871
free melon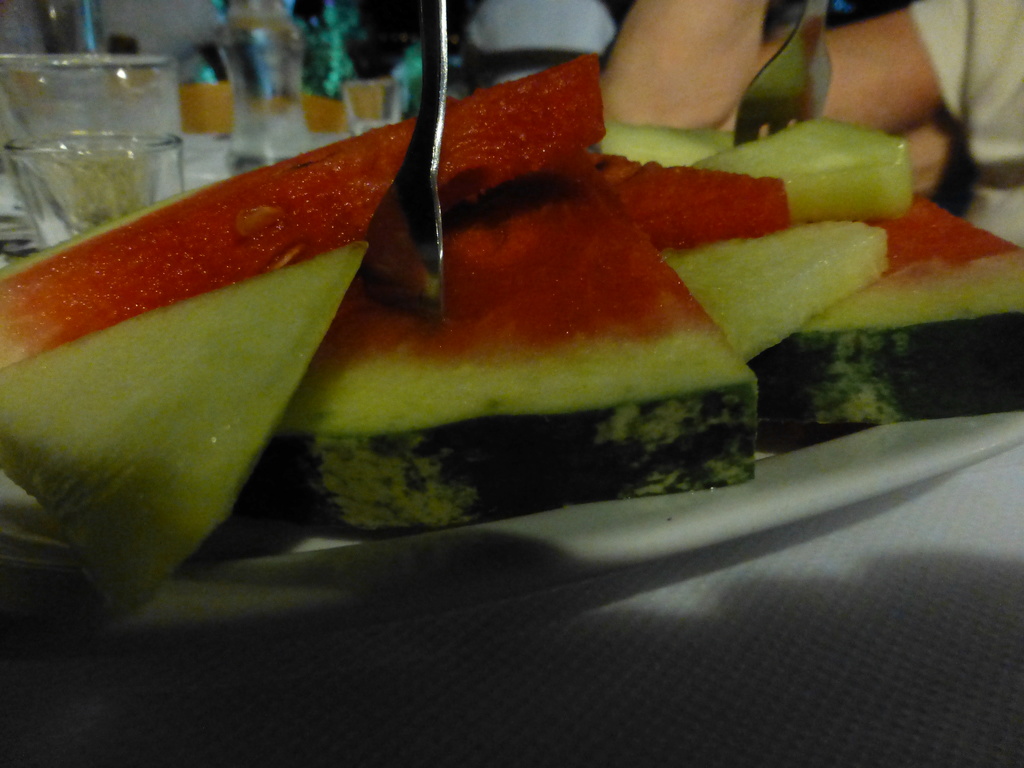 p1260873
Free raki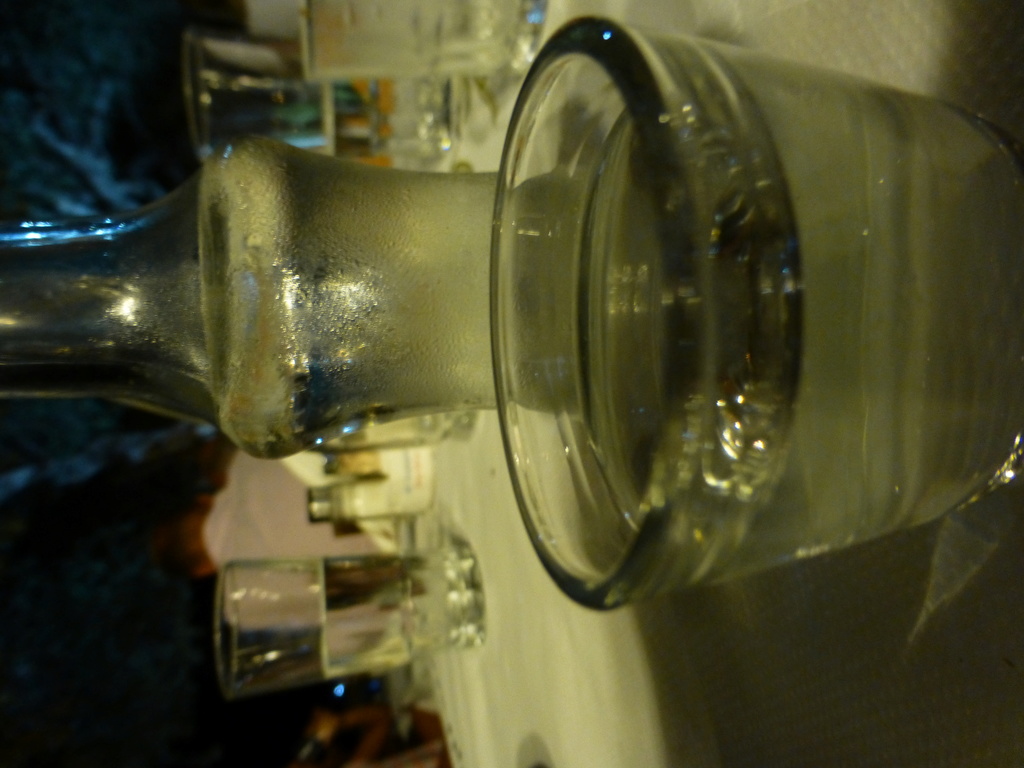 p1260876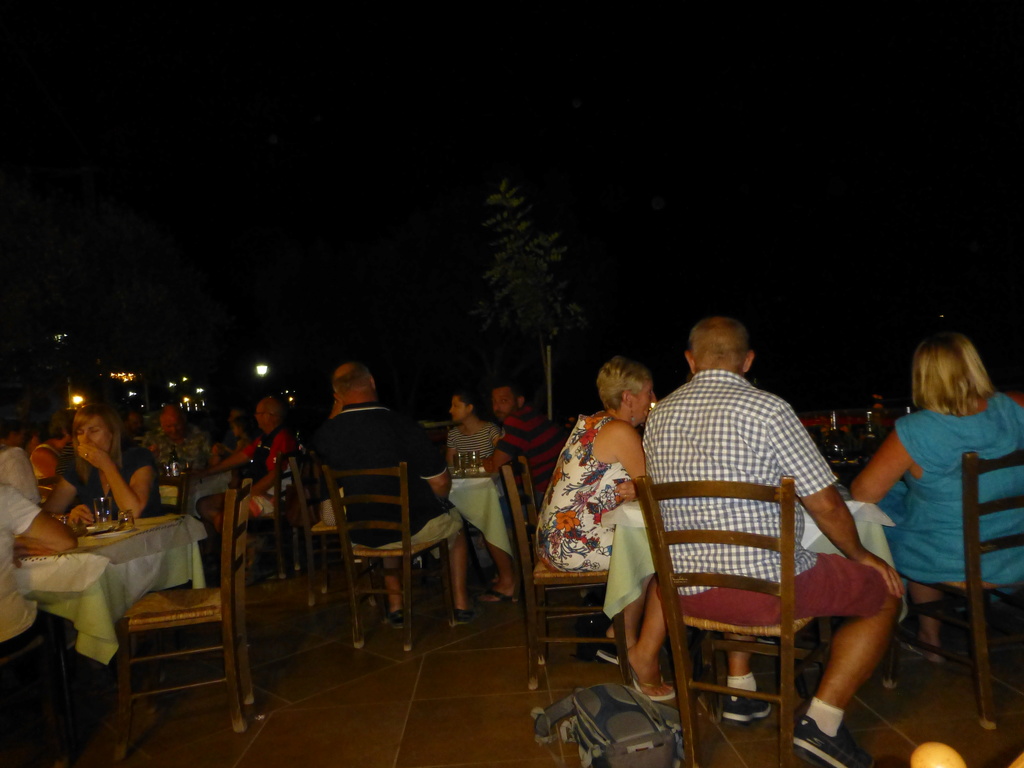 An the bill all this for 25€s
These places are about but you have to hunt for them and certainly in the hillsides
p1260877
coffee is always on our balcony to let the air con cool the bedroom
End of Day 10Day 11 Wednesday

The ancient sunken City of Olous
Having been tipped off about this but given the wrong area to look, I was off to seek out what I could find on the city. The Minoans first had a settlement here and were trading around the world but the civilisation was said to have been destroyed or weakened by volcanic eruptions and tidal waves from Santorini, another theory was an earthquake. The Dorians, a more brutal race capitalised on this and moved in and some time later the Romans.
Coins and artefacts found suggest the Olous people worshipped the God of Zeus. Some artefacts dating back to 1500 BC are in the museum. The Olous people were quite productive making dyes from sea shells. I remember reading about these dyes in Lanzarote which were extracted from plants and shellfish producing purple and red dyes which were considered colours of importance in the Roman Army.
So where is this lost city to be found, yes near the windmills. I think it would have been better if I were a miller spending most of my holiday down here lol
The French when digging the canal uncovered a slab with the figure of Apollo on it, so I am in the right area.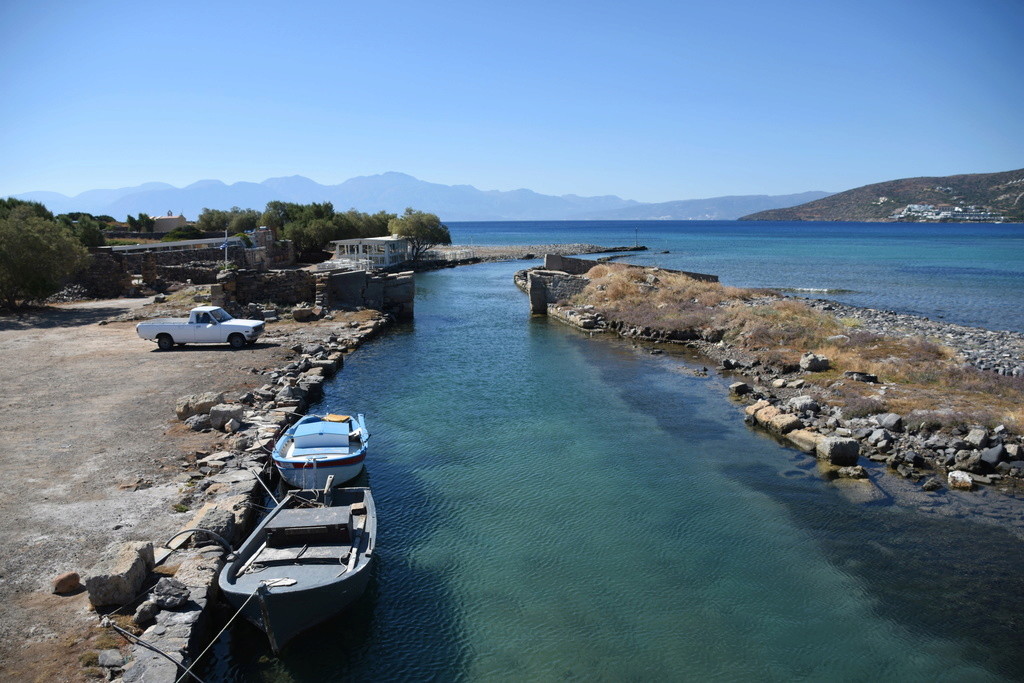 Dsc 0781
And this mosaic is a clue to it all. I now have my small camera with me, so I can push the lens through the gap in the fence.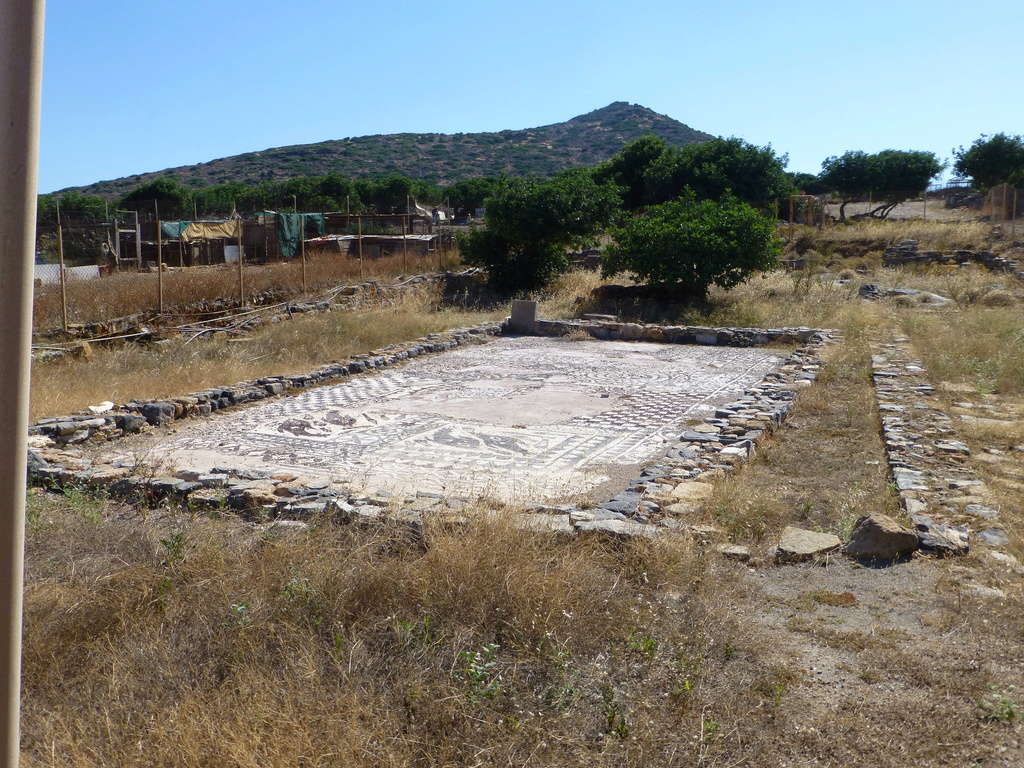 P1260885
Indiana Jones could have worked all this all out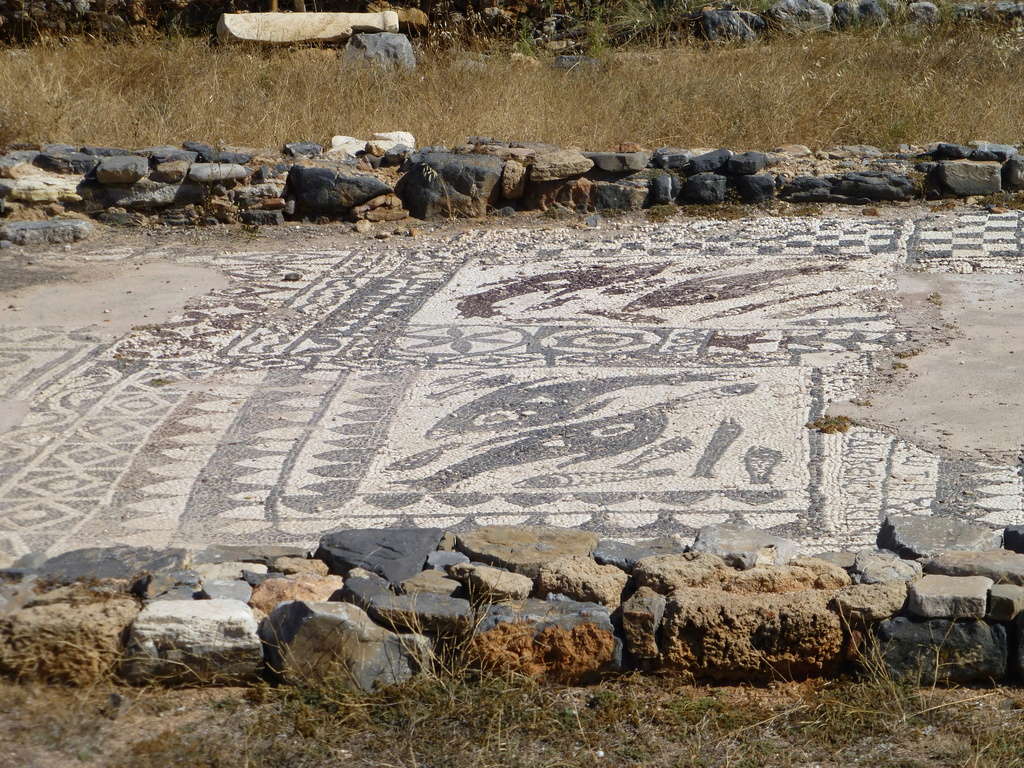 P1260887
however, I needed to get to the side of a church for further clues as parts of the city are visible in that area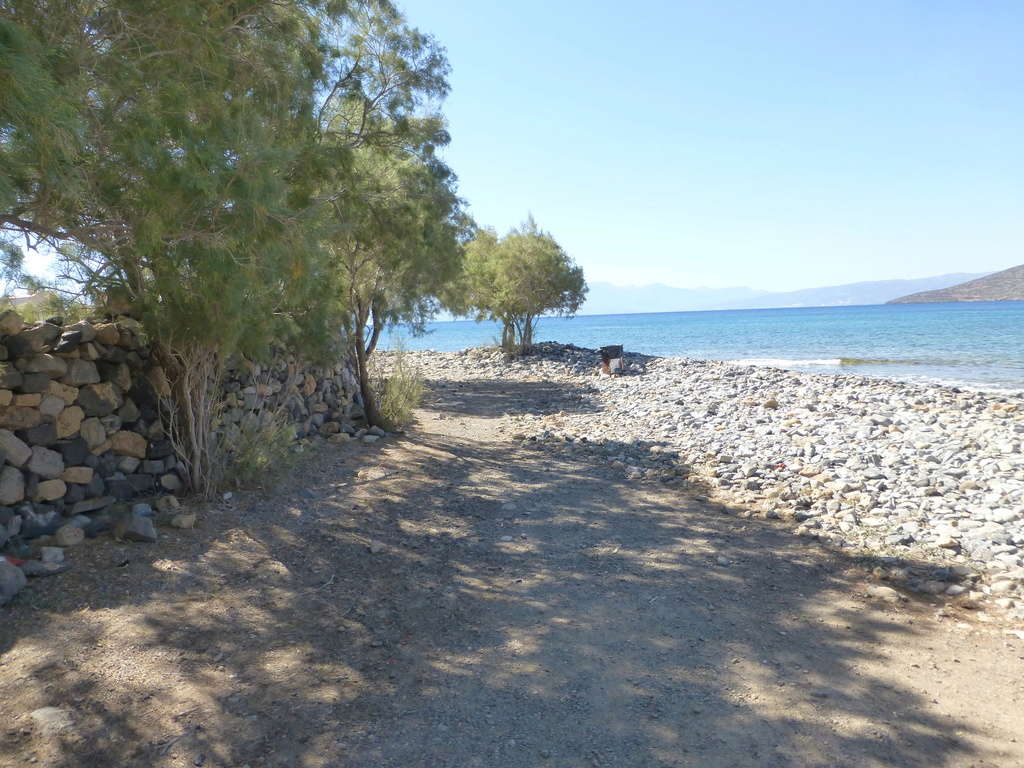 p1260893
a bit uneven on the feet lol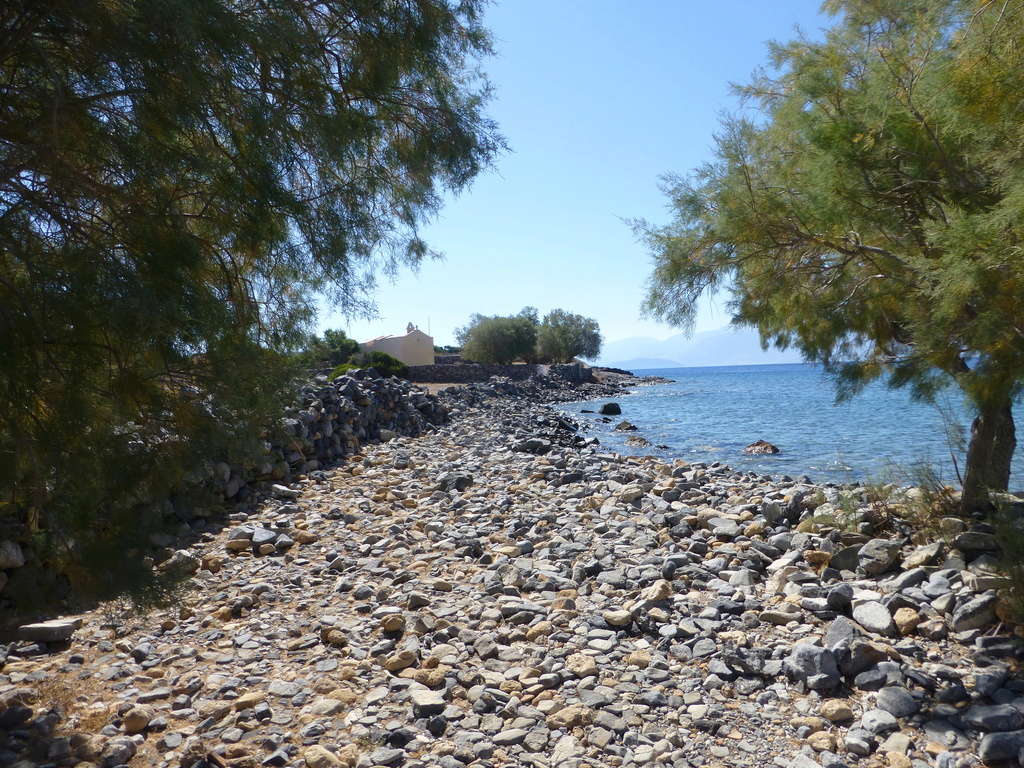 p1260894
Just gone back and found this better way to the church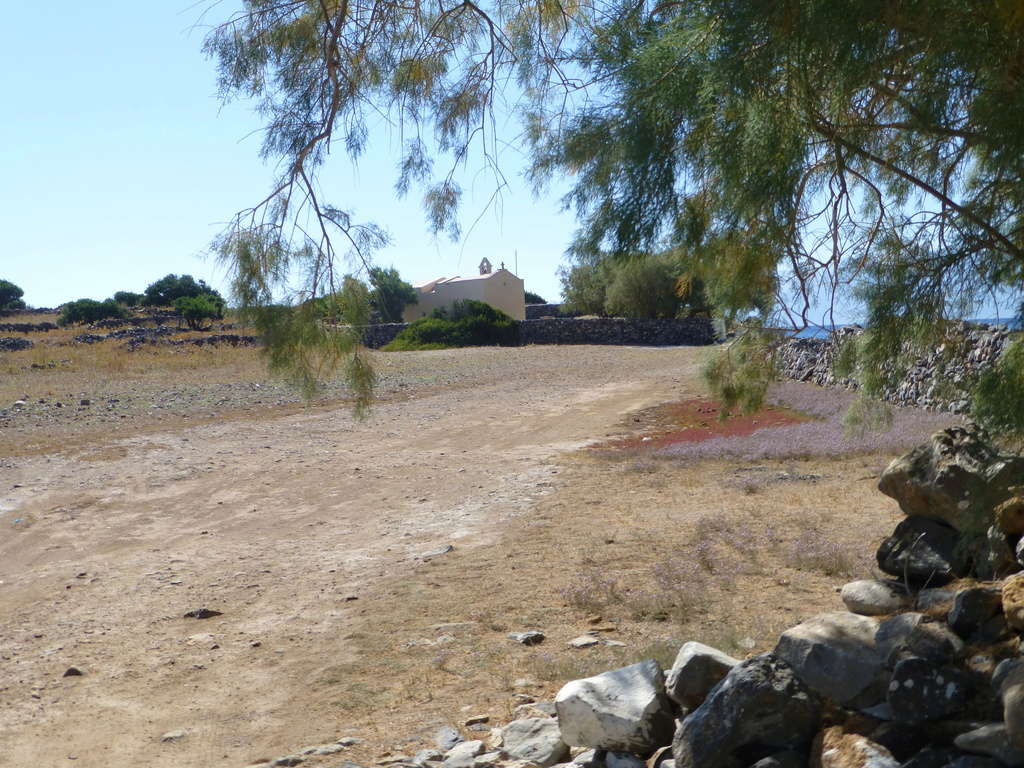 P1260895
The first sighting of the city of Olous but going to need flippers and a mask lol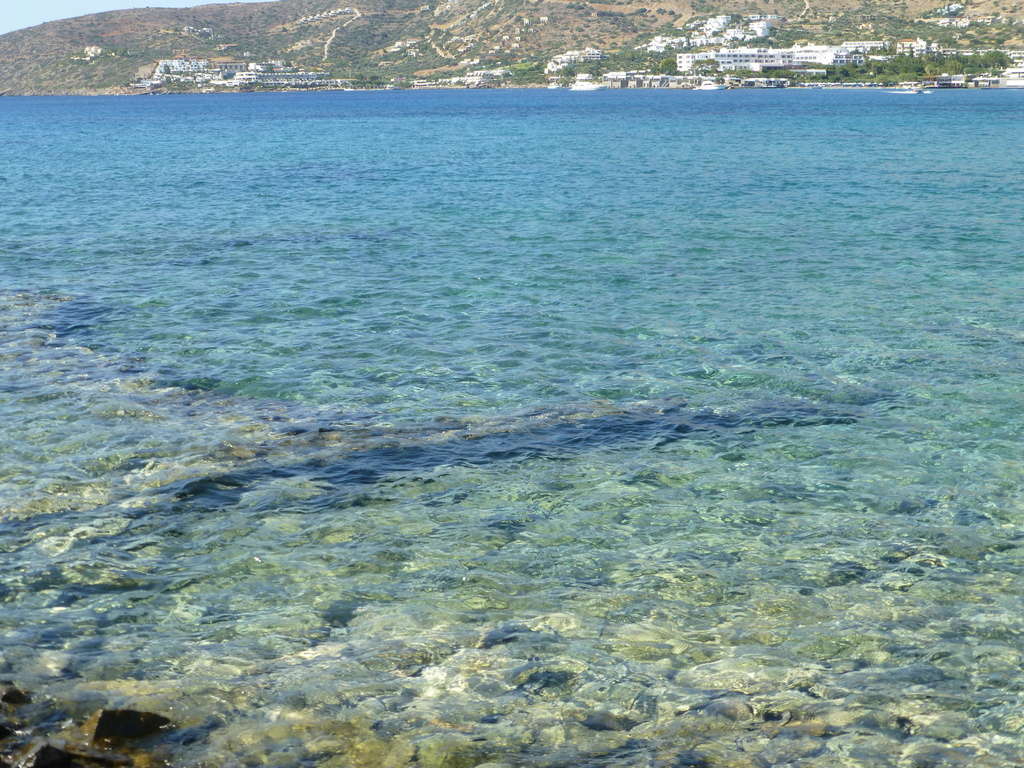 P1260897
More to see here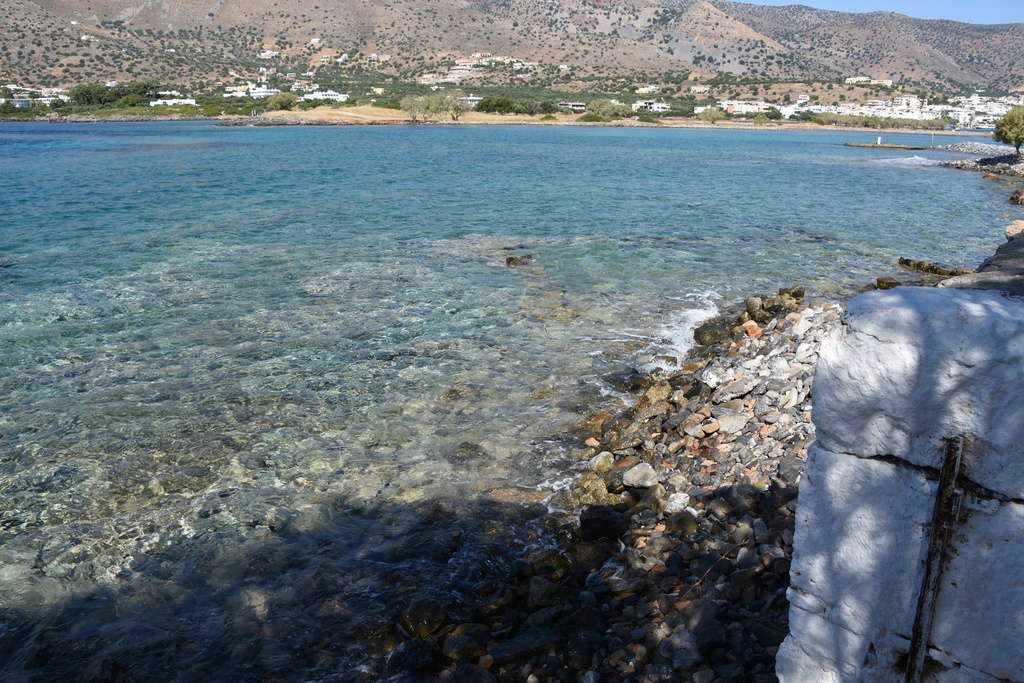 Dsc 00782
The church does not give any clues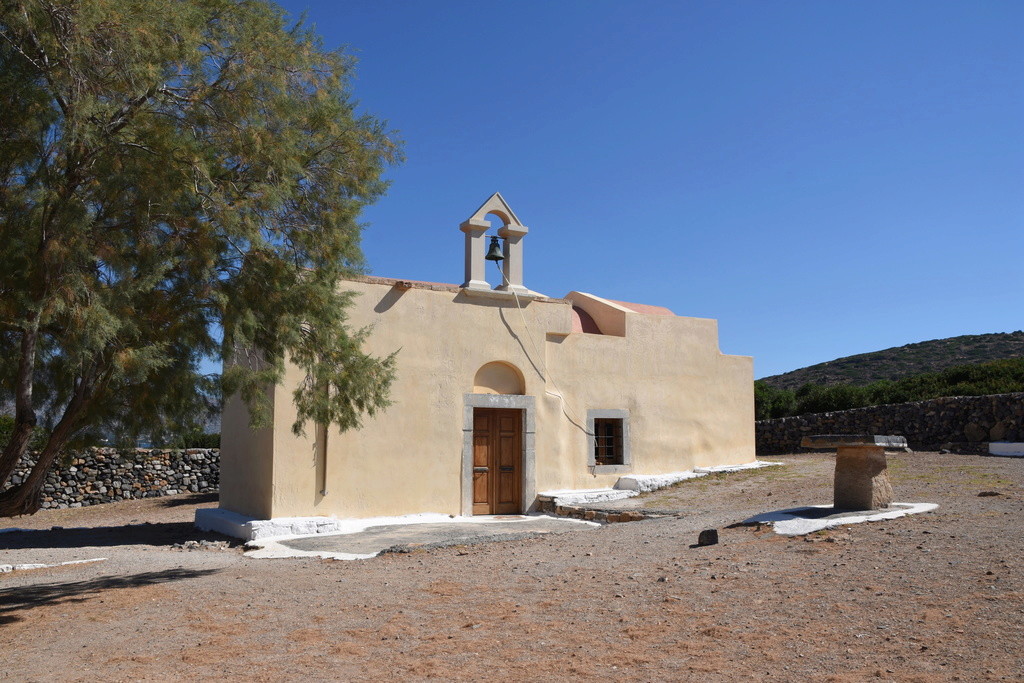 Dsc 00784
A bit frustrating really and a bit like 'Treasure Hunt' with Kenneth Kendal asking Annie if she can see a Roman Helmet in the water and her reply of 'I can see a red buoy' lol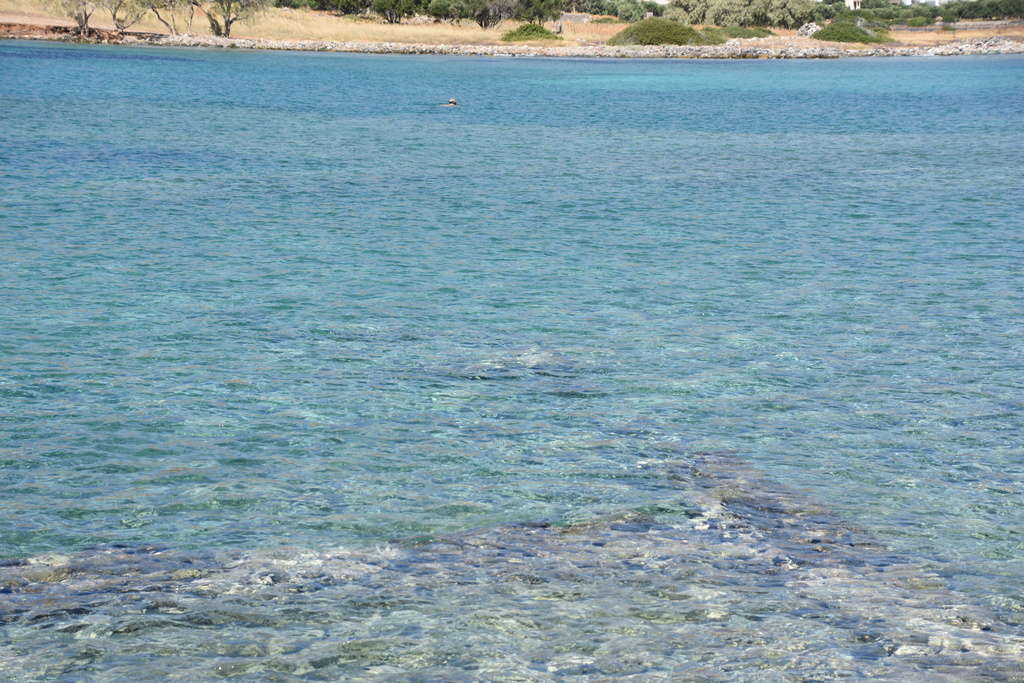 Dsc 00785
I clearly needed to get to the other side of the canal to see if I can find more structures
Dsc 00786
If only trees could talk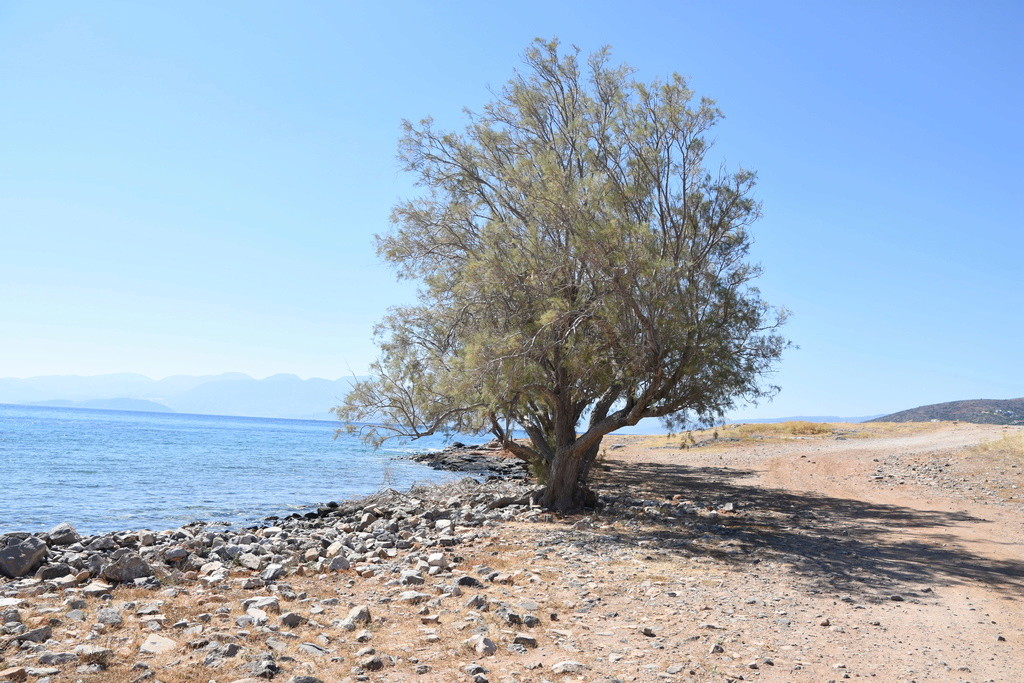 Dsc 00793
At least the hunt has found another beach I wonder if Julius Caesar sat here waiting for his cloak to be dyed red.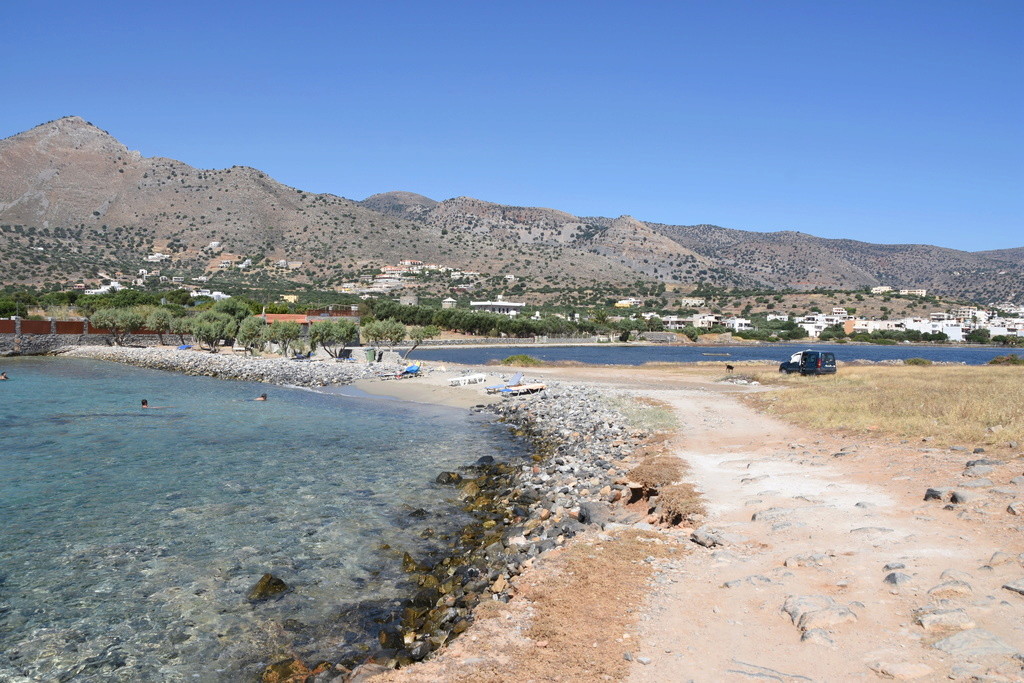 Dsc 0810
Over on the Salt Pans I can see an Egret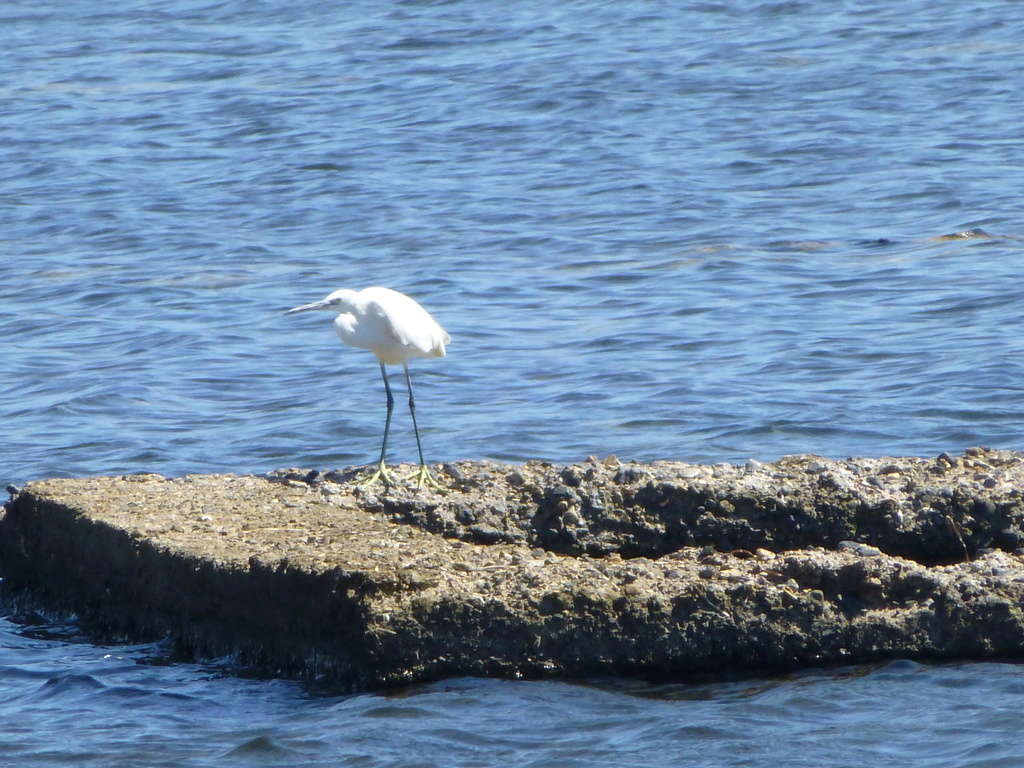 Dsc 0812
and popping into the taverna that started all this hunt I sat down for a beer. Lucky for me I didn't pick the table in the corner, as behind the table asleep was this dog and he was not pleased to see me lol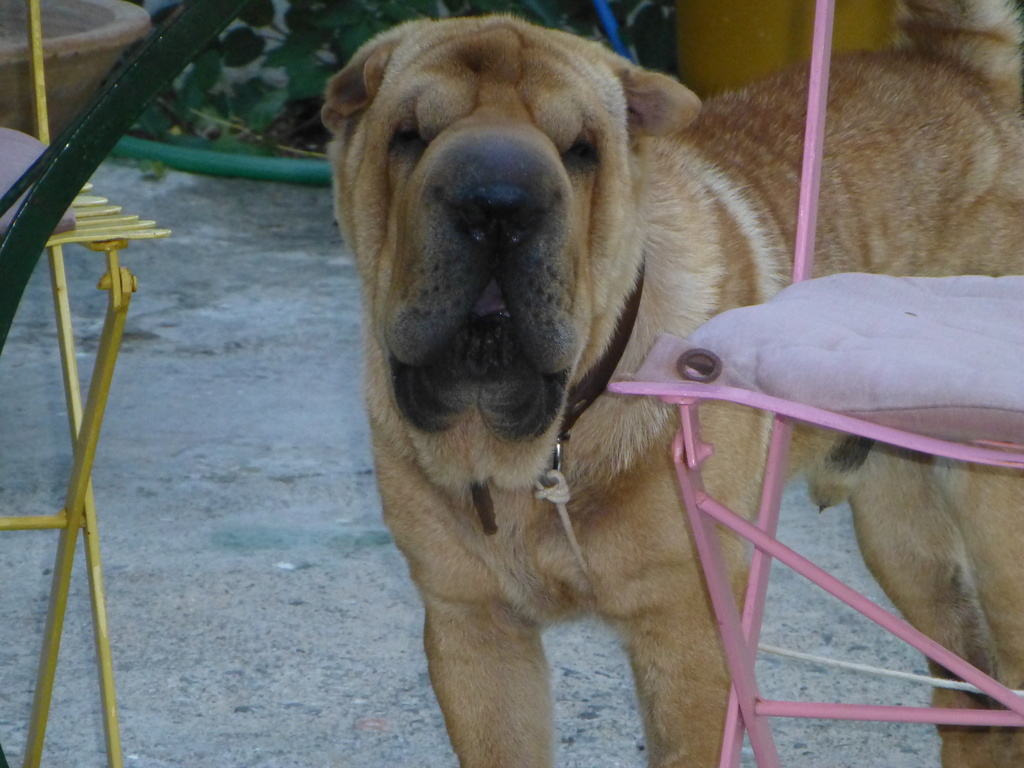 p1260901
After my beer walking back down the high street I spotted this place but my Billy Elliot days are all over lol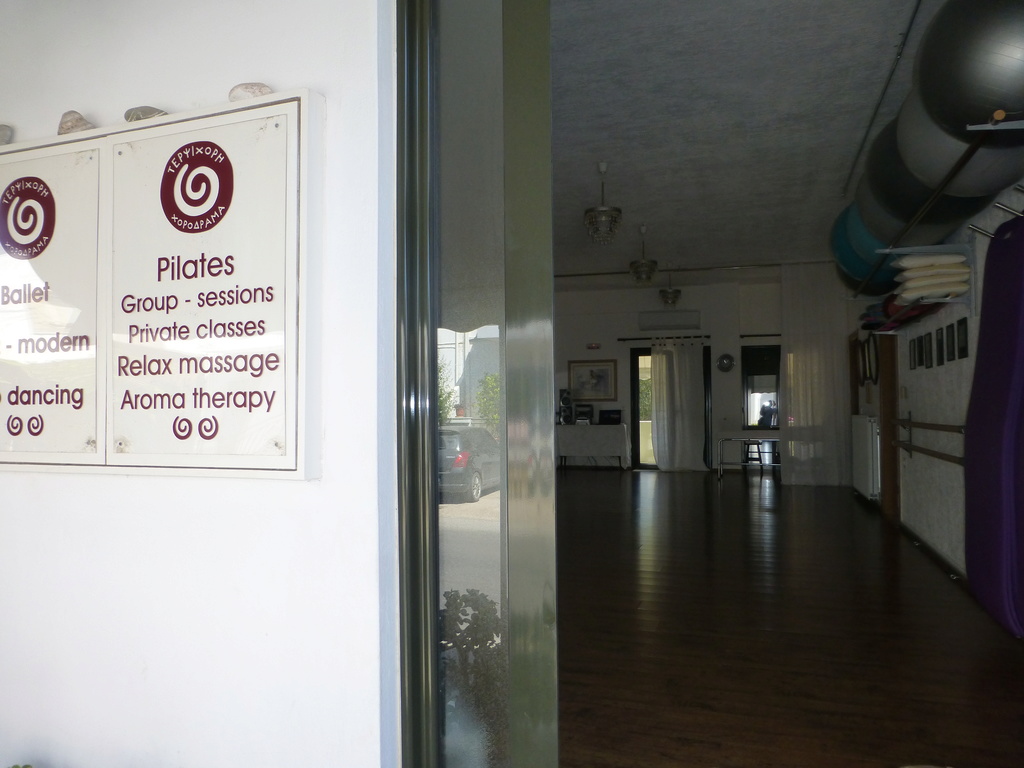 p1260912
now cutting down to the front, this hotel is named after the ancient city
p1260914
p1260915
Their menu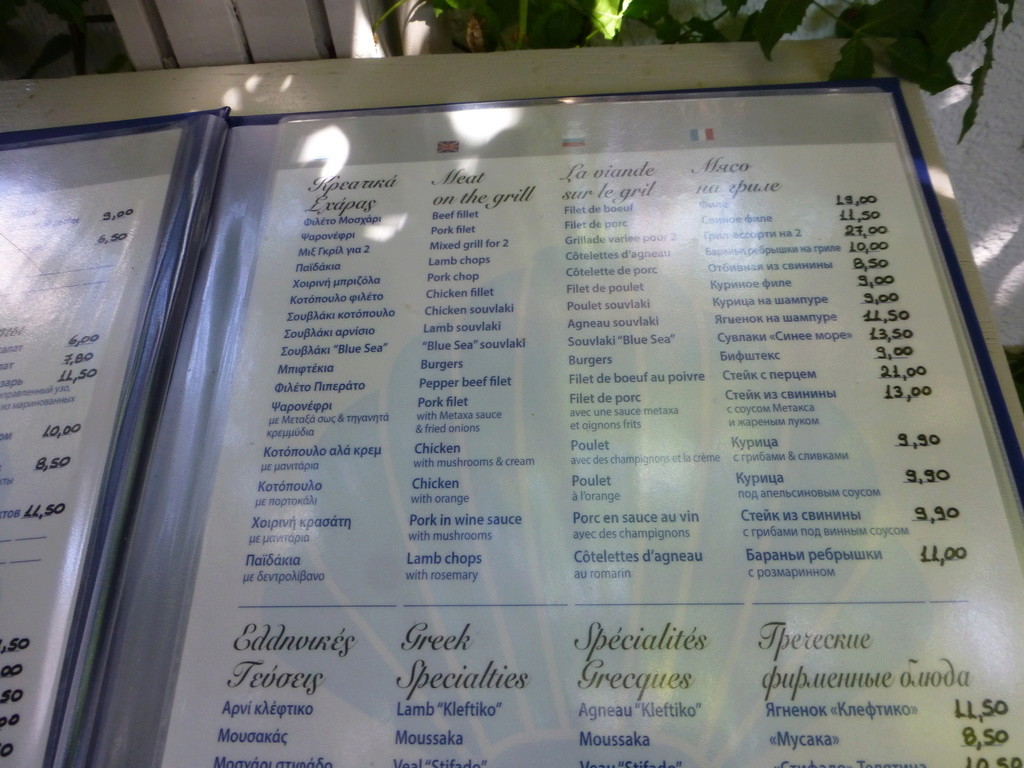 p1260916
I see they have rabbit Stifido, what has happen to beef ?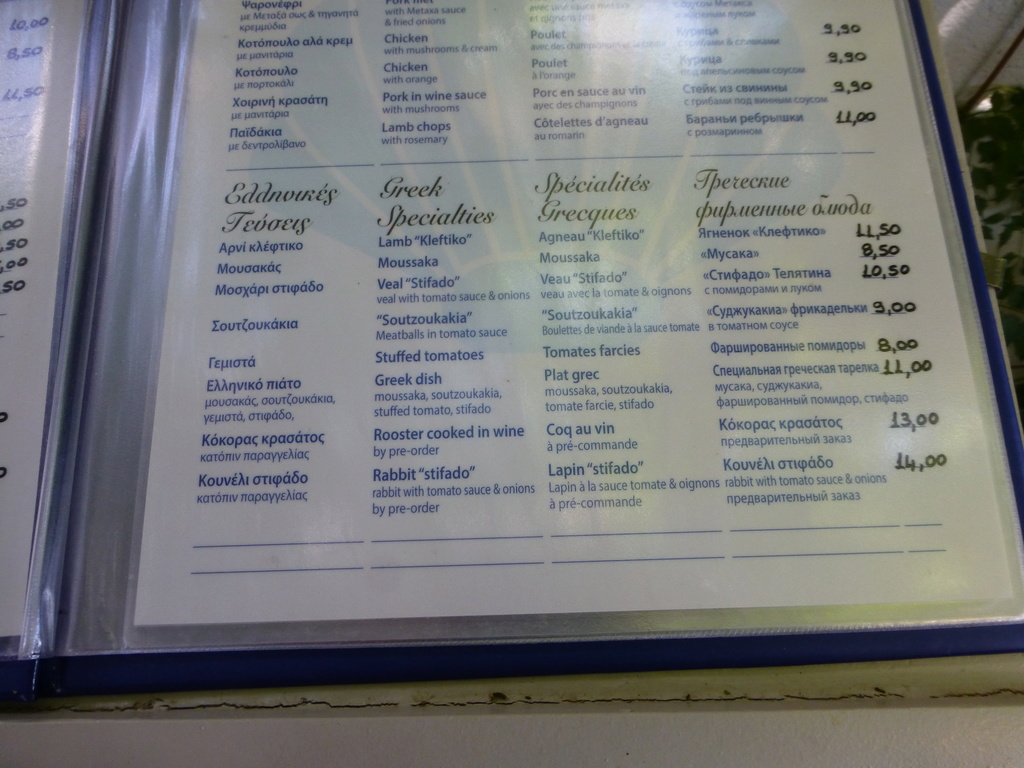 p1260917
now back on the harbour and the boats are all tied up ready for trips to Spinalonga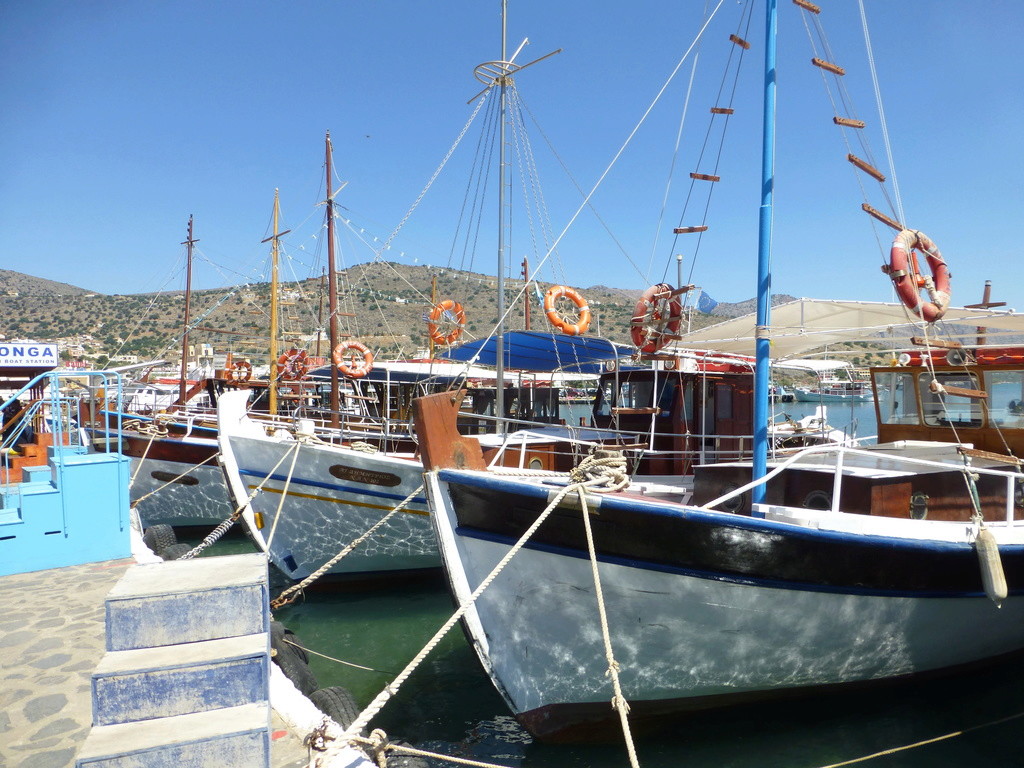 p1260925
After lunch it was on the beach but like a Jack in the box, I was up trying to see if I could take an interesting shot of this boat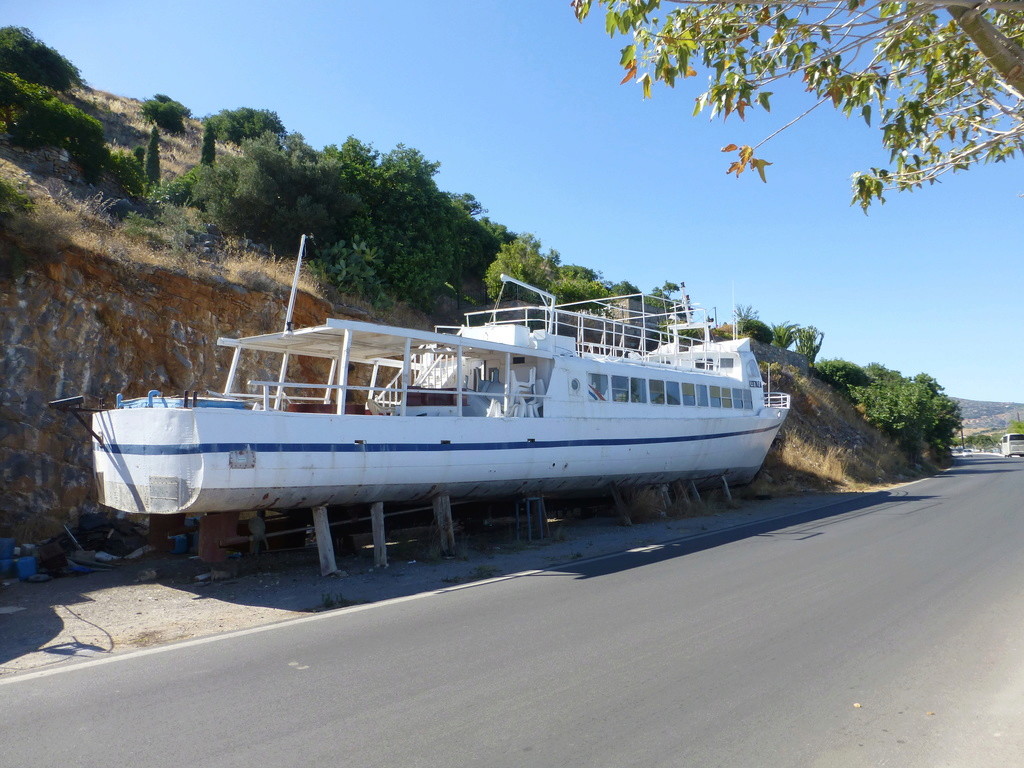 p1260937
but not much good really so back to Mrs Db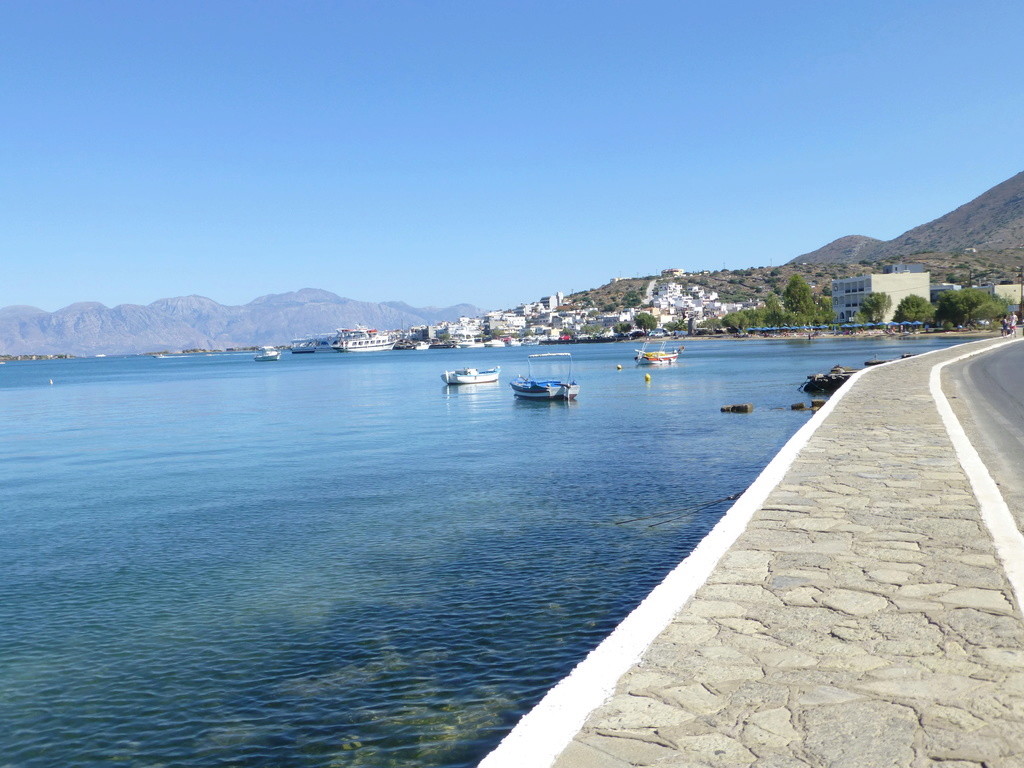 p1260940
Evening was dinner at Vachus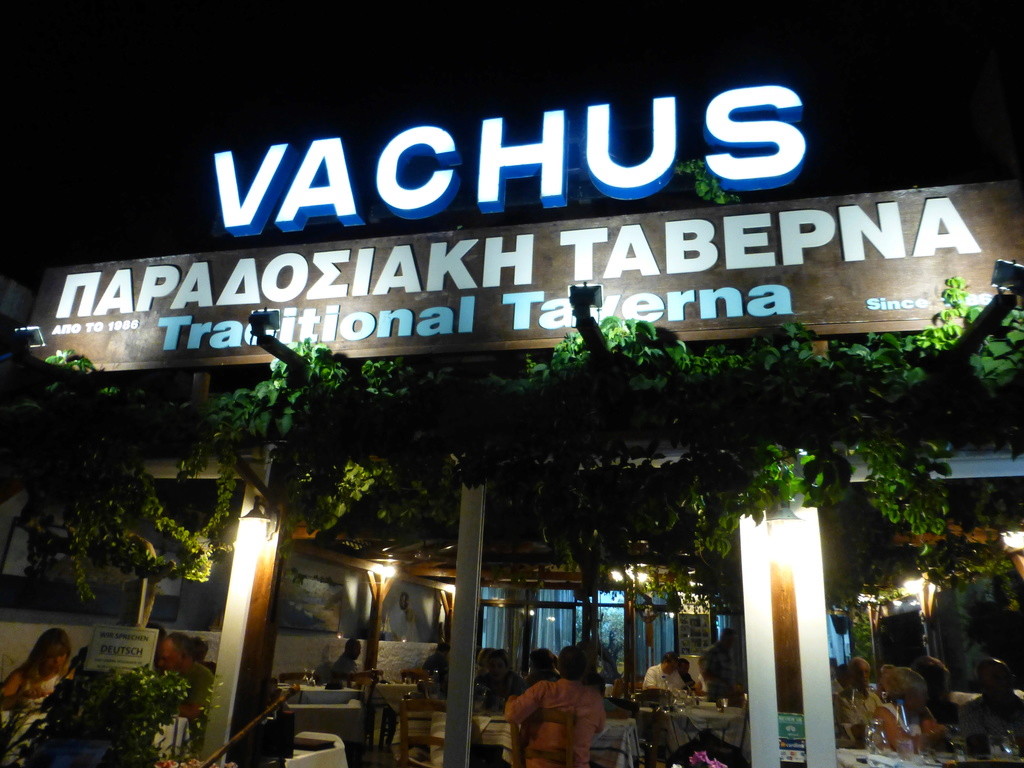 p1260952
menu house wine was 10€s a litre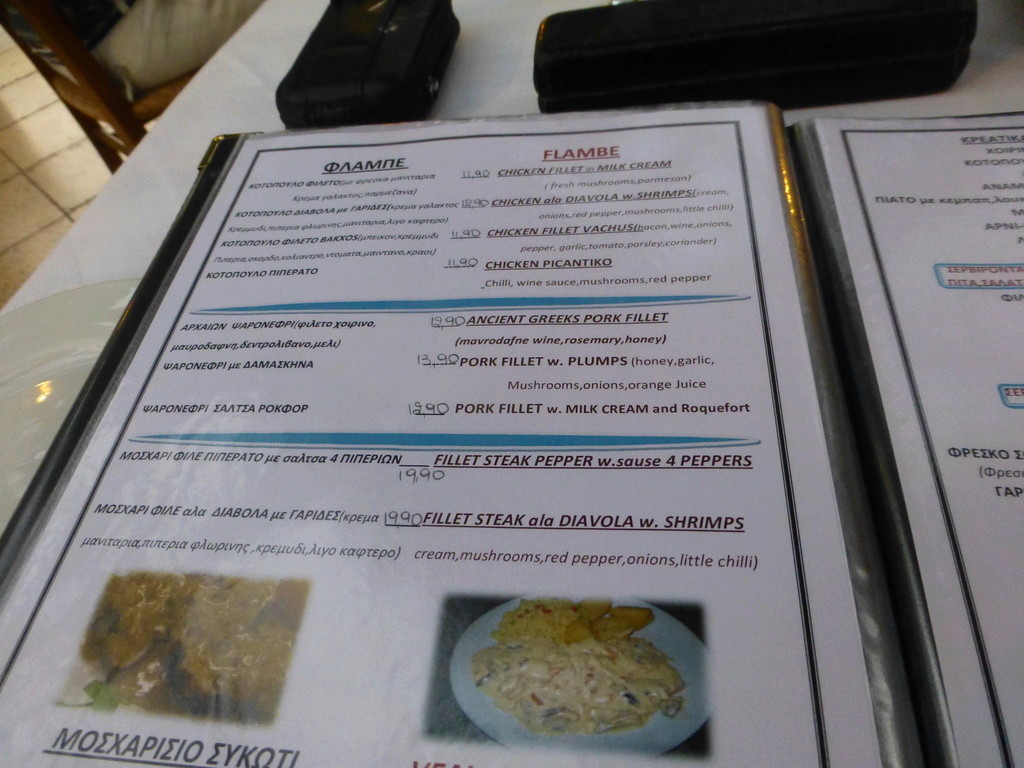 p1260941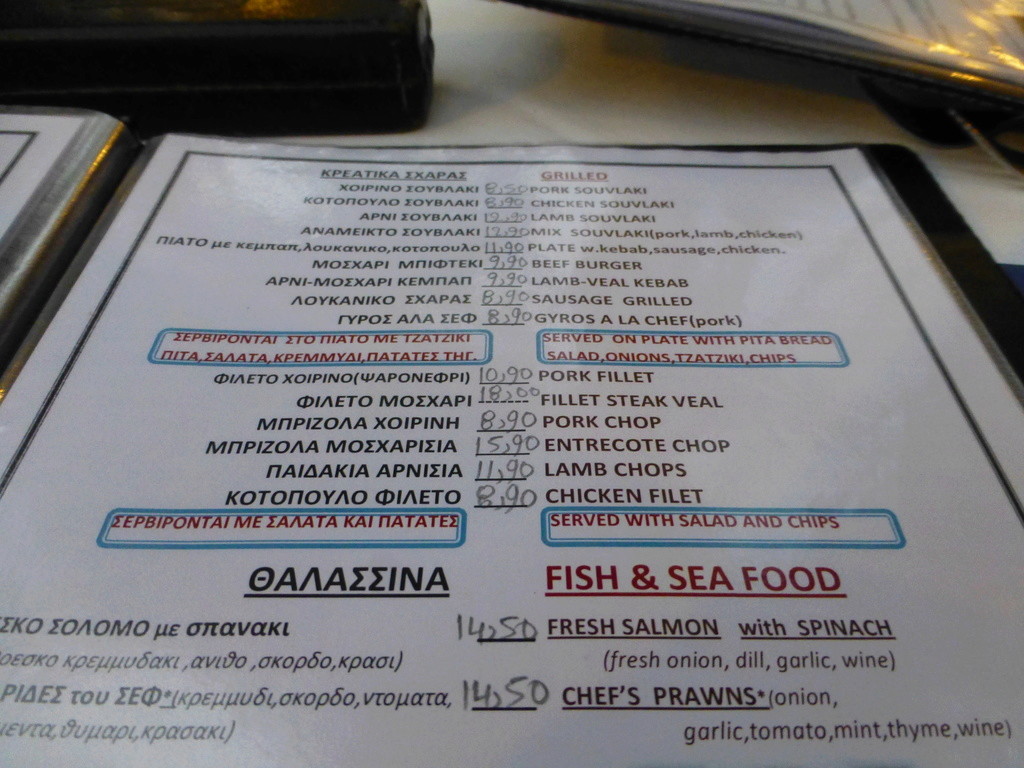 p1260942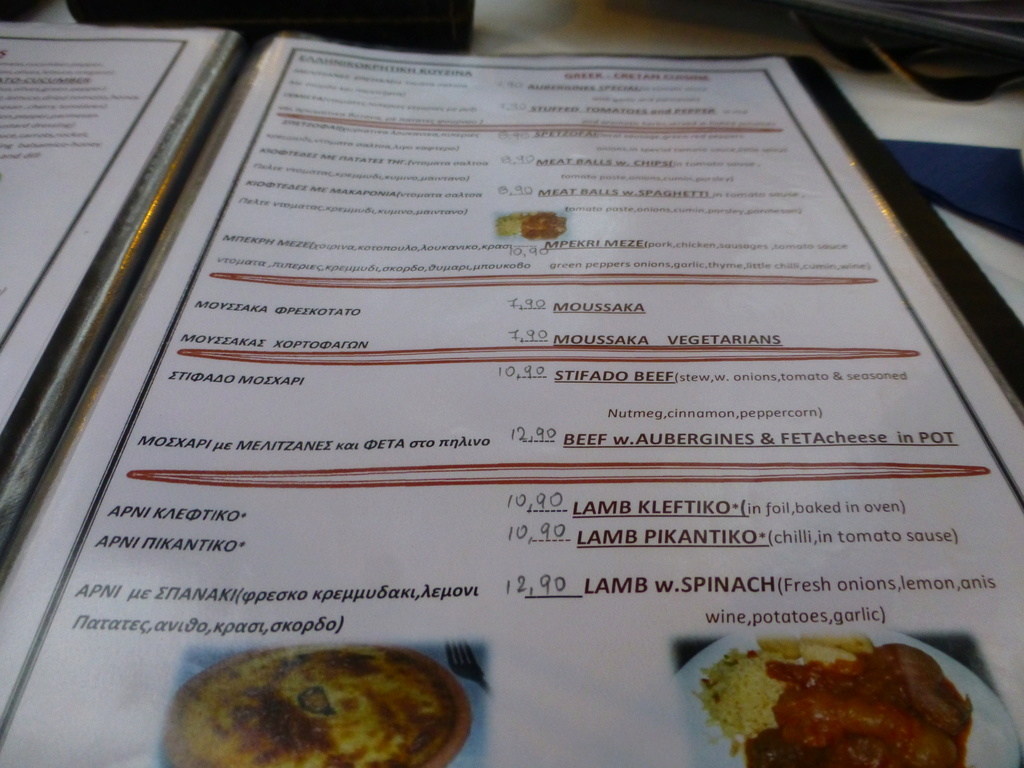 p1260943
The taverna view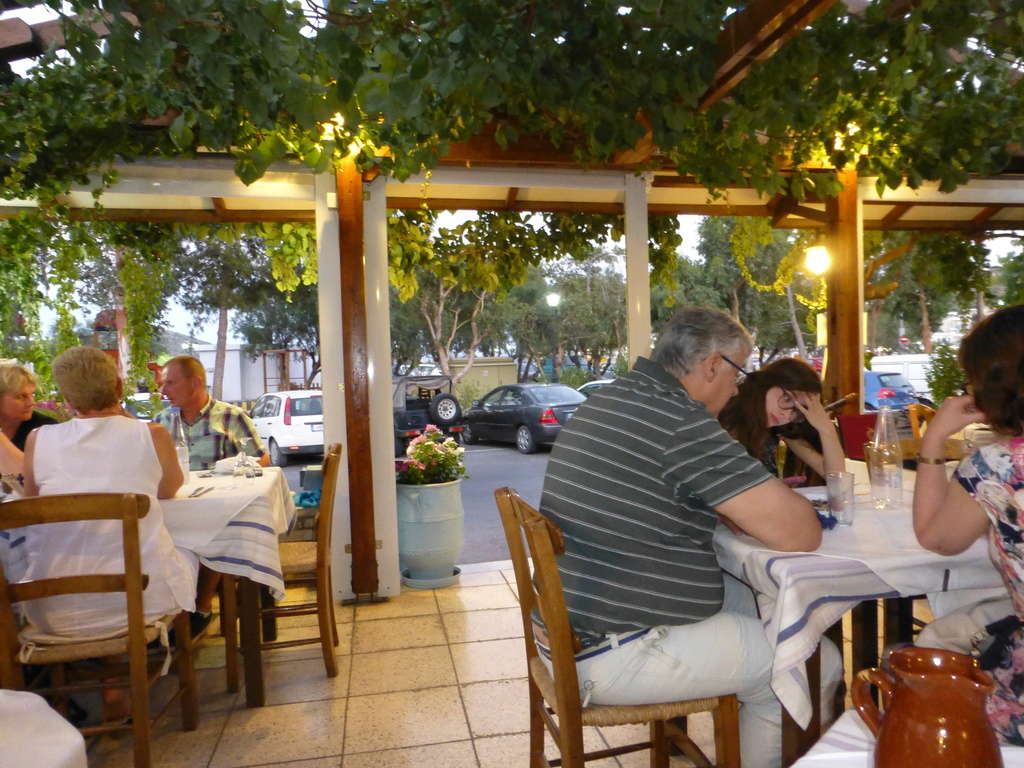 p1260945
I had the chicken and shrimps but they were prawns in my book lol
p1260948
Mrs Db had Lamb Kleftiko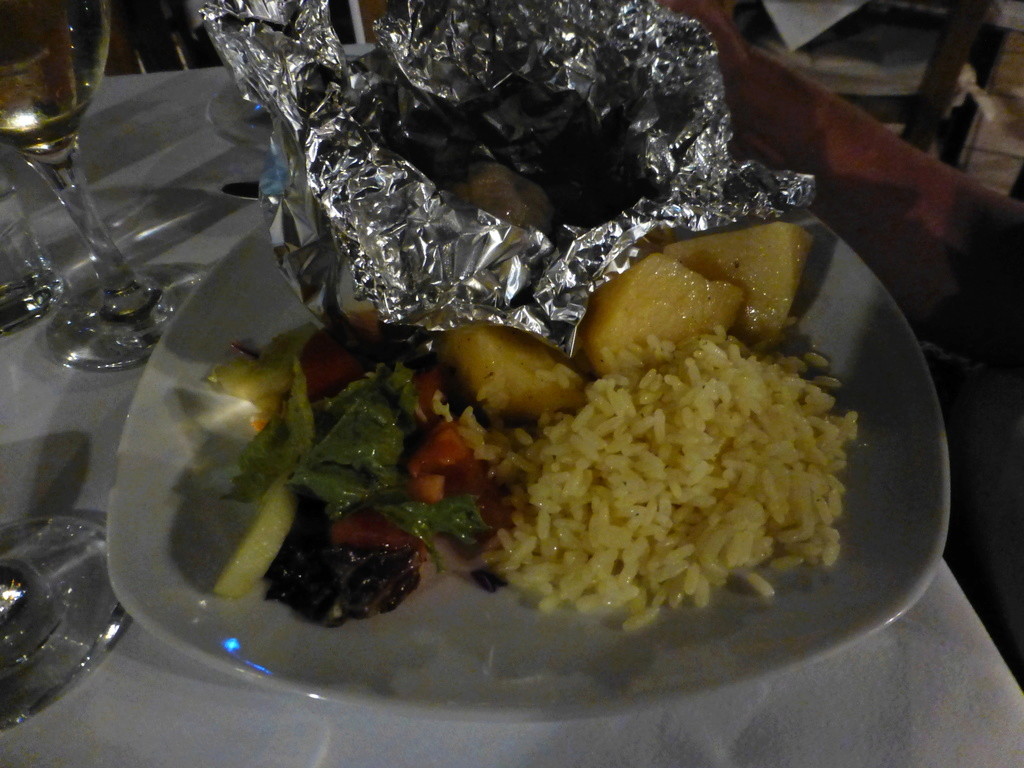 p1260949
Free melon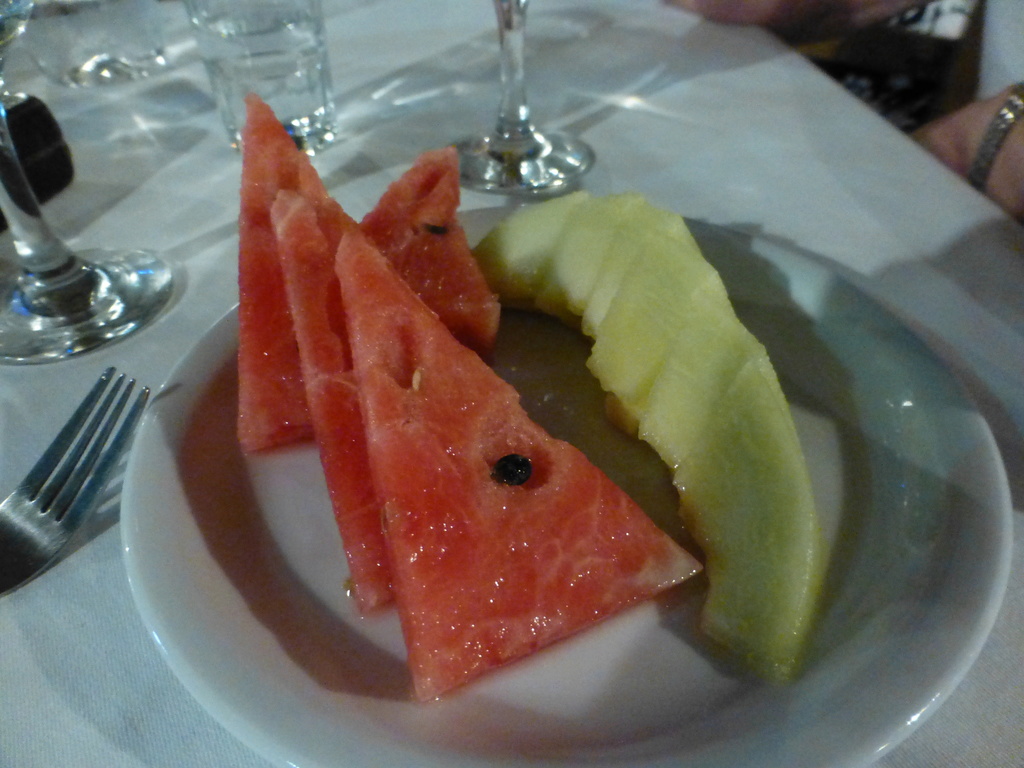 p1260950
Free raki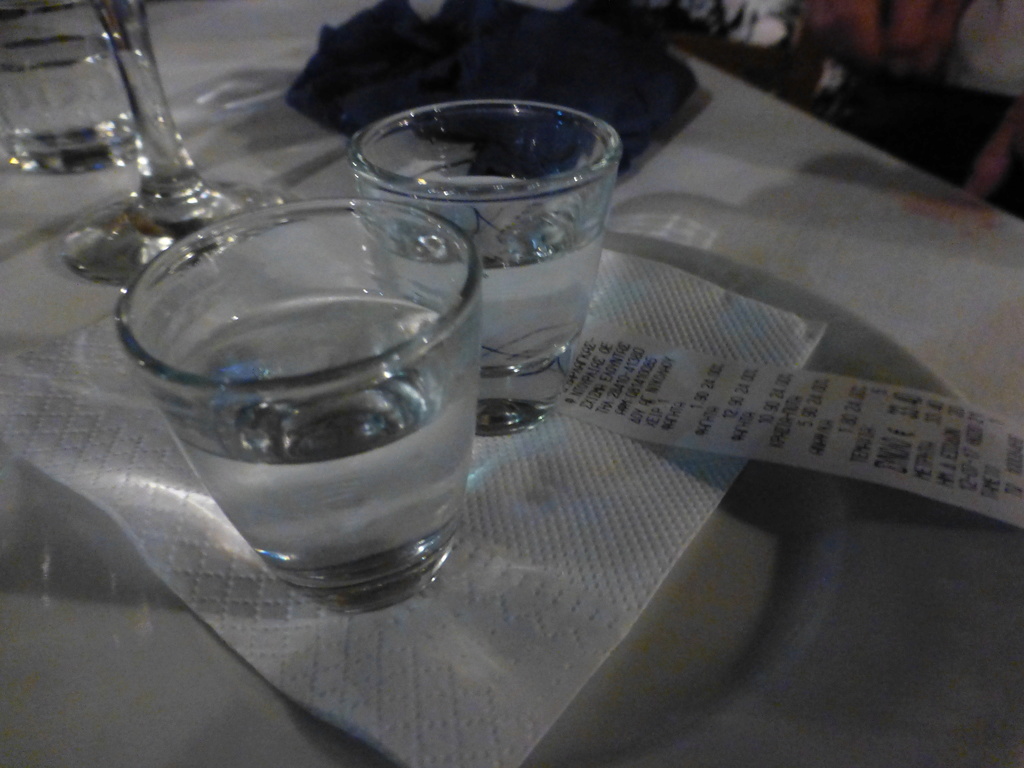 p1260951
Coffee on our balcony
End of Day 11Day 12 Thursday

It was already a hot morning and at breakfast time there was very little breeze. Somebody important had arrived by helicopter and landed by the windmills. Probably the police wanting to know what all the activity has been going on down there in the last week lol
I can even see there is a boat ready to go through the canal to Agios Nikoloas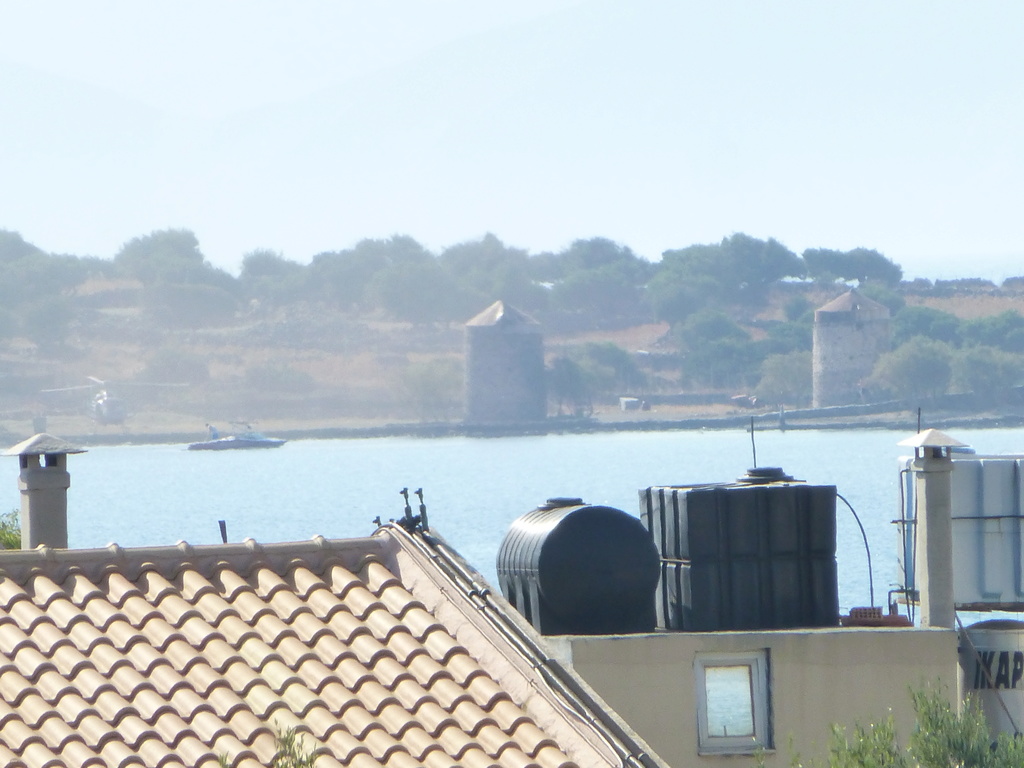 p1260954
Today I had decided to have a closer look at the properties above us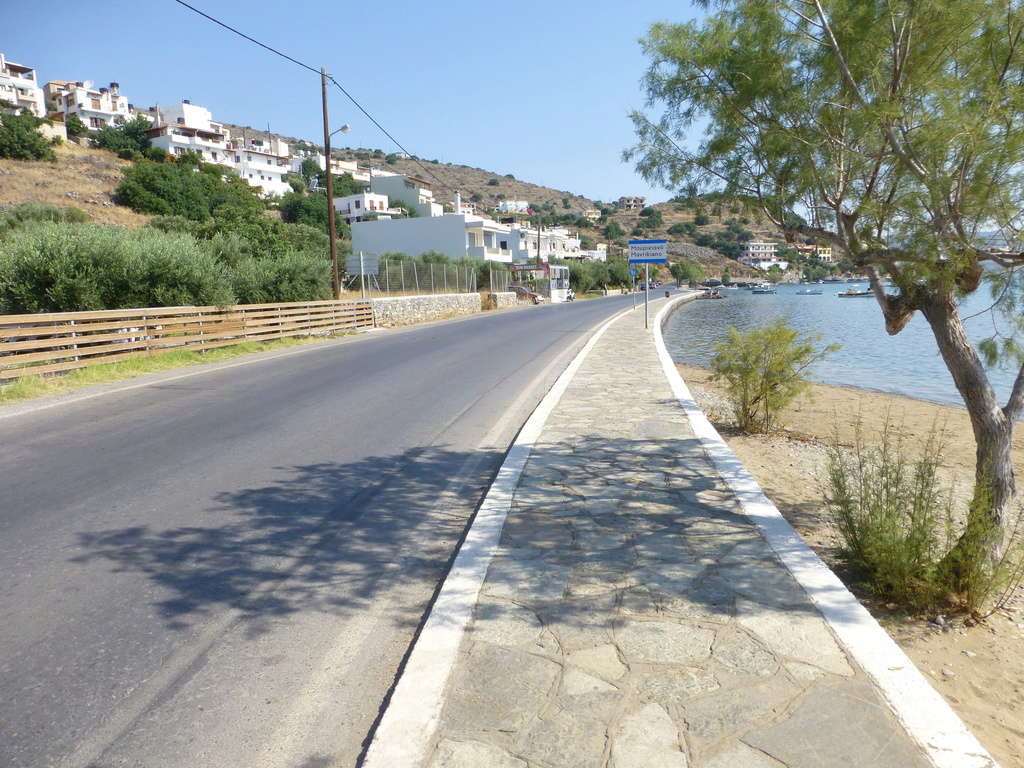 p1260955
so turning left up this hill I spotted a tanker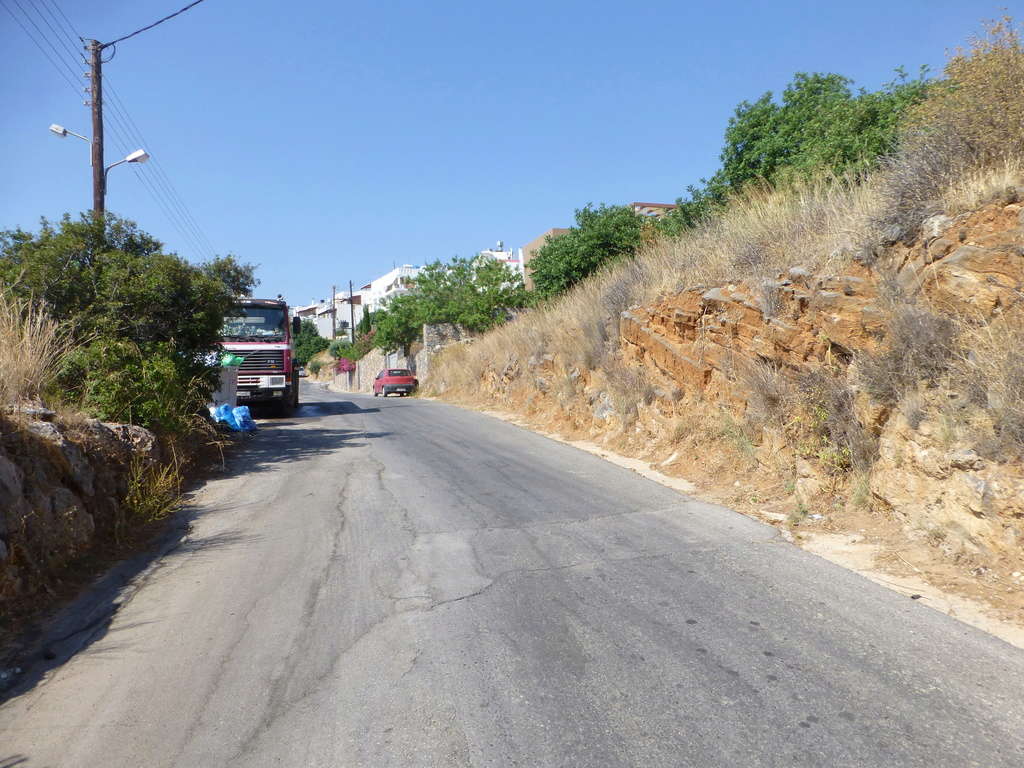 p1260956
Who's driver is obviously a fan of Pam Ayres poem 'dolly on a dust cart' as I think the dolly had now amassed a few more friends lol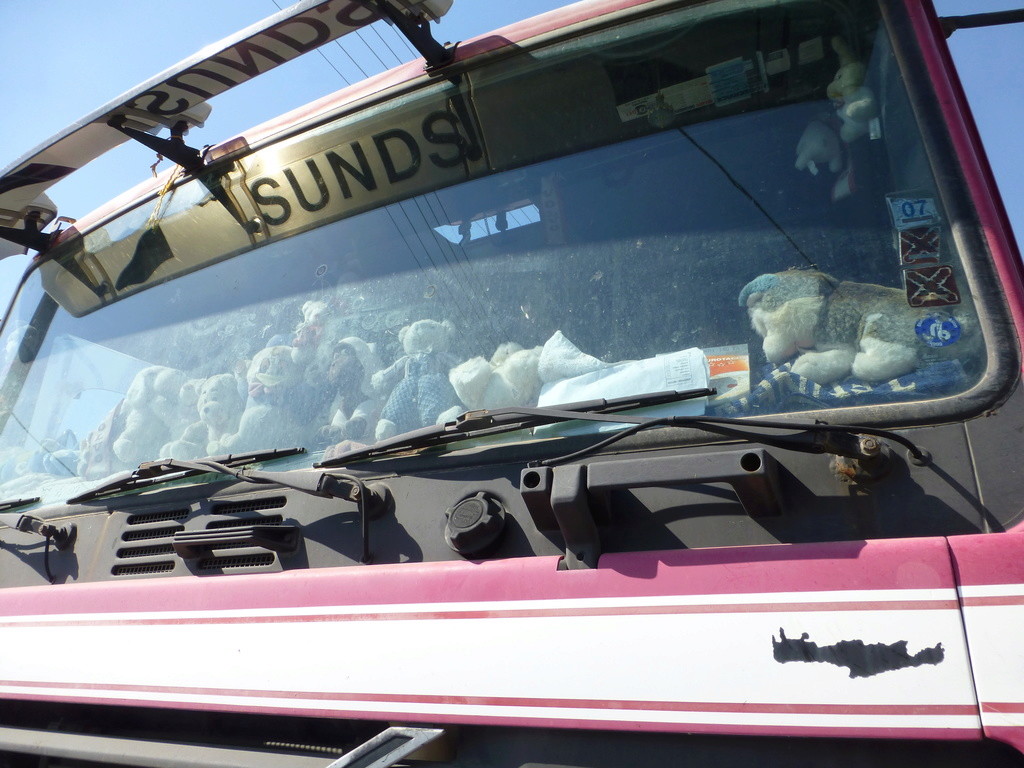 p1260957
gosh it's hot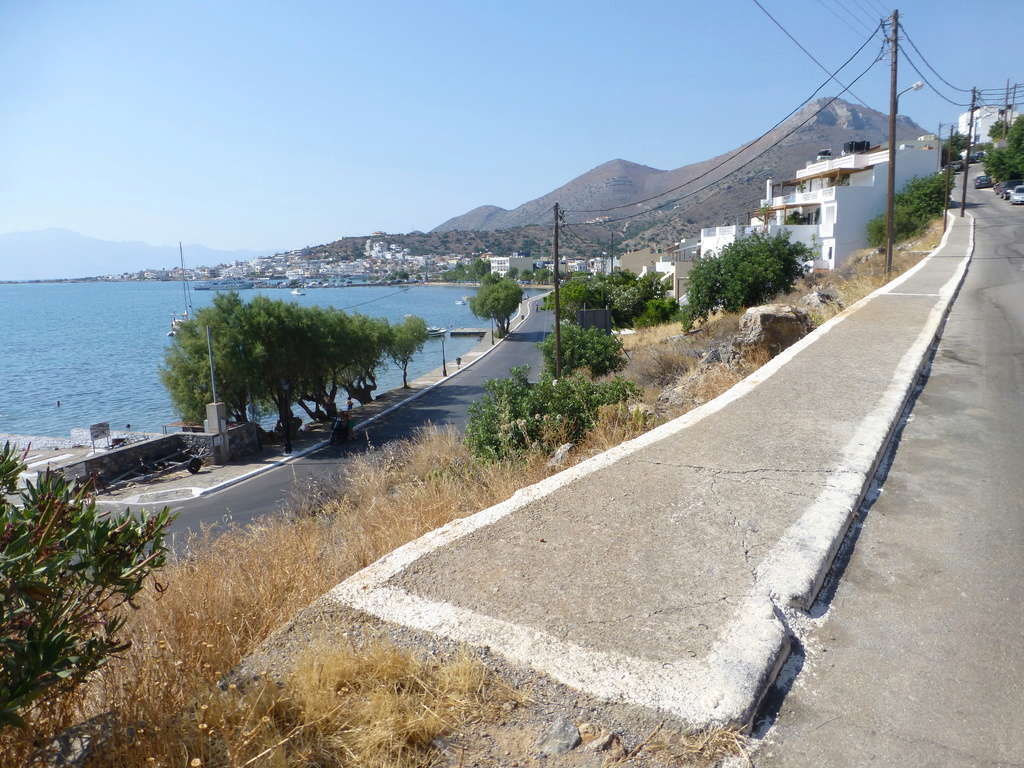 p1260958
some nice flowers on the side of the road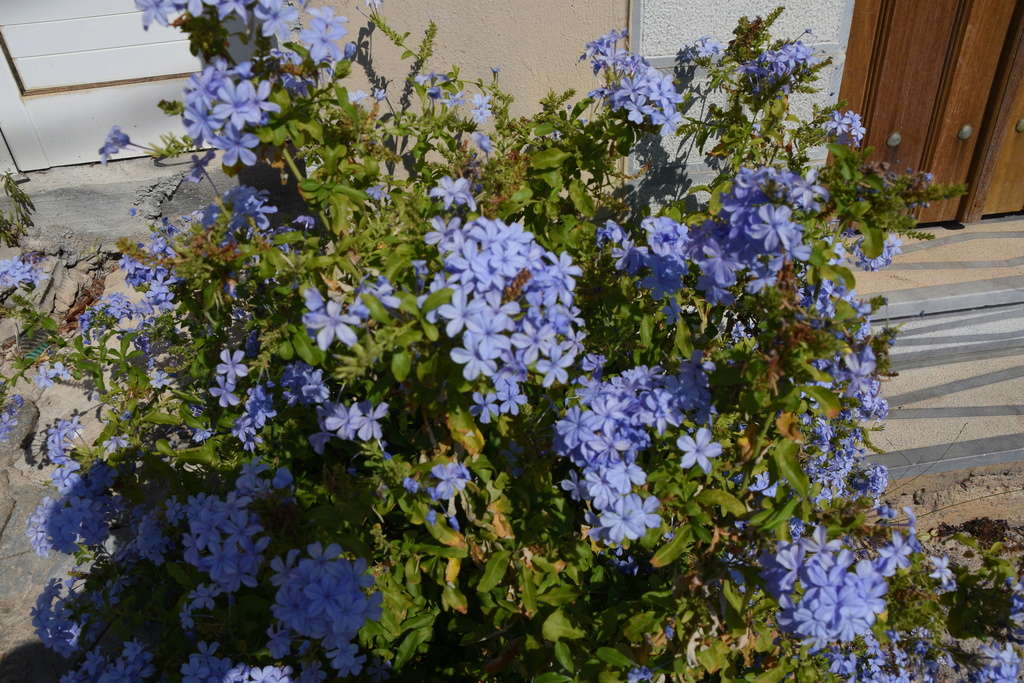 Dsc 0817
I got to the top of the hill but it is so hot
Dsc 0818
I took a couple of photographs of the view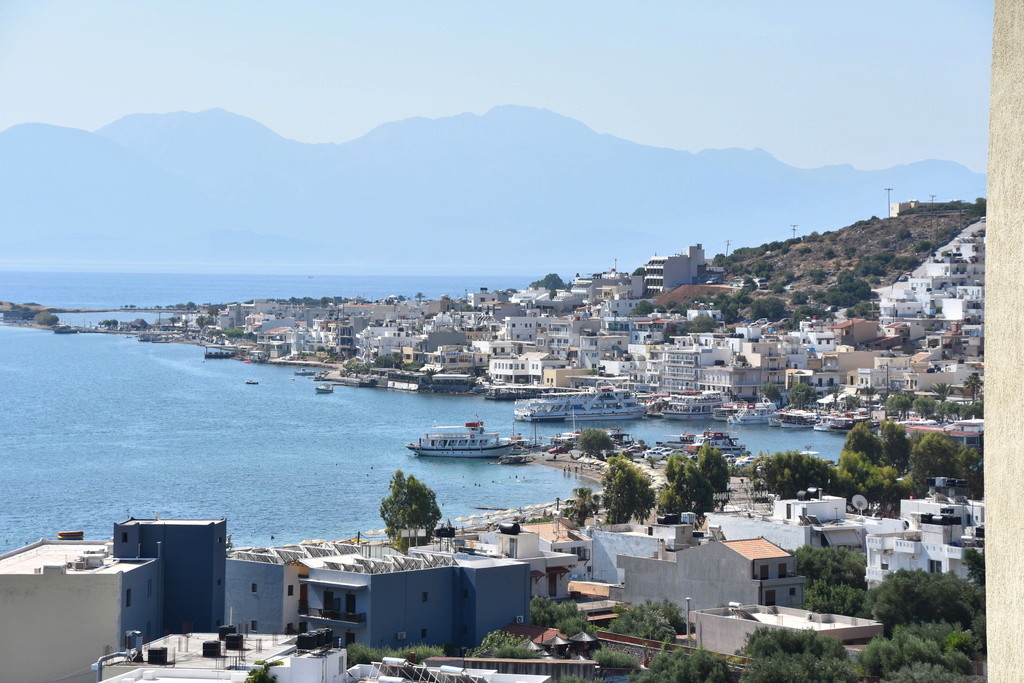 Dsc 0819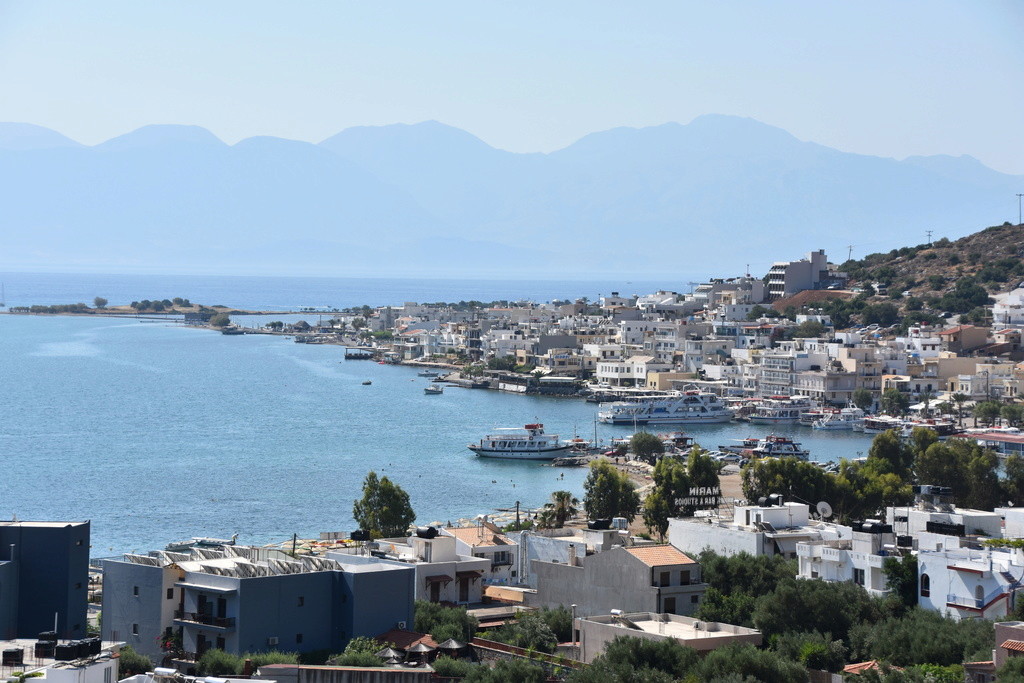 Dsc 0821
and some flowers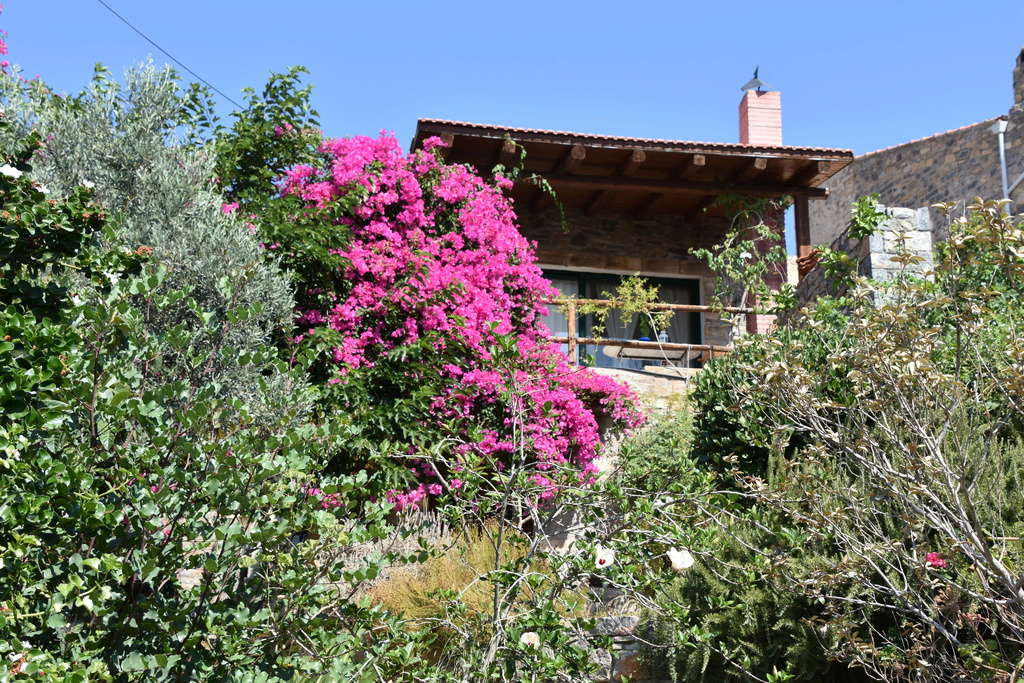 Dsc 0820
And a better photograph of The Hope
Dsc 0822
I saw the way down the other side but not a lot to photograph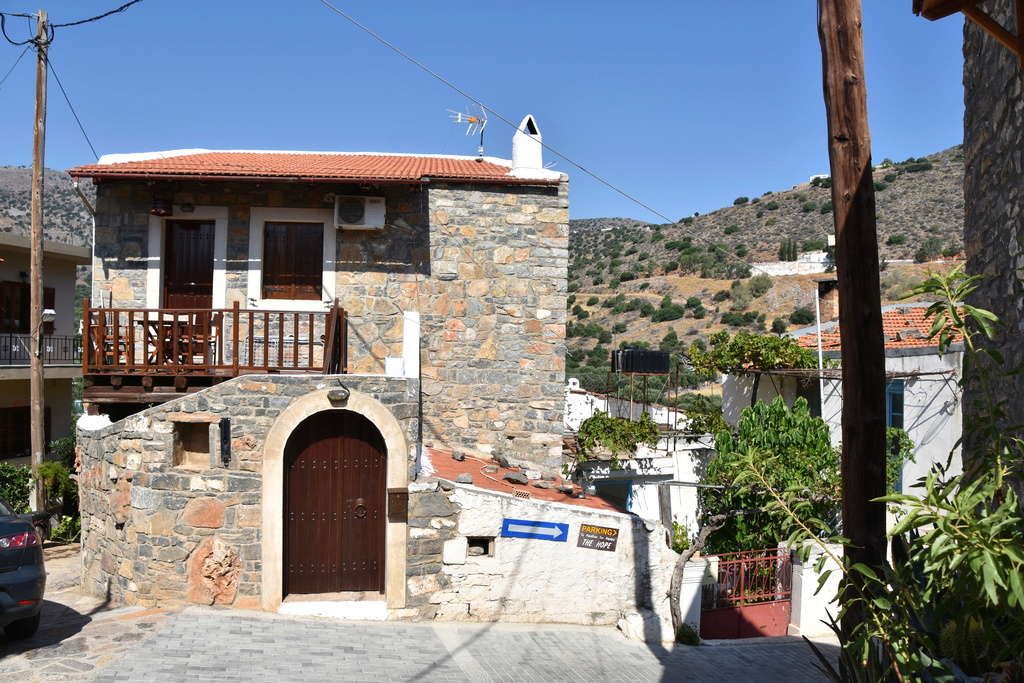 Dsc 0823
There was another village high above but too hot to attempt that today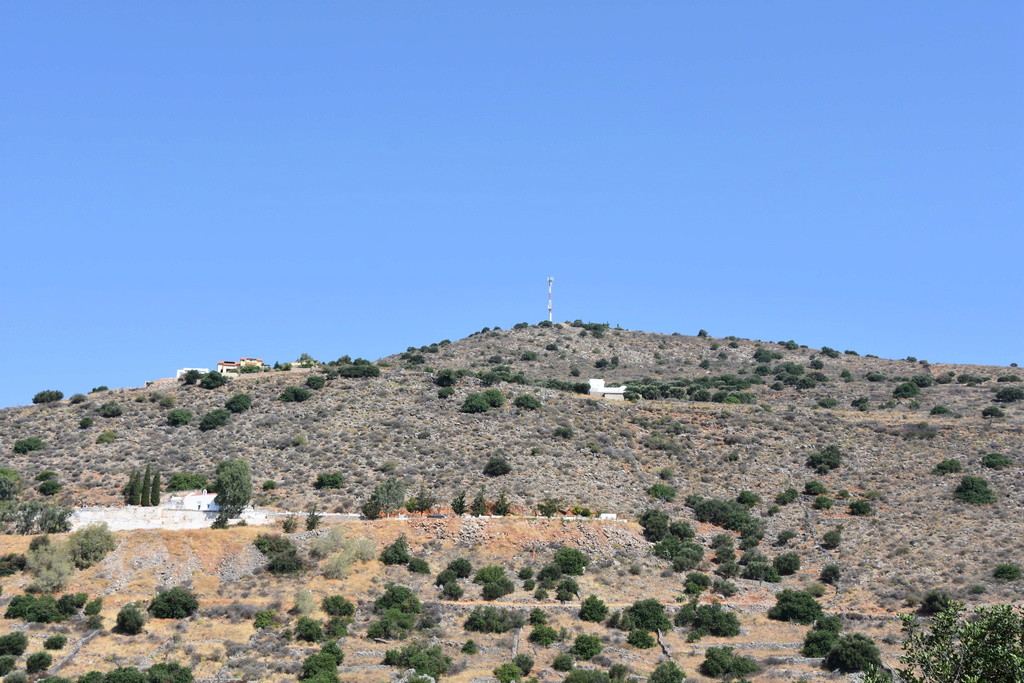 Dsc 0824
so it was back on the beach watching the tour boats going out. I did enquire about them and they were private tours I guess tour company trips. Nothing else seems to leave the harbour except the Spinalonga trips so a travel shop may be the only other option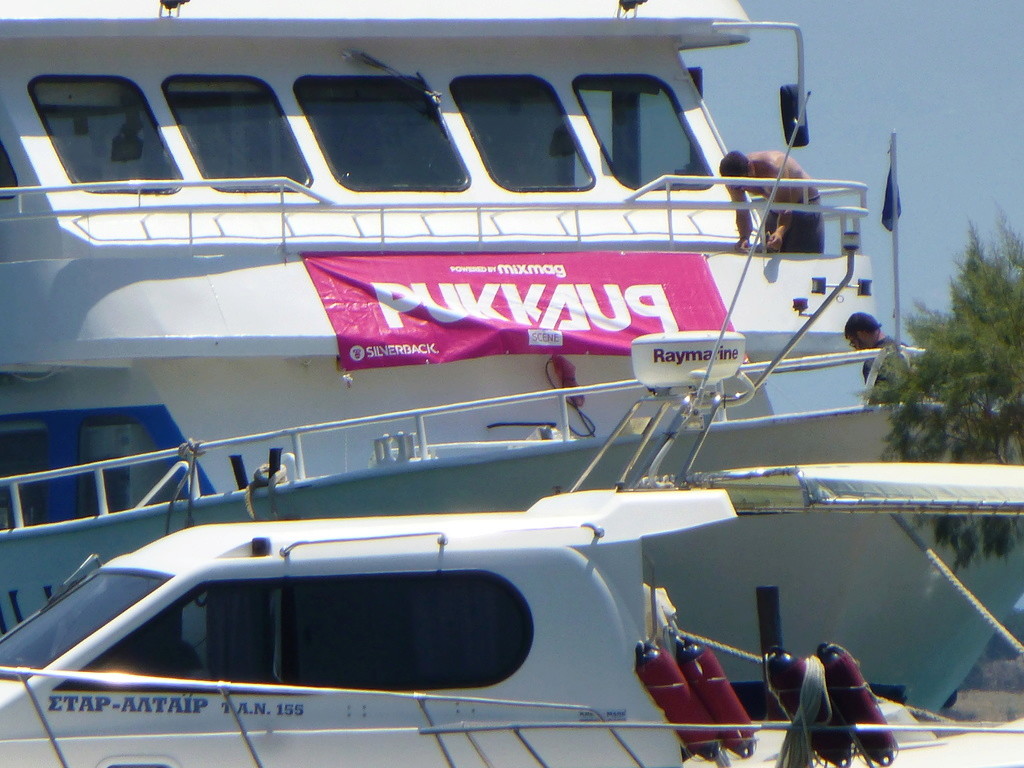 p1260960
This afternoon/evening we had arranged to meet up with TA member MG100surrey and partner who kindly drove us to Agios Nikoloas for a drink. We arrived in the harbour car park to see this statue it is called 'The Abduction of Europe' could this be another Wooden Horse of Troy lol. It was placed there in 2012 by the Mayor as a sign of unity and peace in Europe and designed by painter and sculptor Nikos Koundourou.
I had to investigate lol.
From Homer, Europe was a beautiful woman the daughter of Agenor, the Phoenician King of Tyre who came to the ear of Zeus. Zeus wanting to get to know her more and changed himself into a bull with beautiful fur (don't ask me why lol). He then galloped down to the area where she mingled with her friends. They became good friends and she jumped on his back and he carried her off to Crete. Europe had three sons fathered by Zeus: Minos, Rhadamanthus, and Sarpedon
P1260961
Anyway, we had a lovely couple of hours talking over drinks looking over the harbour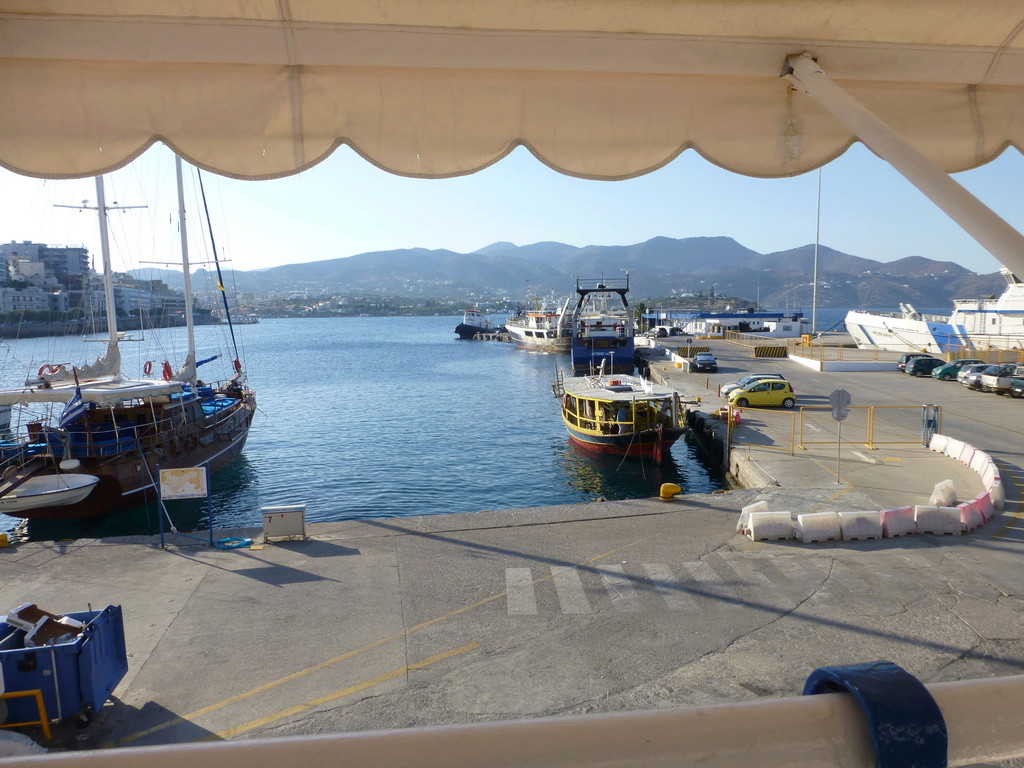 p1260962
We had a ride around the inner lake and saw the taverna's around the sides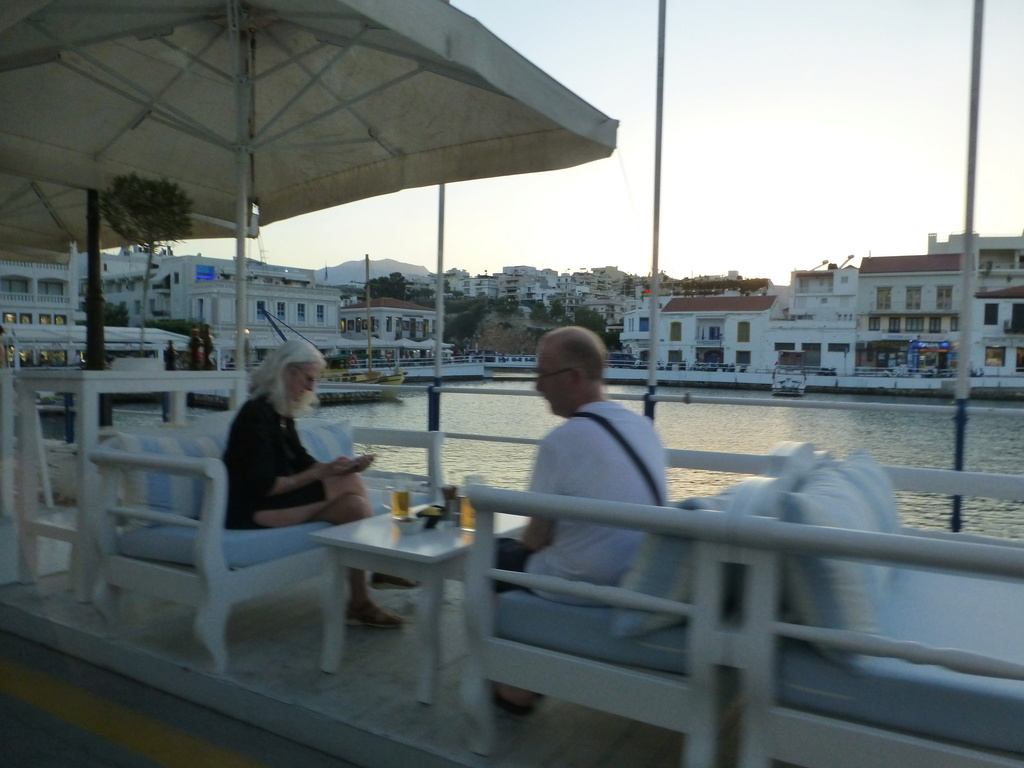 p1260962
It was nice to meet them both after their help on picking Elounda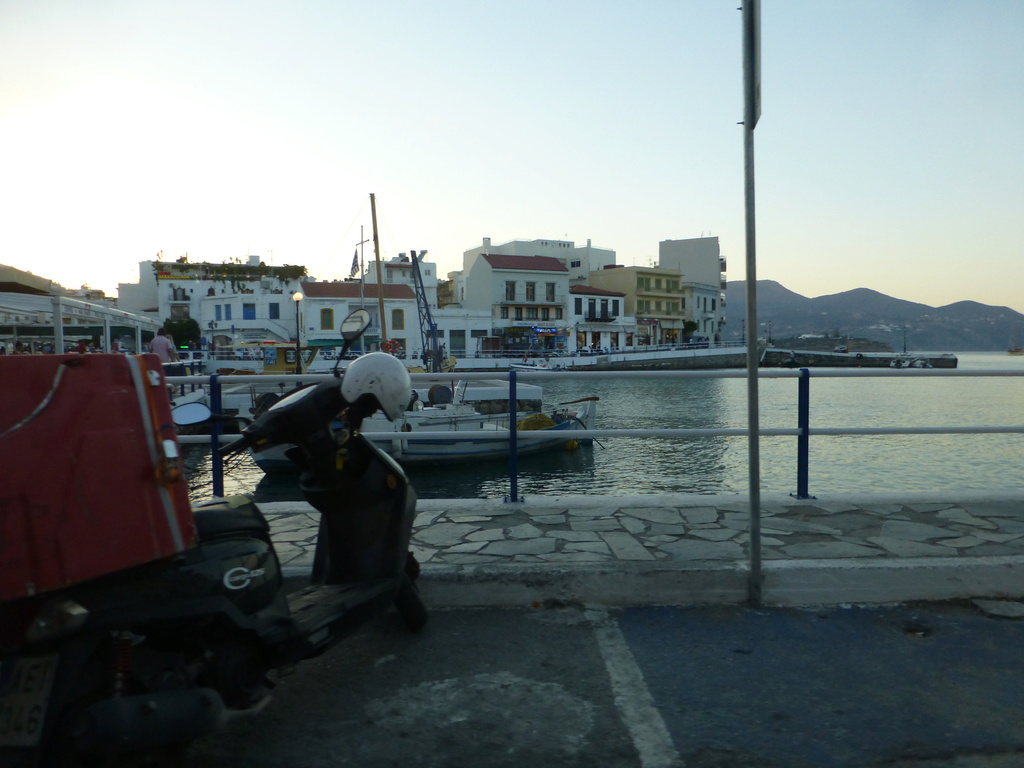 p1260963
This evening we ate at Marilena
p1260972
The menu house wine was 10€'s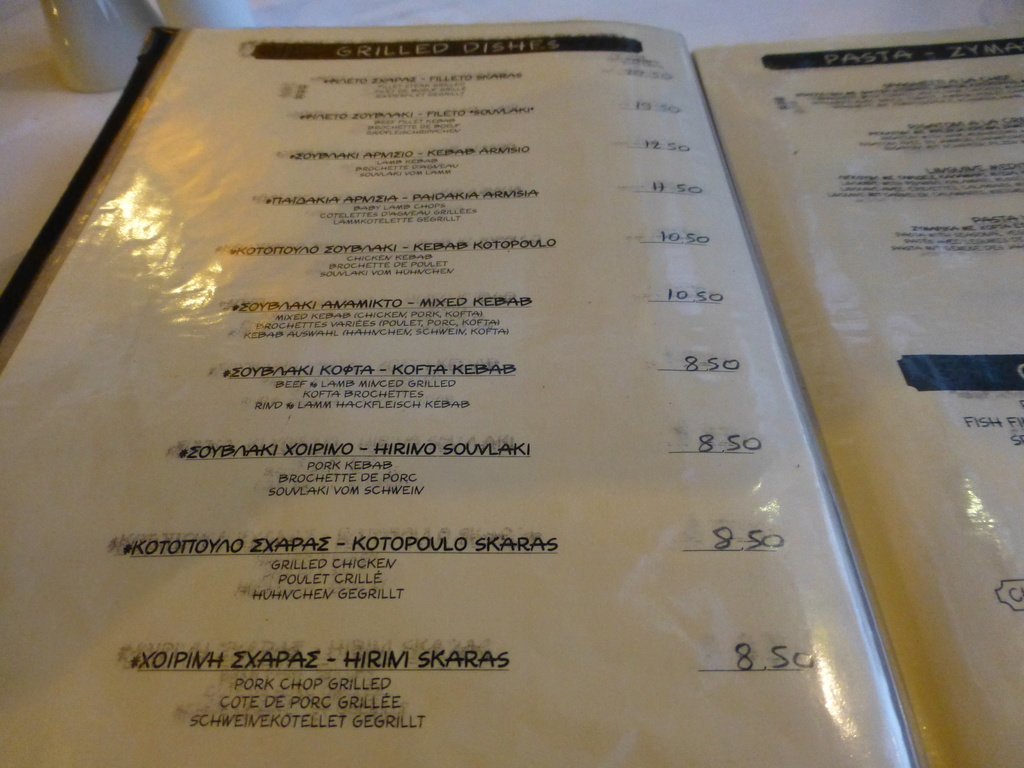 p1260966
I had the Rigatom al a creme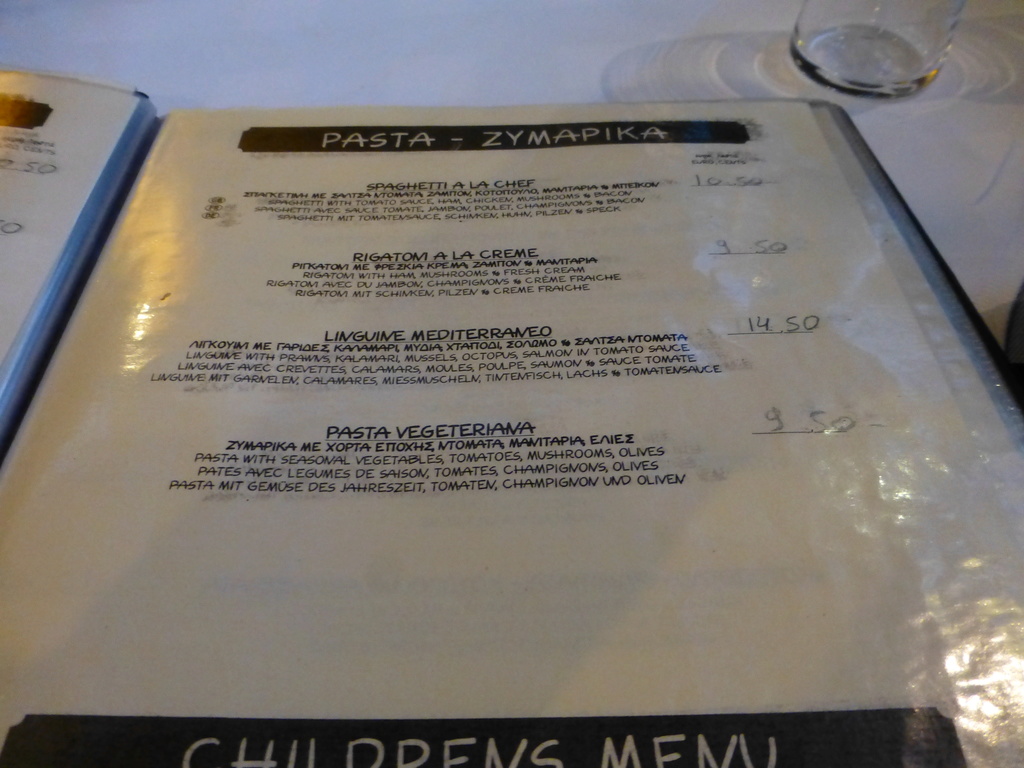 p1260967
Mrs Db had pork medallions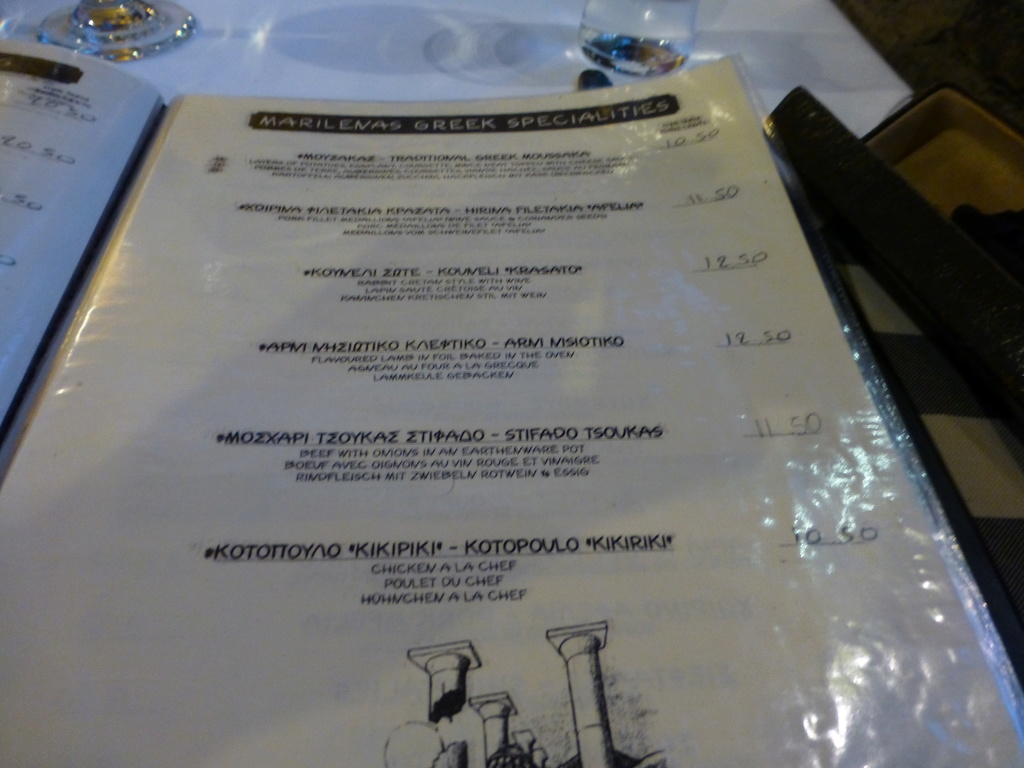 p1260968
Mrs Db's meal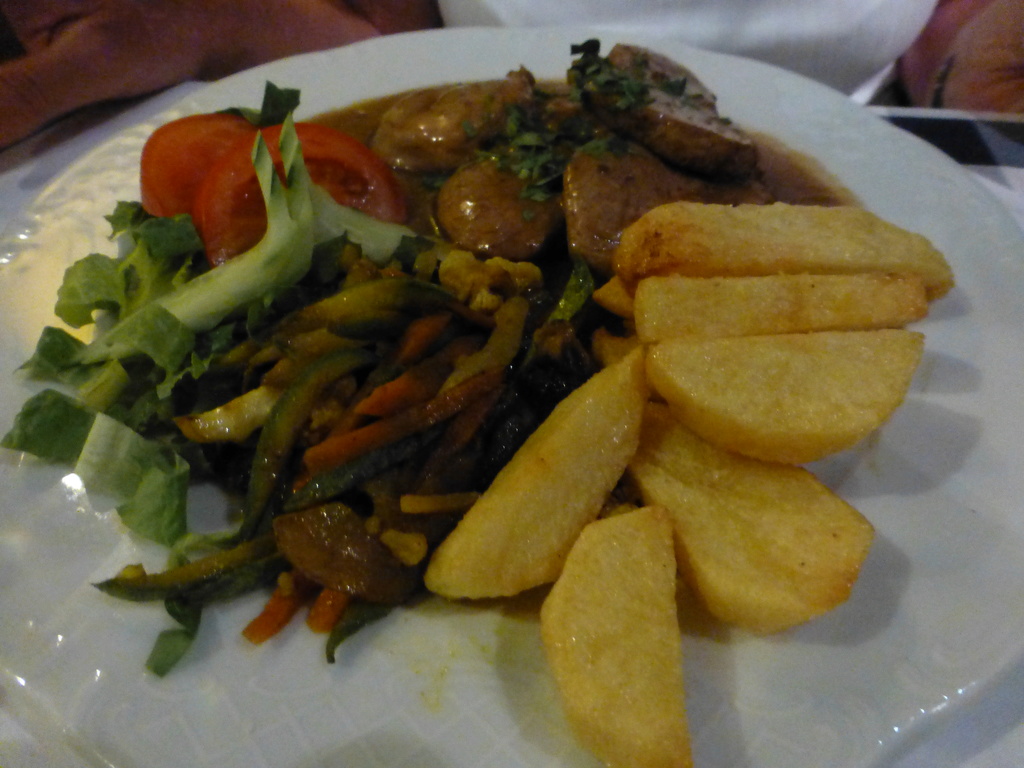 p1260969
My Rigatom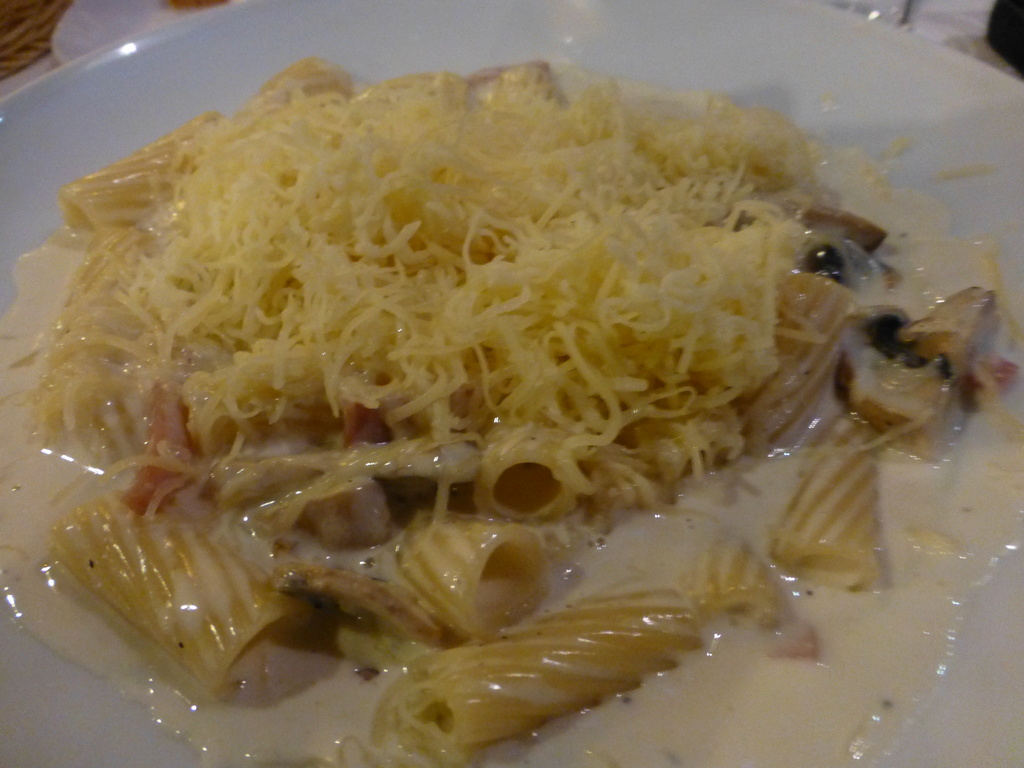 p1260970
The inside look of the taverna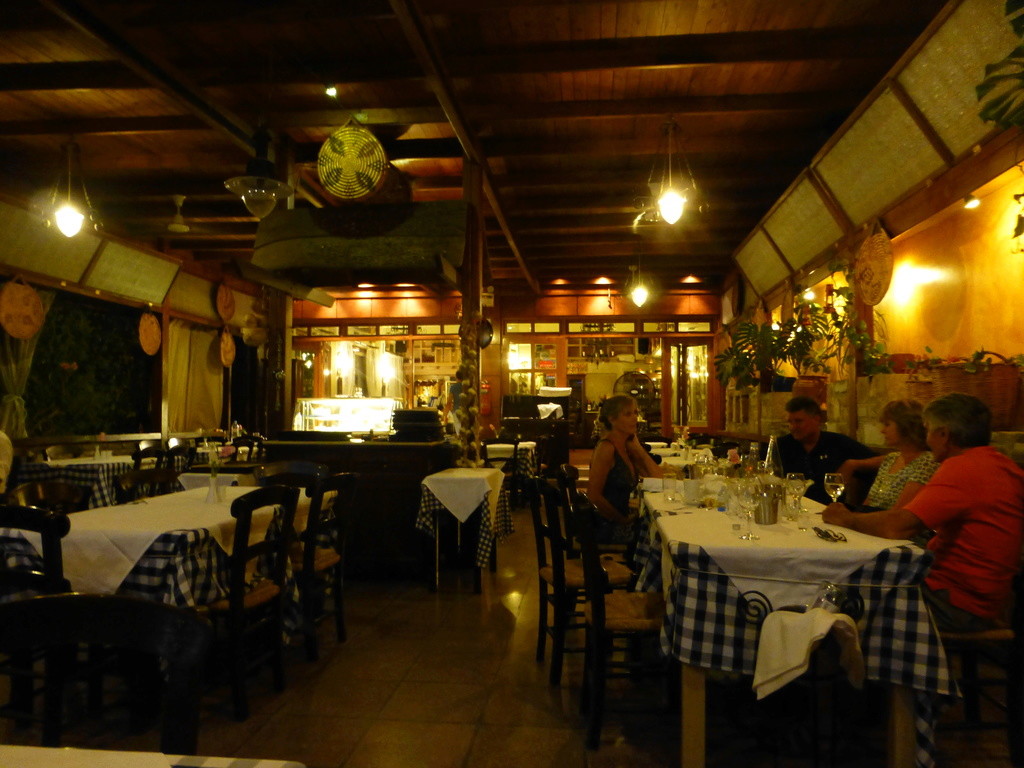 p1260971
followed by our coffee on the balcony
End of Day 12Day 13 Friday
a sort of rambling around the resort day. I was interested in what other cruises were about but told this was a private cruise and there were coach loads of people around so arranged from outside Elounda
p1260974
on the main beach i saw this life guard tower being made in a morning the carpenter was up the top building the tower and the painter was already painting the structures legs lol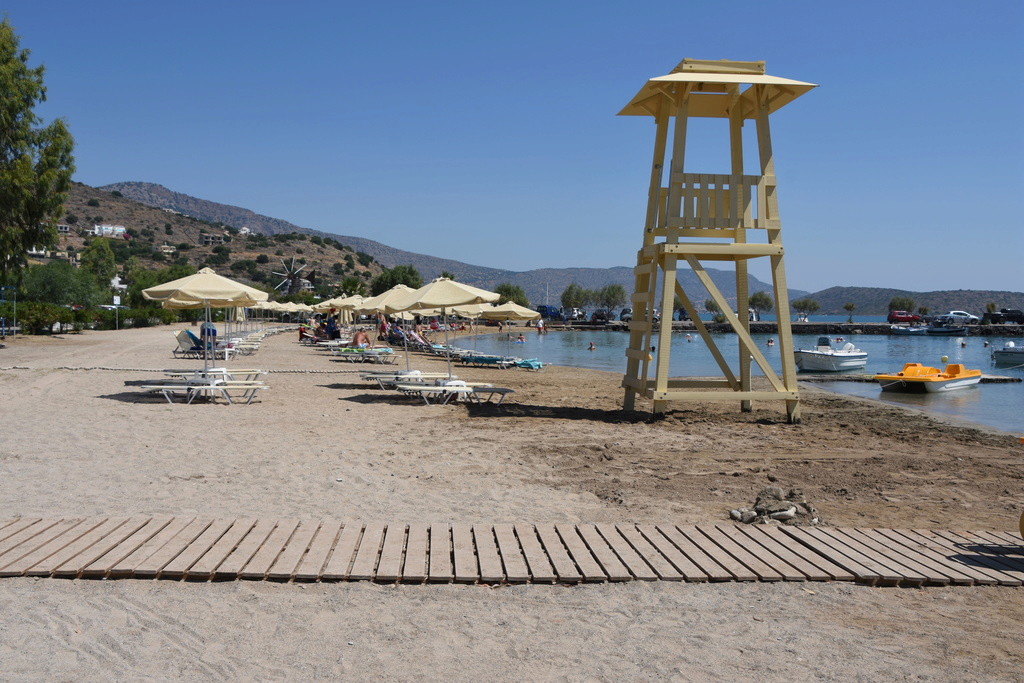 Dsc 0840
In town it was fruit market day near the main beach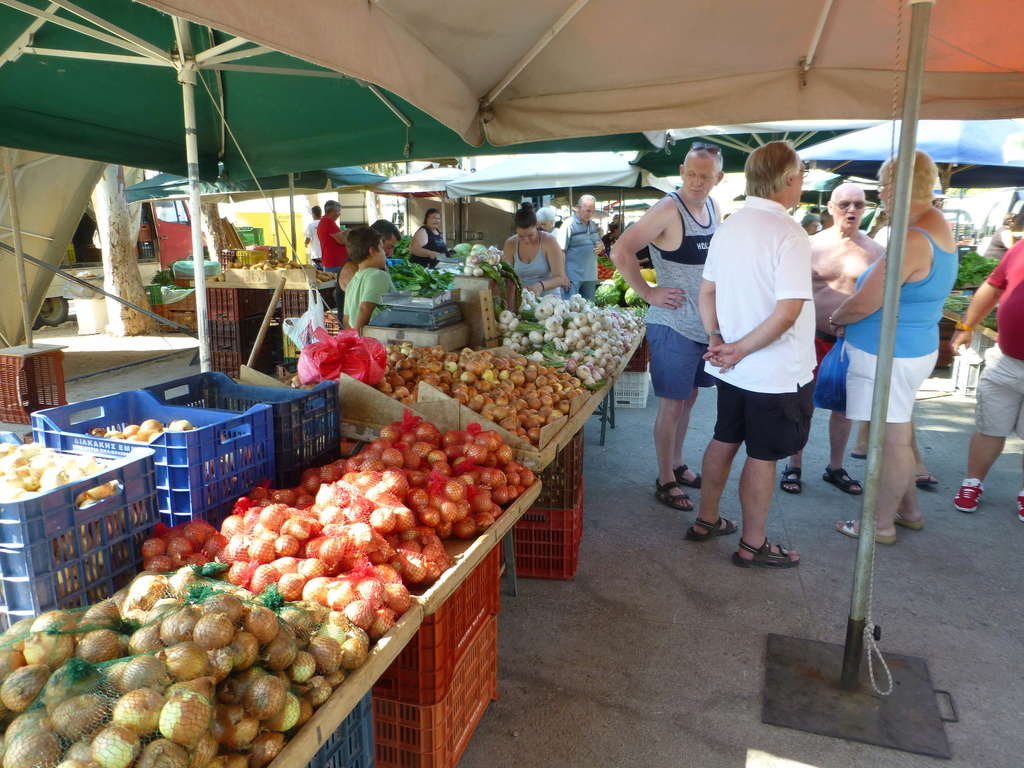 p1260981
I bought a large yellow melon for just over a euro
p1260982
and two euros of very large cherries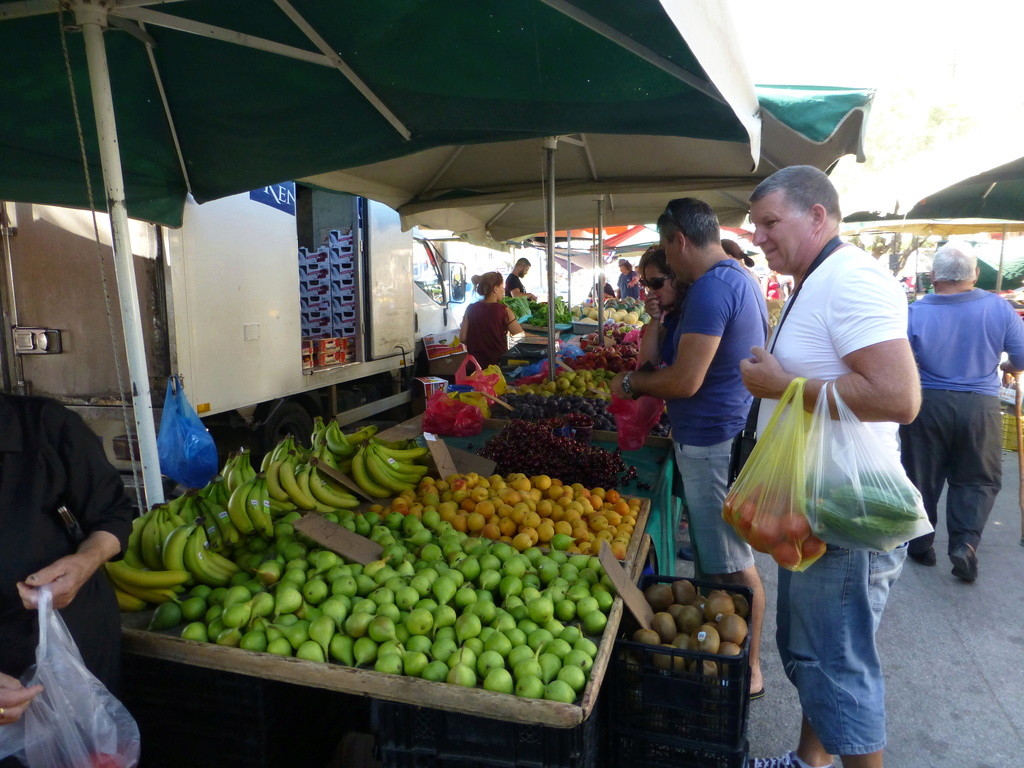 p1260983
p1260984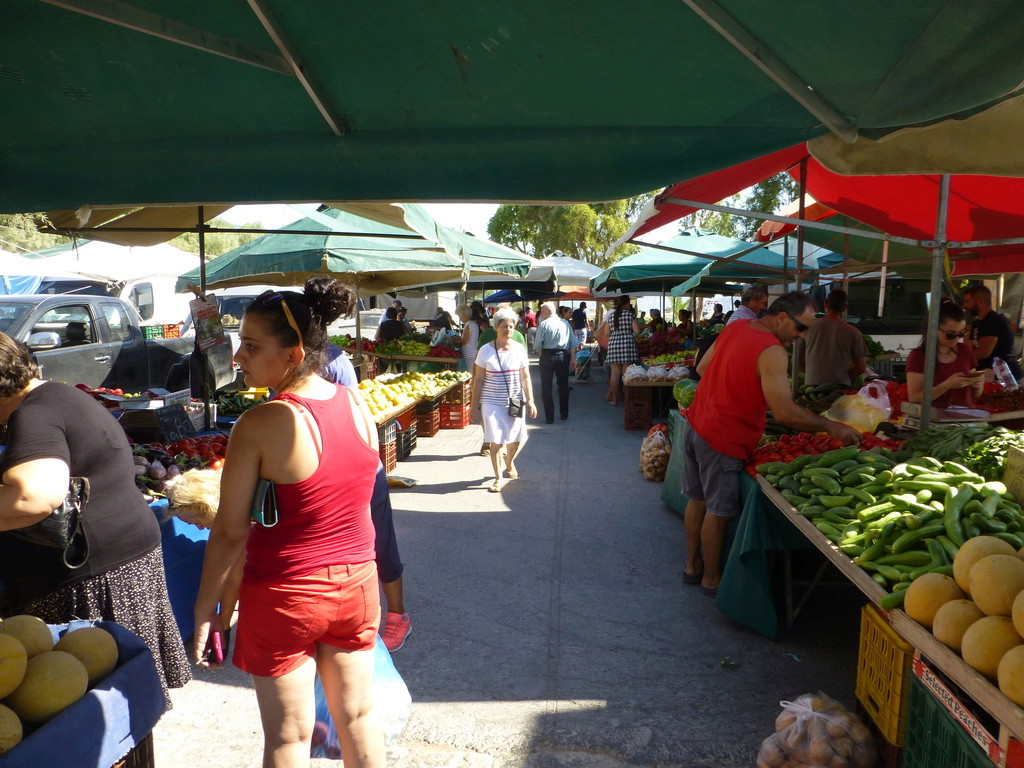 p1260987
I had a euro worth of grapes from this chap but I think he was very generous
Dsc 0828
returning to Mrs Db with all these bargains she asked why I had bought all this fruit with only two days left to eat it. Perhaps we can eat it on the balcony with coffee I suggested lol
Anyway off to the bookshop to get some information on Elounda
p1260991
One of the supermarkets in the square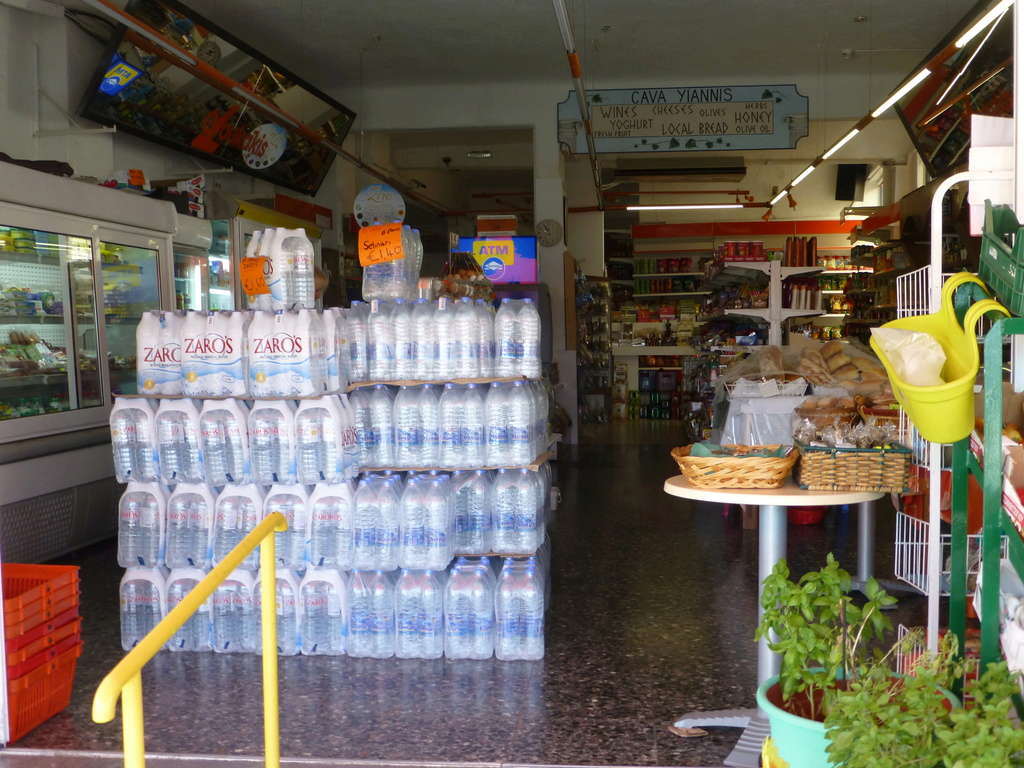 p1260992
This travel/car hire place appears to be the only exchange bureau in Elounda and with the interbank rate showing 1.14 at this time, they were offering 1.09 with a 2% commission. They did say the Greek banks were at a rate of 1.09 so somebody is making a profit lol.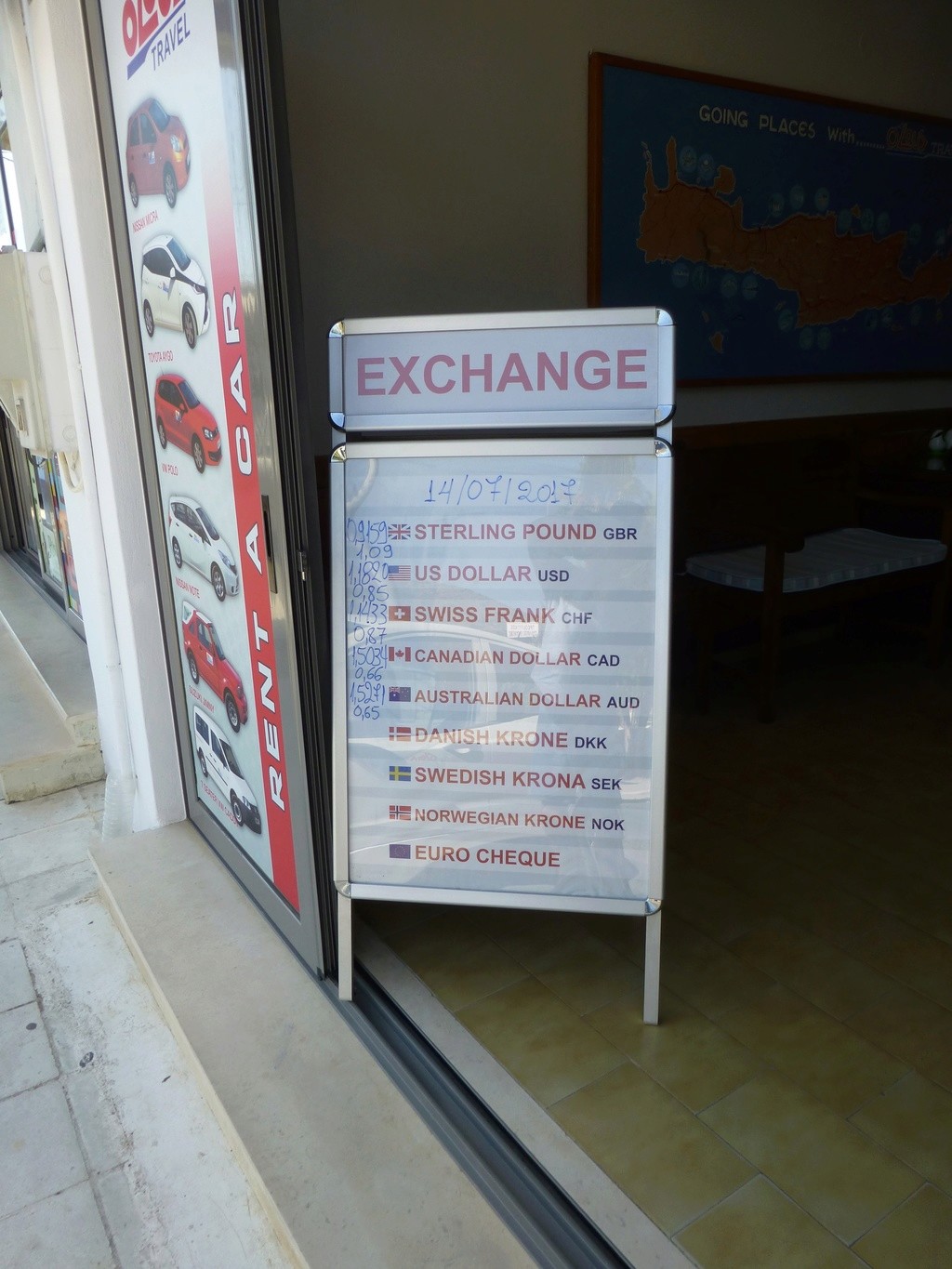 p1260995
A Greek bank Atm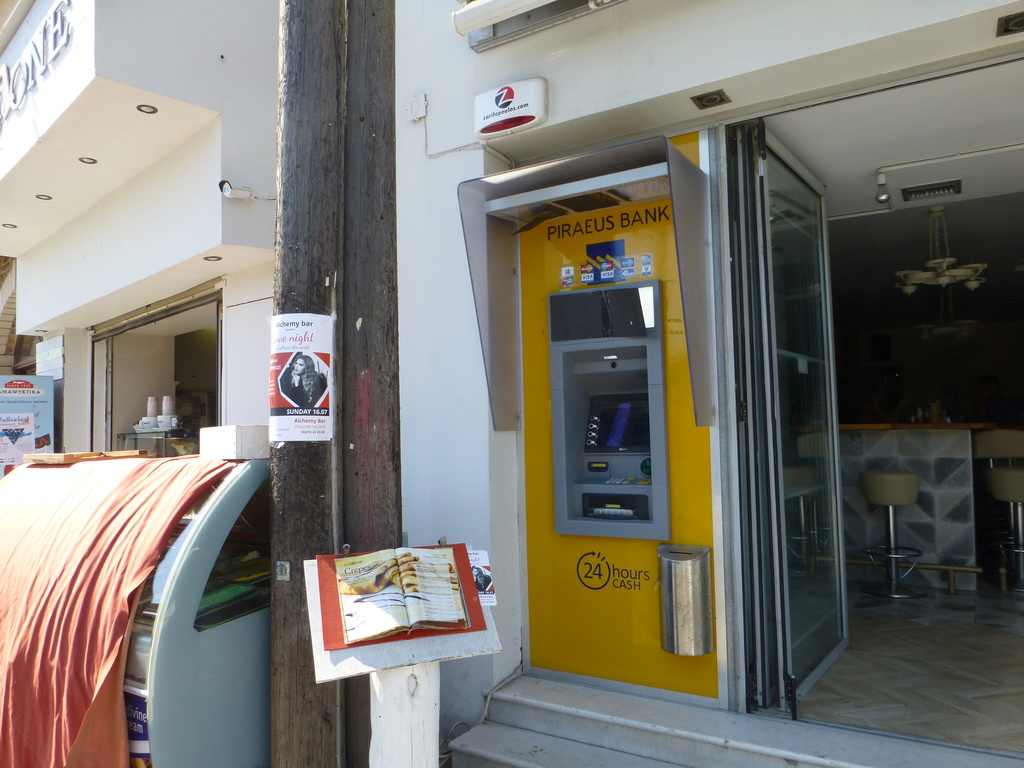 p1260997
The town's square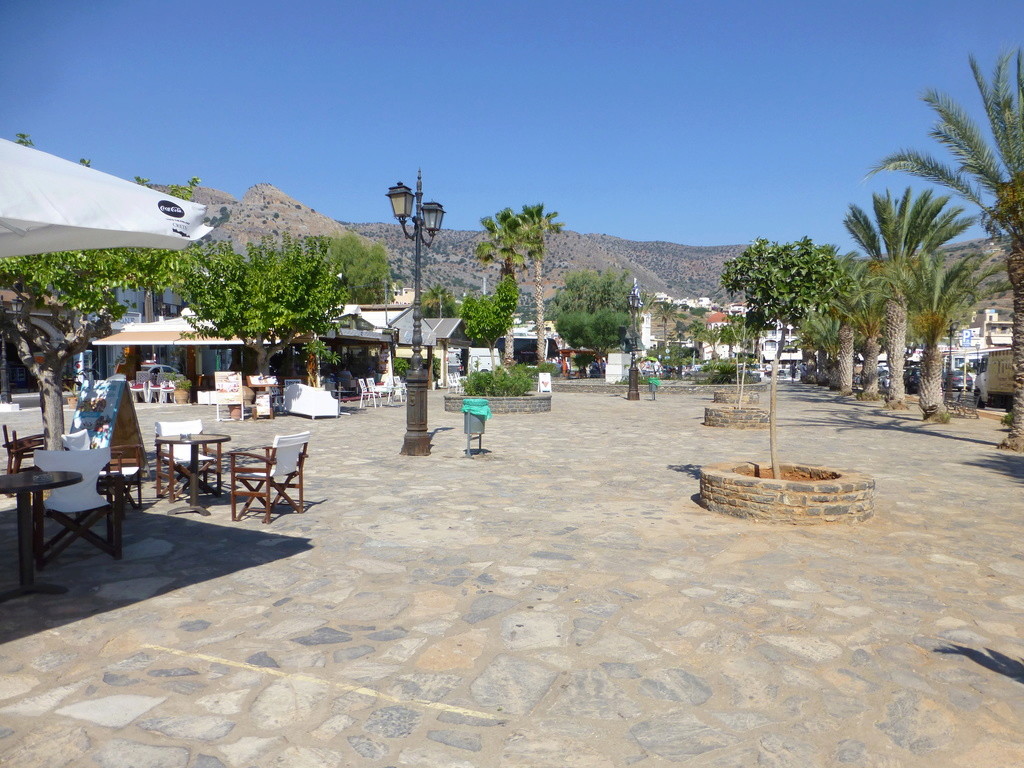 p1270003
up the high st to the bookshop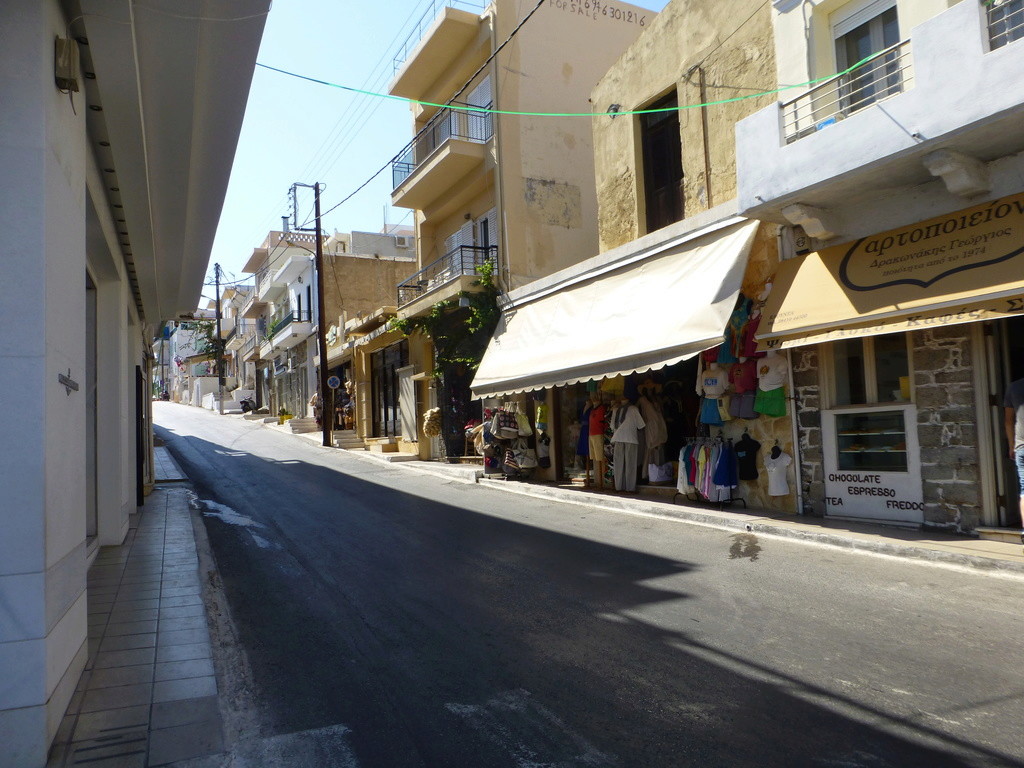 p1270004
Here I met Lynn 'The Oracle'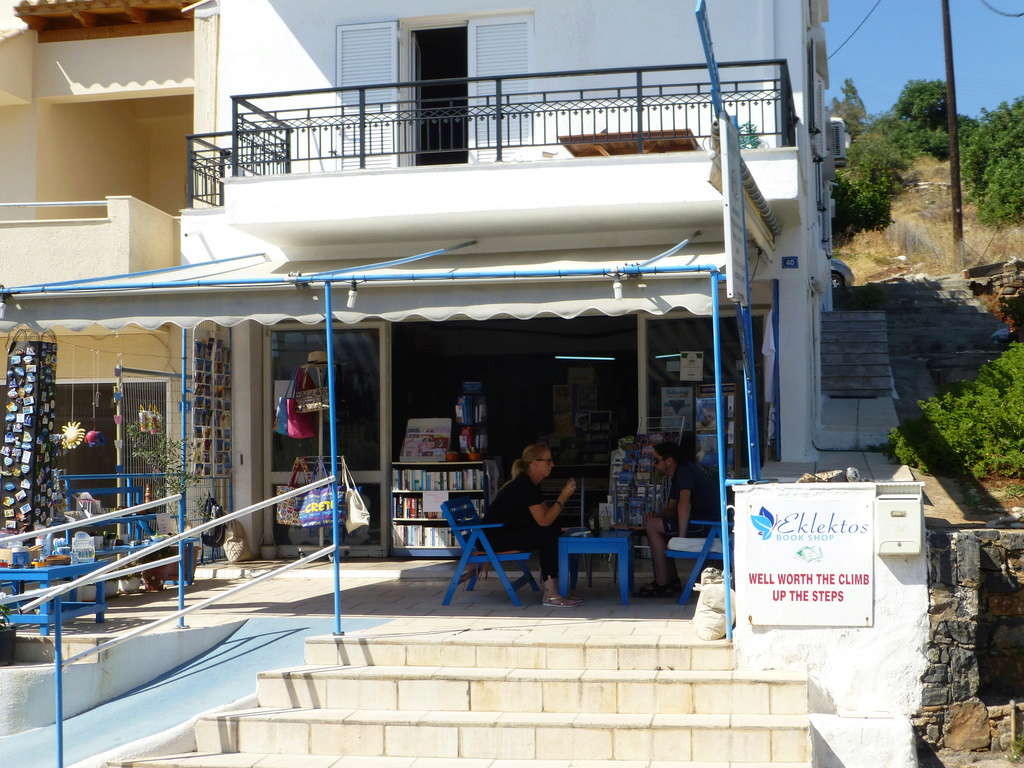 p1270008
She has a vast knowledge of Elounda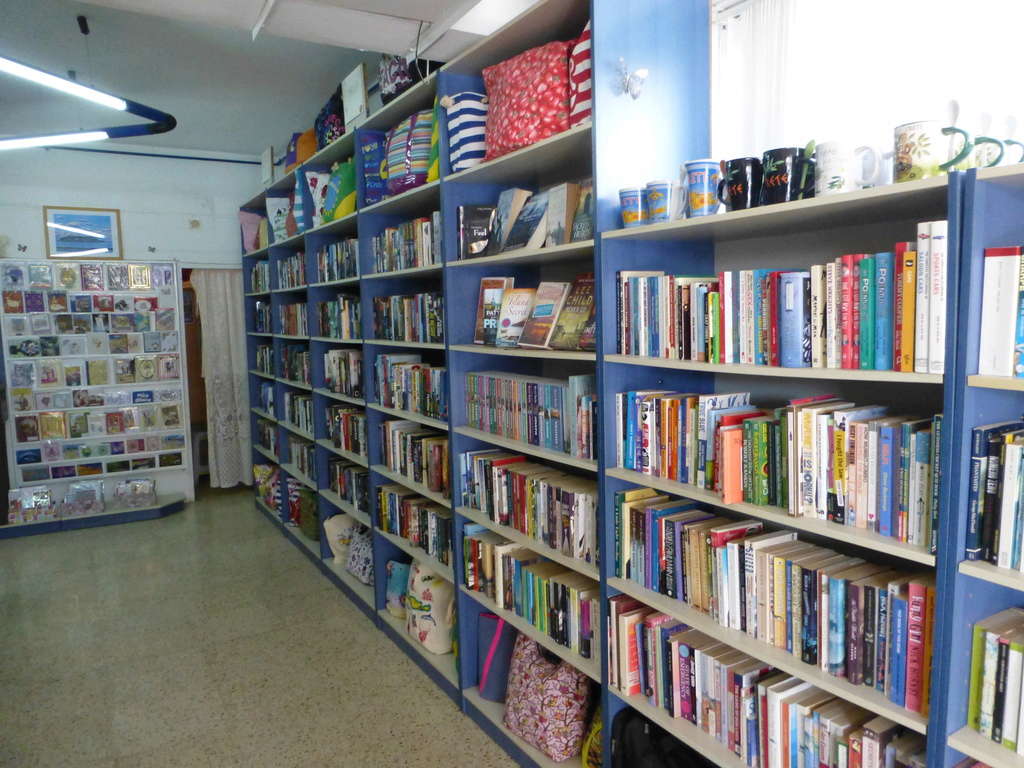 p1270009
I was looking for a book that would fill in pieces of the jigsaw that were still missing from my travelling around
I was recommended one by Lynn that did the job nicely and a good job we had and extra 5kg of luggage allowance going home lol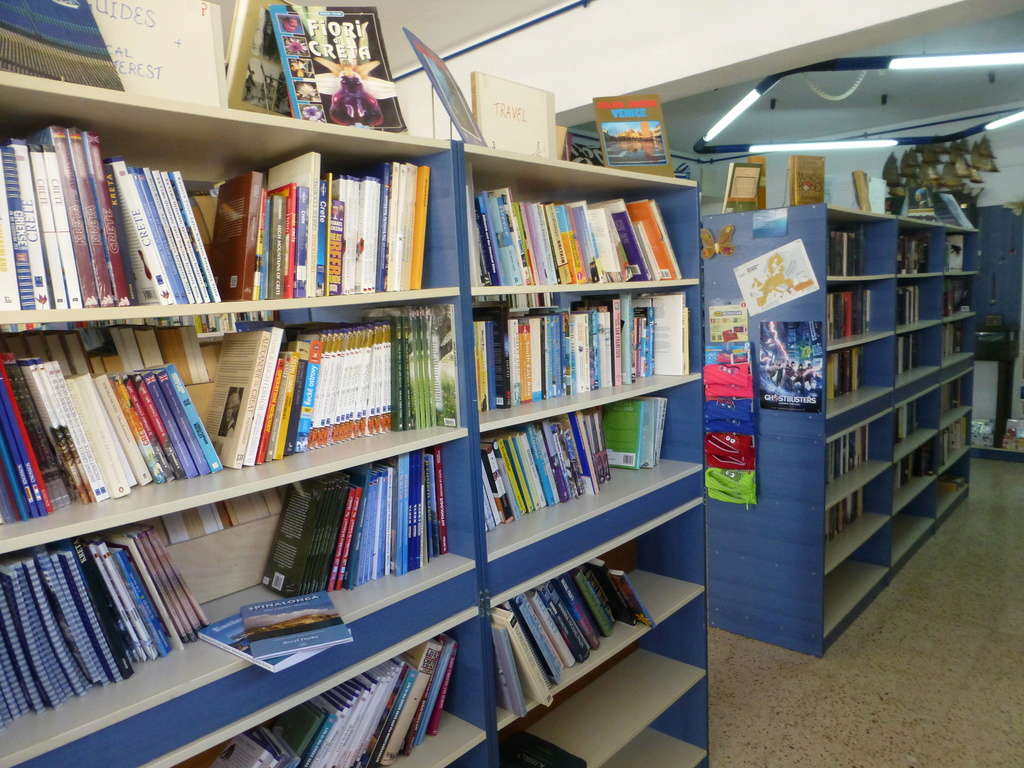 p1270010
I also had a check to see if the Imperia had opened but it was still closed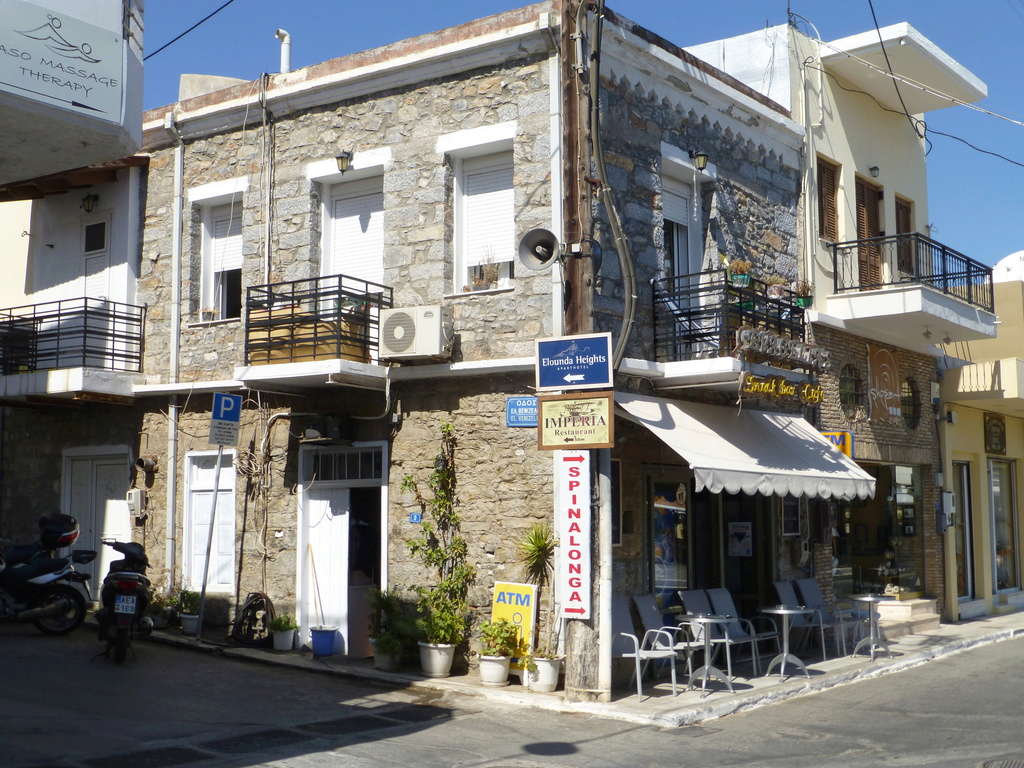 p1270011
but got another guy on the pole lol
p1270013
All the holiday I was trying to get a swallowtail butterfly to land and open it's wings well did it..............no lol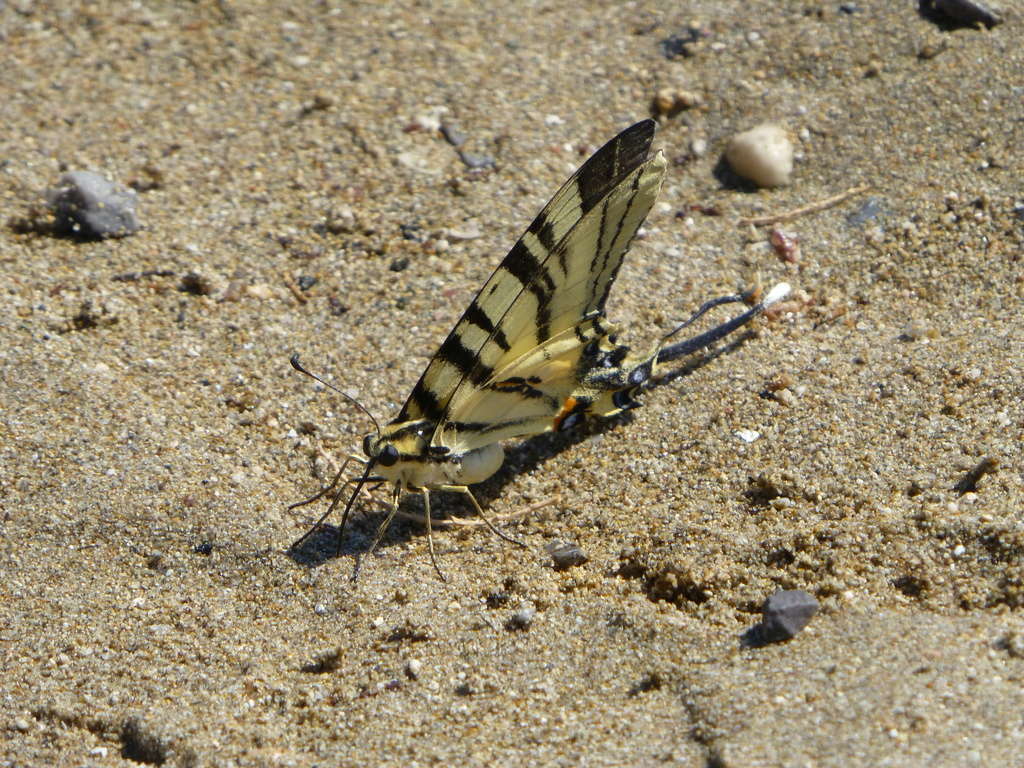 p1270015
back at the apartment our three rooms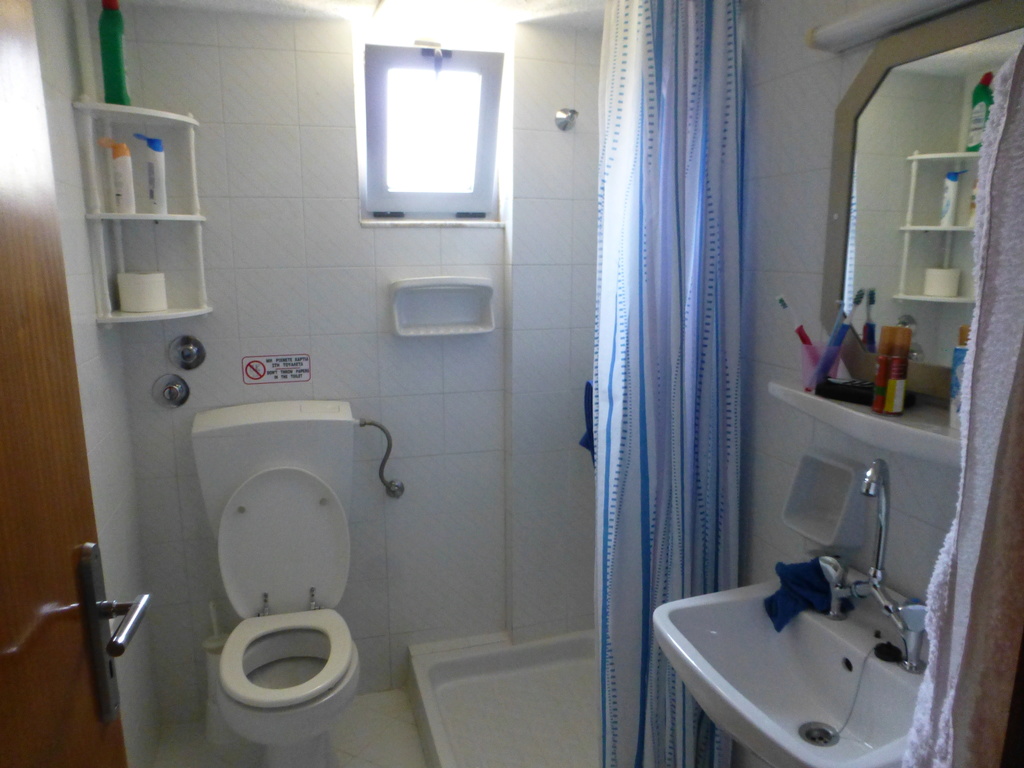 p1270020
comfortable beds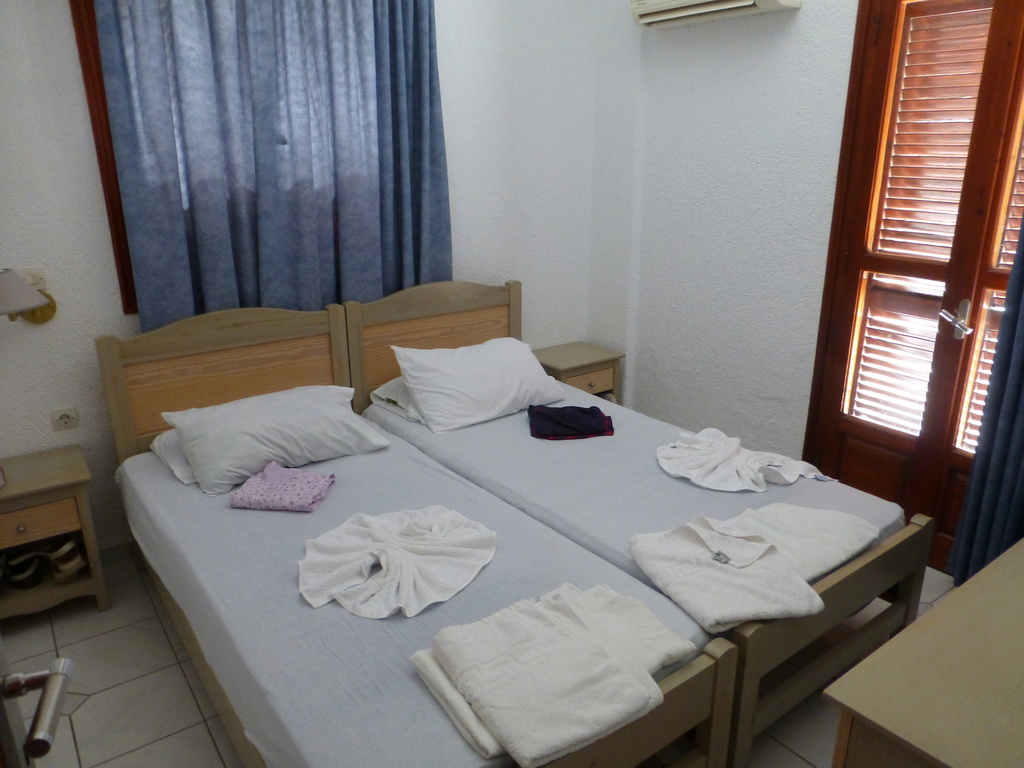 p1270021
Kitchenette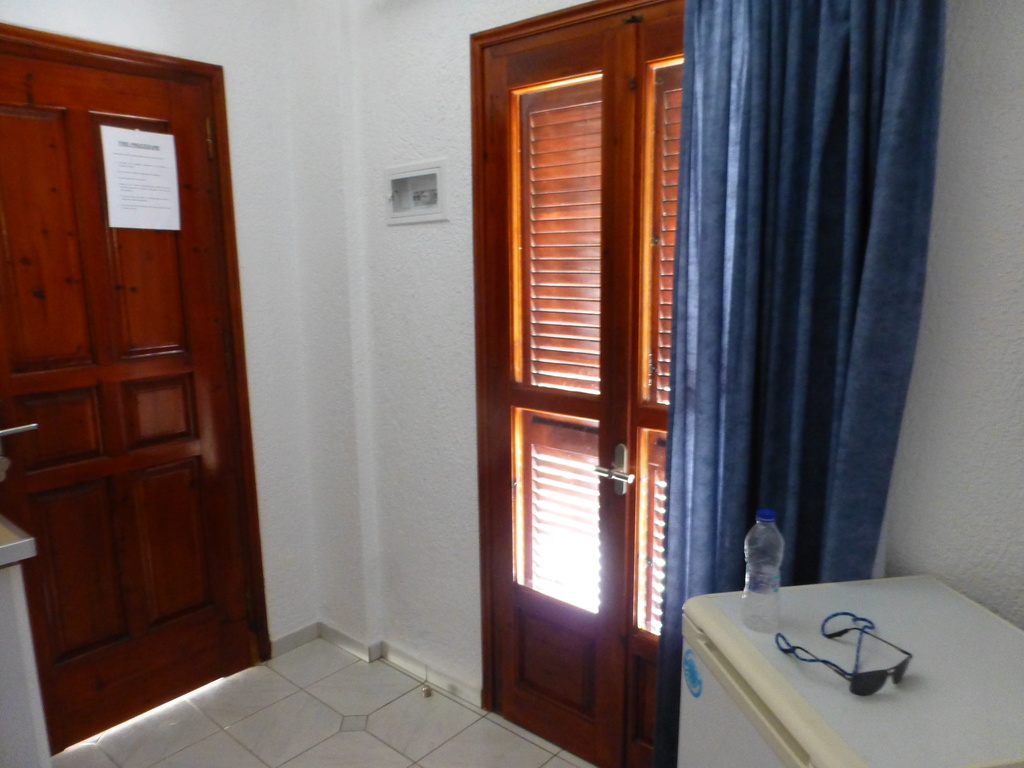 p1270022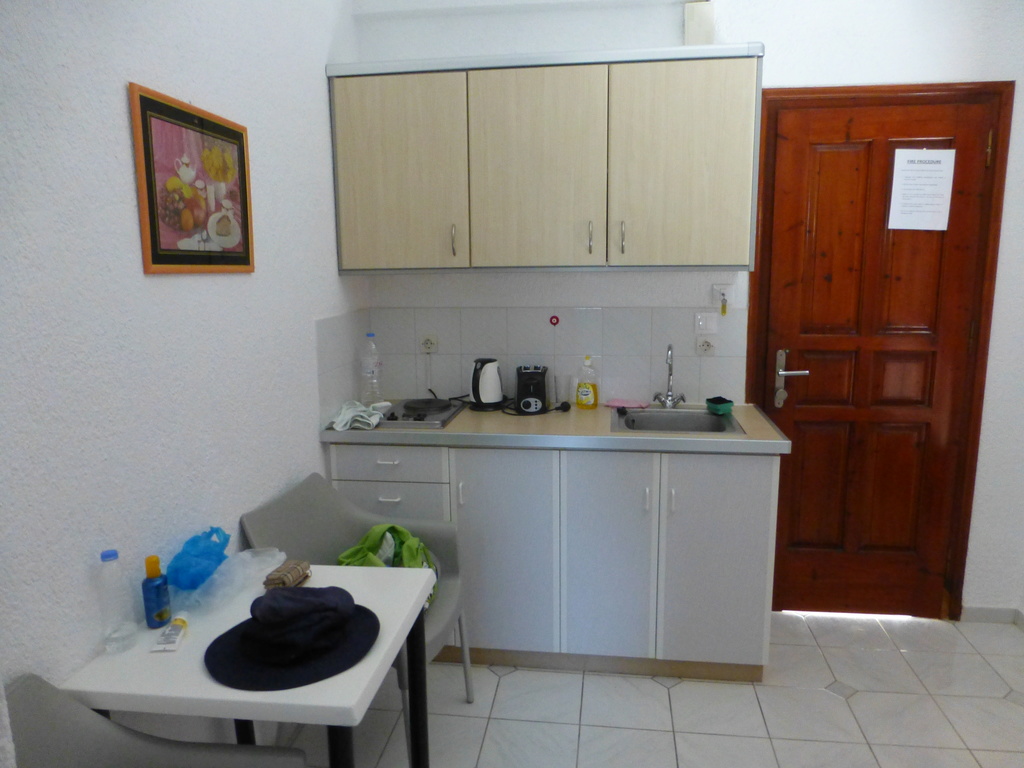 p1270023
for our evening meal we were going back to Vachus
p1270024
house wine still 10€s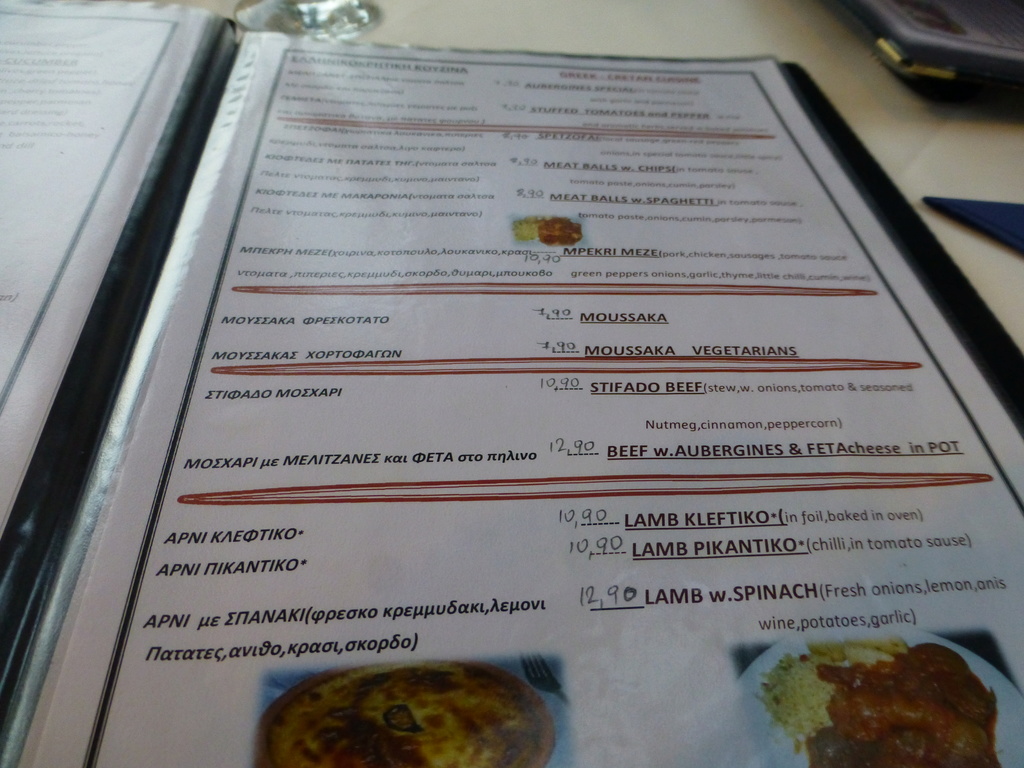 p1270025
I went for the Pork and Roquefort sauce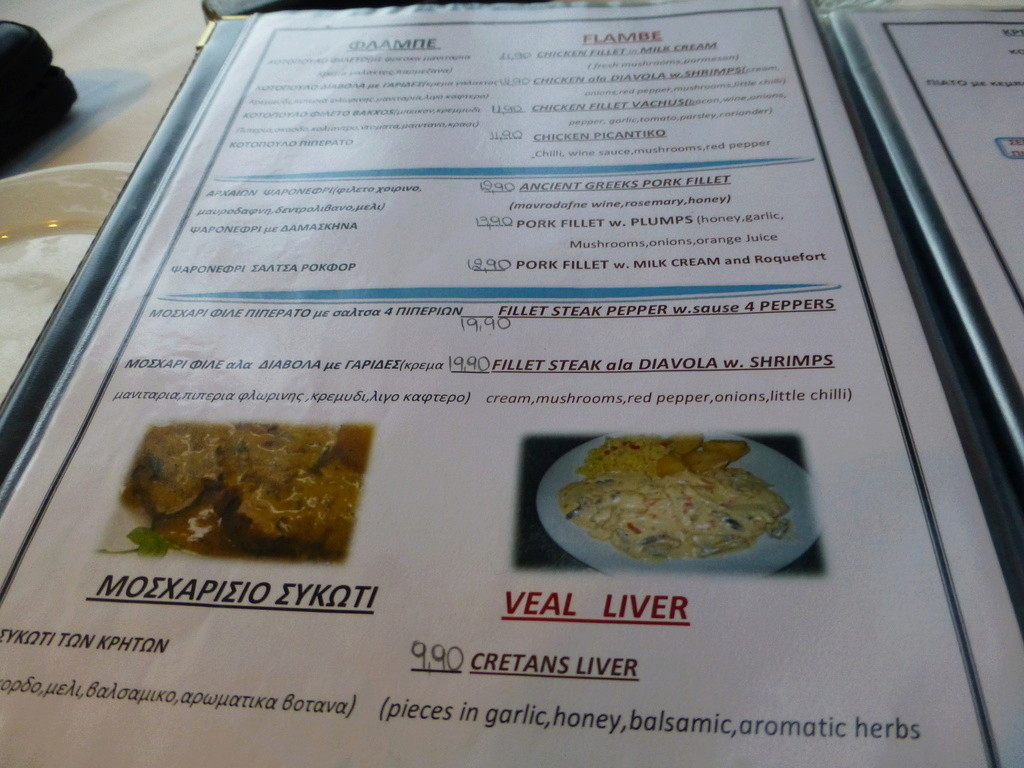 p1270026
Mrs Db was going to try the chicken and shrimps divola I had the other evening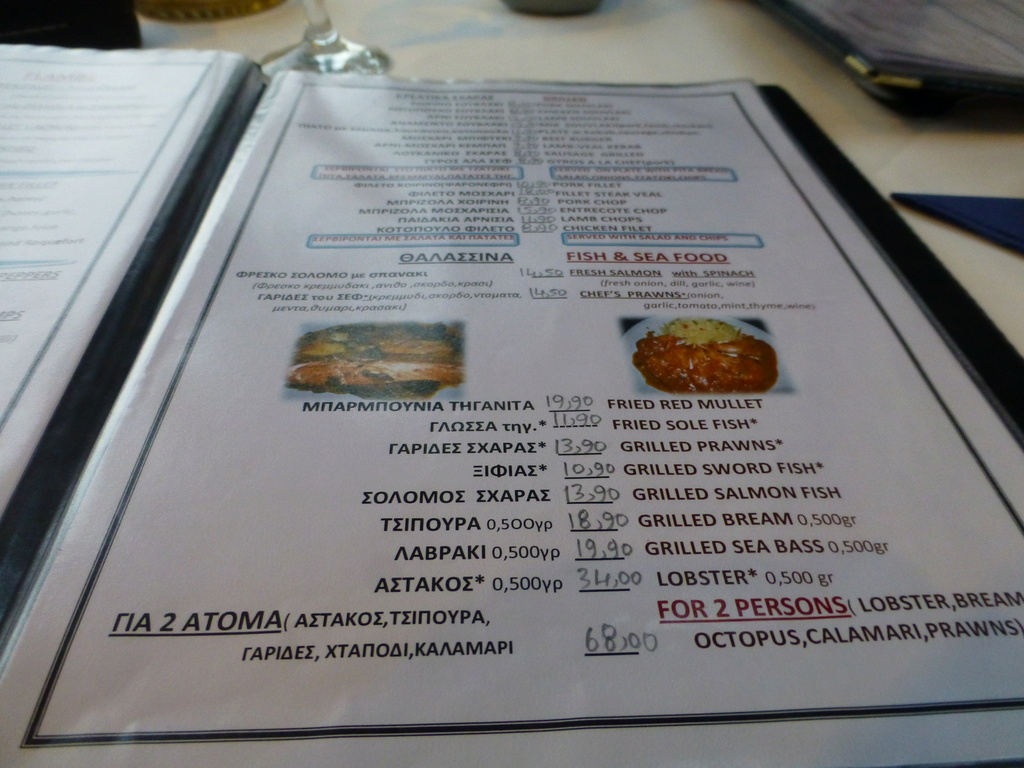 p1270027
my pork meal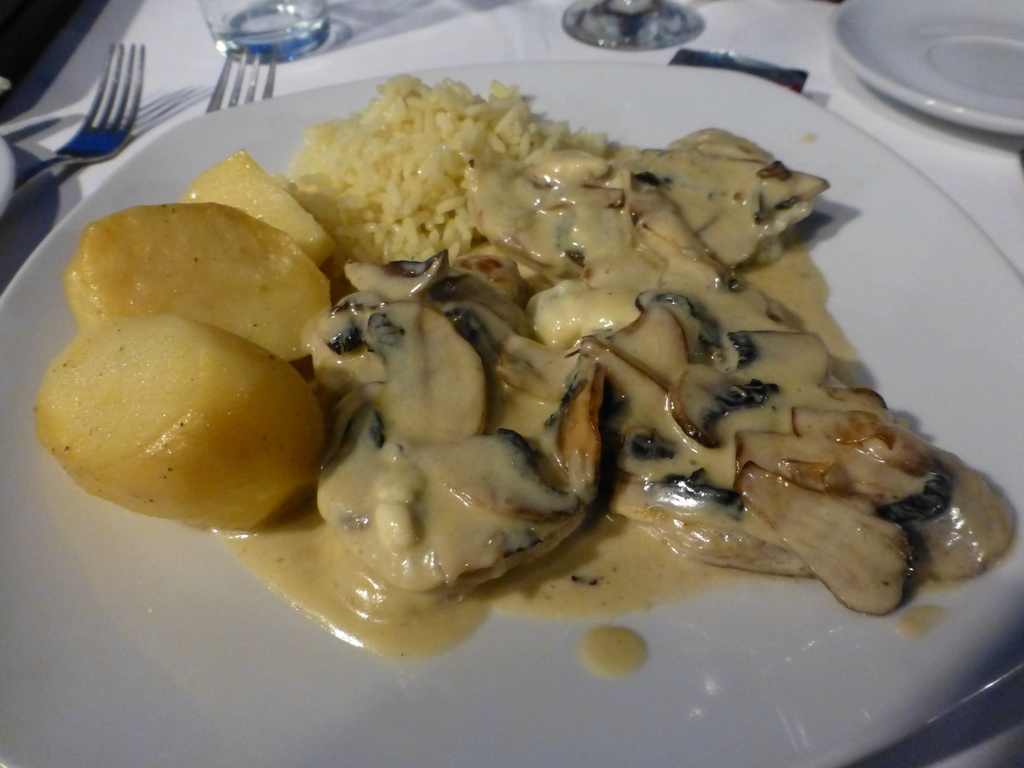 p1270028
Mrs Db's chicken & shrimps
p1270029
oh forgot the photograph of the melon but we have more to eat on the balcony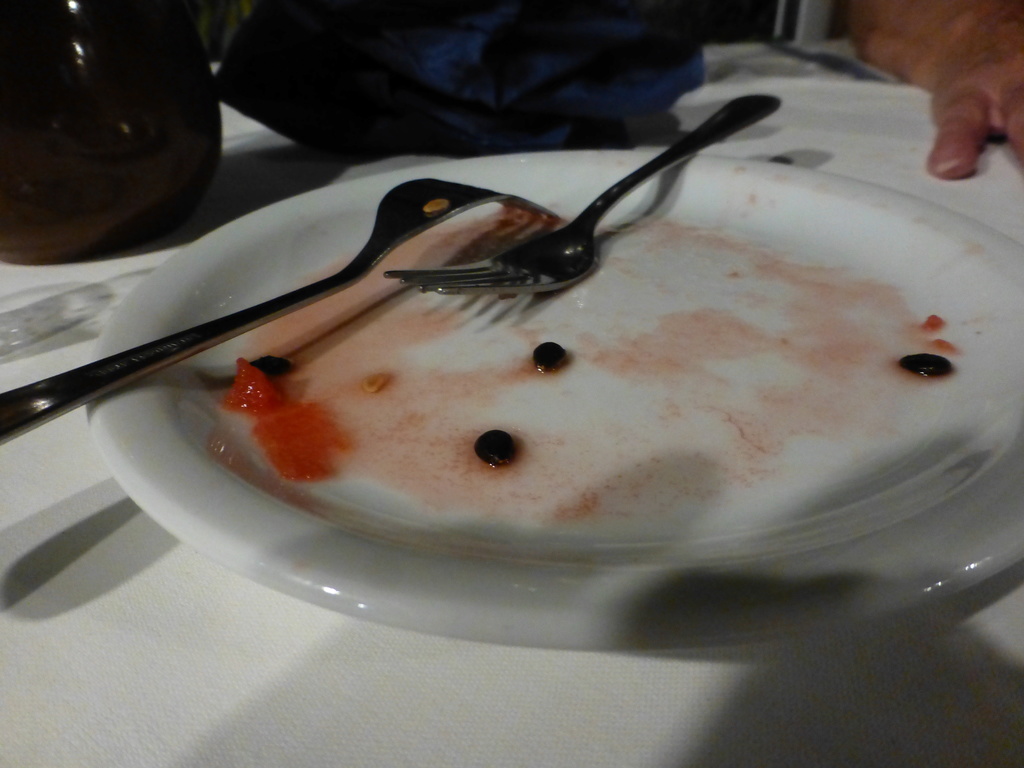 p1270030
So back to the apartment for coffee and see life is just a bowl of cherries lol
End of Day 13
Day 14 Saturday

Our last full day now what can I do for you.
Well the moon is still out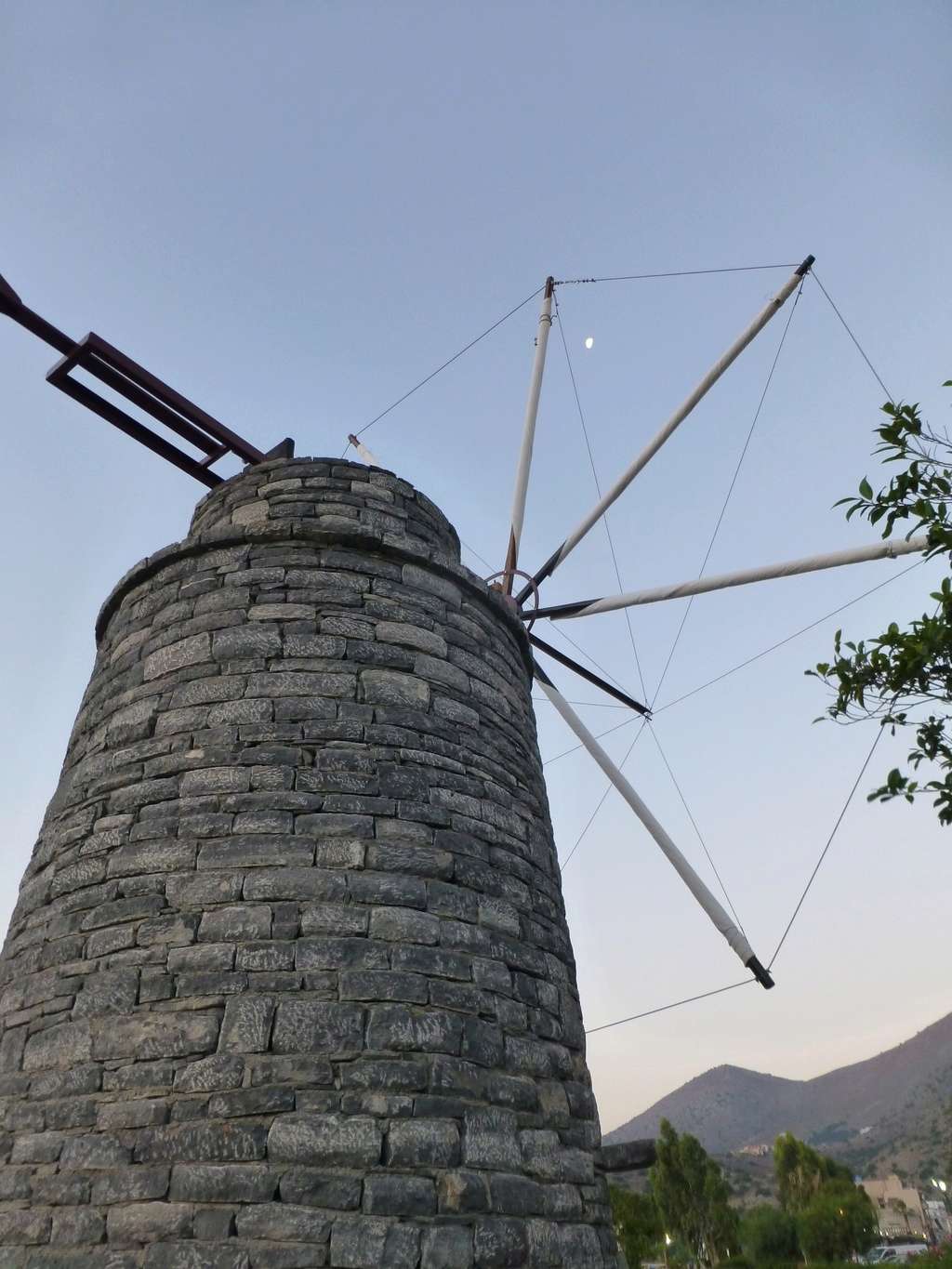 p1270031
The beach is empty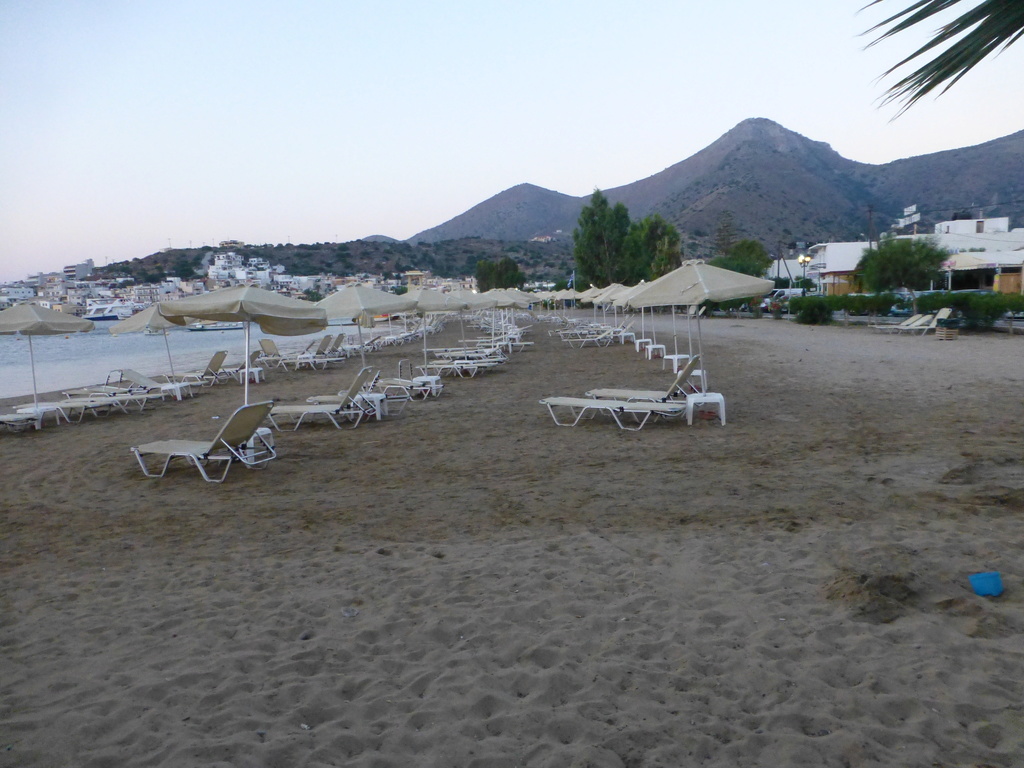 p1270033
It's still 27 degrees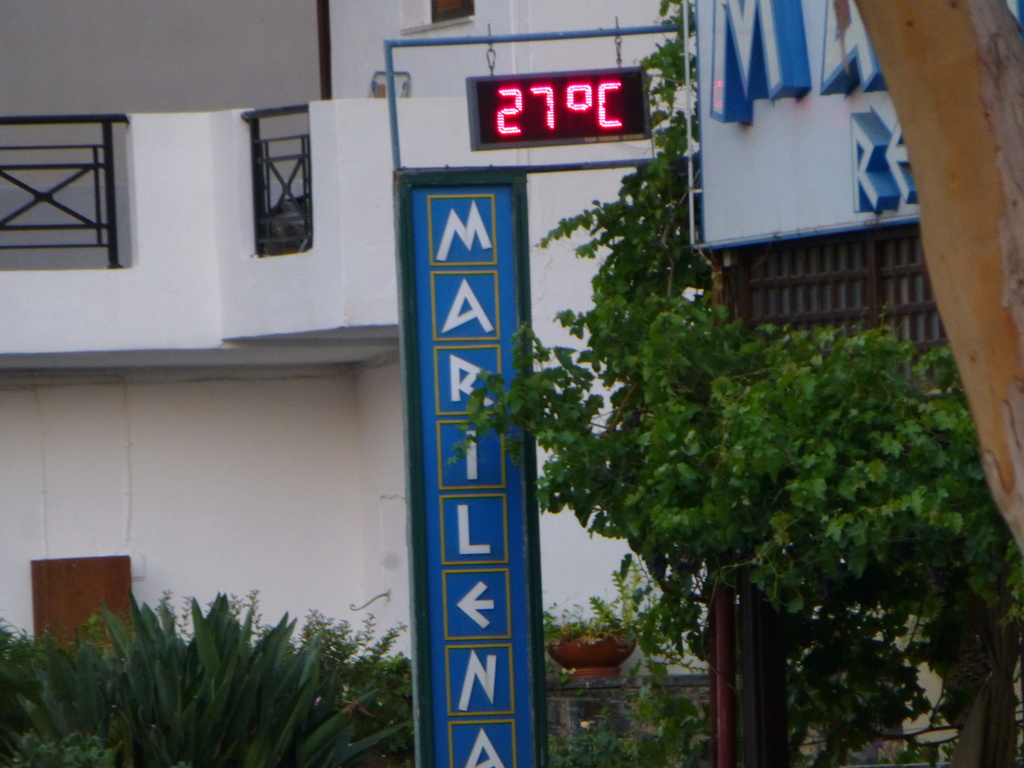 p1270034
The sun is not up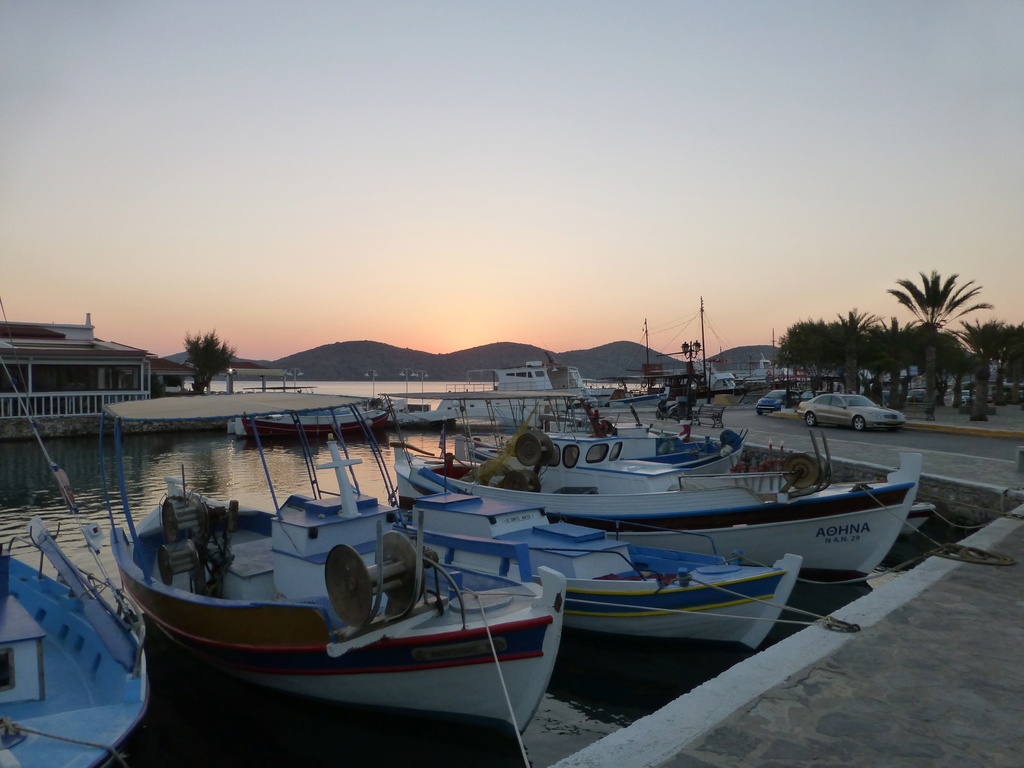 p1270035
I have made a special effort to position myself at the harbour for a good view
p1270037
The town's clock is showing just before 6:30am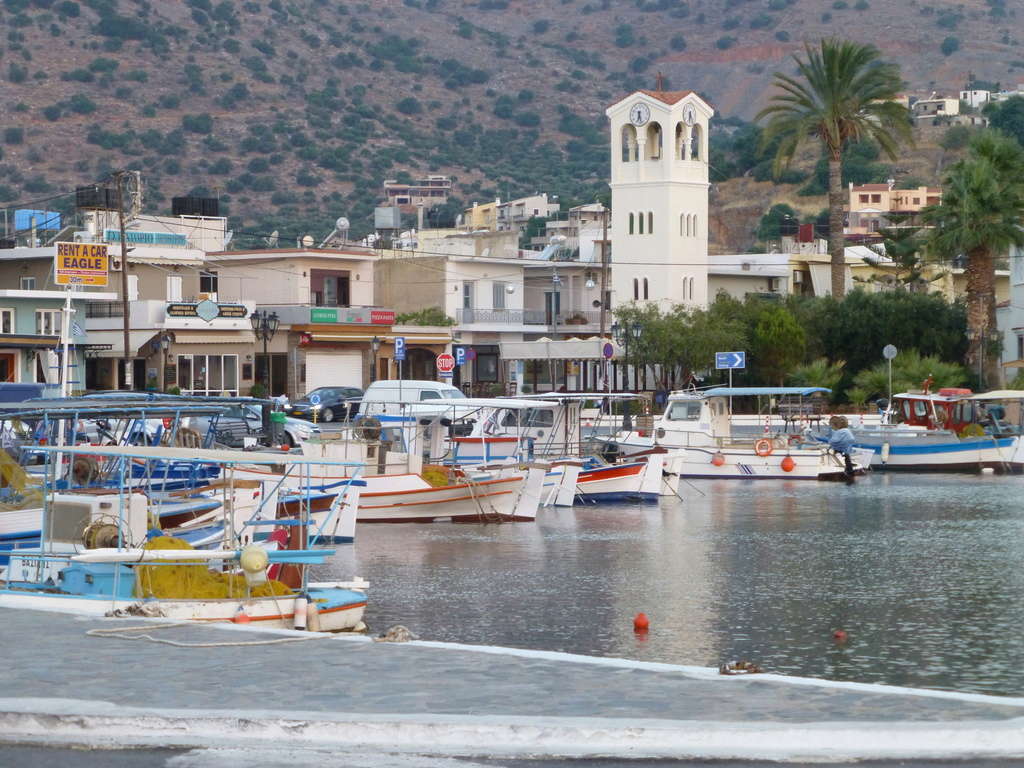 p1270038
Here it comes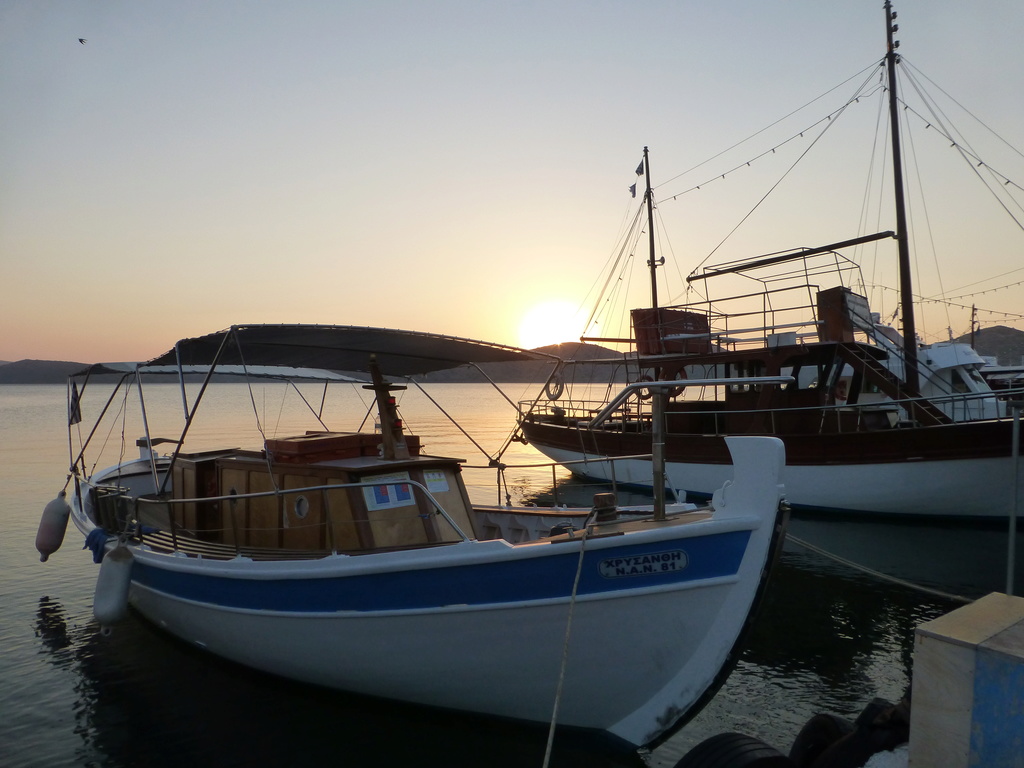 p1270043
The start of our last day and what could be a better start  (in bed says Mrs Db lol)
p1270044
The town is coming alive for another day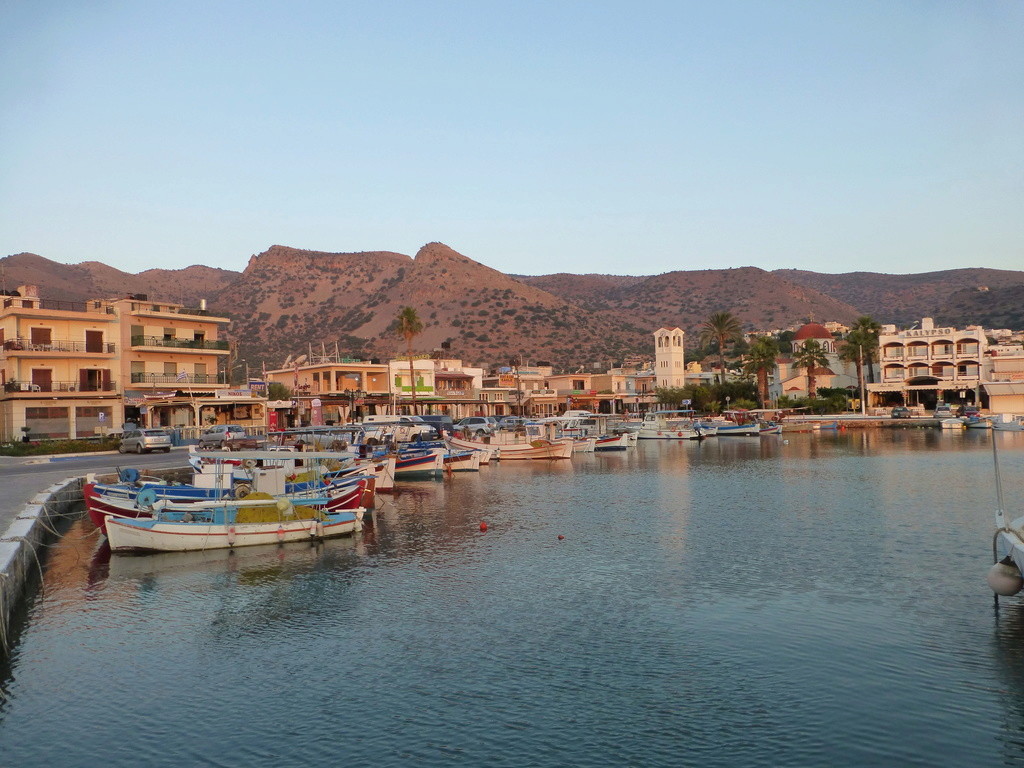 p1270046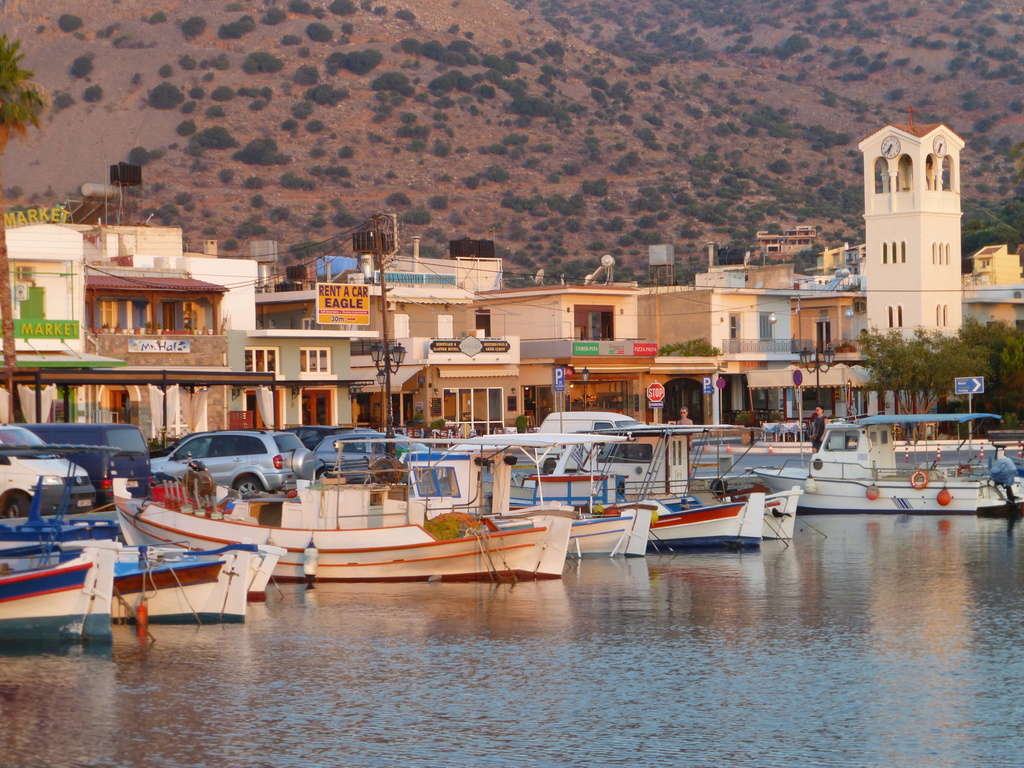 p1270047
p1270048
a beach with no towels
p1270049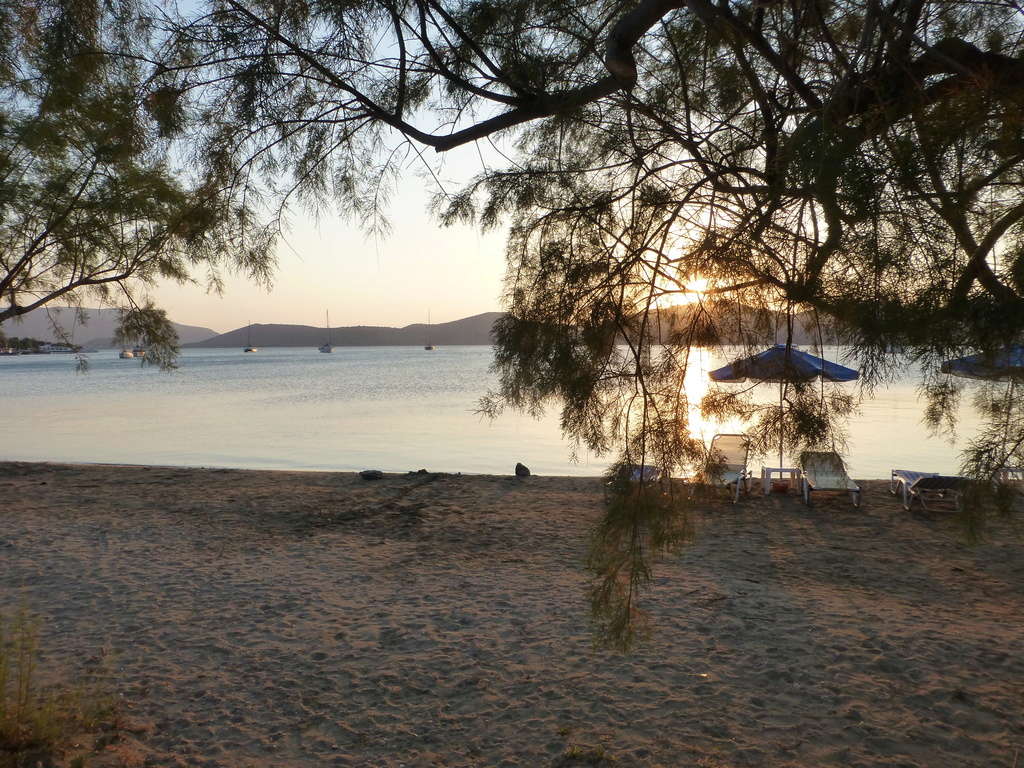 p1270050
Back to Mr Db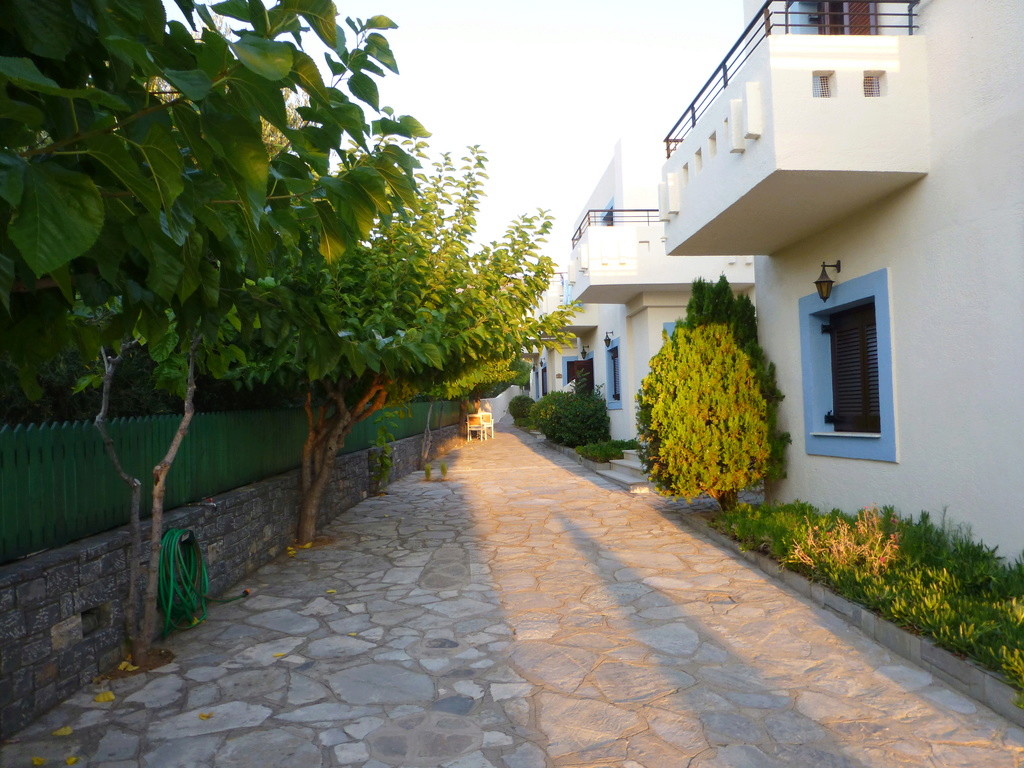 p1270053
A morning on the beach reading my book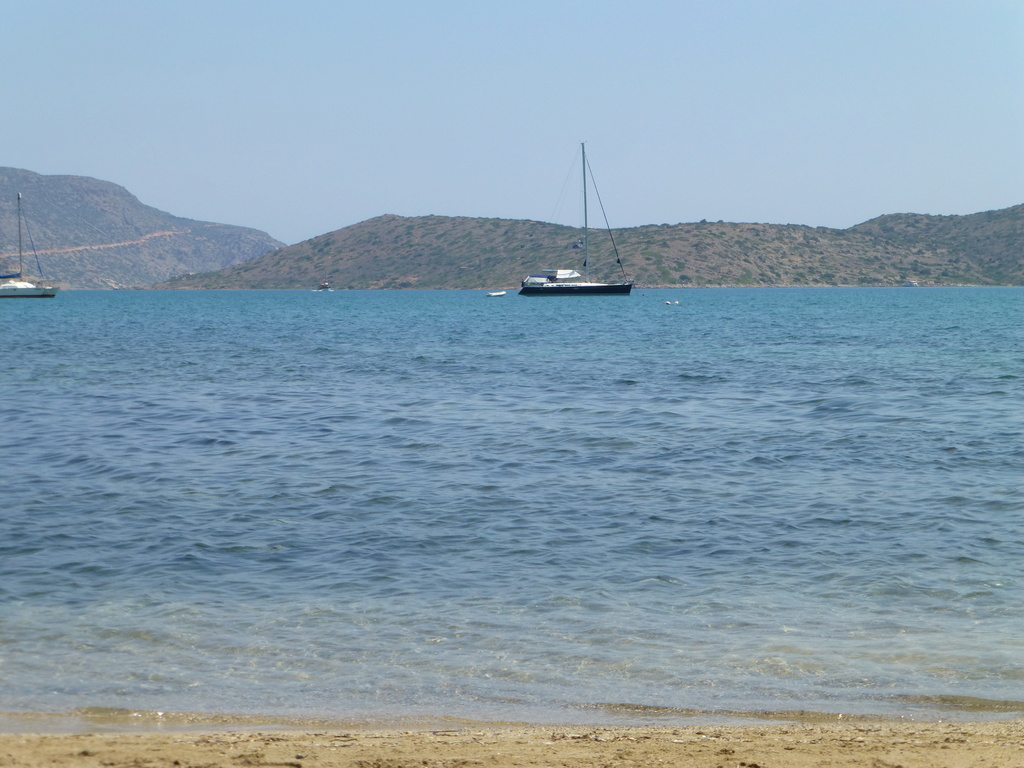 p1270055
Lunch time I had a craving for baked beans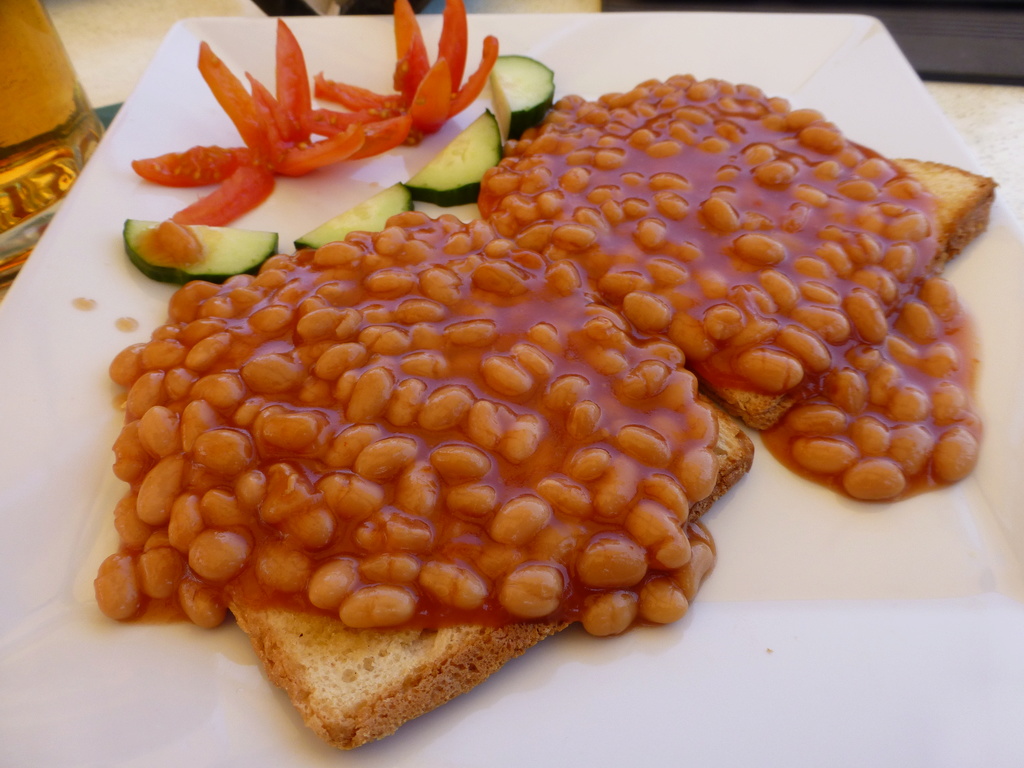 p1270056
afternoon of reading and watching a rescue of a ring that should have been left out there lol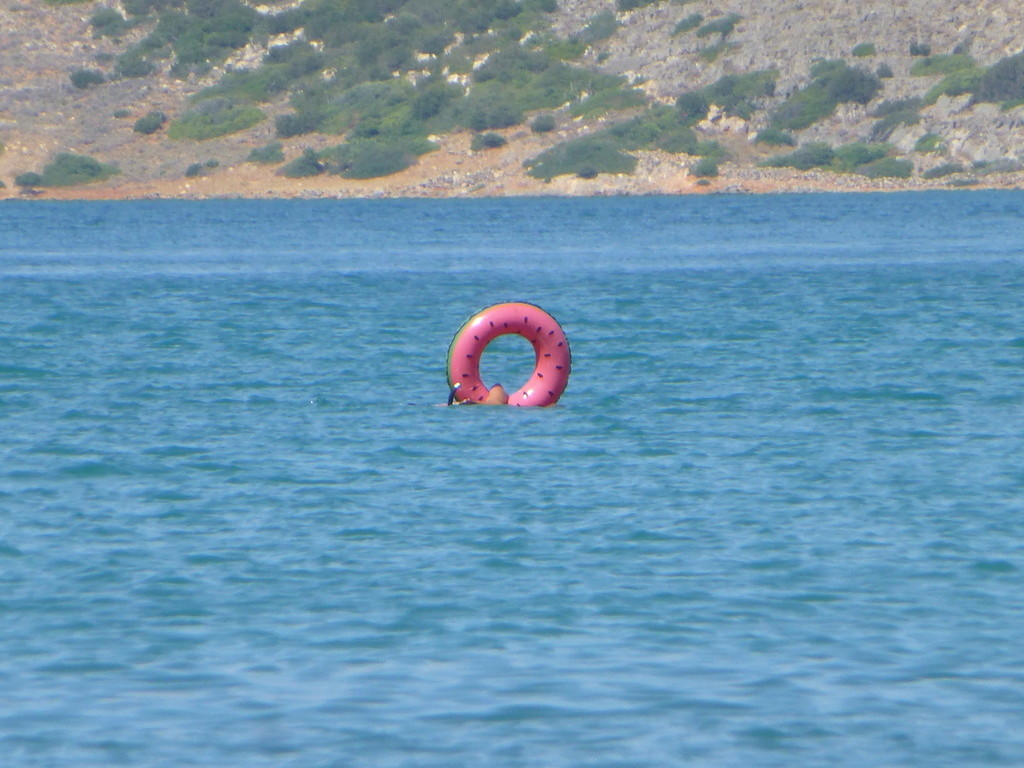 p1270058
It was our last evening and I had booked a table by the sea at Olondi's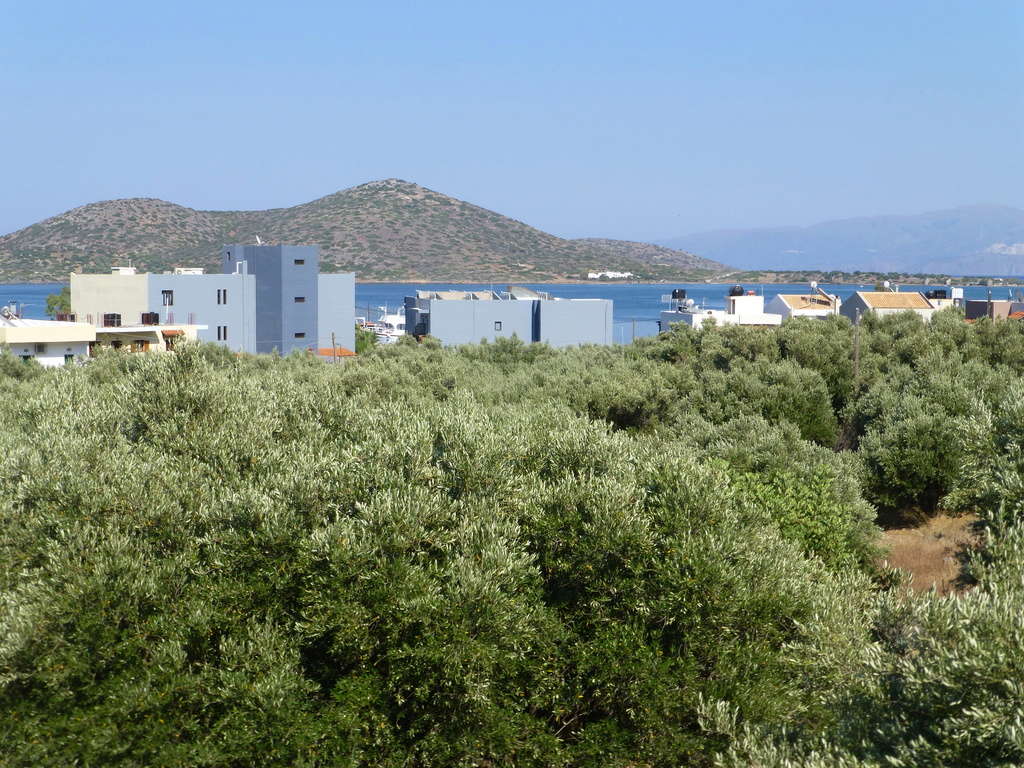 p1270061
Olondi's
p1270062
menu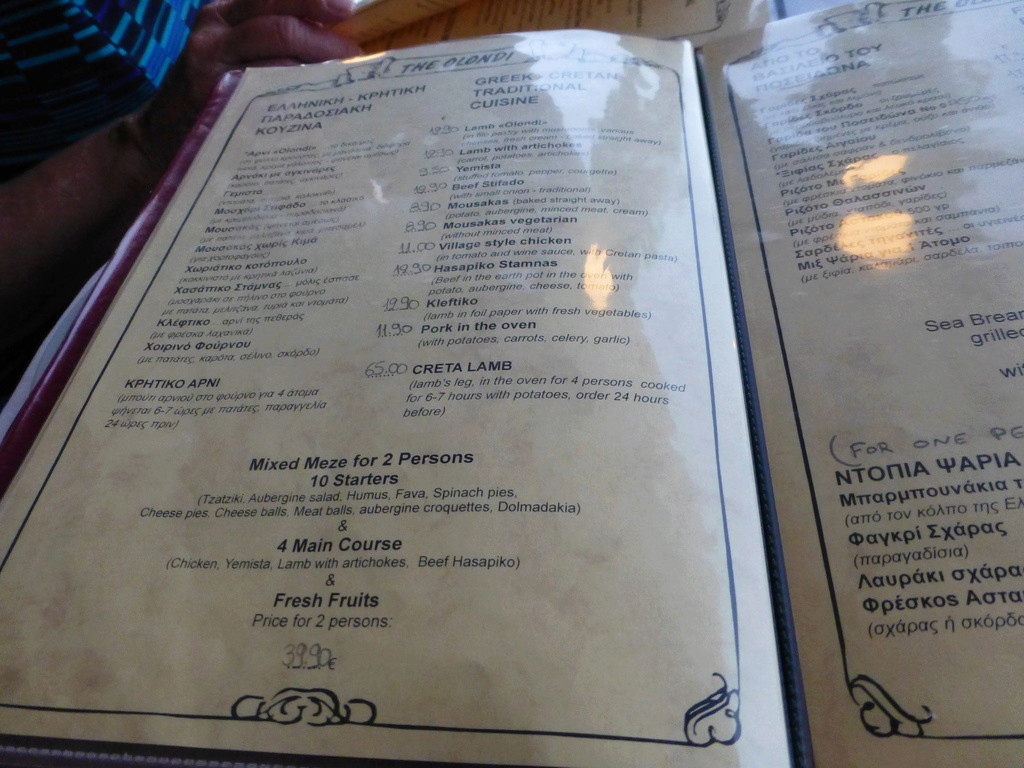 p1270063
And we saw Spinalonga lit for the first time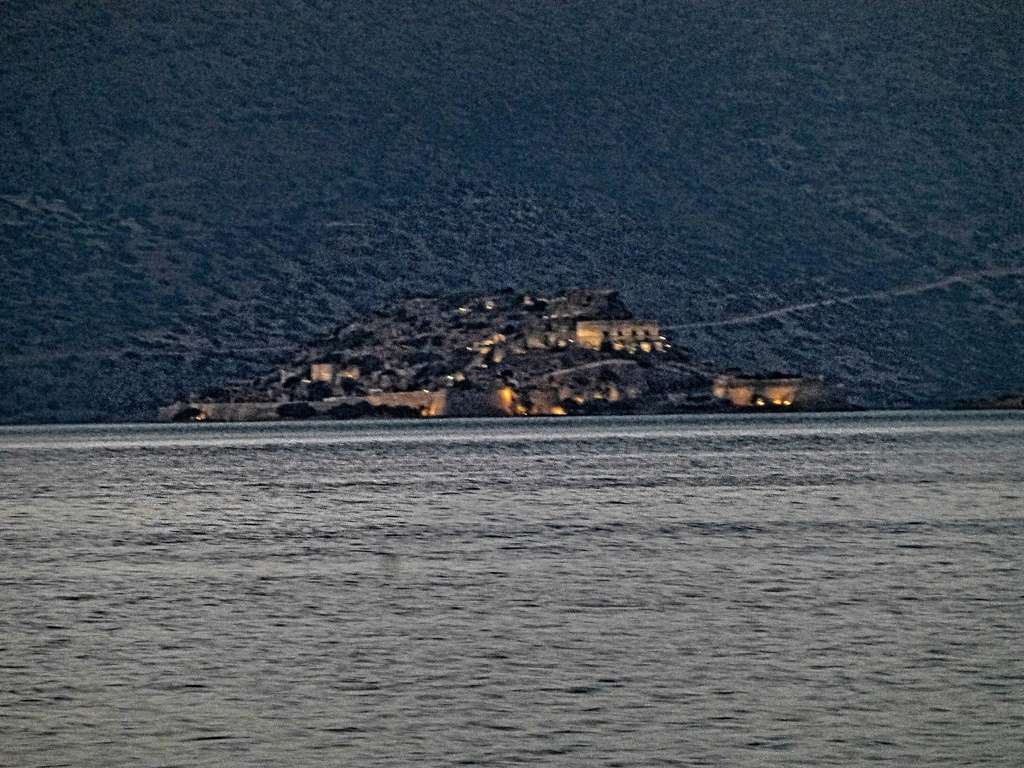 p1270067
Mrs Db had The Village Style Chicken
p1270074
I had my favourite meal again, the Lamb Olondi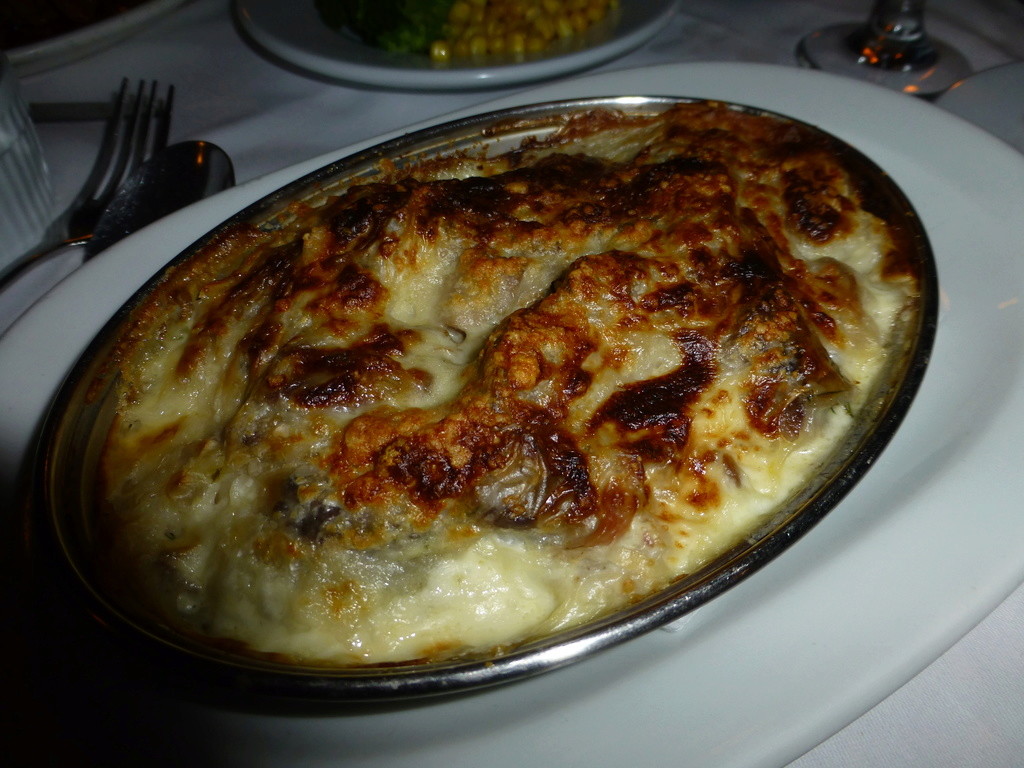 p1270075
different vegetables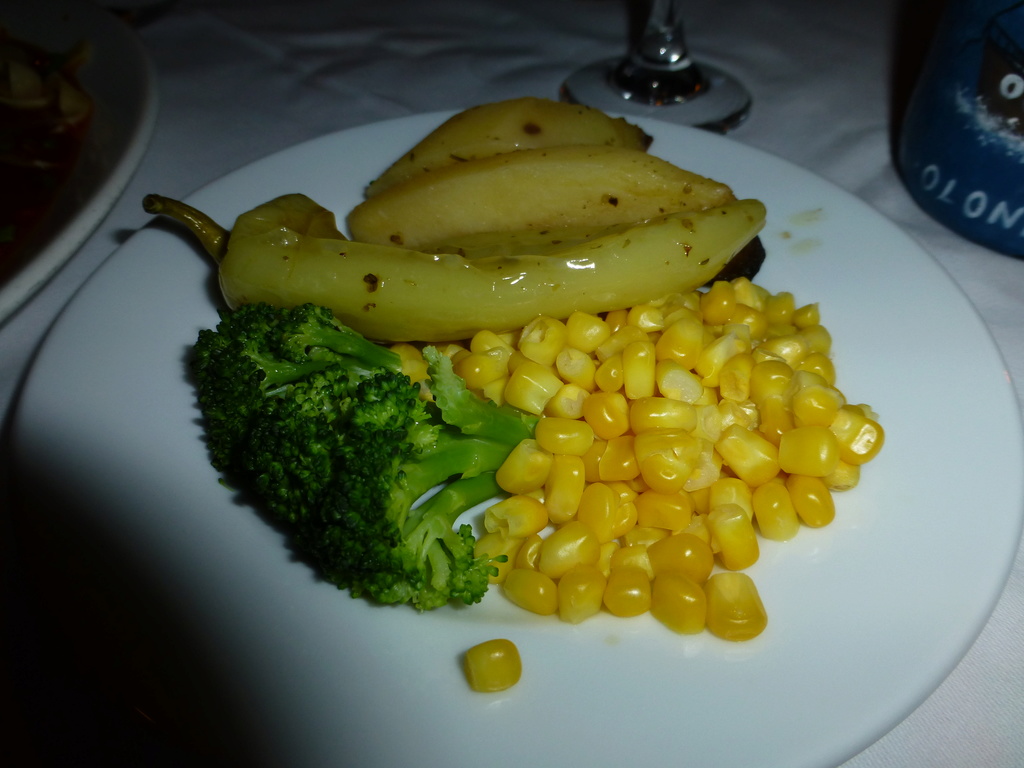 p1270076
a lovely setting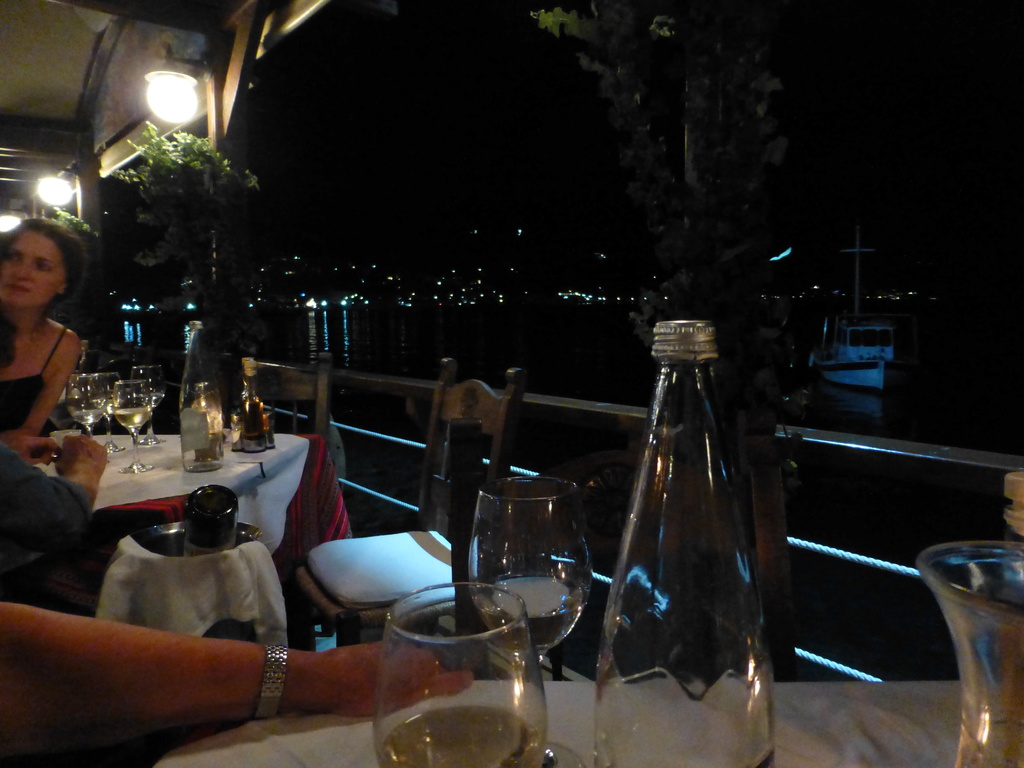 p1270078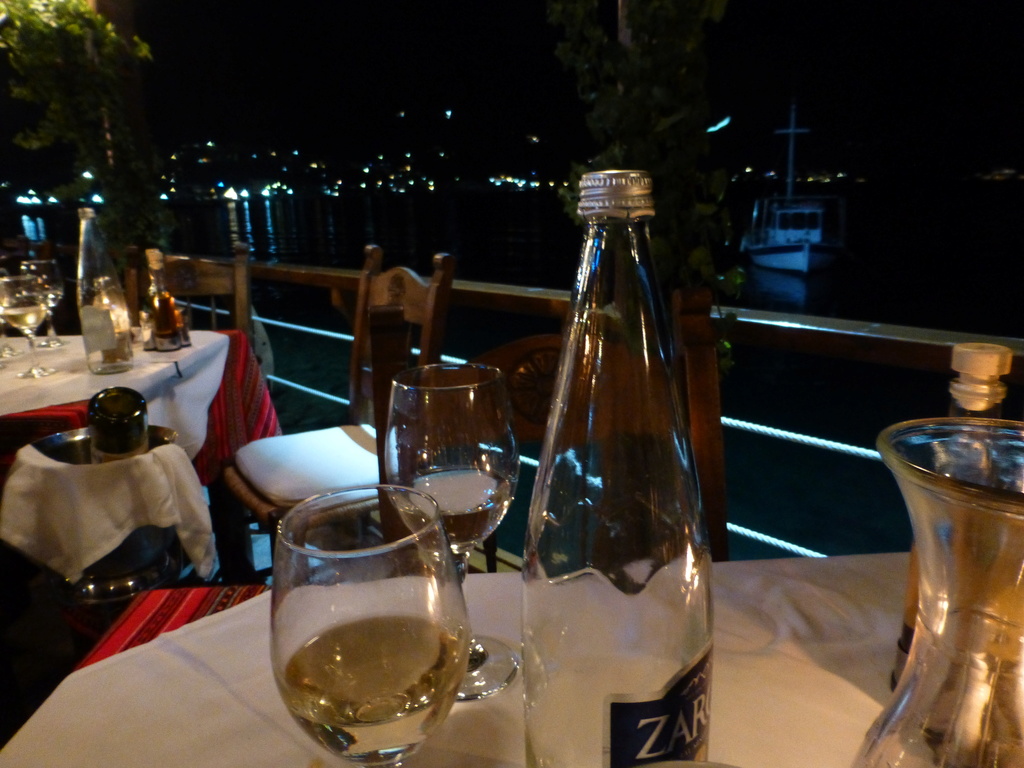 p1270079
oh no, not more cherries, melon and grapes lol
p1270084
finishing with free Raki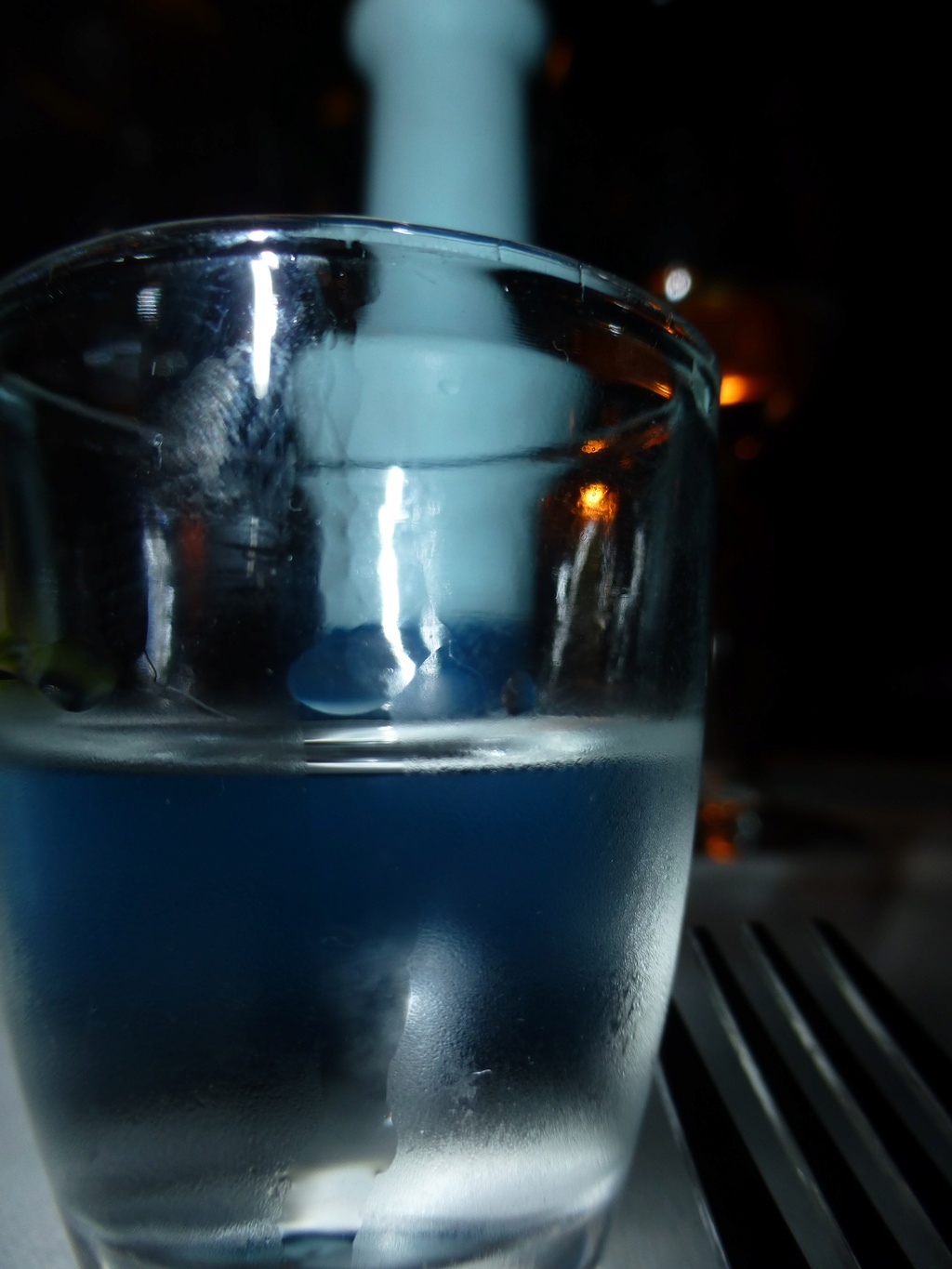 p1270085
A vibrant town whilst walking back on a Saturday evening
p1270087
to sit on the balcony with a coffee, more cherries, melon and grapes lol
End of Day 14Day 15 Sunday

Going home
We were both up early me with a stomach ache. I told you not to eat all that fruit, said Mrs Db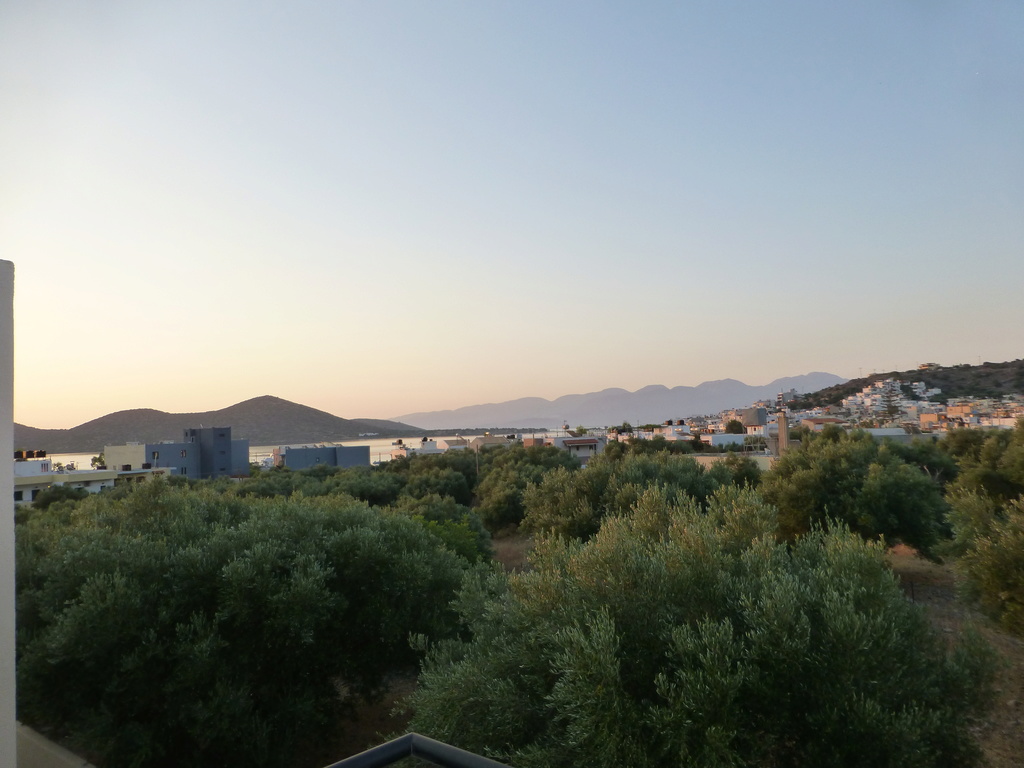 p1270092
Our coach arrived early at 11:40am but there was a delay in getting away, as a couple did not get on a taxi sent by Thomson's to meet the coach.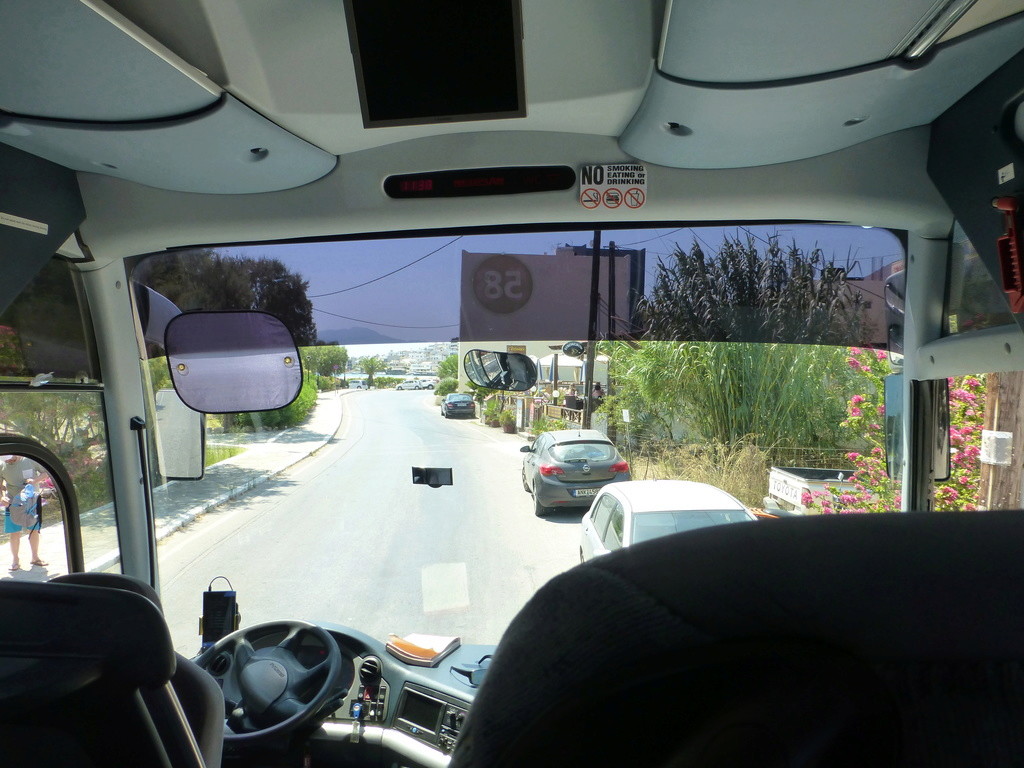 p1270093
We picked up people in a number of hotels and even going into Malia and Stalis to pick up somebody before getting onto the motorway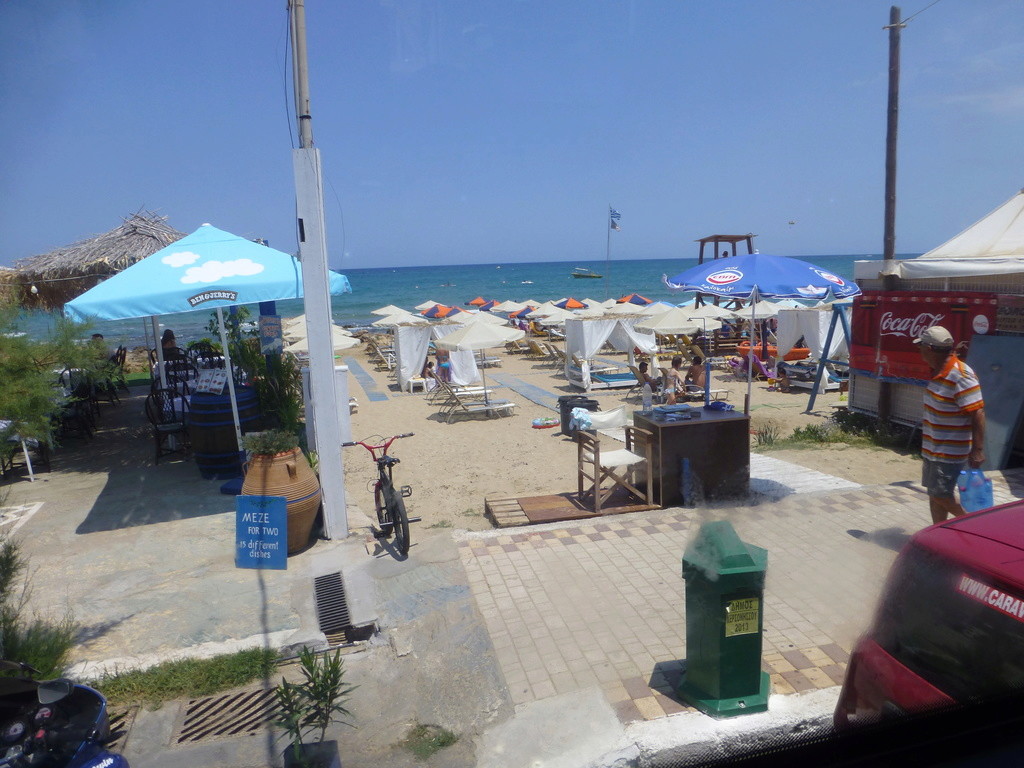 The motorway was being rebuilt and we ended up behind a really slow car
p1270100
Heraklion Airport had queues for check in, then another queue to Xray the cases, then having to find the departures and security which could be two places at the end of the airport. Our plane never got a gate number allocated, so we had to ask airport staff in the know to get into the correct one. In departures there was still no gate number on the board and then finally a mumbled gate number was called but when we arrived there at the gate  it was showing a Birmingham flight and we wanted Gatwick.
We then had a big hunt of all gate numbers and could not find Gatwick. At this point we even wondered if we were in the right section which was seal off from other gates 1-7.
Finally I had to ask an official who said gate 18, we were then back at gate 18 with Birmingham still on the board with other people asking the same question. One guy said this is definitely Gatwick so we joined the end. The board was not changed until we started to board. Summing up chaos!!!
p1270101
Finally we were away
Arriving at Gatwick our luggage took over an hour to come onto the carousel and our taxi driver had clocked up £12 in the car park fee waiting for us.
Anyway, holiday over, hope you enjoyed holidaying with the delboy's once again
End of holiday