Monday Day 9
Well not getting many opportunities for sunrises at home it's great for it here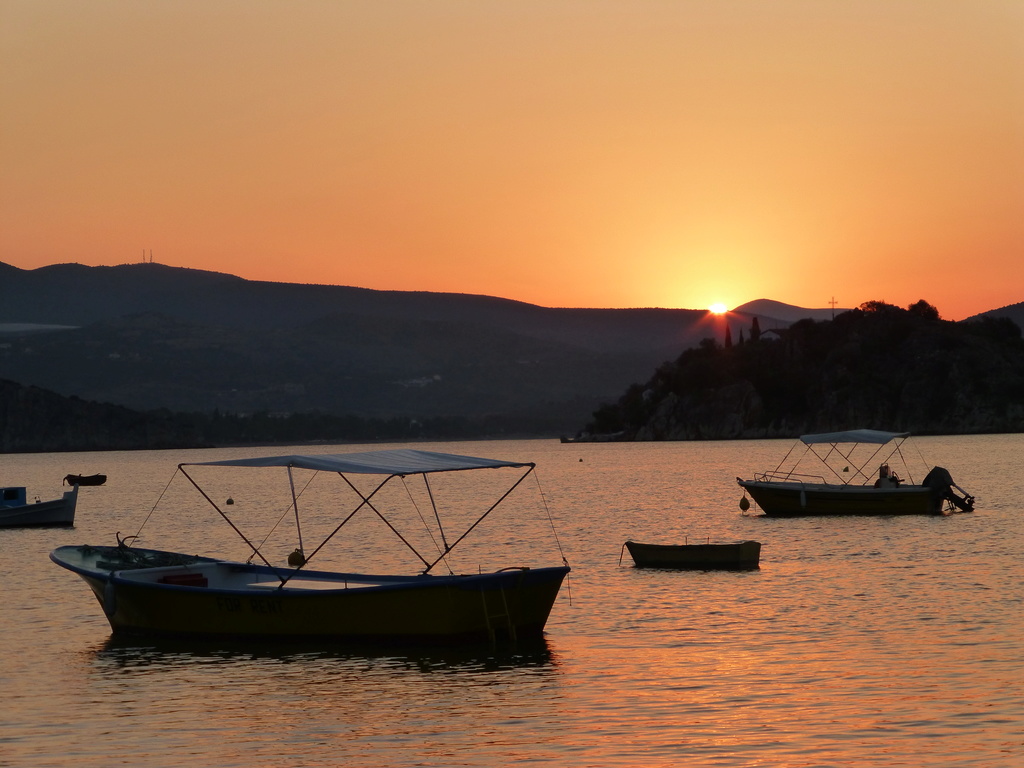 p1180551
After the first two days I am now into having the more healthy cereal / yogurt option lol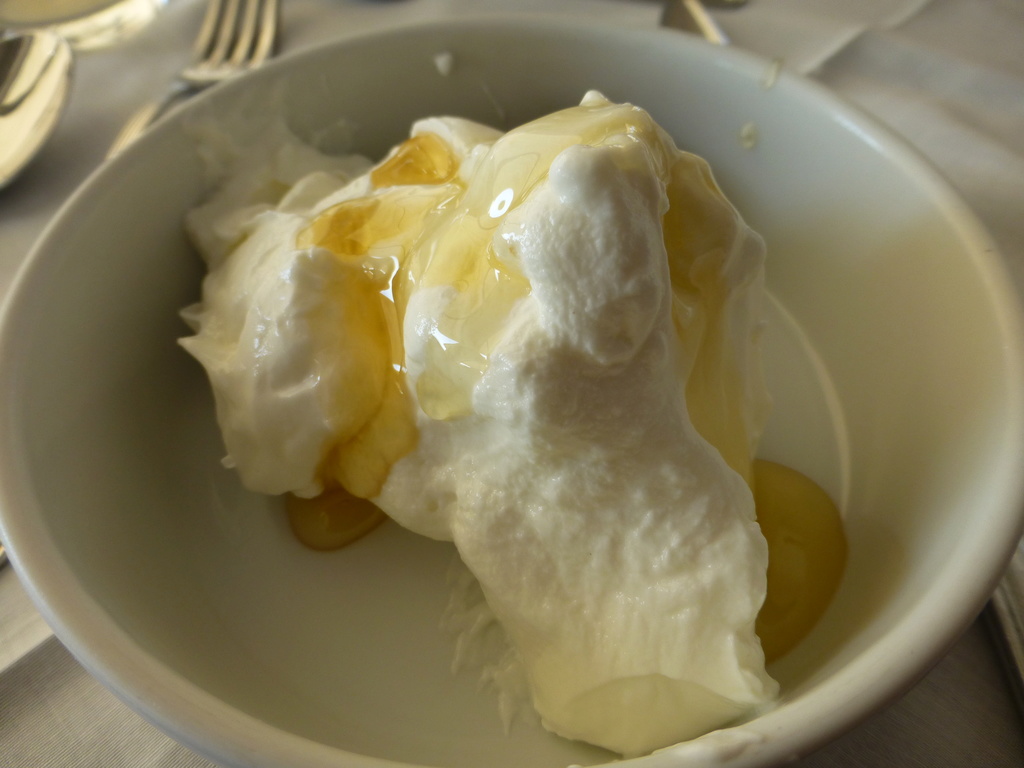 p1180558
with the thought of trying to get some good photographs from the mountains of Tolo with the sun behind this afternoon I had an easy beach morning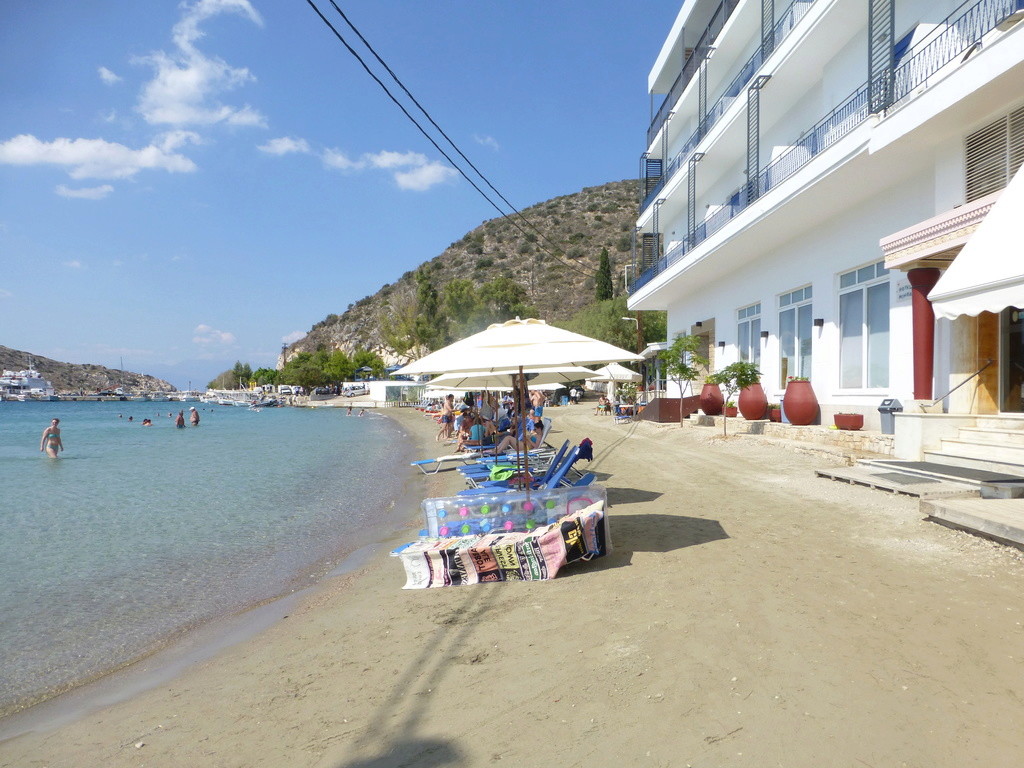 p1180560
but I just have to get lunchtime sorted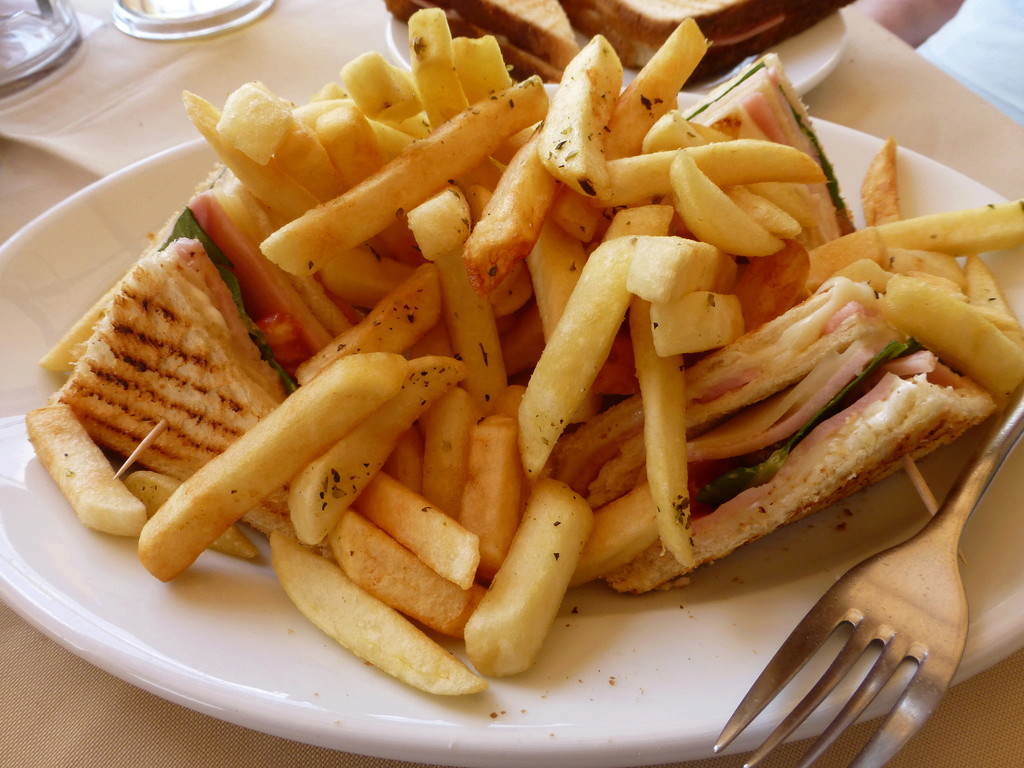 p1180571
come on Mrs Db help me out with some of these chips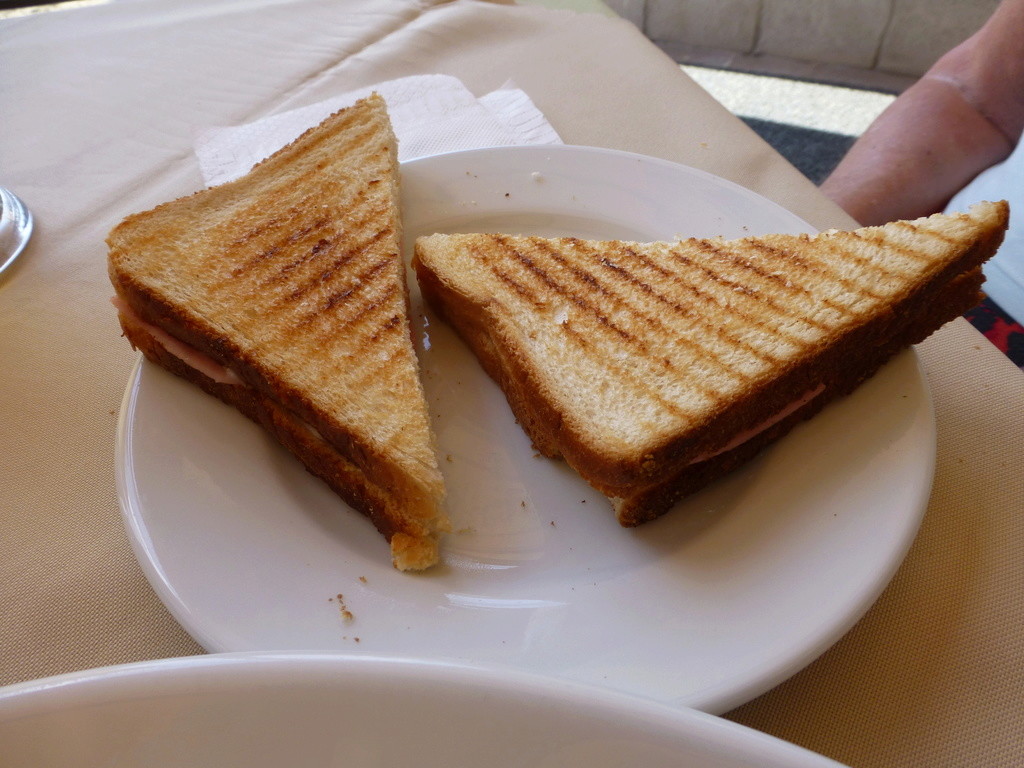 p1180572
So at 5pm I headed off for the mountains using the road where the Tolo police station is based in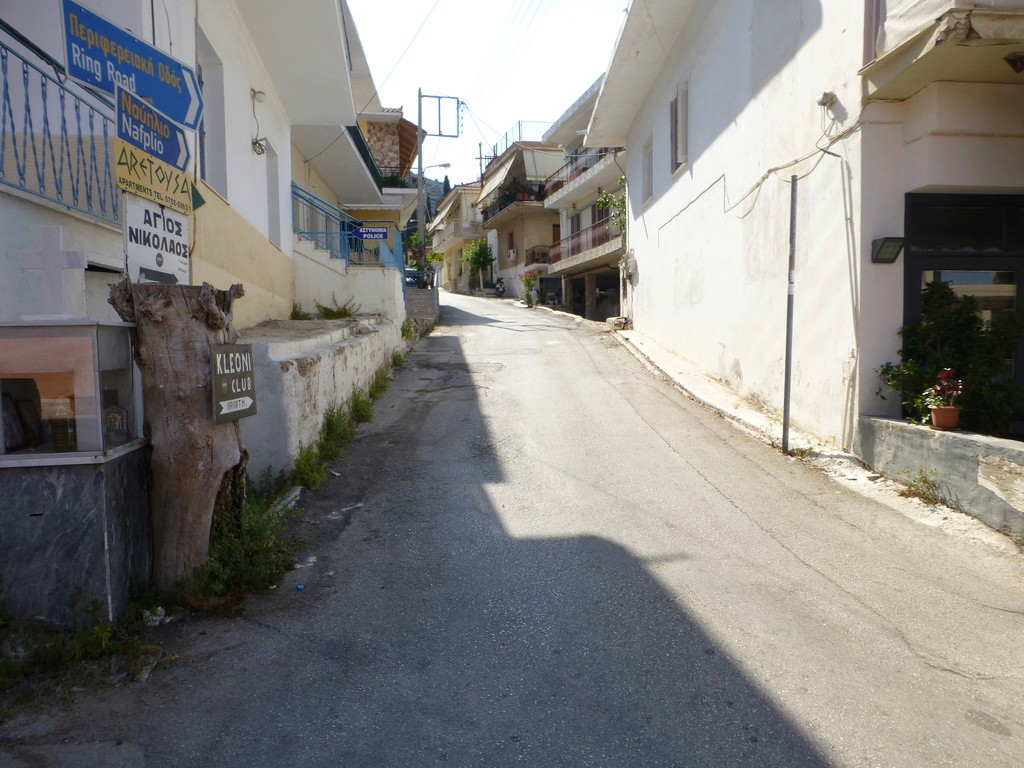 p1180573
Near the top of the road is the town's cemetery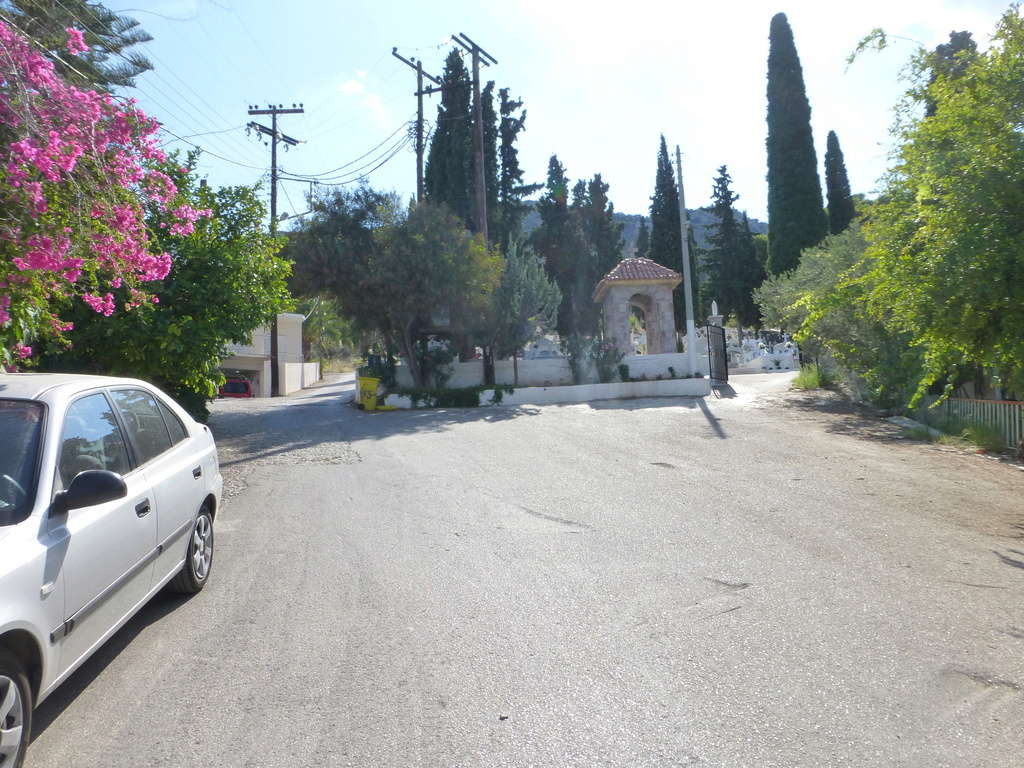 p1180574
beyond it is the town's bypass which cuts across the brow here, I decided to go straight across it and up the road beyond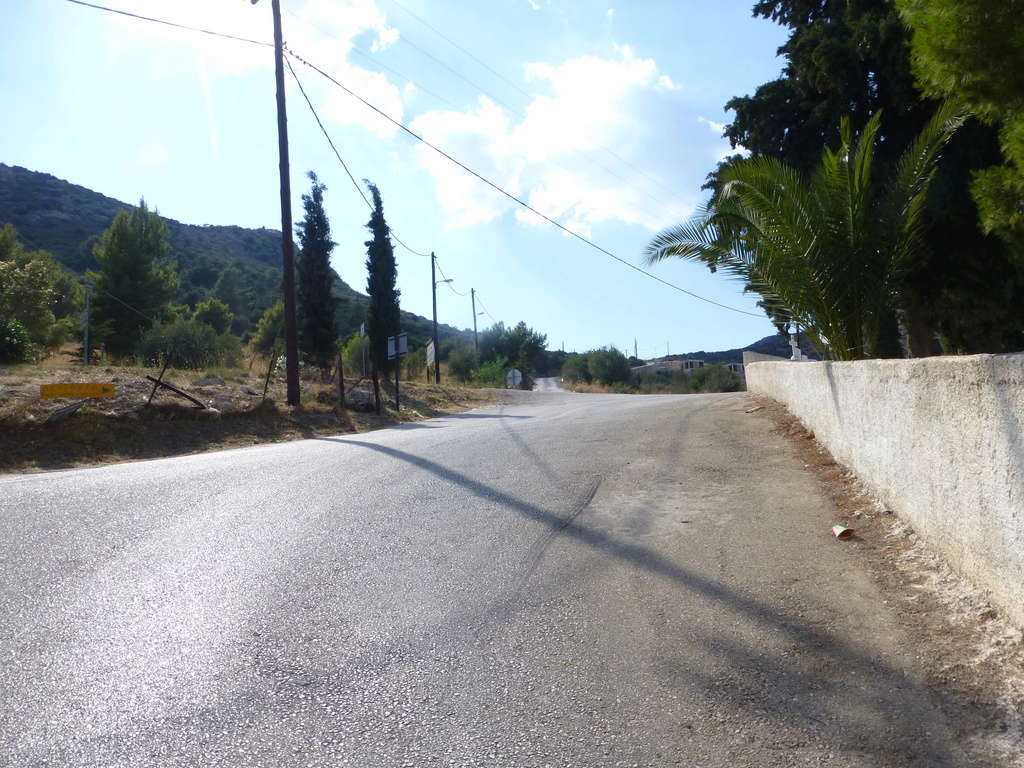 p1180575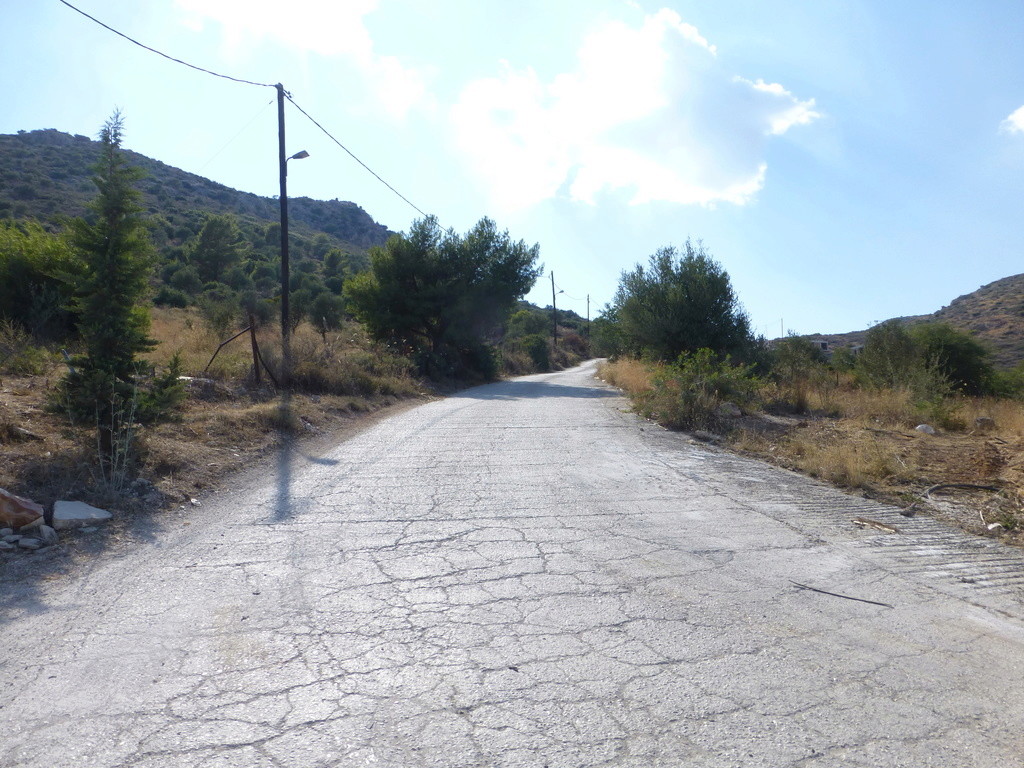 p1180576
However, I had picked the wrong road and should have gone right and walked down the bypass to pick the road further down leading to the house up on the mountain to the left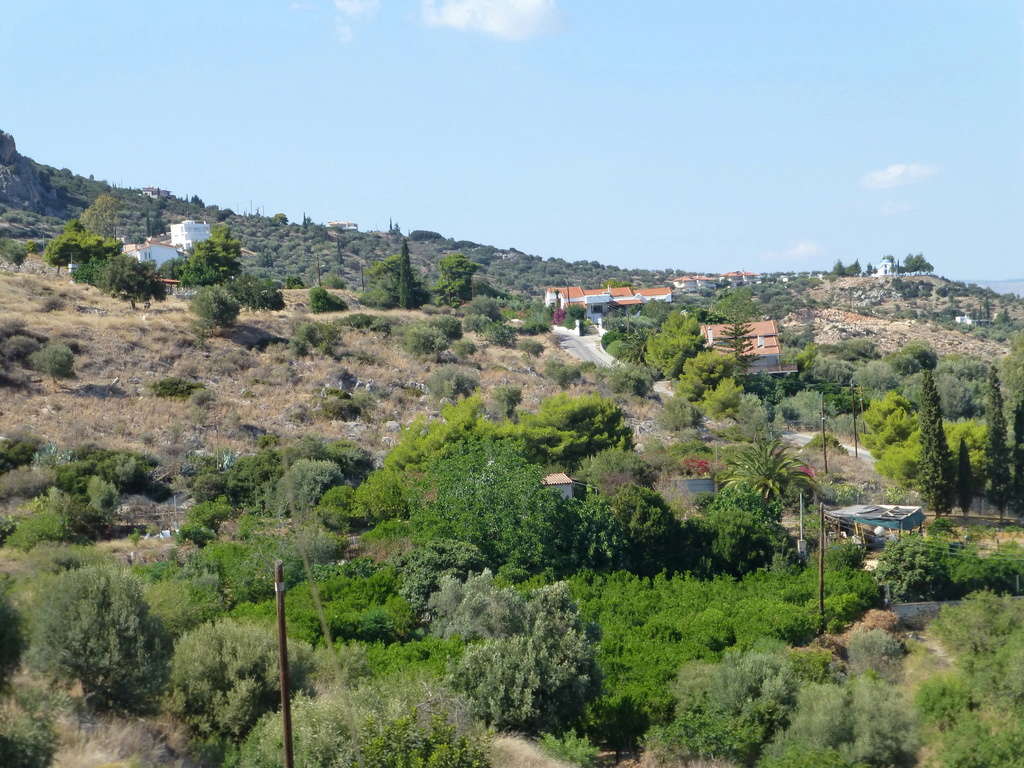 p1180578
The reason being that the mountain on my right obscures the harbour area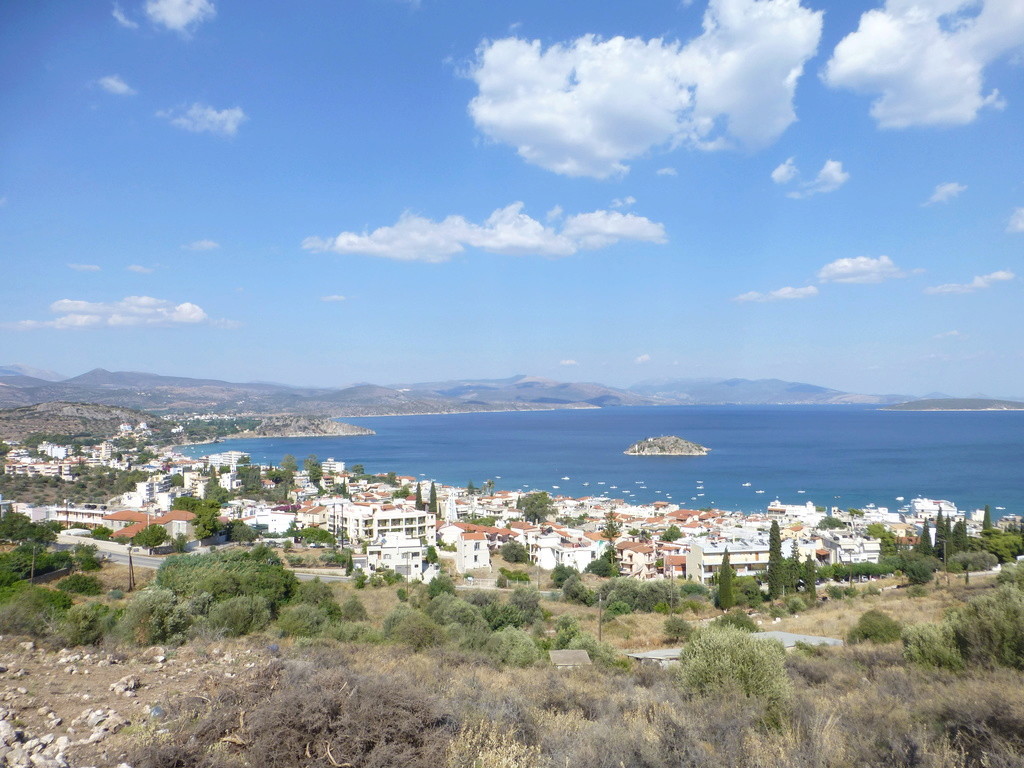 p1180579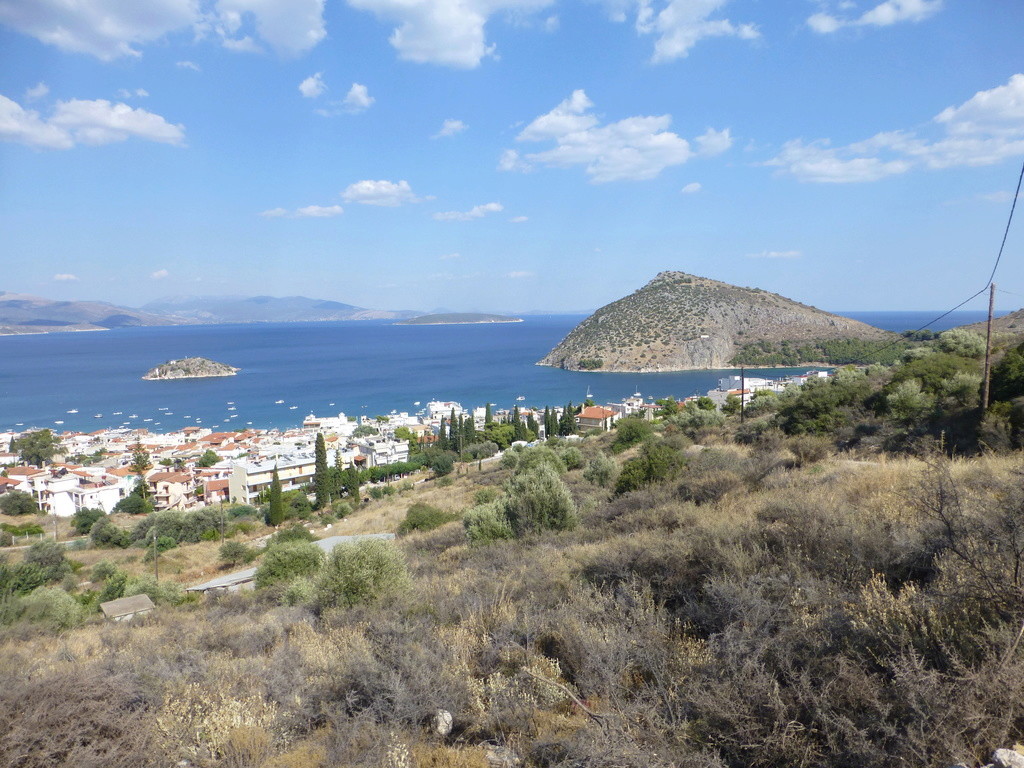 p1180580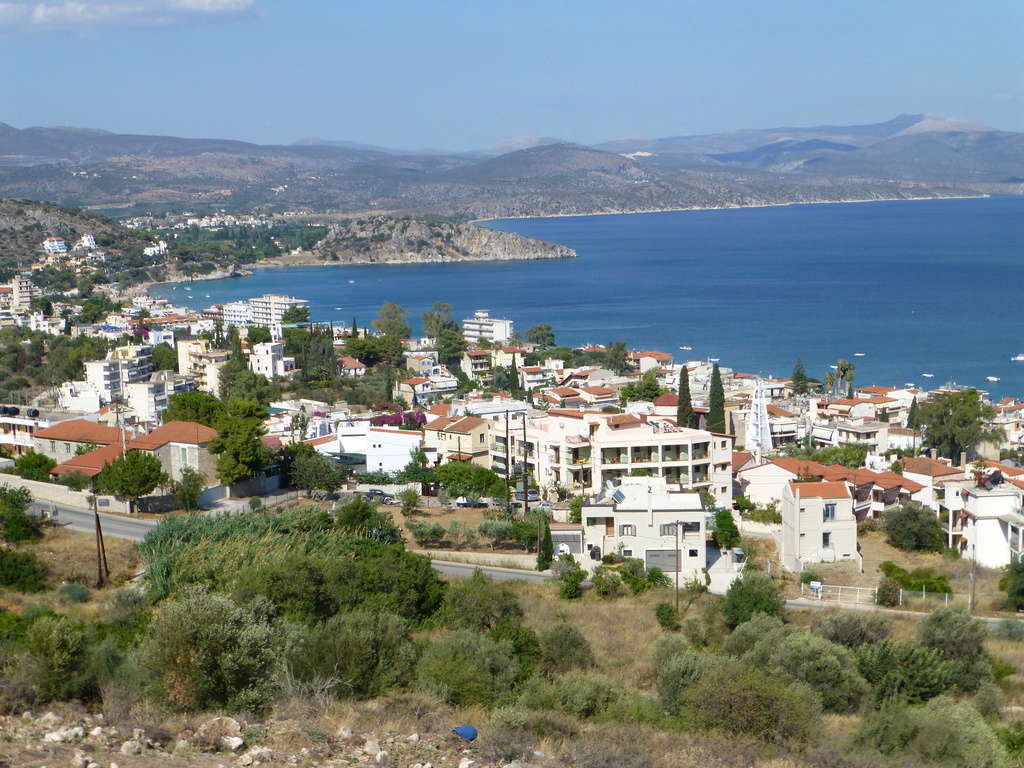 p1180583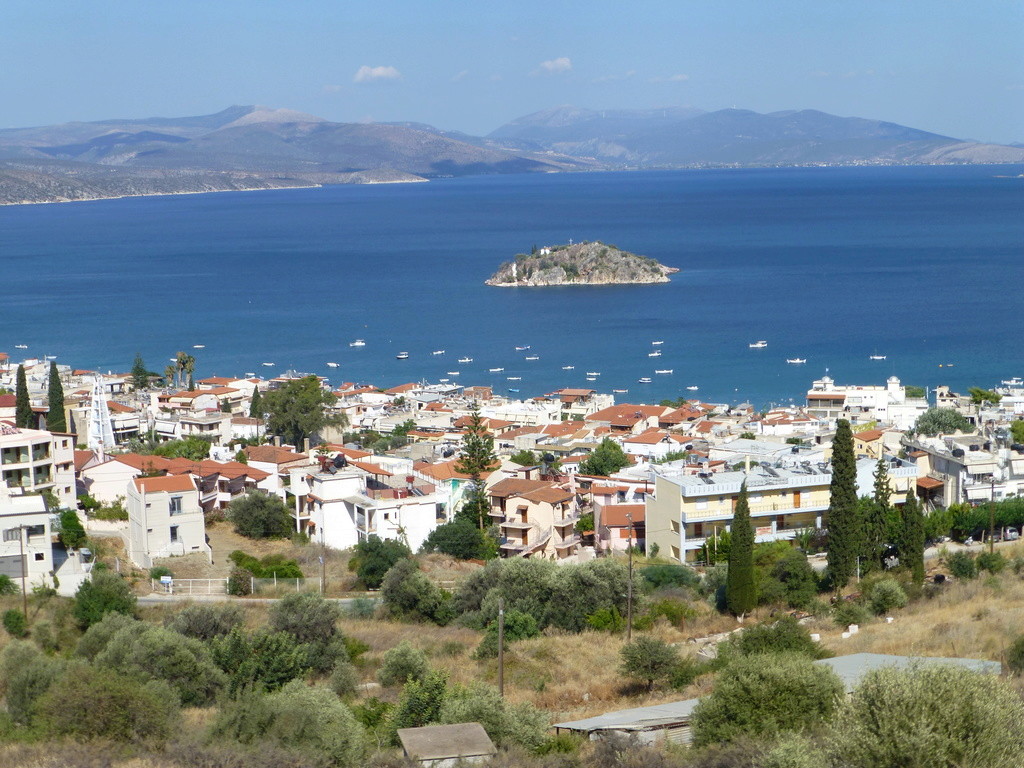 p1180584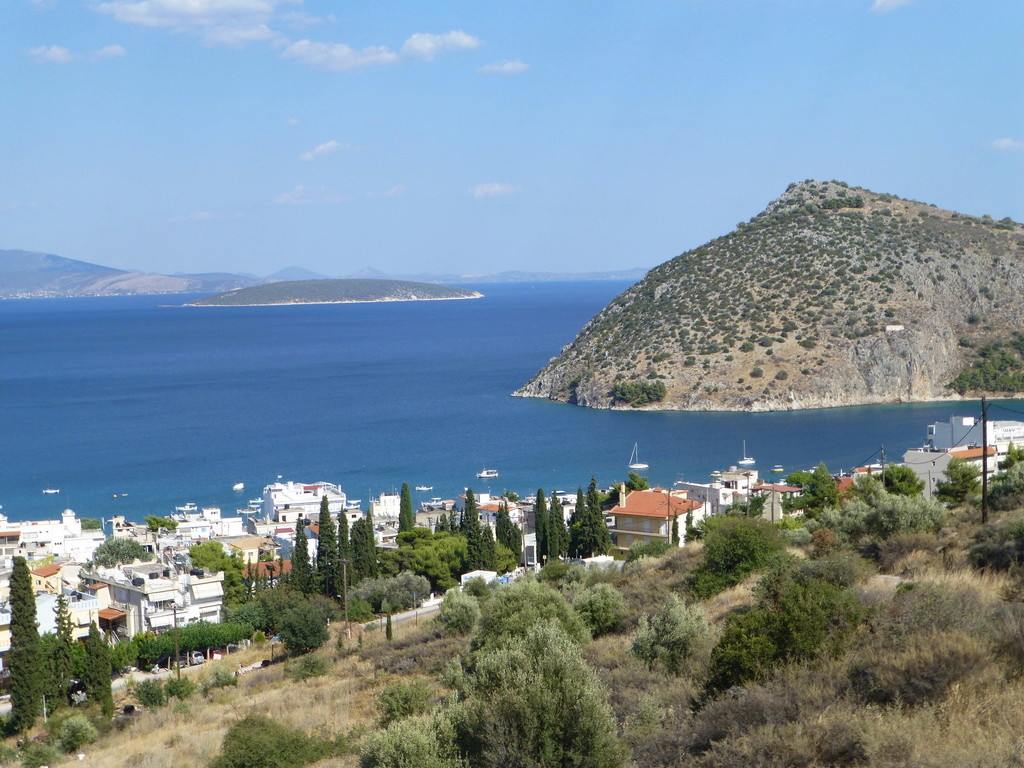 p1180585
so I tried further up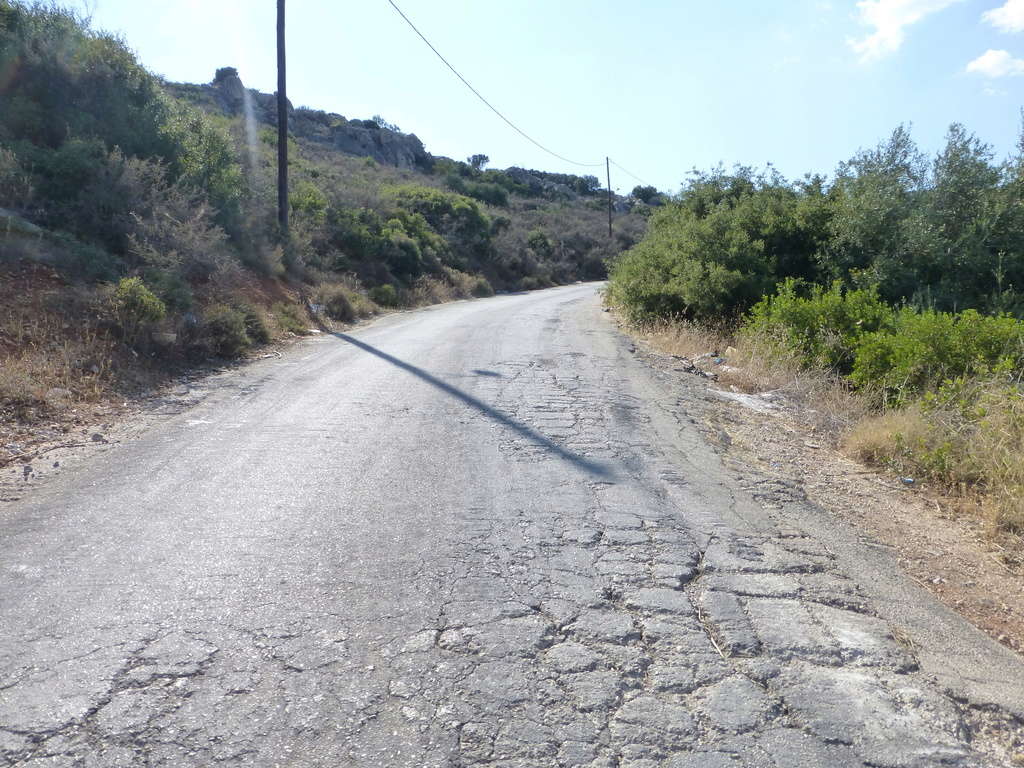 p1180586
but came across the town's waste dump with a road leading further on. I may investigate that later but for now I need to see if I can position myself for better views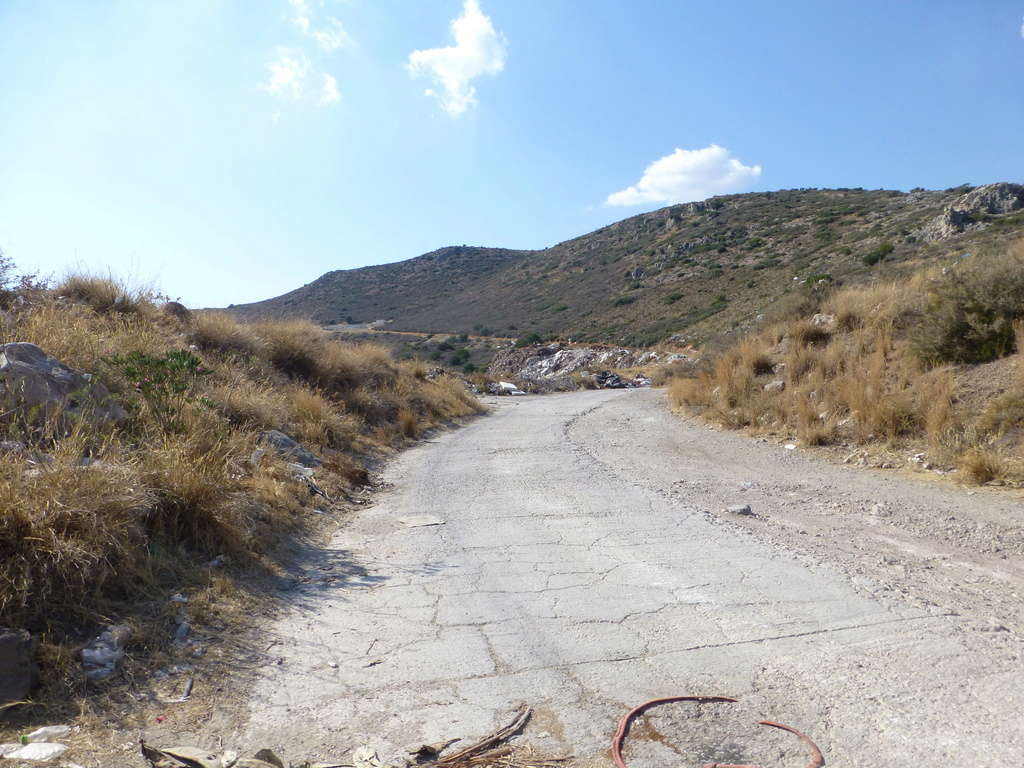 p1180587
so i went down the hill and turned right towards the villa on the sign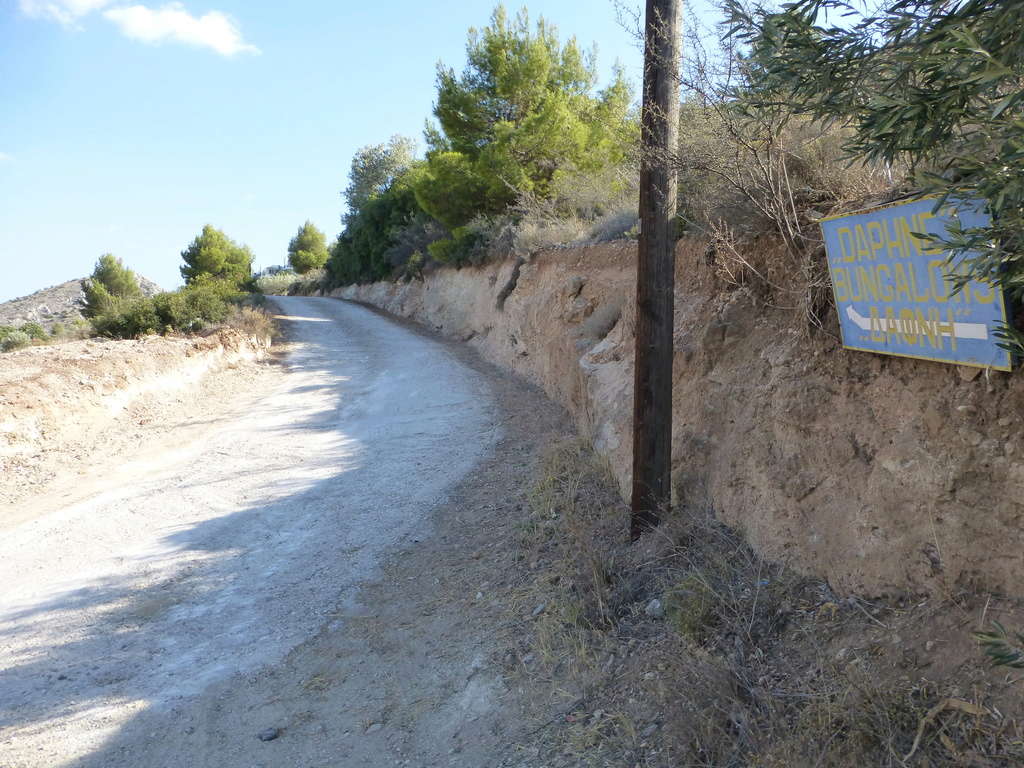 p1180604
and passed the villas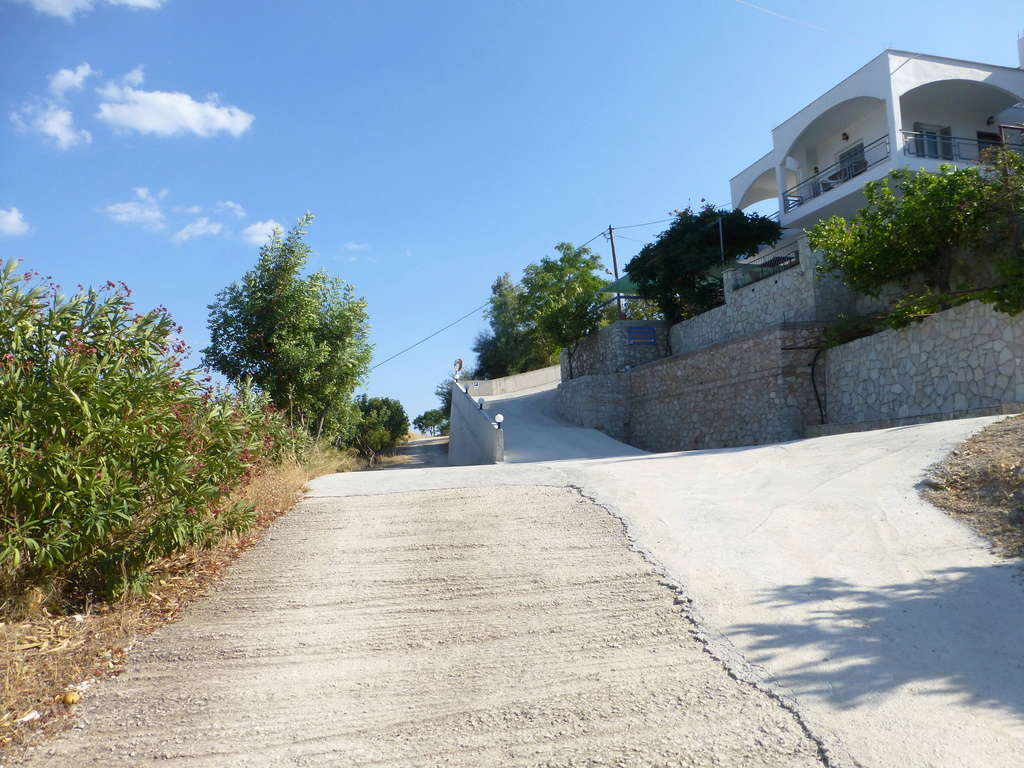 p1180607
then above them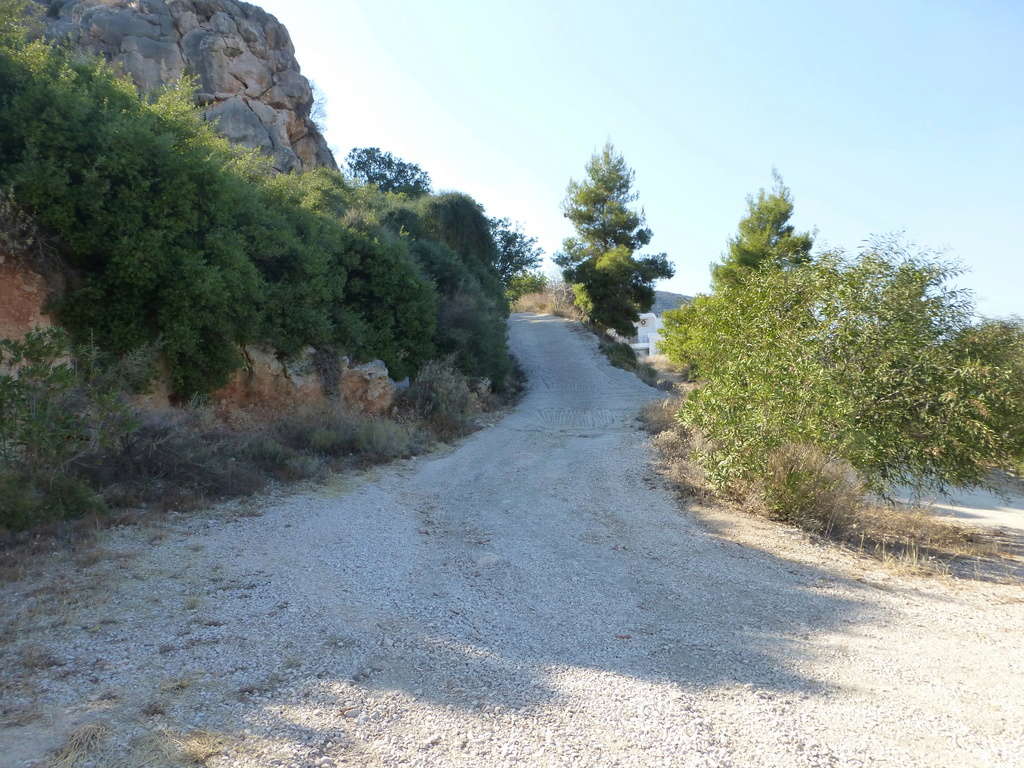 p1180613
giving me a lower angle on the place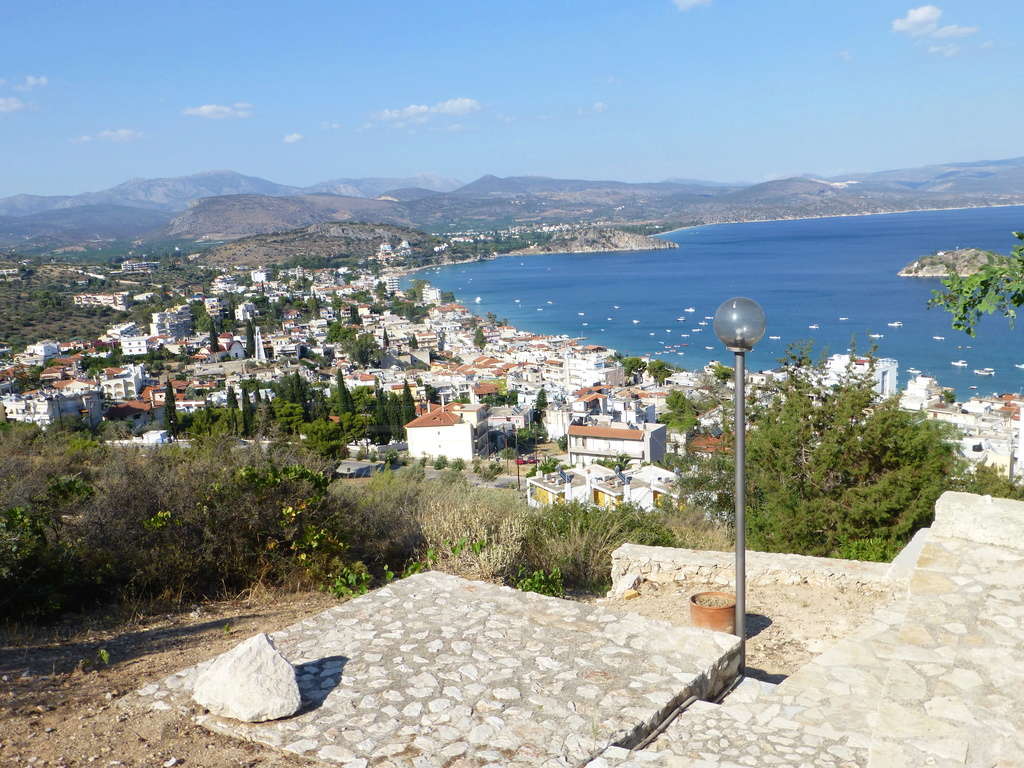 p1180615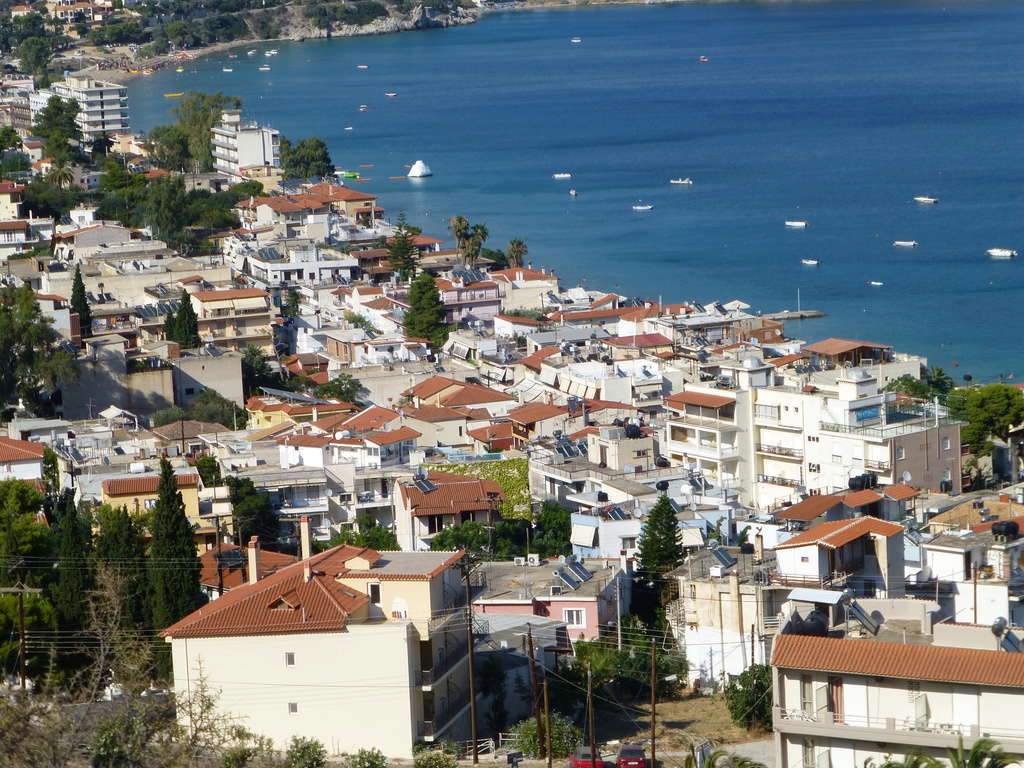 p1180617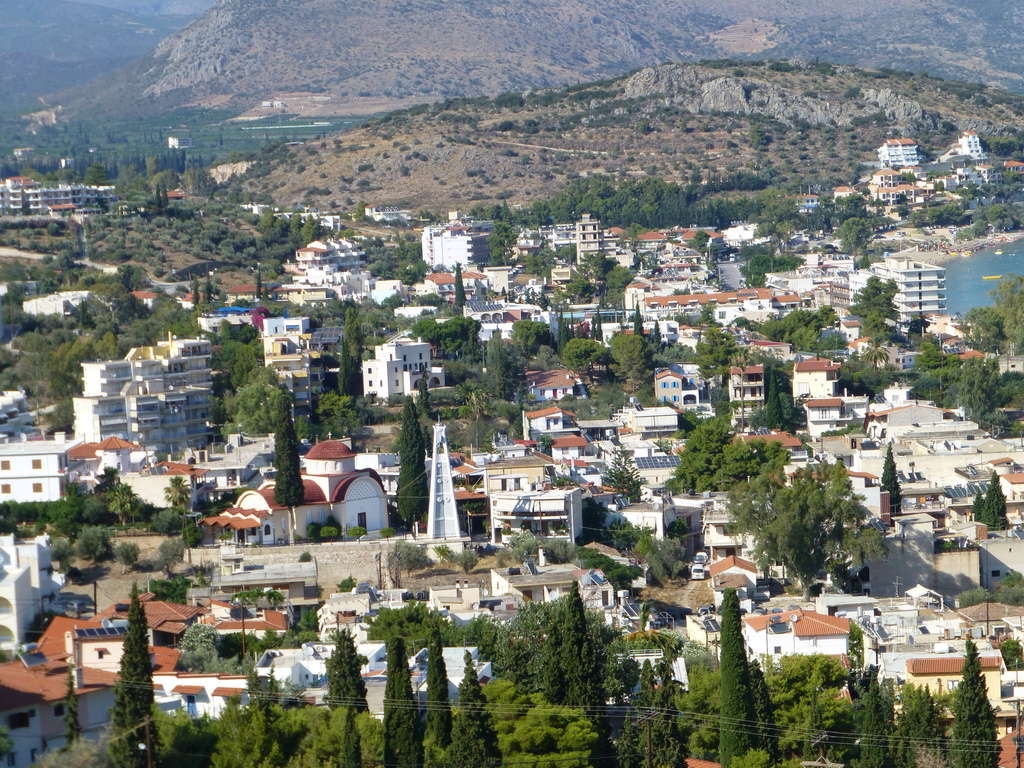 p1180618
but more on that later as I pick the right road next time
for the evening meal we went back to Panorama after getting their nice toasted bread with olive oil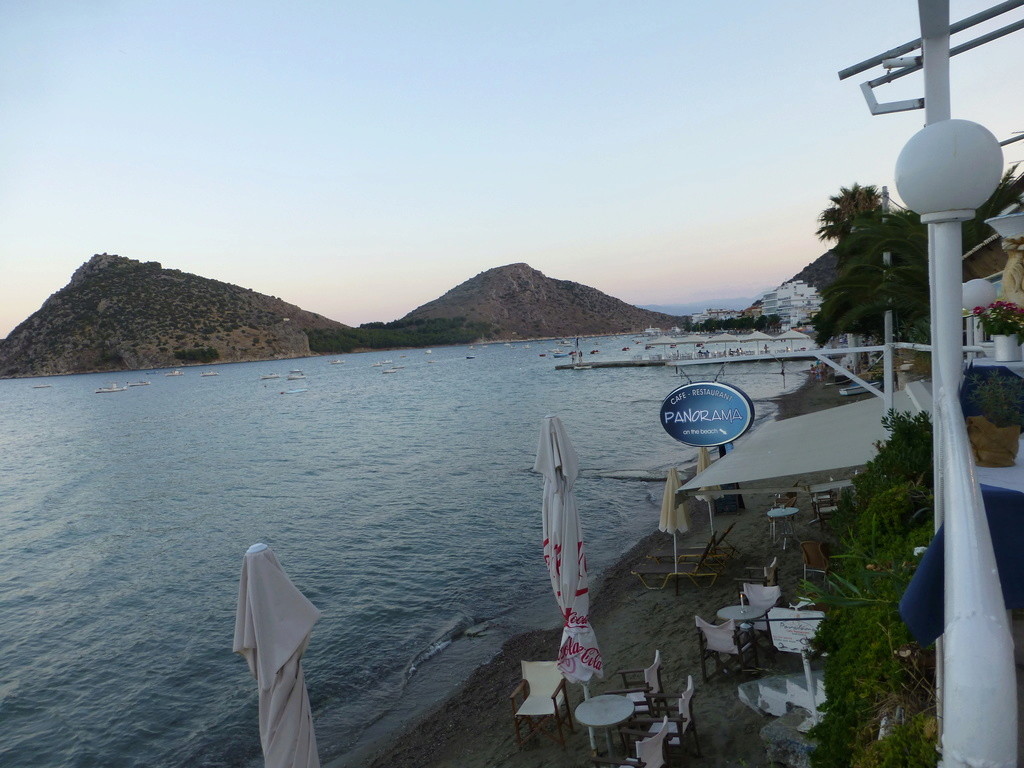 p1180627
but this time we were not given any but wasn't sure if it was because our bill would be smaller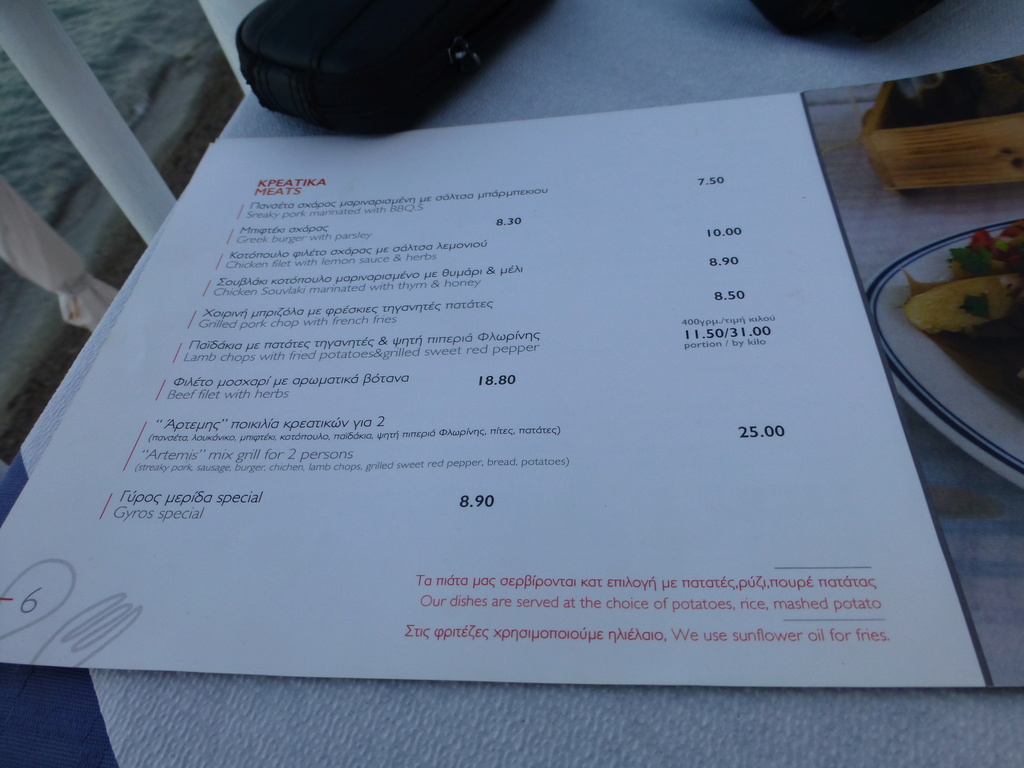 p1180626
I ordered lamb chops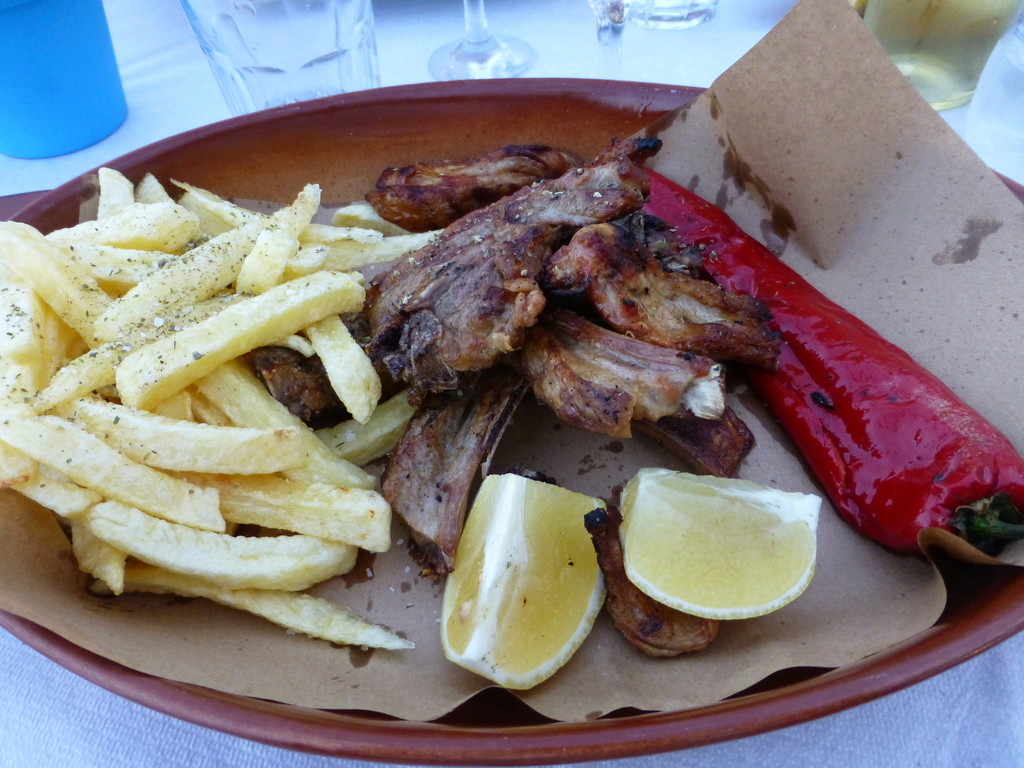 p1180628
Mrs Db had the chicken souvlaki with honey & tyme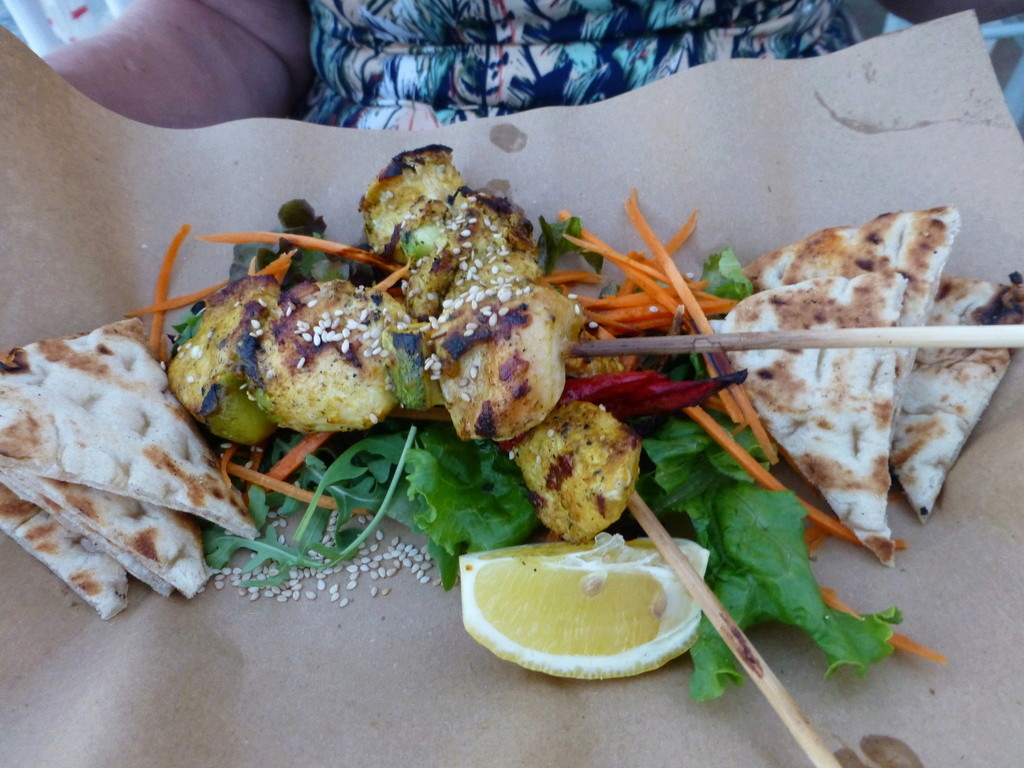 p1180629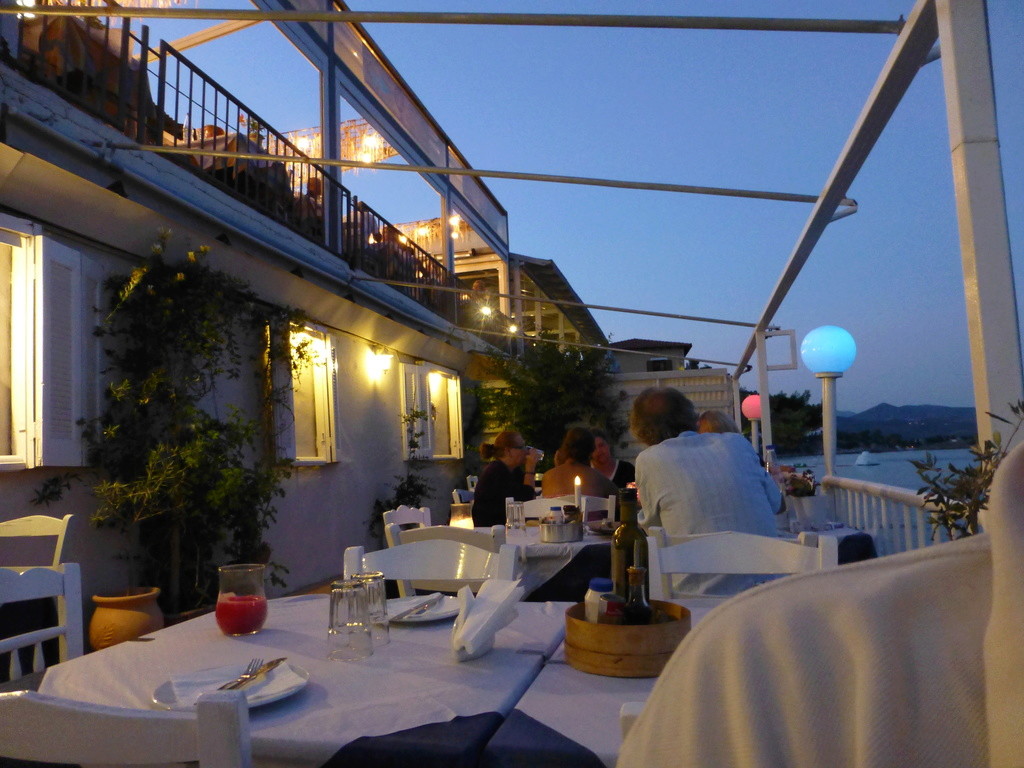 p1180630
and then this time we were given free melon, the bread did appear on the bill so it was just an oversight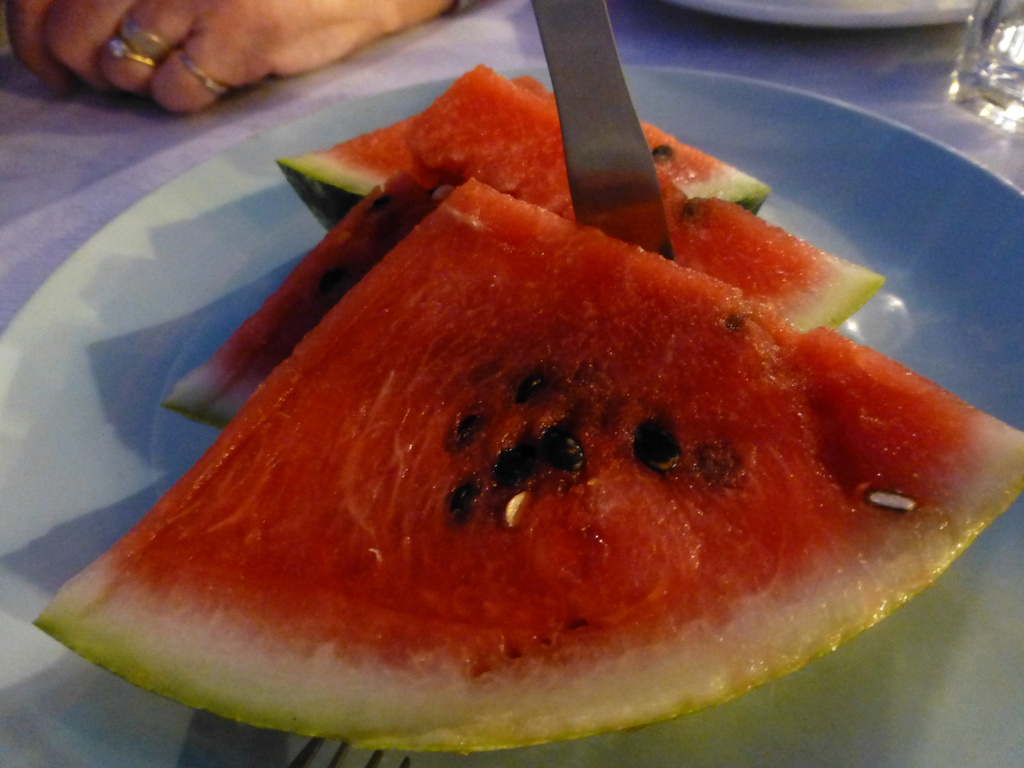 p1180632
walking back to the hotel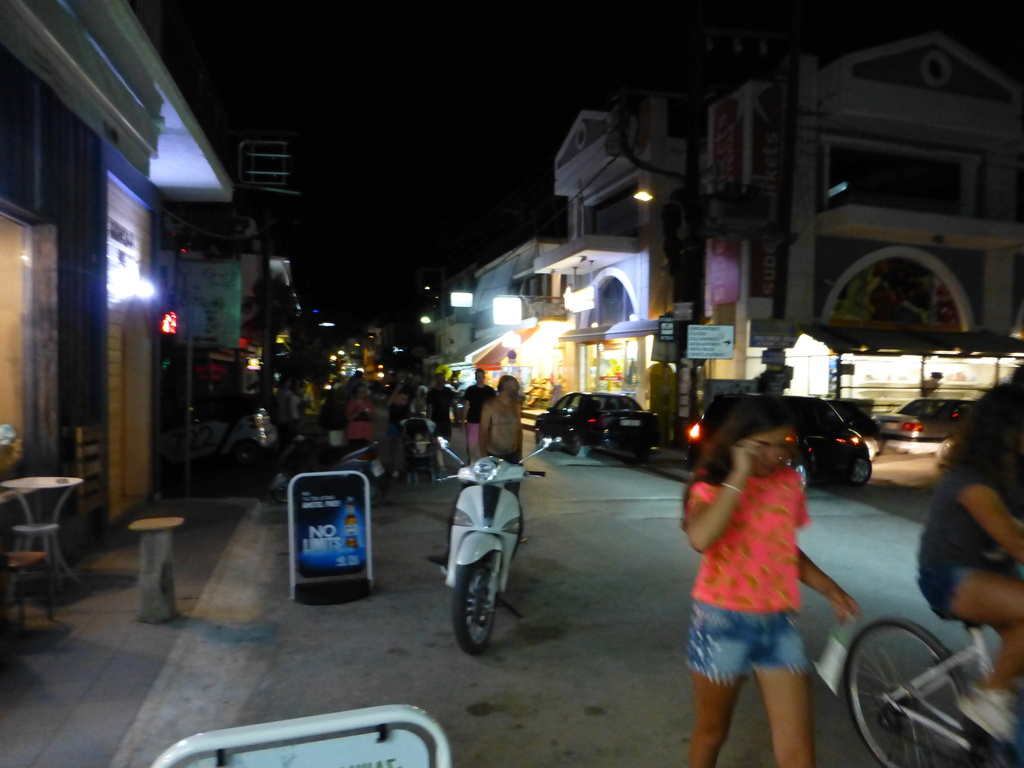 p1180633
It was still 32 degrees and I had earlier walked up the hill in that lol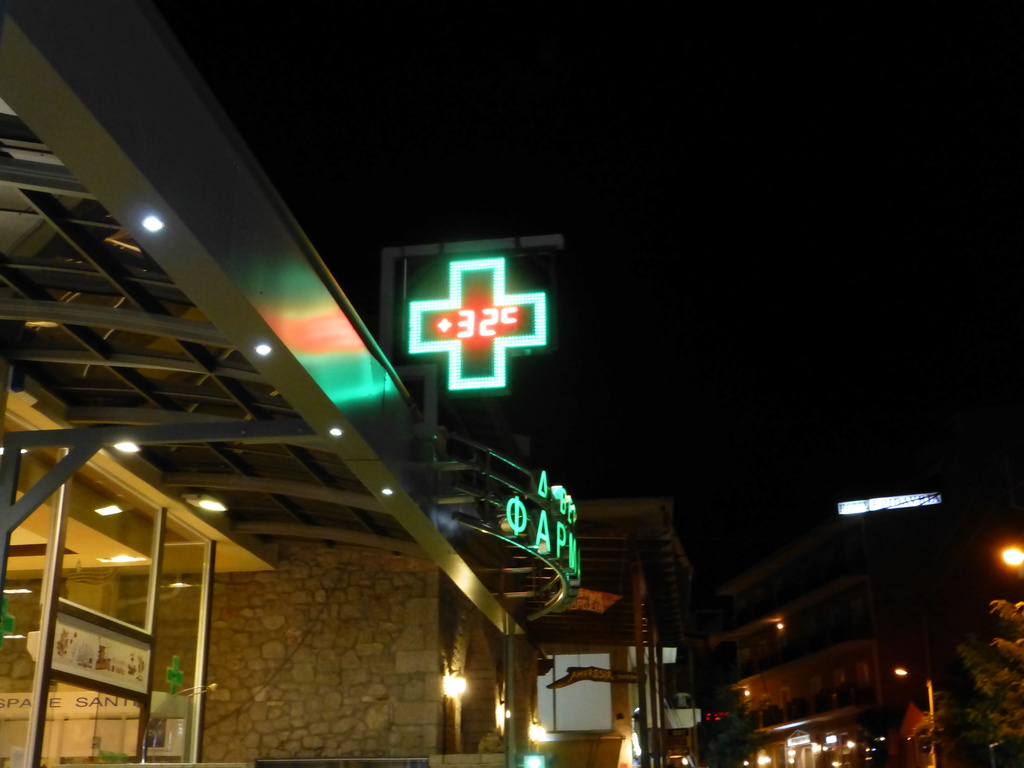 p1180635
END OF DAY 9
.......................................................................................
Tuesday Day 10
We have booked to go to Hydra and Spetsus on the Pegasus cruise which cost 34€'s pp. The boat is due to leave at 8:45am so we had an early breakfast and got a seat on board at 8:30am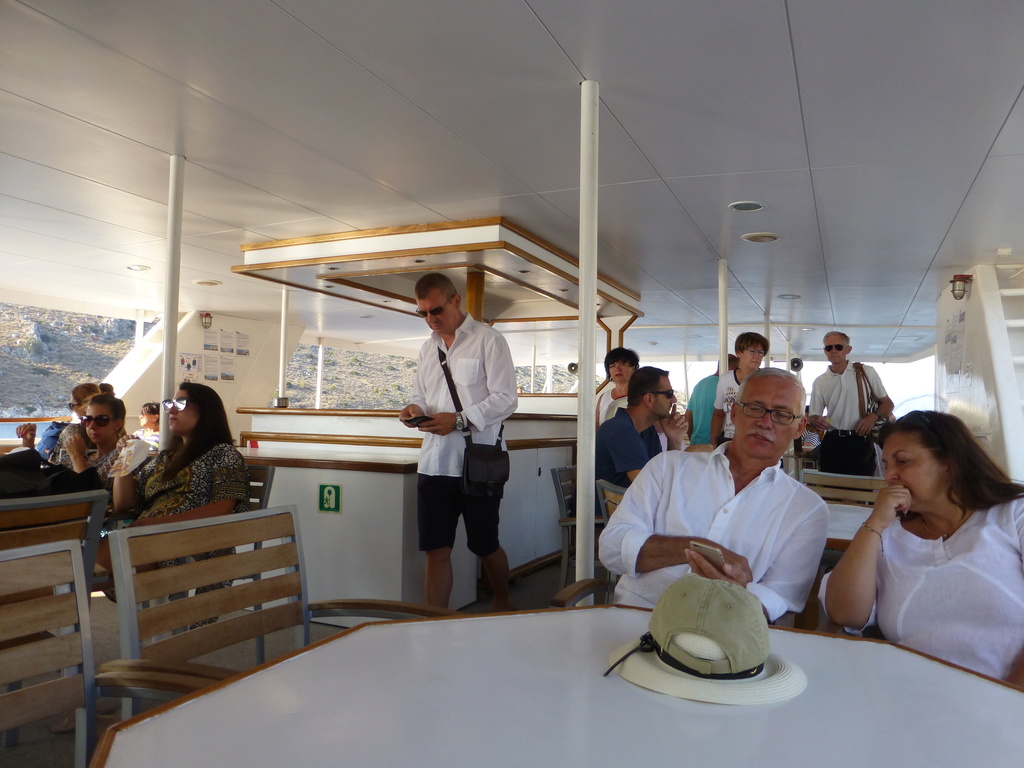 p1180835
People were still arriving right up to the last minute of sailing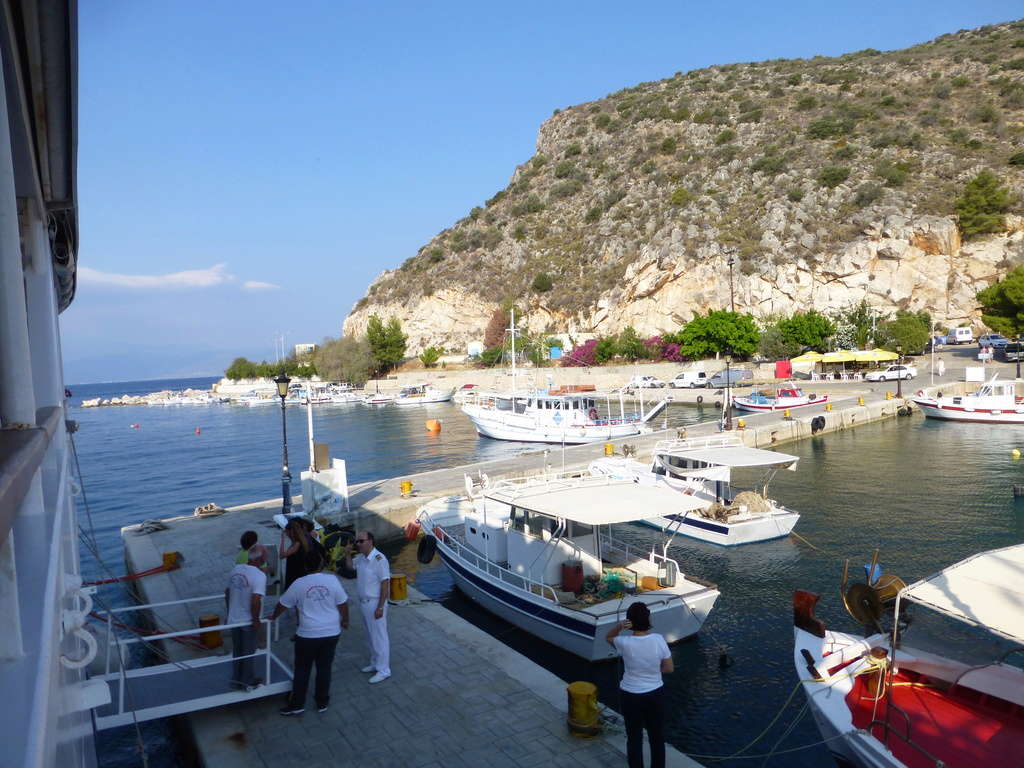 p1180636
As the boat moved out, one couple chased down the jetty waving tickets in their hands and surprisingly the captain reversed the boat end on to let them on lol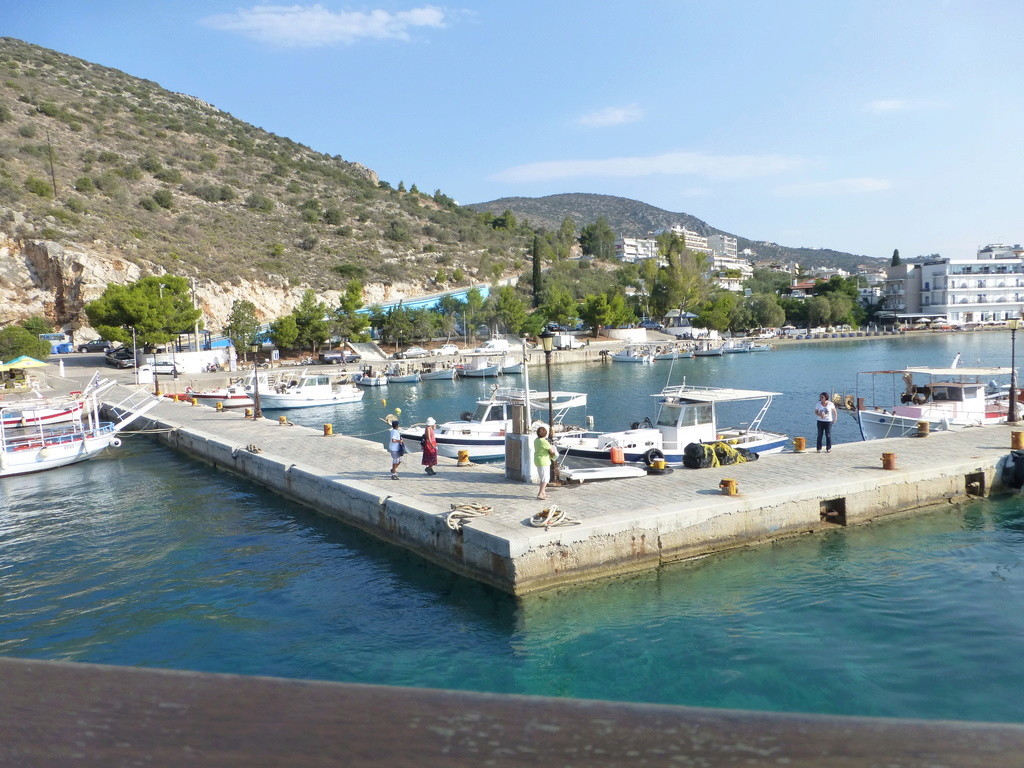 p1180636
Leaving the harbour with the Hotel Minoa in view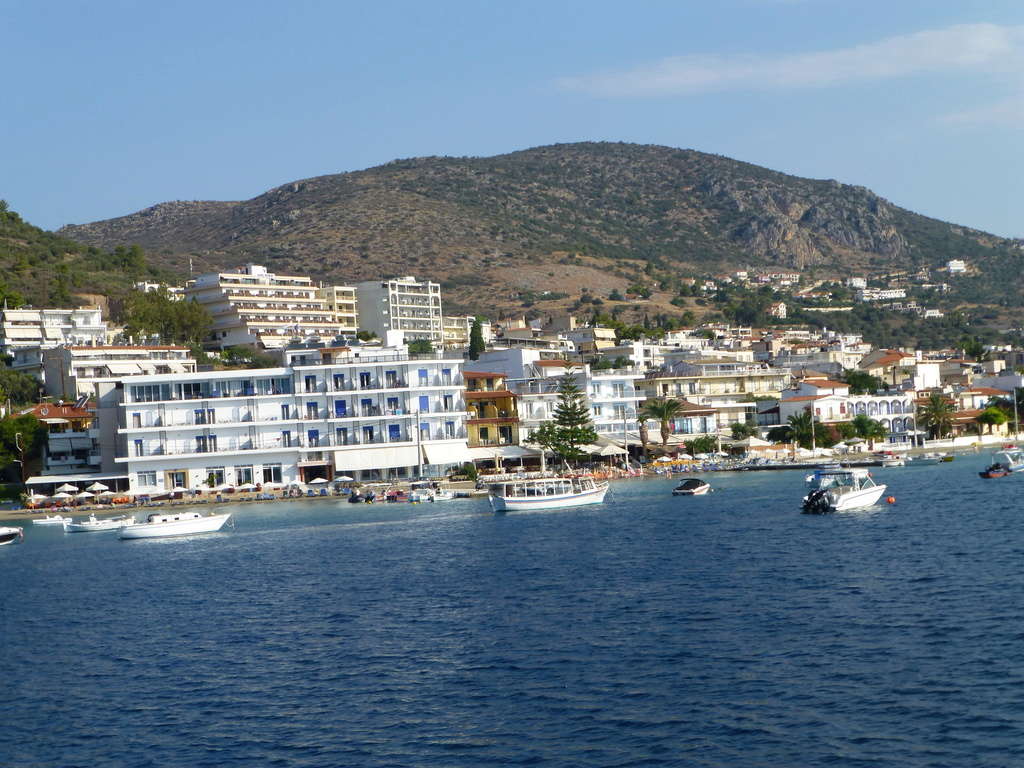 p1180640
The journey to Hydra is due to take just over 2.5 hours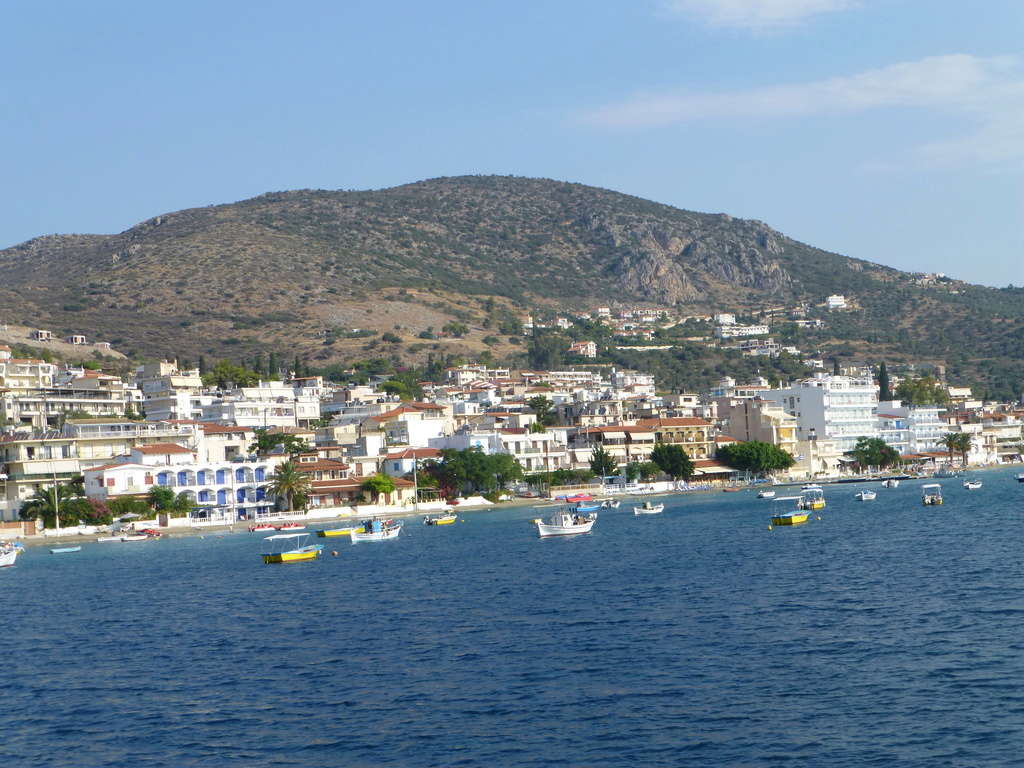 p1180641
We would be allowed 3.5 hours on Hydra which I think is a good time to have a look around the place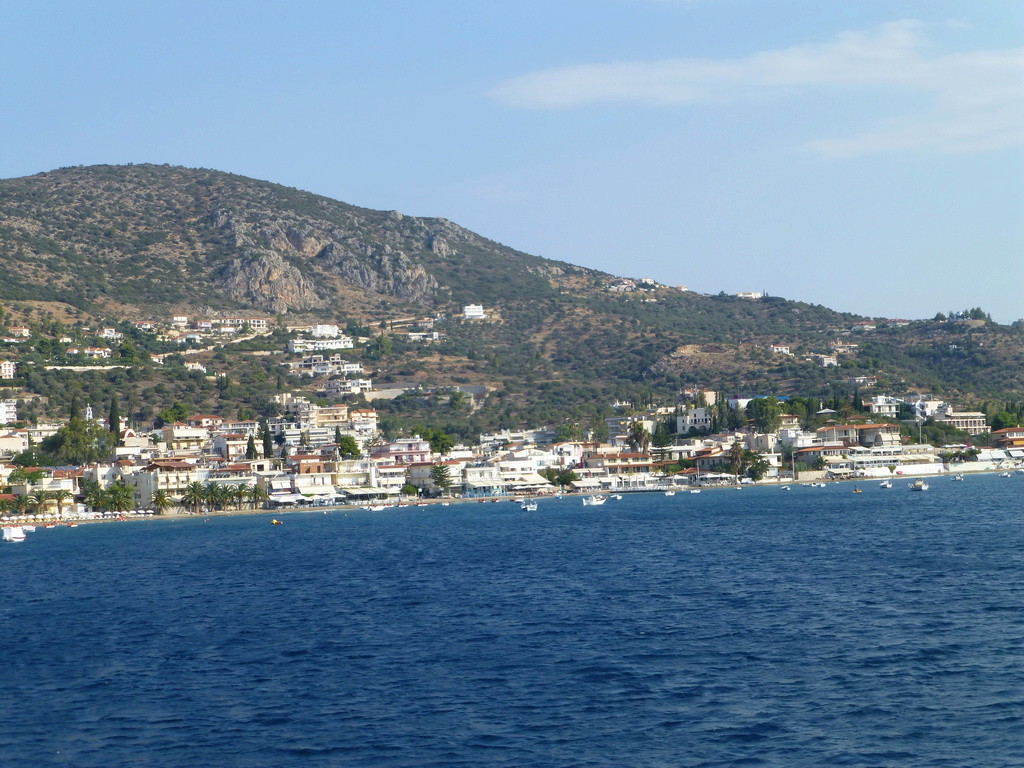 p1180642
As we leave Tolo you can see the Egg mountain in the distance, I just couldn't find my way up it for those tremendous views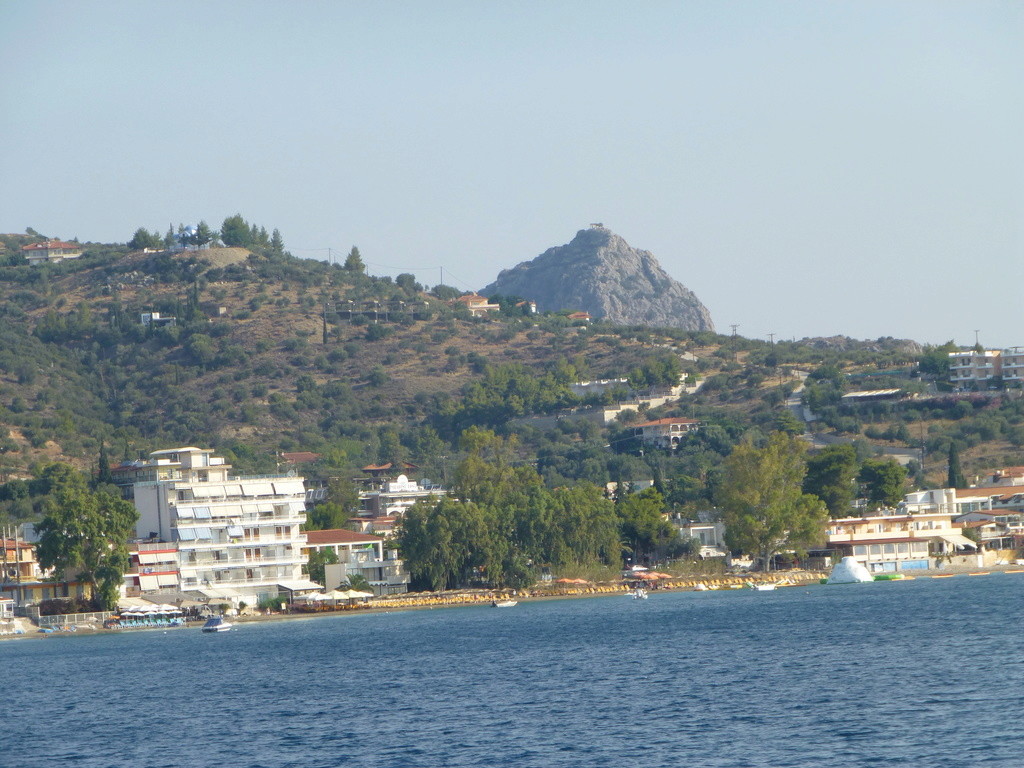 p1180646
For the first 1.5 hours of the cruise there was not a lot to see apart from the odd barren island
p1180648
There is an air conditioned cabin on board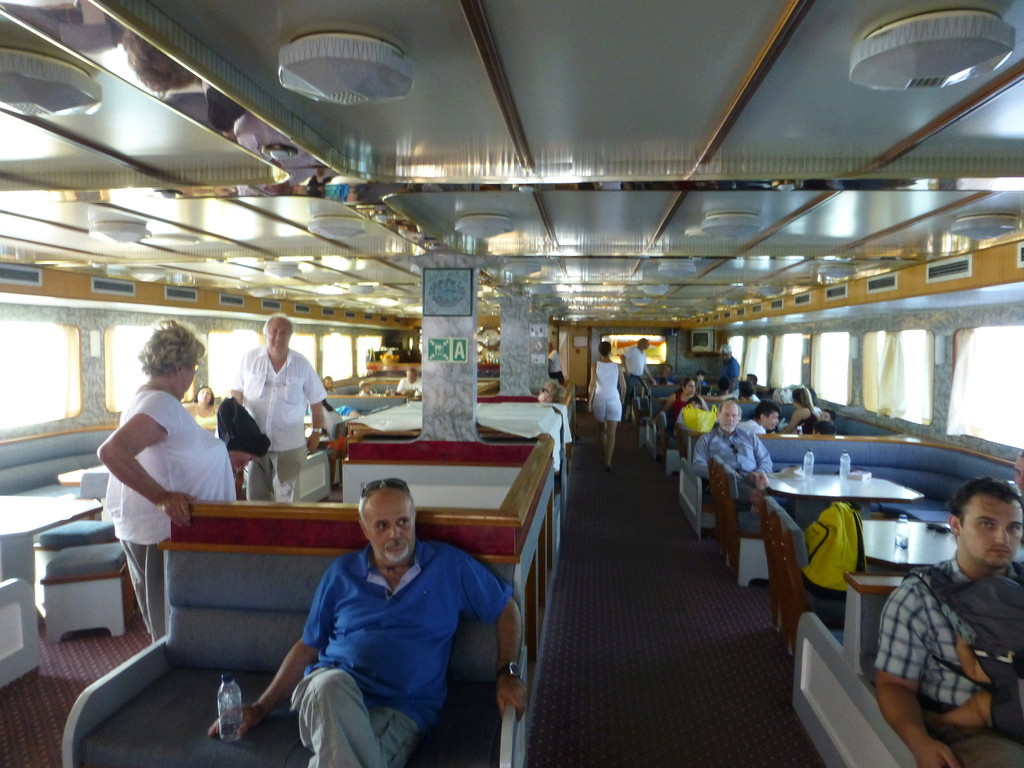 p1180655
The captain was busy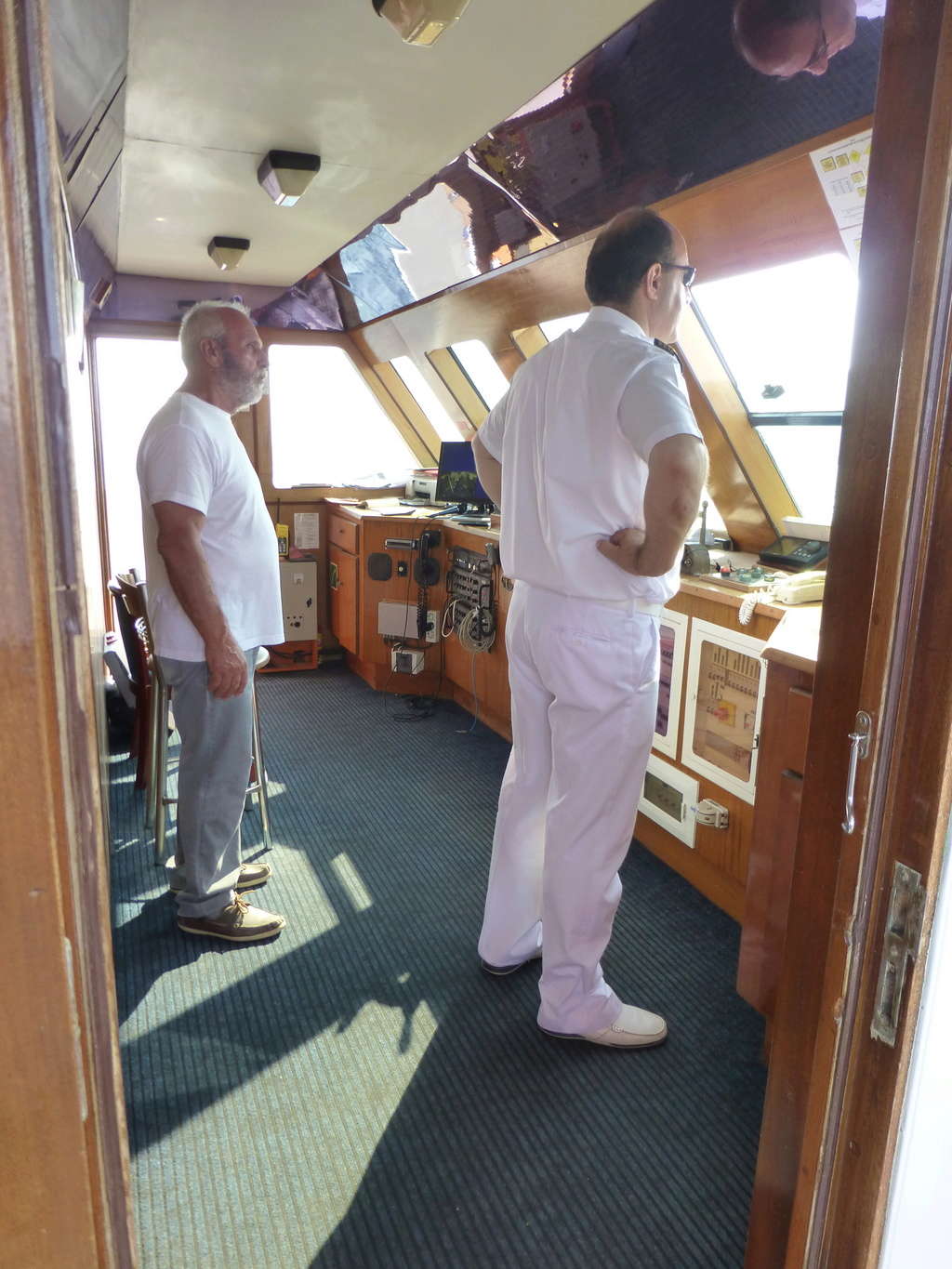 p1180649
this canoeist was a long way out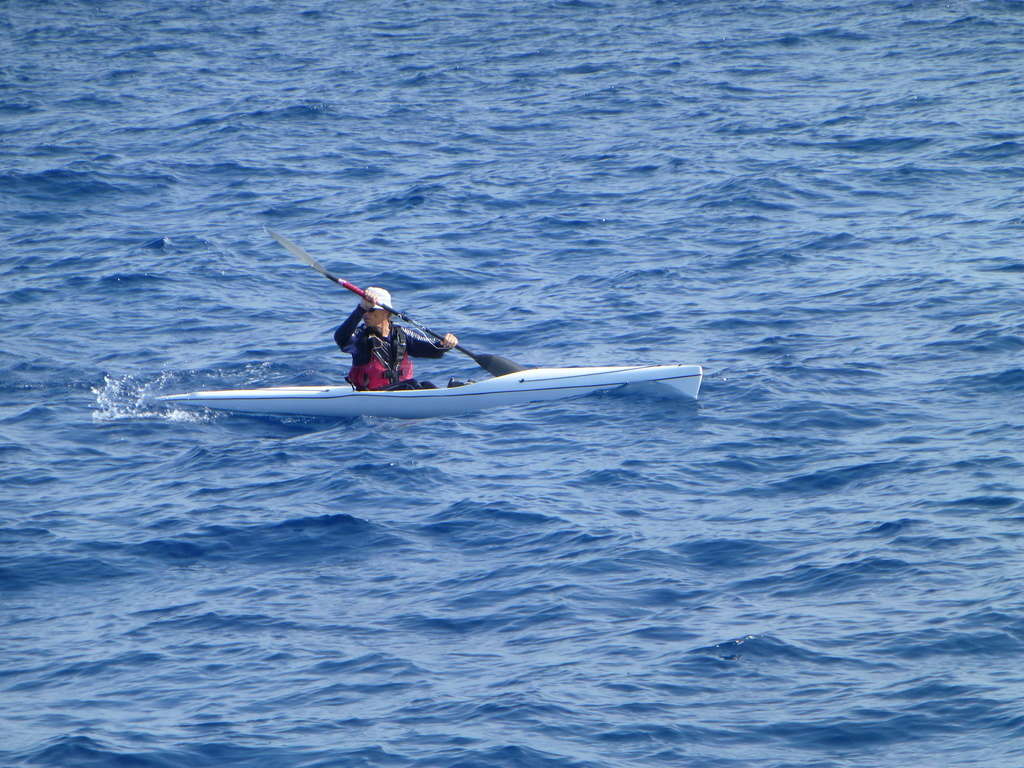 p1180656
after about 1 hour and 45mins we passed the Island of Spetsis where we will be later calling in on the way back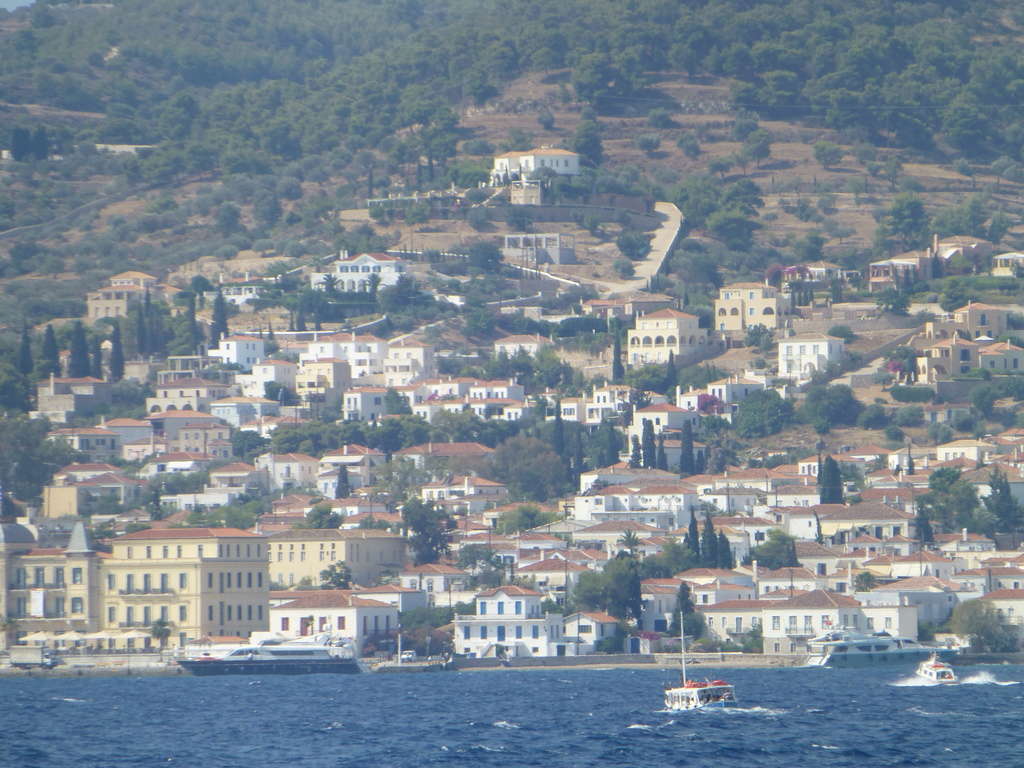 p1180668
around 11.30am we got our first glimpse of Hydra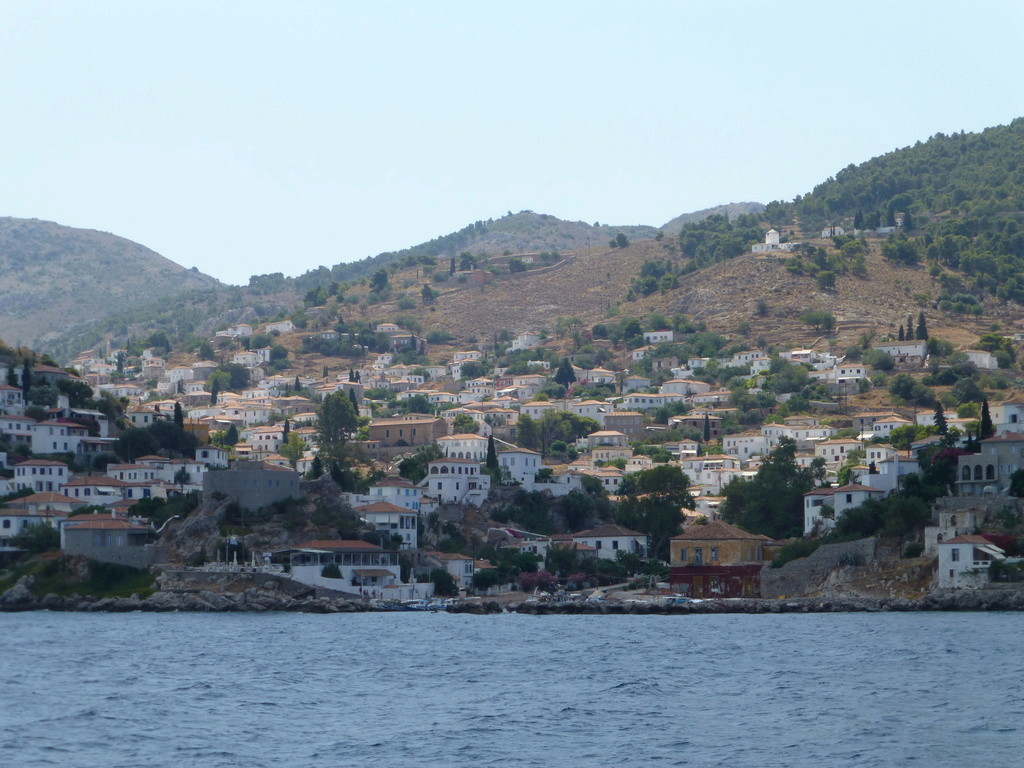 p1180684
The boat began to move into the harbour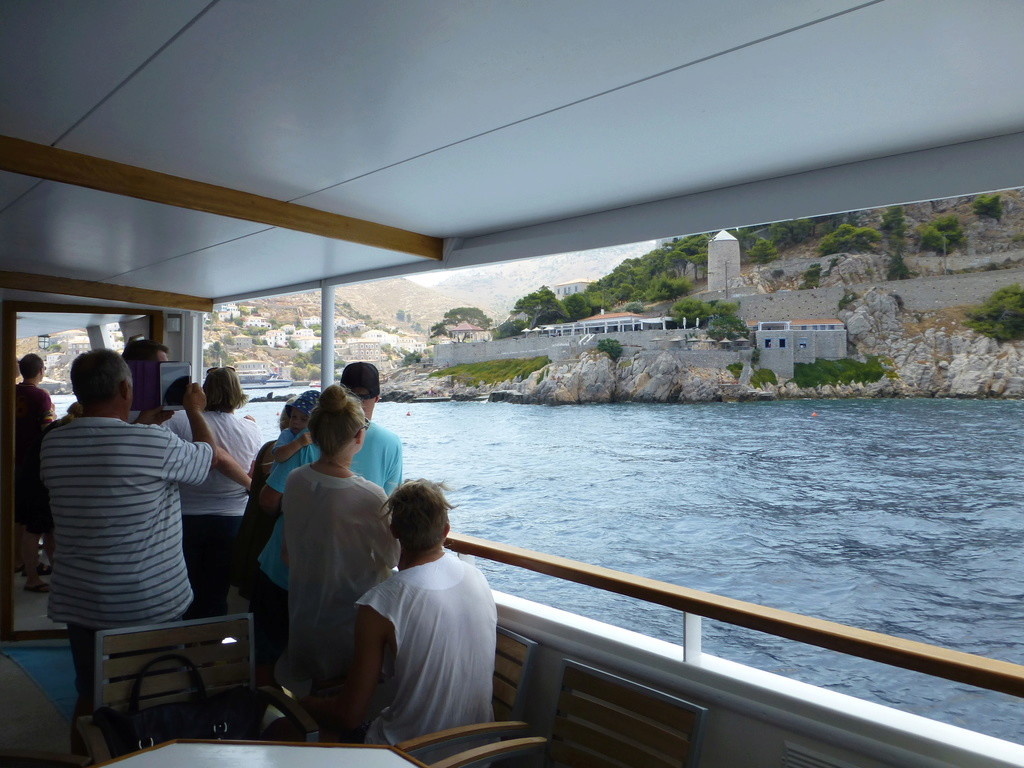 p1180687
The town look quite idylic with houses spreading up a mountainside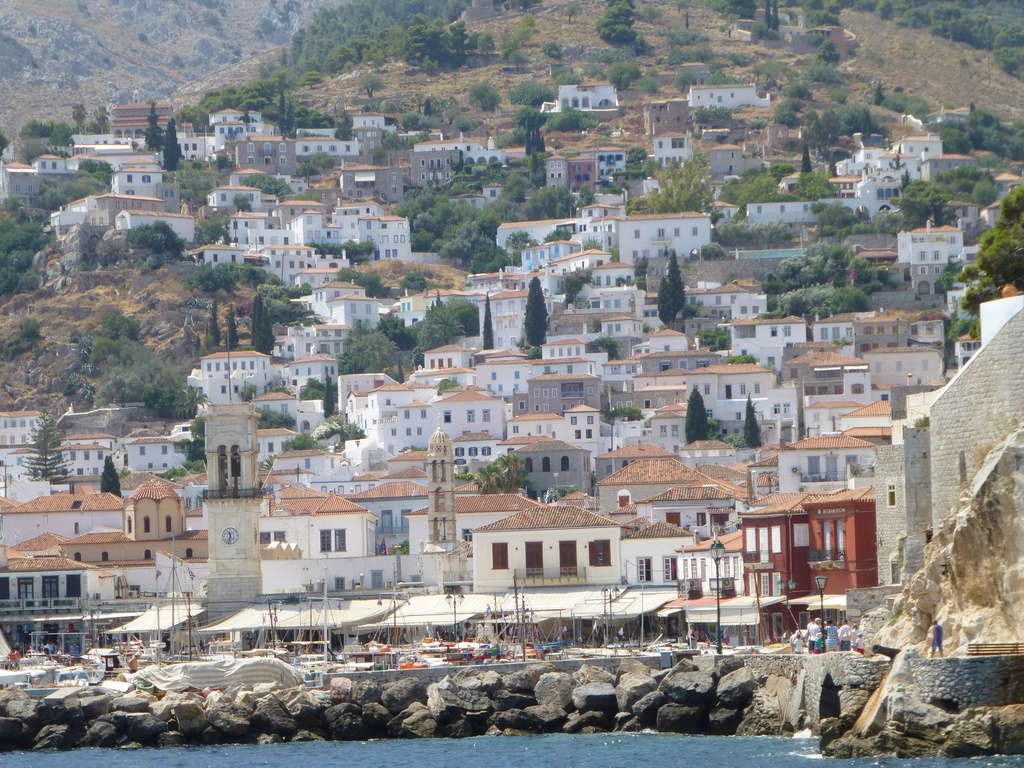 p1180691
There were some large boats in the harbour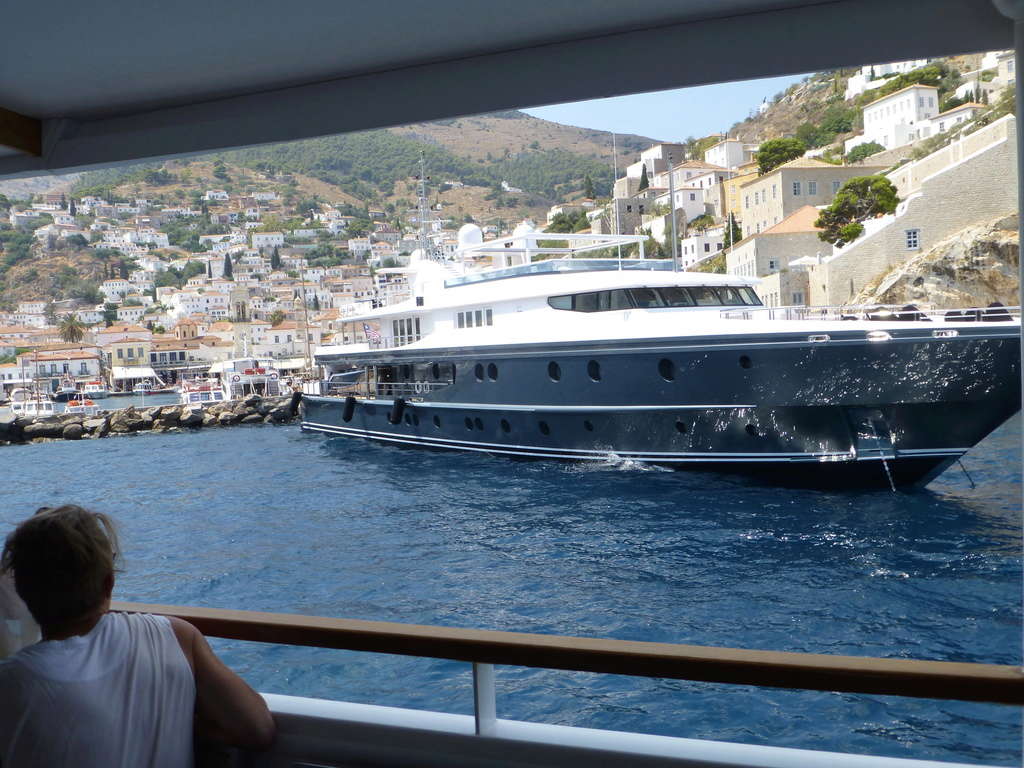 p1180692
but all looked at bit chaotic in the harbour and we were told to disembark pretty quickly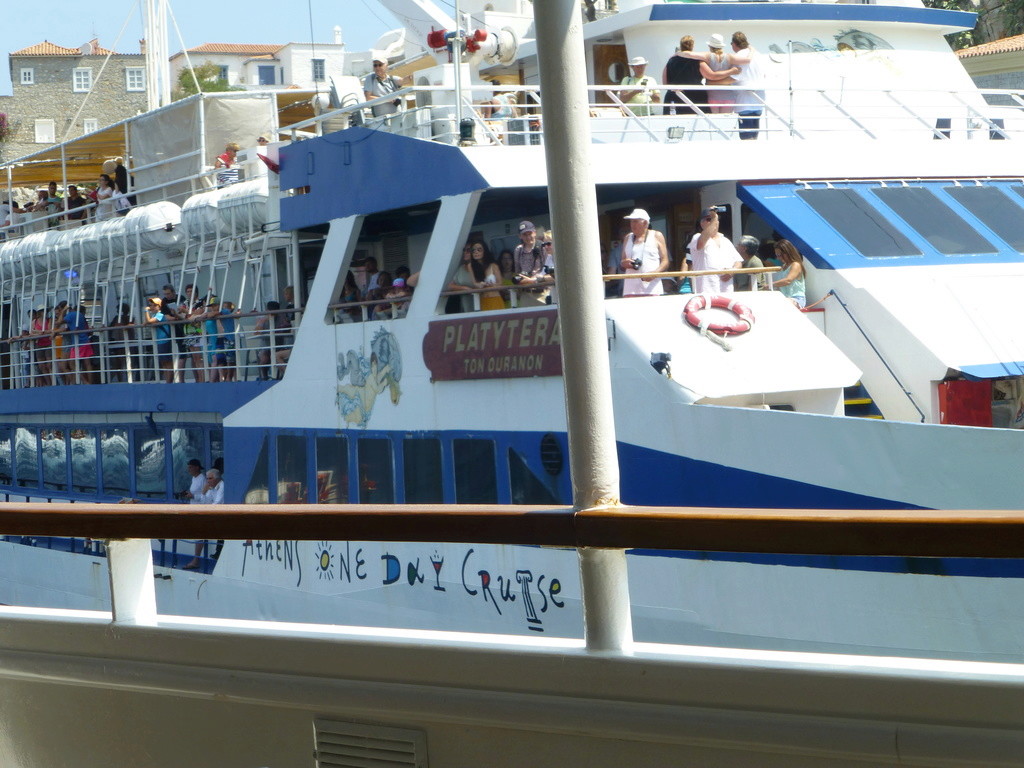 p1180694
and told to notice the clock time of when we were due to leave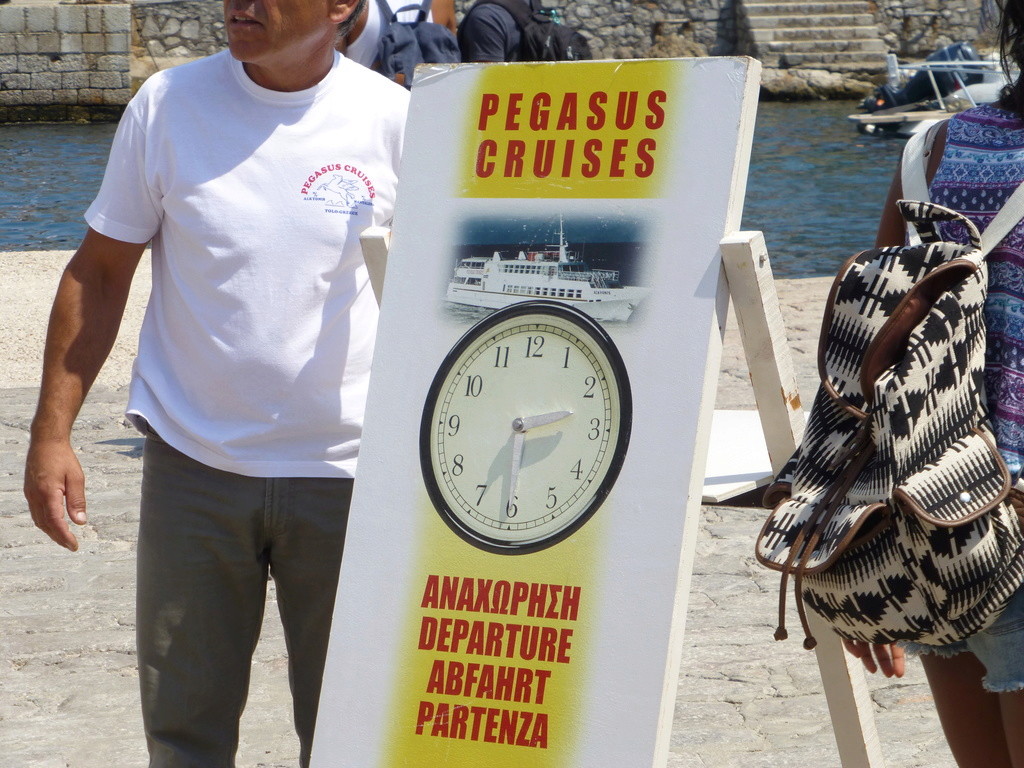 p1180695
once we were on shore our boat moved out of the harbour ready for the next boat to arrive. There were hydrofoils and all sorts coming in lol
but the island itself has no cars or motor bikes, just donkeys to transport everything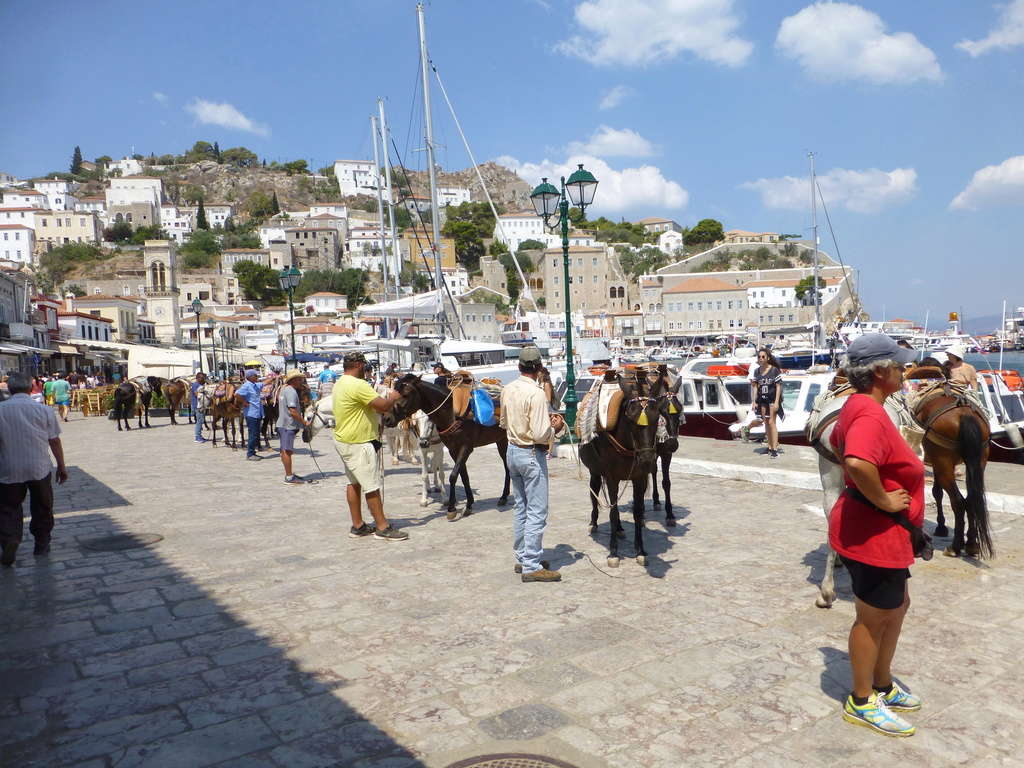 p1180699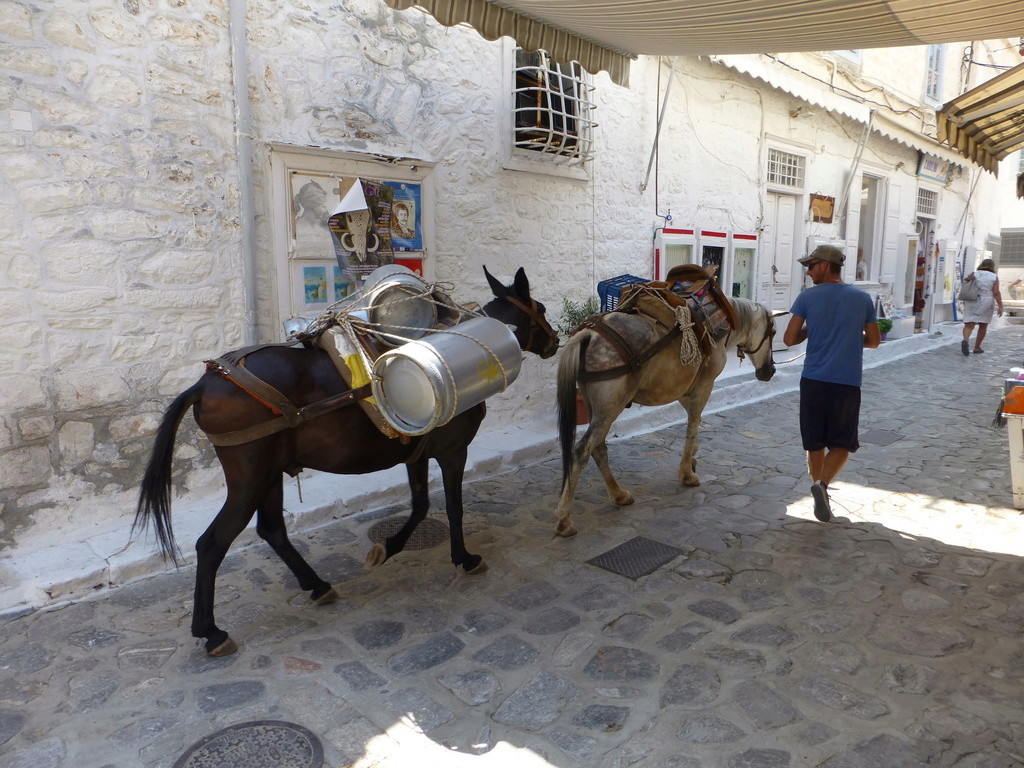 p1180702
one of the churches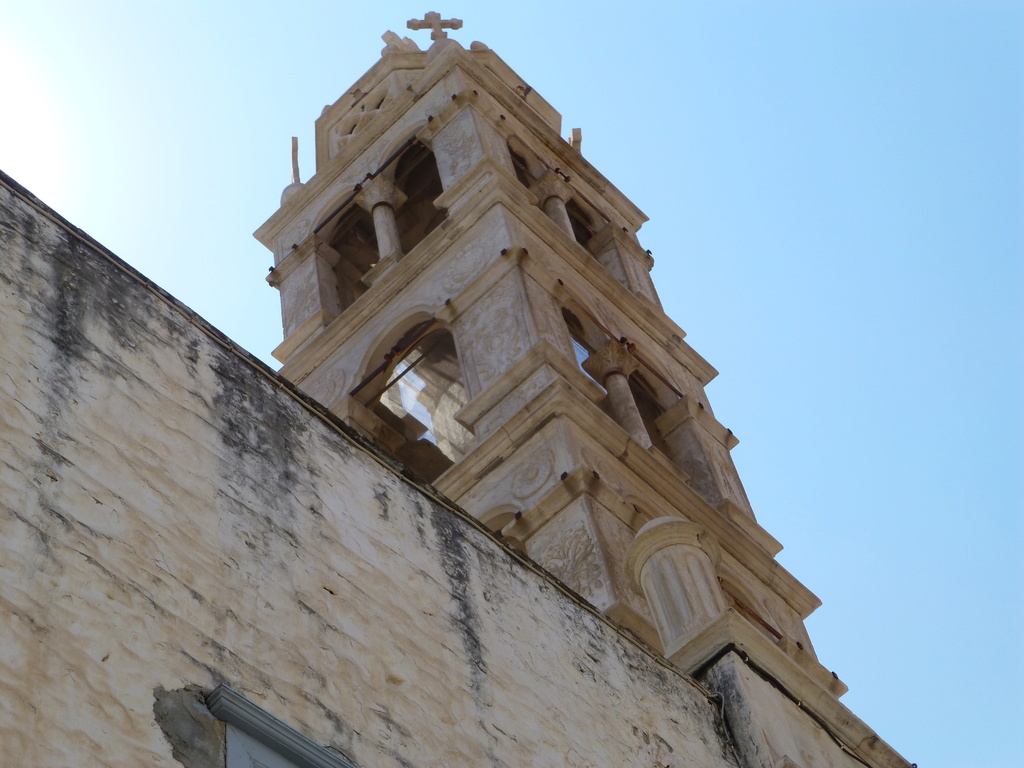 p1180703
you scratch my back and I'll scratch yours lol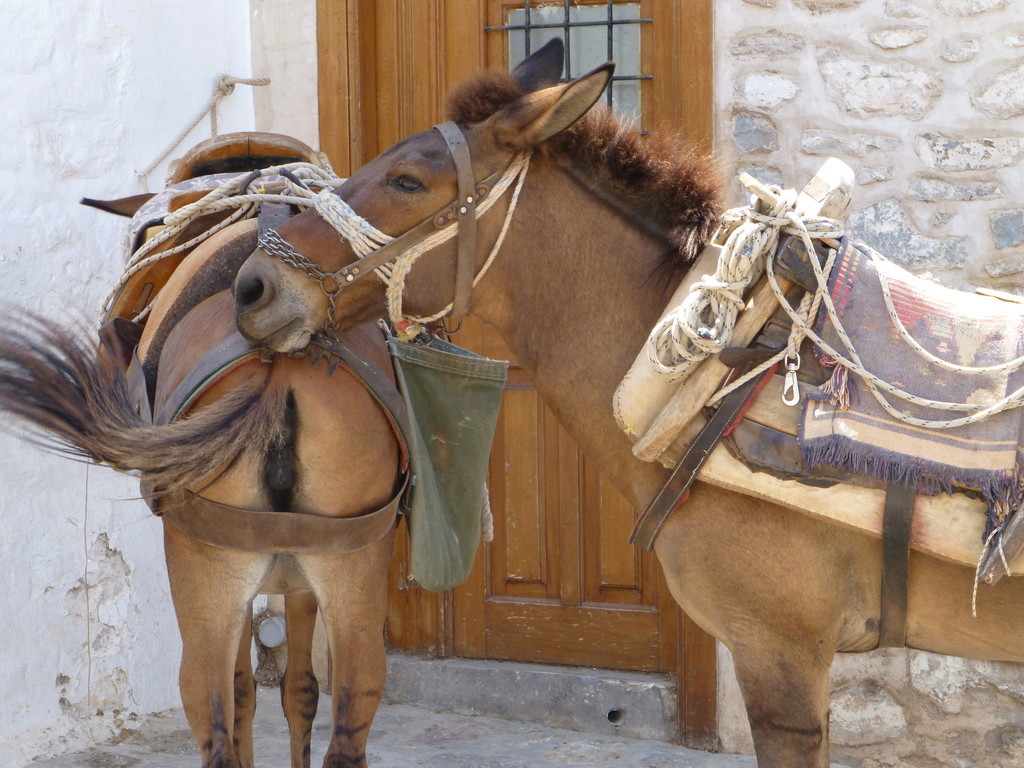 p1180704
we had a look at the menu and although it was slightly dearer here, it wasn't actually too bad
p1180711
I just had a Greek salad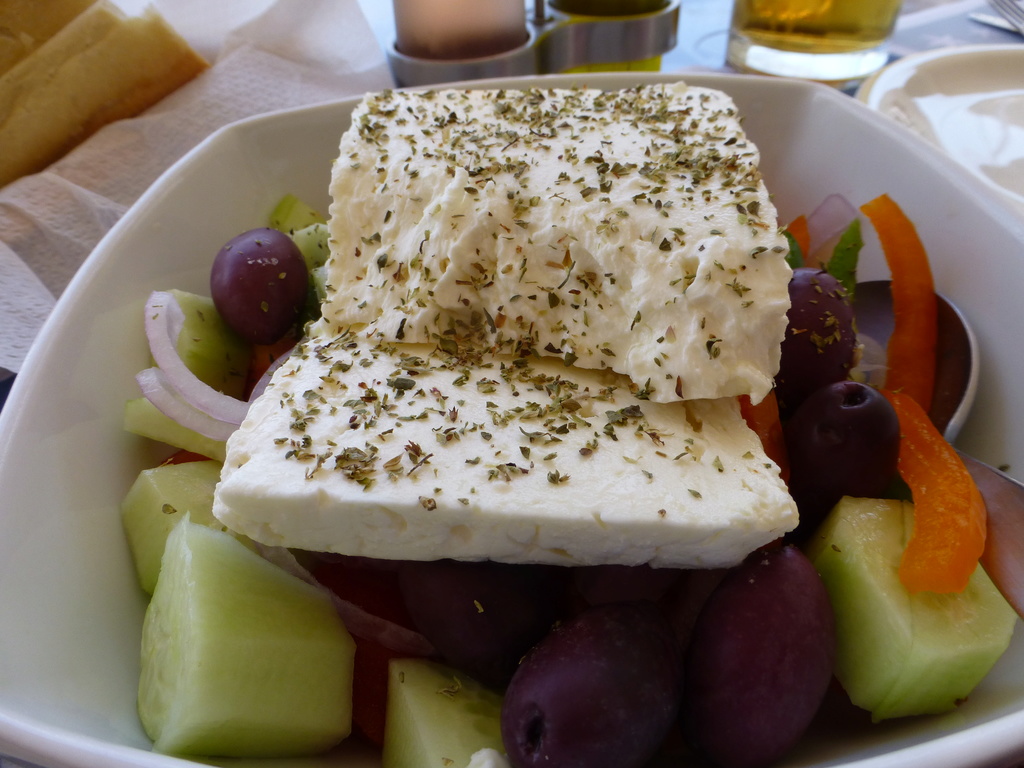 p1180712
Mrs Db had an omelette, the waiter declared he was a Liverpool supporter but didn't like Chelsea and had stayed in Bury St Edmonds but said he would look after Mrs Db despite her being a Chelsea supporter whilst I climbed some stairs to get some good views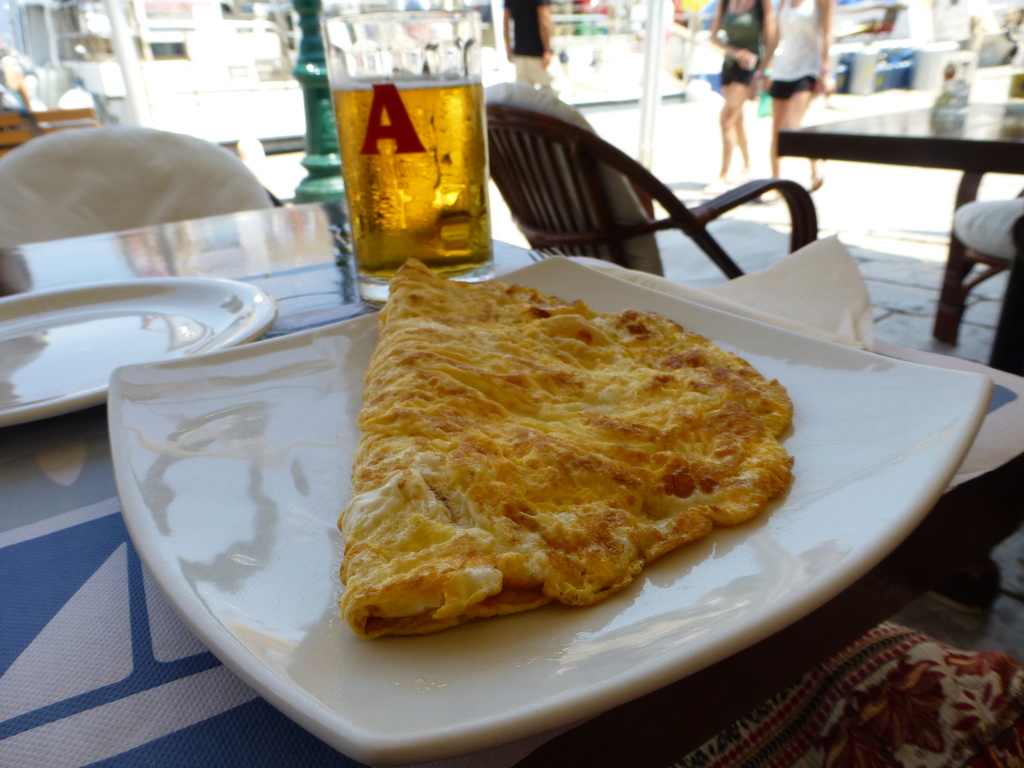 p1180713
so, with the clock ticking how quickly could I get above for a view lol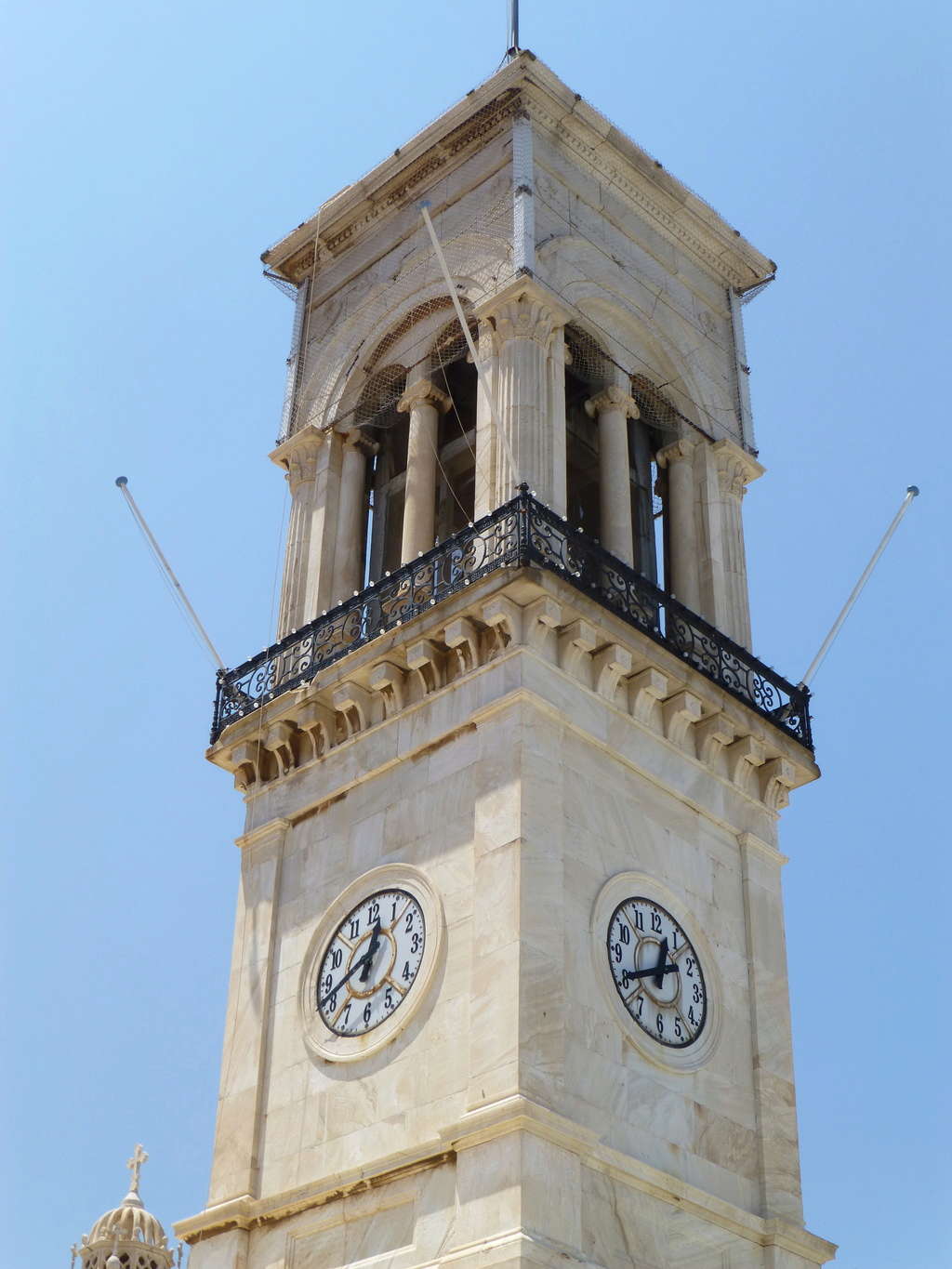 p1180714
Well there are stairs after stairs after stairs lol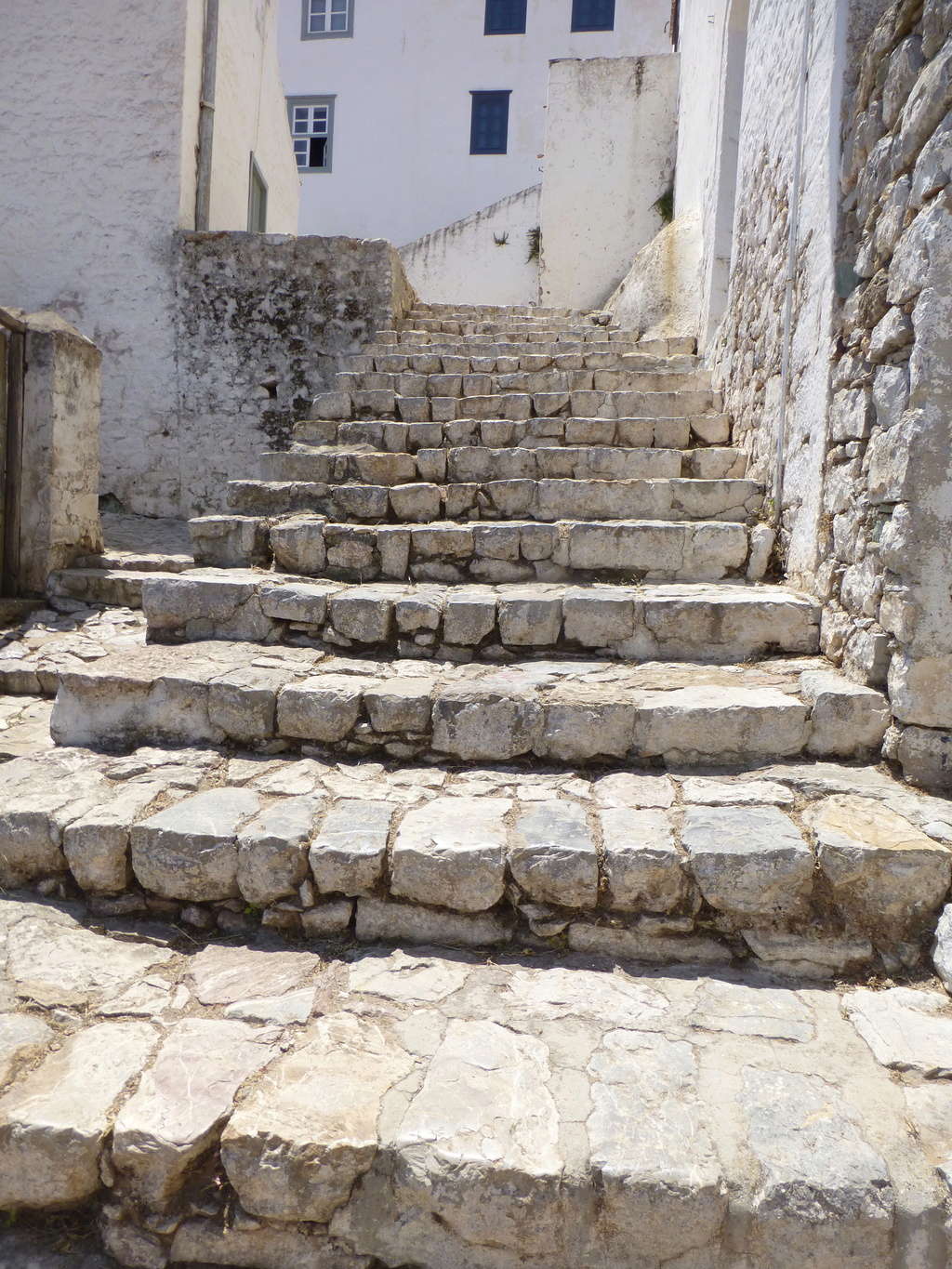 p1180719
Not sure how one would get on here if one is old or disabled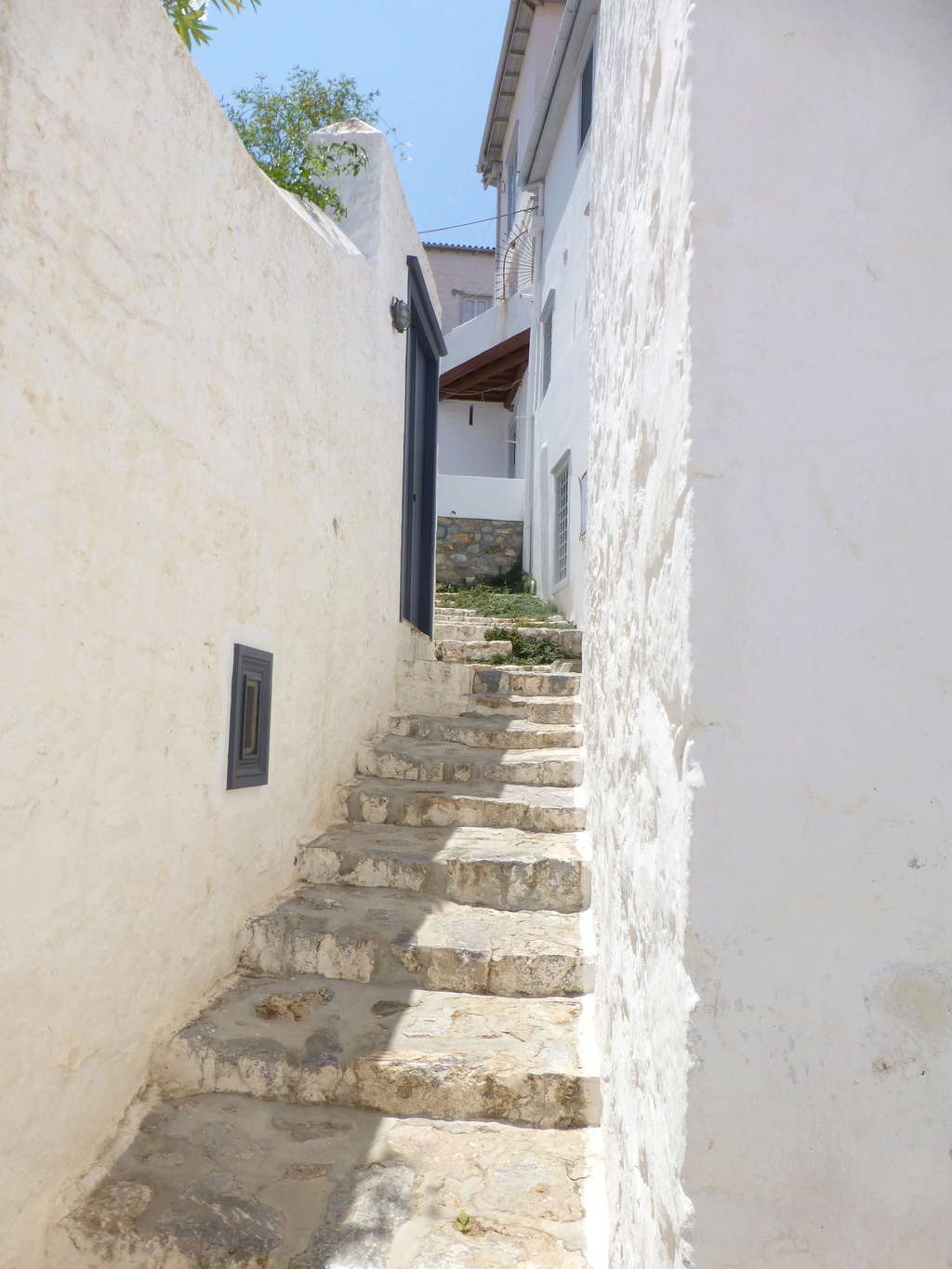 p1180721
but this is just an example of sets of the stairs on the way up, I have a load more photographed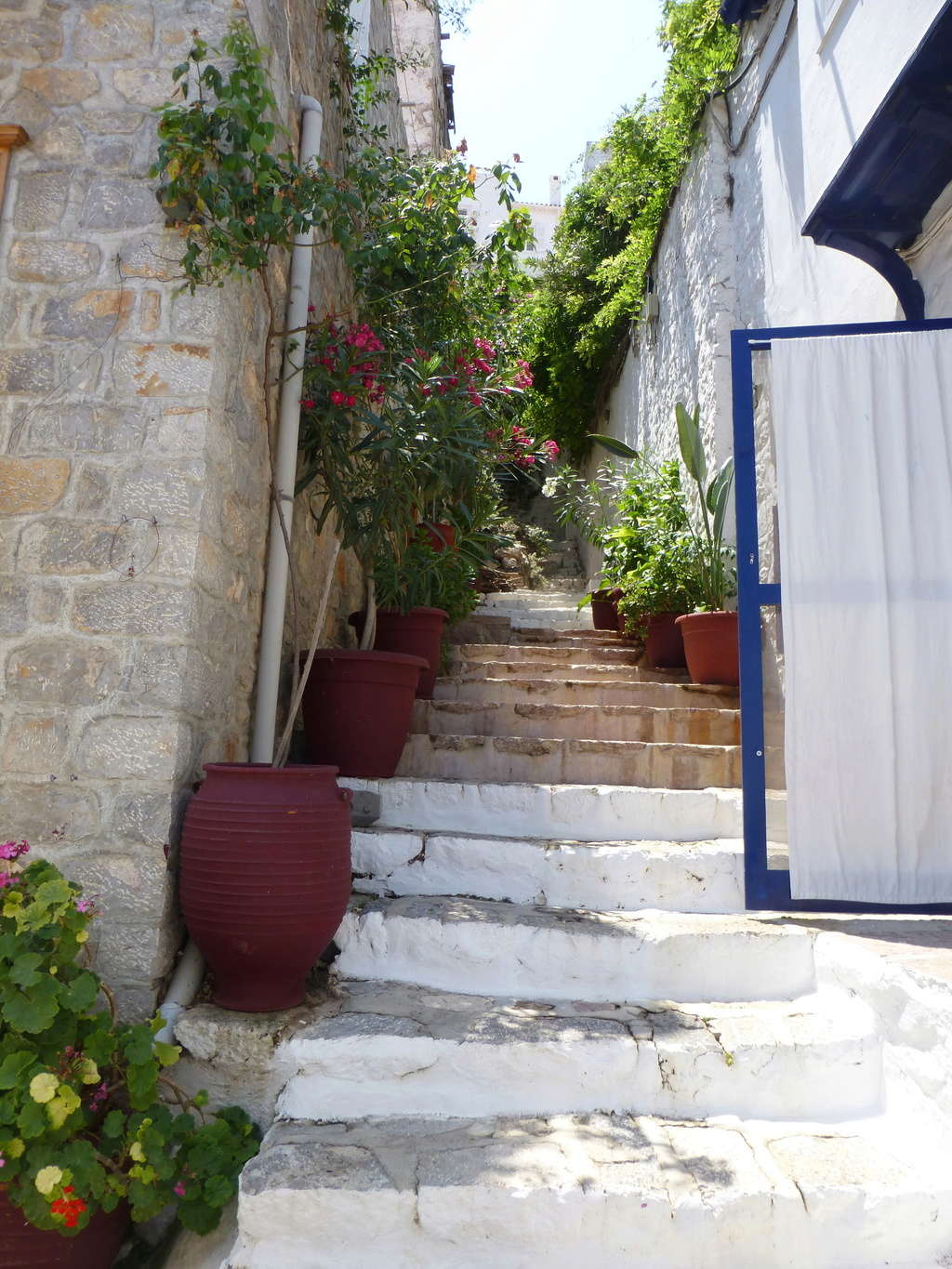 p1180723
once up the top you get some good views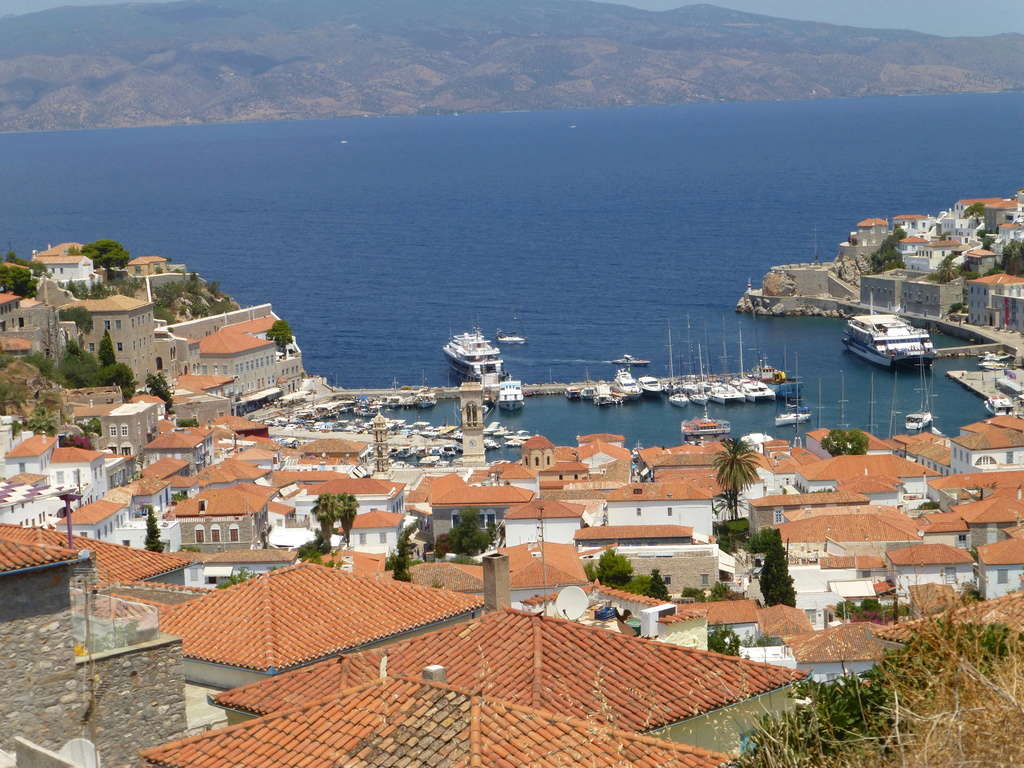 p1180732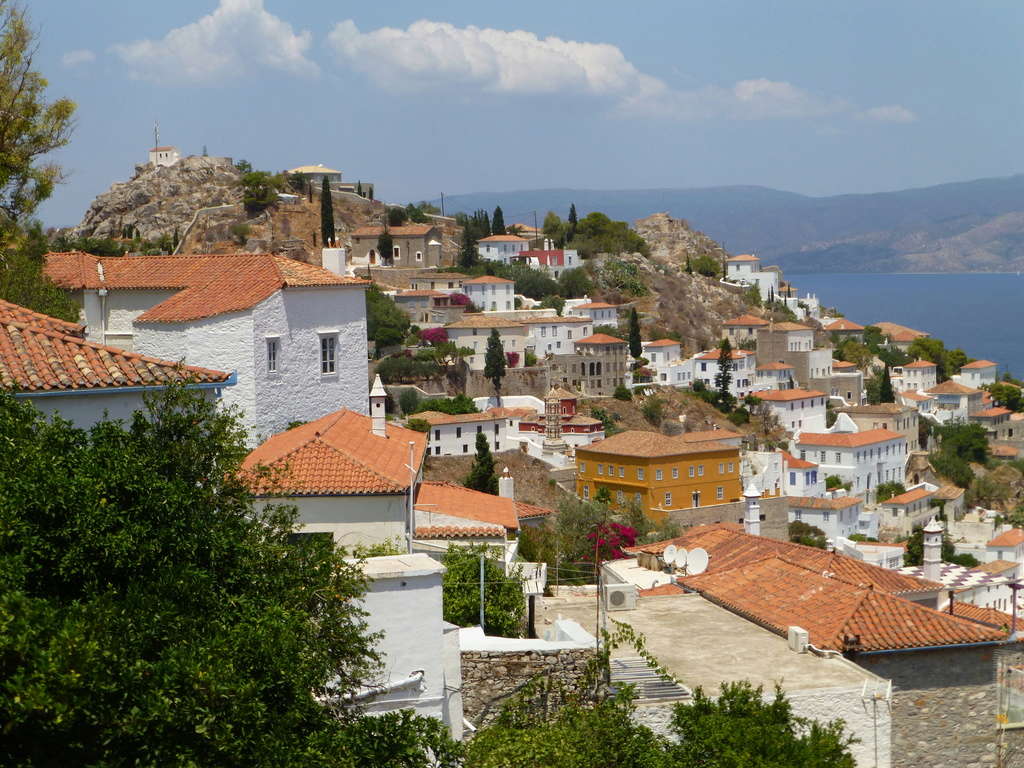 p1180734
Love this view of the side of the mountain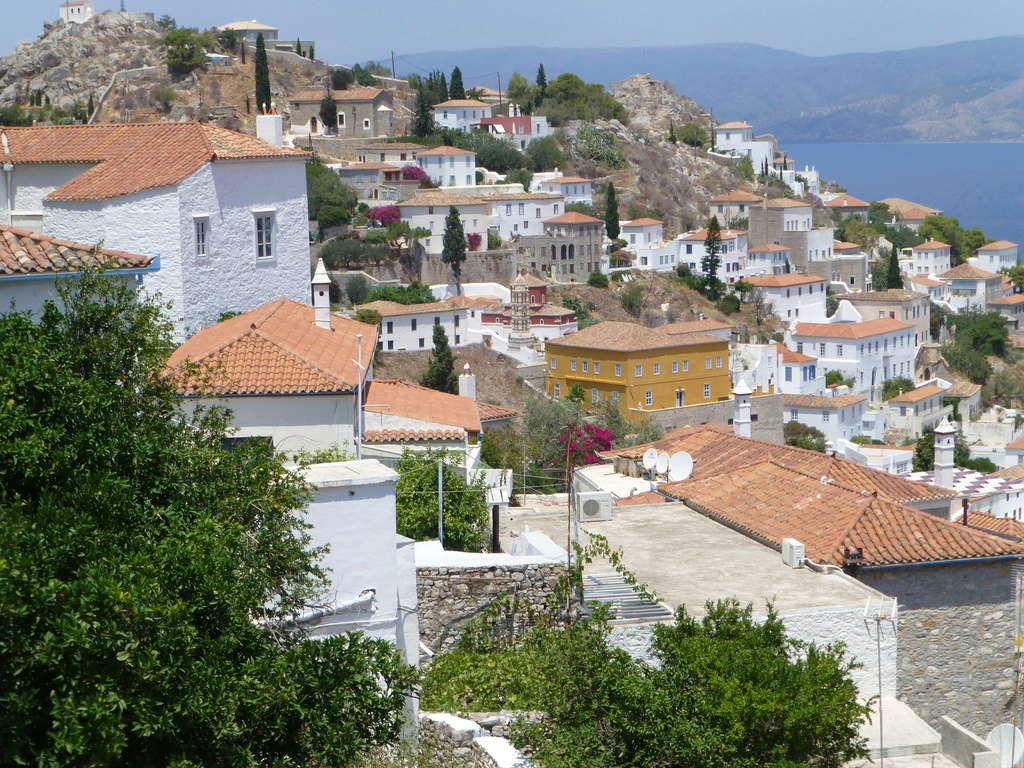 p1180735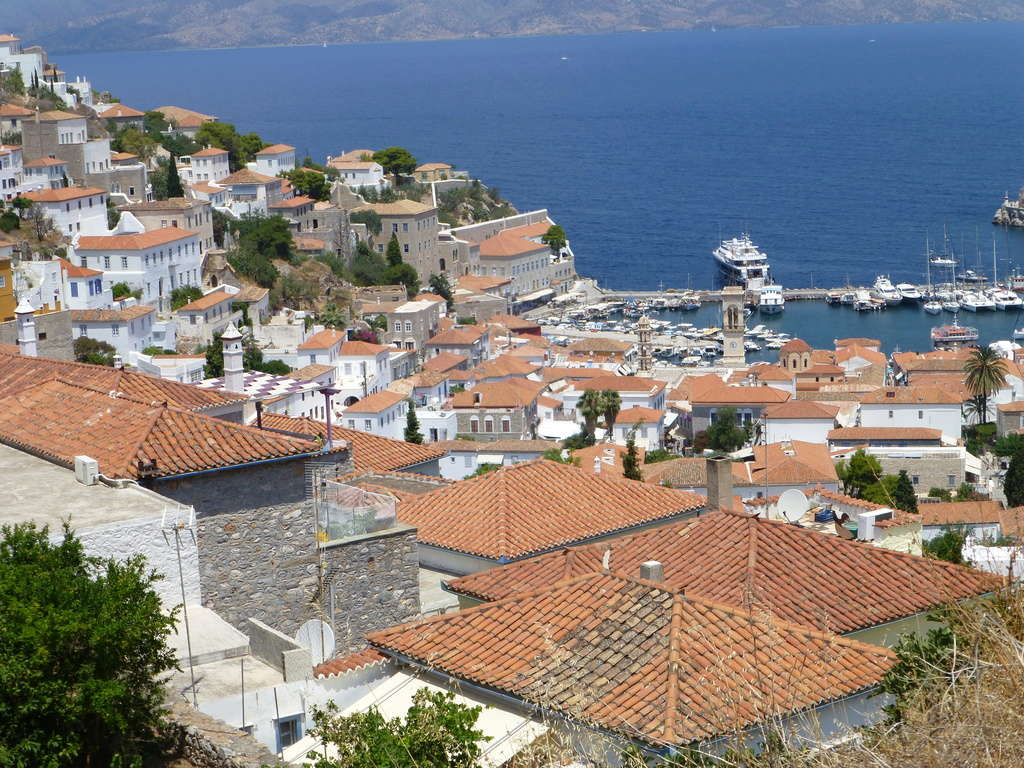 p1180736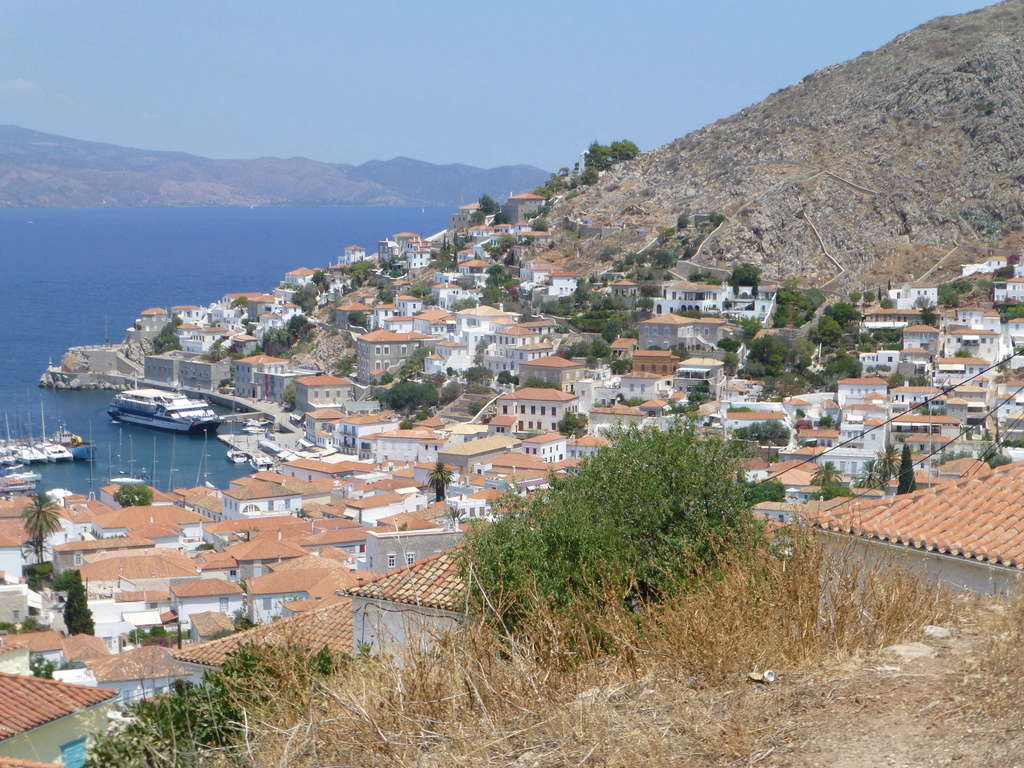 p1180739
so now down with Mrs Db on the promenade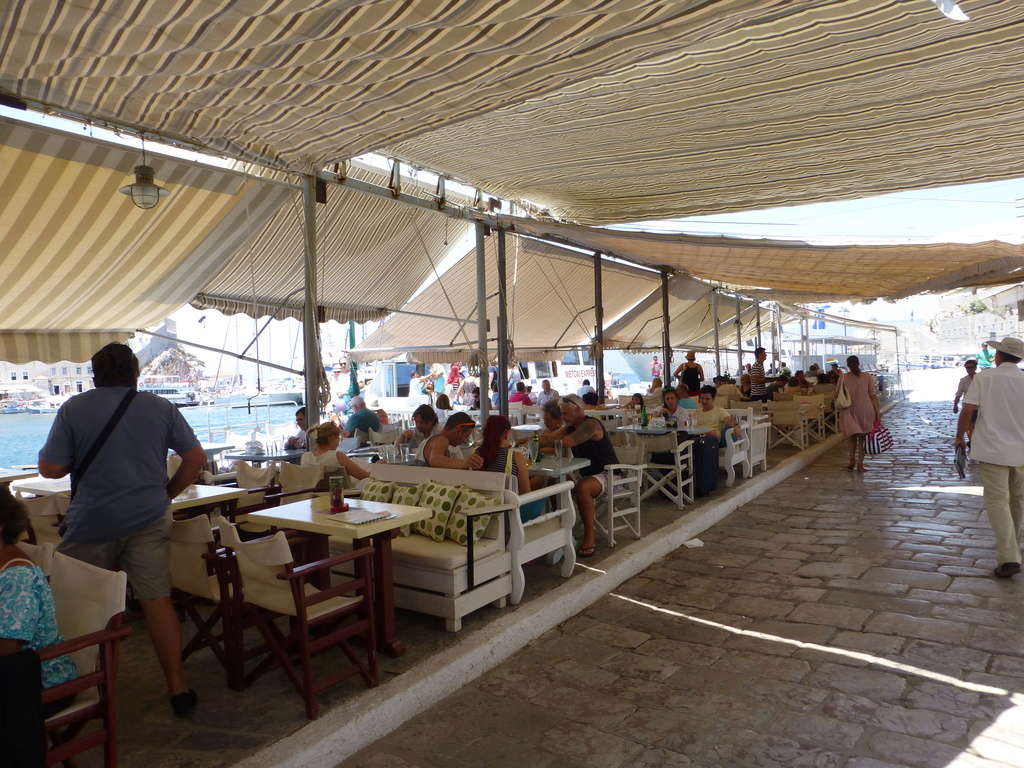 p1180744
at the end of the promenade is a fort / castle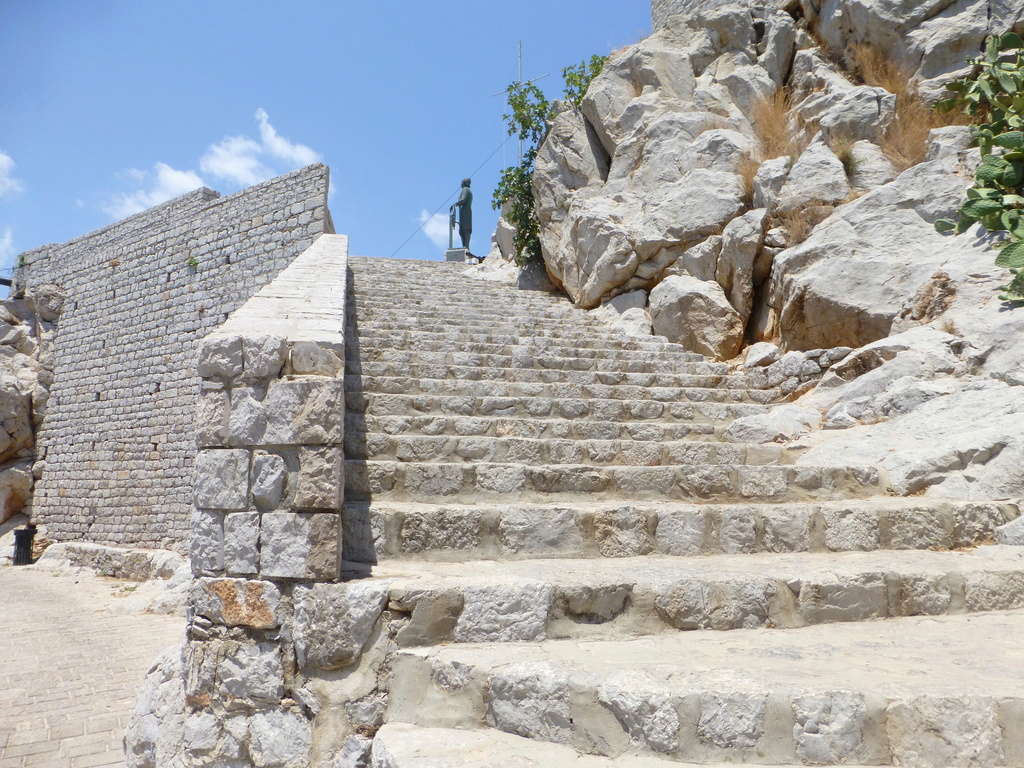 p1180750
view of the harbour from the fort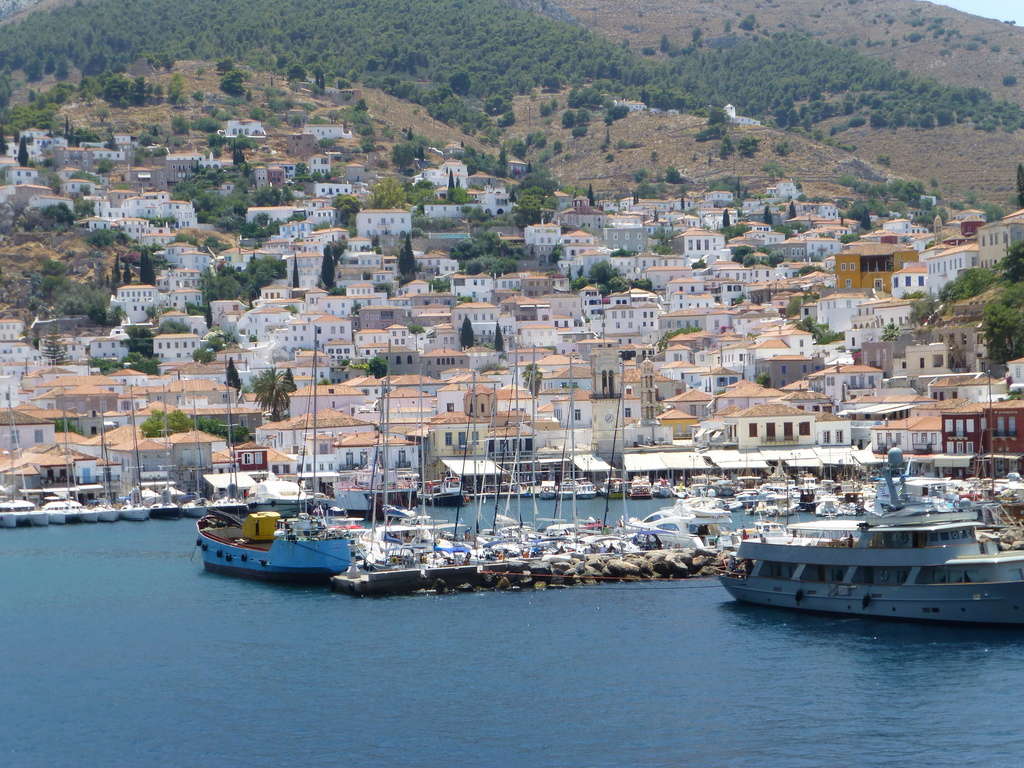 p1180753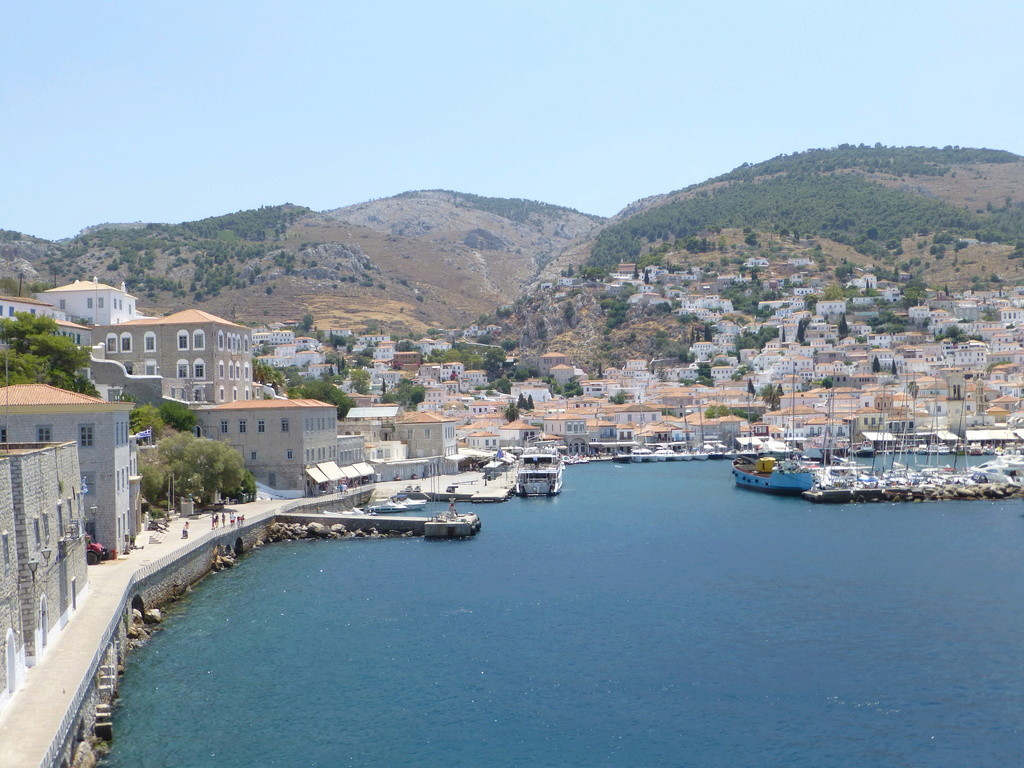 p1180754
Panorama view

p1180758
one of the many guns on display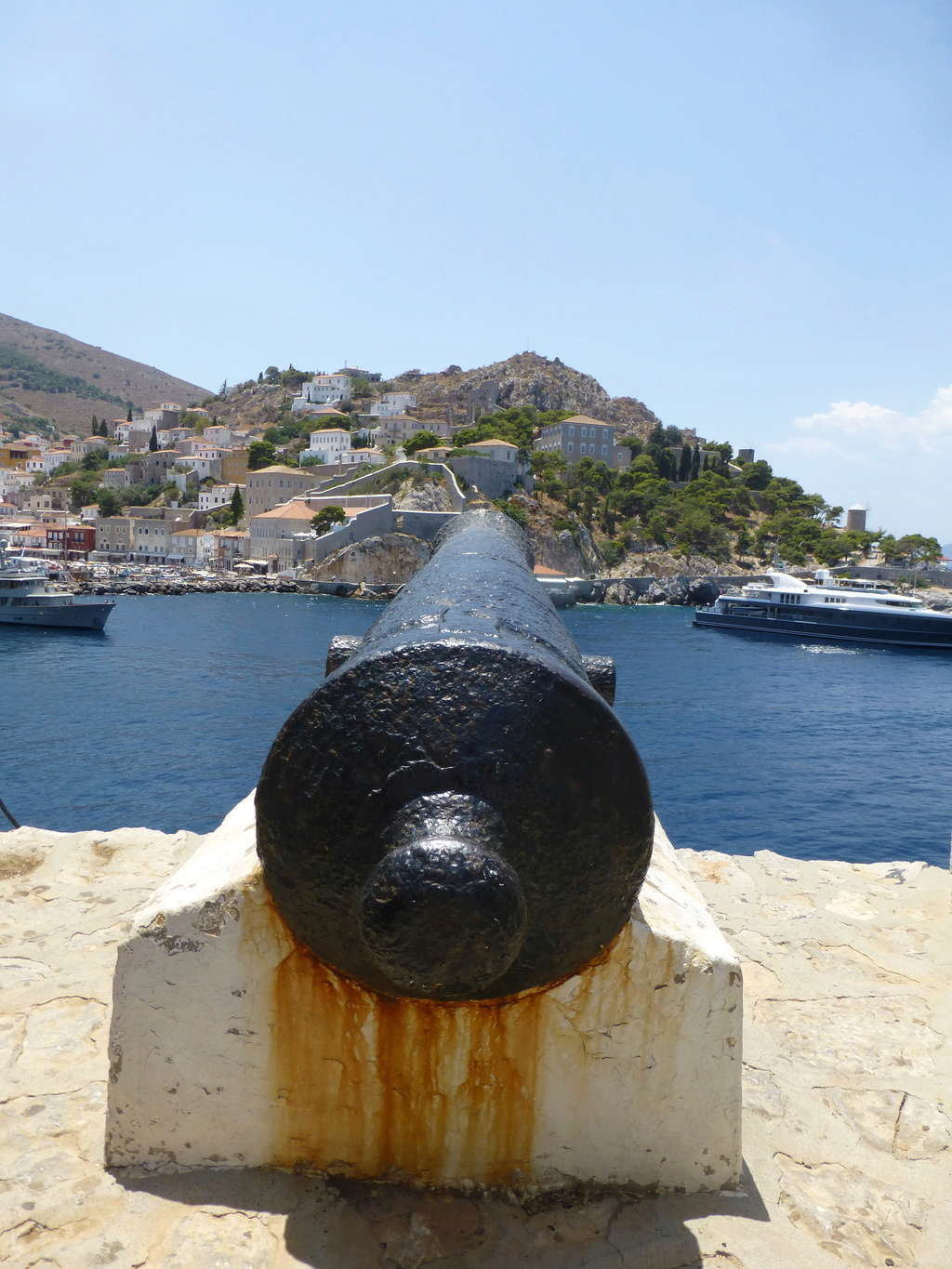 p1180760
this is a statue of Admiral Andreas Miaoulis a politician who commanded the Greek Naval forces during the Greek war of independence in 1821-1829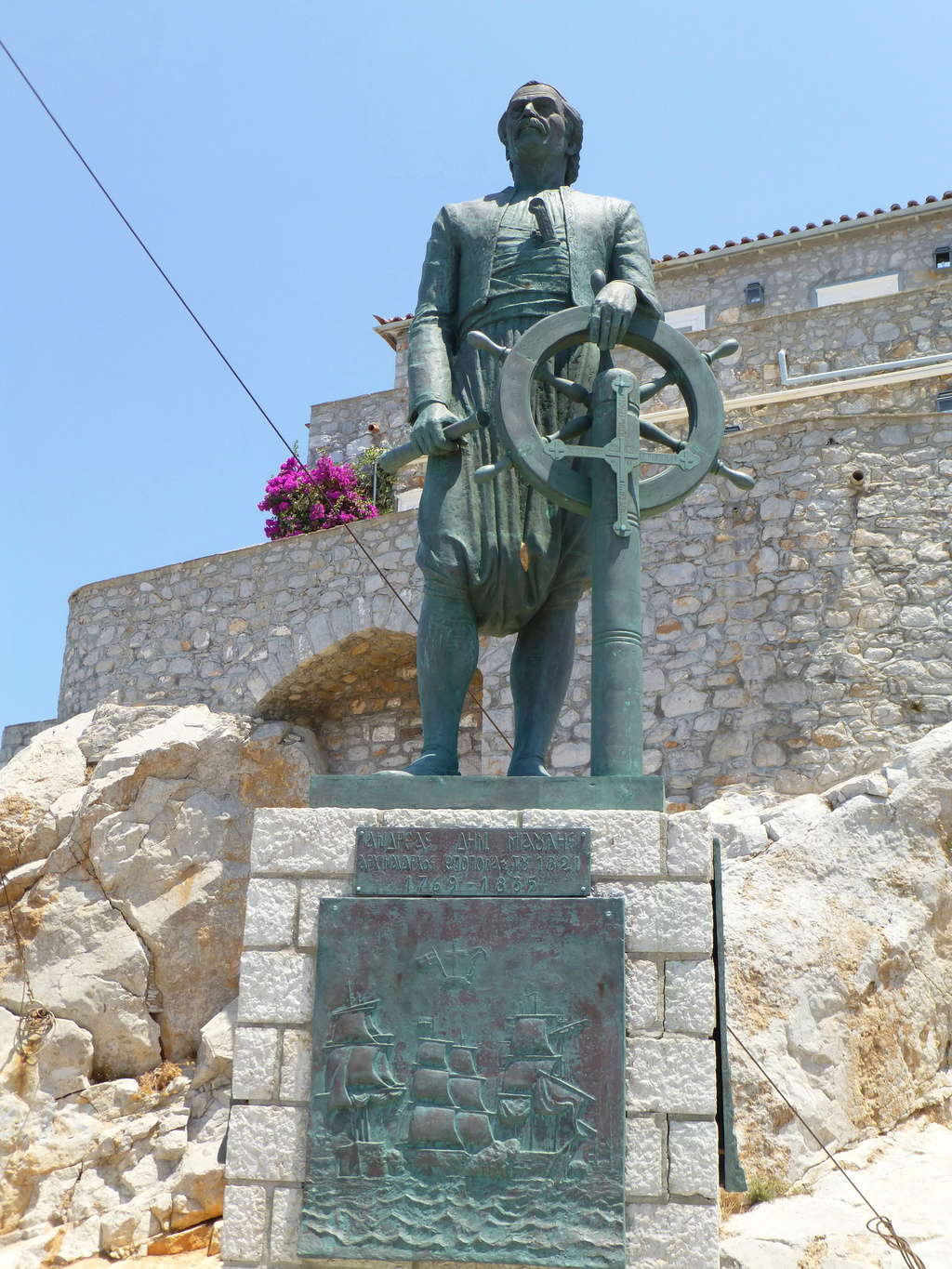 p1180761
There is a fire station on the promenade and this is probably the only vehicle on the island but not sure how it would get up all those stairs.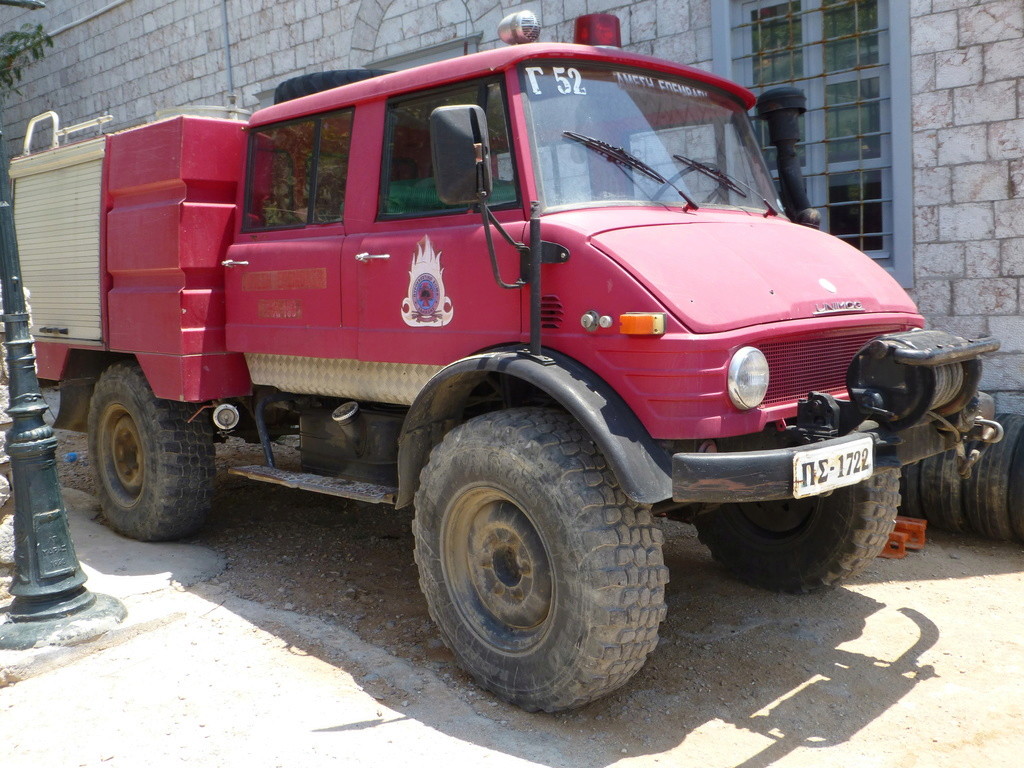 p1180765
Anyway, we set sail for Spetsis at 2:30pm and everyone was on board lol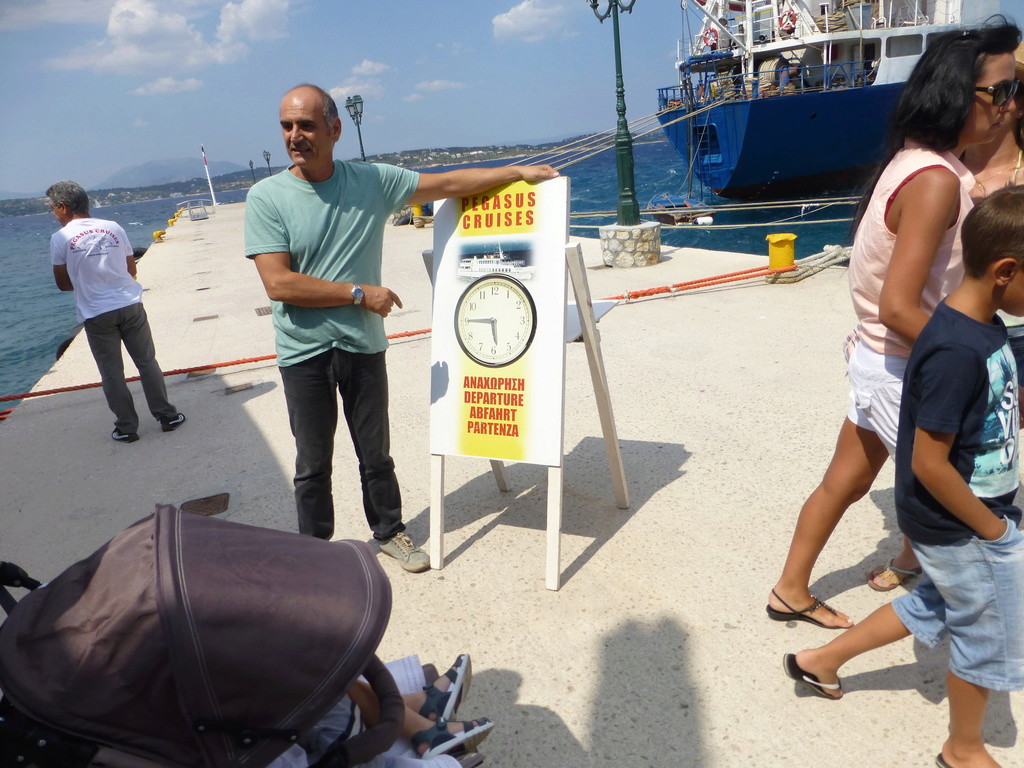 p1180767
I can't say I was that impressed with Spetsis
p1180769
They had horse and cart rides for 10 & 20€'s but really a tourist thing which seemed like a ride at a rate of a euro a minute.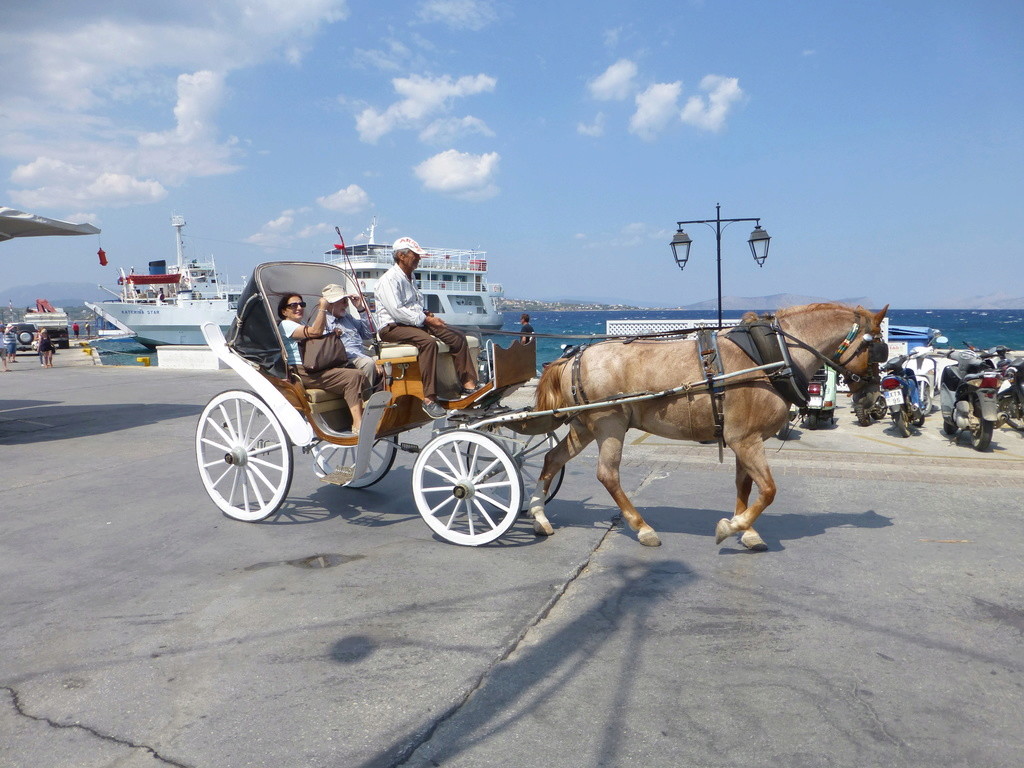 p1180774
Similar prices here to Hydra without their views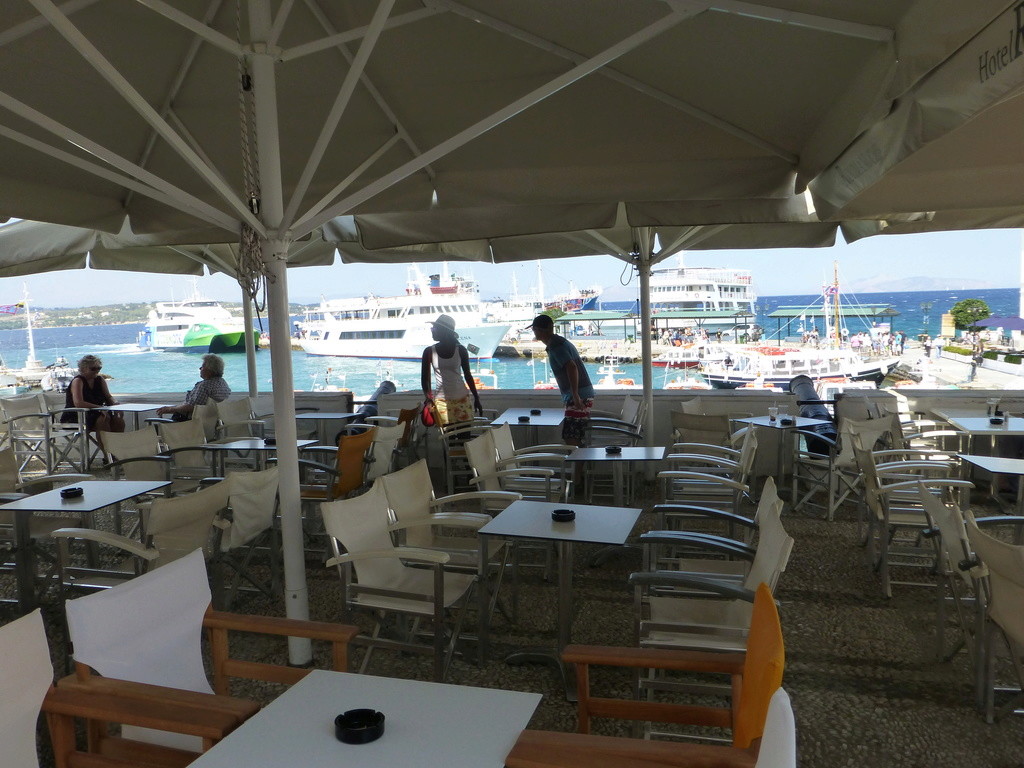 p1180775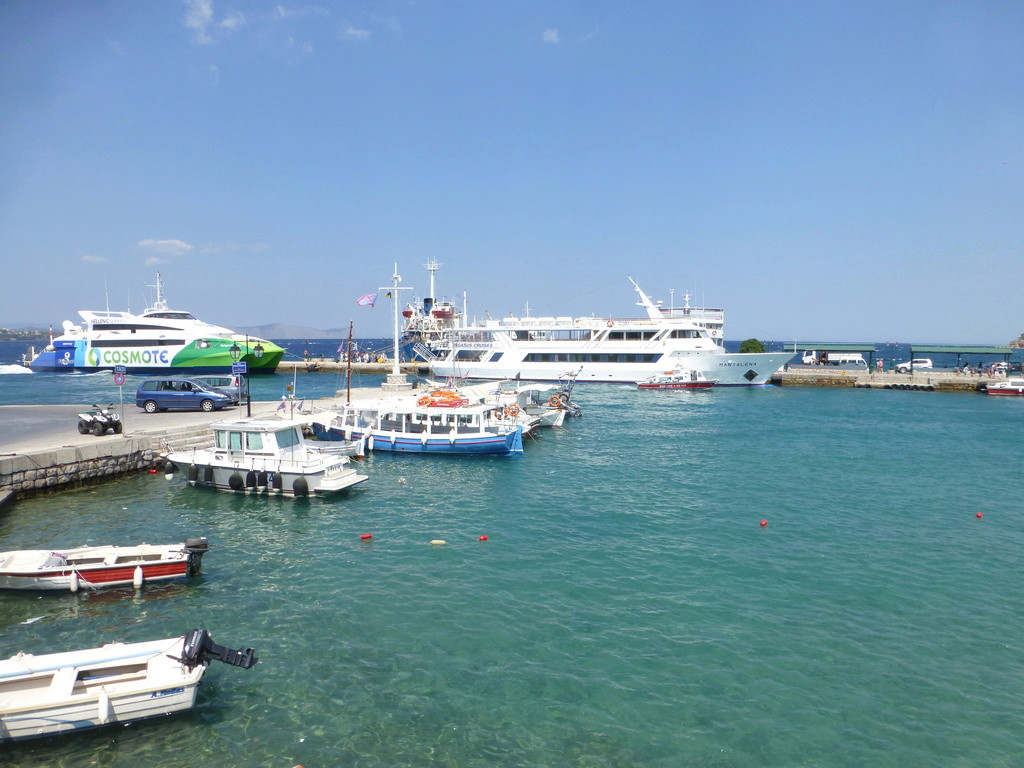 p1180776
we had a short walk down the promenade, this place looked impressive but on such a hot day long walks were not really feasable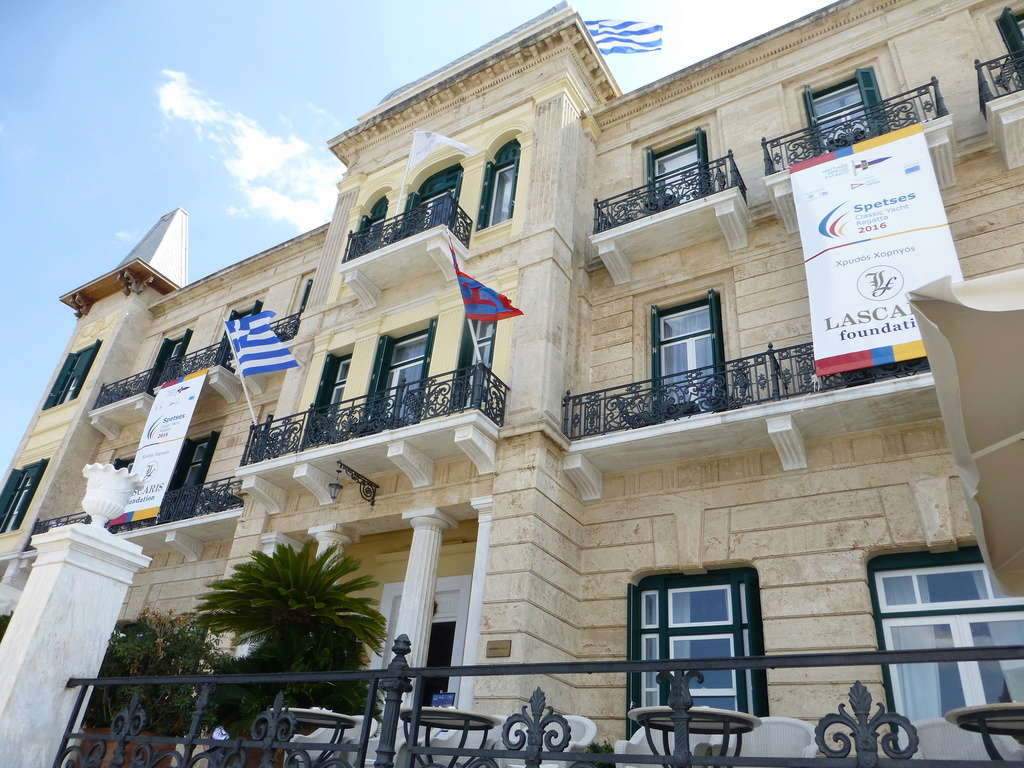 p1180780
lots of water taxi's which often sped off to different islands I think one's that had a beach
p1180783
It didn't work out a good stop off for us with motorbikes coming into the port area from roads at the back but may be a better place if one knew what to see there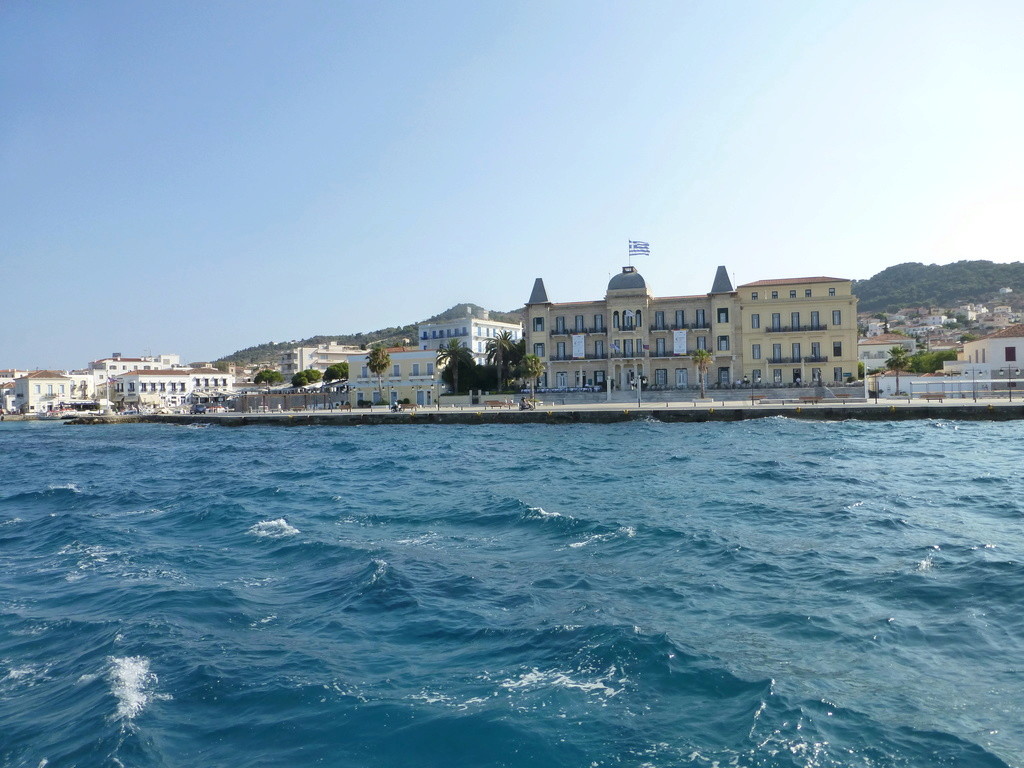 p1180785
and finally back at Tolo just before 7:30pm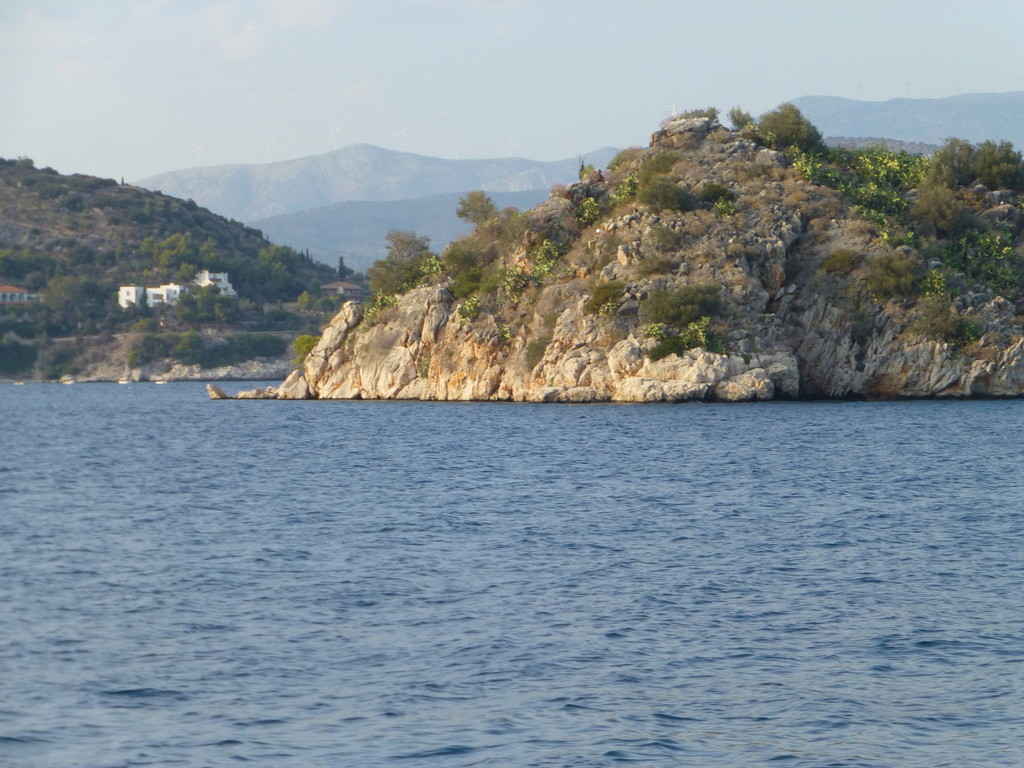 p1180799
Tonight we are eating in the Thalassa taverna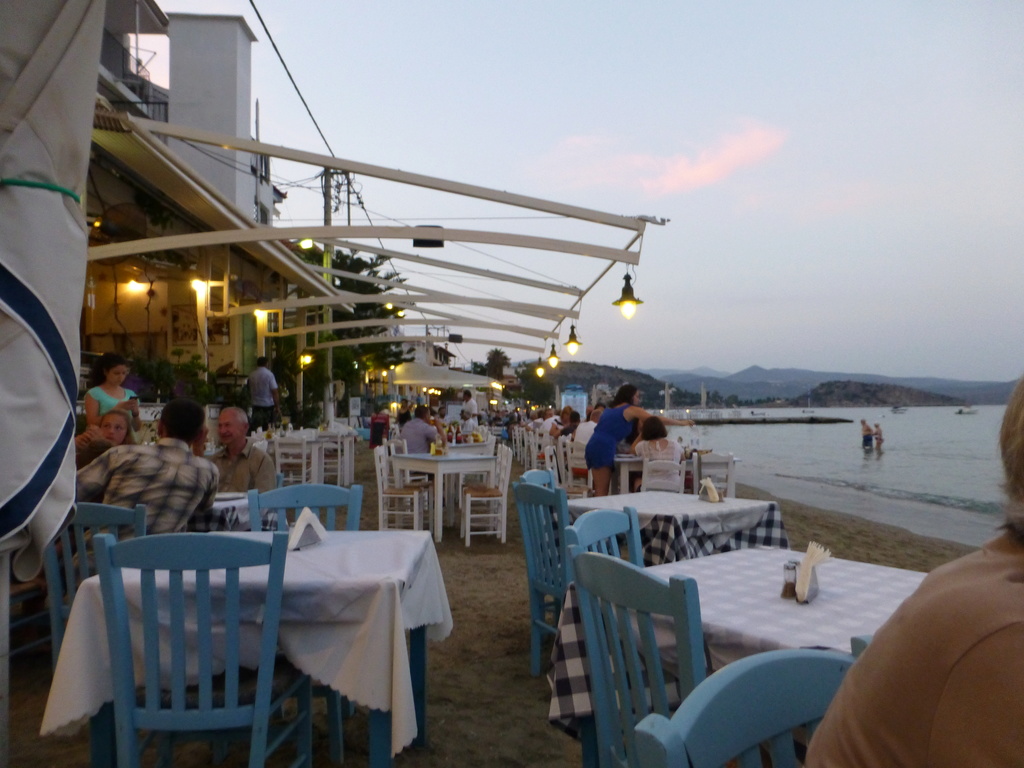 p1180803
p1180802
Mrs Db had the lamb chops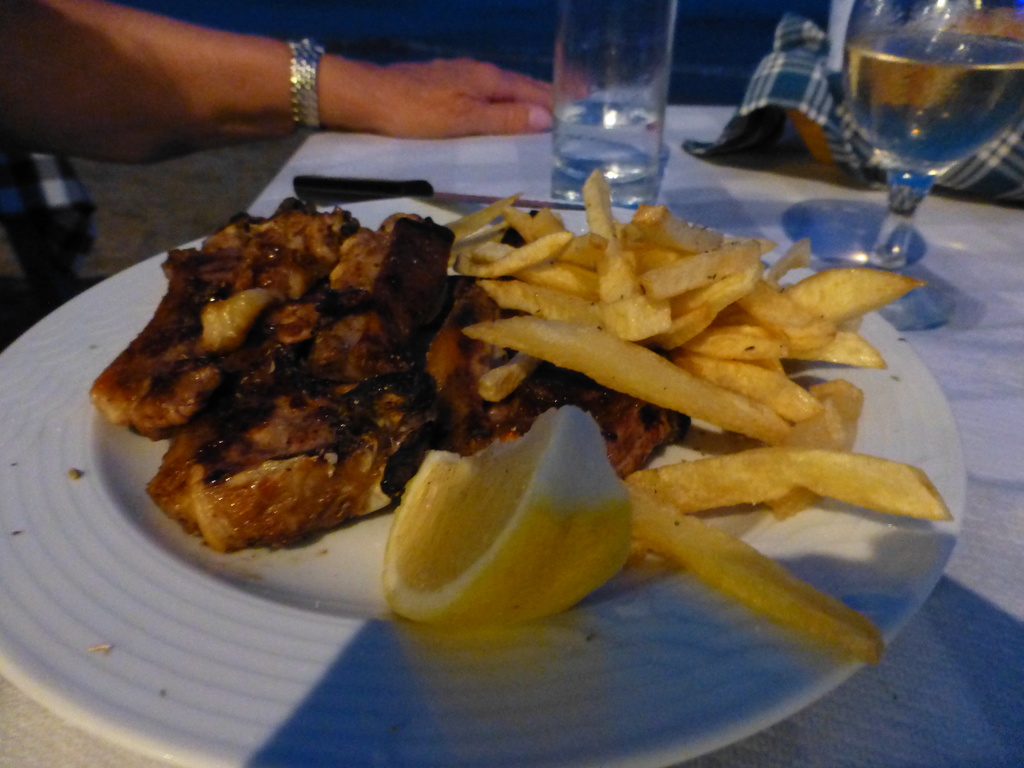 p1180804
I had the burger with Roquefort sauce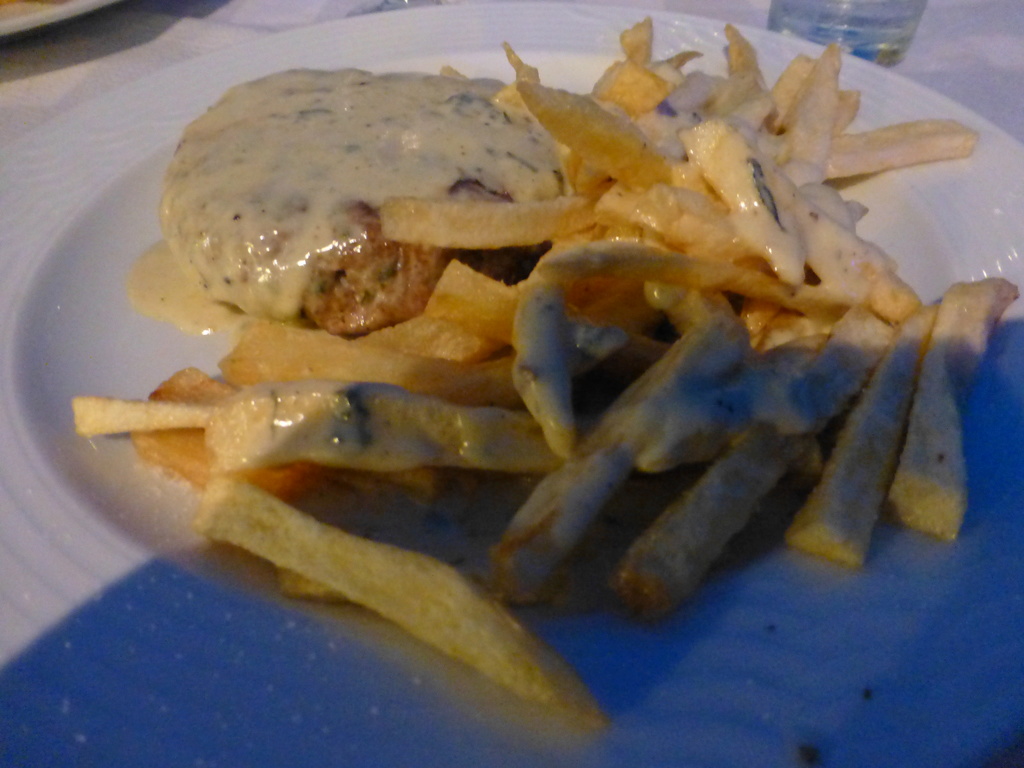 p1180805
we didn't care for their white wine from the barrel
END OF DAY 10
......................................................................
Wednesday Day 11
The Curse of the Tombs, the unreleased 5th Indiana Jones film lol
Well it was a cloudy sunrise as I studied a walk from the book given to me.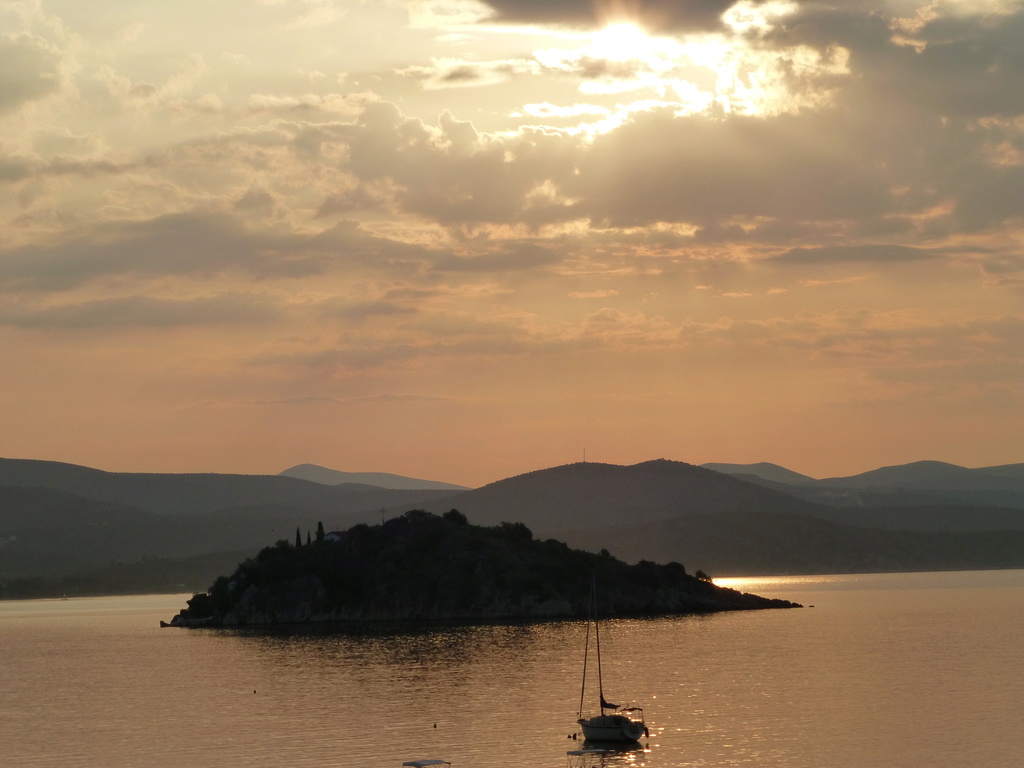 p1180806
Someone had given a walk over Barbouna Hill in which the directions seem to be quite clear lol and they had managed to take an aerial view over the ancient site of Assini. Well in my other walks I had stumbled across a football ground mentioned in their walk, so I was going to attempt it myself after having the confidence of reaching the tombs on the otherside of the hill earlier in the holiday.
The sports ground mentioned in the book as a marker I don't think Tolo are in the premier league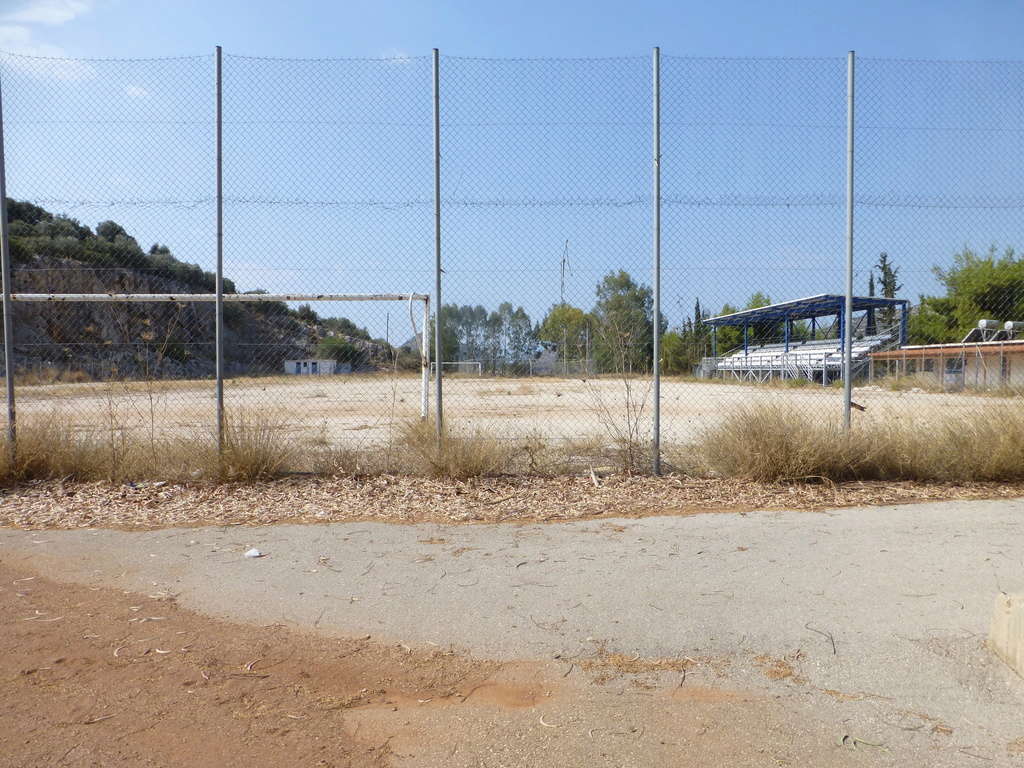 p1180818
So I packed more water than normal as there would be no tavernas up there, money for a taxi, phone and my camera. I also had a smaller bottle of water in my hand to refill from a bigger bottle on my back in a rucksack.
To access the hill I had to walk out of town on the road heading towards the Nafplio direction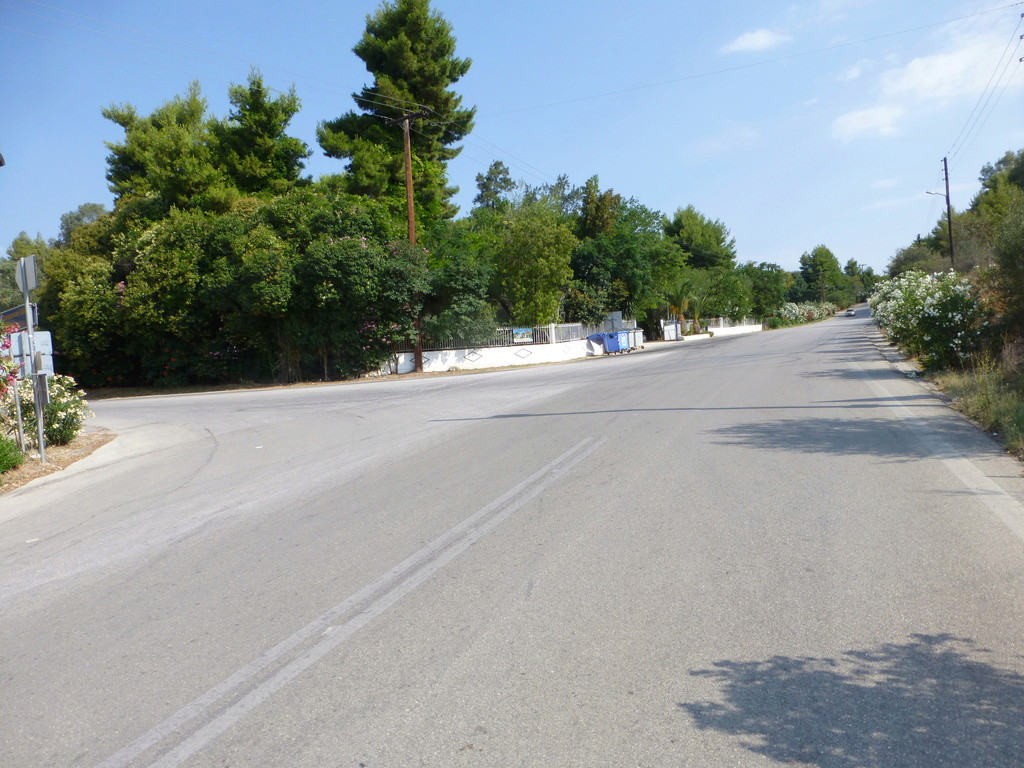 p1180813
and then made this turning on the right and walked passed the football ground as above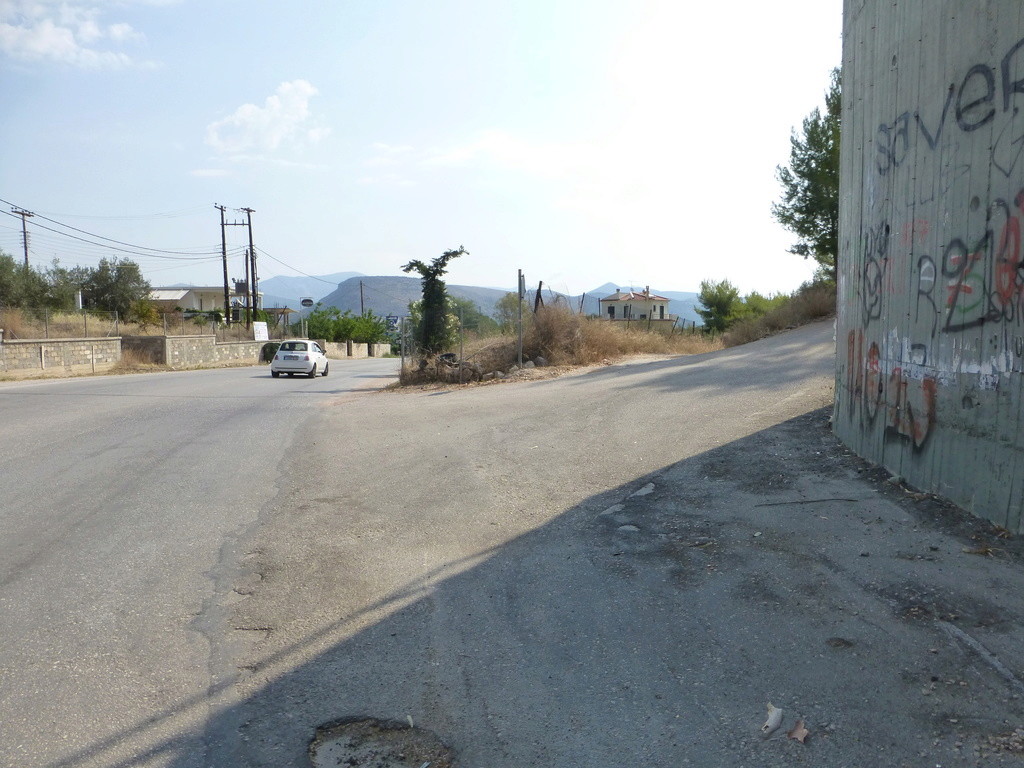 p1180816
all seemed to be going well to the instructions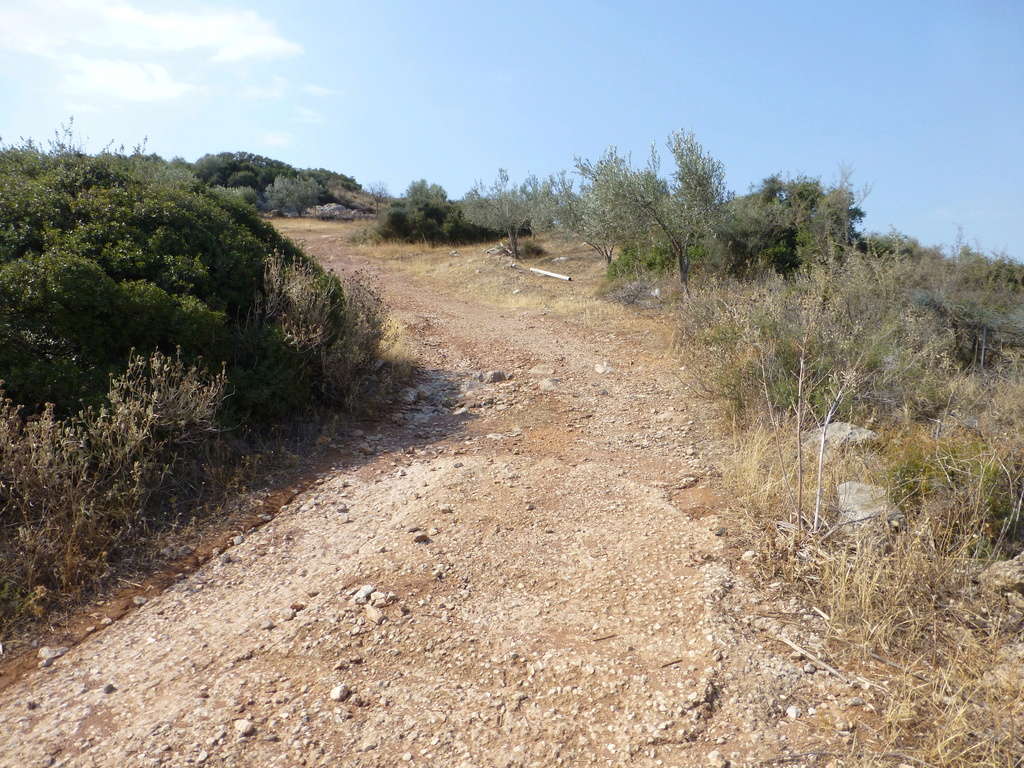 p1180822
until I reached this farm area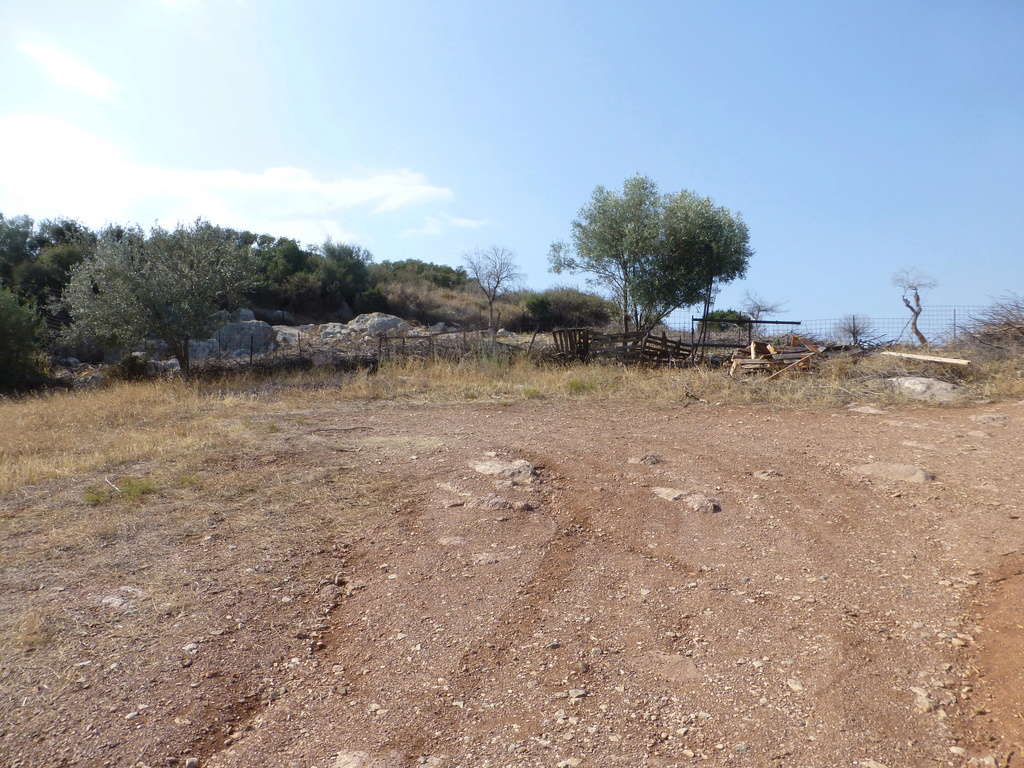 p1180823
I tried every direction to get through but the pathway must have overgrown since the last walker did it and I was not going to risk getting a snake bite through undergrowth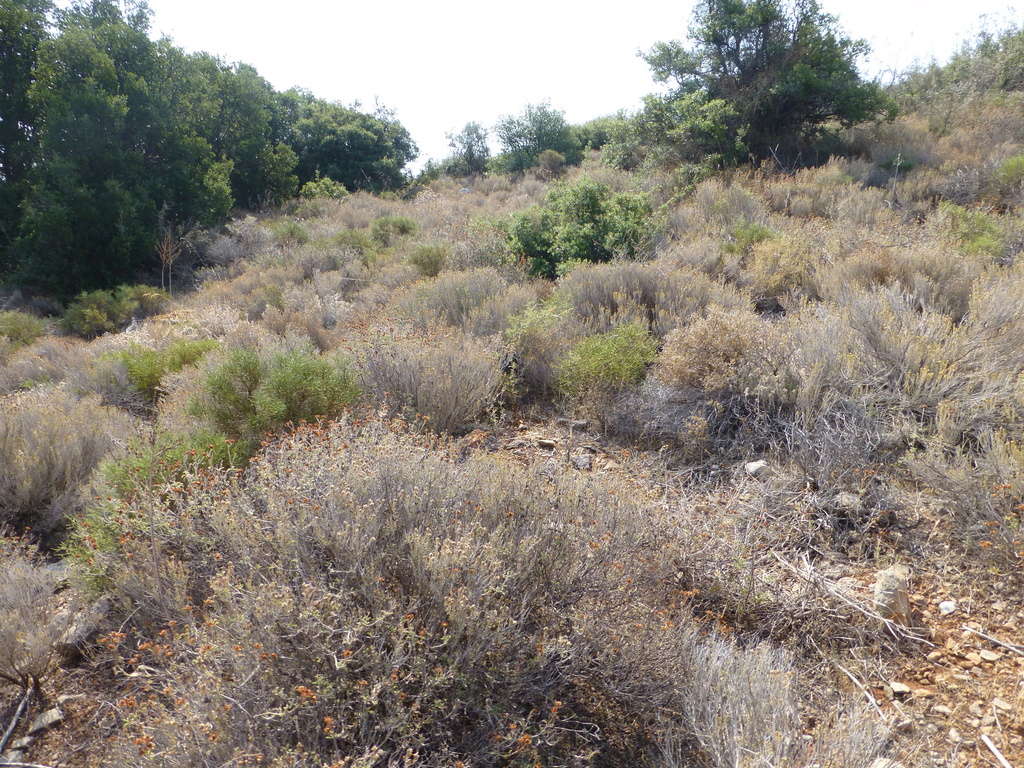 p1180828
So after 10 minutes of searching I ended up going down a separate pathway heading down hill to the left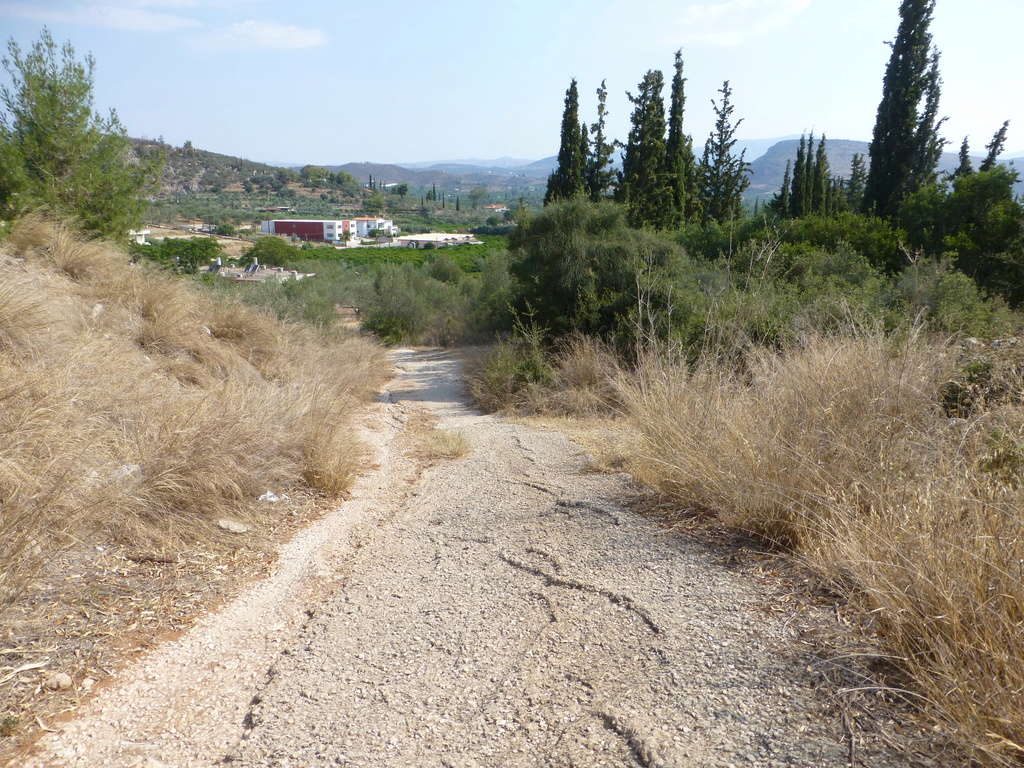 p1180832
Then spotting a right turn here, so I took it
p1180833
This looks far more promising, perhaps a wrong instruction in the book or I had misunderstood it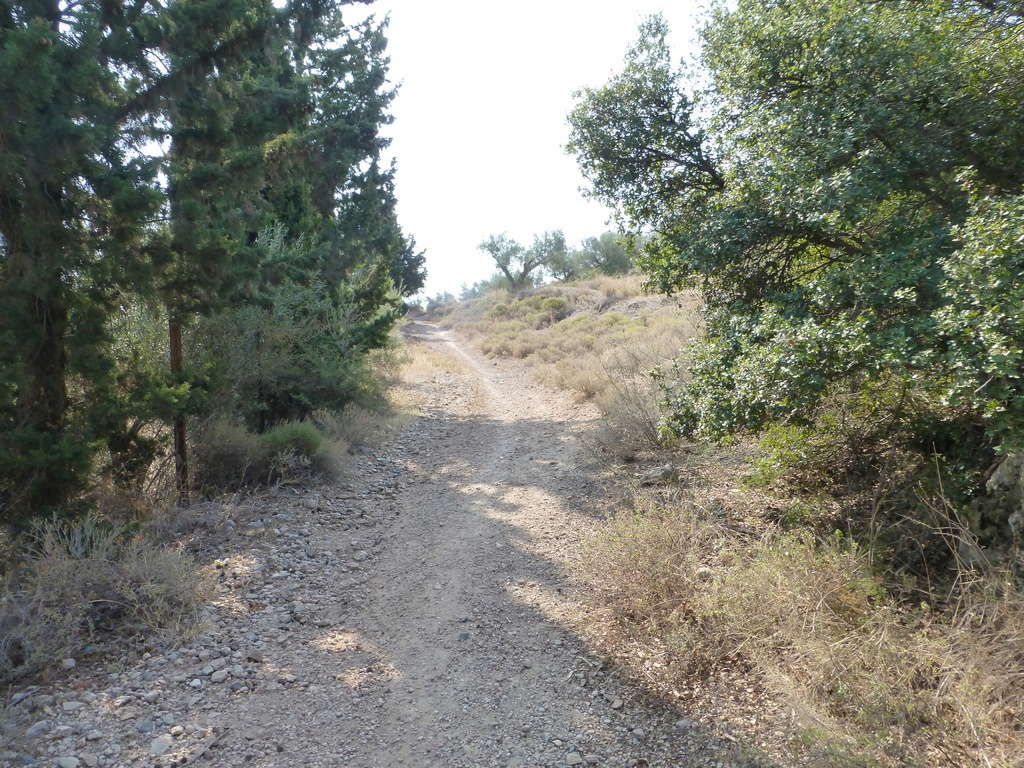 p1180834
ah, looks like I'm on my way now with just that small glitch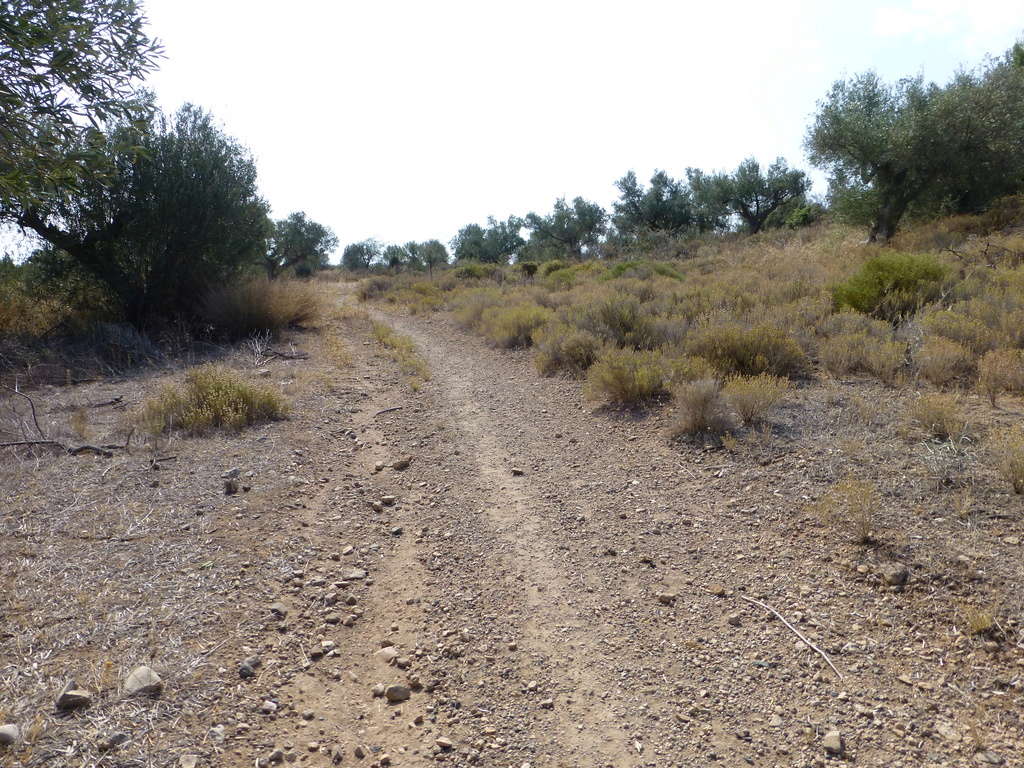 p1180836
p1180838
but all led to this big square of land with no way through, yes I did walk all around the area but nothing, there was just this unexplained rock sitting here. It didn't even have a notice on it of 'don't lift this stone as there may be a snake under it' lol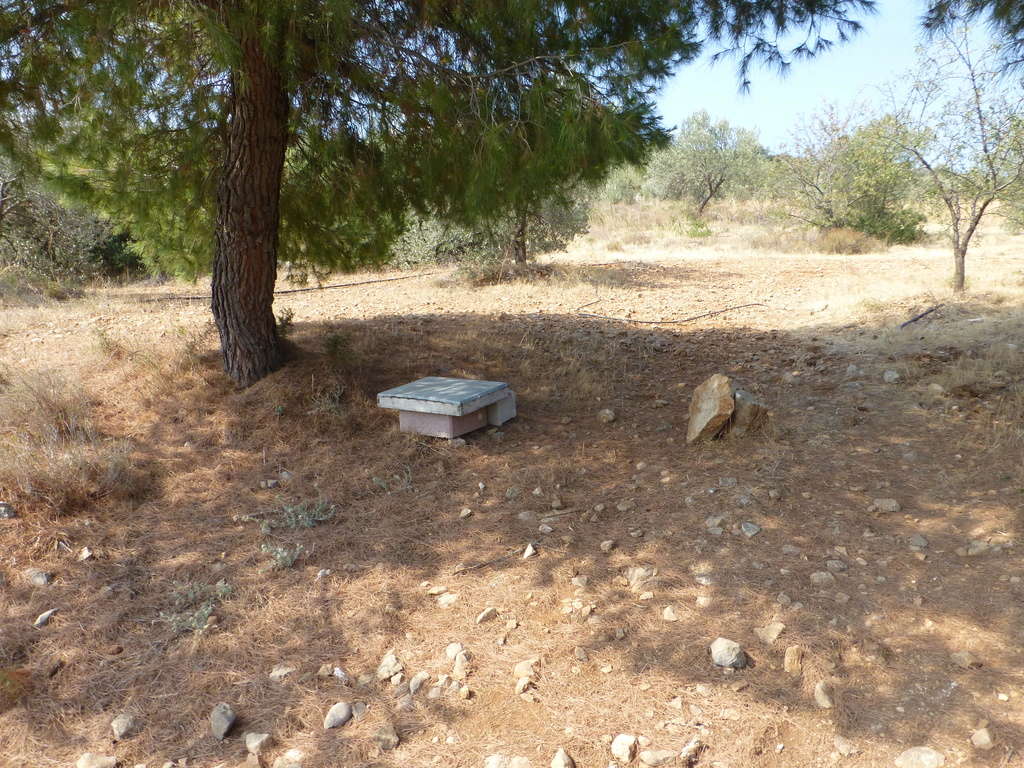 p1180839
There was an area here where a farmer was obviously trying to do something as there were hose pipes in the ground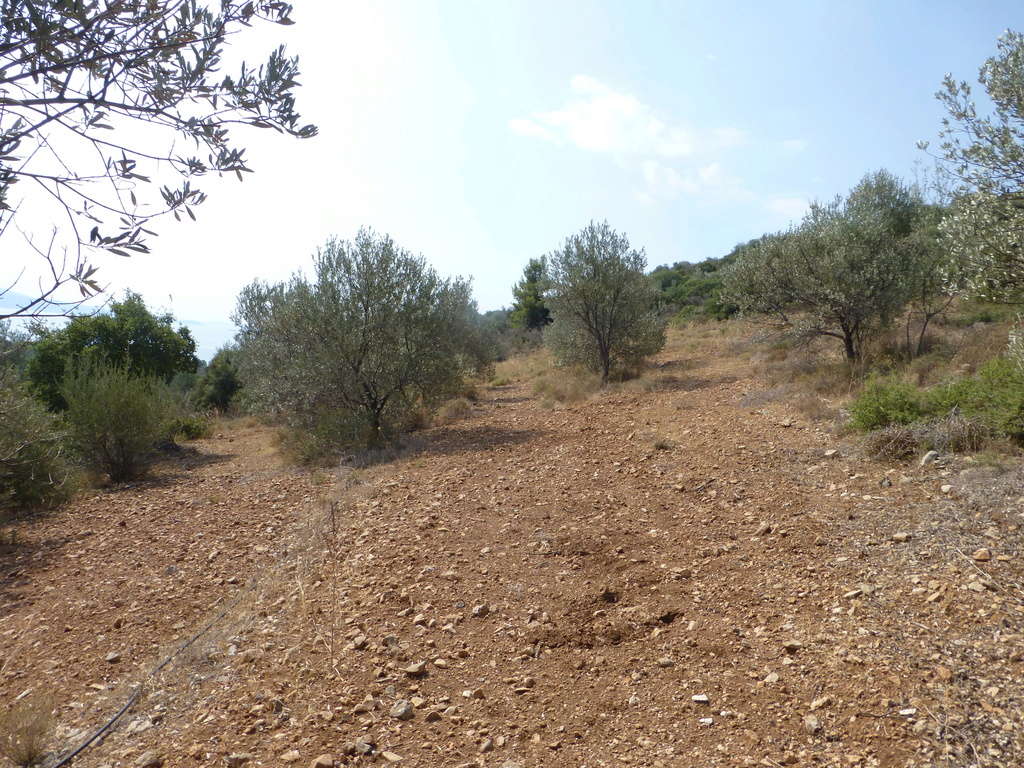 p1180841
but no way through beyond it but looking in my camera display over to my left I could see the rock formation of where the tombs were and there was said to be over 20 of them in the hillside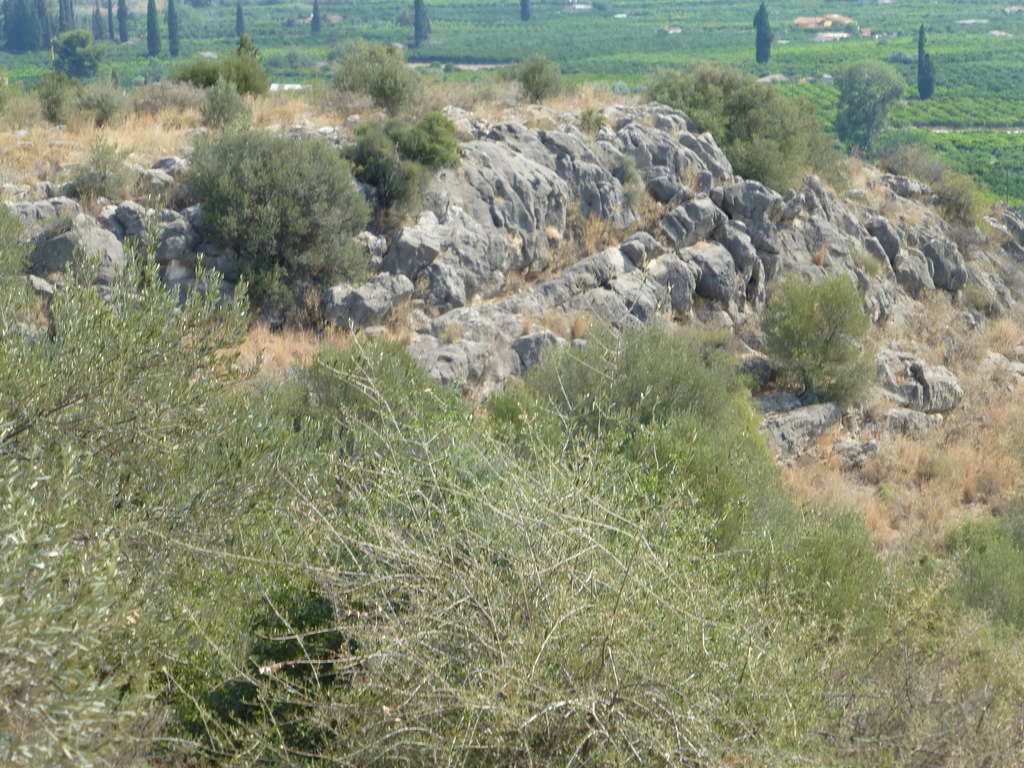 p1180842
I worked my way across to them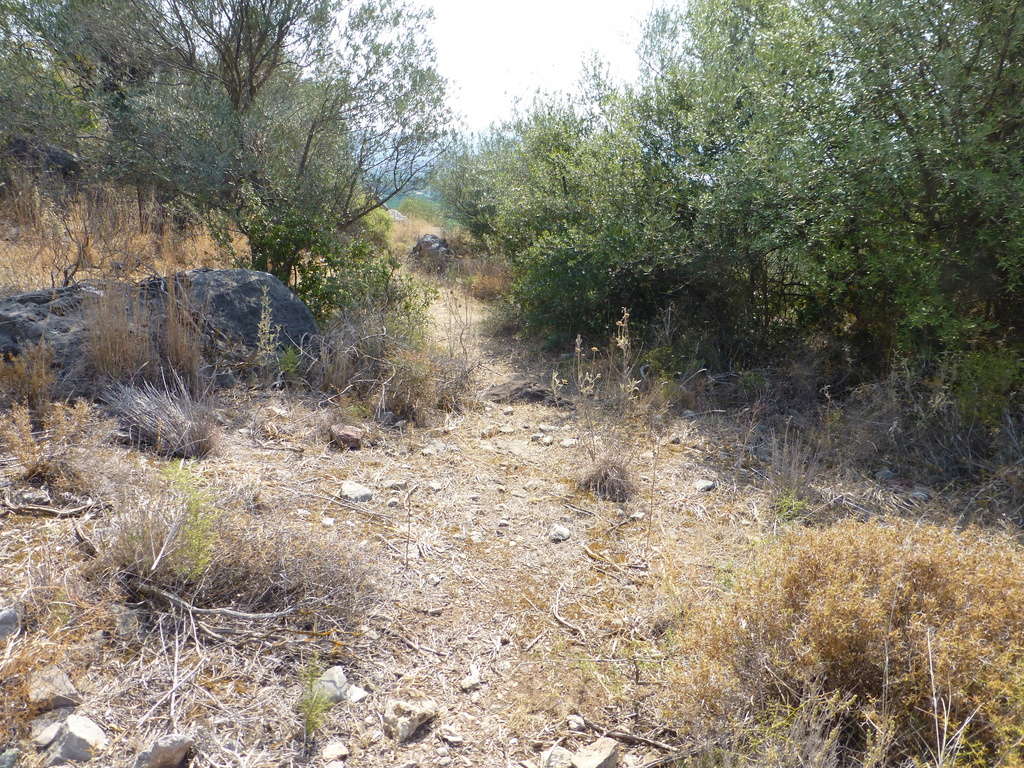 p1180848
and around the side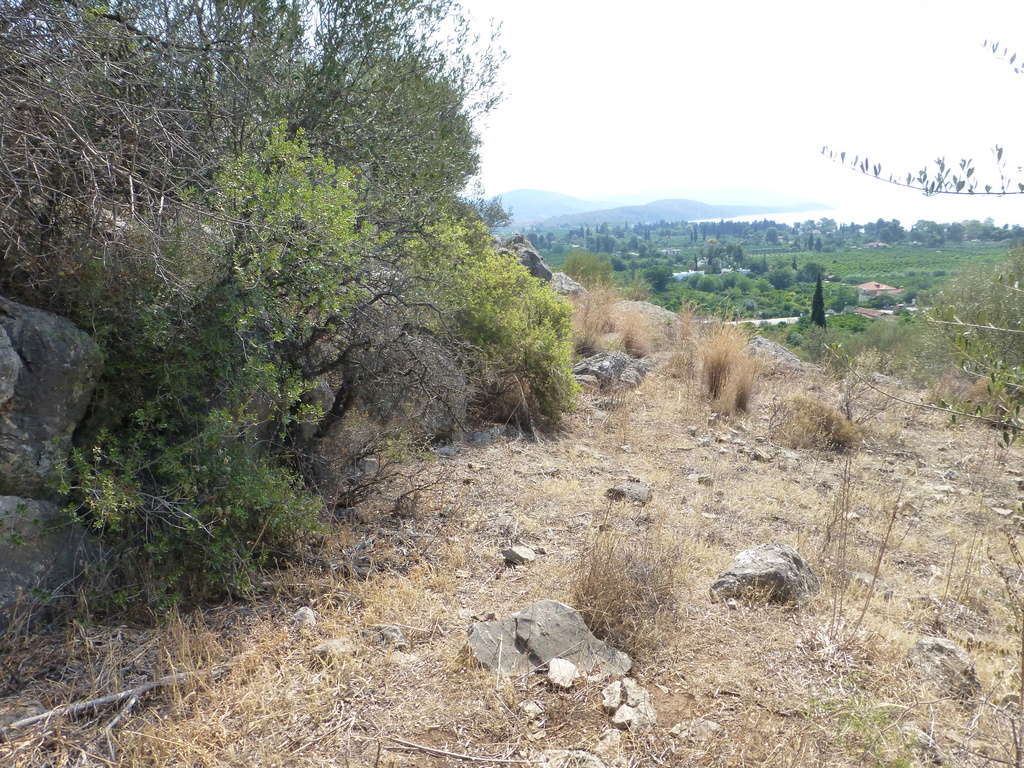 p1180849
it wasn't an easy route but I now found I was on familar ground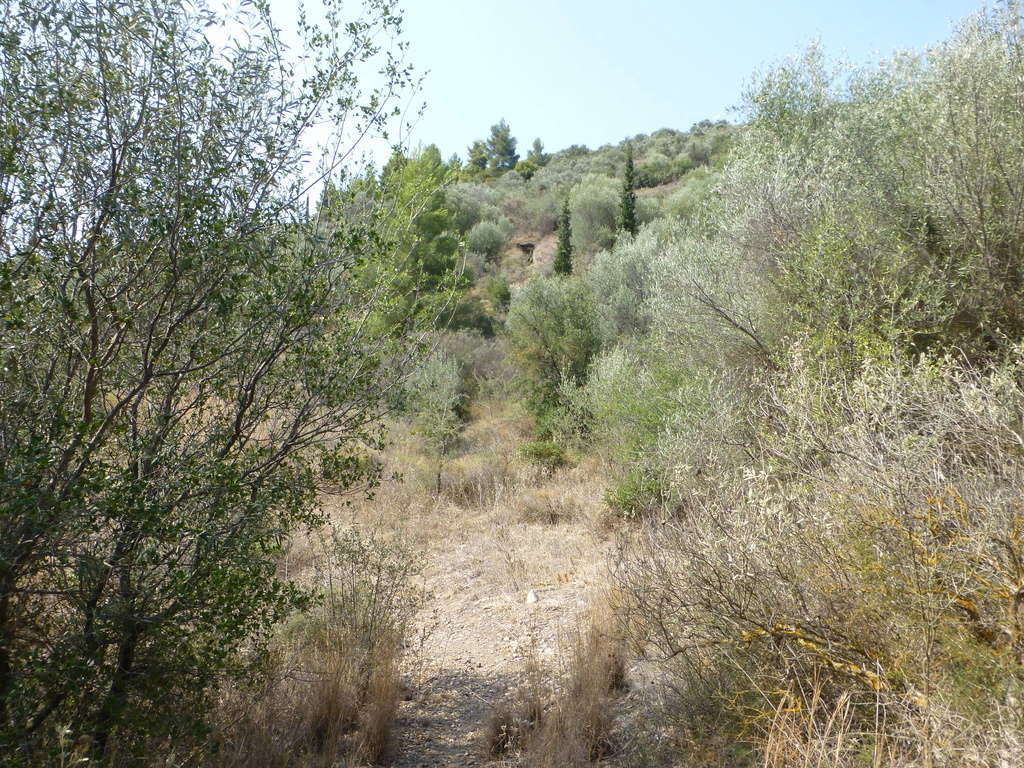 p1180858
Remember there are snakes in the long grass Indy, quiet Junior we made it through the other day lol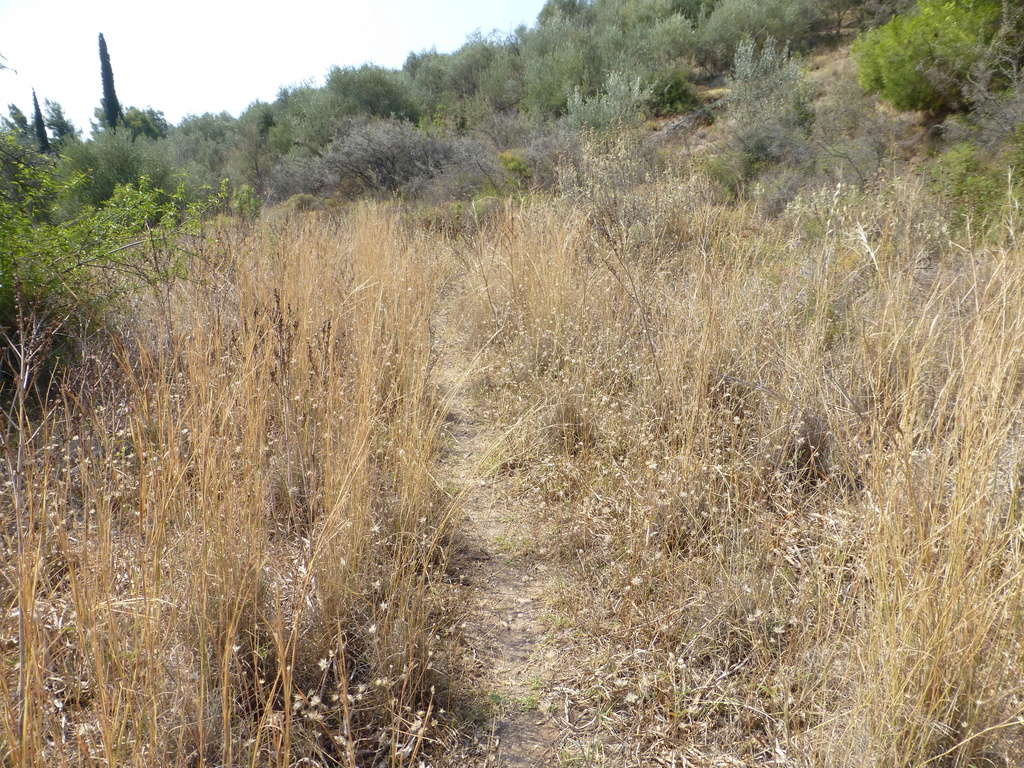 p1180859
And the sun is not in the same direction as before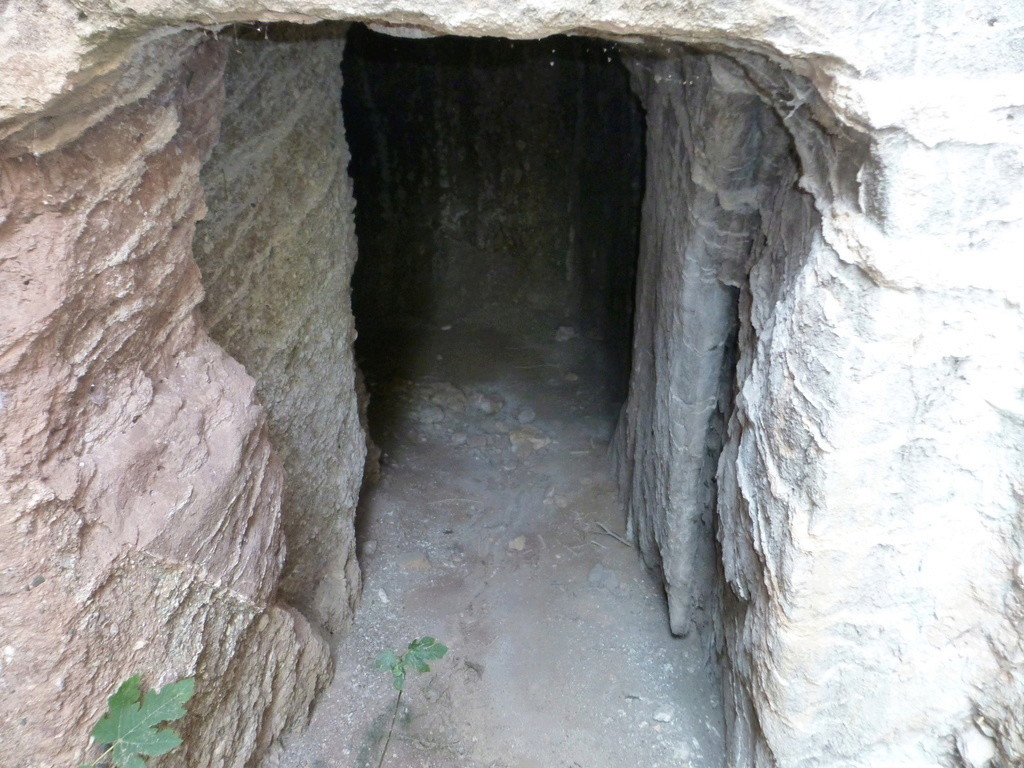 p1180860
So my picture doesn't have my shadow in it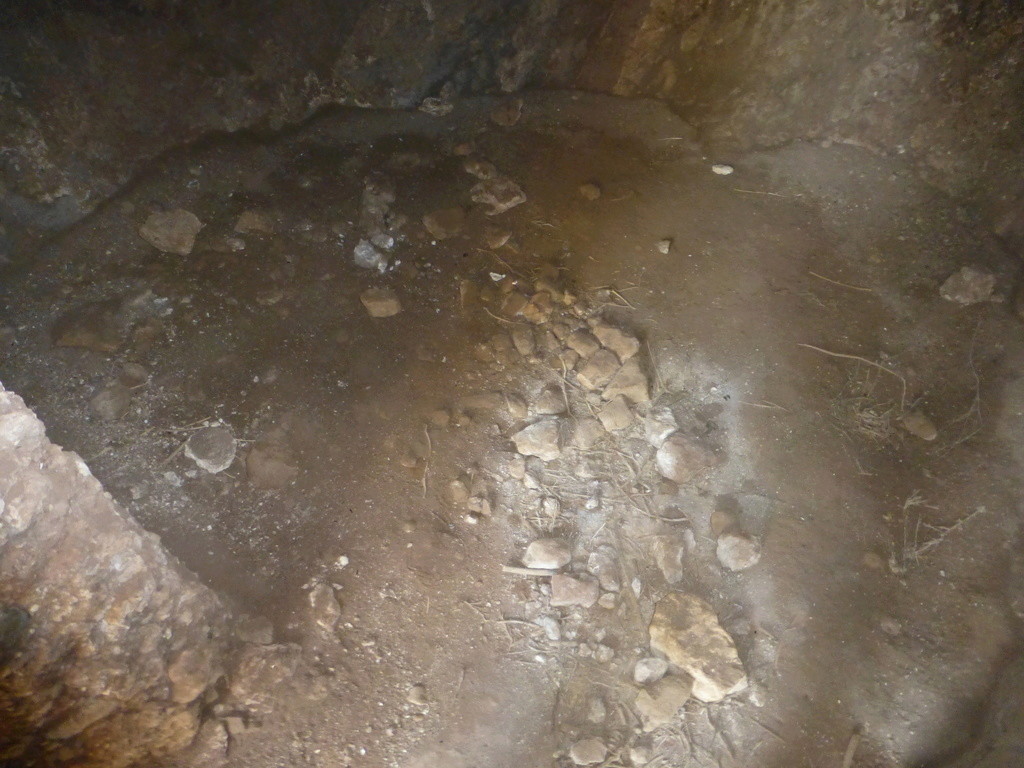 p1180862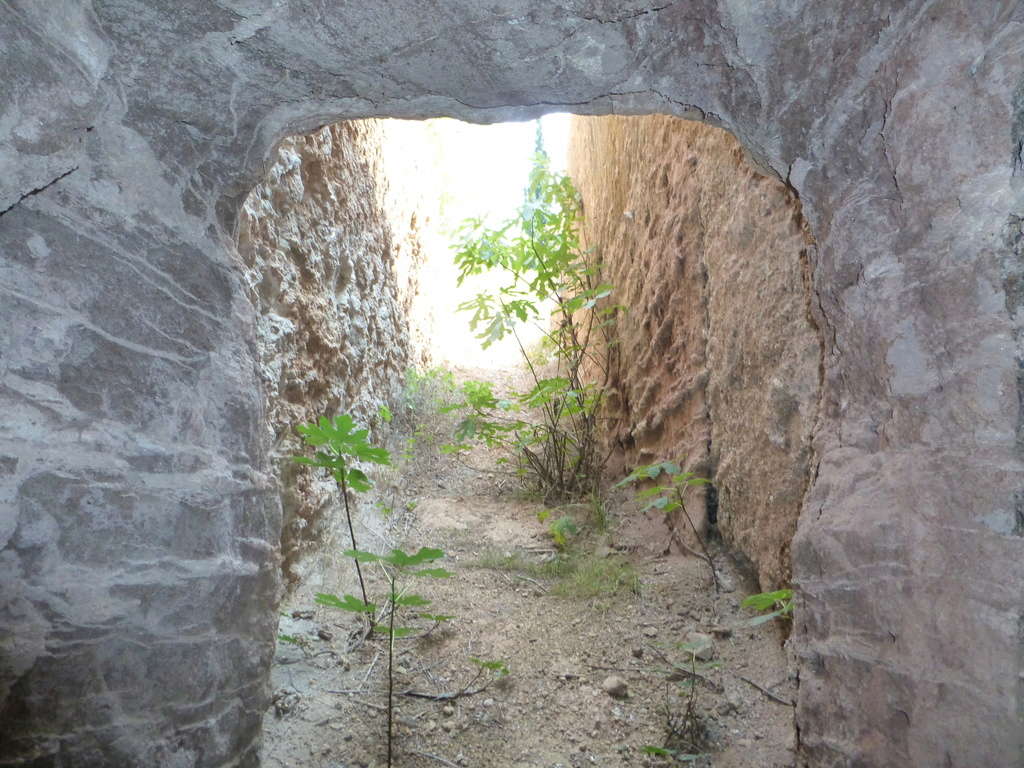 p1180863
There were more tombs above that I hadn't spotted before and one could only access via the steep pathway to the side of the tomb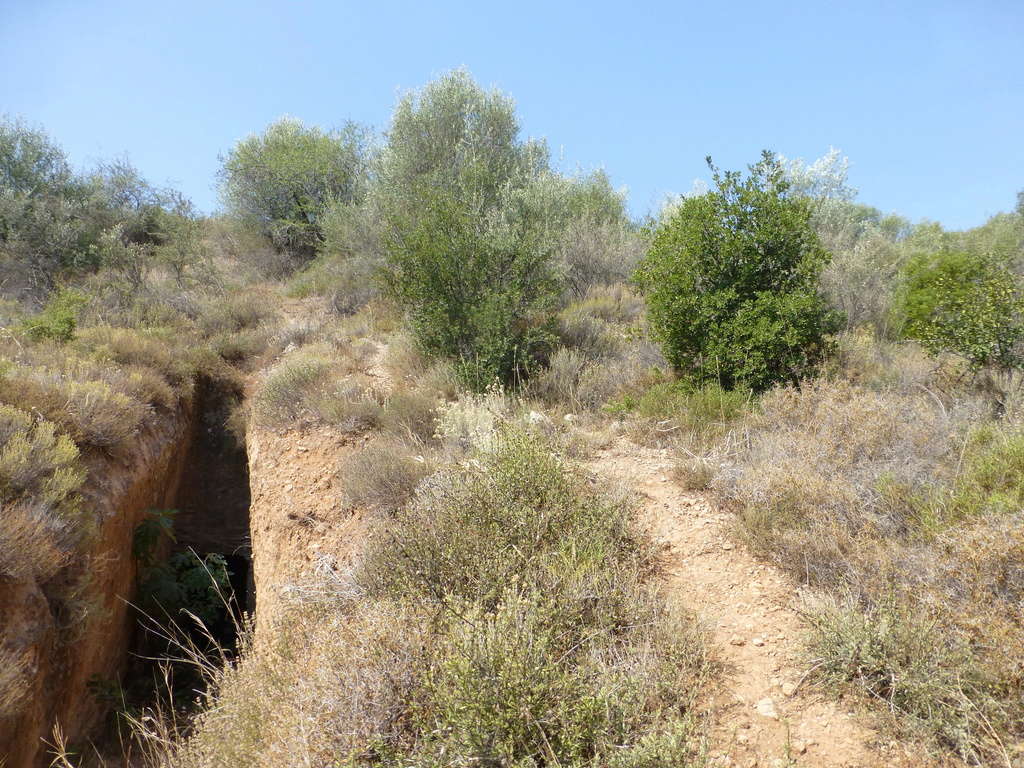 p1180866
and they were steep and slippery, so I put my camera and water in my pockets so I could hang on to the long grasses to get up and down them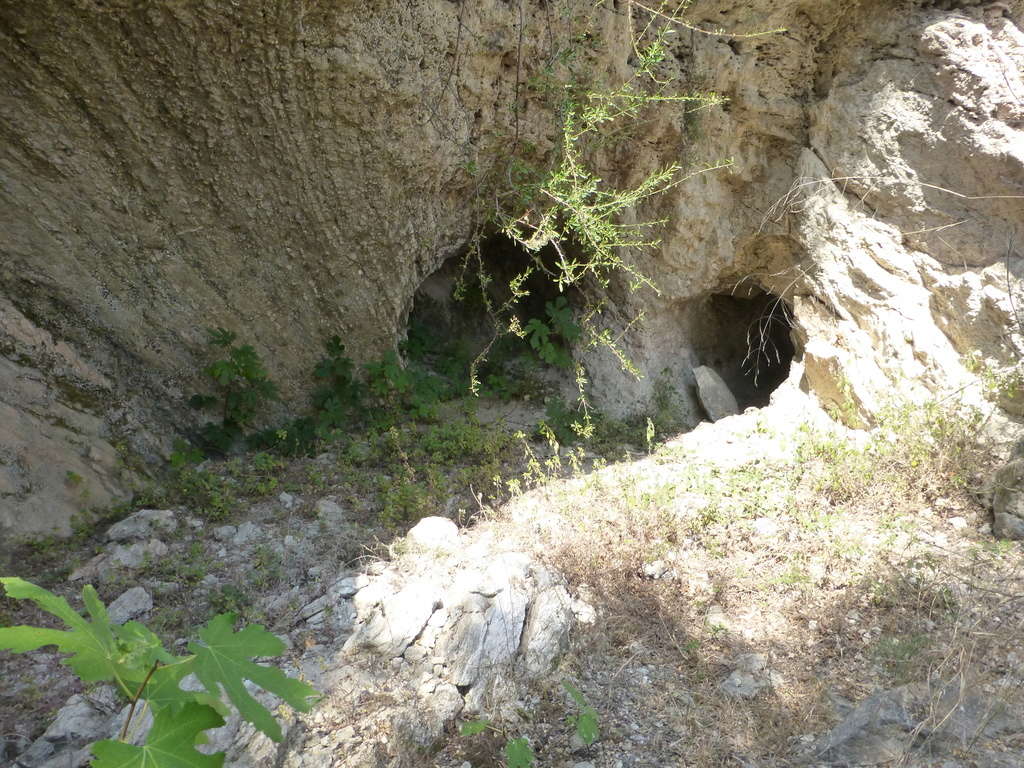 p1180869
These tombs have be excavated in the 1920's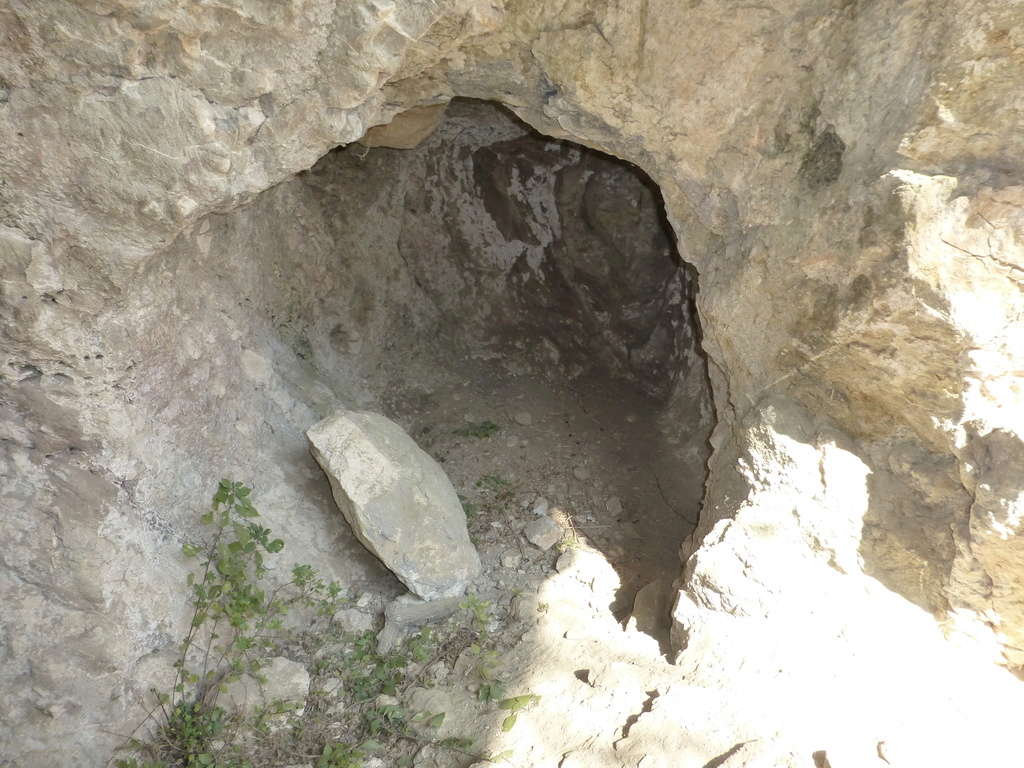 p1180870
and there has been much excavation activity on Barbouna Hill since in the seventies
p1180872
and this was my only view I could get of the ancient city of Assni from my long range camera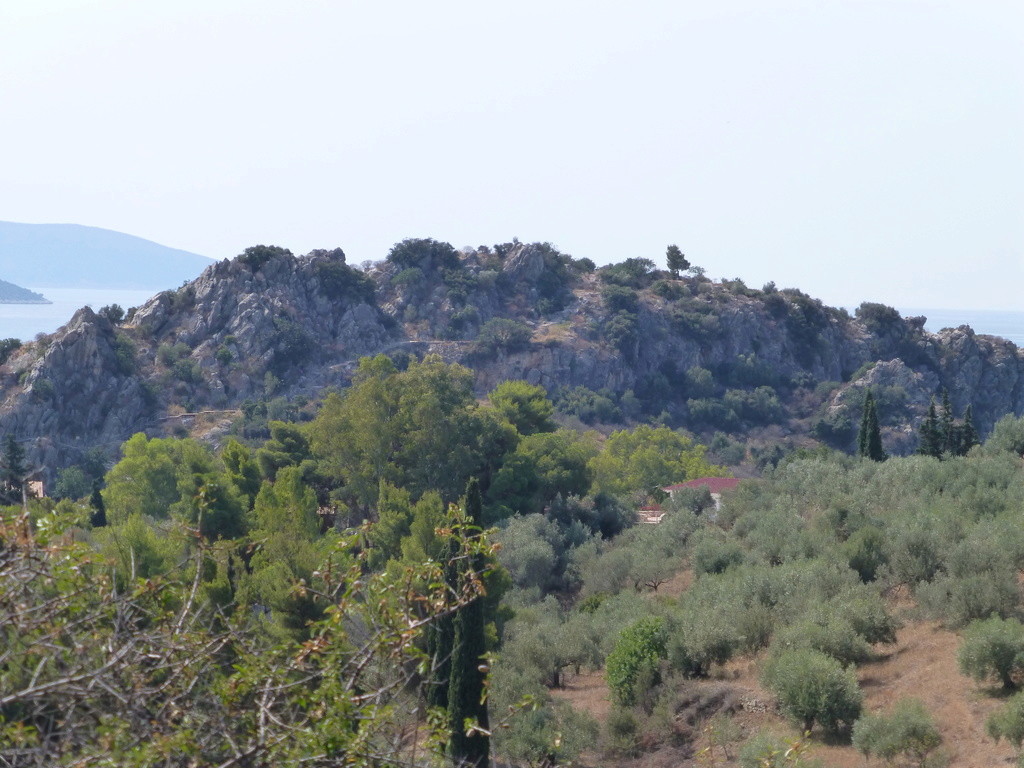 p1180854
So happy that I had achieve something I headed to the taverna near the ancient city site for a beer
it was lovely a cold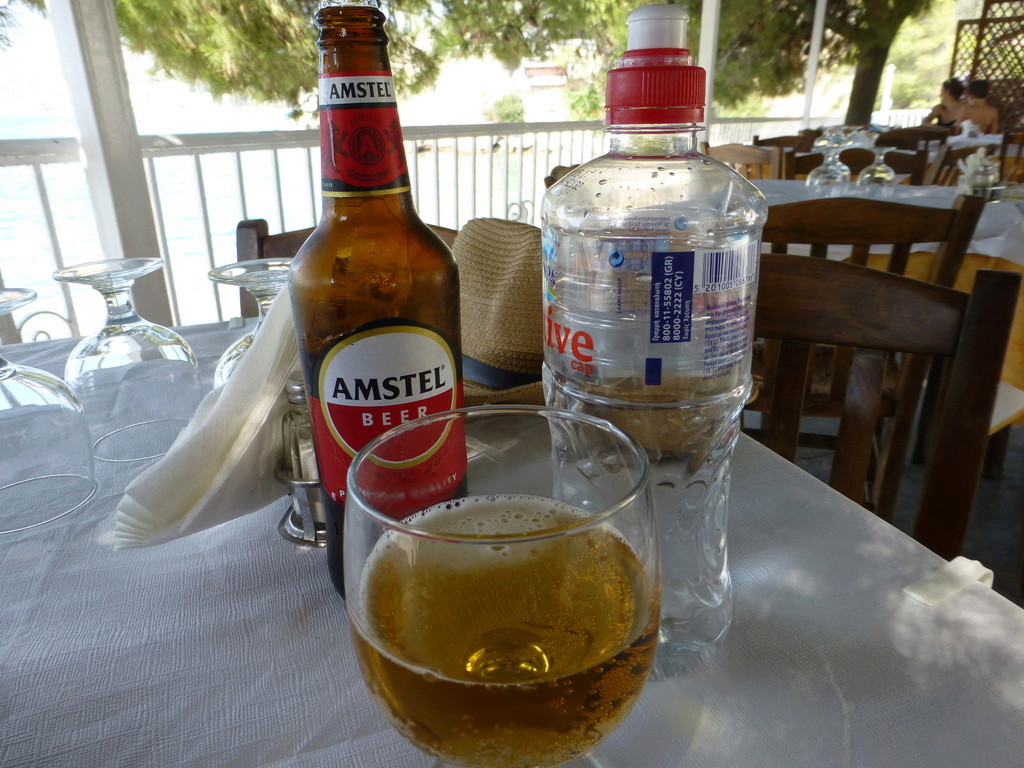 p1180883
but when I got up to pay for it I had no money, the ancestors in the tombs had used their curse and had taken my 10€ note as admission charges lol. So now I had to explain to the lady in the tavern I had lost my money and that I would return tomorrow to pay for the beer. She was very nice about it and I was full of apologies. What had happened was the small water bottle in my pocket had stuck the note to it and on pulling it out the note disappeared into the tombs area.
So if you are reading this, there is treasure in those hills and if you find a 10€ note do have a pint or two on me lol
lunch (and paid for) was at our own hotel taverna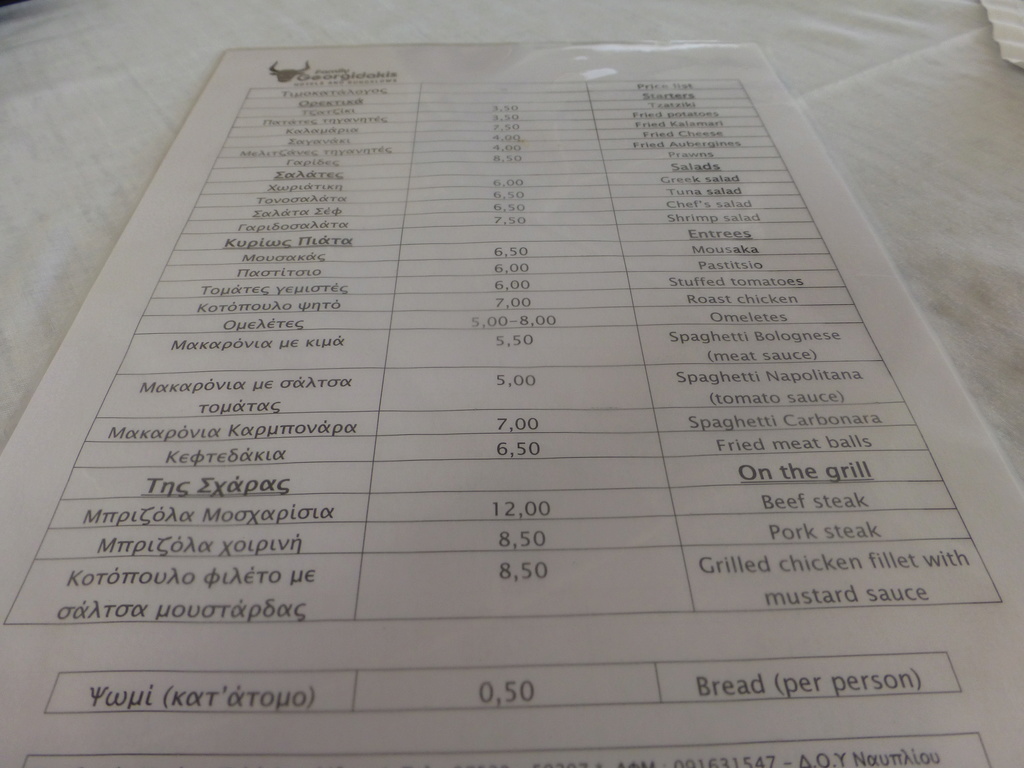 p1180885
iced glasses here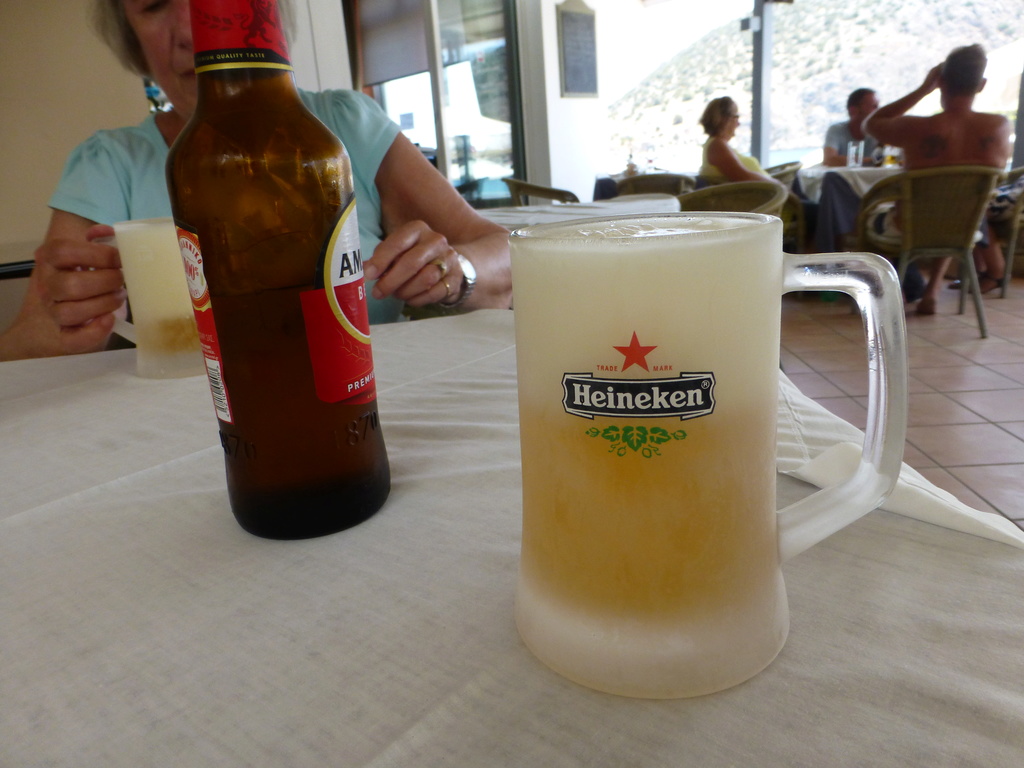 p1180886
Mrs Db had her toastie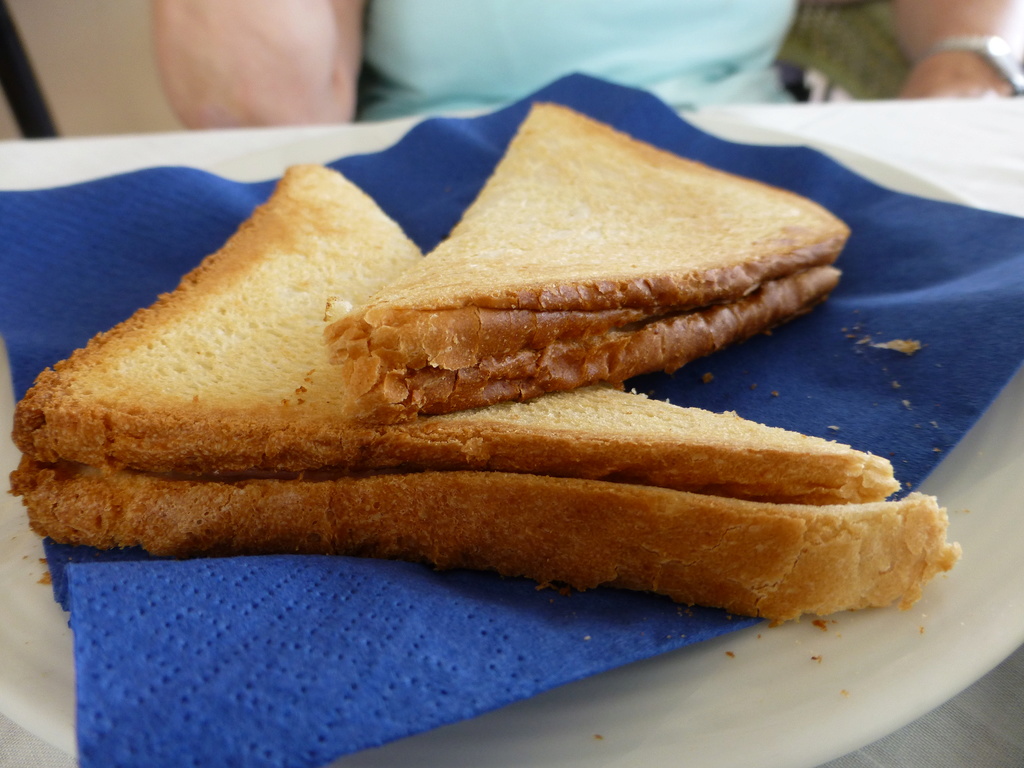 p1180887
And I had a tuna salad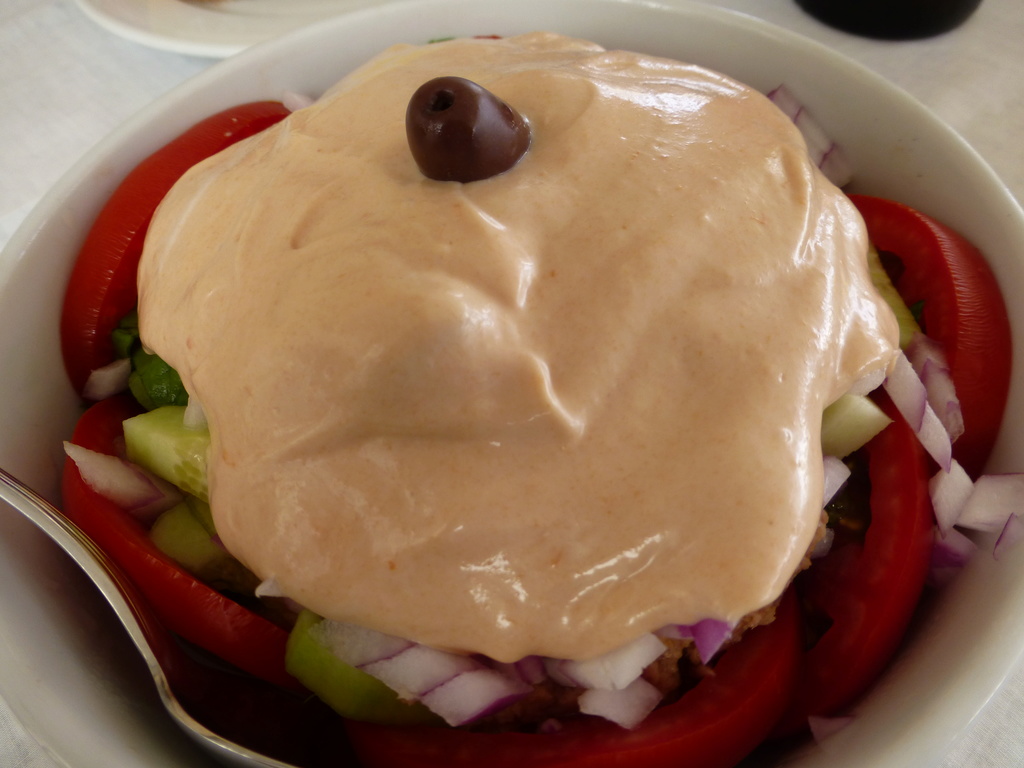 p1180888
with a relaxing afternoon on the beach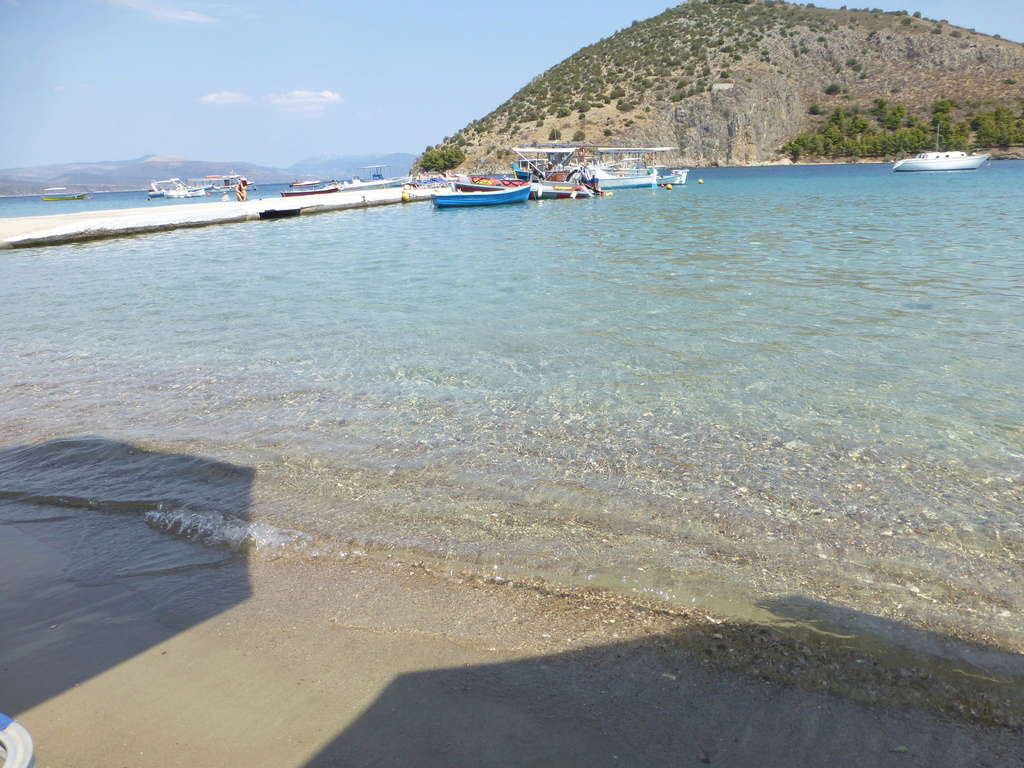 p1180889
this evening we decided to try the taverna's in the town and chose the Tisiras Tavern as it had part sea view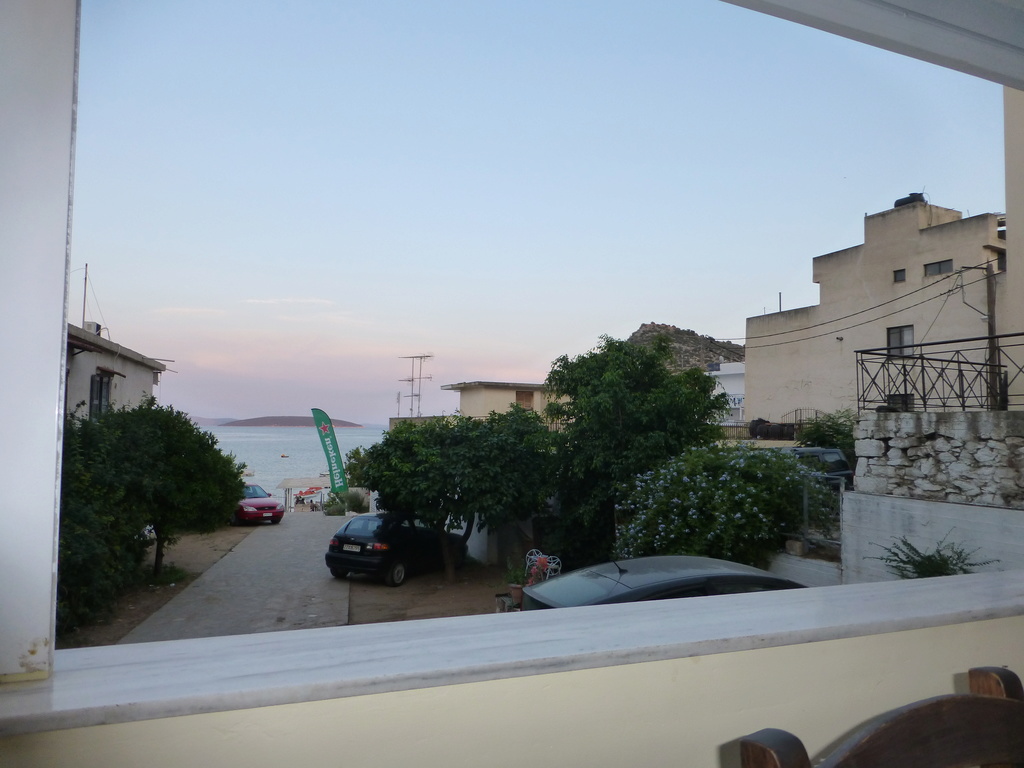 p1180893
The waiter suggested the beef Stifado was a good choice so we both decided to try it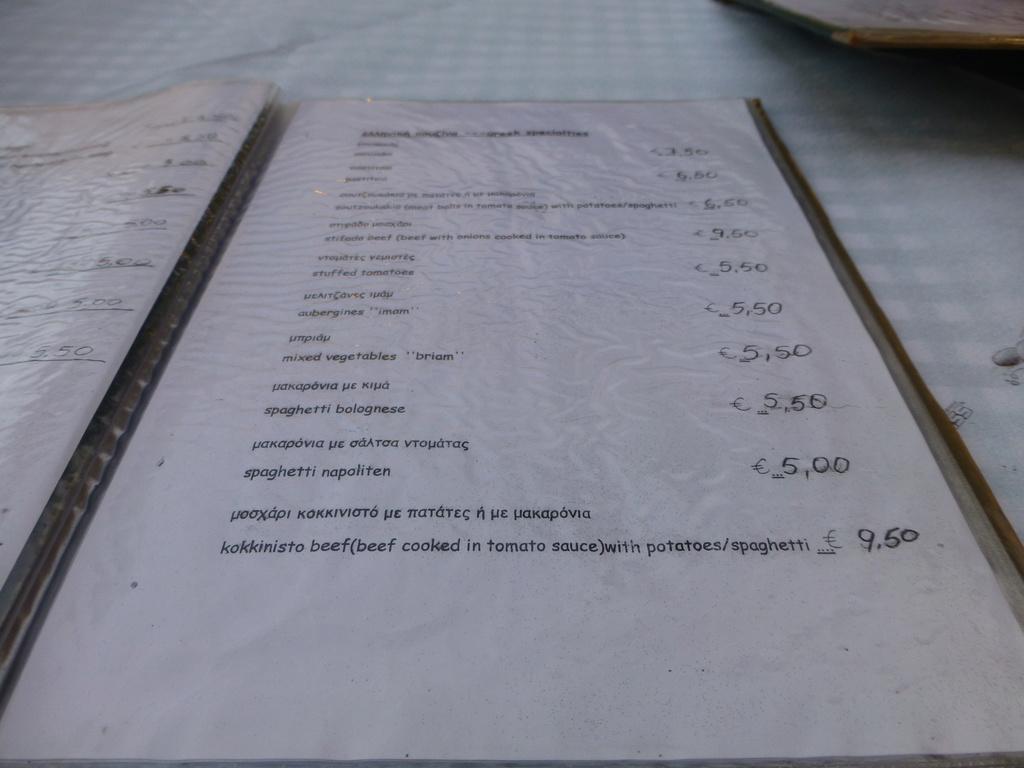 p1180892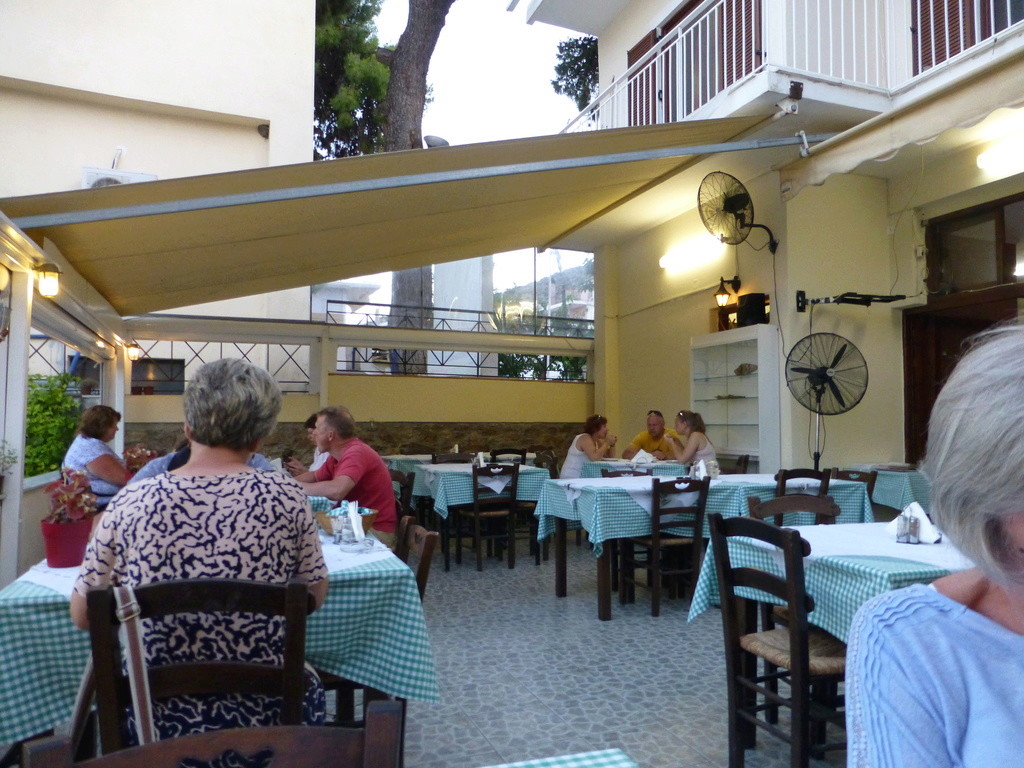 p1180894
and it was so delicious, the flavours were the best we have had trying this dish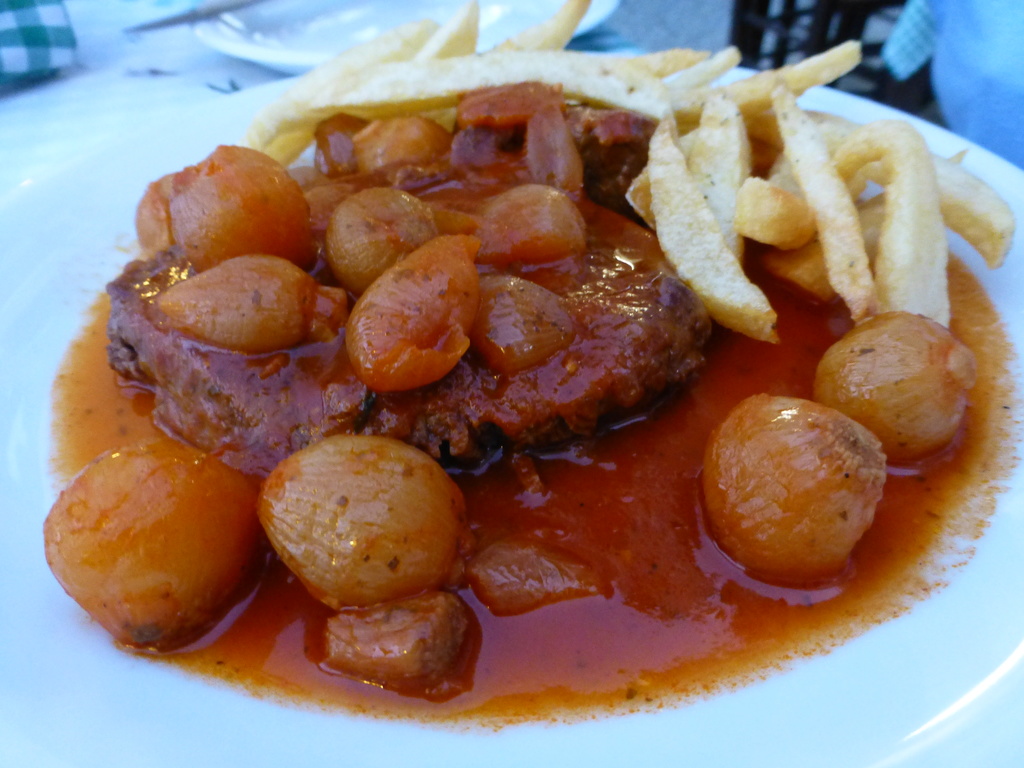 p1180897
END OF DAY 11
...........................................................................
Thursday Day 12
A more orange glow in the sky this morning and we had an early breakfast
as I was going into Nafplio to see what it was like as people have talked well of the place, the bus fare is 1.80€ at this time of writing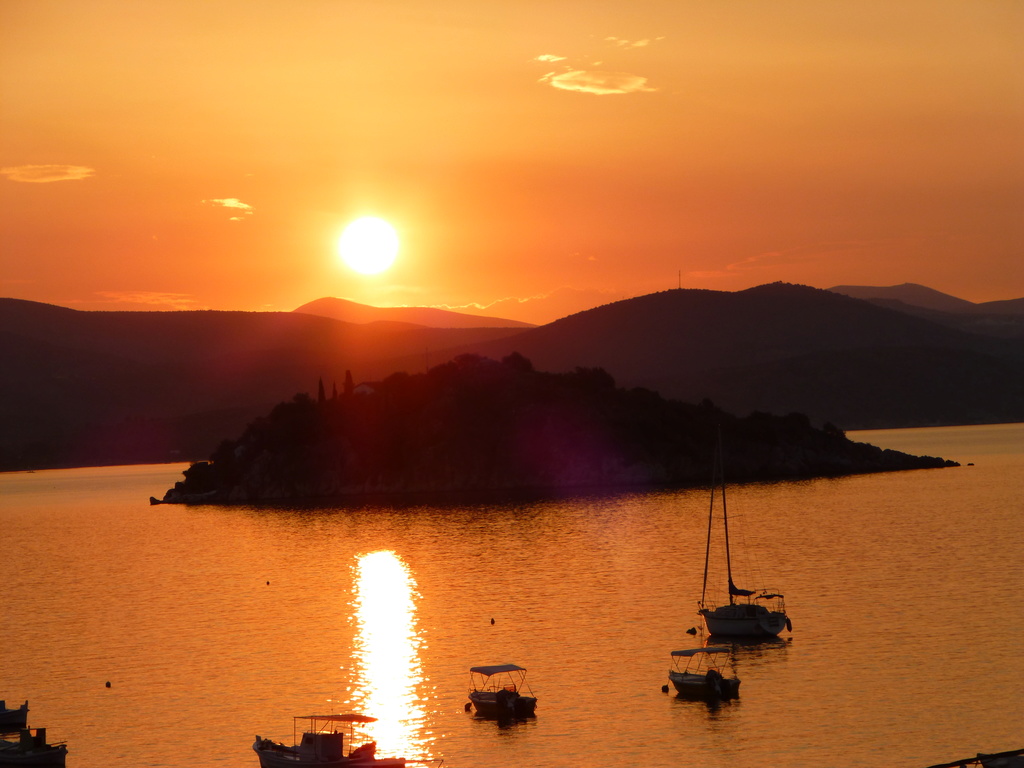 p1180898
most of the hotels and tavernas look after their piece of beach in front and a guy on a moped pulls a chain behind to rake over the beach in front of our hotel
p1180902
The bus for our end of town stops at the car park above the beach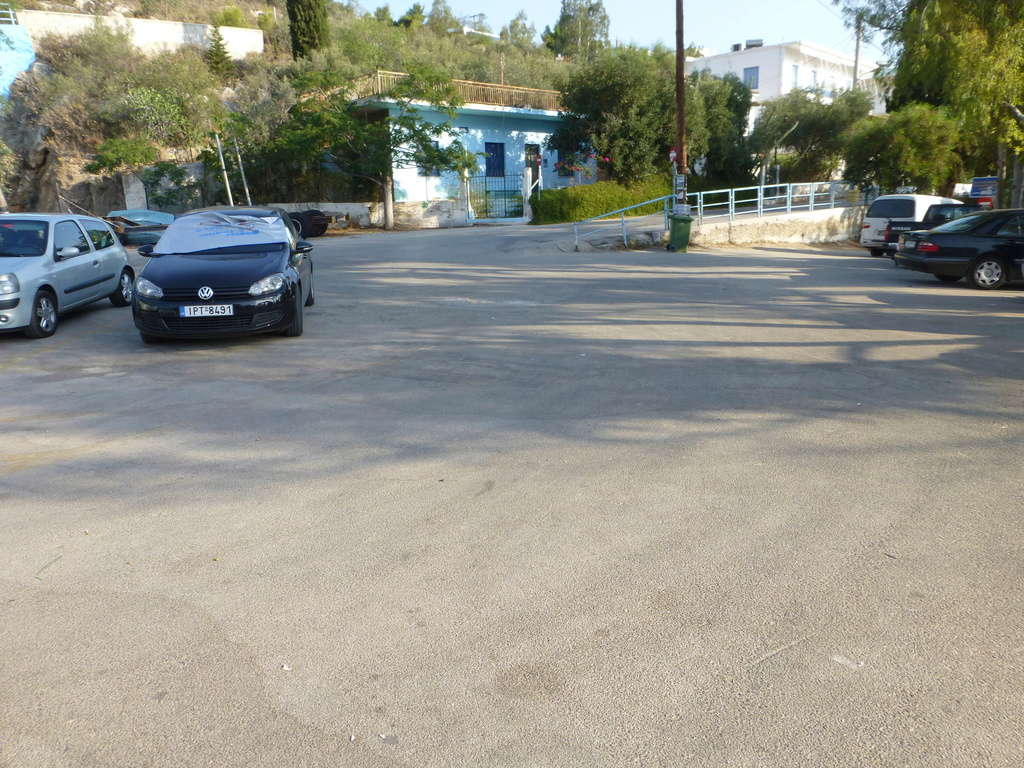 p1180903
at Nafplio the bus stops at the Garage
p1180905
However, one has to get the bus for the return journey around the corner, where the white bus is now. The Fortress of Palamidi is behind and I understand one can catch a taxi to the top or walk up the steps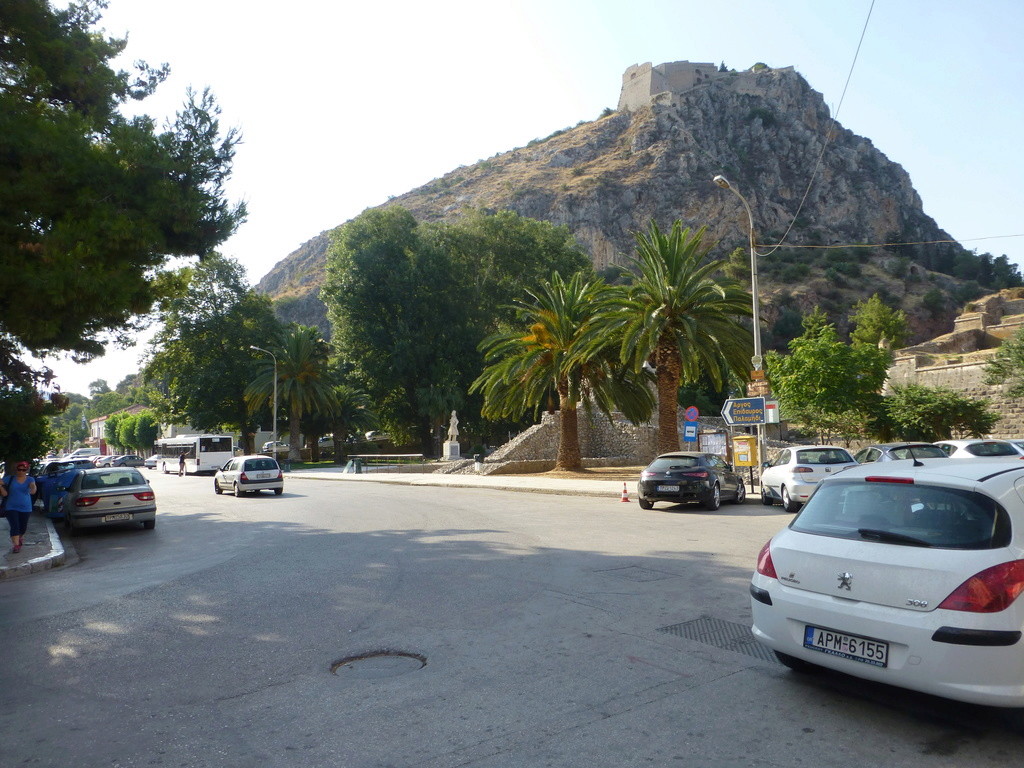 p1180906
It was suggested by an more experience couple at the bus stop that walking through the old town was well worth while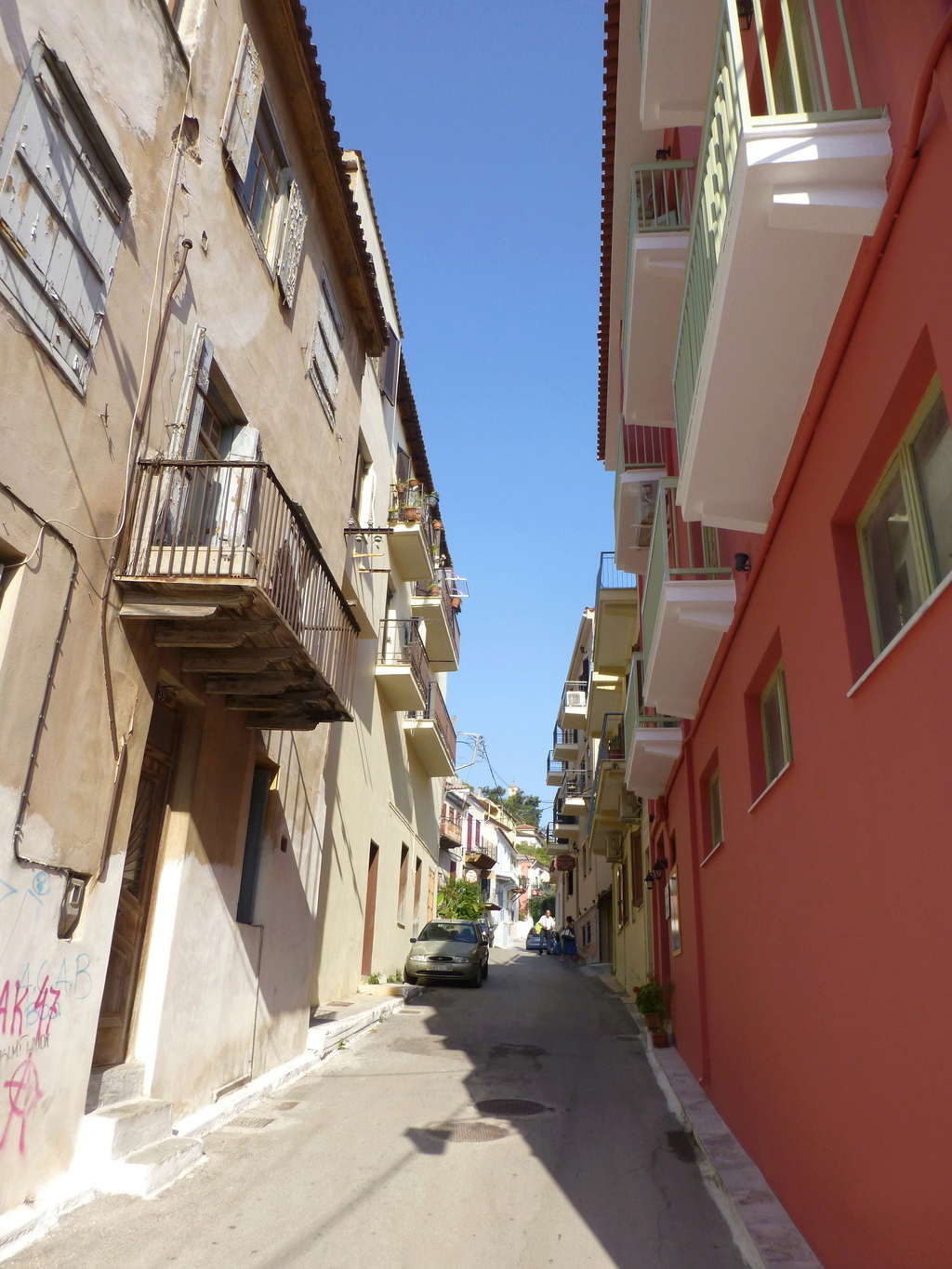 p1180909
However, it wasn't long before Delboy found he was climbing steps again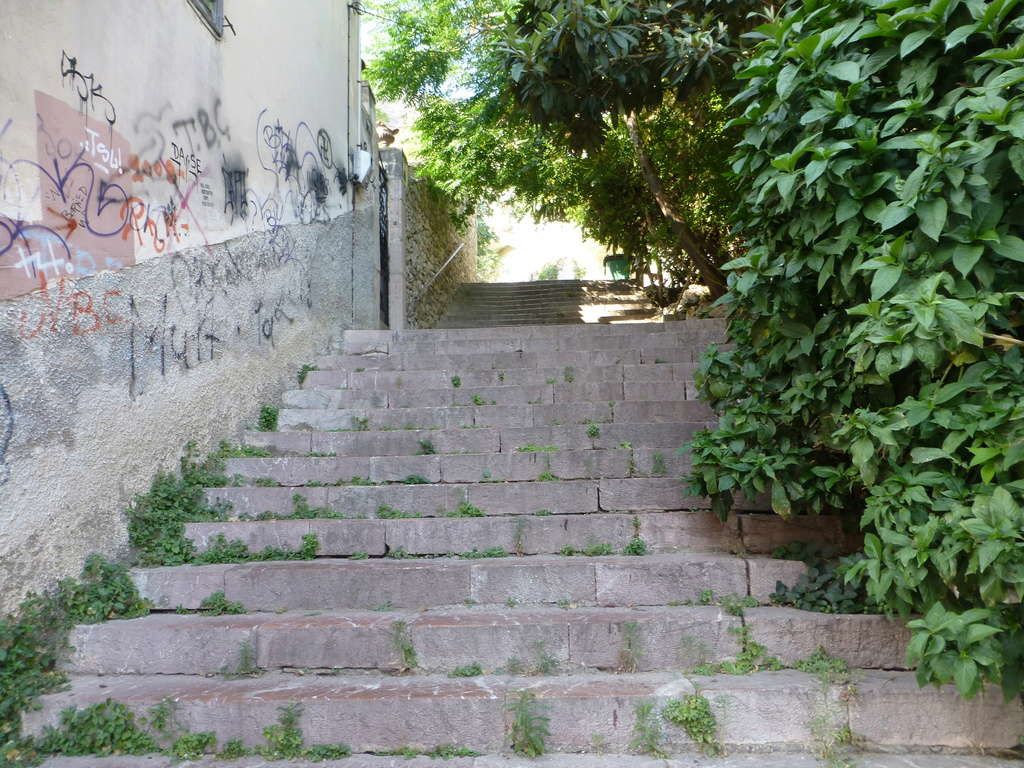 p1180910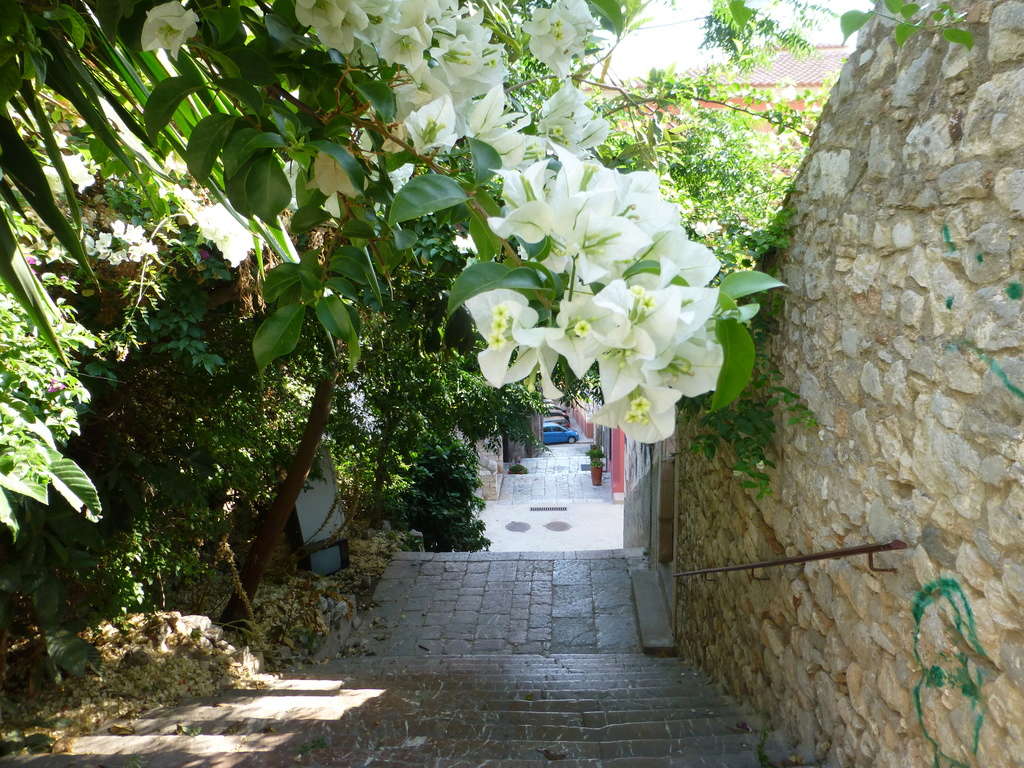 p1180911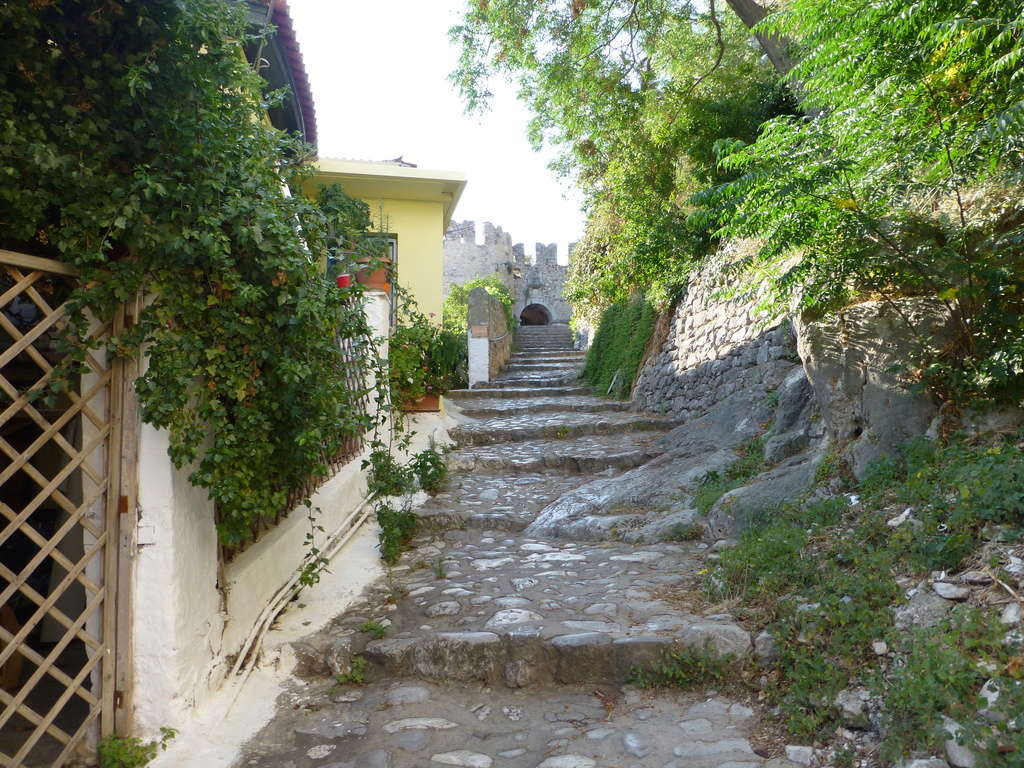 p1180912
And then found I was entering another fortress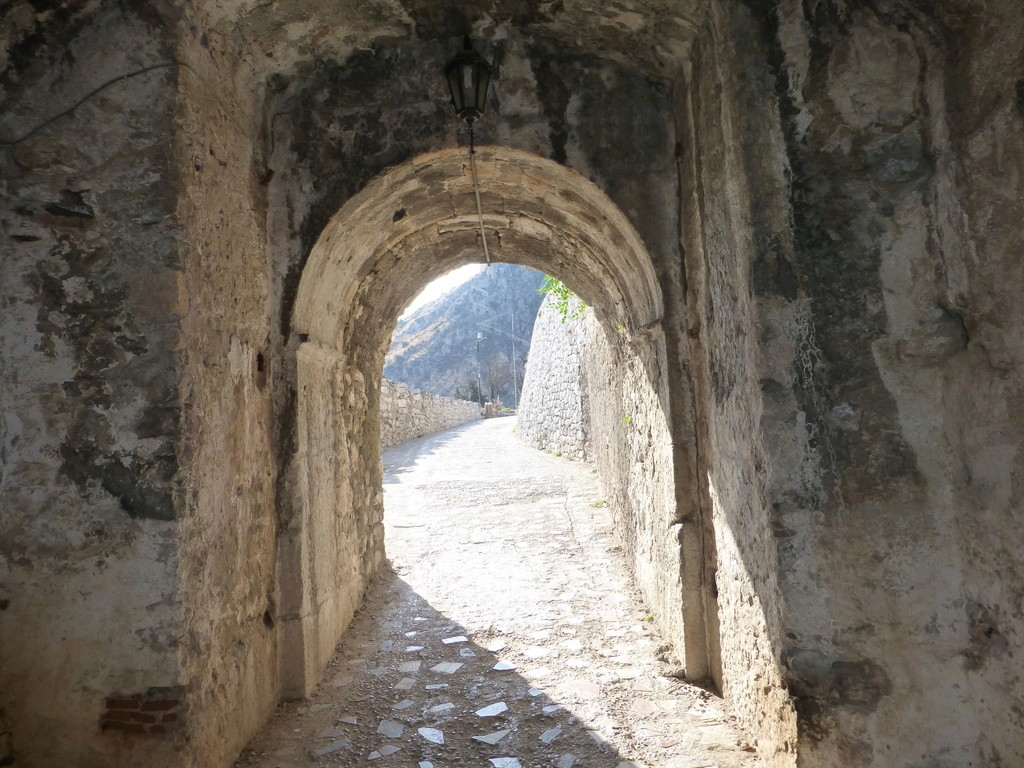 p1180913
overlooking the sea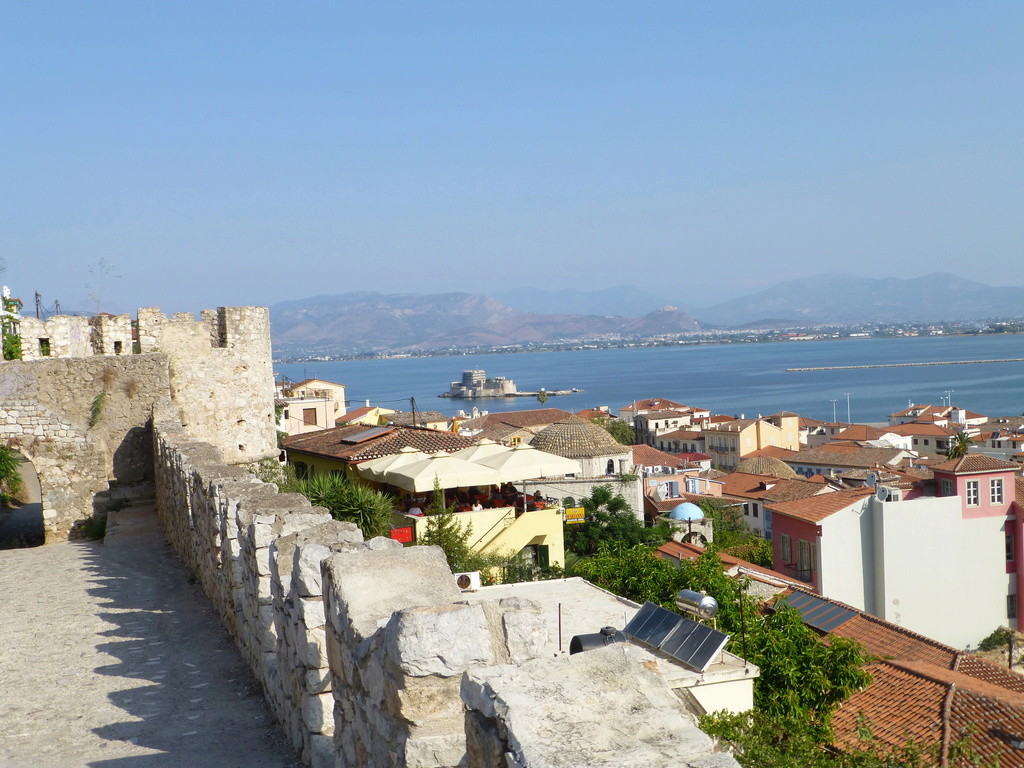 p1180915
with a further fortress in the sea, shame it has scaffolding around it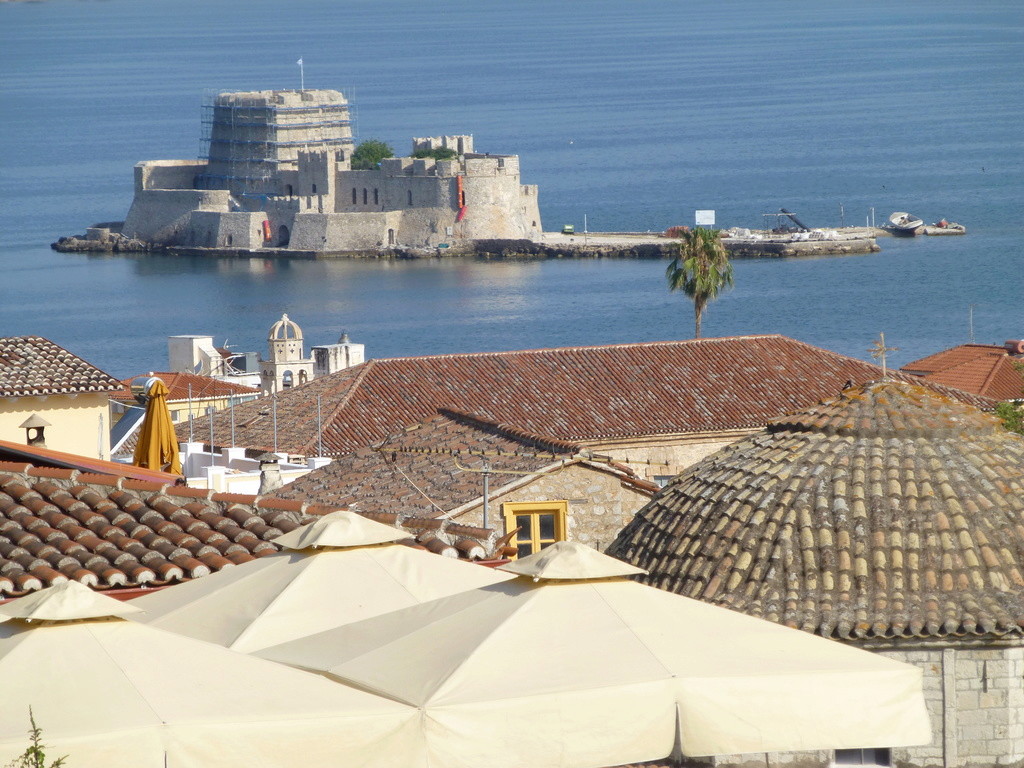 p1180916
ruins around this fort which are also being slowly repaired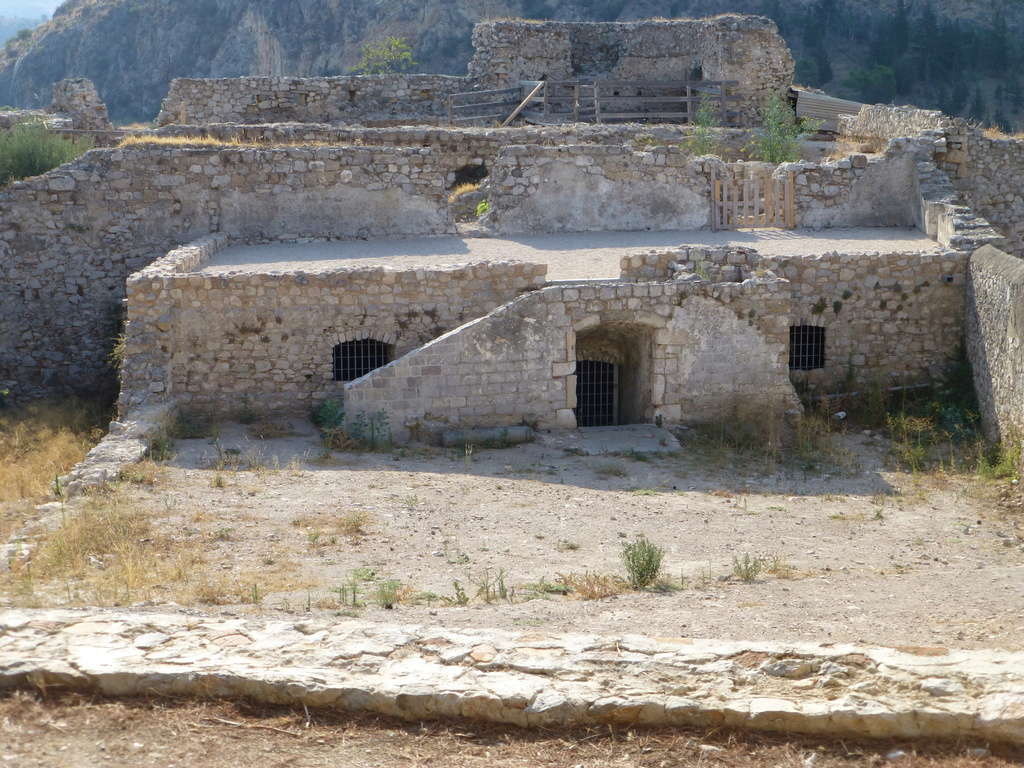 p1180918
a view of the old town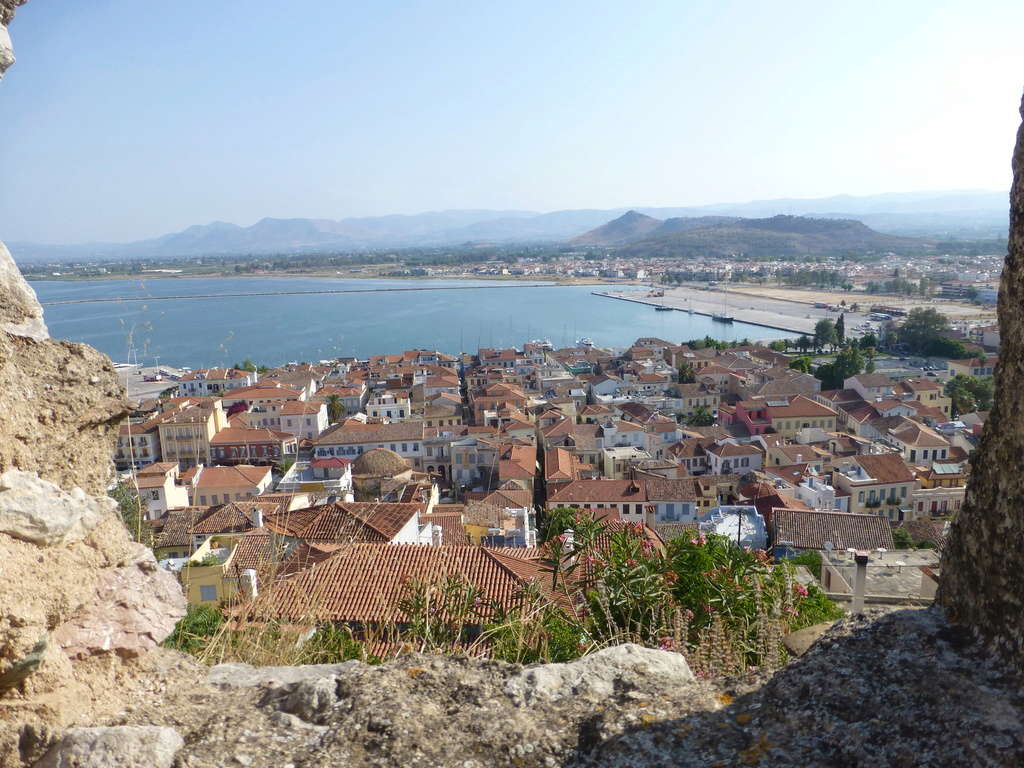 p1180921
at the far end of the castle /fort road was a car tuning circle and a helicopter landing circle inside it, with banks of cacti plants blocking any further routes
nice of you to ask, yes I'm ok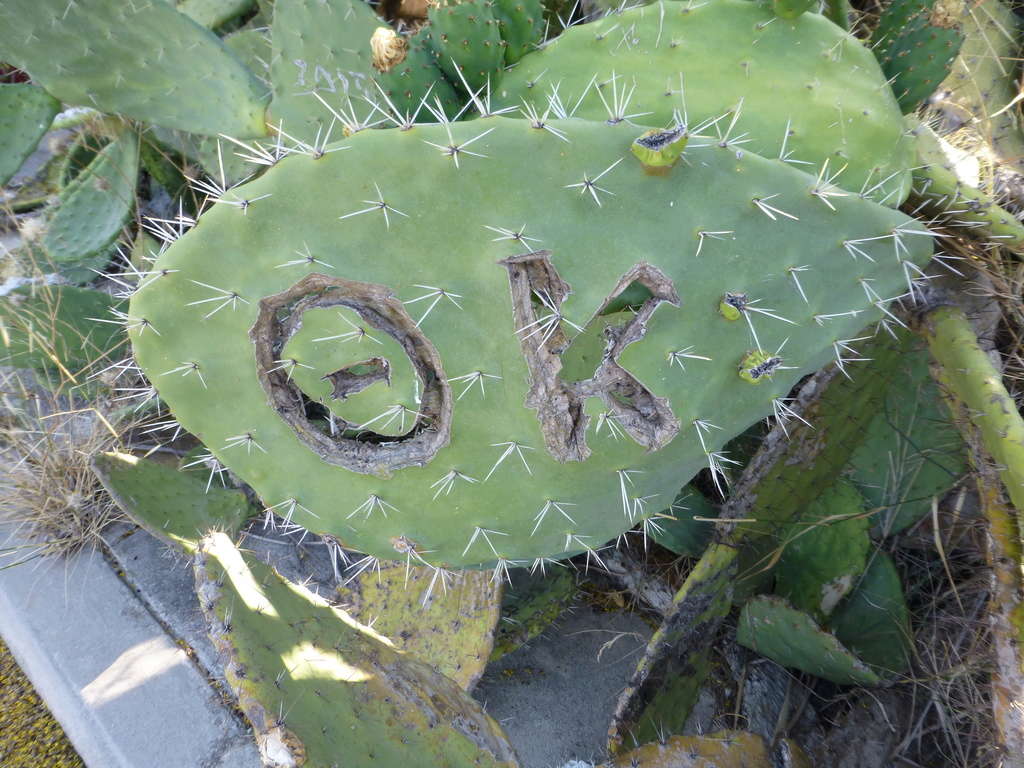 p1180929
walking back towards the Fortress of Palamidi it looks far more arduous to climb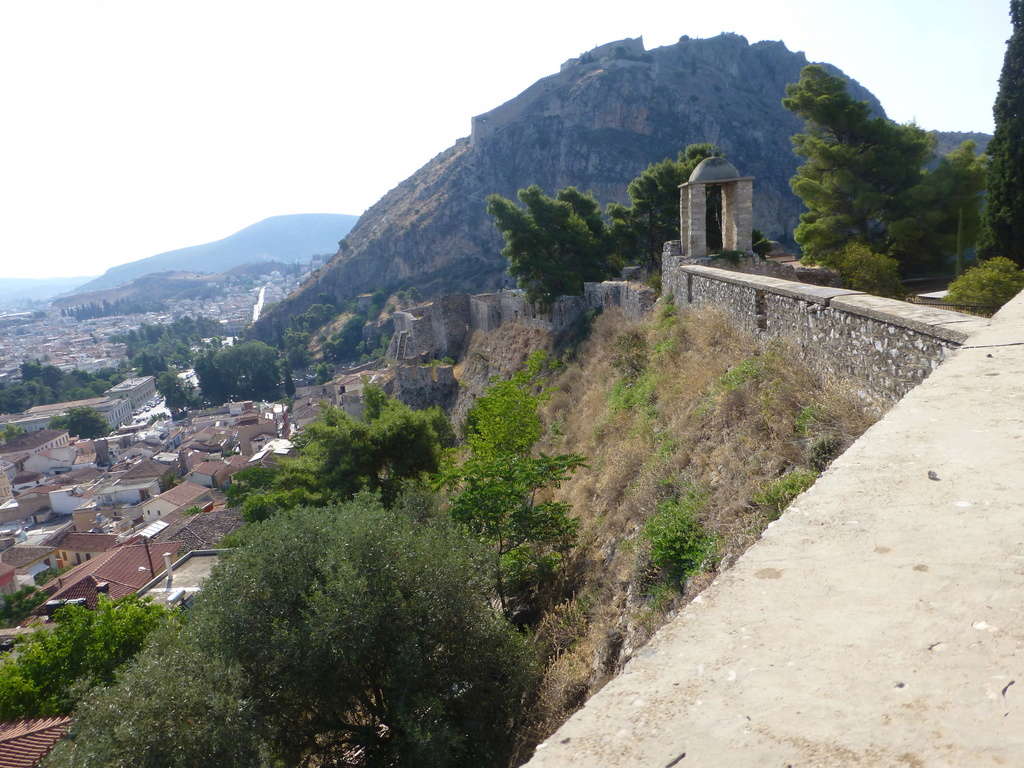 p1180931
but still quite a lot to see around here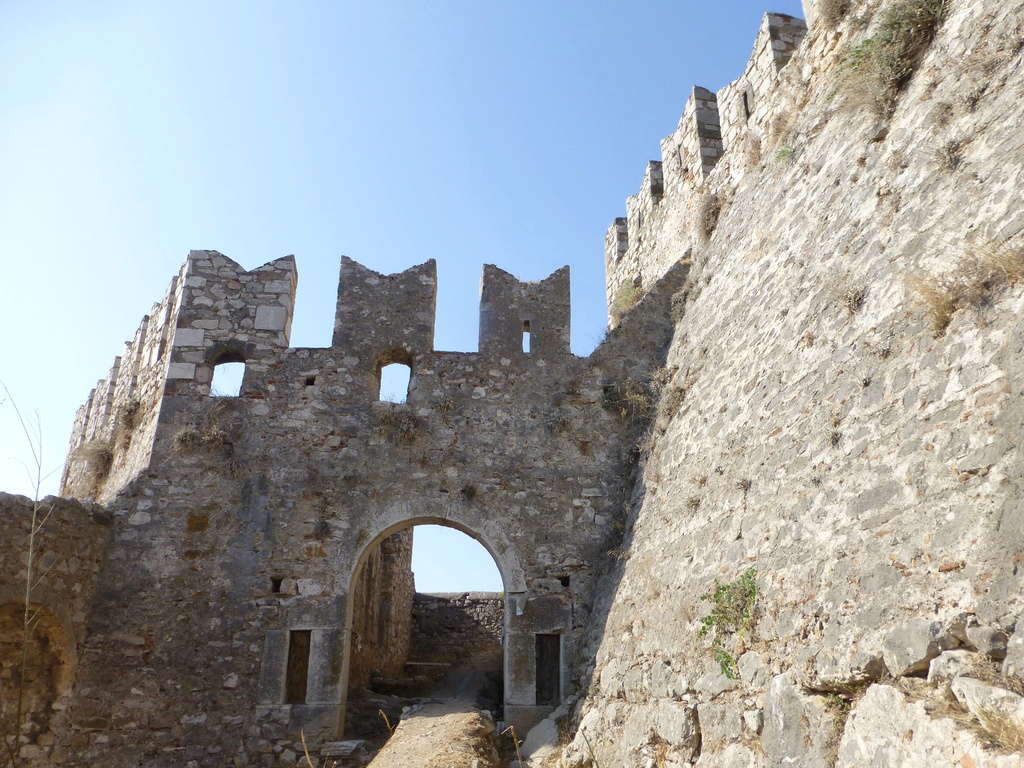 p1180933
and only about 400 metres to the beach lol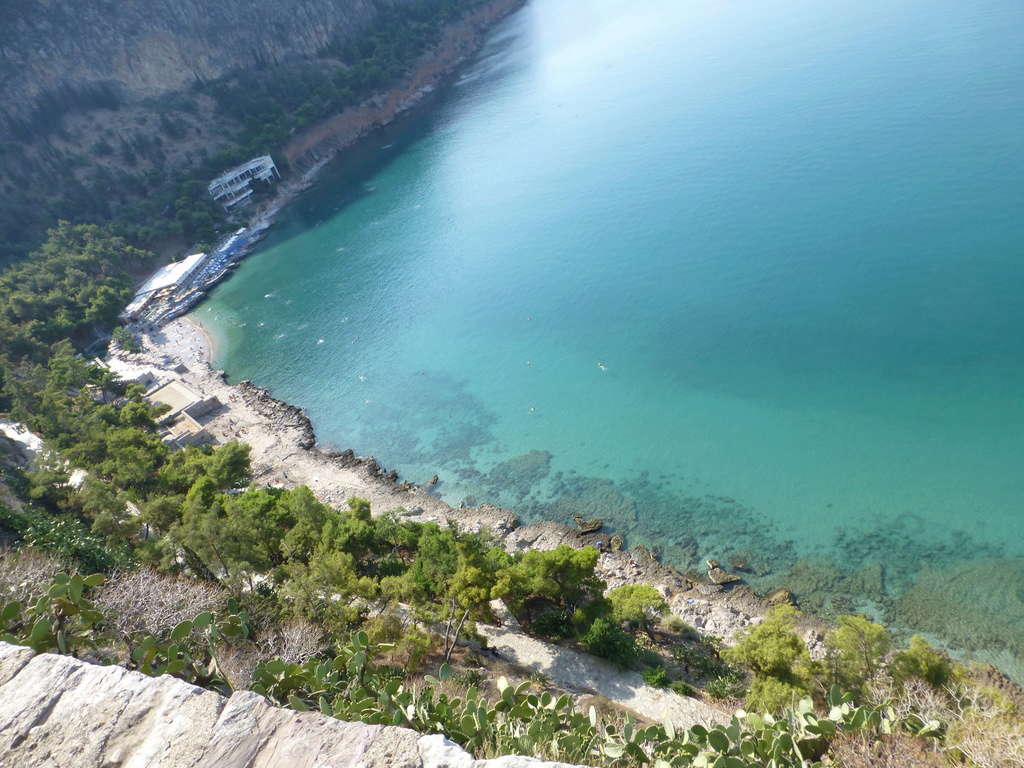 p1180941
making my way out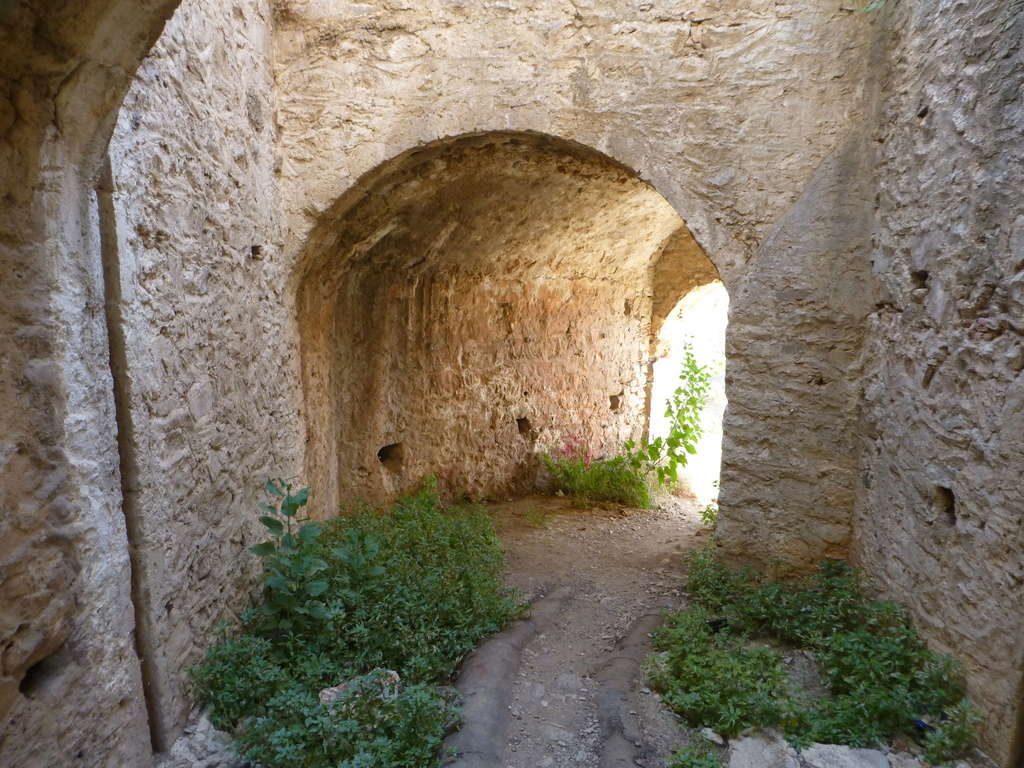 p1180943
so a little walk back through the old town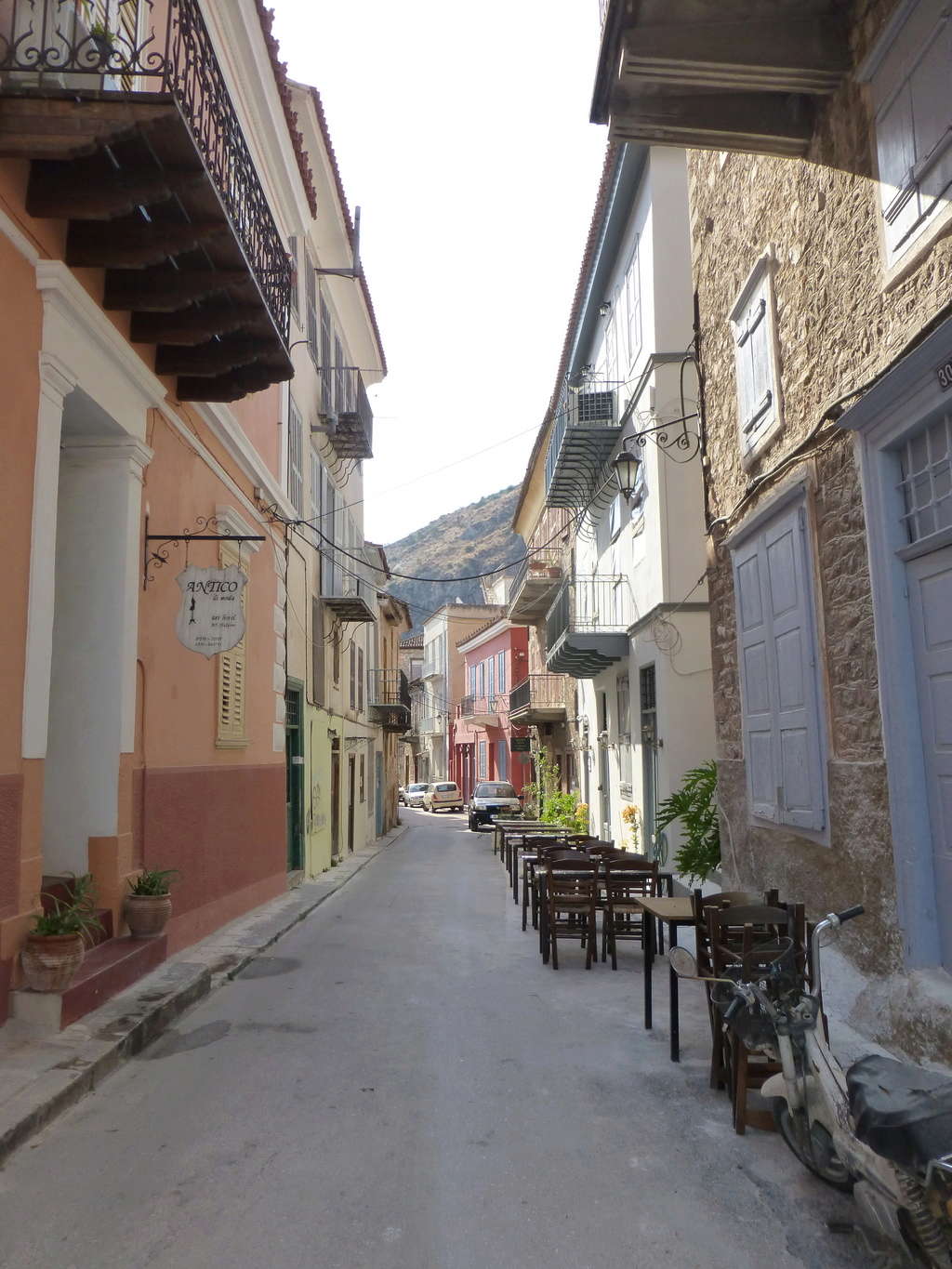 p1180946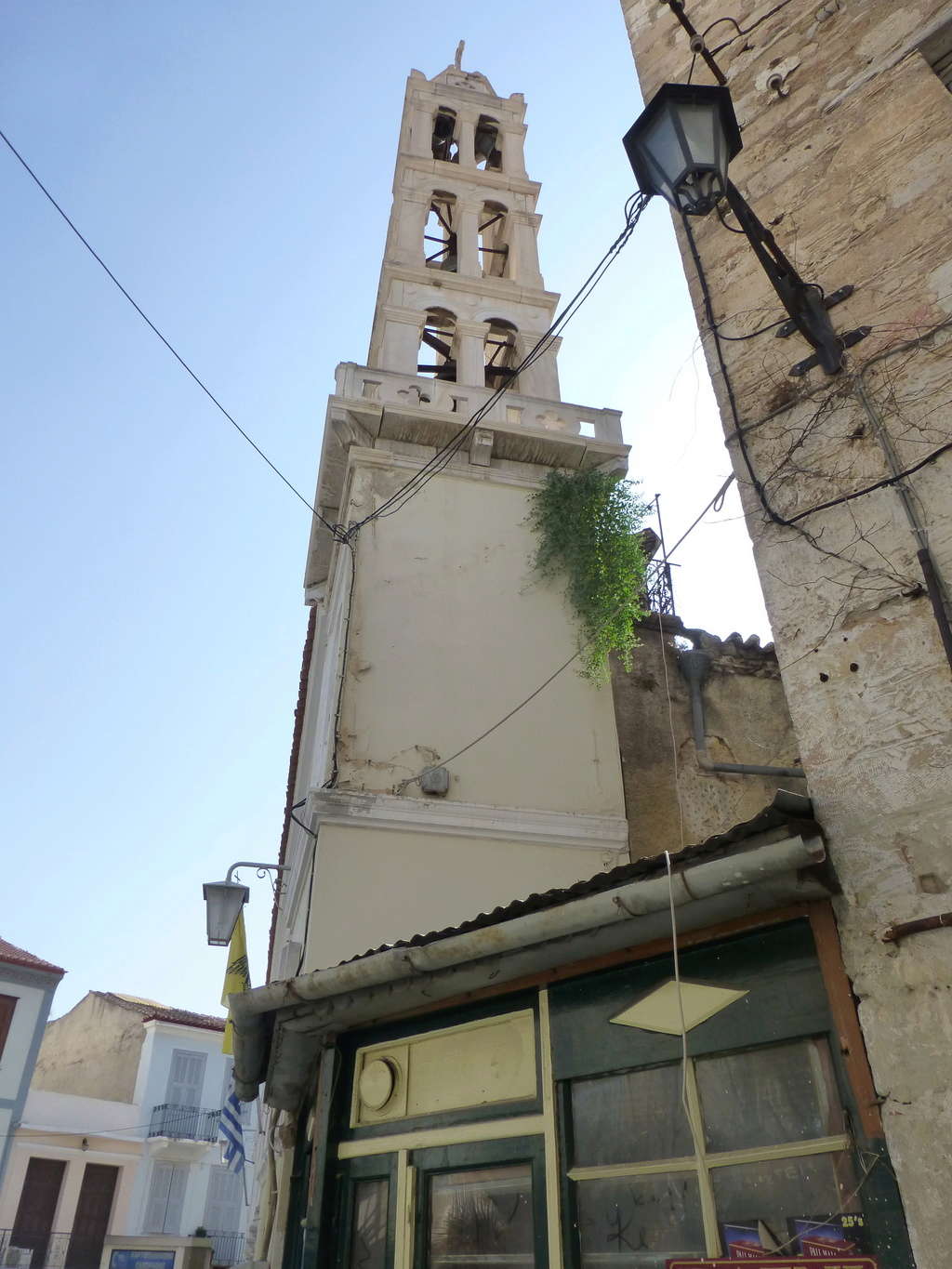 p1180947
arriving at the foot of Fortress Palamidi, Delboy never usually shirks a challenge lol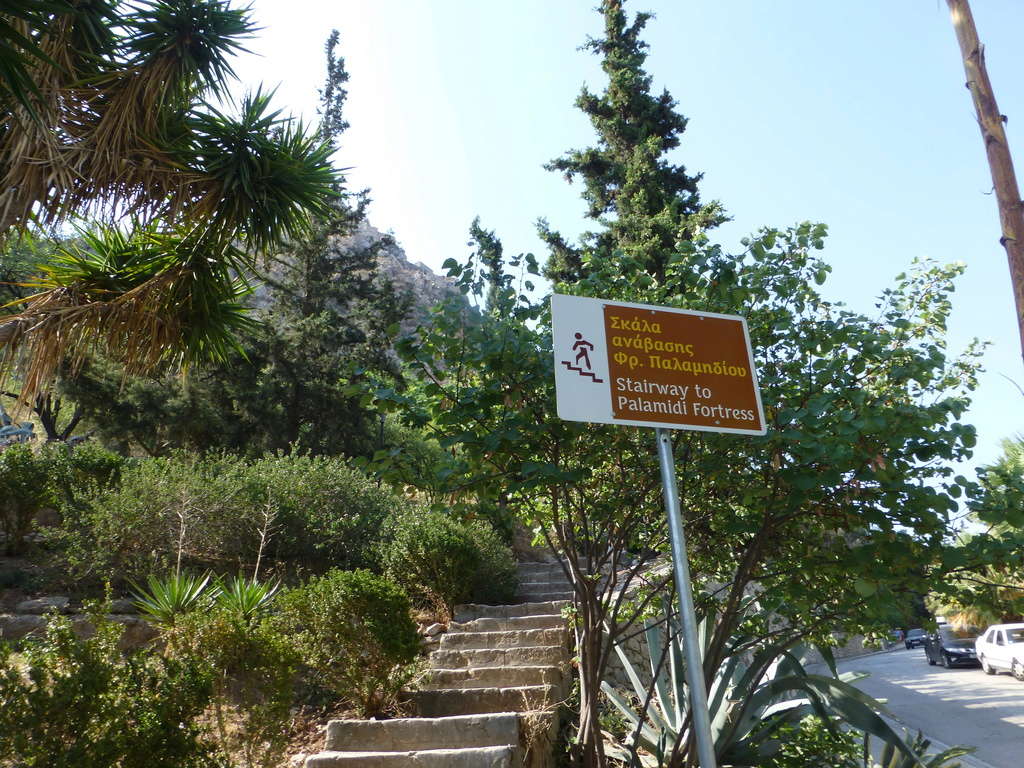 p1180948
This Taverna nicely position below, says 999 steps but I think it is referring to walking down them after going up in a taxi, then having a pint to finish. Now the little church in Mamma Mia film in Skopelos only has 202 steps and the pitch of Pierce Brosnan voice ended up much higher at the top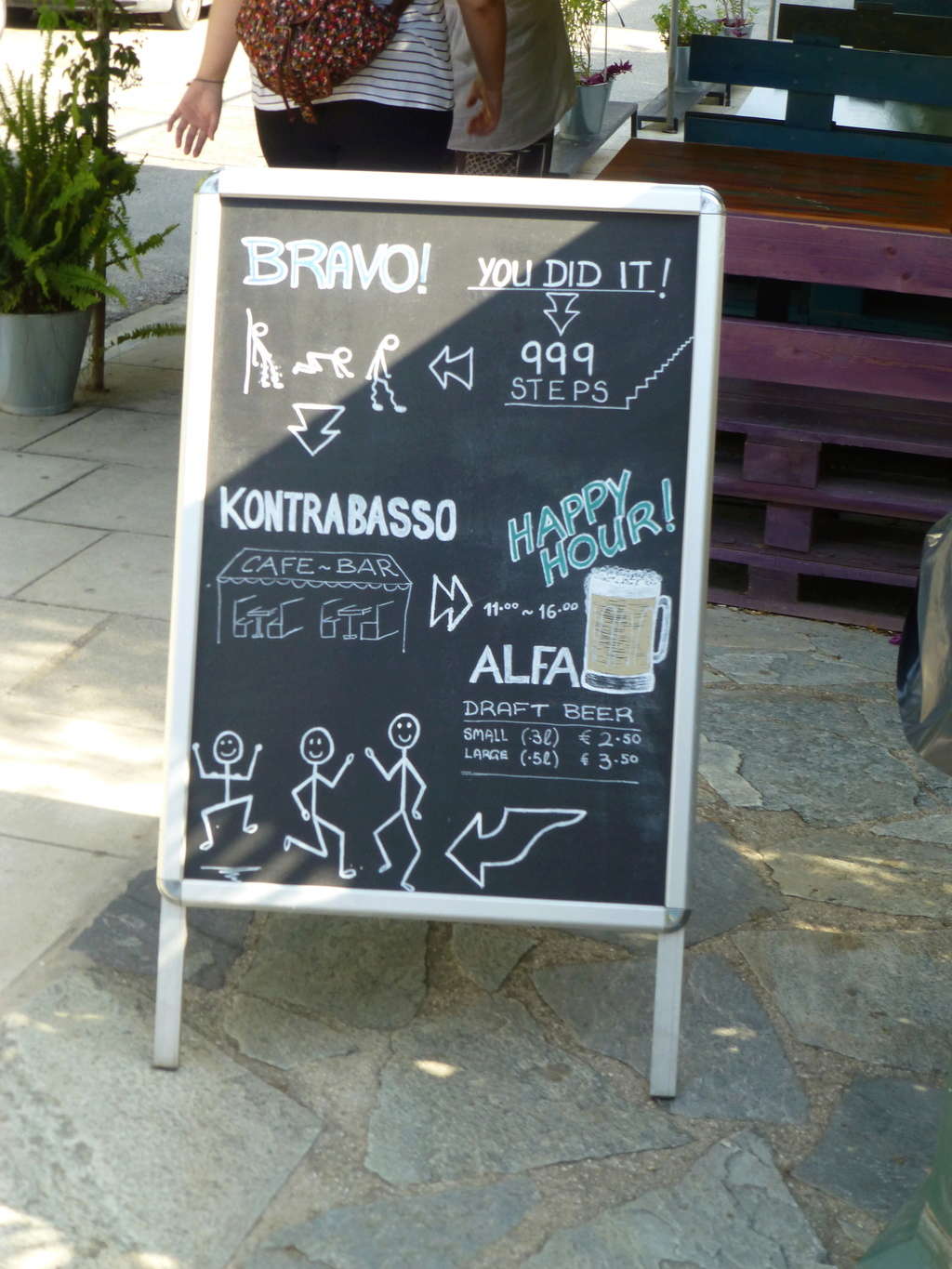 p1180949
Now is there really 999 steps because I'm not going to count them and if I make it I want a recount as it's so near a thousand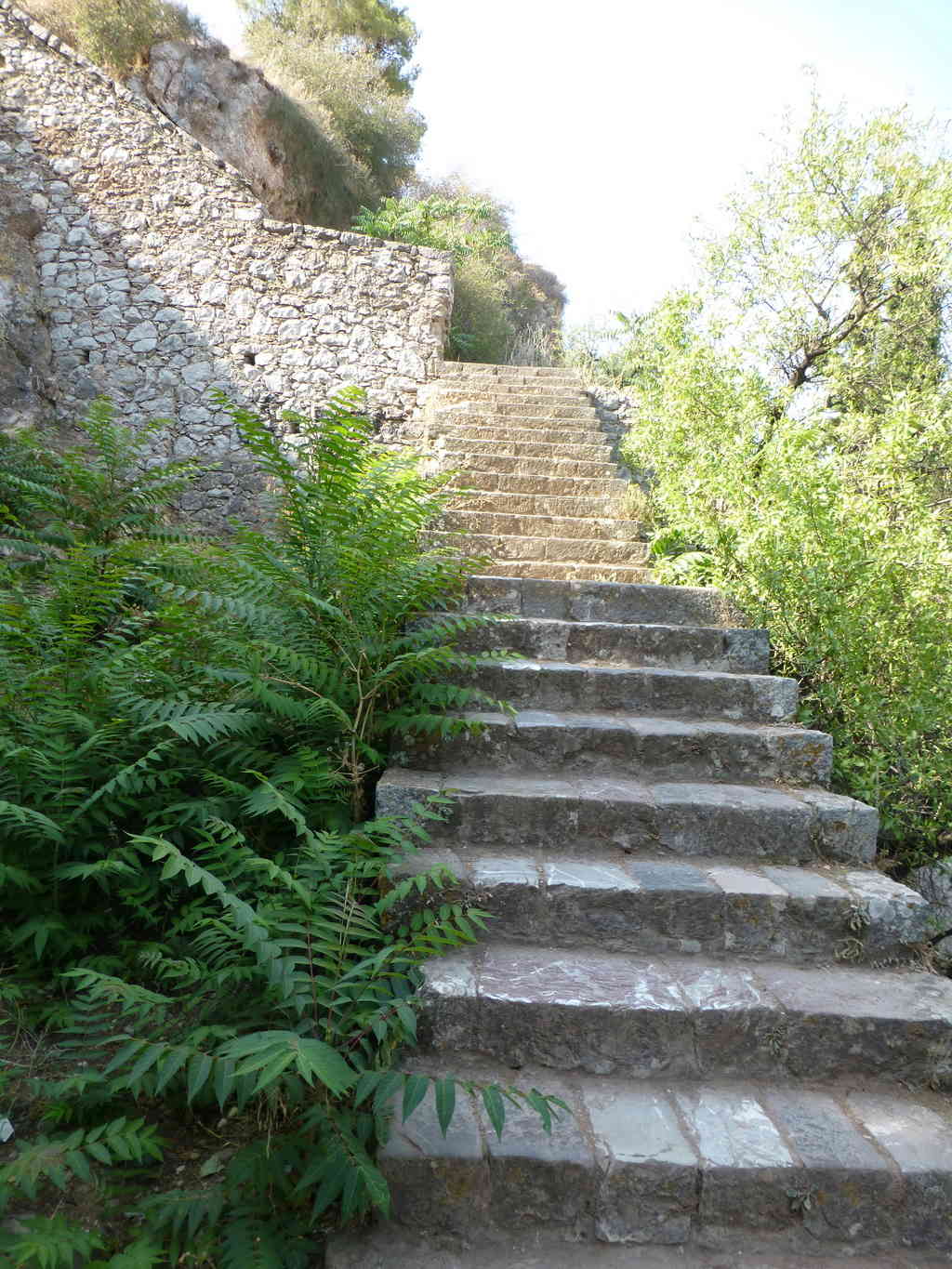 p118950
well I'm not going to photograph every section as I would run out of memory and the camera would too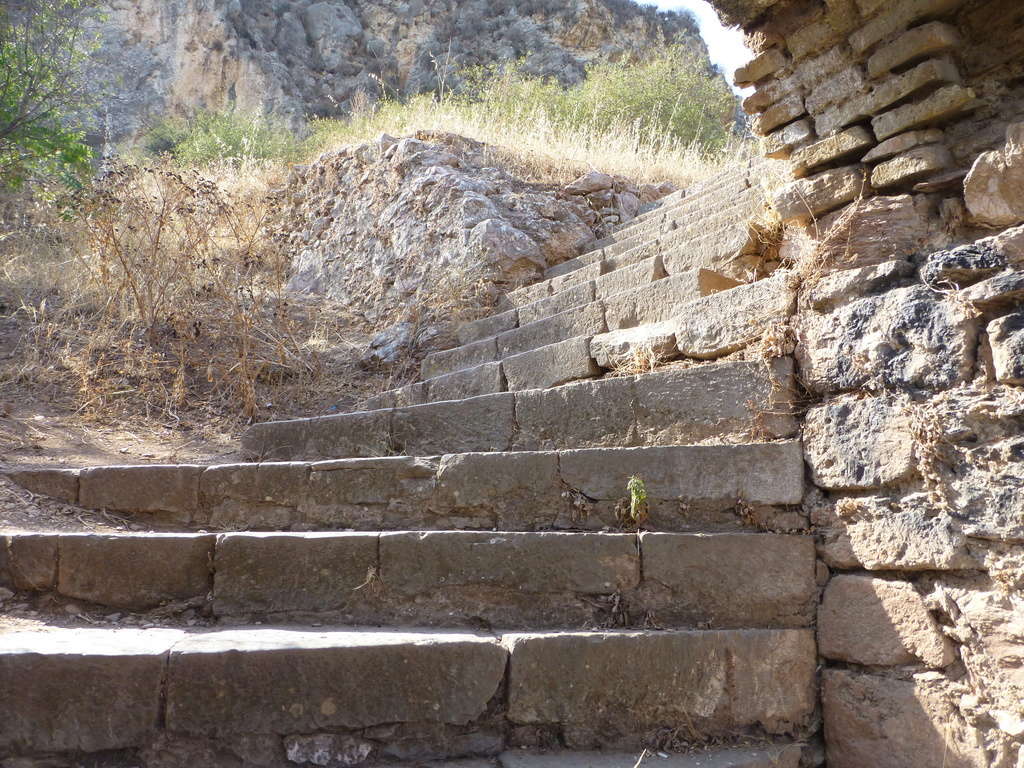 p1180951
now any other fool who attempts this please take plenty of water as there are no facilities at the top or halfway either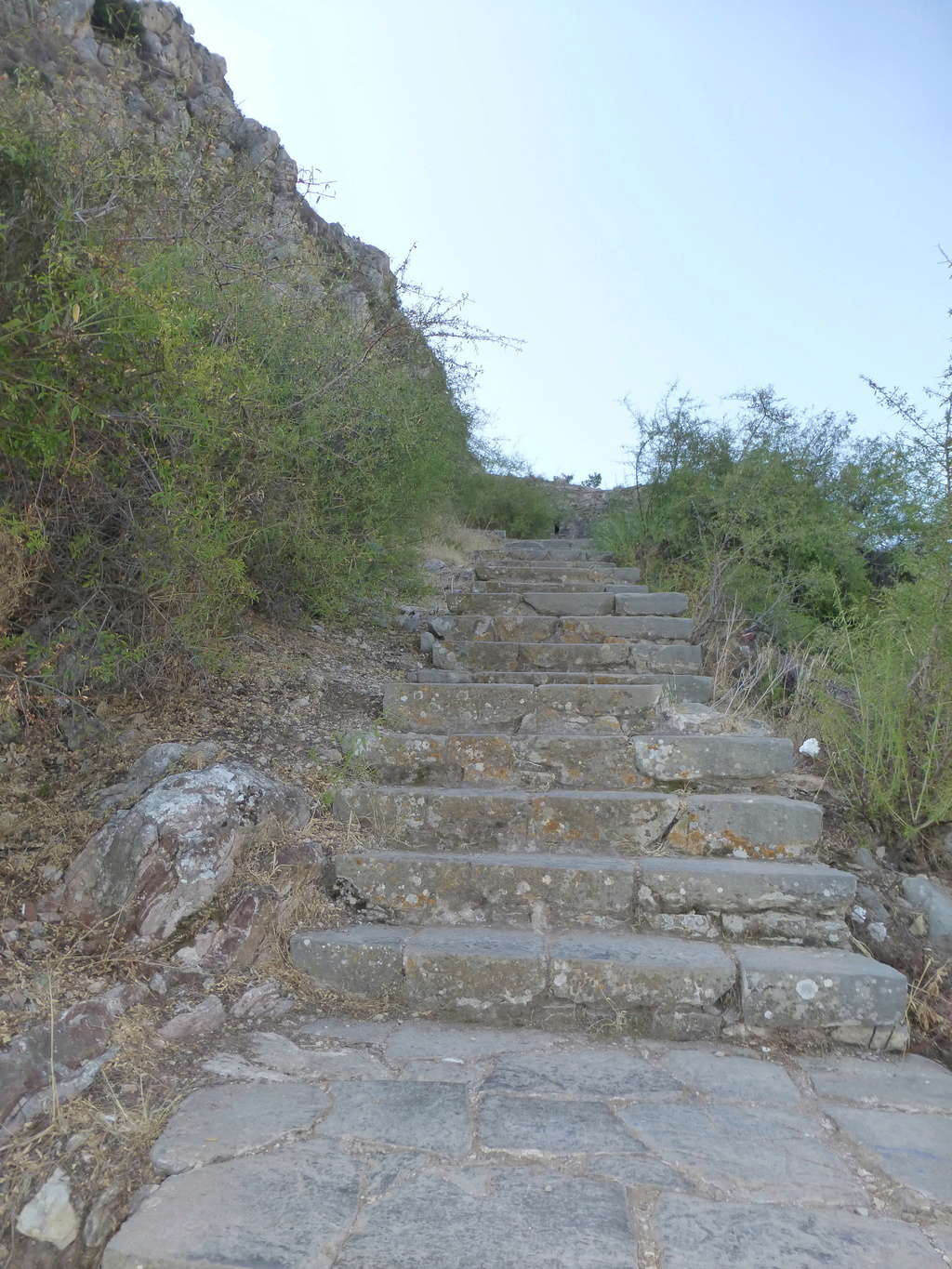 p1180952
The views start coming and I'm not even halfway up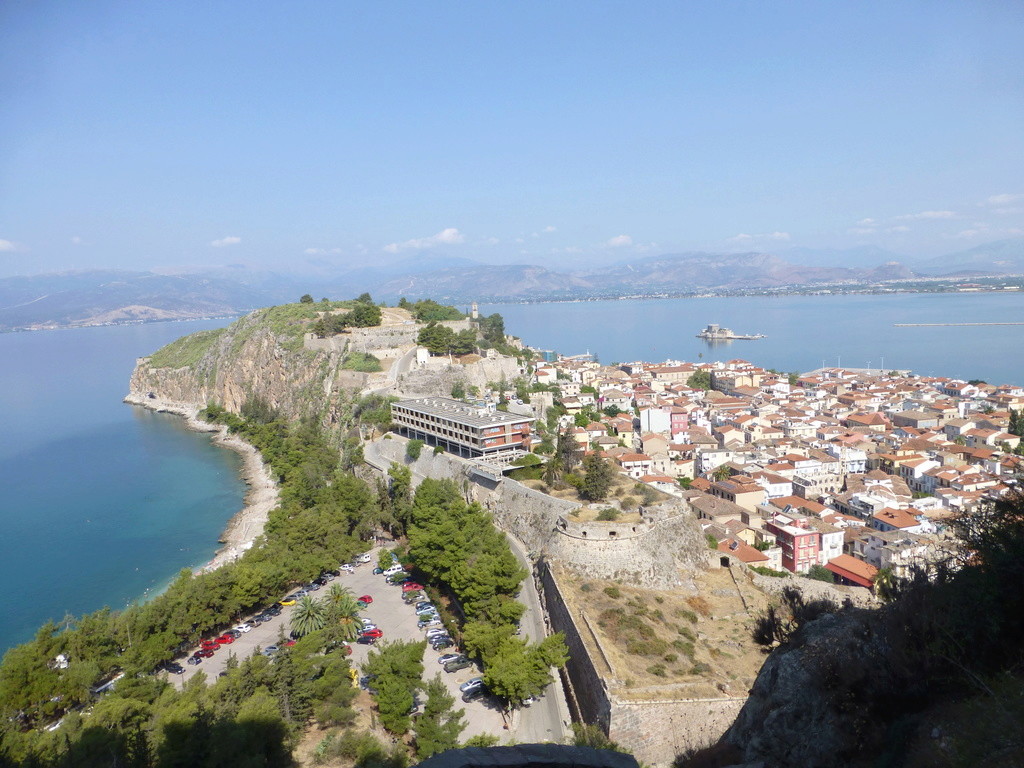 p1180953
I remember these stairs near the top, you struggle to look up without holding on to the concrete wall at the sides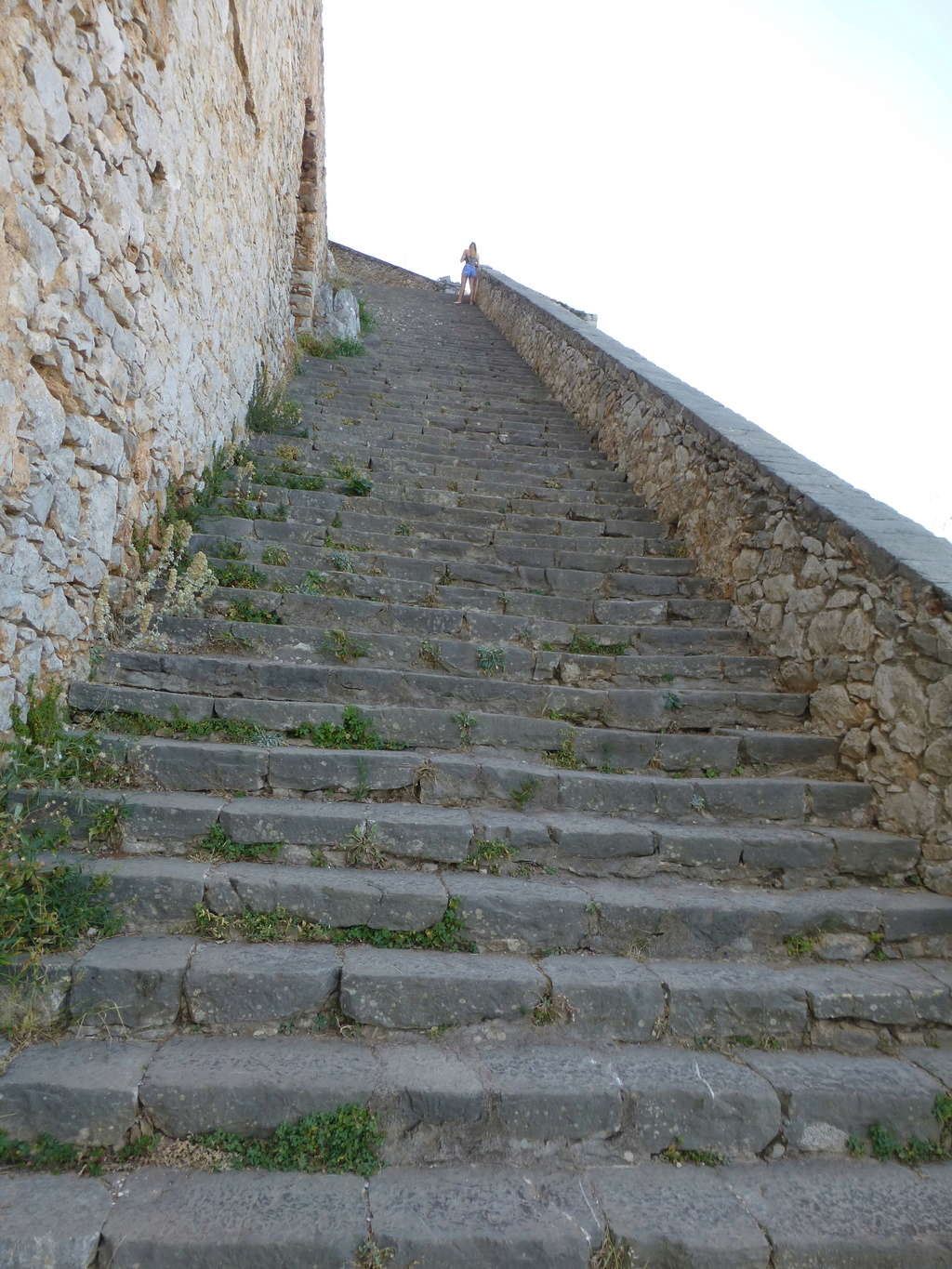 p1180960
after quite a few stops wearing a t shirt it would be a real struggle to get up here wearing any armour. Anybody attempting this should do it in the morning as it is mostly in the shade, once the sun comes around one would just melt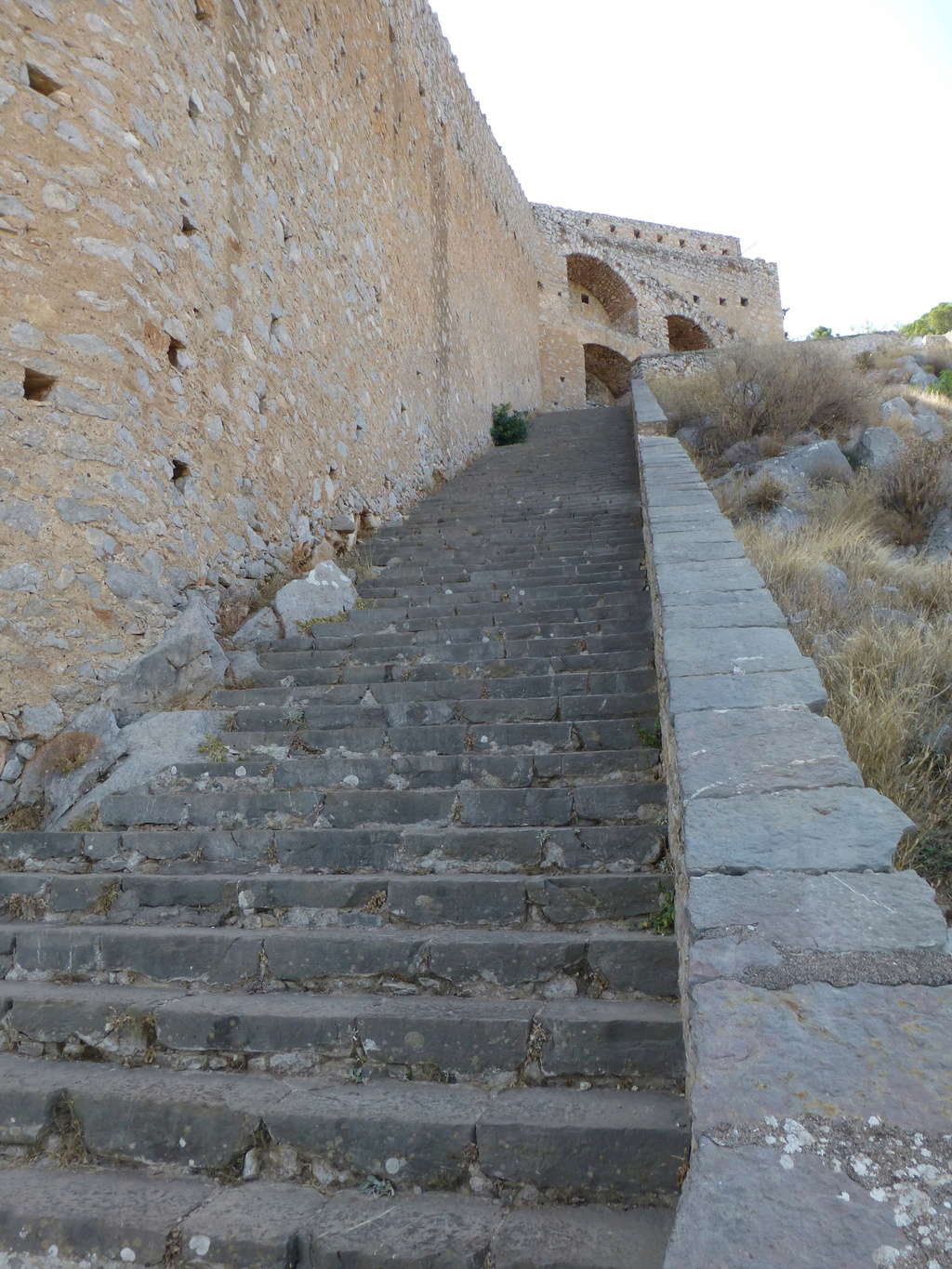 p1180961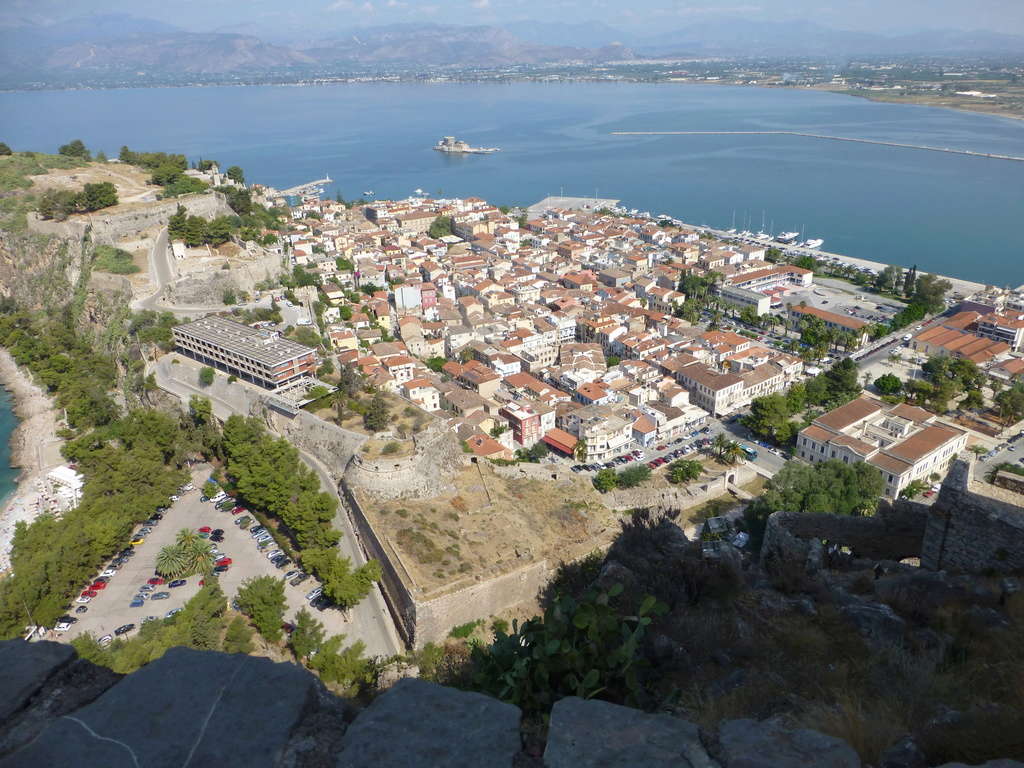 p1180964
finally making it, now it's 8€'s to get in at the time of writing with 4€s for senior citizens and children. I was asked how old I was being a senior citizen and after declaring my age and probably looking the part after the walk, there were no more questions asked lol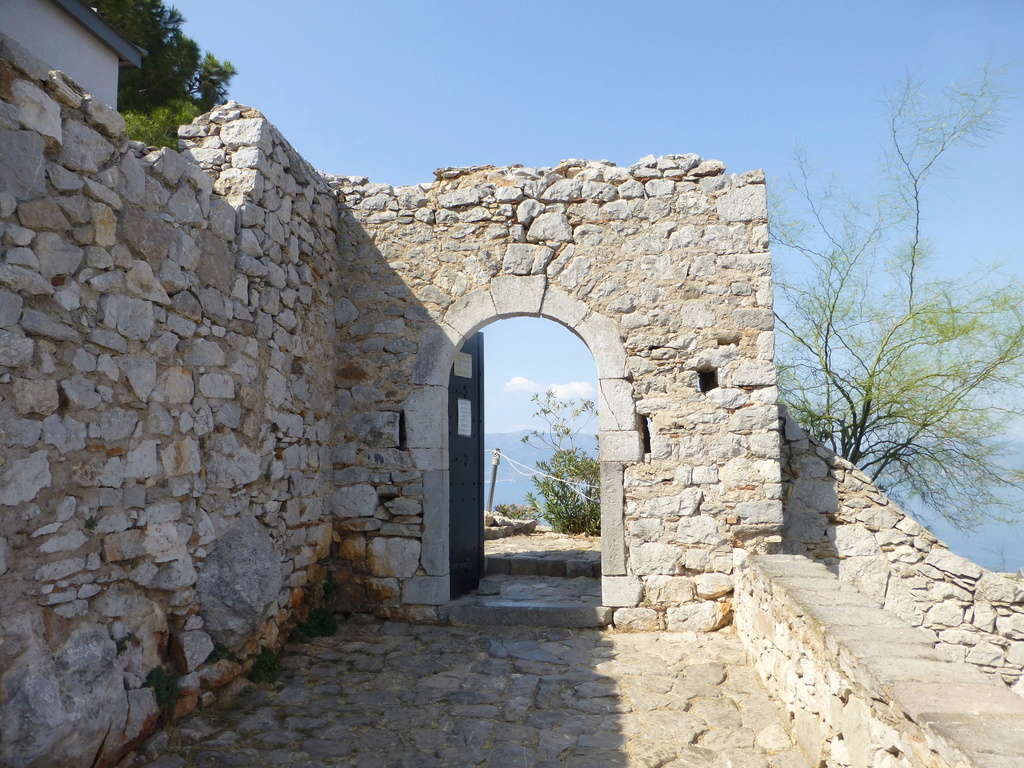 p1180965
some of the views up here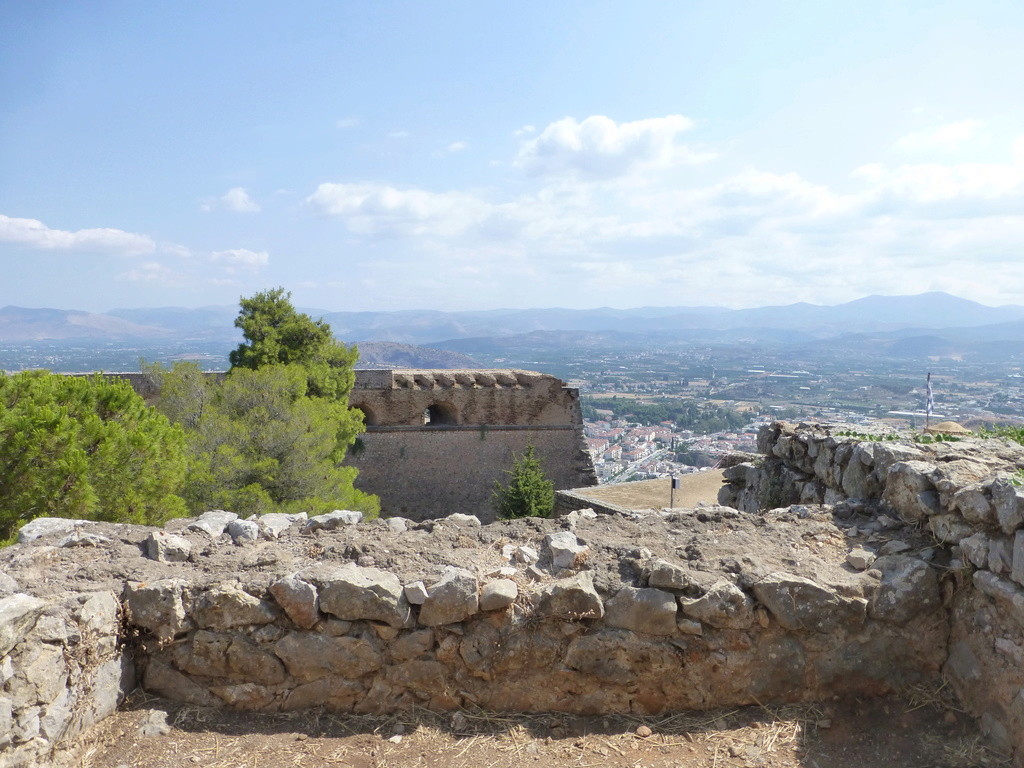 p1180970
p1180971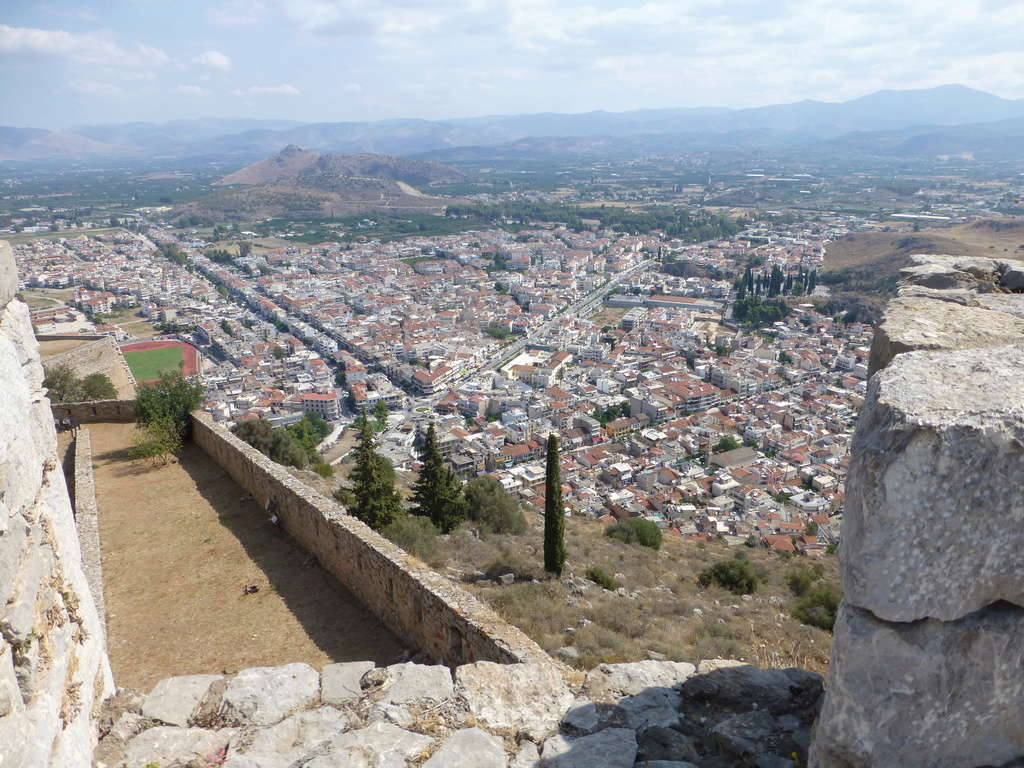 p1180972
hope this lintel is secure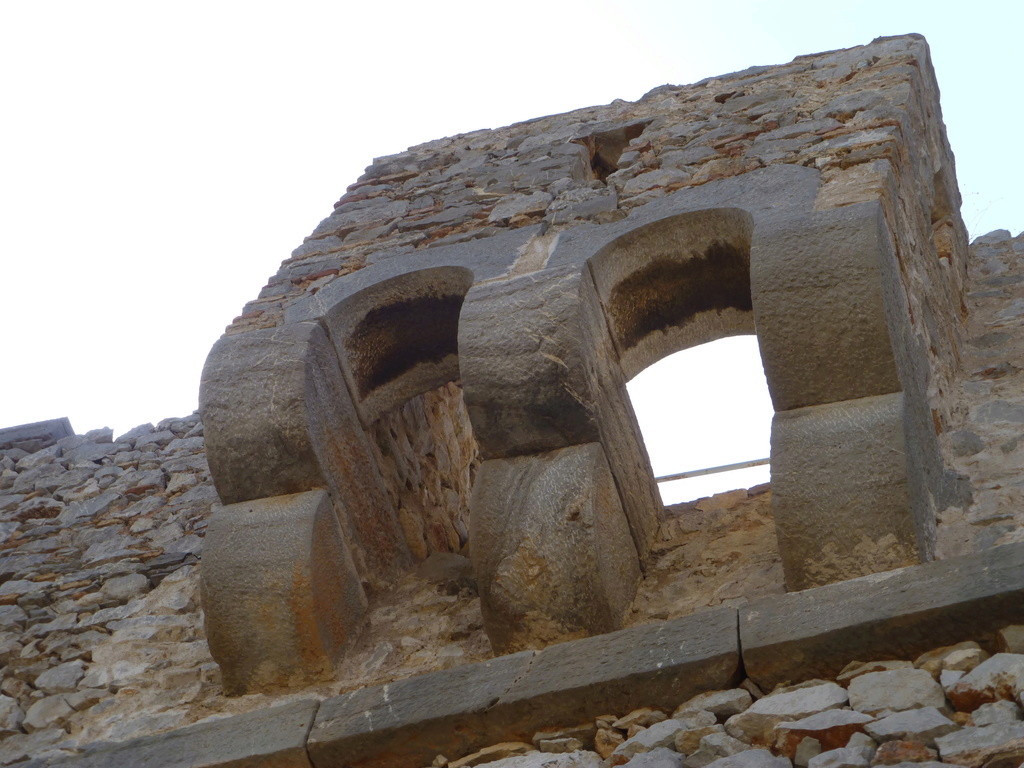 p1180974
some of the steps that ones needs to be careful when going up them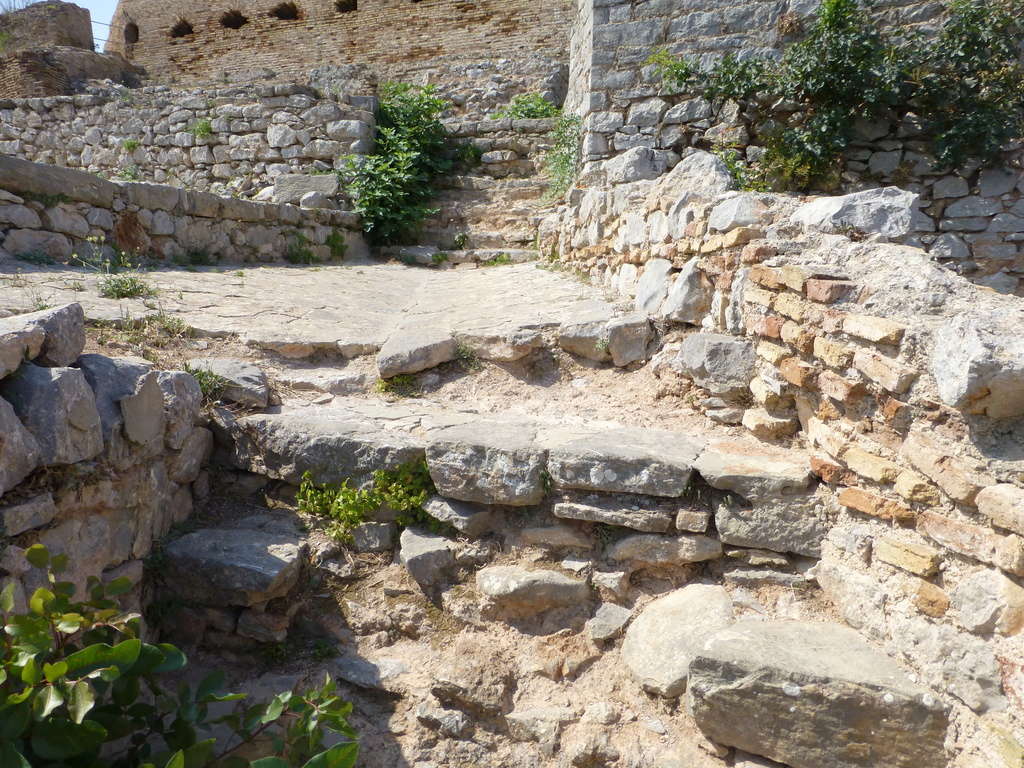 p1180976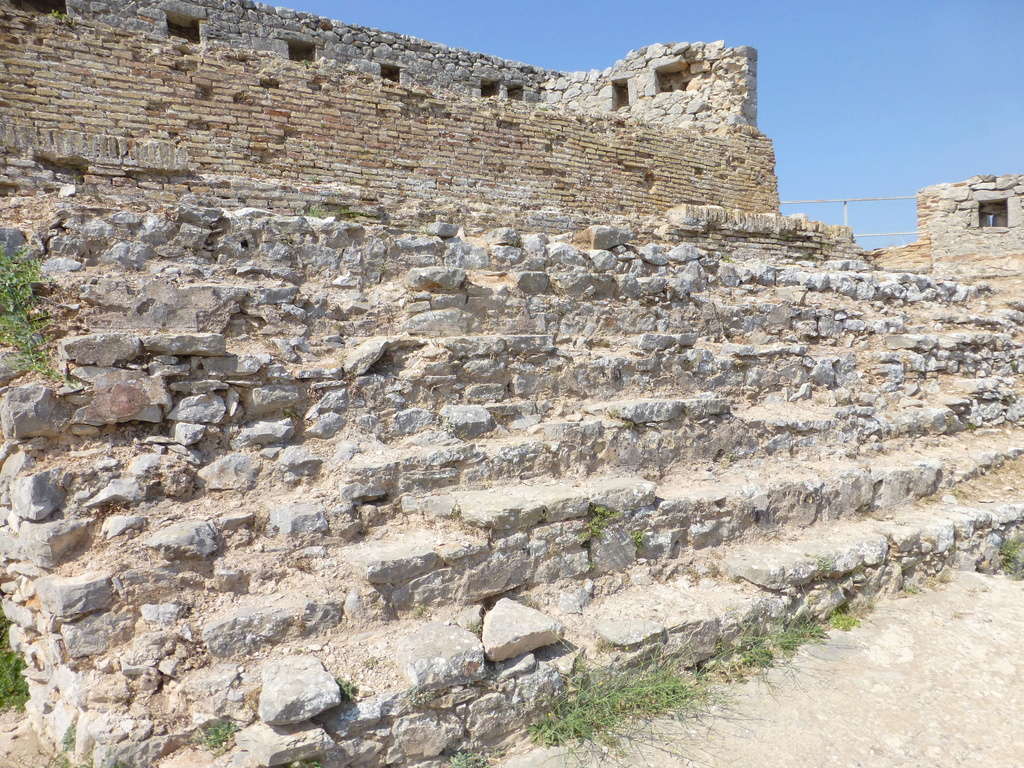 p1180981
found an unusual angle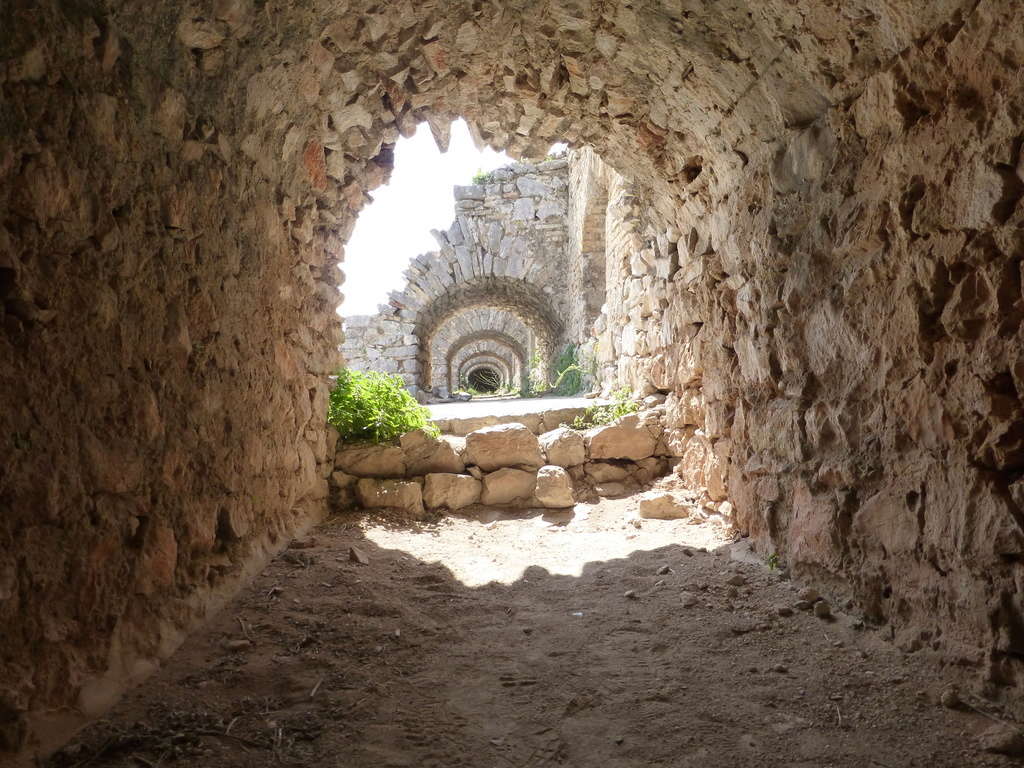 p1180982
p1180984
Nafplio athletics track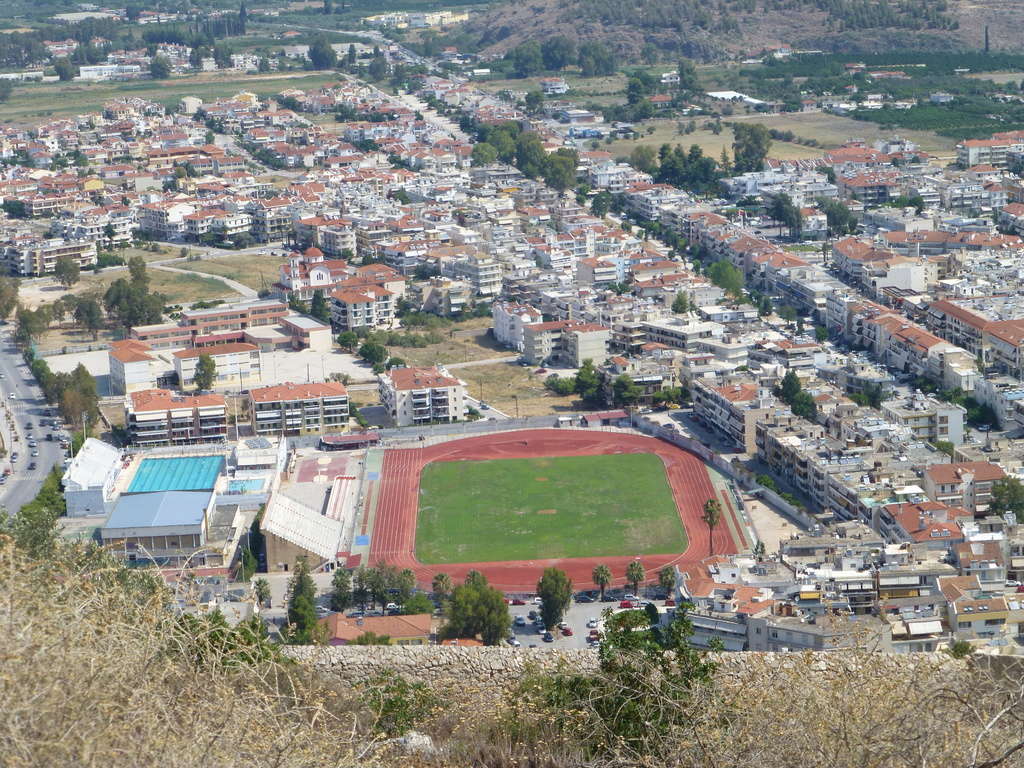 p1180985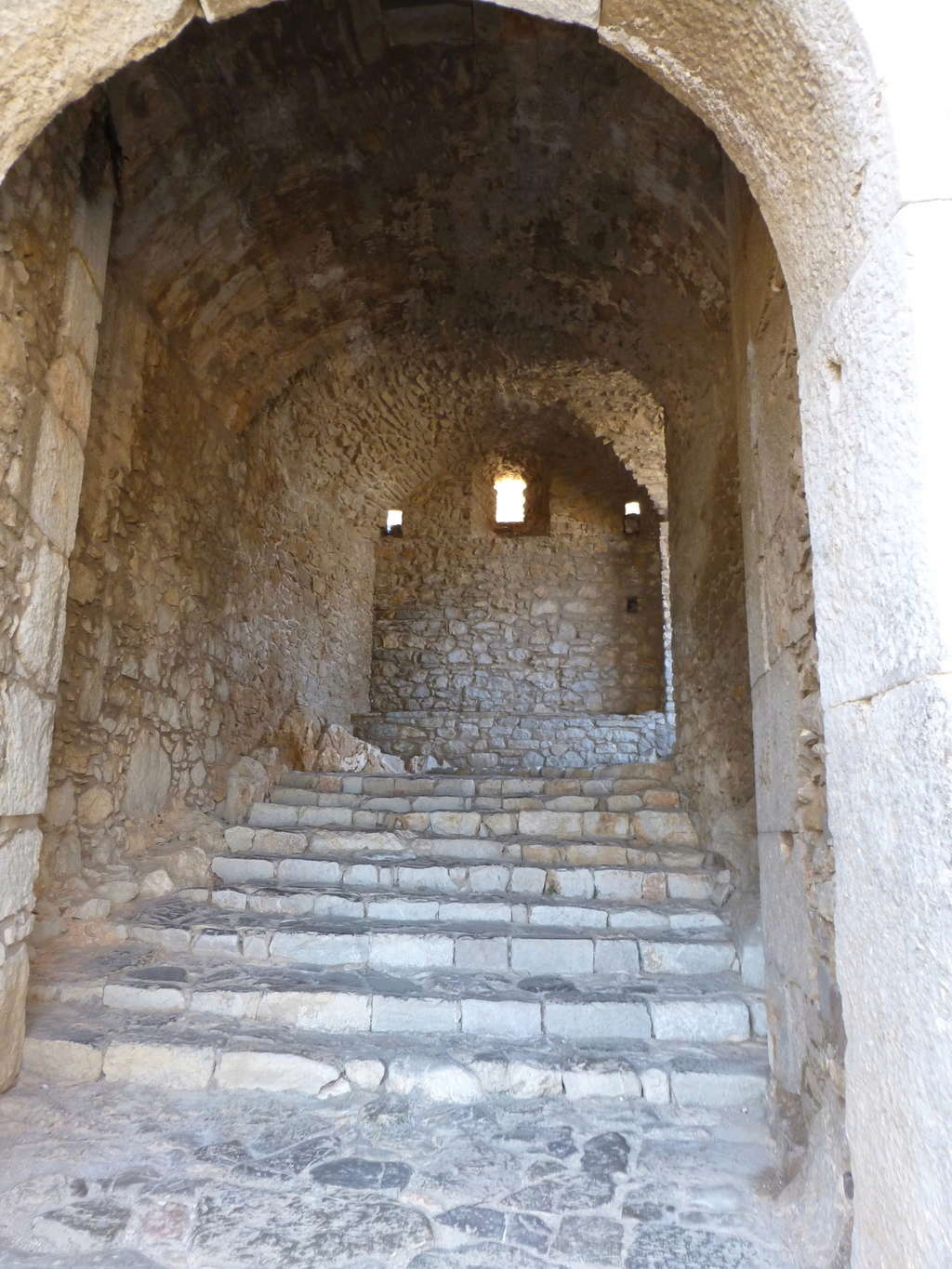 p1180987
This was a prison, so very small it would be impossible to stand up in but a dog has manage to find it and fall asleep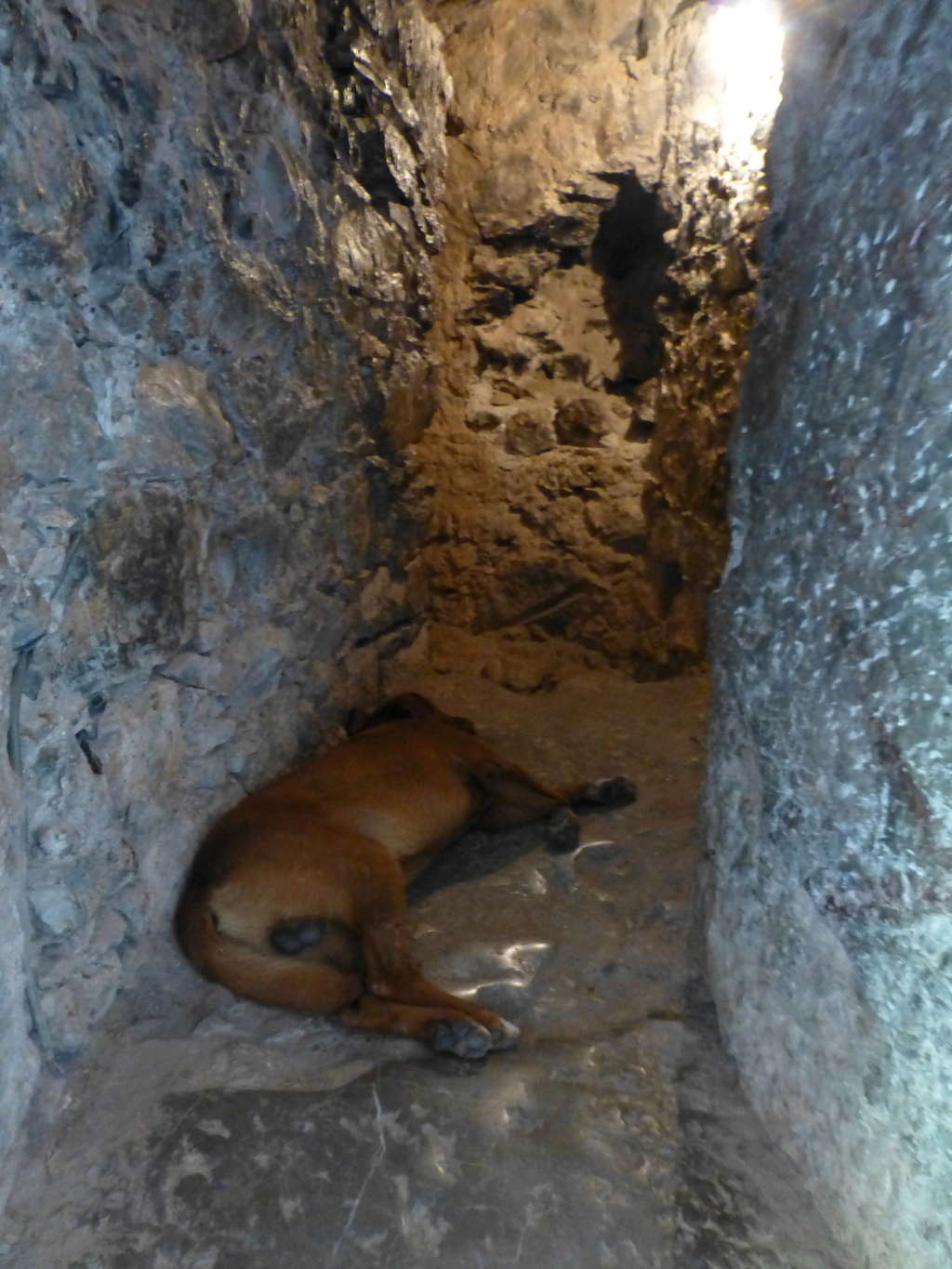 p1180989
Down below I zoomed in on a well known walk which goes around the peninsular but I wouldn't have any time or legs to do it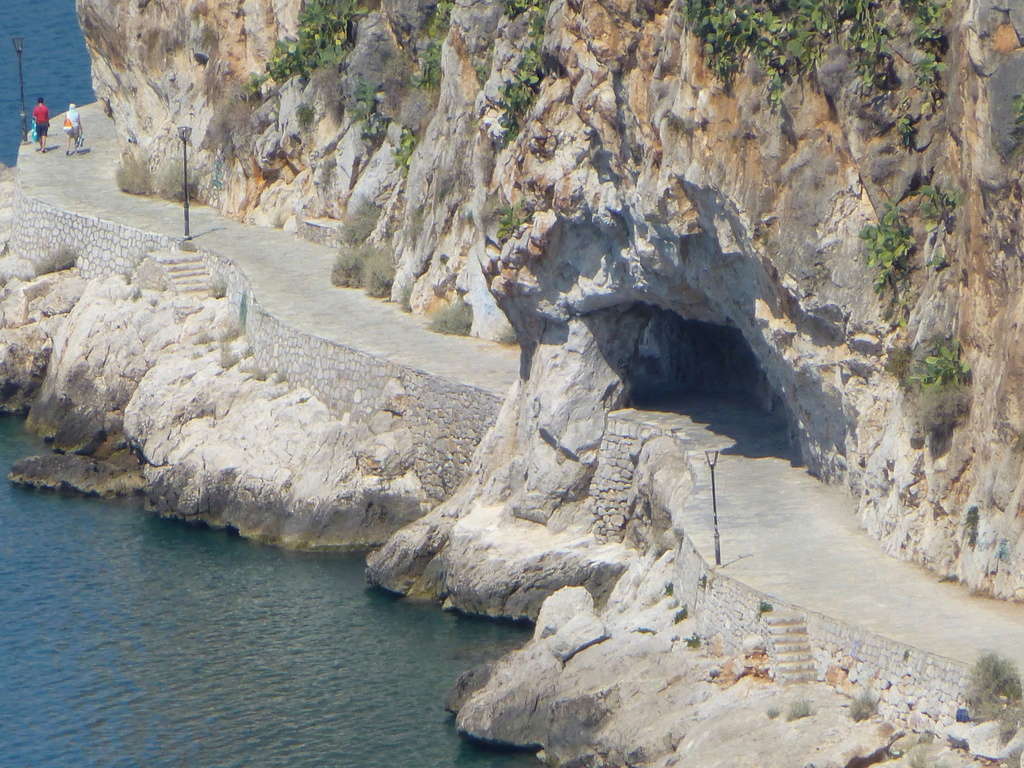 p1180990
As I needed to get the 12:00 bus back to Mrs Db. So I hope it gives you some idea of Nafplio. I had another 999 steps to walk down and fortunately took a change of shirts after cooling down at the bottom with a drink
I got the bus to stop just before the Ancient Assini and popped into the taverna to give the lady 5€'s for trusting me with the non paid beer yesterday and thanked her for her understanding before walking through Tolo and back to Mrs Db.
Lunchtime was in our hotel taverna where I had a shrimp salad which seem to turn into prawn lol, sorry looks like a lemon salad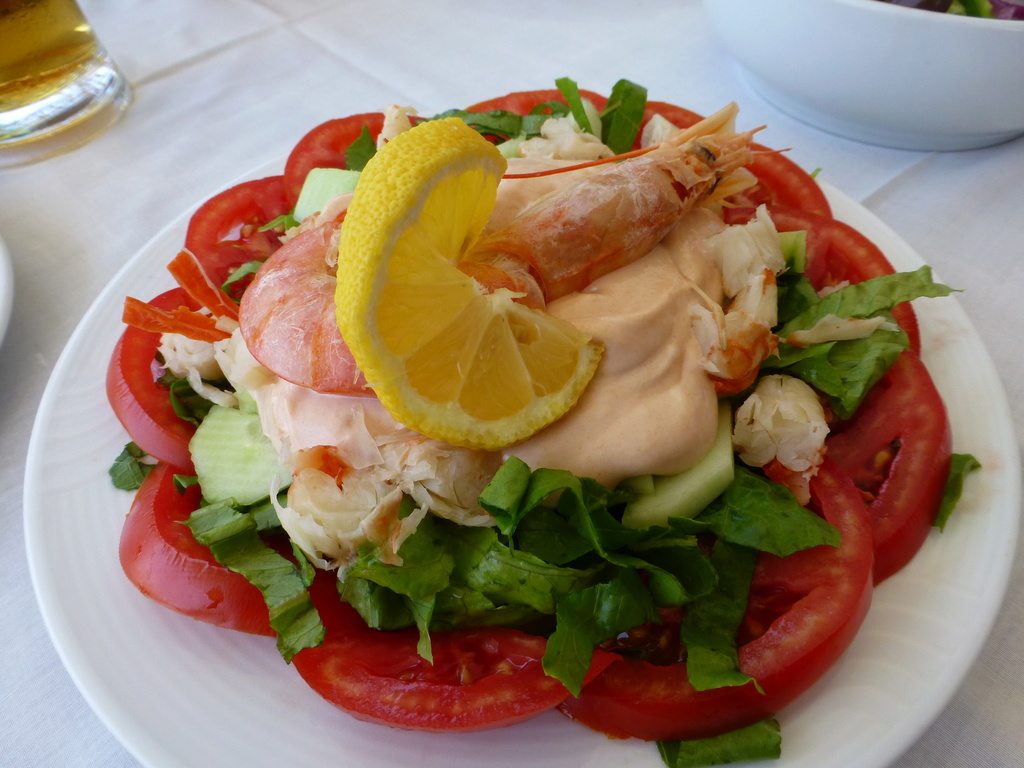 p1180993
Mrs Db had the Greek salad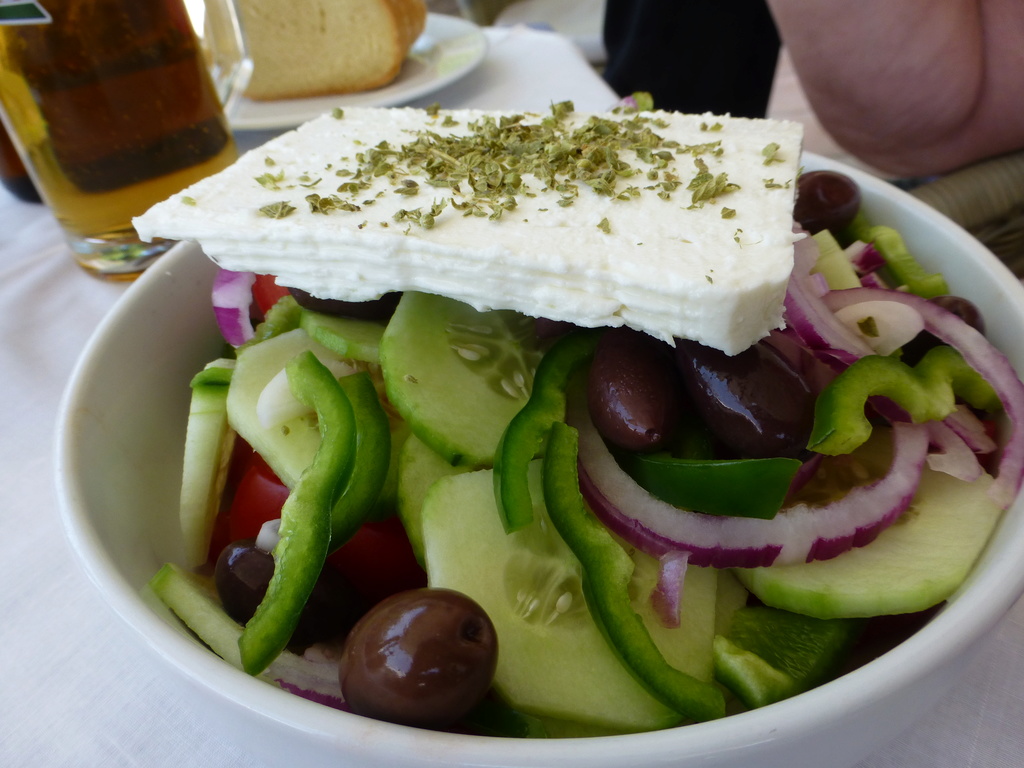 p1180994
The afternoon was spent on the beach and on the balcony afterwards we had a peach each and they were the size of cricket balls the fruit is fantastic here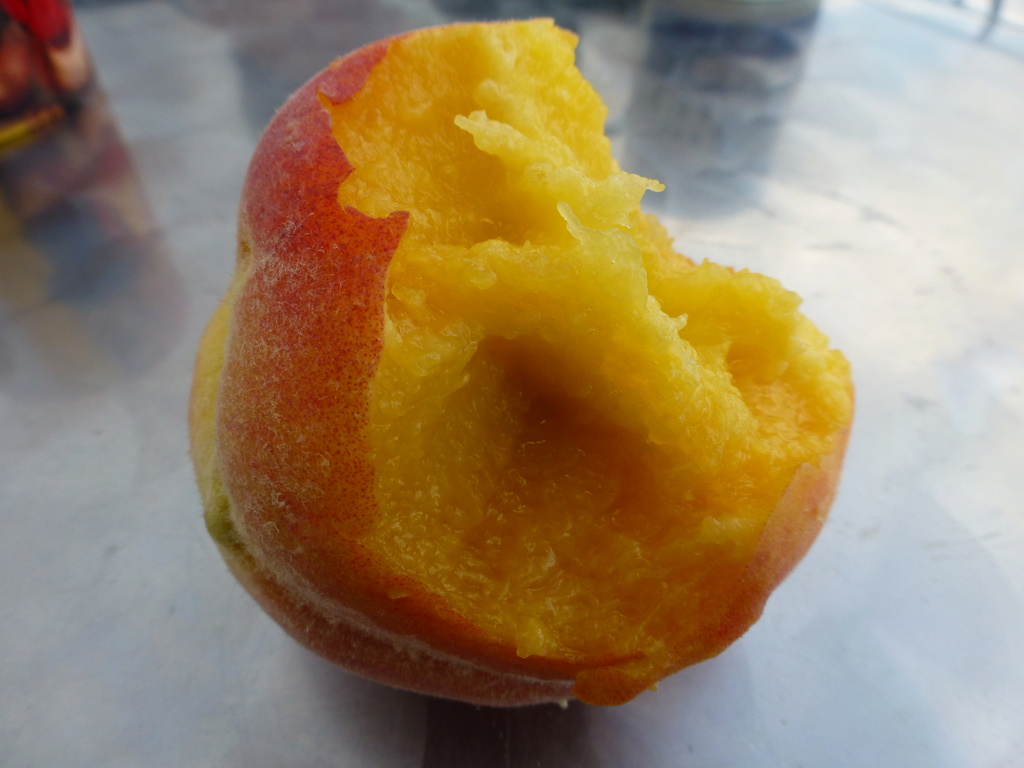 p1180995
for the evening we tried Amvrosir another taverna in the town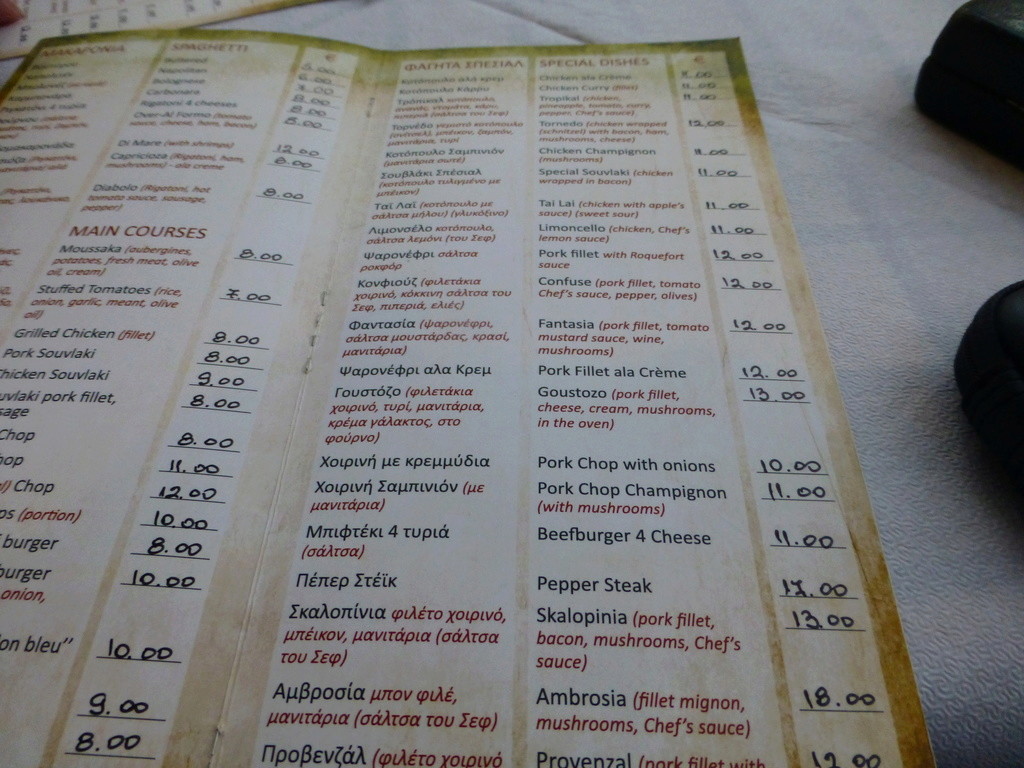 p1190001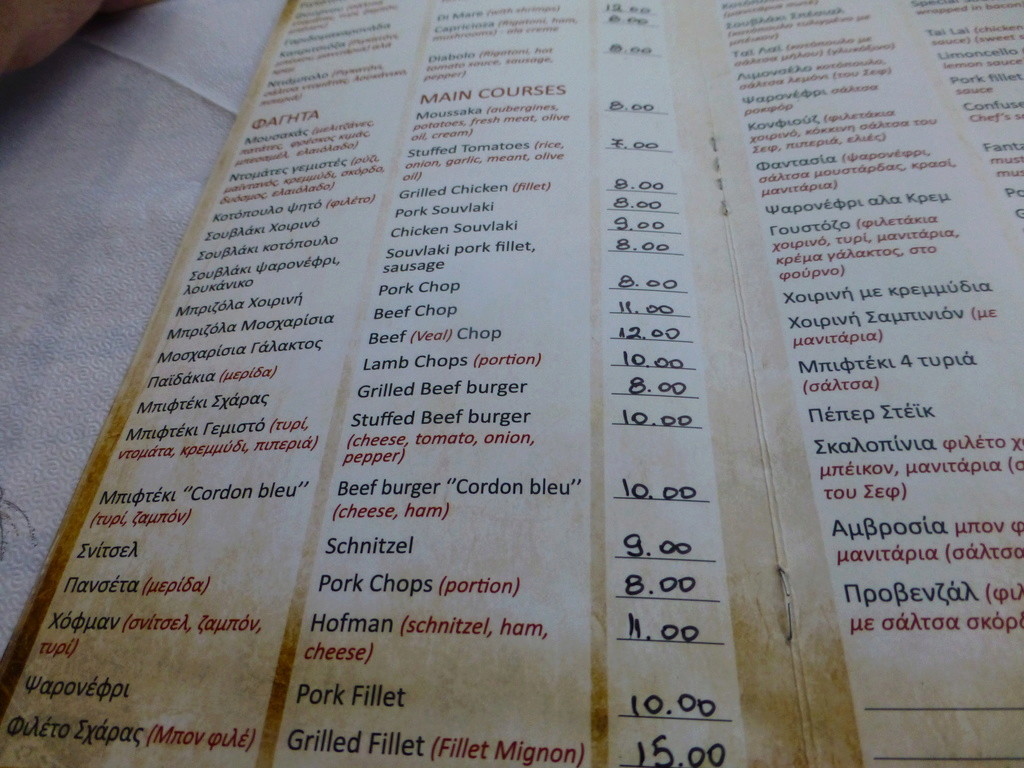 p1190002
it does look over the road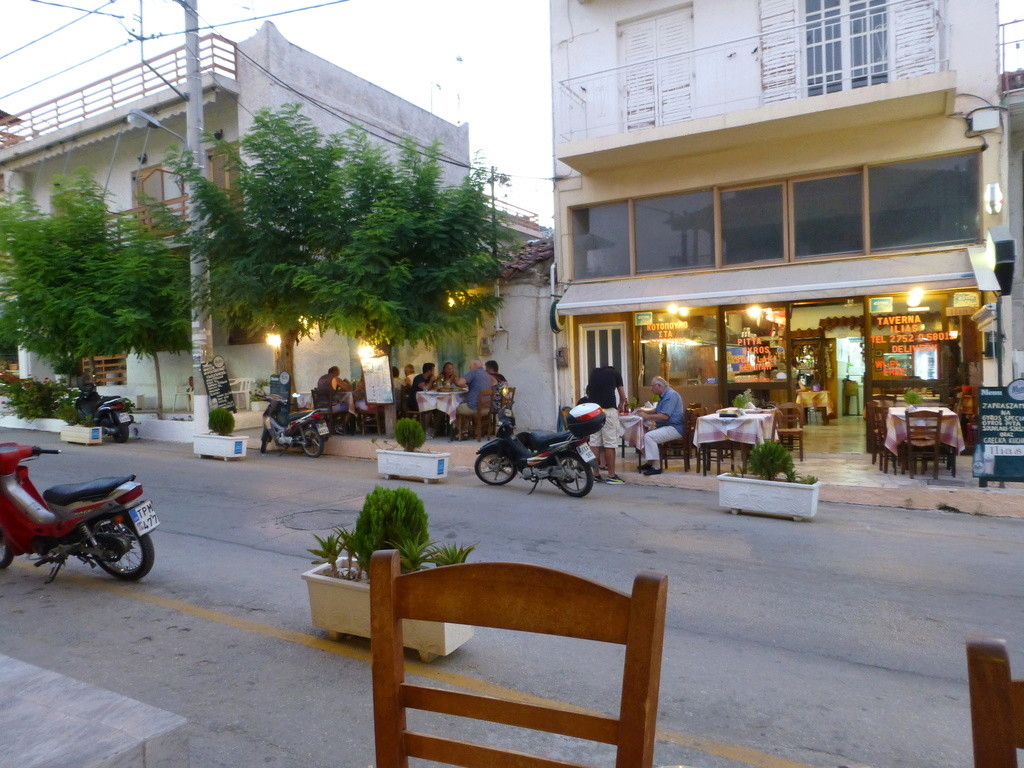 p1190003
I had the chicken Tornado / Tornedo which was super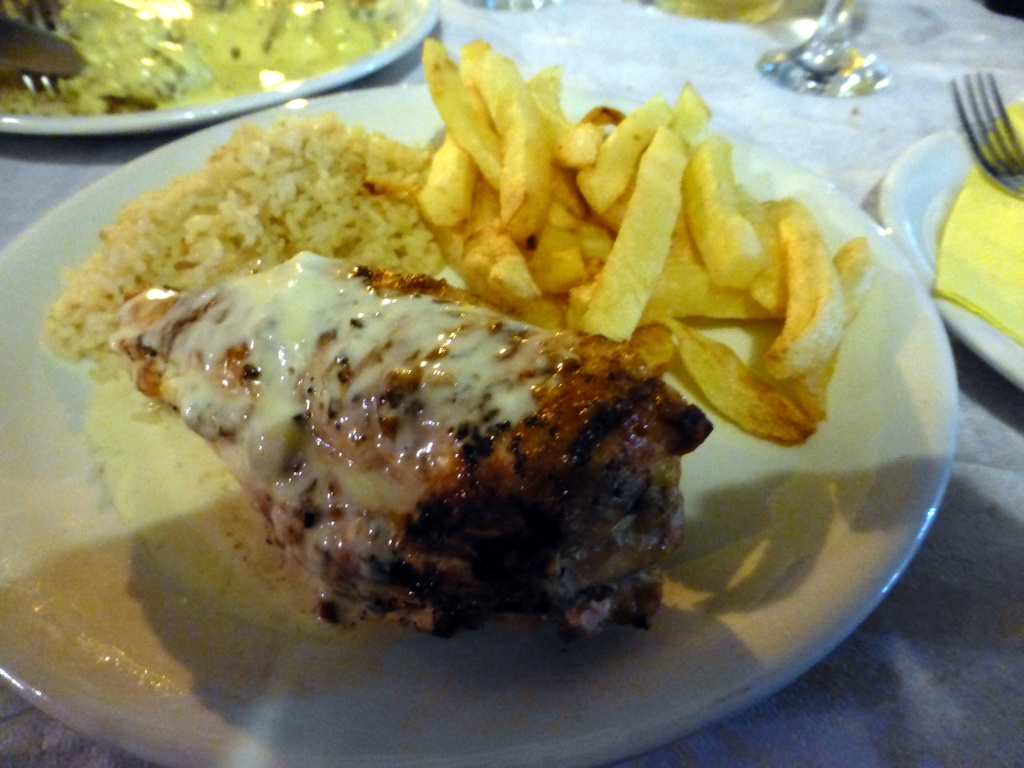 p1190006
Mrs Db had the Fantasia we both really enjoyed our meals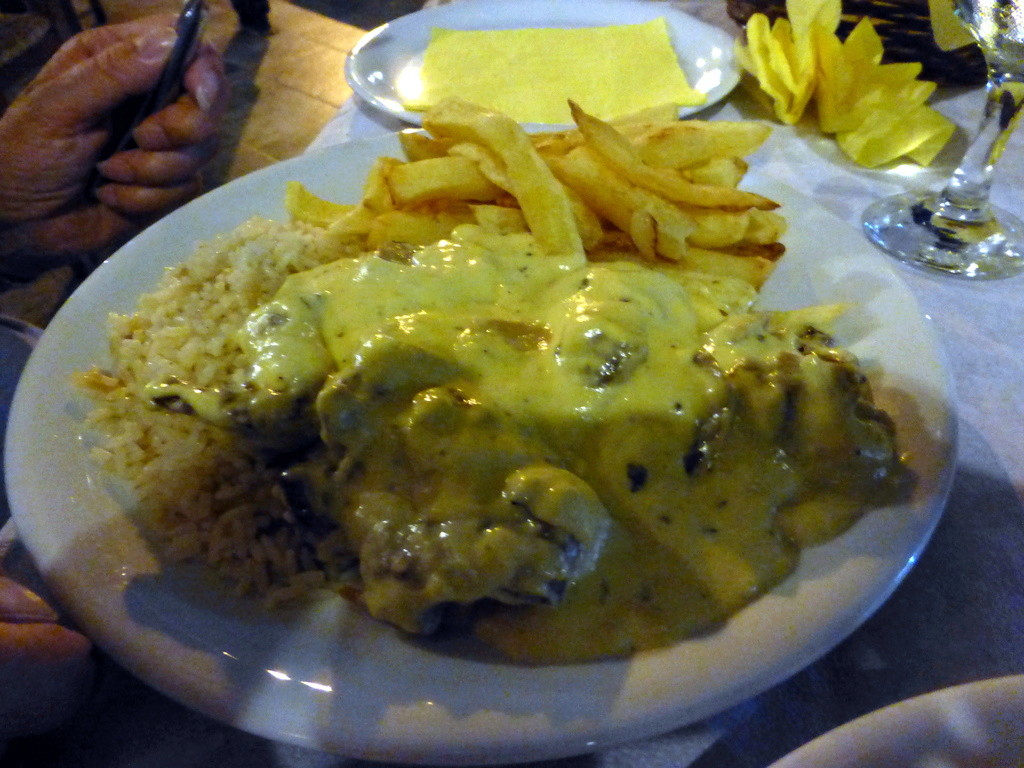 p1190005
and a free ice cream each to finish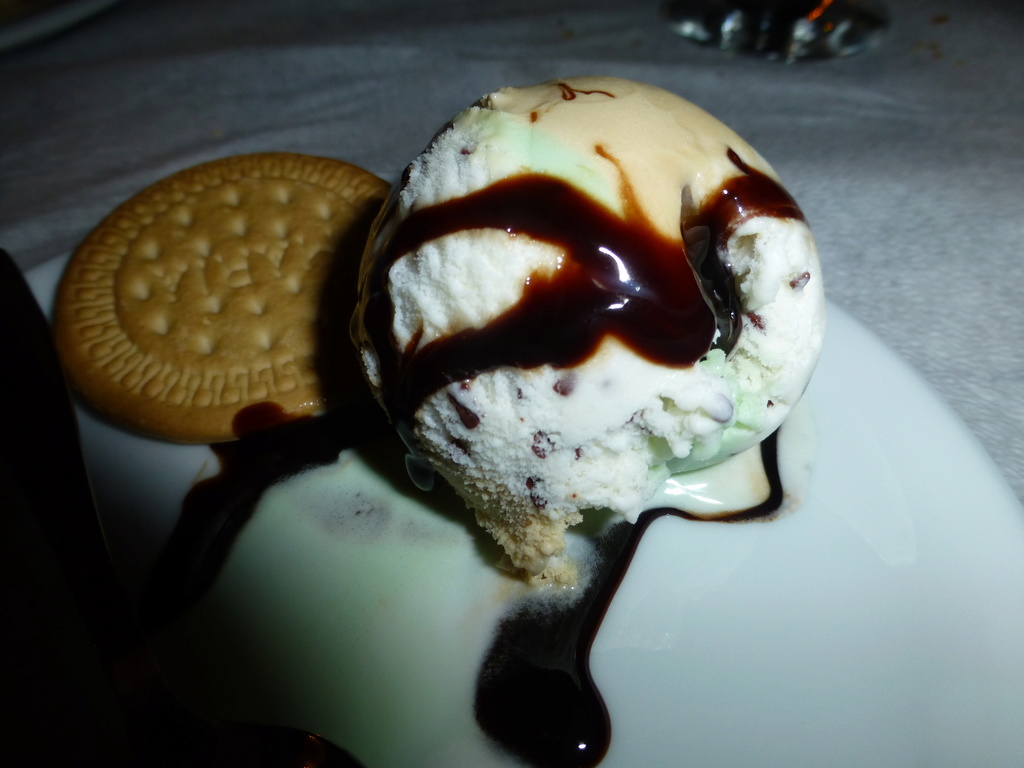 p1190008
and then back to the hotel for coffee
END OF DAY 12
..................................................................................................
Day 13
The otherside of Tolo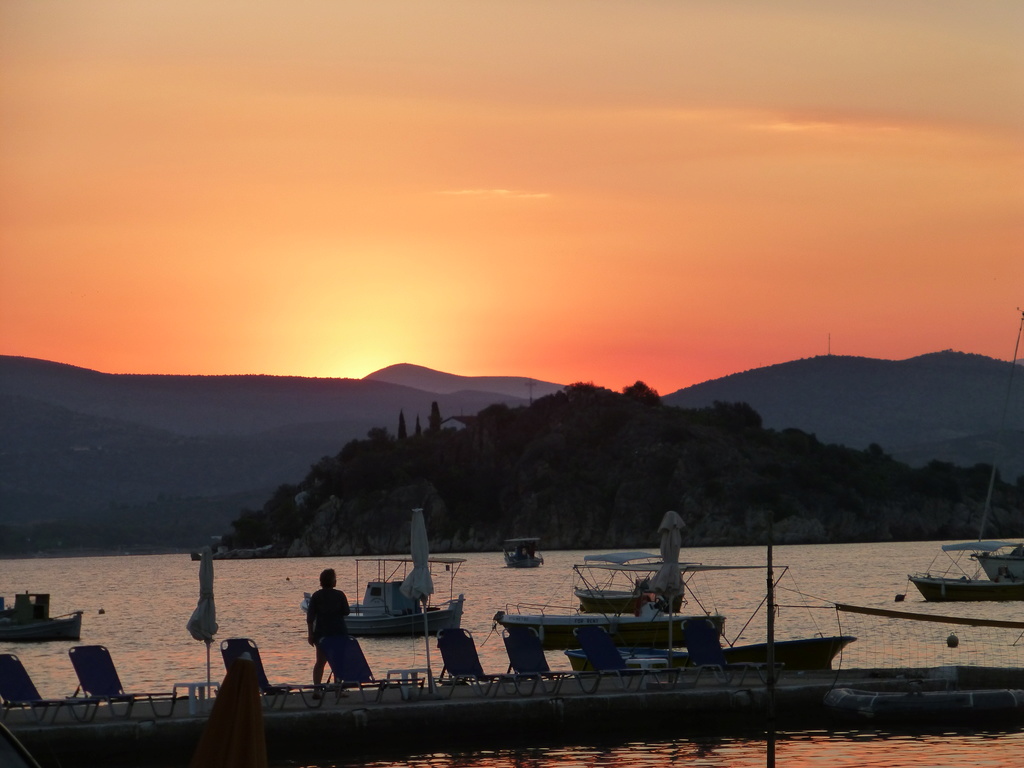 p1190009
So breakfast in the dining room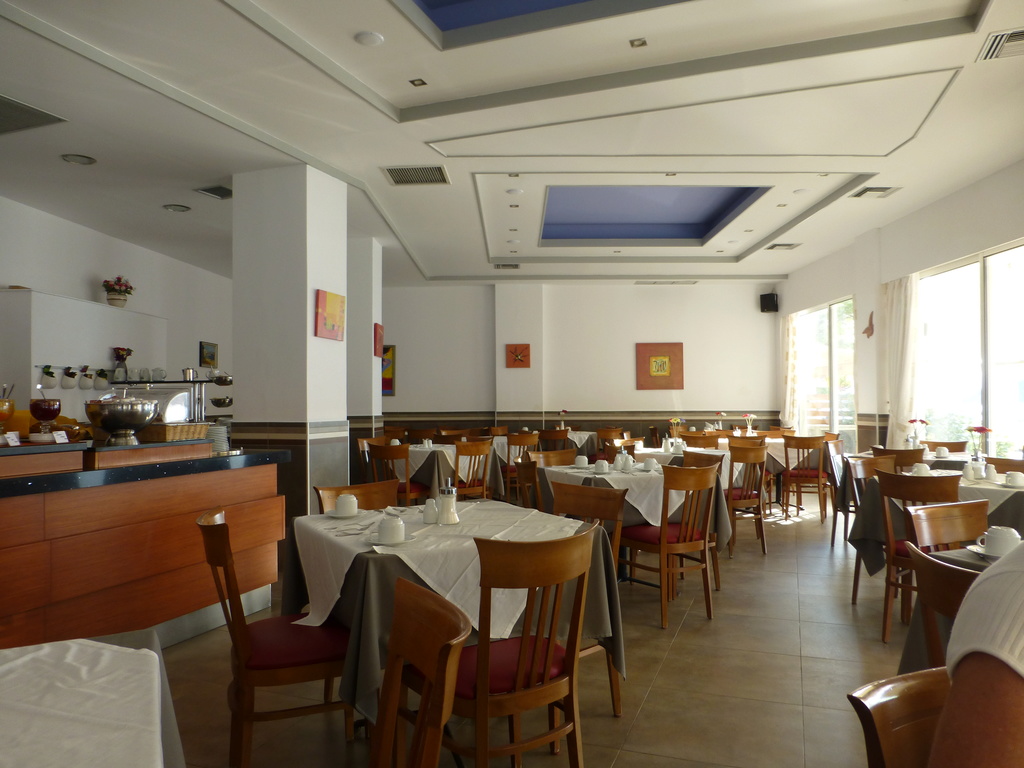 p1190015
a nice yogurt, honey and melon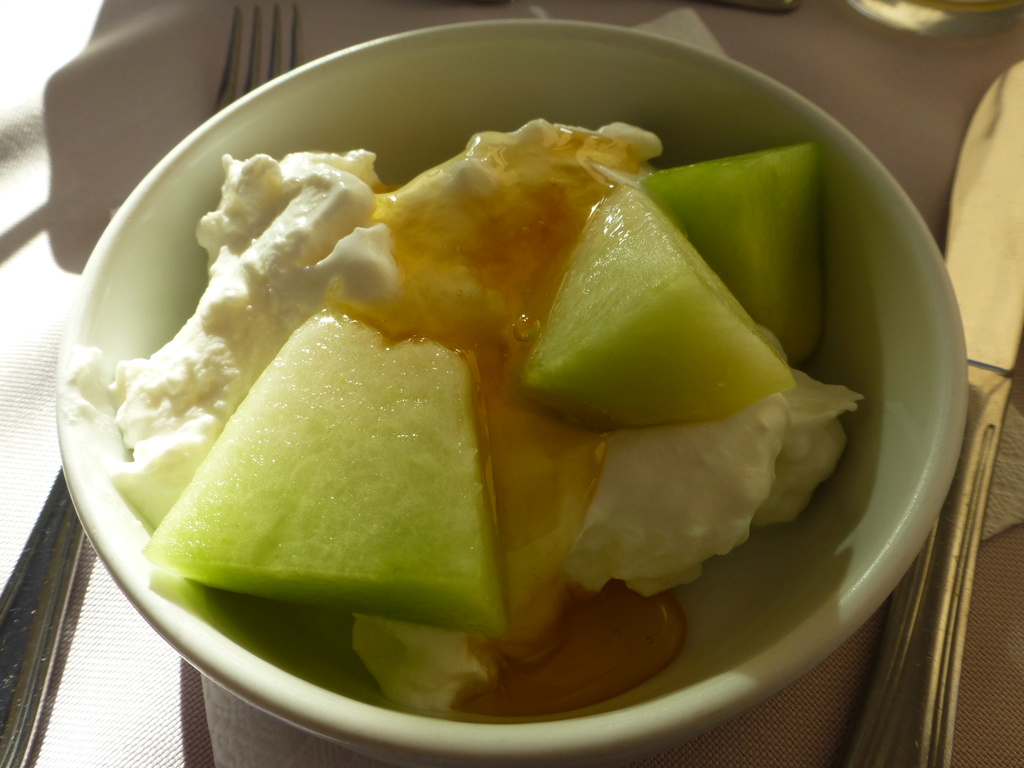 p1190016
before setting off to see what is beyond the mountain ridge I had photograph from the other evening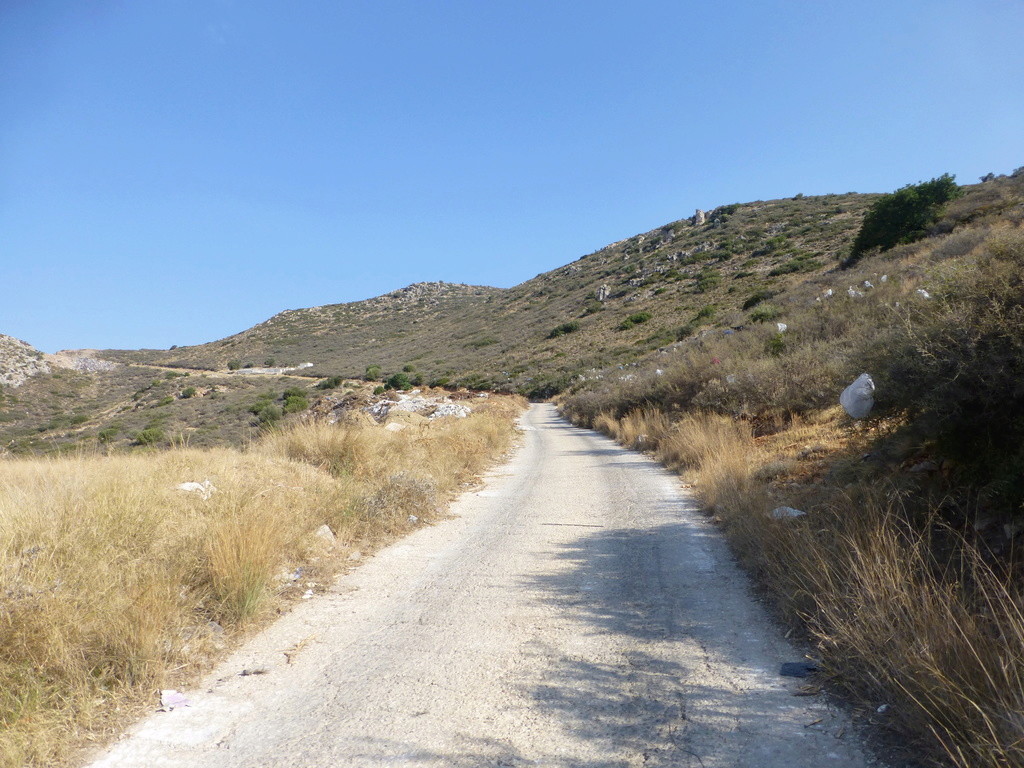 p1190025
Incidently this route is not recommended but was going to try it because it was there lol. It passes the town's infill of rubbish and is a bit whiffy as one goes passed.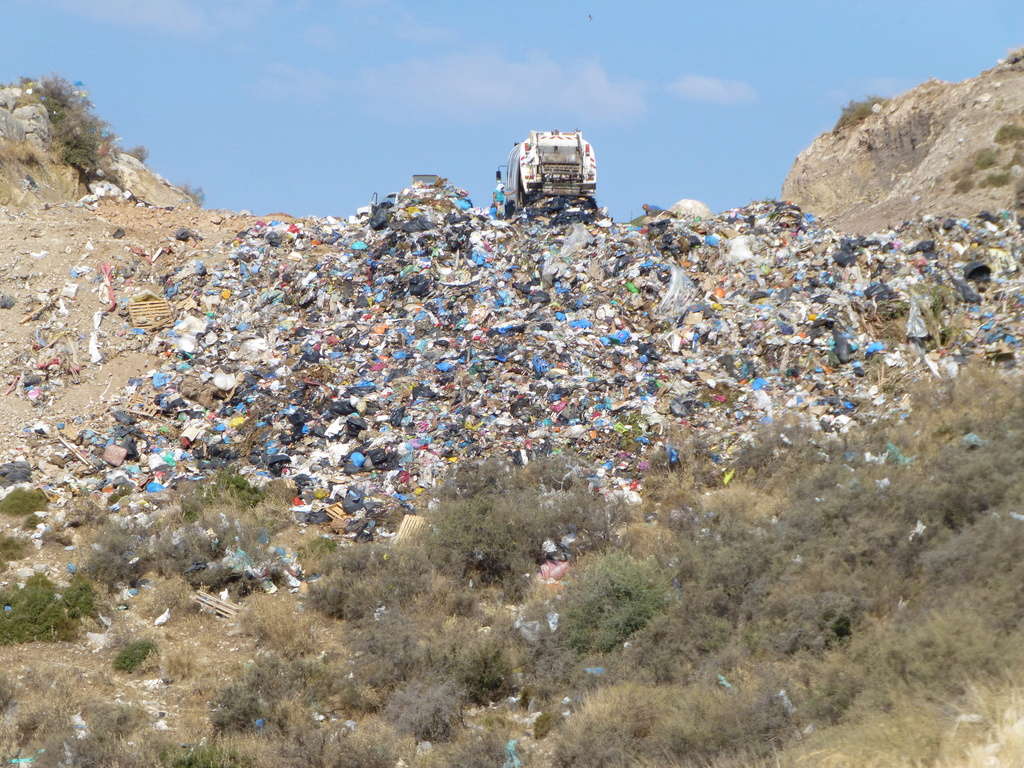 p1190030
And the town has at sometime or other obviously had another tip at the other side of the mountain in the past which has been completely covered with sand and gravel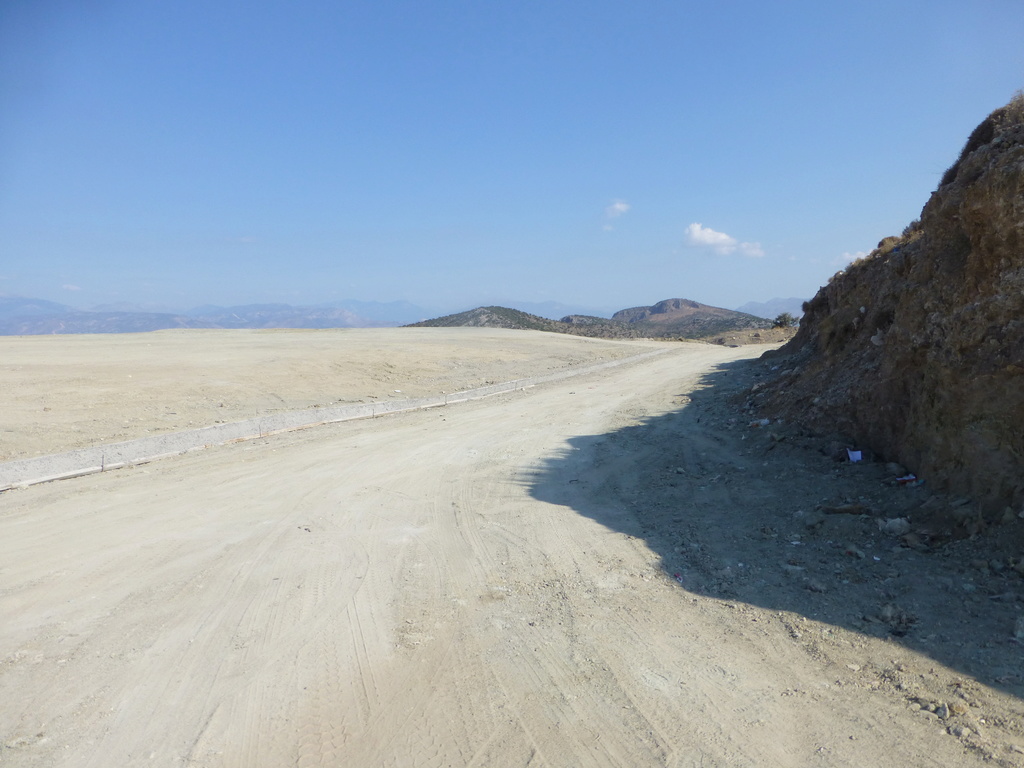 p1190032
However, beyond all this, one sees the natural landscape and the valley below with a road which I understand is a road heading to Nafplio, I am told this road eventually turns into a dirt track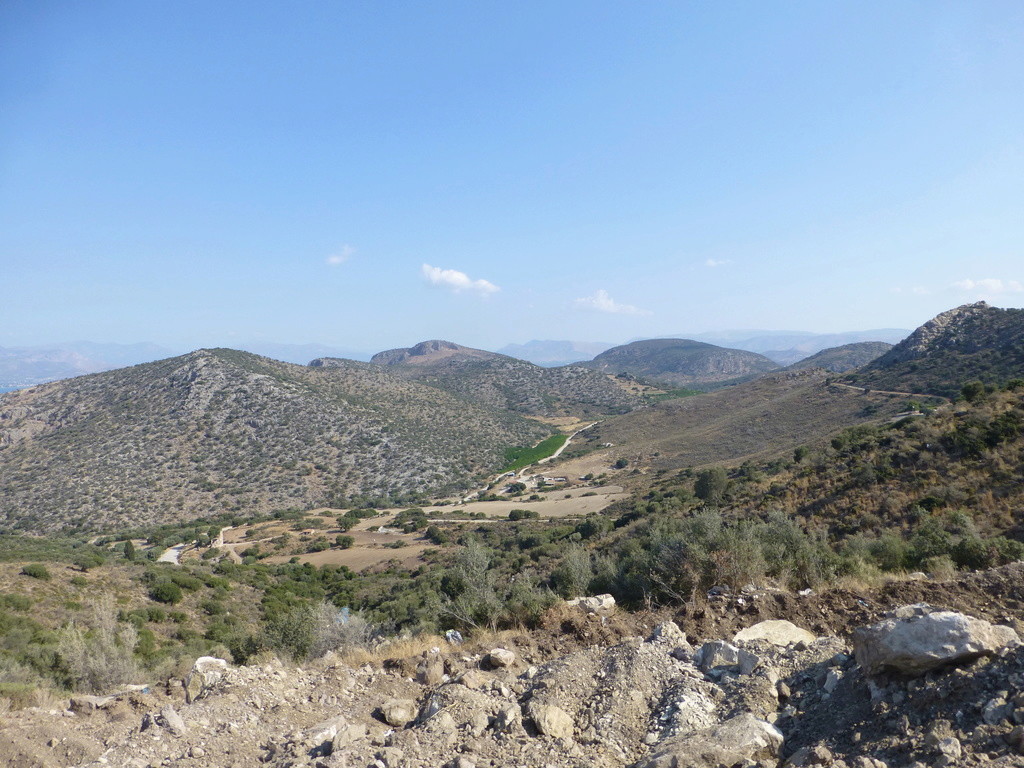 p1190034
Nafplio was obviously too far for me in this heat but I had my eyes on a bay over on the left to investigate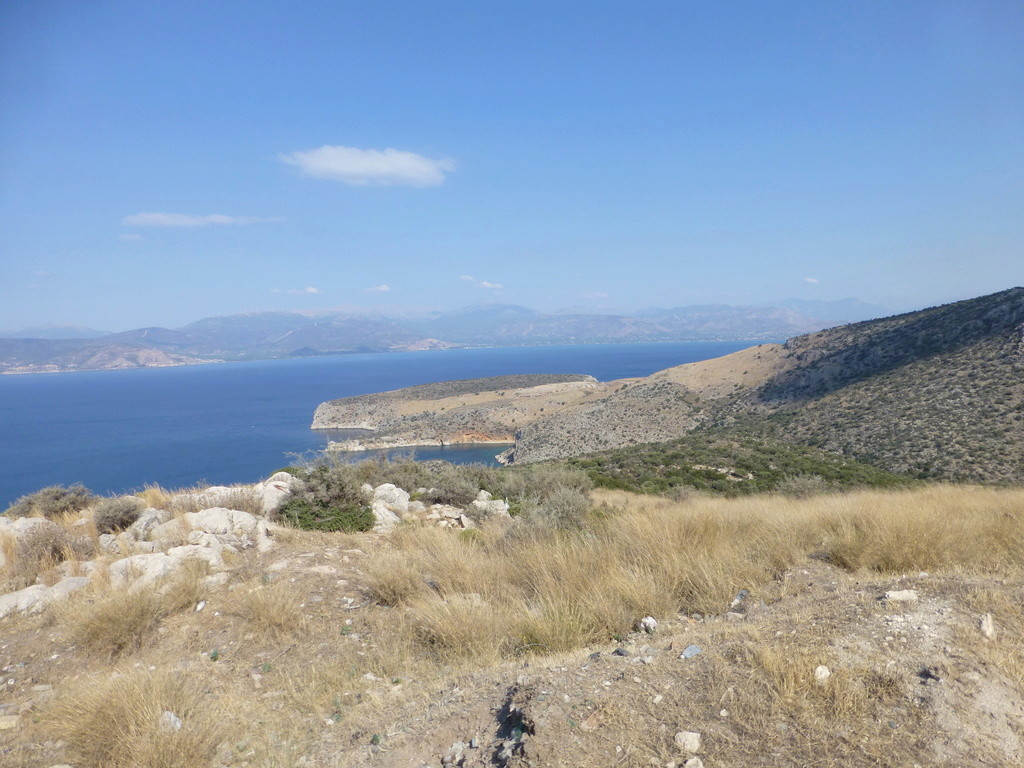 p1190041
to my right, another road led alongside the mountains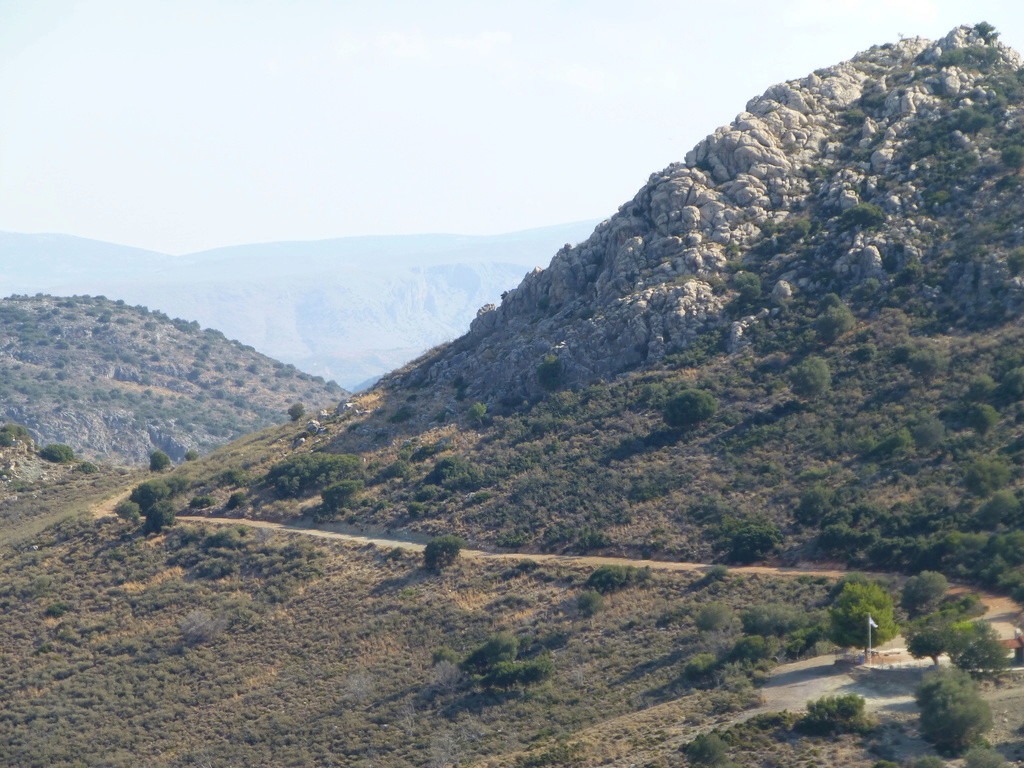 p1190042
so it was downhill all the way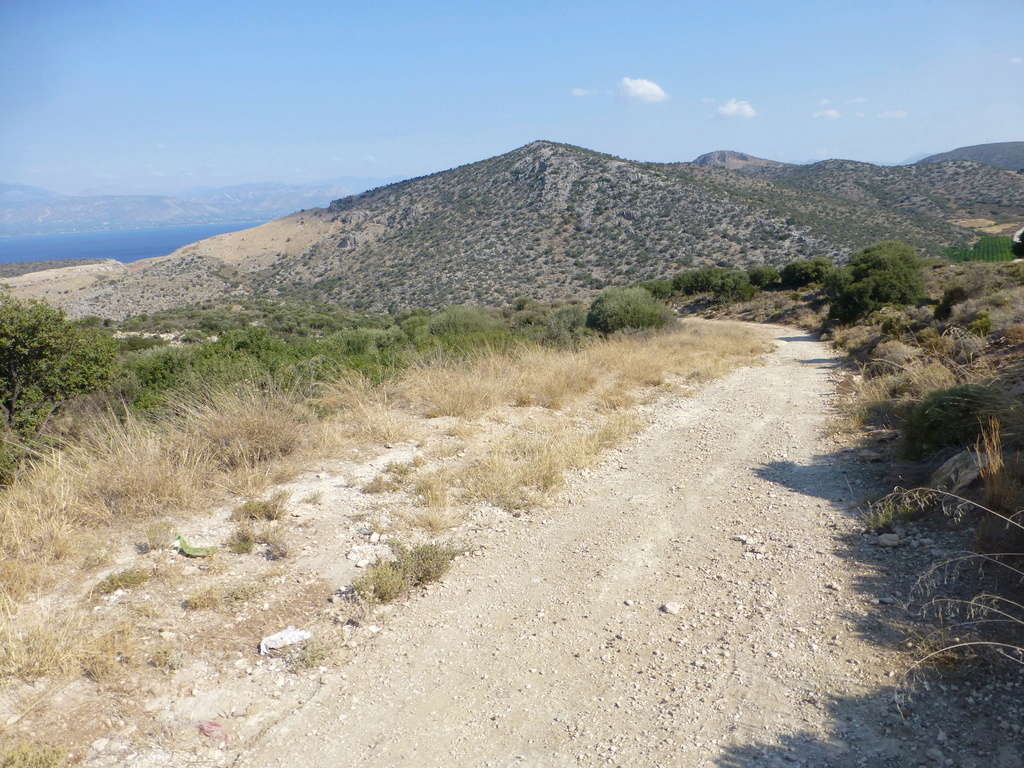 p11900048
but it was a treacherously slippery path going down and I contemplated not doing it for coming back would be rough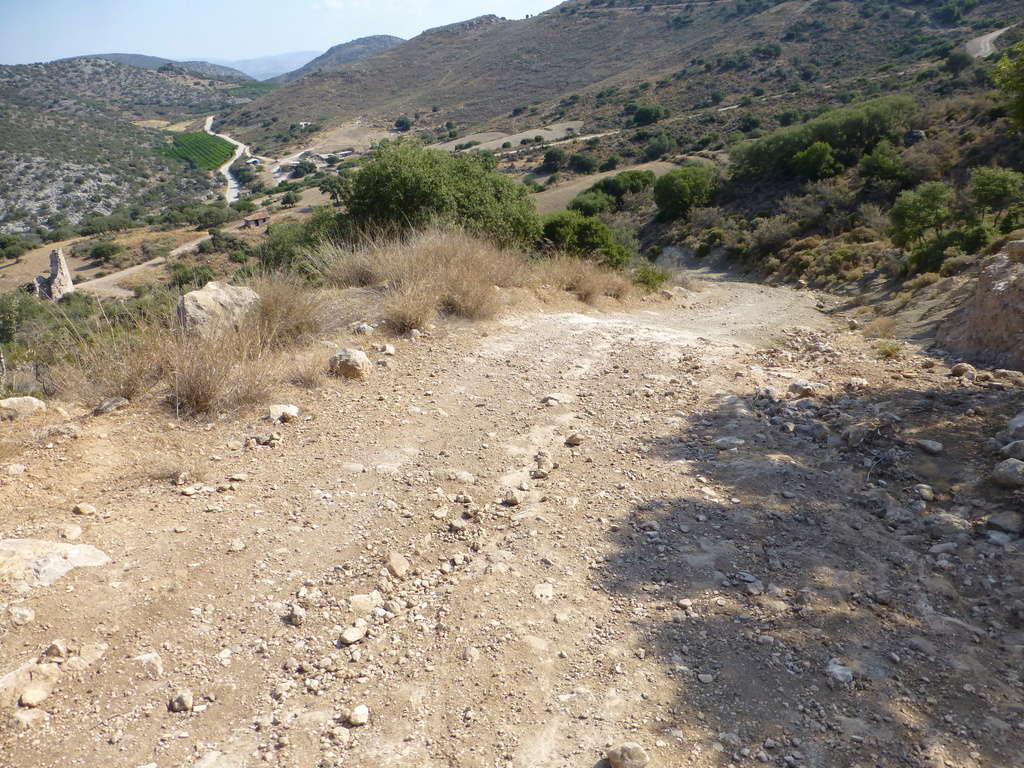 p1190050
but took it extremely carefully getting to the bottom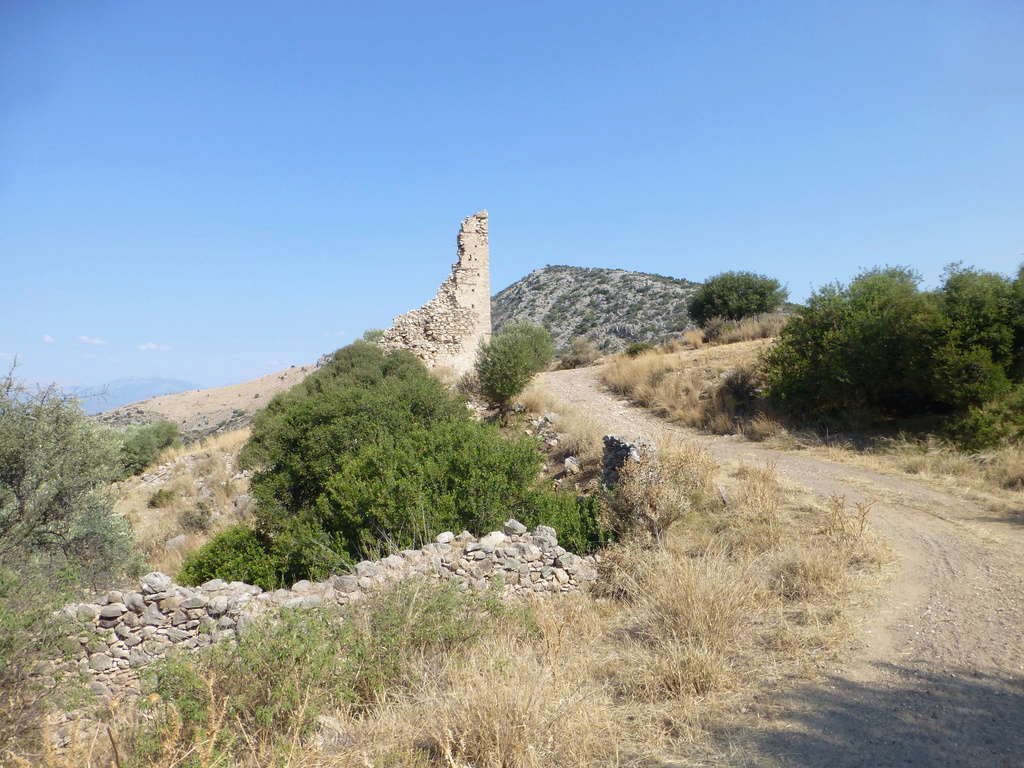 p1190052
Eventually going passed this old ruined building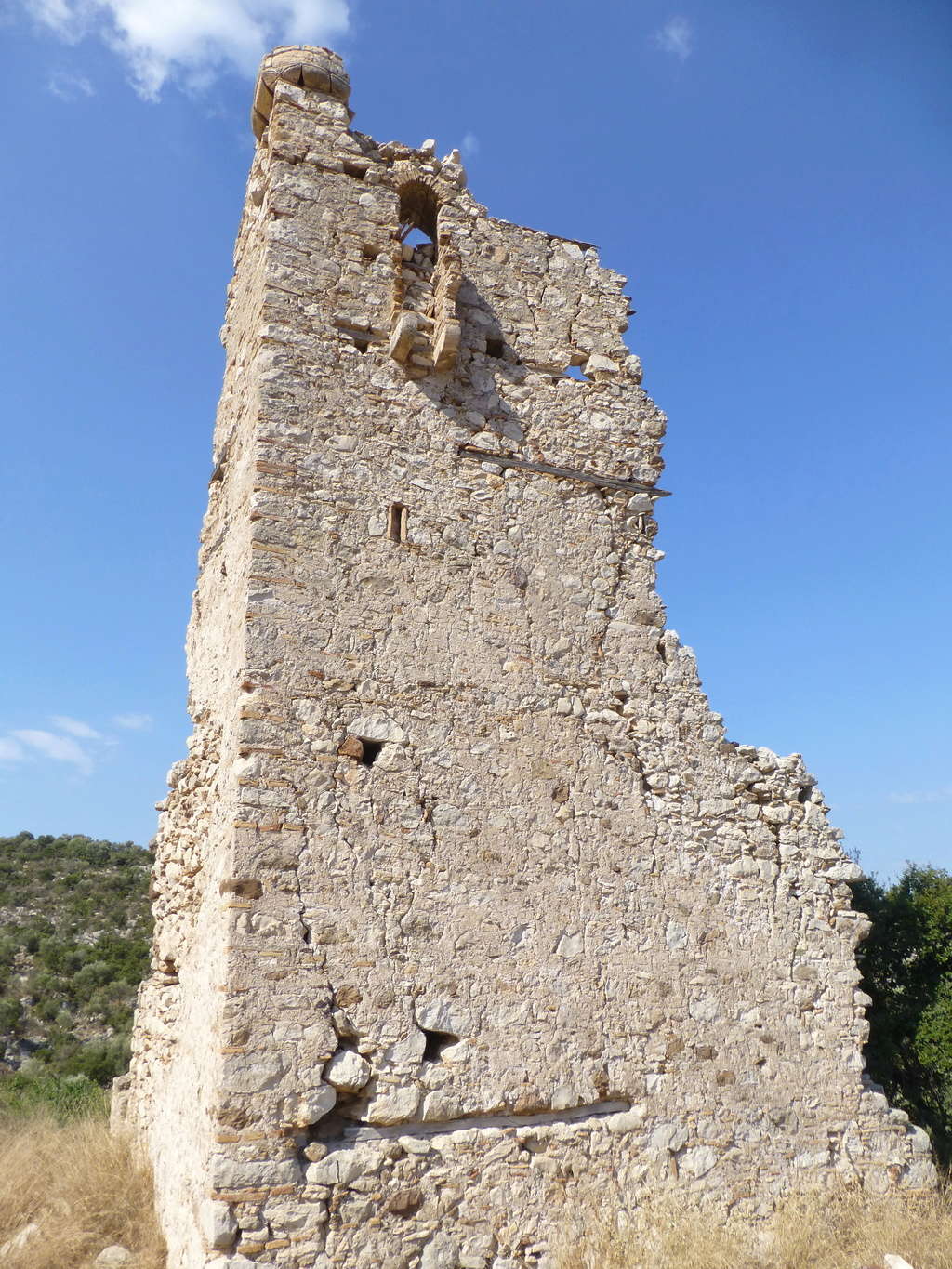 p1190054
I then headed along a pathway towards the bay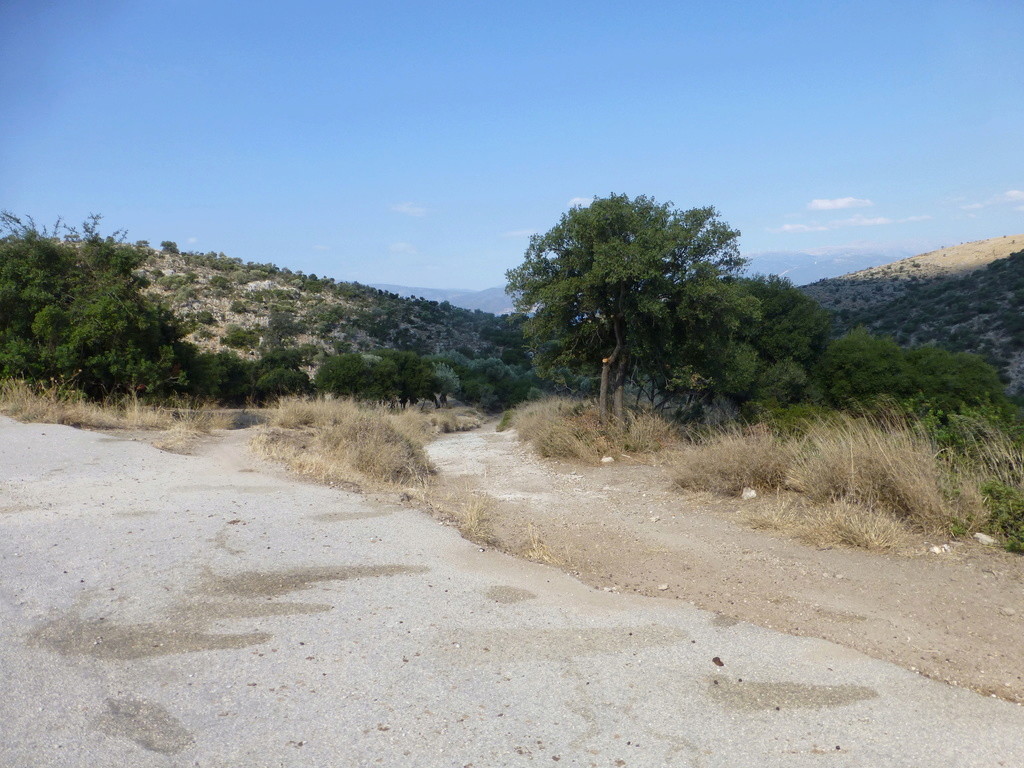 p1190059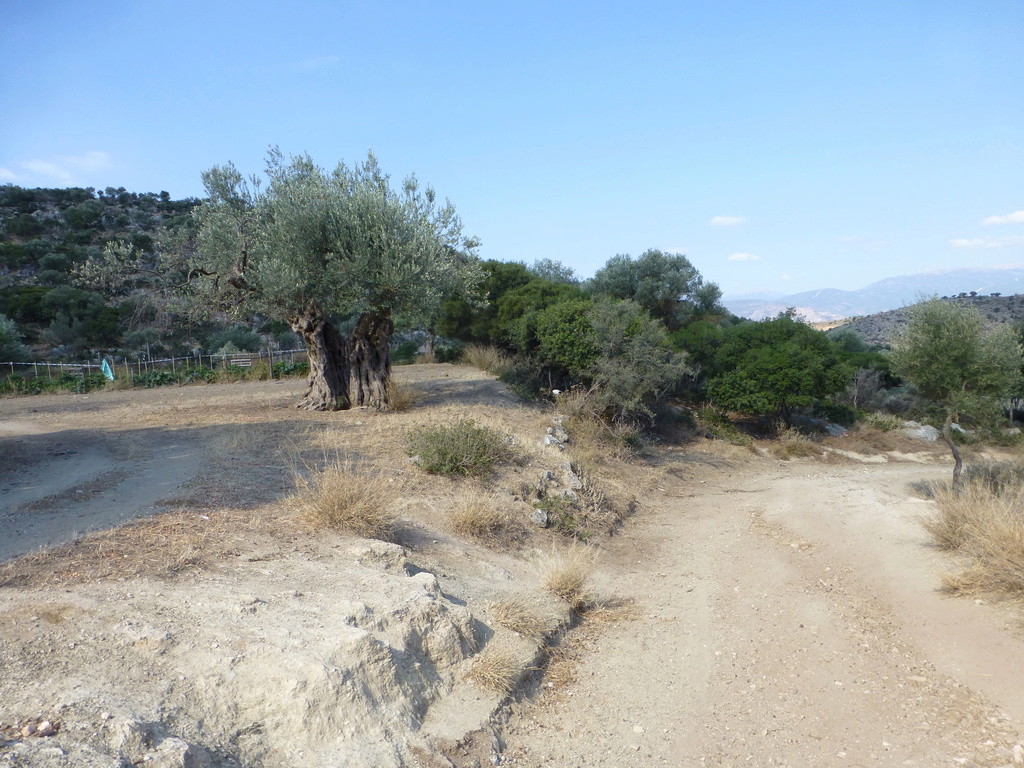 p1190060
An finally coming to a dead end with nowhere to go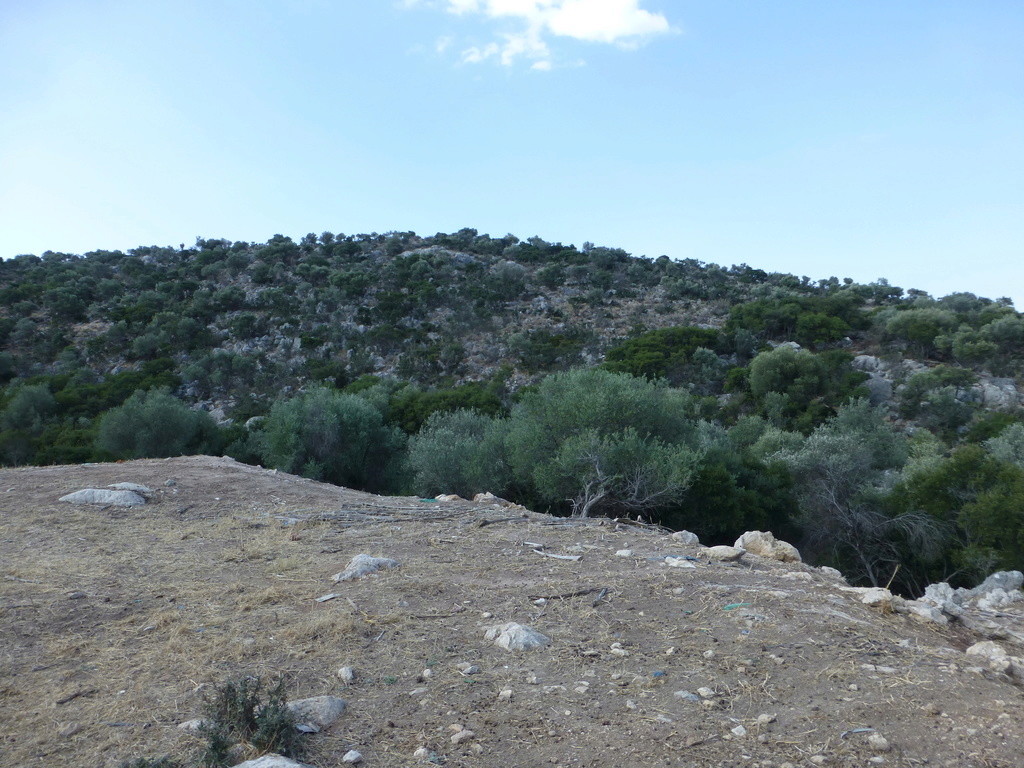 p1190064
Despite this familiar way of the Greek's telling me to follow the arrow an perhaps leading me to another potential snake pit lol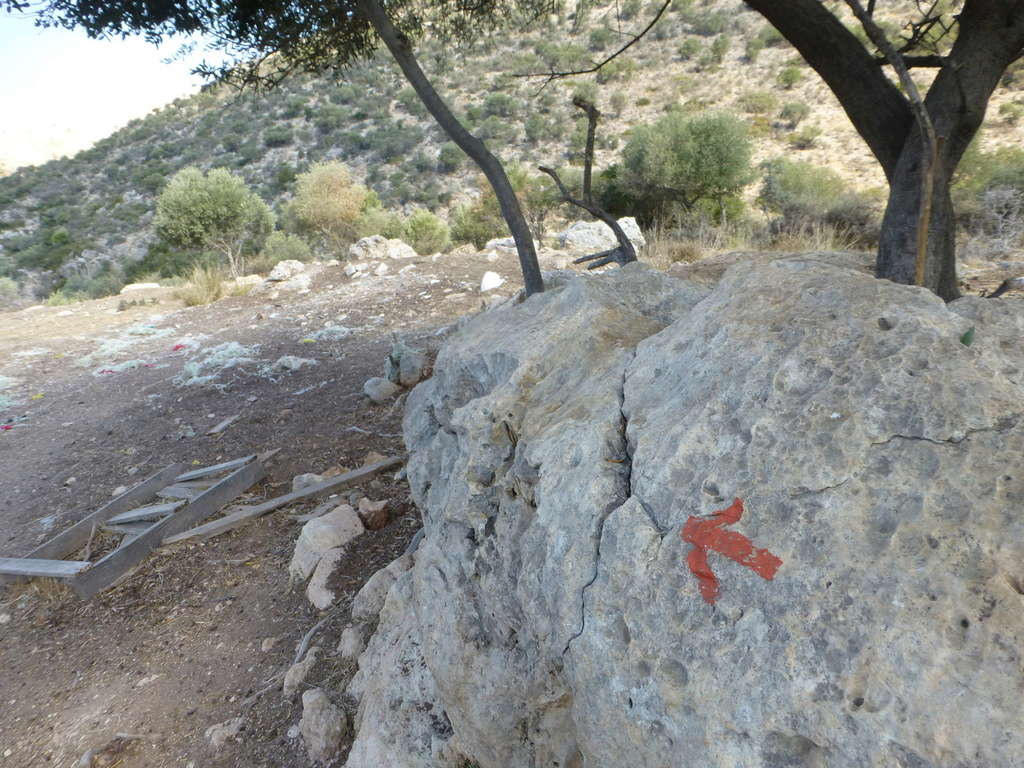 p1190065
So for me it was about turn and to head back up the mountain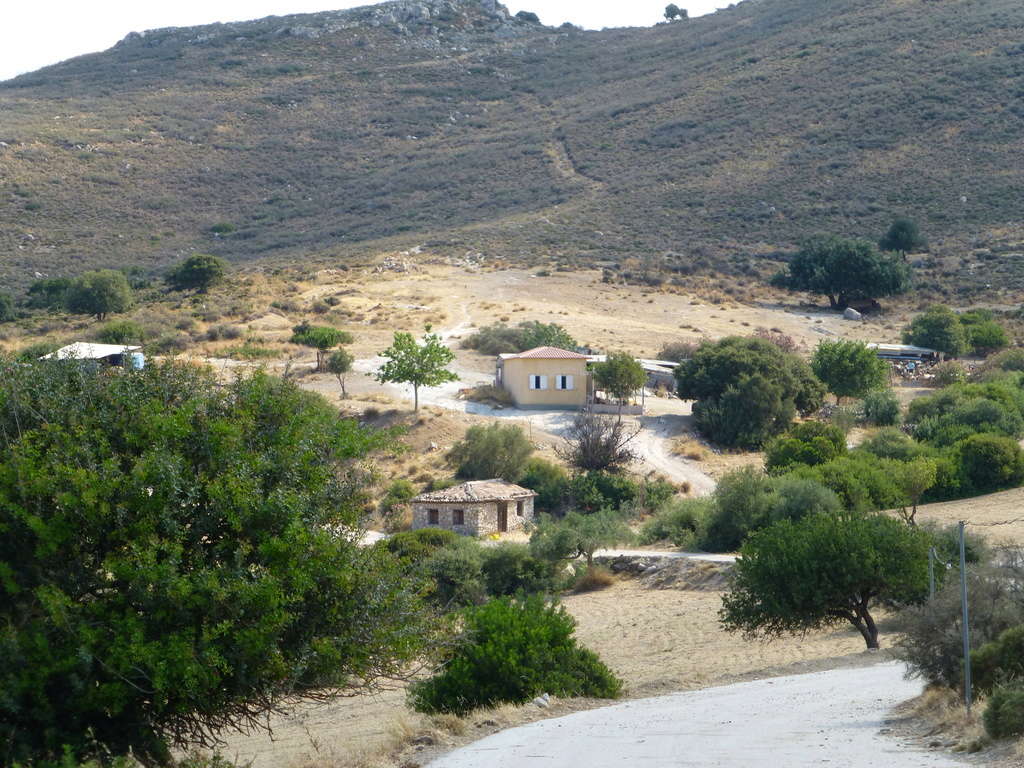 p1190068
I could hear the faint clanging of mountain goat bells in the distance but I haven't been fitted with one yet lol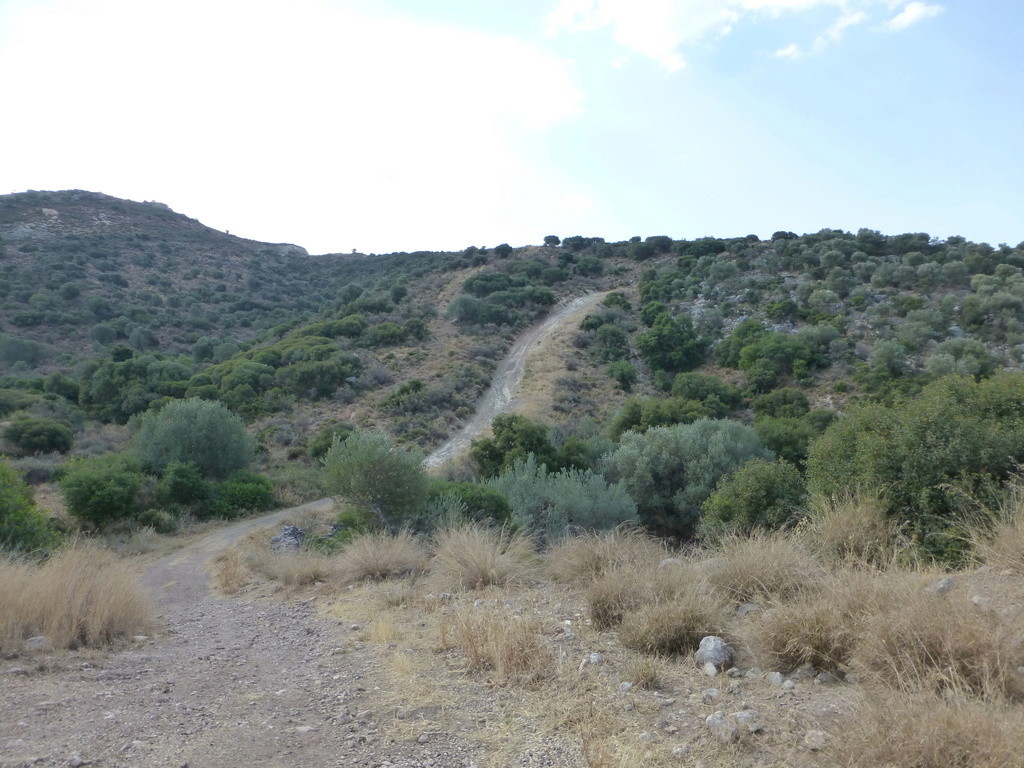 p1190071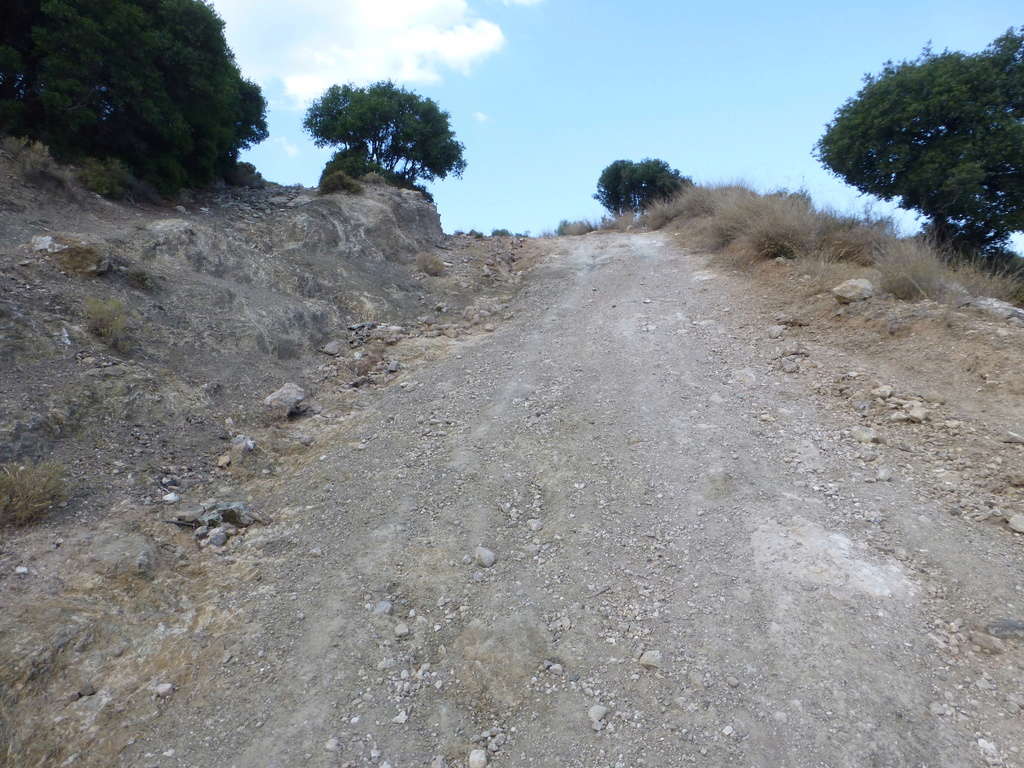 p1190075
but summing up it was another dead end walk lol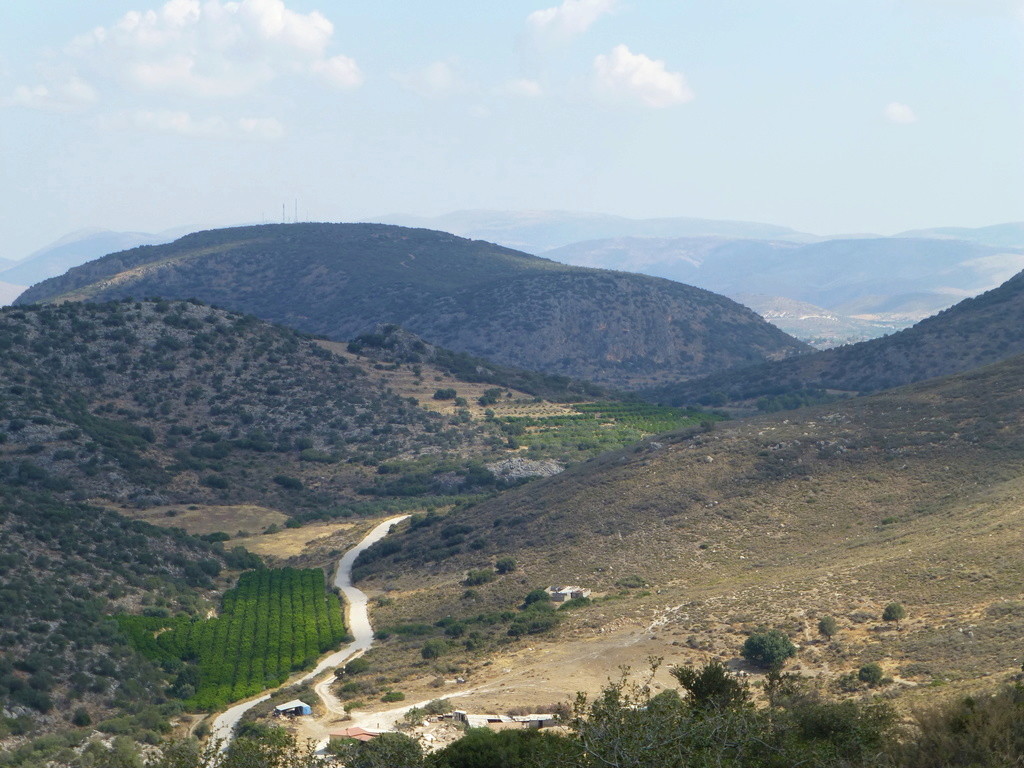 p1190083
with a bay not accessable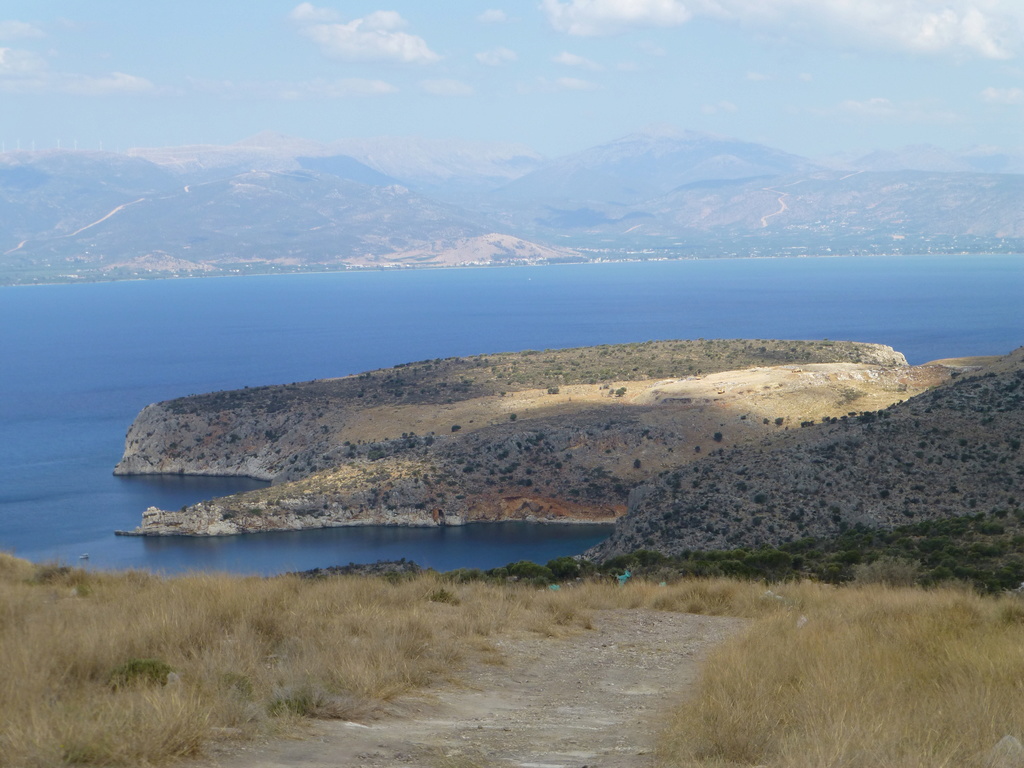 p1190085
but even the rubbish tip had a little bit of beauty growing amongst it, as I captured this on the way back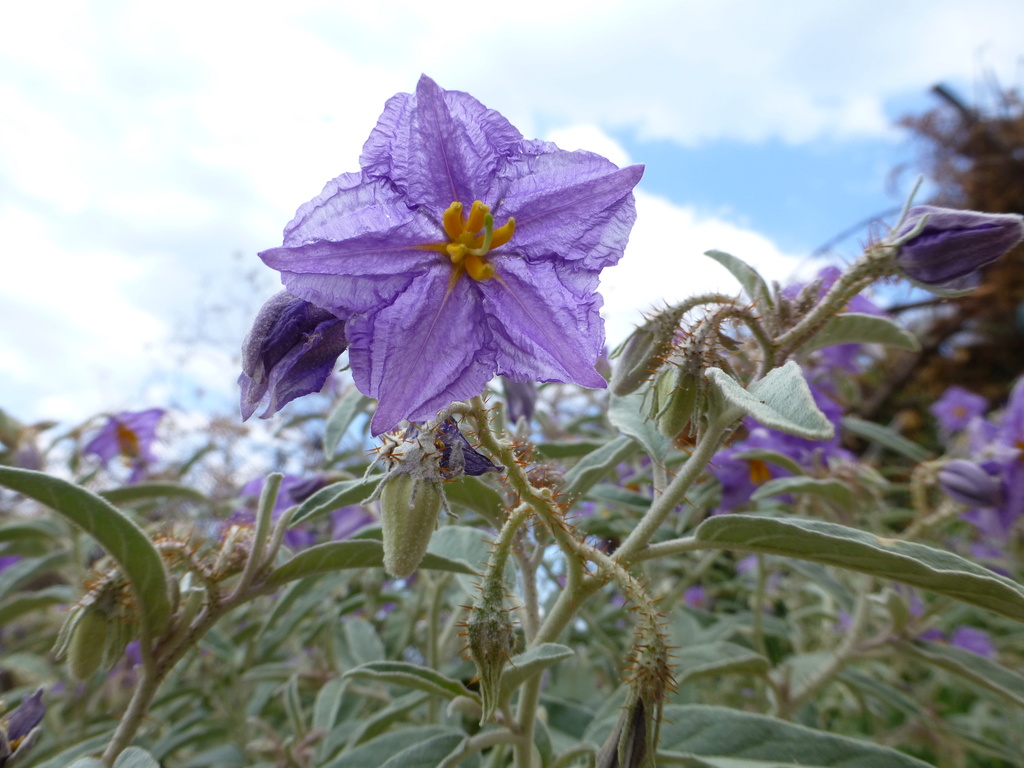 p1190093
Lunch started off with a welcome beer in the hotel taverna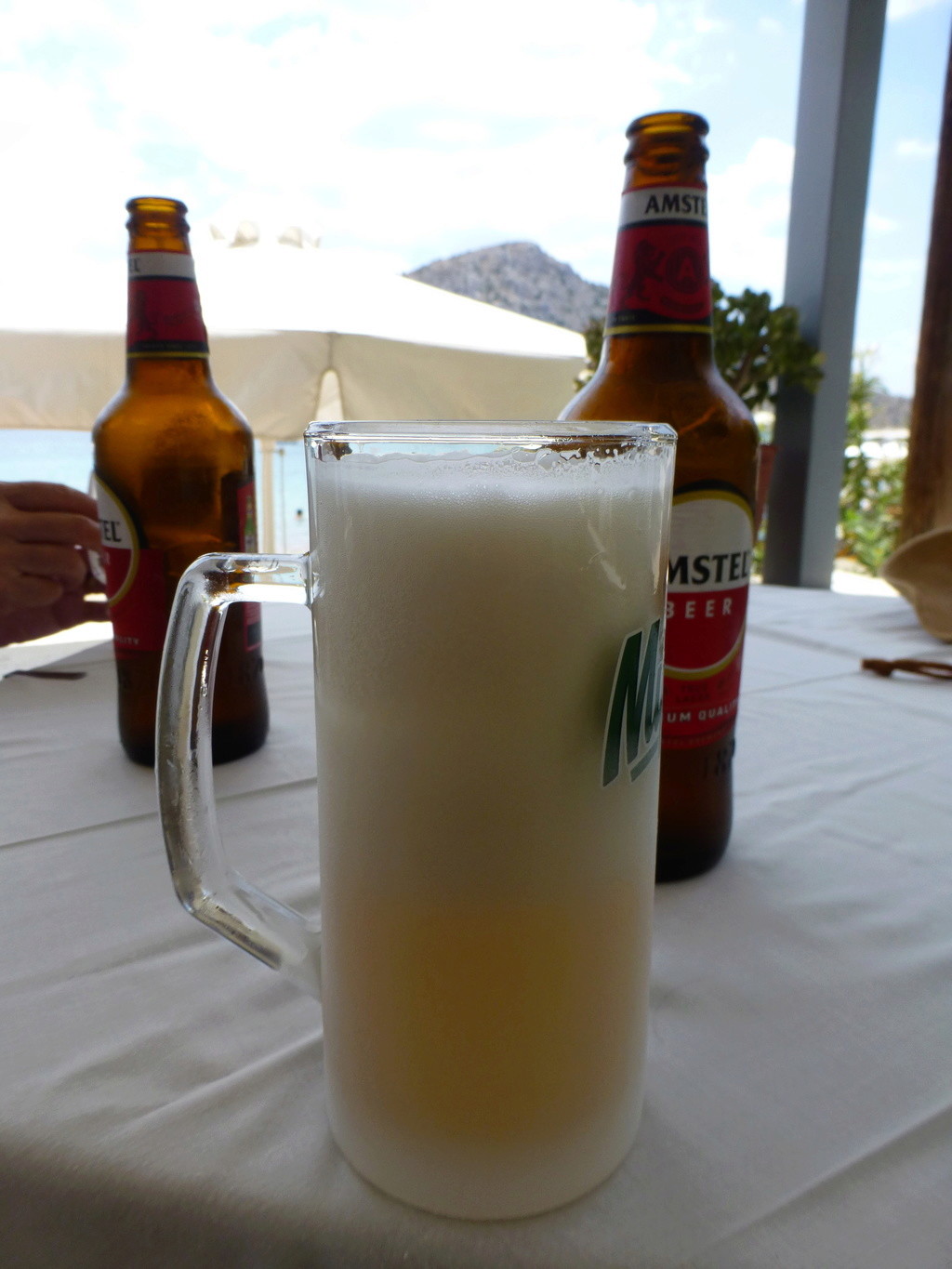 p1190096
We each had an omelete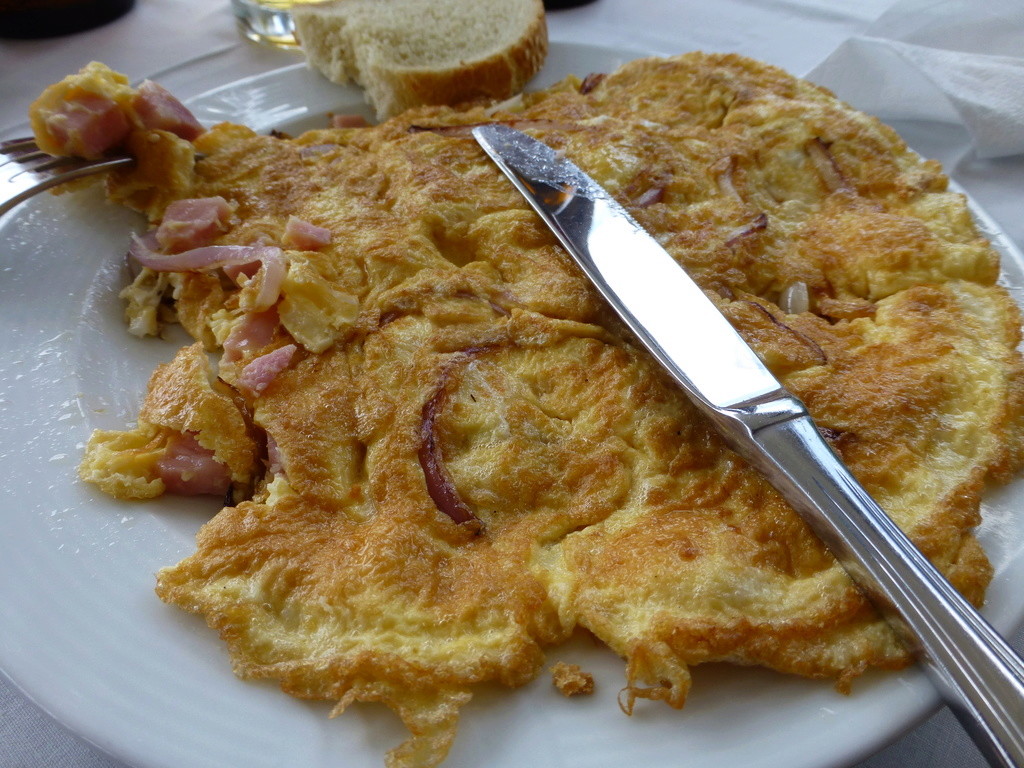 p1190097
The afternoon was spent on the beach
around the hotel area
p1190102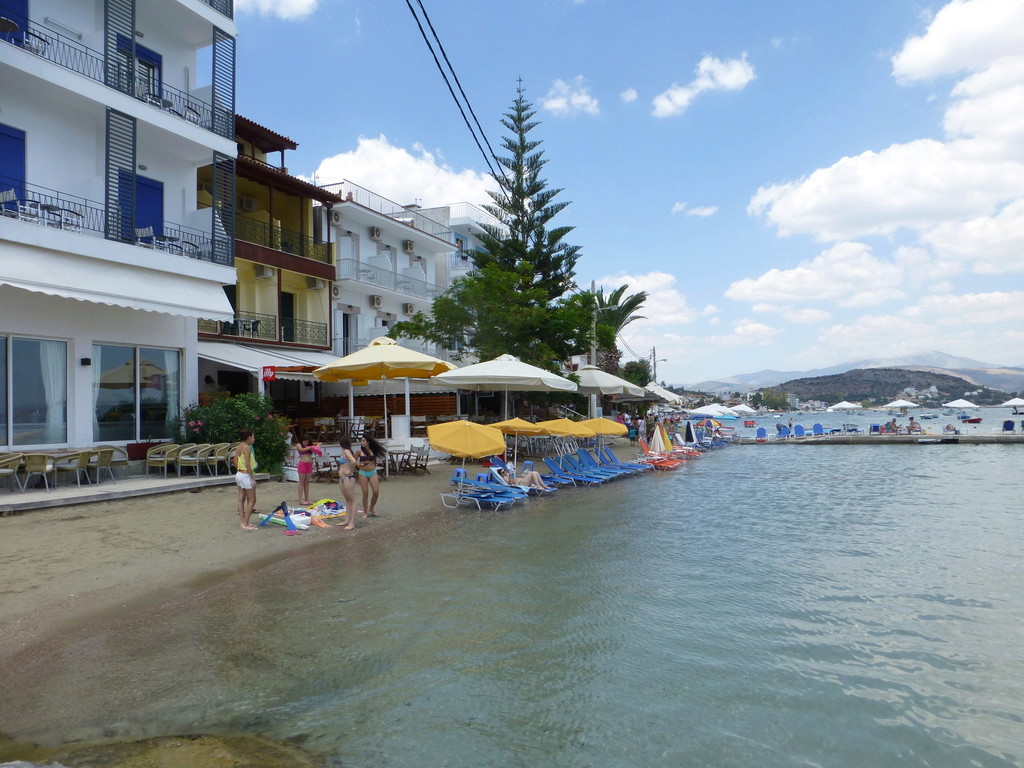 p1190103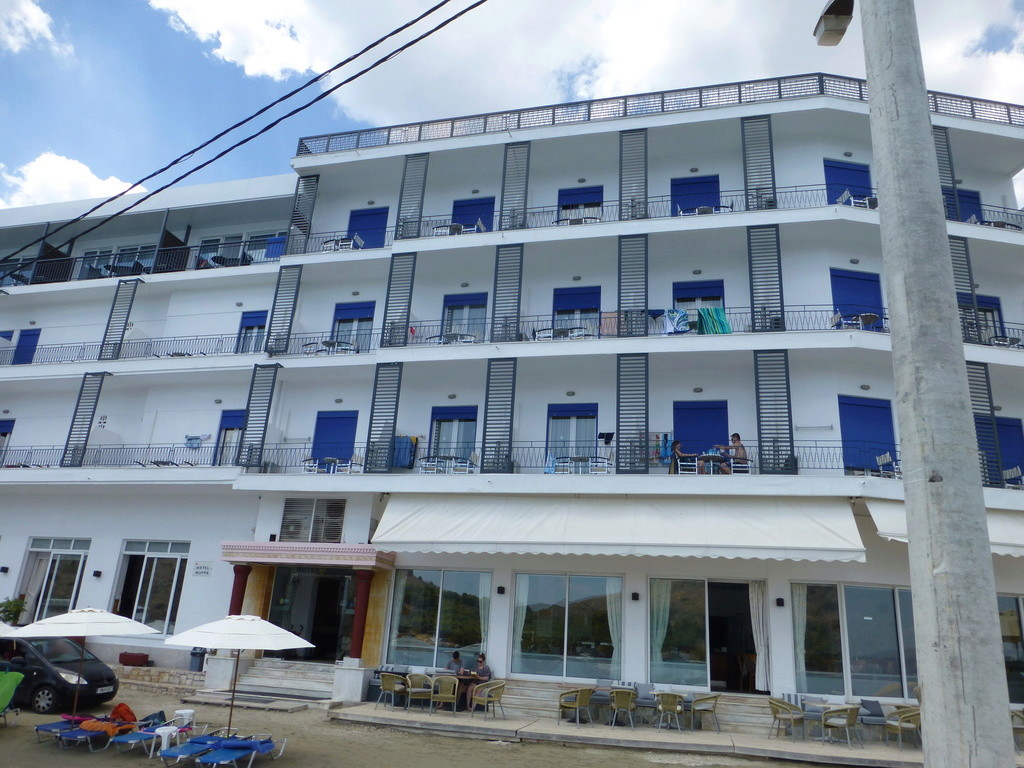 p1190104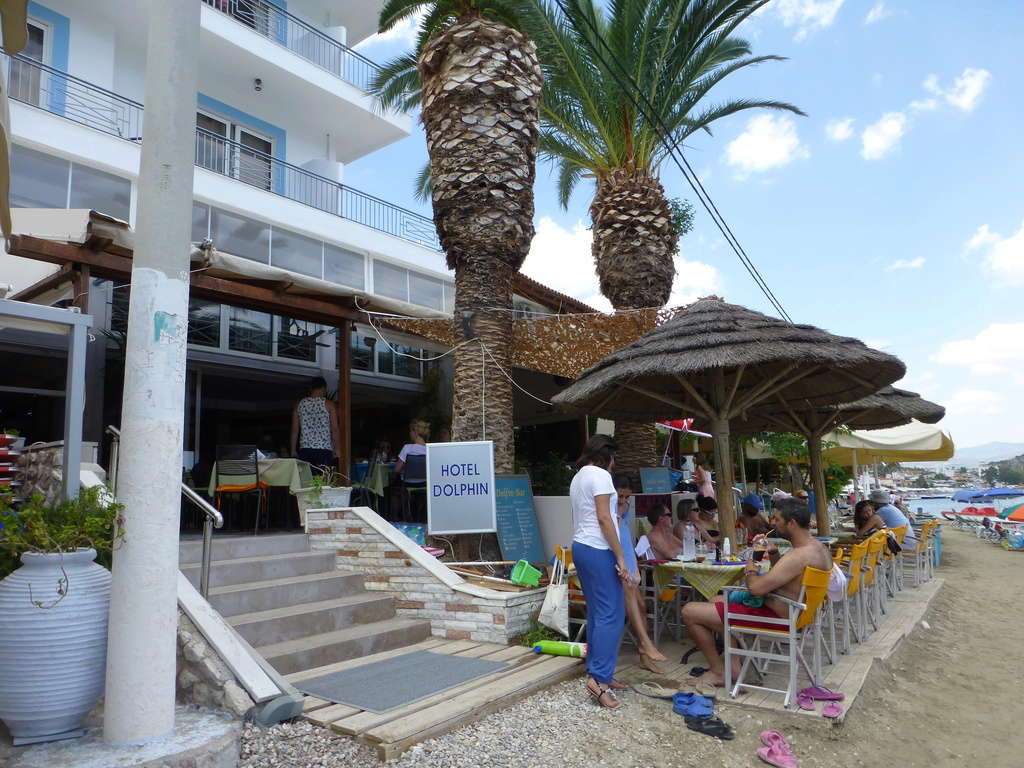 p1190106
well with only one more day tomorrow to go up into the mountains to get my blue sea shots I have waited patiently for the clear blue sky around 5pm and if I don't go up this evening tomorrow may end up being cloudy and I will miss my chance
So going up to the bypass and walking along to the right road on the brow of the hill with this orange sign the one I did the first time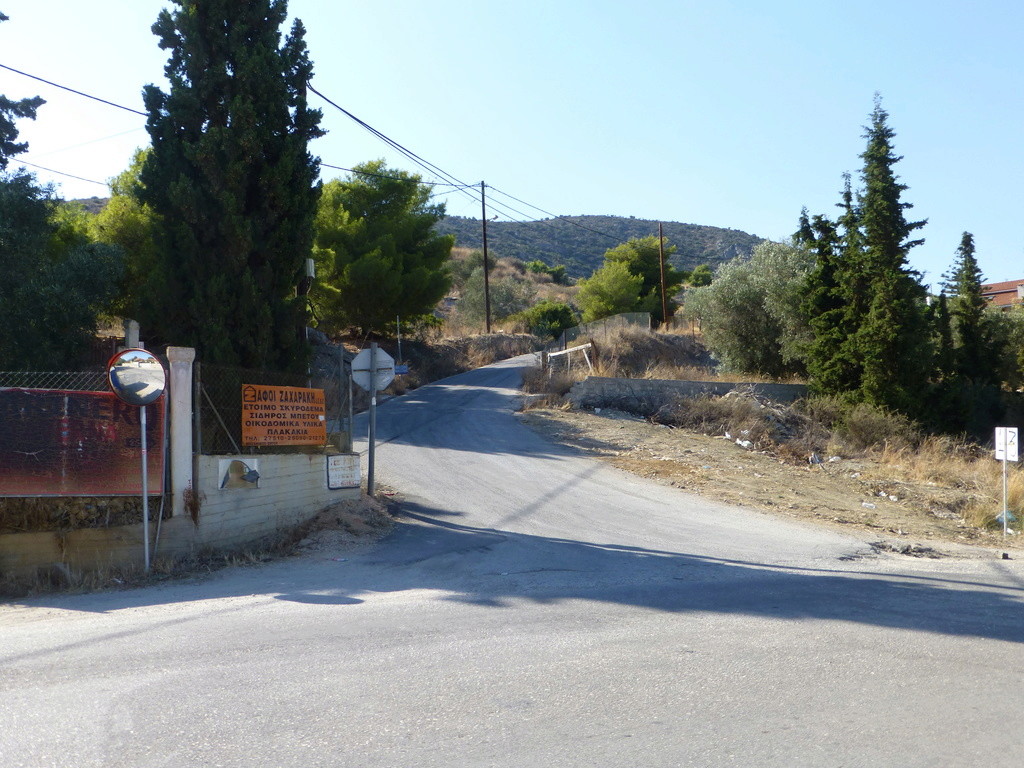 p1190112
one takes the lower road here as that road above is someones drive in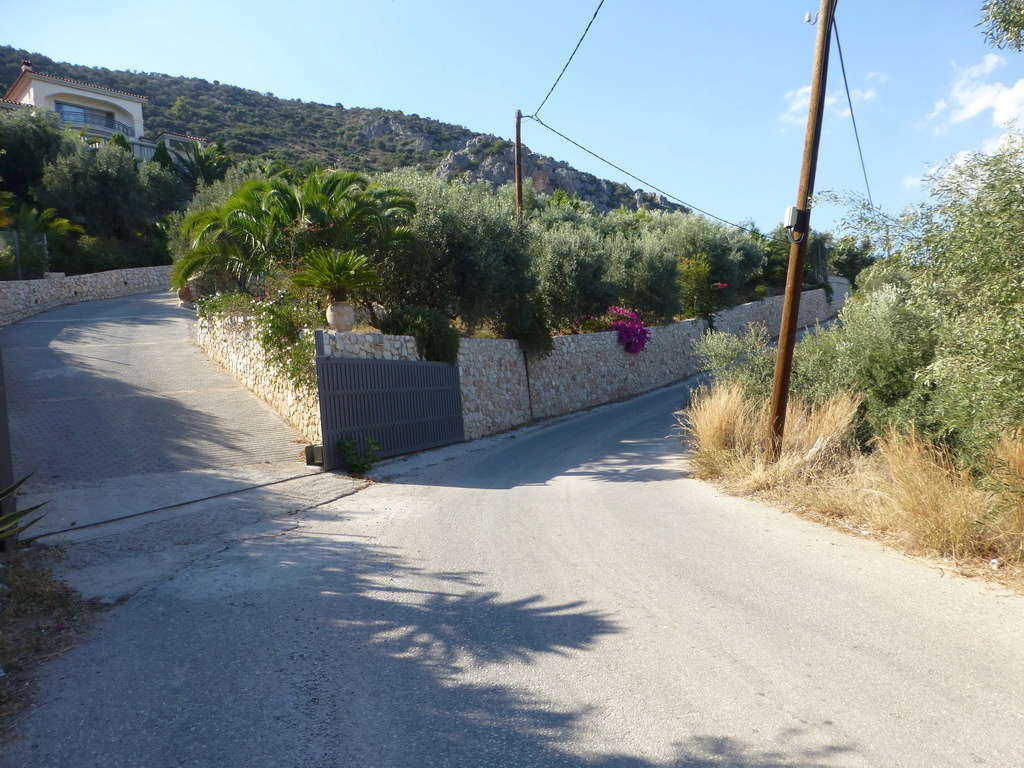 p1190115
For all of these I had to go right to the top of the mountain and there are some super properties up here and it took me about an 1.5 hours to get the photographs and get down for a shower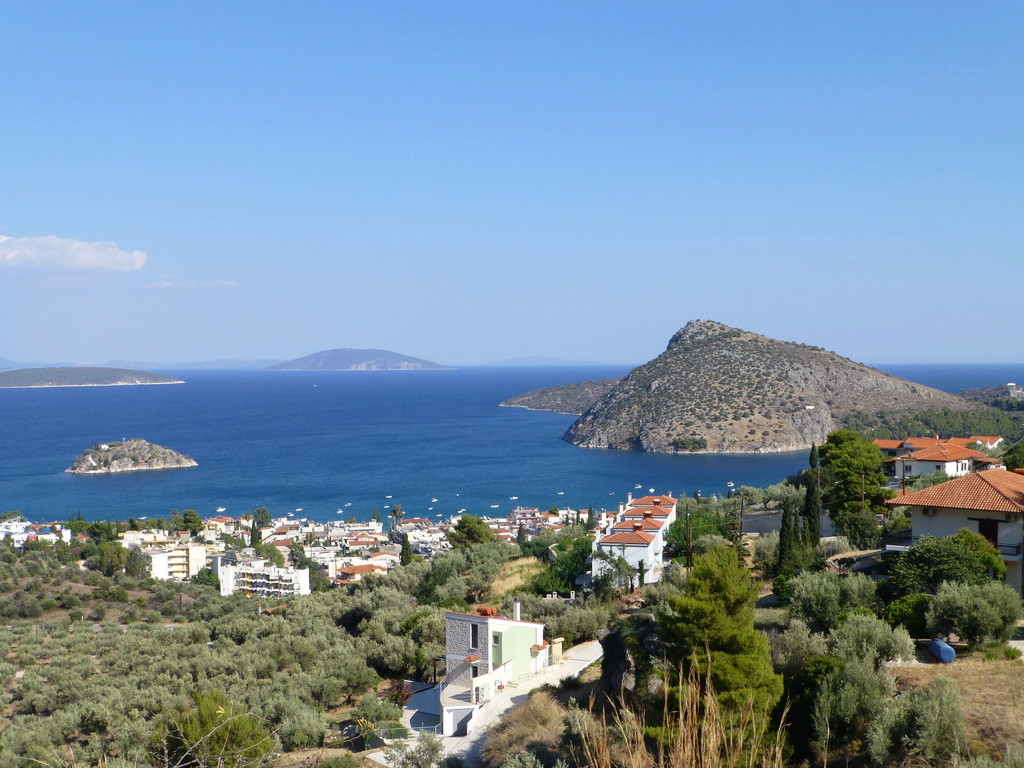 p1190118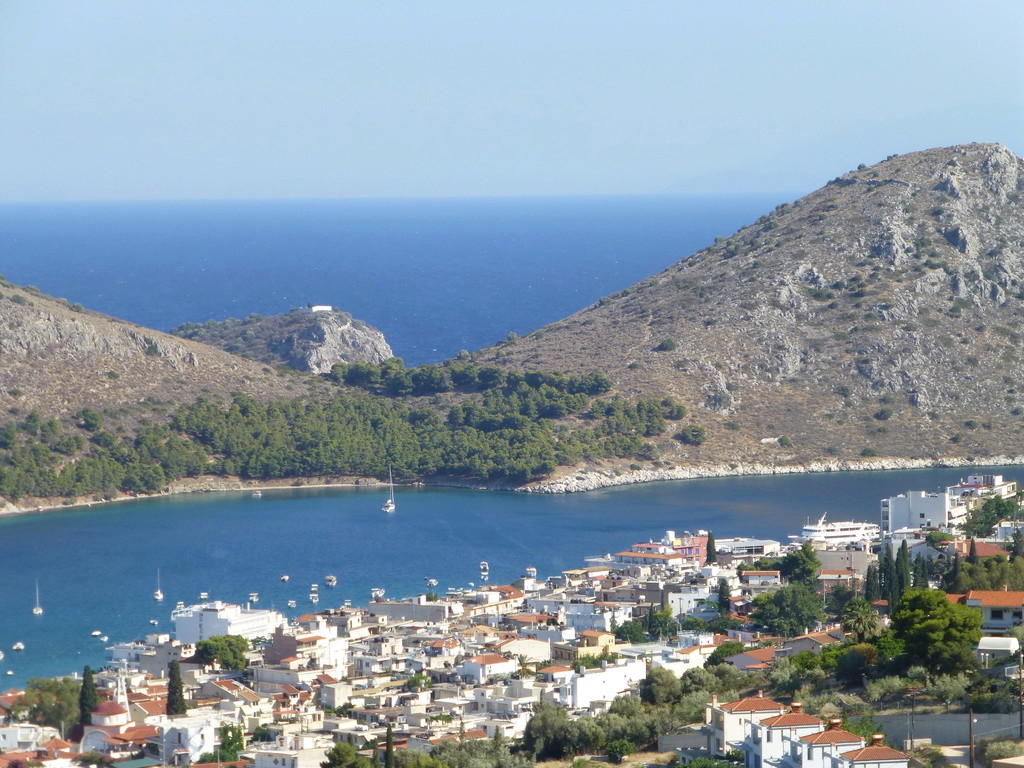 p1190120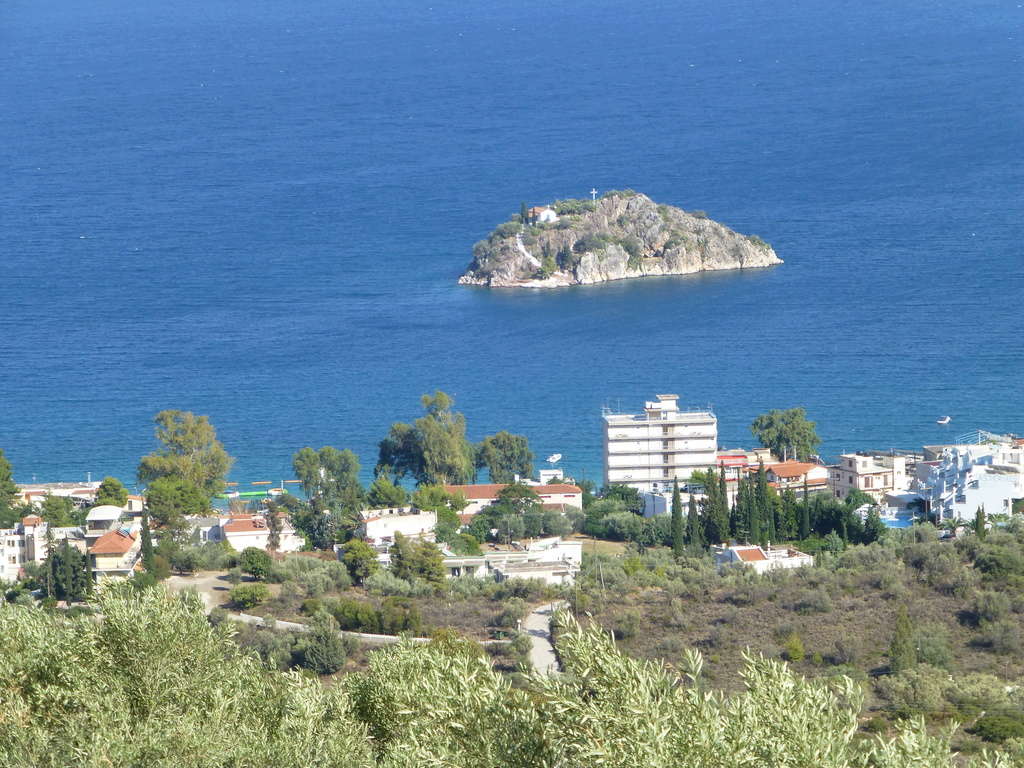 p1190122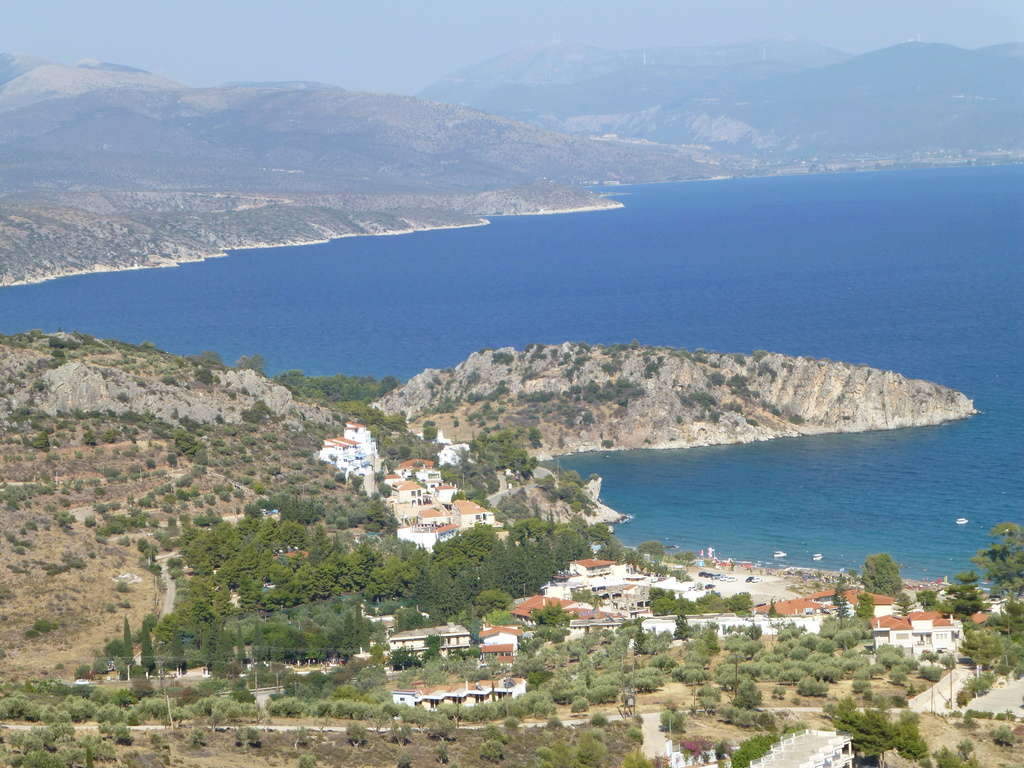 p1190127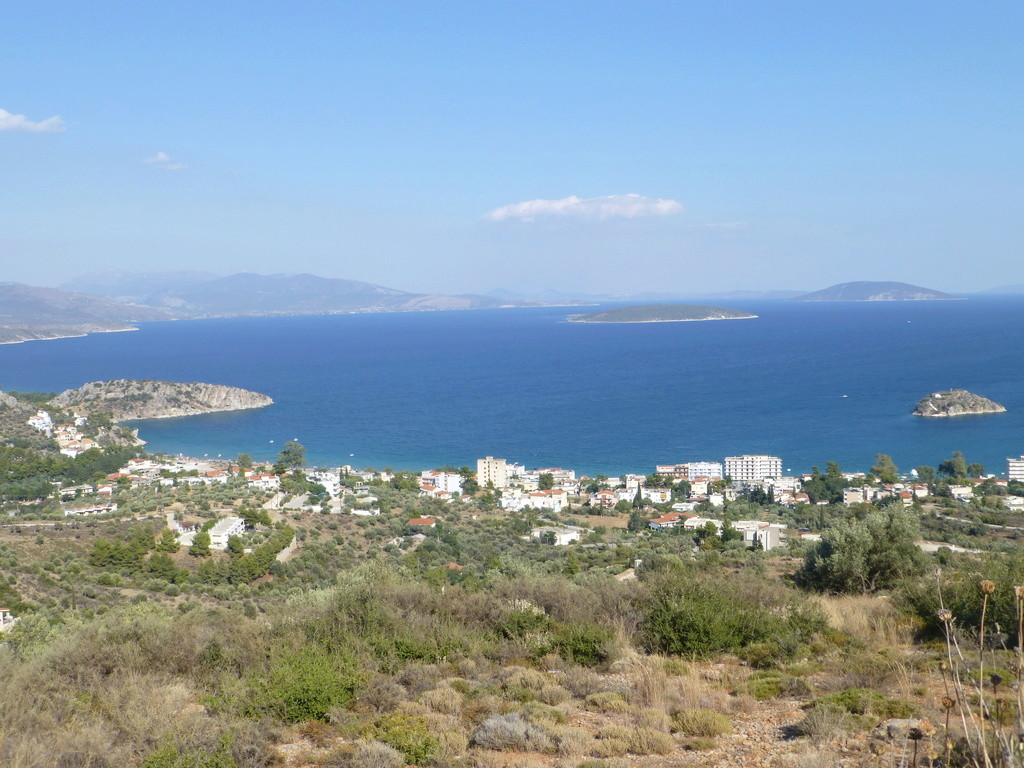 p1190129
These next 4 more or less covers the bay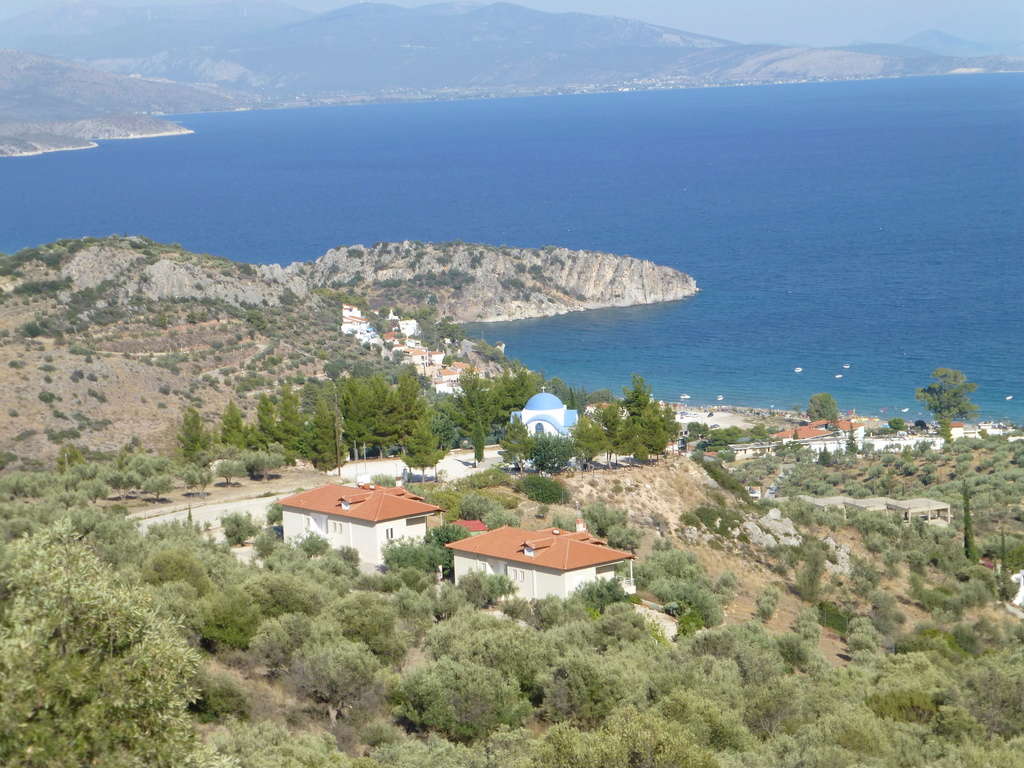 p1190138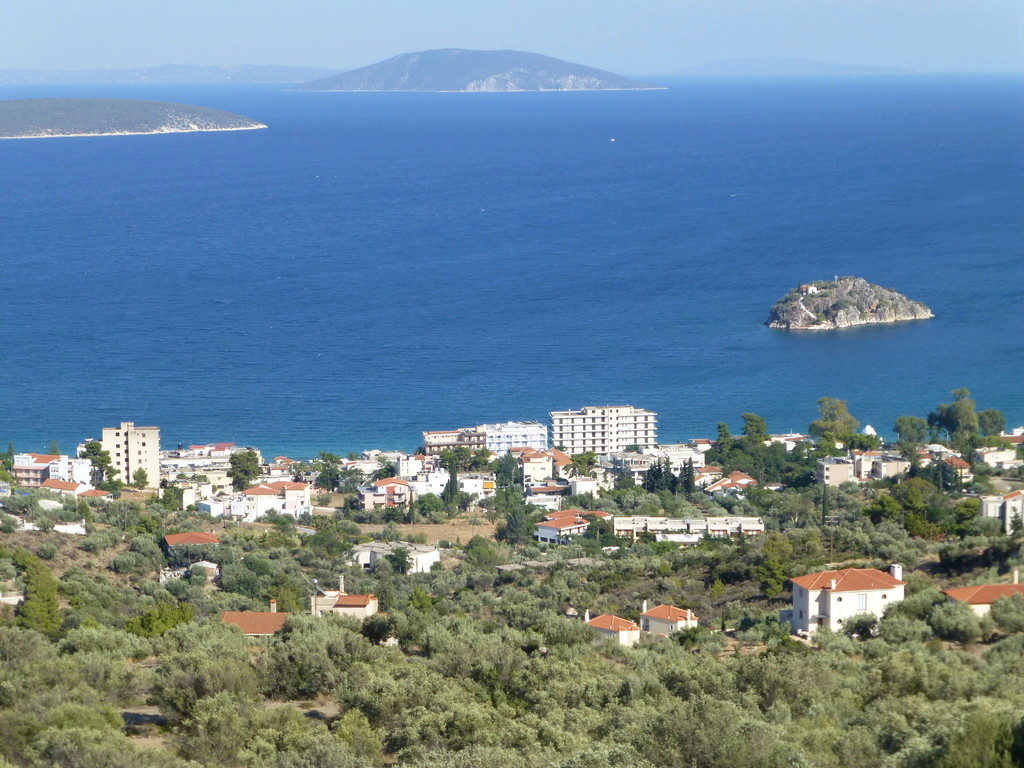 p1190139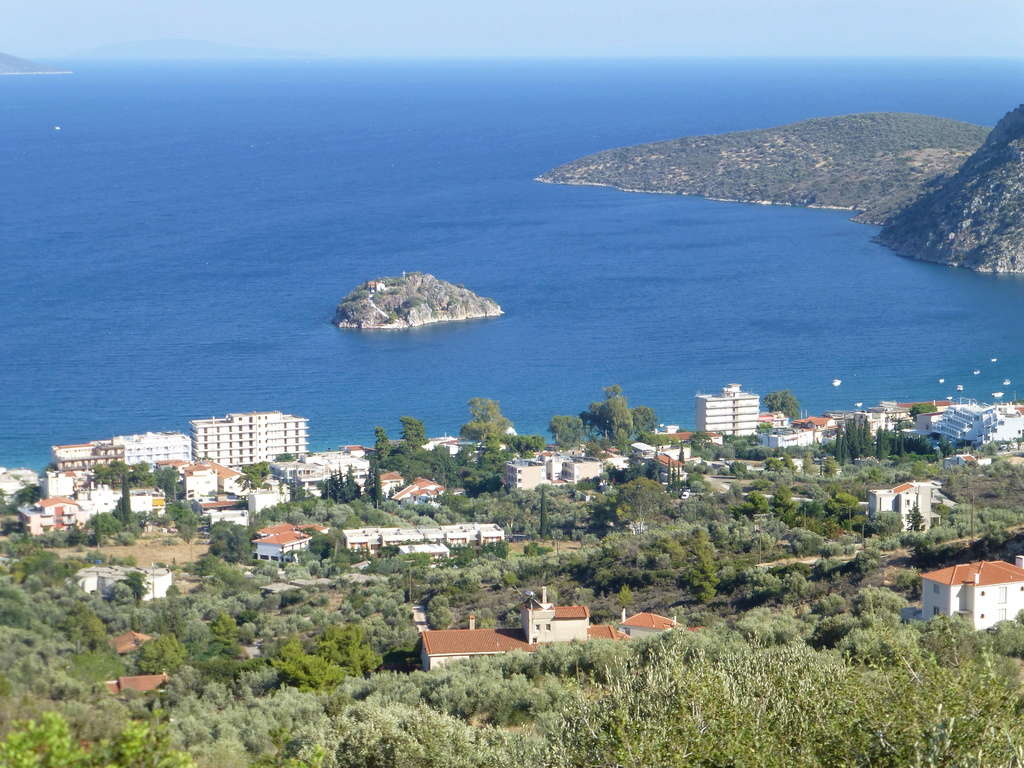 p1190140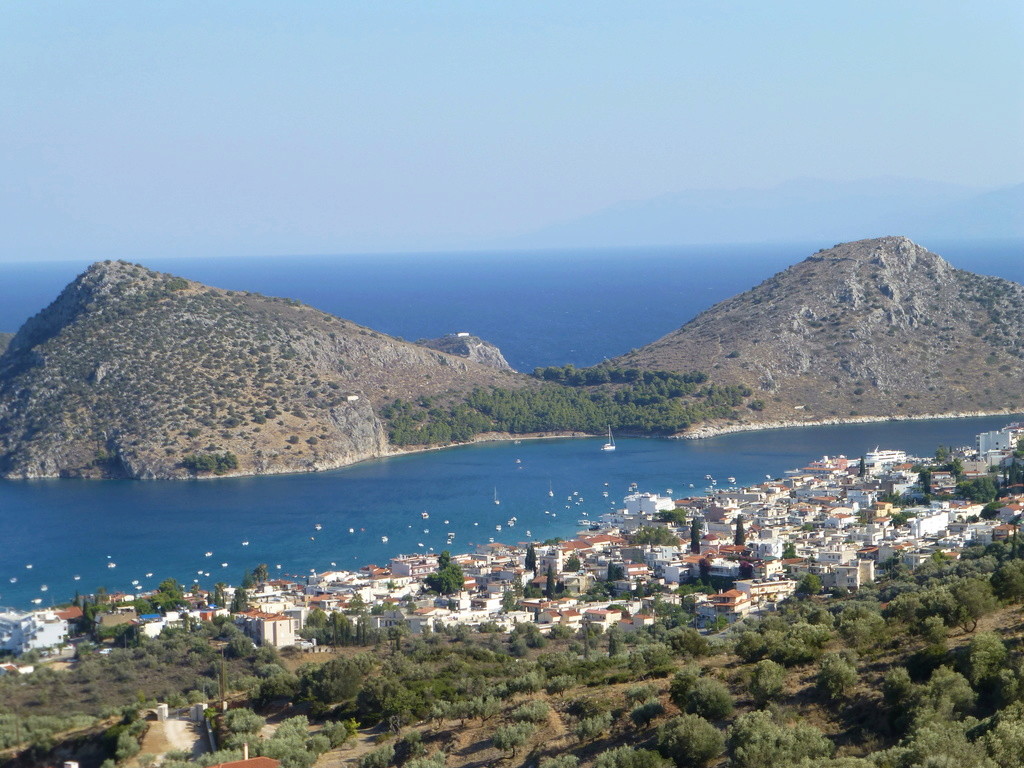 p1190142
with a last one closer up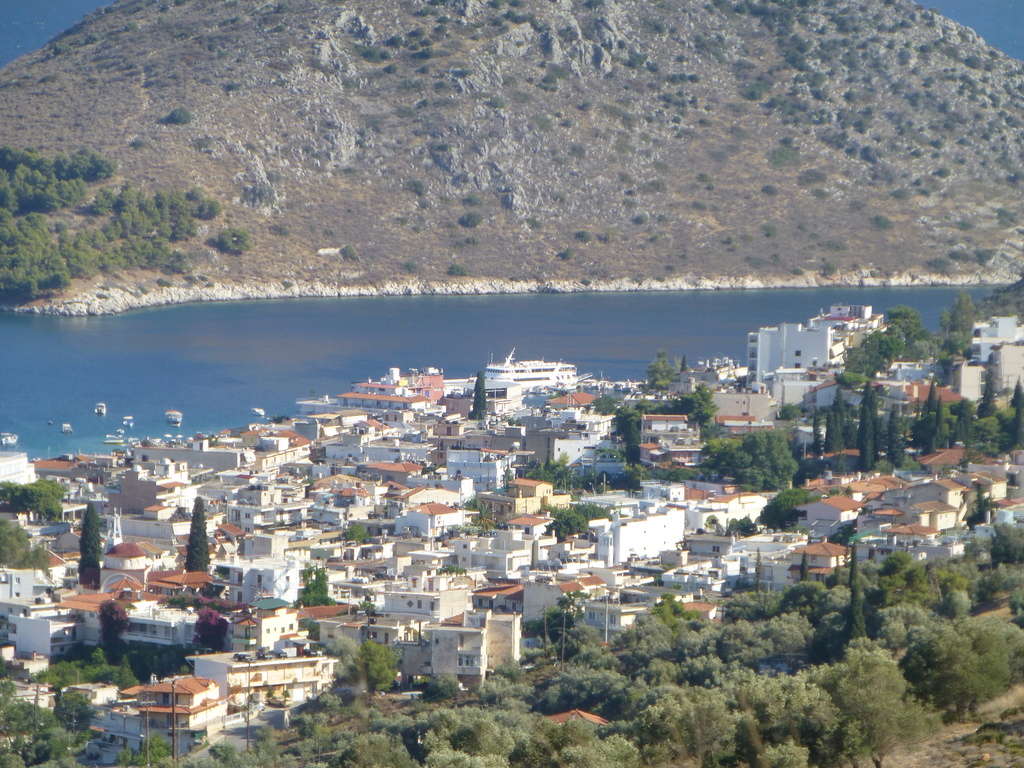 p1190145
and one panoramic shot I tried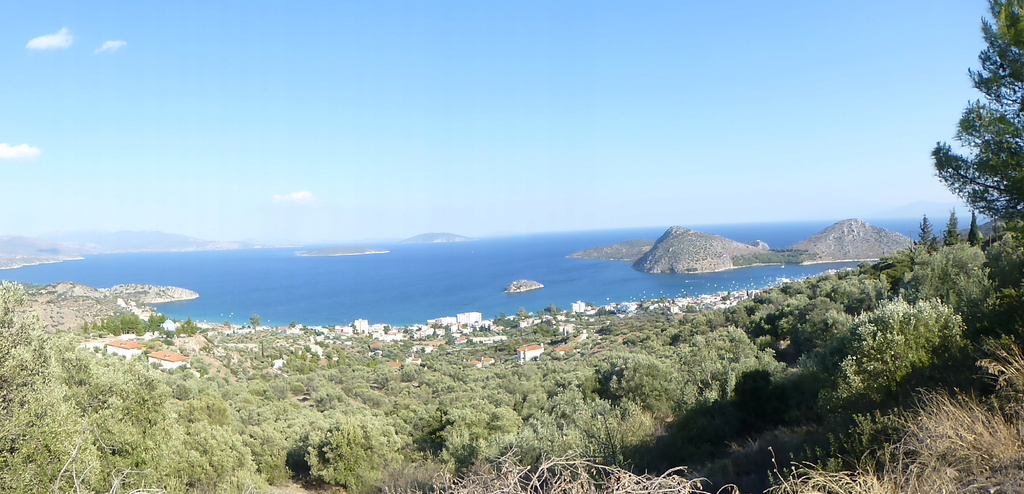 p1190147
for our last but one evening meal we chose Panorama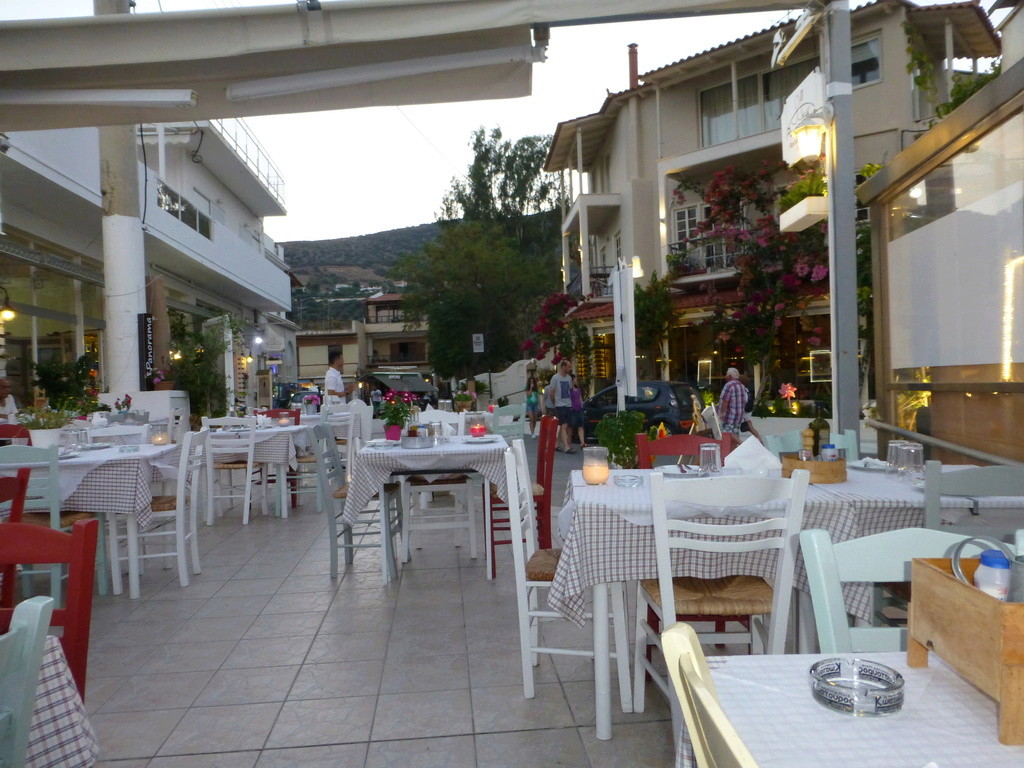 p1190155
part of the menu's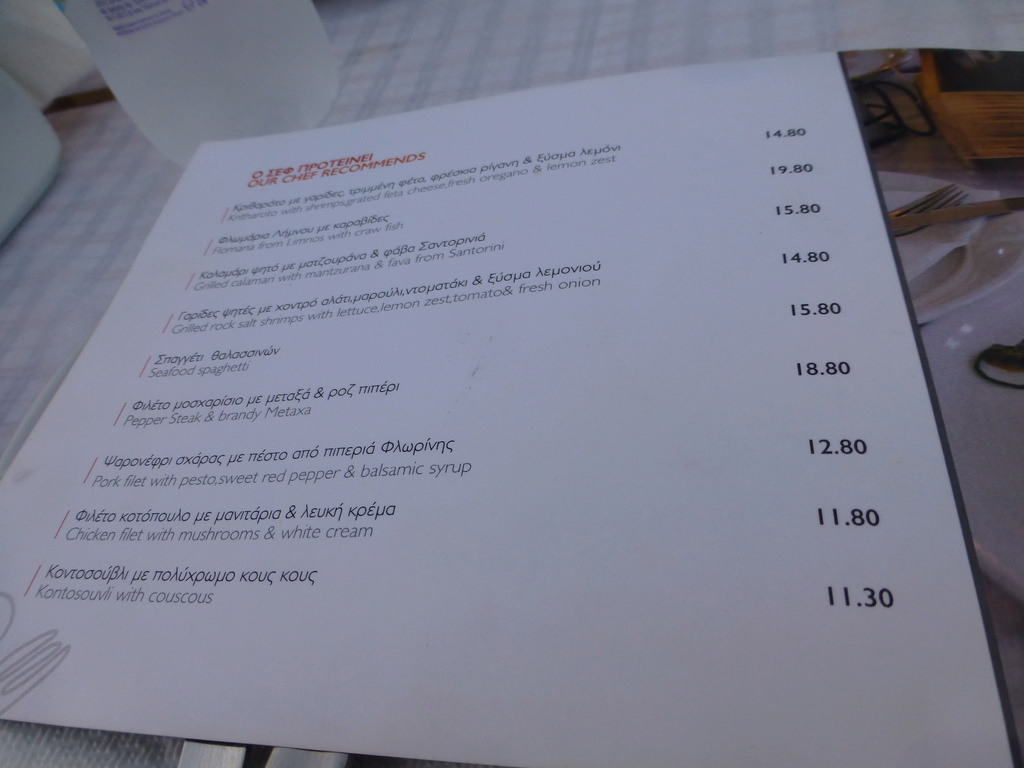 p1190152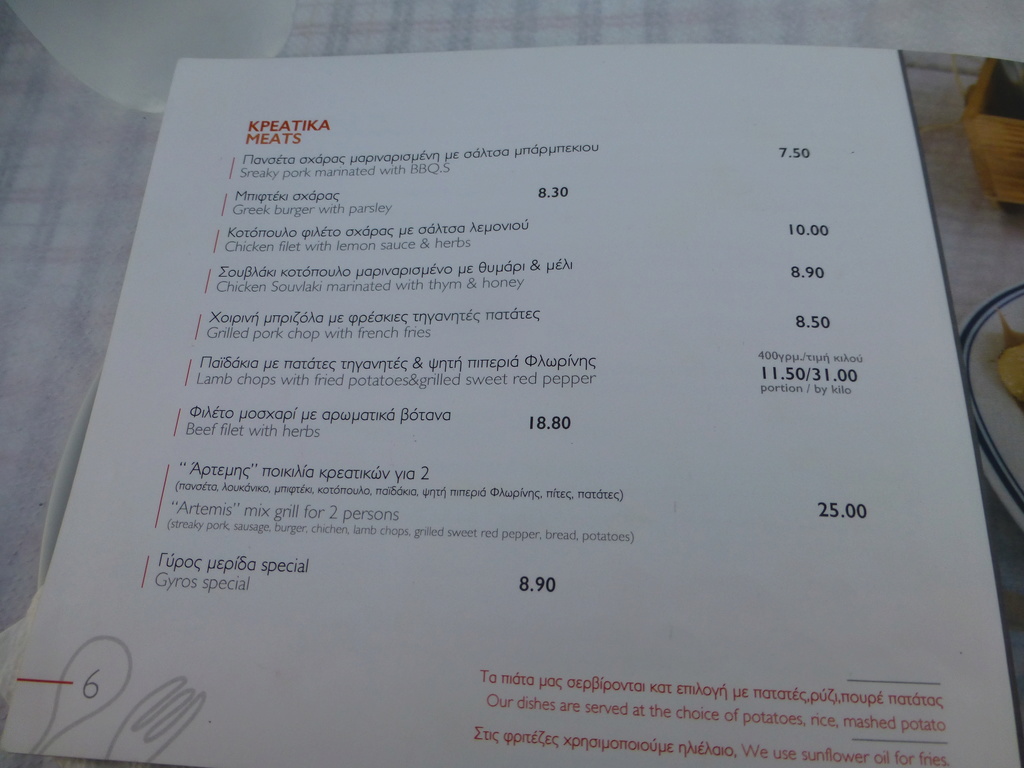 p1190153
Who gave us the lovely toasted bread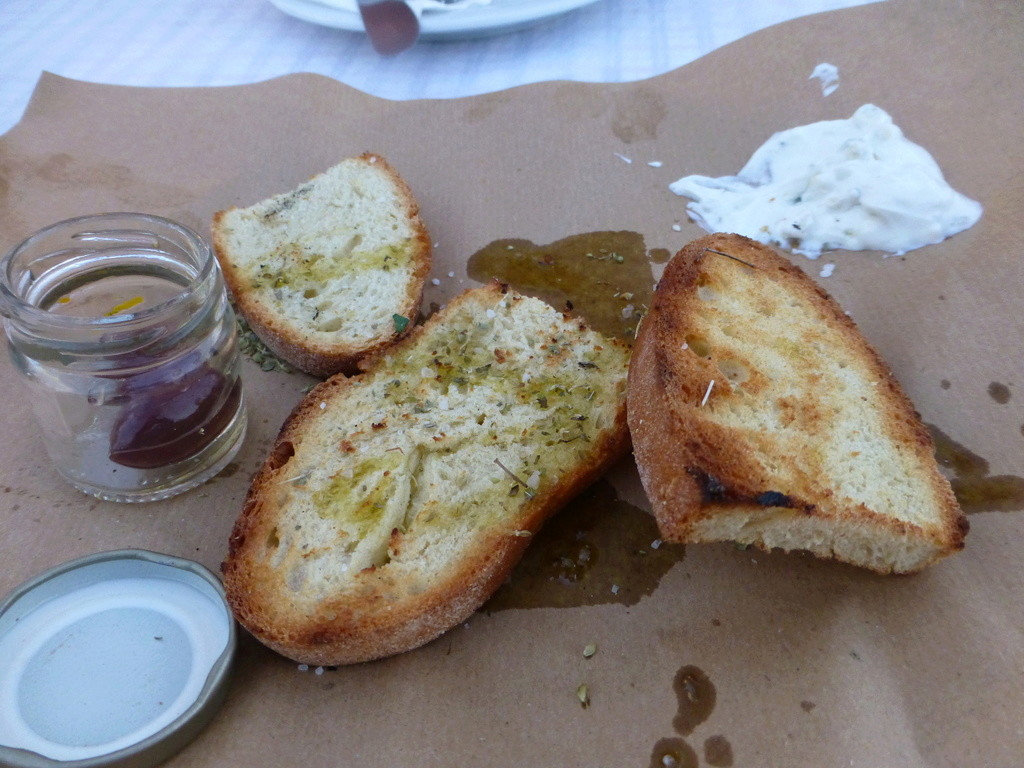 p1190154
I had the chichen Souvlaki with honey and tyne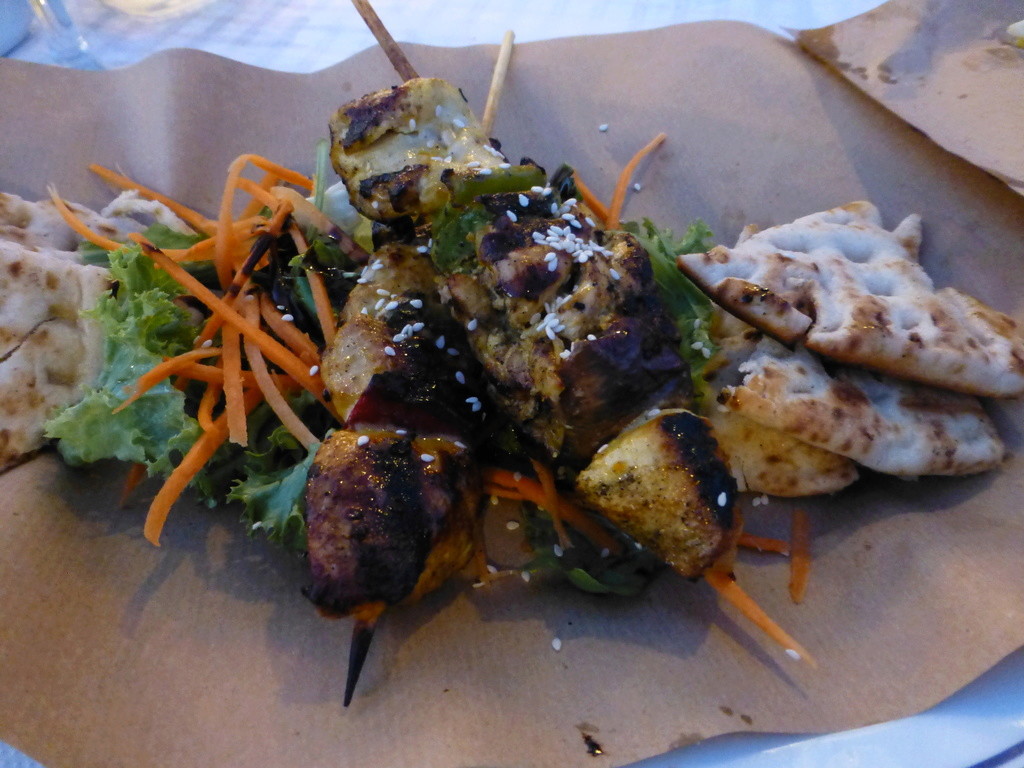 p1190158
which comes with chips
p1190160
and Mrs Db had the pork fillet with Pesto sweet red pepper and balsamic syrup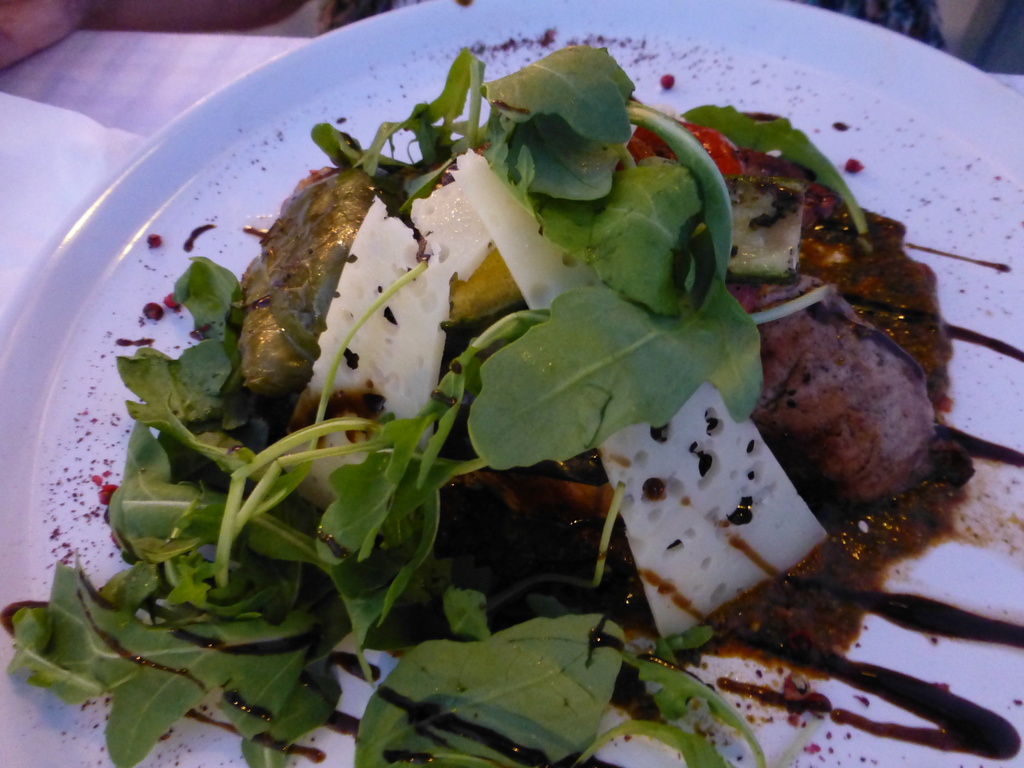 p1190157
we didn't get another lovely panacotta but free melon but lovely meals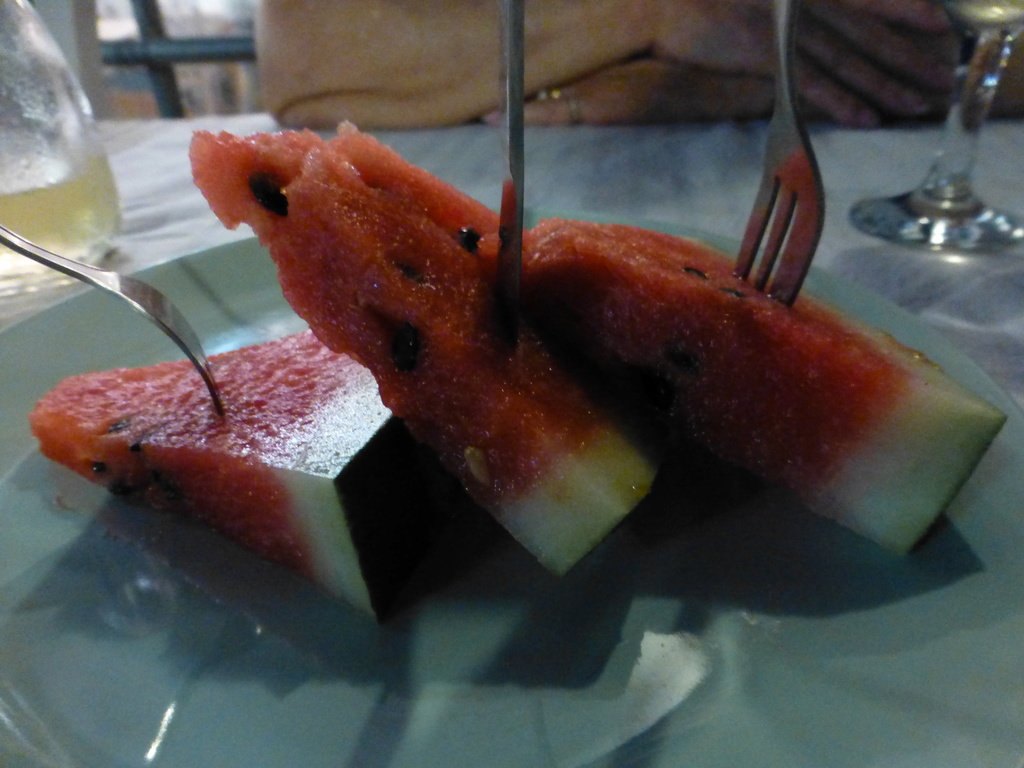 p1190161
END OF DAY 13
...................................................................................
Saturday Day 14
I just took the sunrise from our balcony and made Mrs Db a cup of tea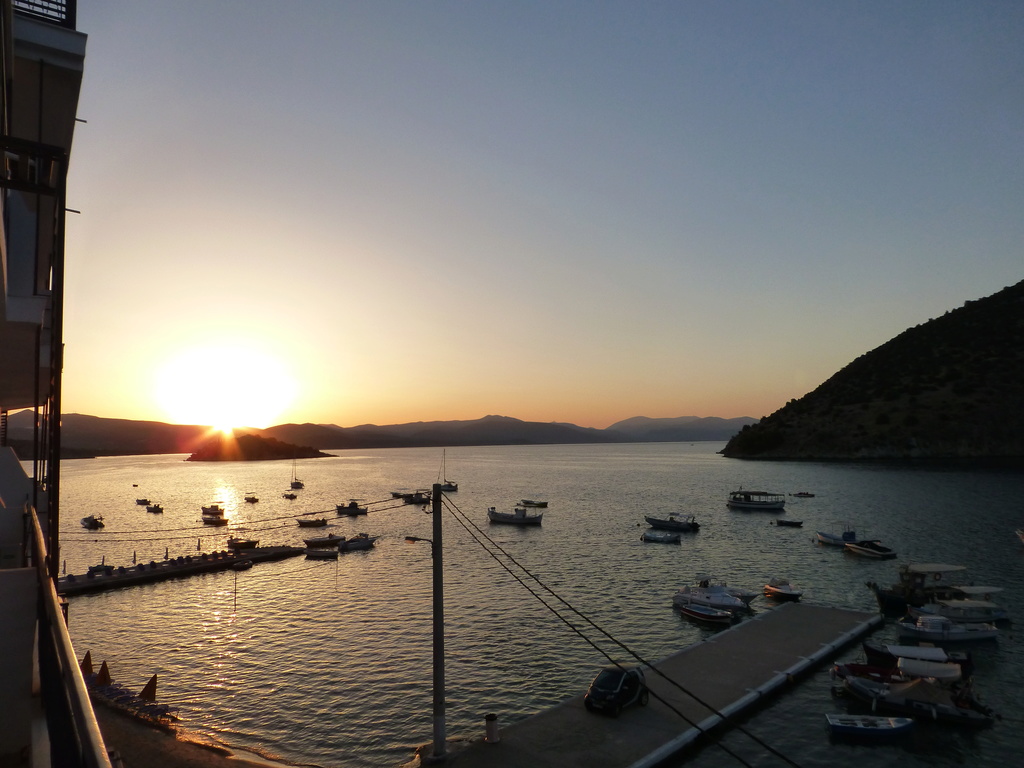 p1190163
The Pegasus ferry was just getting ready for another Hydra cruise. Once they return at 7:30pm they do another cruise to Nafplio on a Saturday at 8:30pm till Midnight for 10€'s but too late for us as we would be going home the next day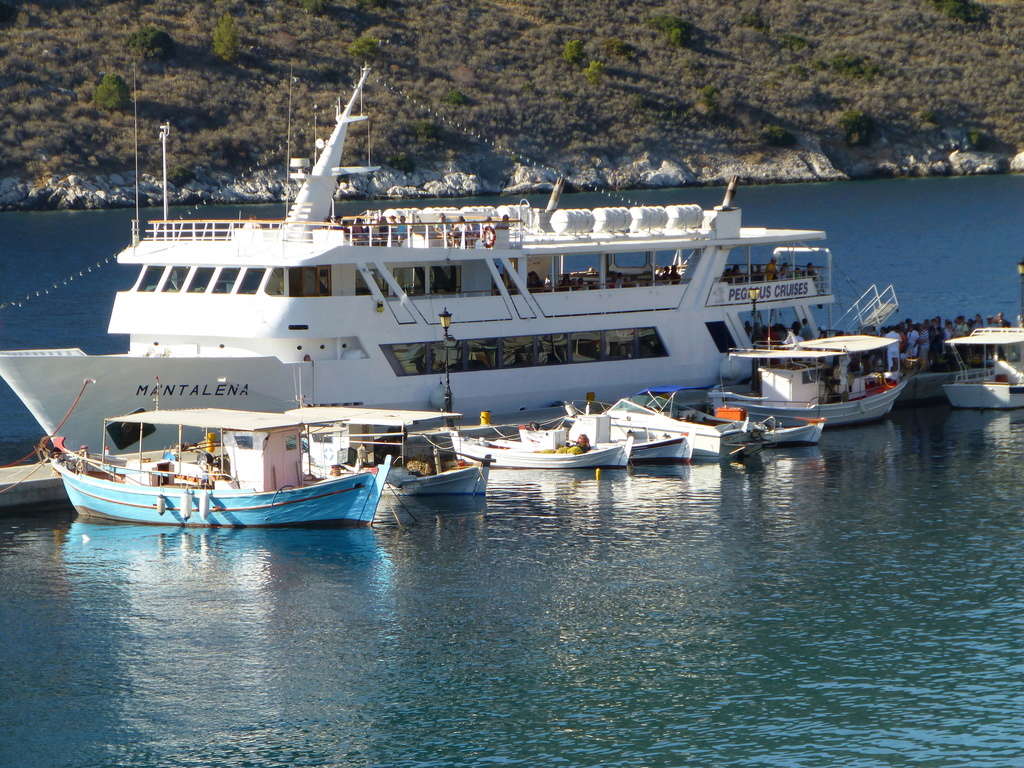 p1190164
I had ideas of making the walk over the mountains towards Nafplio but I would have to spend the next 45 minutes walking up the same mountain as yesterday but decided on the beach for the last day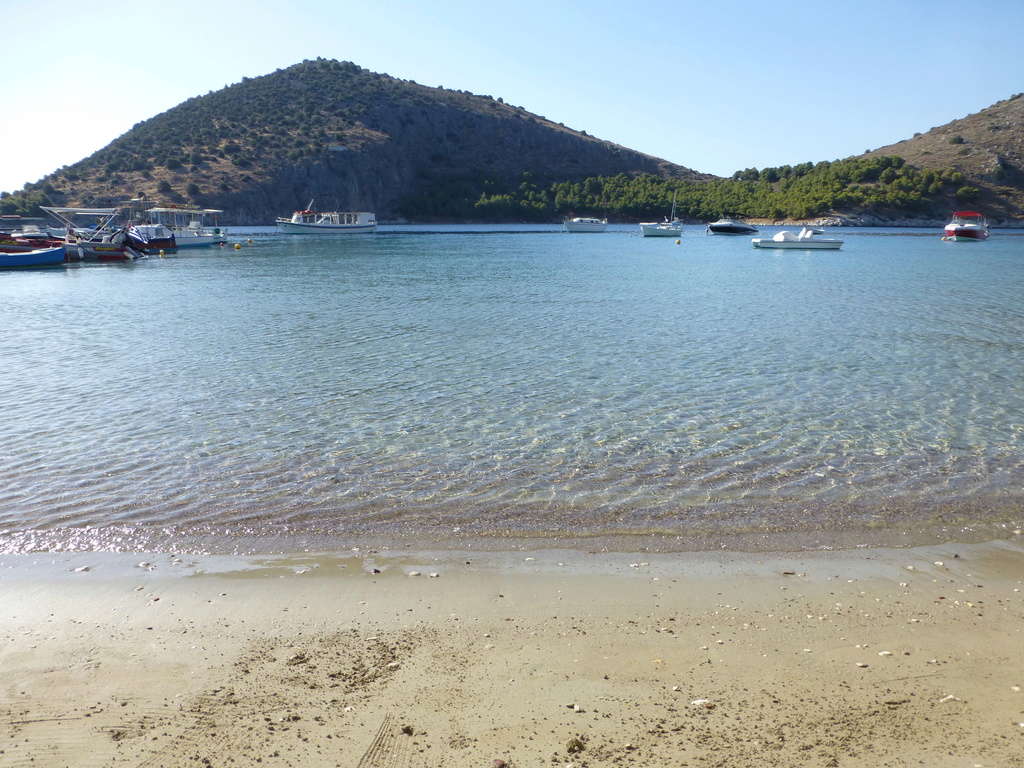 p1190169
a big boat came in that I had seen on the cruise last Tuesday and went toward Vivari bay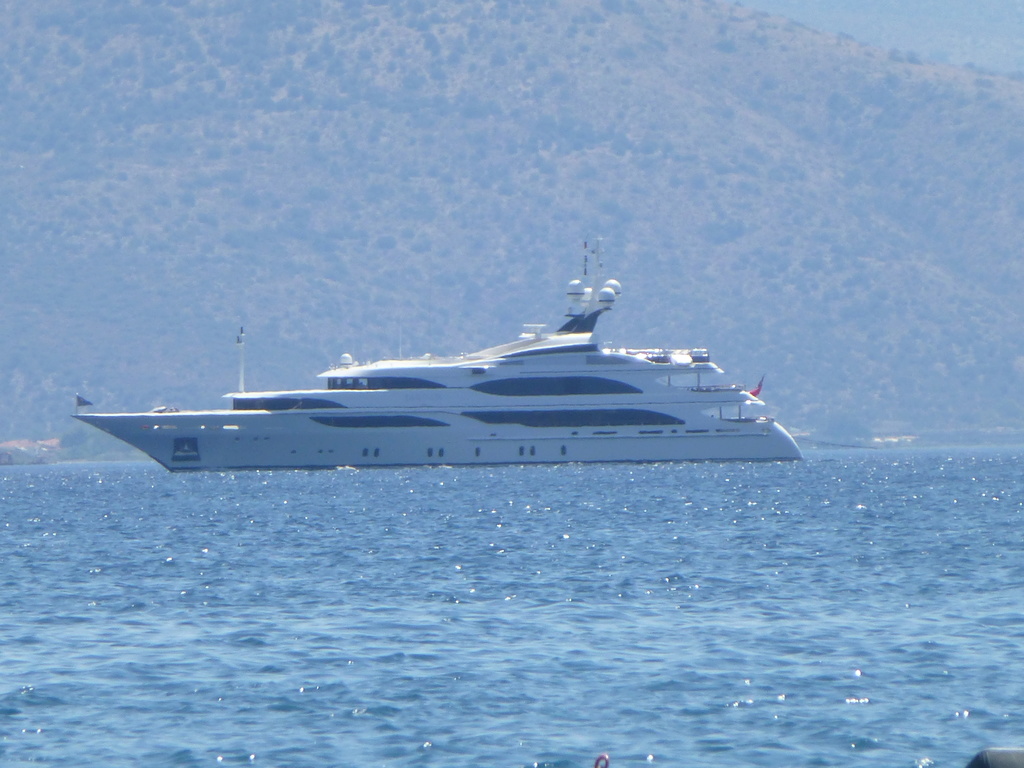 p1190169
our last lunch was at the Minoa taverna
I had a tuna salad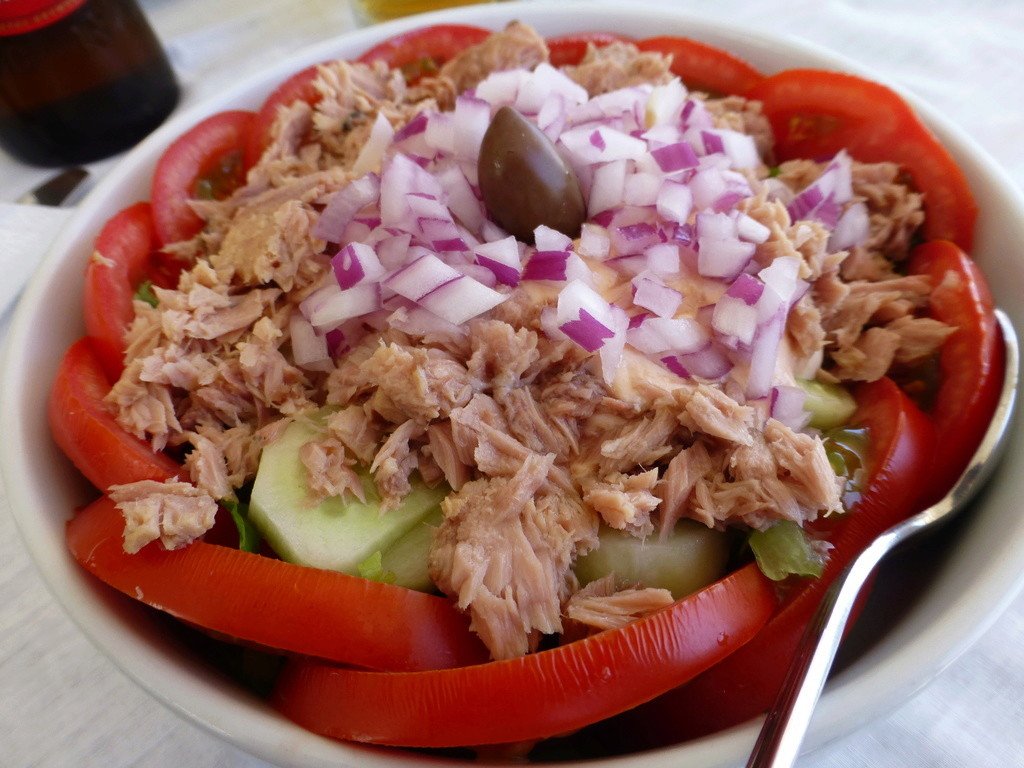 p1190172
Mrs Db had an omelette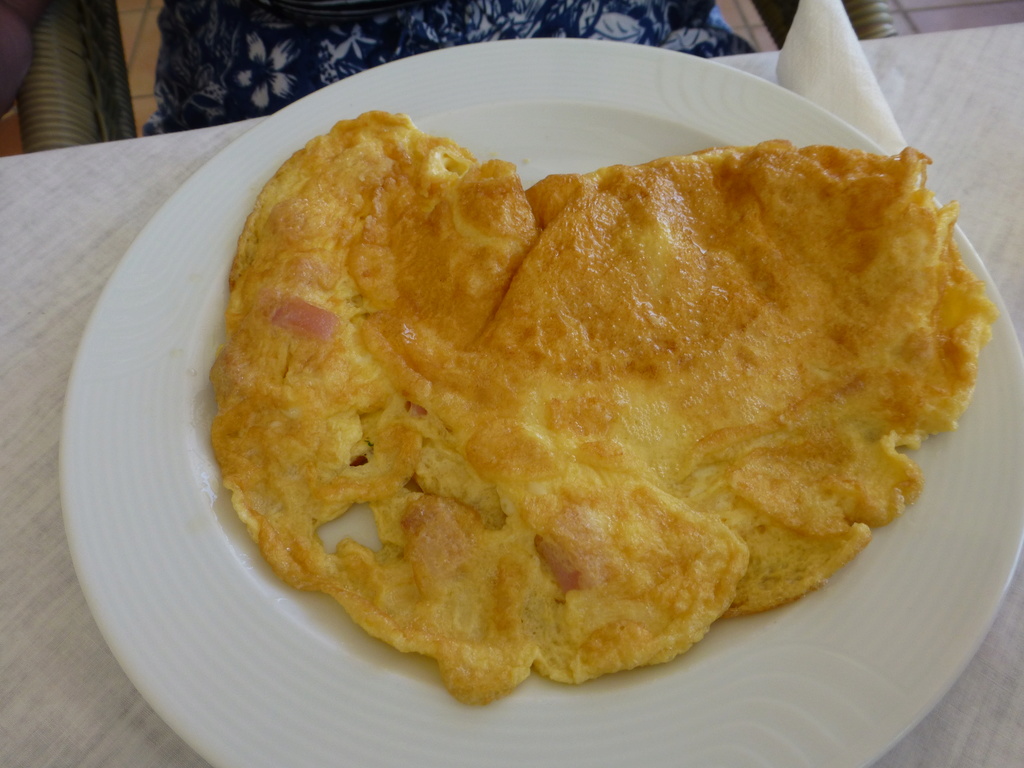 p1190173
the afternoon was spent on the beach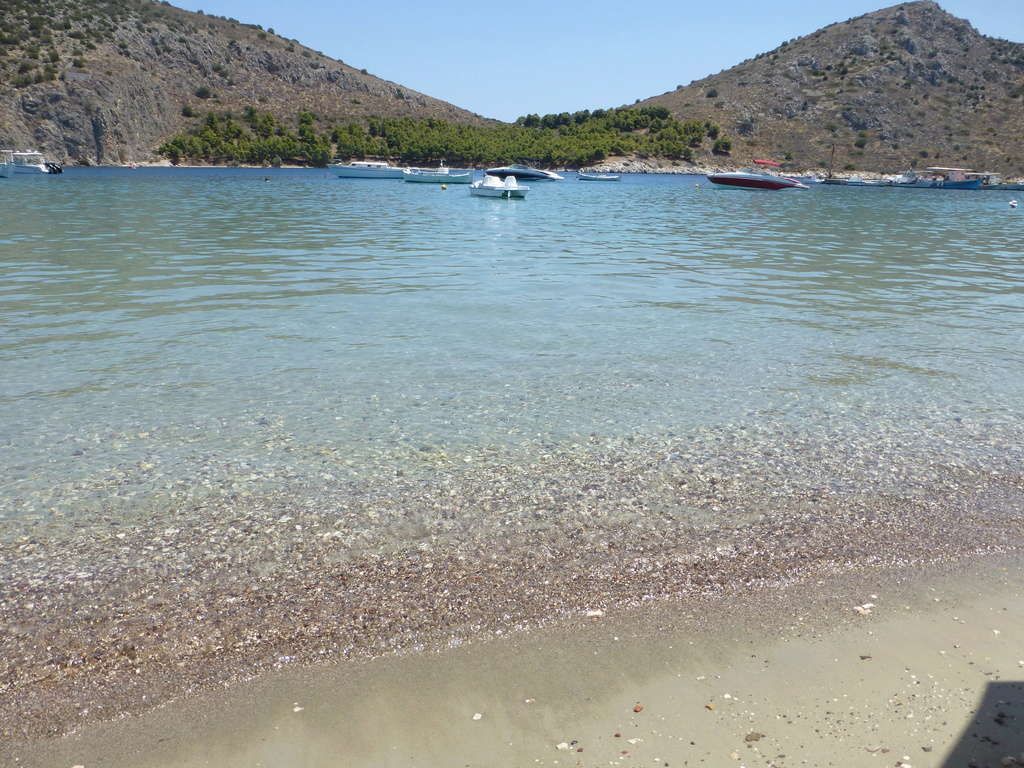 p1190175
afterwards we had pears as big as baseball bats well without the handle, all the fruit here are grown for giants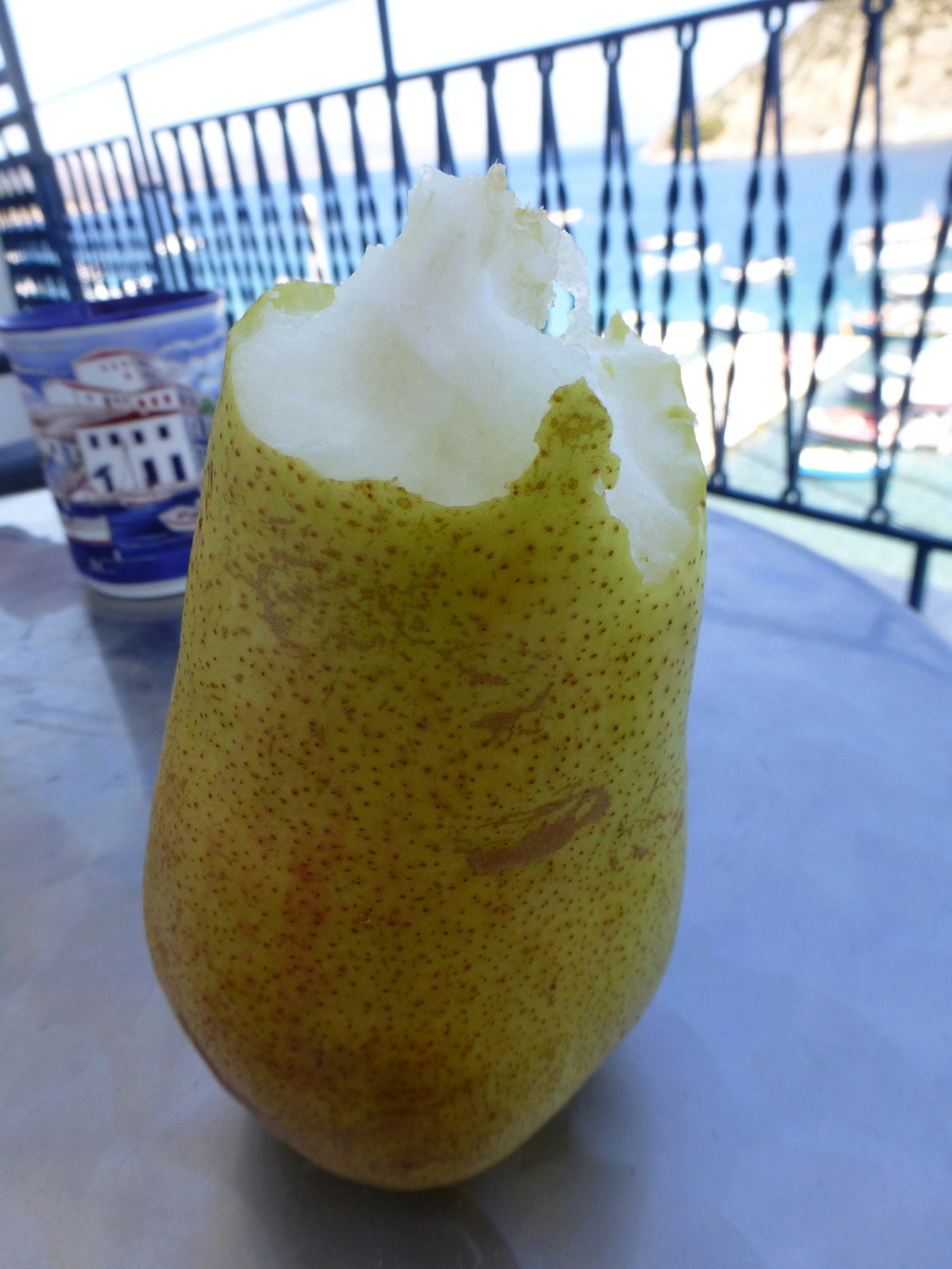 p1190177
another cleaner had managed to open our second patio door so we could eat as much as we wanted and then still have a coffee on the balcony later with the guarantee of not getting stuck out there lol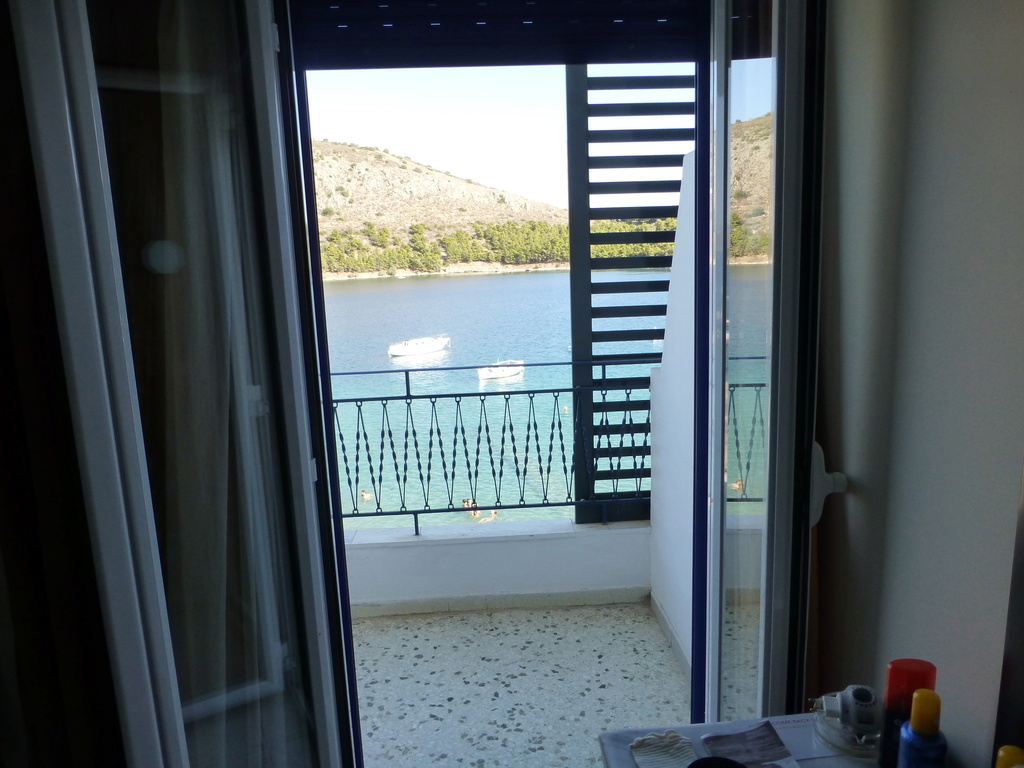 p1190181
For our last meal we chose the Avmrosis on the high st as their menu was more diverse and the food last time was excellent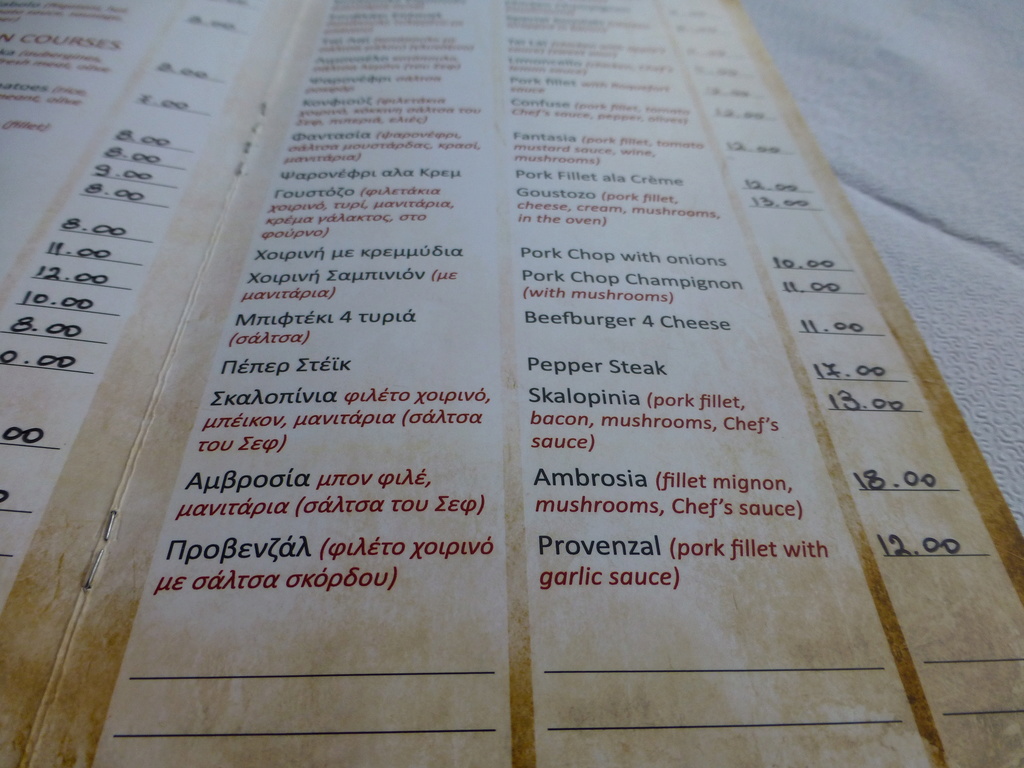 p1190182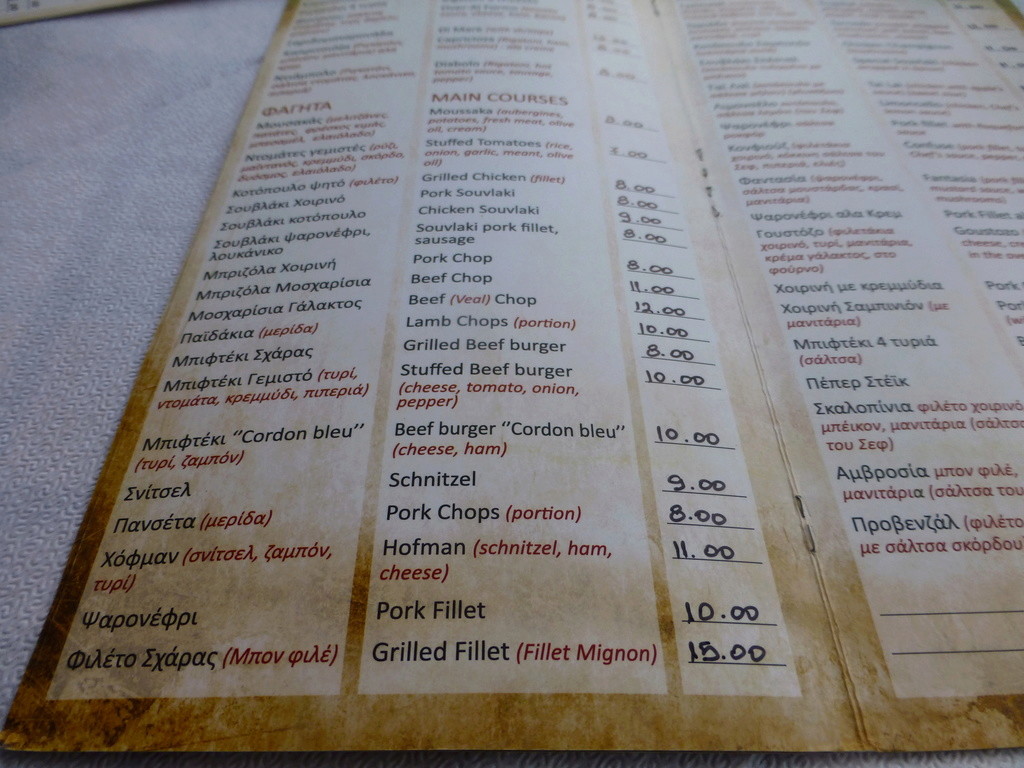 p1190183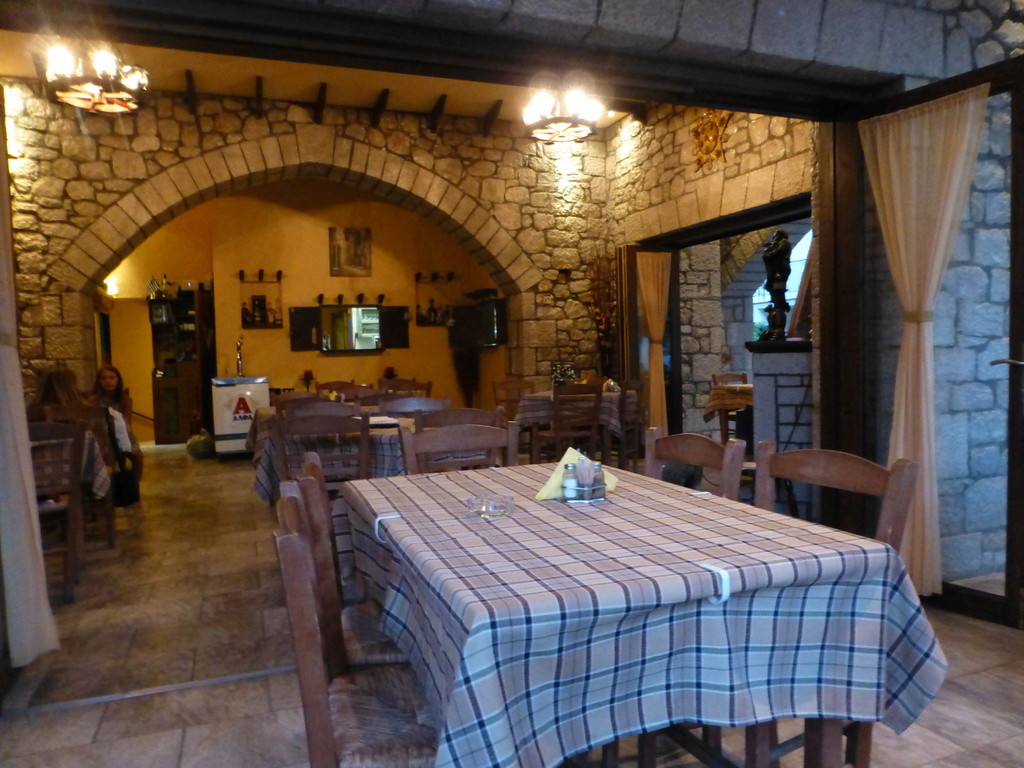 p1190184
Mrs Db had the chicken sweet & sour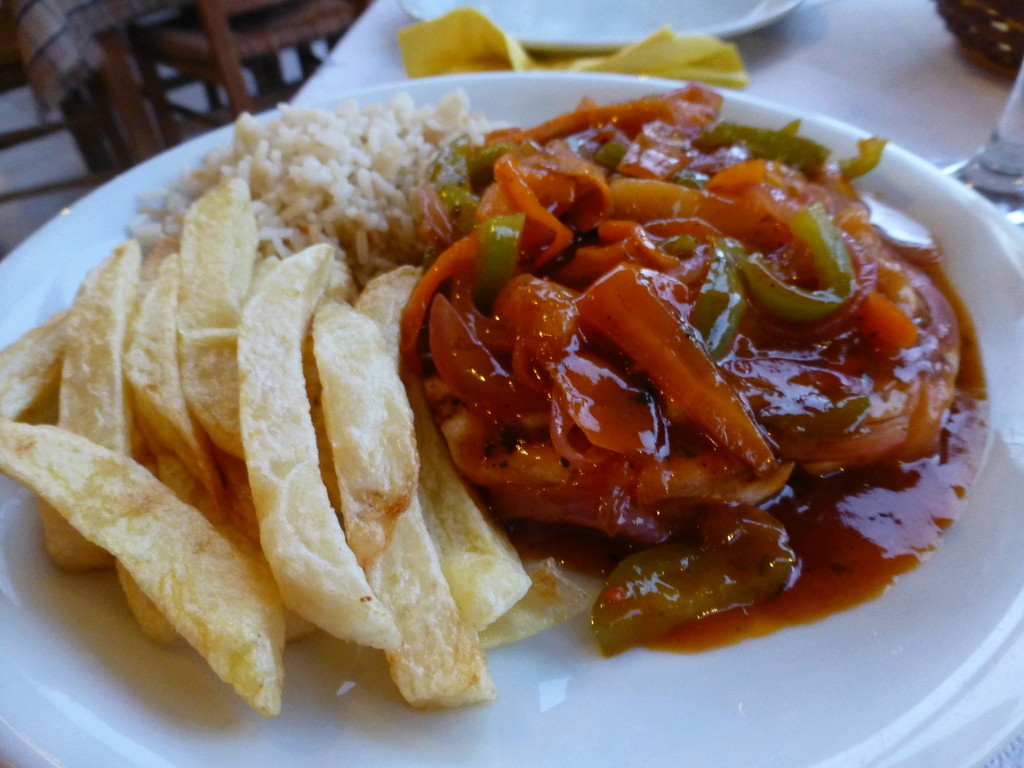 p1190185
I had the Skalopinia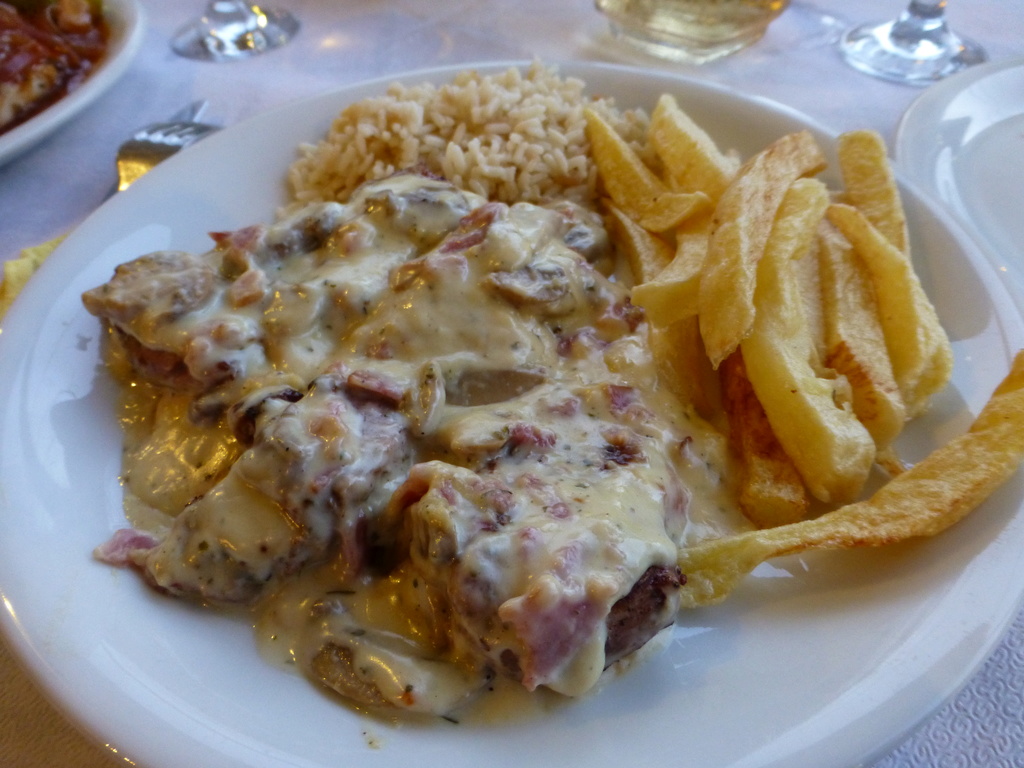 p1190186
And a free ice cream each at the end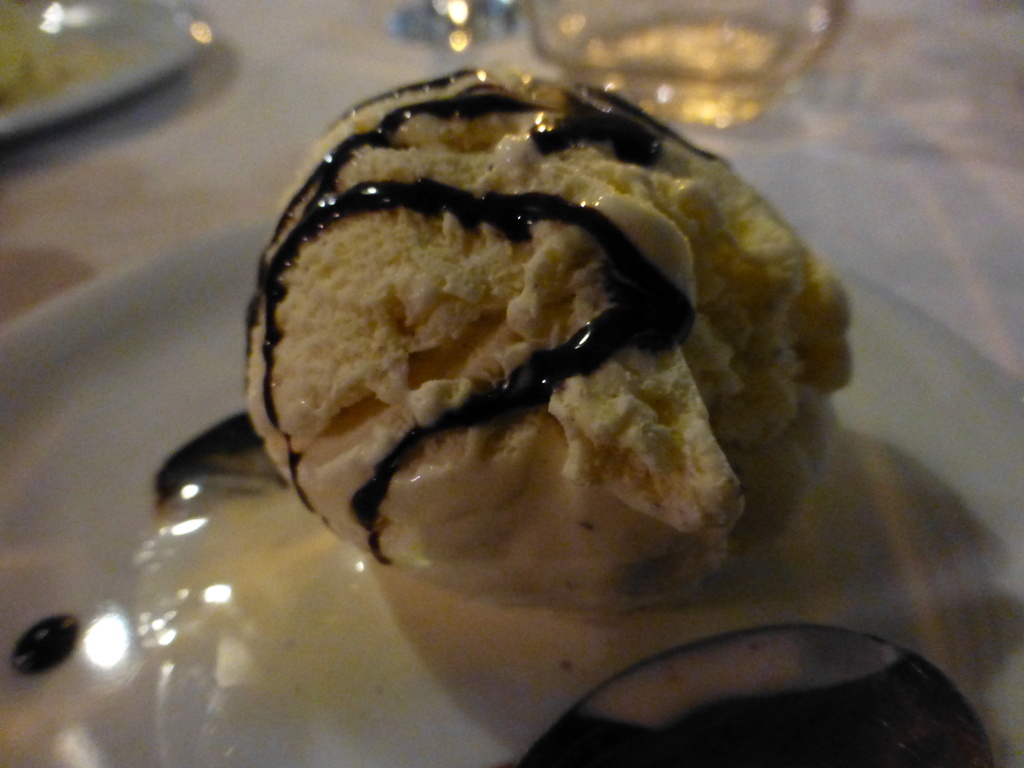 p1190187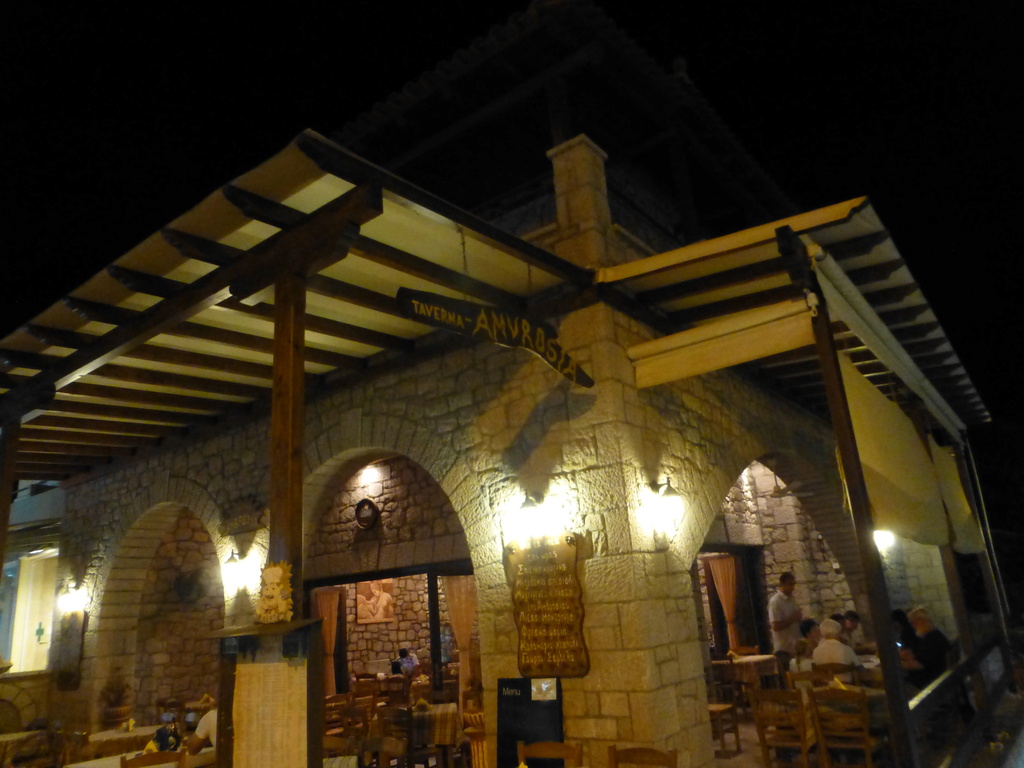 p1190162
END OF DAY 14
...............................................................................
Sunday Day 15
Homeward bound
Our coach was due to leave the resort at 11:00am and our hotel said we could keep the room until that time
Well I took the last sunrise from the balcony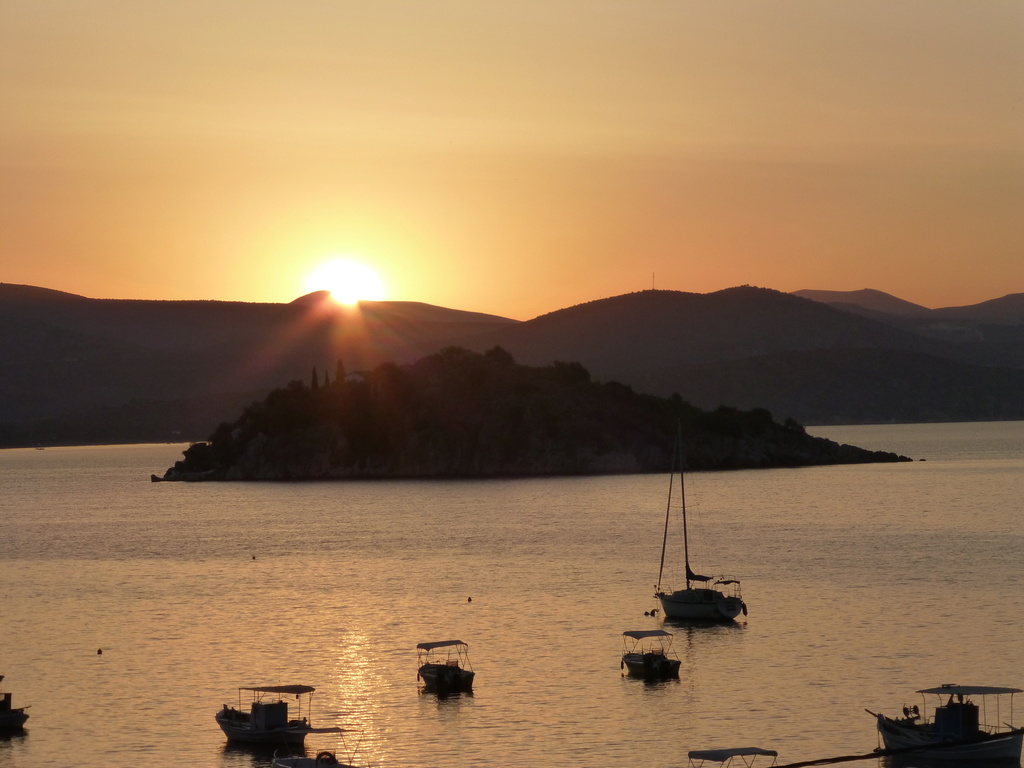 P1190191
and I watched a fishing boat come in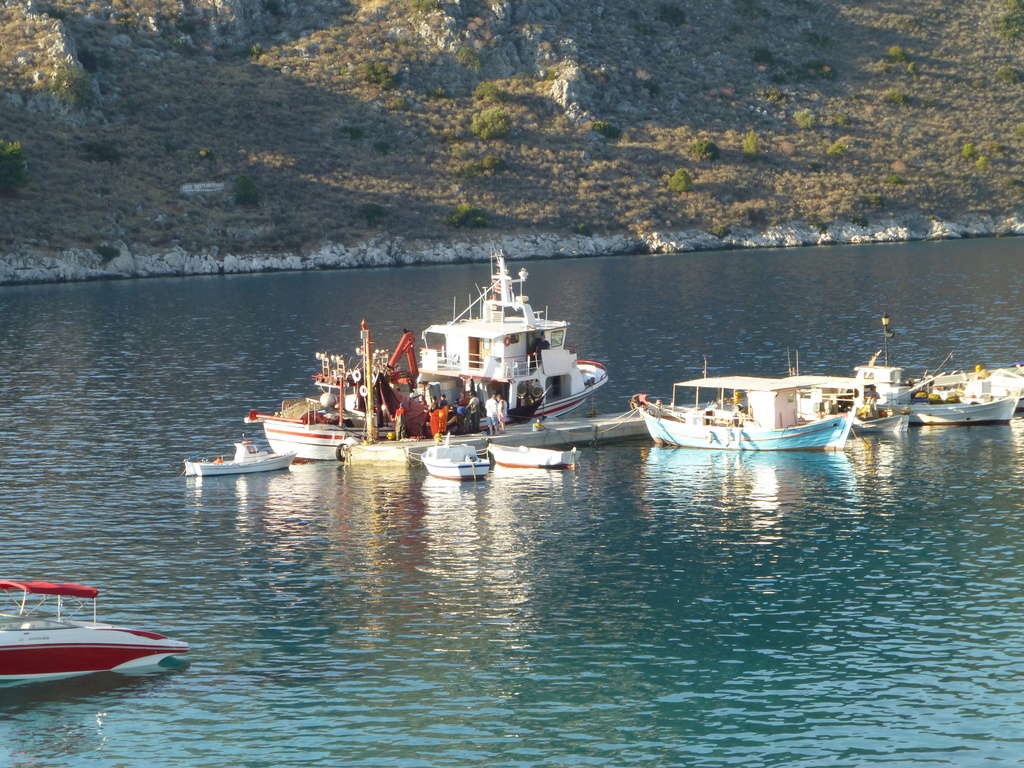 p1190196
and unload their catch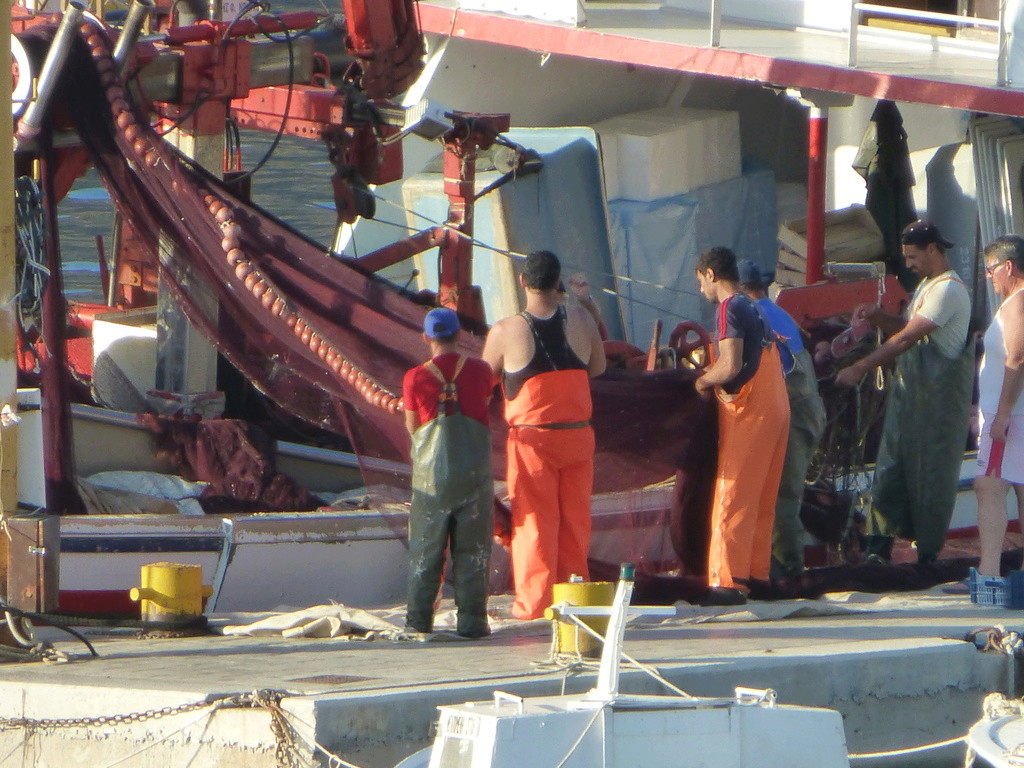 p1190195
And after a leisurely breakfast and goodbyes it was time to go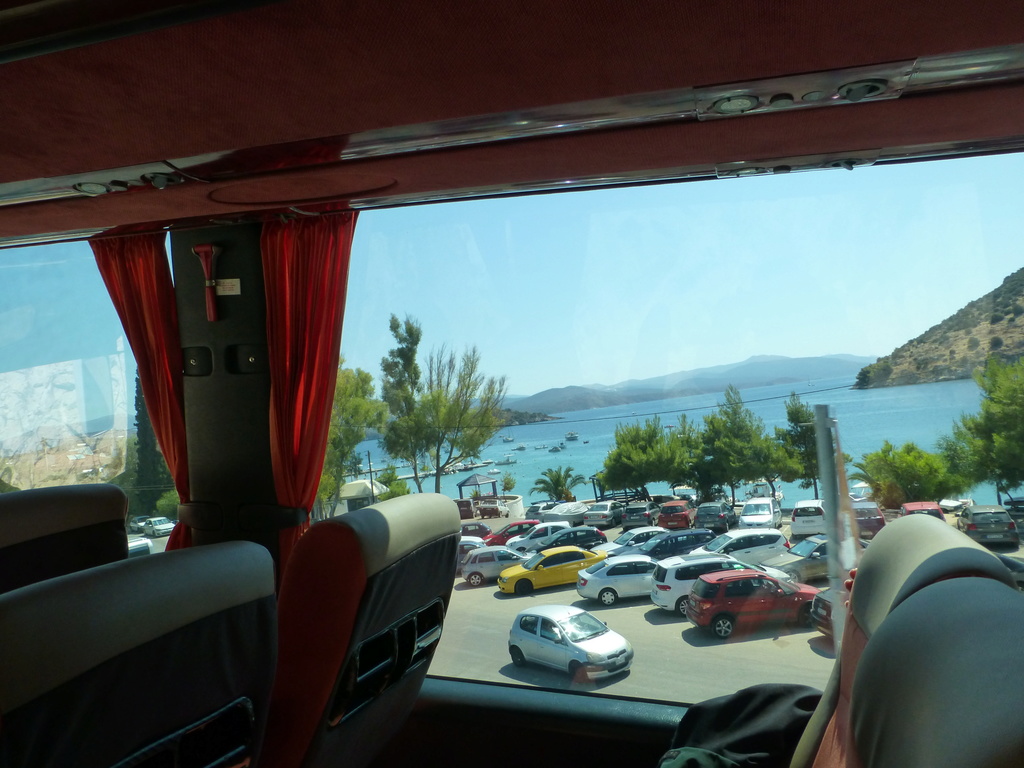 p1190204
following roads with single tracks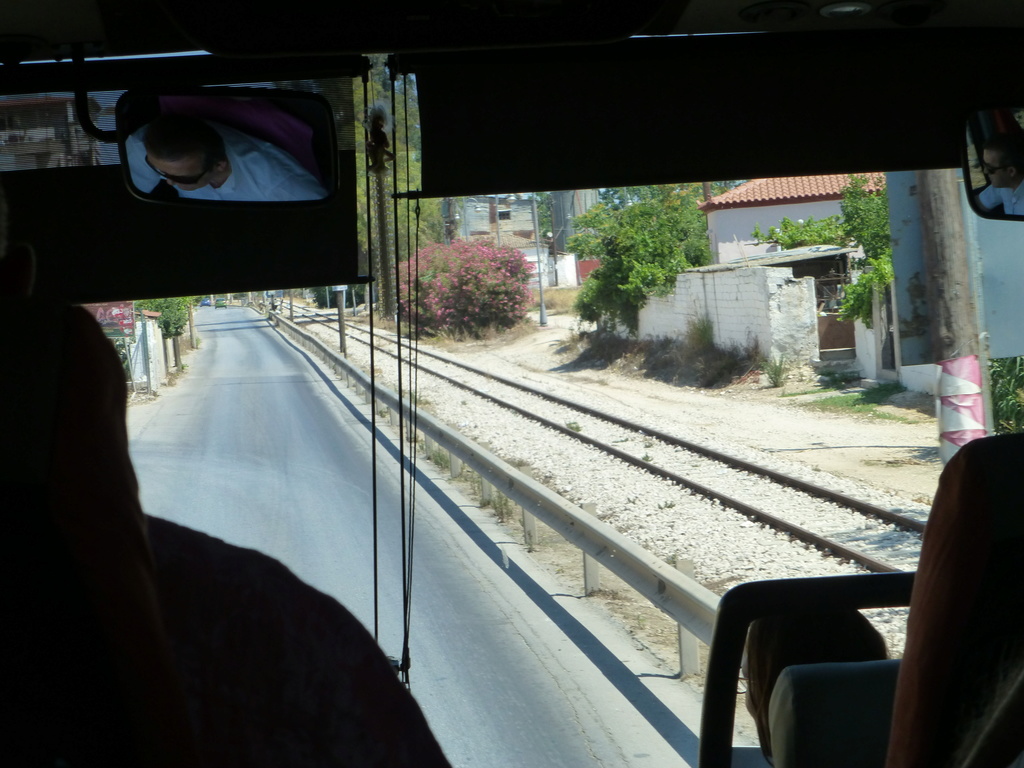 p1190207
and passing another castle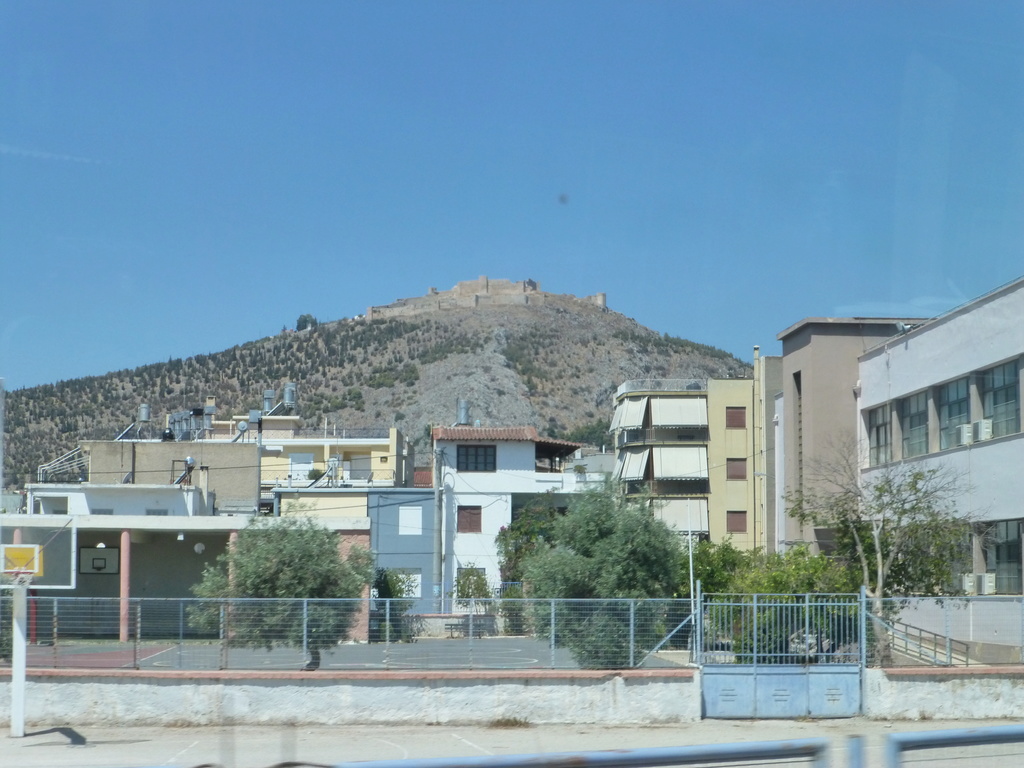 p1190208
before hitting the motorway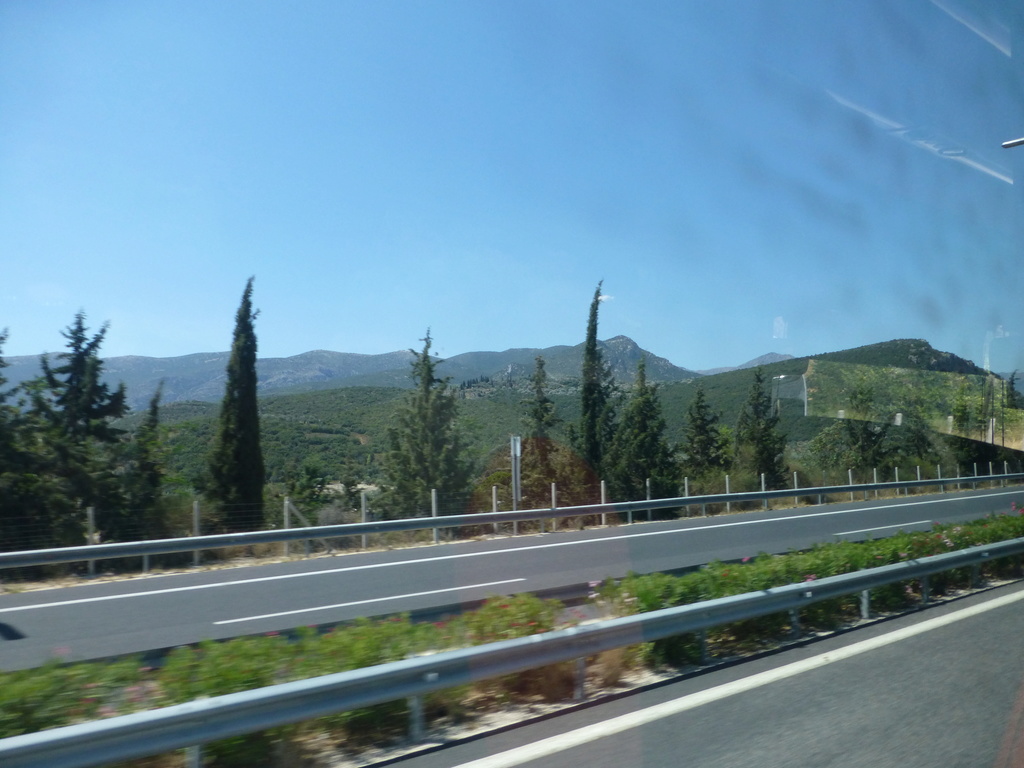 p1190209
and going through many tunnels, one I noticed was 1400 metres long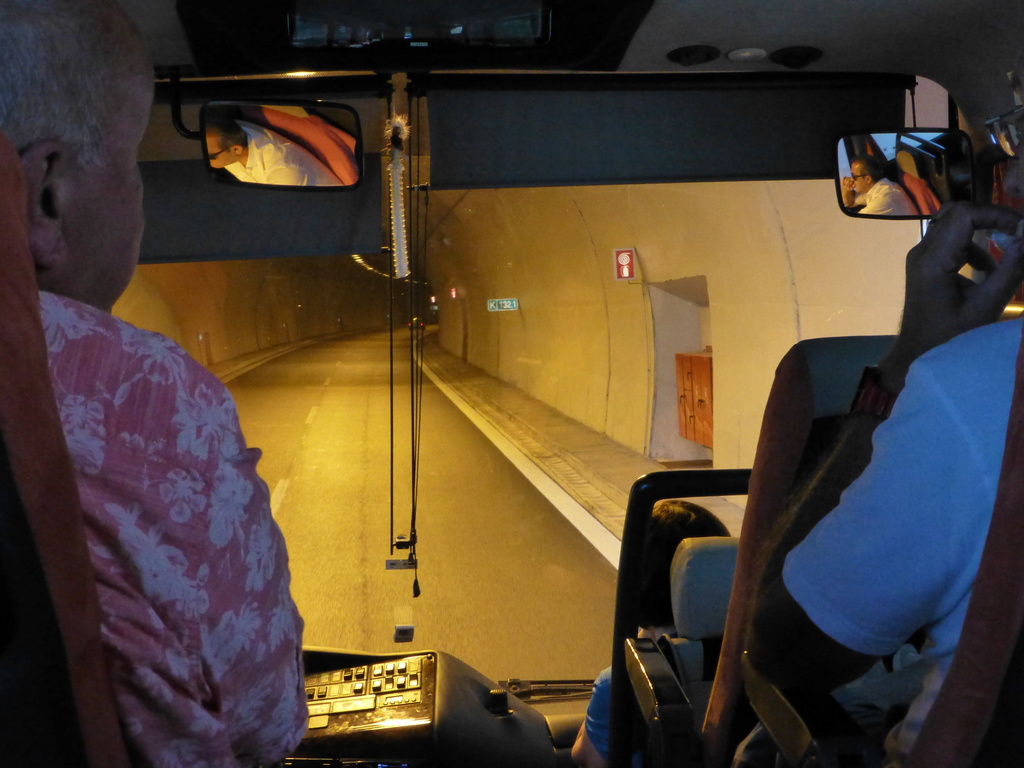 p1190210
and about 5/6 toll booths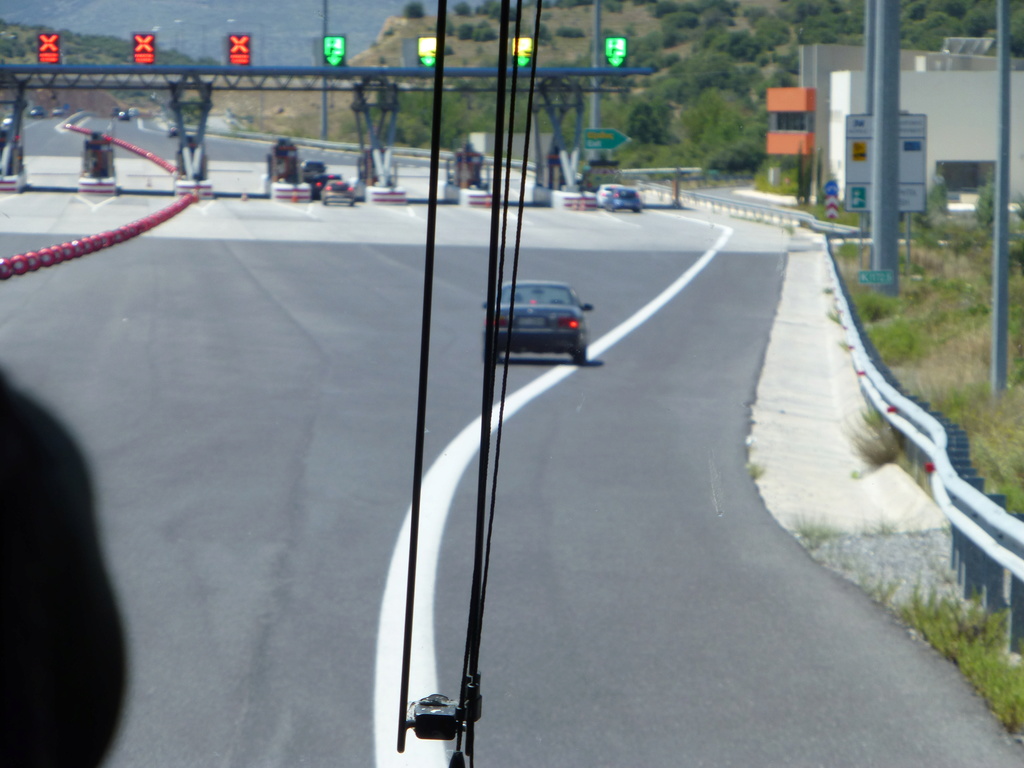 p1190214
With some spectacular scenery which I missed coming out having fallen asleep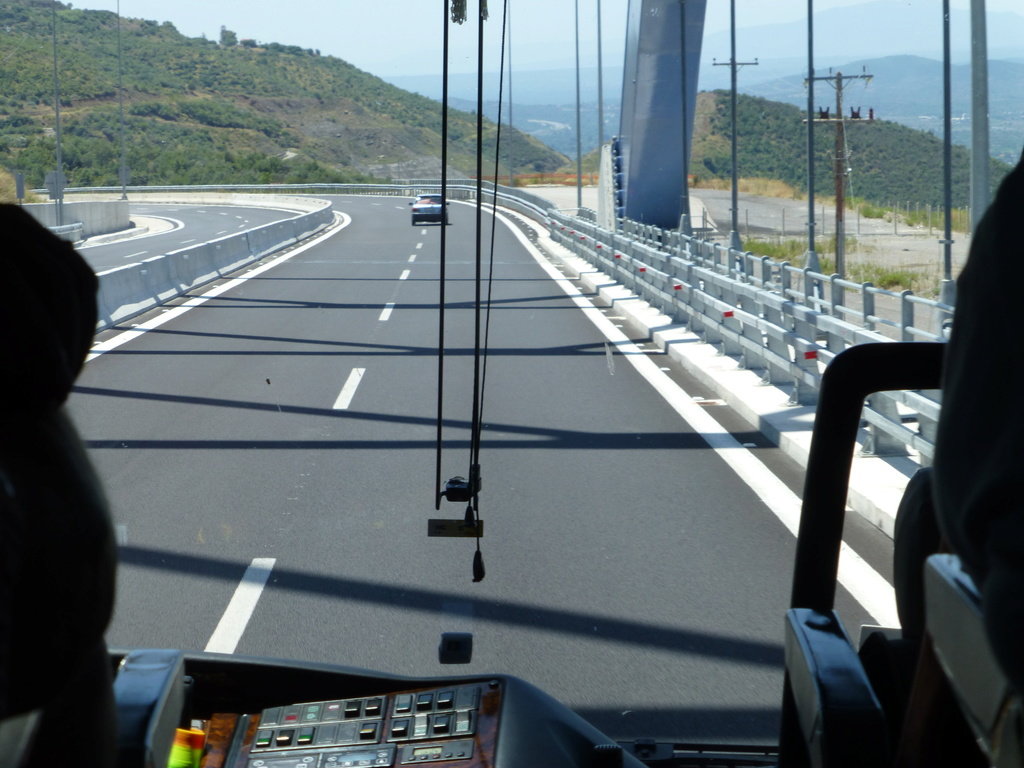 p1190218
The bus journey took exactly 2 hours and the queue at the airport was the usual affair but we talked with another family in the queue and the time passed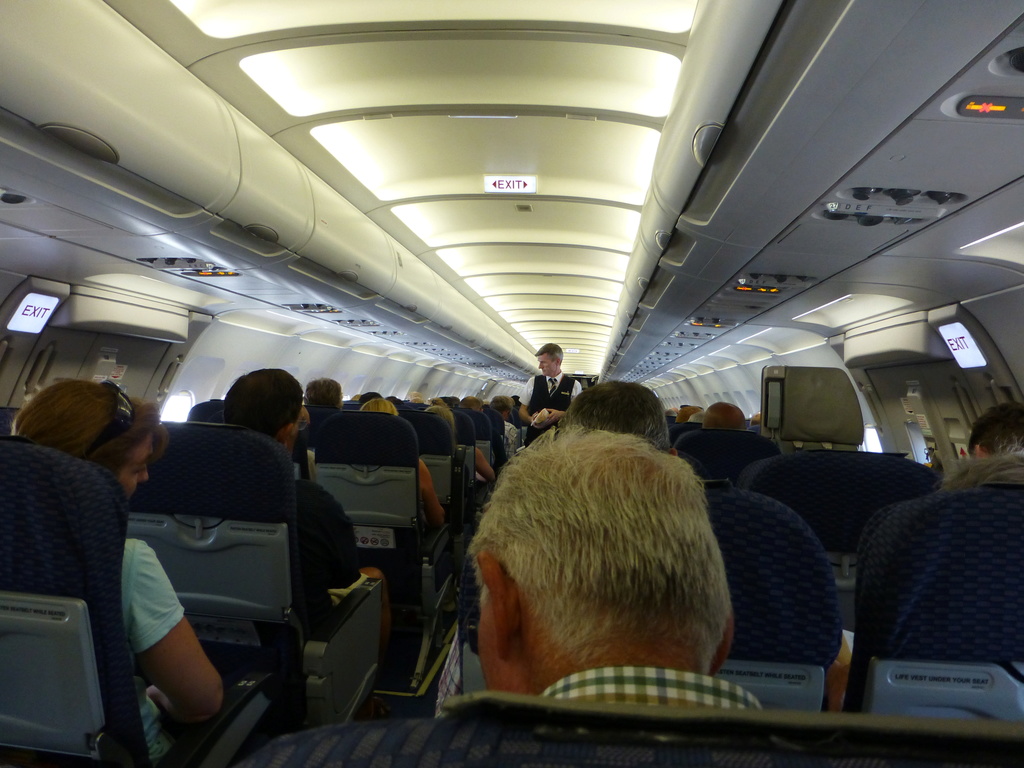 p1190221
and the plane took off late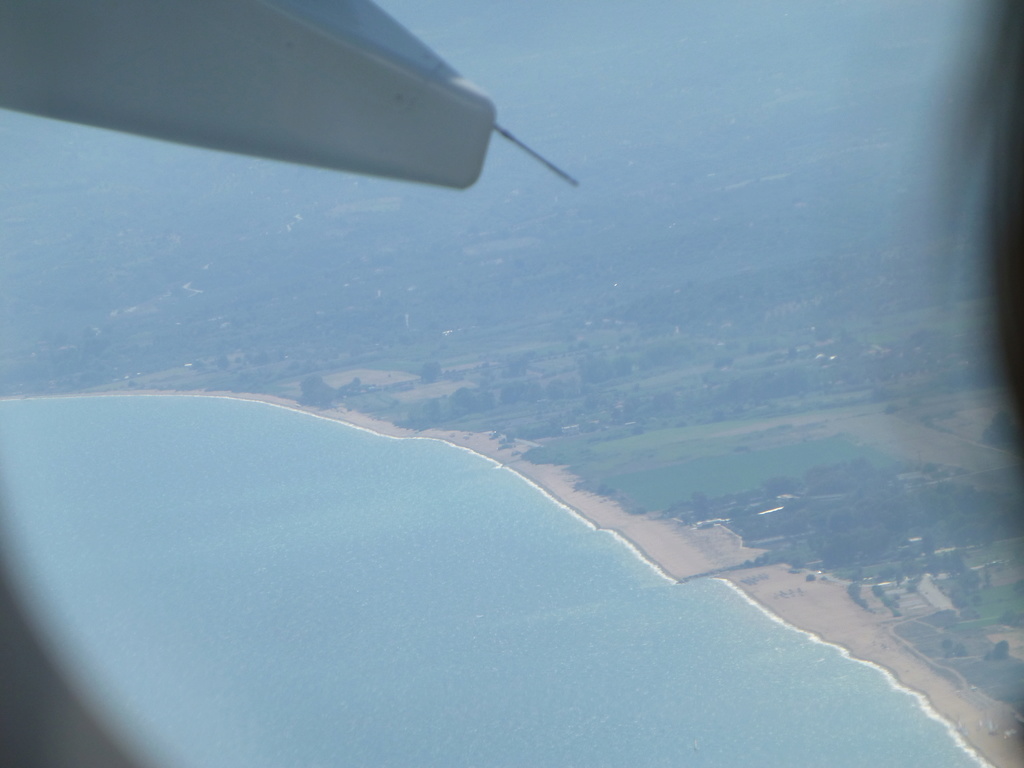 I hope you enjoyed holidaying with the Delboy's once again and it has given you a good insight of Tolo
END OF HOLIDAY