DAY 9
up for sunrise
p1130523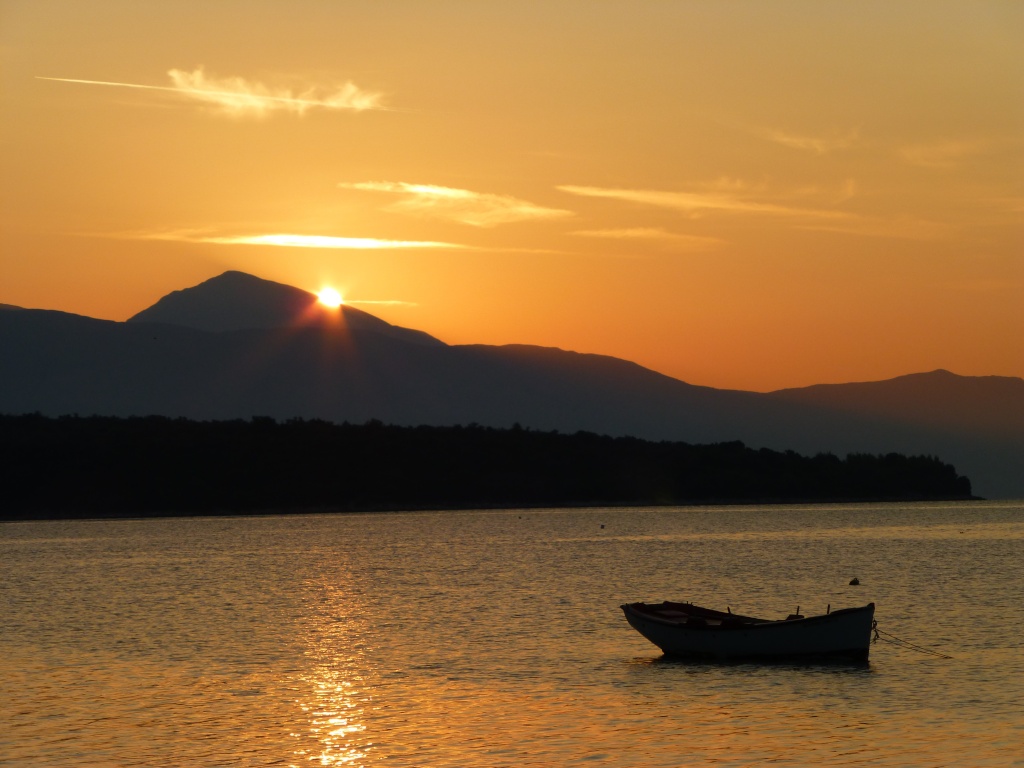 p1130524
with Mrs Db back on a sunbed I thought I could walk down to the far end of Nidri to see how it looks down there, so through the town and out the otherside
p1130536
Passed the bypass turn off on the right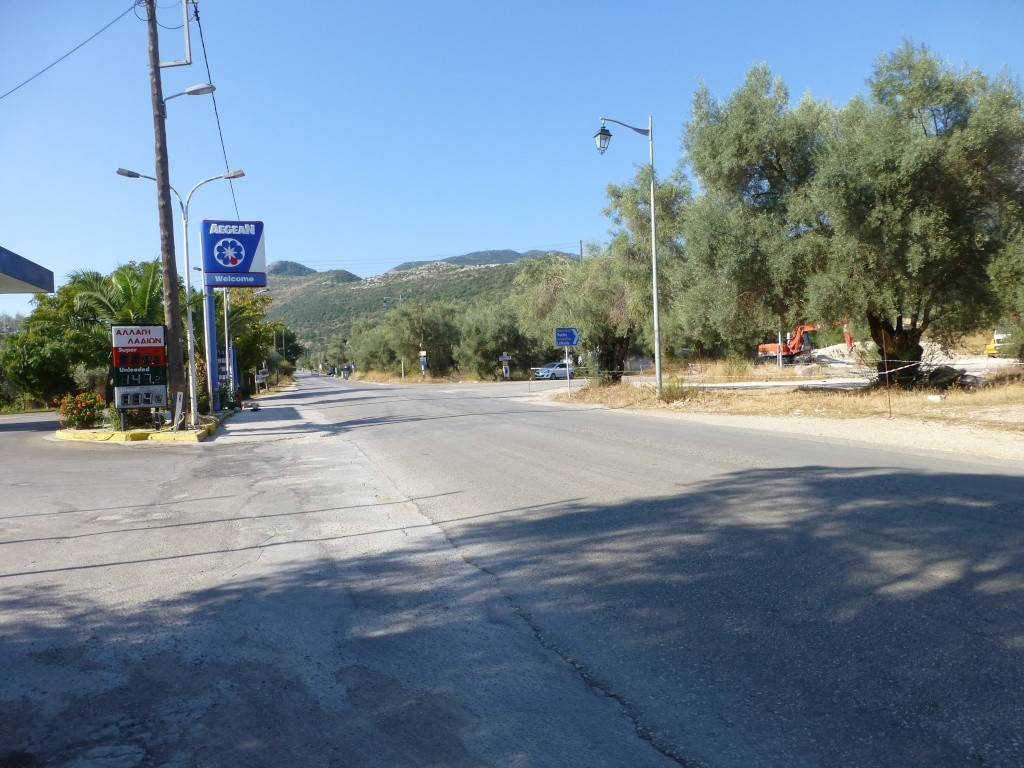 p1130537
Oh what's this a early Bronze Age Tumili
p1130538
nobody mentioned this but it's locked up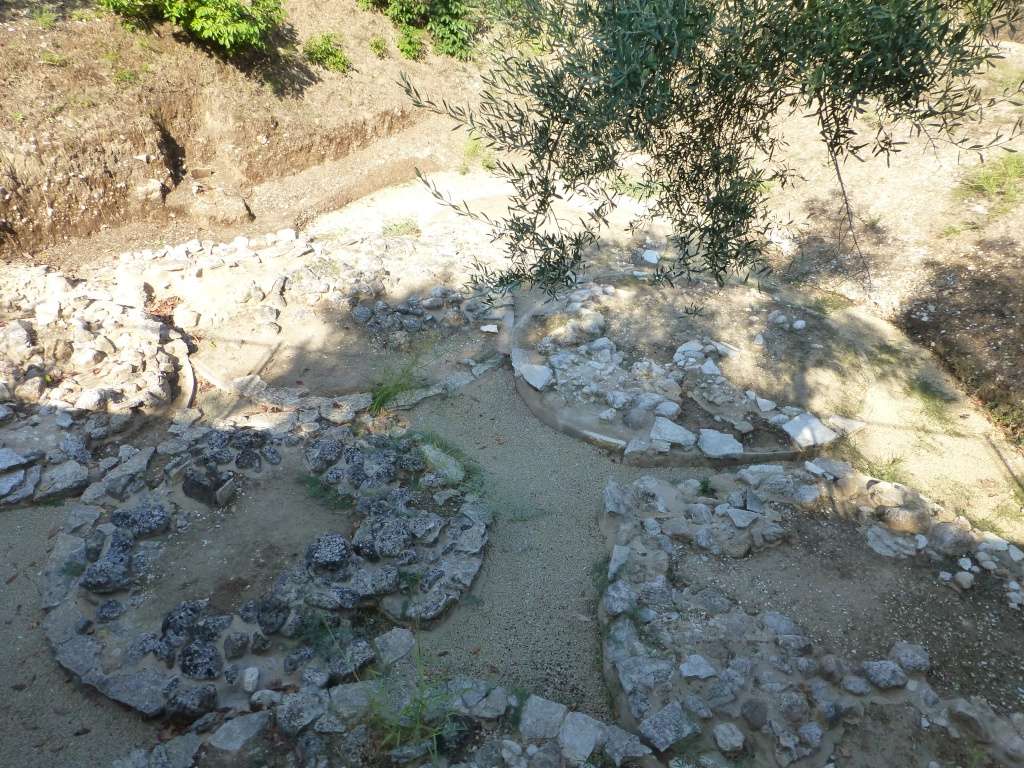 p1130540
I could pretend to be intelligent but I'll let the photo explain better lol, so nearly as old as the Pyramids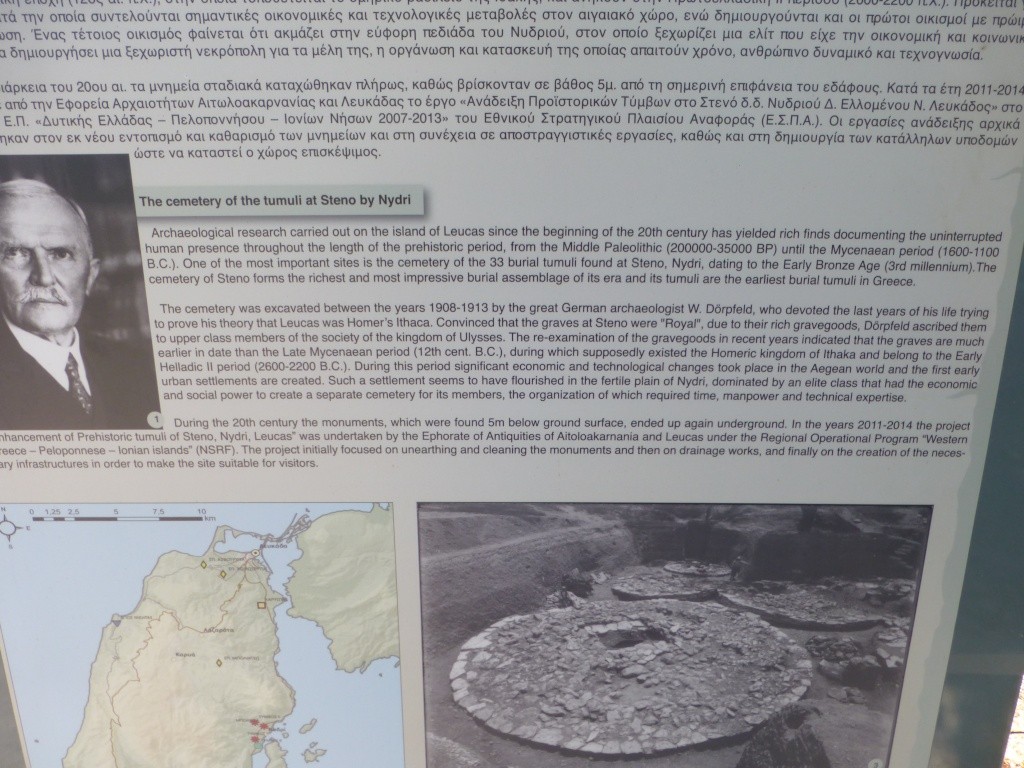 p1130541
a longway down the road, I came to a boat yard with a cemetary in front of it
p1130547
and Nidri Star 3 was tied up there not sure if it is used now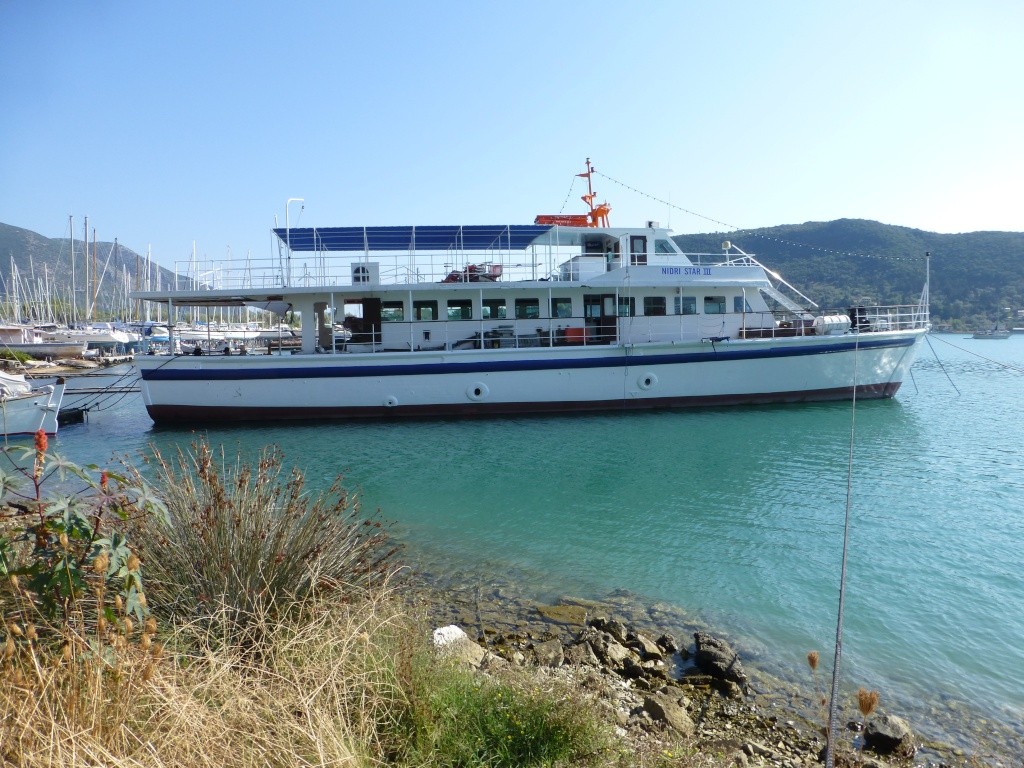 p1130548
The idea was to get to the far end and perhaps around a bit of the peninsular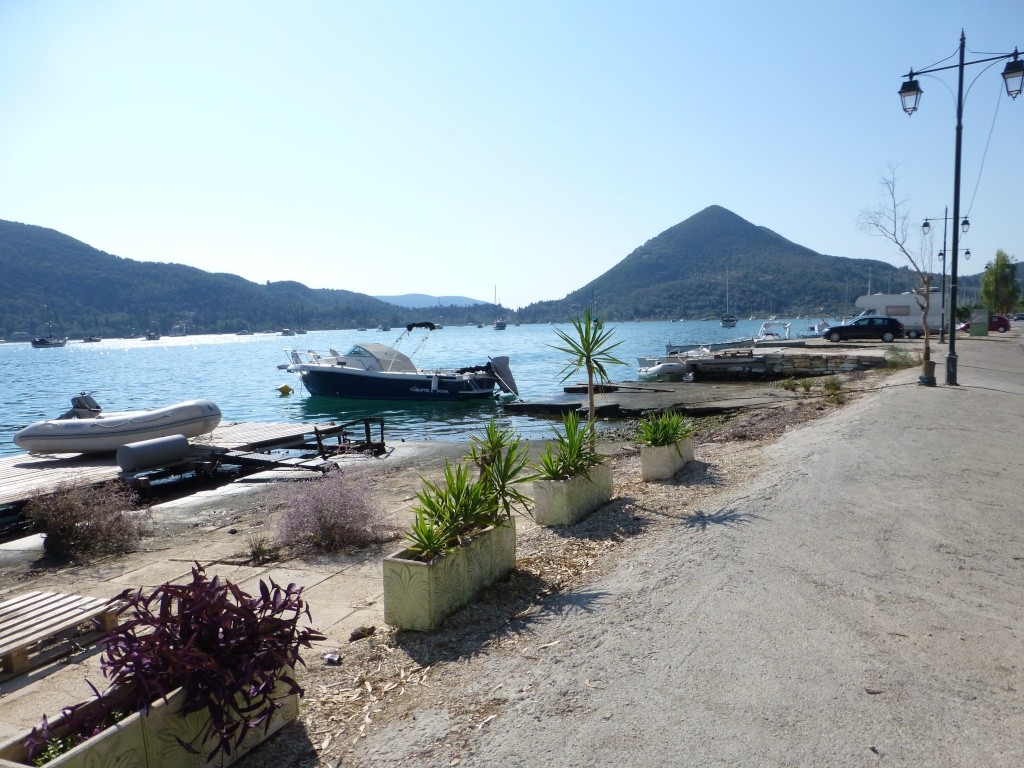 p1130549
There are several restos over the other side which apparently have jetty's to tie up boats but would be a taxi to reach them for dinners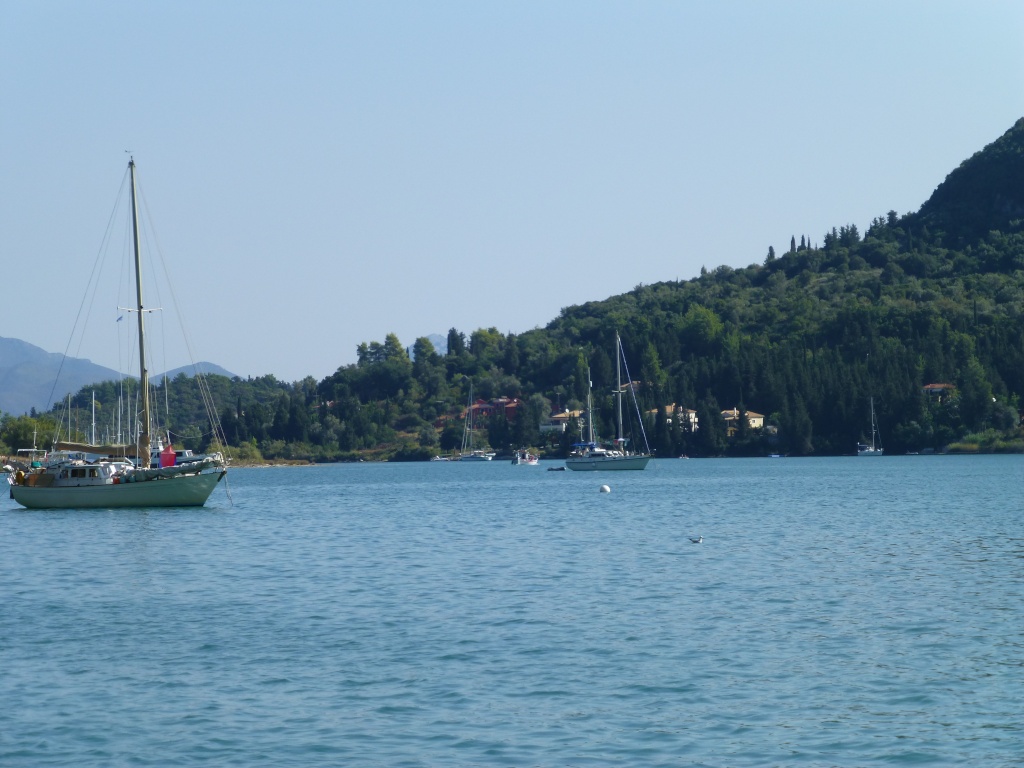 p1130550
also there is another promenade with a yachting community
p1130552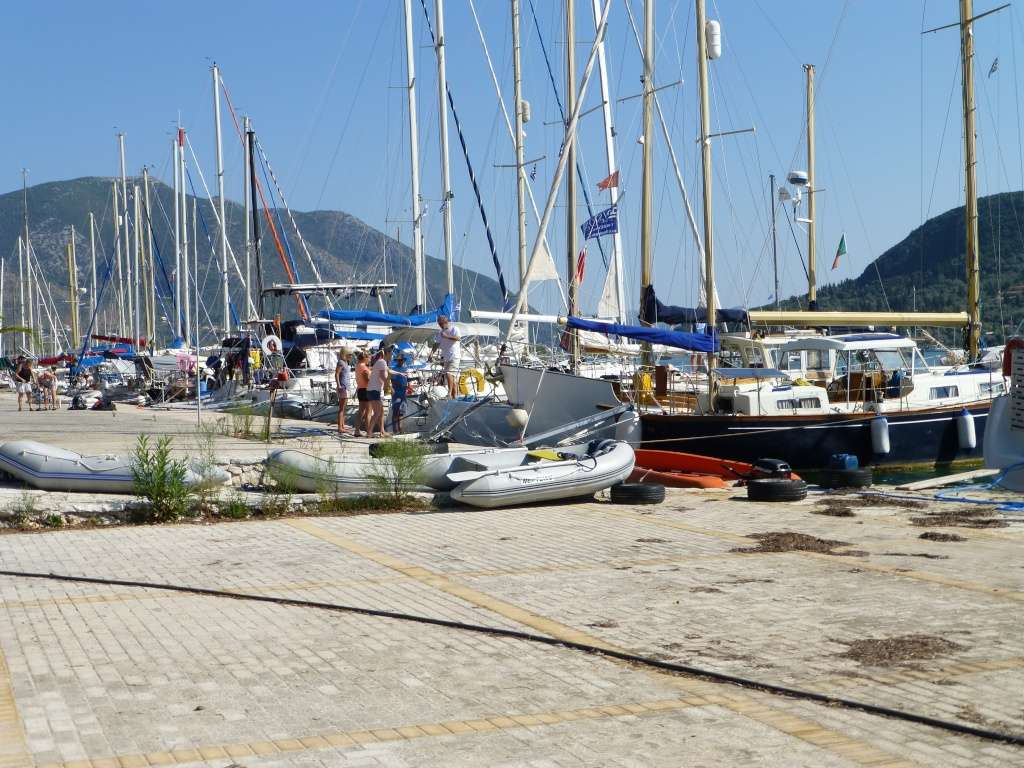 p1130553
And fishing boats
p1130555
it's shallow down this end and you can see grasses growing in the sea and here is a jellyfish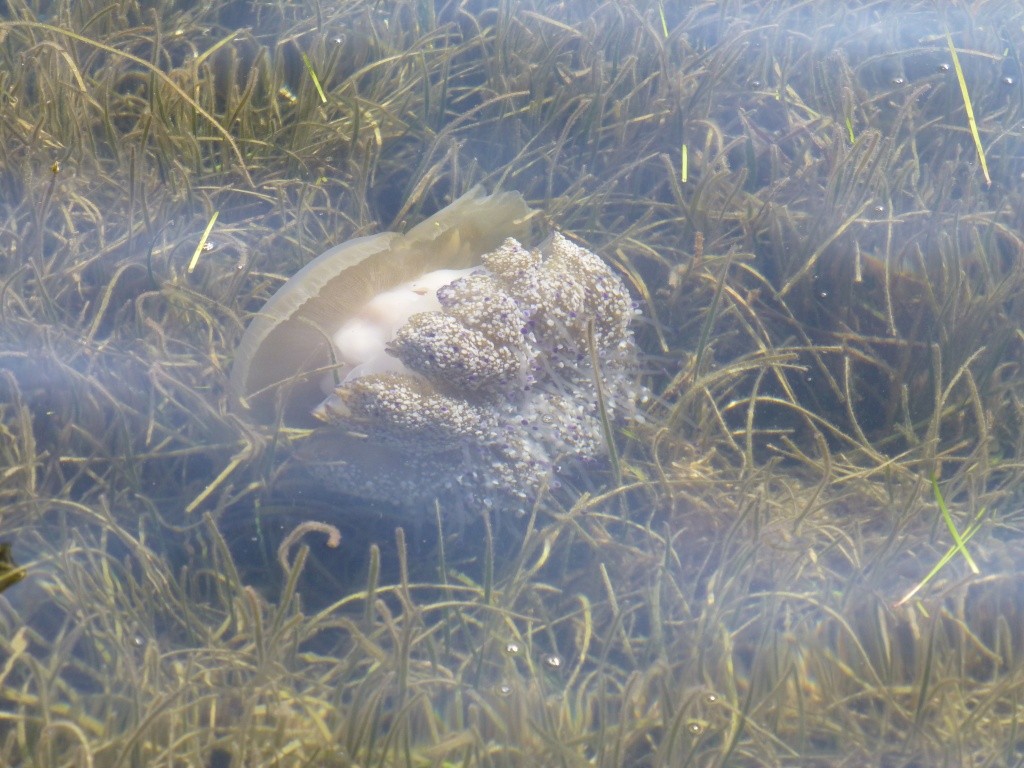 p1130556
there is a footpath down this end which looked as if it lead somewhere rather than use the road I took it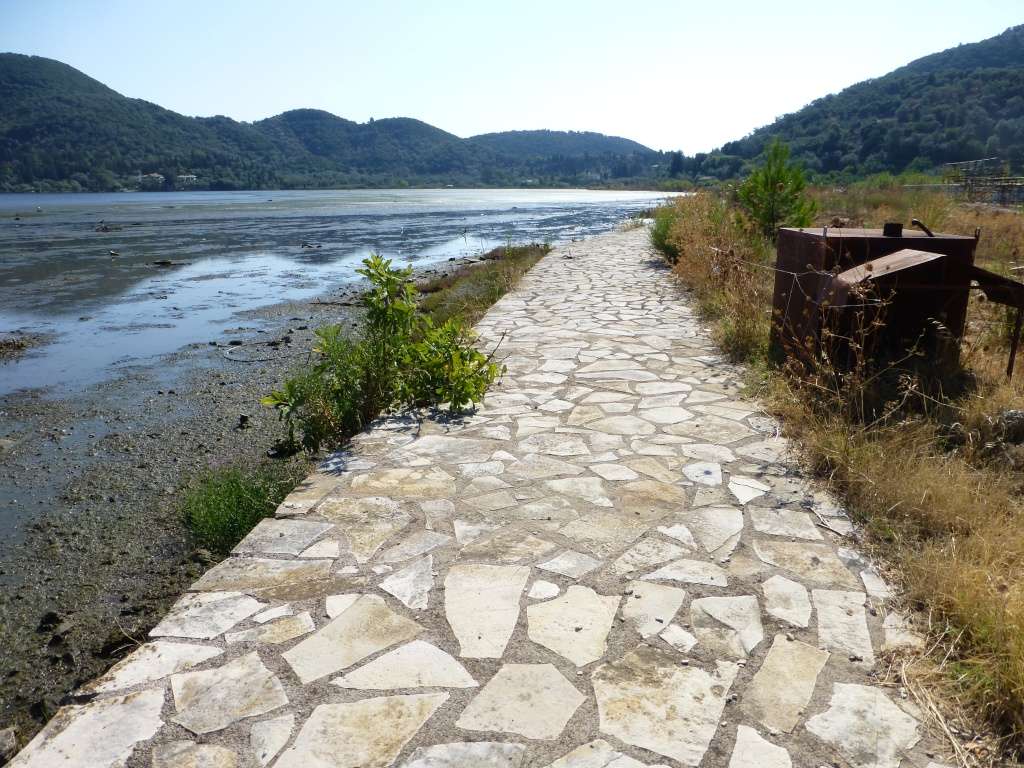 p1130559
a couple of herons were in the marshland area
p1130560
The pathway just ran out and I could see a track in the scrub, however, I had been warned by the rep not to go into long grass as there are scorpions and snakes here in Nidri. One woman was bitten recently and was given the antidote for a scorpion bite but it turned out to be a snake. A new antidote was given and she spent 5 extra days in the resort getting over it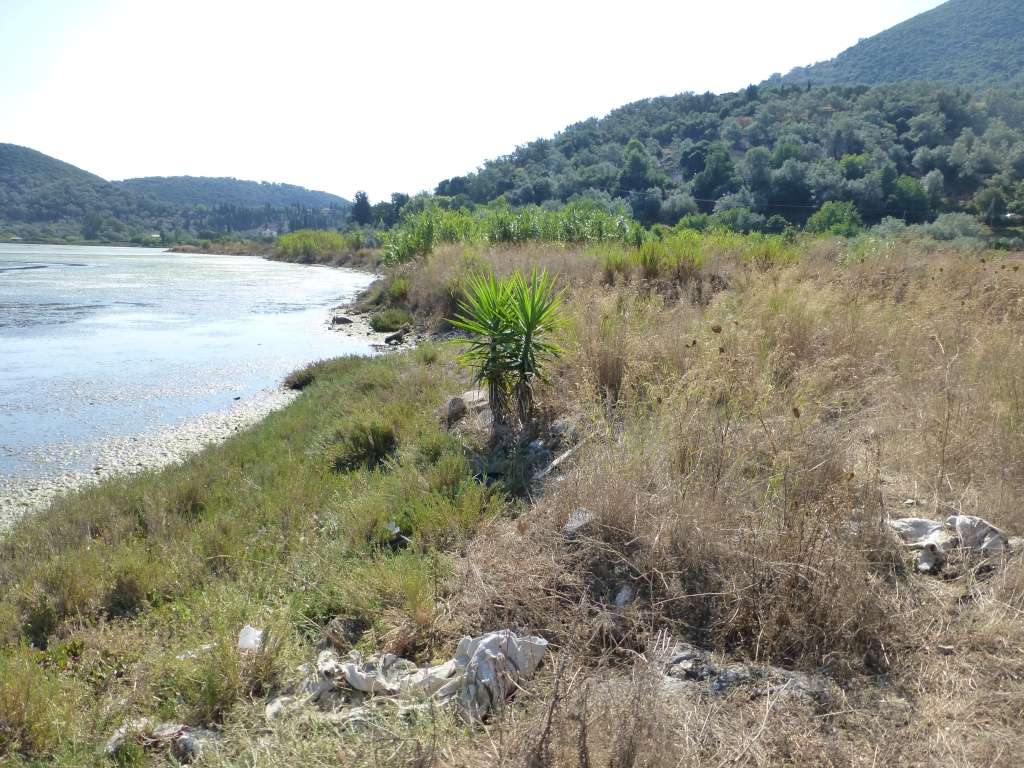 p1130566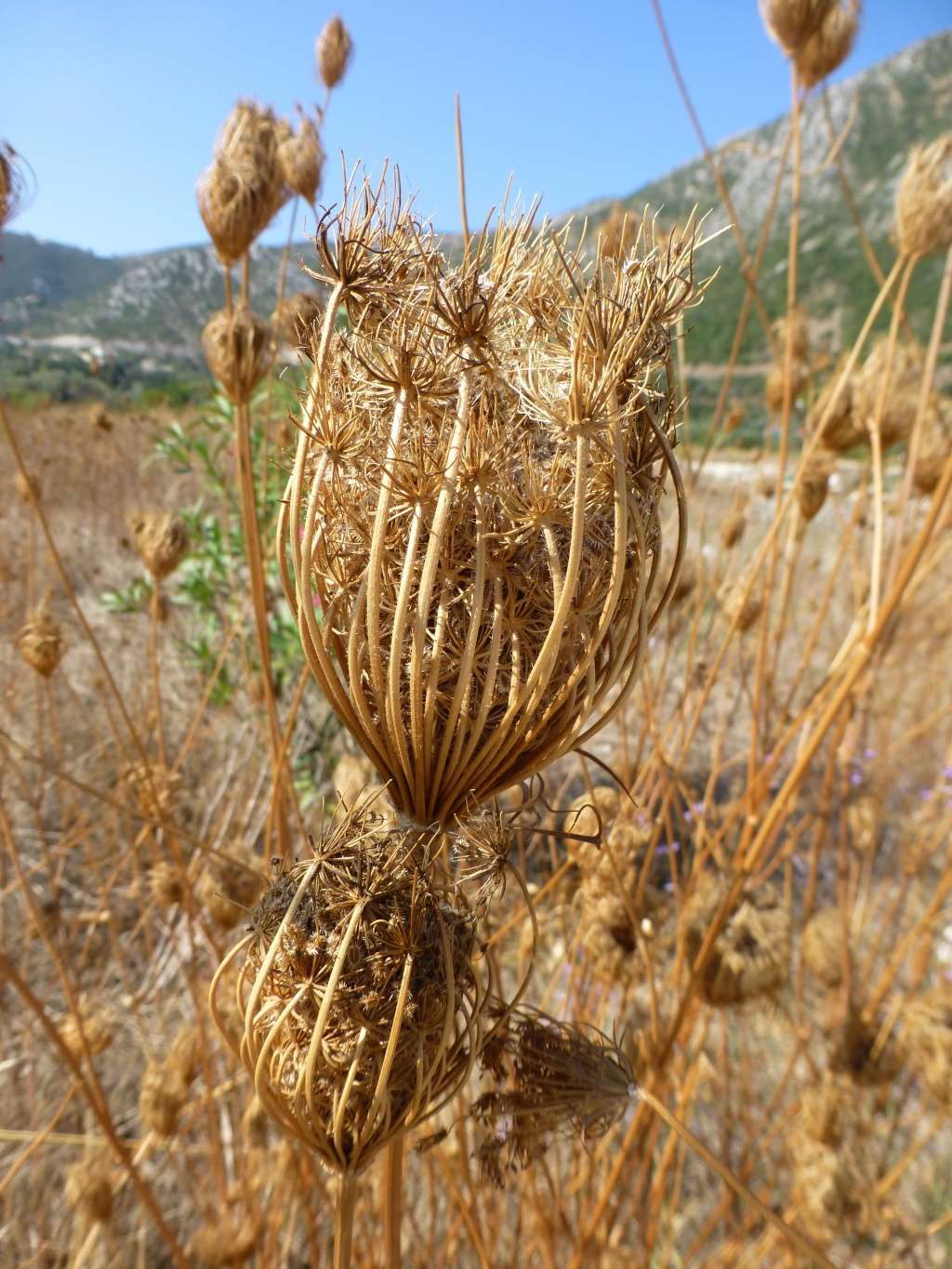 p1130568
but time to get back to mrs Db via a nice village
p1130572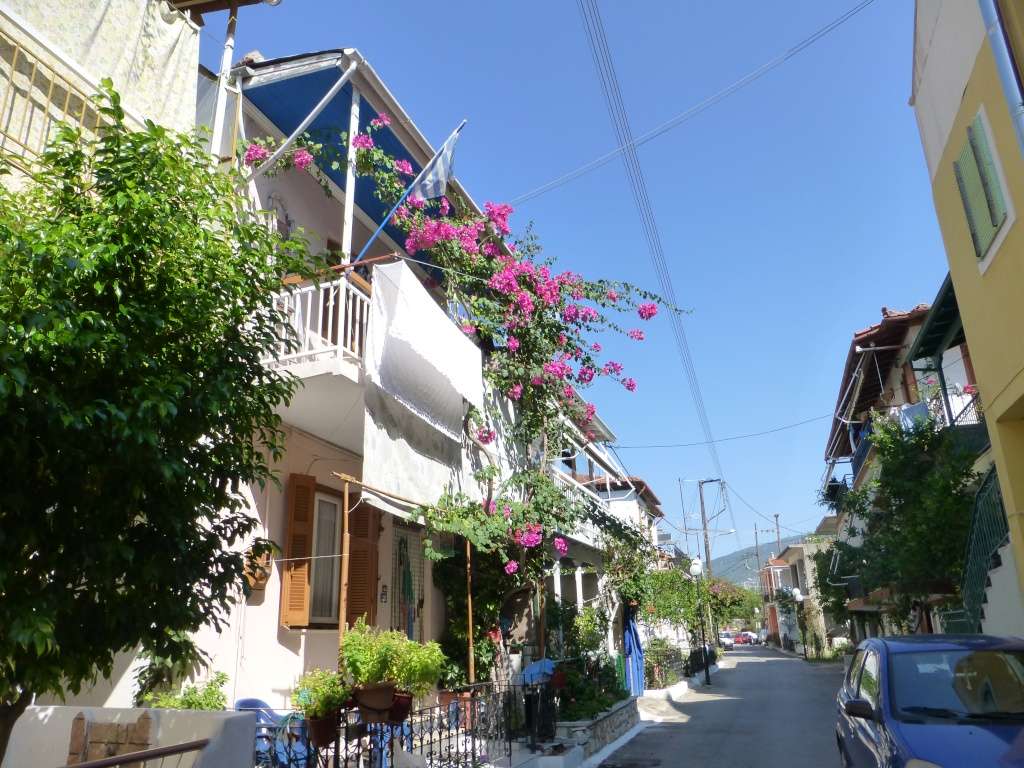 p1130575
the 12:15 ferry to Meganisi was getting ready to leave an island we could see in the distance I think the ferry takes around 30 mins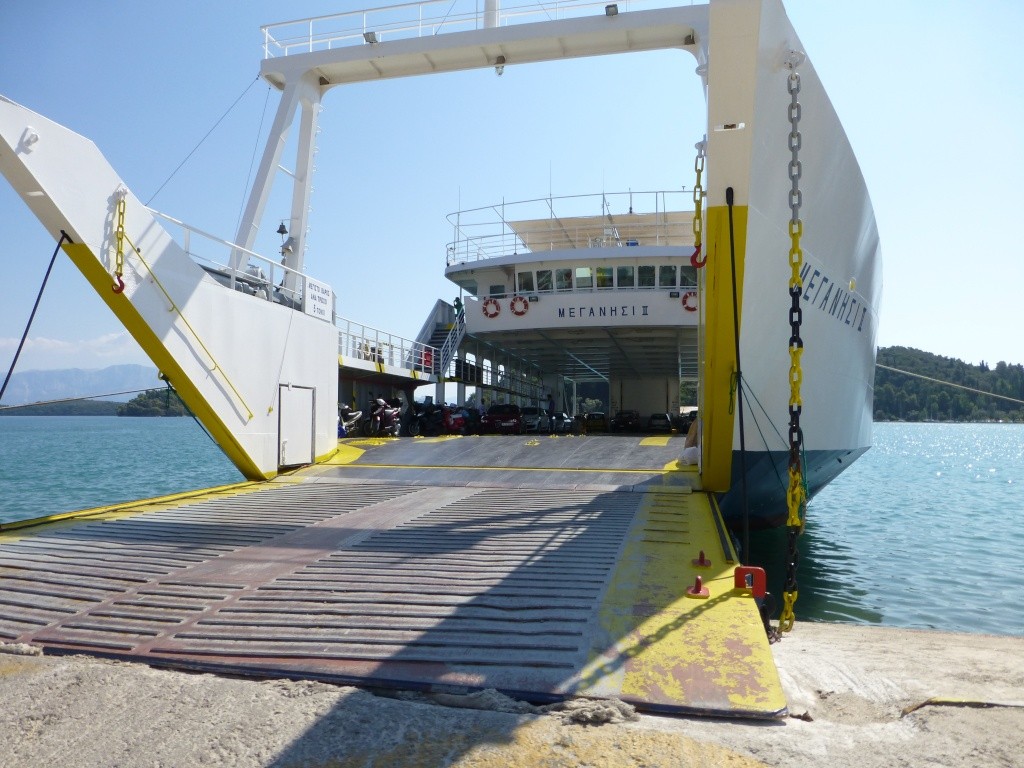 p113578
after meeting up with Mrs Db we returned to Di Paris where Mrs Db enjoyed her Chef's salad she had another and I had a chilly burger and chips, scrummy
p1130588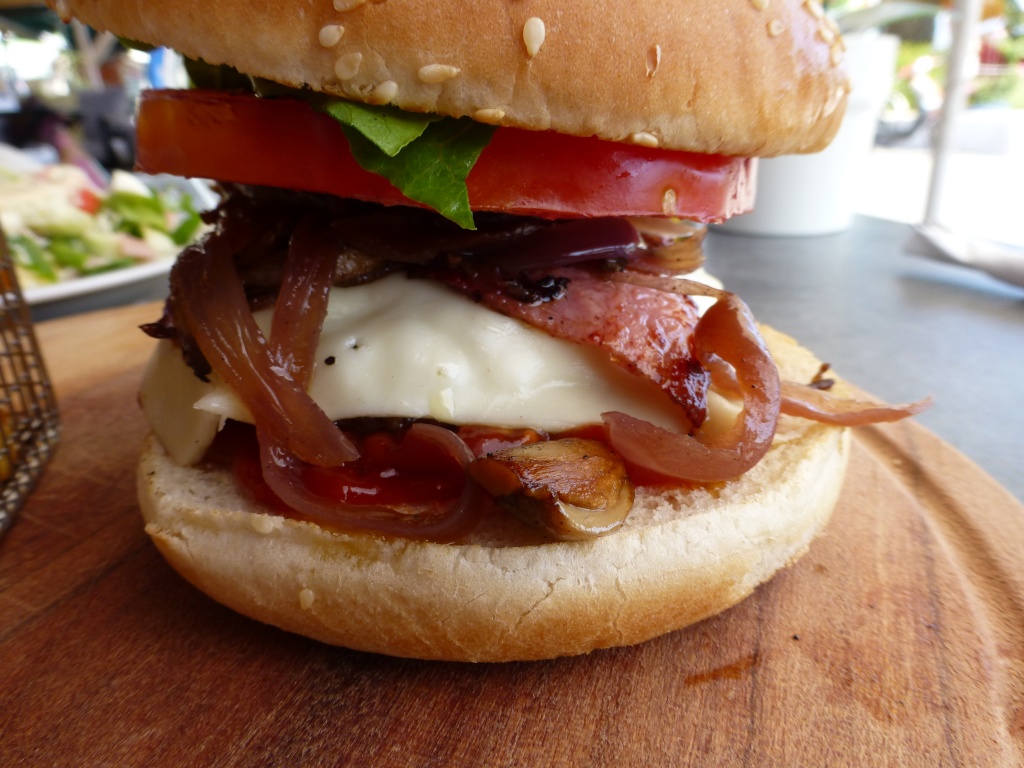 p1130589
after returning to the beach for the afternoon it was on the balcony for a cup of tea
p1130590
this evening we are eating on the front at Catamarans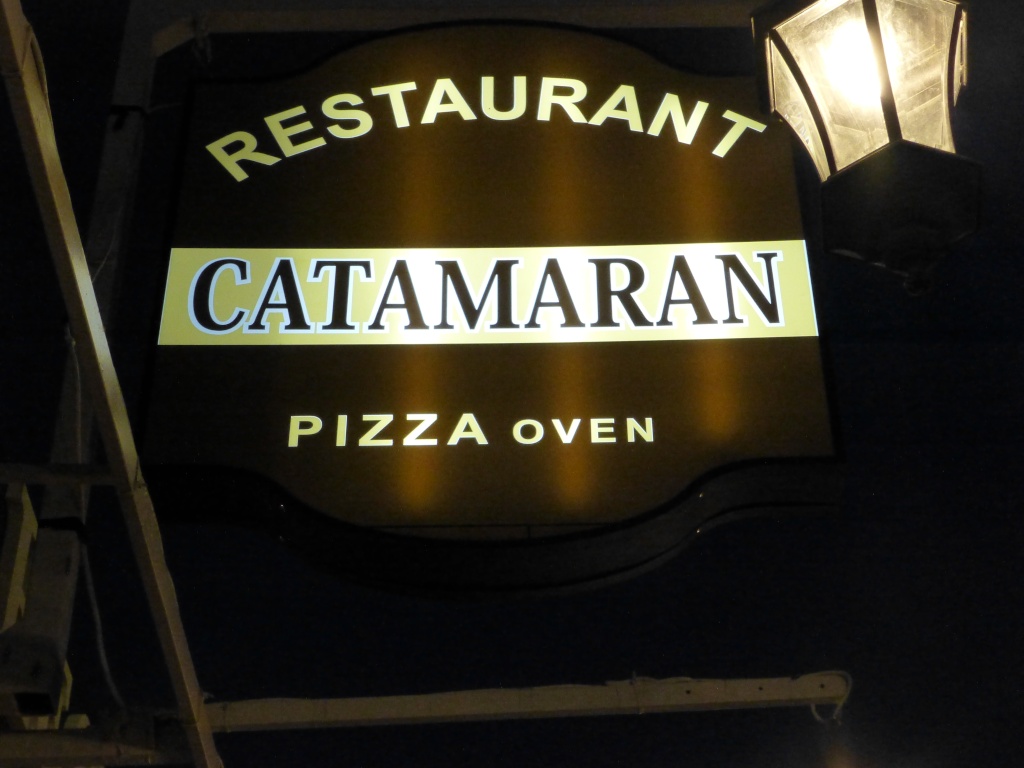 p1130596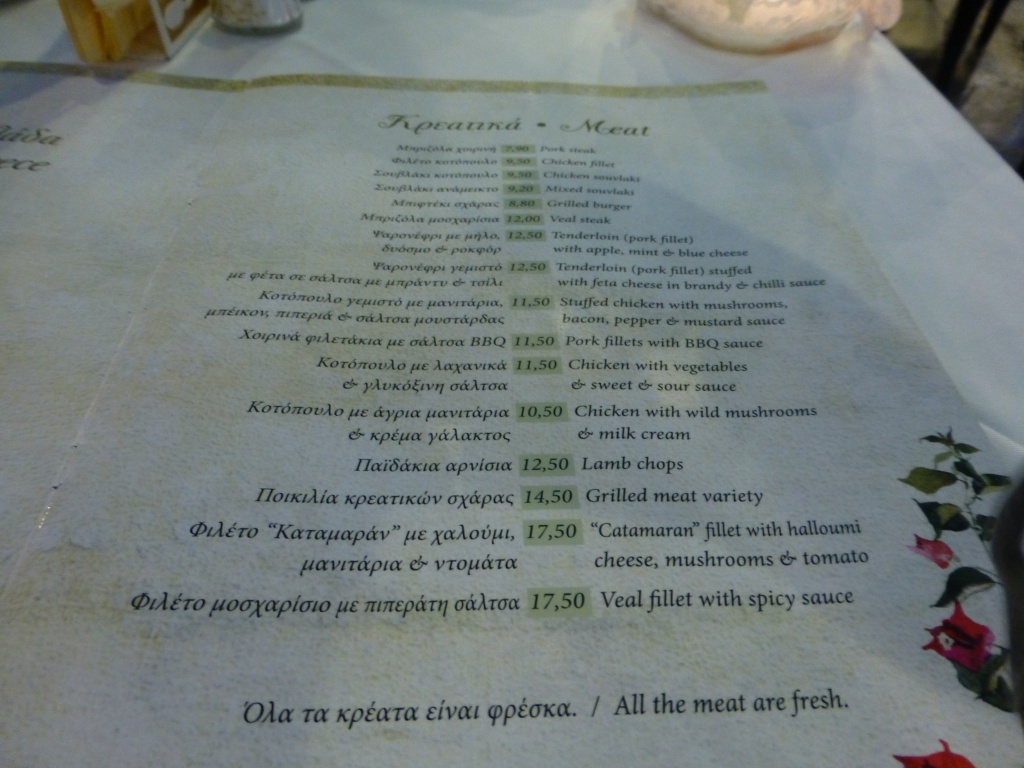 p1130593
I had the chicken stuffed with mushrooms and bacon in a mustard sauce
p1130600
p1130595
Mrs Db went for the tortellini with chicken and bacon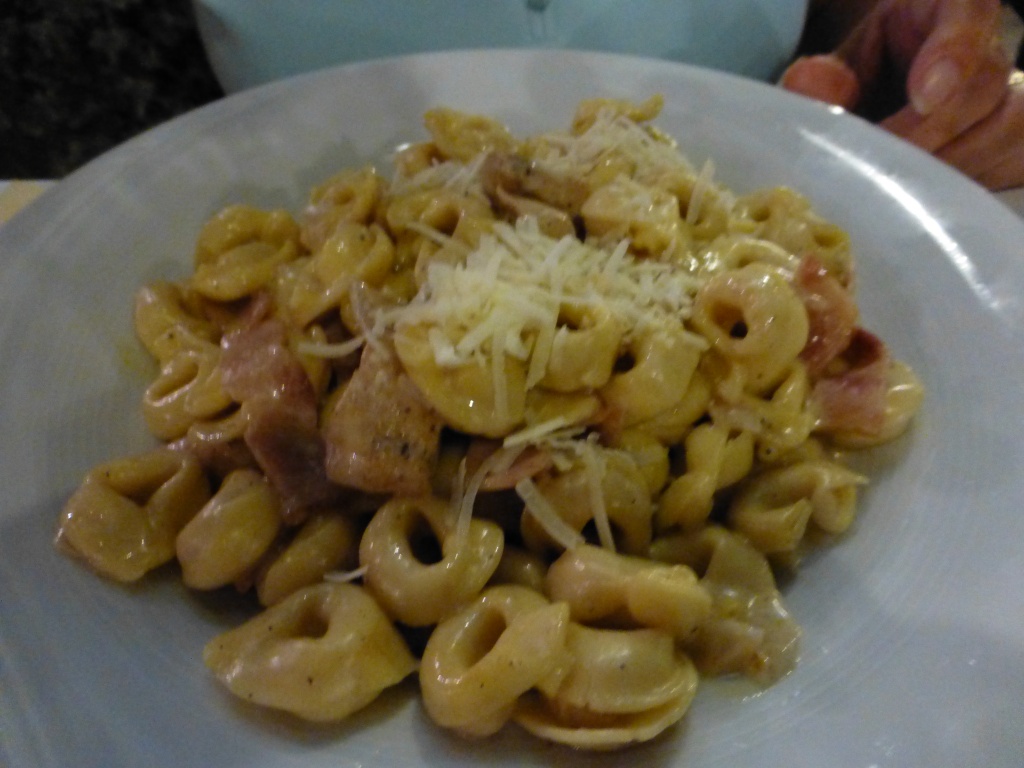 p1130601
all ok no extra's so just paid the bill
so back to hotel for coffee
END OF DAY 9
DAY 10
made the sunrise again lol
an angler fishing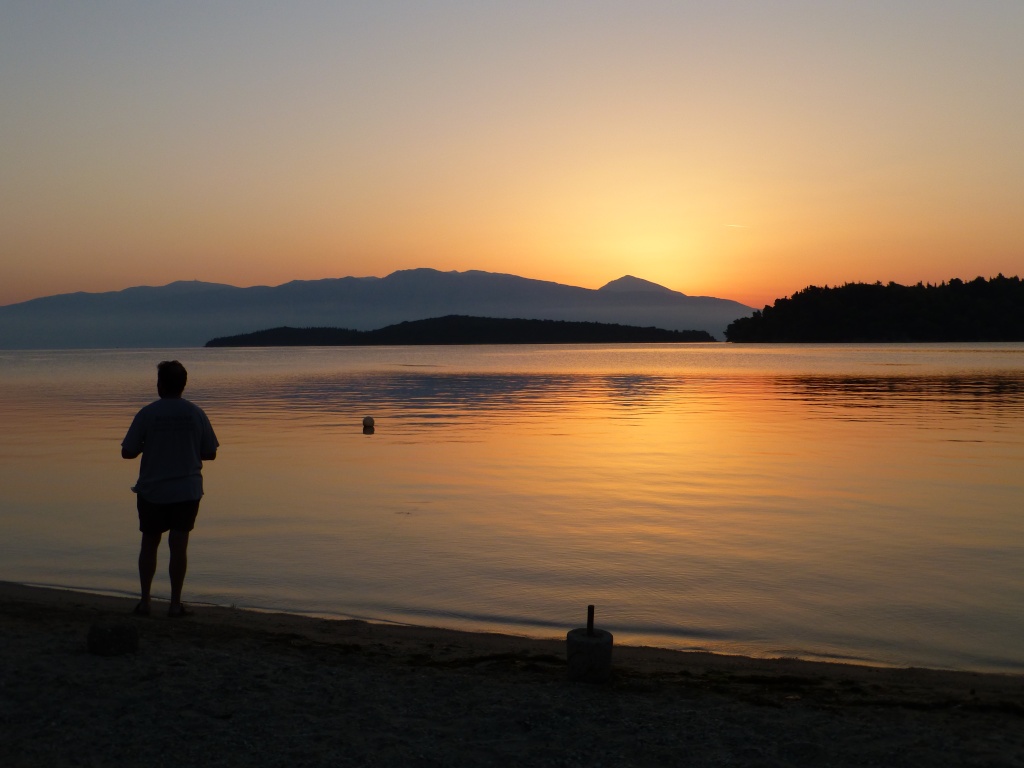 p1130602
but he wouldn't stay around
p1130605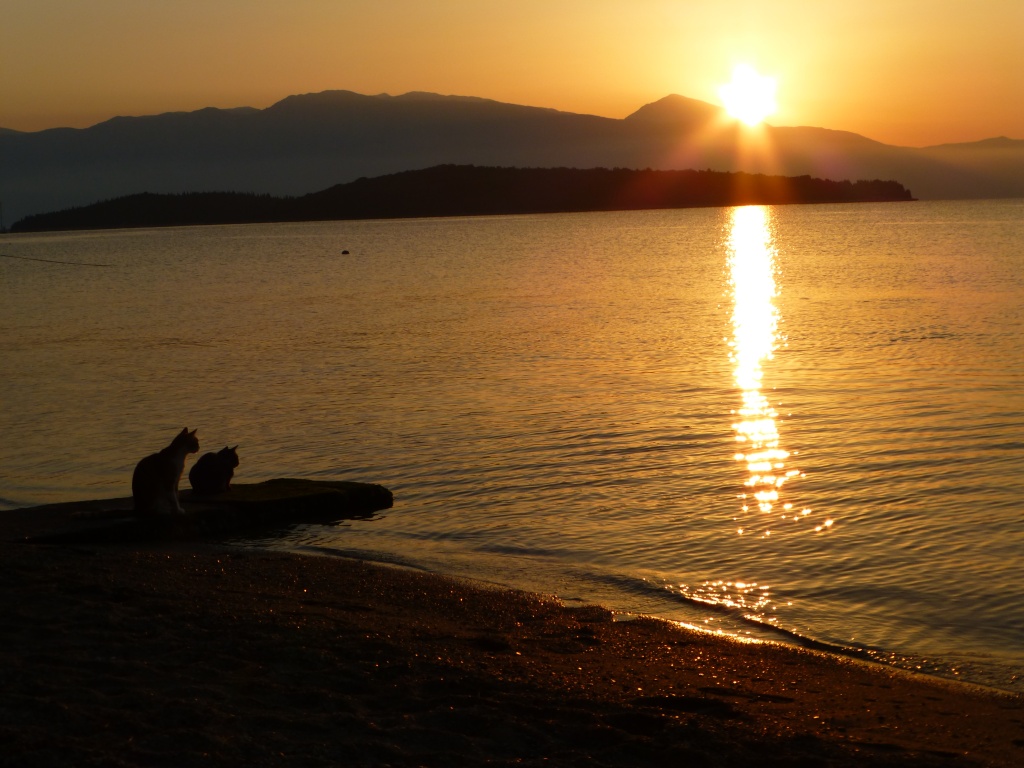 p1130613
"how did we do Delboy", well I wasn't low enough to catch you right against the sun, perhaps tomorrow lol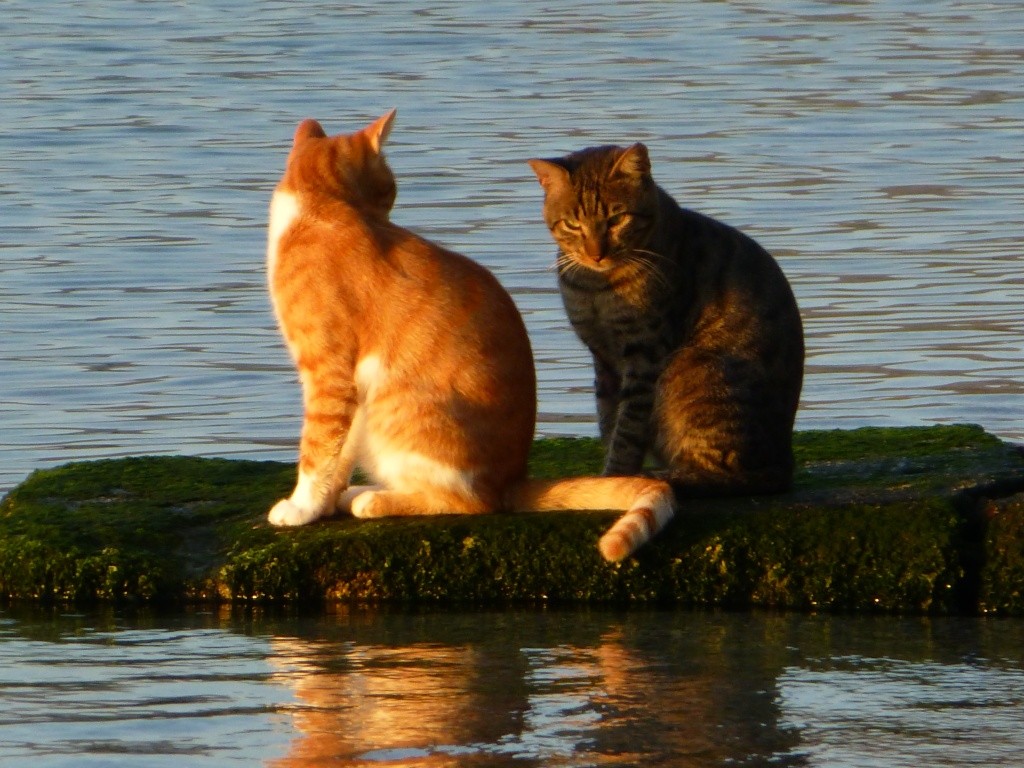 p1130622
the morning was spent on the beach with Delboy still looking at flowers, there is a bee in there which kept hiding from me
p1130625
That is the island of Meganisi in the distance
p1130628
for lunch we just went a couple of restos down on the beach
p1130628
we both had the chef's special omelette which had chips in it lol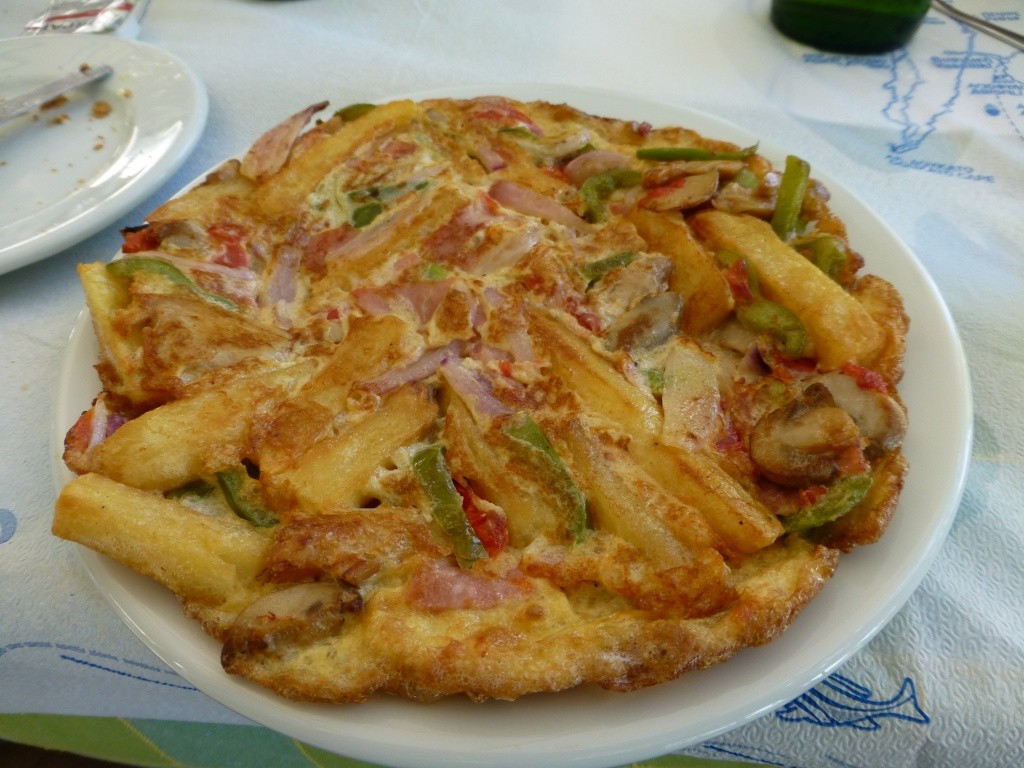 p1130634
a nice setting under the trees
p1130633
after being on the beach till 4pm Delboy was going to make that trip up the mountain again as the sea looked blue enough for some shots, you know the way up now, so it will be shots from the mountain only but hard earned photos lol. But not before I had my watch battery changed in a jeweller/watch shop as it was losing time. The chap opened it and cleaned the inside, soaked the seal in a solution added the new battery all for 4€'s.
right i probably have a hundred photos but just a small sample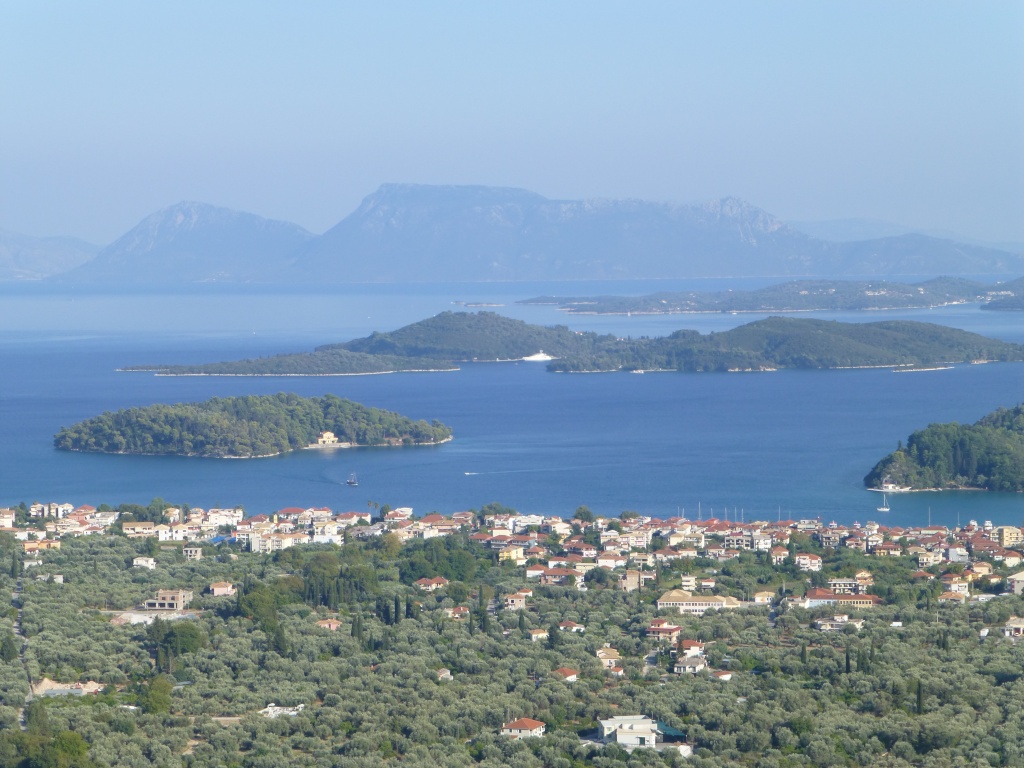 p1130695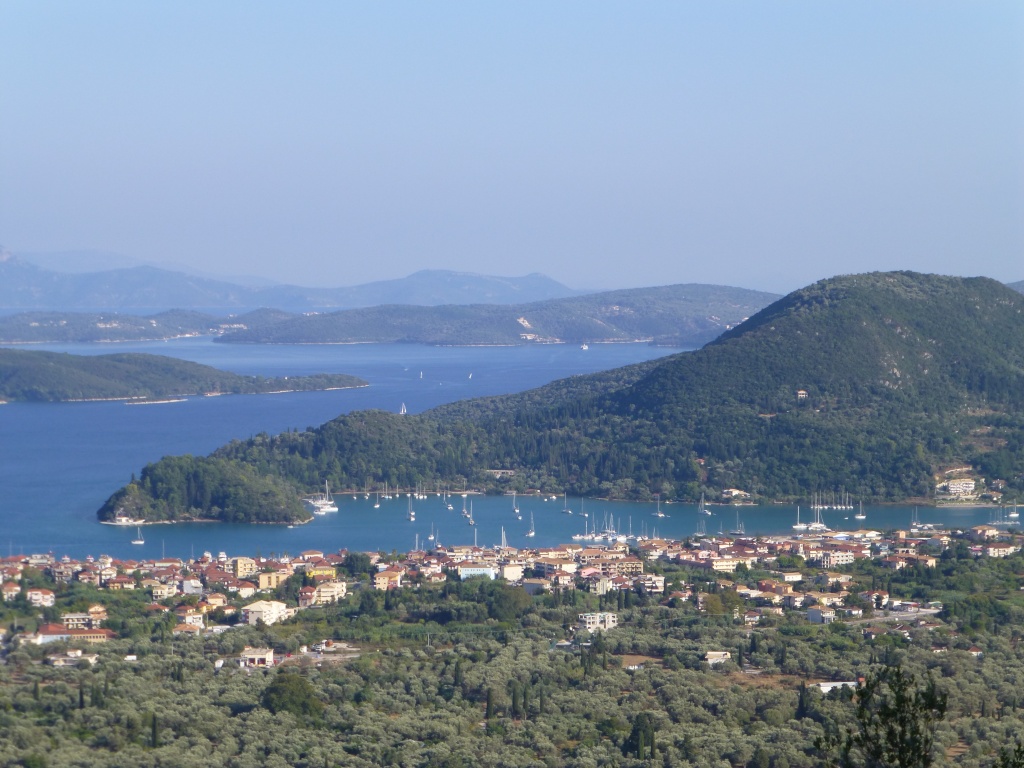 p1130696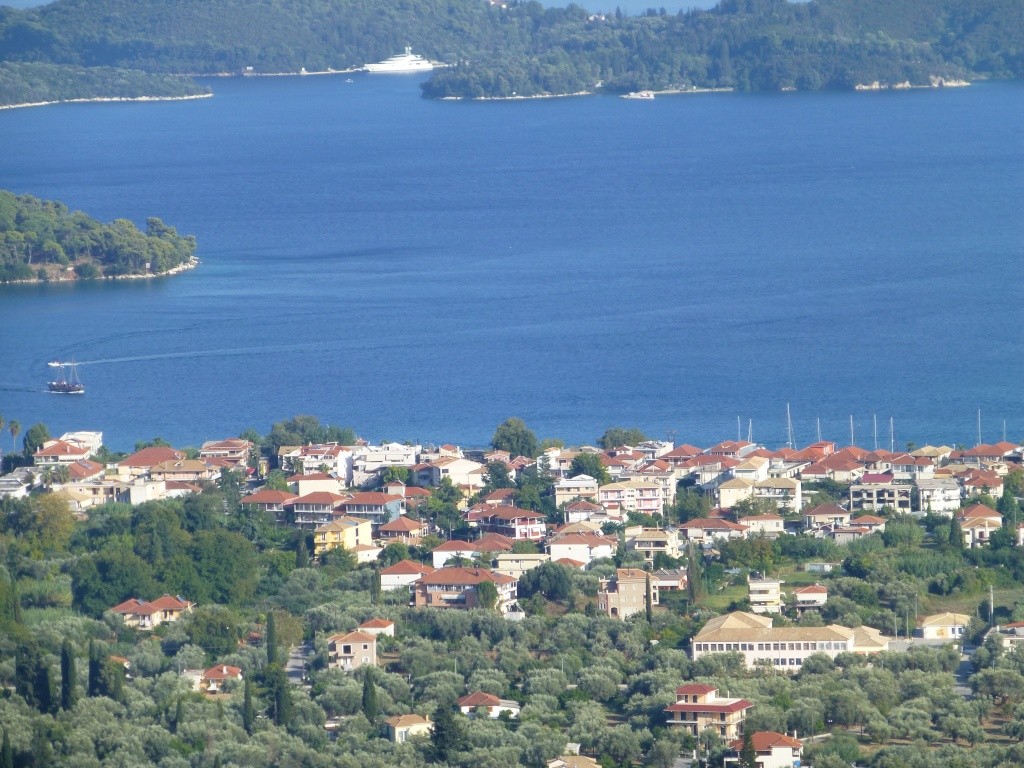 p1130698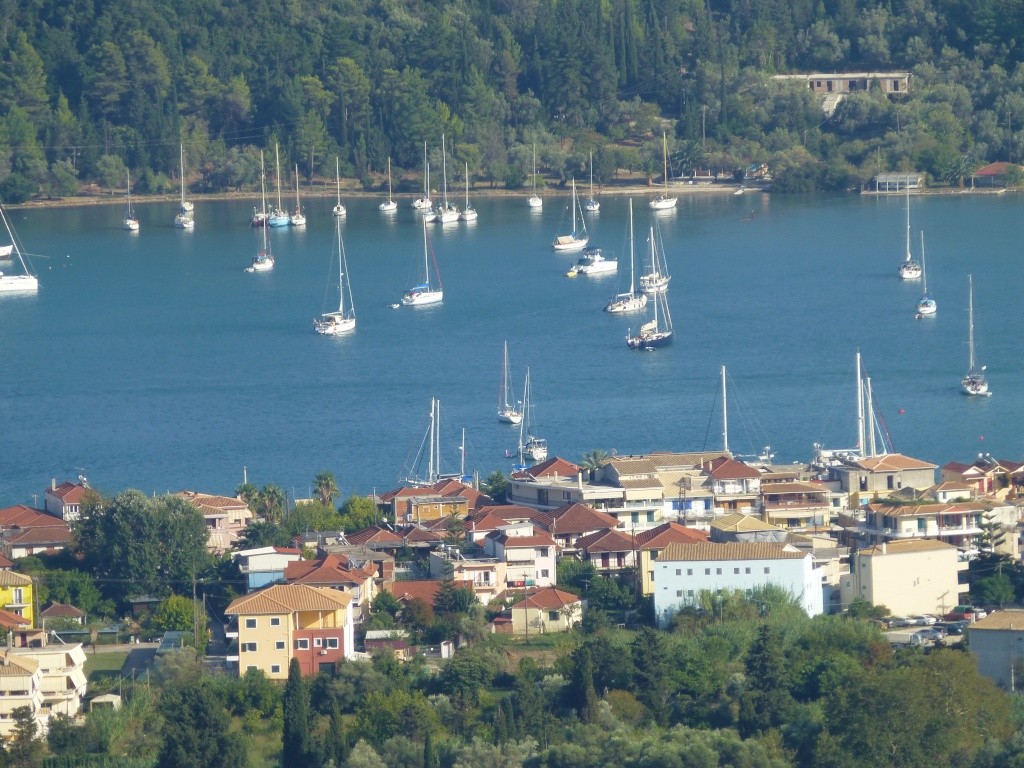 p1130702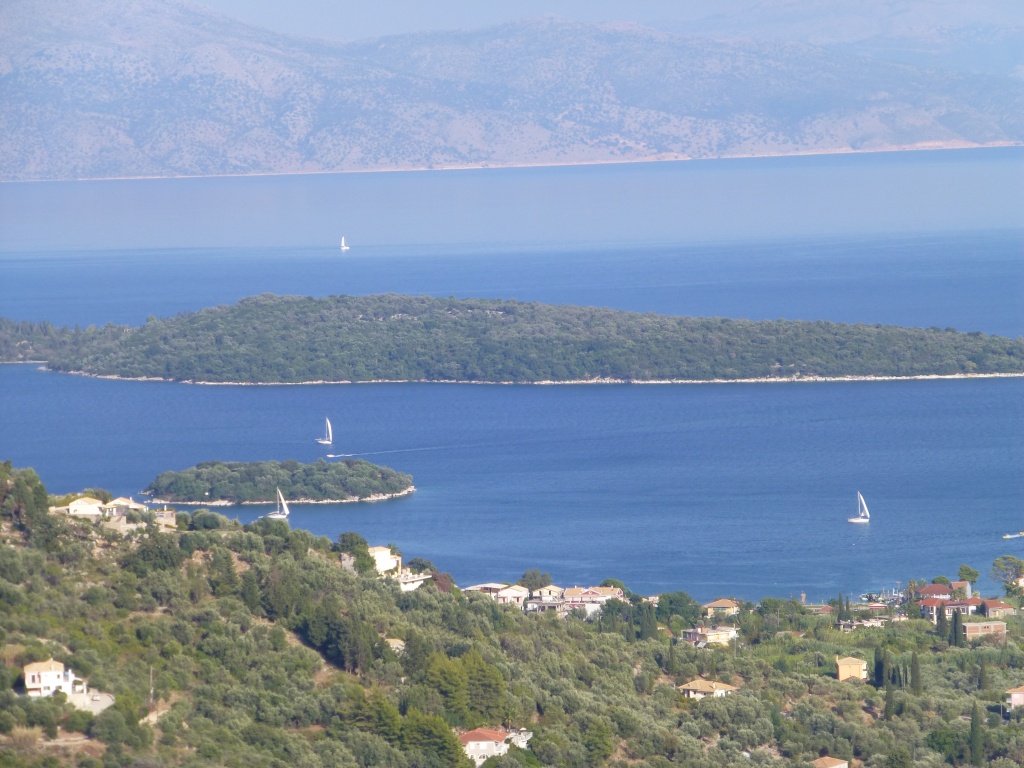 p1130705
p1130706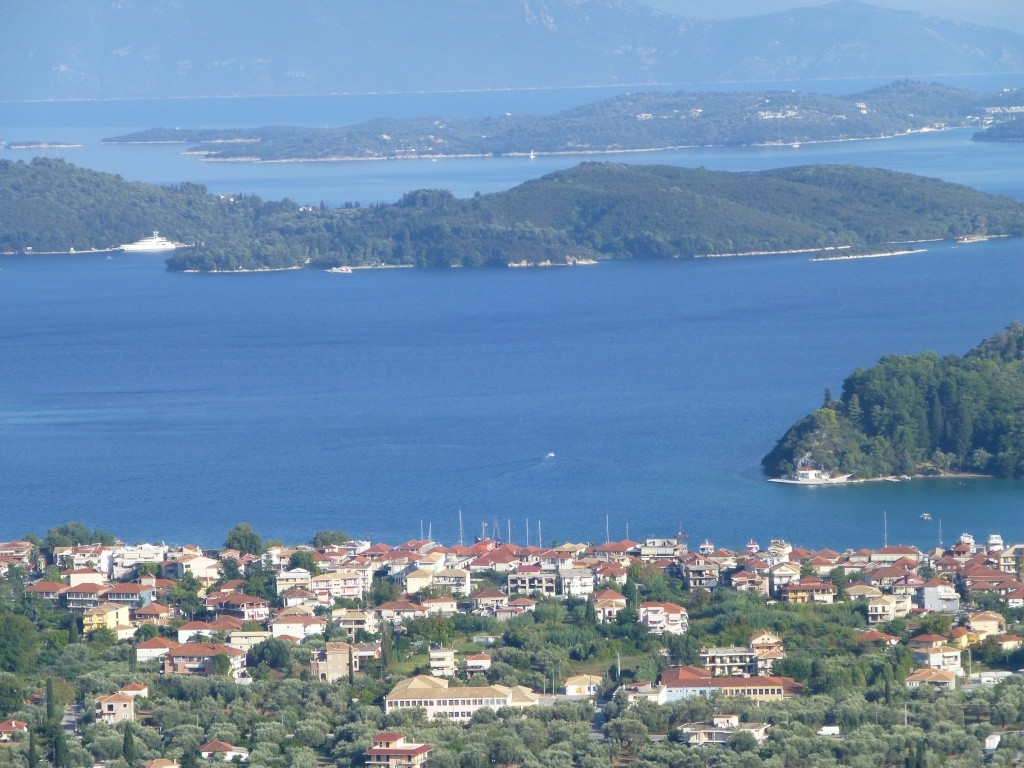 p1130707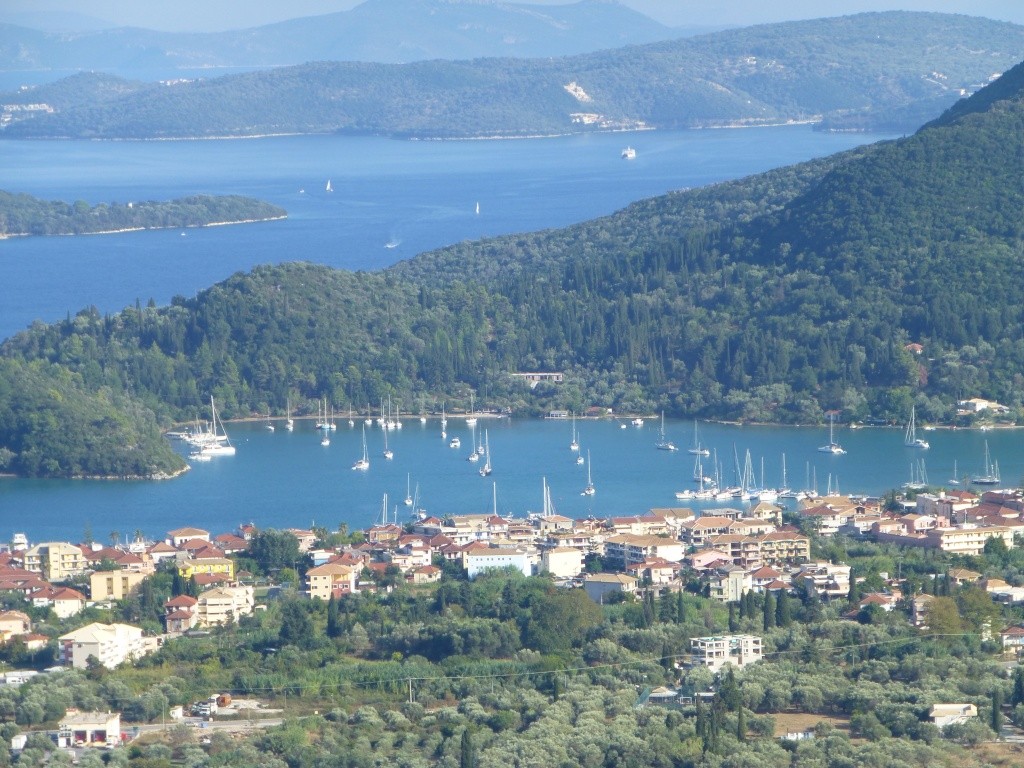 p1130708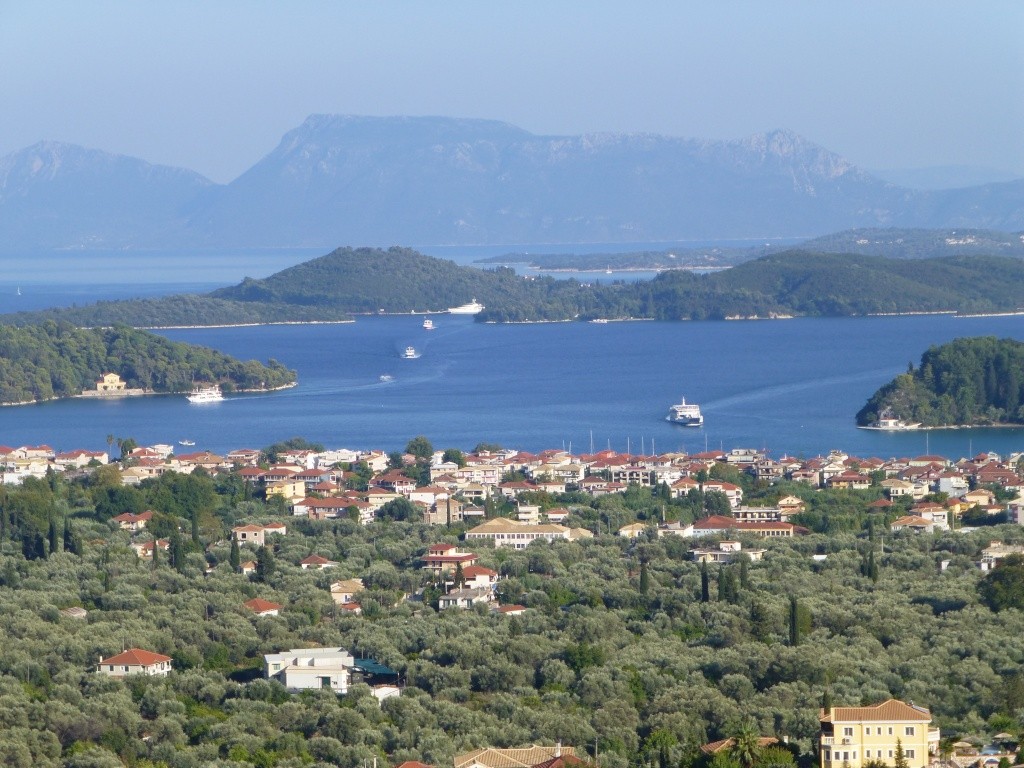 p1130723
for the evening meal we went to the Barrel again, it was becoming one of our favourites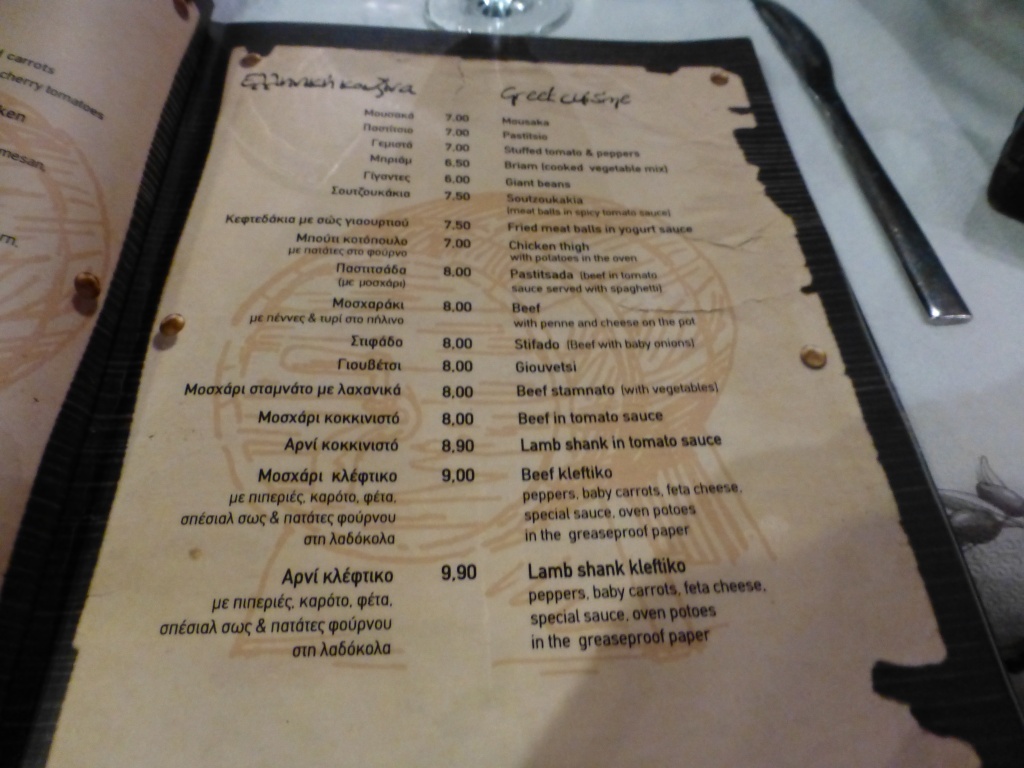 p1130730
I had the beef stamnato which came with chips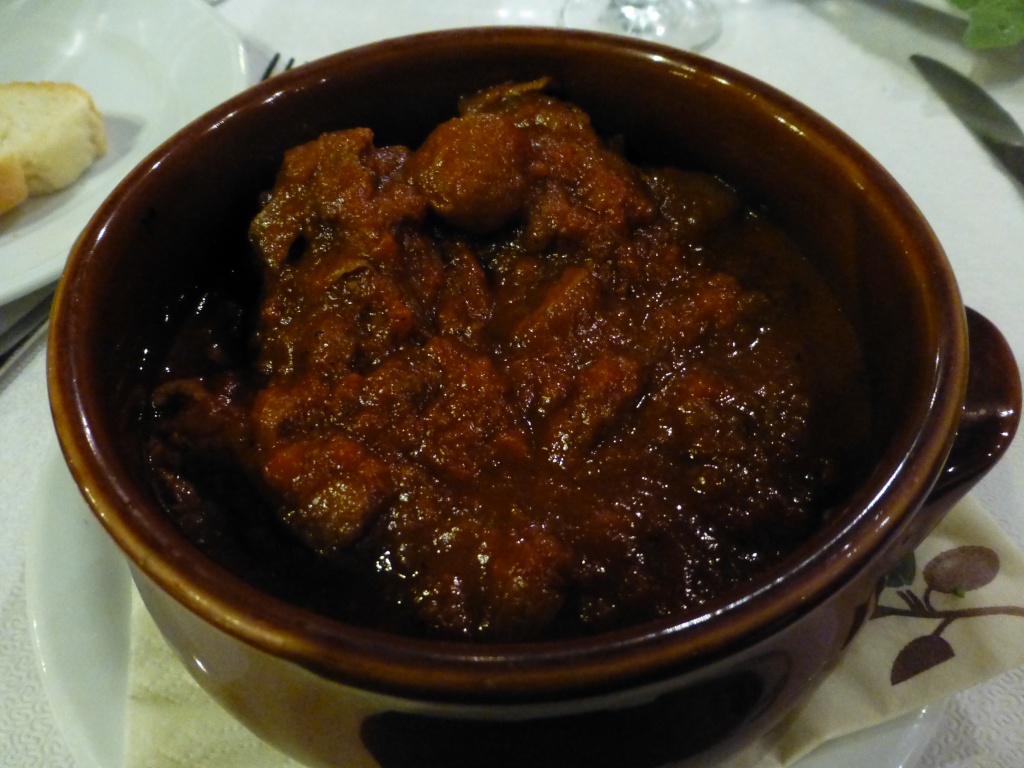 p1130734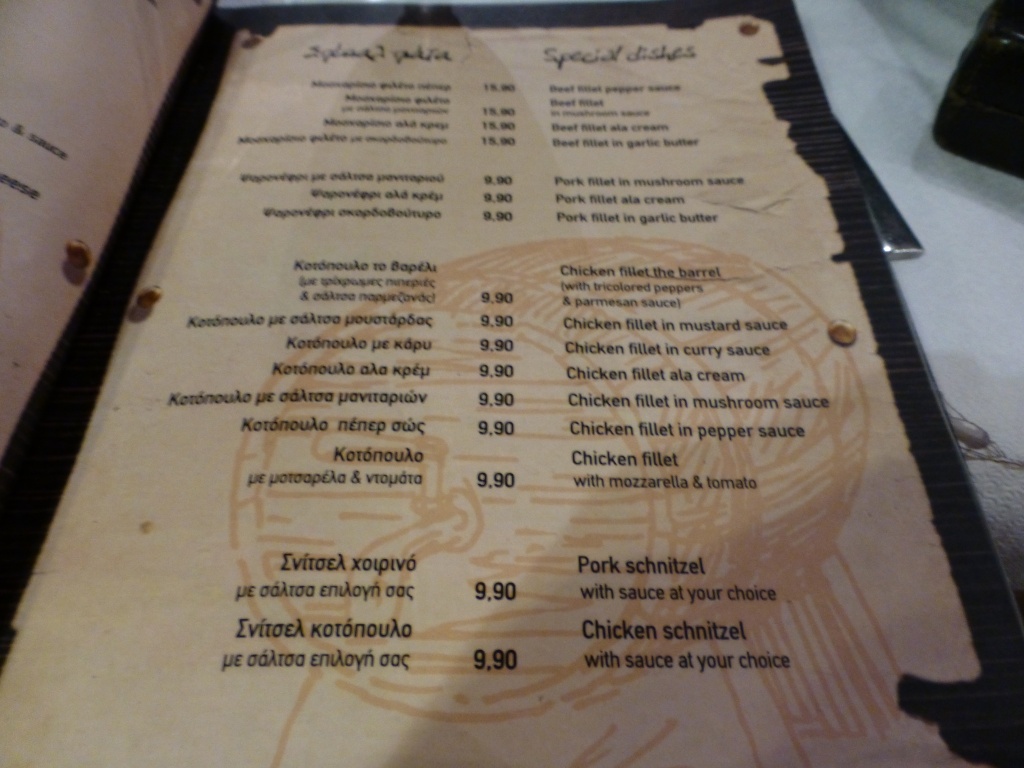 p1130731
Mrs Db chose chicken in pepper sauce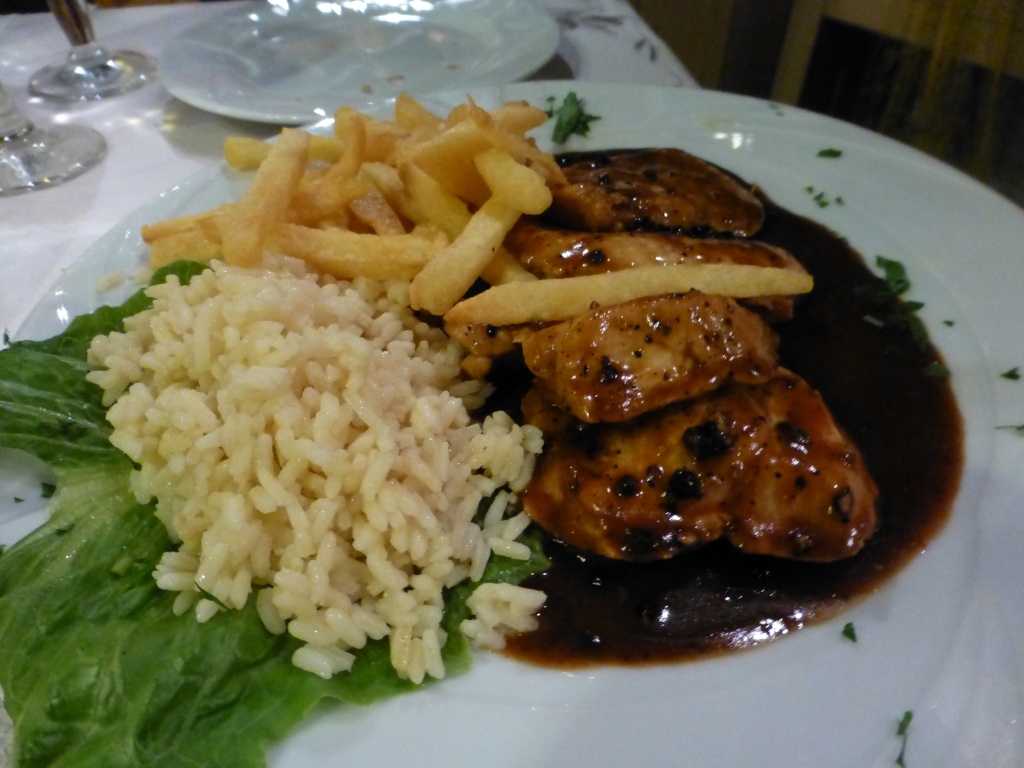 p1130733
and of course those free puddings and liquors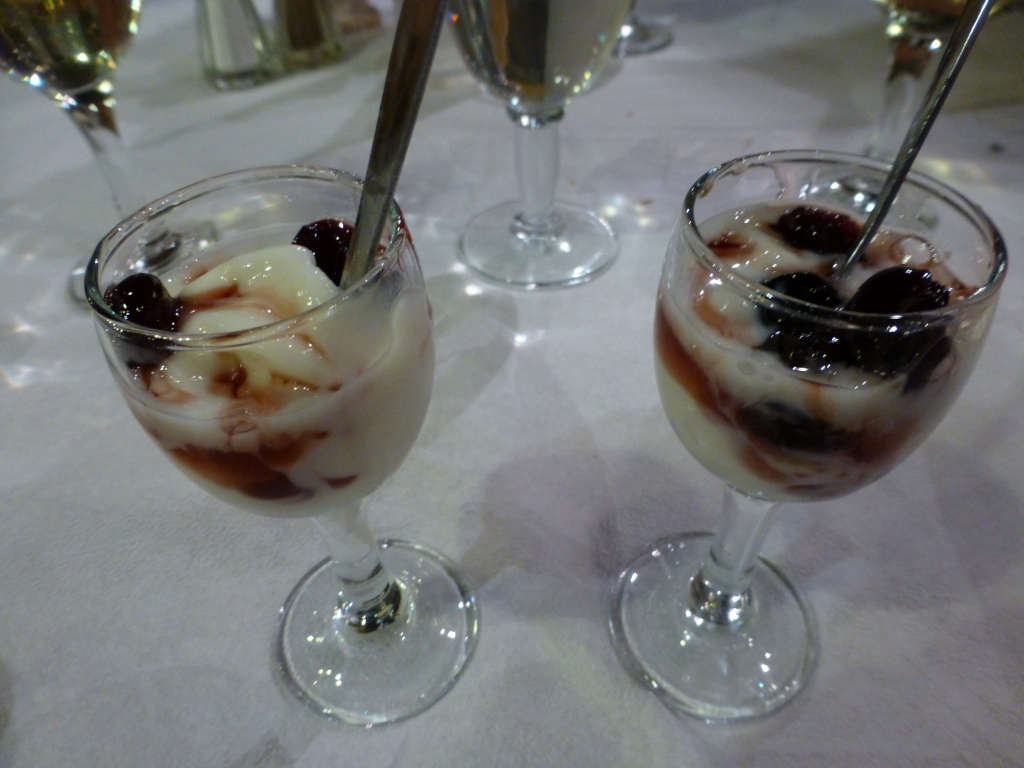 p1130737
afterwards Mrs Db said she was fit enough to do the day boat trip tomorrow but wasn't going to get off the boat, so Delboy neogotiated a good price
So it was back to the hotel for coffee
END OF DAY 10
DAY 11
It was the day of the cruise, something I had been looking forward to since deciding to go to Nidri
I was still up for the sunrise of course and this is a yacht and not our boat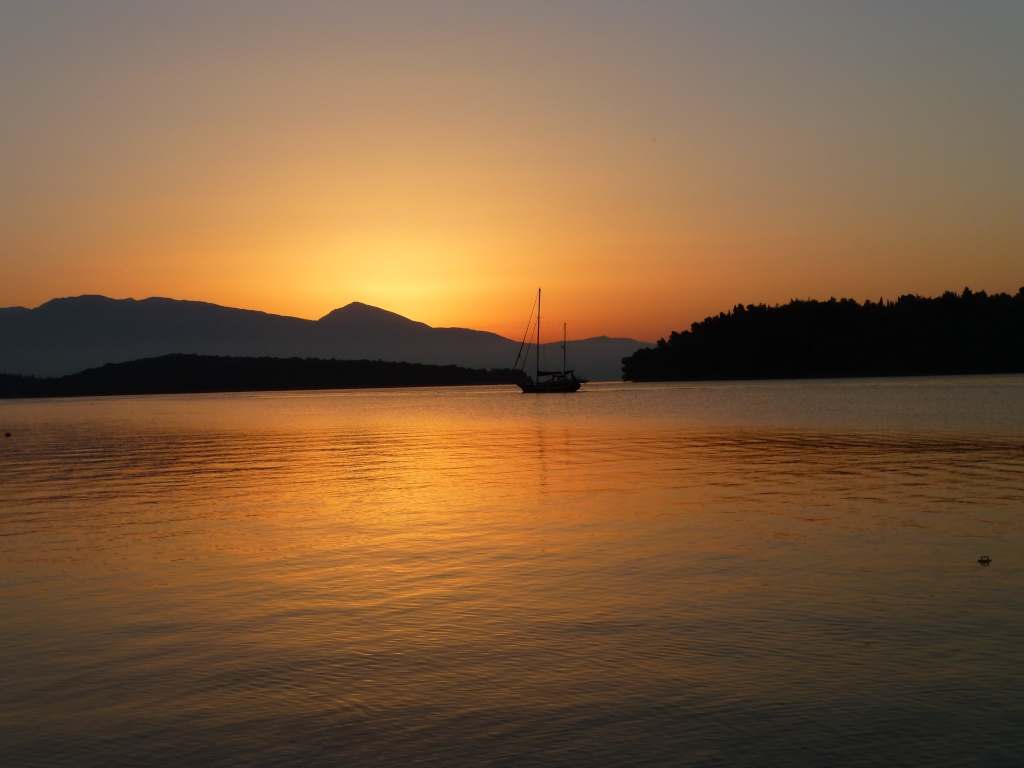 p1130745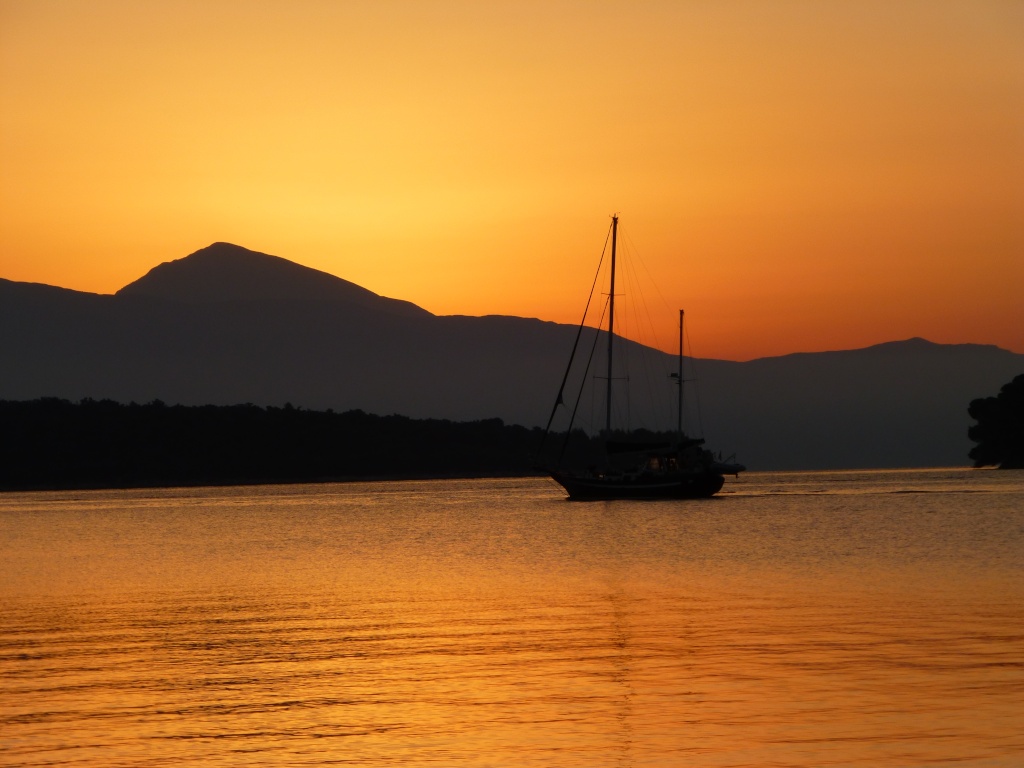 p1130746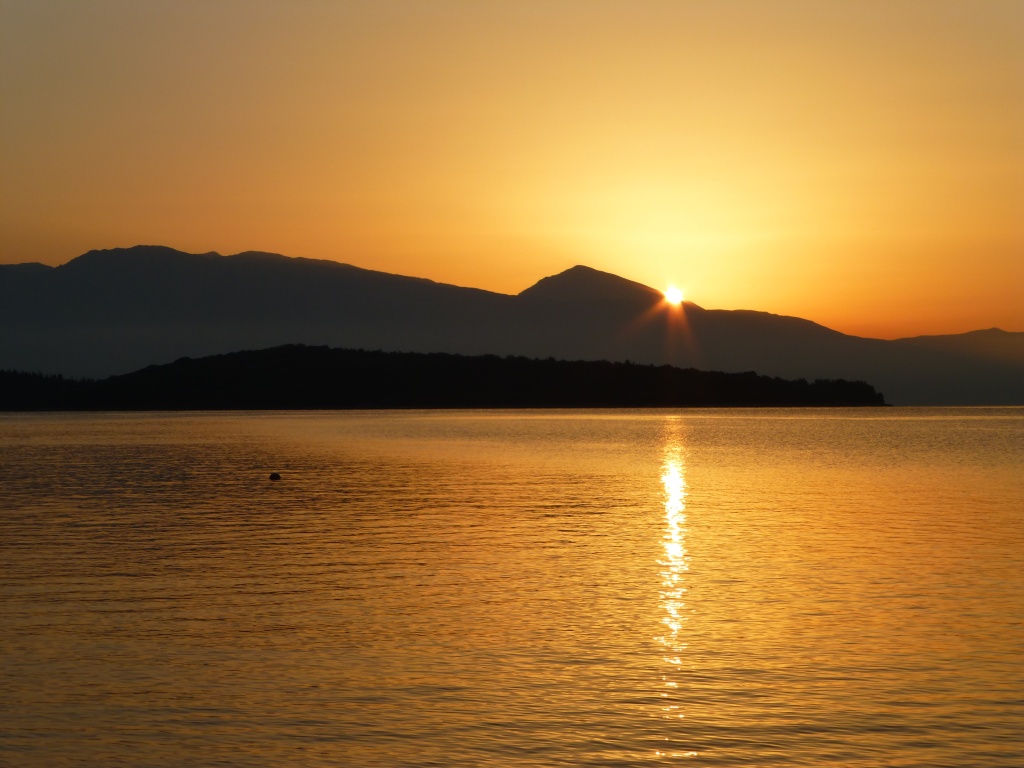 p1130750
We had to have an early breakfast, as we were told to be at the boat for check in at 9:15am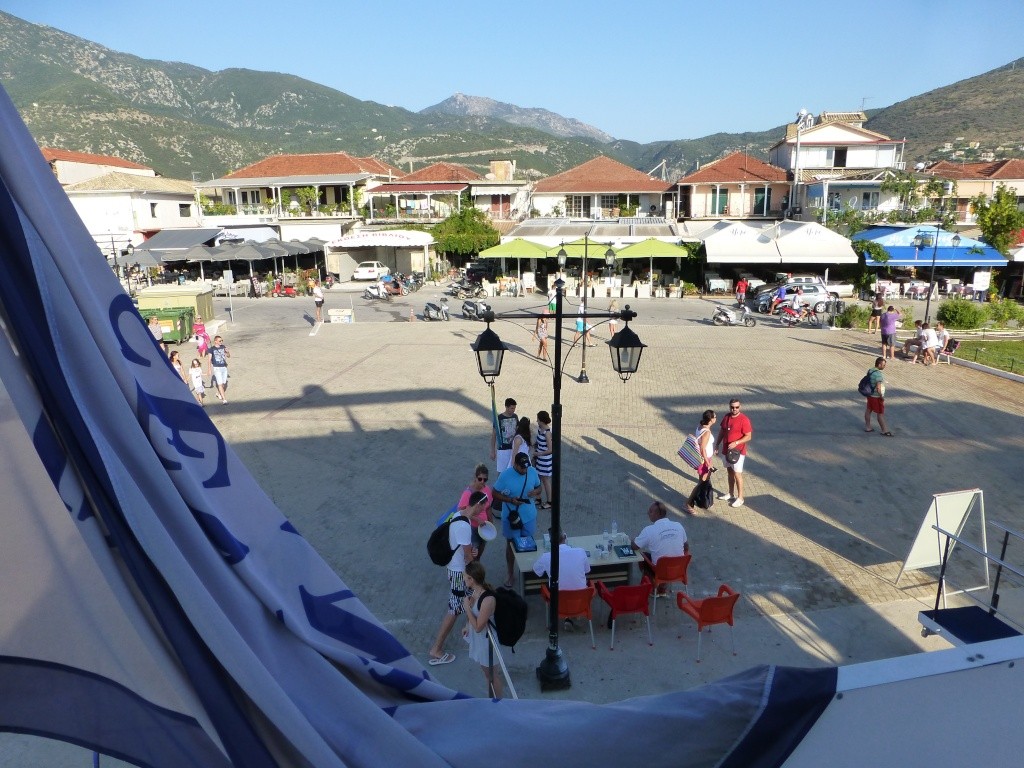 p1130755
Just like a real cruise, this I suggested to Mrs Db, will we get ticka tape send off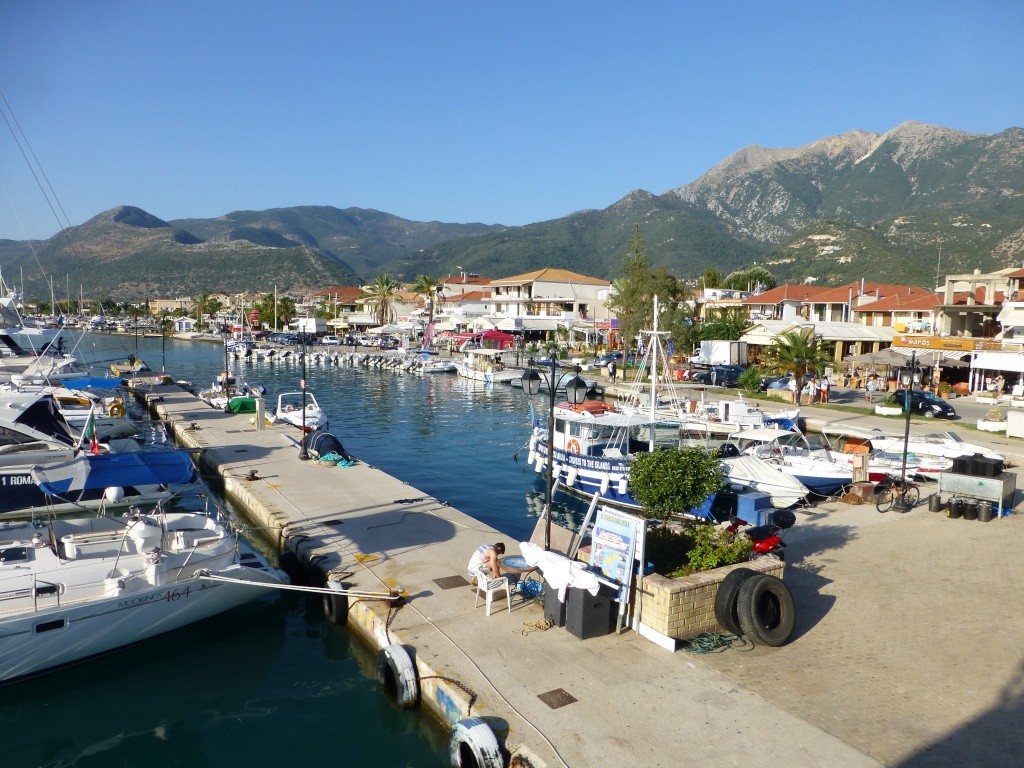 p1130756
Lots of anticipation as the captain kept coming aboard then going back on shore, we finally left at 9:55am
you can see that zig zag mountain I climbed yesterday in the distance lol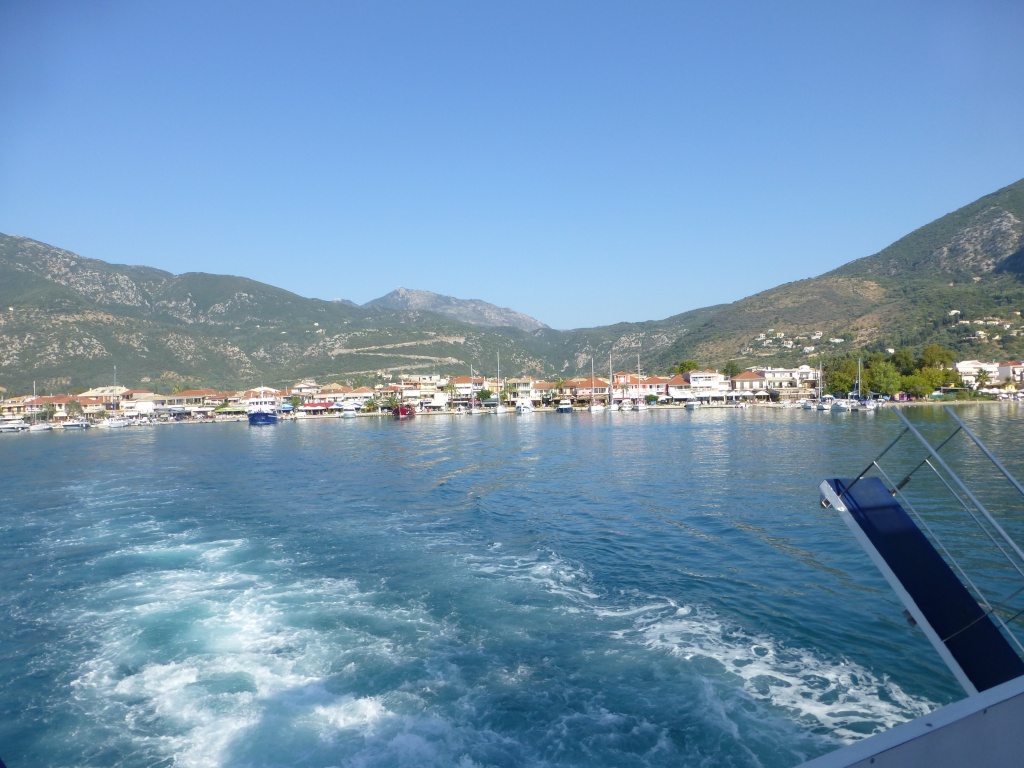 p1130759
as we left Nidri port a closer look at the little church at the entrance to the harbour
p1130760
from here we will take a 50 minute journey around Cape Lefkada to Porto Katski, the dream beach I wanted to photograph, going into open sea here hope I am ok lol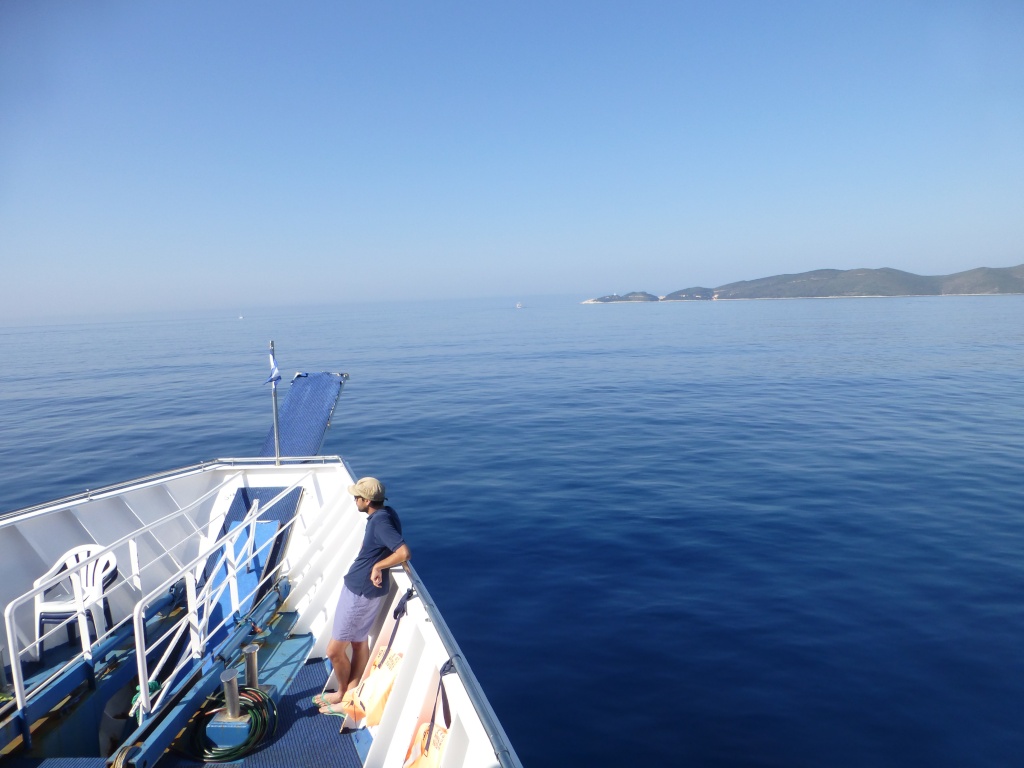 p1130775
Meanwhile the captain had allowed all children to come up to his cabin to wear his hat, well how could Delboy miss out on that.. CHILDREN he said as Mrs Db's voice disappeared into distance lol
p1130774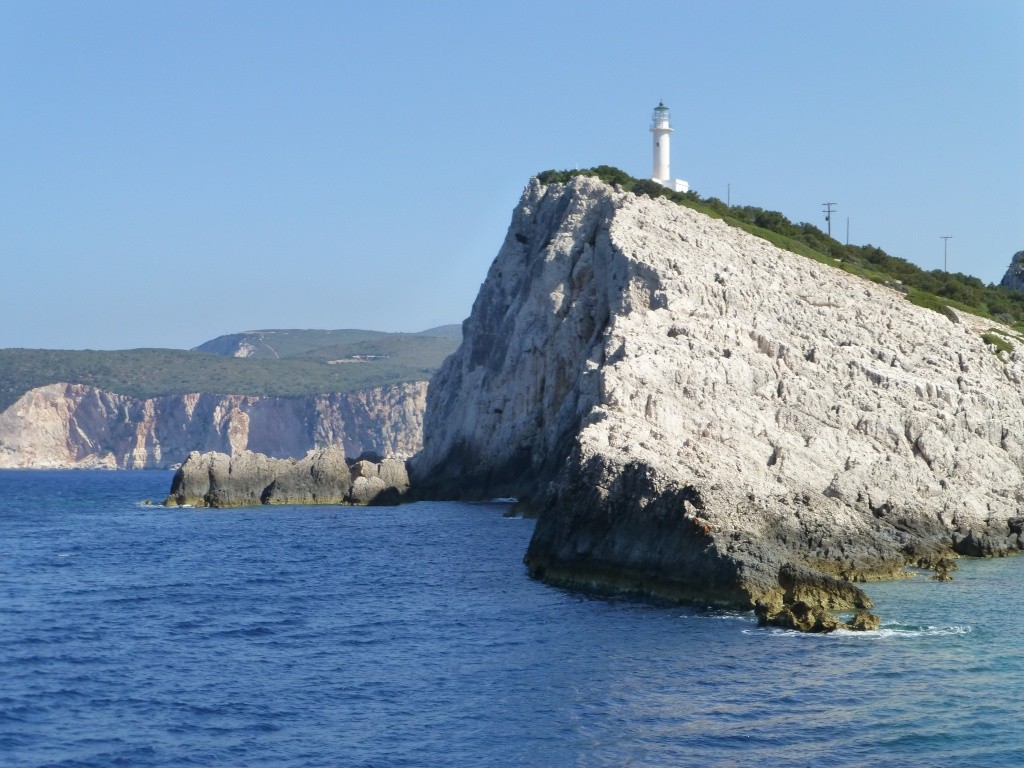 p1130778
the coastline is quite rugged along here, the captain then announced we will be stopping in Porto Katski for one hour for swimming etc, now I heard there are many steps to get to the top would i get time to get up to the top and shoot some photos
p1130785
just a few people on the beach, no brollies but shade under the cliffs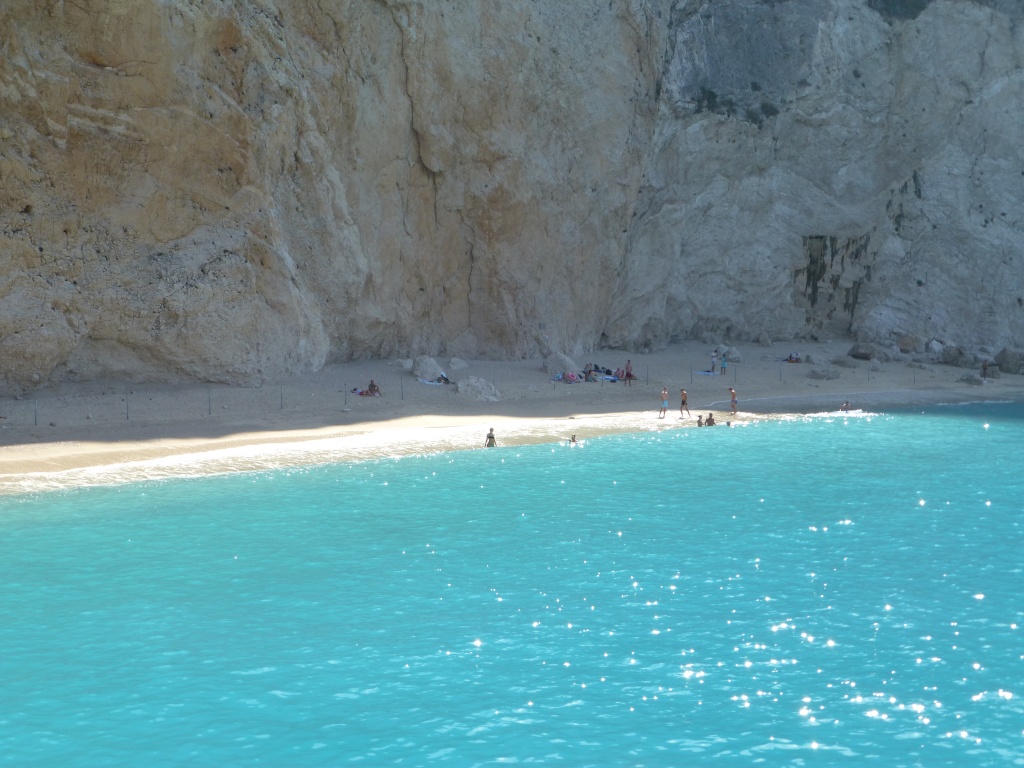 p1130787
I got off fairly quickly but had to get around a boulder overhanging the sea and the beach is fine little white stones all the same size and you sink into the sea with sandals and they get under your soles
p1130789
but I was on my way up after emptying out the stones lol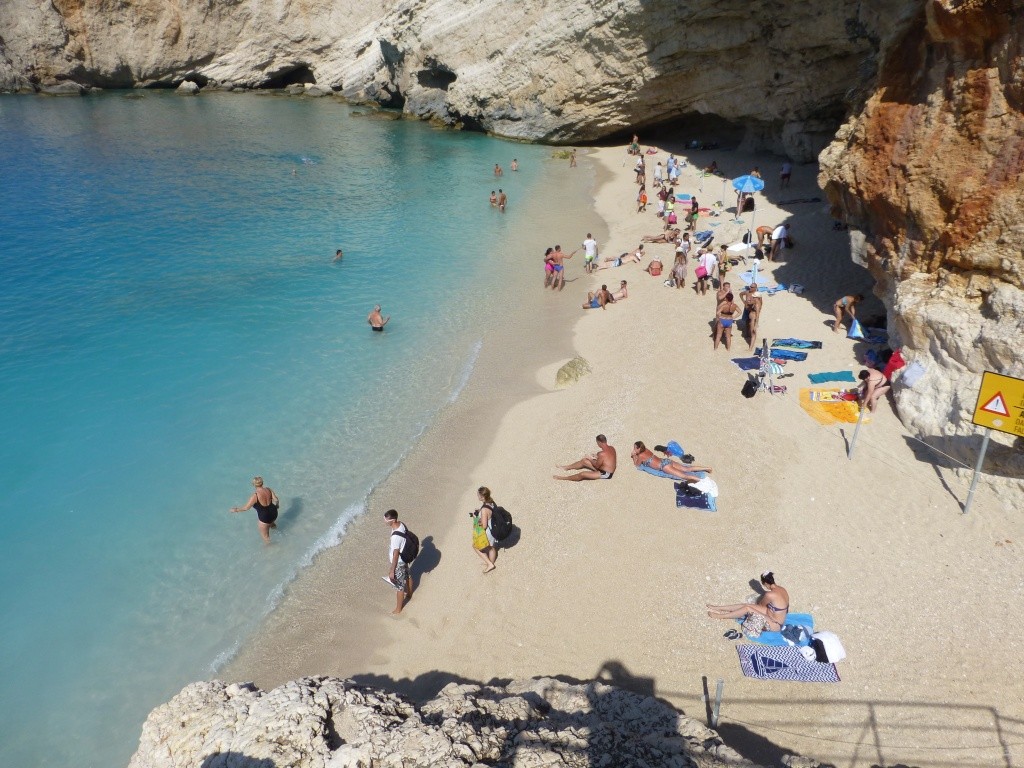 p1130791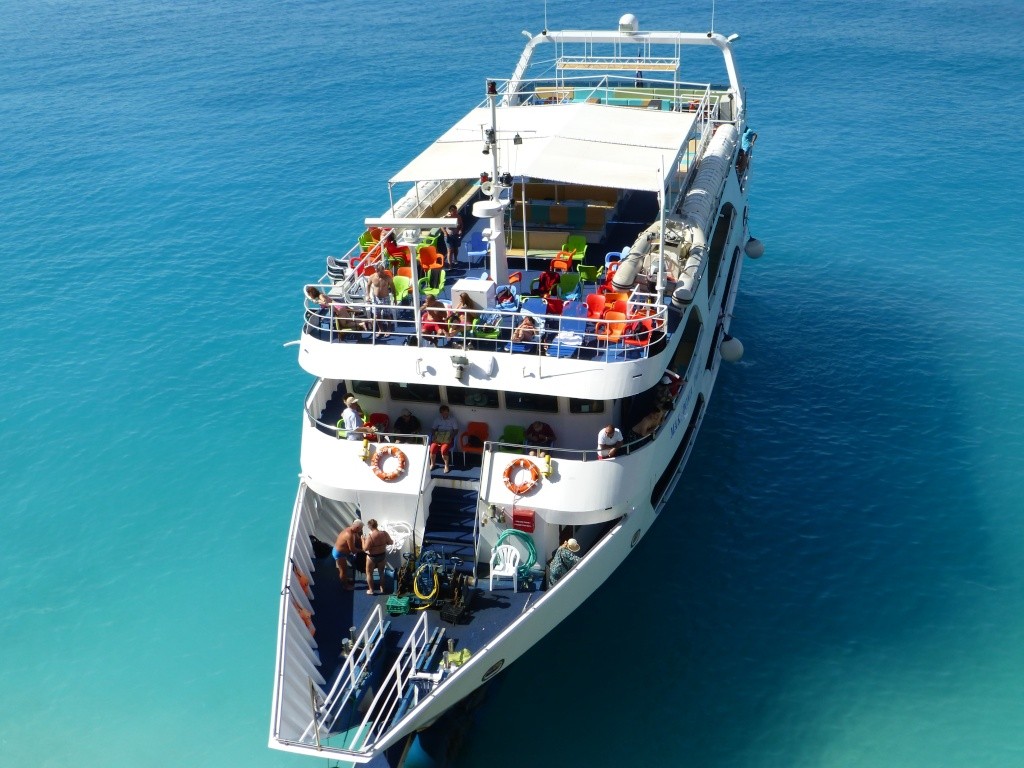 p1130793
p1130794
well that didn't take long but wow on the view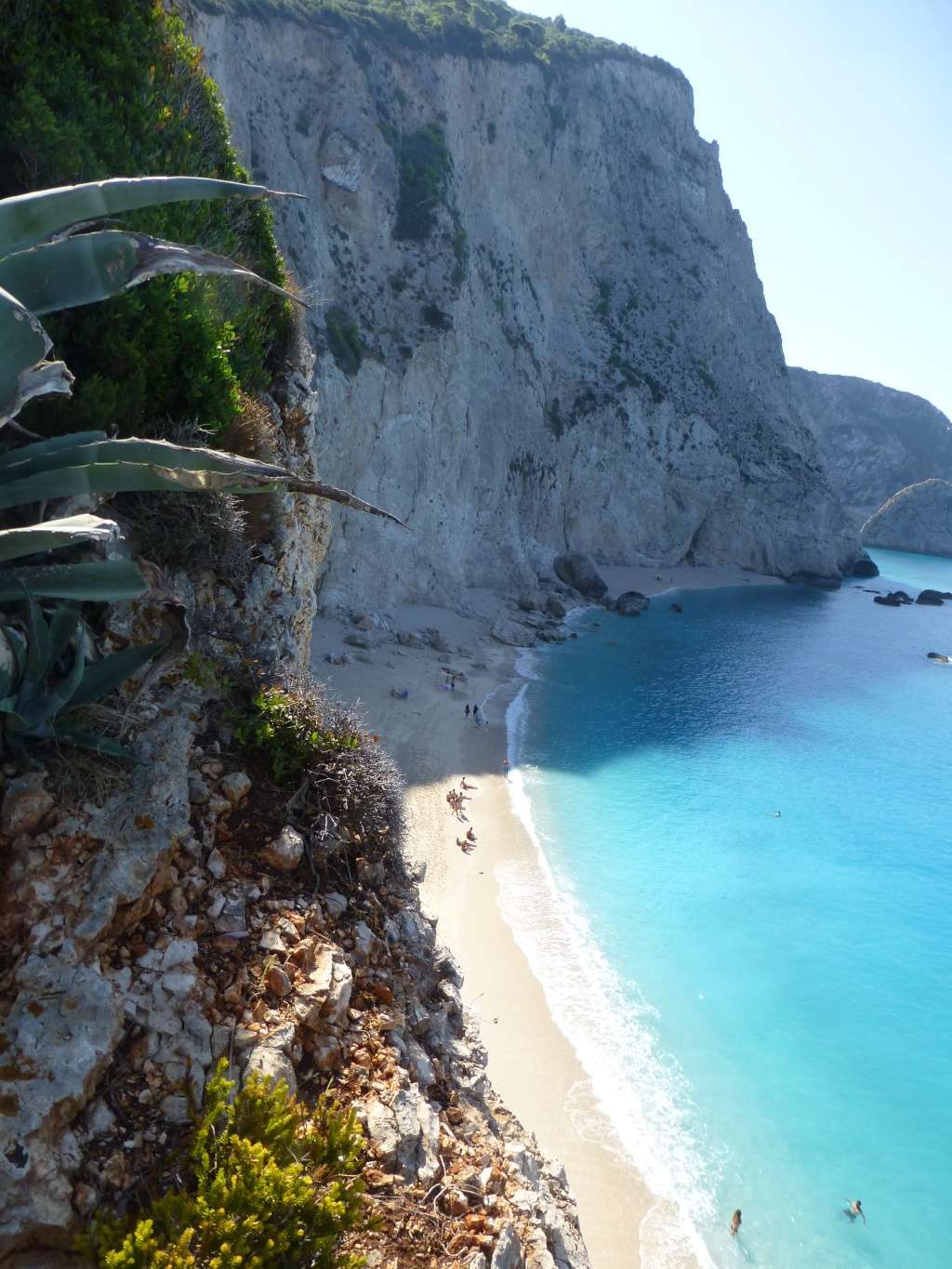 p1130796
so let's see where are the best views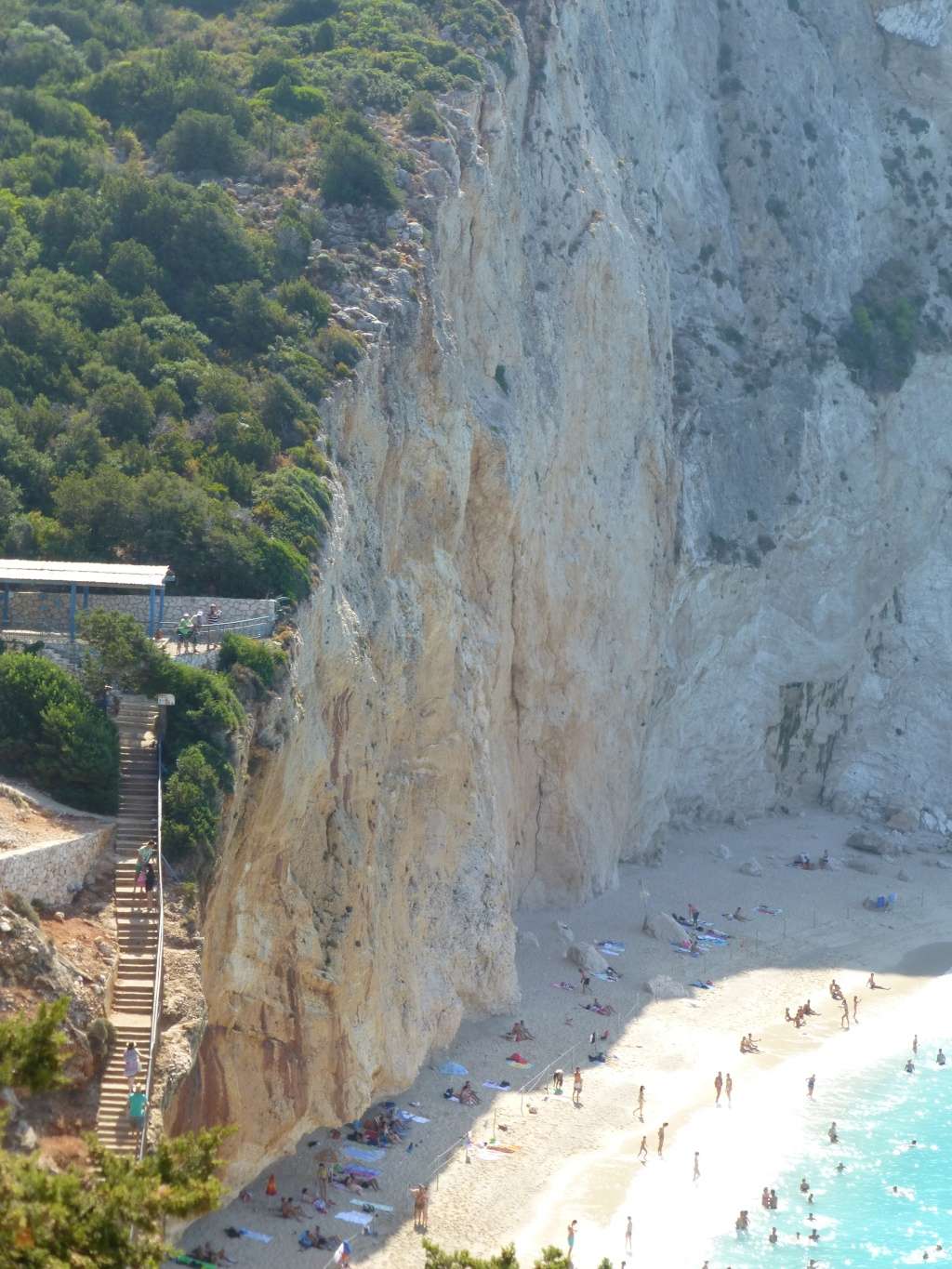 p1130801
oh the boat has gone out
p1130802
so the best shots must be over the bridge Indy :affraid: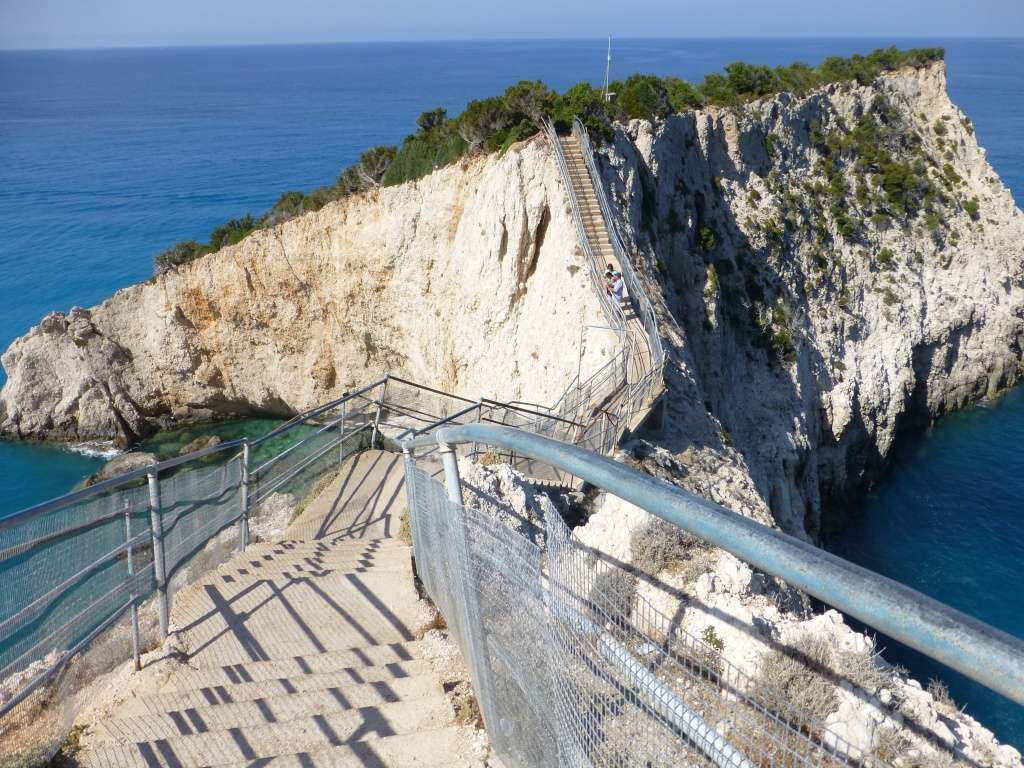 p1130803
p1130806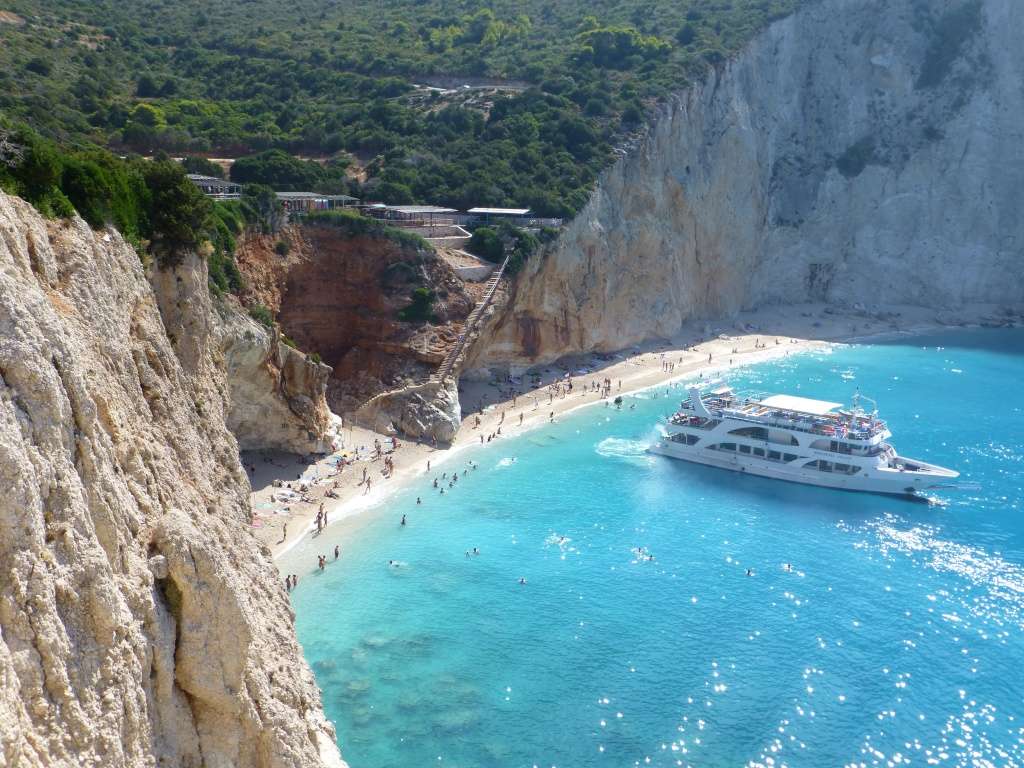 p1130812
Glad we got here first here comes the Nidri Star 20 minutes behind us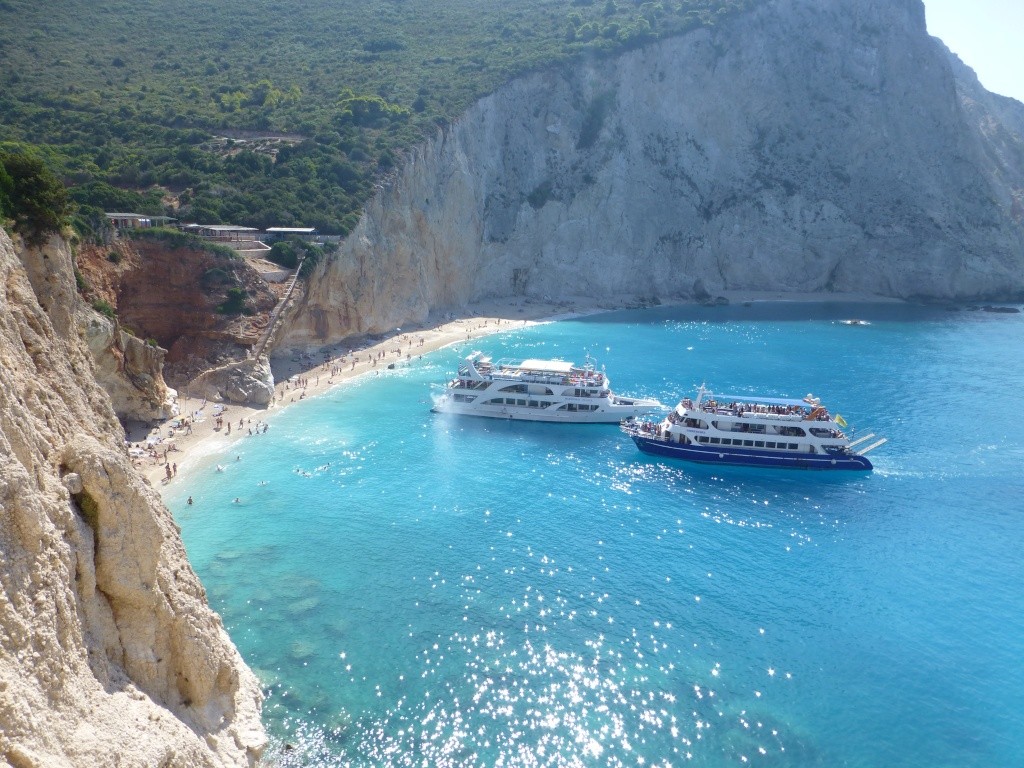 p1130817
Our boat had turned around to allow swimmer to dive off the back of the boat
p1130821
Mrs Db said I didn't need to spend the whole hour on land I could comeback to her when finished lol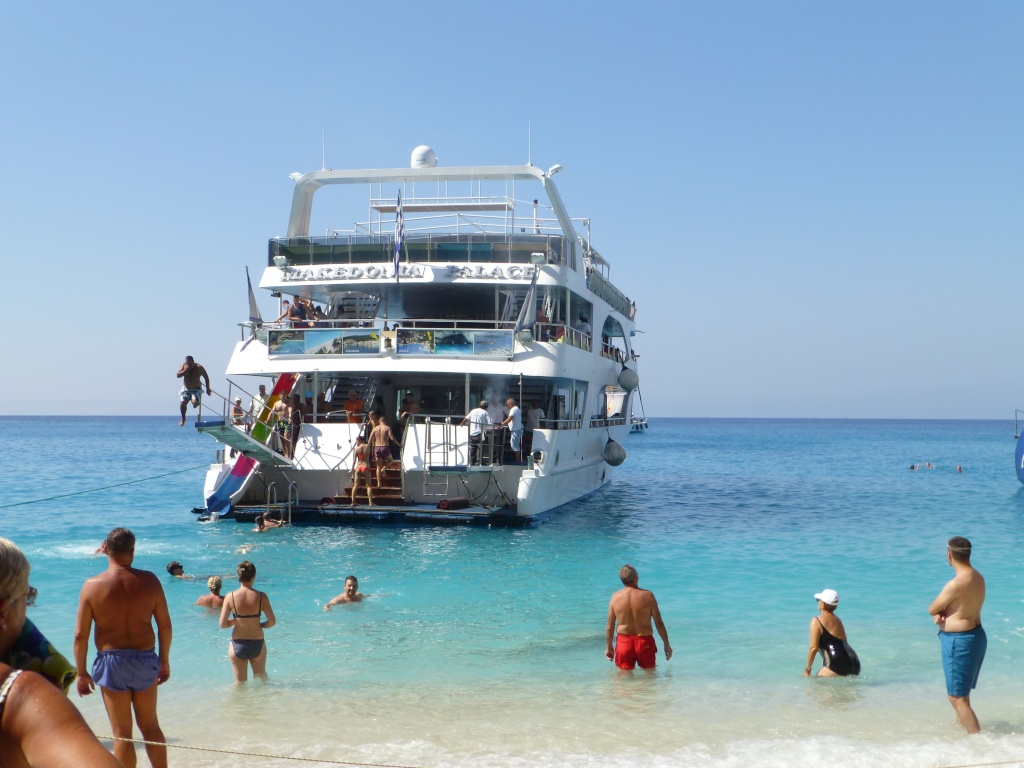 p1130824
notice the exit ladders on the Nidri Star I for getting down
p1130825
this is a photo of the sand, so it's scenic for me rather than a nice sandy beach, we had to take our shoes off going aboard where our feet were hosed down to rid us of any stones on deck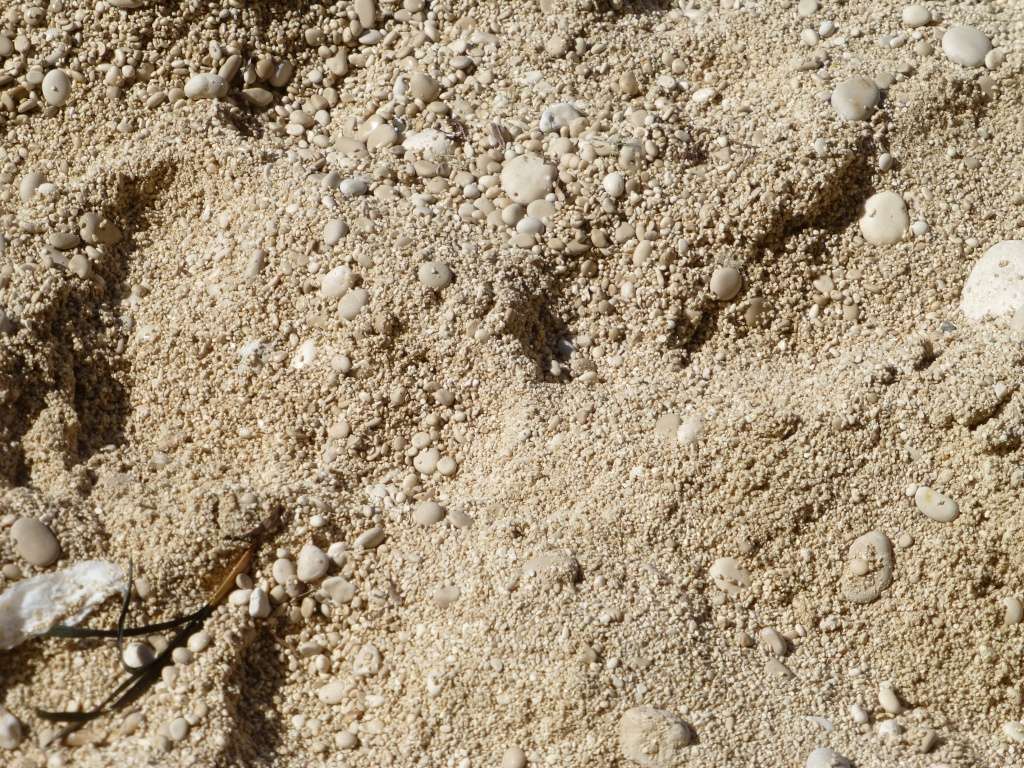 p1130827
Lunch was included in our ticket price and it was served as soon as I got aboard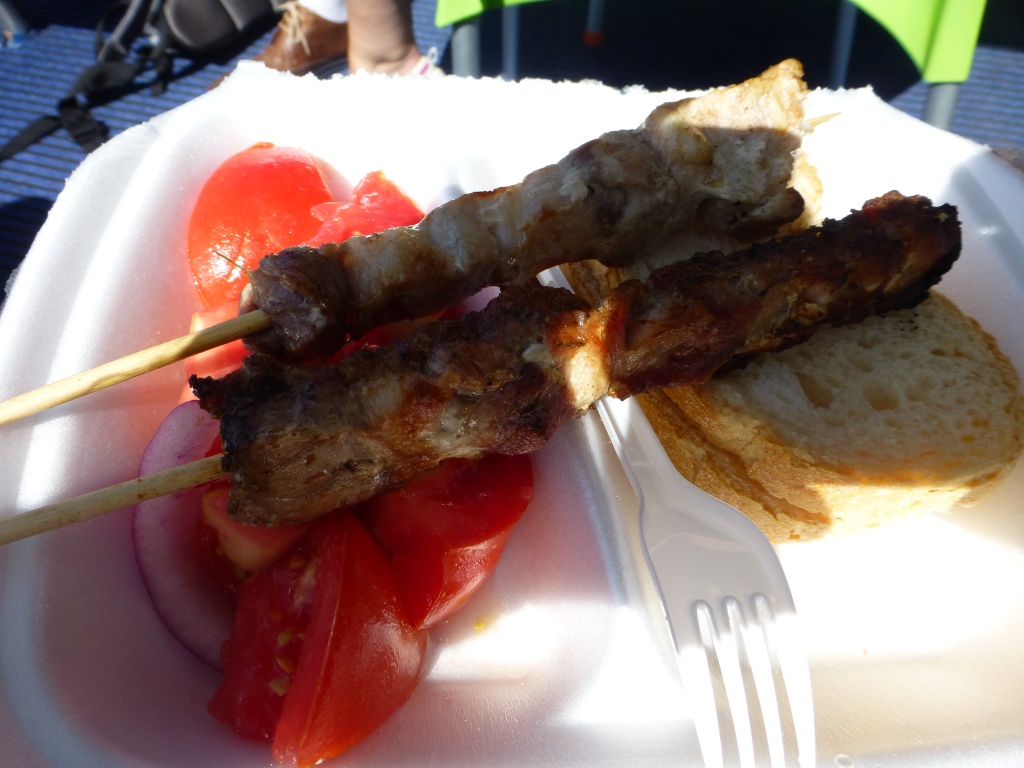 p1130829
as the boat then sped off to Fiskardo in Kefalonia, a 30 minute journey
p1130830
In 1953 a large earthquake destroyed the whole of the Island of Kefalonia apart from the village port of Fiskardo, so a lucky place indeed
Entering the Port of Fiskardo we were told we had one hour on shore and the Taverna's were pretty quick at serving if anybody wanted lunch but we had eaten too much of a rush doing that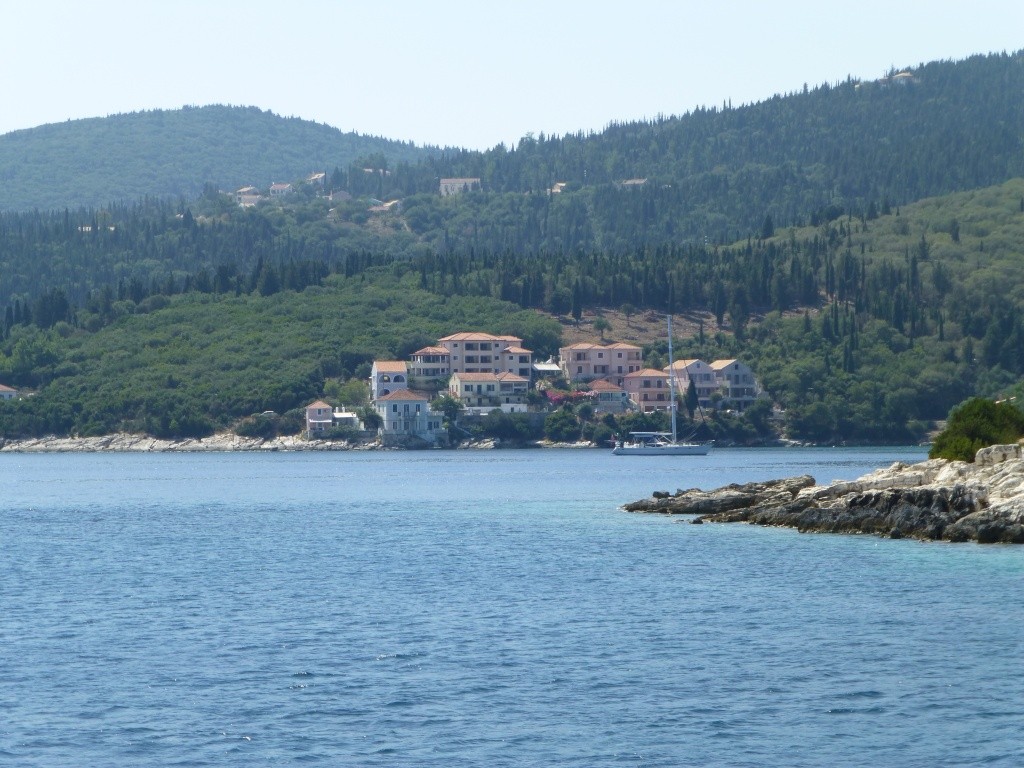 p1130833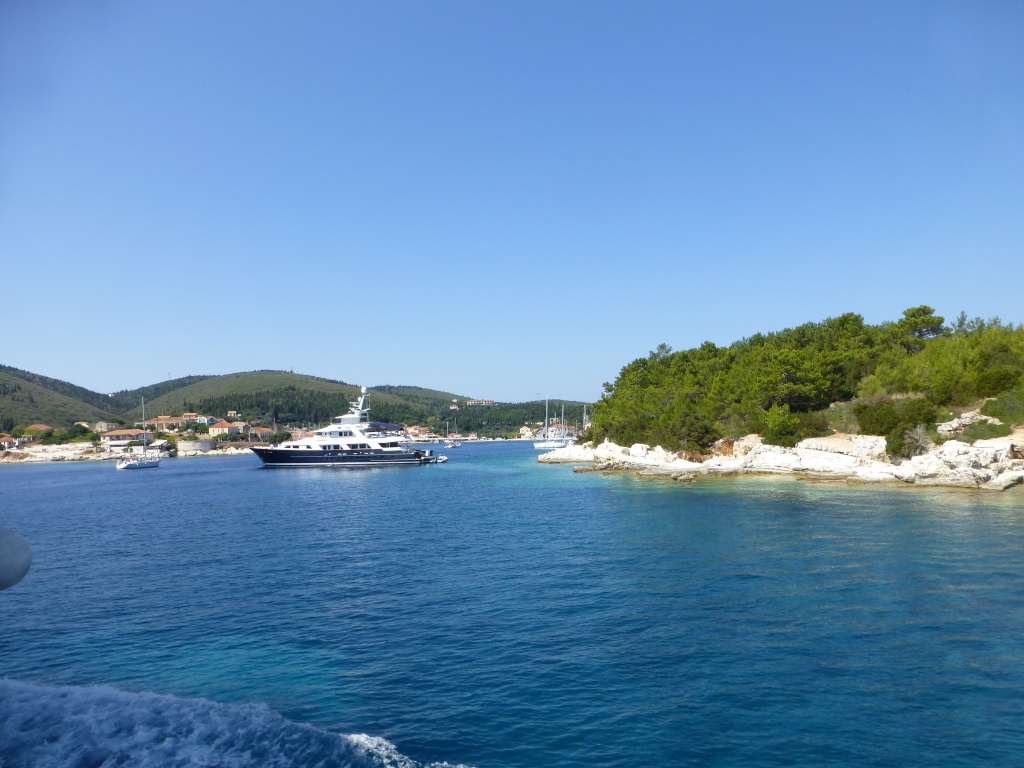 p1130834
lots of taverna's all around the port not sure where all the trade comes from, I guess yachters and those travelling around in cars
p1130837
We had a sangria and a beer in this place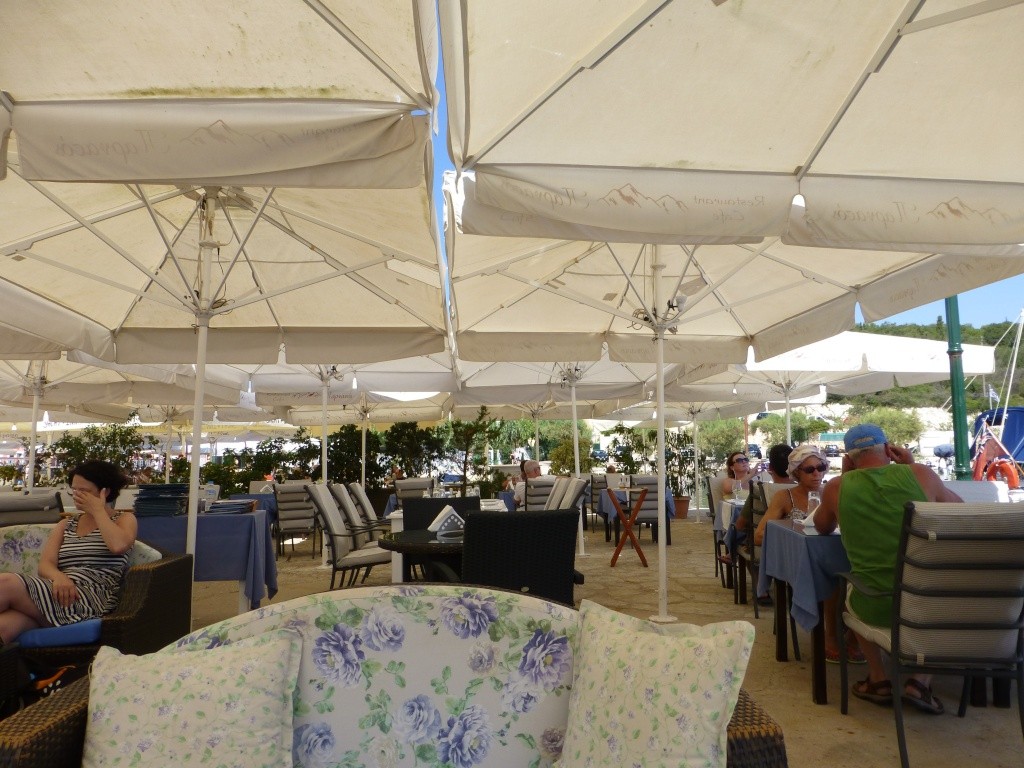 p1130840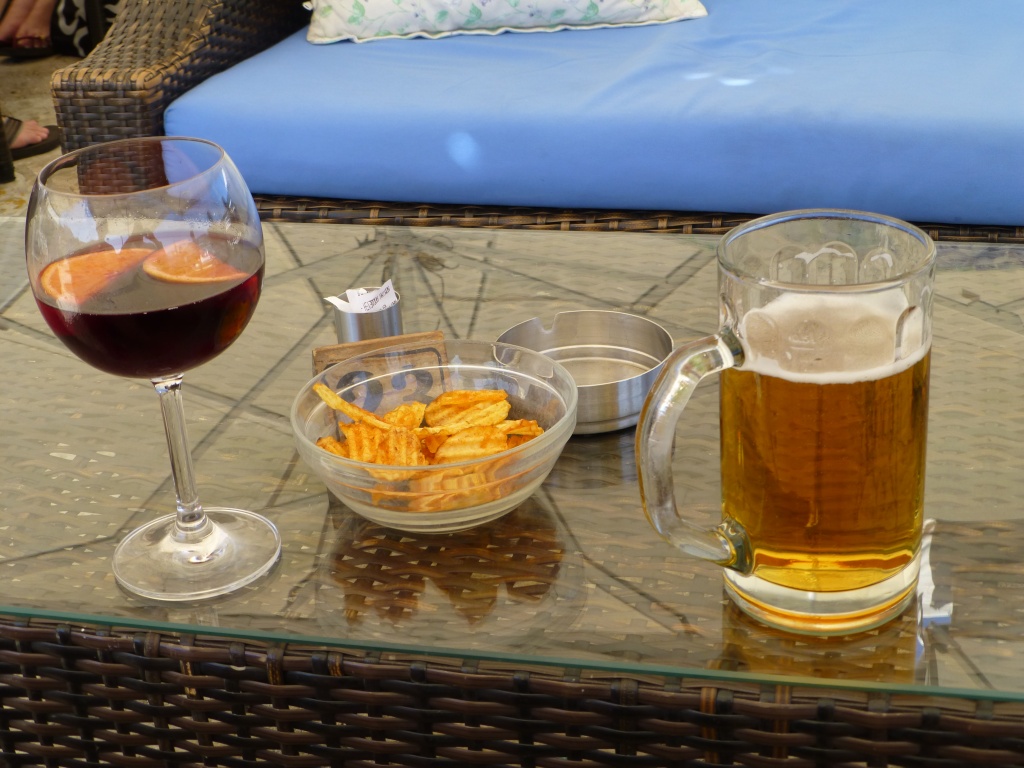 p1130841
Mrs Db was not going to do any running around but i did have a quick walkabout
p1130845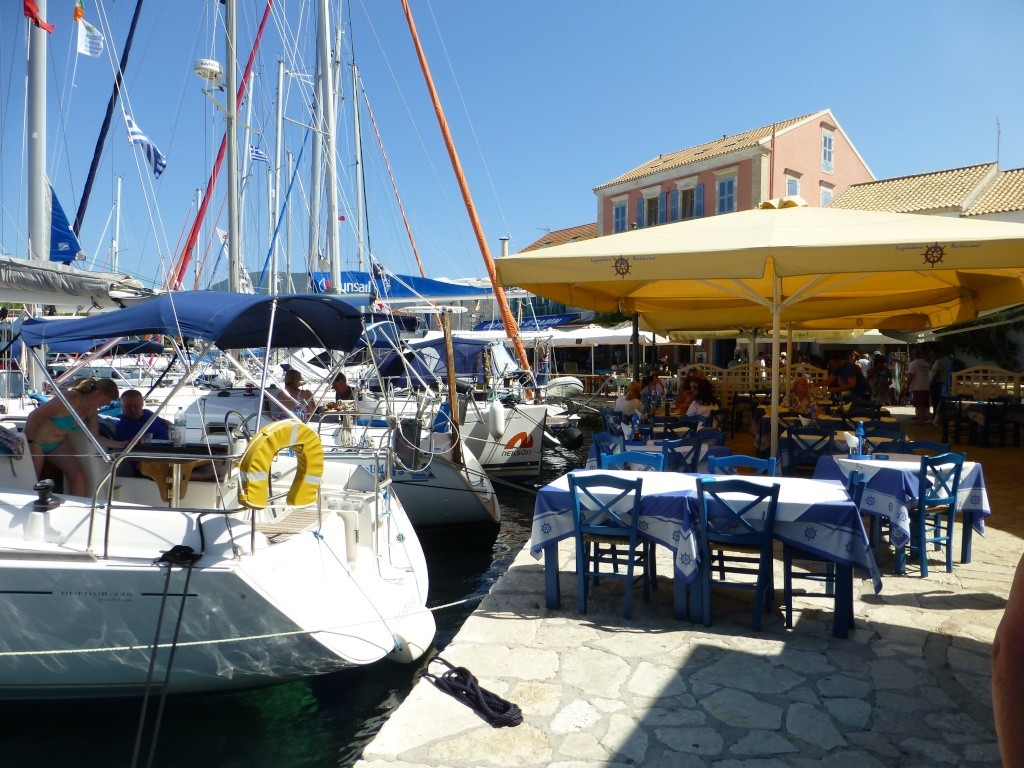 p1130847
I think these may be Venetian houses built before 1953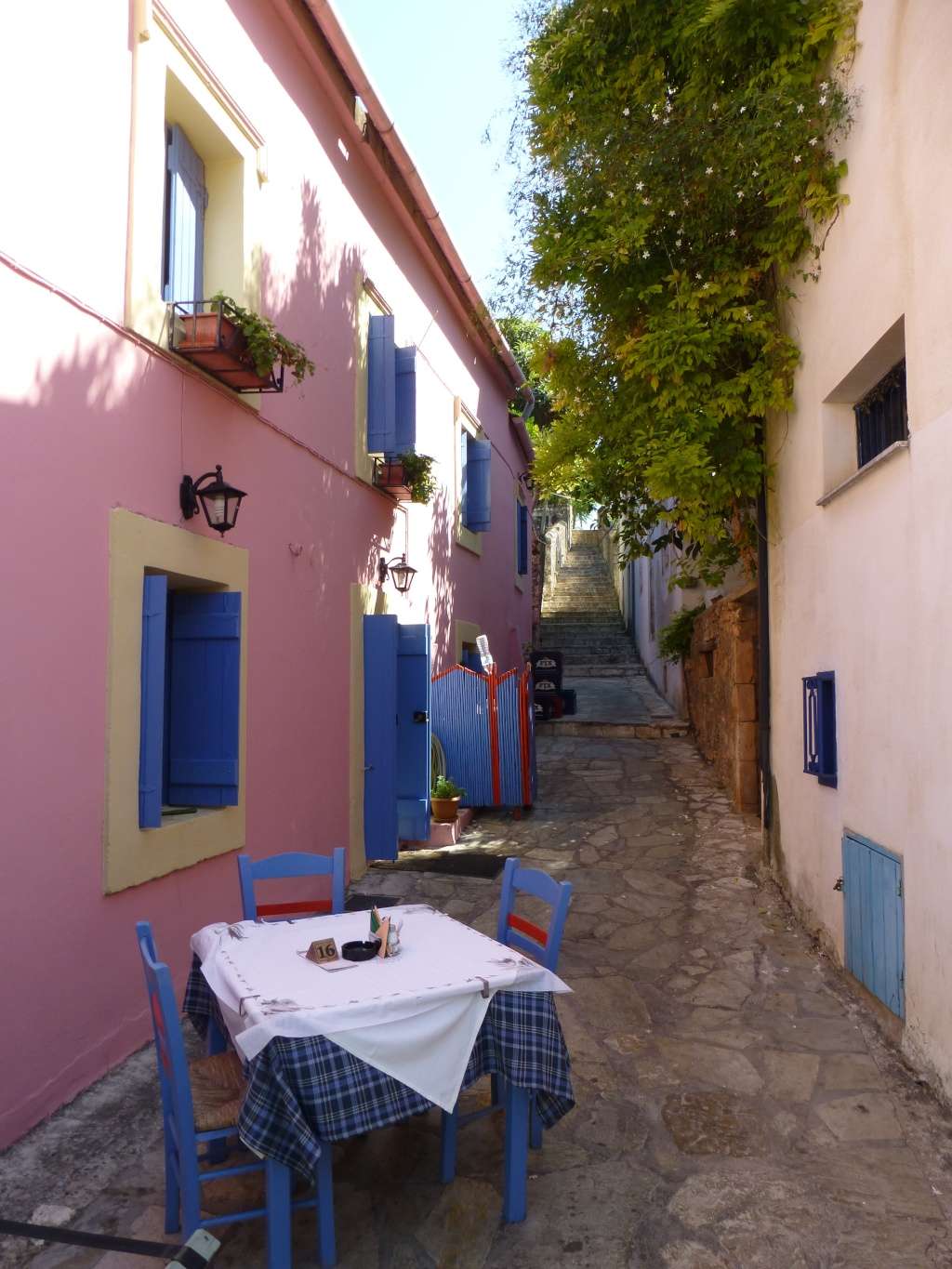 p1130849
It was nice for a toilet stop, as I think there were 3 toilets each for both men and ladies aboard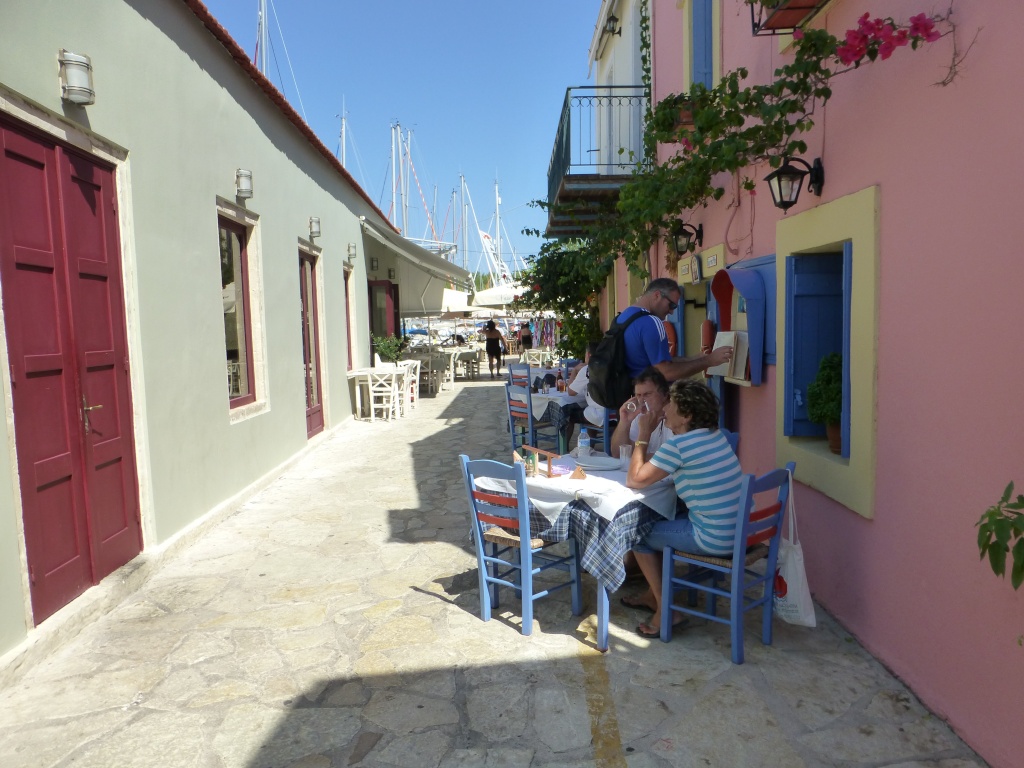 p1130850
p1130851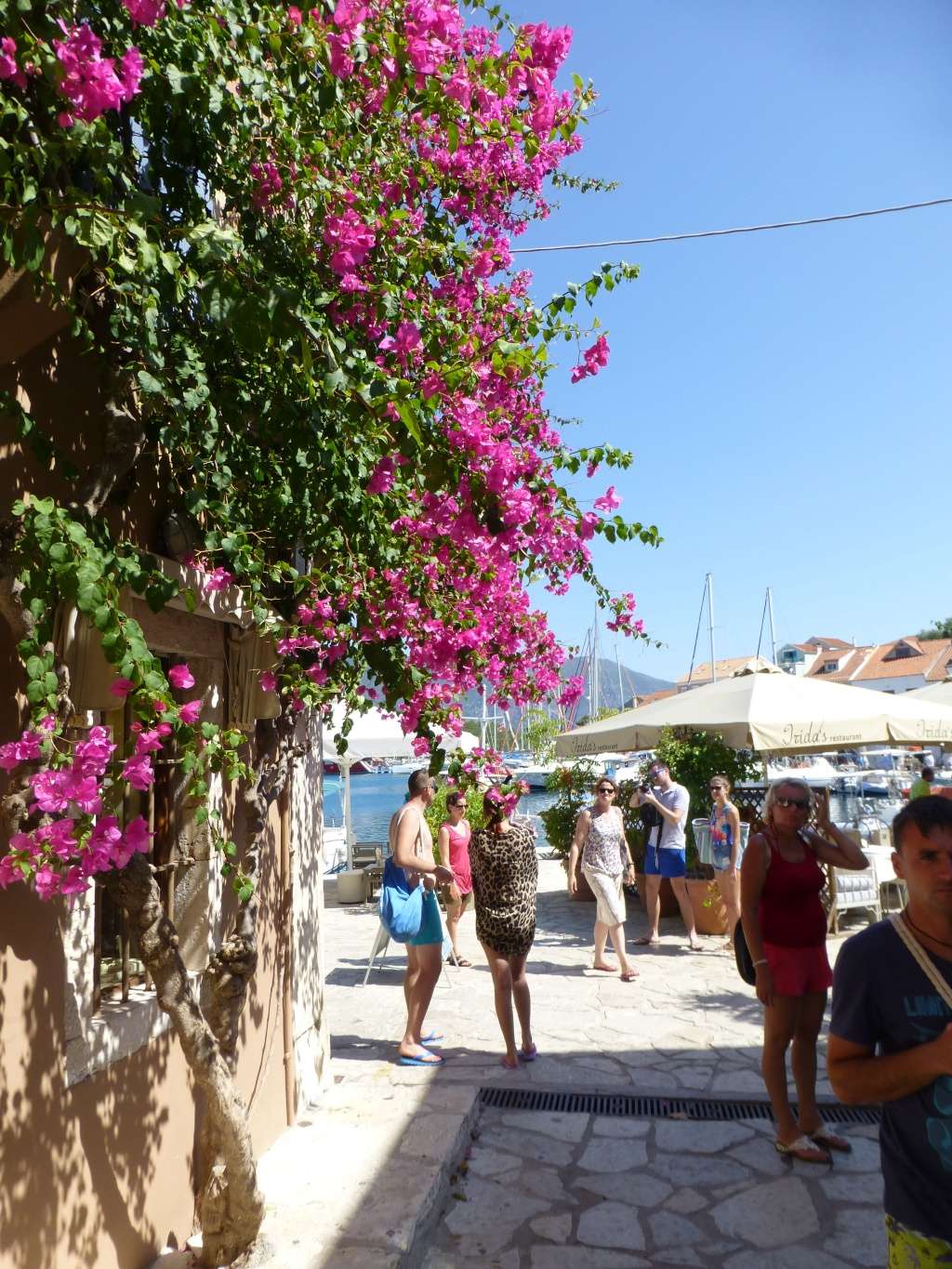 p1130852
the boat set of for the west coast beaches of Ithaka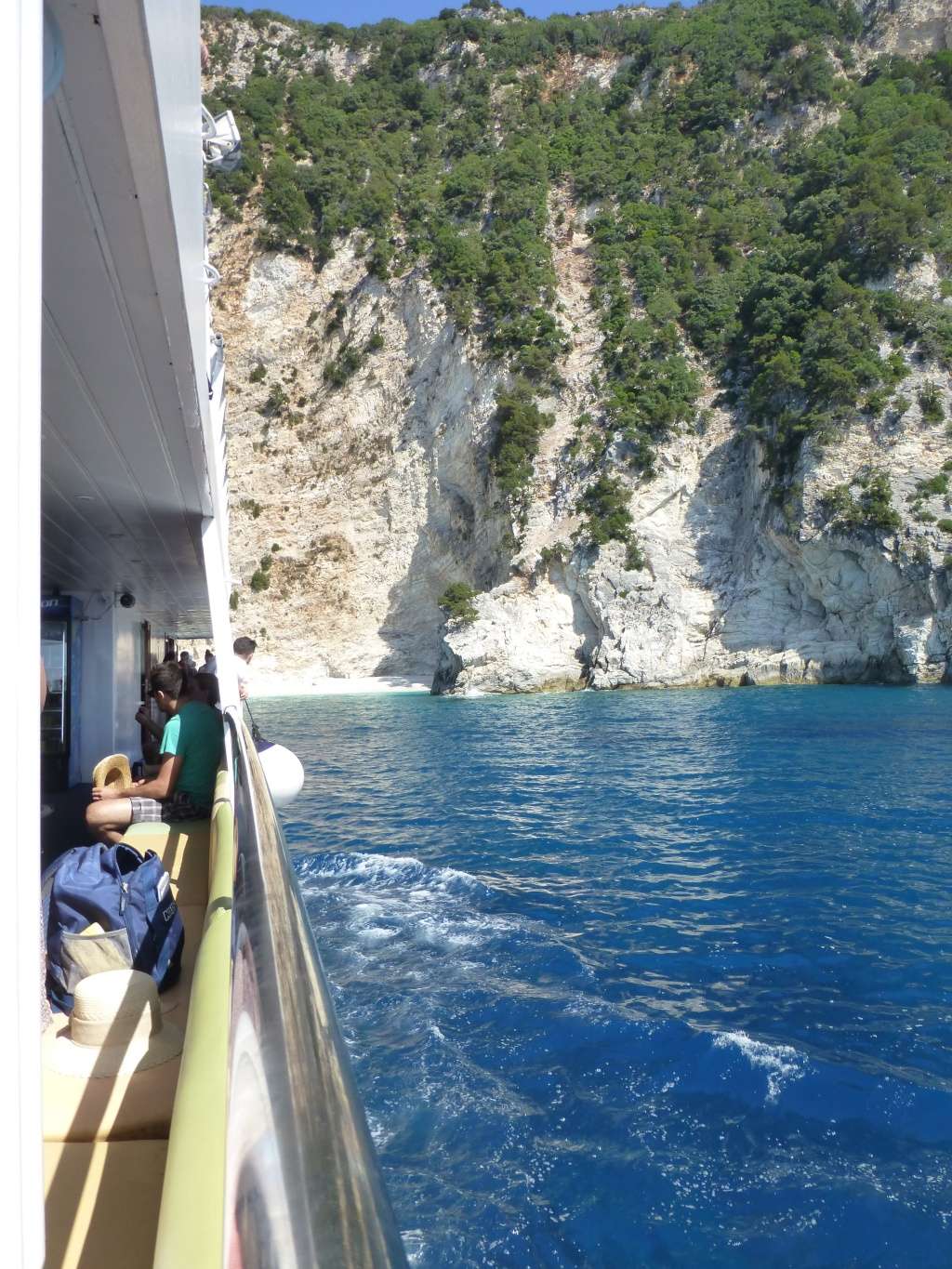 p1130858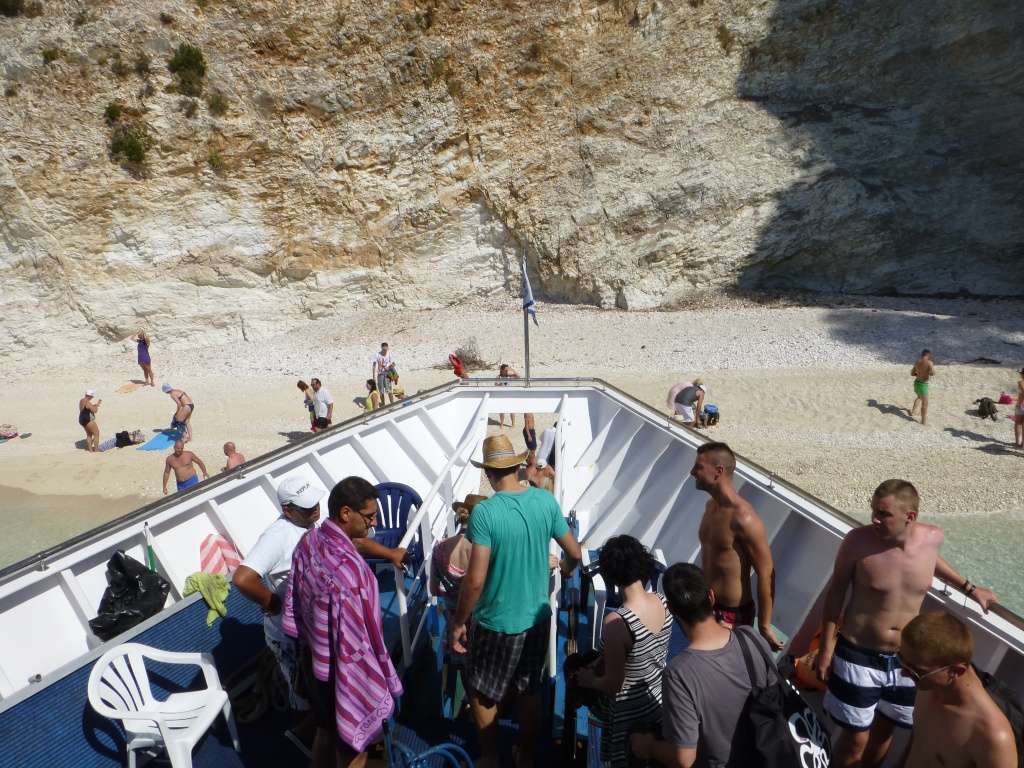 p1130863
it was a stop for a 40 minute swim which both Mrs Db thought was a waste of time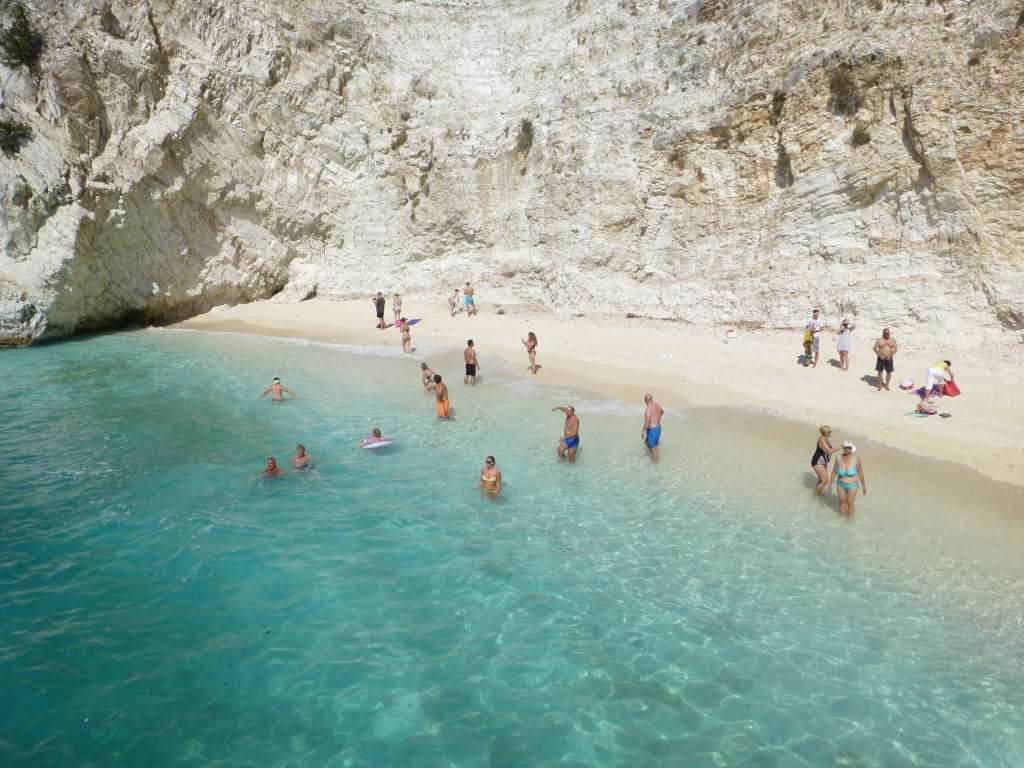 p1130864
then it was off to cave of Papanikolis which is situated on the west coast of Meganisi. It was used to hide a submarine to pick off the Germans in the second world war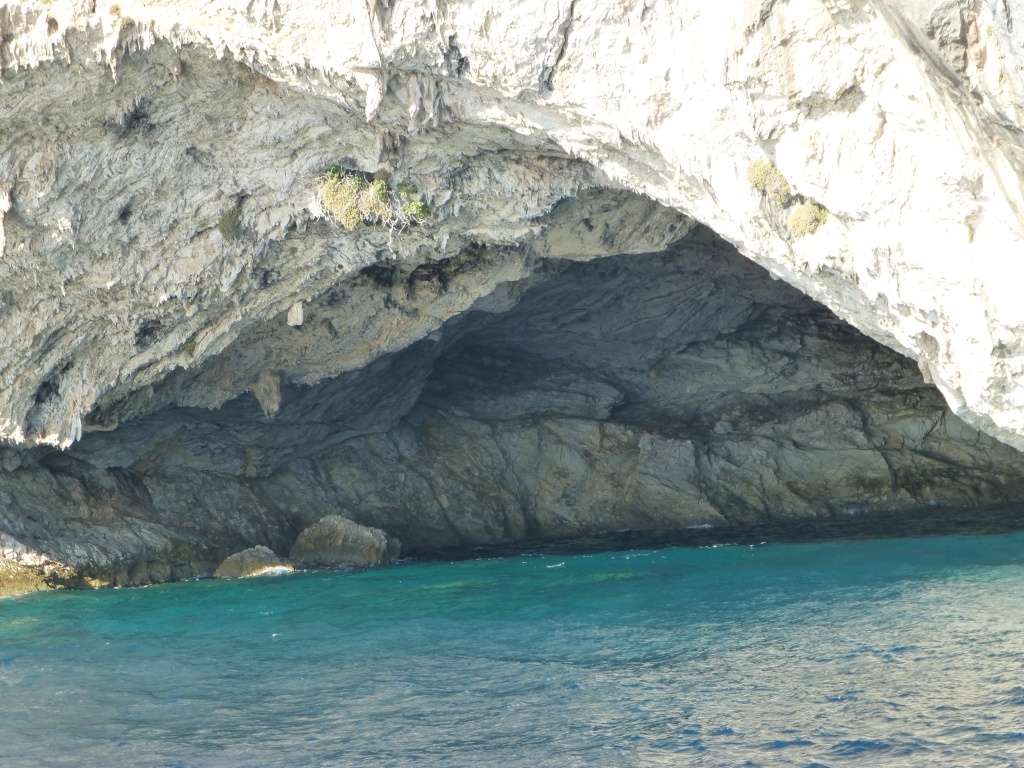 p1130877
The boats puts their noses in but difficult to get good pictures as all the phones come out and are in the way better to show you the Nidri Star going in lol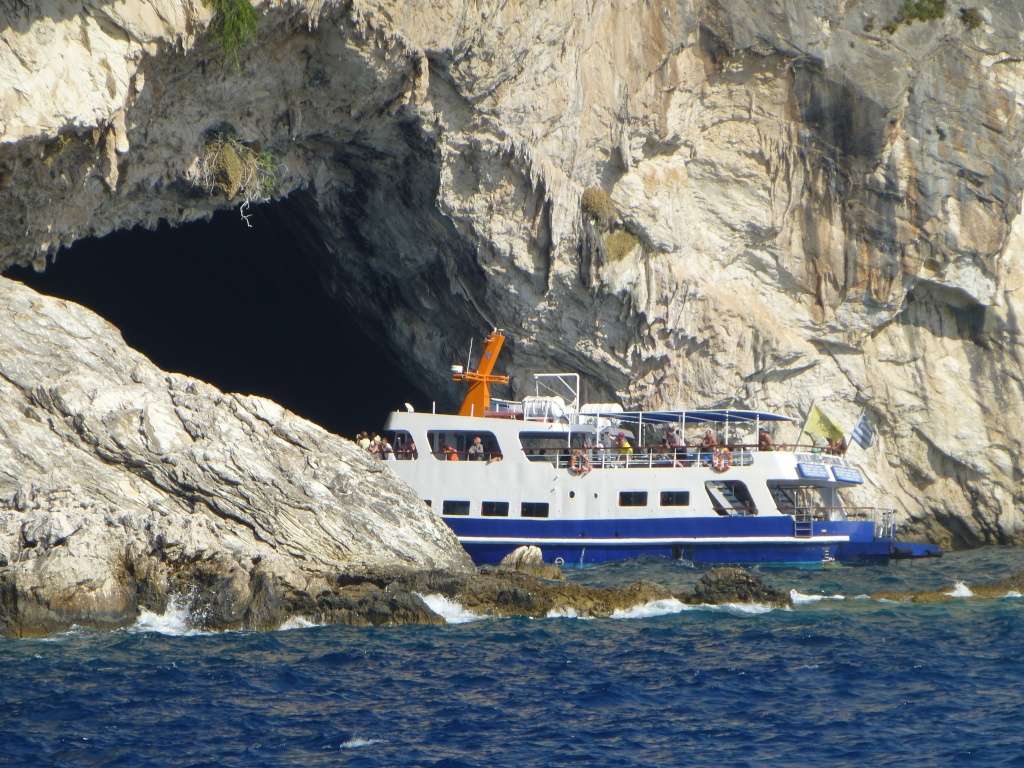 p1130882
then we come to Scorpios where the Russian Magnet lives your not allowed to land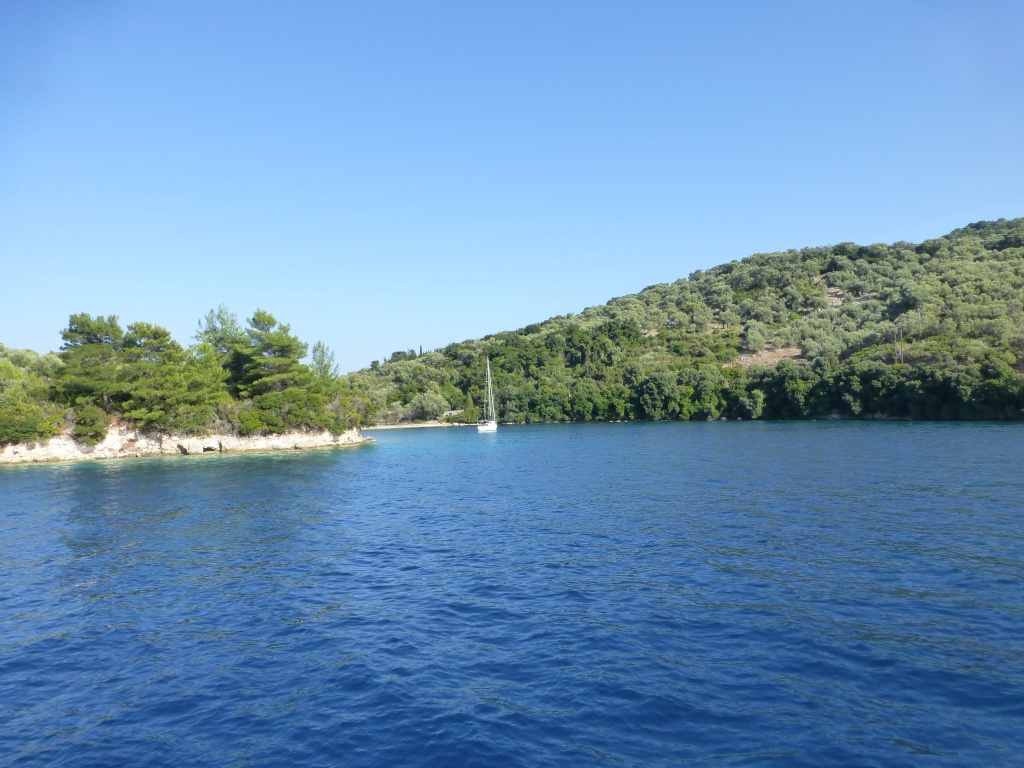 p1130895
except we are allowed to visit one spot where the Paparazzi photoed Jackie Onassis at her private taverna
p1130902
and another swim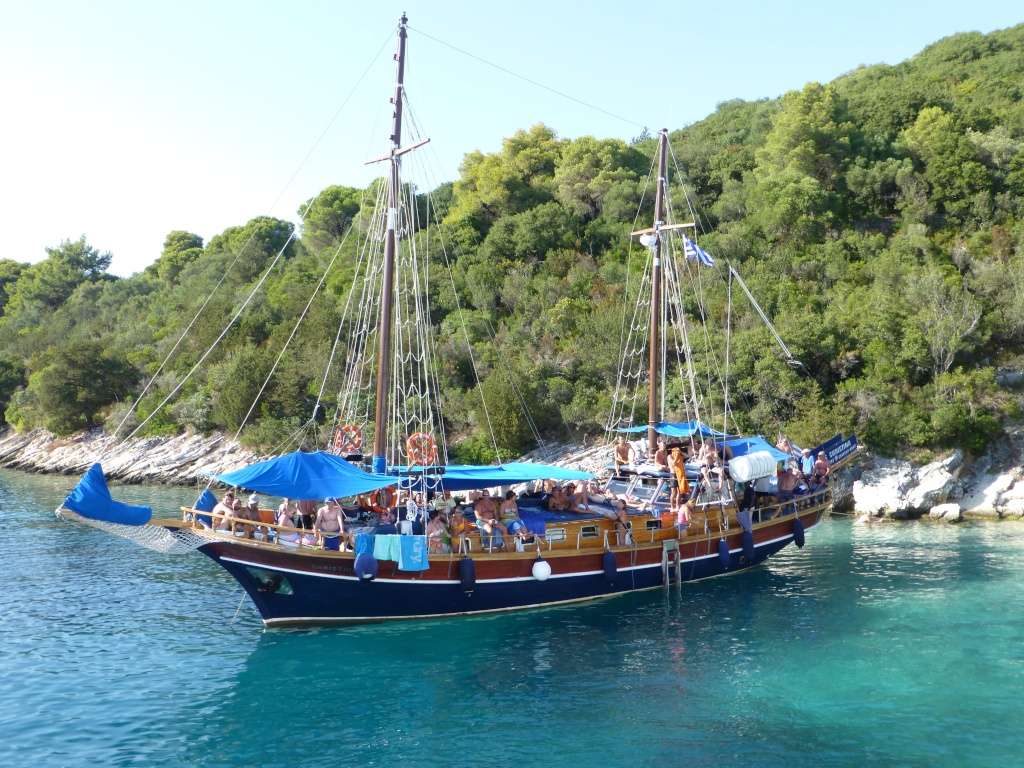 p1130903
finally it was around Scorpois, armed guard on the beach lol
p1130905
another here lol
p1130907
The boss's house behind his boat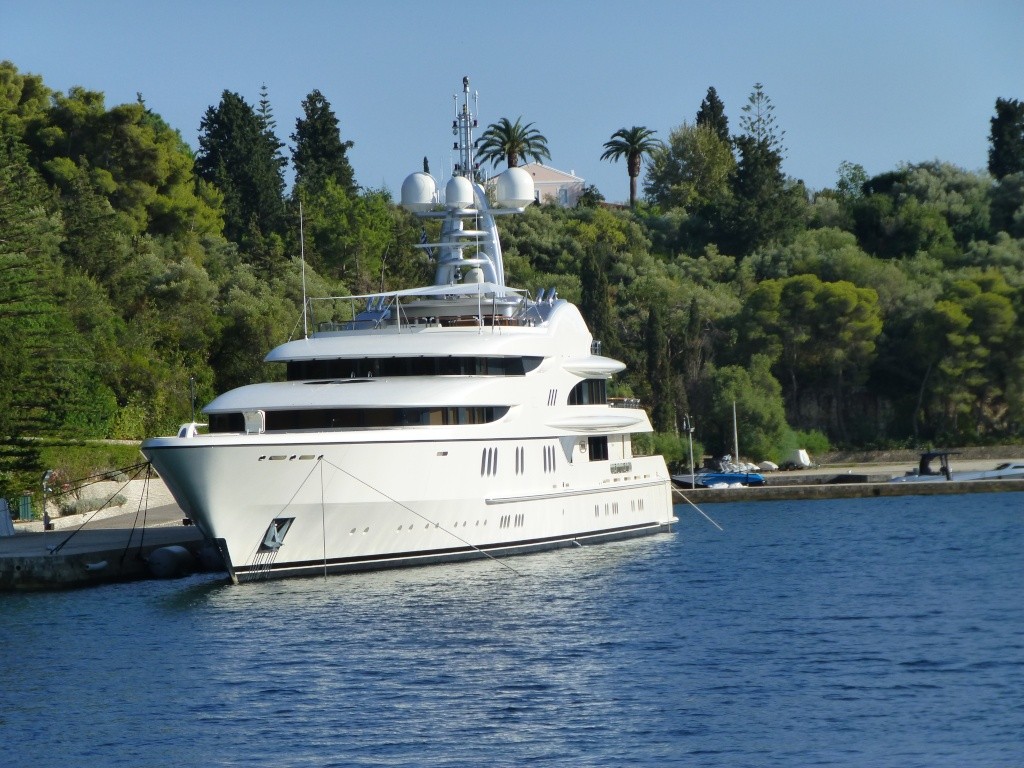 p1130908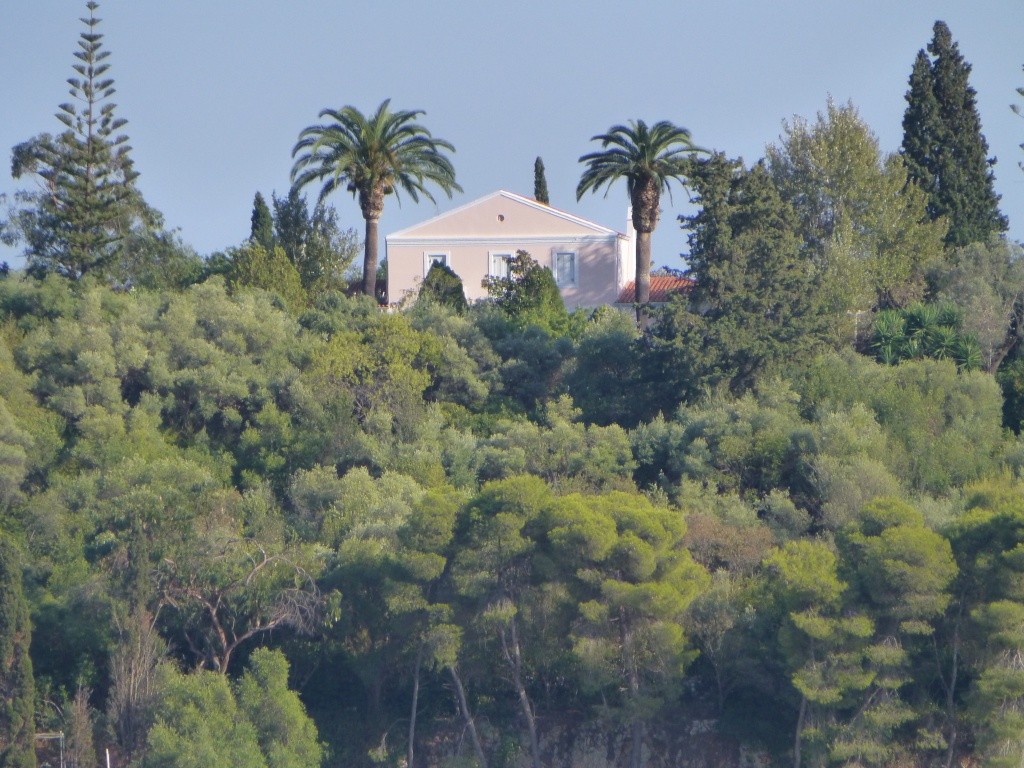 p1130911
finally Madouri the poet's Island, a chance for Pam Ayres yet lol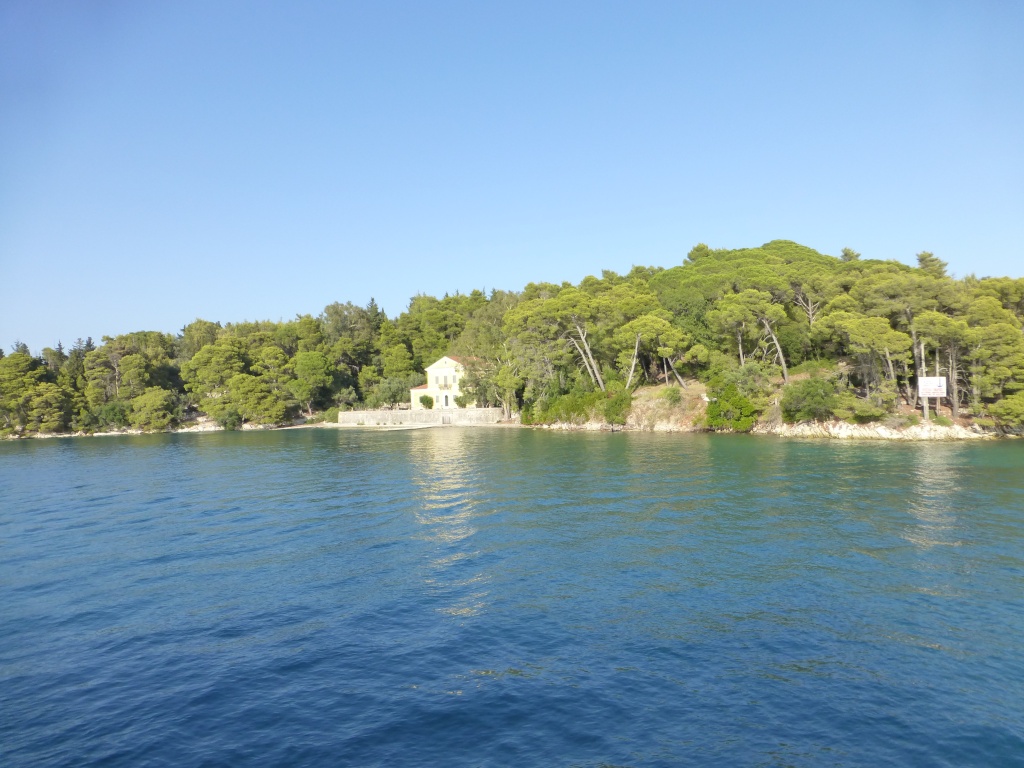 p1130914
and the end of the cruise
p1130919
This evening we went back to Apollen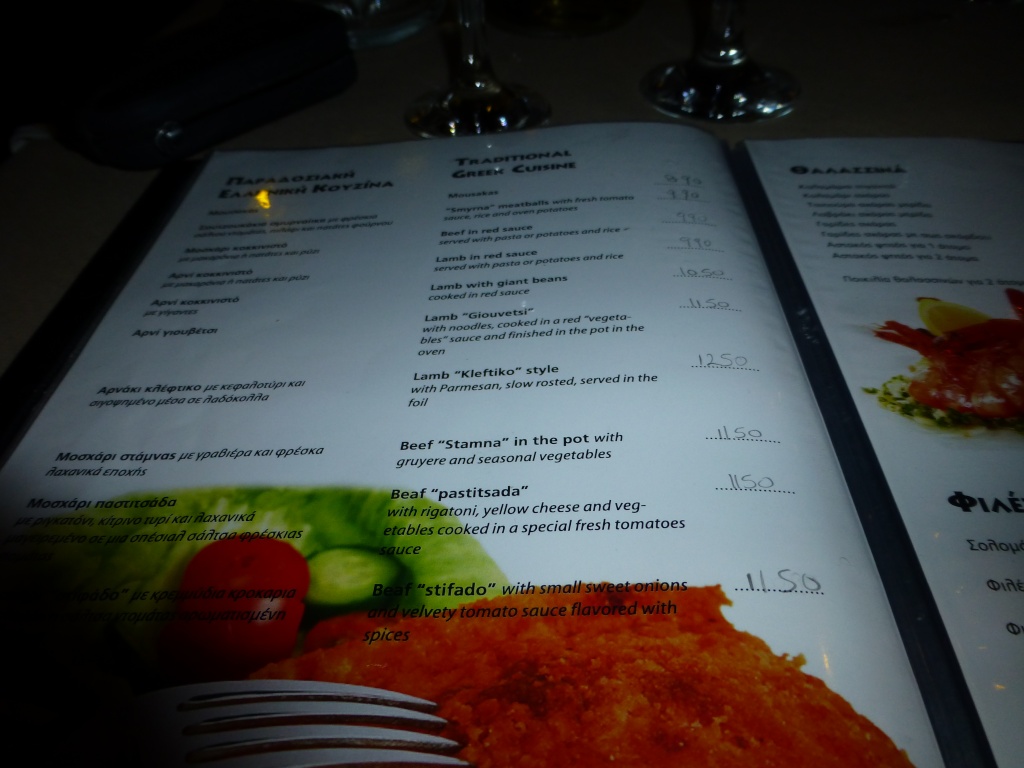 p1130920
I had the beef stamna
p1130928
p1130921
Mrs Db had the chicken Souvlaki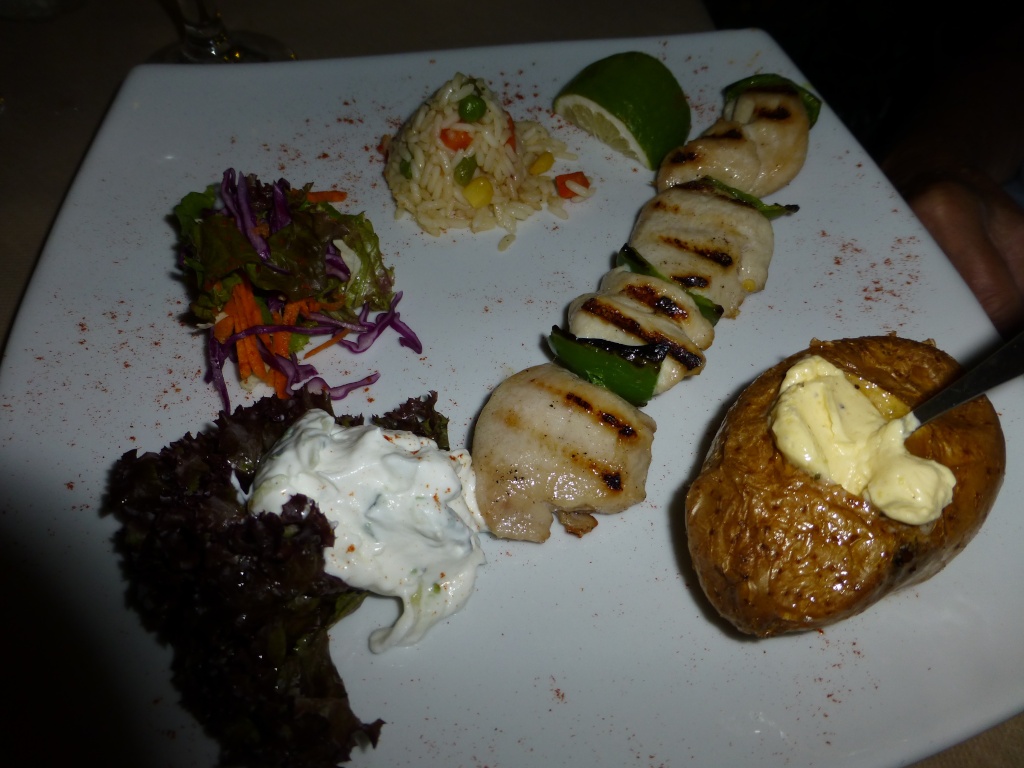 p113926
of course their free puddings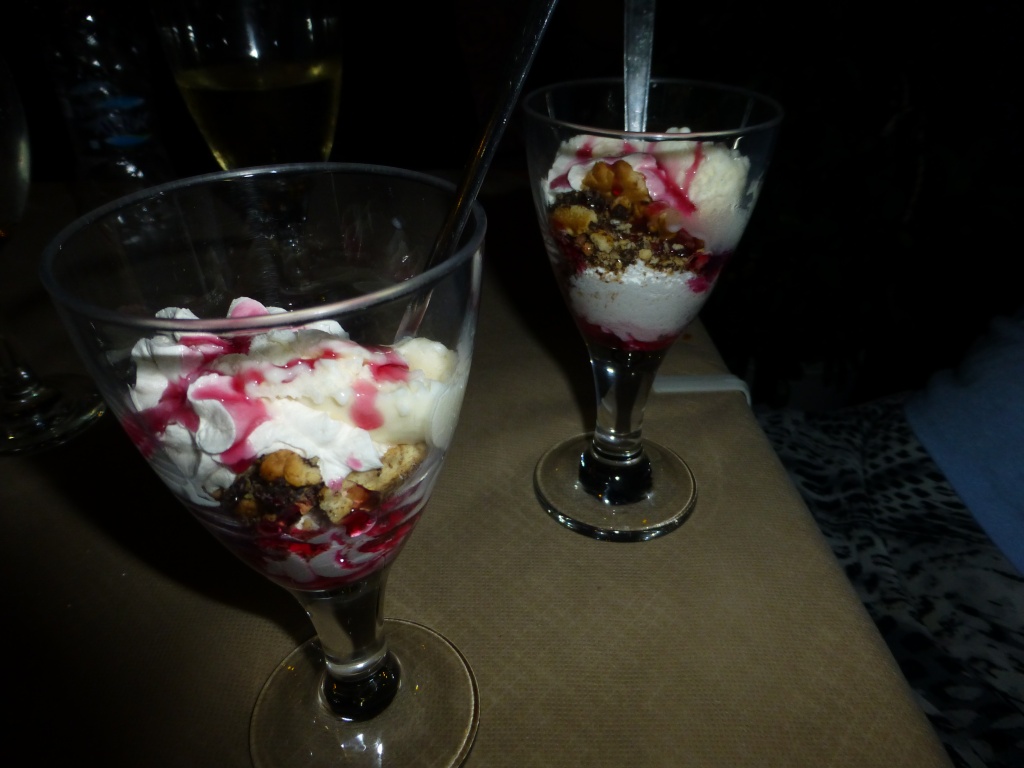 p1130930
along with free coffees, two brandys, bailey's and a liqueur
END OF DAY 11
DAY 12
I was up for sun rise , I found an angler fishing on the shingle peninsular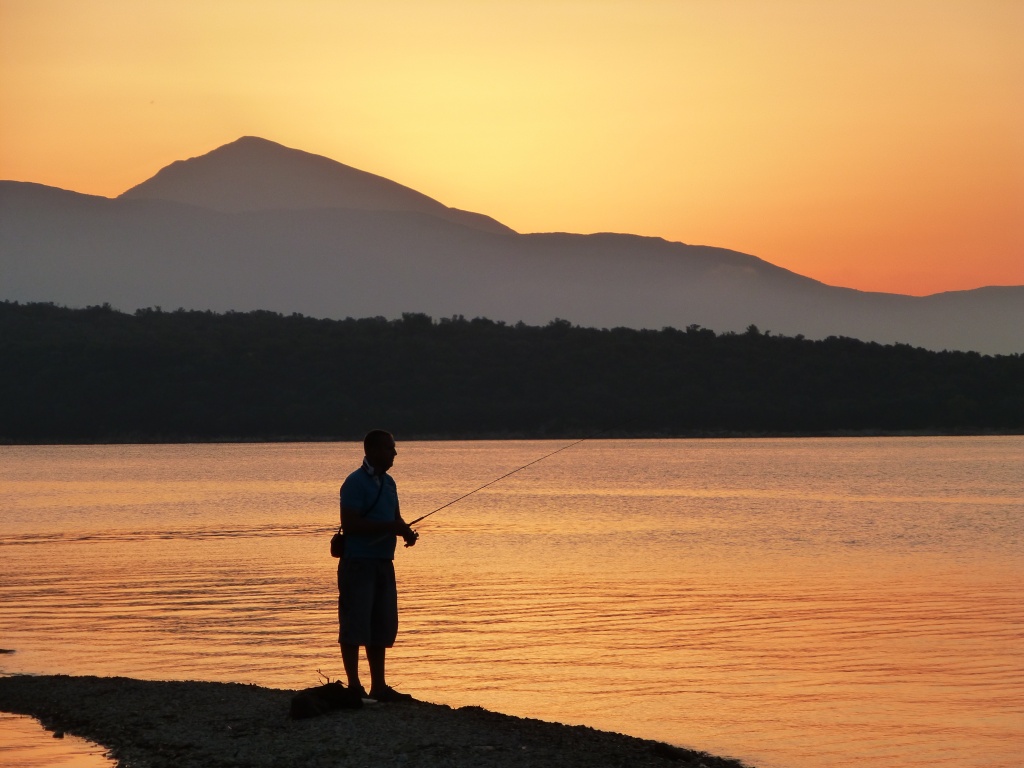 p1130939
But he decided to bait his hook during the whole of the sun rise, never work with anglers and animals lol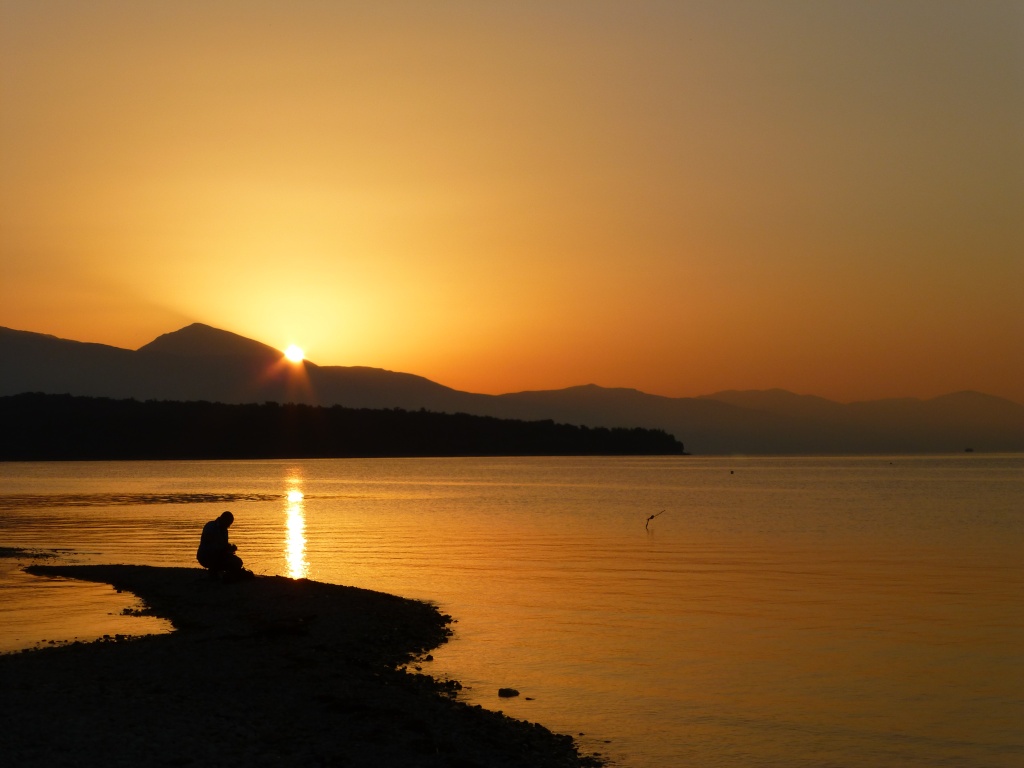 p1130944
another lady from eastern europe managed to snap a shot of a cat that had crept down to the water side whilst this was going on and she said to me, "cats good, men no good" lol, I assume she mean the picture of a cat would be more popular lol
p1130950
we had a morning on the beach and the heat haze was building up again
p1130957
for lunch time we went further down the beach to our left to Delfini
p1130961
It was a lovely spot sitting under the trees for shade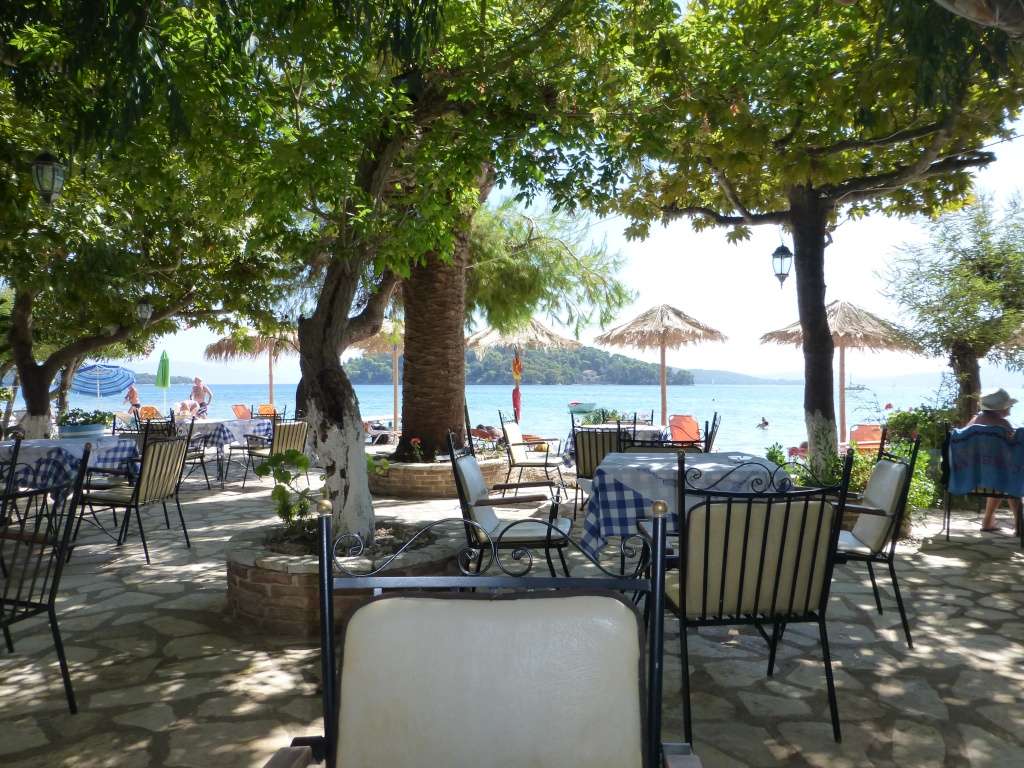 p1130963
and two cold beers lol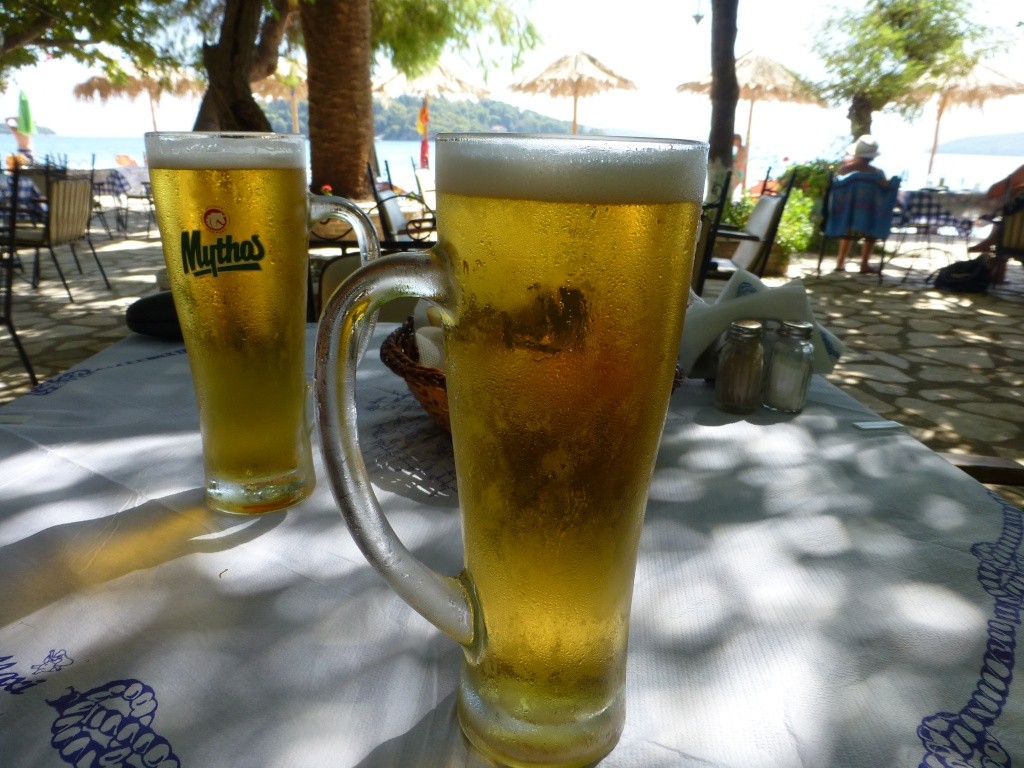 p1130964
I order a tuna salad which tends has a lot of lettuce underneath which I often leave but the tuna was all tossed up in it, so I had to eat the lettuce lol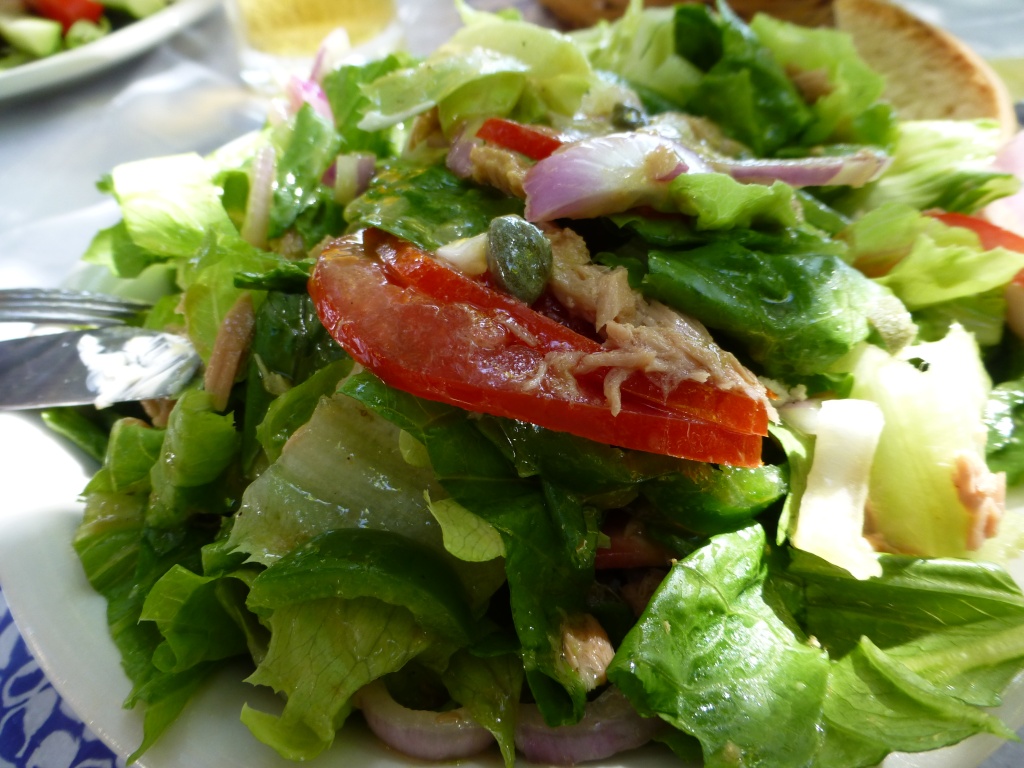 p1130965
Mrs Db ordered the chef salad which had a lot of stuff in it
p1130966
This afternoon was the regatta but it started at the back of Meganisi and one had to go over there to see the start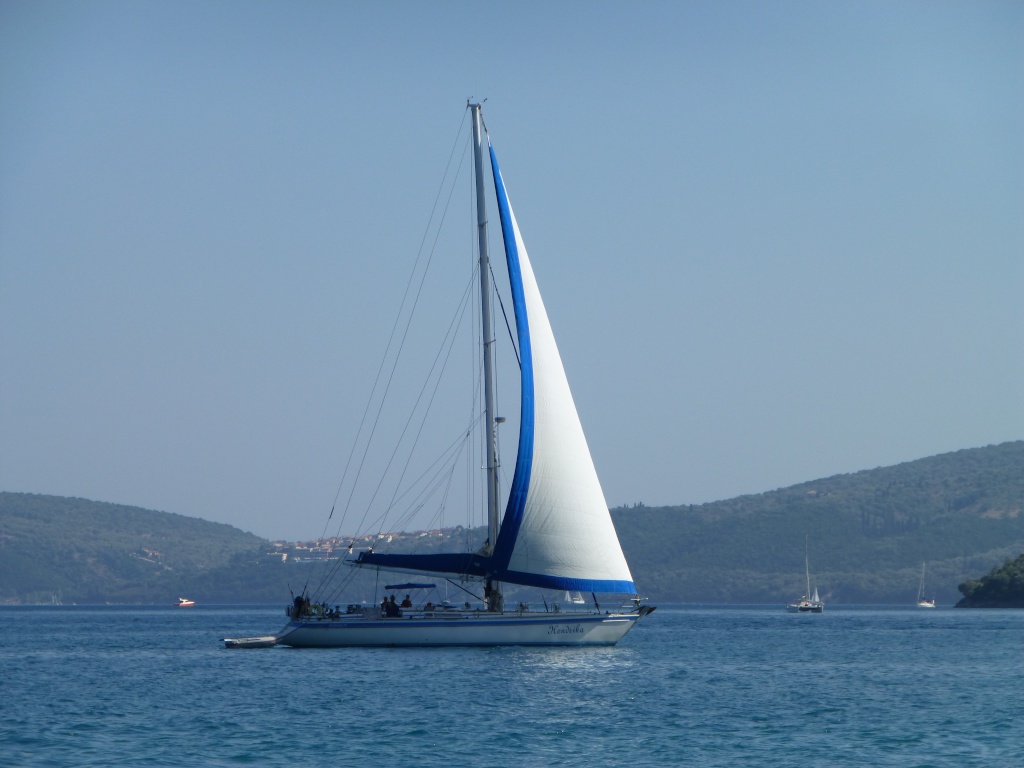 p1130969
However, I had heard about a walk to a village called Paleokatouna, which would give me a different angle on the view over Nidri from the hills above the village. However, my instructions as a newbie were a bit vague. However, going through my photos I should have gone down here but I missed the turn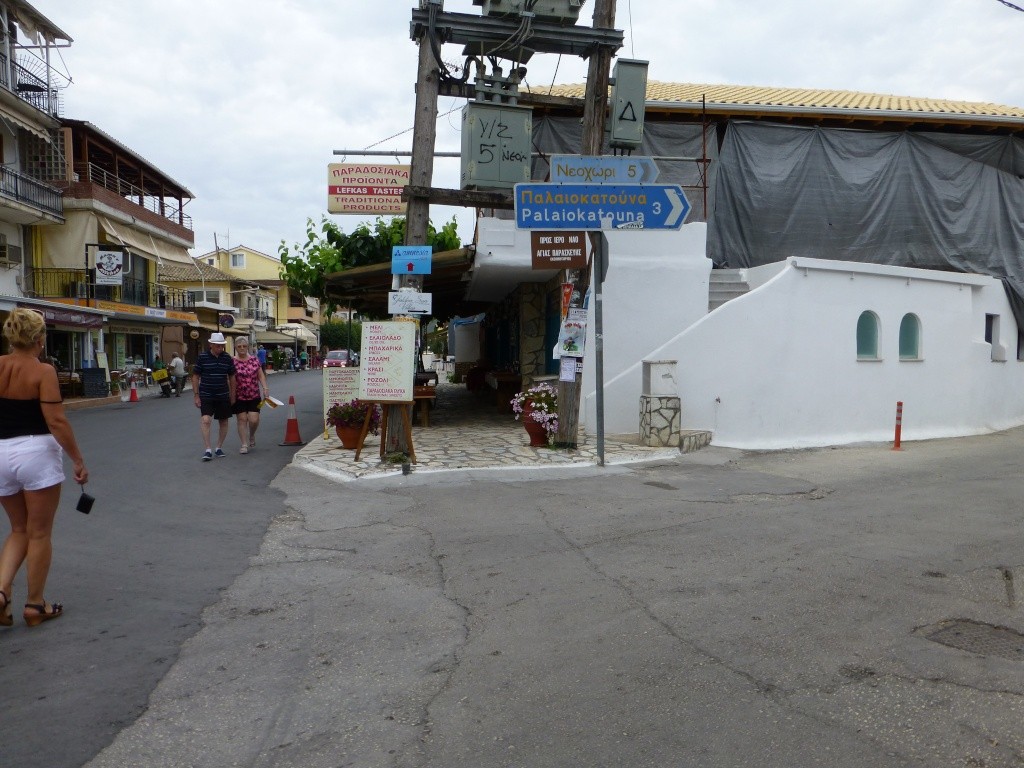 1130127
instead I ended up going right through town and down to the bypass, I turned right here and followed the bypass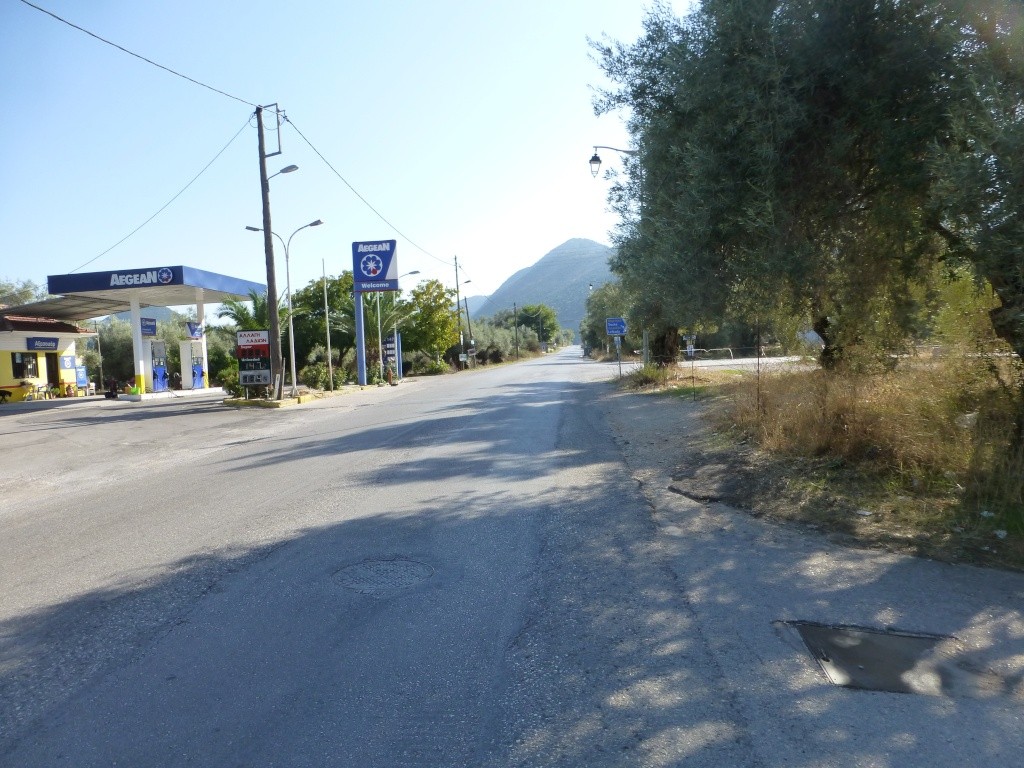 1130972
eventually coming to this left turn which I guess was just across the bypass road from the turning I missed lol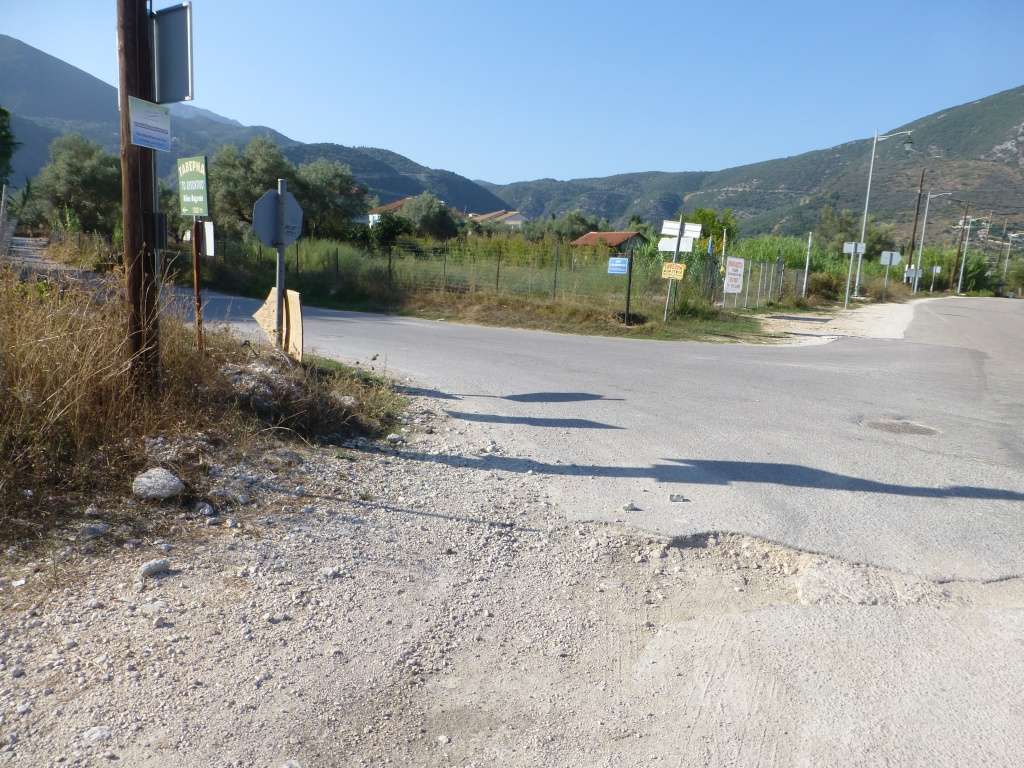 1130975
So I was now heading for the hills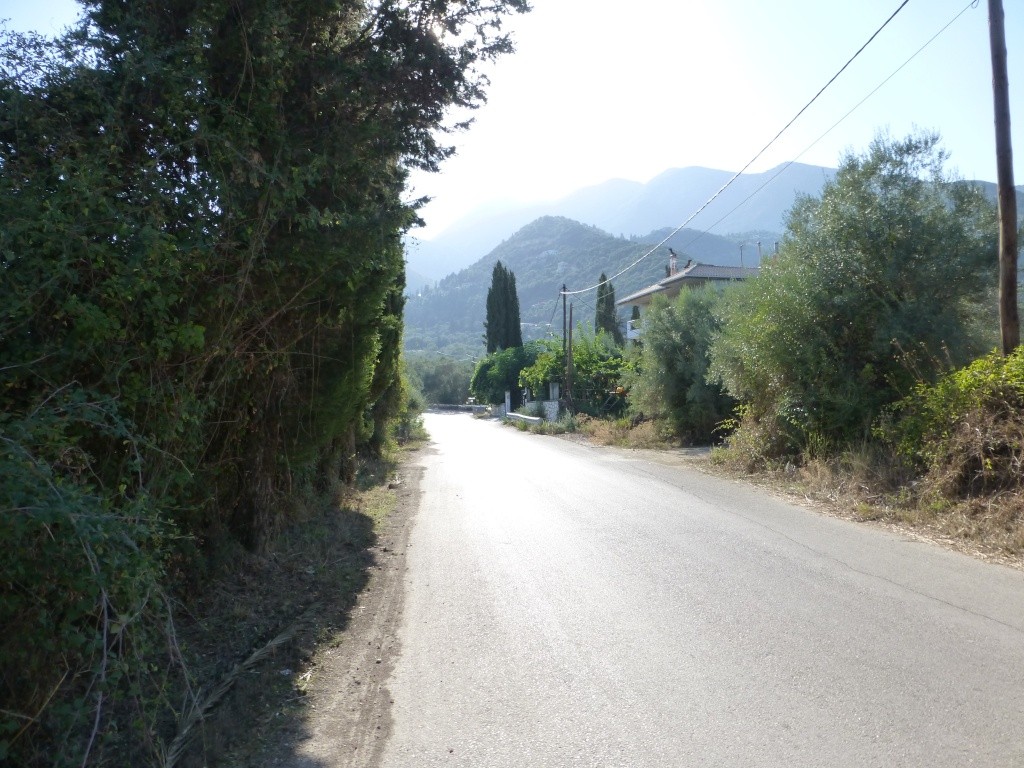 1130978
the road started to climb quite steeply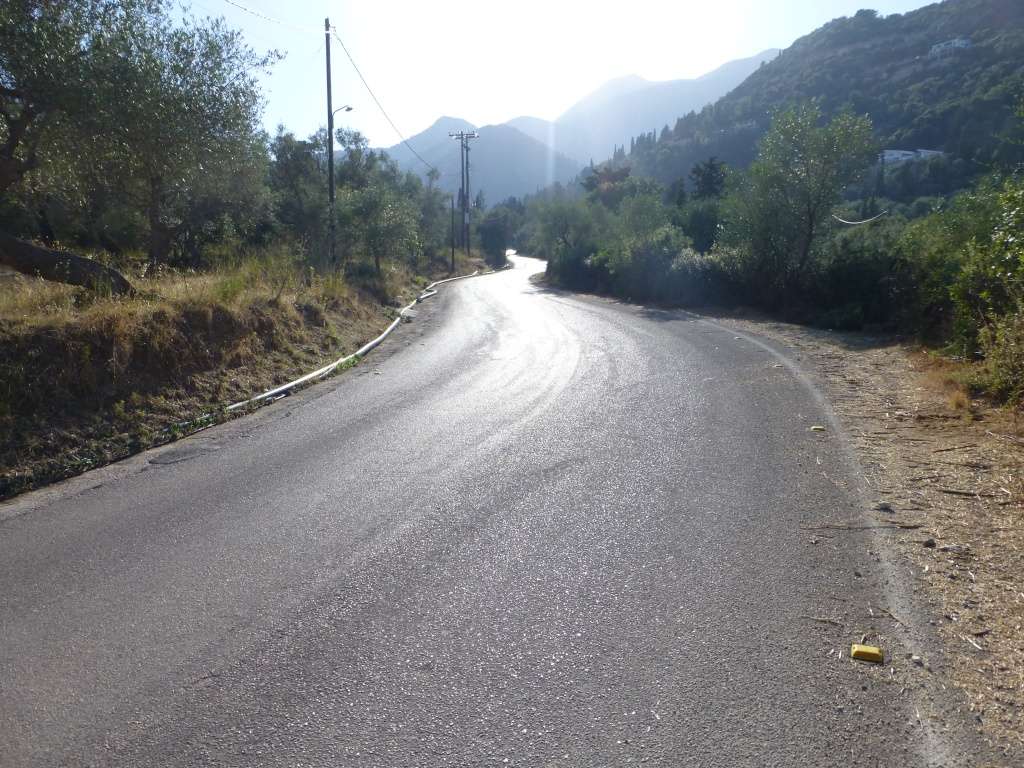 1130982
I was told there would be a taverna in the village but I always take water with me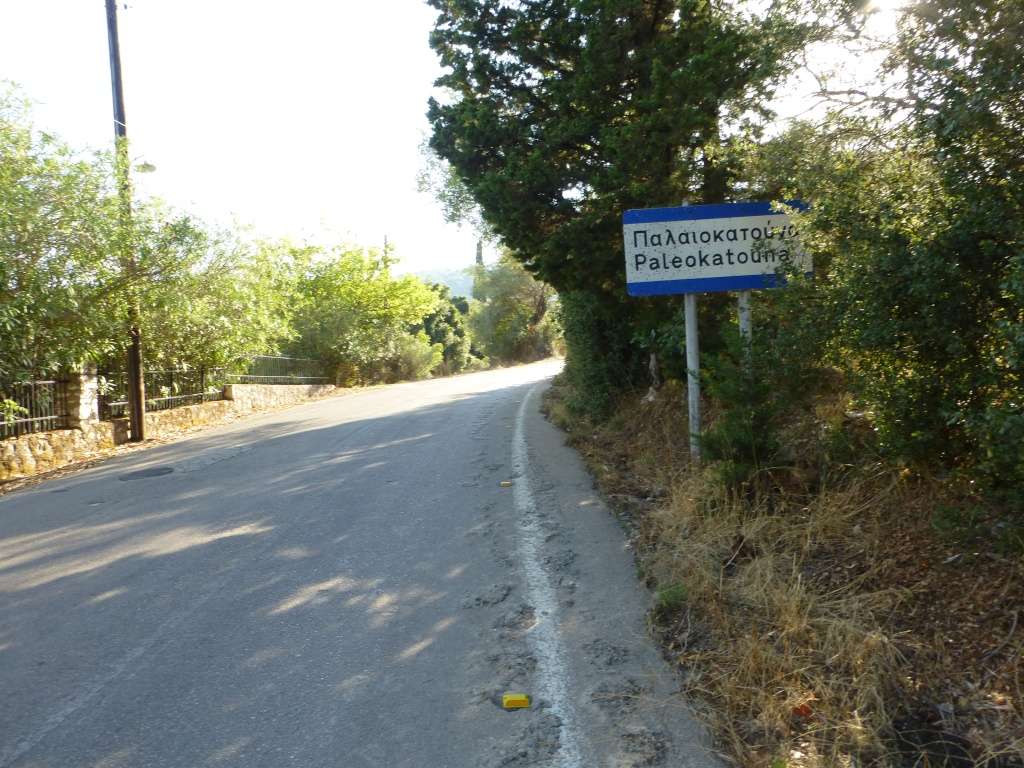 1130983
which was fortunate as they were closed, i could see from a window they had a nice view over Nidri Harbour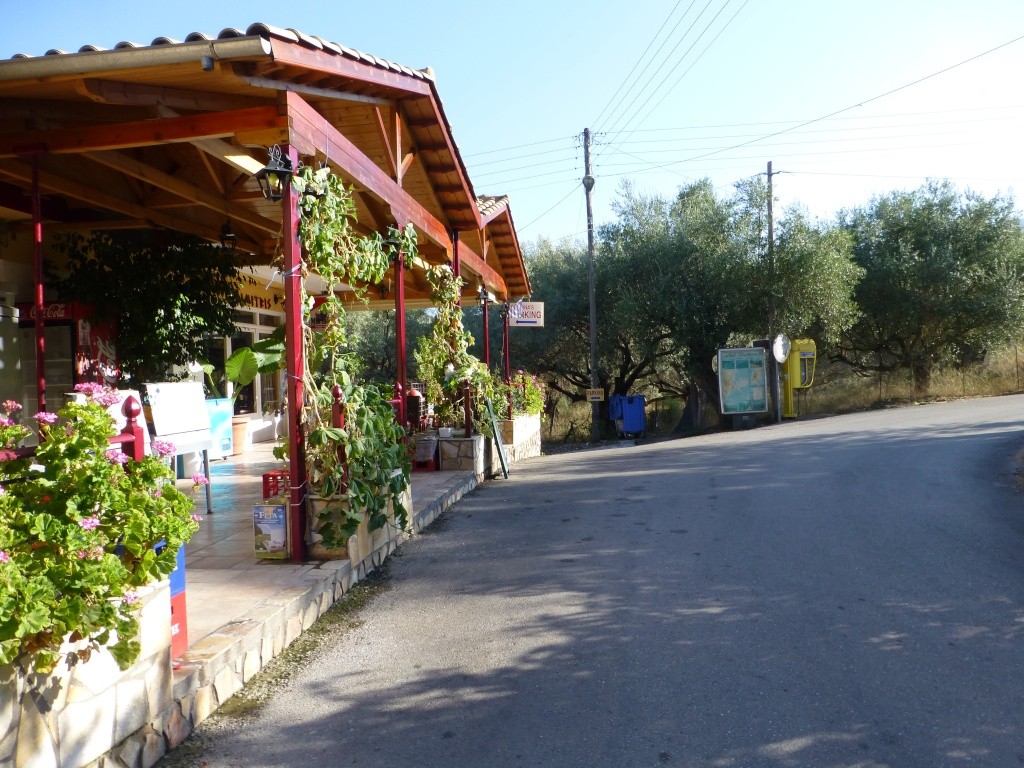 1130984
It was really hot but I was here now and going up beyond the village to get the views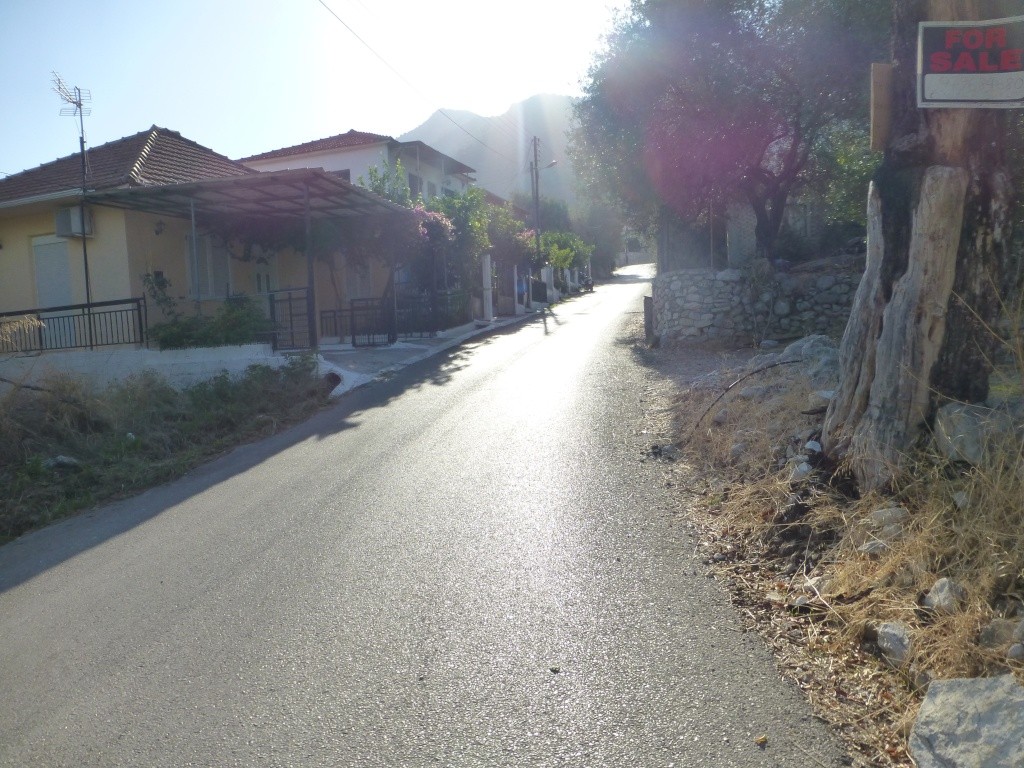 1130985
and passed the top part of the village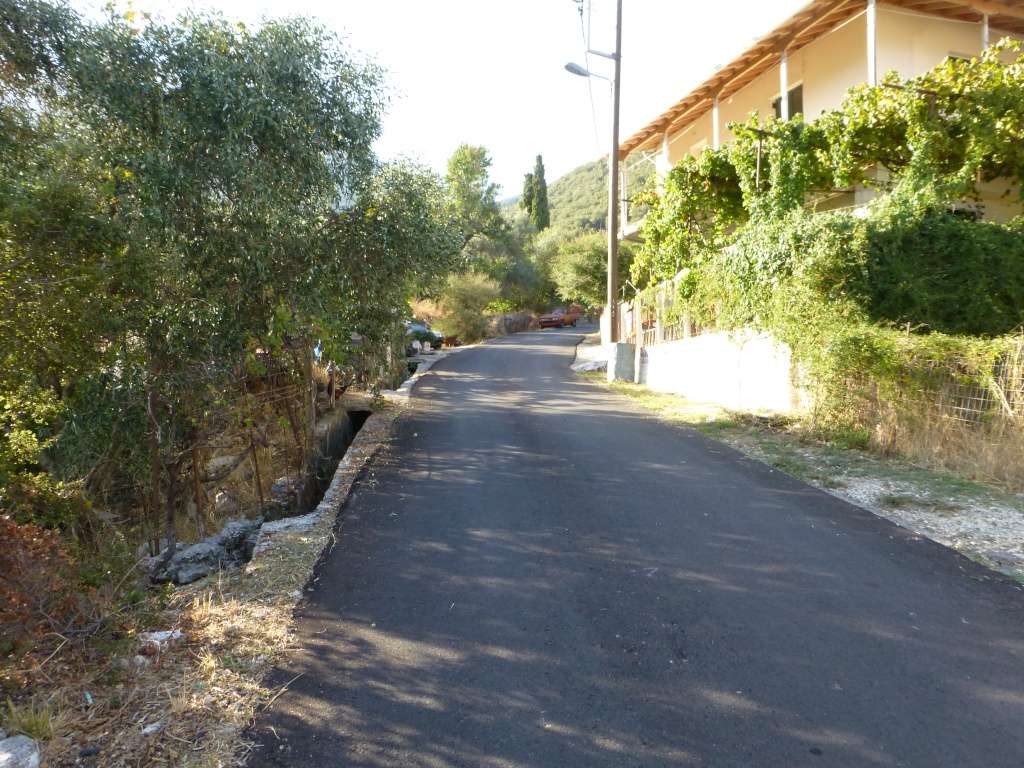 1130988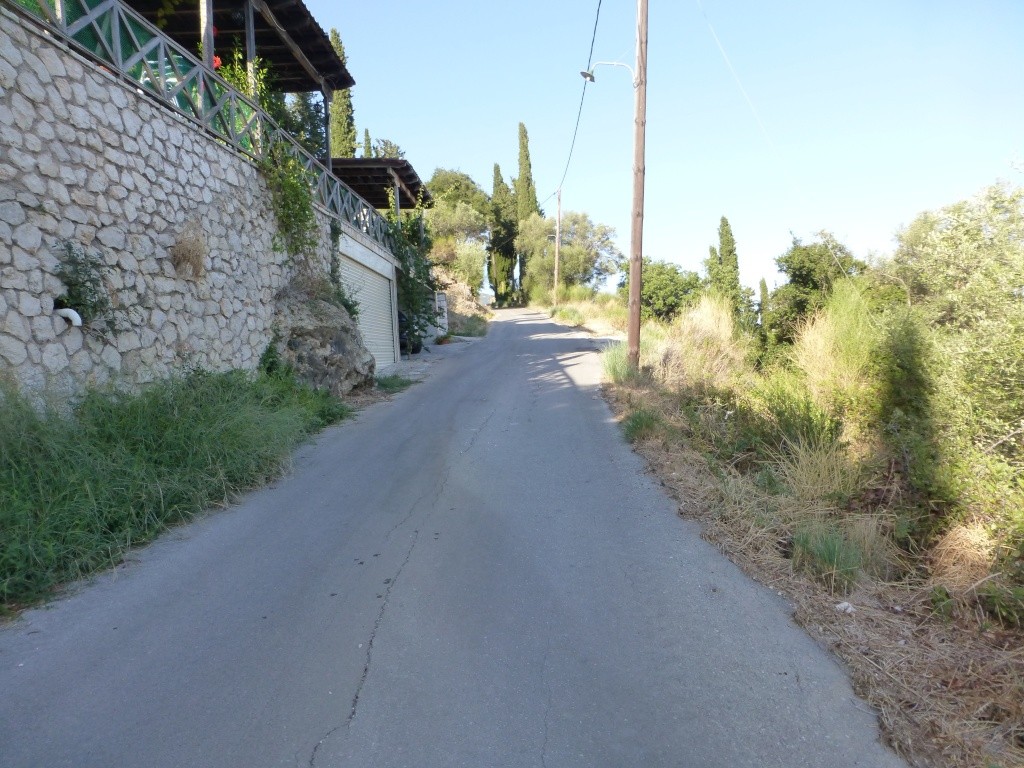 1130992
further up the hill I pass a cafe but nobody seemed to be around and there was a dog warning, so not too keen to find out more lol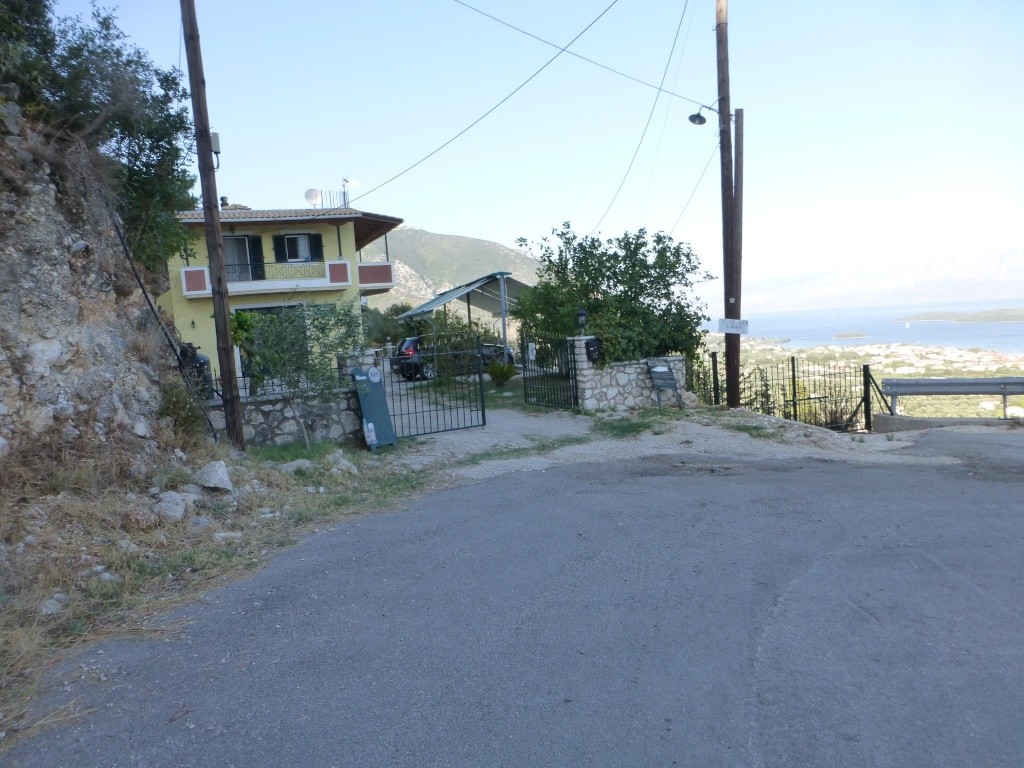 1140004
but I continue up
1140007a
apart from just getting a view a little further around the corner of the bay
1140008
the views were much the same as before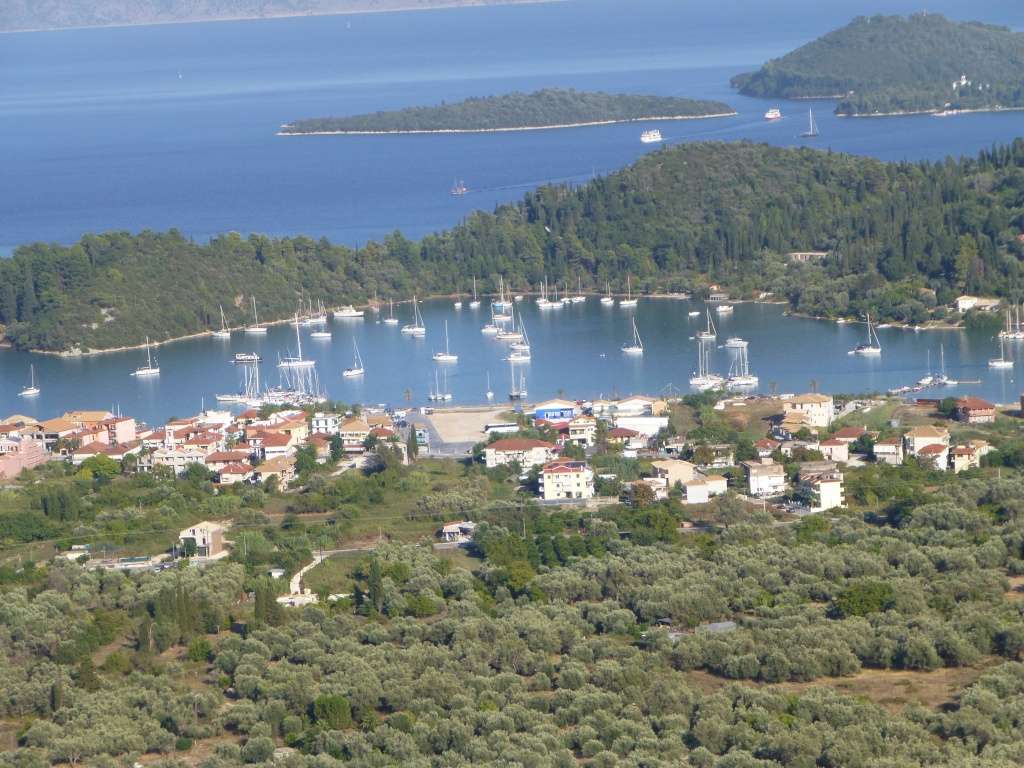 1140009
so there was not much point in going higher up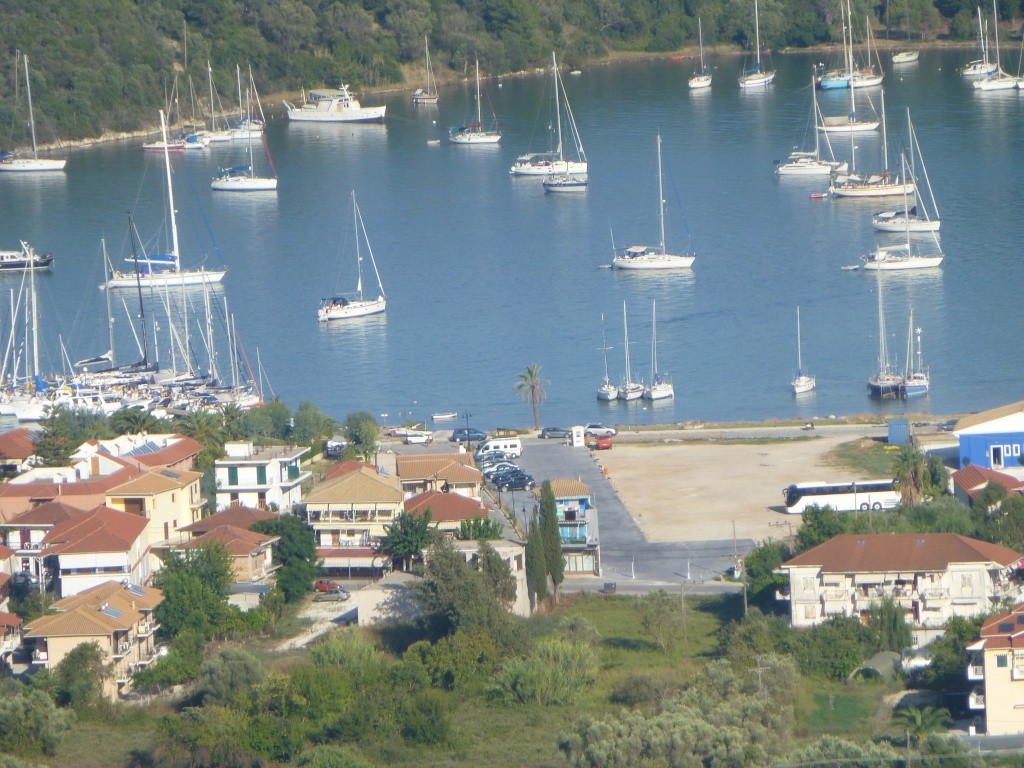 1140010
so called it a day at this point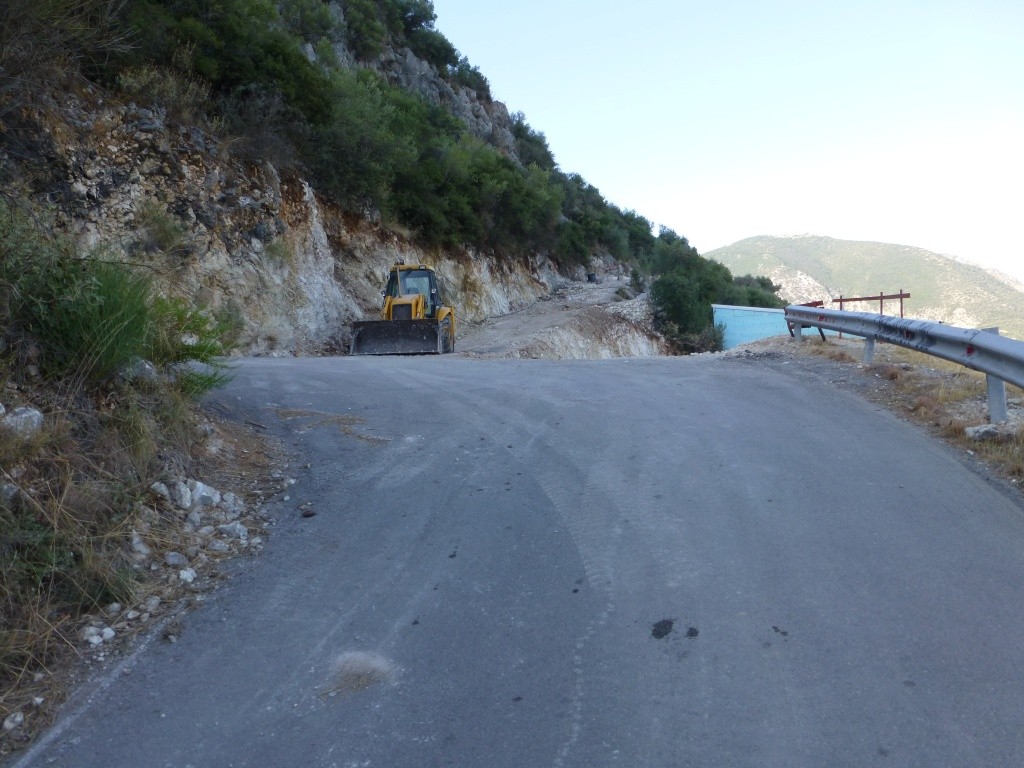 1140011
on the way down I passed the cafe and a couple were walking down from their apartment towards it. I asked if they knew whether it was open and they said, "yes we are just going for a coffee". So I joined them to get a cold coke. An elderly lady didn't speak any English and the lady of the couple interpreted my order for me. I was given a cold coke out of the fridge and the cost was 1.5€'s. I handed over a 5€ note and opened the can to find the elderly lady had no change. The couple also only had a 10€ note as well, so they couldn't buy a coffee.
However, I said, "have a coffee on me if 5€'s pays for it all". The elderly lady was confused and that cunning plan just didn't work for some reason.
Plan 2 came into operation, where I took two further cans of coke from the fridge and signalled to the elderly lady to have the 50 cents change. That left be carrying 3 freezing cans of coke, one of which was open,plus my half bottle of warm water and a camera. I just couldn't drink the coke fast enough to lose my new inherited baggage lol
on the way down the taverna in village was open and may have been closed for siesta lol, I came down melting as it had been hot, the other route had been much more sheltered by the mountain
tonight we were eating in El Greco's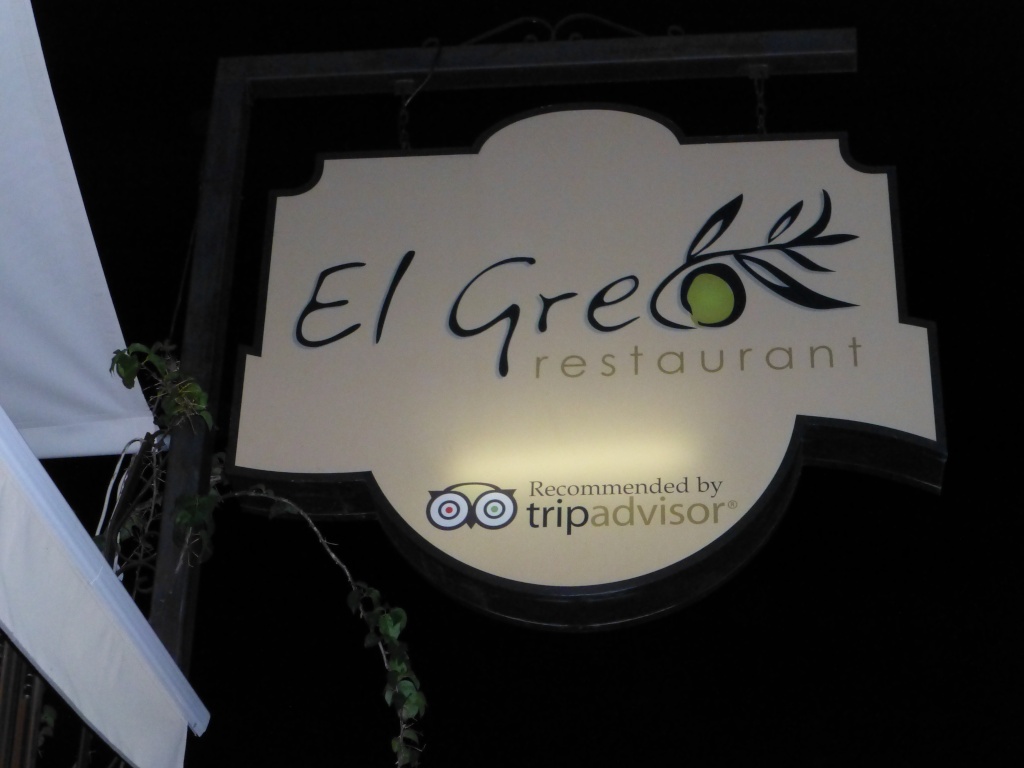 1140014
I had Kiki's burger (not sure who KiKi is lol)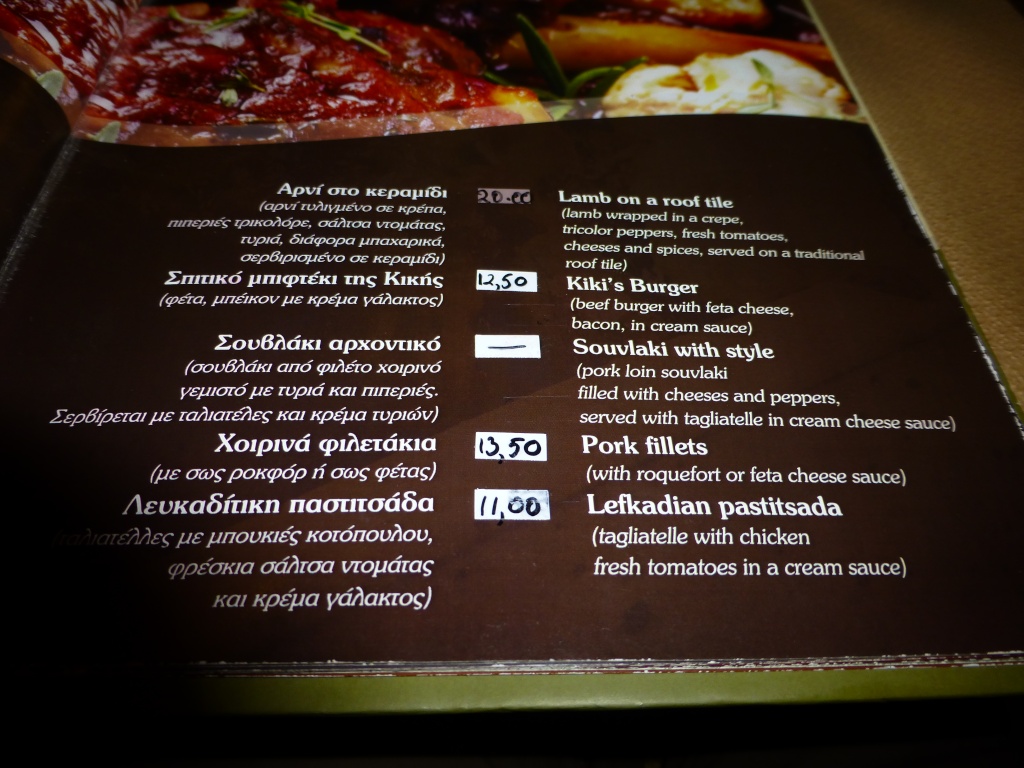 1140016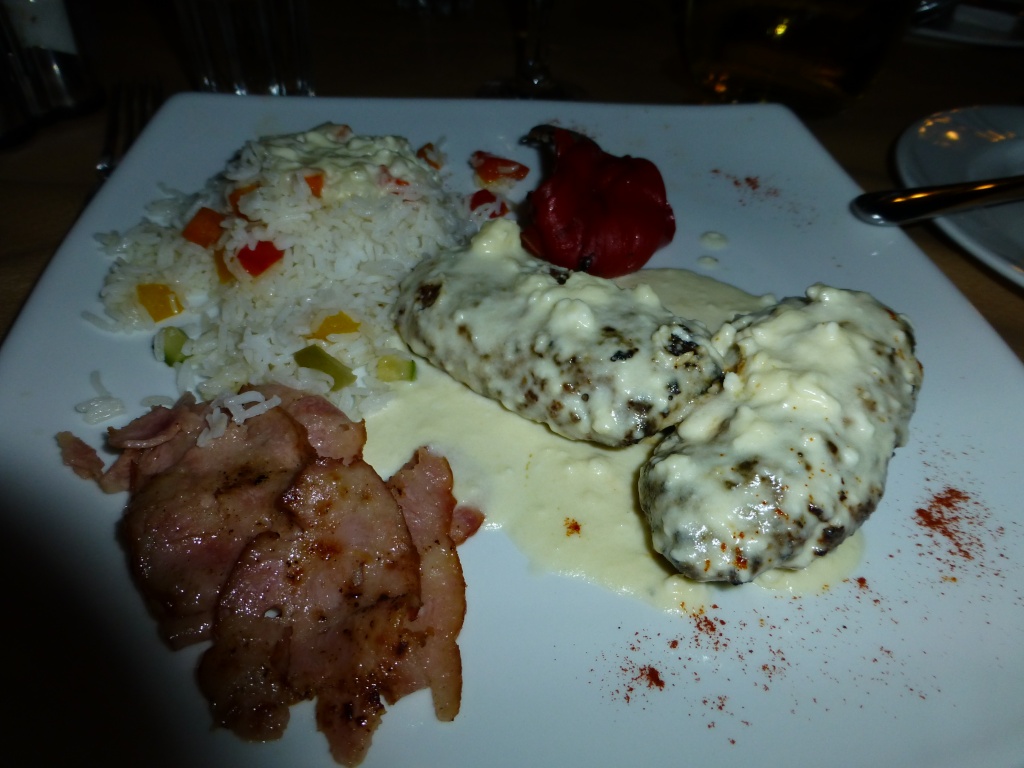 1140020
Mrs Db went for the Chicken Madouri
1140017
1140021
a free pudding to share and after sharing a litre of wine, two more large glasses of it came out lol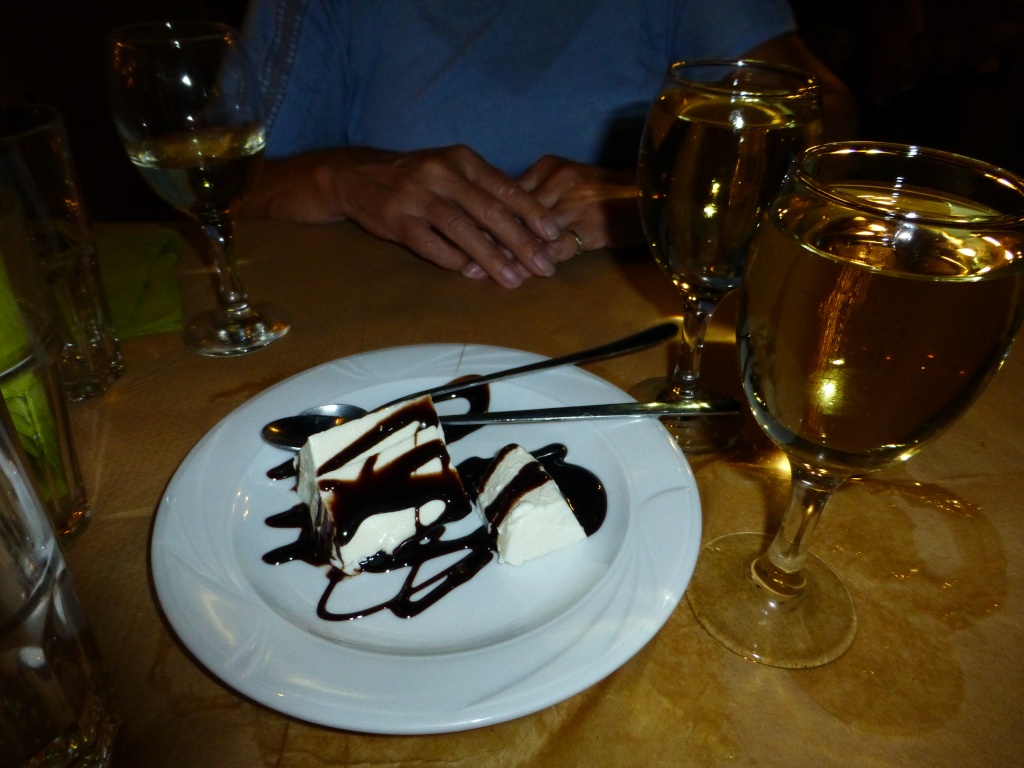 1140025
look, I'm still managing to stand up to take photos lol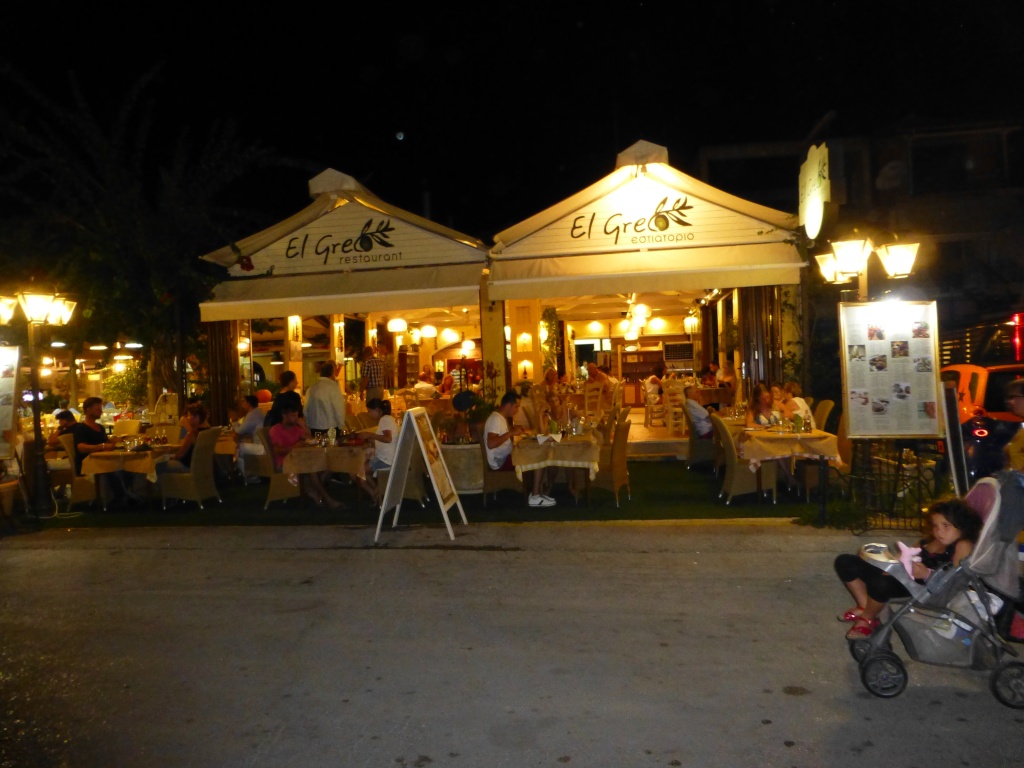 1140026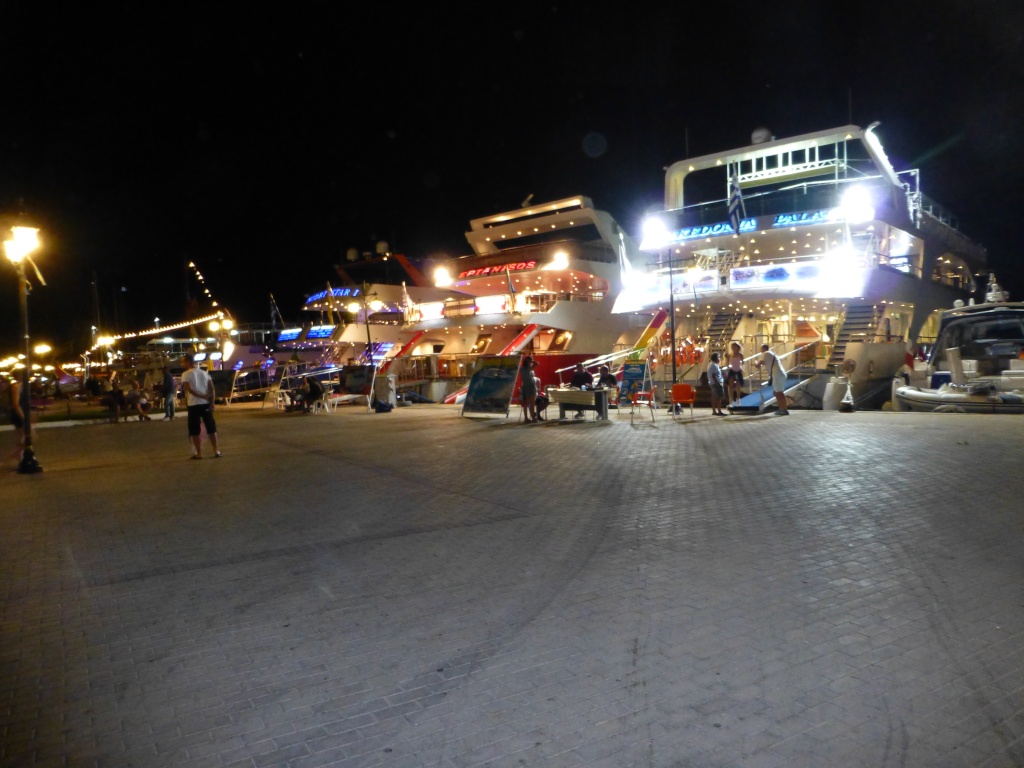 1140027
END OF DAY 12
DAY 13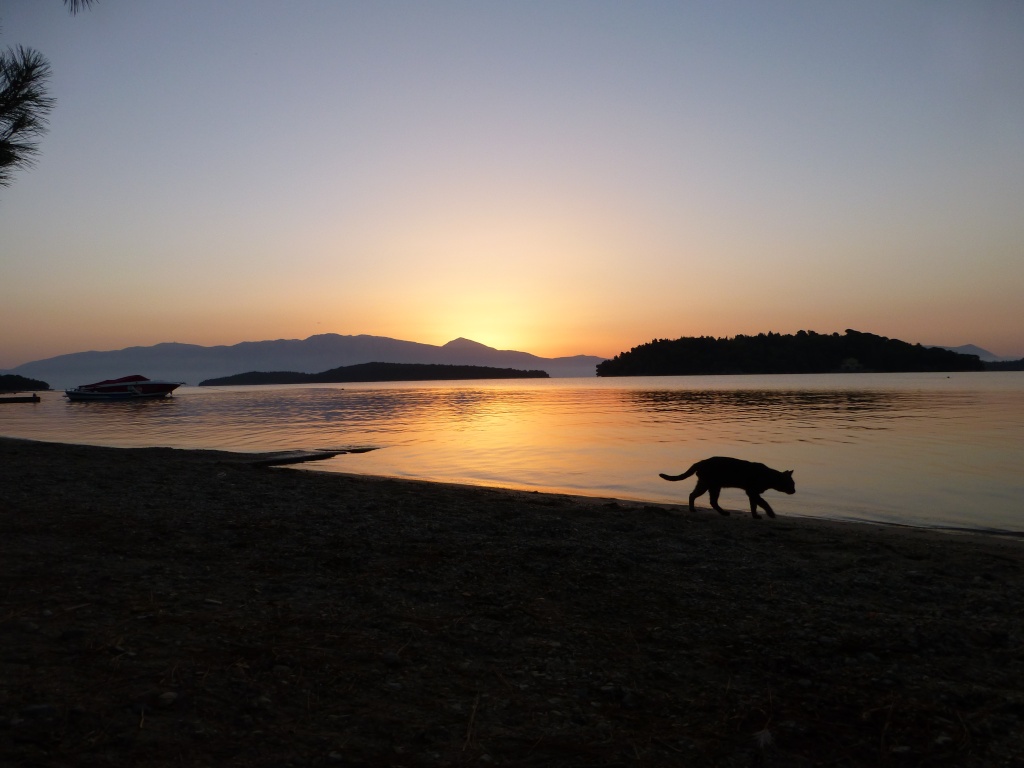 p1140035
Now are you going to stay there this morning lol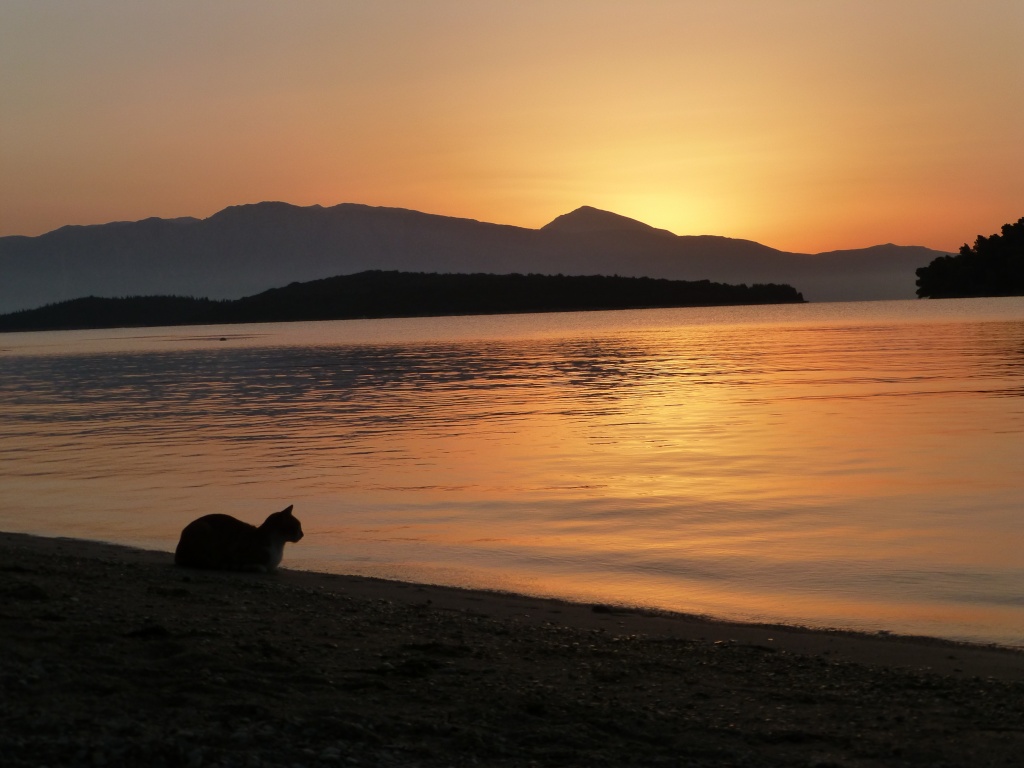 p1140040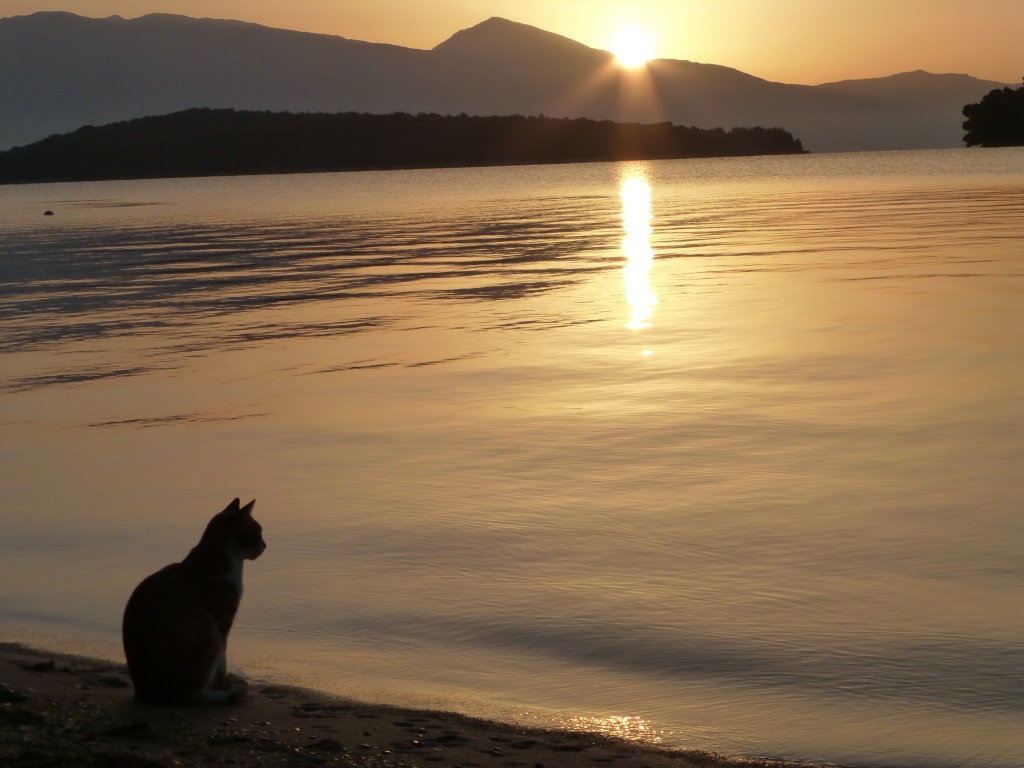 p1140058
this morning we were on the beach and we had booked at Sunset trip to Lefkada town via Sunvil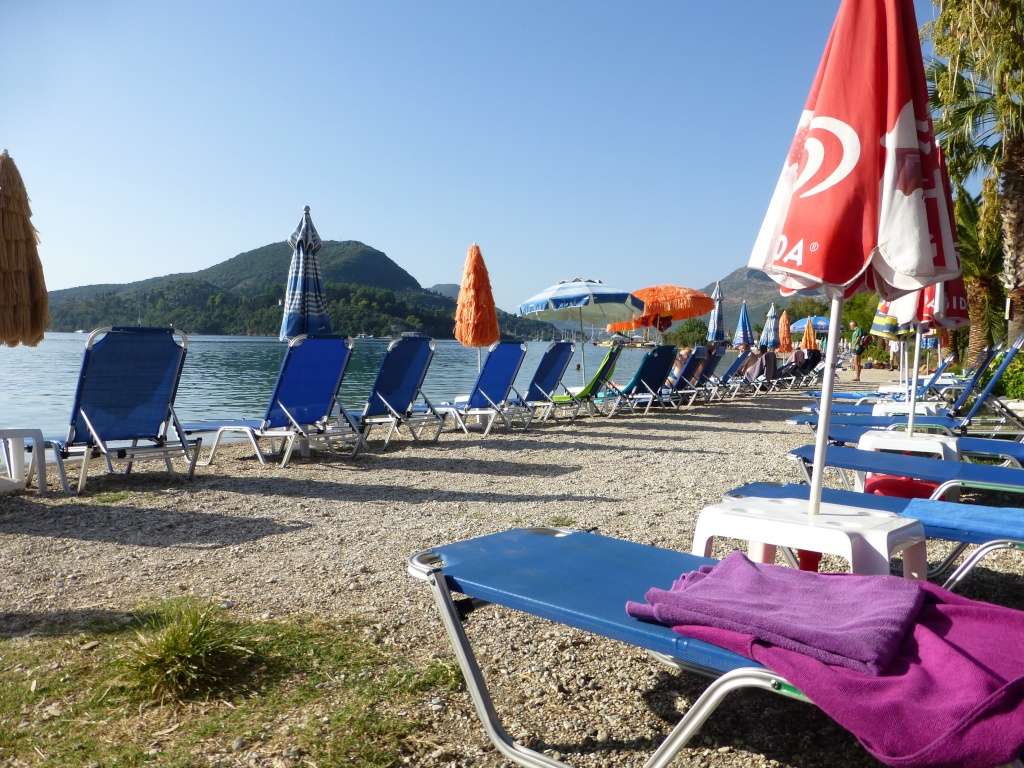 p1140060
but for lunchtime we went back to Defini's where we both had the chef's salad
p1140062
p1140064
The regatta I think may be still going on, it seems quite a big thing in Lefkada and this was a tall ship in the distance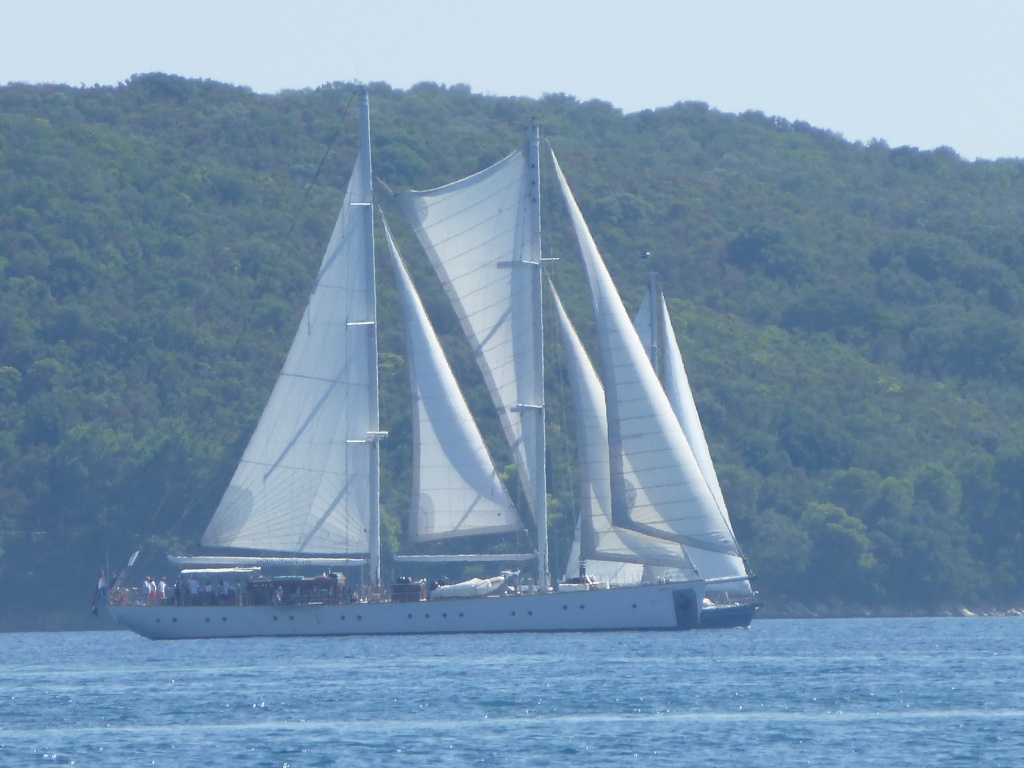 p1140065
but some kind of race seemed to be going on with the smaller yachts in the distance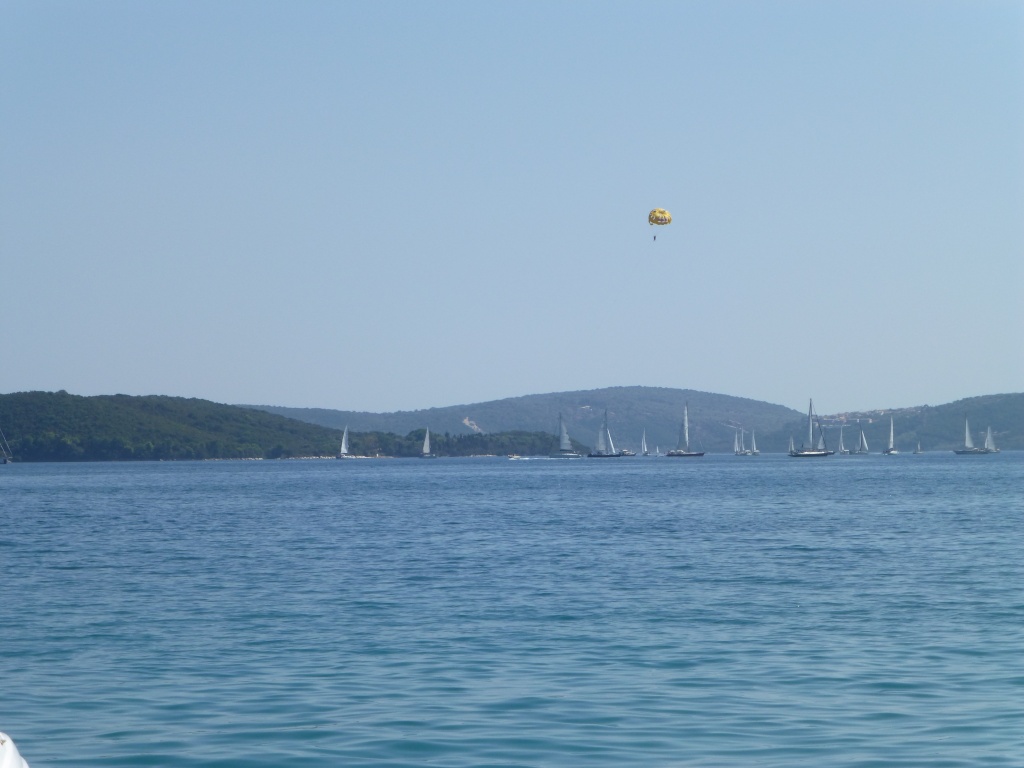 p1140067
We had to be down at the Reflections office to pick up the coach for the sunset.
However, the sun had gone down behind the mountains, for us but the evening was hot outside waiting for the coach to turn up, it was 10 minutes late. There were two reps from Sunweb on the coach with a Dutch party. The temperature outside was showing 30 degs on the coach's dials but fortunately for us the coach was air cooled
The whole episode to follow could have been arranged by the producers of Top Gear where Jeremy Clarkson is set a task of racing a Ferrari to reach Lefkada before the sun goes down. However, we were doing it in a coach, which was to stop about 4 times to pick up more people on the way, whilst we anxiously looked at vast mountain in the way and not seeing any progress being made or where the sun had gone.
Finally the mountain had gone as we arrived in Lefkada Town but the sun had already gone behind the towns buildings
All the reps said was to be here on the otherside of the road at 10:30pm. I think they had something arrange with the Dutch people and the rest of us were just filling the coach
p1140075
Mrs Db with her sore knees had no chance of getting to a position of seeing the sunset, so I suggested she waited in a taverna whilst I attempted getting to the sunset but she preferred to stay where she was. So being new to Lefkada my instinct was to follow the red glow of the sun. But every road I went down there were buildings in the way and it was a maze lol
p1140076
I ended up coming out in a car park with a couple of Romanian Traveller vans parked in it, not the sunsets I was looking for lol. I then spotted a monument and thought I good get a better position but it was all locked up lol.
So I followed on round it and you can see the monument in the distance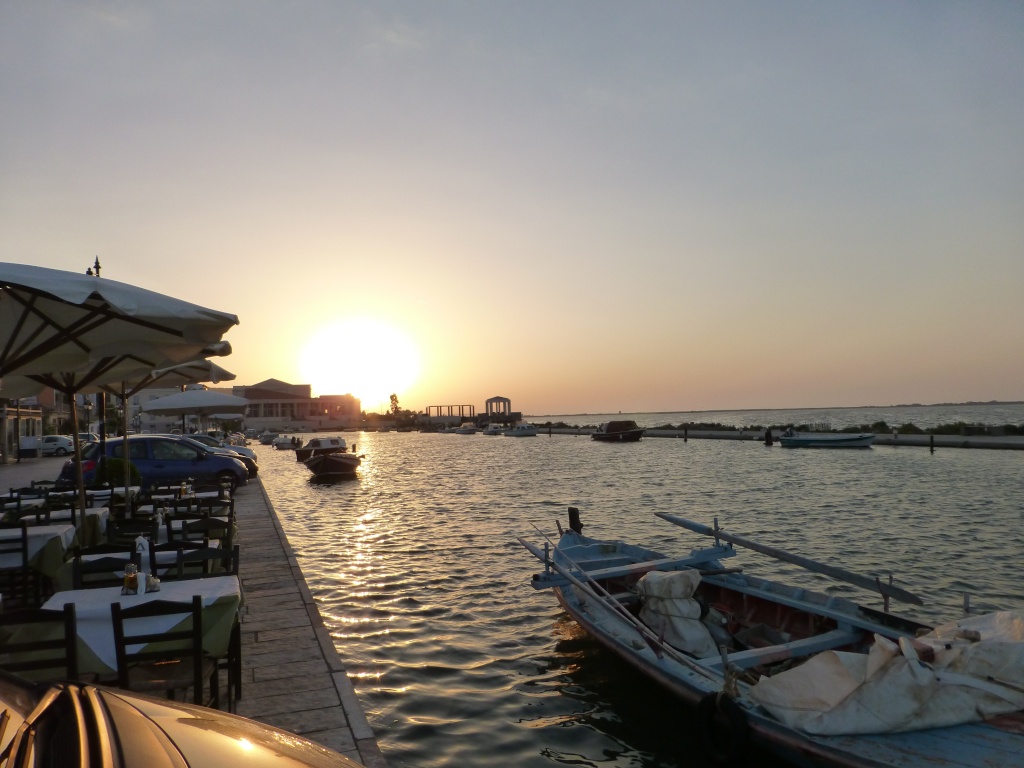 p114078
so I now had to get away from the cars and umbrellas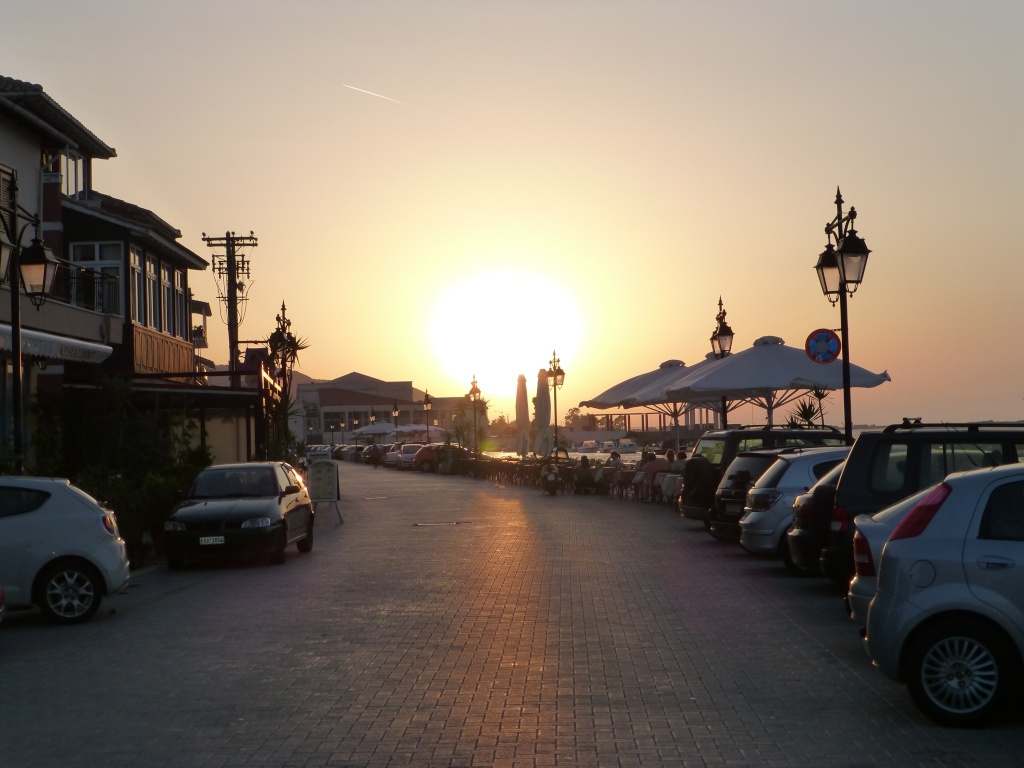 p114081
so another chase down the road as I spotted a bridge over the water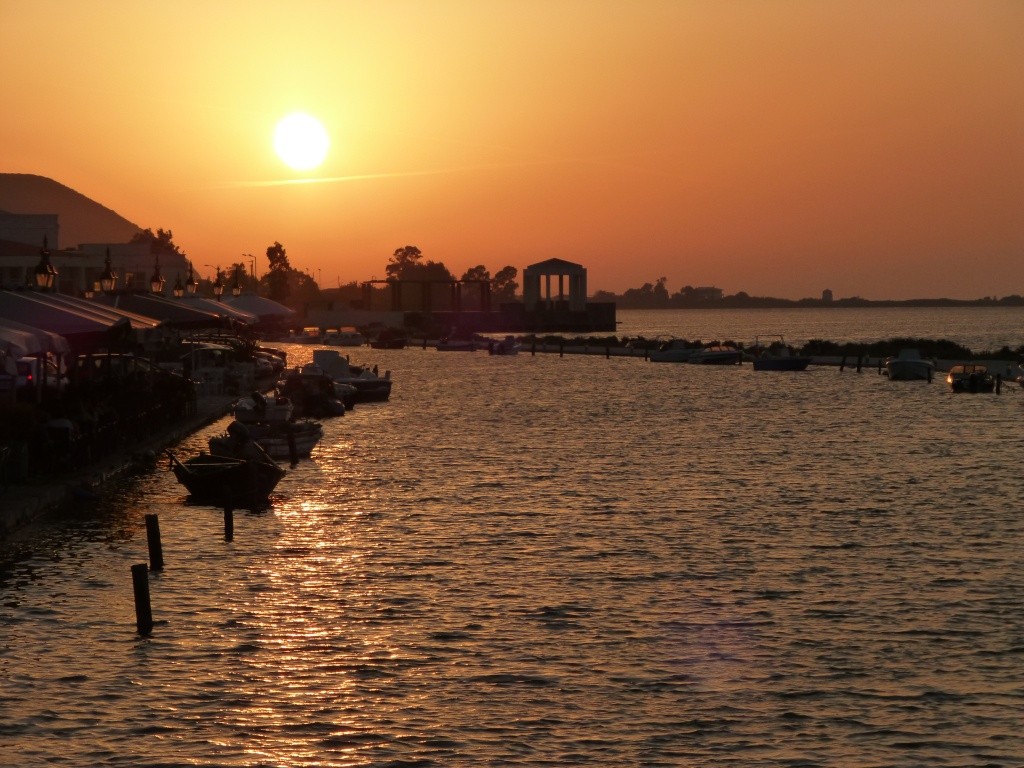 p1140084
I thought a better shot might be having the people on the bridge in front of me like a Lowry picture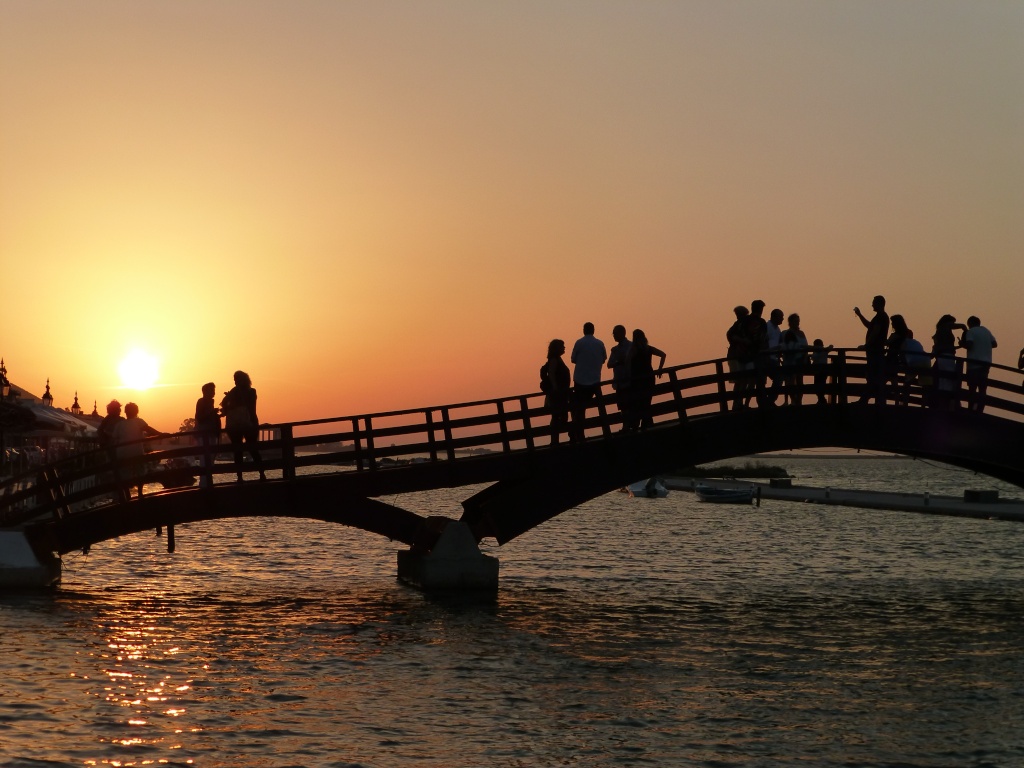 p1140085
I quite like that shot but realised I was never going to get through the maze of streets back to Mrs Db and it would soon be dark, so I decided to keep the sea on my right and had a fast walk back to Mrs Db. We didn't have phones as didn't think we would need them but fortunately I picked right and got back to Mrs Db. However, the story continues lol
So now very hot indeed from my chase a beer was needed lol
we chose The 7 islands resto on the harbour edge and ordered a beer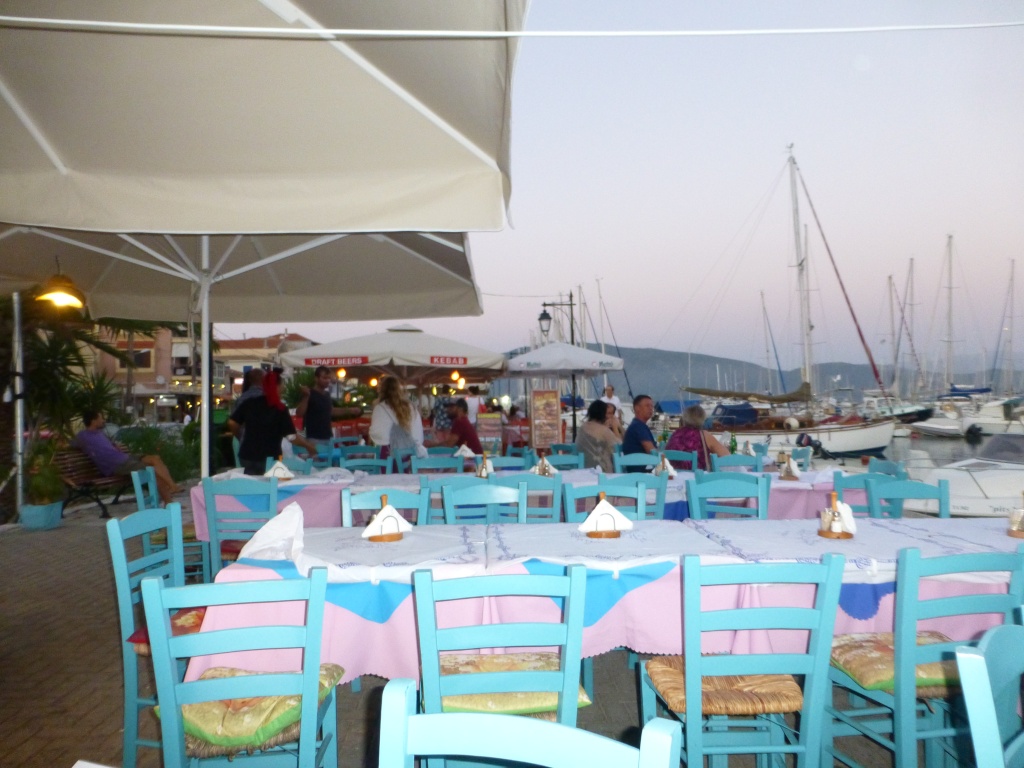 p1140088
the owner was keen for us to order some food and I said to mrs Db here is as good as any, so I ordered moussaka and Mrs Db had lamb souvlaki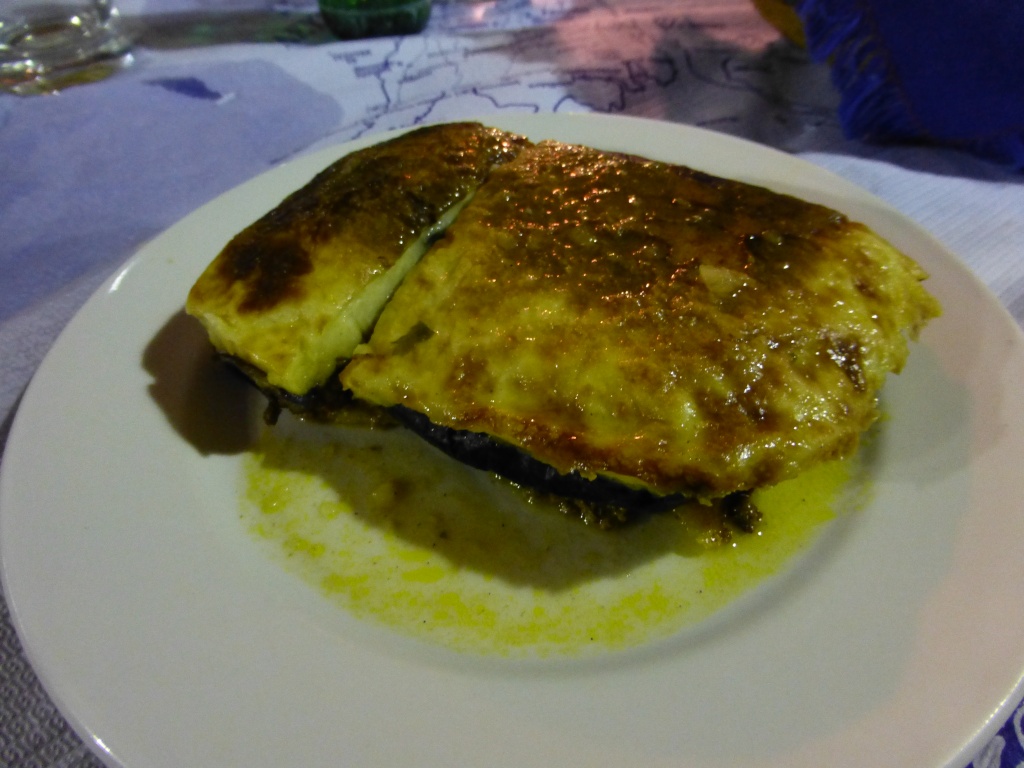 p1140090
By the time the food came people had been coming in dozens every chair had been taken and the two ladies serving were run off their feet taking orders we couldn't even get any wine, the chef himself bought out our food, bless him. I think it may have been due to the regatta, as the place was a nightmare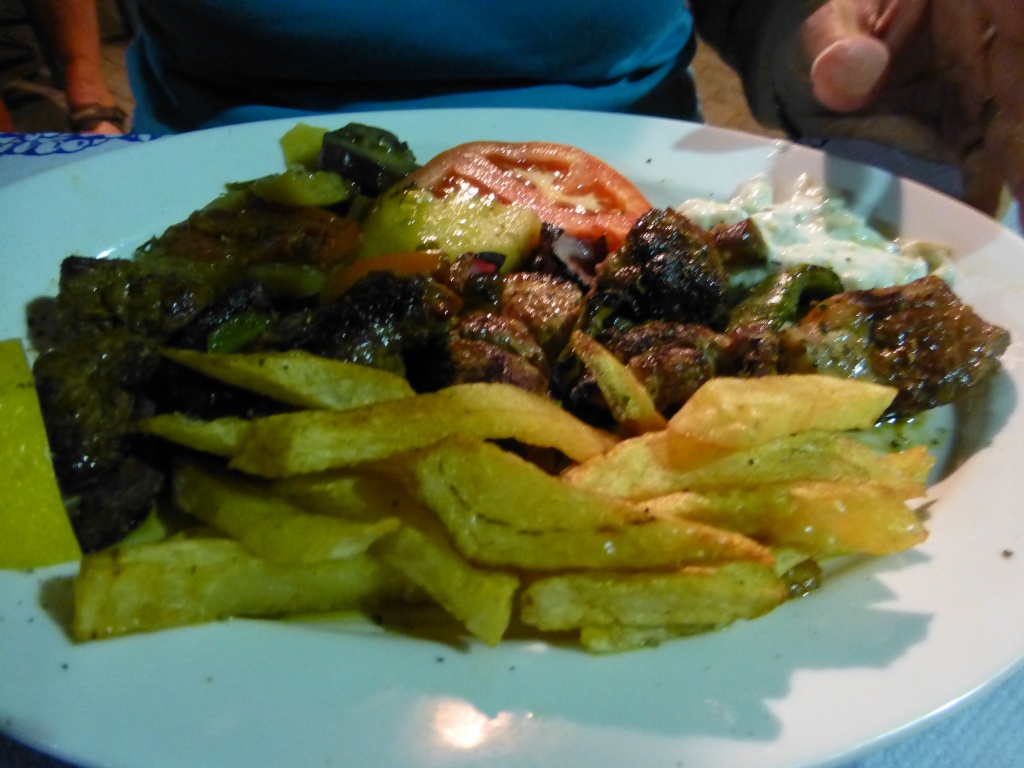 p1140091
we got our bill and I slowly walked Mrs Db to the sunset bridge and then we cut down into the town.
p1140097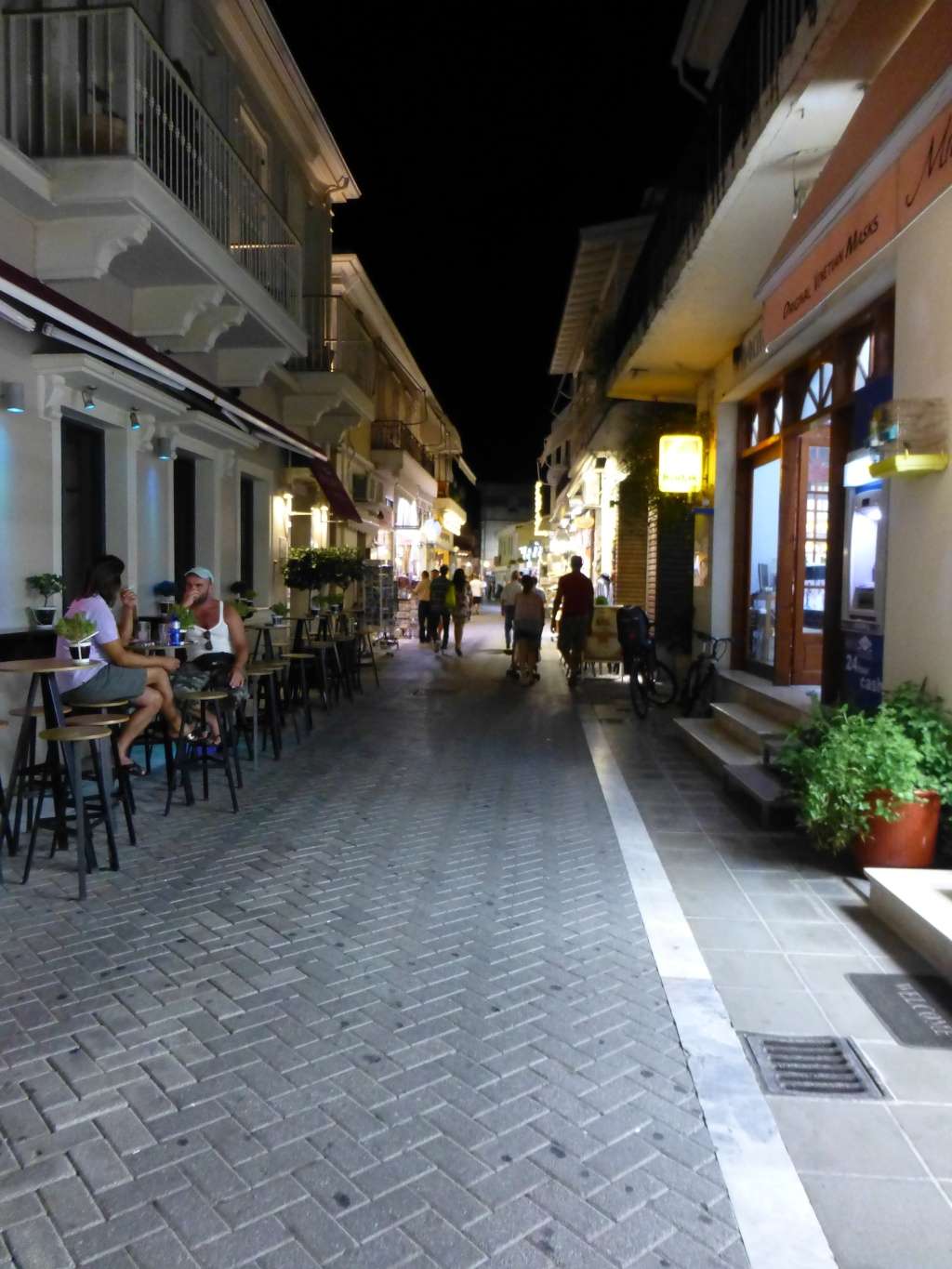 p1140098
probably more chance of getting served in here but the heat was something else
p1140099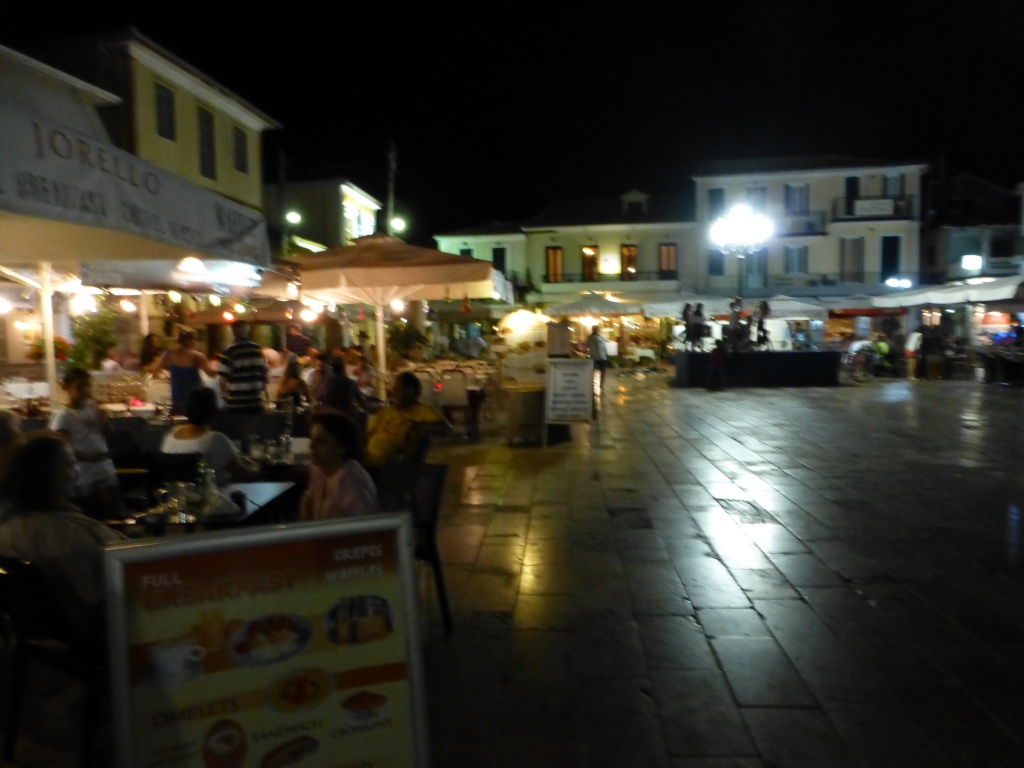 p1140100
In the end we made our way to where the coach would pick us up and got a beer in a busy taverna on the harbour. The coach did turn up on time but discussions with other Brits whilst waiting, revealed some didn't get any decent shots of the sunset, another lady ended up in the same car park as me but some time behind me.
What is needed, the trip should leave half an hour earlier and the reps should tell newbies where to go for the sunset, or better still, the coach should take us up to the bridge and not leave us at the other end of town on something that is labelled 'a sunset trip'. I pointed this out to the rep the following day. Somebody even told me that the same thing happened to them last year on the same trip.
END OF DAY 13
DAY 14
Made it again lol
p1140112
beam me up Scotty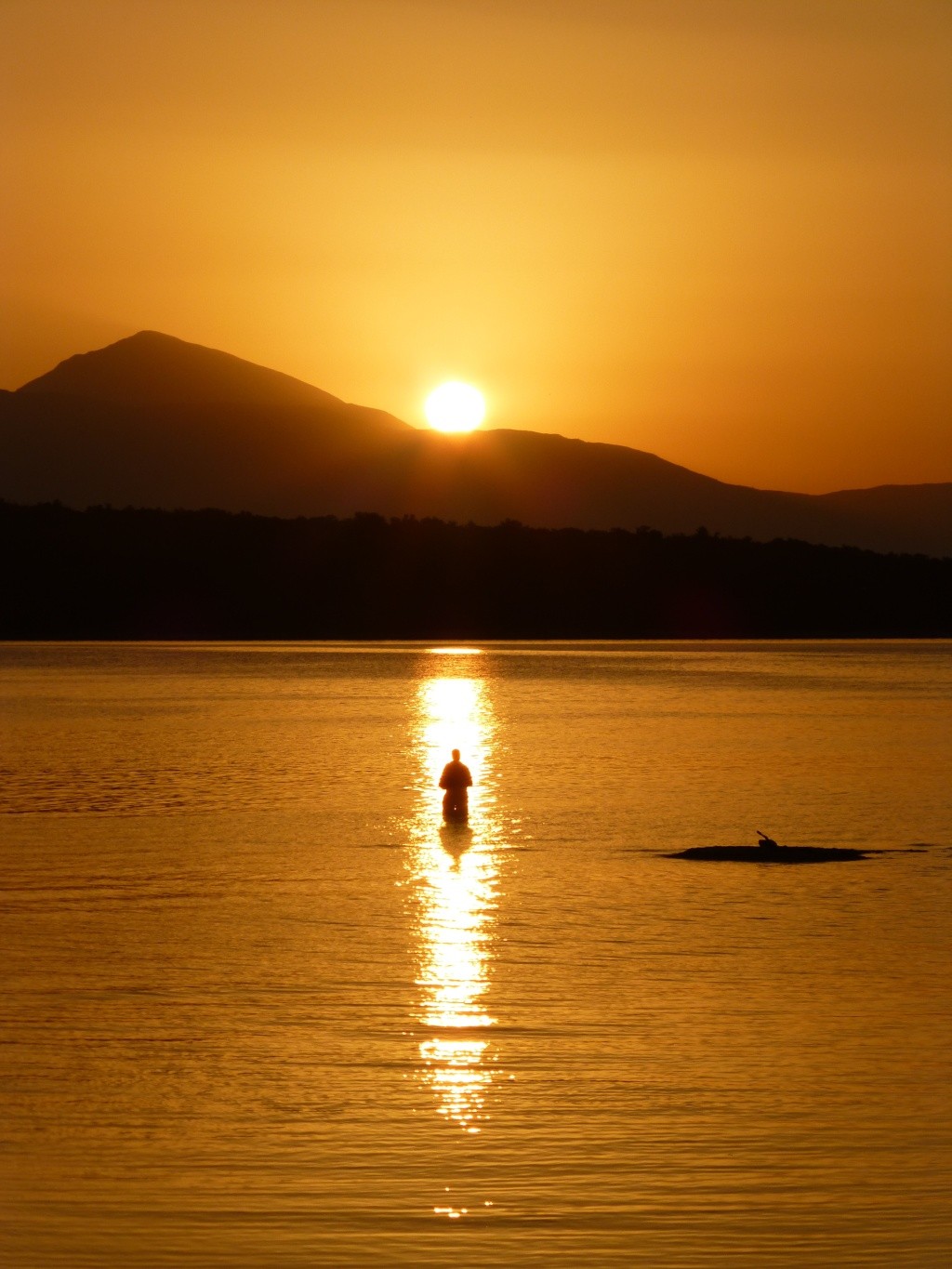 p1140115
our last day as such and it was a relaxing day on the beach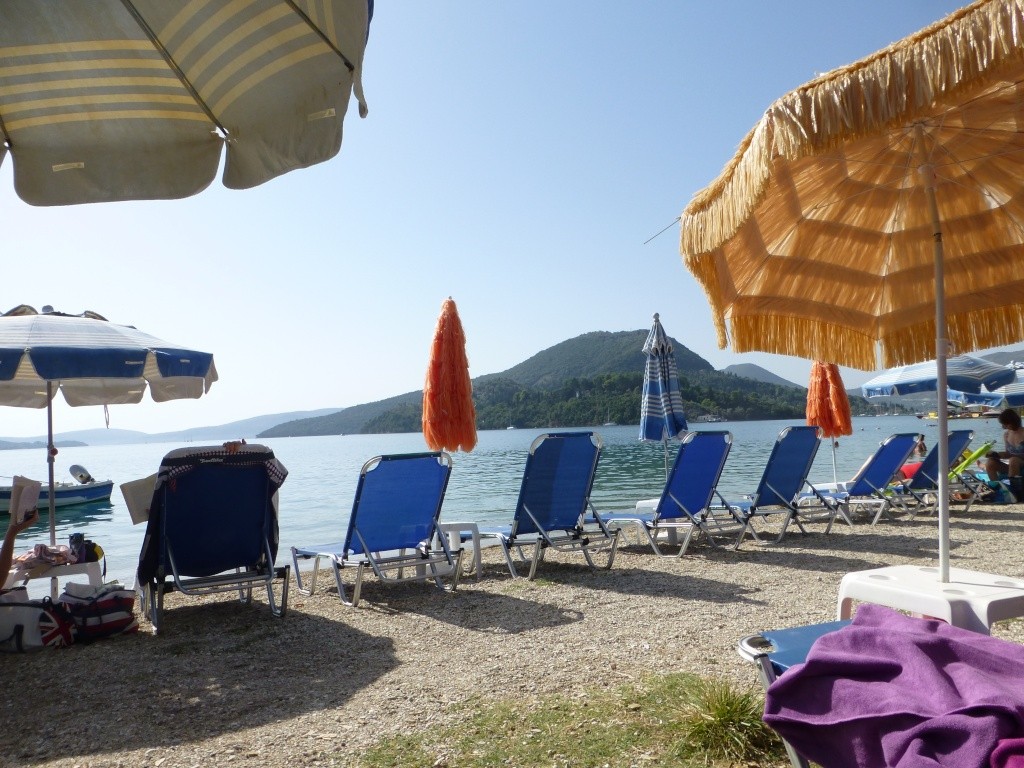 p1140119
watching others play on boats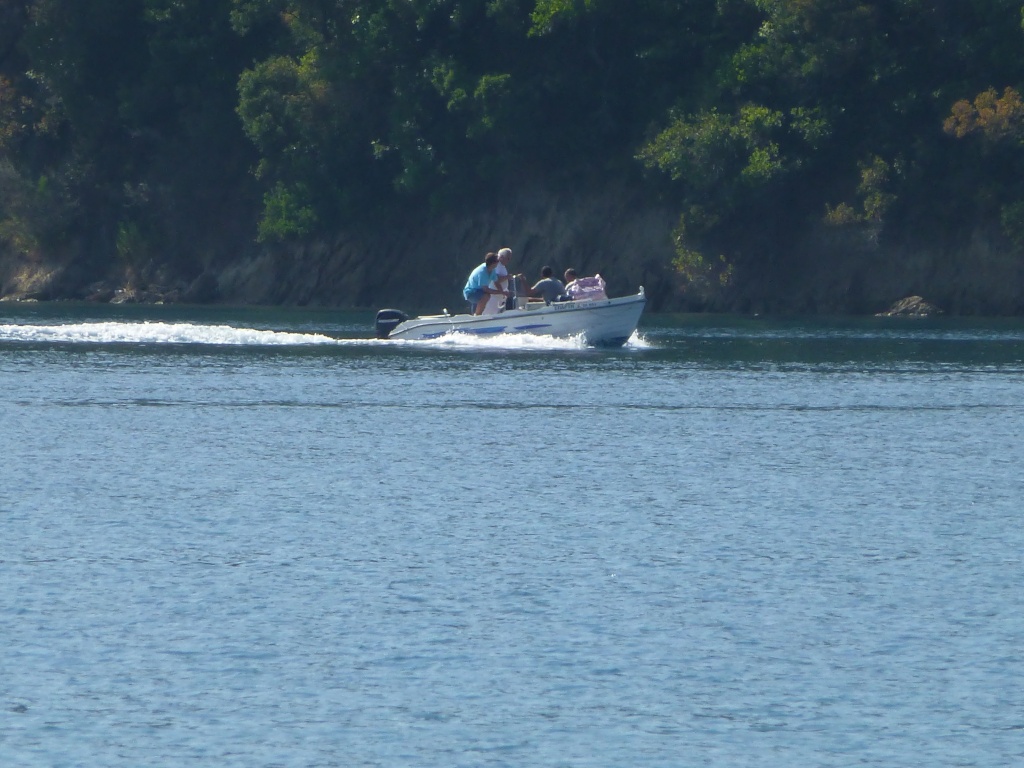 p1140120
lunchtime was at Hotel Nidri Beach located 50 metres to our right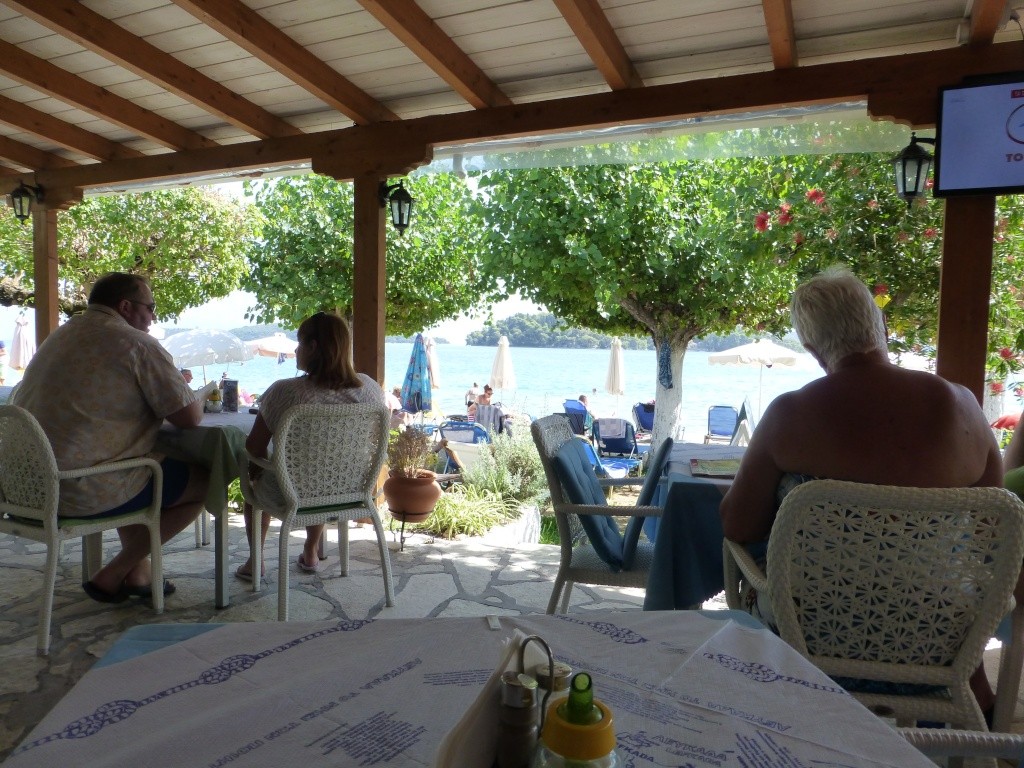 p1140123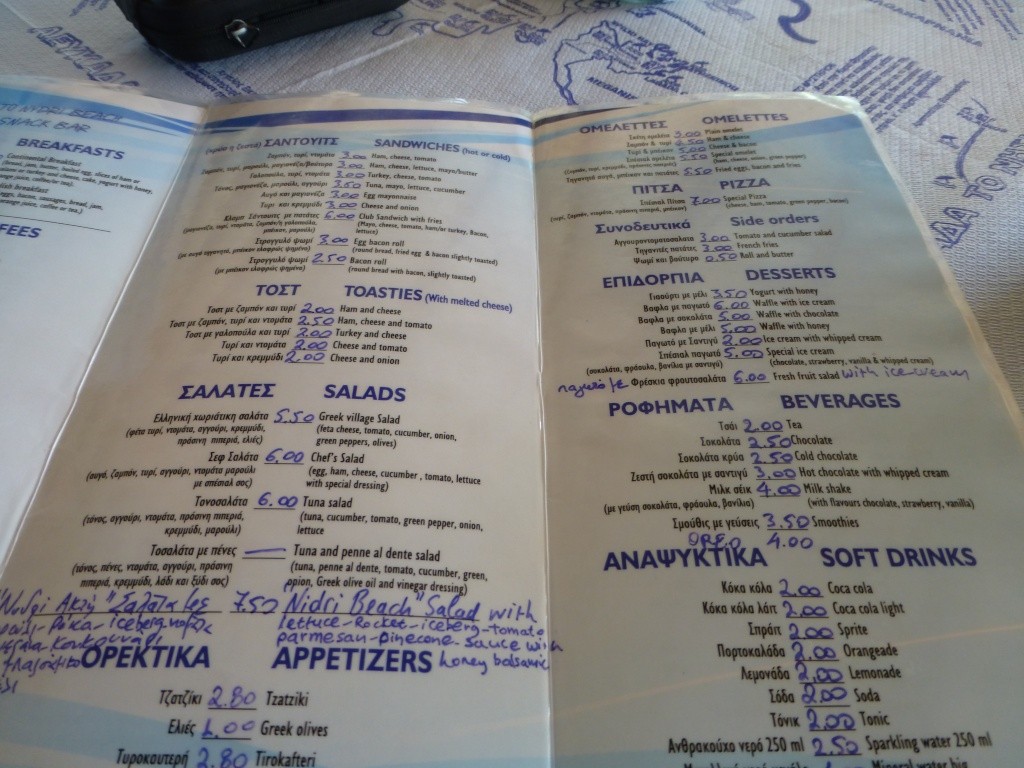 P1140125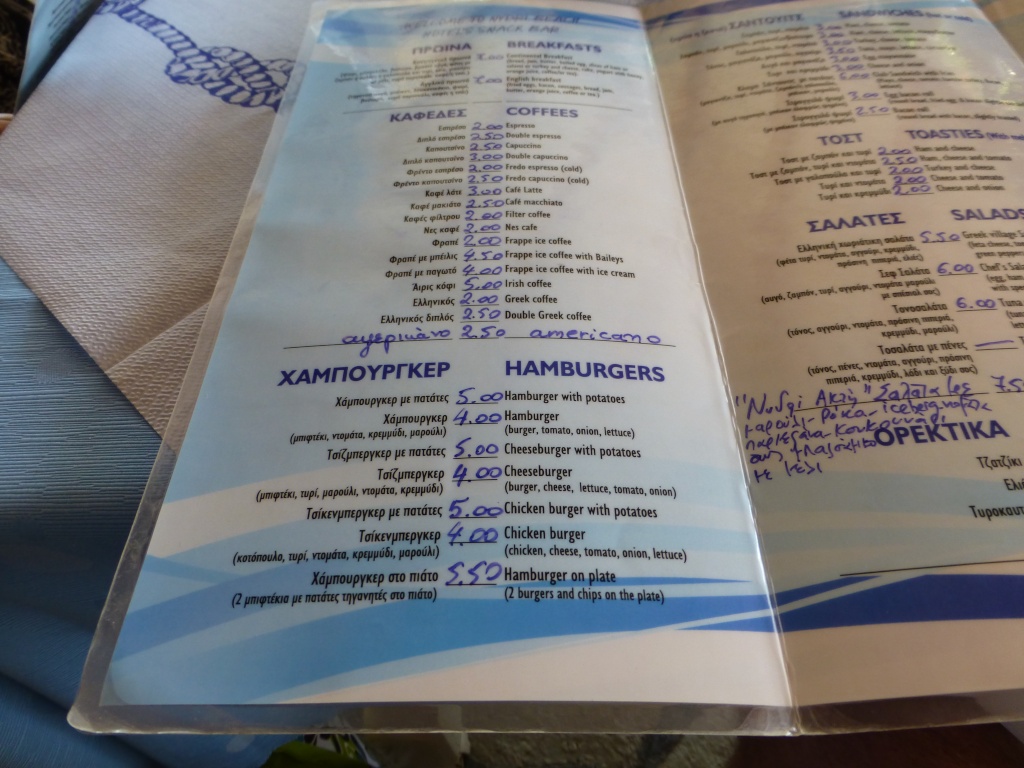 P1140126
Mrs Db had and omelette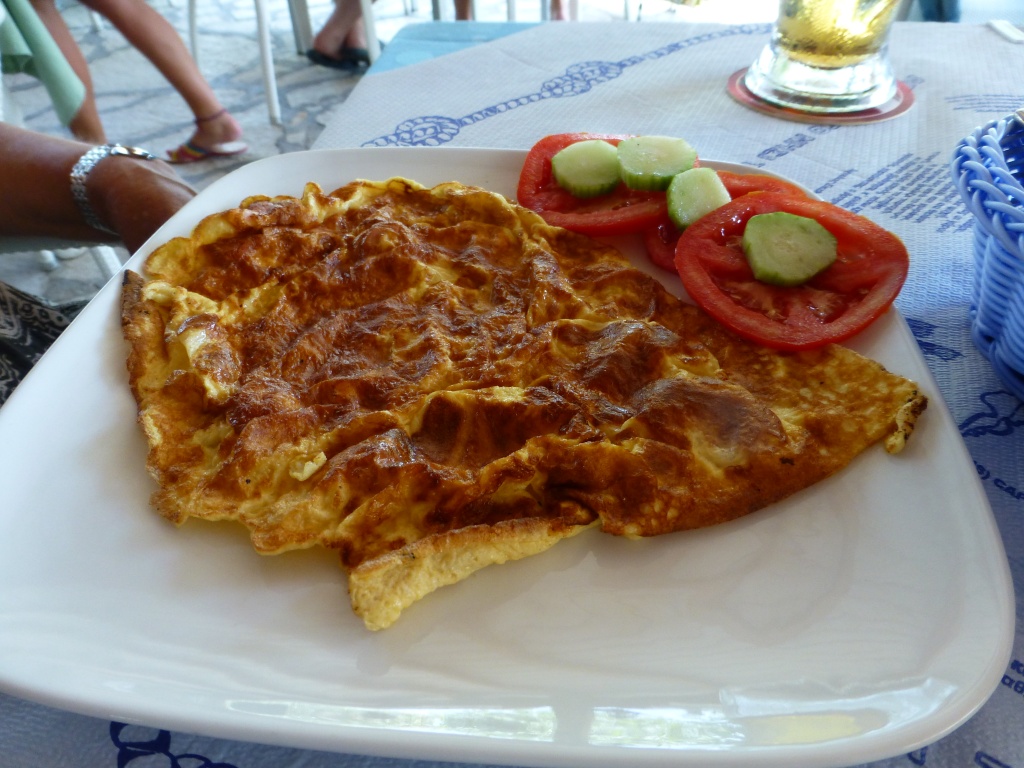 p1140128
I had a burger and we shared those chips lol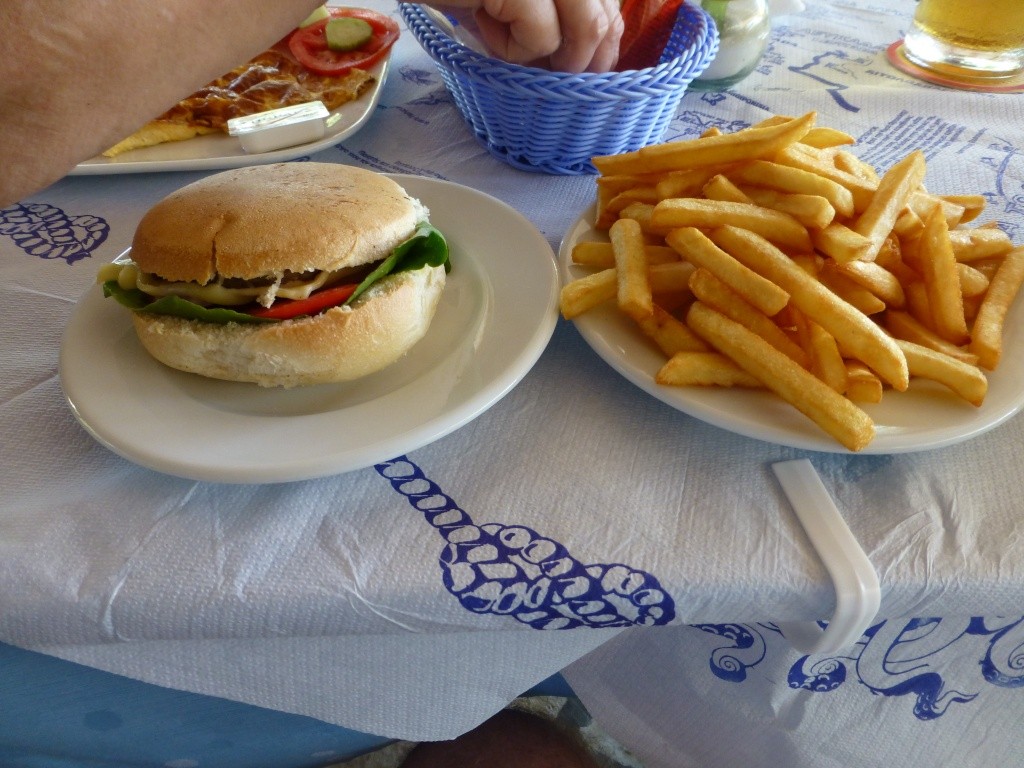 p1140129
walking back to the sunbeds they have nice flowers out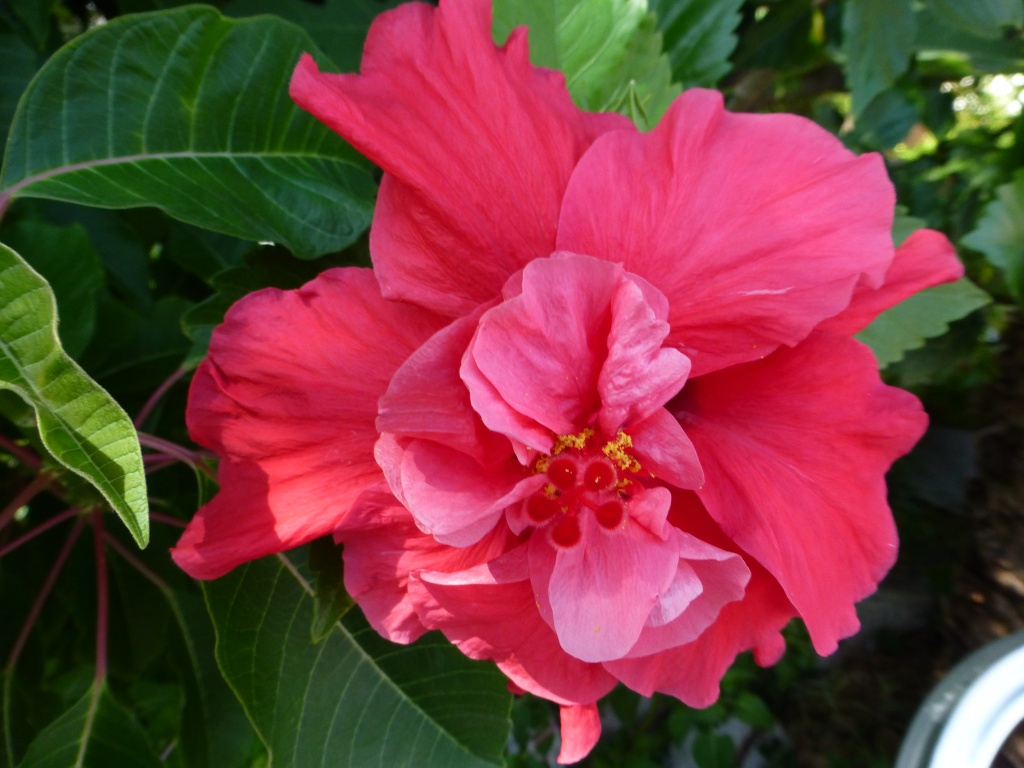 p1140132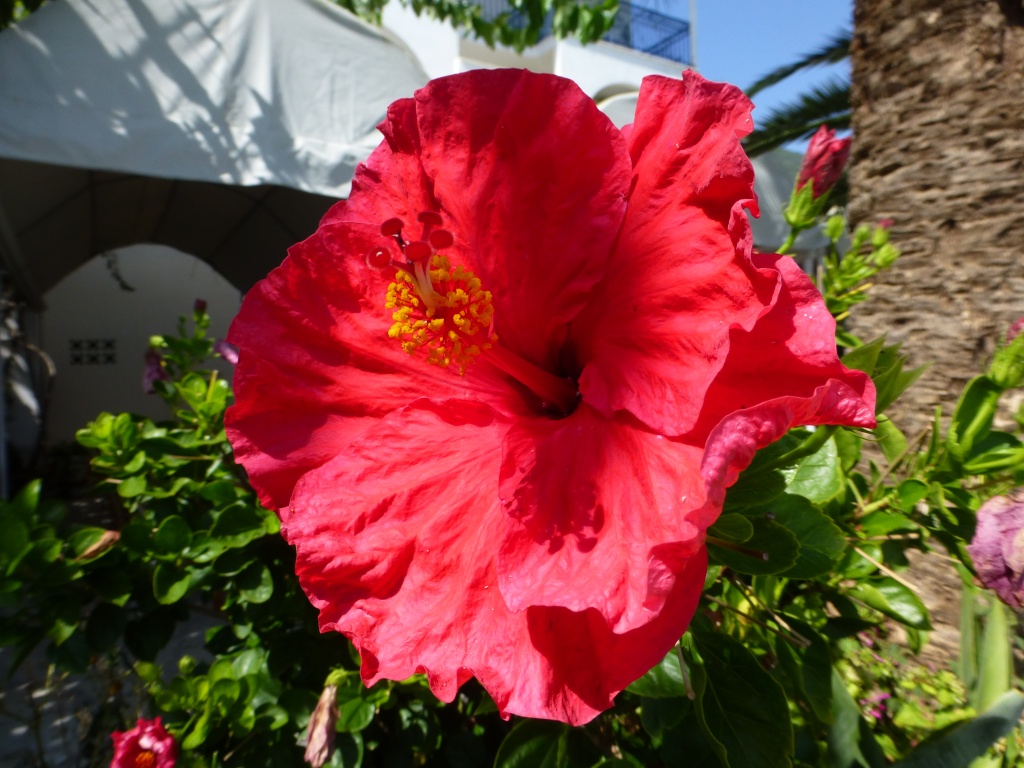 p1140133
then about 5pm it was on the balcony and gathering the football scores
p1140134
for our last meal it was going to be the Barrel resto that had stood out for us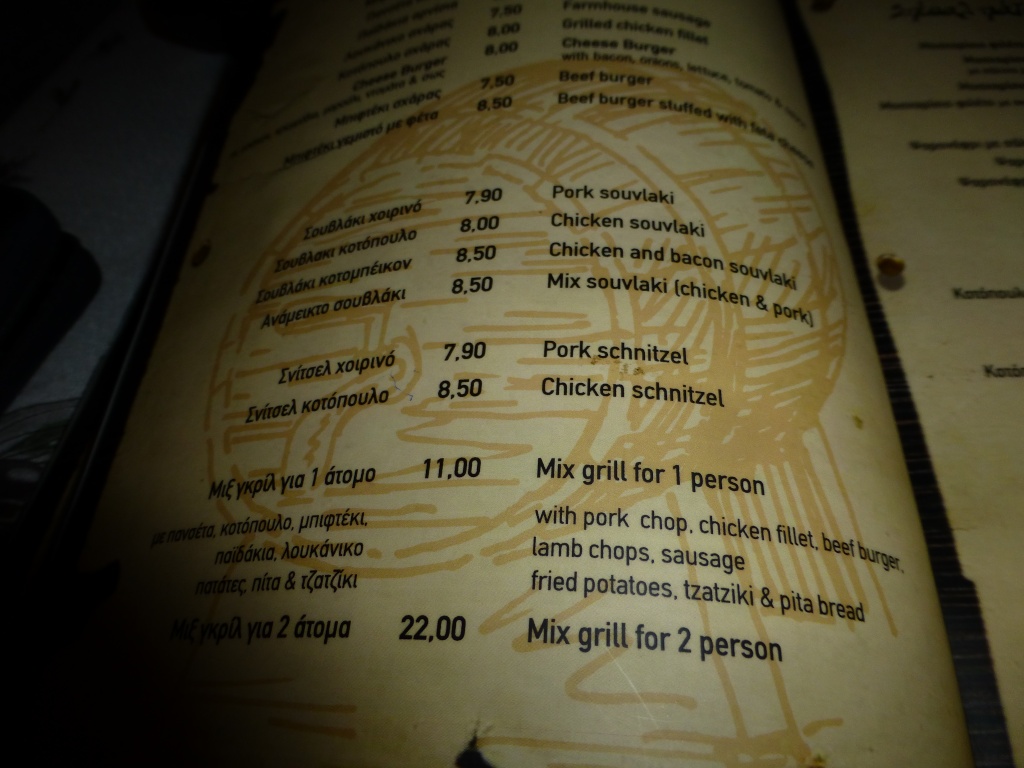 p1140139
p1140140
p1140141
for me it had to be the chicken and bacon souvlaki which is really tasty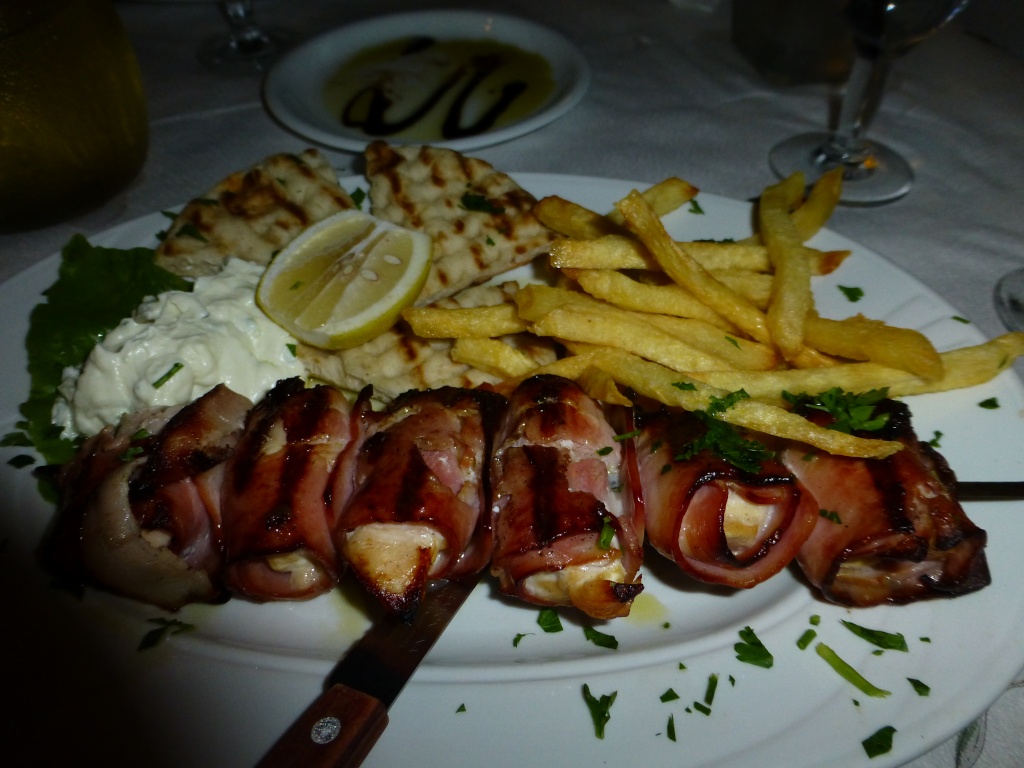 p1140142
and for Mrs Db the pork in mushroom sauce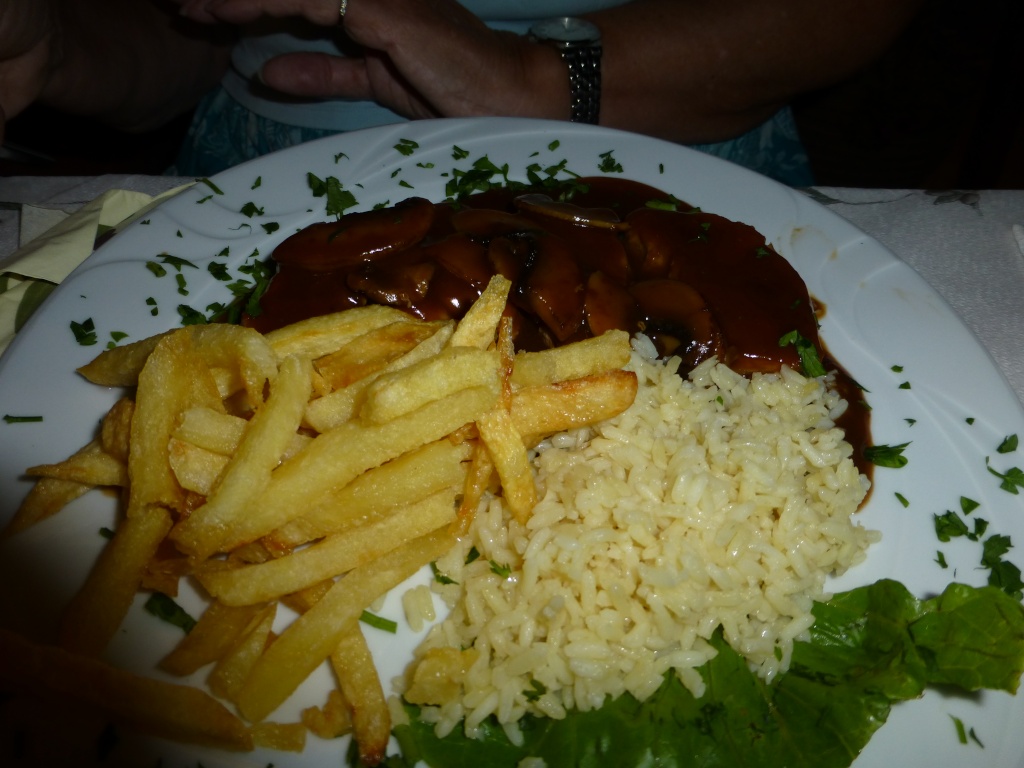 p1140143
and of course the last free puddings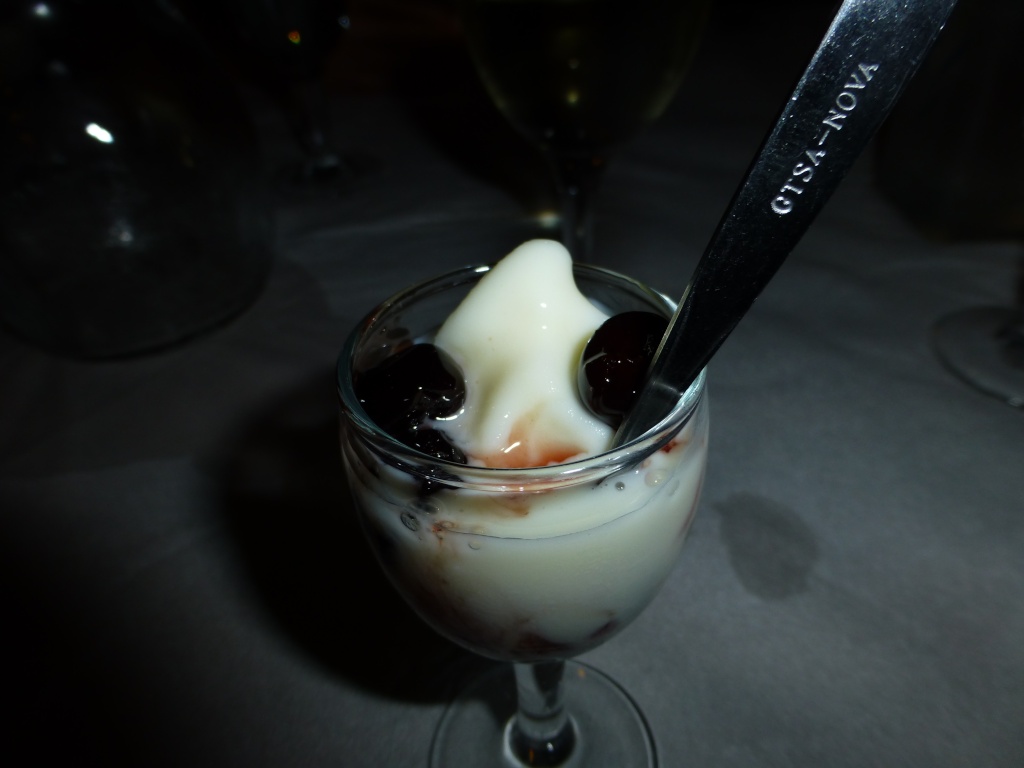 p1140144
and the last ouzo and Mrs Db's peach schnapps lol
p1140145
END OF DAY 14
DAY 15
going home day
someone in for an early swim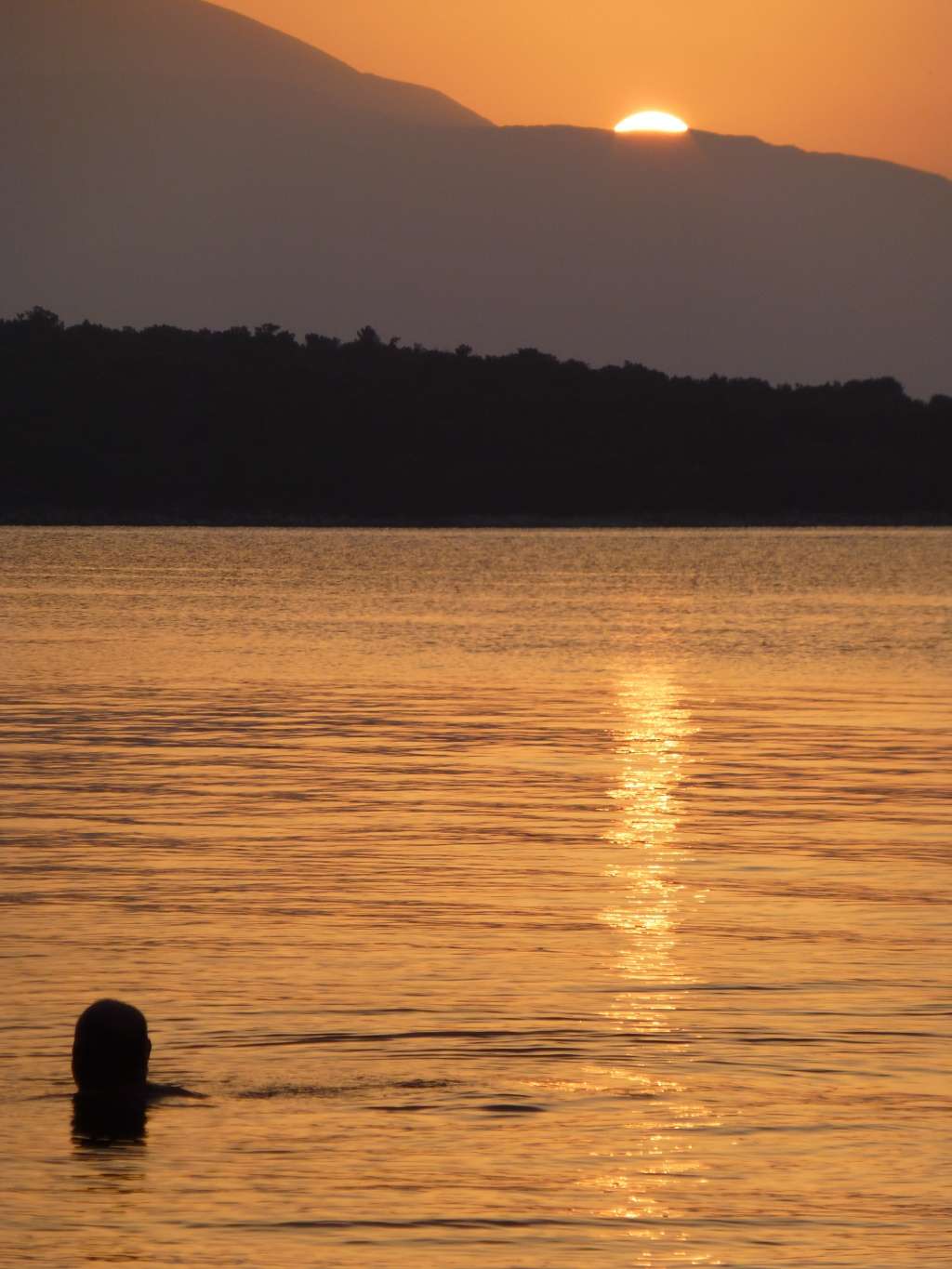 p1140152
and the cat just couldn't be bothered with his two week of stardom being taken away lol
p1140155
it was a muggy morning and thunderstorms were forecast later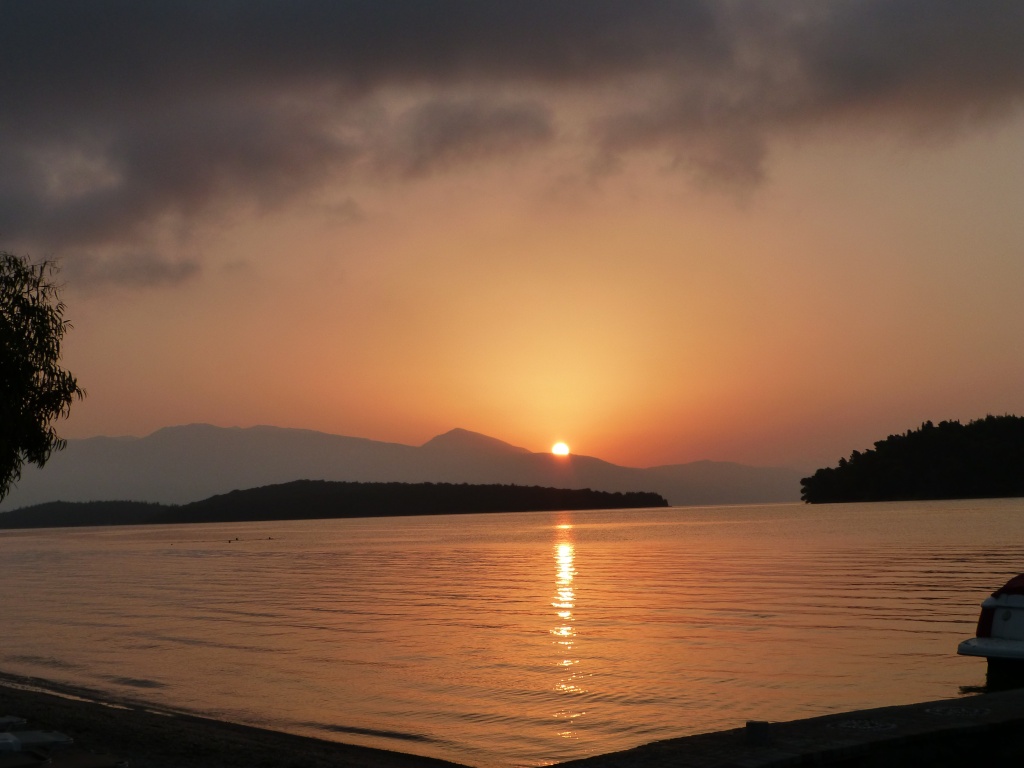 p1140156
a picture of the blue building I reached on the walk in the hills on the thursday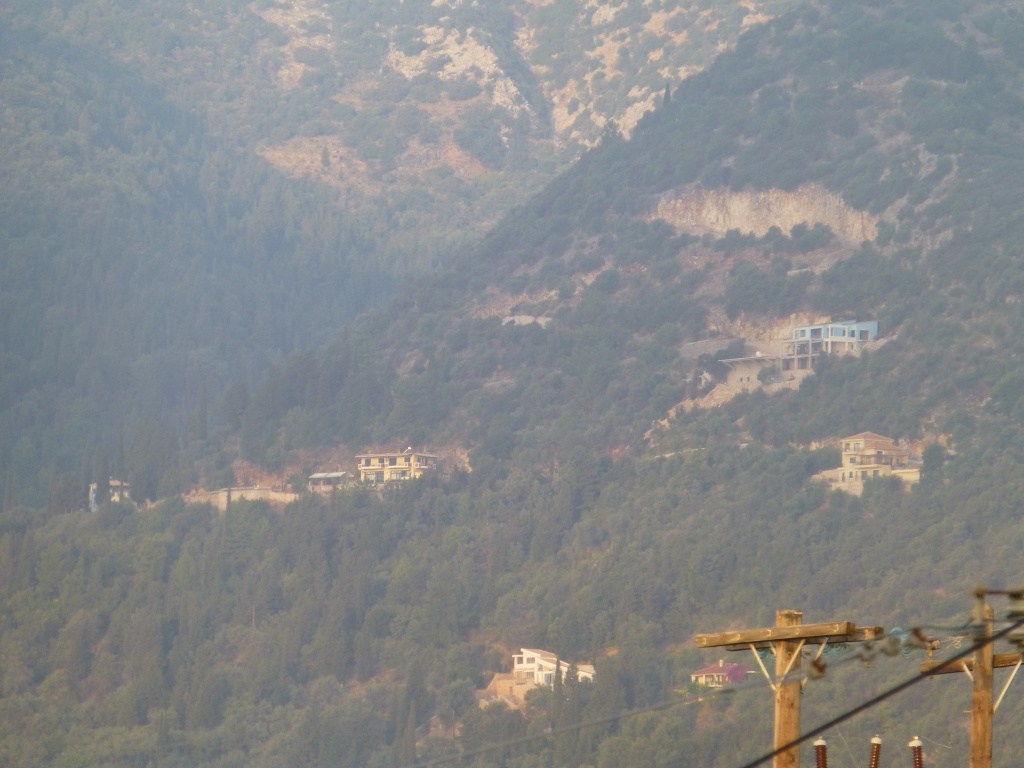 p1140159
It was an early breakfast and we had to be at the church tower at 8:30am with cases and like all good things they have to end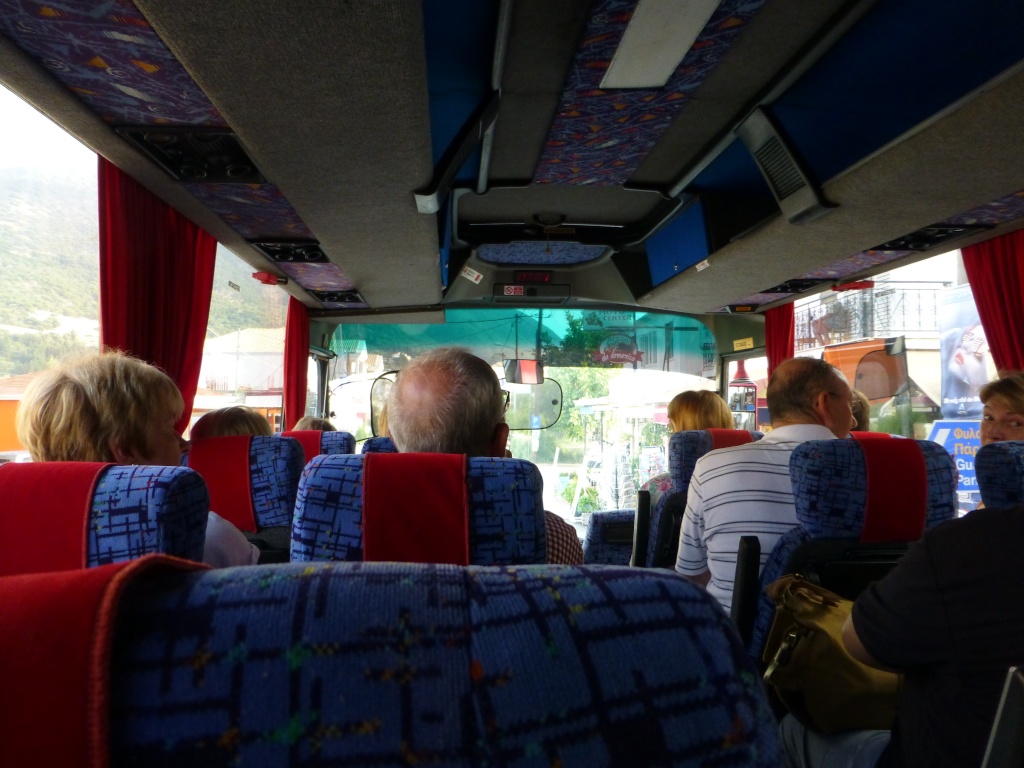 p1140160
one last look at Lefkada Town before we cross the road bridge to the mainland and on to the airport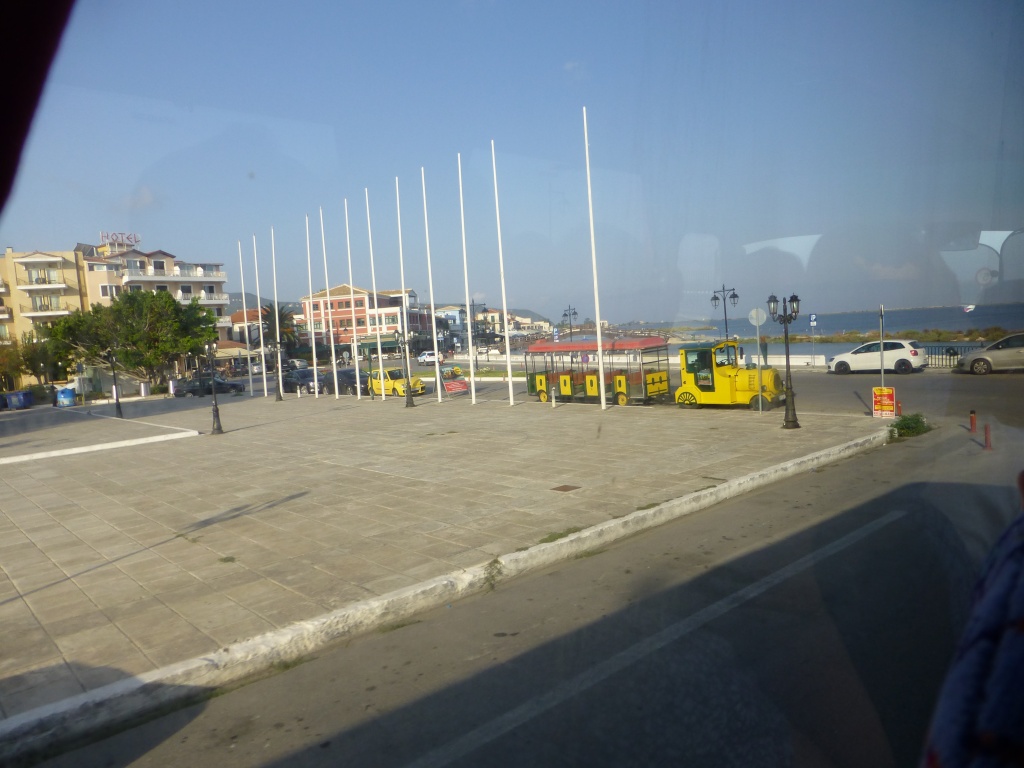 p1140164
The airport was organised chaos with three flights cramped in to the airport lounge and the aircon struggle to cope but eventally we were on our flight and on our way home
p1140168
lunch on board was chicken with free soft drinks or coffee or tea
p1140166
and eventually the the English coastline appeared
p1140170
I hope you enjoyed holidaying with the Delboys and will fly with us again next time lol
END OF DAY 15