DAY 1
September 6th 2015
The holiday all started with a McDonald's breakfast muffin and coffee for £3.39 at Gatwick after Apostrophe's didn't have any bacon rolls at 4am
We were then called at the eerie hour of 5am to walk to gate 25, after a long walk I think we were somewhere in the middle of Reigate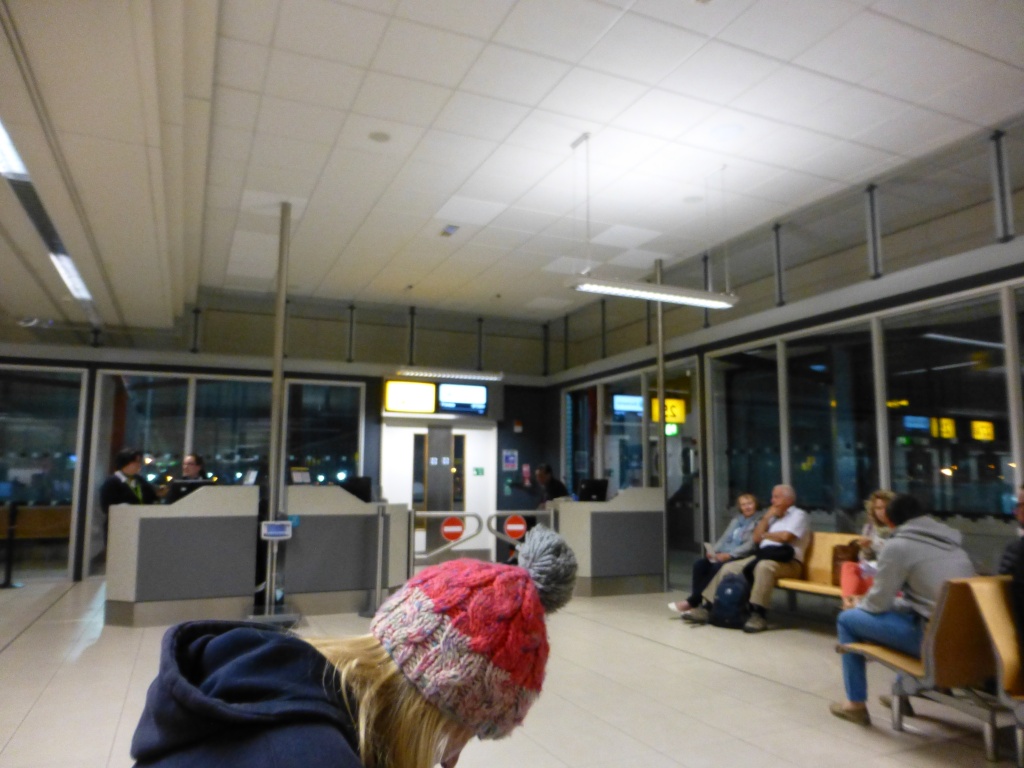 p1120905
Our flight was with Germania Airlines for the first time, now does the A319 go to Reigate or was that the type of plane we were going on?. Here it is, perhaps Gatwick was trying to hide it from me.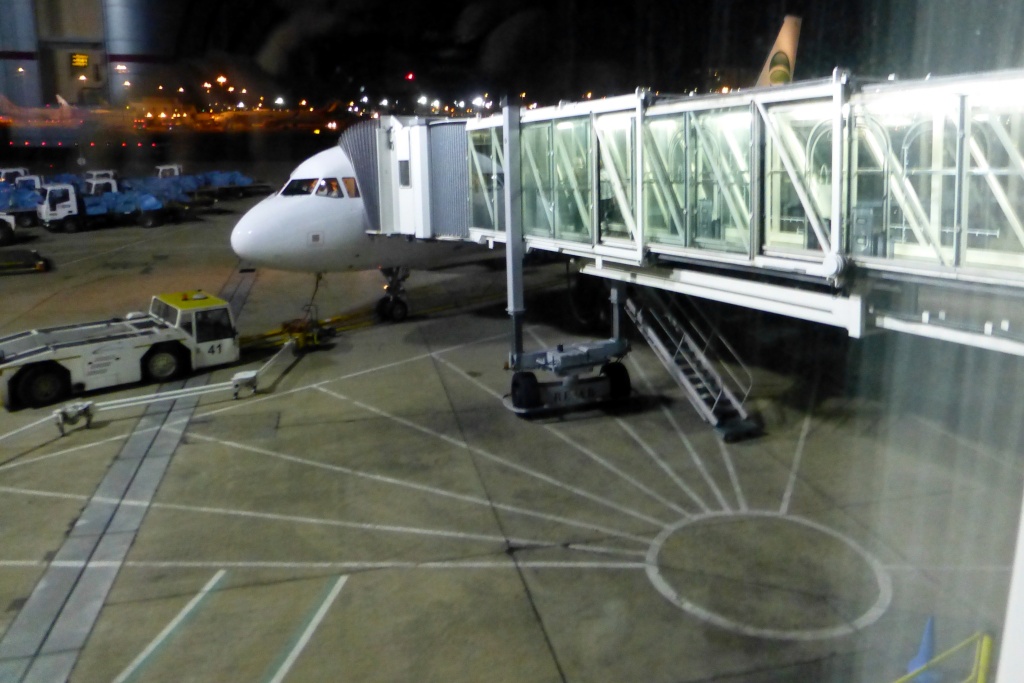 p1120906e
on boarding it looked fine
p1120908
I think it had been refurbished at some time
p1120907
I did look at some of their prices but for us today soft drinks and food were all free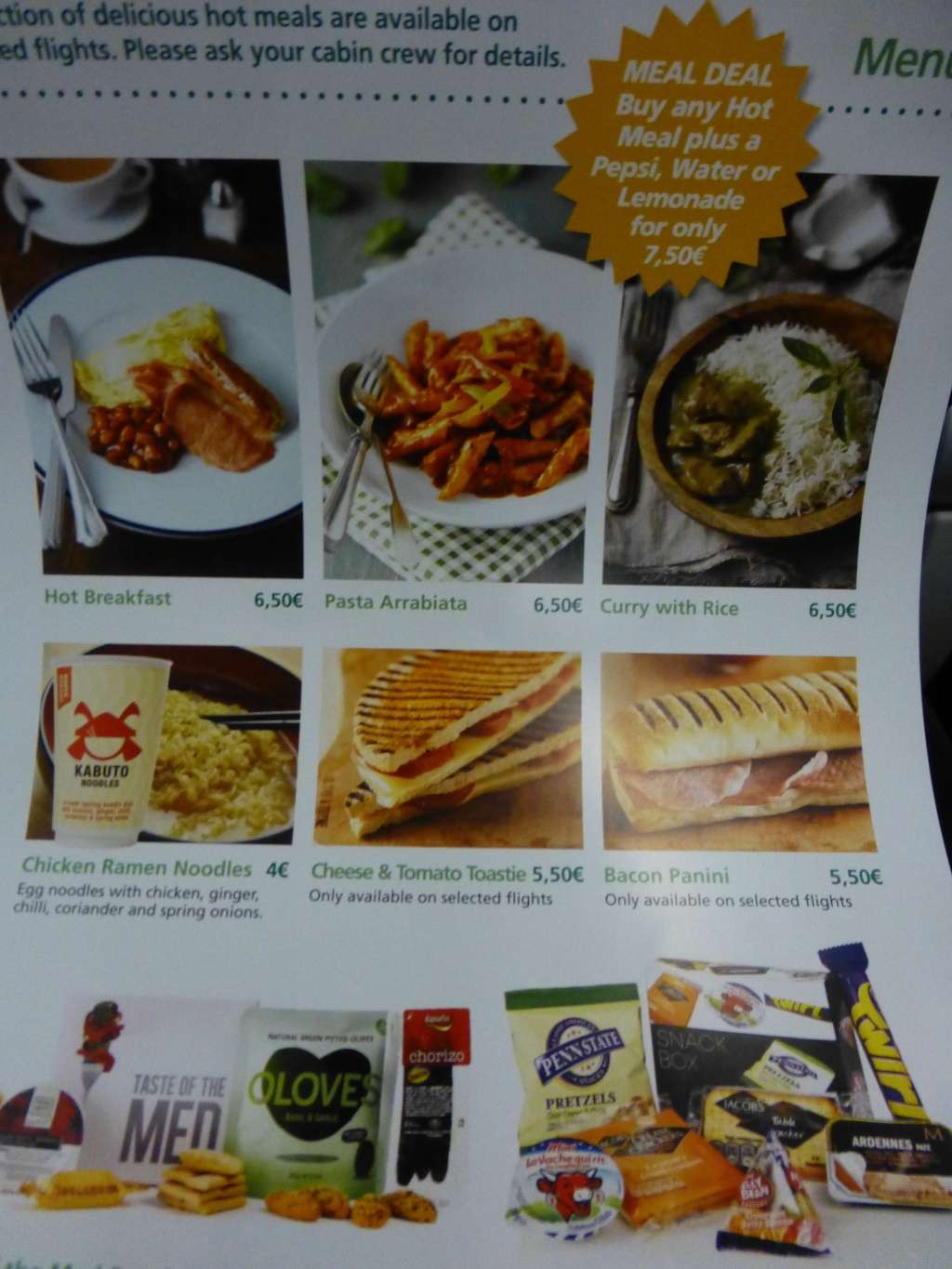 p1120909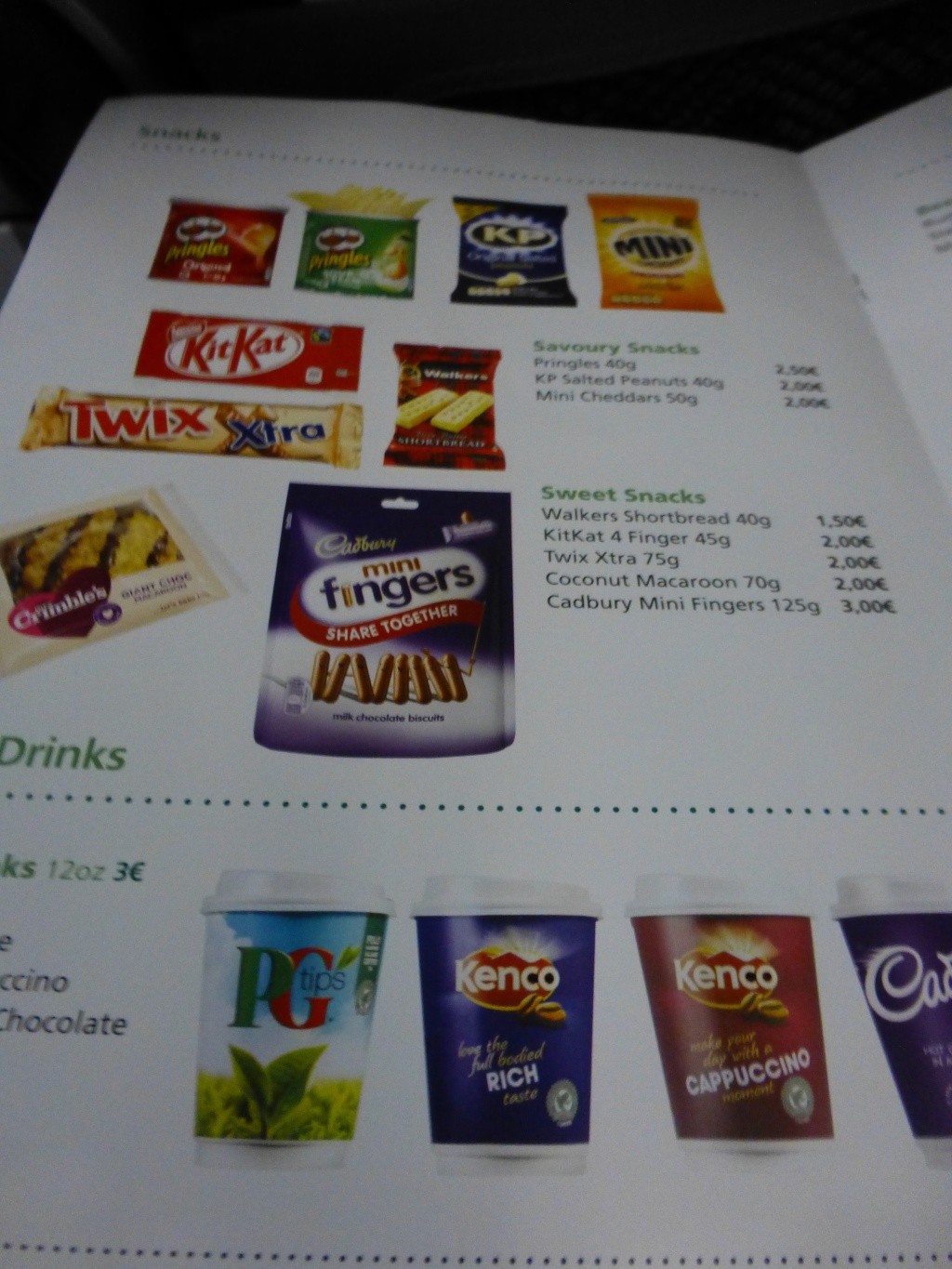 p1120910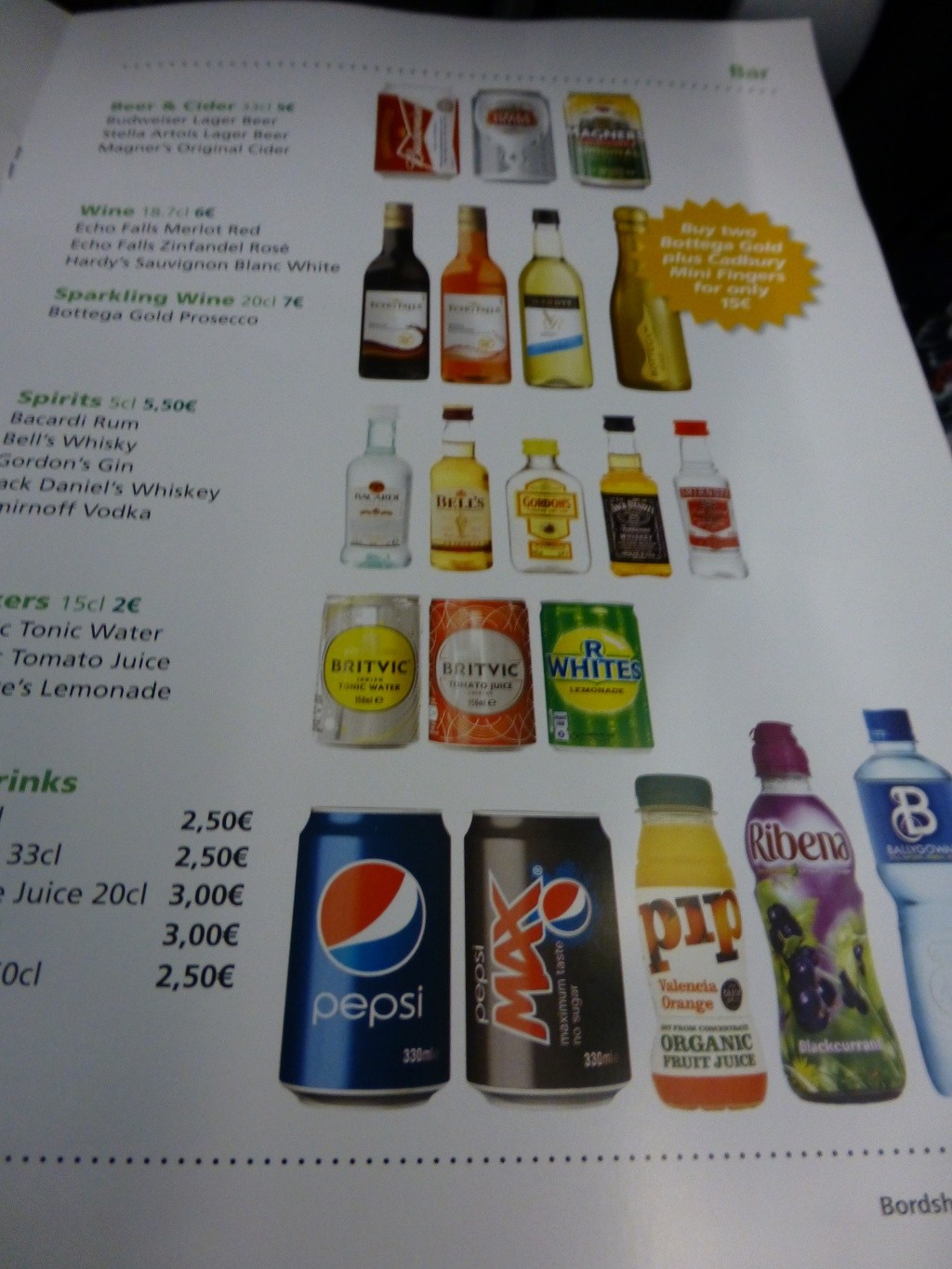 p1120911
TV sets dropped down every 4th row and after the safety procedures, we were treated to a free film if you had earphones or they could be purchased for 3 euros each. We had earphones but the film wasn't very appealing to us and the screen was in a row far, far away (should have gone to specsavers lol).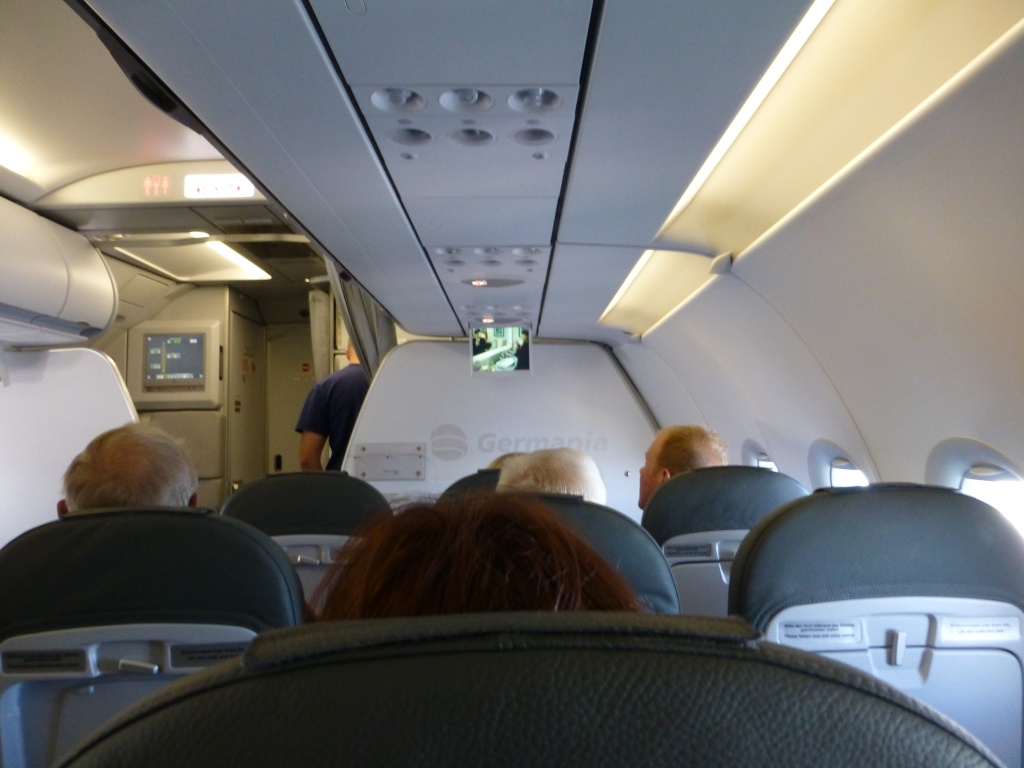 p1120912
It wasn't Star Wars but the film Blend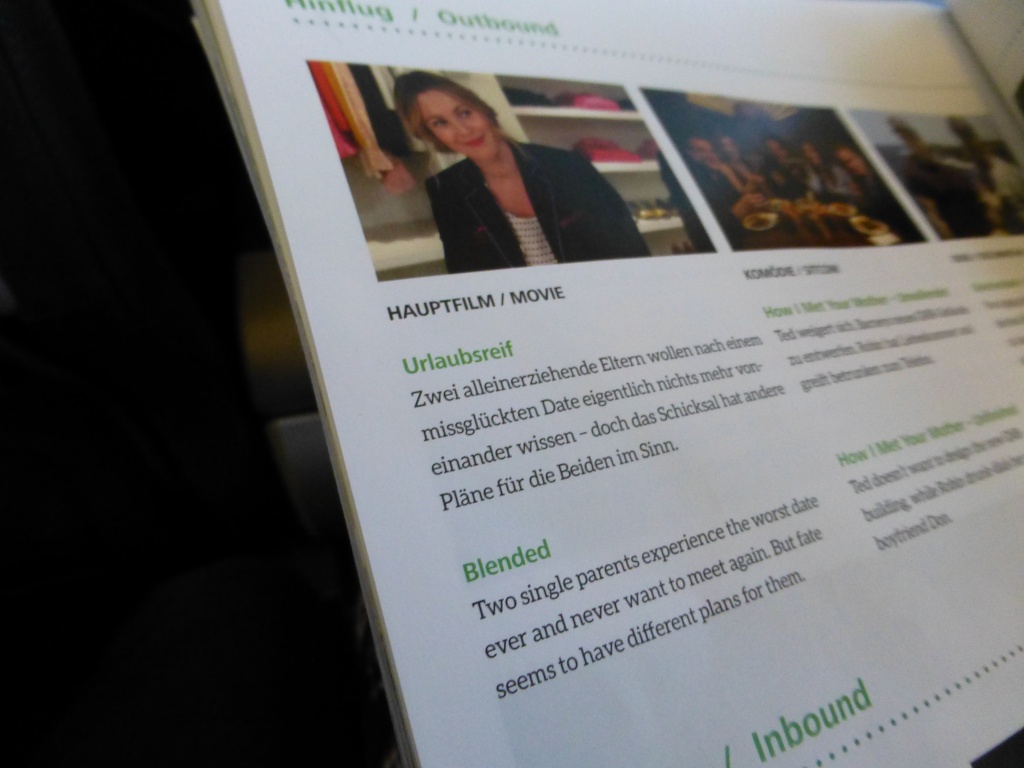 p1120914
free coffee and tea for us but in small cups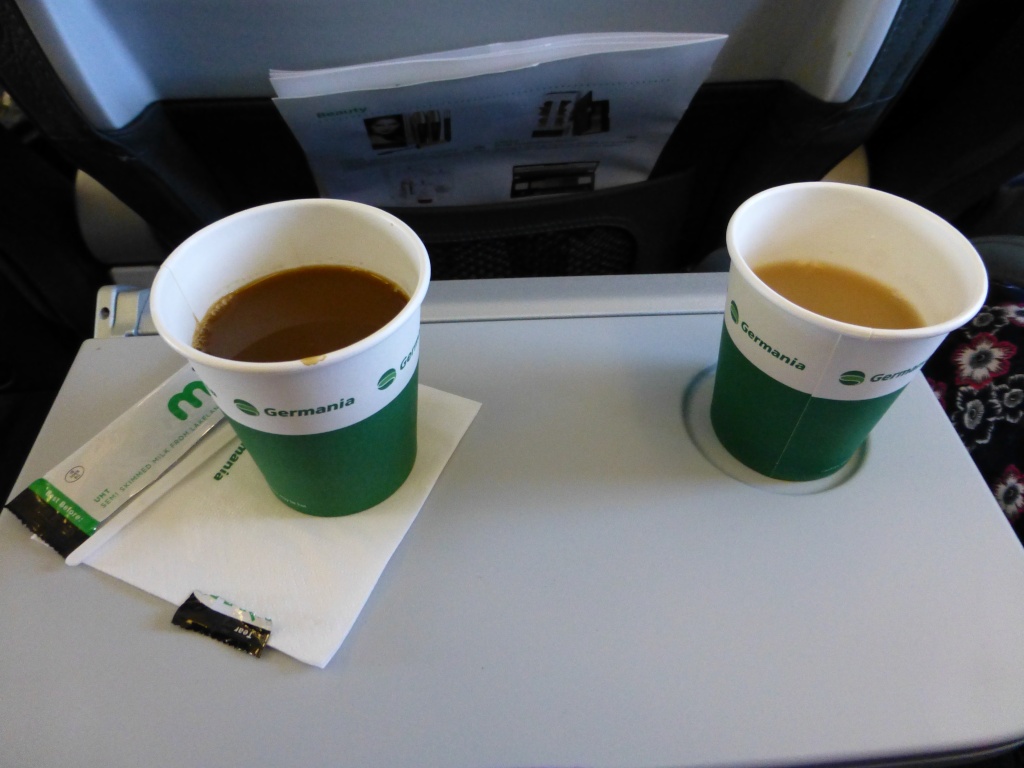 p1120913
then came the free breakfast I could have made another McMuffin lol, the sausage was a bit herbie but was fine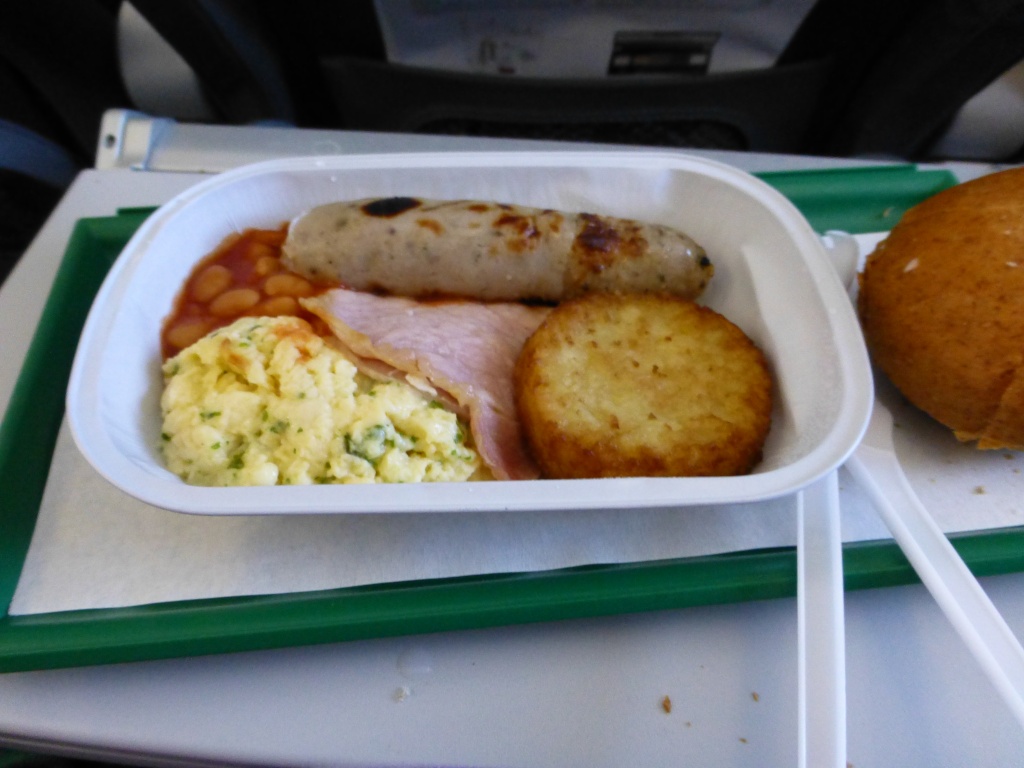 p1120916
then another two runs of free drinks, all done by one guy serving our section of the plane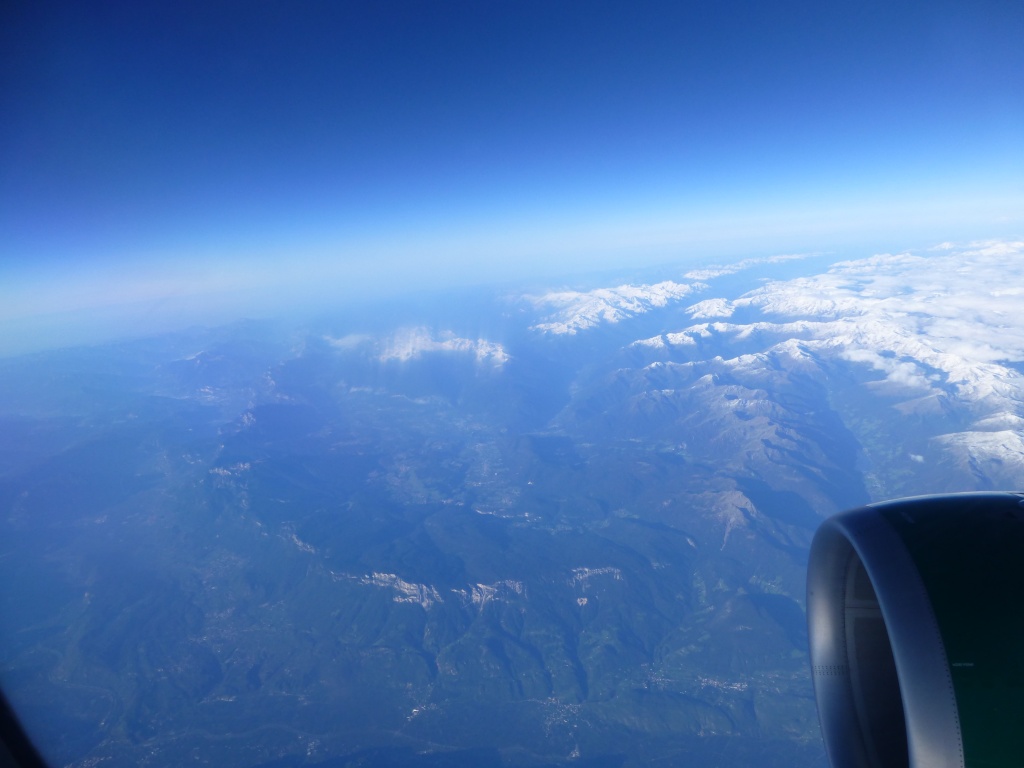 p1120917
I probably had a little doze having been up for 24 hours and soon we were approaching Preveza at 8:45am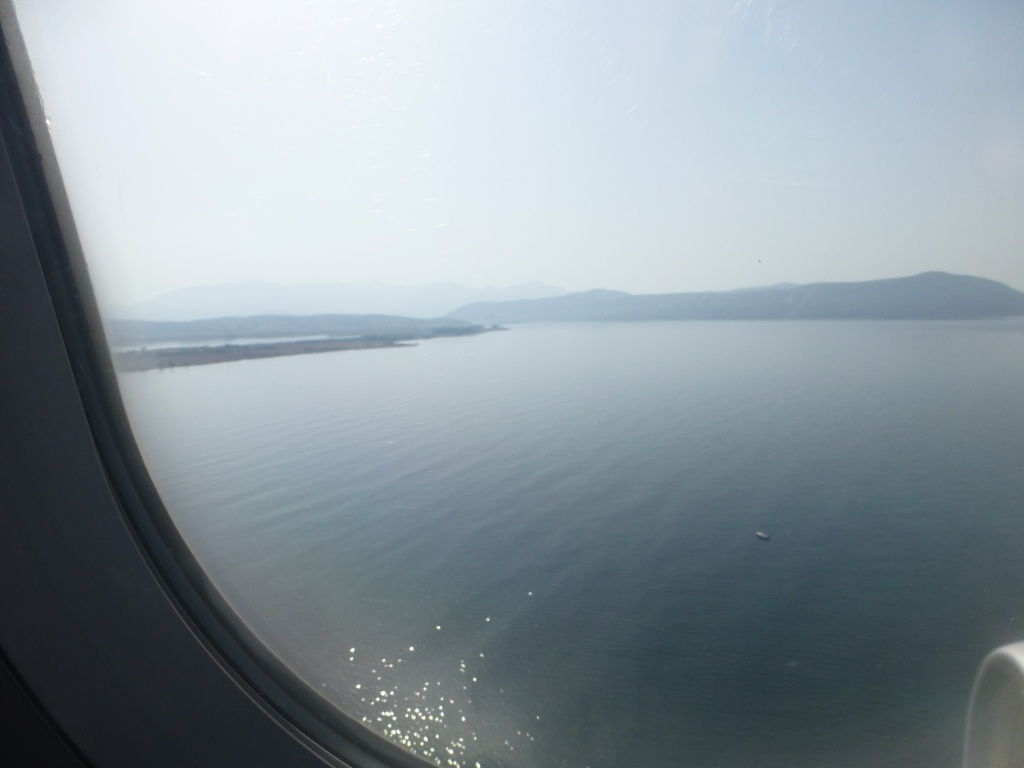 p1120923
Preveza is a military airport so I am affraid there is no more photos of the plane etc but as we stepped off the heat just hit you, it was in the high 30's lol
but we were on the coach and away at 9:32am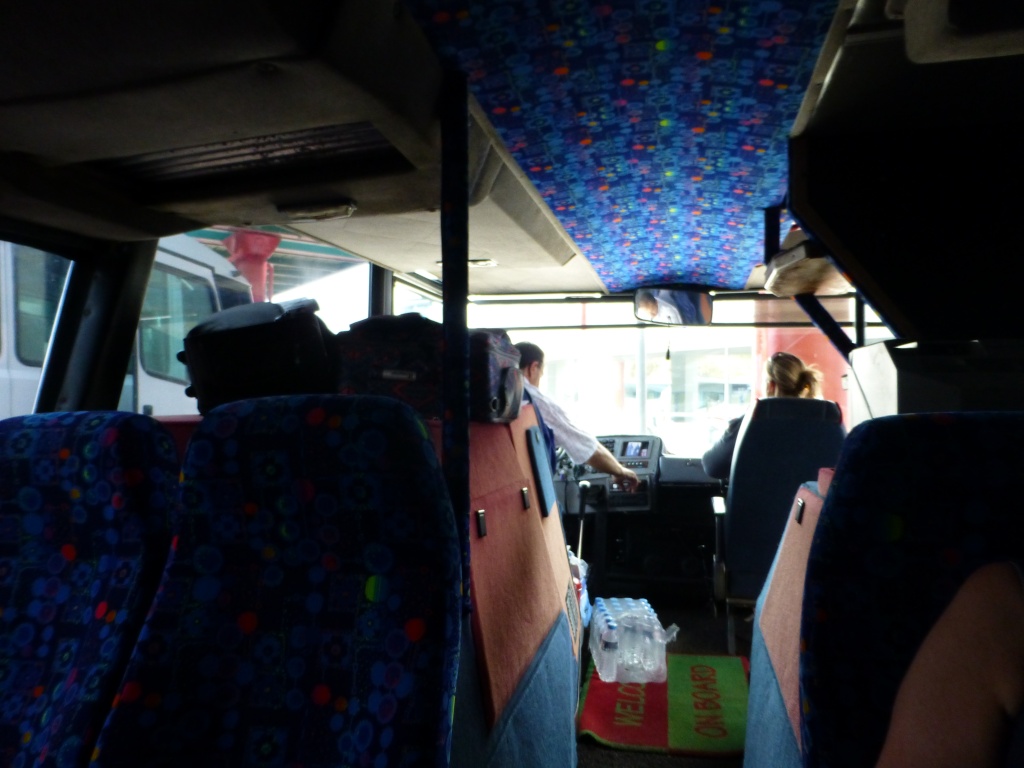 p1120924
and at 10:27am we were at Nidri (obviously we now had to put our watches on two hours Greek time of 12:27pm)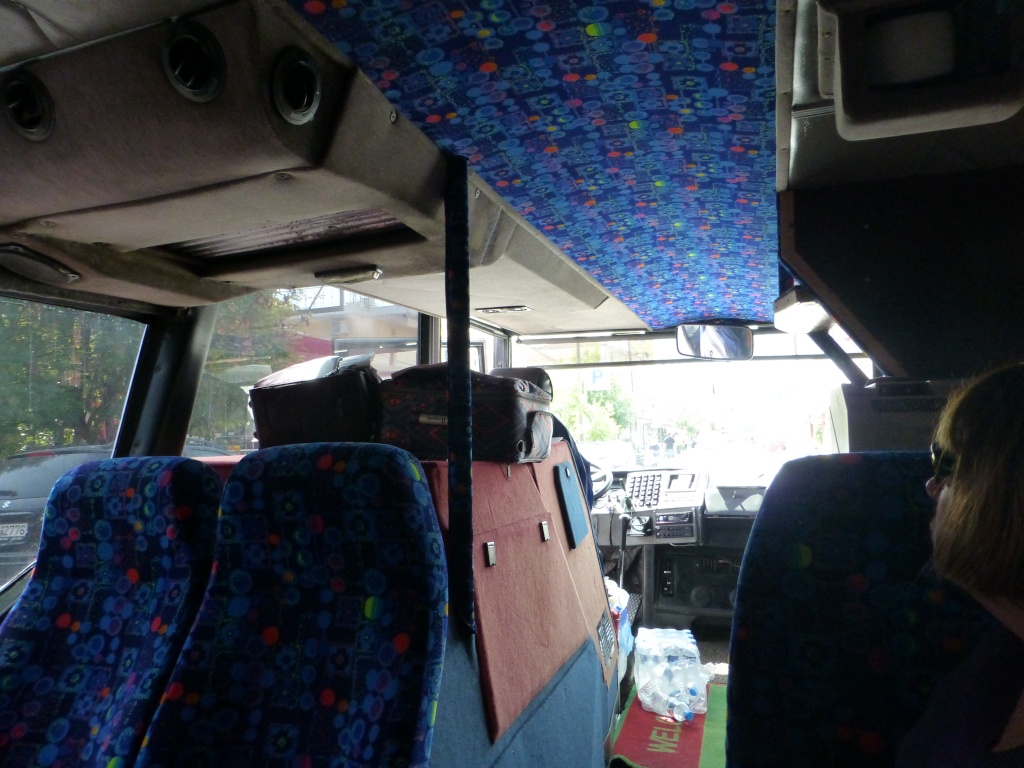 p1120925
Our room plus another guests room were not ready but we were offered a free drink in the hotel grounds overlooking the sea, so we enjoyed a beer slightly earlier than planned lol, yes it was beer, that was the free water on the table given to us by Sunvil on the coach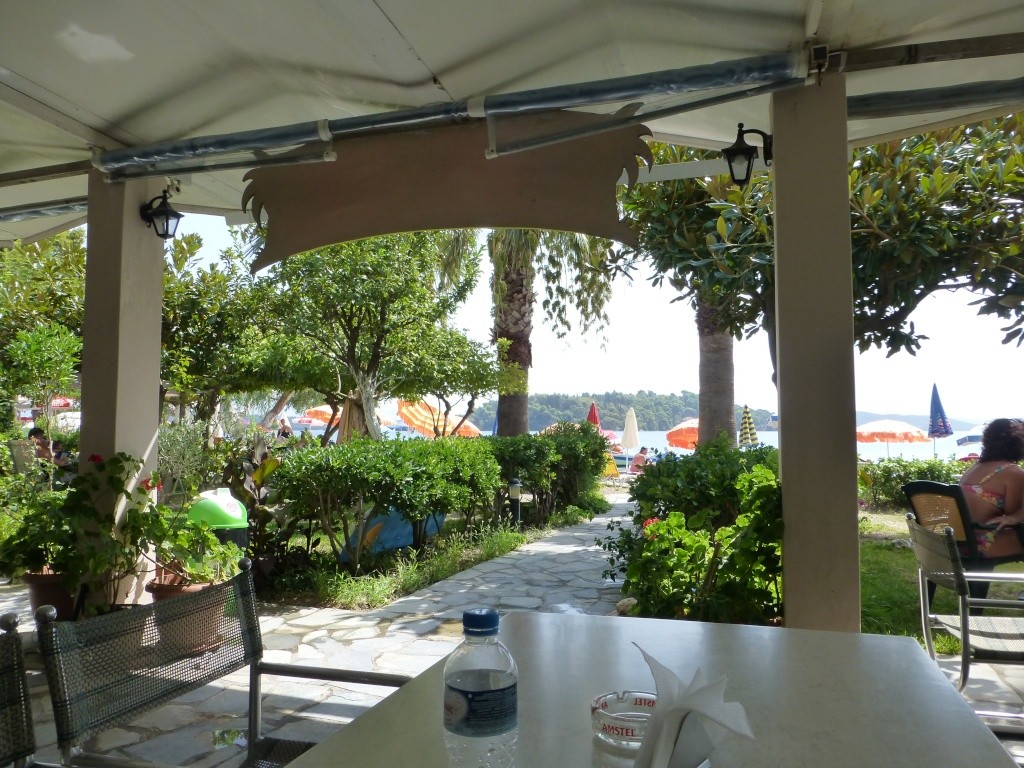 p1120926
Soon our cases were taken upstairs for us and the room was ready, I popped out to the balcony and this was going to be our view for the next two weeks, Nidri harbour and promenade restaurants would be two hundred metres down that way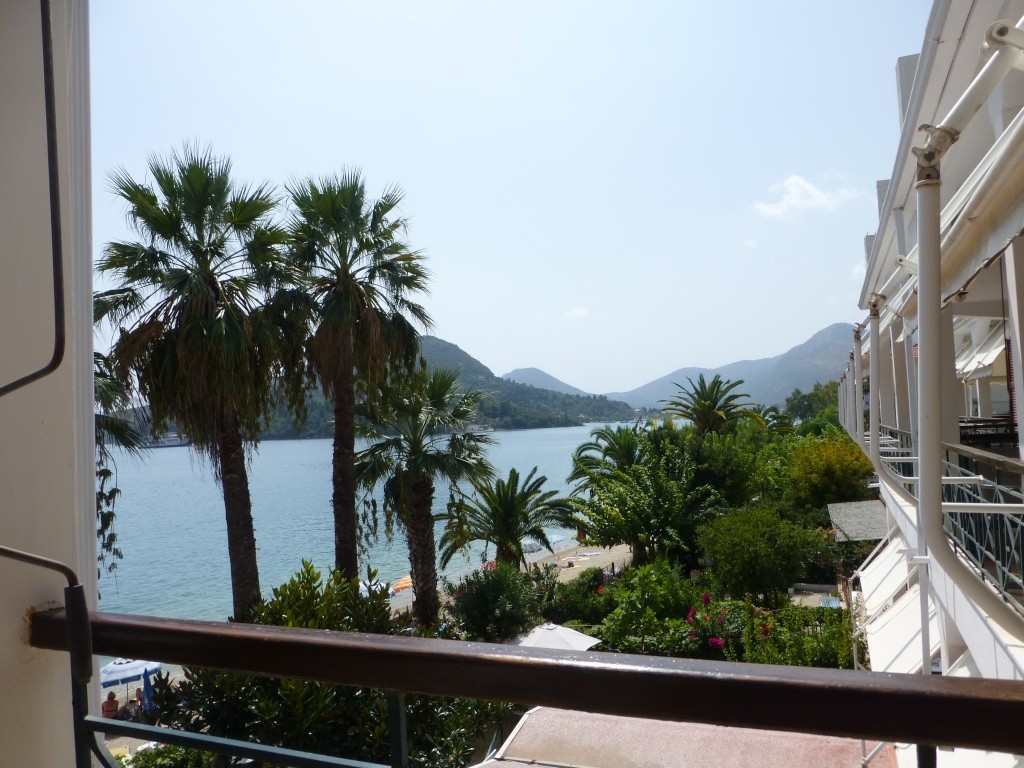 p1120927
but we had a pine tree in front of us but the branches had been cut for us lol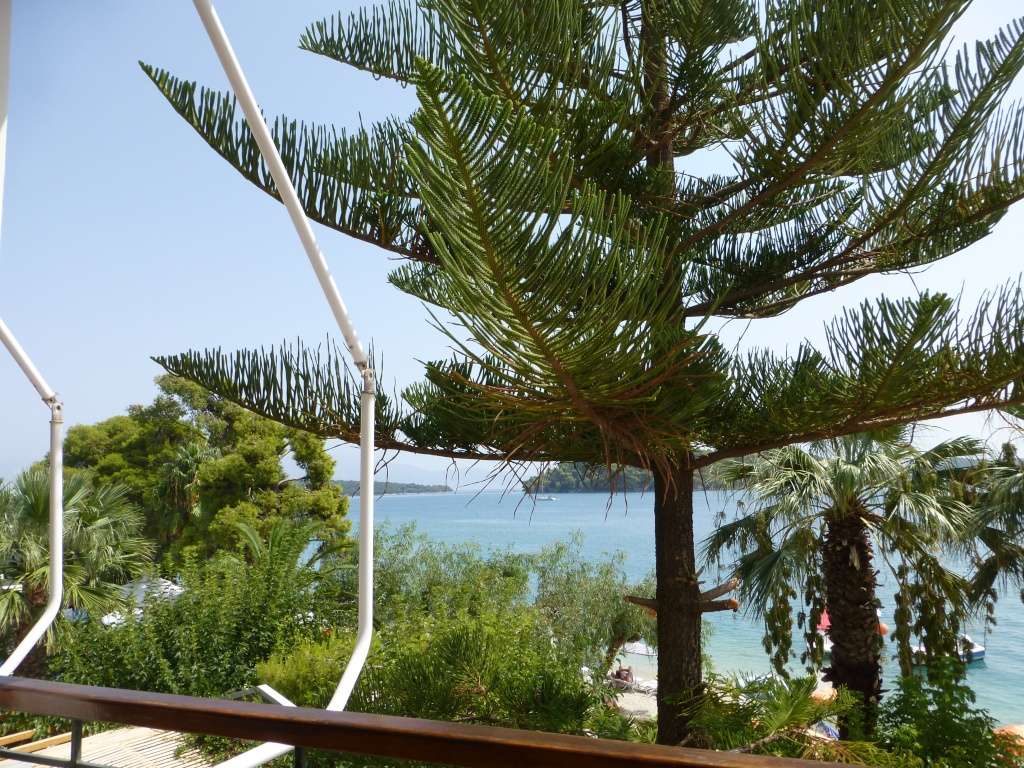 p1120928
The room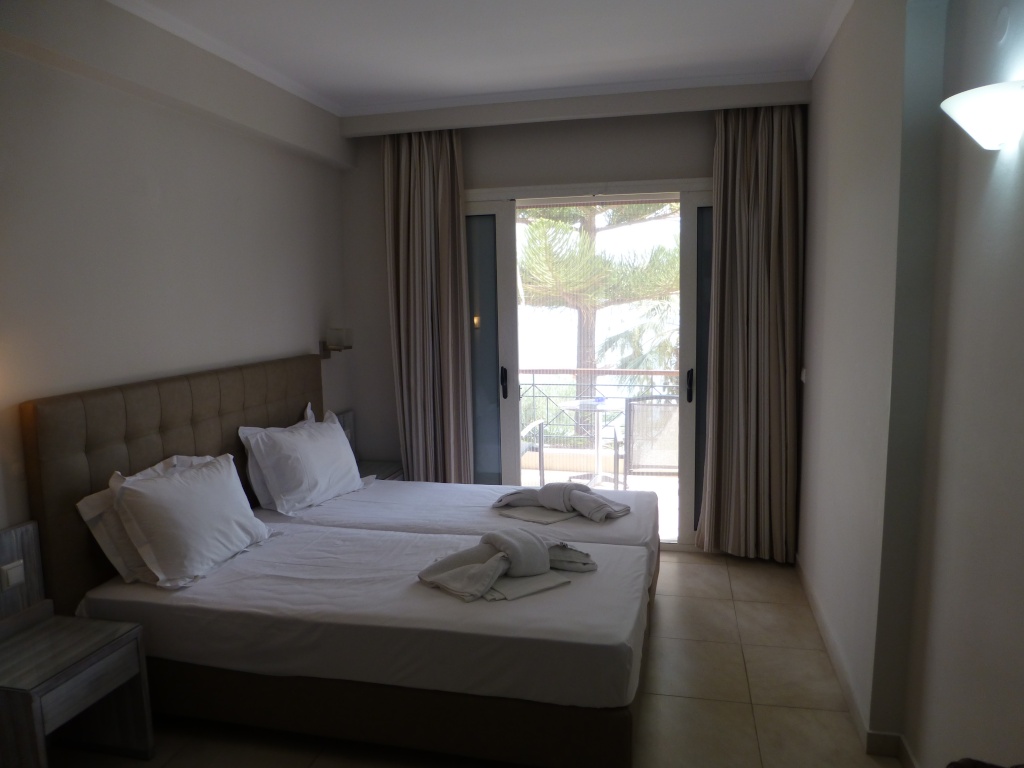 p1120929
It has a fridge too and we are on b/b basis
p1120931
beds are ready comfy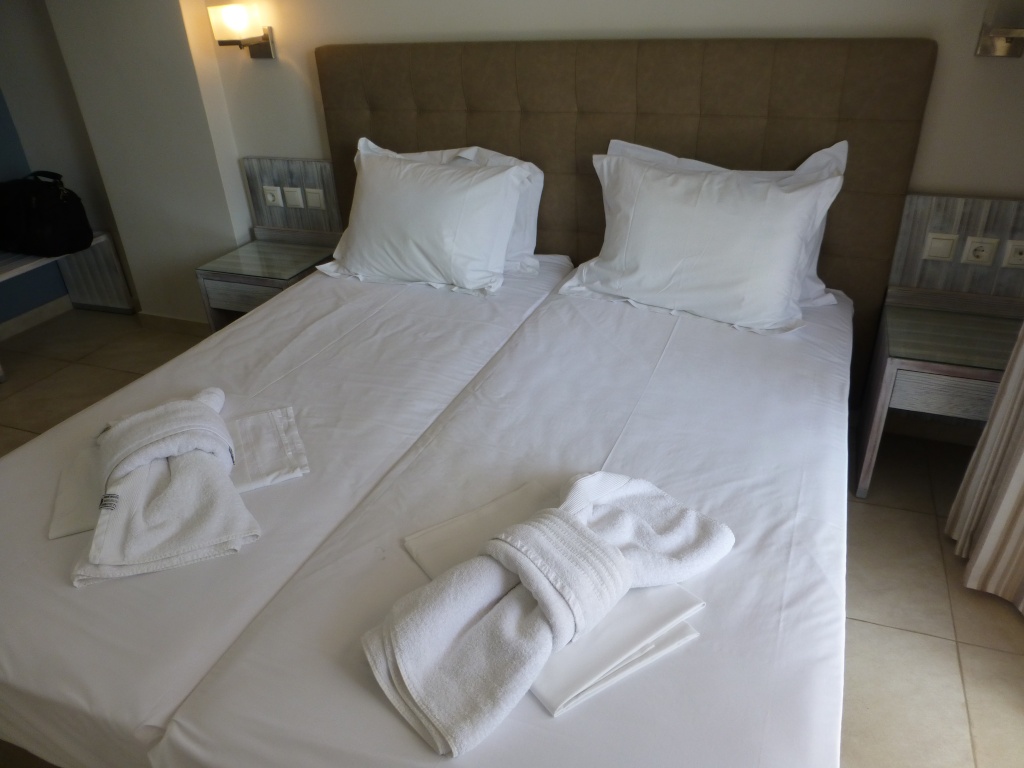 p1120932
and the bathroom
p1120930
wait a minute, what's that? it has a marble wall in front putting the toilet inside the shower unit lol. Apparently not all rooms have this feature, for the man he would feel like Eric Bristow walking up to the Oche line to throw darts. This proved even more difficult for the ladies with their toes jammed tightly up against it and even getting the toes above it would feel like they are in birth position. Further trials took place with my shorts around my ankles, as to how I could get to bin side without doing a Fosbury Flop. However, a technique was mastered and unlike the Queen we were not going to be on the throne for too long each day lol
So Mrs Db did some unpacking and it was proving too hot to even do that, so air conditioning was purchased at 5€s a day for the first week to see how the temperatures went.
After purchasing some water from the supermarket we had purchased a kettle and brought it with us to have a cup of tea on the balcony.
p1120937
and we could watch all shipping come in and out of the harbour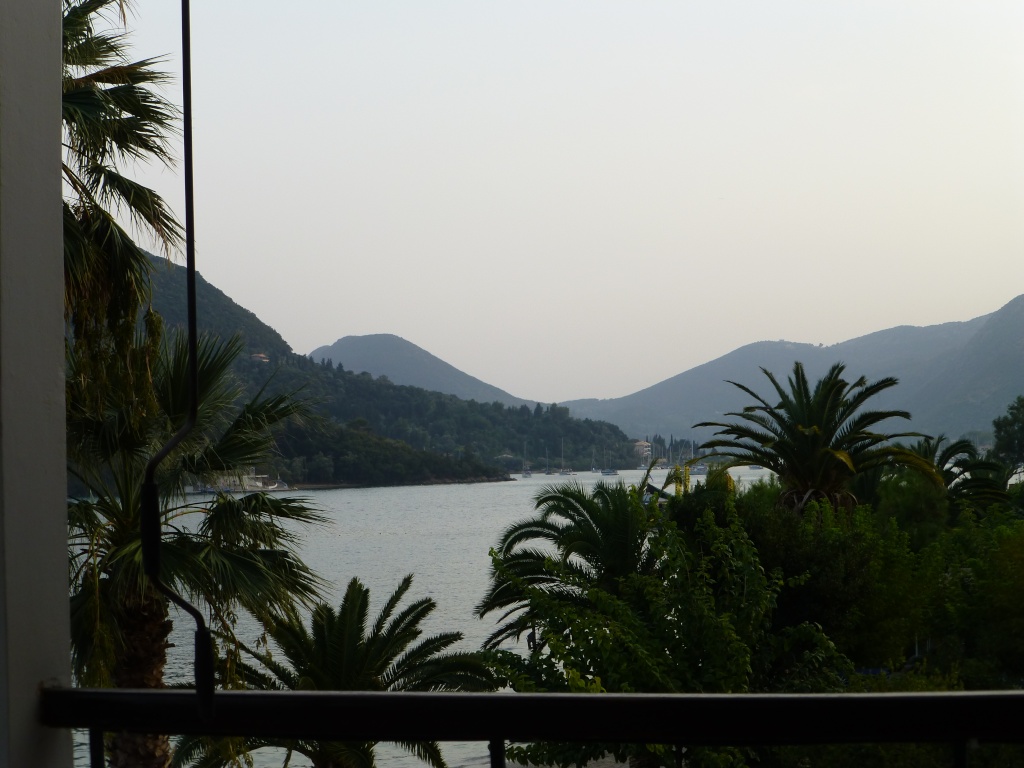 p1120935
soon it was time for dinner, there are lots of restaurants on the road, the road is closed to traffic after 7:00pm but the system doesn't really completely work because taxi's seem exempt, also motorcycles (which there are many) still come through and other cars still ignore the closed signs. However, more comfortable to walk the road at this time. However, road hasn't any sea breeze, so it is the promenade for us tonight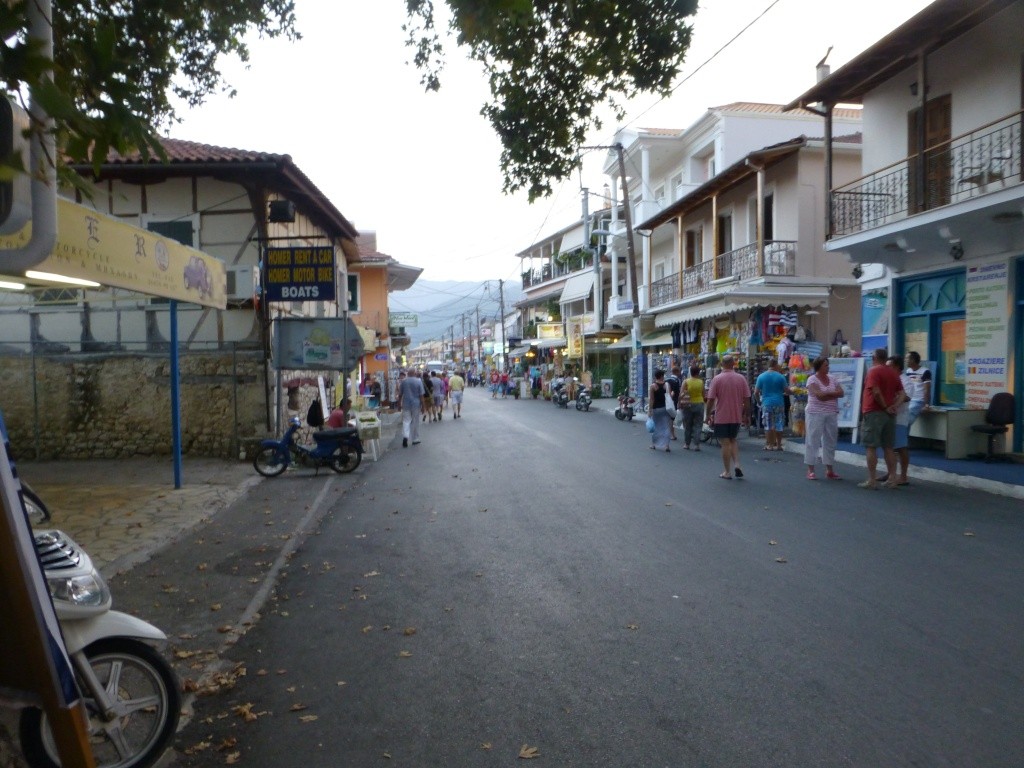 p1120938
There are loads of restaurants on the promenade
p1120939
p1120940
If you read the menu's, some restos use beautiful greek girls to lure you in like Sirens, that never works on me lol, "hi Delboy, come and see our Greek delights", ok this one will do Mrs Db lol.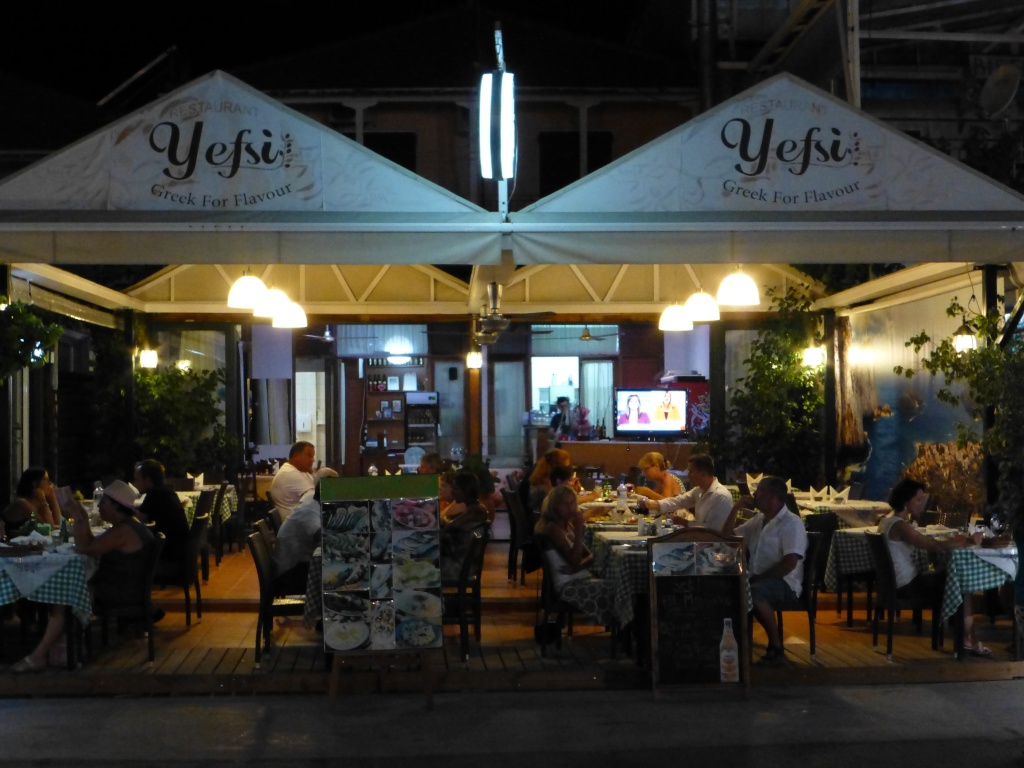 p1120953
Oh they have cheese pies Mrs Db lol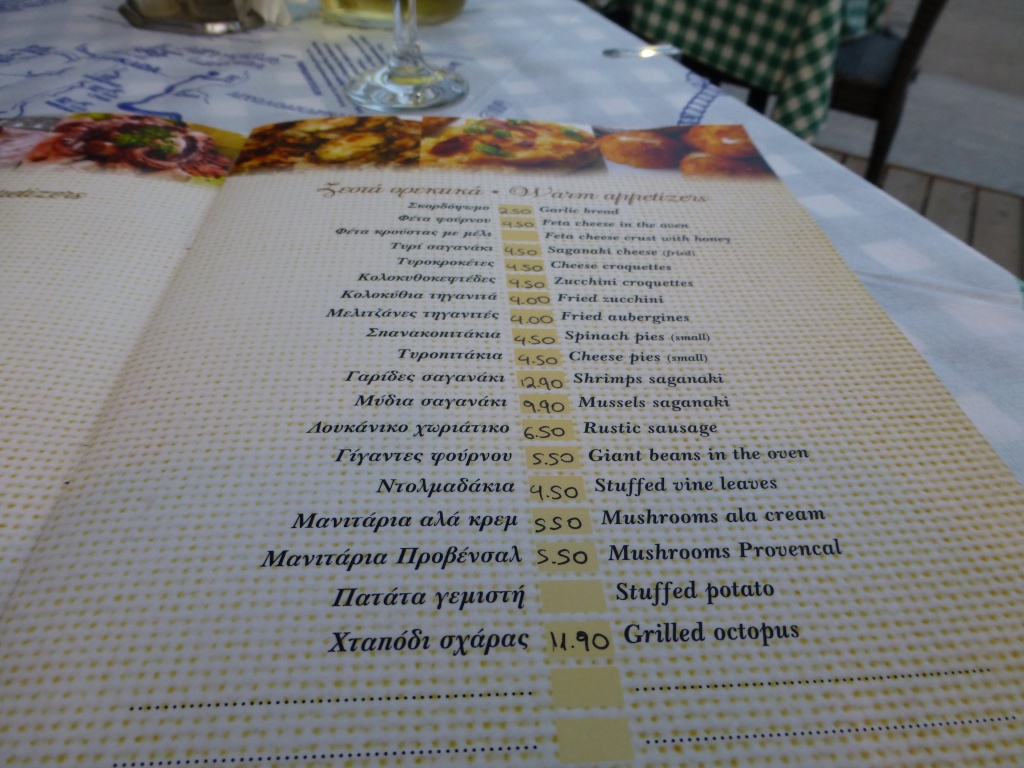 p1120945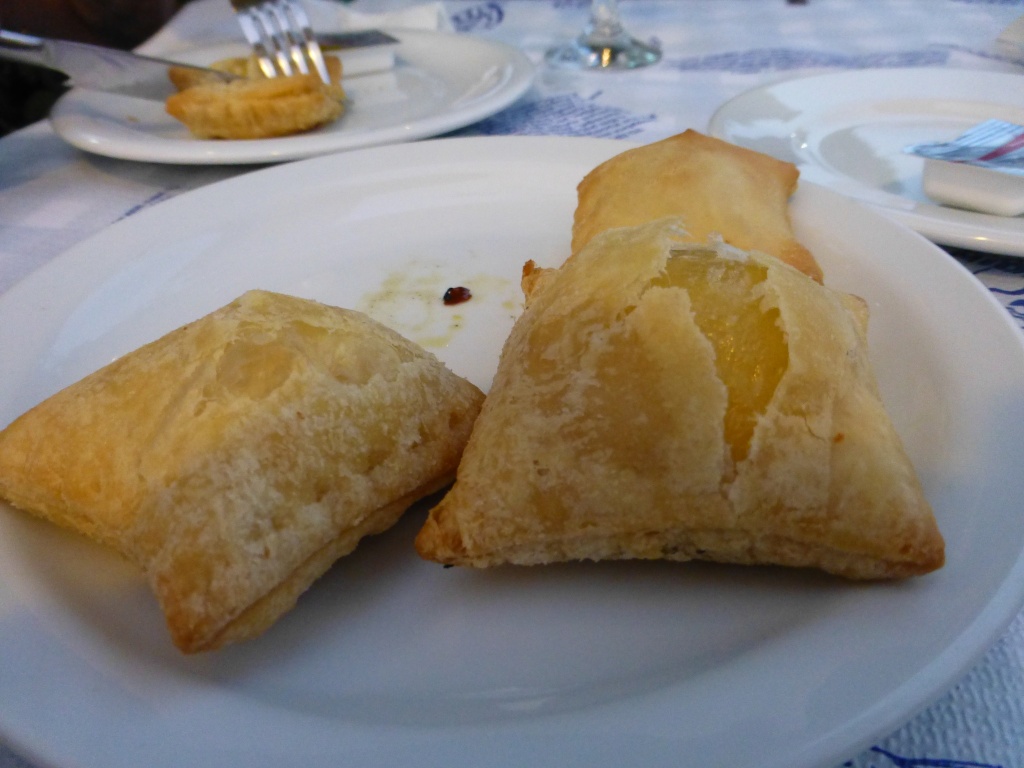 p1120948
As I was in Greece, I has a Mexican Chicken
p1120944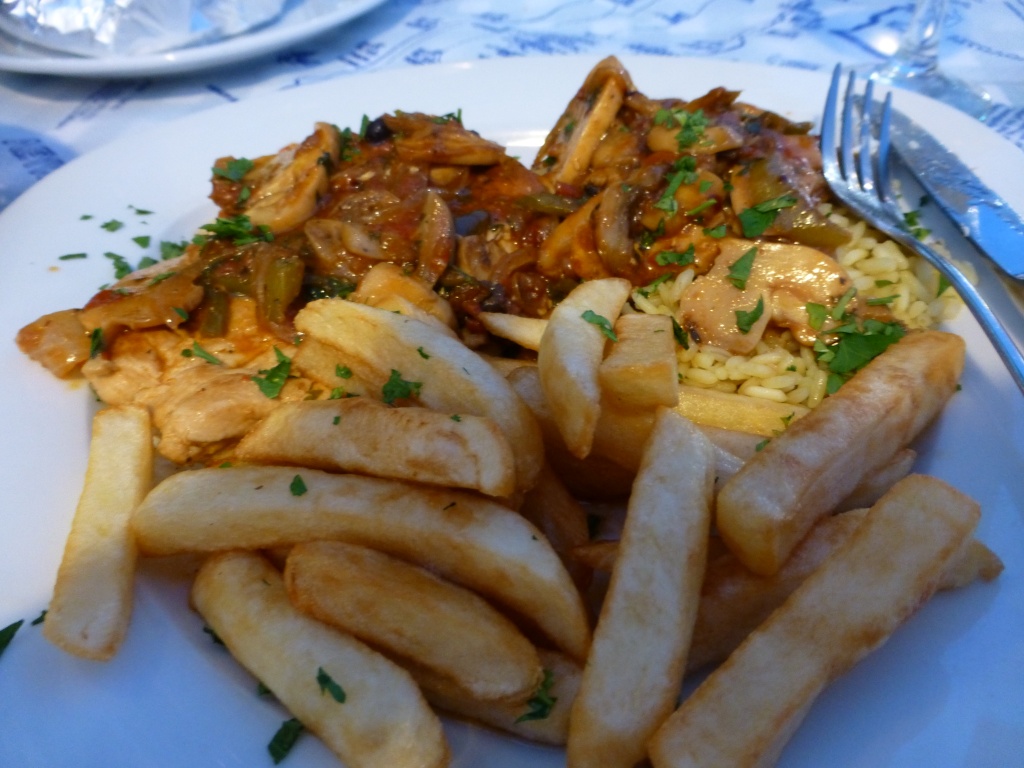 p1120951
Mrs Db had Kleftiko
p1120946
unusually served in tinfoil but both meals were nice
p1120949
with a view of the big boats that take you around the islands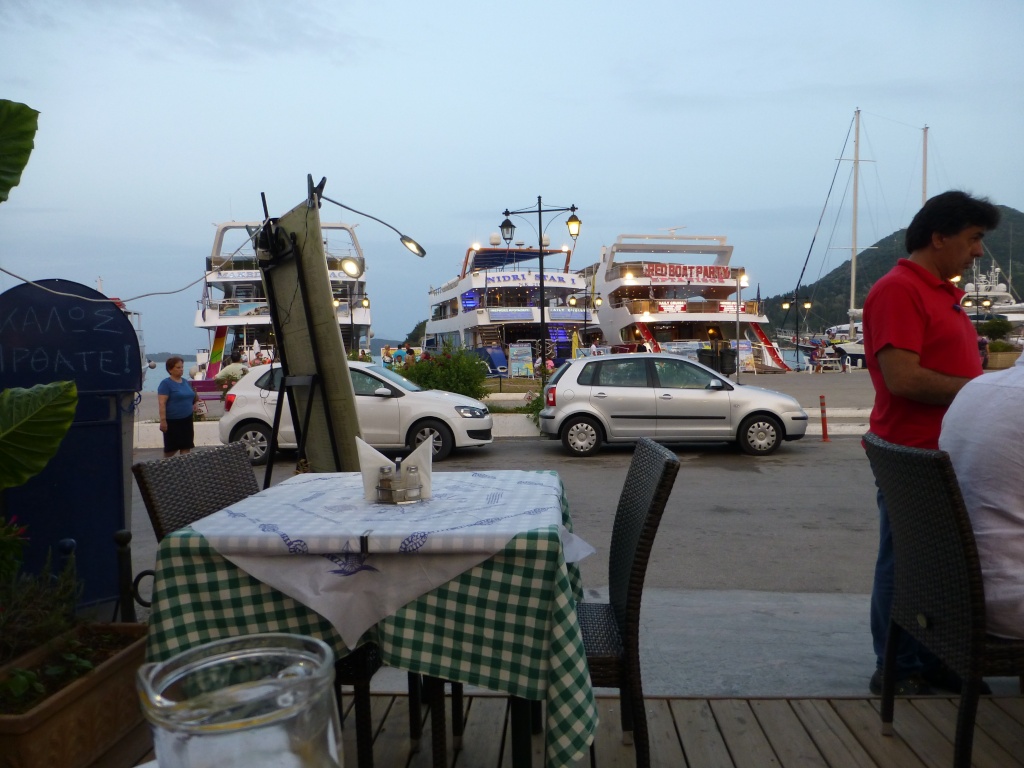 p1120947
The whole place had a vibrant feel to it, with people of all ages enjoying the place
p1120954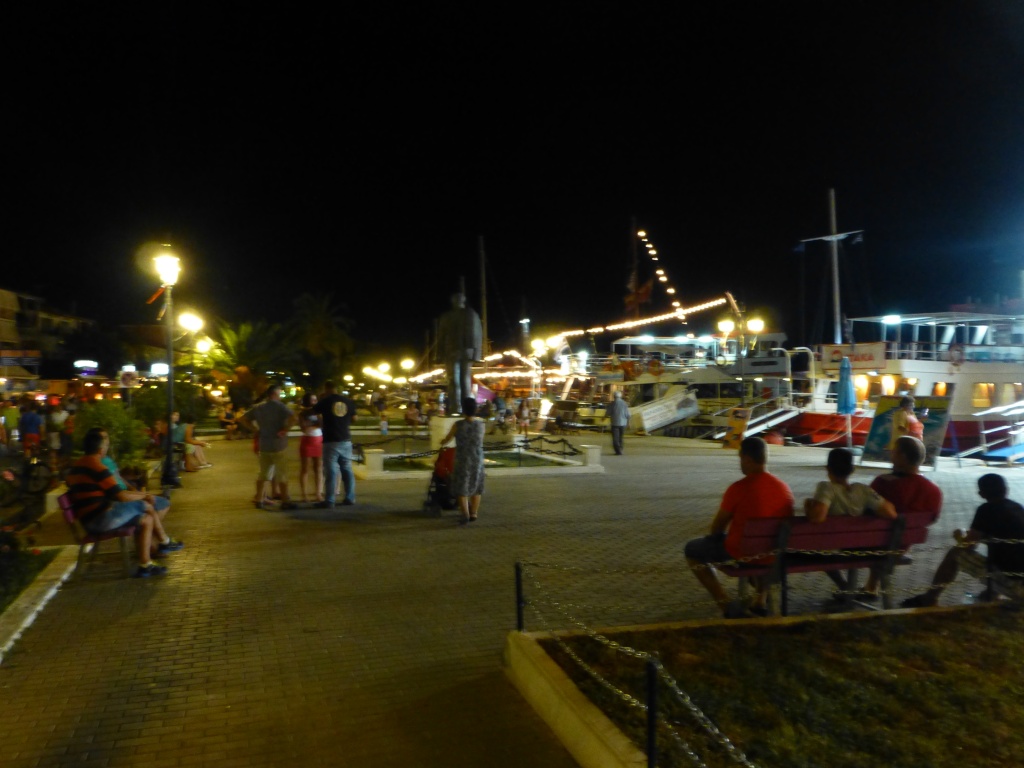 p1120955
sorry camera's not too good in the dark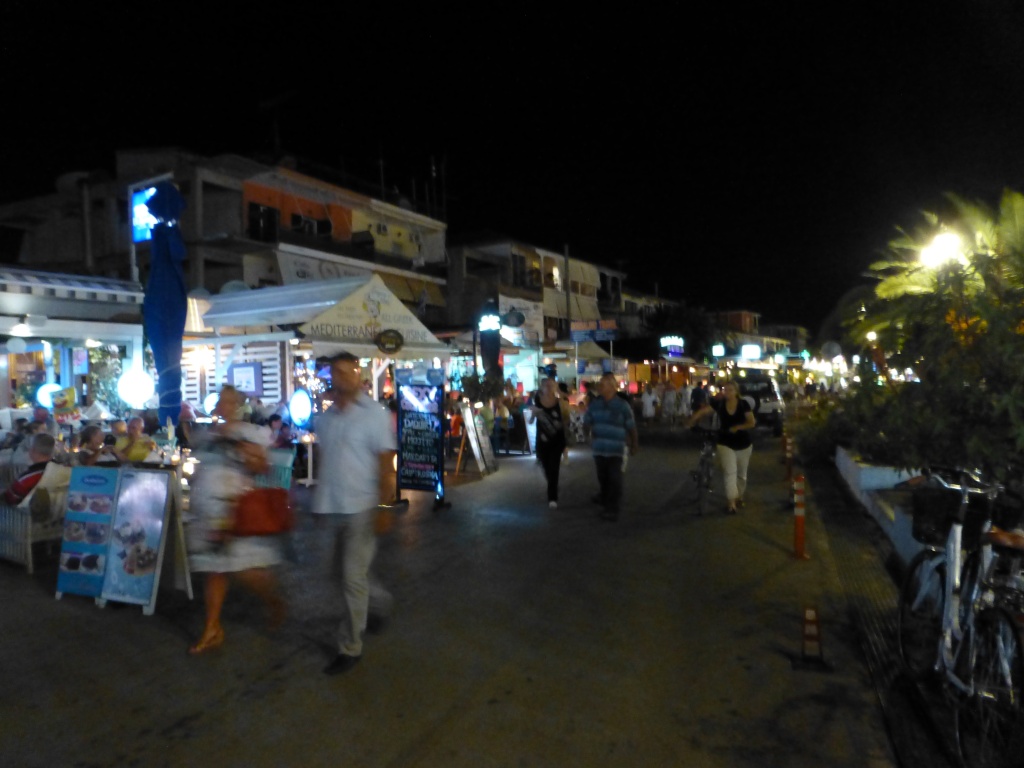 p1120956
But hopefully gives you an idea
p1120958
END OF DAY 1
DAY 2
After a good nights sleep, I awoke at 7:36am (UK time 5:36am) to find I had just missed sunrise by about 6 minutes lol but if I were to get some decent shots I really needed to be on the beach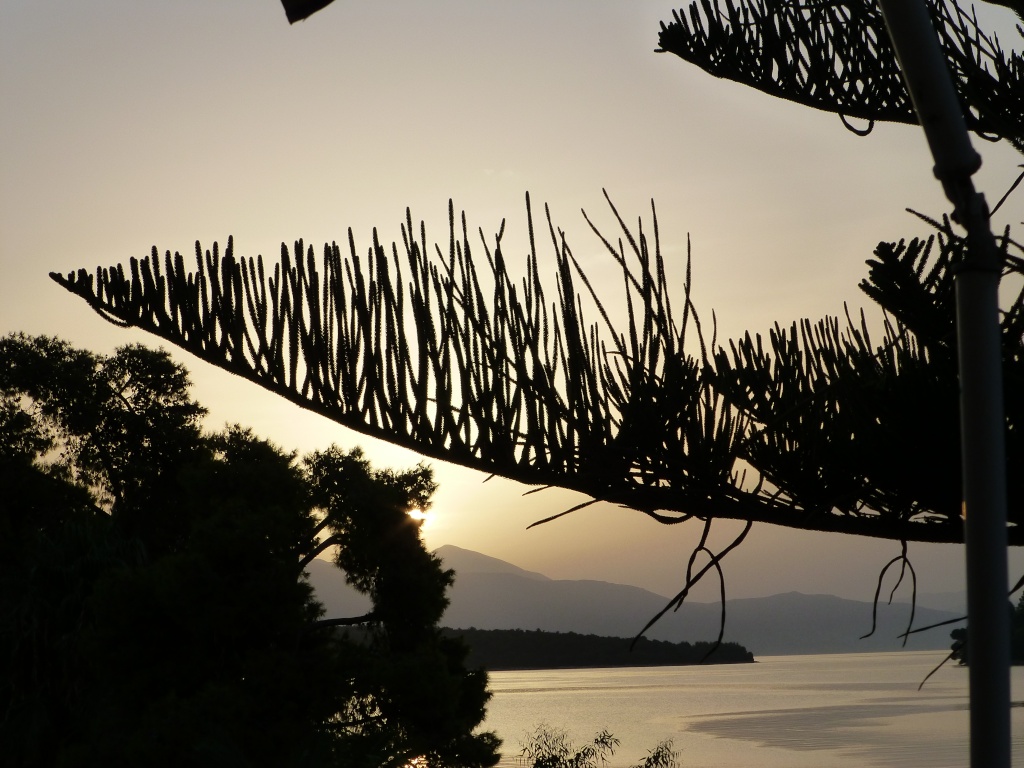 p1120960
Breakfast was fairly basic with choices of yogurt and honey, cornflakes, croissants, cheese, ham, juice, tea and coffee but that suited us as we usually have that self catering. An English breakfast at our hotel was 7€s but could be bought all over the resort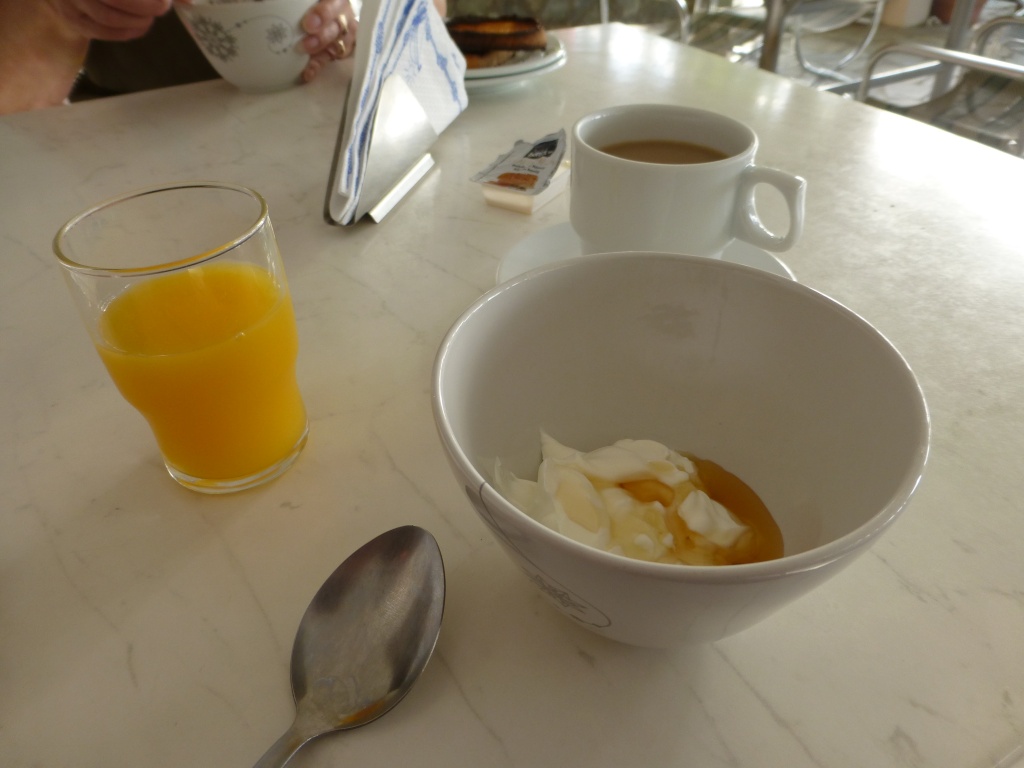 and we could take it in the garden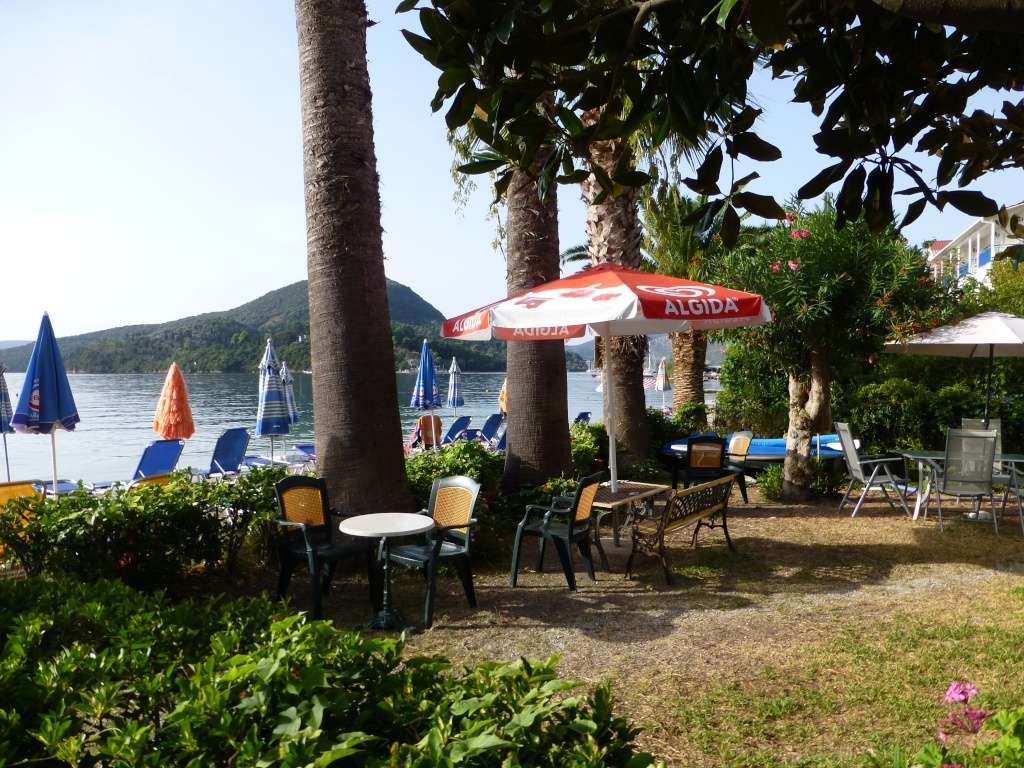 p1120967
or eat it on the terrace
p1120968
Mrs Db was in charge of the toast machine and she burnt mine
p1120965
The reps meeting was at 10:00am, where our rep Julie gave information about walks, buses, boat trips and various other details on the different islands. I somehow managed to get suntan lotion in my eye which was smarting and was difficult for me at this time to take it all in but hopefully I can fill you all in as the holiday progresses. So for us now it was the beach, a short five metre walk lol. Sunbeds were 6€'s a set but others generally were 5€'s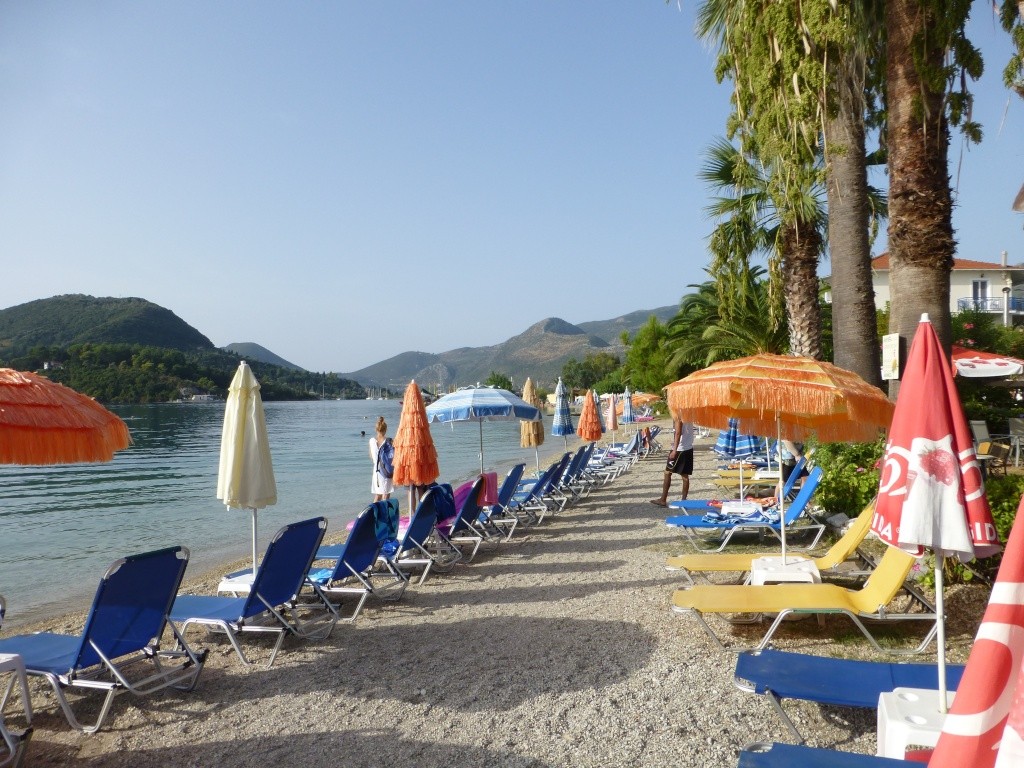 p1120969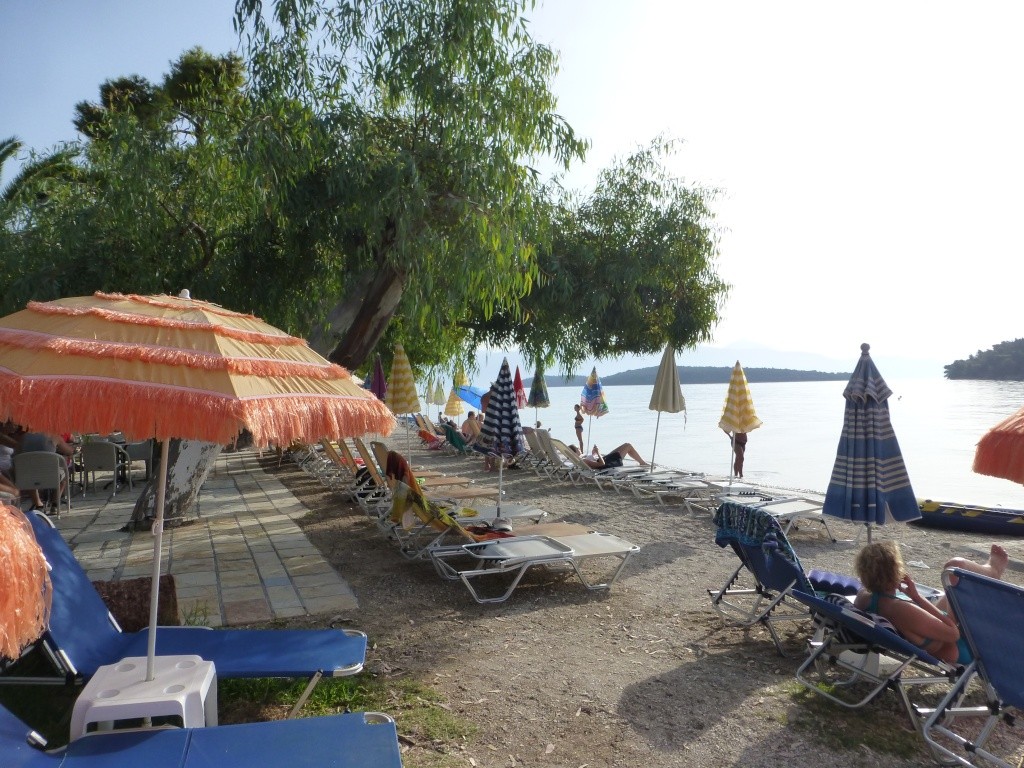 p1120970
The place looks empty but by lunchtimes all the beds will be filled but there are only a couple of rows of beds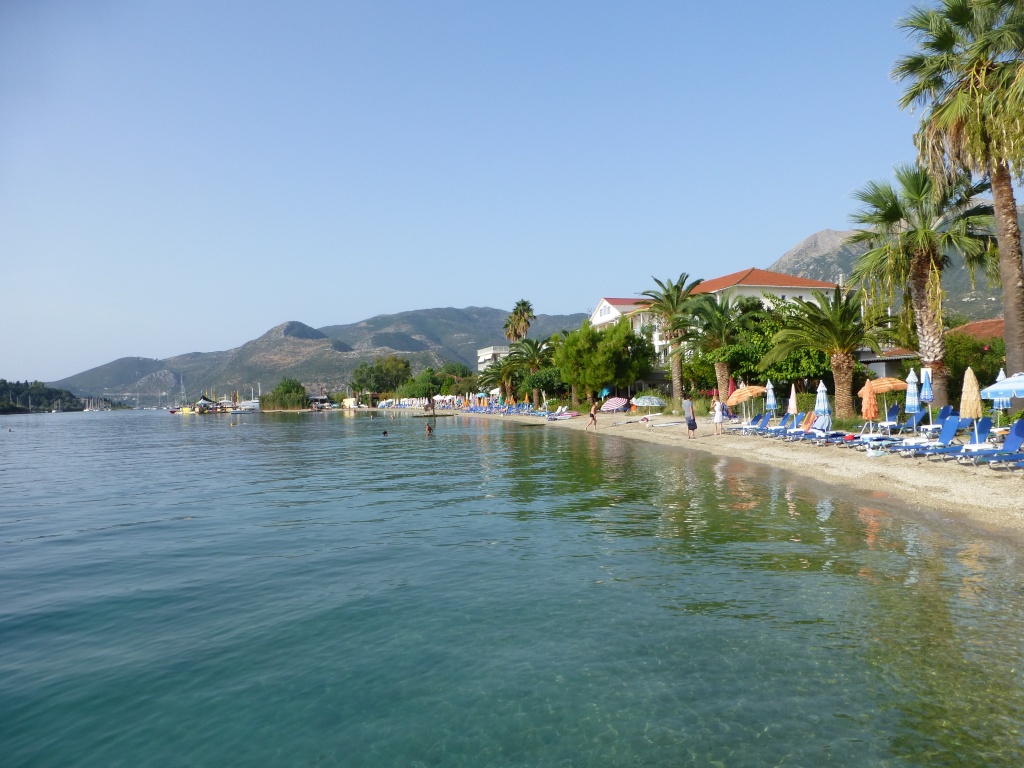 p1120971
as you can see the beach is more gravel and stones but the 'sandy resorts' have been given up by us for the views this time
p1120972
p1120980
which i hope you will see as the holiday goes on
p1120982
Lunchtime was a beer in the hotel grounds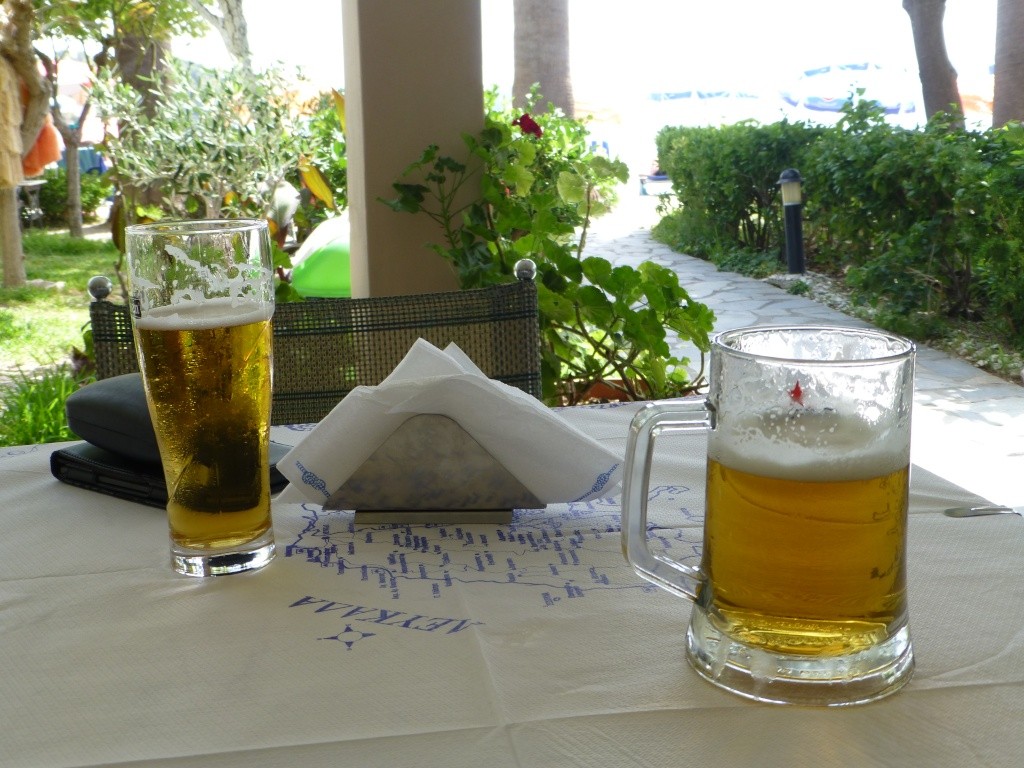 1120984
and a shared Greek salad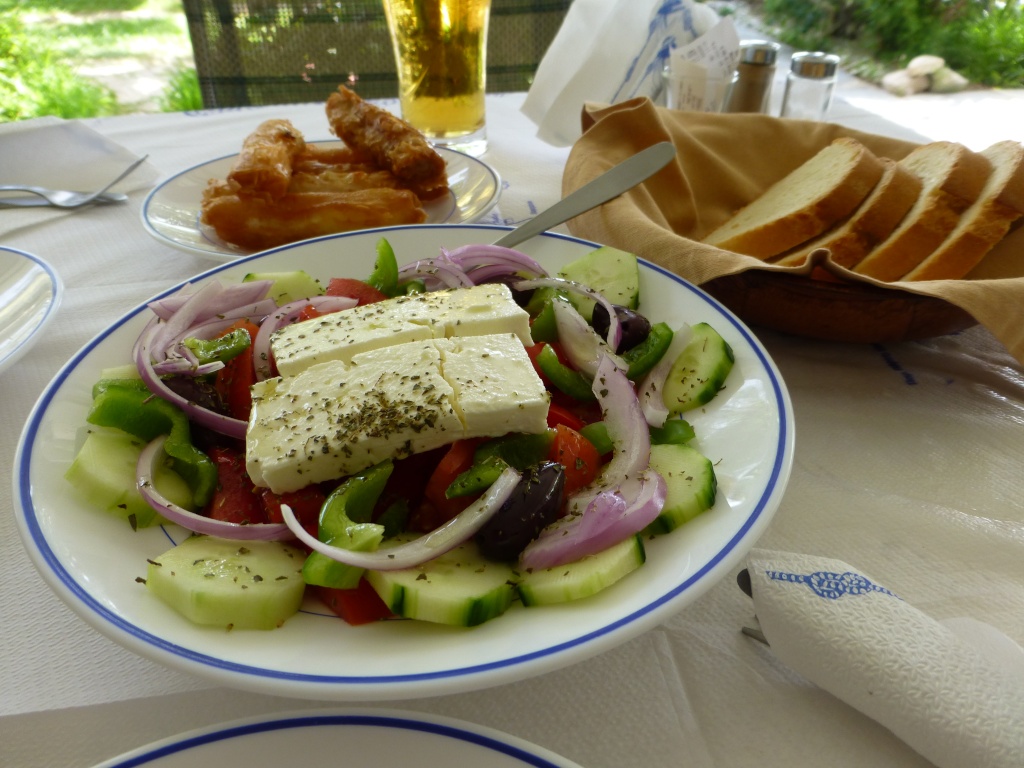 p1120985
and some cheese and ham rolls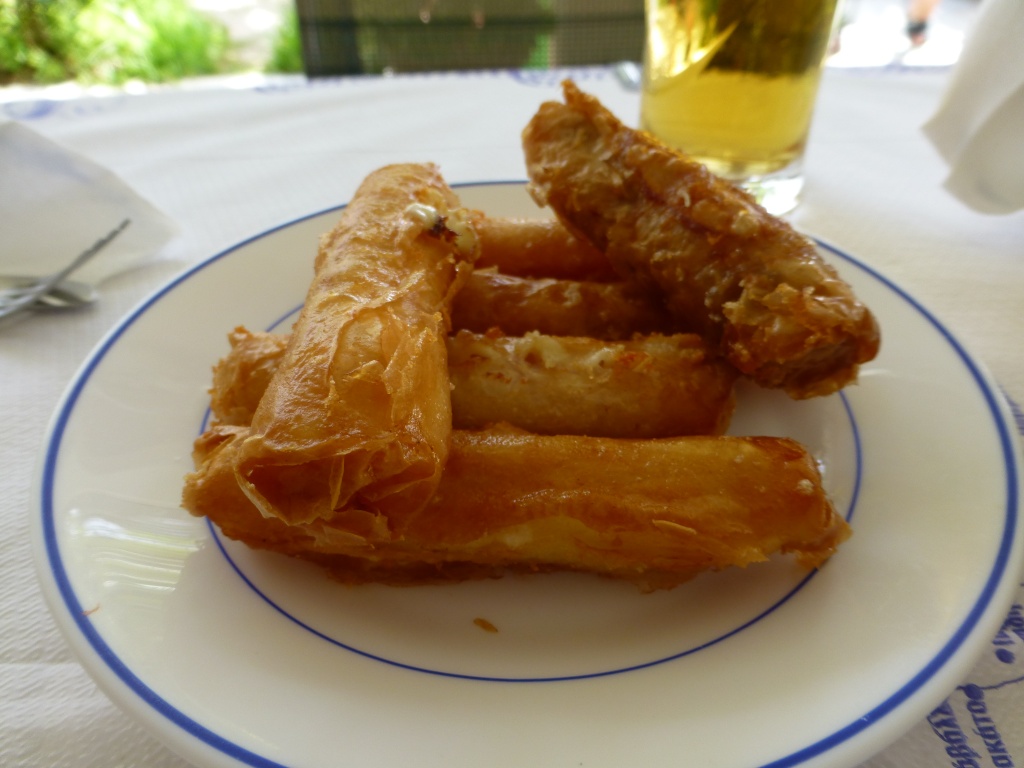 p1120986
They always have nice flowers in Greece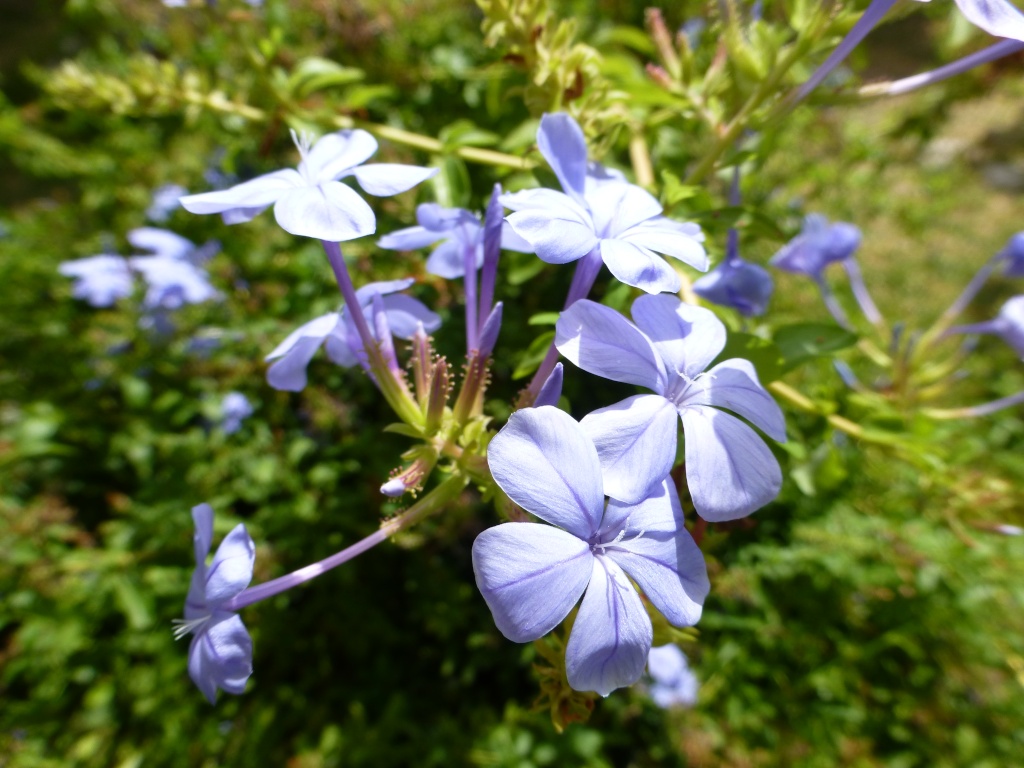 p1120983
this afternoon was spent on the beach, where I met up with TA member Mort8 and her friends, it was nice to meet them all and thank you for all the info they gave me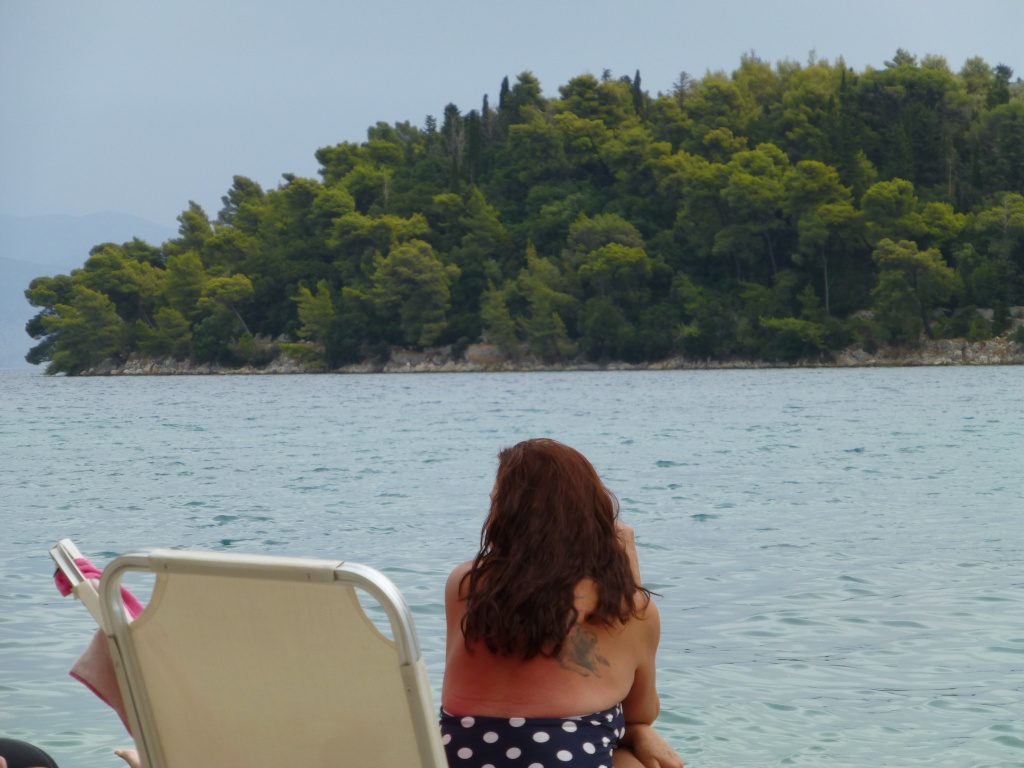 p1120989
and about half five, it was a cup of tea on the balcony
p1120990
evening came and we walked along the promenade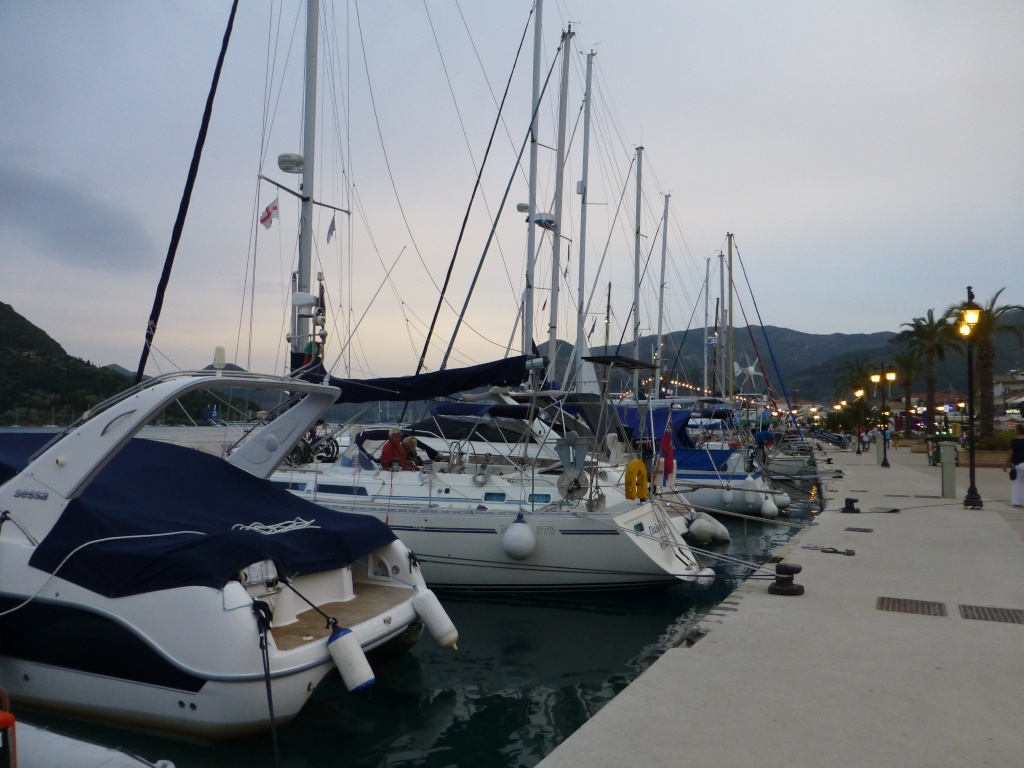 p1120995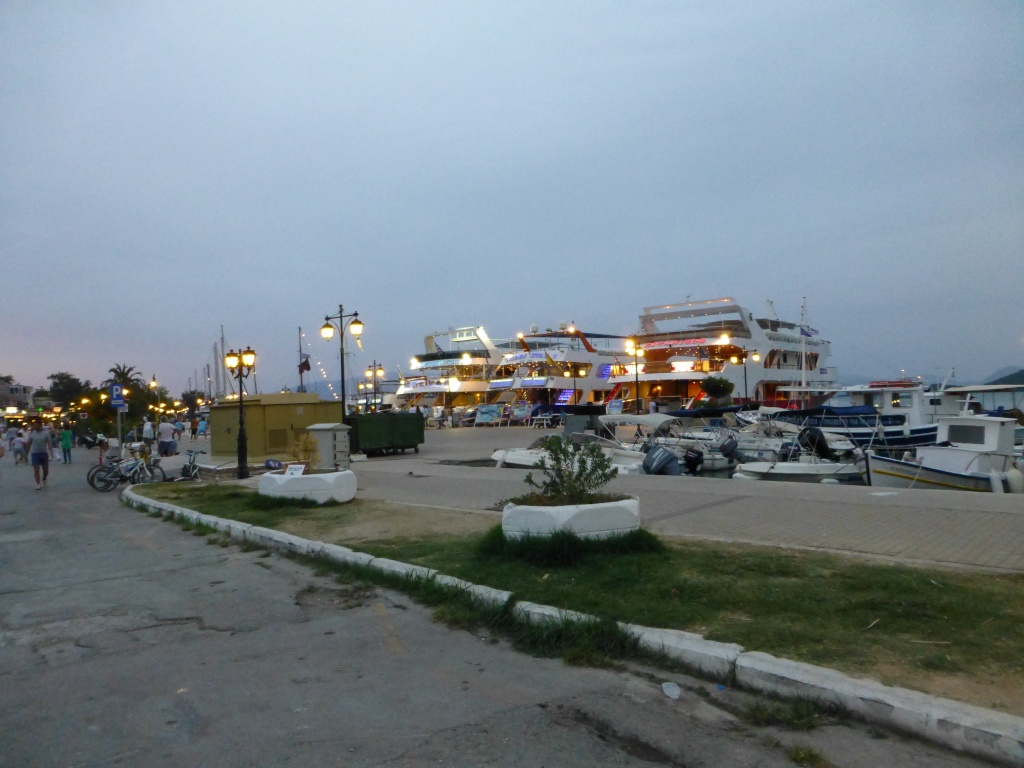 p1120998
The traffic is kept away from the promenade in the evenings and works quite well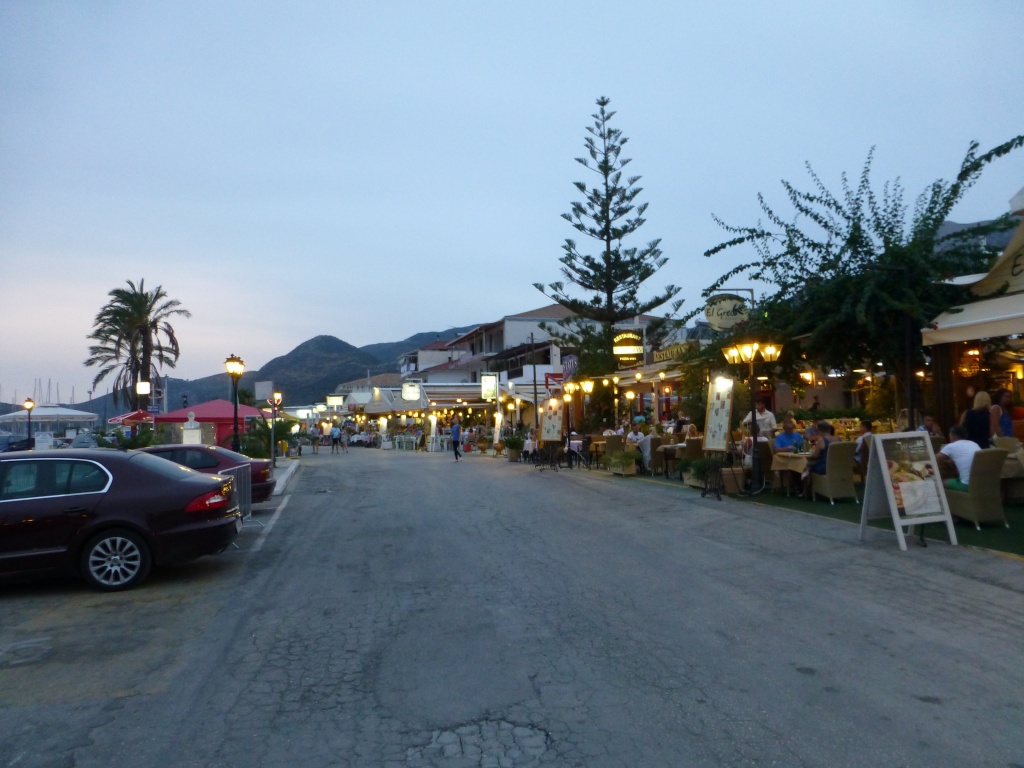 p1120997
Come inside Delboy, said the lady in black standing on the right,
oh alright then, if we must but this attractive lady ploy just doesn't wash with me lol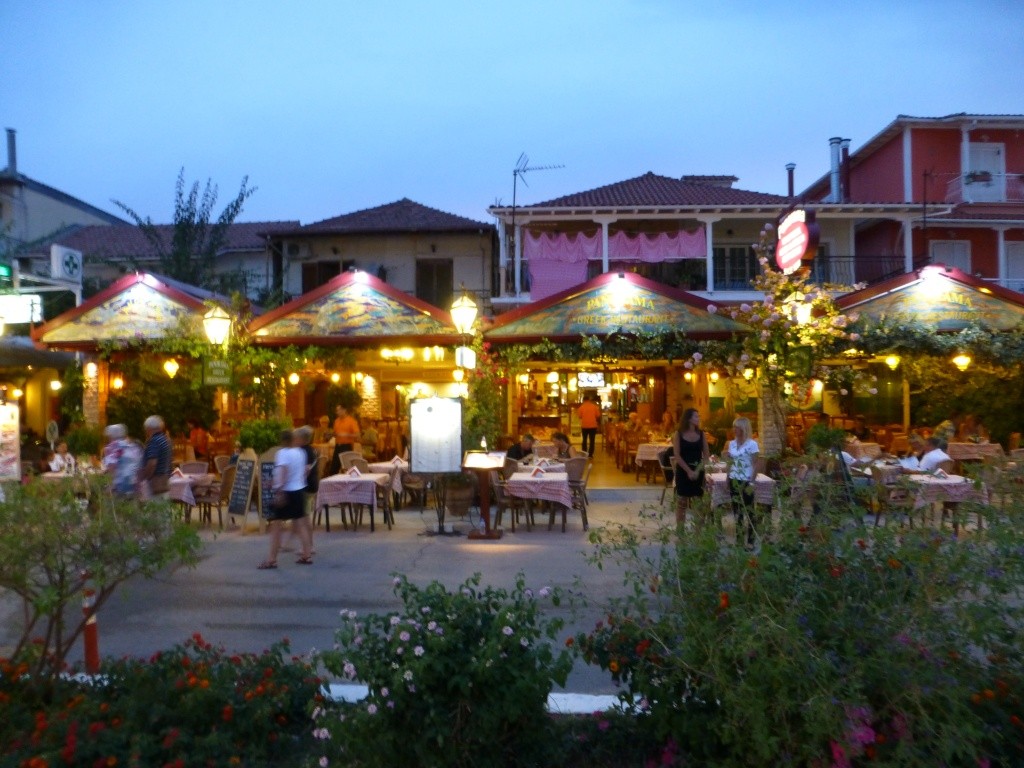 p1130004
a litre of house wine seems to range between 8 and 10€'s, the rep did tell us they don't have Rose wine, so they mix red and white together, some put more red in, so flavours vary lol
I had the chef's lamb and Mrs Db had Giouvetsi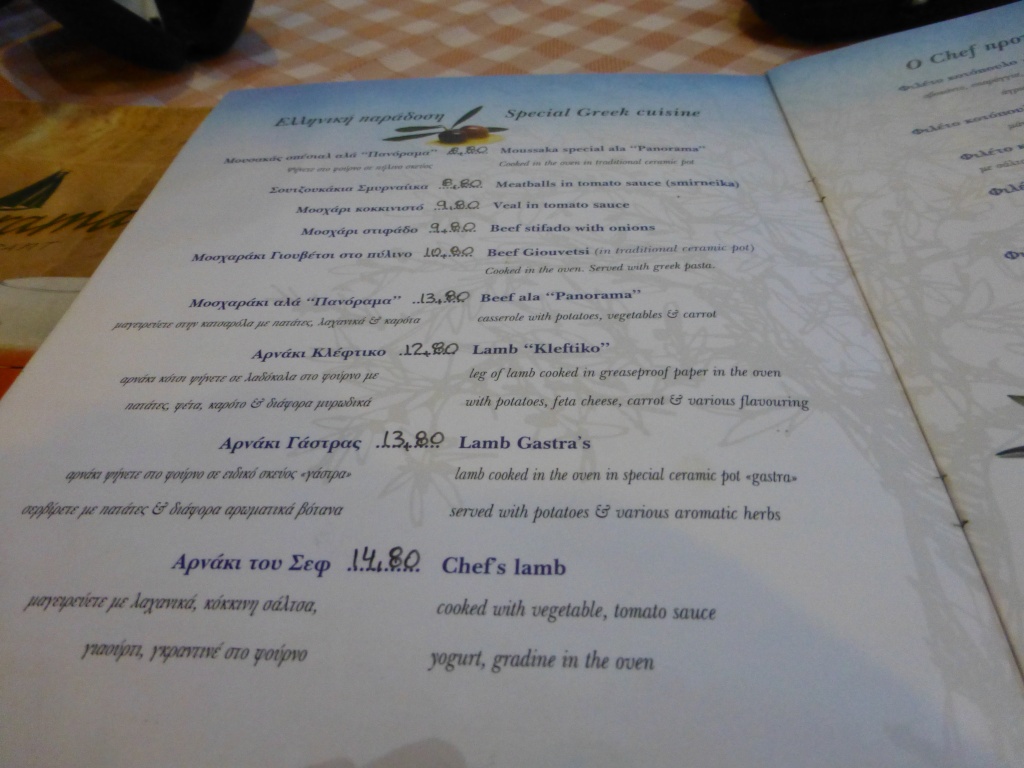 p1130002
My lamb was a lamb shank cooked in a nice tomato sauce with vegetables and covered in cheese, very nice indeed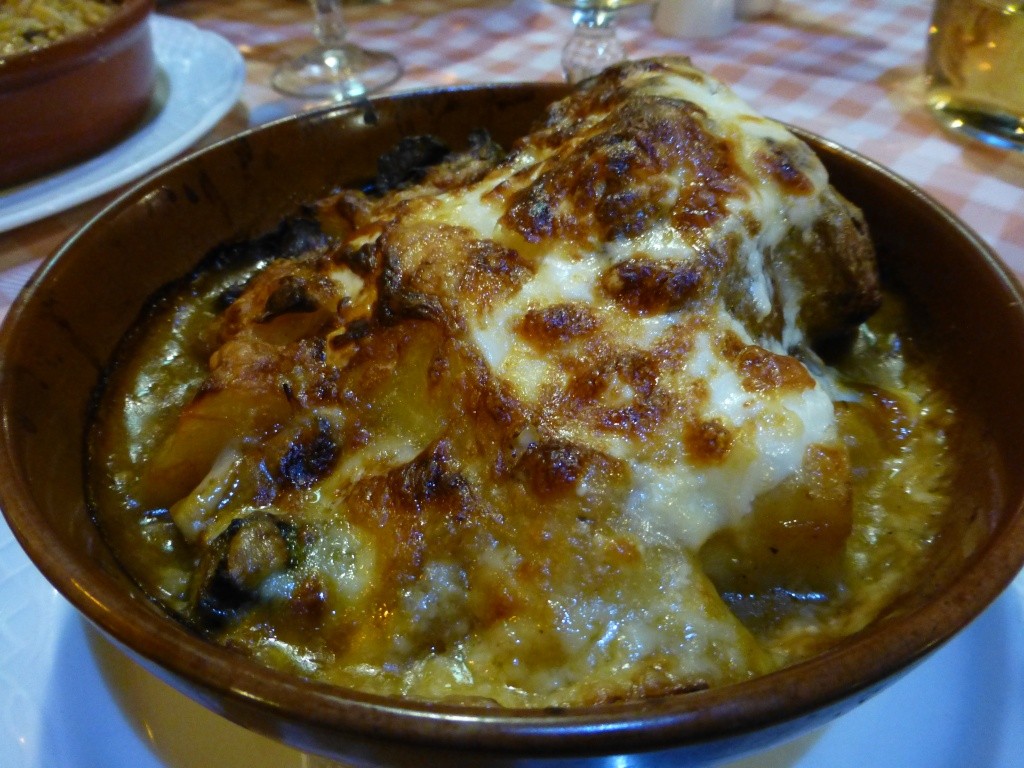 p1130005
Mrs Db was only showing rice but it had beef and a sauce inside which she said was very nice
p1130007
Then for us it was a short walk back for a coffee on the balcony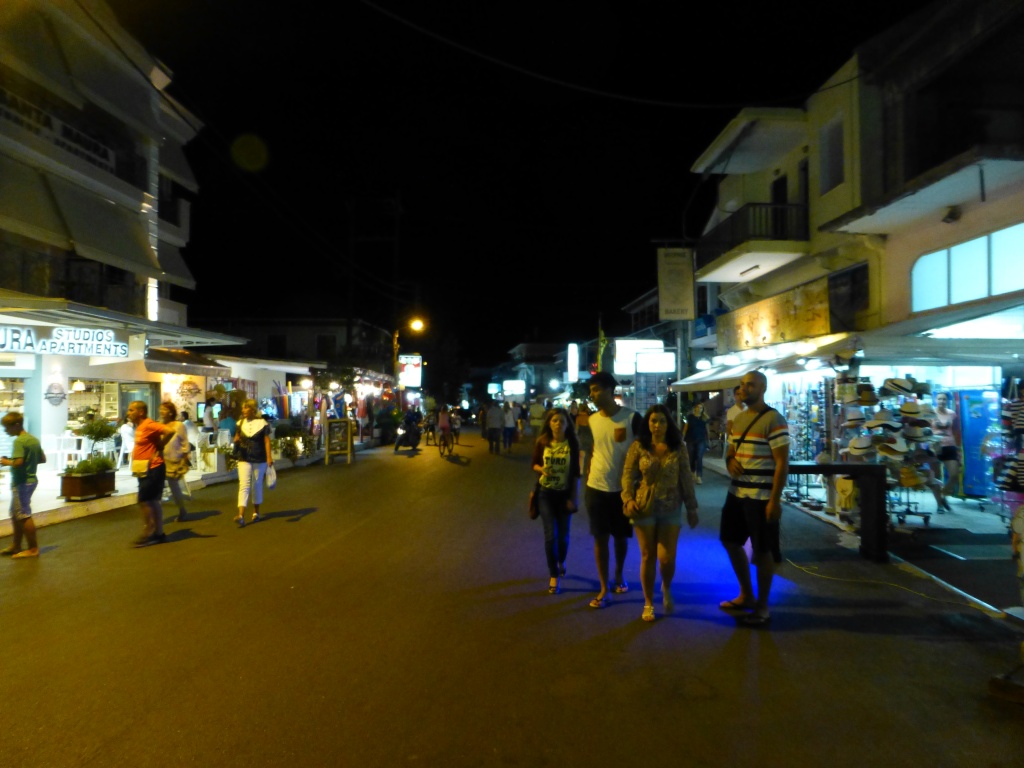 p1130008
END OF DAY TWO
DAY THREE
Well no sunsets here on the East coast but the sun rises at around 7:30am so I wanted to get those shots whilst here
The local cat's go fishing for food at this time of the morning and I was wondering whether I could get a shot of it with the sun rising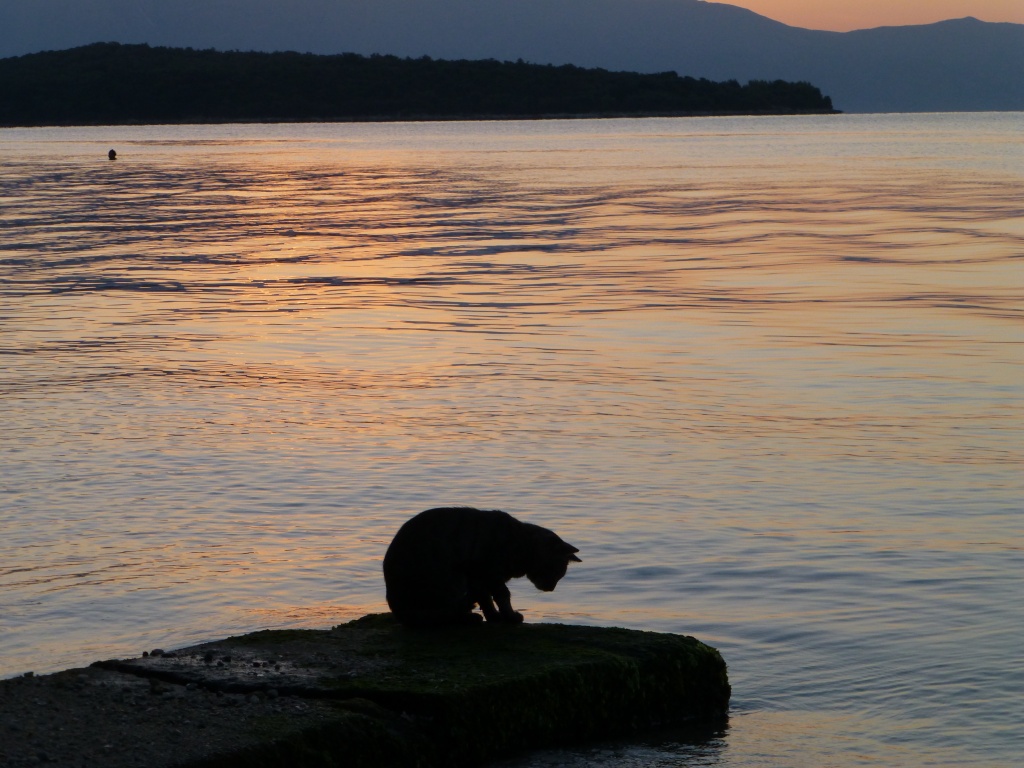 p1130013
however, they are so scared of people walking passed, if a jogger or swimmer is about they are off but this one was so good
p1130024
You get about 4 quick shots of the sun before it reaches too high and too bright to take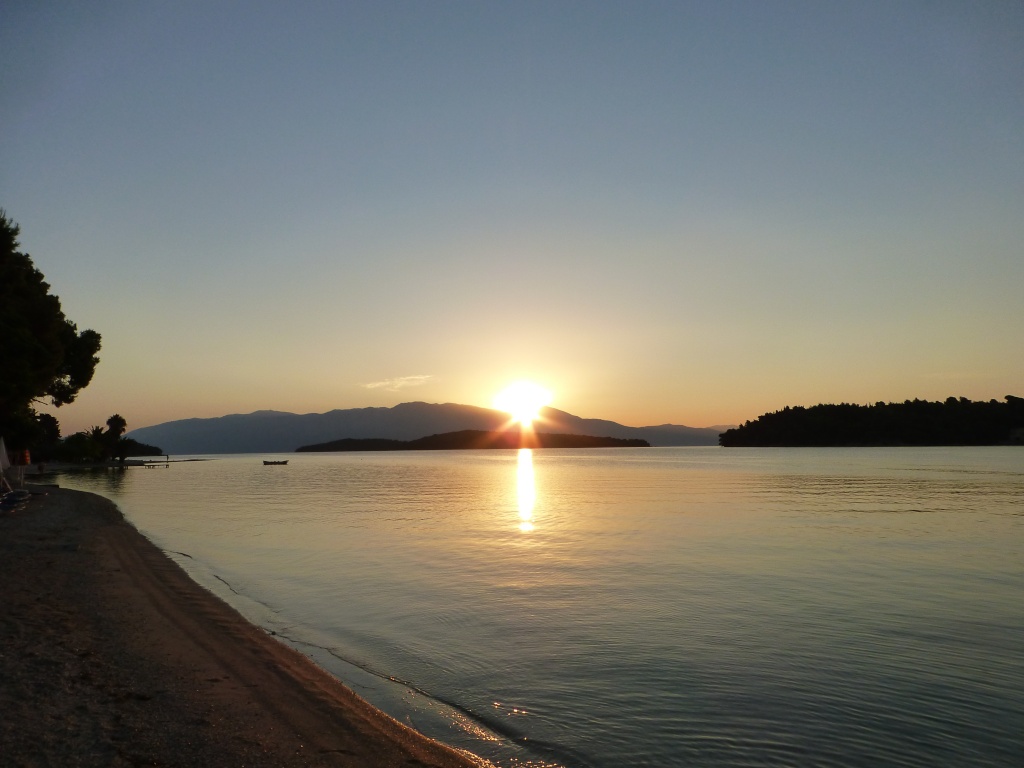 p1130029
Lovely this time of the morning
p1130030
Then it was back for morning tea with Mrs Db in just seconds lol
p1130031
I did take a breakfast picture but not really much to show, it starts from 8am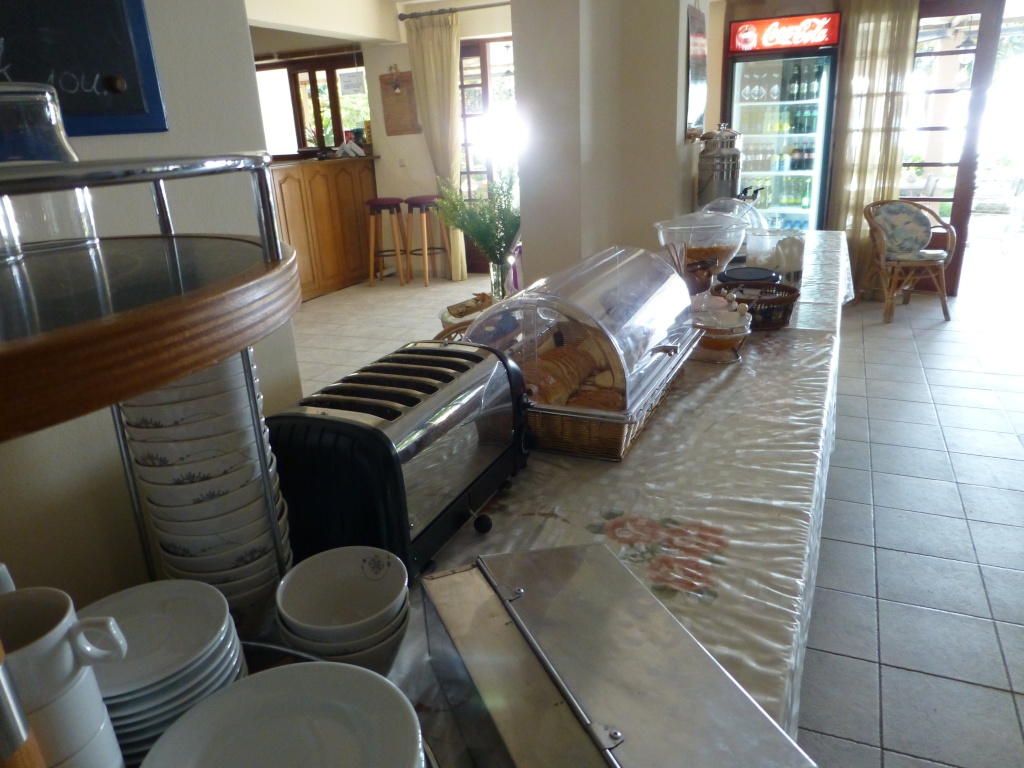 p1130032
Nidri has two bays joined together near the centre of the resort, there are others further on but wouldn't want to be any further from the town without taking taxis's, so I thought I would go to the end of the first bay and walk back to the town to show you what it's all like
p1130035
the beach stones seem to be slightly bigger down here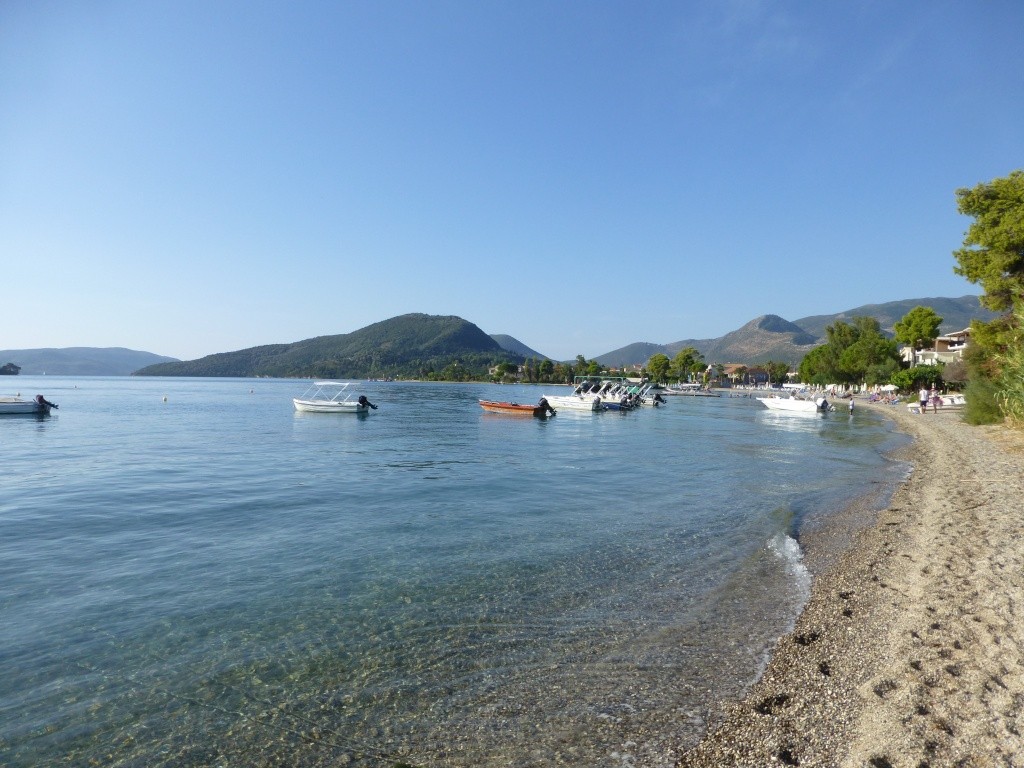 p1130036
There are day boats to hire all over the resort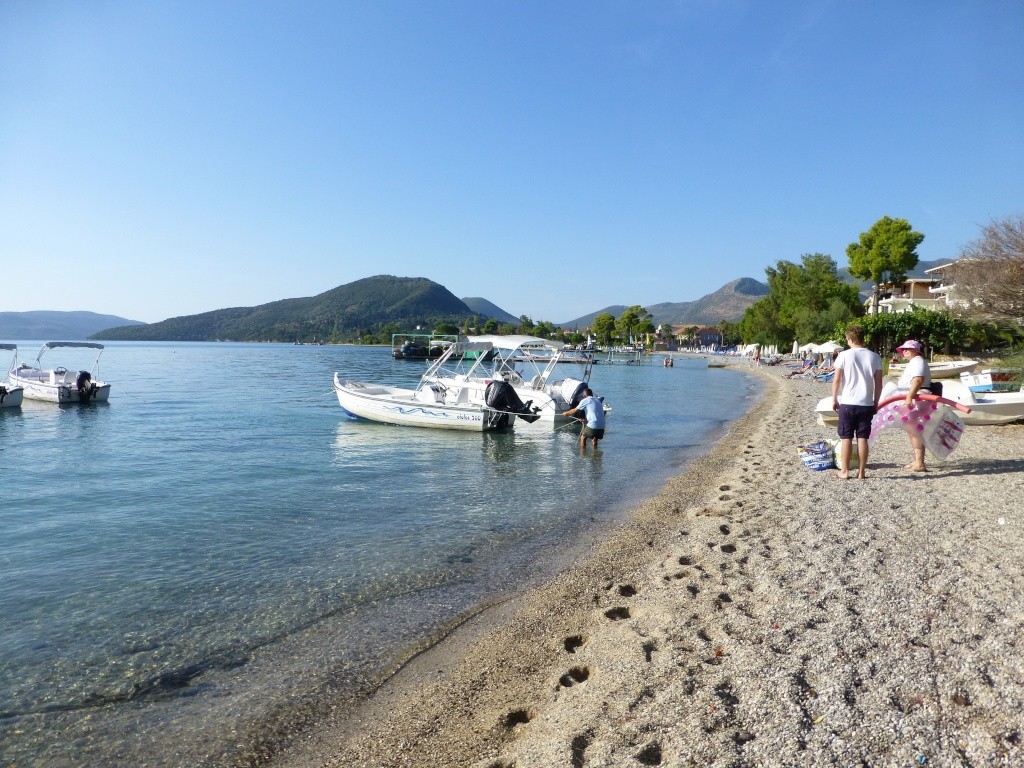 1130037
None of them seem to display their prices
p1130039
resto's under the trees
p1130040
I did out of curiosity ask one of the boat hirers, who told me the 35hp one was 60€'s a day plus fuel and one would be looking at 20/25€'s for the fuel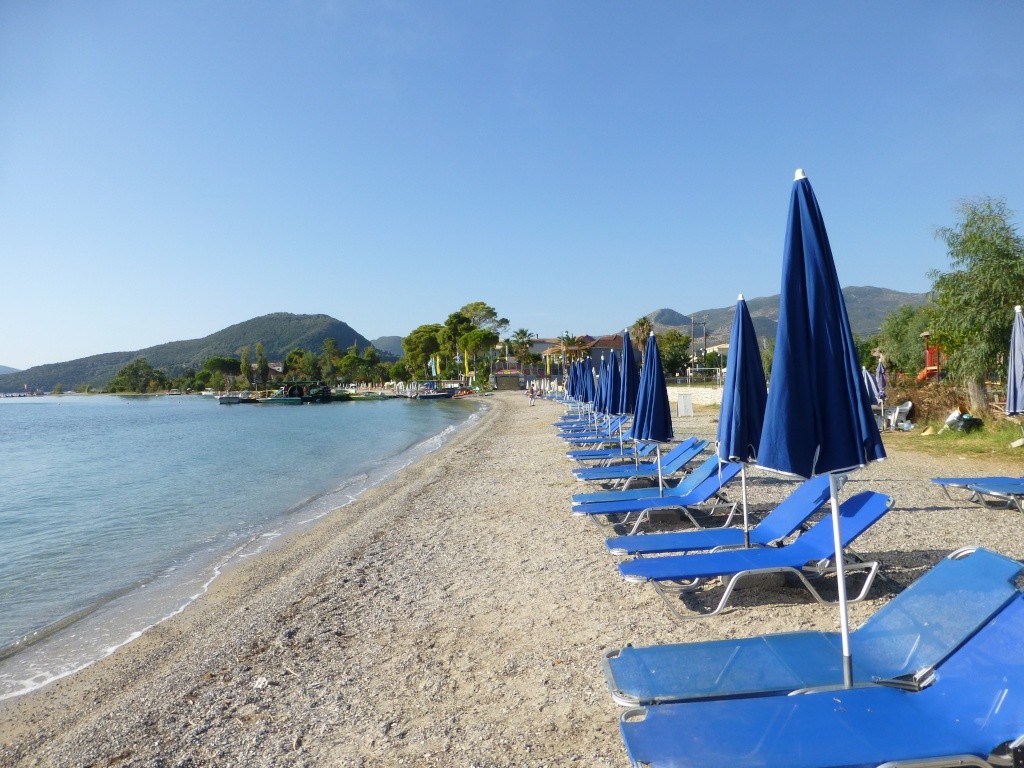 p1130041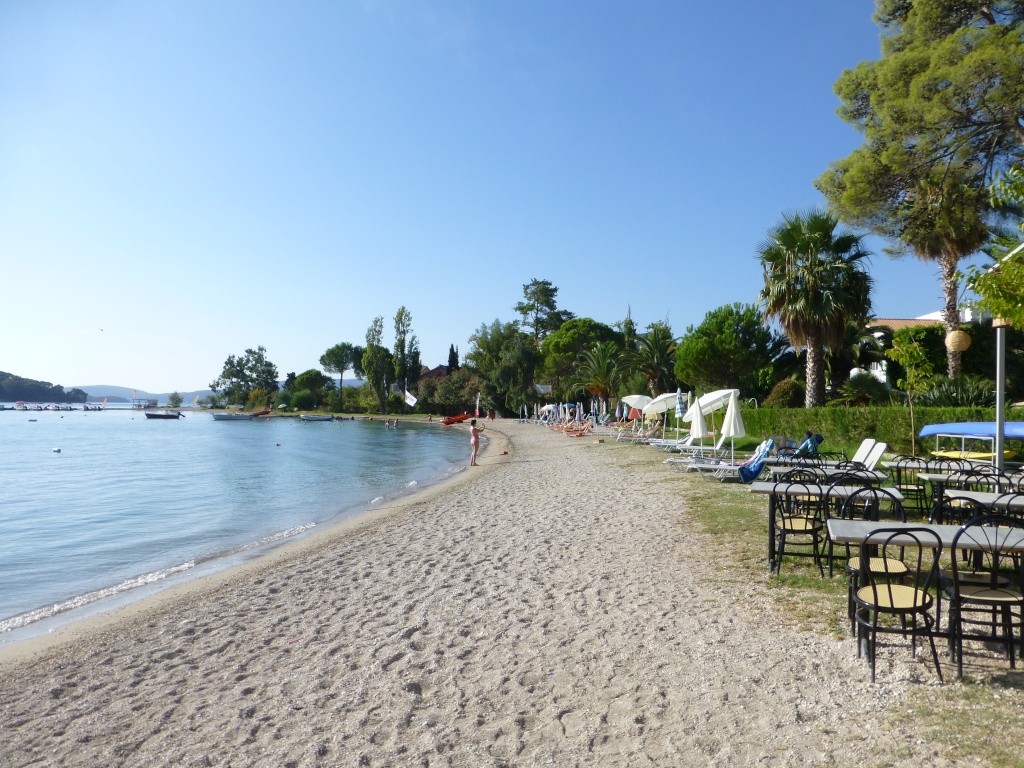 p1130044
So just looking back at the first bay I have just walked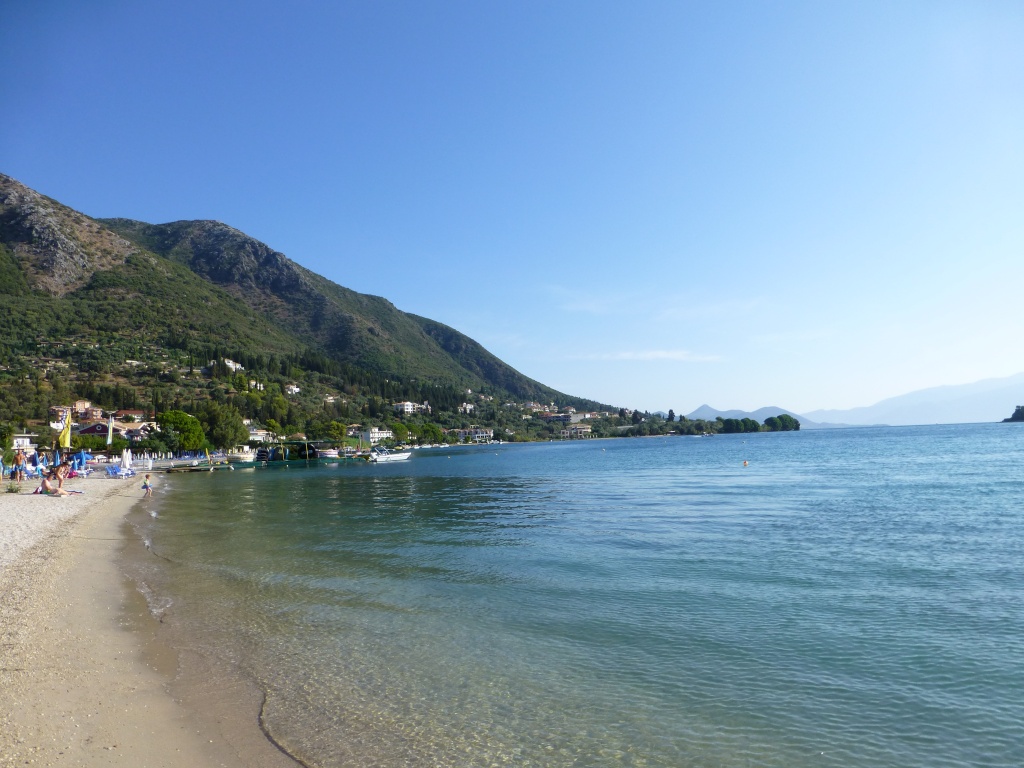 p1130045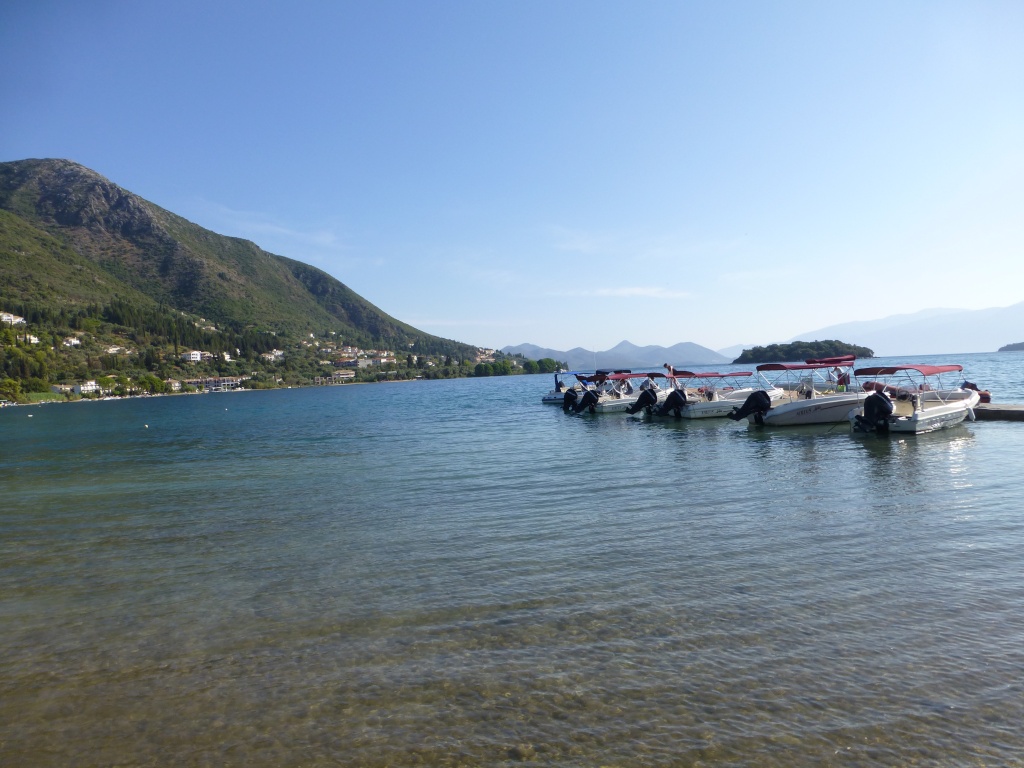 p1130048
there is a stream which runs from Nidri waterfall to the sea and a little bridge to cross it
p1130049
watch the bridge Indy, you may fall through !! lol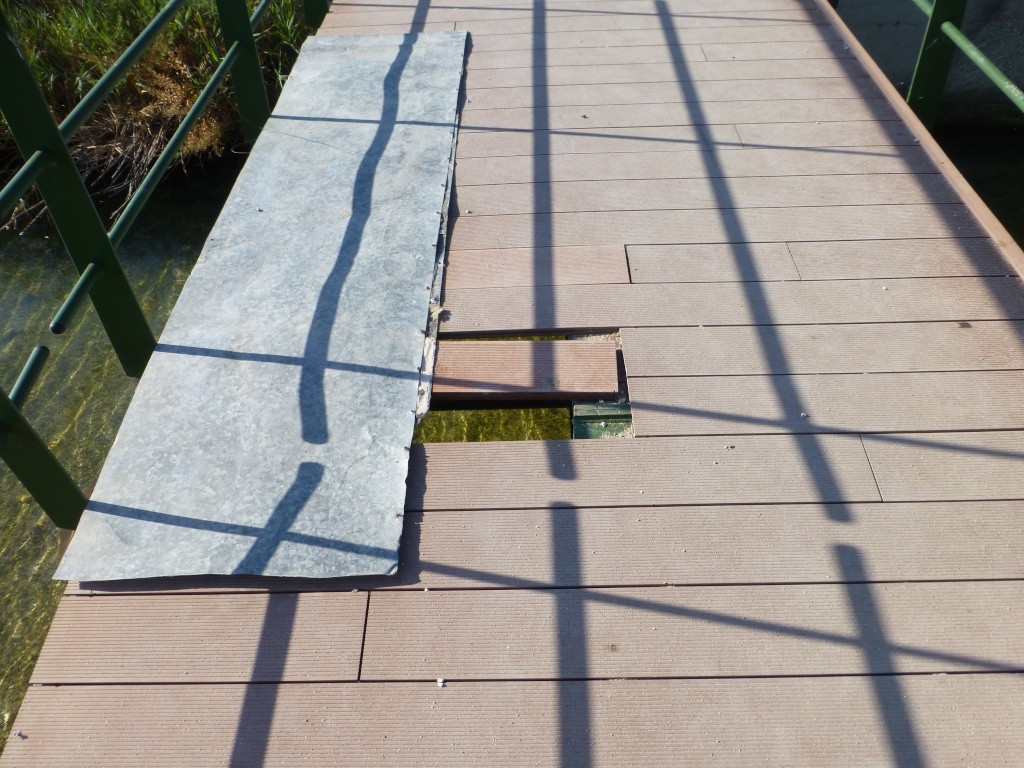 p1130050
the river in full flood, has formed a little shingle peninsular between the two bays, so Delboy goes to the end of it
p1130051
on the otherside of the shingle is the second bay and in the distance is Nidri harbour which is completely enclosed and a yachter's dream
p1130054
p1130055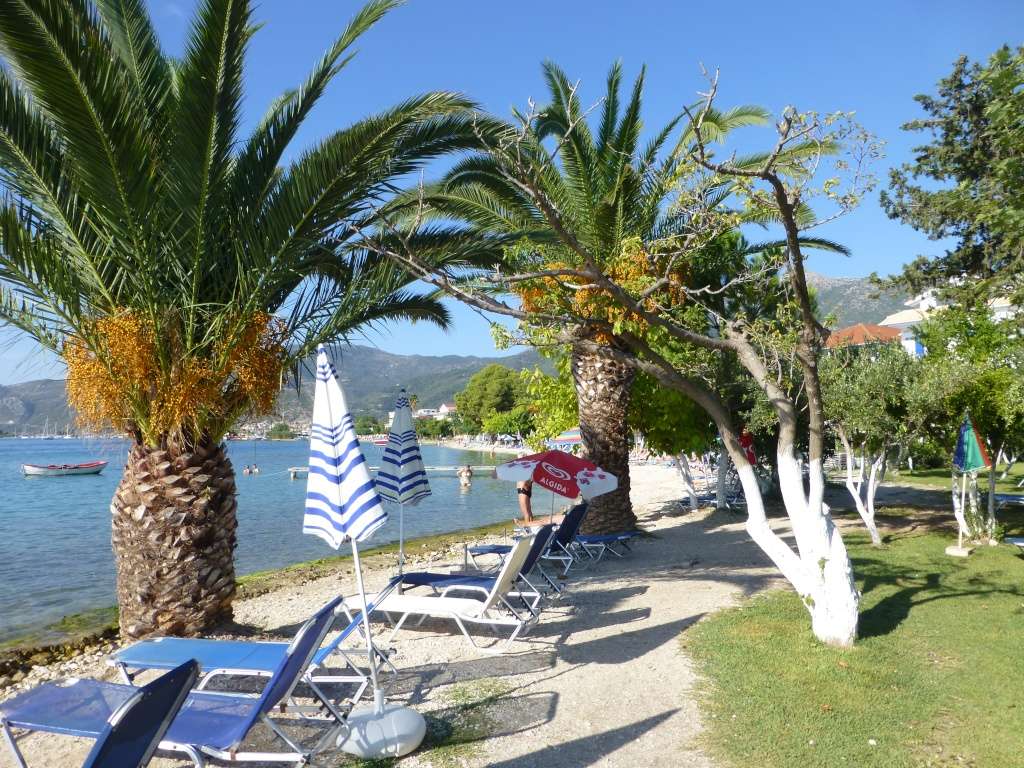 p1130056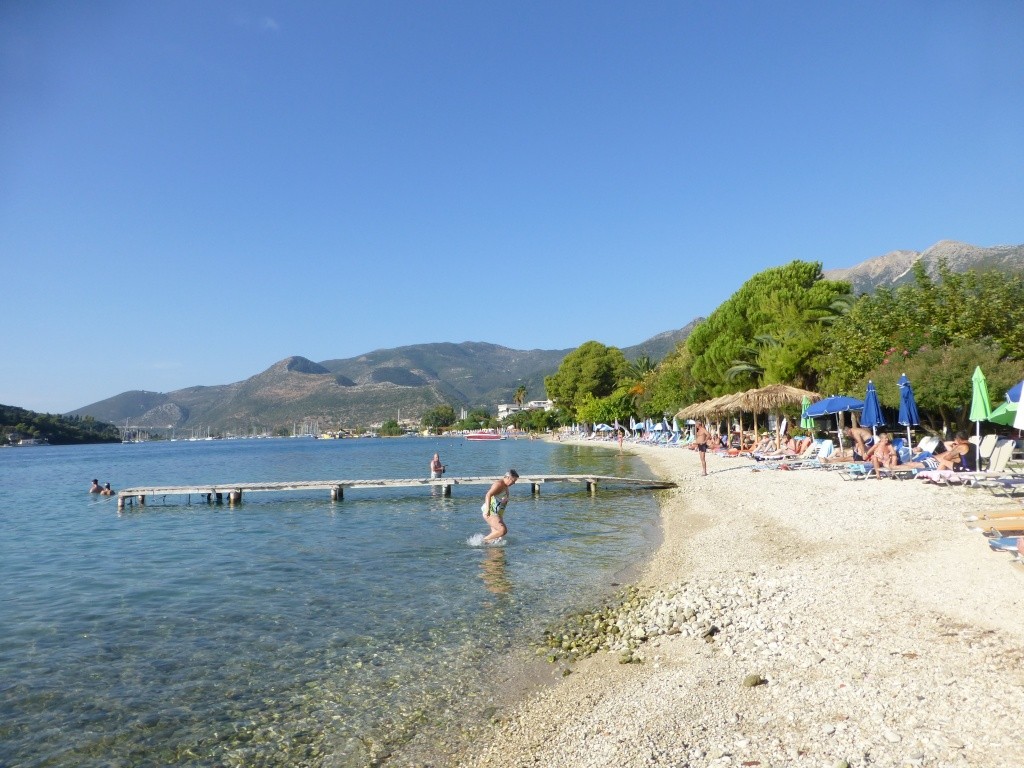 p1130057
p1130060
flower on the beach side lol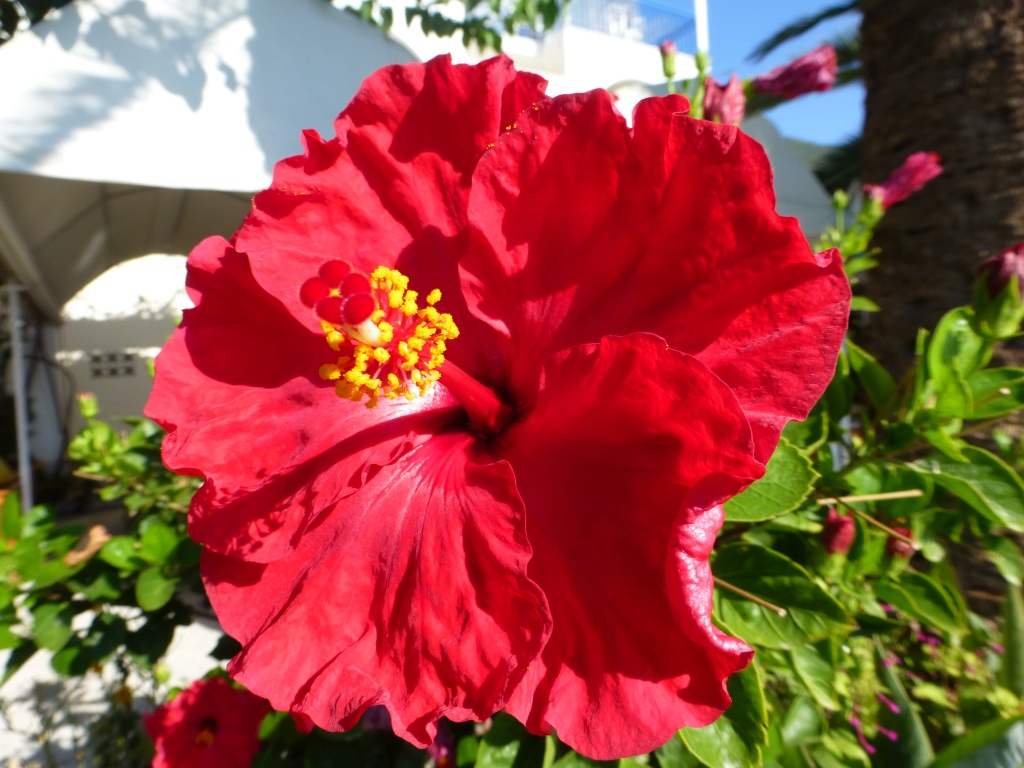 p1130063
at this head point, we can go around passed the watersports and head into town without using the road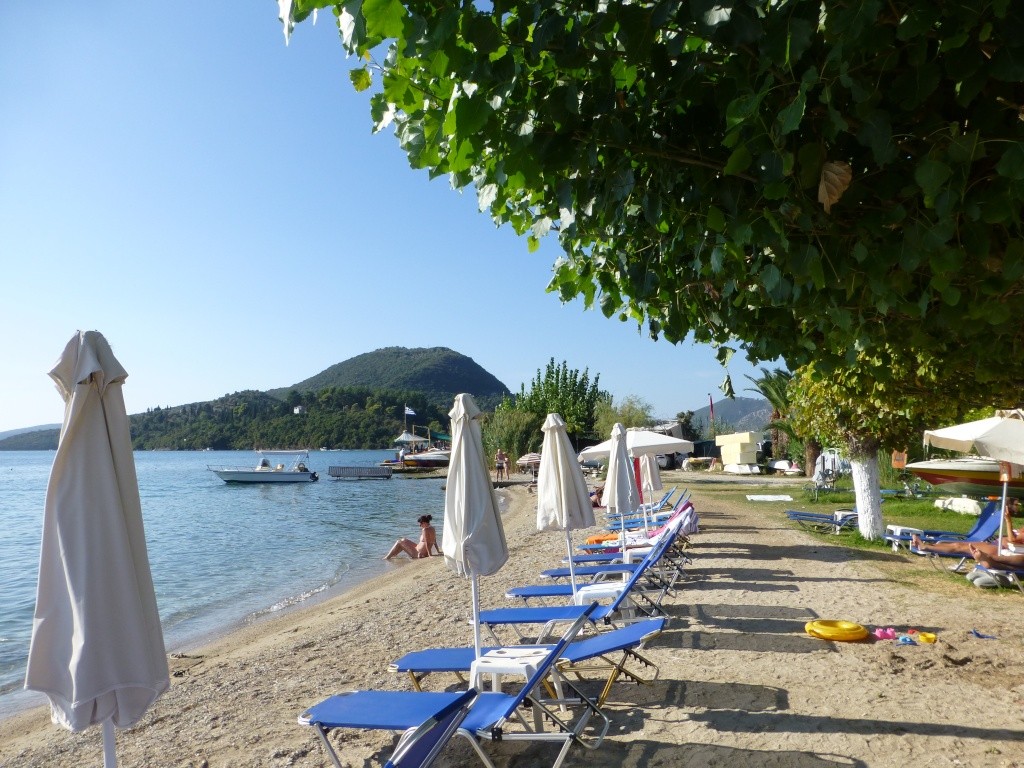 p1130065
there are hotel restos dotted all along the beach we have walked along, handy to eat at for lunchtime and you don't have to leave the beach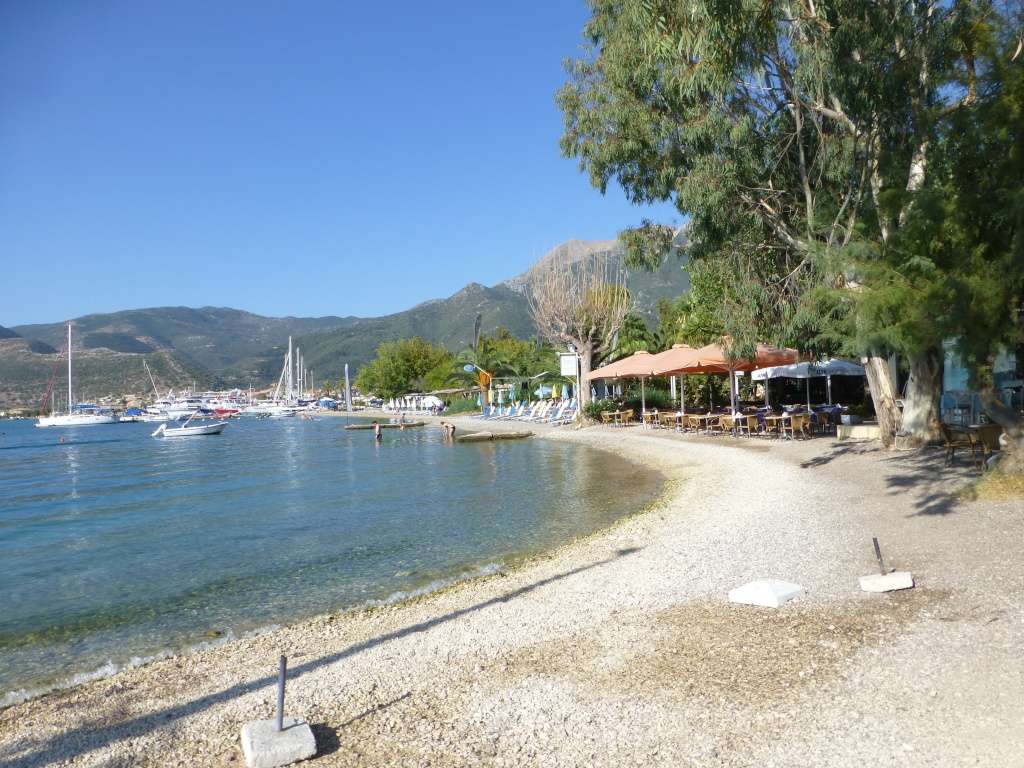 p1130067
but here we come to the town's promenade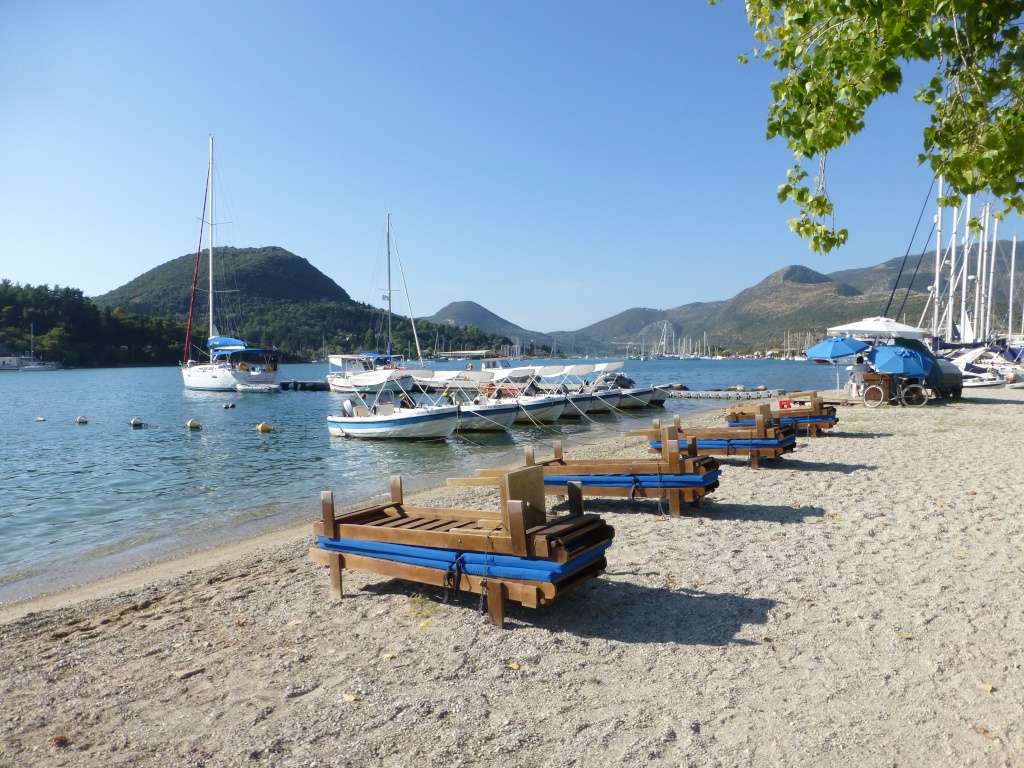 p1130070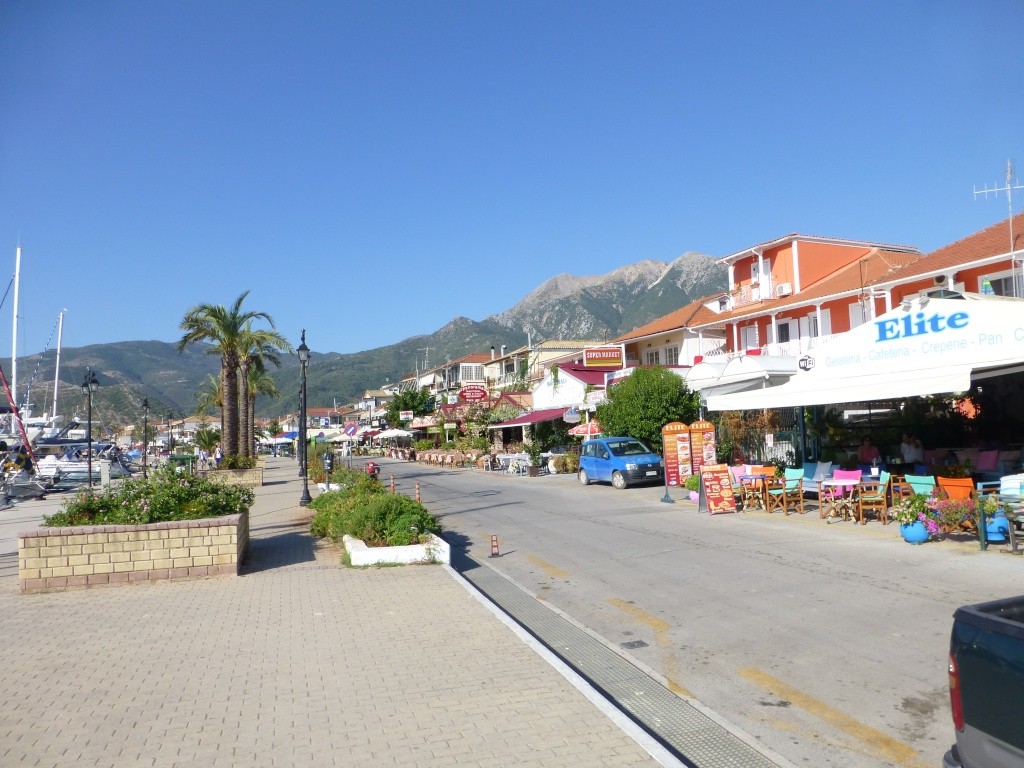 p1130072
with million pound yachts
p1130073
It was just before 10am and the cruise boats were all going out, these boats give an all day cruise and was one of the reasons I wanted to go to Nidri
p1130078
They all compete for your custom and they have shops and sellers on the front at night, but more on that later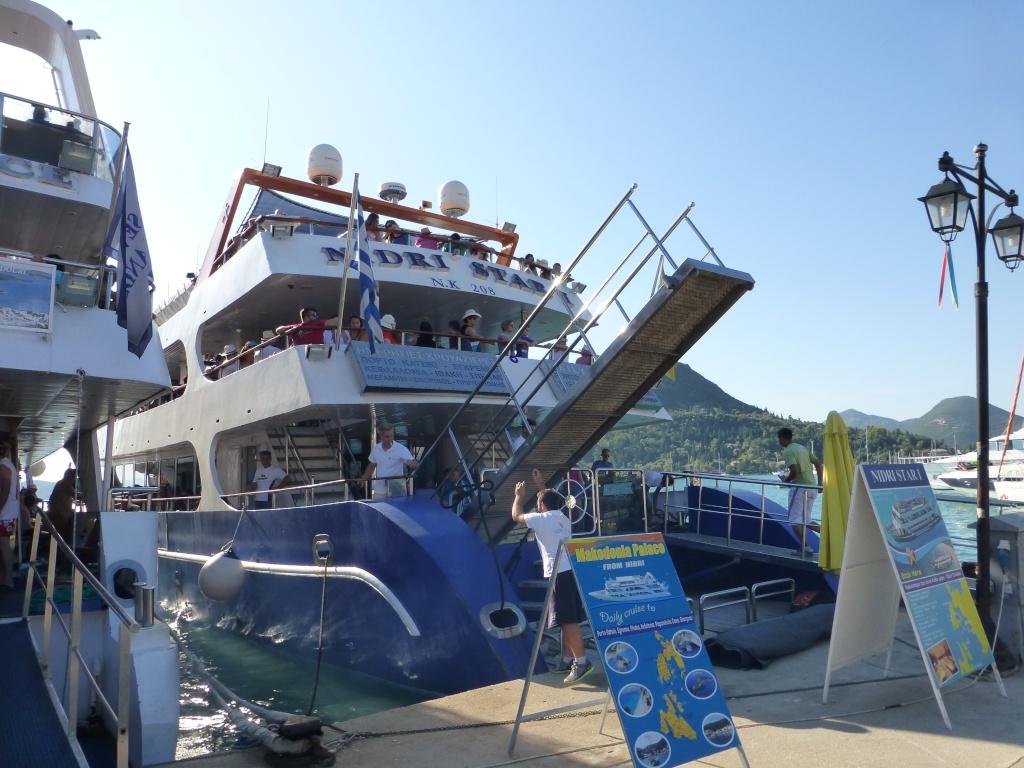 p1130080
so how good are you at getting a deal lol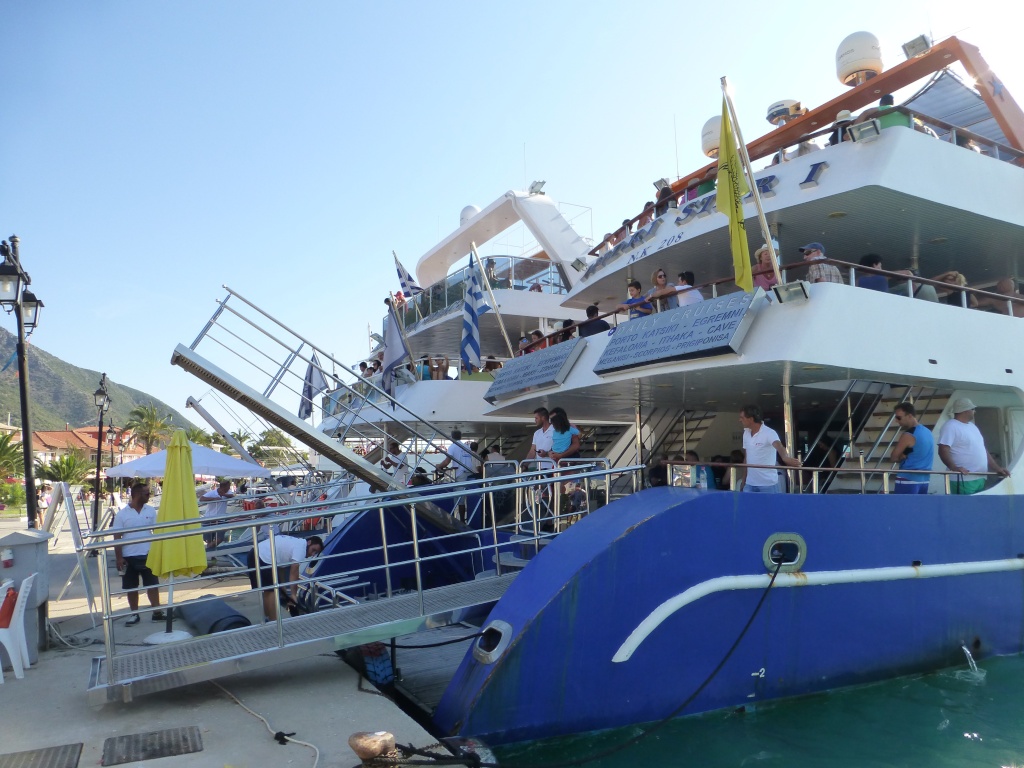 p1130081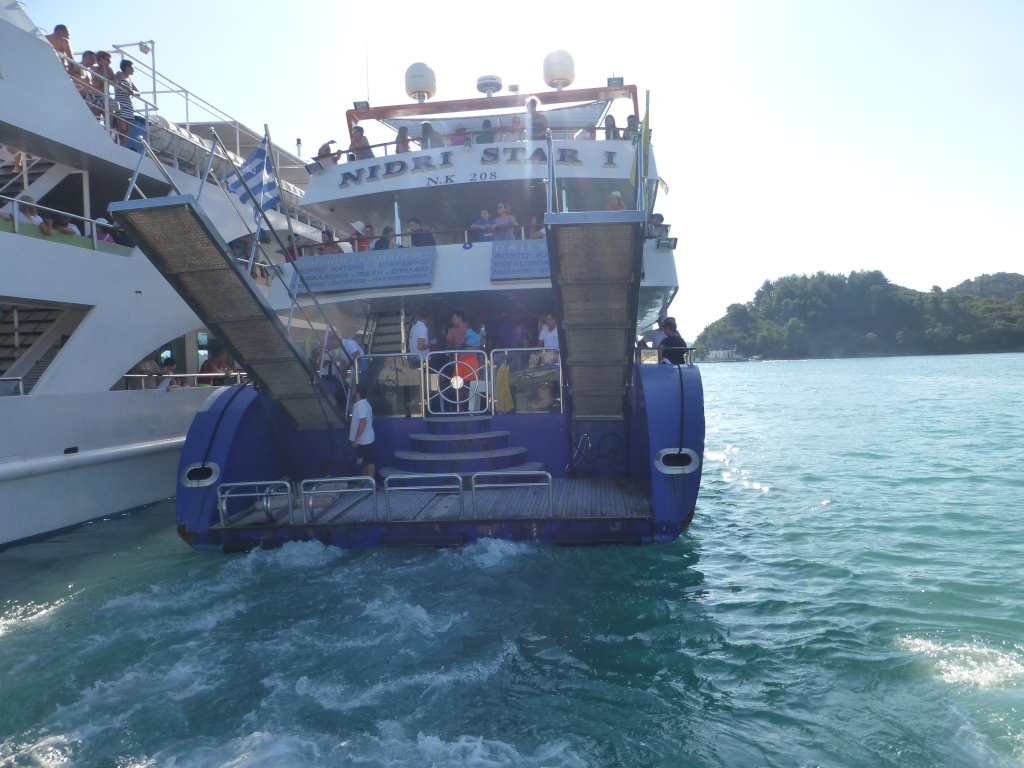 p1130082
being a lousy sailor, for me the Macadonia Palace looked the bigger boat, you can also have lunch on board, would i be able to keep it down though ?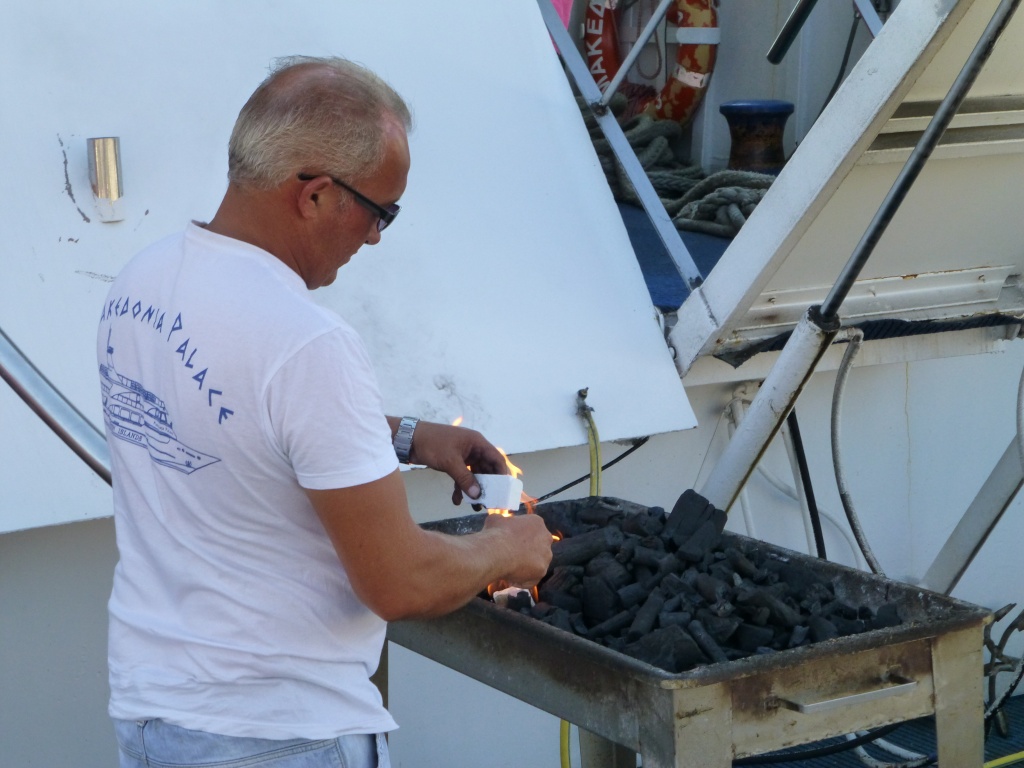 p1130084
so hope he is careful with those coals lol
p1130085
In the centre of the promenade is a statue of the Greek shipping magnet Aristotle Onassis who helped the town prosper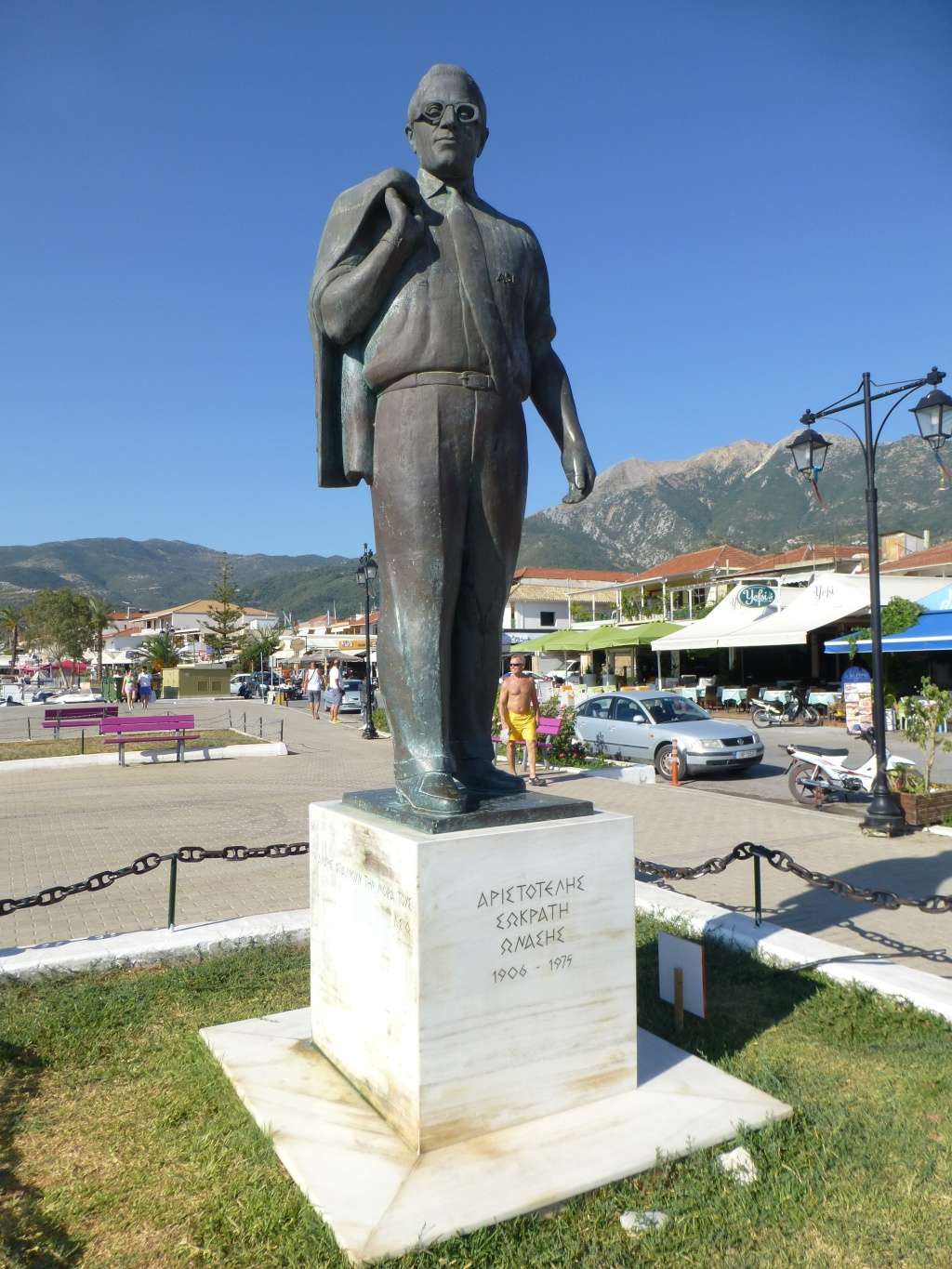 p1130088
He owned the island of Scorpios, just a short journey by boat and seen from our balcony lol. Scorpios is owned by the Onassis foundation and leased to a Russian oligarch who has armed guards all over the island and you can't land there on your day boat but more to come on that
I took a picture of this little fishing boat and the fisherman told me, very little fish out there at the moment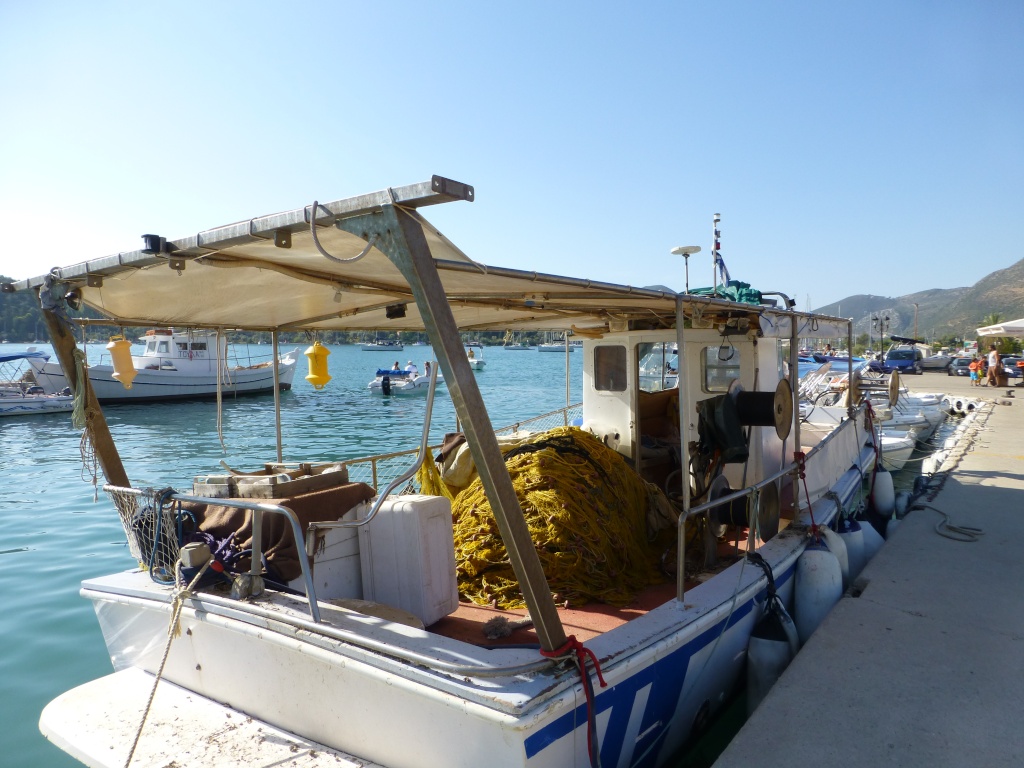 p1130091
yachts are everywhere down this end of Nidri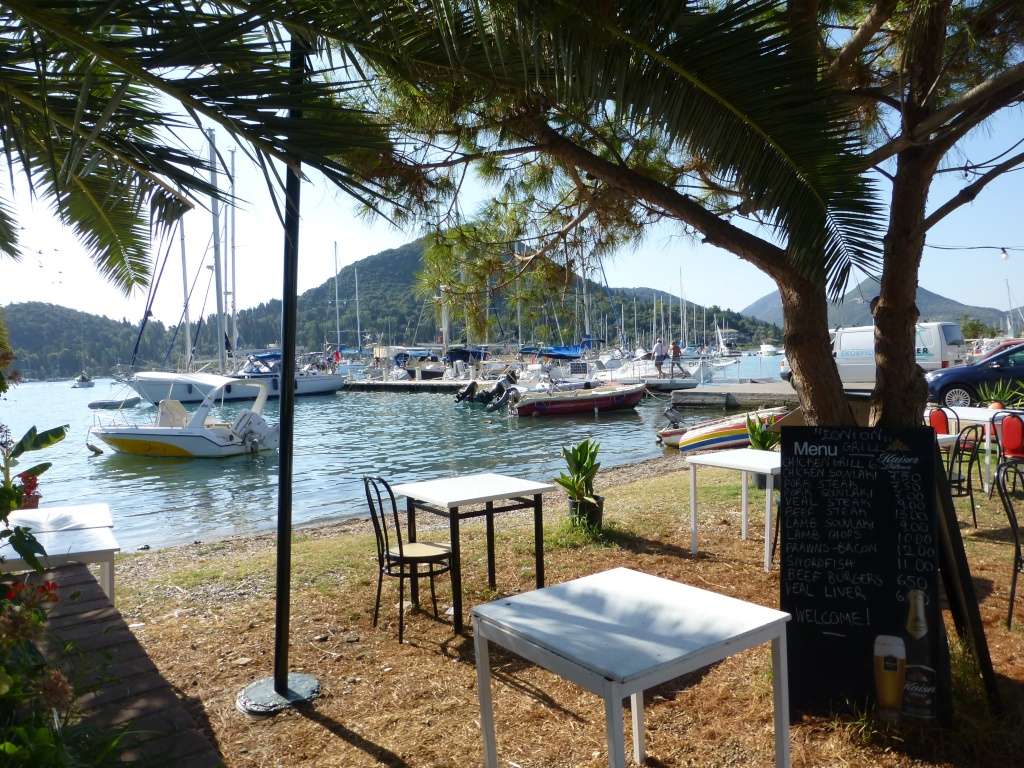 p1130095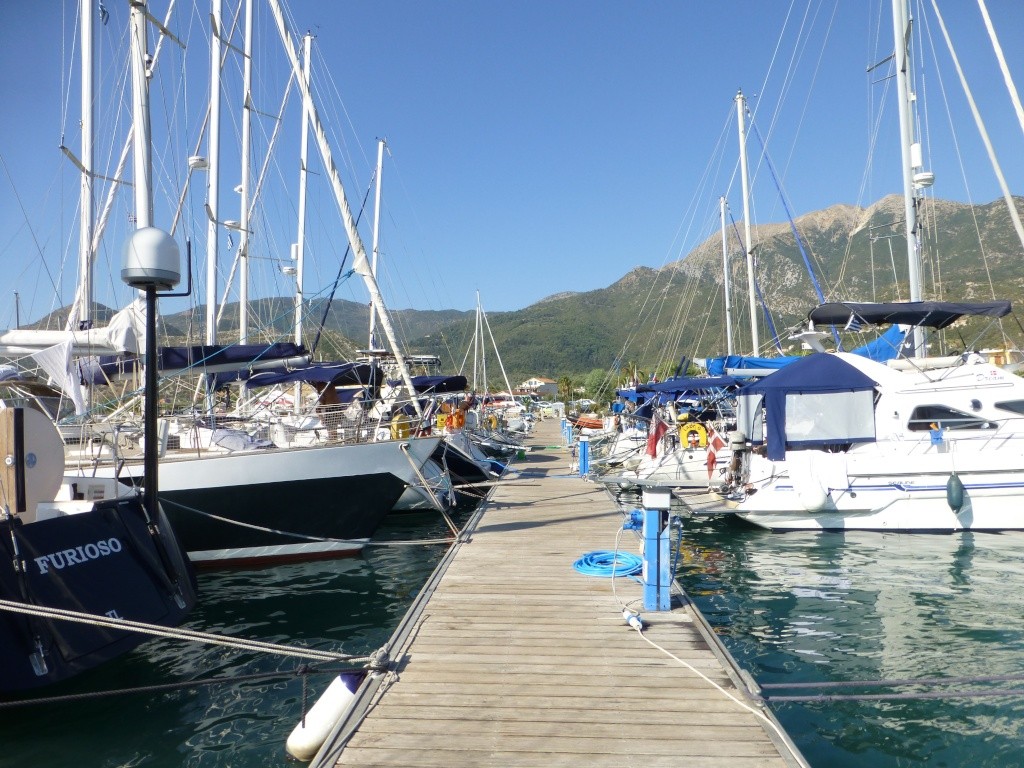 p1130103
but time to get back to Mrs Db, I like these bell flowers which are a bit like our weed bellbind but more colourful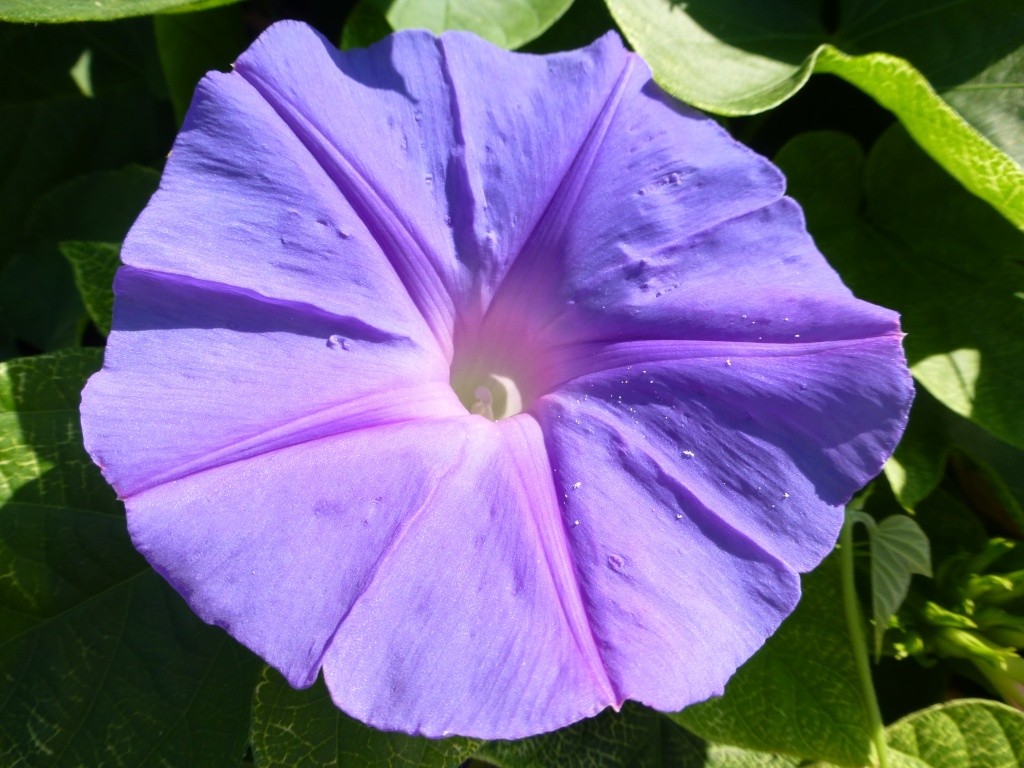 p1130111
so it was a beer in our hotel grounds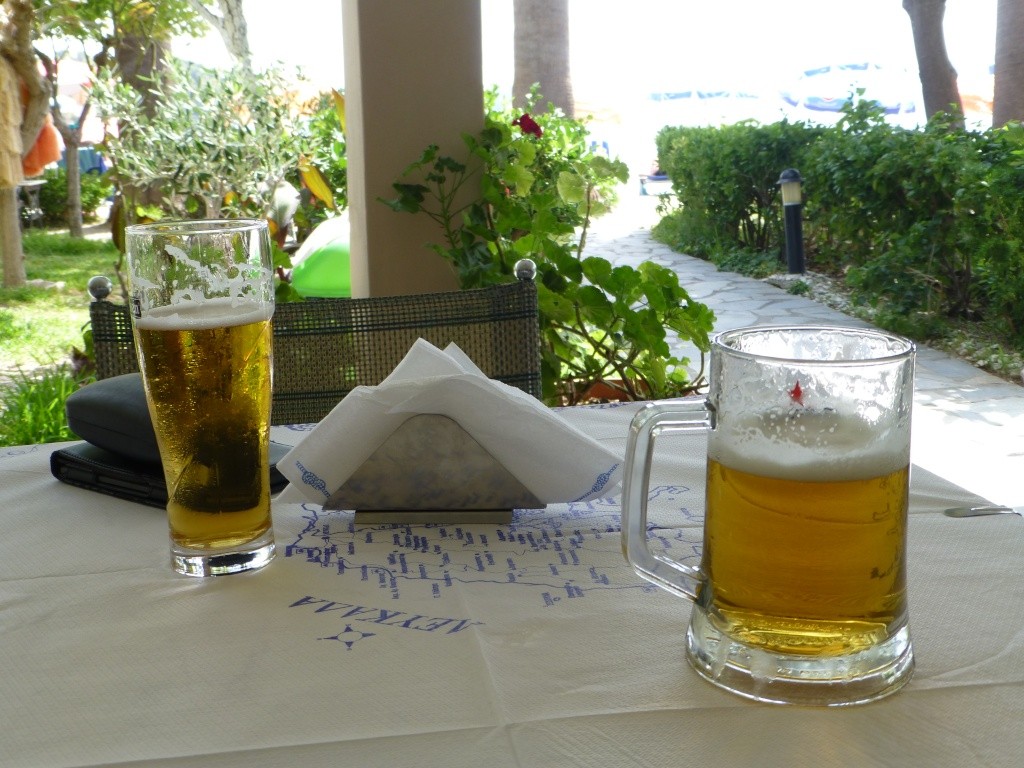 p1130114
and a Greek salad and traditional cheese pies lol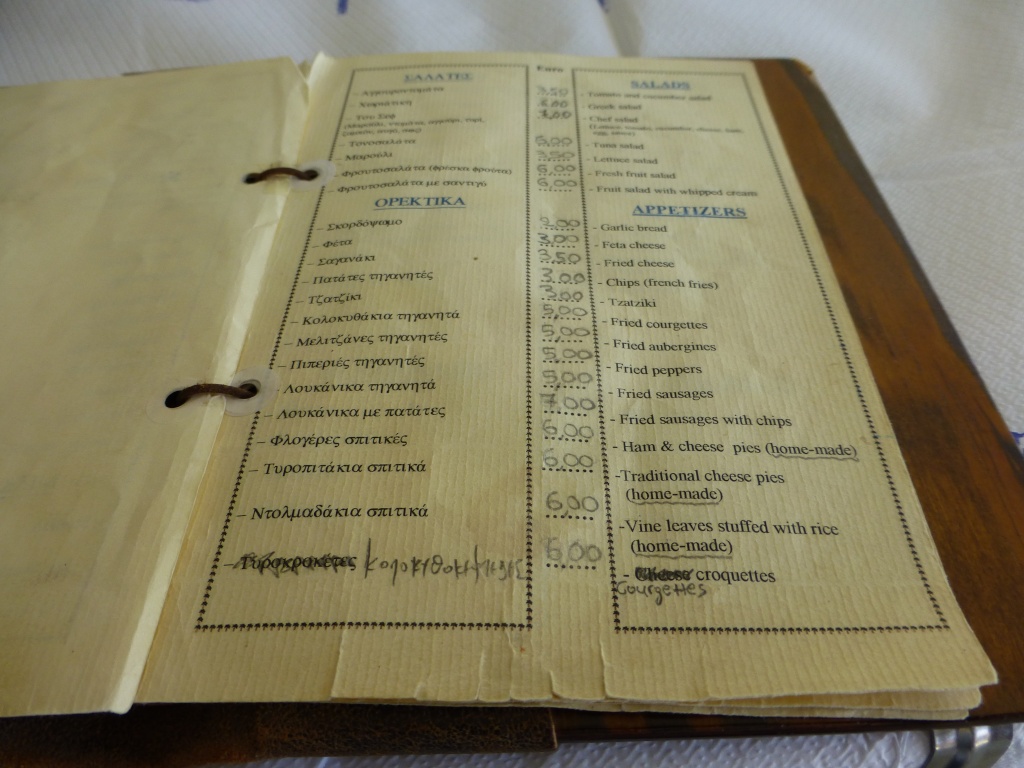 p1130116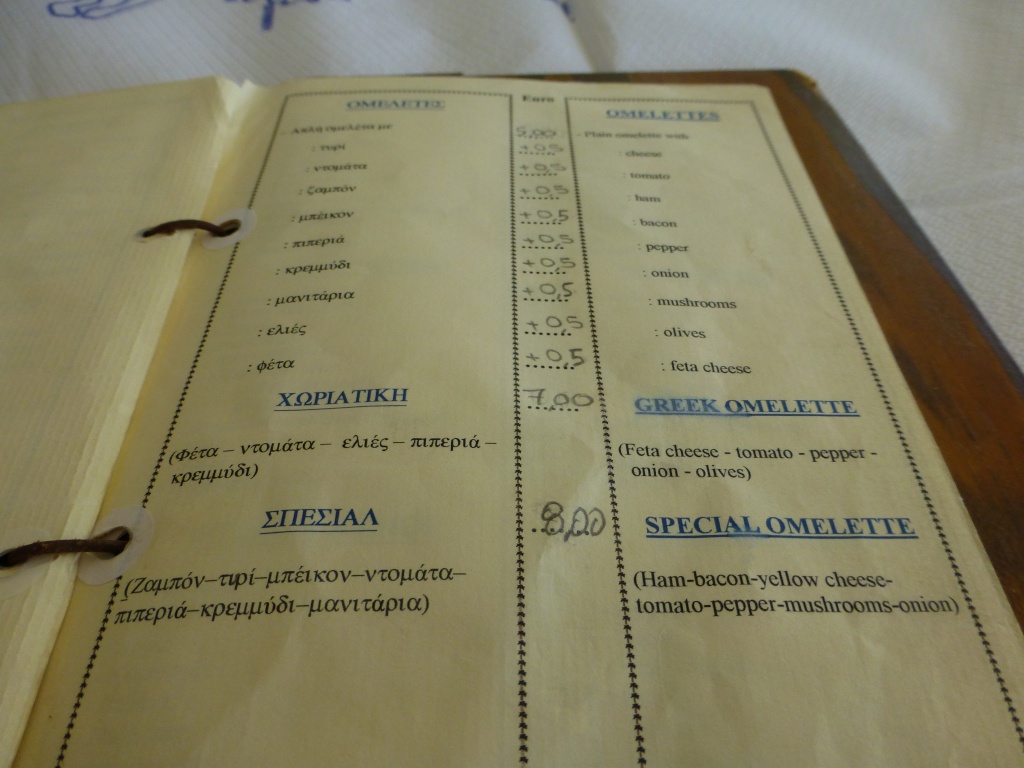 p1130117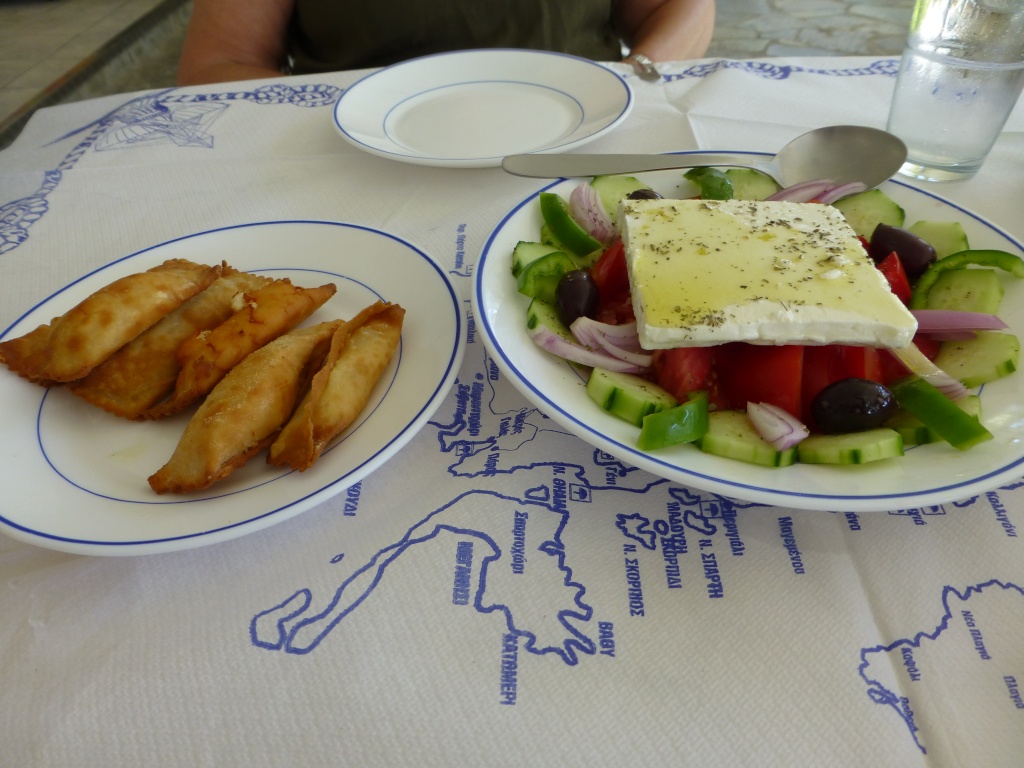 p1130119
The afternoon was spent on the beach and opposite us was the Island of Madouri, where the Greek poet Aristotelis Valaoritis was born and raised there. His great grand children inherited the Island. I did hear the Russian billionaire tried to buy it but the family do not want to sell.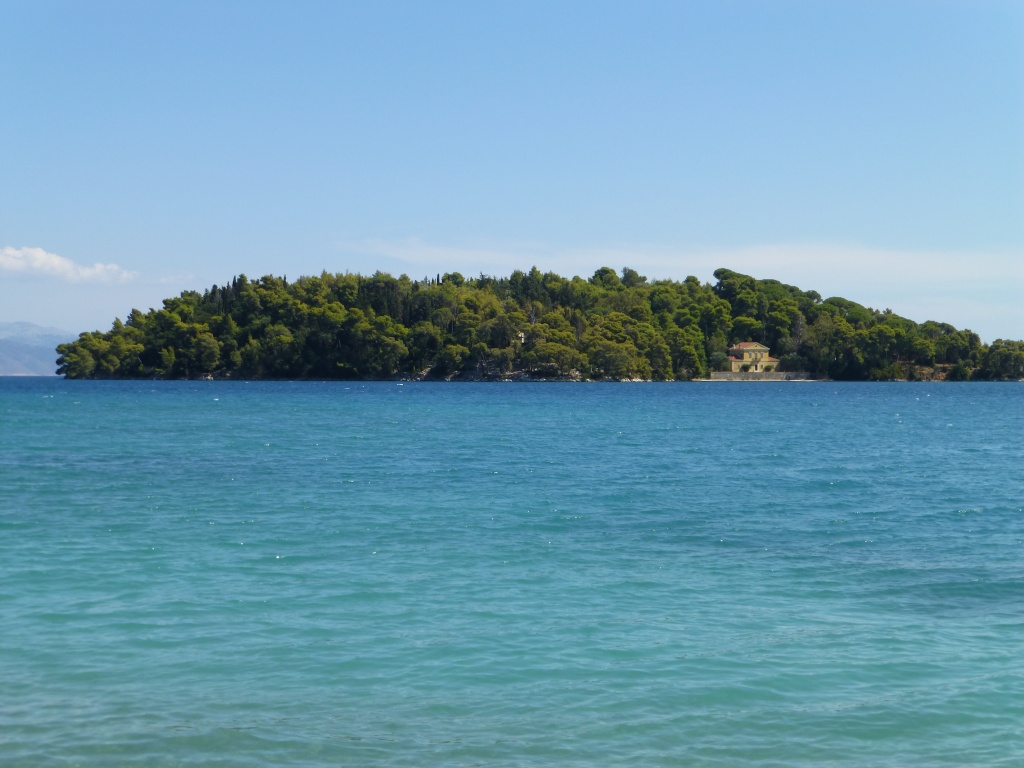 p1130122
and the island of Sparti on our left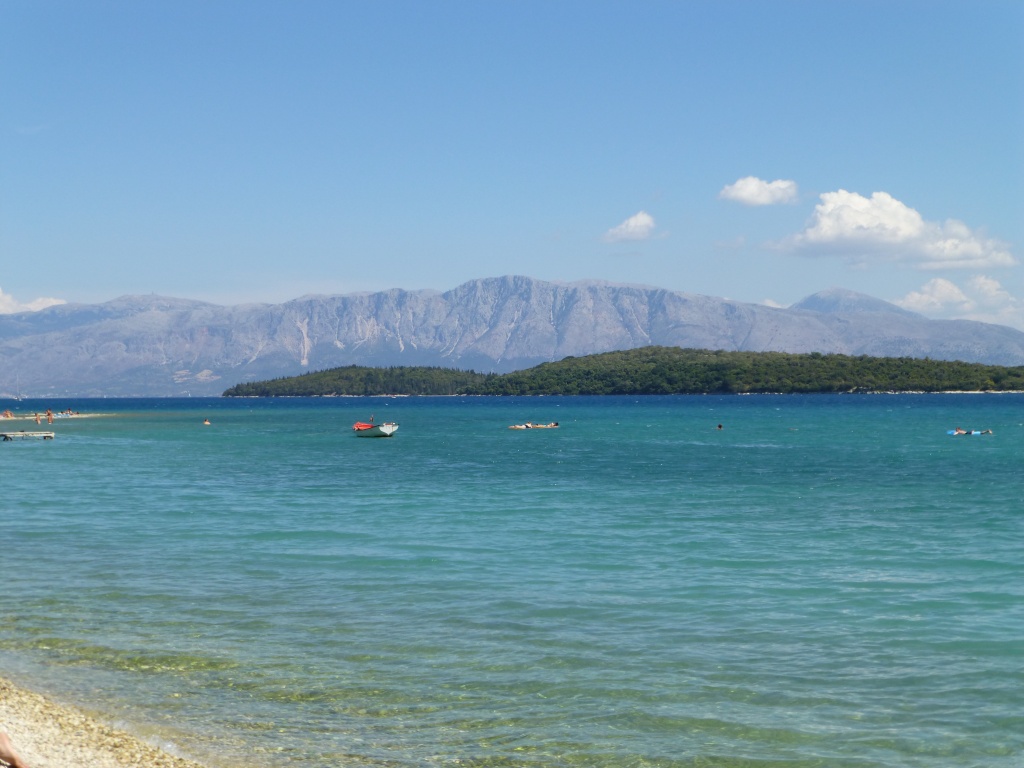 p1130124
tonight we decided to eat in the Barrel, it is about no 5 rated on trip advisor at this time
p1130134
I decide to have the chicken and bacon souvlaki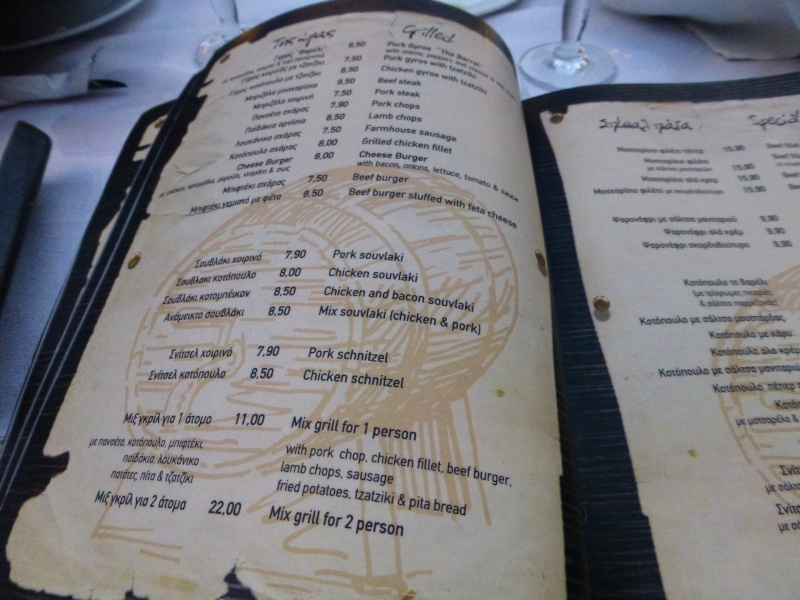 p1130130
It was superb, just the thing for me that
p1130135
Mrs Db went for the chicken in mushroom sauce
p1130132
and she thought is was lovely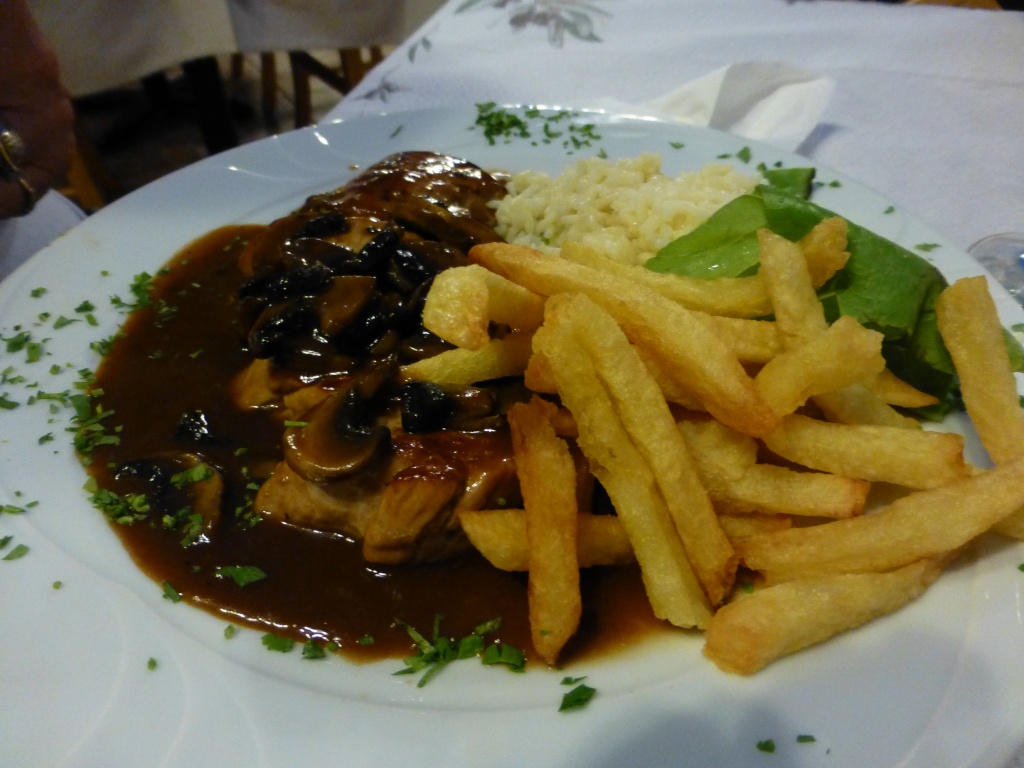 p1130136
small ice creams with raisins were given to each on the house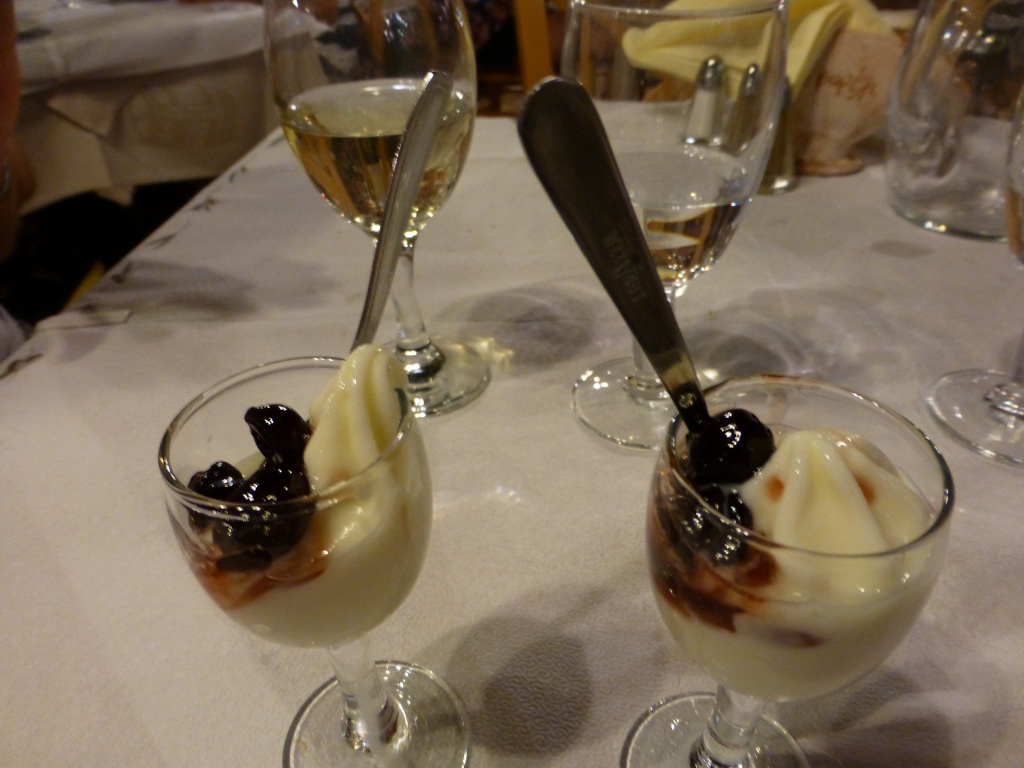 p1130137
on asking for the bill, a glass of peach schnapps was given to Mrs Db
p1130138
and a glass of Ouzo for me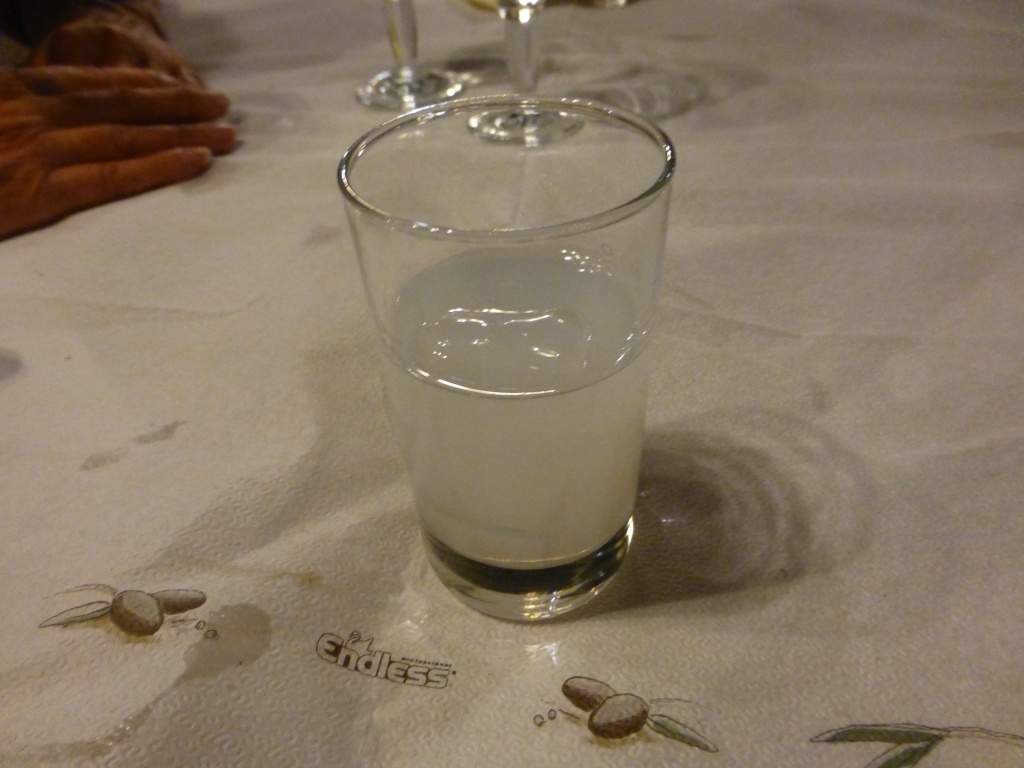 p1130139
a nice evening which ended with a coffee on the balcony
p1130140
END OF DAY 3
DAY 4
Blow that, just missed the sunrise, I may have to set an alarm after waking up about 4am for two hours then ended up falling asleep again lol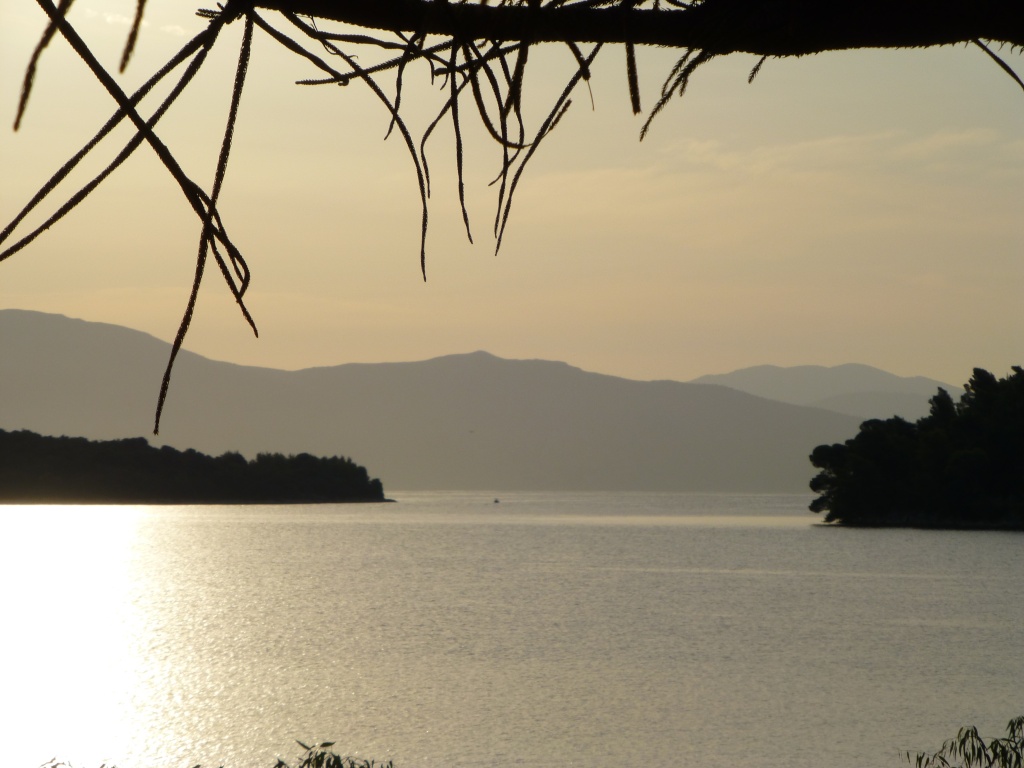 p1130148
today was said to be a cloudy and I thought I would do a run of the restos and a view of the town
this was Tom's which sits overlooking the beach next to the town
p1130150
then Roots that has one side of the resto on the prom and over looks the beach as well, there are also a couple of bars between Tom's and Roots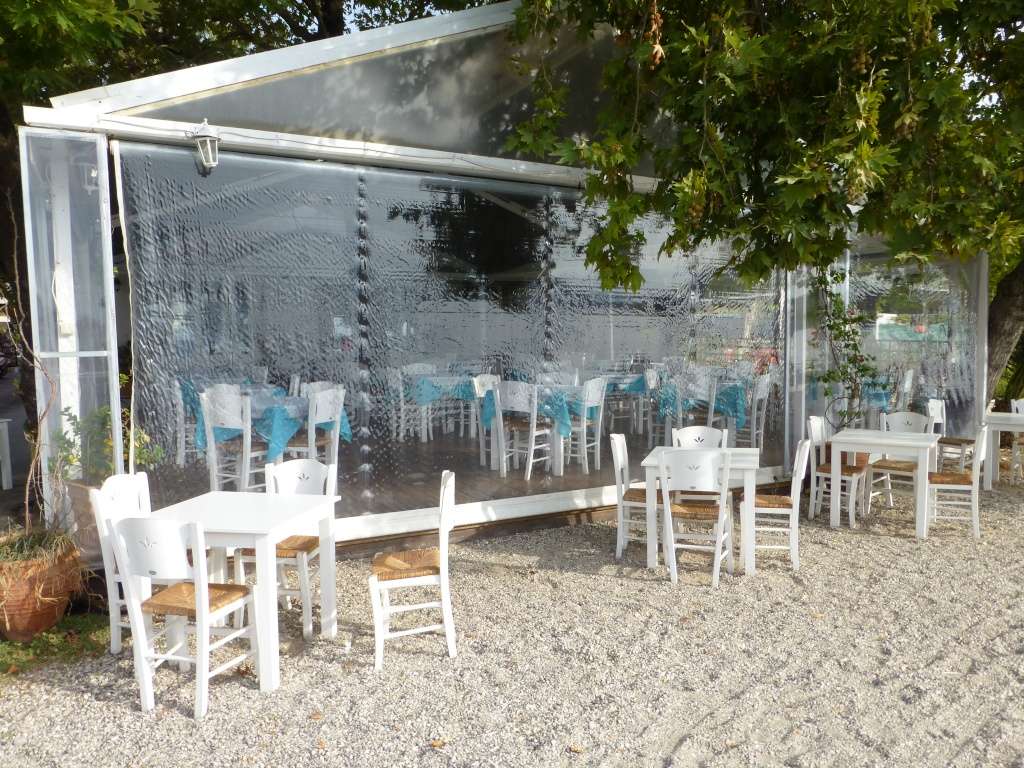 p1130153
The Barrel where we ate last night
p1130154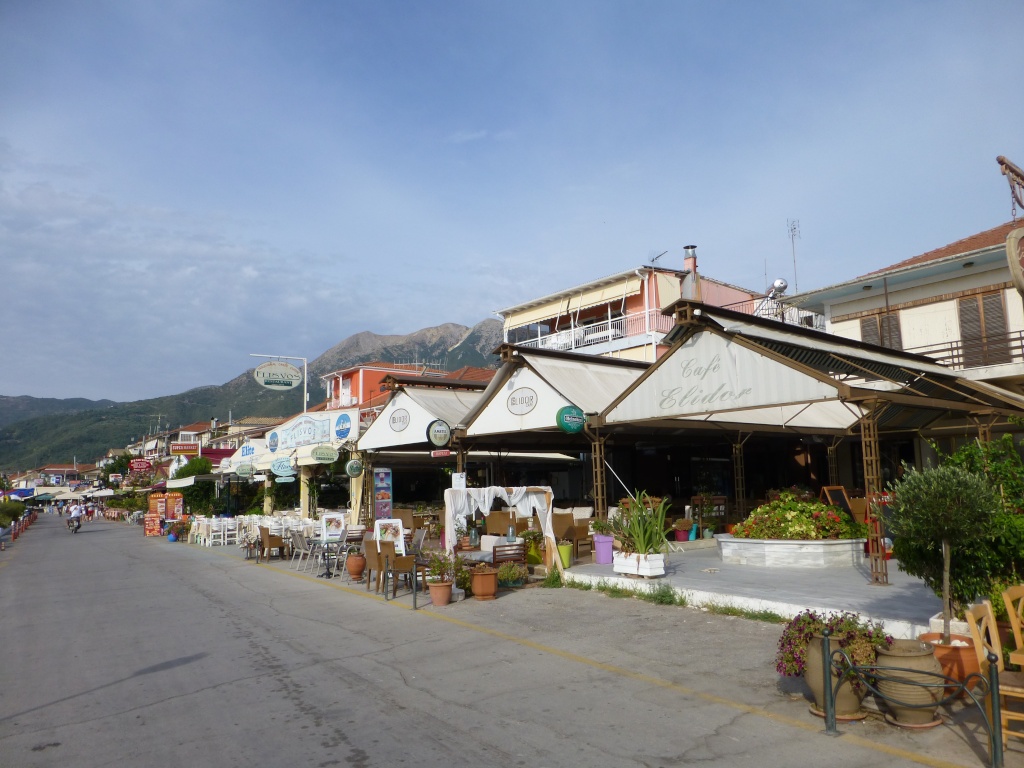 p1130155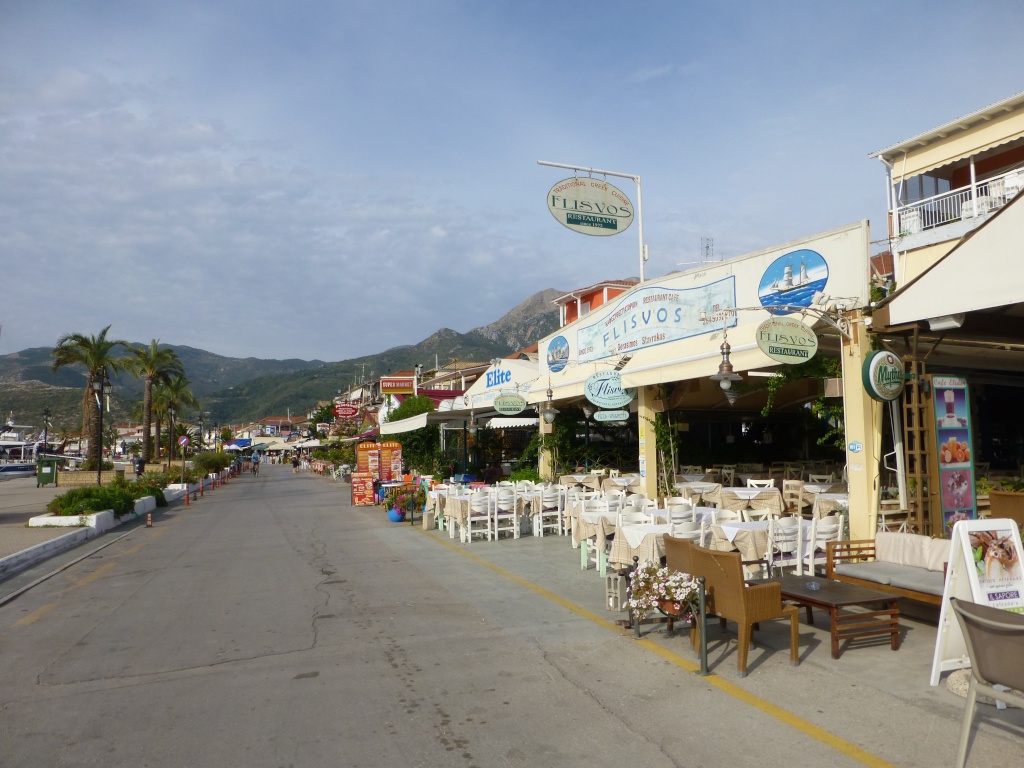 p1130156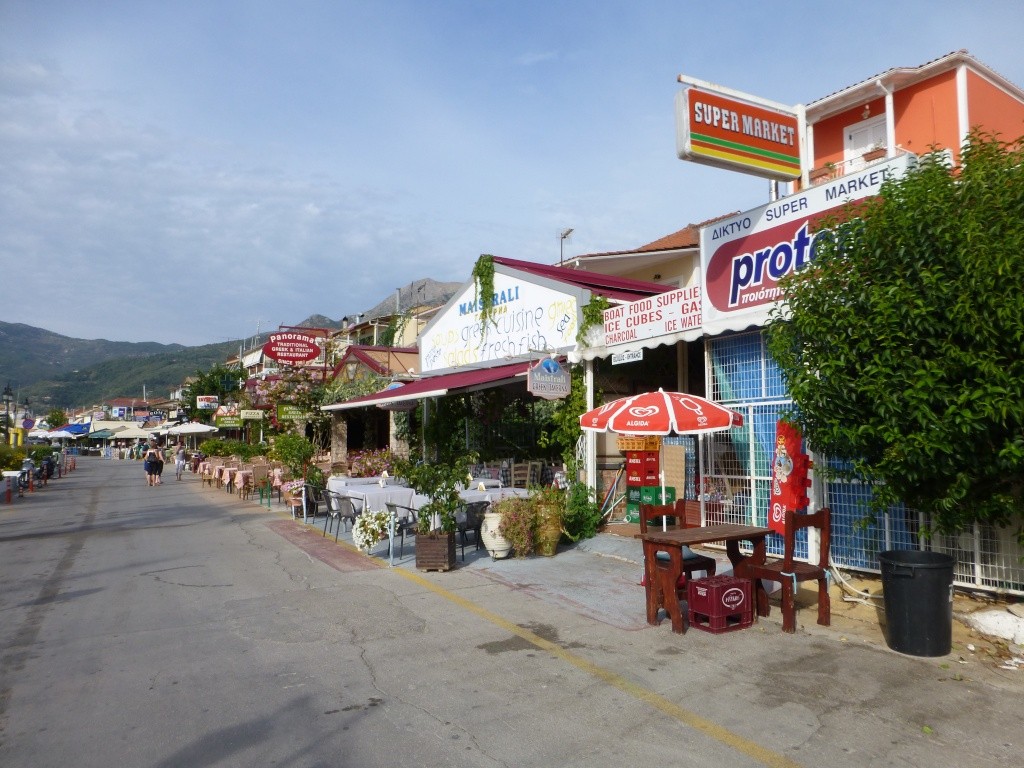 p1130157
Panorama where we ate the night before
p1130158
oh the Viking ship is just going out, it does have oars on board should it breakdown lol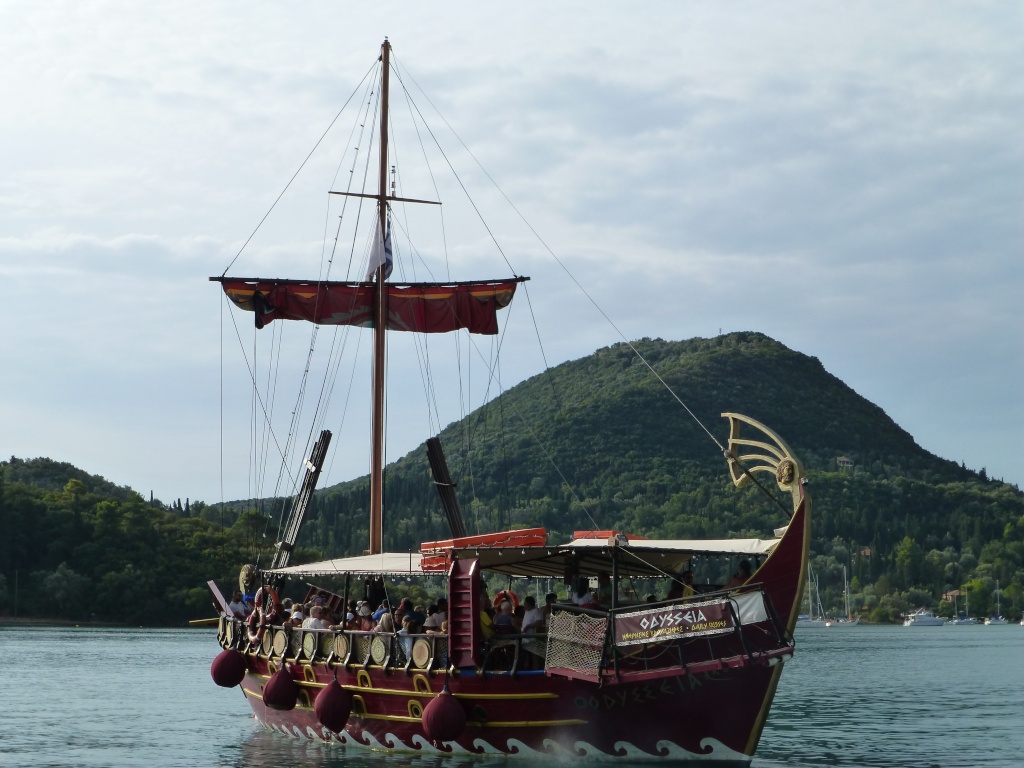 p1130159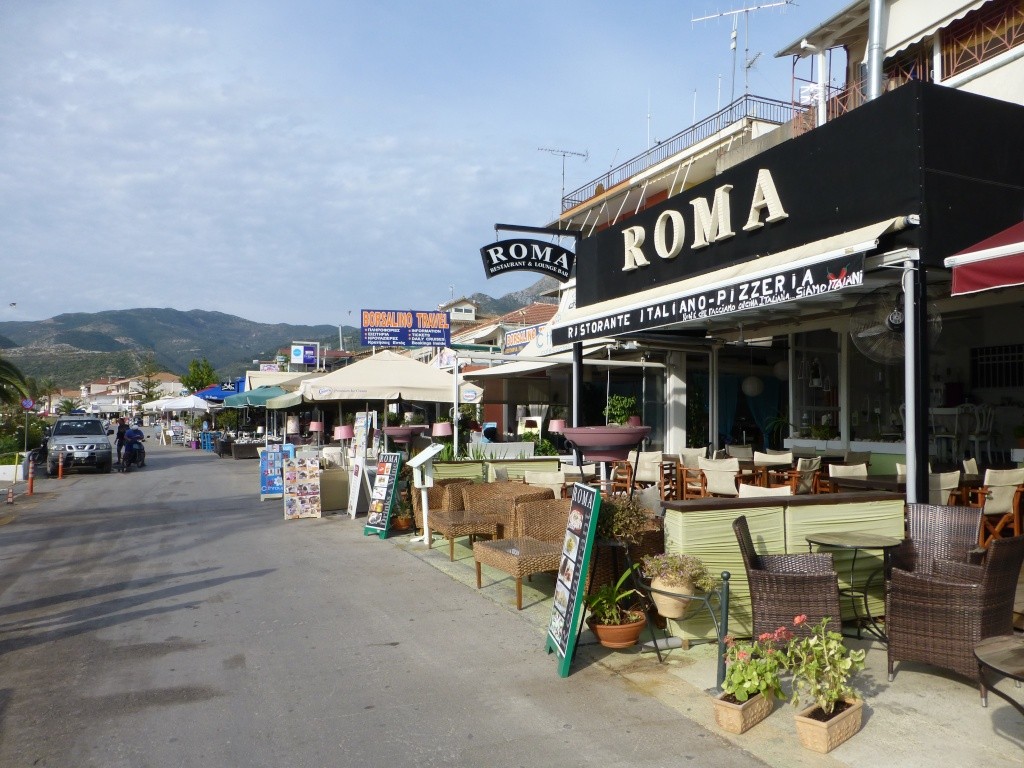 p1130161
lots of bars and restaurants to suit all down this run
p1130162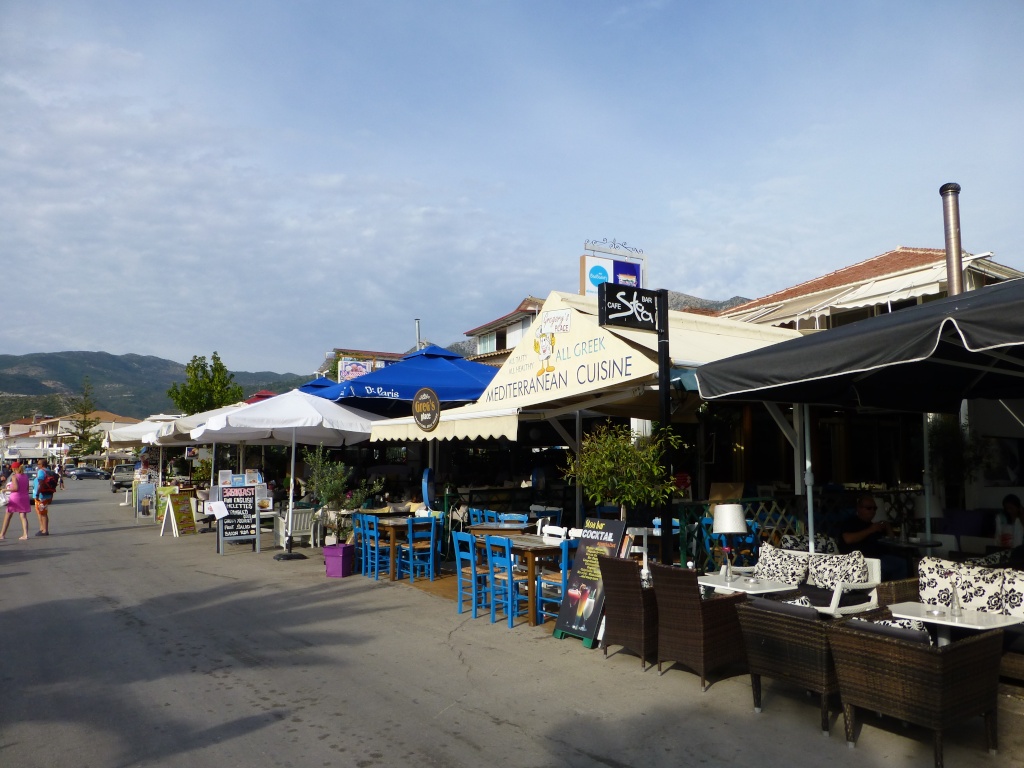 p1130163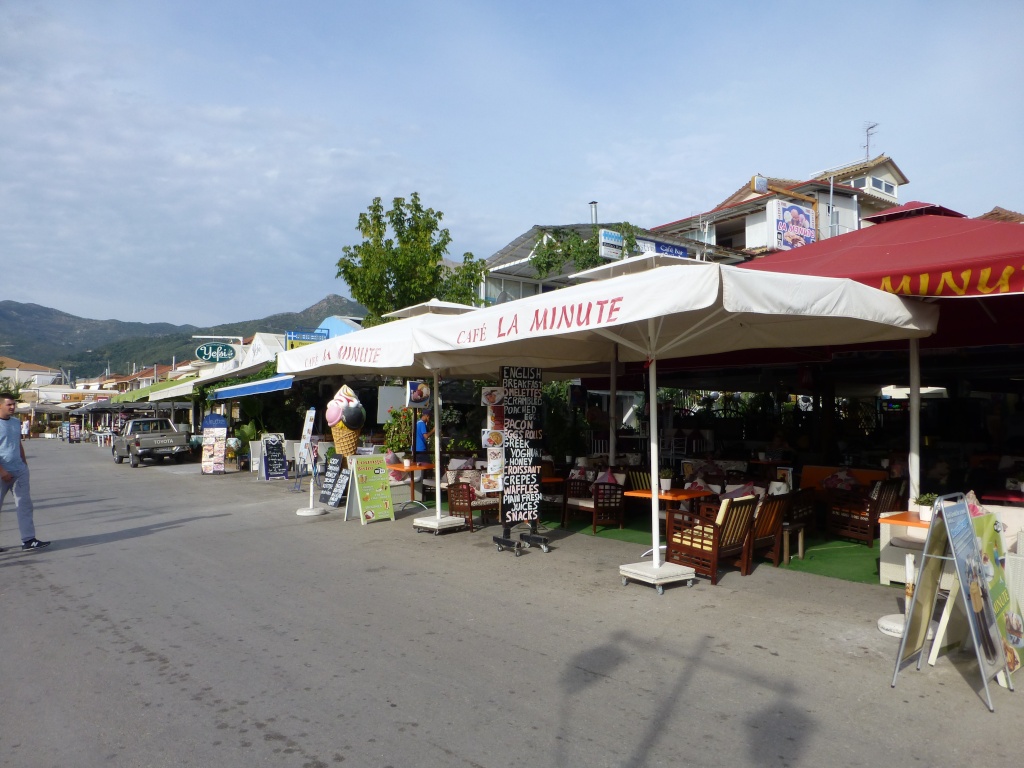 p1130164
The Yefsi where we ate on our first night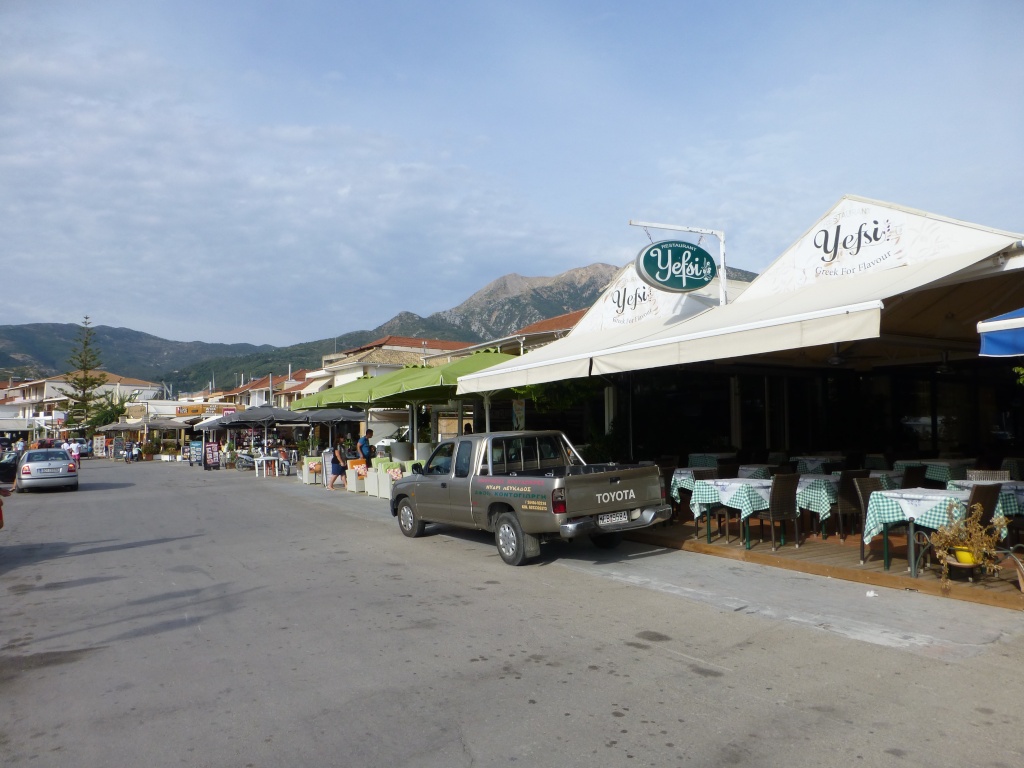 p1130165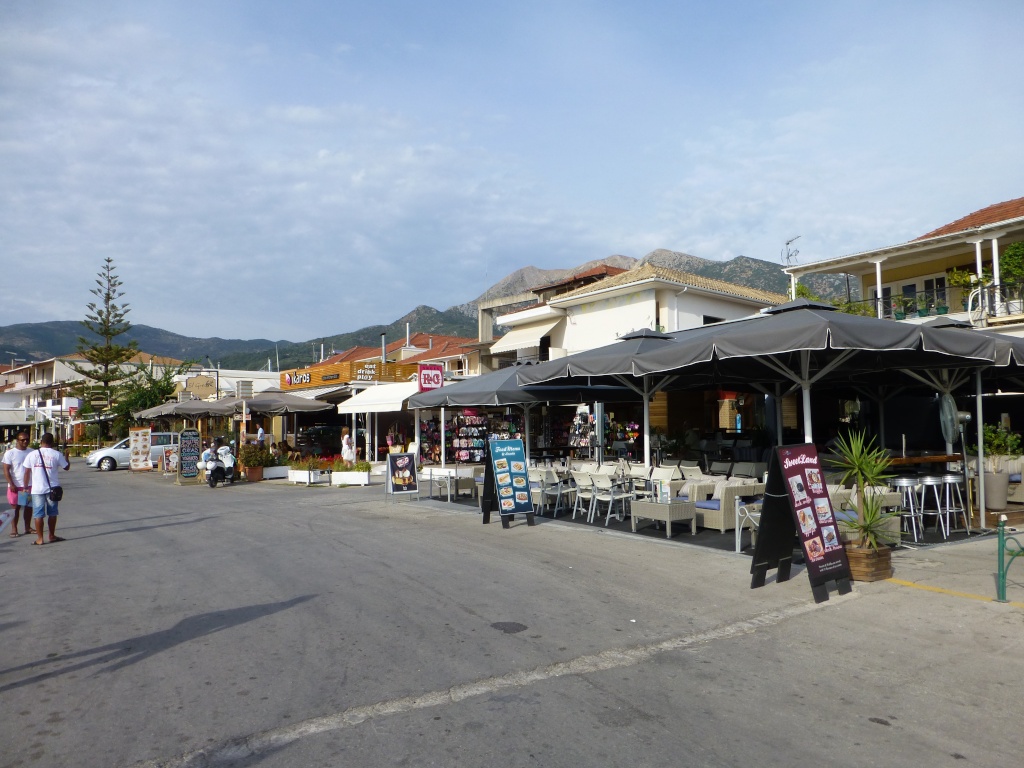 p1130166
over the holiday we found that most restos accepted an elderly guy going around the restaurants playing a violin (each time to us it gives the cringe factor). Also a footballer doing football tricks to music on the street outside each restaurant in turn but he was good for the first time of seeing lol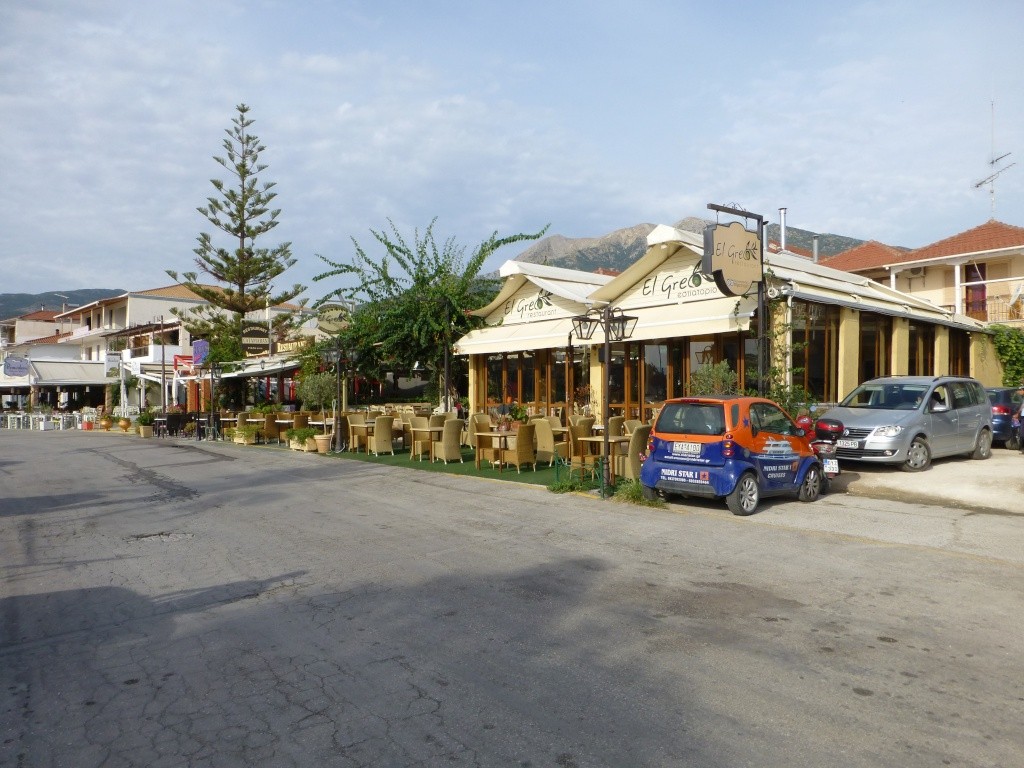 p1130167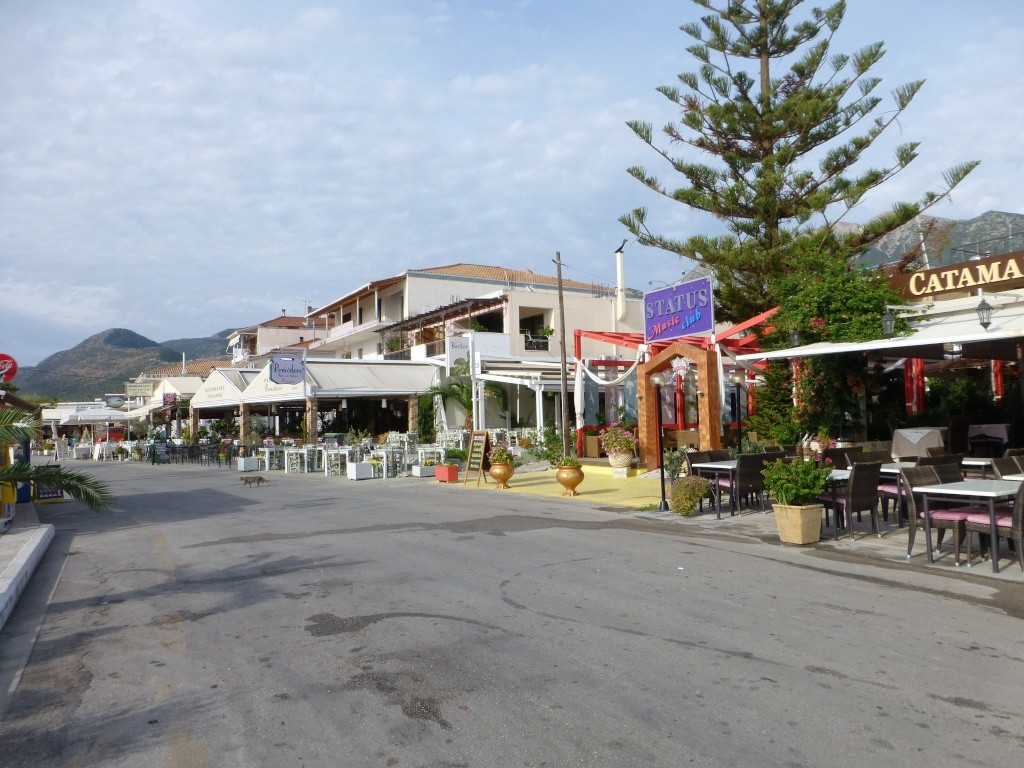 p1130168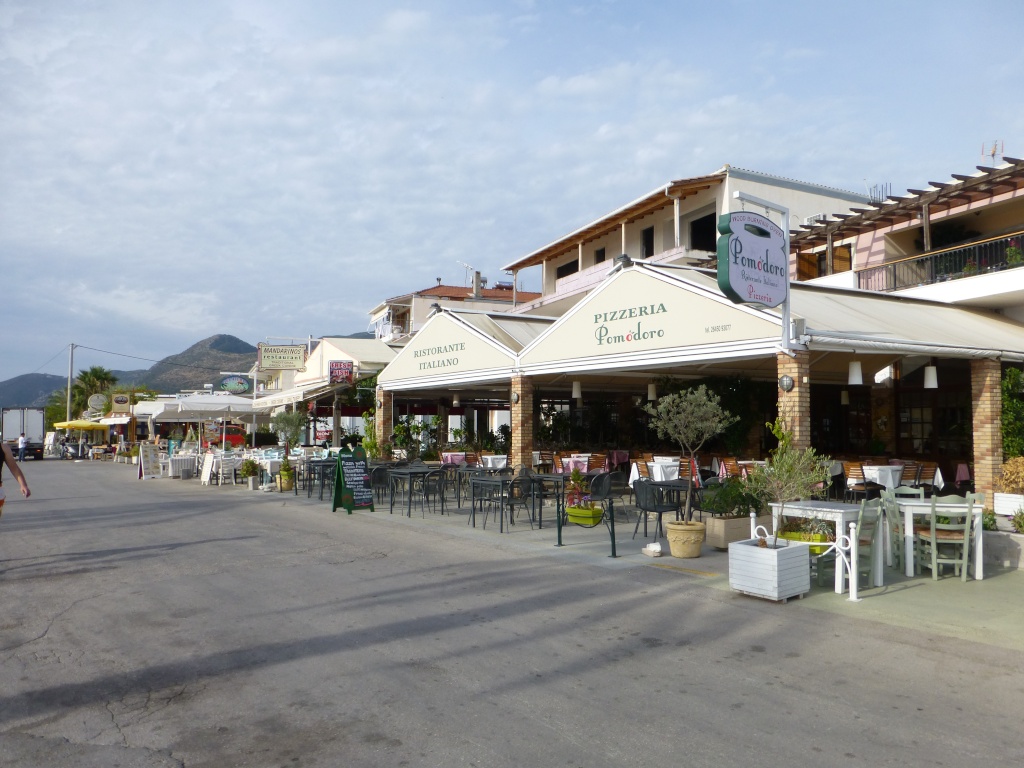 p1130169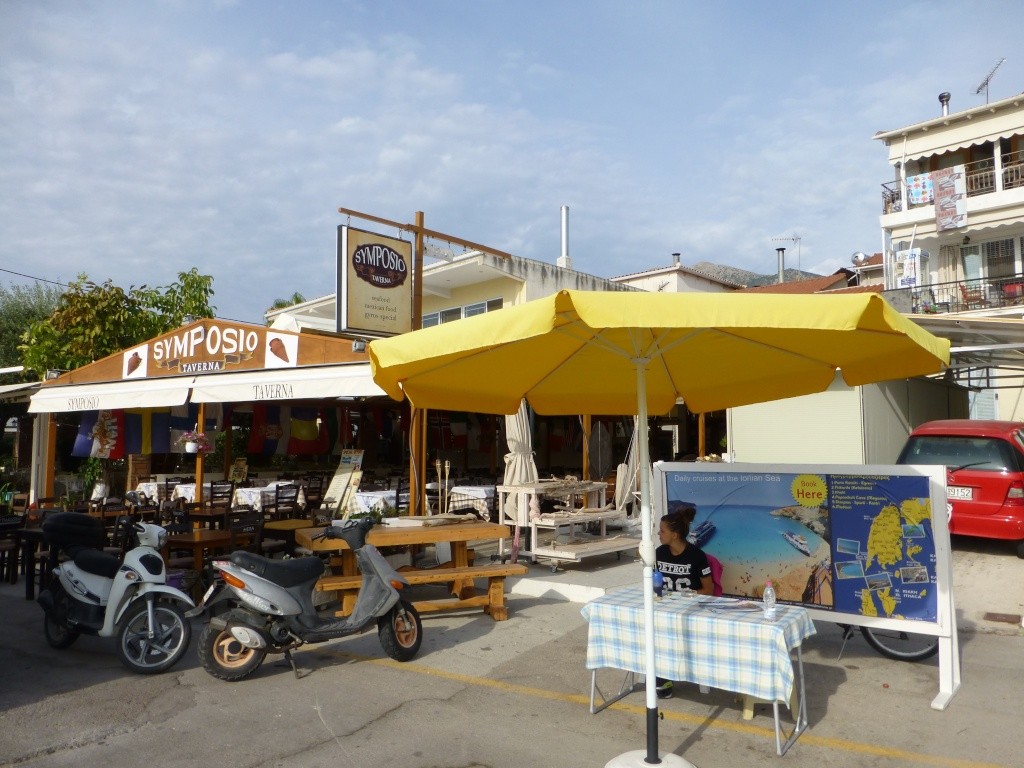 p1130170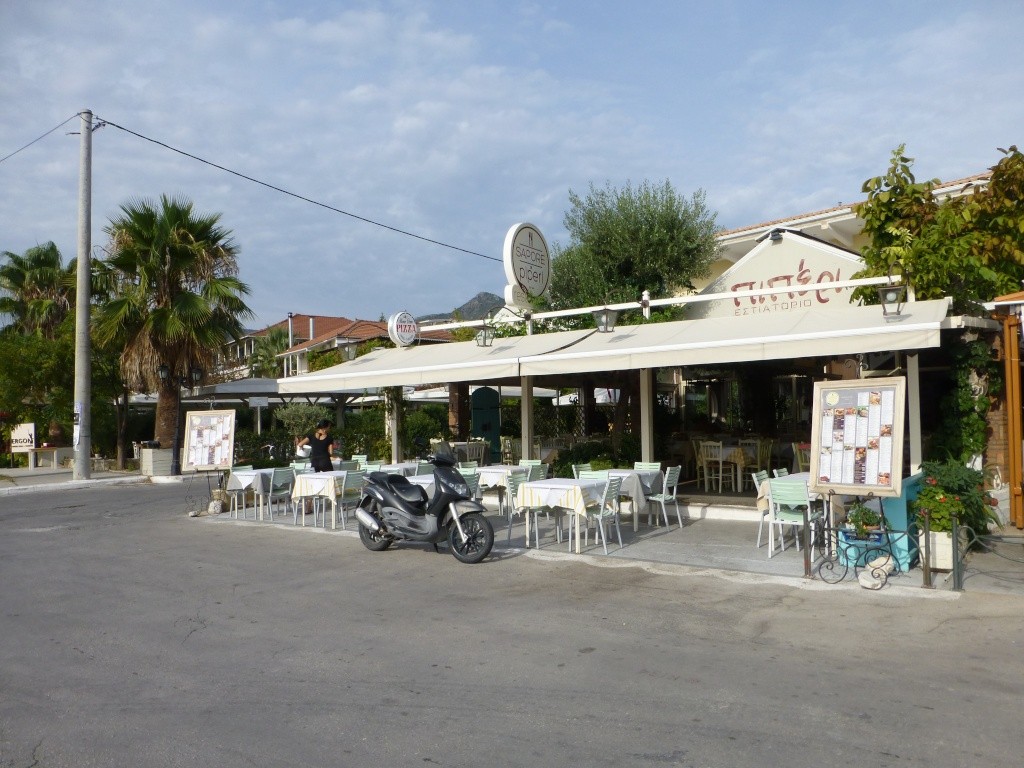 p1130171
even a Chinese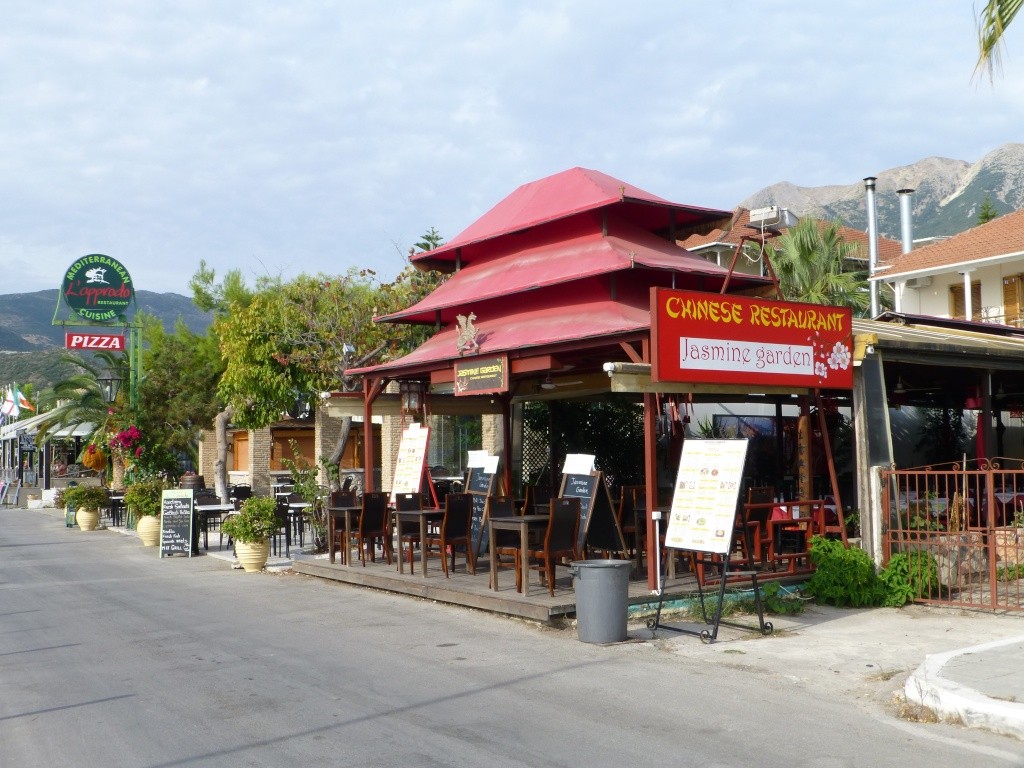 p1130172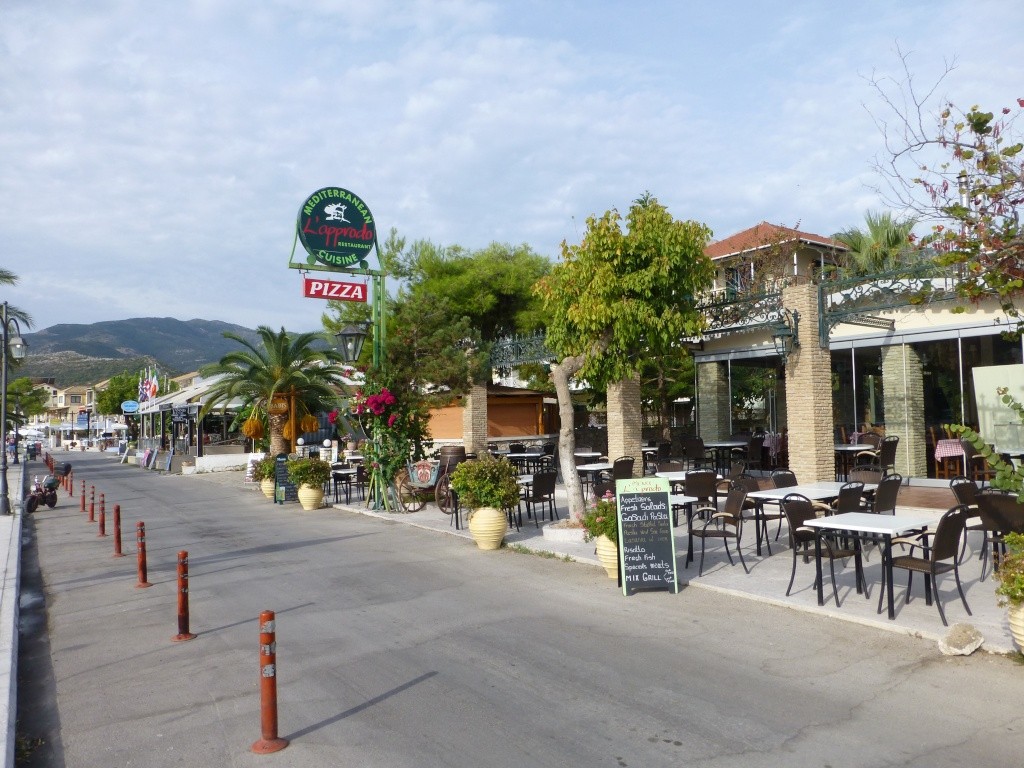 p1130173
p1130174
p1130175
p1130176
If you're driving around, Nidri has a couple of big car parks this on near the end of town
p1130182
this one doesn't have much cover though, so your car would get hot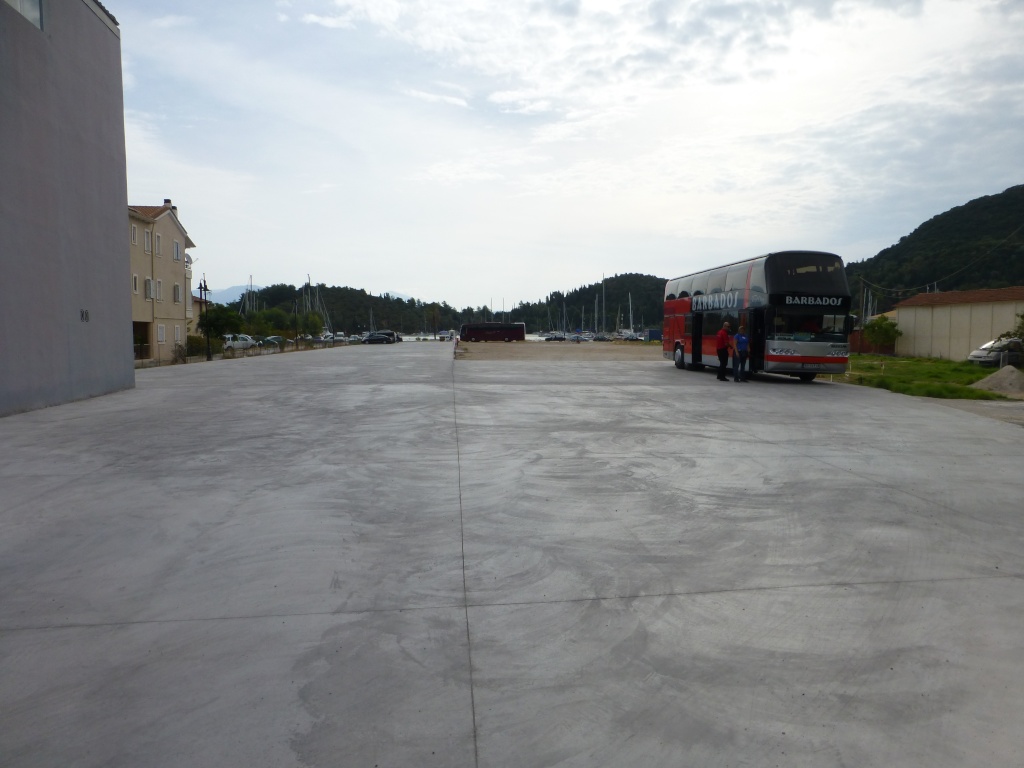 p1130183
petrol varied in prices, i saw one garage was 1.42€'s and another on the way to Lefkada was 1.52€'s so you need to shop around for petrol, diesel looks much cheaper than here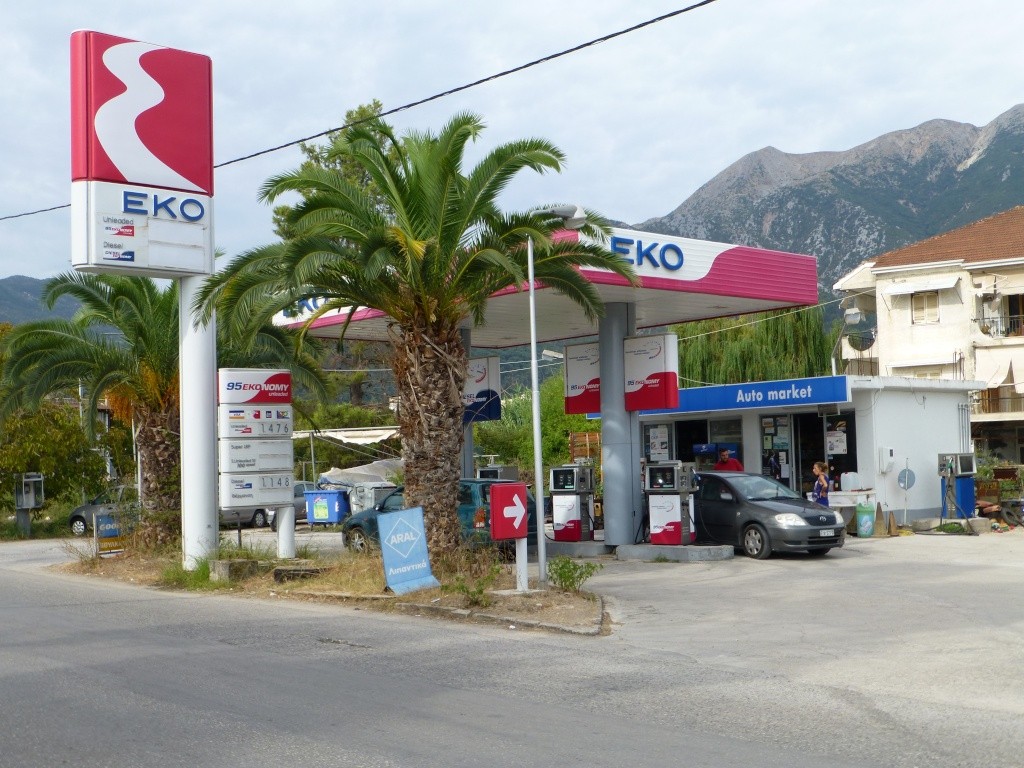 p1130184
loads of bakeries in town
p1130186
and ice cream parlours
p1130190
and restos doing breakfasts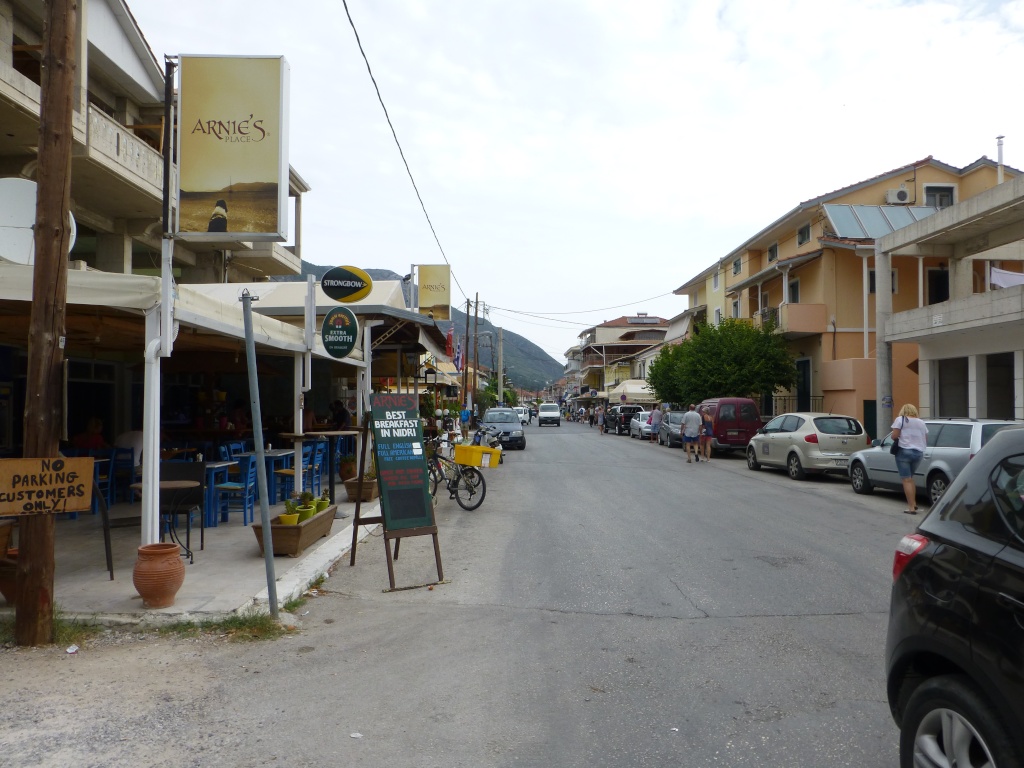 p1130192
this road looks quite empty but traffic is always running through despite a bypass at the back and you have to keep your wits about you, as traffic runs on the wrong side of the road lol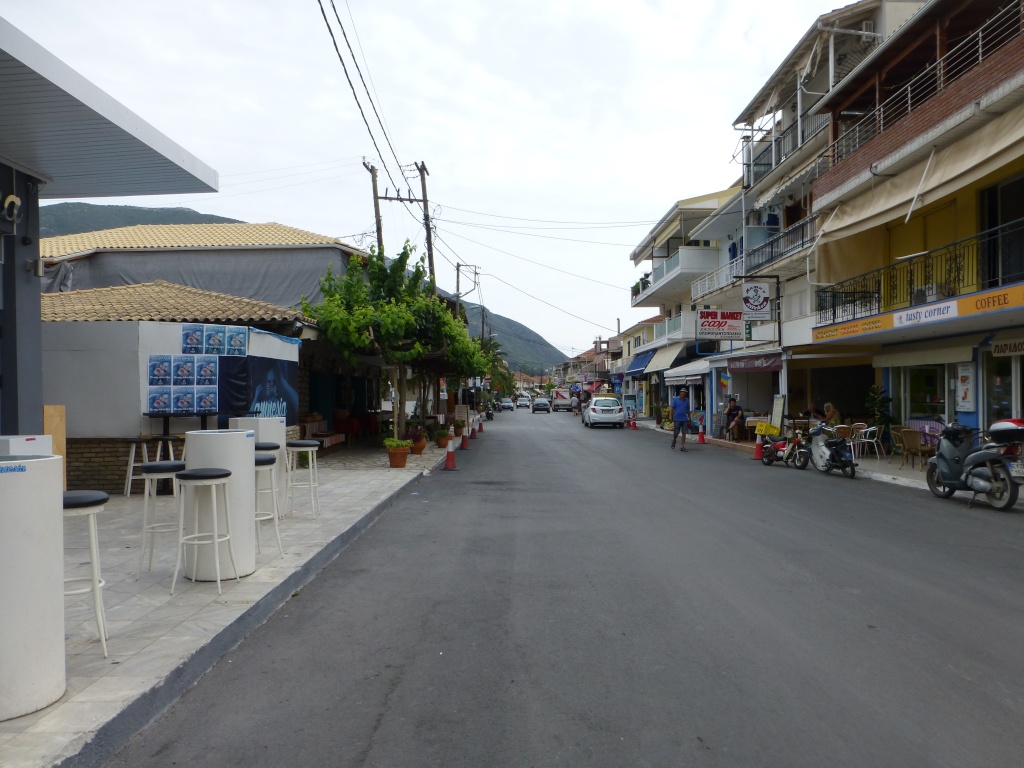 p1130194
p1130200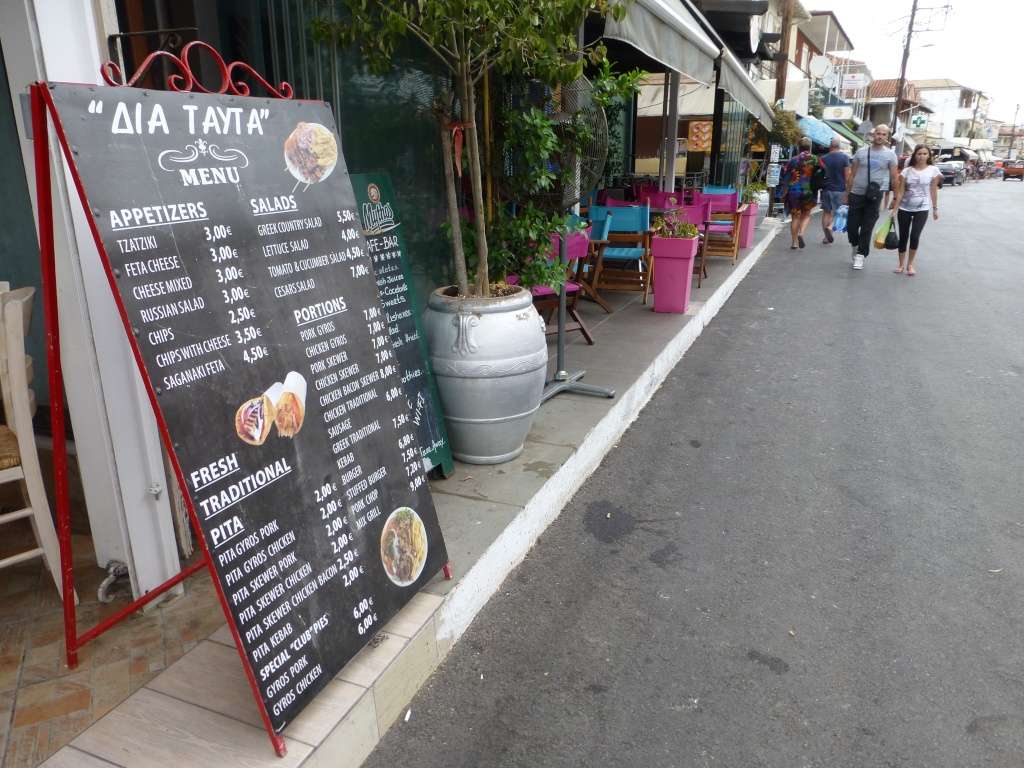 p1130201
Travel and exchange places, some charge commission here but ok rates, one guy said 1.32 after commission but not sure what the interbank rate was at that time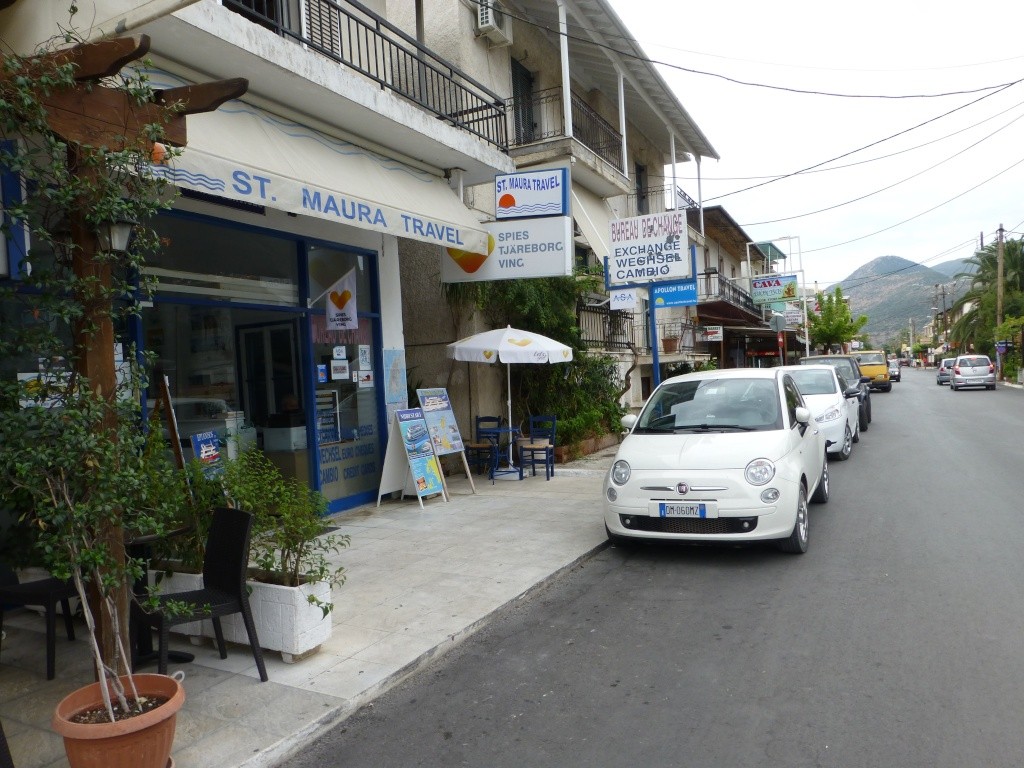 p1130202
The chemists. Nidri is a working town and I even found a shop selling chain saws lol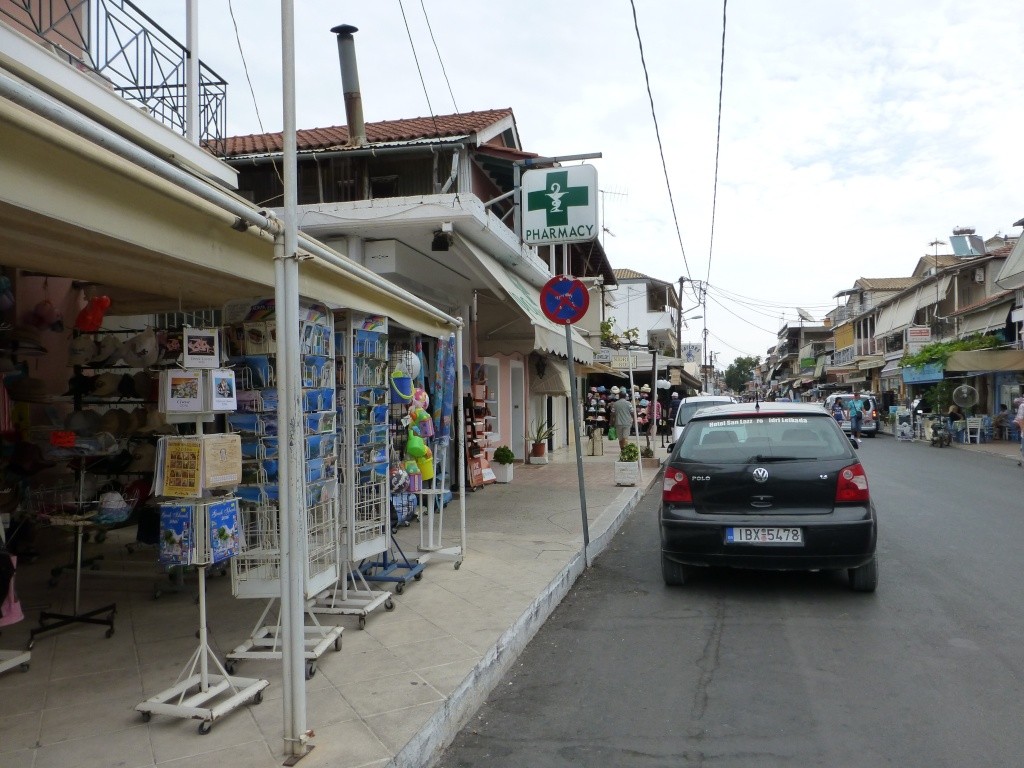 p1130204
plently of fruit shops around with peaches as big a cricket ball lol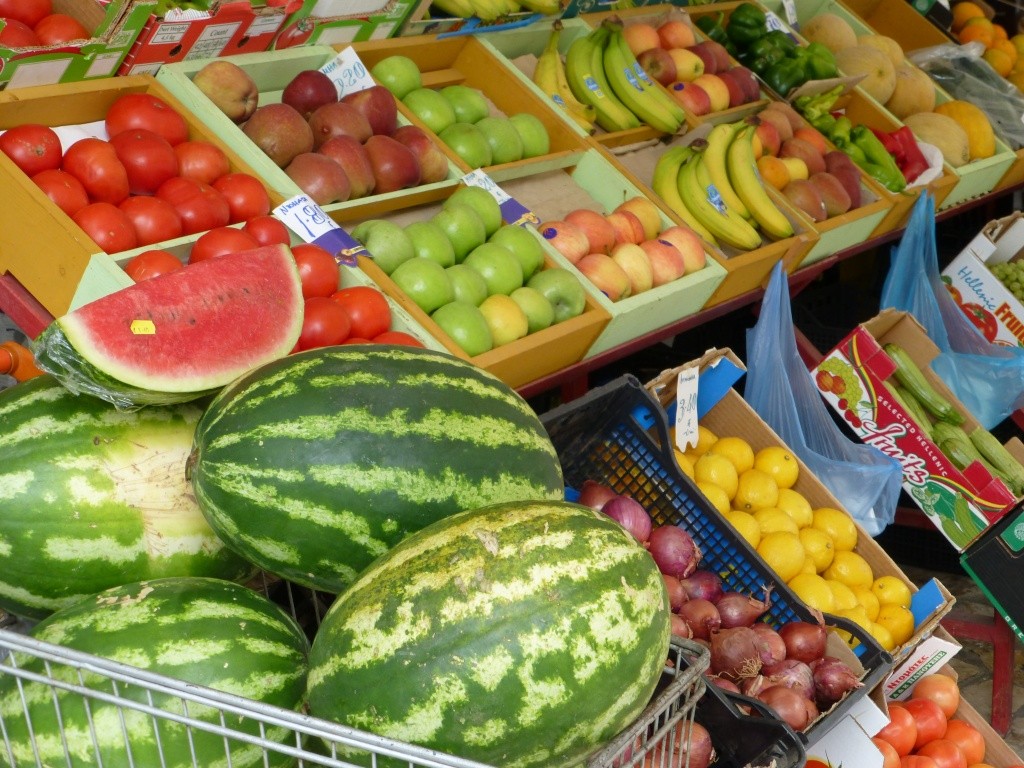 p1130205
estate agents, not sure whether you can see these prices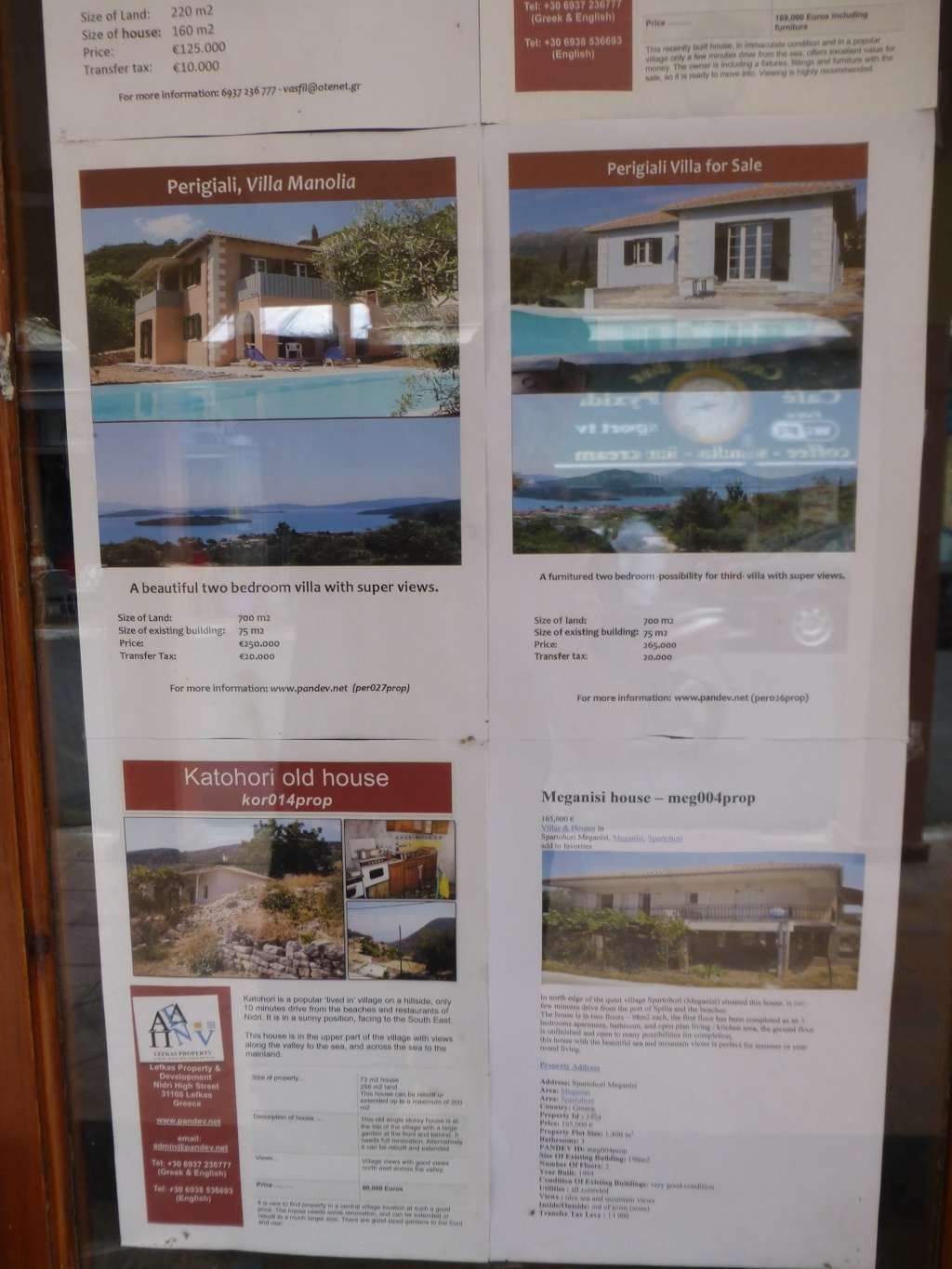 p1130206
There are doctors but they are all private, nearest hospitial is in Lefkada town where you can use your EHIC card but a taxi ride away
p1130213
Nidri's only bank, there apparently 5 atm's but I only came across two Atm's in my walks, this is one of them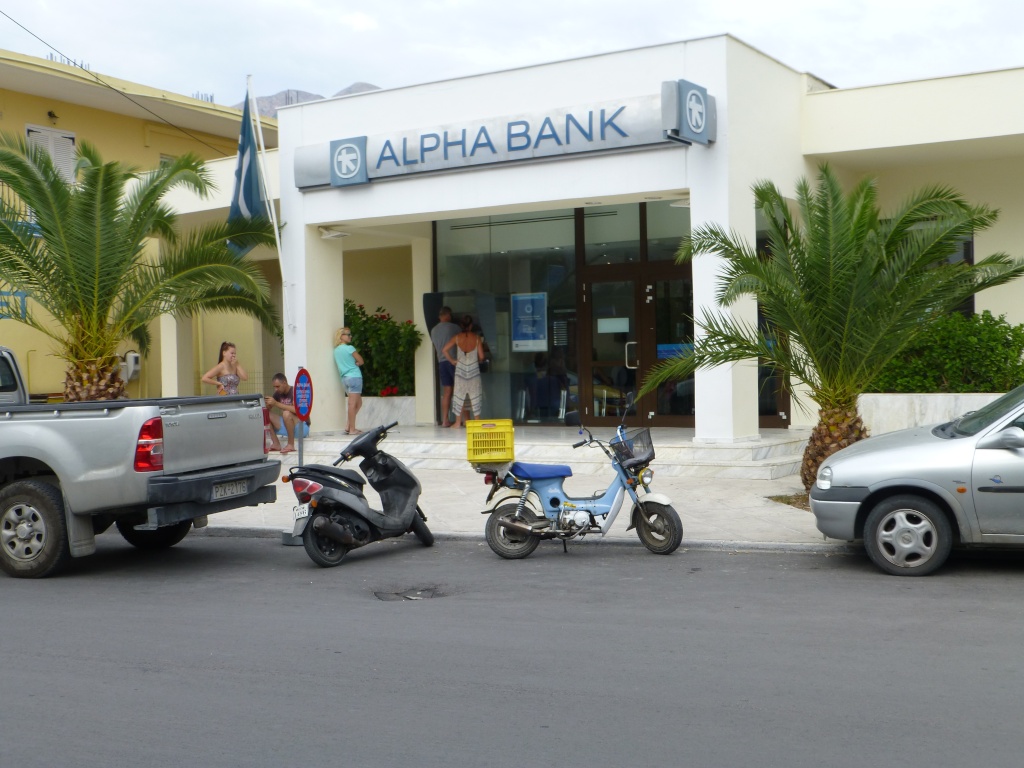 p1130215
JD's run by an English lady who went out for a holiday 7 years ago and stayed there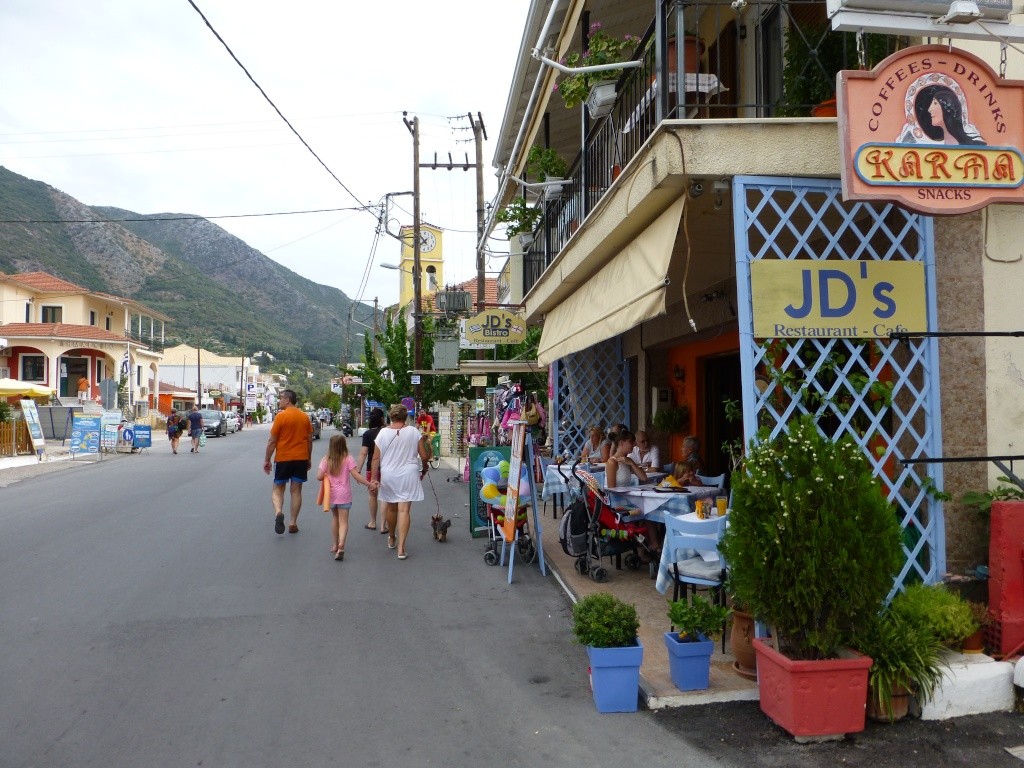 p1130217
The town's church and their clock tower, where you can set your watch to it, one ding on the half hour too lol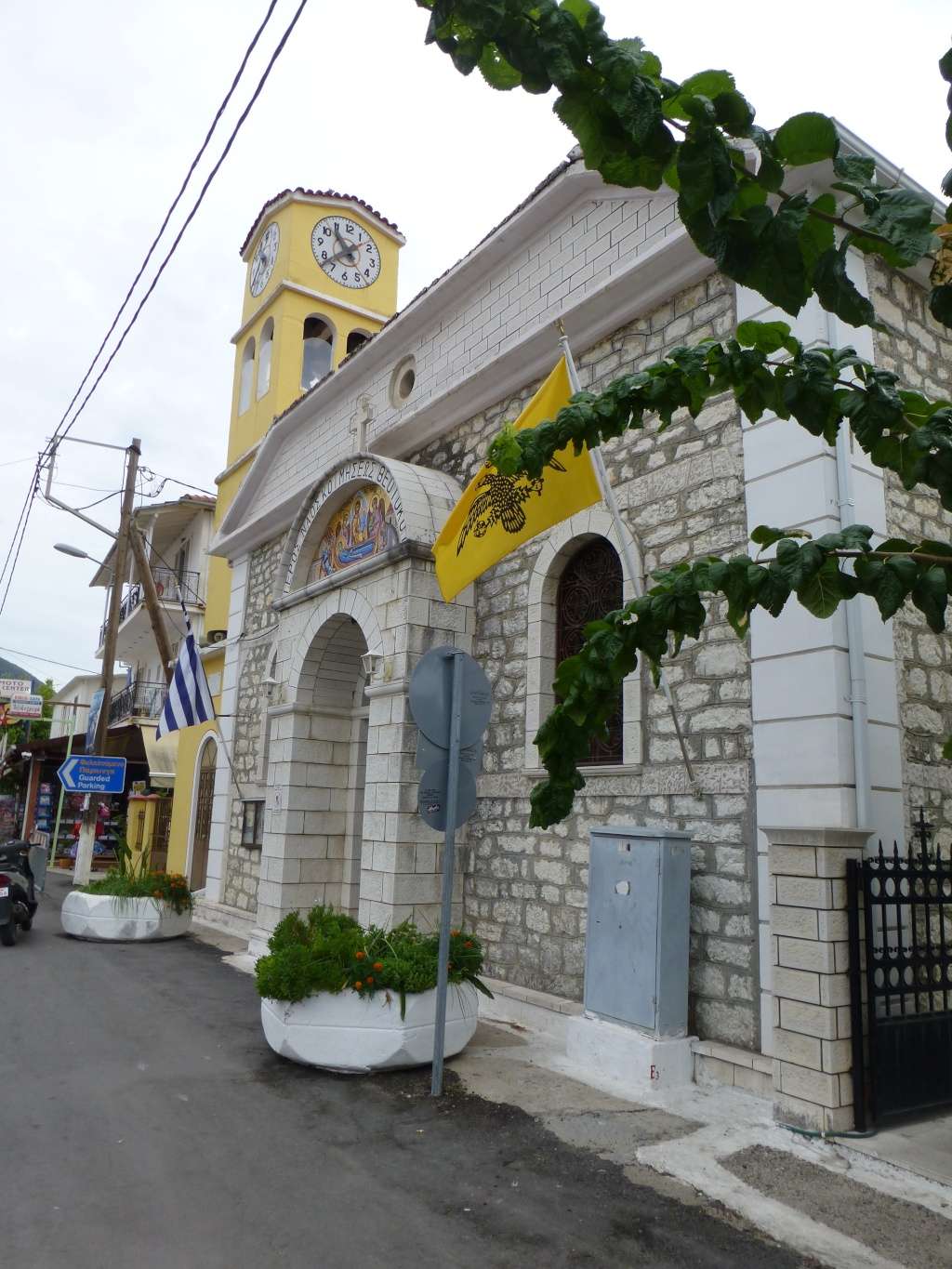 p1130218
so that is just a glimpse of the town and hope it gives you a good idea of the place
so it was back to Mrs Db for lunch, it had been cloudy but was still very warm
we tried Gregory's on beach, beer was 3€'s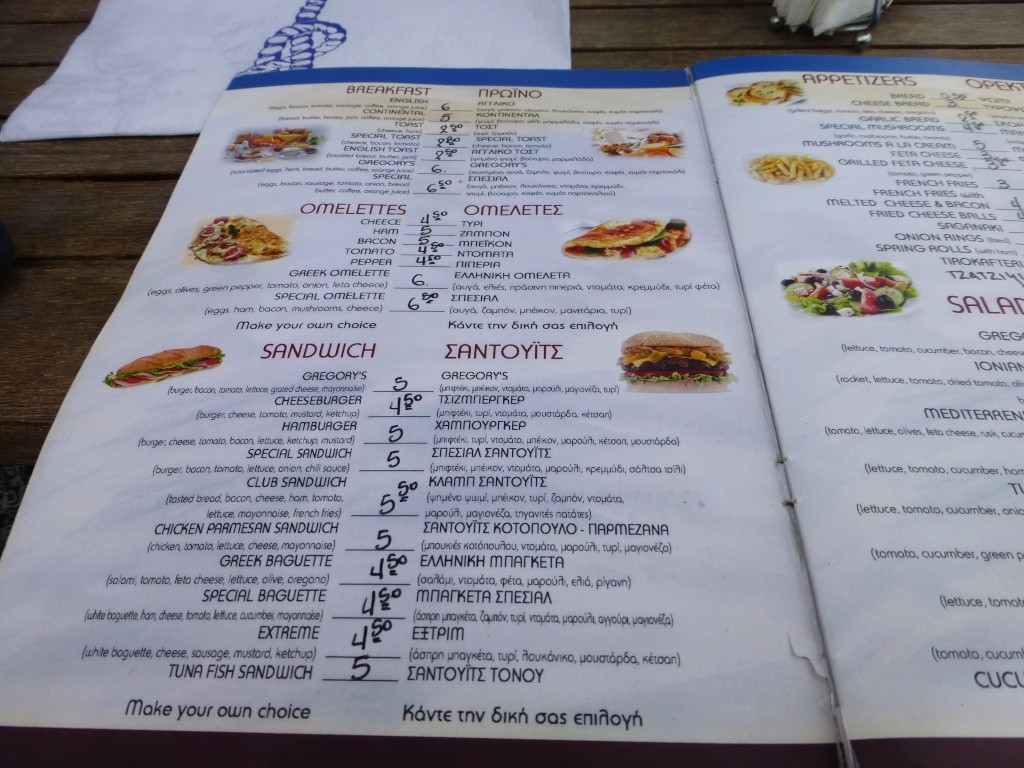 p1130228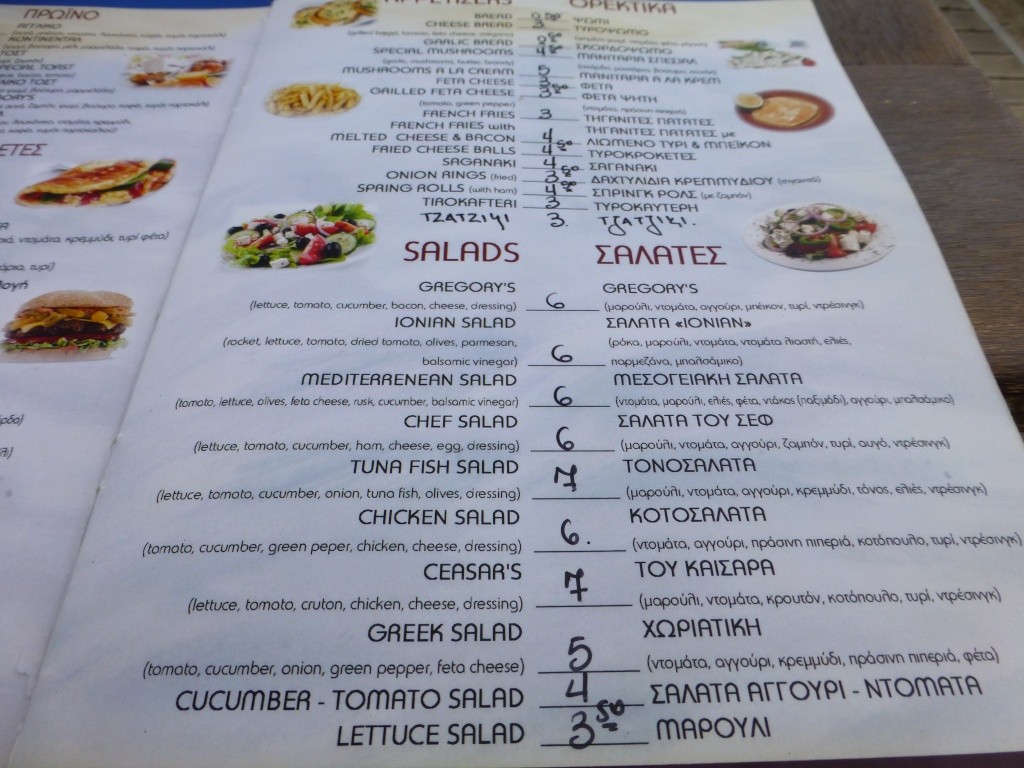 p1130229
Mrs Db had a club sandwich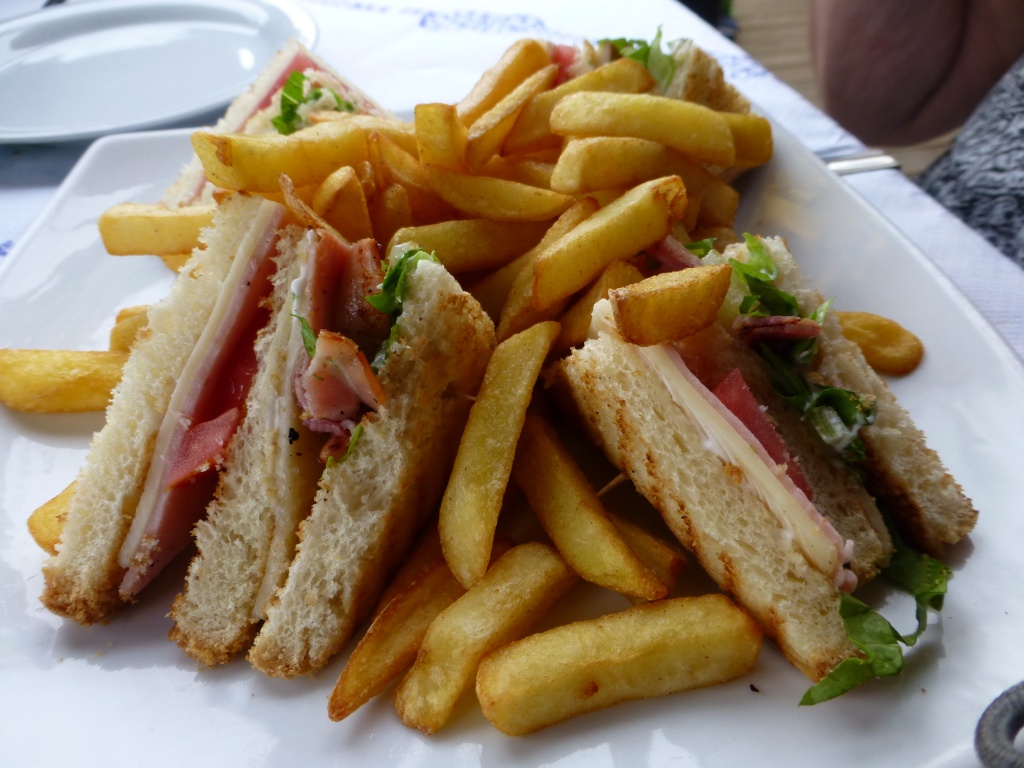 p1130234
I had a simple omelete lol
p1130235
There is a little white blob on the side of red umbrella on the right
p1130236
this is the Russian Billionaire's boat which has turned up on Scorpios, the island beyond, obviously heard Delboy was in town lol
p1130233
After a short time on the beach, rain was forecast and a lightening storm was due tomorrow and by evening it had just started to rain, so we grabbed our packamacs and just got to the first resto 'the barrel' before it started to come down heavy (so we went there again for safety) lol
I had the beef fillet with peppercorn sauce, Mrs Db had the chicken and bacon souvlaki that I had the time before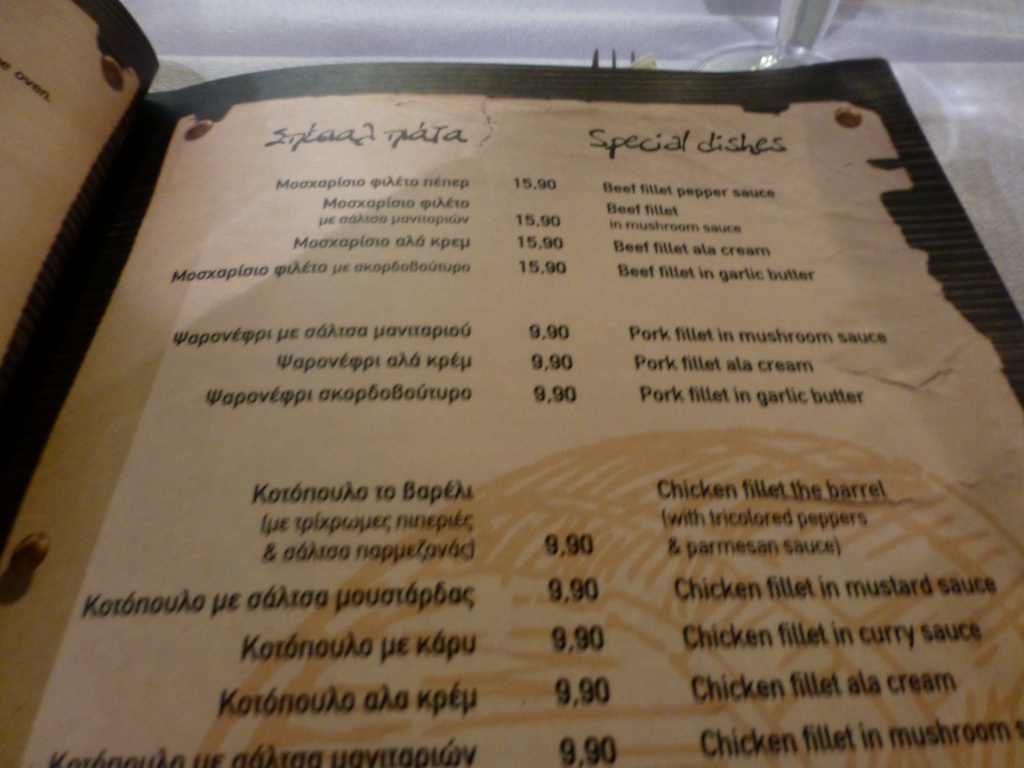 p1130239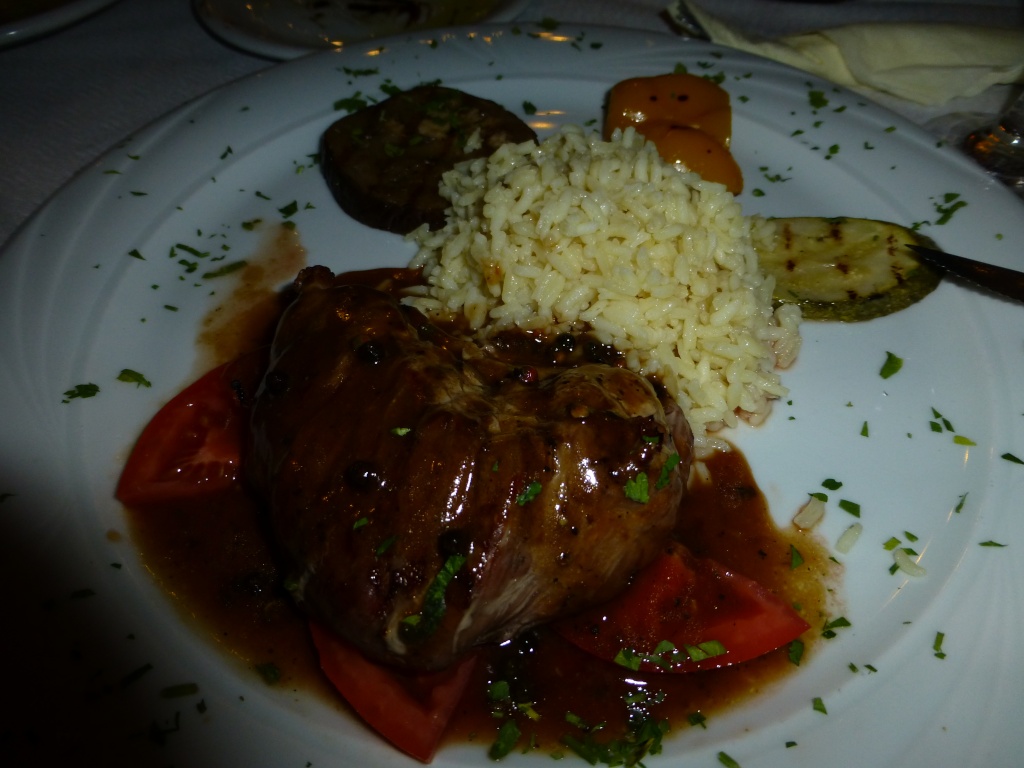 p1130243
the place has a roof that opens and closes like Wimbledon and a bit dark I should have used flash. It was tipping down outside and I was expecting Cliff Richard to get up and sing lol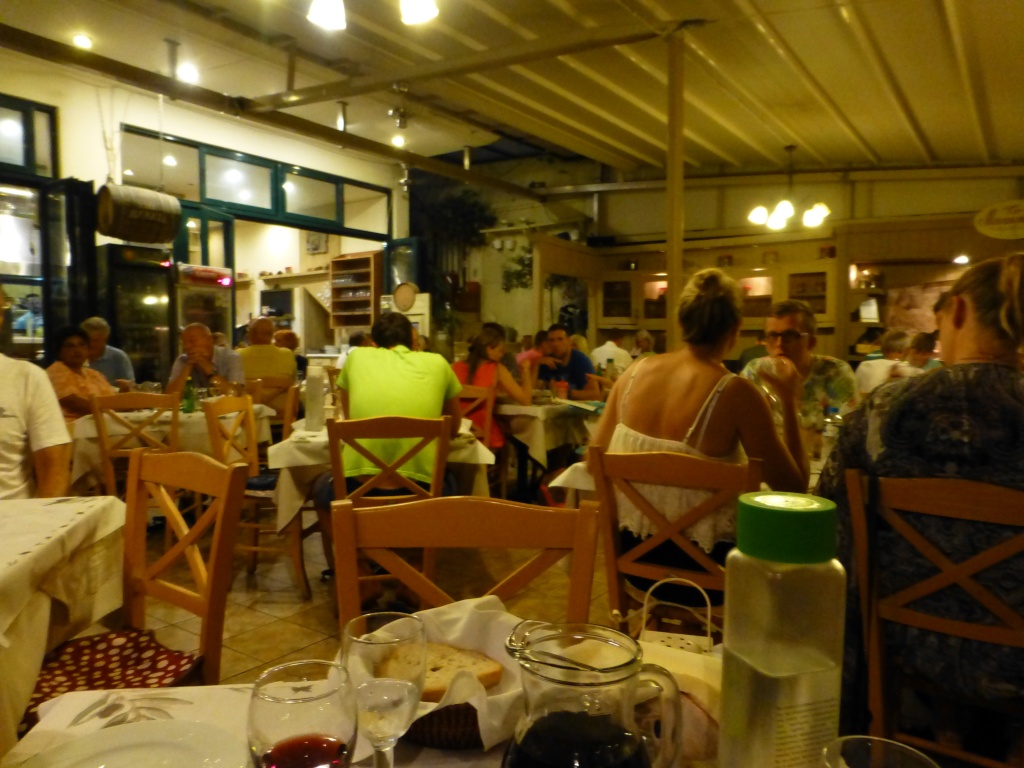 p1130240
we were given our free pudding, then me an ouzo and of course Mrs Db got her peach schnapps
p1130246
There was a break in the rainfall and it was time to go back
p1130247
The main storm was due in the early hours, could I get picture, err no, it was slashing down around 2am to even get on the balcony and we only got several flashes, we had missed the majority of the storm as it was further north
END OF DAY 4
DAY 5
Well I was up for sunrise this morning but was there going to be one
I hung around and got a few dramatic pictures but no real sunrise
p1130262
but it just didn't happen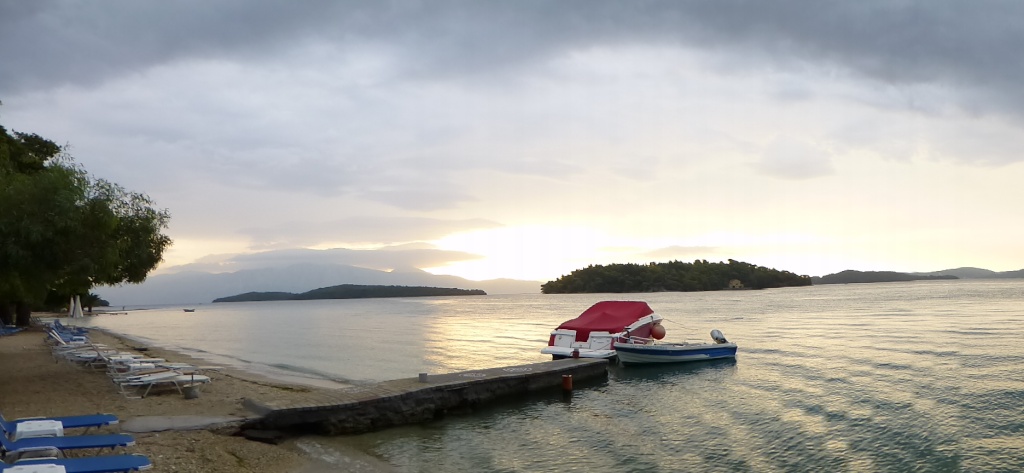 p1130265
Now one of Nidri attractions is a waterfall and it had been reduced to a trickle over 3 months without rain, so Delboy headed off following the river bed which the river flows out to the sea, at the broken bridge I took a pic of earlier. The road goes to the bypass and it took me 6 mins but I don't hang around
p1130266
From here, one has to cross the bypass to the road opposite, so watch out for traffic coming in different directions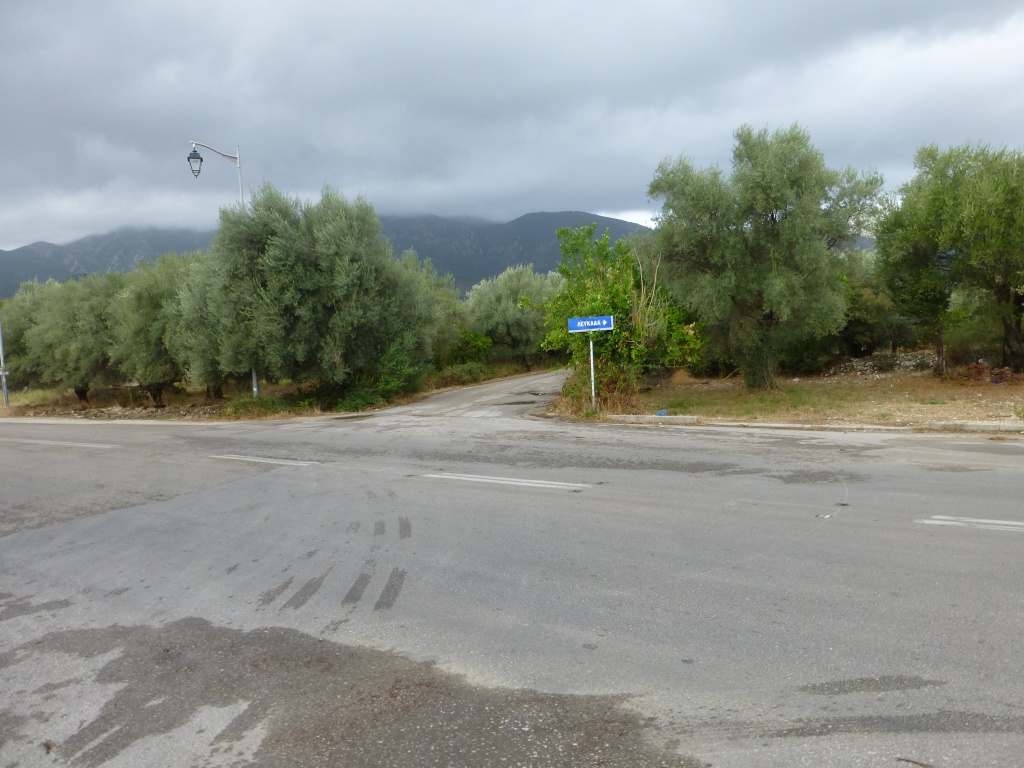 p1130267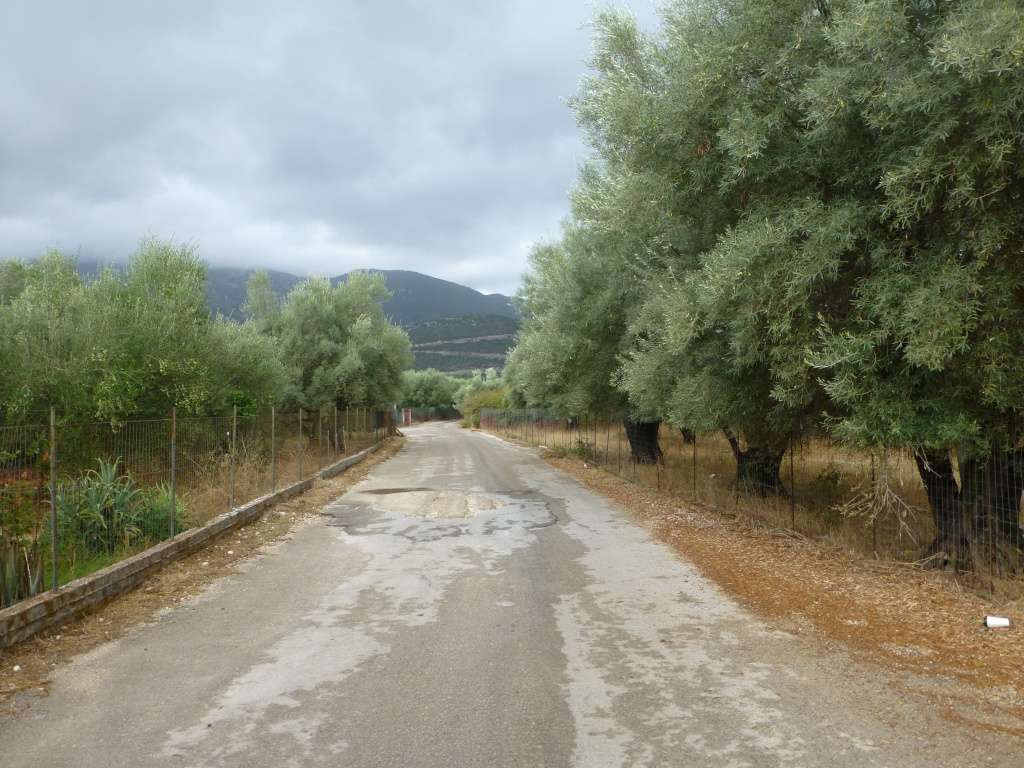 p1130268
you cross the riverbed twice before you reach a couple of tavernas each side of the road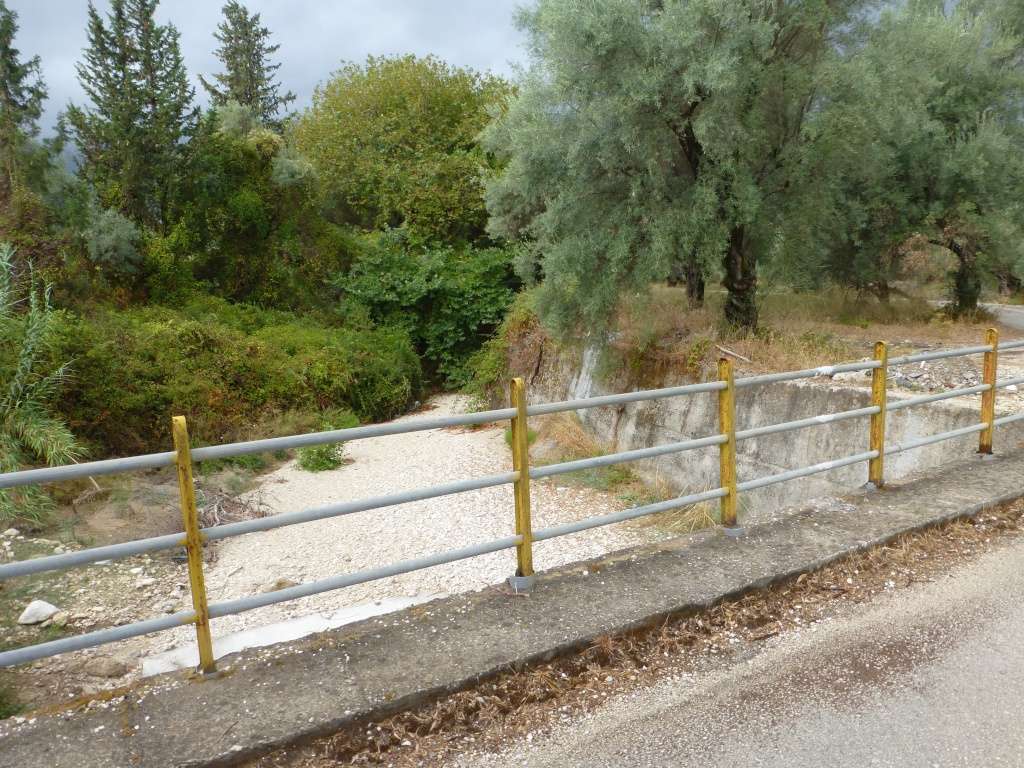 p1130269
p1130270
you turn right passed the taverna's and head towards that blue notice in the distance
p1130271
Now this sign is important, as a left turn will take you up into the mountains and the right takes you to the waterfall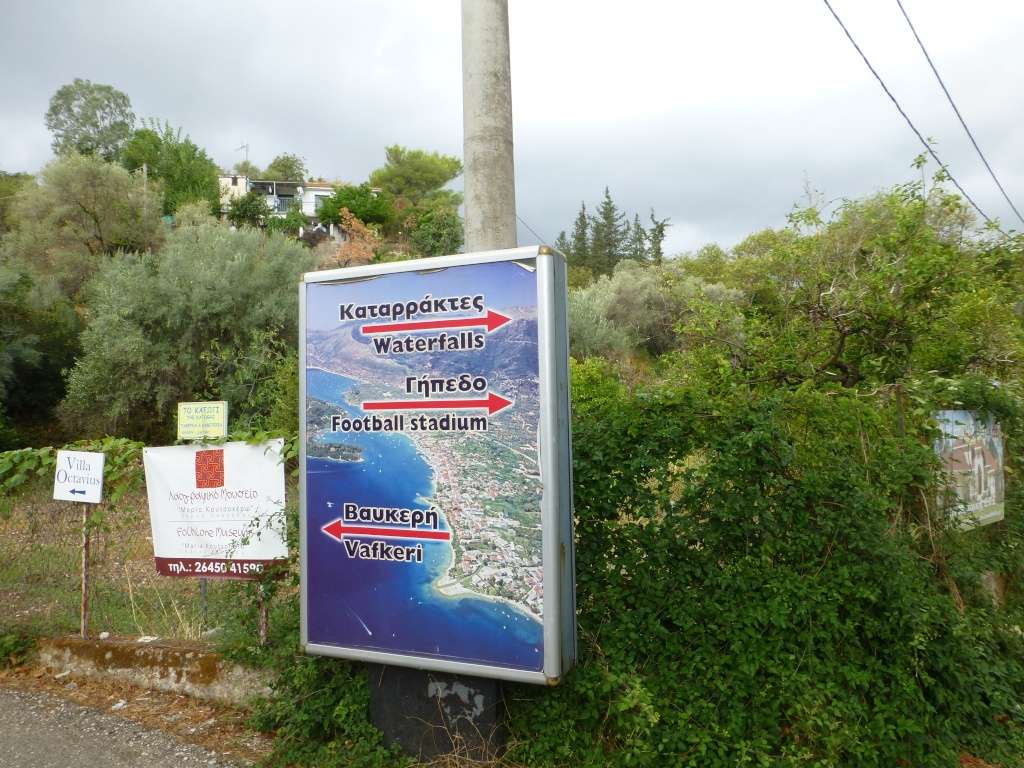 p1130272
along here on the right is a folklore museum, 20 mins walk to here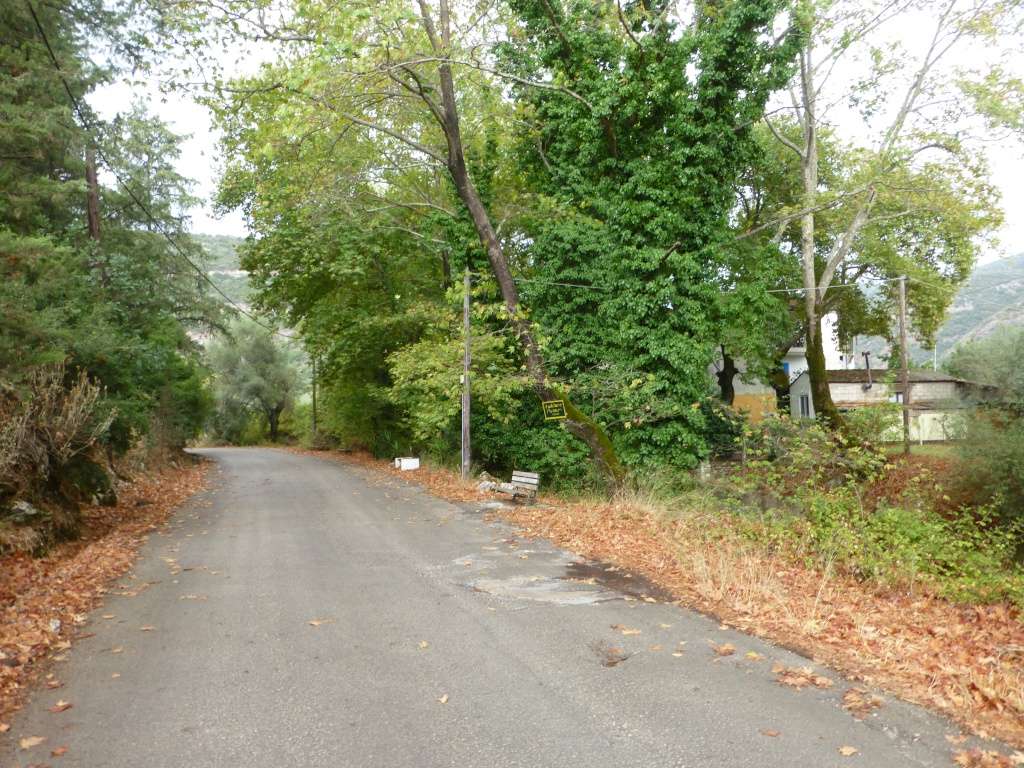 p1130273
strange flower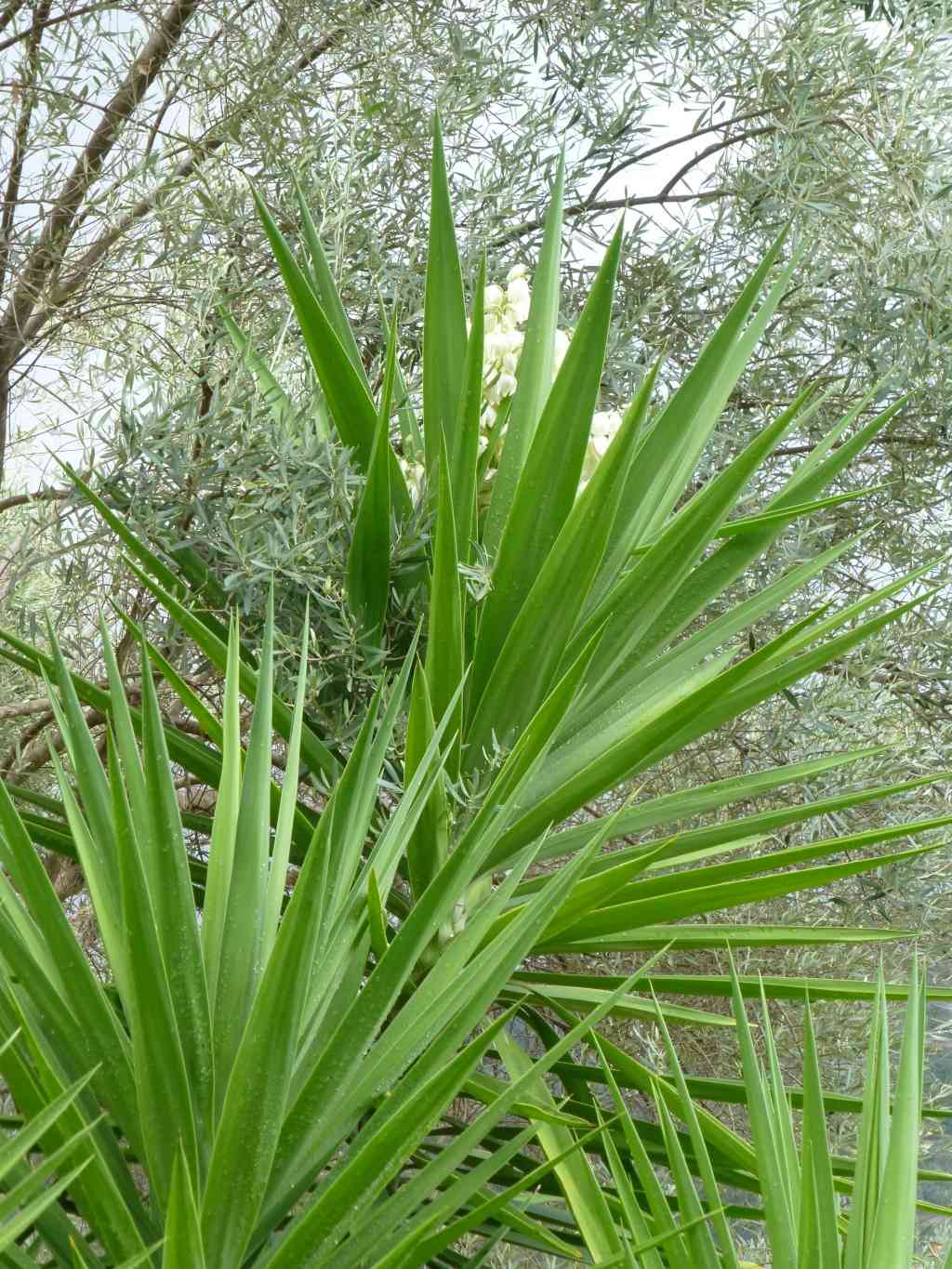 p1130275
the road divides here but you keep to the right and the notice says 1000m to the fall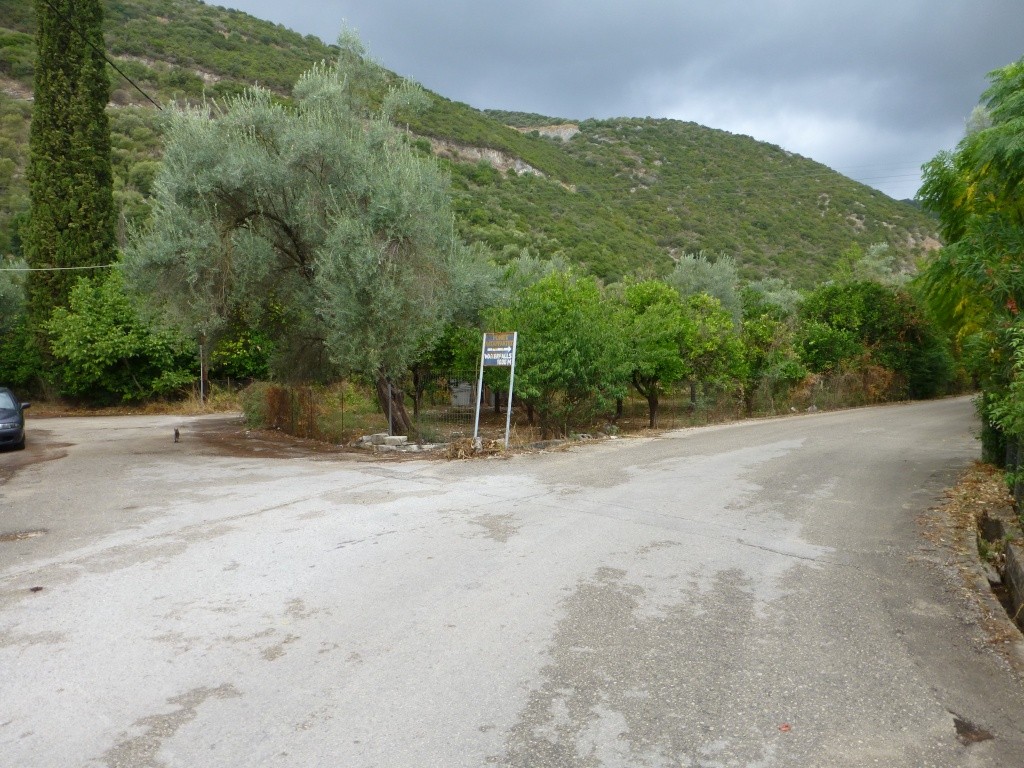 p1130276
Some swifts or swallows, never sure which is which lol
p1130277
Also passing Nidri's football ground
p1130278
It's then a long road until you come to a car park
p1130280
then one realises the crowd is going to be the size of a football match lol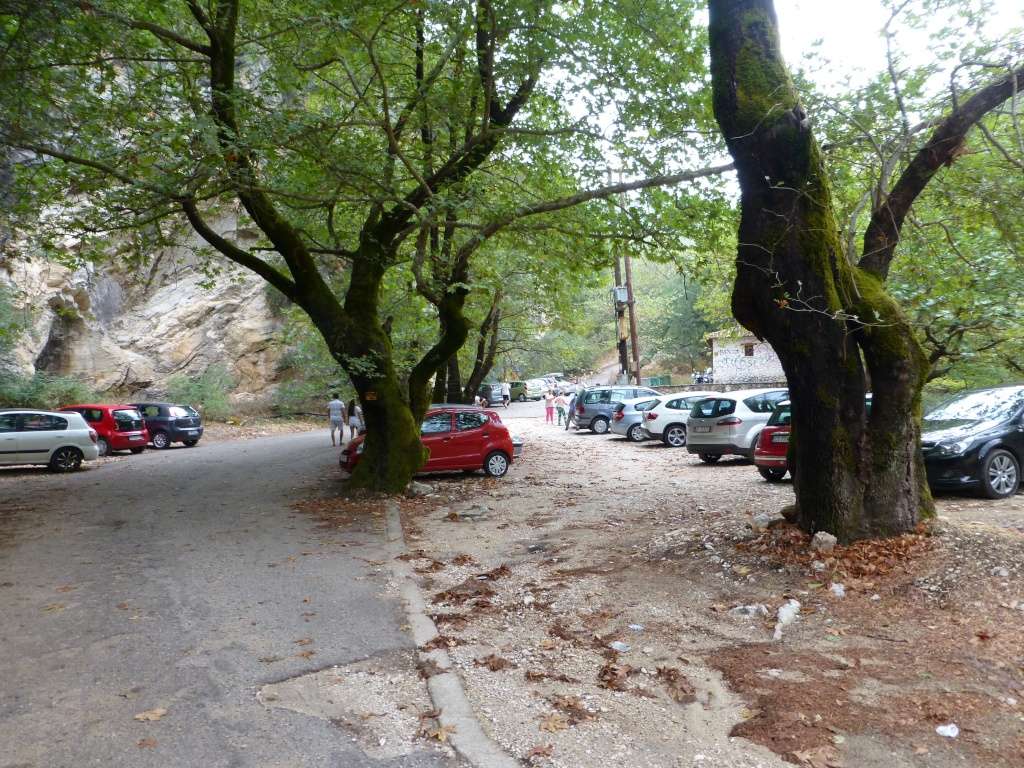 p1130281
a bit further along, there is a Taverna there and in my ramble is took me 40 minutes
p1130283
There is a long pathway set out with handrails, which runs for about a further 10 minutes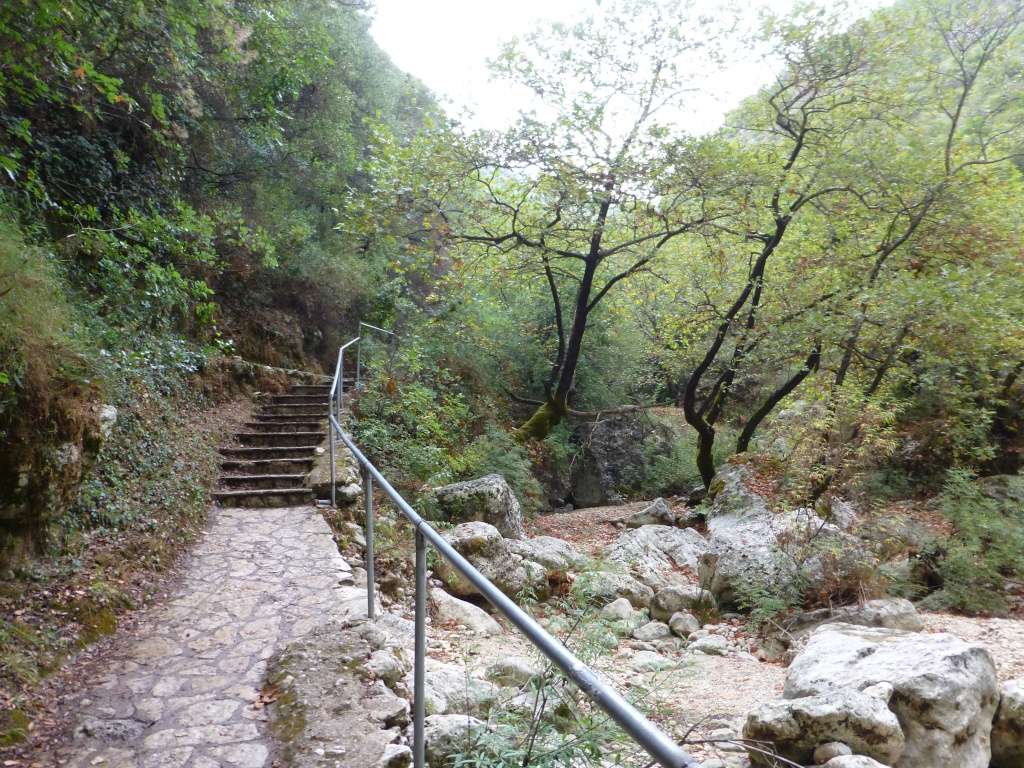 p1130286
p1130288
Then you get to this spot, I actually took this picture as I was leaving, as people were wading in there when I arrived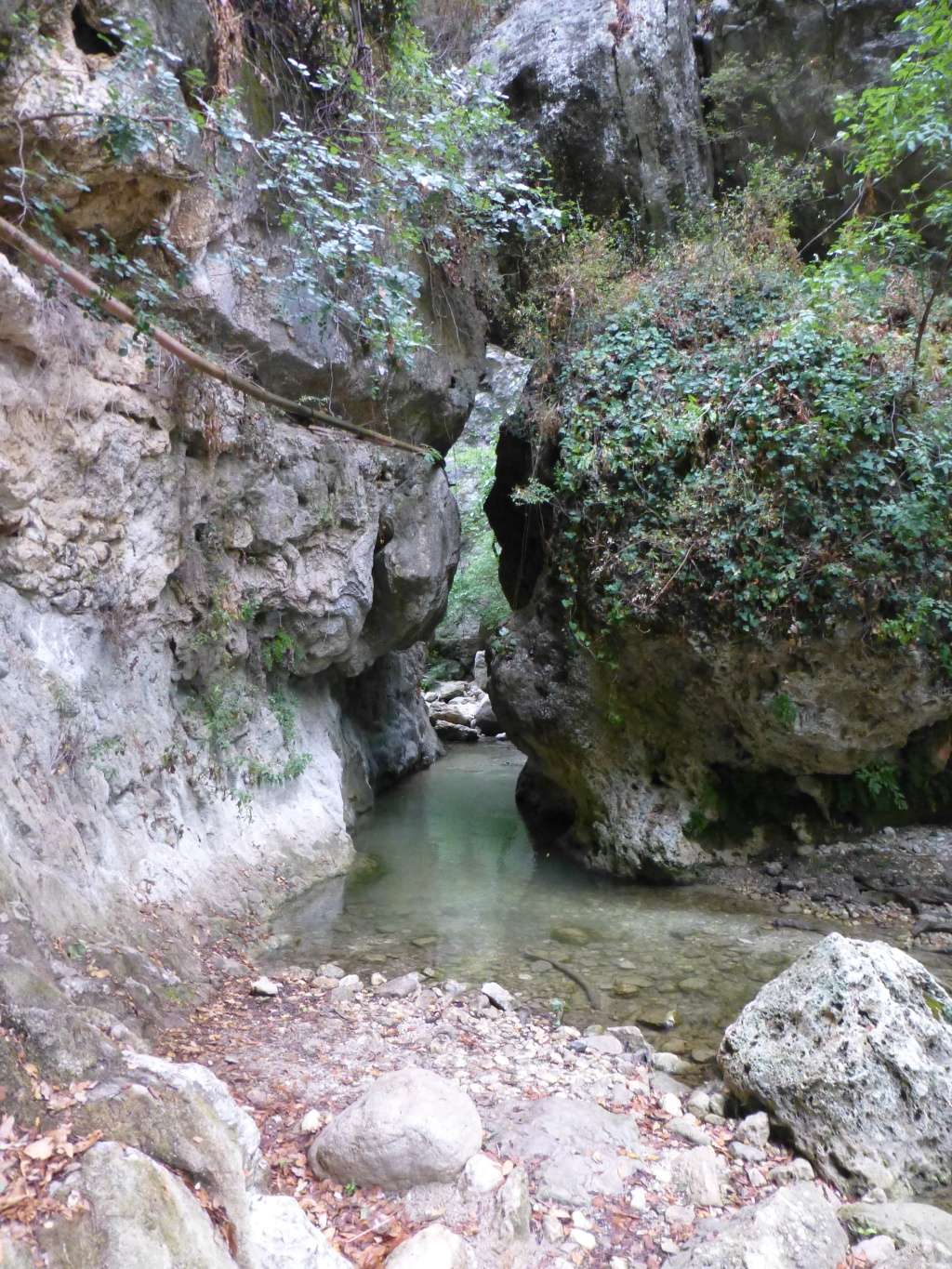 p1130305
going through the archway, still got someone else in the picture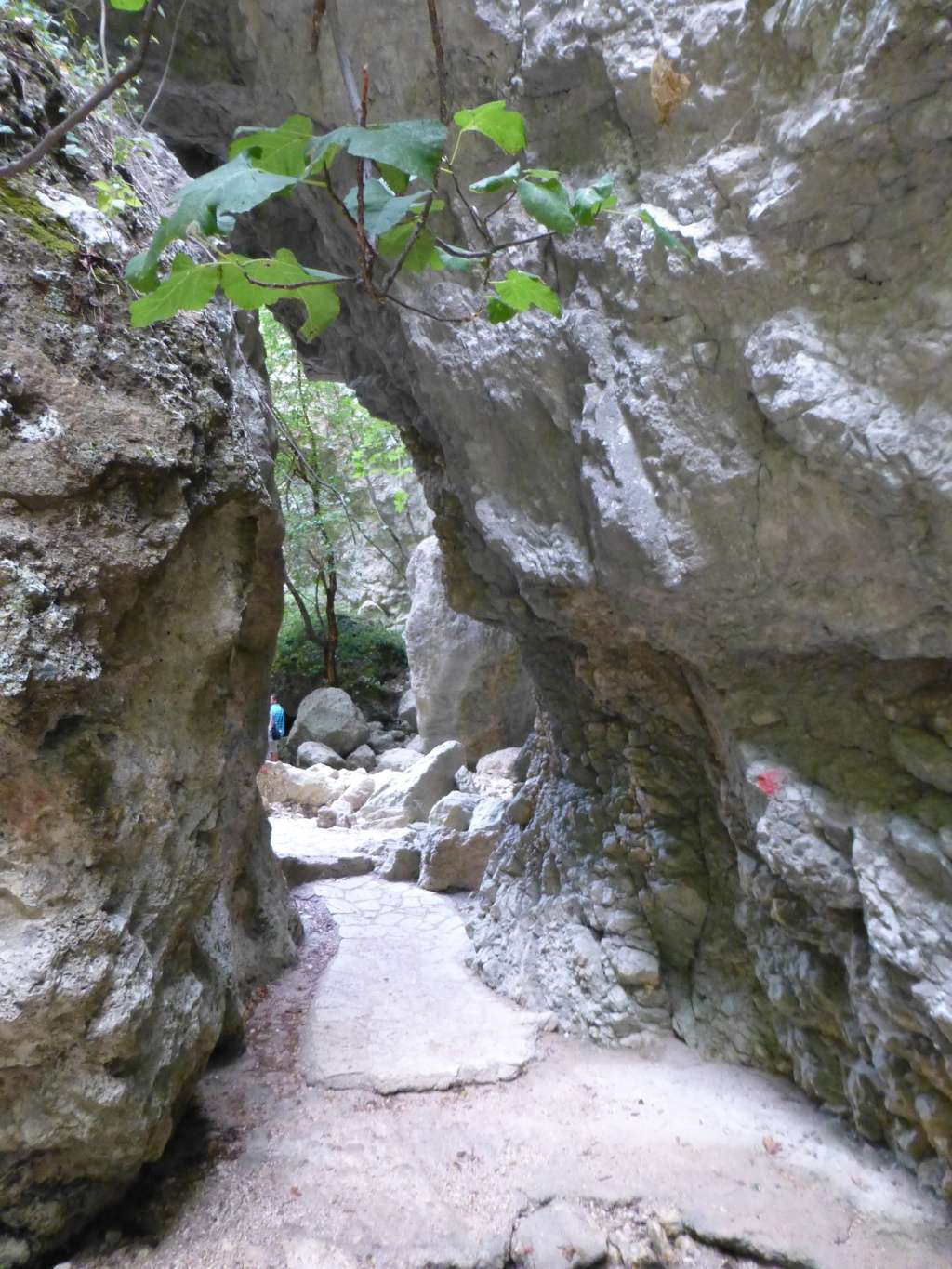 p1130292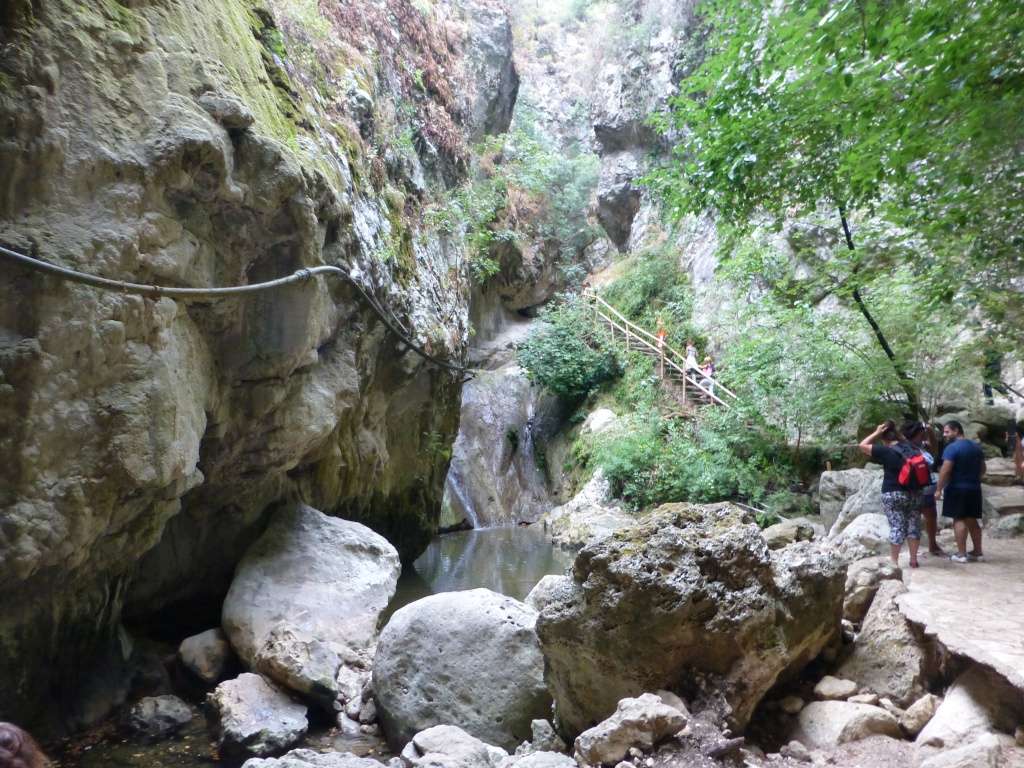 p1130293
at this point, most elderly people would only see the waterfall from this postion because one has to take a tricky walk over stepping boulders, stratically placed over the water or climb a boulder. However, I haven't come all the this way here to just see this, so it's over the tricky stepping stones, hoping my camera don't go in, as the rocks here after last night's rain are extremely slippery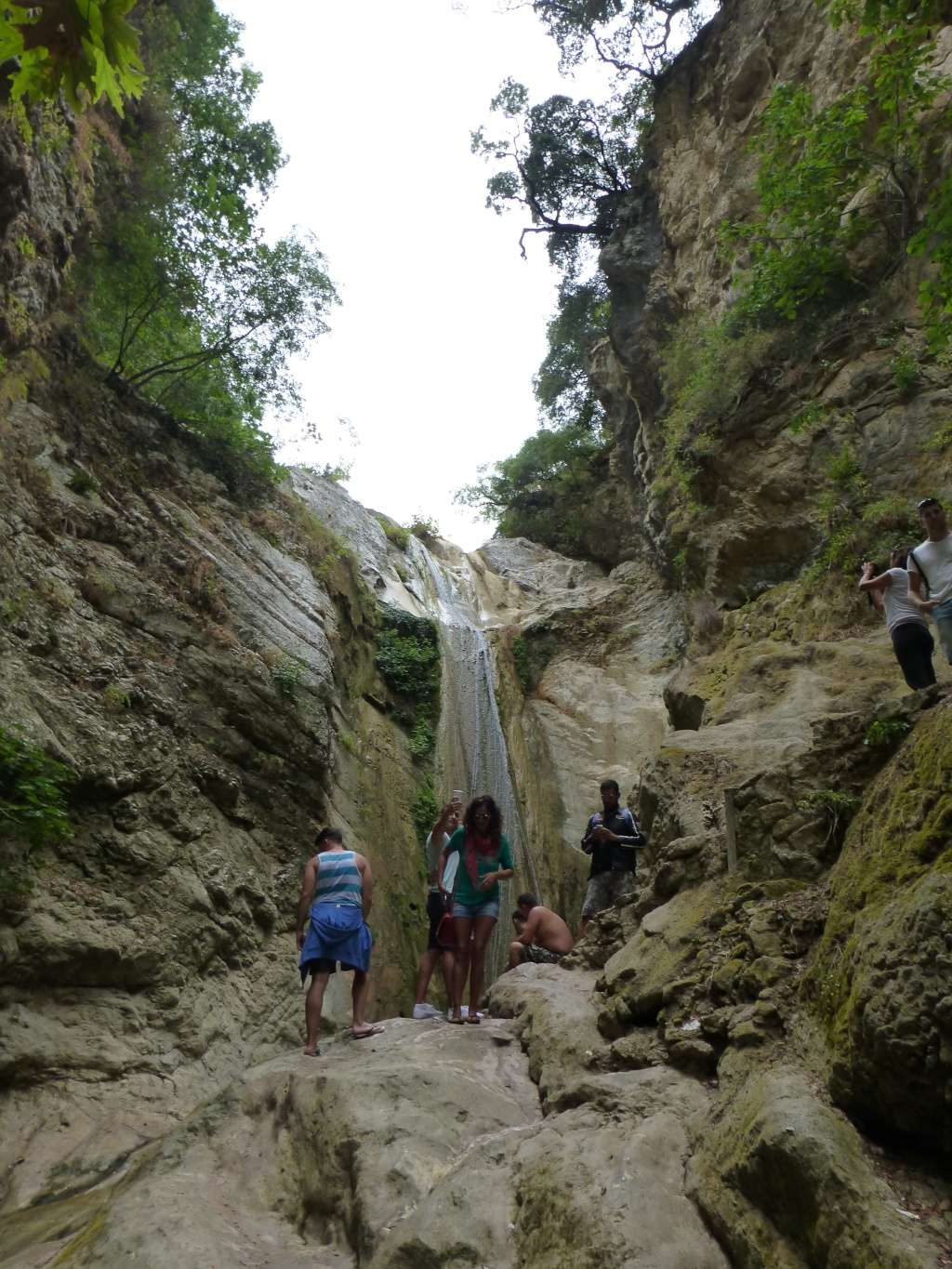 p1130298
well here it is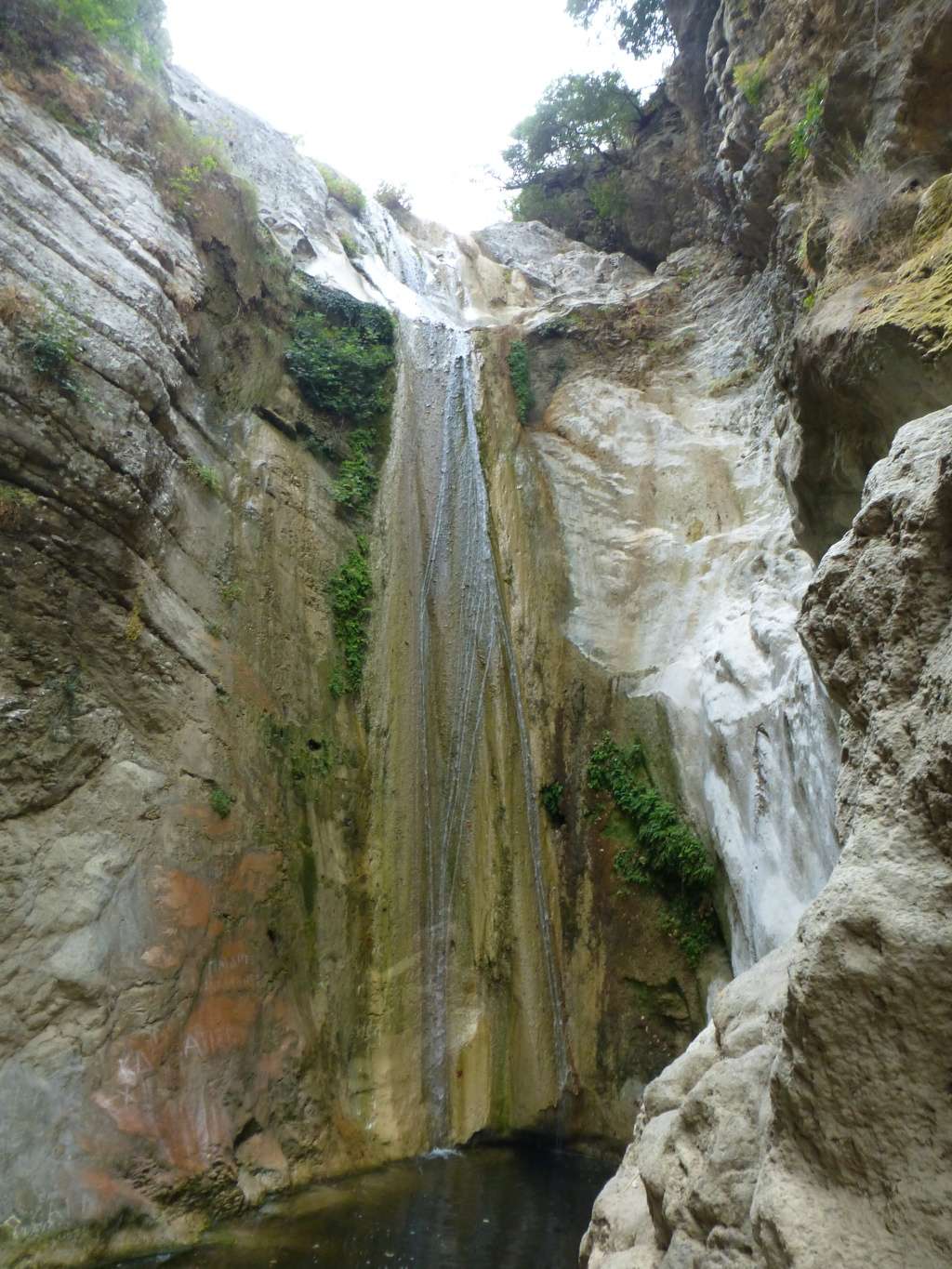 p1130300
I was warned, apparently Scandinavians often take all their clothes off and dive into this freezing water lol
p1130301
Here are the slippery boulders to get up, I'm going to go over the boulder on the left of that young couple which has a metre jump the otherside
p1130304
Lunchtime was in the trendy Di Paris restaurant with comfy chairs
p1130315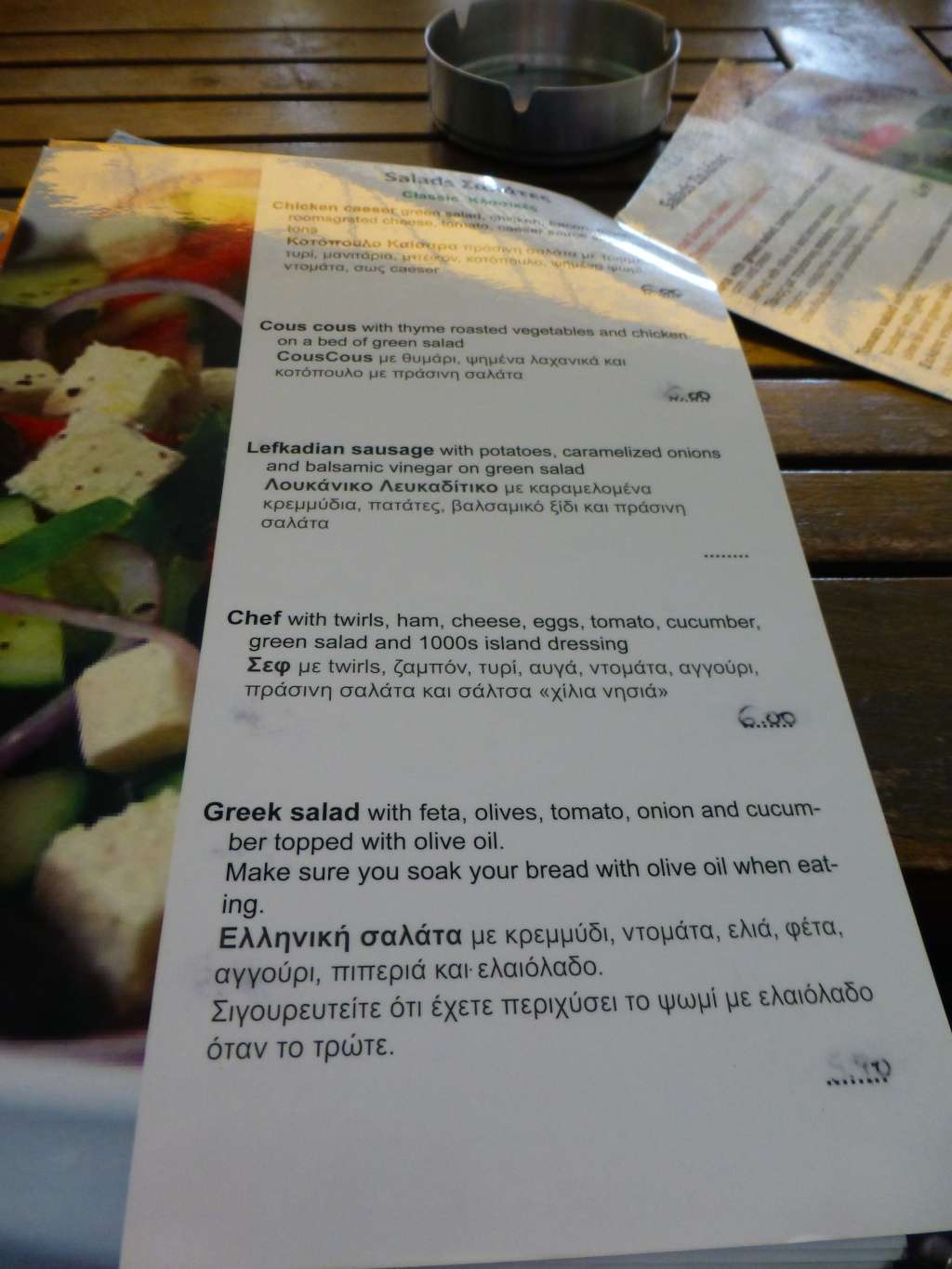 p1130310
Mrs Db had the chef's salad which she was raving about for several days later lol. pleased with my picture of it too lol
p1130314
I had the Grecian Burger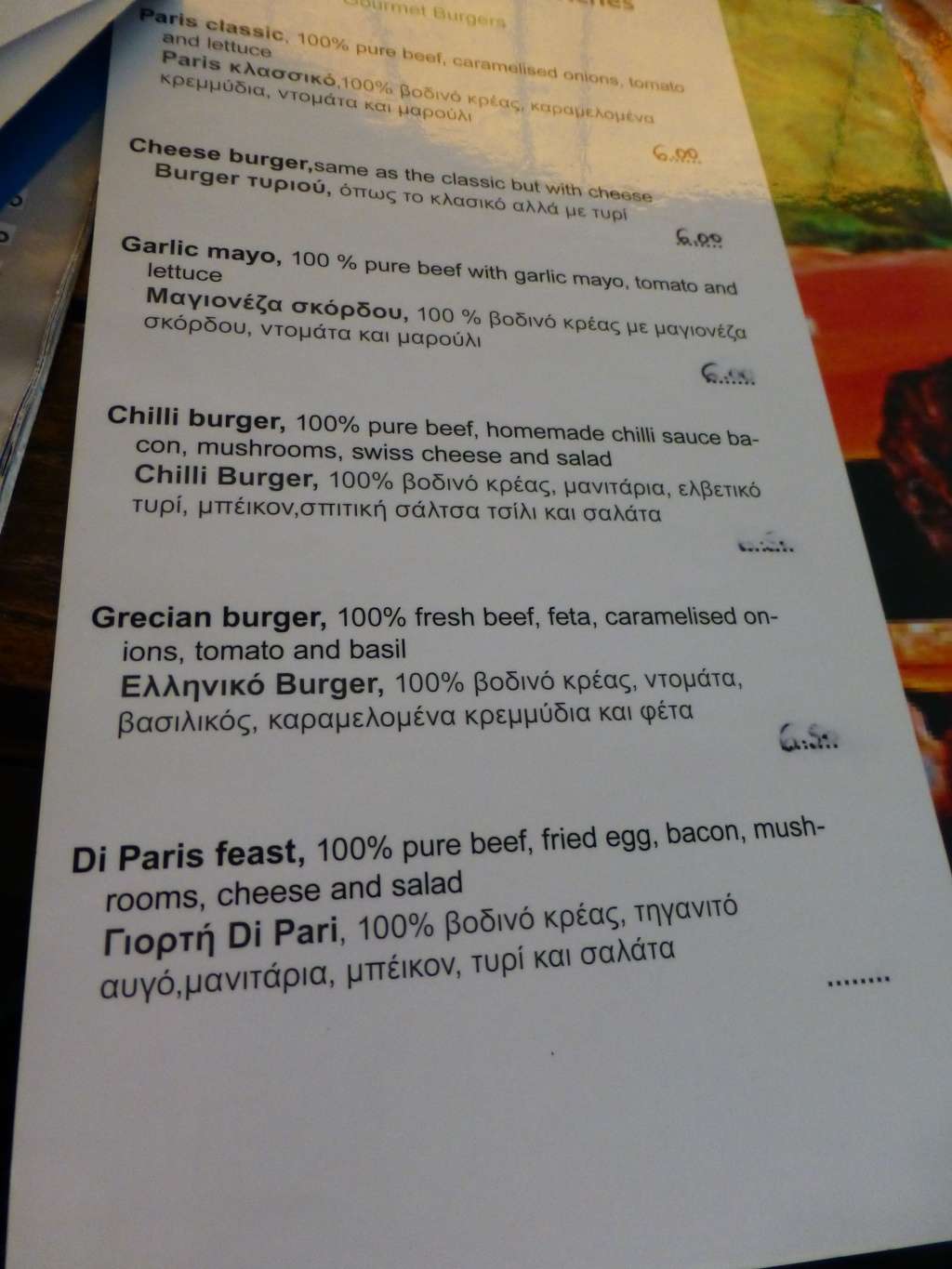 p1130311
and very nice it was too, with my own little basket of chips lol (recommend them)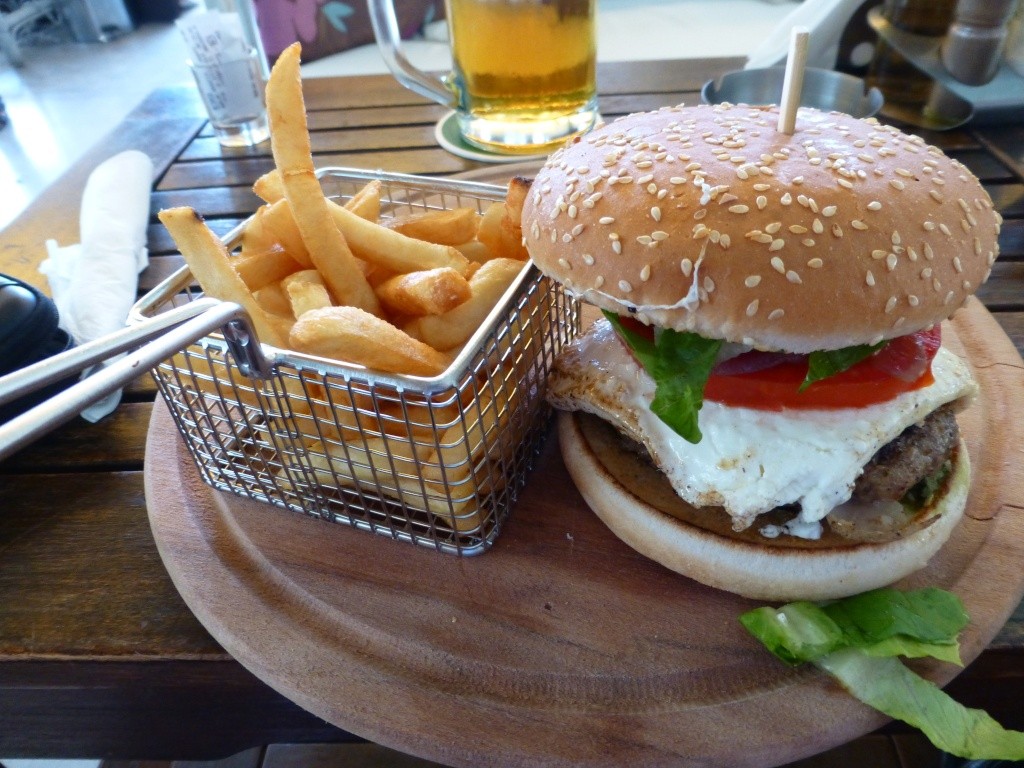 p1130313
evening came and we went to the Apollen after reading good reports of them being generous with freebies lol
Mrs Db had the beef stamnia
p1130319
p1130324
I was struggling to go for too much, after my lunchtime burger, so went for lamb souvlaki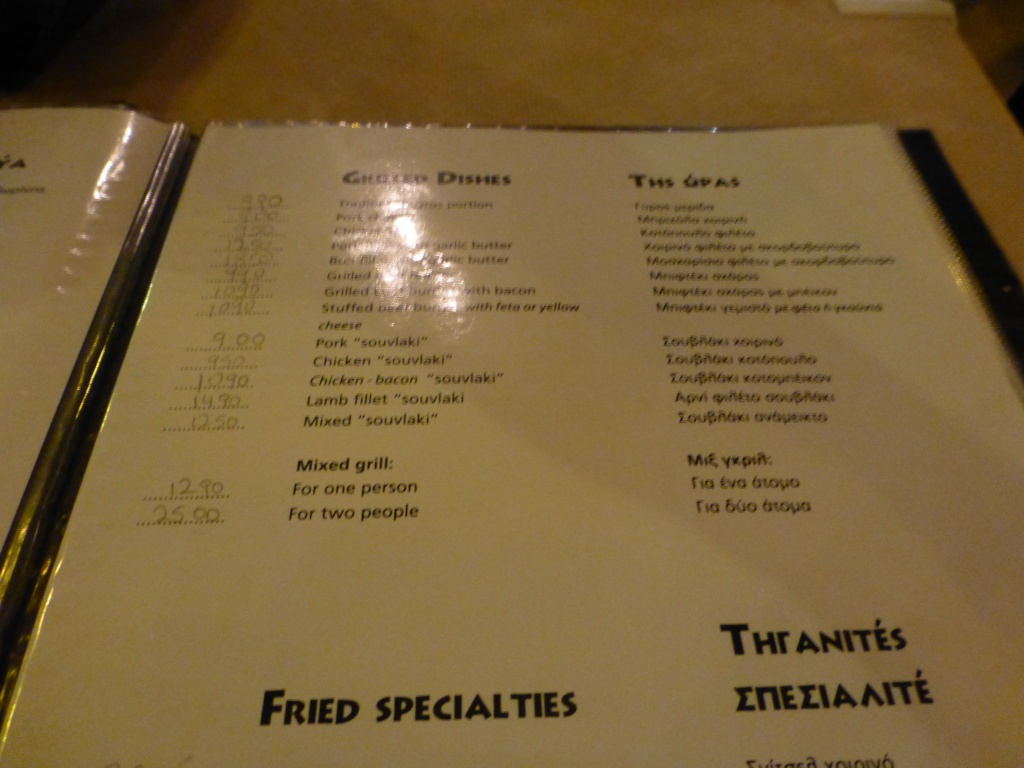 p1130317
p1130325
Then came a free pudding each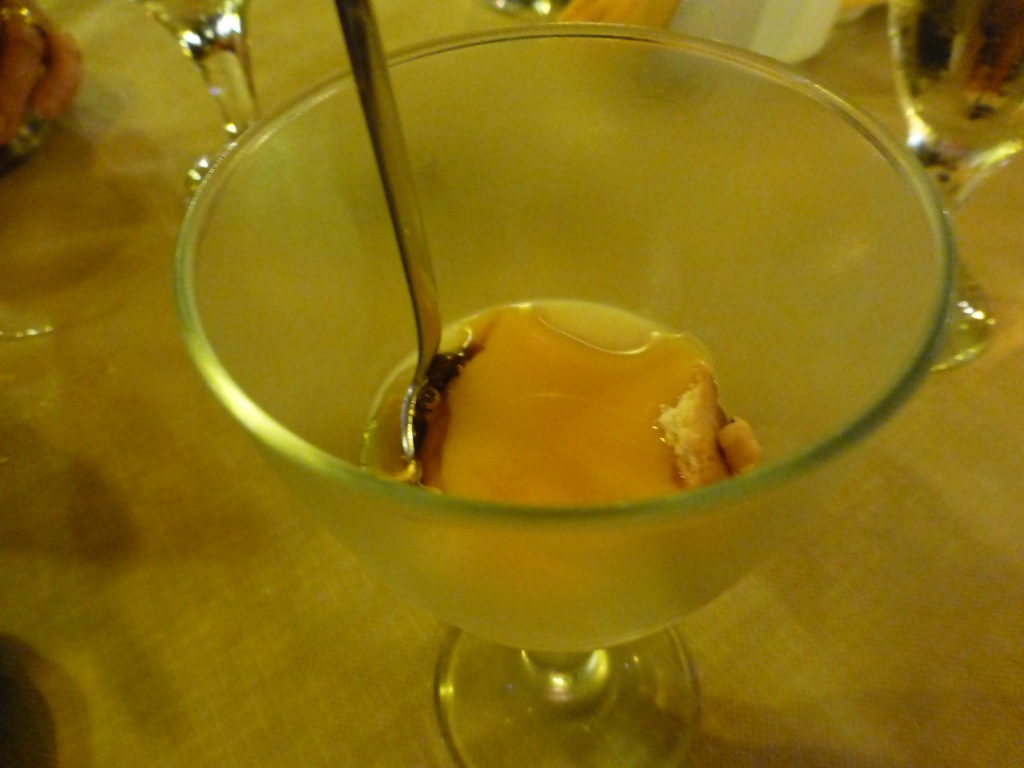 p1130326
then Mrs Db was given a free bailey's with a coffee and me a brandy and coffee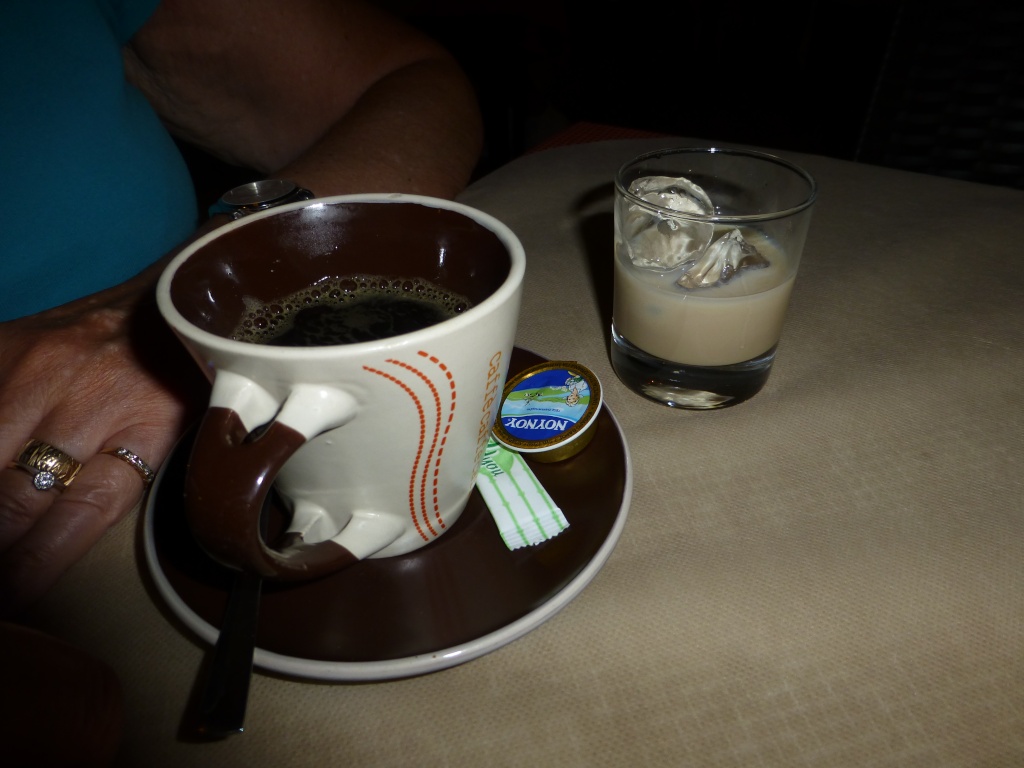 p1130330
then i asked for the bill and Mrs Db was given a lovely liquor and me another brandy, how do they do it
we will go again lol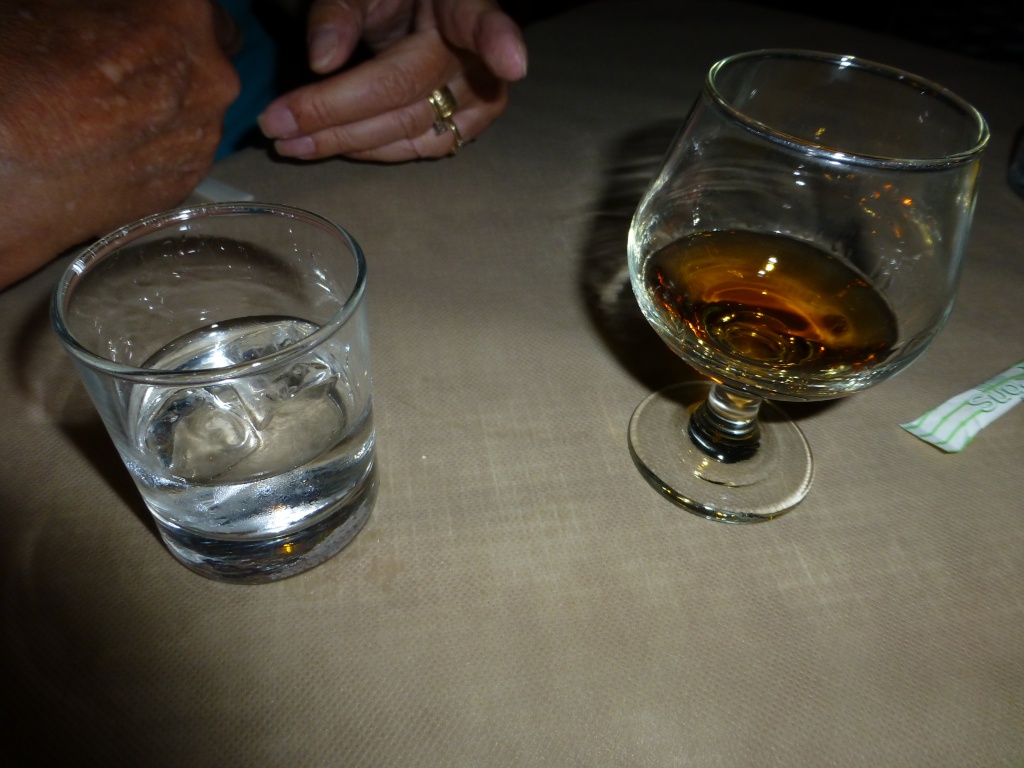 p1130331
then it was back to the hotel to have another coffee on the balcony, see the road is closed this side of the barrier but the car comes through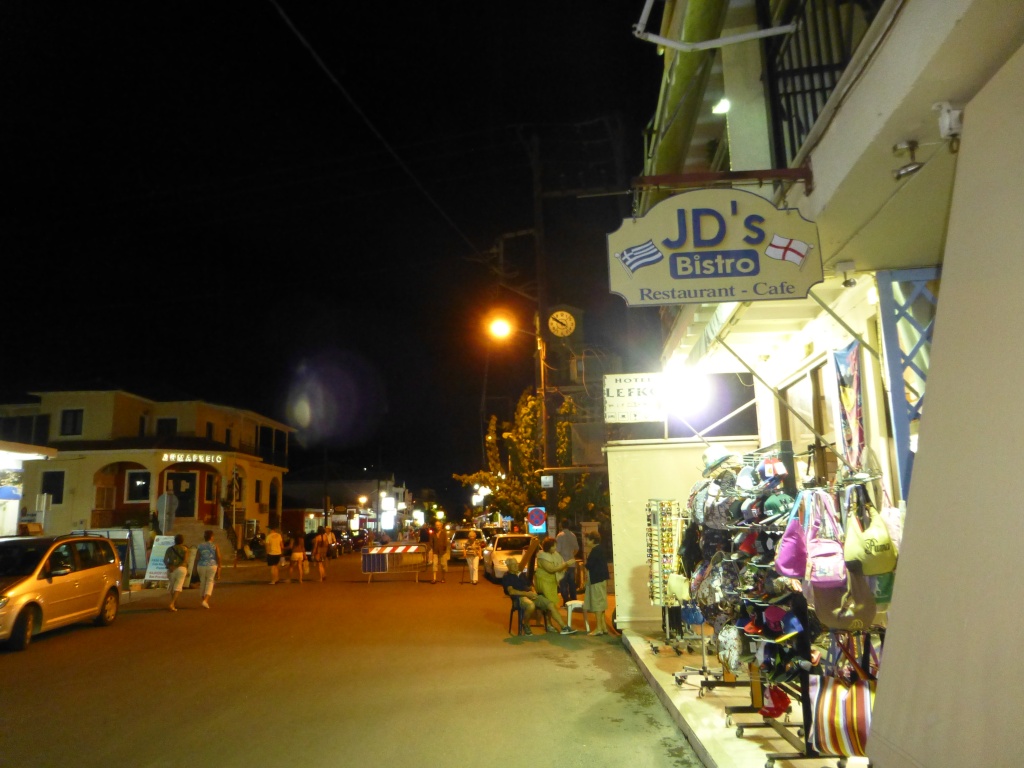 p1130332
END OF DAY 5
DAY 6
Well I was up in time for the sunrise but again the sun was not playing ball lol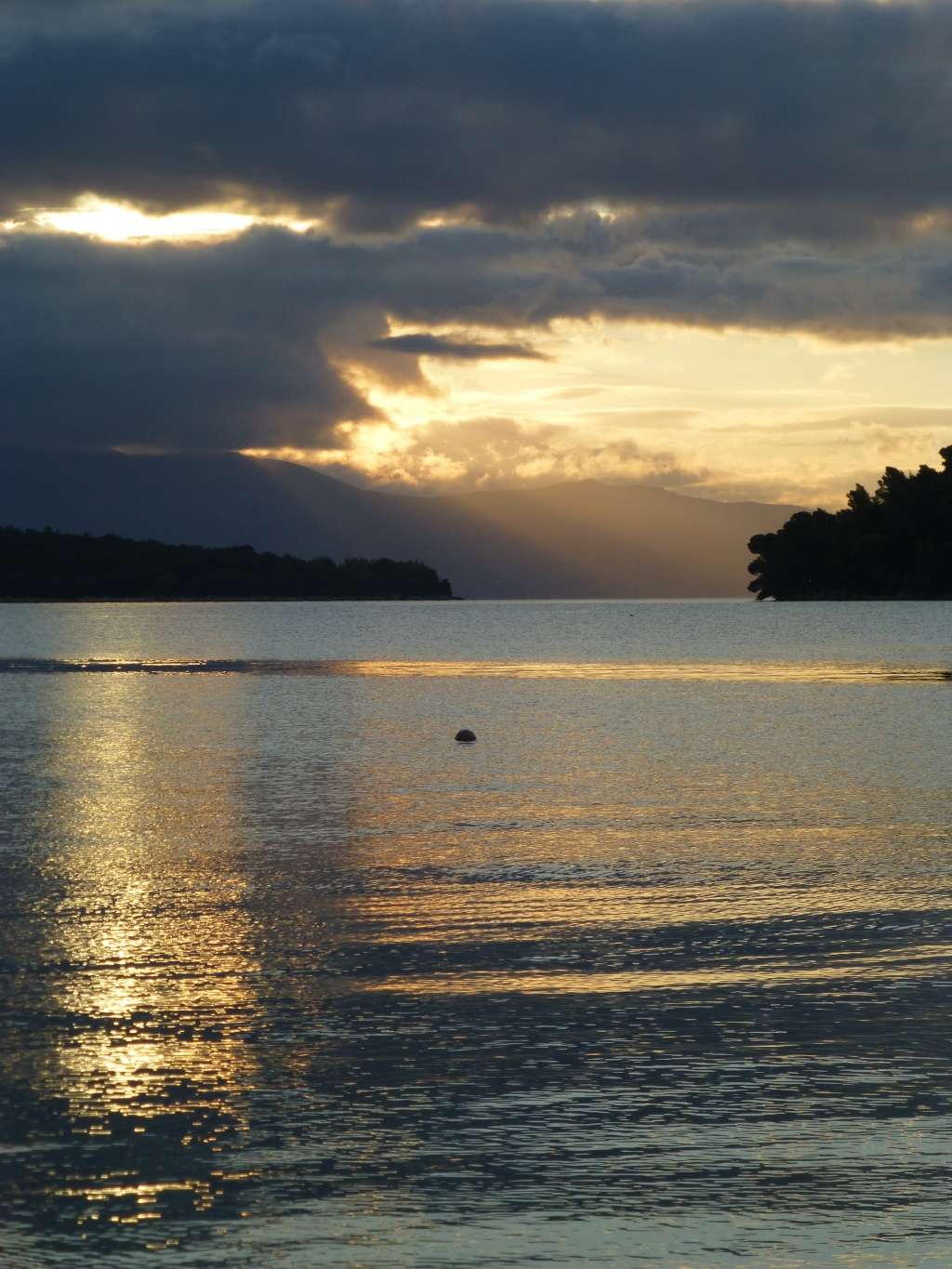 p1130345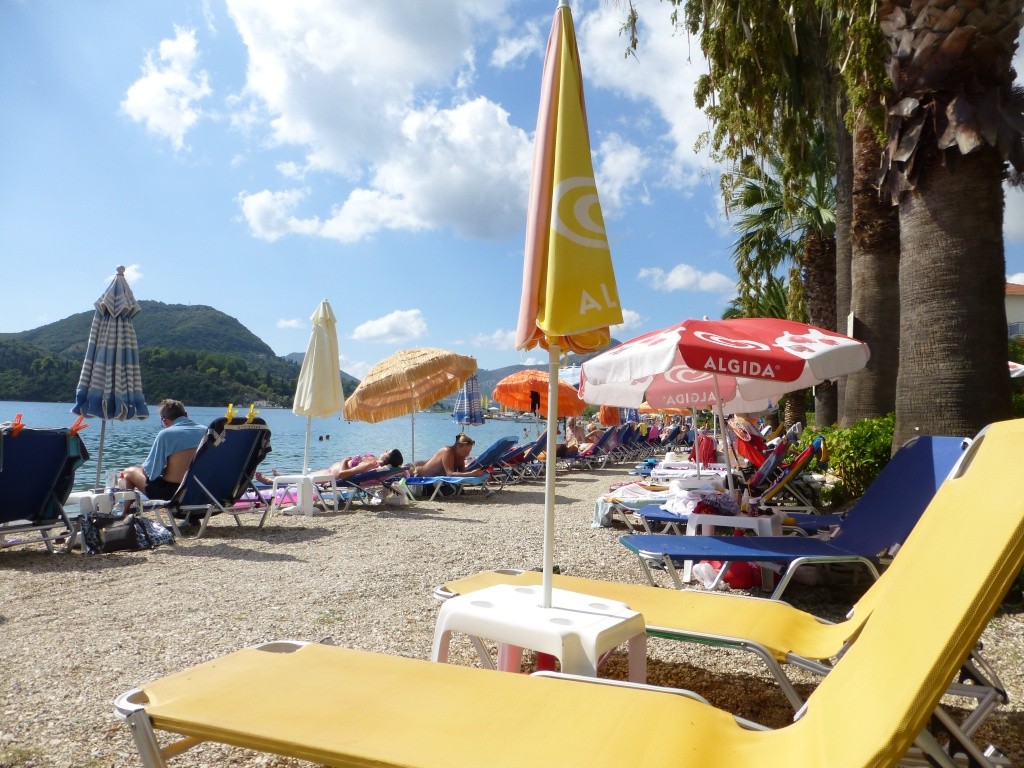 p1130355
lunchtime was at Gregory's just along the beach
p1130357
I had tuna salad and mrs Db had the chef's salad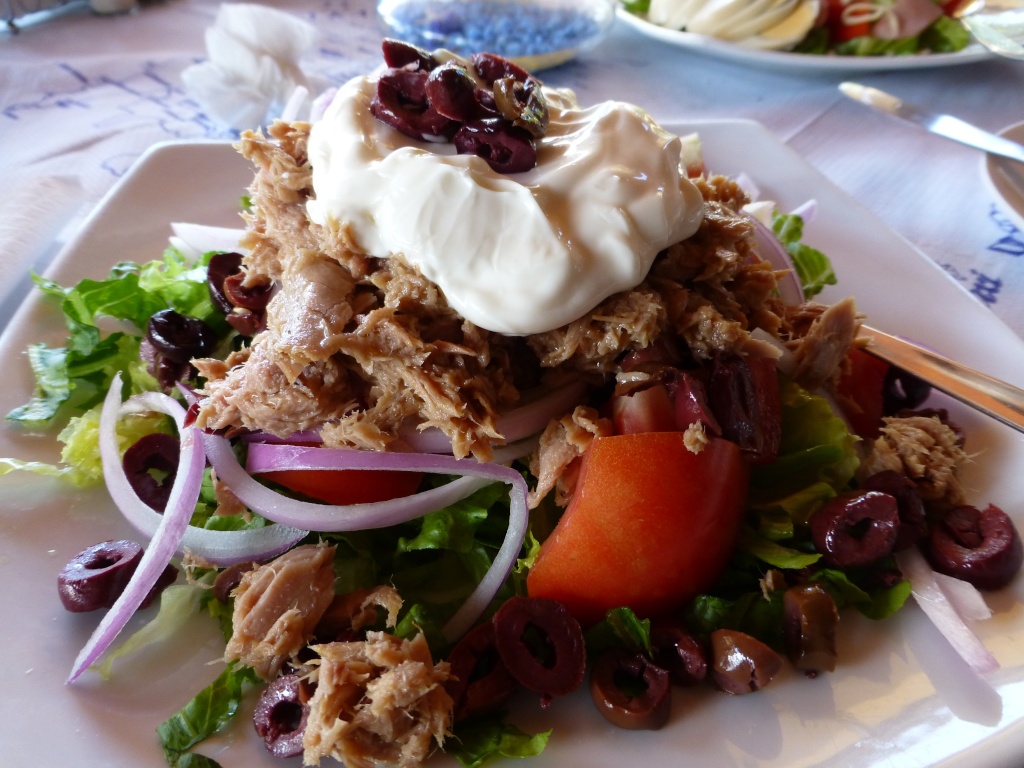 p1130358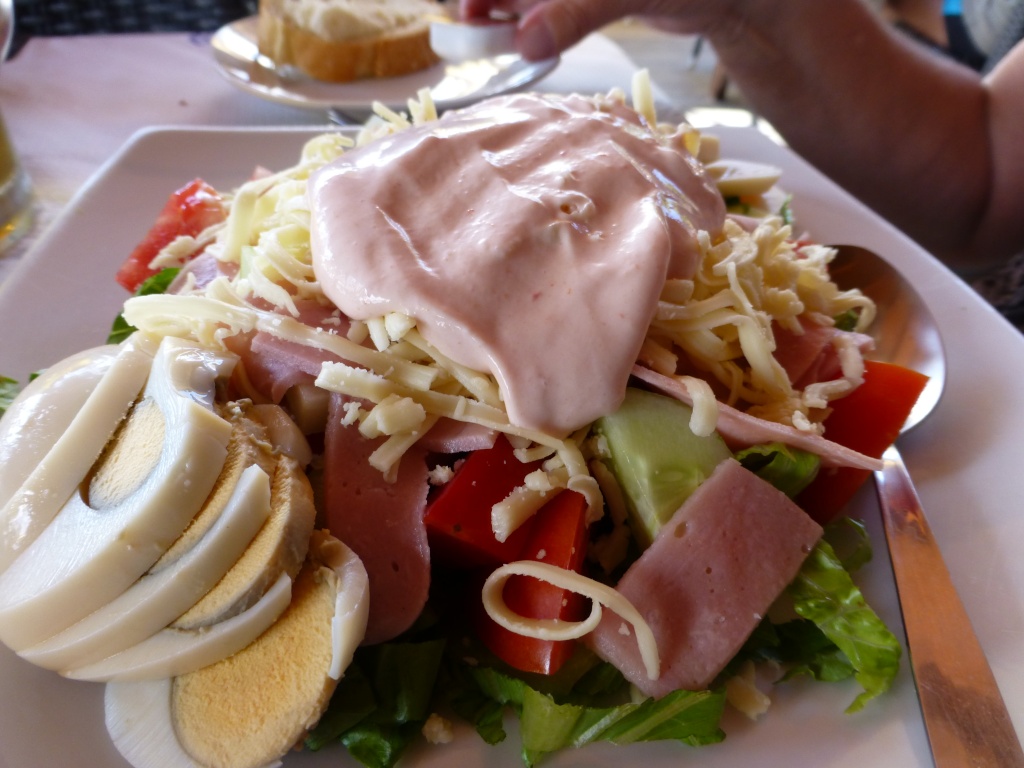 p1130359
today I am going to attempt the walk up the mountain to get views all over Nidri, unfortunately there is a bit of cloud about and I have been told the best time to be up there is 4:30pm to get the best colours. I have seen the views on postcards and they look amazing, so I am going to leave about 3:00pm but it's still hot at this time of day and this is just a reconnoitre.
remember this sign from yesterday, instead of going to the waterfall we are going left to Vafkeri, remember to take plenty of water with you, as there are no tavernas passed here lol
p1130360
first of all the road on the left seems to be going downhill , the right is someone drive, a bit disturbing, as I wanted to get up the mountain not down lol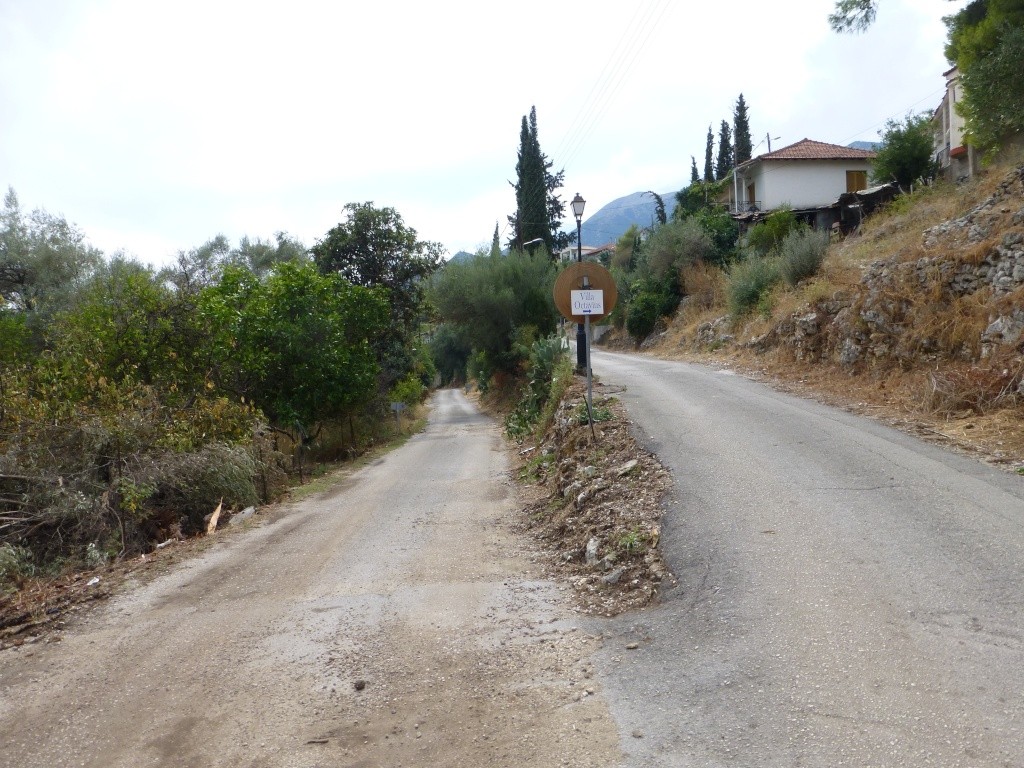 p1130362
it kept going down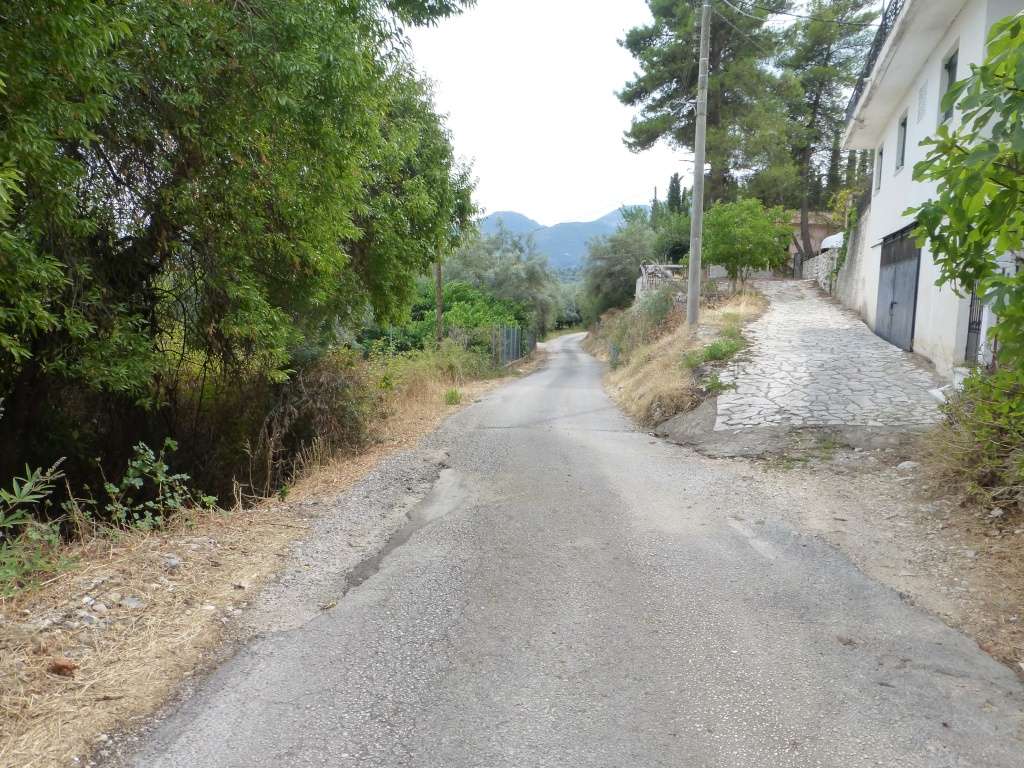 p1130362
but eventually levelled out at this bend and the road then splits, I always record my route should I get lost lol
the sign says the monastery of taxiarches, I am assuming that's the right way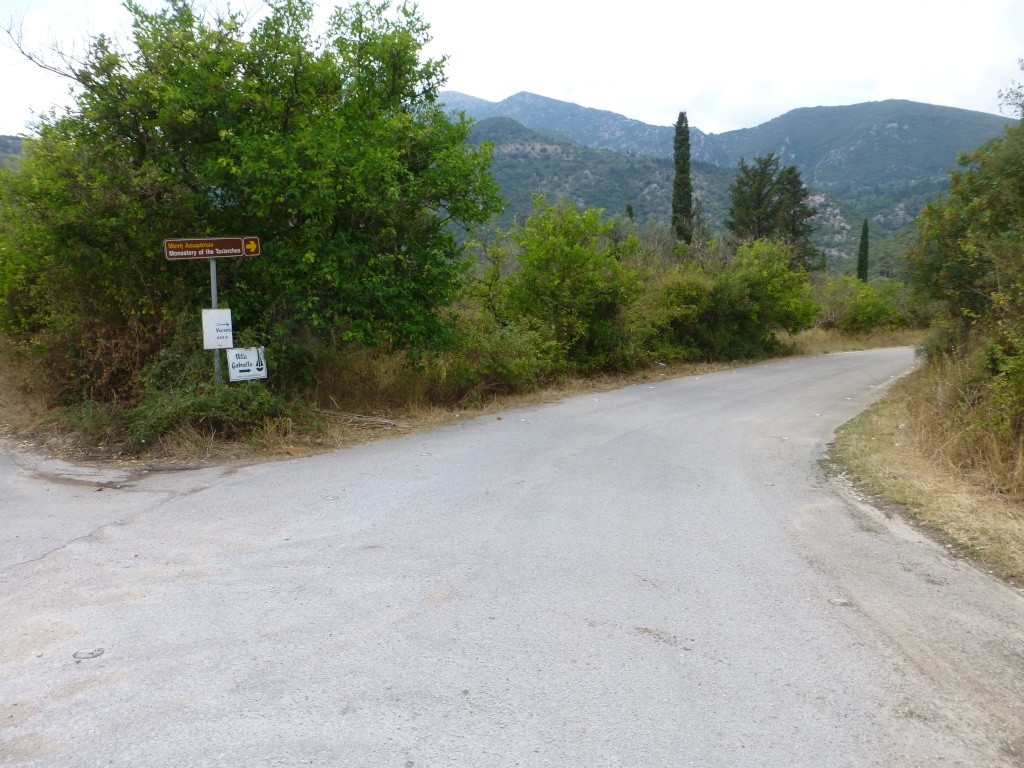 p1130365
but at least it's heading to some mountains lol
p1130366
I was told that one doesn't need to go up to the top to get some of the views but the road seem to be leading behind the mountain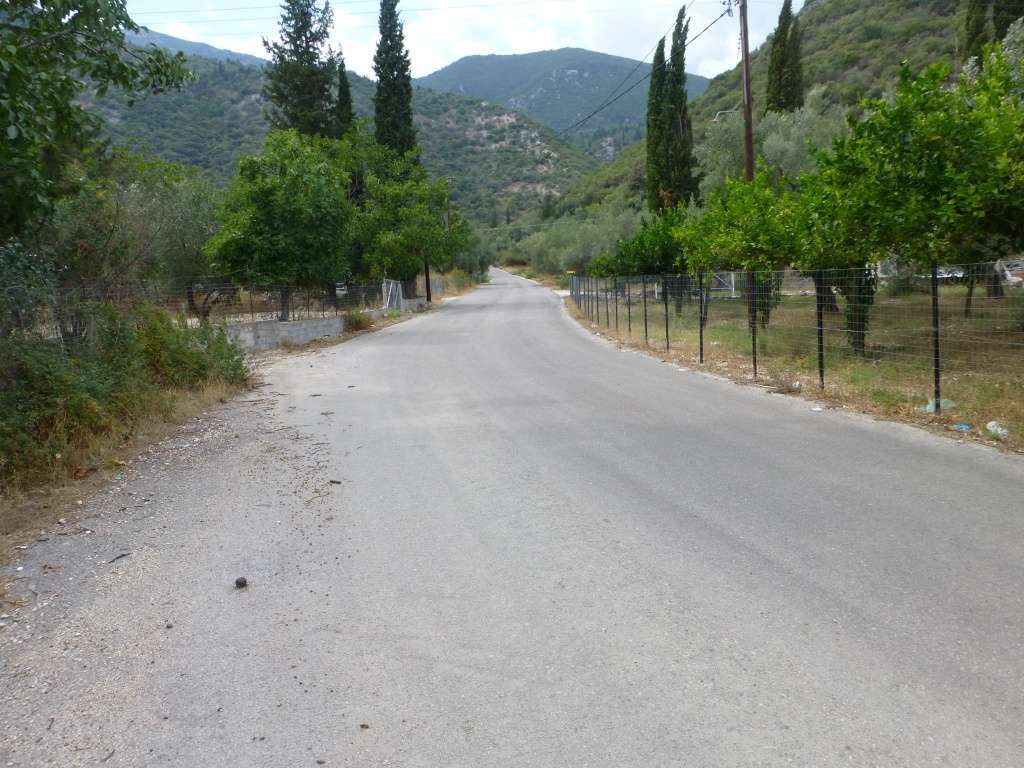 p1130368
but as I got near it, the road fortunately swept around the front of the mountain and I was on my way up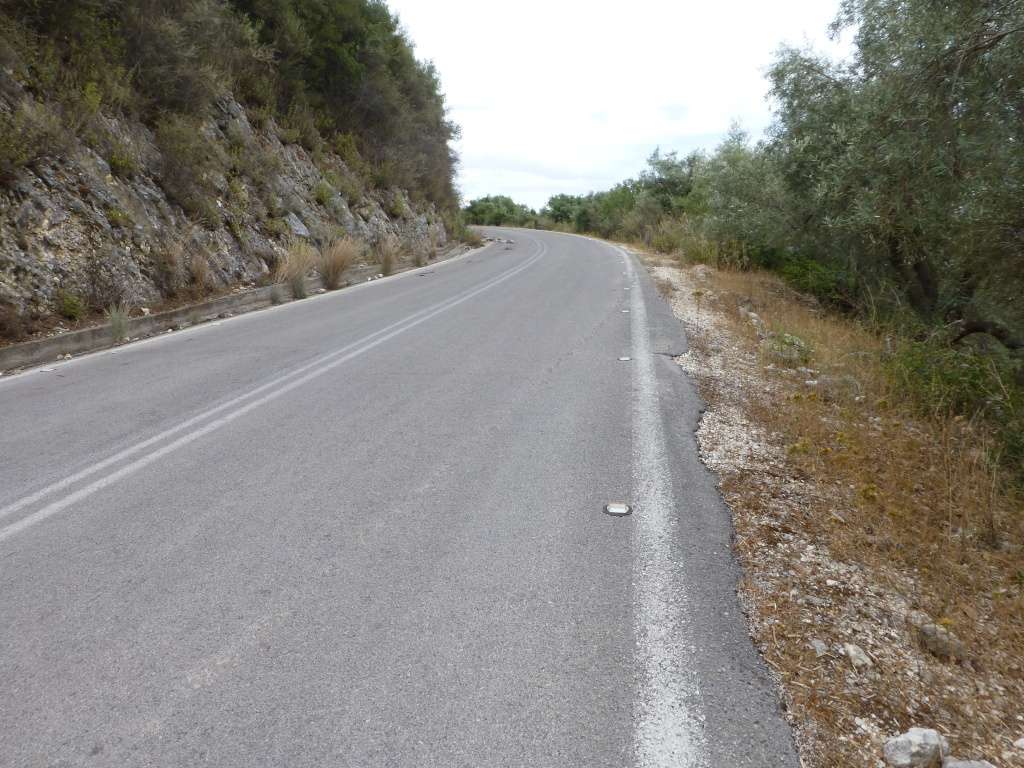 p1130369
and i could see the views coming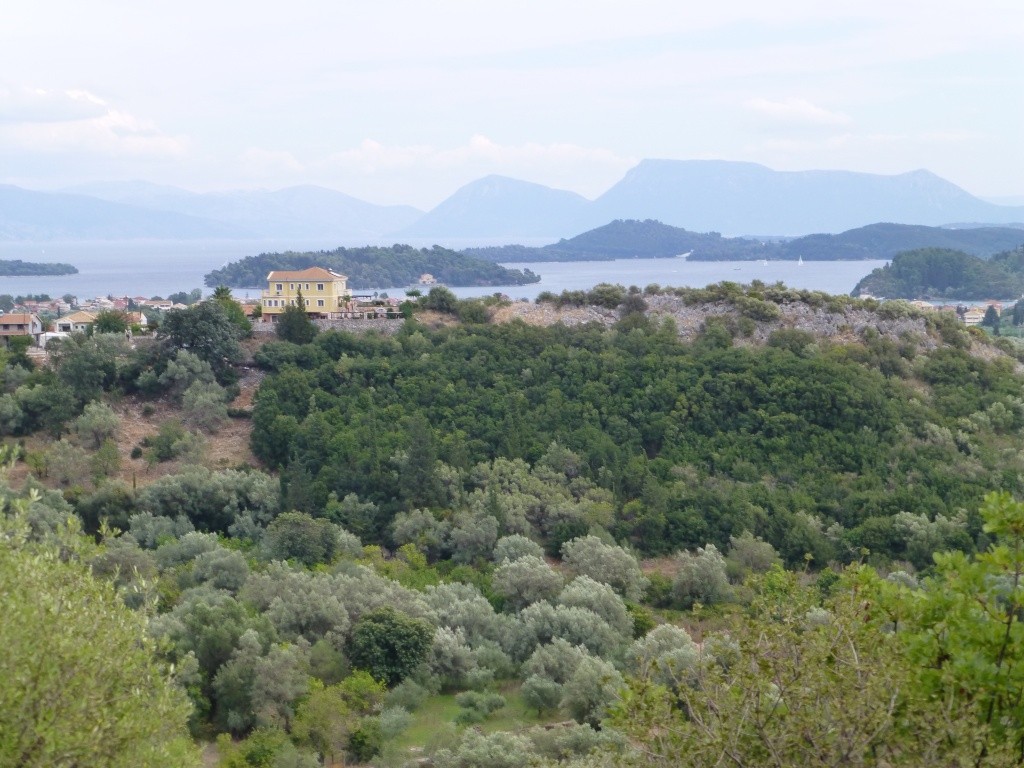 p1130372
but I was never going to be happy with that ,so it's onwards and up lol
p1130379
the views are getting better but the colour of sea is not blue but I'm stll early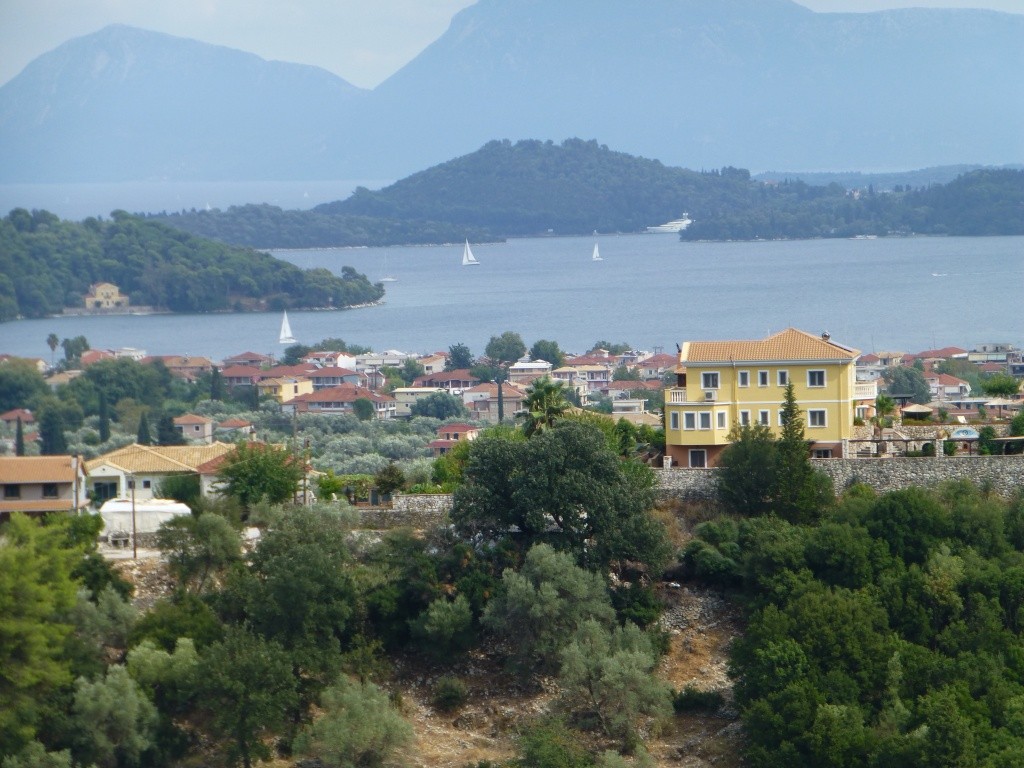 p1130380
so going up higher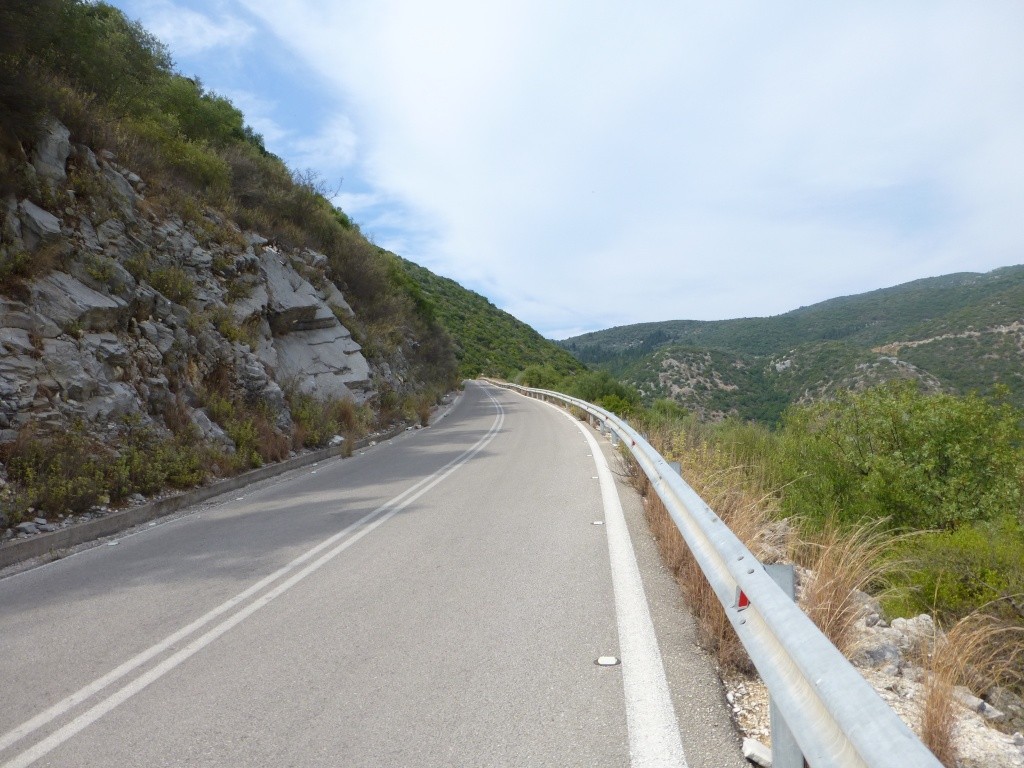 p1130387
There is the foolball pitch I saw yesterday lol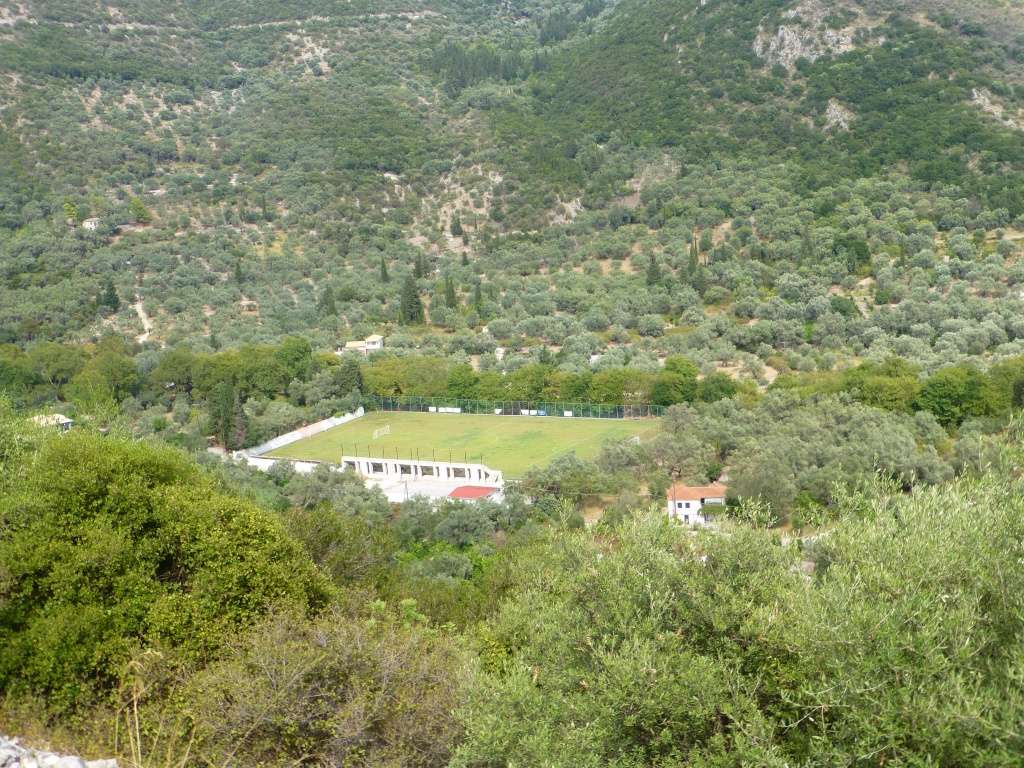 p1130388
at the top of the road it bends and continues to climb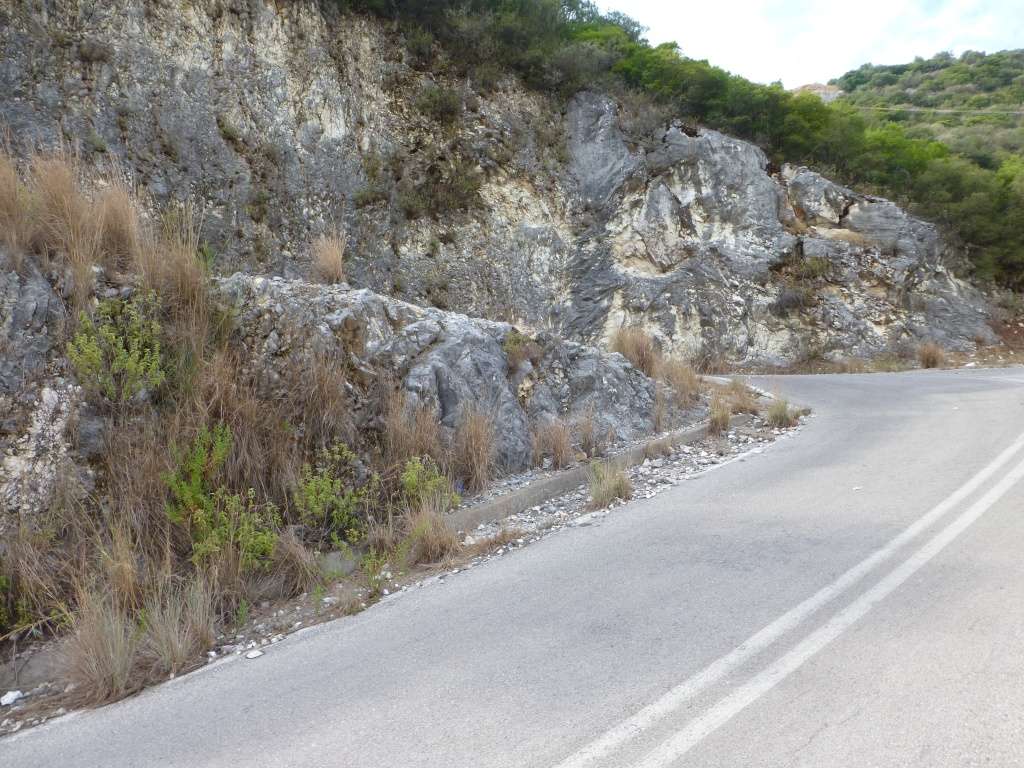 p1130396
so up we go further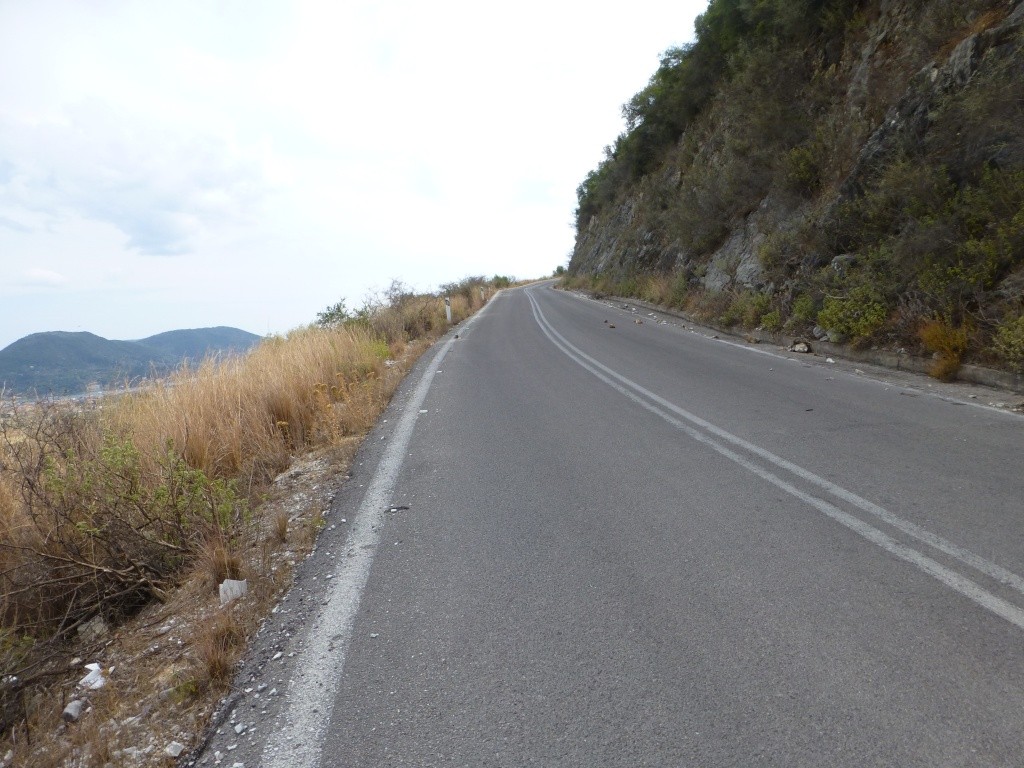 p1130397
p1130400
the road continues to go up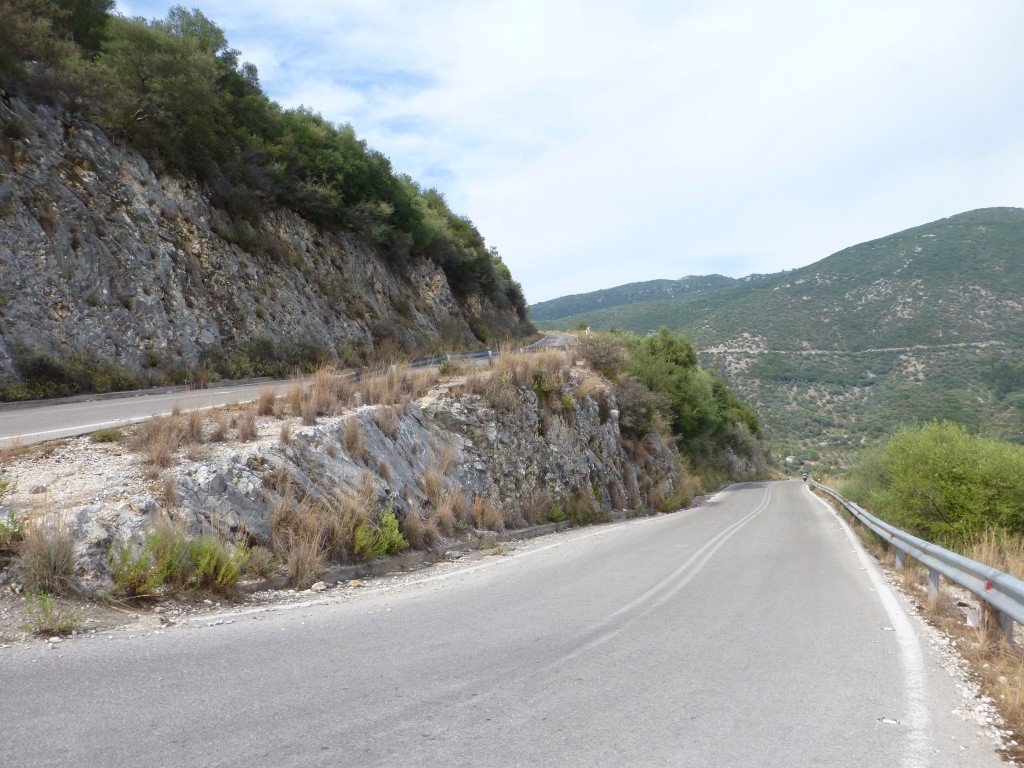 p1130404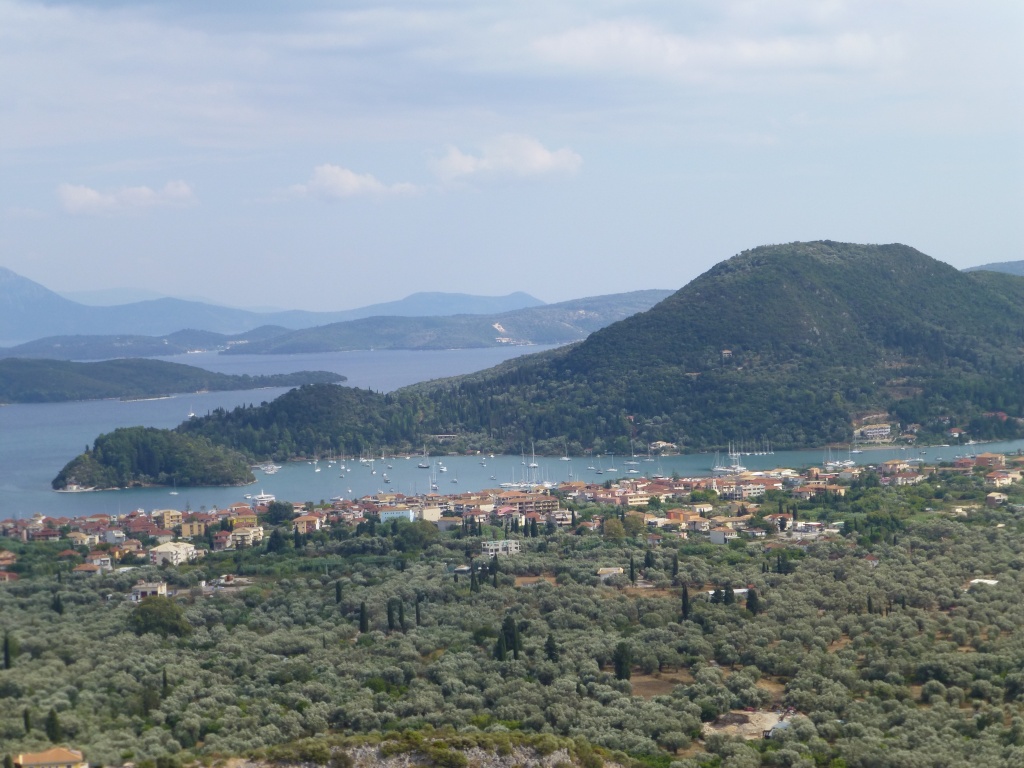 p1130413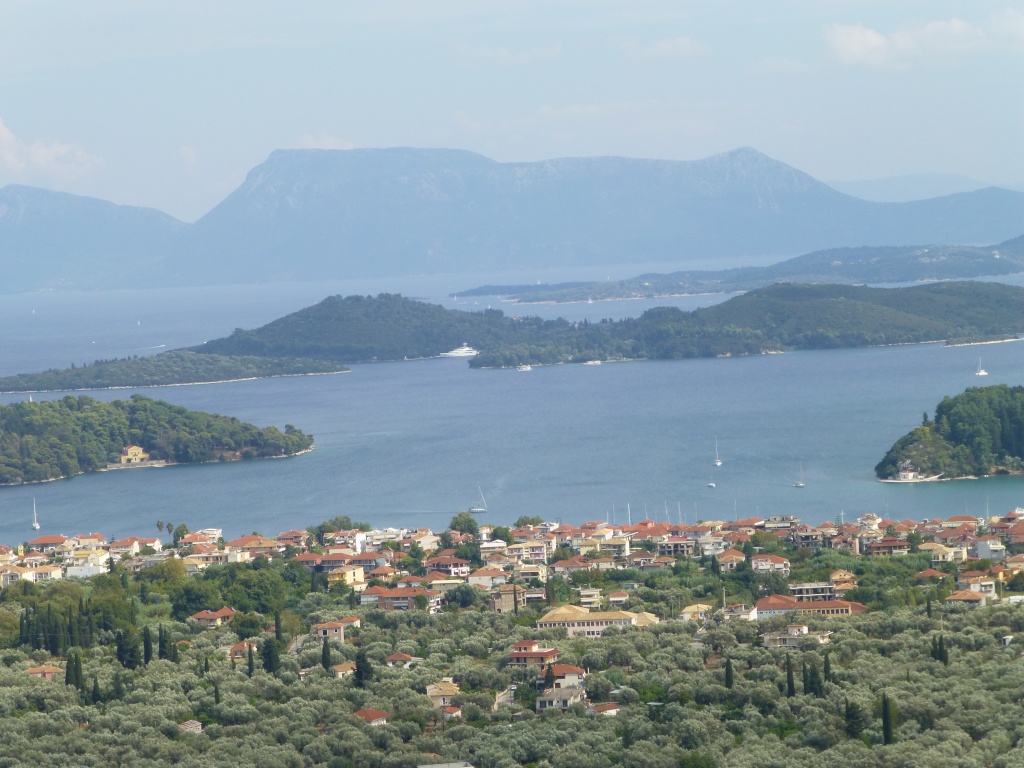 p1130414
p1130415
yet another layer of road to go to the top, Delboy isn't giving up lol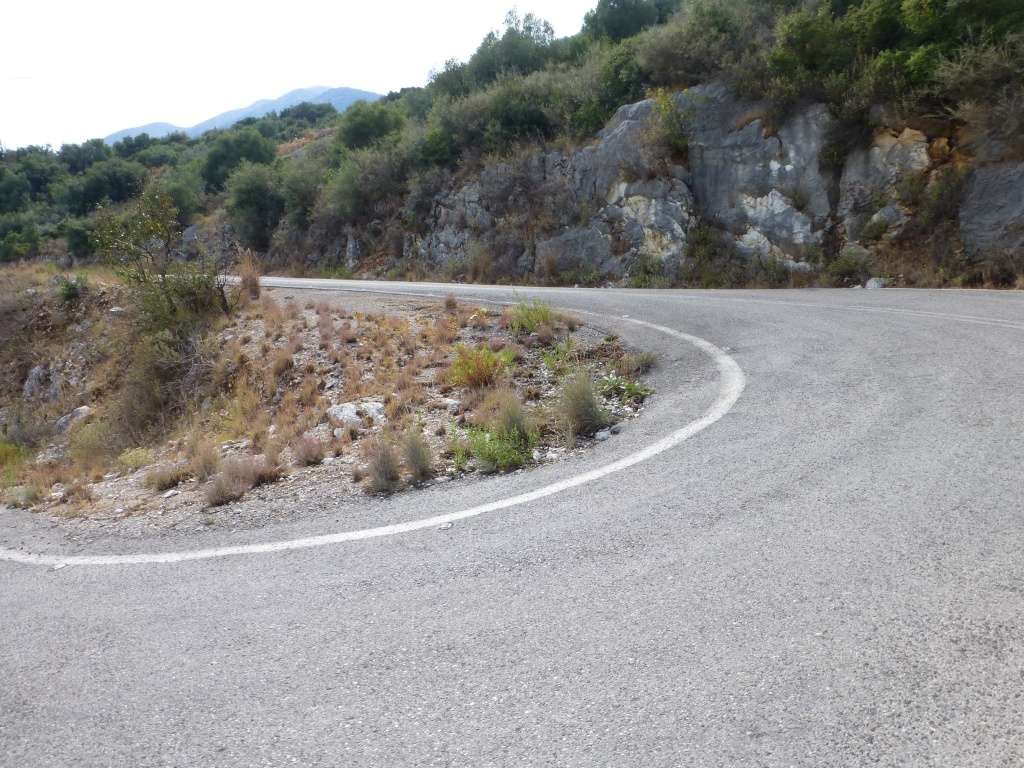 p1130426
This would be the last leg up but it must be easier going down lol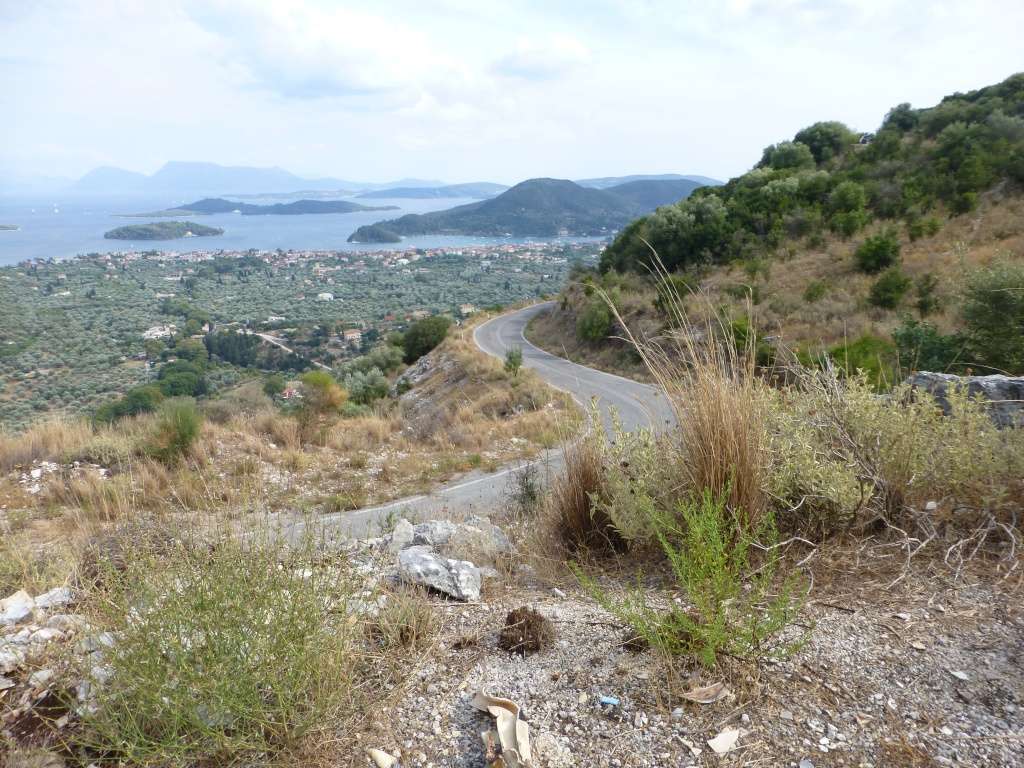 p1130427
Now at the top a bit early but the sea is still not very blue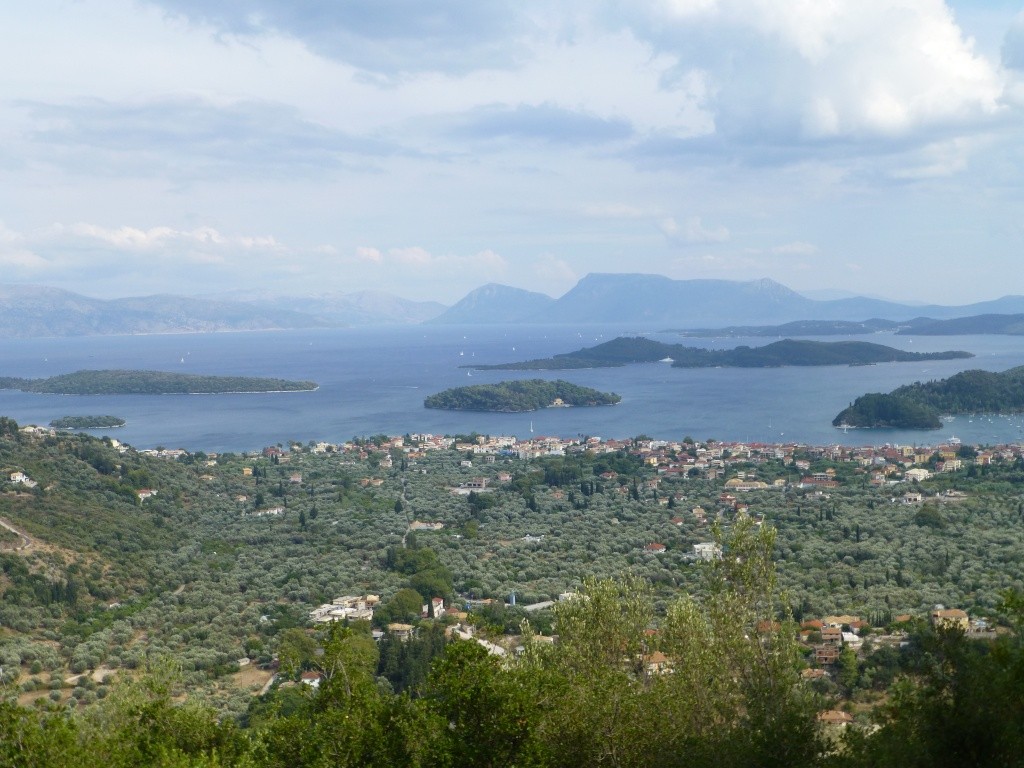 p1130436
I just might have to do it all again on a sunny day lol, I promised mrs Db I would be back by 6pm, hopefully I'll get some better shots from the top next time, to show how it really can be
p1130442
Tonight we would eat in Basilico's, we read on TA that one could wait a while for your meal but we are in no hurry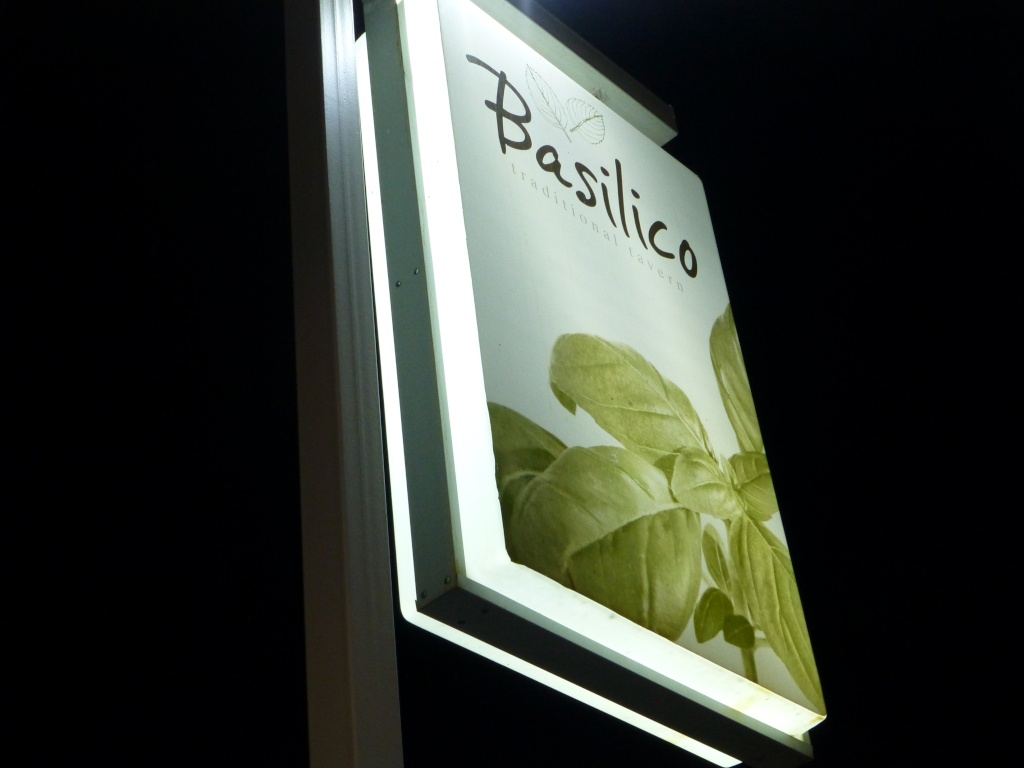 p1130454
I ordered the chicken in sweet and sour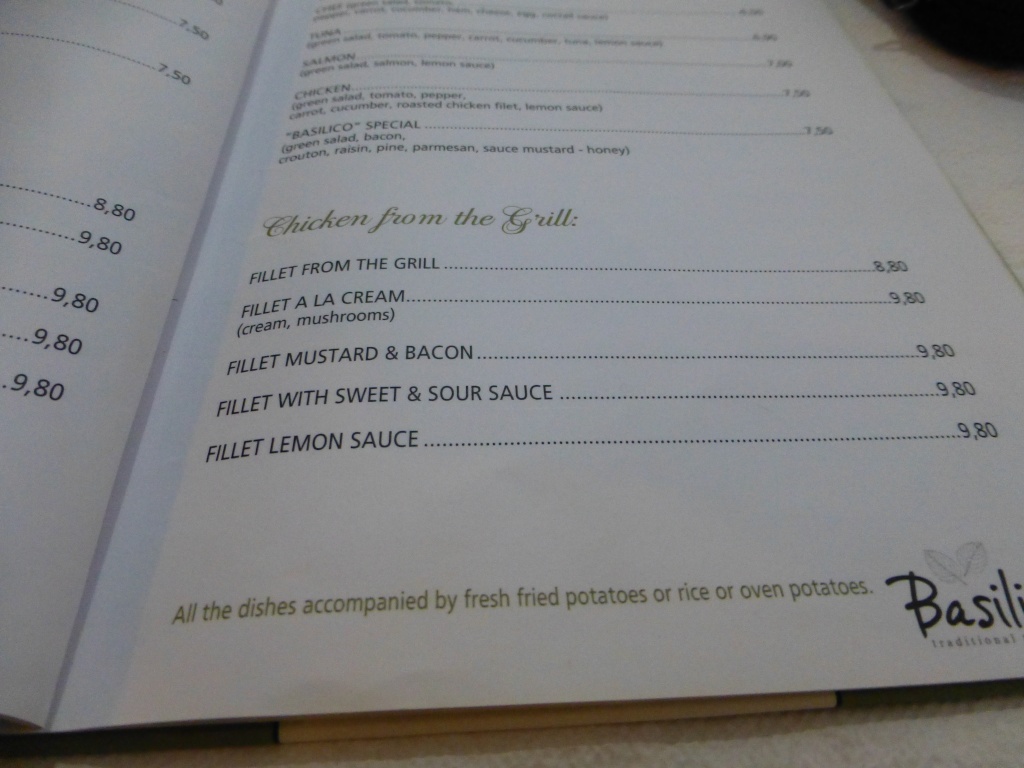 p1130451
Mrs Db had fillet of pork in Porto wine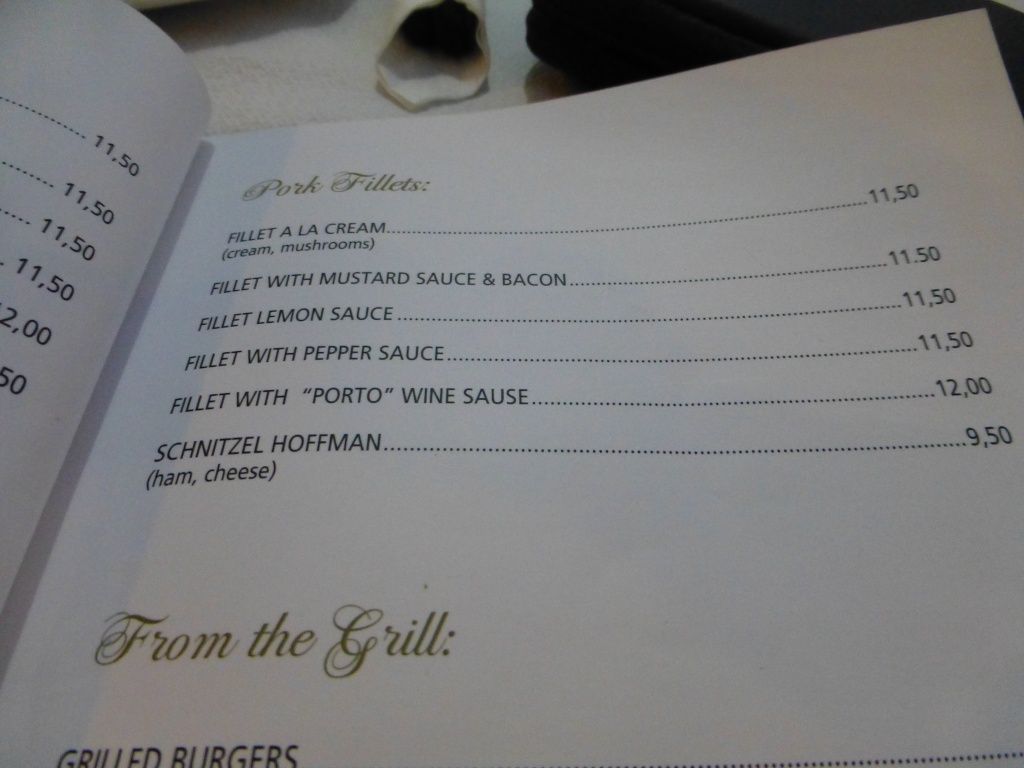 p1130453
we did have a long wait but wasn't bothered but not worth the wait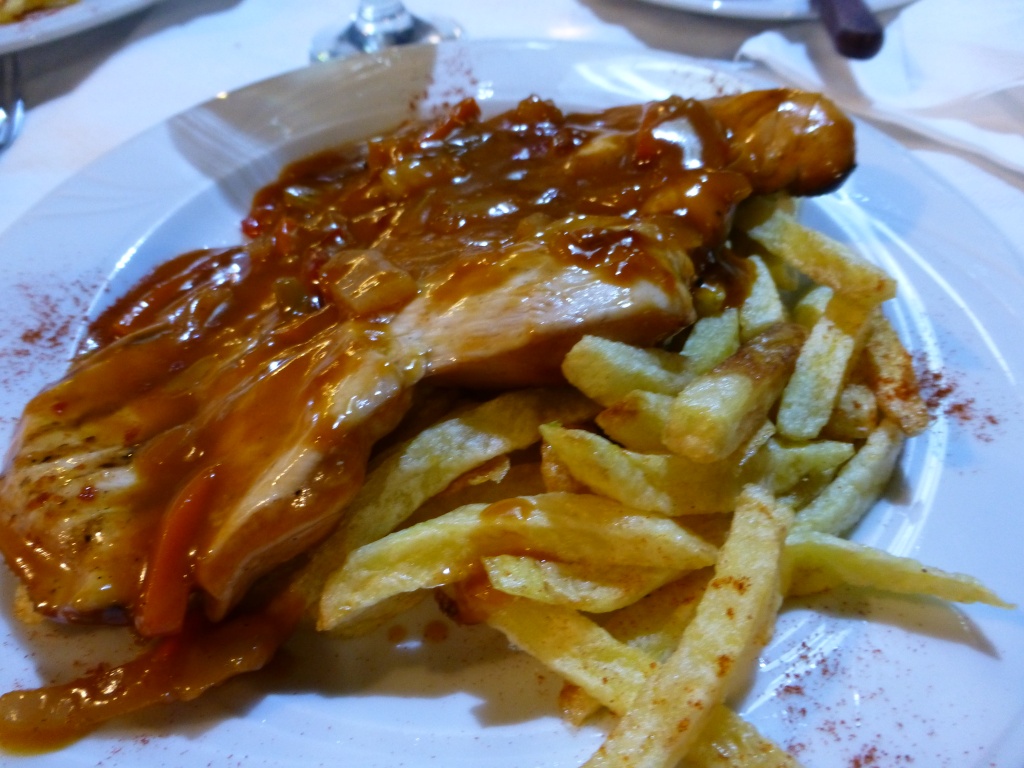 p1130456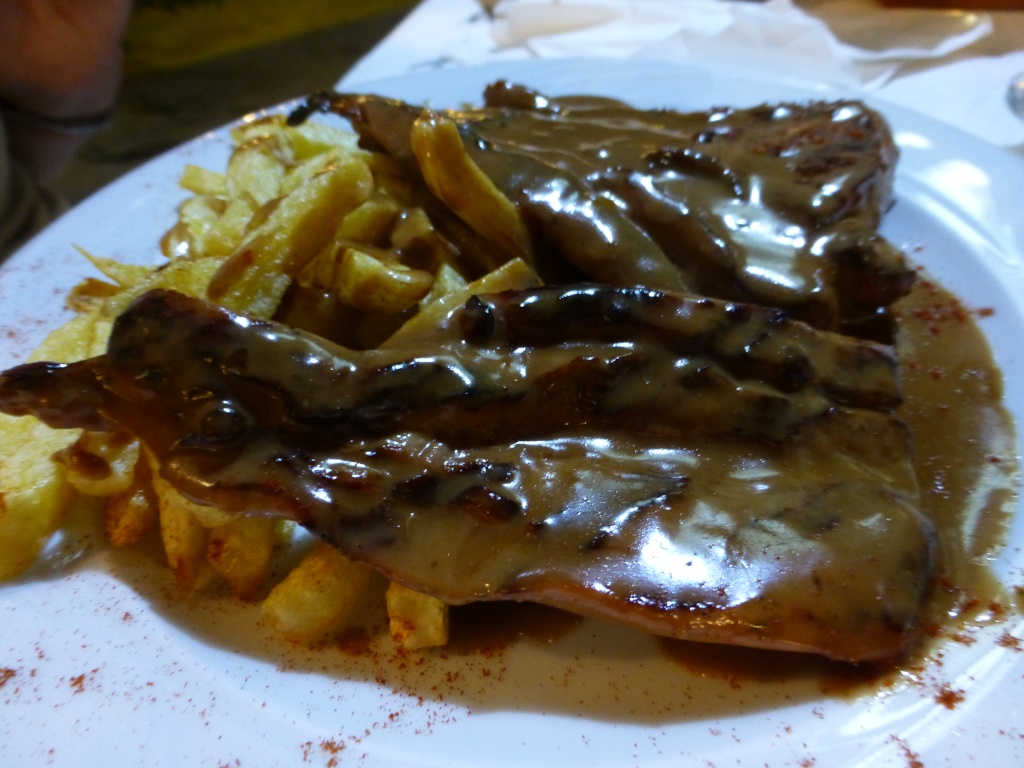 p1130457
The free pudding was nice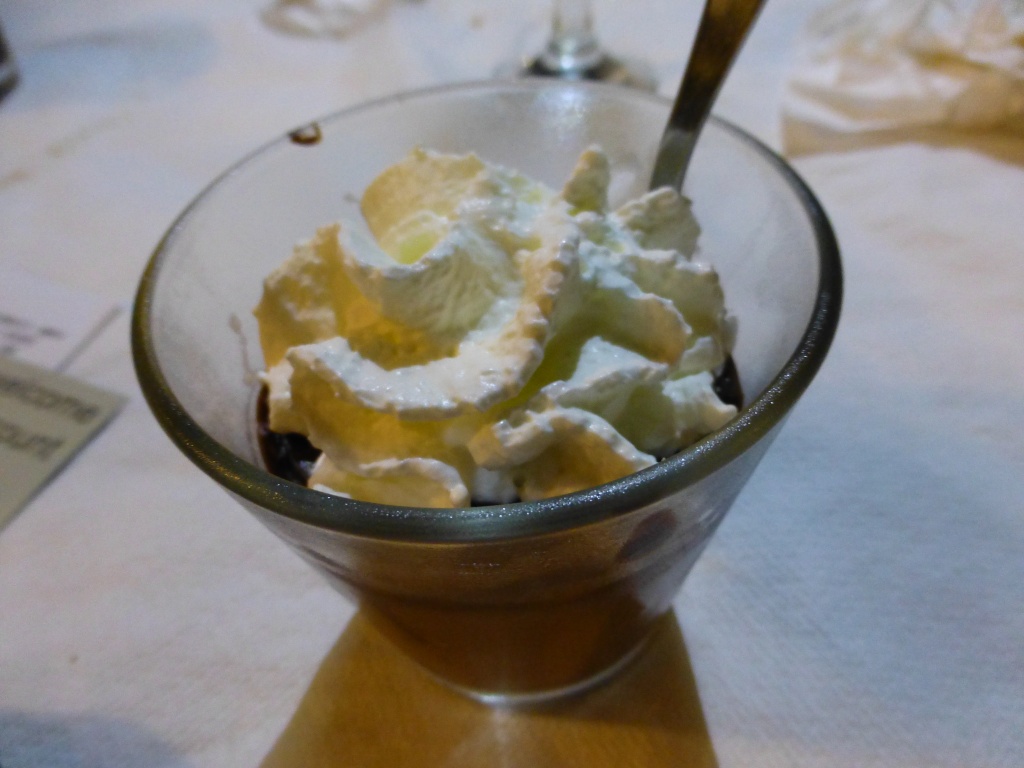 p1130458
then a walk back to the hotel for coffee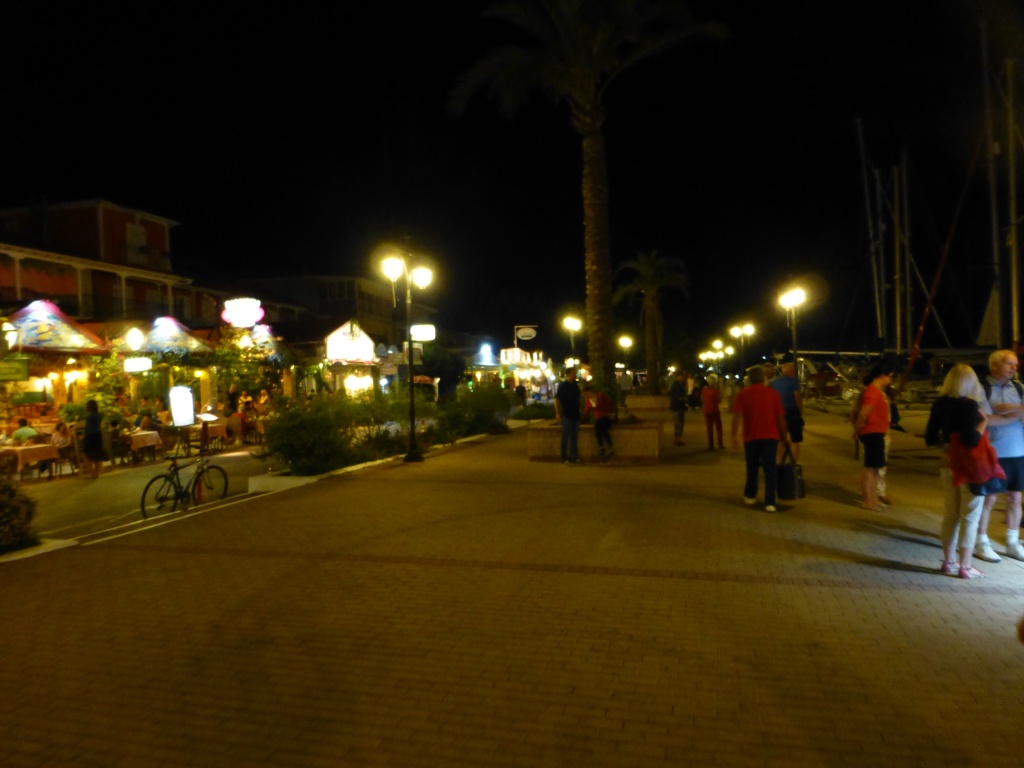 p1130459
END OF DAY 6
DAY 7
Up for the sunrise today and Delboy had a cunning plan, could he get a picture of the sun to appear through that hole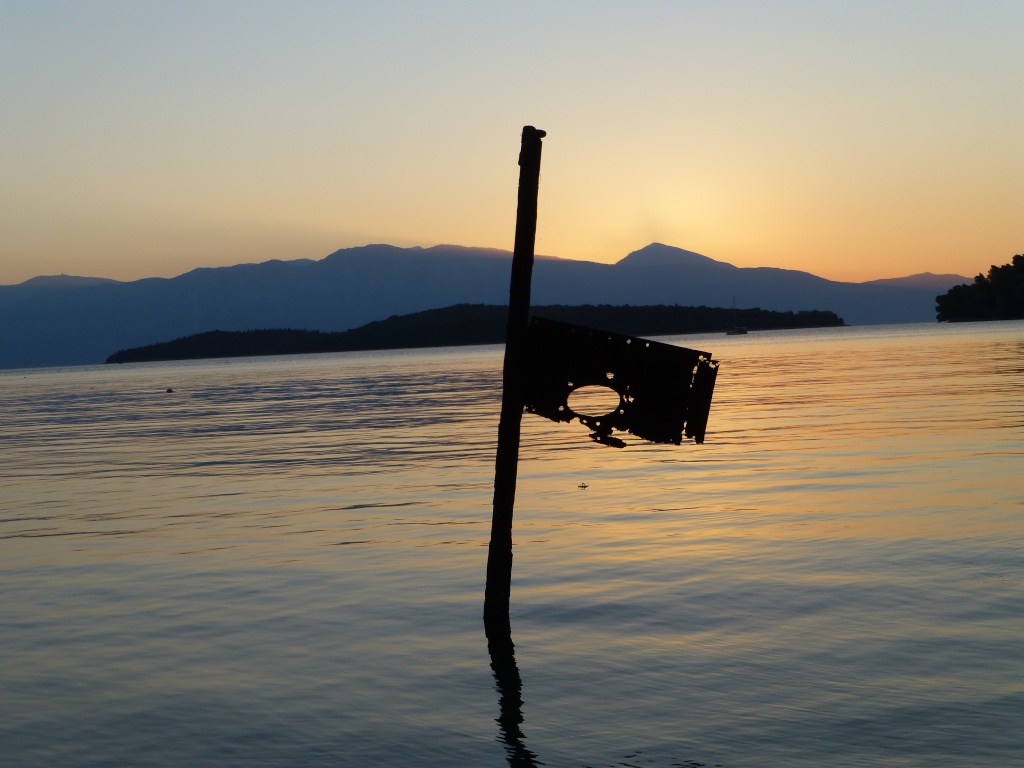 p1130461
but a few of the sunrise first, to at least get something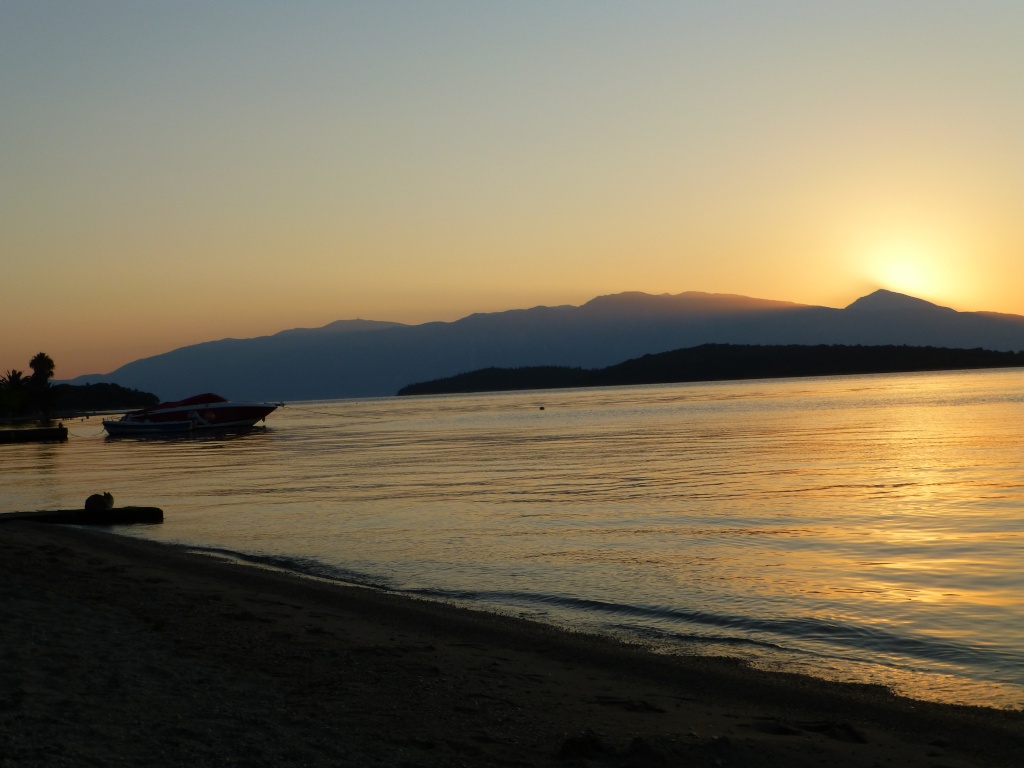 p1130463
As I said, I get about 4 photos before the sun blocks me out and that rusty post might help defract the light
p1130464
well it looked good in my display but back to the drawing board for tomorrow as it didn't work lol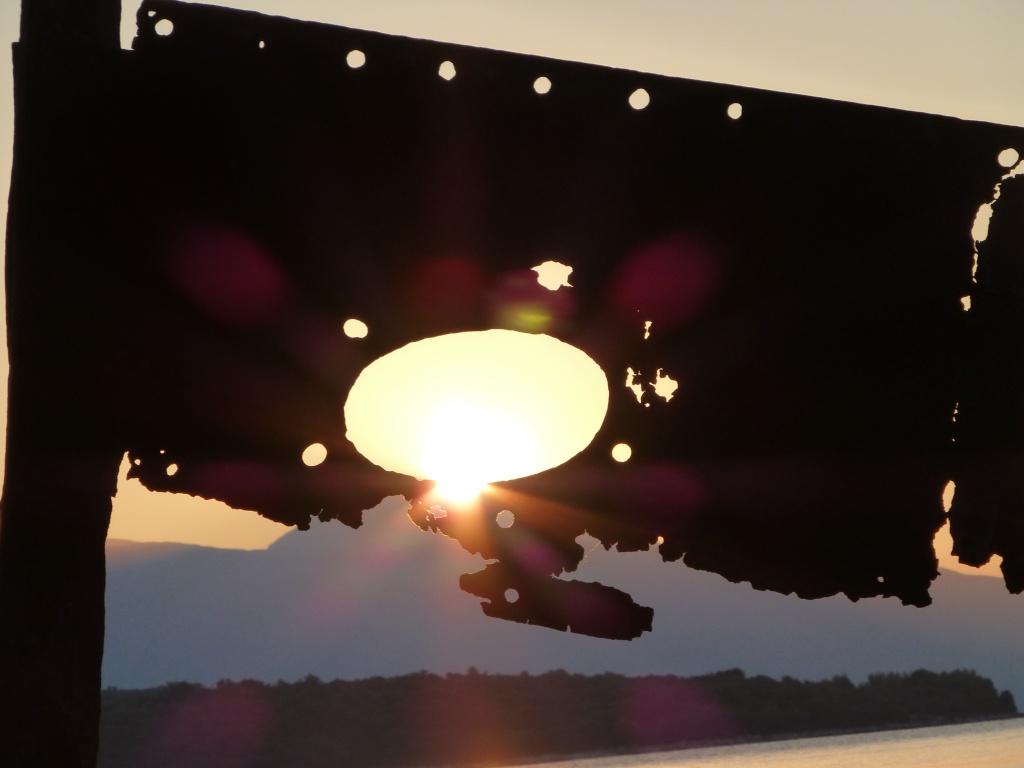 p1130466
today was Saturday premier football was on and I love checking the scores in my fantasy league team, so a day on the beach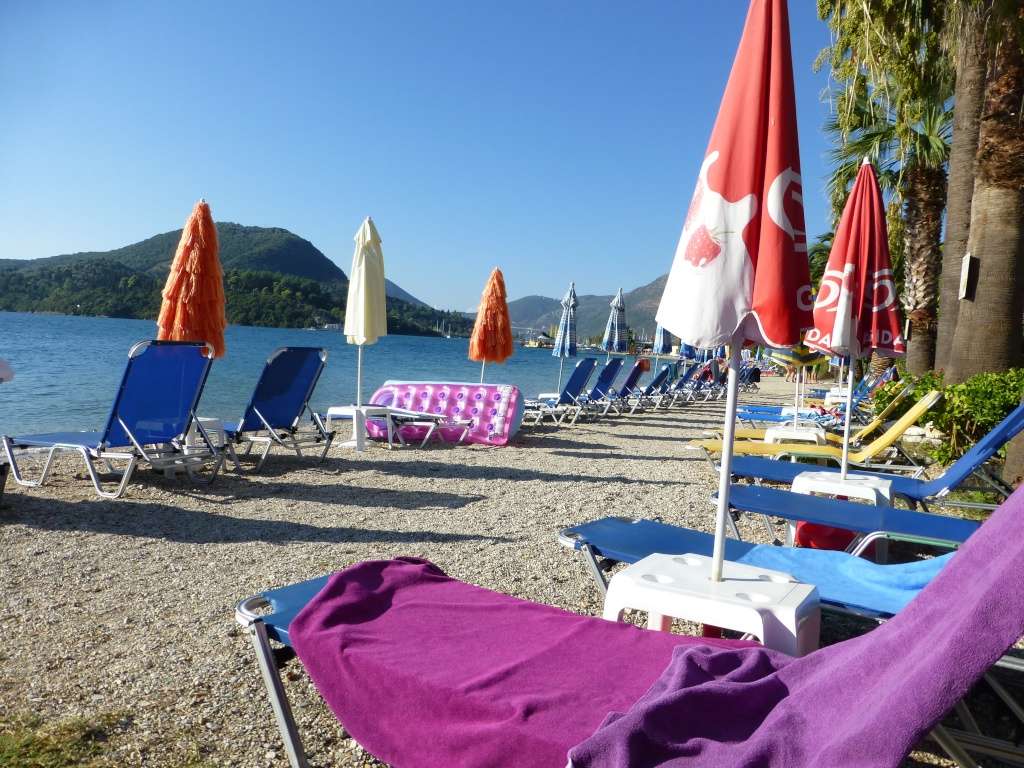 p1130469
lunchtime, we walked to Tom's resto along the beach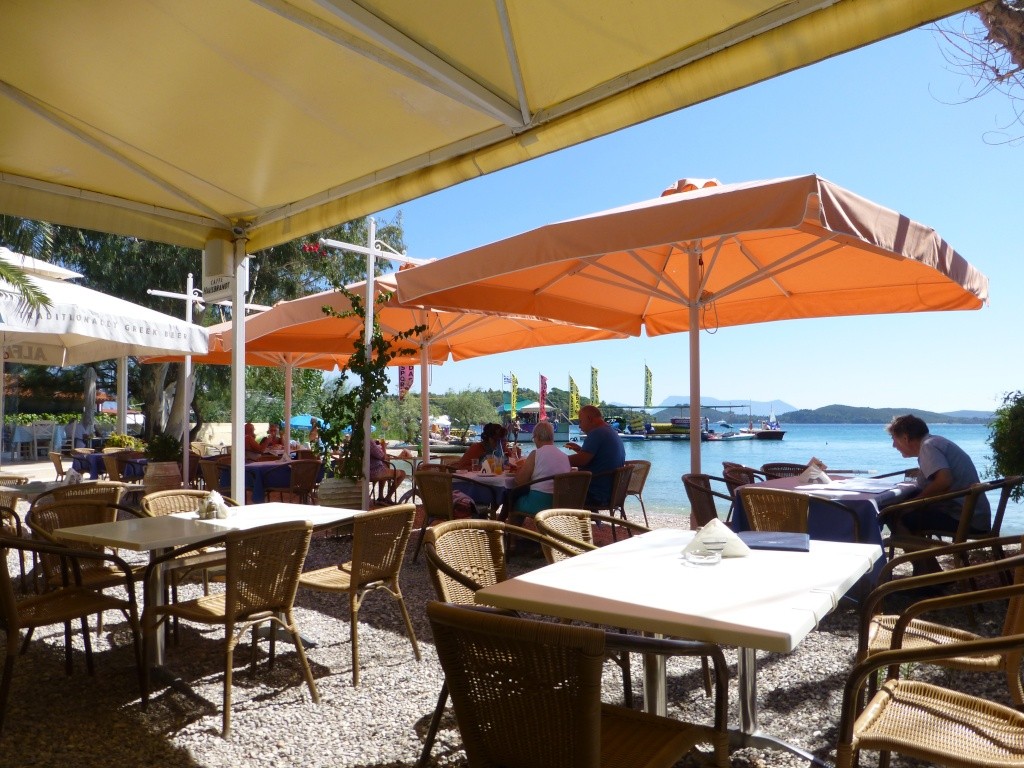 p1130473
we had peppers stuffed with cheese and a greek salad between us, plus beers of course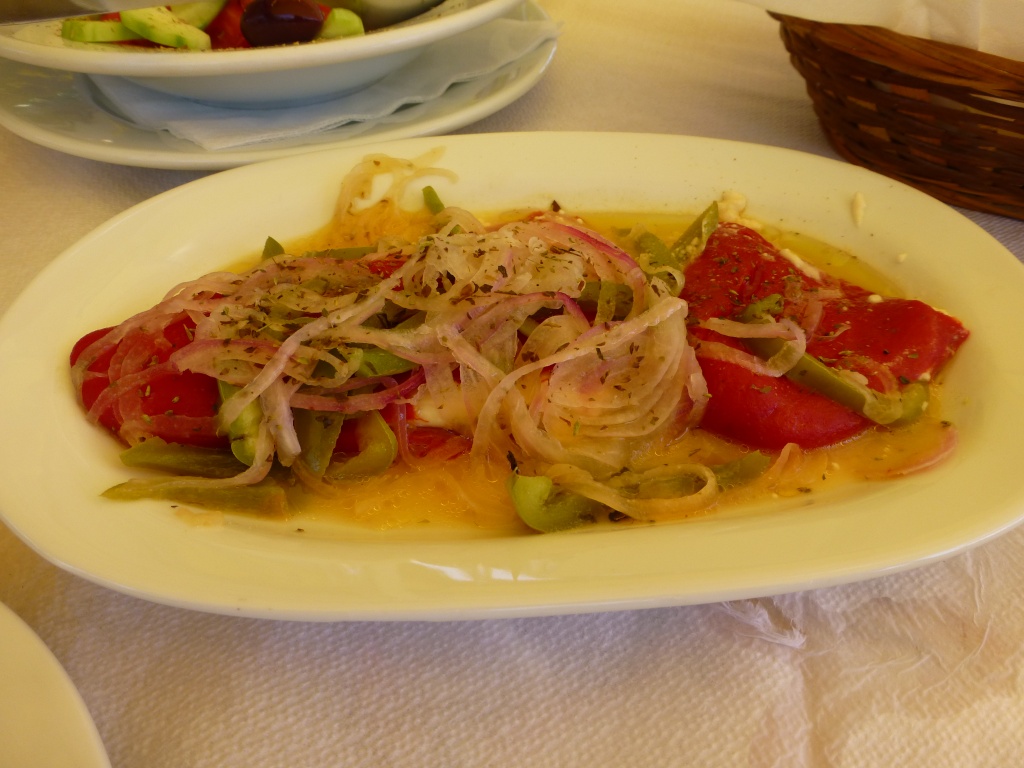 p1130475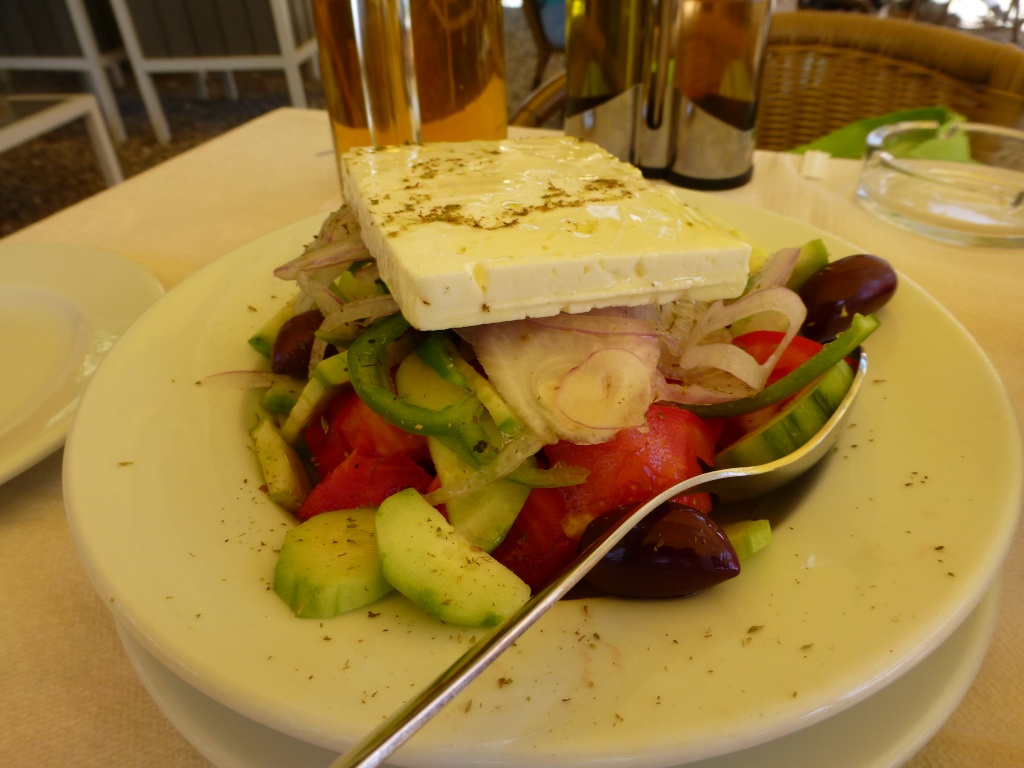 p1130476
forgot the menu but here is the bill lol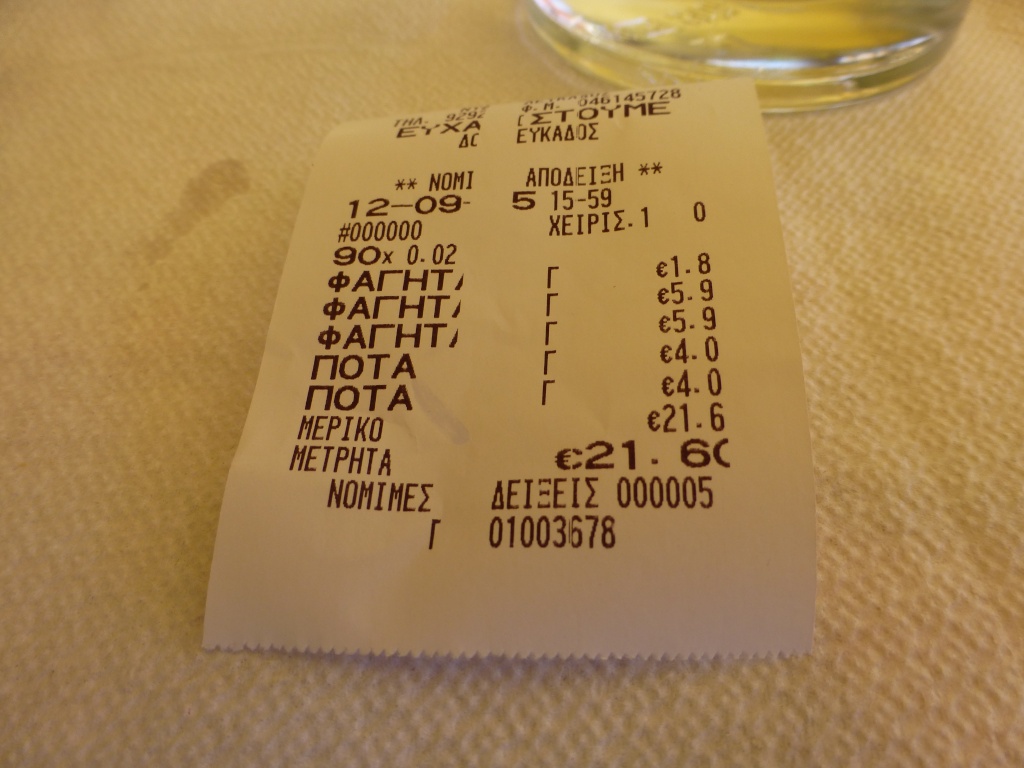 p1130478
So now on our balcony with a cup of tea at 5:30pm (Greek time) with my Hudl (and free wifi) getting the scores lol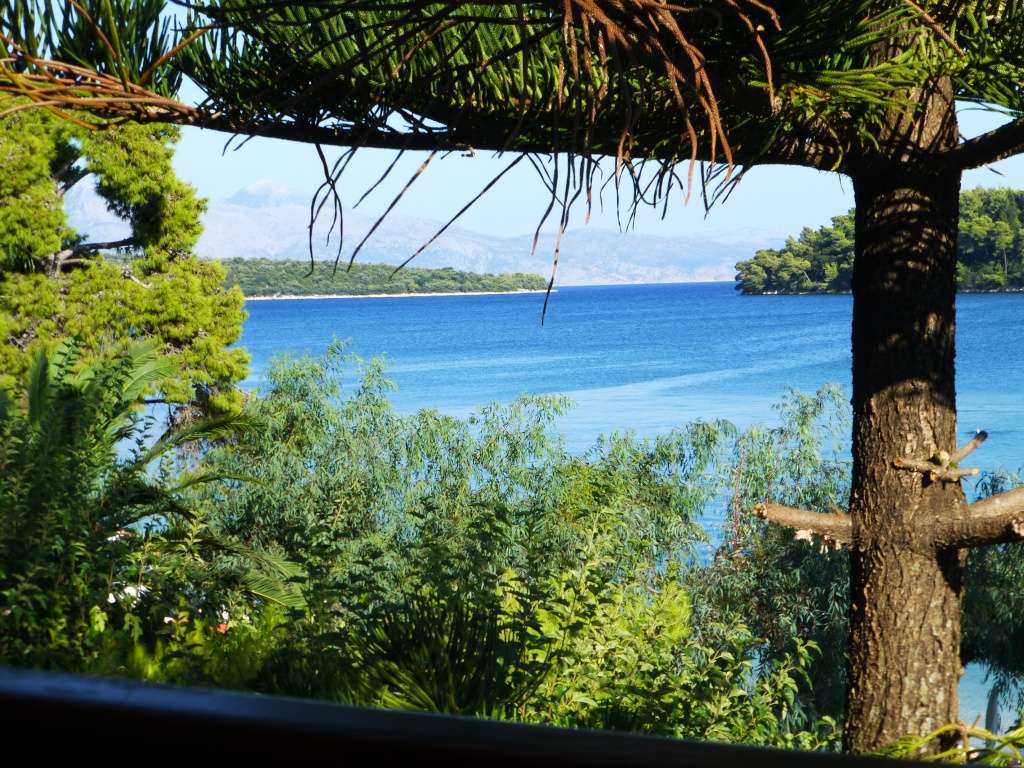 p1130480
After a nice day on the beach we got changed to go to go out to dinner, unfortunately Mrs Db tripped on something and ran forward trying to save herself and went a real pearler. Mrs Db and I were both in shock and fortunately a kind lady took command and both she and the hotel owner swabbed Mrs Db who had cut her lip, nose and leg. We went back to the room where I thought Mrs Db would have two black eyes but puttting a flannel and ice over her face it turned out to be grit from the road. She was so lucky that nothing was broken.
However, we called it a night and no dinner was had
About 12:30am I heard the party boat return, it goes out on a Saturday with two DJ's and disappears around the islands somewhere and that was the only time we heard anything apart from the lightening lol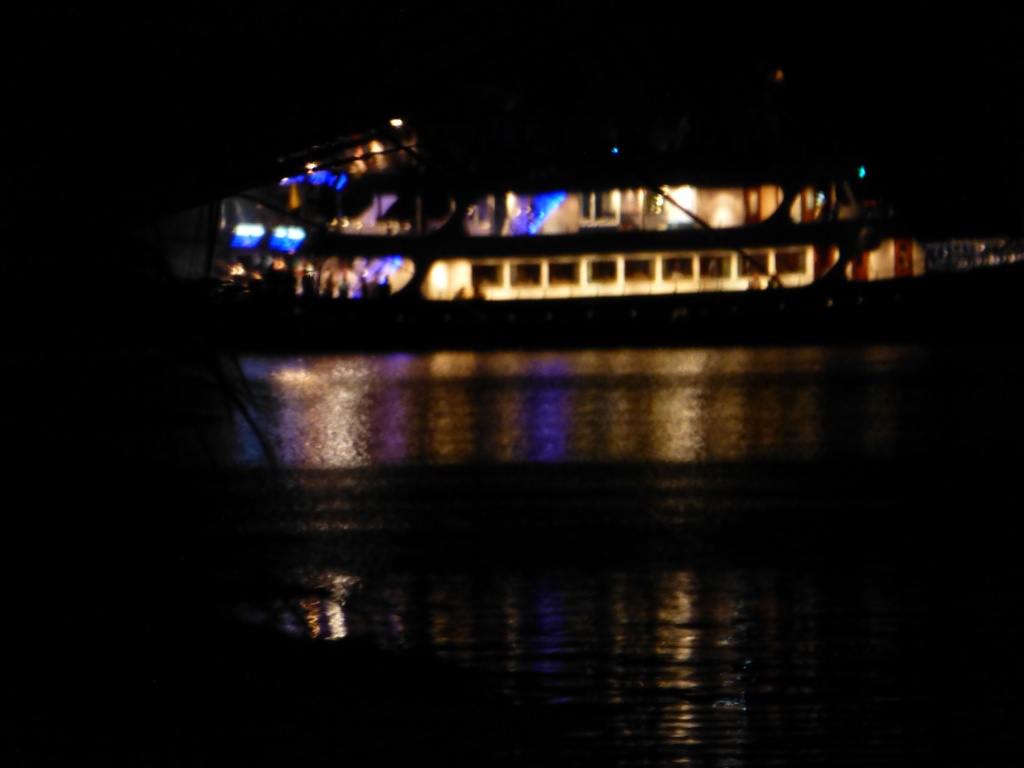 p1130481
Fireworks greeted it back to shore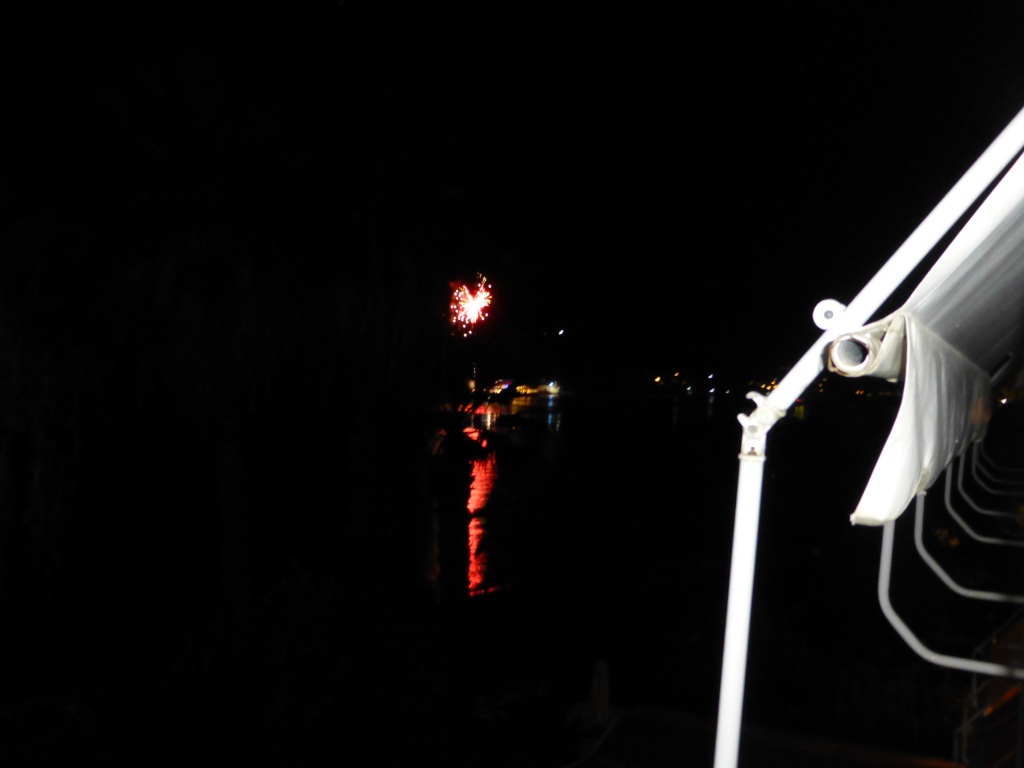 p1130482
END OF DAY 7
DAY 8
It was near sunrise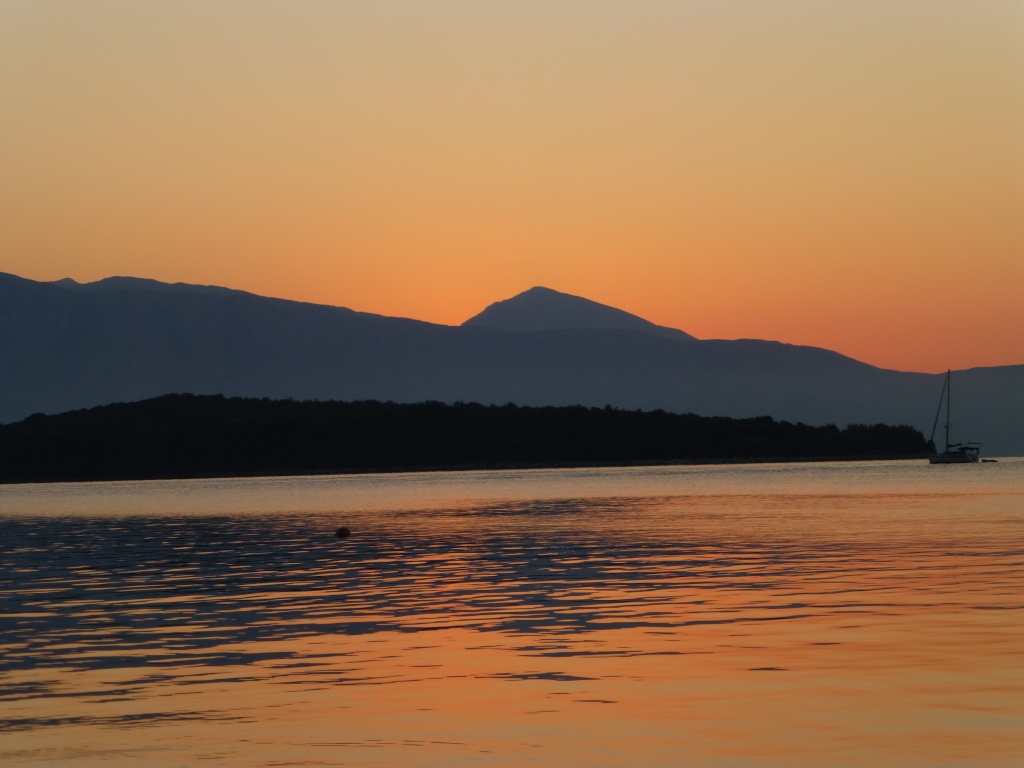 p1130490
and the cat didn't want to pose for me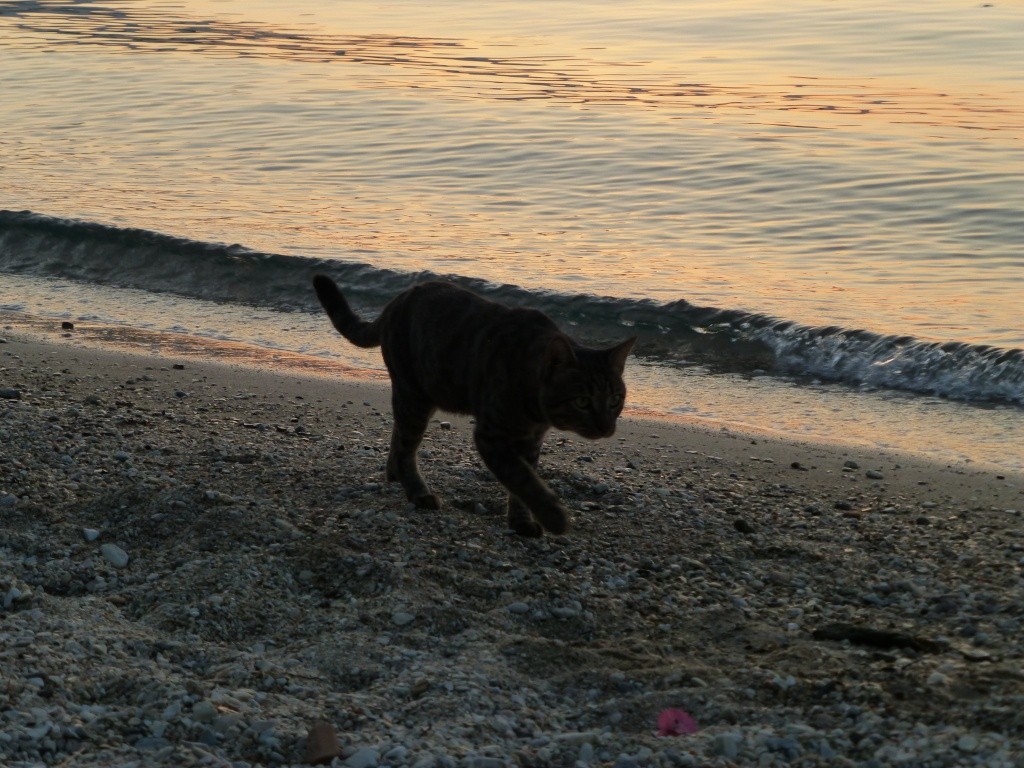 p1130491
But a fishing boat came in :cheers: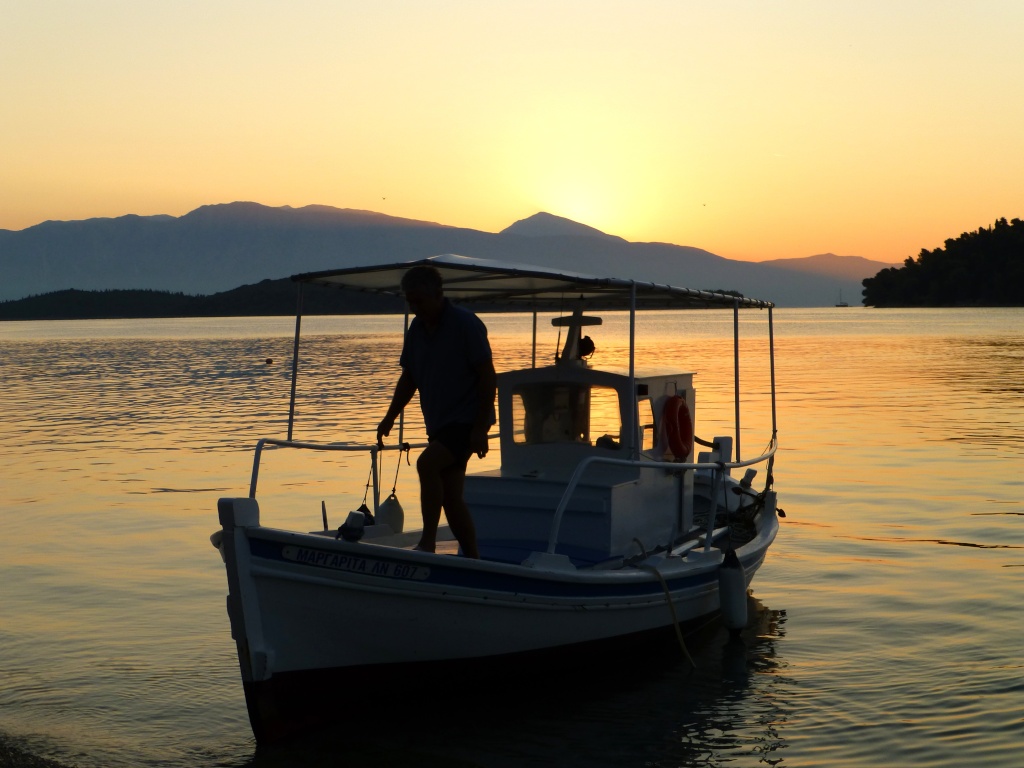 p1130492a
I did take a lot of shots lol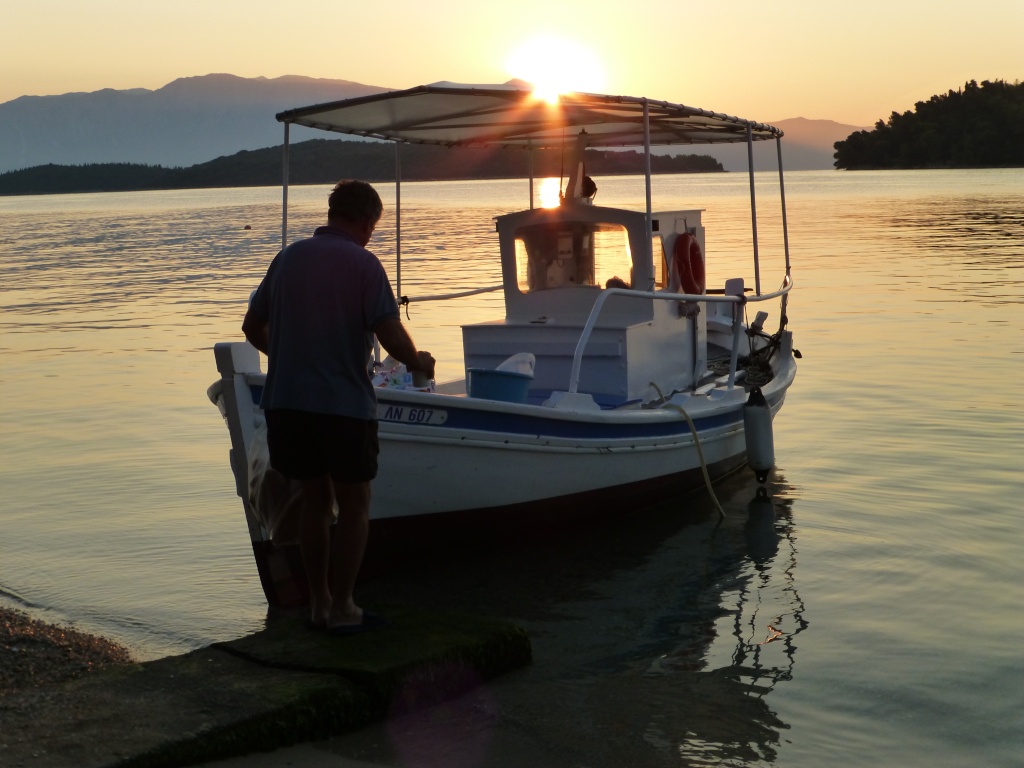 p1130499
Today we decided to sit on the chairs in the hotel ,as Mrs Db was feeling a little stiff and shocked and thought getting off a sunbed would be too much but luckily nothing broken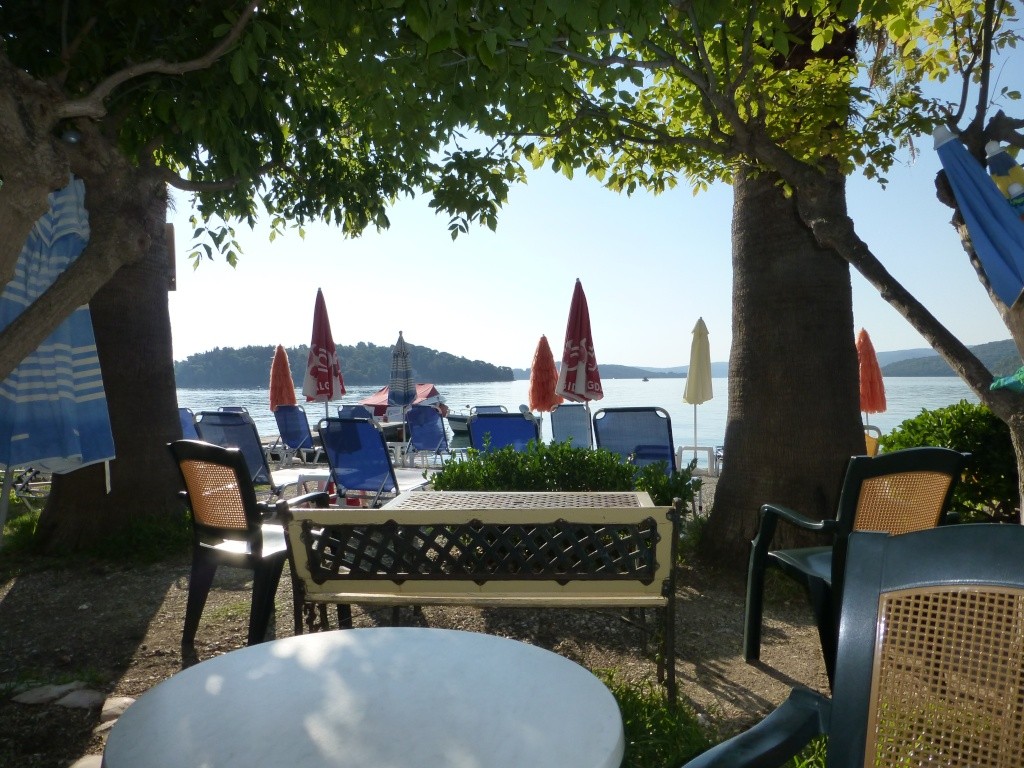 p1130501
we could still see all activities in the shade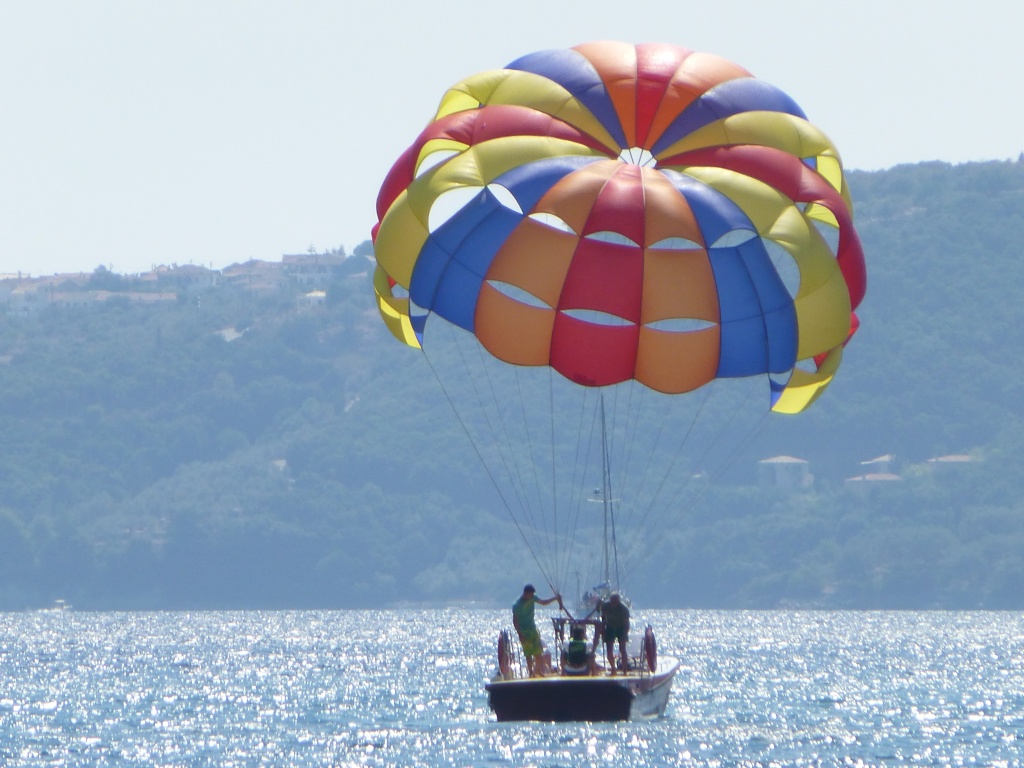 p1130502
Lunchtime we popped along to JD's recommended to us and run by the English lady who i mentioned earlier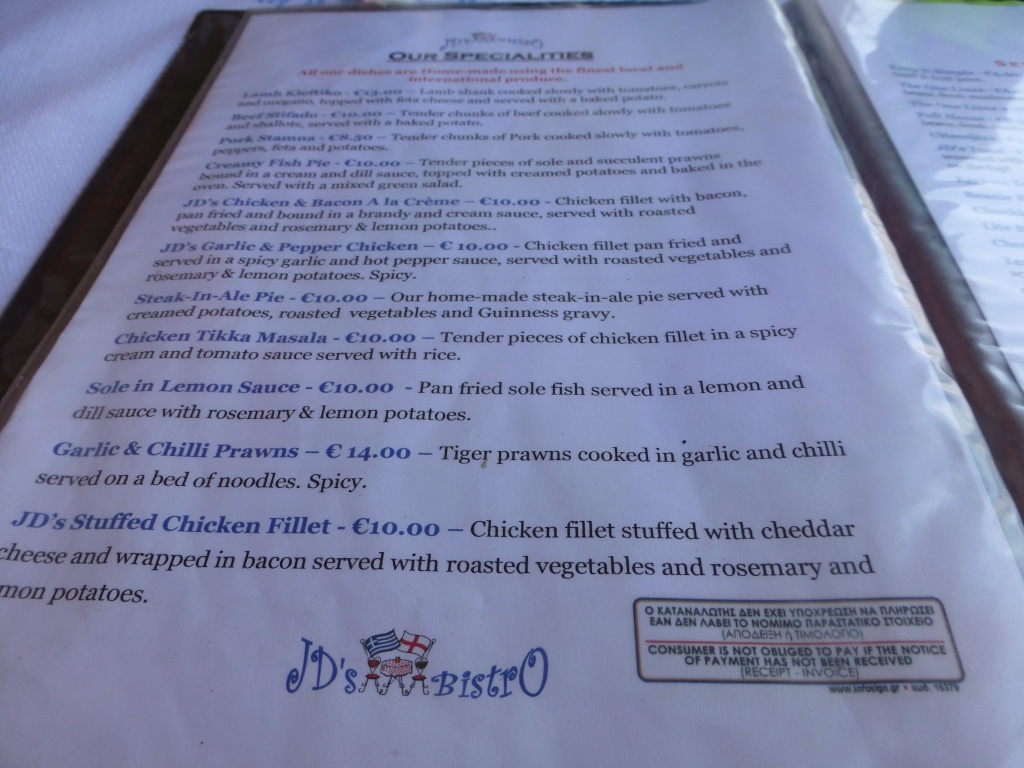 p1130503
for our first experience of eating on the road lol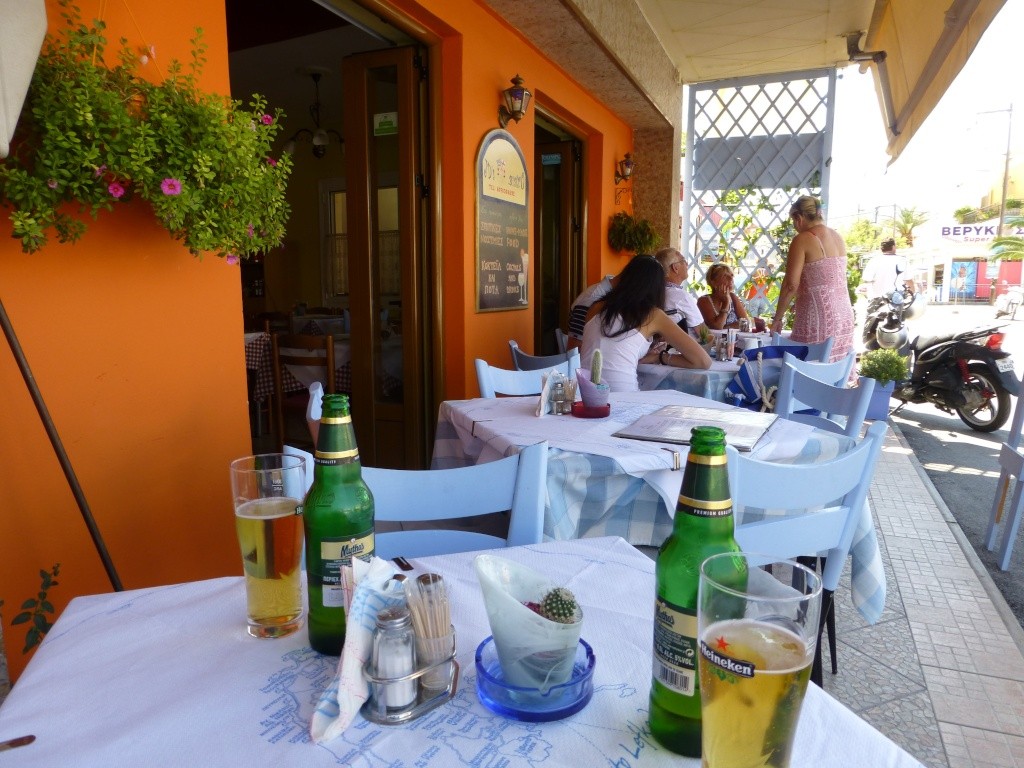 p1130505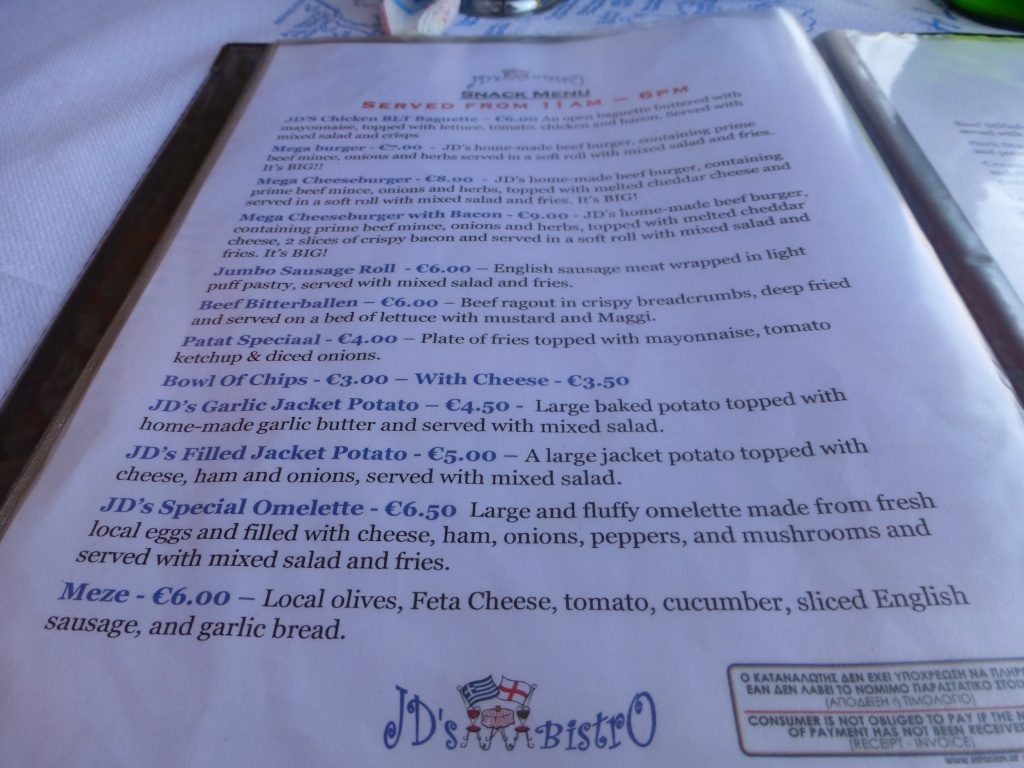 p1130504
we both had omeletes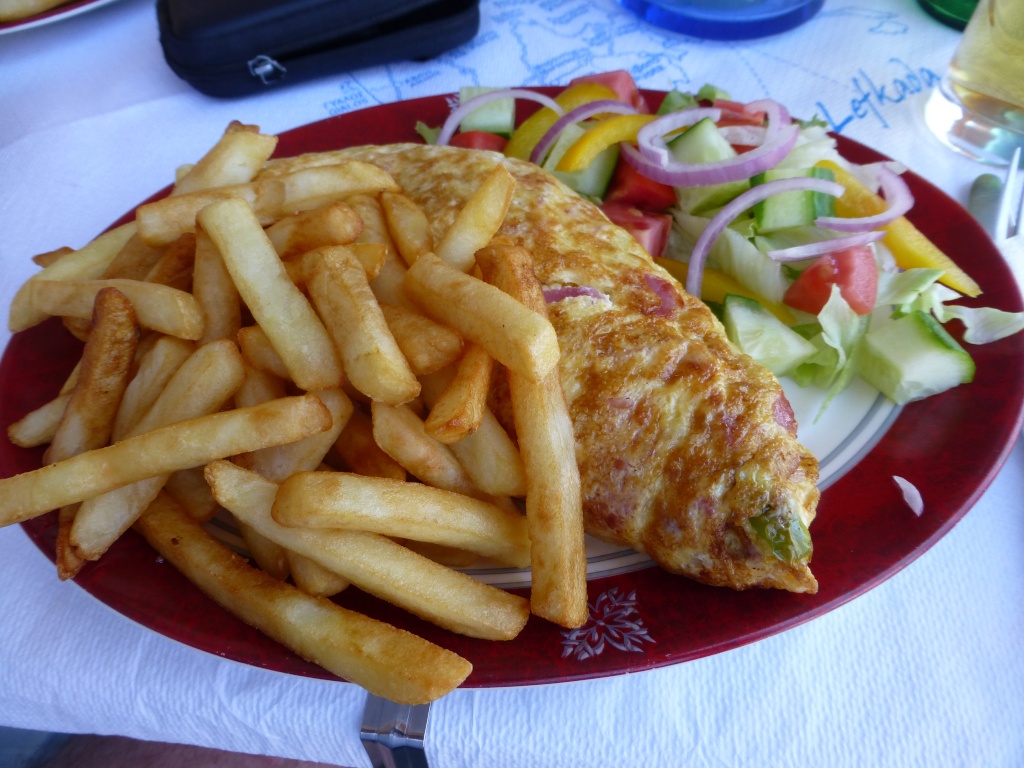 p1130506
IMO the best omelettes of the holiday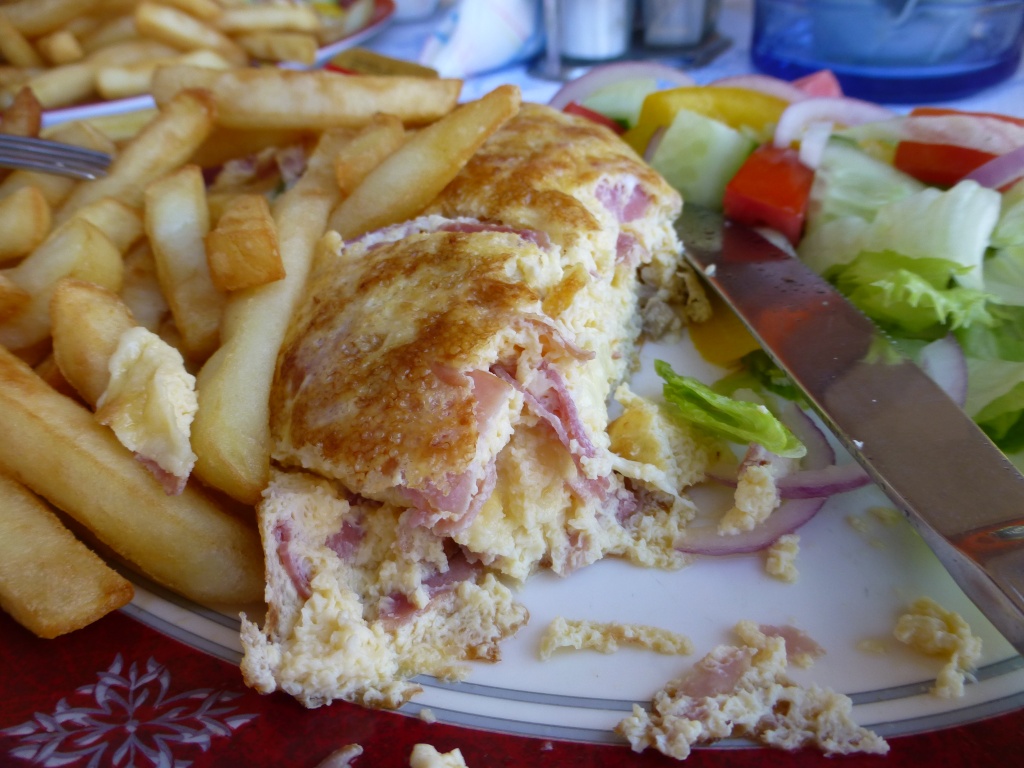 p1130508
evening came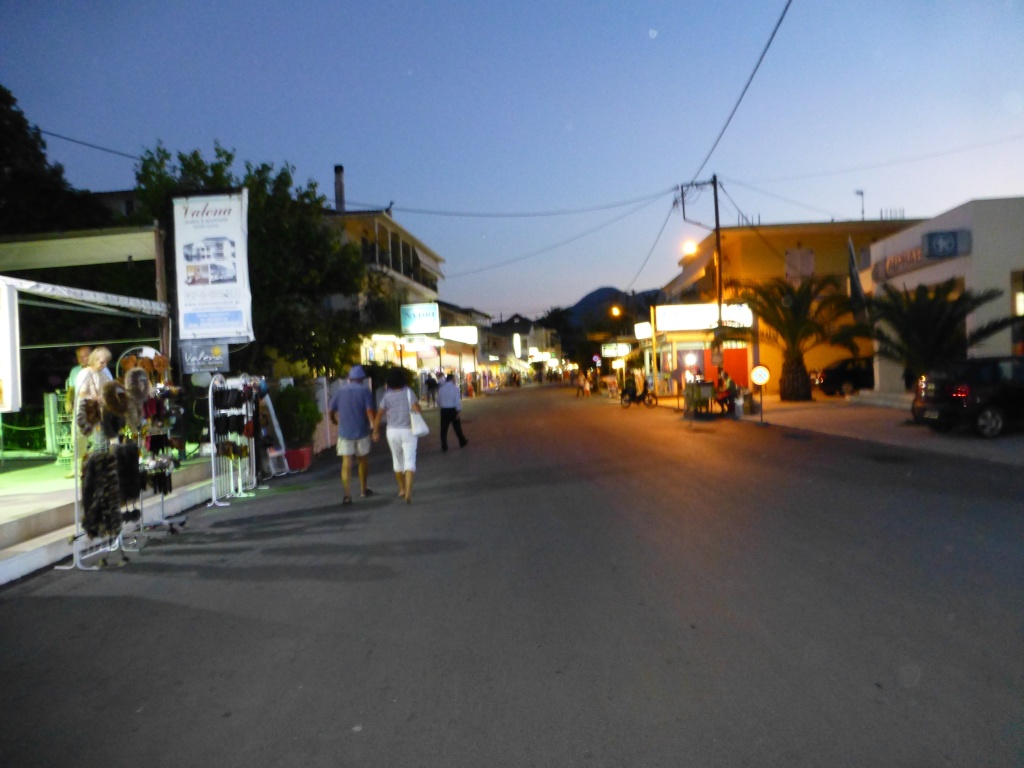 p1130510
and we did a slow walk to the promenade
p1130511
and decided to eat in Flisvos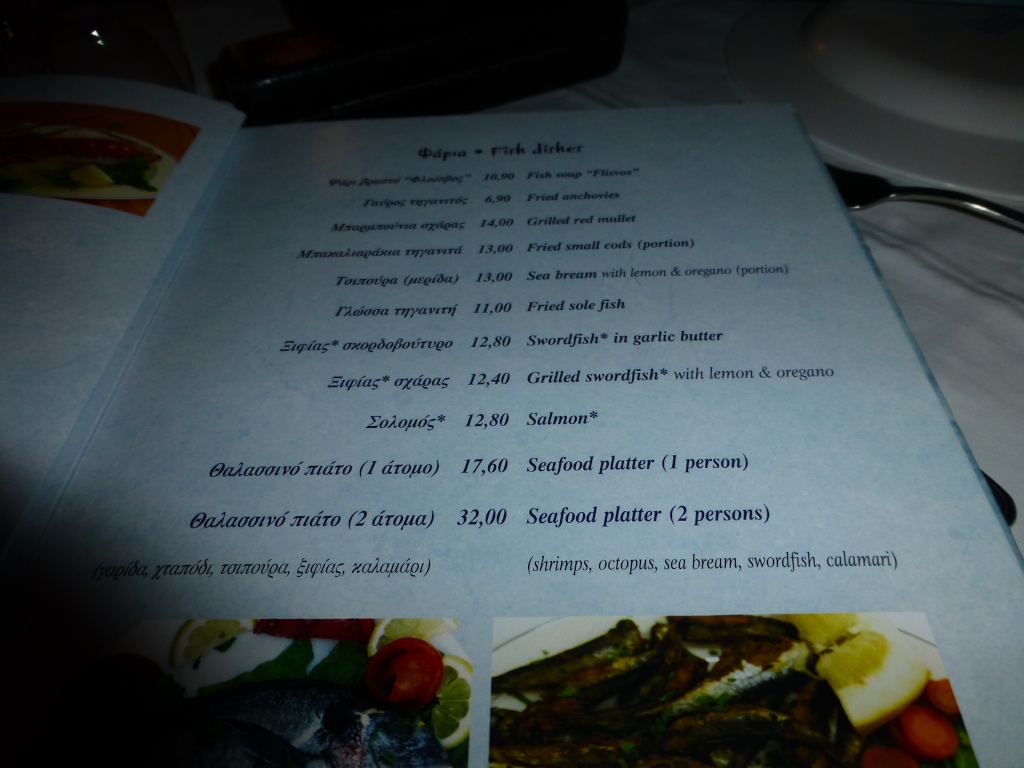 p1130513
Mrs Db decided to have swordfish, as it may be easier on her sore lips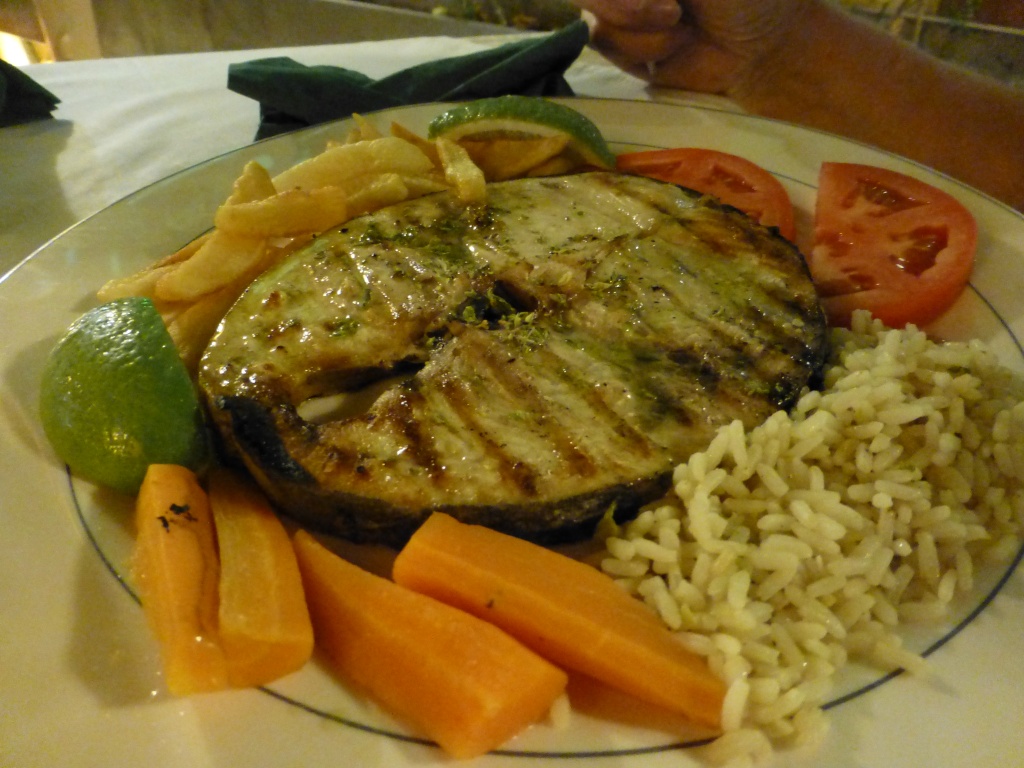 p1130517
I had the lamb chops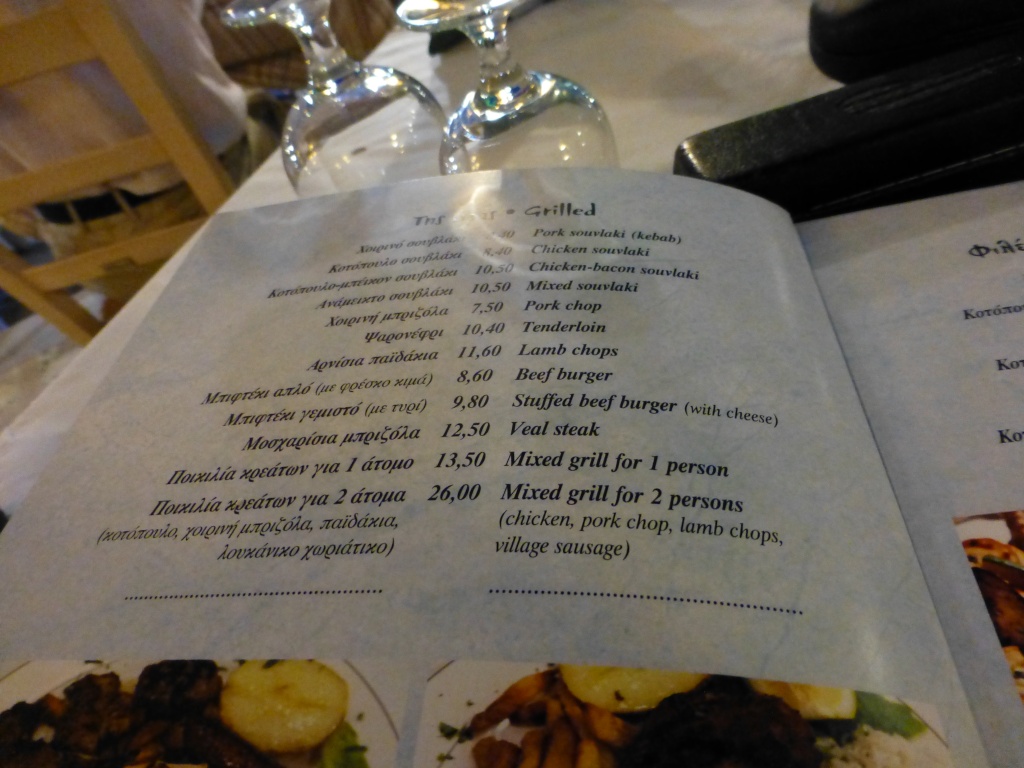 p1130514
nice barbeque flavour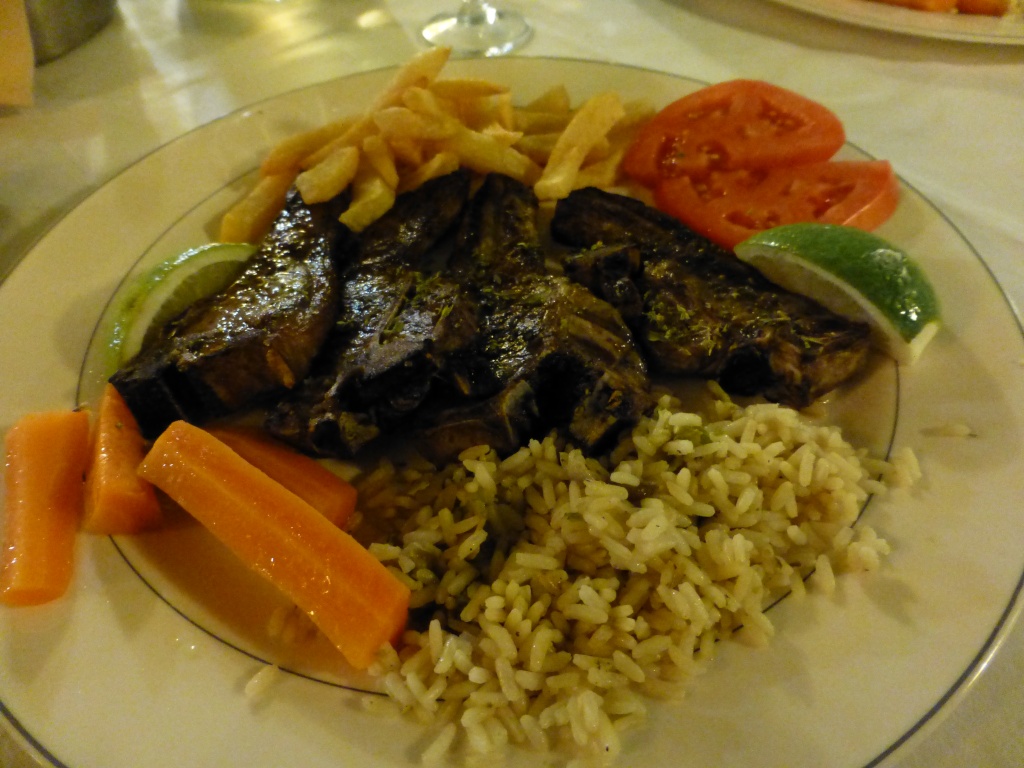 p1130516
and a free chocolate and ginger pudding
p1130518
and it was back to the hotel for coffee on our balcony
END OF DAY 8