Last night was the last of the 4 courses for beginners and it started with a discussion that if a PC disk breaks down and there are no backups the loss of the photographs for a photographer is a total disaster and a lifetime of photos could be lost.
There are two states a computer disk can be in (1) Broken or (2) about to Break and one should be prepared by having backups. A couple of backups would be even better and must be on external devices and even a backup held with a friend in case of fire or if stolen (as computer equipment lying around will always be a target for thieves). Always do virus checks regularly if you use the internet
Some people store photos on DVD but they have not proved to be too reliable in the past and their chemical compounds can break down leaving you with unreadable DVD's. Another recent storage is on camera cards, as one can buy 32g cards for less than £20 or external 2TB disks are around the £60 mark.
Having decided on your storage media being a PC, the next task is to download the photos from your camera, there are various programmes to do this and normally you can just plug in your camera (or add your computer card in the computer socket) and the computer knows that your device/camera is connected and the computer software will set up various download options for you.
At this stage, it is best to try and organise your pictures into folders/files and it was suggested to label them by date 'yyyymm' followed by text title which will make it easier to find a photo amongst possibly thousands of other photos one has stored, even give individual photos a title if you can, as there is software that can search on titles. However, preference of titling folders is a more individual thing, as some methods suit some people better than others.
Once you have your folder of photos it is best to go through them, delete 'out of focus' and unwanted pictures, then give each picture a star value if the software allows it, giving 5 stars to the best ones. So if you have ten pictures of the same subject you can compare them until you have given the best one five stars. Then back them up externally.
If one is altering photo's eg cropping (take a copy if possible) never save the cropped result under it's original name, as the original photo will be lost and later cropping of the original will not be possible. One has to think that the part of the photo you are cropping now may suit a purpose this time but perhaps not another time.
on this picture I cropped it to show a broken boat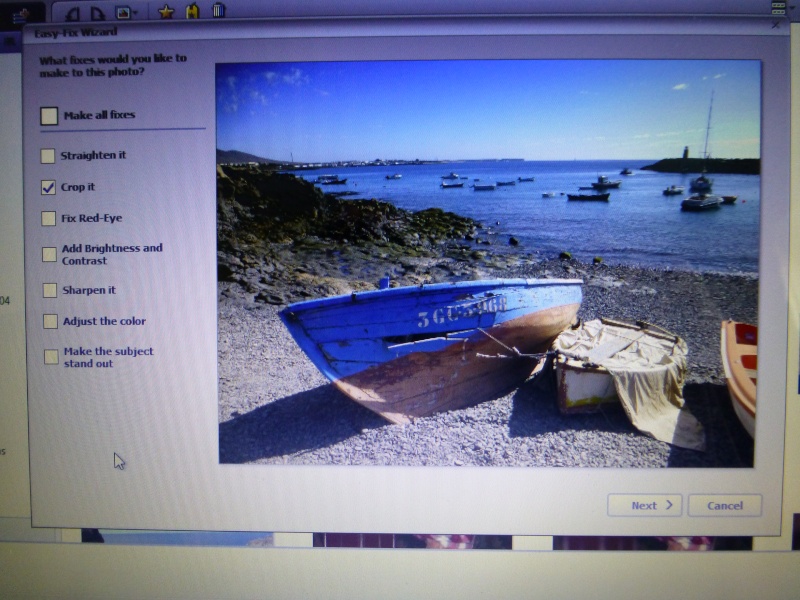 but the judge said, I didn't crop it enough but I still have the original picture to try again, as I had saved the cropped one under a different name
and then 'save as' another file, I add an 'e' for edited on the end of the original name for a new cropped file name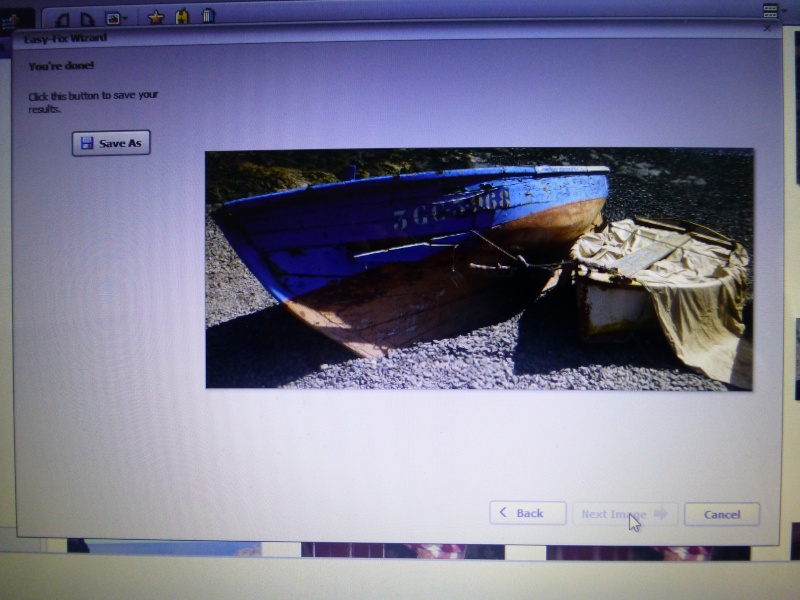 A lot more can be done to a photo in the photoshop or more sophisticated other software beyond levelling the photo or enhancing the colours or sharpening it. However, it was said, that if a photo is badly out of focus there is very little can be done with it, so try and get the photo right in the first place.
Apparently prints need more sharpening than those just being viewed on a projector. Sharpening works by sharpening the contrast edges and depends on the size of the photos but these days, on the sophisticated programmes, even selected parts of a photo can be sharpened.
Not being techie I have always liked my editing to be simple and use ARCsoft media software which came free with something I had and one is allowed to run through all fixes it has in an order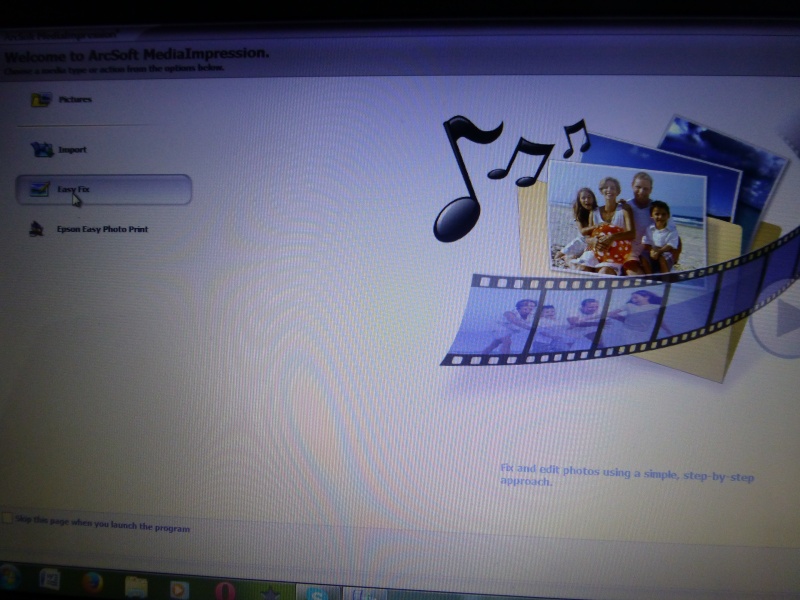 Somebody did asked how one levels a photo, well following the package through, for straightening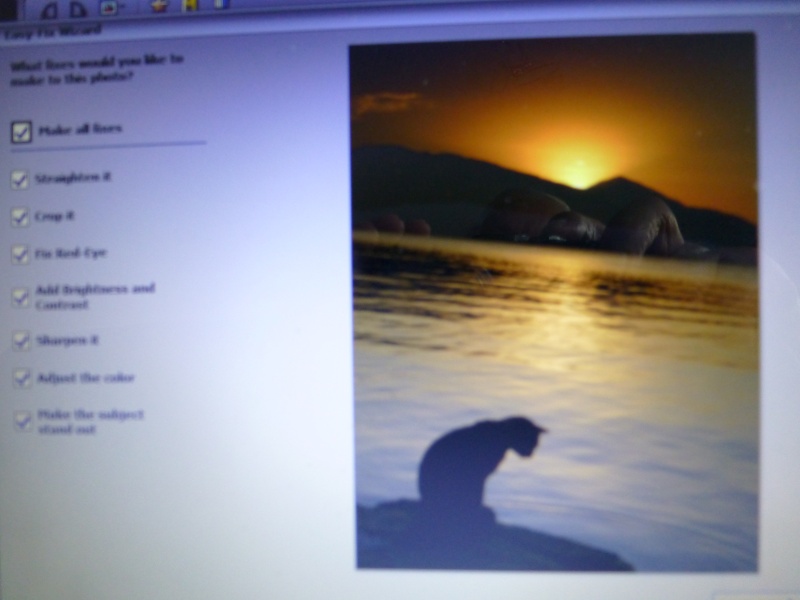 when we go inside the 'straighening' , notice the grid lines going across and how unlevel the sea is
and just using the dial 'top left' adjust it' so the photo is straightened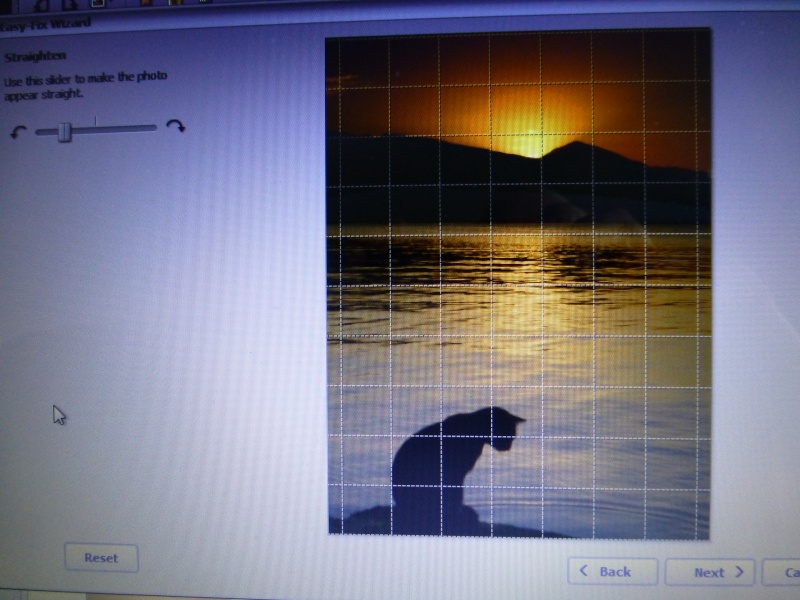 the same package has an auto enhanced the picture feature or adjustments to contrast, or sharpen features and a few other simple things.
If one wanted a more sophisticated software, Photoshop would be a good way to go where major tools allow the user change a photo beyond belief, effects can be done and one can take out blotches, feckles on faces, the Japanese are keen on taking out everything and on some of the billboard photos the models just do not look real. So if one was taking photos for say an agency, one would have to think carefully, taking out James Bond's scar wouldn't go down too well, as it's considered part of his image lol
There is so much software out there and it is said that a 'professional' using photoshop for 5 years would still be finding new things out, as the package is so vast. I understand you can rent it for around £9 a month but one would need to do quite a bit of editing to pay it's way
I managed to get Gimp2 which is also another sophisticated package which is free but be aware a lot of other companies are trying to market it and adding malware to it but the proper software is fine but my techie son gave me a proper copy, after I picked up a bad copy of it. I have just managed to do a few things in it using youtube demos, whilst following the video and stopping the demo to do the changes on my photo before moving the video on
There was a discussion on taking photographs in RAW mode and JPEG modes, most of the later cameras will allow photos to be taken in both. It was said that RAW mode will give one the best results, as it is in a digit file using all the cameras best performance but the downside is, there is further work to be done to process them into actual photos. With JPEG the camera processes the picture but is restricted by various limitation of colours available, where as RAW has everything available and has the correct colour for every pixel on the photo.
Finally a question on the use of flash came up and it was explained that normally the camera will set up the shutter speed automatically, as the shutters on the camera need the right speed to get in time with the flash, otherwise the shutter may be half way across when the flash goes off.