Day 1

Having done two reviews covering most of the area of Golden Beach on Thassos I was not sure what sort of extras I could write about it but I had desire from last year to climb the Yspario mountain but hadn't done much walking this winter. However, if I could do it, it would make a nice ending to the review. This is the start of the holiday and how it all went
We arrived at Gatwick just before 4am with no sleep, at the Thomson's fast boarding desk our passes were put though their bar code machine and our cases handed over. Then it was through to air side for the mandatory coffee and bacon roll before being called to gate 45b at 5.20am, which sounded more like a class room than a gate. However, we were in part (b) of a big room which appeared to be shared between four different flights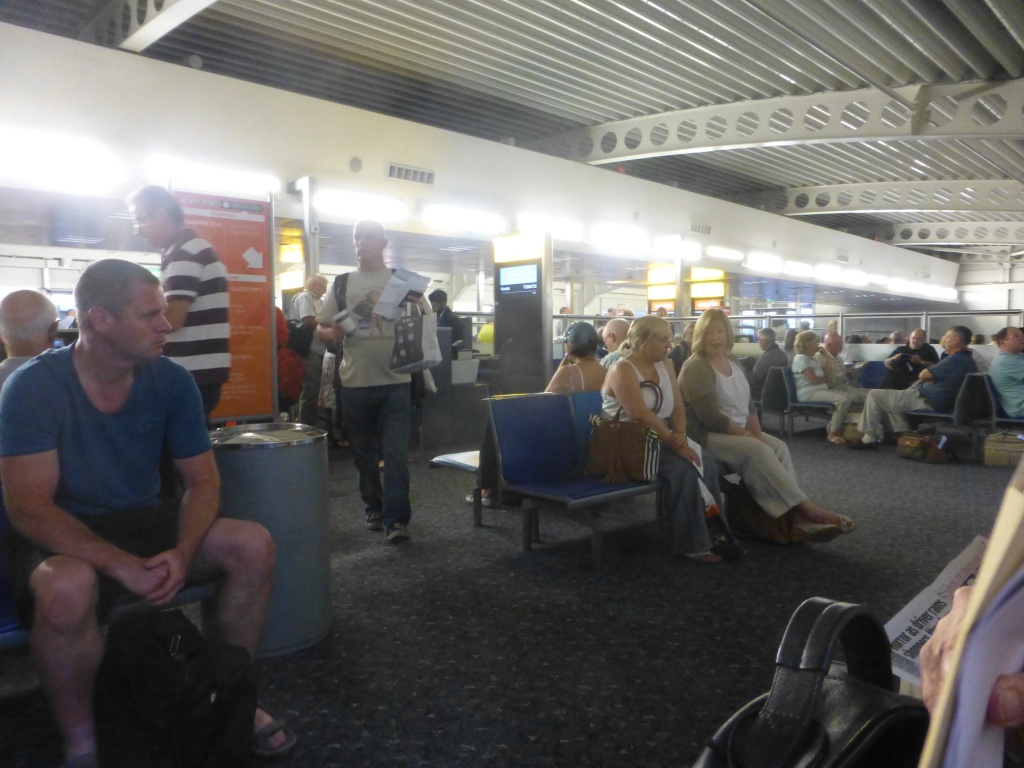 p1110148
We were told to go downstairs to catch a waiting bus and eventually at 5.48am we were one of the early boarders
p1110149
I think the captain was too busy to notice me getting on lol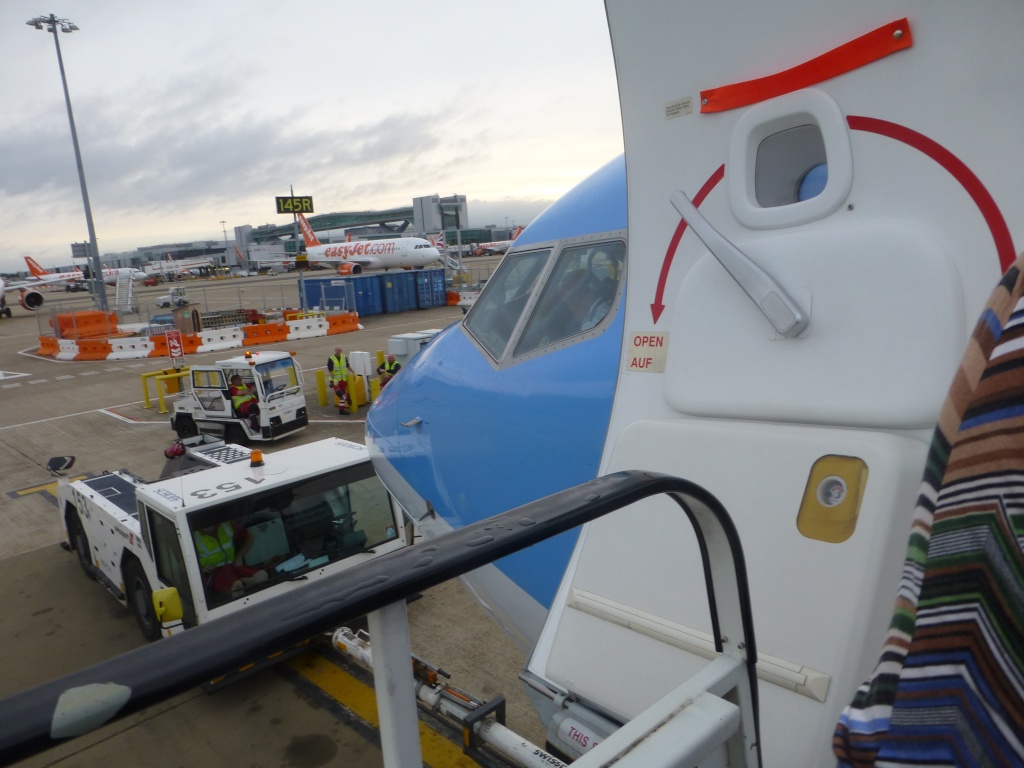 p1110152
and in our seats at 5.50am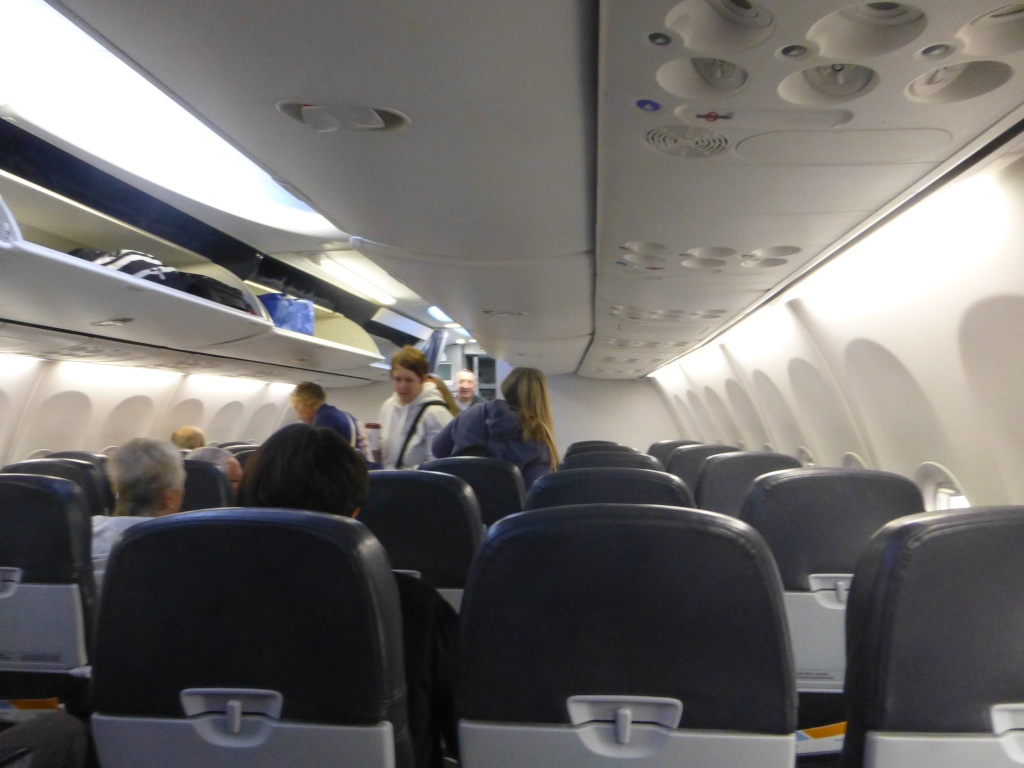 p1110153
and in the air by 6:30am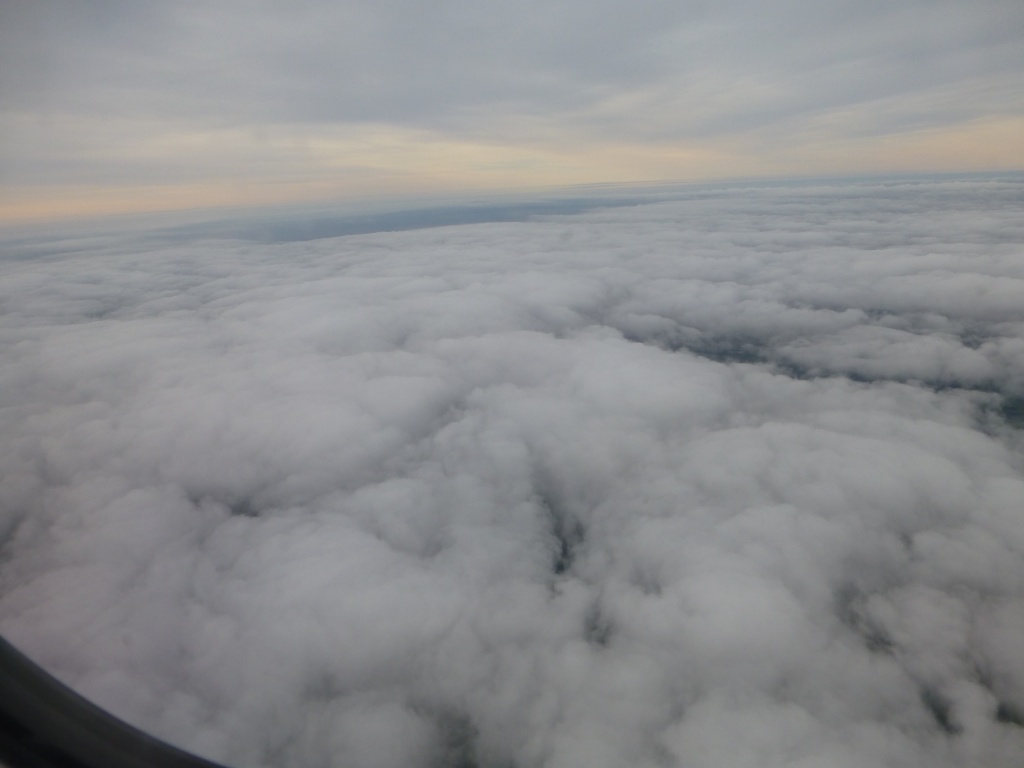 after what appeared to be 50 games of mahjong on the tablet, with a cloudy journey most of the way, we were approaching the coast at 9:10am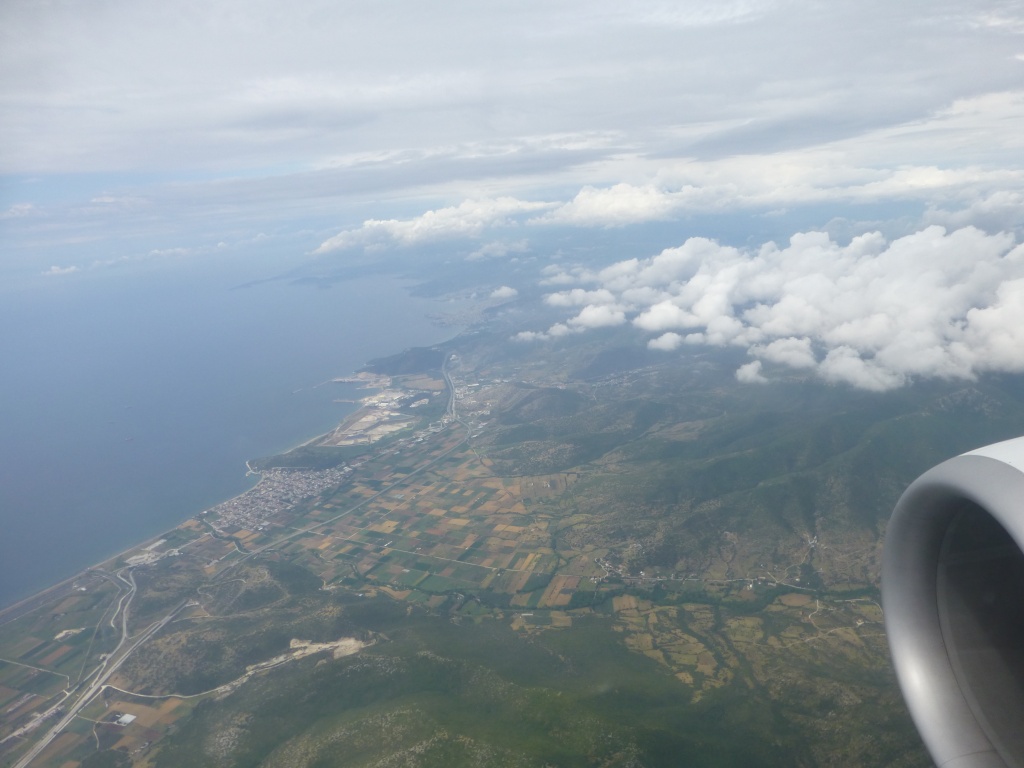 p1110161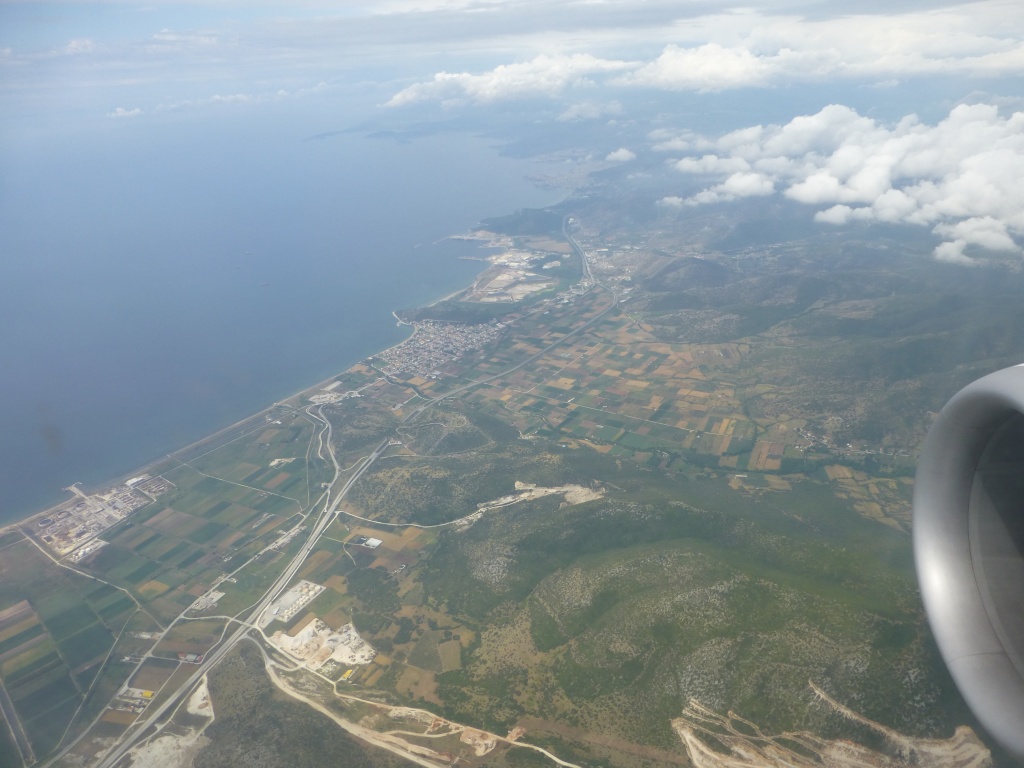 p1110162
where the plane goes out to sea first and then turns into Kavala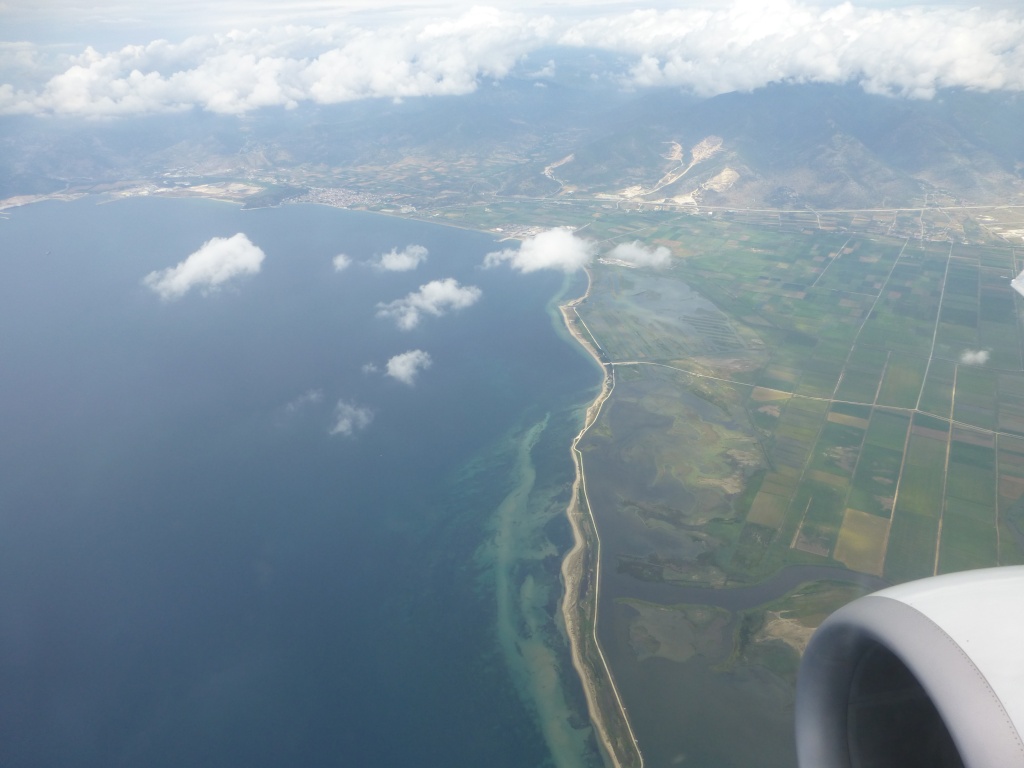 p1110164
After landing, our cases were sort of split with one case coming off nearly first and the other almost last. Mrs Db who in the meantime had queue in the loo, told me the ladies loo had run out of toilet paper.
Well from my mountain survive kit I had packed some bog roll in my hand luggage, "Shall I hand it out a sheet at a time to each lady in the queue, like Fletch did to Godber in the series of Porridge","Don't you dare", replied Mrs Db. "Now let's get the info for the coach" said Mrs Db.
Well this year we had coach "C" for Golden beach rather than being the leftovers on coach D which was going to Thassos town last year, the coach was a short walk across the road, and at 9:52am (bmt) we were on the coach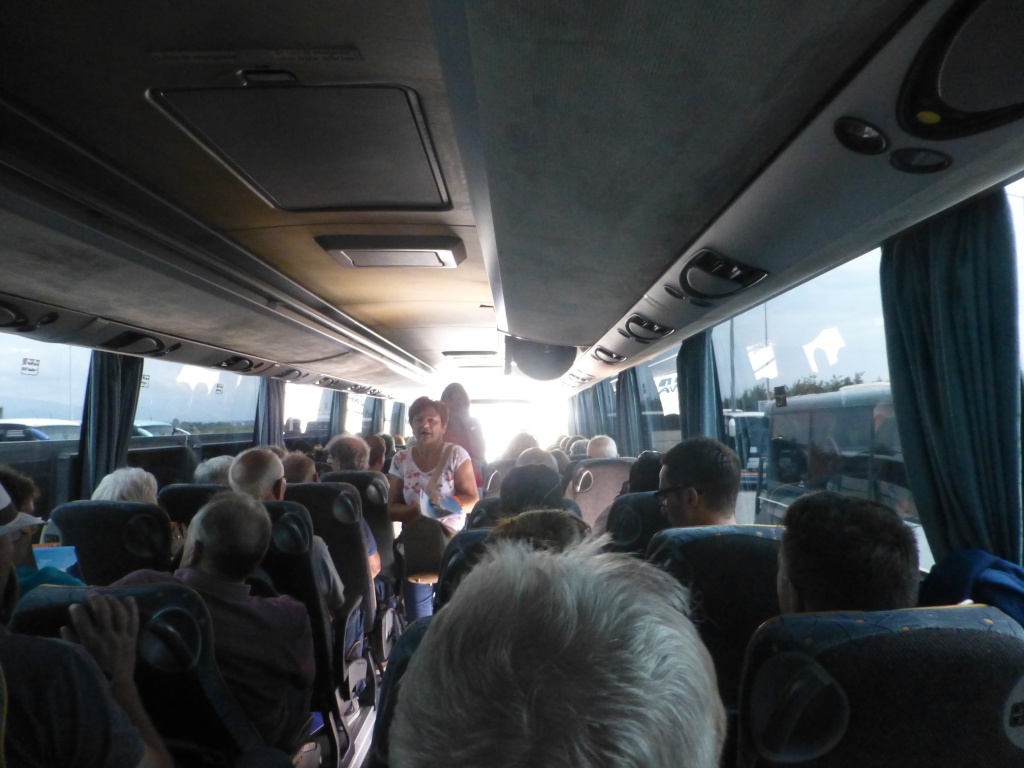 and at 10am (the same time as last year) we were leaving the airport for the short journey to Keramoti docks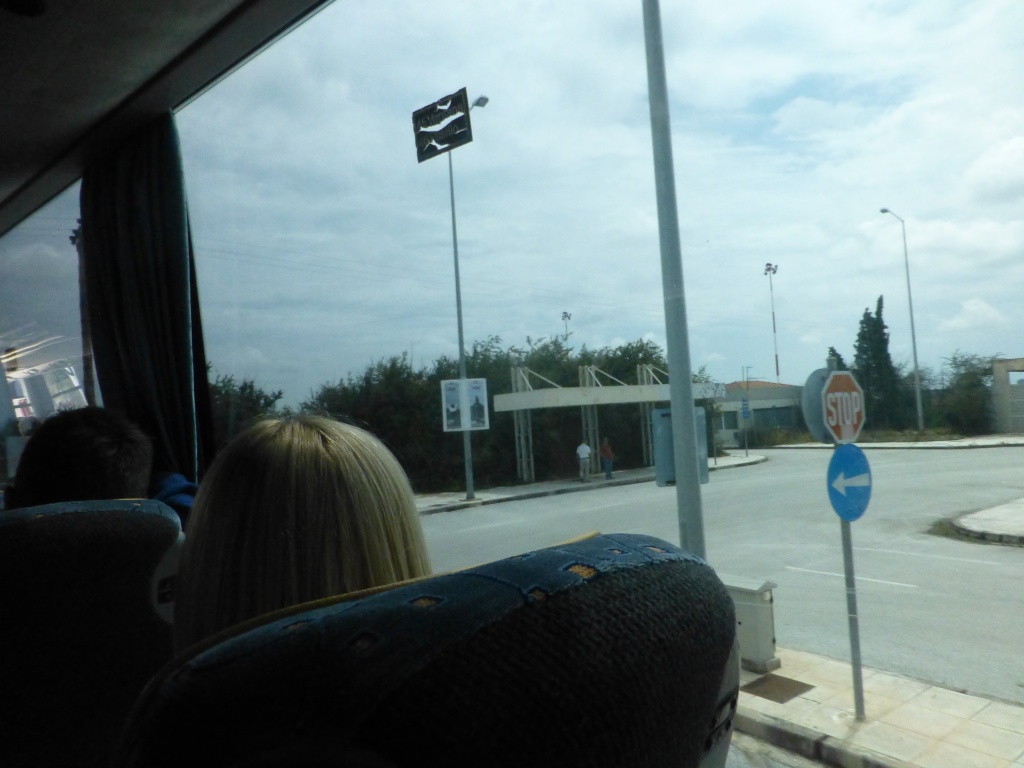 Passed the storks living on the church clocktower, who have been there for years, the clock is showing just passed midday as Greece is two hours on from us in the UK.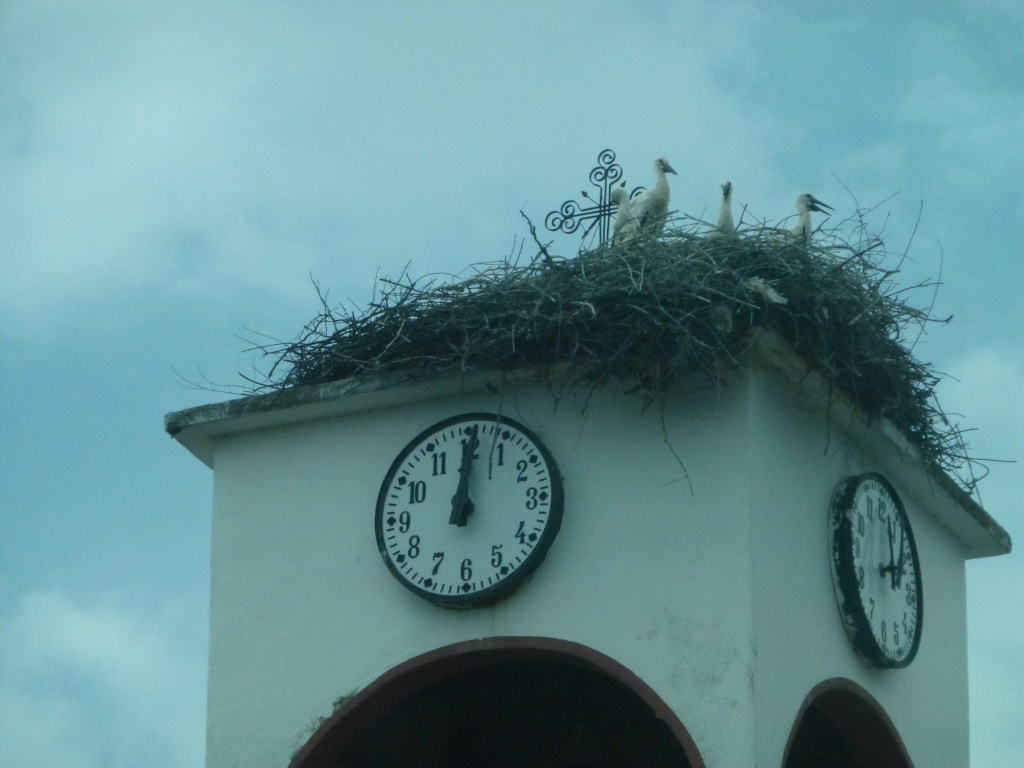 p1110168
and approaching the docks at 10.16am (12.16pm Greece time) for the (12.45pm) ferry, the rep said, we were on all on the (13.15pm) ferry, telling us we didn't want to end up in Turkey, so we disembarked the coach leaving all baggage on board the coach and told to go out and relax in the dock, whilst we watch the ferry we could have been on, still available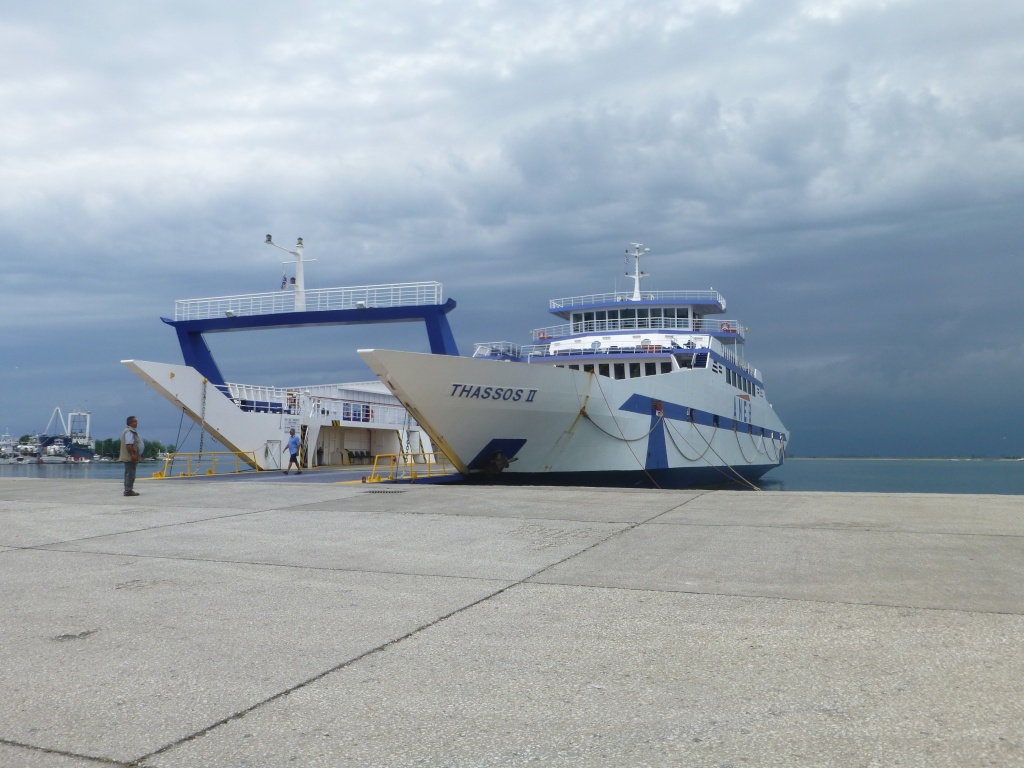 p1110170
We went to one bar for a drink but nobody wanted to serve us and after waiting 10minutes we walked over the road to another and still waited before evenually getting served, to me after a long night, a waste of our time and now just wanting to get over to Thassos and to our hotel. However our ferry the red one was just coming in and we were allowed to board at 11am (1.00pm)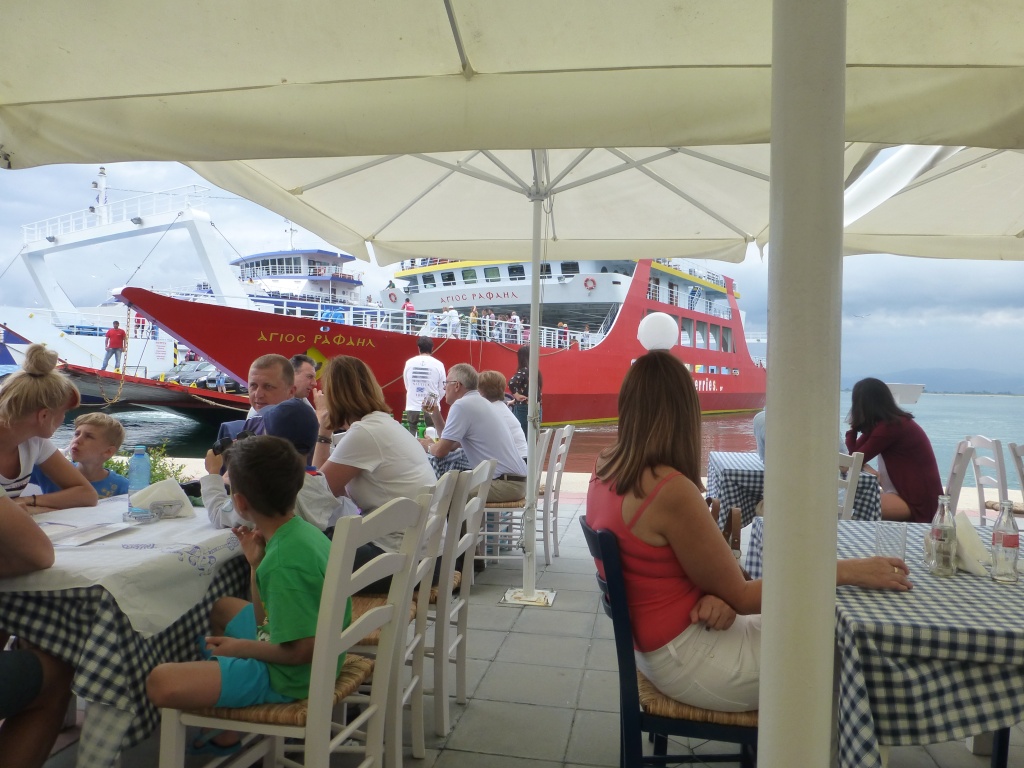 p1110171
the coaches coming aboard at 11:08am (1.08pm)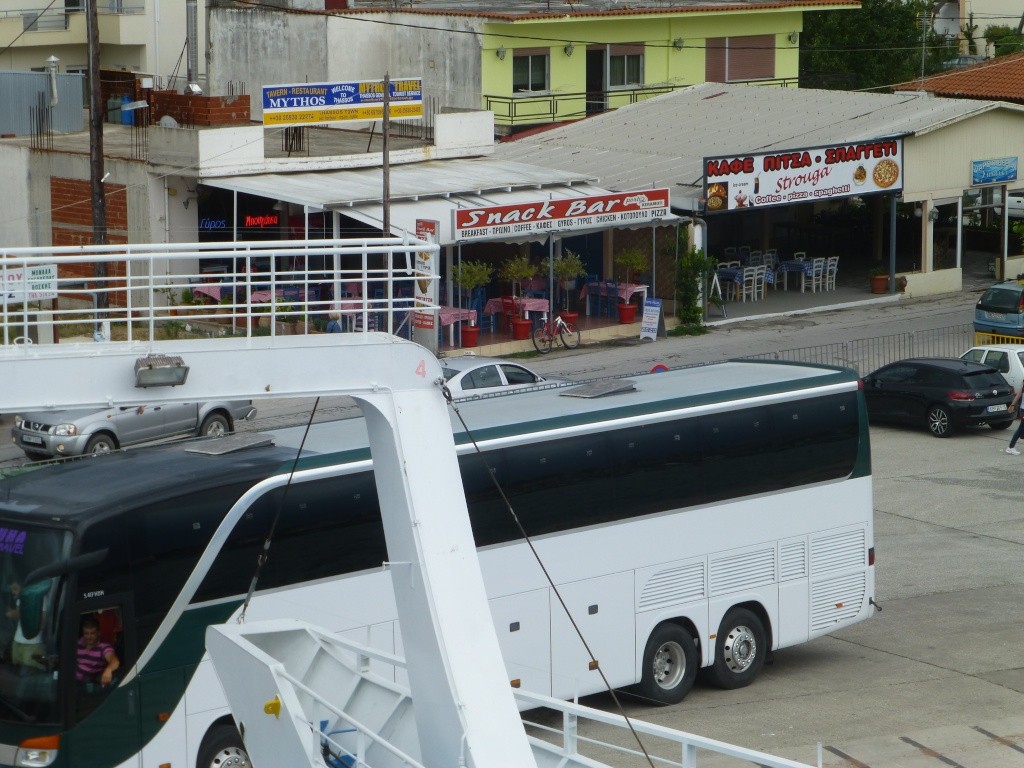 p1110176
some of the bars/ restos on Keramoti dockside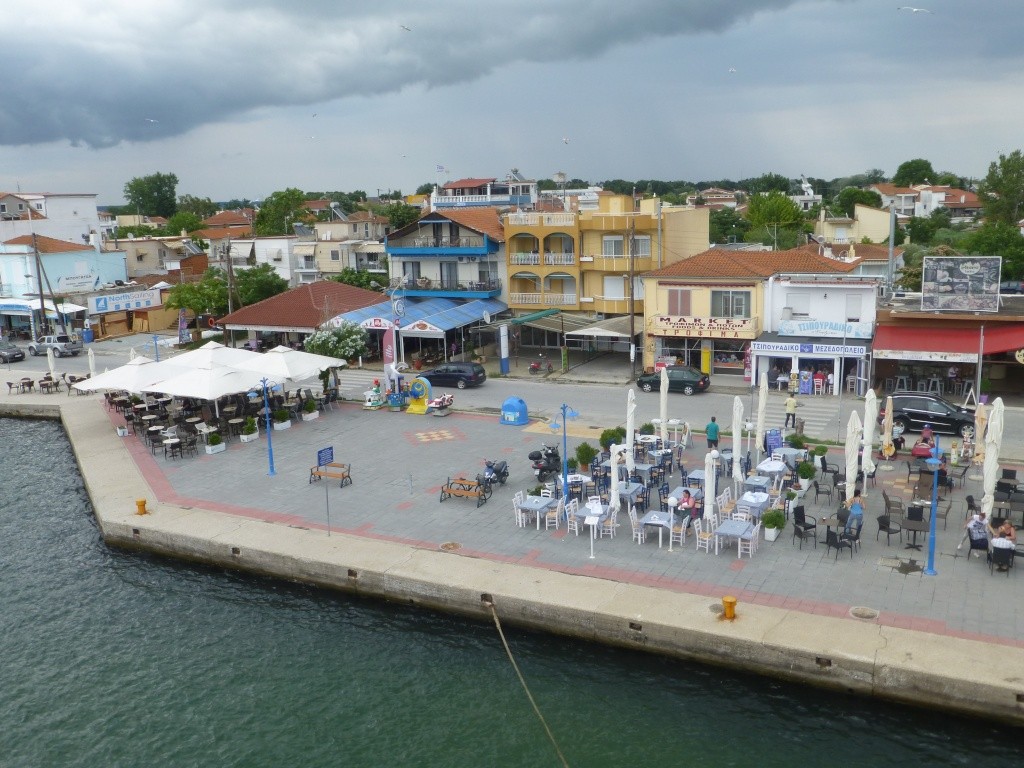 p1110177
passengers now on board on what appeared a dull day but we were told on the coach, it was going to be a smooth crossing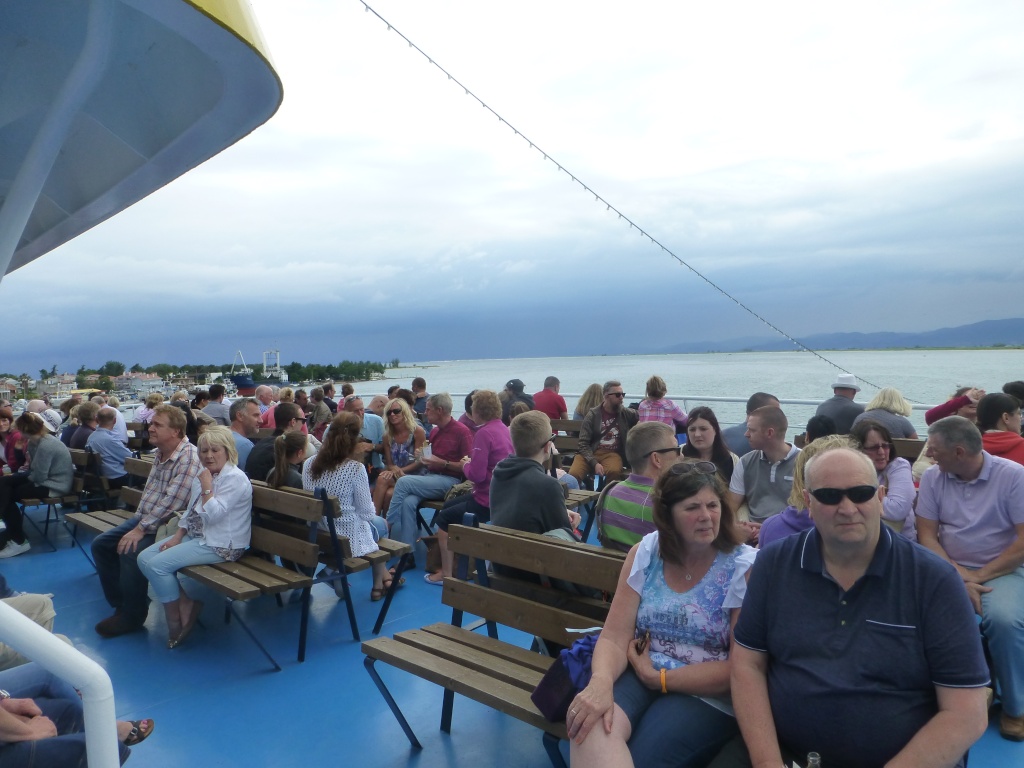 p1110178
some had made for the air conditioned lounge, which has a bar where you can get food and drink on board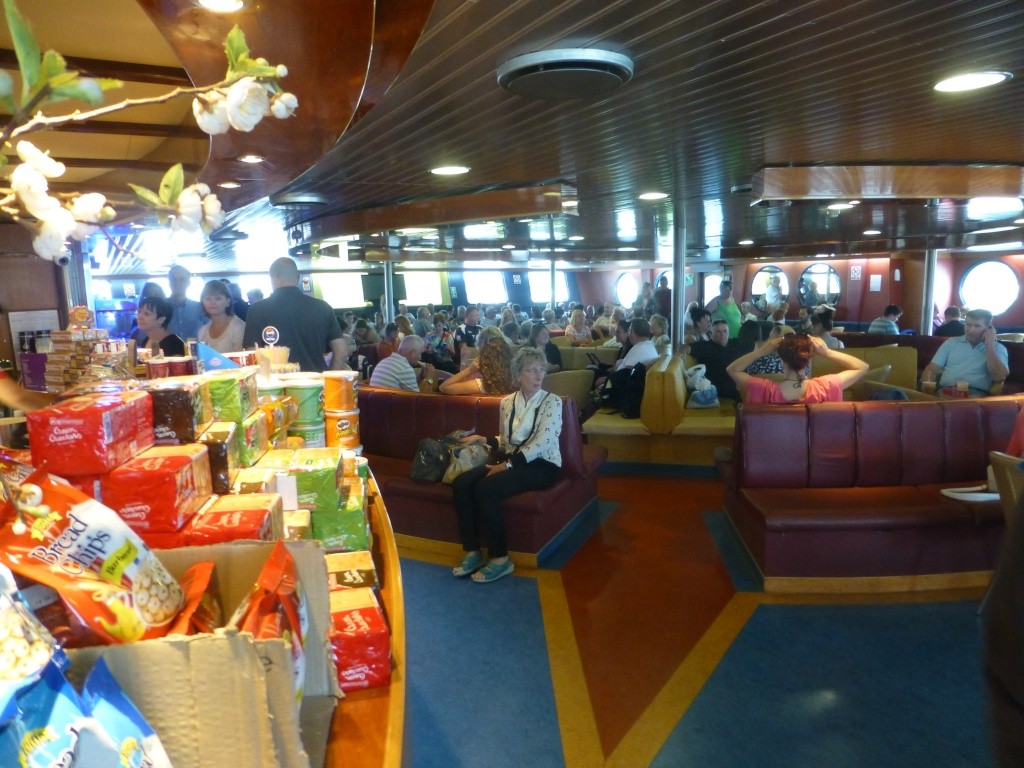 p1110179
and a flat screen television which i hadn't seen before, I think they had a band on the TV
p1110180
anyway, the boat was underway at 11.15am ( 1.15pm)
p1110181
and all the fun is up on deck, watching the seagulls swoop for food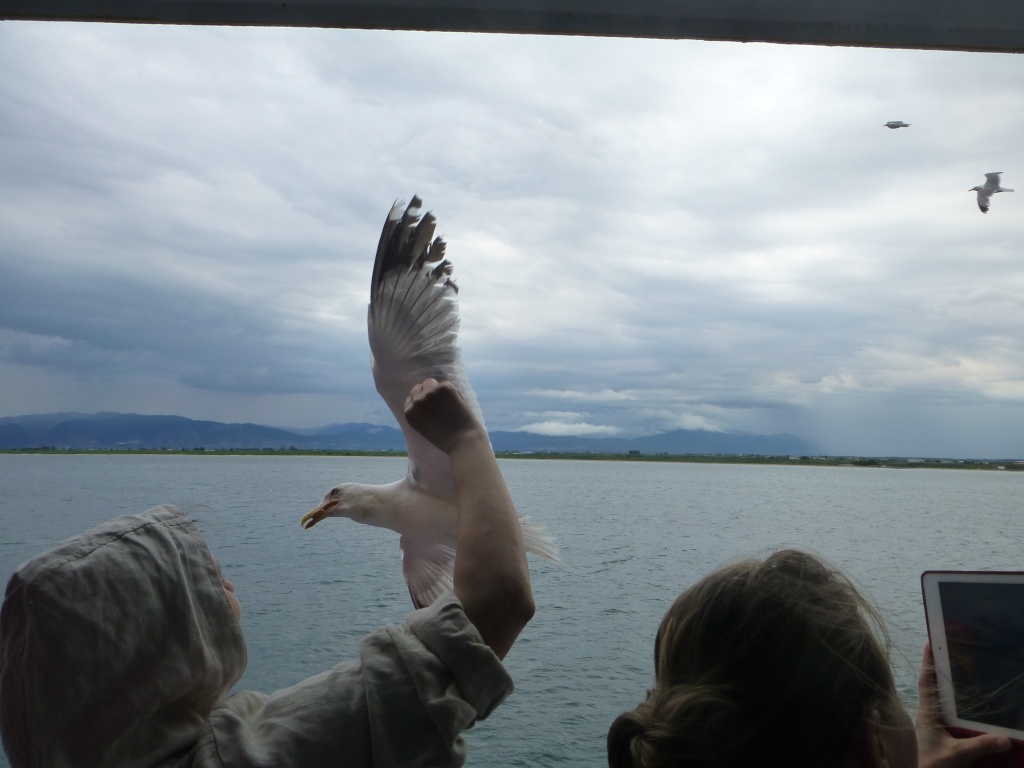 p1110185
I need a faster working camera than this one lol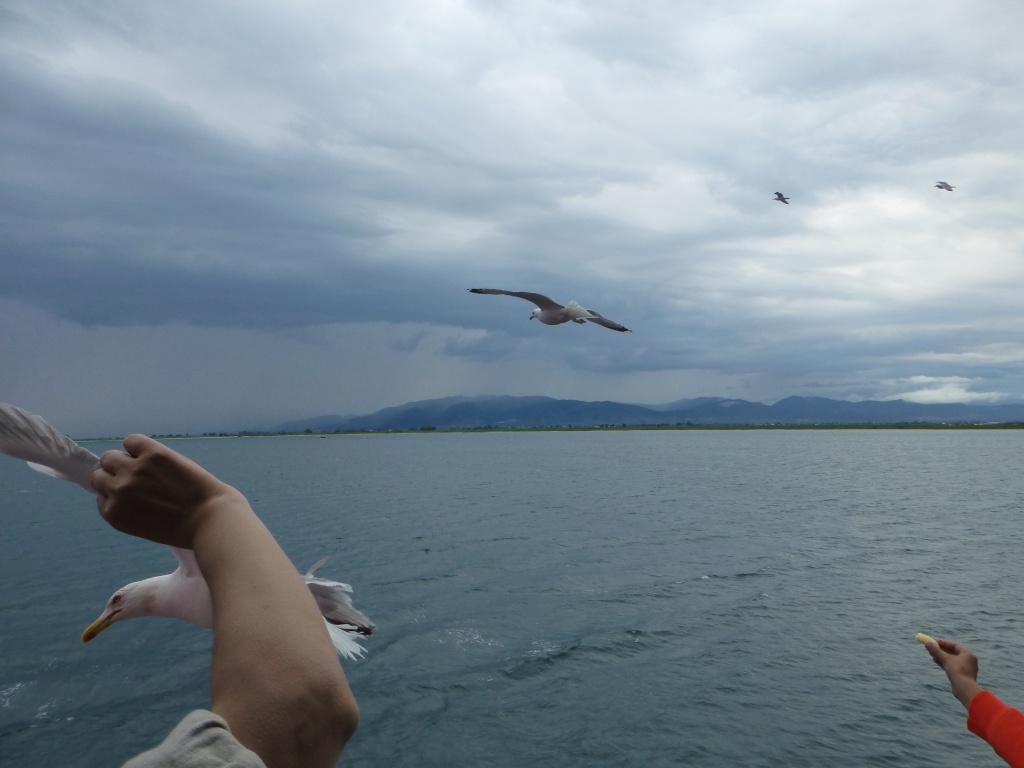 p1110188
Wait a minute Spock, what's that i'm getting on my screen, "I think it may be an magnetic storm Captain, we may need to take evasive action"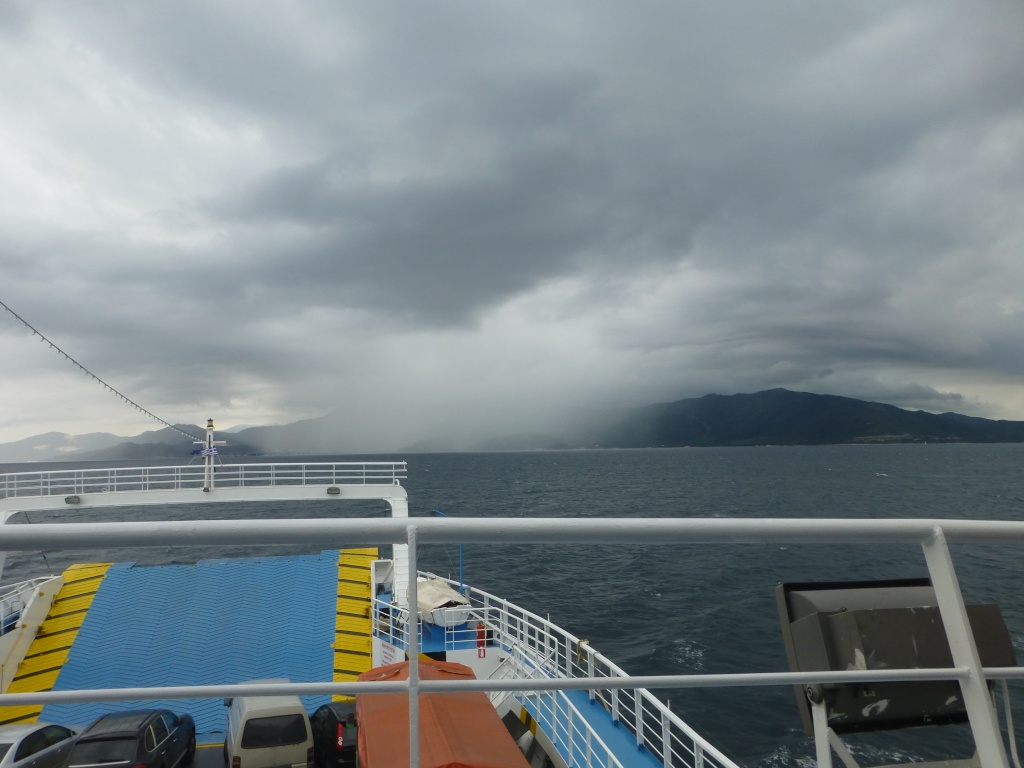 p1110200
Is this the point in time when I should take Mrs Db to the front of the boat and sing 'My Heart Will Go On' lol
but i need the loo first and the loos are out on deck
p1110199
Well coming out of the loo, the decks were flooded, no nothing to do with me, it was raining cats and dogs and i got wet from walking 10metres in it. "Stay inside and wait for the coaches to be unloaded", cried the rep into all corners of the lounge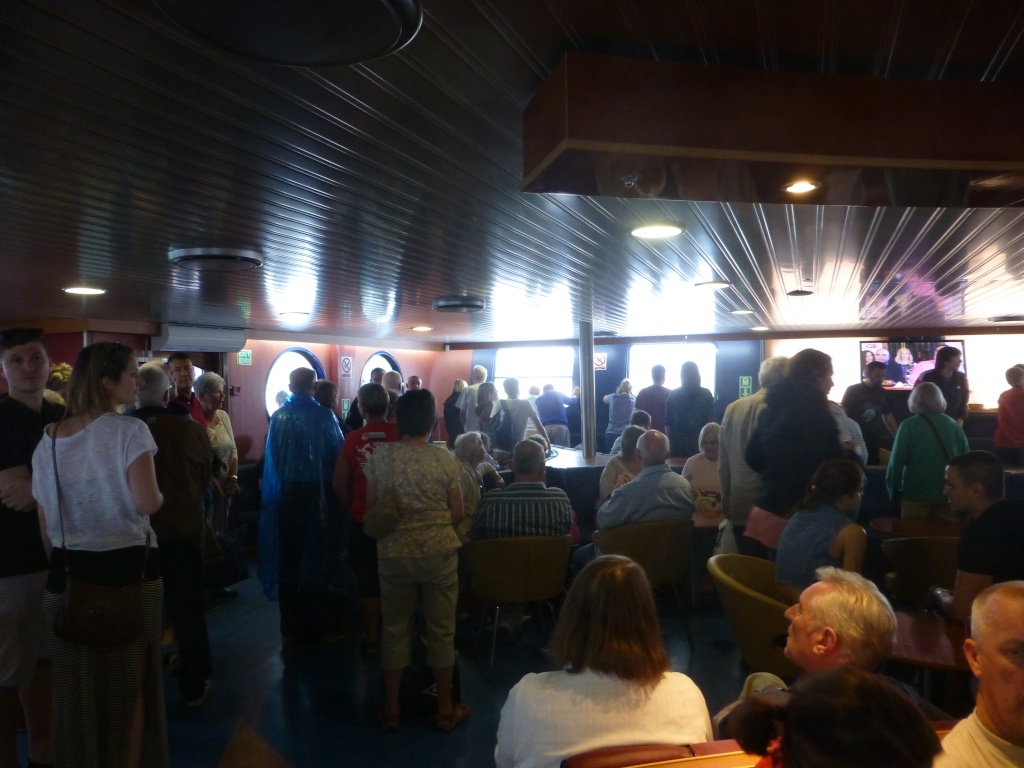 p1110201
at 12.15pm (14.15pm) the coaches were off the boat and a very slow queue of passengers left the lounge, as we were told to be careful of slippery stairs and being one of the last off, I think the band on the TV was still playing on lol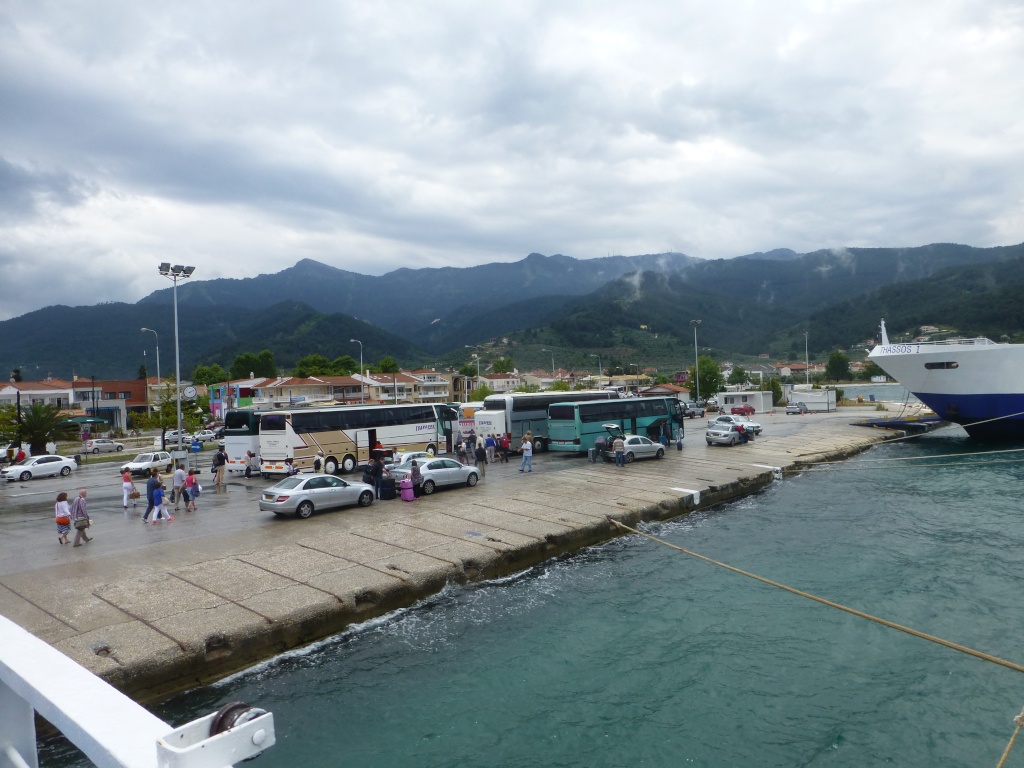 p1110202
At 12:20pm (14:20pm) we were back on coach C after first boarding the Manchester C coach, as I didn't realise there would be two coaches with C on it lol. Mrs Db told me, didn't you notice the coaches are in different colours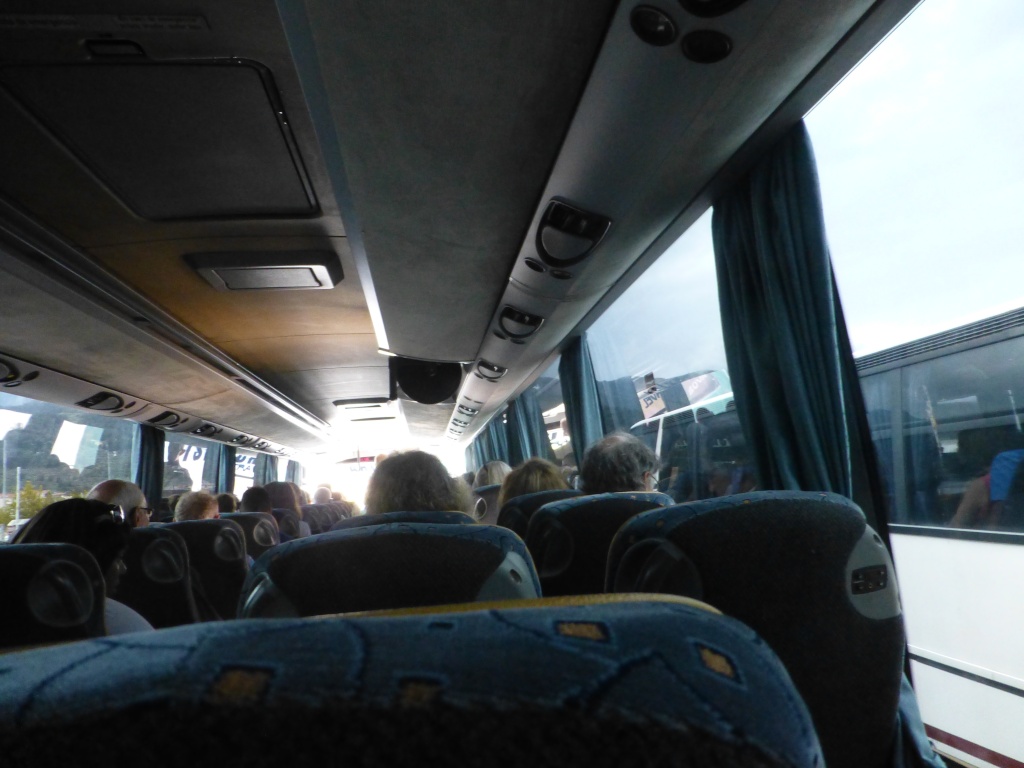 p1110203
However, we had to do one drop off in Thassos Town first and I then watched a poor couple get off and walk down a wet lane, well the weather will improve surely lol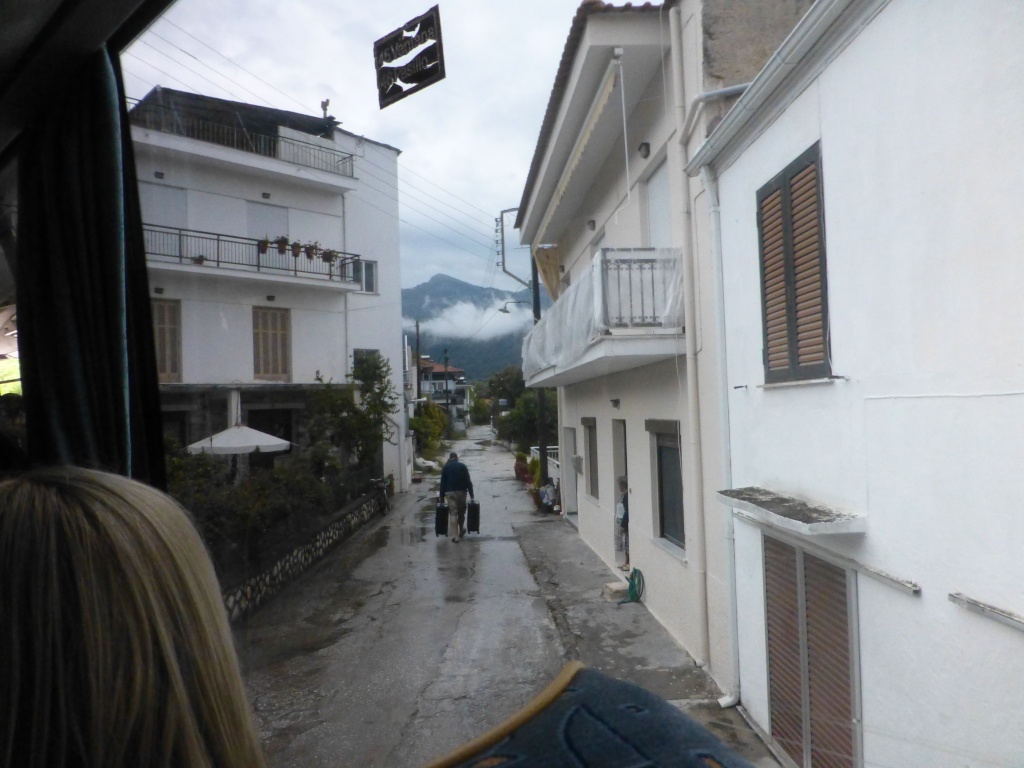 p1110204
Then it was on to Golden Beach and we eventually arrived at our apartments, after drop offs at the Nostos, Princess Golden, Stephanos, then up to the Emerald and finally coming down to us and the Korina last.
and the first picture from the room at 13.24pm (15.24pm) 7 hours from take off time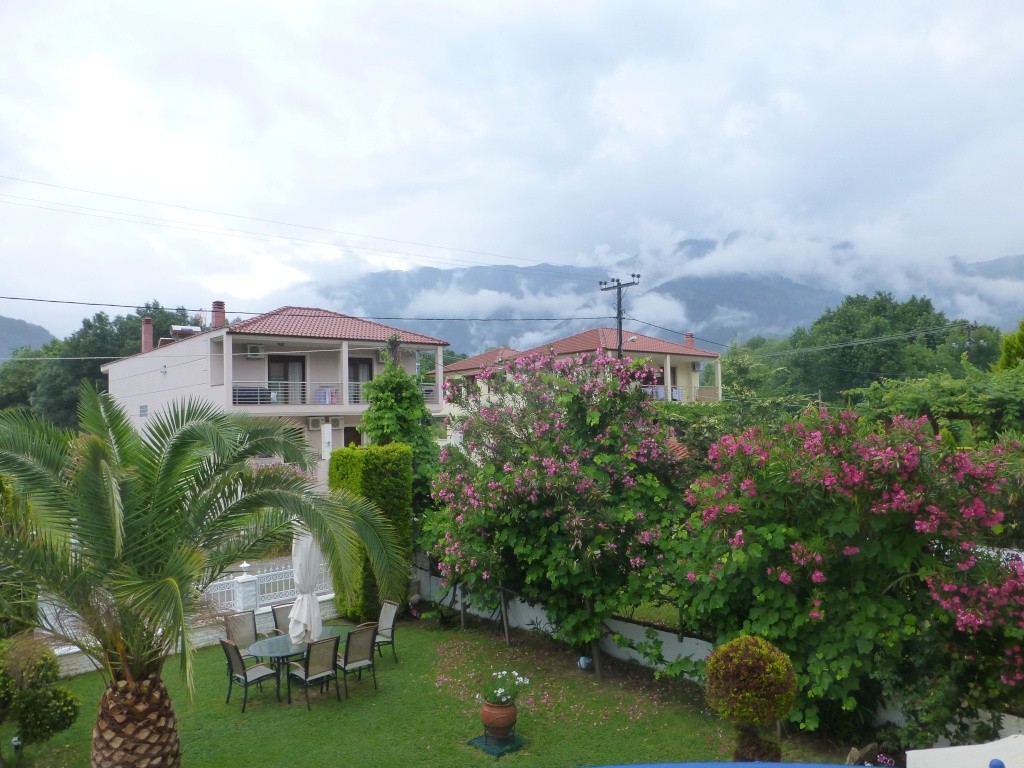 p1110205
we had a front apartment this year and there is a bar below, so a little concern for noise and perhaps hot sun should we get some lol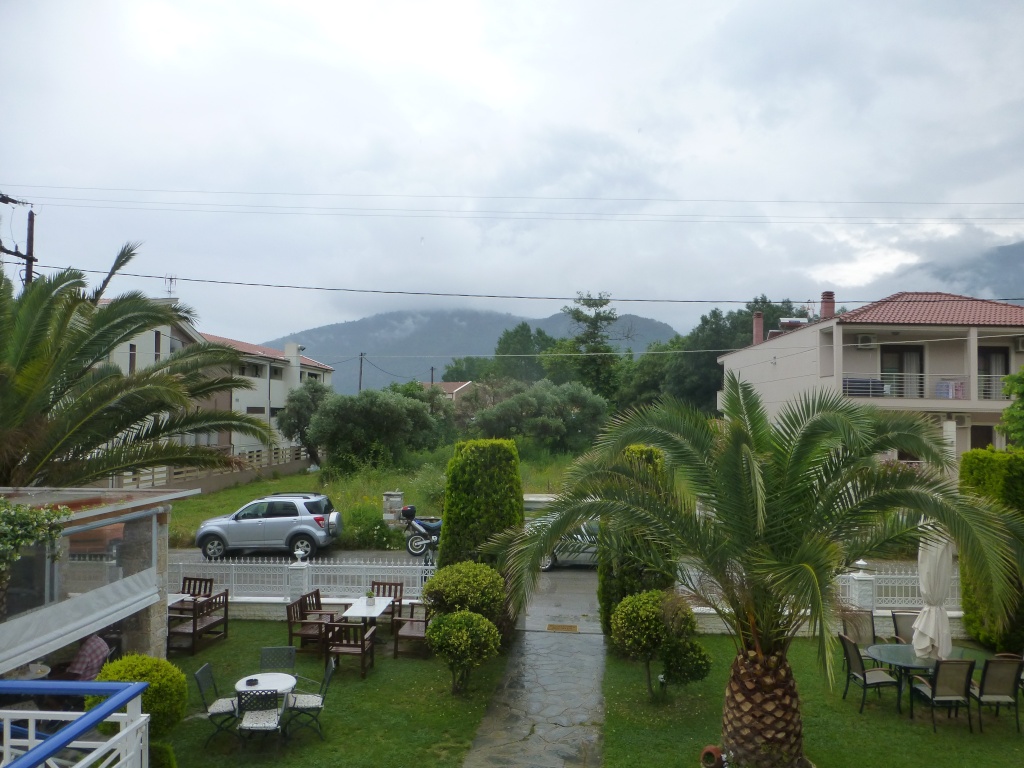 p1110206
The journey with the latter ferry and rain delay had made the time too late for us to go out and have a lunchtime salad, as it would spoil the evening meal, so we decided just to have a slice of toast and that meant popping to the local supermaket 300 metres away to buy the essentials.
Thassos has had quite a mixture of weather this year and hadn't really settled as of yet, as of other years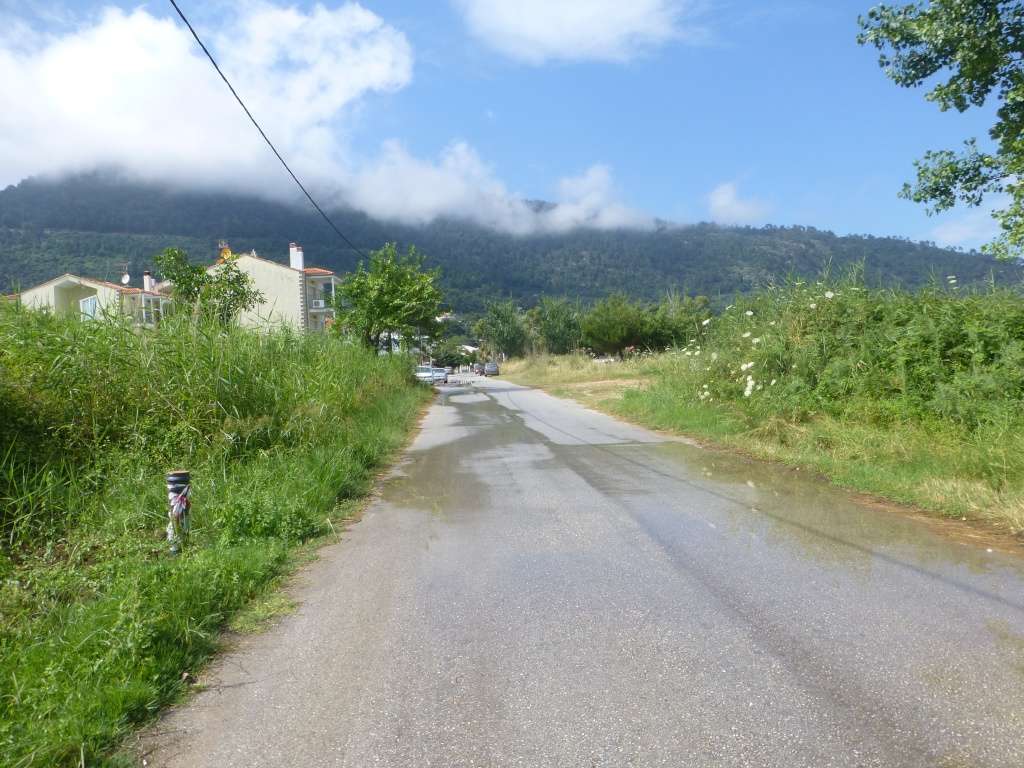 p1110207
so I will tell you more on that later but a couple of changes I noted going up to the supermarket, a new resto called Nisi, which means Island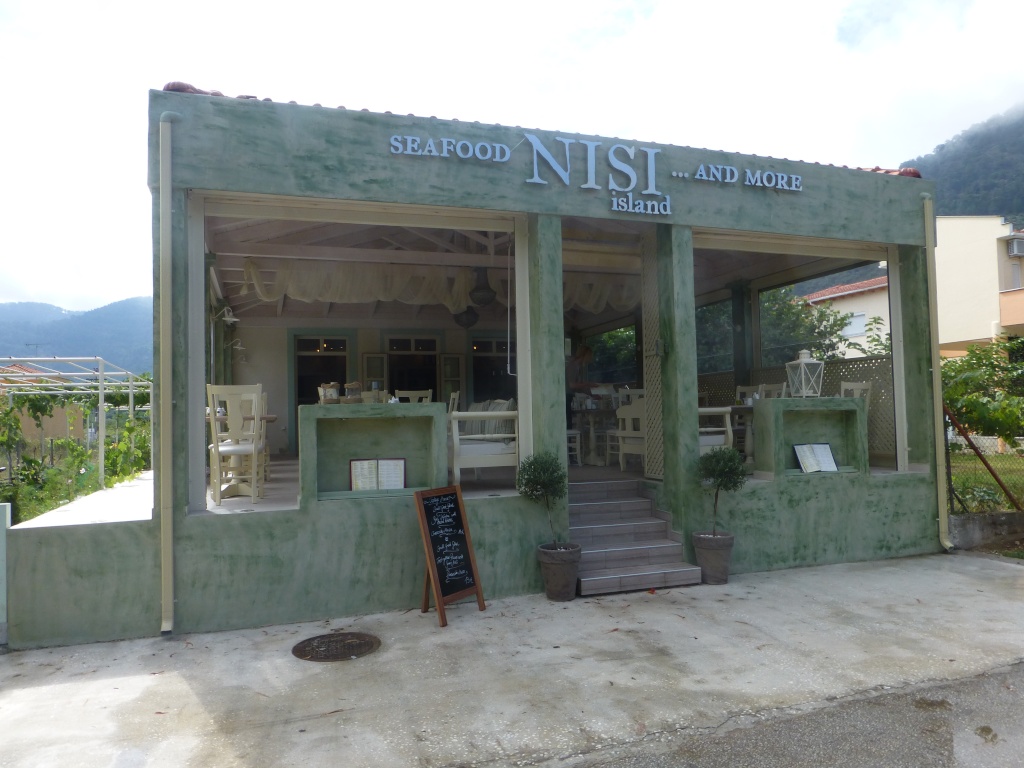 p1110208
a new cash machine at the Golden beach campsite which was badly needed in Golden Beach, as the other was a 30 minute walk to Skala Potamia (but beware these type of Atm's may have a charge for withdrawals)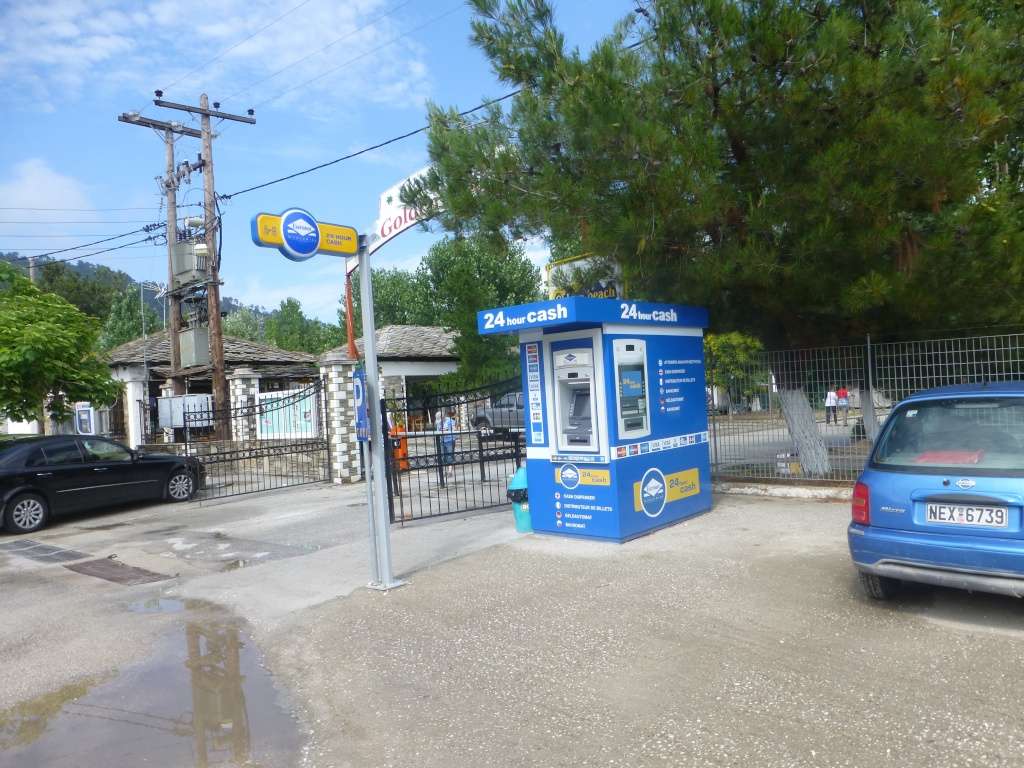 p1110209
so getting back to our apartment which is no longer with Thomson's next year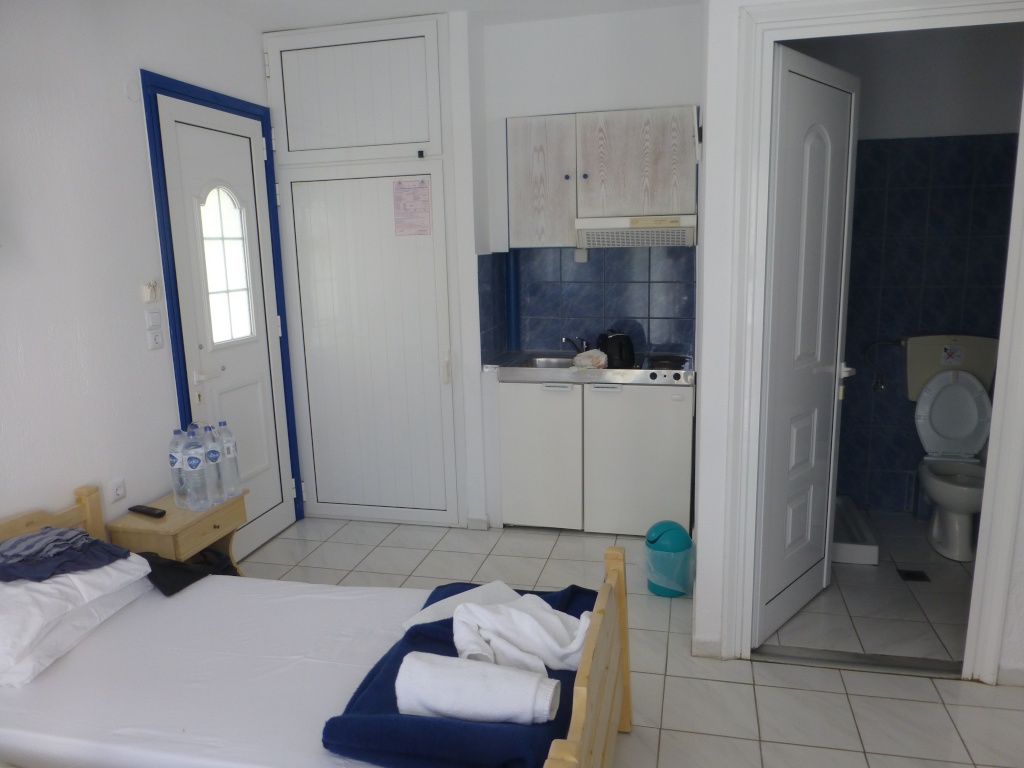 p1110213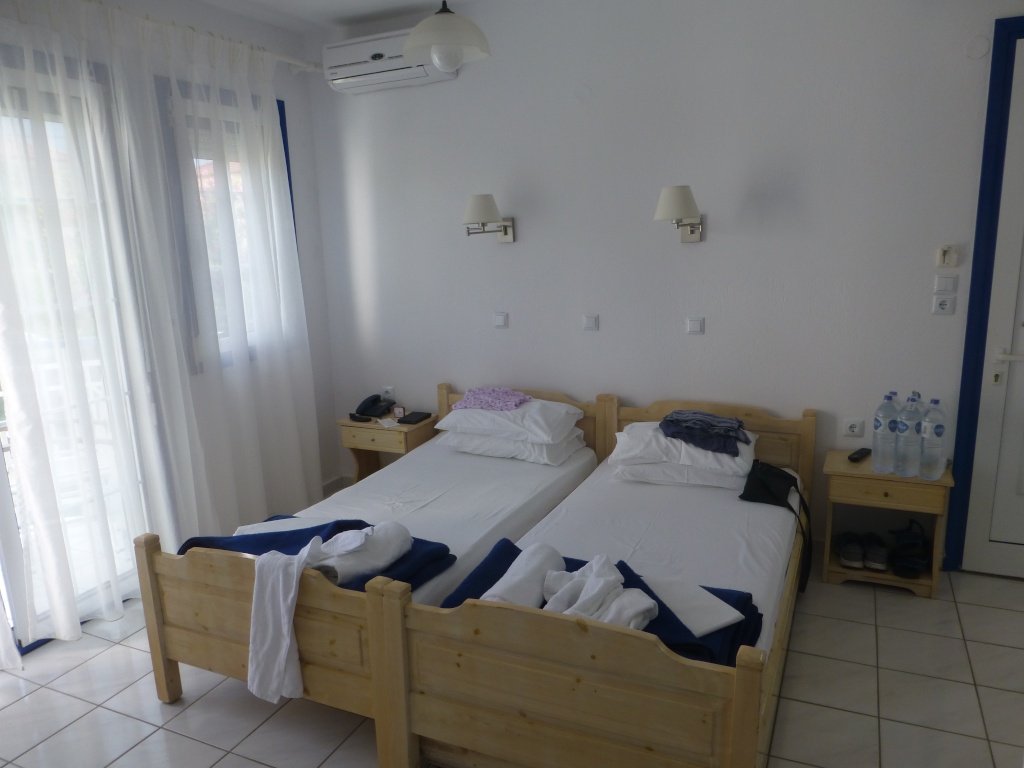 p1110217
anyway, toast on the balcony and the sun had come out for Delboy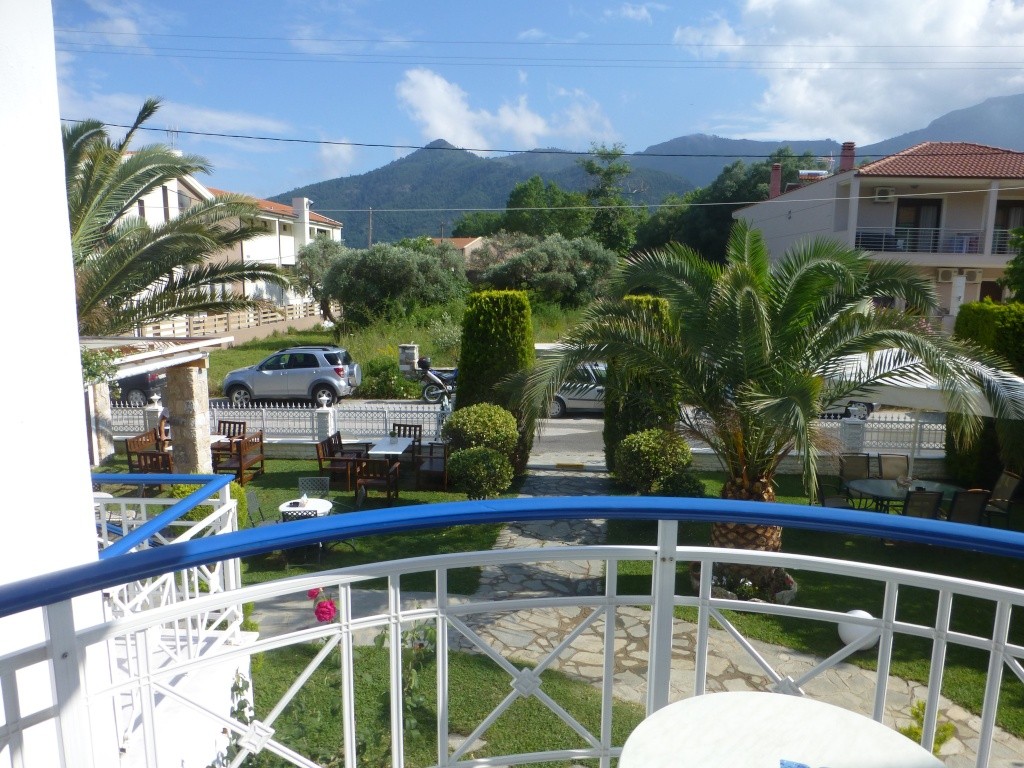 p1110215
the evening soon came and we were both tired and decided to try Playa De Oro, as I had noted my picture of the fantastic cheese pies had moved to the Nisi
The Playa de Oro is now run by a very pleasant couple of youngsters who serve pizzas and pasta and a small menu of grilled dishes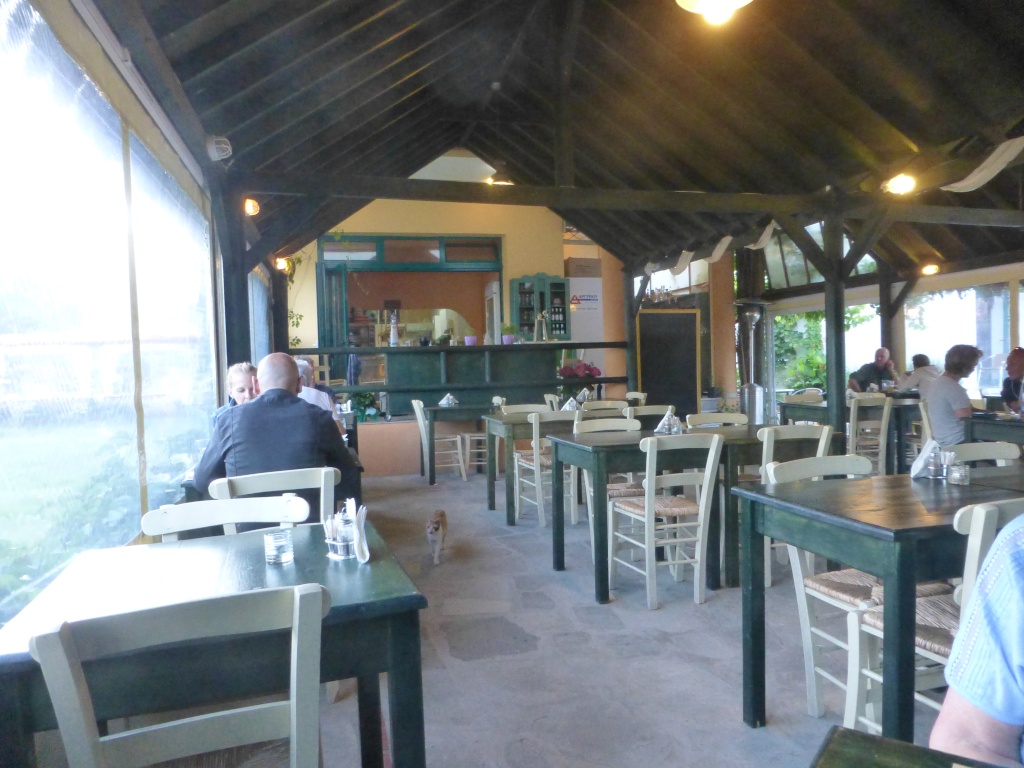 p1110221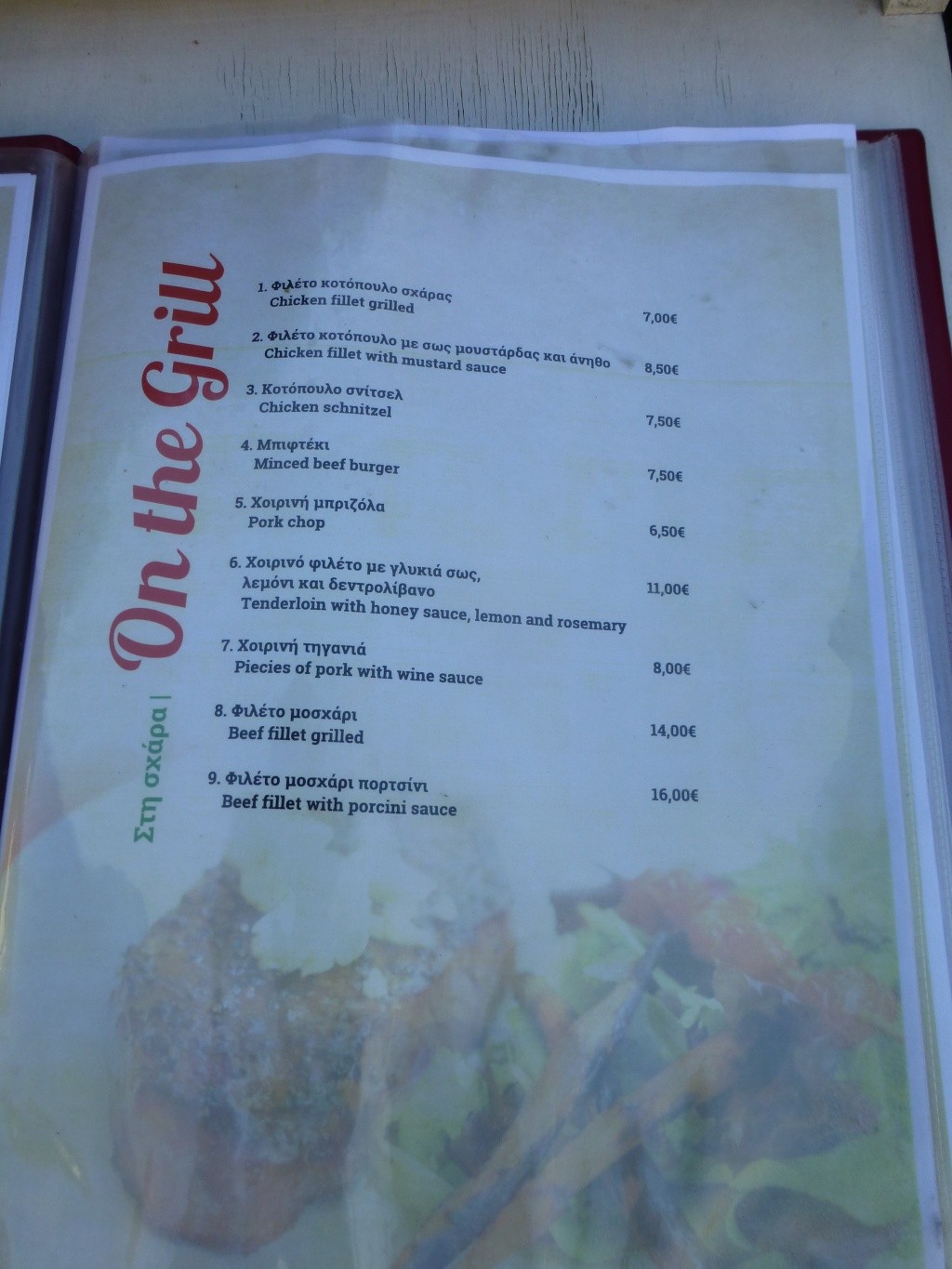 p1110358
I chose steak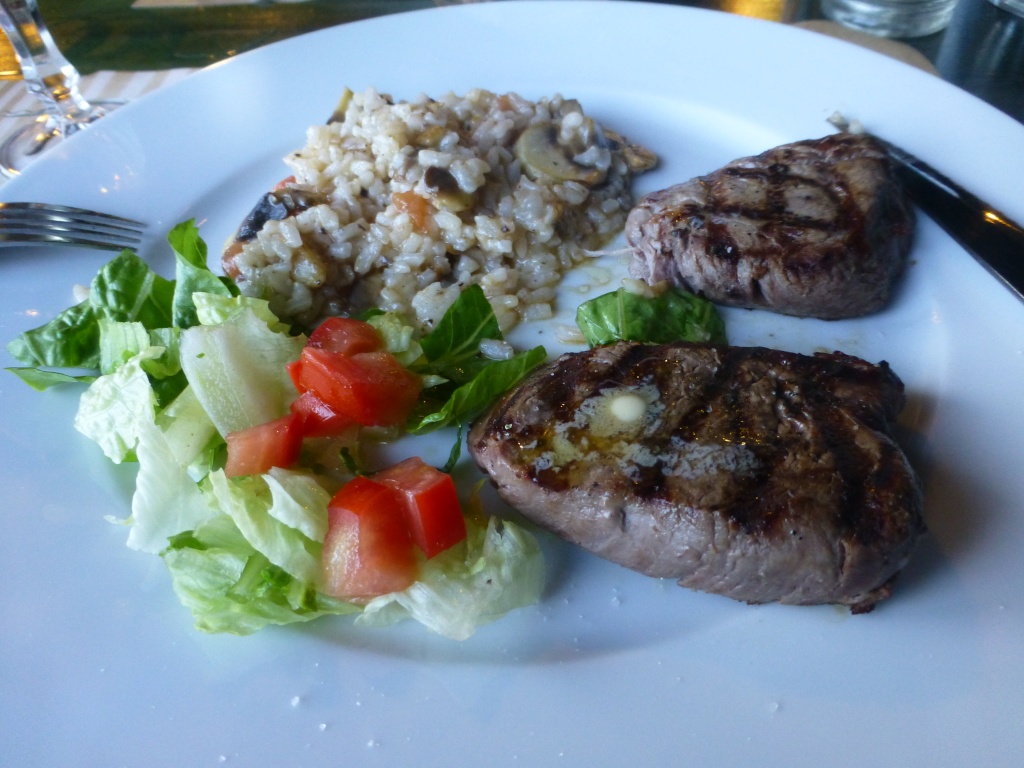 p1110223
Mrs Db had the pork tenderloin with honey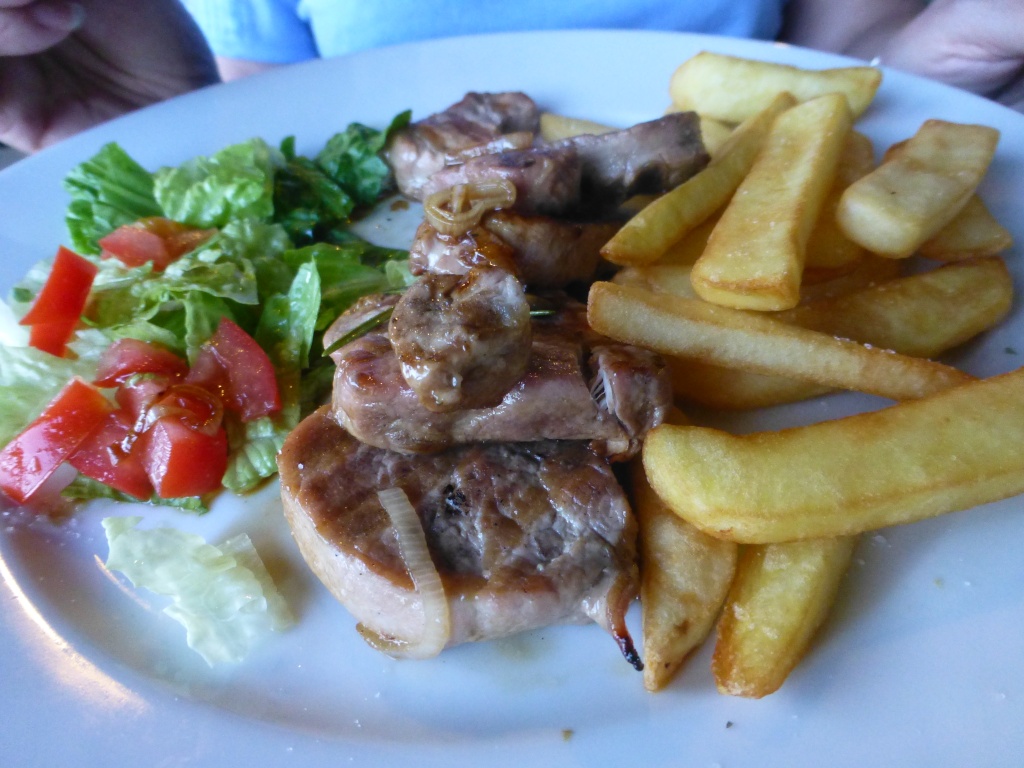 p1110224
we were given a free sweet but I forgot to photo it until we had almost eaten it lol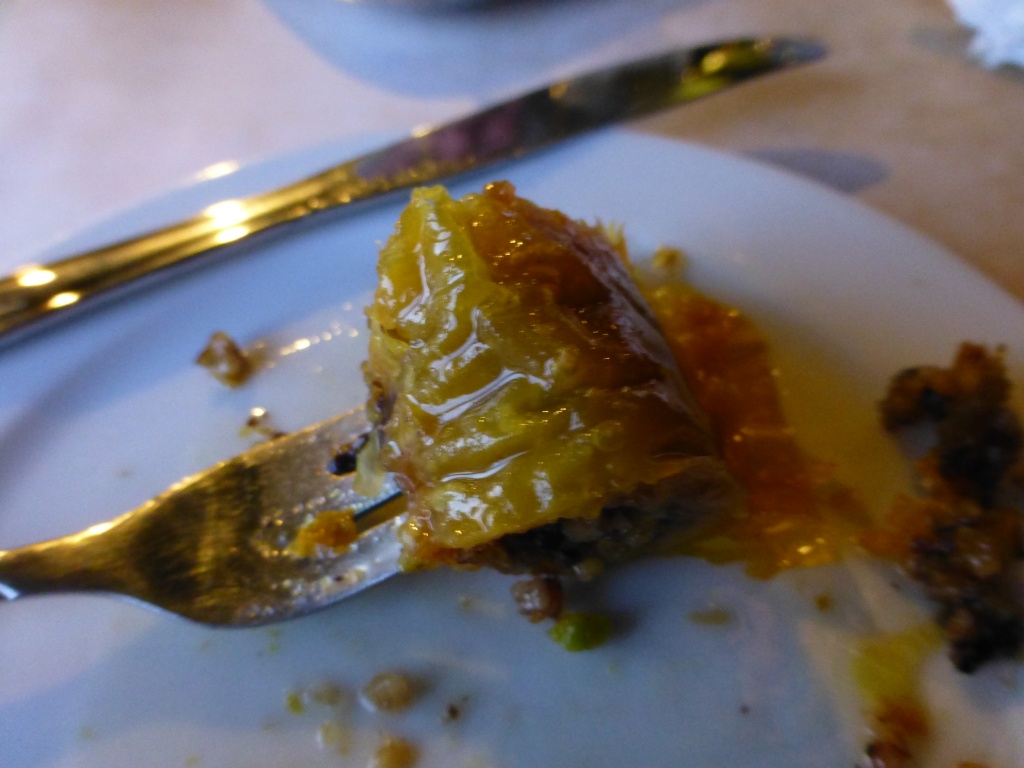 p1110226
after a lovely chat to the girl running it, she offered us a try of the mastic liqueur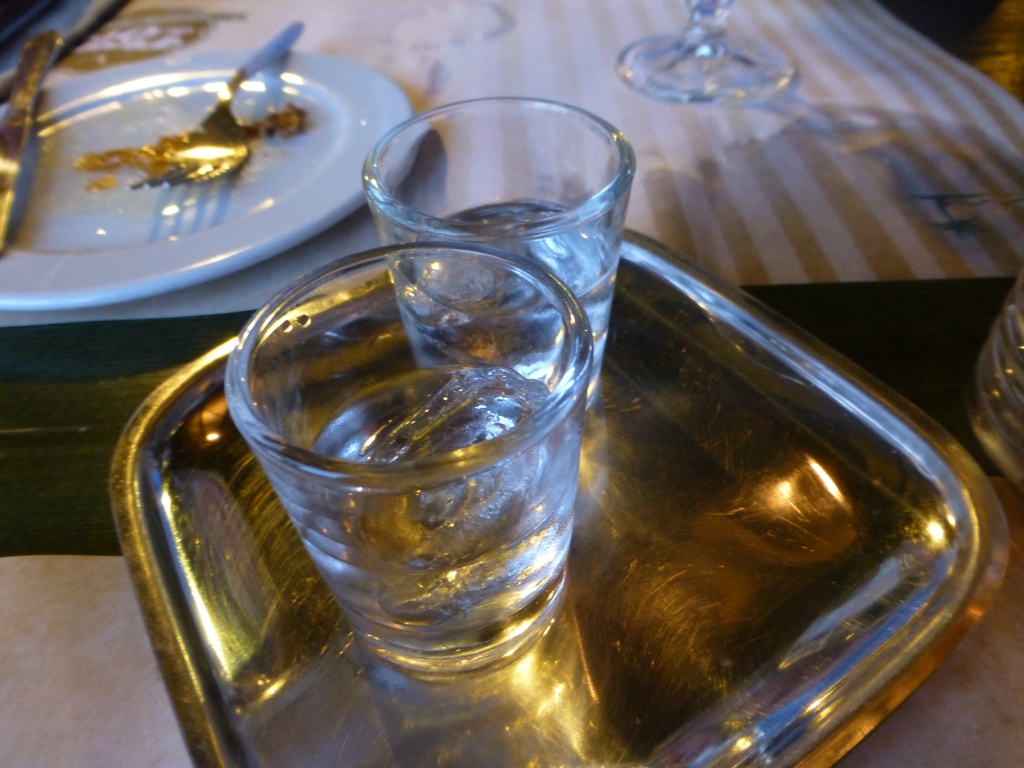 p1110225
after a a very long day we went to bed quite early
End of day 1Day 2
Well having gone to bed so early, here I am awake at 4am but not so bad as it 6am in Greece lol but not sure what the day will bring weatherwise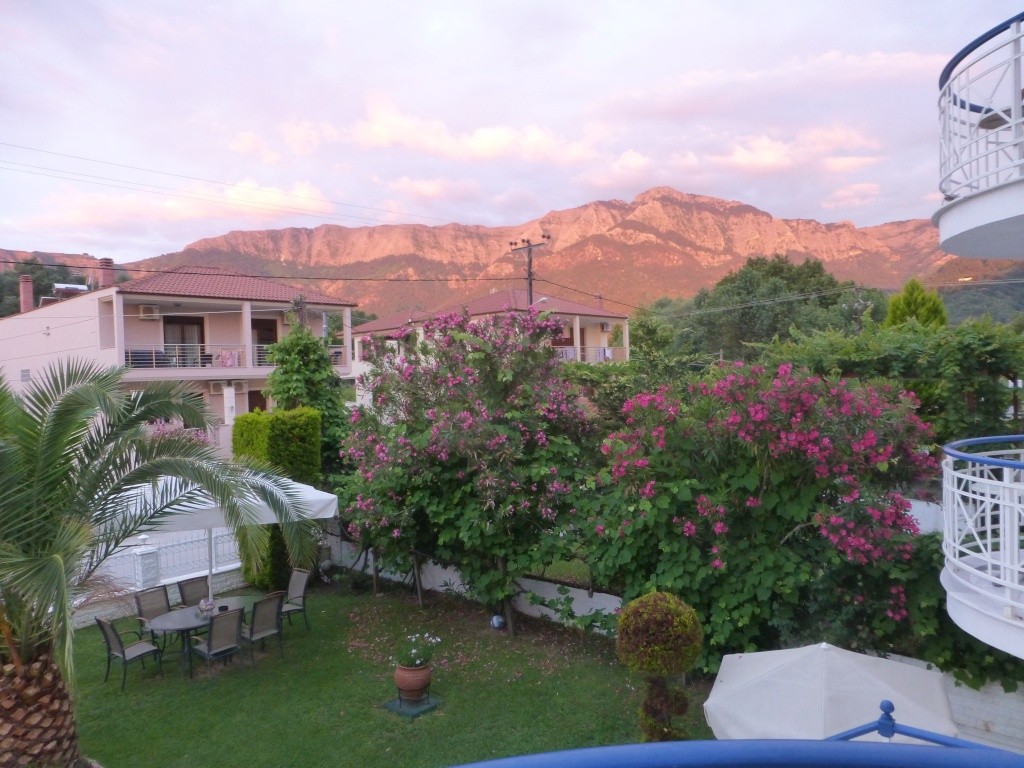 p1110227
but by breakfast time at 10 to nine, it was cloudy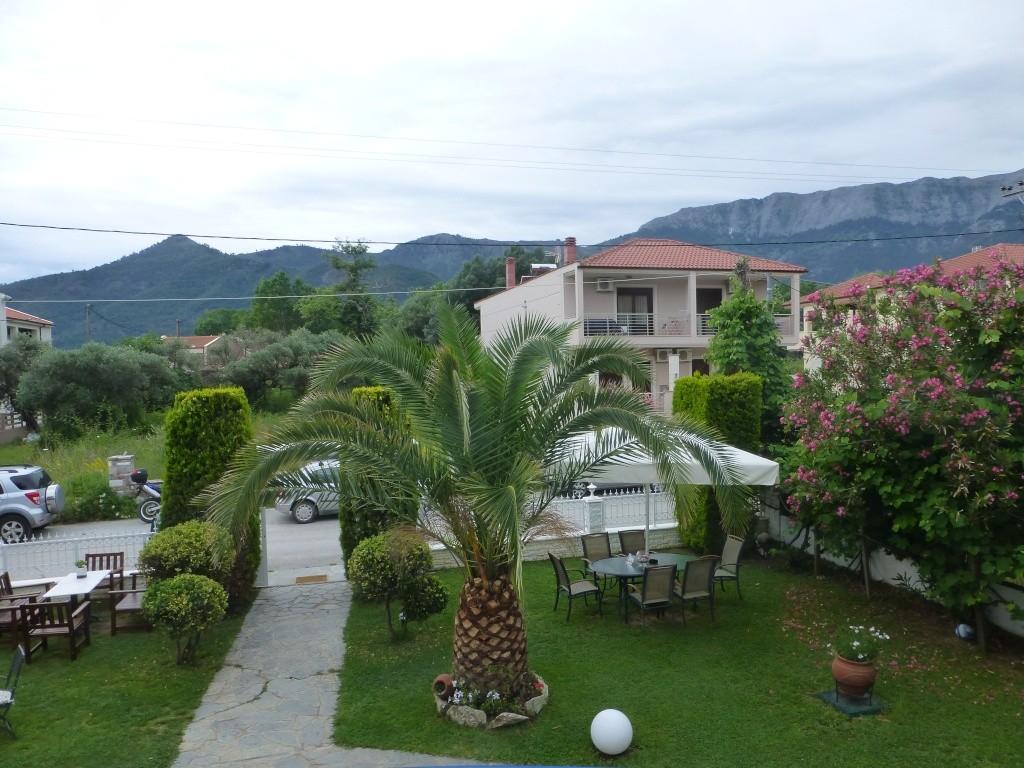 p1110230
So we decided to see how the weather would pan out but would probably go to the reps meeting at 11:00am, really to see what is happening about the mini train, as I heard the 4 village tour for 11€s was not running.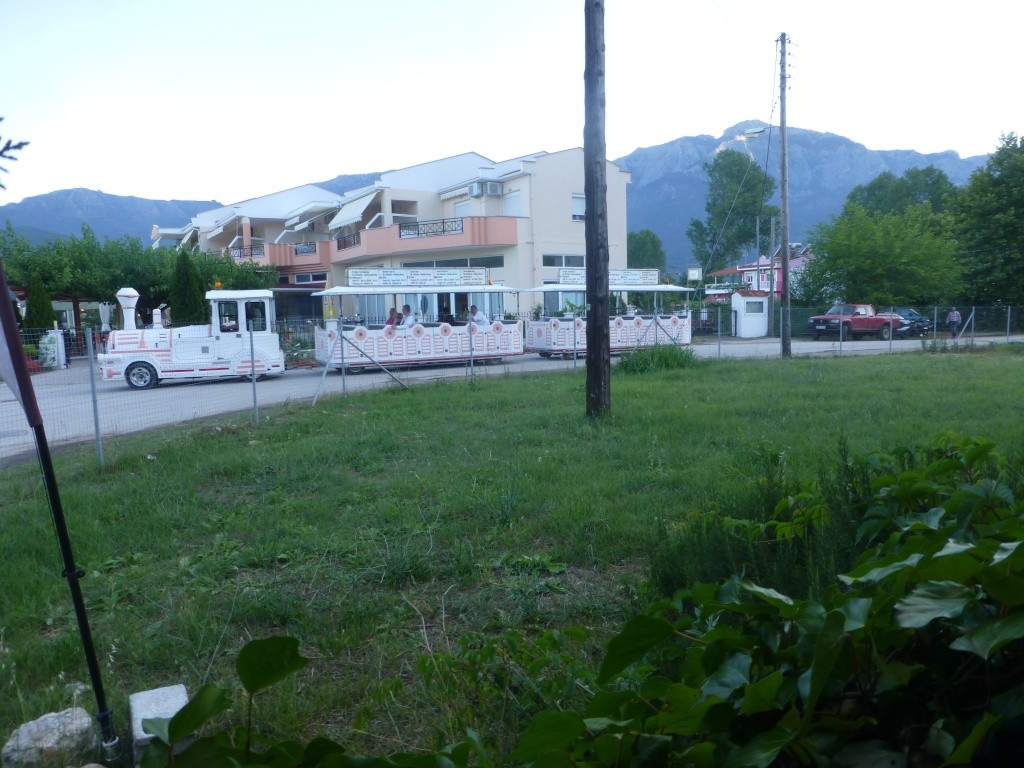 p1110222
At the reps meeting, the girl had only been in Golden beach for a week and we noticed on the coach coming in that she was saying everything was AMAZING and this continued in the meeting lol, so we nicknamed her Amazing Jenny. The talk soon finished and I noticed the train driver was behind the bar of the Marina hotel. He was so welcoming and he told me he just couldn't get enough people interested in it to run the trip, it's a real shame for people that hadn't experienced it, Thomsons never mentioned it. I believe he just needs to print off leaflets, hand them to hotels and also hand them out on the beach. He did one trip whilst we were there prearranged for a group of people and he did tell me he would run it with 15 people or more.
Afterwards some people were going into Thassos Town and we had a chat to several people waiting at the bus stop outside the supermarket, then another small shower forced us under cover before the bus came along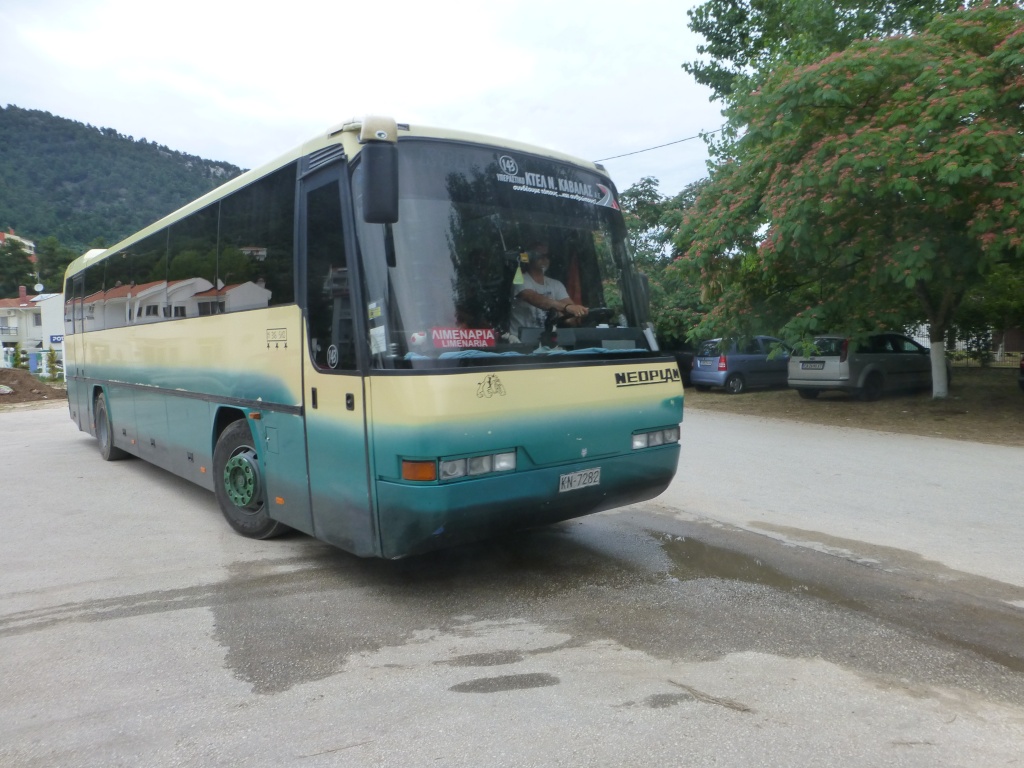 p1110231
Mrs Db and i decided to look further around Golden Beach, last year this place opposite the Enavalion resto was just a shell but it's just having finishing touches added and looks a smart place but the owner's have decided to have a swimming pool facing the main road under the entrance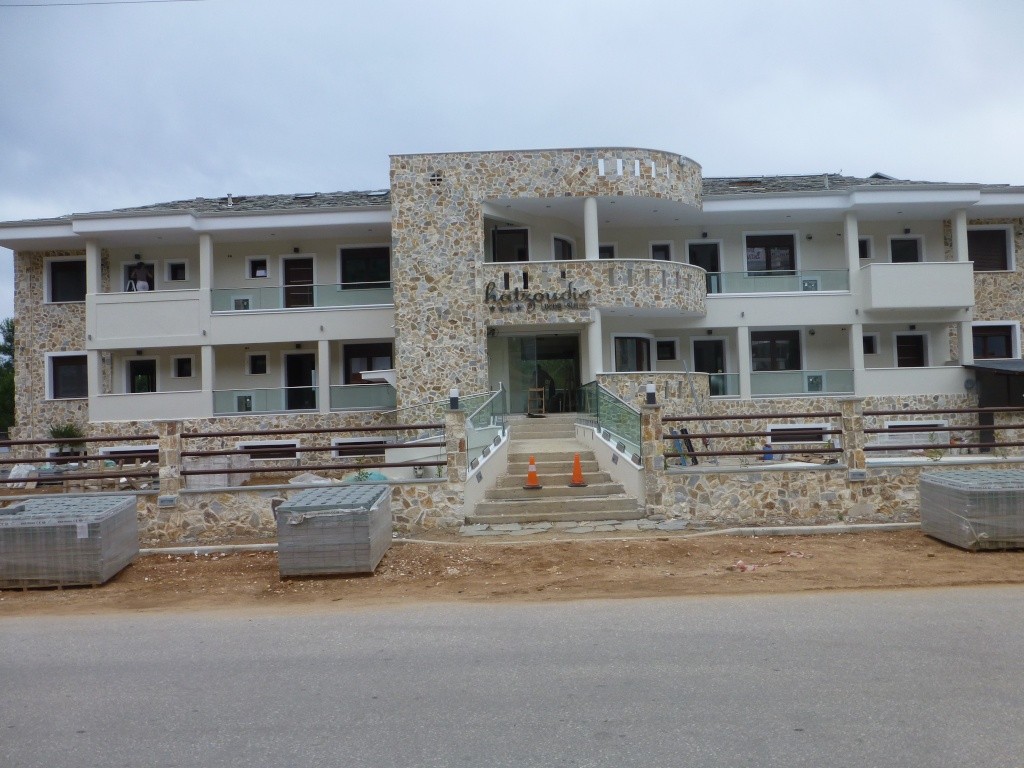 p1110233
There is a new bike hire shop next the the Enavalion resto and the resto is nicknamed the wedding cake and just at the left side of the bike shop.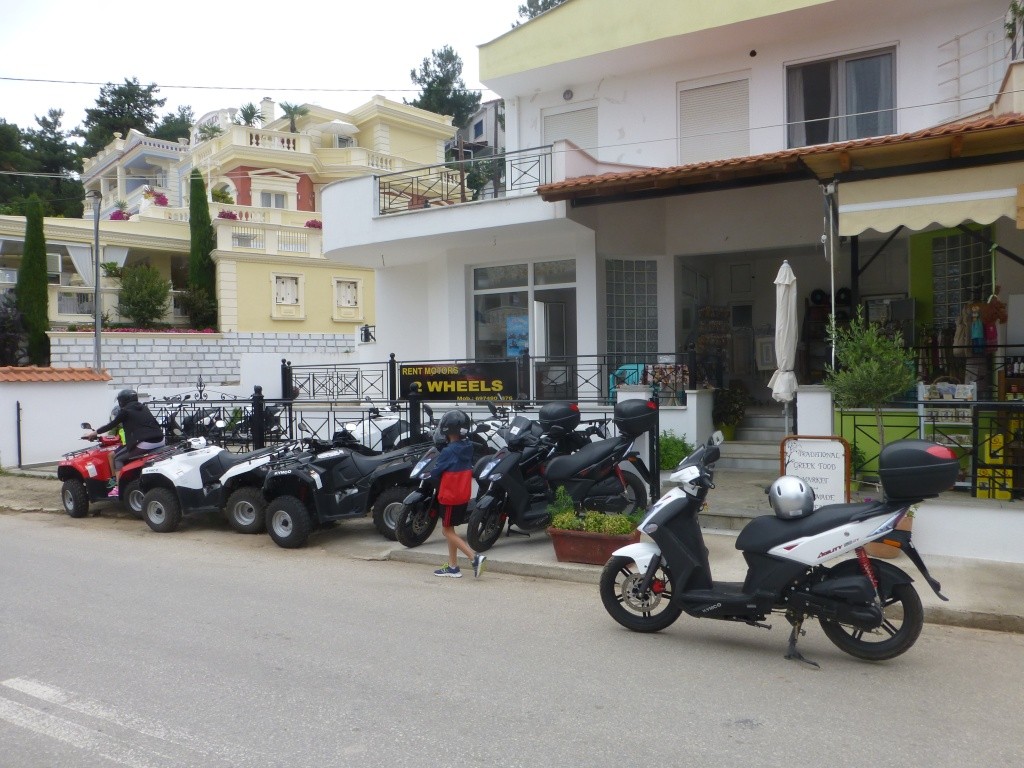 p1110234
after a coffee on the front at Cielo's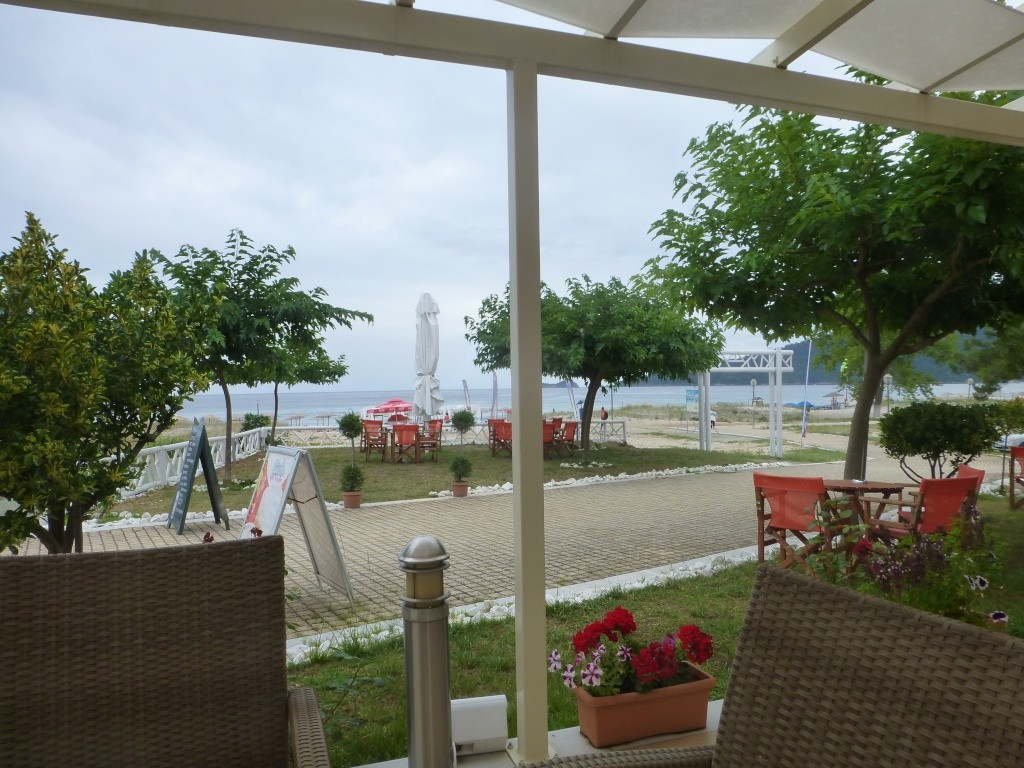 p1110235
and watching a strange boat go passed, I wasn't sure if there was another boat trip going, other than the Zeus boat, it was called Biktopiam but would investigate that later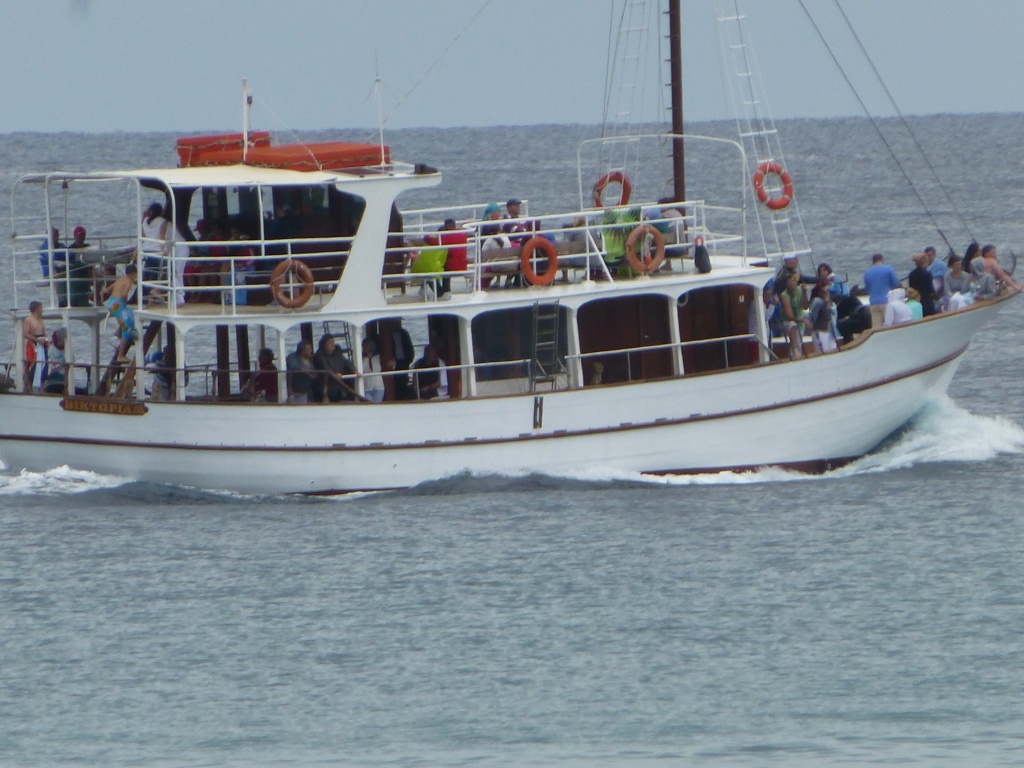 p1110236
In the meantime, mrs Db was going to pop back to the apartment, whilst I investigated some reported building work going on near the Emerald and that involved walking up Cardiac hill and not so appealing to Mrs Db lol, so here it is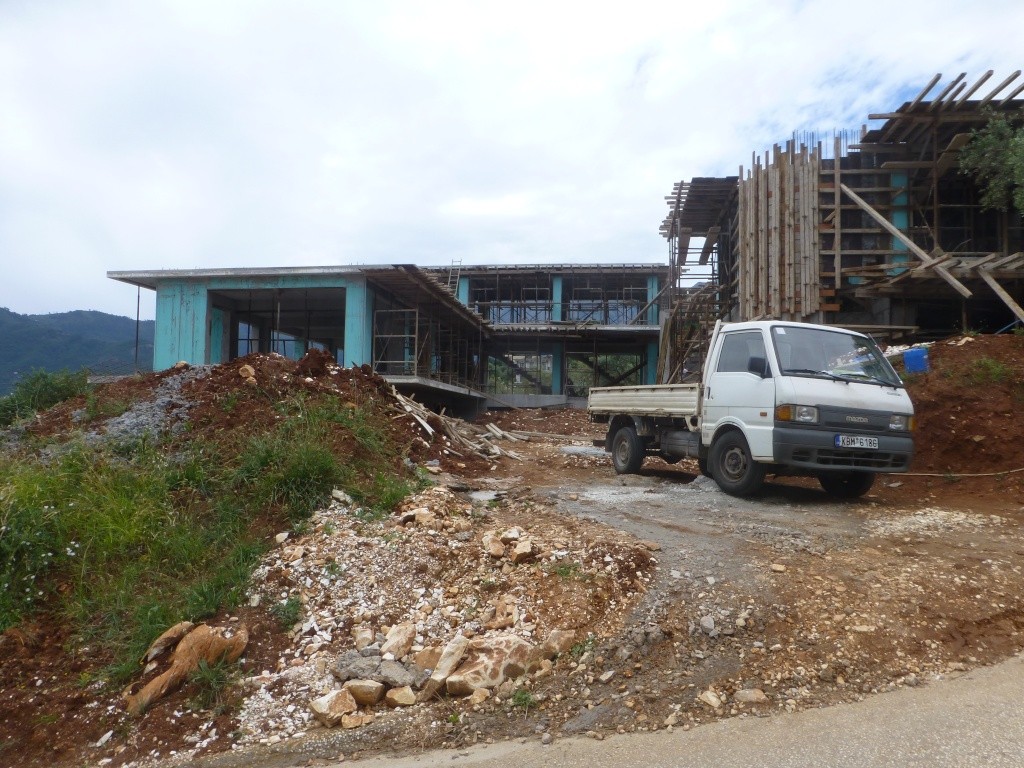 p1110239
Now I walked up to the top near the Emerald Suites and asked a family coming out of the suites if they were upset by any noise and they told me it hadn't been any problem but had arrived the same day as us. I could hear just man hammering in the distance but not too bad but I would go back and check it out later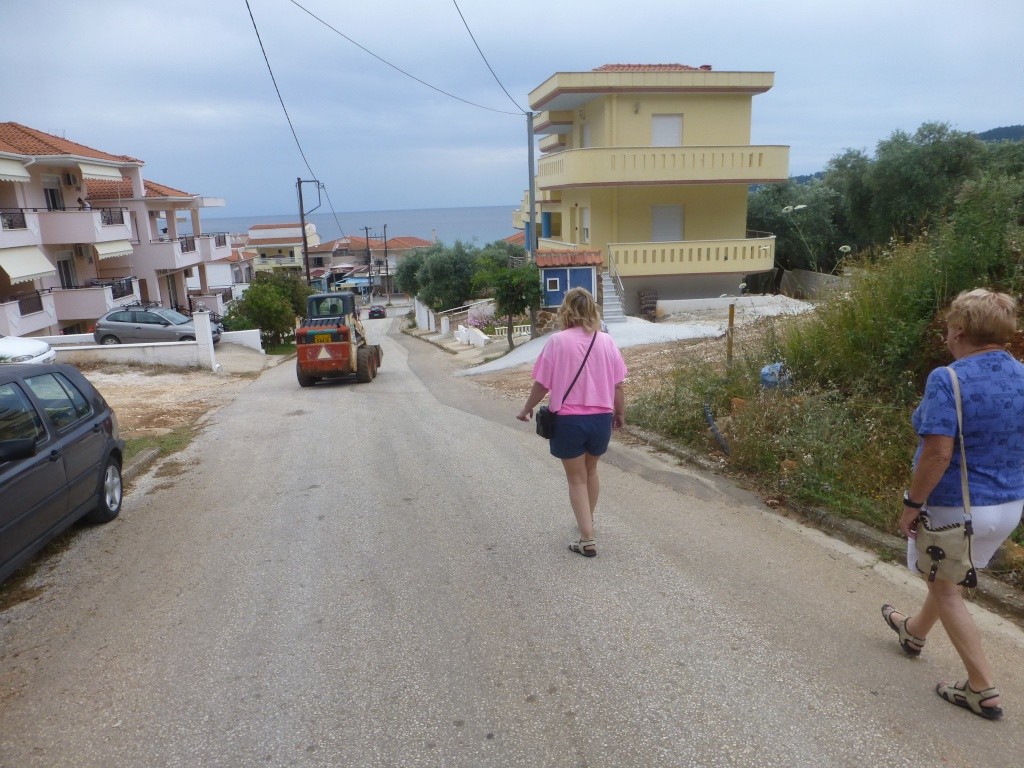 One person had described Golden Beach as a building site but other than this one, there was another that would annoy others and this was at the Filipidis opposite the campsite and were building a hugh extension on the side, whilst they and next door had guests staying.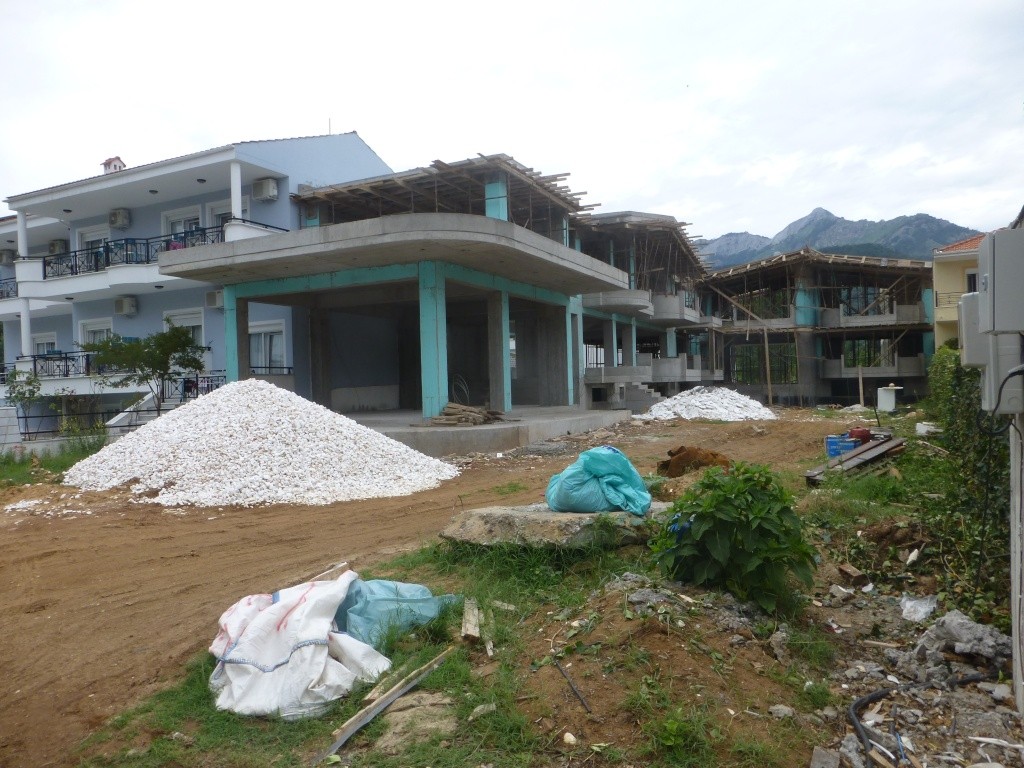 p1110250
The problem here is that Thassos had a bad winter and the sea had come over the roads, and basements had got flooded, making it almost impossible to do building work. I am told that Golden beach is said to be 'floating', meaning that to dig down a metre there is water at the best of times. Now I am told the European Union have given grants to improve hotel accomodation in Thassos but the grant will be withdrawn if work is not completed by December. This has caused work to continue into the holiday season which won't be finished for this season and IMO is a sort of madness and the way Greece is going, those grants might disappear anyway.
Mrs Db and I had lunch at the Finakas but only took pictures of Mrs Db and forgot the food but we both had omeletes it's down to jet lag lol
The bad weather affected completion of the Princess Golden, a complete refurbishment of the old Ioannis hotel, so Delboy was interested to see for himself and asked if I could look around and take some pictures
Reception area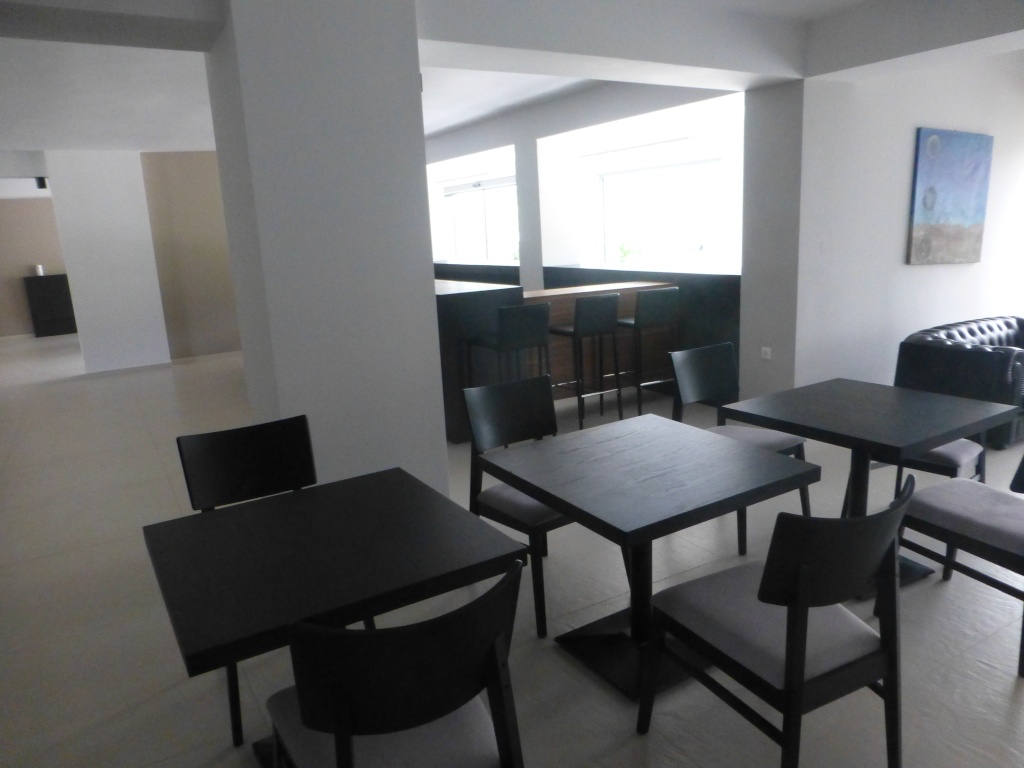 p1110264
The dining room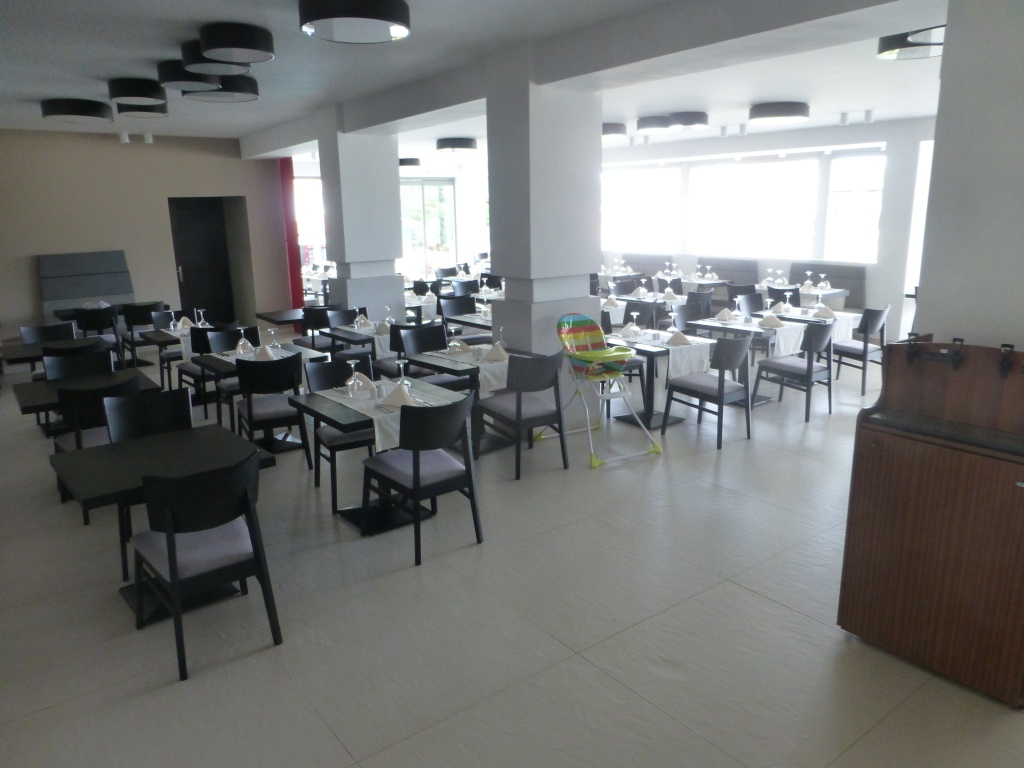 p1110259
p1110260
Swimming pool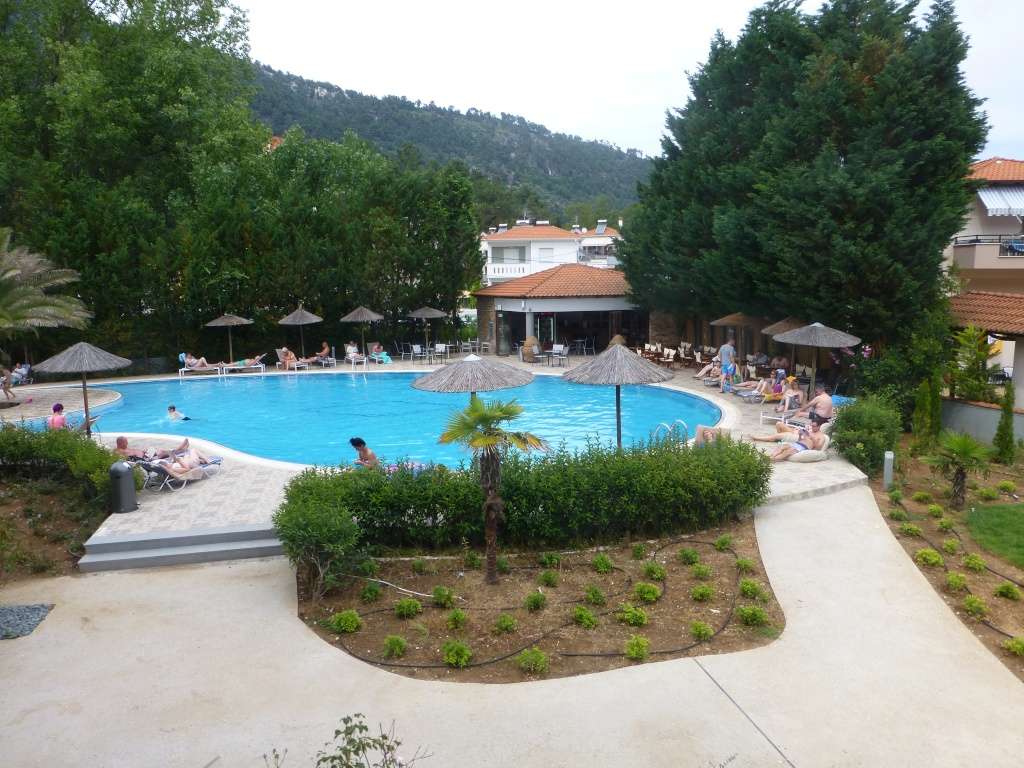 p1110261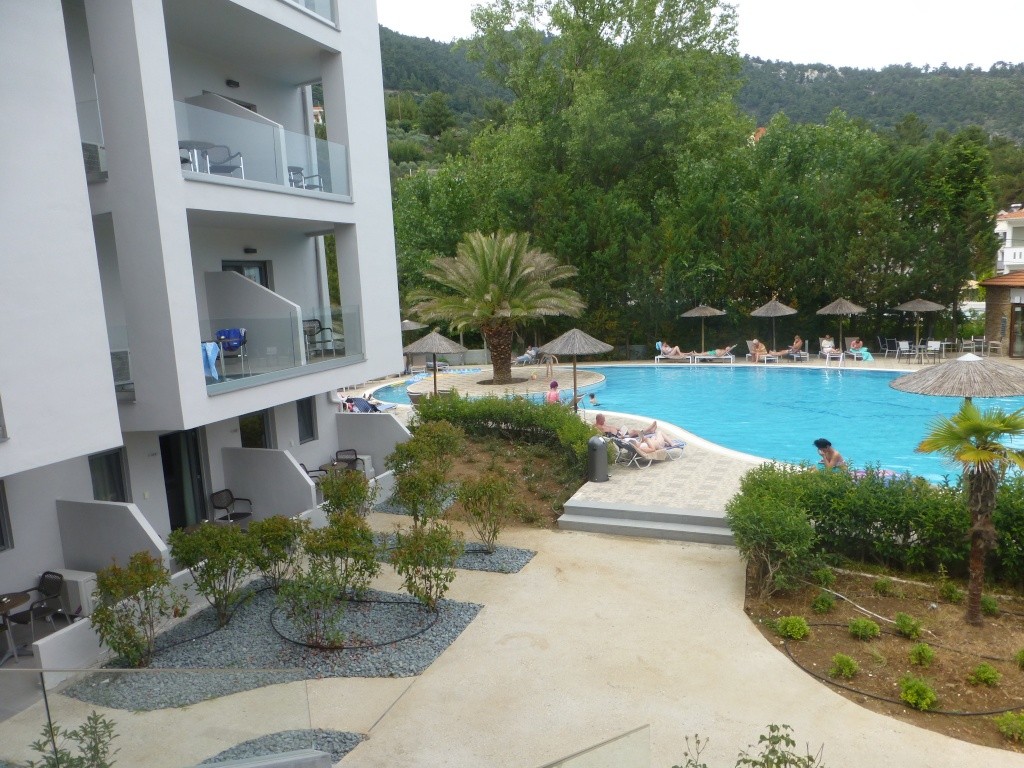 p1110262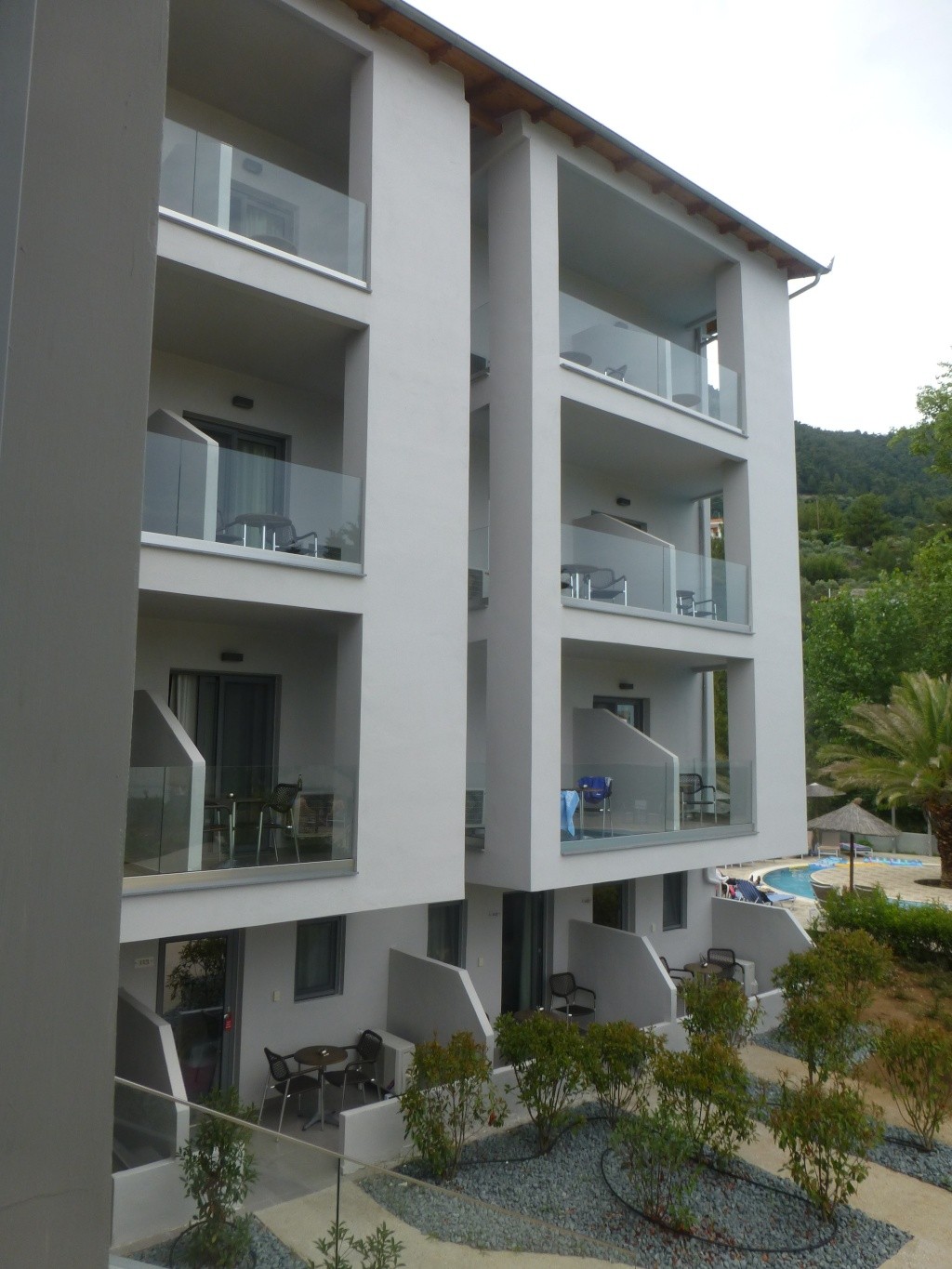 p1110263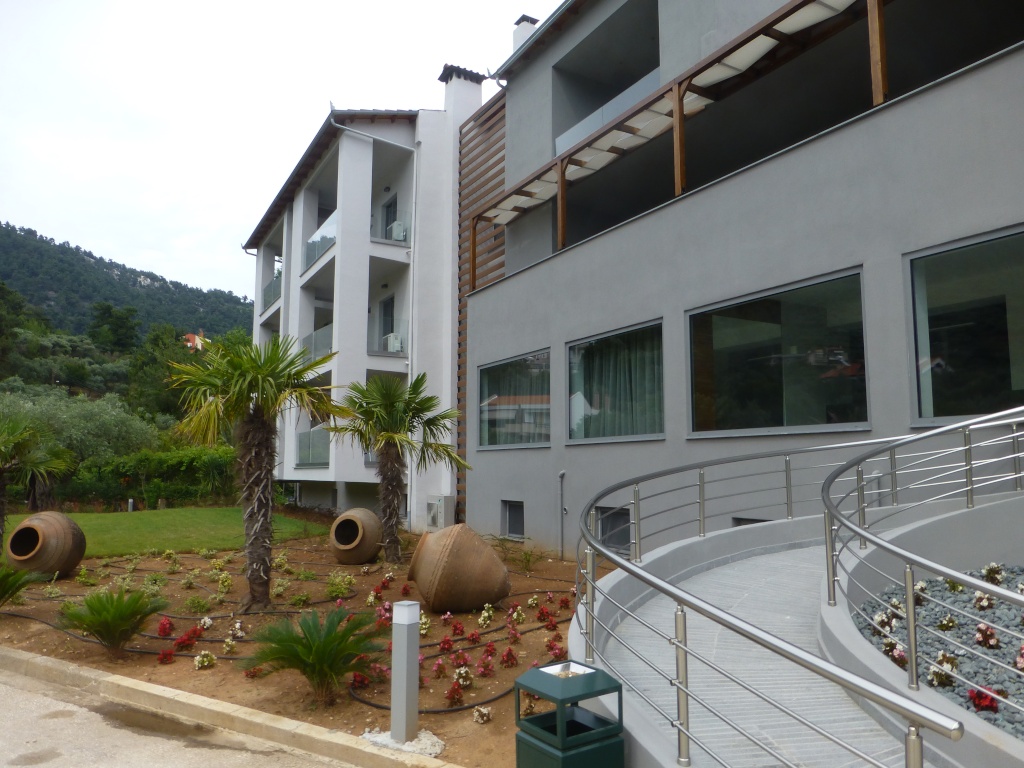 p1110265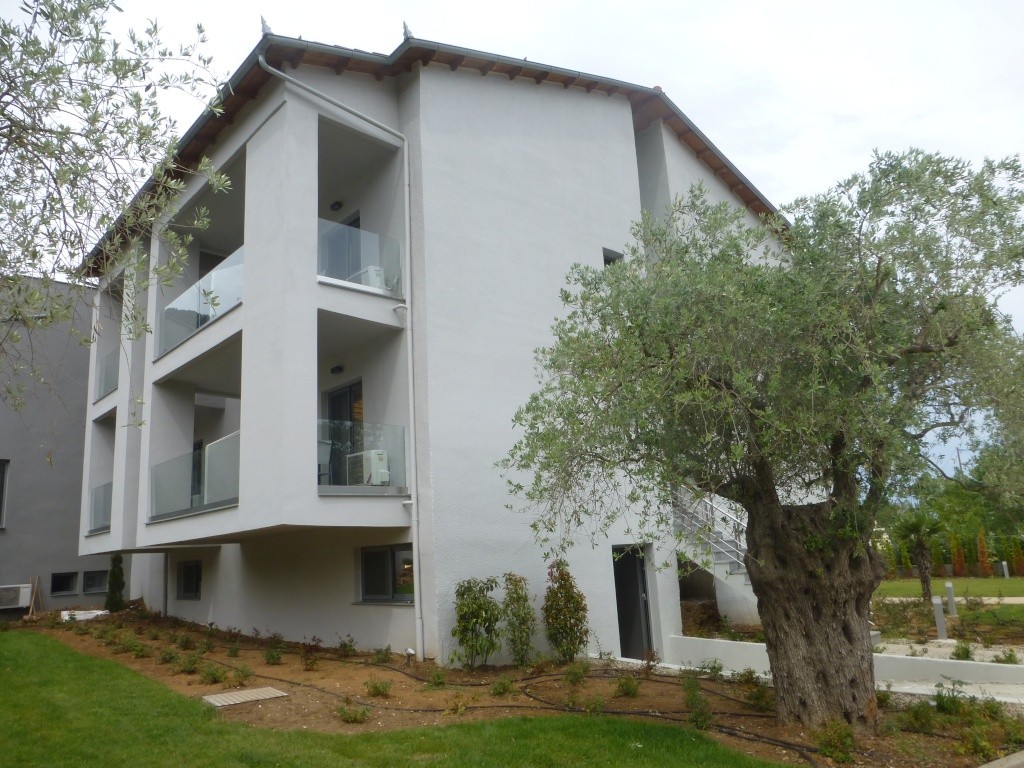 p1110266
So it looks fairly complete to me, to those going out there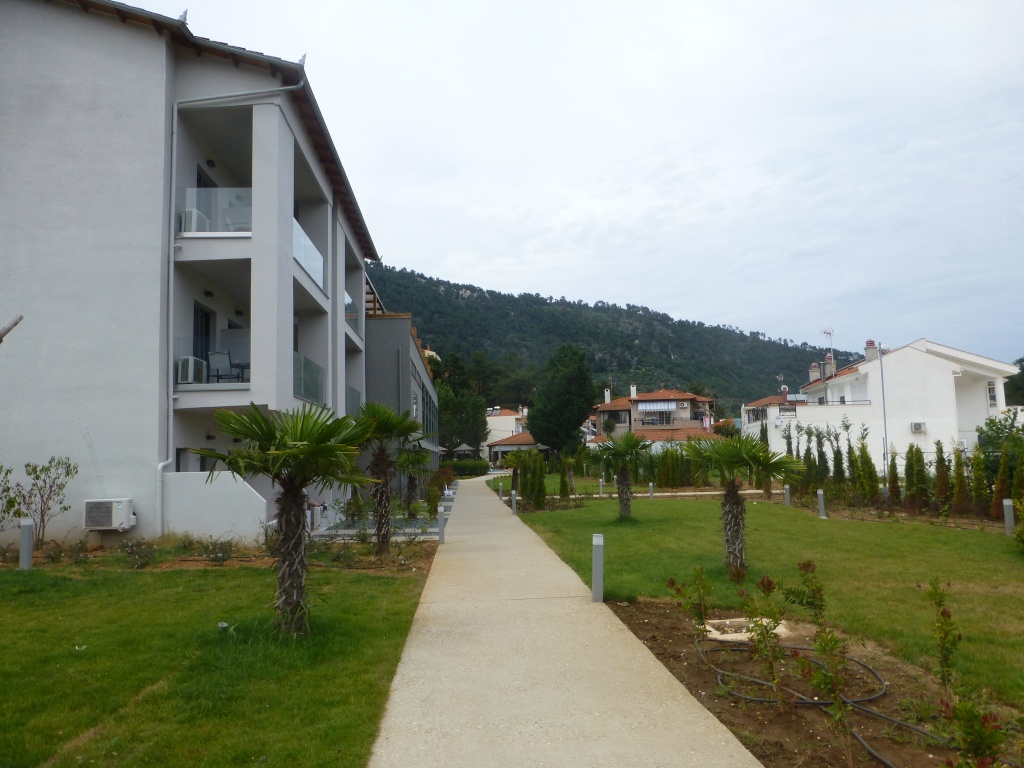 p1110267
funny enough, i sat next to a lady who stayed there and she said, it was a nice place but just had a few niggling things like running out of plastic cups and tonic water but it sounds like early teething troubles that will get ironed out.
Mrs Db wasn't with me but this allowed me time to mess around trying to get different light settings on my camera to get a decent flower picture lol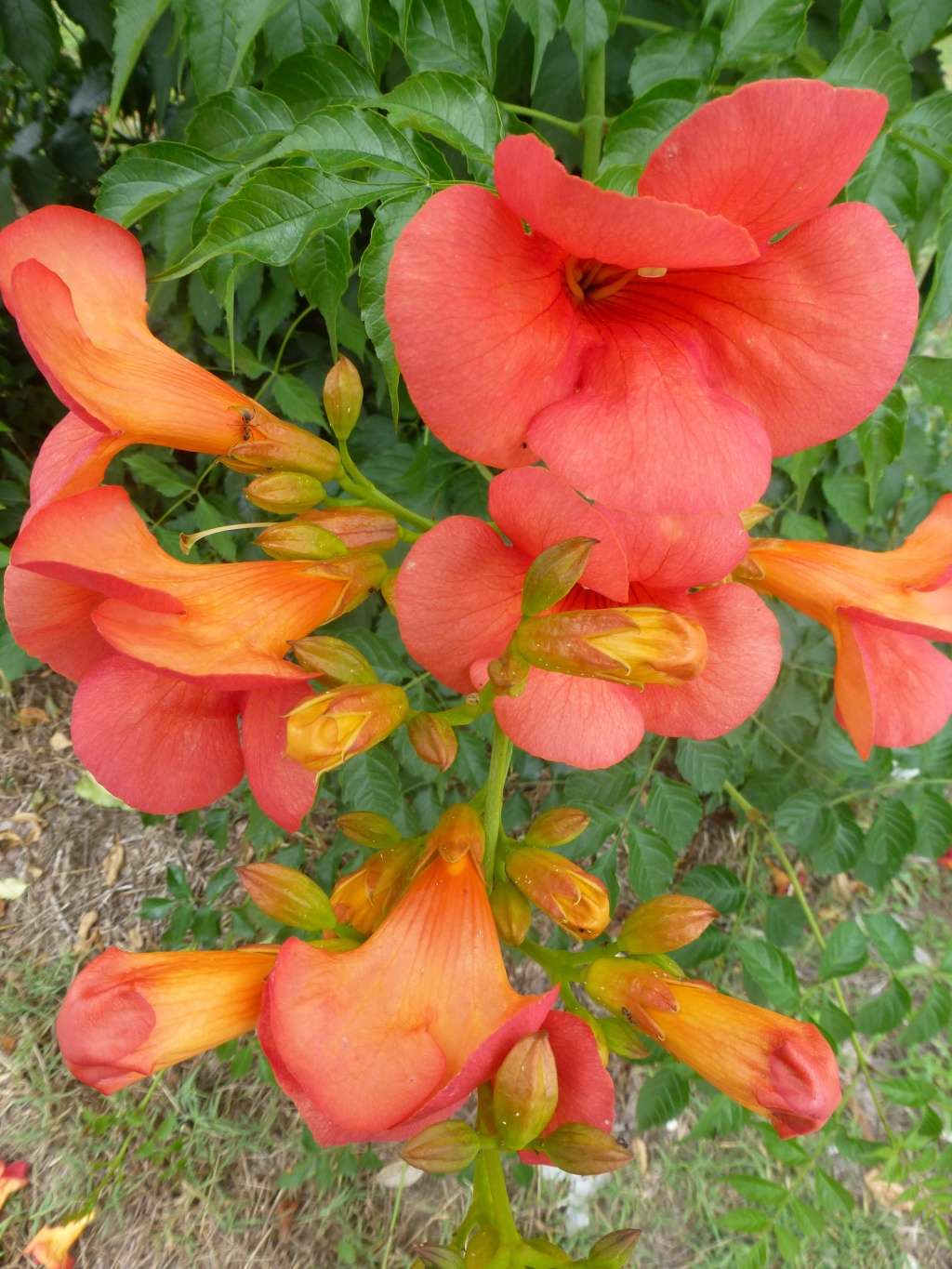 p1110245
It was evening and a bit of cloud was lower that the Ipsario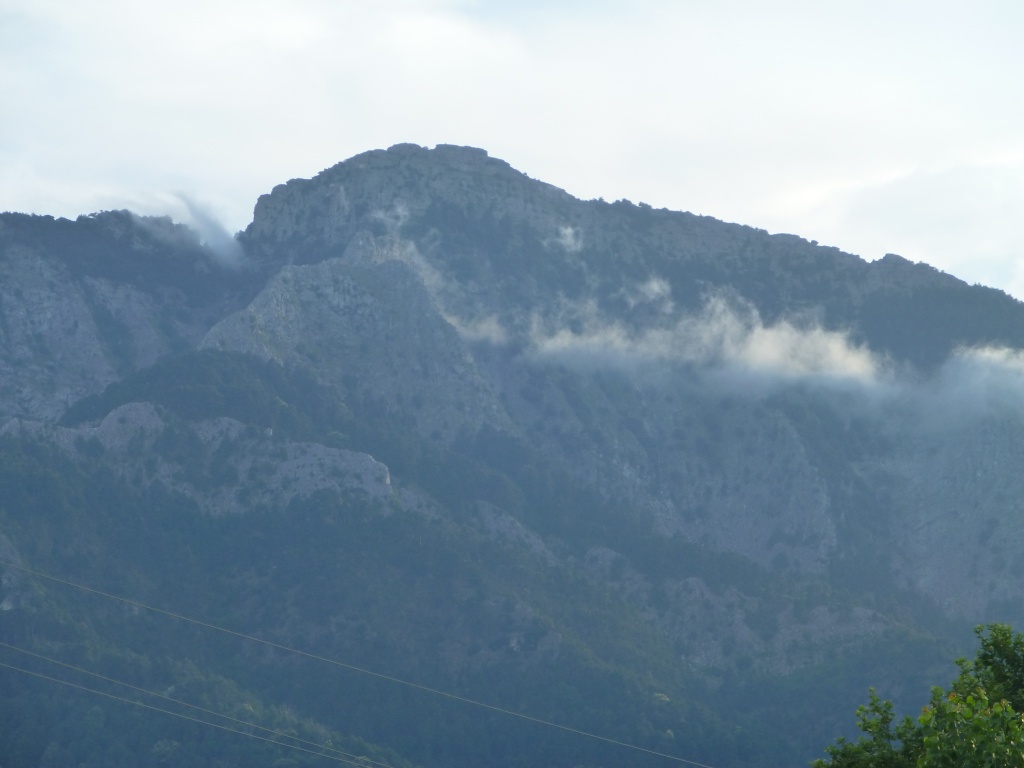 p1110271
Tonight we were going to try the Nisi but it is best to reserve a table there in the evenings but fortunately we arrived early and were lucky, Christina remembered us from last year and was pleased to see us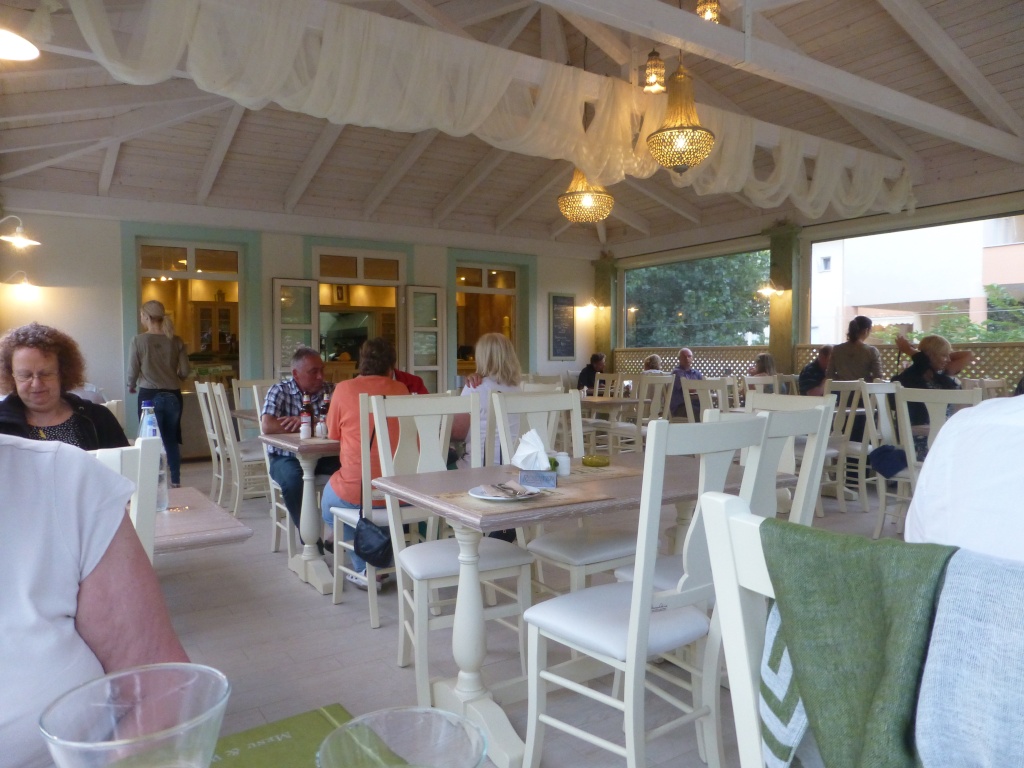 p1110274
to photo the menu with the pages bending but hope you can see them ok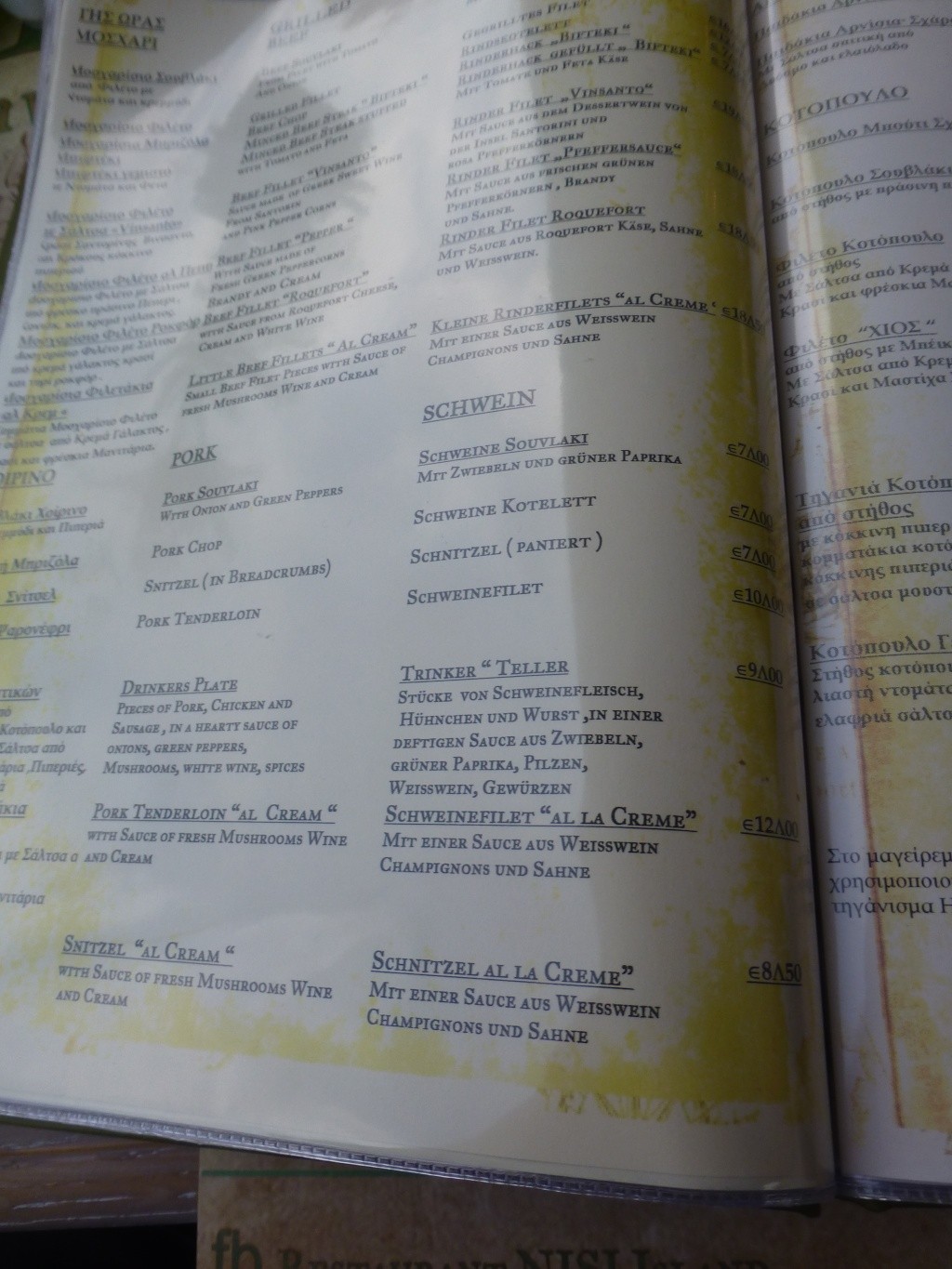 p1110272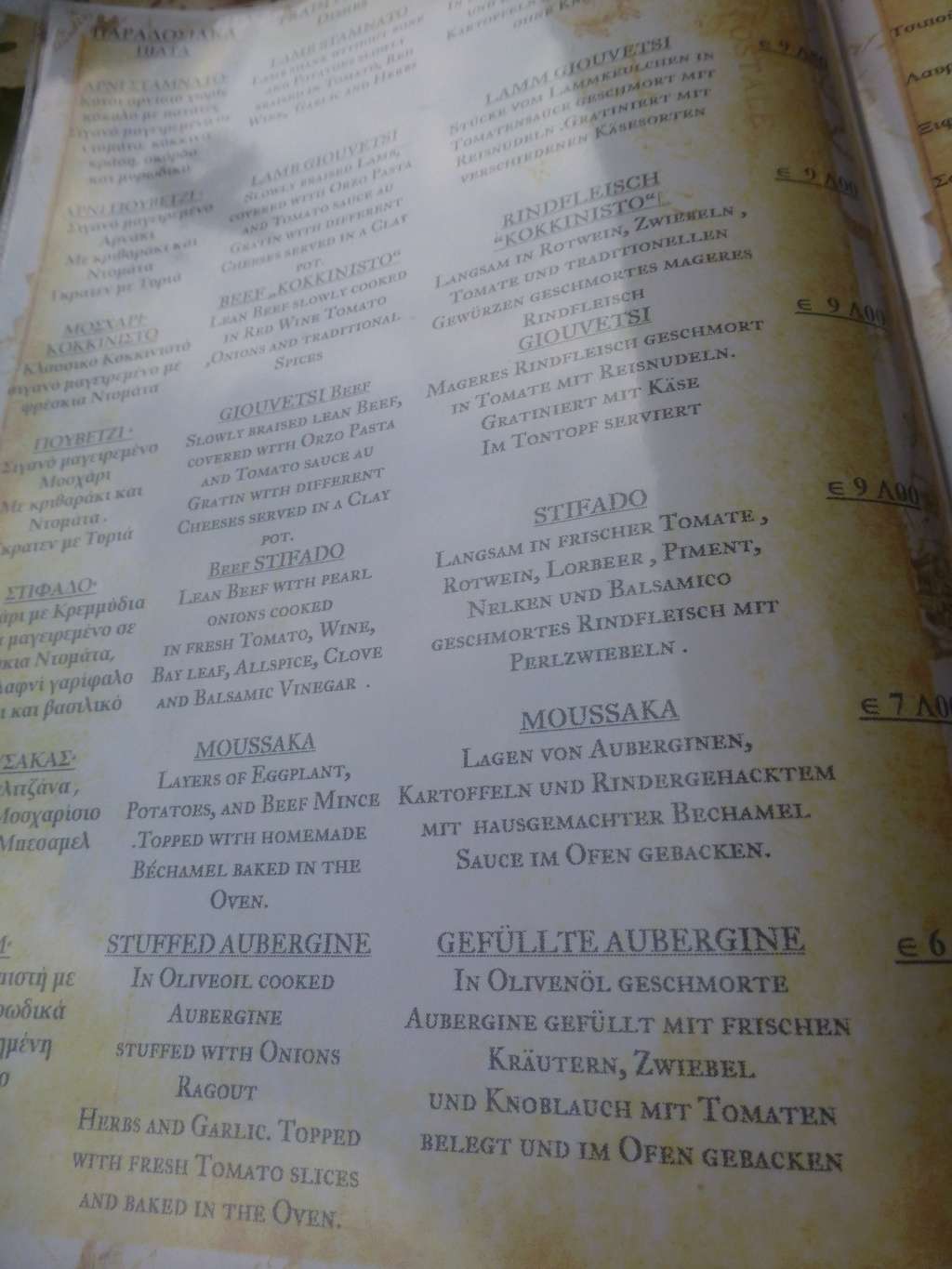 p1110273
I had the peppered fillet with brandy and cream sauce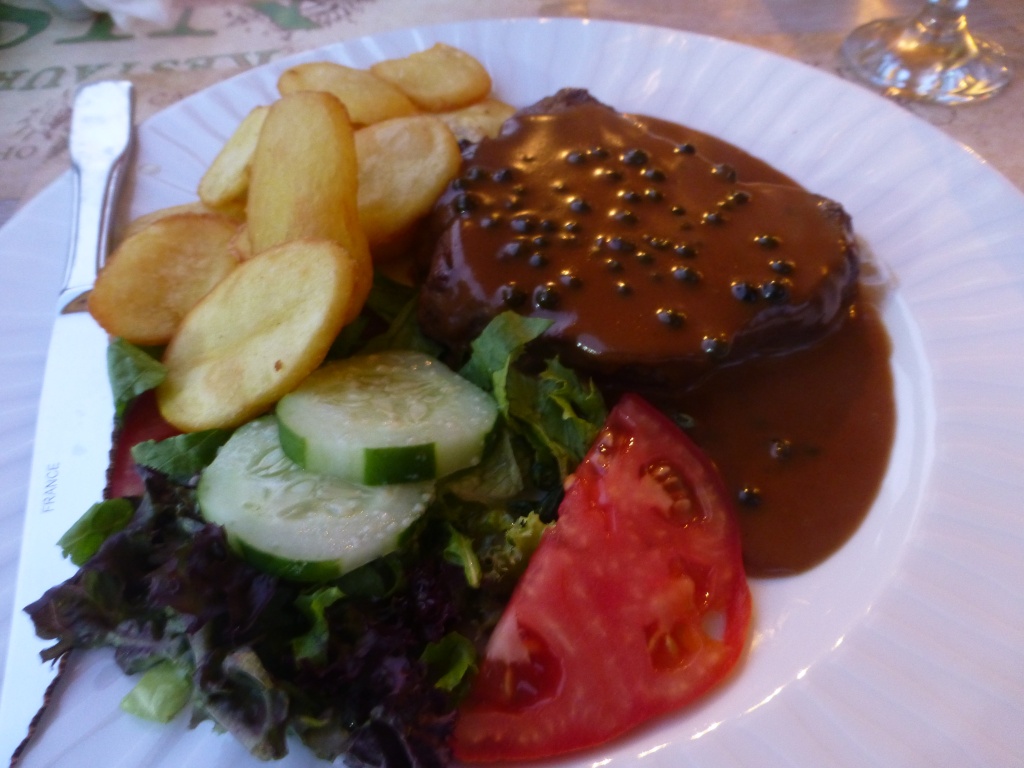 p1110275
and we think Mrs Db had stifado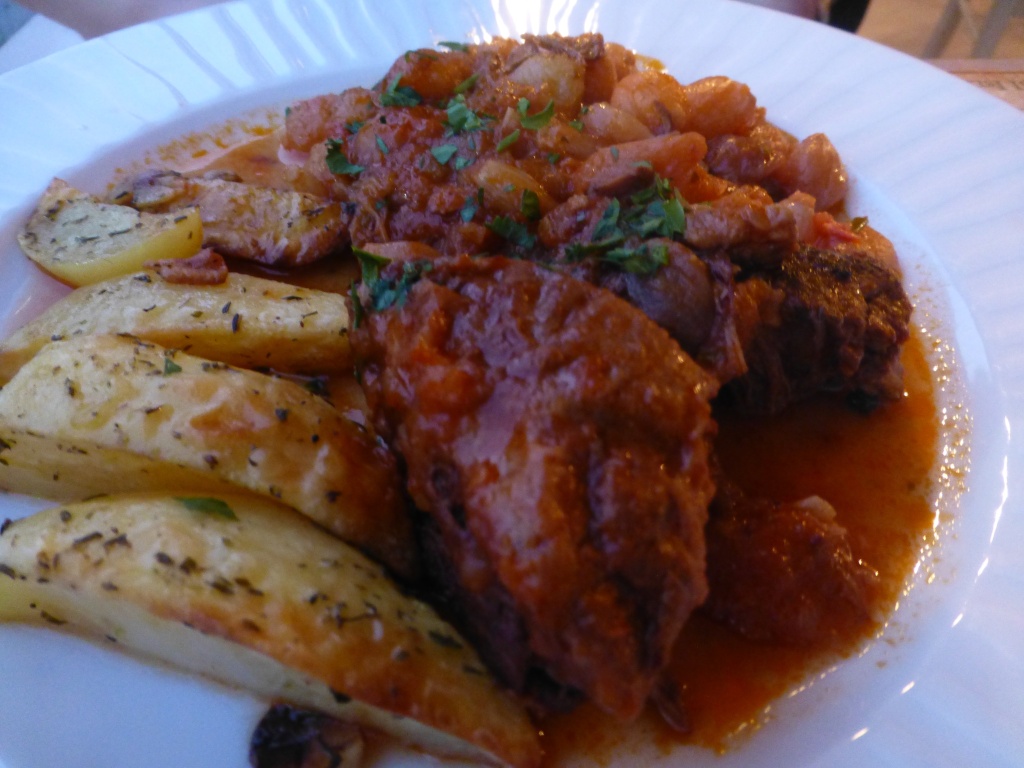 p1110276
and a free sweet which was like a mousse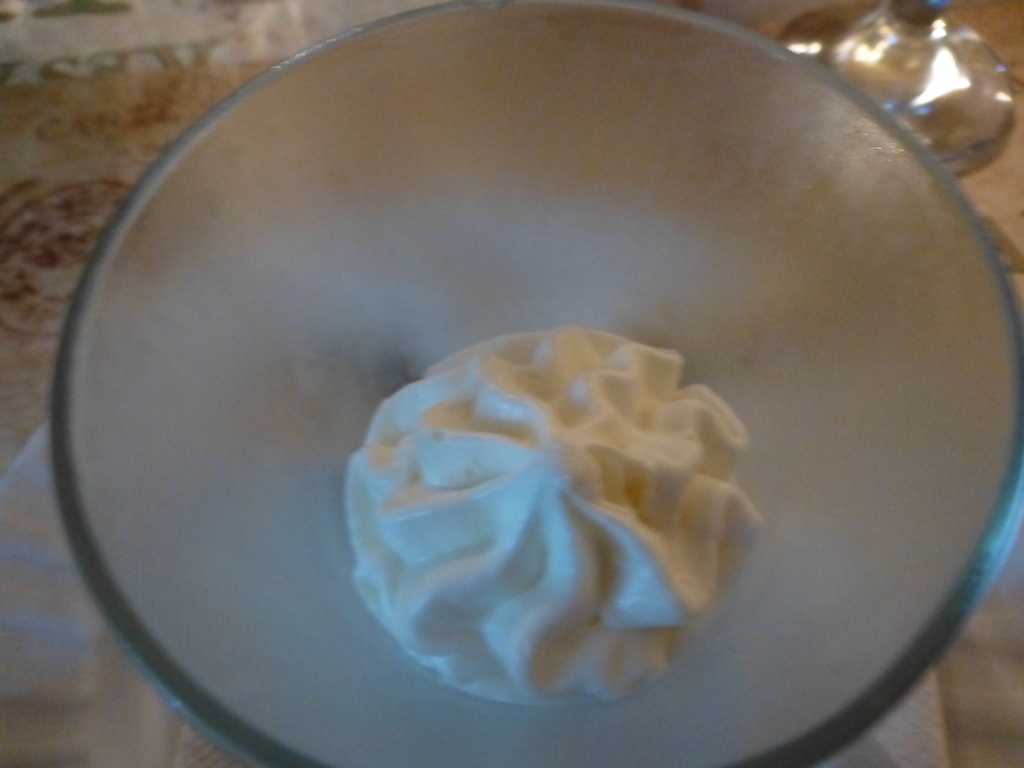 p1110277
folllowed by coffee on our balcony
End of day 2Day 3

Ah a much better morning and breakfast on the balcony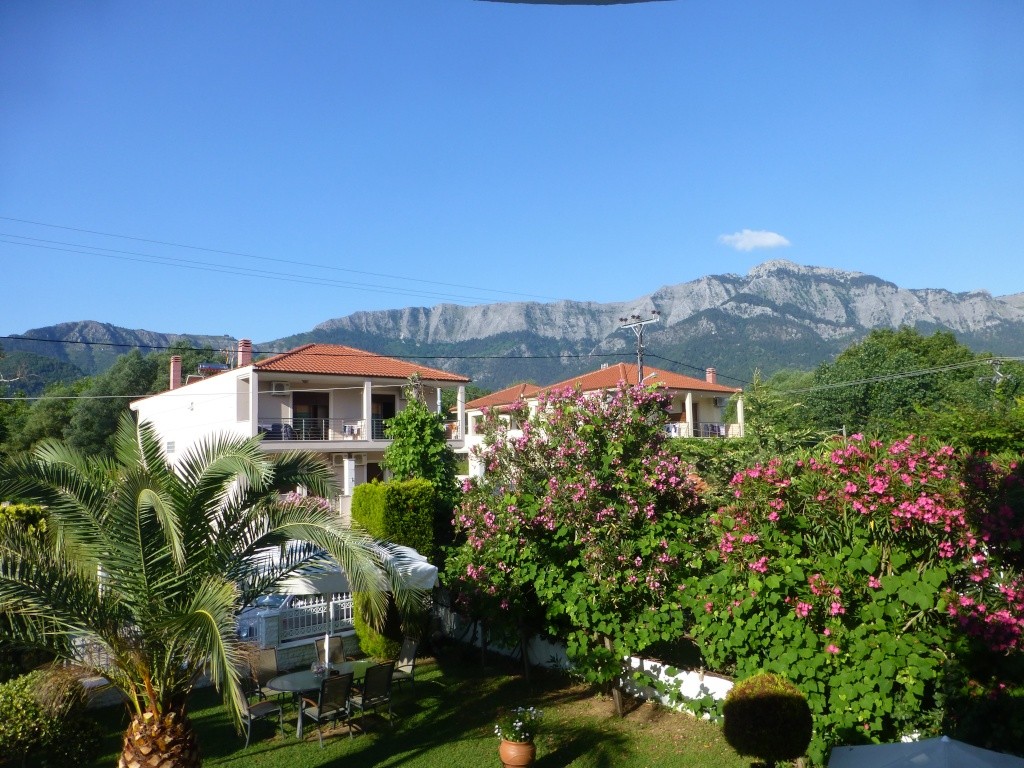 p1110278
the Ipsario mountain is clear lol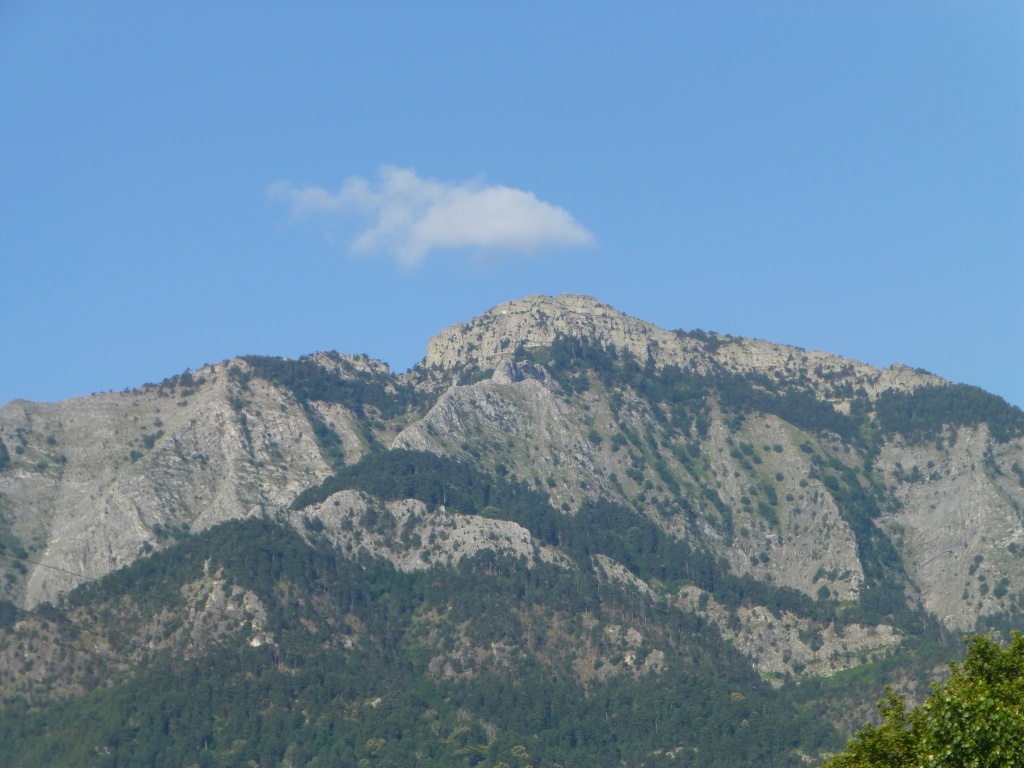 p1110279
but for us today it was going to be a beach day, doesn't the place look some much better in the sun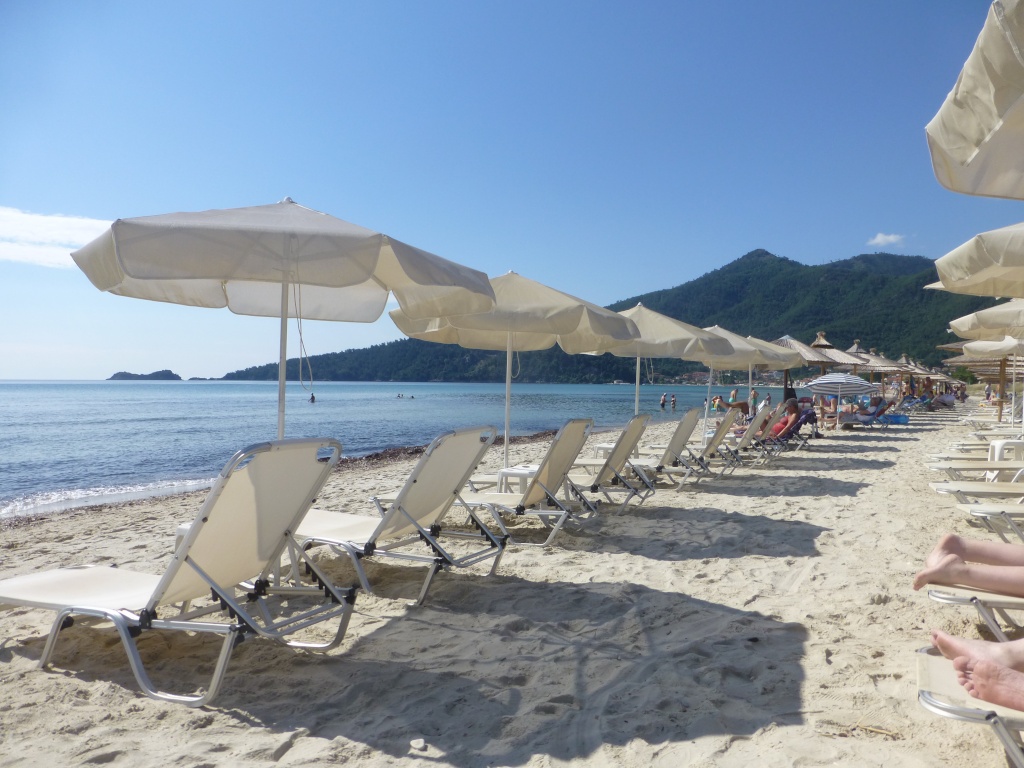 p1110281
10am and the Zeus boat is just going out, for a bit of fishing and swimming and lunch aboard, it comes back at 4pm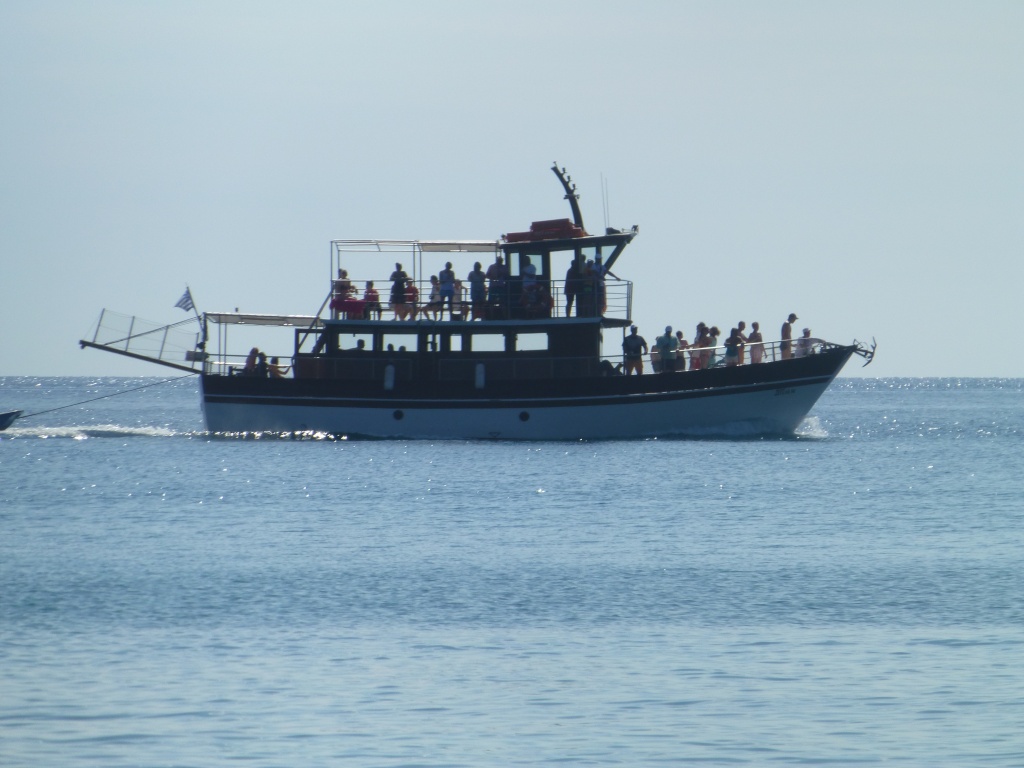 p1110283
there is a bit of shingle near the sea edge i hadn't seen before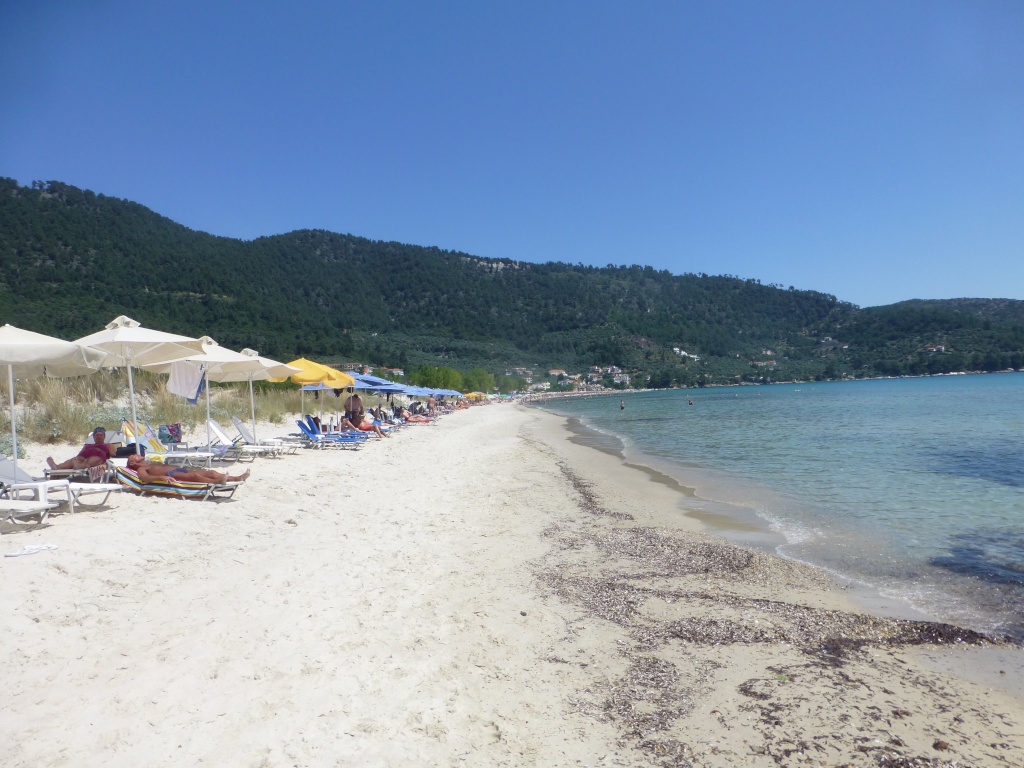 p1110286
So I thought I would go down the beach to see what impact the weather has had on the beach this year
so going up to Vigli's resto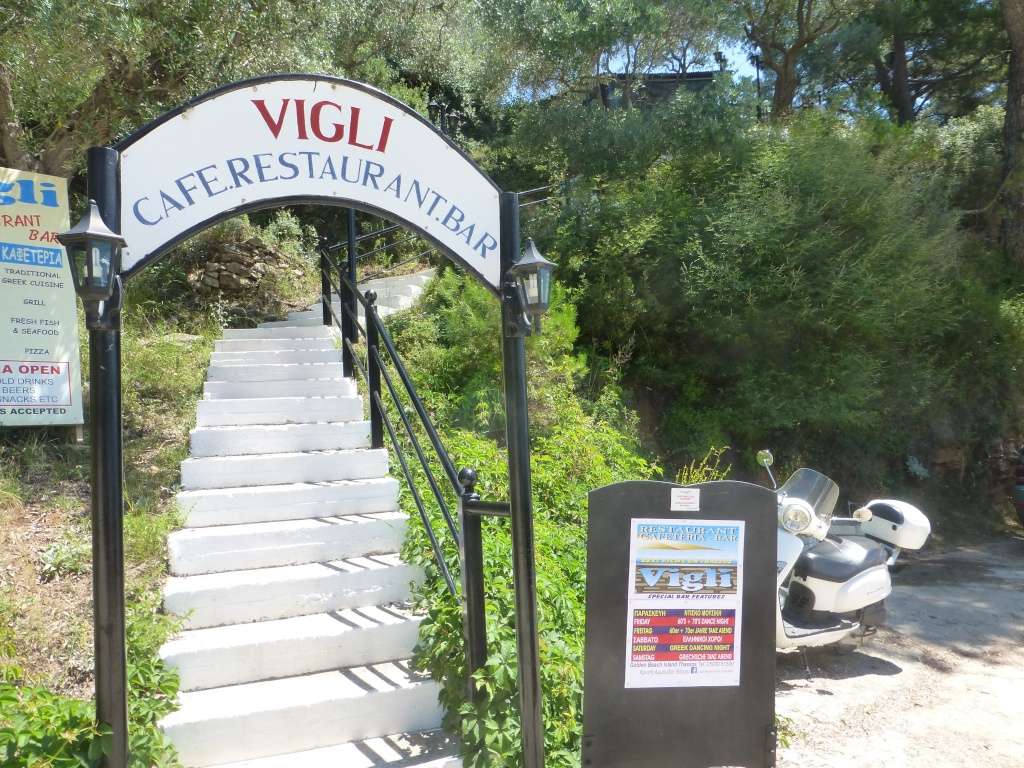 p1110297
with the echos of "The Winner takes it all" still humming in my head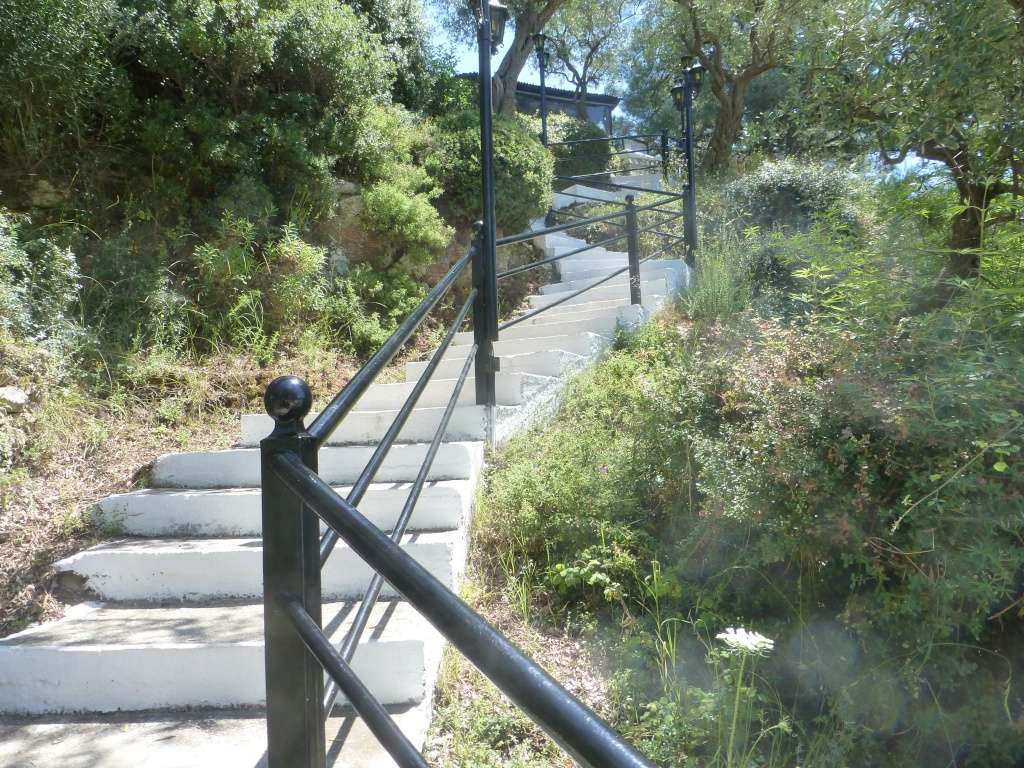 p1110296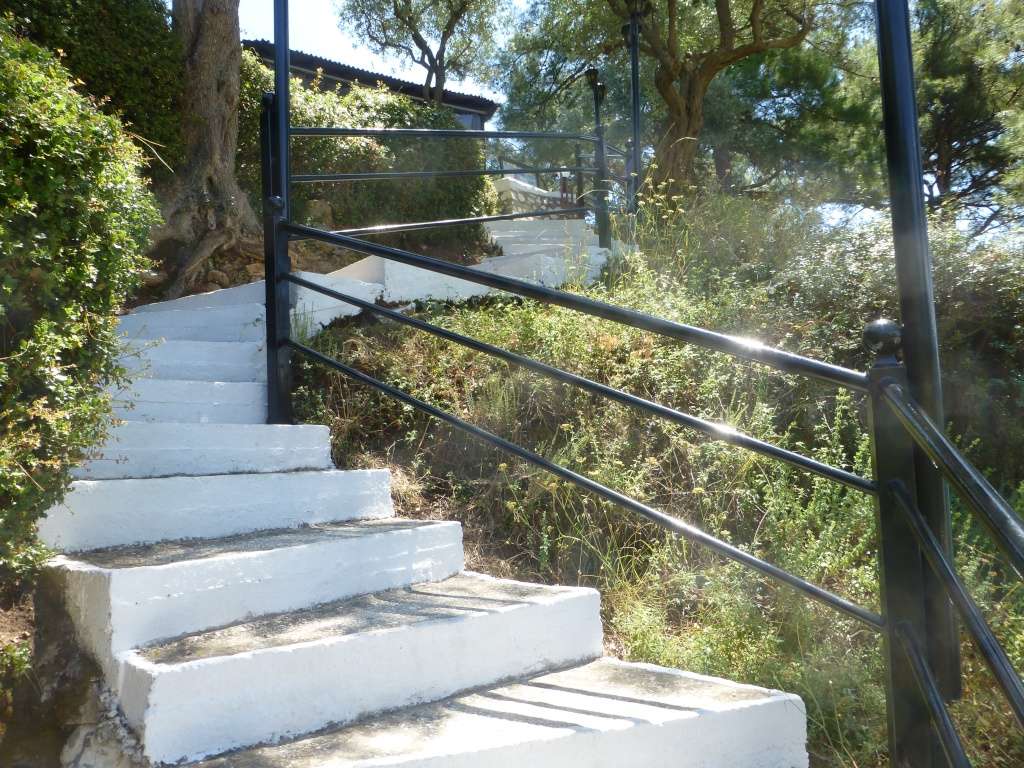 p1110295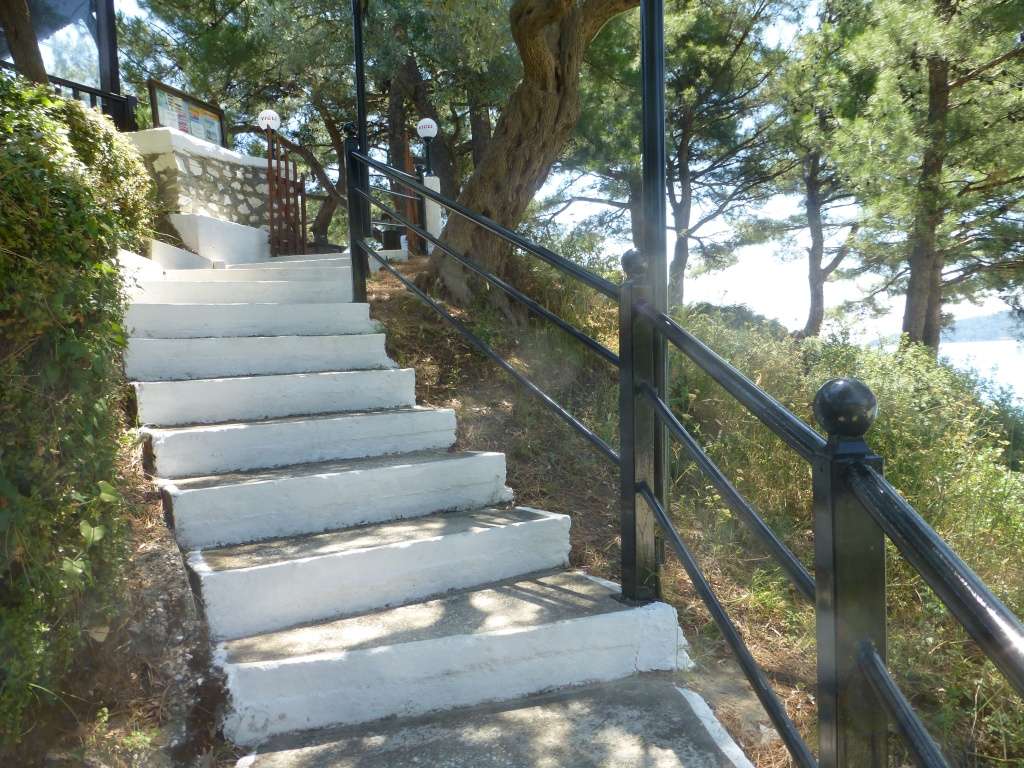 p1110294
but at the top there are good views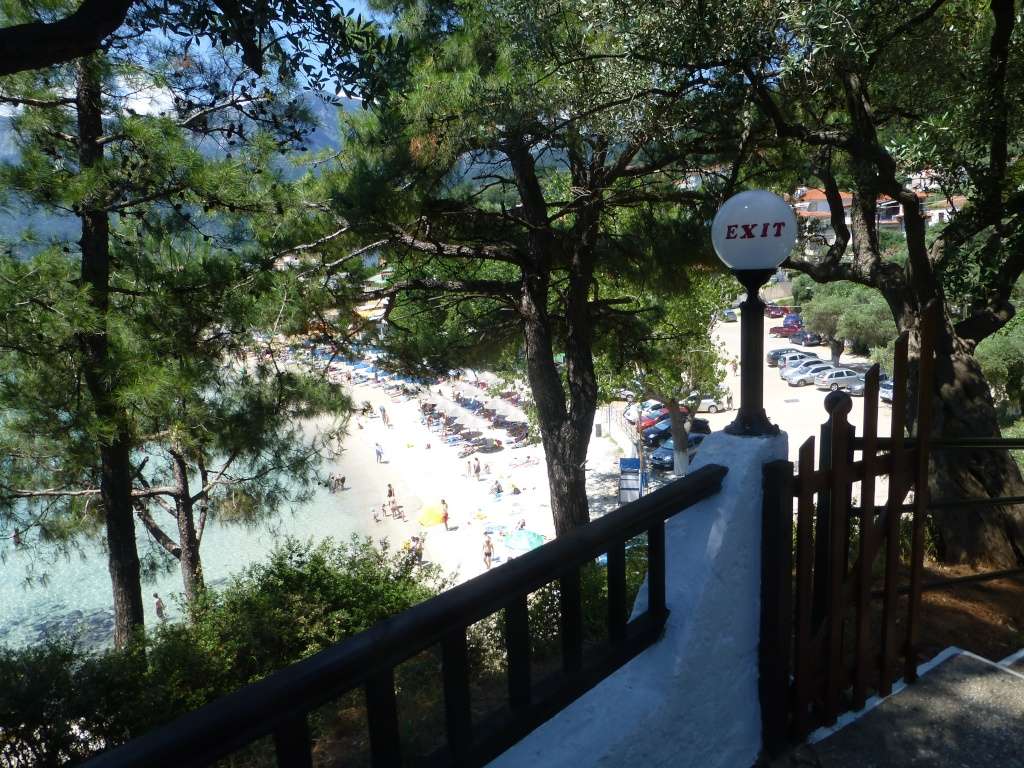 p1110293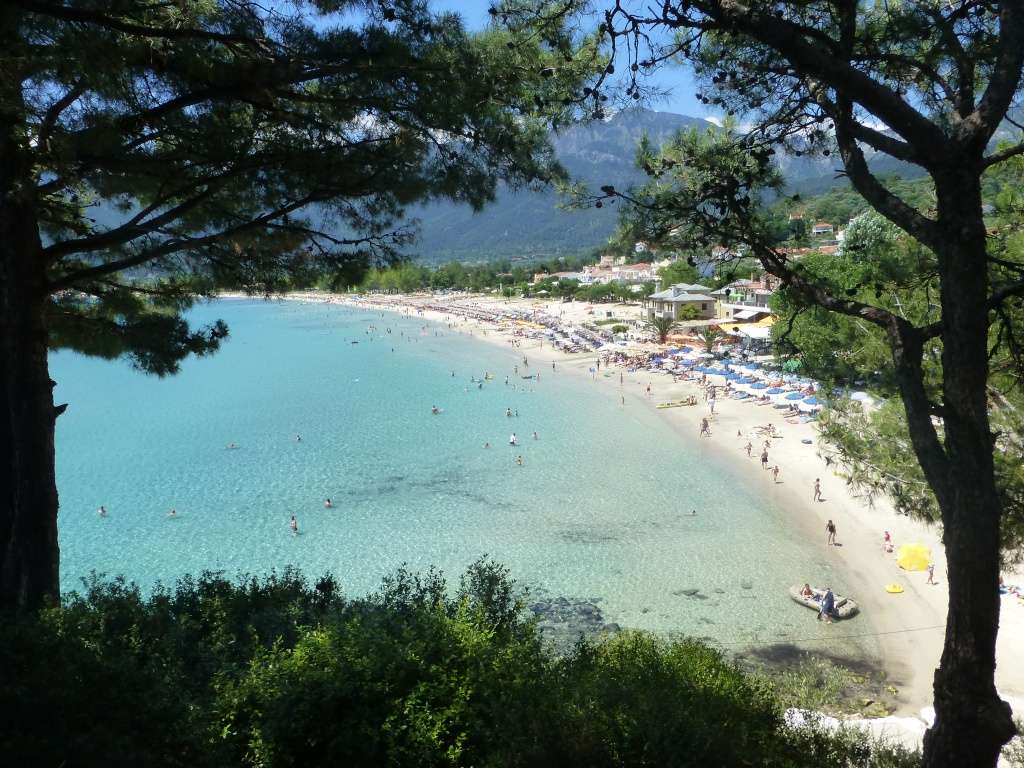 p1110287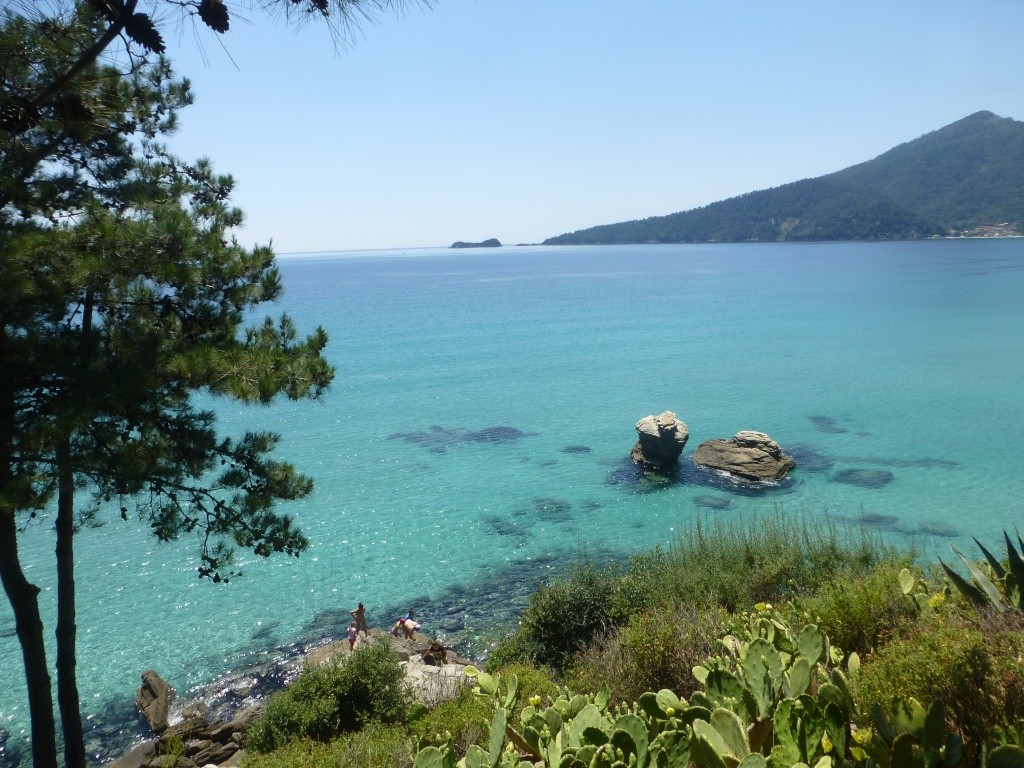 p1110288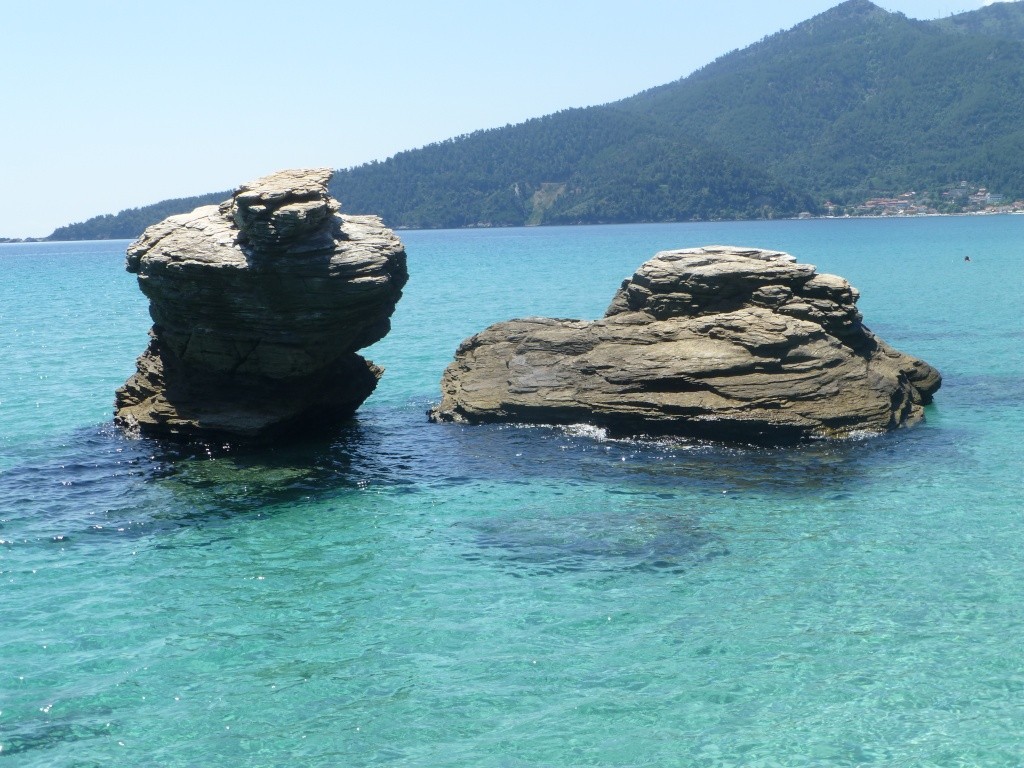 p1110299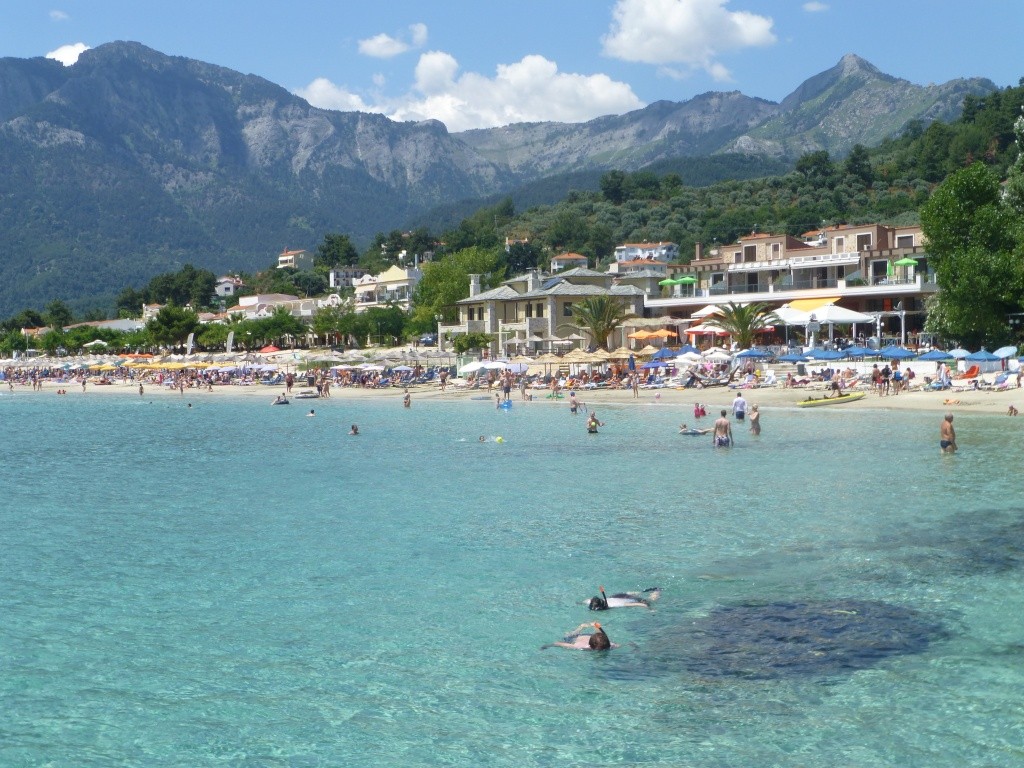 p1110300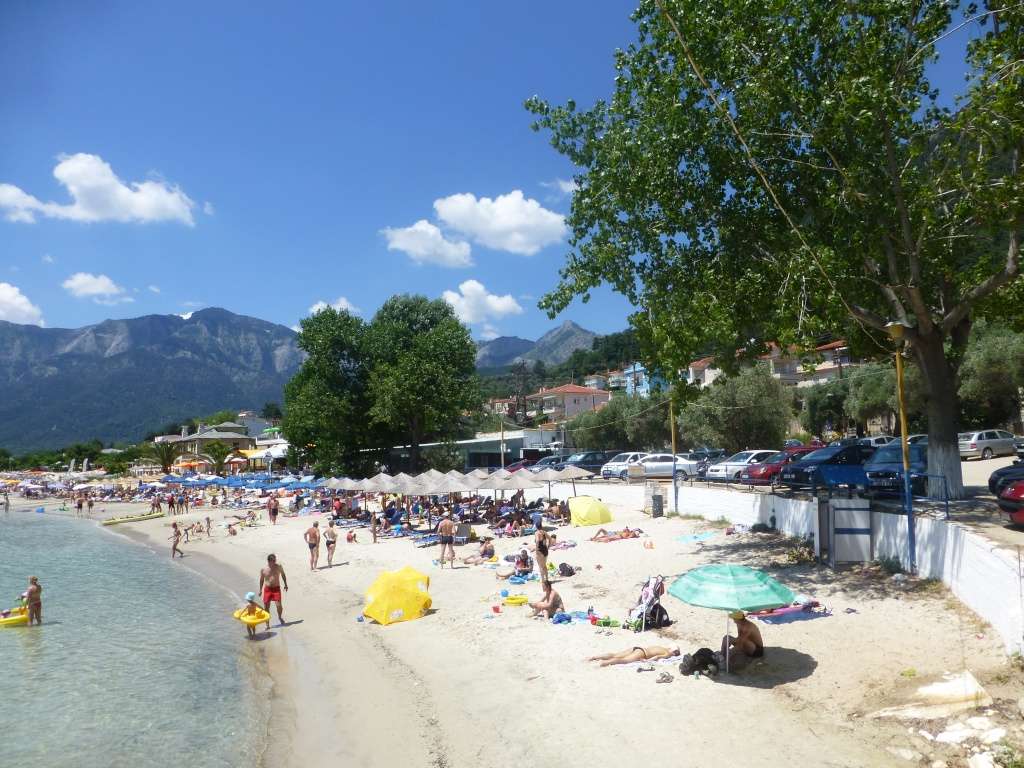 p1110303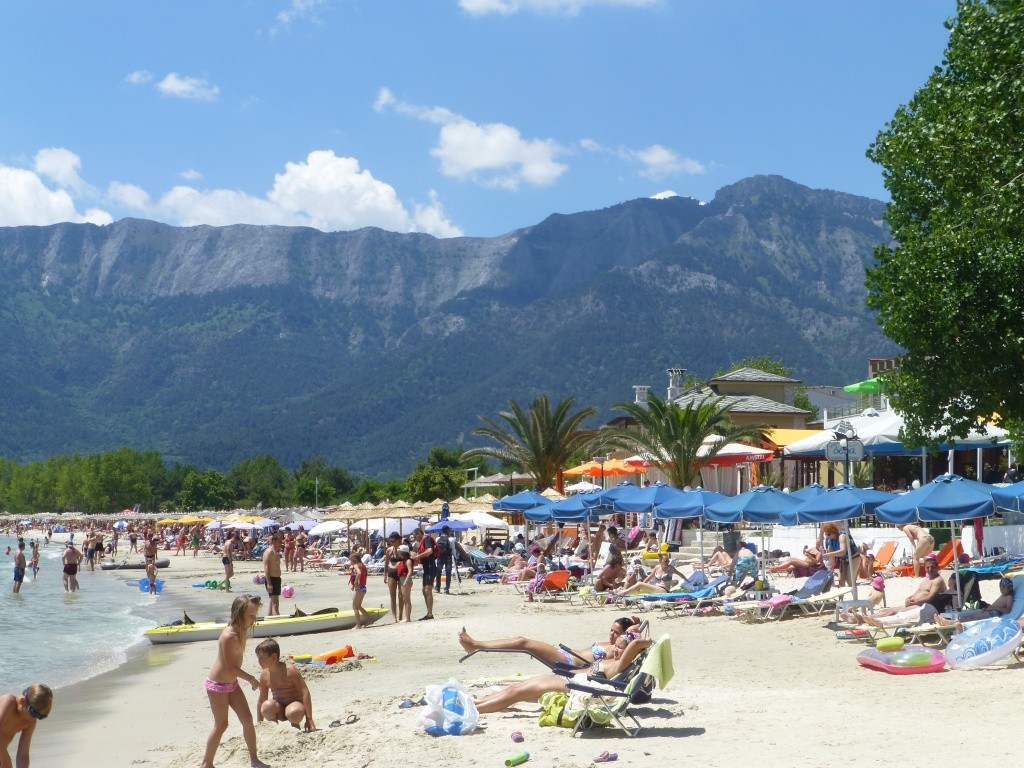 p1110306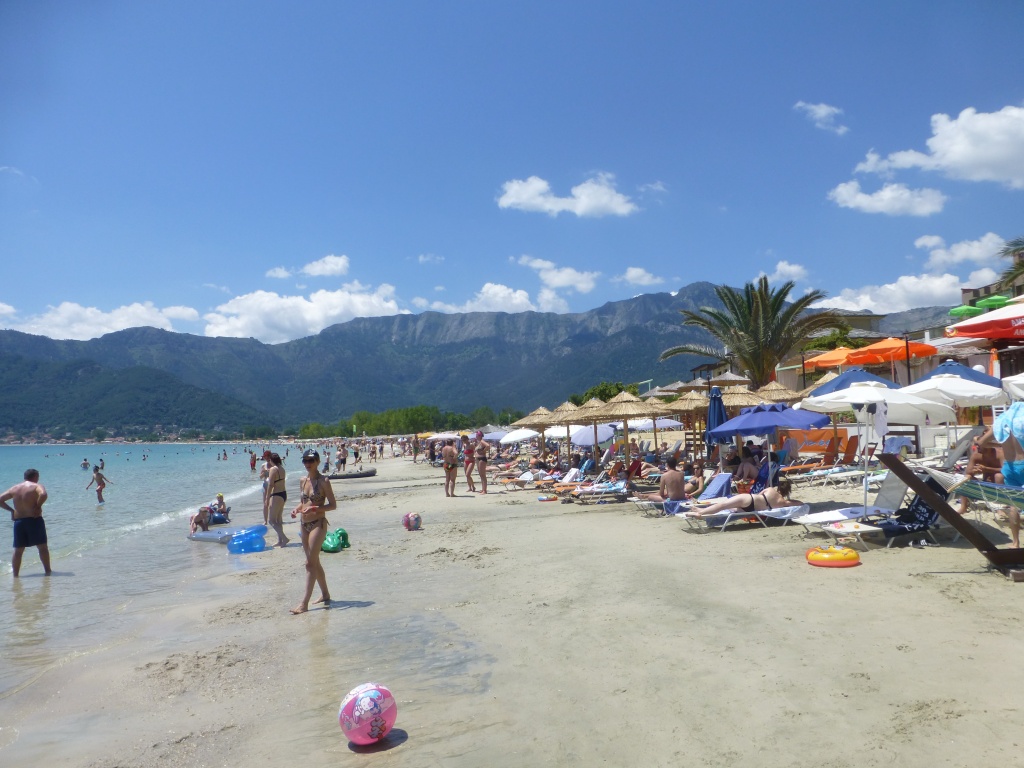 p1110308
here there is a water flowing out onto the beach from rain, which wasn't there last year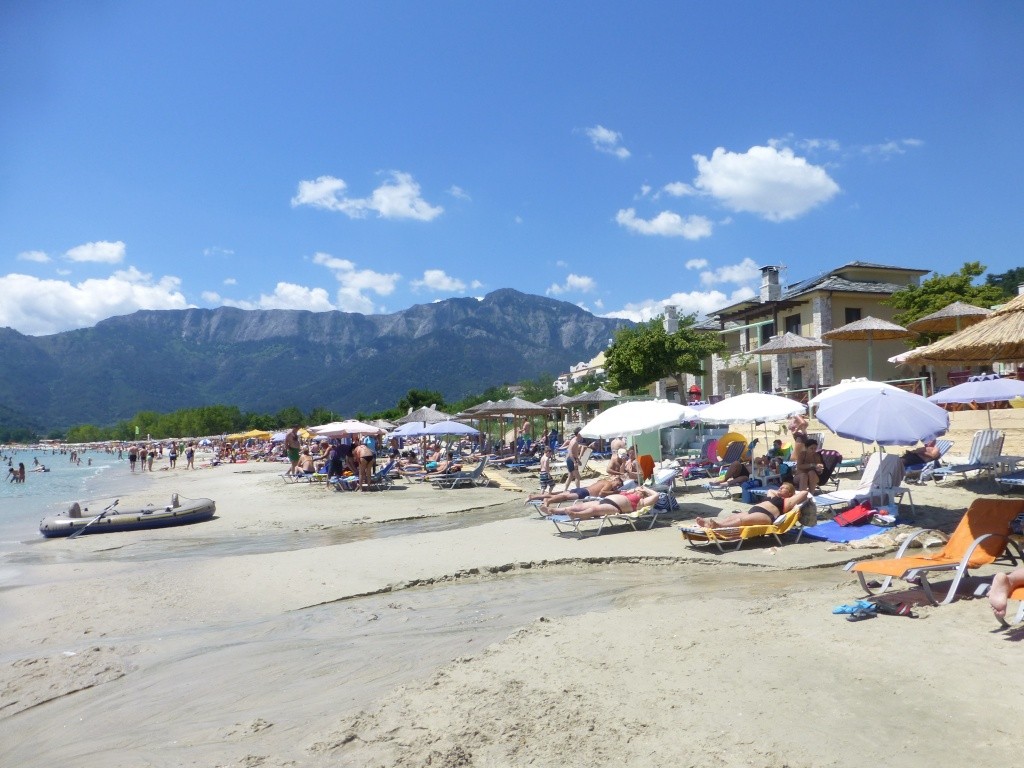 p1110309
plenty of people about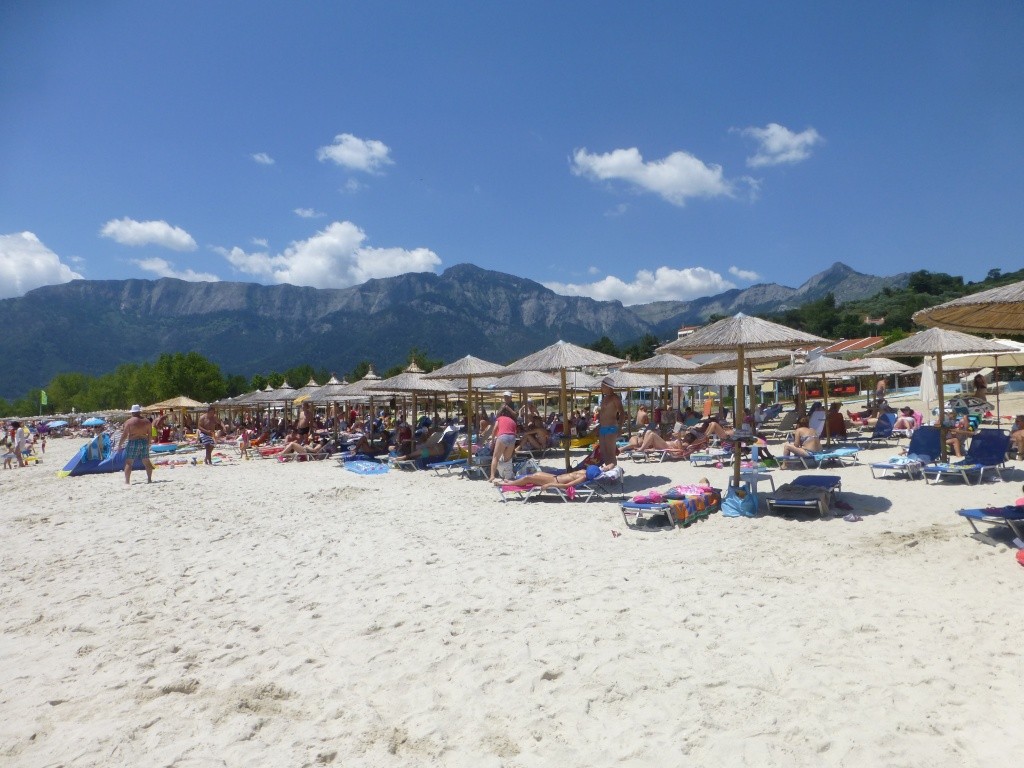 p1110314
coming up to the water sports centre, i hadn't really notice much before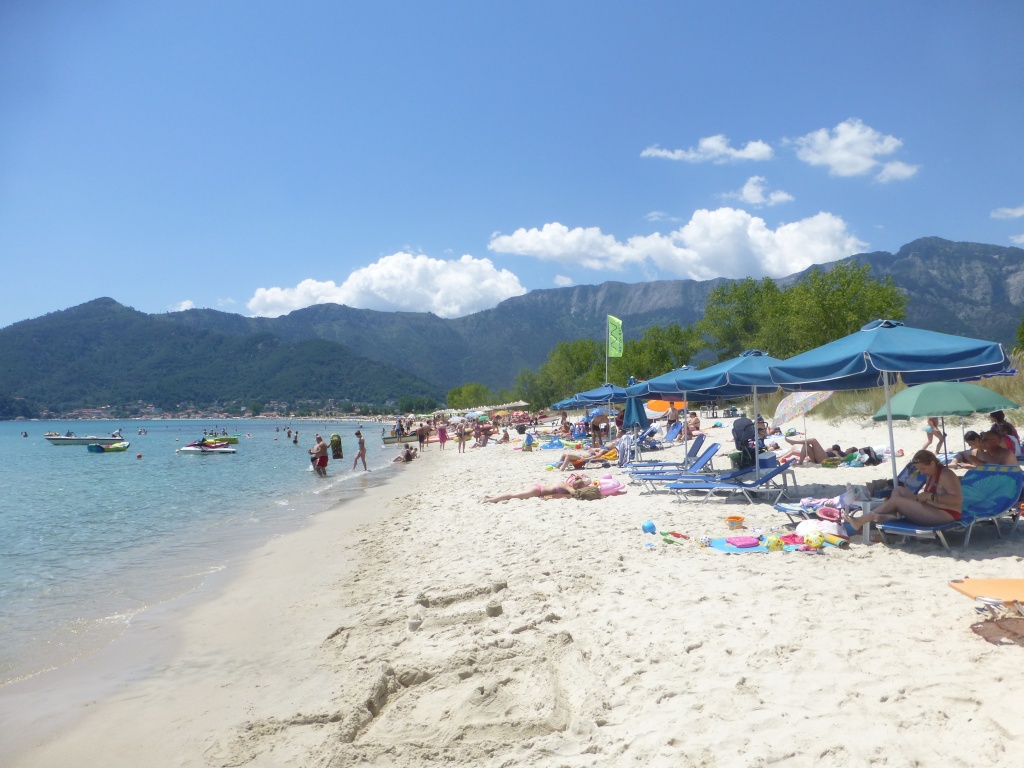 p1110318
I was quite interested, as I never knew you could hire motor boats for the day, so I photoed some of the prices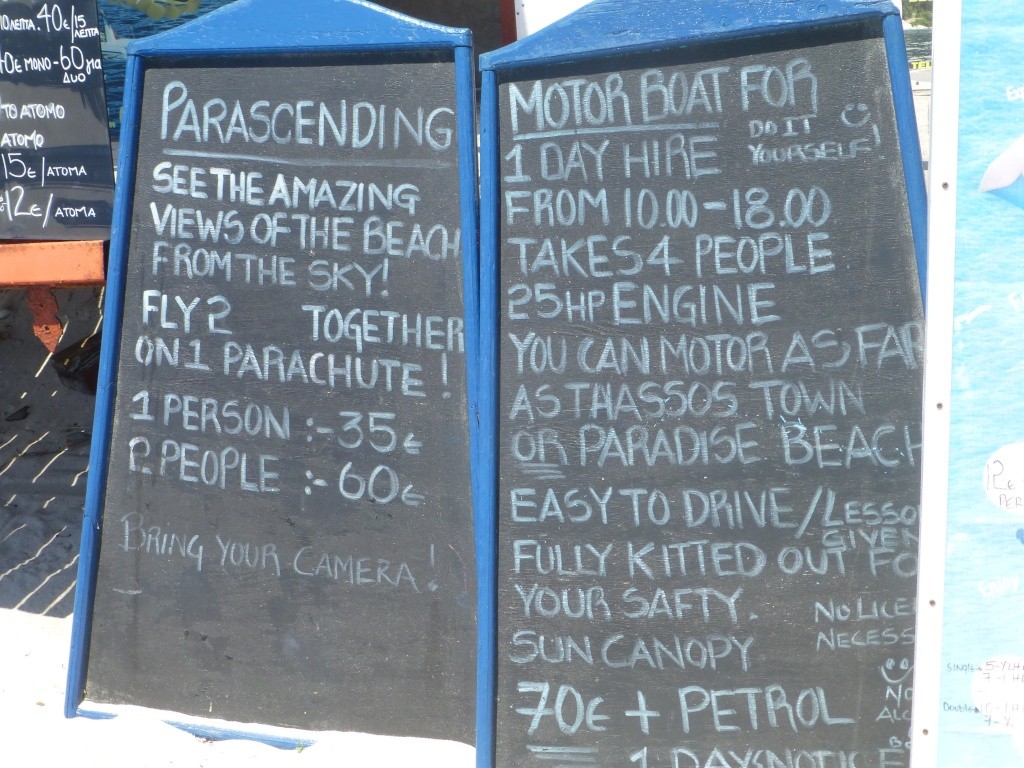 p1110320
a lot of the stuff is undercover due to the heat of the sun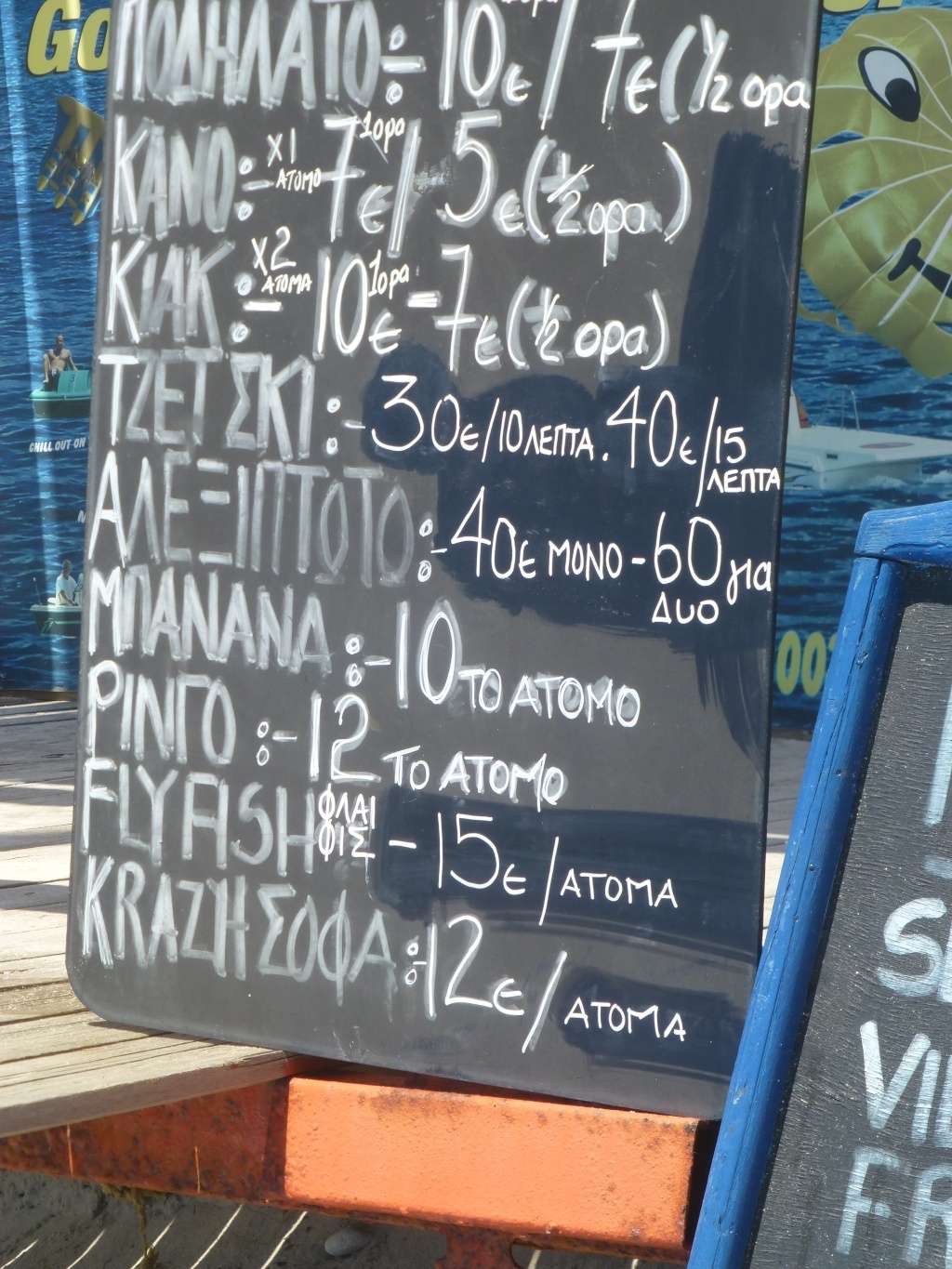 p1110321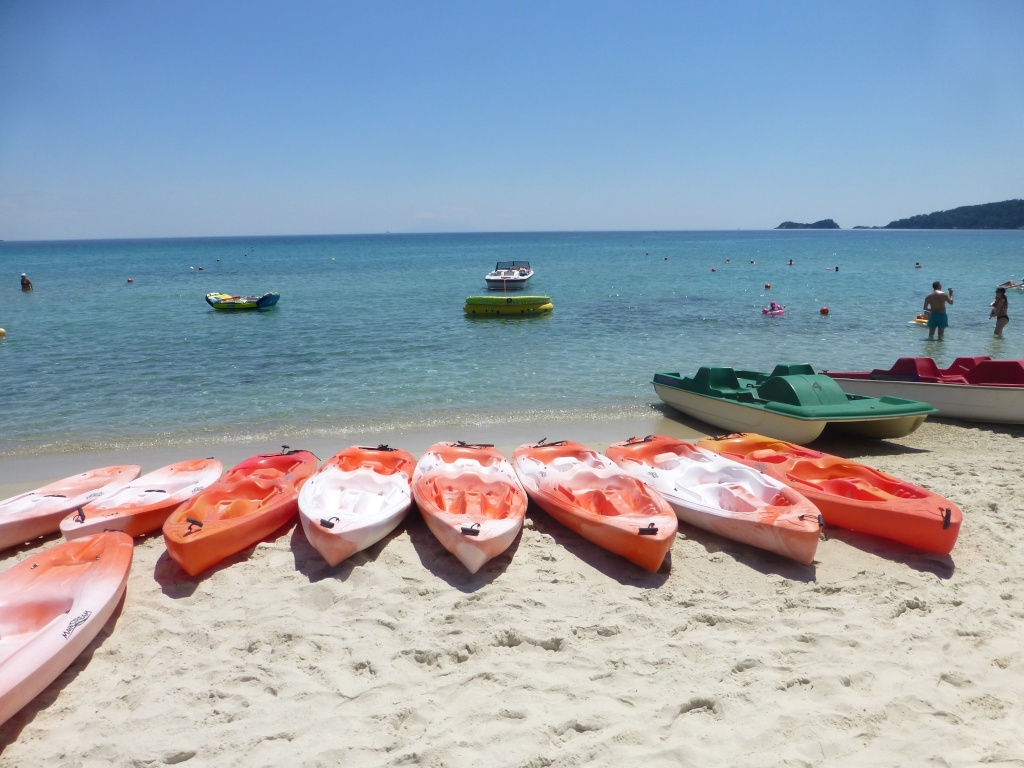 p1110322
they have paragliding, banana boats, jets ski and run by a lady called Cal who I believe was originally from England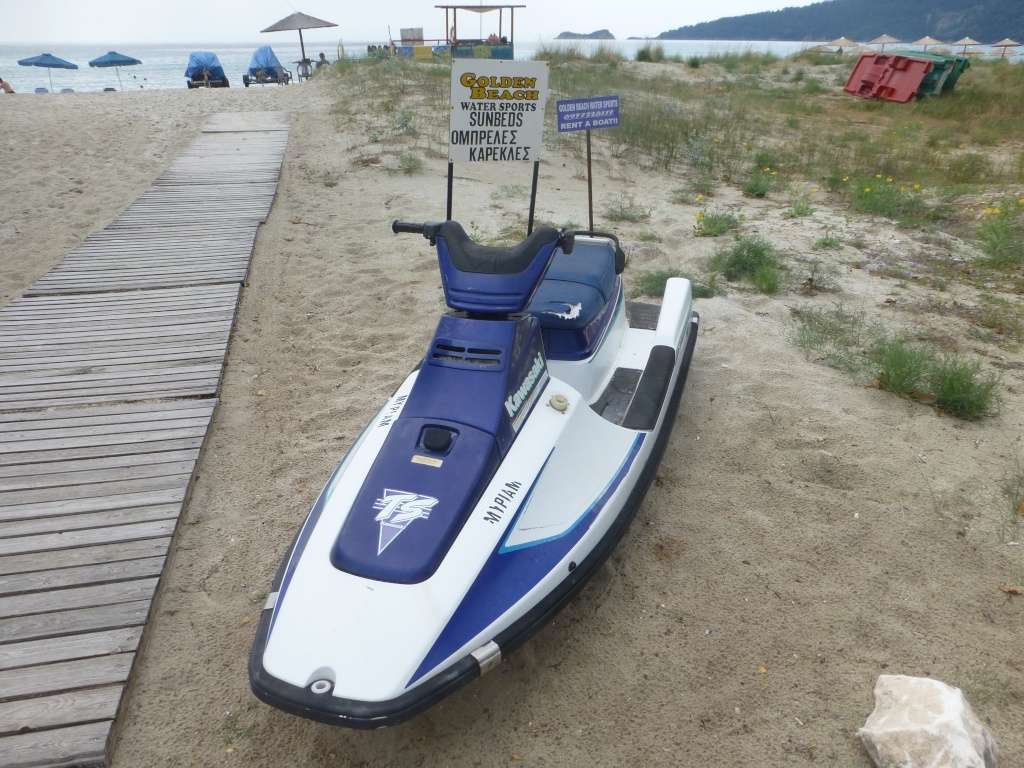 p1110466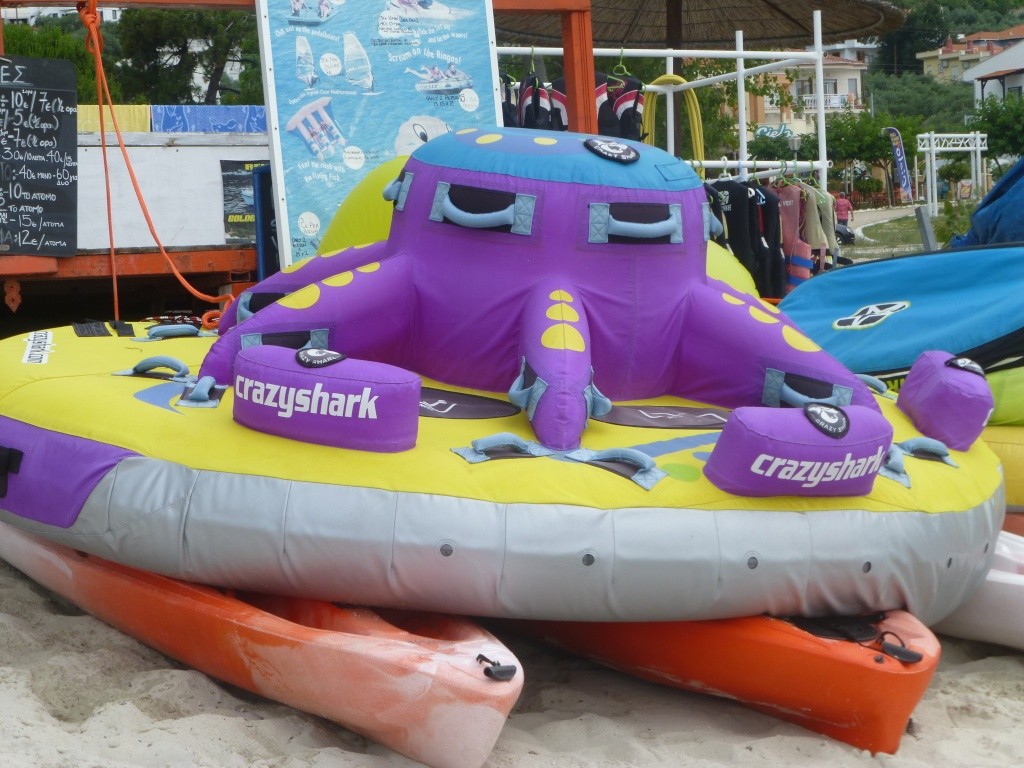 p1110467
I did keep a copy of their prices on a leaflet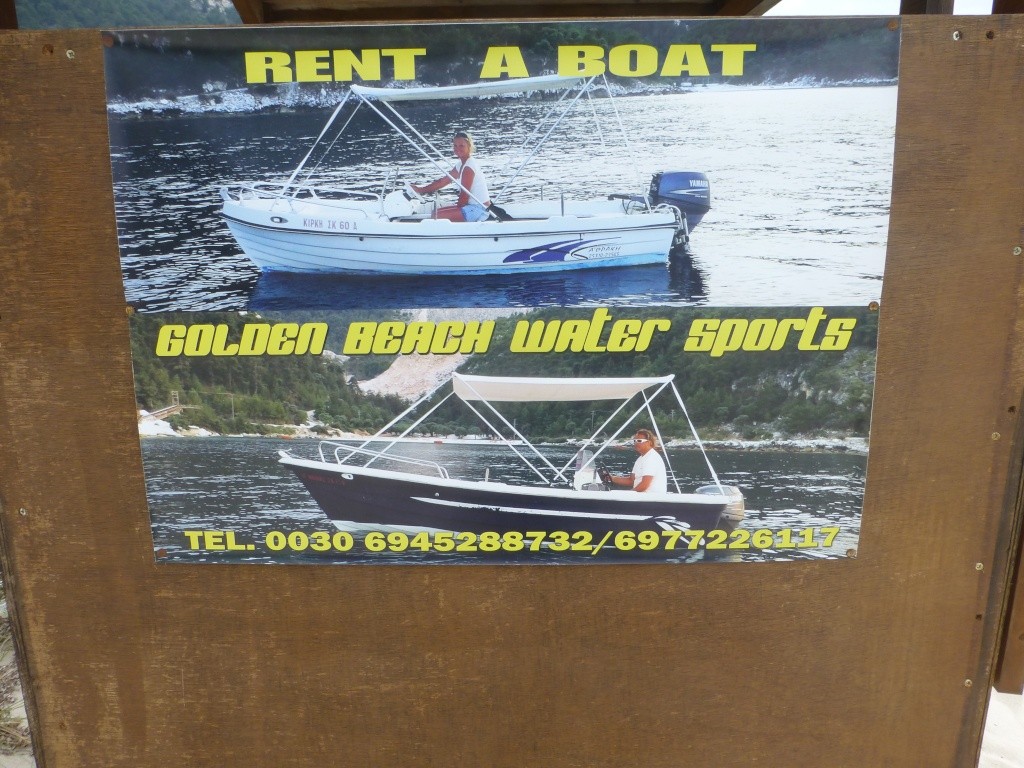 p1110915
More water streaming down from the mountains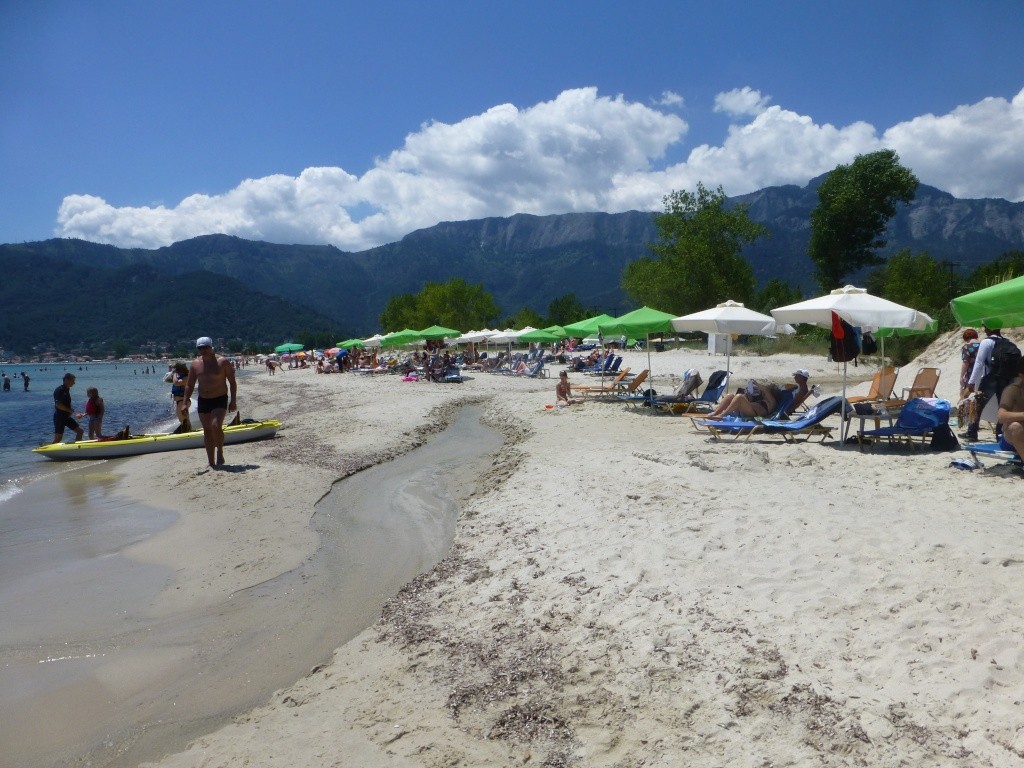 p1110327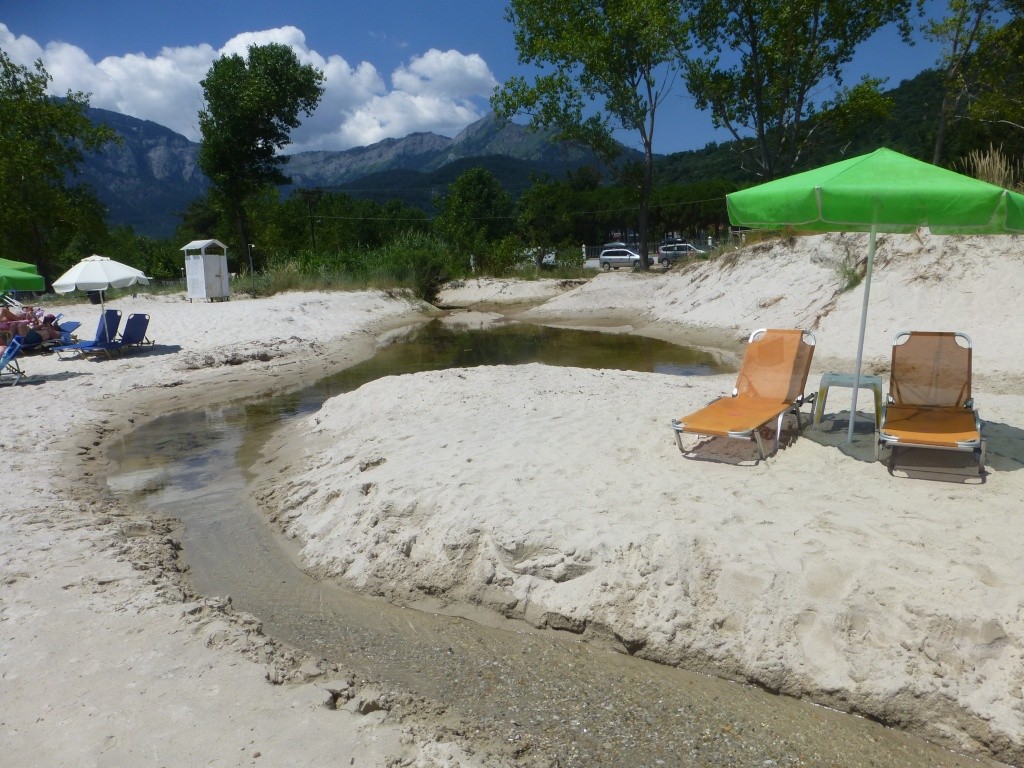 p1110328
couple of areas without sunbeds at all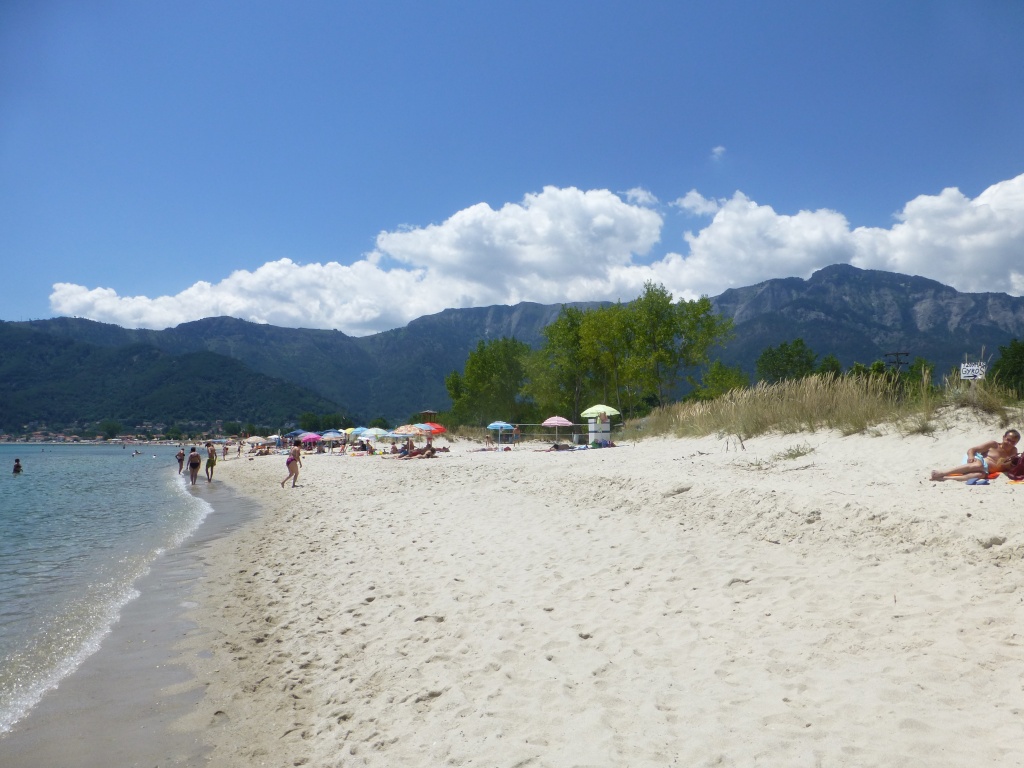 p1110330
p1110332
and single lines of pairs of sunbeds for just 5€'s with the parasol included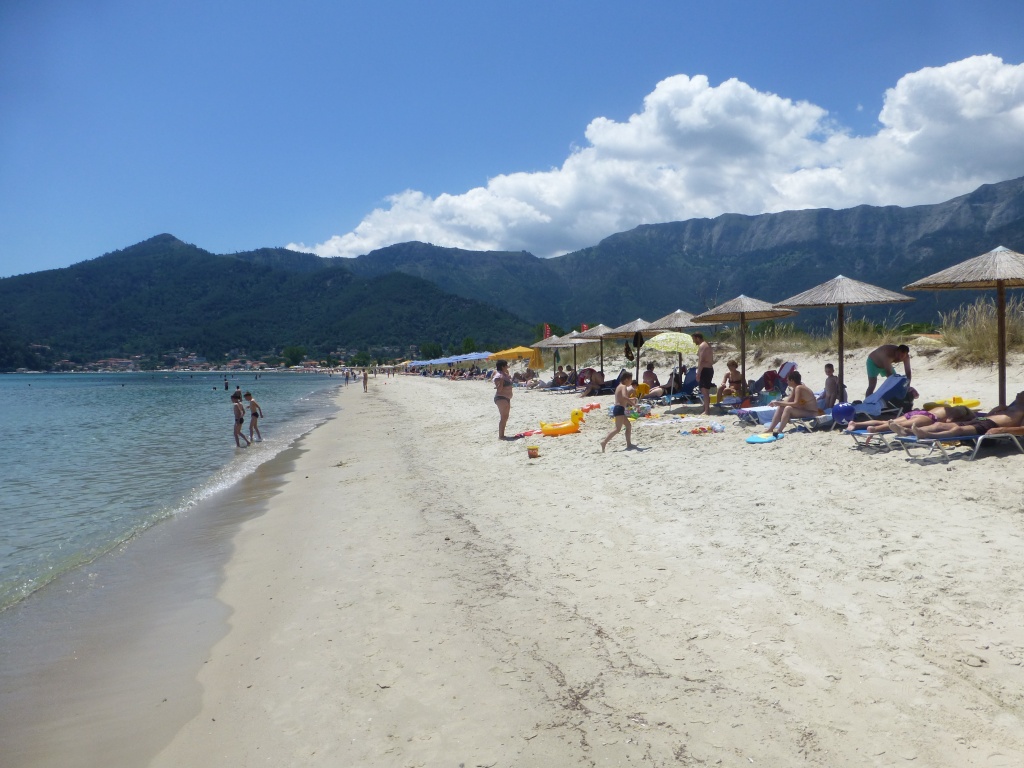 p1110334
anyway, it was lunchtime at Nisi's with a large Mythos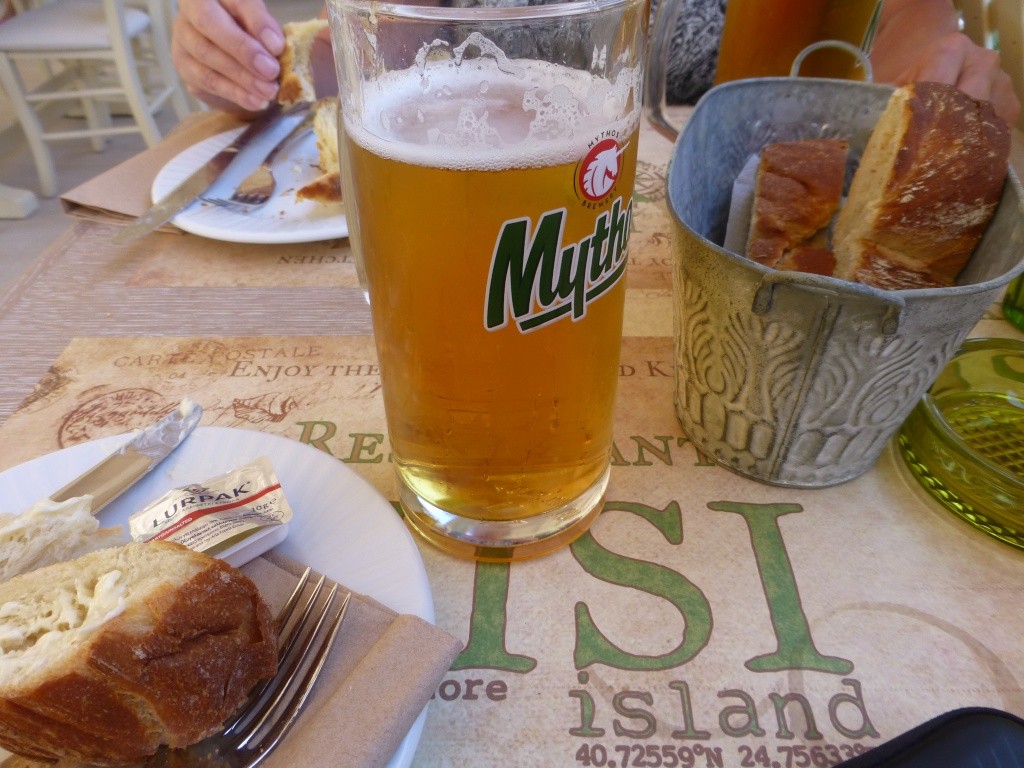 p1110338
and their cheese pies, which have now divided into two and triangle shaped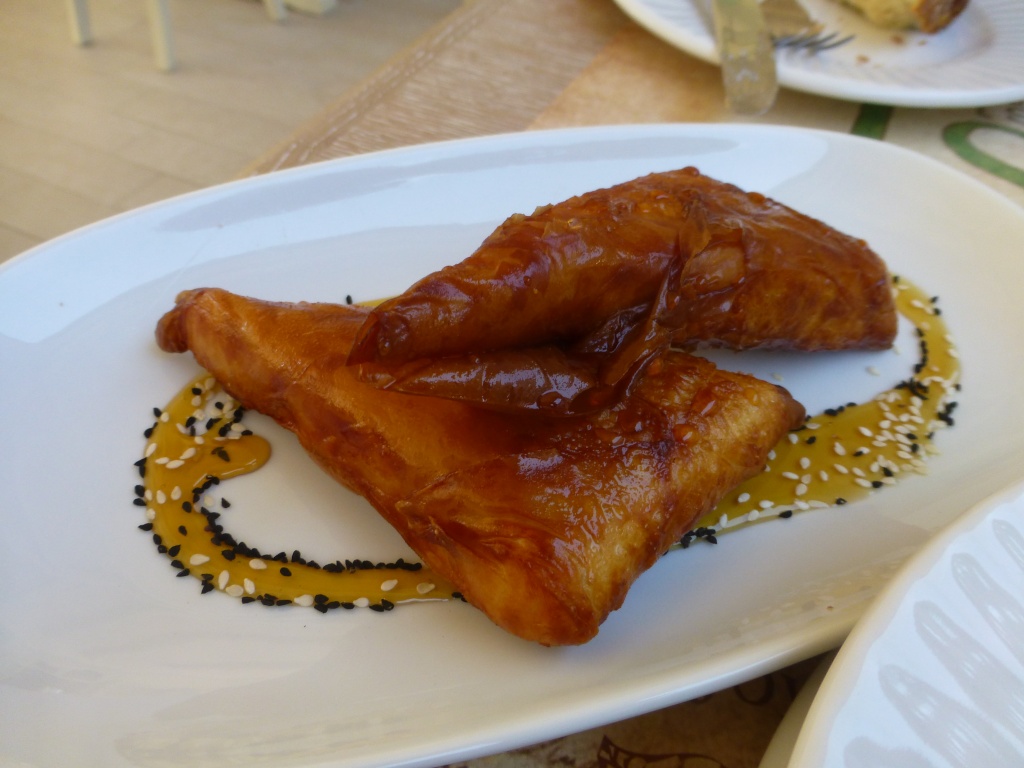 p1110340
accompanied by a greek salad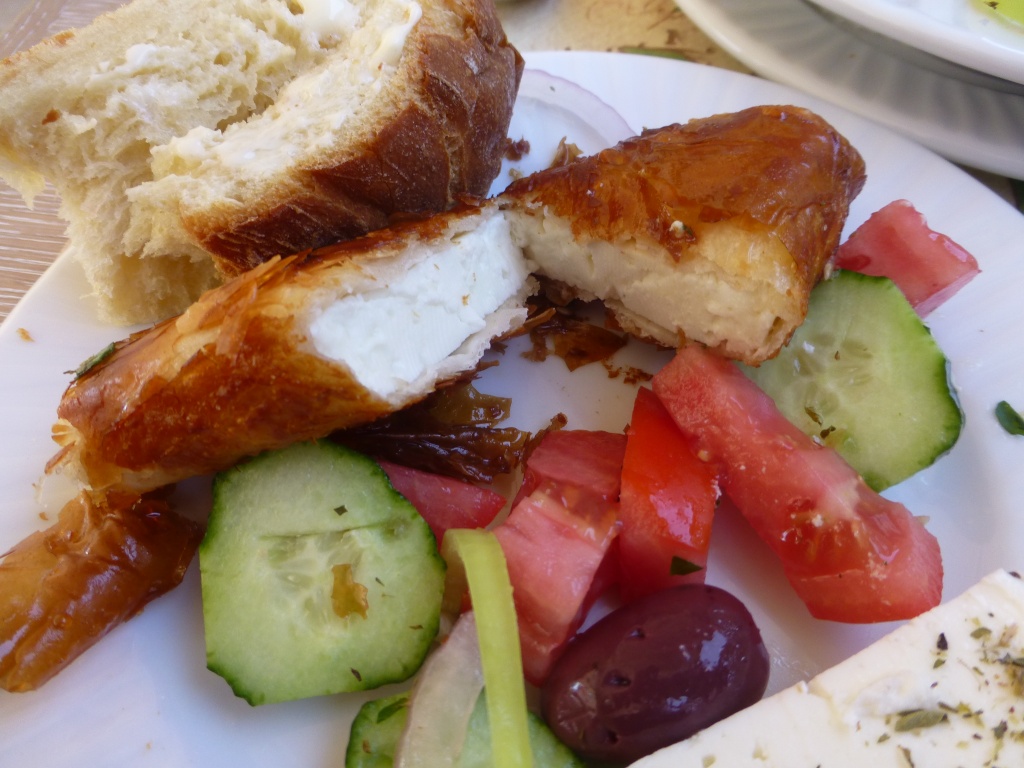 p1110342
Then it was back to the beach for the afternoon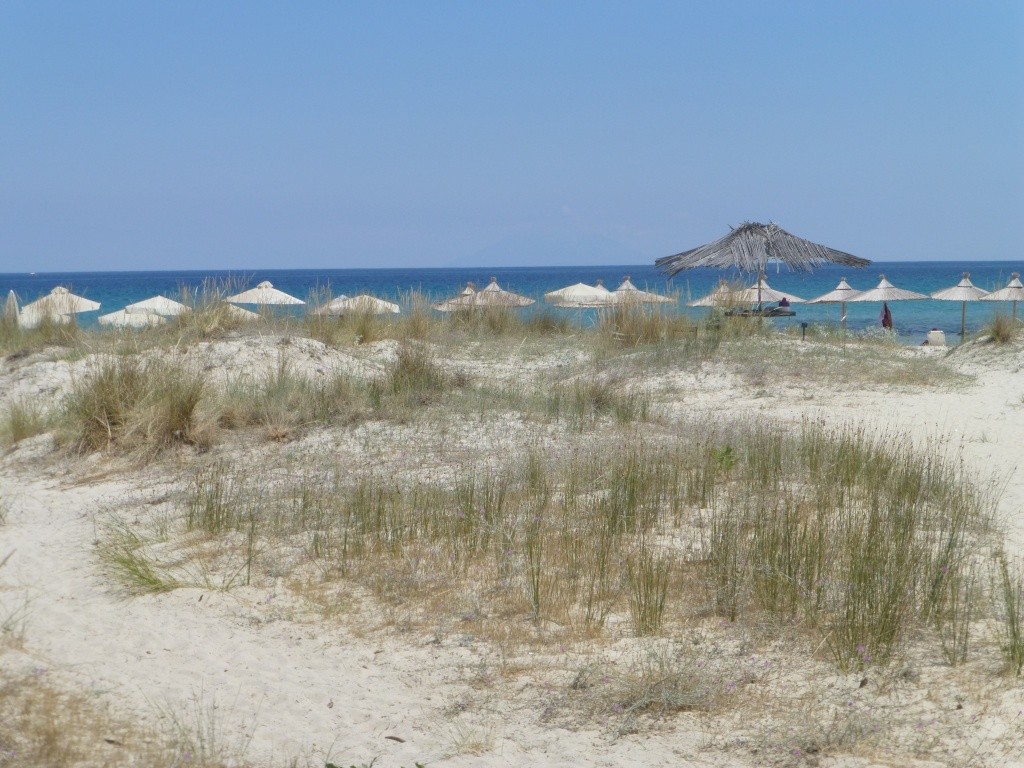 p1110344
I was then approached by a guy from TA who asked, excuse me are you Delboy ? his wife had recognised my wife, i felt like Lobby lud from the thirties lol and we chatted about the reviews
Later I had a look at the Smaro Apartments who a TA member had asked a questions about the apartments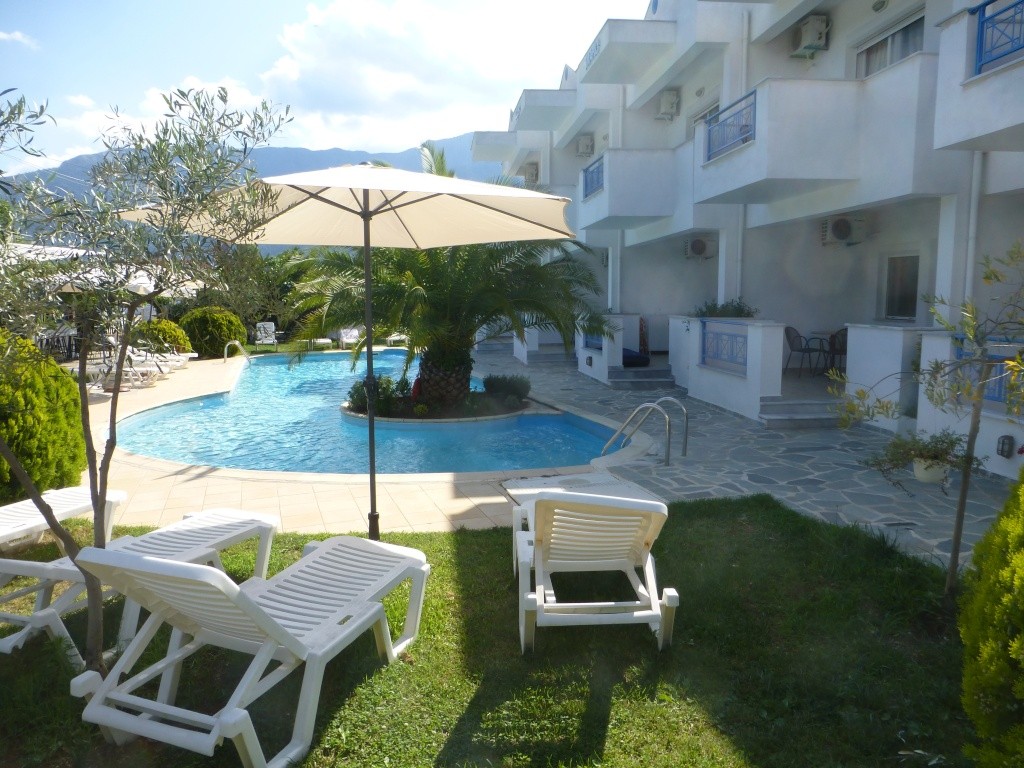 p1110346
I spoke to the owner a nice guy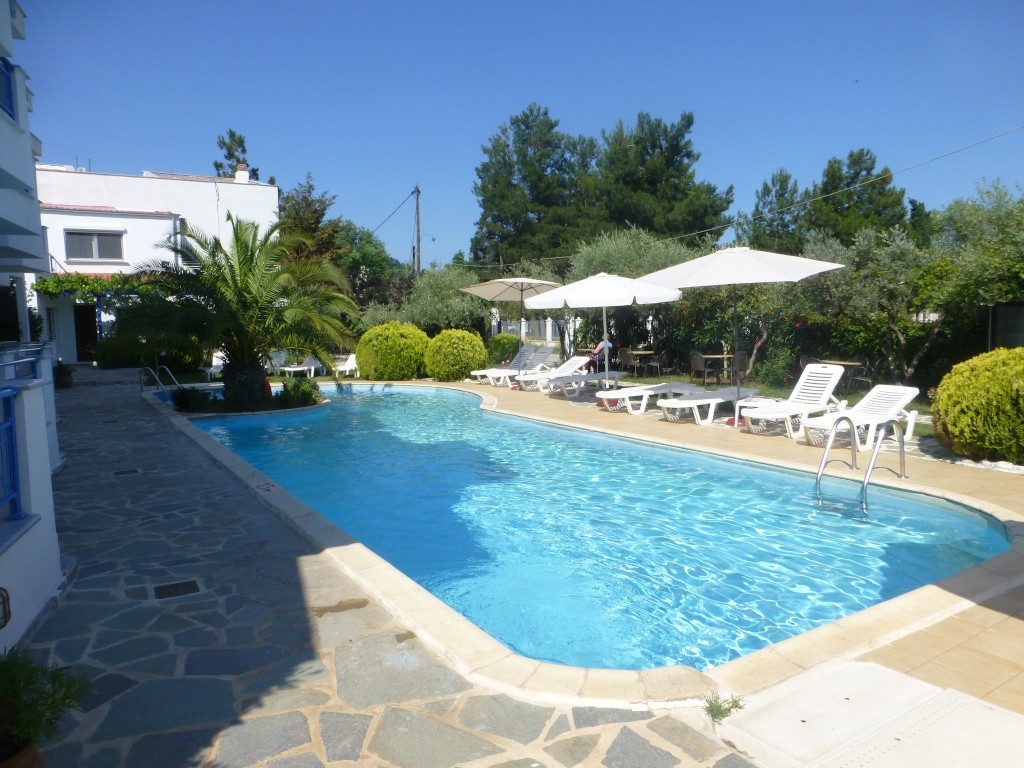 p1110348
who answered the questions, so hopefully the person is sorted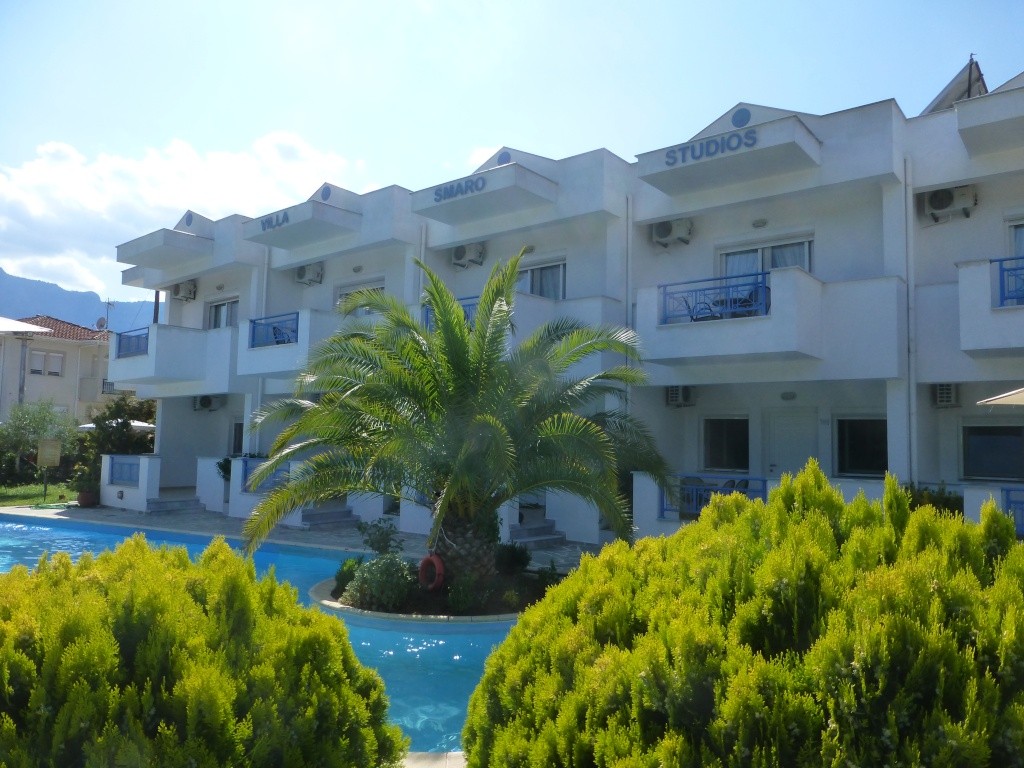 p1110351
The beach in the area is just over the dunes and has this strange sculptor in marble, remember Thassos has the best white marble in the world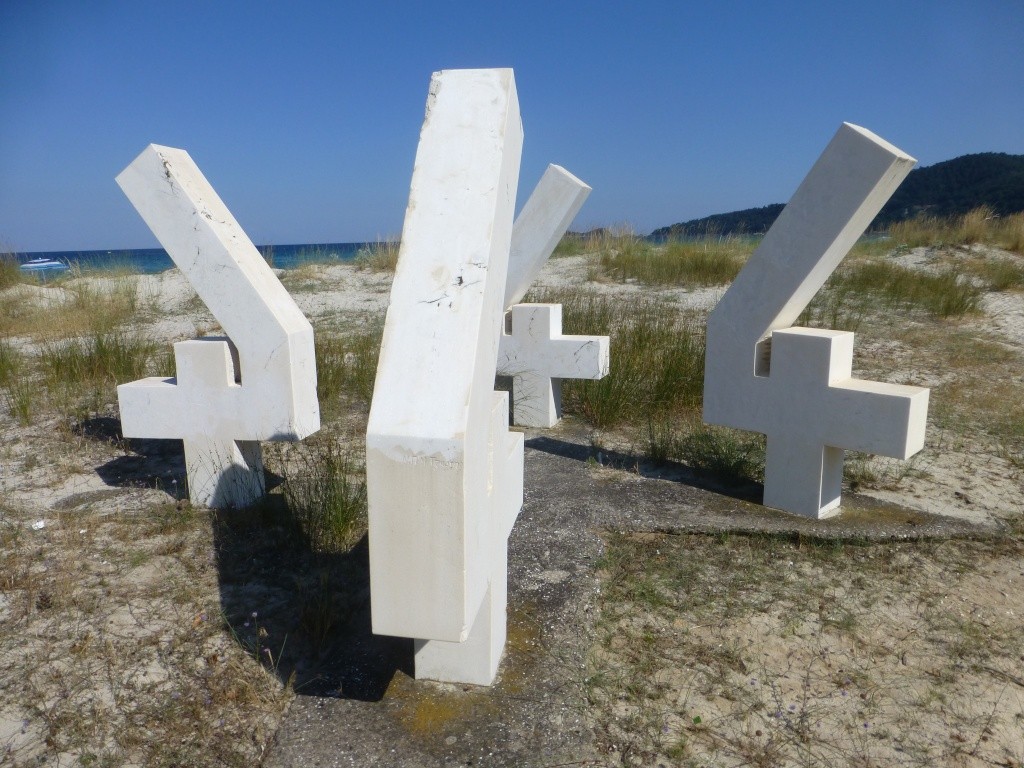 p1110355
evening came and I had booked the Enavalion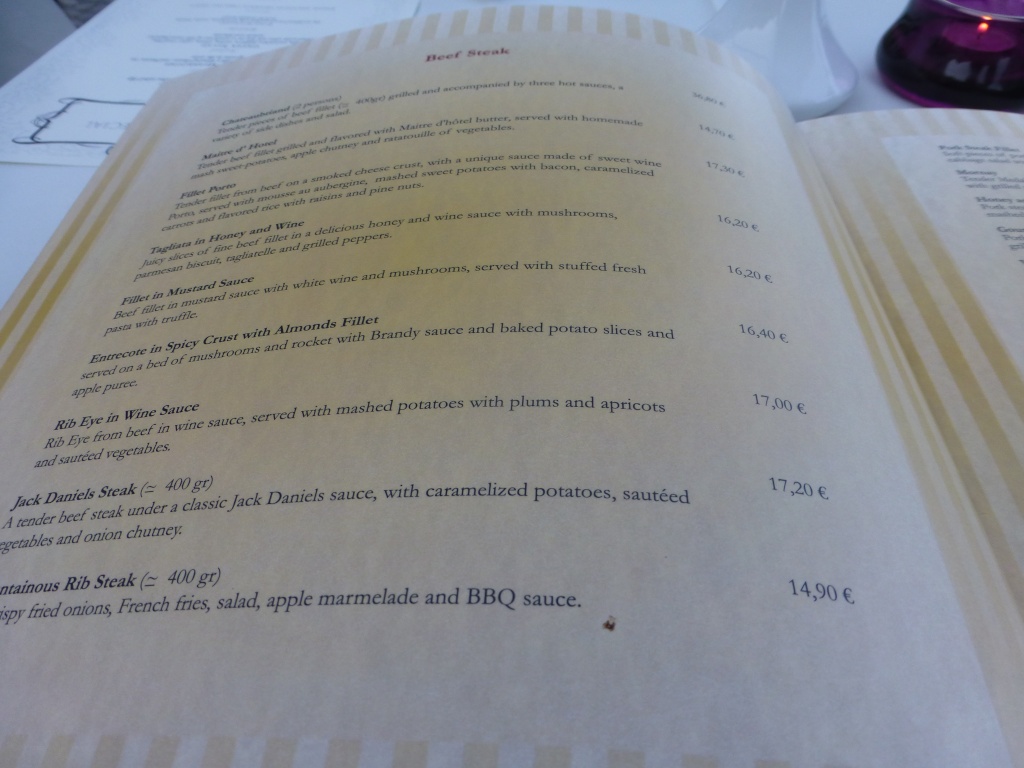 p1110359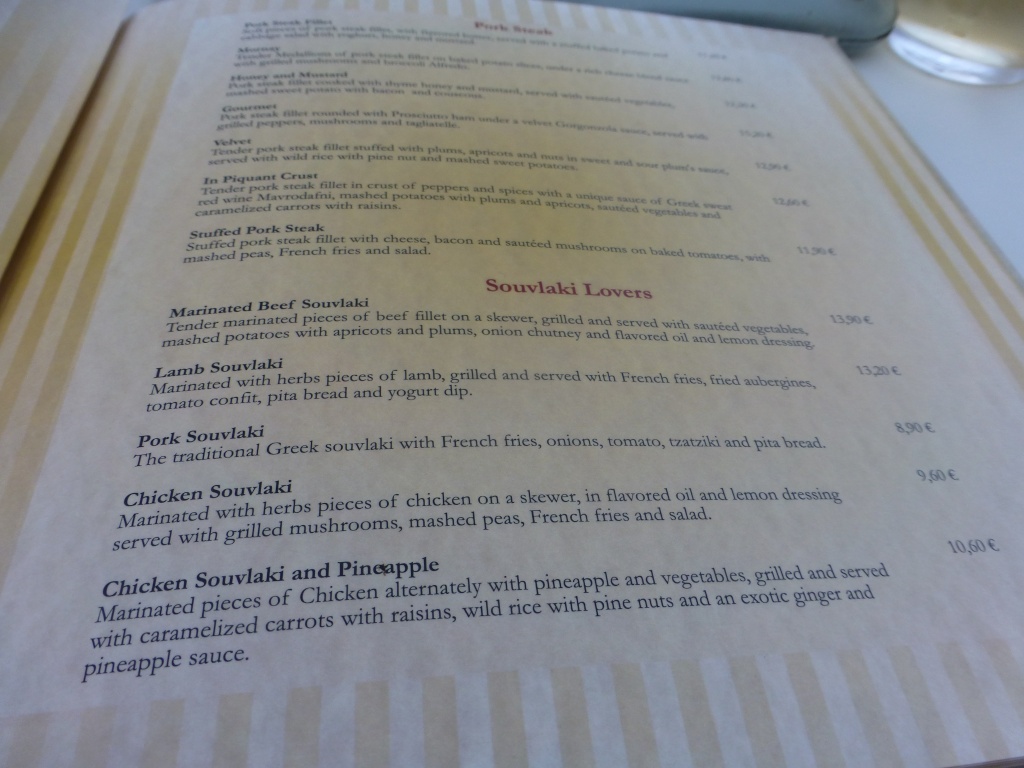 p1110360
we shared a starter of pancakes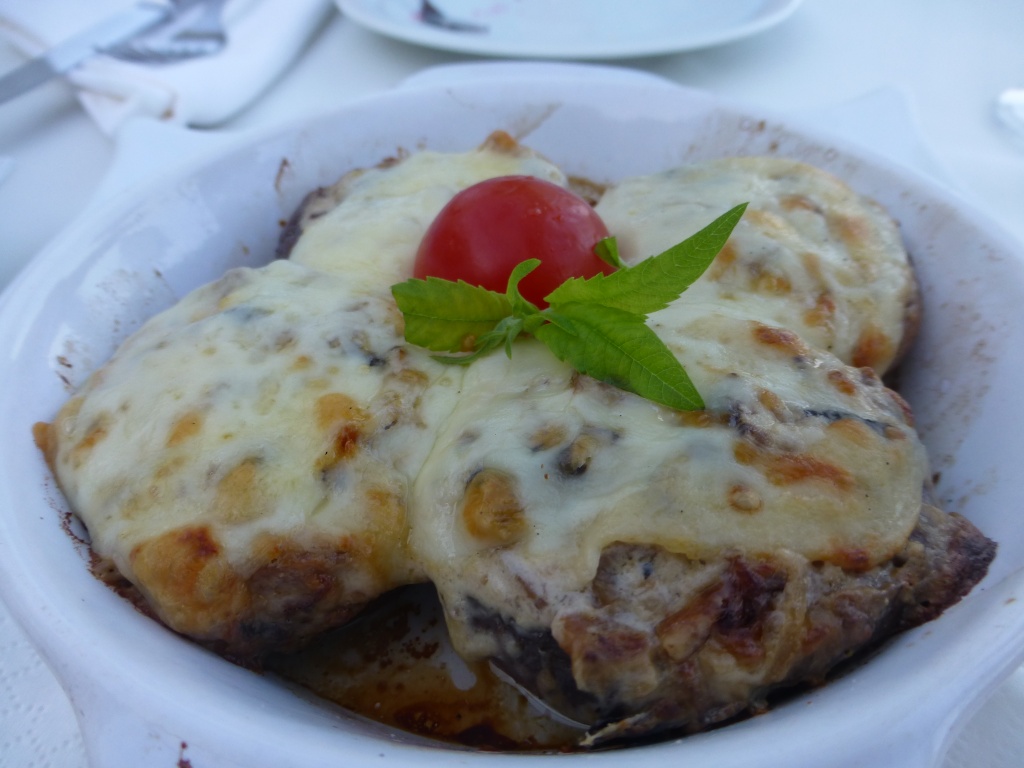 p1110362
I then went for the Jack Daniels steak and after ordering I thought how big is 400gms, lets see 28gms to the oz, hell that's 16ozs that can't be right
oh yes it is, the plate nearly cross the length of the table, the sauce and the caramelised potatoes were divine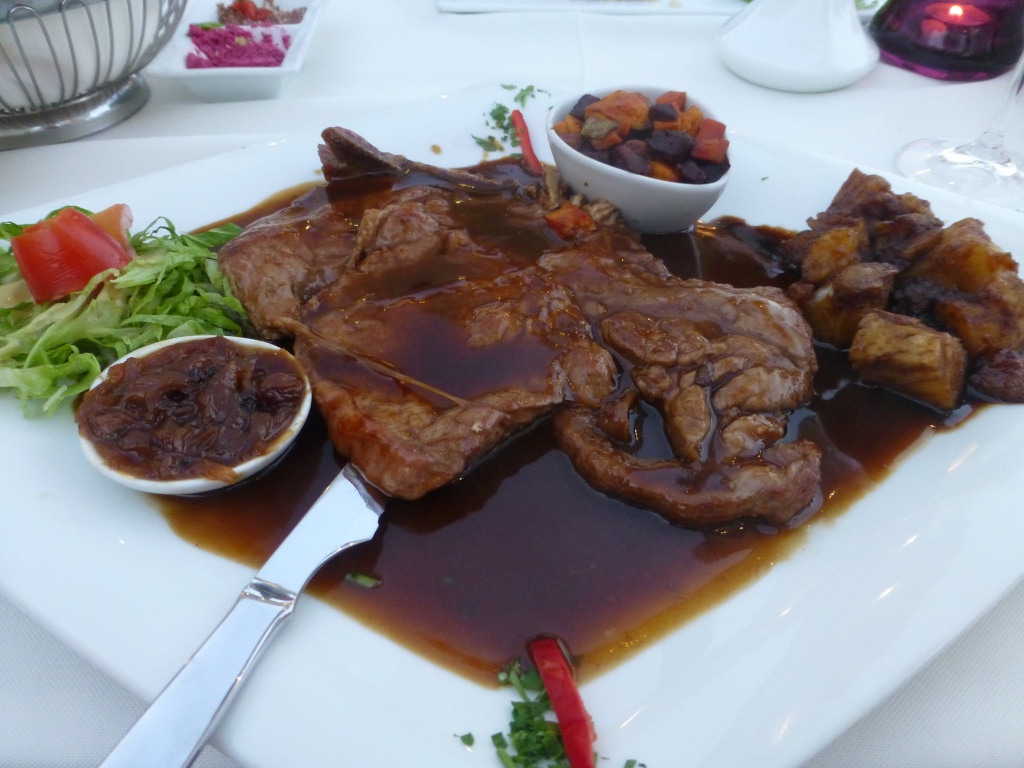 p1110363
Mrs Db had the velvet which was a pork meal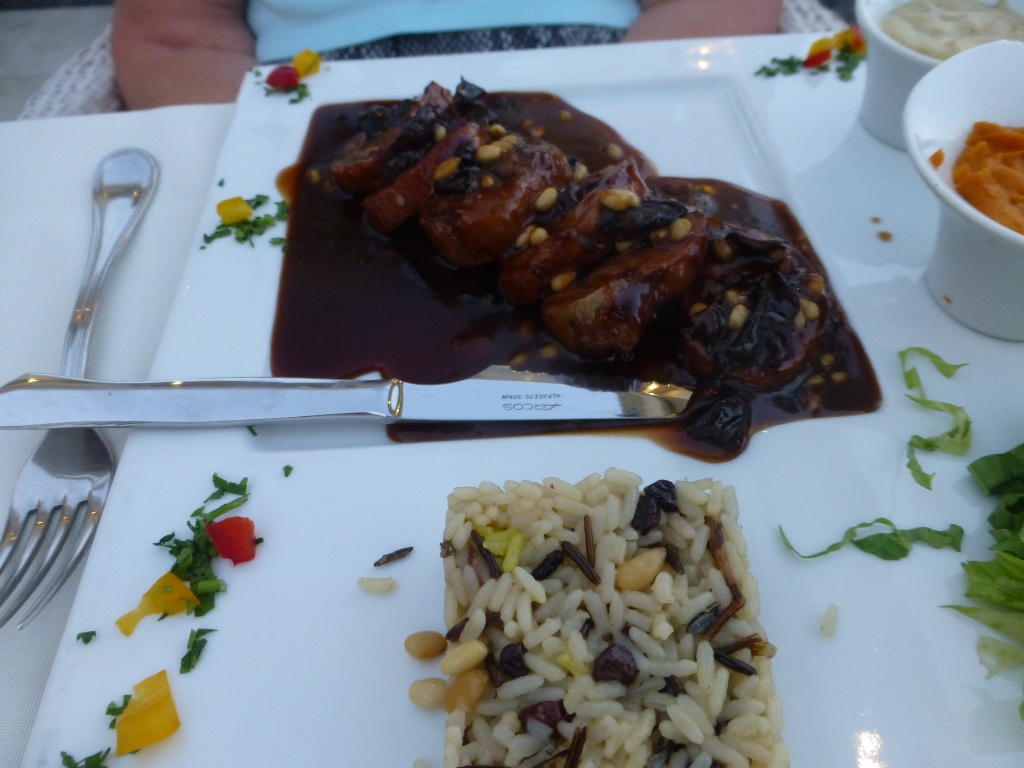 p1110364
the lights lowered and a cake came out for our TA friend who was also there with his wife but unfortunately, a load of children below, thought it was their birthday cake lol but it was nice meeting both of them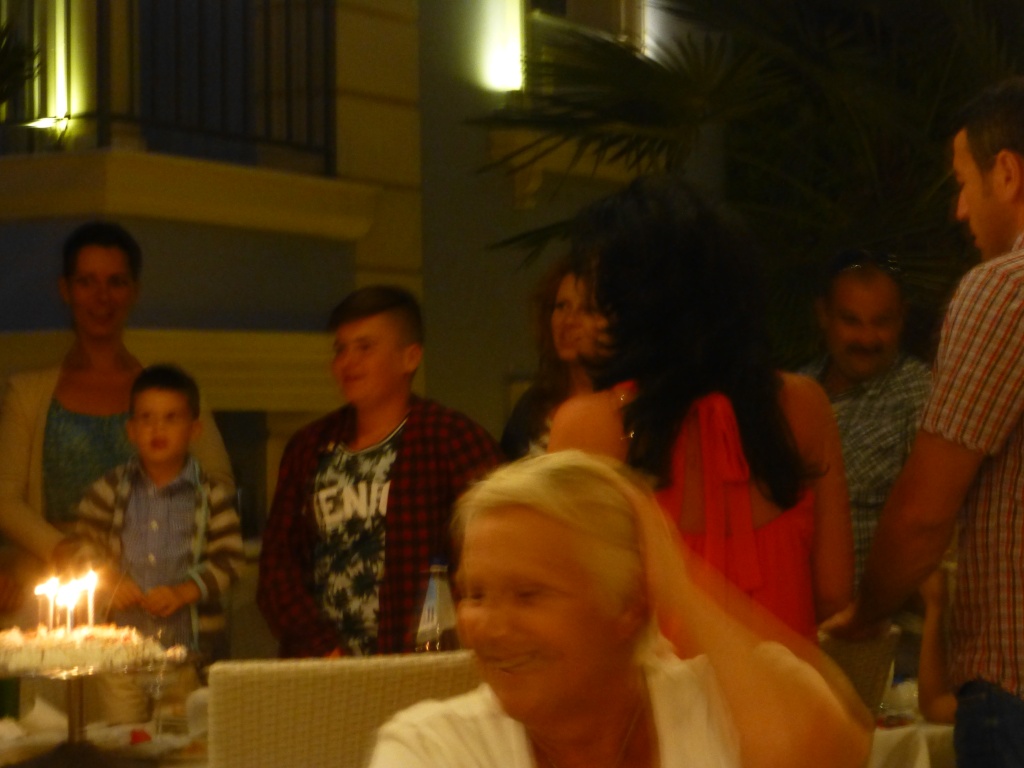 p1110367
but everyone gets a free dessert at the end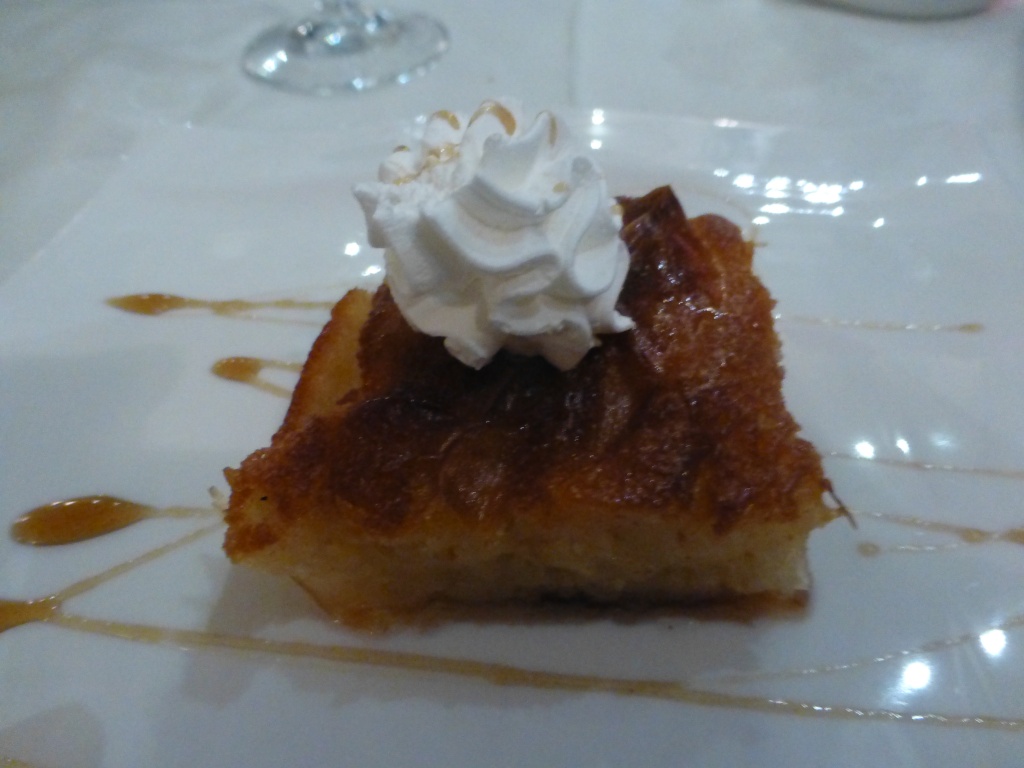 p1110368
we finished the day with coffee on our balcony
end of day 3
day 4

another nice day and this morning I am going to do a reconnaissance on the mountain climb for later in the holiday and to test my fitness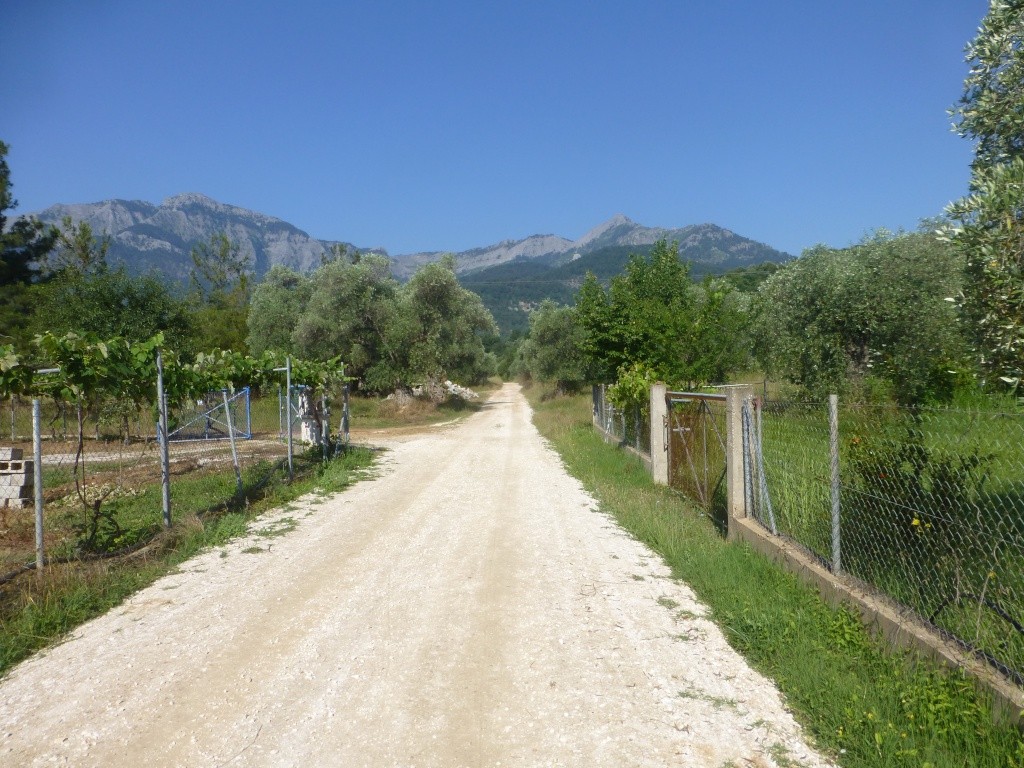 p1110373
I had my survival kit with me which included, water, phone, money and loo paper lol and involved firstly a trip to Panagia which is a 50 minute walk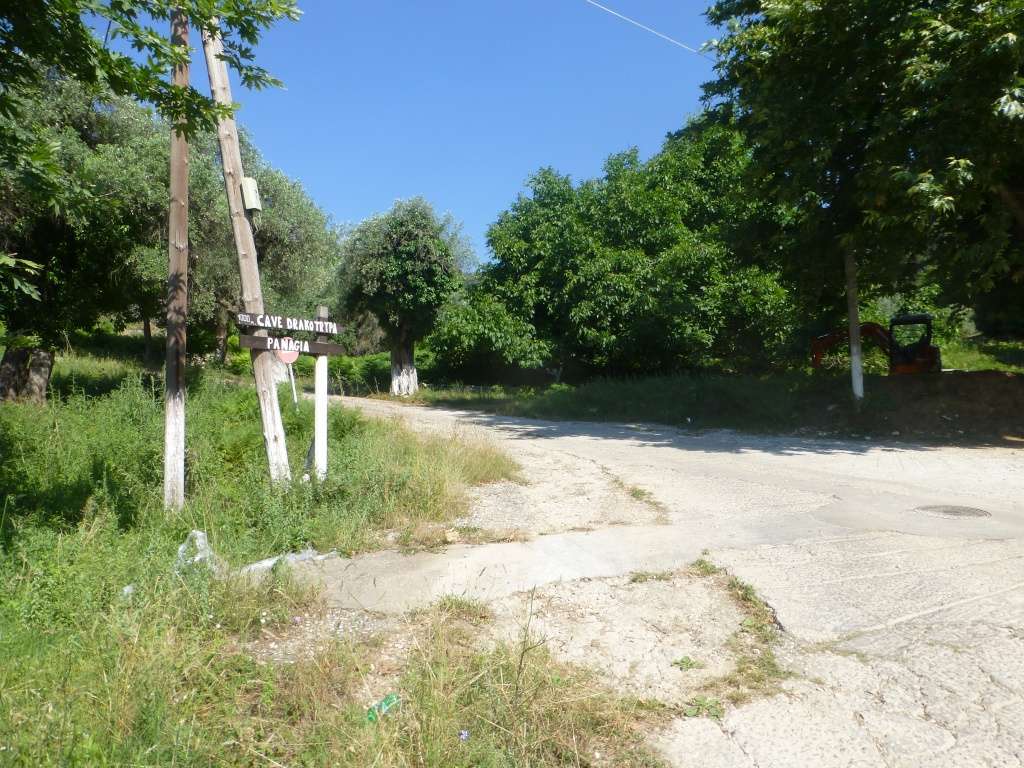 p1110385
I won't go into the walk to Panagia, as did it on last year's trip report but just to say, it's all up hill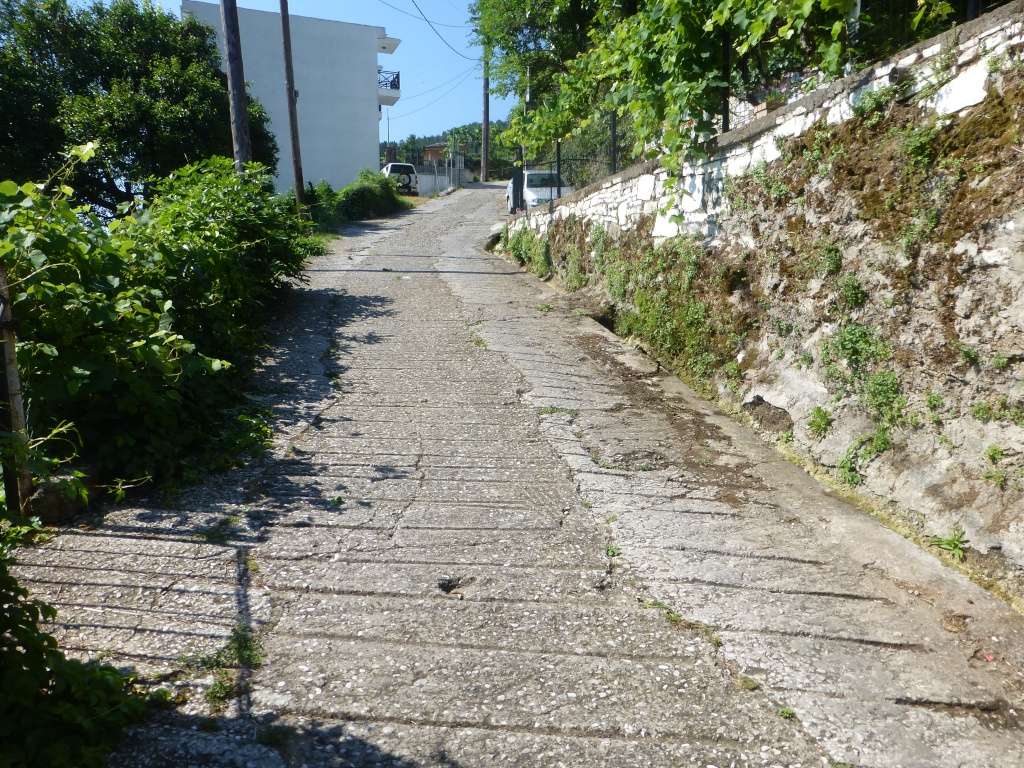 p1110390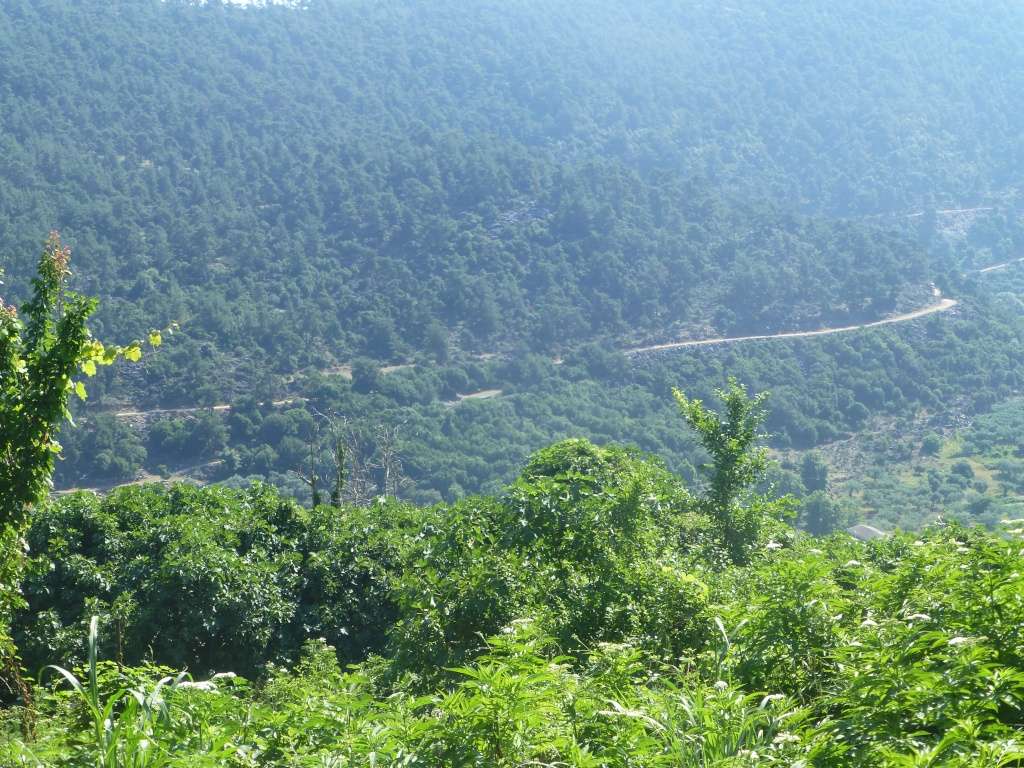 p1110391
In Panagia, I was advised to see an English couple in an art shop, who hopefully would be able to give me details of where the mountain pathway is located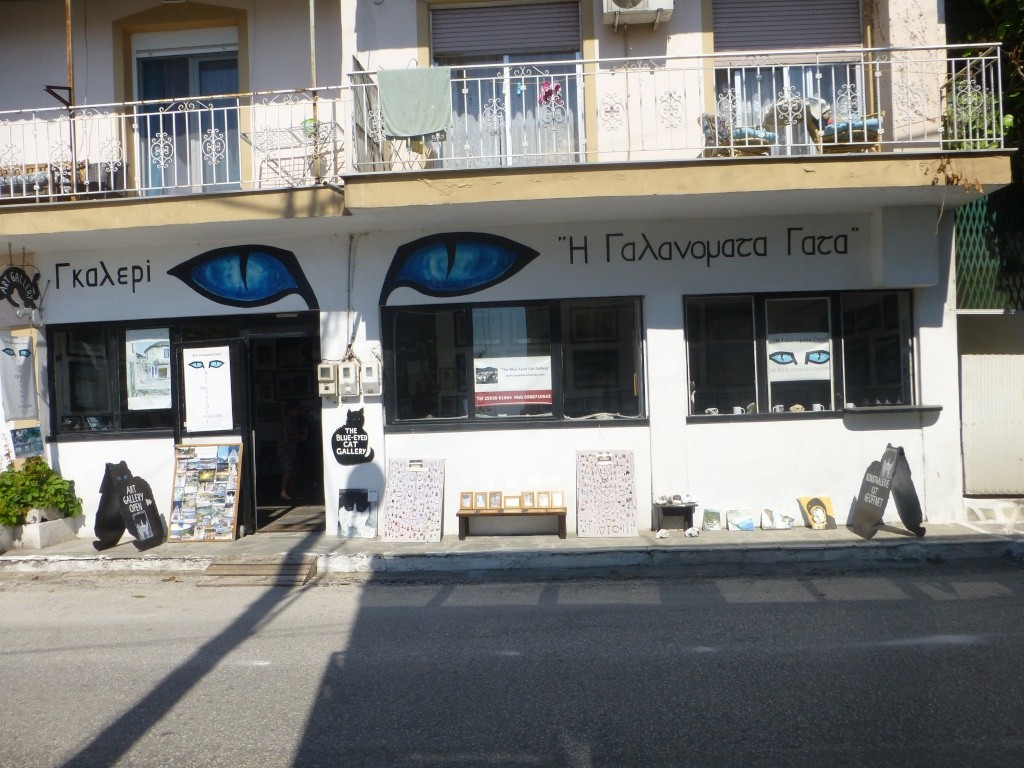 p1110397
I was advised most people did the walk from Potamia, as the route was better marked, he hadn't done the walk himself but thought it may take 3 hours up and 2.5 hours down but he said, don't quote him on that lol. Anyway, he drew me a diagram from roughly where it started in Panagia.
During the conversation, i realised I had almost used up my survival loo paper wiping the sweat from my brow lol
as i left, nice cakes across the road lol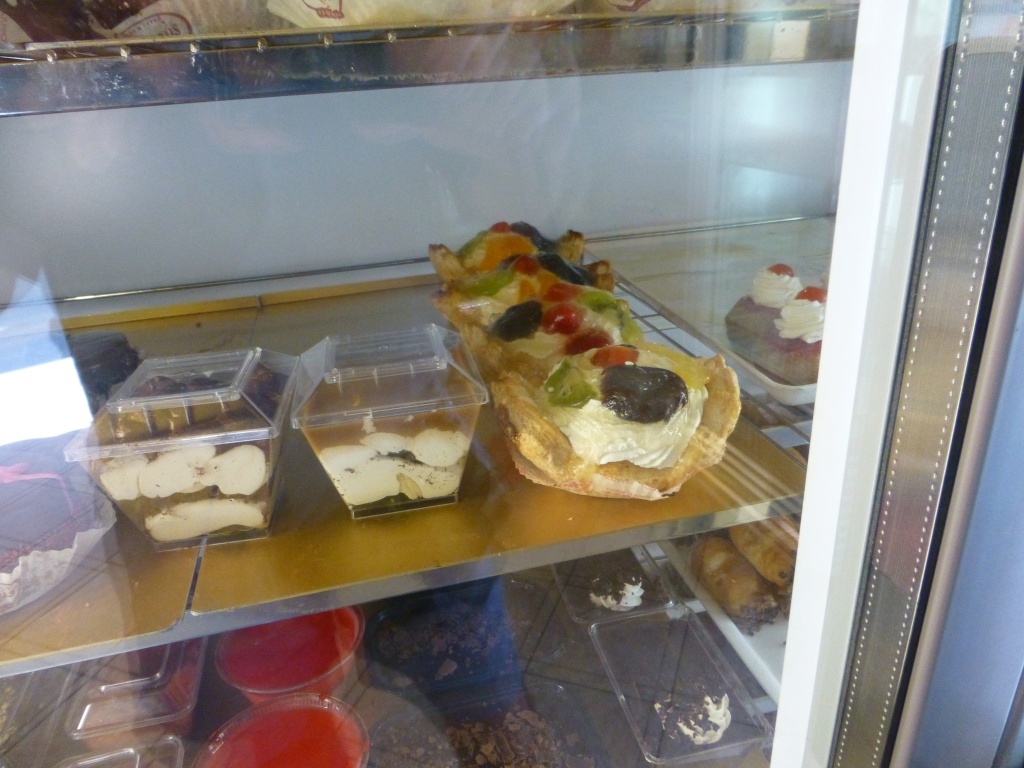 p1110398
after gathering another drink as a precaution, I headed off looking for the pathway up, which involved walking passed the guard dog kennels that I mistakenly thought last year were large beehives but then didn't stop for a picture lol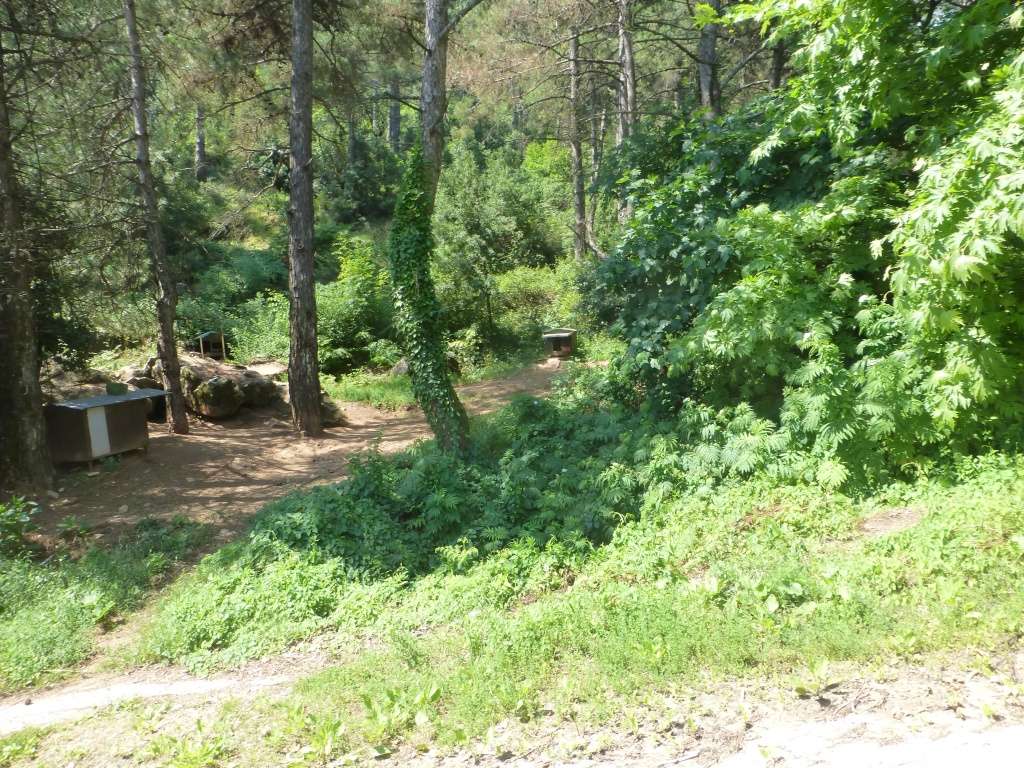 p1110402
this guy wasn't so luck to escape lol
p1110401
The road looked quite good and if it remained like this would be ok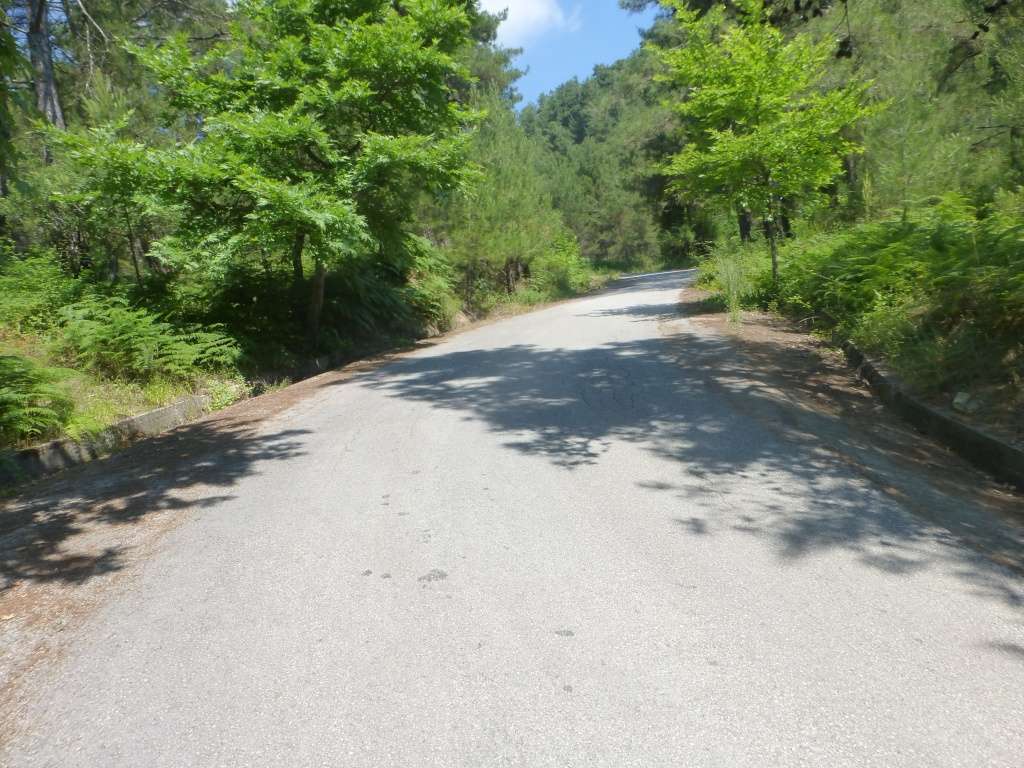 p1110404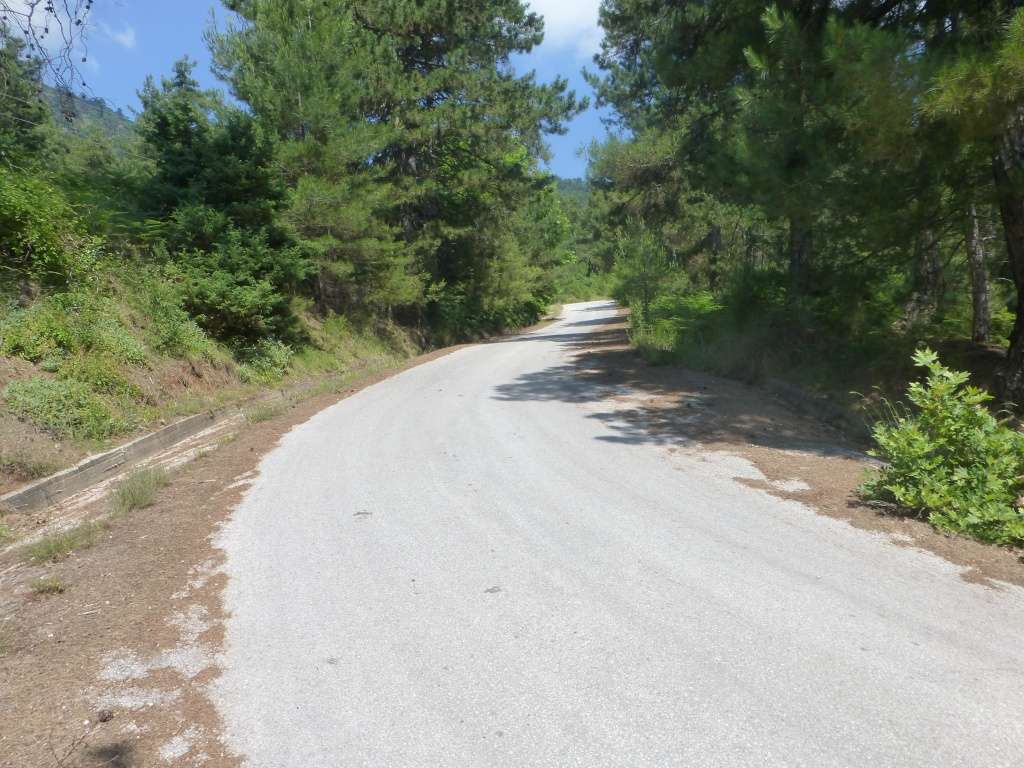 p1110406
eventually coming to this brown sign which seemed promising but I can't work it out, as it's all Greek to me lol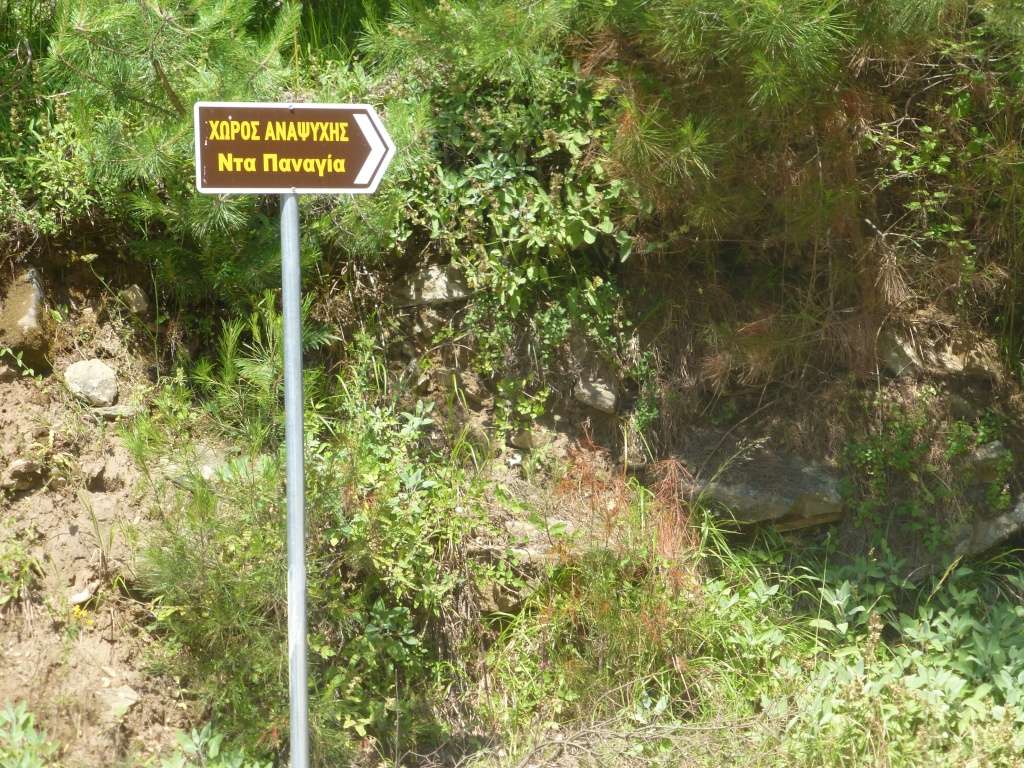 p1110407
I had walked along way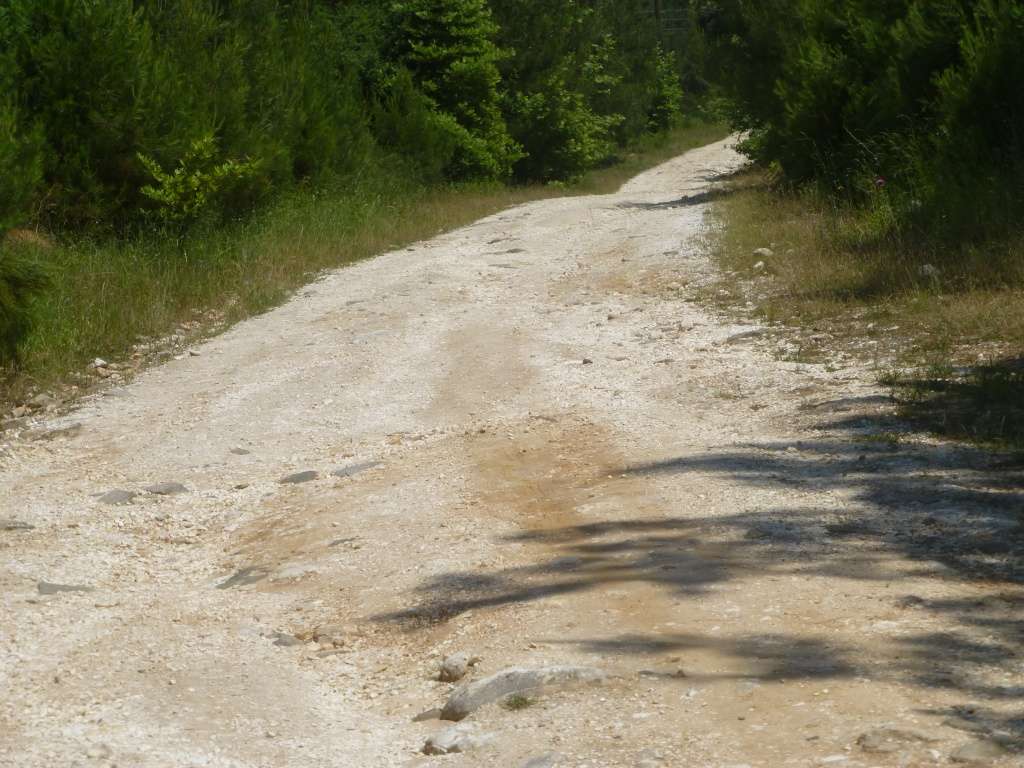 p1110408
and came across two strange birds, what were a pair of turkey's doing up here lol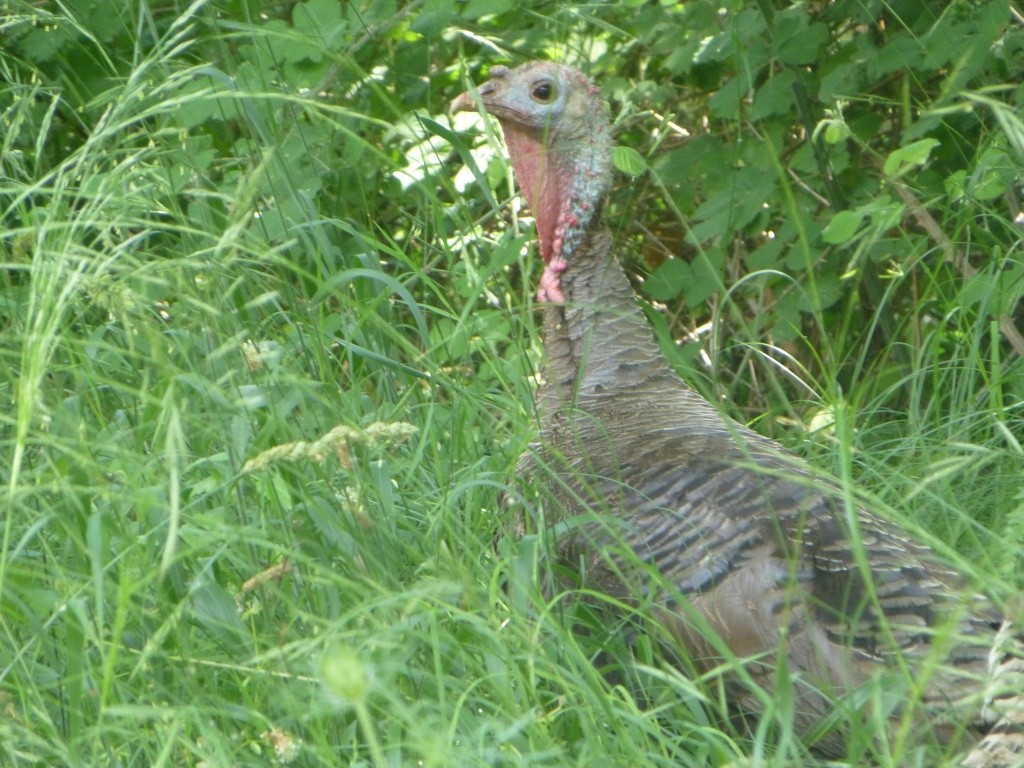 p1110412
having been travelling up hill for half an hour I came to this sign which didn't mention the mountain pathway more like some kind of project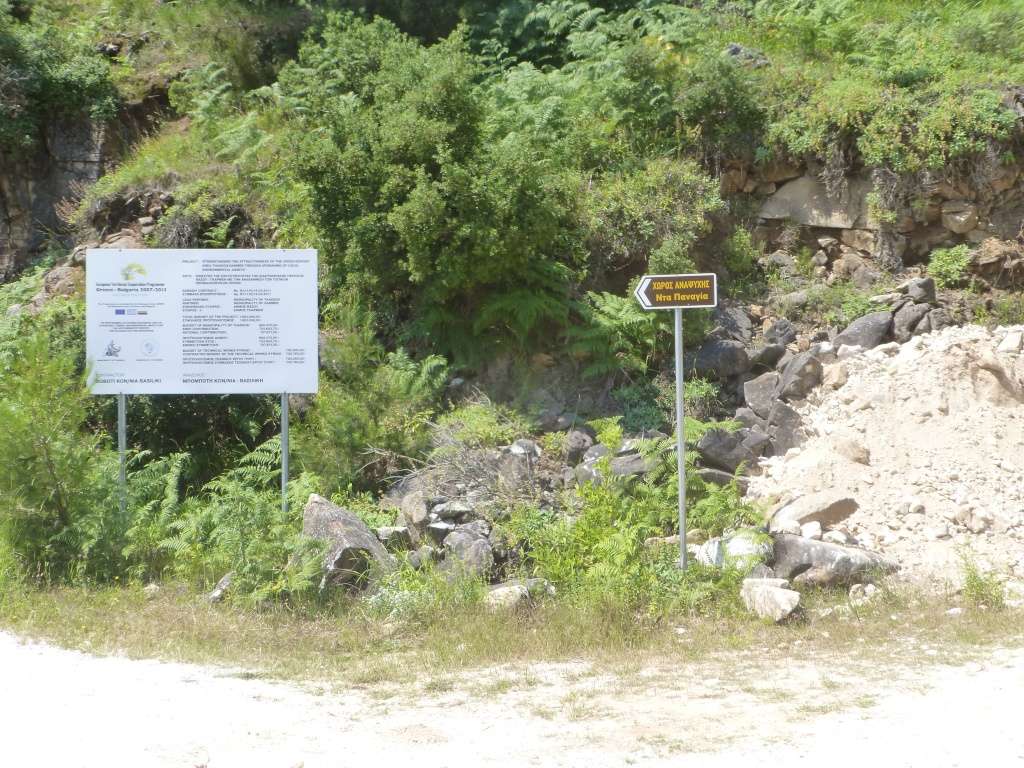 p1110421
The road seem to continue up hill to Potamia and perhaps went via the top of the mountain, which I didn't want to climb today but needed to know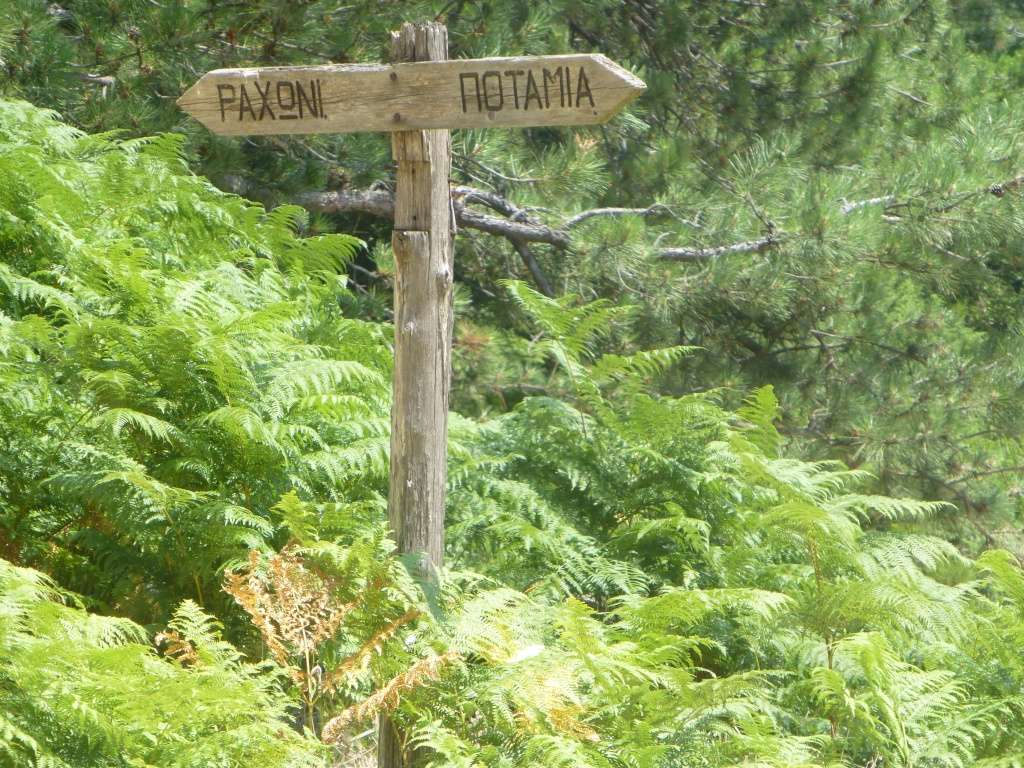 p1110422
the road continued
p1110427
I passed this spot, although not on my today's target, thought it would make a stunning view point, as it overlooks the whole of the bay and quite high up, way in the distance is the ridge walk to Panagia on the mountain on the left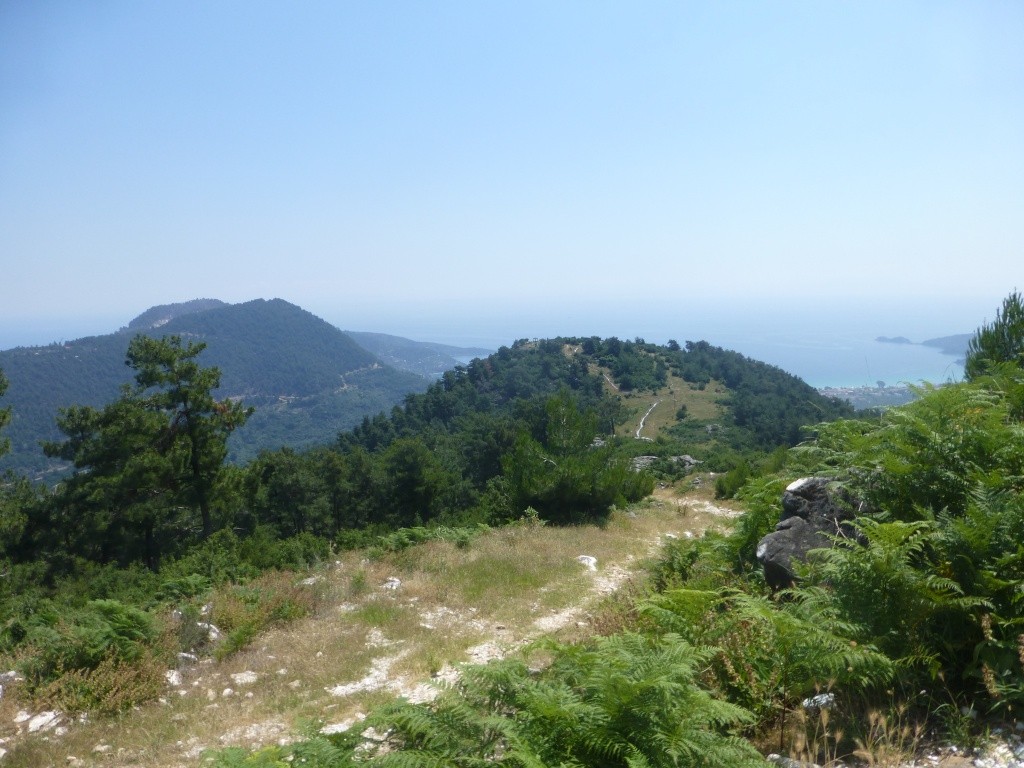 p1110428
having had enough for today and not wanting to back track to Panagia, I decided to take this reasonable pathway way going down lol. If you are reading this, don't do this at home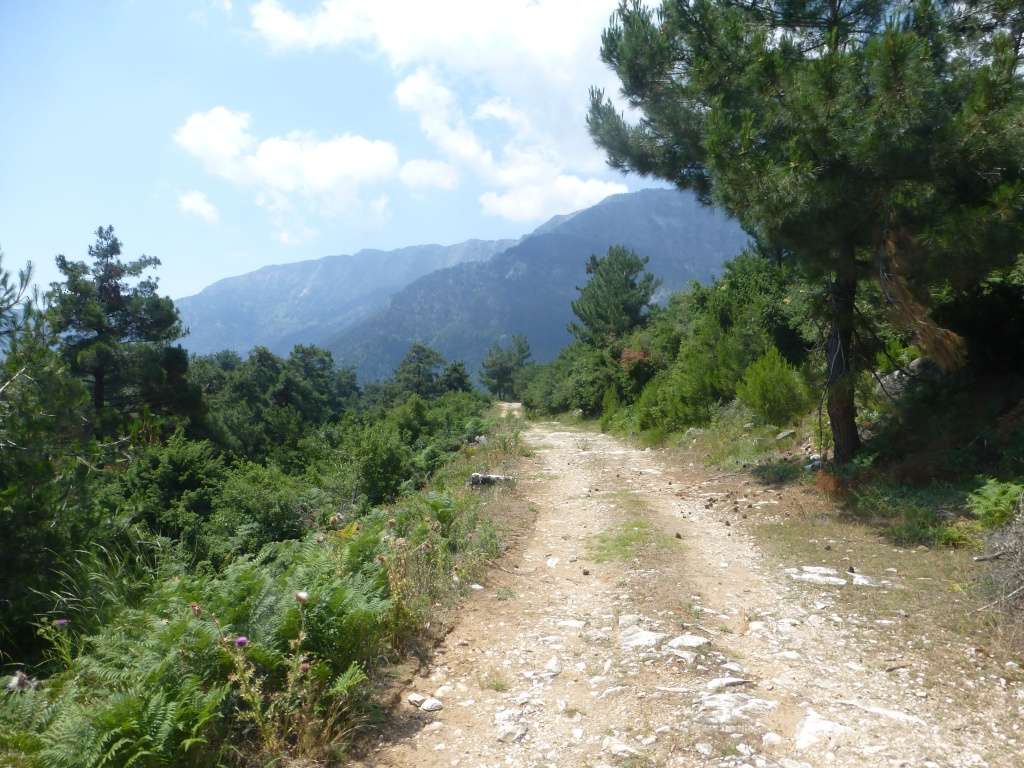 p1110431
quite often these tracks just get narrower and narrower and you end up in a goat farm and then have to back track up hill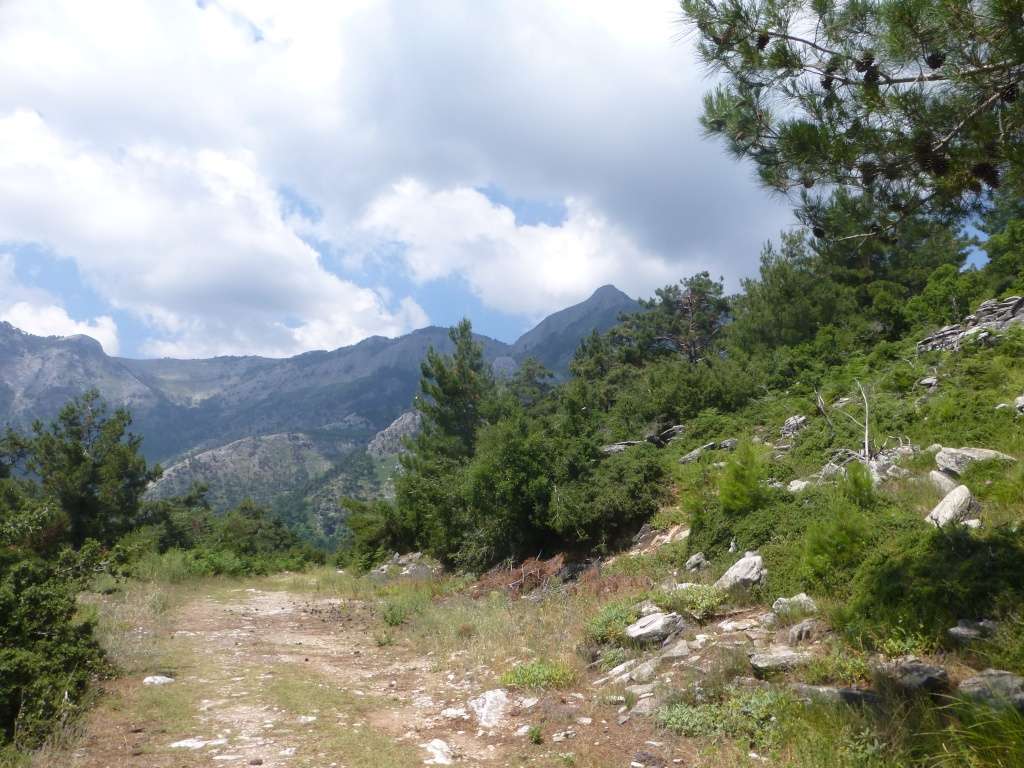 p1110433
I managed to text mrs Db that I was heading to Potamia and was going to be late, at this point I realised the sun was so bright I couldn't read the text too well and my glasses were to be added to my survive kit list in the next venture lol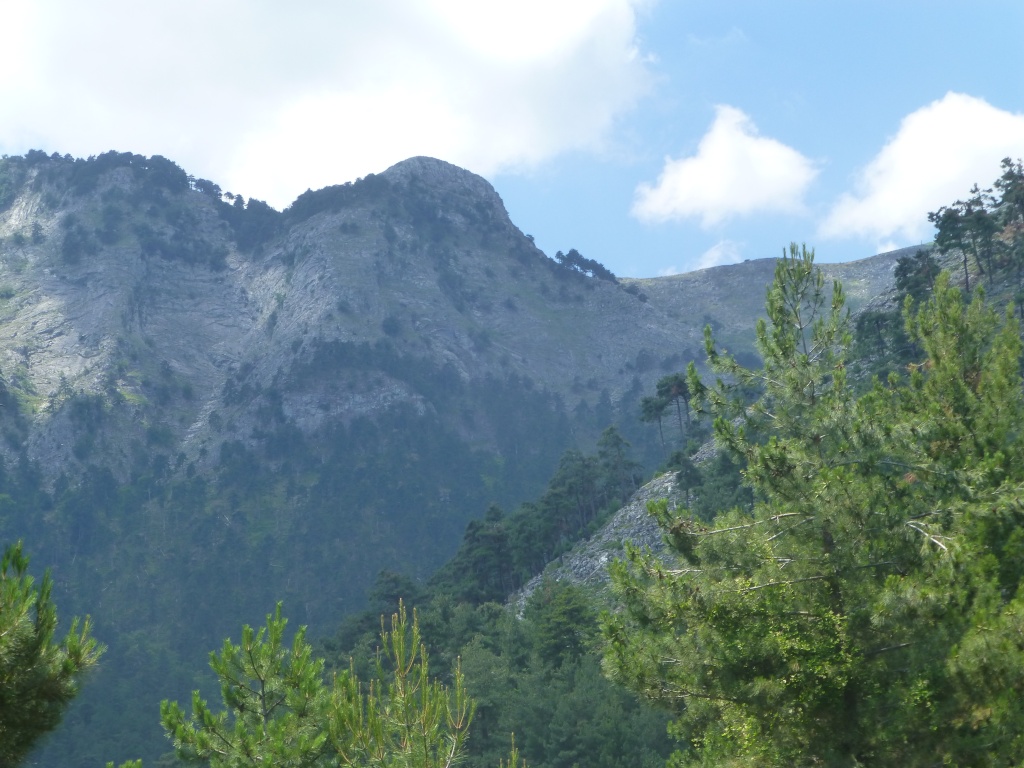 p1110437
I did actual pass a goat farm but fortunately the road continued down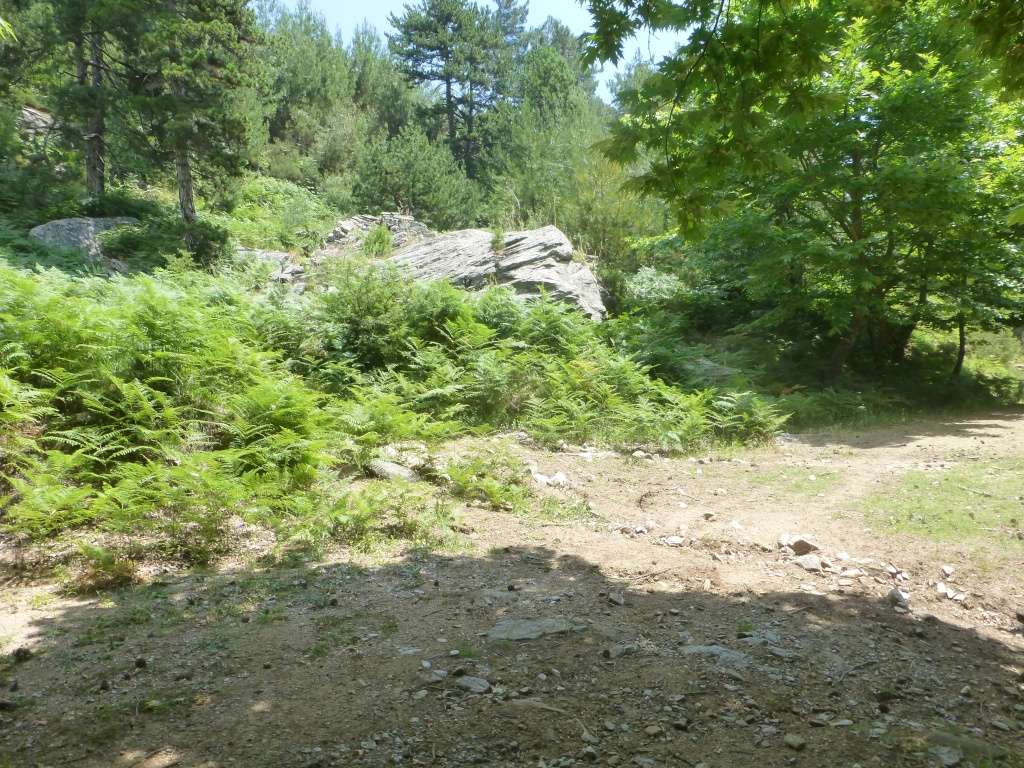 p1110438
I had plenty of water so unlike Bear Grylls I didn't have to drink my own urine lol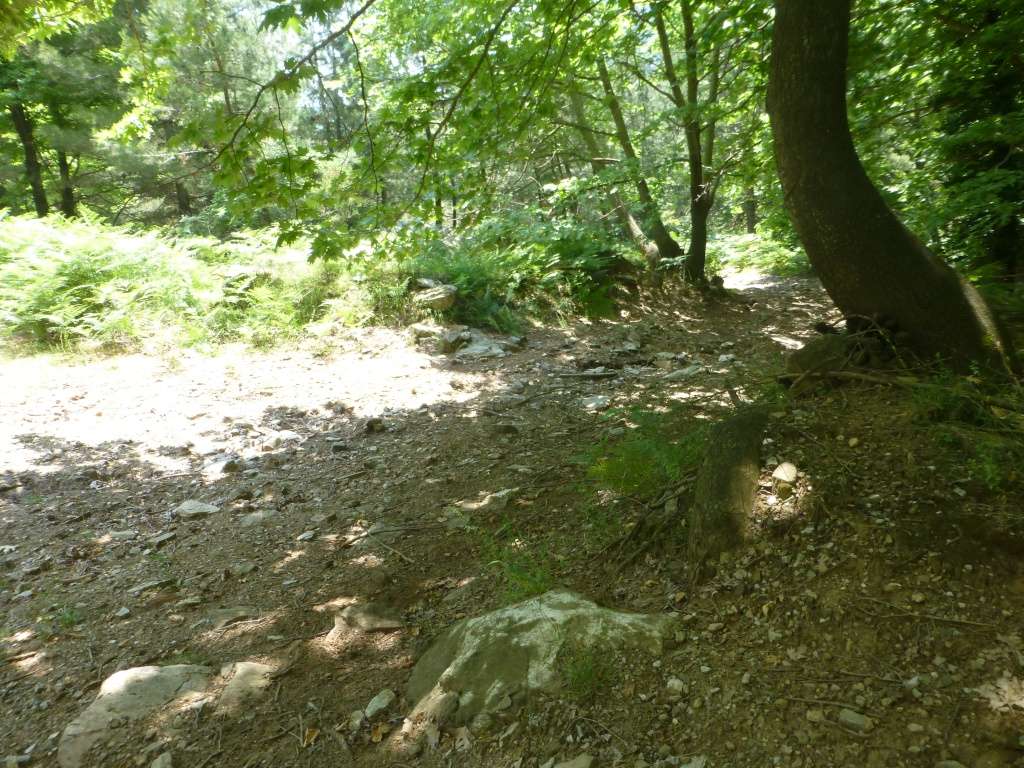 p1110439
I got to this point and the road started to go up, it had a devil's fork in the lettering, so must be hell lol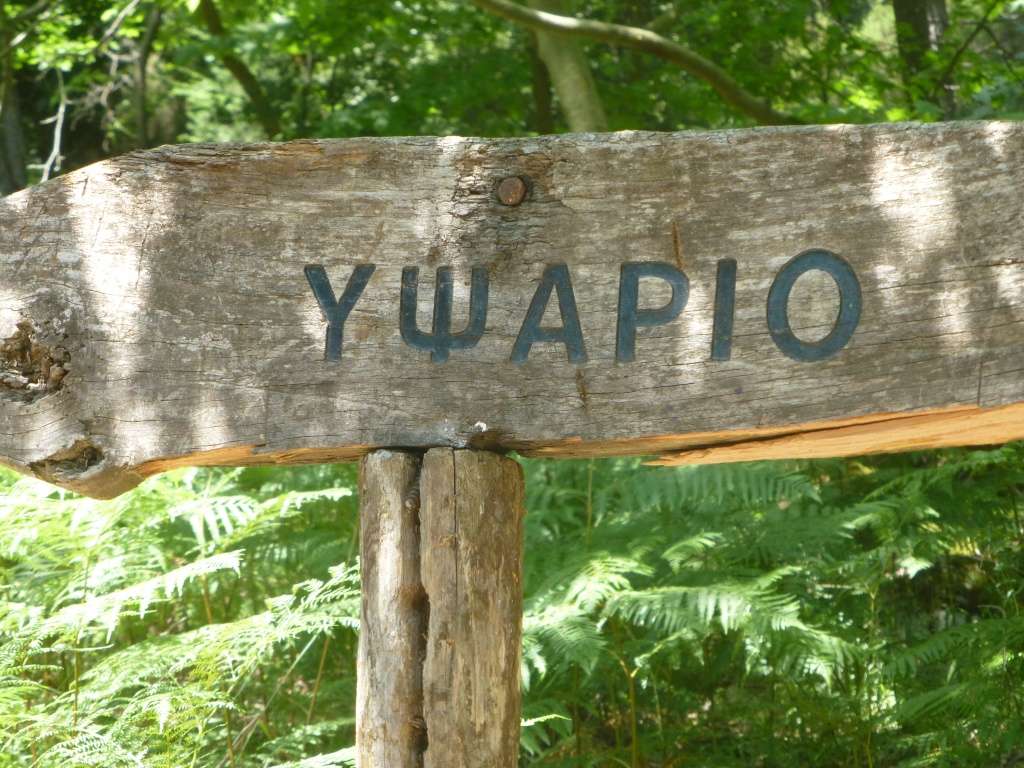 p1110441
my alternative going down was a river bed, referring to Bear Grylls , he would say, water flows down to find it's own level, wouldn't he and I can't afford to worry too much, as I have used most of my loo paper lol
p1110442
not the most comfortable walk down
p110443
but finally I hit a road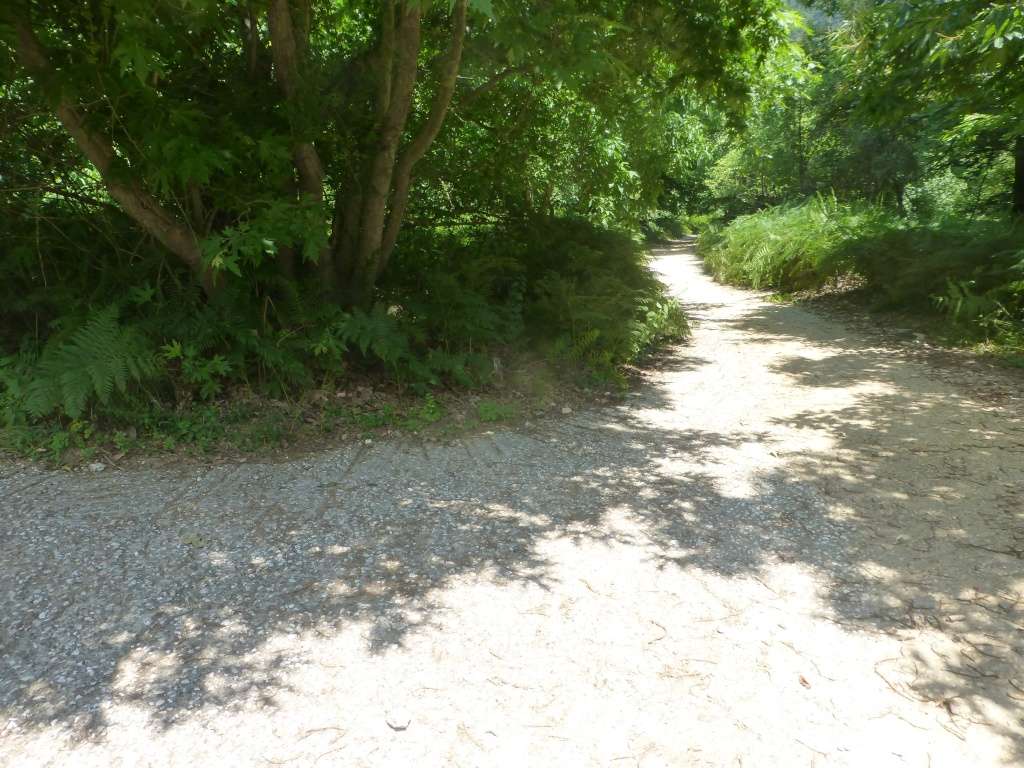 p1110444
which led me down to Potamia but could have been anywhere, what's this?, it's the road I have just walked down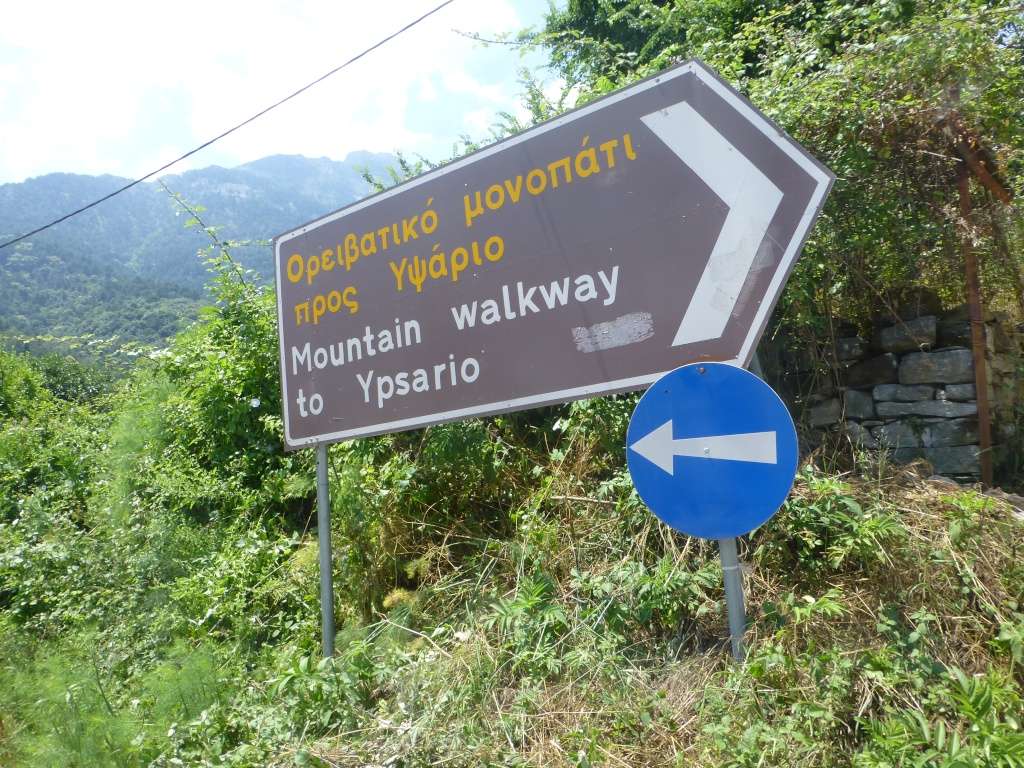 p1110447
I then had another 50 minutes walk back to Golden Beach and to meet a cross Mrs Db having walked 5 hours on a reconnaissance
p1110448
a belated lunch was a toasted cheese and ham sandwich at the hotel, and after telling the owner of my exploits, he told me, a guy walked it from the hotel 3 years ago and it took him 5 hours to go up and 4.5 hours to come down. My walking capacity at this moment was only 5 hours, pushing it to 6, this means even if I go by bus to Potamia both ways, it would only save me 2 hours, leaving me at least an hour short of the target at the best for achieving it.
However, could i get high enough to get some good pictures
evening came, was that a face in the clouds having a laugh lol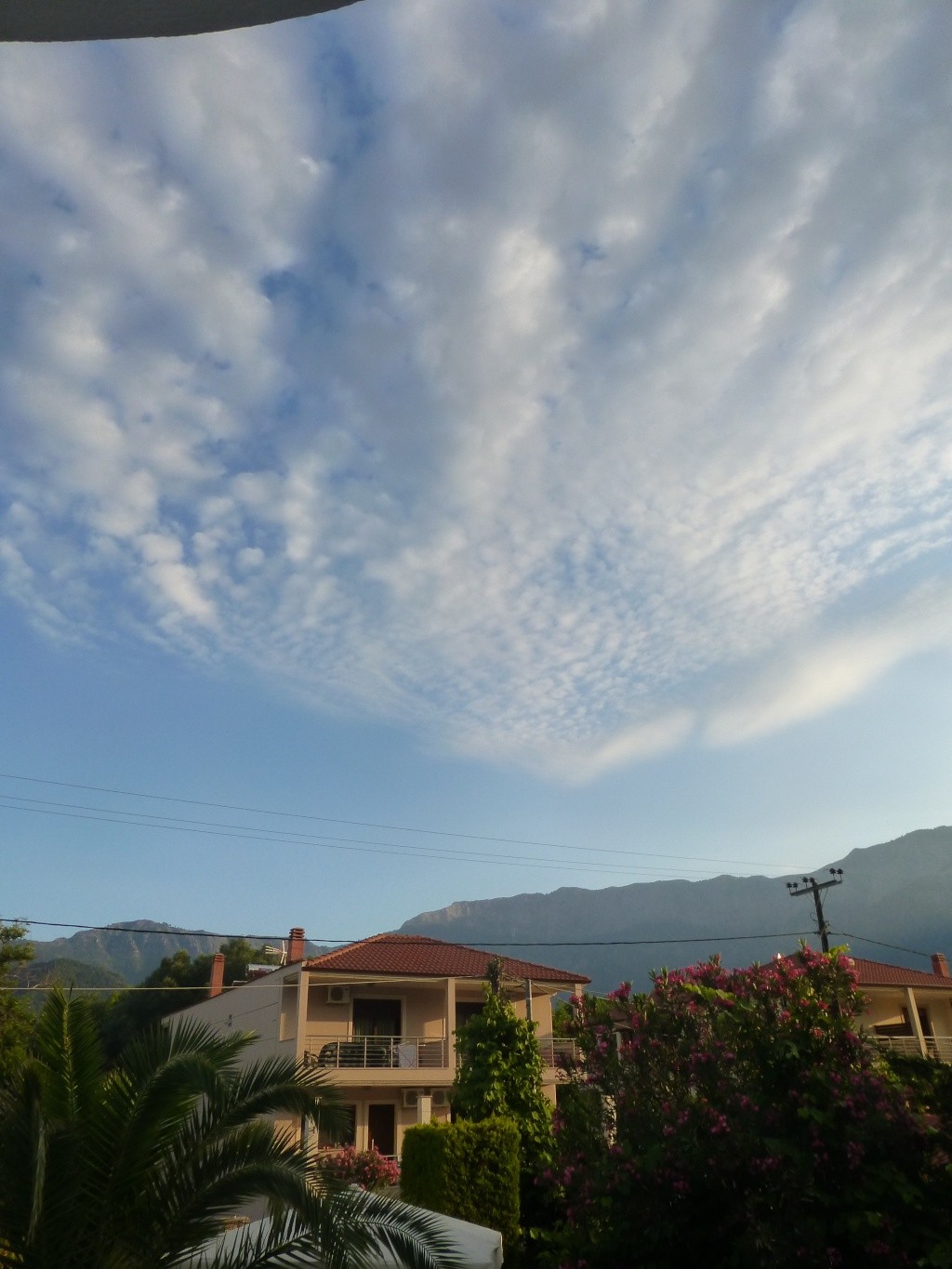 p1110451
tonight we are eating in Finakas
p1110452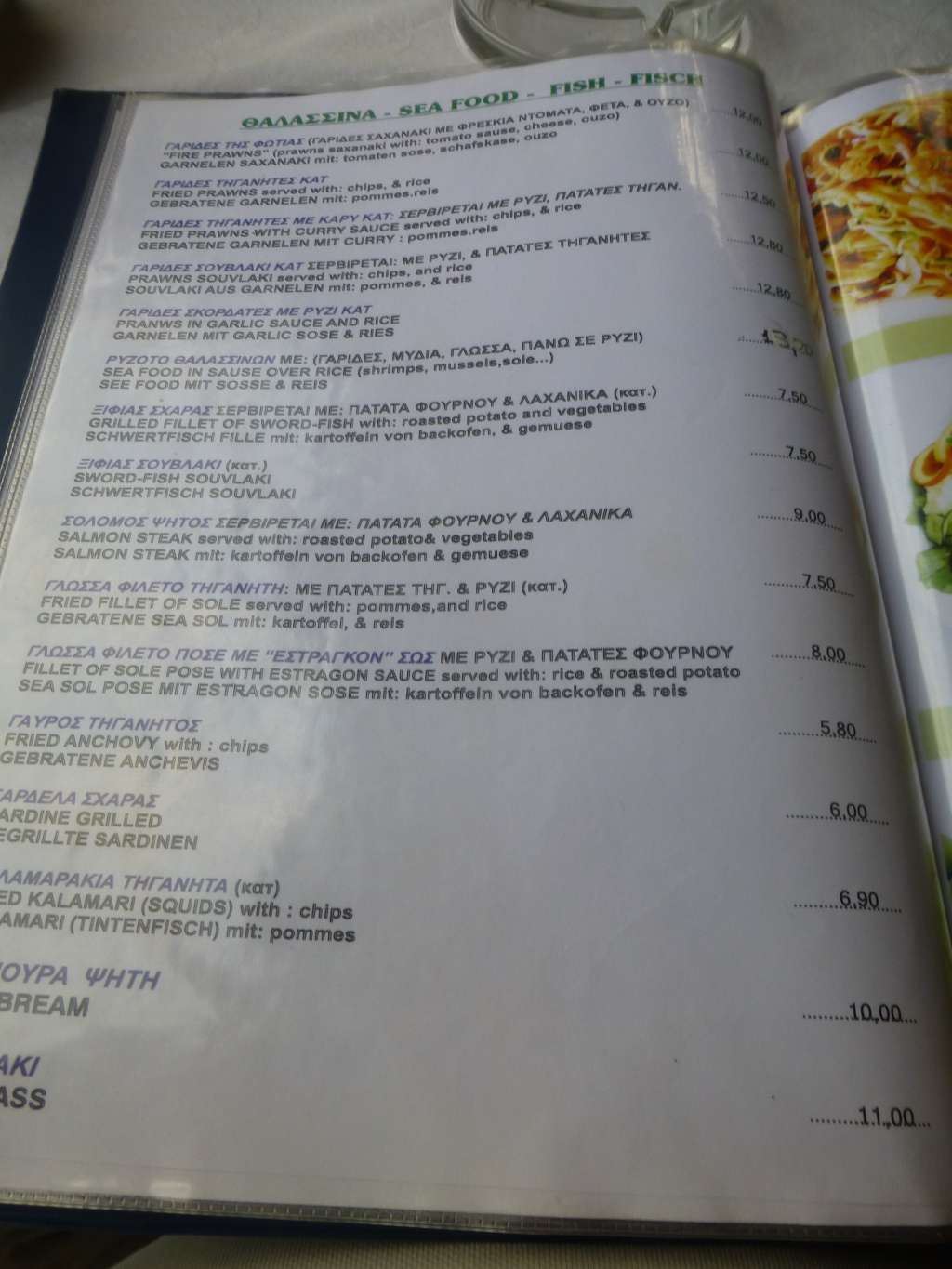 p1110453
we both had the chicken hawaii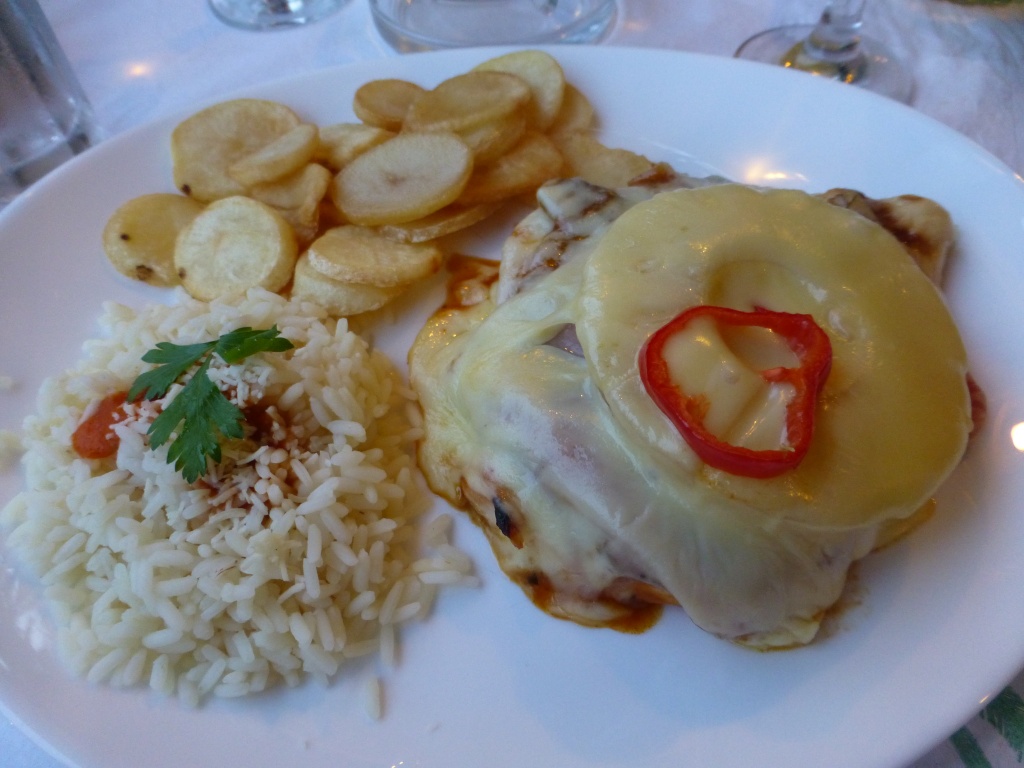 p1110454
and given a free dessert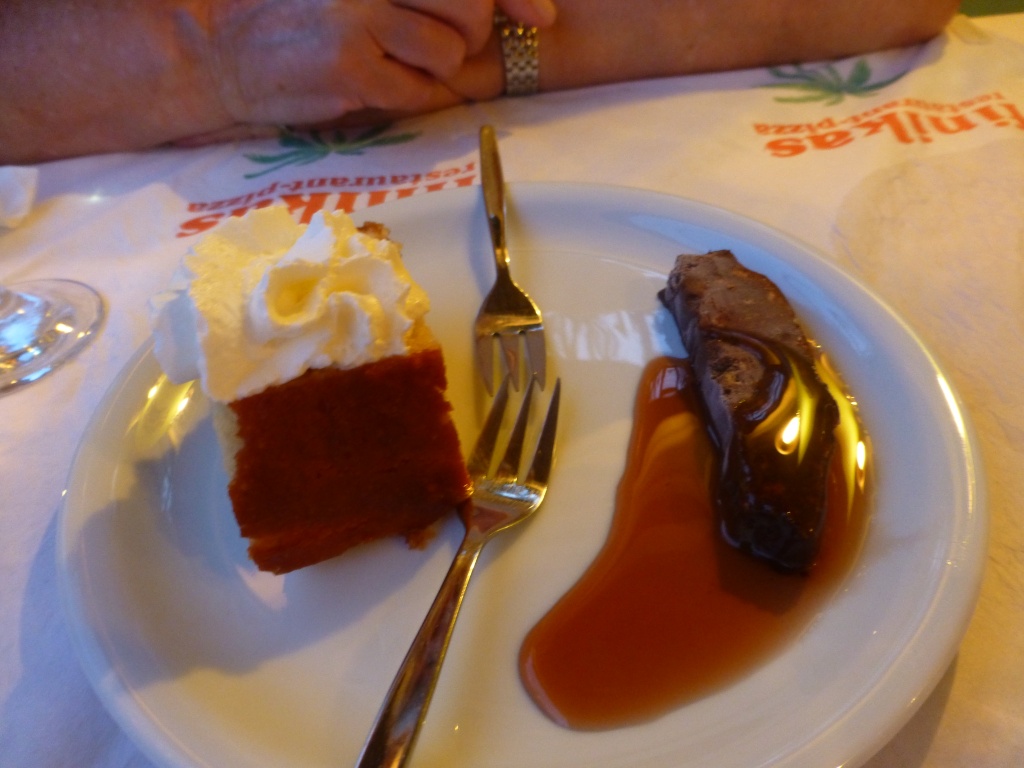 p1110455
and back to the apartment for a coffee
End of day 4
Day 5

It was an iffy morning and not sure if we would make the beach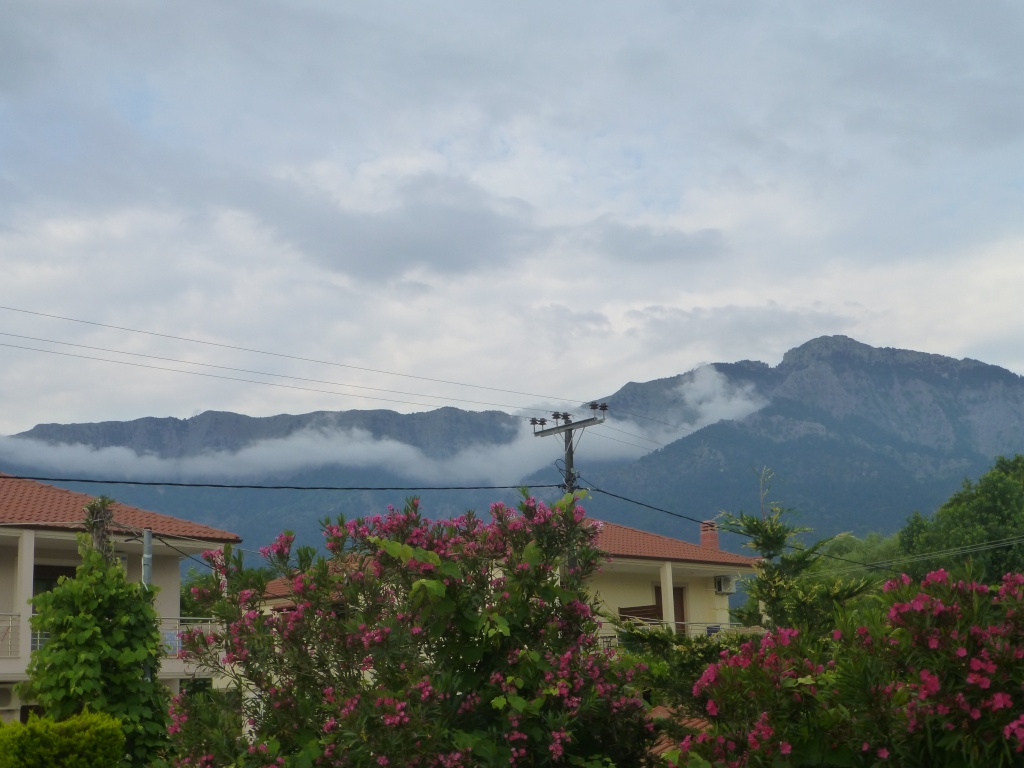 p1110457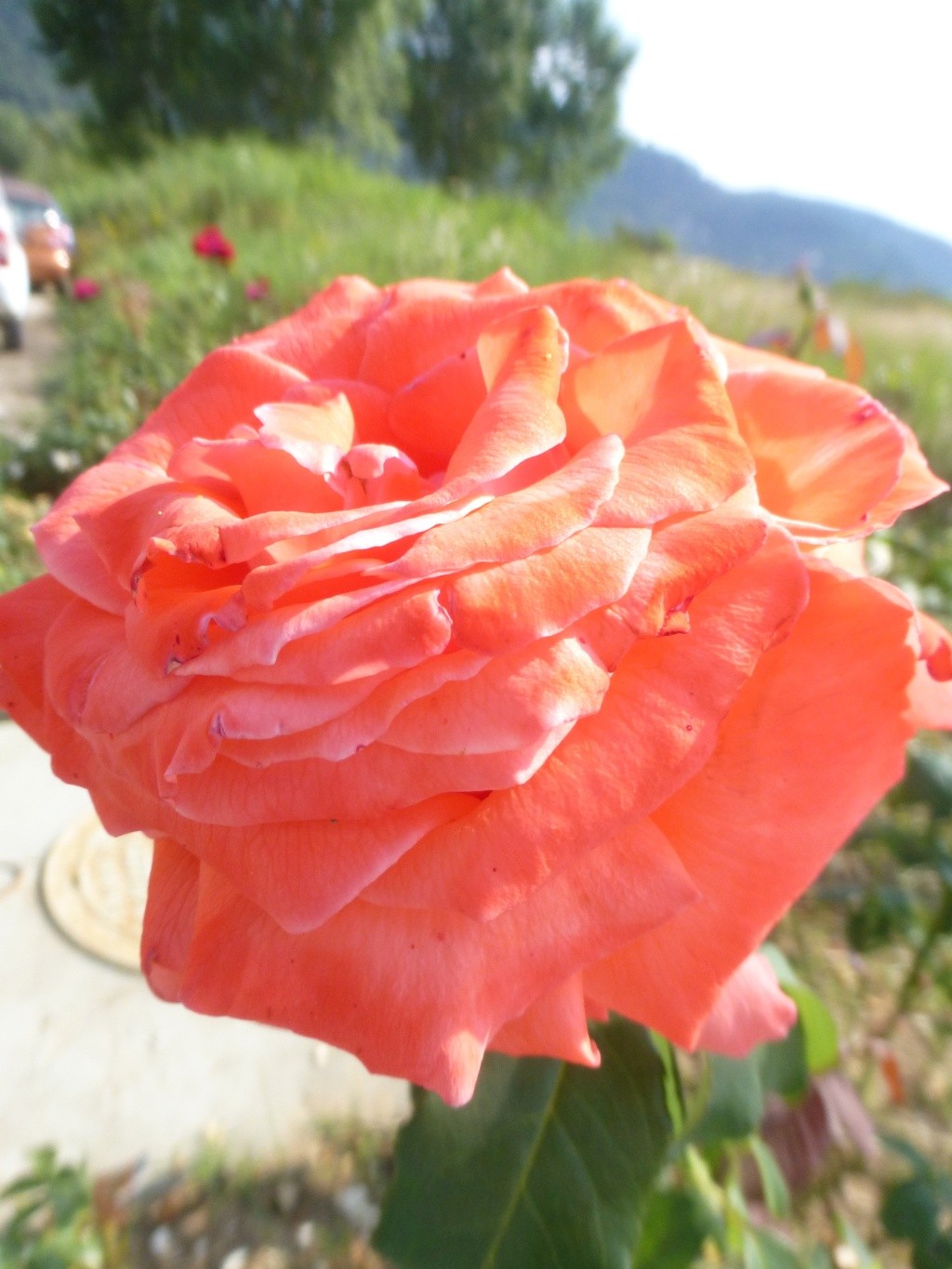 p1110459
but managed to get on the beach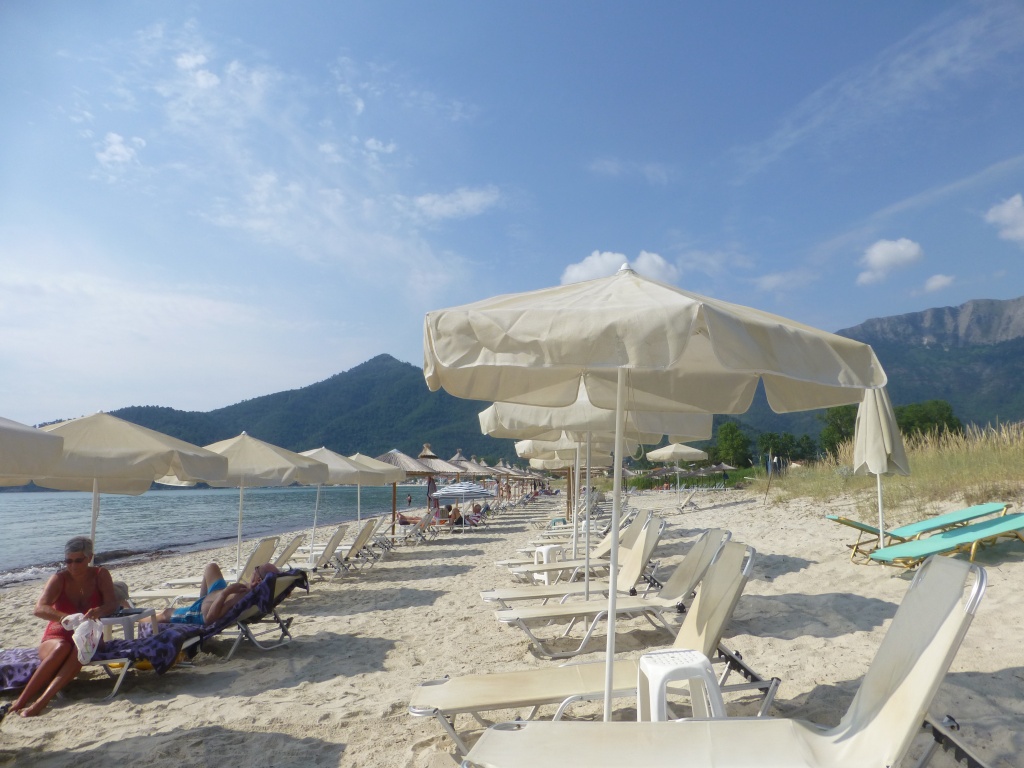 p1110461
but black clouds at the back were looming over the mountain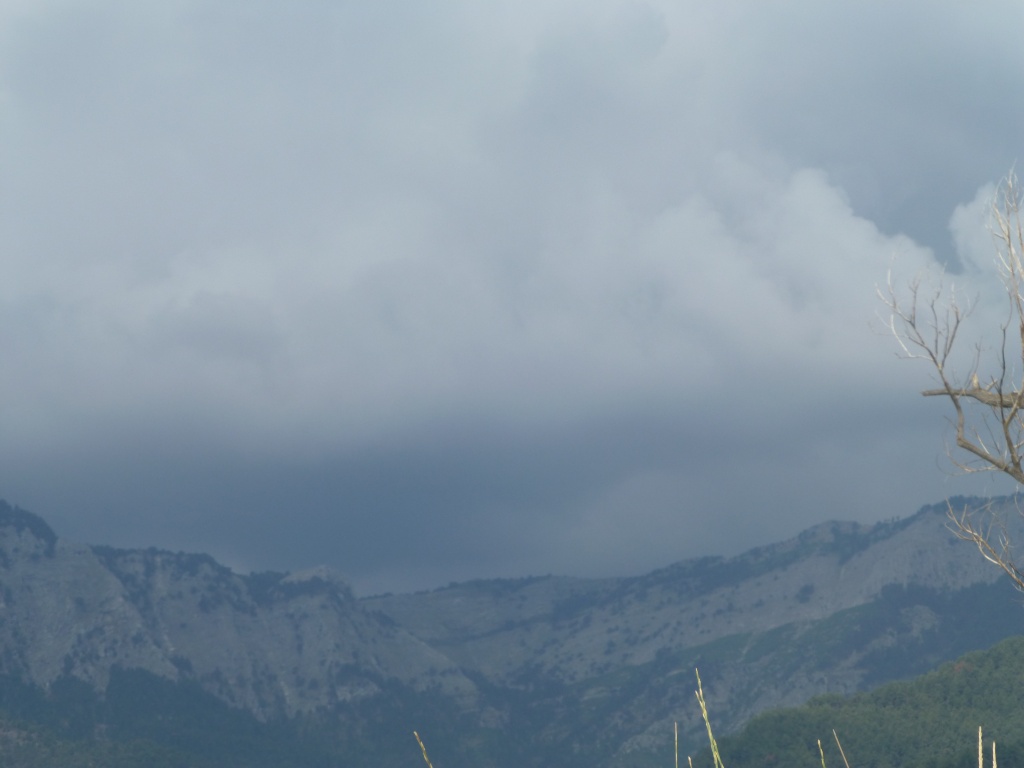 p1110463
Mrs Db popped back to the apartment whilst I investigated rumours that there were terrapins in the water drainage on the beach
p1110464
however, i looked and could see any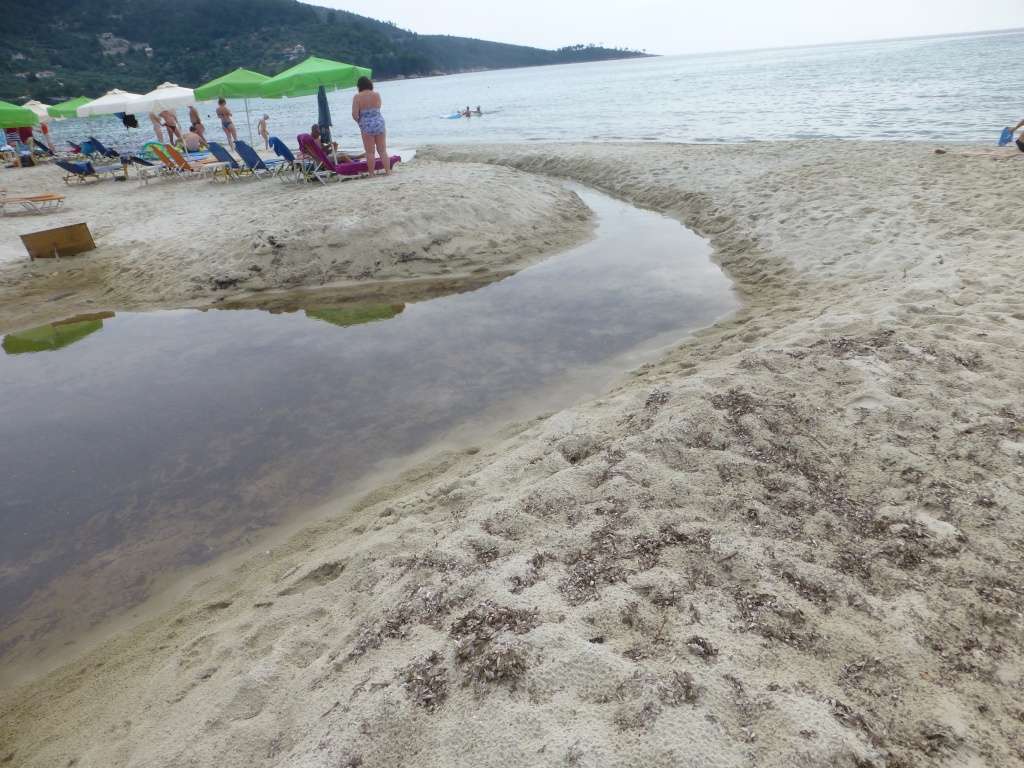 p1110465
after a morning on the balcony where we had a shower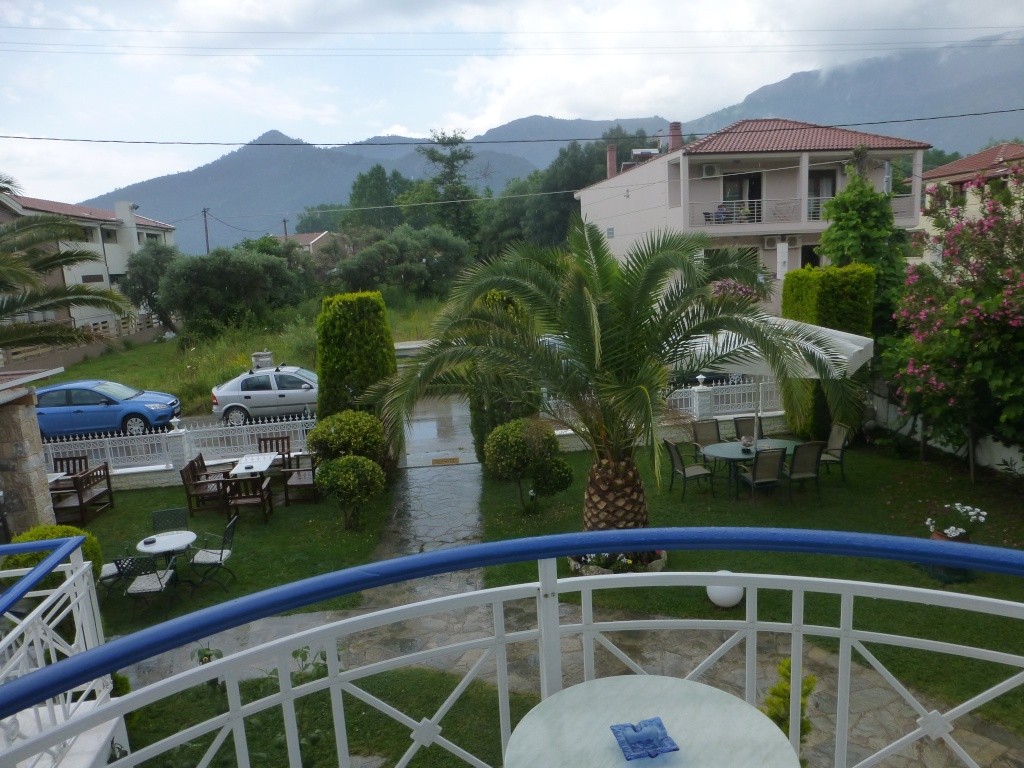 P1110468
It was lunchtime at the Nisi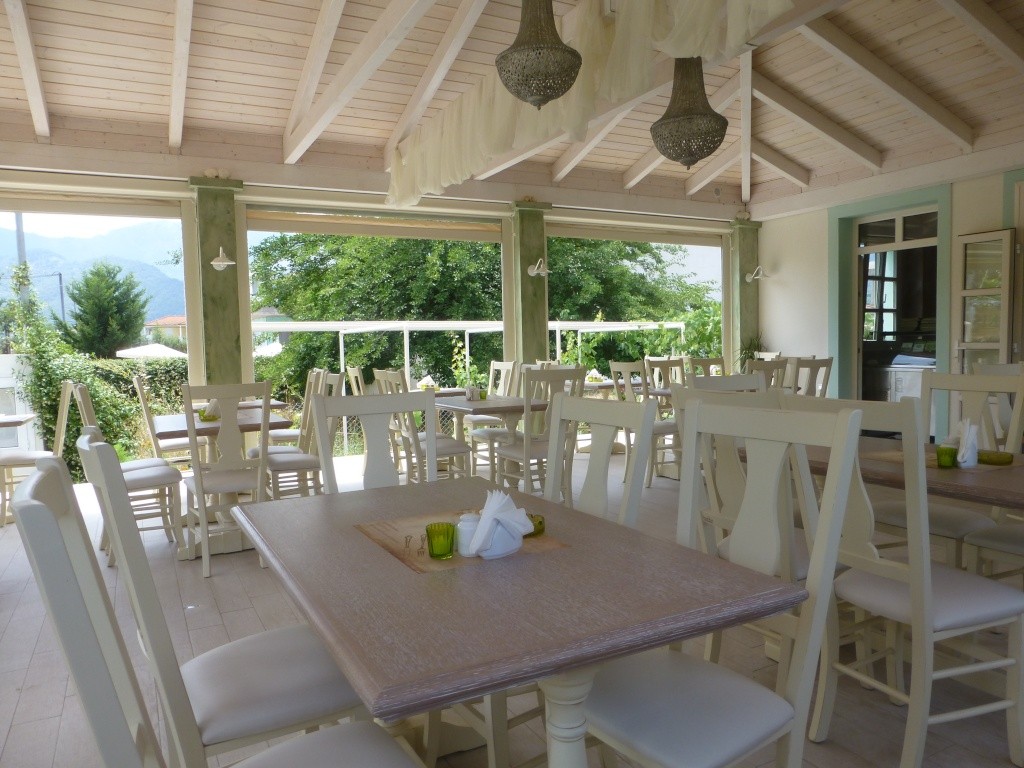 p1110470
p1110471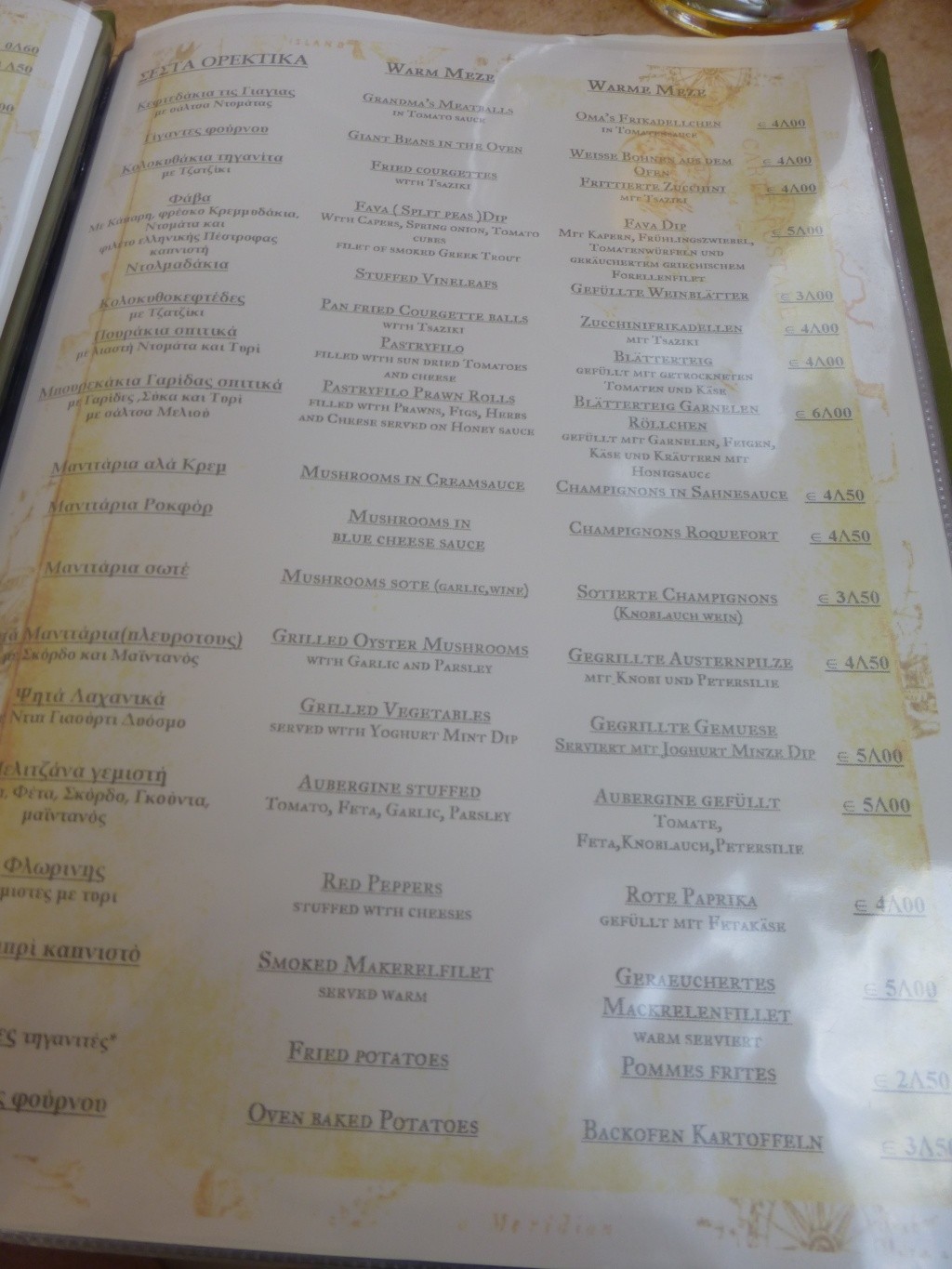 p1110472
today we tried the red peppers and cheese with a greek salad to share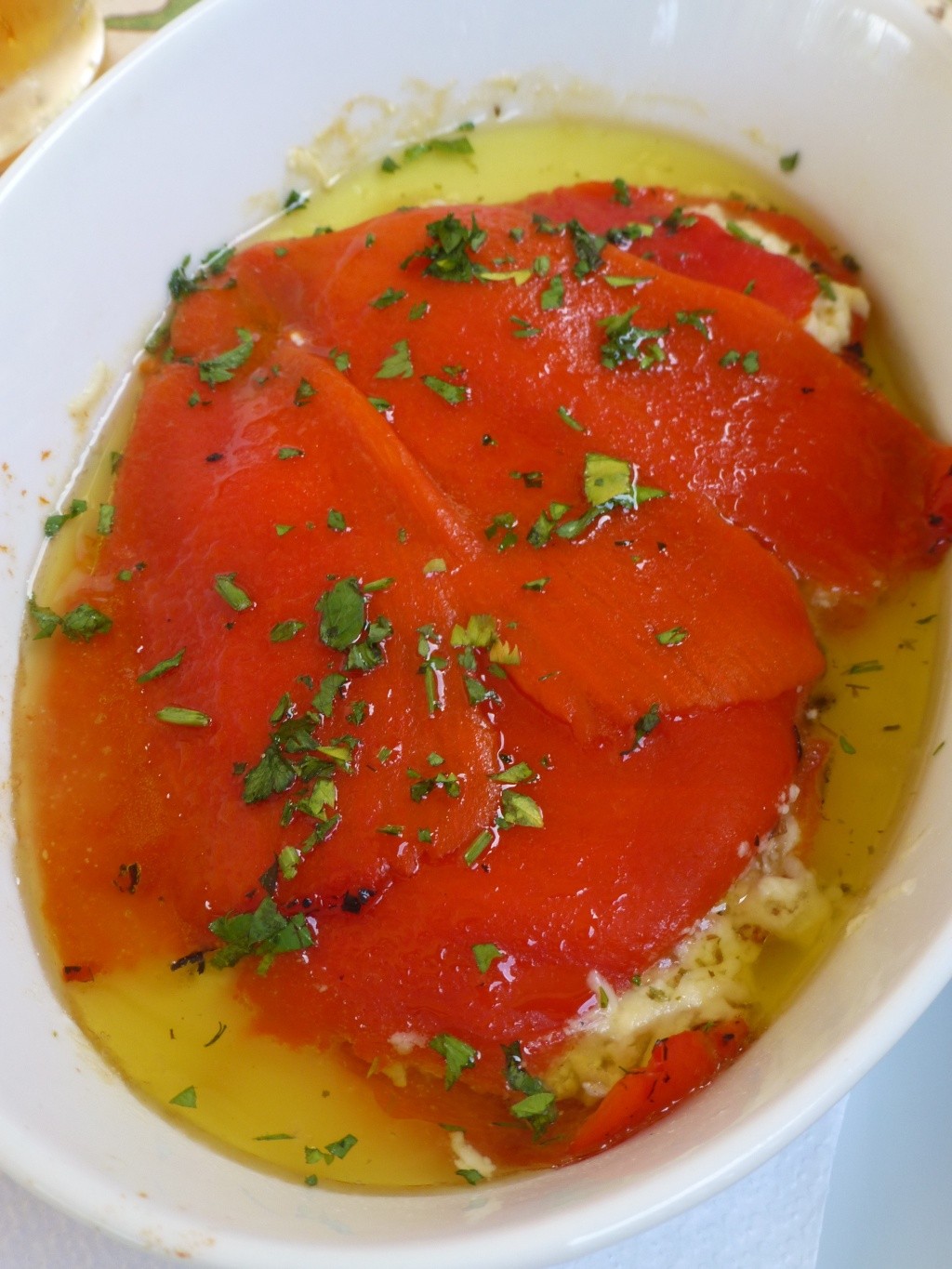 p1110475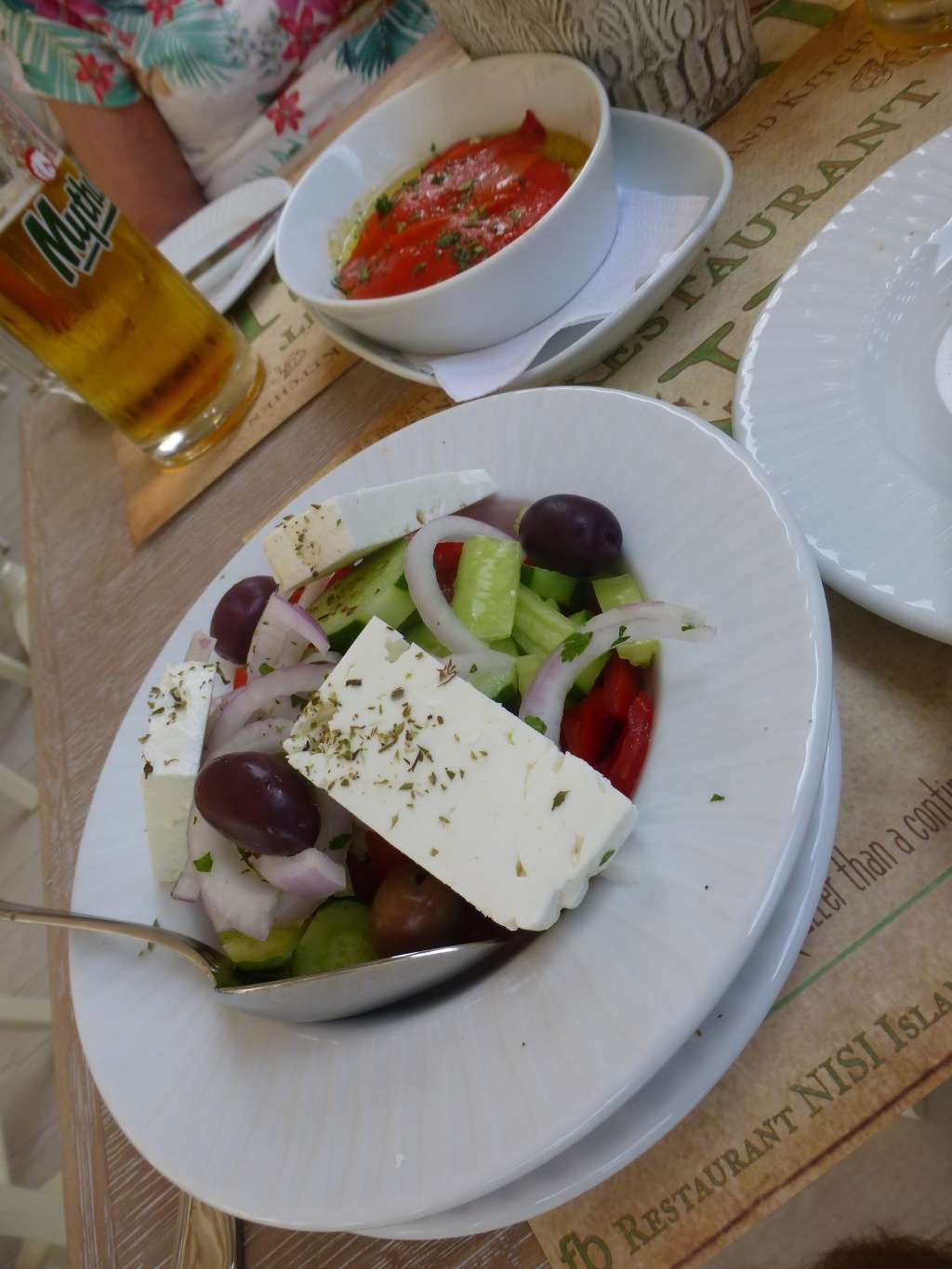 p1110474
and in conversation to Christina the owner, I mentioned the hunt for the terrapins, as I knew somebody would be interested back home. Oh she said, they are in the river running at the back of the Alexandra hotel, they have been there for years. They are the long necked ones they bite and are quite dangerous really. Well that excited Delboy lol
Mrs Db wasn't interested so Delboy with camera in hand goes to investigate, could he find any, well not before playing around with roses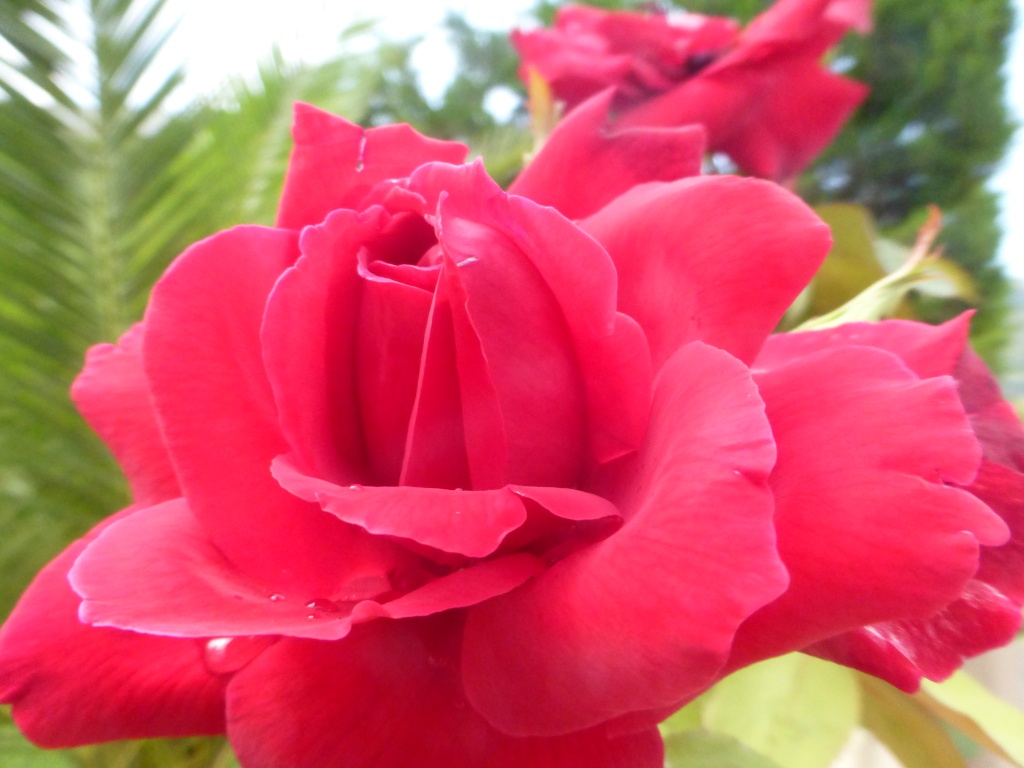 p1110477
and butterflies on offer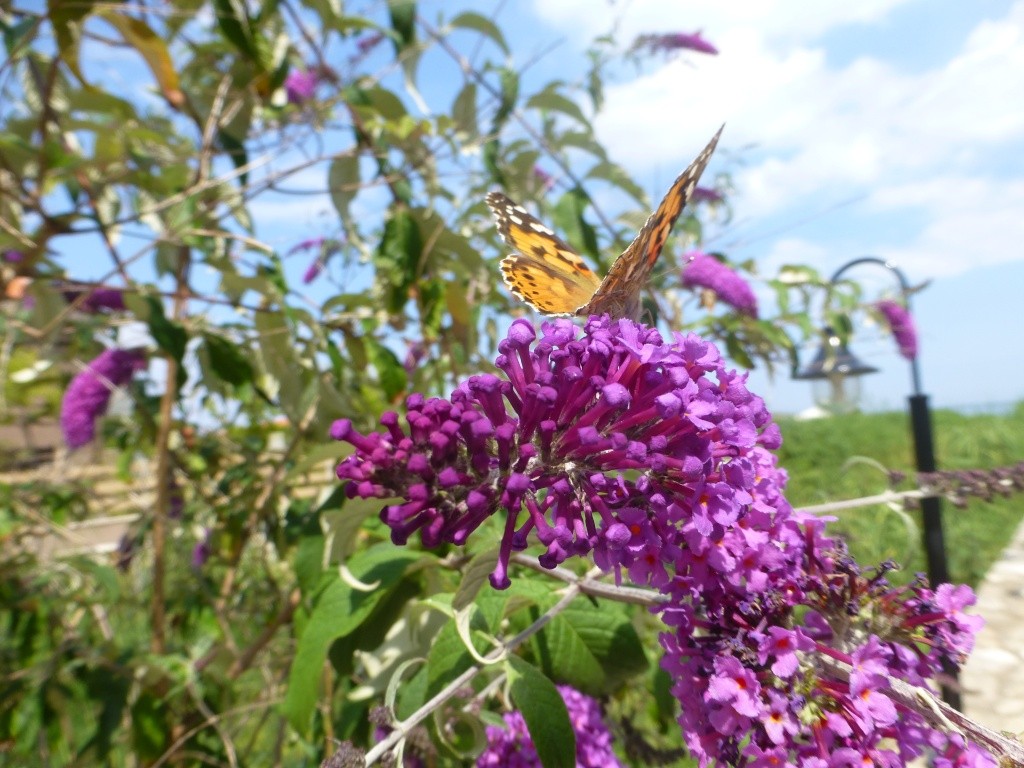 p1110480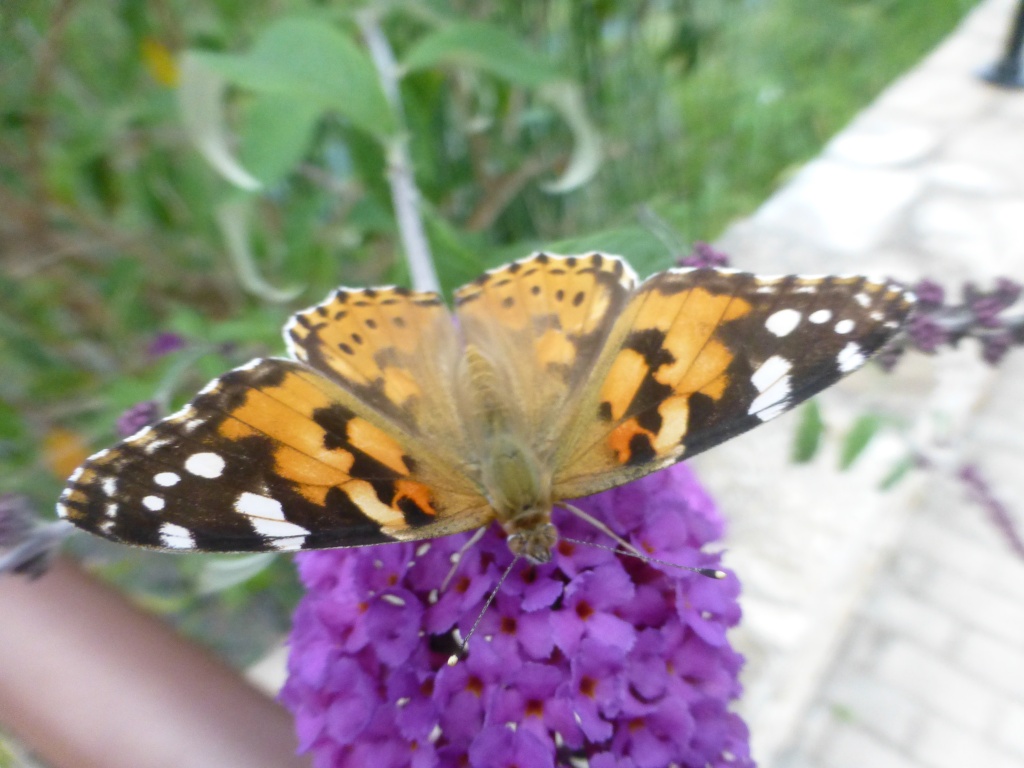 p1110484
Oh the stepping stones have gone form last year, have they beeen eaten by the terrapins, I remember telling Mrs Db that there were no alligators in there lol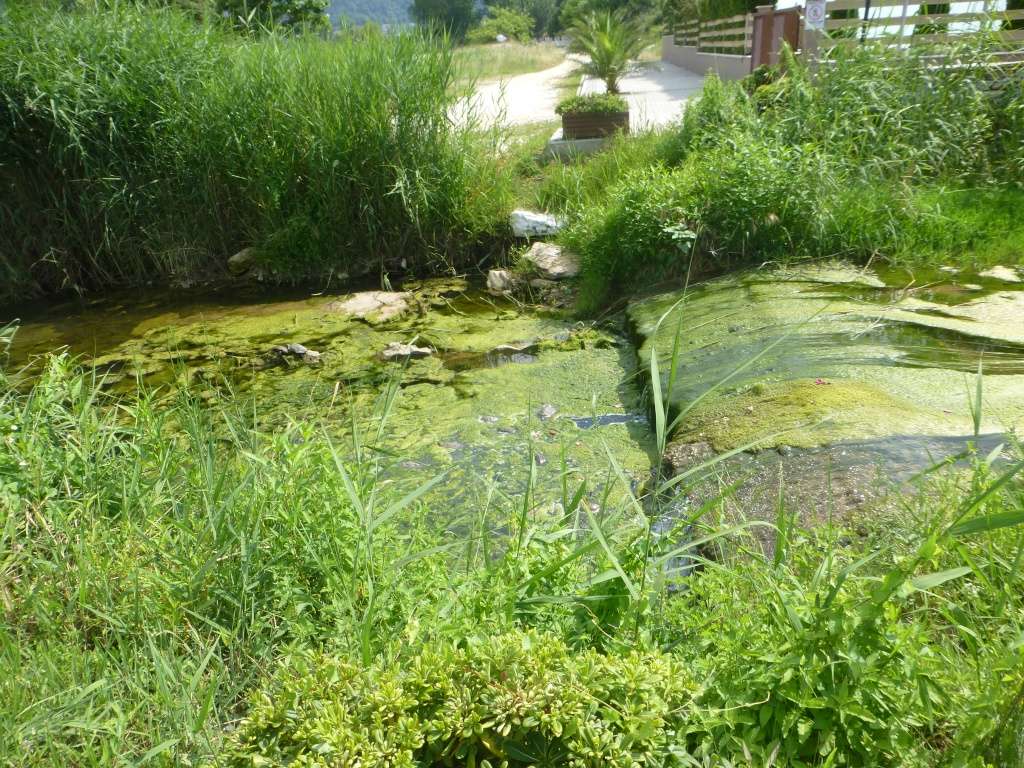 p1110505
and there are the terrapins, in three years of coming here i never knew they were in there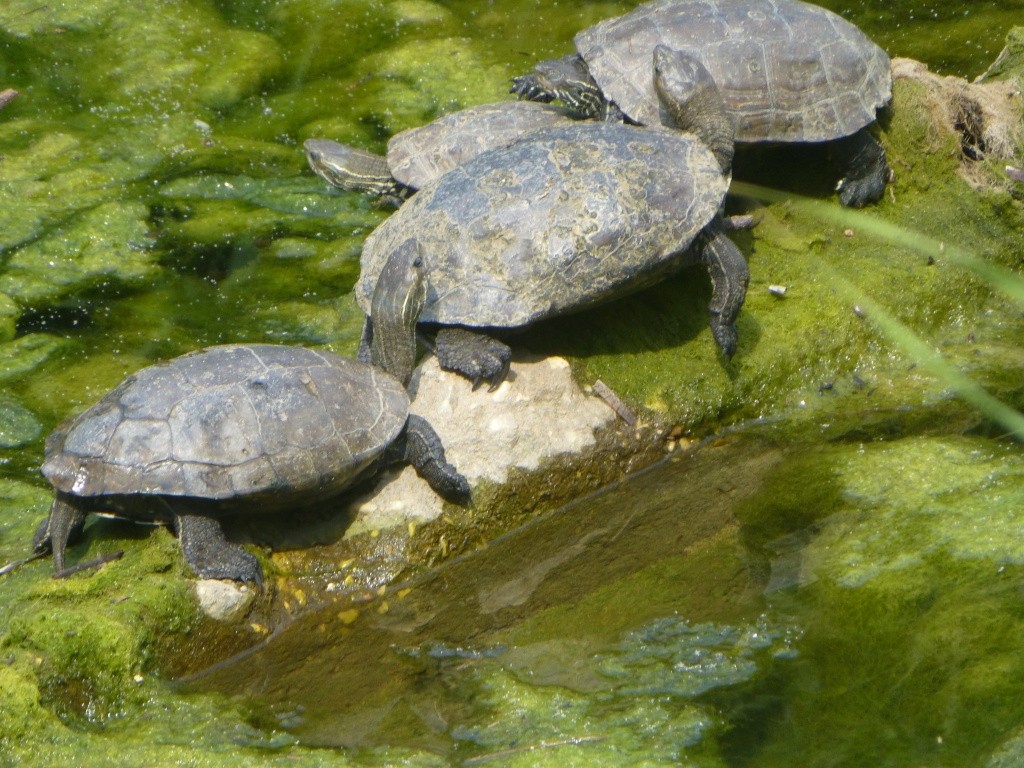 p1110485
i took quite a few pics as not seen them in the wild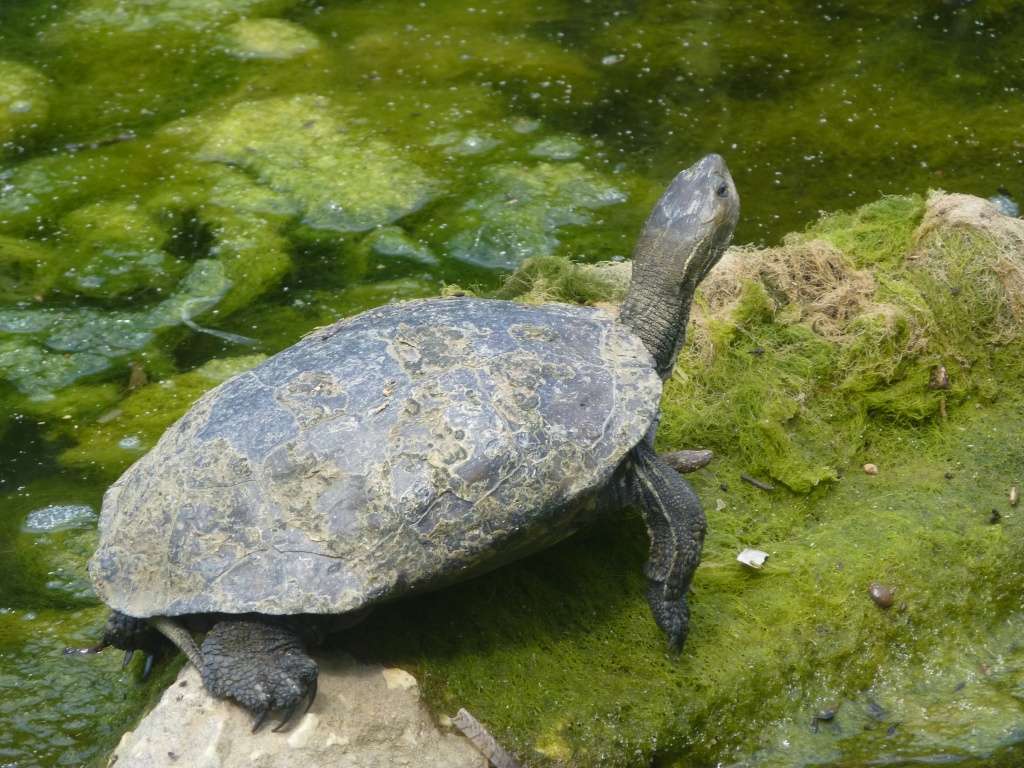 p1110488
Christina did tell me the force of the river in the winter swept the stones away and trees coming down blocking the river was quite scary at the time but these creatures have suvived it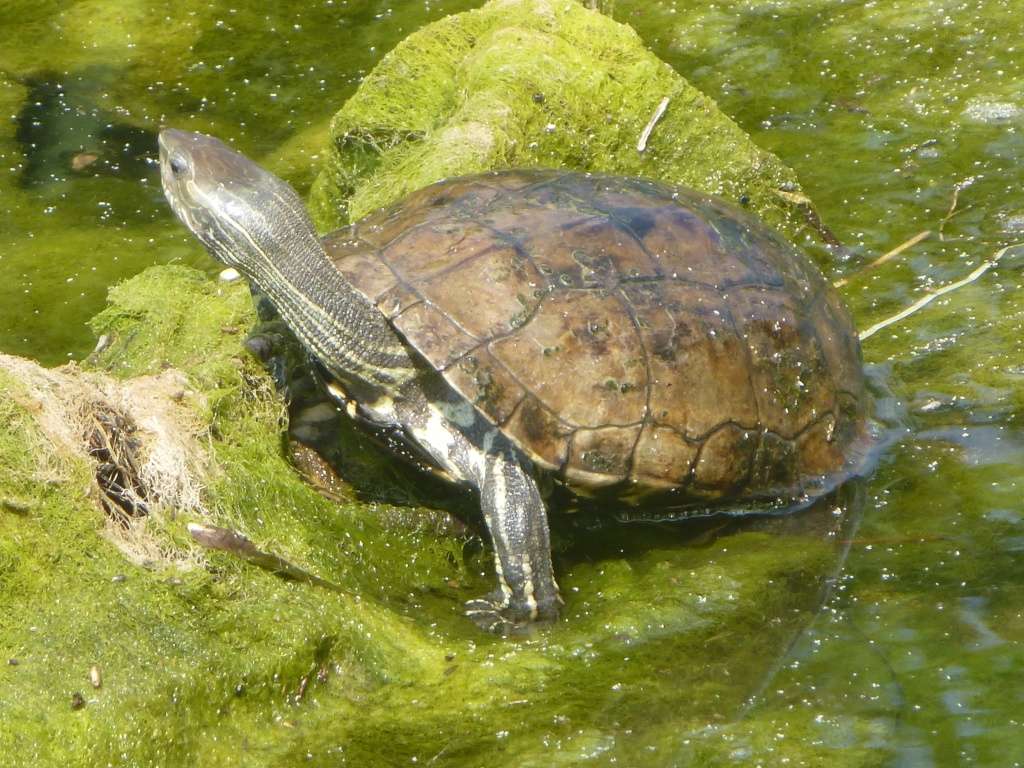 p1110500
and on my way back a few more things I took lol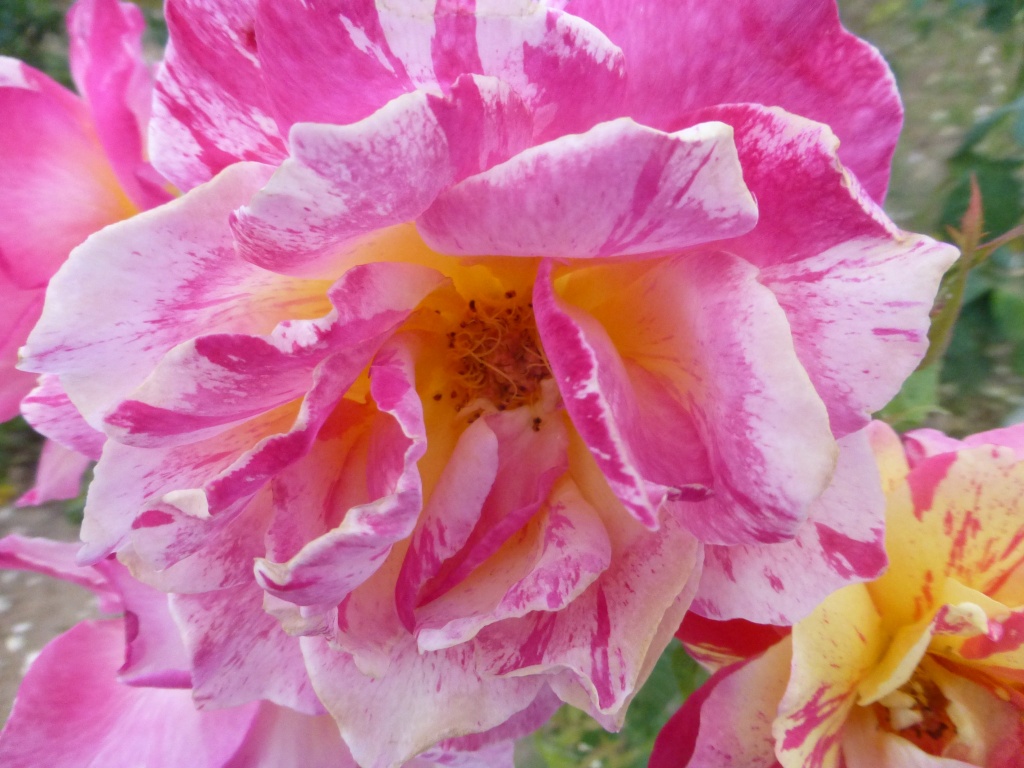 P1110491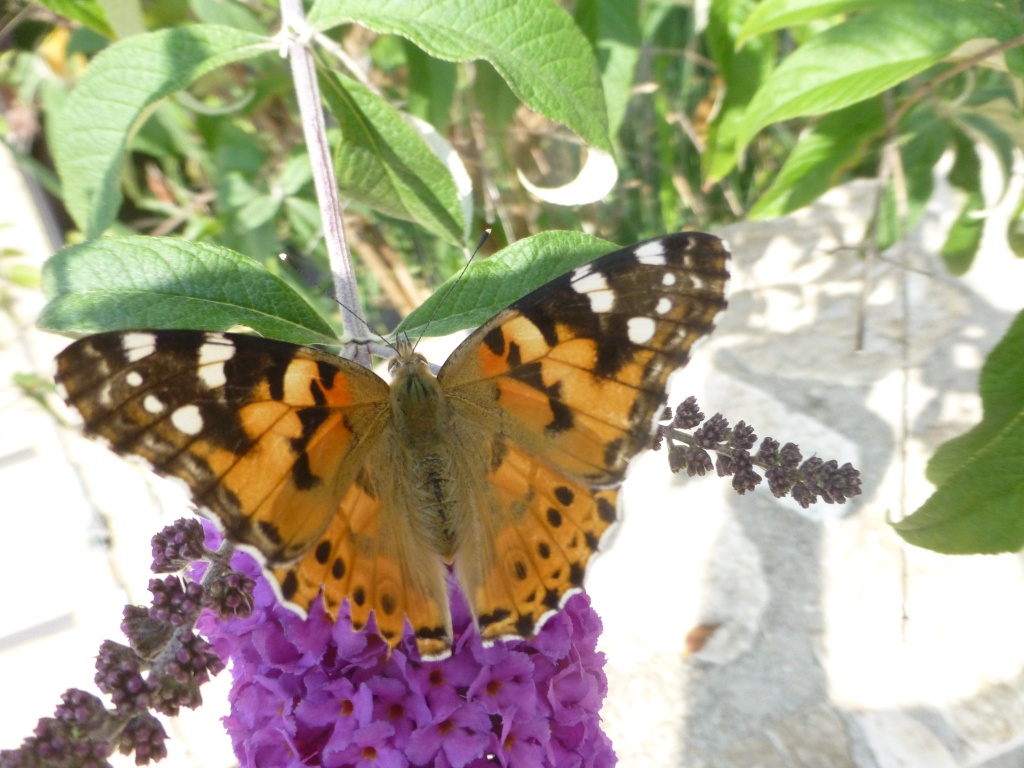 P1110503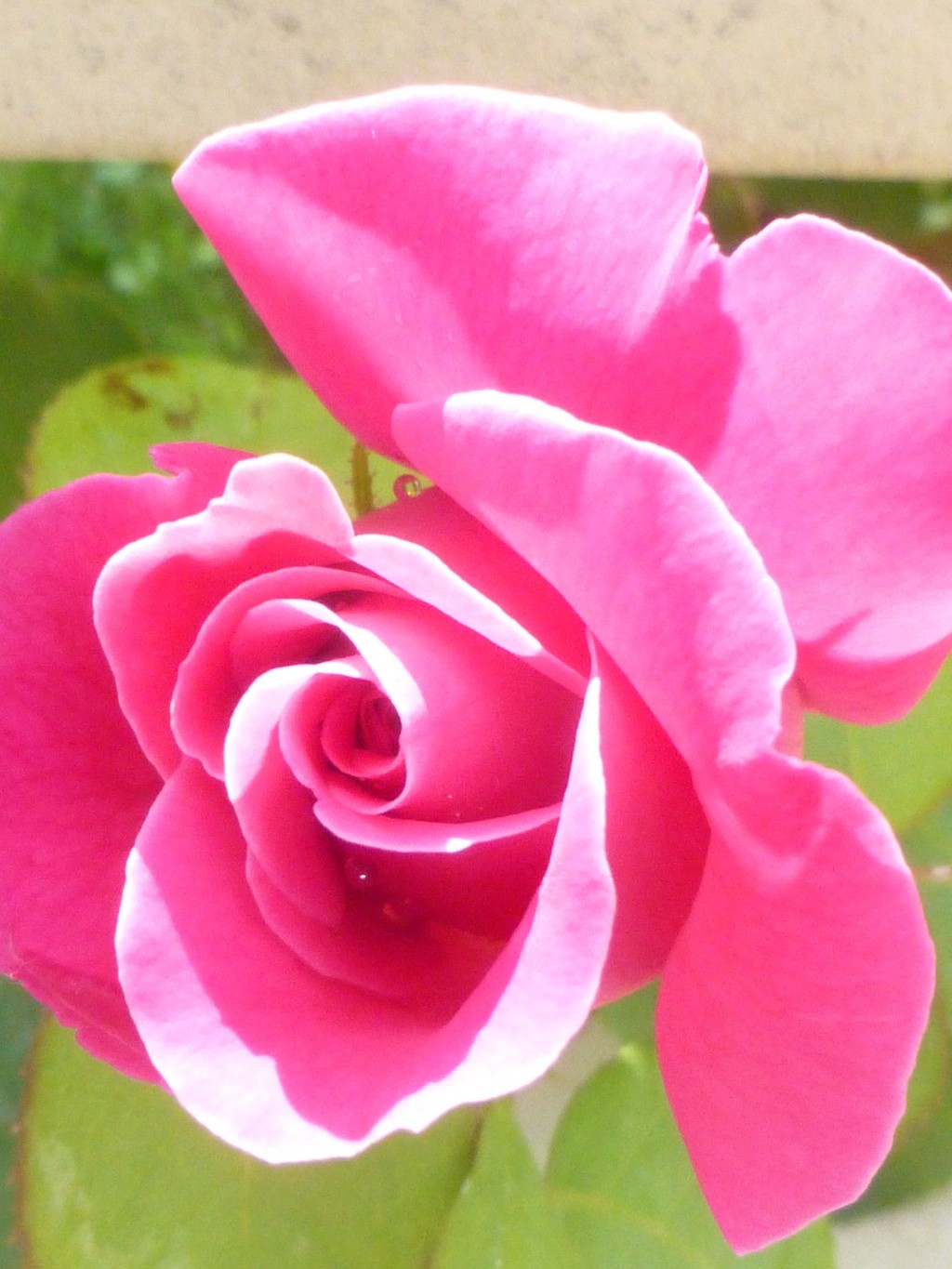 p1110506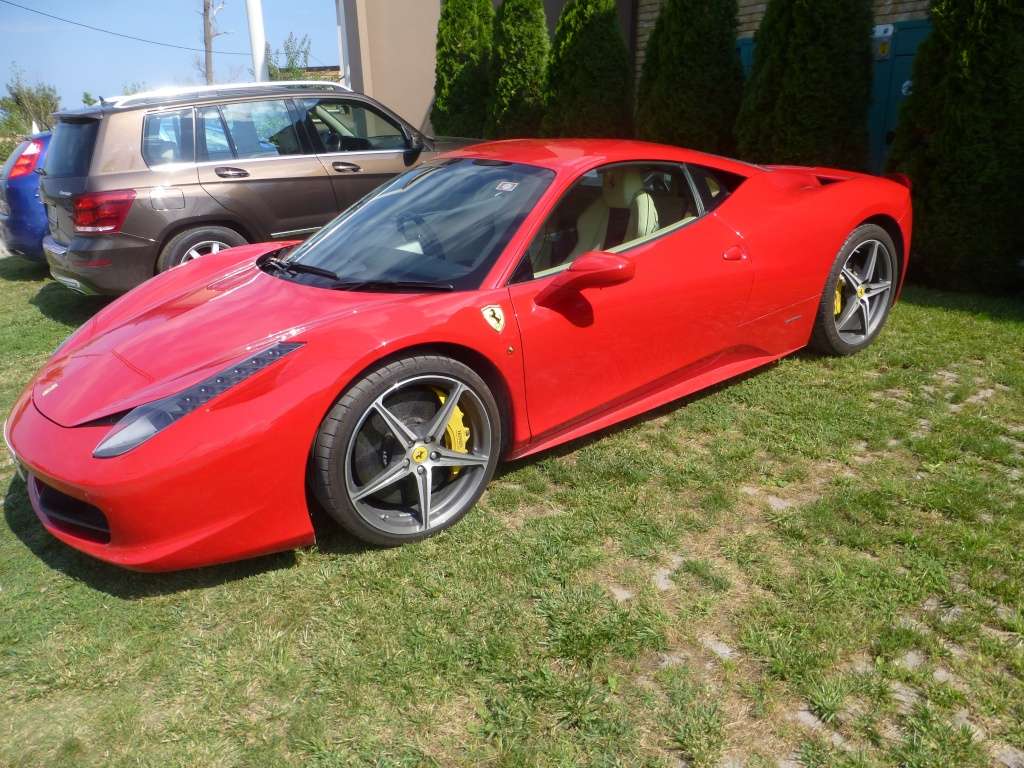 p1110509
unfortunately Mrs Db was not quite right to go out for the evening, so I went to Playa de Oro and brought back a take away pizza to share which was handy and nicely cooked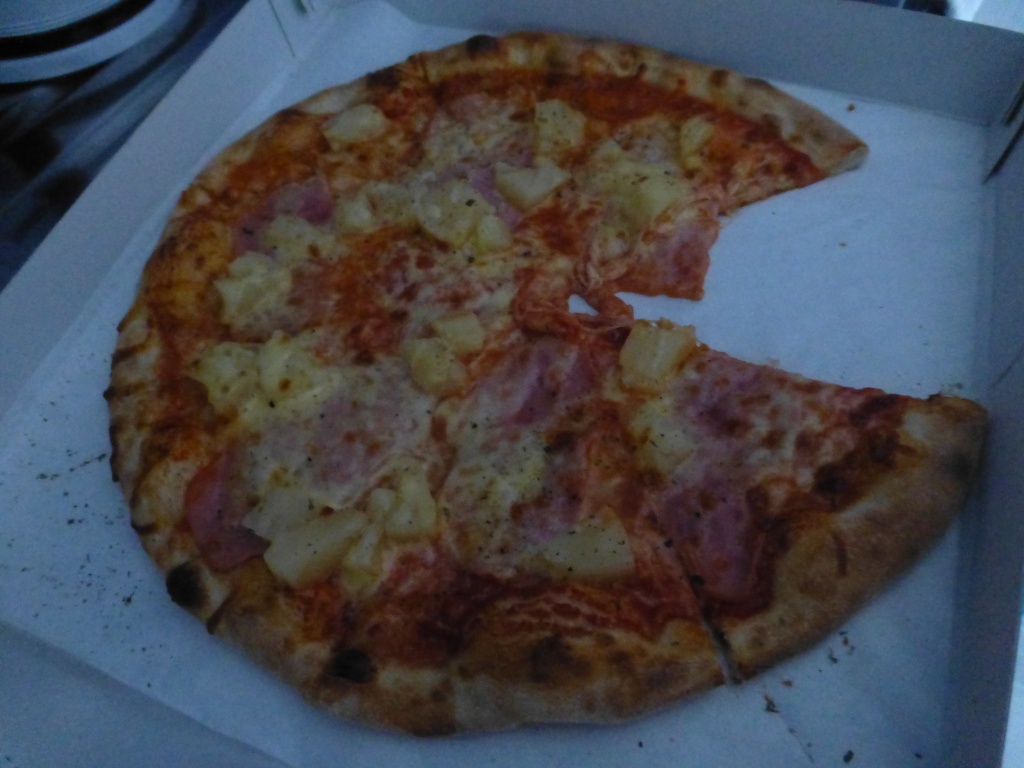 p1110510
and some jellies from the supermarket, well all hospitals seem to give their patients jelly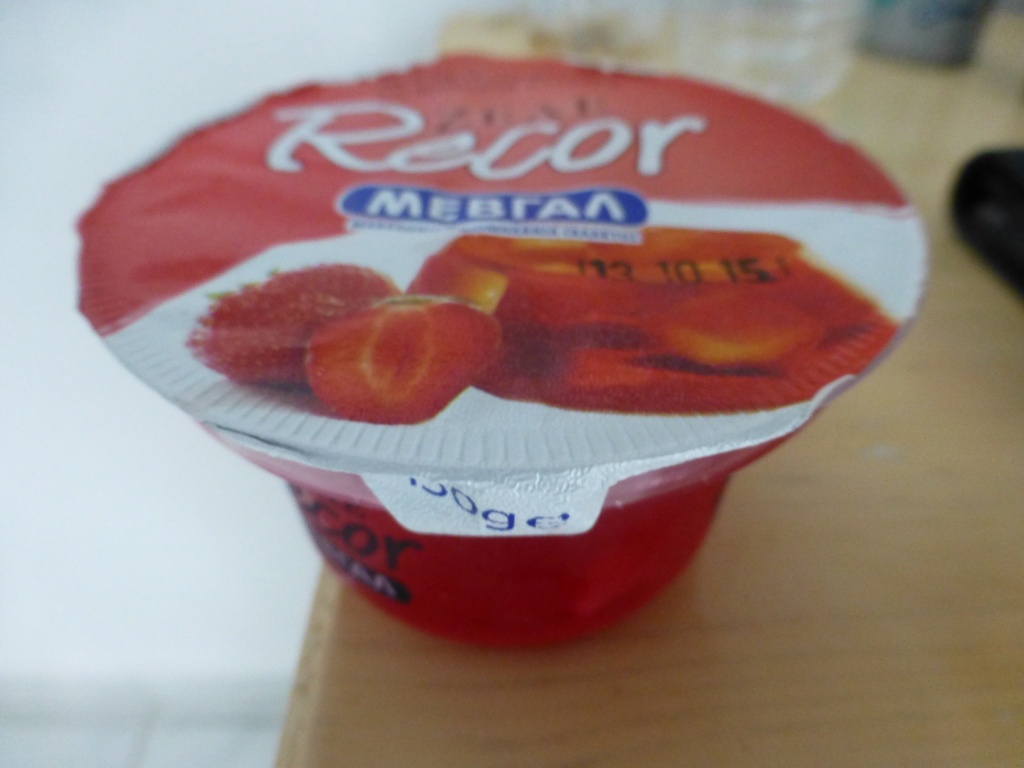 p1110674
End of day 5day 6

The weather didn't start a very nice day and Mrs Db decided she would prefer to read her Kindle, however, I needed to keep my walking going if I was to achieve my goal.
so it was a walk passed this castle looking place and up to the firebreak to see what photos I could get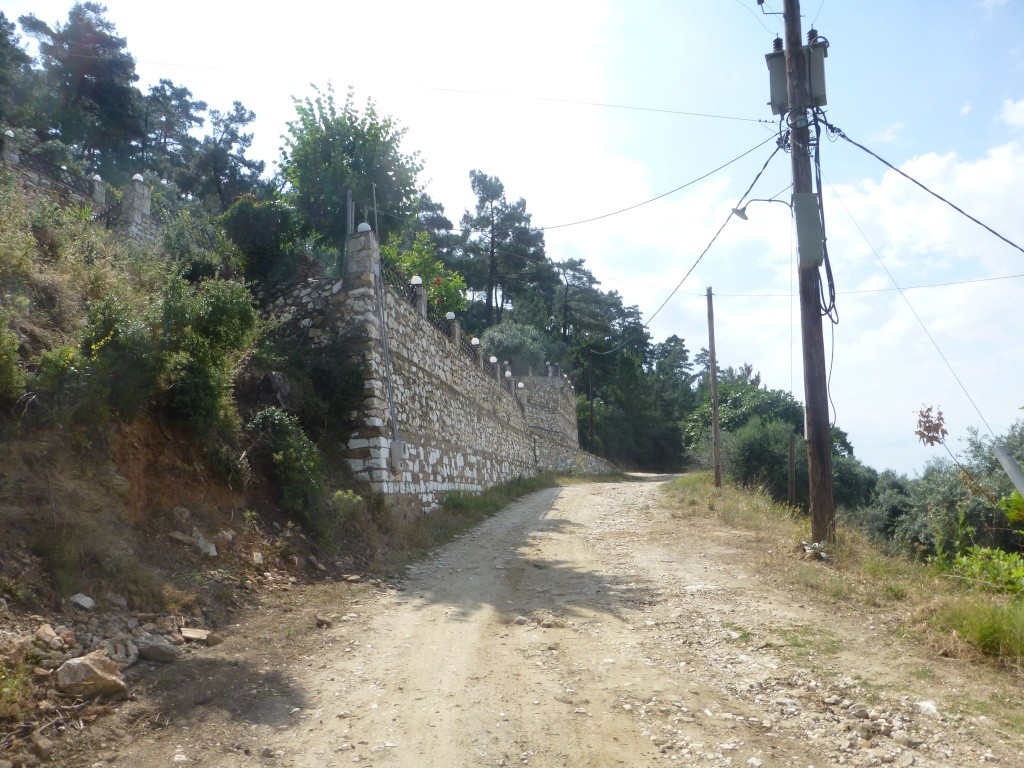 p1110563
Then 150m / 200m further up the hill and beyond it are these signs and you need to go up the hill marked Panagia, the road I have just come up is on the left of the picture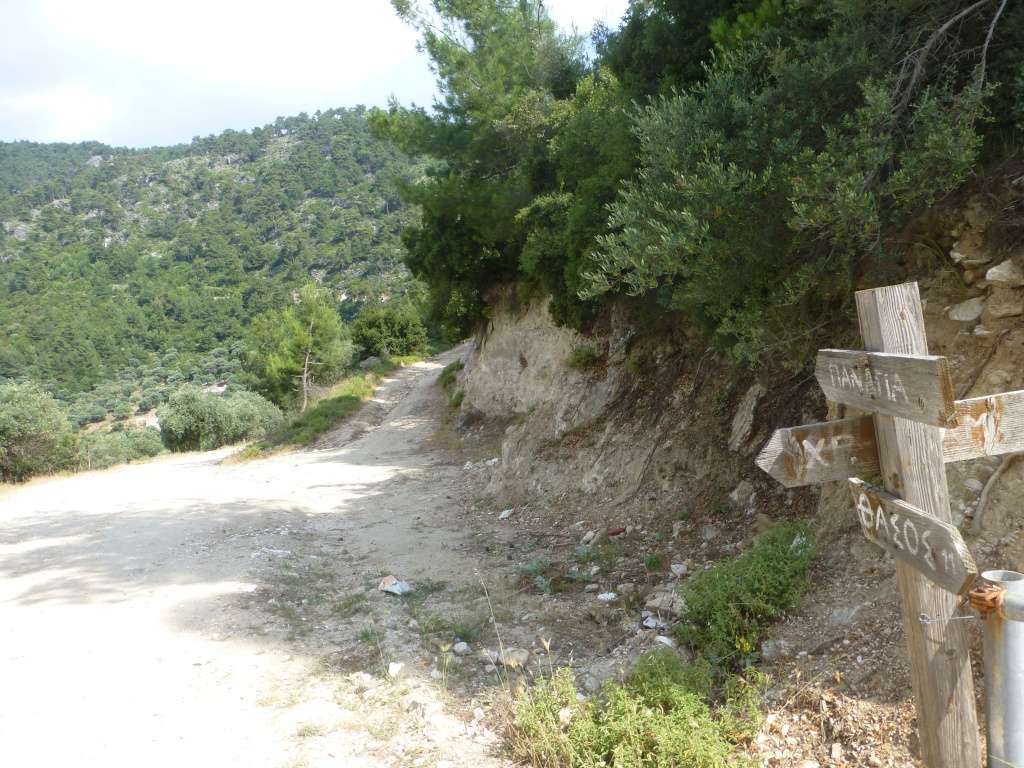 p1110572
Vilgi's resto is at the bottom of the picture on the peninsular bit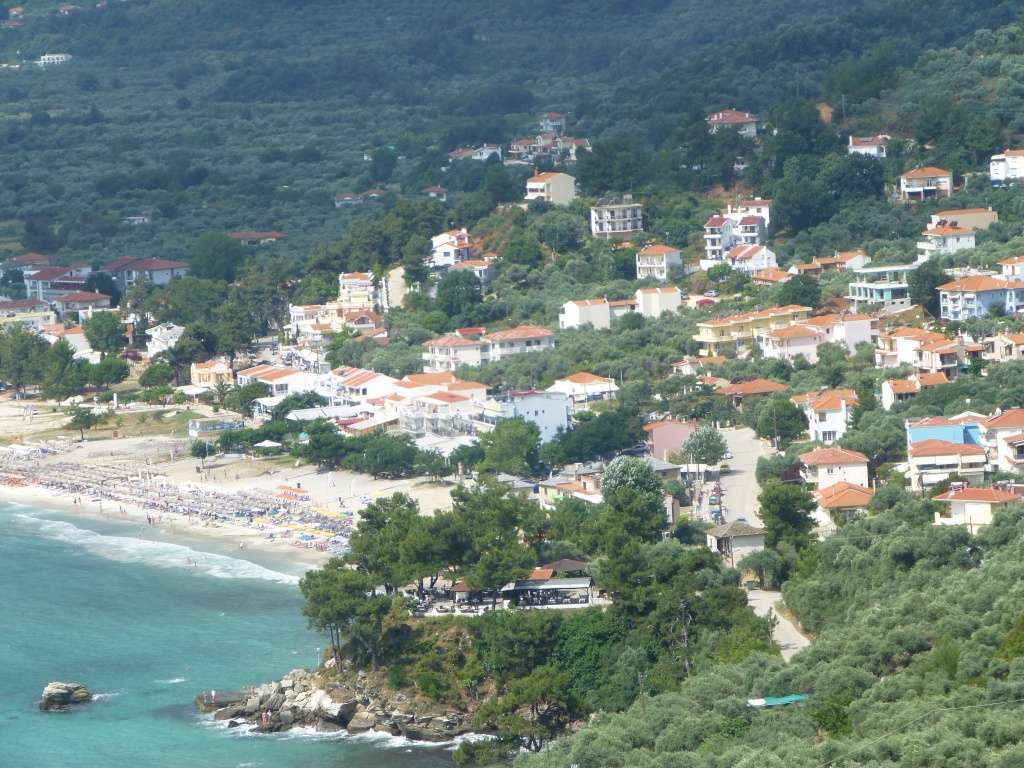 P1110579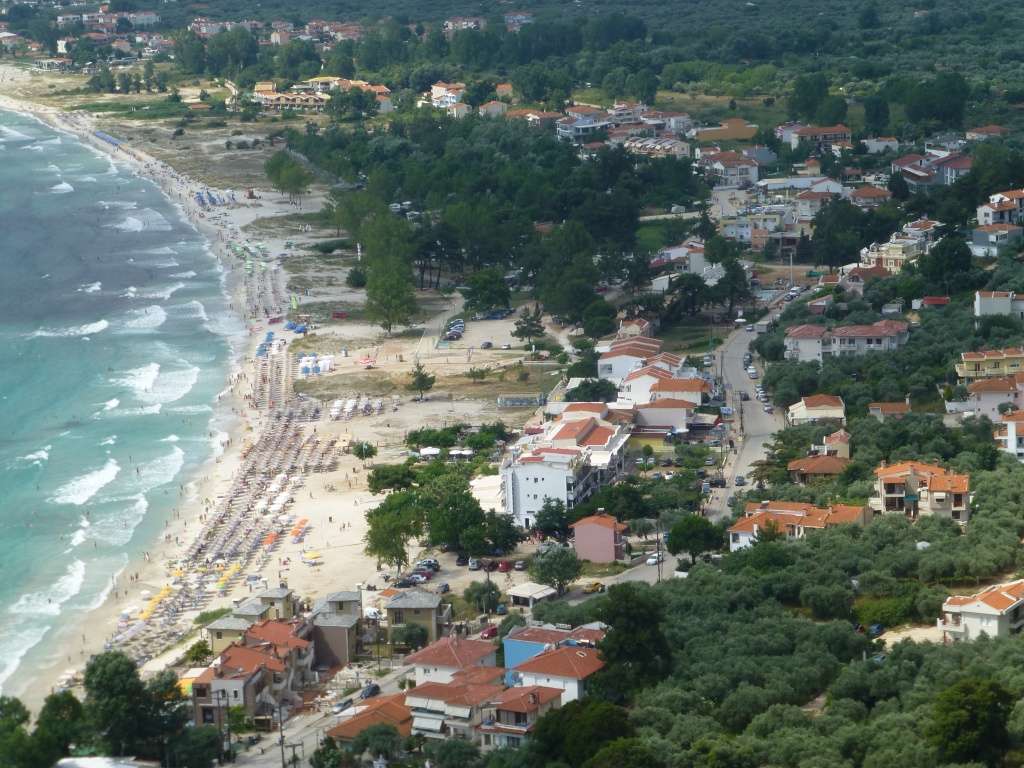 p110593
The Emerald Suites with their balconies in this picture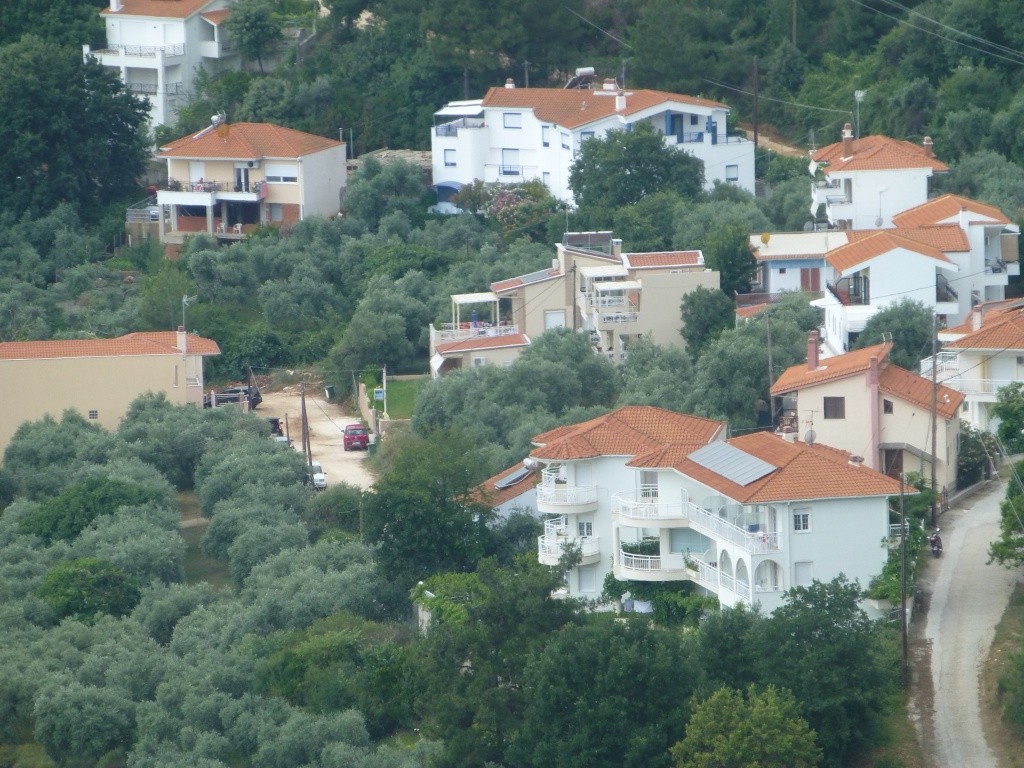 p1110601
A goat came flying down the mountainside and up the pathway and then back up the mountain, which made me jump and then it was gone but a baby goat was following it and I just snap it going into the distance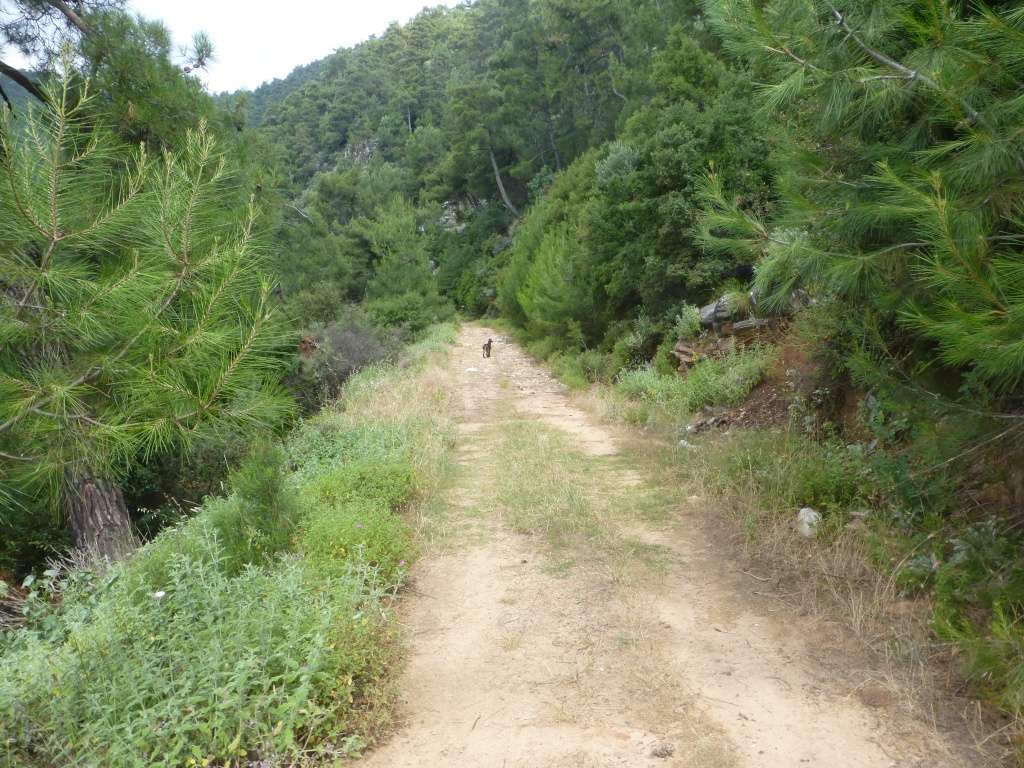 p1110609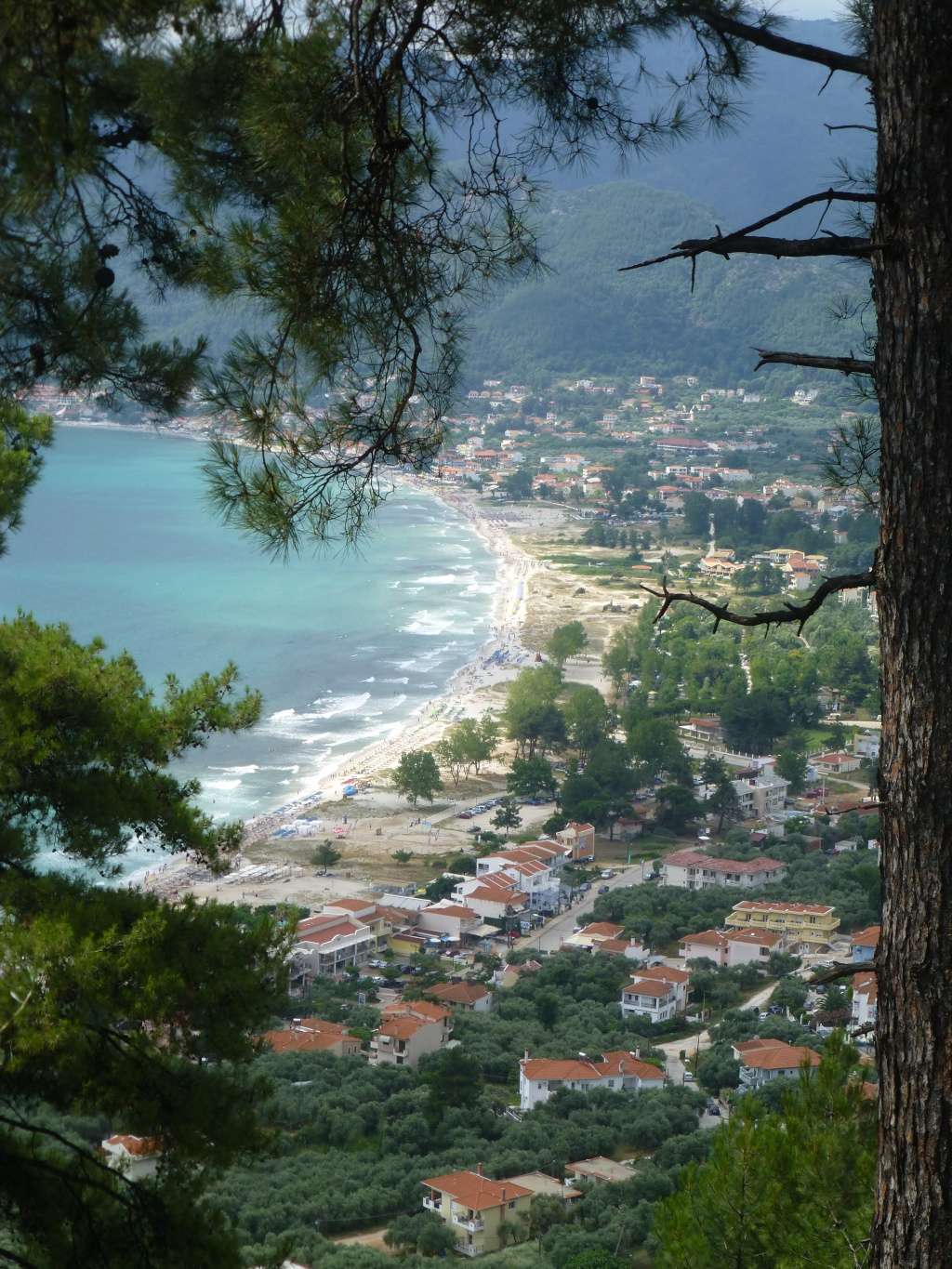 p1110612
always trying to improve my photography, I was quite pleased with this hand held one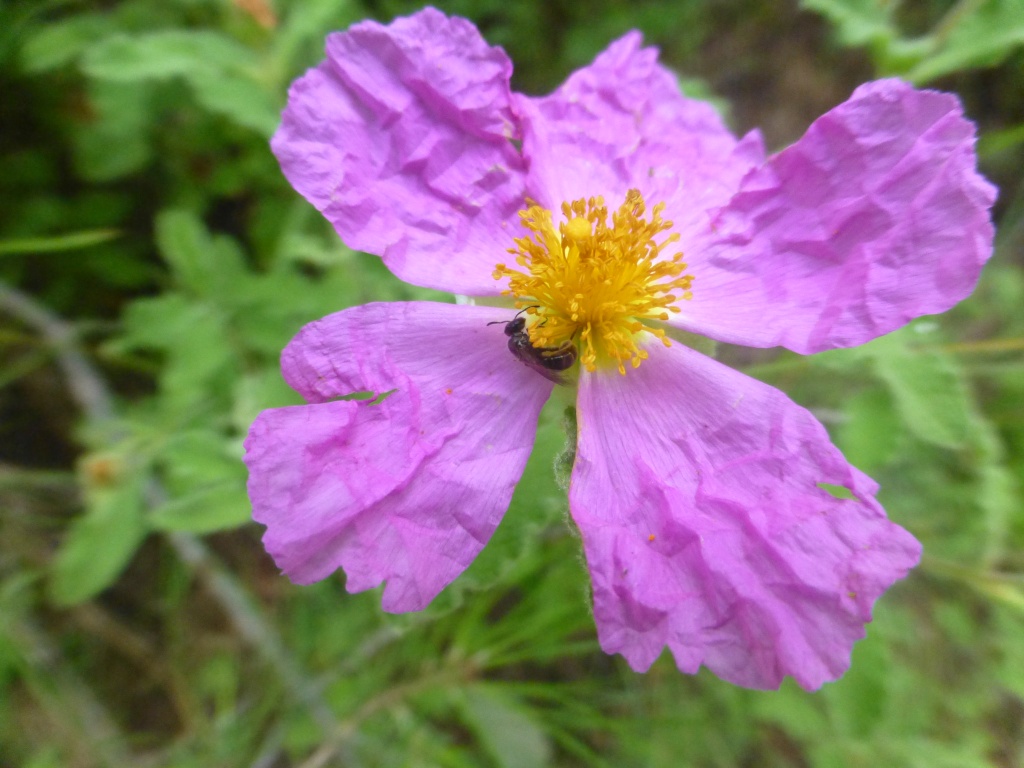 p1110621
The Princess Golden sits in the middle of the picture which was originally the Ioannis rebuilt and due to the bad winter they were rushing to complete it for the start of the season which went passed the 5th May deadline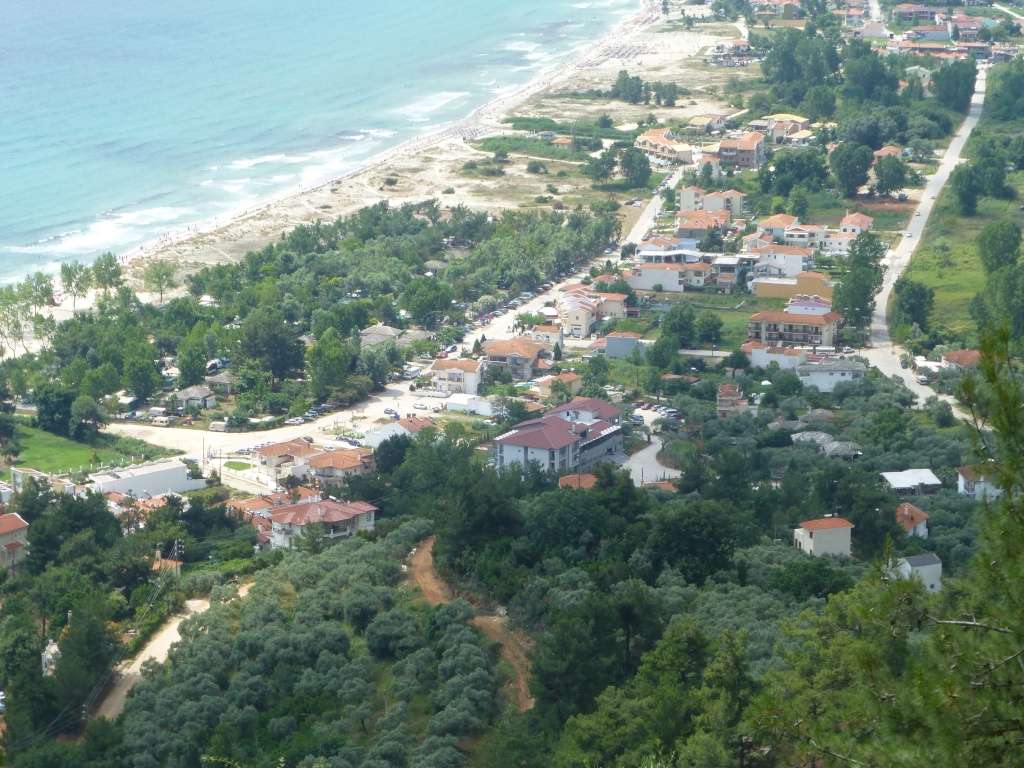 p1110625
Thomson clients were put in the Alexandra Golden Beach for the first week whilst it was being finished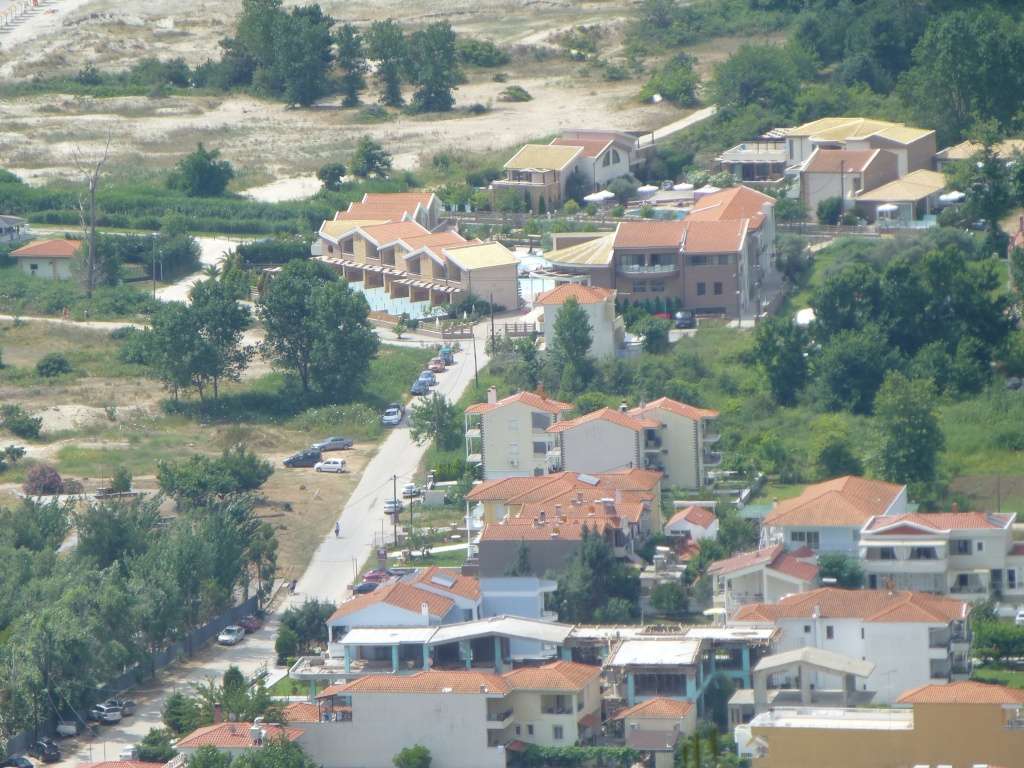 p1110628
It good up here, you can virtually pick every building in Golden Beach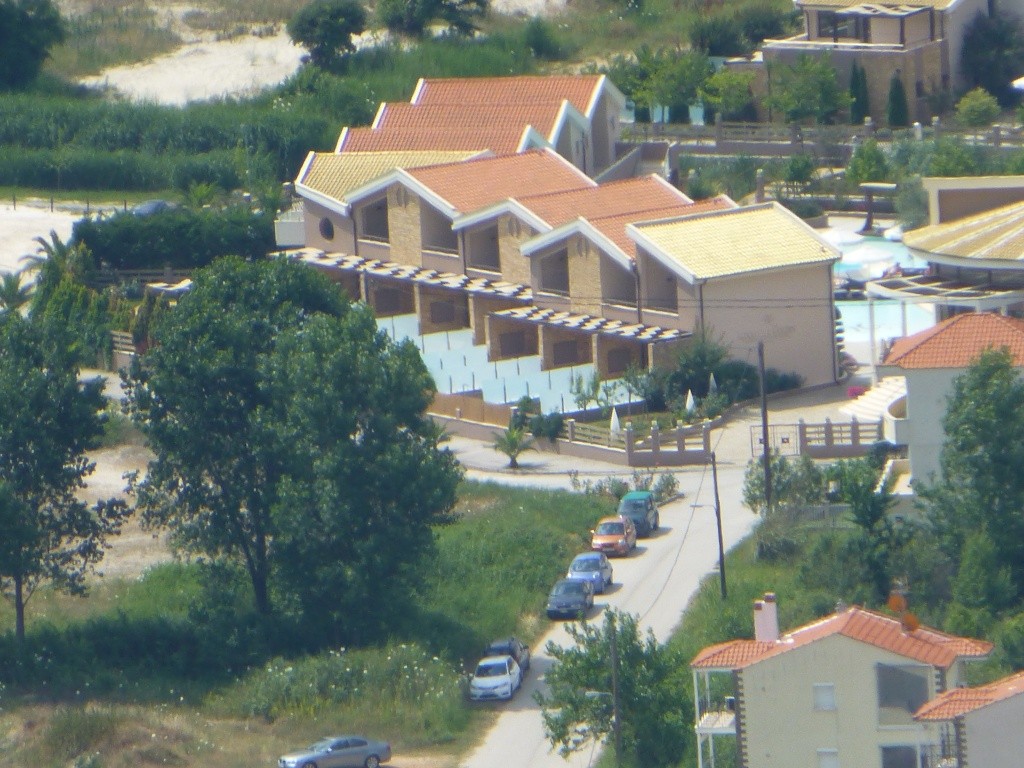 p1110629
and closer one of the Princess Golden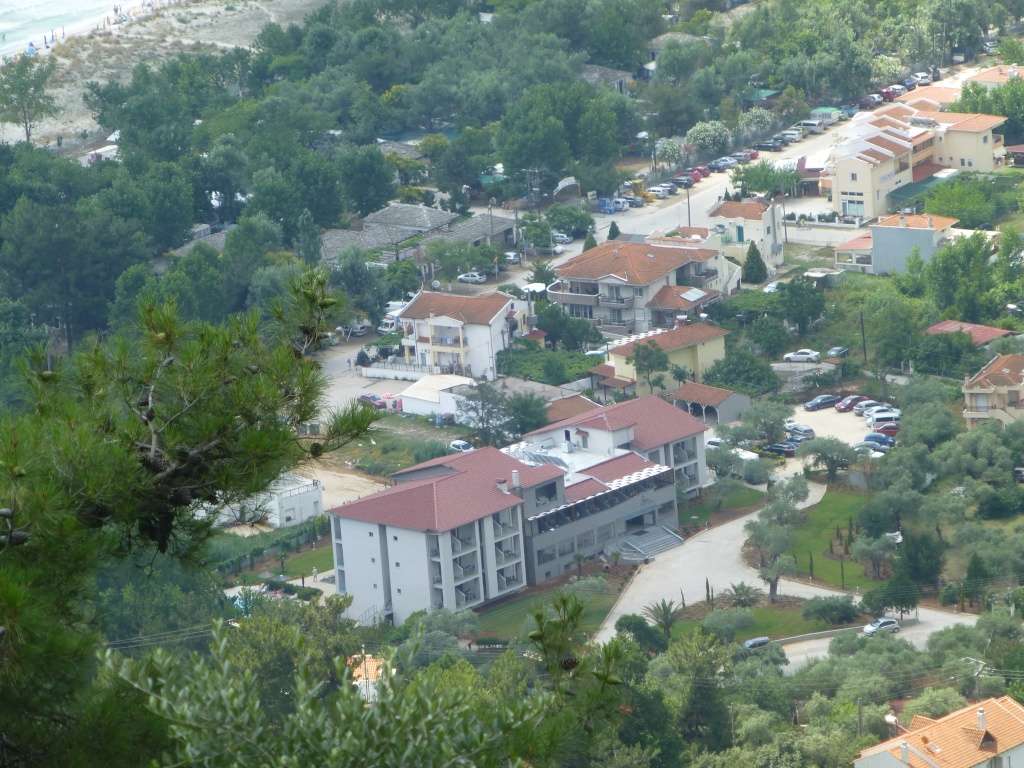 p1110636
I have loads of pictures up here but not the best of days but just some general shots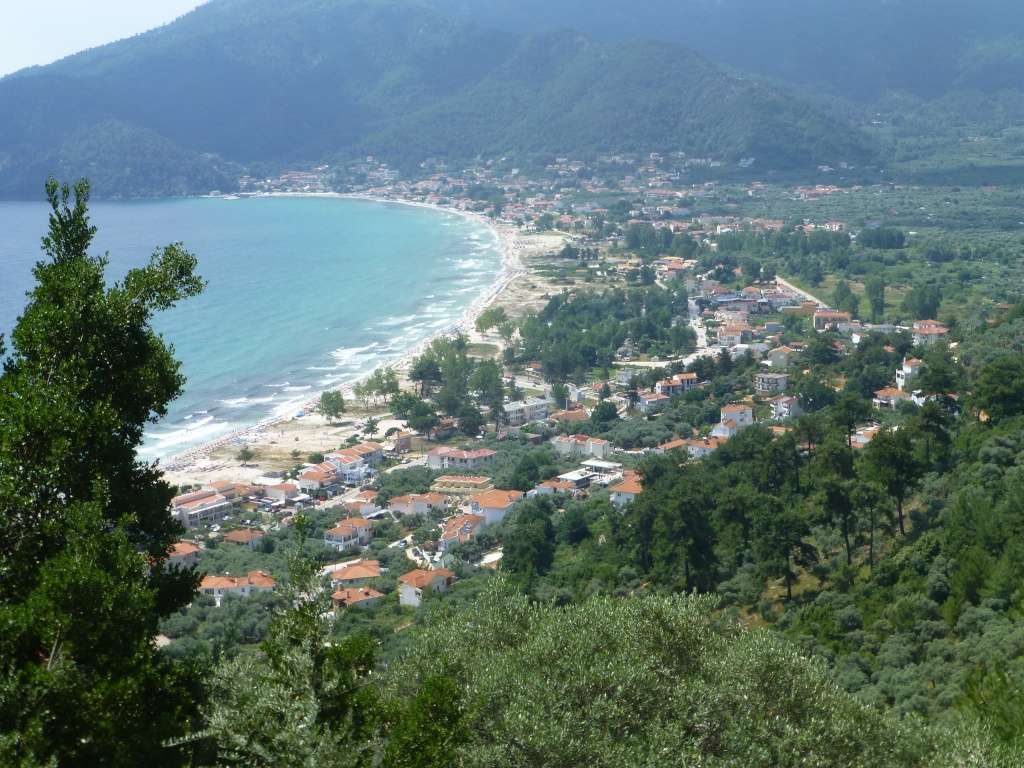 p1110651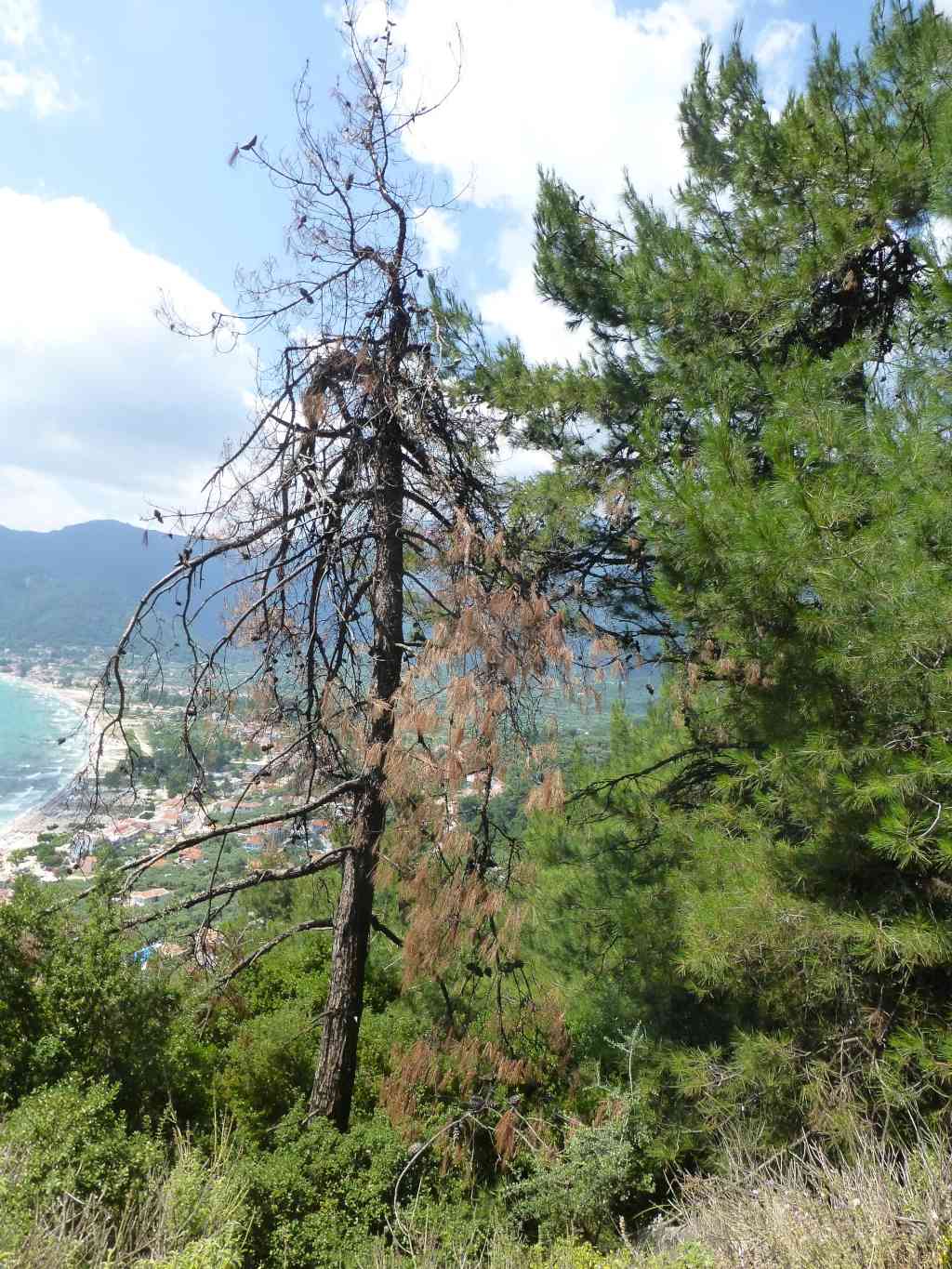 p1110652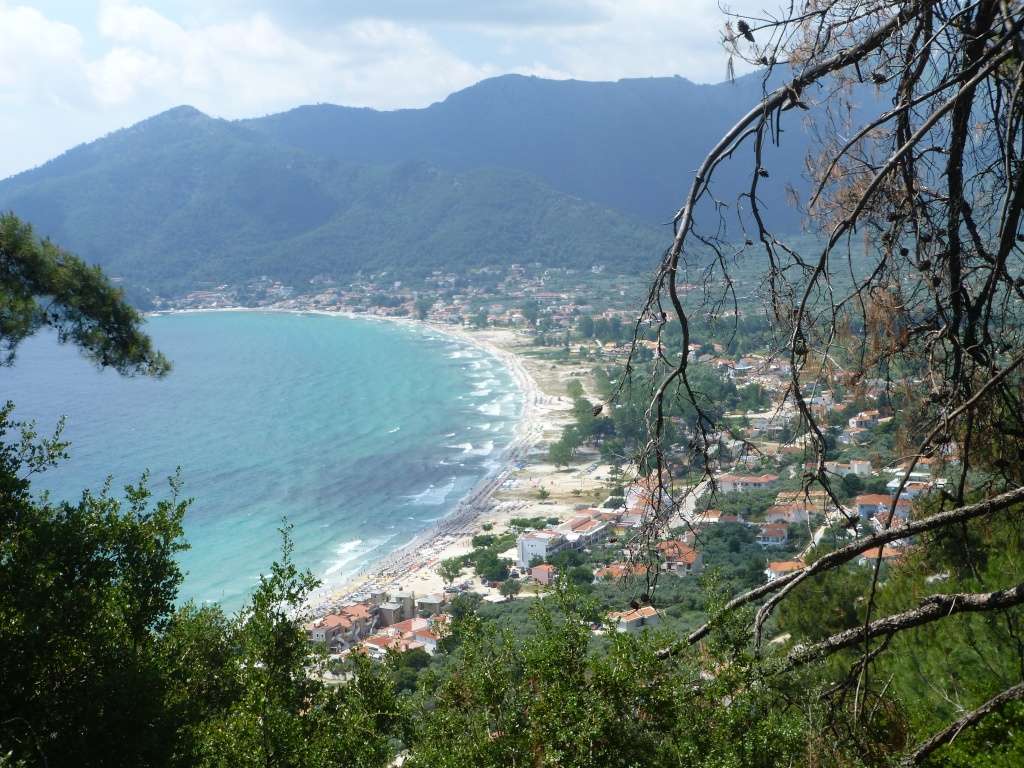 p1110653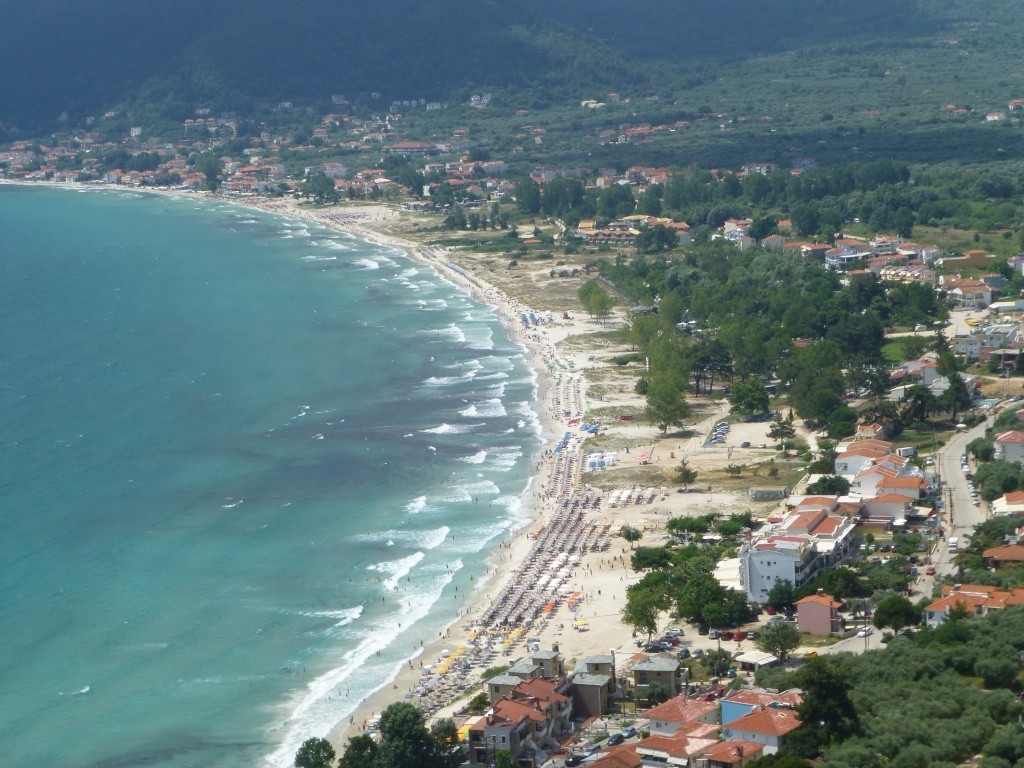 p1110662
then it was back to Mrs Db for lunch at the Nisi, where we chose meatballs and salad to share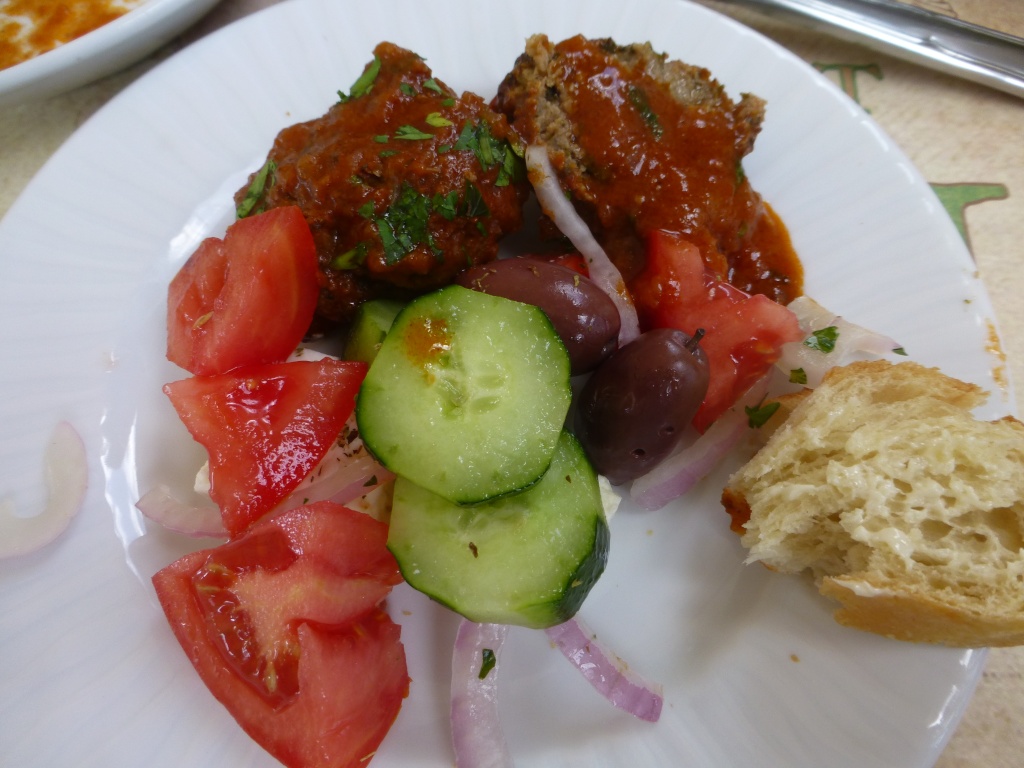 p1110665
afterwards we just sat on the balcony for the afternoon, others came back early from the beach to say it was too windy to sit on it.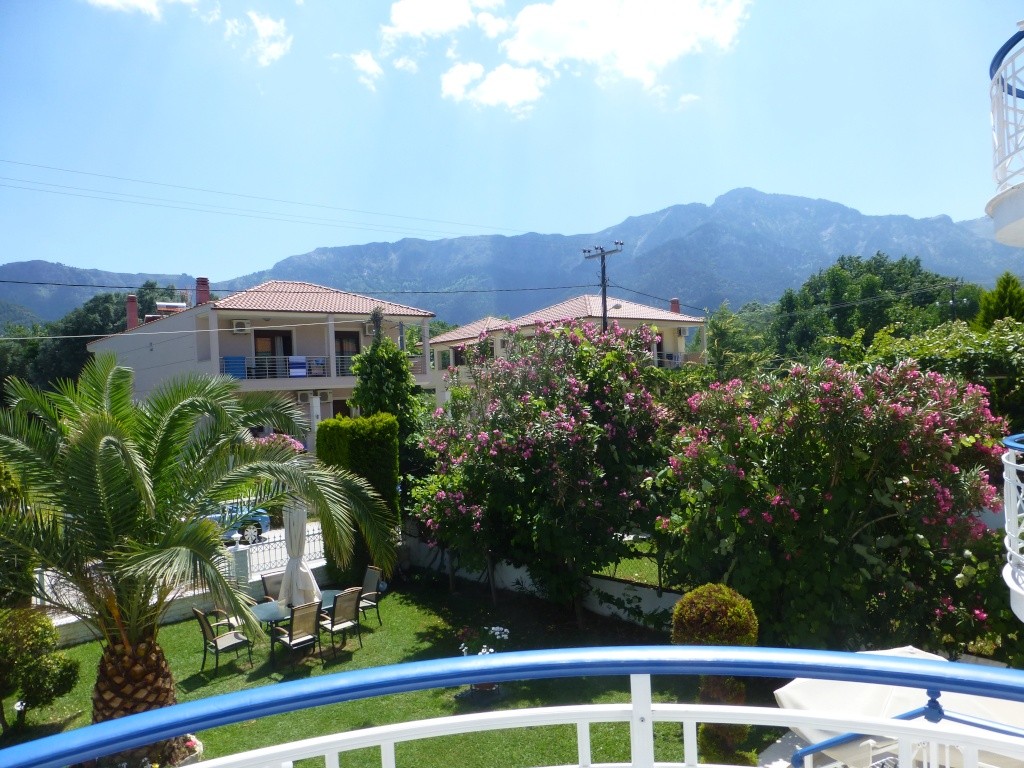 p1110666
tonight we are eating in the Palude, which table do i pick Mrs Db ?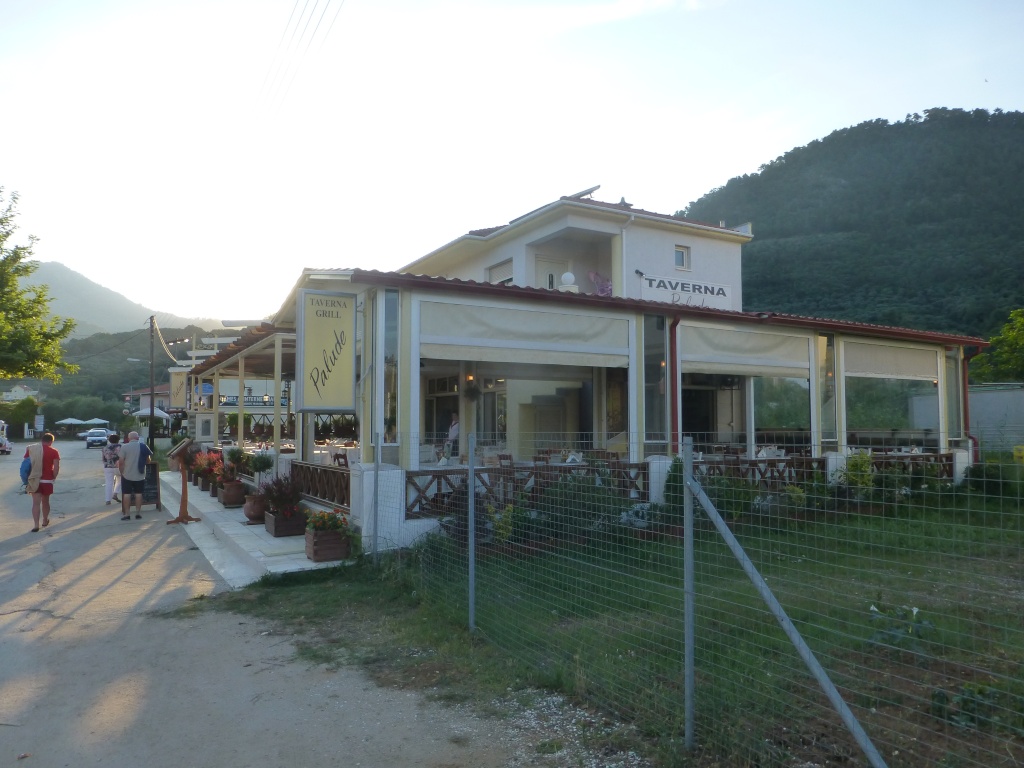 p1110667
your not wanting this one are you Delboy lol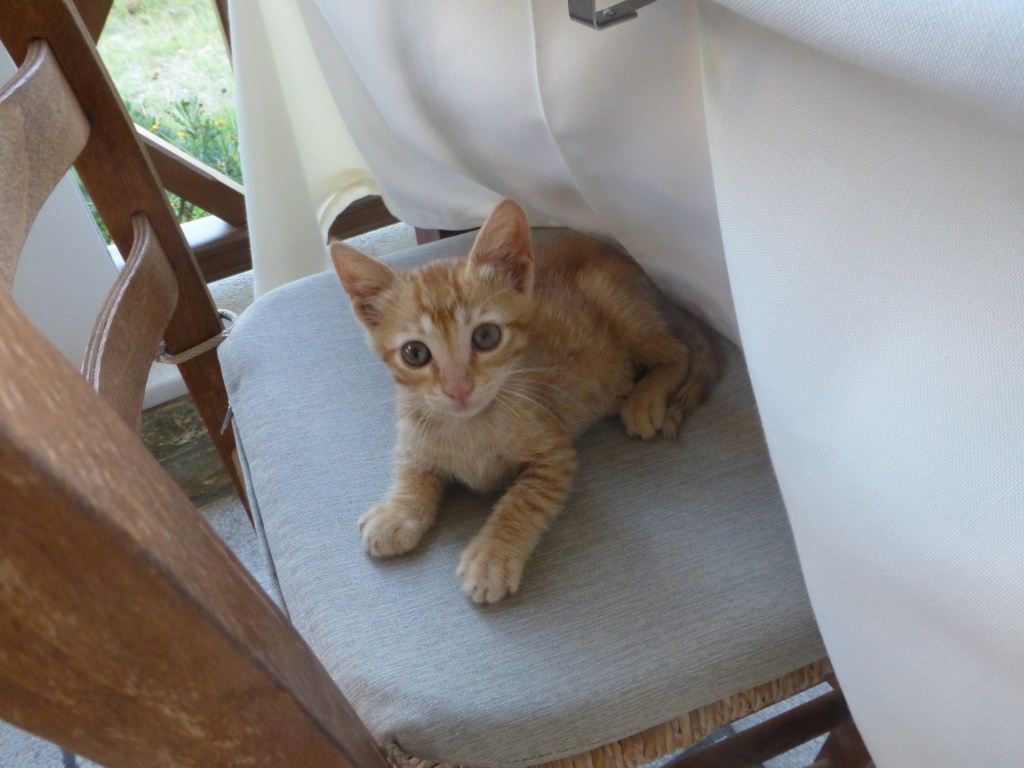 p1110668
the kitten came into the resto crying a few days ago and the resto has adopted it lol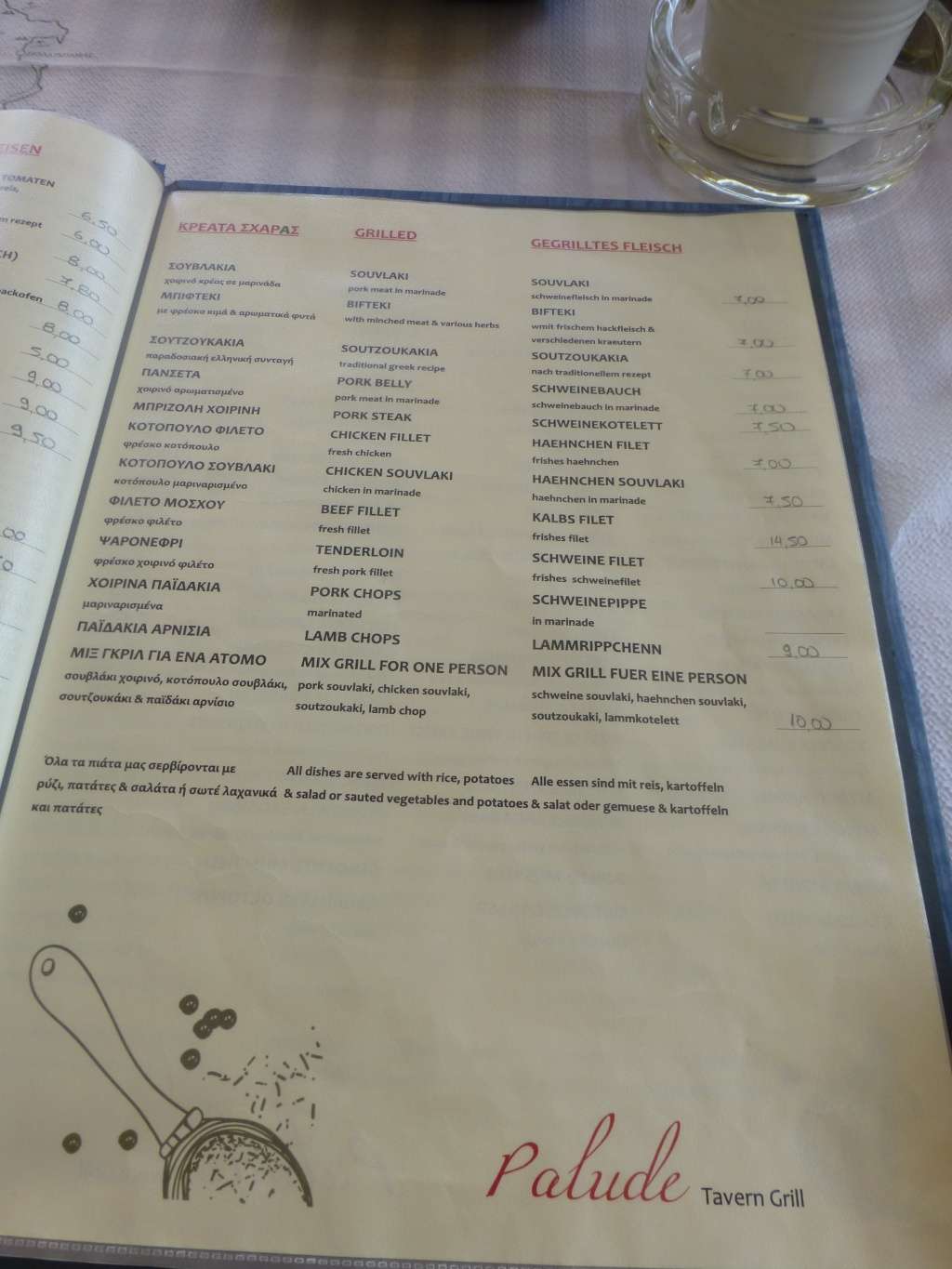 p1110732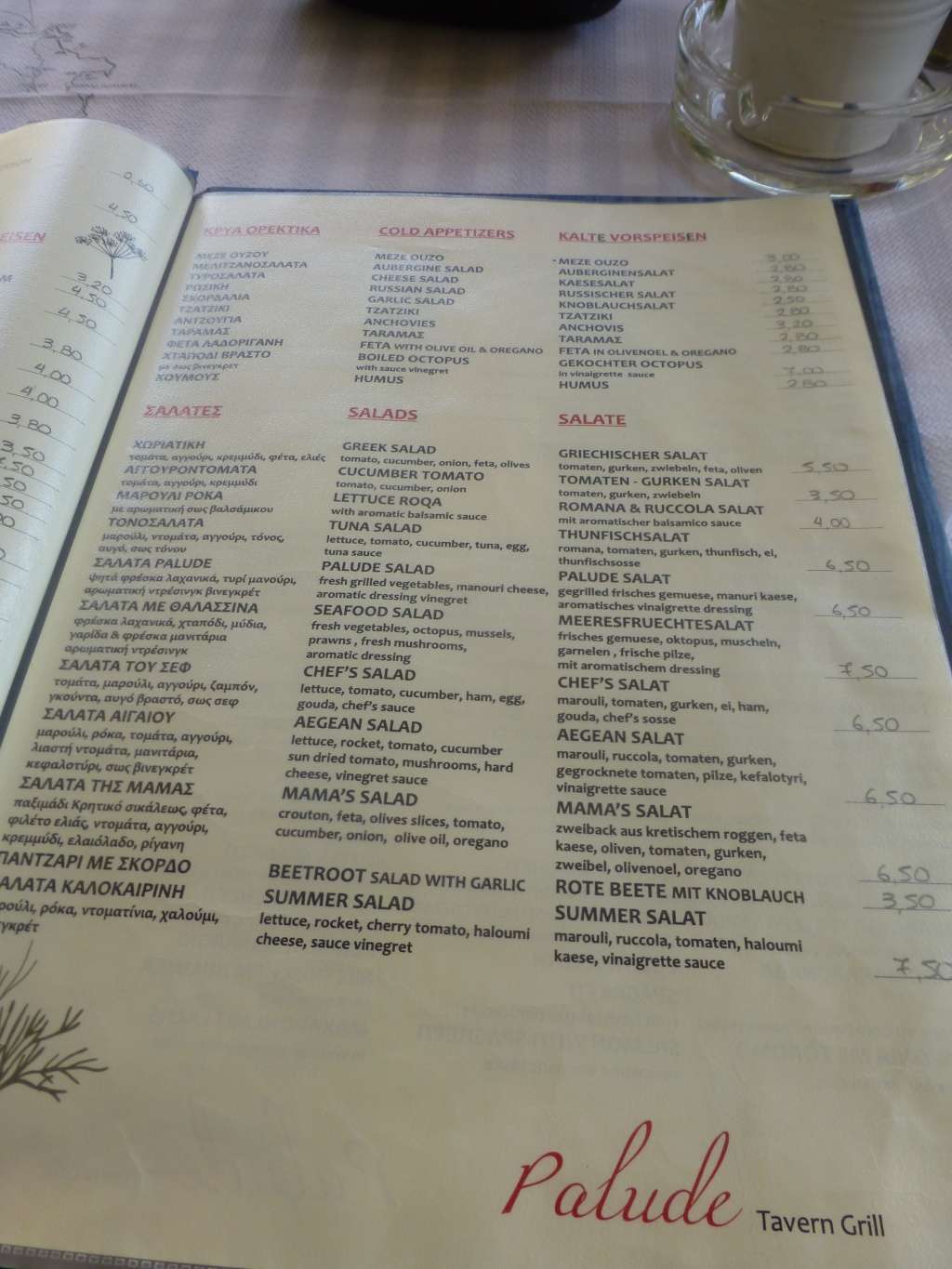 p1110733
I had steak with bacon and sauce, I just realised I have had steak except on Thursday does that make me Shirley Valentines husband lol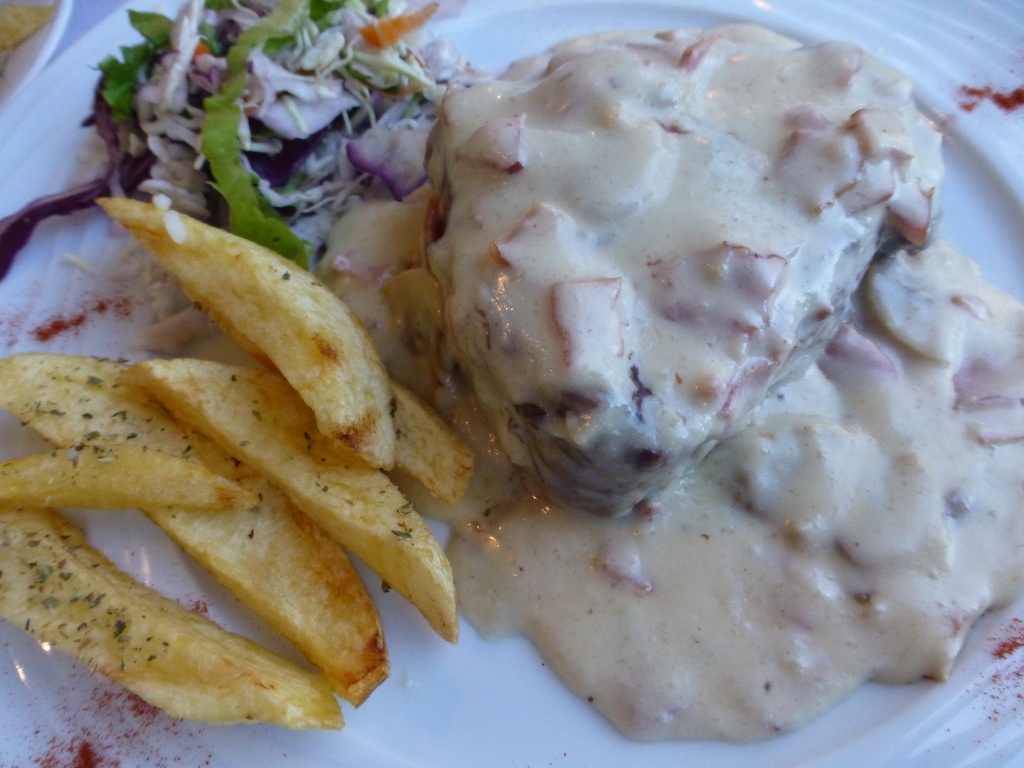 p1110671
Mrs Db had pork in mushroom sauce, i dont think i have the right pages of the menu lol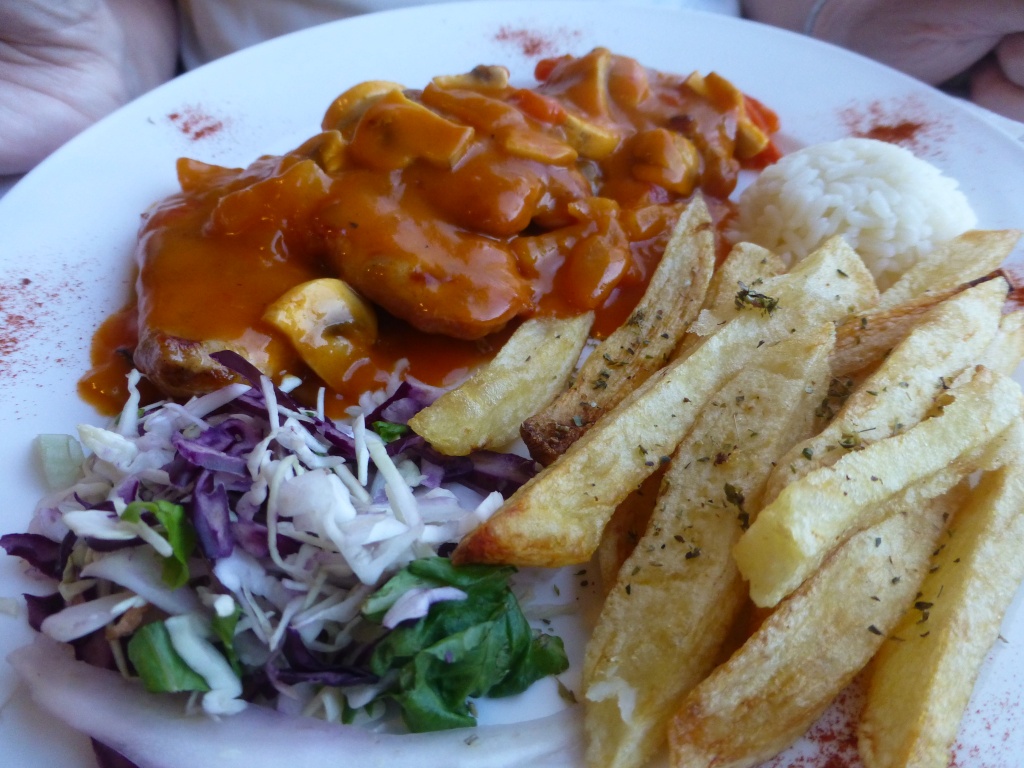 p1110672
and we had a coffee on the balcony
End of day 6Day 7

sitting on the balcony it wasn't cold but cloudy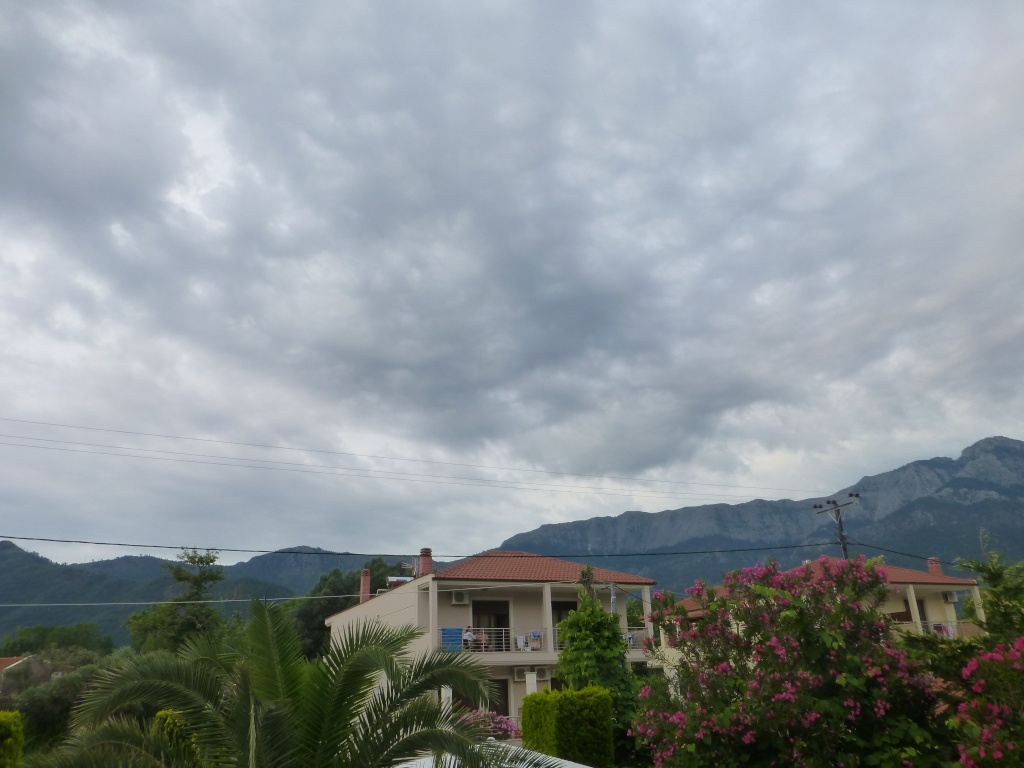 p1110673
so we decided to try the beach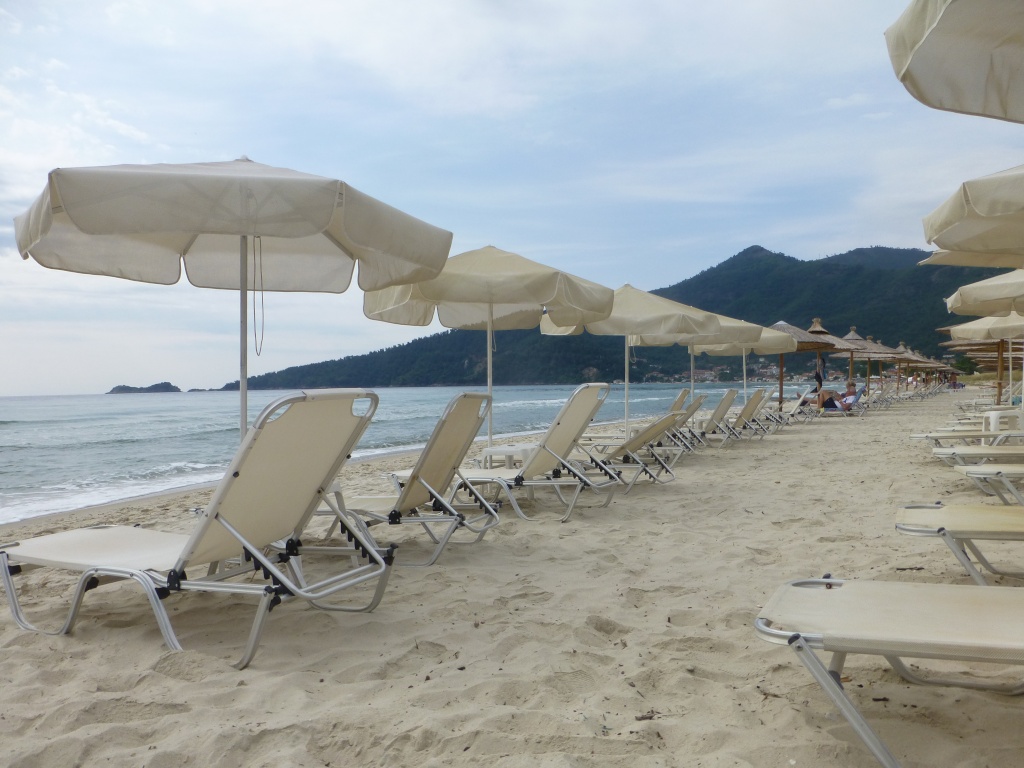 p1110675
It didn't turn out too bad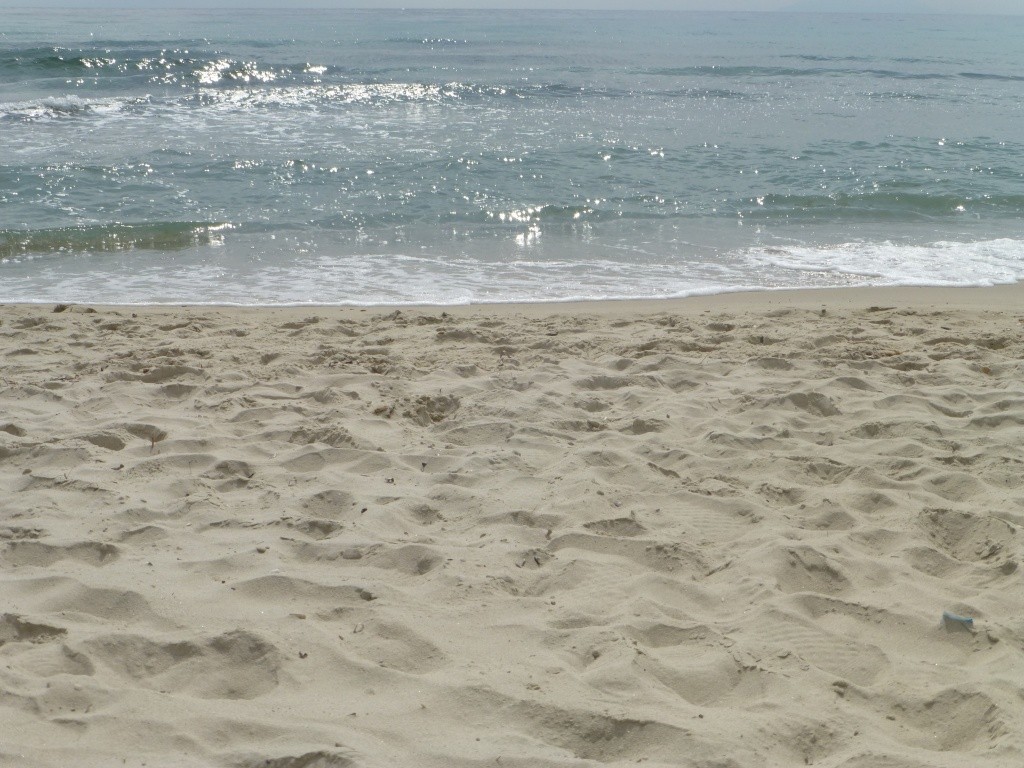 p1110677
lunchtime was in Finikas who do omelettes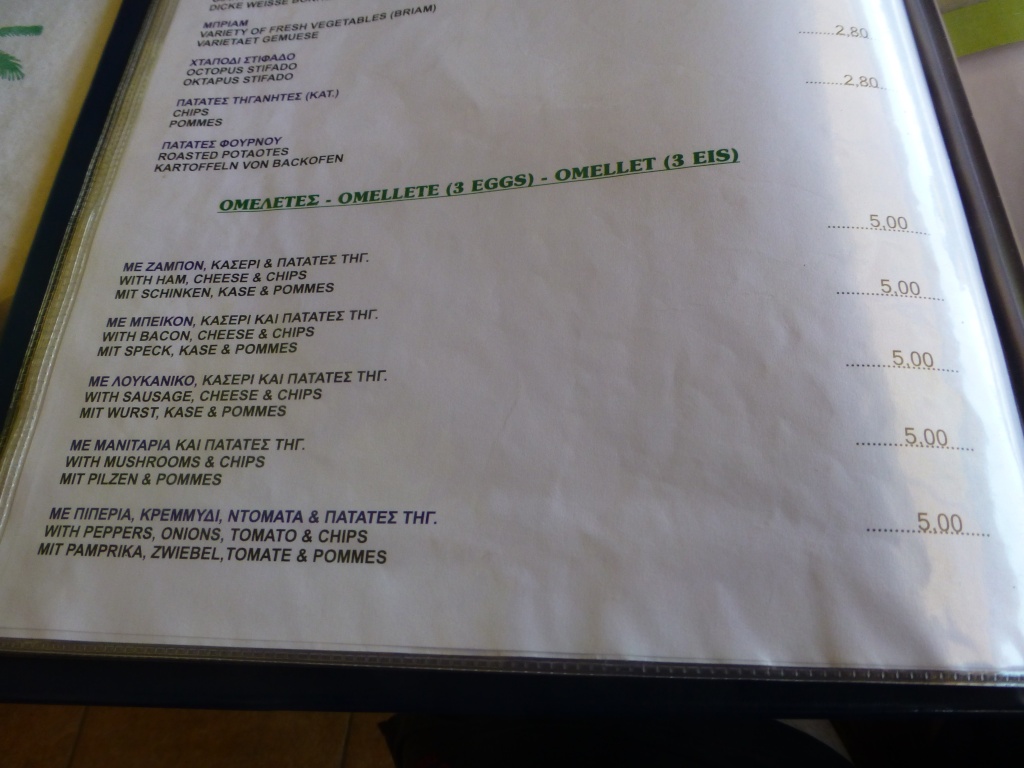 p1110678
Mrs Db had the ham and cheese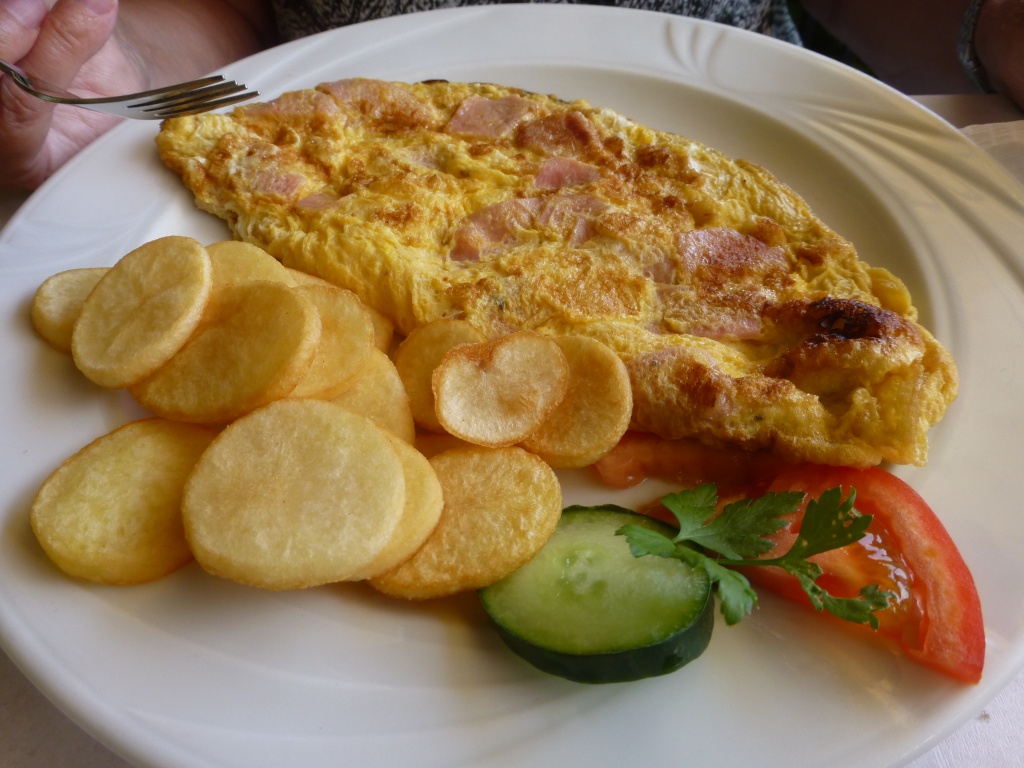 p110680
I had the sausage one, which are really frankfurters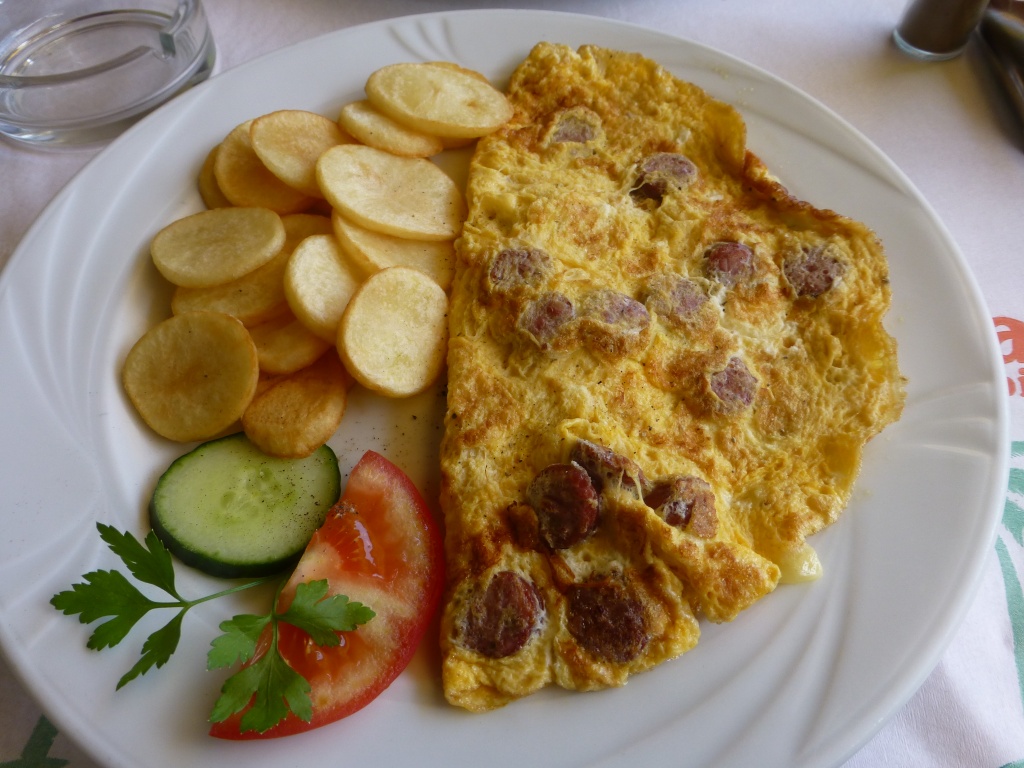 p1110681
and free melon on the house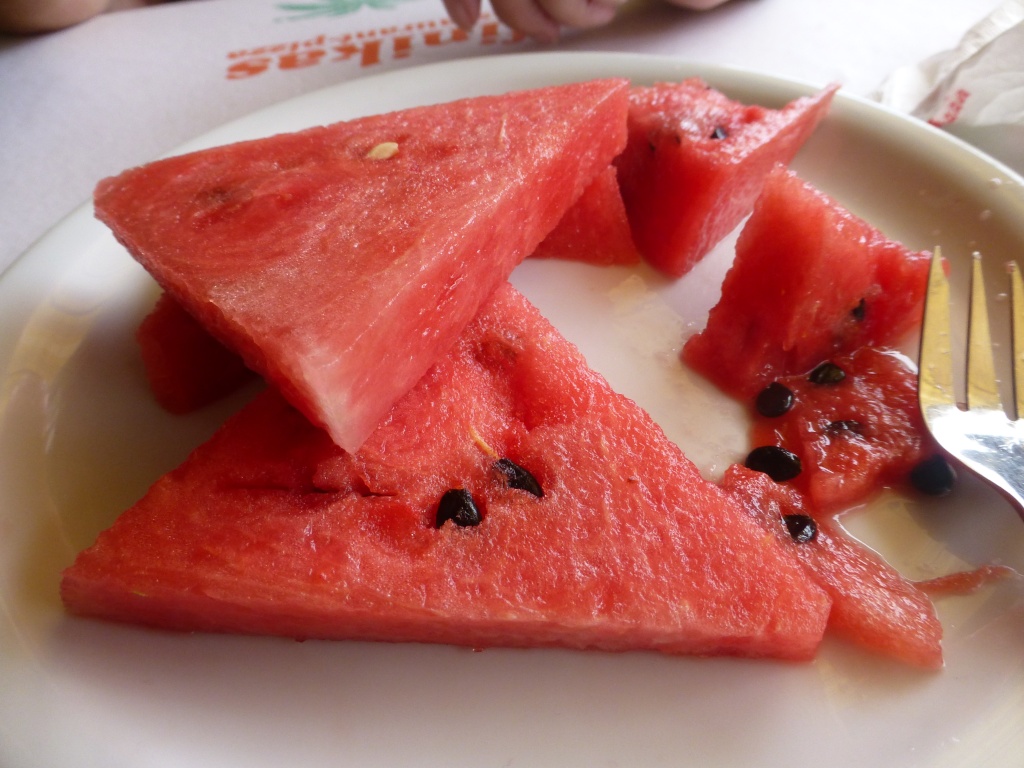 p1110682
no sure what happened in the afternoon as no pictures but this evening we are going to Vigli's that have Greek dancing on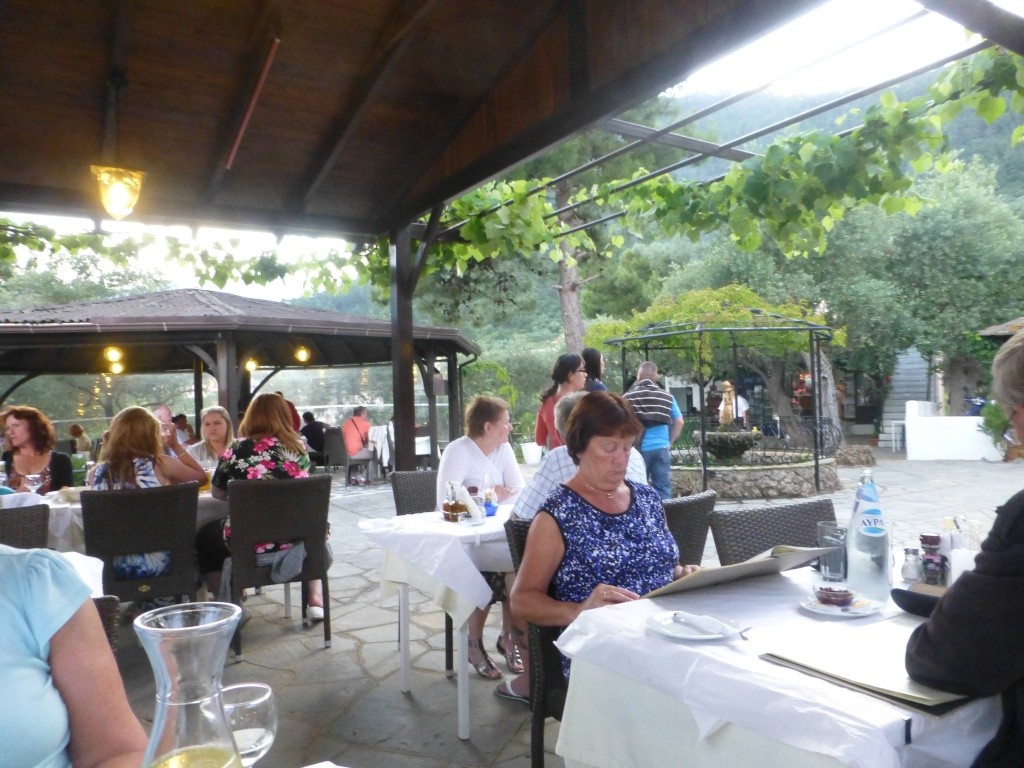 p1110691
newly written menus this year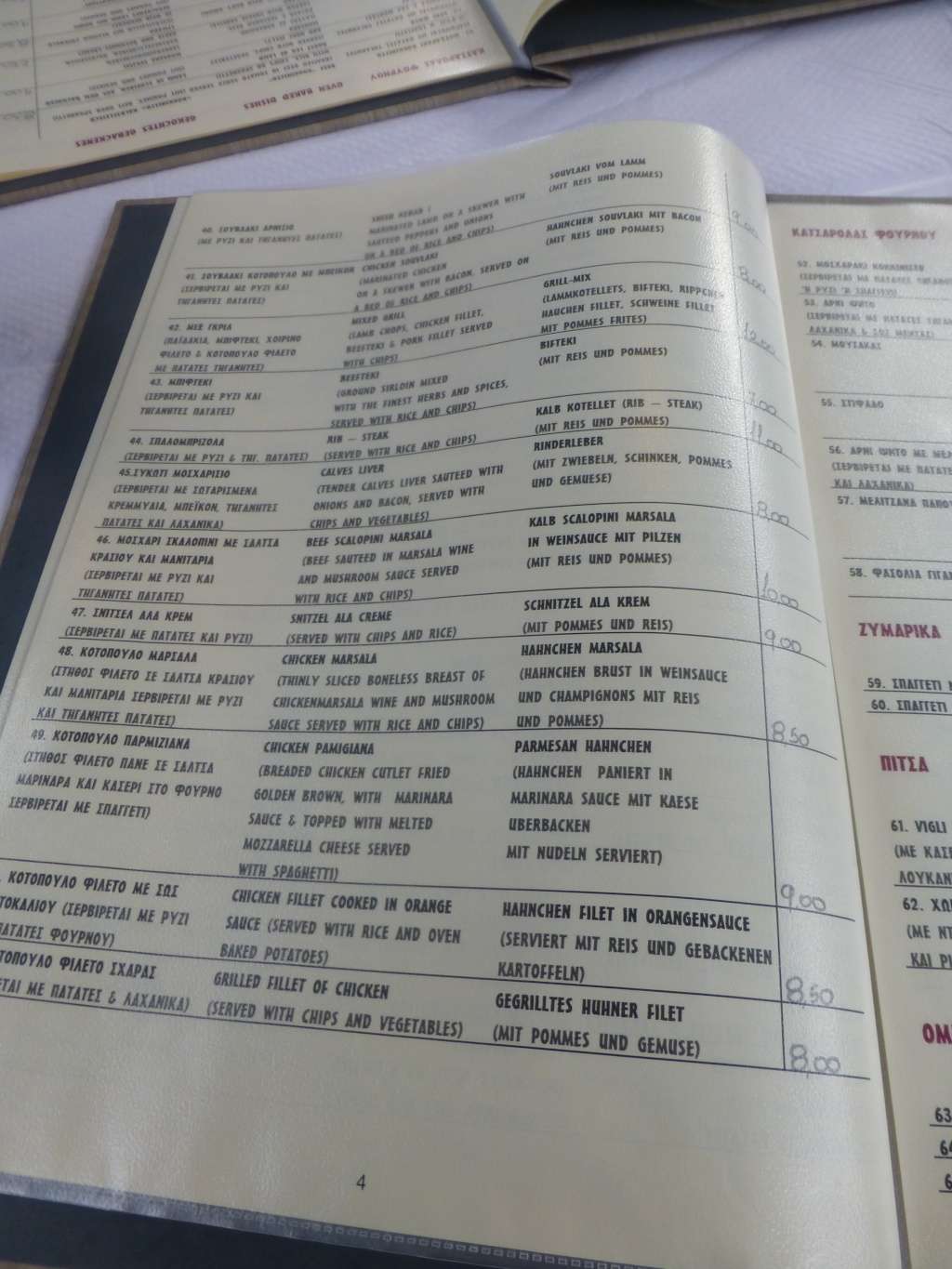 p1110685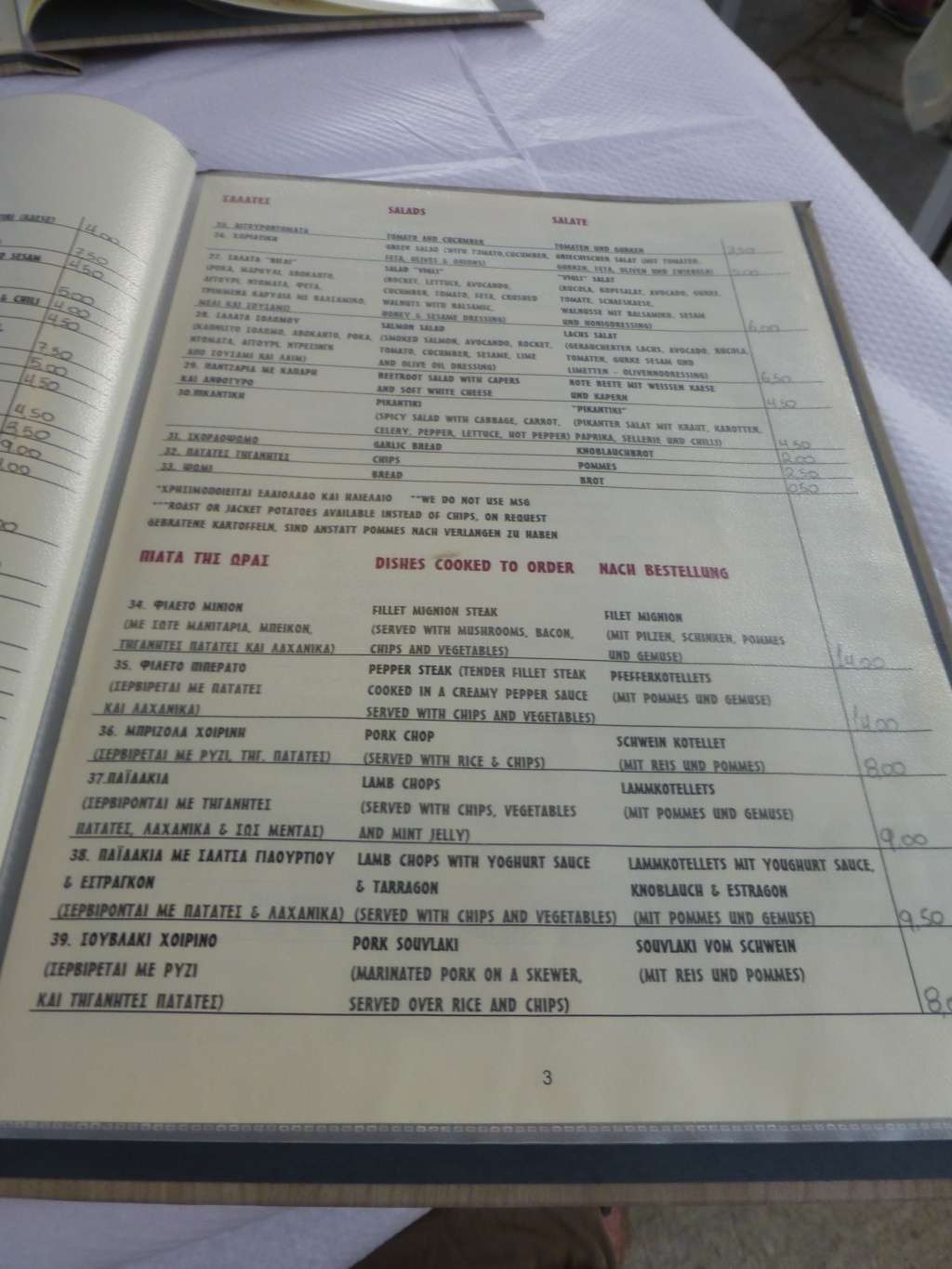 p1110686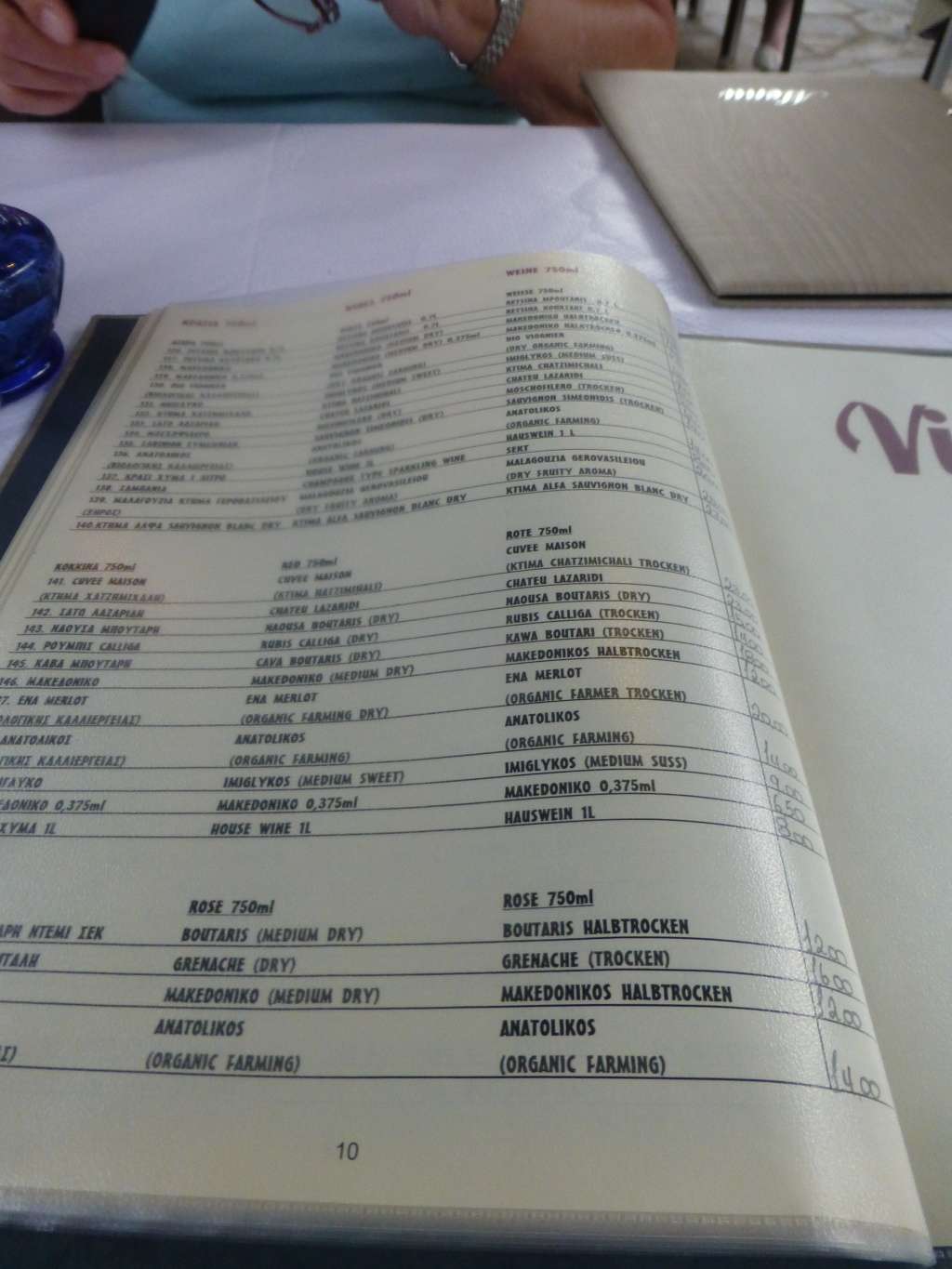 p1110687
I had the lamb chops with yogurt and tarragon sauce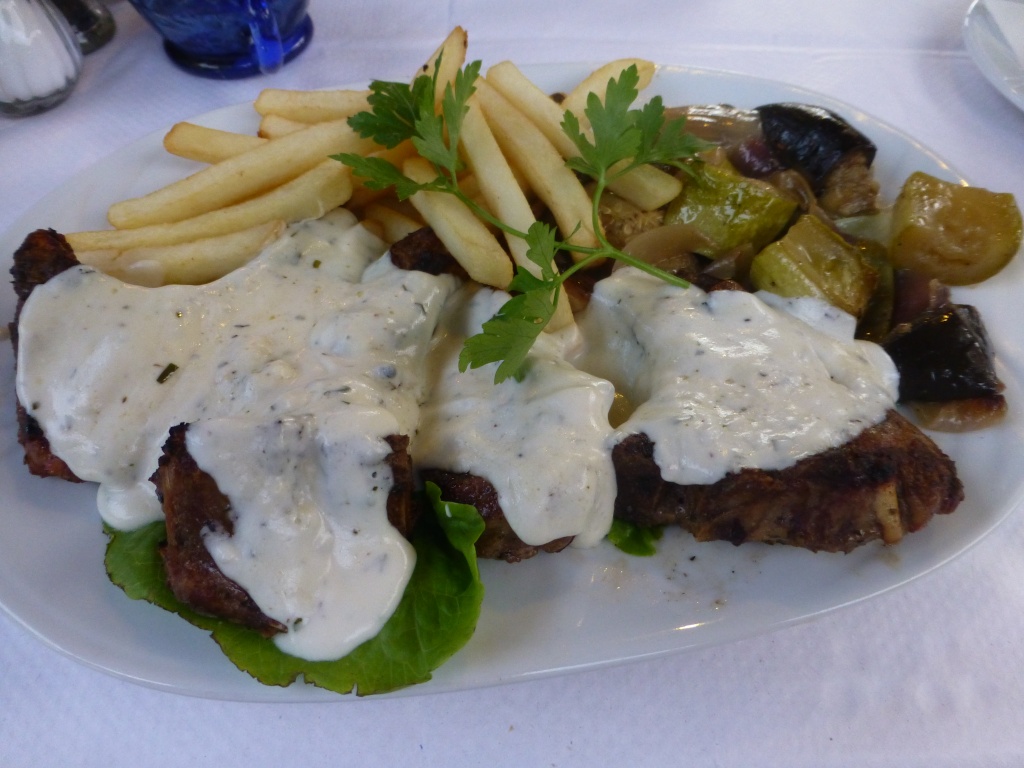 p1110692
Mrs Db had a chicken Souvalaki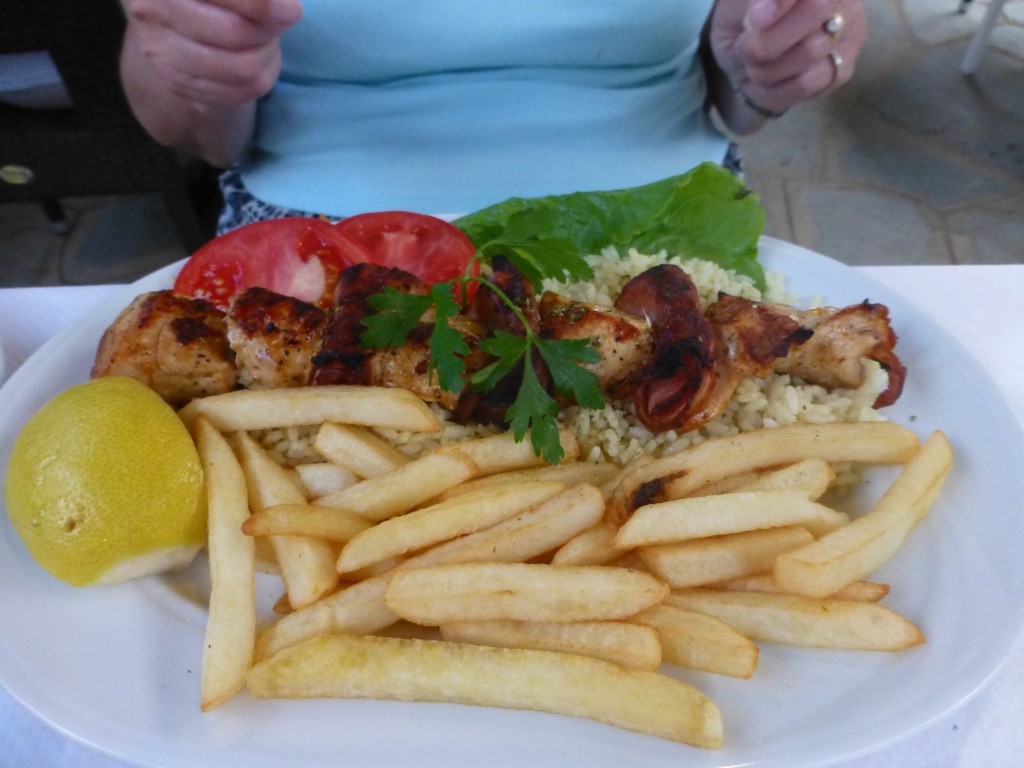 p1110693
Once the meal had finished you go downstairs and their is a mini stage,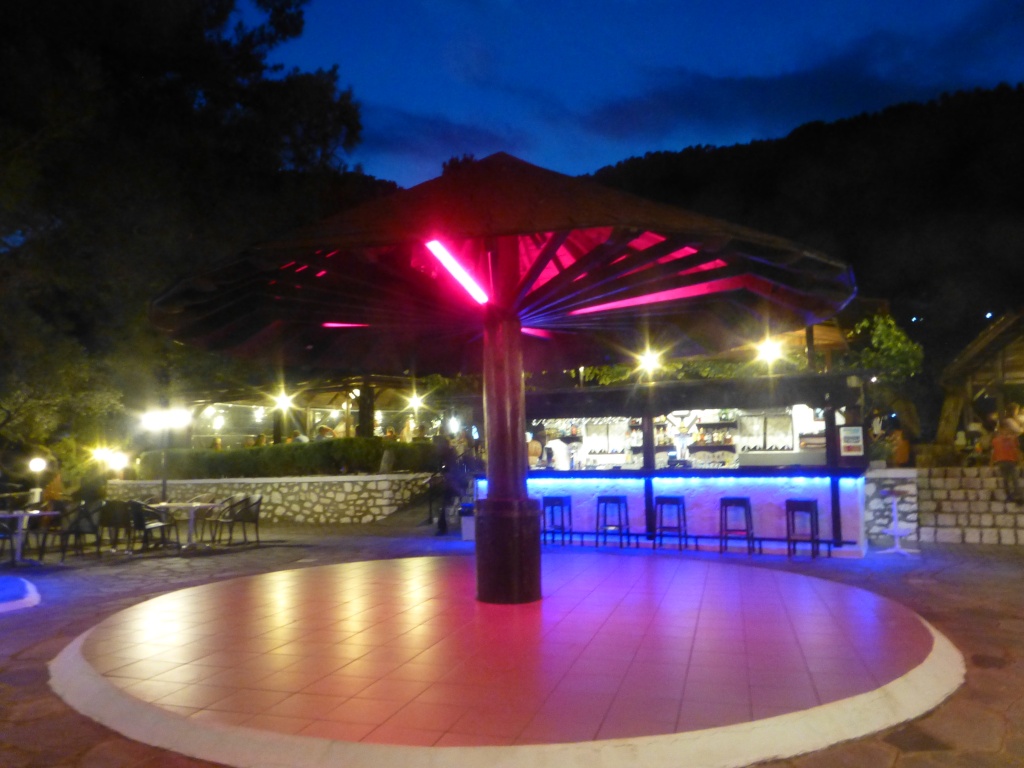 p1110701
at this point I tied my shoes laces together, just in case Zorba the Greek was to come out and drag me out on stage to do a dance but it didn't turn out like that, it was four girls doing local dances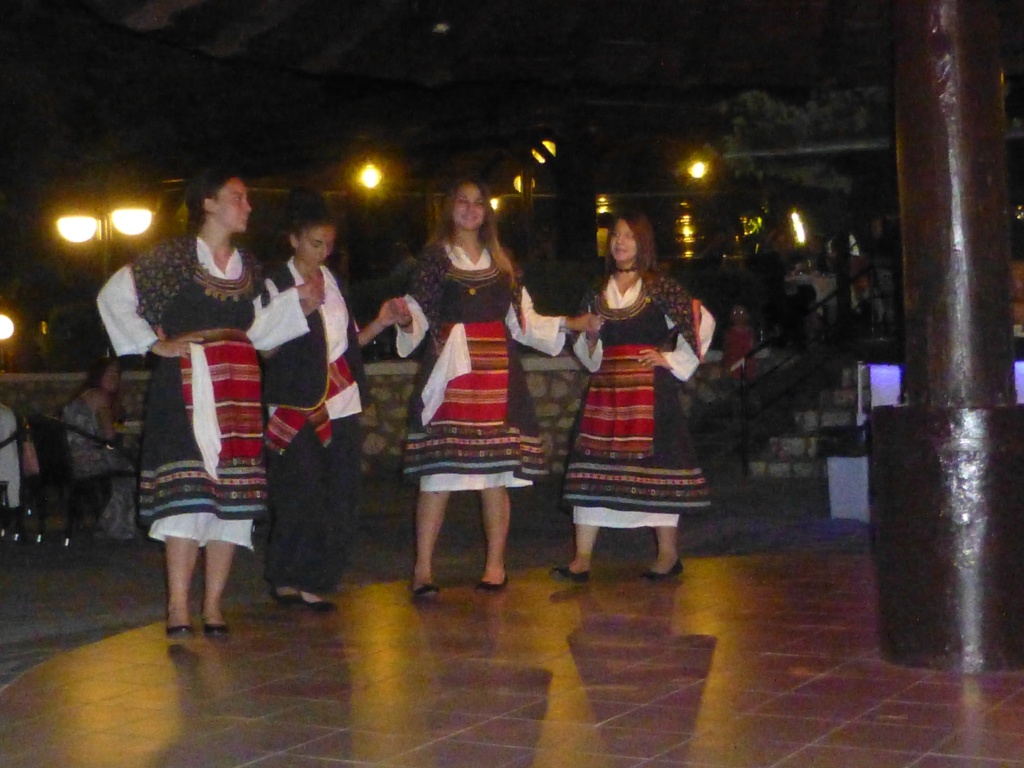 p1110707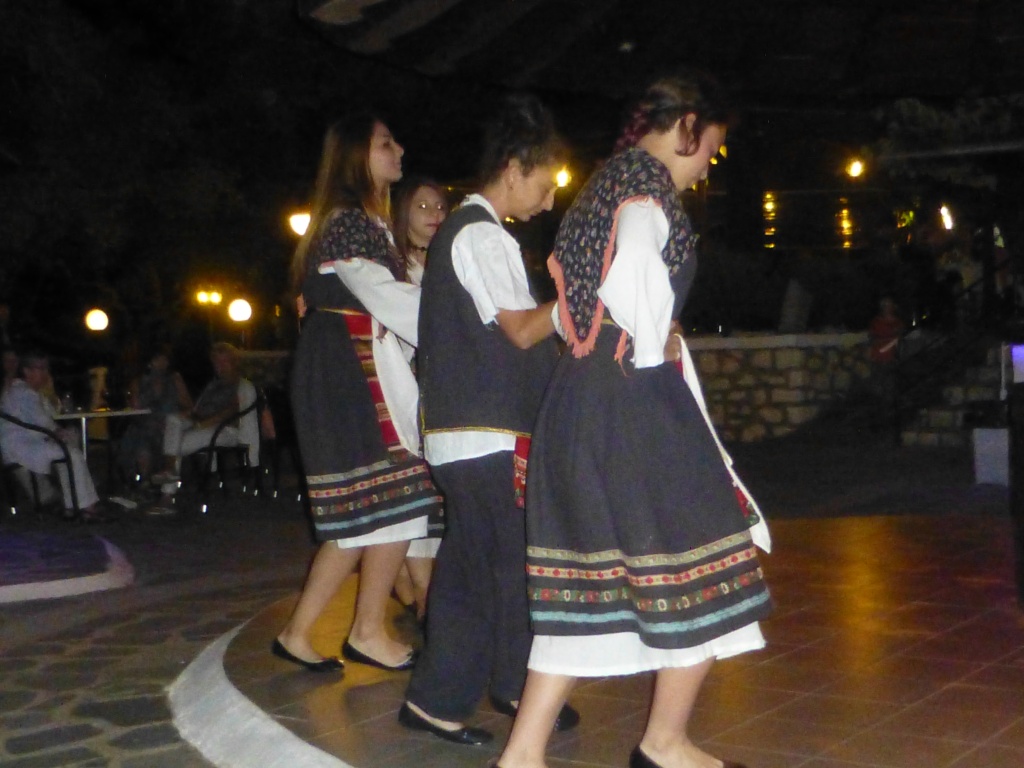 p1110709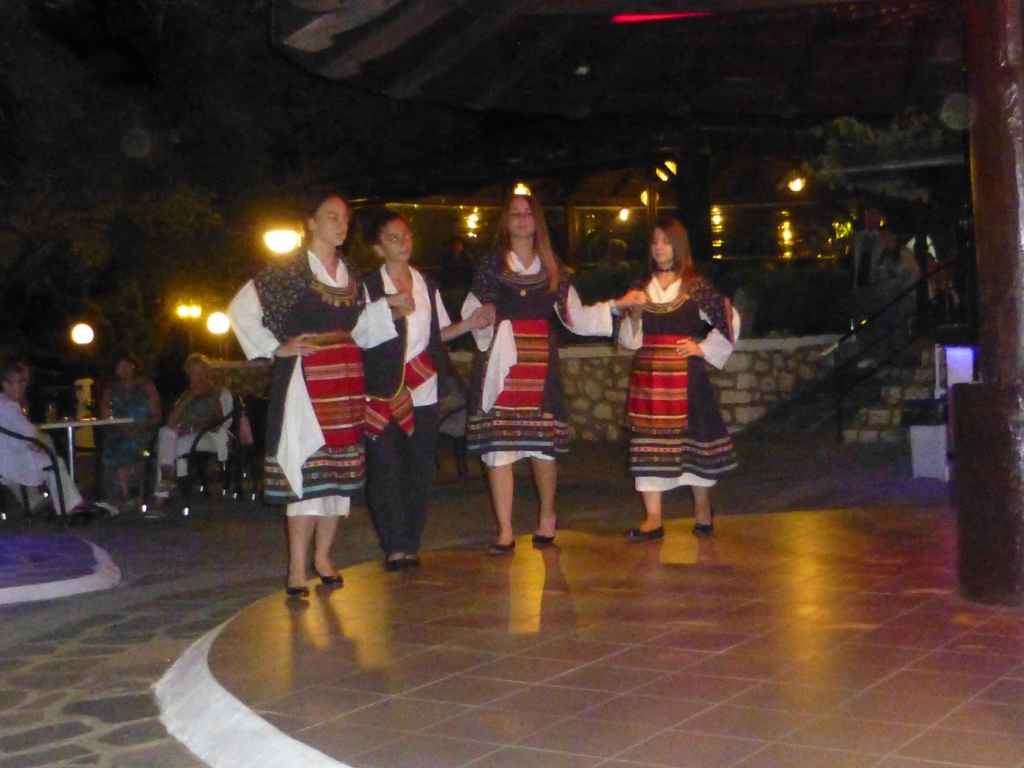 p1110713
The girls danced around for 20 minutes and then there was a break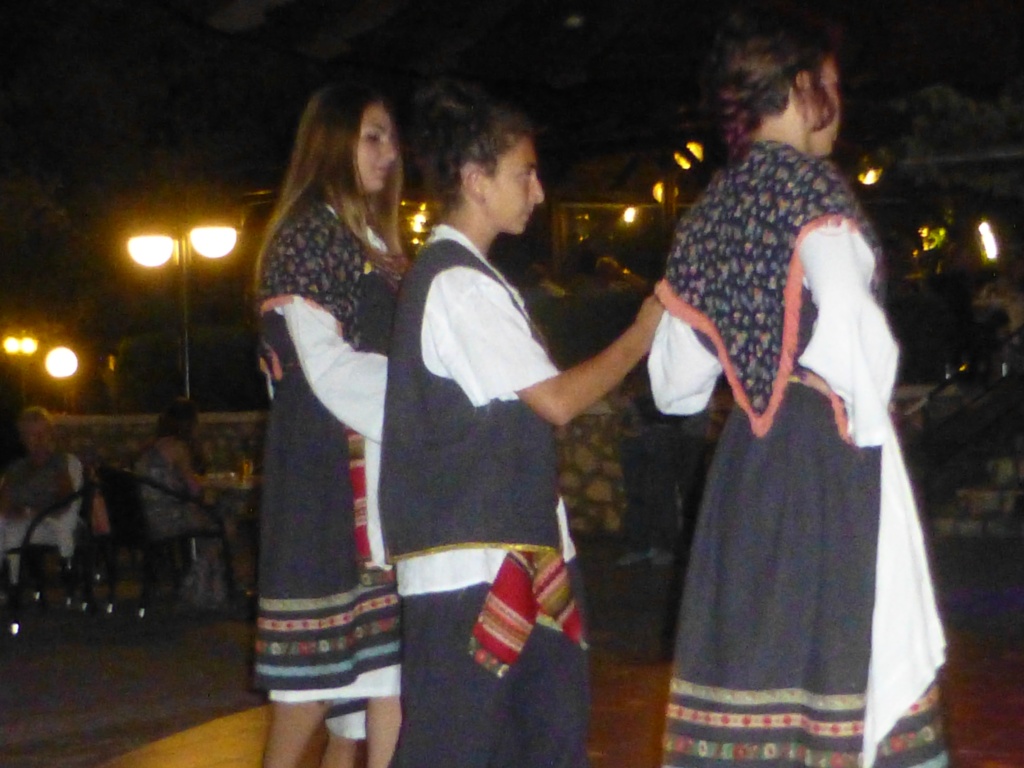 p1110714
It was 10:30pm and Delboy untied his shoelaces and we took our leave, not sure what the second half was to entail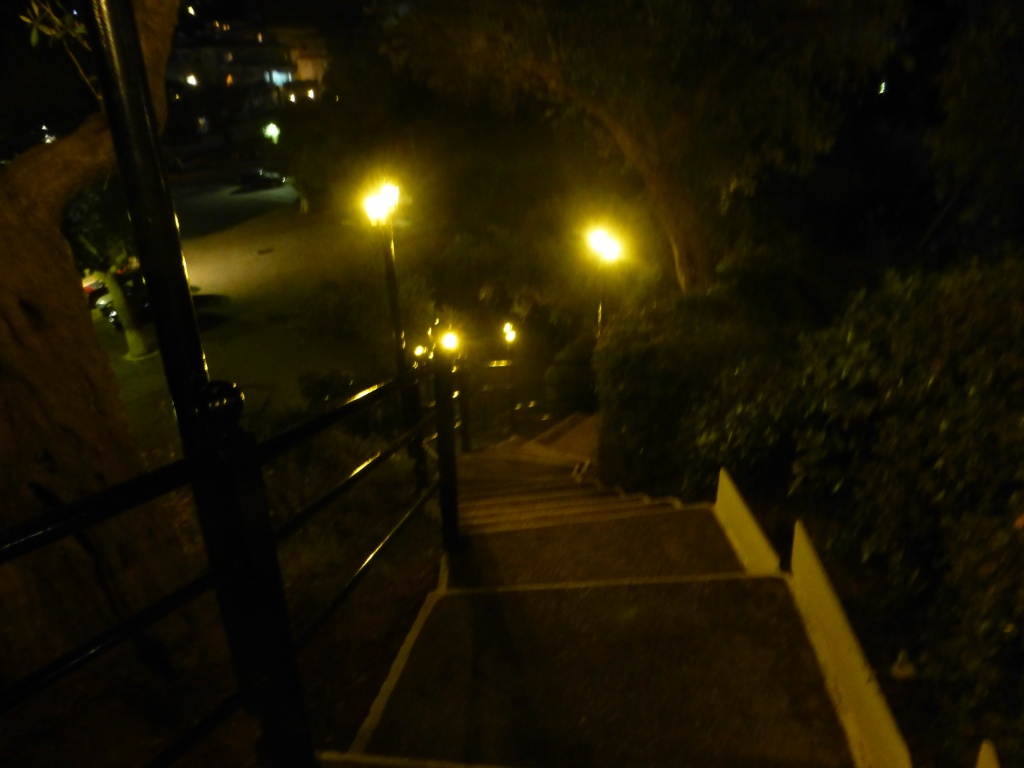 end of day 7