DAY 8
Another blue sky coming up Mrs Db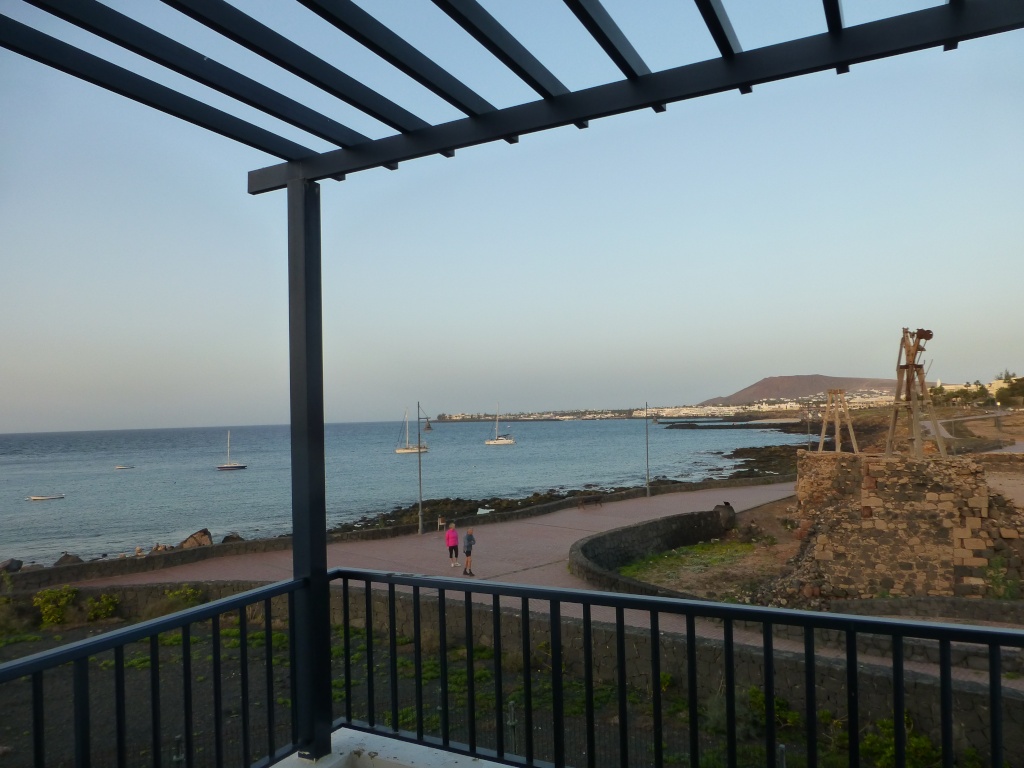 p1150445
a few people on the beach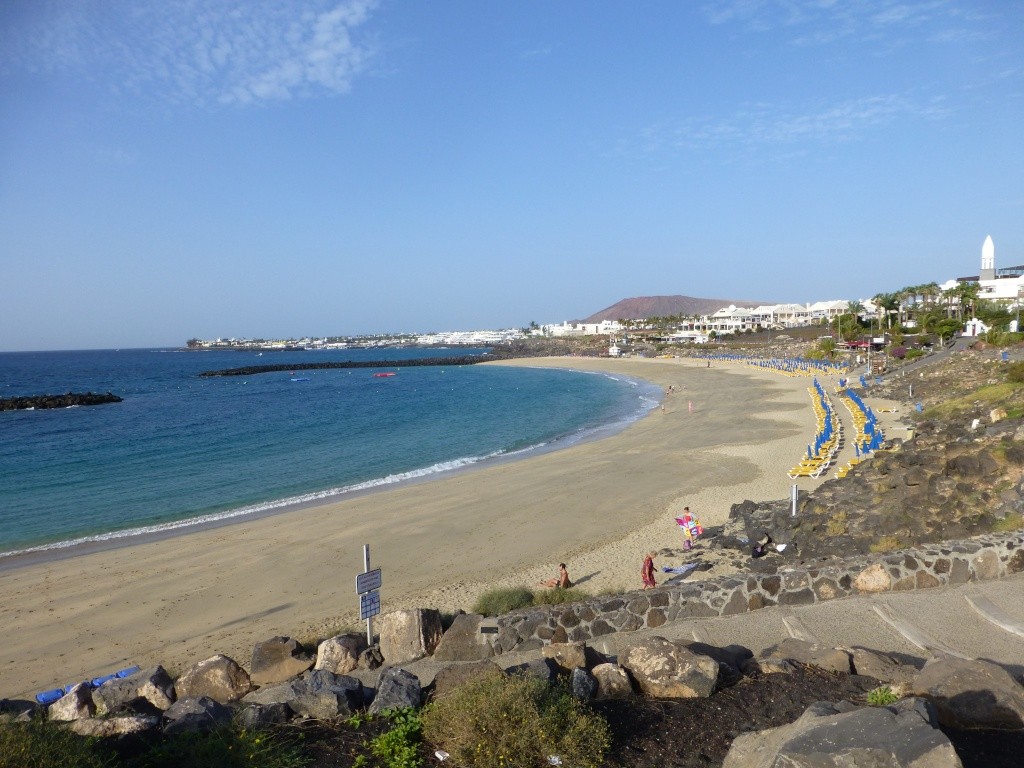 p1150447
but I think we are better around the pool with the breeze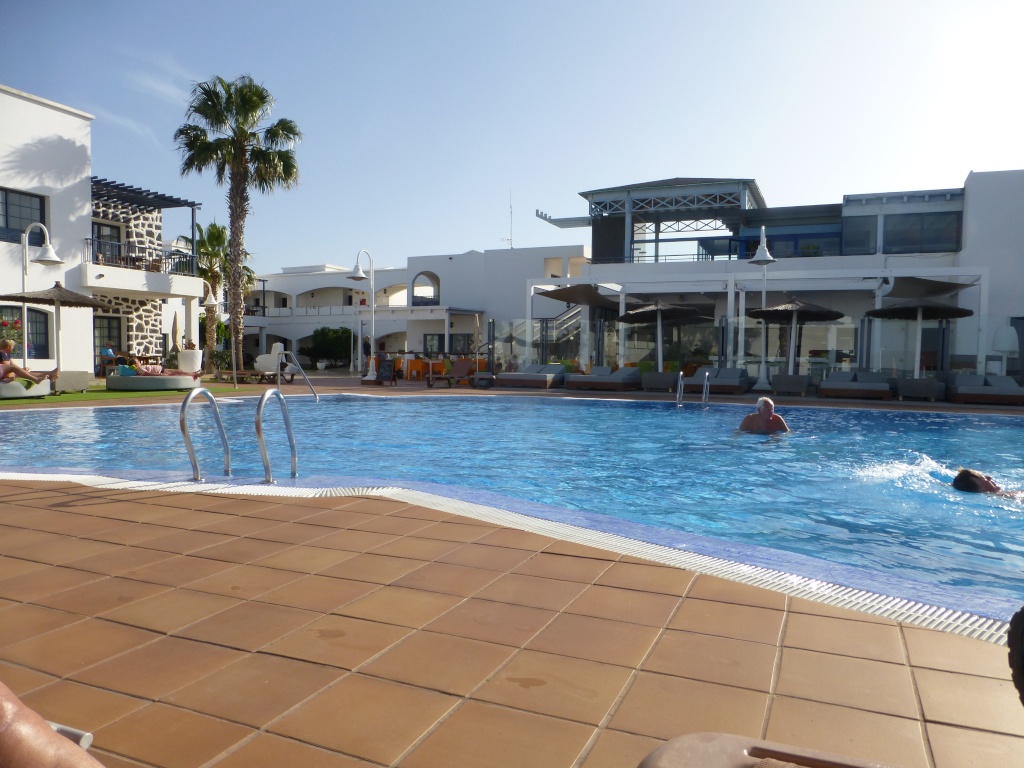 p1150449
which was a good call as the yellow flag was up when I went passed at 11:30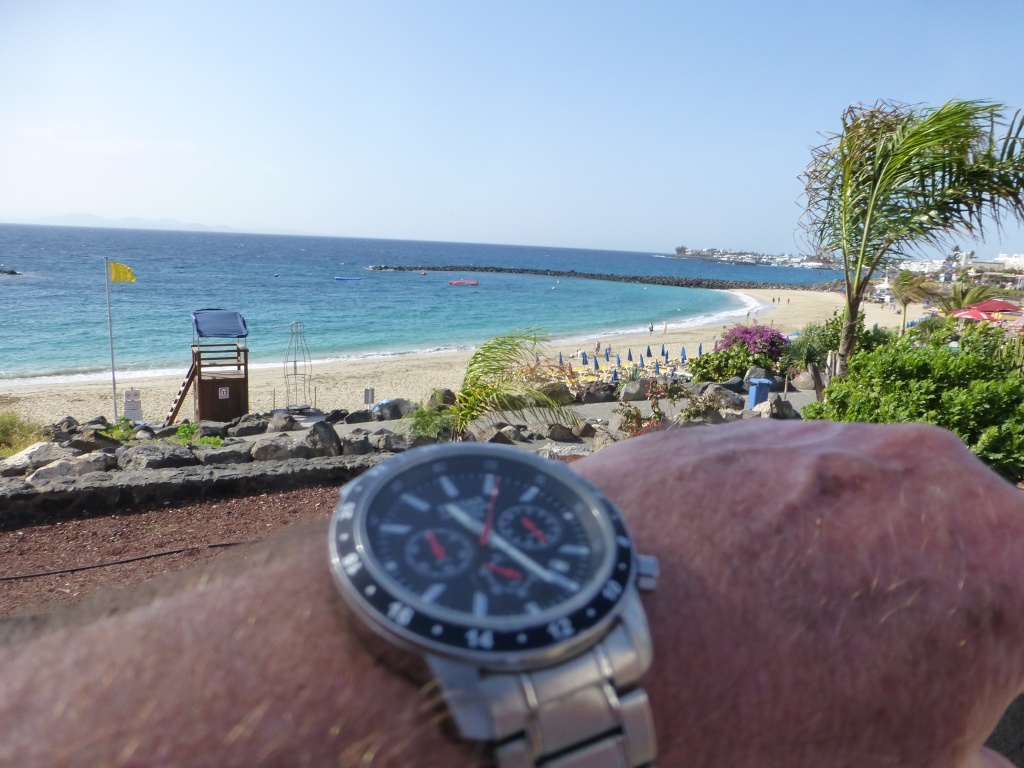 p1150453
I wanted to see how the Lanzarote Park refurbishment was going on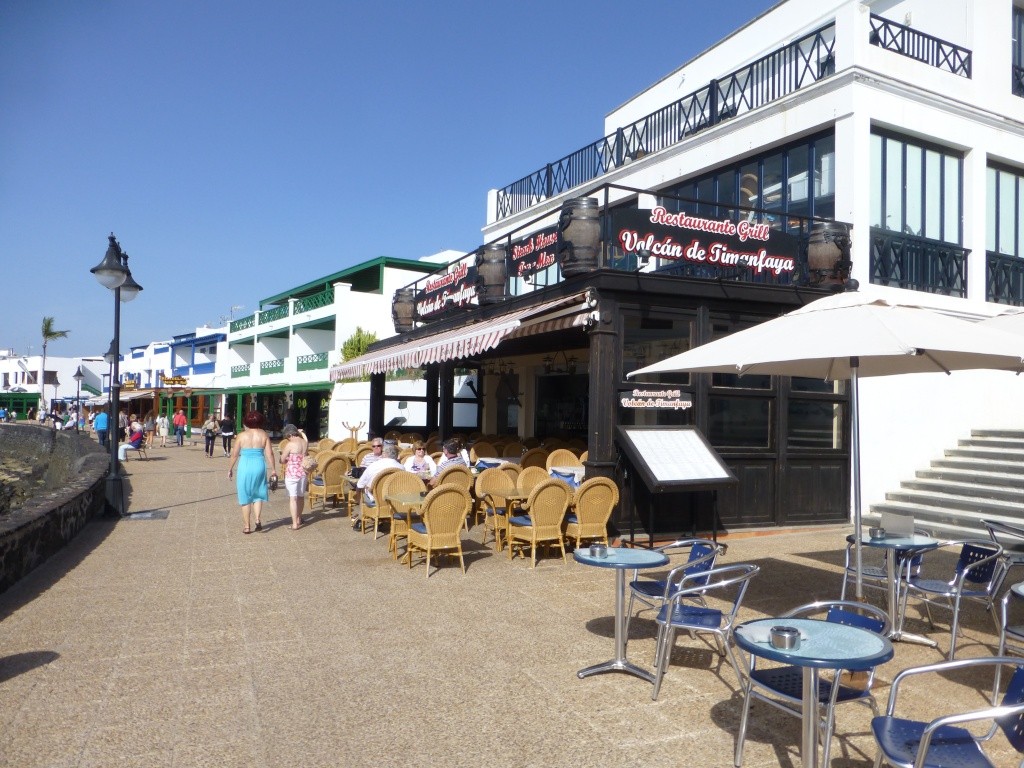 p1150461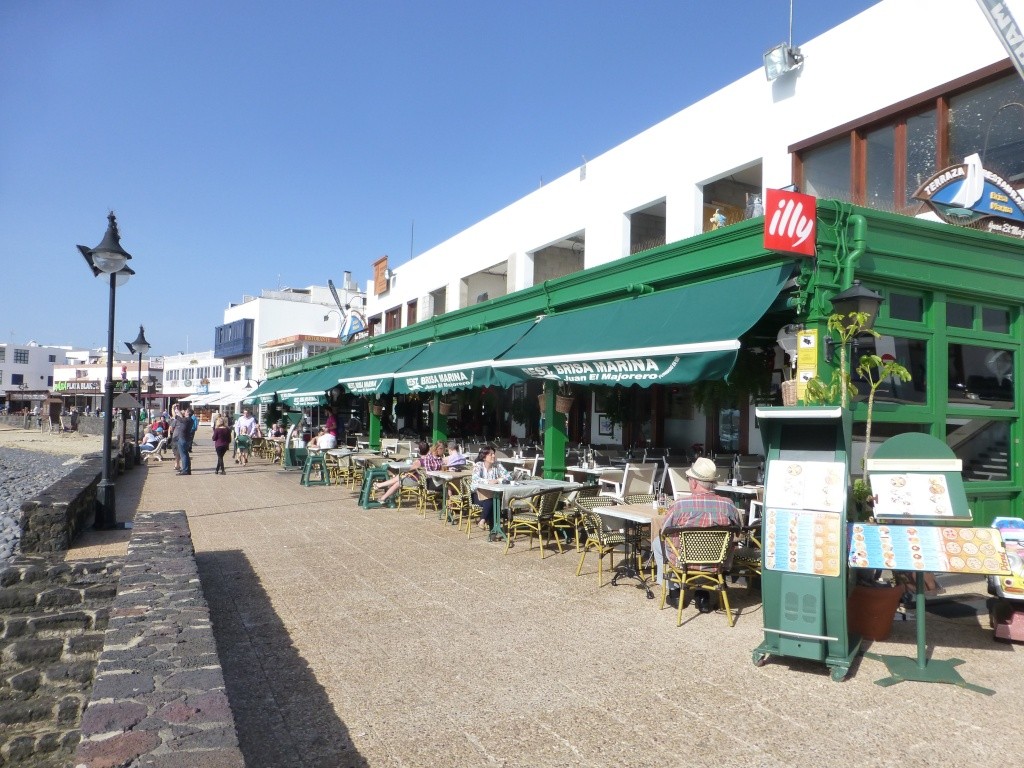 p1150463
that on the left, is about the amount of town beach left the rest is cobbles again
p1150464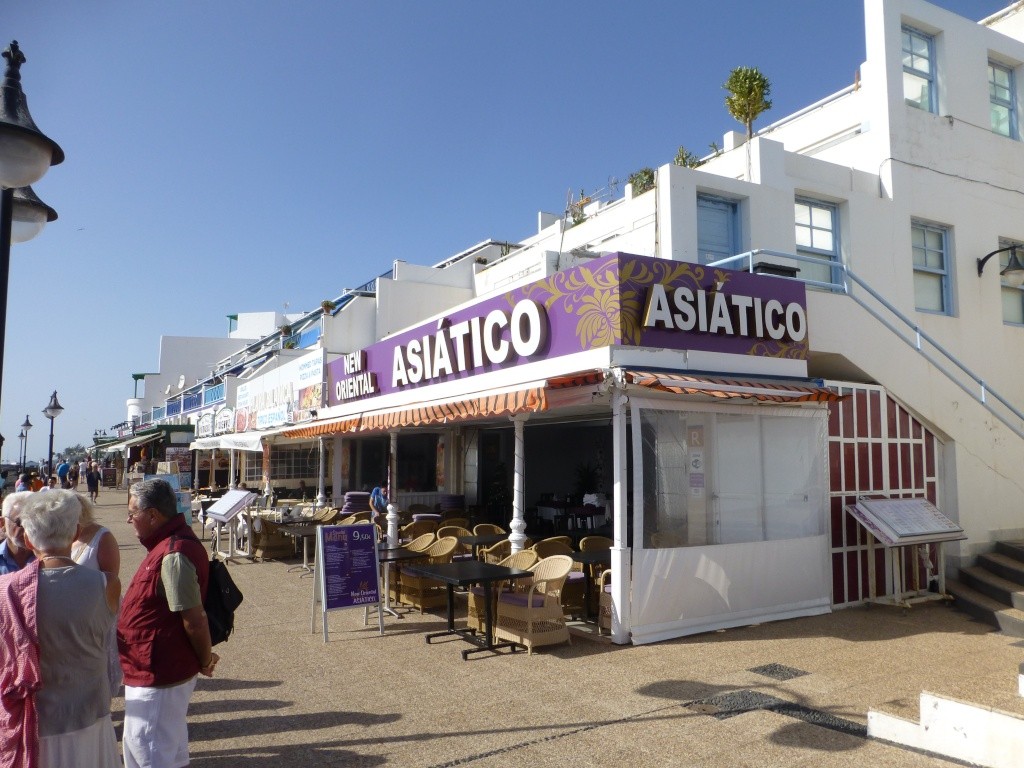 p1150473
up by here, an angler was fishing and caught one on bread, he said he caught one the other day of 3kgs
p1150474
as i got to the end of the run of restaurants rather than go down the harbour stairs that I normally do I stayed up top to see how easy it would be to get to the otherside of the promenade if walking was a problem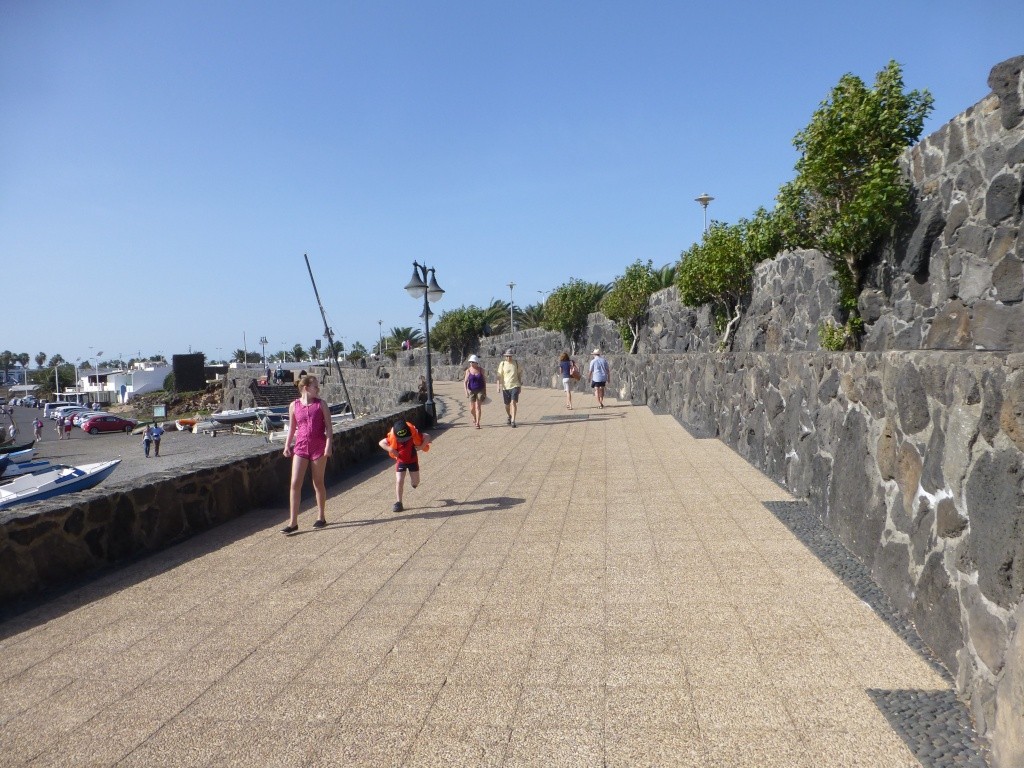 p1150483
The promenade turns right at the end of this picture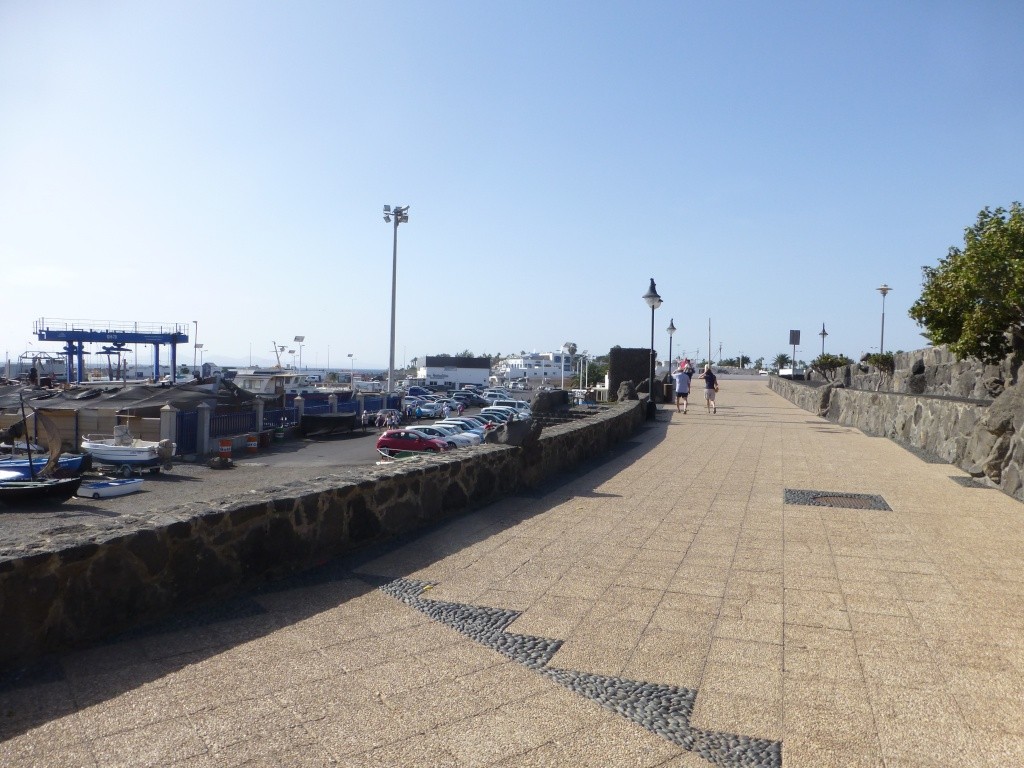 p1150484
and heads up to the main road as in this picture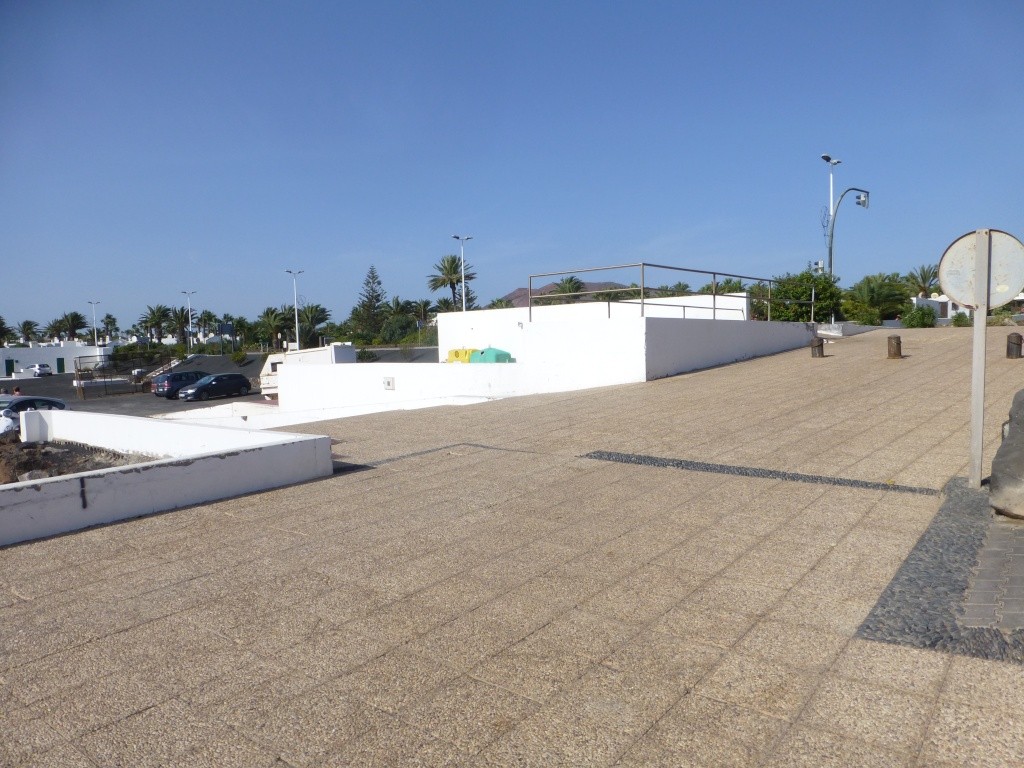 p1150485
which for anyone in a wheelchair I would take and at the next road on the left further down, it then takes you back on the promenade
p1150487
I did a walk down this slope which is just before the main road and leads into a gritted car park but IMO I would think the grit would make the wheelchair a hard push and better to use the main road pathway
p1150486
p1150488
But which ever way you chose you will arrive here, ready to link up with the promenade again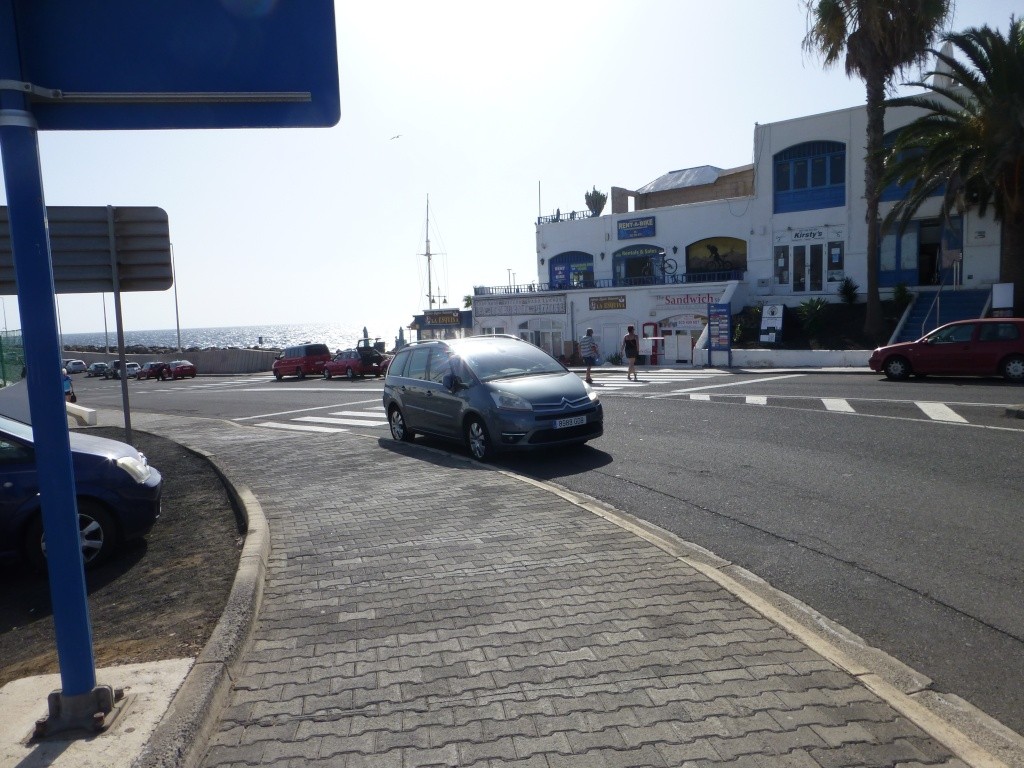 p1150490
If the harbour project ever gets underway this area will become a plaza type area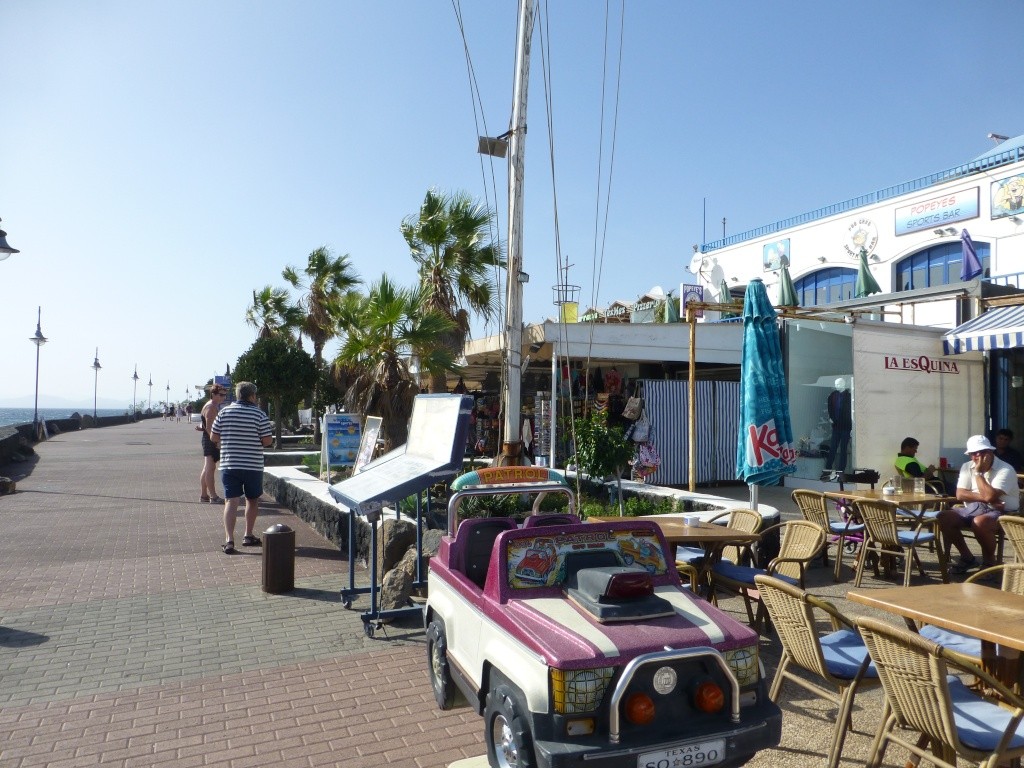 p1150491
and this wall surrounding the current harbour will become a large promenade leading to cruise ships which are said in the plans to have a harbour quay beyond the current one but on asking around, nobody seem to know and even on the kiosks near the front which would surely go, one of the staff knew nothing about the project, which i find is amazing
p1150495
Further along the promenade is the Lanzarote Park hotel which is closed for refurbishment but apart from the pools being empty I couldn't see any work going on but all must be inside work at the moment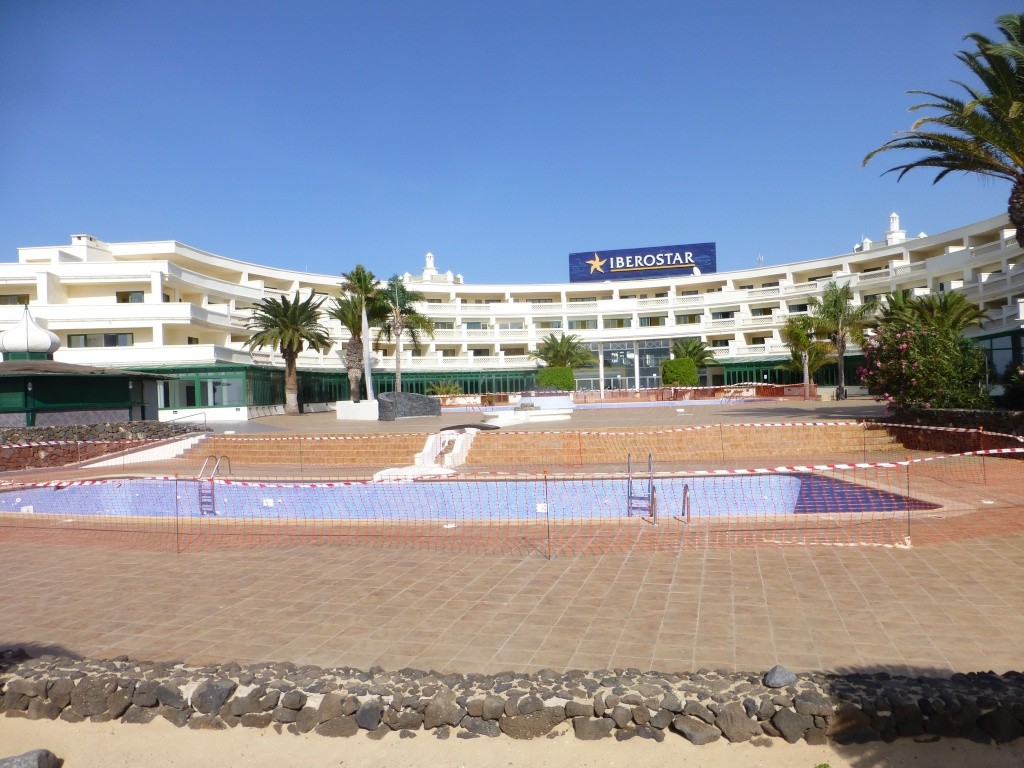 p1150496
about 3 minutes away is the Flamingo Beach which now have new sunbeds which cost 4€s each and the parasol also the same price.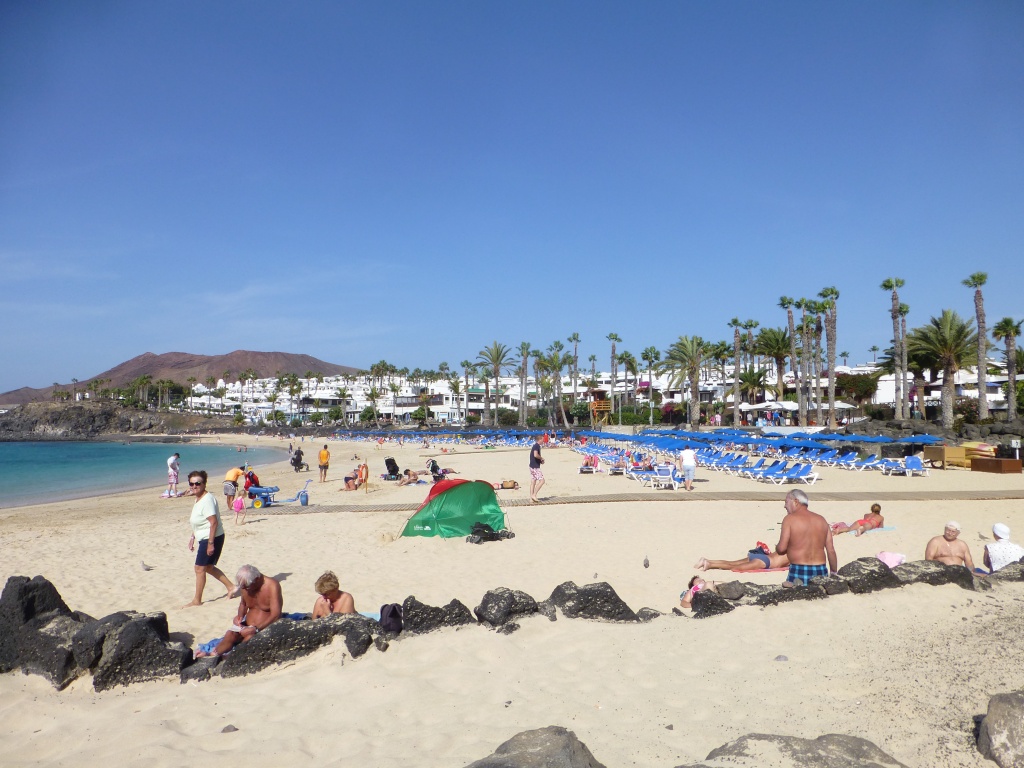 p1150497
Being around the headland a bit, I wondered if there was more shelter from the breeze but I think it was similar but some people are happy with it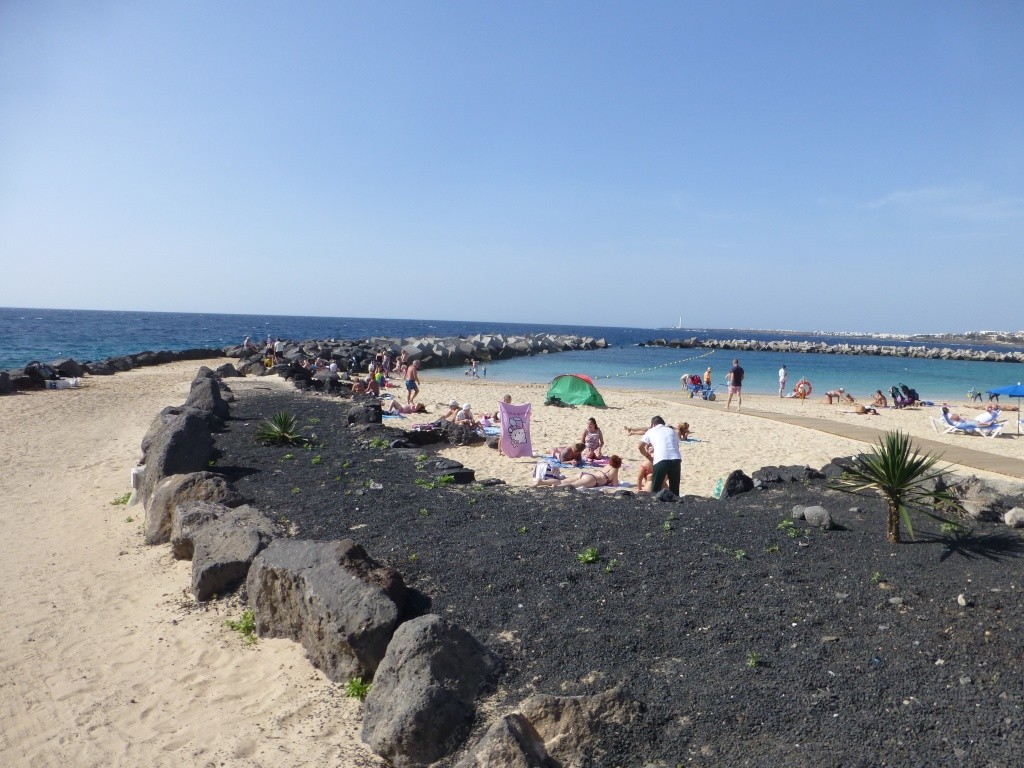 p1150500
less people seem to be risking the 12€'s on the sunbeds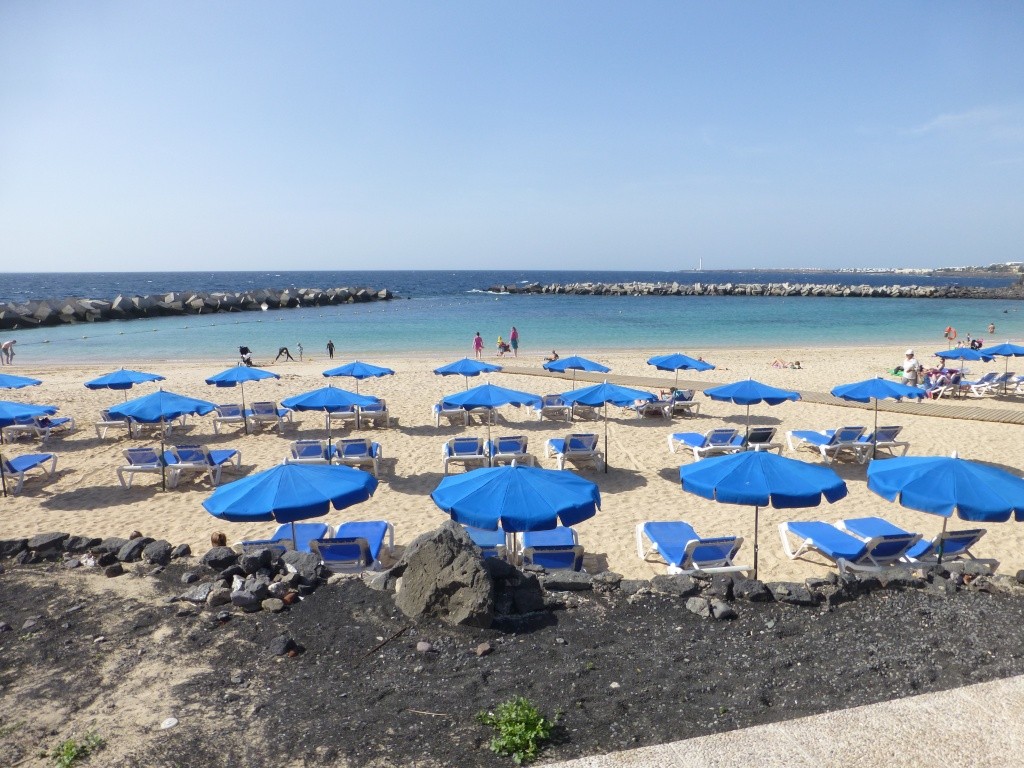 p1150501
I think the breeze has been blowing around the 14 miles an hour mark, the sun was hot but under 10 miles and hour is a more a pleasant breeze to me, yet people were reporting no breeze at PdC and looking at the direction, the wind was coming from the SE which was unusual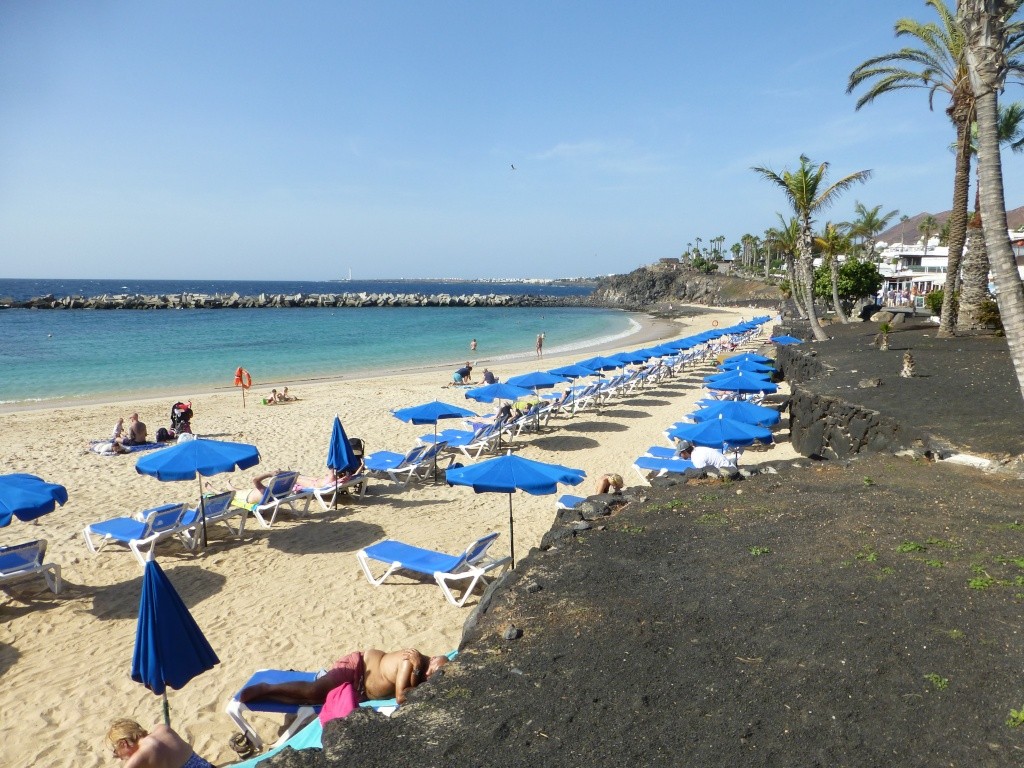 p1150503
The Fred Olsen Sea cat reversing into the harbour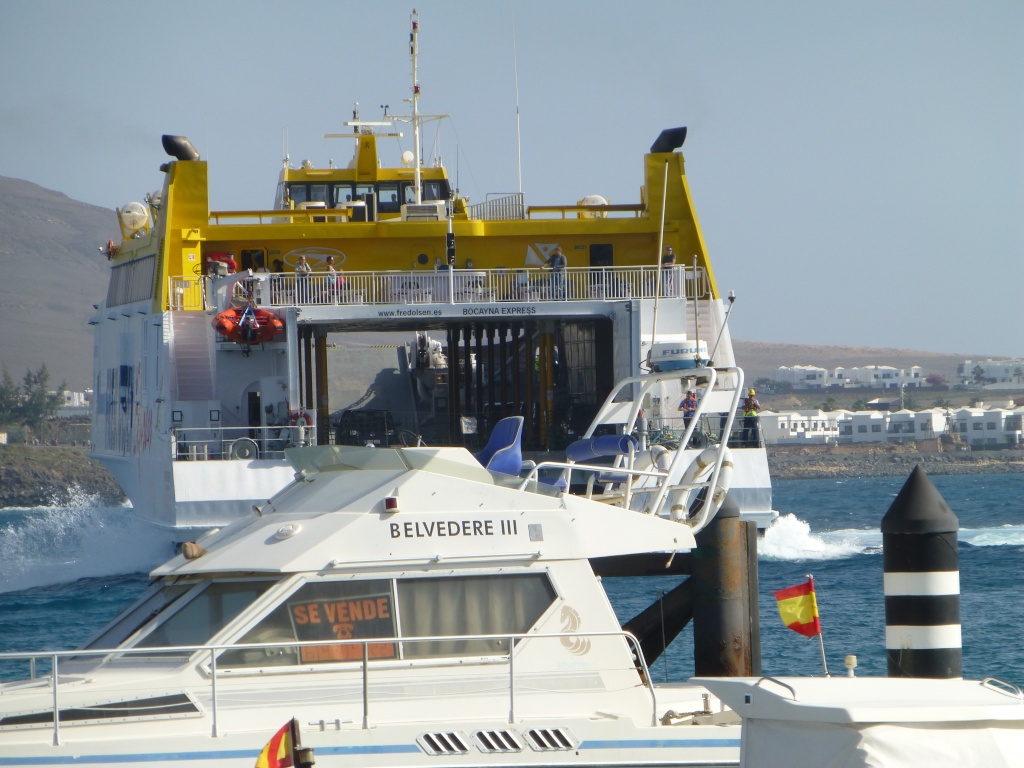 p1150505
and more of these padlocks along the front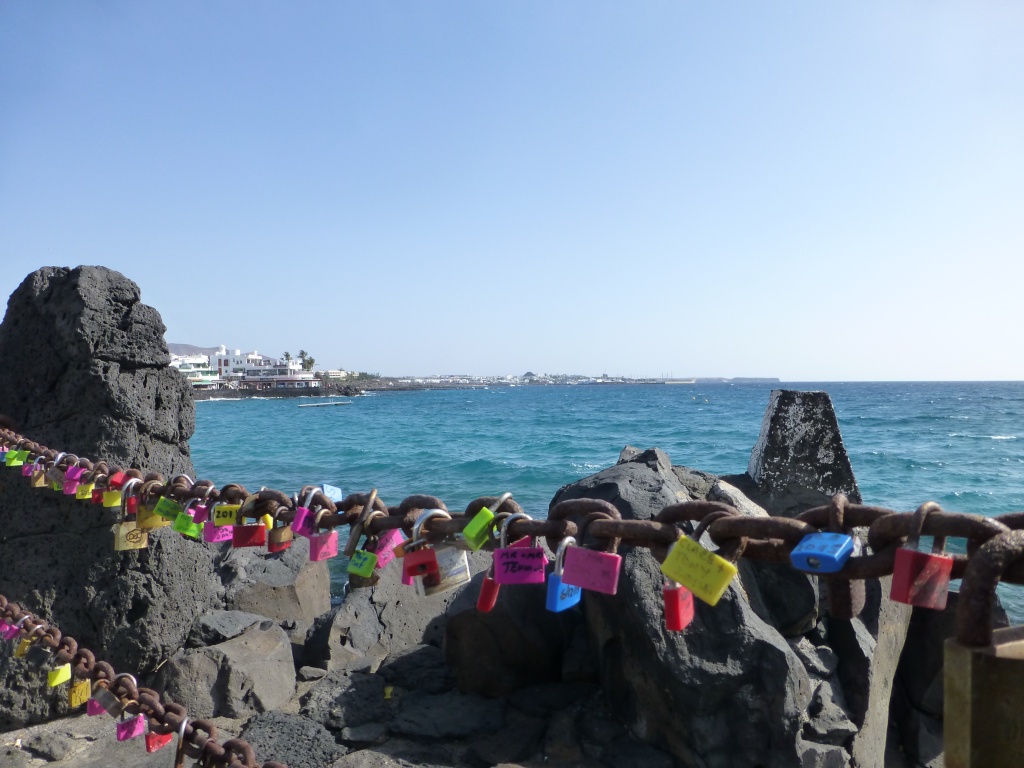 p1150508
lunchtime around the pool was a tuna baguette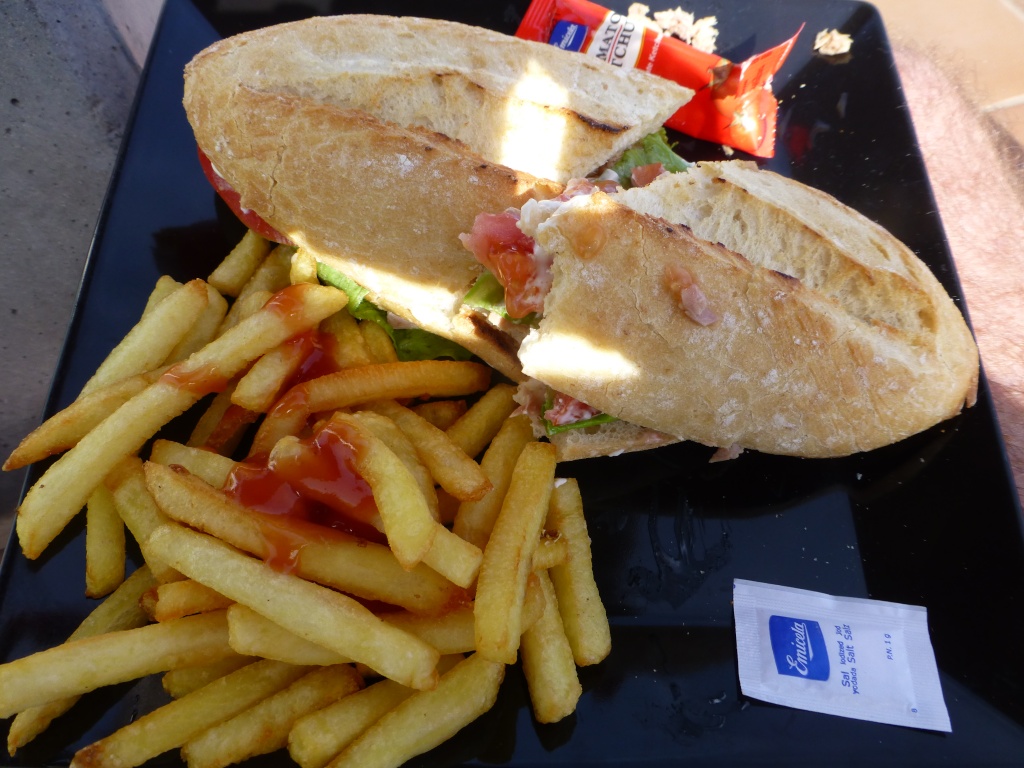 p1150511
however, after lunch there was no time for a rest, as there was a game of petong going on and just like the Apprentice we were asked to pick our team name, we were in teams of three and someone suggested we should be called the champs. Going through my mind as i was about to throw was that we could regret that name lol. Fairly easy game from France, where one throw a jack ball and the nearest team larger balls to it score points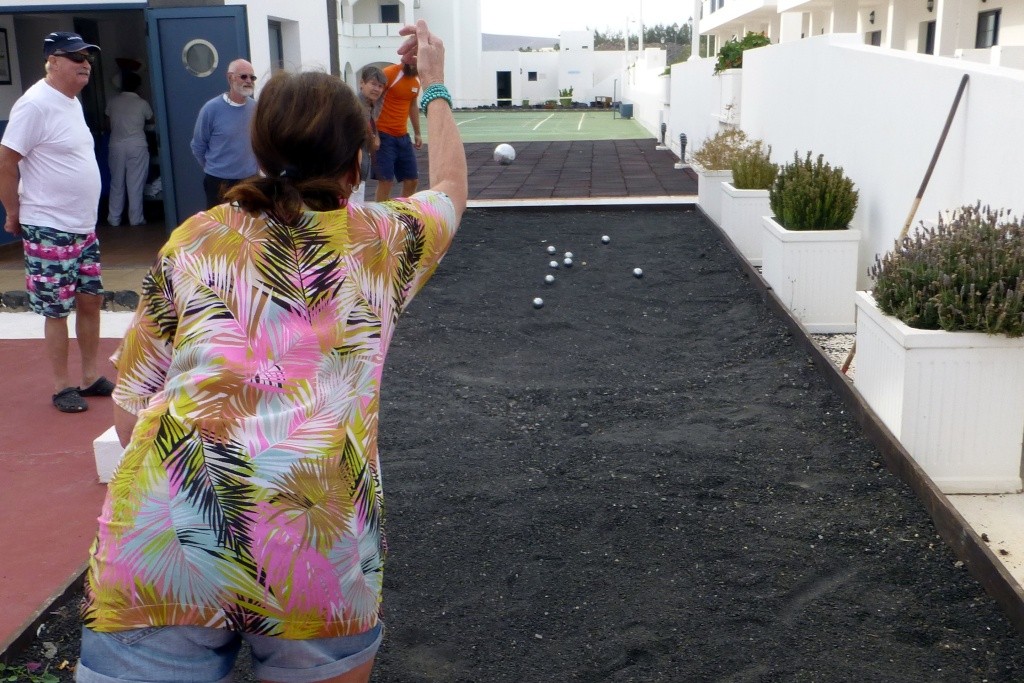 p1150506
I started off badly but started to get the idea in the end but got my ball knocked away from the jack several times
p1150517
but the game turned when somebody knocked my ball nearer the jack and our captain just had to drop his ball on the cinders to grab the one point that was needed but all good fun which ended for sunset lol.
However, the sun had put his hat away waiting for us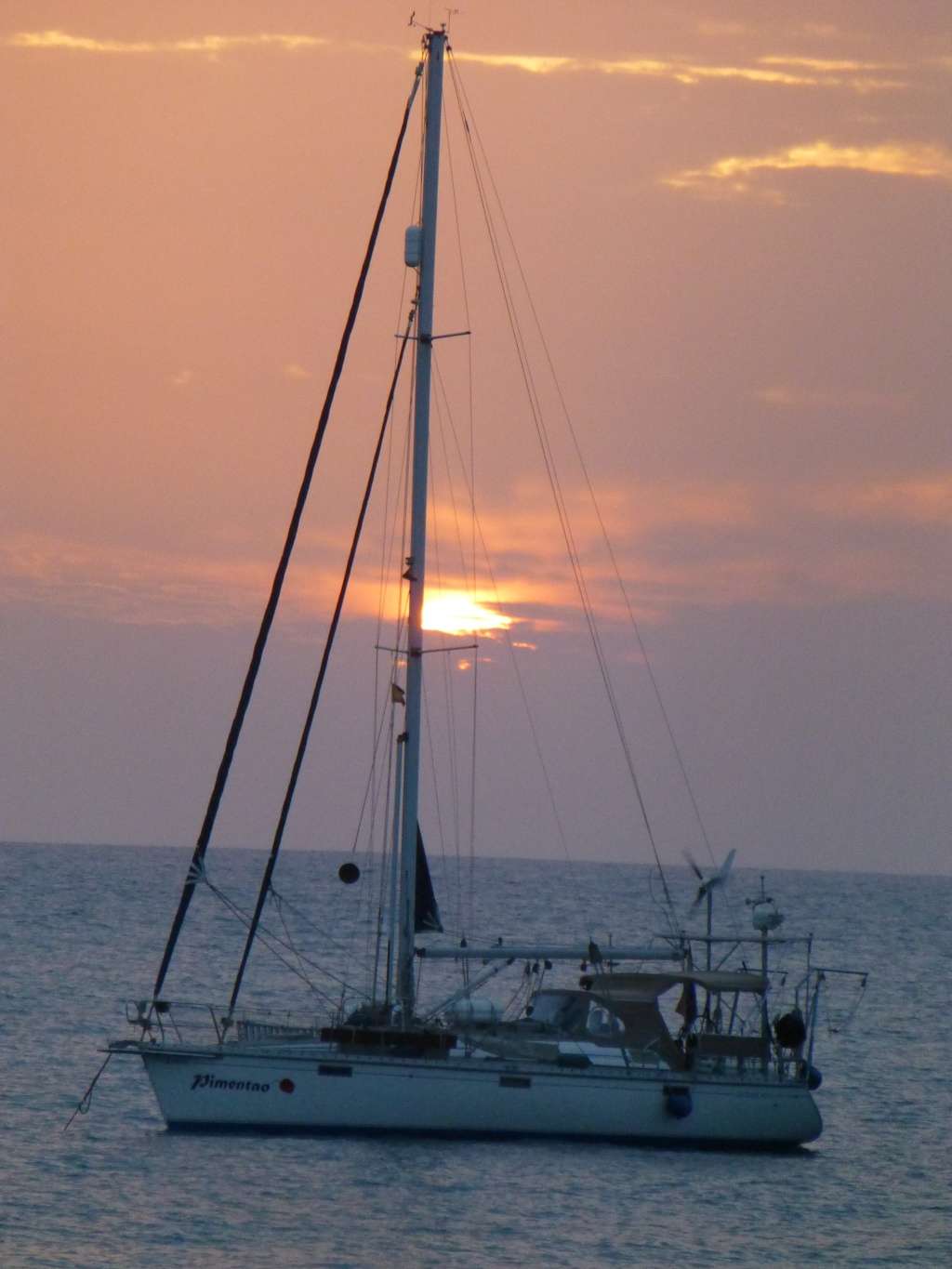 p1150533
but i have learnt if one waits 20 minutes there is sometimes a glow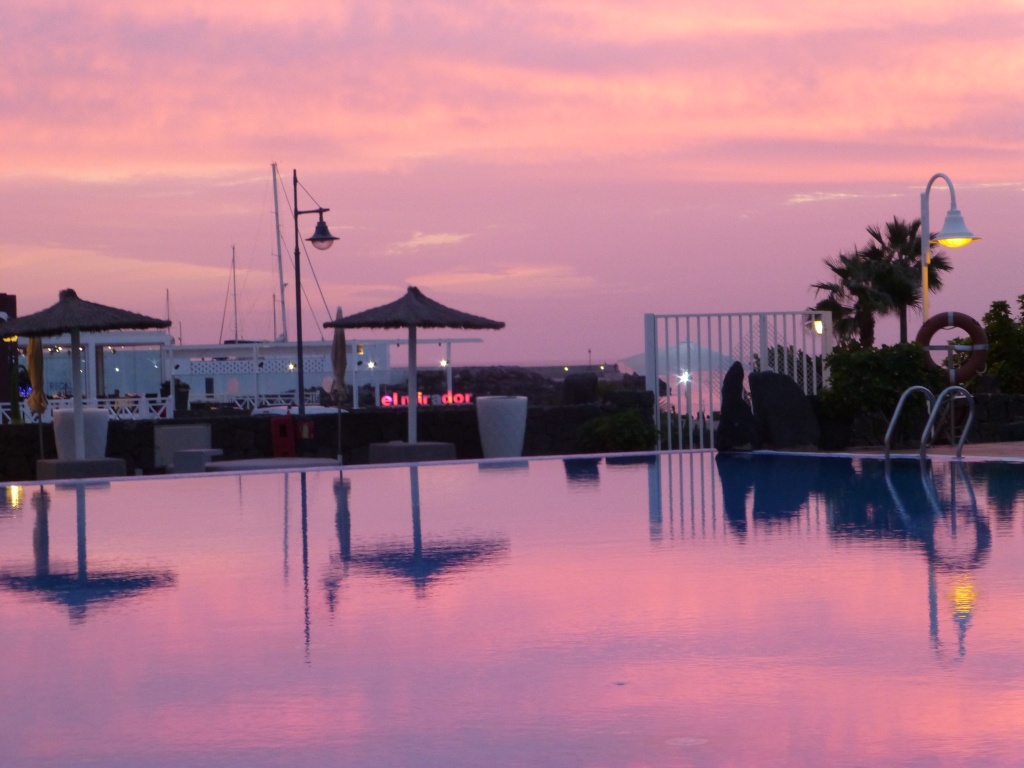 p1150534
tonight we are going to town promenade and eating La Gondola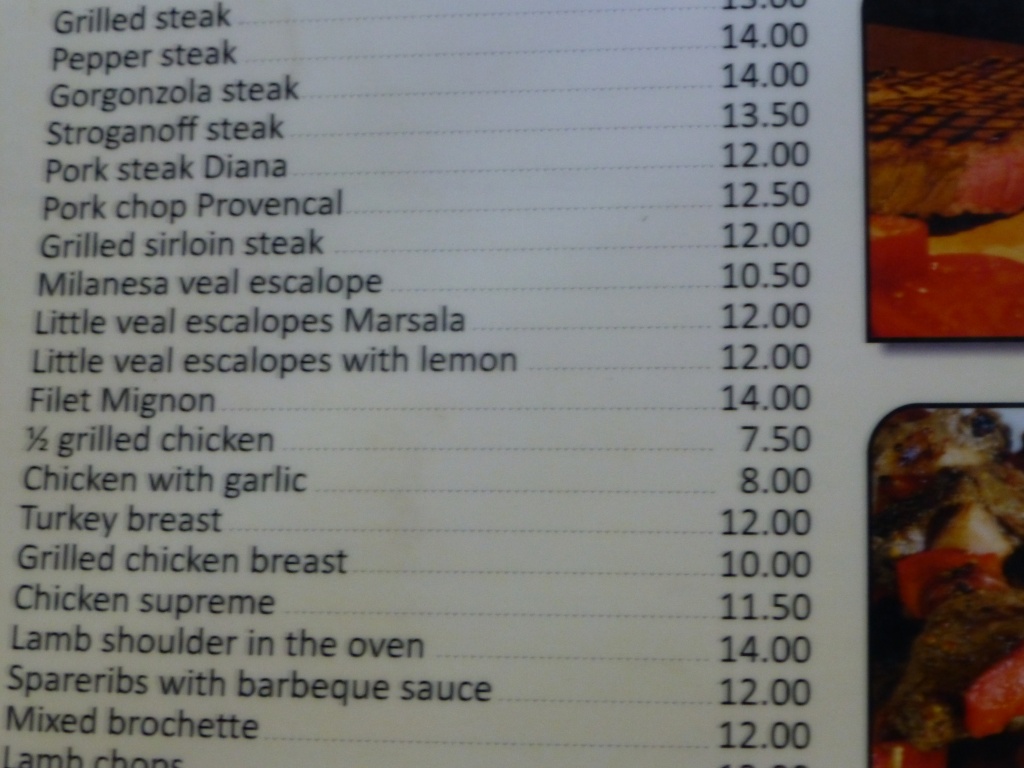 p1150543
the wind had dropped and we had a table near the front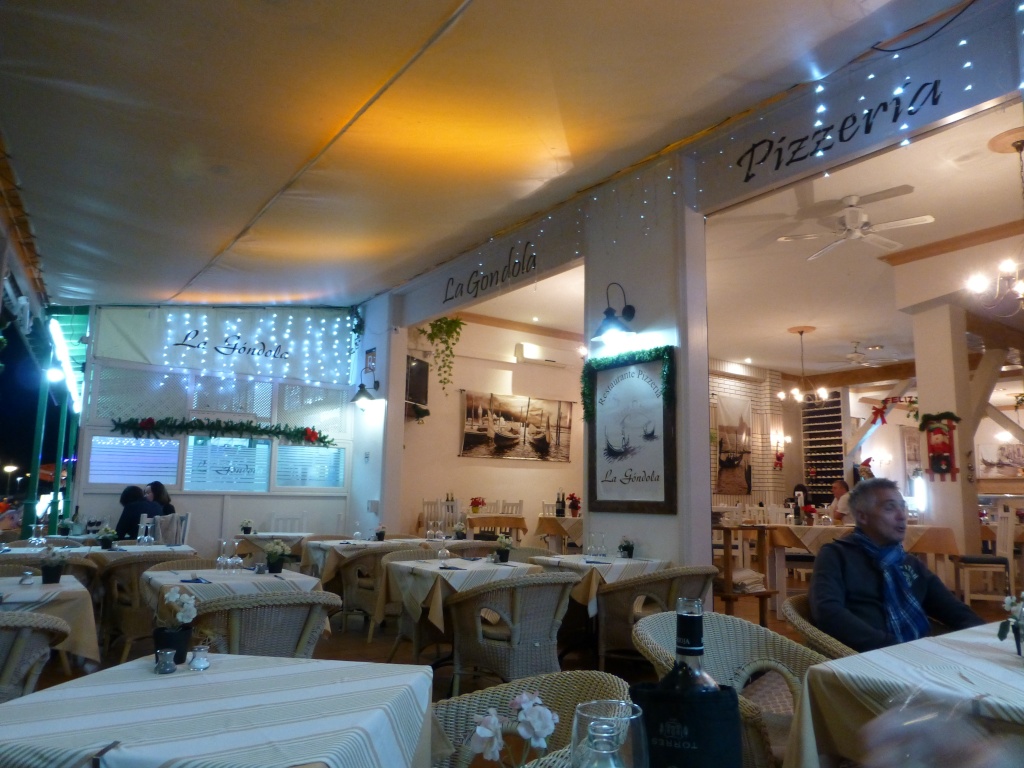 p1150544
Mrs Db had Peppered Steak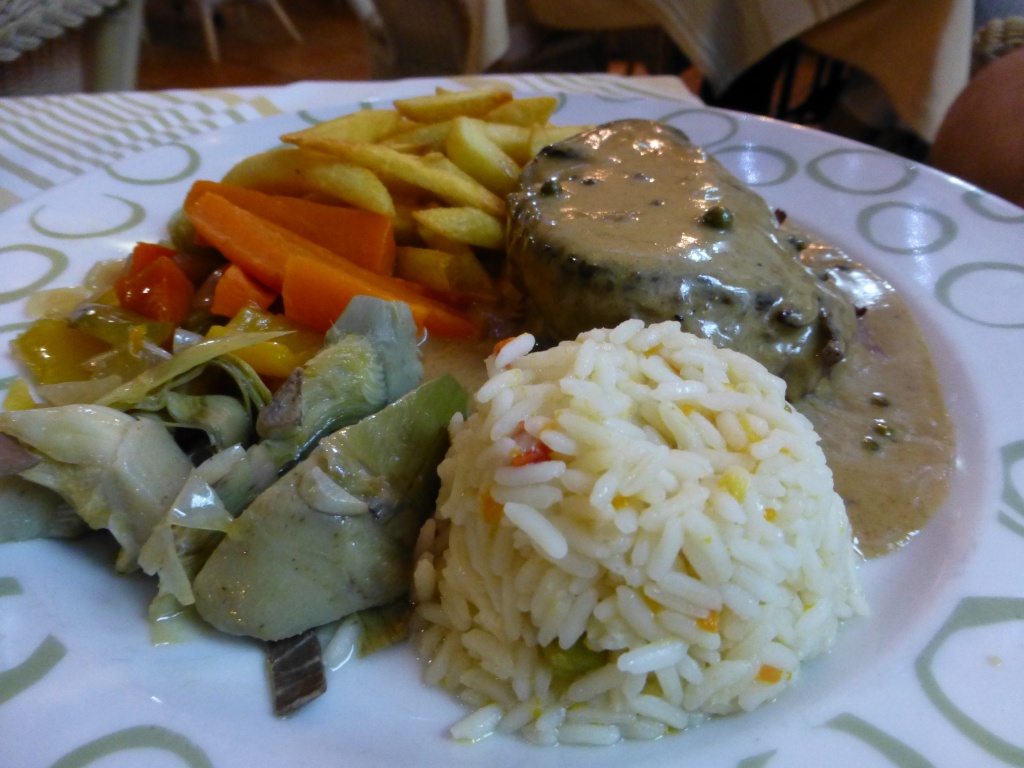 p1150546
I had Gorgonzola Steak both meals were very nice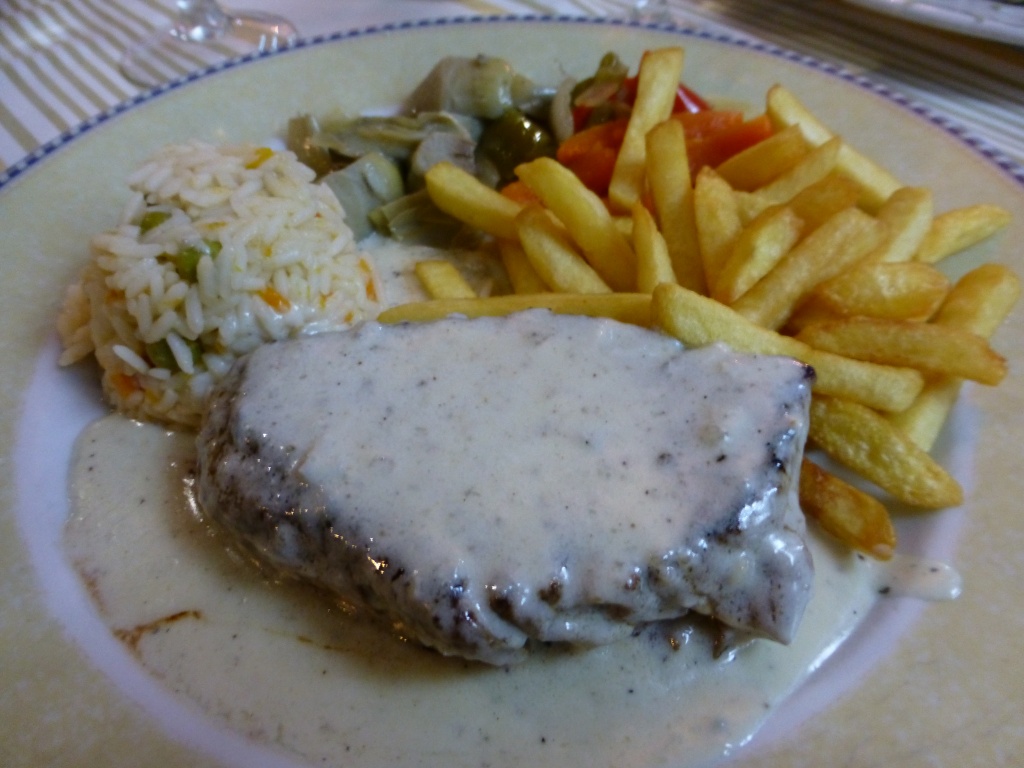 p1150547
some of the decorations I saw in town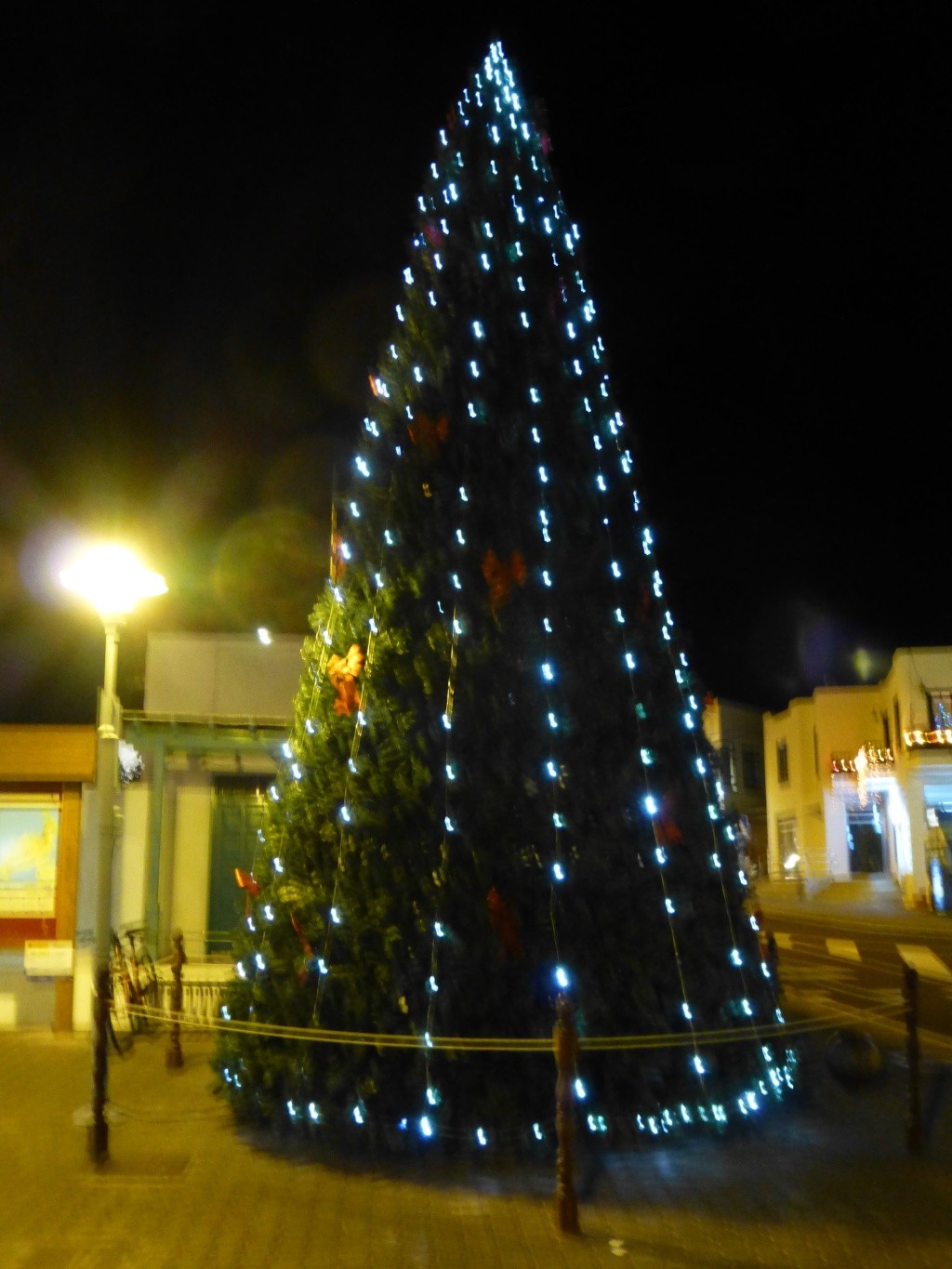 p1150548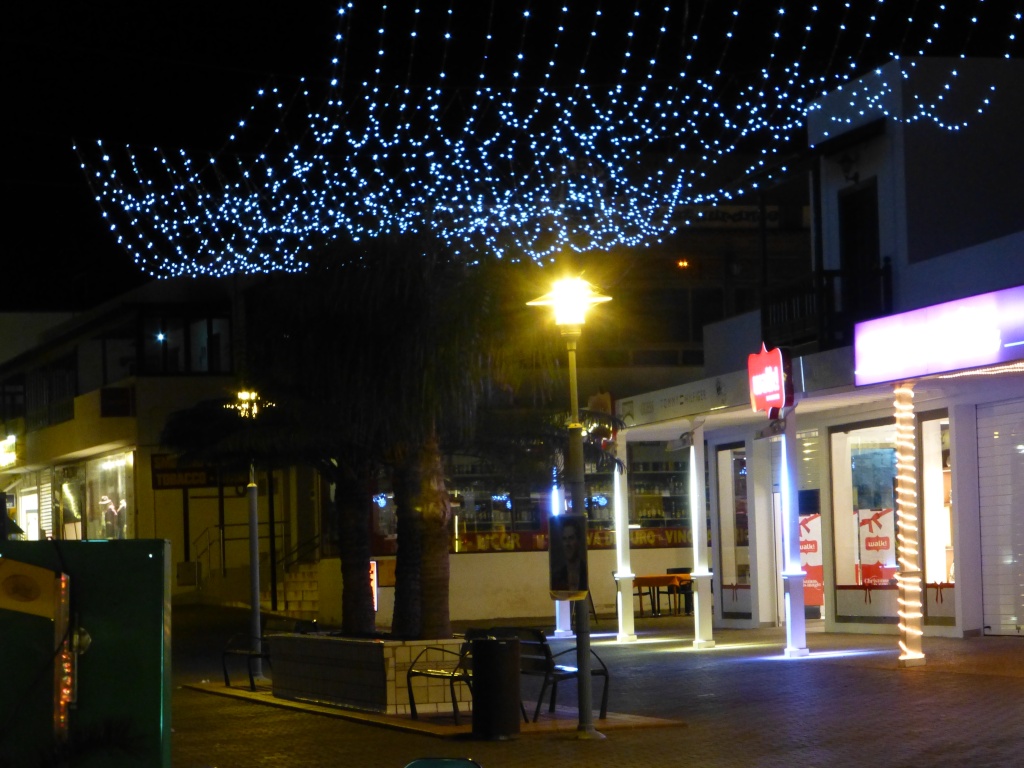 p1150549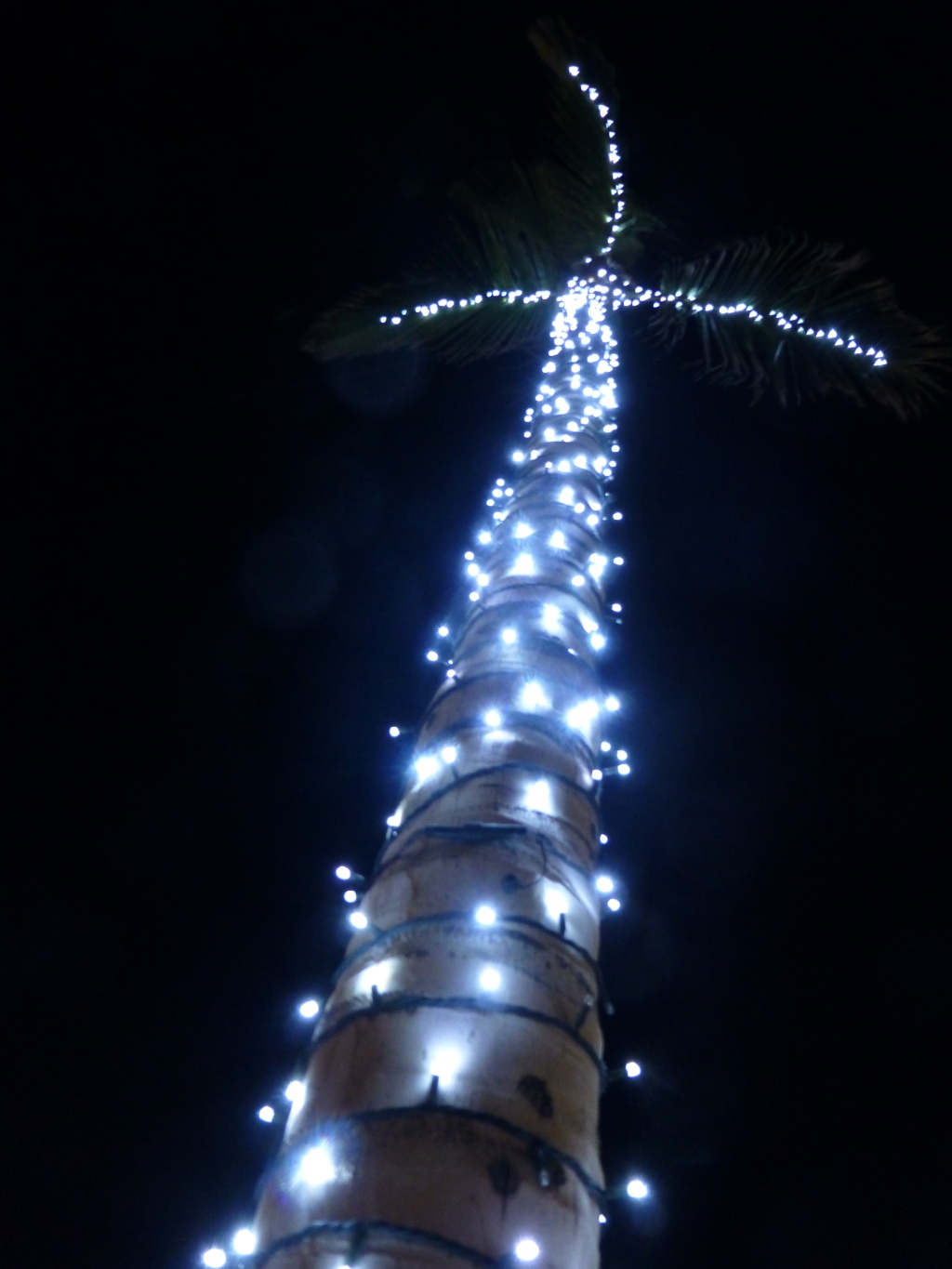 p1150550
END OF DAY 8
DAY 9
another blue sky day, I think this is the fifth in a row, I did think I was fit enough for a walk, so emailed Kayak & Walk to see if they had an interesting walk going
p1150552
The breeze is back and it looks a rough crossing for the glass bottom boat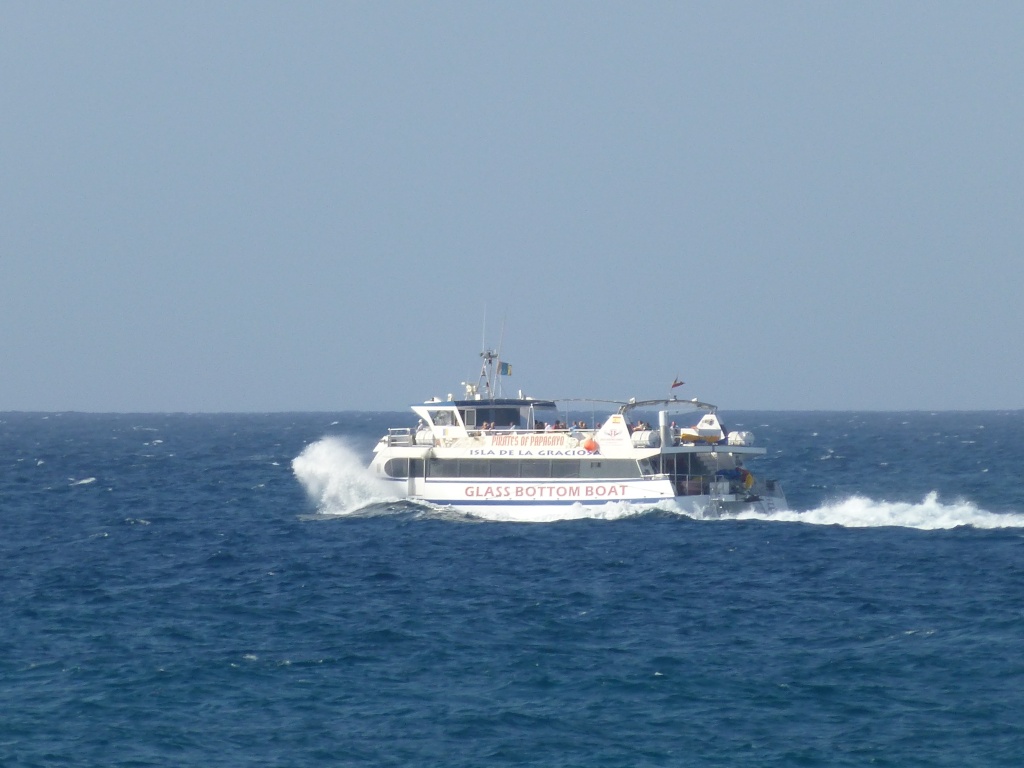 p1150555
an easy choice for me today, the pool lol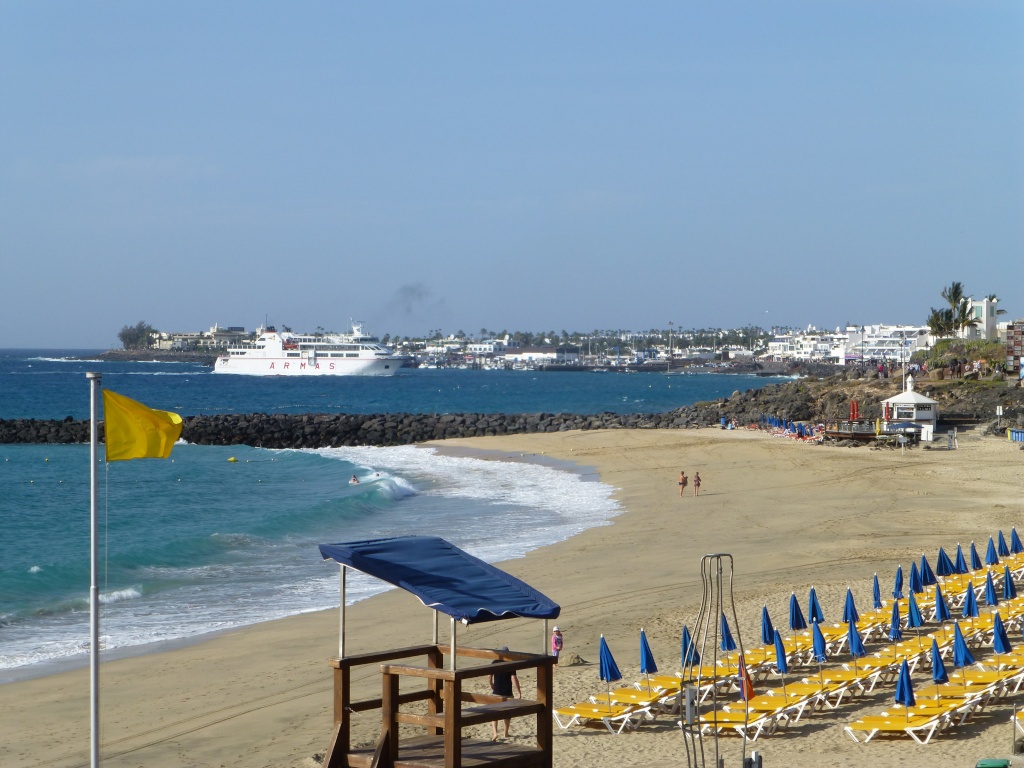 p1150558
some were happy with the beach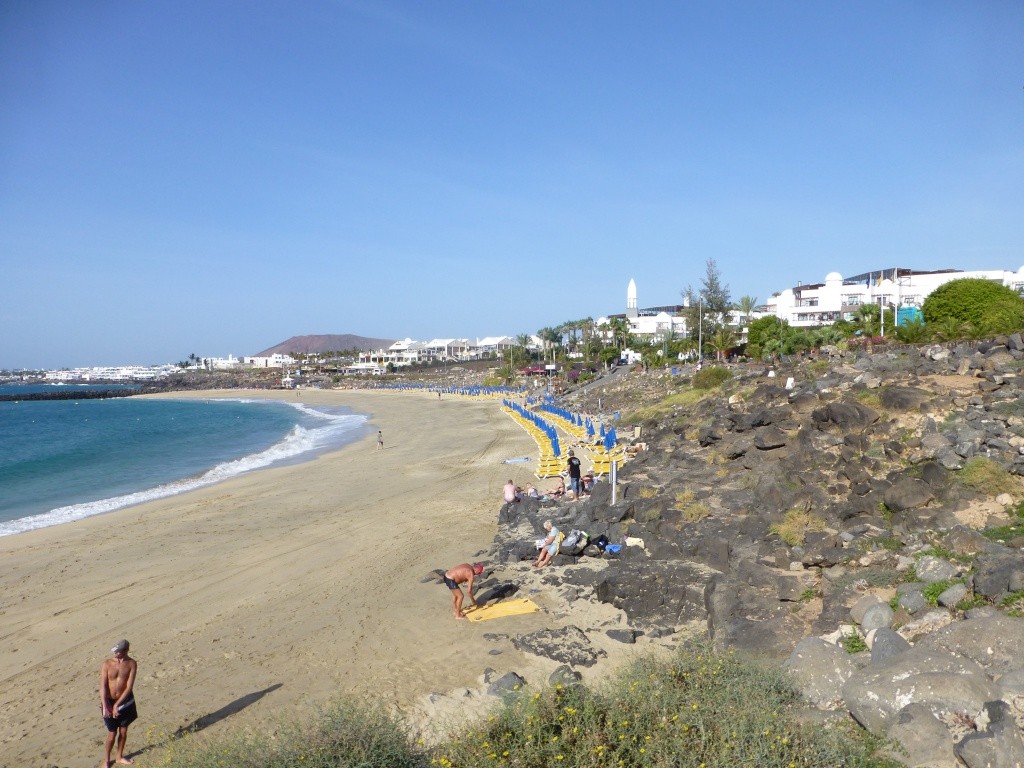 p1150560
However, once around the pool I was conscripted / volunteered to play the skittles game from Finland, remember last year the entertainments guy Paco had made the skittles himself. However, they were quite light and often blew over but some kind holidaymaker from the UK who was a carpenter, saw the problem and made new skittles and carried them out with him to give to Paco.
P1150562
The idea is the skittles start in a bunch and using a chuck stick, one can either knock one stick down and get the score marked on that stick or knock several down but one only gets one point for each stick knocked down for more that one that falls. Any skittle that falls is placed in the position it falls in, so skittles widen out as the game goes on.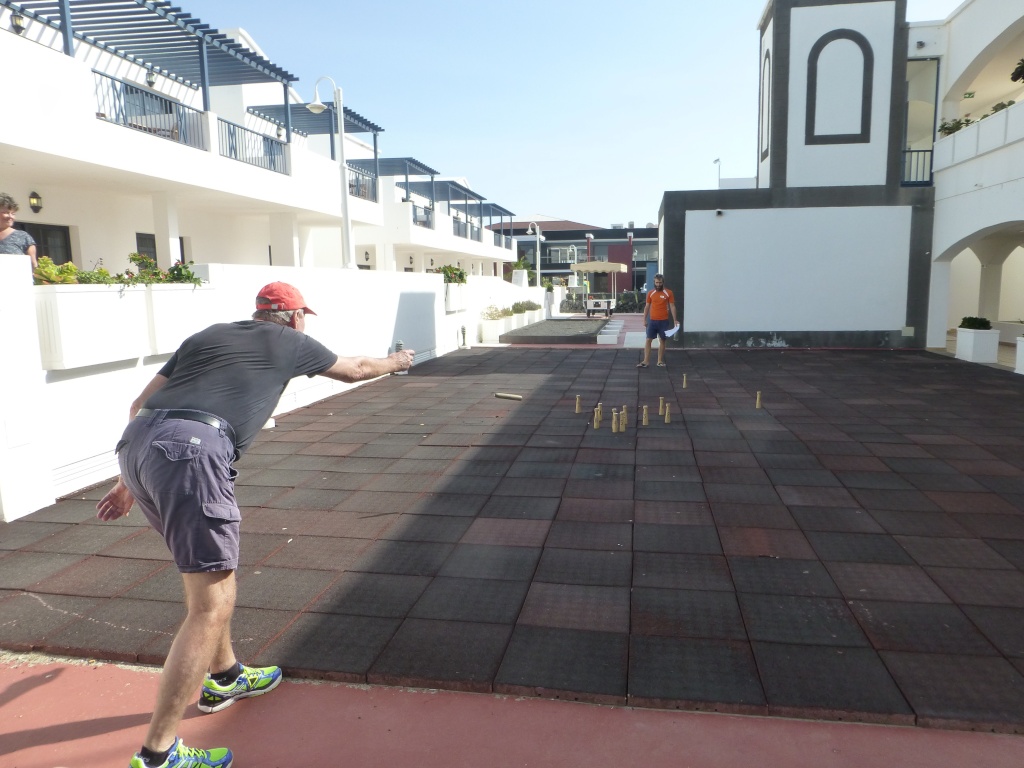 p1150564
to win the game one need to score exactly 30, if you go over you then need to score 45, miss a skittle all together and you lose a life, one has 3 lives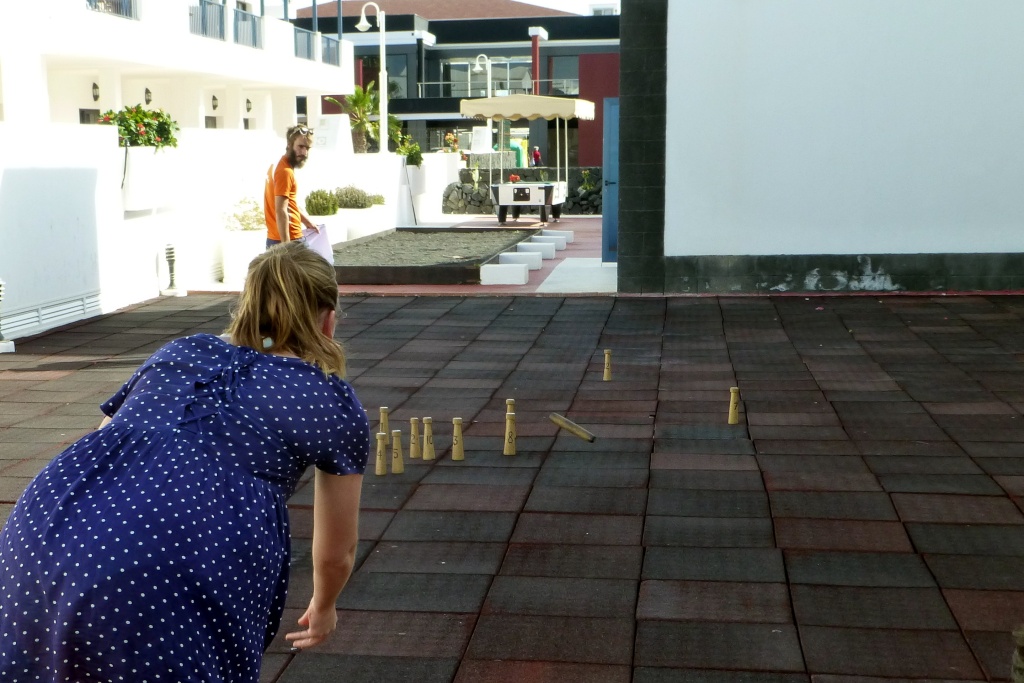 p1150565
There was around a dozen of us playing and on the 4th round a Finnish guy hit 30 points and as we all have a go in round 4, I needed the no 11 skittle but my chuck went wide and hit the no 5 skittle.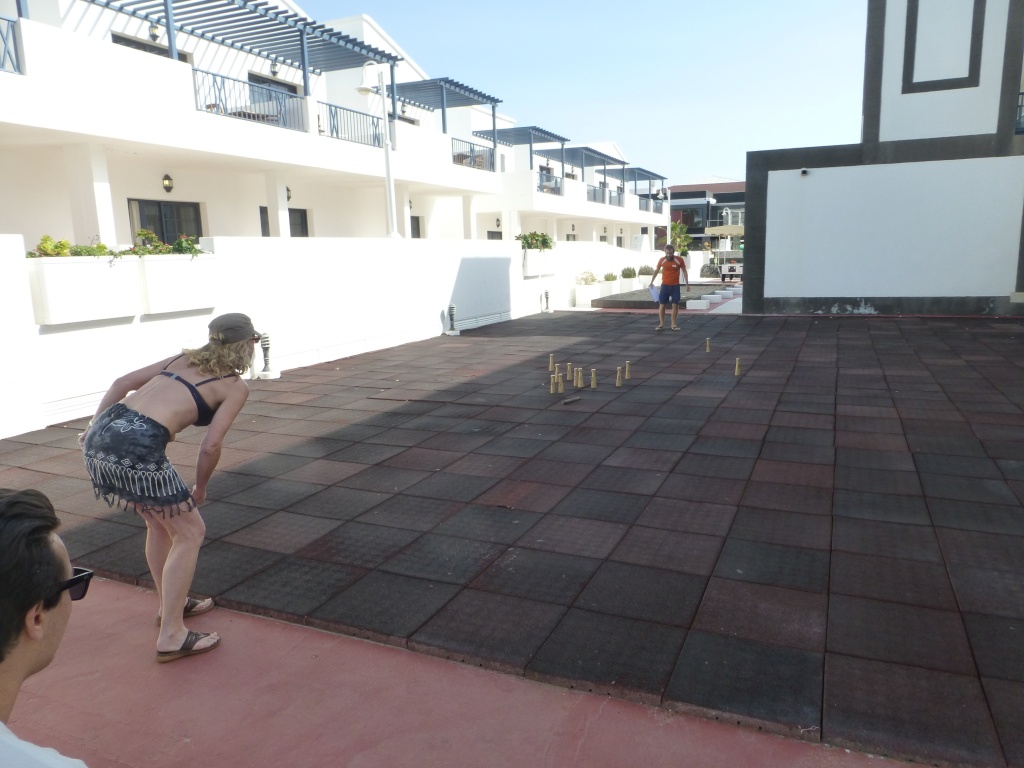 p1150566
There was a play off for second spot and a lady and I hit our respect correct pins to finish joint second, so sorry guys the Finnish flag went up but at least I made the podium lol
The winner got a week's holiday in Barcelona (with Paco's mother-in-law) I had to settle for a bacon baguette lol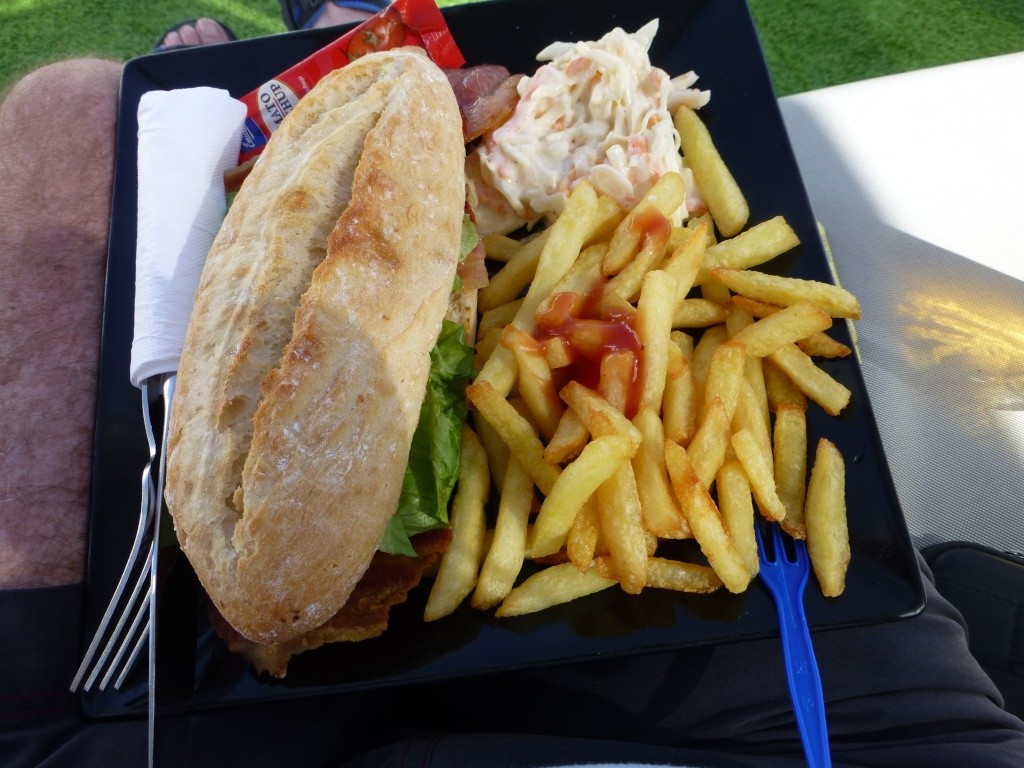 p1150569
the afternoon's entertainment was water polo, which i drew the line at going into a semi cold pool (despite it said to be heated lol)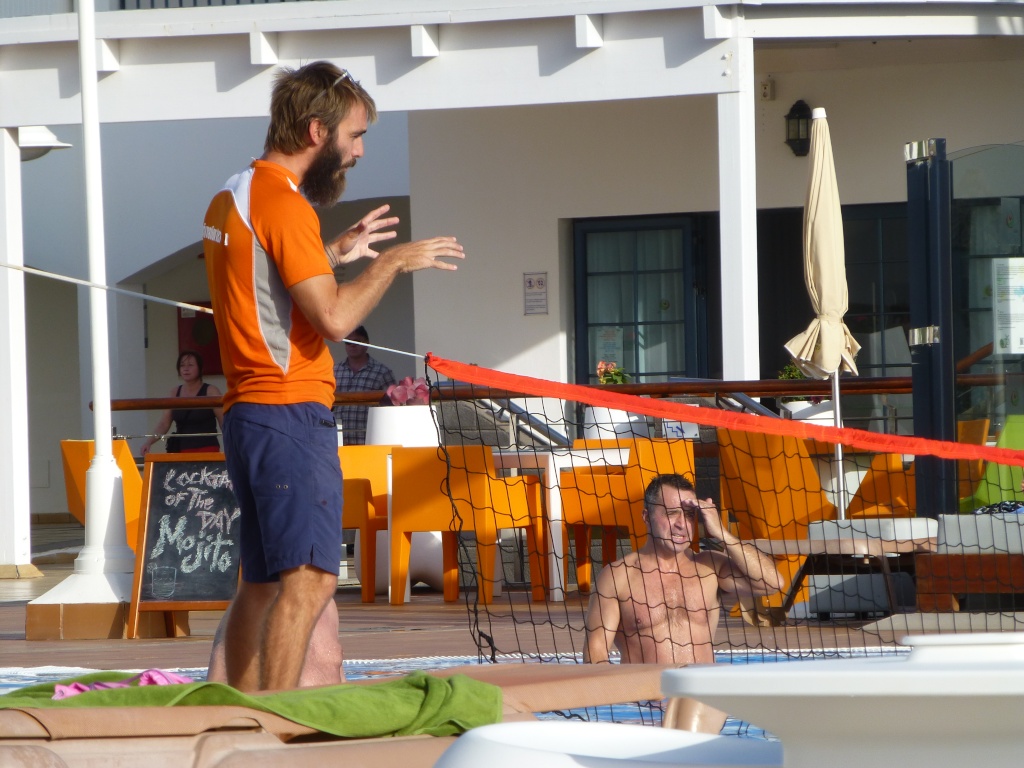 p1150570
by 4pm we had some vodka caramel on the balcony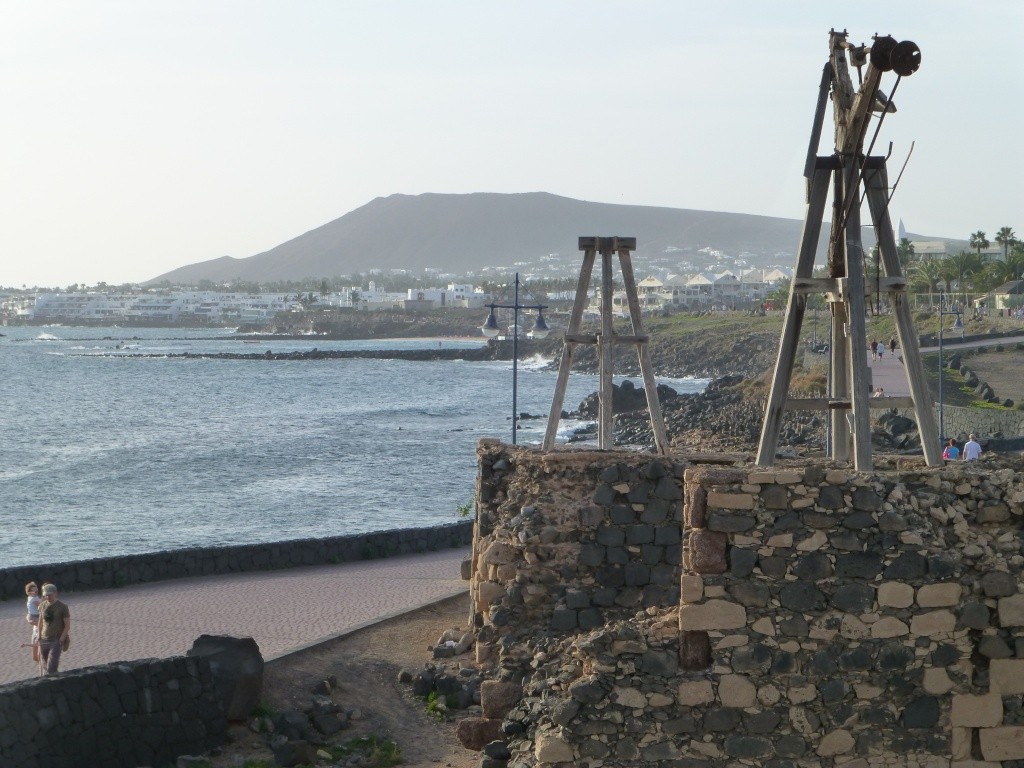 and waited for sun down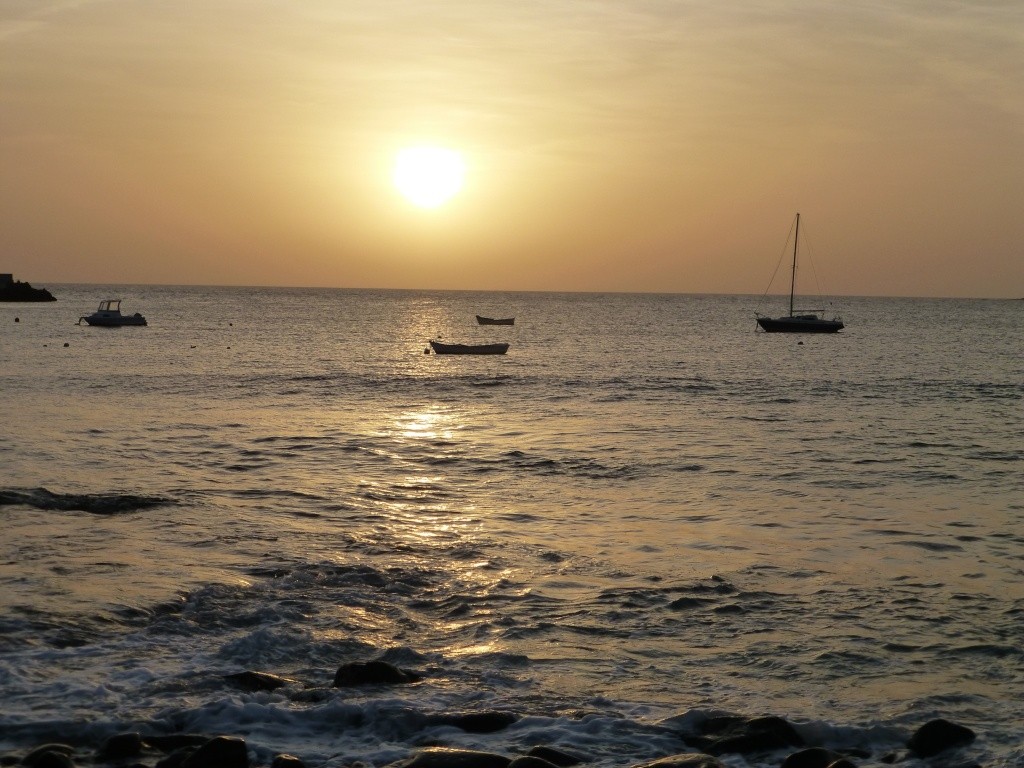 p1150573
although one can rely on the boats to be in the shots
p1150584
one can always rely on them coming back 5 minutes too early lol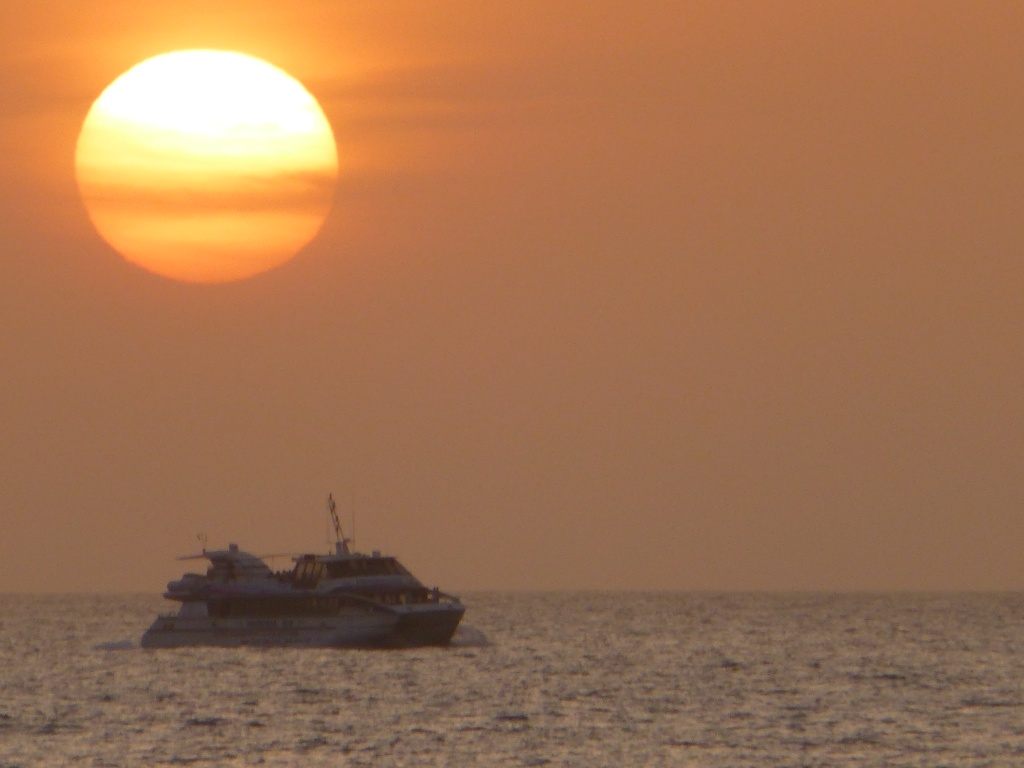 p1150582
Tonight we were going to dine at the Little Marmite but found them closed and therefore we went to Lani's
Mrs Db had the chicken stroganoff which was ok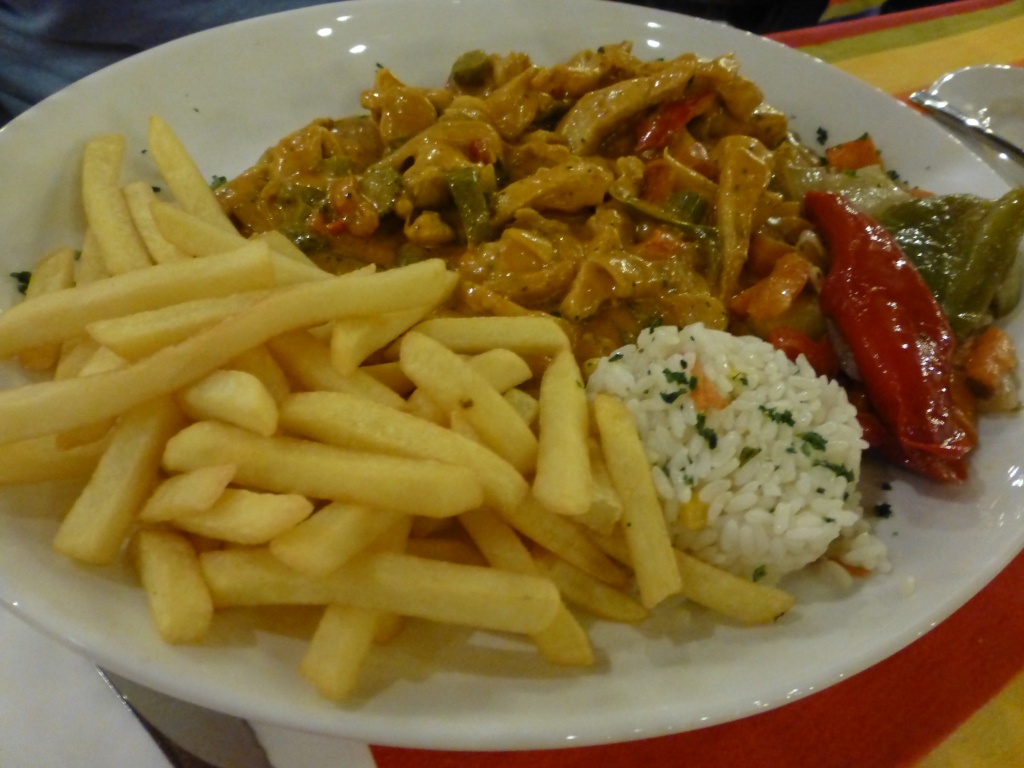 however, I made a big mistake and ordered roast chicken, which tasted very dry I used my half bottle allocation of wine just trying to eat it.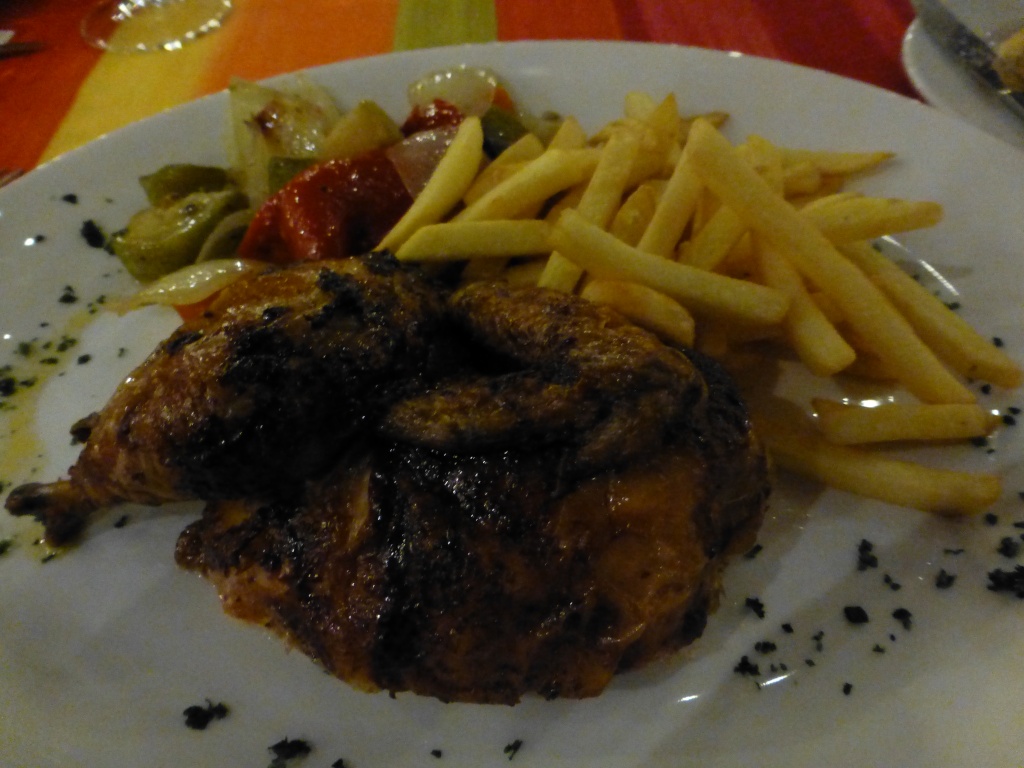 p1150596
END OF DAY 9
DAY 10
another sunny day
p1150602
still looks rough on the sea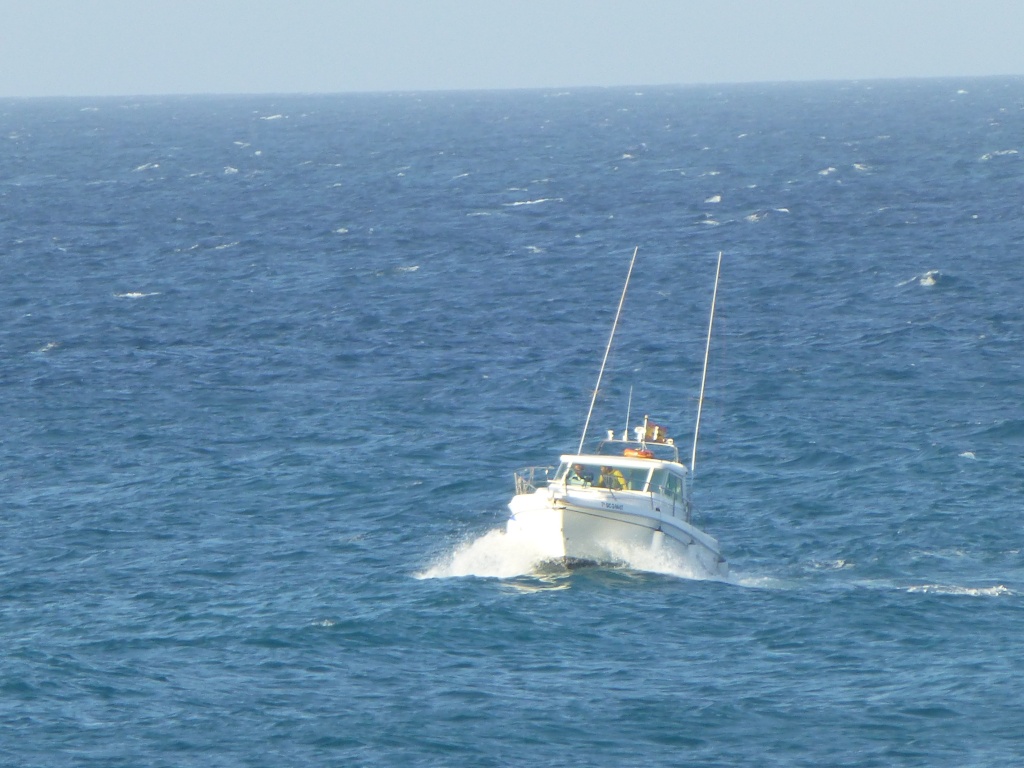 p1150608
no flag up yet and looks like at this time only a group of students seem to be interested in the beach
p1150613
sun beds were popular around the pool, so we were on the couches at the back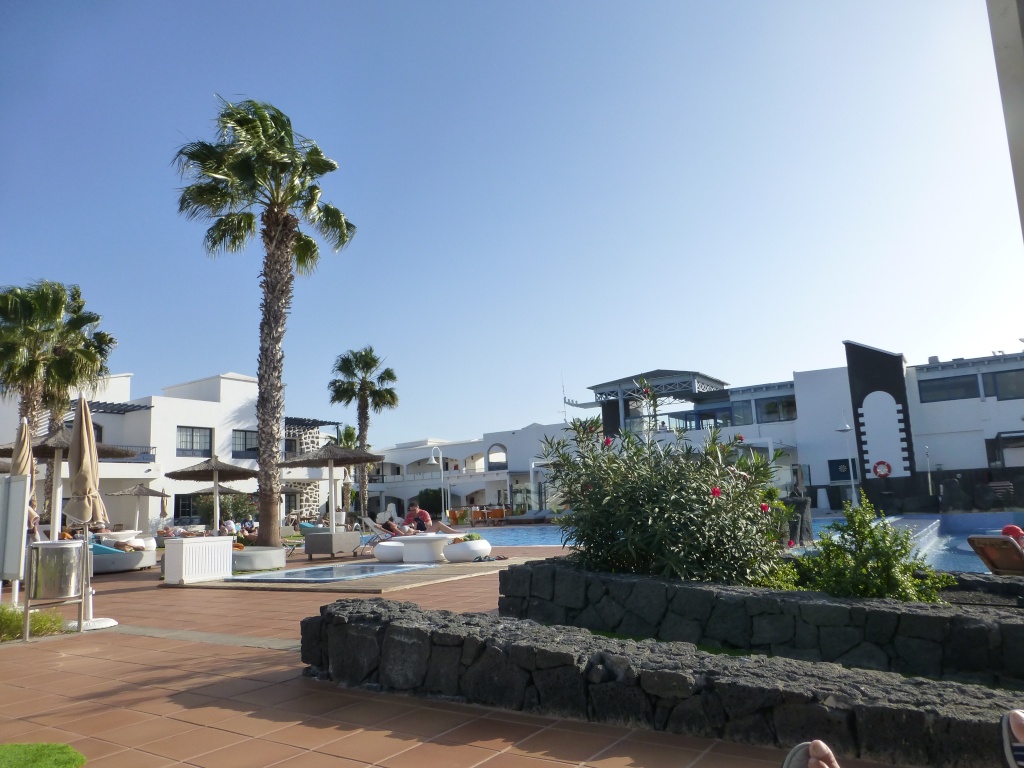 p1150620
Well i was for 5 minutes lol, zipping through the shopping centre to see Springfield's were nearly ready lol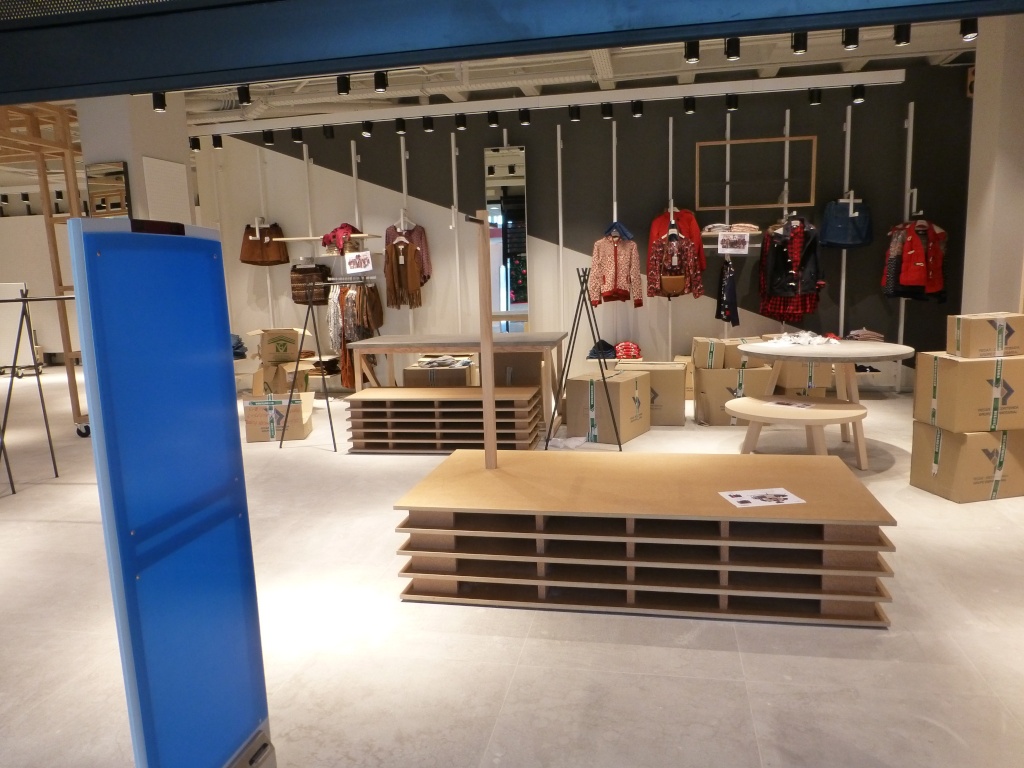 p1150606
So here I am at the roundabout at the top of the marina road, the town is on my left up the hill
p1150627
to my right and straight on is the Papagayo Beach end of Playa Blanca and in that direction there is another Superdino which is easy to park in but the Superdino is not as big as the town one but the cheaper prices should match
p1150628
To get there in a car follow this road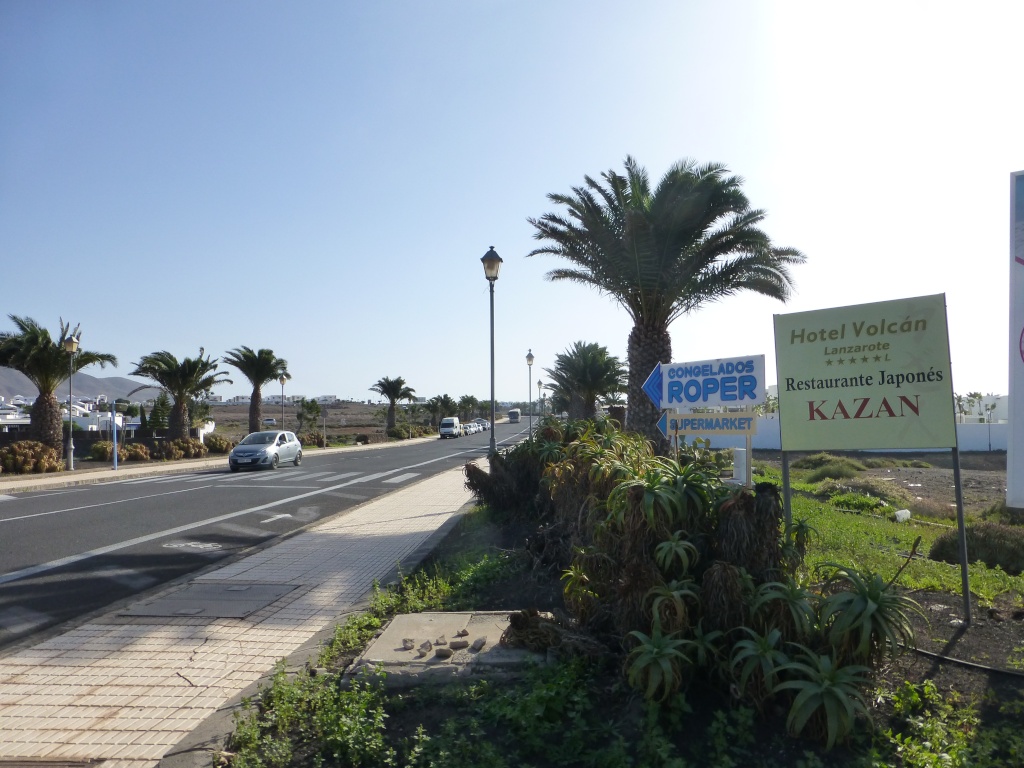 p1150629
eventually the road forks, take the right fork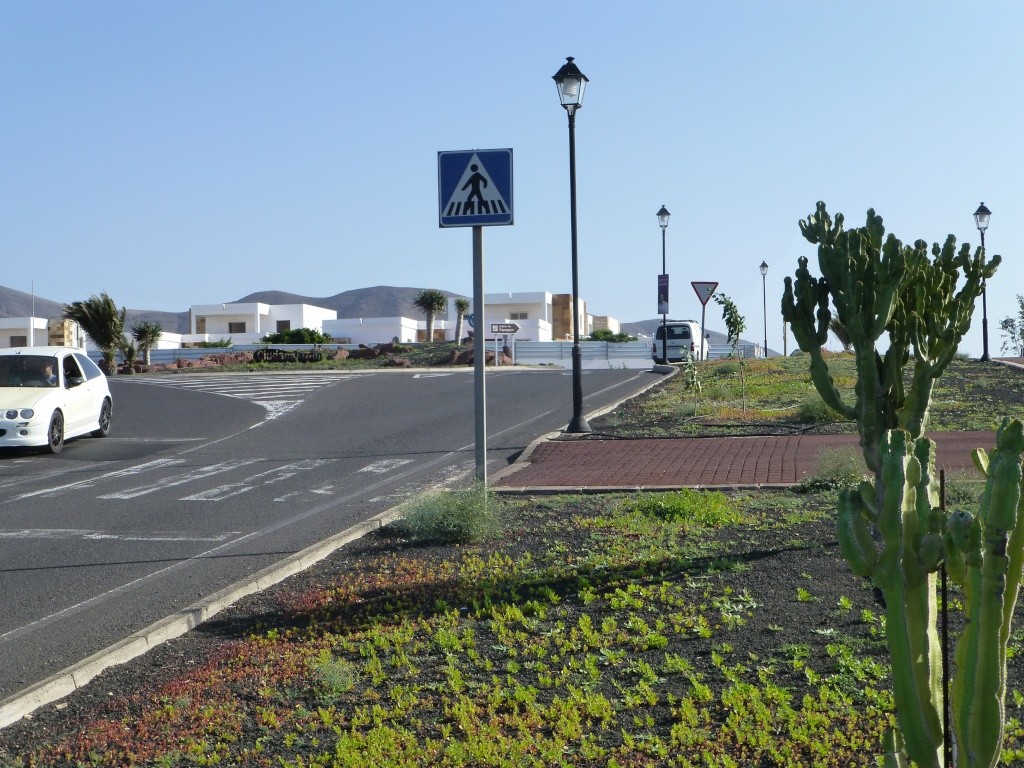 p1150633
and following the car (passed this car park area on the right)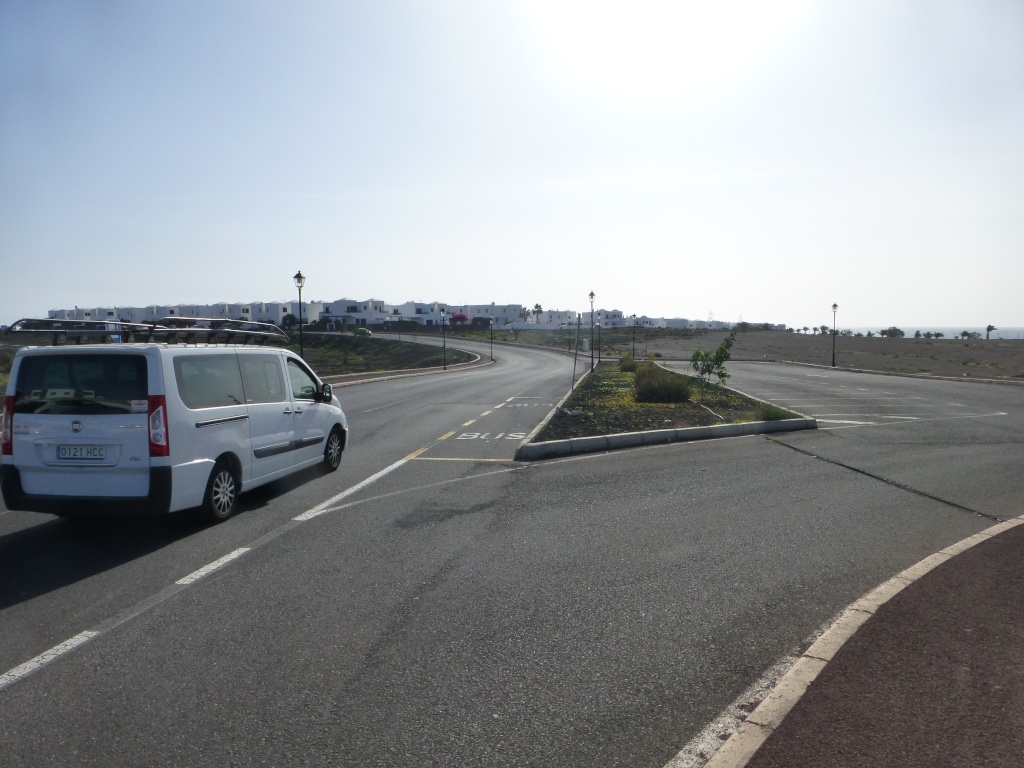 p1150635
Down this road you will come to a roundabout
p1150637
turn right at the roundabout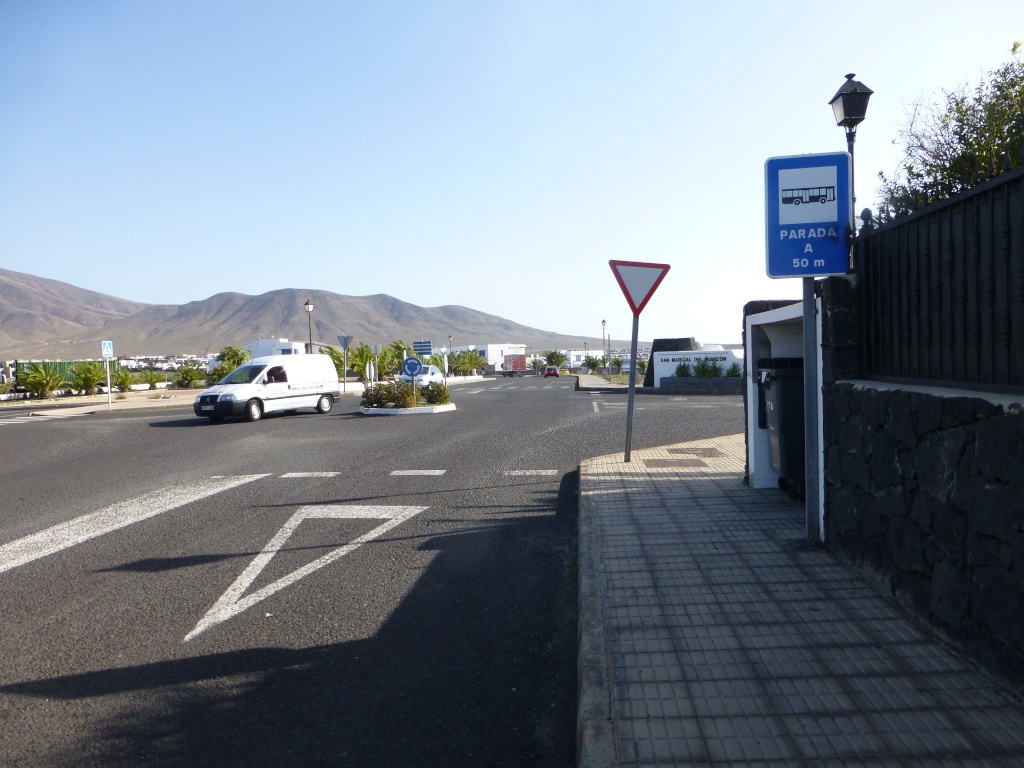 p1150638
and you are there (with plenty of outside parking)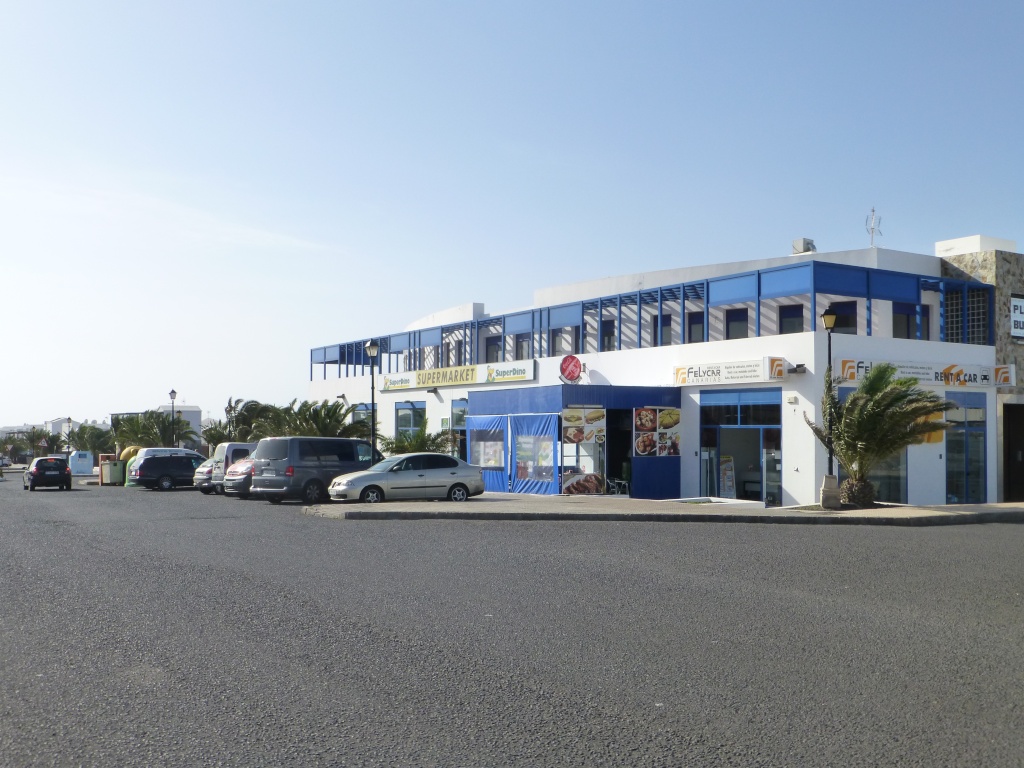 p1150640
just a few shots inside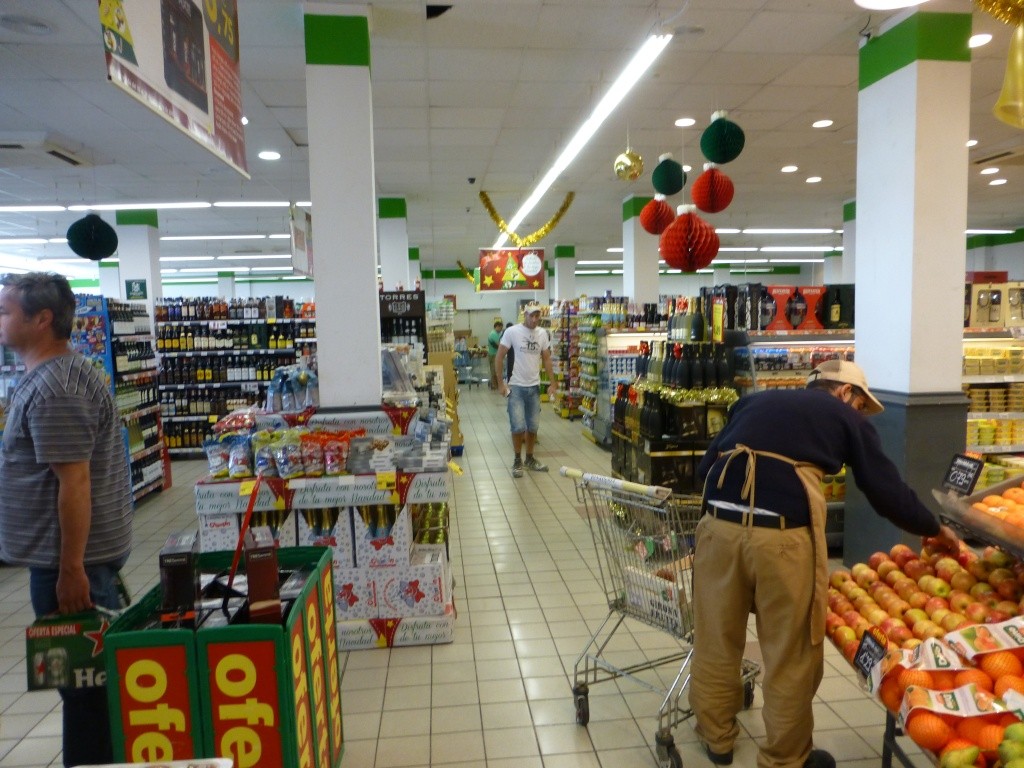 p1150643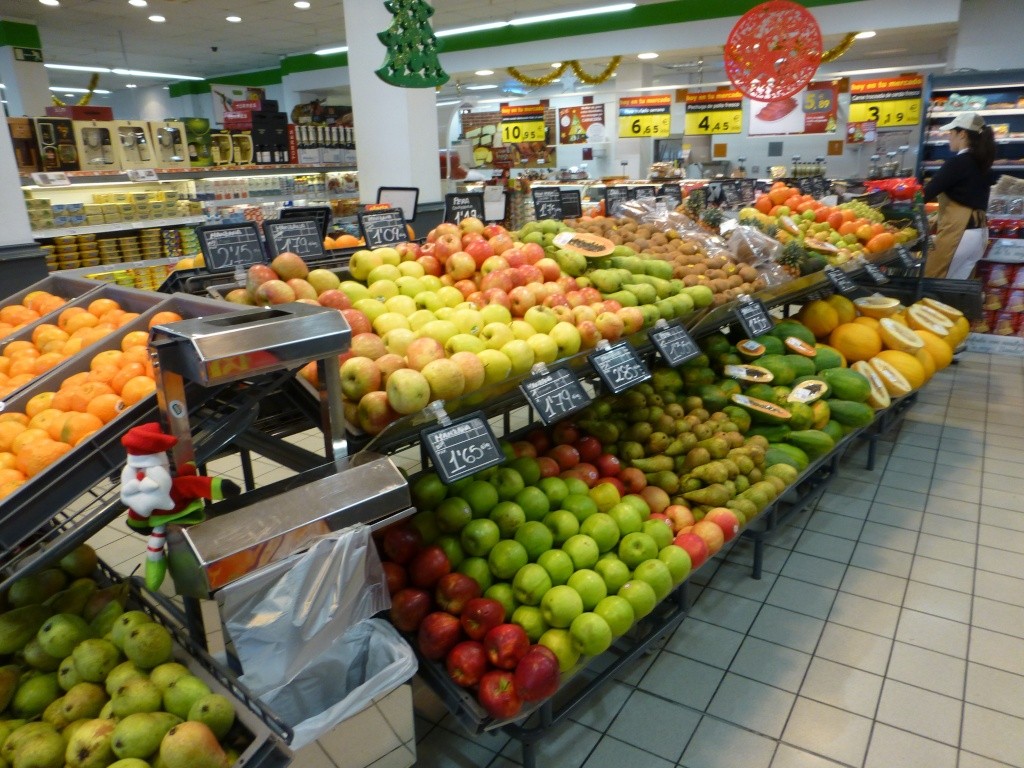 p1150644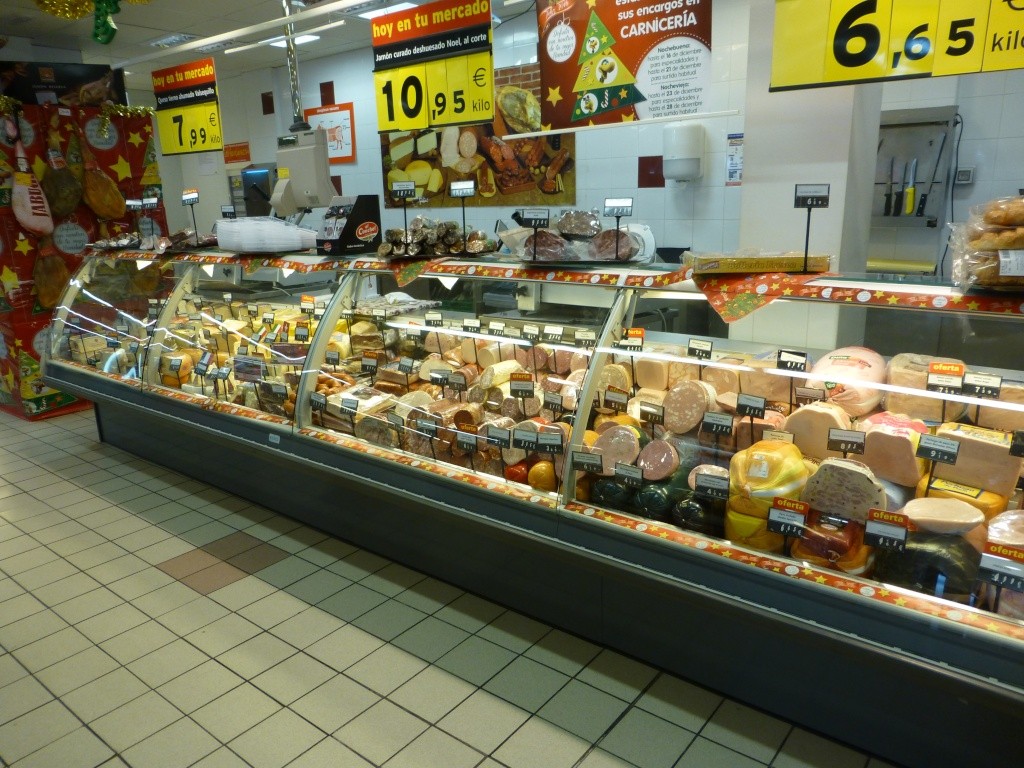 p1150645
Walking down the end of the same road I came across the Mirador Papagayo Hotel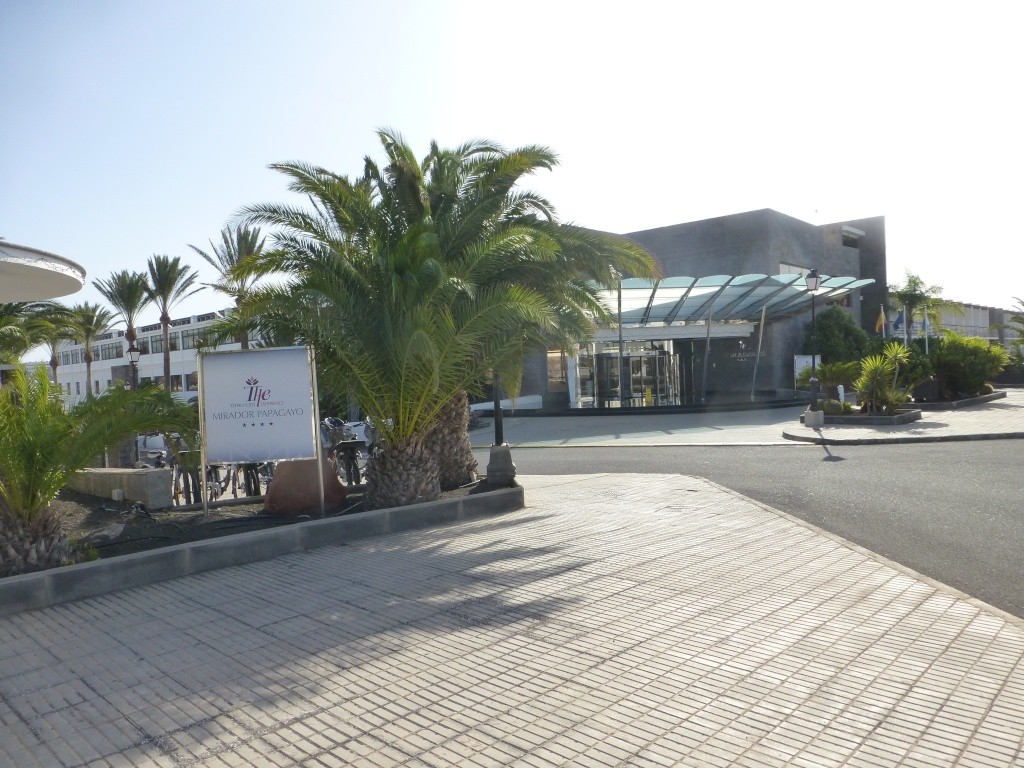 p1150653
I asked in reception if I could take a few photos for a review snd the deputy director took me around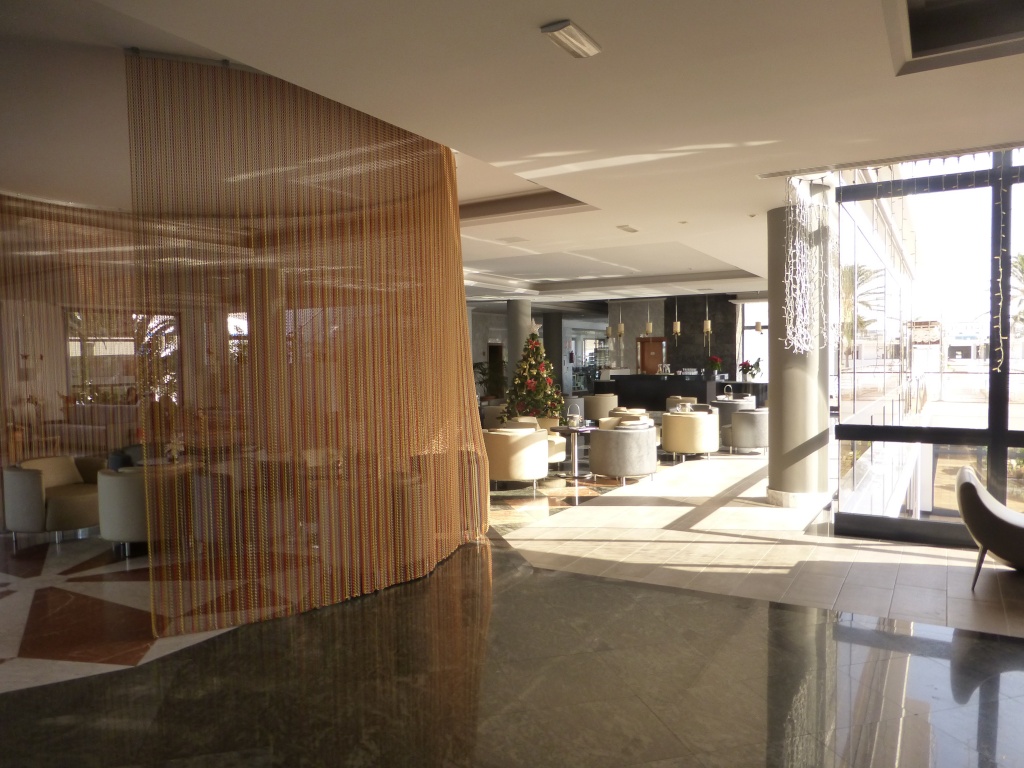 p1150654
they have what is a black pool rather than a normal blue pool, I am told the black rock keeps the pool warmer, although the pool is heated, it is more environmentally friendly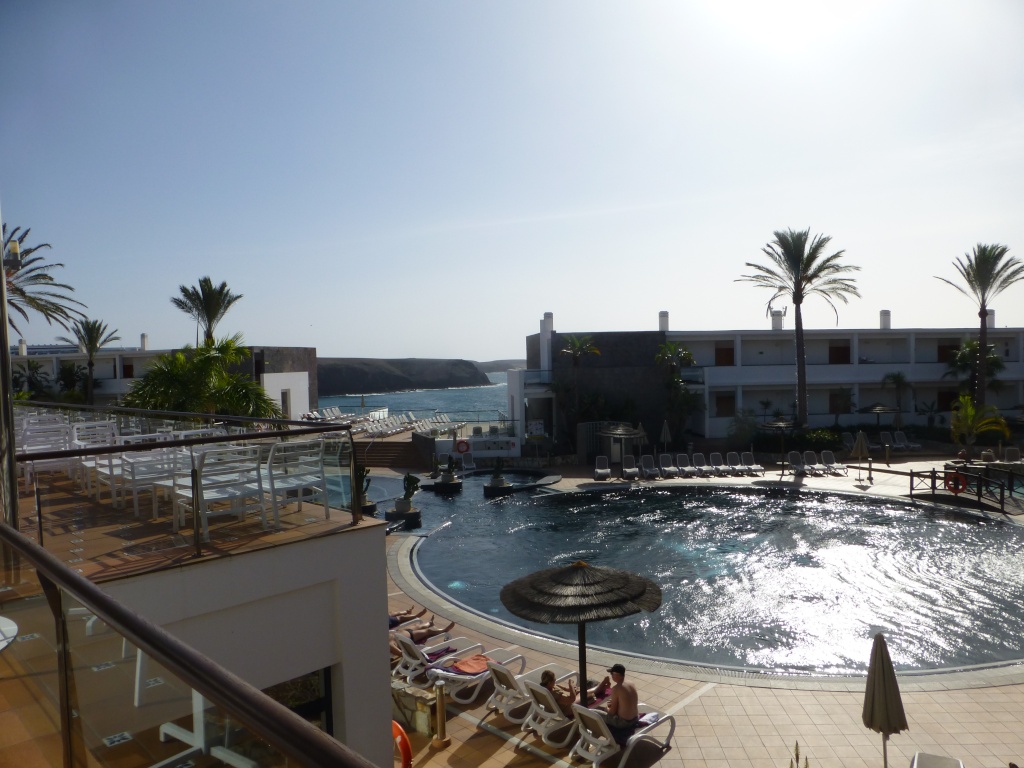 p1150656
The restaurant is on the lower floor behind the pool and further to the right is a bar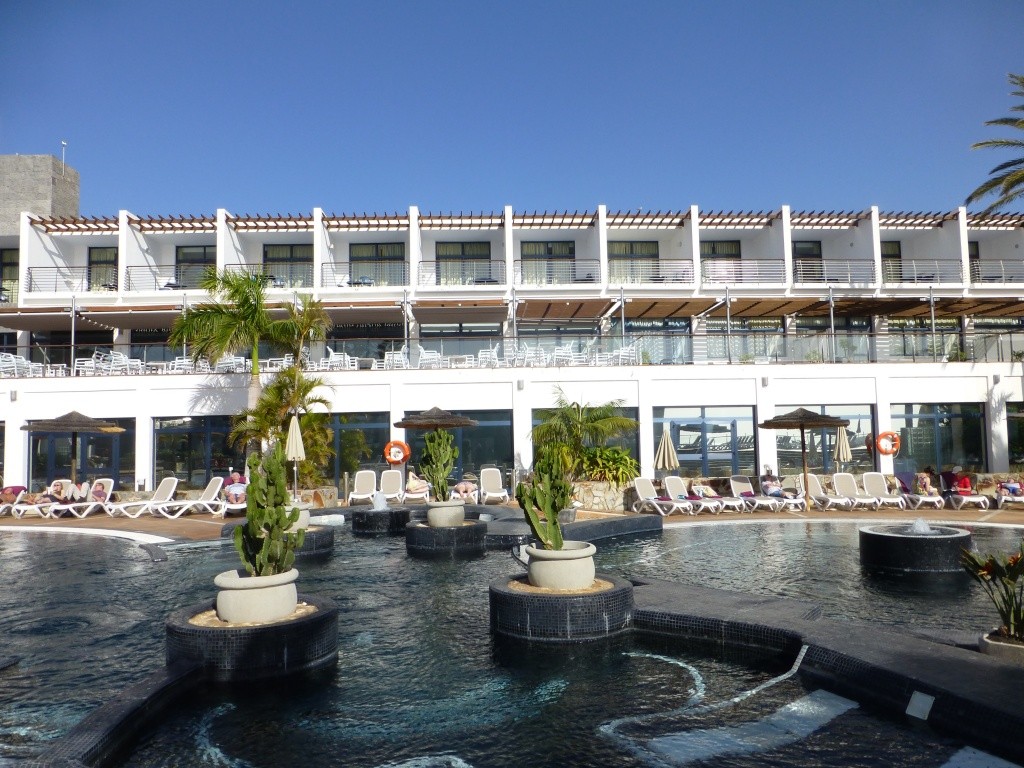 p1150658
With a terraced area above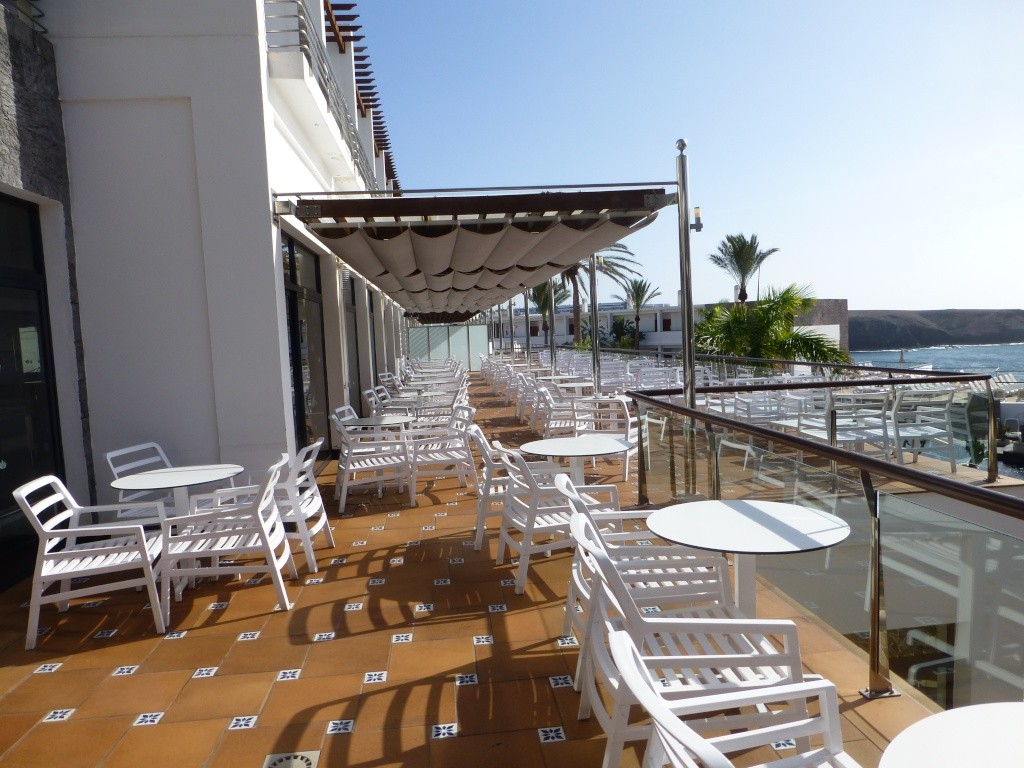 p1150657
also a terraced area overlooking Papagayo area and the promenade, there is also a blue staging platform used for swimming and diving in the summer but is taken out of use in the winter months but it was a bit blowy up here today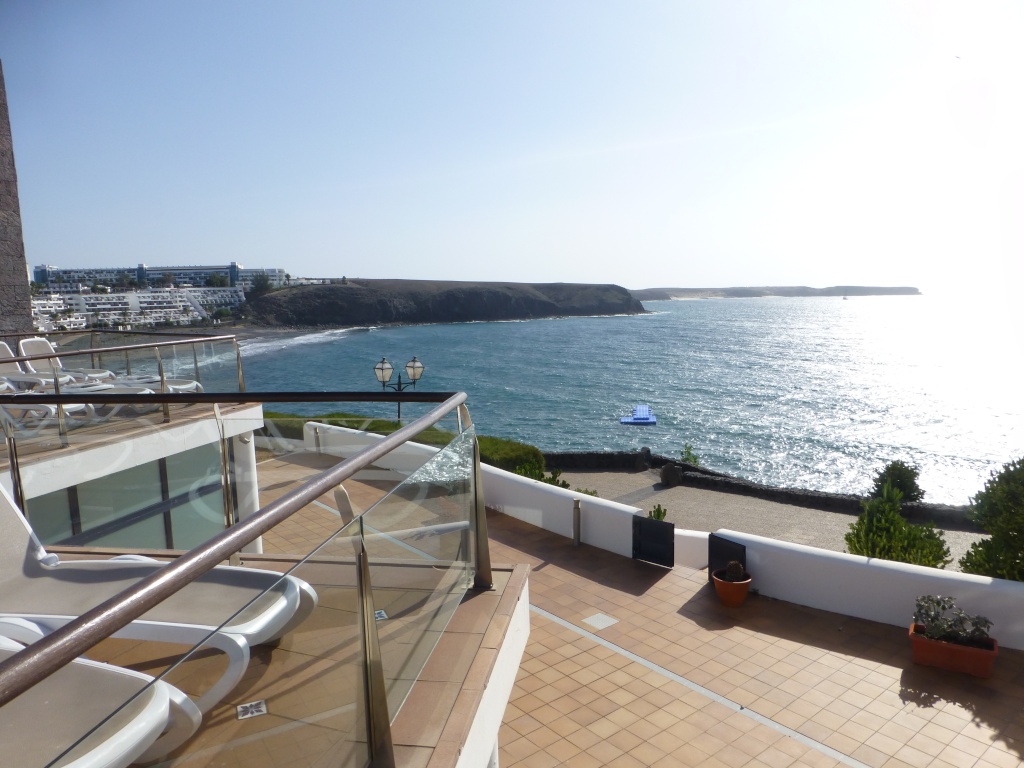 p115660
Also the hotel has showers, lockers and changing rooms for those flying back late that night
as I left, there were more rooms going down the cul de sac road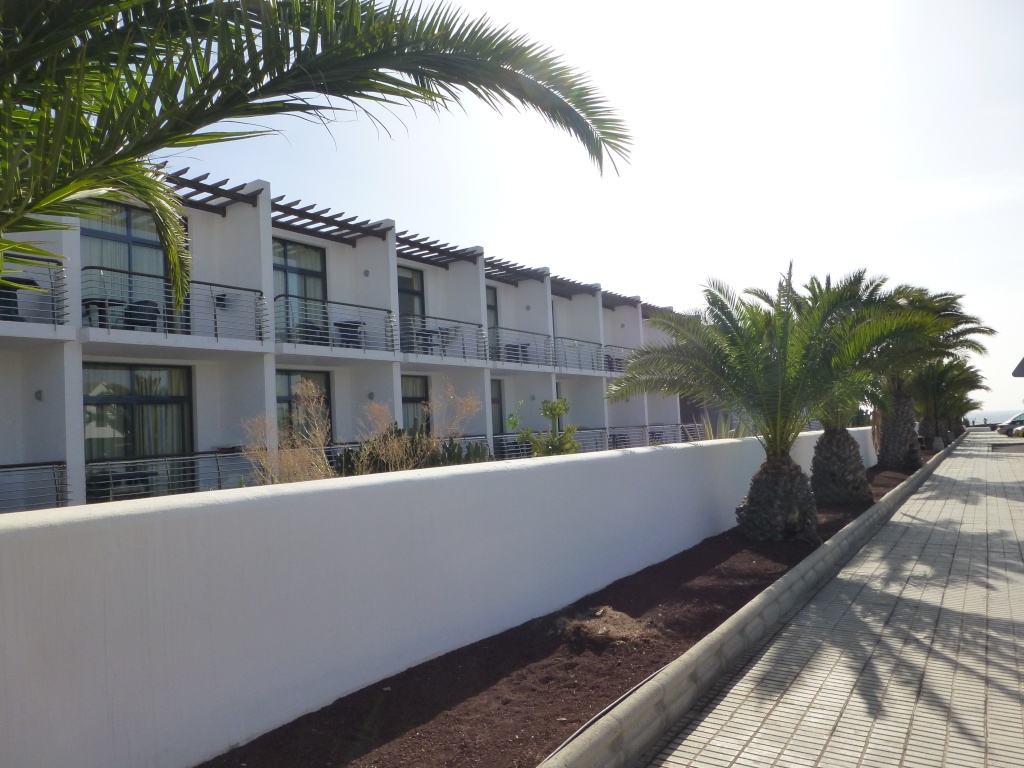 p1150661
walking back up the promenade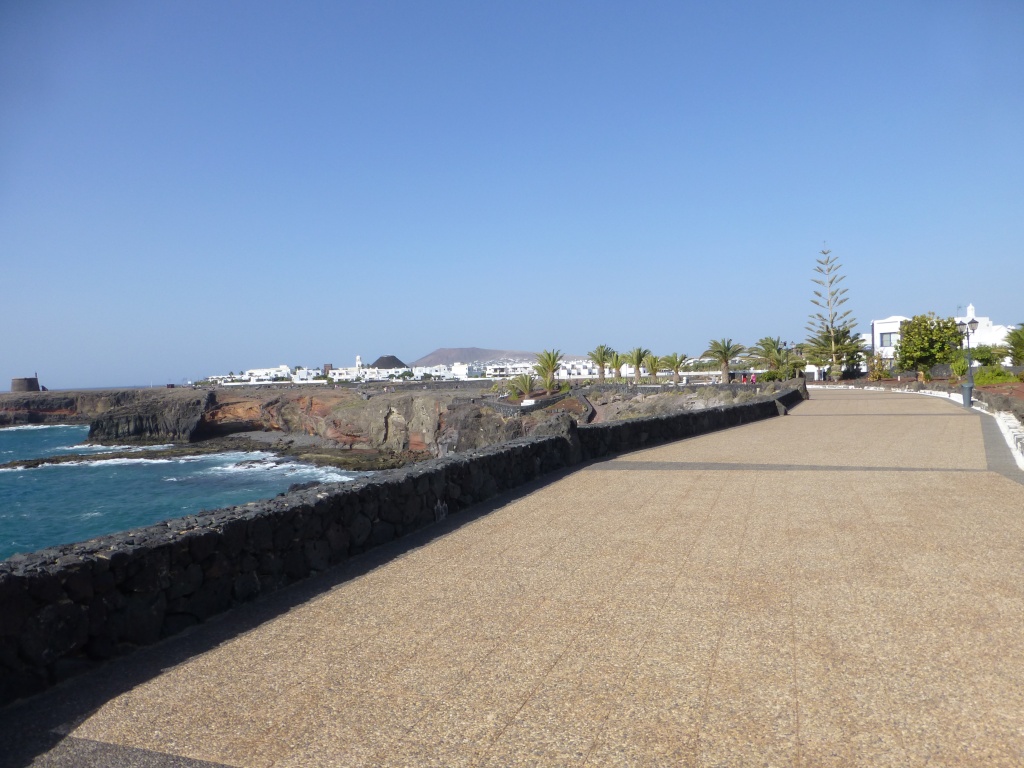 p1150662
I noticed the pirate watch tower now has an information centre but it was closed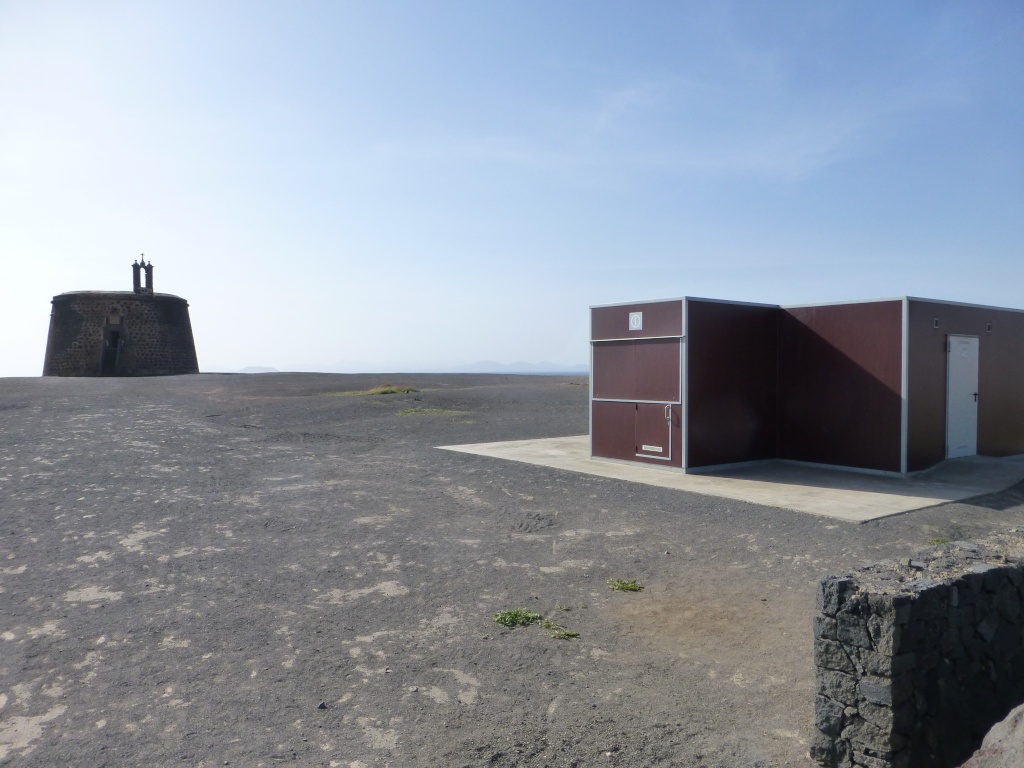 p1150663
and what are these camels, oh they are neonlights, I'll be back tonight to get a photo or two lol
p1150664
arriving back at the complex, I was then asked if I would play tennis with others, never played a match in my life. However, we were in two teams of 4, each taking the next shot in turns. Scoring was up to 11 points and you could only score if your teams was servicing and one kept the service if you won the point. I didn't have any photos as I was continually playing. Both teams won a game, so all square in the end
Paco just congratulates the last player as i grab my camera lol
p1150699
Lunch was a tuna baguette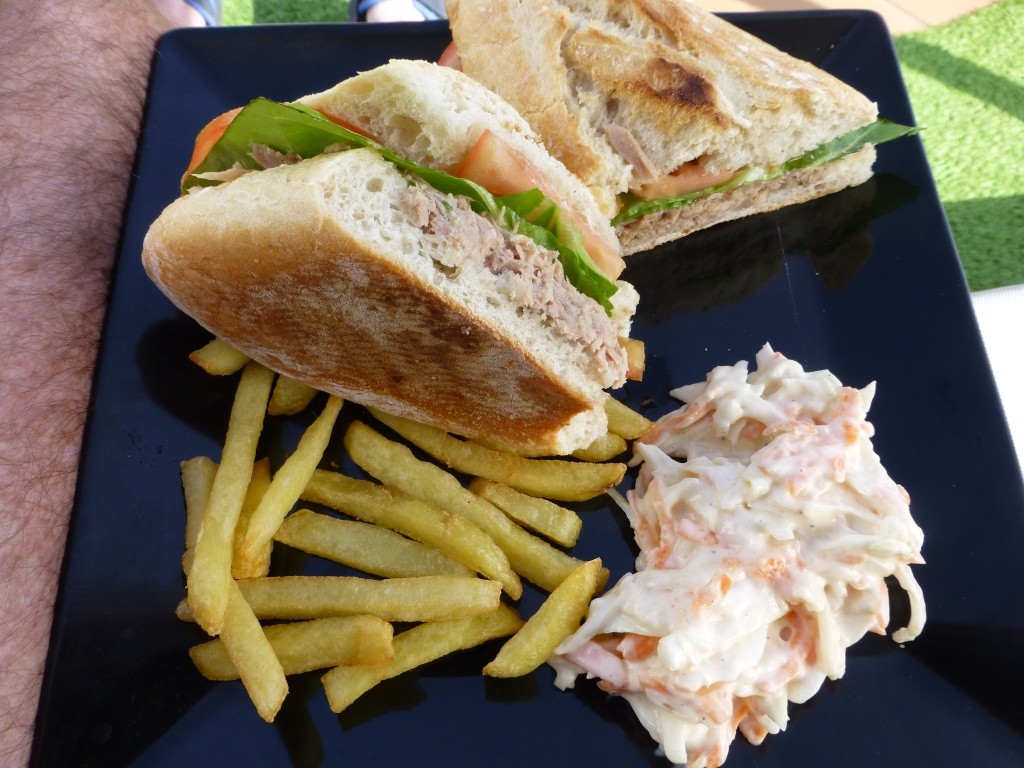 p1150670
The afternoon was a little more relaxing, with a sort of shove half penny game, except the wooden discs went into slots at the end of the alley and double points were awarded each time a player got one in all slots, I was rubbish at that lol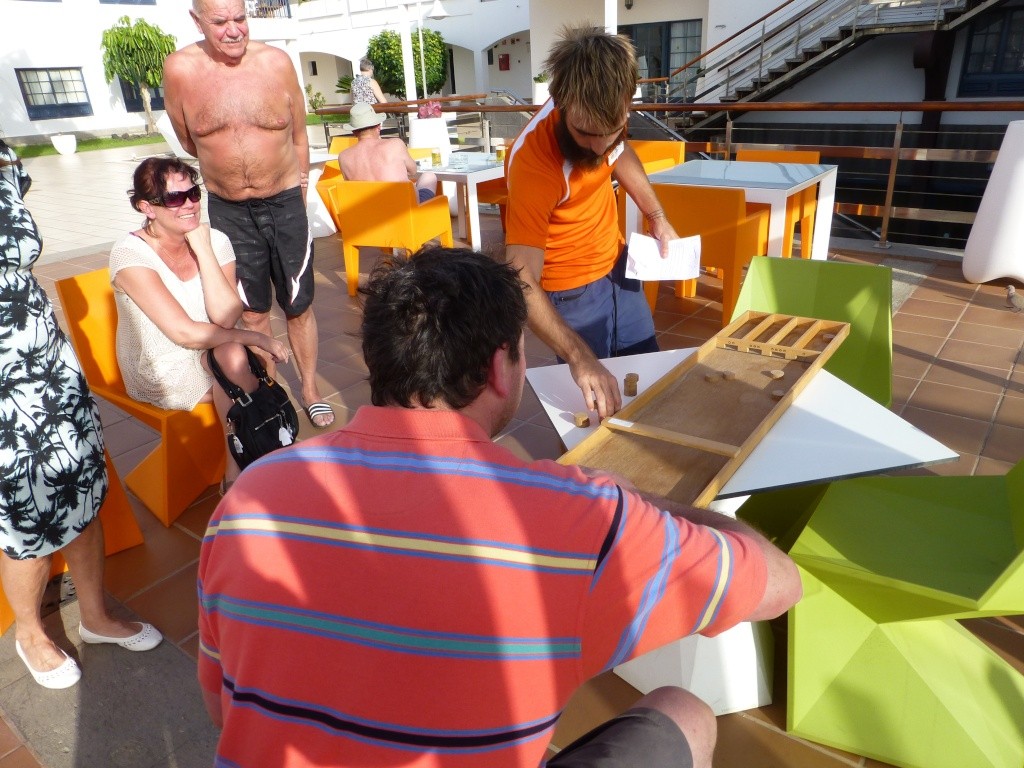 p1150675
Evening came and time for a sunset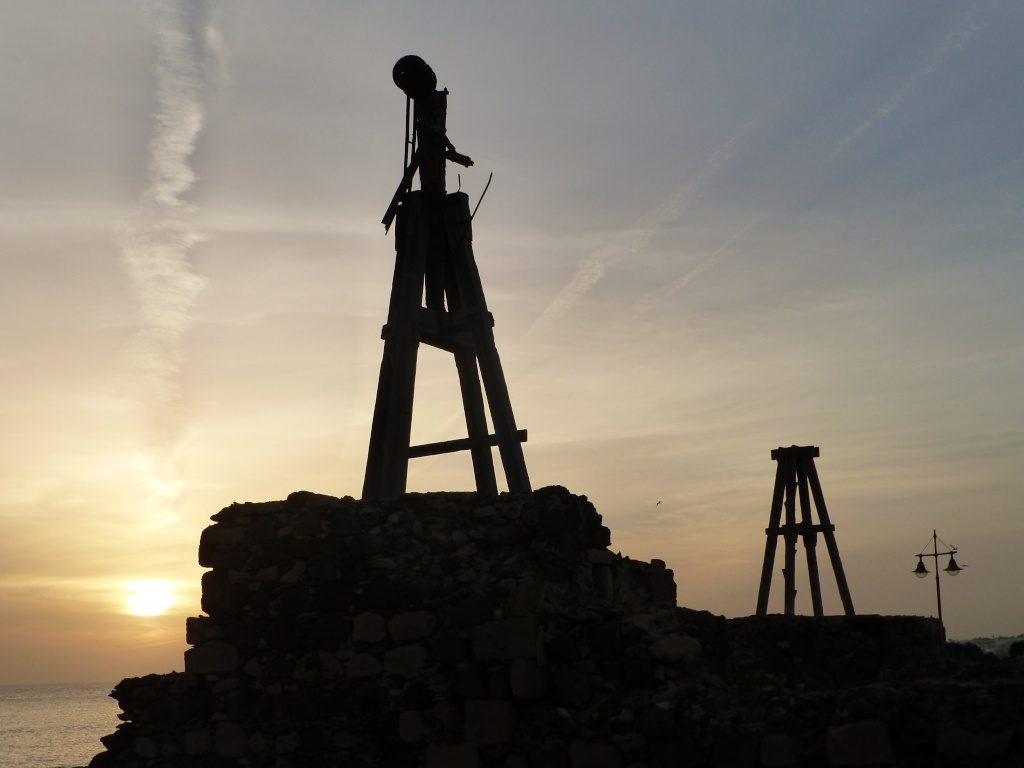 p1150676
However, the sun did it's disappearing act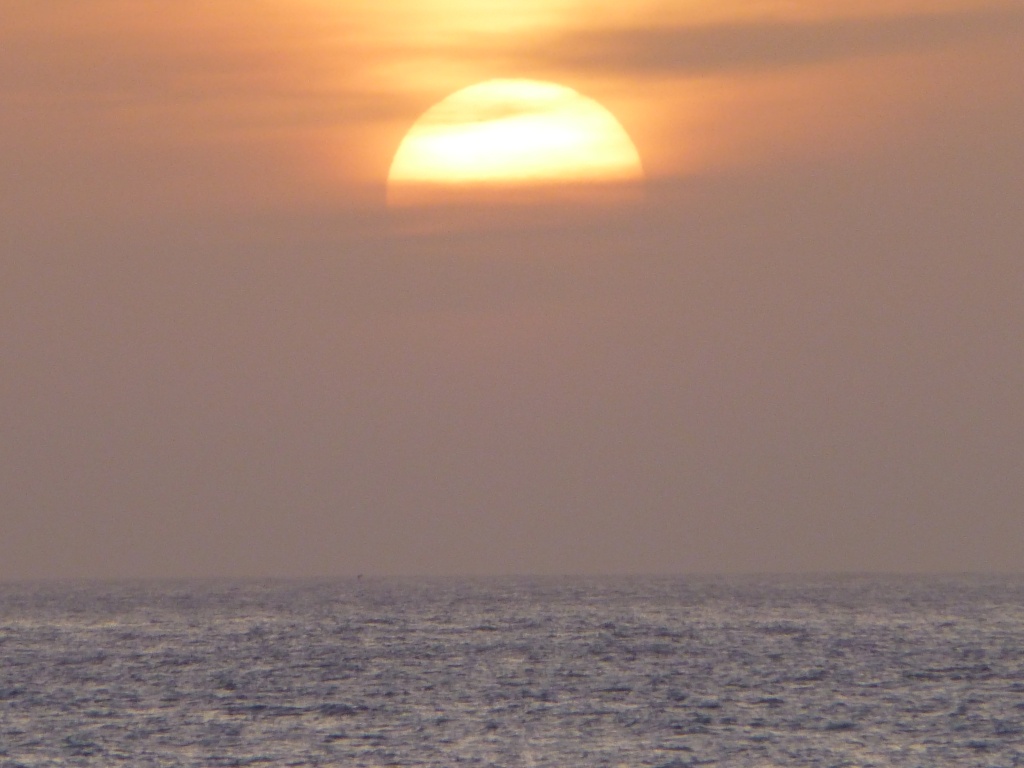 p1150680
Once it was dark, it was off to the Pirate watchtower to see the camels alight, passing the Hotel Volcan with it's lit volcano tower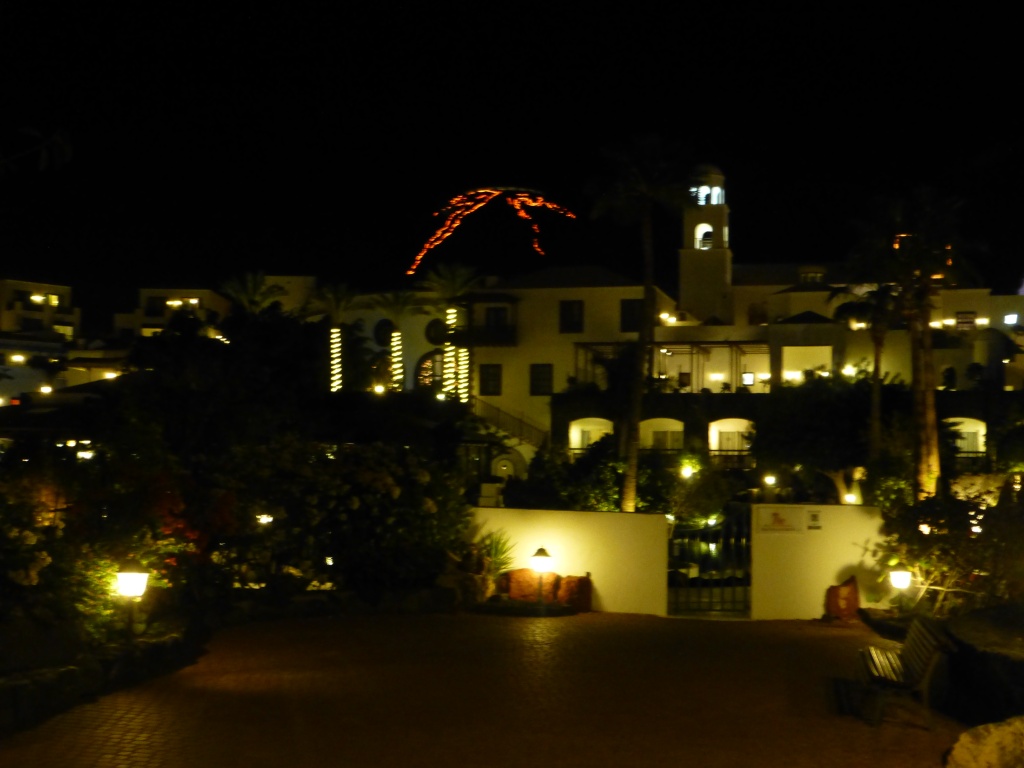 p1150686
and of course the camels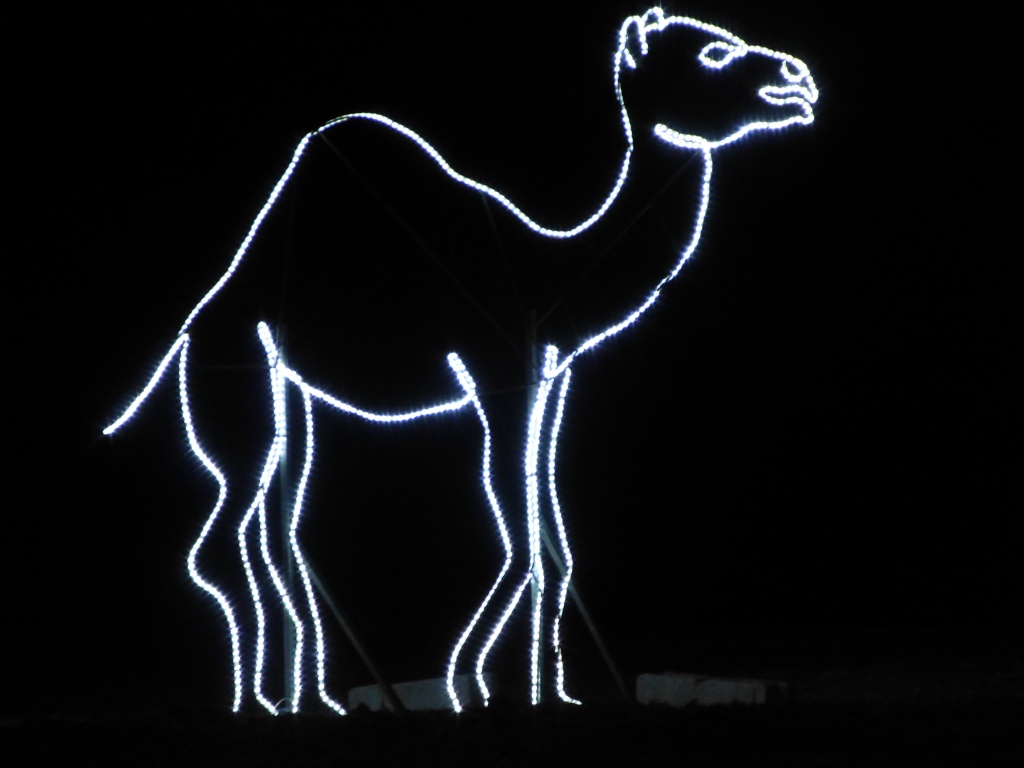 p1150691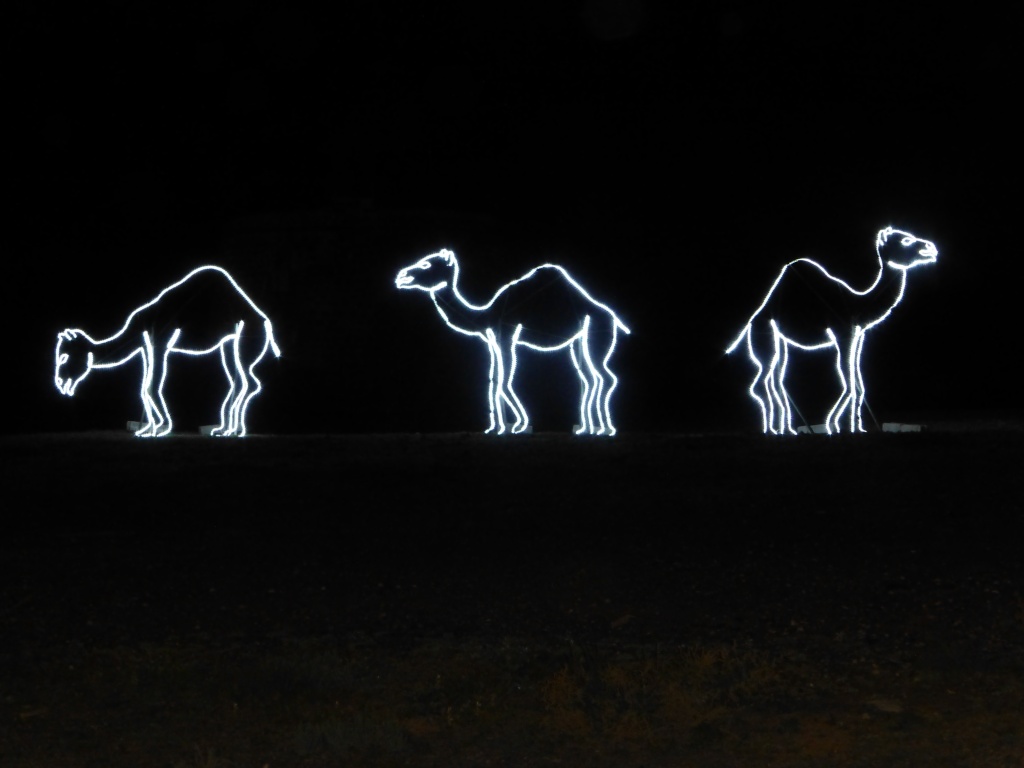 p1150692
never see the marina alight from here before, the wind has also dropped and I won't need a fleece tonight
p1150694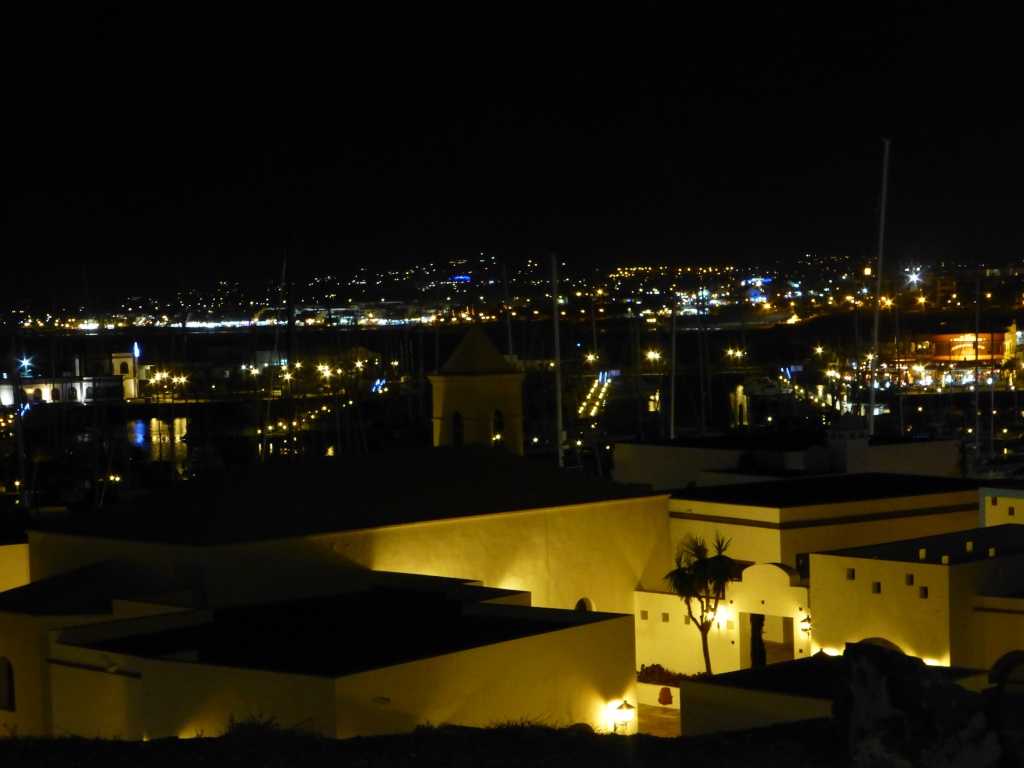 p1150695
we were going to La Chalanita's but we have found they are closed on Tuesdays , so instead we are going to the Volcan de Timanfaya restaurant which was crowded as we passed but there was one table left on the promenade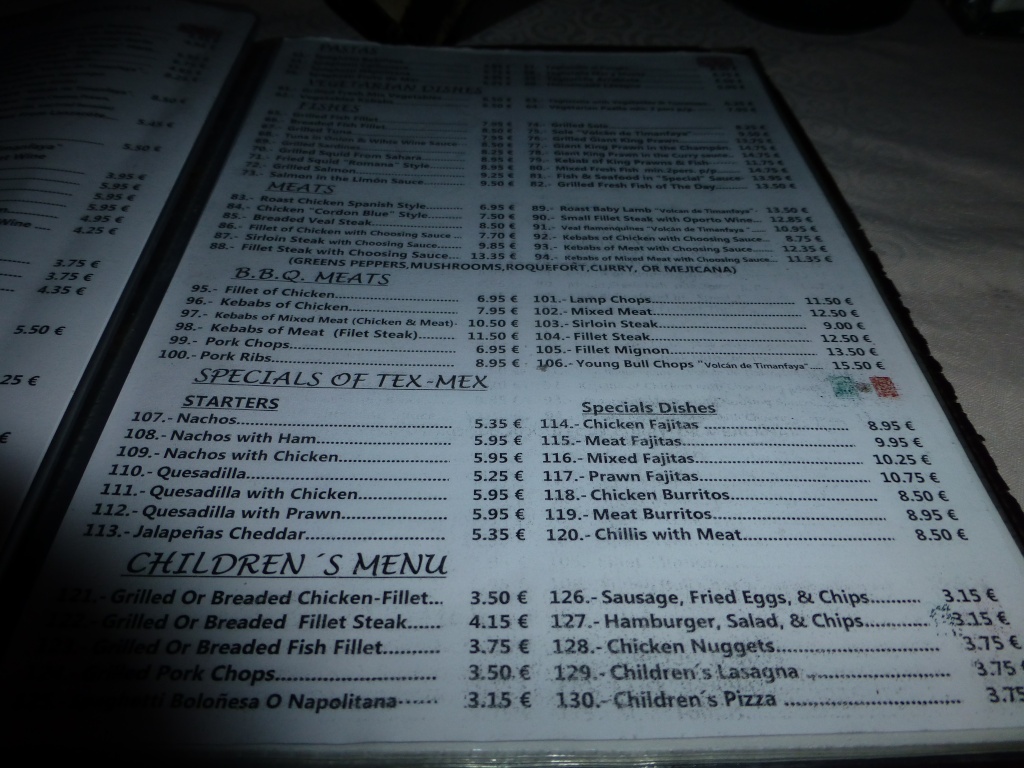 p1150701
This was novel, in short sleeves and eating on the promenade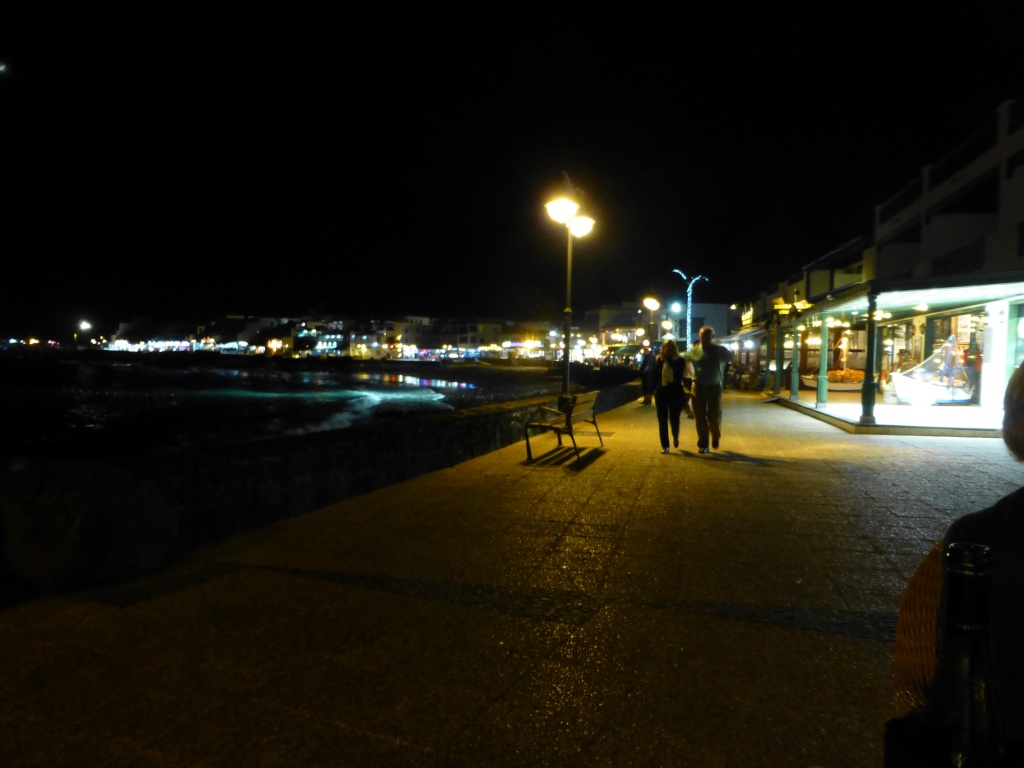 p1150704
however, it does have it's set backs with a couple of unruly kids, one running between our table and another screaming lol
I had the beef Burittos with three sauces and really enjoyed them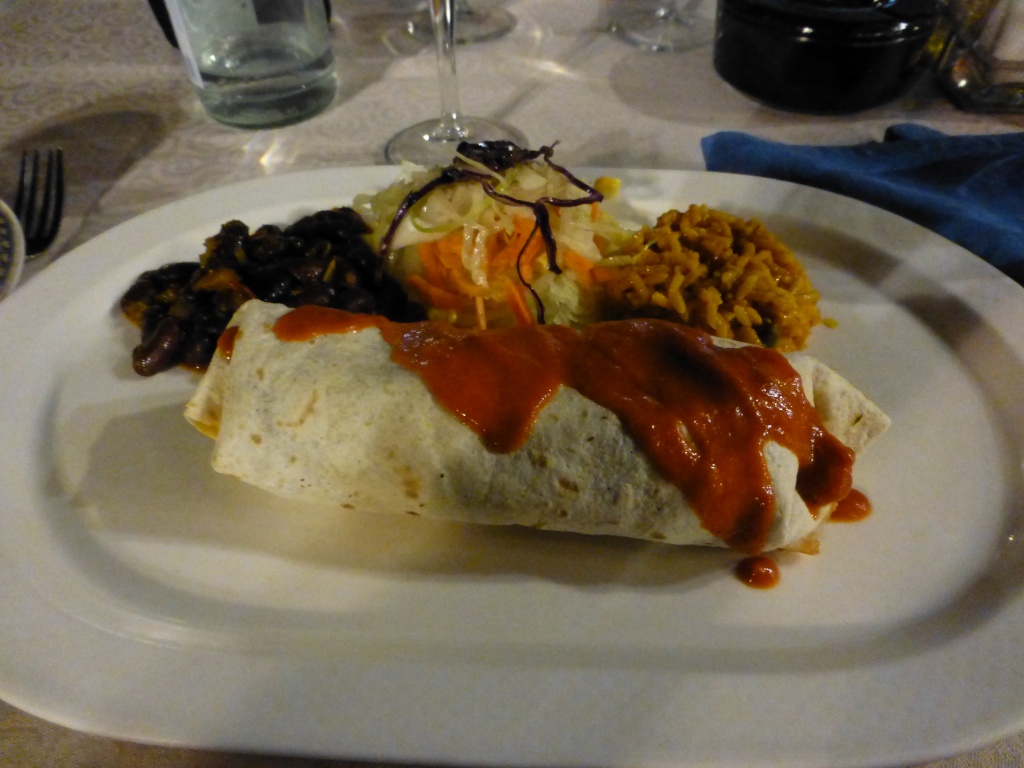 p1150706
Mrs Db had mixed kebabs and she also enjoyed them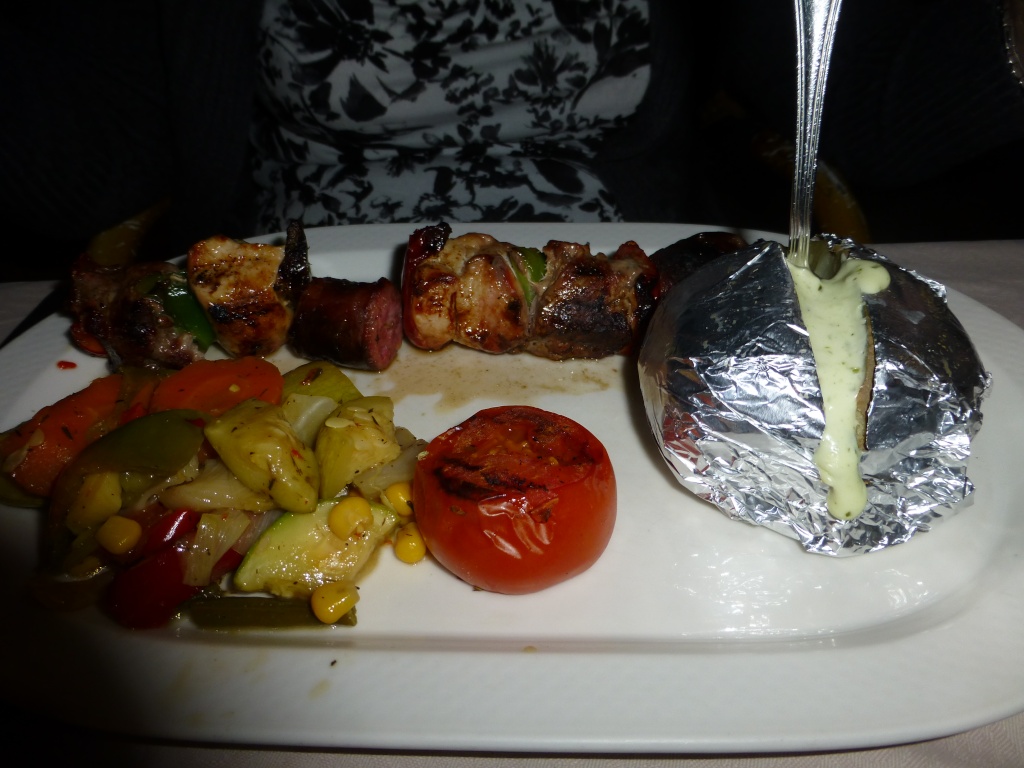 p1150708
END OF DAY 10
DAY 11
Yet another blue sky morning Mrs Db, I can't recall a run of blue sky days like this year
p1150712
I did get an email from Kayak and Walk to say they have a Northern walk usually on a Thursday but tomorrow their car goes in for service but would arrange it another day but I would only have Friday & Saturday left and said it would be too late for them to organise a group walk but perhaps another year
The sea is still rough and the hotel did talk of organising a boat trip on Friday down to the Papagayo beaches and then on to see the sunset from the lighthouse end but looking at that boat
p1150720
My inside would end up like the tea in the Boston tea party lol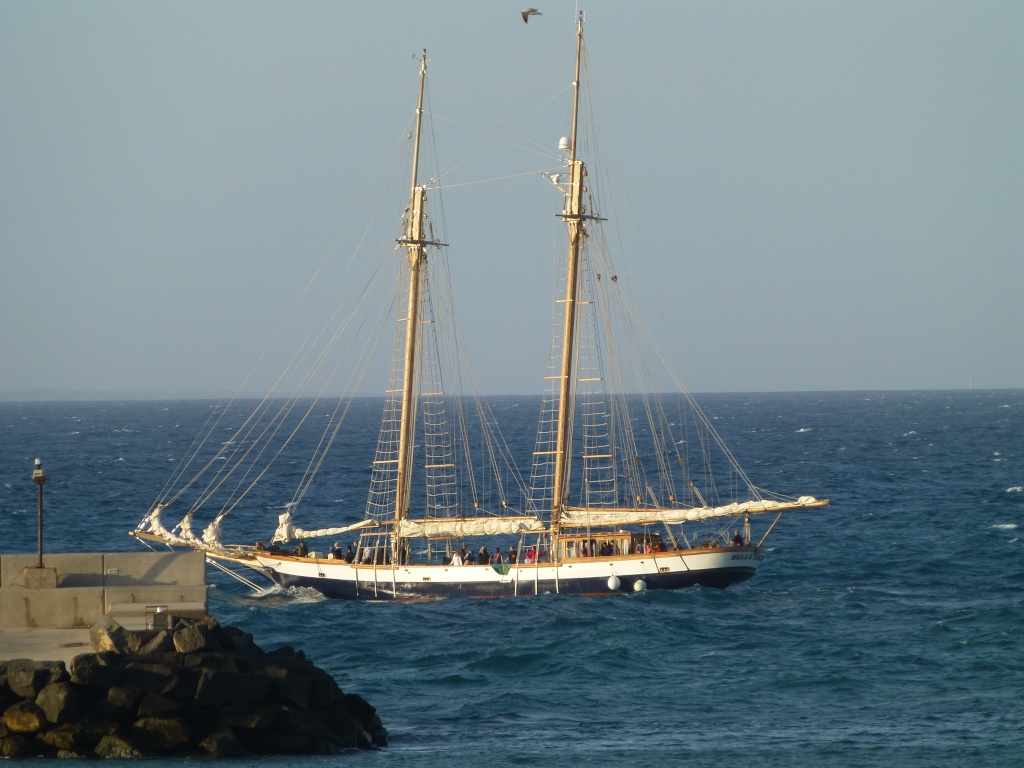 p1150721
It was fairly early and one or two people around the pool looked a bit chilly, so Mrs Db read her kindle and I popped across to the market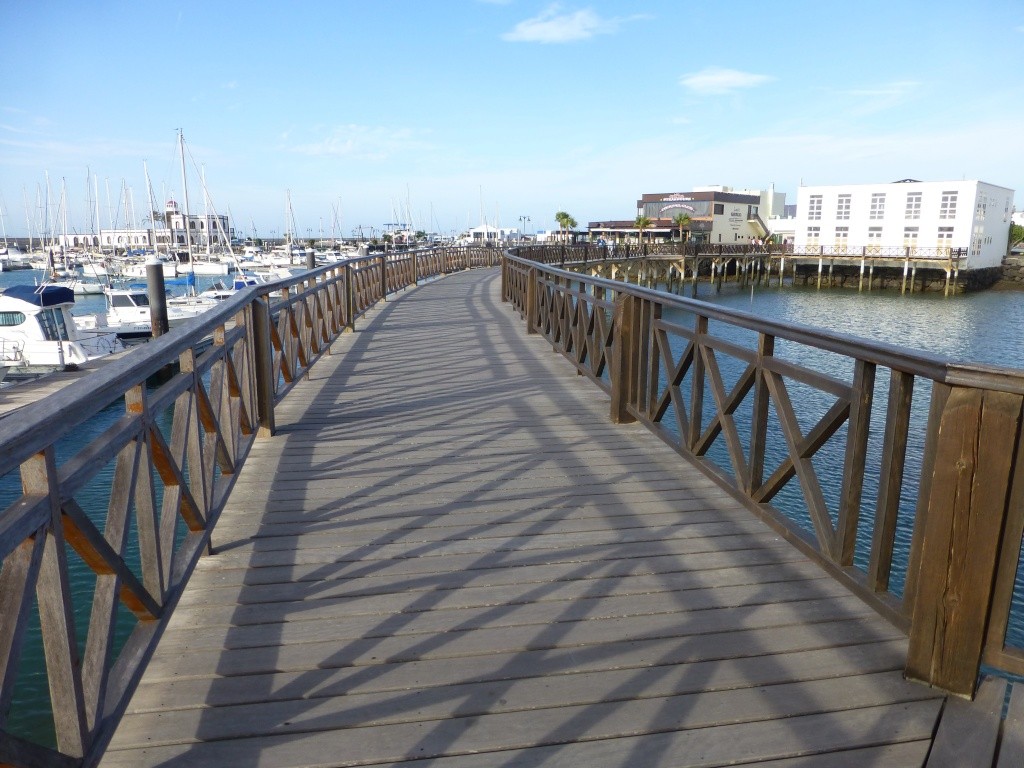 p1150723
the stalls are much the same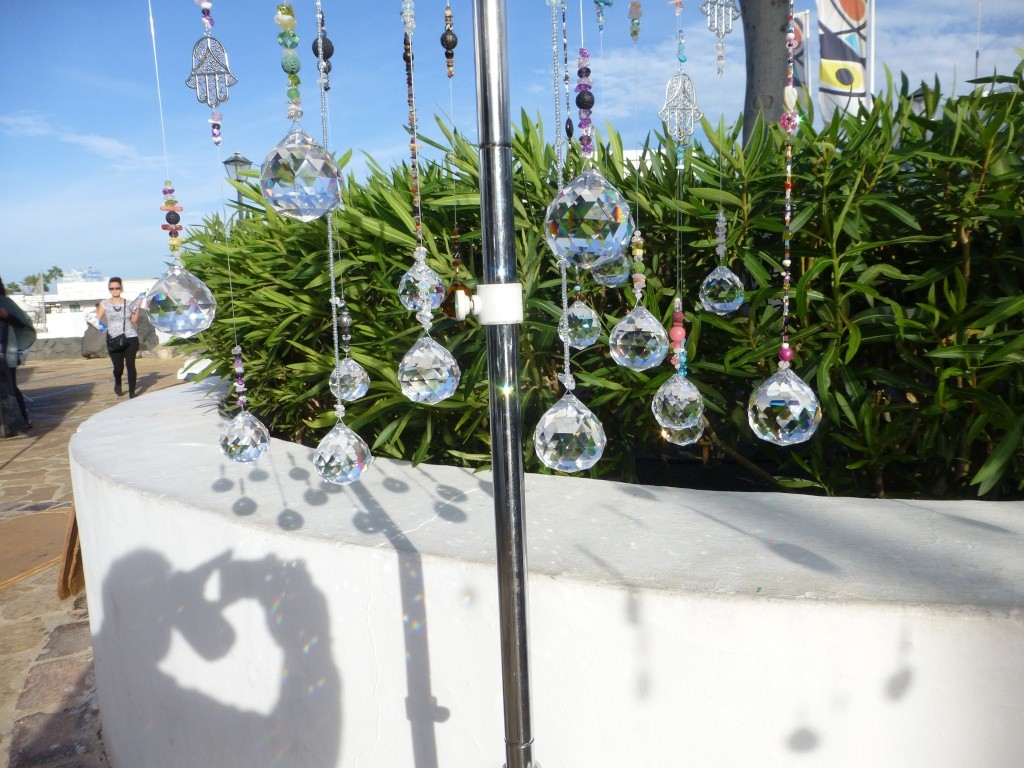 p1150724
In my travels looking for interesting things I did come across this stall that sold flat bottles with clocks on or with favourite football teams on.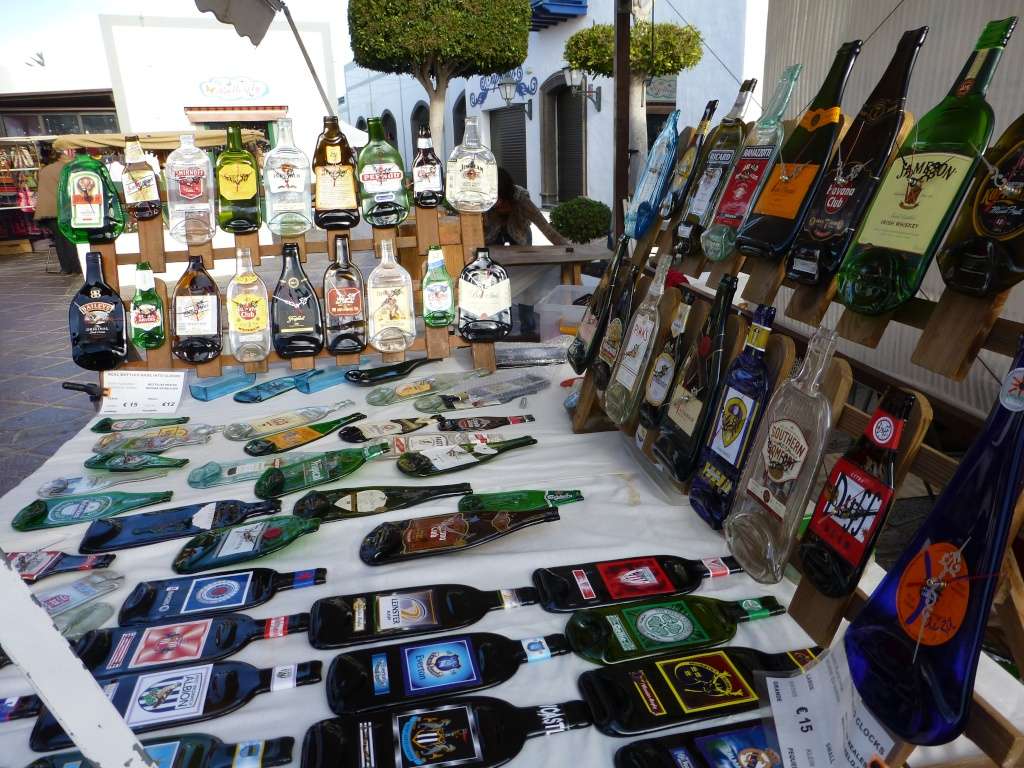 p1150725
but I think my Wolves team bottles were in the broken bin under the counter lol, if the football teams had clocks, the Man U one would need to run 5 minutes less to keep Ferguson happy lol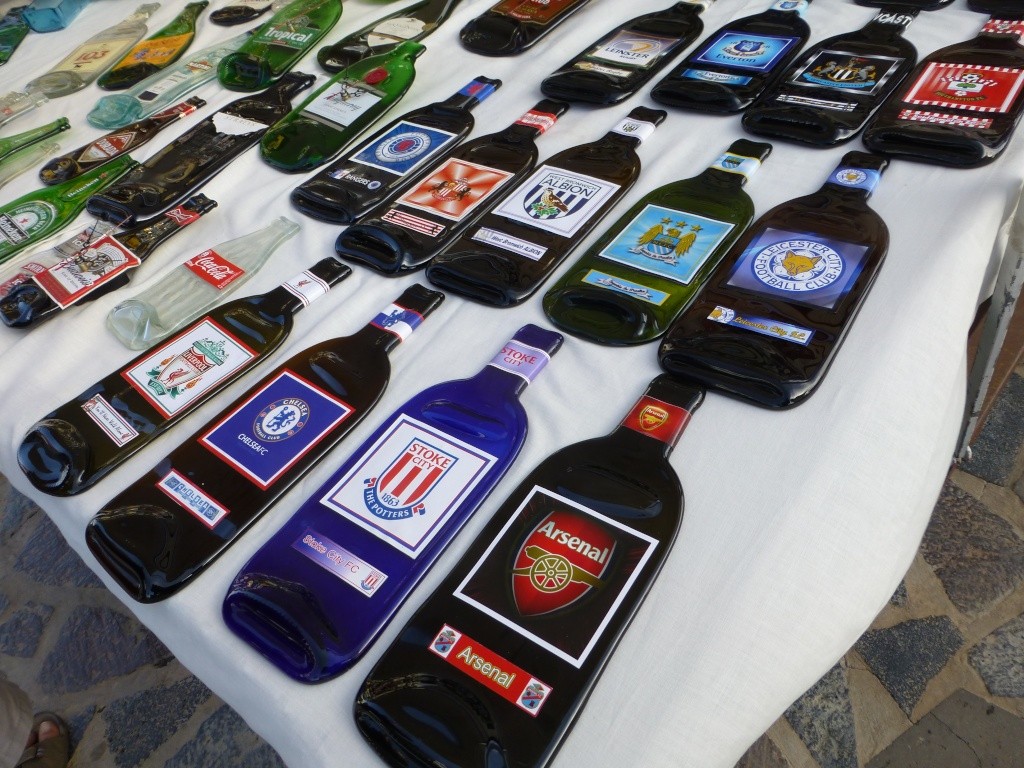 p1150726
Then as it was market day, I popped along the promenade on the lookout for one guy that dresses up as various statues, I saw him earlier on but didn't have any money to give him and I wanted to get a couple of photographs of him.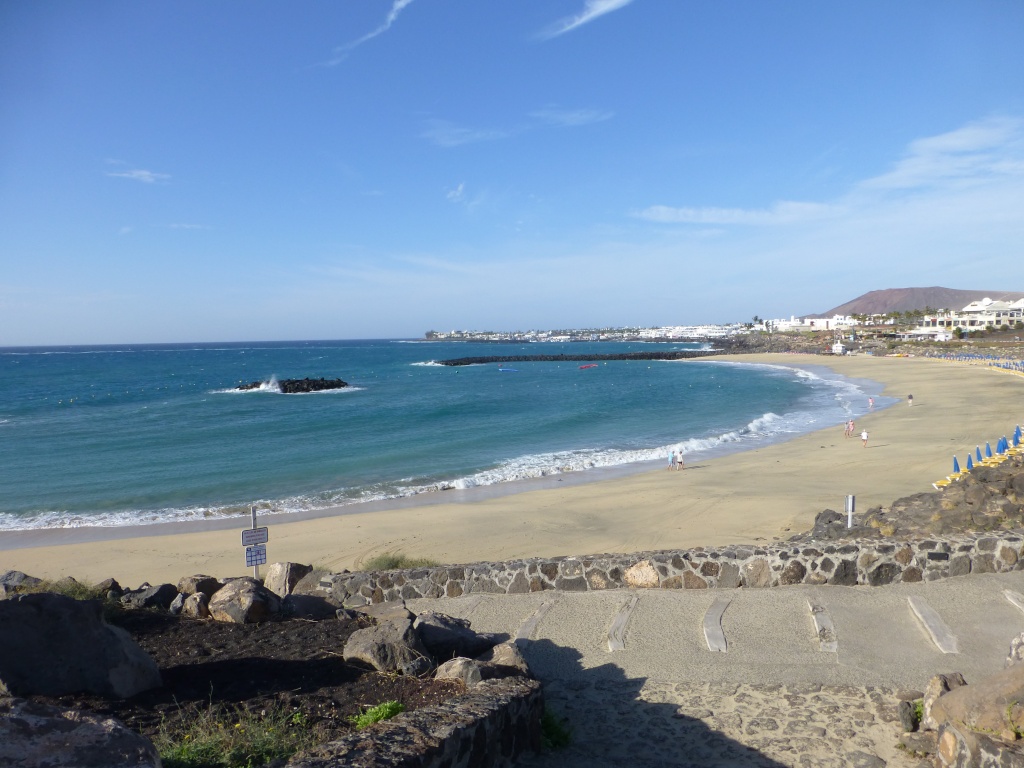 p1150736
I wasn't sure where he would be or if he would be there at all
p1150738
The waves were a bit rough and walking along the promenade he wasn't anywhere to be seen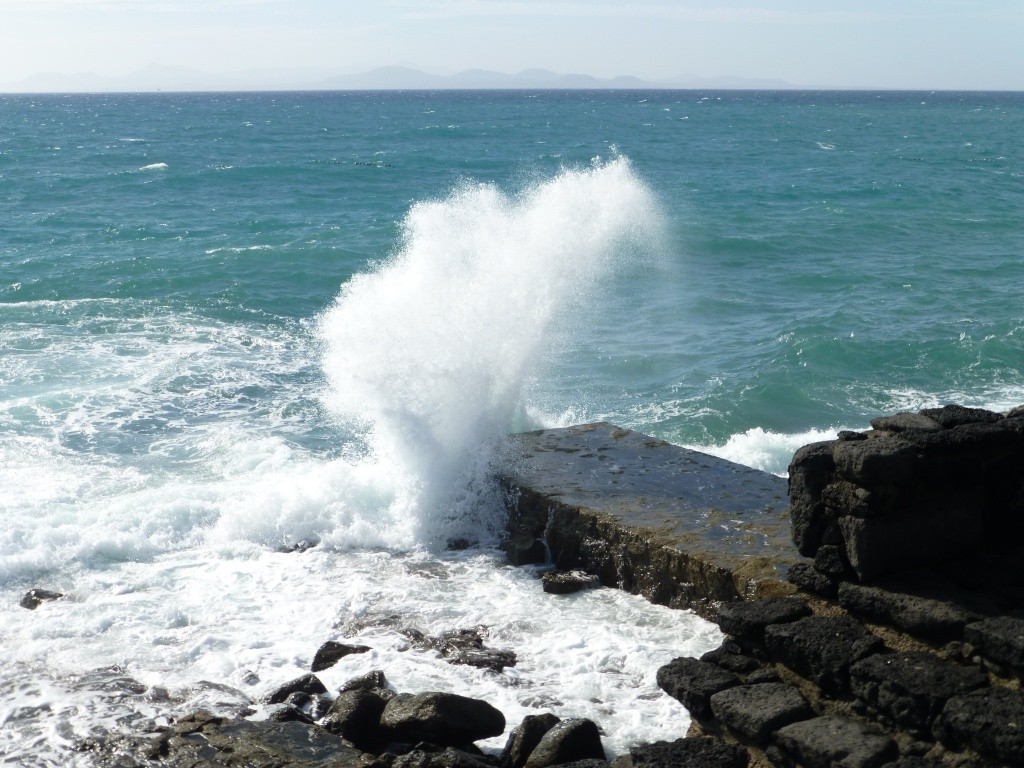 p1150747
and having gone all the way to town, I took a photograph of the town's beach which has got washed away again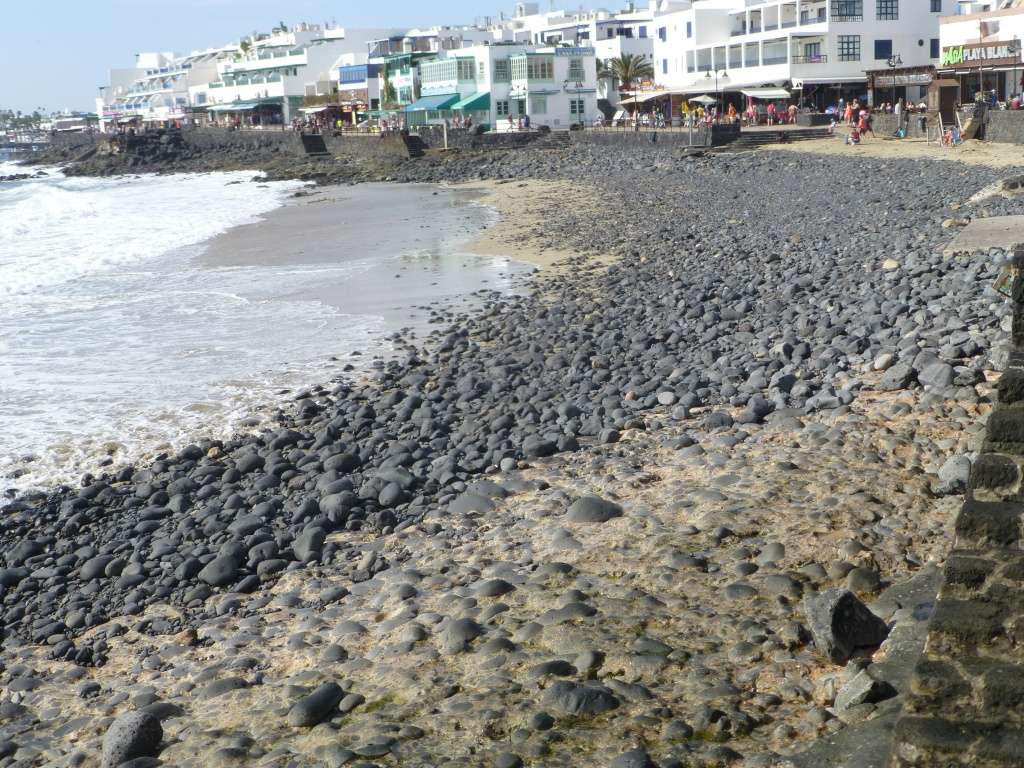 p1150750
Lunchtime, mrs Db and I had a jug of Sangria in Barney's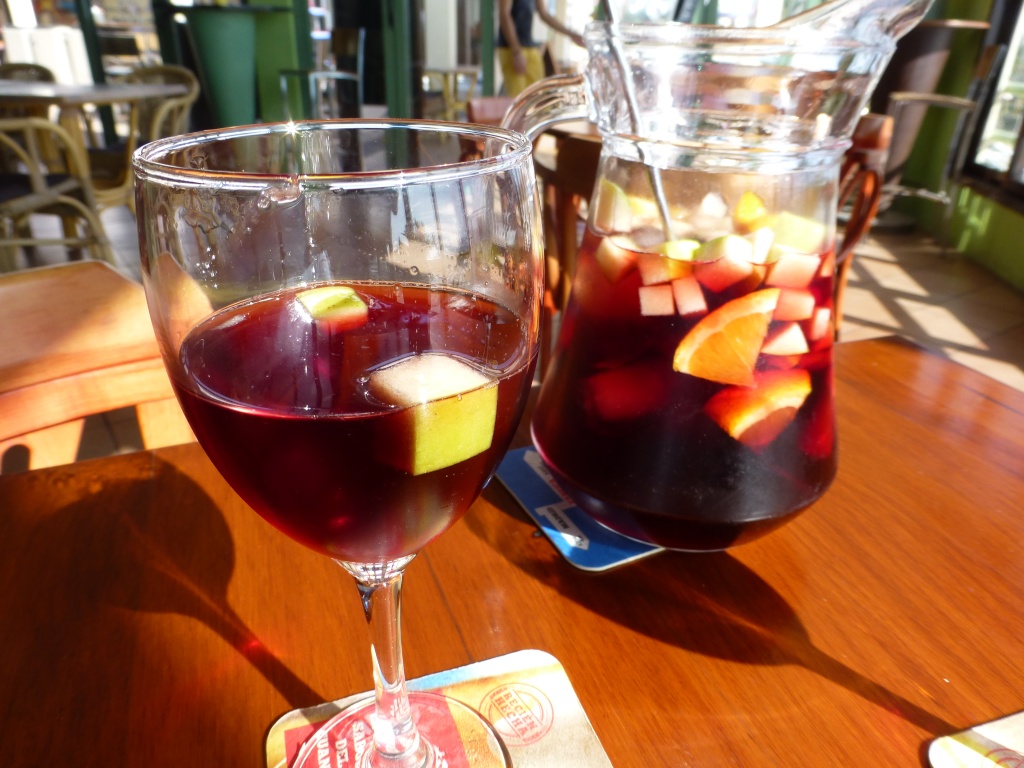 p1150755
and of course a bacon, ham & cheese sandwich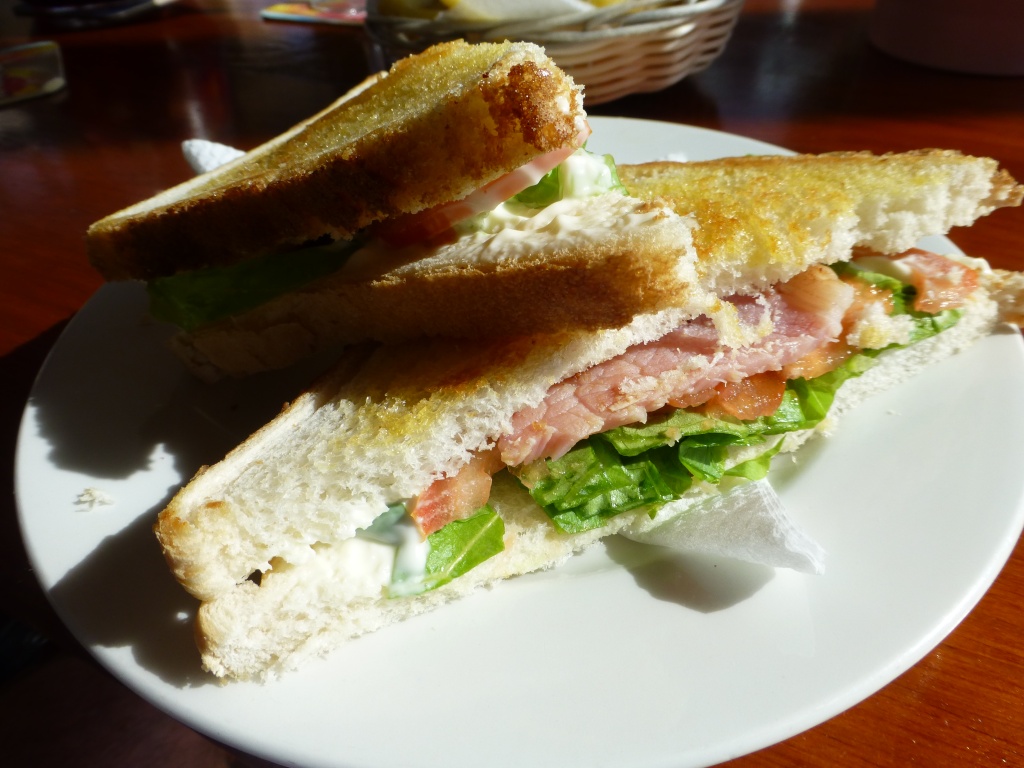 p1150757
I didn't want anything too big as I was going to have a pizza tonight lol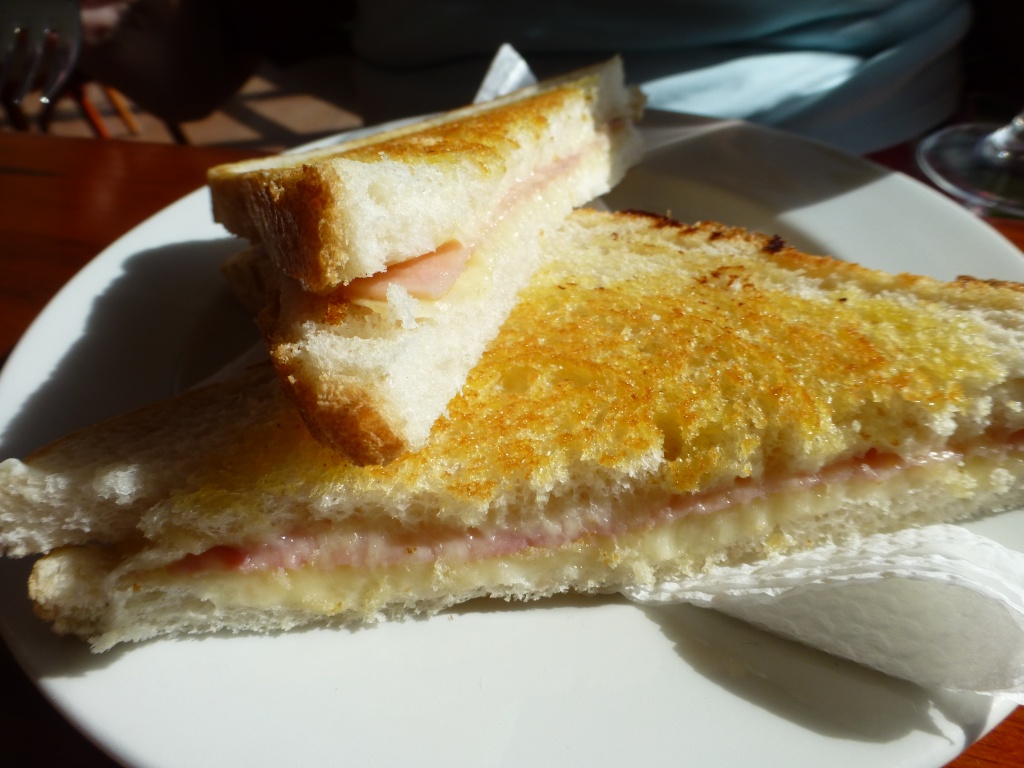 p1150758
our afternoon was spent on the balcony and then we got involved with Terminator and the salvation film on TV. However, I found the end was clashing with the sunset
I said to Mrs Db, "I'll be back" lol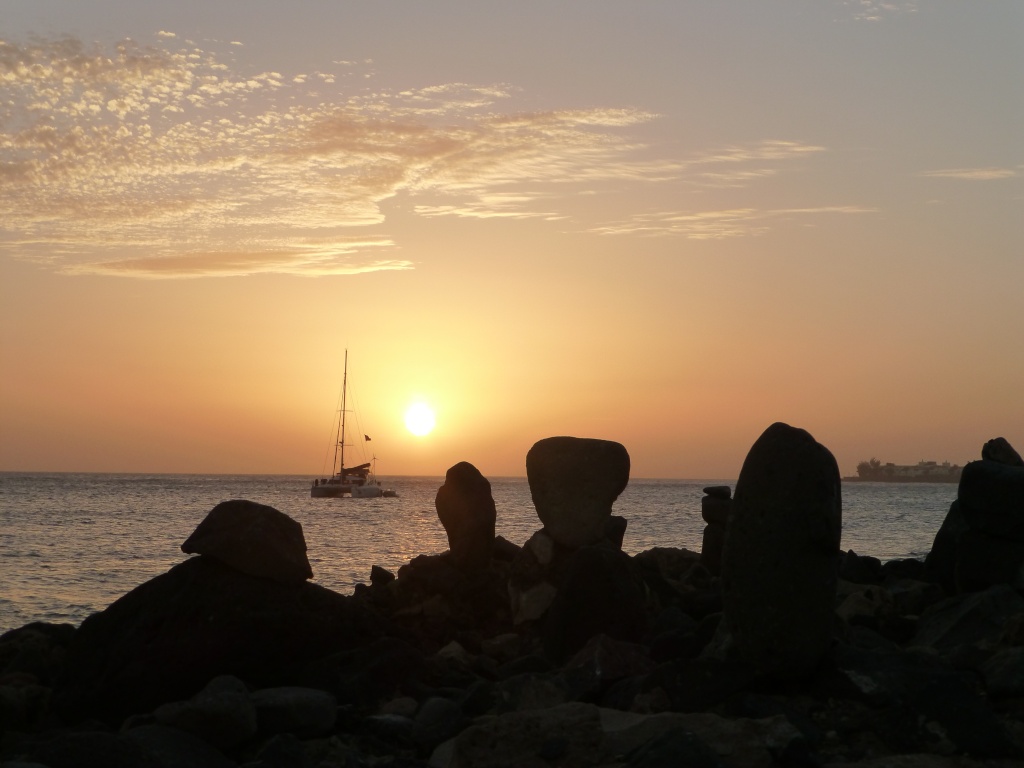 p1150766
but the sun gave up too early with a good boat about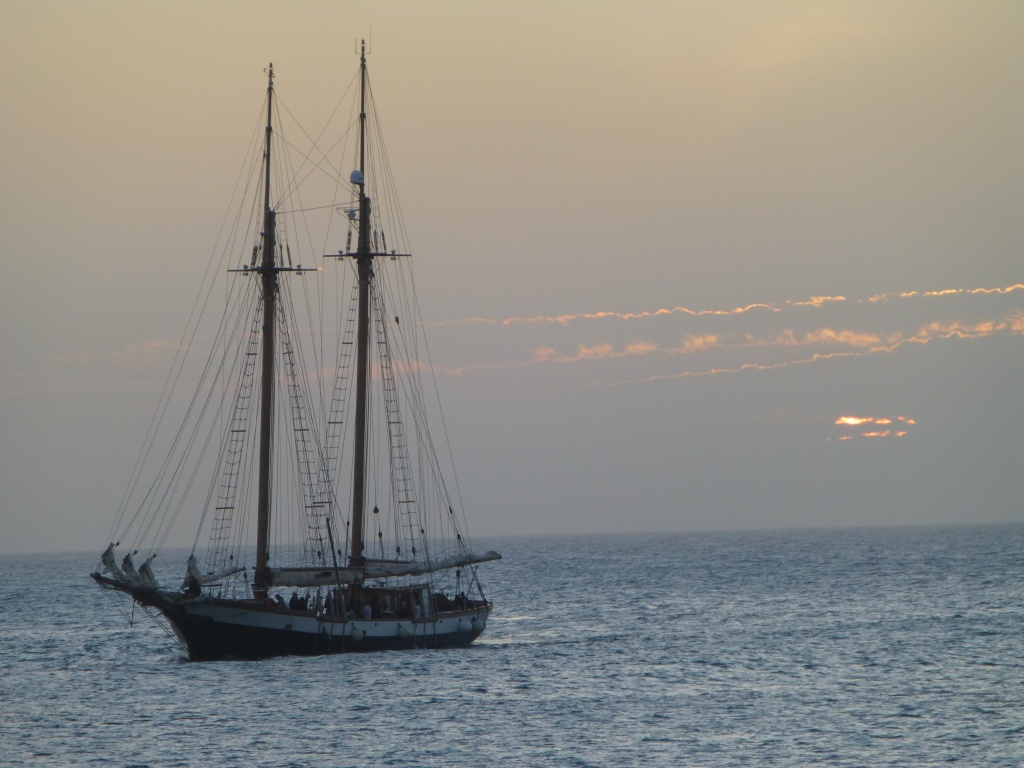 p1150777
Tonight we are eating in Casale Franco's which was colourfully decorated in blue and white Christmas lights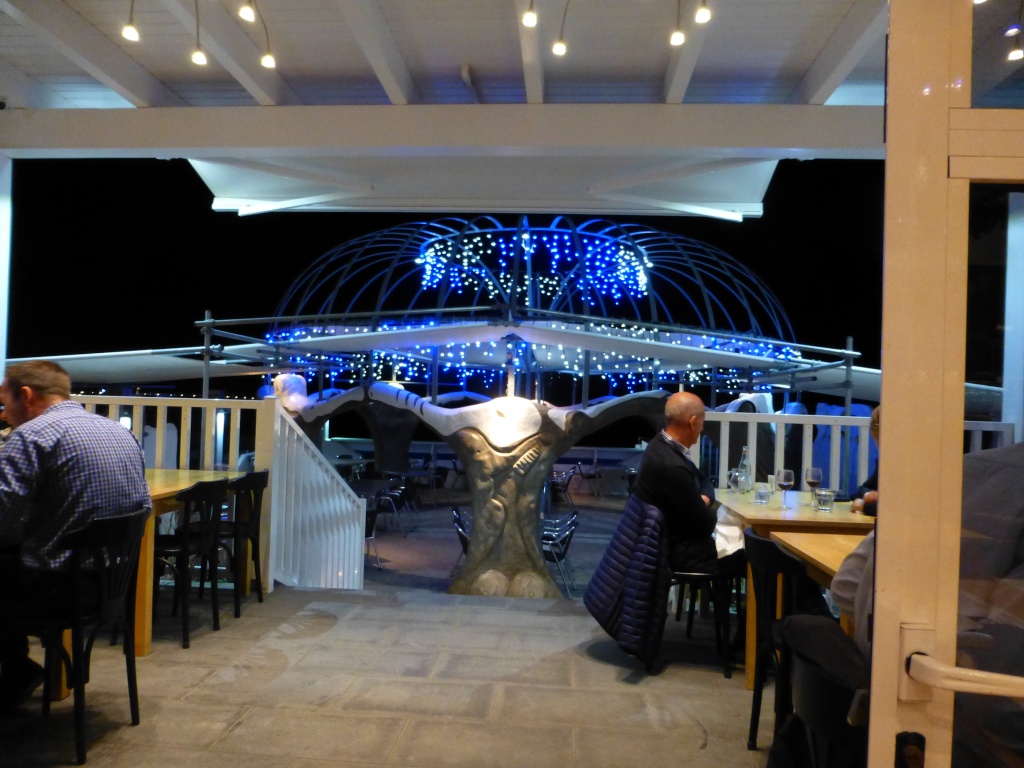 p1150790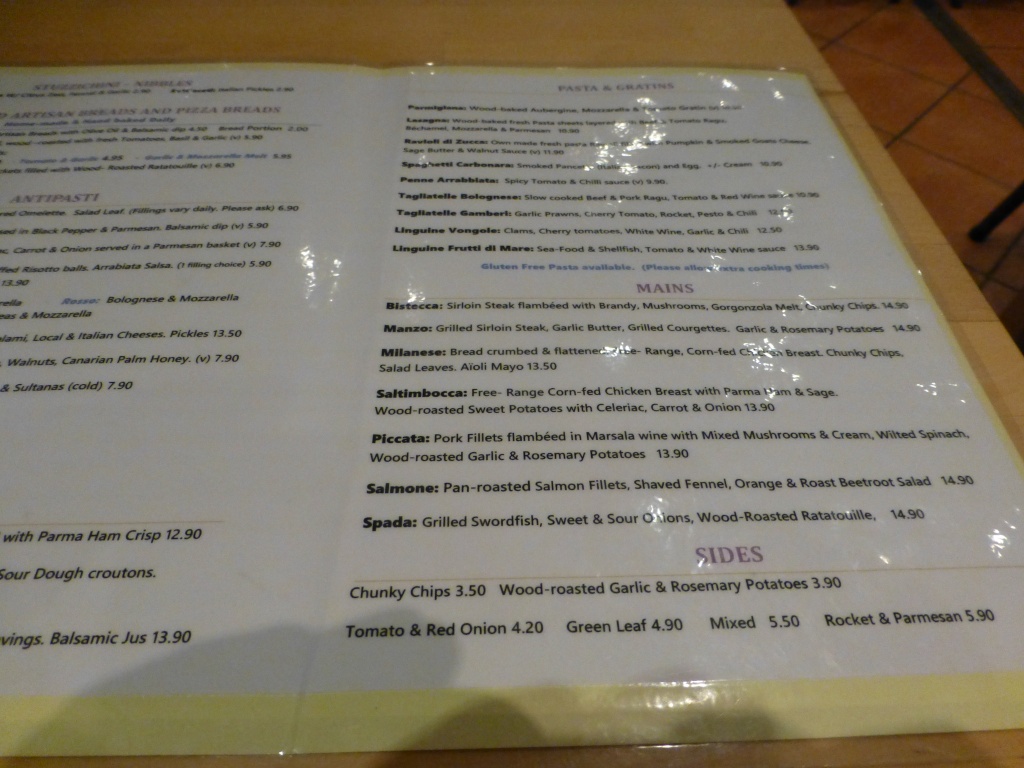 p1150787
p1150788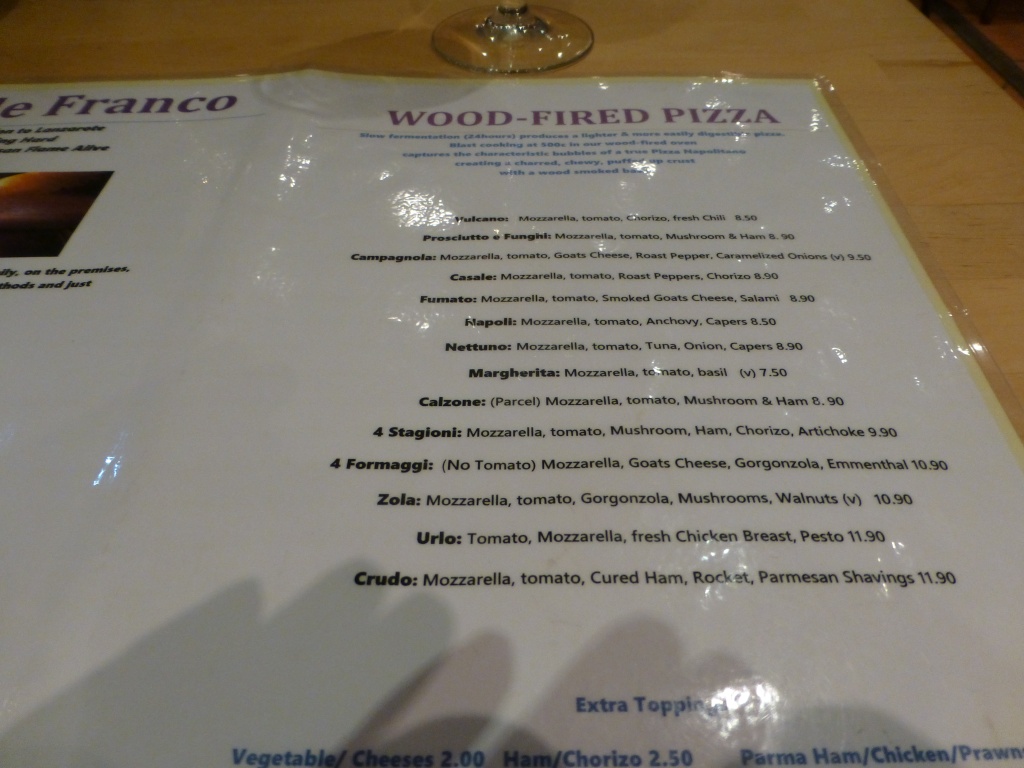 p1150789
I had the Urlo pizza which is massive and full of chicken pieces, it was really nice but couldn't finish it all, I need to do more walking lol.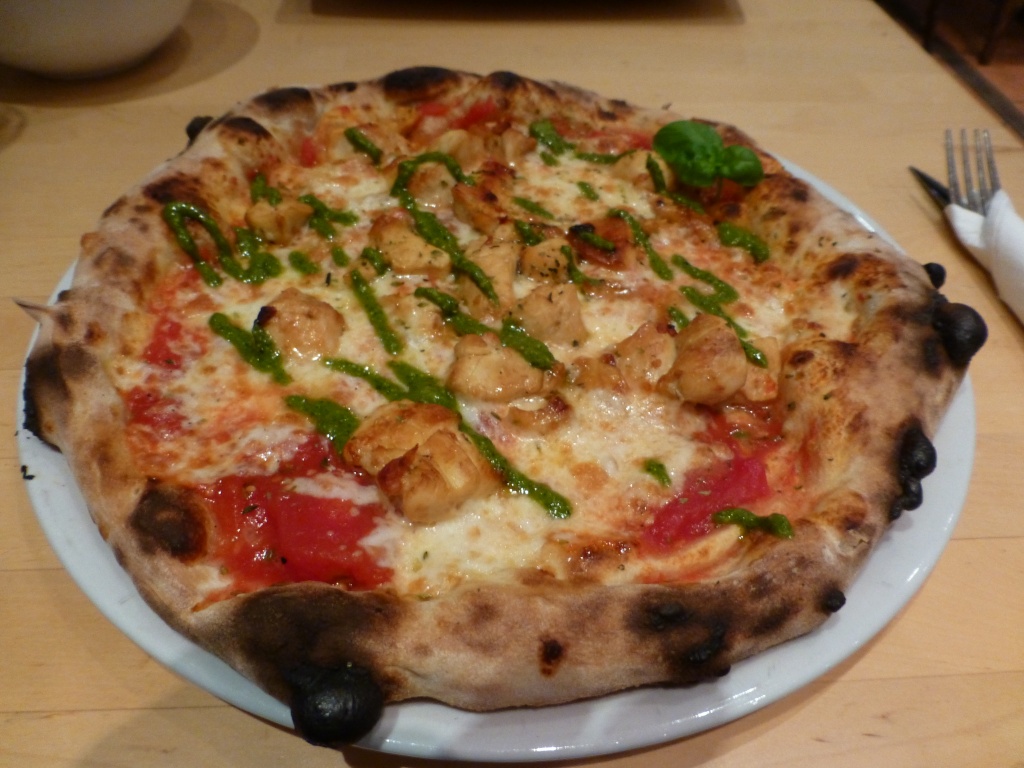 p1150792
Mrs Db had the Saltimbocca which she liked
p1150793
We could only just manage coffee's after that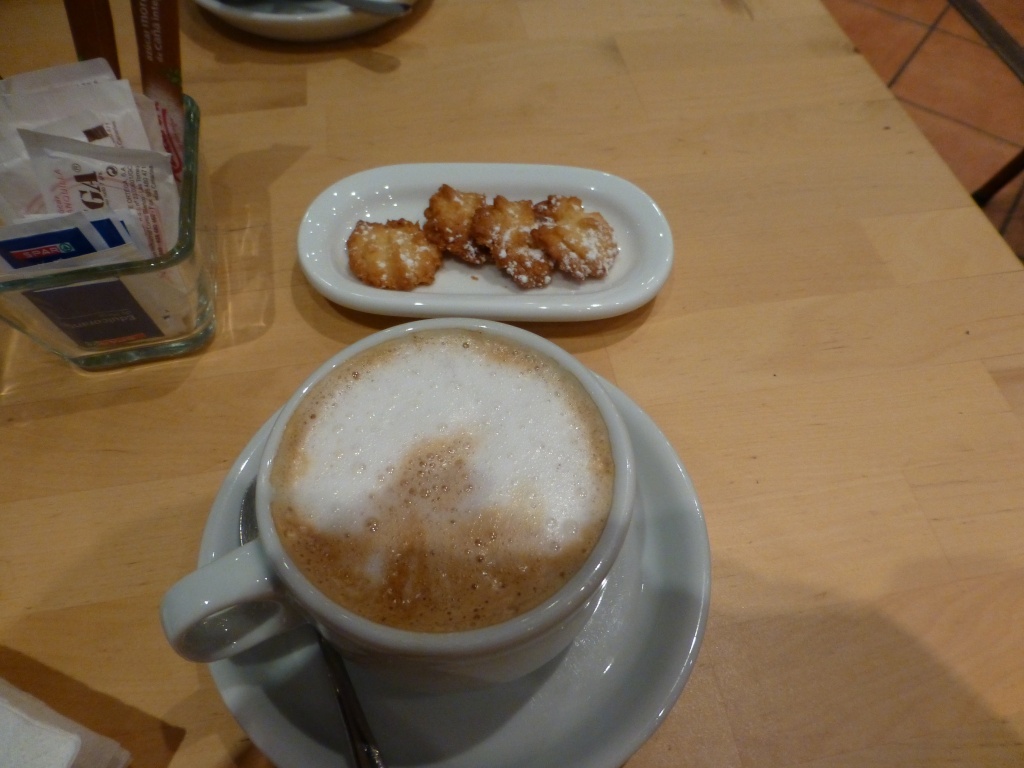 and you get a lemon liquor with your bill
p1150794
END OF DAY 11
DAY 12
yet another blue sky, this is good holiday weather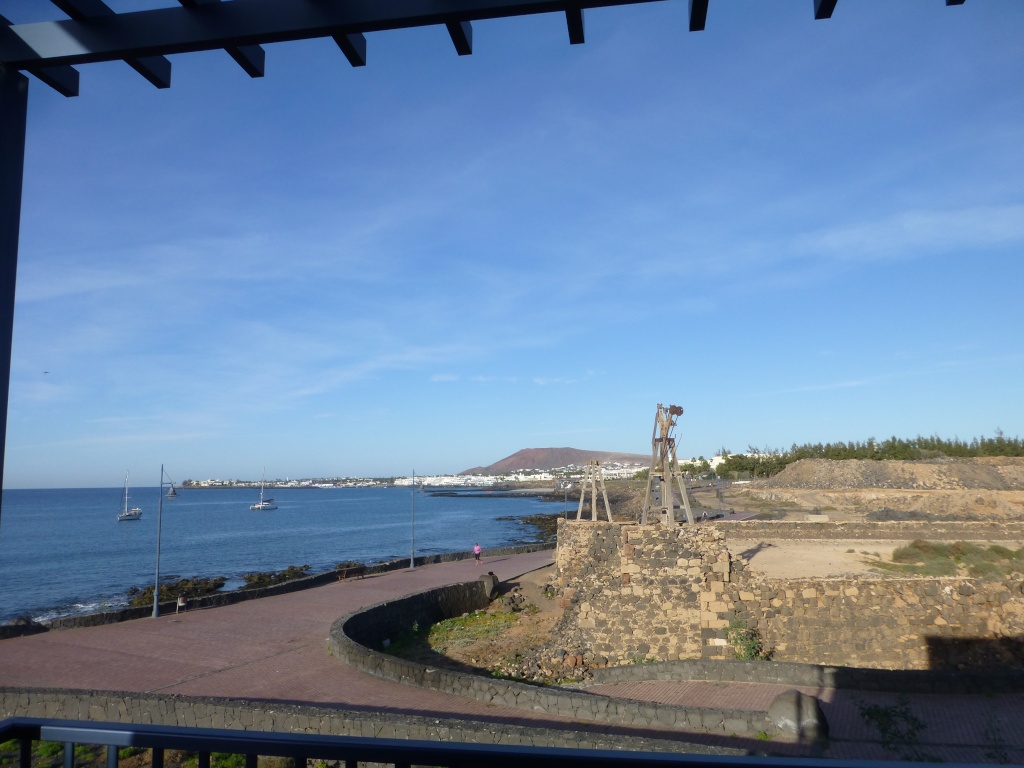 p1150798
and the breeze has dropped, there are two anglers fishing in a small boat, they couldn't have done that comfortably earlier than today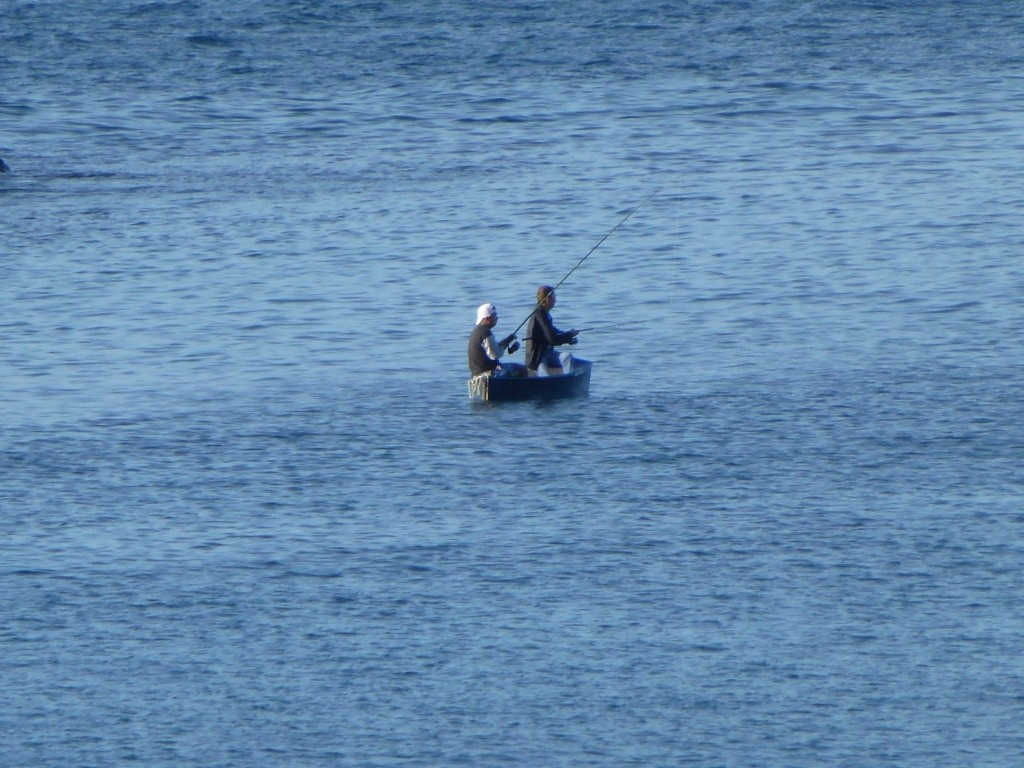 p1150800
definitely a beach day for us and on the front row Lol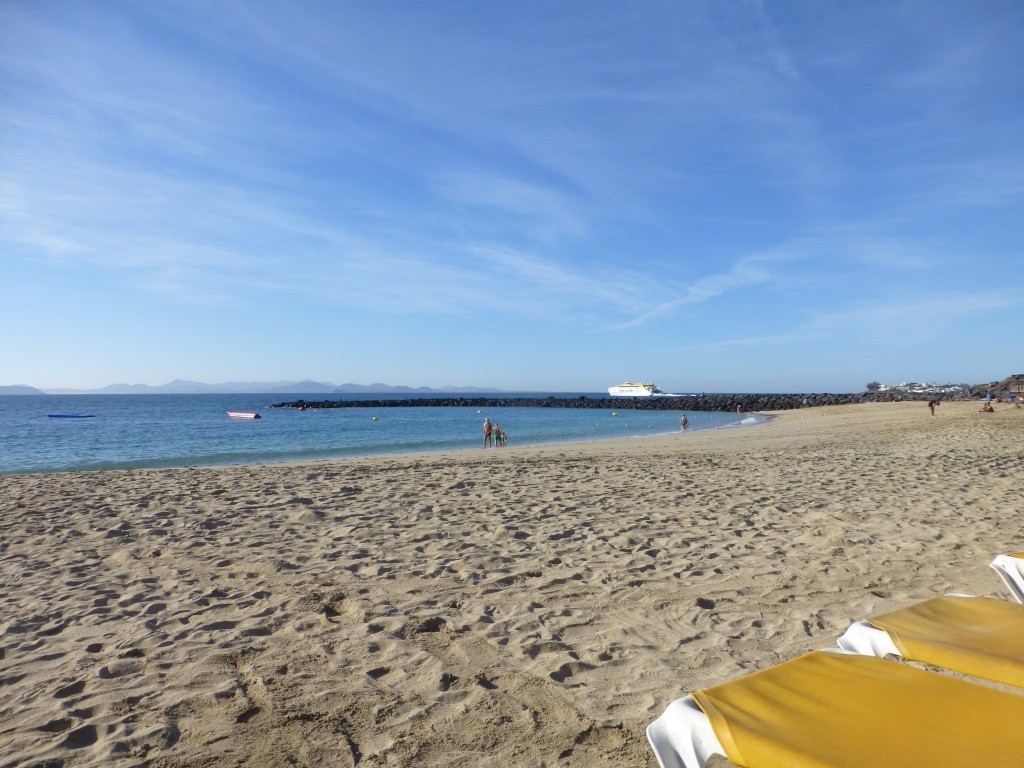 p1150805
and what a lovely morning it was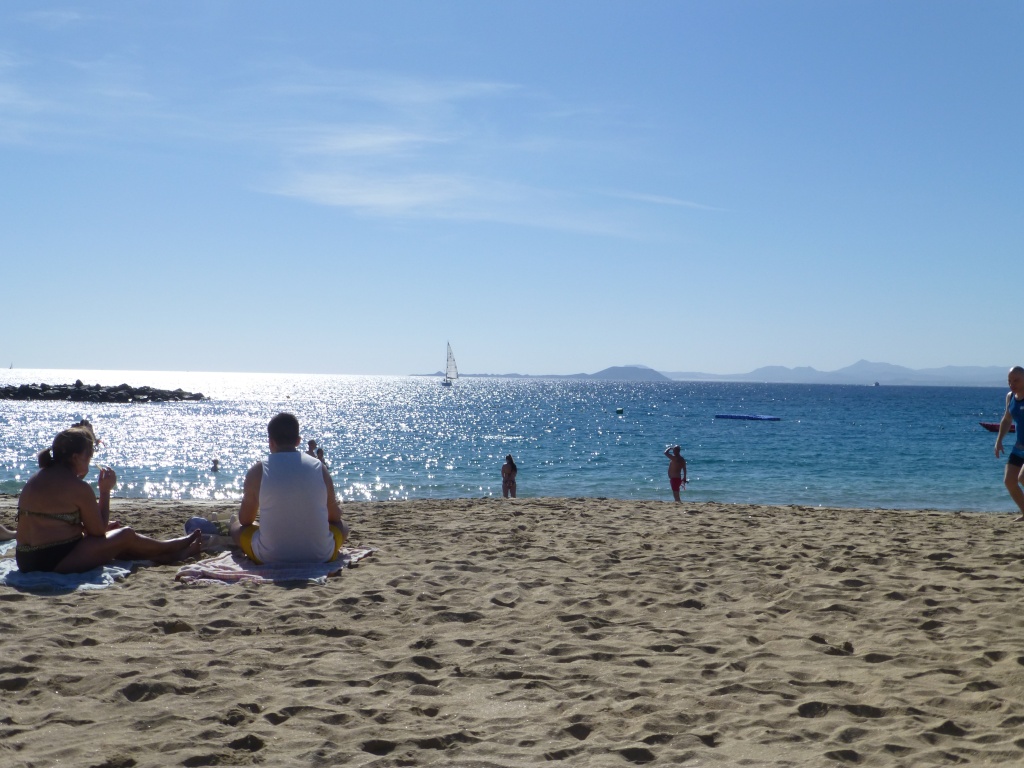 p1150808
by lunchtime everyone was enjoying it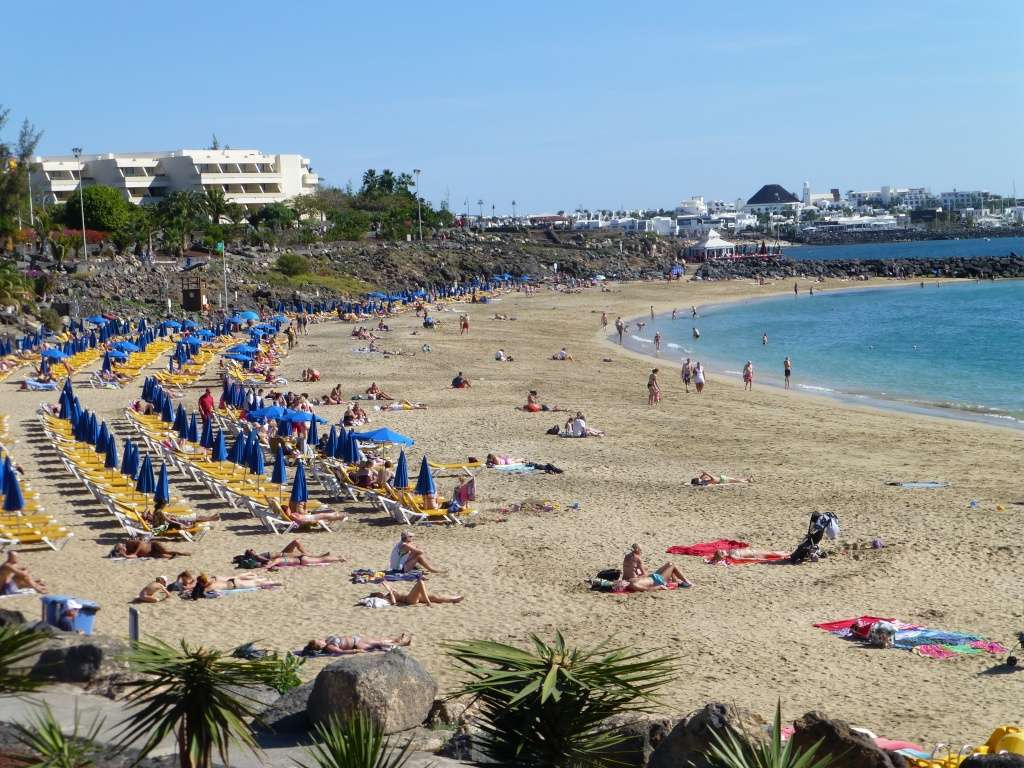 p1150811
I went and checked and the Ice House was open, so we thought we would give it a try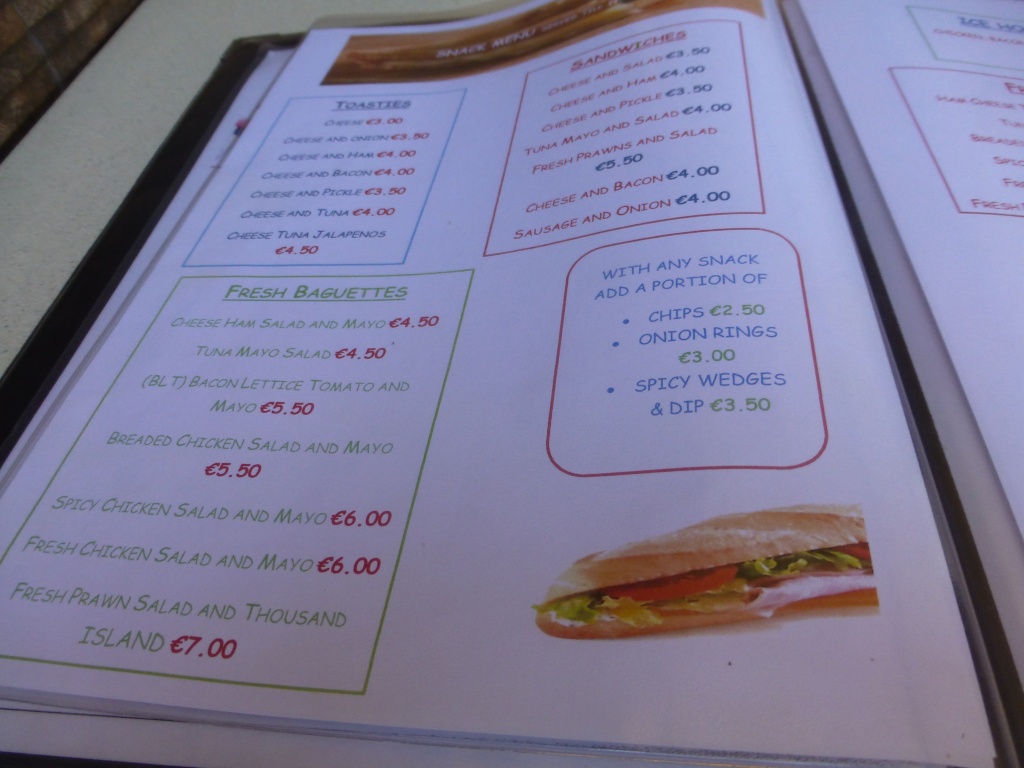 p1150812
The cheese and bacon burger was 6.50 and chip were extra but I was wanting to cut back so chips were avoided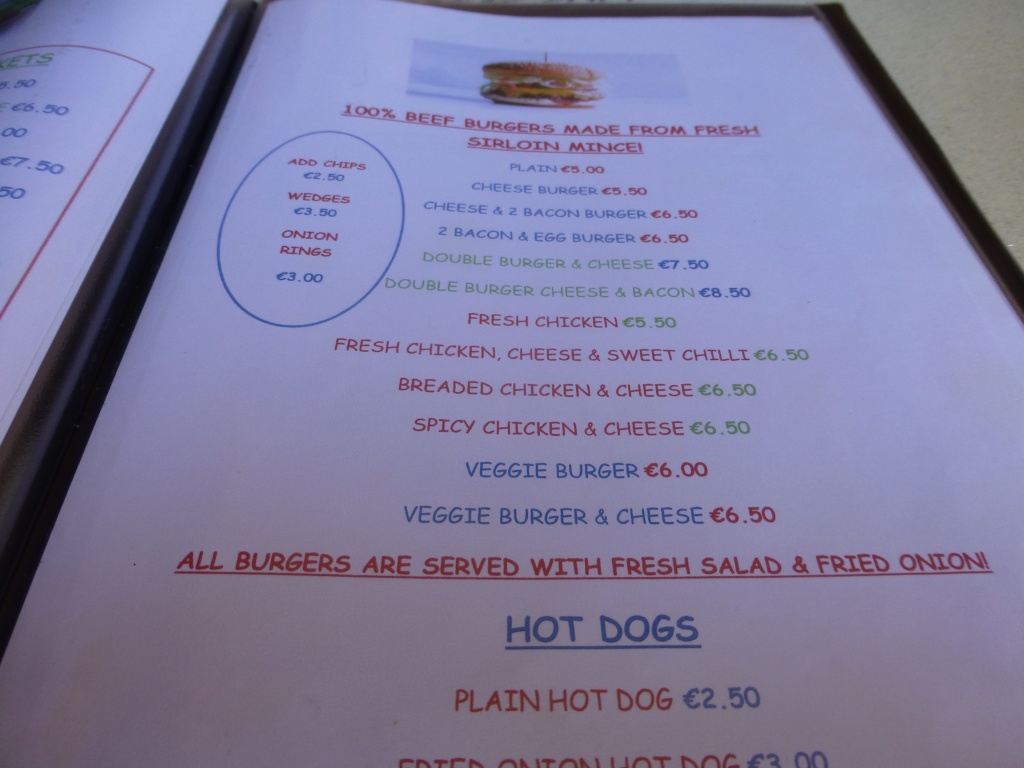 p1150813
Mrs Db had a wrap of some sort which she said made a change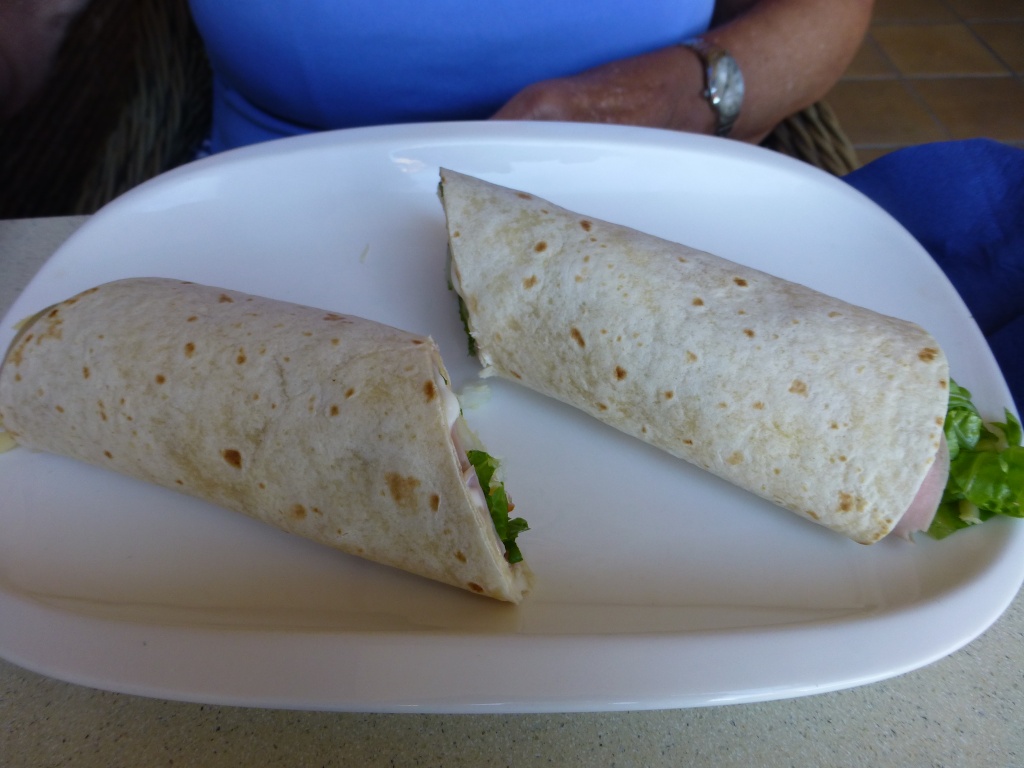 p1150817
I had to test their burgers lol, my verdict it was very nice but just too big for me to eat at lunchtime but im sure others could managed it, I think looking at it I was in the land of Brobdingnag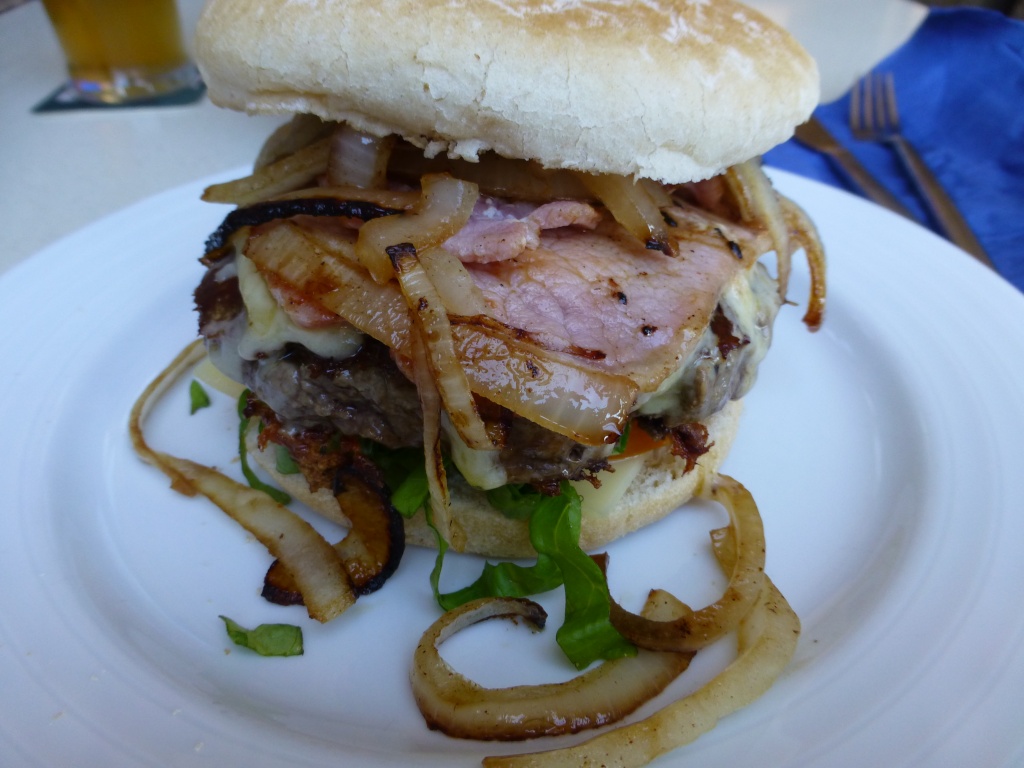 p1150815
As the English lady cook collected our plates, I said, "I couldn't manage the last bit" but she replied, "I had done well, as their burgers are big"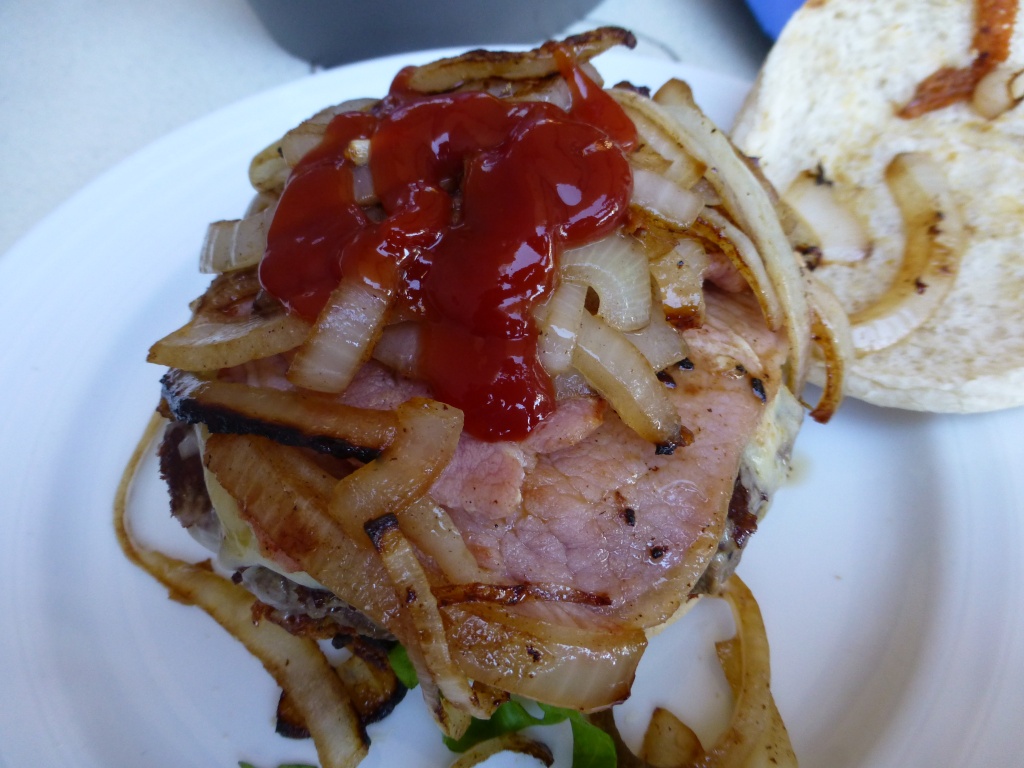 p1150818
after a nice afternoon on the beach, we went on our balcony and celebrated with the bottle of bubblely the hotel had given us for returning customers, a little bit too brut for me lol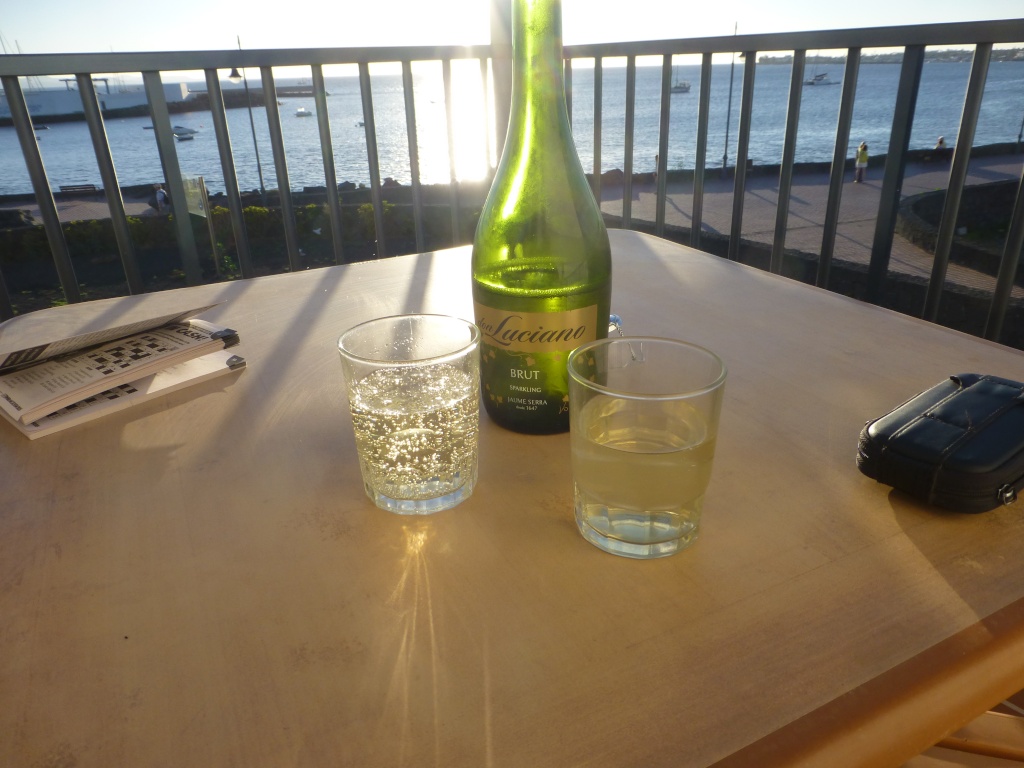 p1150823
a great sunset but I kid you not, the sun was too bright for my camera to handle, I need a shield lol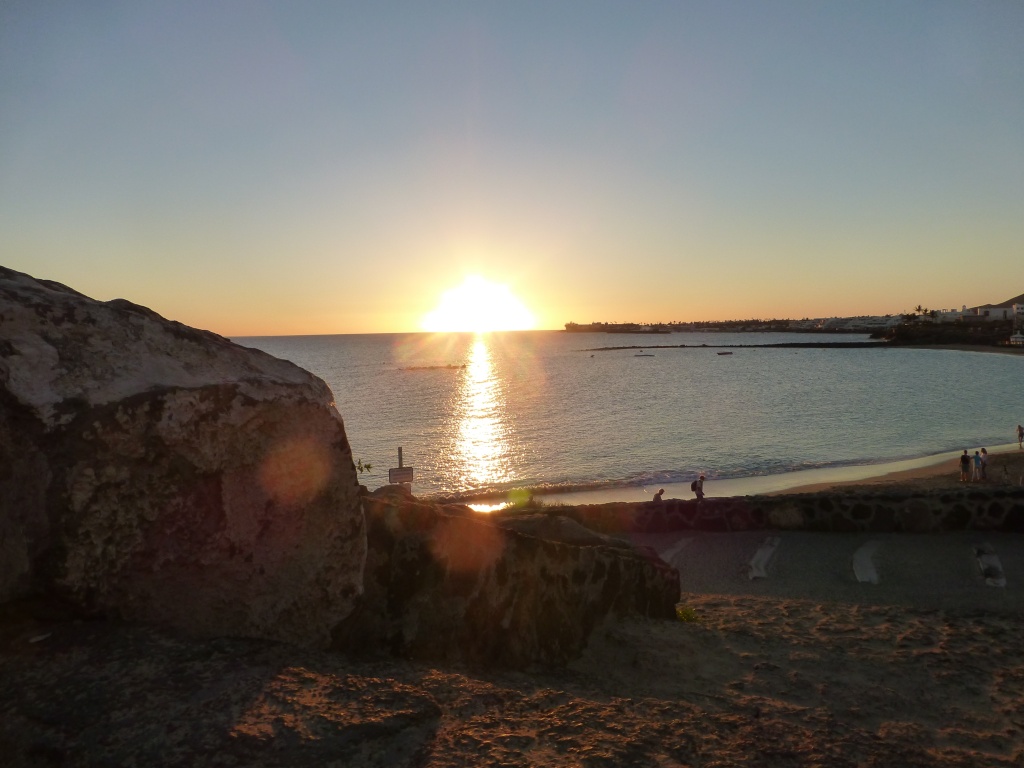 p1150826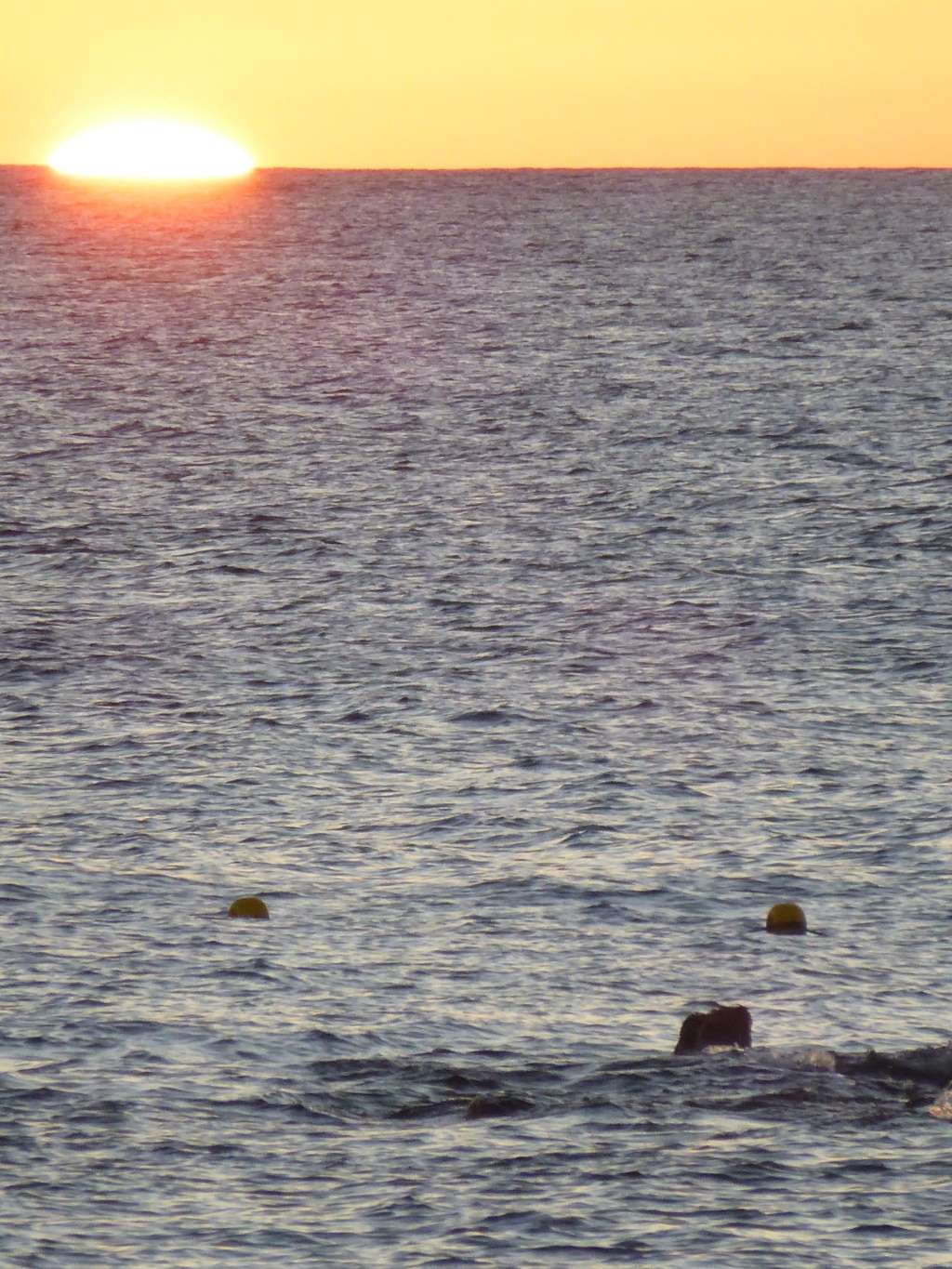 p1150839
p1150841
Mrs Db and I had decided which restaurants we would eat in for our last three nights, tonight it would be Cervantes which we like and no fleeces were needed
p1150844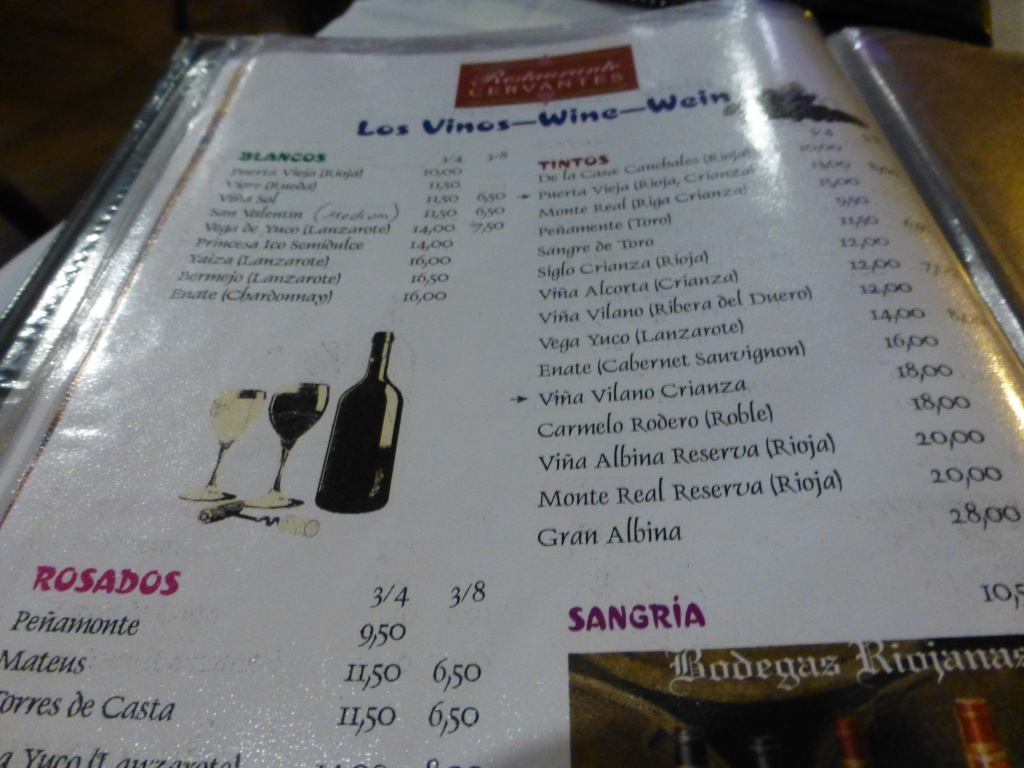 p1150845
Mrs Db and I both doubled up to try their steak trufado which we both enjoyed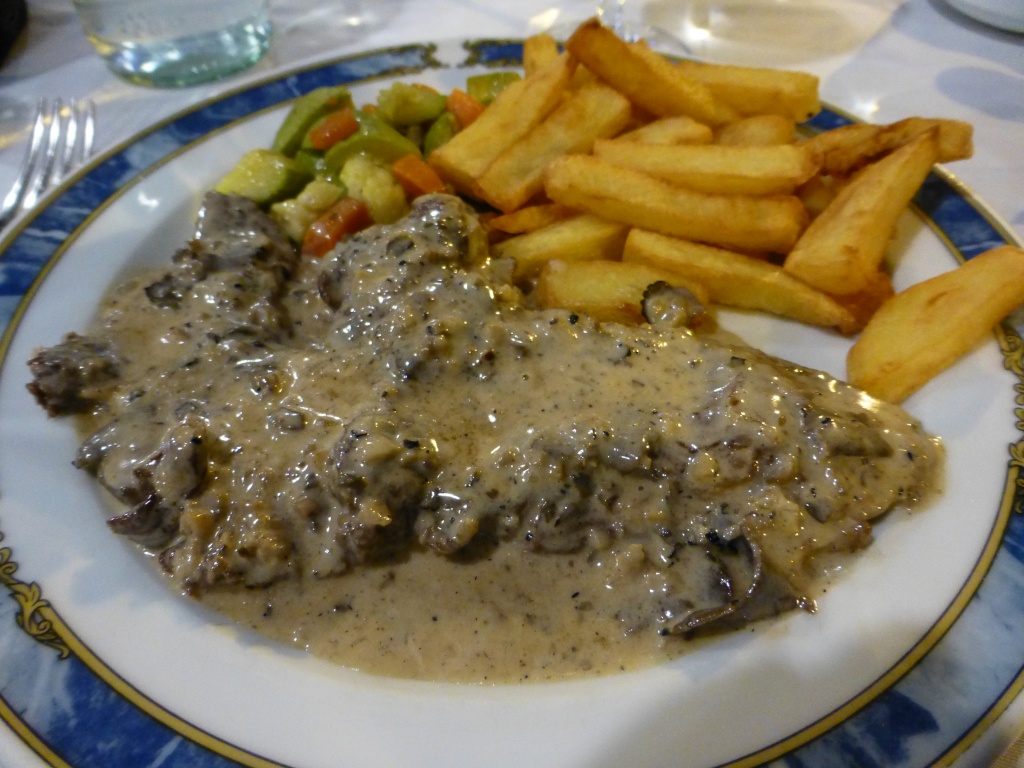 p1150846
After coffee's we were given free vodka caramel and ferrero rocher chocolates, I ate Ms Db's as she is not keen on them
END OF DAY 12
DAY 13
Can this run of good weather last our holiday Mrs Db it's not breezy at all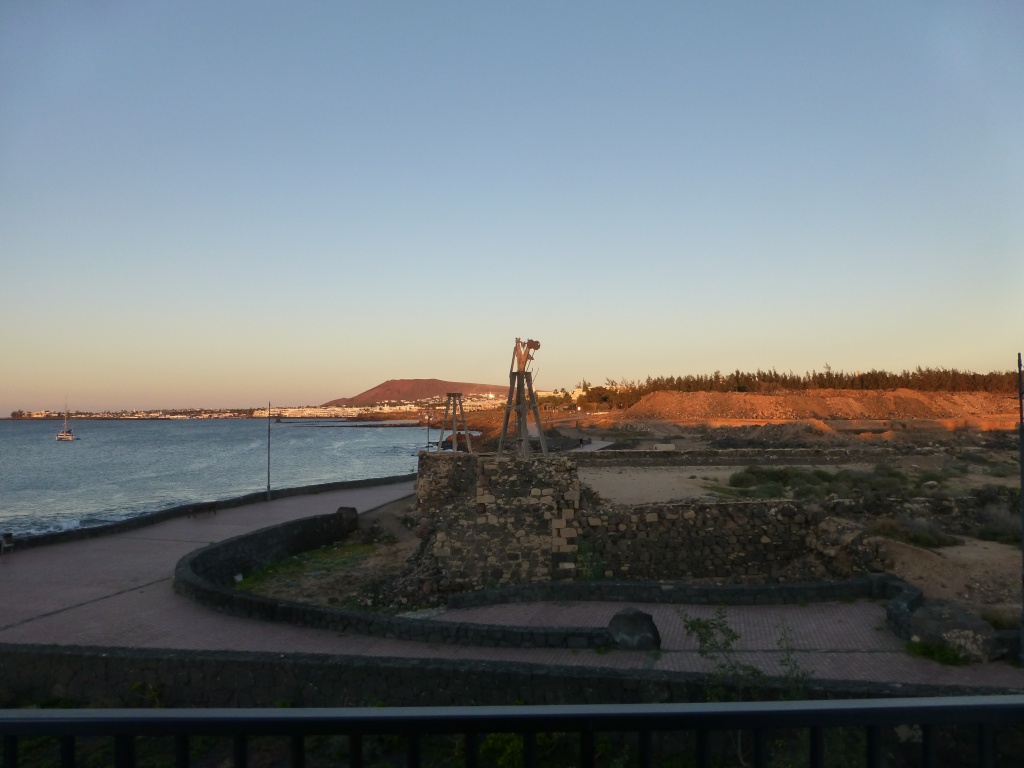 p1150849
so another day on the beach
p1150853
but after a successful hunt this time for the character who dresses up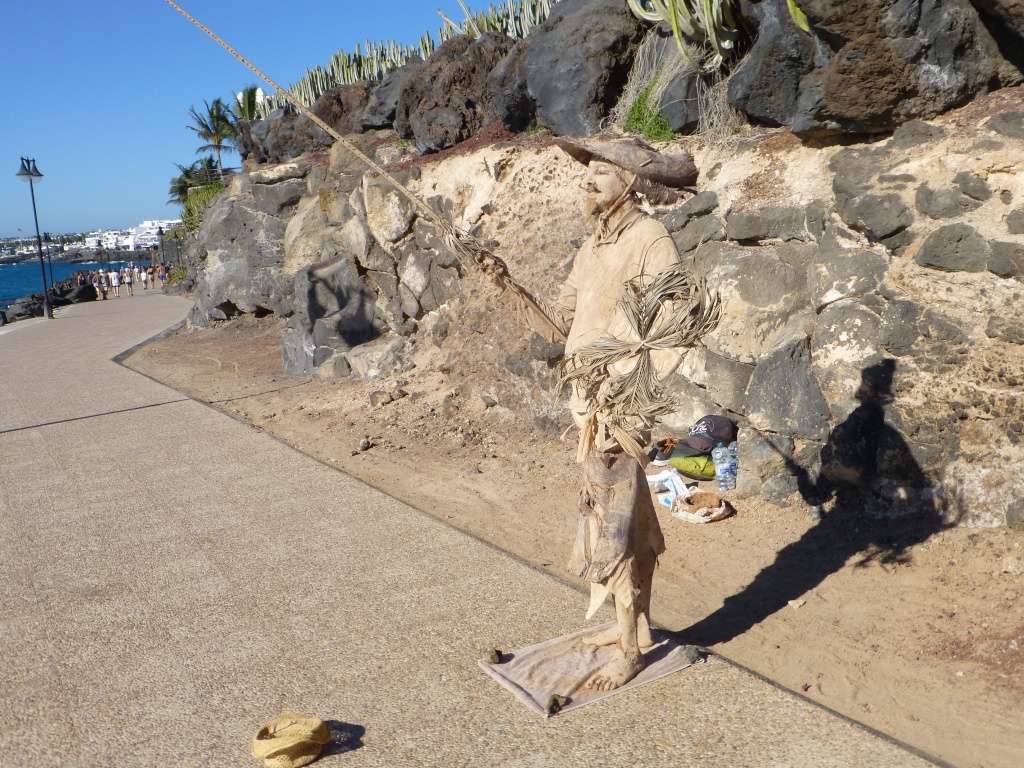 p1150859
I thought he makes an interesting picture but that cactus above would be distracting and would have to be cloned out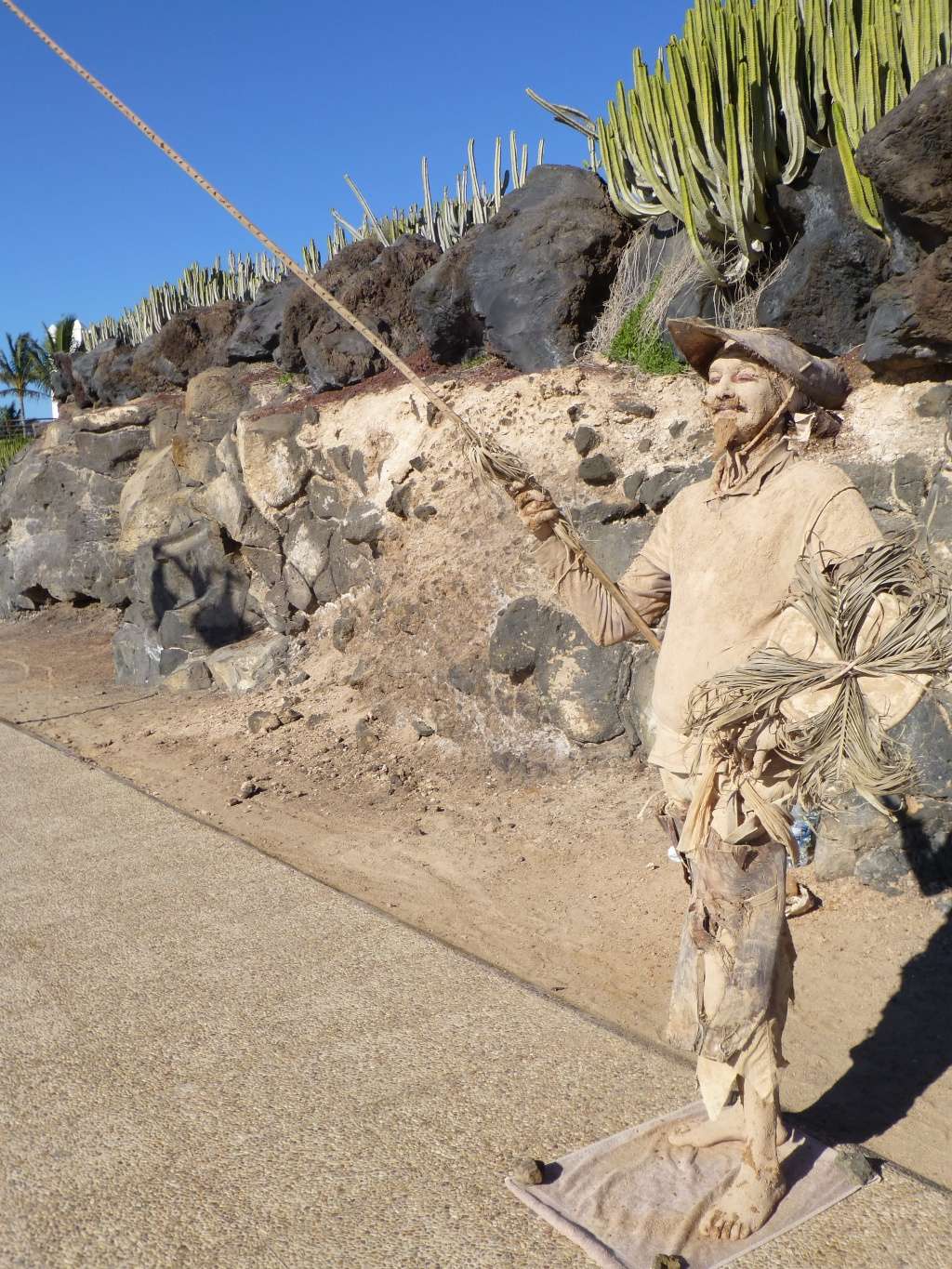 p1150857
The green flag was flying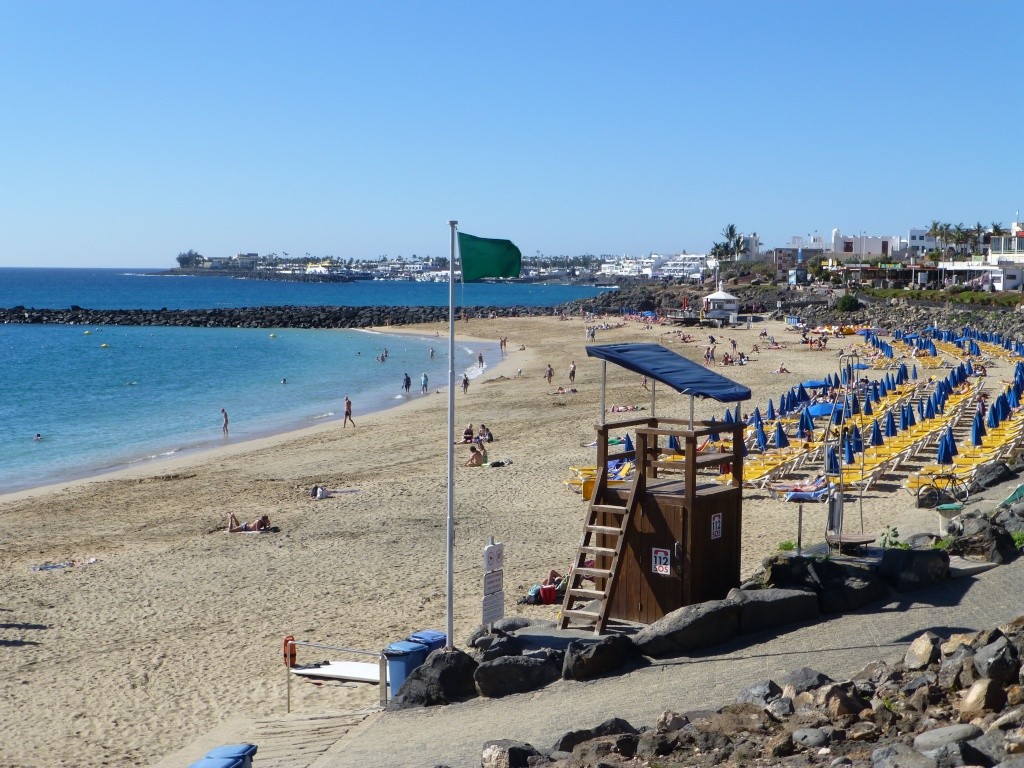 p1150862
after a strange ham and cheese omelette in barney's where the ham and cheese was inside rather than mixed in but tasted fine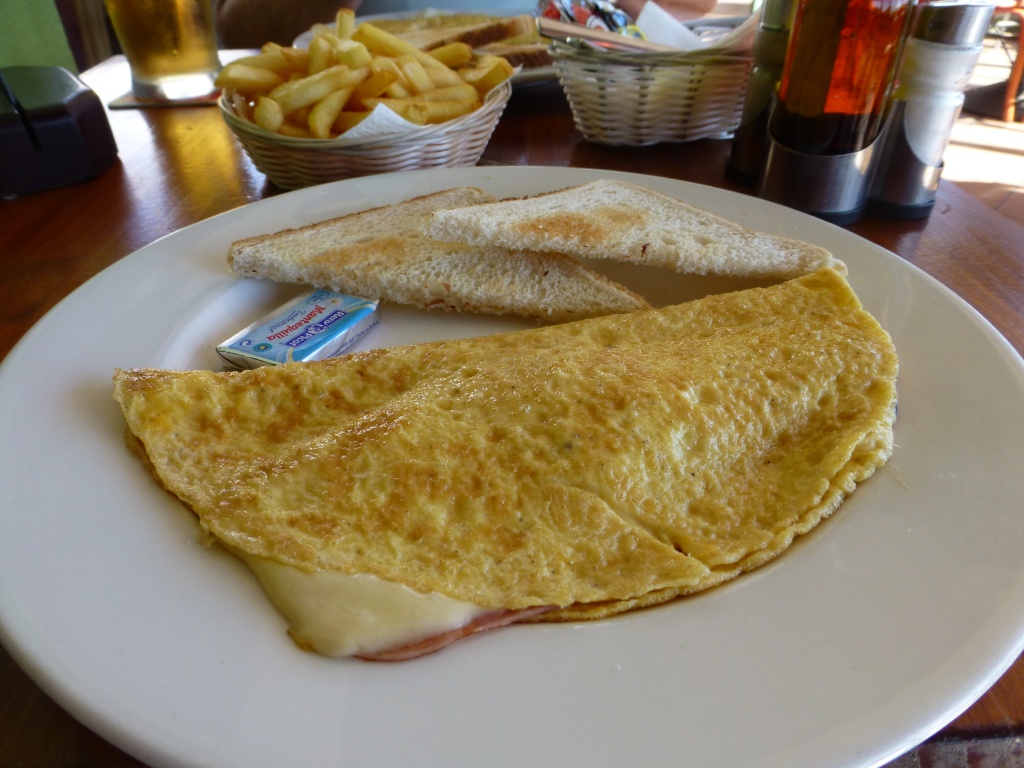 p1150864
it was back to the beach for the afternoon
p1150866
again the sun was a little too bright for my camera to handle, so the last snatches of it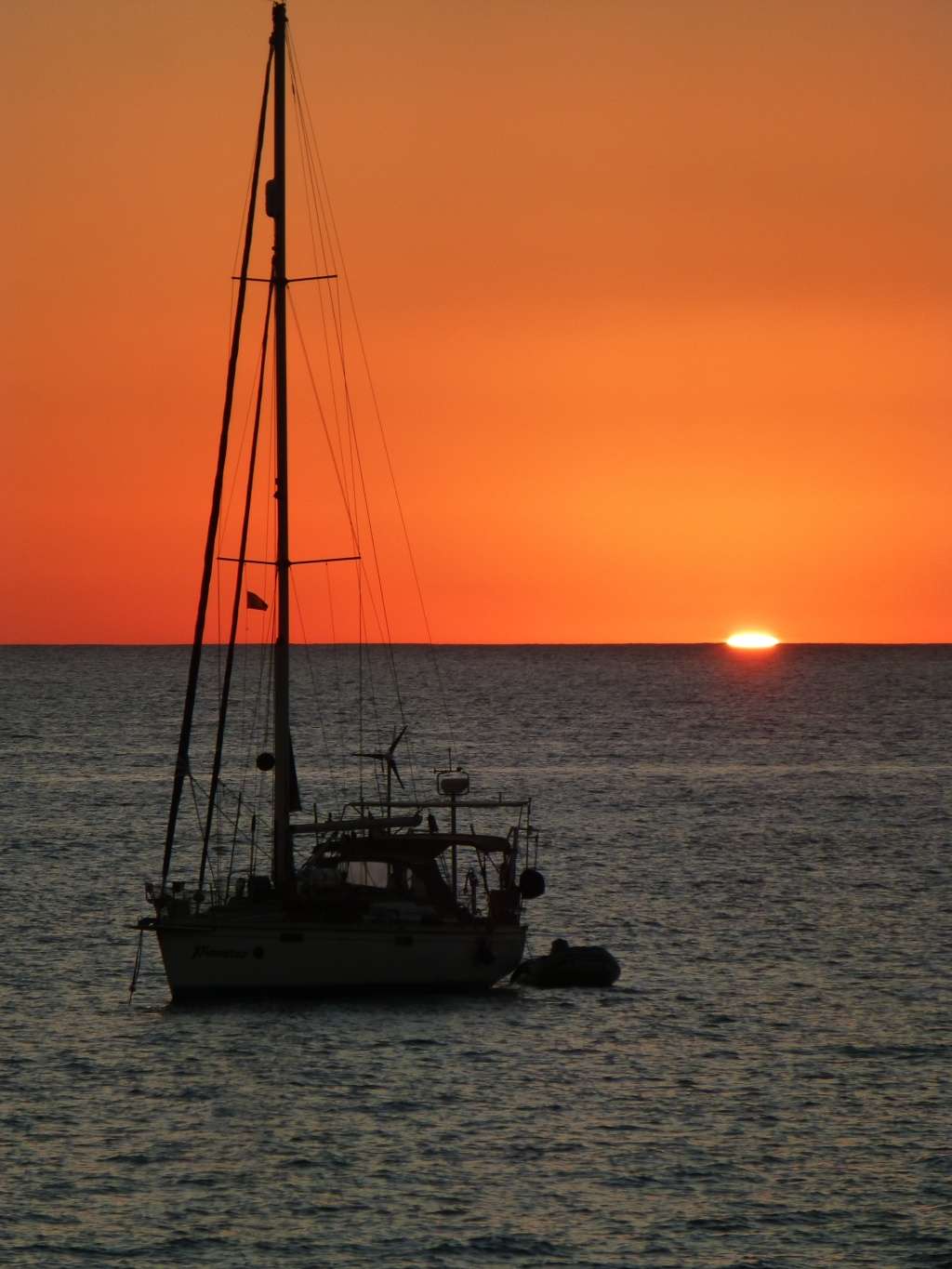 p1150882
and gone for another day
p1150883
Tonight we decided on Blue Notes as we enjoyed our previous meals but on arrive we found them full and made a quick decision to go to Lani's and as it was a pleasant evening we could eat outside
p1150914
overlooking the marina
p1150918
I ordered the meat burittos that I had enjoyed at the Volcan de Timanfaya a few nights ago
p1150919
Mrs Db joined me but had the chicken one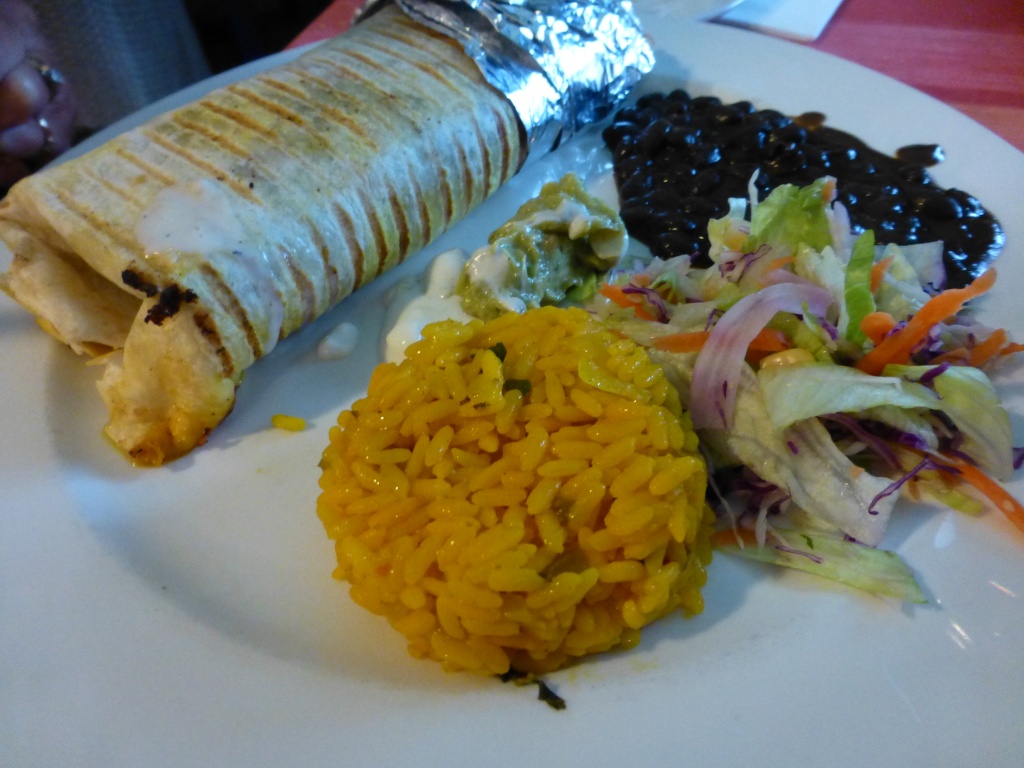 p1150920
we both describe them as just being just over warm and I should have sent them back for reheating but we plough on with them, only for them to be cold before they were finished. I had short sleeves on and at 10pm a chill was in the air and I was glad to be back at the apartment.
a disappointing penultimate night for not getting to Blue Notes
END OF DAY 13
DAY 14
our last full day
A little disappointed with some of the sunset shots, I had noticed a nice glow from our front door in the mornings. So having seen the camels at the watchtower, I had a cunning plan lol but would leave Mrs Db without her early morning cup of tea. On my way up there I met a lady from Brussels that I had chatted to on previous evenings at the sunsets. "You should have been up here earlier the sky was red", she said, I knew what she meant as have experienced the sunrise in Nidri Greece earlier on.
However here I was
p1150921
The idea without any other day's practise is for me to do something special with the sun lol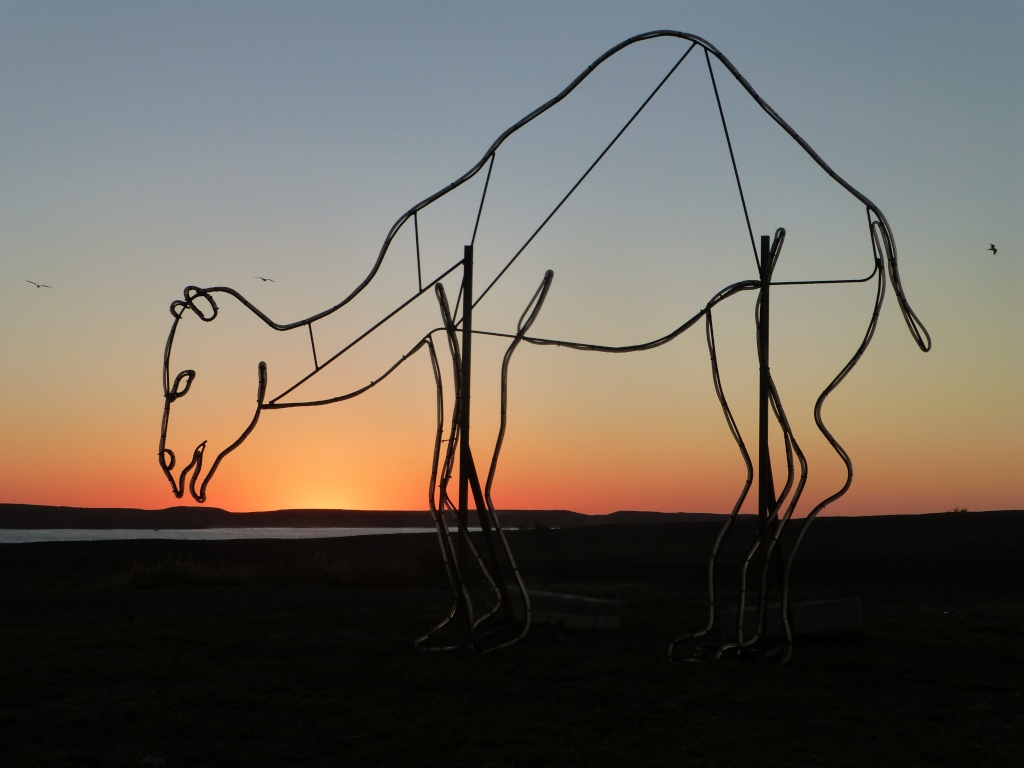 p1150927
but one only gets a few seconds before the sun makes the picture too bright
I wanted to get the camel to eat the sun but not easy in a small display with the camera angled upwards just got it wrong lol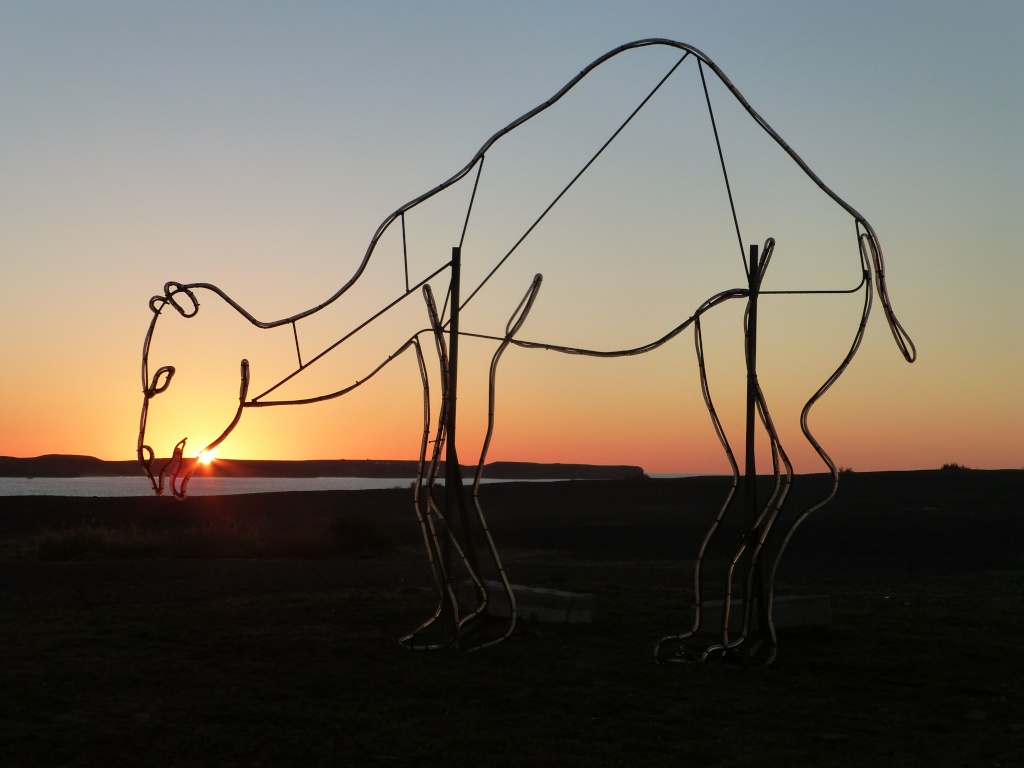 p1150933
but one more go tomorrow if I get up early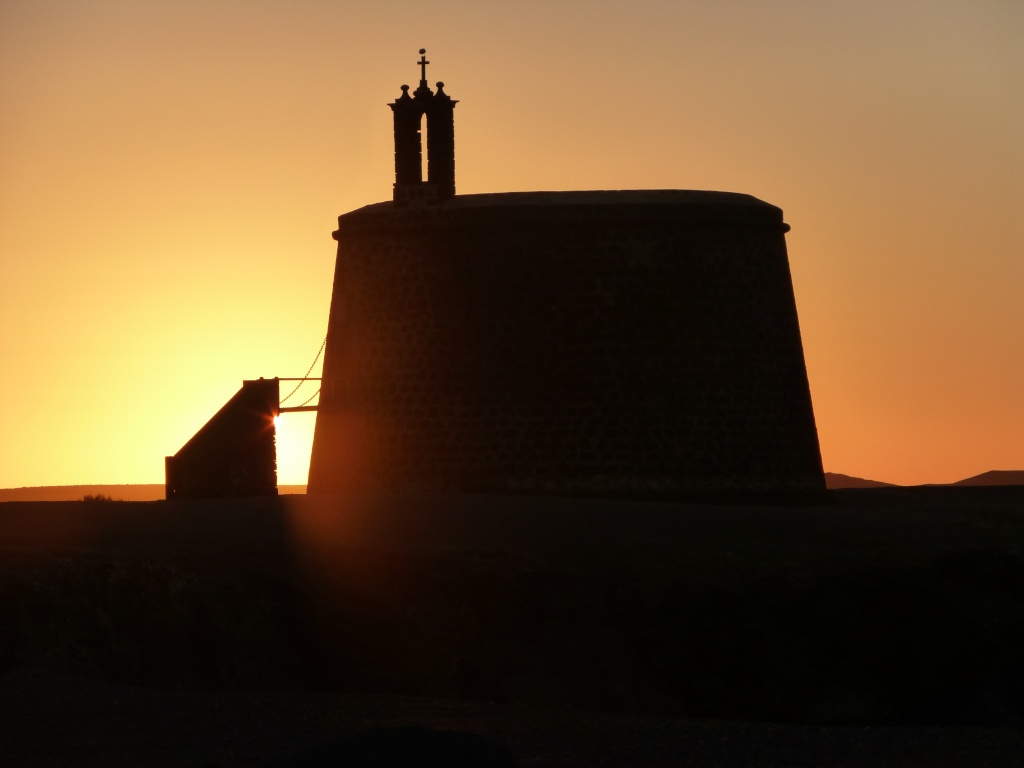 p1150943
a lovely coloured cat around the marina, there are several feeding stations and they are given dried food, so a few early cats are waiting around
p1150960
however, back at the apartment to report another blue sky day lol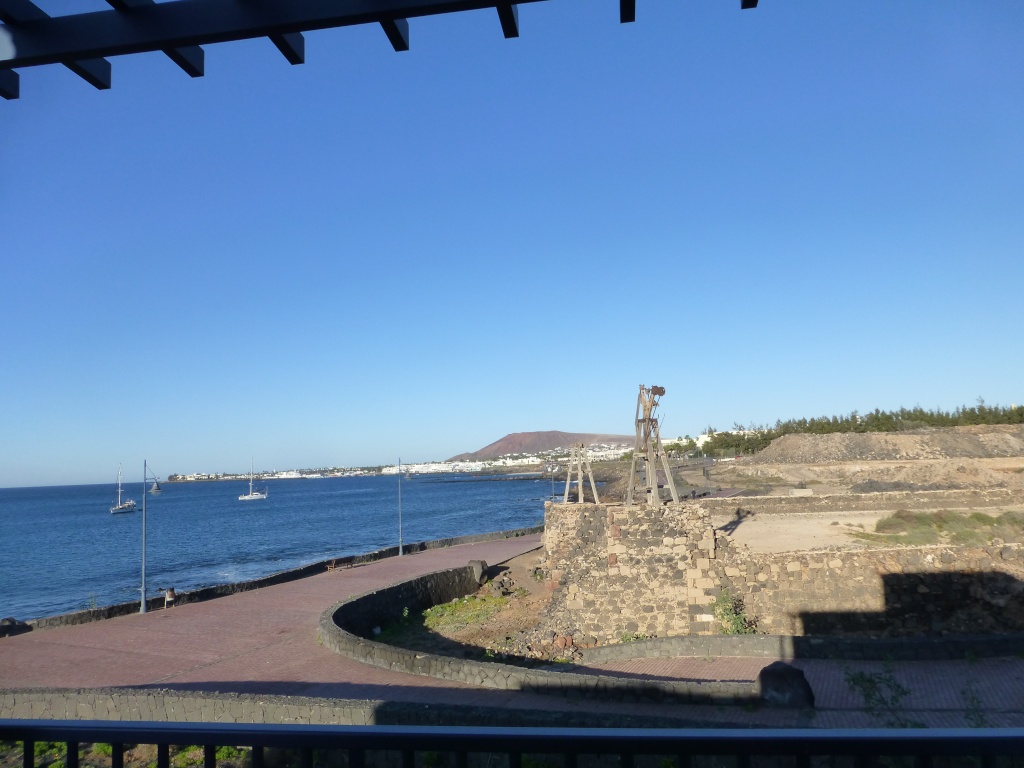 p1150963
yesterday the cake shop opened at the end of the marina shopping centre, so I popped along to see the early cakes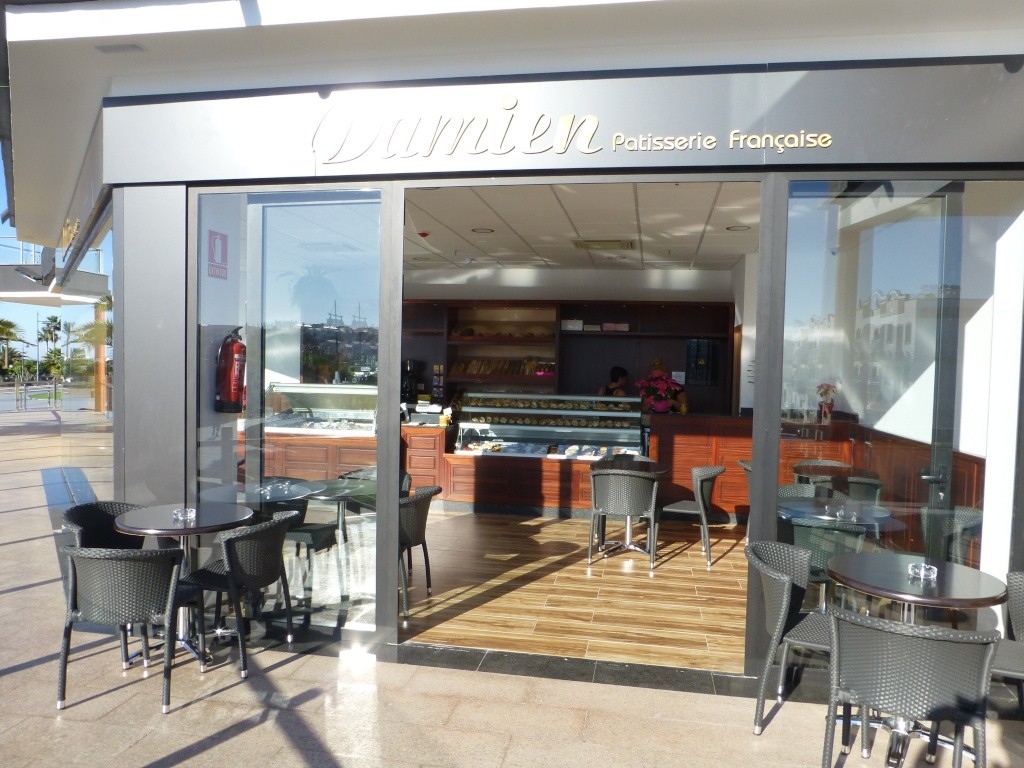 p1150972
fresh bread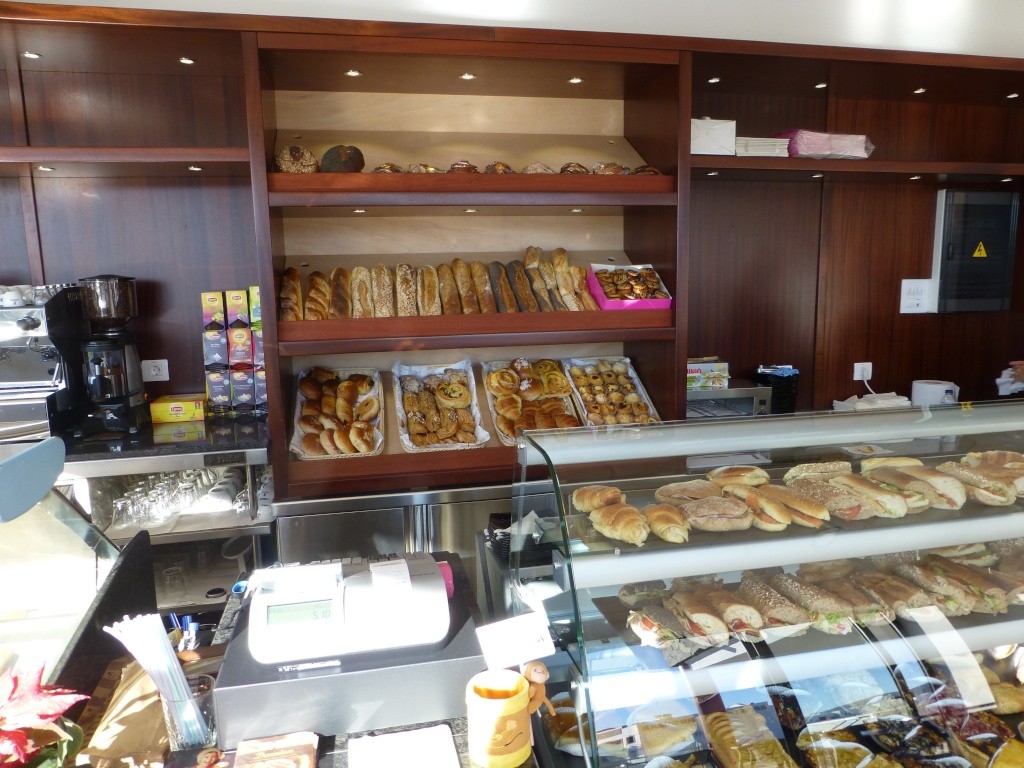 p1150970
and cakes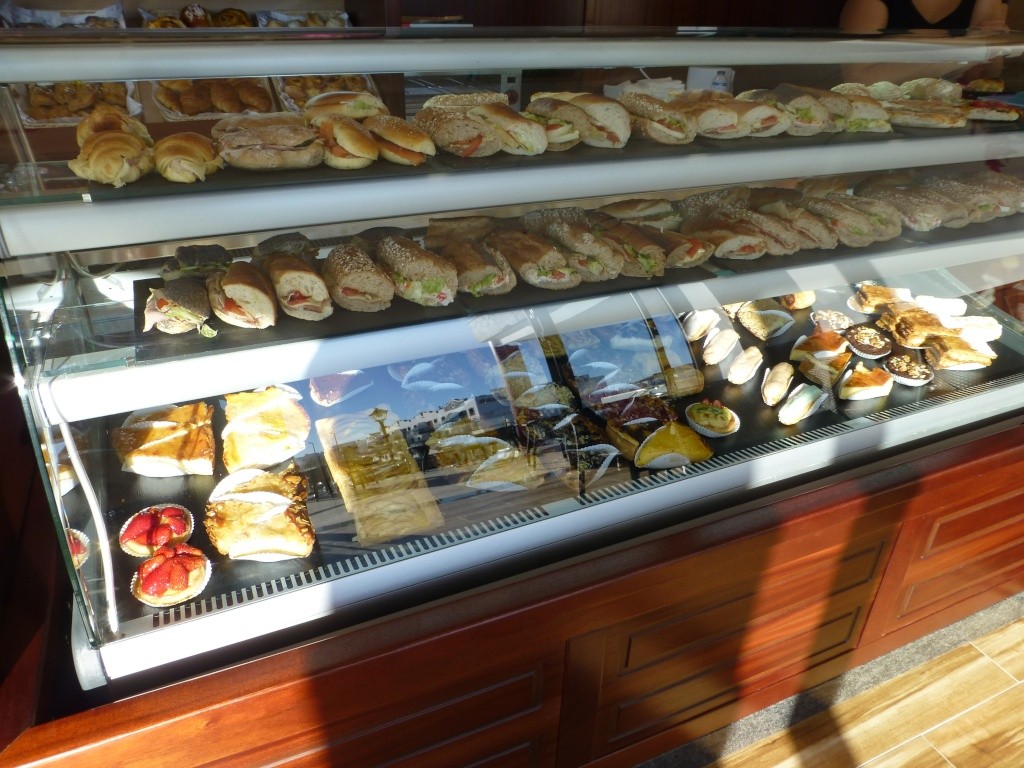 p1150971
Like many others they also sell ice cream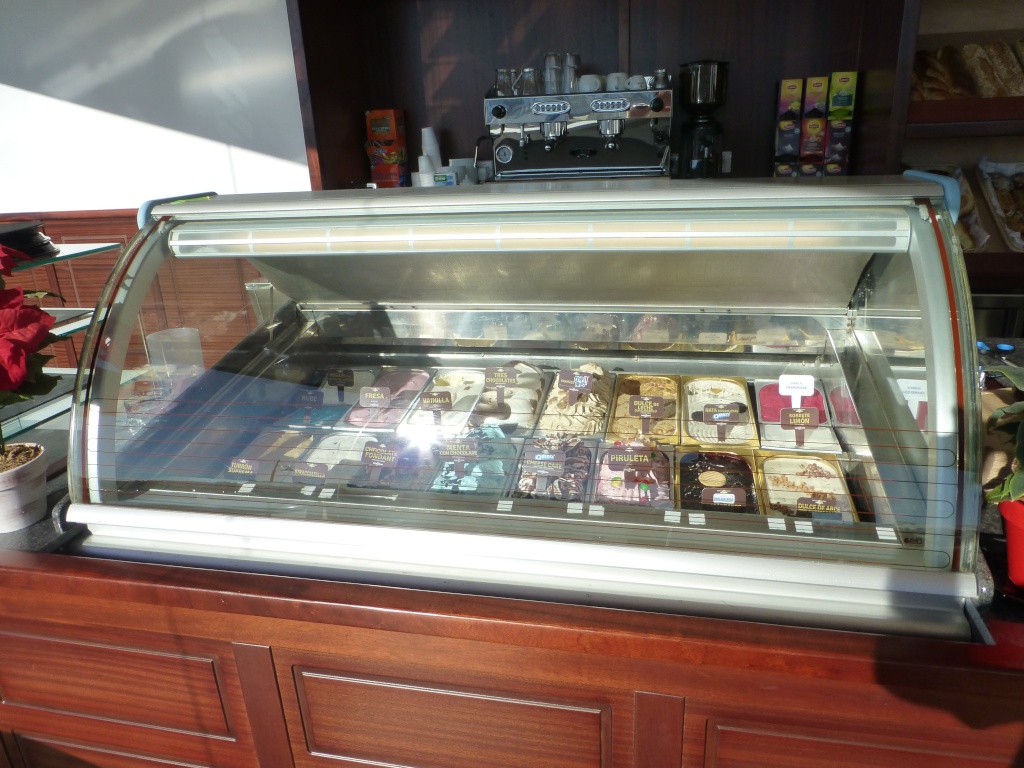 p1150969
just outside the crazy golf has now been completed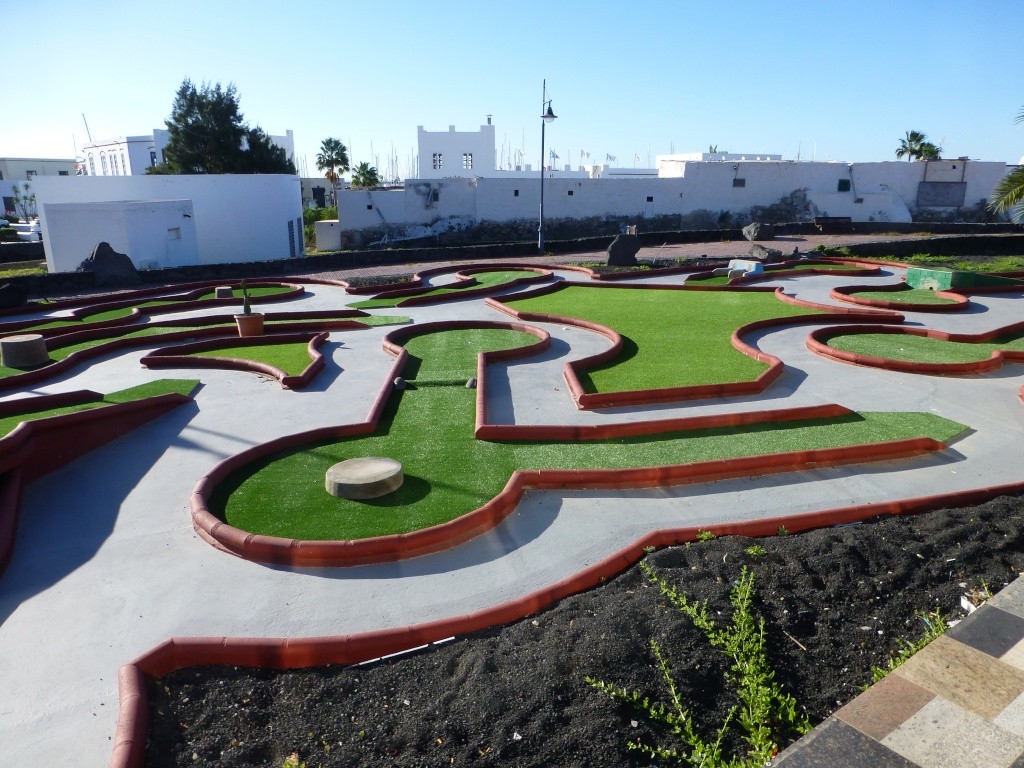 p1150973
upstairs in the shopping centre there is a children's play zone which seems to have supervision
p1150974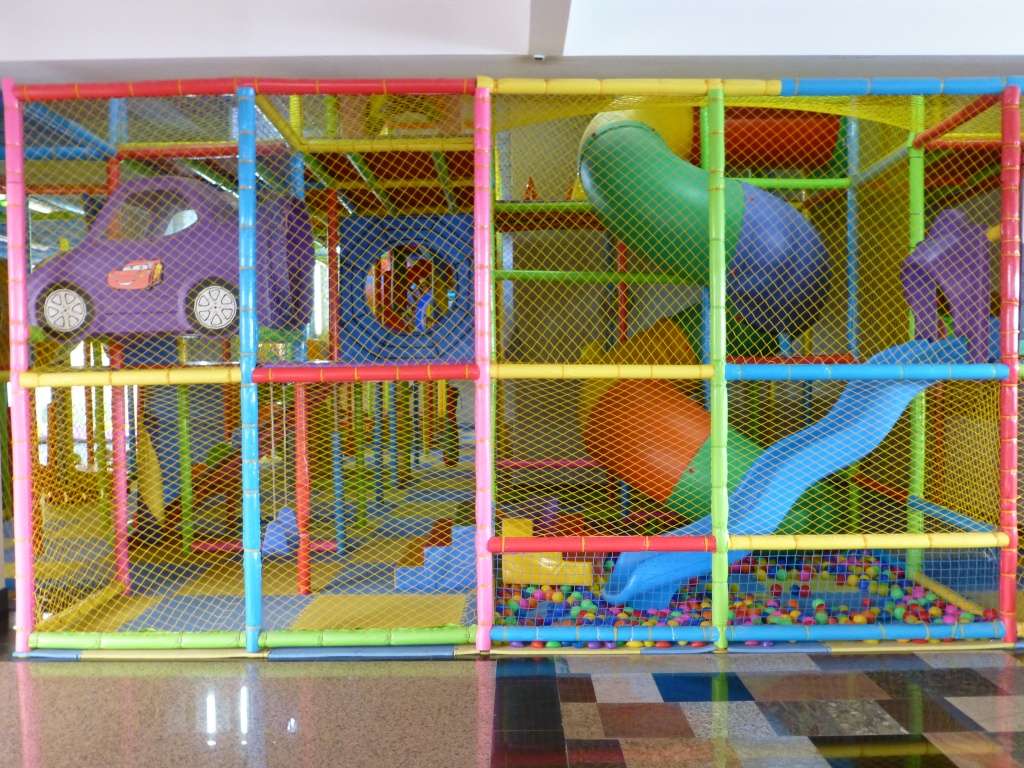 p1150622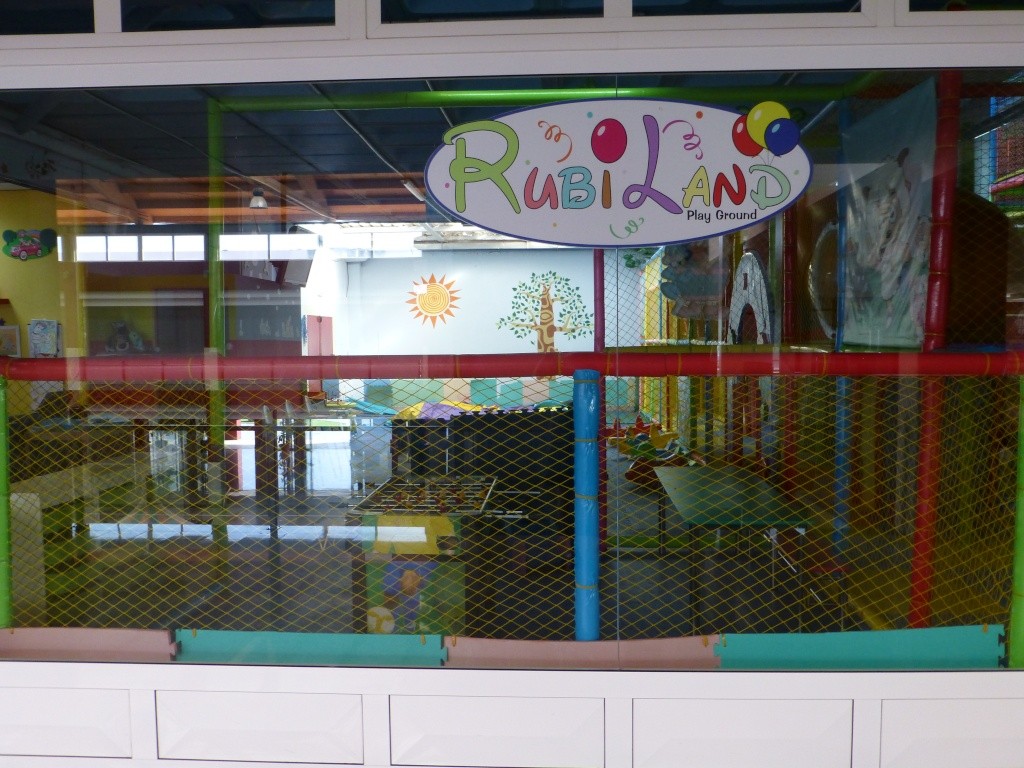 p1150623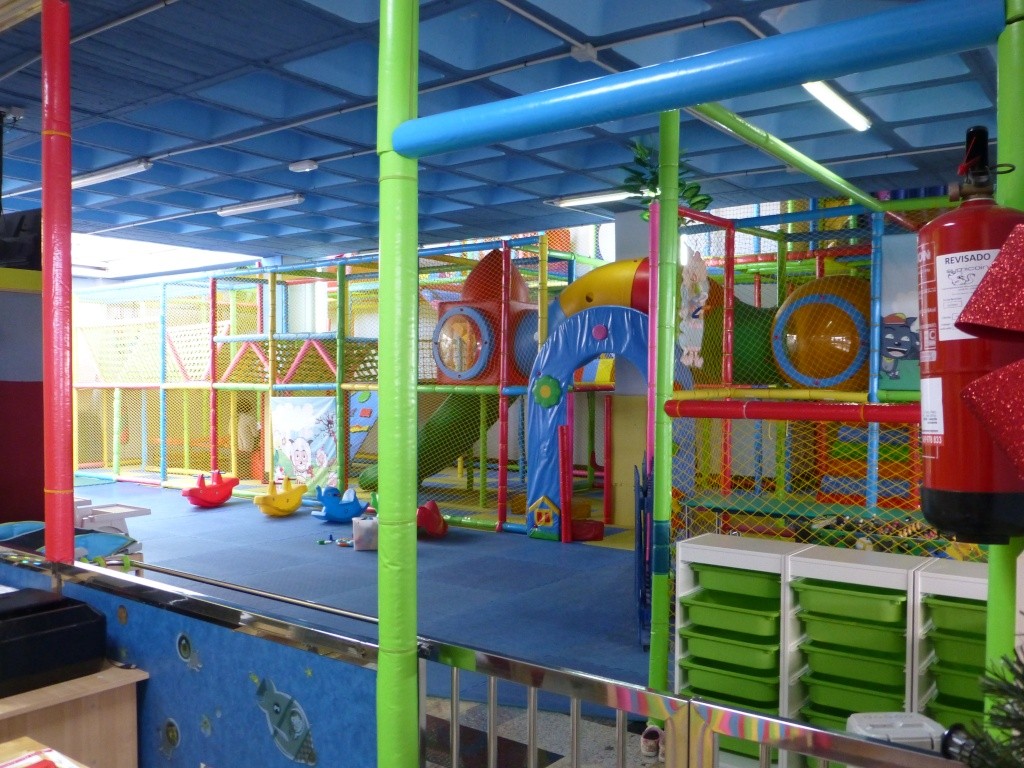 p1150624
Springfields also opened yesterday, although I was too early at this point, I did go back to have a look.
p1150990
p1150991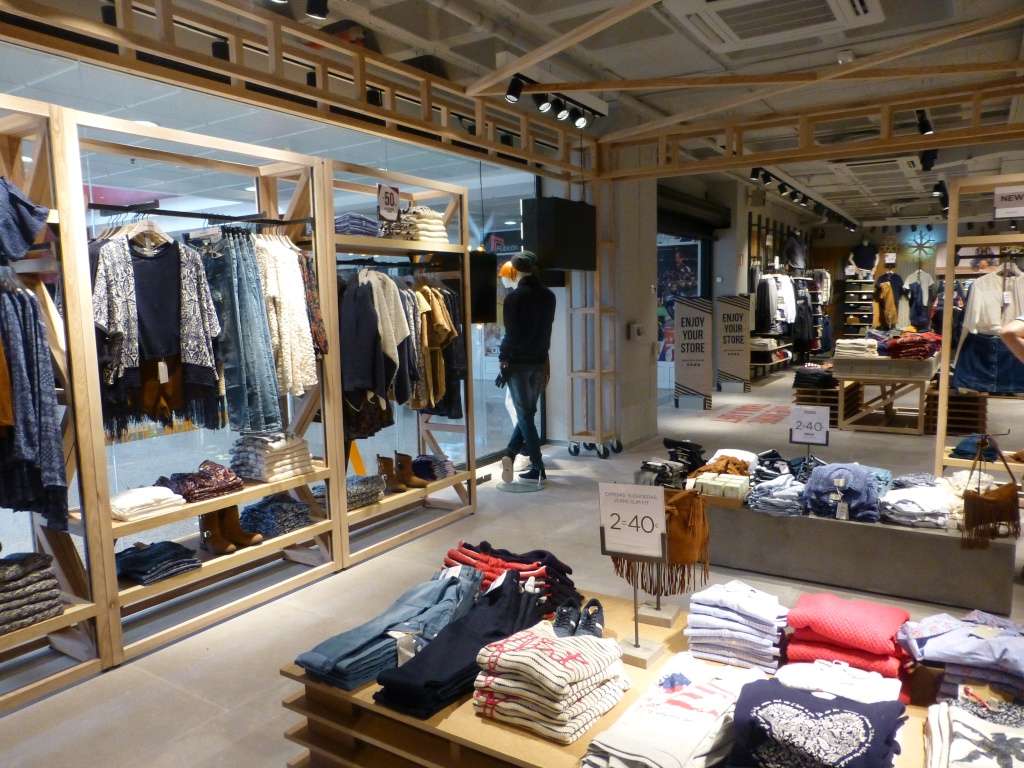 p1150992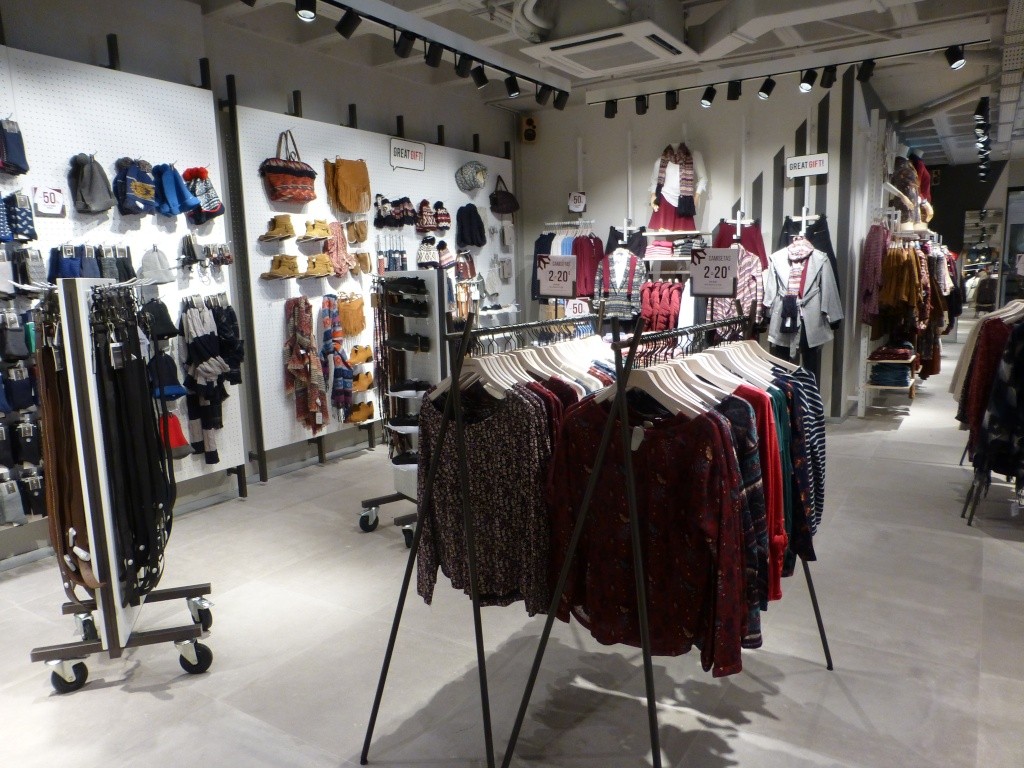 p1150993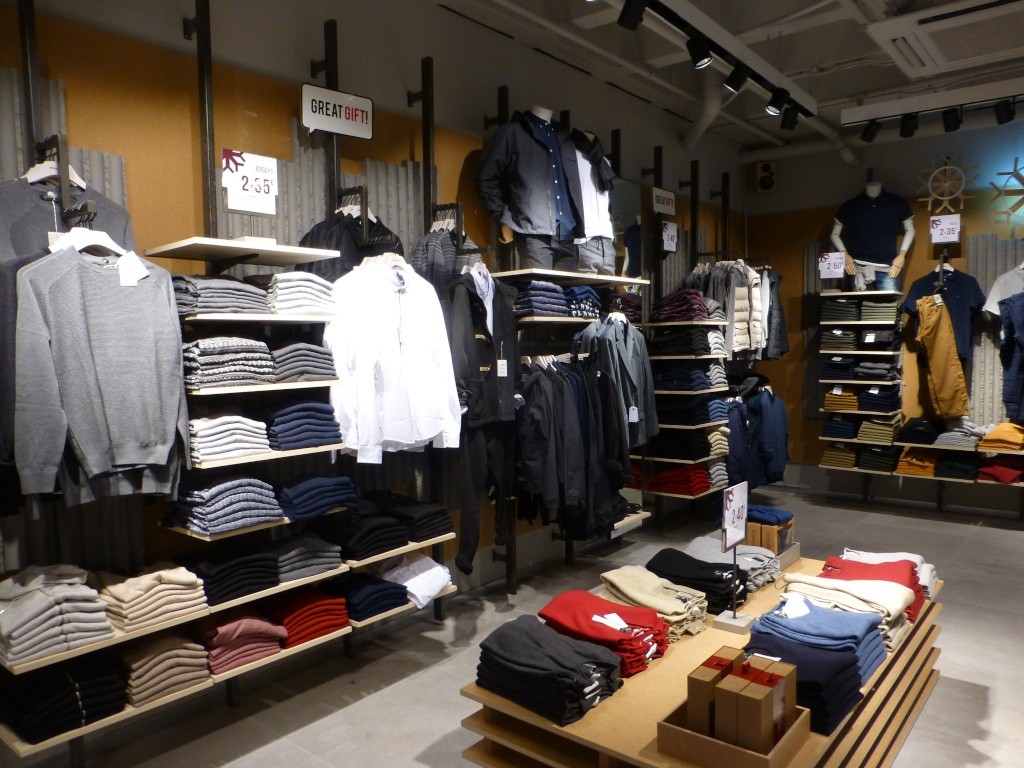 p1150994
so the marina shopping centre improving all the time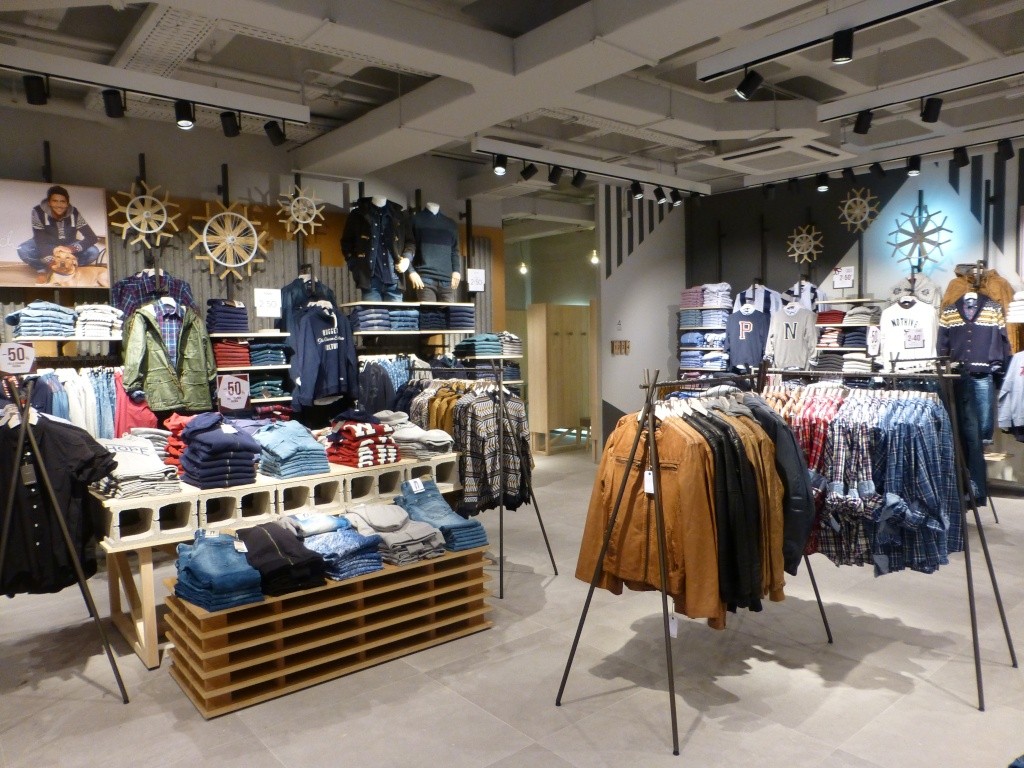 p1150995
for us a perfect beach day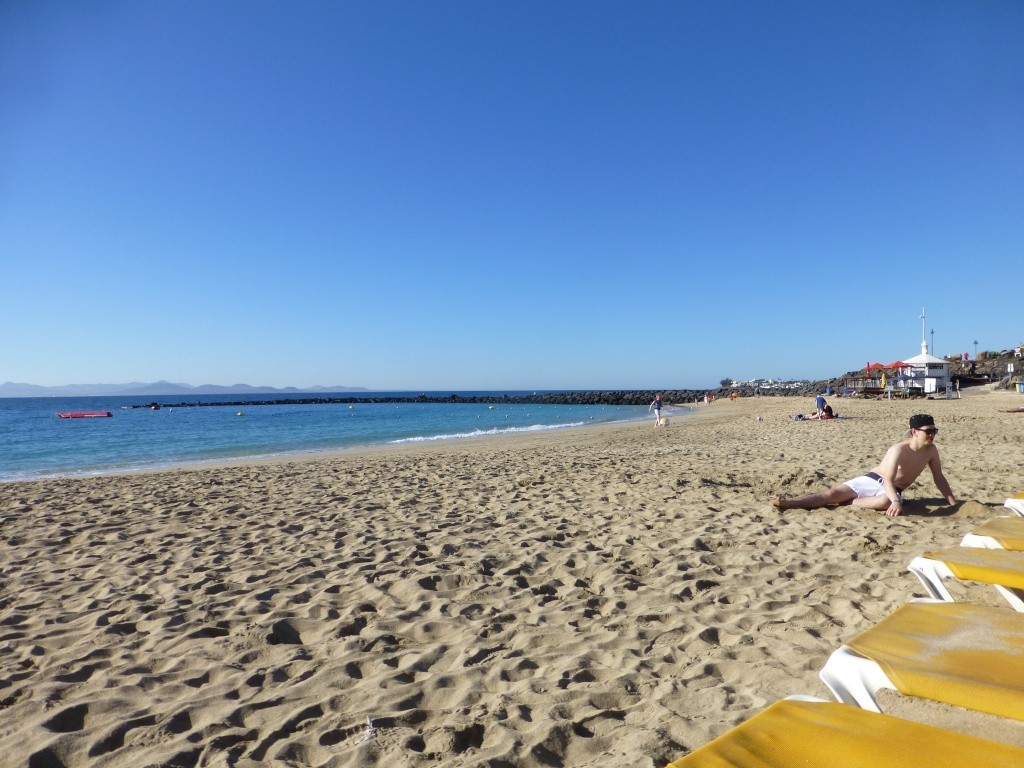 p1150976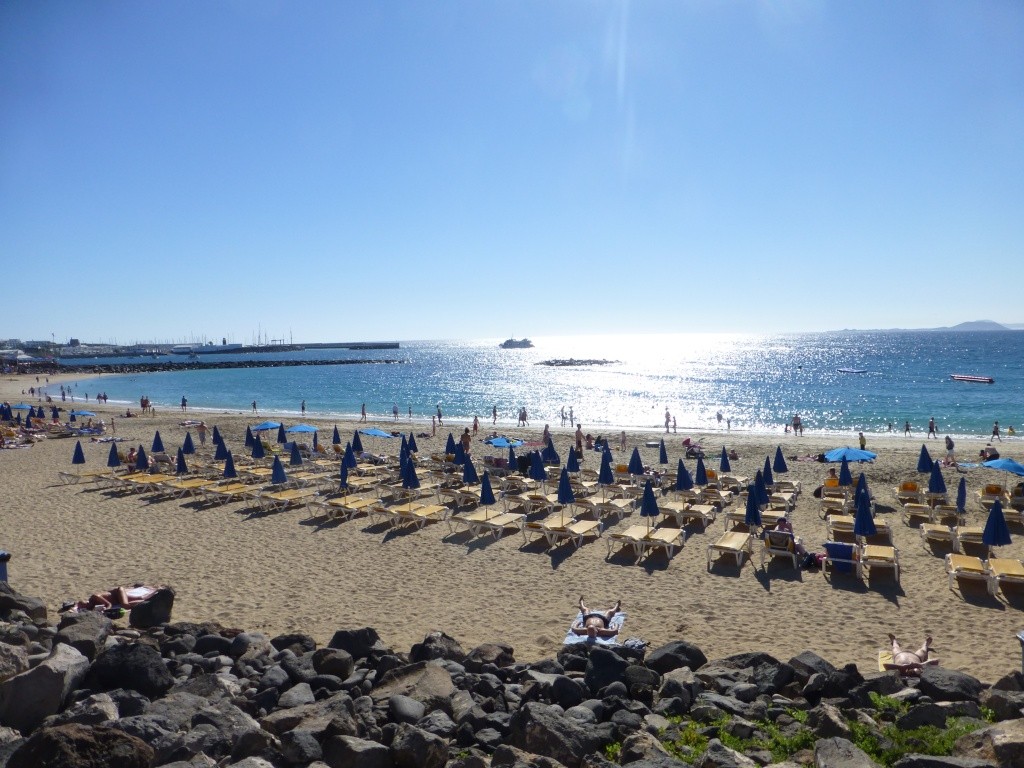 p1150979
p1150980
lunchtime was beers and sandwiches
p1150983
this afternnon whilst Mrs Db was on the beach I had one last task to do lol, I was told that fresh goats milk goes off very quickly and I did hear Ropers sold it, so I was going to actuallyfind out
On the way I could see one of the glass bottom boats down near one of the beaches, not sure whether the passengers stay aboard but they seem to have a banana boat running near it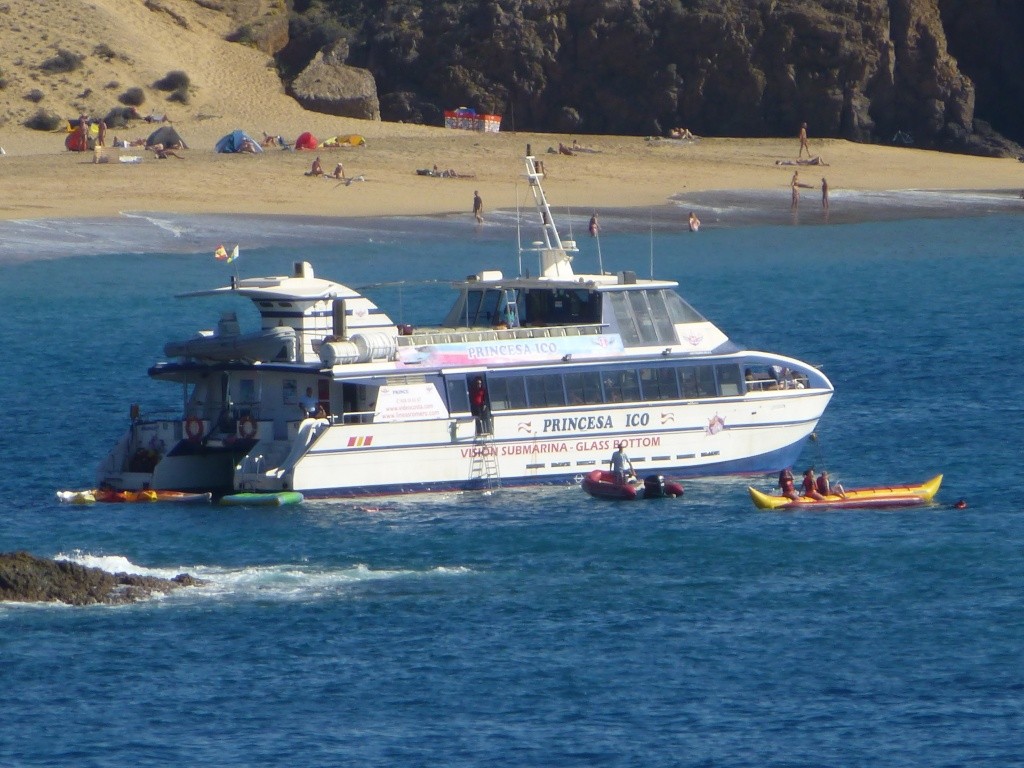 p1150999
now if we go to the same roundabout as I went to (in day 10) when I visited the Superdino
instead of turning right going by car, one needs to go straight on, where the red car is in the distance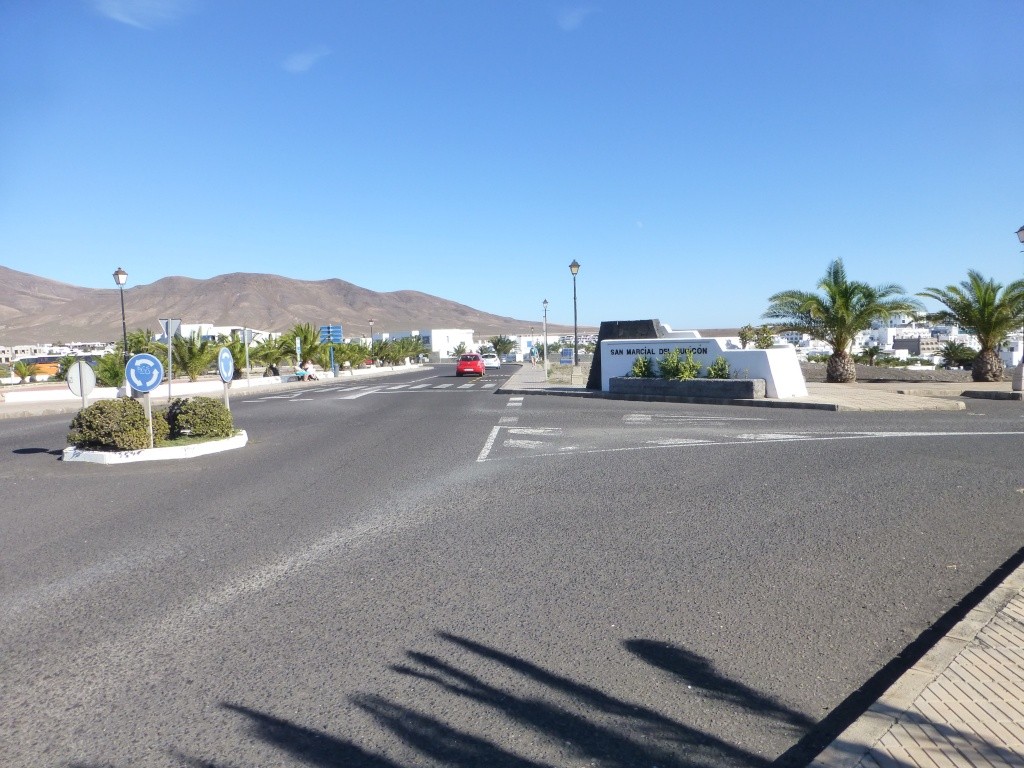 p1160005
and straight across this roundabout
p1160006
and down this road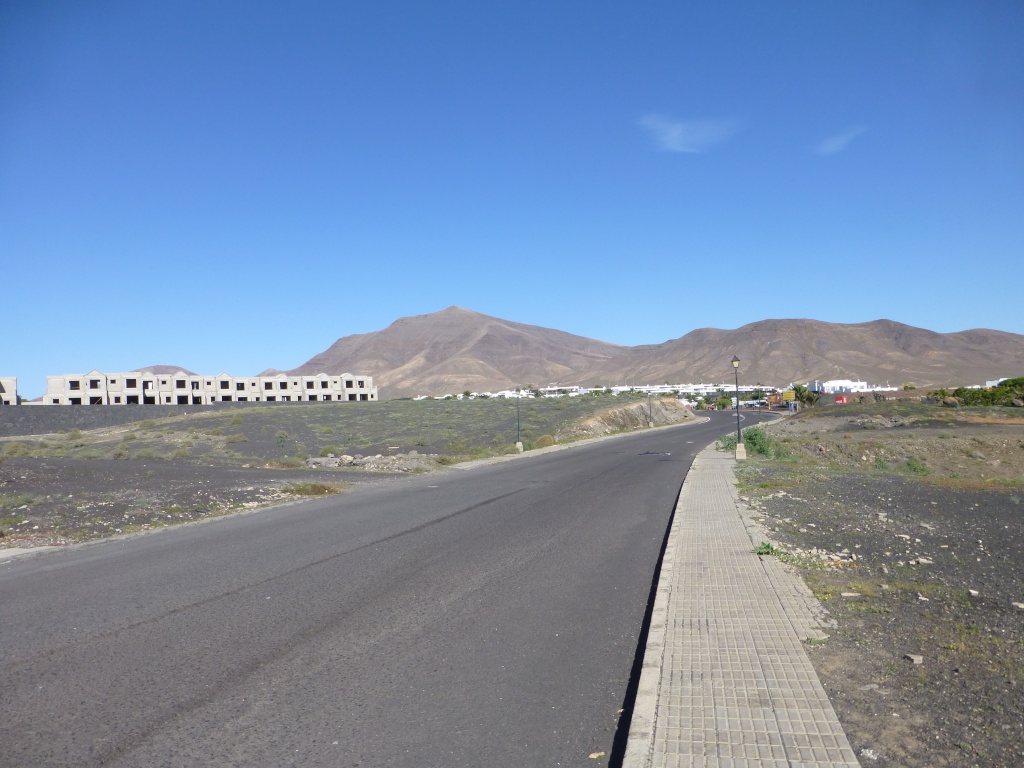 p1160007
at the bottom of the road it forks, that this right fork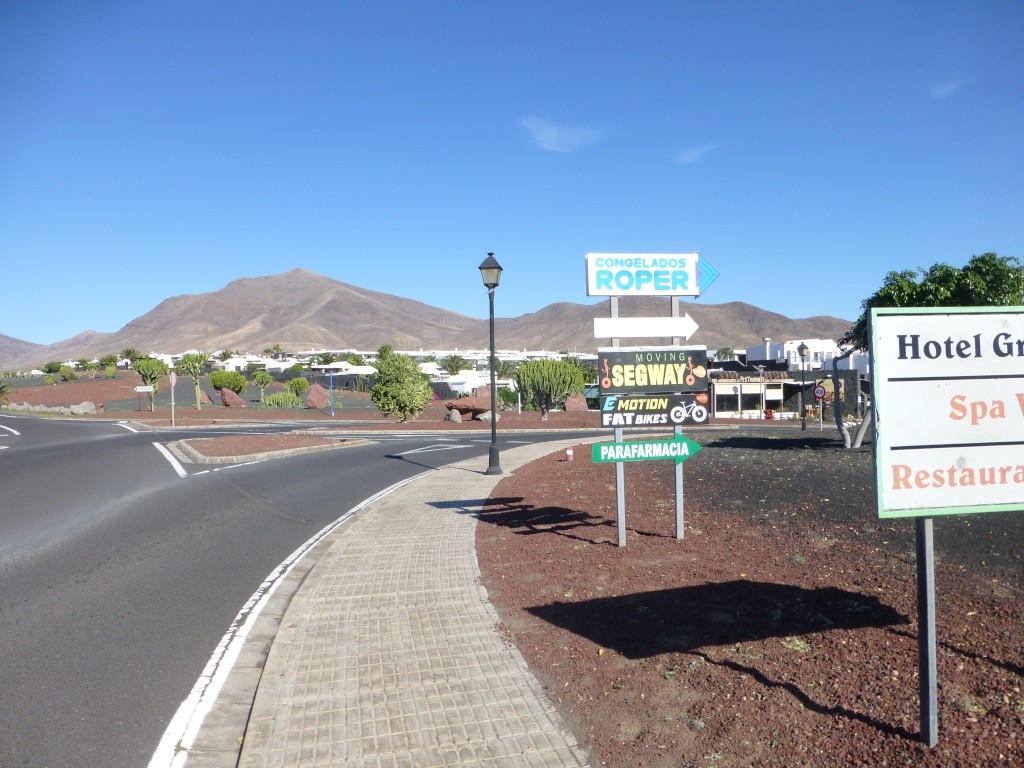 p1160009
and straight down following this car
p1160010
at the bottom of this hill one needs to go across the the roundabout and head to towards the white buildings in the distance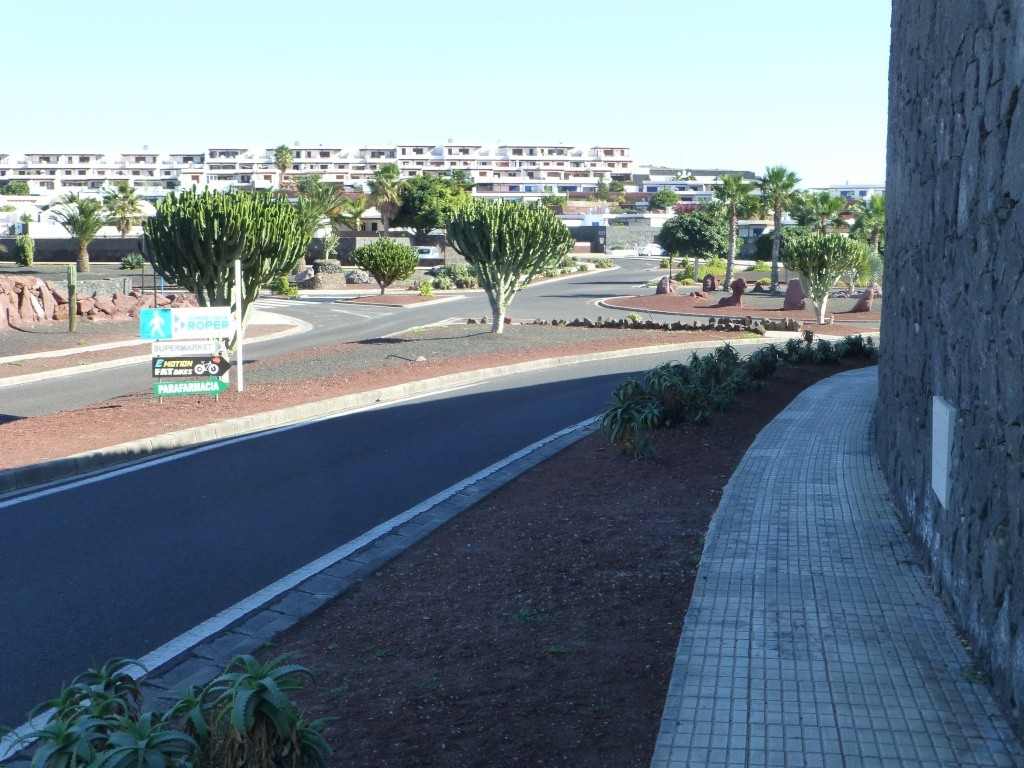 p1160012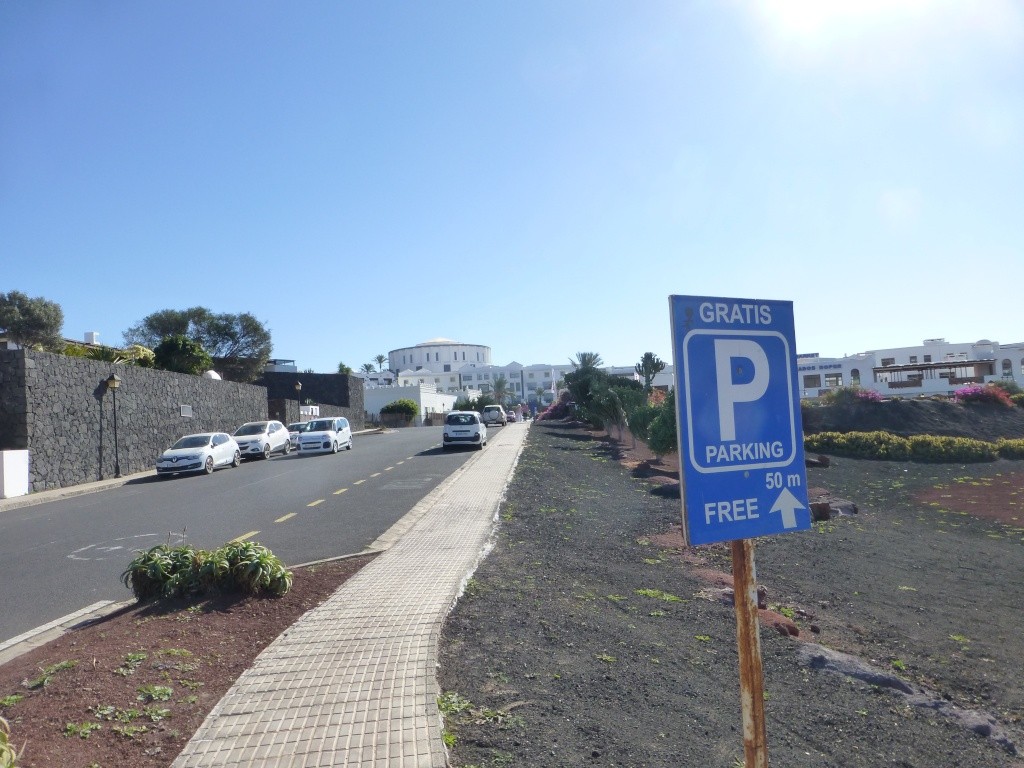 p1160014
and you can park in parts of the road or in this car park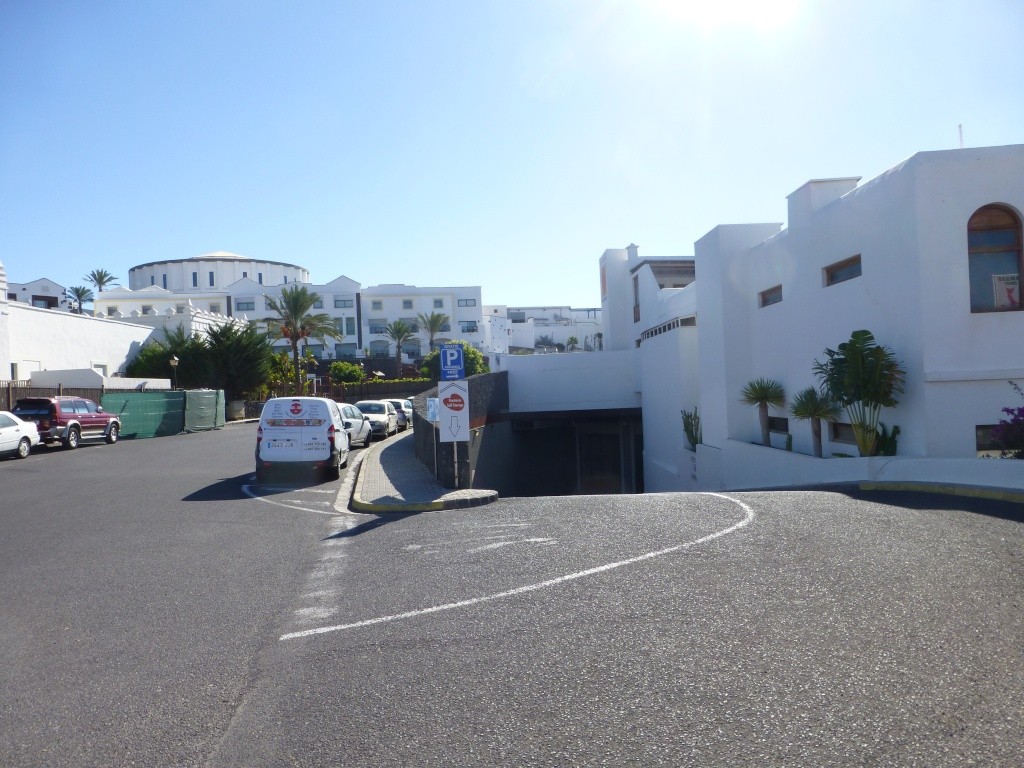 p1160015
There is a new Atm in front of Ropers (but beware, it could have charges to withdraw money)
p1160017
Now they have Cabra in the freezer (blue tops) the large is 1.70€s and the small 1.09€s I asked if they are fresh and was assured they were, to me the large bottle looks exactly the same as others have on their shelves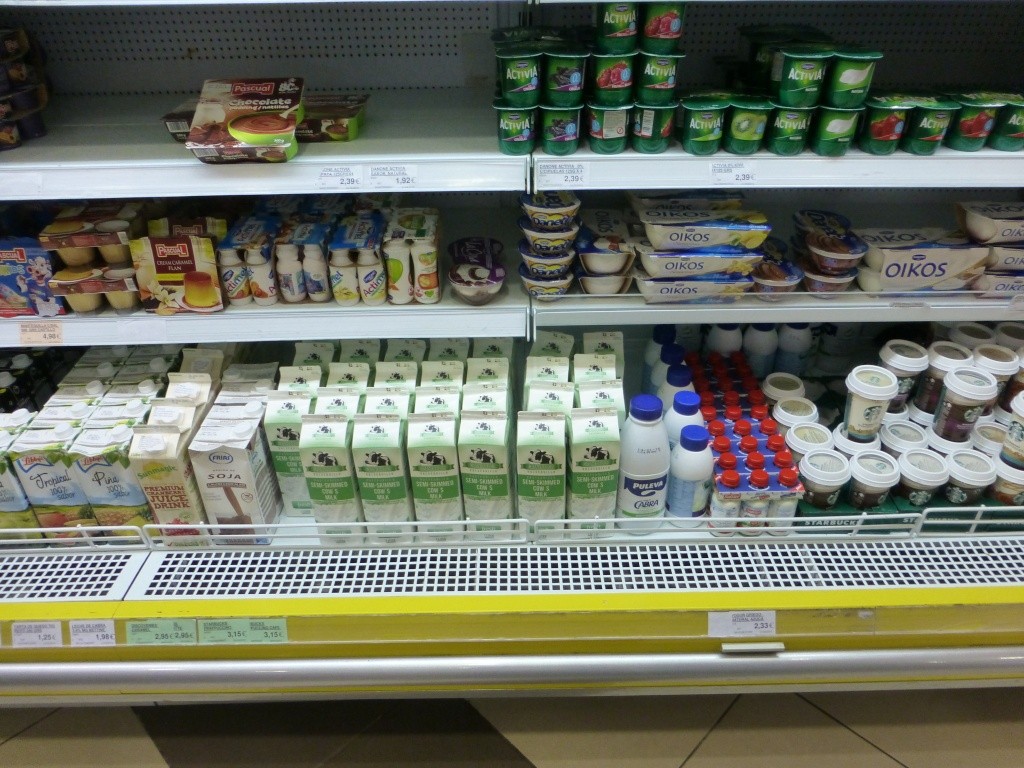 p1160018
and look at the dates (19th Dec today), they can't be fresh untouched goats milk but the small bottle is the only full cream one I have seen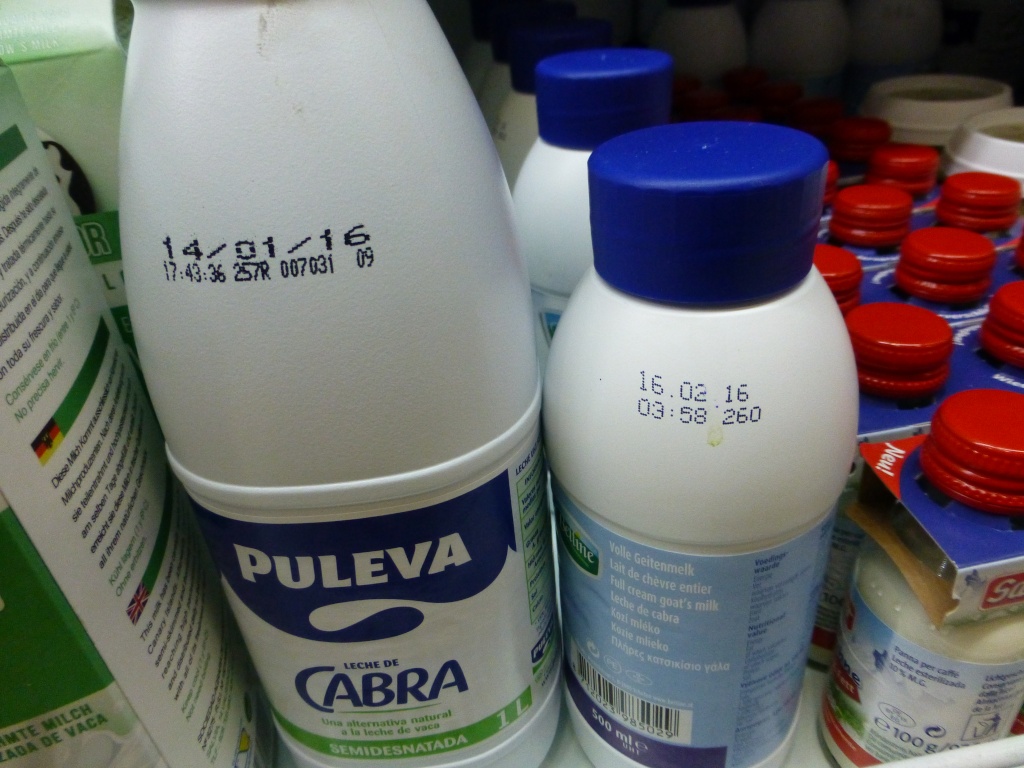 p1160021
Roper's fruit and veg looks colourful
p1160025
and people do rave about their meat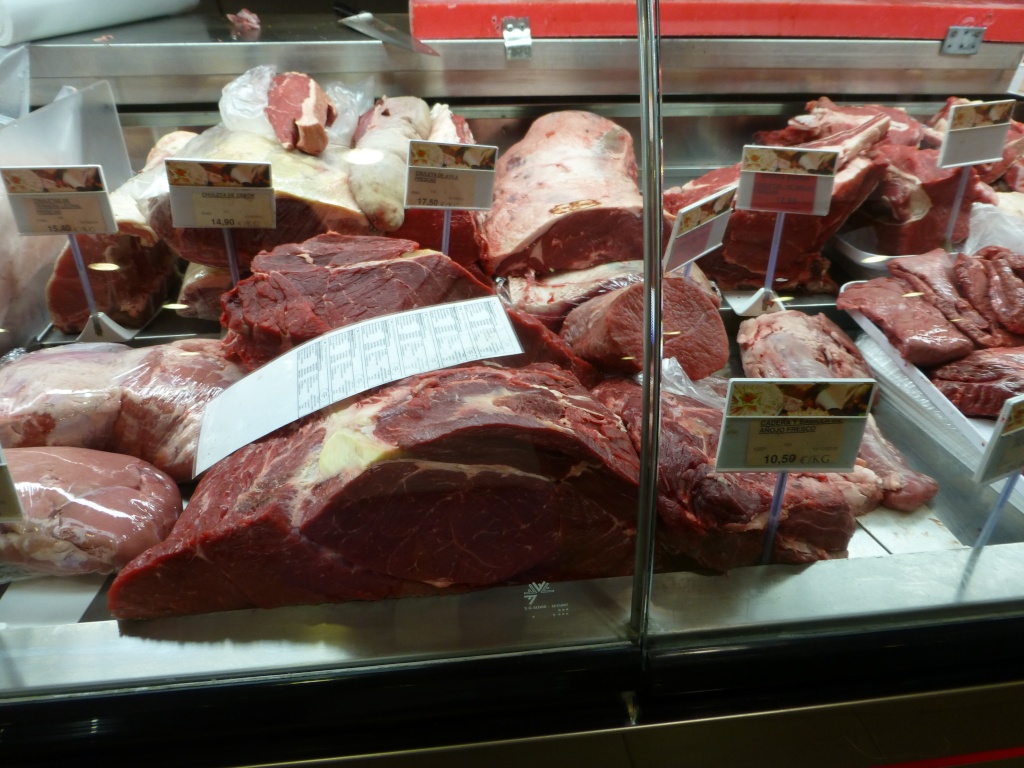 p1160026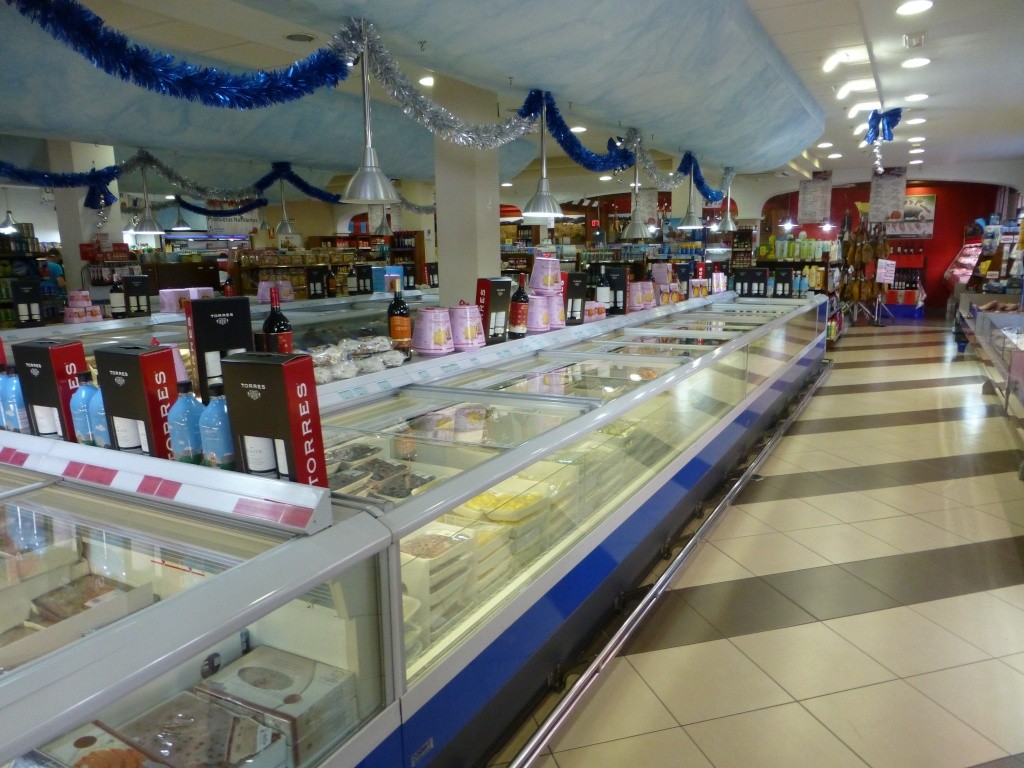 p1160030
The evening became quite exciting after sitting on the beach in the afternoon to see a massive sail ship anchor off shore, could I get a Fighting Temeraire type photograph of it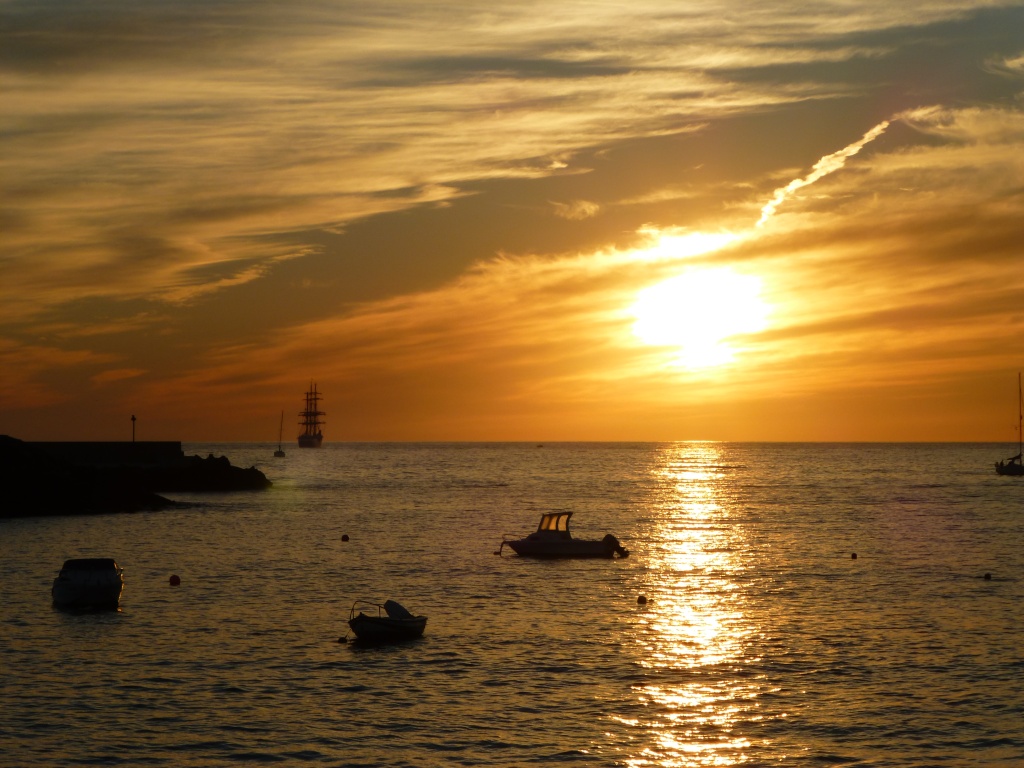 p1160037
to achieve it I needed to get the sun very near it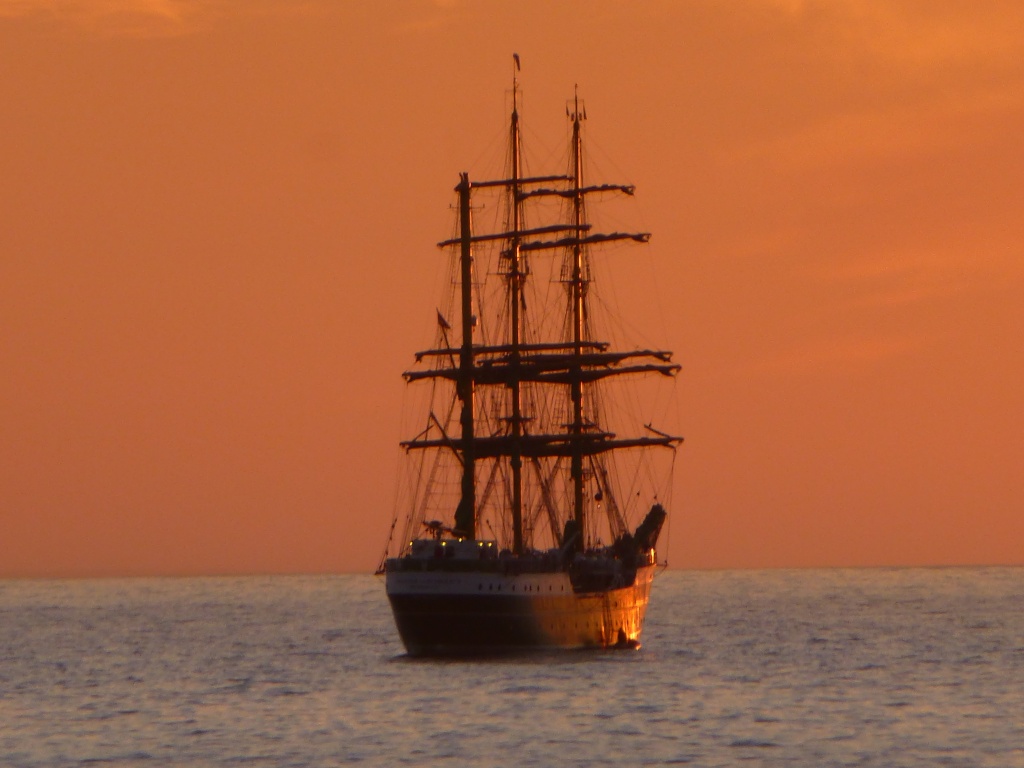 p1160051
I didn't quite achieve it but my after thoughts were it may have been possible from the watchtower provided the land and the marina didn't get in the way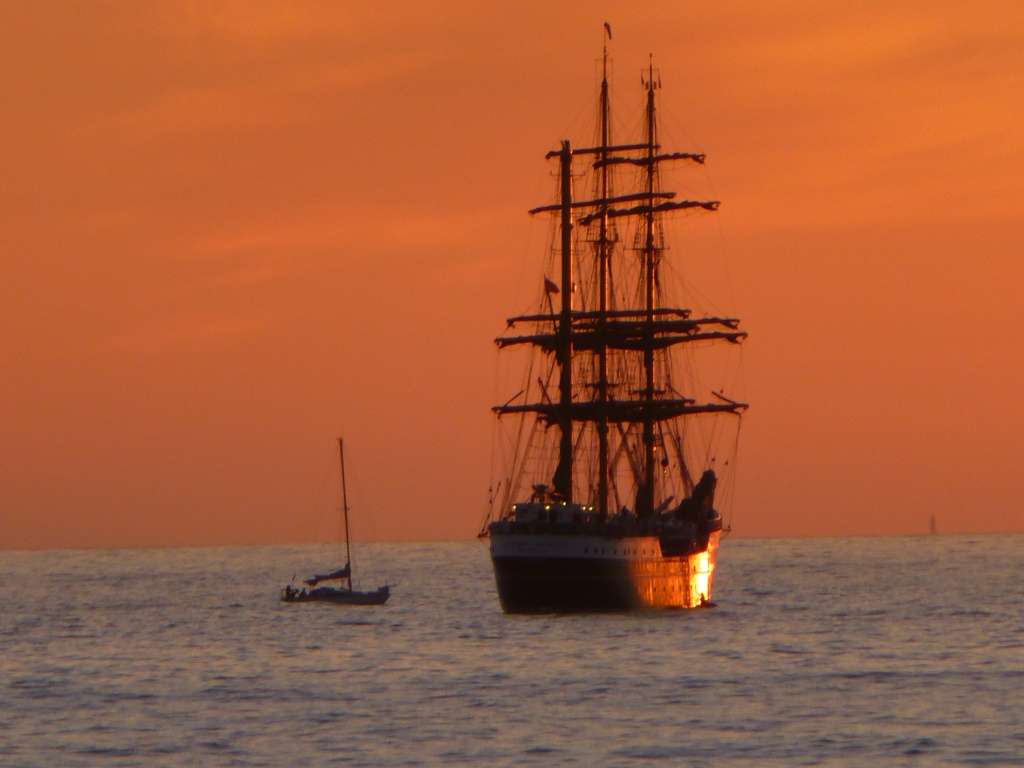 p1160052
For our last meal, we chose Casale Franco, as I wanted my favourate campagonola pizza with the caramelised onions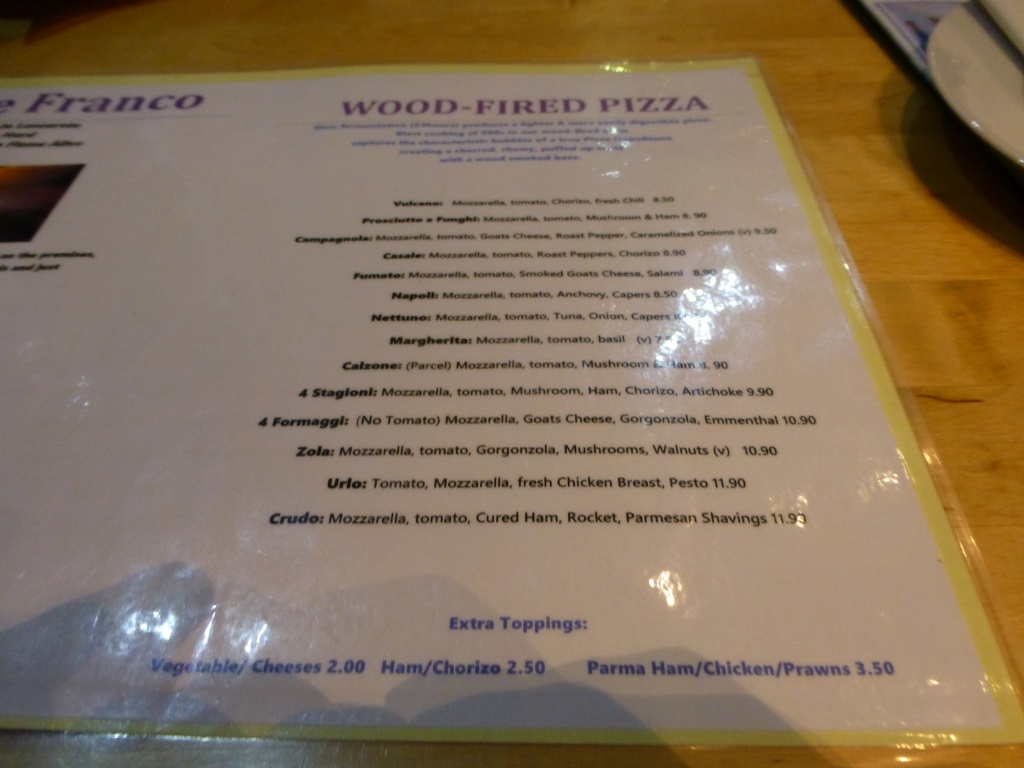 p1160094
It's yummy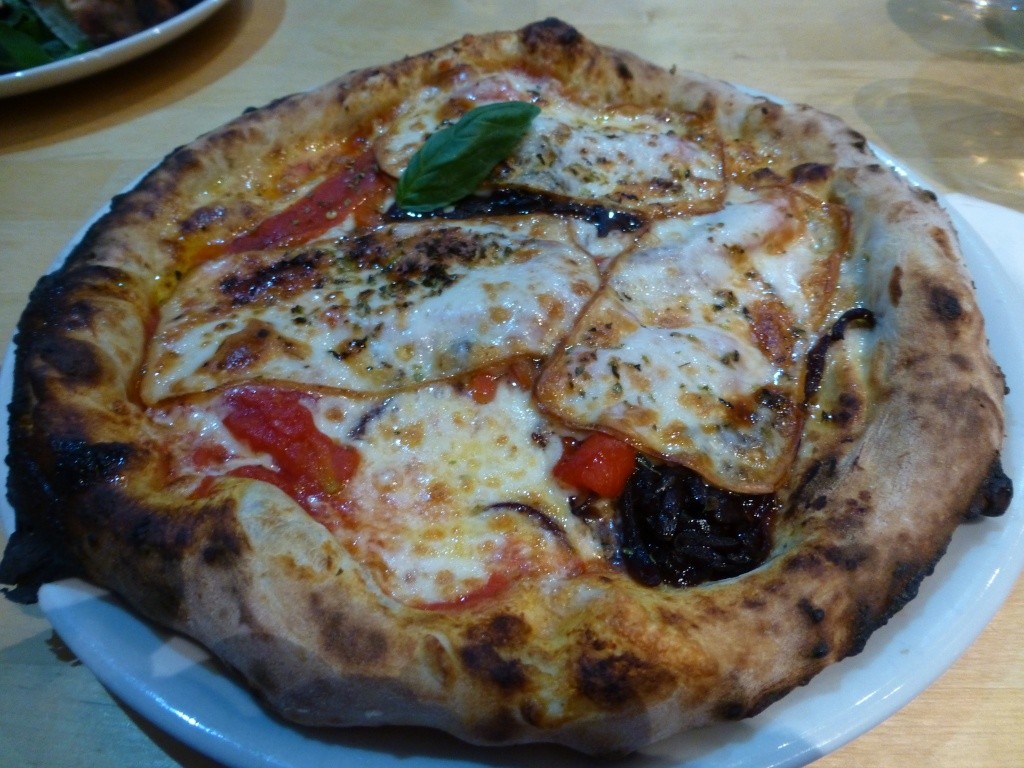 p1160096
Mrs Db had the salmon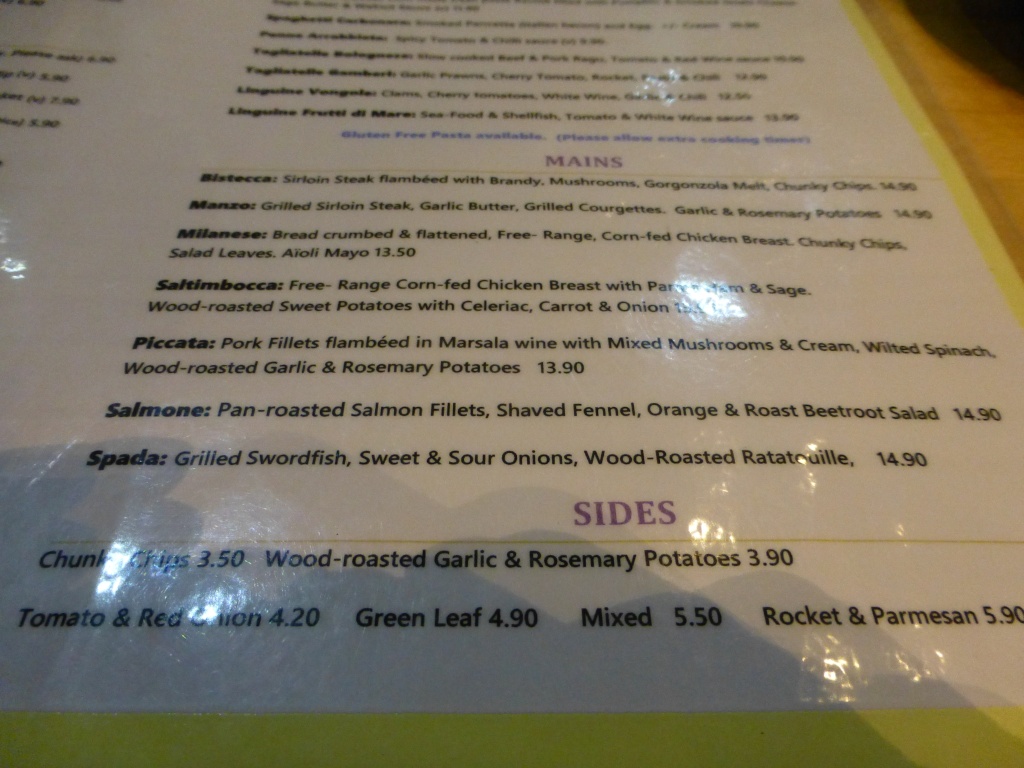 p1160095
Mrs Db thought this was a lovely meal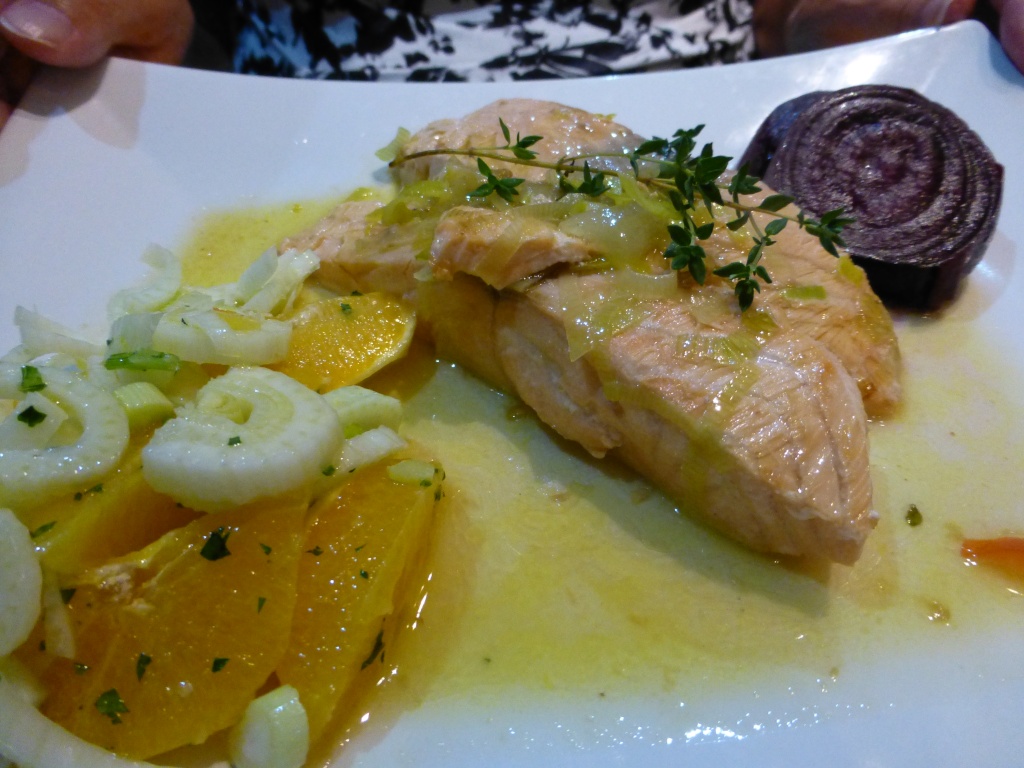 p1160099
it was a nice last evening and just took a peek in the Jungle bar to see who was playing on the way back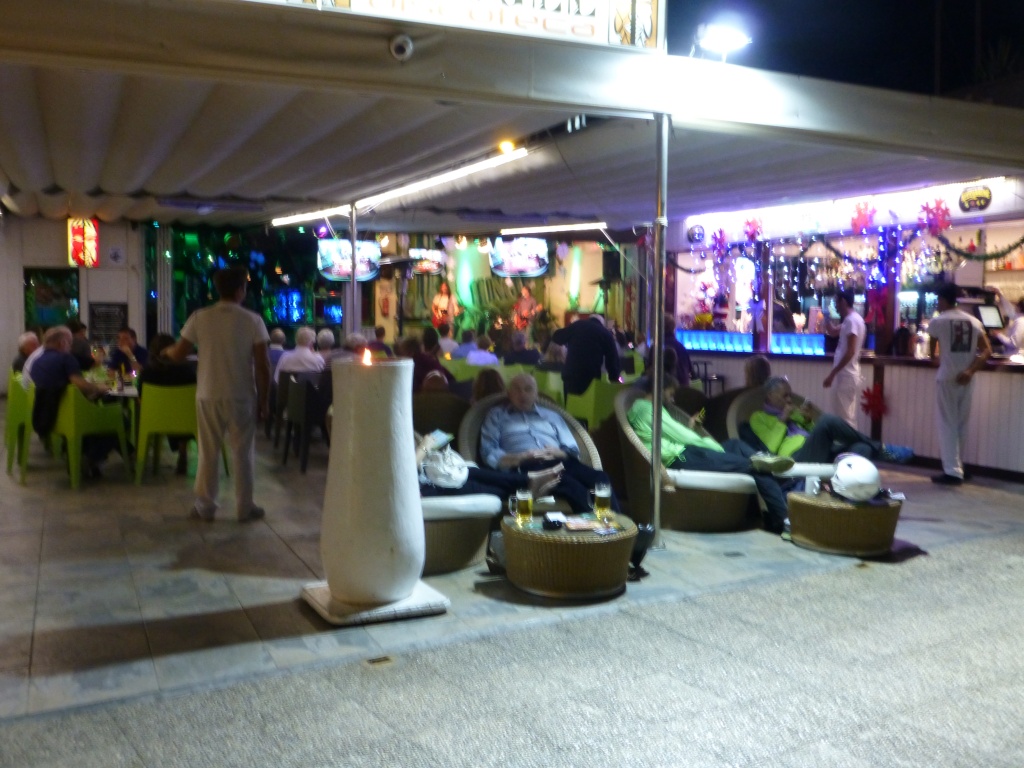 p1160100
END OF DAY 14
Day 15
well we are all packed and ready to go home, the weather is said to turn cloudy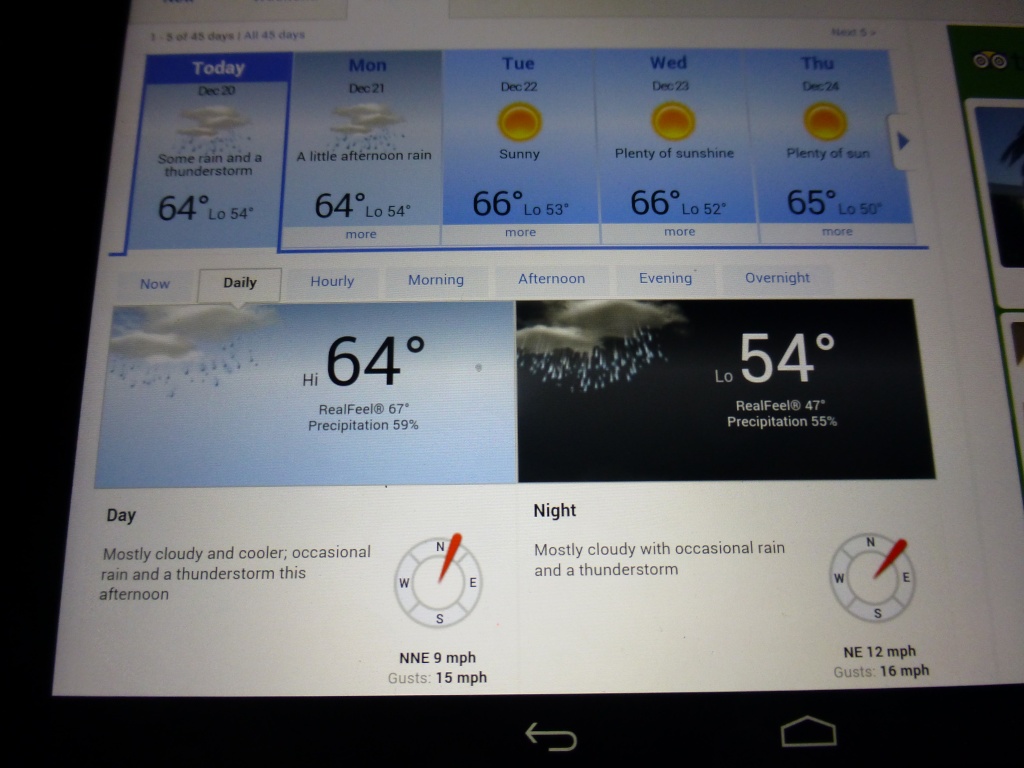 p1160101
But Mrs Db left me out my swim shorts and shirt, should there be a sunrise. However, getting up early and looking through the door it looked cloudy but what the hell, it's my last chance lol
p1160102
but within 10 minutes
p1160122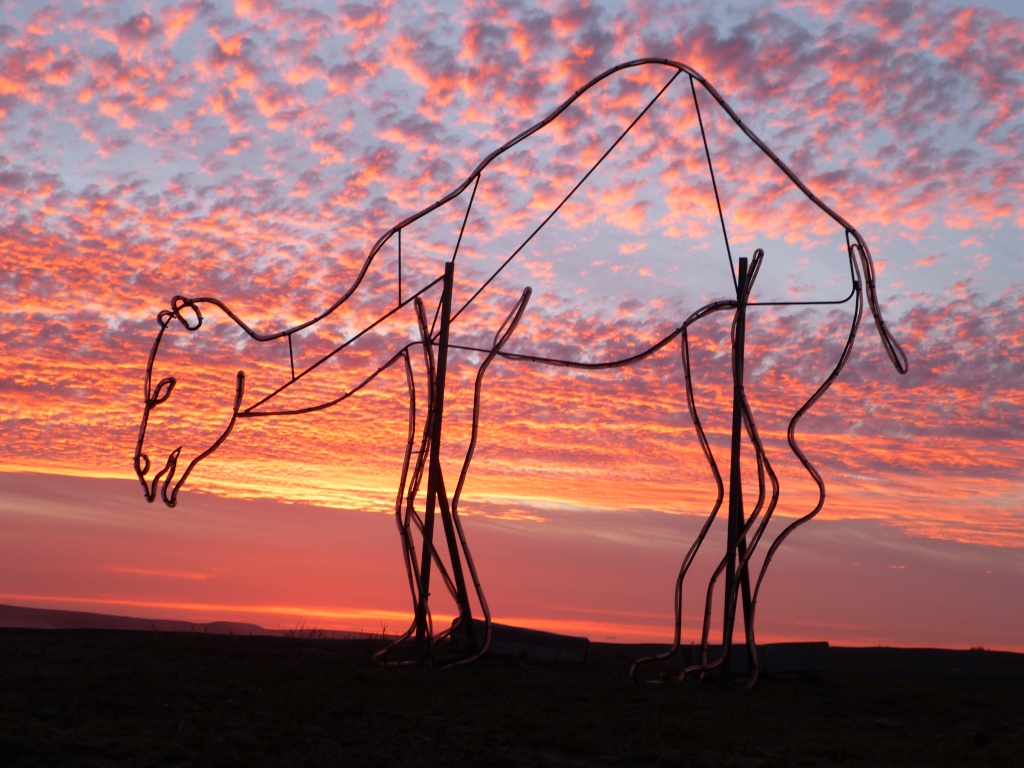 p1160123
It's times like this that makes the world look wonderful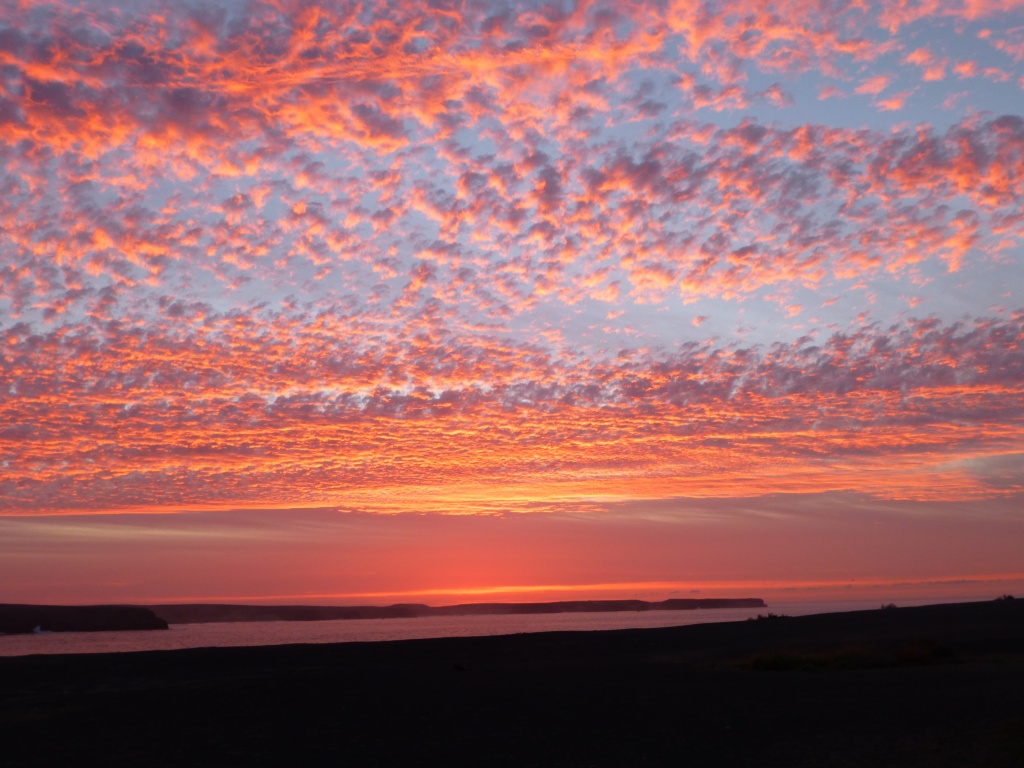 p1160126
p1160131
I haven't a clue which picture of about 40 photos looks the best lol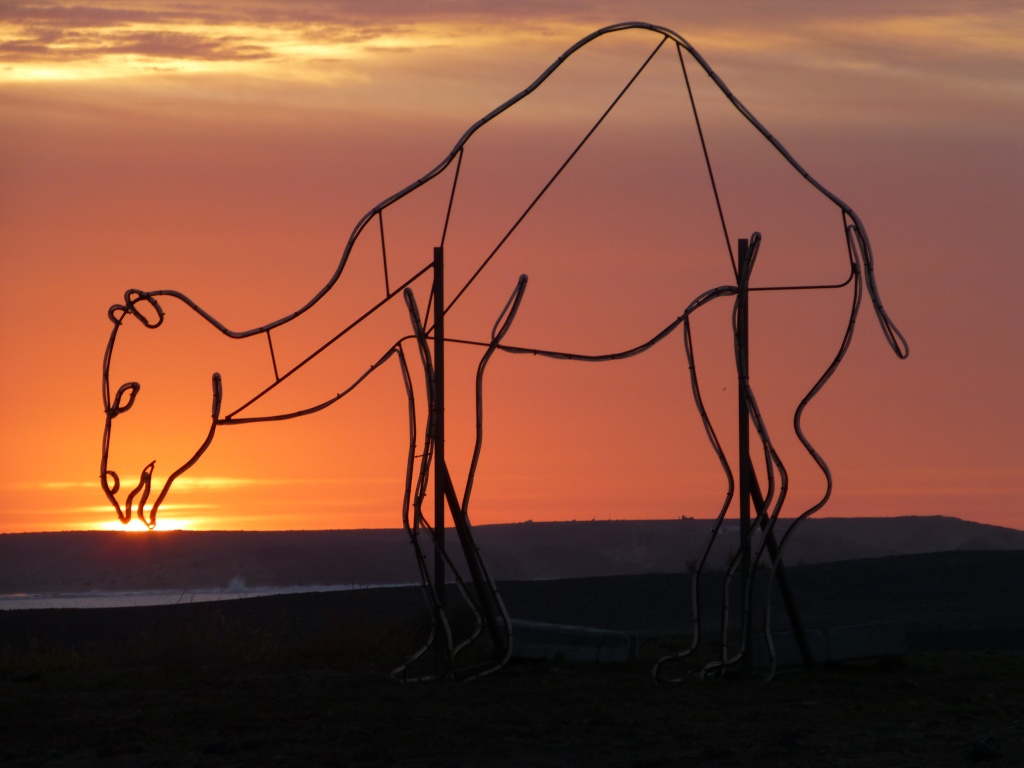 p1160134
the sea looked a bit rough
p1160147
Back at the apartment we decided to forego the traditional fry up, to use up the cereal, big mistake lol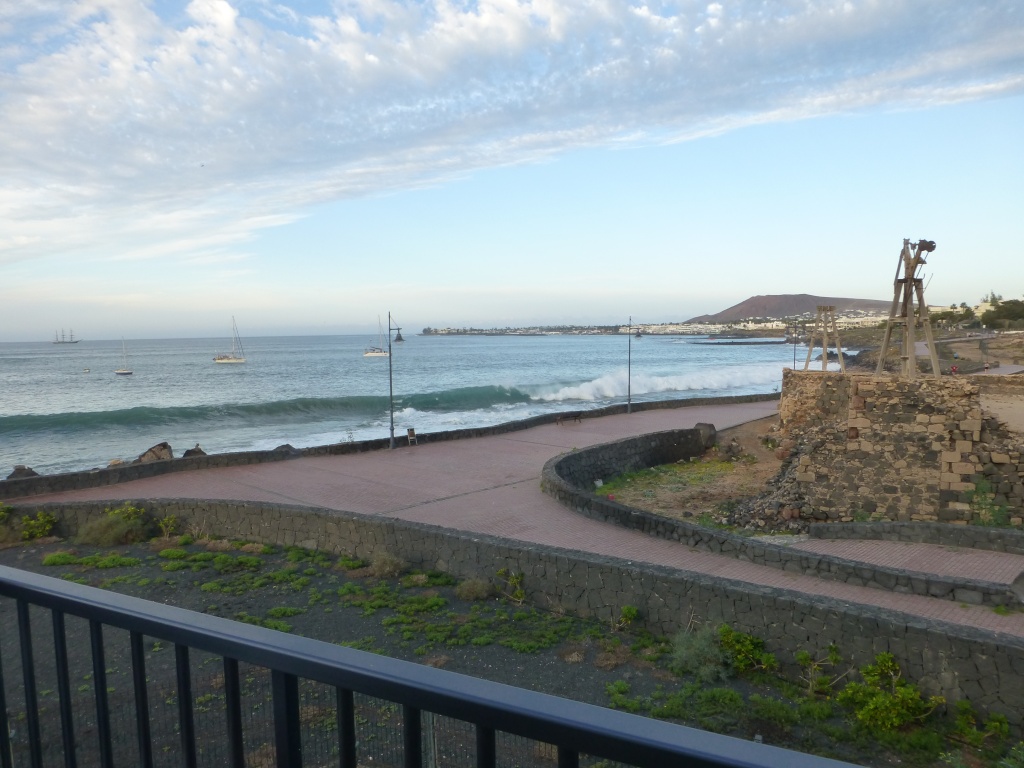 p1160152
Soon it was time to leave and the coach arrived on time, we were surprised apart from us to only pick up at the Lanzarote Princess and then head towards the airport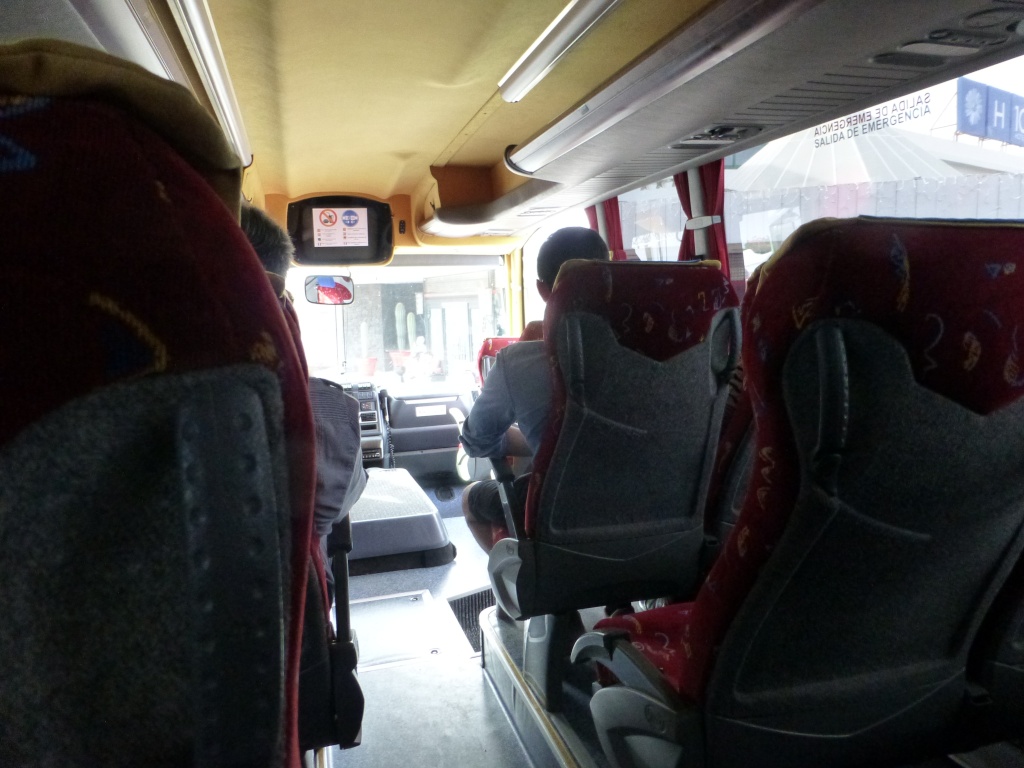 p1160163
we were calculating that we would be really early and probably not have to queue at the airport at all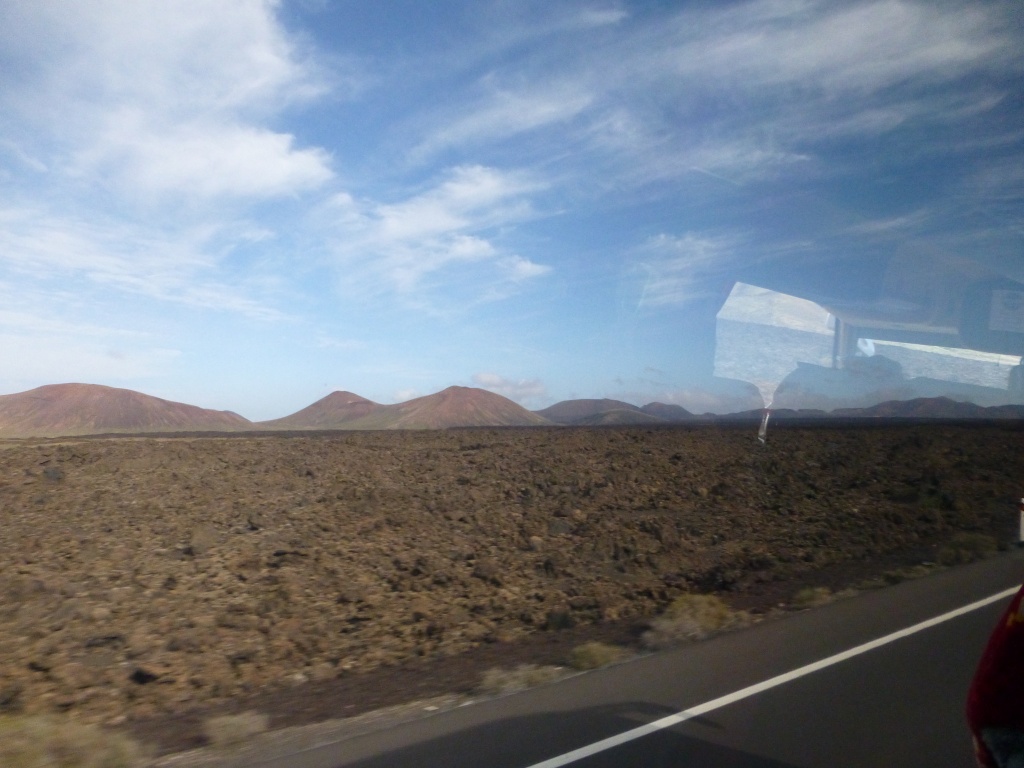 p1160164
but how wrong we were, as we turned off the main road and headed into Puerto De Carmen to pick up other clients, the first we waited 9 minutes for a no show and then after another pick up, yet another no show, by this time the rep had joined us and we eventually got to the airport.
Only to find once we were through, the plane was 1hr 20 minutes late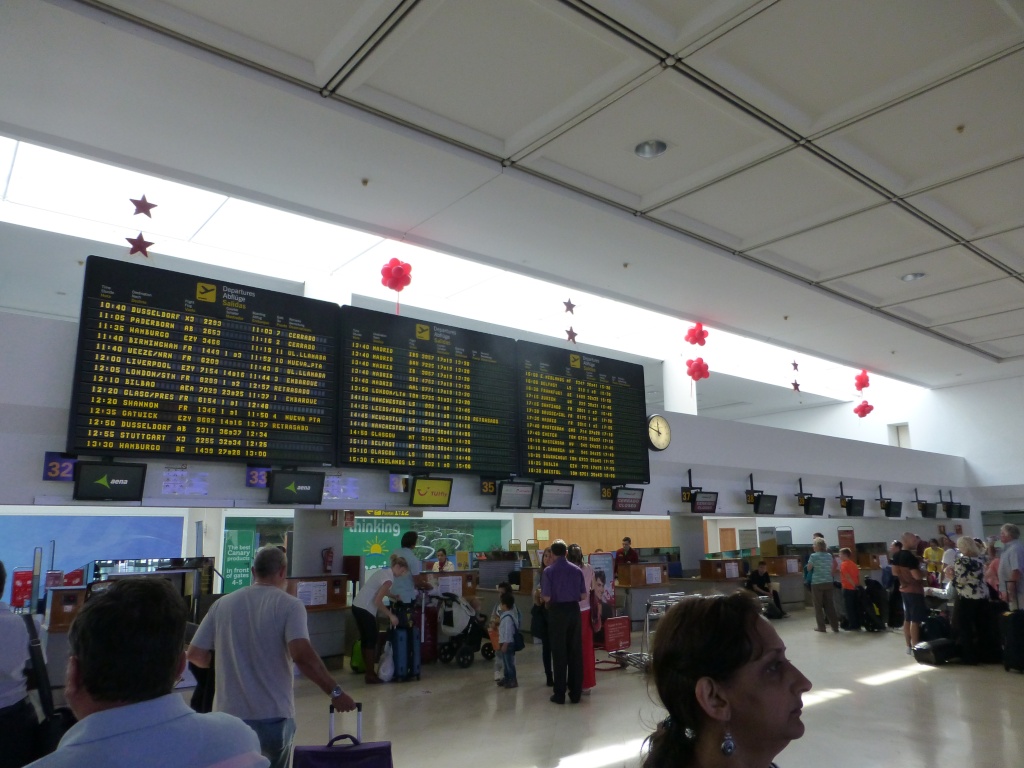 p1160173
so here we were aboard the plane an hour after we should of taken off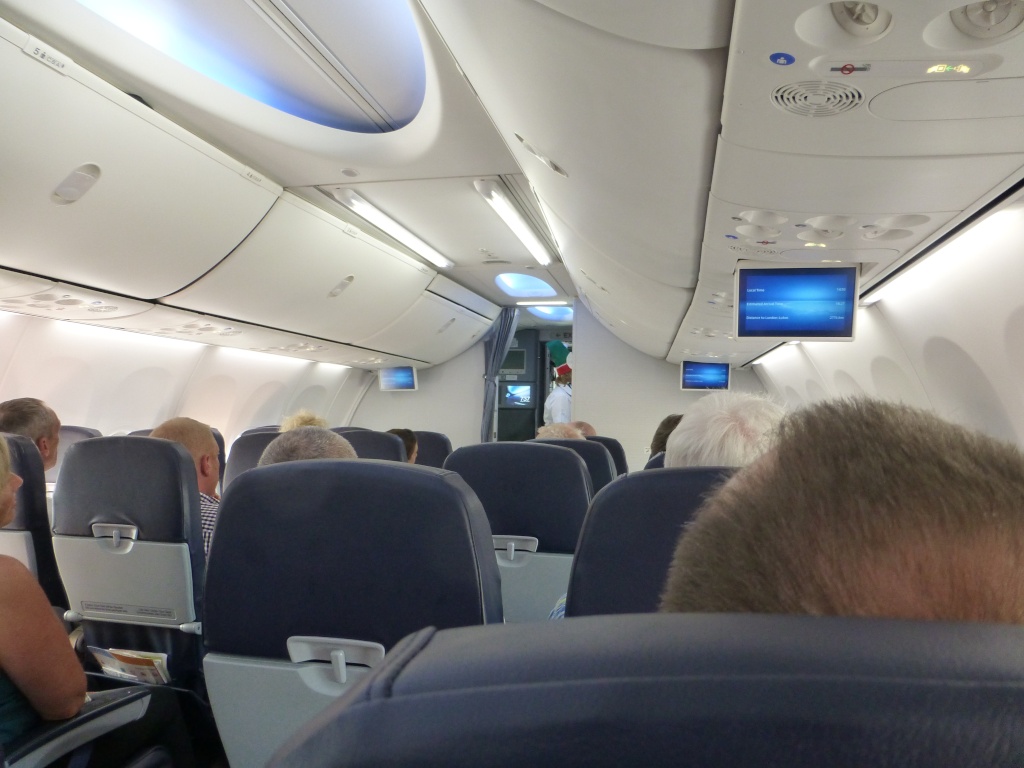 p1160180
a further 20 minutes and we were taking off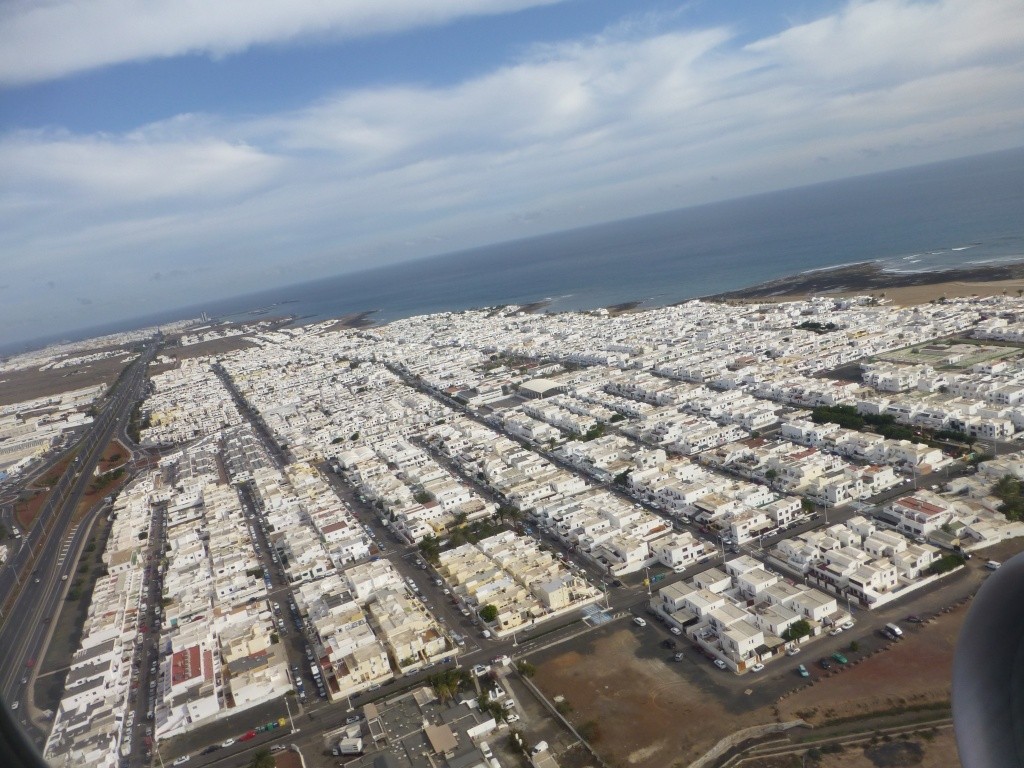 p1160181
in the distance is Arrecife port with a liner docked
p1160182
we made up a bit of time due to a tail wind and we eventualy flew over central London, you may just see the Thame
p1160194
"Well, what's for tea Mrs Db", "I have a Tesco pizza in the freezer", she replied.
"Oh this doesn't taste or look as good as the one I had last night", "Well you will just have to make do for another year"
PS I was going to take a photo of it but my camera was unloading 1300 photographs at the time lol.
Hope you have enjoyed holidaying with the Delboys' once again and a Happy New Year