Having covered most of Playa Blanca I wasn't quite sure what I was going to write about this year. I had a plan to do another walk with a difference but I'll tell you how things developed by the day, I think it's a scatter gun approach rather than put things in boxes of events lol.
DAY 1, December
Luton Airport has raised it's drop off point another 50p to £2.50 and from what I have seen its probably the biggest money making scheme of the whole airport. Inside there is some sort of refurbishment going on and the majority of chairs to sit on seem to have been taken away and replace by perfume and coffee shops down the centre why did they wait until it has been refurbish first!. The only way we could find a seat was to go and buy a coffee or tea which we ended up doing and taking our time to drink it.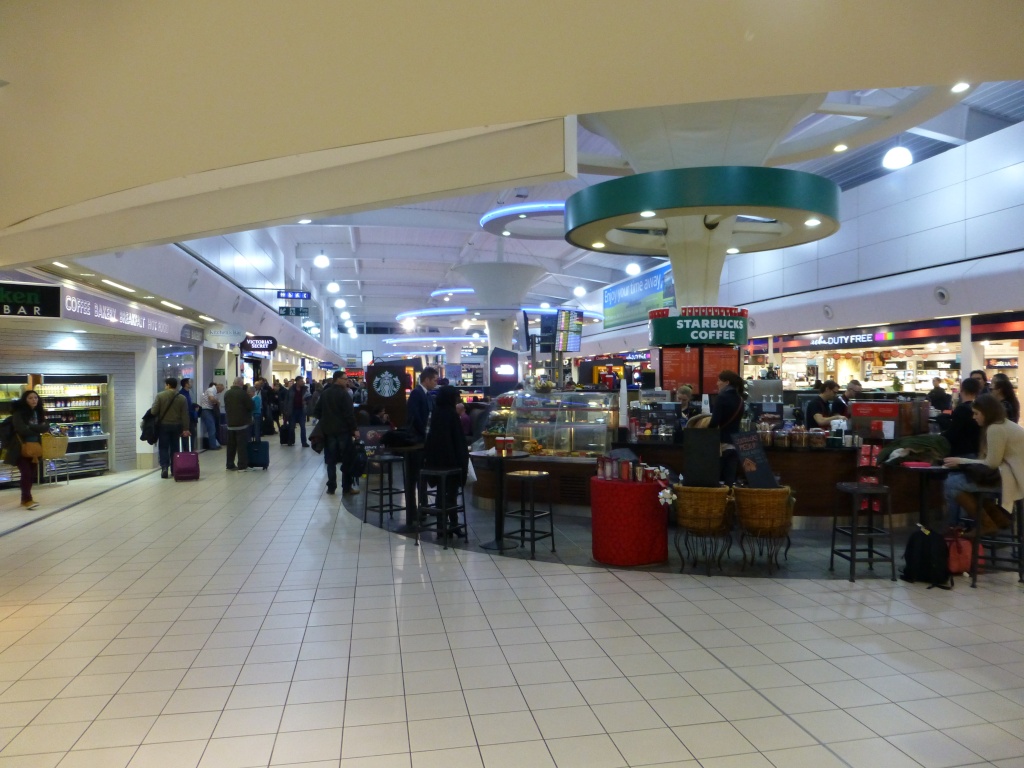 p1140788
The Thomson plane was 20 minutes late for take off, on checking them up recently, that had been a regular event and just like last year we were bused out to their hanger area and here we are, just going aboard at 8:07 for an 8:30 take off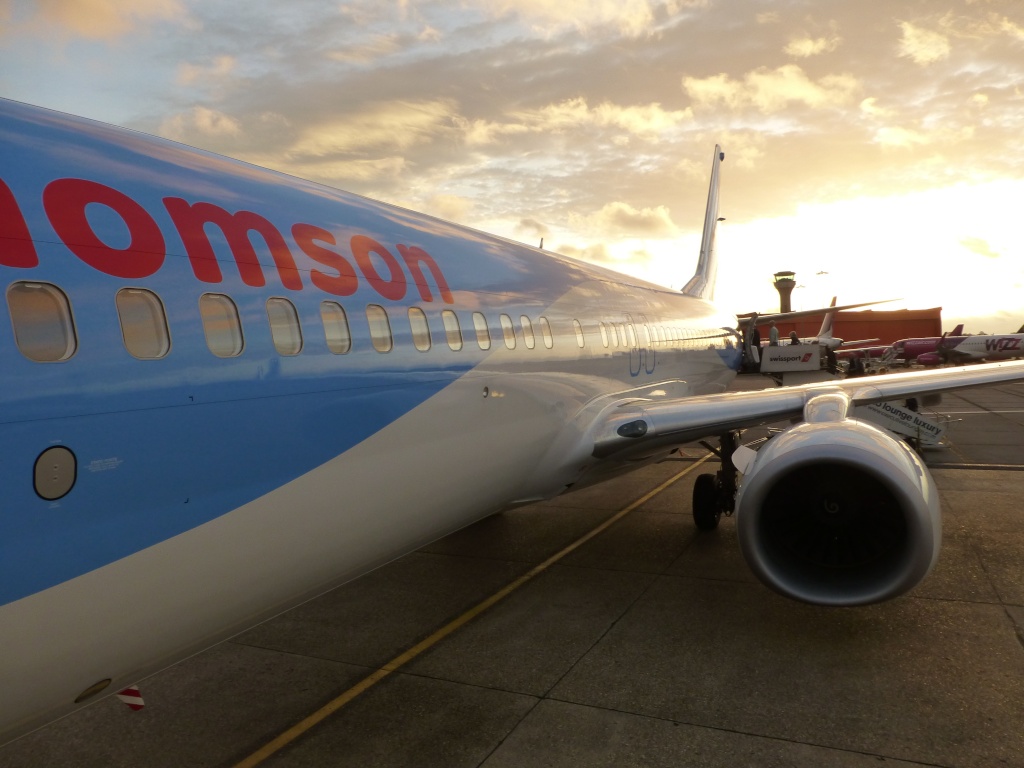 so not too bad, so far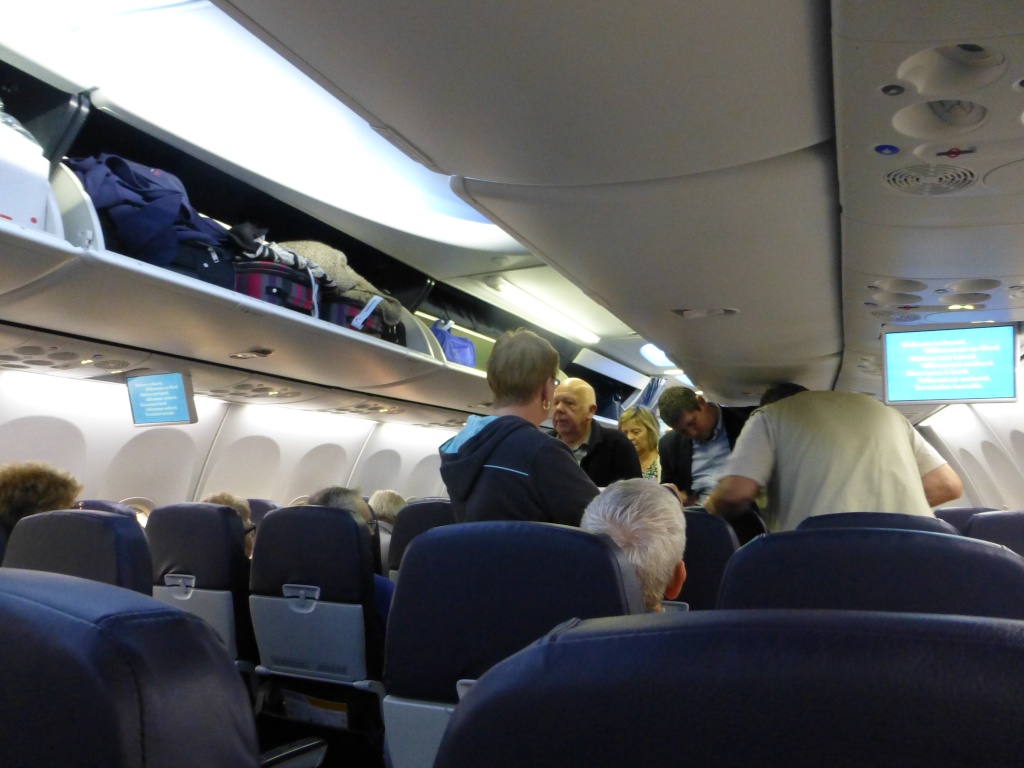 p1140792
but by 12:30pm we were approaching Lanzarote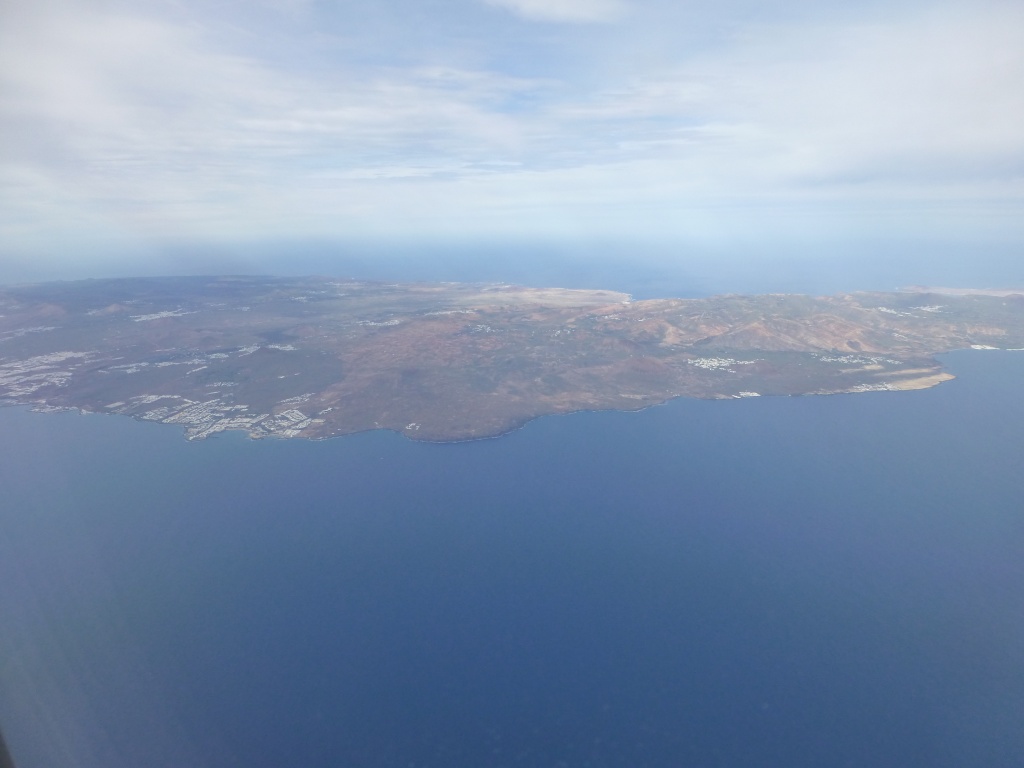 p1140795
not sure but this may be Costa Teguise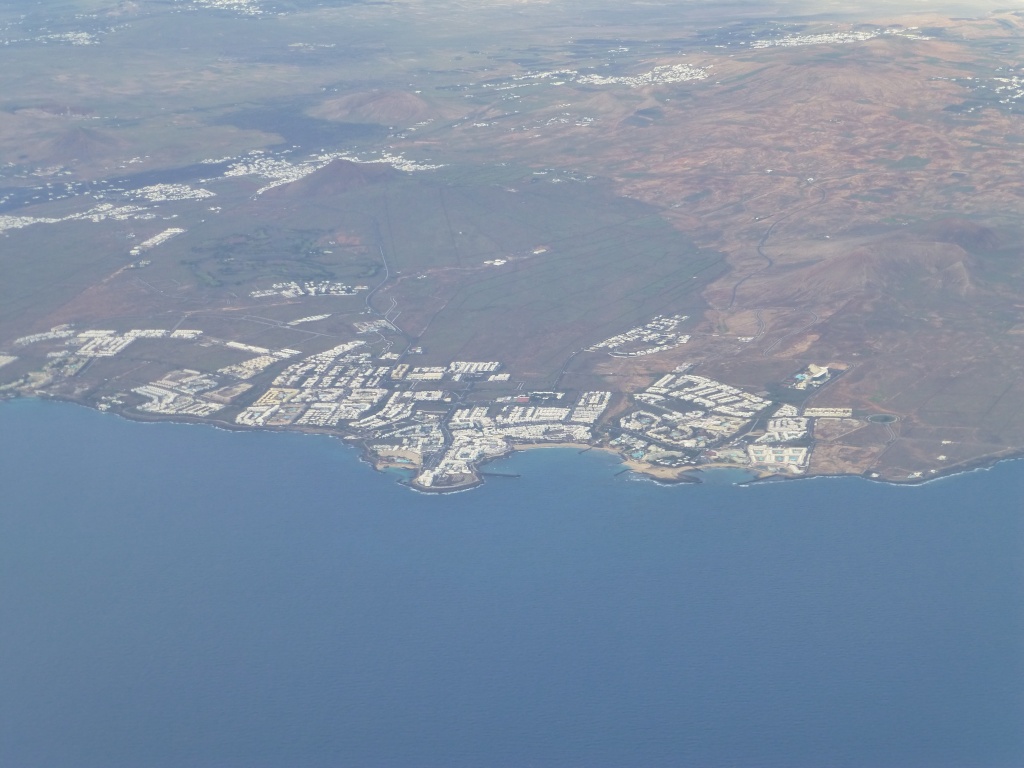 p1140796
Then coming in over the sea near Matagorda, with quite a few people watching us fly over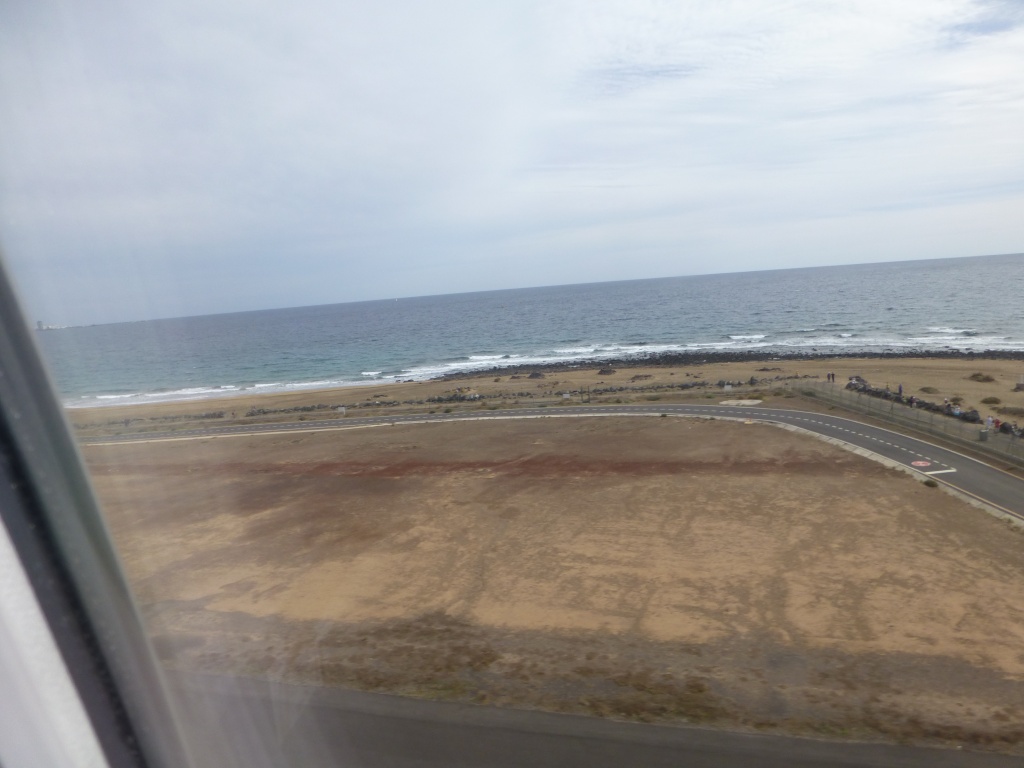 p1140978
unfortunately our baggage took 40 minutes to collect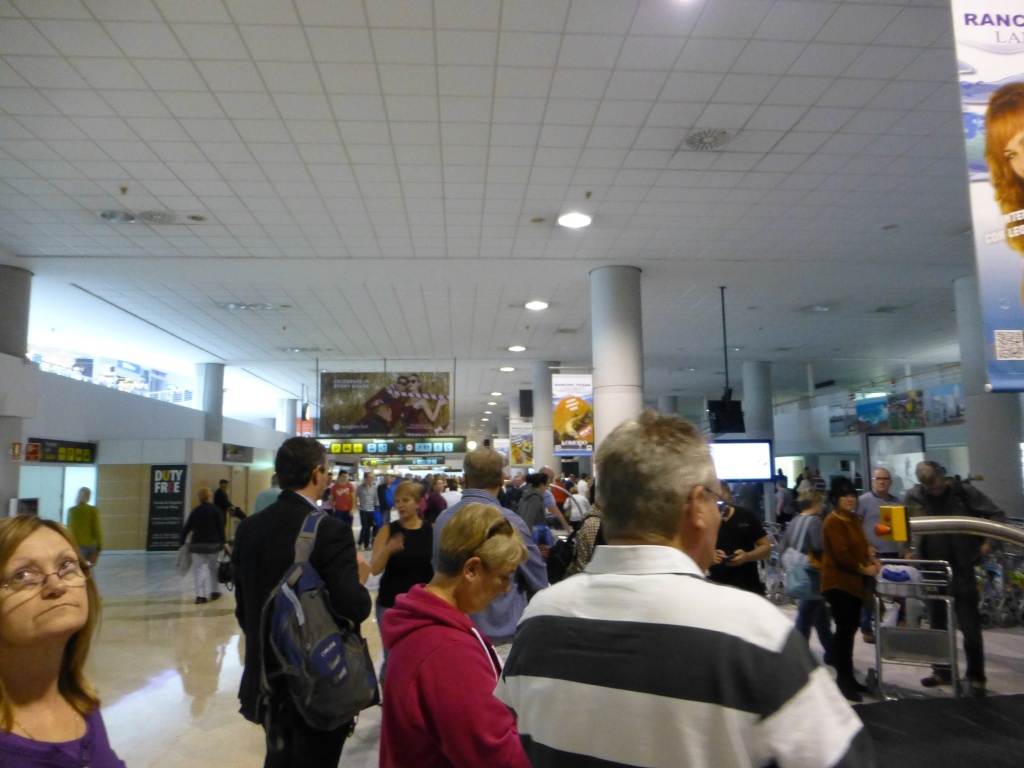 p1140800
Then the rep just told us to go to the bus station where our coaches would be sorted out, they said the airport was too busy to tell us our coach number there and then
At the top of the bus station we were told our bus was in bay 63. Right at the far end was bay 70 and found the coach bay numbers worked backwards in that line but eventally found it and on the coach at 13.43pm.
p1140803
after a lot of faffing around, with the rep coming on and doing a count and then disappearing, then after a converation on the phone outside, she finally came back and told the driver he could go 14:15pm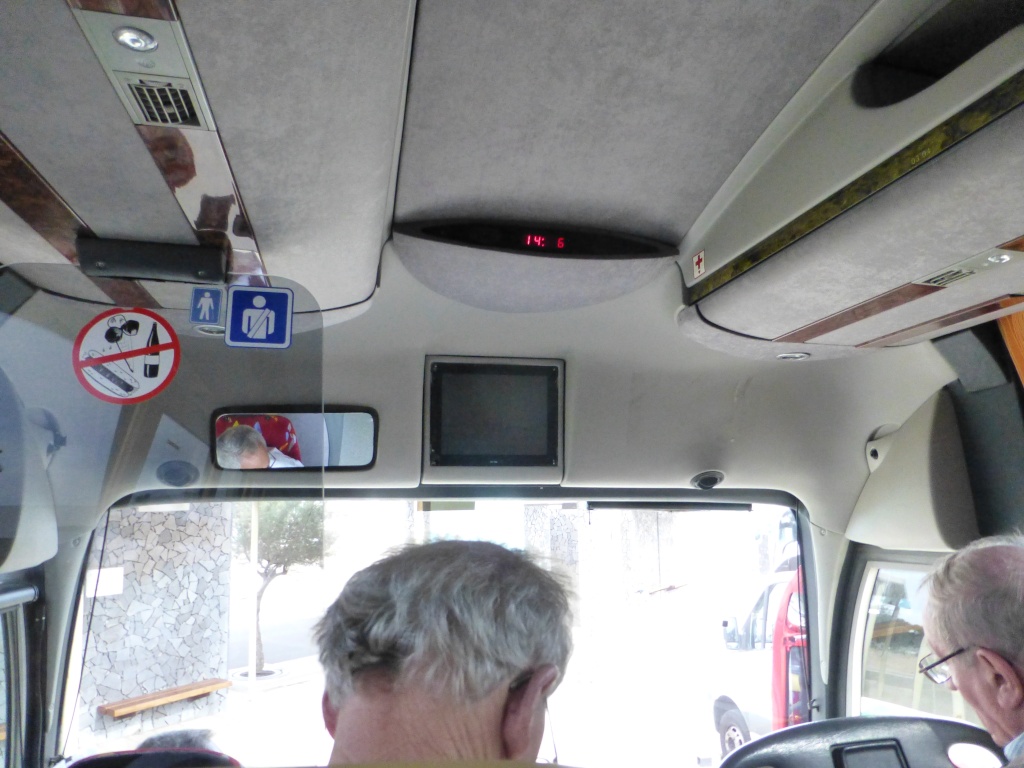 p1140804
For anyone arriving independently and wanting to do shopping in Macher on the way the EuroSpar is here on the left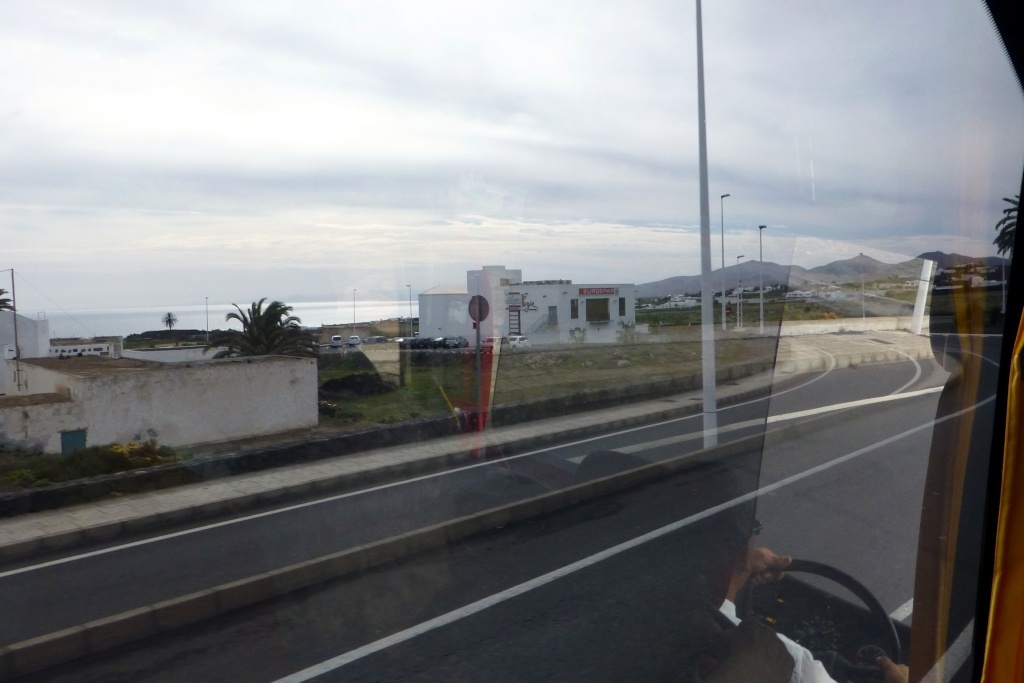 after drop offs we arrived at the Pueblo Marinero at 3:14pm almost too late to consider a lunch, havig paid for a premier sea / or pool view room and requested several rooms we were given one which didn't satisfy either, however, we were offered two others for the next day but neither suited me and we decided to stay put until one became available on the Friday. However, we kept most things in the suitcases until then.
But hey we are on holiday, lets go for a beer and a snack across the way at Lani's and eat a lot later this evening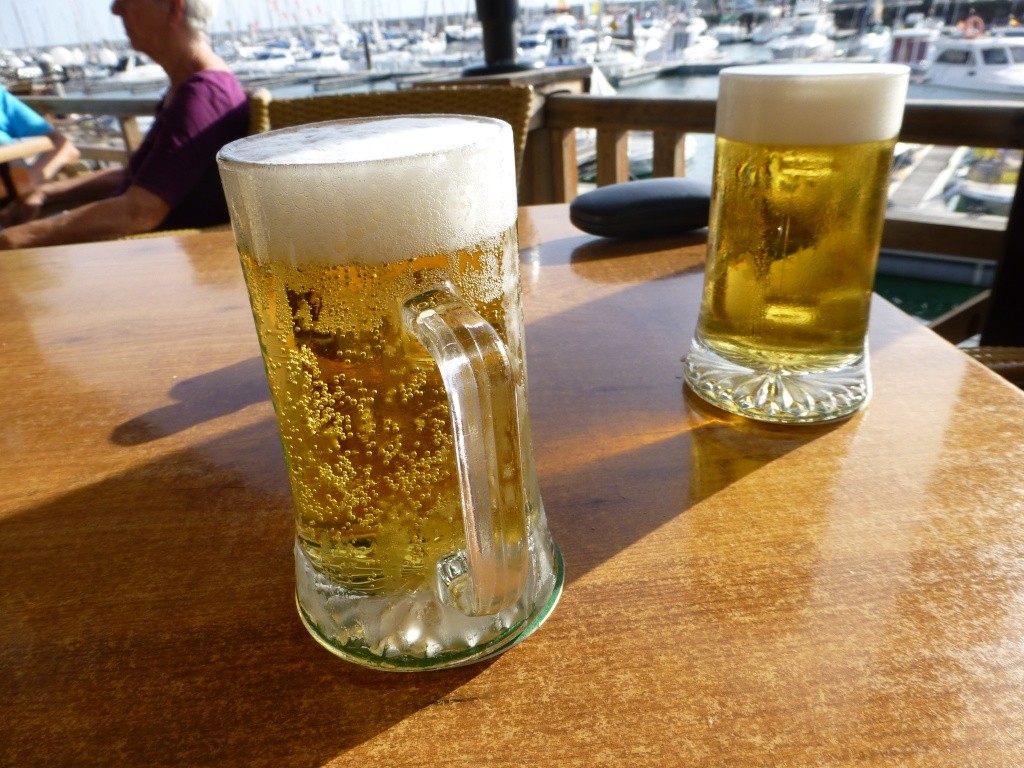 p1140813
A tuna baguette seems a good option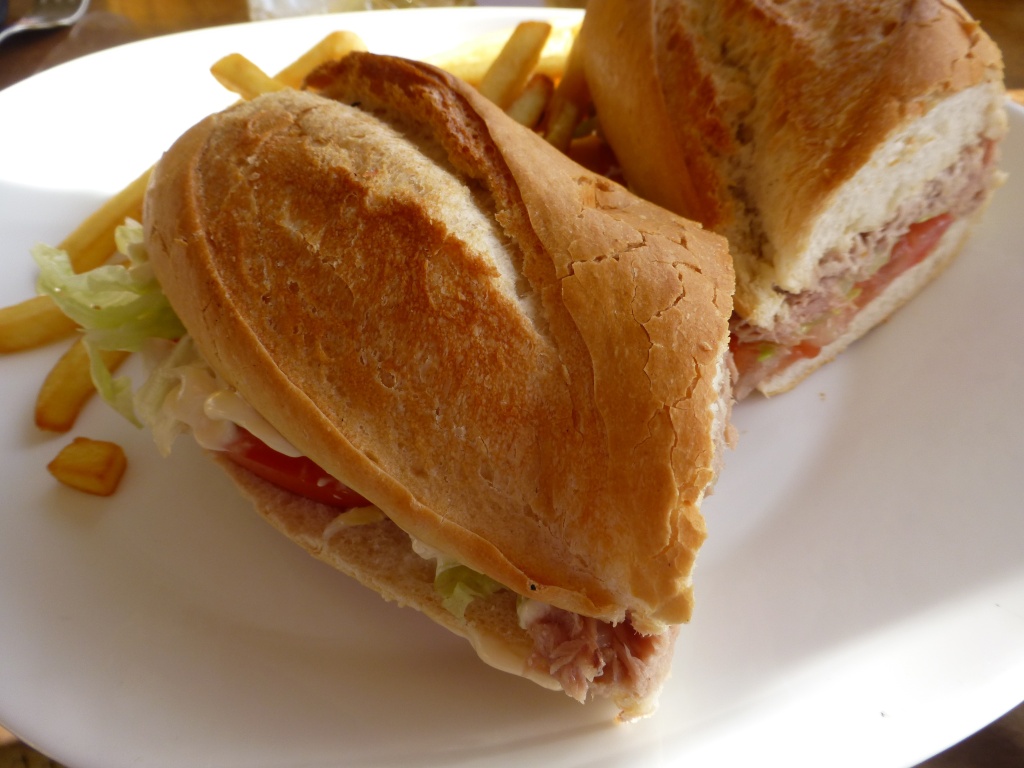 p1140818
but it still comes with chips, now who is going to help us with these last few chips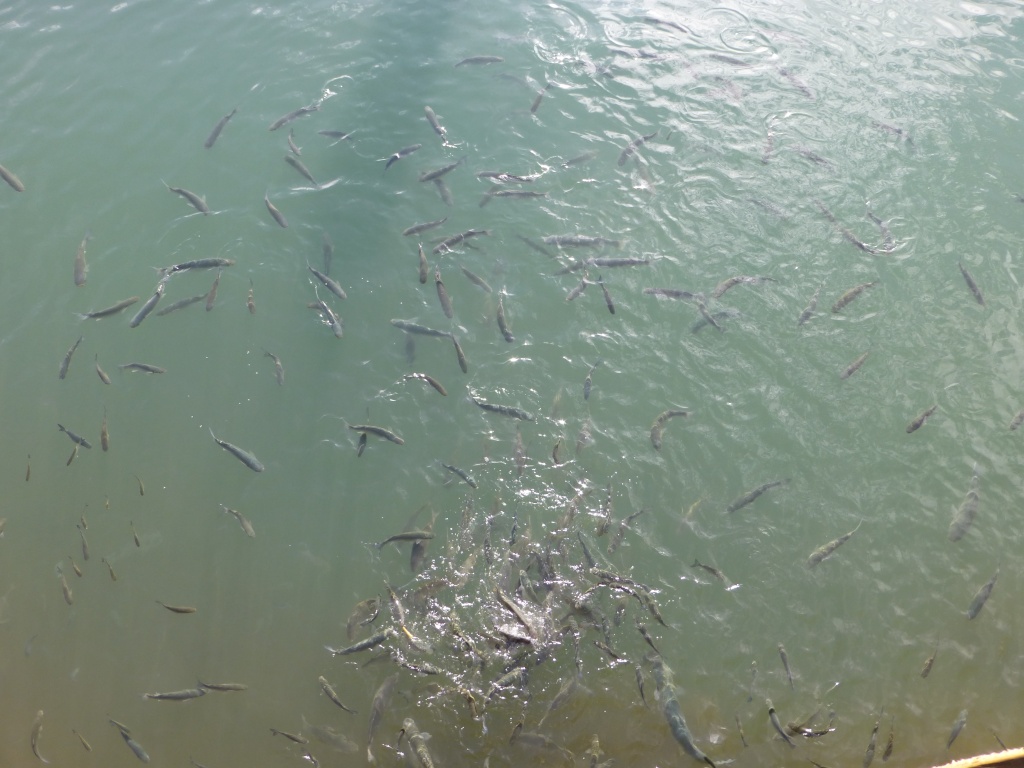 p1140821
Then it was a bit of shopping for breakfasts etc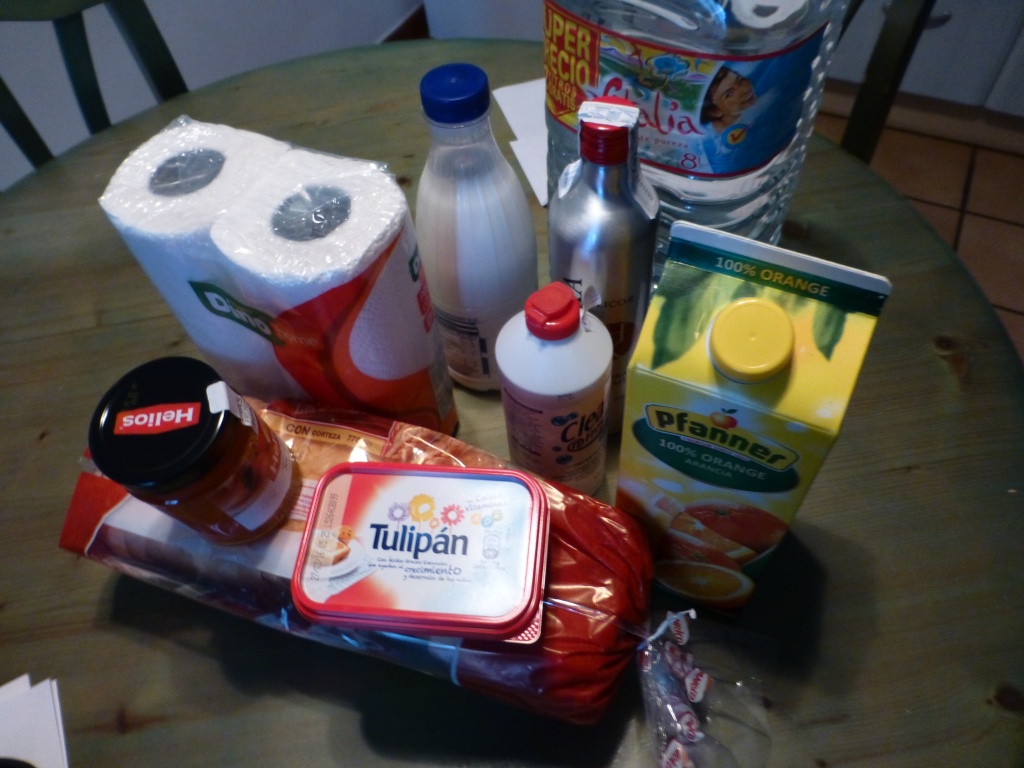 p1140825
I had to do it in two trips, as I had water to carry but to give you an idea of cost, this is from the Hiperdino express and will be dearer than the Superdino, just like our Tesco's and their expresses
p1140826
It had been a cloudy day and not much of a sunset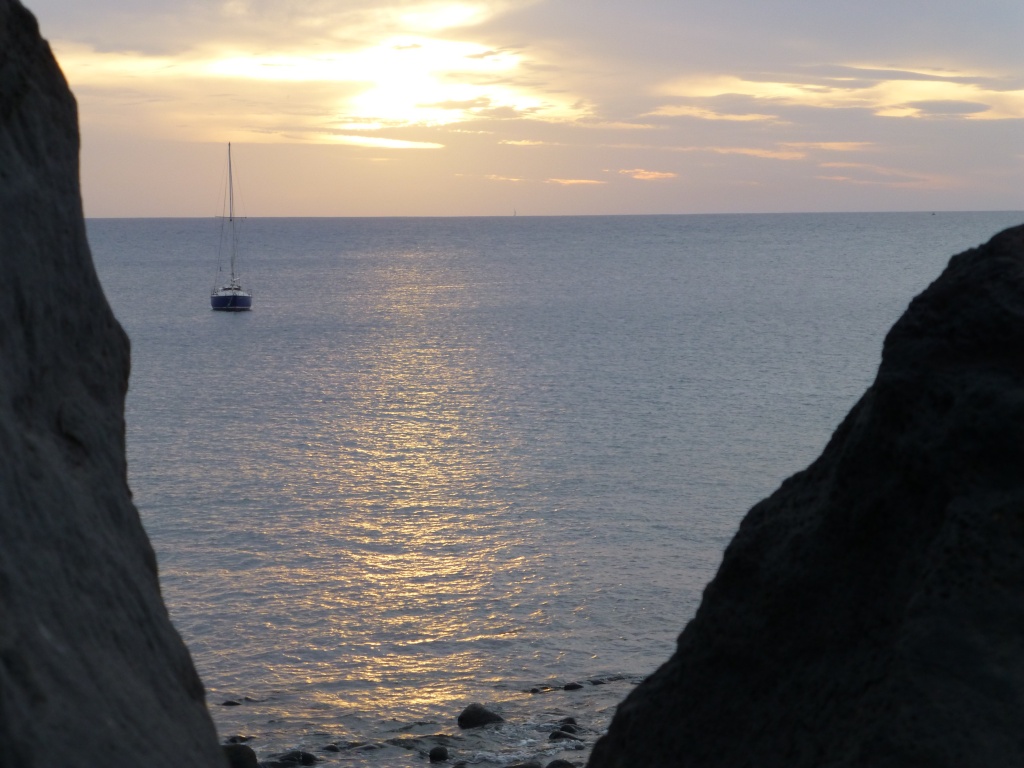 p1140828
In the evening we went to Lani's as usual, as its local and we are tired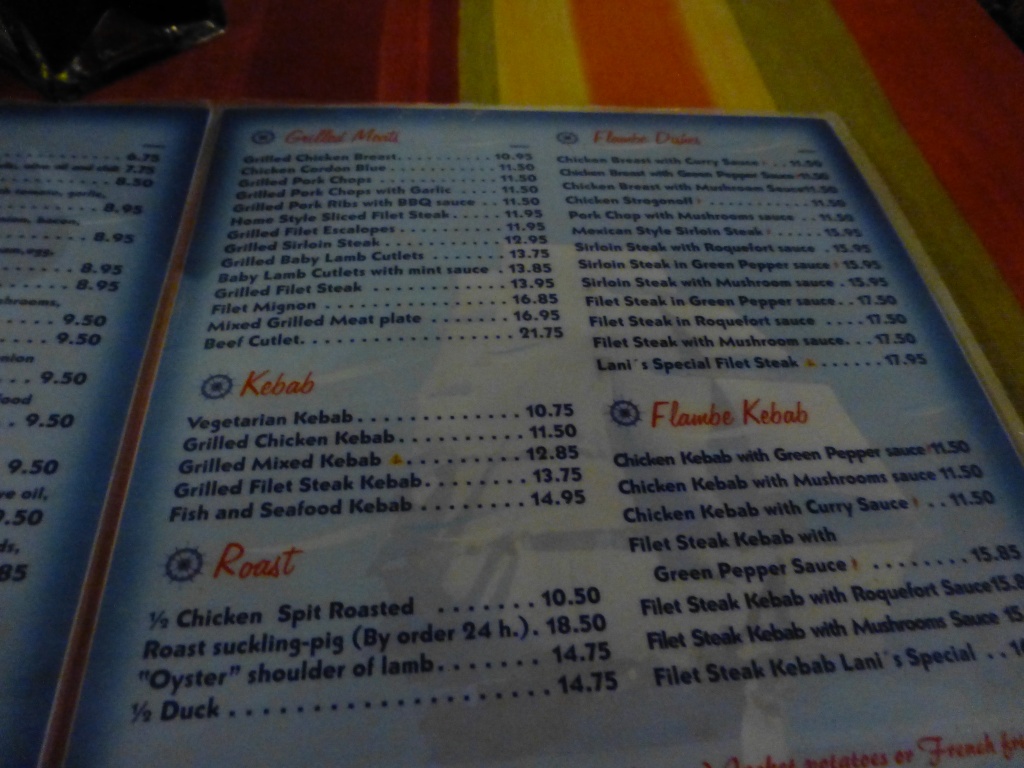 p1140838
I went for the fillet steak which wasn't to bad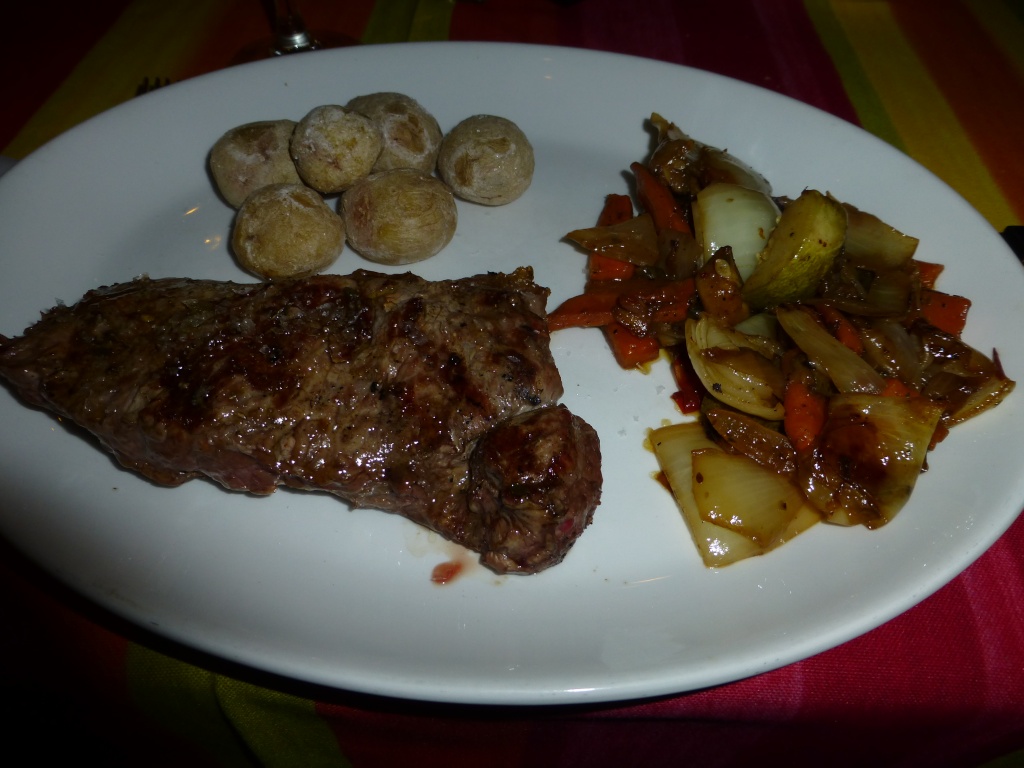 p1140846
Mrs Db had the chicken kebab which came with a sauce
p1140844
which was all washed down with the house white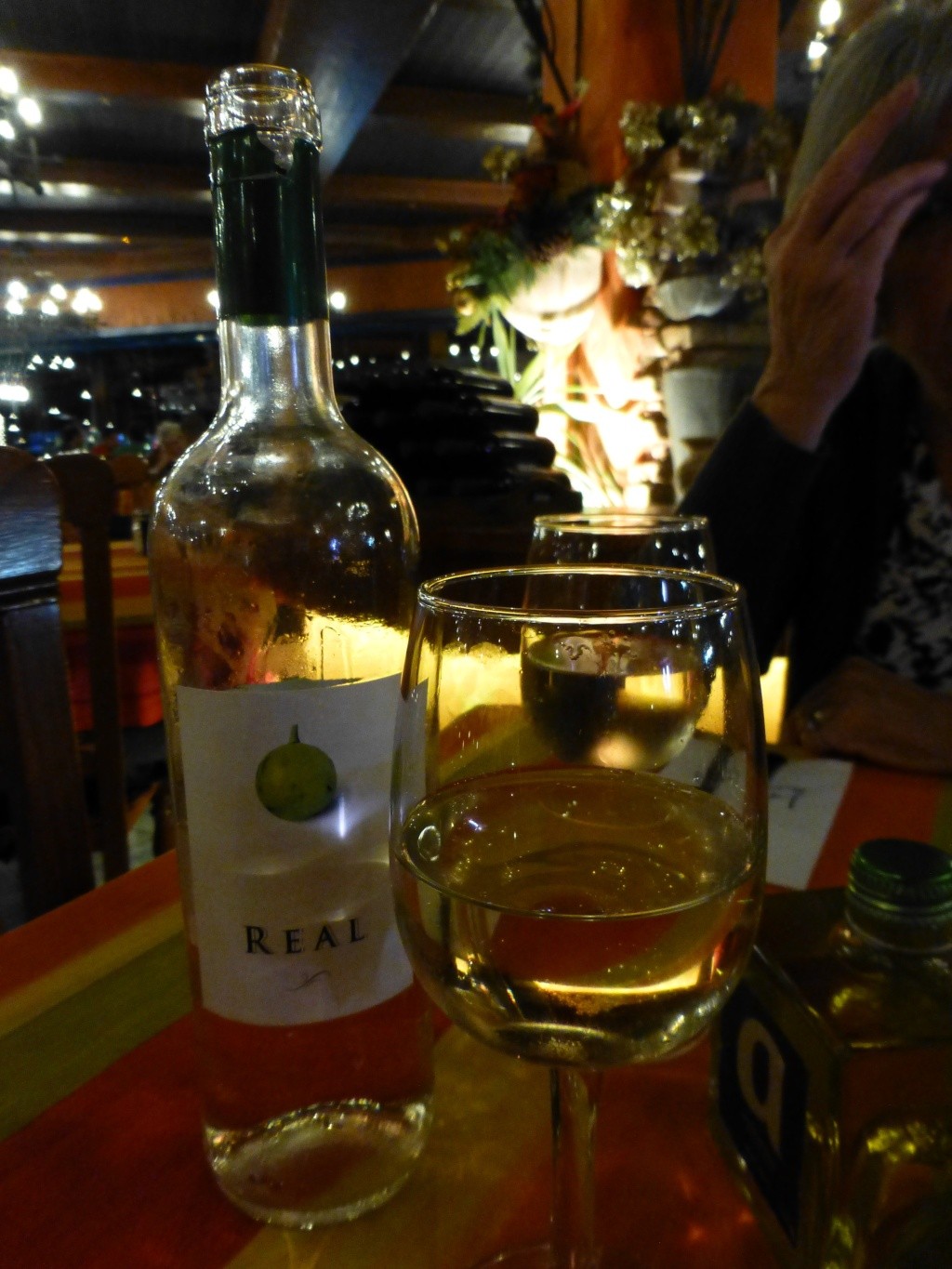 p1140843
there was a saxophonist playing in the background and quite a few christmas decorations on display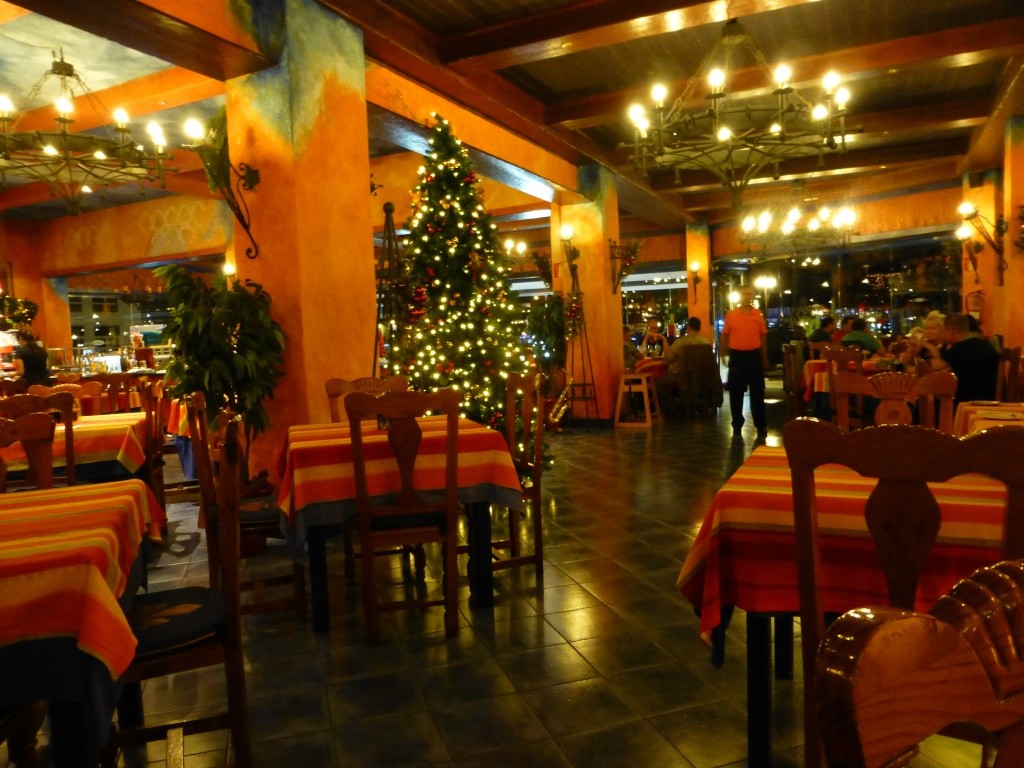 p1140842
one is given a mini slush puppy drink at the end, not sure of that idea but it's free lol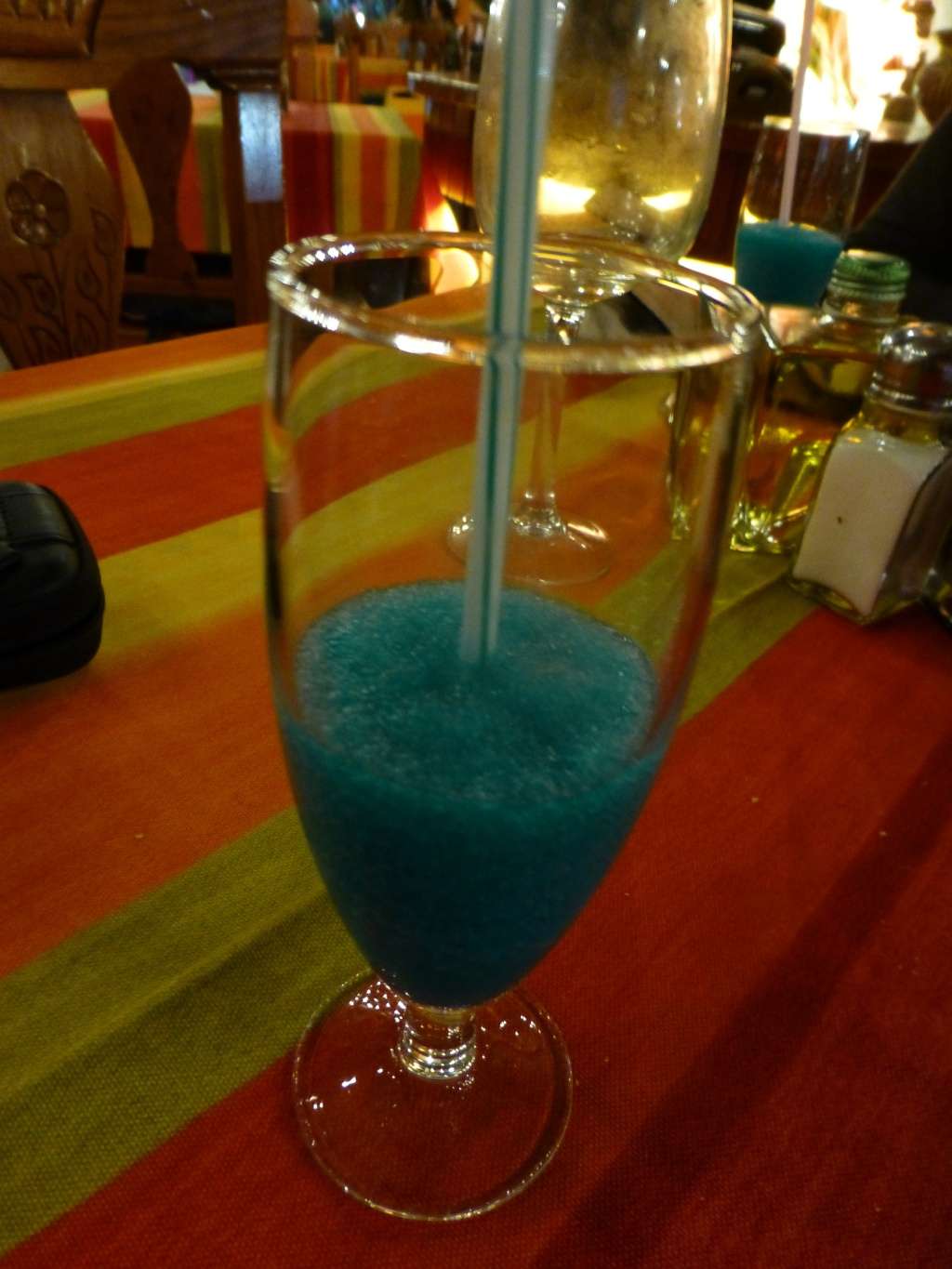 p1140850
Walking back they had a nice christmas tree in the new shopping centre but would go back to show you the rest but it's time of us to get some sleep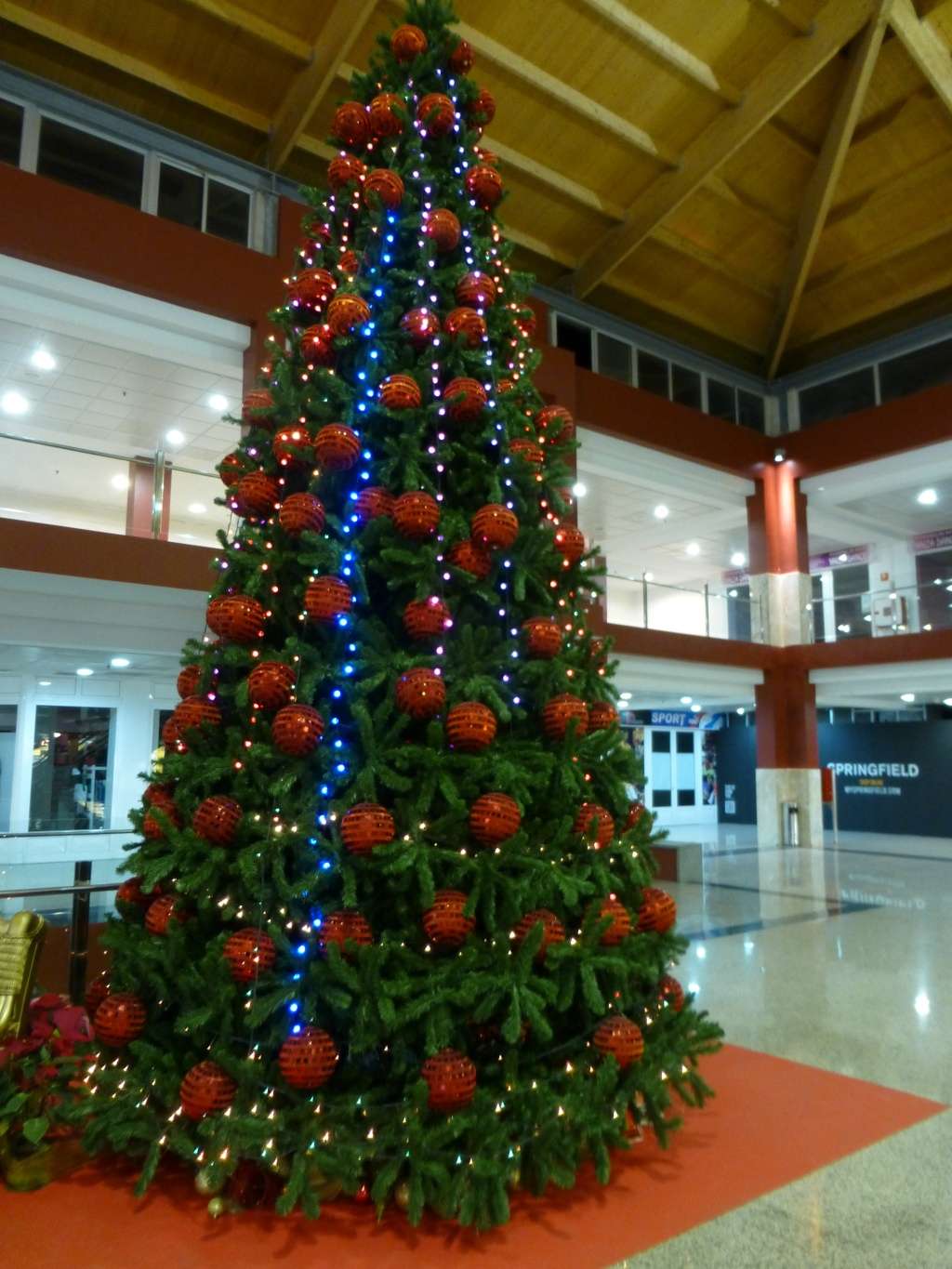 p1140851
END OF DAY 1
DAY 2
Morning all, I can just see a bit of sea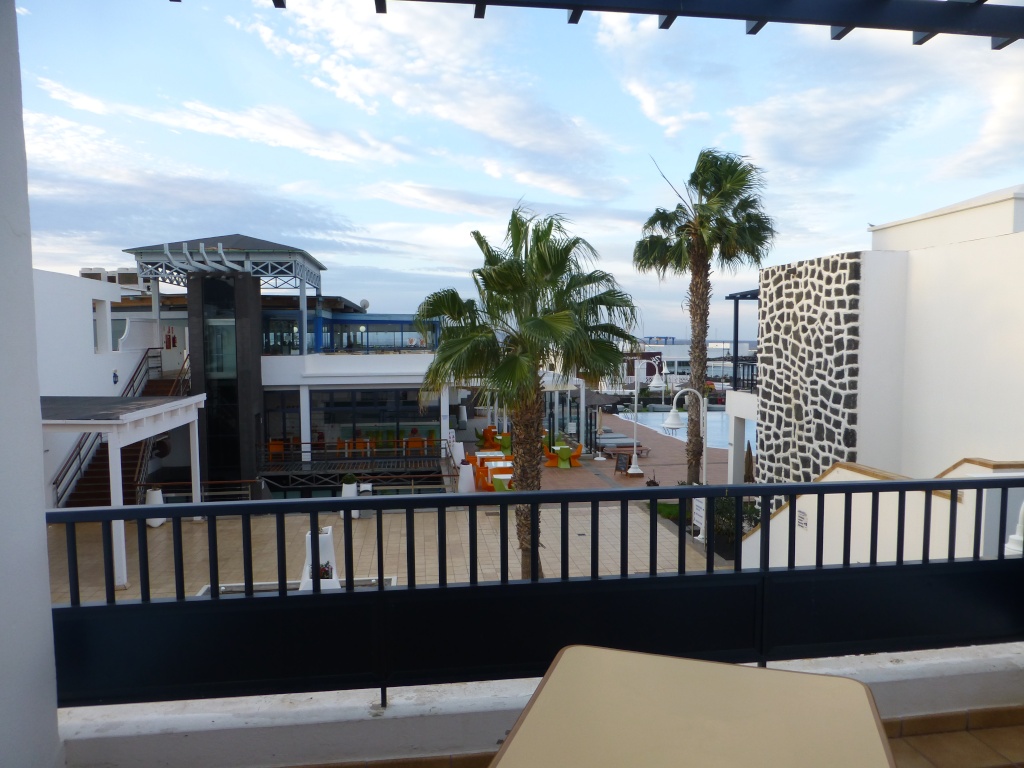 p1140852
but unfortunately the block we had last year is in front of us, so not going to get many good photographs from here
p1140853
I had a walk down to Dorada beach to see if it could be a beach day but for us it's too windy for comfort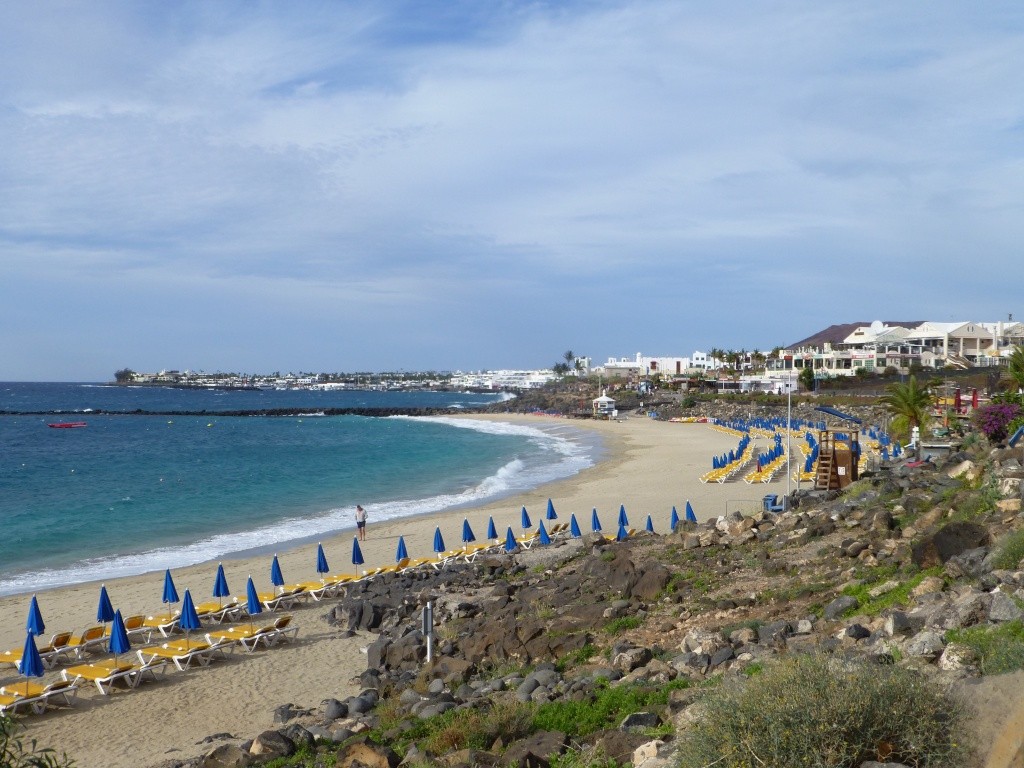 p1140854
I did check it out but a no, not for us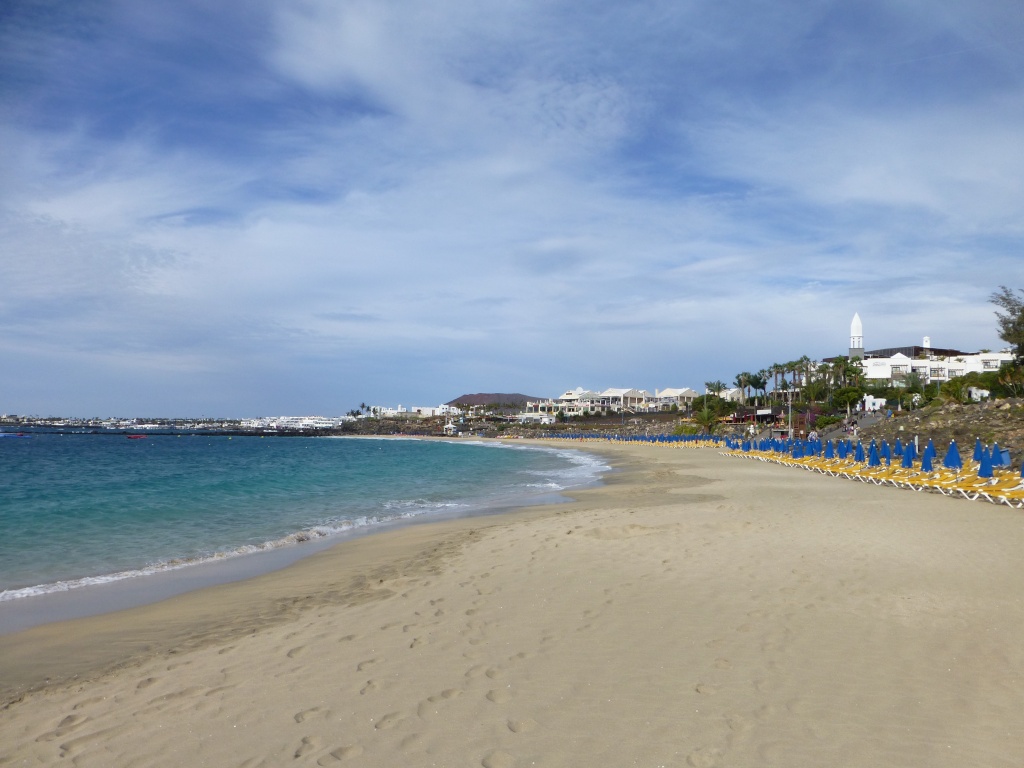 p1140856
walking back, a helicopter was coming into the marina, was it a famous person coming into to PB for their private yacht (well my eyes didn't have the power of the camera at the time)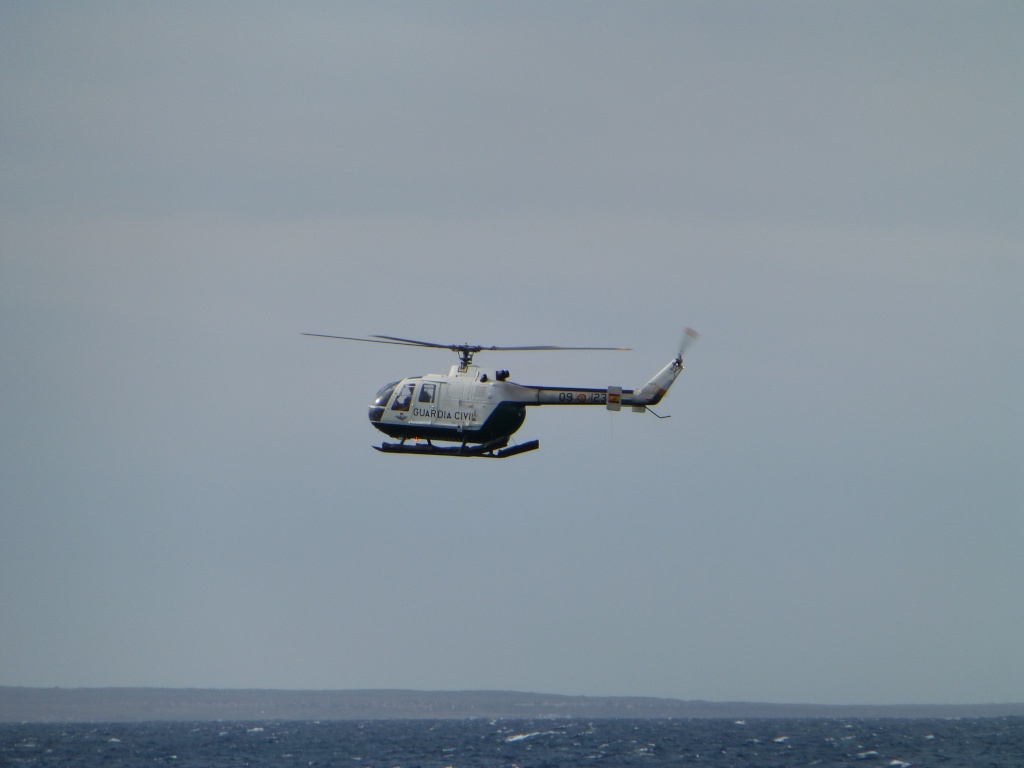 p1140861
you can see the rough sea behind the marina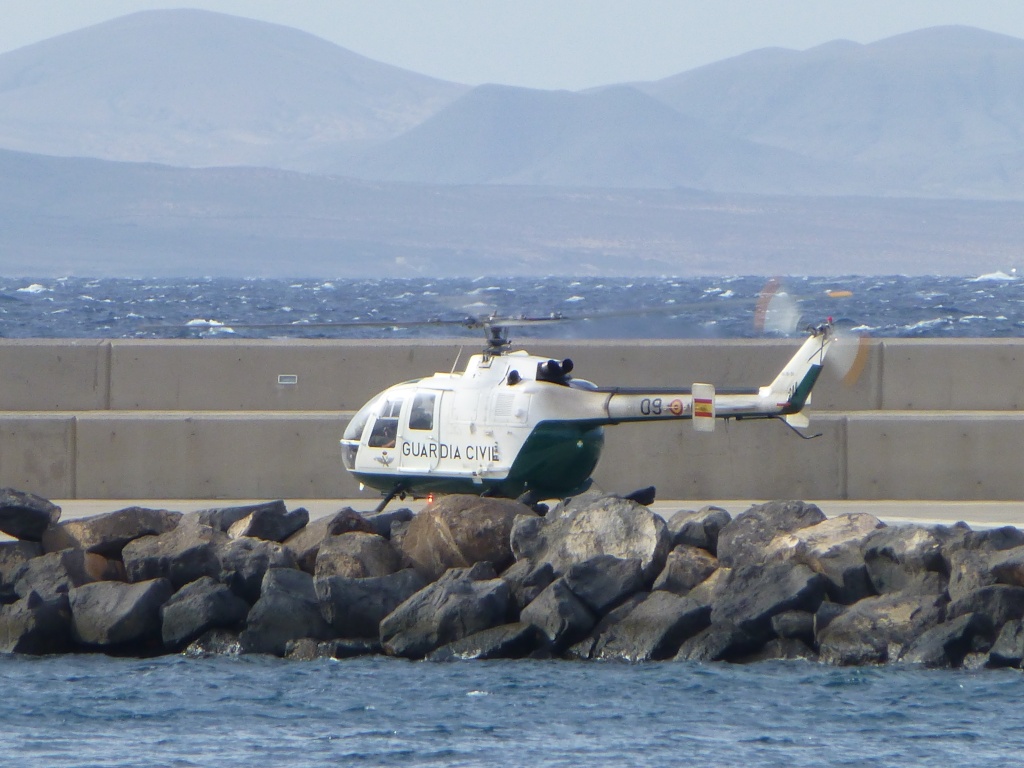 p1140863
Mrs Db was happy to read her Kindle, whilst i popped over to see the new shopping centre
p1140868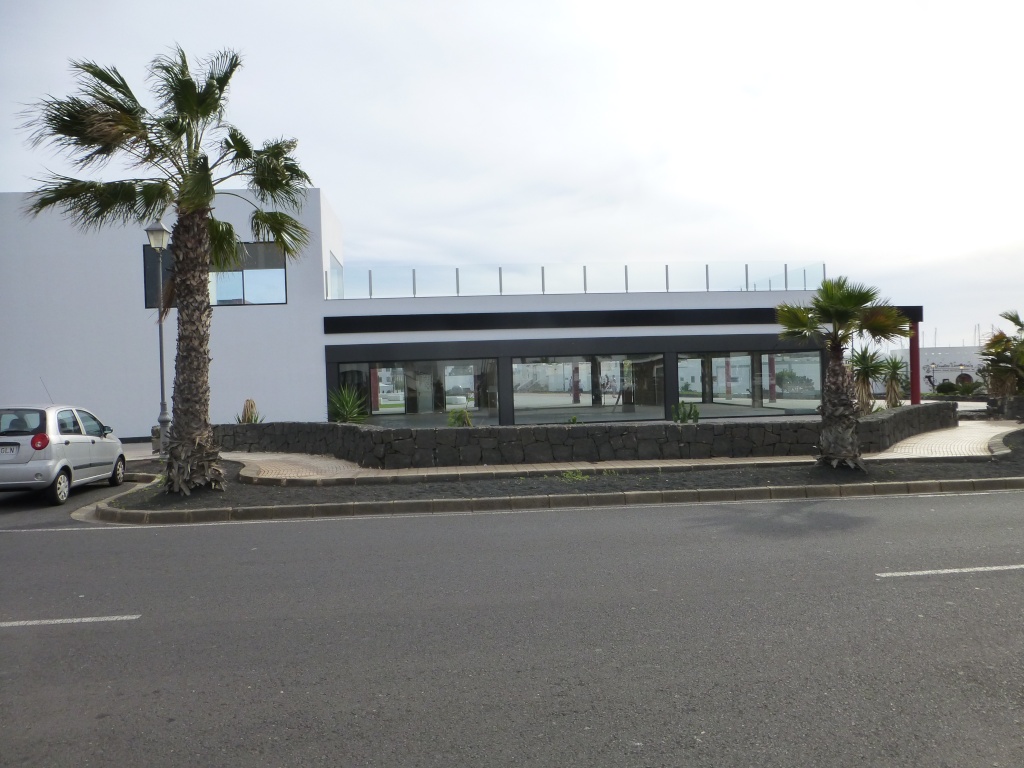 p1140869
This is the main entrance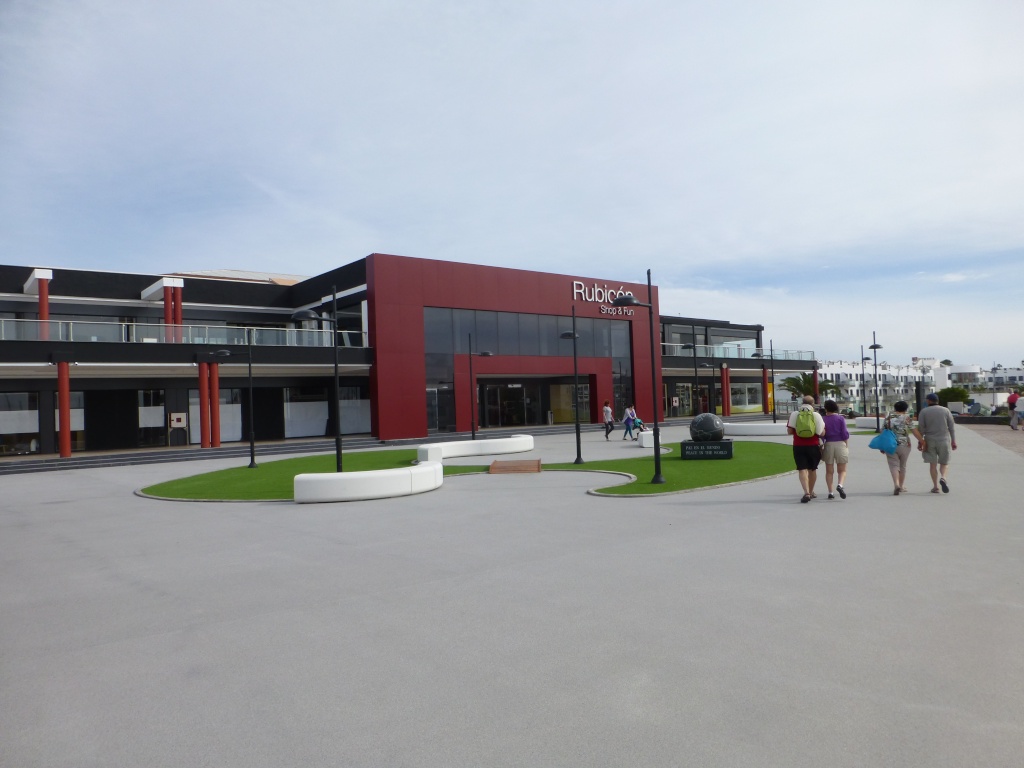 p1140870
The revamp of the crazy golf outside was well underway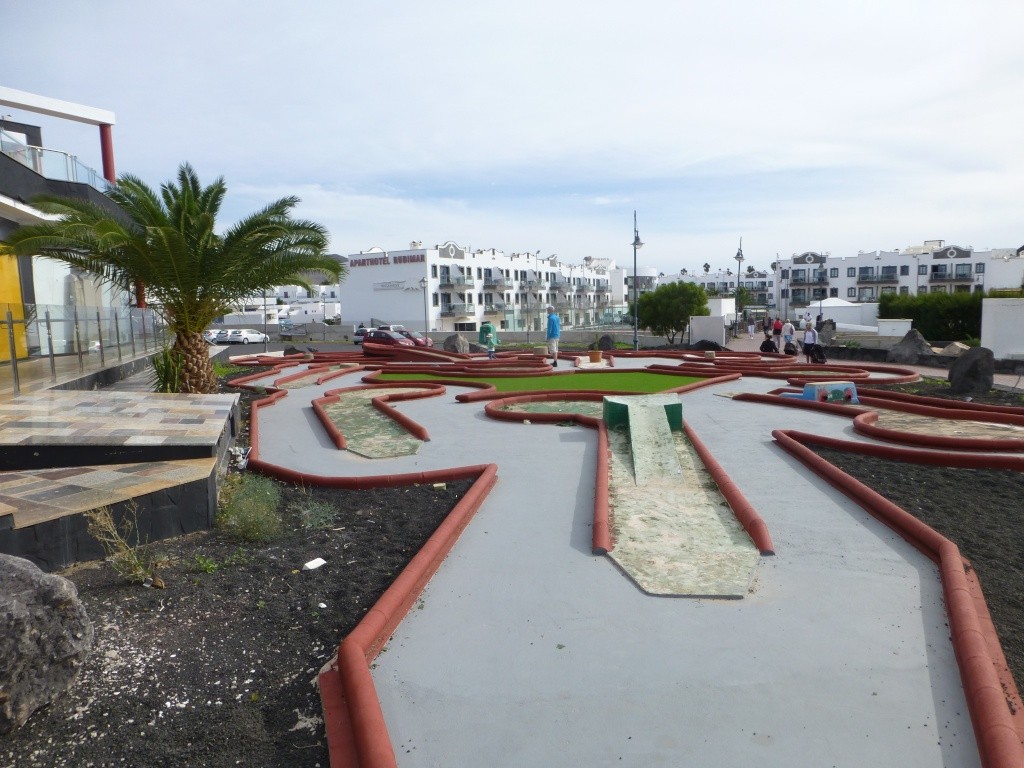 p1140871
Inside there was a new Funde Grube store
p1140872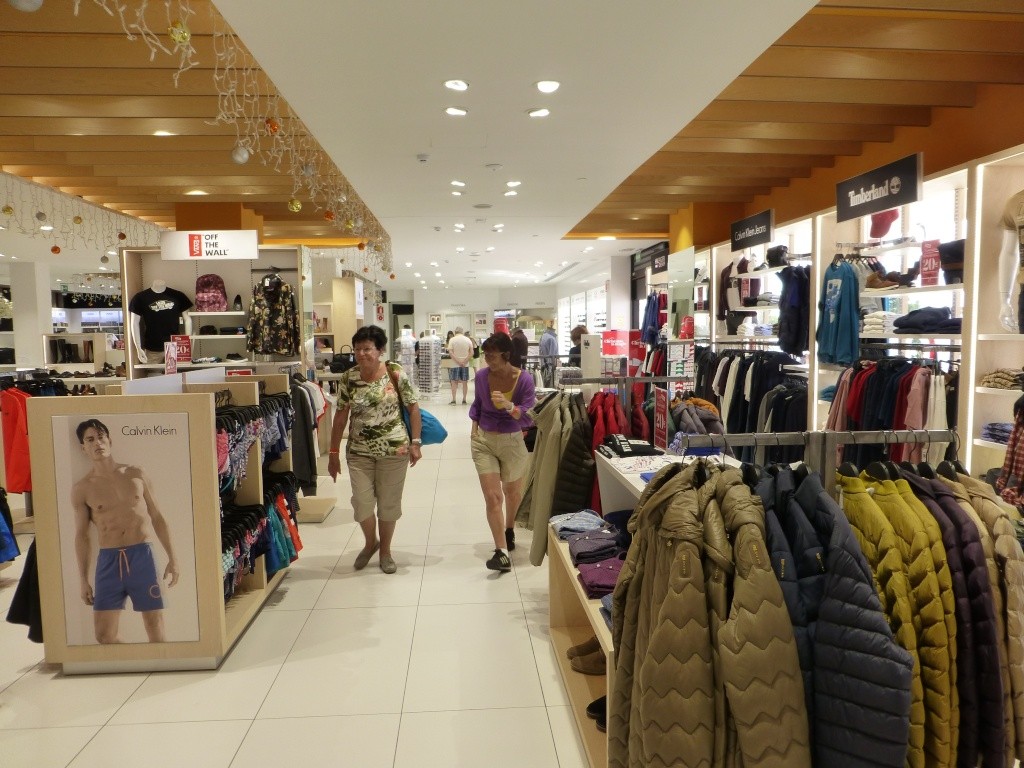 p1140873
The bar on the front was under refurbishment, the manager let me have a look but said come back on Friday when it opens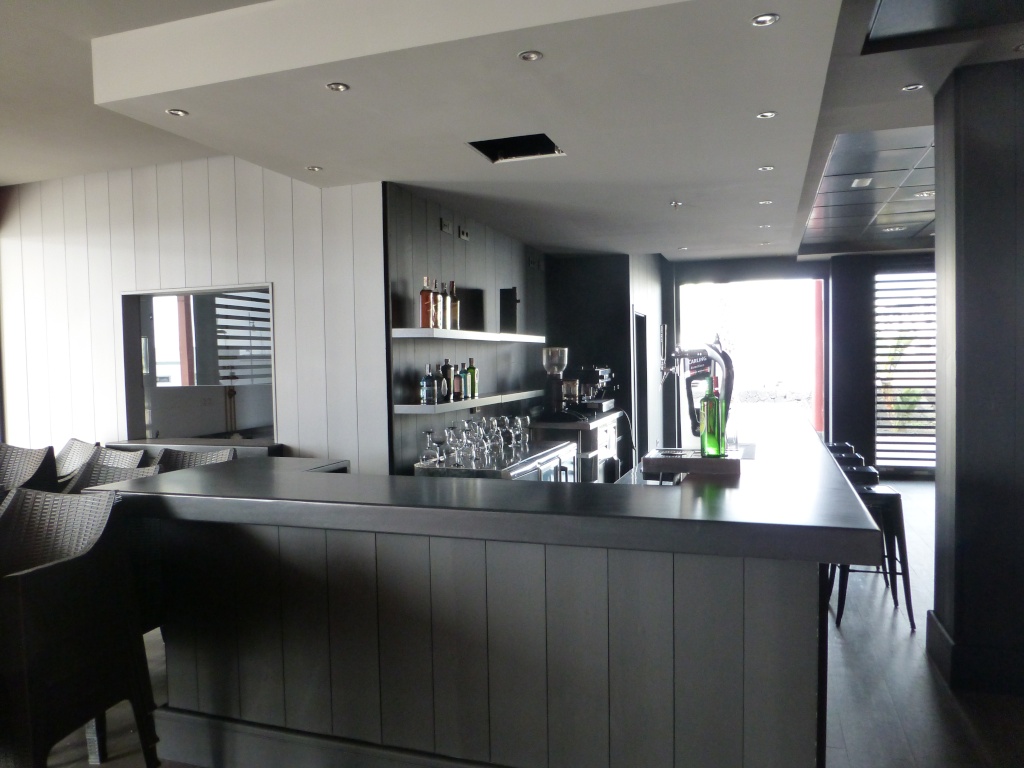 p1140874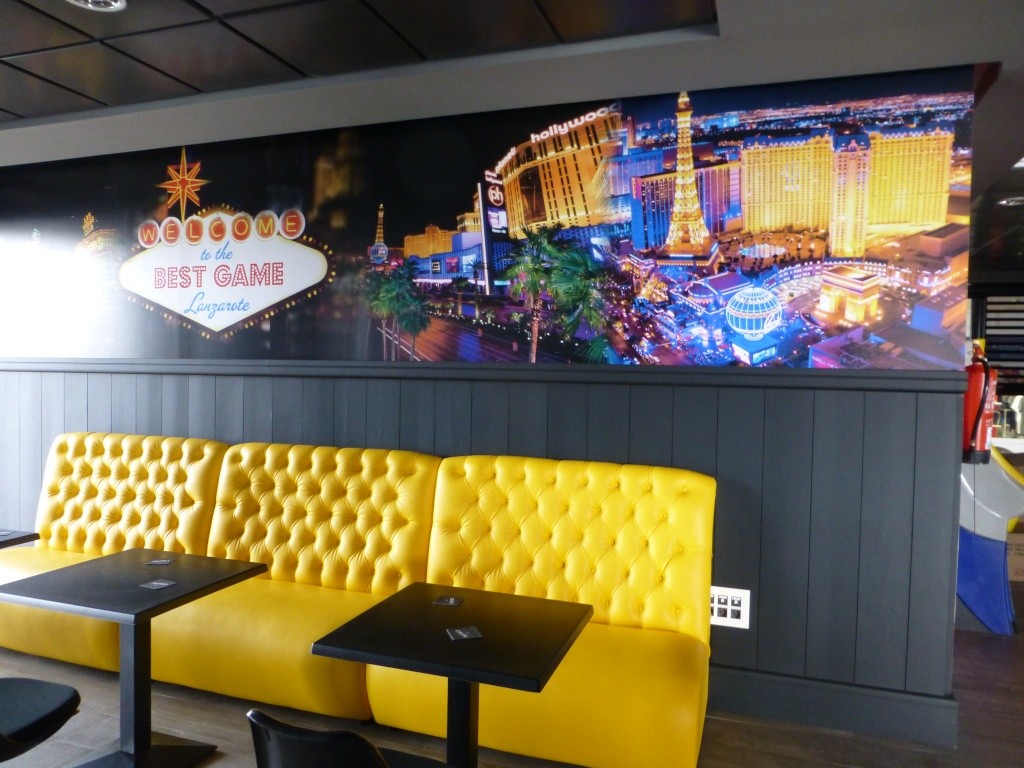 p1140875
also there is a new sports shop opened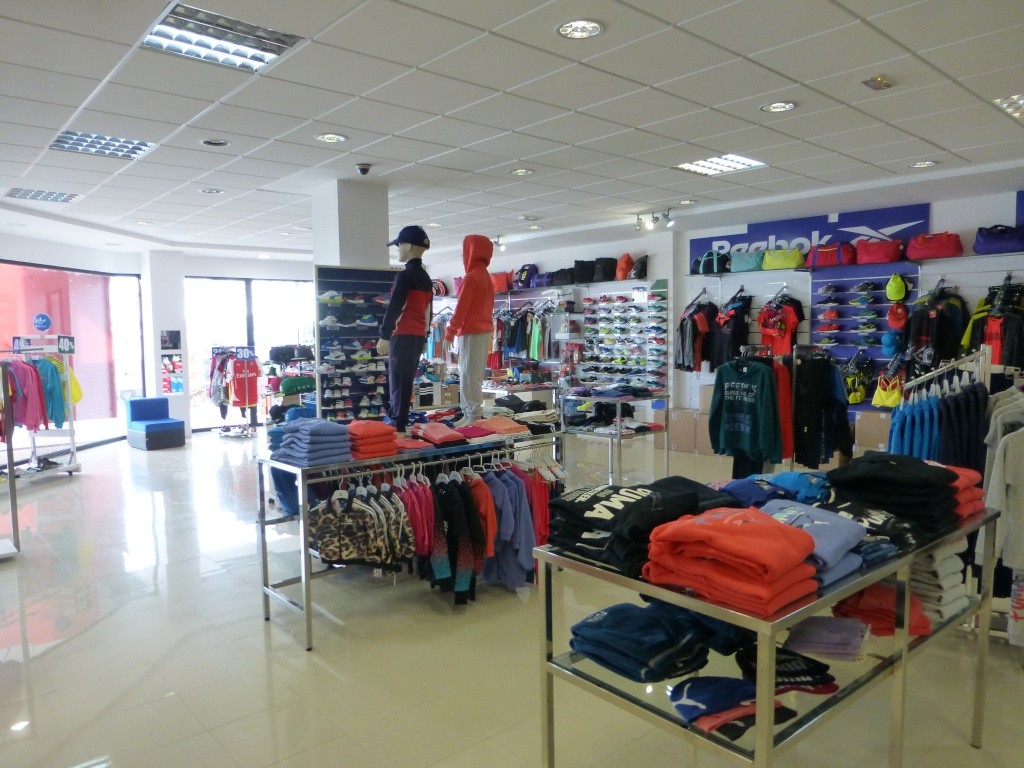 p1140876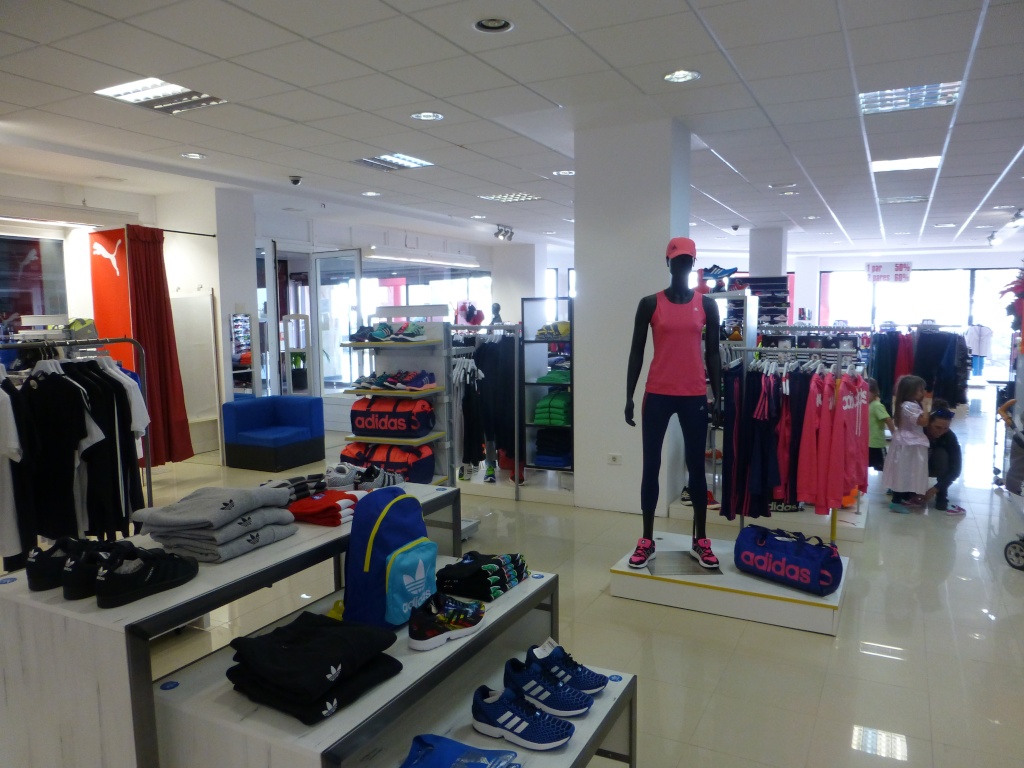 p1140877
also work was being carried out on a new Springfields, you will see how rapid things move during the holiday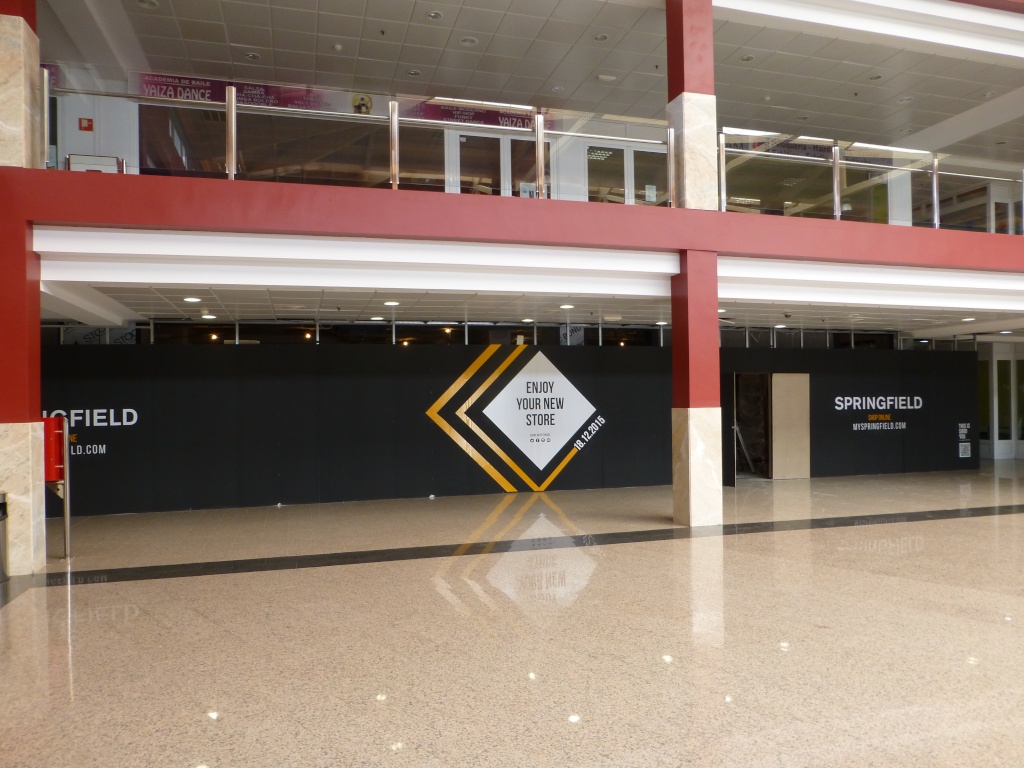 p1140878
and a new Hiperdino express replaces the old Max-coop
p1140879
p1140880
There are always people intolerant to cow's milk asking about different types of milk to buy in Lanzarote, there was only fresh cow's milk in the fridge, Hiperdino's now have their own milk which I tried and it didn't go off for us. Somebody was asking if they sold fresh goats milk, I asked the lady at the till, "do you sell goat's milk", "my english is not good but what is "goat", came the reply. At this point, I nearly stuck fingers to the side of my head for horns but realised cows have them too lol
p1140882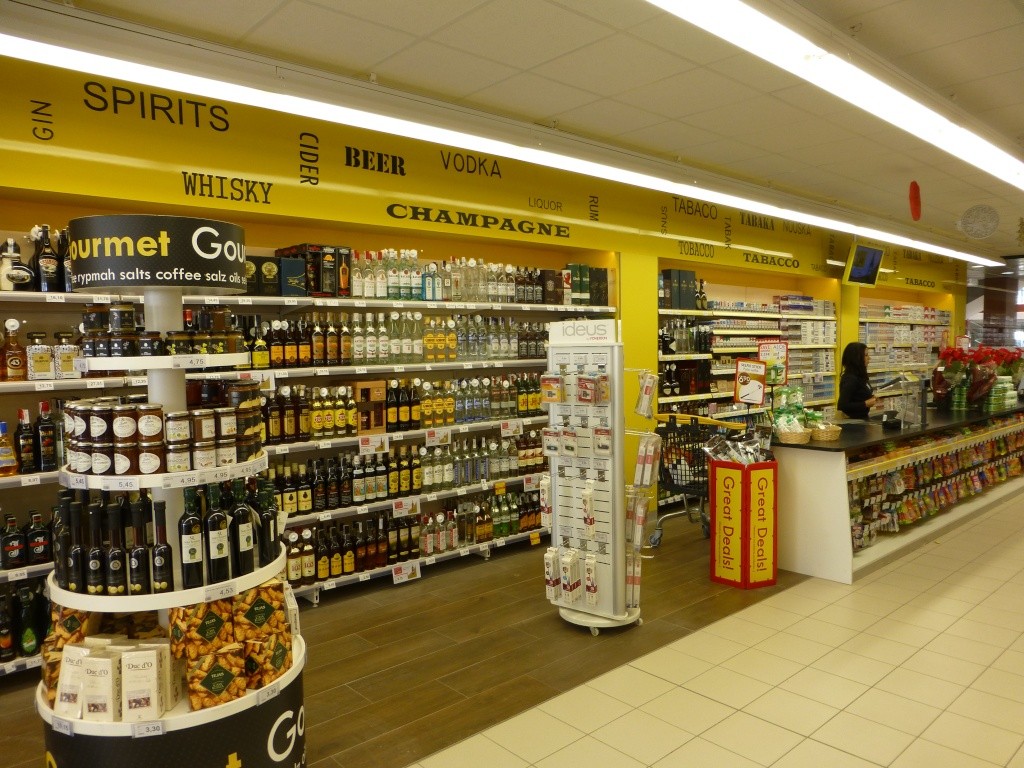 p1140884
There are a new set of escalators going up /down to the top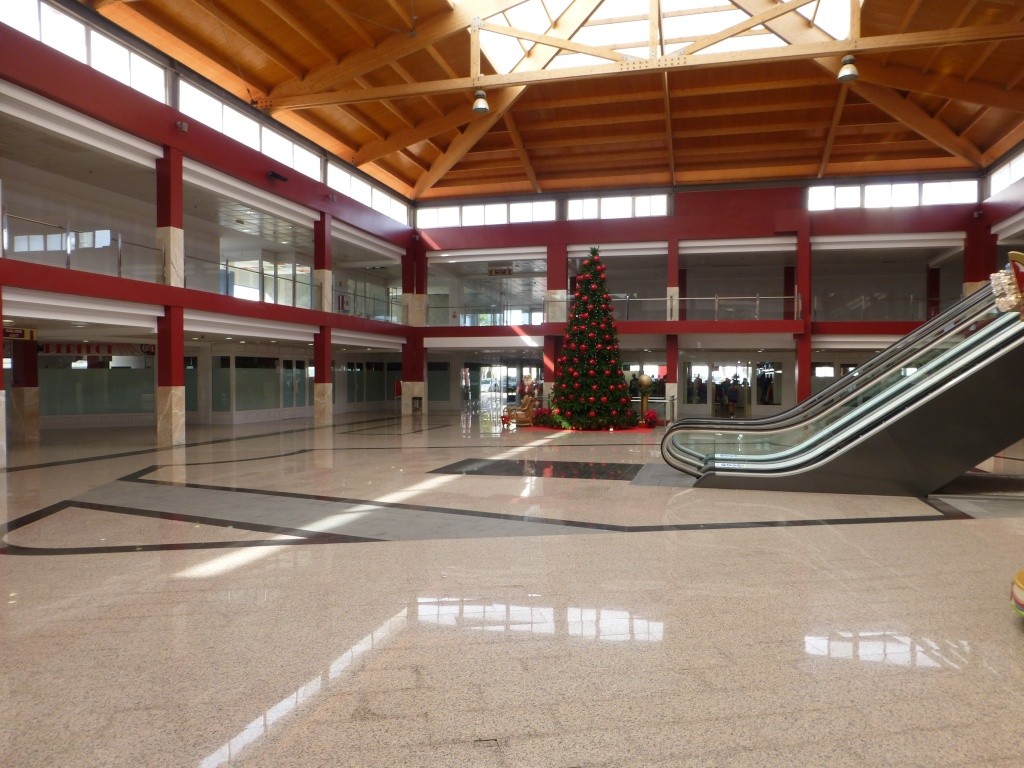 p1140885
at one end there seems to be a dance school but my Spanish is zero to know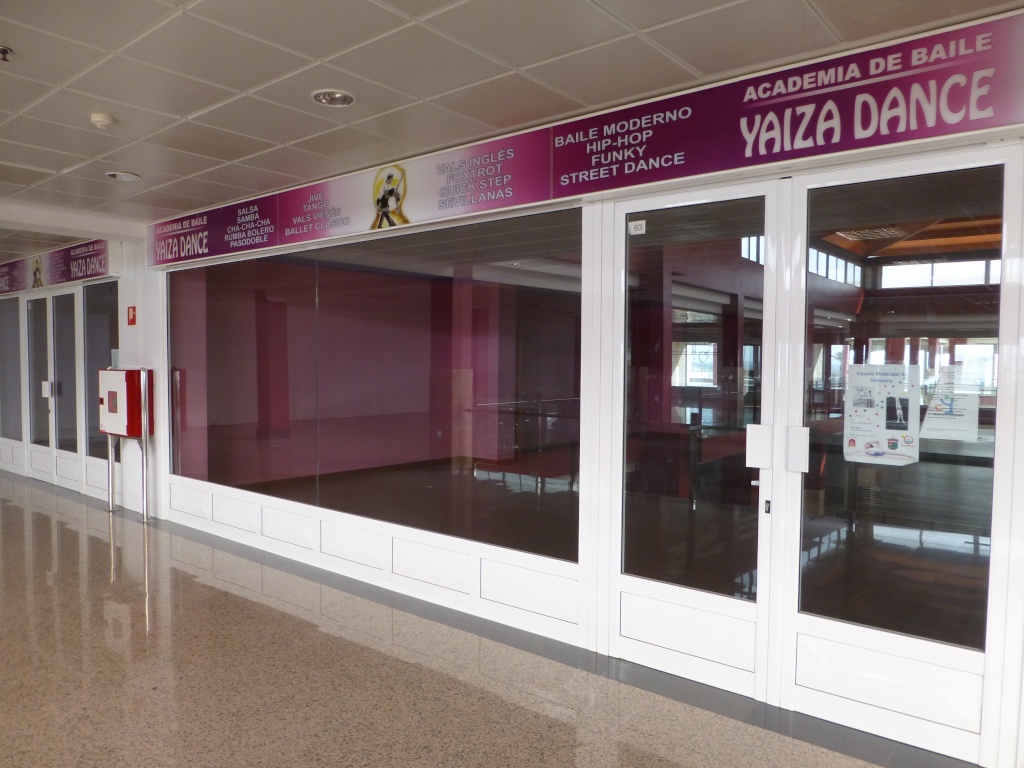 p1140886
next door a new hairdressers which has the seats set up already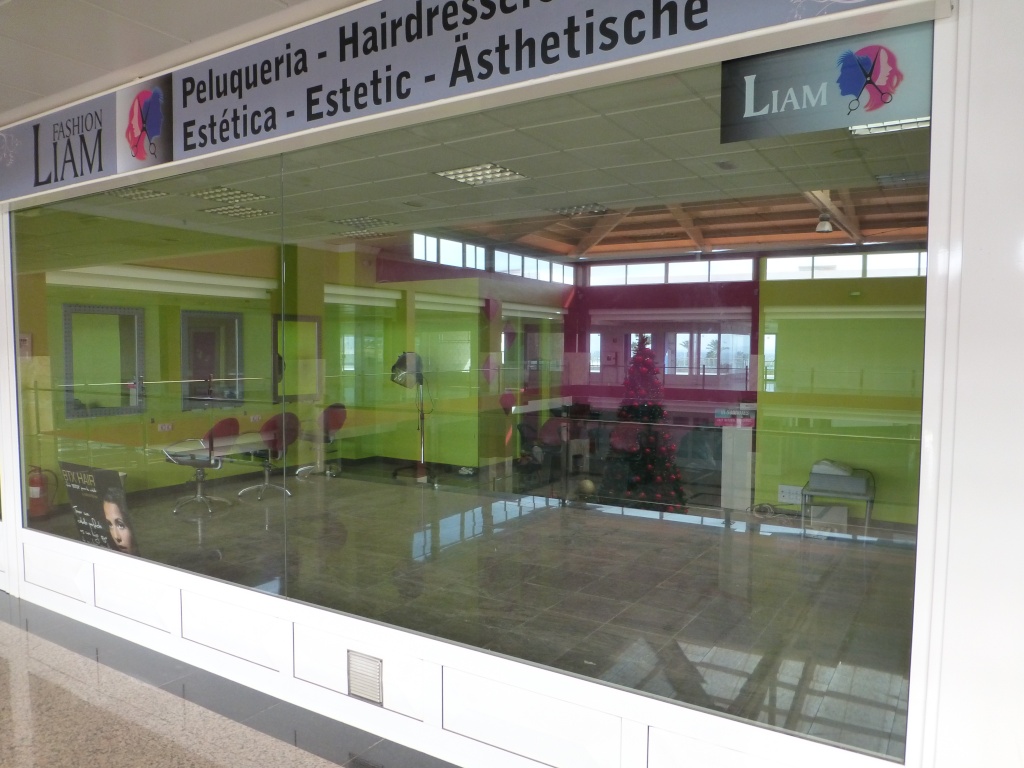 p1140887
upstairs is a childrens play area, it looks supervised but will come back to that during the holiday, also an upstairs bar with billiards tables
p1140888
And the tenpin bowling alley which is now behind screens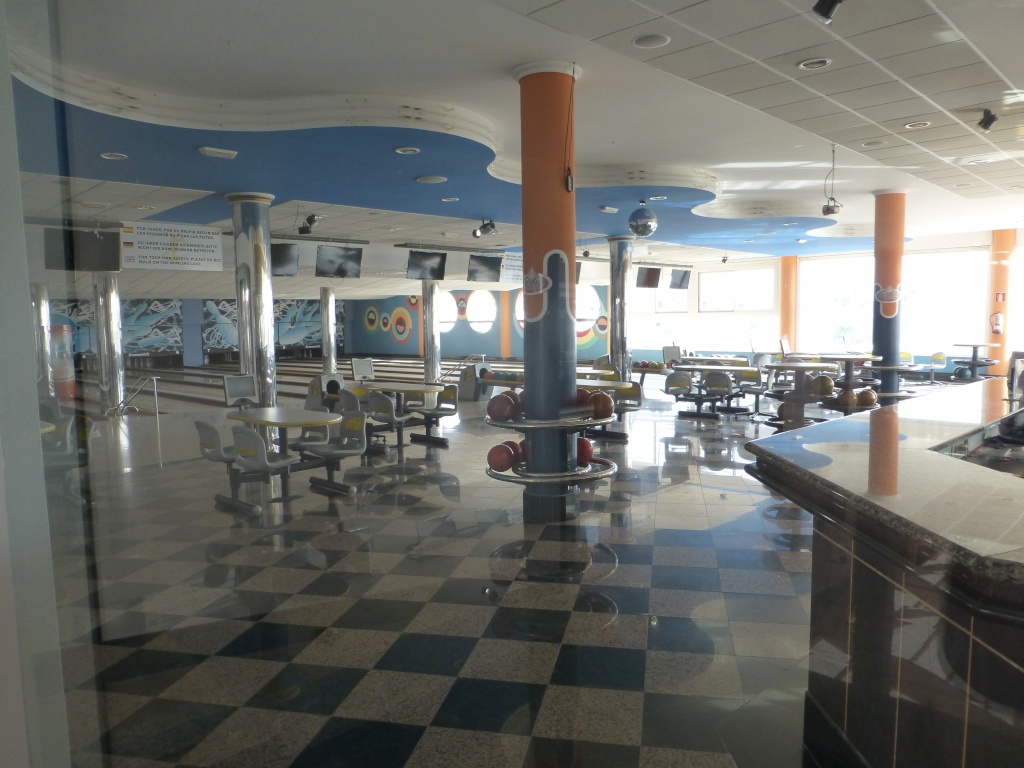 p1140889
so quite a smart shopping centre once all the shops come in
p1140891
seems to be plenty of parking both sides and there is a cake shop about to open to the left of the Hiperdino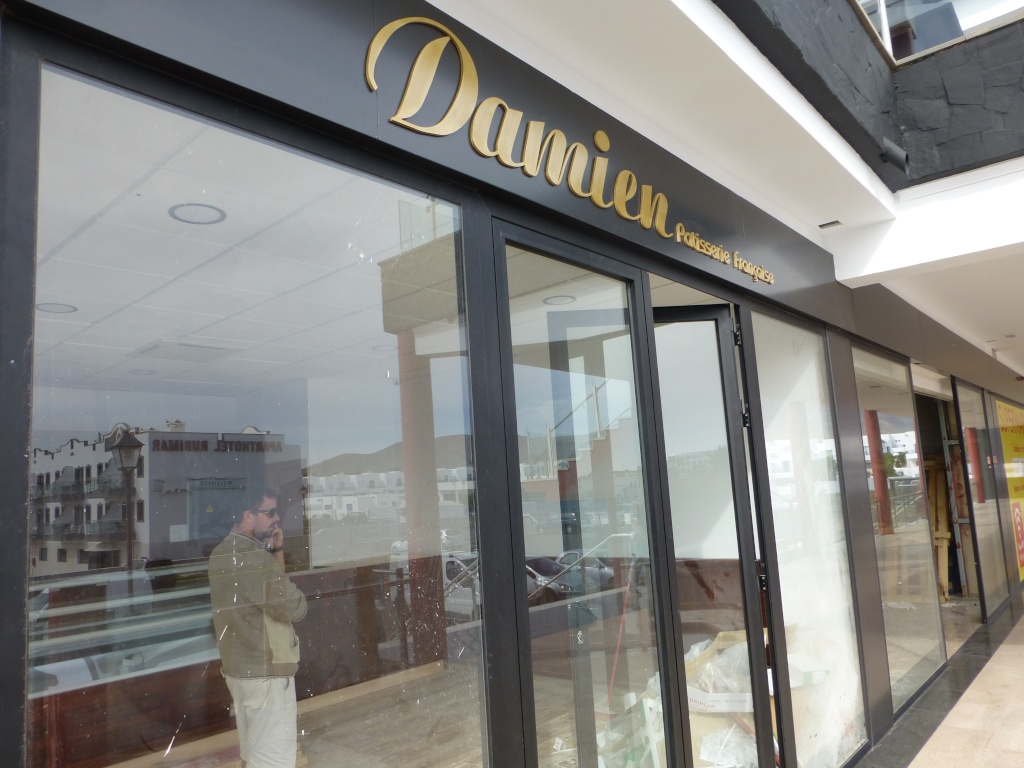 p1140905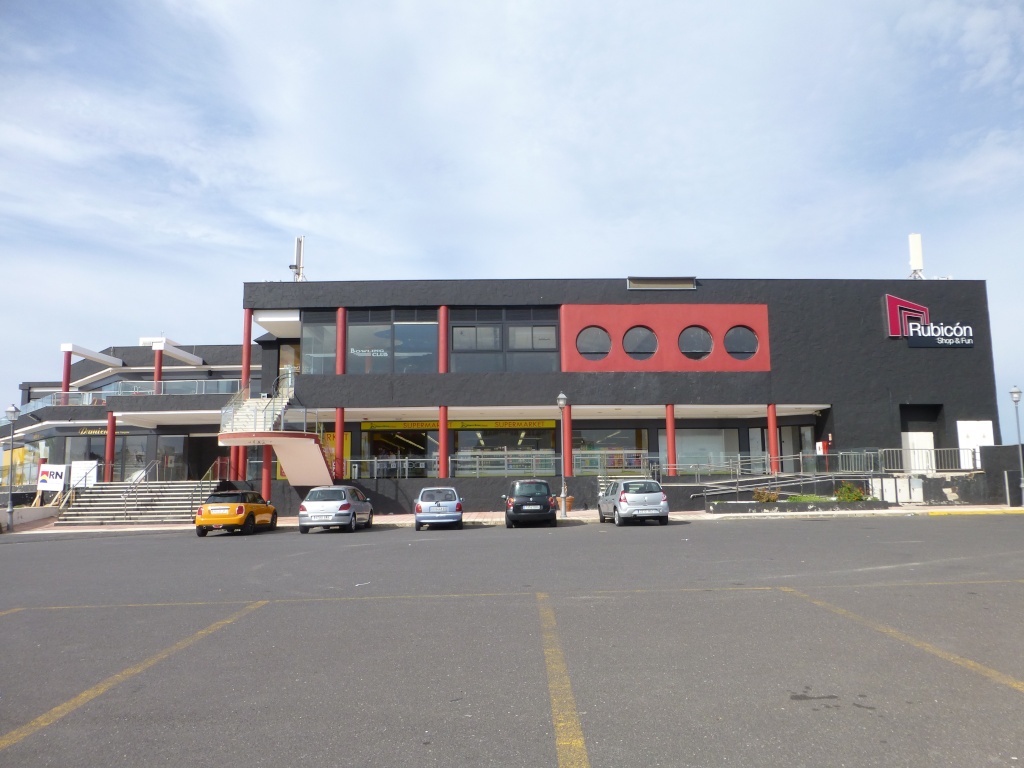 p1140894
so after my first proper look I was quite impressed
Now last year I spotted some villas very near the marina, especially phase 3, so this time I was going to have a proper look.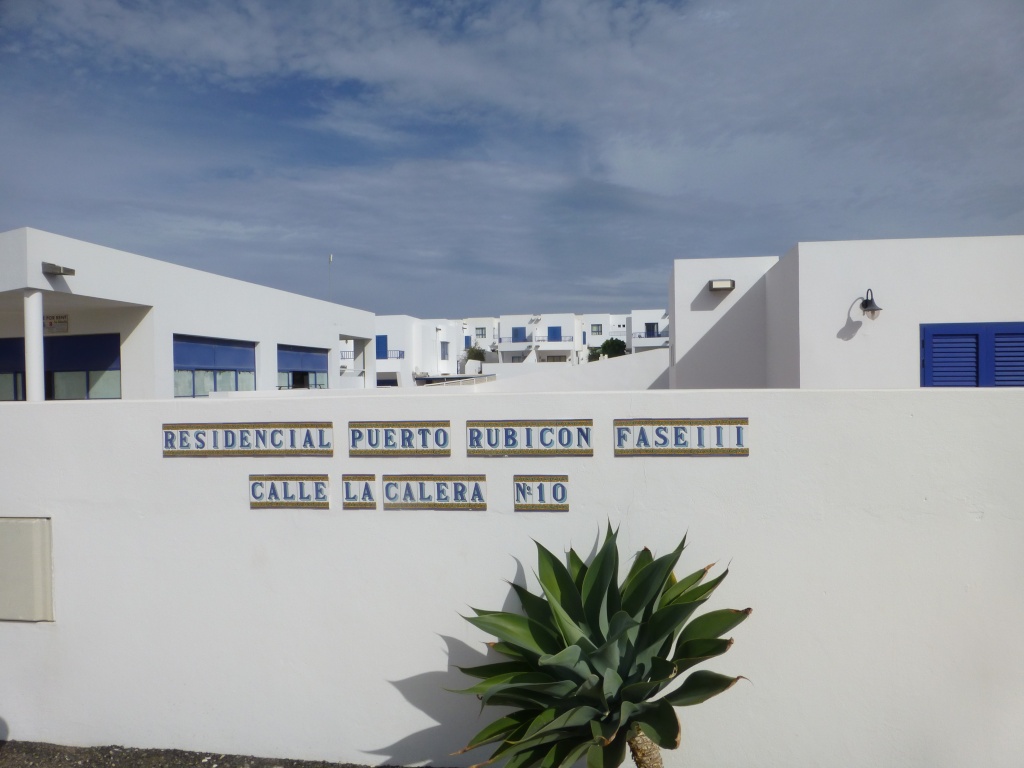 p1140897
But I think these all seem residential, not sure whether any are for hire with new rules coming in for villa rentals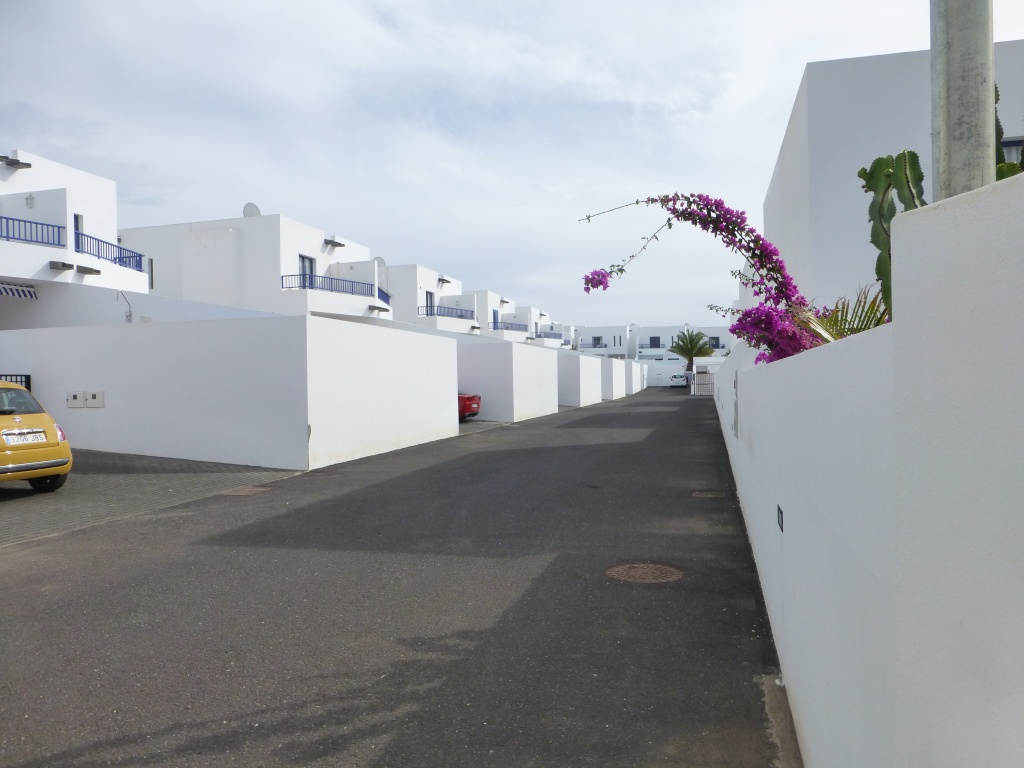 p1140899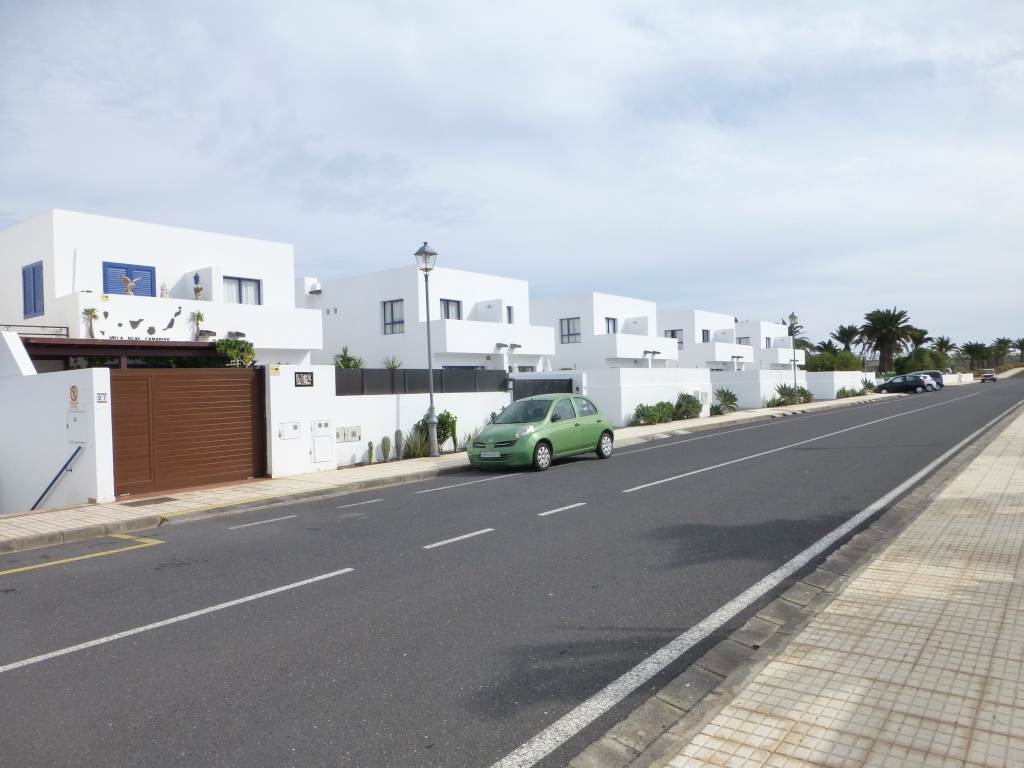 p1140900
across the road looks to be phase 2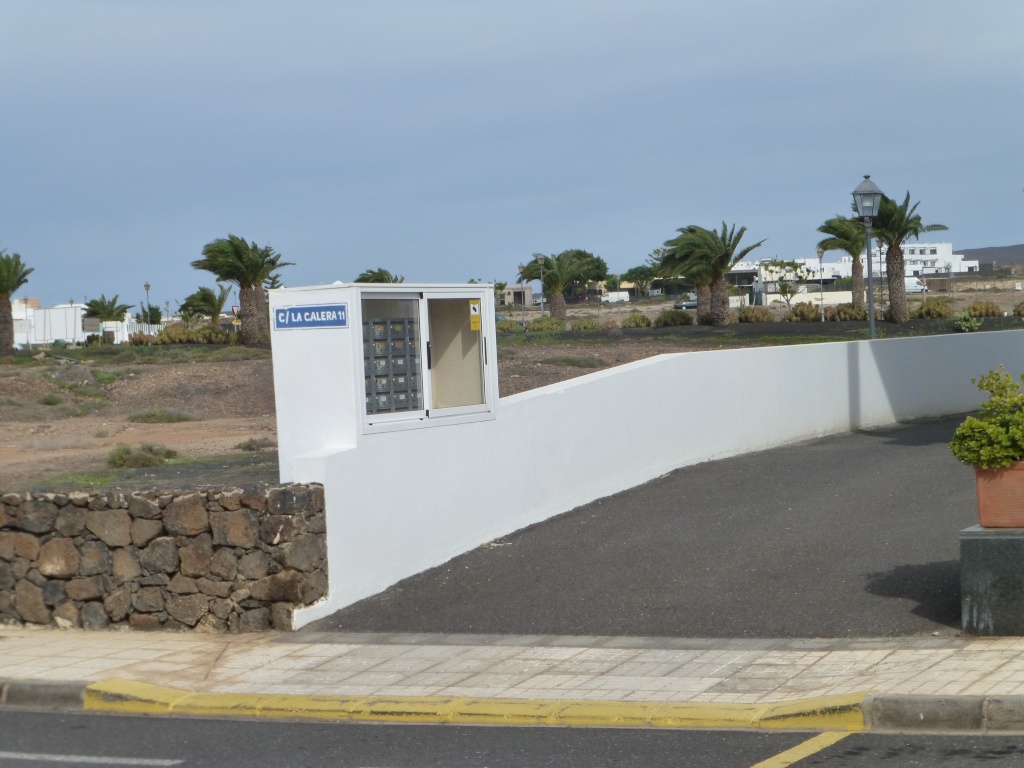 p1140901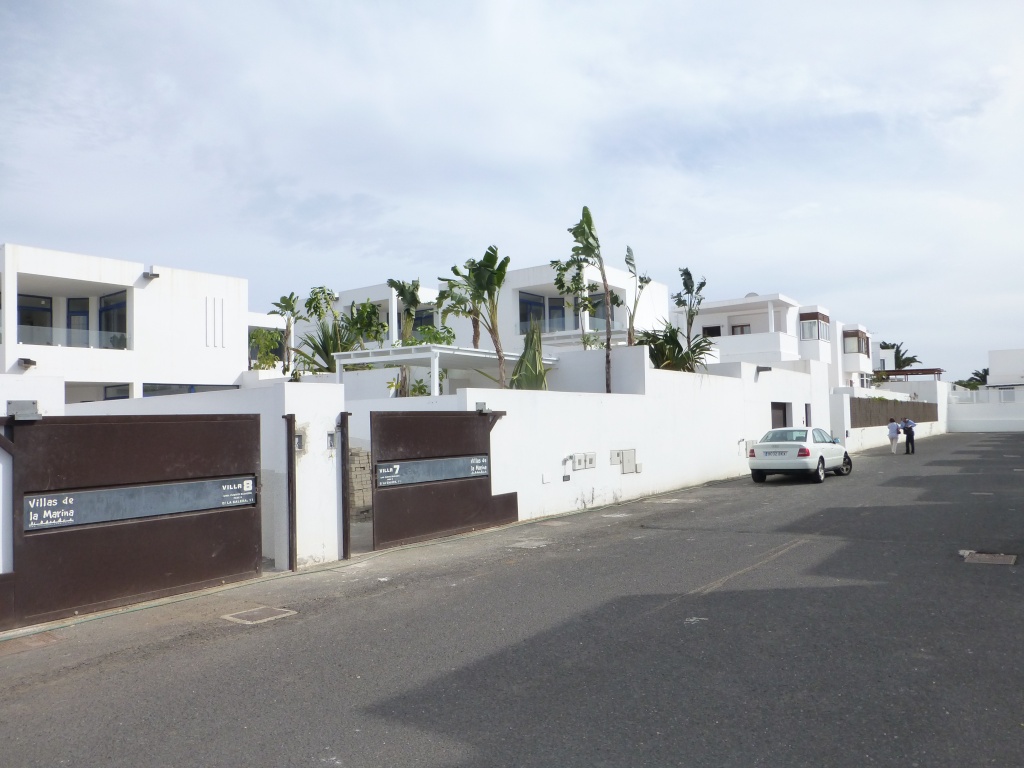 p1140902
so it looks like this part of phase 1 is the hiring part but up near the main road end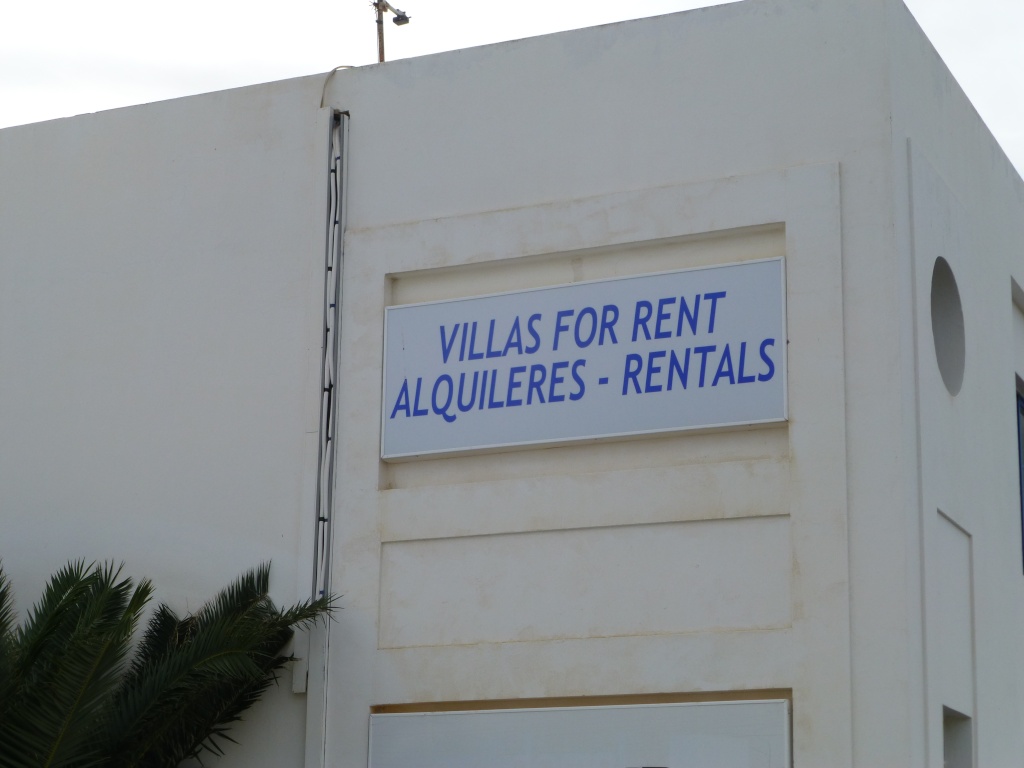 p1140903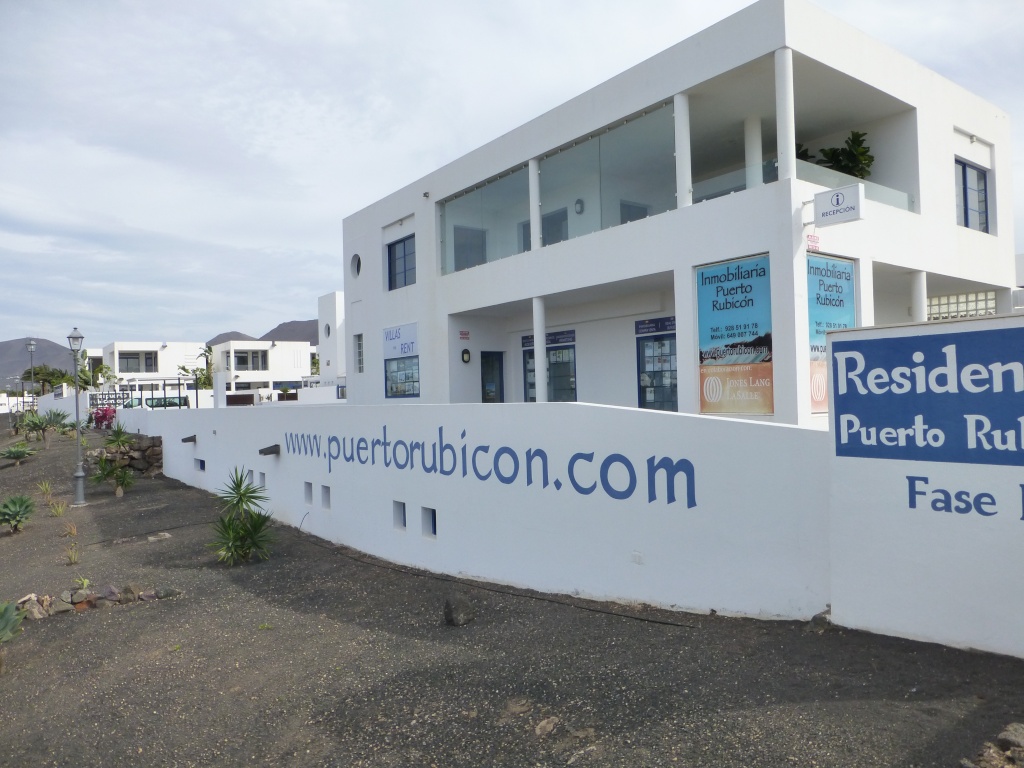 p1140904
So Mrs Db and I decided we would try the Ice House for a burger, as it had been mentioned to me before lol. However, passing the Dorada Beach, it looked like we had made the right decision not to spend time on it and the yellow warning flag was flying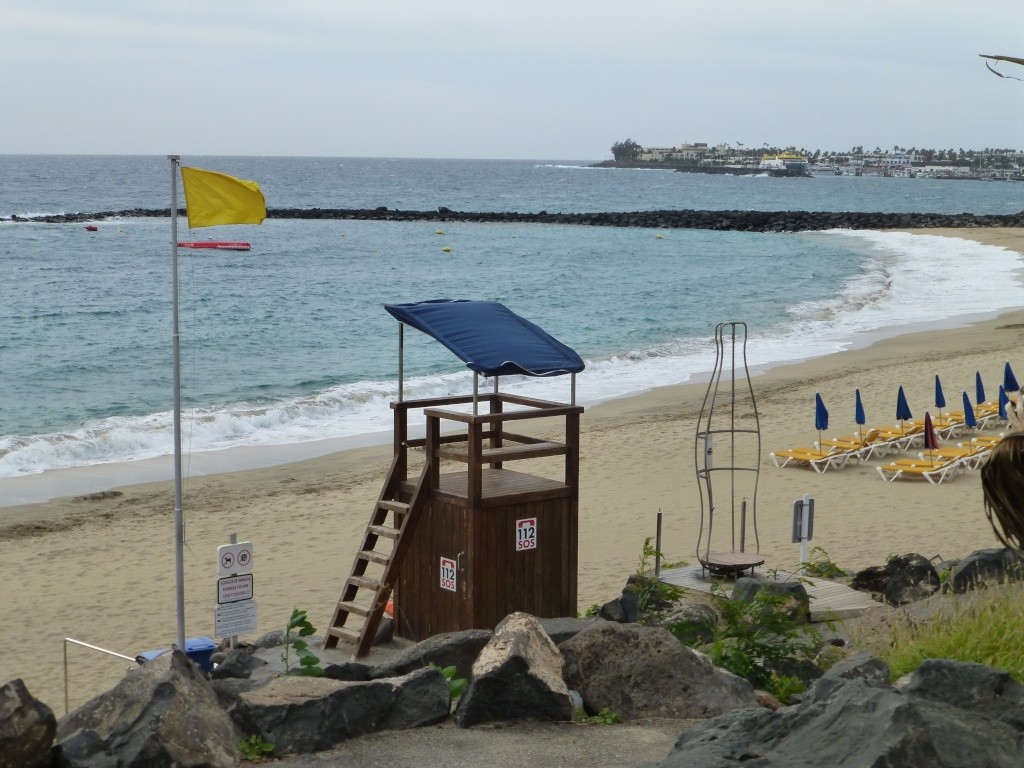 p1140906
The Princesa Yaiza hedges weren't quite so good in some places but certain parts of it were magnificent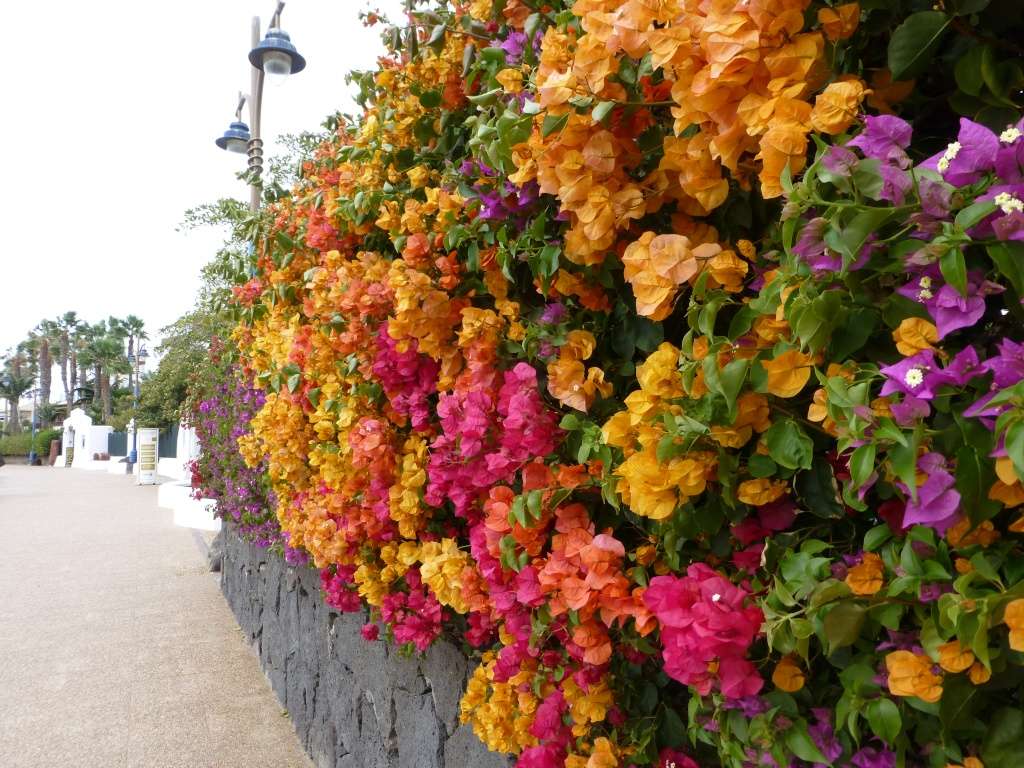 p1140907
Oh the Ice House was closed for pre Christmas Holidays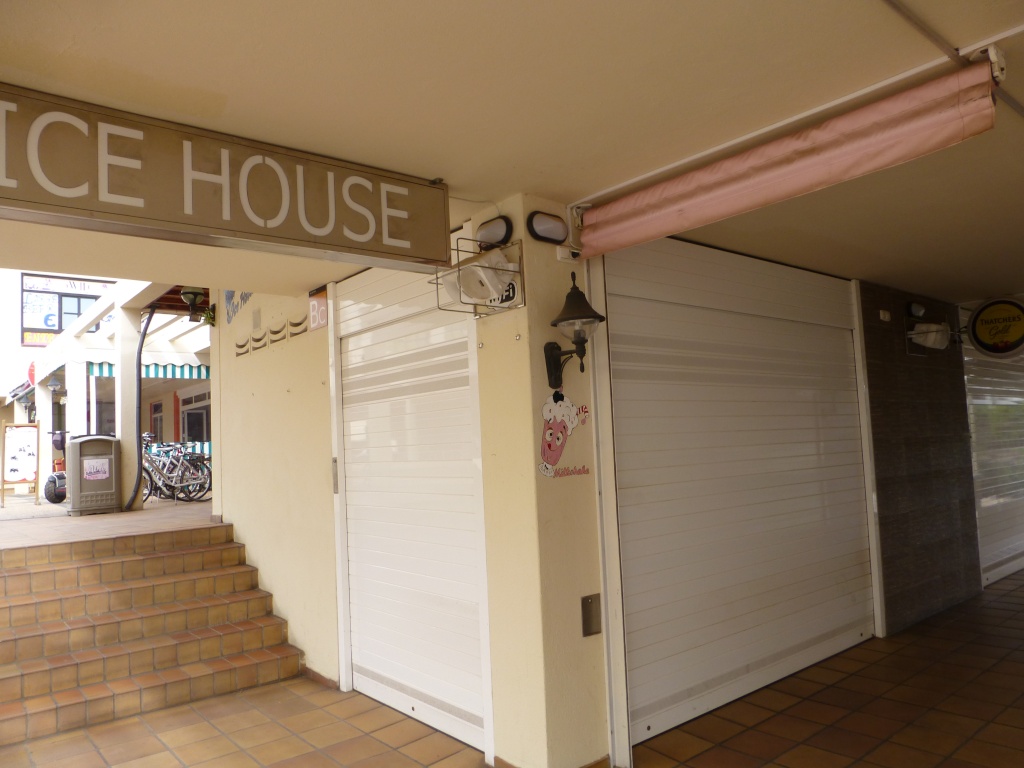 p1140908
So we went to Barney's and had a jug of Sangria for a change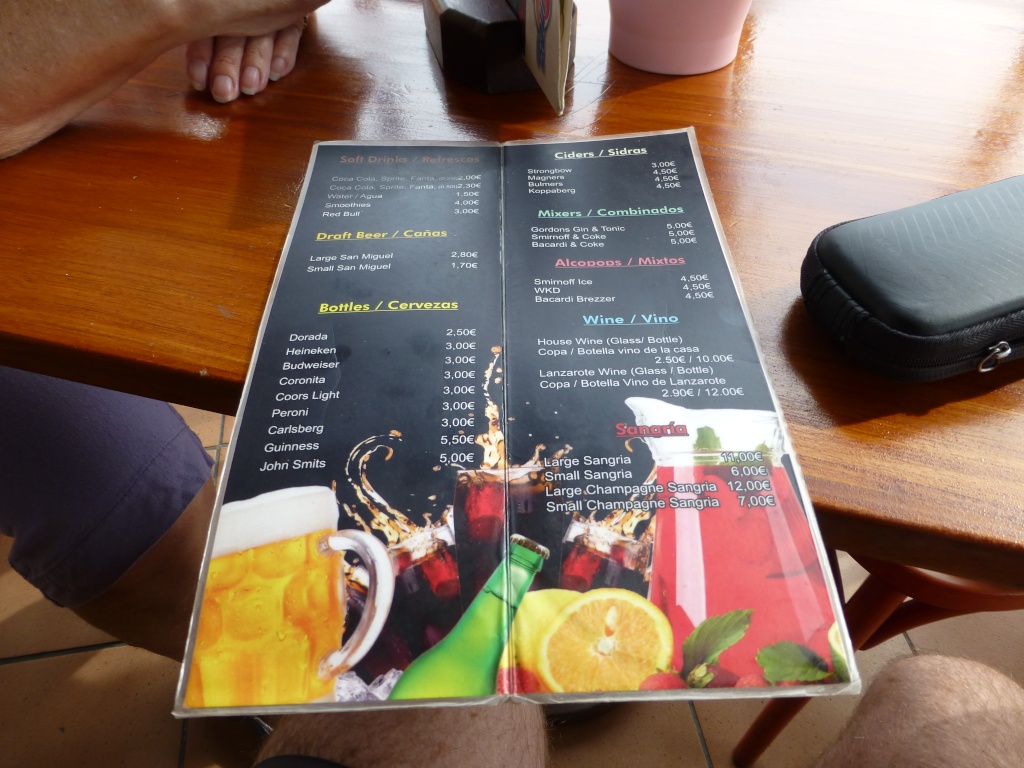 p1140911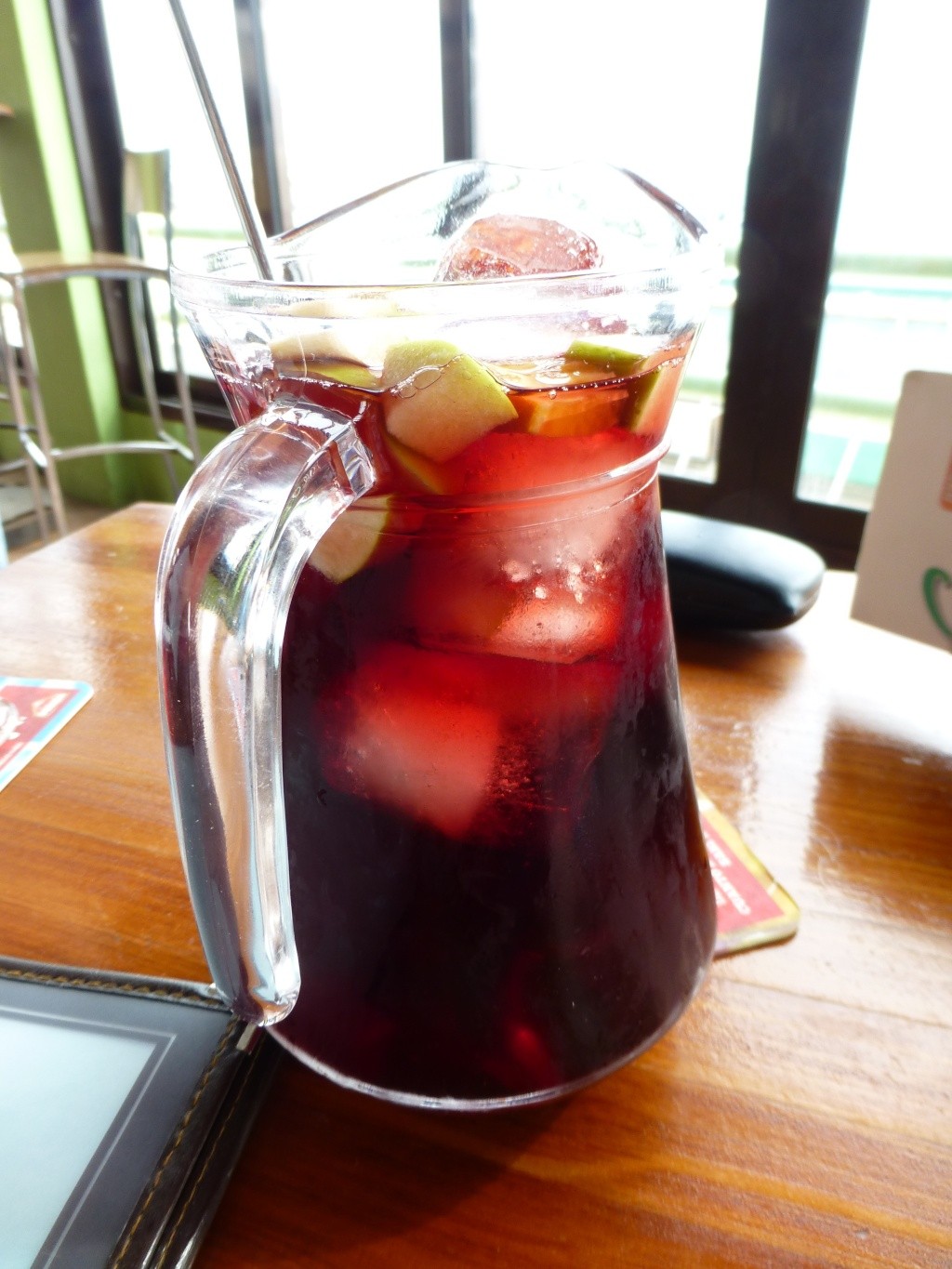 p1140912
Mrs Db had her toasted sandwich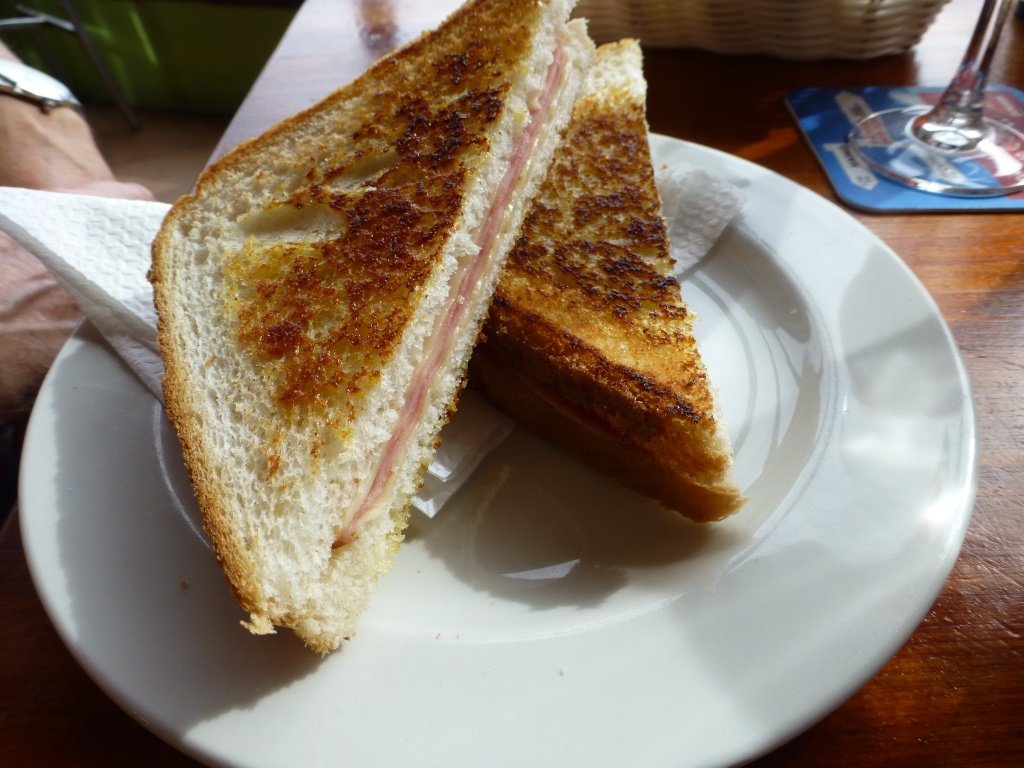 p1140914
and of course I had a burger, how predictable am i lol
p1140916
various entertainment advertised
p1140917
p1140918
about 15:00 we went back to the room for a cup of tea and relaxation
p1140919
would there be a sunset tonight, I just can't see from here. I'll have to go on the prom to look, I have a desire to capture the sun behind the rocks but all the good one's built during the day have been knocked down by the guys that build them.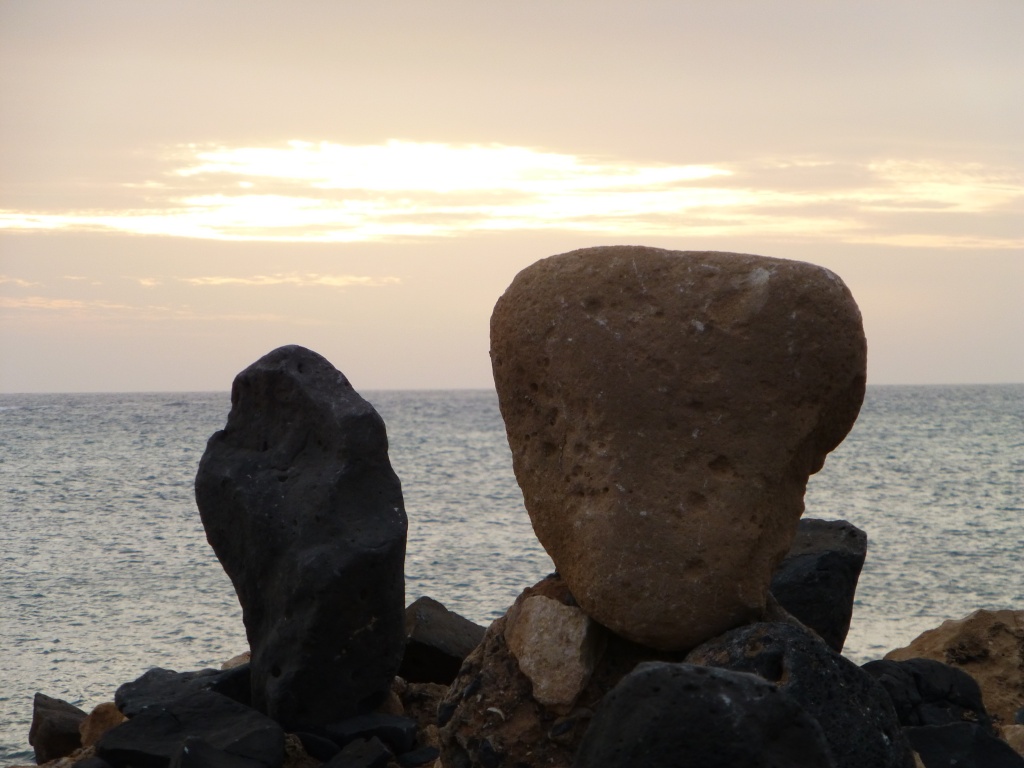 p1140921
However, what looked to be another sunset failure eventually turned out to be a cracker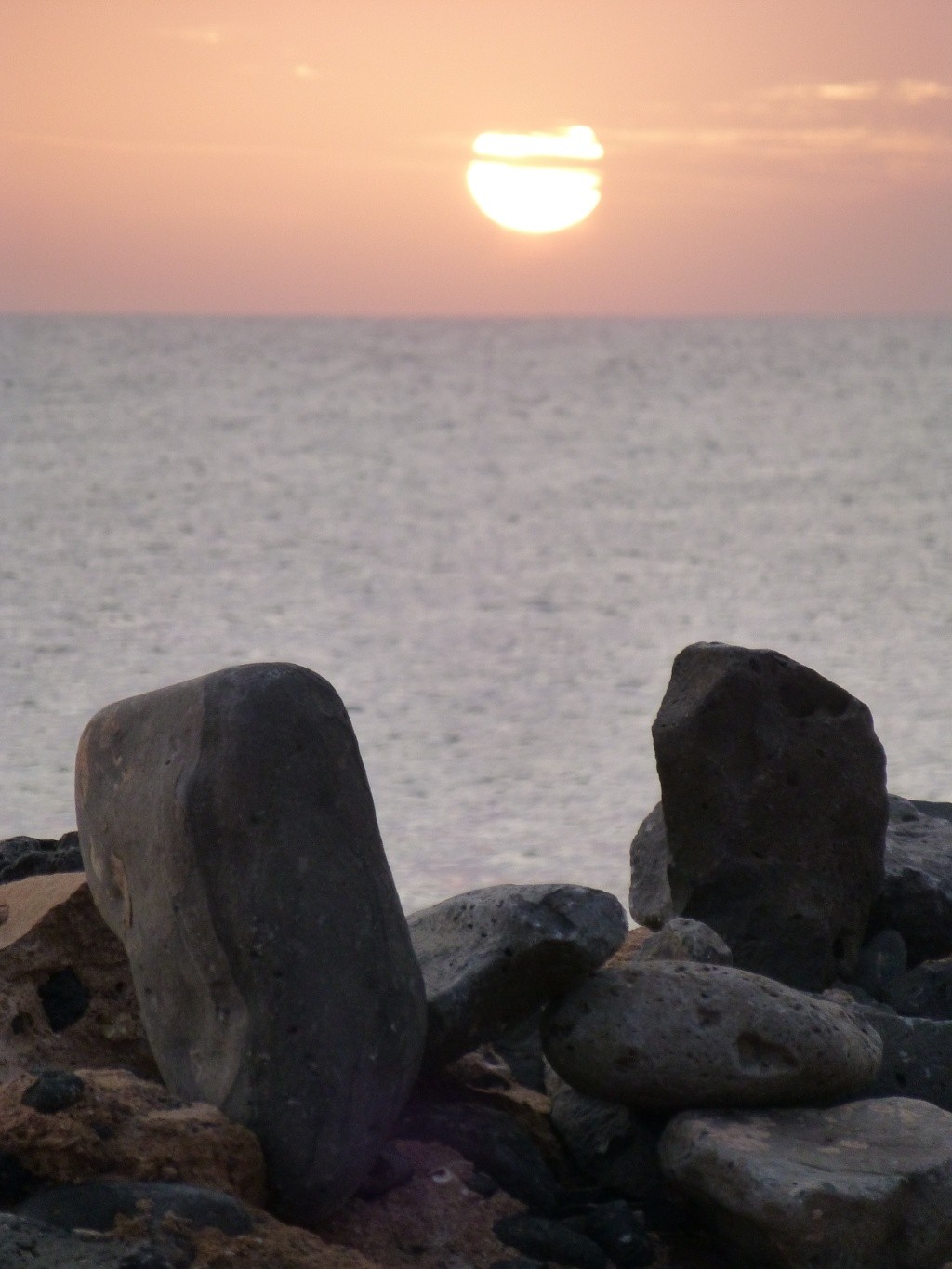 p1140929
p1140932
And using the small rocks I was trying to create an interesting scene rather than just a sunset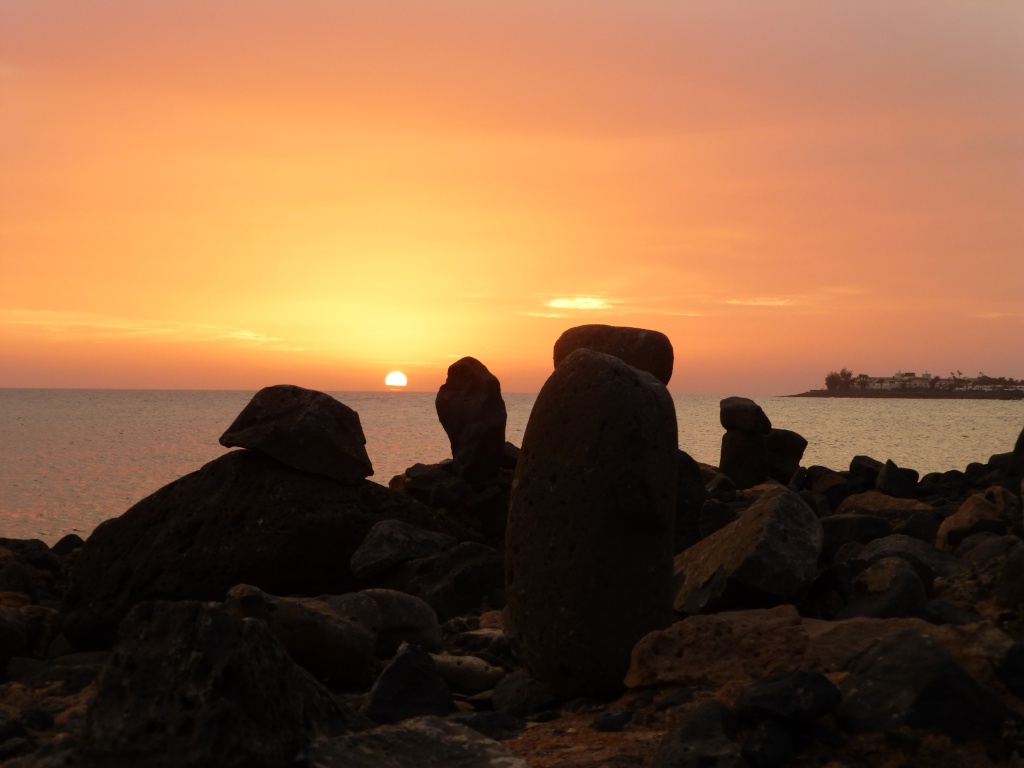 p1140935
I did learn by experience to wait for 20 minutes after the sun went down to get any glow effect but I think in this case, I forgot my own rules on it but snapped this photo afterwards, shame about the lamp in the way but one learns these things after several shots and more oportunities lol
p1140948
tonight we are eating in Cervantes opposite the white church on the main road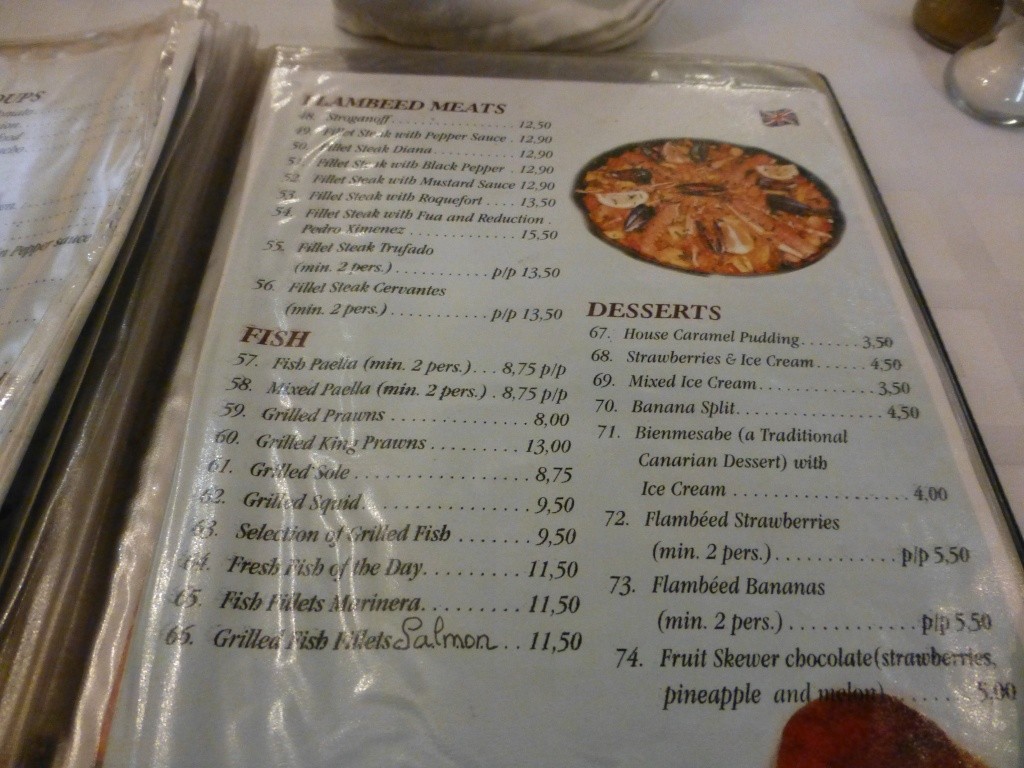 p1140949
we both decided to have the steak Cervantes which you can only have as a pair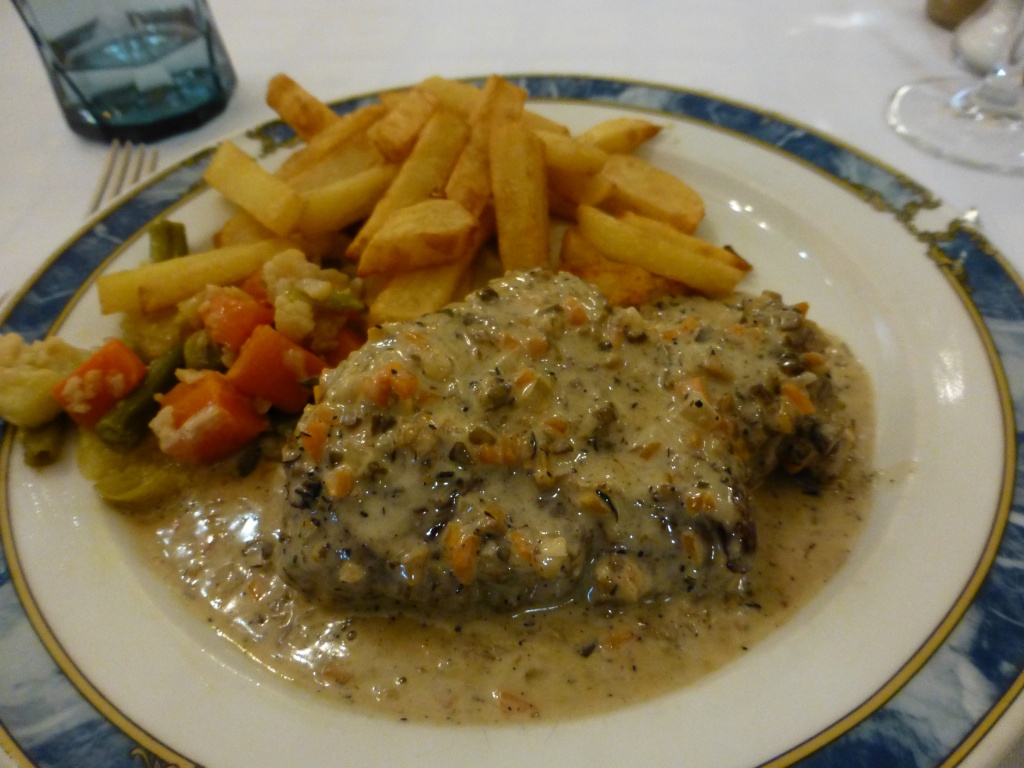 p1140952
we were each given a vodka caramel and a chocolate, on asking for the bill, the vodka carmel would seem to be the popular treat this year with the restaurants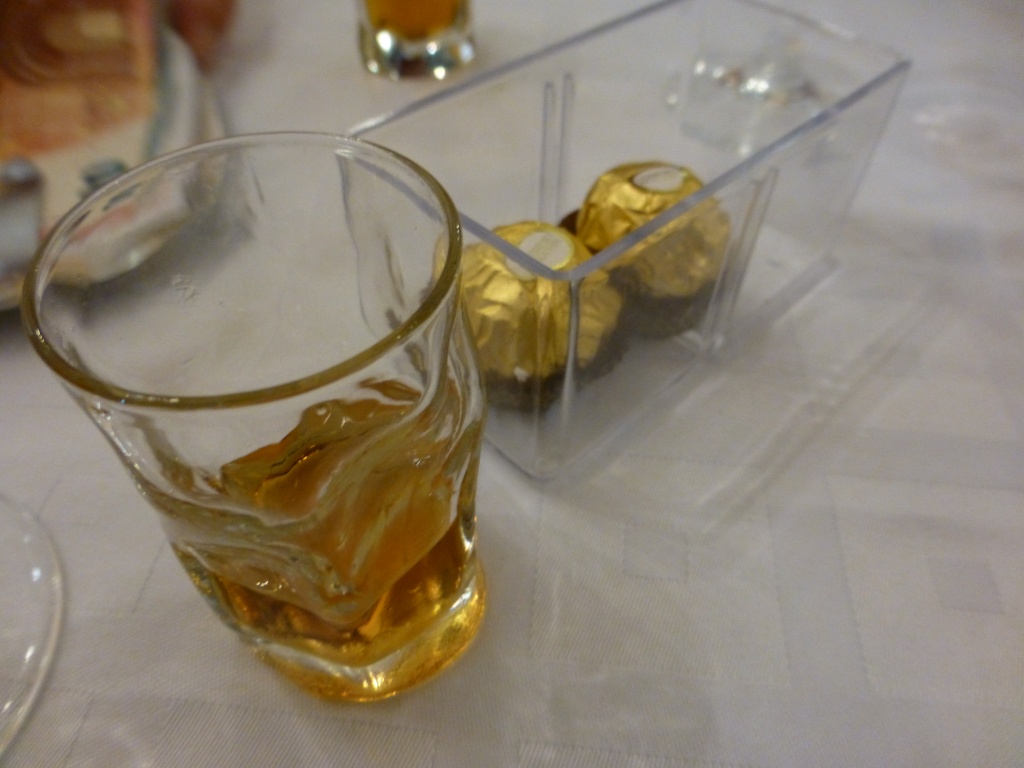 p1140955
END OF DAY 2
DAY 3
another breezy sun/cloudy morning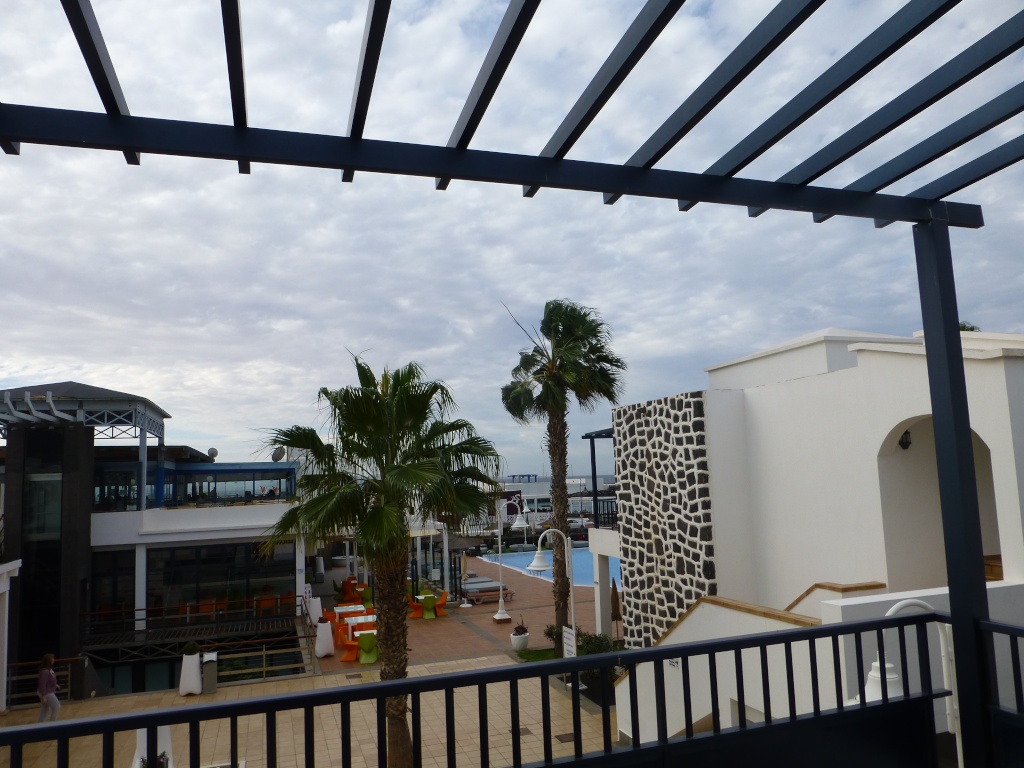 p1140957
and it was decided it would be a day by the pool which has some shelter, after getting some more water, I decided to photo the correct way into the Superdino car park. Having done it last year, the authorities, a few months later made it all one way lol. I would check the Dorada beach on the way
one or two were in the sheltered rock areas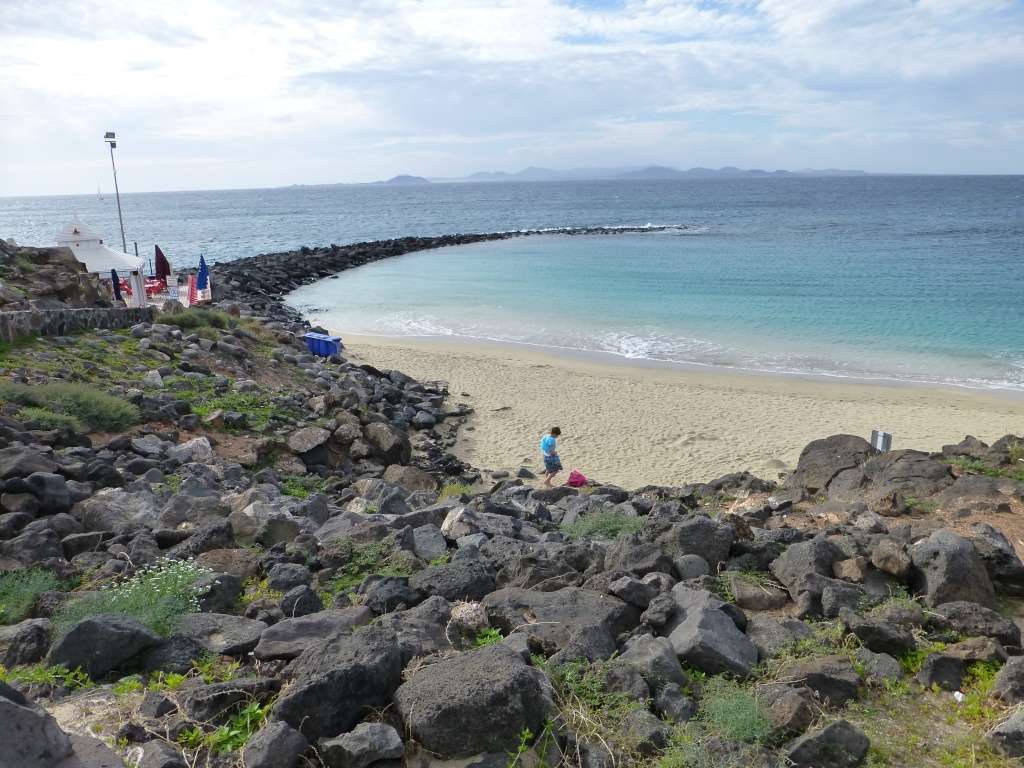 p1140461
but in general the yellow flag was flying again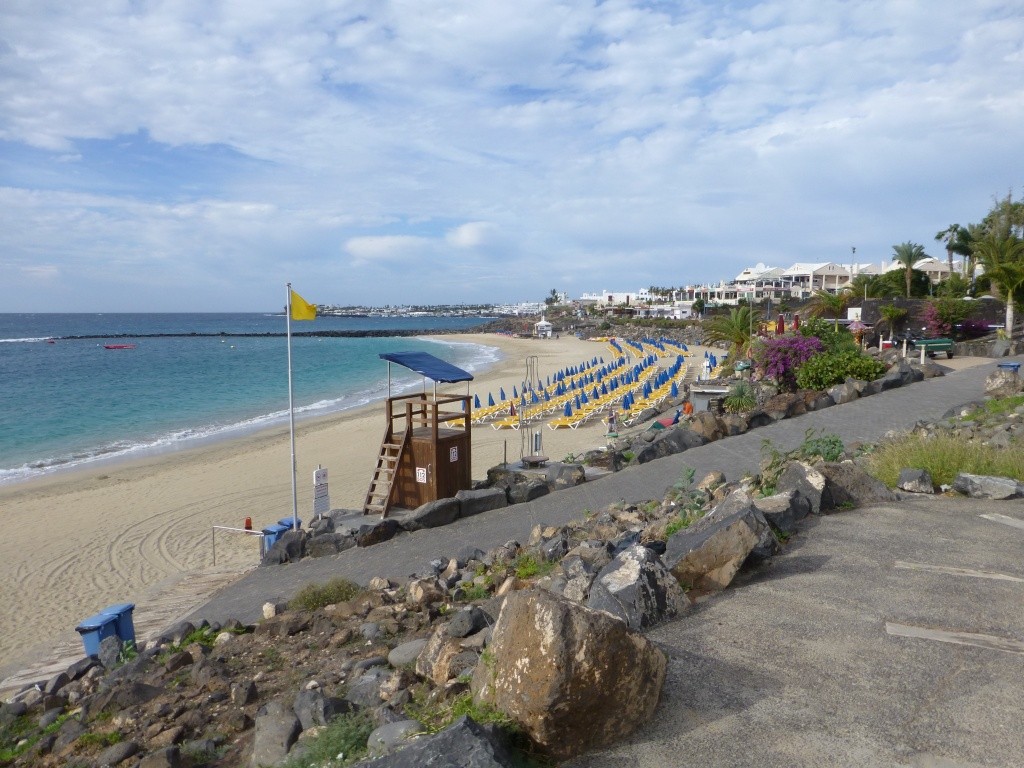 p1140462
the Harp were having a carvery at Christmas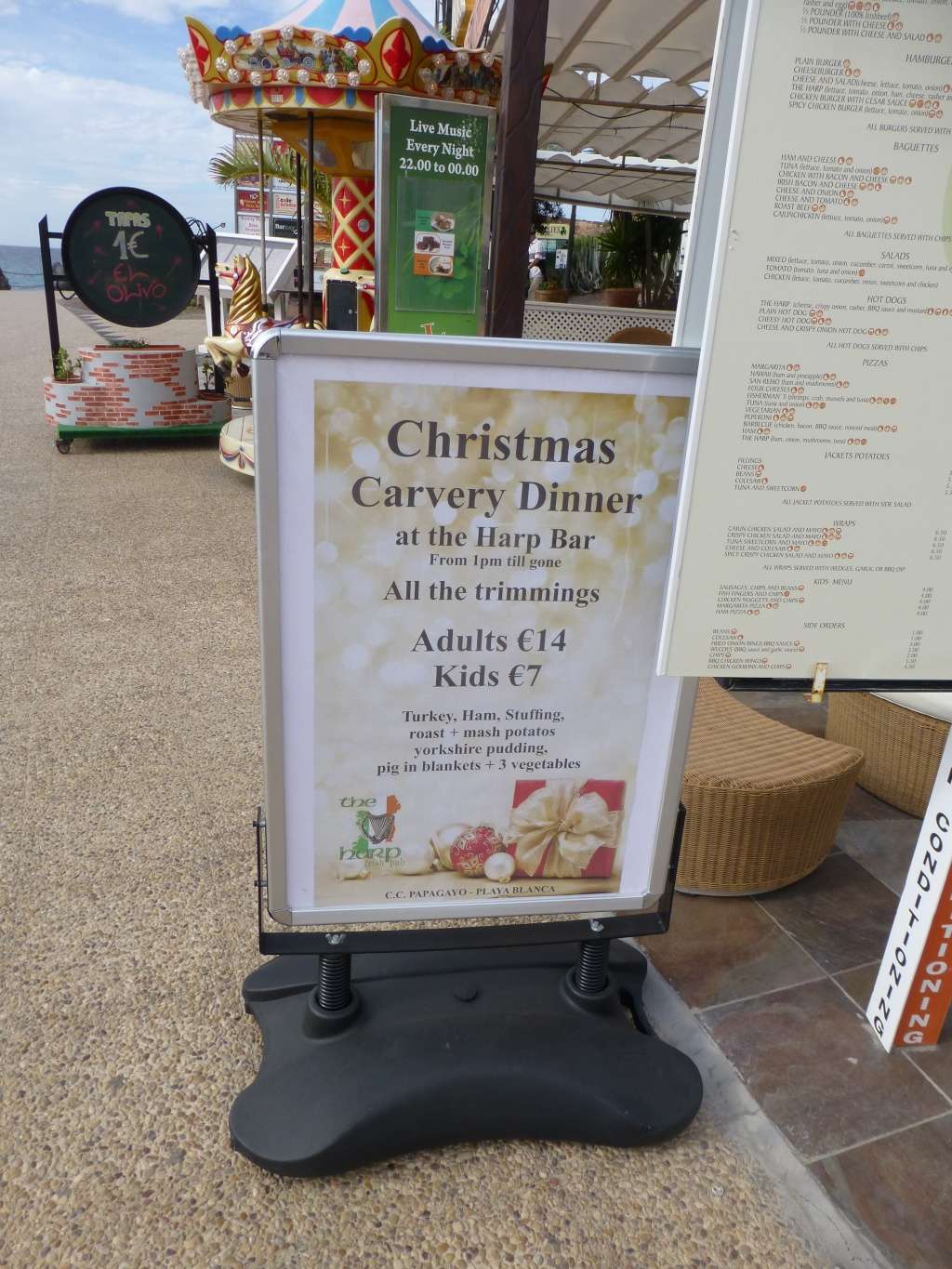 p1140967
There seems to be a new crazy hitting Playa Blanca with people buying cheap padlocks and fixing them to the promenade railings and there are hundreds of them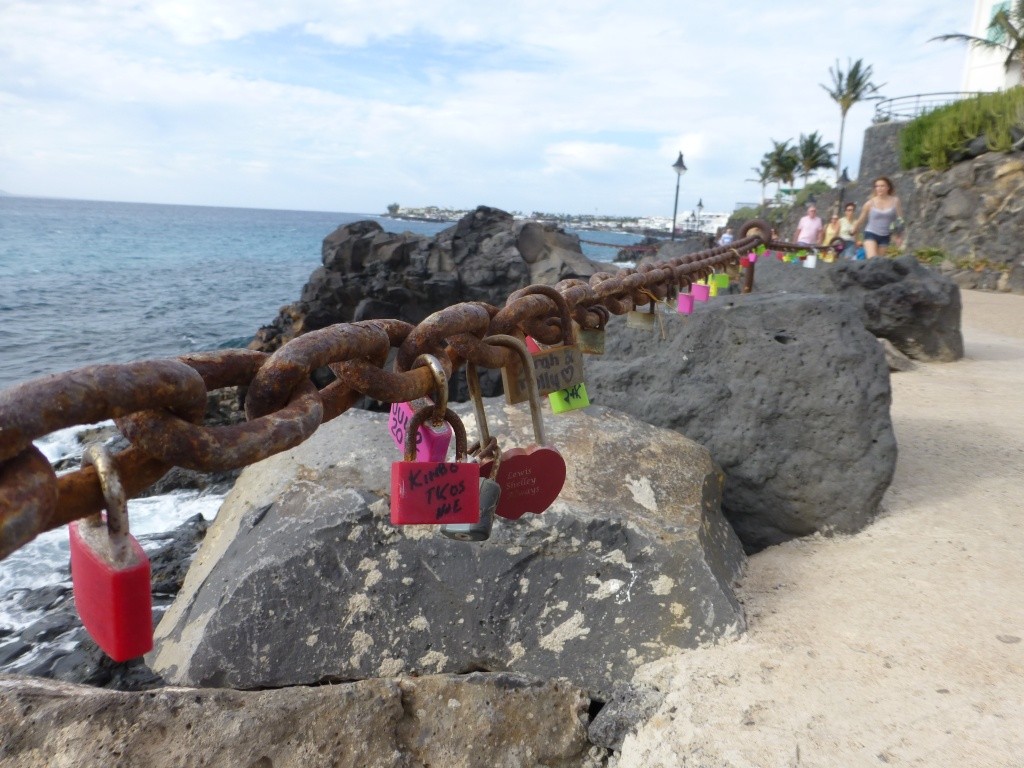 p1140971
not sure what the locals think of them, it could make Playa Blanca look a bit tatty if they are hanging on every chain available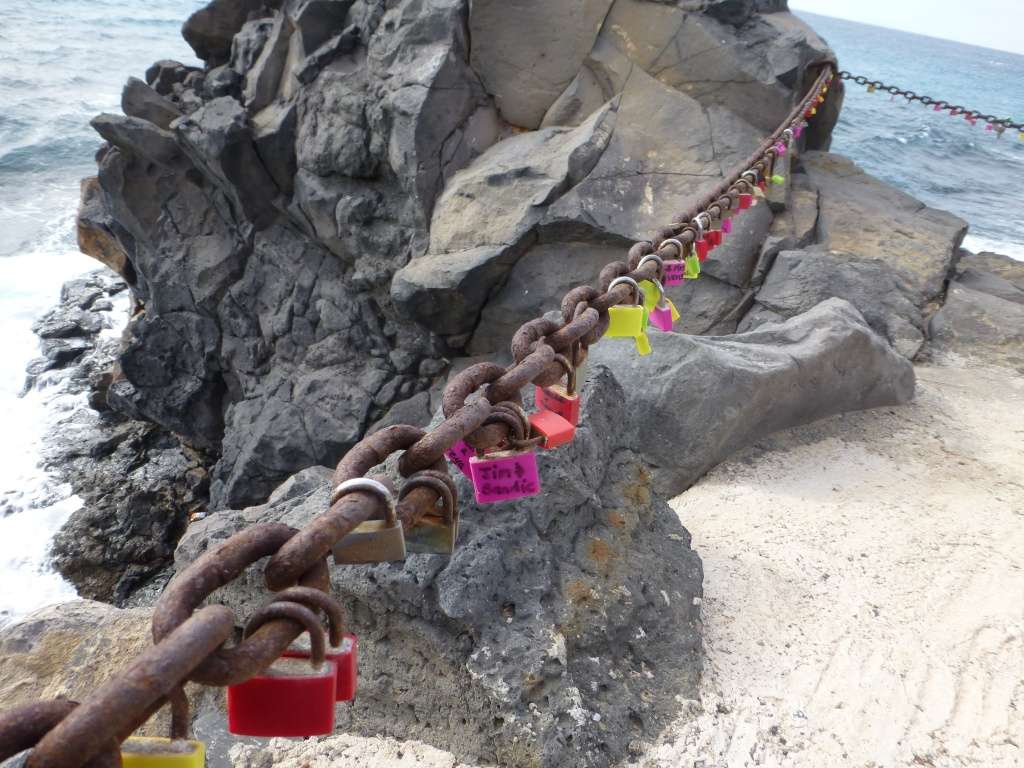 p1140972
The ARMAS ferry was just coming in from Furteventura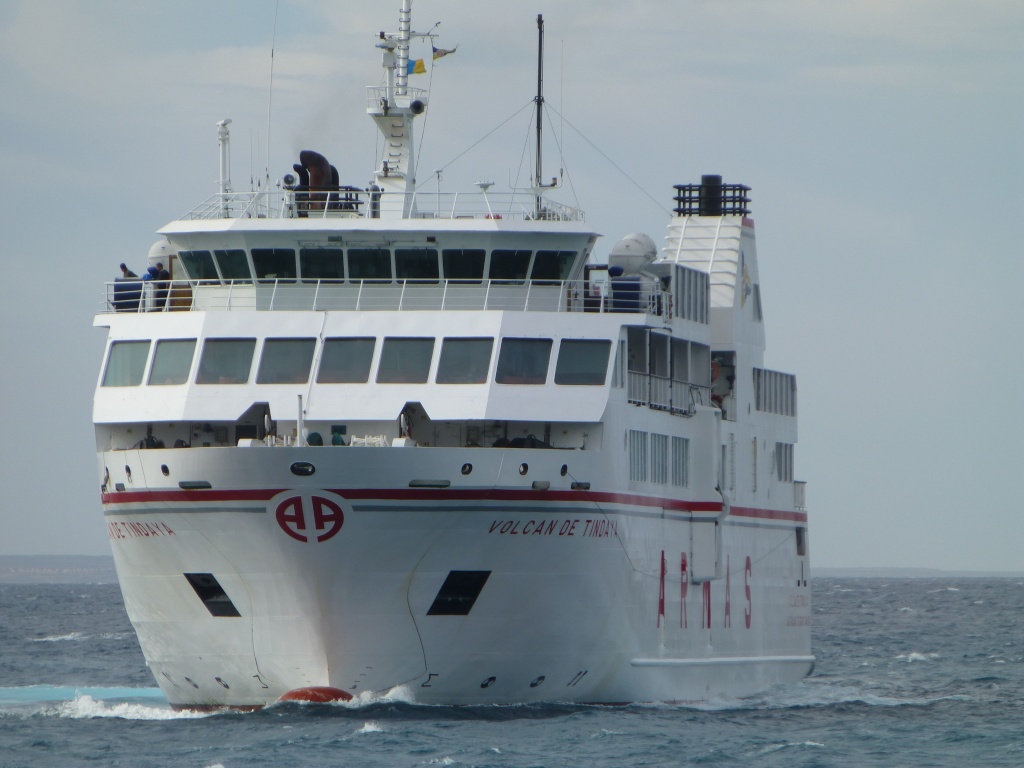 p1140974
a shop showing the current bank rate on the day (which I checked and it was correct) and their rate of exchange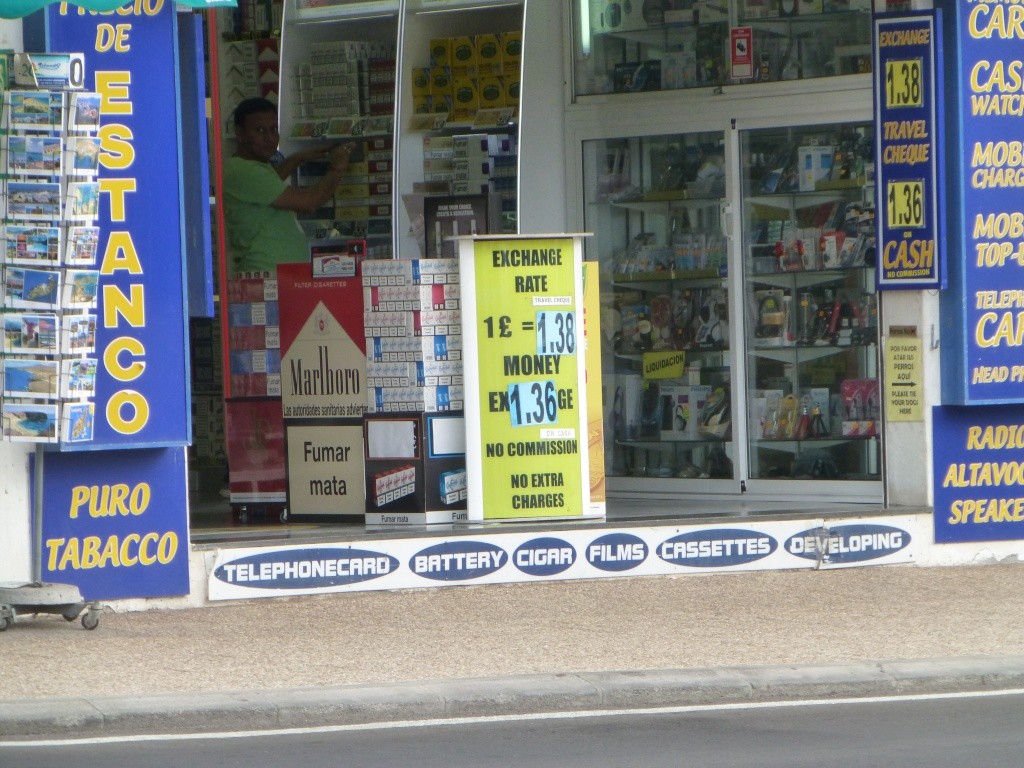 p1140976
Now could I solve this goat milk problem, I spotted a menu which had goats cheese on it's menu
p1150459
I then went and looked of the equivalent menu under the Spanish flag symbol and came up with a name but looking in the Spar I couldn't find anything that matched. I know Lady C in the Jungle called Duncan an old goat, could Bannatyne be the name i'm looking for lol.
p1140977
In the end I had a German lady interpreting to the staff what I was after, which turned out to be this, it was in Spanish and for all I knew, could even be camel lol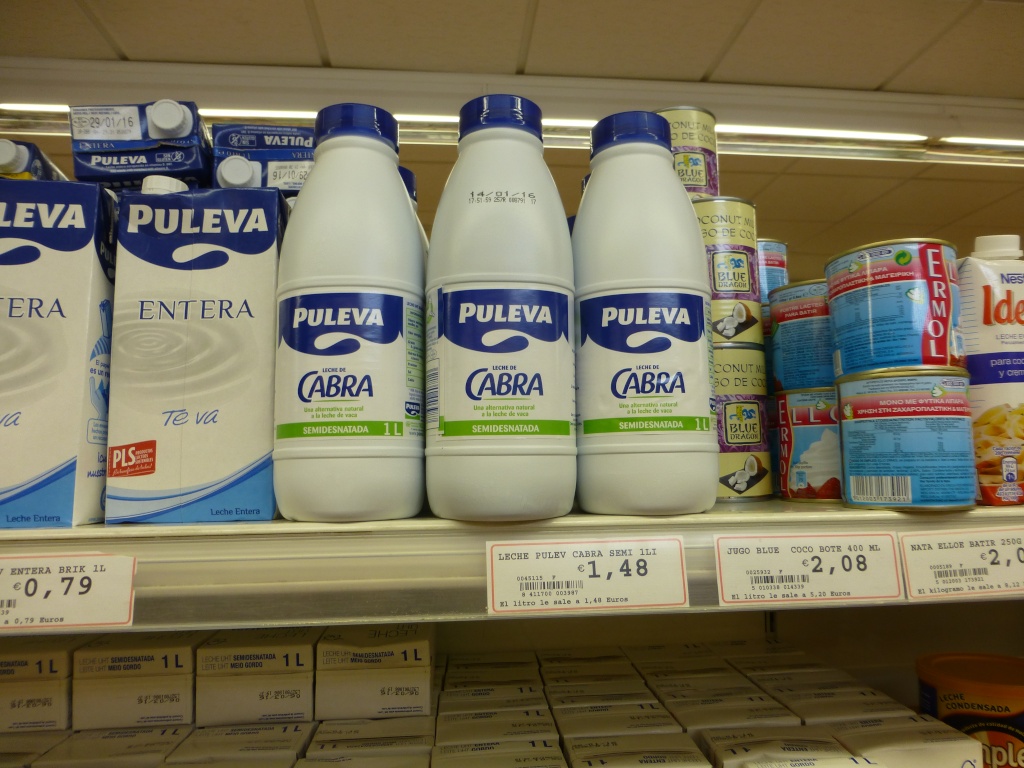 p1140980
So leaving my quest for goats milk aside, it was new instuctions to guide car travellers to the town's Superdino, so driving down from the windmill roundabout towards the town centre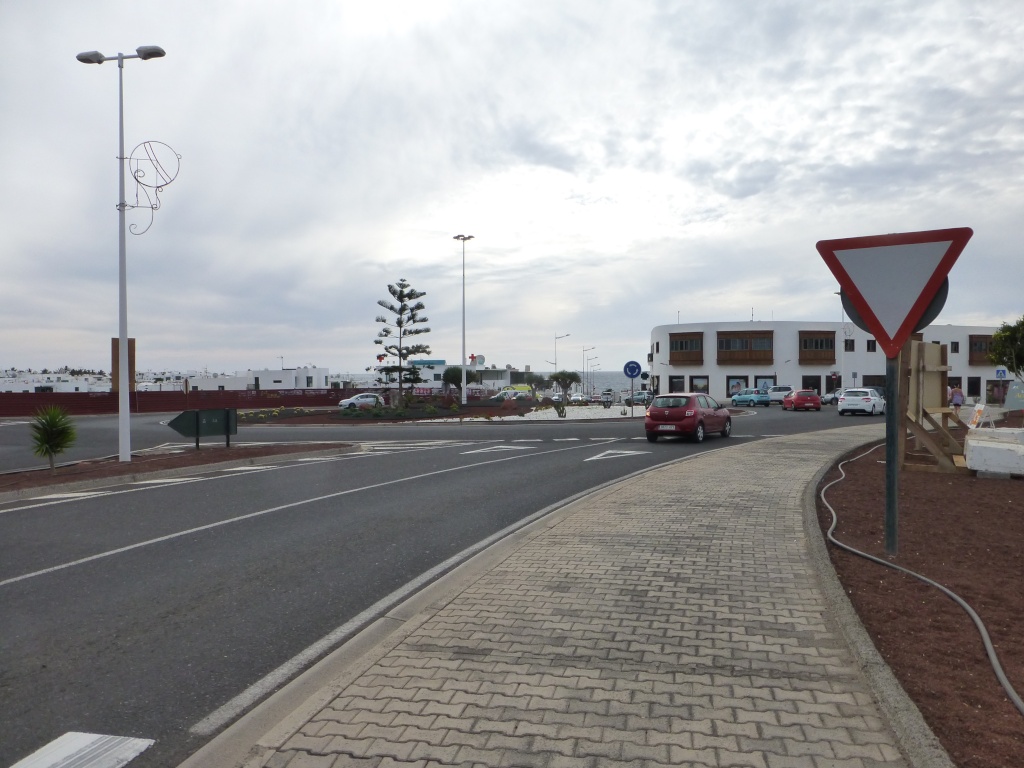 p1140981
go straight across this roundabout towards the sea
p1140982
Then it's a right turn, it's the only one on this hill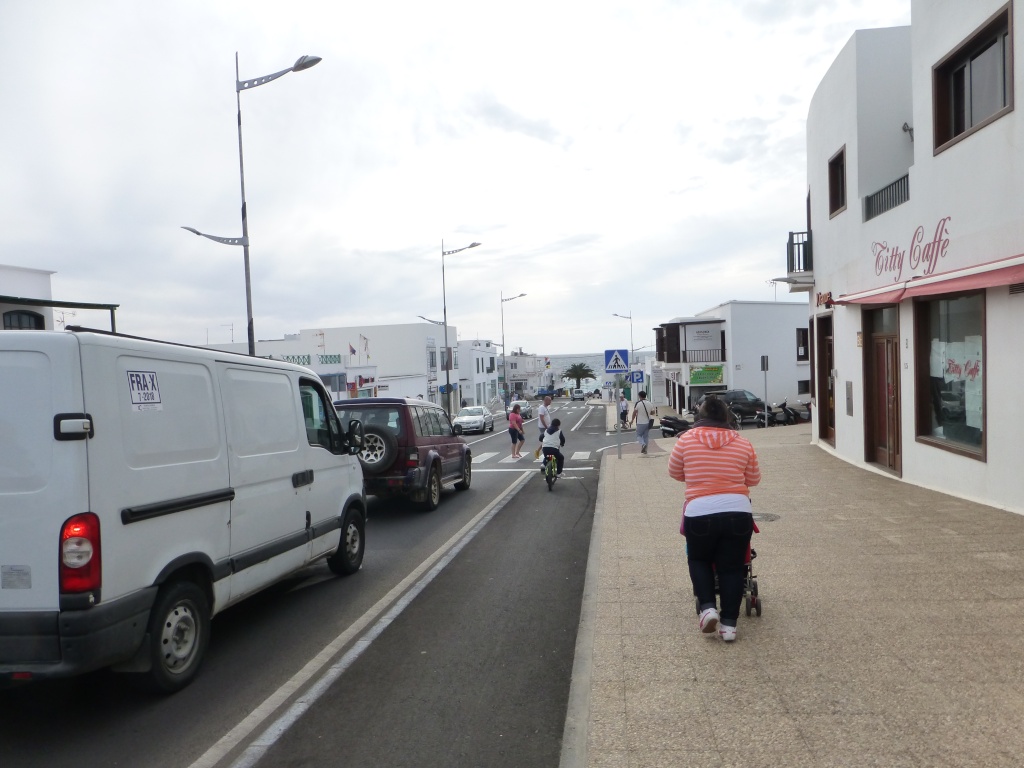 p1140985
and straight down to near the end of the road, taking the left on any fork in the road (and there are a couple)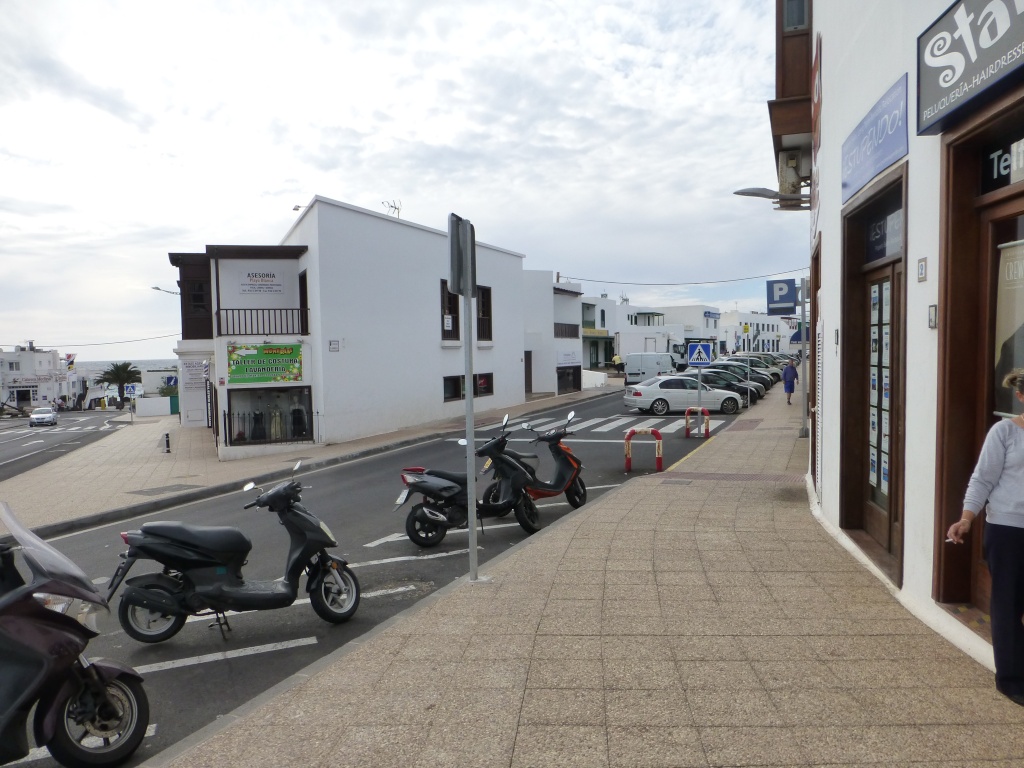 p1140986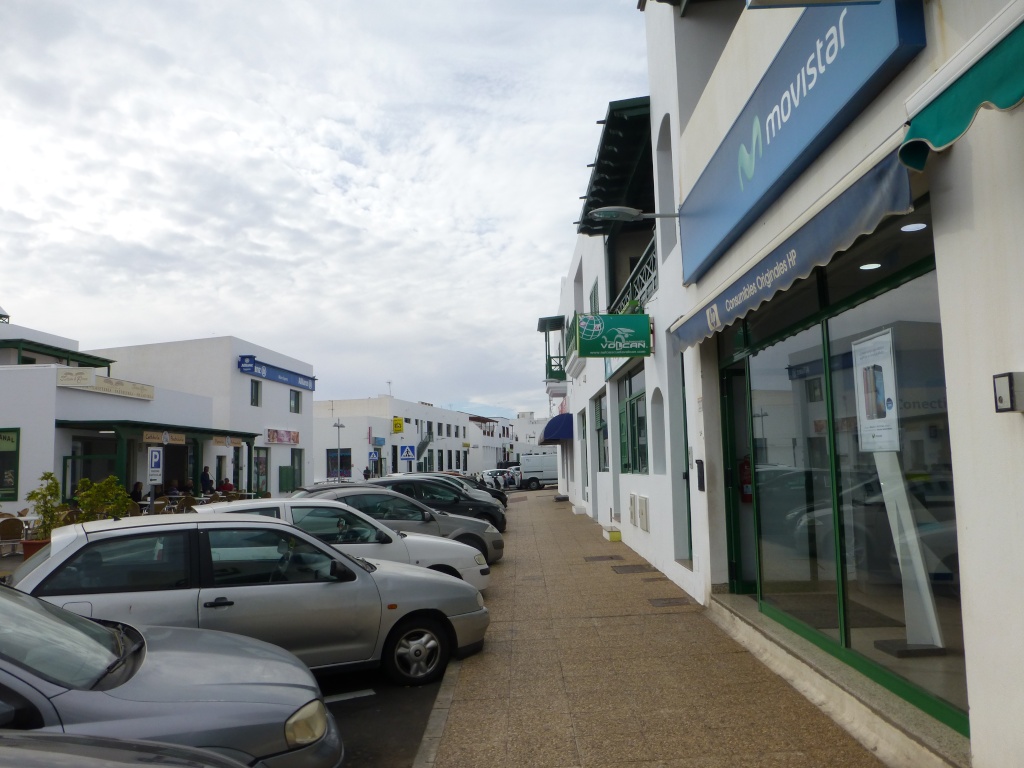 p1140988
keep to the left road here
p1140989
keep on straight on here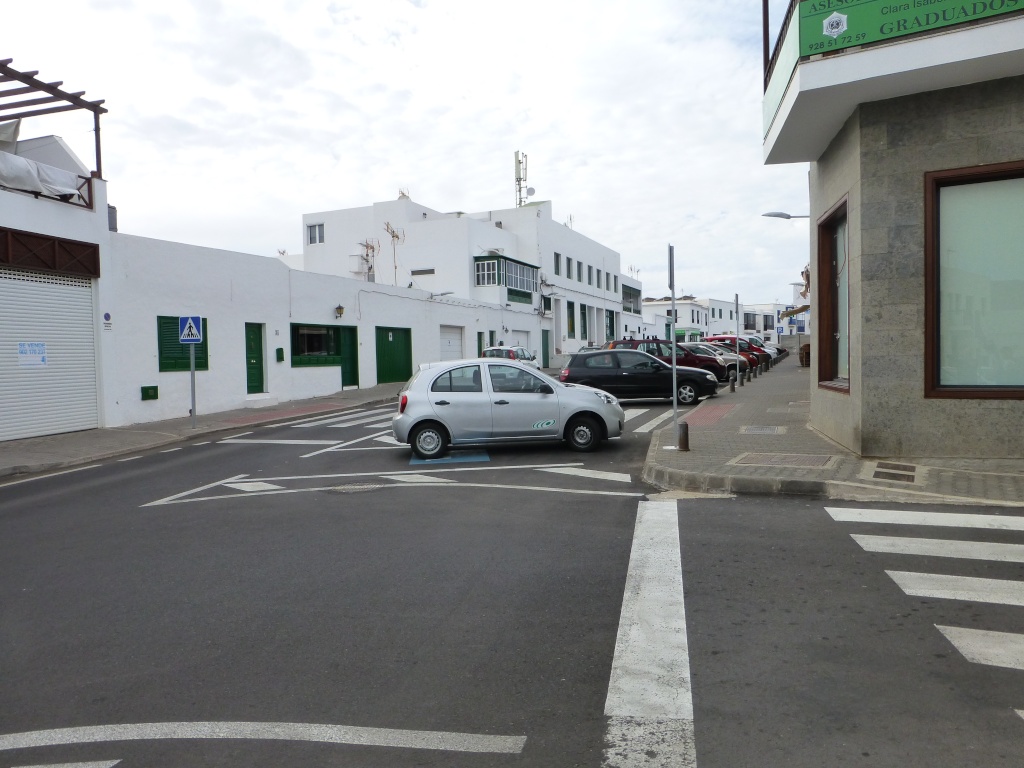 p1140996
finally, you are looking for a corregated fence with that parking sign (that will probably get pulled down in a month or two lol)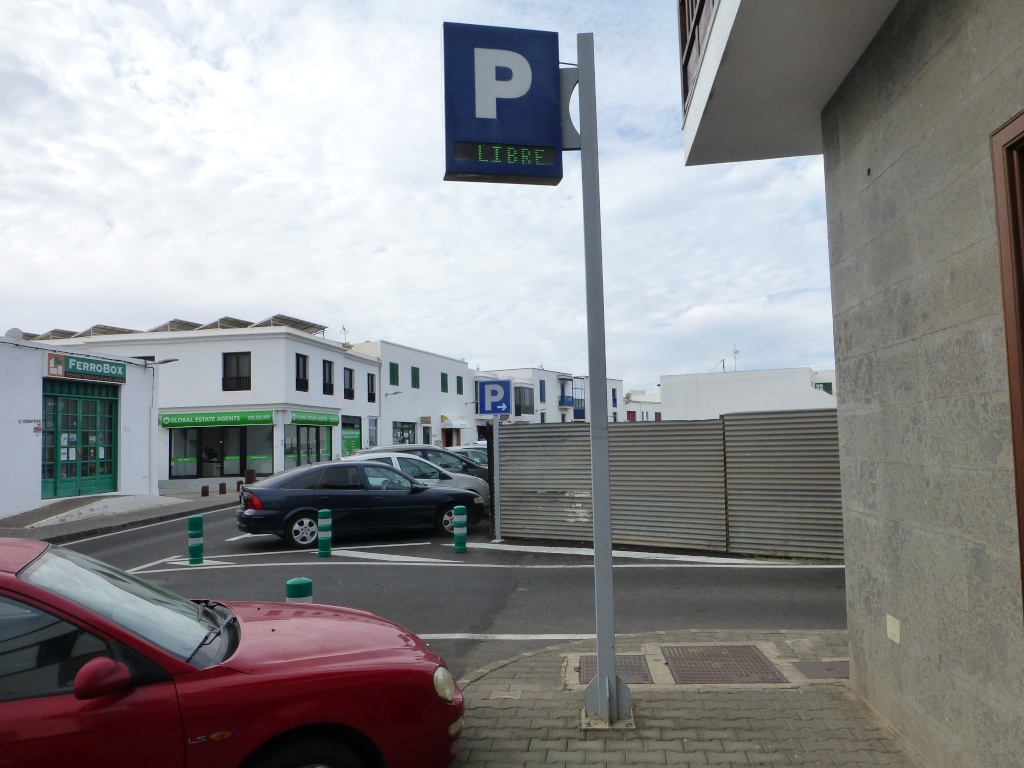 p1140999
and down here
p1150001
one can see how difficult it can be to find lol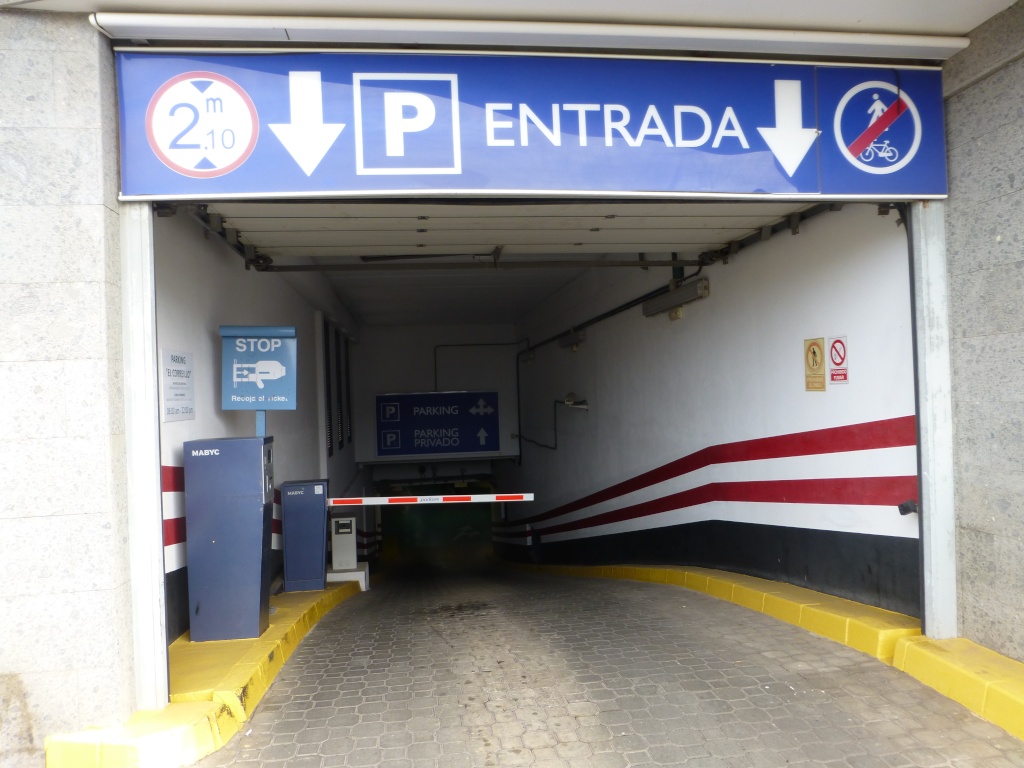 p1150003
take a ticket, keep it, collect another at the till. On exiting, put your first ticket in, followed by the till ticket to get an hours free parking
Now down this same road that we have come, I am told there is a reasonable denist but I have not used them and you would have to decide if it is suitable for yourselves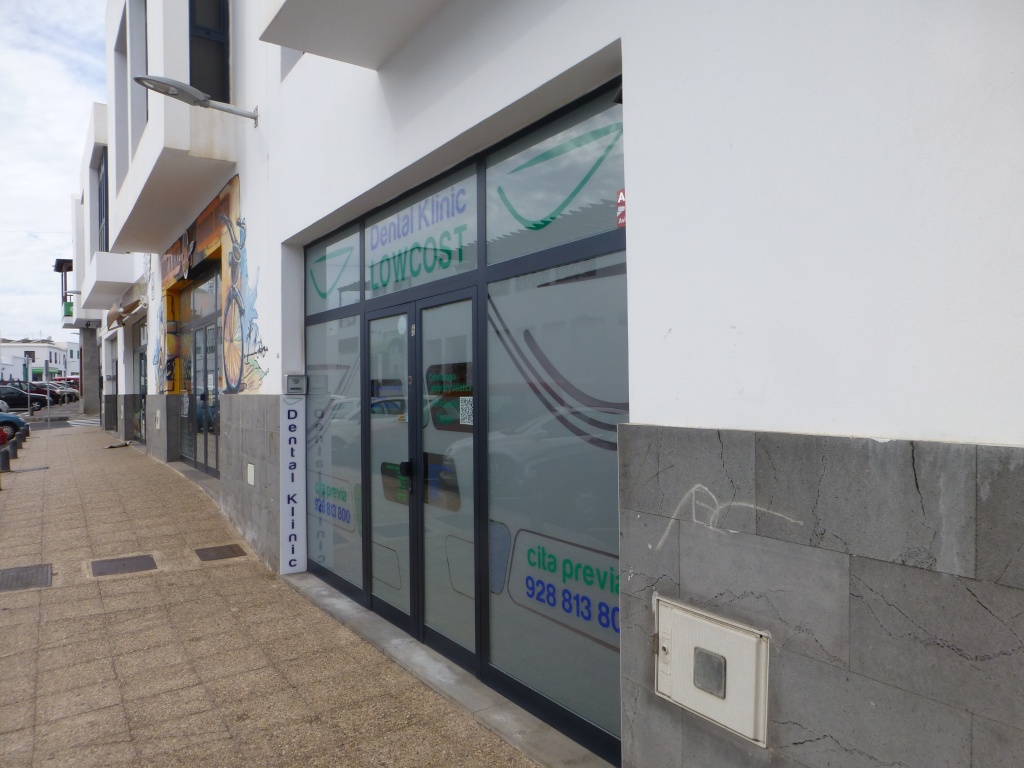 p1140991
Their times but have said, your choice, as I can't comment on them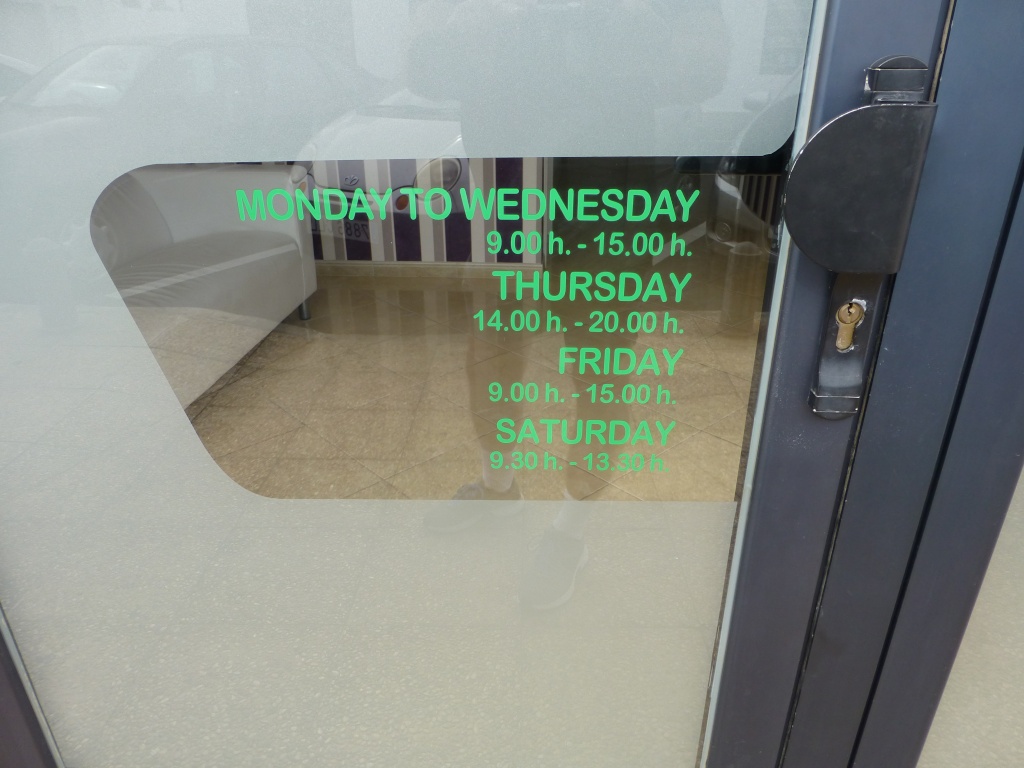 p1140992
also there is an Ostoepath in the same road but I know nothing about them but somebody did ask about one some time ago.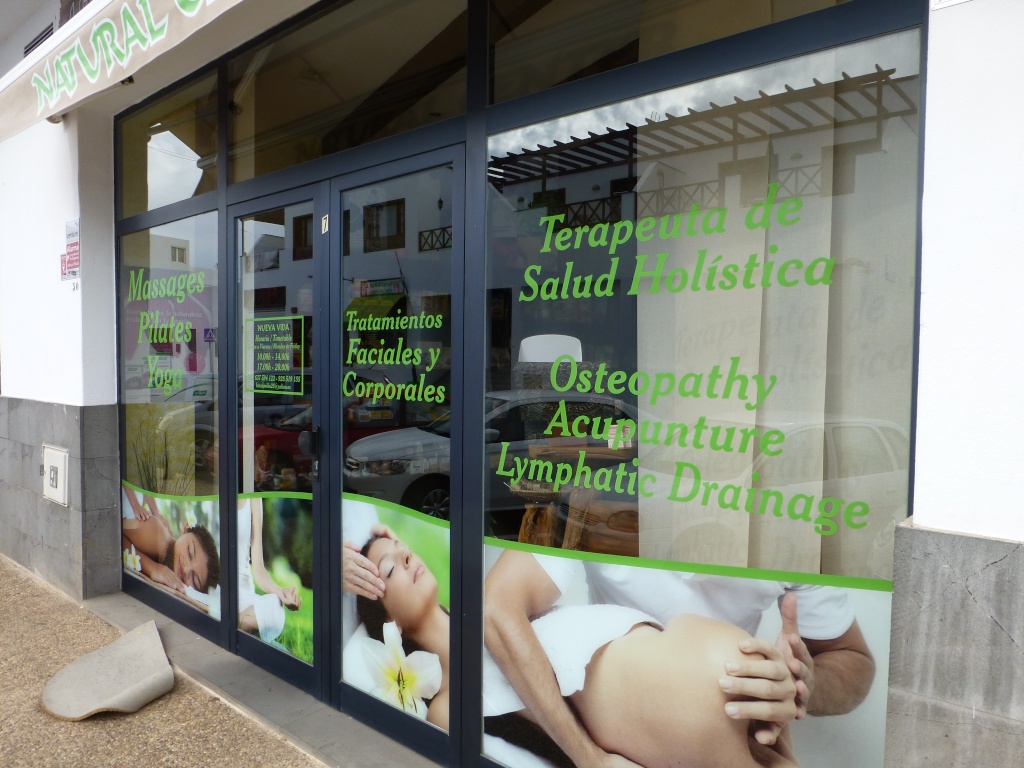 p1140994
anyway, I went into the Superdino and found there were shelves of different milk (and there were loads of shelves), there is Almond milk on the bottom right, another milk often asked for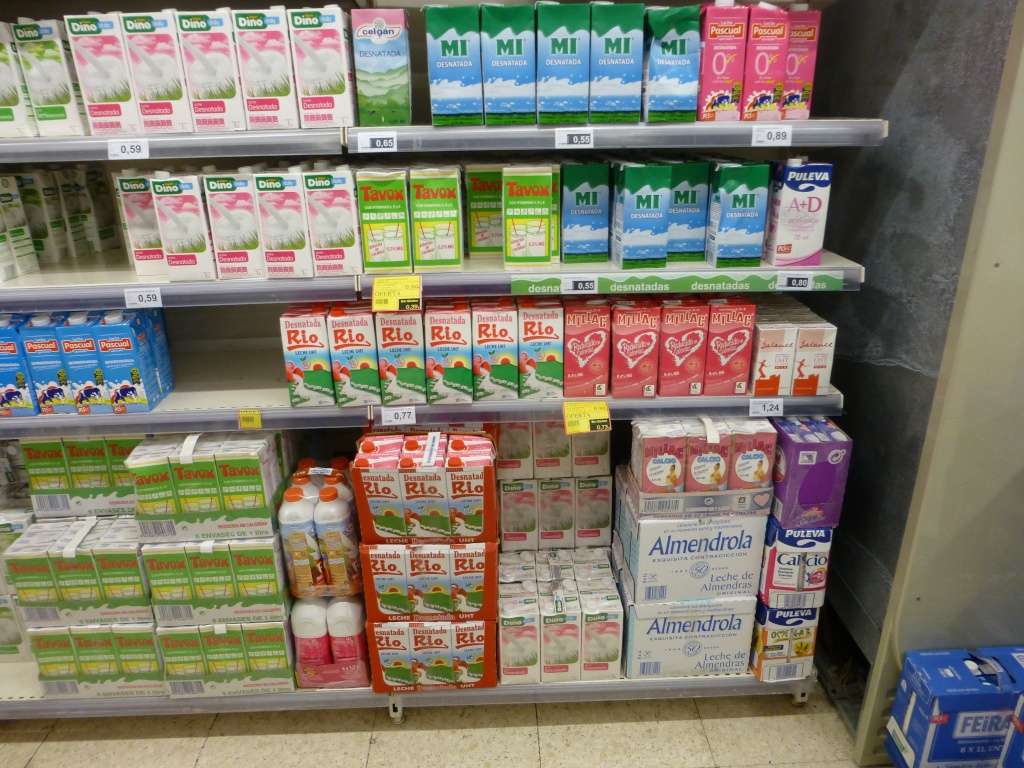 p1150018
so I asked for an Engish speaking employee, who quickly turned the bottle round lol but it can't be fresh as it's not in a fridge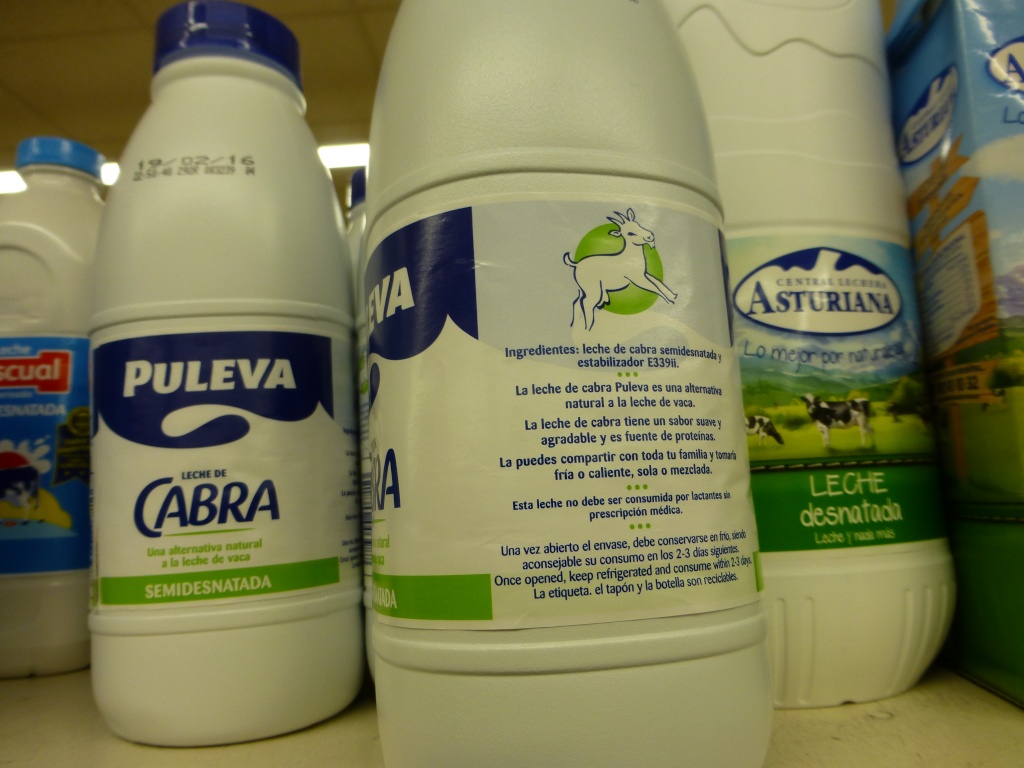 p1150040
however, I have another lead, try Roper's Delboy lol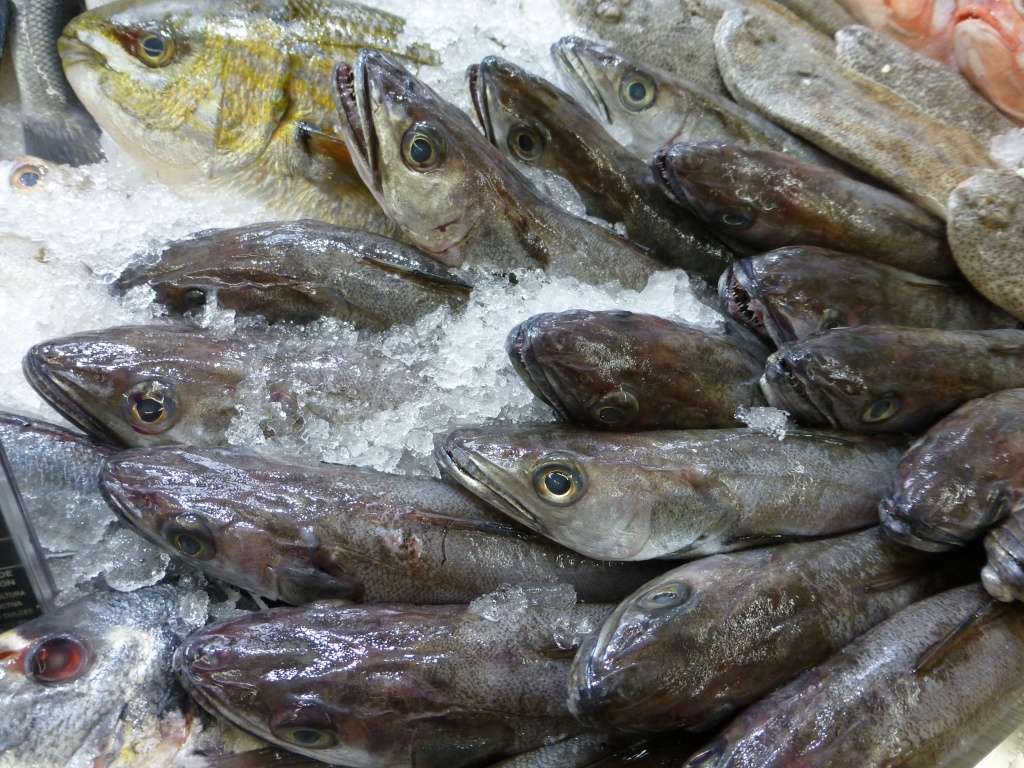 p1150013
but for the time being it was back to Mrs Db, lunchtime, we decided to go over to Lani's and we picked omelettes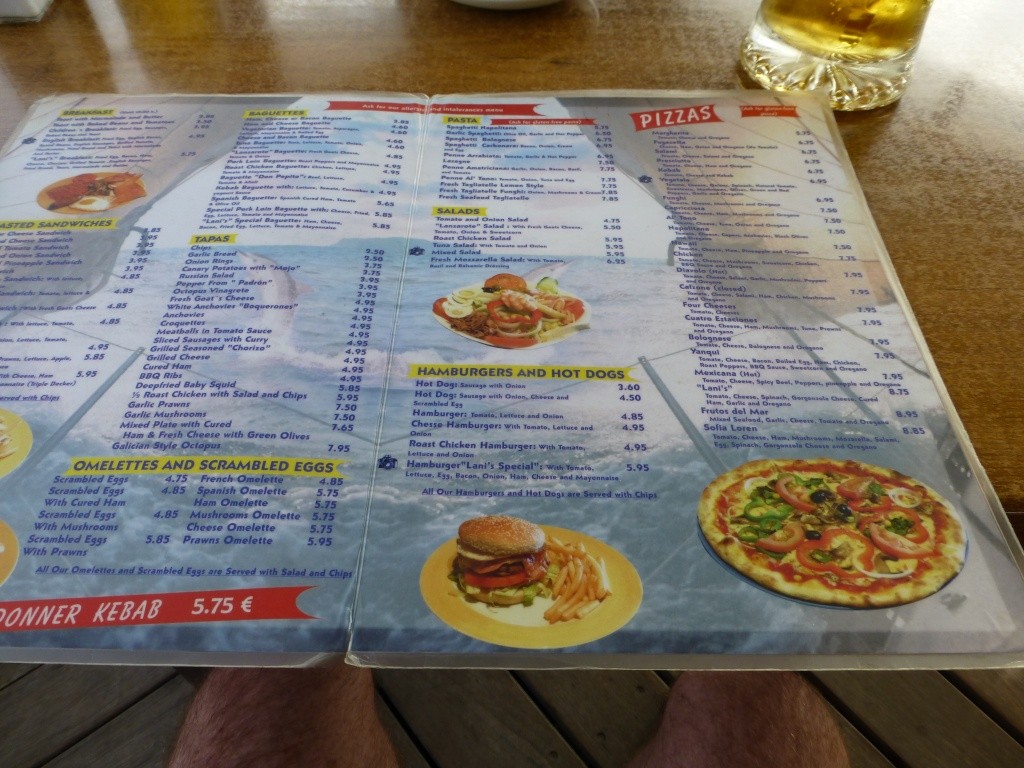 p1150045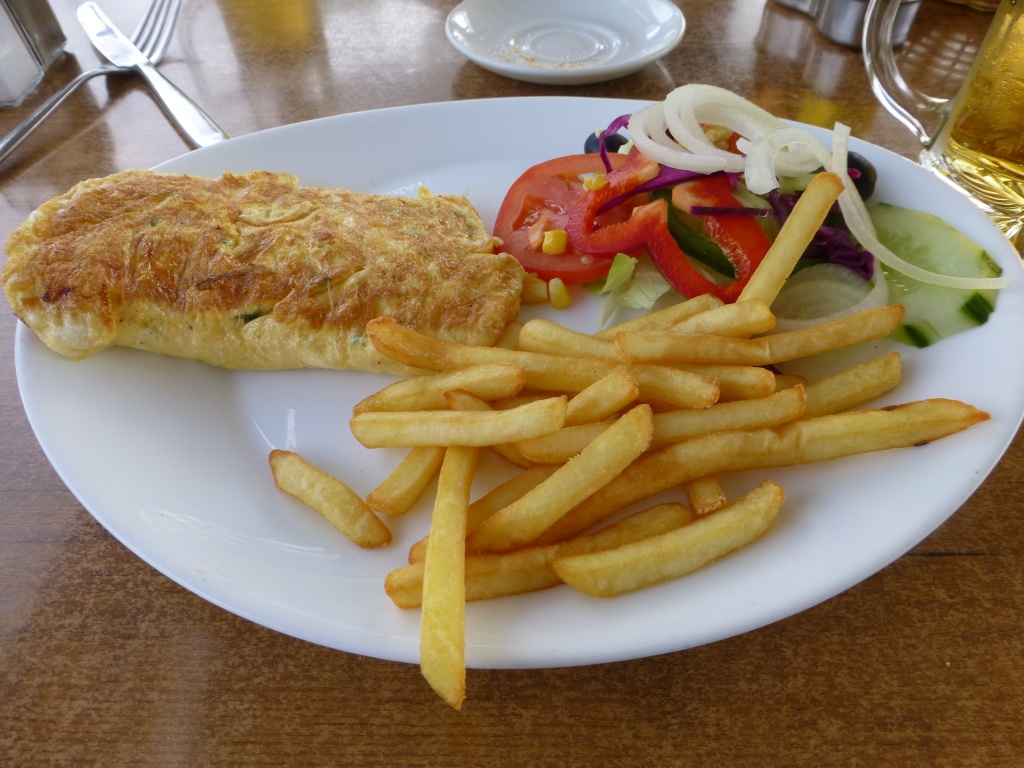 p1150048
nice flowers that we spotted in the marina
p1150055
back at the room somebody was blocking my sea view lol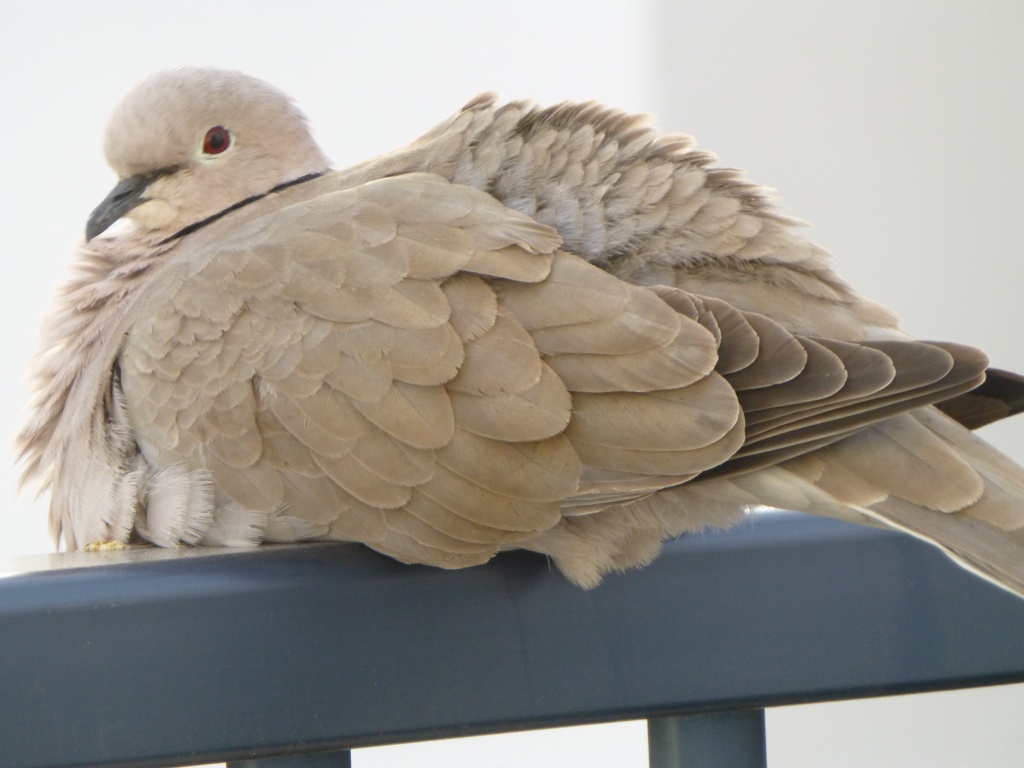 p1150066
however, no sunset this evening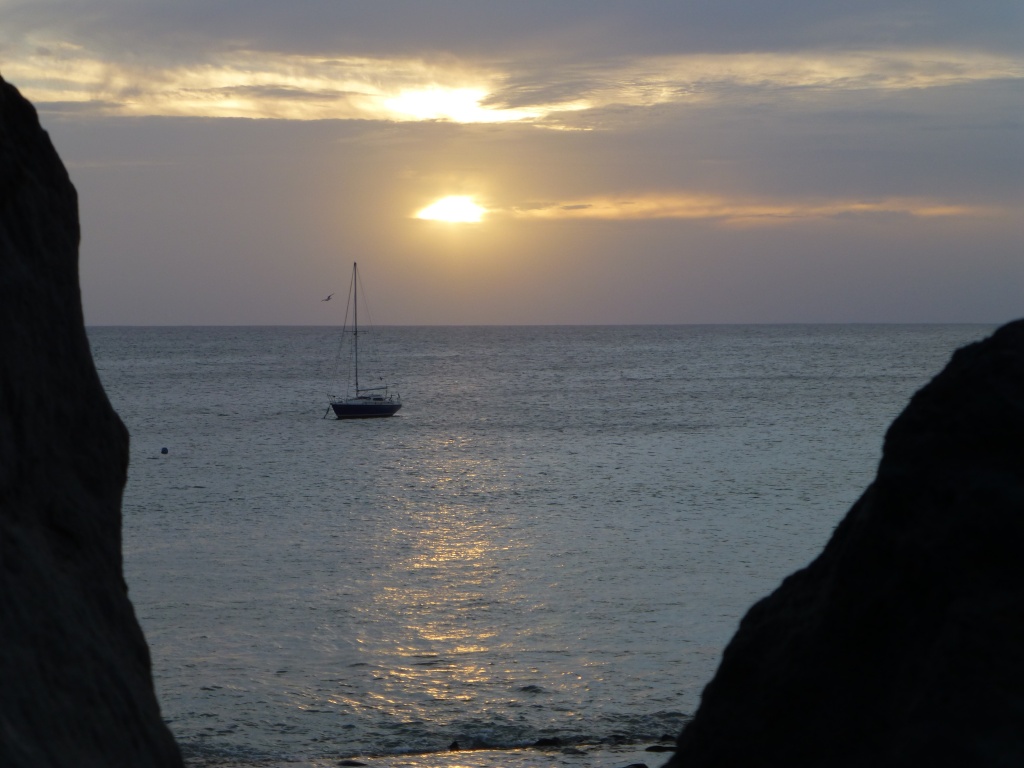 p1150067
tonight we decided to eat in Blue Notes, not been before as we are not Jazz fans, however, the Jazz was being played in the back corner and there is a divided section at the front and with the window blind down and heaters it was quite cosy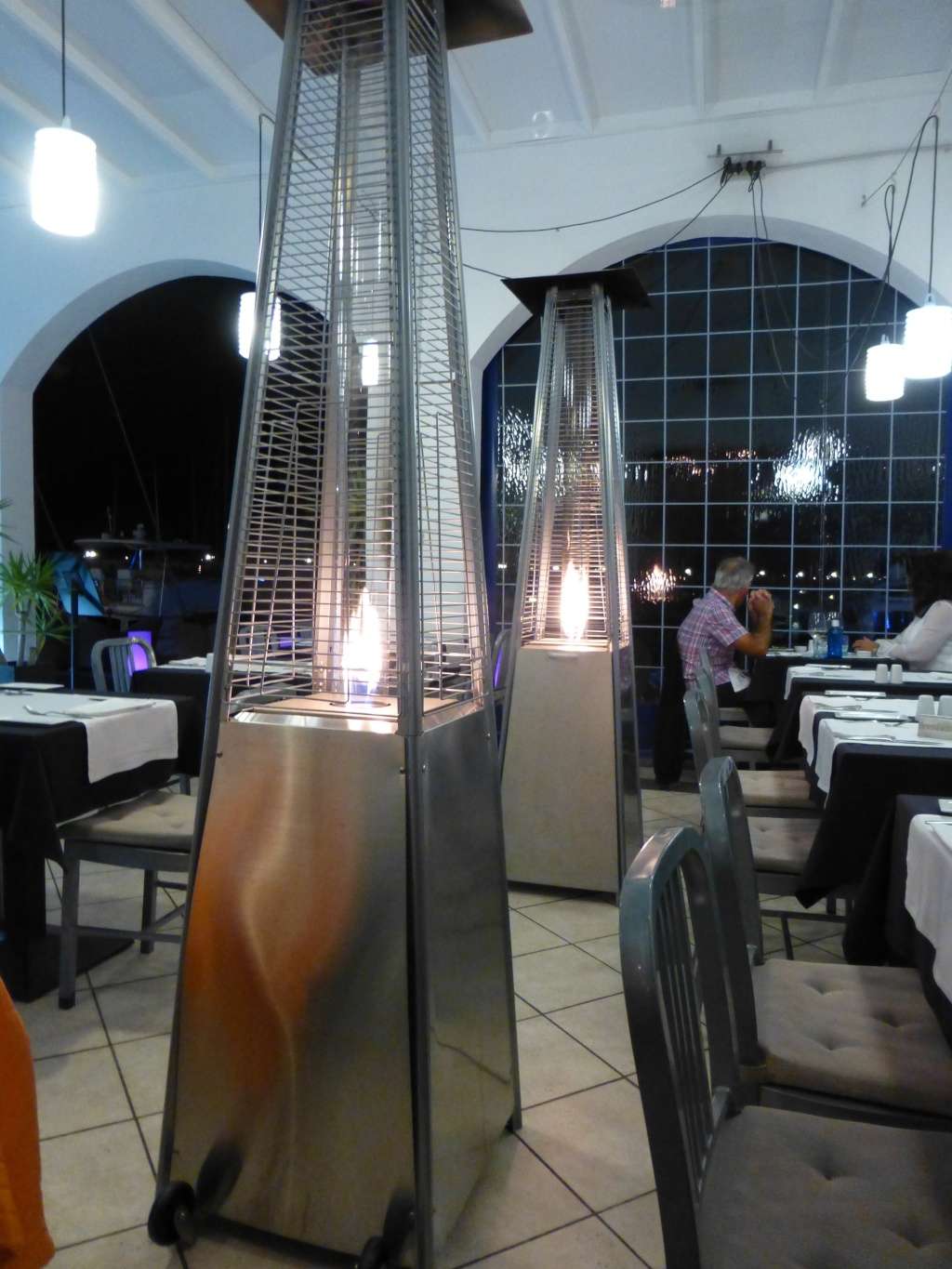 p1150081
bottled water was 2.50 and bread roll 0.75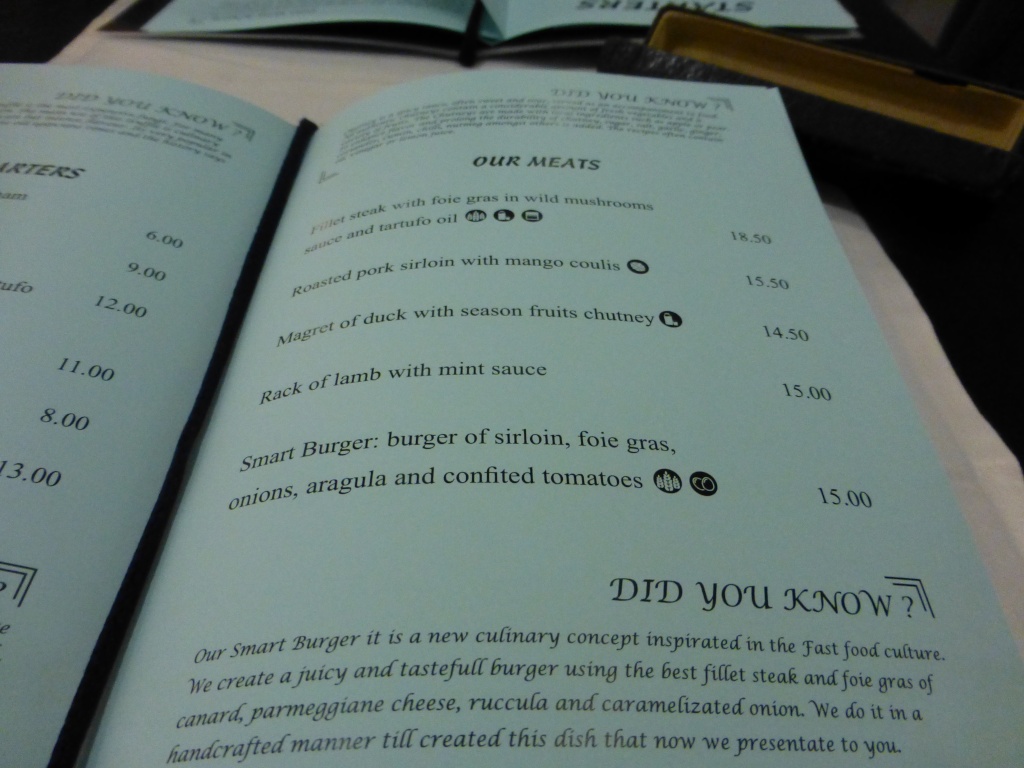 p1150435
p1150434
p1150438
I had the rack of lamb and the lamb was beautifully cooked, excellent and the staff were really good and not over powering
p1150083
Mrs Db went for the sea bass which she said, it was a generous and lovely piece of fish
p1150085
The jazz wasn't overpowering and we could talk quite easily and said we would go back, vodka caramel given with the bill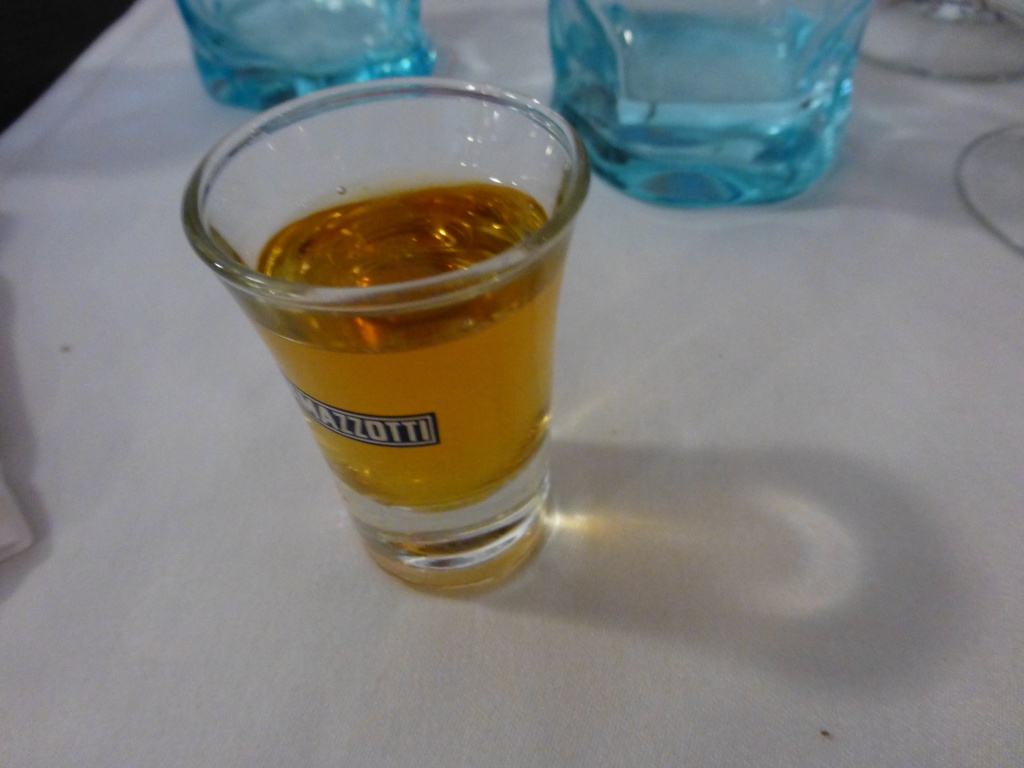 p1150086
a boat decoration on the marina
p1150088
END OF DAY 3
DAY 4
A blue sky morning Mrs Db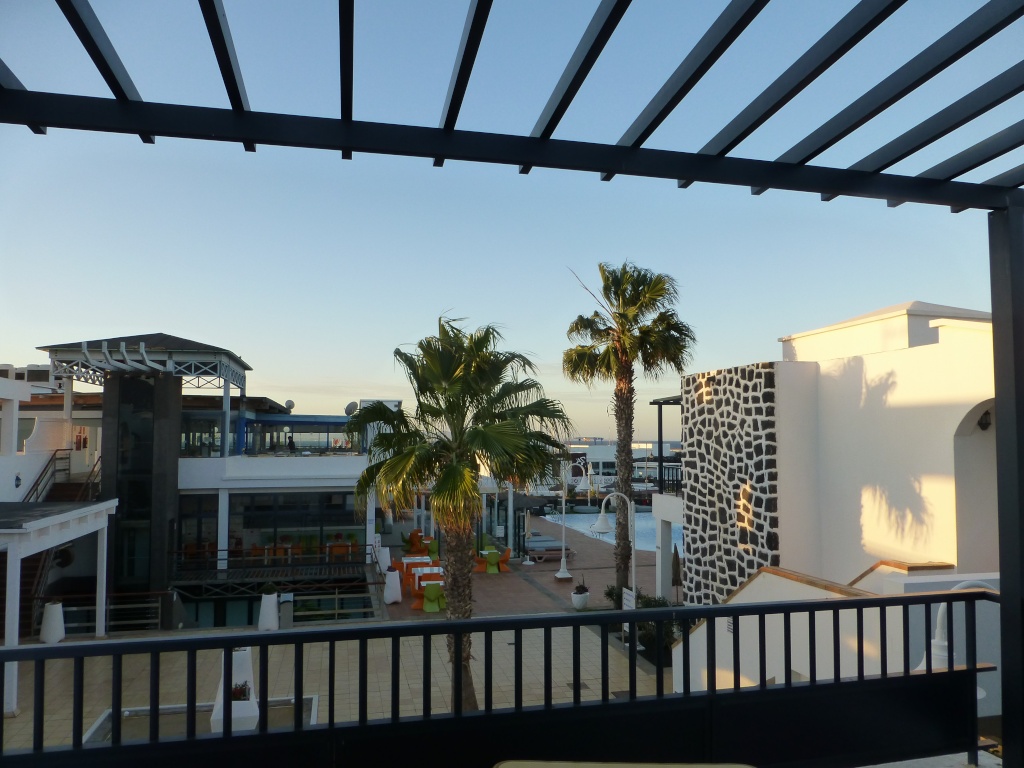 p1150090
A beach day today for us and a market day for others
p1150092
p1150093
so this is what it's about, sunbeds are still 3€s each and parasol is the same on the Dorada beach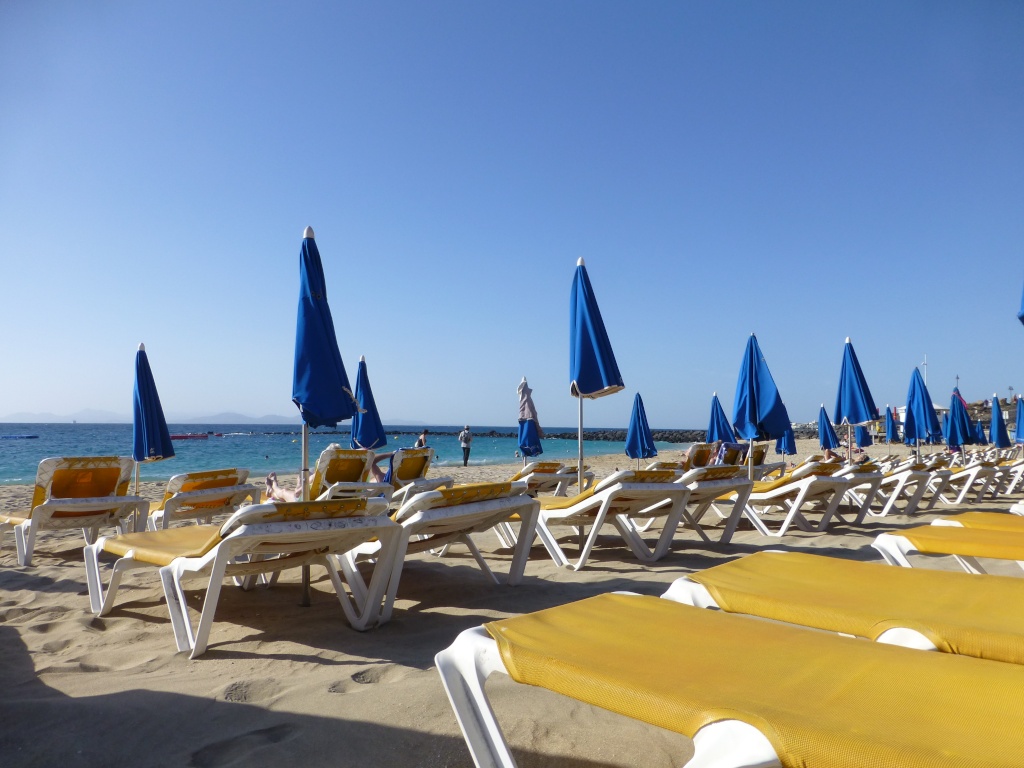 p1150096
I heard there was a football pitch at the back of town, so after a coffee I popped over the road opposite the white church to investigate what was there
going through the Papagayo Centre I noticed a new Indian restaurant had open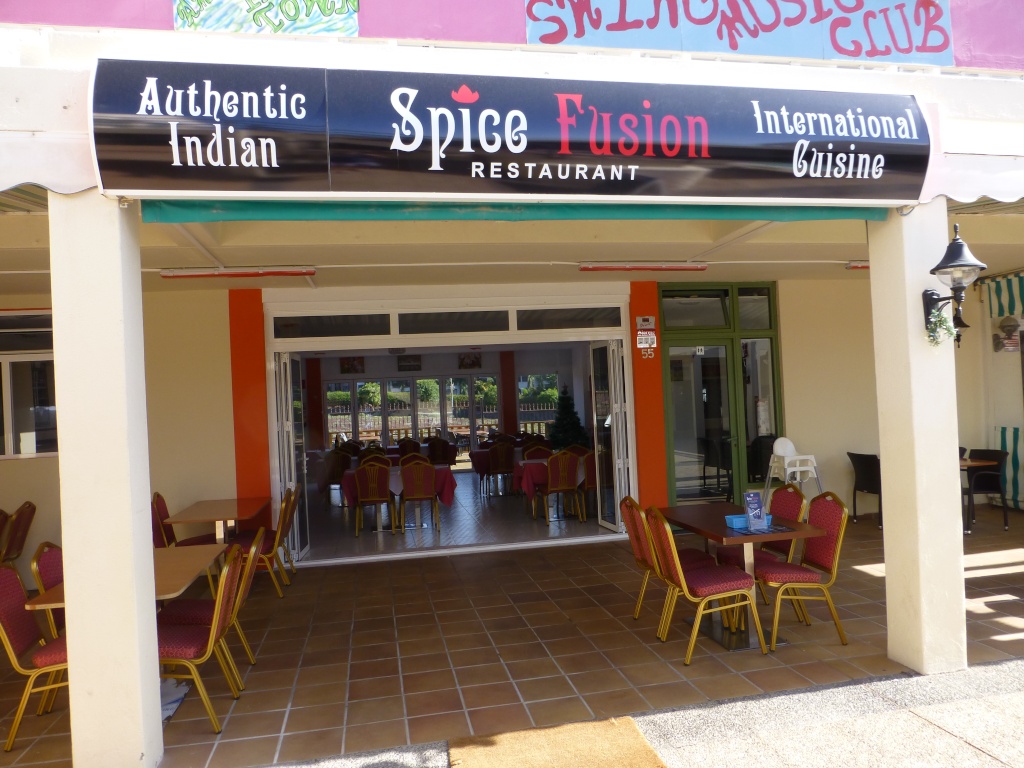 p1150106
If I could persuade Mrs Db to have a curry, we might try that, I later looked up TA and it was number 2 in the ratings
p1150105
Also a new 12D cinema which I would later investigate but doesn't open until 15:00 hrs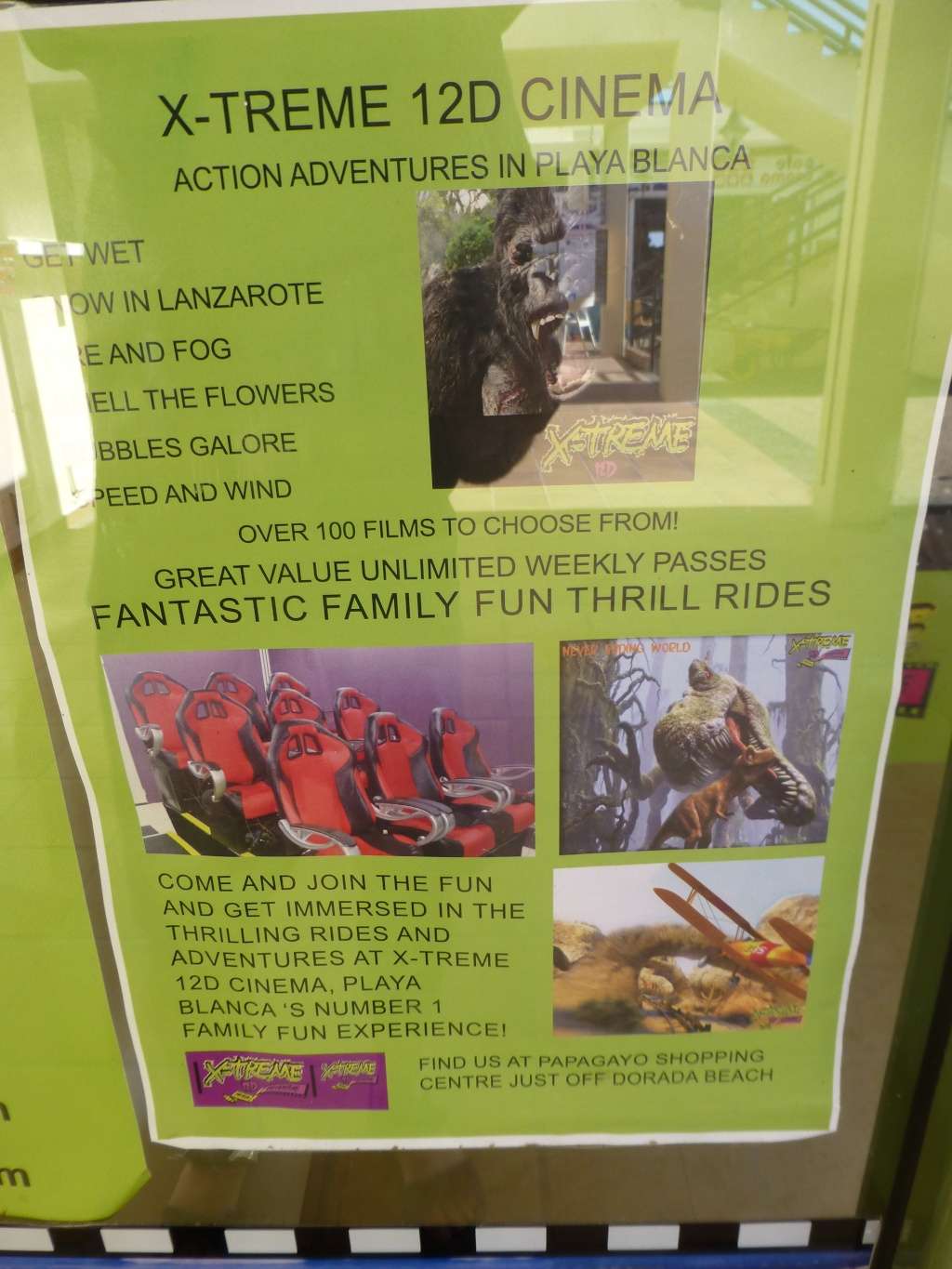 p1150103
So now at the park area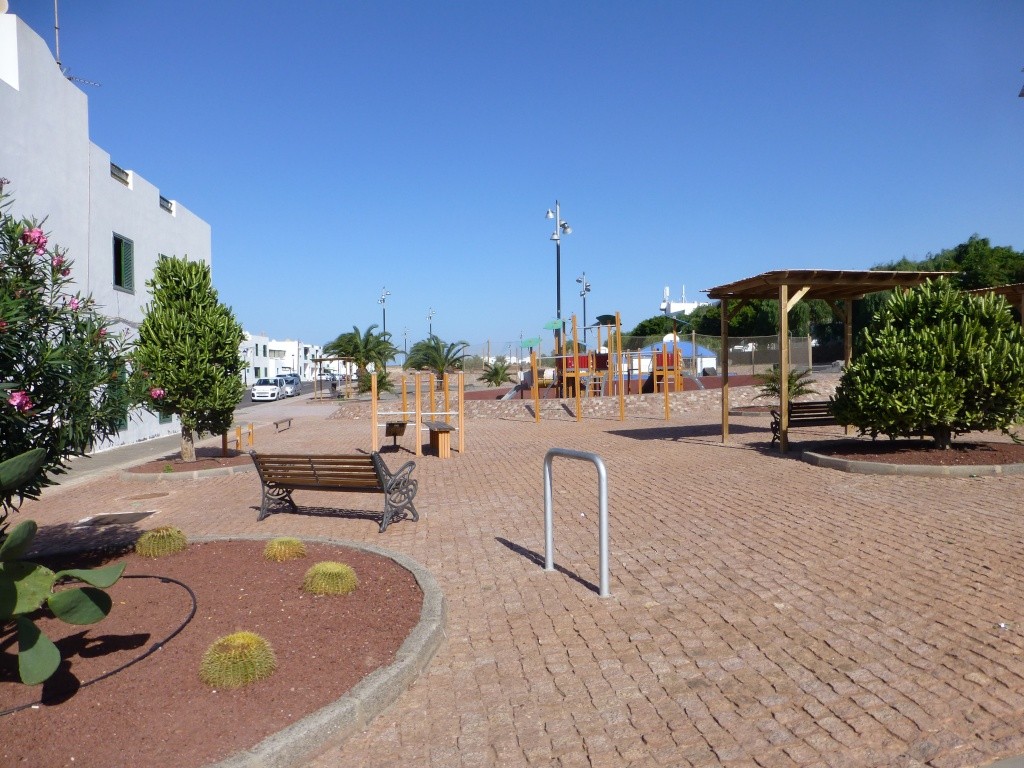 p1150108
so to start with, there is a children's slide etc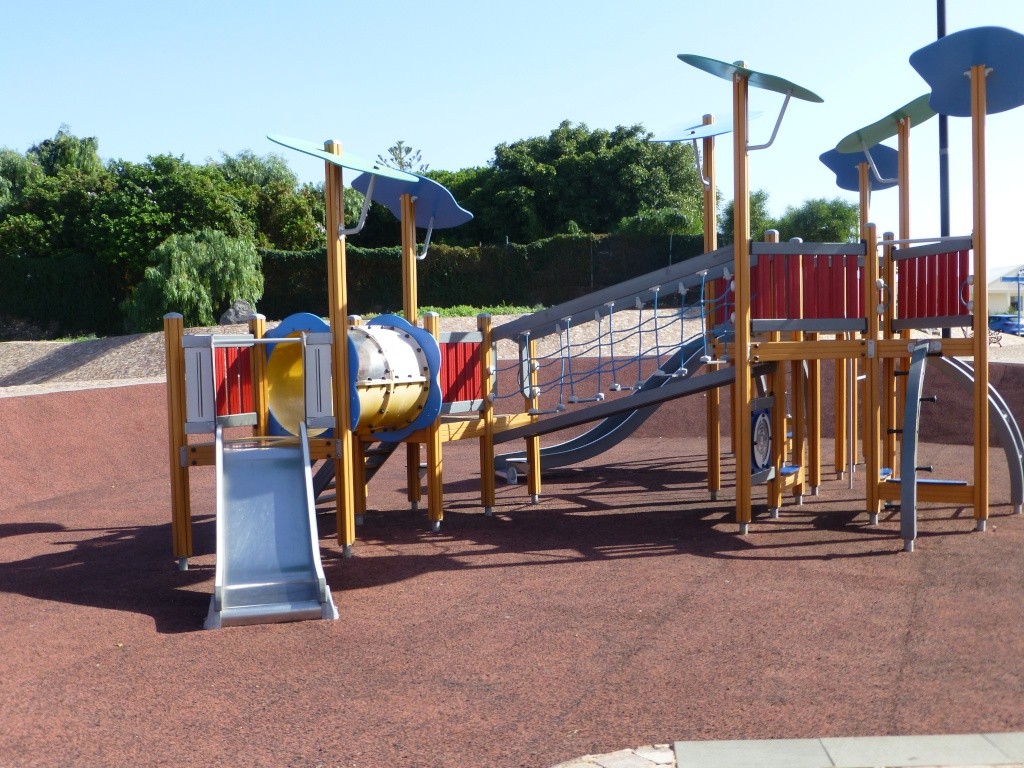 p1150109
and there was this arena area, where you could play lots of multi sports, could this be it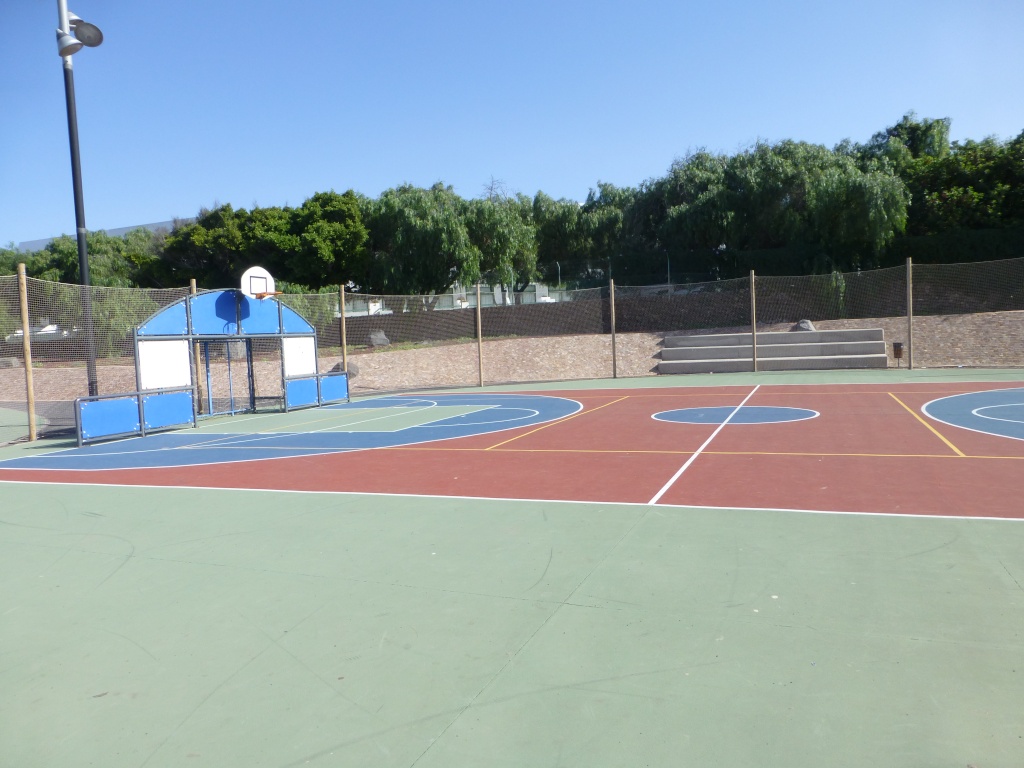 p1150110
further down the road was some gym apparatus similar to that on the beach promenade, all this area is overlooked by the Lanzarote Princess on one side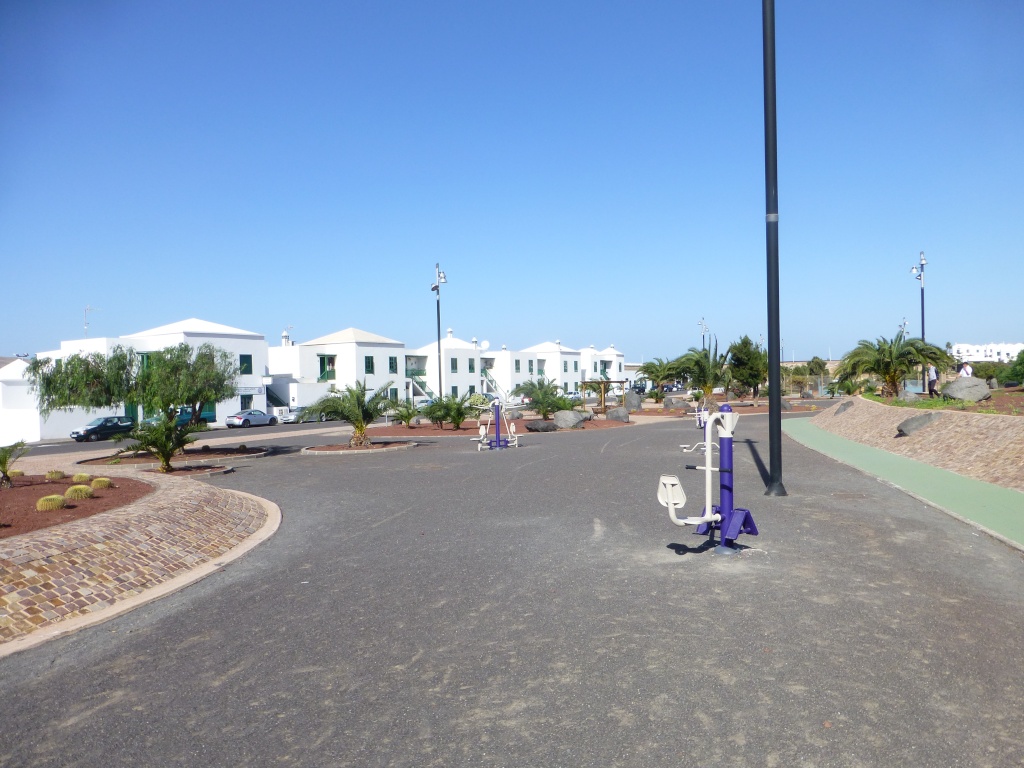 p1150112
and then a skate board area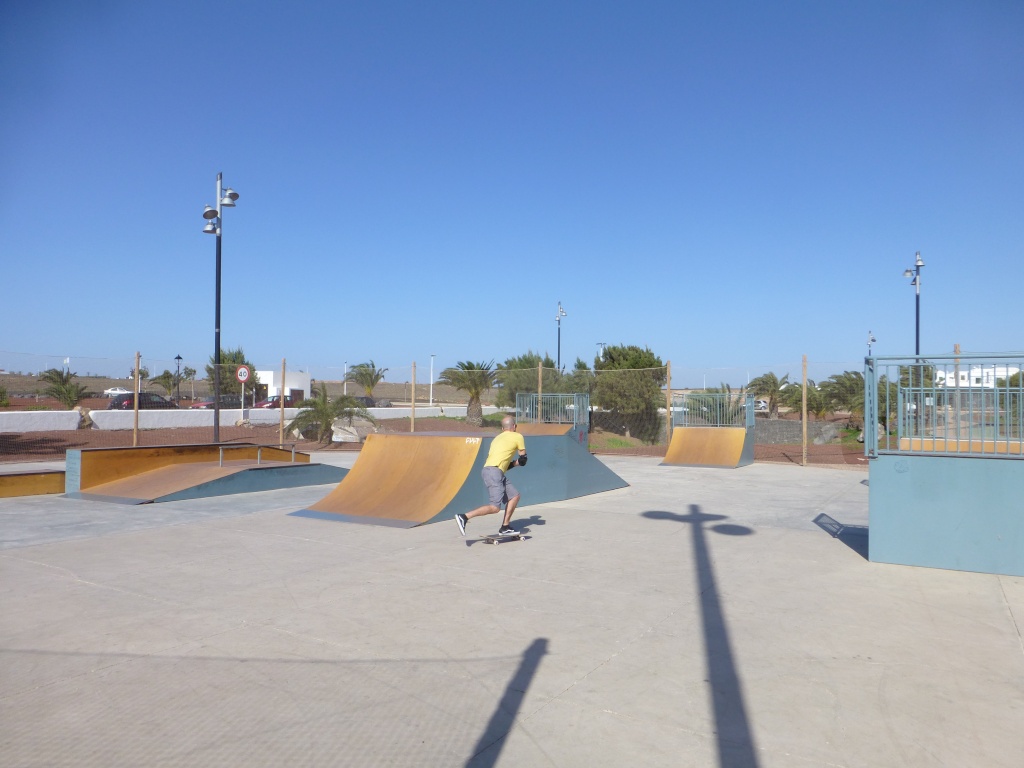 p1140114
There, a road down on my left, I spotted the football pitch
p1150117
It looks quite official, so I guess one would have to ask permission on special times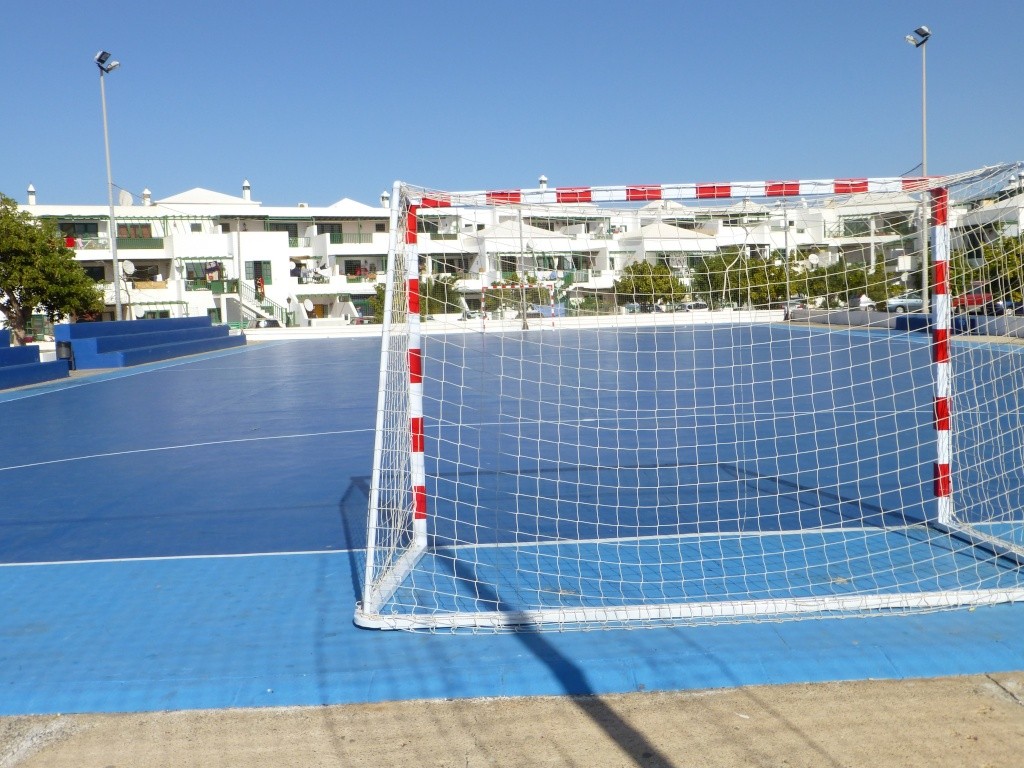 p1150119
also down the road I came across a video shop for people wanting to rent films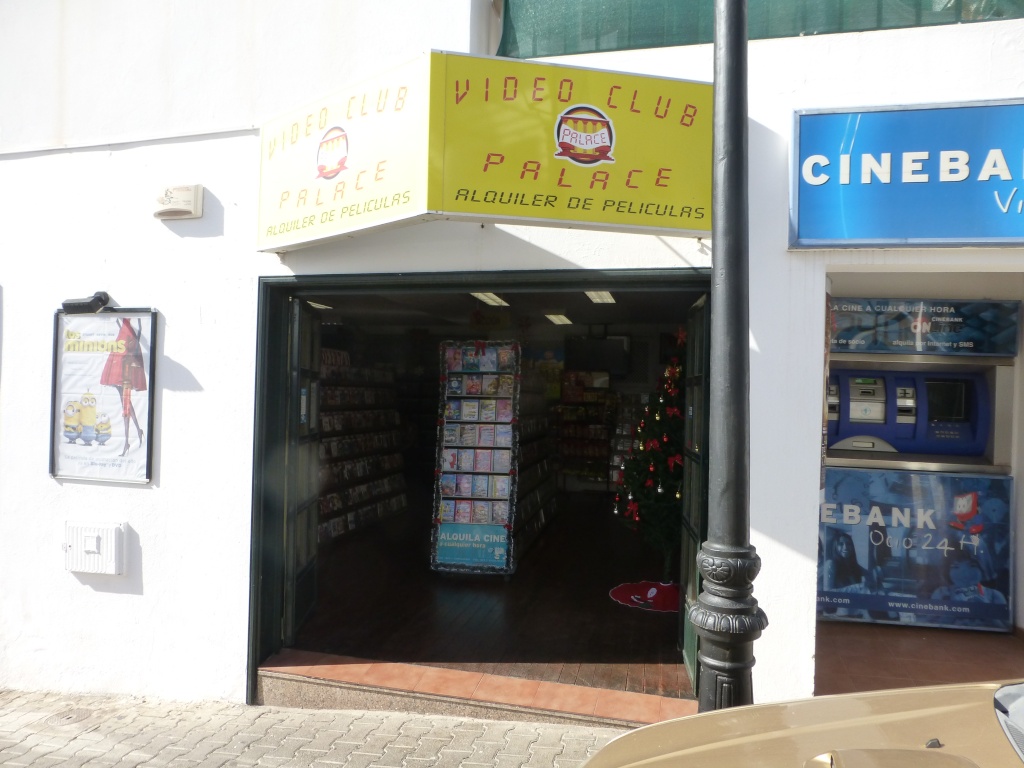 p1150122
and a book swop shop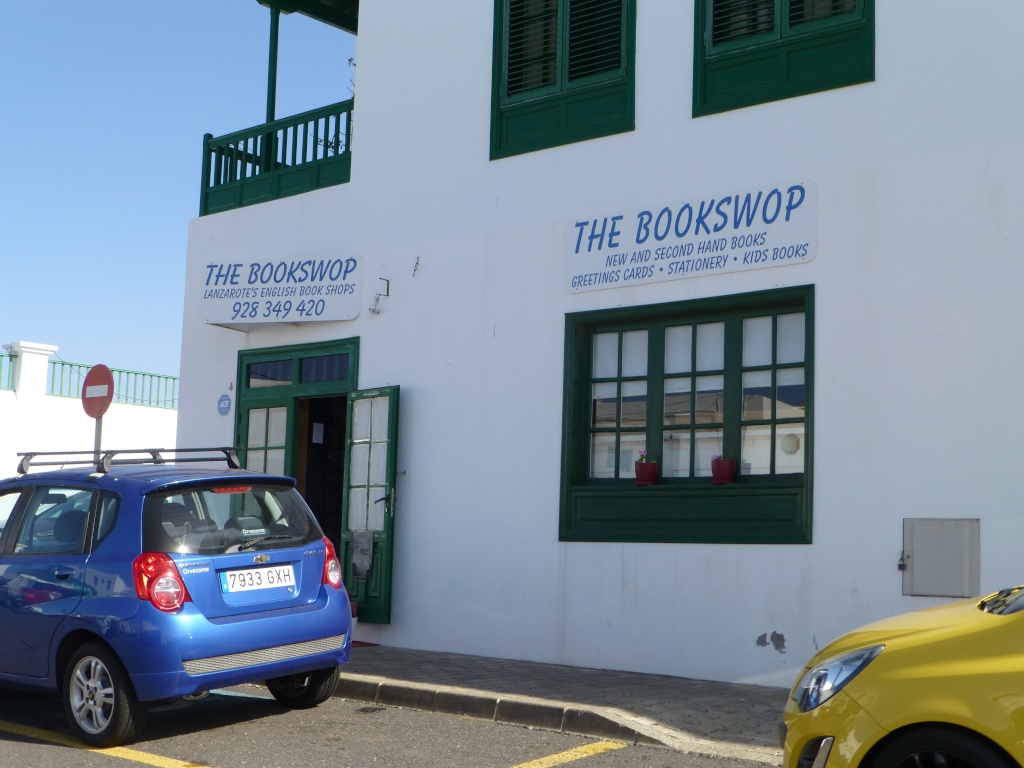 p1150125
and a hairdressers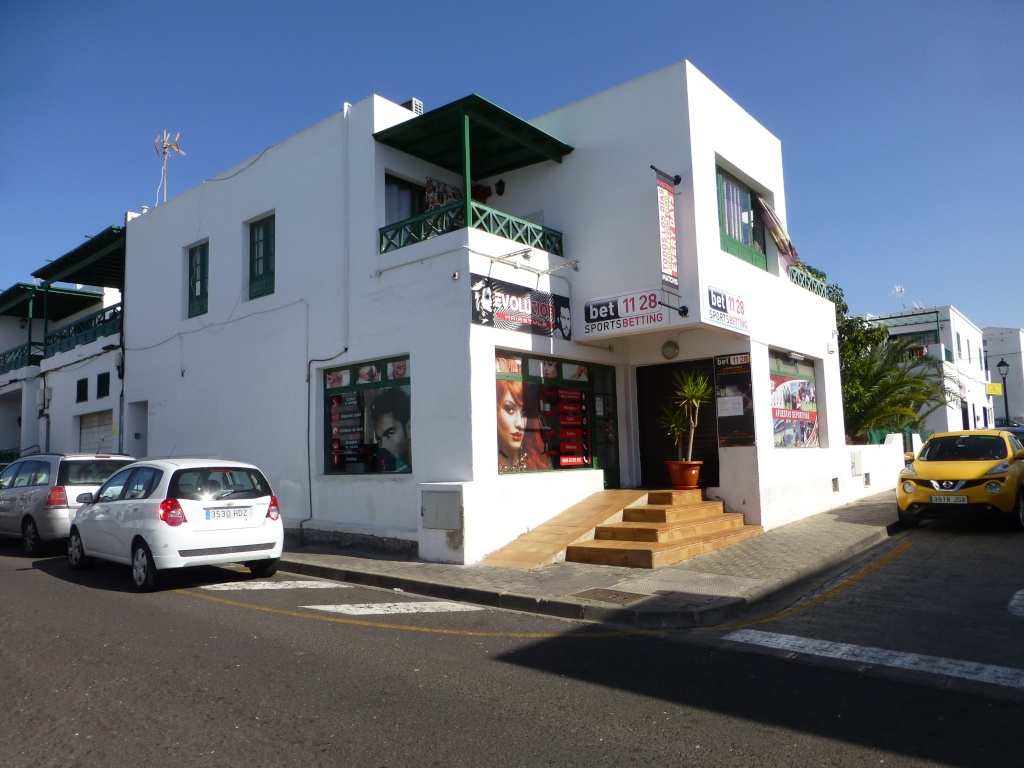 p1150124
there was a new bar above Gravity's called the Terrace bar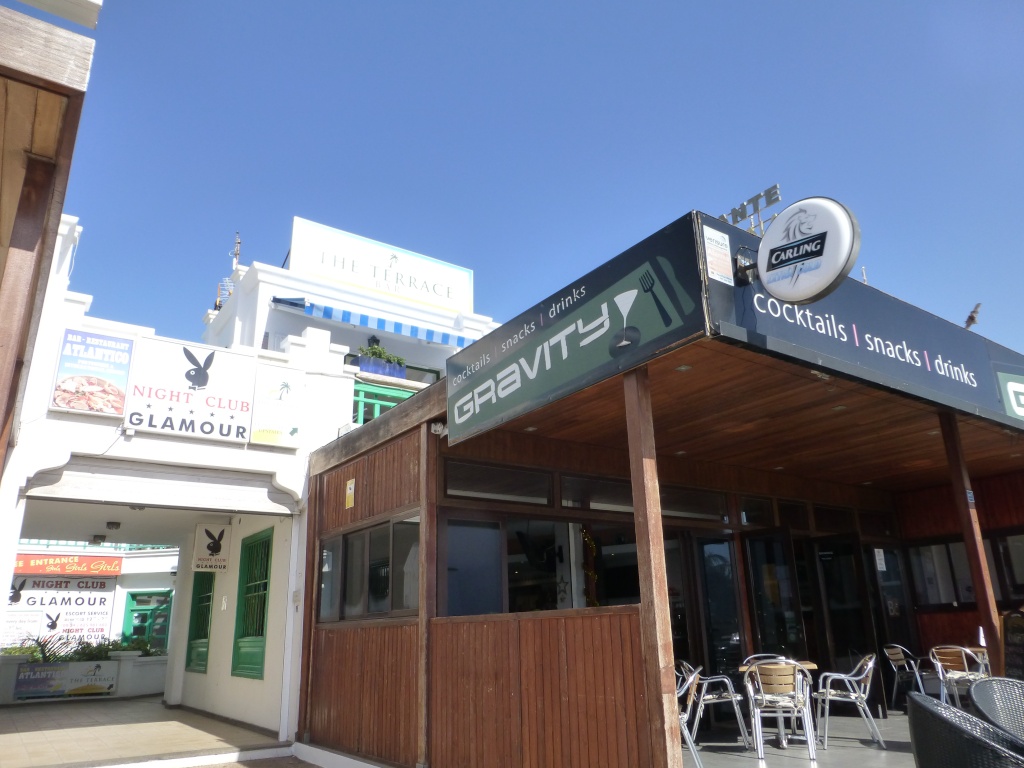 p1150126
so i had a quick look upstairs, passing the bunny club lol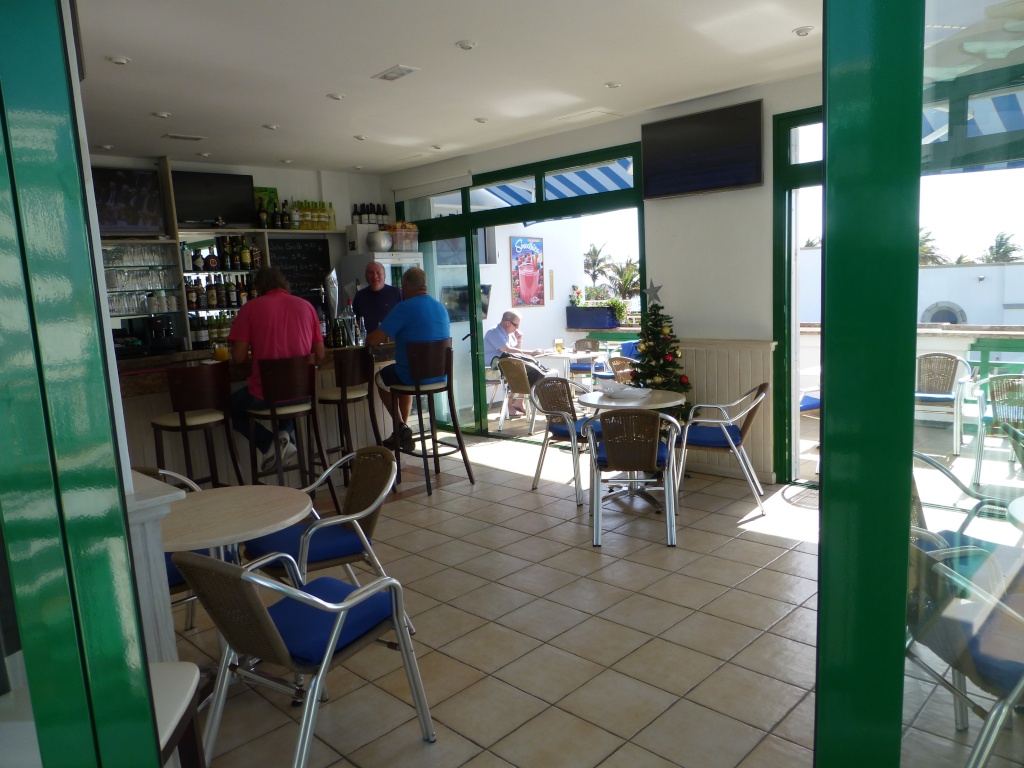 p1150128
The Atlantico restaurant was shut for pre Christmas holiday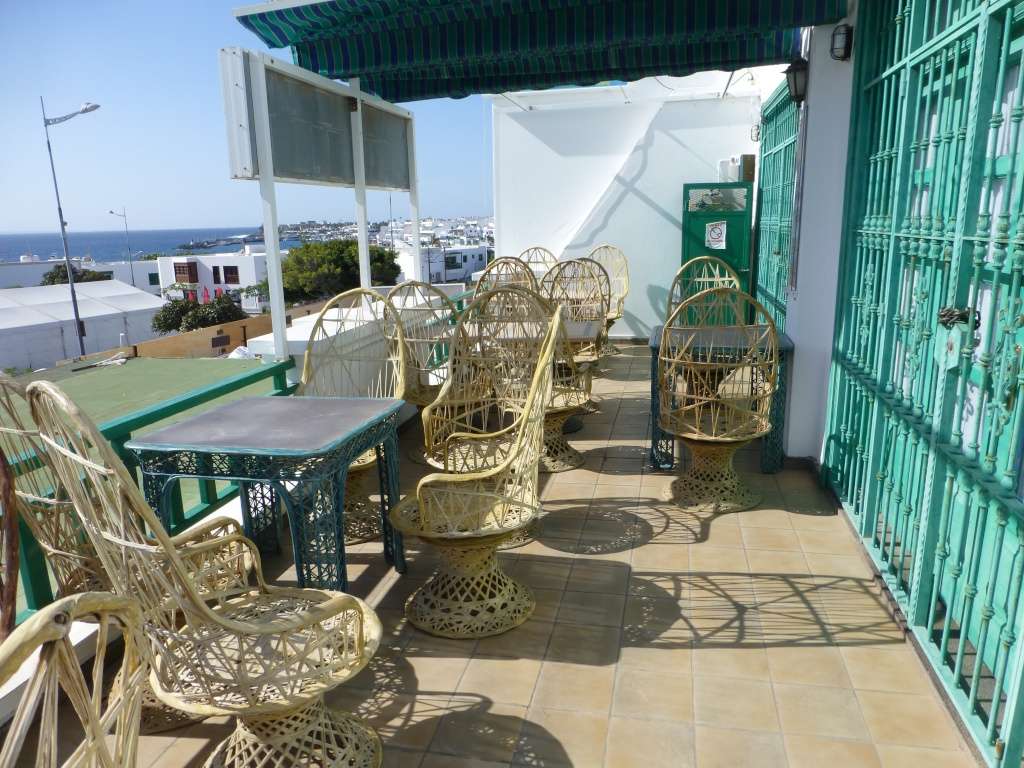 p1150129
but i noticed it would be open on Friday, so might try that, a bit like Fort Knox up here with steel bars around the whole area
p1150130
I also popped in to TouristTicket in the harbour to see Phil about special walks but unfortunately he was on holiday and the guy couldn't find the leaflets but he knew of Blackstones who are PdC based. He had a look at their website but the next walk up from my previous one that I had done was 10k and having not walked since September I was unsure about walking 6 miles at this stage. Also I know last time that Blackstones wanted two people before they would pick up in Playa Blanca. So I left it until I could prove to myself I was fit enough to do it.
so lunchtime was at Barney's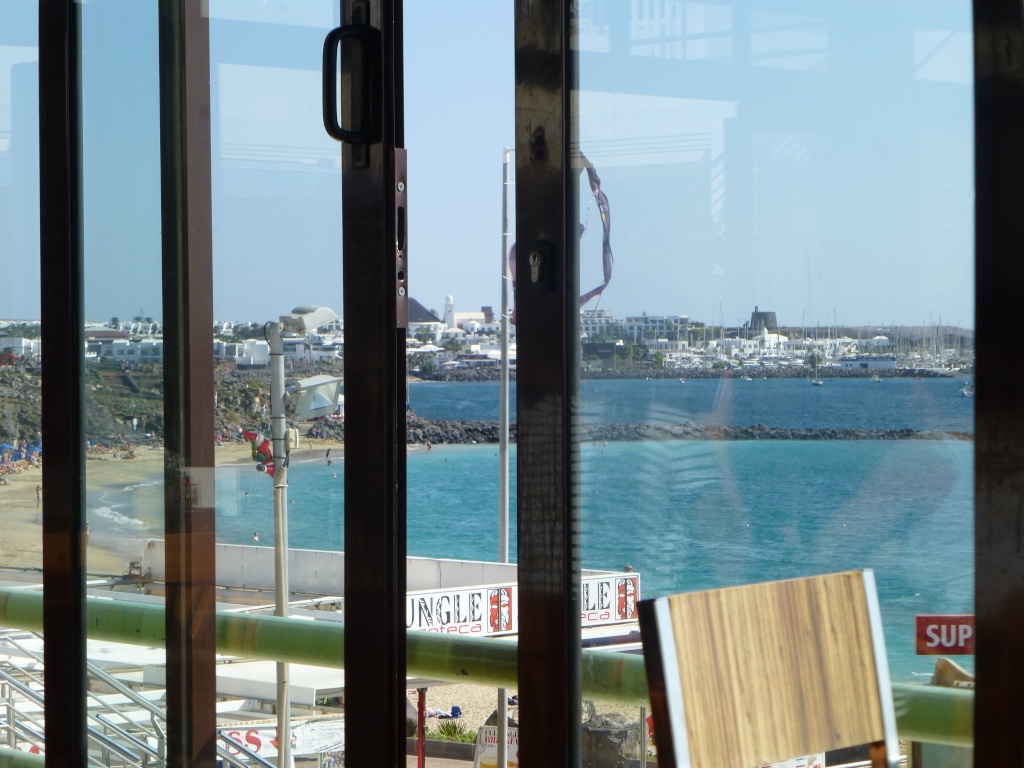 p1150134
I went for the middle big breakfast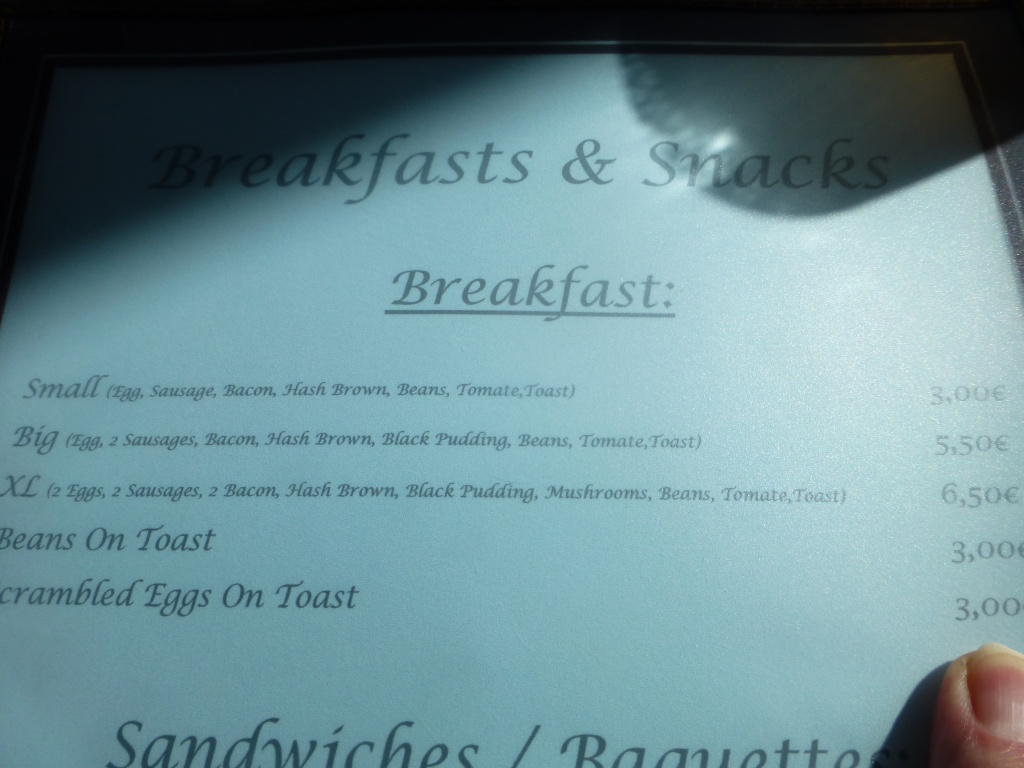 p1150136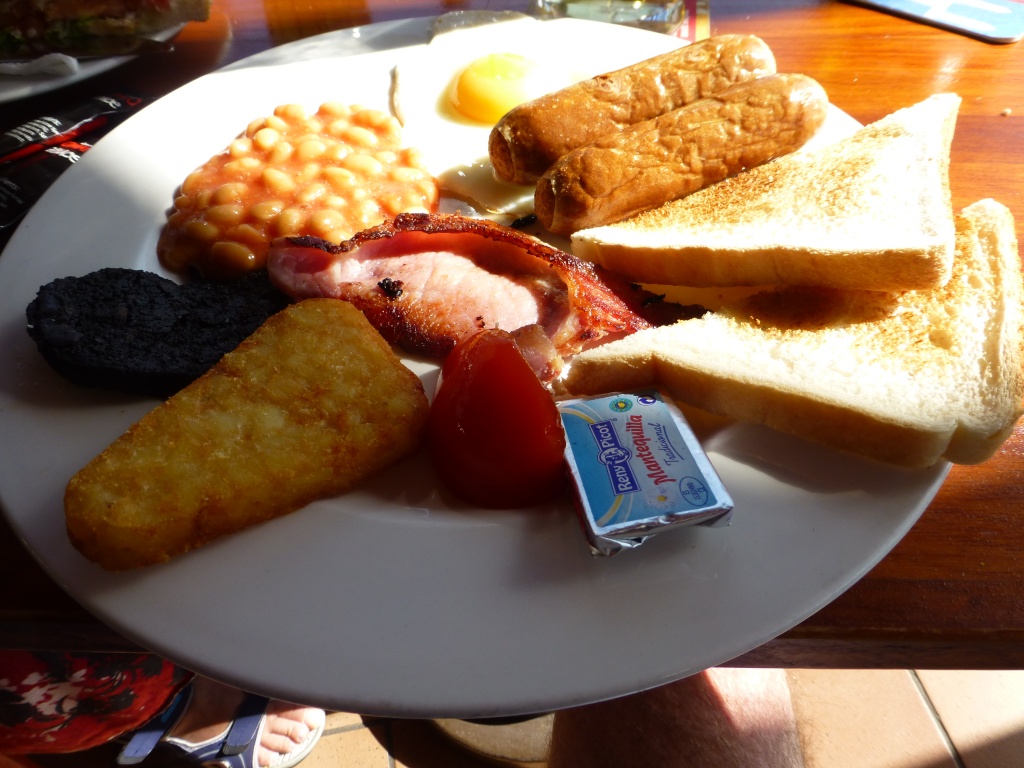 p1150138
Mrs Db had her usual toasted sandwich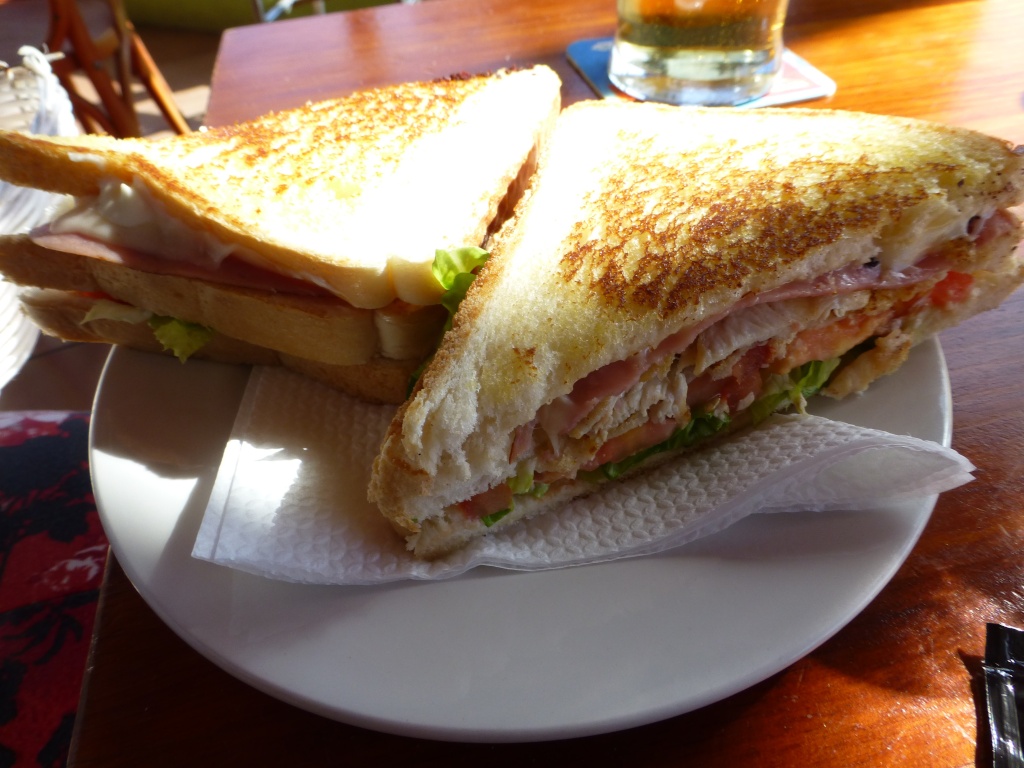 p1150137
afterwards, it was back on the beach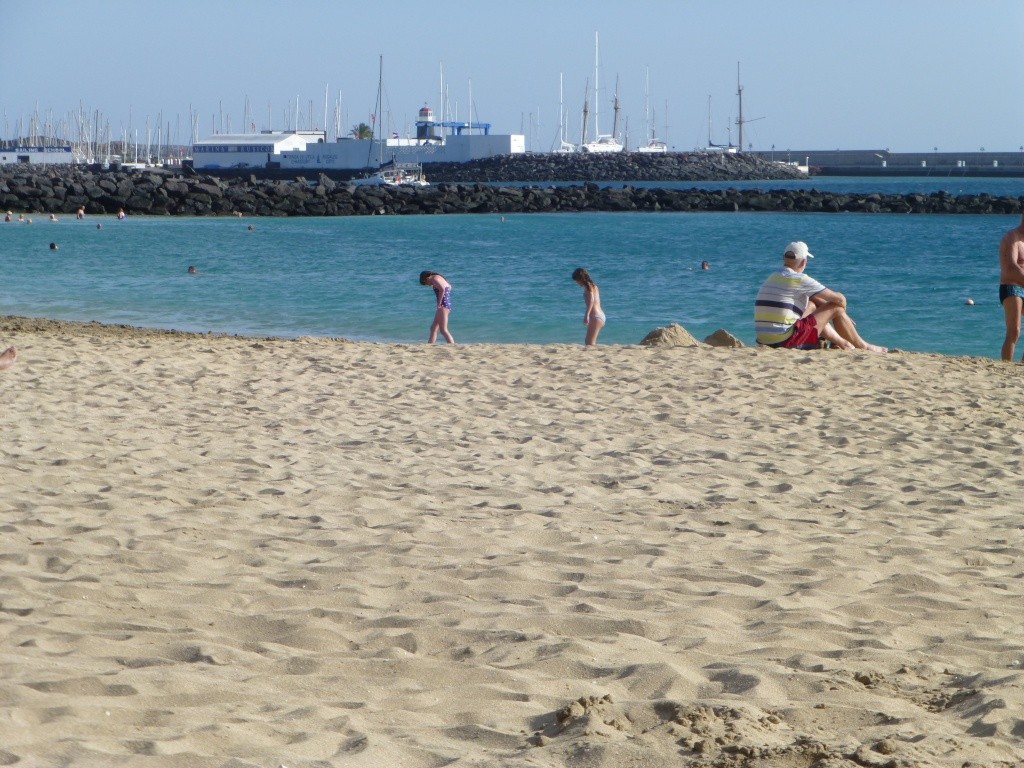 p1150140
However, around 3pm I wanted to pop up see what the Xtreme 12D motion adventure was all about in the Papagayo Centre, as I had heard it came to PB earlier in the year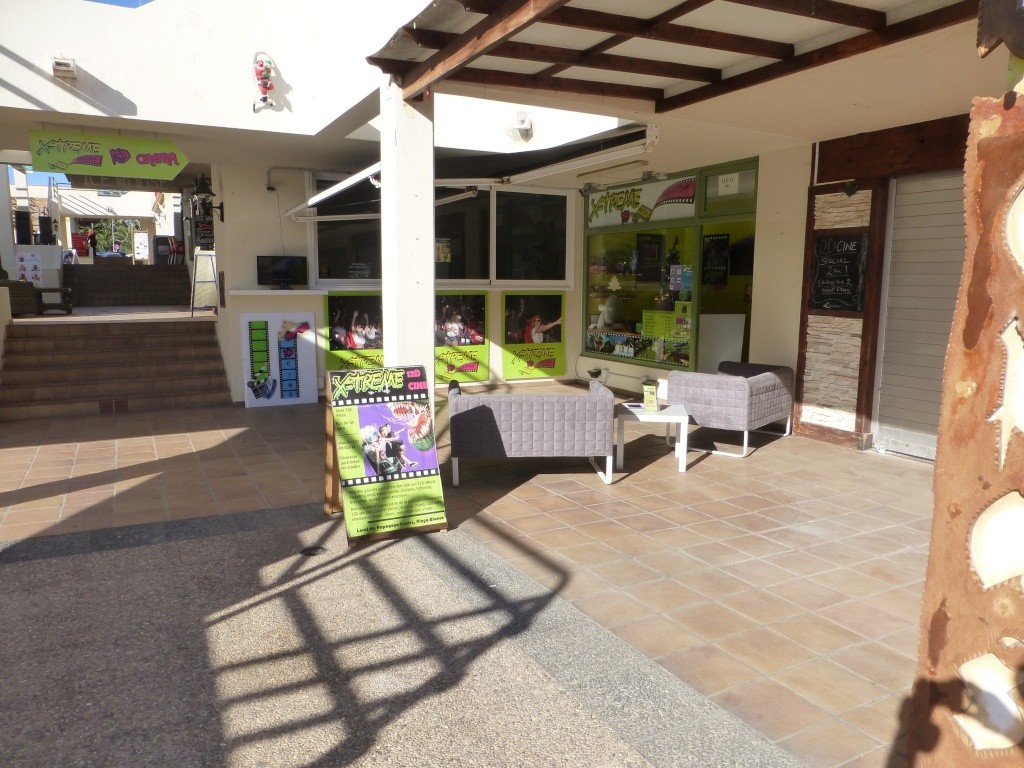 p1150819
I spoke to the proprietor call Chris who explained to me what it was all about and I told him I was doing a review on PB and could I have a look.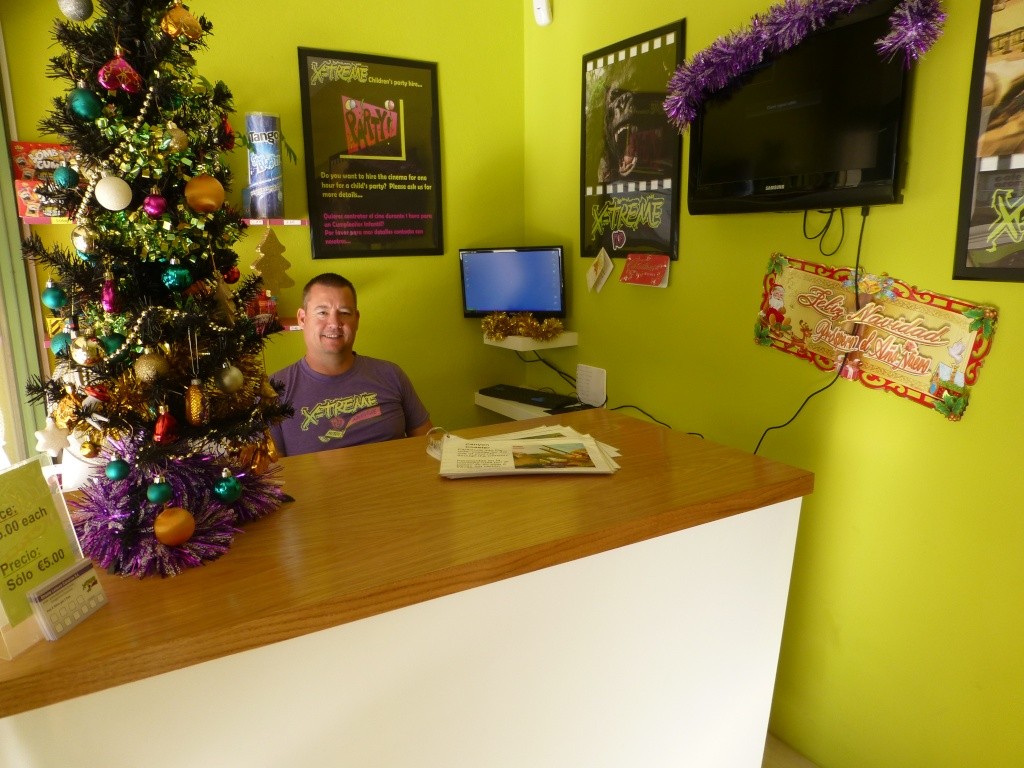 p1150820
There were some Thomson reps inside but once they came out he said I could take some pictures.
There are nine seats inside (grouped together)
p1150141
The seats all move together to enhance the feel of the film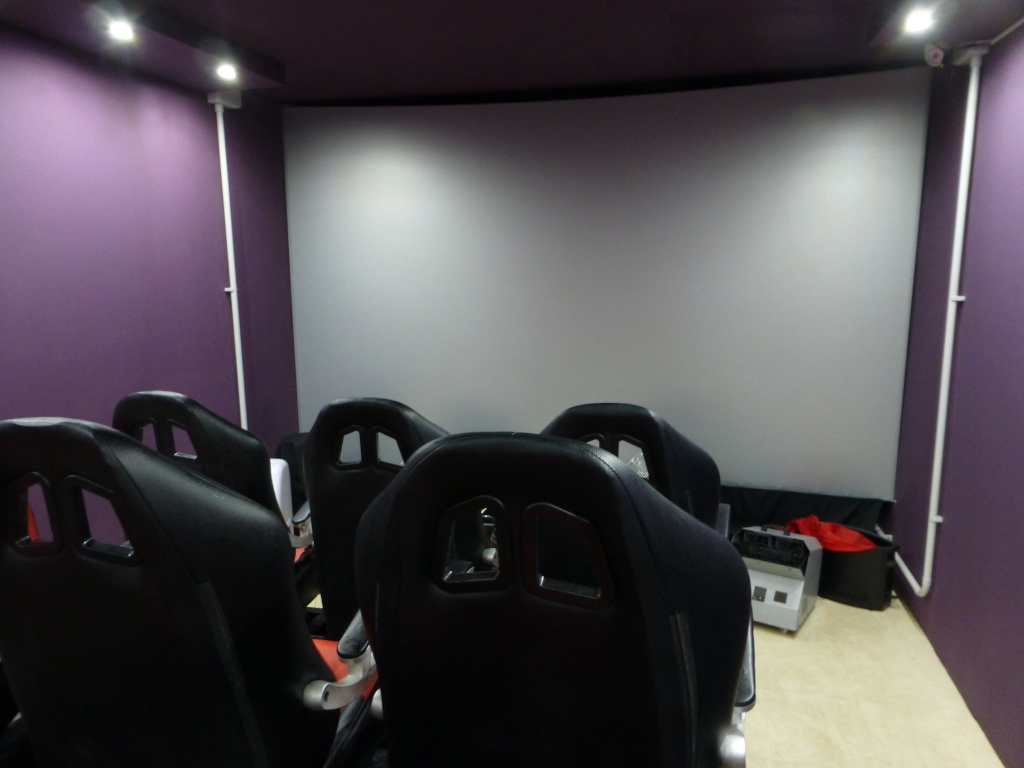 p1150142
I then asked if it was possible to take a couple of photo's of odd bits of the film at the side, to which Chris agreed but then I realised it would all be in 3D and as clever as my camera is, it won't handle 3D.
Chris said he may have a few shots available but then suggested, "why don't I have a go and experience it, so I can describe it to others". This was to a me lol, who was once sick getting off a cup and saucer ride in the 50's lol.
Oh I said, "do people ever suffer from nausea" and I explained that I can easily get seasick in a boat.
Chris then explained that it's more of a jerky movement and I should be ok. I was asked if I suffered from back ache or epilepsy, which I didn't and I was ready to go, Chris said to raise my hands should I feel sick, as he has a monitor outside.
So I was given 3D glasses and sat in a seat. The film chosen was a popular one and I found myself on the wing of a bi-plane and the pilot pointing at something ahead.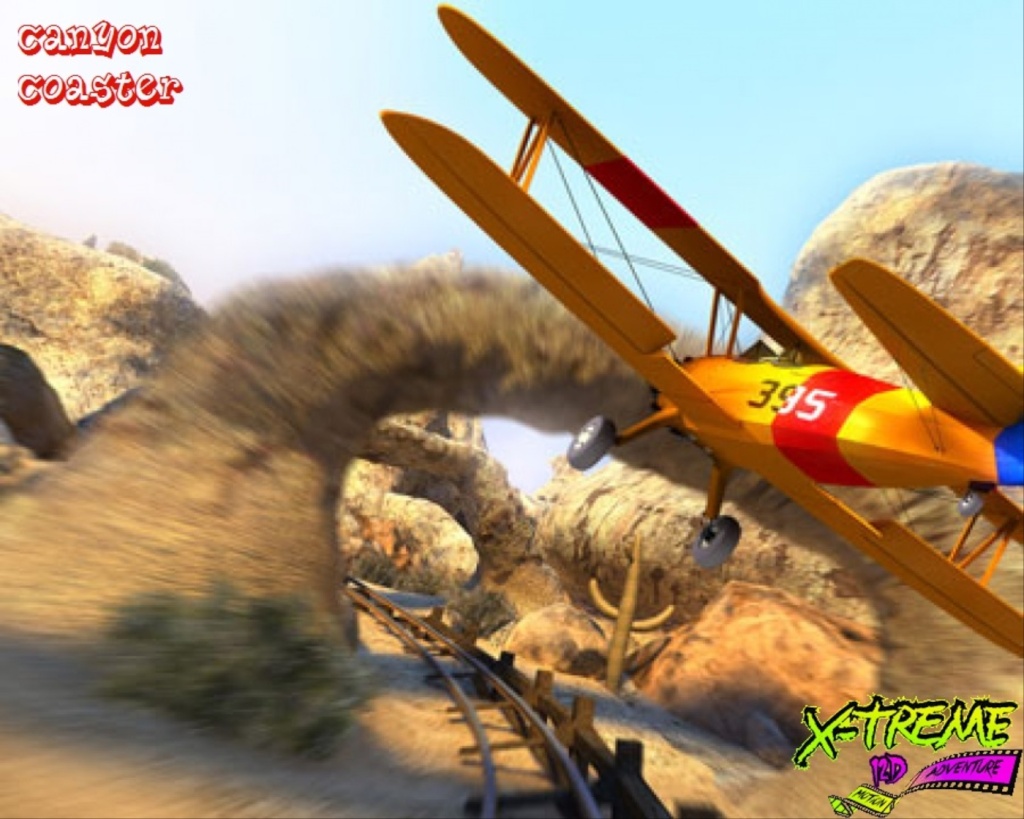 The next thing is I found myself falling or diving, as two hands came out of the screen and I landed in a truck, very similar to the one in Indiana Jones and the temple of doom film.
Before me was a set of rails, like on a rollercoaster and then I had the sensation of going up slowly and the seats clattered from side to side. As one reached the top, I could see I was due for a rapid steep descent and my hands prefered to hold onto the seat lol.
The track I was on turned out to have a proper slow goods train on it and I could see I was going to hit it. Suddenly stuff was flying off the truck at me in 3D lol. smoke and debris smells and fire from the side of the screen and I think at this stage I had lost a life lol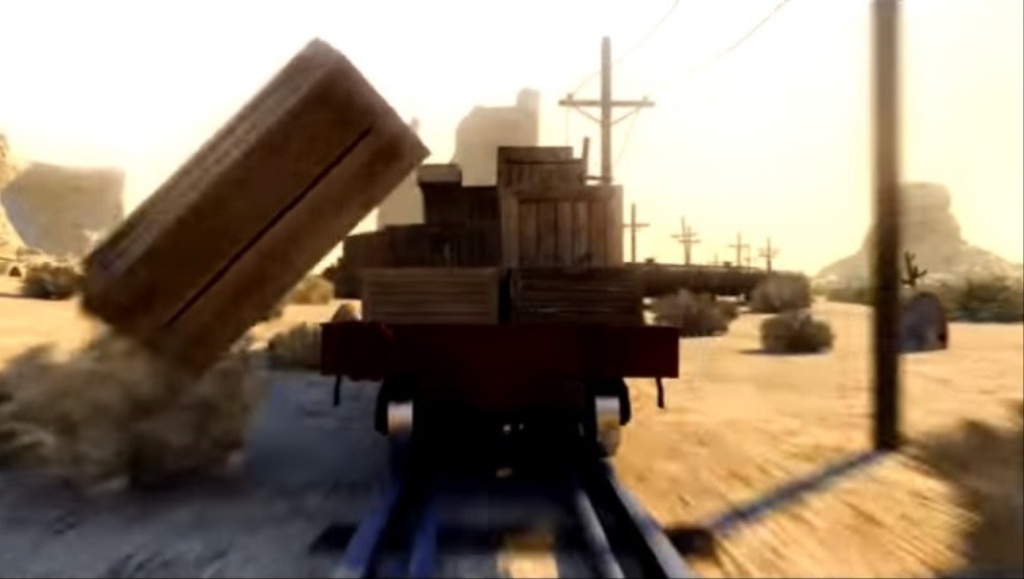 only to find another train coming out of the tunnel for another impact

again I was back on the rails and found myself heading for a level crossing which crossed another track with another train hogging it. However, this time most would duck, as we/me went through a gap between two sets of bogies
Then I came to a section where, just like in Indiana Jones, the rails had broken across a deep ravine, as the truck flew across one could see the connecting piece of rail. One automatically thinks we are just going to make it lol
but no, the truck just falls short and I find I am plunging down the ravine with wind in my face and the seat going forward, one's reaction is to grip the seat arms tightly. Just at the last minute the front wheels of the truck catch on to another set of rails from a cave near the bottom of the ravine and I am on a real Indiana Jones ride through the cave before rejoining the plane above that I had started on.
all in all a gripping ride, which after peeling my fingers off the chair arms I was ready for the next lol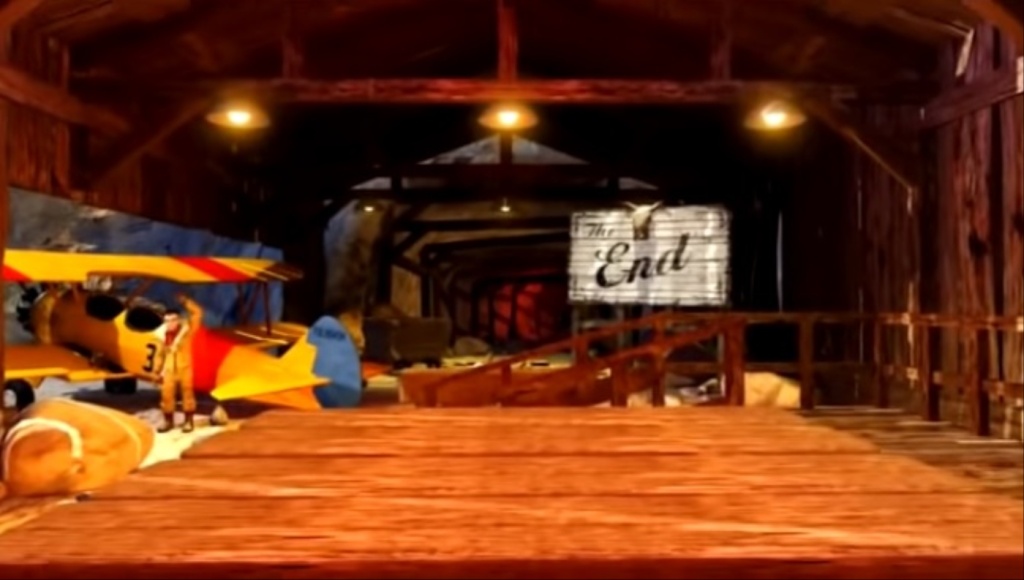 One gets two rides for 5€'s and there are over 140 different films. I hadn't any idea how long i was in there but Chris said about 5 mins, the films last between 5-15mins. I had a spray of water near the end of the film but I'm sure the downhill ski run might have a bit more lol
There is a child weekly ticket for unlimited rides for 40€'s or group tickets of 9 people for an hour
not much of a sunset tonight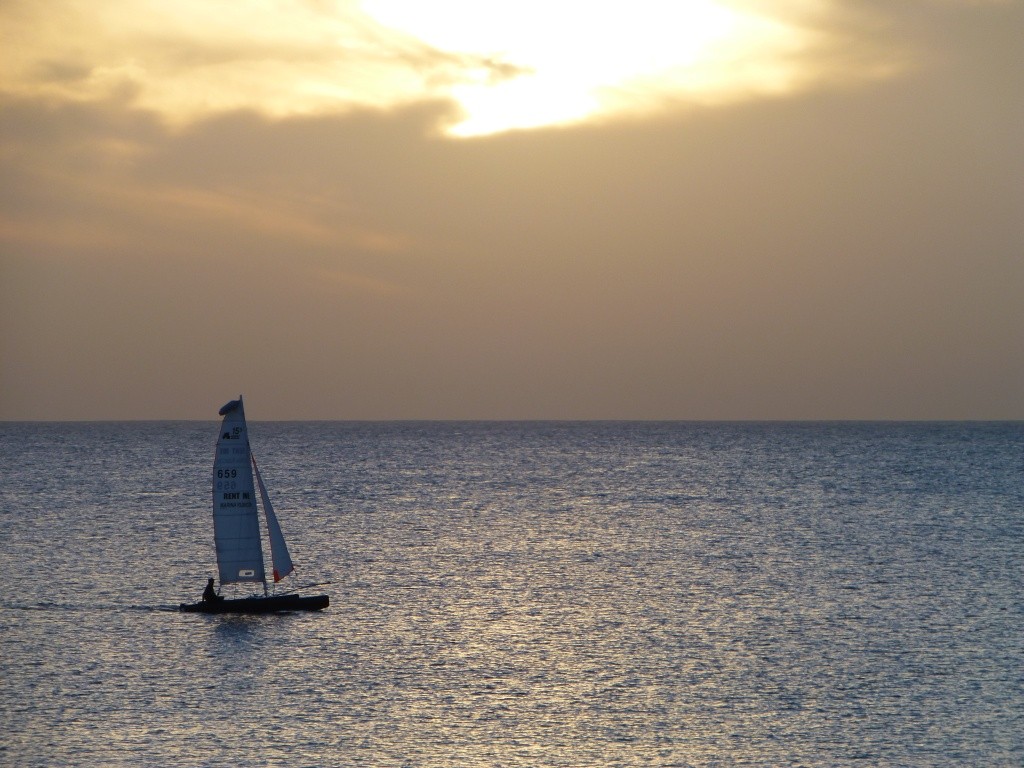 But managed to talk Mrs Db into having a curry in the Spice Fusion, we came in via the Papagayo Centre but couldn't see any menu, so i thought I would help out but later noticed a menu outside near the slope at the side of the centre where there were other outside tables and chairs
p1150155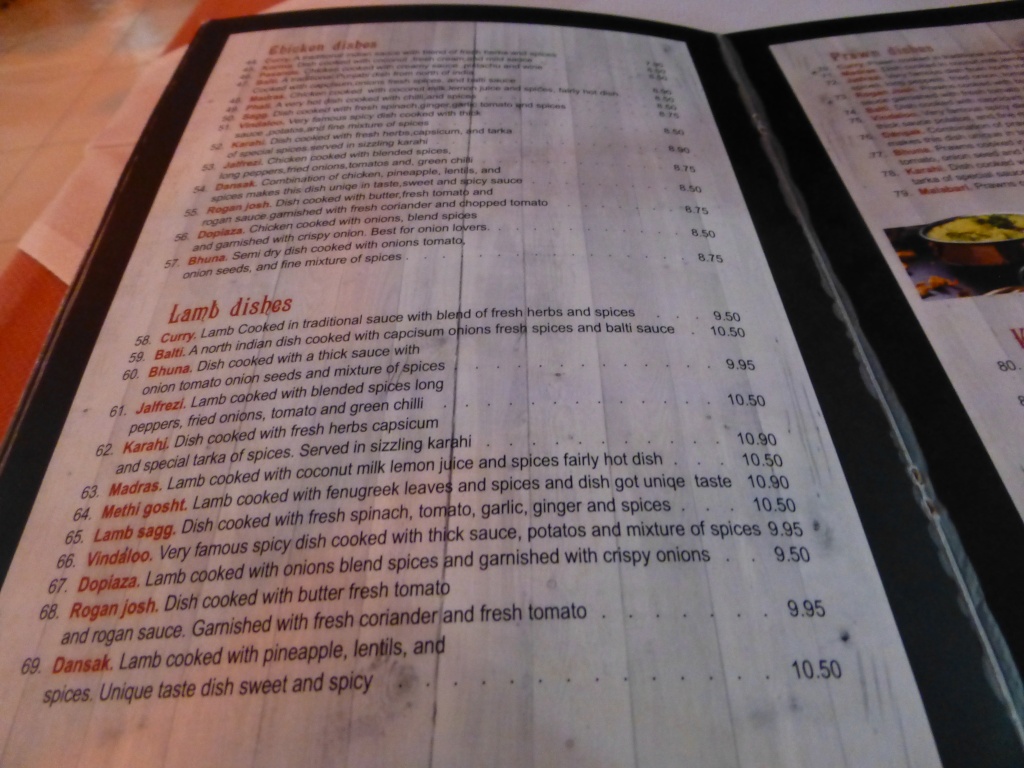 p1150156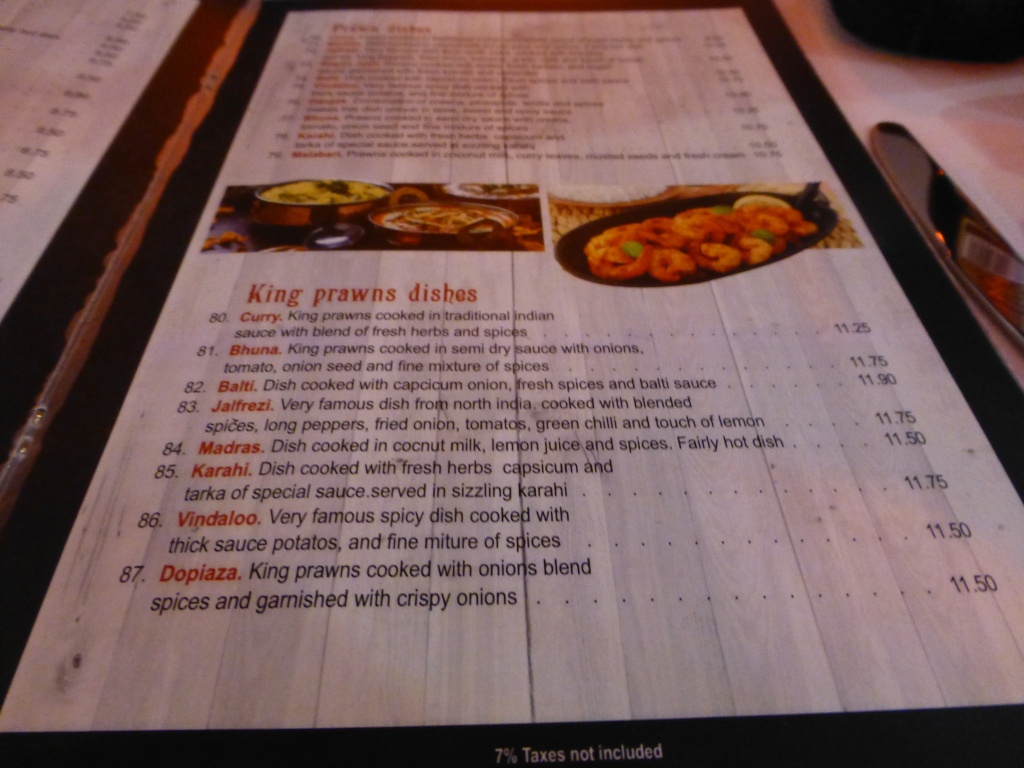 p1150157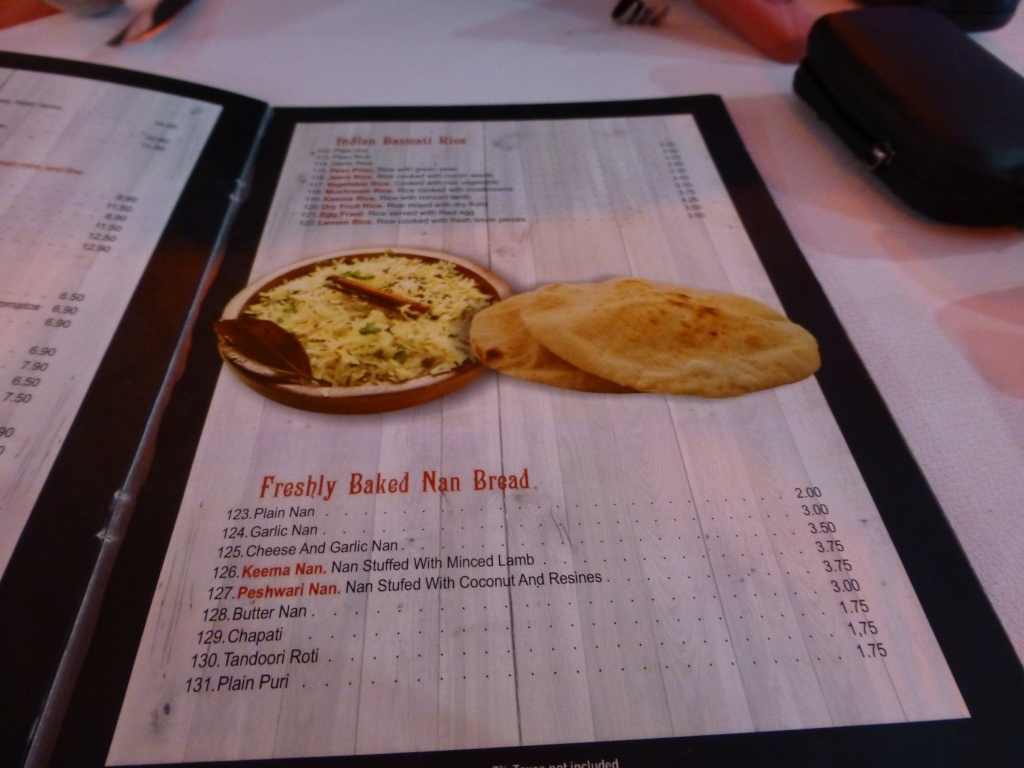 p1150158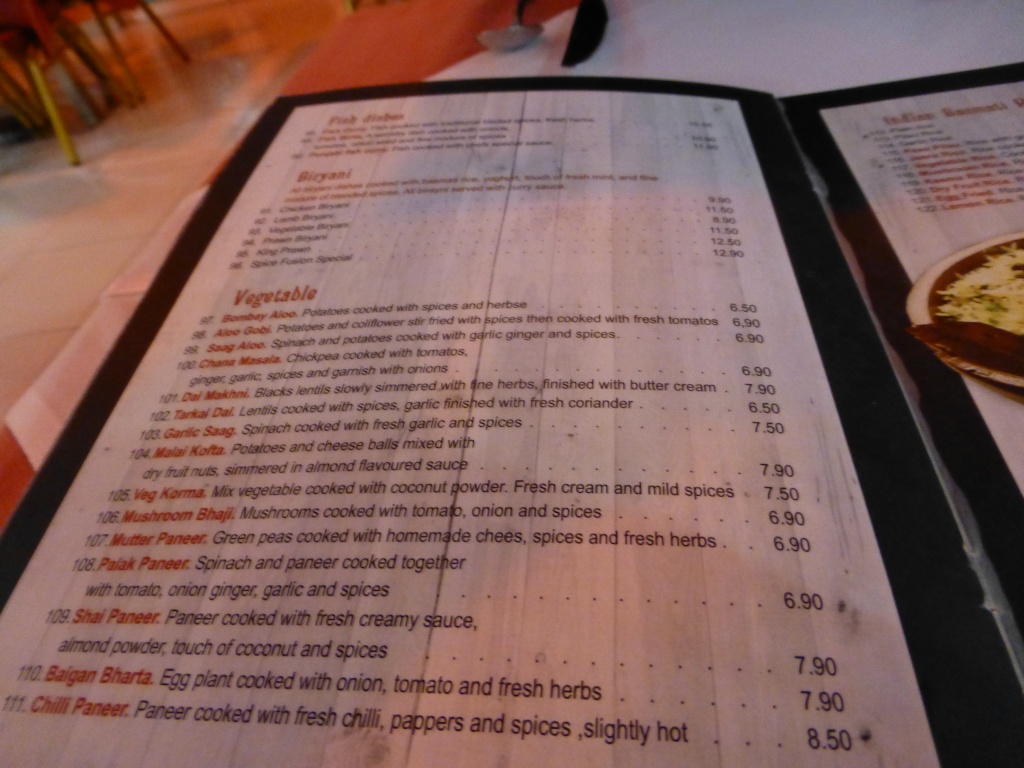 p1150159
plain rice and naan portions were 2€'s each but various others were more, we were given free dips with a poppadom
I had the Lamb Rogan Gosh which was a super flavour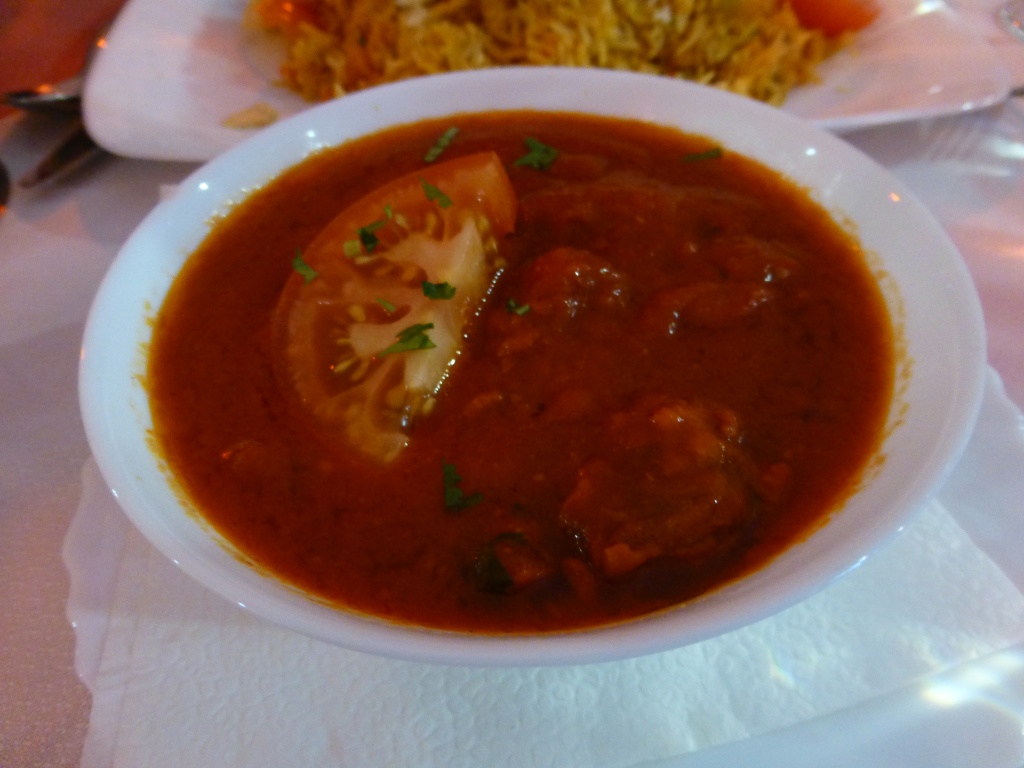 p1150161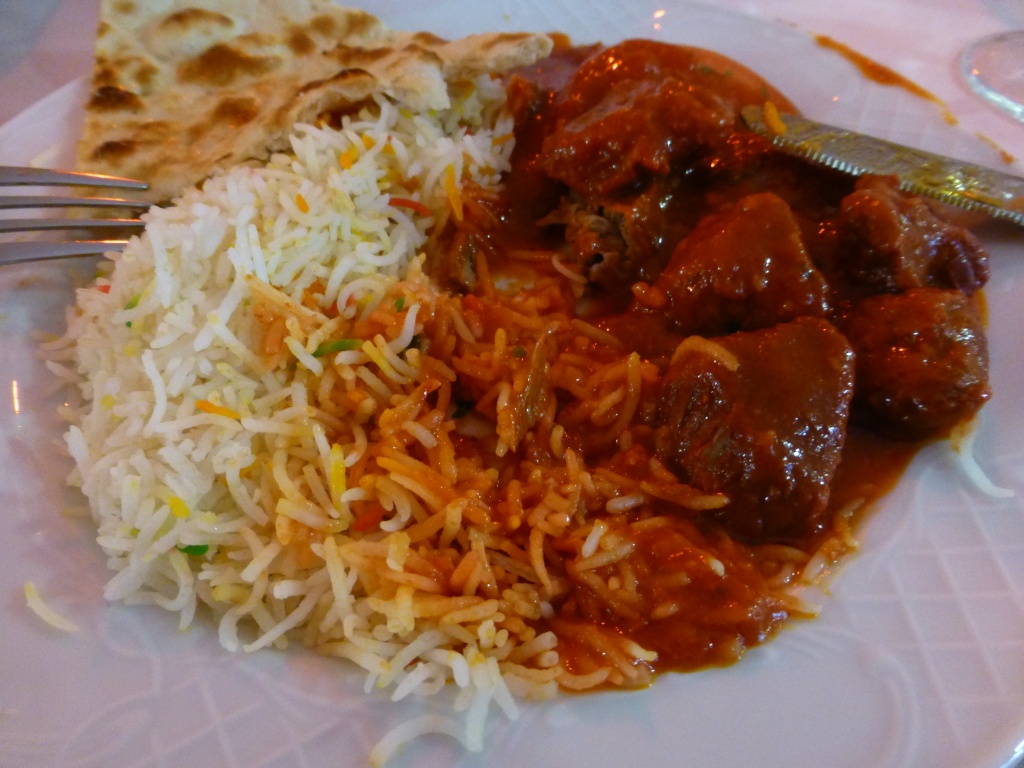 p1150165
Mrs Db had a Chicken Biryani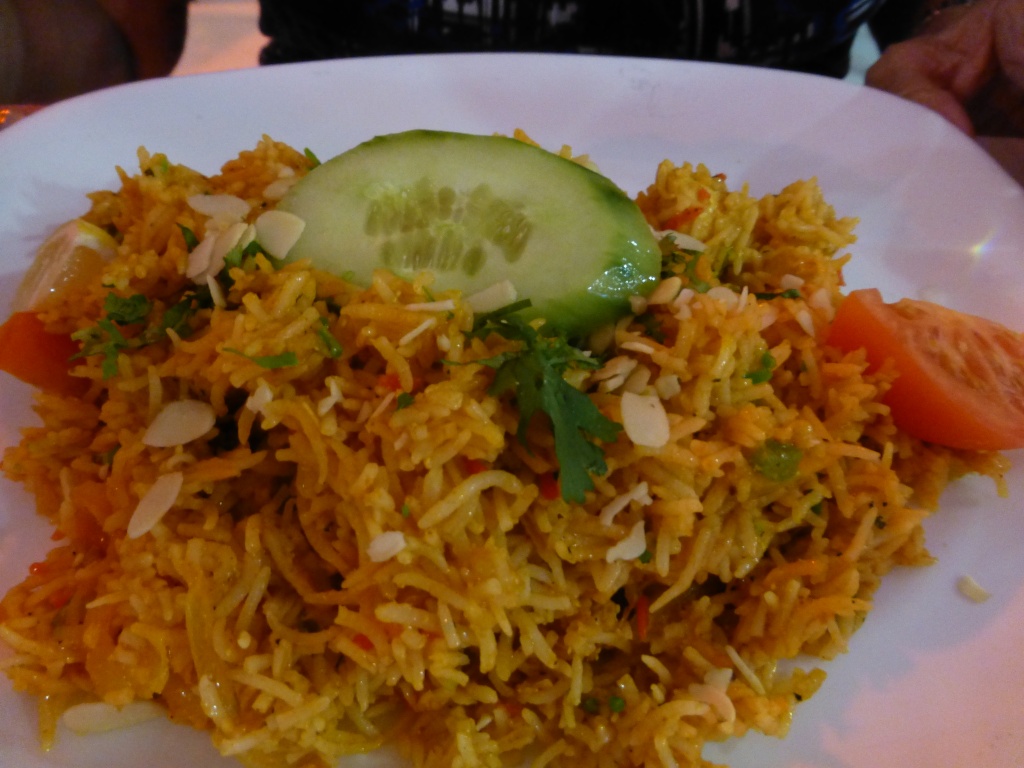 p1150163
p1150164
a very nice curry, plenty of attentive staff but Mrs Db was facing a stairwell looking out on the centre and lighting of the place didn't give her much atmosphere, where as I faced what would be their front doors in the summertime. But did enjoy it and given a free Bailey's on asking for the bill.
END OD DAY 4
DAY 5
Another sunny day and Mrs Db was going to sit by the pool, whilst I did a walk to see if i was capable of a 10km walk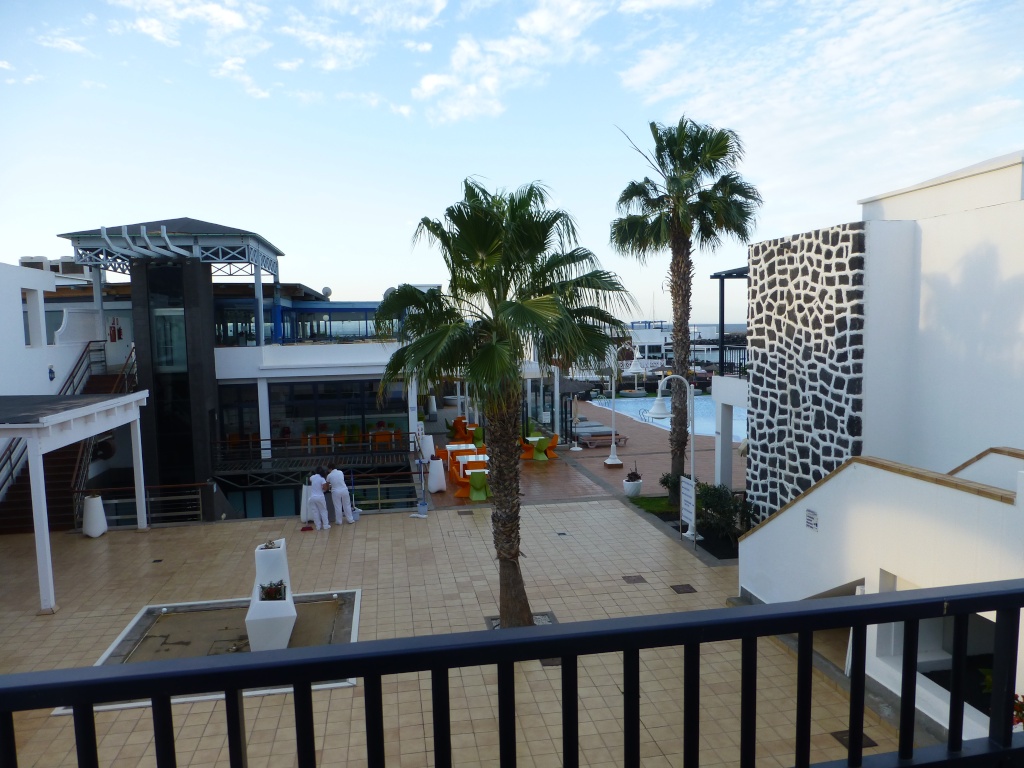 p1150167
Last year I saw a village on the far mountain which would perhaps give me a different view over PB, I was also told that there was a way over the mountains into Papagayo beaches and wondered if I could make it a circular walk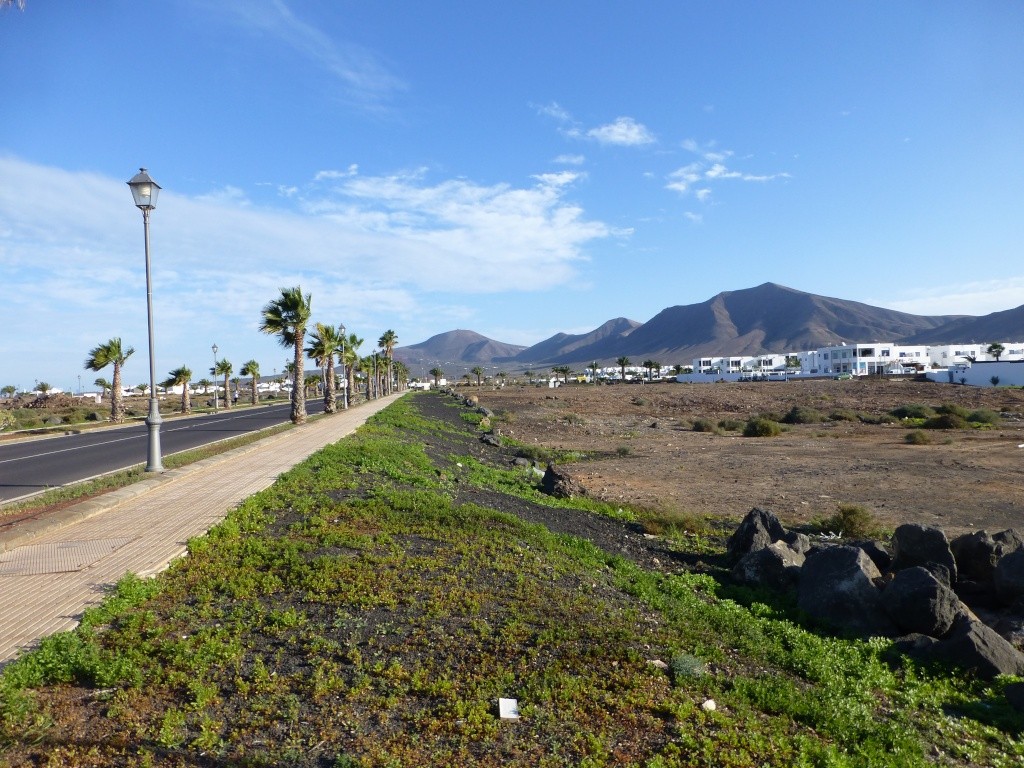 p1150169
I followed a road leading to the back of town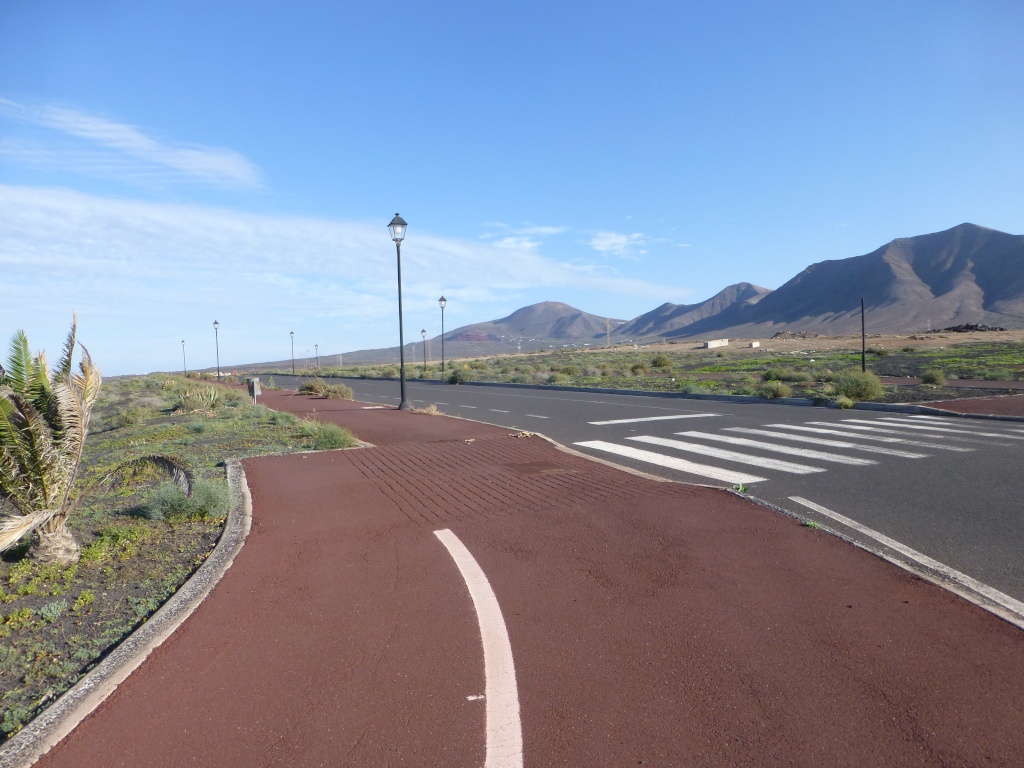 p1150172
But that soon ran out and I was crossing barren fields but there aren't any snakes or scorpions in Lanzarote unlike Greece so should be ok, the village I could see in the distance, so shouldn't get lost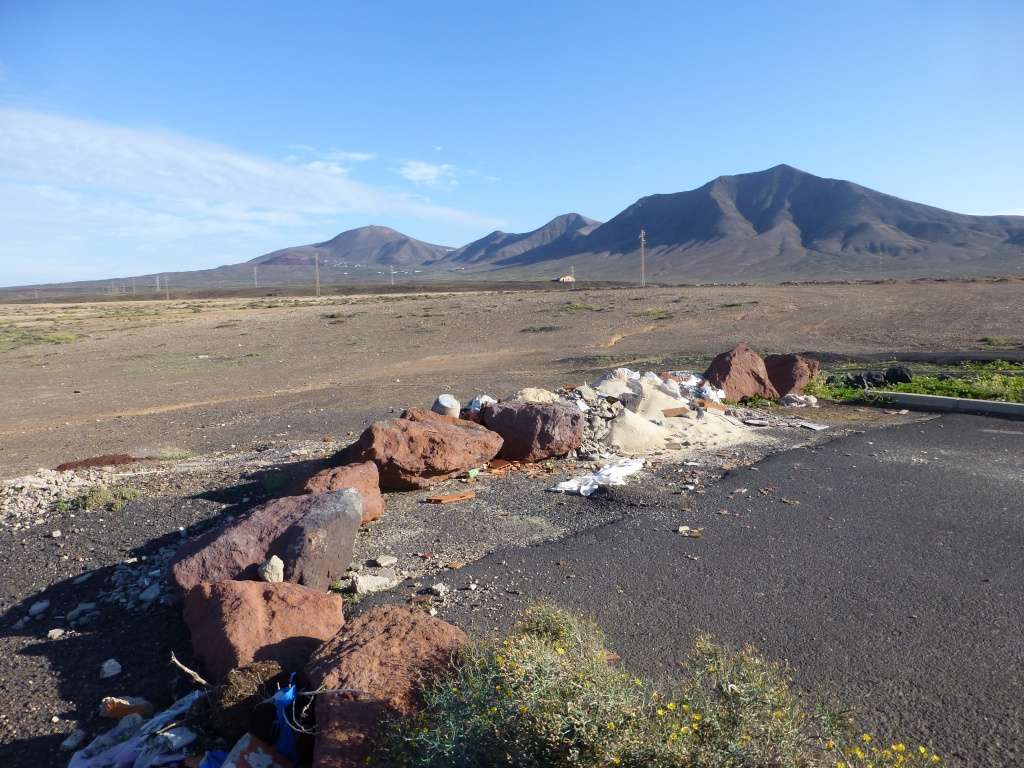 p1150173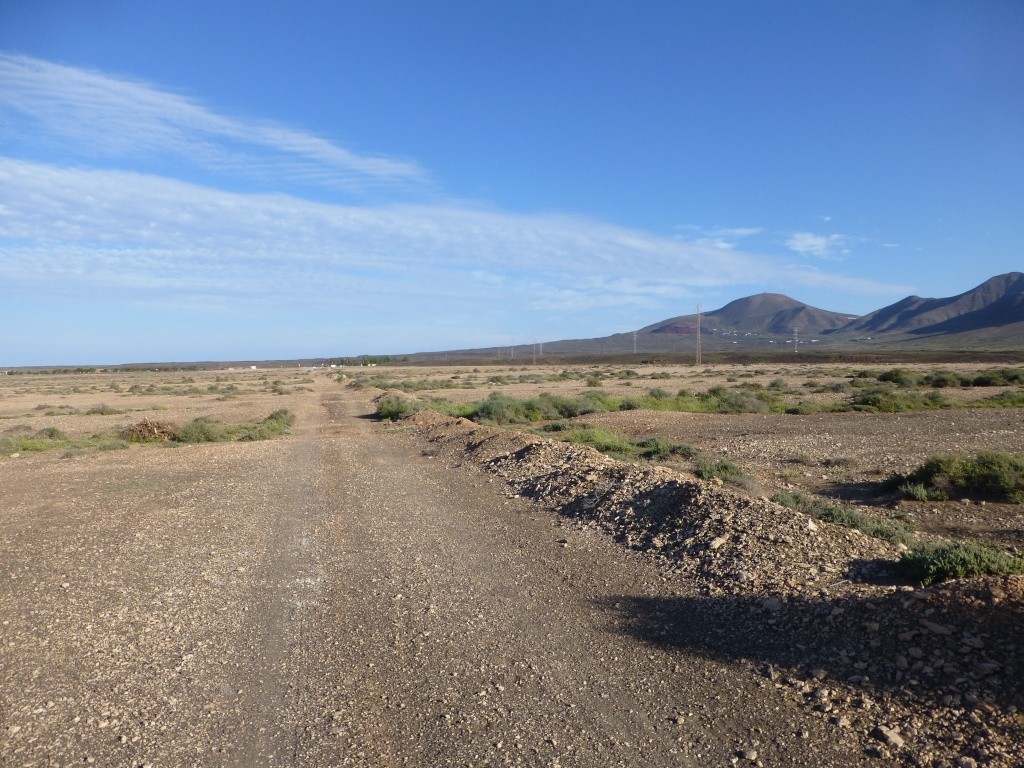 p1150174
but I ended up walking at the side of a main road to Femes, as didn't realise the village called Magicot was next to it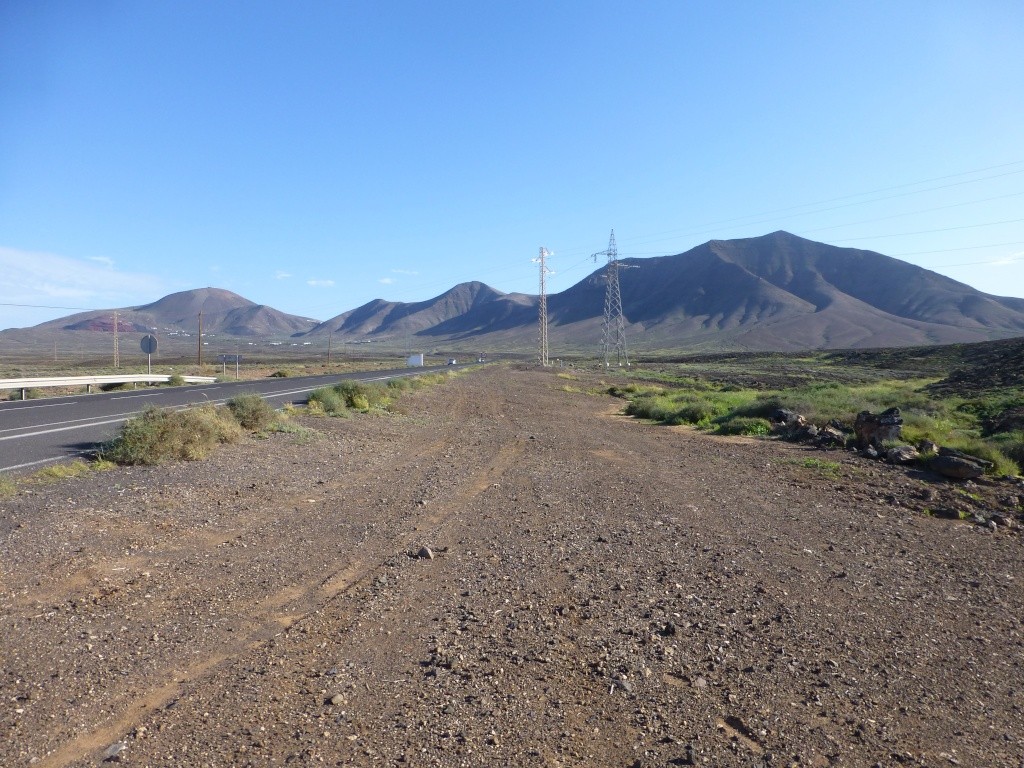 p1150176
soon PB was in the distance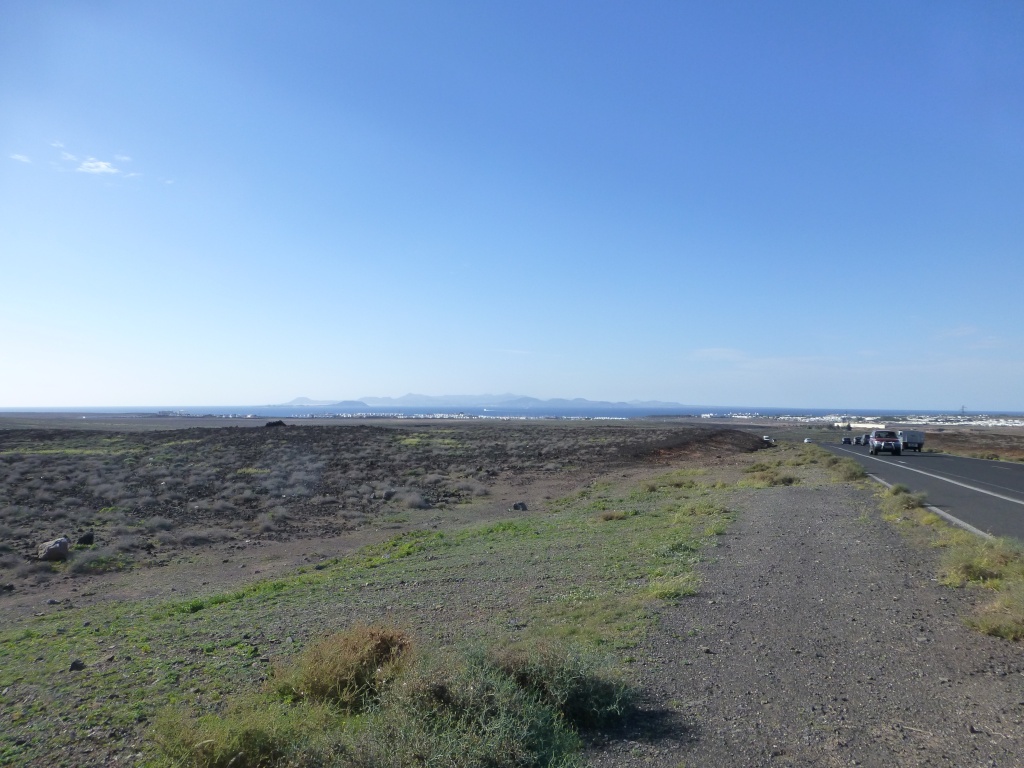 p1150179
It was quite windy around these mountains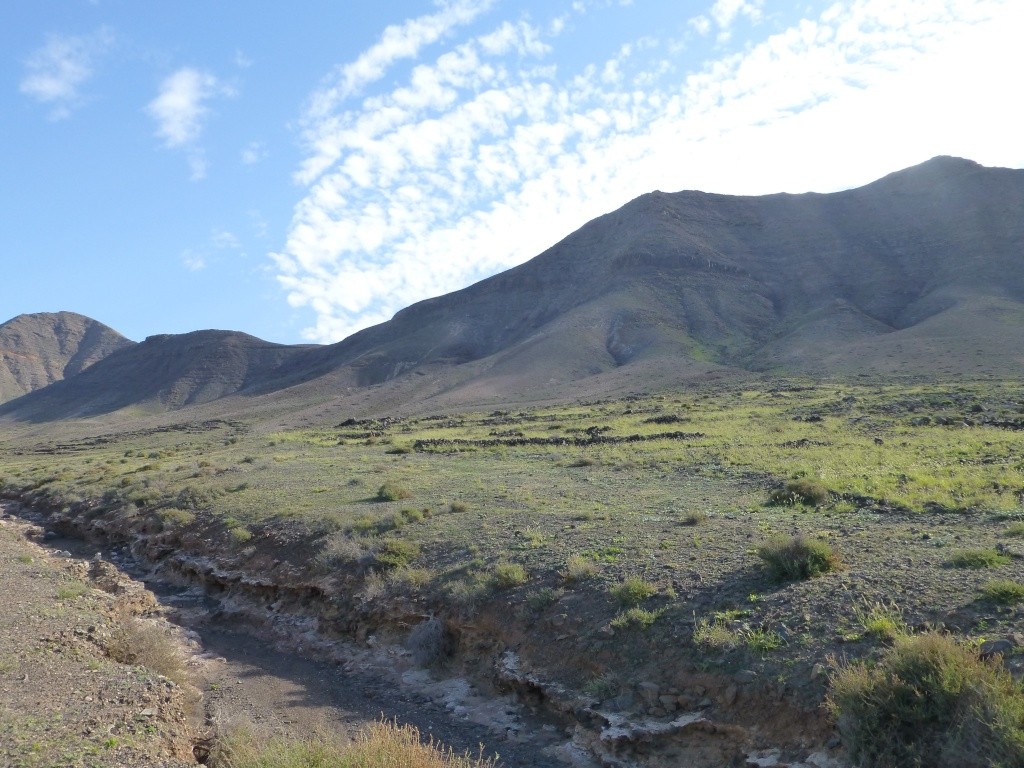 p1150182
and was looking to see if any gaps appeared in them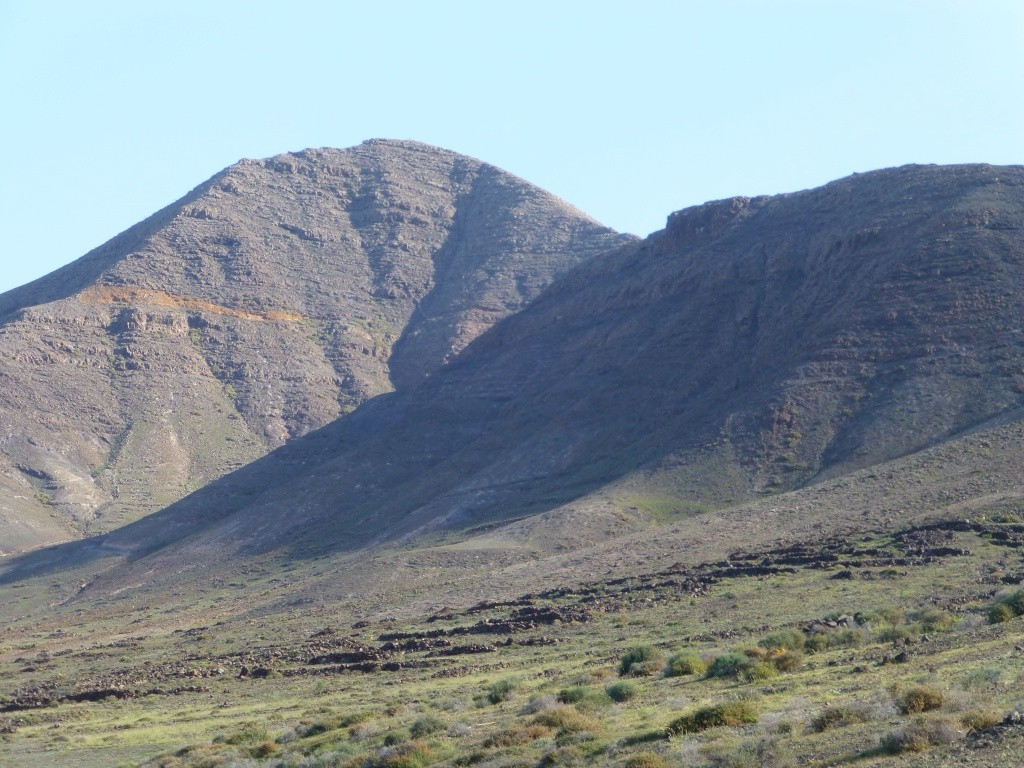 p1150183
I could see Fuerteventura in the distance, so may get some good shots of PB at the top, it's up hill all the way
p1150186
so coming into the village area soon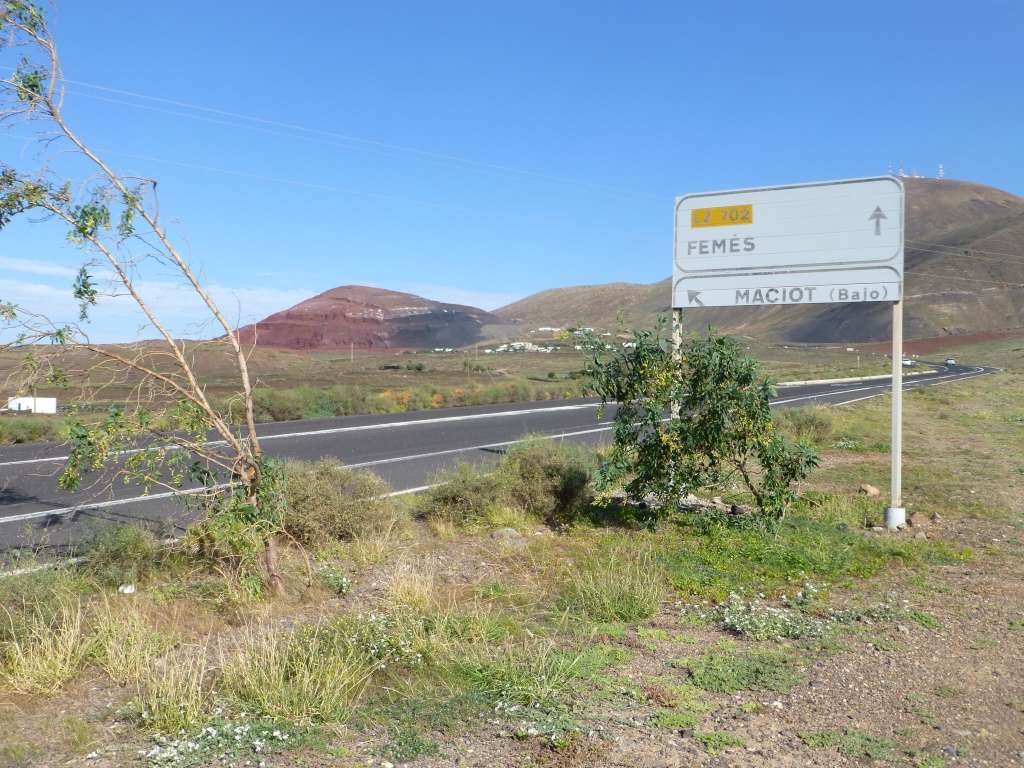 p1150189
crossing the road I found a more pleasant local pathway to follow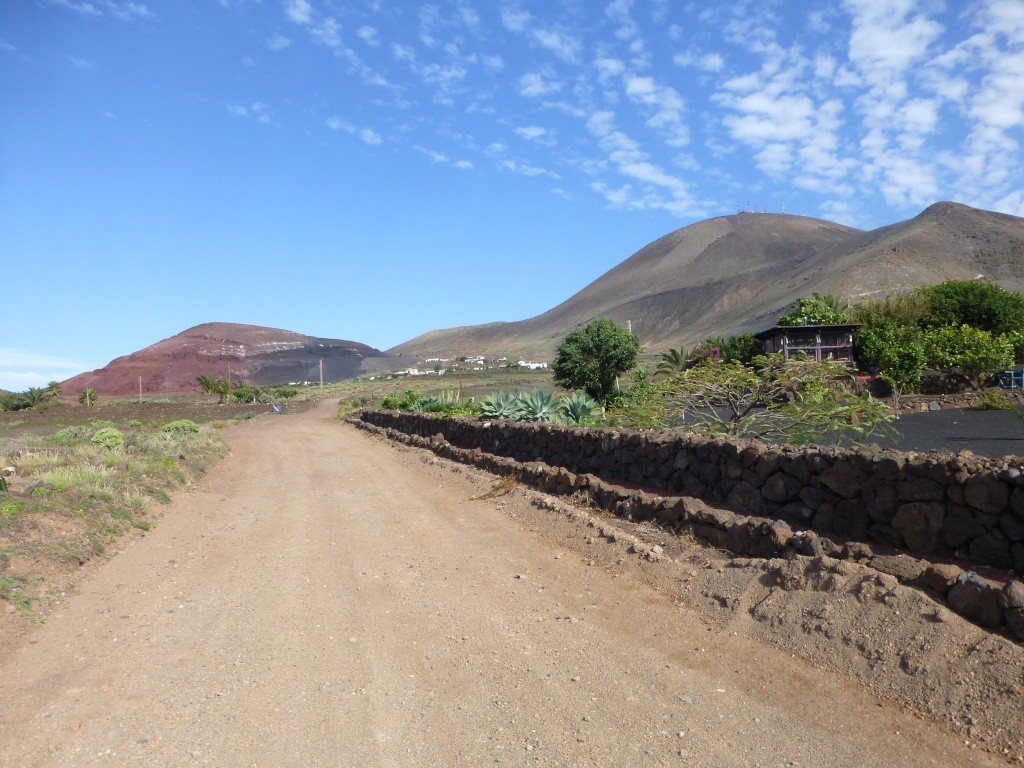 p1150194
on the right the main road led up the side of the mountain to Femes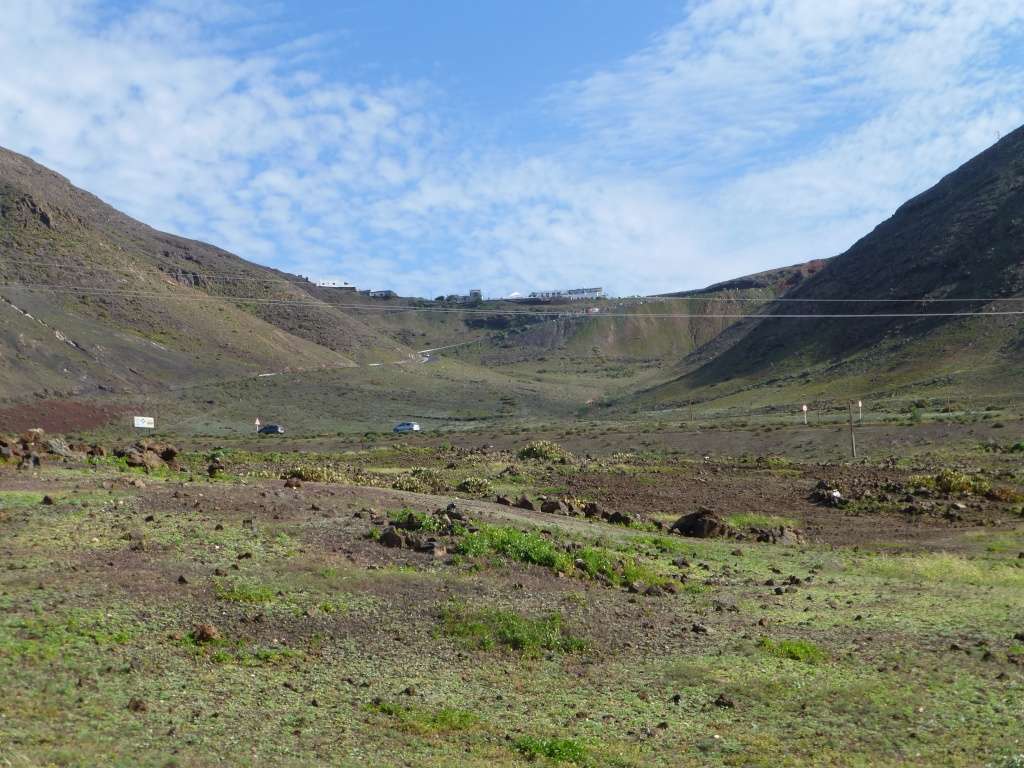 p1150195
at the top
p1150214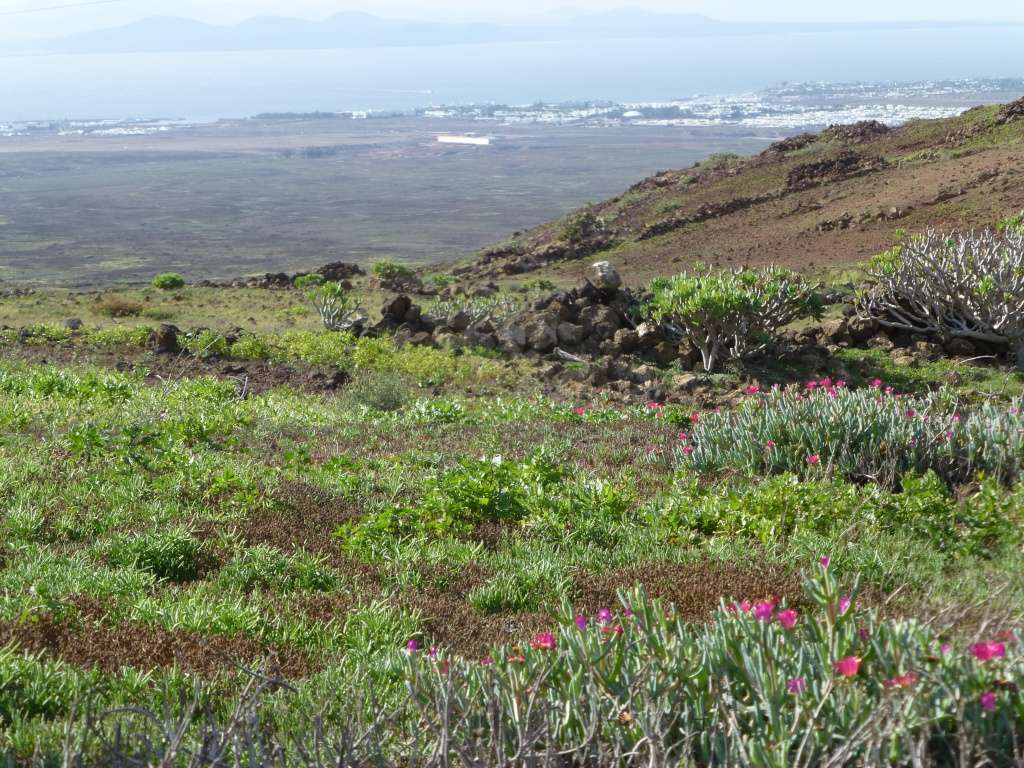 p1150215
There is a volcano up here but I think it's minerals are being extracted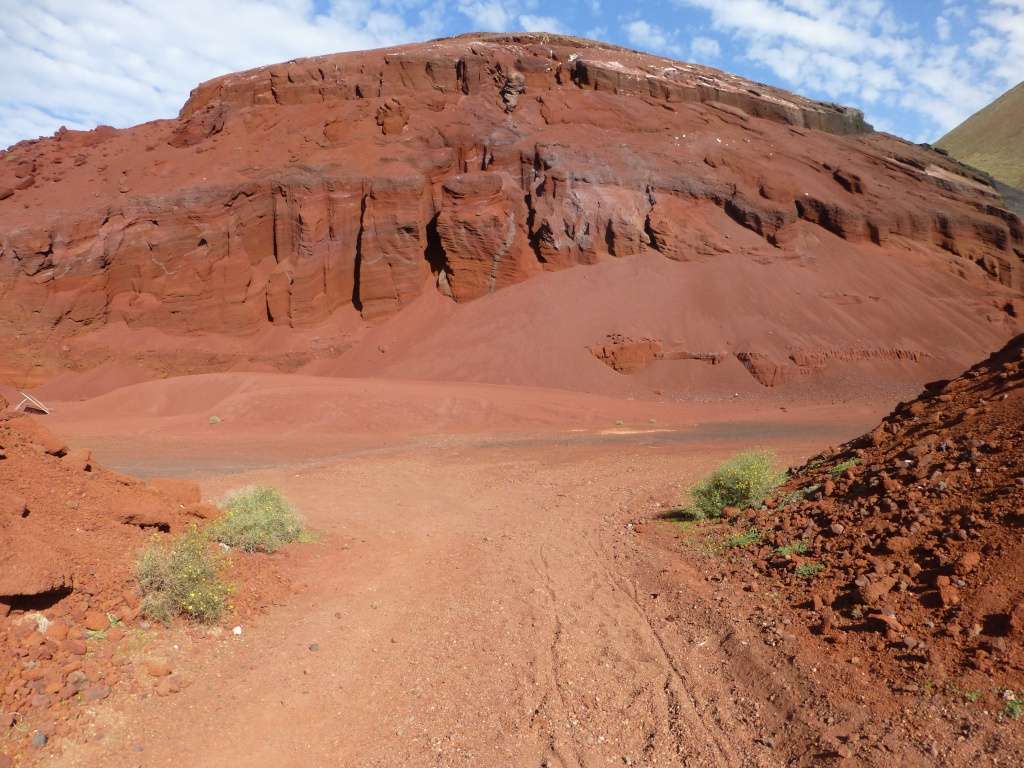 p1150217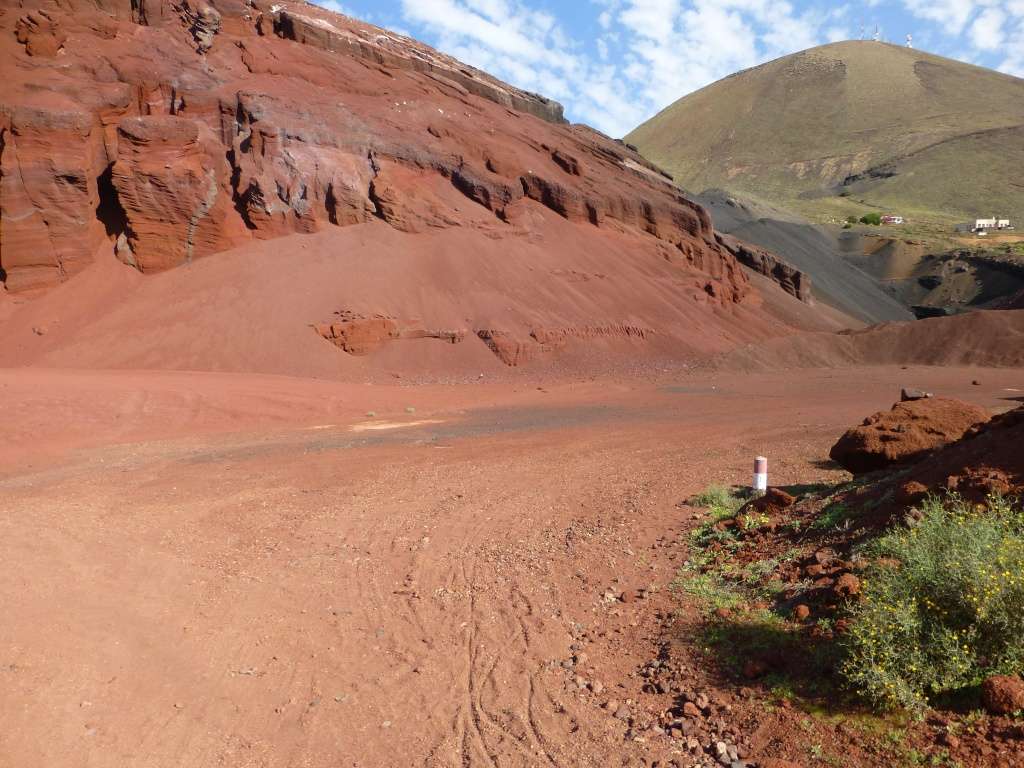 p1150218
I followed the road out of the village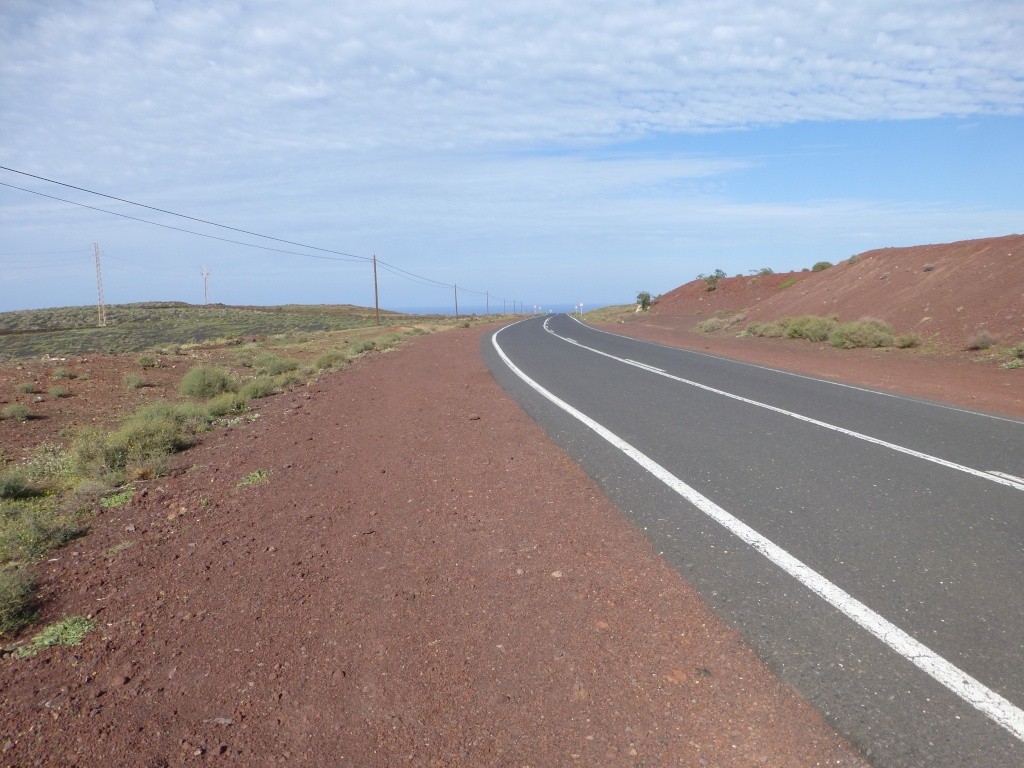 p1150222
till i could see the mountains on the west coast of the island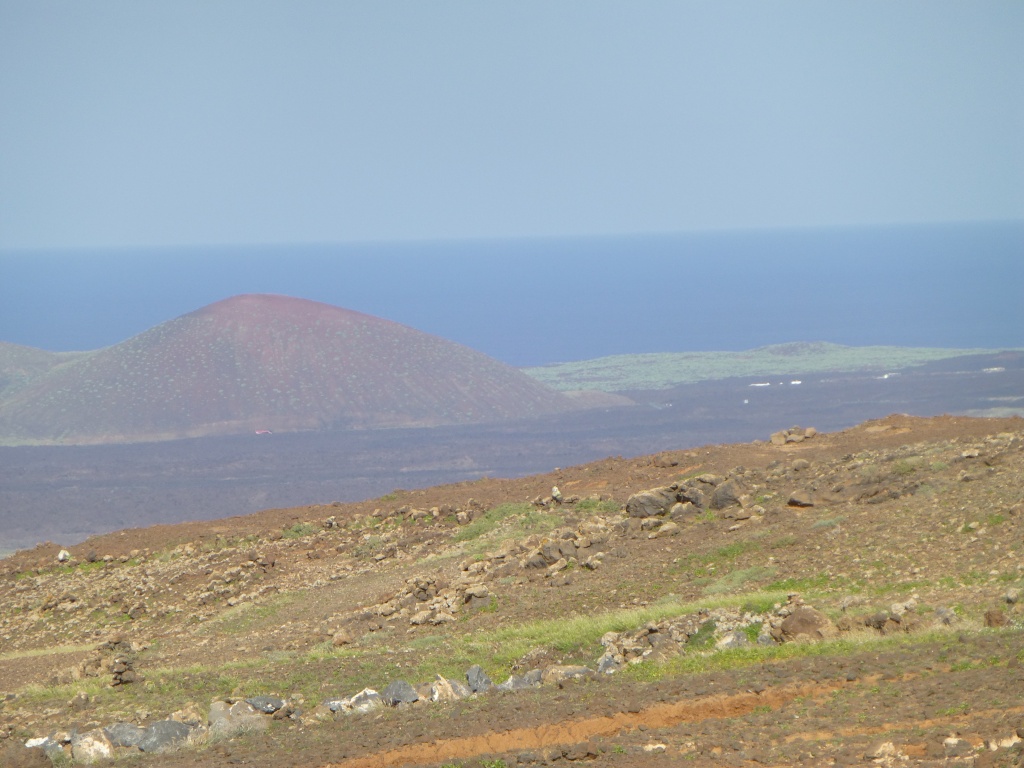 p1150224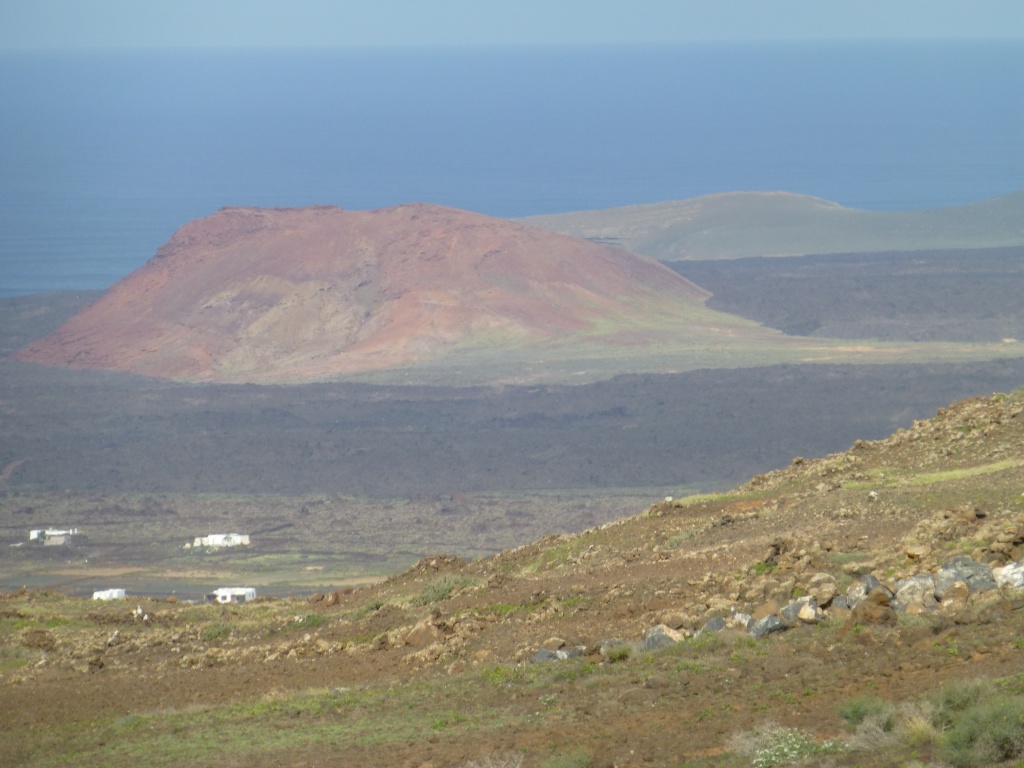 p1150226
but is was now time to head back, as I had been walking for two hours
apparently I am told, a very famous sculptor lives in this village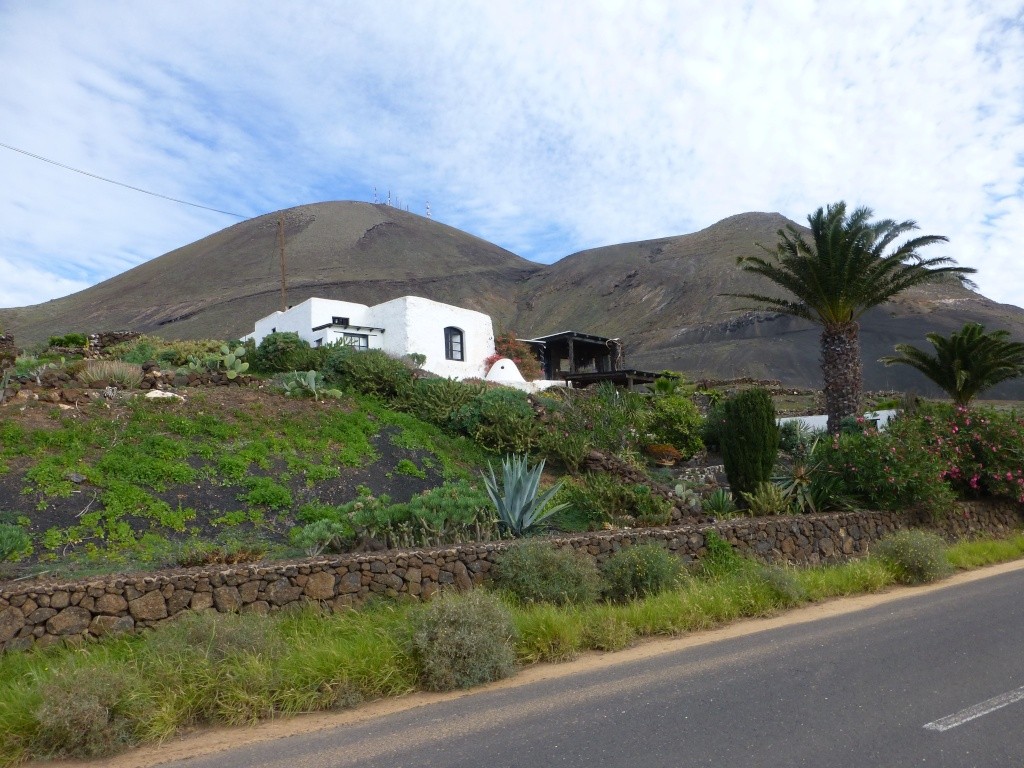 p1150229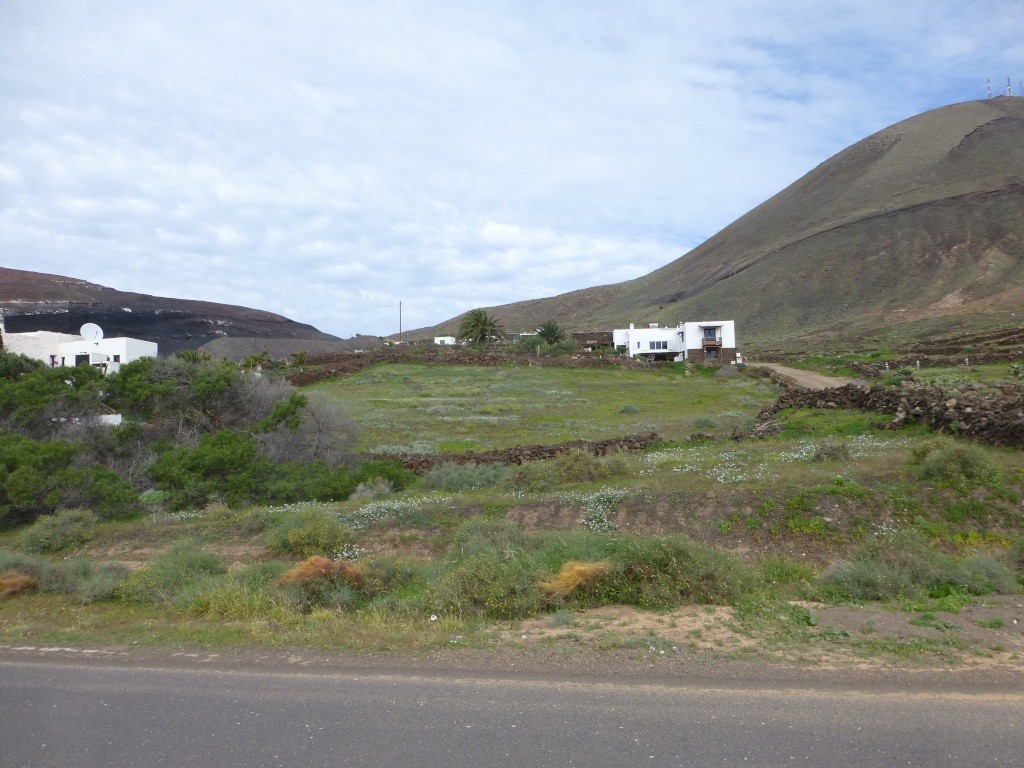 p1150230
the walk took four hours but very tiring on the legs lol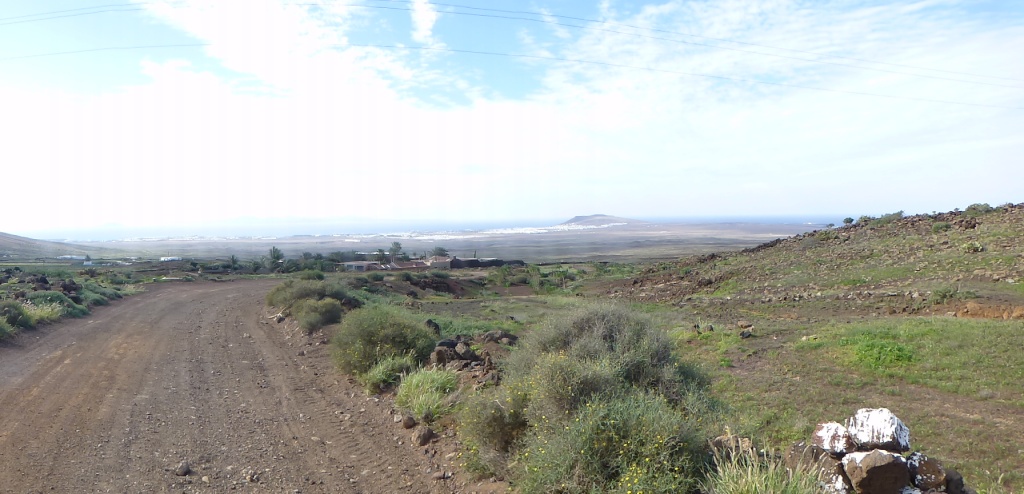 p1150198
so lunchtime was an omelette in Lani's for mrs Db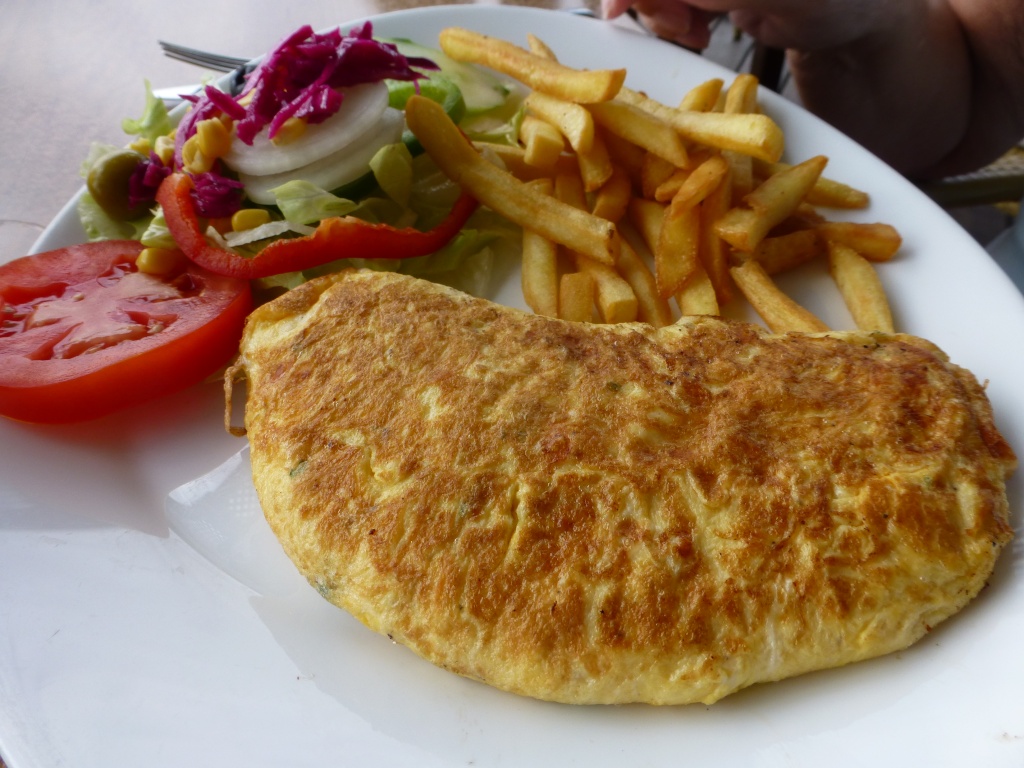 p1150237
and a prawn sandwich for me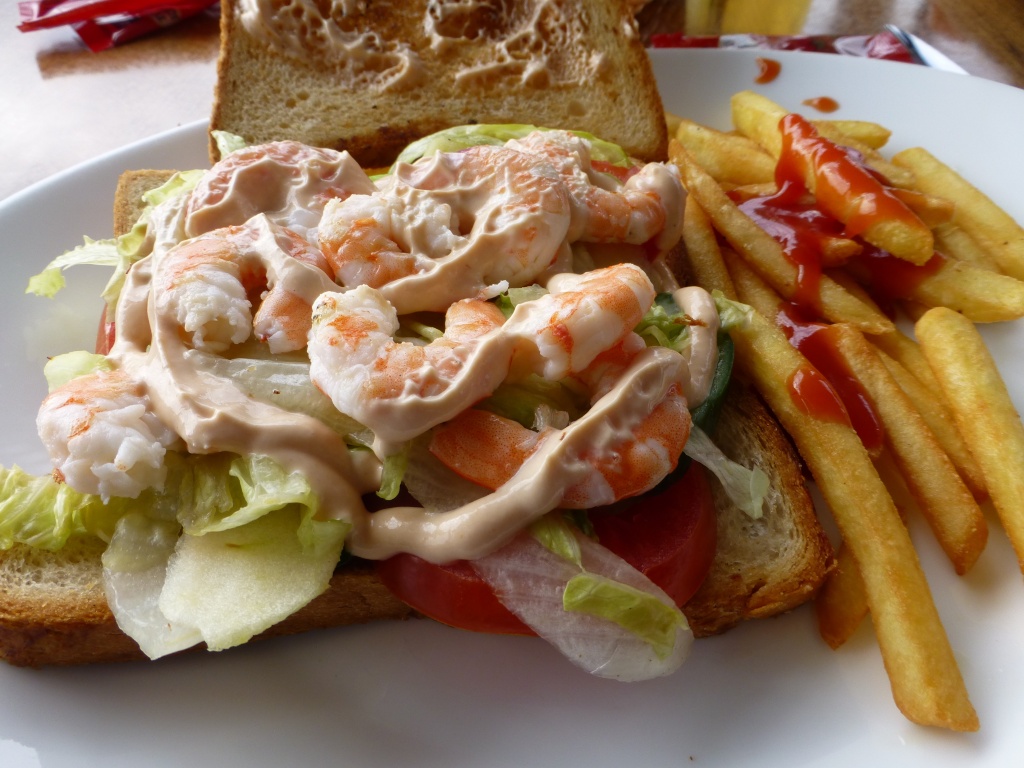 p1150238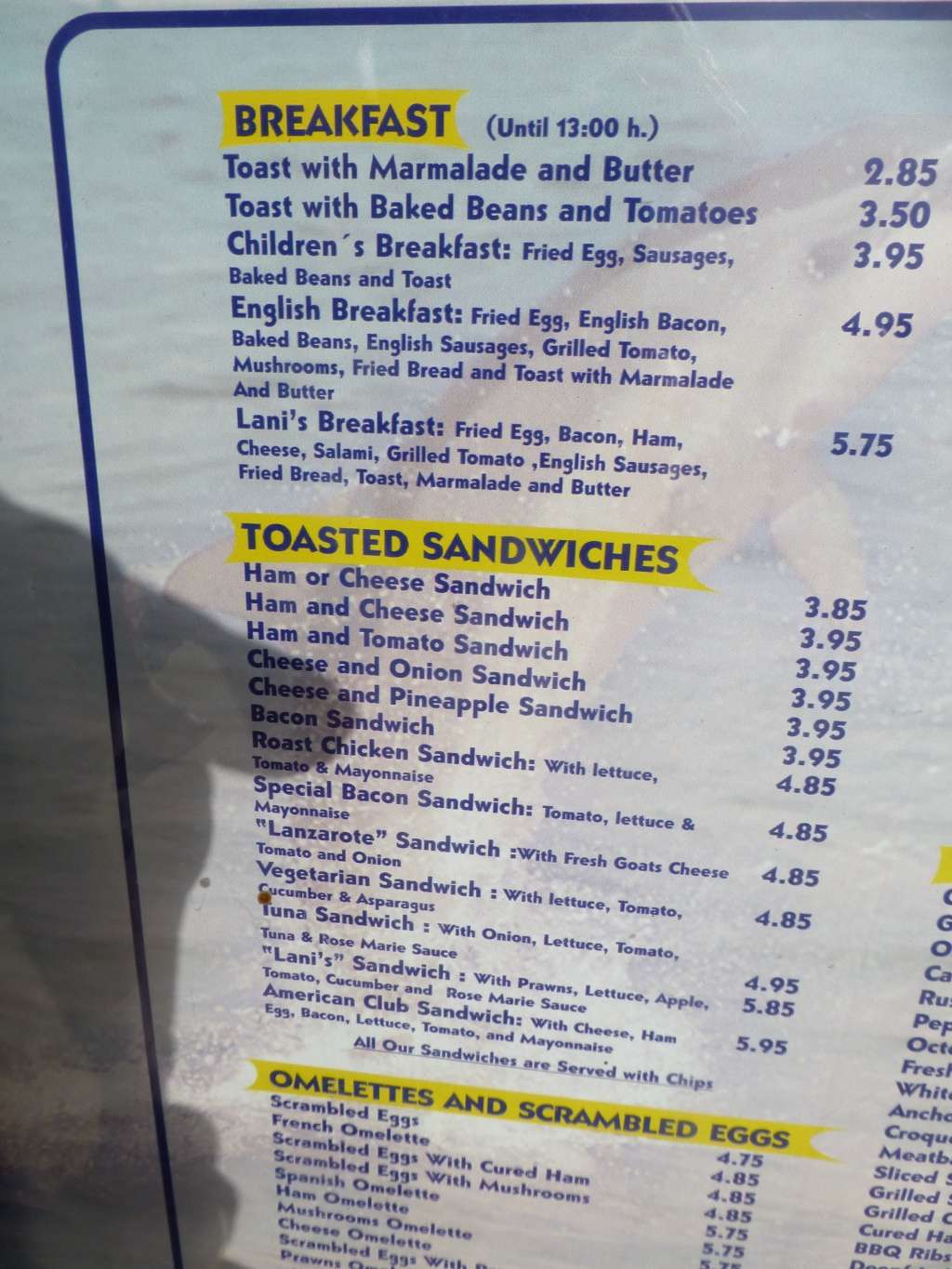 p1150239
meanwhile, back at the apartments, the entertainments guy Paco, was giving a cocktail demonstration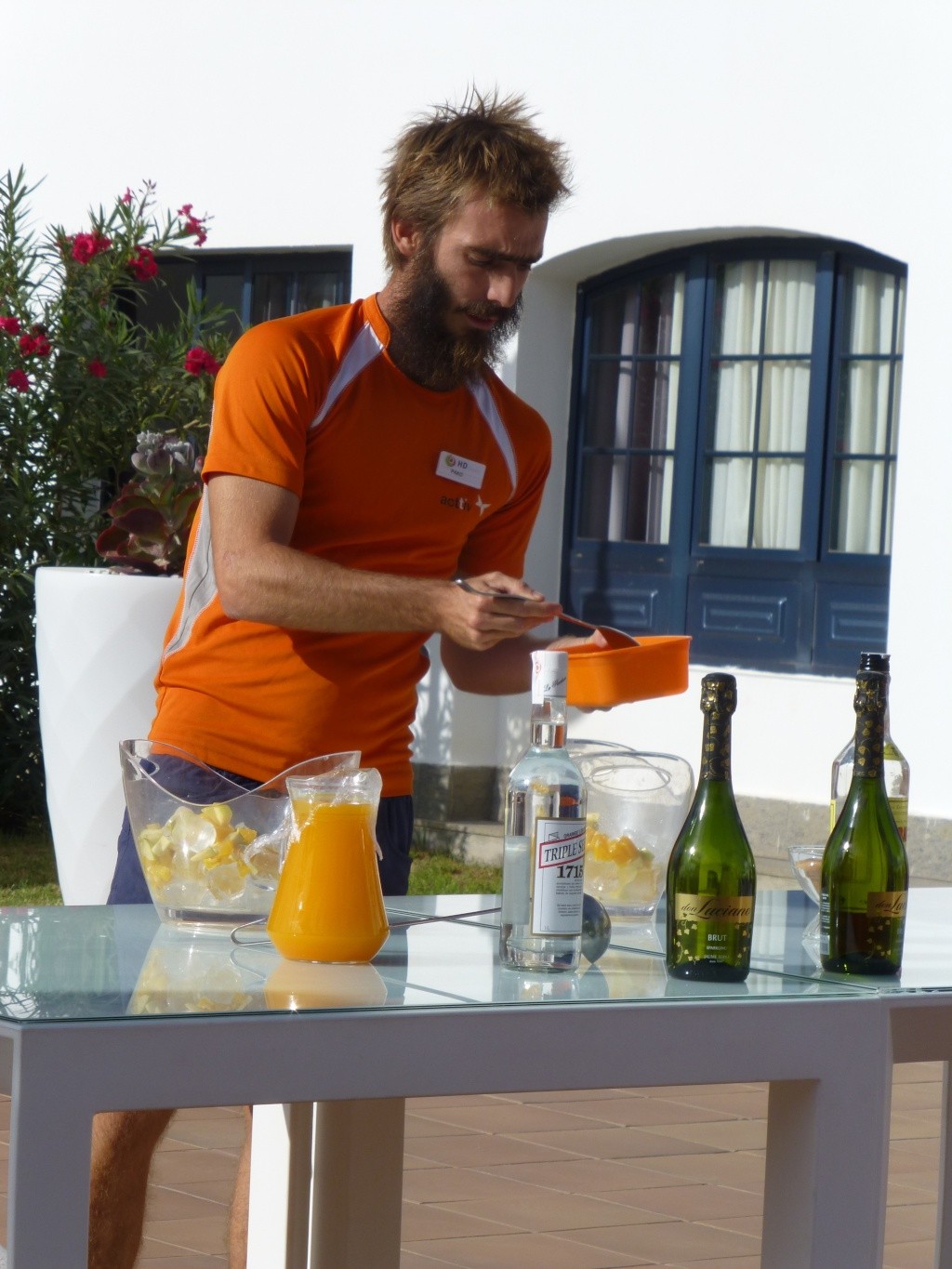 p1150242
now where did that Cava cork go lol
p1150243
and free samples to try at the end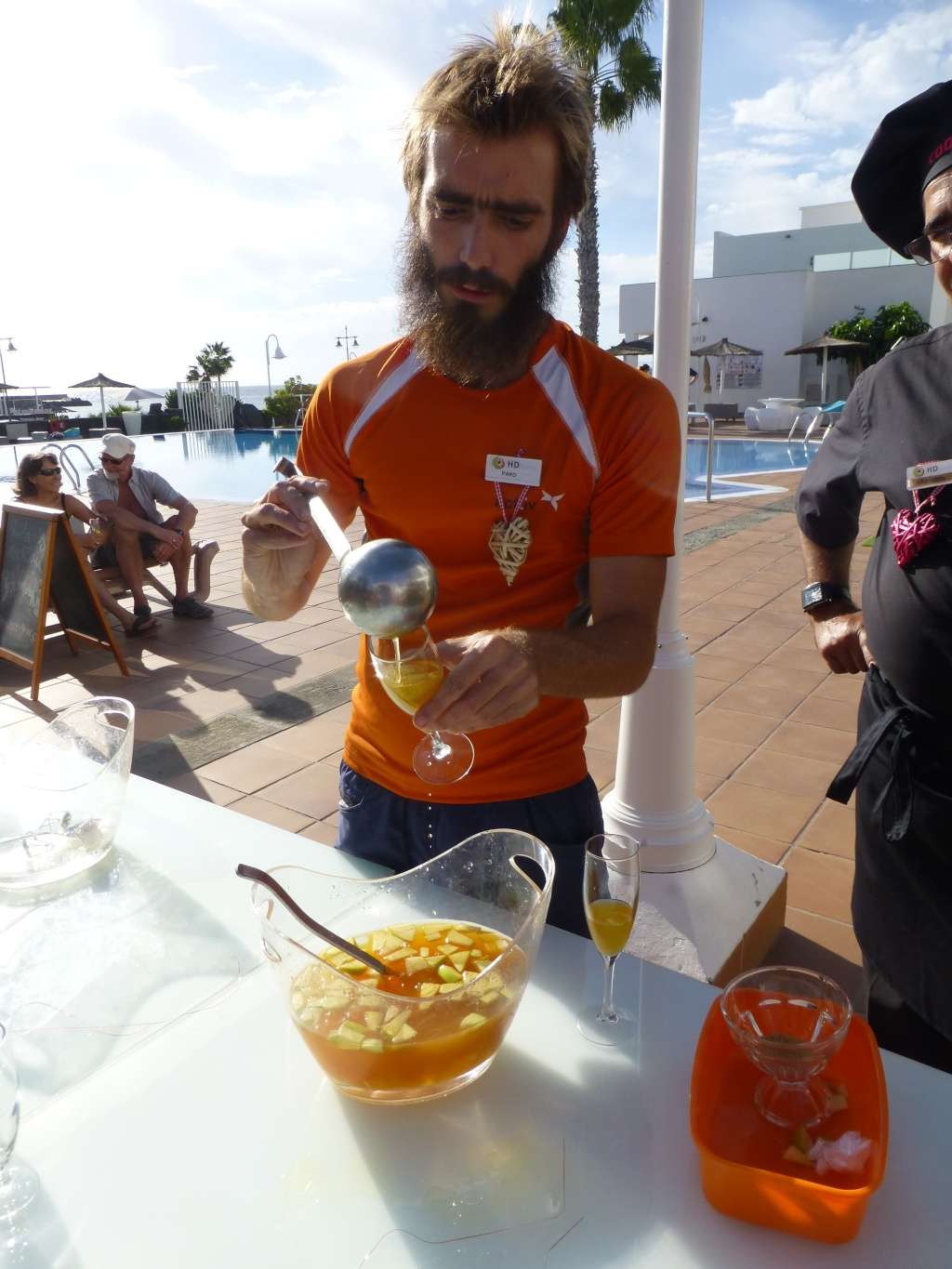 p1150246
and a sunset to finish in the evening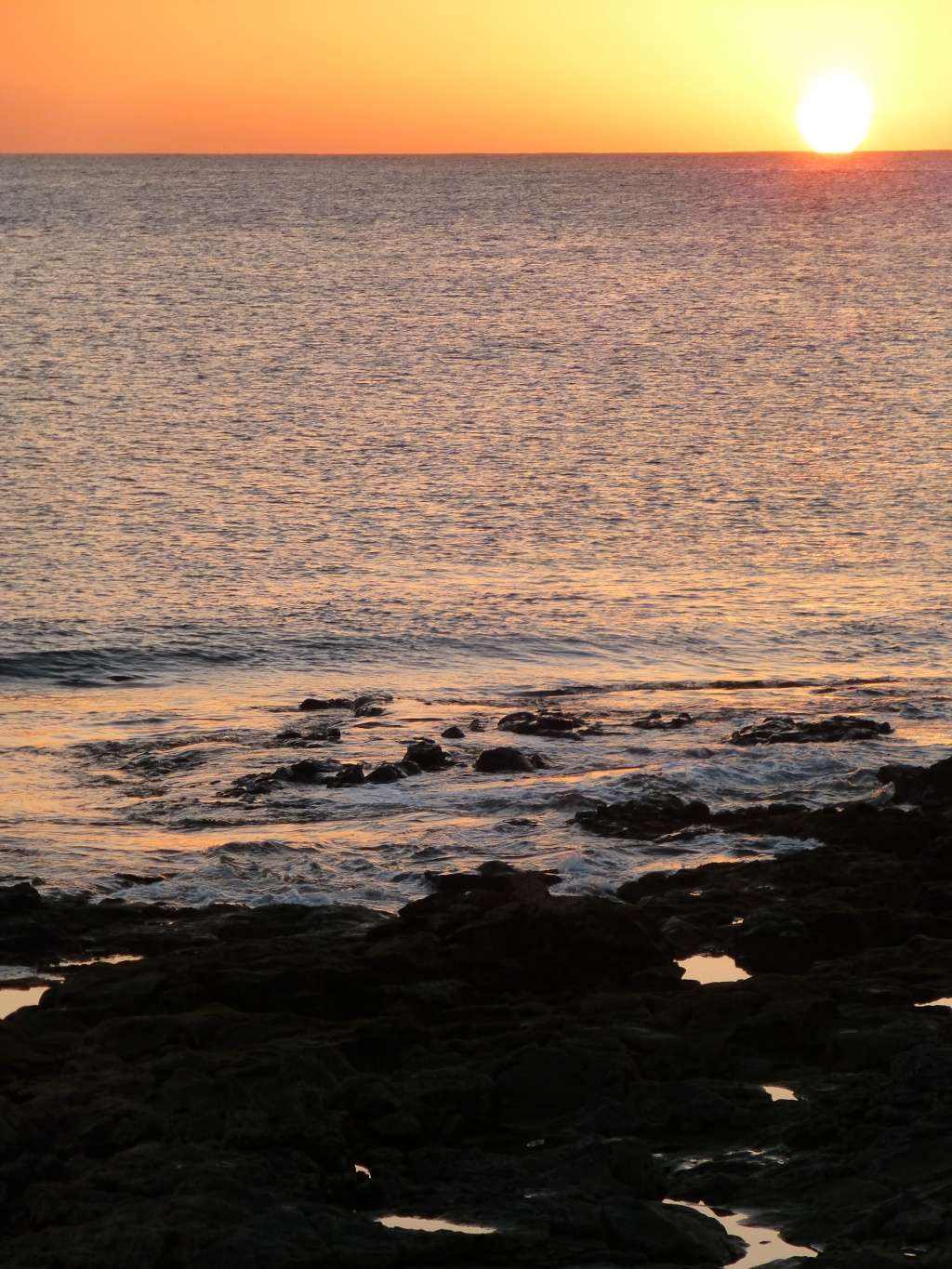 p1150265
p1150268
tonight we were eating in Cervantes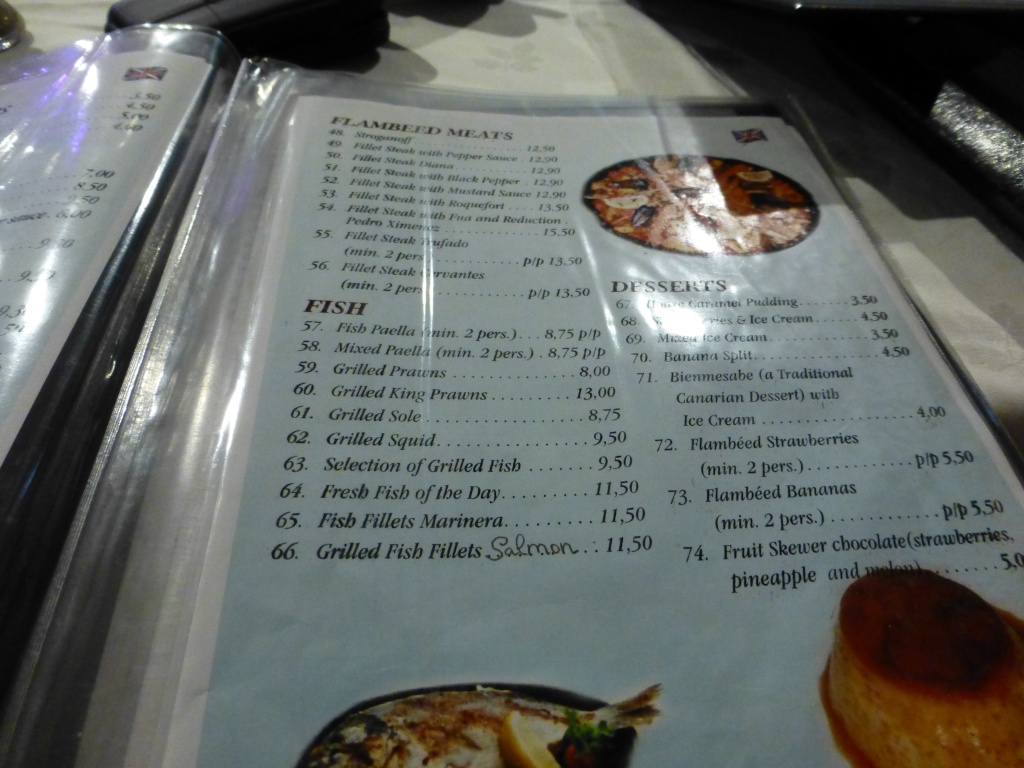 p1150274
I had the peppered fillet steak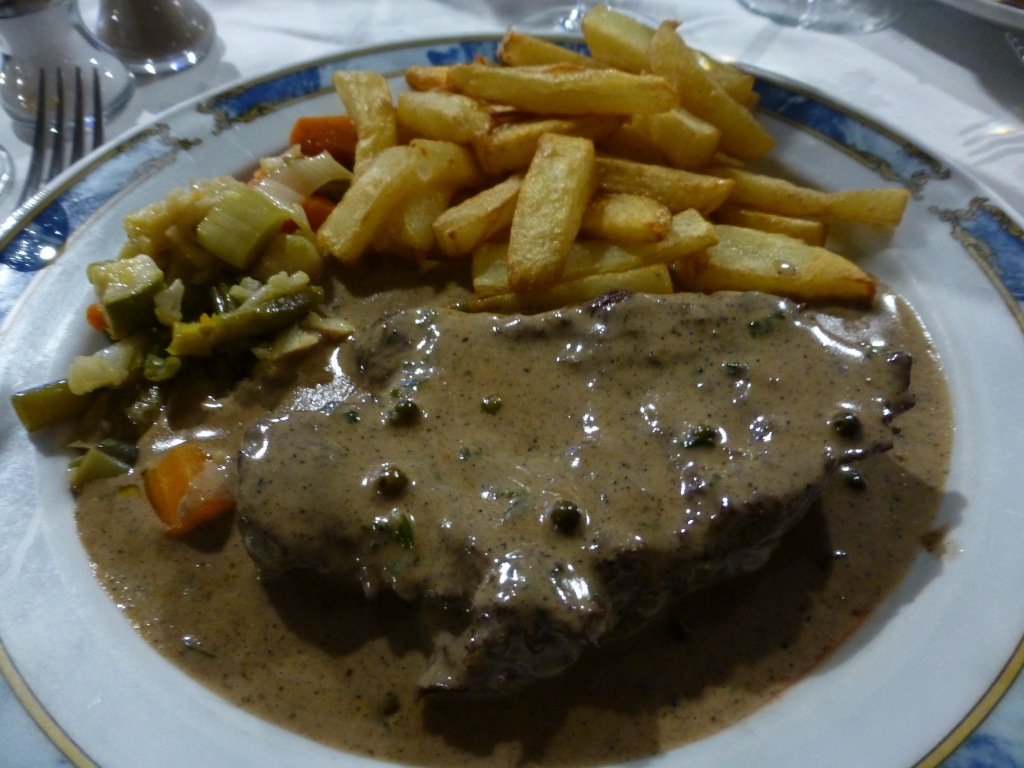 p1150275
And Mrs Db had the beef strogonoff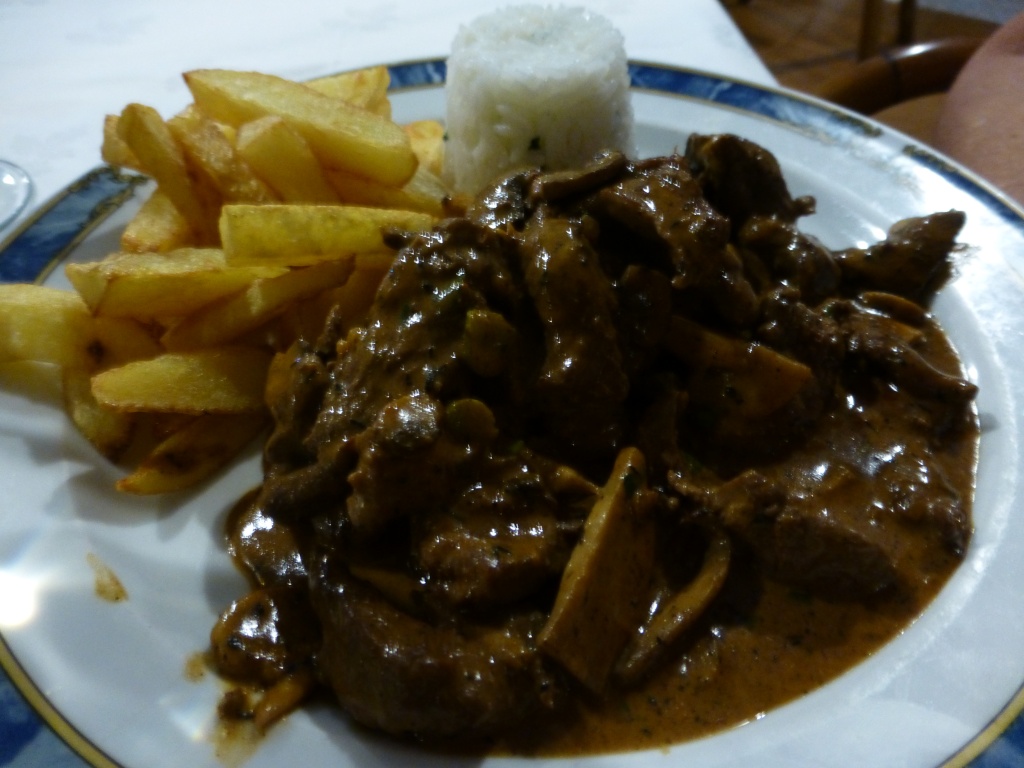 p1150276
both nice meals
END OF DAY 5
DAY 6
It's a nice blue sky again this morning and it's the morning of moving rooms. Mrs Db has everything back in suitcases and it's breakfast on the balcony
p1150277
Due to this, we decided it was a day around the pool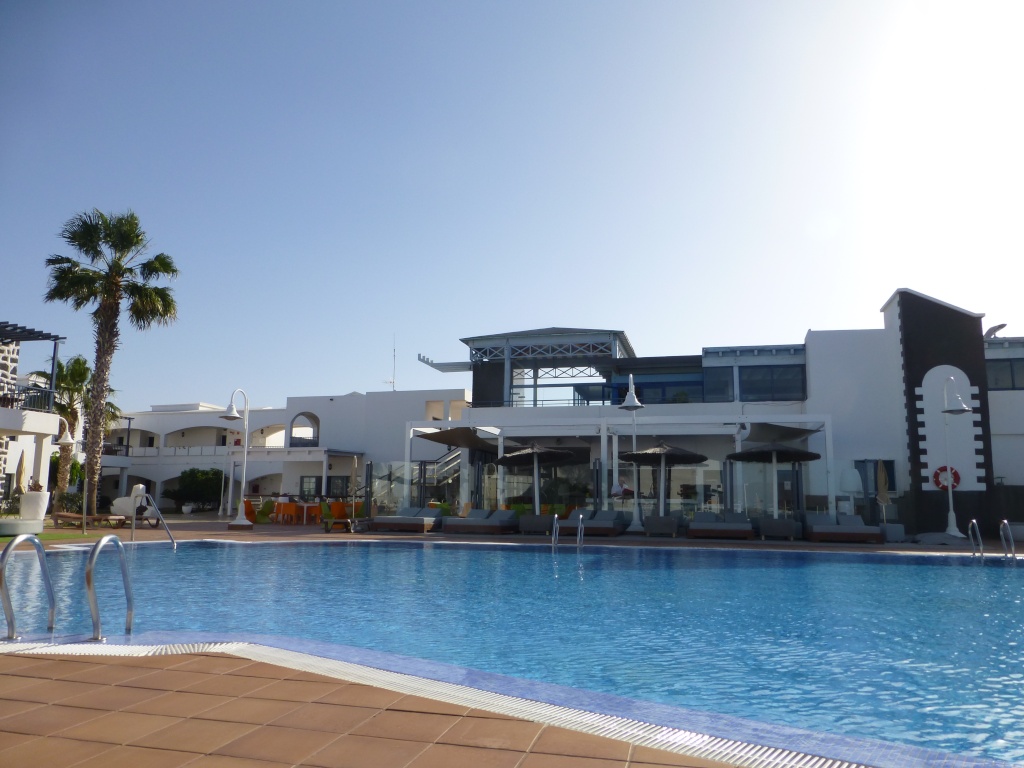 p1150278
The entertainments guy Paco had arranged a table tennis tournament down in the gym room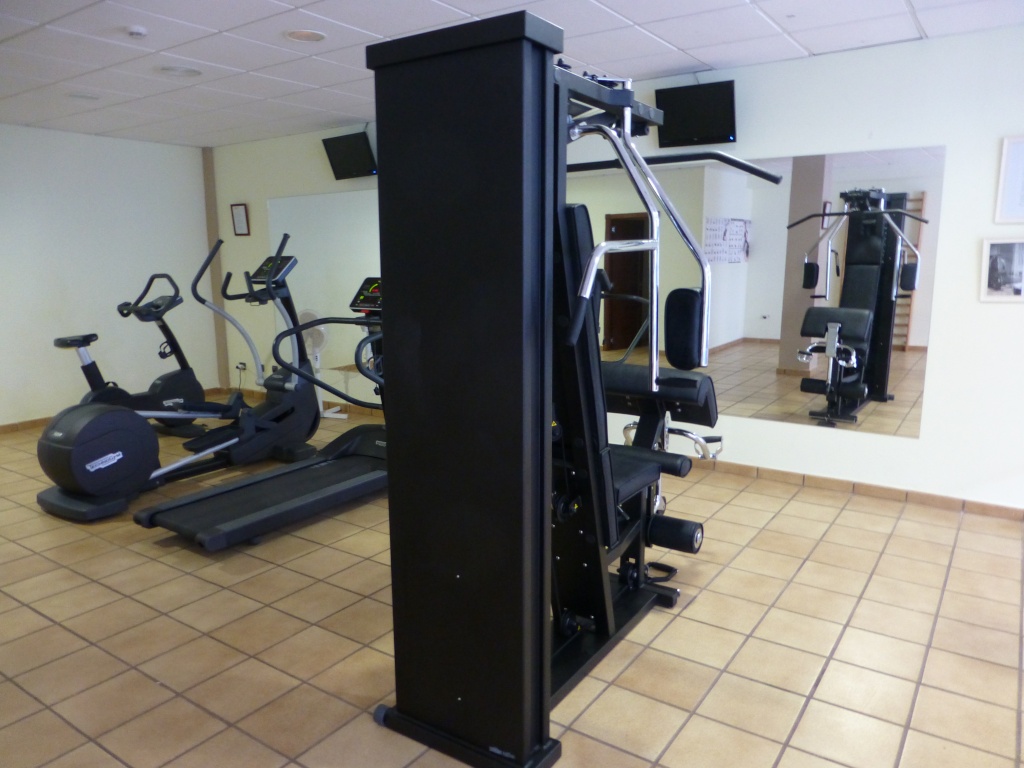 p1150279
We played in pairs as there were 6 of us and we drew lots to see what partner we had, i drew Paco but he is not suppose to win lol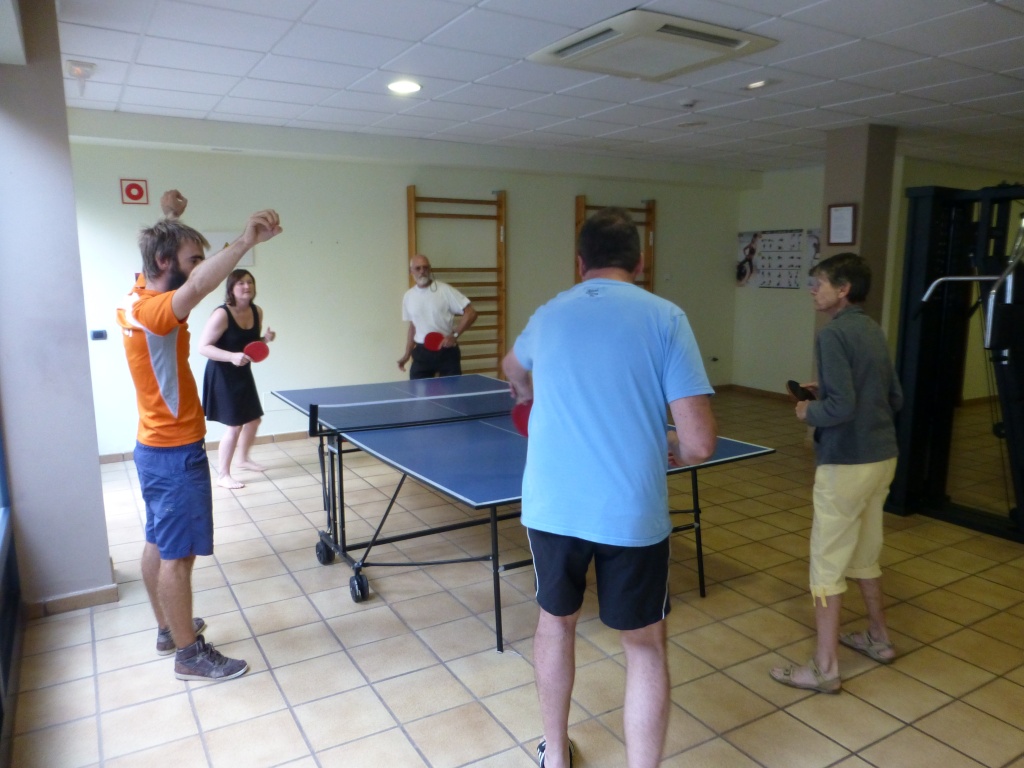 p1150283
It was all good fun
p1150285
Then it was our turn and the ball kept landing in awkward places for our opponents and we won our first match, then my telephone went off, to say our room is ready, "You can't be serious, I'm in a middle of a table tennis match lol". I'm not going to say it affected the result but we lost the next game.
which meant all pairs had won a game, a good ending with a game of around the world, which i fell off very quickly lol
that's a better view Mrs Db and we can even get ice creams lol
p1150310
with all this activity I had missed the opening of the bar in the new shopping centre but there was just time to see it before lunch
A few days earlier the bar was empty, now it had new gaming machines around the walls of one of the sections
p1150313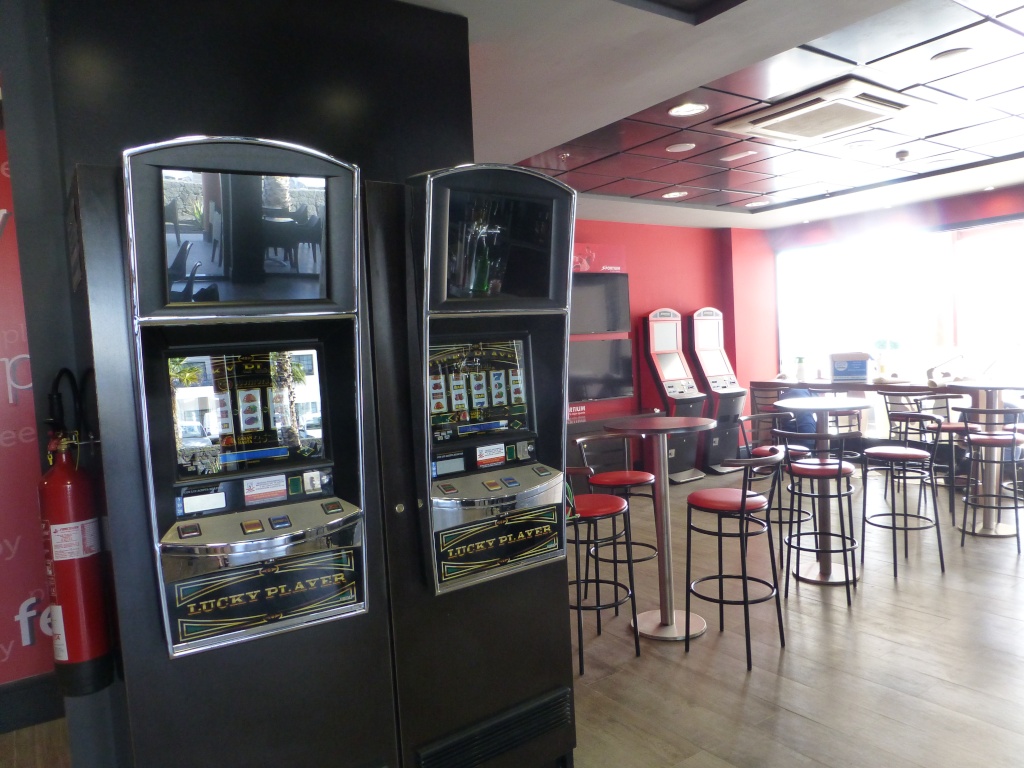 p1150314
The centre piece of the gaming side is an electronic roulette wheel
p1150319
The bar itself has an american theme to it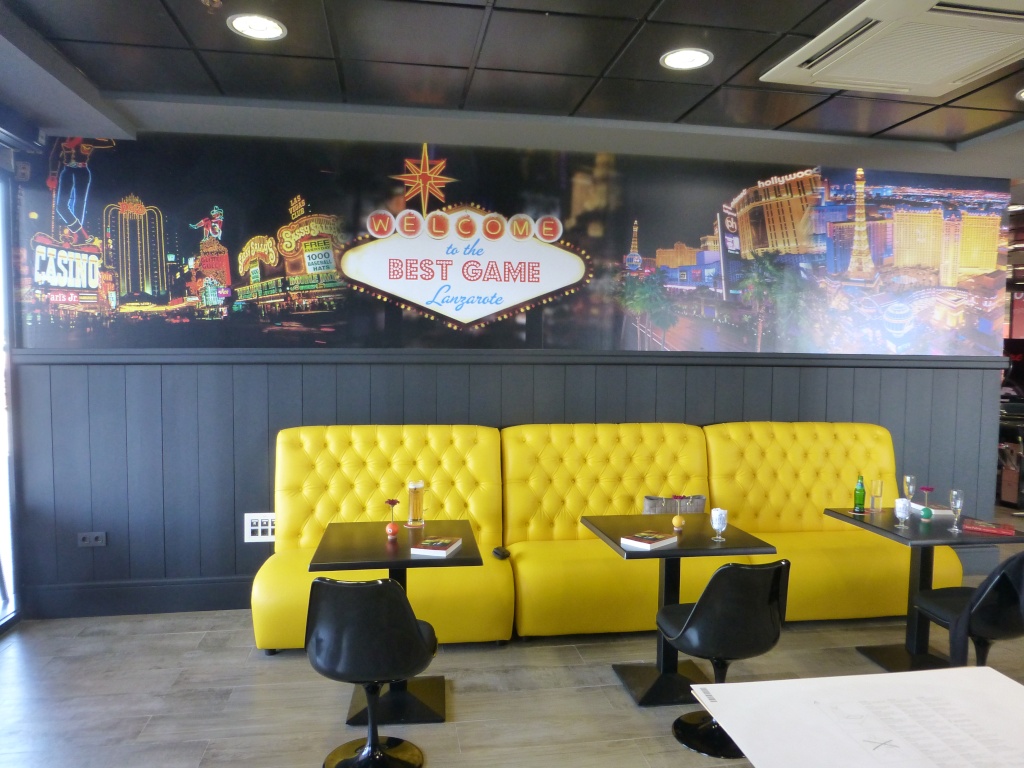 p1150315
p1150316
on the outside was a guitarist playing and after a quick beer it was lunch with Mrs Db but will keep you updated during the holiday of new openings in the centre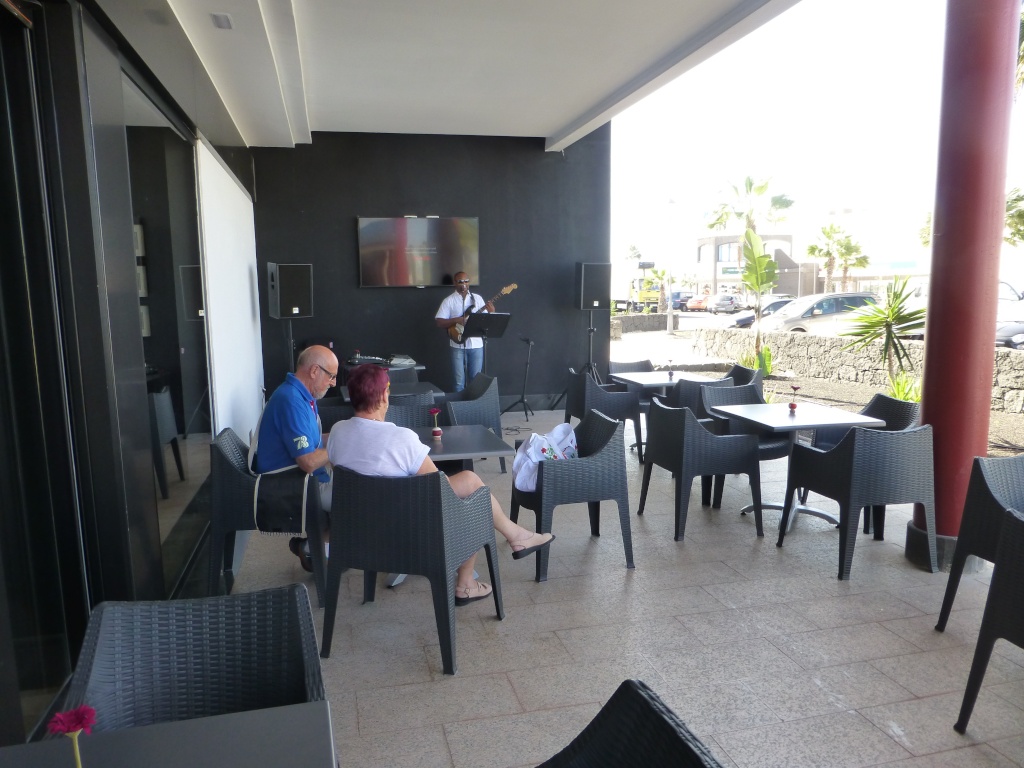 p1150318
lunch was tuna baguettes around the pool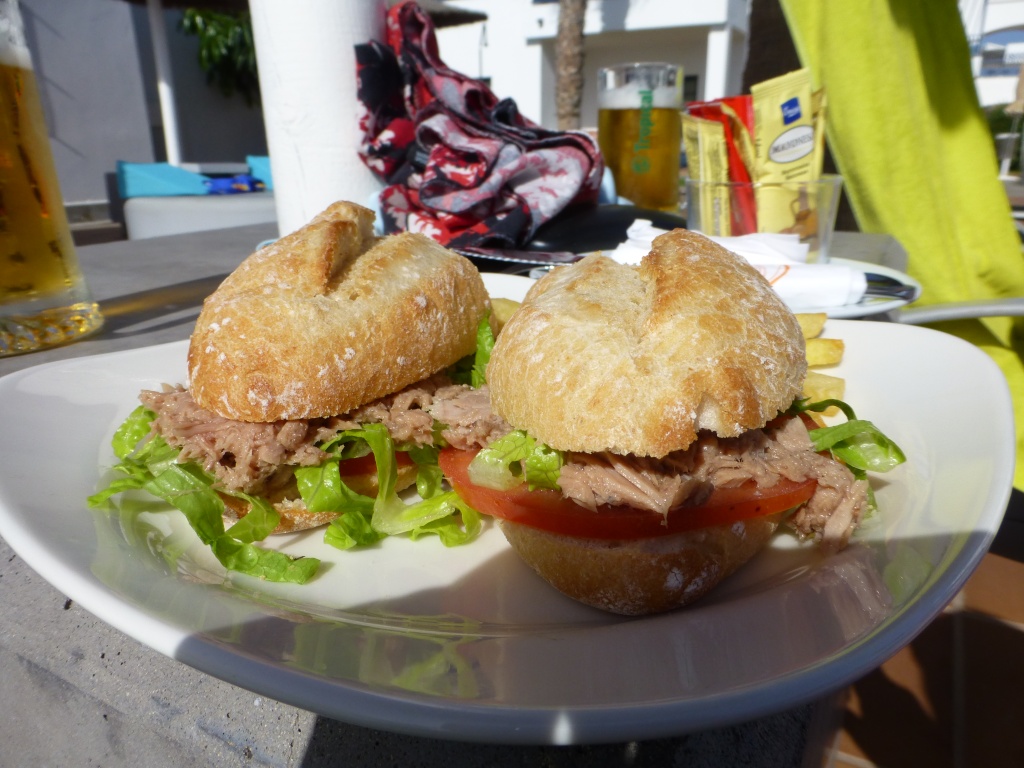 p1150323
however, I wanted to check to see if Wax's bar still had the small screens up for showing the football results as well as for the actual matches
A number of people were on Dorada Beach but didn't check it out this morning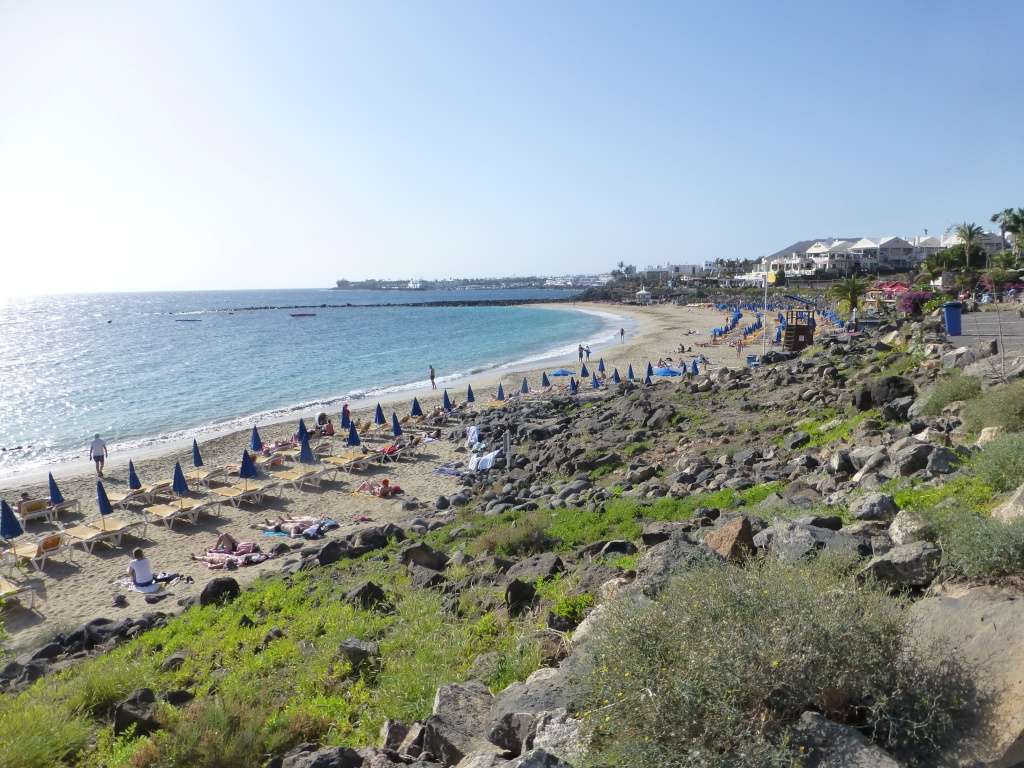 p1150327
but the yellow flag still flies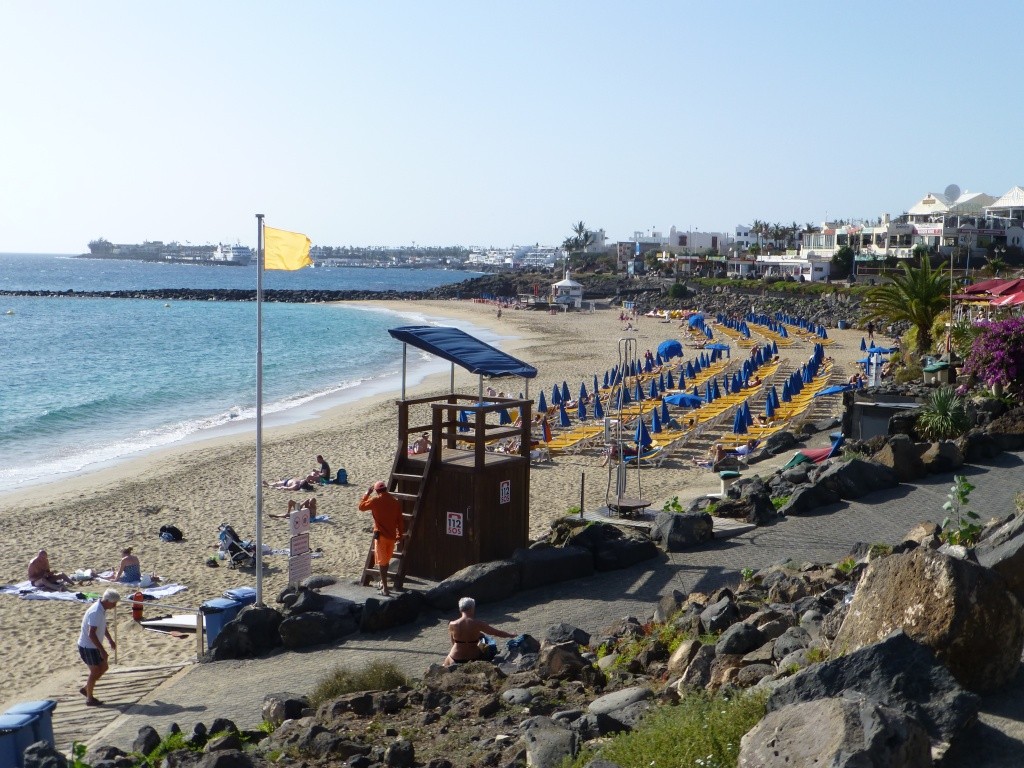 p1150328
last year, I didn't have a photograph of any screens above the bar
p1150332
so four small screens and two big ones for matches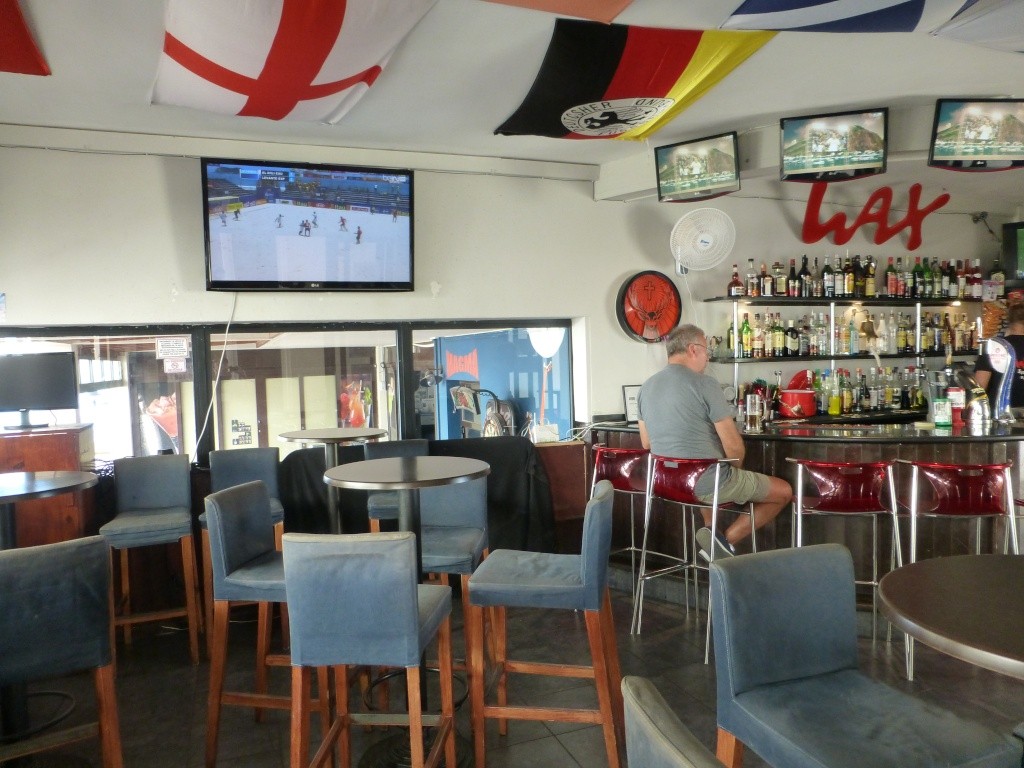 p1150333
and getting back to the apartments I also popped up to see the nudist's area in the complex which is screened off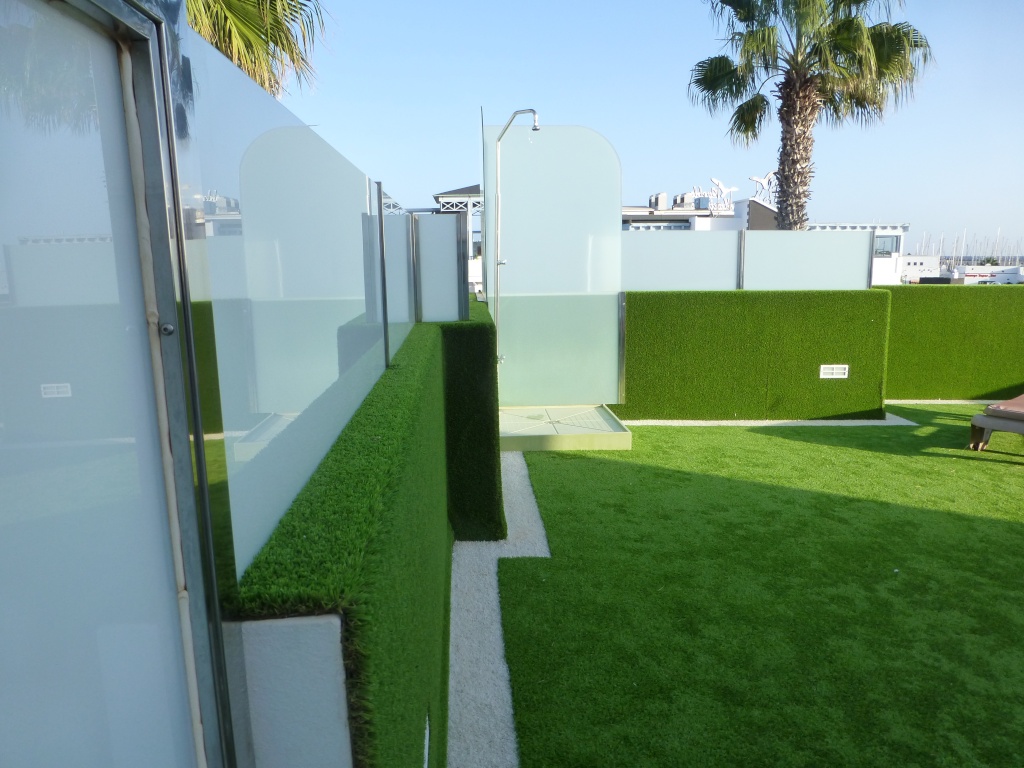 p1150335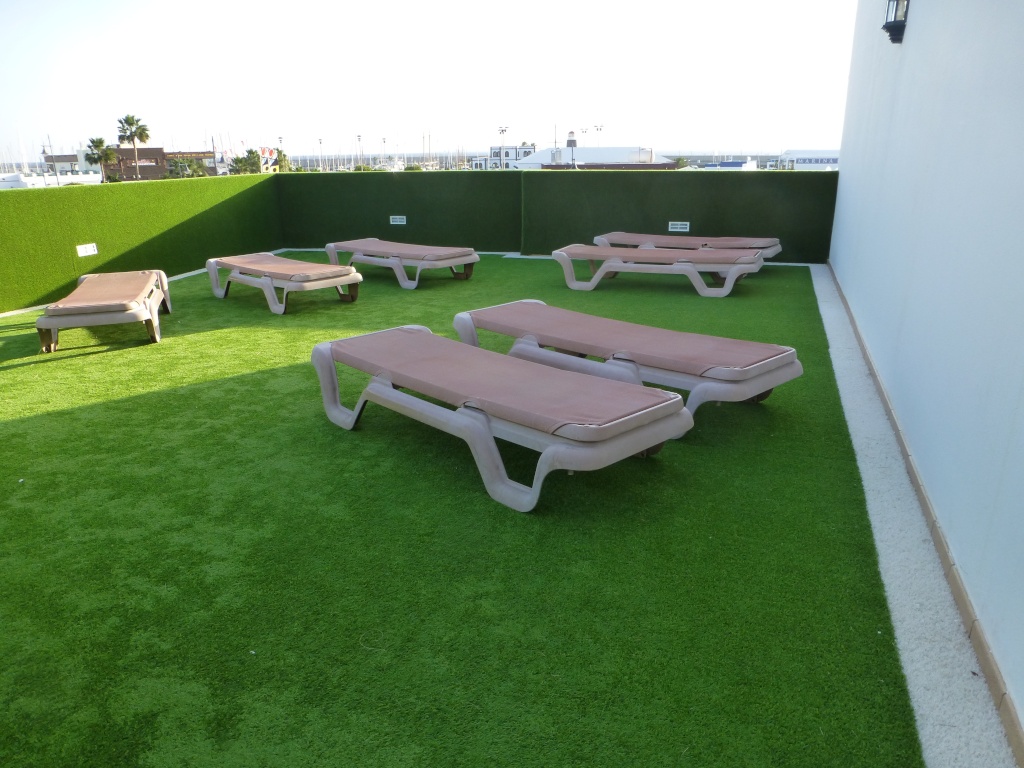 p1150336
This evening there was the sun going down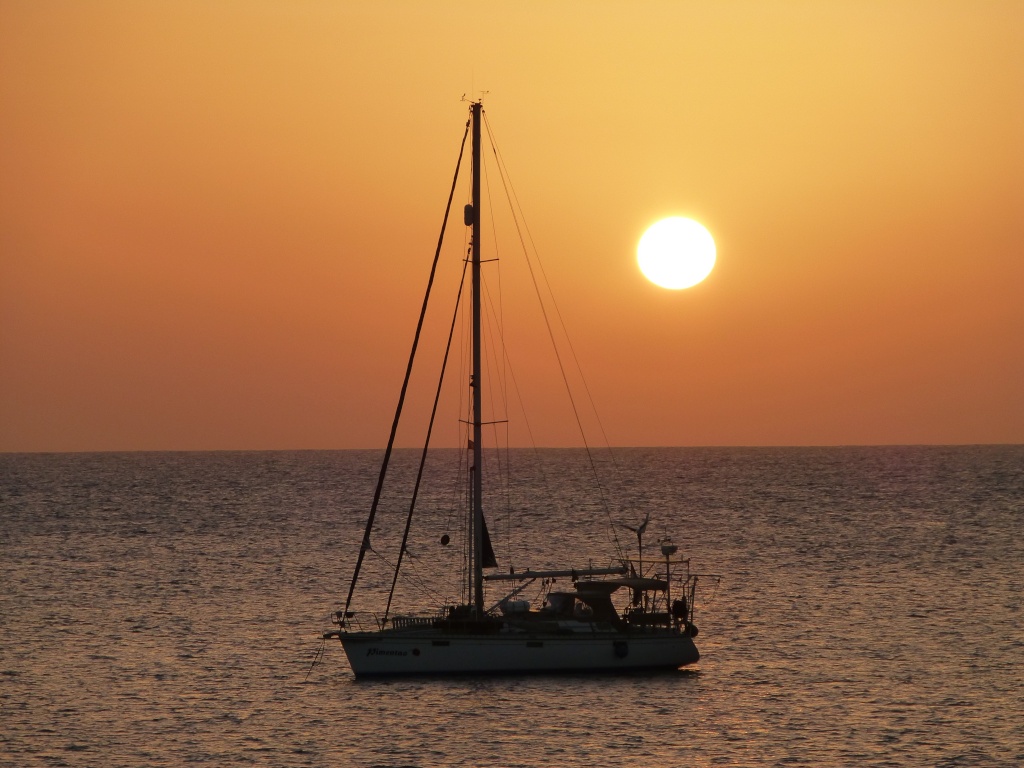 p1150344
But cloud got in the way before it hit the sea
p1150353
It was evening and the town was coming alight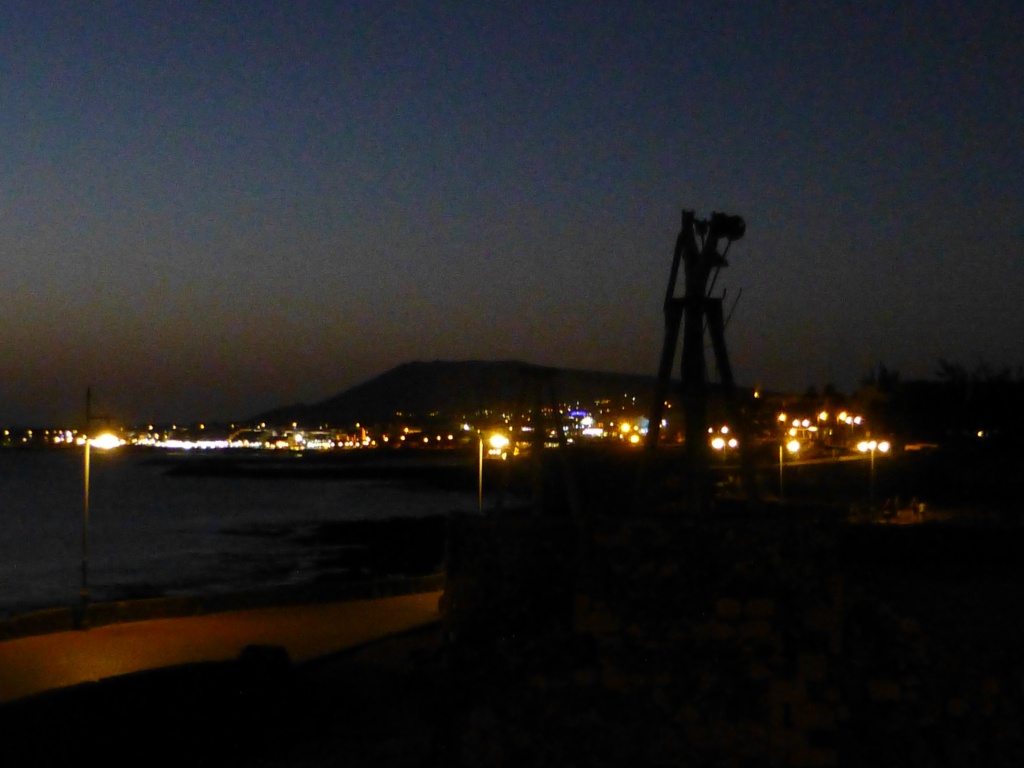 p1150365
Tonight Atlantico was open and we are going to try it for the first time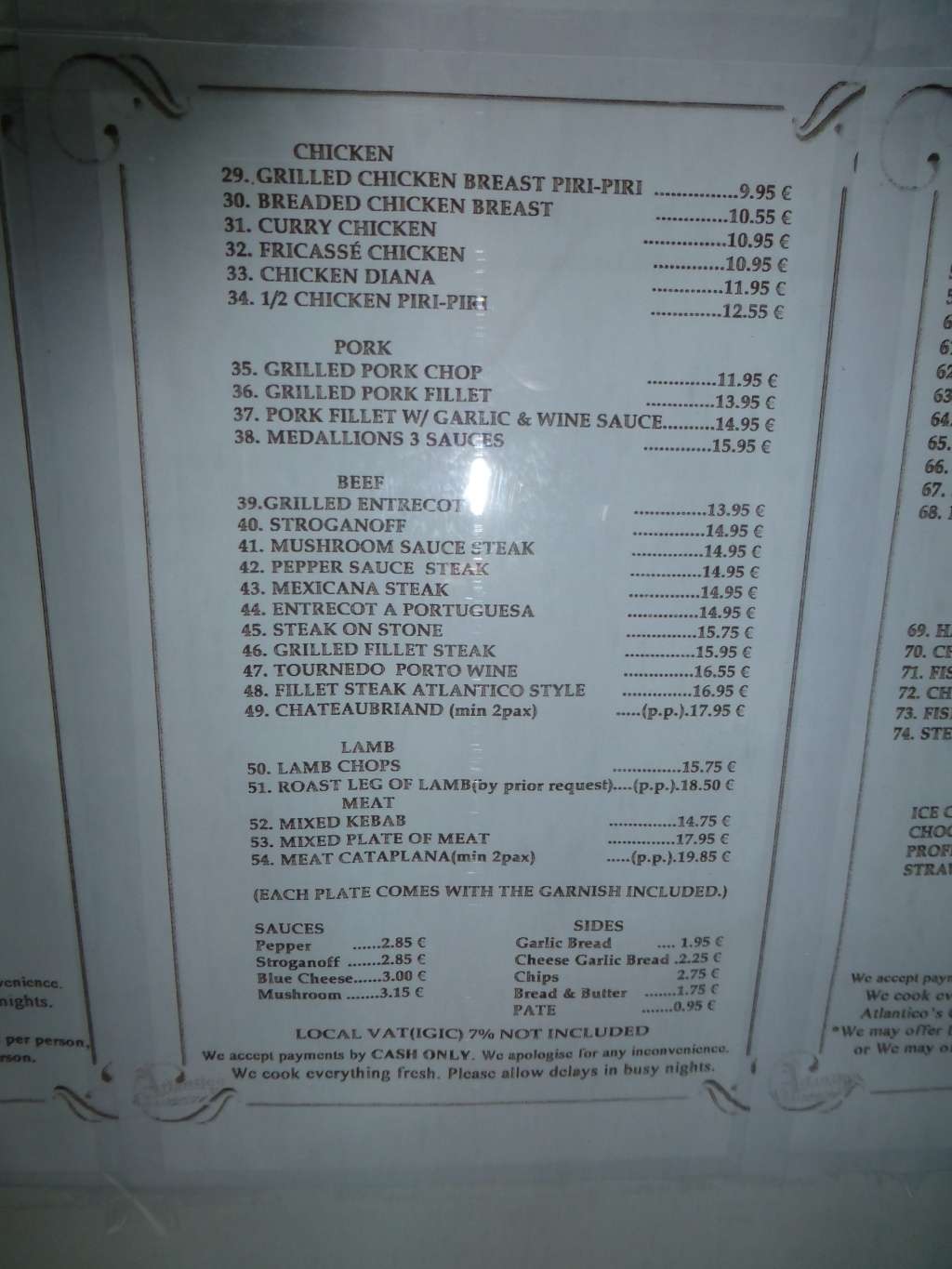 p1150377
I had the Tournedo with porto wine which is a thick cut steak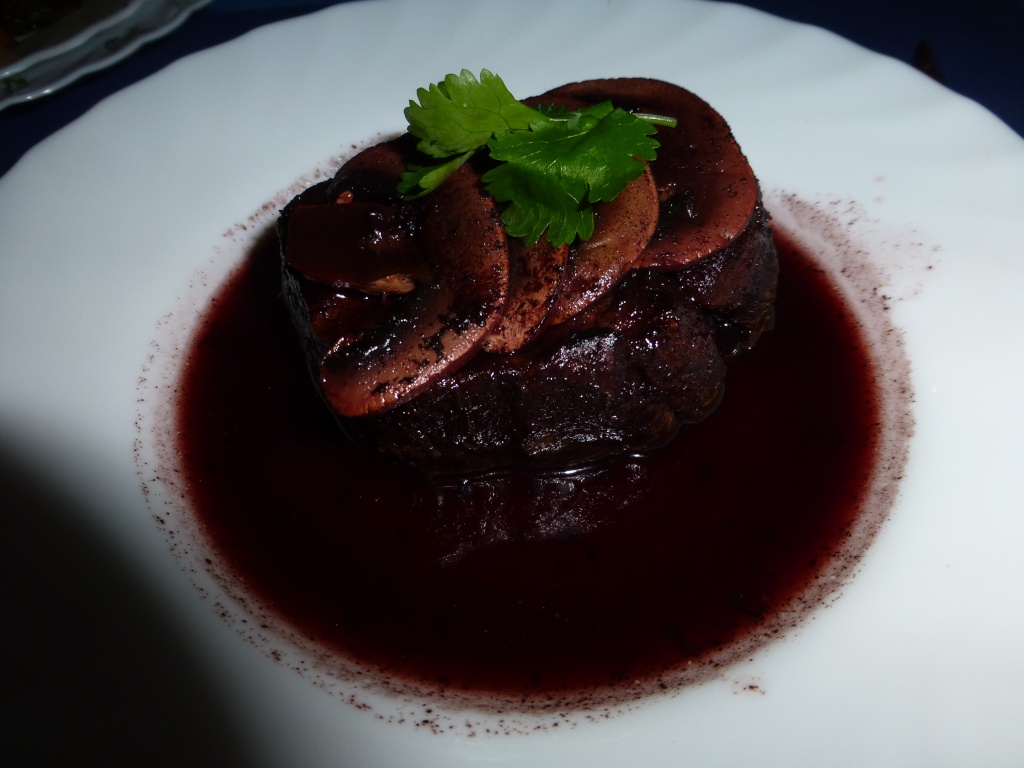 p1150370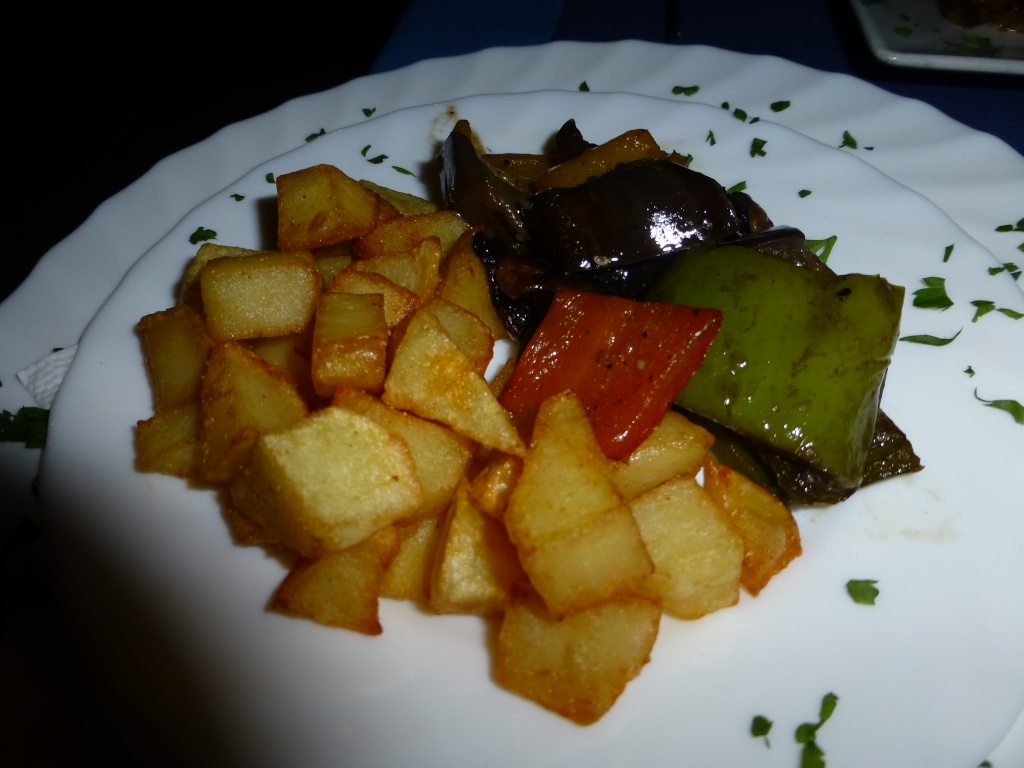 p1150371
As it was their first night of opening for the season a number of things hadn't been delivered and Mrs Db first choice wasn't available but she decided to try the blacken Pork which is a house speciality on a separate table sheet for 16.50, it's sort of like crispy pork but Mrs Db thought an accompanying sauce would have made it for her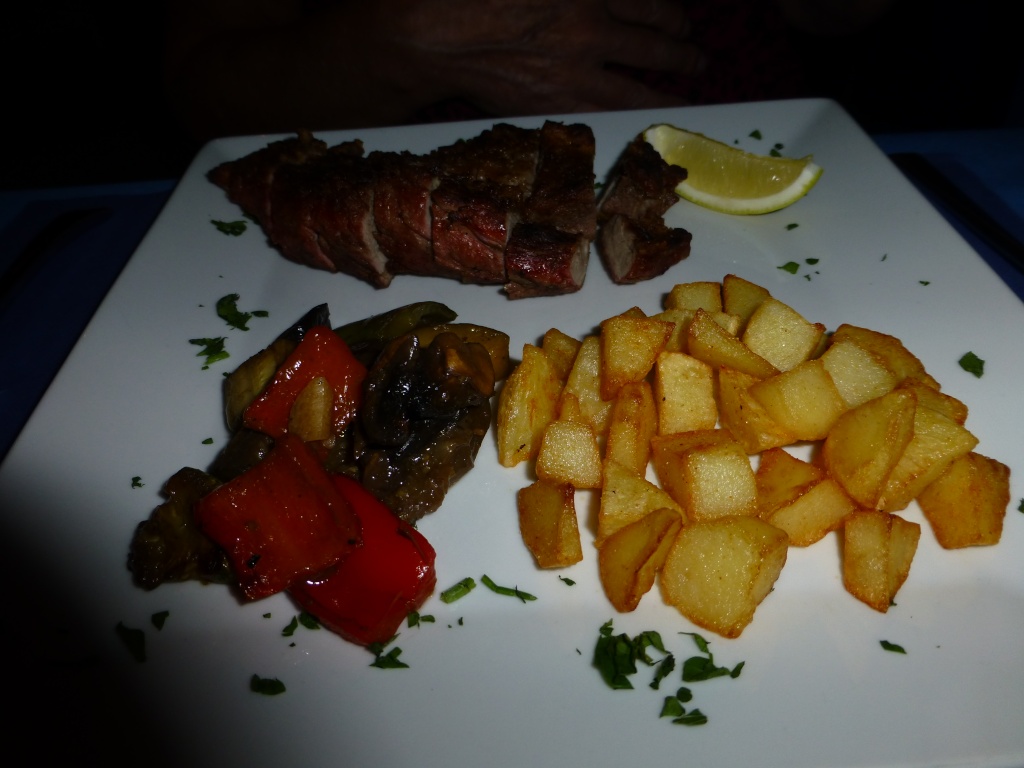 p1150372
at the end of the meal, whether it's because it was opening night , we were each given a free blackcurrant cheese cake which was very nice of them
p1150373
and a free liquor to finish
p1150376
the jungle bar had a group on as we passed
p1150379
END OF DAY 6
DAY 7
another nice morning Mrs Db and we can actually see it lol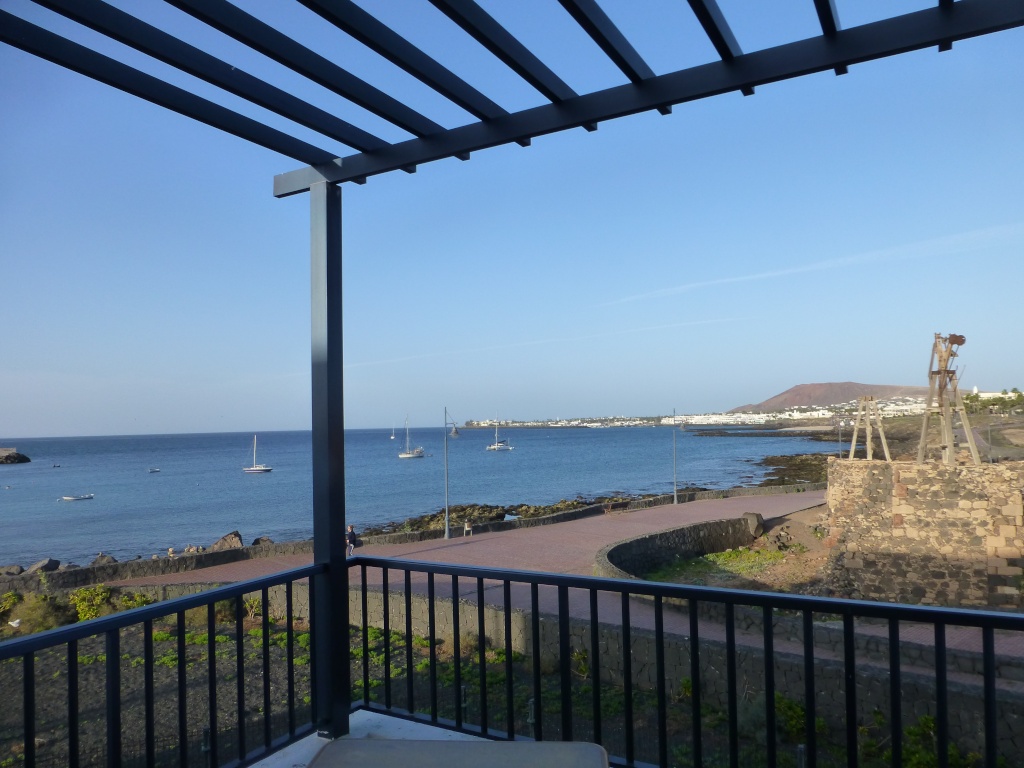 p1150380
It was market day in the marina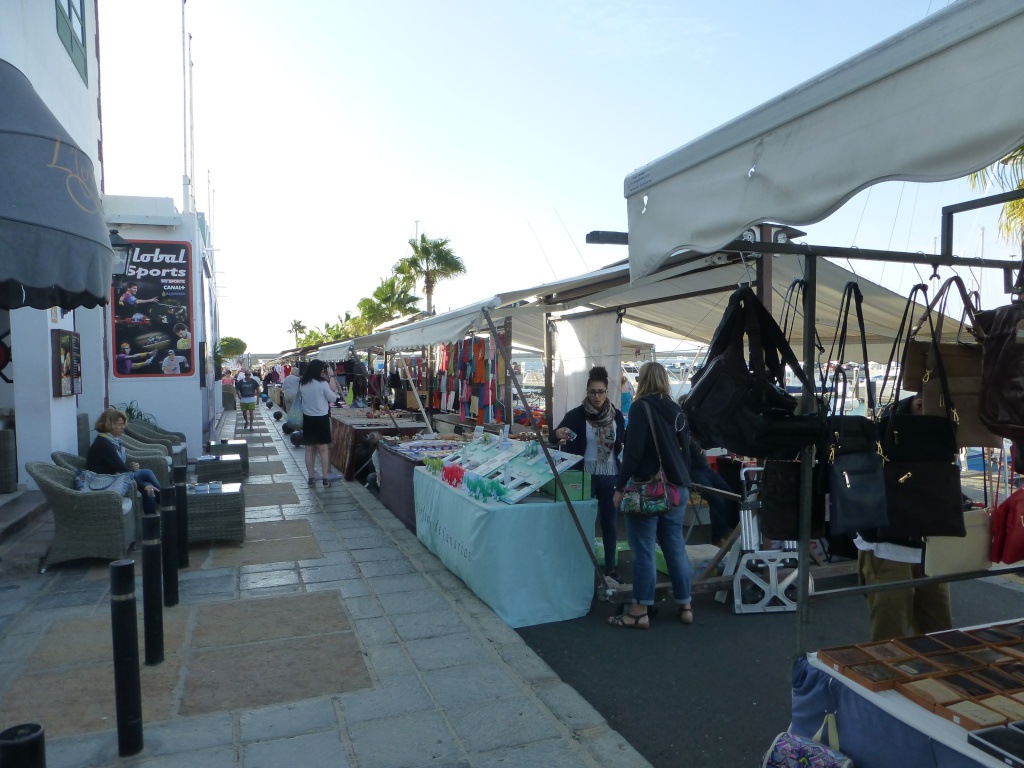 p1150391
and I was just walking around looking for colourful photos to take
p1150392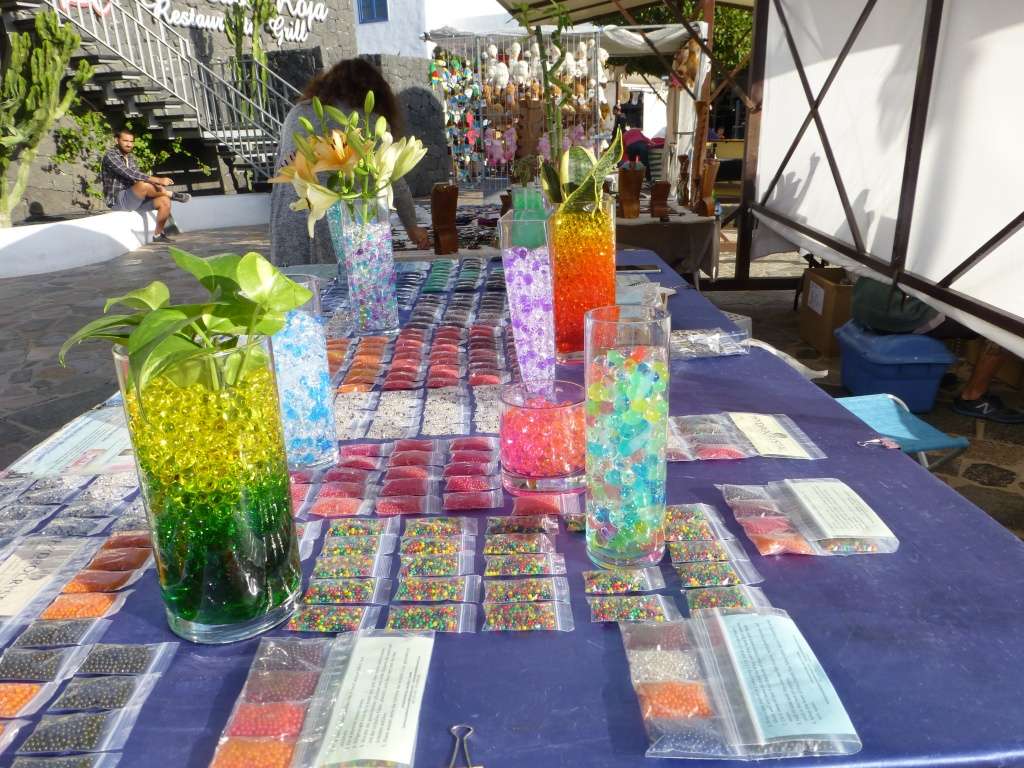 p1150394
would it be a beach day for us?, well the balls were still up in the air lol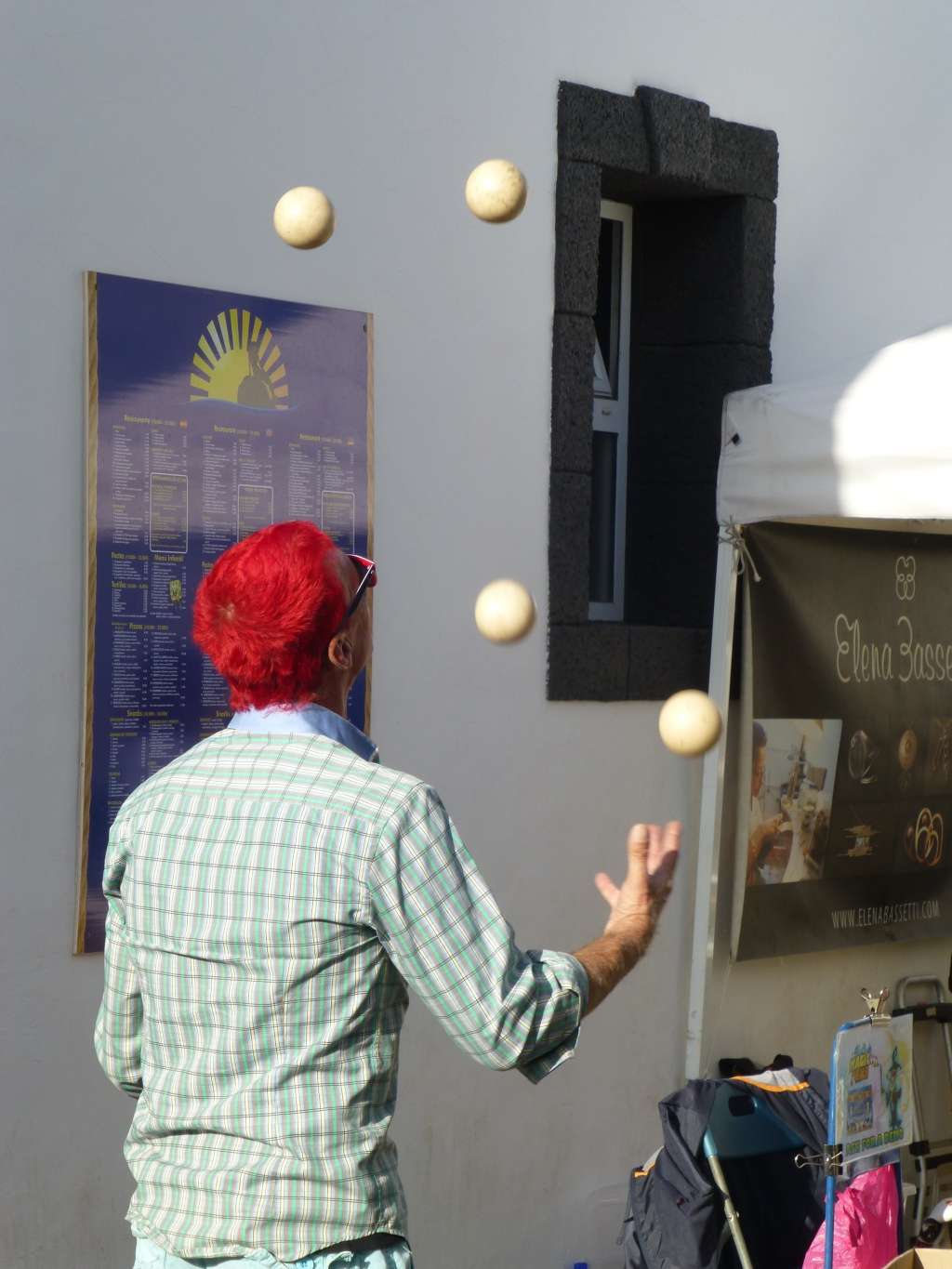 p1150396
well the green flag is flying
p1150398
with it still being a fair breeze we decided to sit at the back
p1150399
lunchtime, for me it was a burger at Barney's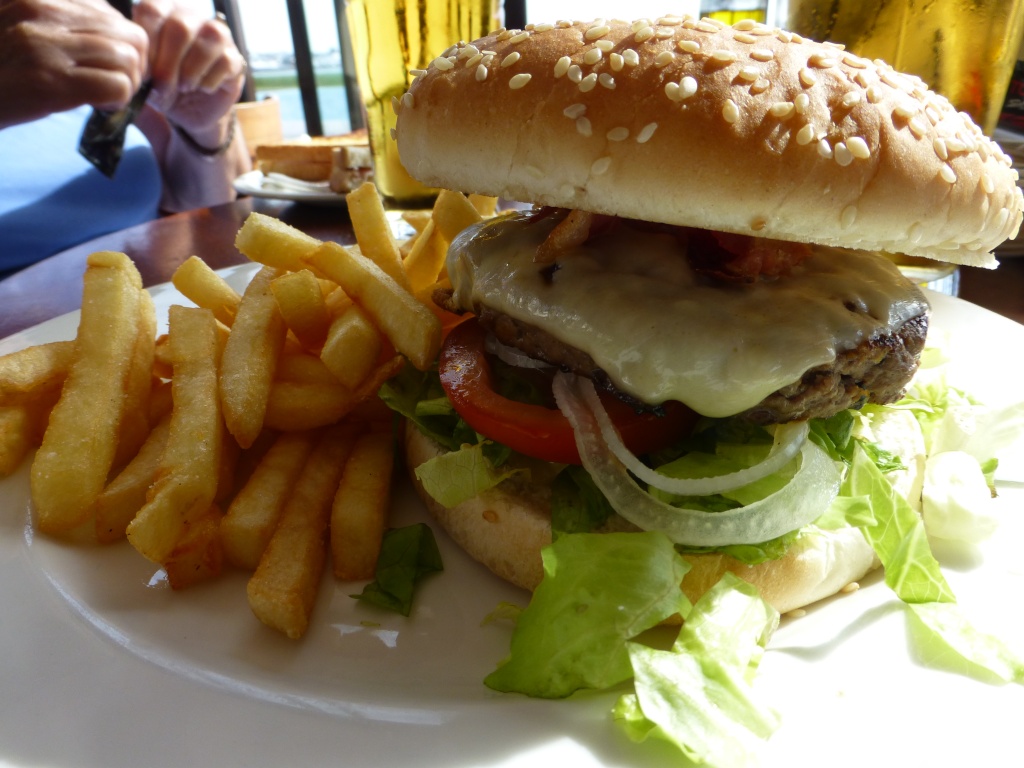 p1150404
Mrs Db had her usual toastie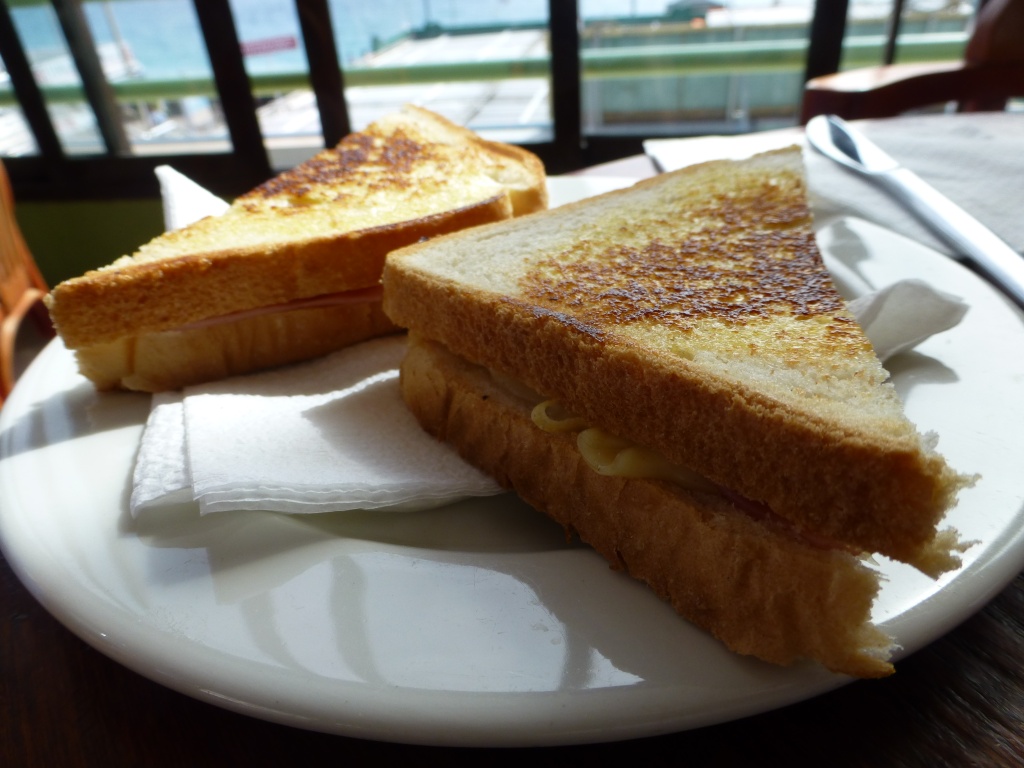 p1150405
a nice afternoon but by 3;30pm the yellow flag was back and for us we had had enough and heading back to the apartment for a cup of tea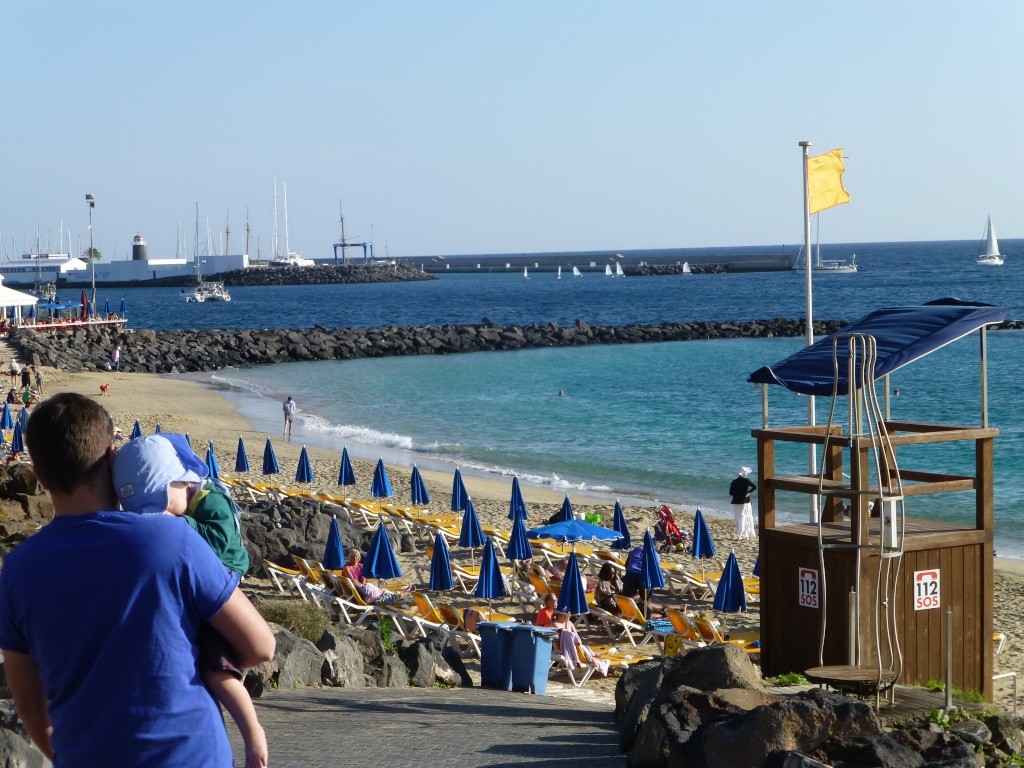 p1150407
Now the evening was a cracking sun descent and good photo opportunities
now I wanted to get that yacht in the centre of the sun as it drops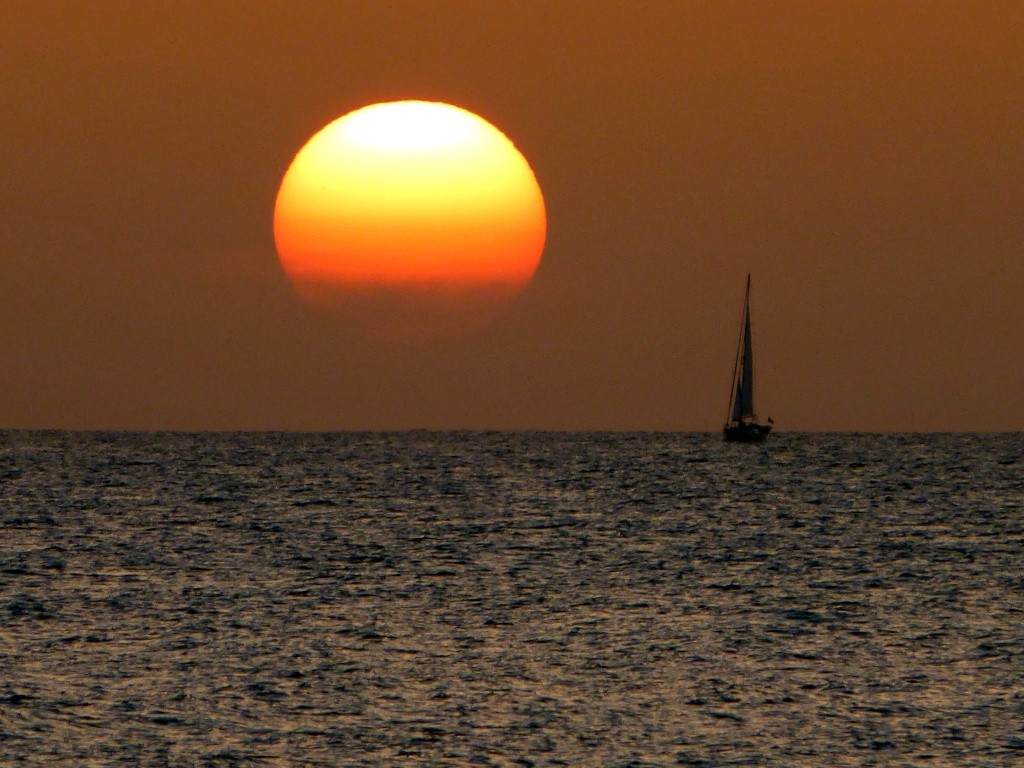 p1150425
as one doesn't get too many opportunities like this but just as I lined it up and clicked the shutter another boat came in to spoil it, I then had to compose myself and quickly fire another shot, you can see the hidden yacht behind it but not quite a sharp photo as I would have liked as it's handheld lol
p1150428
tonight we were eating in Blue Notes again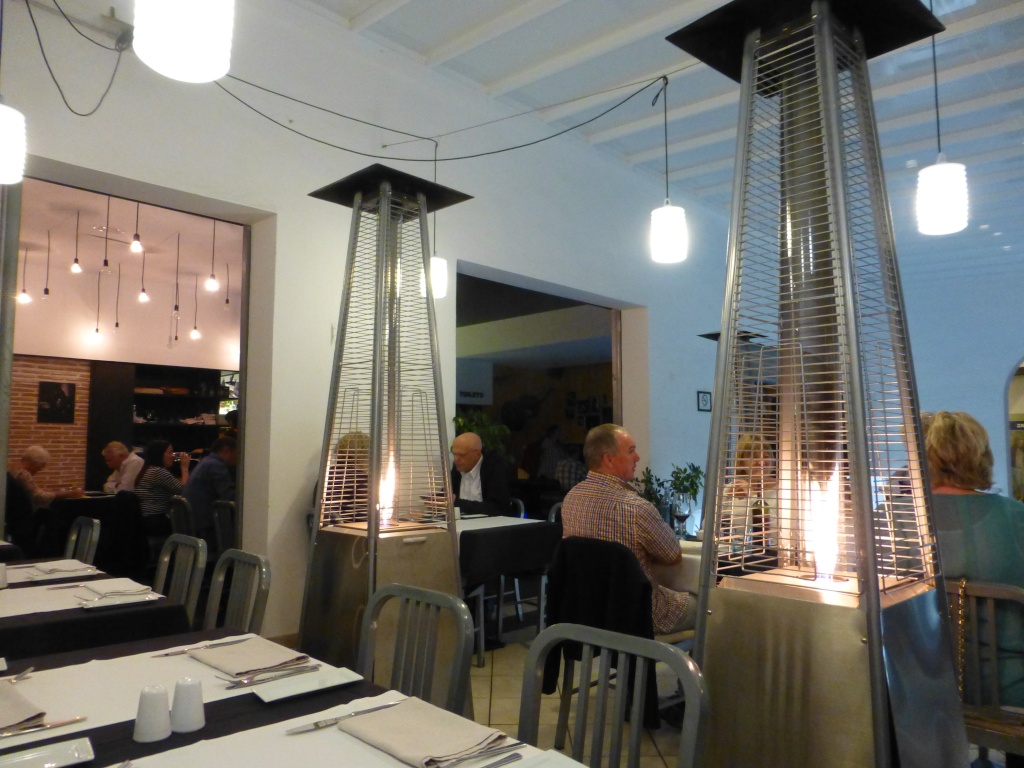 p1150437
Not a fishy person but I was going to try the seabass that Mrs Db had several nights ago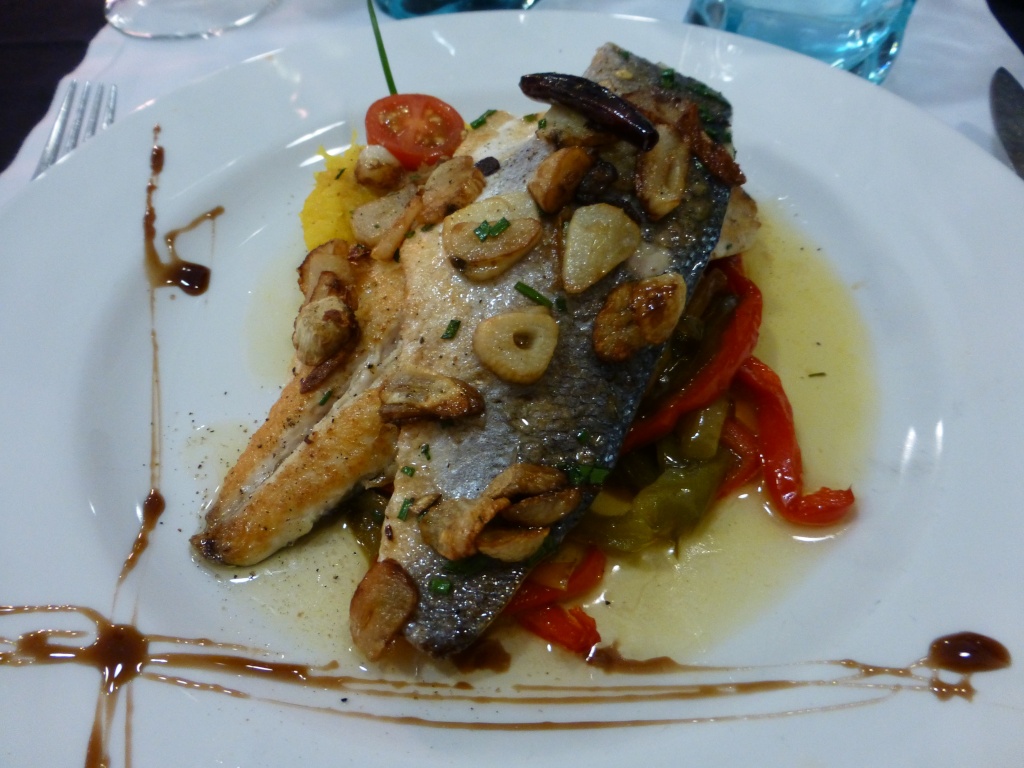 p1150441
Mrs Db was going to have the roast pork in a mango coulis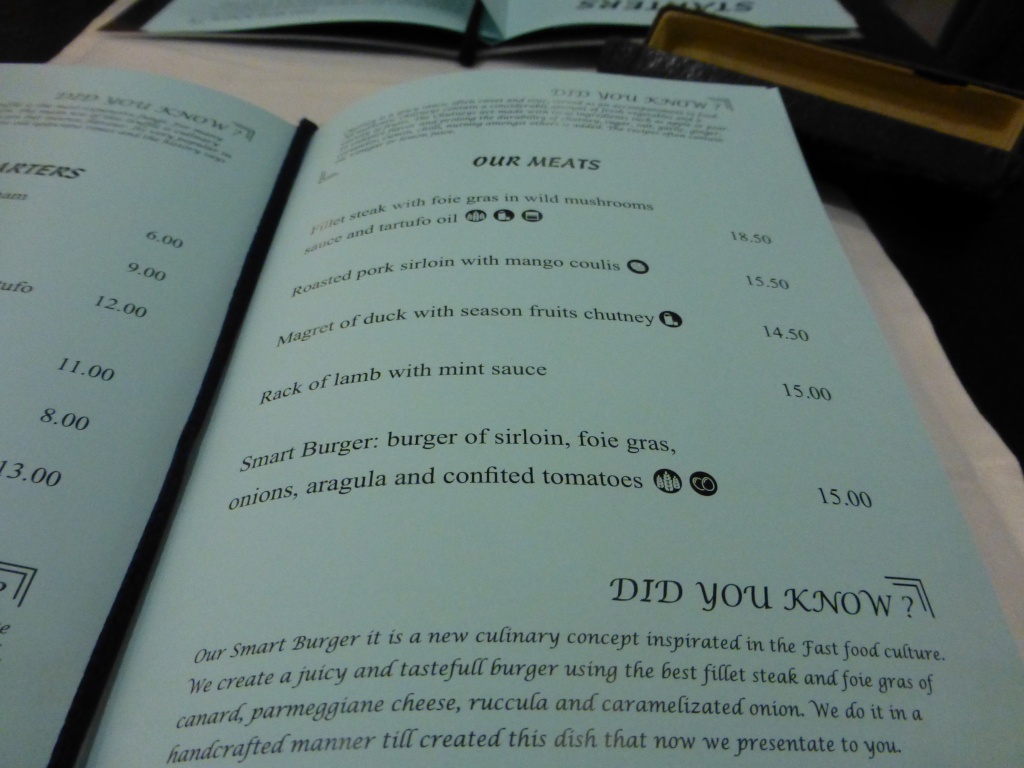 p1150434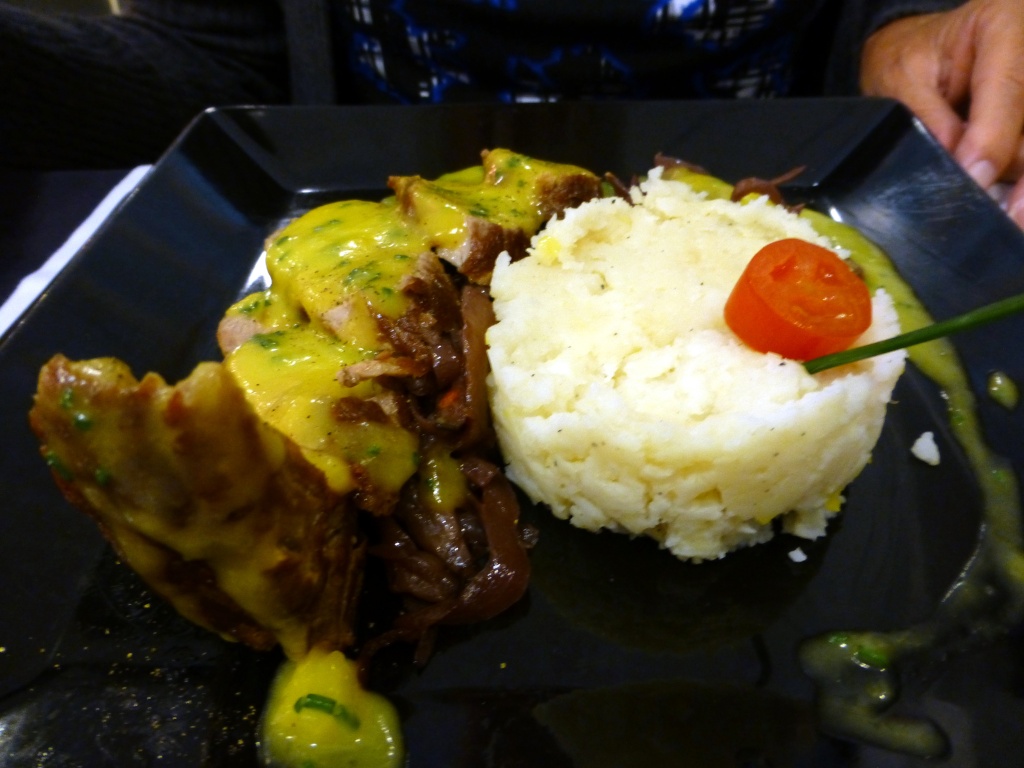 p1150440
both impressed, we would go back again and a glass of vodka caramel with the bill
p1150442
and the usual Christmas tree was out in the marina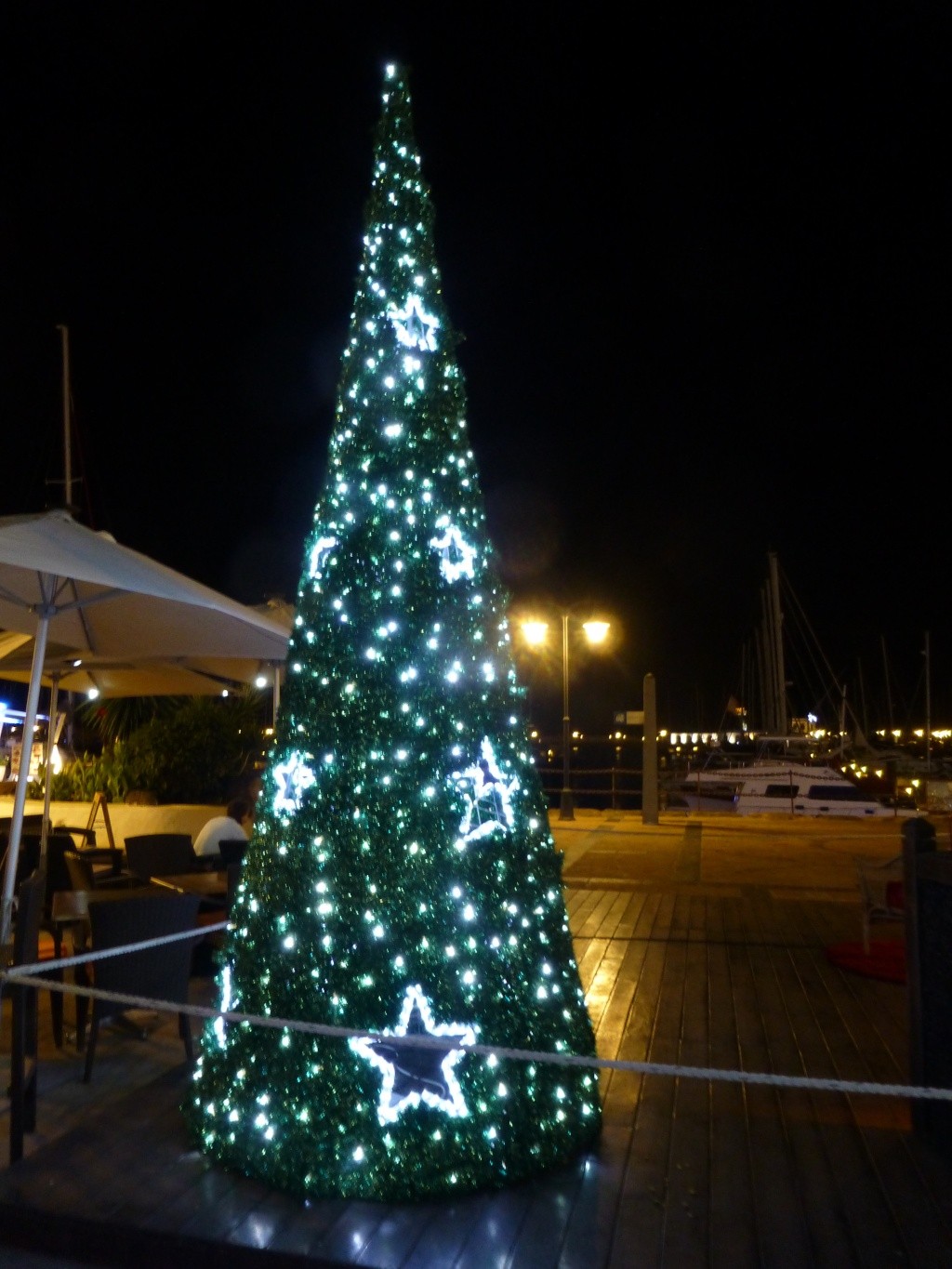 p1150443
END OF DAY 7