With a 14:30 pm ferry booked (as only available time) we attempted to get to Southampton early, in the hope, the ferry company would wave us through on the earlier one. However, the ferry was packed and late, due to the weekend festival. We were sent to a full car park to while away 40 minutes until the next boat and spent it going around the car park about four times. Eventually it was time and back to the ferry port
To watch them unload what seemed hundreds of cars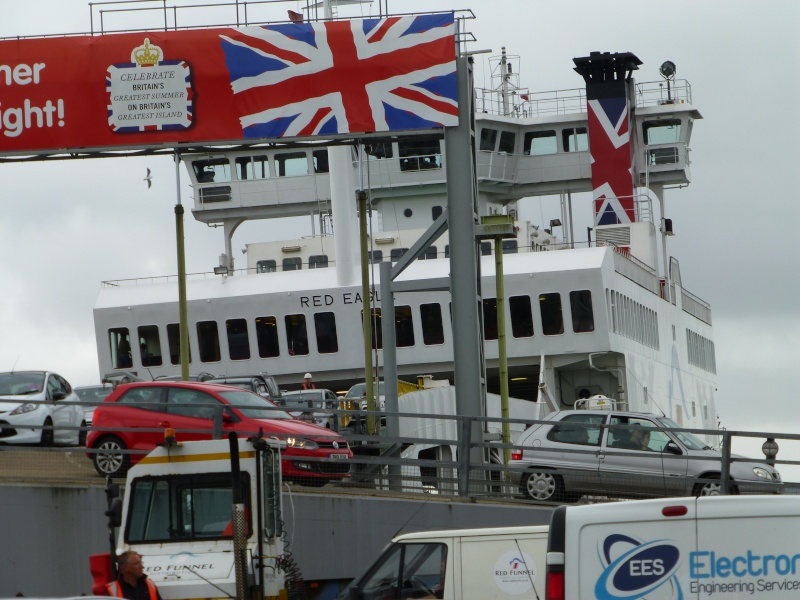 Eventually we were allowed on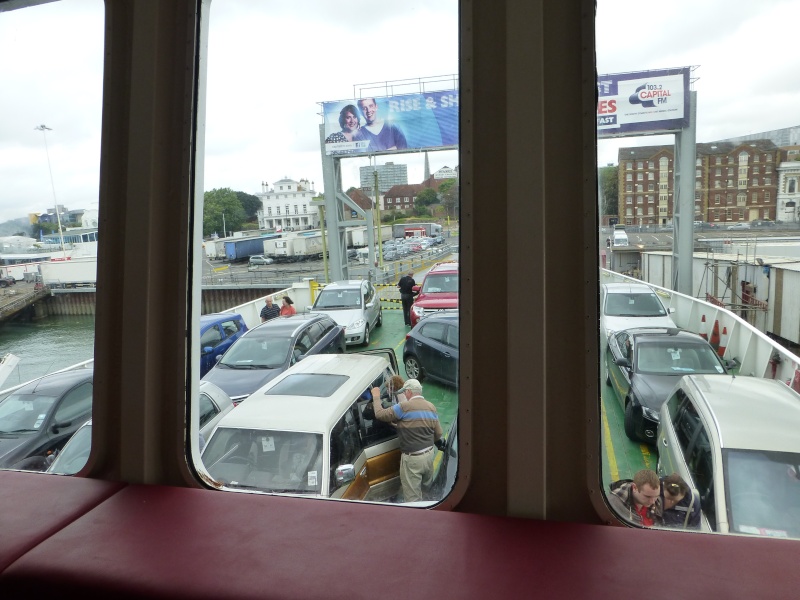 Finally the last of the cars were loaded, the gate was shut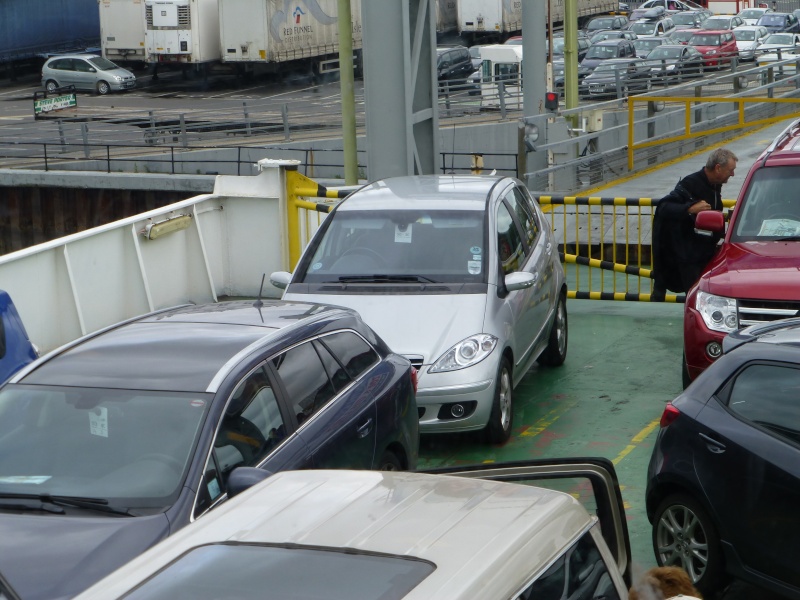 and we were away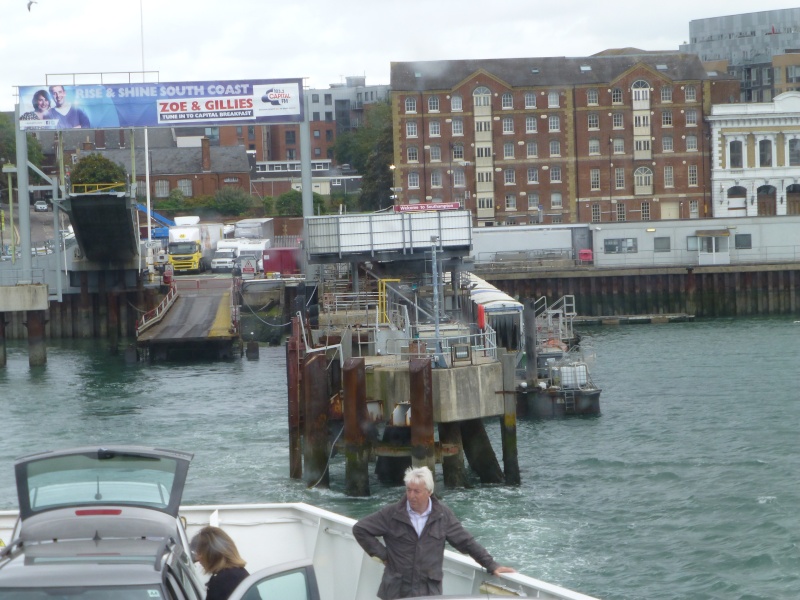 One liner was already in dock
Eventually we arrived at East Cowes and we headed for Niton, many youngsters were heading for the ferries, some still half asleep. Our journey actually took us passed Robin Hill, one side of the road had been closed for the entrance to the Pop festival. We noticed a few coaches left waiting to pick up the revellers. The concert area was full of marquees and the festival looked to have been massive. So sad to hear the news of the accident the following morning
after about 40 minutes, we arrived at Niton and the Enchanting Manor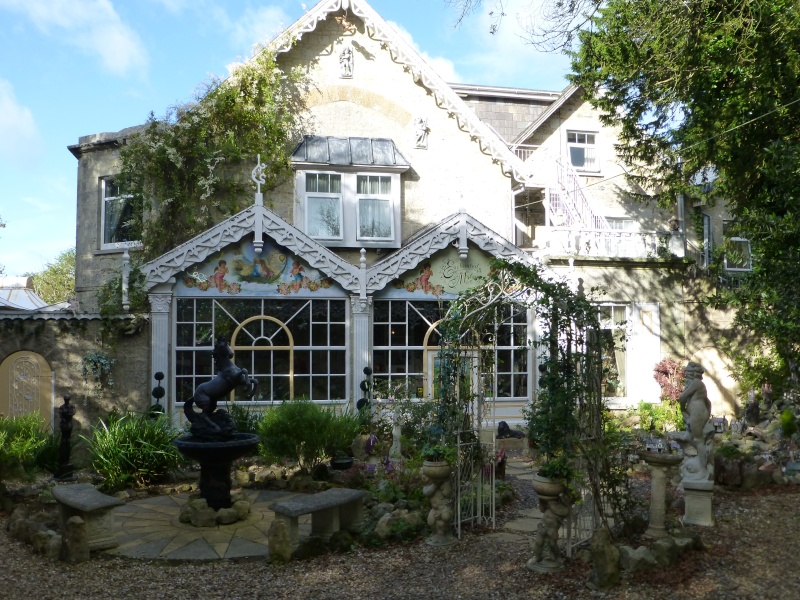 We rang the bell and the owner Ric welcomed us in to the reception area, he spoke in an Australian accent not unlike Crocodile Dundee, "Now if you would like to drop your bags here for a minute, I show you around"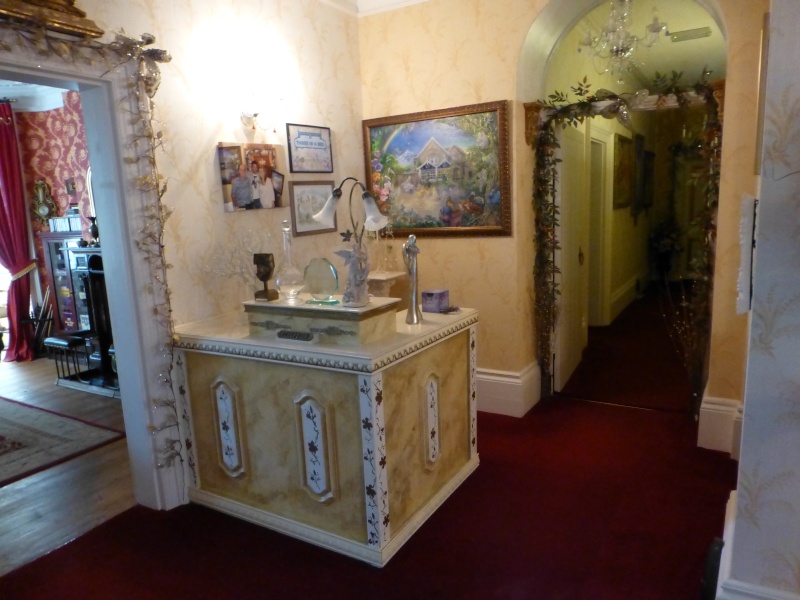 "This is the lounge, Maggie and I are holding a cheese and wine party tonight, between 6:30 and 7:30 and we love to see you and you can meet the other guests"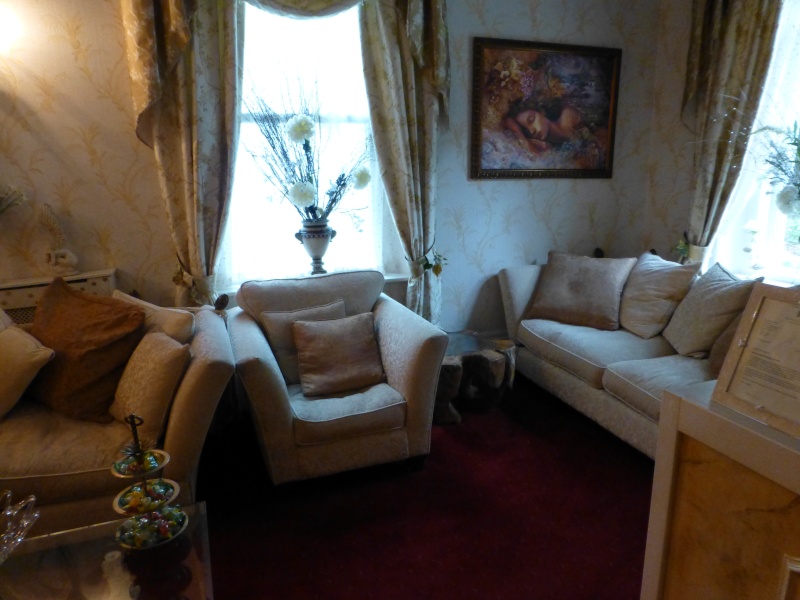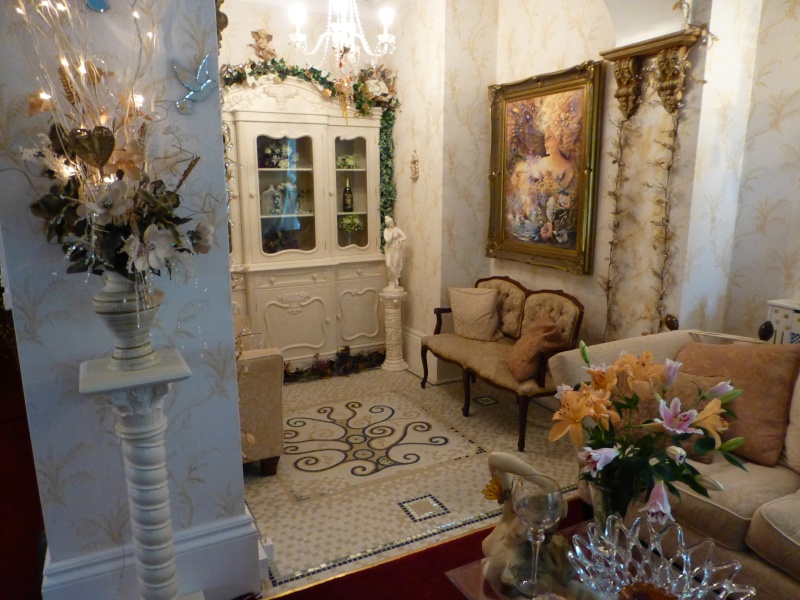 Many certificates hung on the wall of 5 star awards and there were so many things to take in, the paintings by Josephine Wall adorned every wall
"This is the games room", said Ric, "There are DVD's games and quiz books, just help yourself"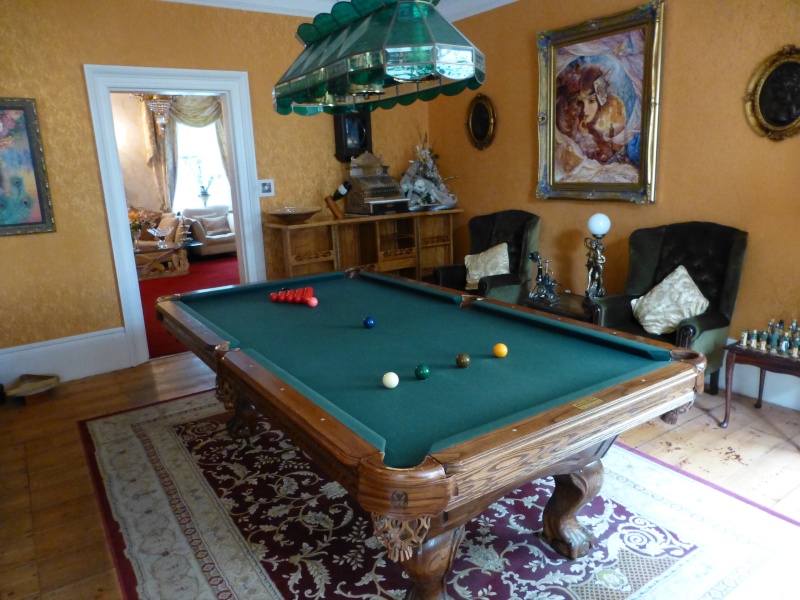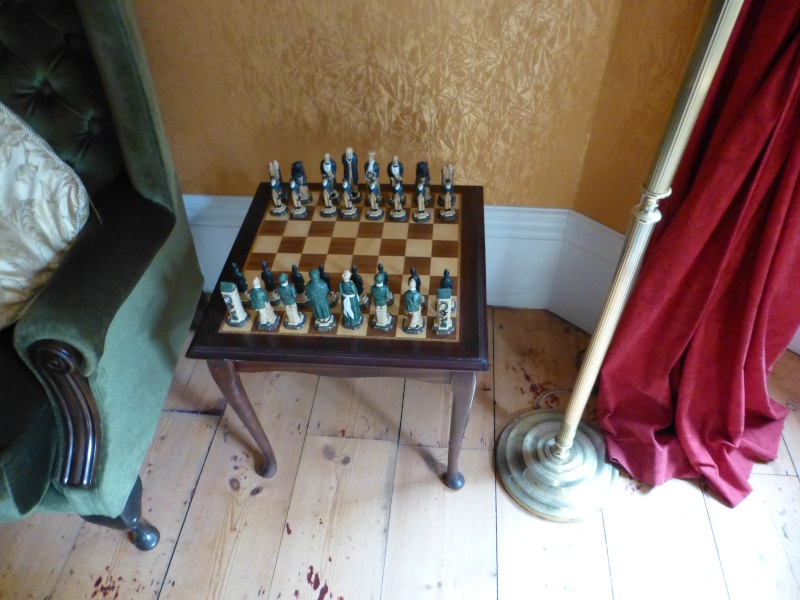 "Now through here", said Ric, "Is where we serve the breakfast between 8:00am and 9:30am, we'll leave a menu in your room each day to pick your selections"
"At the end, is the garden and a little wood beyond that, you can walk around and in the evening, we feed the badgers, which you are welcome to watch and we even get foxes"
"Now if you would like to follow me, I'll take you to your rooms"
So this was our room, sorry didn't get the camera light quite right on the sweep

In the corner there was a bath to match the Victorian House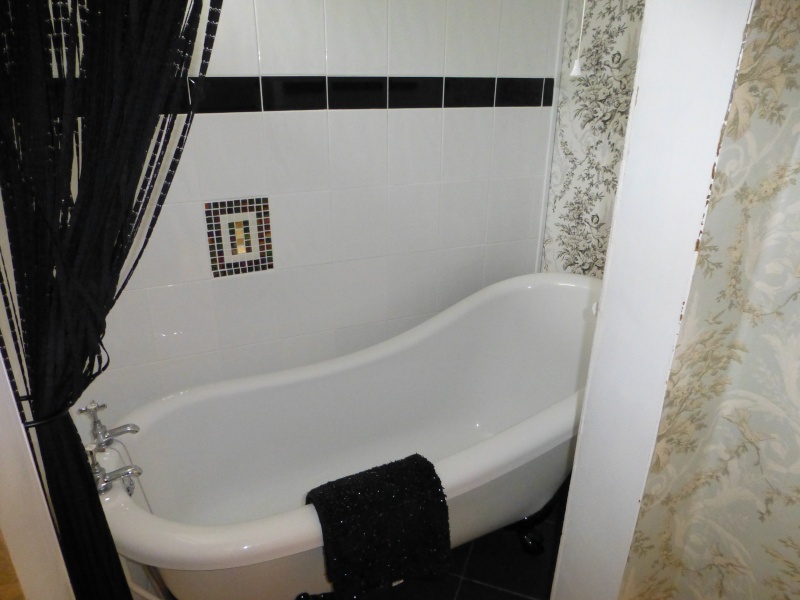 In the corner a leather sofa that was so comfortable and a headless Angel behind it
A TV / recorder with a hidden fridge in the cupboard underneath and one of the paintings by Josephine wall over the fire place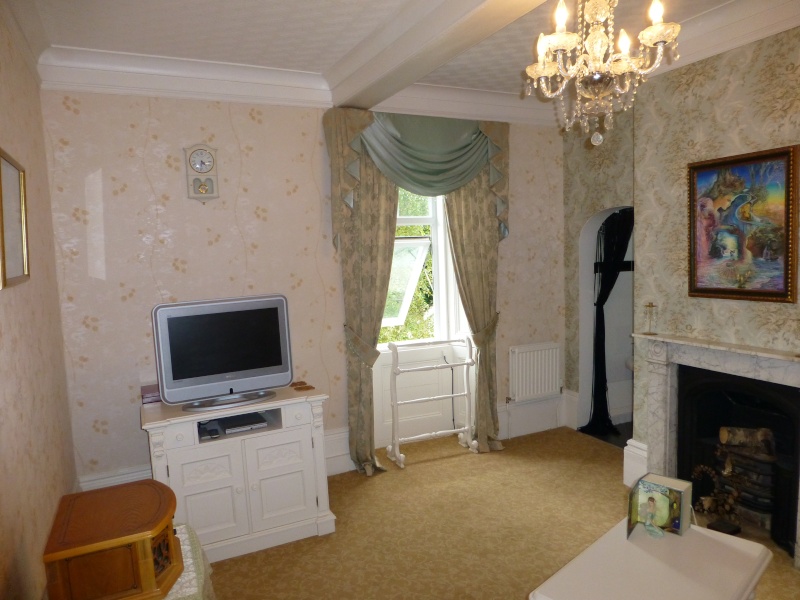 In the bedroom there was a four poster bed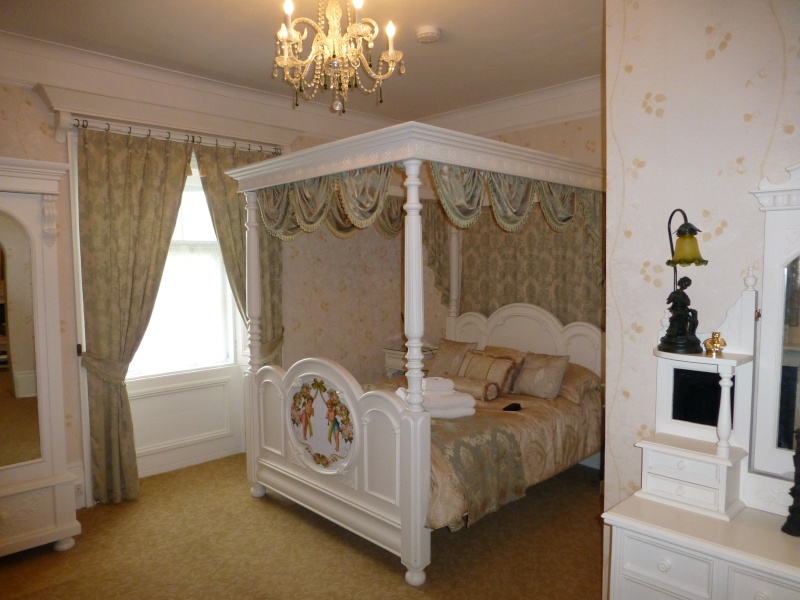 On the wall was another of those paintings
On the bed were fresh towels and a rather expensive looking box of chocolates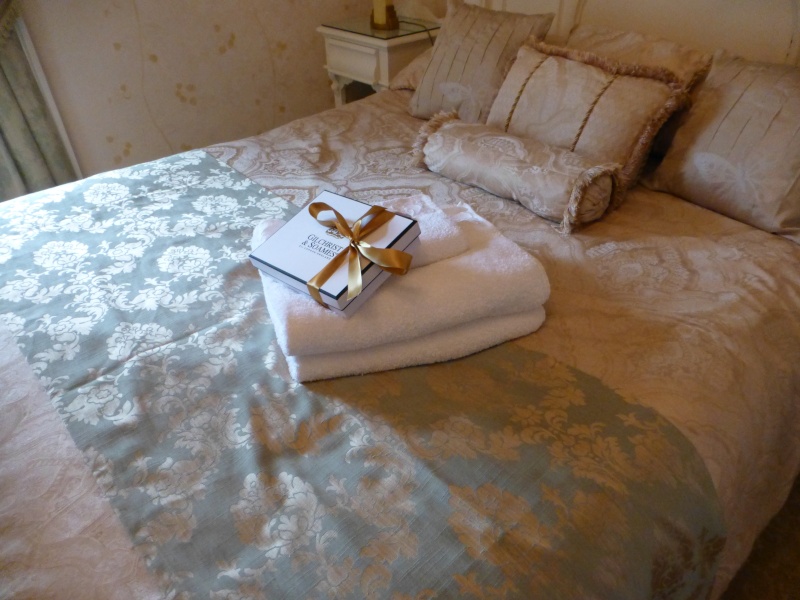 And for effect, special Angel bed lights
Also a toilet and shower room done in a Victorian style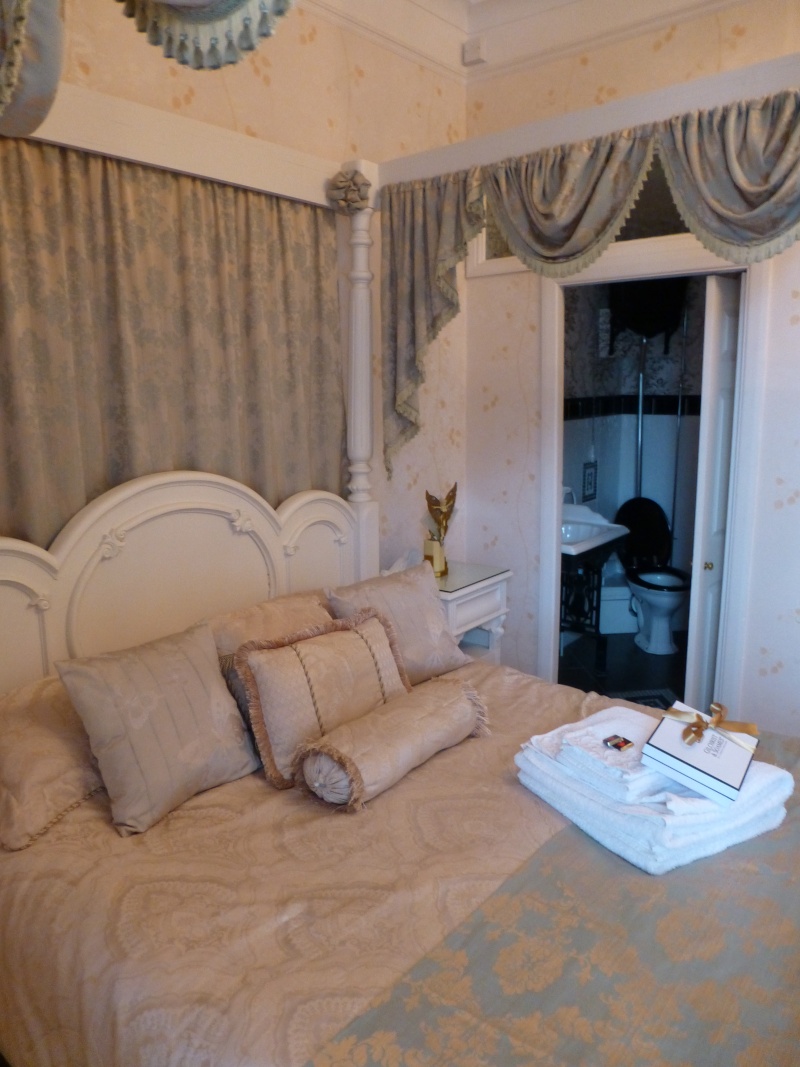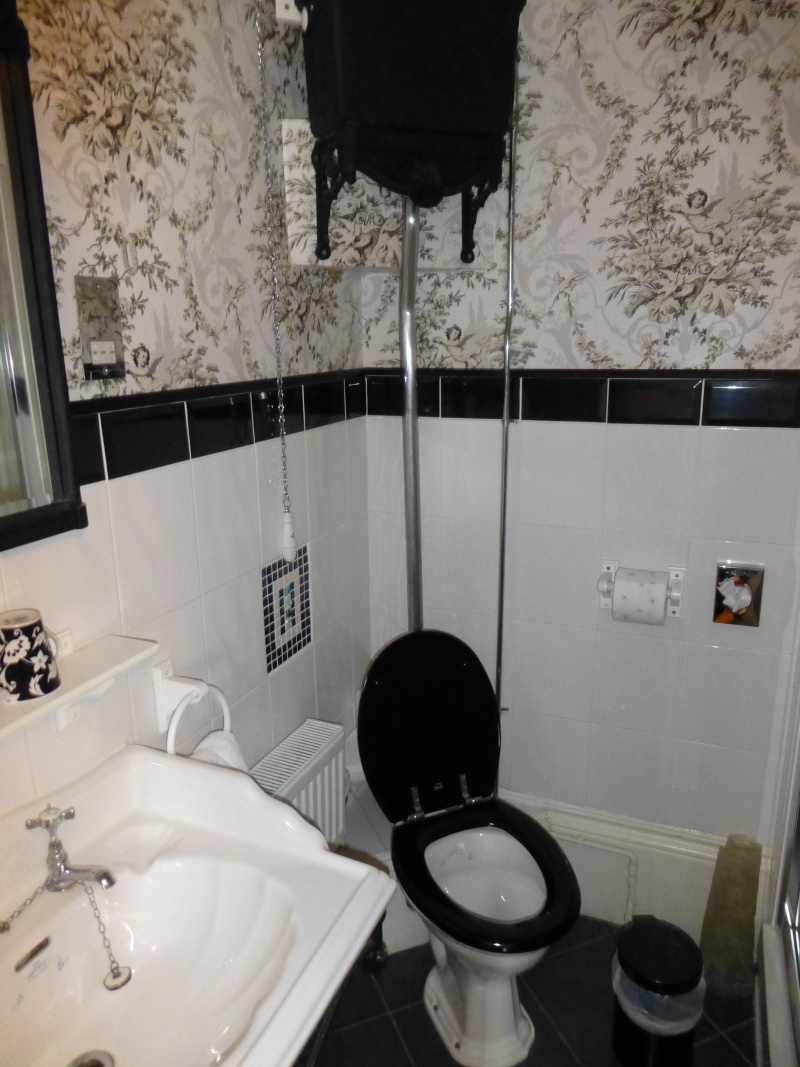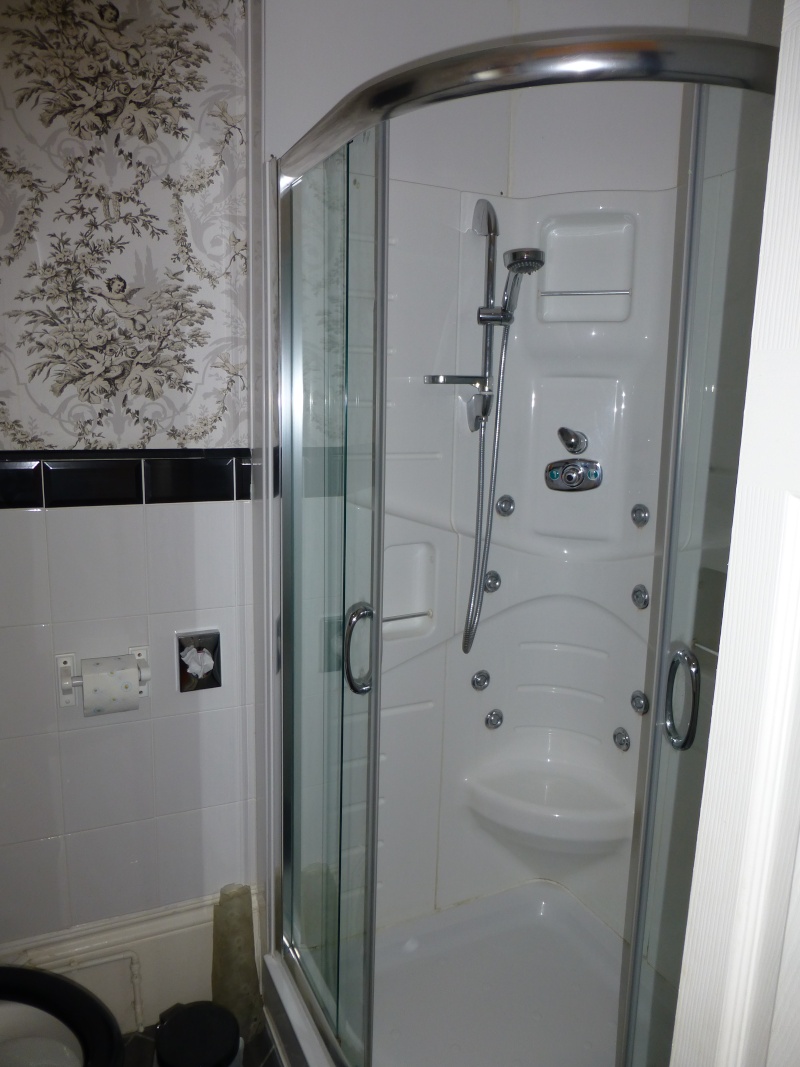 In the wardrobe, two white robes were available to wear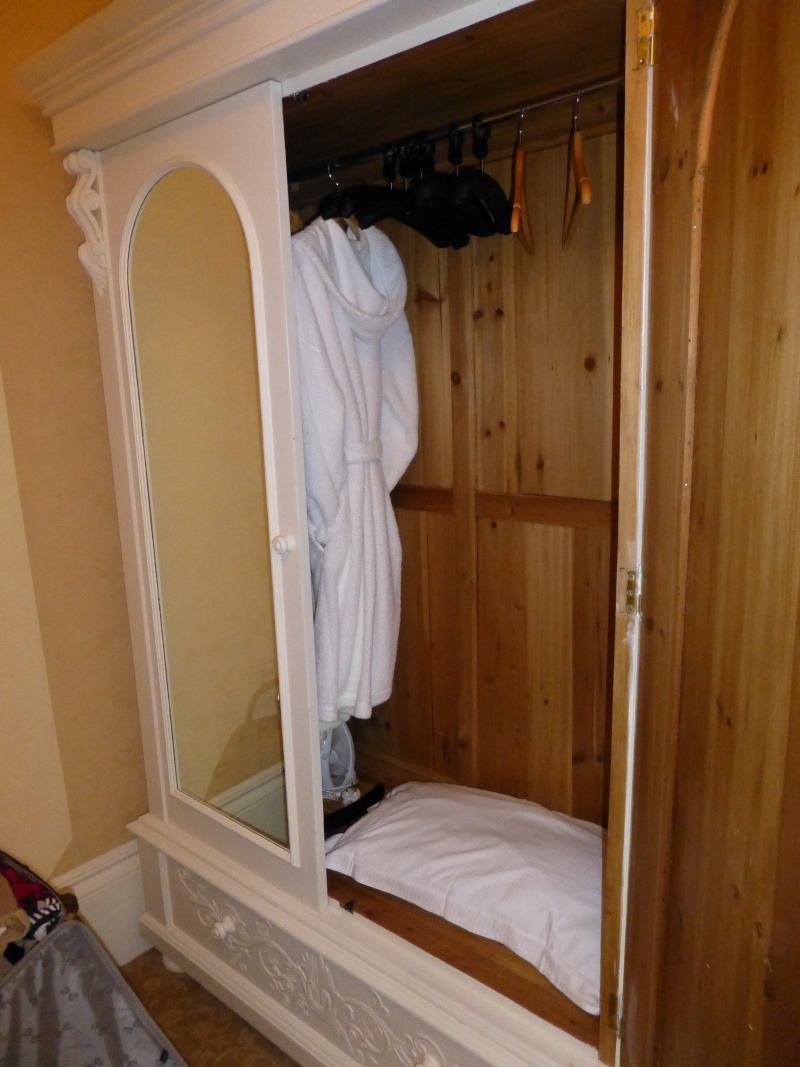 A record player with records to woo Mrs Db
One was "Unforgetable that's what I am" but Mrs Db said on the turntable was "Have I told you lately that I love you", must have been the previous occupant having a guilt complex lol!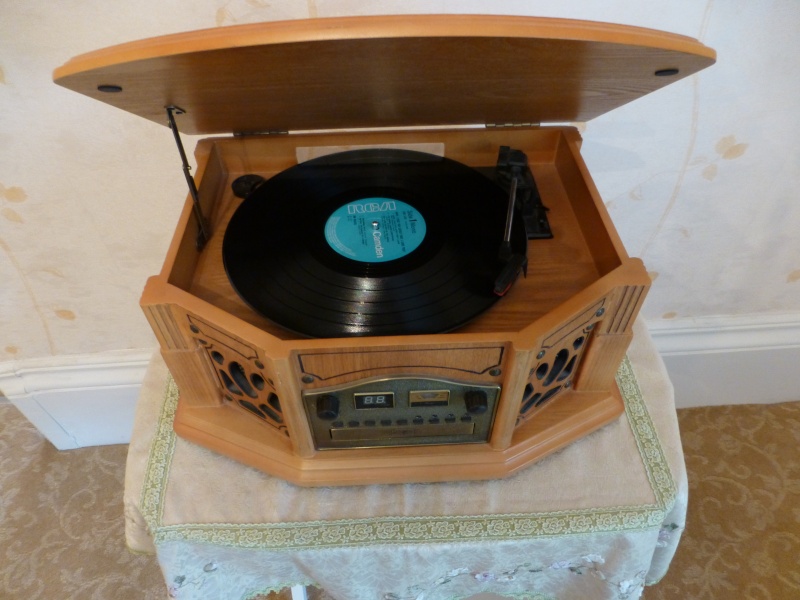 It was late in the afternoon, so we looked for the tea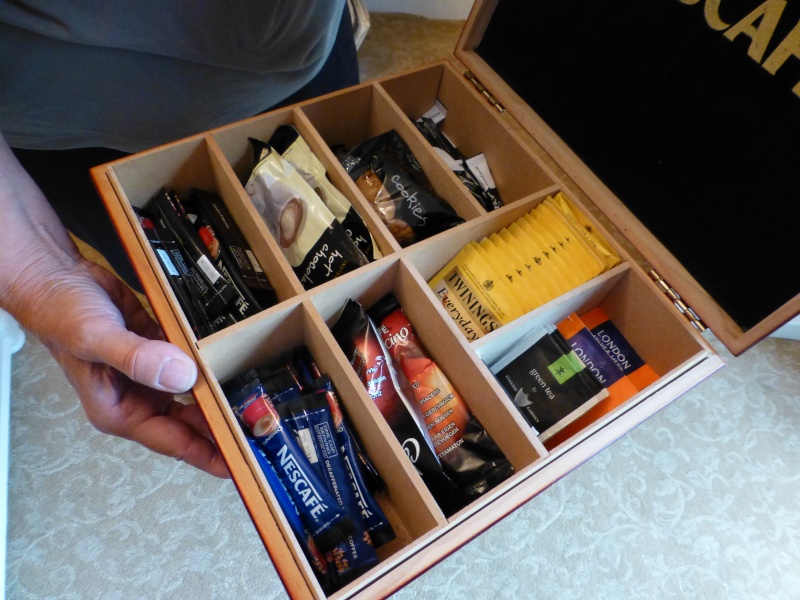 So it was a relaxing cuppa before we decided to look around the garden
Well we decided to shower as it was getting late, Mrs Db had just bought a 3/4 empty bottle of shower gel with us
and we noticed that there wasn't any laid out in the bathroom, perhaps they had forgotten it. No problem we had enough and used the power shower. After changing we went down to the cheese and wine party.
It was a lovely cheese board and Ric introduced us all, he can remember everybody's name but I managed to forget most as they were quoted
. Anyway, after a glass or two of wine, we found we were in very nice company. Maggie joined us and we enjoyed the evening and after the fifth glass, I heard in conversation that the Inn that we were going to eat in, stopped serving at 9.00pm
and the 7:30 finish was now into eight thirty
So it was off to the Buddle Inn, only 5 mins away, an Inn with a history of Smugglers
I had the ribeye and Mrs Db had pork medallions the black bit is a mushroom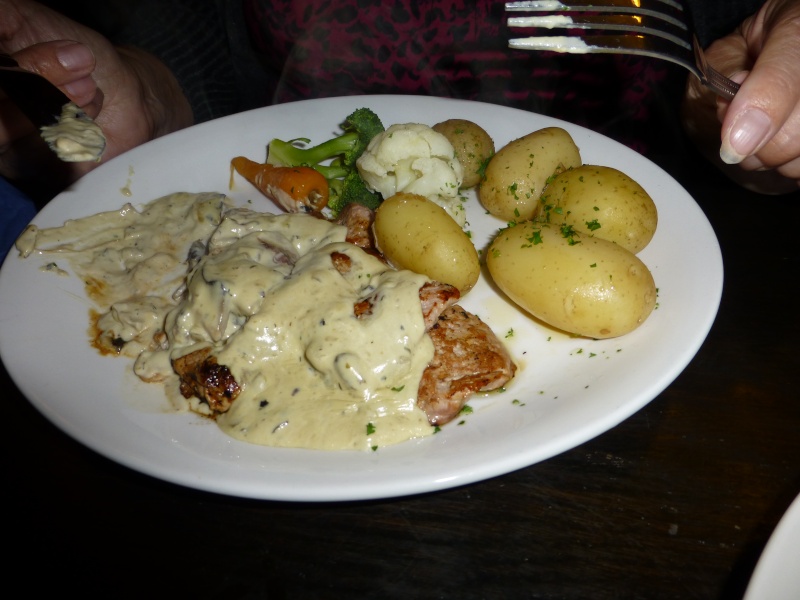 Delboy came rolling home to see the drive all alight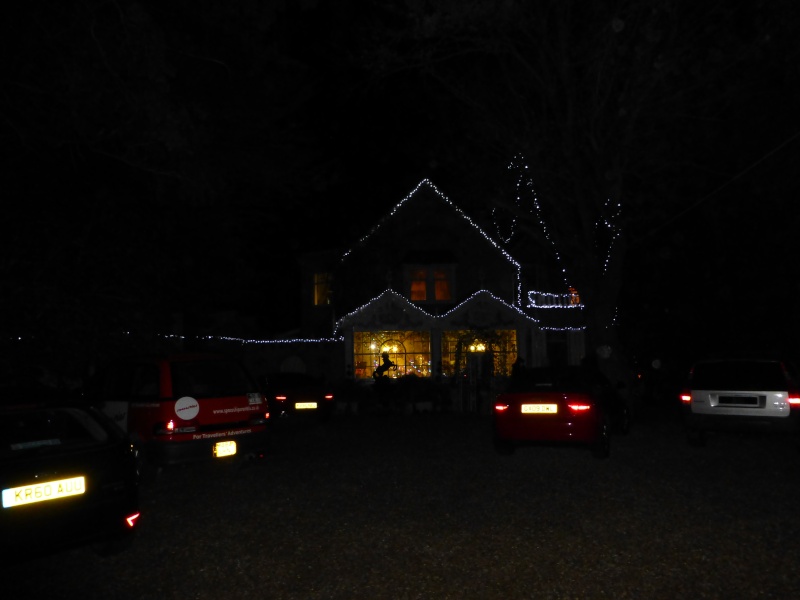 was it Christmas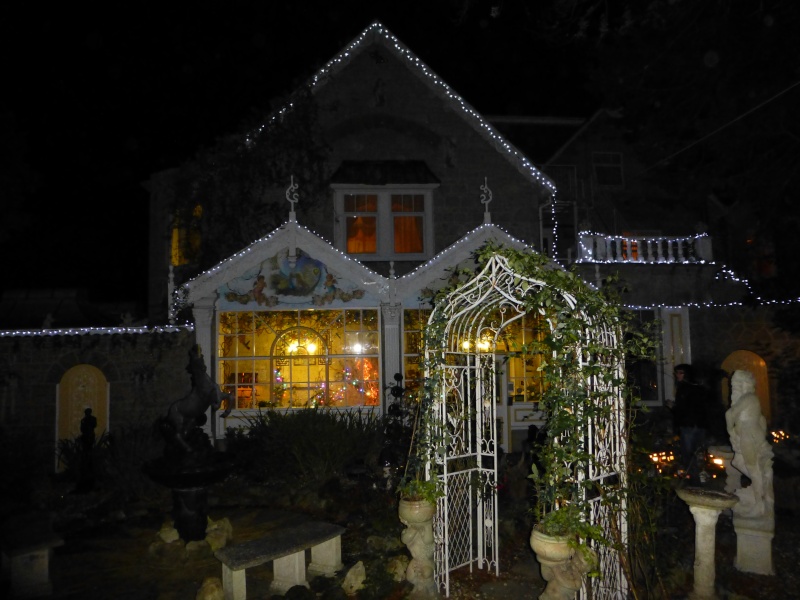 by the door was a model village
Then it was up to the room and to try out that bed, the light when out and we were in complete darkness, except a tiny light above us, was it a one eyed angel looking over us or just the light from the fire detector
So after a good night's sleep in was down for breakfast, we were the second couple up and Ric was there to greet us. We had both selected the full English breakfast and Ric pointed out the cereals and said we also have buck's fizz if you would like it or orange.
Oh we will try the bucks fizz and it was help yourselves.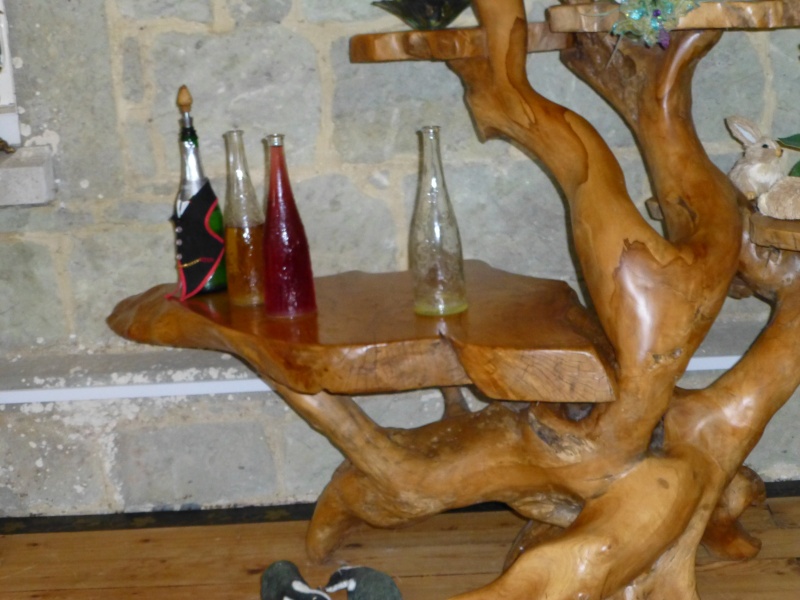 We had muesli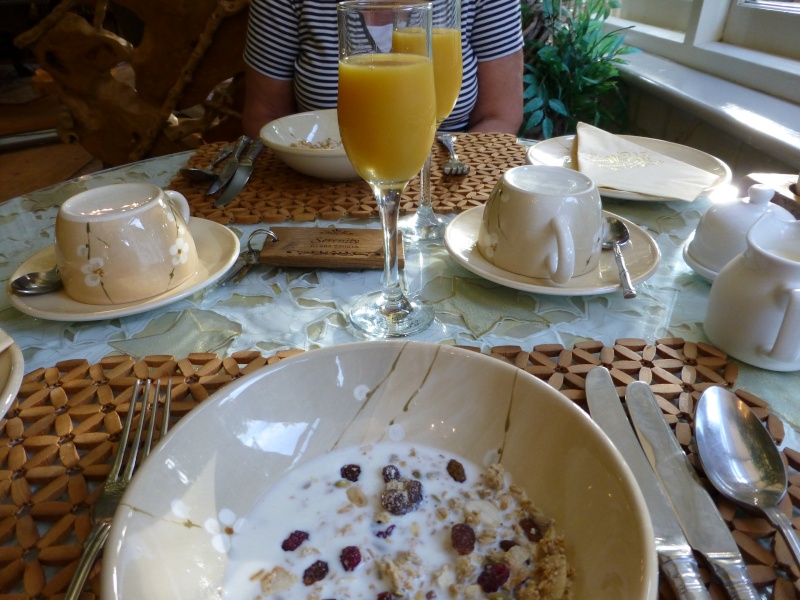 And after proper perked coffee, out came the breakfasts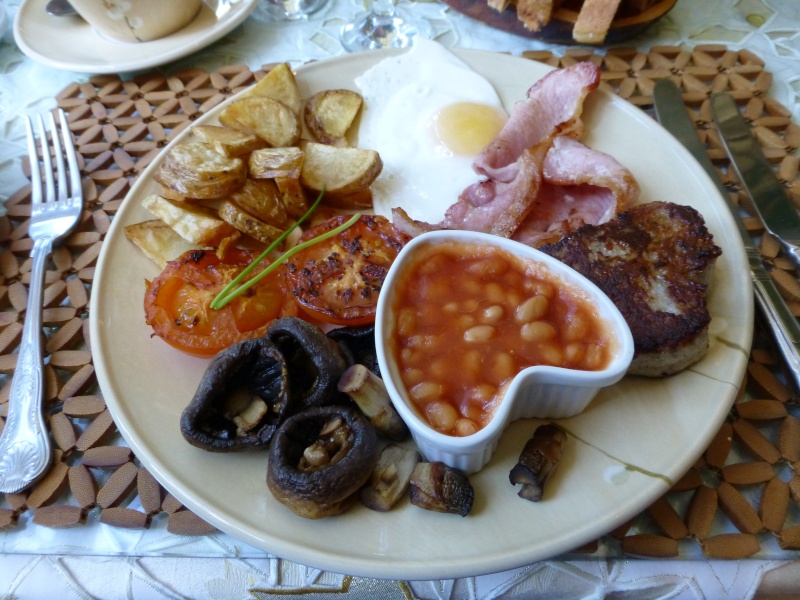 I couldn't eat the toast and marmalade, as we sipped coffee a red squirrel came down to eat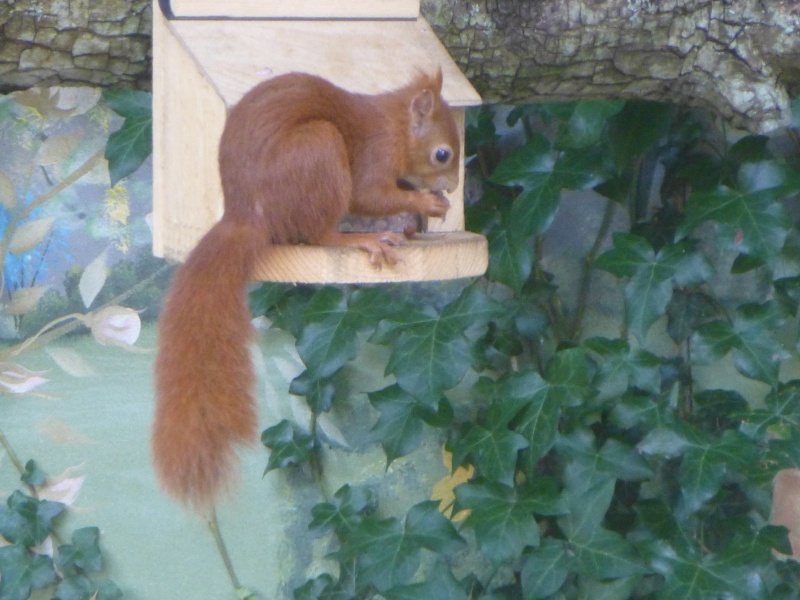 I think it must be 60 years since I have seen one, the IOW is one of the few places that still have them, the grey squirrels carry a virus that kills off the red ones.
So after breakfast we had a ramble in the garden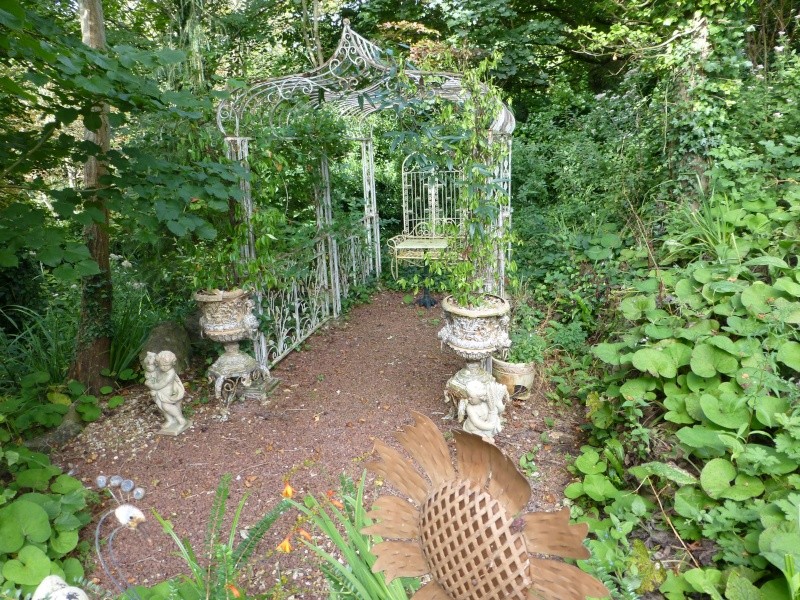 The garden is as quirky as the house
these butterflies were in abundance down there, either read admirals or painted ladies can't remember which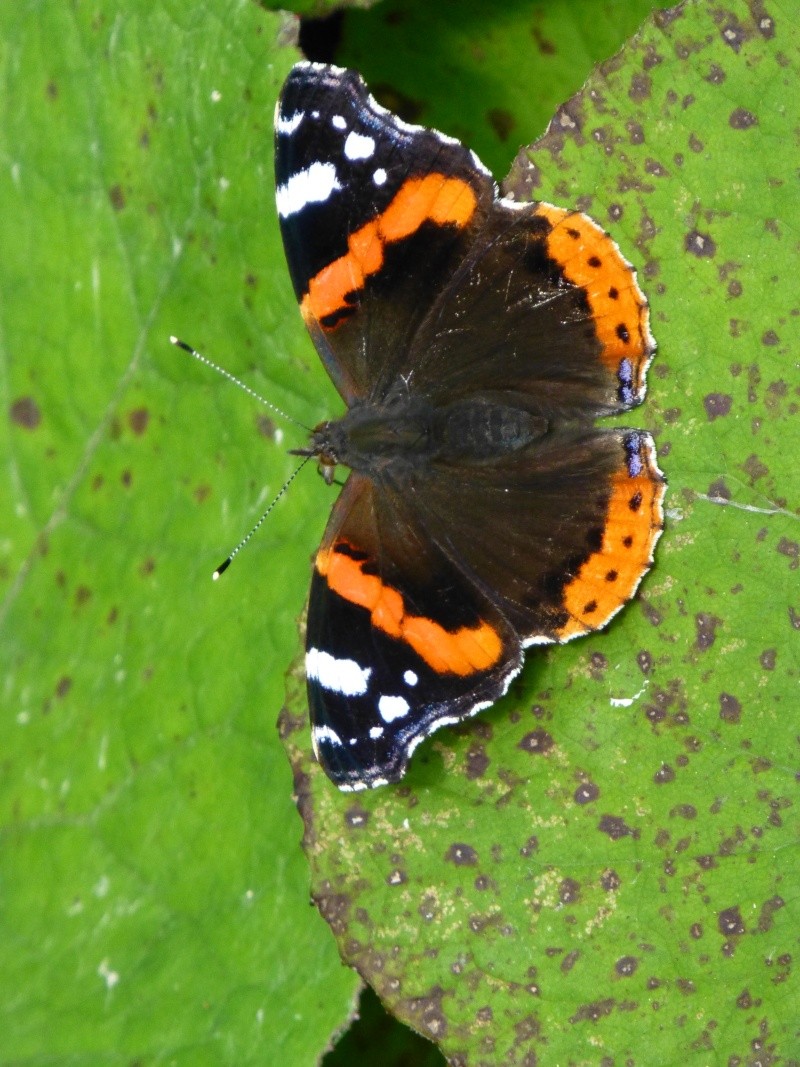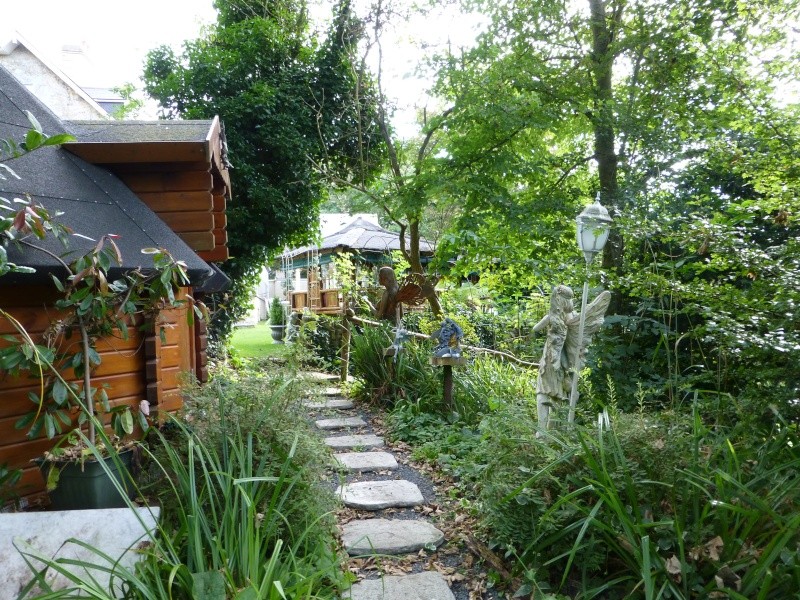 The lawn and places to sit in the summertime

A place where I would eventually sit (but later)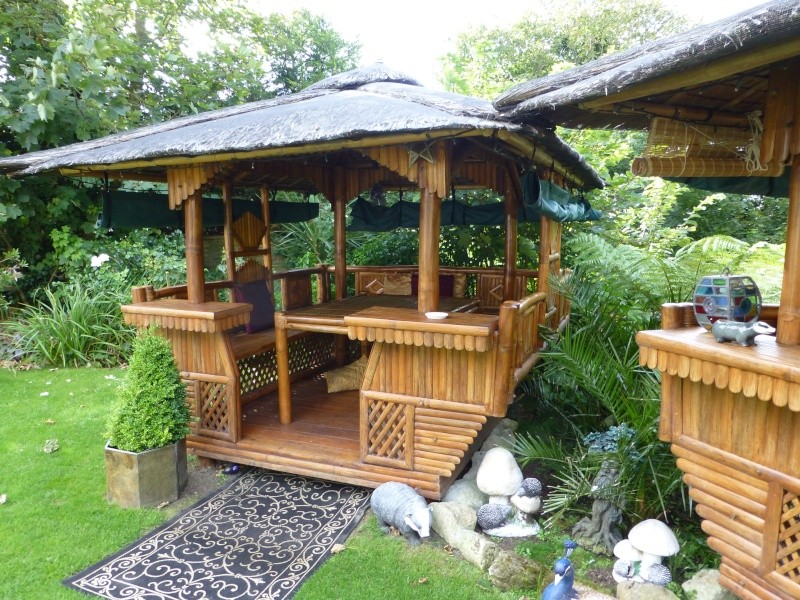 Niton has a lighthouse at Catherine's Point and we were told it was open on Tuesdays and Thursdays, so we would give it a go
So we set off down the cliff path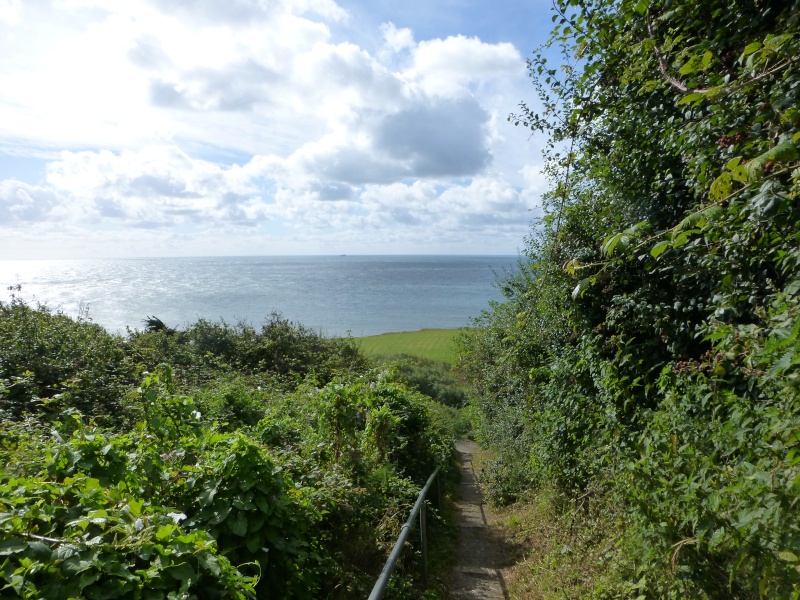 and headed towards the lighthouse
but when we got there, we found it didn't open till 1 o'clock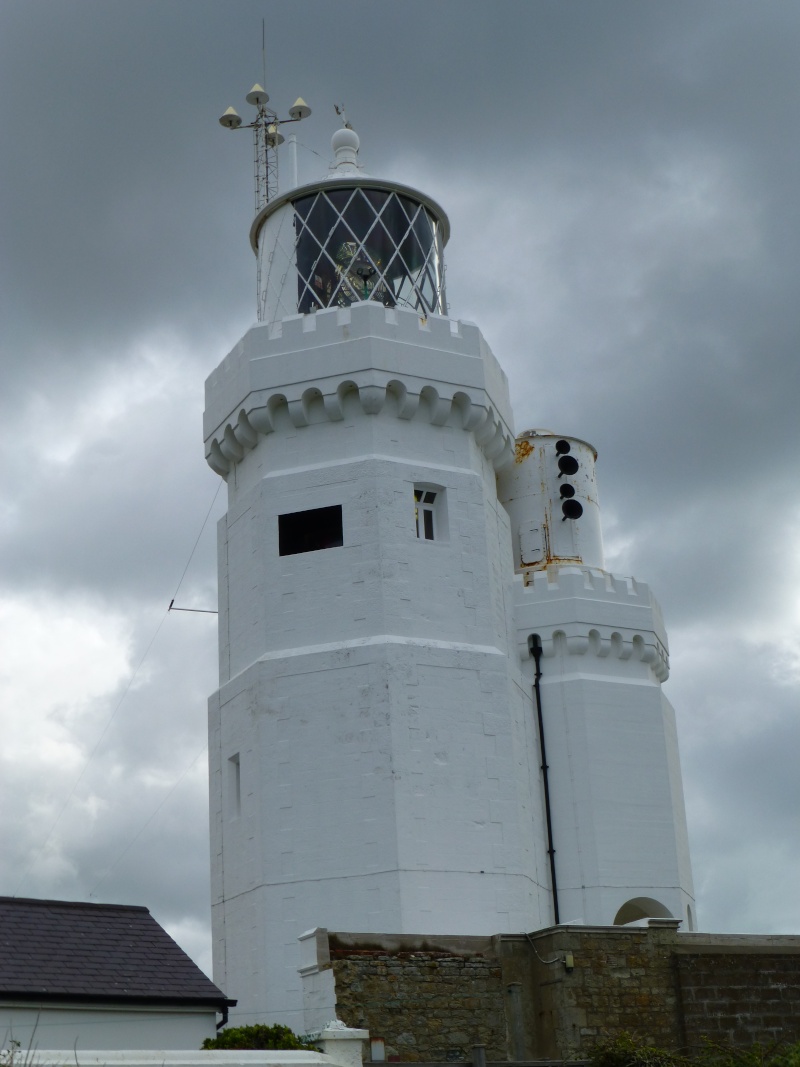 so we had a walk along the shoreline

around the corner we could just make out the needles probable 6 / 8 miles away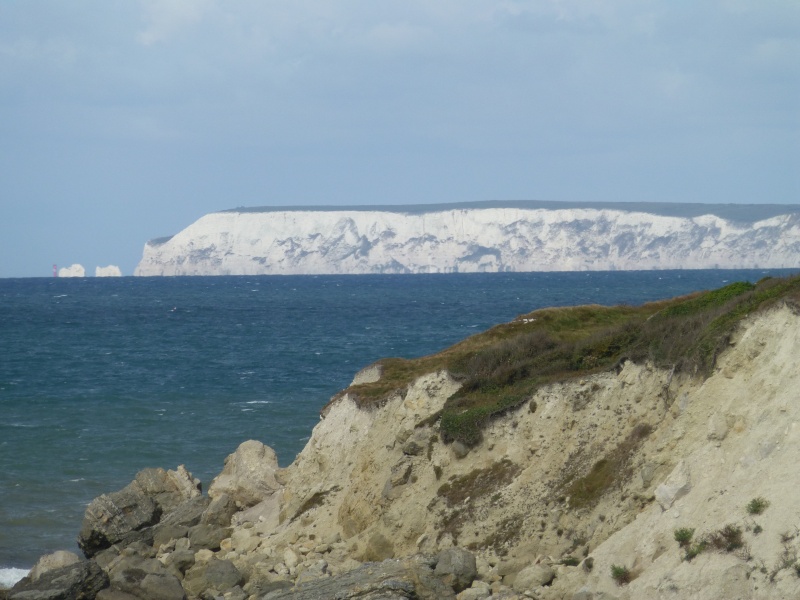 Then we decided to turn around and go to the pub for a beer until 1 o'clock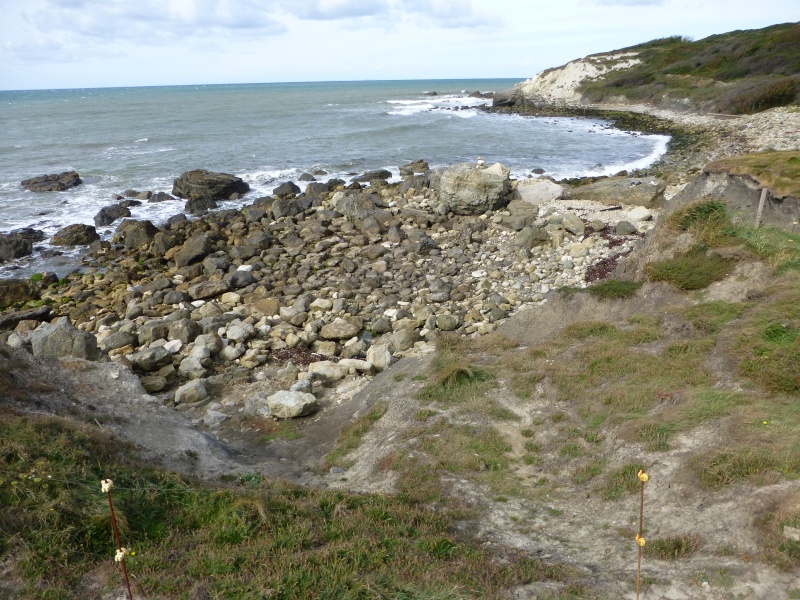 so it was back up the hill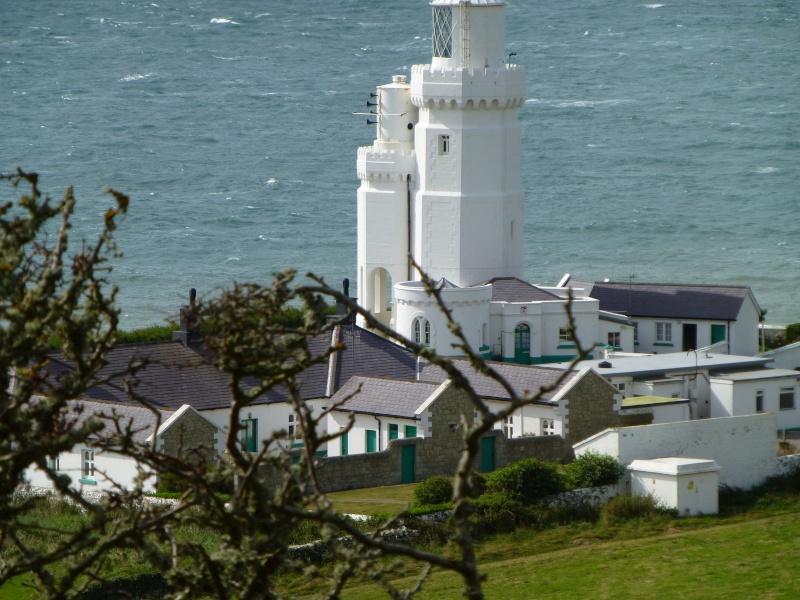 and to the Buddle Inn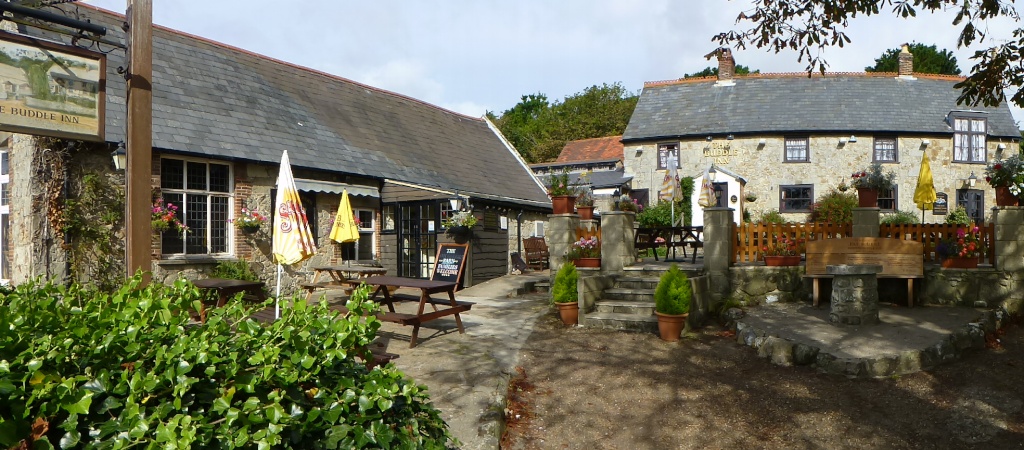 Too full to eat any dinner we just had drinks, real ale was £3.70 a pint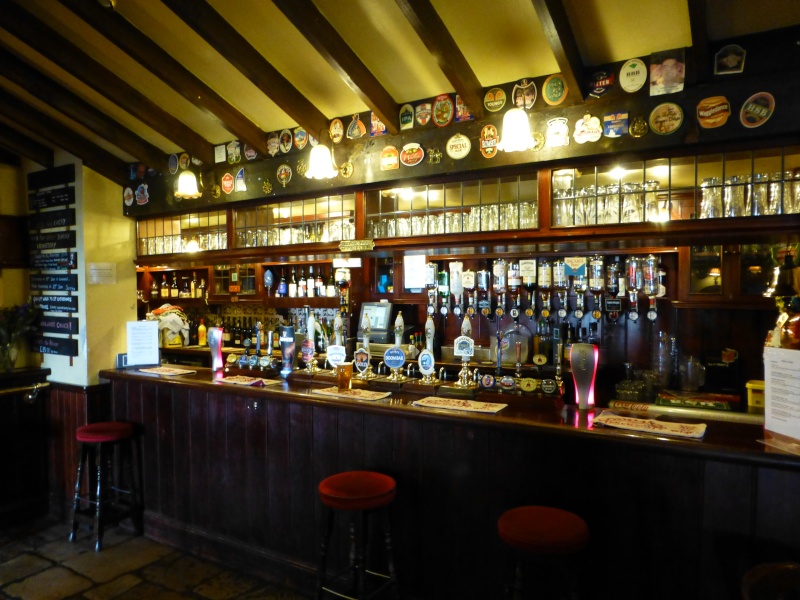 The place is steeped in history and was used by smugglers
It is in the Daily Telegraph's top ten pubs and in the old days when the IOW ran coach tours this was one of their visiting venues. The pub has a band playing in the summer months but for us it was a quiet beer
Well 2 o'clock I think it was when we left and Mrs Db wanted to pop back to the room to freshen up
Well I going to have one of those delicious looking chocolates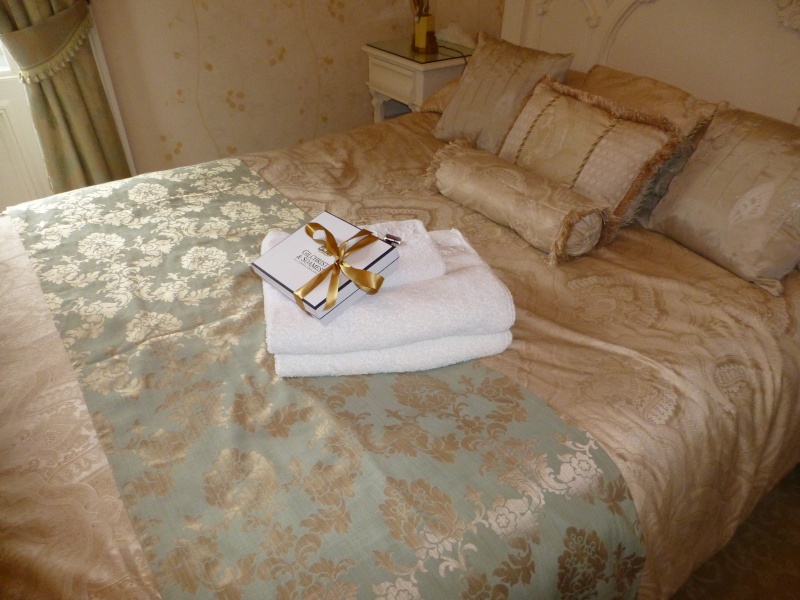 Oh this place never stops surprising us, they weren't chocolates after all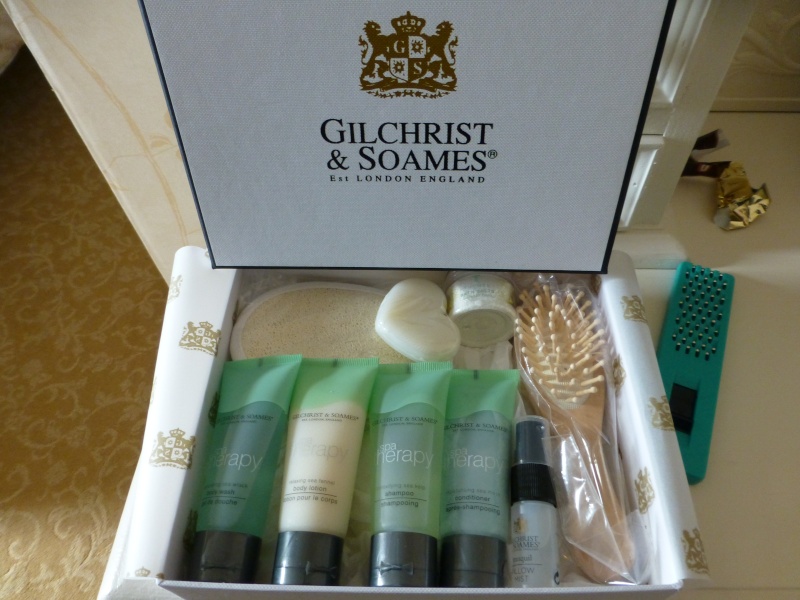 Anyway back to the lighthouse trip, the sun had come out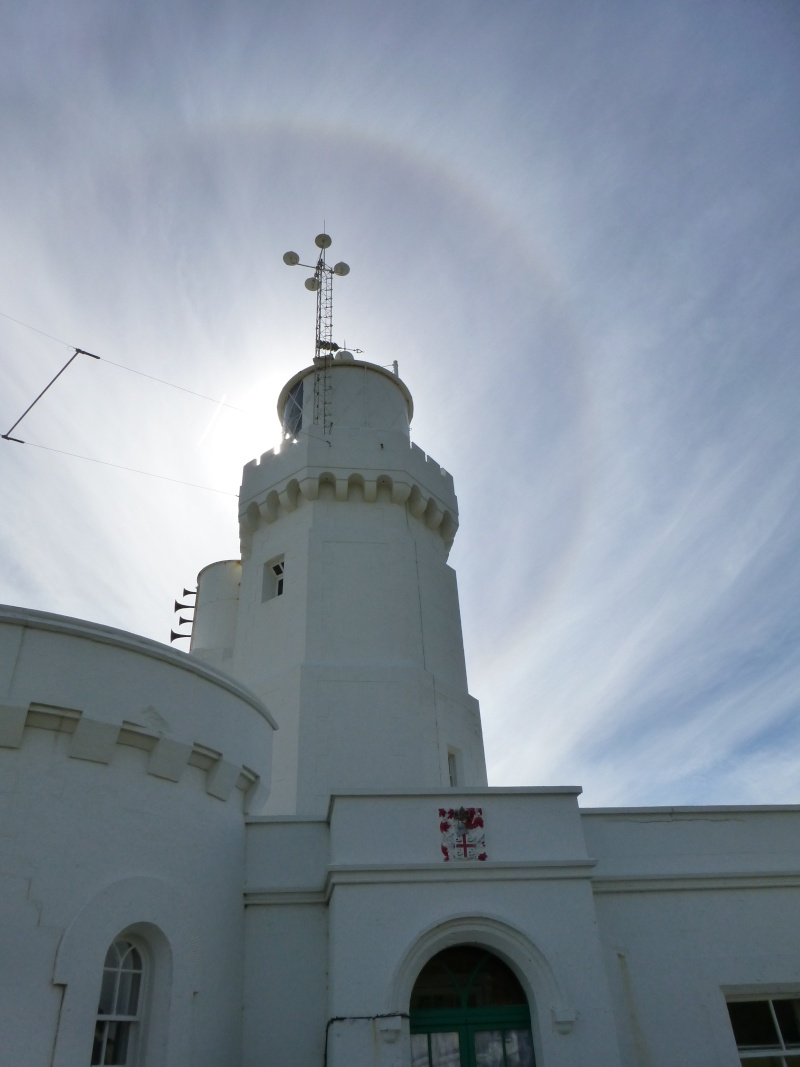 and it was open, £3.50 or £3 for OAP's, Mrs Db doesn't do spiral staircases, so it was down to me to get the facts for you. It was a guided tour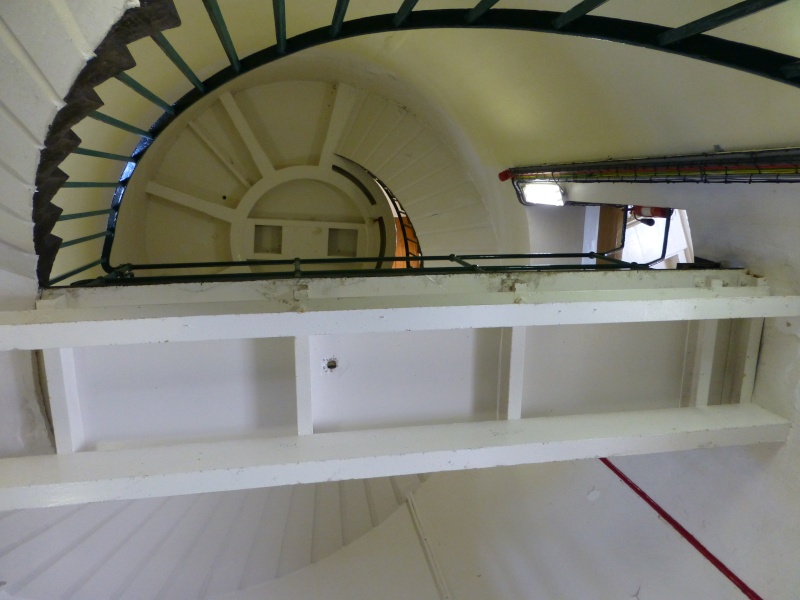 The story goes, this coastline has the South Westerly wind blowing and sailing ships in the 1300 century ran aground regularly, and the locals nicked the cargoes. However, the Pope had a ship full of wine run aground and was furious and said he would excommunicate the governor unless he built a lighthouse (you didn't argue with the Pope in those days).
So the first lighthouse went up in 1300 now called the Pepper Pot, and still sits on a hill about a mile inshore good these zoom lens lol!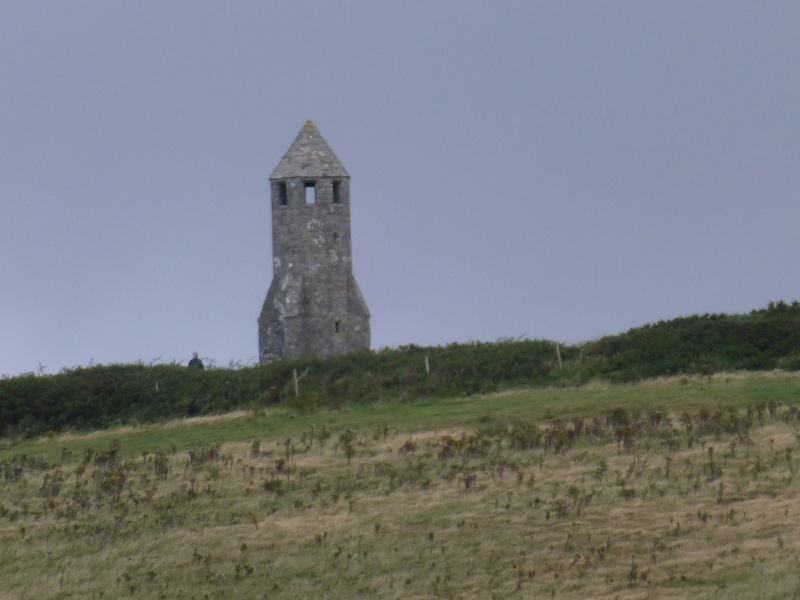 It would have had a house attached to it and a couple of Monks would have lit a fire in the tower every night. What good it would have done a mile away in fog, is anybody's guess but it pleased the Pope and all was well for another two hundred years or more.
A poet once wrote of the coast, it is a place where farmers don't farm, fishermen don't fish but they always had money in their pockets
Anyway things were rosy until Henry the VIII time, when Henry got annoyed with the Pope, as he wasn't allowed to behead his wife and remarry lol! Henry in retaliation ordered the lighthouse closed. This resulted in ships running a ground monthly but nothing was done until The Clarendon ran aground in 1836 with the lost of passengers and crew. One of the passengers was a daughter of one of the Naval Chiefs and she was washed ashore at South Sea.
This resulted in a new lighthouse being built in 1838, but it was built too high and disappeared in the mist. So it was lowered and rebuilt in 1876 as it is here today and has a stubby look to it (history lesson over)
In this picture, the two cylinders hold compressed air to be pumped to work the lighthouse horns, they are no longer used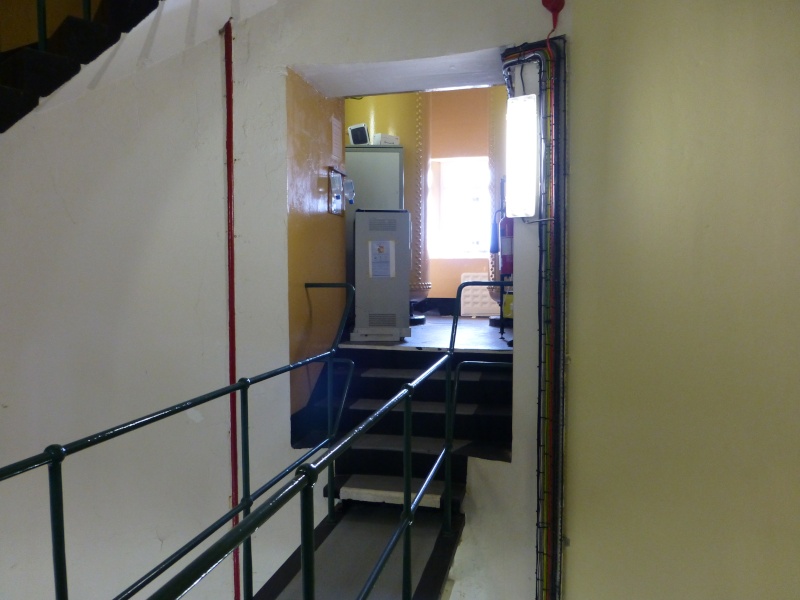 Today it is all automated and runs on not much more than a car headlight. If the bulb goes out, an alarm goes off in Trinity House and the spare bulb kept at right angles then automatically rotates into place, after machine sensors detect it
We had to go up a 90 degree ladder and pull ourselves up over the top, like swimming pool bars (Mrs Db wouldn't have liked that)
This whole light weighs 3 tons and sits on a bed of mercury, something the EU is not happy about but it's been there nearly 150 years
94 steps to the top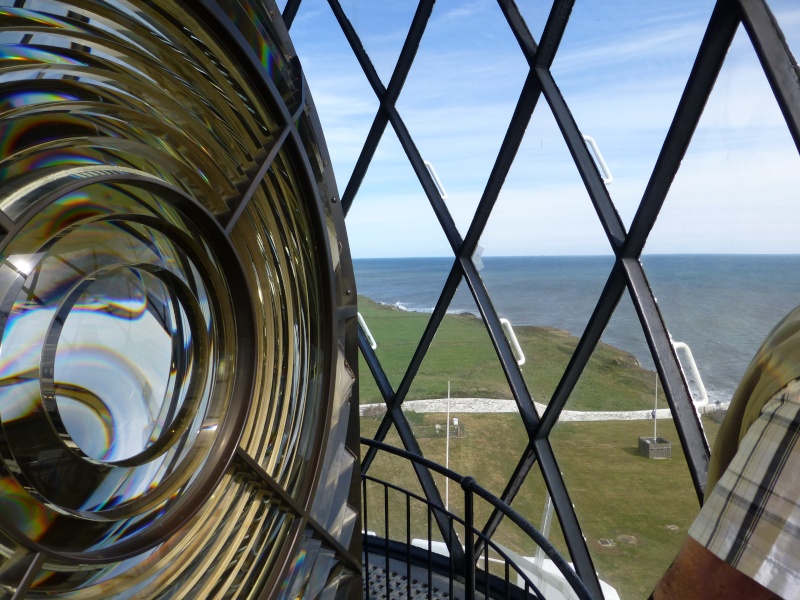 I asked why there were chips (some big ones) in the glass housing And was told the German's thought it was a special target in the war and dropped a bomb yards away, three engineers lost their lives and the debris hit the glass housing, you can see one of the chips in the bottom of this picture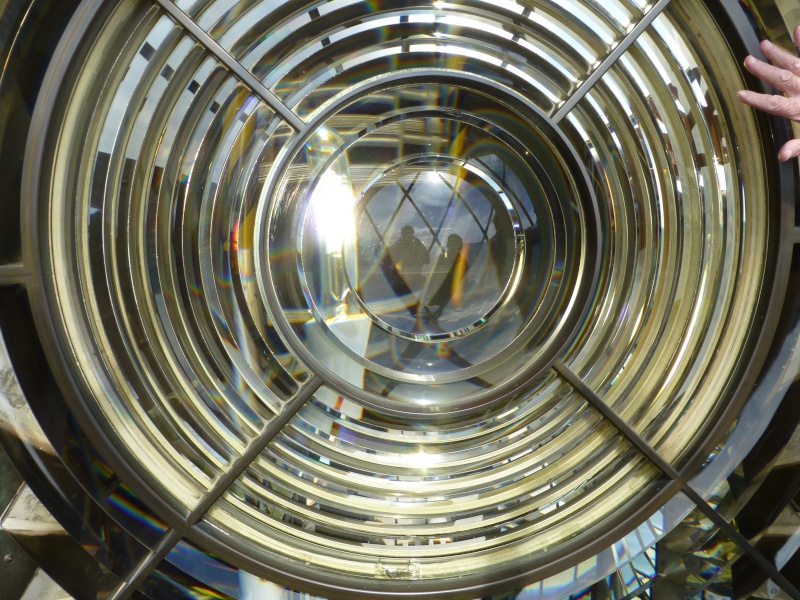 Well you have to ask don't you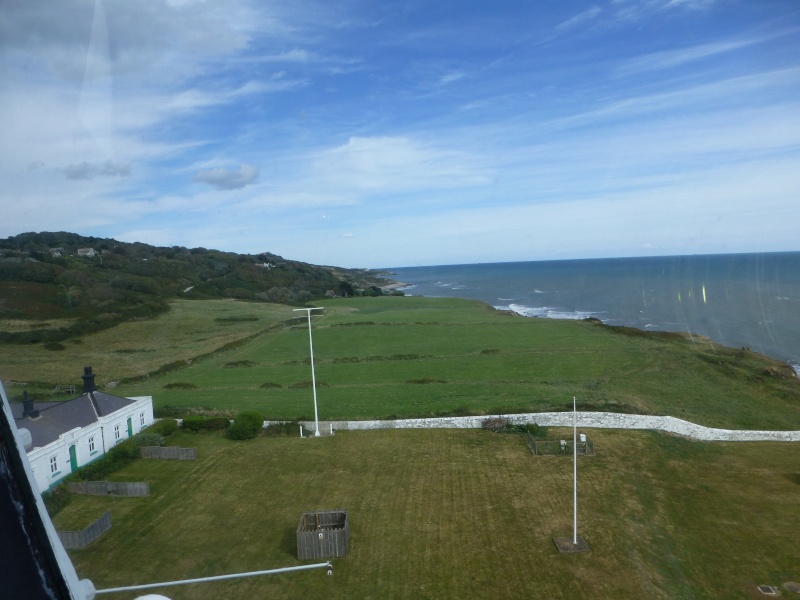 View of the Needles again, apparently according to the lighthouse guide it was an exceptional clear day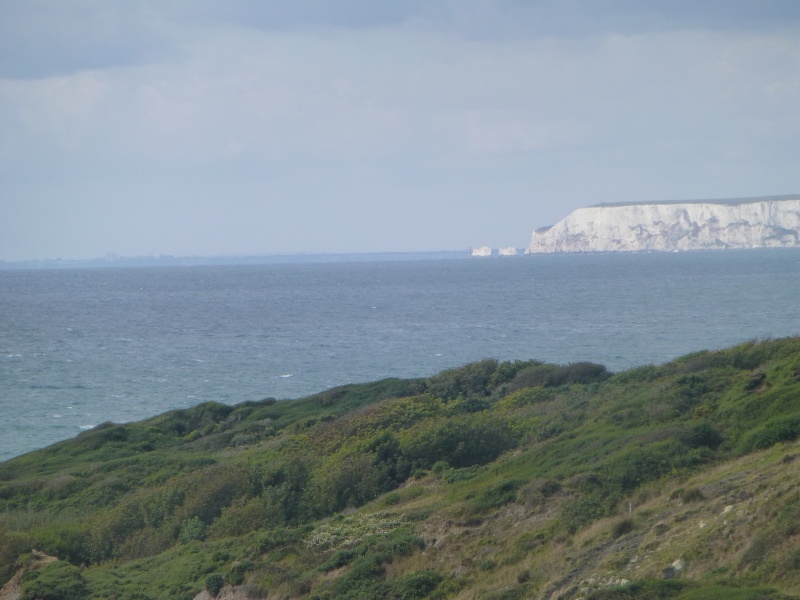 Mrs Db patiently waits down below, whilst I grill the info from the poor guide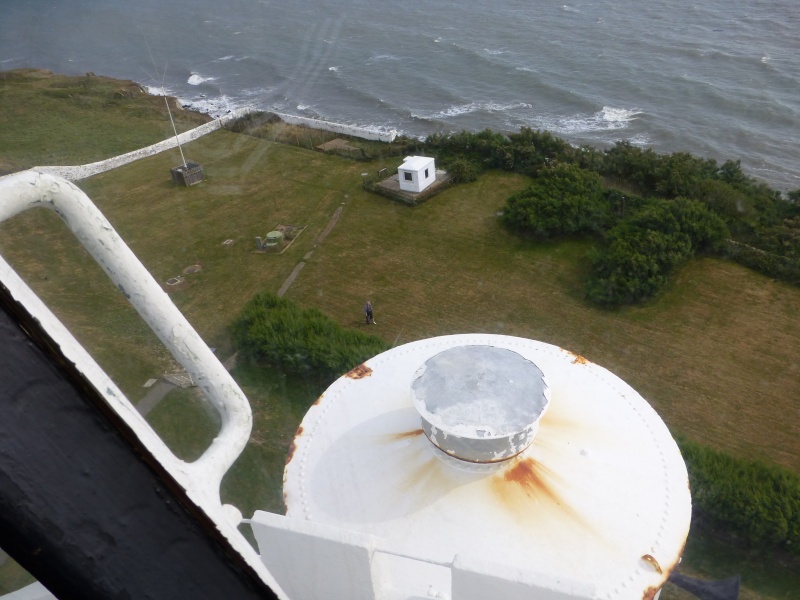 Then it was back to the room to try out that Victorian bath (no pictures of that)
Then it was dinner at the Buddle Inn, Mrs Db had Buddle steak and ale pie which she said was delicious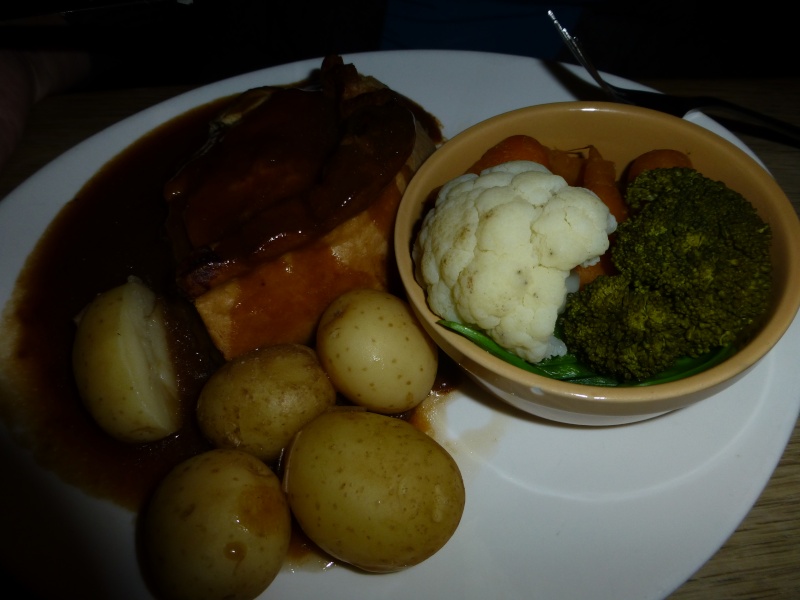 I had fresh fish and chips, very nice too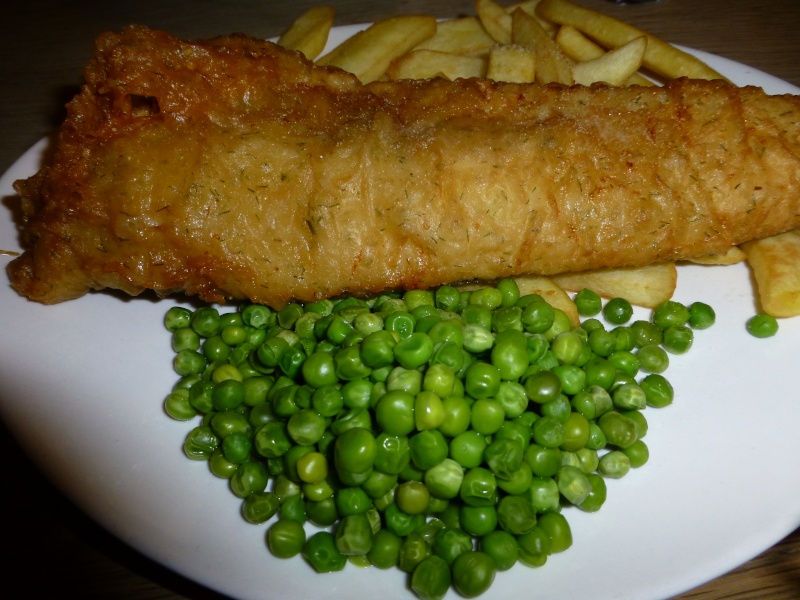 We spoke to a very nice couple in the games room looking at Badgers, they said bring some glasses down and they came down with a bottle of wine that we shared. My badger pictures were fuzzy at this time. A lovely evening
The next morning Mrs Db had heard about the fish cakes the owner makes and had selected them for her breakfast, I was sticking to the traditional one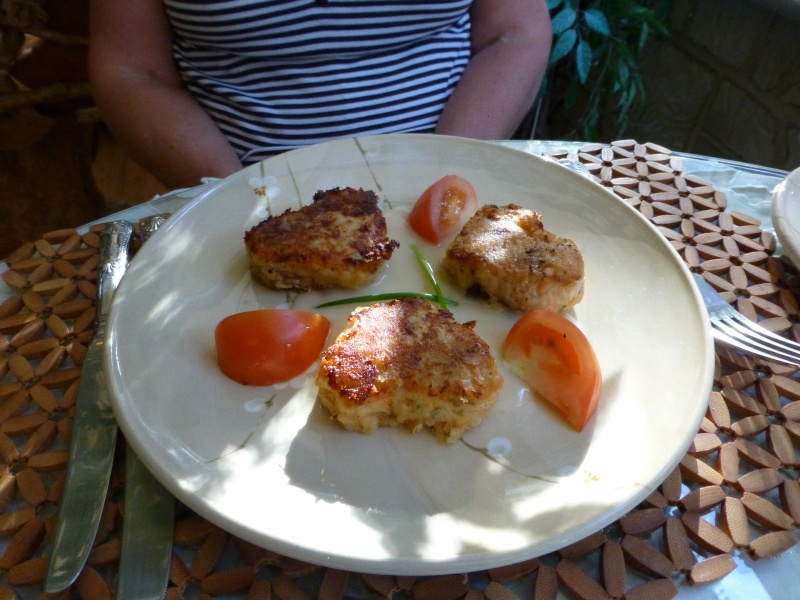 Mrs Db said they were lovely, and so was mine
and squirrel was down again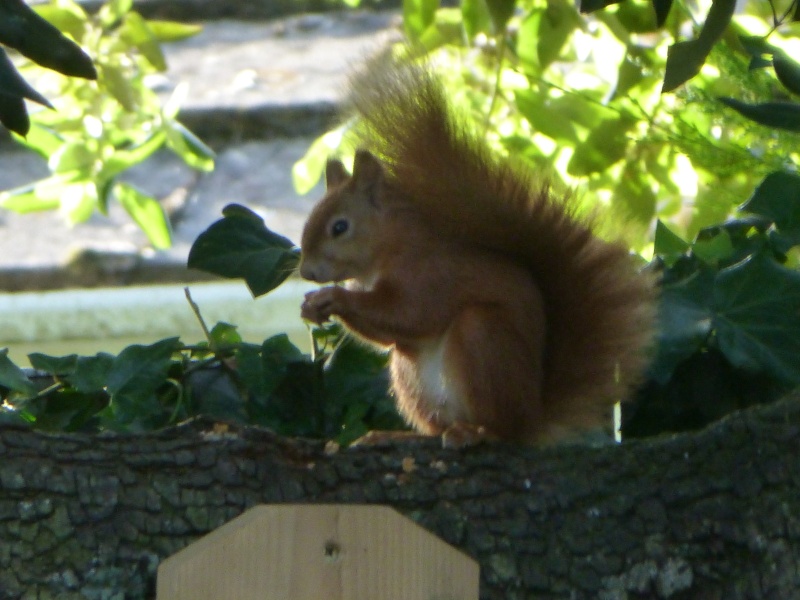 plenty of quirky things through the window too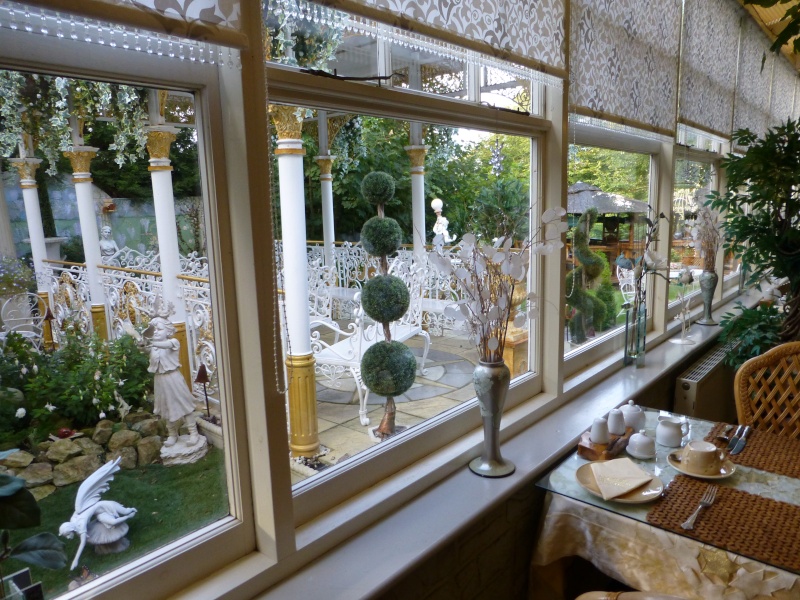 This morning we had decided to walk the coastal path towards Black Gang, so we took the old Black Gang road which ran out to a dead end, I assume the cliff face had fallen and ended the road

A group of cows had gathered to see what we were doing there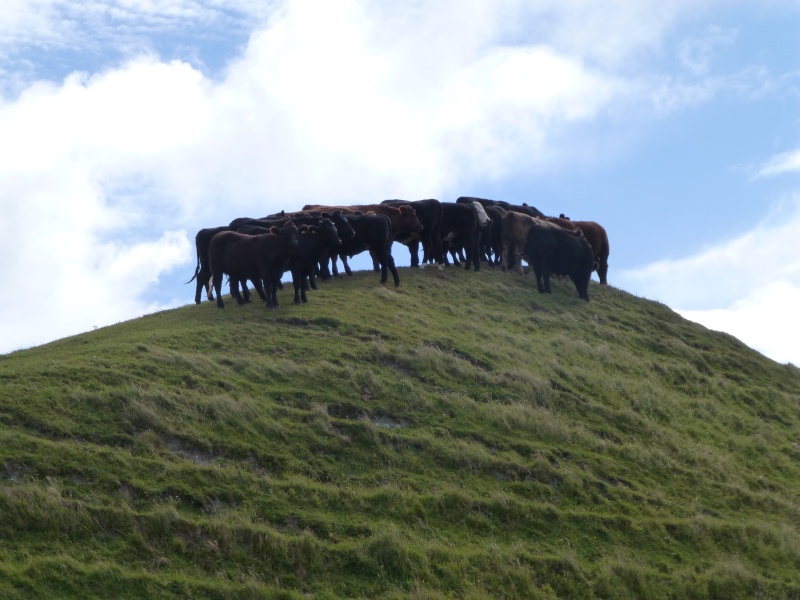 So it was about turn and head back, the weather was looking a bit iffy
But we found this cliff path that Mrs Db said, "We will give it a try", it went up hundreds of feet and she didn't like it, however, we were committed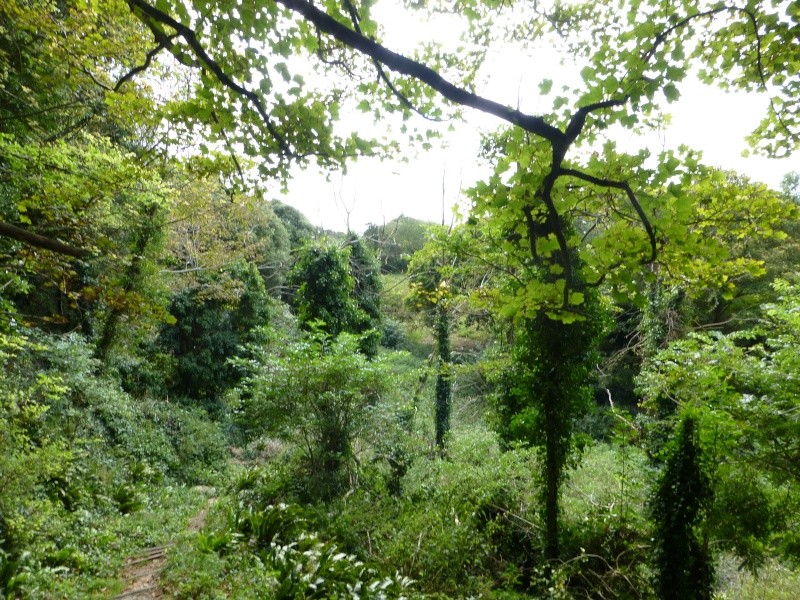 Puffing and blowing we eventually reached the top

Yesterday's lighthouse was well below us and we were on top of the world
Well a few hundred feet anyway lol!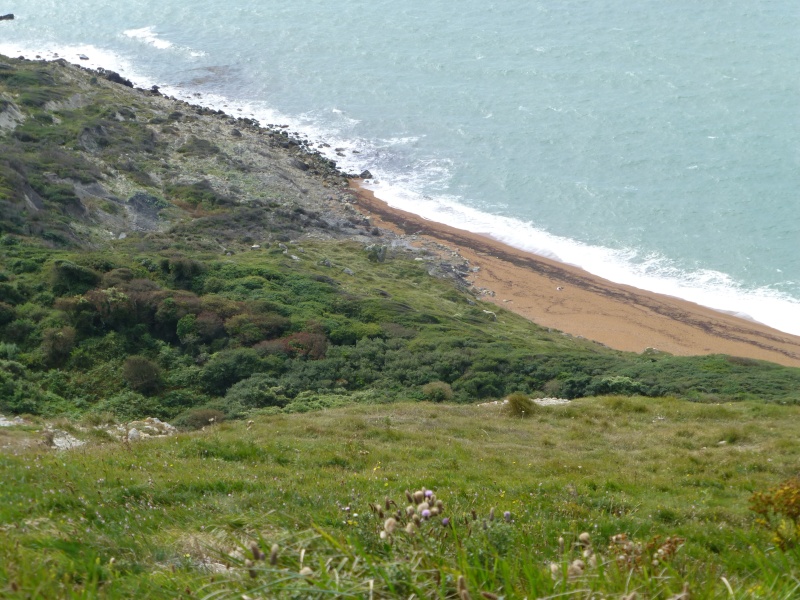 so we headed off, following the coastline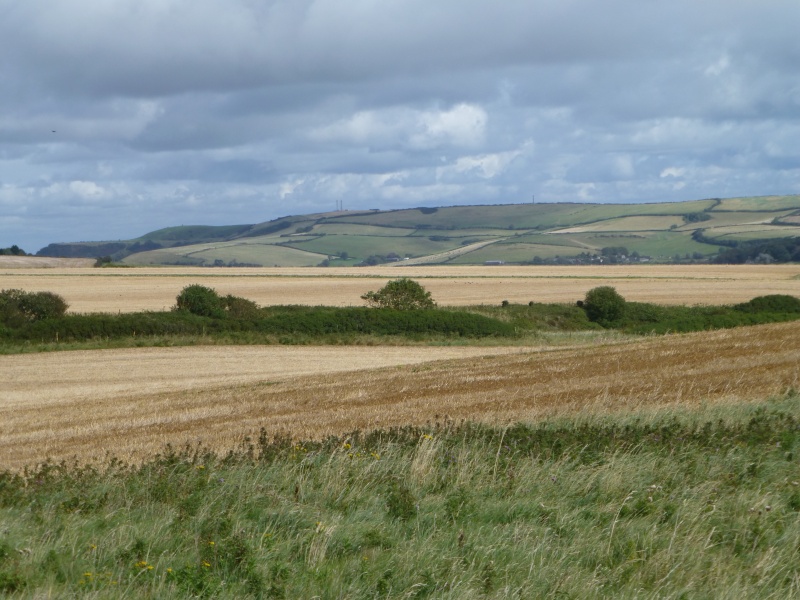 this is the IOW Jurassic coastline which is eroding fast revealing Dinosaur bones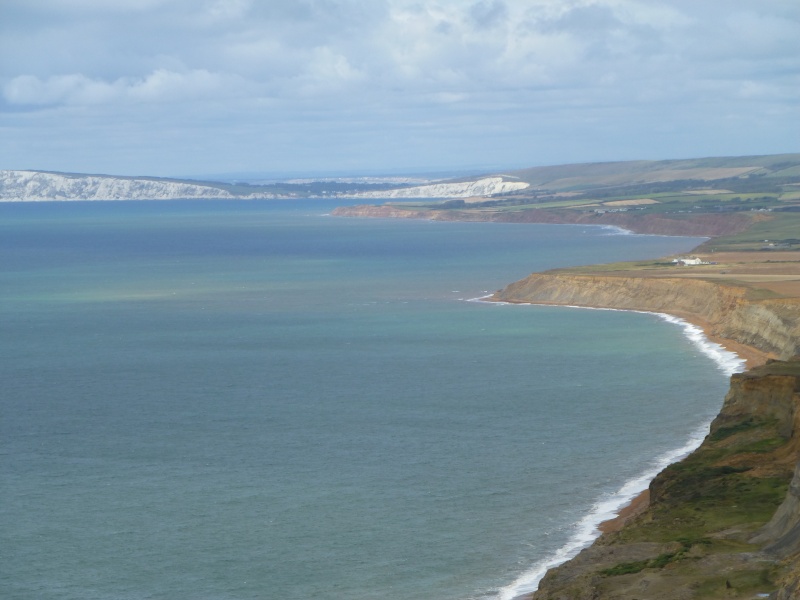 It started to spit with rain but we shook our packer macs at it and it went away, eventually arriving at this place, was it a hotel?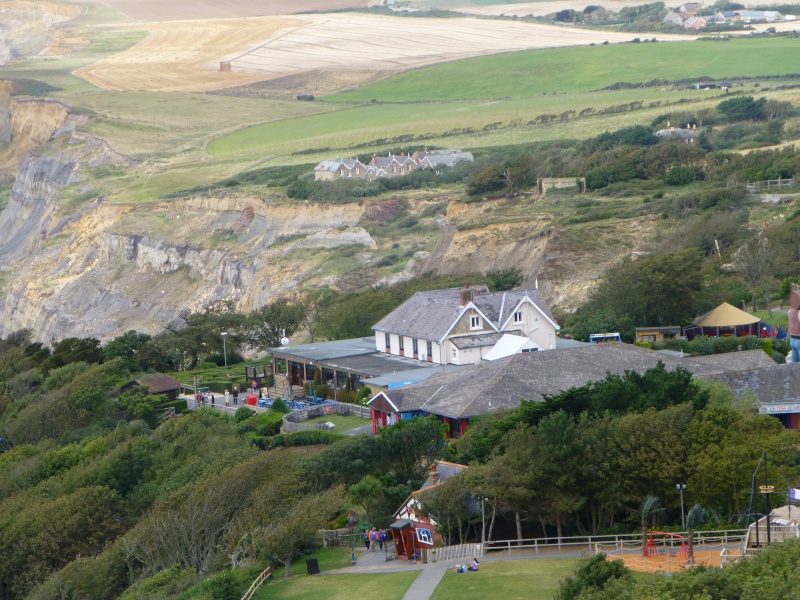 As we got nearer we could hear children screaming, no it wasn't Tesco's aisle, as we descended, we were faced with this
Well there was a tea house on the side and it had just started to tip down with rain, Mrs Db had a hankering to go into Black Gang chine itself. But why, it's for children, it has pixies, fairies and gnomes, why would we want to go there? However, the rain drove us into the entrance and I thought here goes a fiver each. To my horror it was £8.50 for OAP's and even more for the rest of you.
I went in to great discussions with the guy at the booth, who insisted we could go again the next day on the same ticket
As we went through a wall of mirrors, one actually was quite complementary (but not £8.50 worth of imagination)
As we came out, gone were the gnomes and pixies, they had gone over the side on a cliff fall
There was a maze but it had to have been lowered for health and safety reasons.Most of the participants looked like jockey's looking over the fences at the Grand National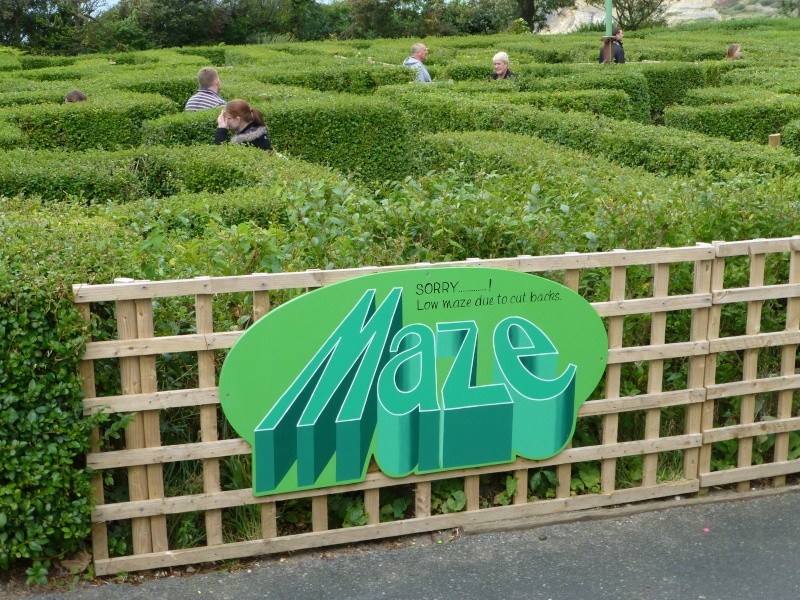 Snow white and her group of friends were probably down there somewhere
In their place, were steam engines driving log saws and a new theme of "World of Wood", allowing us to watch the process of wood.
No, World of Leather wasn't next door to try out the sofas
They still had a pond with fish in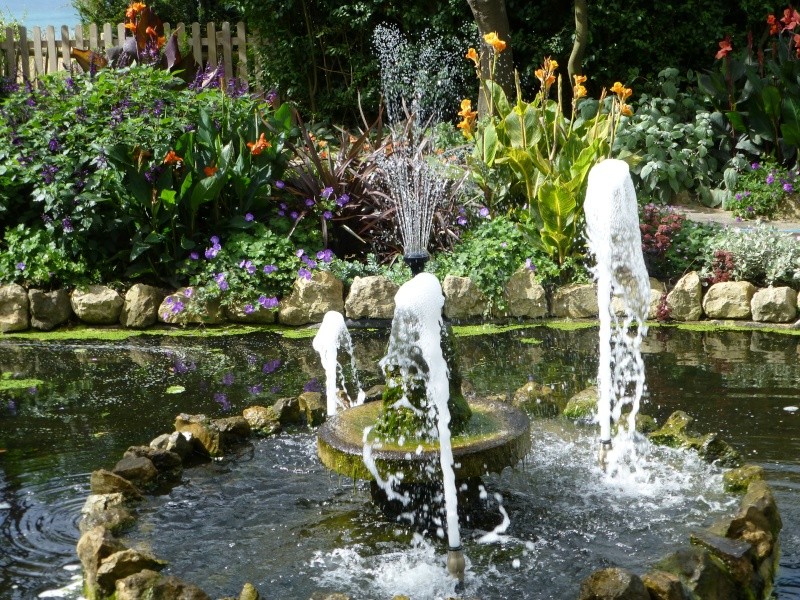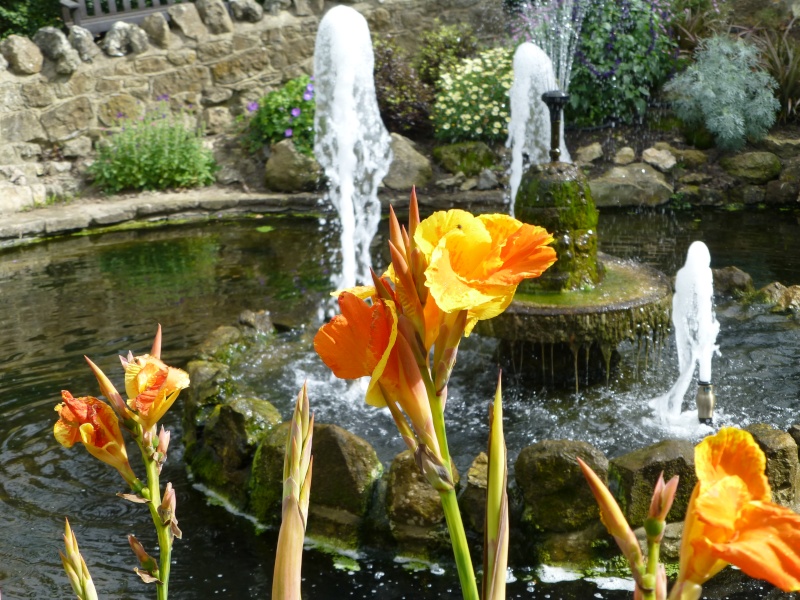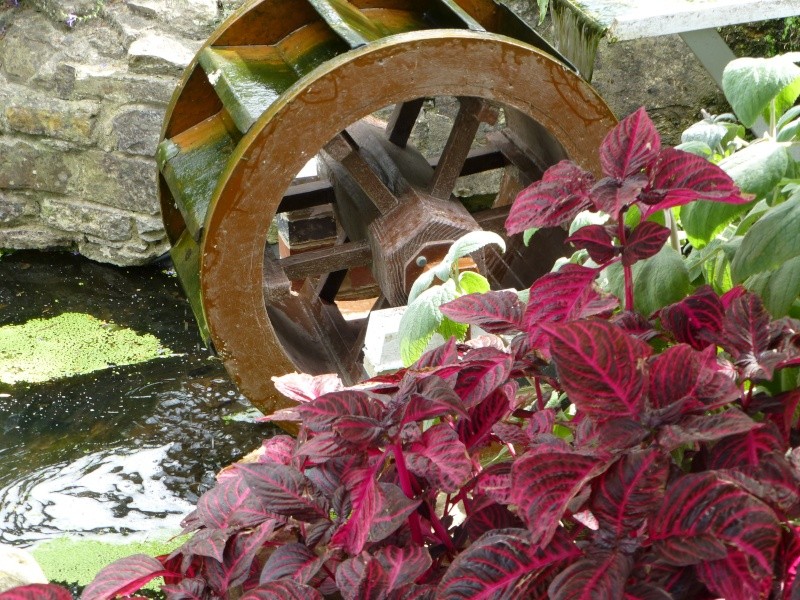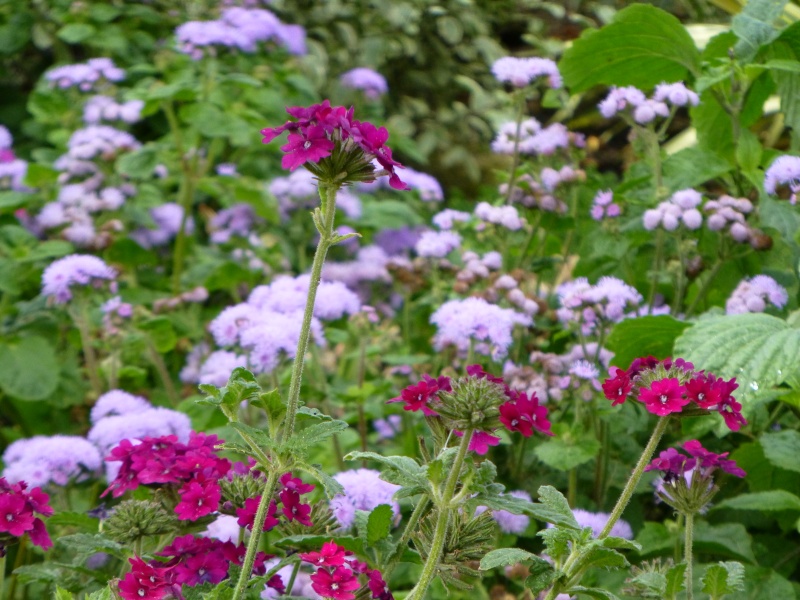 apart from half of the original Black Gang chime disappearing, other houses have been lost as well, it won't be too long before this one reaches a frightening stage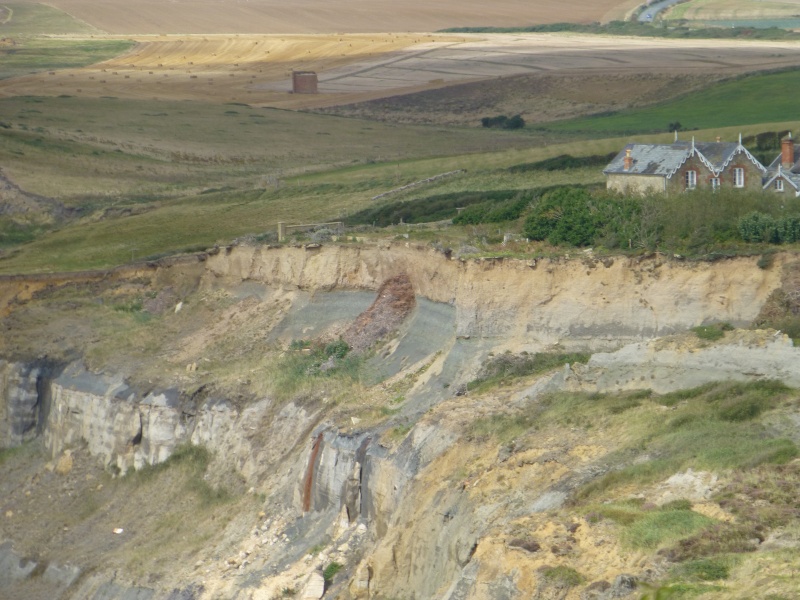 Down below on a walk there are loads on fibre glass Dinosaurs laid out, I remember them making the news many years ago, as they all had to come over by ferry lol!
Also, they have a structure of a full size whale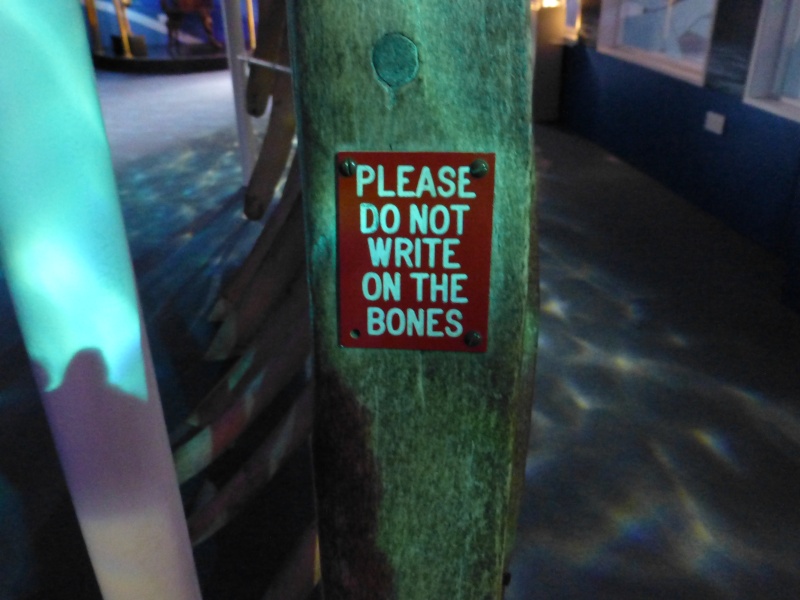 can't trust the kids lol!
There was a rollercoaster ride which only seem to run about every twenty minutes, so you couldn't just get on it
Others would be extremely disappointed if they didn't reach the height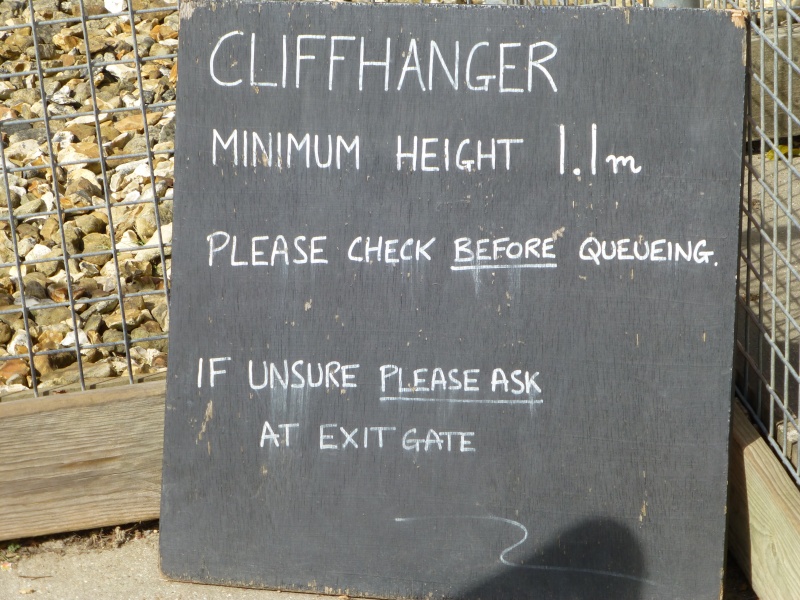 There was a cowboy western thing, with a marshal's office, but the town was lawless, as I was immediately robbed of £3 for two plastic cups of tea having spent £17 to get in the place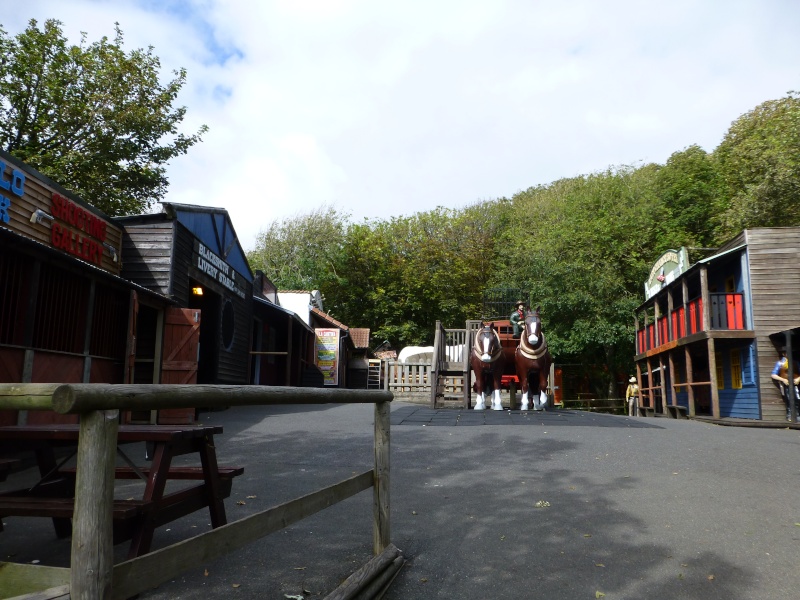 On Boot Hill, on the way out, there were some interesting graves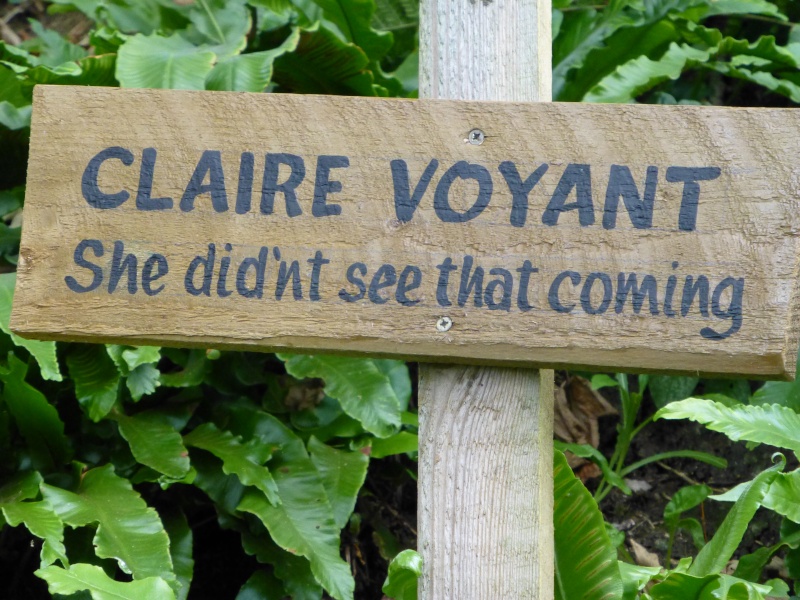 nor did I Claire, £3 for two cups of teas
There were two Pirate ships for the kids to play and walk the plank. All in all, it was a good day out for the kids and Mrs Db.
We had now been on our feet for about 5 hours and as the others jumped in their cars we still had 2/3 miles to walk home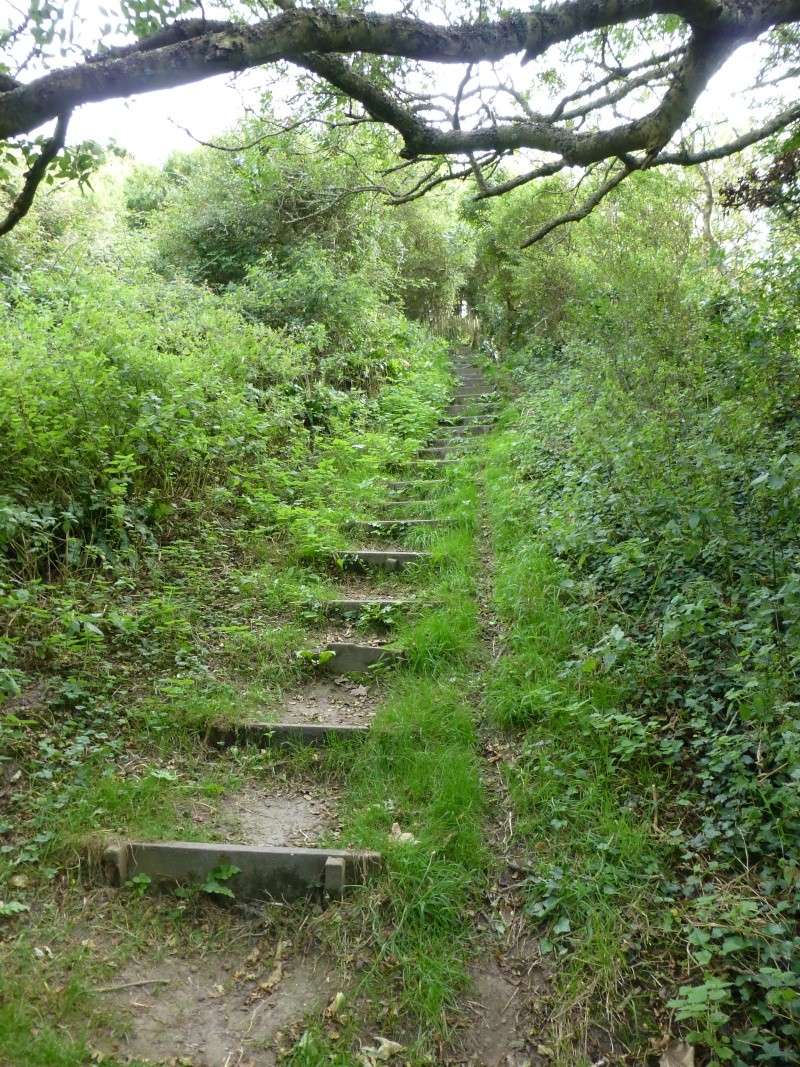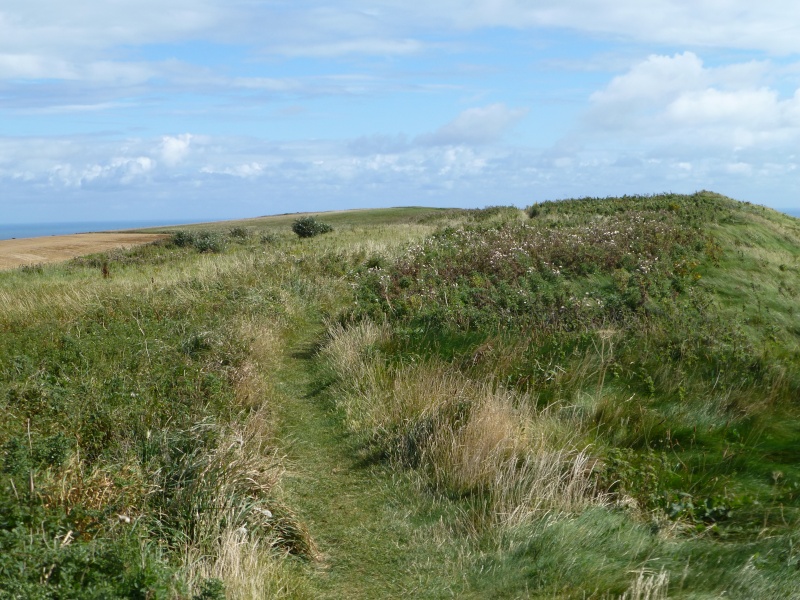 and that welcome hot bath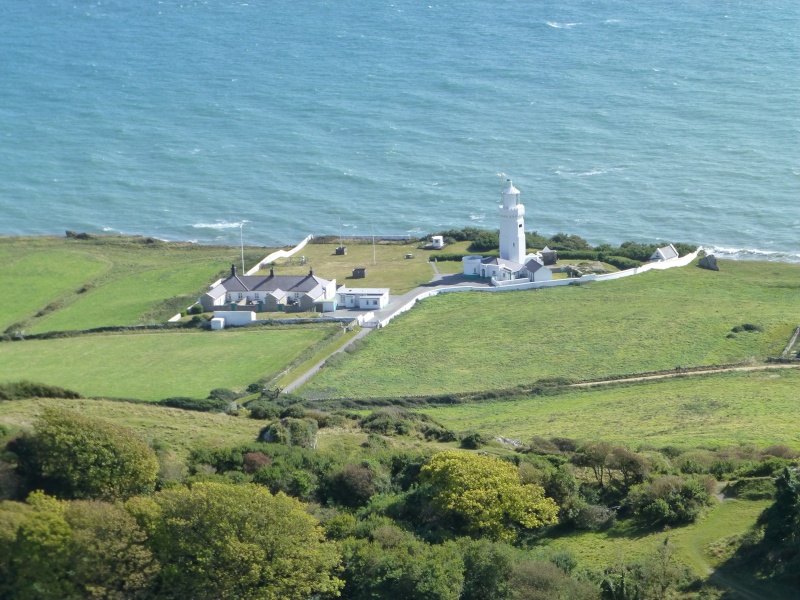 and rabbit pie, where's my gun lol!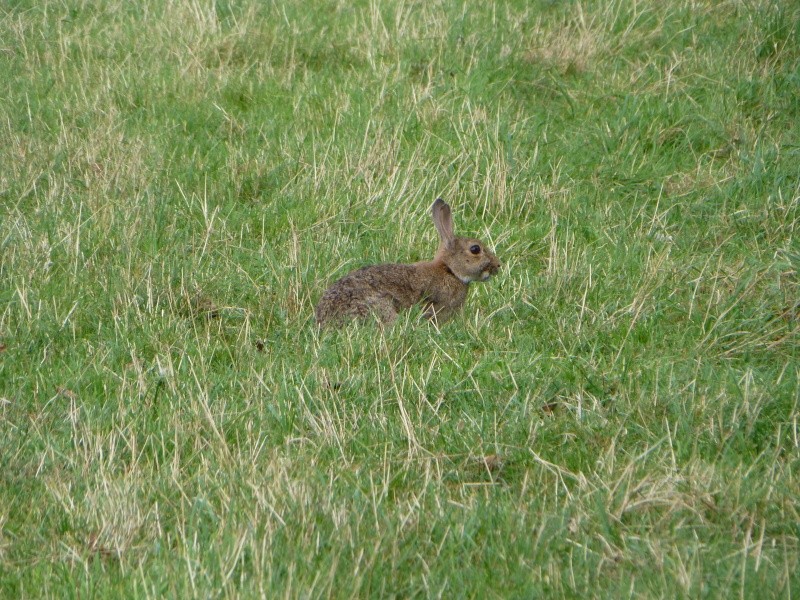 So after that bath and a change of clothes it was down to the Buddle Inn
Mrs Db had Peppered Chicken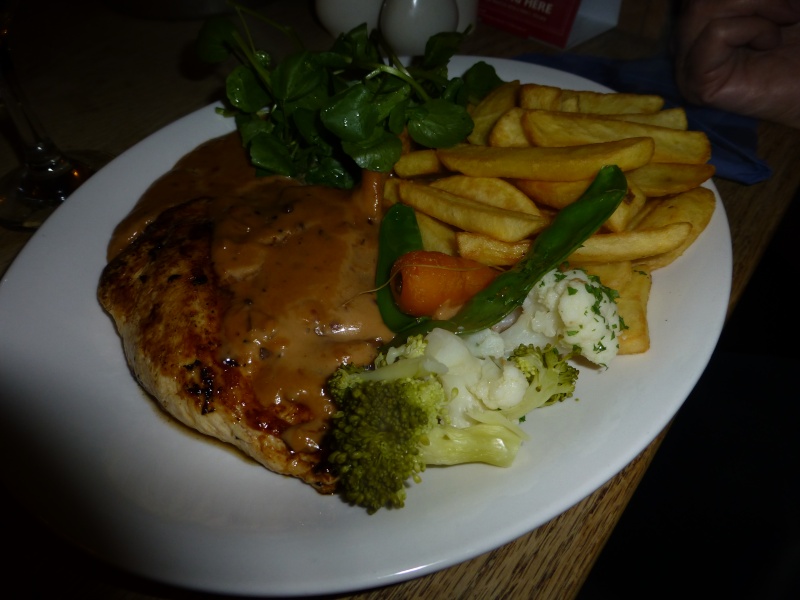 and I had that delicious Buddle pie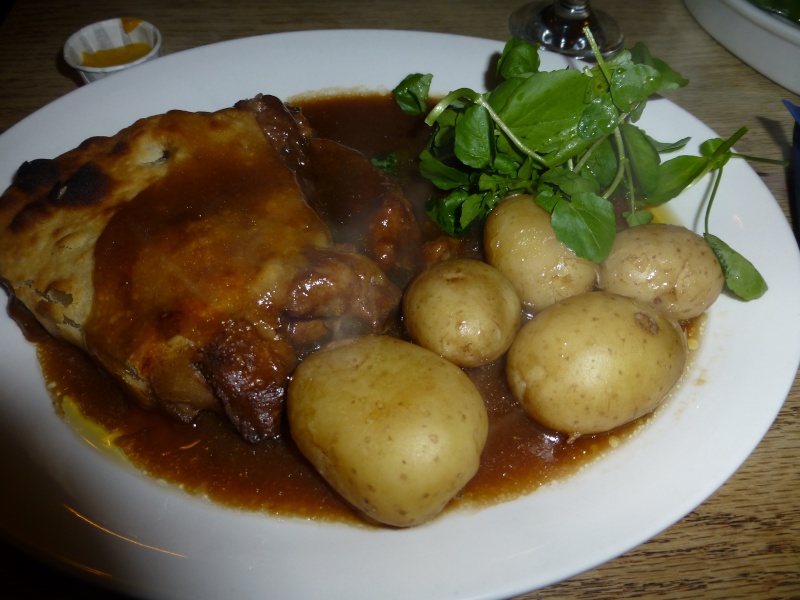 washed down with a bottle of wine
Then I was going to get some pictures of badgers whilst Mrs Db watched some TV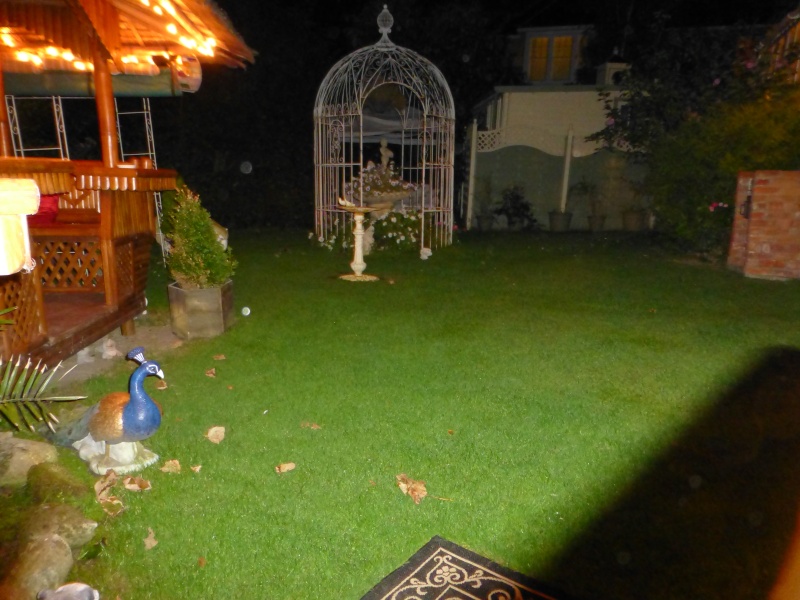 Tonight there was no food out for them, they were turning up but wouldn't stay still and walk off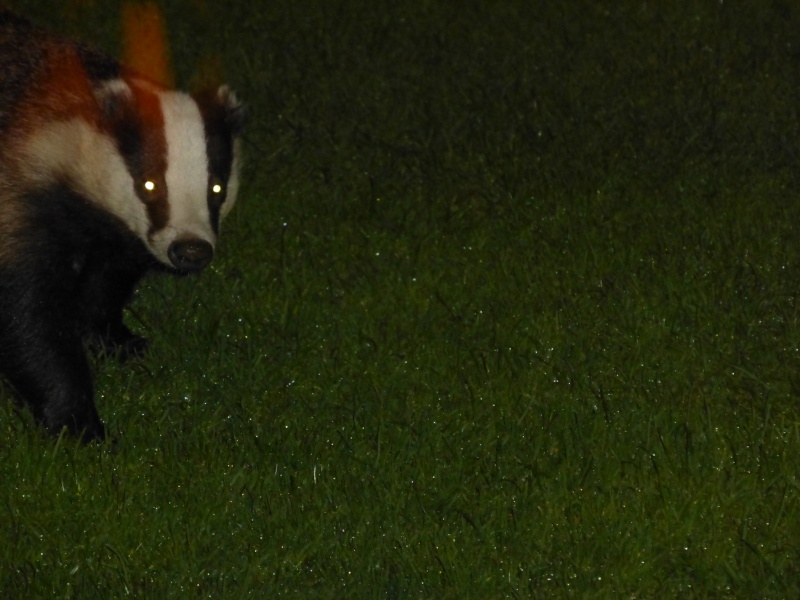 I spent about an hour out there but loved it, I was able to make some camera adjustments but the only way to get a good picture in that light was to snap them whilst they are still, as the shutter speed is slow. However, it was time to call it a night and perhaps tomorrow night I would get a better shot.
So Thursday morning our last full day, Mrs Db had fancied ordering Eggs Benedict but I was getting to handle the traditional breakfast
today we were going to attempt the coastal path to Steephill Cove accessed by foot only and a memory from Mrs Db's childhood, I had never been and then perhaps on to Ventnor not sure whether we can walk back as it's a long way and not much practise this year at walking
We were a mile from the coastal path which said 4 miles to Ventnor on a sign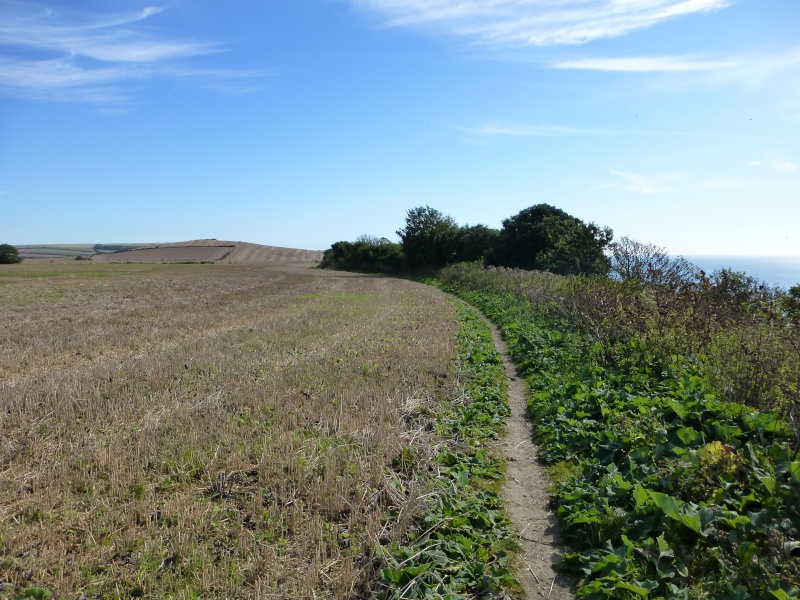 It was a walk through the edge of farm land but hedge rows blocked some of the views of the sea
but it did open up eventually, this is looking back at where we had walked from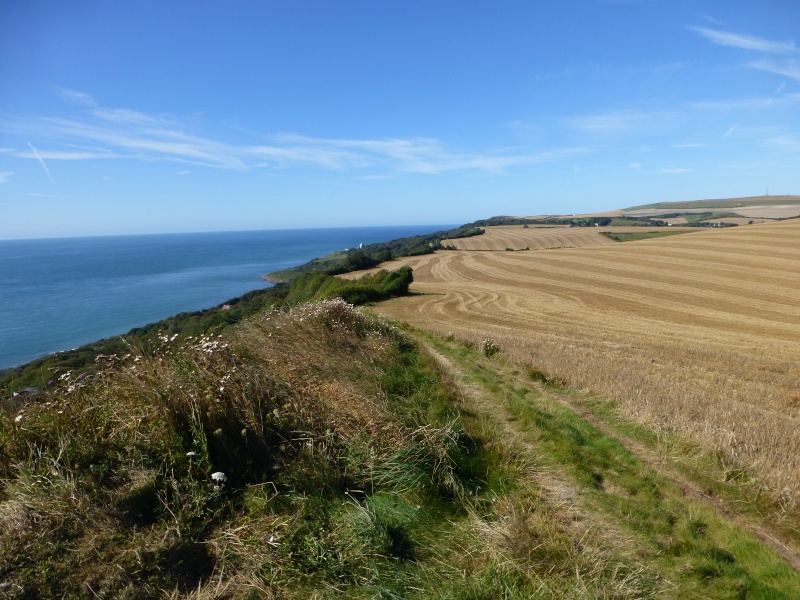 One can see over the far side of the island in this picture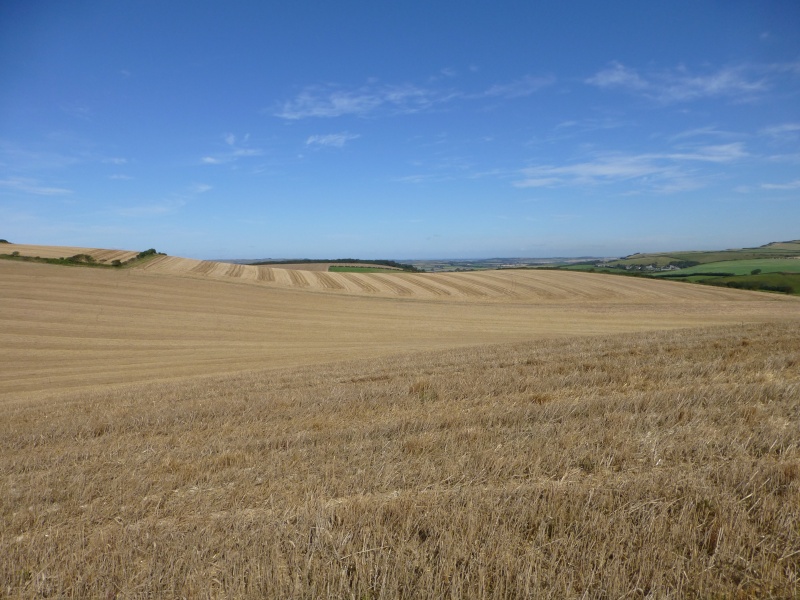 as Steephill Cove was by the sea we needed to get down at sea level and we chose the village of St Lawrence as the route down
Funny we passed the St Lawrence church, only a week earlier a church of the same name at High Wycombe
however, we found our way to the sea, not hard I know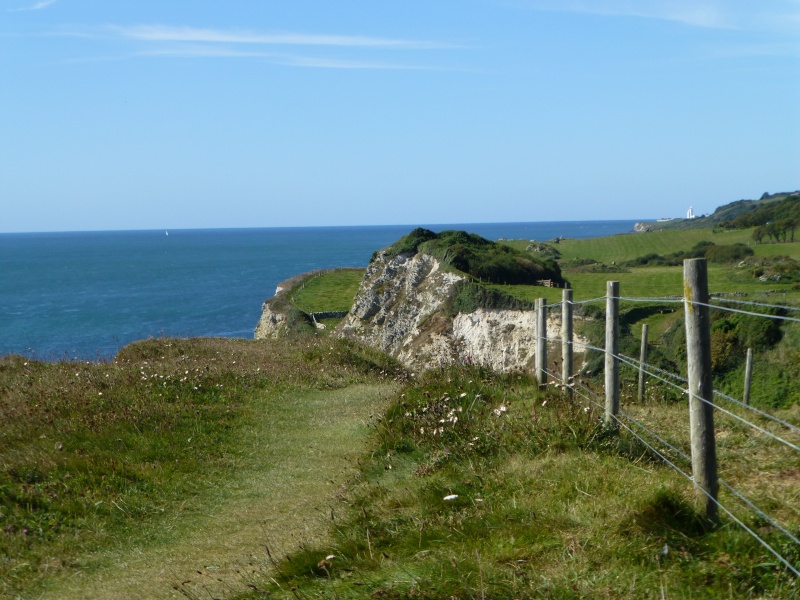 but a little while ago, we were up there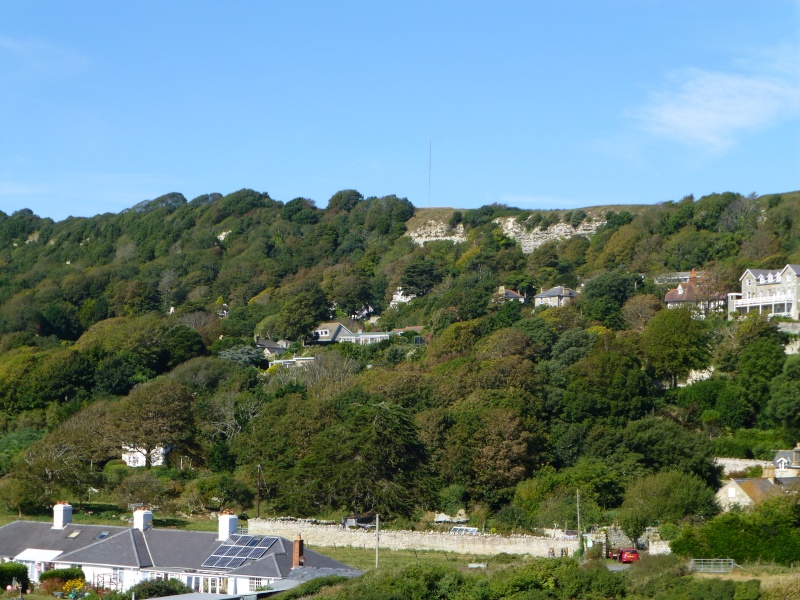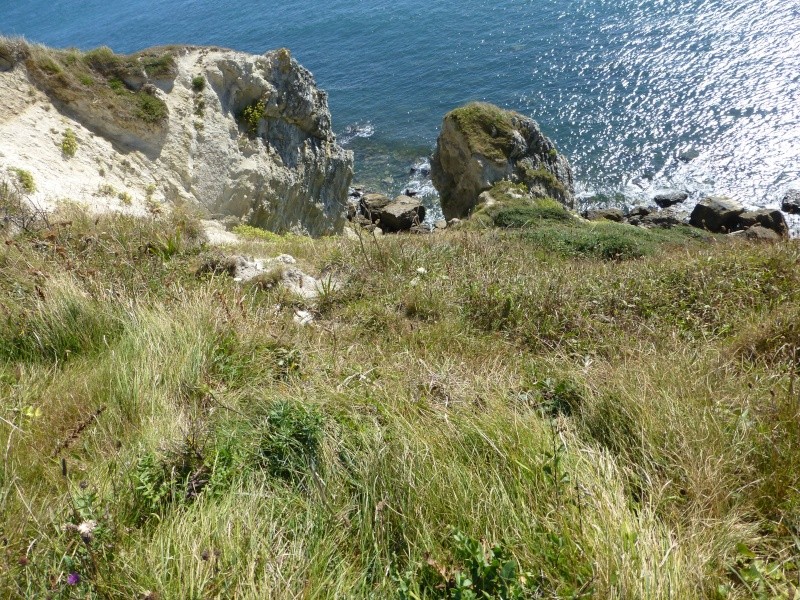 Soon in the distance about a mile and a half away we could see Steephill Cove and beyond, Ventnor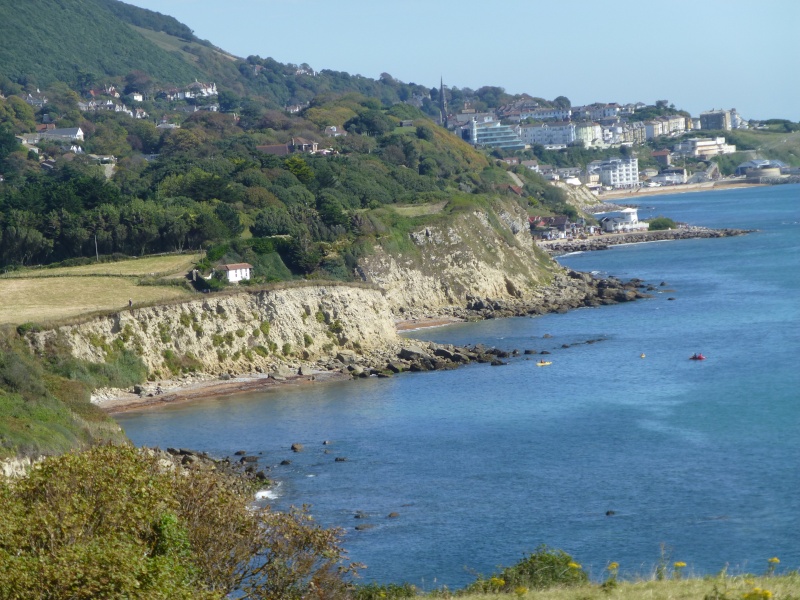 as we got closer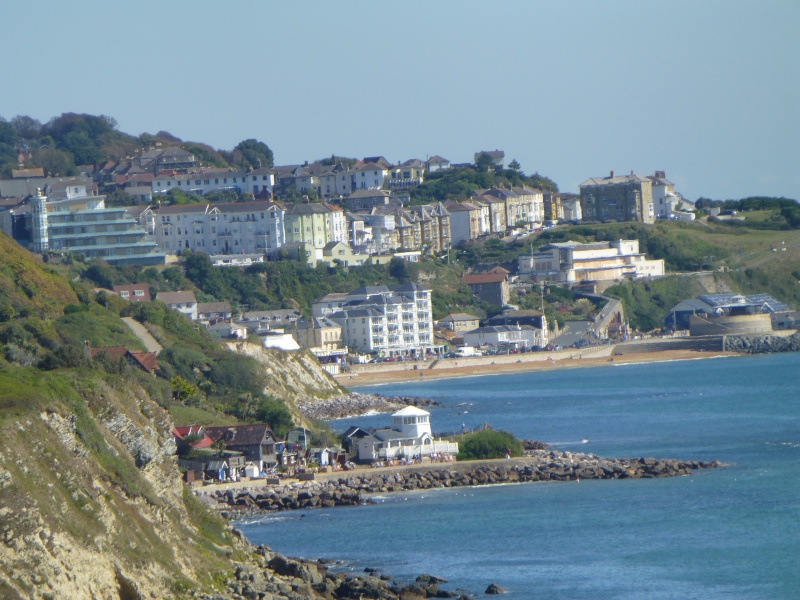 we passed another little bay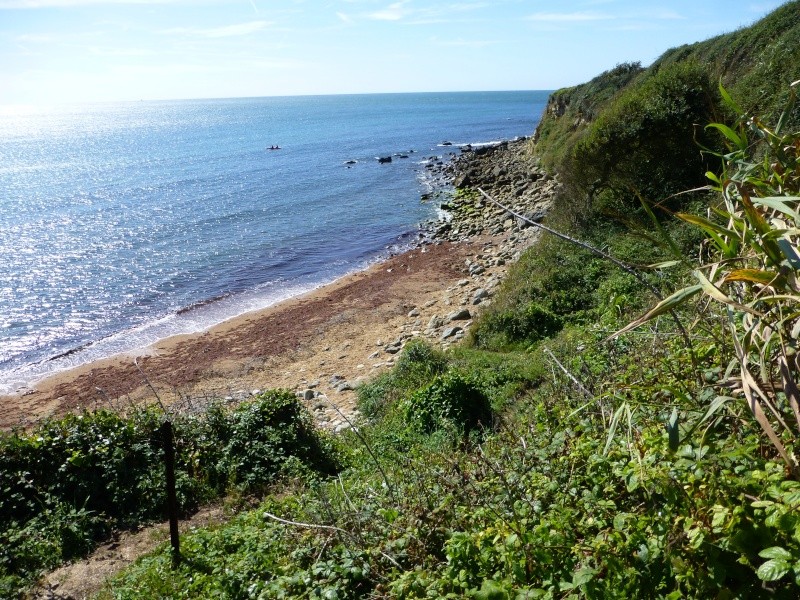 one just doesn't see these places in a car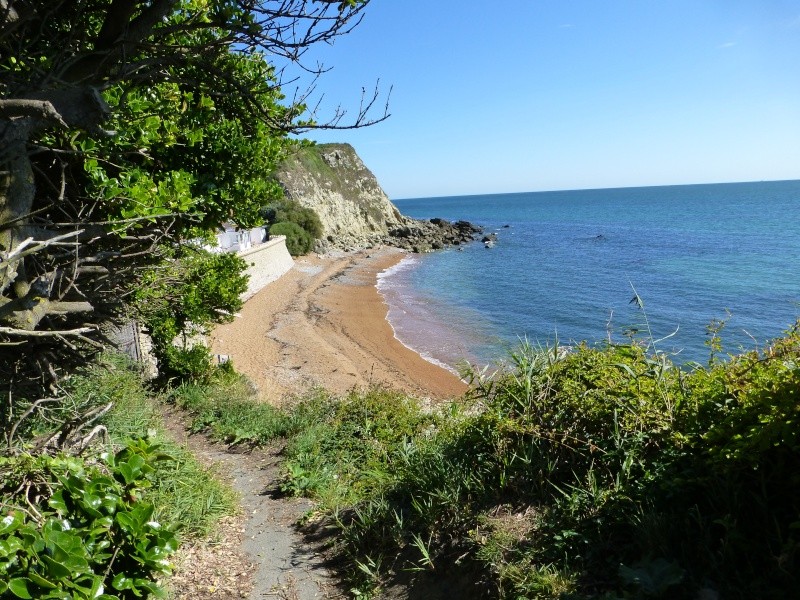 Not far from Steephill Cove and just above it was Ventnor Botanical Gardens that we had visited many times but never knew Steephill Cove was below it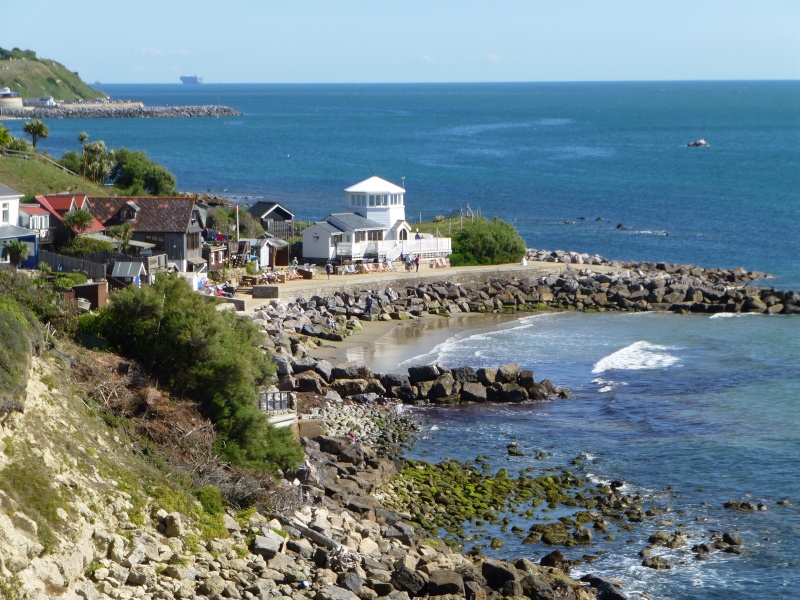 We have read that Ventnor Council are charging to go into the Botanical Gardens but will not enforce it, however, a car and passengers will be charged £12.50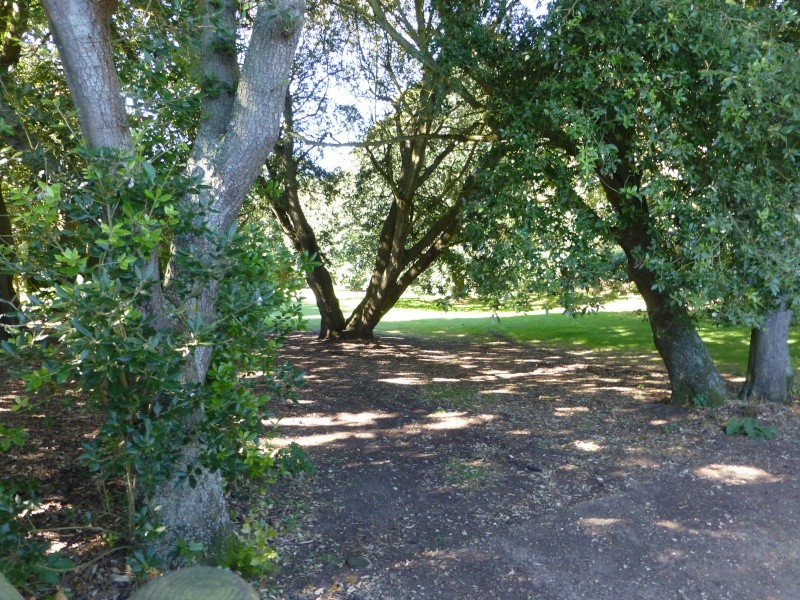 So we had at last arrived at Steephill Cove and time for a tea and perhaps a little sandwich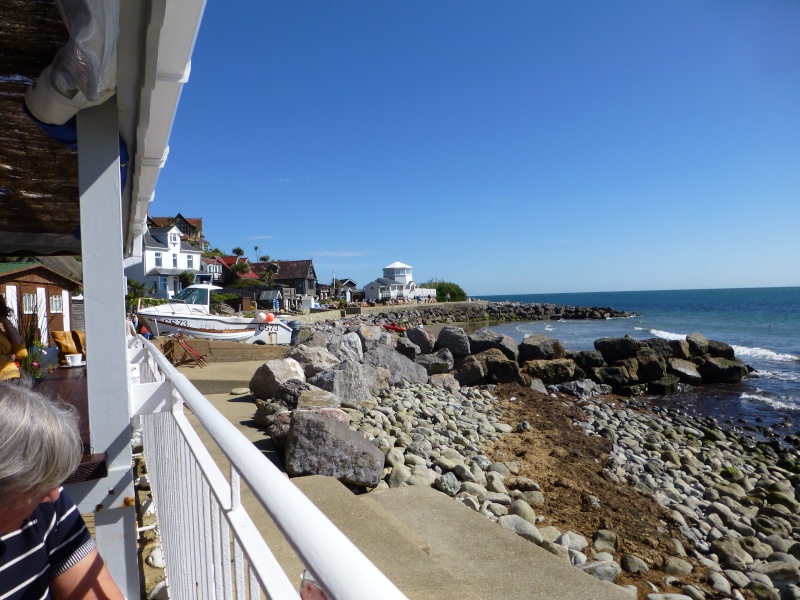 Years ago when Mrs Db was little, Steephill Cove was owned by Plymouth Bretheren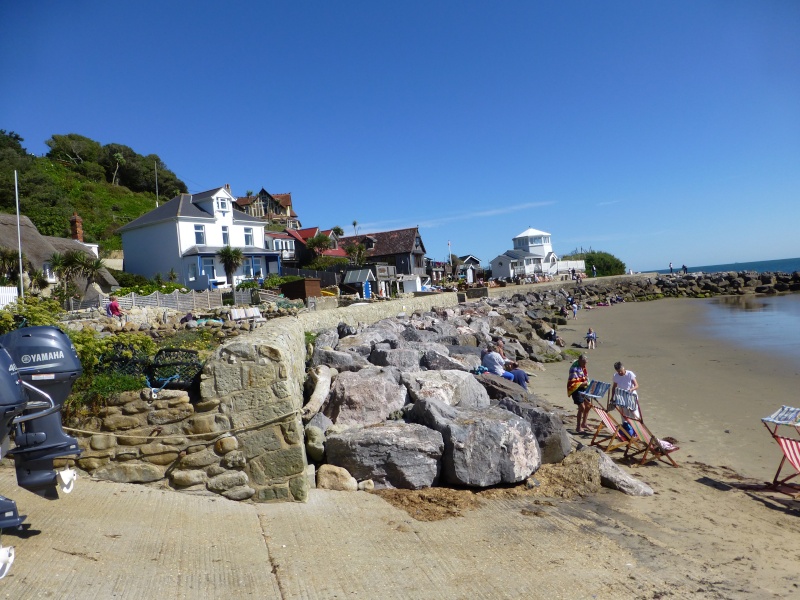 one could buy teas etc and hire deckchairs, except on Sunday and everything was closed

however, one could still hire a deckchair as they had a honesty box
a nice little bay

but it was time to move on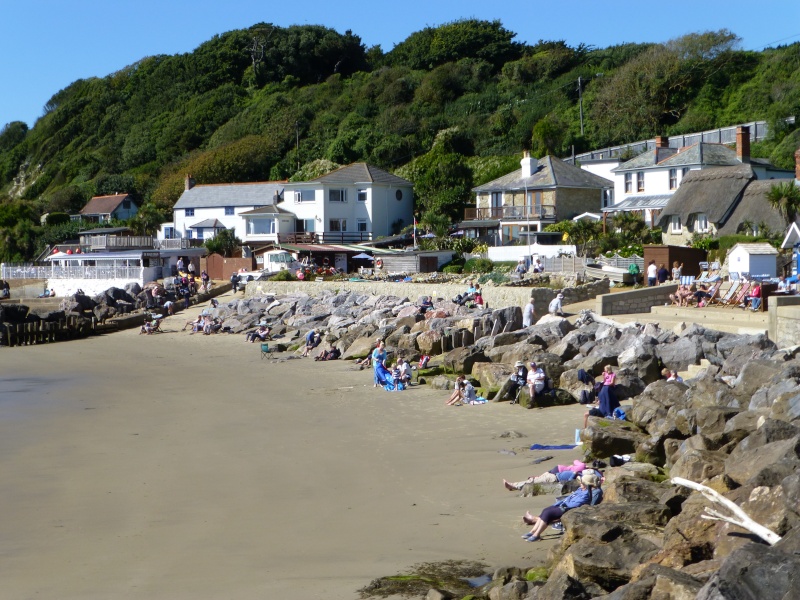 and head for Ventnor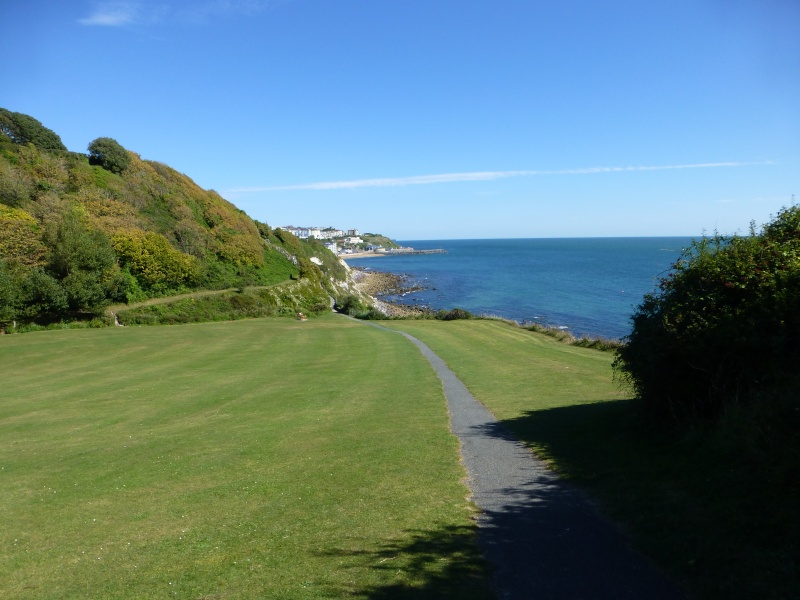 Mrs Db was bulking at walking up a lot of steps, so I guessed it would be a bus going back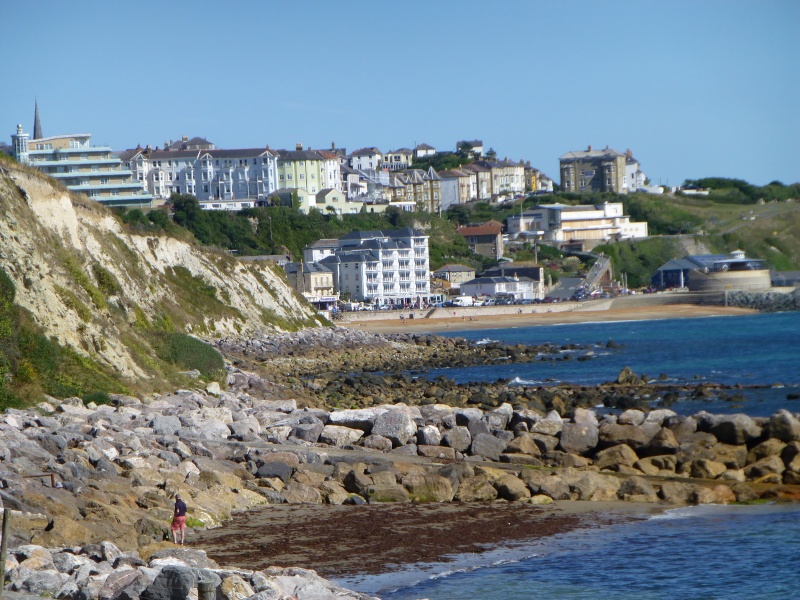 I guess at this point we had walked a good 6 miles, sign post aside
So now it was into Ventnor, now Ventnor is built on the side of Boniface Downs and there are only two directions to go, up or down. So with the decision made to return by bus it was the rest of the afternoon to relax.
So we headed to the Spyglass Inn
A bar and restaurant which overlooks the bay
It was a beautiful sunny afternoon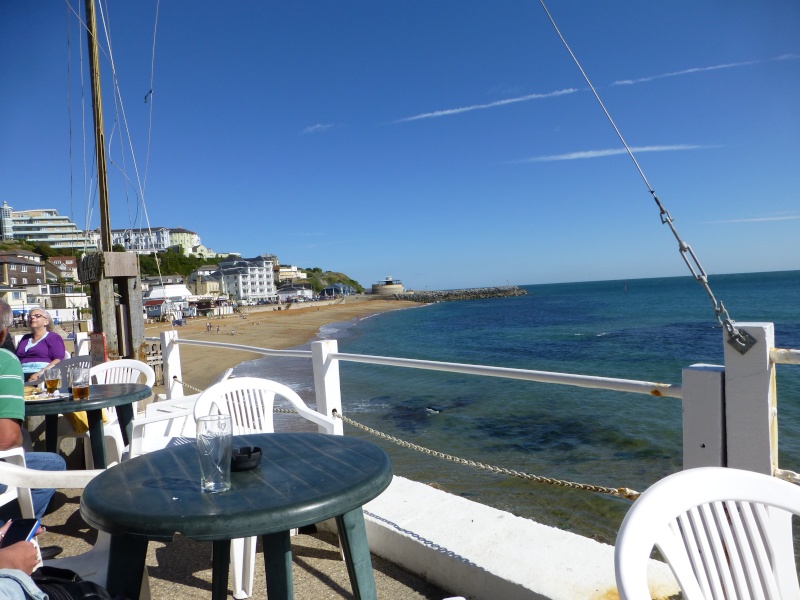 hardly a cloud in the sky
and a couple of lagers went down a treat
as we watched the world go by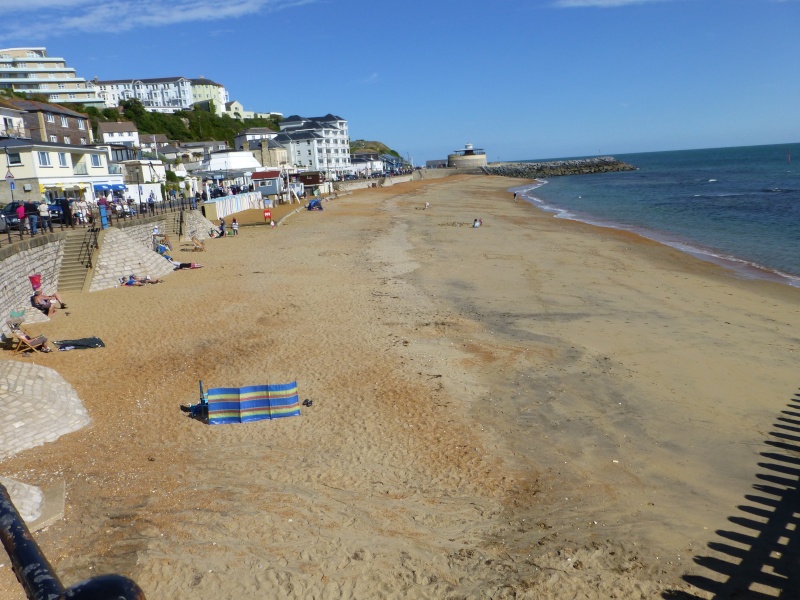 but soon it was time to walk up the hill to catch the bus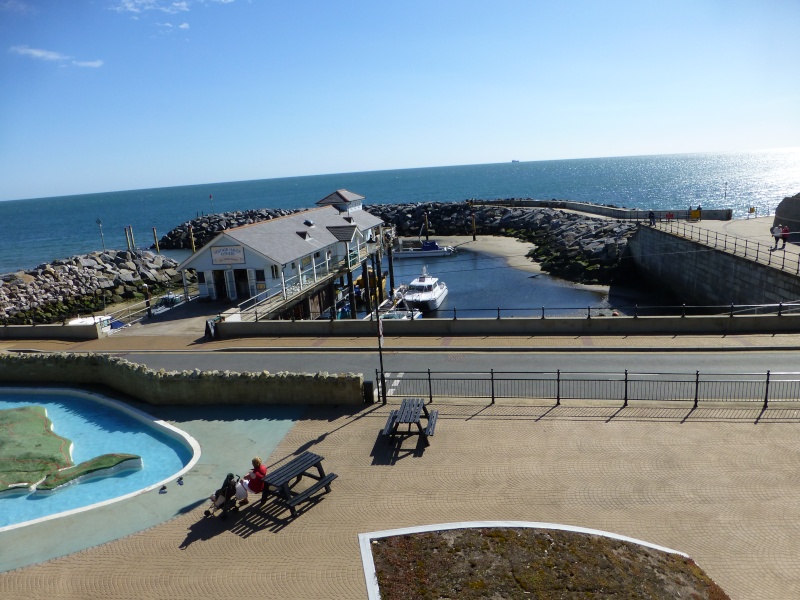 so it was goodbye to Ventnor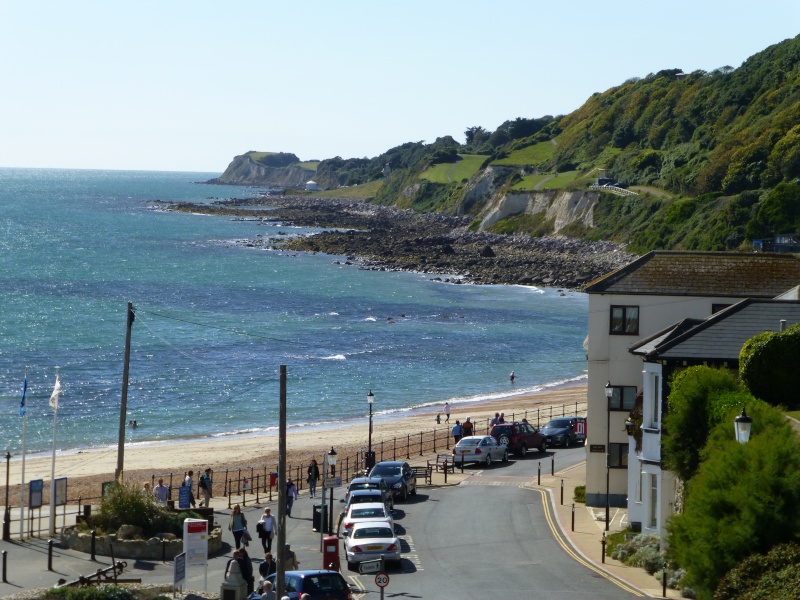 and into town to catch the number 6 bus, Boniface Downs sits above the town
This time we didn't have to climb it but the bus fare was £3.50 each, not sure what a taxi would have charged
So after a well earned bath it was to the Buddle Inn for the last time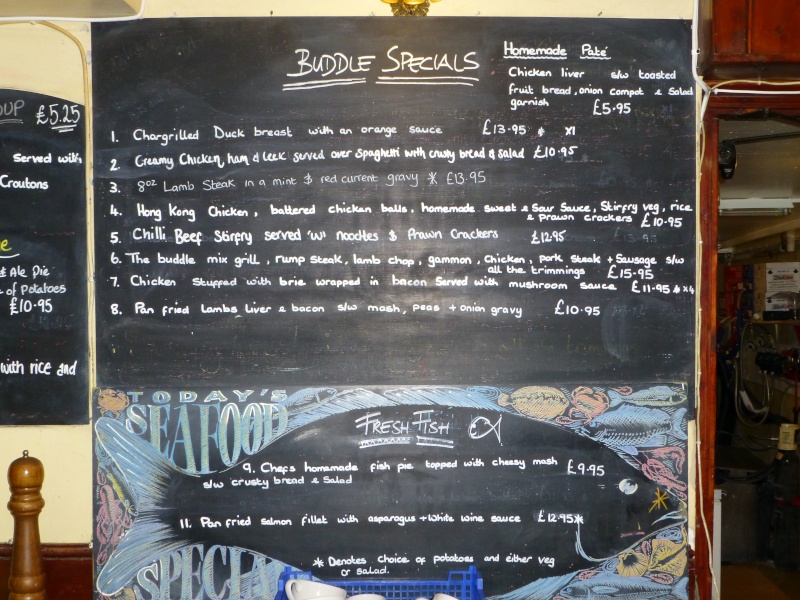 We both picked the curry of the day but we thought it was not the best choice, I felt I had better from a Patak's jar but never mind just a bad pick and could have had better
So it was back to the Hotel for a badger session, Mrs Db and I decide to have a look and they were there and feeding. We were the only guests watching and Mrs Db decided to pop up to the room whilst I larked about with the
camera.
There were four of them, I thought what the hell, I opened the door and they scurried off. Never mind I went into one of the little gazebos and waited.
Soon all four came back, they love cornflakes
I had set the camera for night time portrait which gives a double flash and a orange glow. However, any movement from the badgers gave a ghosting effect and these little creatures were never still.
I must have taken about 50 shots and I only had a blank black screen to see them through.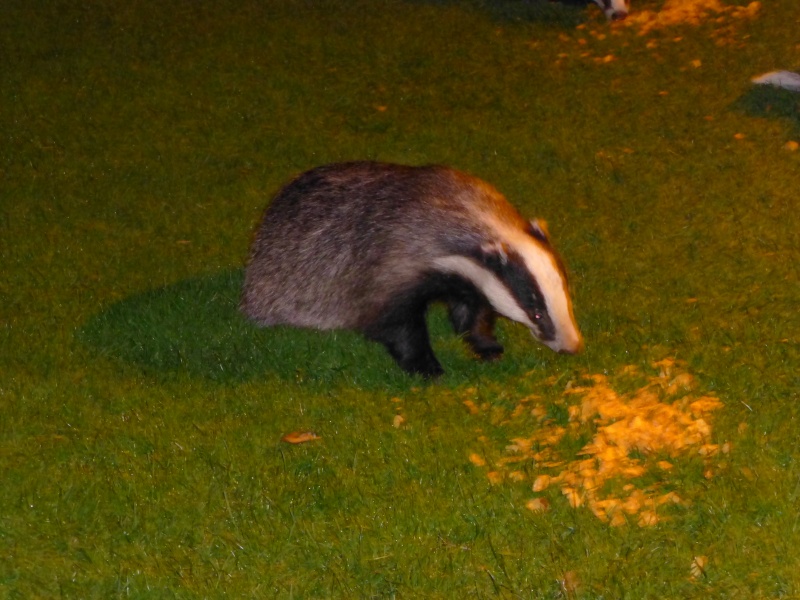 Then another couple of guests stood in the doorway trying to take photos, I beckon them to come out and said, "they well come back in a few minutes", so now there were three of us
The badgers soon came back
Eventually there were five of us snapping and talking and the badgers didn't mind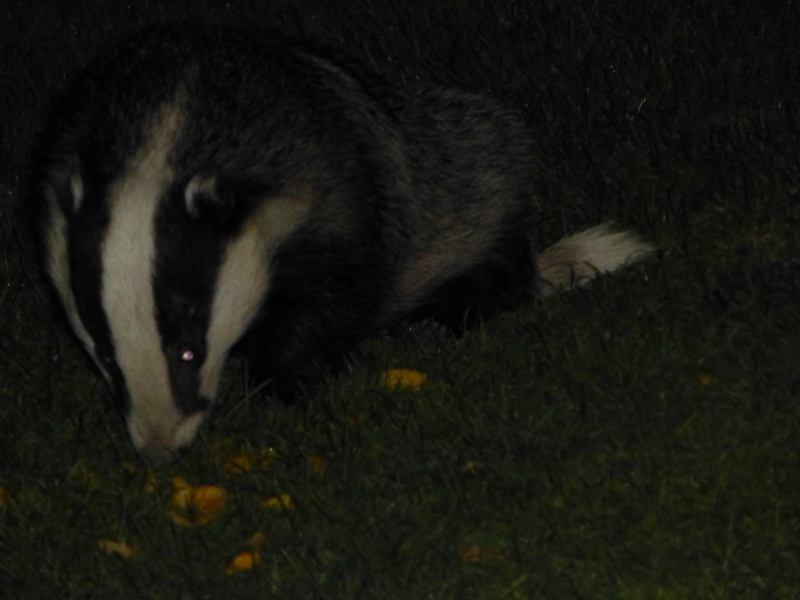 Anyway loved being with the animals but foxy didn't turn up but a good last night
So it was bedtime
and next morning it was the last fry up and bucks fizz, Mrs Db joined me with the traditional breakfast, which this time included bubble and squeak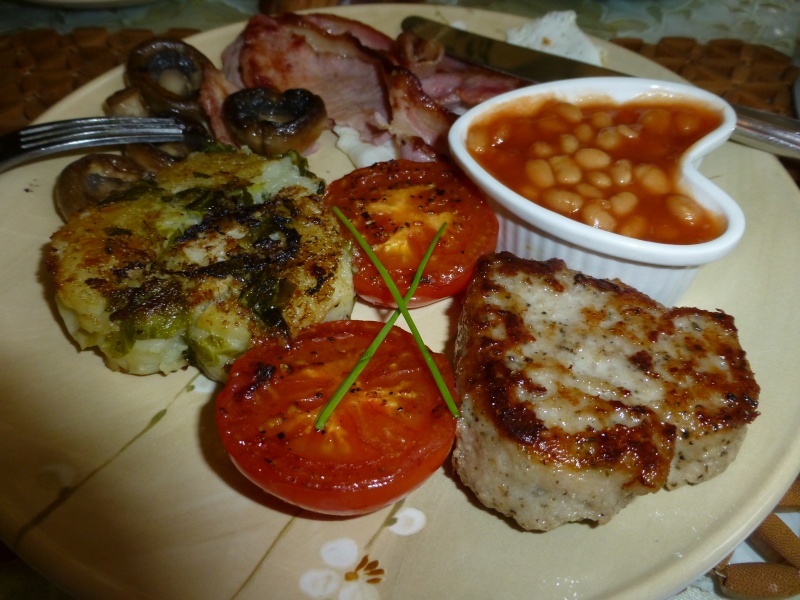 and the last coffee and toast and marmalade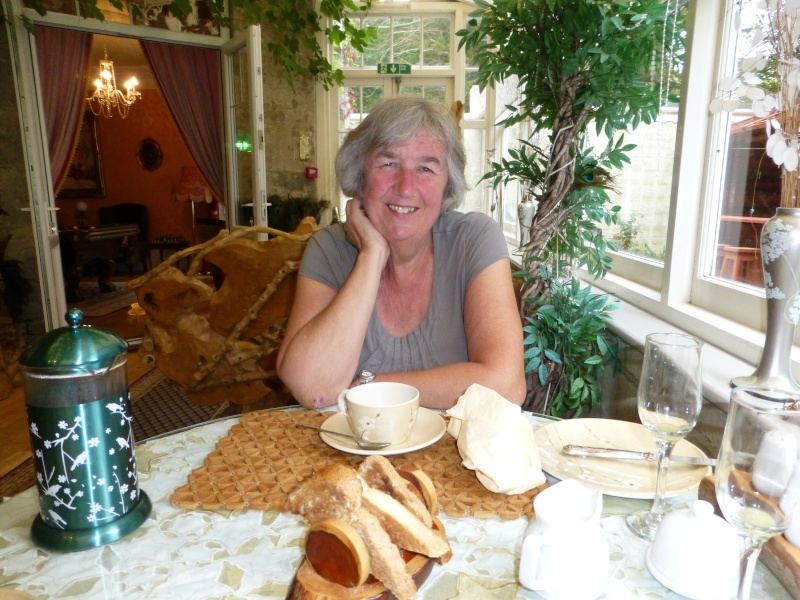 Because our Ferry wasn't till late we could have our room till noon and a bit of a wait for our boat but eventually we were aboard
Then as the boat pulled away Mrs Db said, "Goodbye IOW"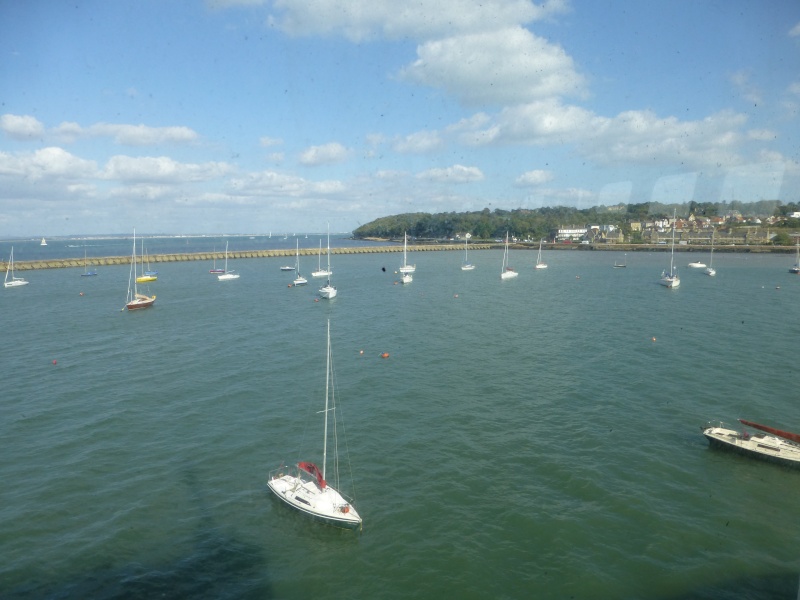 "But I'll be back"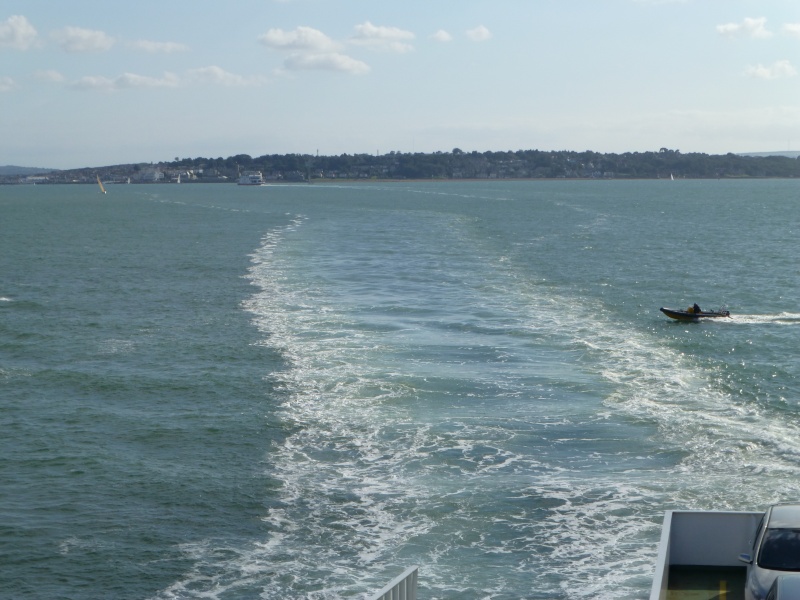 So that was the story of it all folks